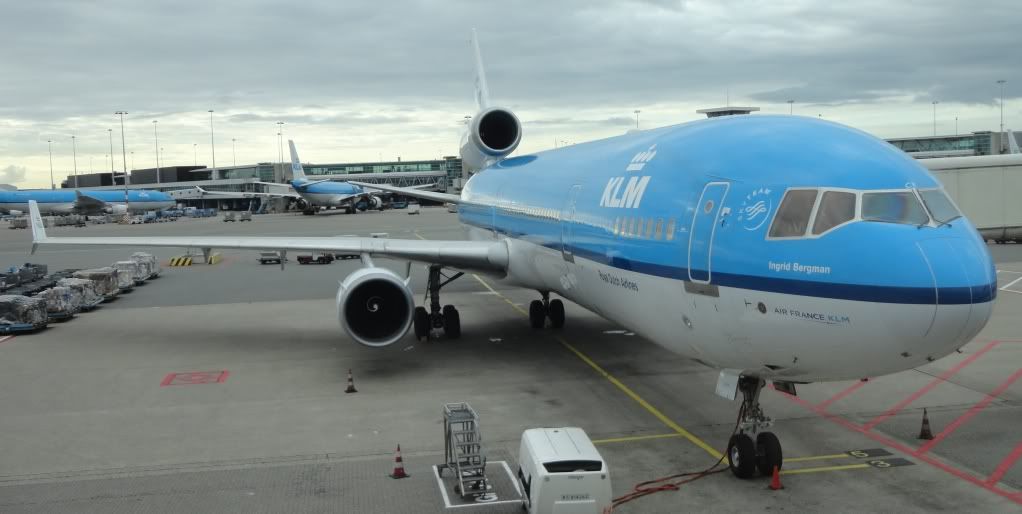 Introduction
The U S of A, a great country IMHO. A country where everything is big, a country I have lived in for a year, a country I have visited many times (mostly in the summer) for vacation or other purposes. This year would be no exception. Visiting friends in Maine, Pennsylvania and Canada while enjoying my 4 week vacation from work.
Hello everyone and welcome to my 12th trip report featuring the beginning of my vacation to the USA/Canada!
It wasn't until the 27th of May when my dad and I started looking for tickets. Booking was done, the same day, on delta.com (as my dad is a SkyMiles member). 6 flights for about 1200EUR p.p, not a very bad deal for the time of year and the date that we booked IMO.
There were a lot of different options for that price, so we eventually chose:
July 21: AMS-BOS // 11:10-13:00 // DL231 // A330-300
August 1: BOS-JFK // 12:00-13:17 // DL901 // A319
August 1: JFK-PHL // 16:10-17:28 // DL3544 // CRJ900 Pinnacle Airlines/DL Connection
August 8: PHL-LGA // 14:10-15:10 // DL4050 // CRJ100 Pinnacle Airlines/DL Connection
August 8: LGA-YYZ // 16:45-18:25 // DL7145 // B736 operated by WestJet
August 21: YYZ-AMS // 23:05-12:10 // DL9399 // B744 operated by KLM
A nice itinerary with all different types, and for me it will be the first time flying Delta longhaul and WestJet. This would also be a chance to catch the fairly "rare" B737-600 type.
This series will be split into 5 parts (due to the many pictures made):
Part 1: AMS-BOS
Part 2: BOS-JFK
Part 3: JFK-PHL
Part 4: PHL-LGA-YYZ
Part 5: YYZ-AMS
Every part will not only contain a report of the flight(s), but it will also be accompanied by many pictures of places I visited/things I did during my stay.
So sit back, relax and I hope you enjoy this report!
Map
The map for this part, thanks to the Great Circle Mapper:
And the map of this whole trip, also thanks to the Great Circle Mapper: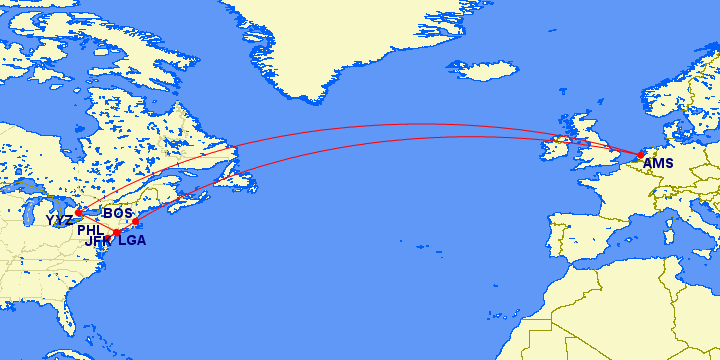 Getting to AMS
It was 05:30 on saturday morning the 21st of July when my alarm clock went off. Finally time to go on vacation, and to fly again I thought after a 4 hours sleep. After quickly getting my hair cut (by my dad) I headed for a shower and got ready to go.
As always, the transportation to the airport will be by train. So at 06:45 we headed towards Amsterdam Lelylaan train station. Once arriving there, just before 07:00, we bought are tickets at the ticket machine and headed up to platform 1.
The train arrived, right on time, at 07:07 and about 10 min later we arrived at Schiphol Plaza.
Check-in
As always I had checked in online the night before, so all I needed to do now was print my BP and drop my bag off. As I expected the check-in area to be quite busy I decided to use one of the machines located on the ground floor. 5 minutes later the machine successfully spit my BP out.
We then headed upstairs to the check-in area to drop our bags off. Once arriving to our designated row it was my turn right away. I was greeted by a friendly agent (who immediately asked which perfume I had on as she thought I smelled good) and my bag was checked in within 5 min.
Passport Control
We headed straight towards passport control, which wasn't busy at all, and were through in no time. As I have a sister working at one of the restaurants on the schengen side, and we had enough time to spare, we decided to head over there and give her a visit.
That means going through passport control again to get to the schengen side. Once again there was no line, and after explaining why we were heading to the "wrong" side we were allowed through but, advised to head back on time as there can be long lines at passport control (I have seen how long those lines can be during previous visits at AMS).
After going through security we walked over to the Mediterranean Sandwich Bar, greeted my sister, and had some breakfast. I went for the Egg/Bacon Panini with a nice and fresh grapefruit juice: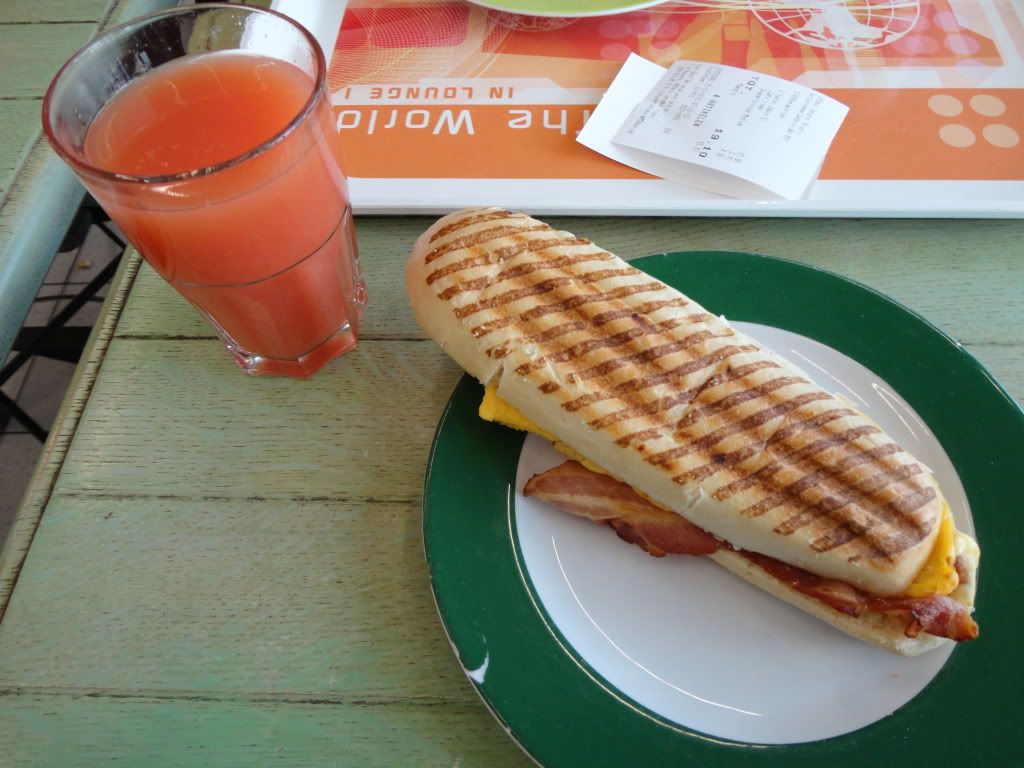 Spotting @ AMS
We said goodbye to my sister and headed back over to the non-schengen side, but before doing that I took a picture of this Arkefly 767 being towed from its gate heading to some place much more sunny: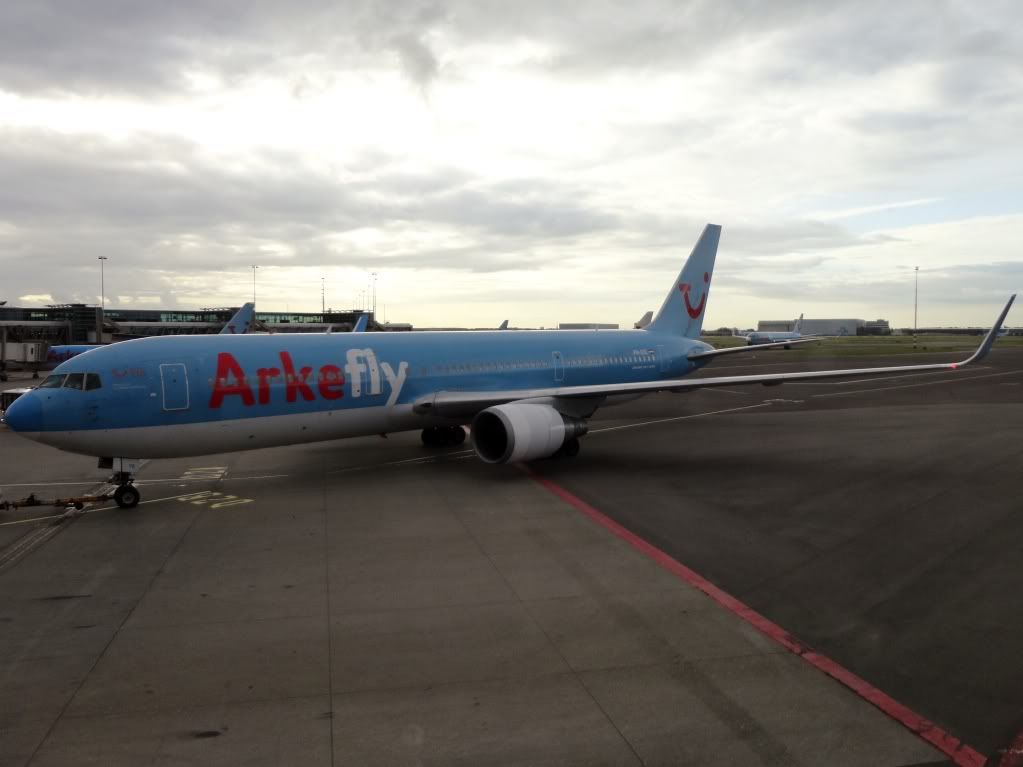 Once arriving at passport control, where there barely was a line, we decided to try one of the many self service machines. After scanning my passport and looking into the camera, I was let through. As there still was quite some time before boarding began, we looked around at some of the many shops. I also took a little look at the movements outside, like this DL 767 getting ready for its flight back across the pond: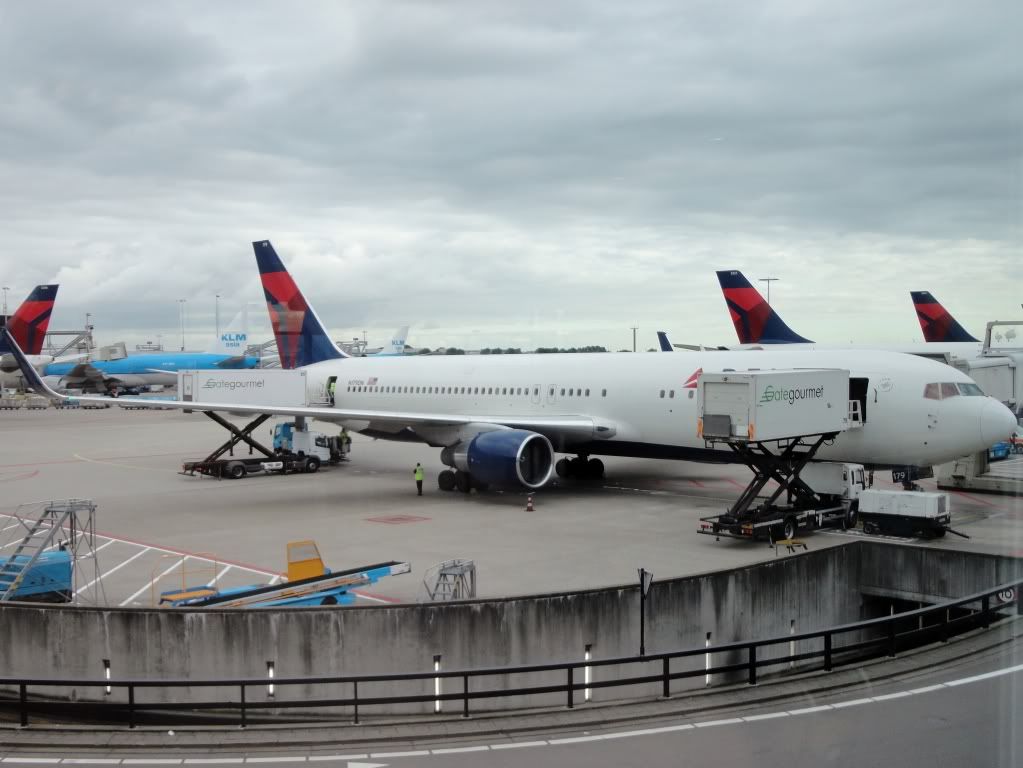 This picture clearly shows the big presence Delta has at AMS each day: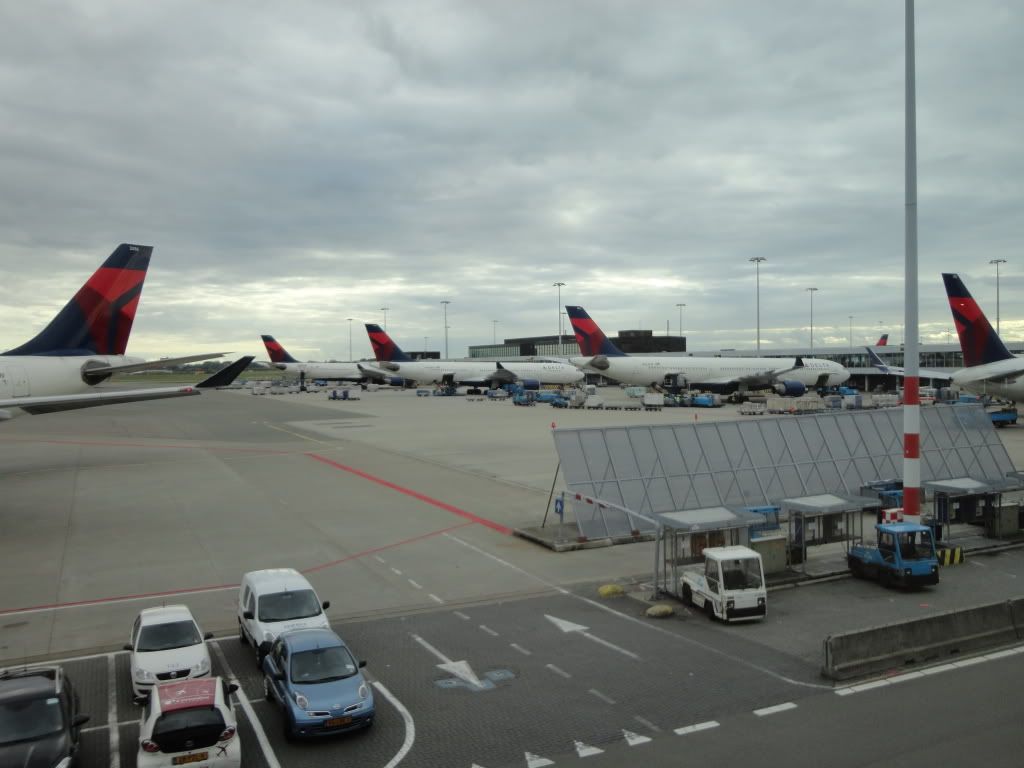 After exchanging some EUR into $$$, buying the newest Airliner World and Airports of the World magazine, we headed towards our gate: E17. Before arriving at our gate I saw this beautiful tri-holer getting ready for its flight to HAV: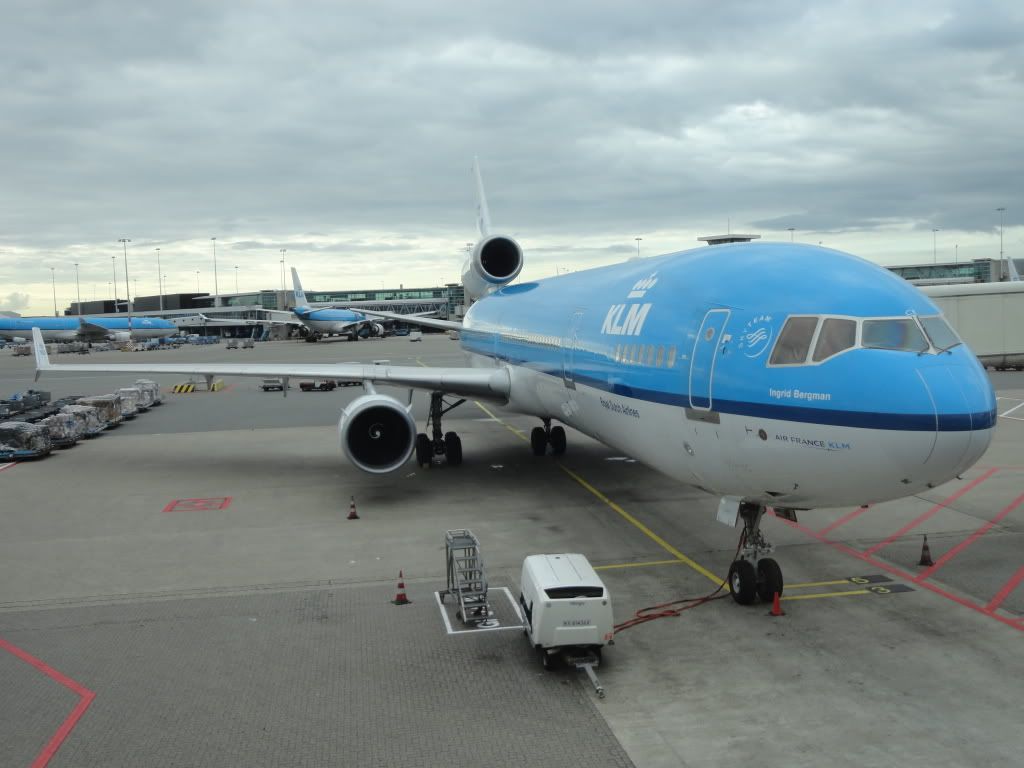 Once arriving at our gate, I took a quick picture of our aircraft. N820NW, a former NW aircraft delivered in 2007, will be doing the honors for me on this flight:
Security + Boarding
Soon enough security opened at 09:20: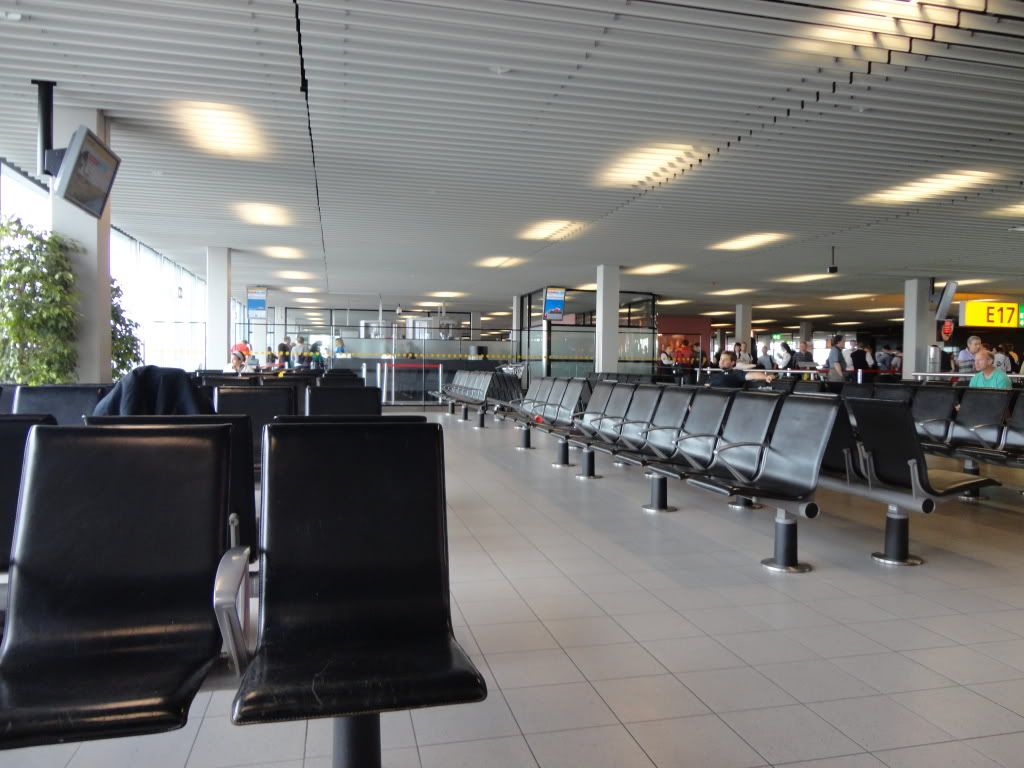 We waited for a little while before joining the line. After waiting for about 10 minutes it was our turn, so one of the many security guards approached us, took our passports, and asked us to stand and wait at one of the many high tables. The guard scanned our passports into the computer, and then came back and asked us the usual questions. After answering all of them, we both got the usual small pink sticker on the back of our passports and let through to the screening process.
I waited for about 5 minutes before putting my carry-on on the x-ray belt and walking into the screening machine. After putting my hands up, the machine screened me and I was let through and had now arrived at the holding pen.
The holding pen was already quite busy but my dad and I still found some empty seats. Once boarding time had arrived (10:10) there came an announcement saying that it will be another 10-15 min before boarding begins. After 15 min there came another announcement that it will be another 5-10 min before boarding begins.
Eventually at 10:35 boarding began, so everybody stood up and created the usual chaotic boarding scene. The families with small children accompanied by the passengers who need special assistance boarded first, followed by the business class passengers, then the "status" passengers and then it was time for the economy passengers to board. As we were almost situated in the very back of the plane we were one of the first allowed to board.
After zigzagging our way through the crowd the gate agent checked our BP (as it was already scanned at security) and we were let through.
21/07/2012
AMS-BOS
DL231 // 41A
A330 Delta // N820NW
11:11 – 12:45
Upon entering the plane we exchanged greetings with the male FA, took a right at the first aisle, and headed towards our seat: 41A/B at the back of the plane. First impression of the cabin: A bit cramped as I couldn't walk straight through the aisle because the overhead bins were in the way.
Once arriving at our seats I got settled in and took a quick look outside where a company A330 was getting ready: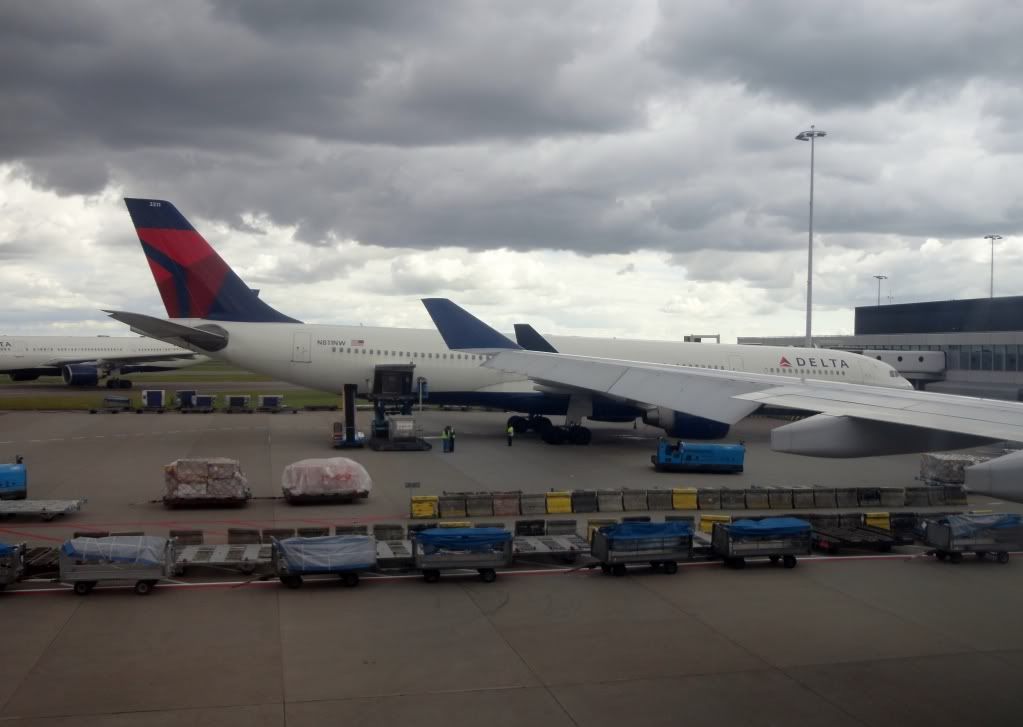 The cabin was filling up, flight load will be 100% in Y: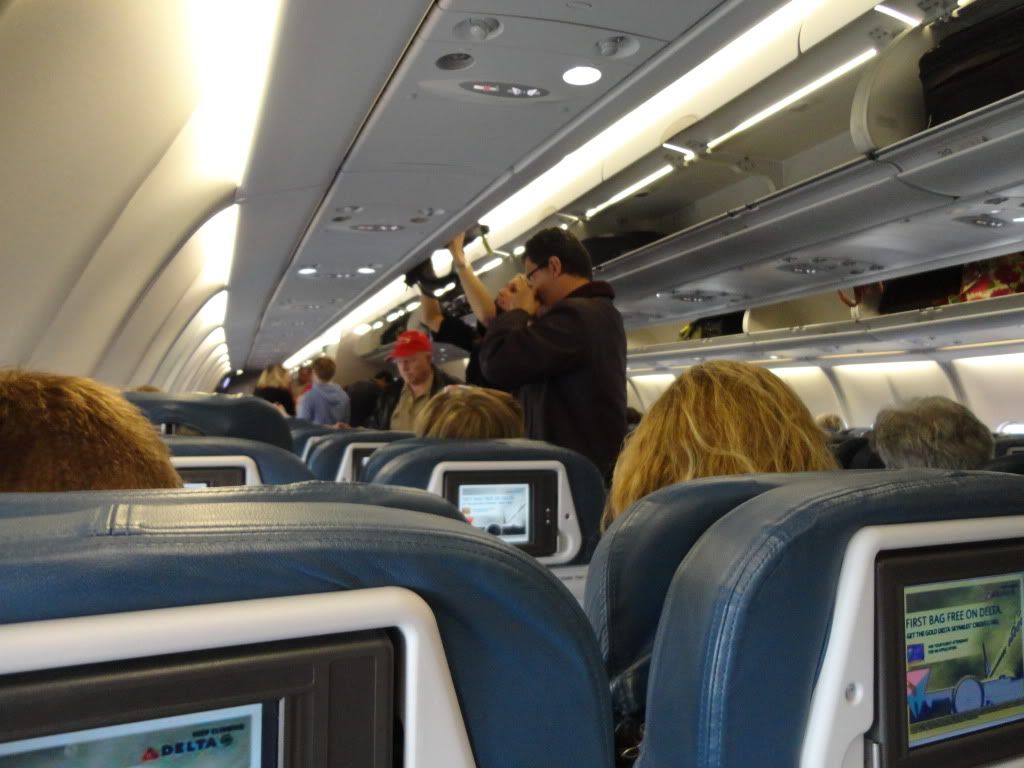 The PTVs were showing different ads/commercials: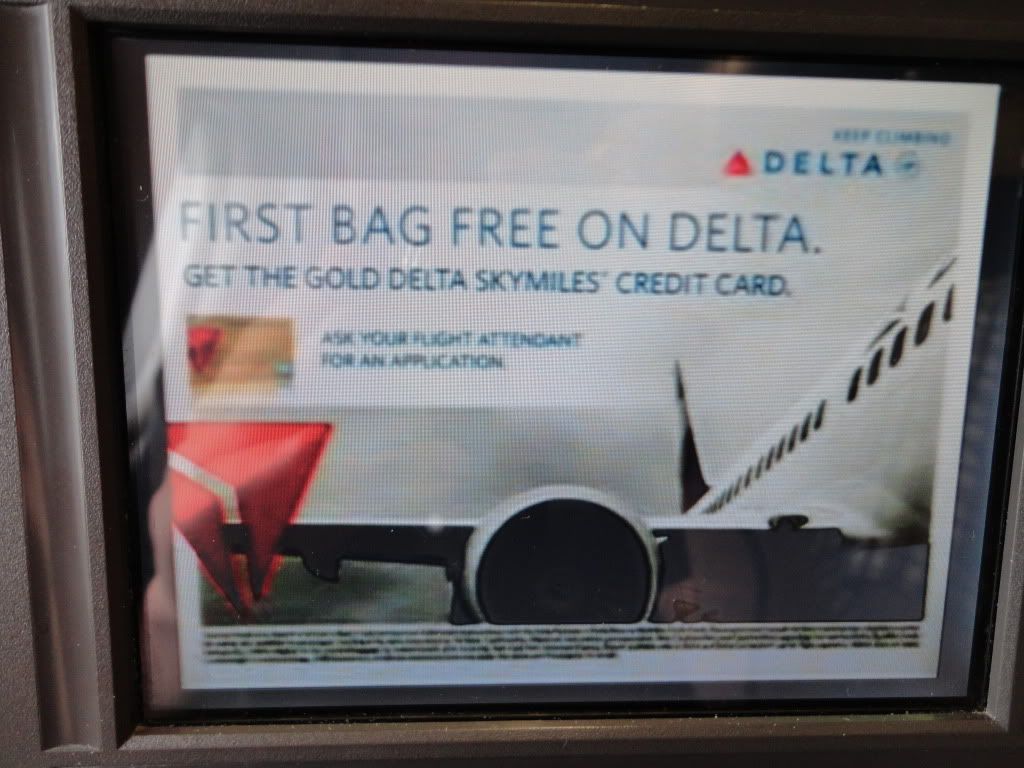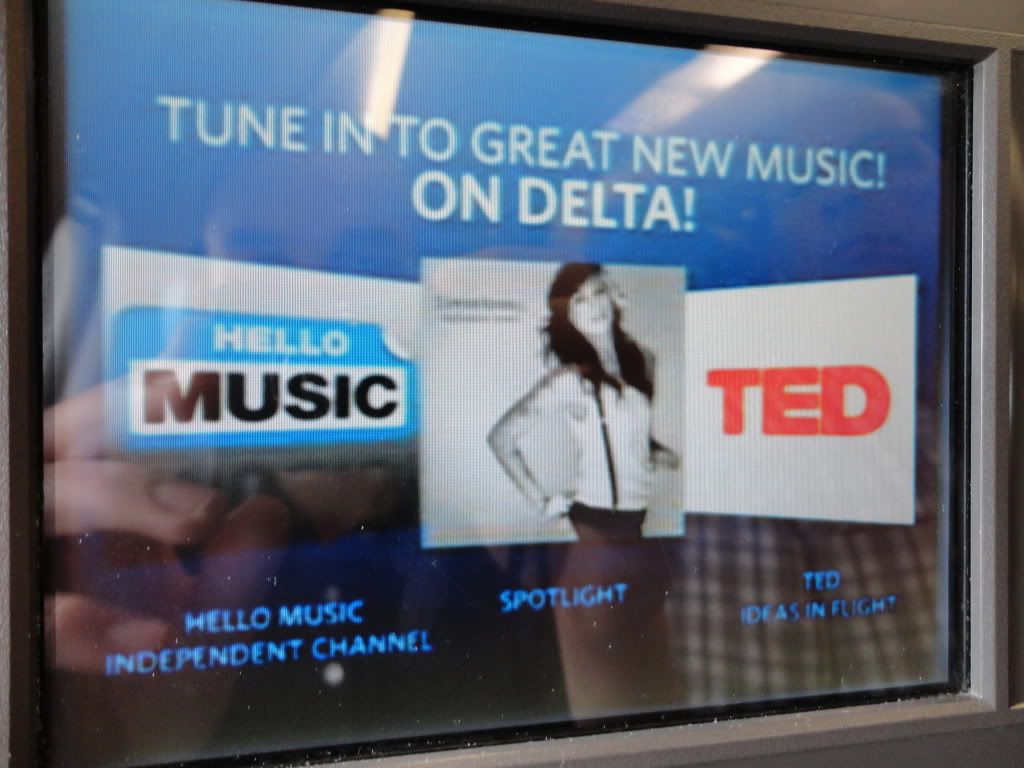 Flight crew on this flight was a mixture of different genders and ages. All ok, they did their job (some with a smile, some not) except for one male FA. He seemed a bit hung over (or something like that) and didn't really want to be there.
At 11:00 the door was closed and the male purser came on the PA with the usual announcements. No announcements from the cockpit (except for a very short one before final approach) and no announced flying time.
Pushback + Taxi
At 11:10(bang on time) we started pushback:
Meanwhile the safety demonstration was being played on the PTVs: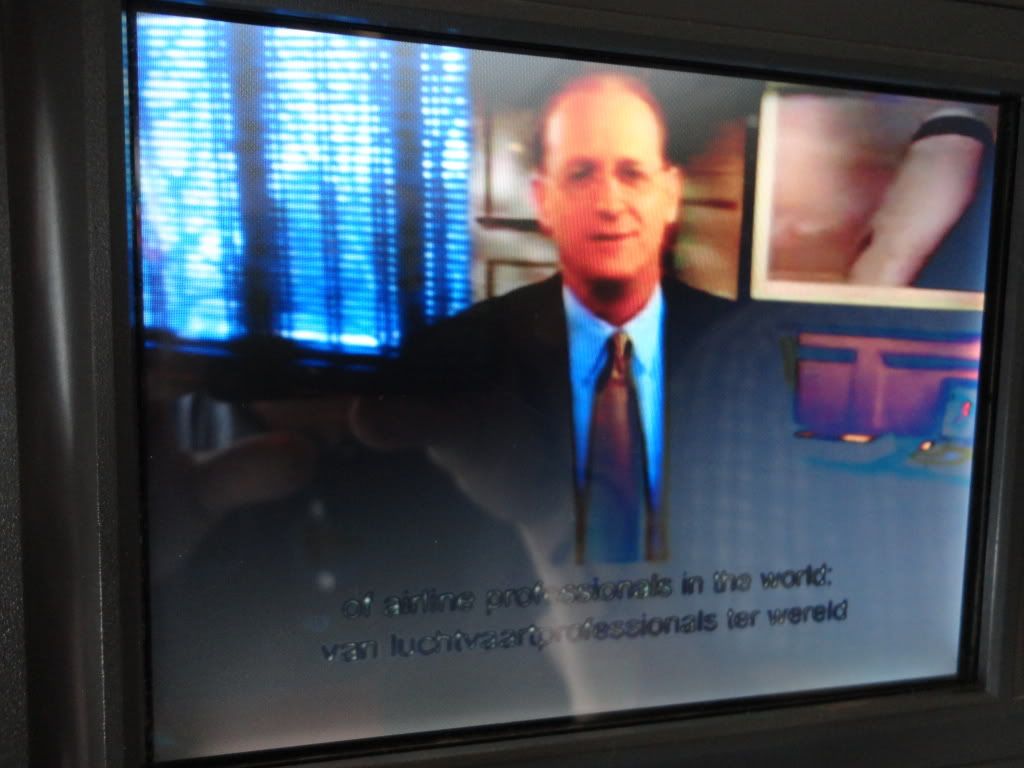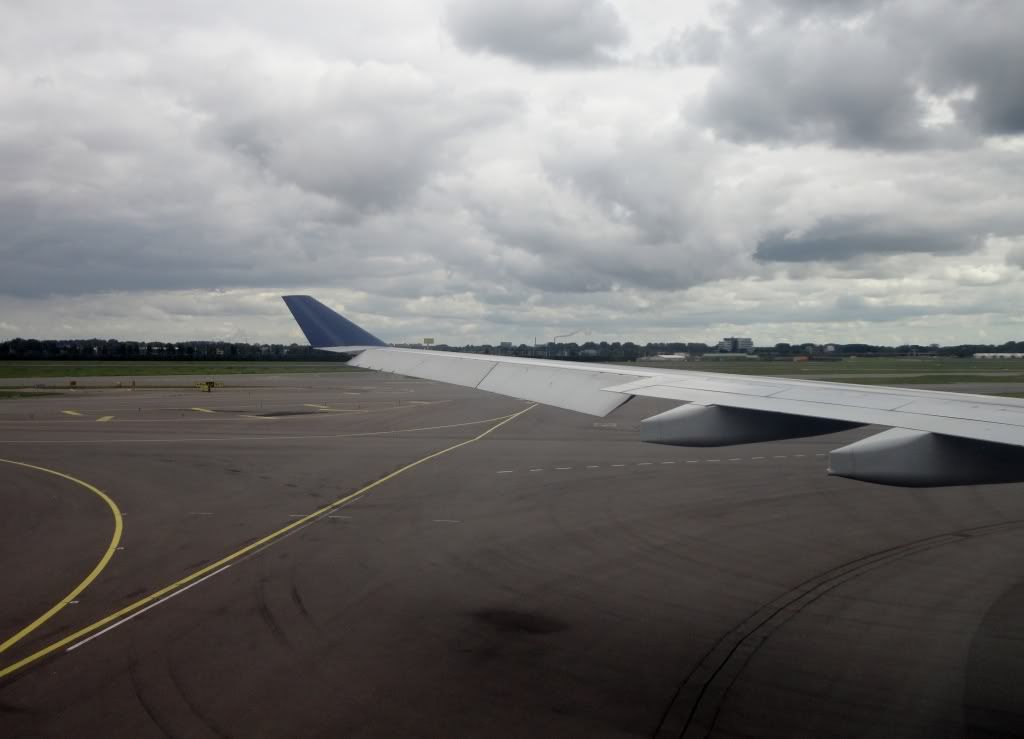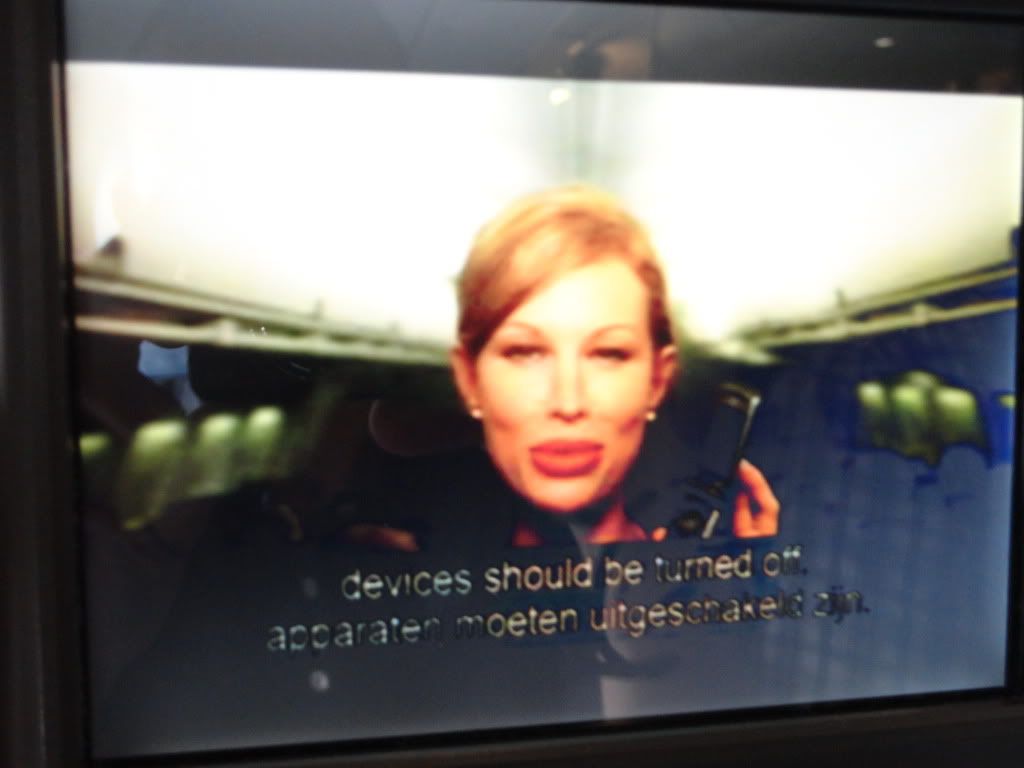 Passing by….
A bunch of KLM heavies at the F-gates: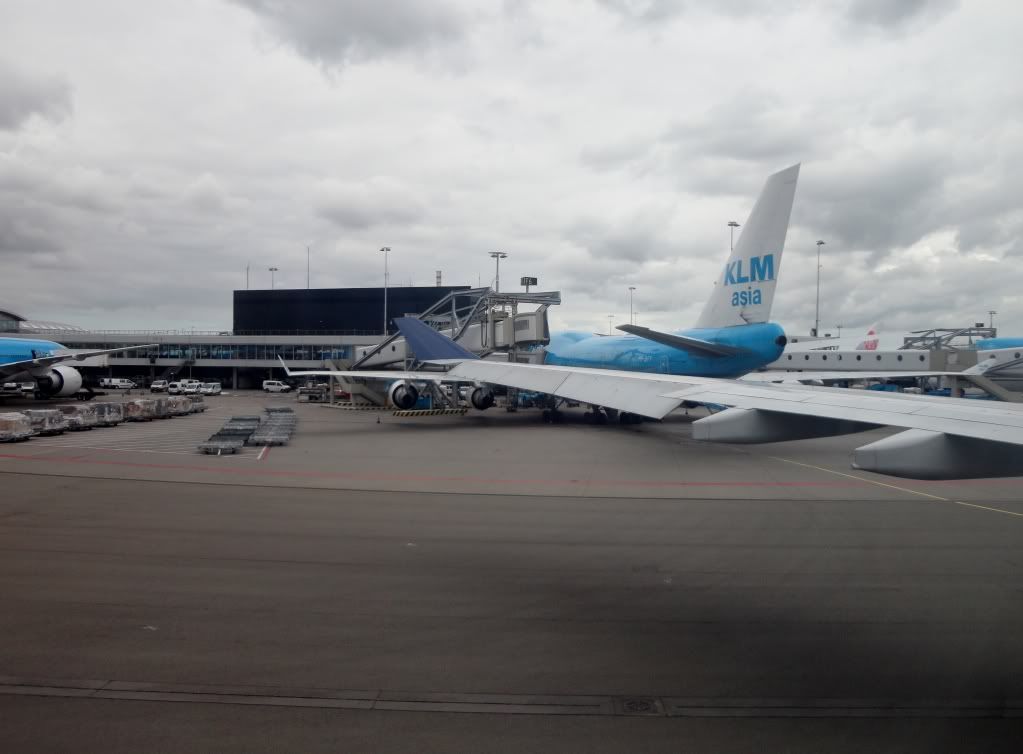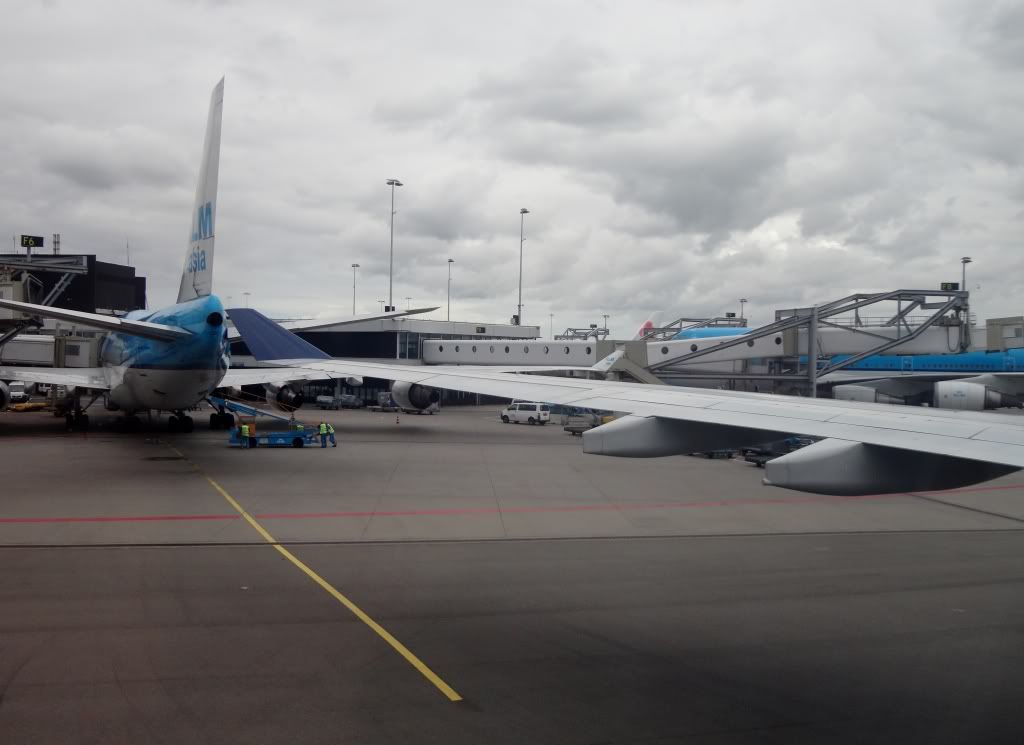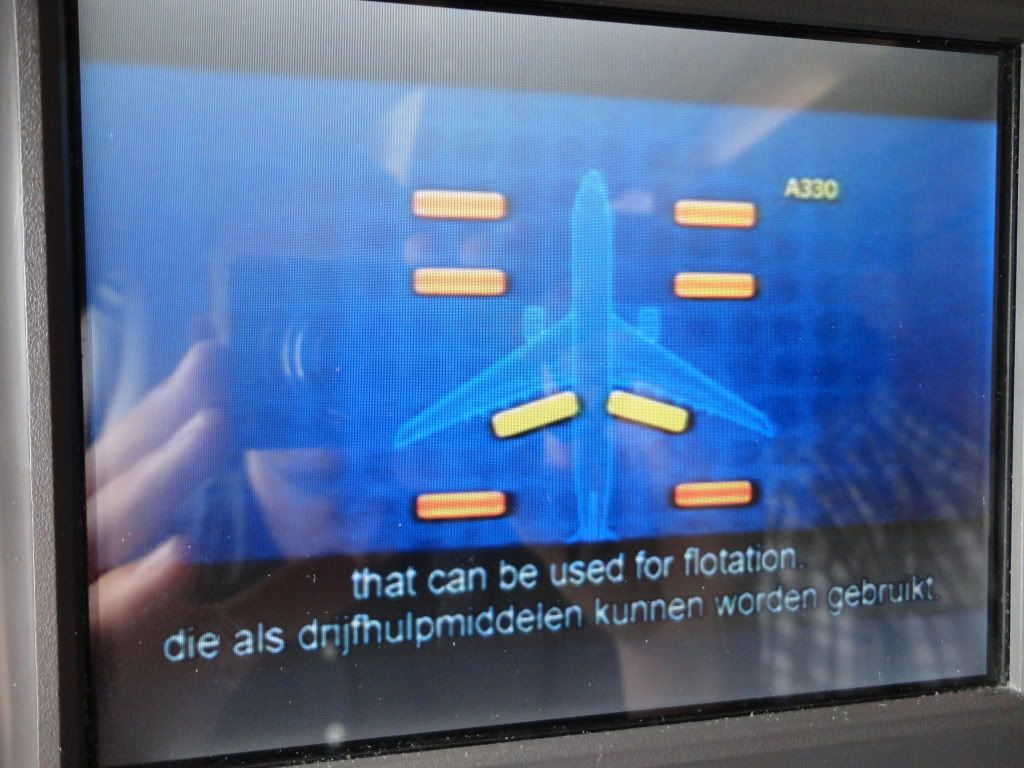 A China Airlines B747 getting ready for its flight back to TPE via BKK: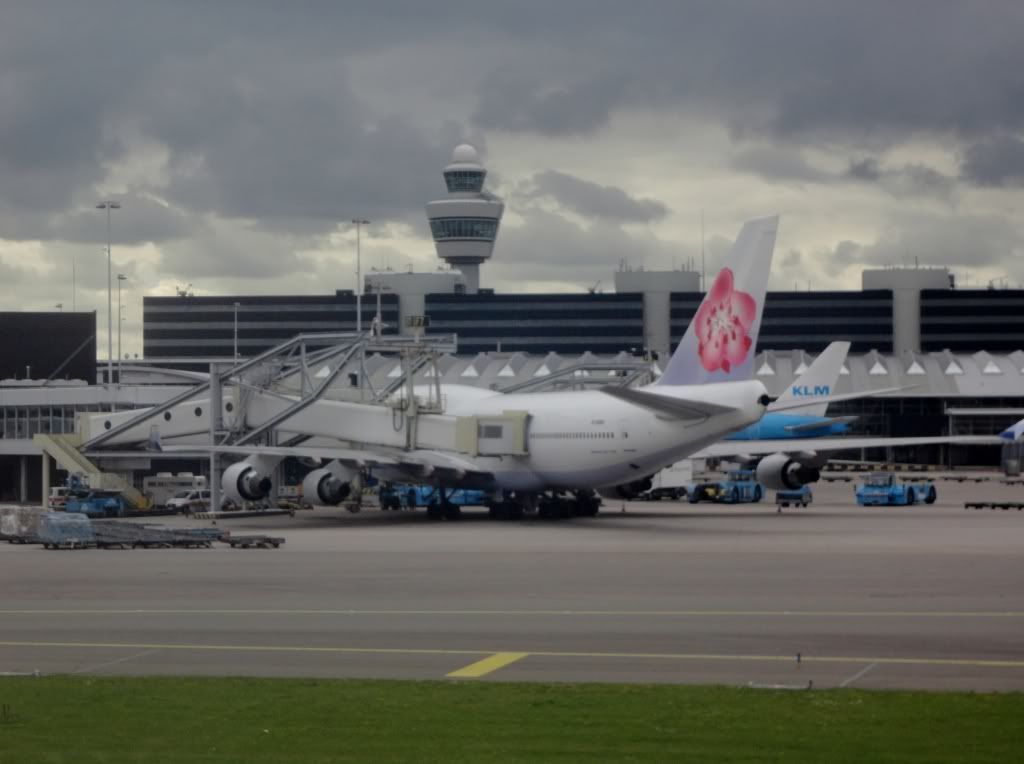 A Malaysia Airlines // B777 // 9M-MRE getting ready for its flight back to KUL:
A Singapore Airlines B777 in an all white *A c/s today: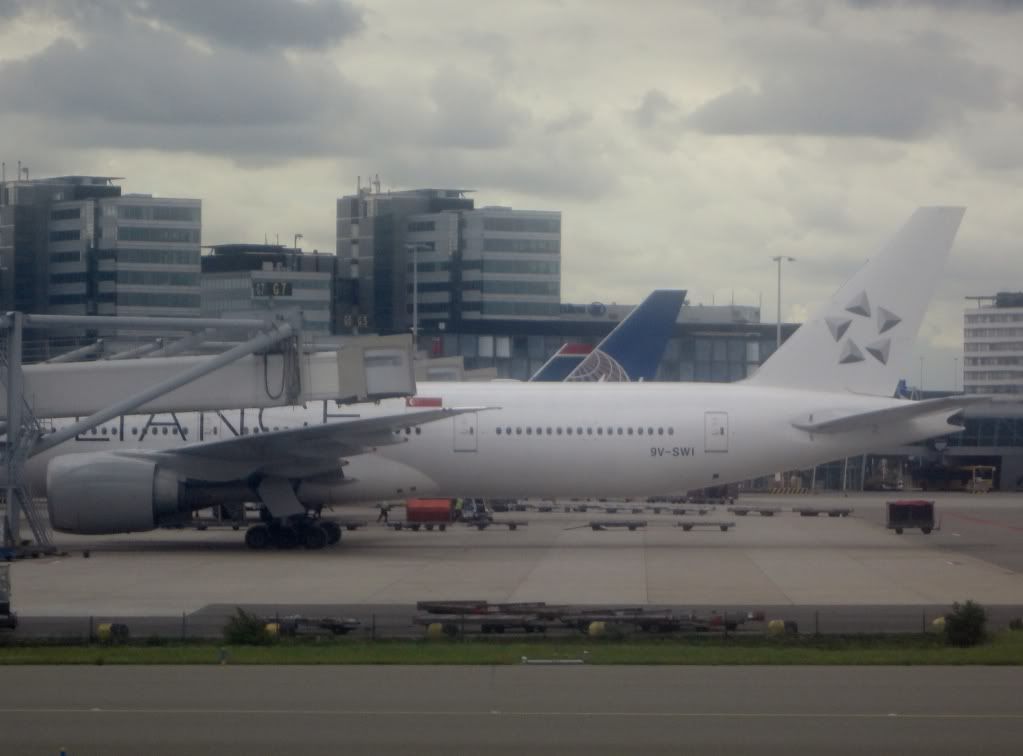 A KL A330, DL 767 and CX 747 resting at their remote stand: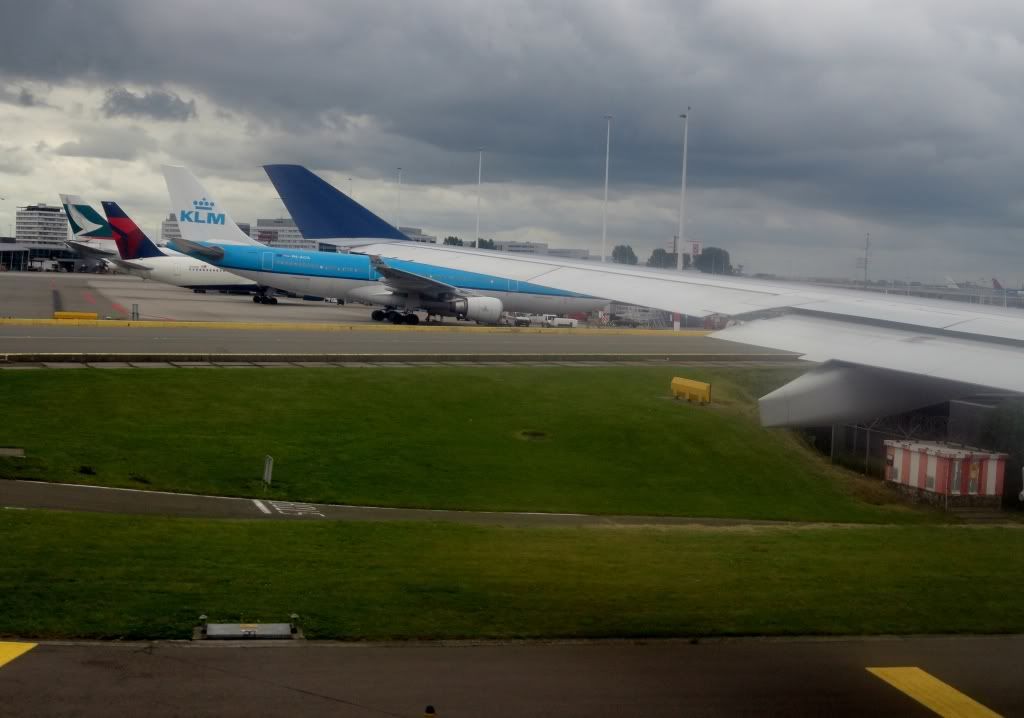 Continued Below