Feedback always appreciated.
I > Background:
After a rather eventful visit to Lao PDR (strongly recommended), it was time to leave Vientiane and return to my project in Bangkok. Since I had a weekend day left, I decided to take a quick detour and visit a friend of mine in Kuala Lumpur. Having never flown Air Asia, the choice was clear – especially, as they provided the sole nonstop flight between the two capitals.
There has been several reports on Air Asia – but, I believe this is the first one on the VTE-KUL segment.
II > Pre-Flight:
a) Before Airport:
AirAsia is a pioneering Asian LCC based in Kuala Lumpur that has revolutionized air travel across the region. Incredibly profitable, AirAsia group operates scheduled domestic and international flights to over 400 destinations spanning 25 countries.
Like all pioneering LCC's, Air Asia uses its online portal at
www.airasia.com
to act as the main point of distribution. While the website is easy to use, and you can easily add all the "ancillary products", it took 3 attempts and credit cards issue in various countries to process my transaction. I found this unacceptable at a global LCC. Not everyone has credit cards in different countries, and I didn't know why AK had not done more to make its site secure enough for global e-commerce.
Anyways, within minutes of purchase, my PDF e-ticket was promptly in my inbox. Besides the credit card glitches, the site works as magic with its infinite allowed changes and modifications, and the ability to choose a seat. Of course, each attracting a small "convenience" fee …
b) At Airport:
Wattay International Airport is sleepy like its capital and there wasn't much going on. Since I had arrived 1,15 hours prior to departure, the counter was in their final stages of checking in. It took a wait for 10 minutes before I was attended to by a woman whose charm was not obvious. She robotically checked all the documents and even asked me for my onward ticket out of Malaysia. She then patiently verified all the ancillary stuff I had purchased before issuing me one of those nasty super market receipts. All in, a rather forgettable experience without drama.
Boarding pass in hand, I pushed myself quickly through the immigration and security check and was in the small gate area.
Boarding was called 30 minutes prior to departure, and we made our way on to the 320 aircraft where we were greeted by 2 of the flight attendants. Load was a light 60%.
Airport - External:
(Vientiane Airport)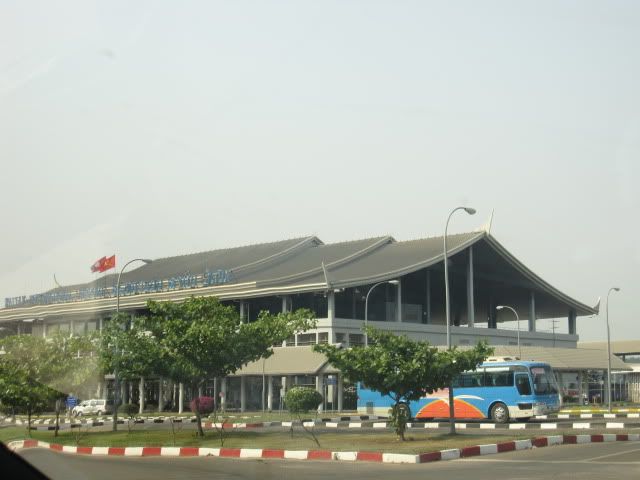 *
*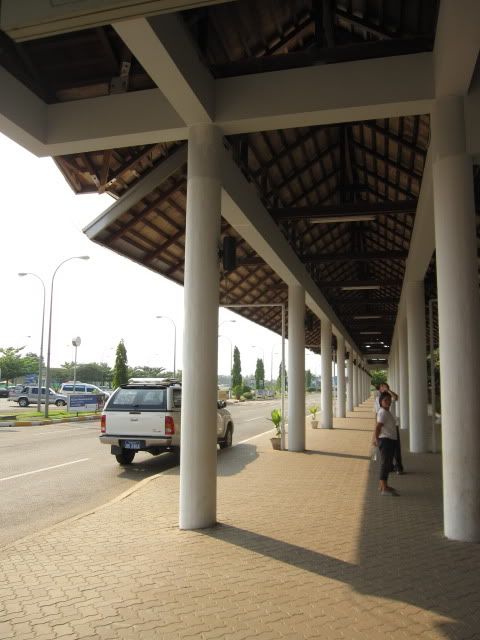 Check-in:
(Air Asia Check-In)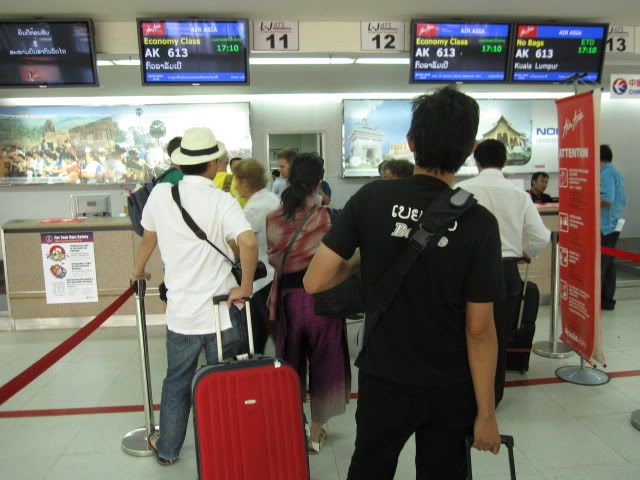 Airport - Internal:
(Pre Security)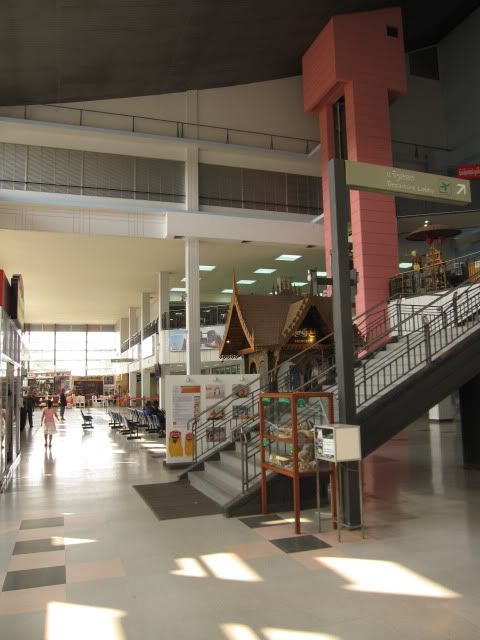 (Viewing Terrace)
(FIDS: Wonderfully informative)
(Post Security @ VTE)
Scenes of the tarmac:
Lounge
NONE
Boarding:
(Gate Area)
(Boarding)
III> In-Flight:
a) Service Schedule + Impressions:
After take-off, this short flight had the following:
+ Meal service for those who had purchased the same
+ Meal service for those who had not purchased
+ Beverage service
+ Duty free sales
b) Aircraft + Seats:
Air Asia's 320 are as generic as they come, with this aircraft being no different. This particular aircraft was well kept and AK's bright red colors meant it was never lost in the crowd. Inside the AK 320, we find relatively comfortable black faux leather seats – very reminiscent of Virgin America. While not the uber slim-line Recaro that Lufthansa made both uncomfortable and famous, the seats are on the slimmer side and equipped with padding less than one would find in aircraft one generation older. Surprisingly, recline was generous for a LCC with rather decent pitch in the "Hot Seats" that row 1 constituted. Further back, the seat pitch was extremely tight.
The bathroom left much to be desired – it could do with a thorough cleaning and it would not hurt if the crew checked on the amenities once in a while …
Aircraft:
(@ VTE)
(@KUL)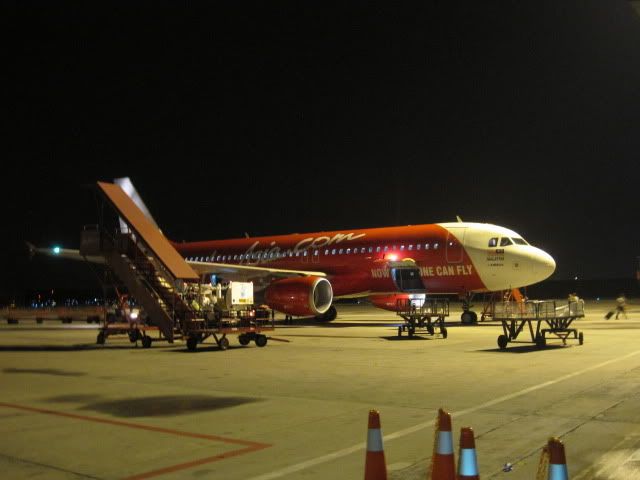 Views from Aircraft:
(VTE Airport)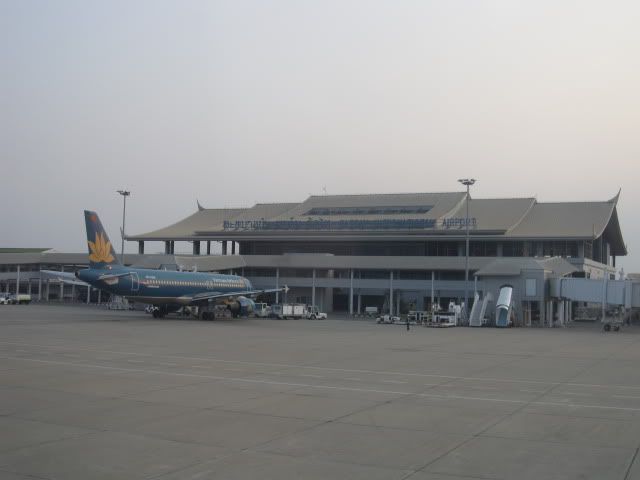 (Over ASEA …)
General Seat Views + Seat Legroom
(Legroom: Bulkhead)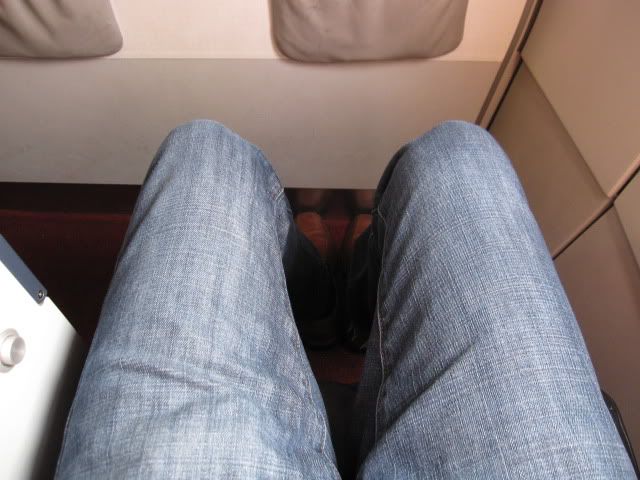 Seat Recline + Angle View:
(Recline)
*
(Angle view)
Cabin: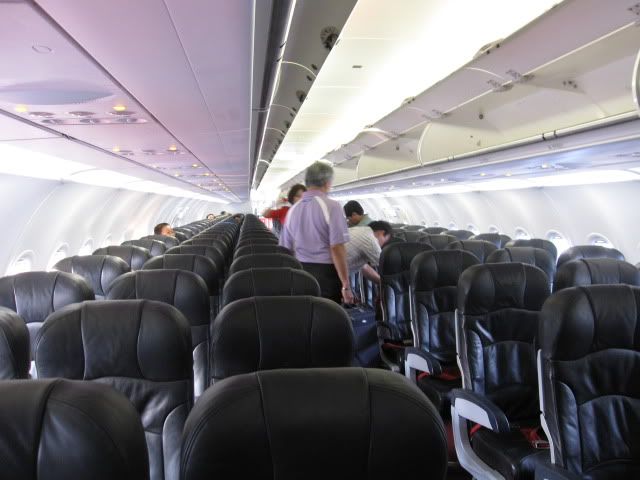 *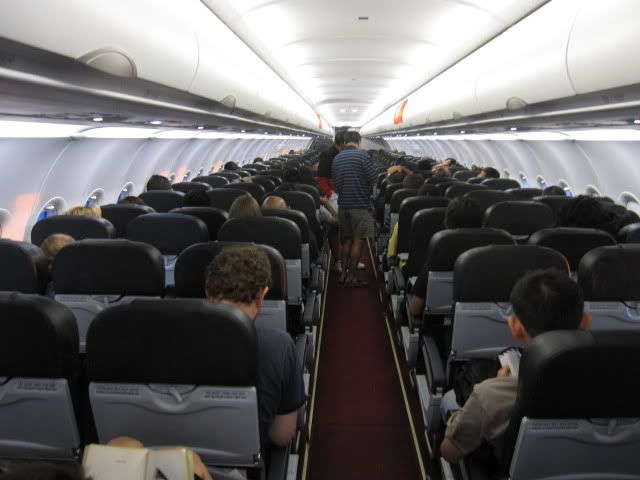 (Bathroom: Shouldn't crew be checking this?)
*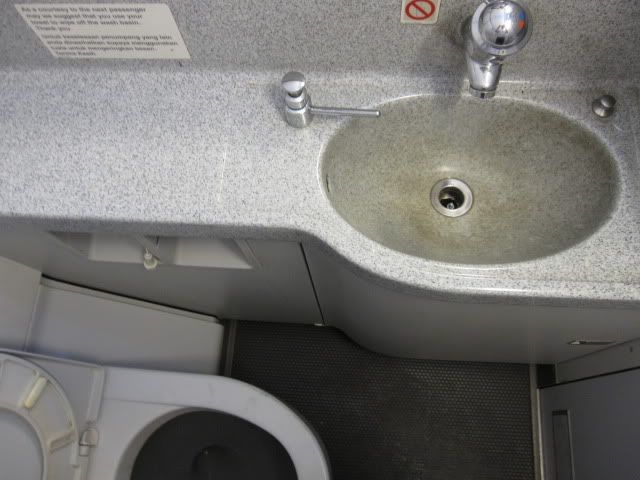 c) Meal + Beverage:
For dinner, I had pre-ordered a Nasi Lemak which is a traditional "ASEAN" dish and found in many parts of the region. The version served on board Air Asia had all the traditional ingridients including rice, egg, pieces of chicken, some beans, and the rather spicy "sauce". I found the other options on AK's website equally appealing and in general find the meal service offerings they provide to be one of the better ones for a BOB LCC carrier. After my rather decent Nasi Lemak was finished, I downed it with a café which was a standard run-out-of-mill pre-packaged coffee that is famous in so many parts of Asia.
(My Nasi Lemak)
*
d) Inflight Entertainment:
There was the general Air Asia in-flight magazine which was OK and gave a decent overview of AK's products and destinations. Alongside the in-flight magazine was the "café catalogue" which outlined all the meals that could be purchased. However, the lack of any audio and video programming was sorely noted and I wonder if AK could turn that into an additional stream for revenue. Actually, I don't wonder why … I wonder when AK would do it .
("In-flight magazines", Boarding Passes, etc.: Just look at all the stuff I got)
e) Crew:
The 4 ladies on the VTE-KUL flight departed from the usual warmth one finds on Asian carriers. They were young women who did it the Air Asia way – brief, robotic, and without much of a character. Everything they did was mechanical, and they were pleasant enough. But none would win any accolades as they went about doing their work, and doing a lot of selling on board of duty free items. I wonder though – if they had genuine warmth, and if they made a connection with the passengers, would they be able to sell more? Perhaps, someone who works in consumer psychology could tell us more …
IV> Post-Flight:
This was my first time arriving at KUL's LCCT and I was not particularly impressed. The rather industrial looking structure with the long outdoor walkways would not be fun during the summer day heat, but were OK for an evening arrival. It is a basic structure and I am sure AK would love a better facility than the one currently provided. Thankfully, immigration was rather smooth, and I was land-side within minutes.
(KL LCCT)
V> Impressions + Scores:
For a rather small amount of money, Air Asia was able to safely and efficiently take me from point A to B. This is a no-frill carrier that has opened up Asia for a whole generation of new travelers and seriously stimulated the middle class to travel. Keeping this in context, AK did a tremendously satisfying job. The in-flight food was a highlight as it was one of the best I had encountered on these type of airlines. Of course, it can do with better crew and some audio/video programming or WiFi on board. I am rather confident that the increasingly rich Asians onboard would pay a good amount for it.
I would definitely fly AK again – but always after checking other schedules and pricing. A one-thumb up for effort.
VI> Other Trip Reports:
PREMIUM:
9.27: JET AIRWAYS **FIRST** (110): LHR-BOM: 10/2010
9.27: THAI AIRWAYS **FIRST** (108): BKK-LHR: 07/2010
9.00:
All Nippon: ANA (133): NRT-FUK-BOM: 12/2011
8.66:
Brussels Airlines (93): FIH-BRU: 01/2010
8.64:
Turkish Airlines (59): JFK-IST: 11/2008
8.63:
Jet Airways (88): JFK-BRU: 10/2009
8.61:
Air Canada (49): YYZ-SCL: 06/2008
8.54:
Turkish Airlines (77): GRU-DKR-IST: 04/2009
8.36:
Kingfisher (98): BOM-HKG: 01/2010
8.30:
Jet Airways (74): KWI-BOM: 04/2009
8.23:
United Airlines (72): SFO-SYD: 03/2009
8.11:
Aeroflot (33): MOW-DEL: 09/2007
8.05:
Air India (80): CCU-JFK: 06/2009
8.04:
Korean Air (40): NRT-ICN: 10/2007
8.02:
Delta Airlines (24): JFK-CDG: 08/2007
7.82: UNITED AIRLINES **FIRST** (110): SFO-ICN: 10/2010
7.82:
Singapore Airlines (06): EWR-SIN: 09/2006
7.66:
Sri Lankan (104): DEL-CMB: 07/2010
7.64:
Royal Jordanian (91): AMM-YUL: 12/2009
7.61:
China Southern (103): LOS-DXB: 04/2010
7.57:
Pakistan Airlines (102): ORD-BCN: 06/2010
7.55:
Air Canada (132): YEG-LHR: 06/2011
7.46:
LAN (55): YYZ-JFK: 09/2008
7.38: AMERICAN AIRLINES **FIRST** (112): LHR-JFK: 10/2010
7.38: CATHAY PACIFIC **FIRST** (109): HKG-LHR: 10/2010
7.36:
Turkish Airlines (134): IST-LAX: 10/2011
7.25:
Iran Air (88): BOM-IKA: 12/2009
7.23:
Air Pacific (120): NAN-APW-HNL: 01/2011
7.23:
Virgin Atlantic (81): BOS-LHR: 07/2009
7.14:
Swiss (52): SCL-GRU: 06/2008
7.11:
Aer Lingus (105): MAD-IAD: 05/2010
7.11:
Austrian (79): VIE-JFK: 06/2009
7.07:
Privatair (84): BOM-FRA: 08/2009
7.02:
Qatar (68): DOH-JFK: 01/2009
6.96:
Etihad (61): JFK-AUH: 12/2008
6.93:
Delta Airlines (18): SEA-JFK: 11/2006
6.88:
Egypt Air (123): LHR-CAI: 03/2011
6.84:
ConViasa (65): CCS-DAM: 01/2009
6.82:
Air Burkina (106): BKO-OUA: 06/2010
6.81:
Air Canada (17): ICN-YYZ: 10/2006
6.75:
Afriqiyah + Libyan (113): CAI-TIP: 11/2010
6.70:
KLM (32): EBB-AMS: 08/2007
6.52:
Emirates (99): LHR-DXB: 02/2010
6.39:
South African (97): EZE-JNB: 01/2010
6.36:
Privatair (60): MUC-BOS: 12/2008
6.29:
TAM Brasil (96): POA-EZE: 02/2010
6.25:
Korean Air (45): NAN-ICN: 10/2007
6.21:
Iberia (87): BOS-MAD: 10/2009
6.11:
A SKY (107): OUA-COO: 06/2010
6.11:
TAP Portugal (53): GRU-OPO: 06/2008
6.00:
Gulf Air (75): BOM-BAH: 04/2009
5.88:
African Express (89): DXB-NBO: 11/2009
5.75:
Singapore Airlines (16): CCU-SIN: 10/2006
5.64:
SATA Azores (101): BOS-PDL: 04/2010
5.64:
NorthWest (46): ICN-NRT-SEA: 10/2007
5.54:
Ethiopian Airlines (95): ADD-BOM: 01/2010
5.46:
Icelandair (83): KEF-BOS: 08/2009
5.39:
LOT (54): WAW-JFK: 06/2008
5.21:
Egypt Air (73): CAI-IST: 02/2009
5.11:
Tunisair (115): TUN-ORY: 12/2010
5.07:
TACA (66): JFK-SAP: 01/2009
4.89:
TAAG Angola (117): TMS-LAD: 12/2010
4.42:
Air France: CDG-JNB (25): 08/2007
ECONOMY: Long + Medium:
9.26:
Air India (48): JFK-DEL: 02/2008
9.04:
First Air (129): YEG-YFB: 06/2011
8.74:
Japan Air Lines (130): NRT-BOS: 04/2012 – INAUGURAL
7.99:
WestJet (131): YYZ-YYC: 06/2011
7.38:
Avianca (01): BOG-LIM: 07/2006
7.07:
Sri Lankan (62): KWI-CMB: 12/2008
7.00:
LAN (94): IPC-SCL: 01/2010
6.81:
STP Airways/Euro Atlantic (116): LIS-TMS: 12/2010
6.74: Air Asia (136): 12/2011
6.67:
Air Malta (124): MLA-FRA: 04/2011
6.63:
Vladavia (126): KHV-PEK: 06/2011
6.41:
Air North (127): YEV-YEG: 06/2011
6.41:
Avianca (78): JFK-BOG: 05/2009
6.41:
American Airlines (58): LHR-BOS: 11/2008
6.39:
Condor (85): SEZ-FRA: 09/2009
6.26:
Jet Blue (21): CUN-JFK: 02/2007
6.11:
Caribbean Airlines (119): POS-FLL: 01/2011
6.06:
Air Canada (04): YYZ-YVR: 09/2006
5.89:
USA 3000 (19): PUJ-BDL: 01/2007
5.85:
Spanair (69): MAD-LPA: 02/2009
5.80:
Canadian North (128): YEV-YVQ-YZF-YEG: 06/2011
5.79:
Air New Zealand (42): RAR-NAN: 10/2007
5.52:
Aerolineas (86): USH-AEP: 10/2009
5.46:
TAP Air Portugal (23): OSL-LIS: 05/2007
5.19:
Air Europa (70): LPA-MAD: 02/2009
5.16:
Iberia (71): MAD-BOS: 02/2009
5.11:
Air China (82): FRA-PEK: 08/2009
4.59:
IR Aero (125): IKT-VVO: 06/2011
ECONOMY: Short
8.56:
Paramount Airways (38): BLR-MAA: 09/2007
8.56:
Kingfisher (64): HYD-CCU: 12/2008
8.24:
Kingfisher (14): IXA-GAU: 10/2006
7.87:
Indian (34): BOM-MAA: 09/2007
7.72:
Alliance Air (13): CCU-IXA: 10/2006
7.57:
Indian Airlines (10): DEL-CCU: 09/2006
7.23:
West Jet (03): YYC-YVR: 09/2006
7.15:
JetLite (37): BOM-GOI: 09/2007
6.98:
Air Koryo (100): PEK-FNJ: 04/2010
6.96:
Lao Airlines (135): VTE-KUL: 12/2011
6.70:
Spice Jet (09): CCU-DEL: 09/2006
6.63:
Air Fiji (44): NAN-SUV: 10/2007
6.63:
Jazeera (67): DAM-KWI: 01/2009
6.58:
Air Tran (02): EWR-MDW: 08/2006
6.48:
Air India Express (63): CMB-MAA: 12/2008
6.44:
CO Micronesia (39): ROR-YAP: 10/2007
6.41:
Pacific Sun (43): NAN-SUV: 10/2007
6.37:
Skybus (47): SWF-CMH: 02/2008
6.33:
Kenya Airways (29): NBO-BJM: 08/2007
6.33:
Sky Europe (56): LTN-BTS: 10/2008
6.31:
Indigo (15): GAU-CCU: 10/2006
6.31:
easyJet (57): BUD-LTN: 11/2008
6.22:
Air Link Swazi (28): MTS-JNB: 08/2007
6.22:
Air India (36): HYD-BOM: 09/2007
6.13:
Adam Air (07): SIN-CGK: 09/2006
6.13:
Air Rarotonga (41): RAR-AIT: 10/2007
6.04:
Suriname Airways (118): PBM-POS: 01/2011
6.00:
Transairways (27): INH-MPM: 08/2007
5.95:
Air Canada (05): ALB-YYZ: 09/2006
5.85:
SAS Norge (22): OSL-AES: 05/2007
5.81:
LAM Mozambique (26): JNB-MPM: 08/2007
5.69:
Air Deccan (12): IXZ-CCU: 10/2006
5.67:
Rwanda Air Exp (30): KGL-NBO: 08/2007
5.52:
Sevenair (114): TOE-TUN: 11/2010
5.37:
Felix Airways (92): SCT-SAH: 12/2009
5.11:
Aero Republica (76): BOG-CCS: 04/2009
5.07:
Go Air (35): MAA-HYD: 09/2007
5.04:
Biman (121): DAC-CGP: 01/2011
5.00:
Sky Airline (51): IQQ-SCL: 06/2008
4.96:
United Bangla (122): CGP-DAC: 01/2011
4.96:
Valuair (08): CGK-SIN: 09/2006
4.78:
Air Comet Chile (50): SCL-IQQ: 06/2008
4.74:
Fly 540 (31): MYD-LAU: 08/2007
4.33:
Viva Aerobus (20): ELP-MTY: 02/2007
4.11:
Air Sahara (11): CCU-BOM: 09/2006
(Note on Codes: Y – Economy, J – Business, F – First :: I/D – International/Domestic :: SR/MR/LR – Short/Medium/Long Haul)
(Note on Date: Dates are modified to be +/- 3 days from actual flight date to not reveal actual flight pattern)
VII> Other Pictures:
(Purchased Comfort Kit)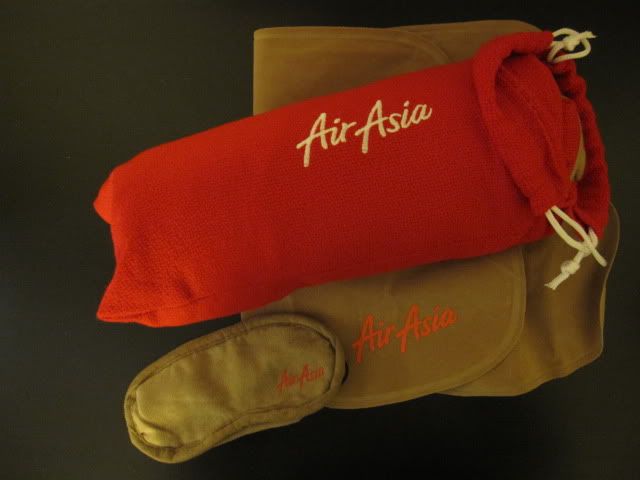 * Unbiased view on how an actual traveler may view the flight
* Not a professional photographer (so please keep in mind)
* Commitment that I won't identify myself to the airline as "reviewing them"