Introduction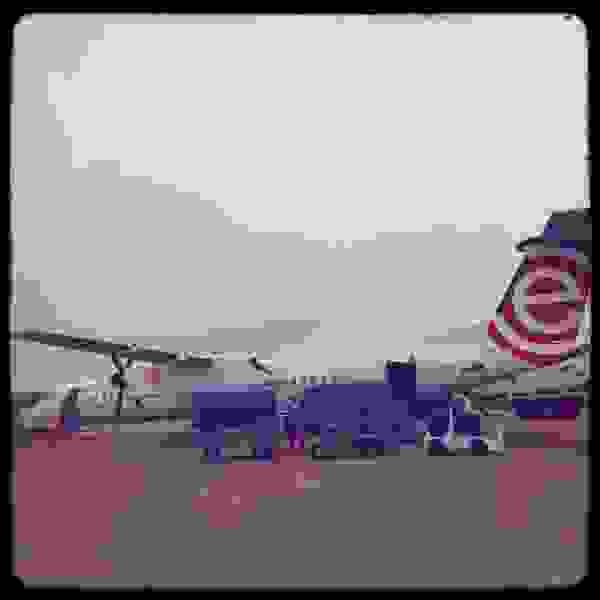 Here's a small report about a ride on the new EuroLOT Dash 8 Q400 plane.
This all started as a desire to try out OLT Express, the new Polish-German "Low Cost Carrier on Steroids" that sort of suddenly erupted into the scene big time in the spring of 2012, built on top of the Polish charter airline Yes Airways. Already having a busy couple of months ahead of me in April I ended up booking a flight to the airport with the coolest IATA code ever: SZZ and the second most unpronounceable (yes, there are four consonants in a row!) name ever: Szczecin for early August for the princely sum of 99 PLN or around 25 EUR.
I actually wanted to fly to SZZ last year since I also visited TRS the same year and it would've been so cool to visit both endpoints of Churchill's famous "Iron Curtain" speech in the same year, but alas it wasn't to be.

"From Stettin in the Baltic, to Trieste in the Adriatic,
an iron curtain has descended across the Continent."

Anyway I'm rambling as I usually do so back to present. This flight was booked for late on a Friday evening so I decided to stay the night somewhere near SZZ and then fly back the next morning with LOT operated by EuroLOT. Thanks to the competition in the Polish domestic market LOT had brought back their dirt cheap domestic fares so the Saturday morning flight back to WAW cost only 20 USD, a bargain by any standards.
That got me back to Warsaw already before noon on Saturday which meant I still had almost the whole weekend to do something fun with. I'd been meaning to revisit Krakow for a long time now, but never really could fit it into my other plans in a satisfactory way. But here I had the perfect chance, so I splurged a whopping 37 USD on the afternoon WAW-KRK flight, again operated by EuroLOT for LOT.
Finally I connected the dots by booking an open-jaw Finnair ticket HEL-WAW for Friday evening and KRK-HEL for late Sunday night. This was a bit on the steep side at 230 EUR, but that's Finnair for you - and it had a couple of advantages, namely the fact that I could upgrade the HEL-WAW sector to business with miles (the KRK-HEL is operated as a single class tourist cattle ship so there's nowhere to upgrade to) and the KRK-HEL flight departed quite late which left me the whole Sunday to fulfill another long term objective of mine - namely to visit the Auschwitz and Birkenau concentration camps, located some 50 kilometers from Krakow. With this in mind I also booked a rental car for Sunday.
Finally I upgraded the WAW flight to business class and was only charged 3500 miles for it - I hadn't realized they were running the "half price upgrade" campaign this summer as well, although I'm not sure how half of 7500 points (the usual upgrade price) comes to 3500...
The route: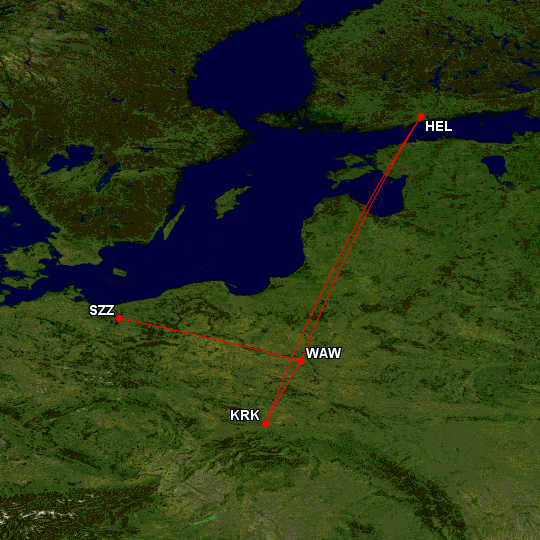 At some point I was happy to learn that the SZZ-WAW sector had an equipment change from the boring and ubiquitous ATR to one of the EuroLOT's new sexy Dash 8 Q400 planes, yay.
Fast forward some three months to the end of July and we start hearing very worrying things about OLT Express. First they announce the imminent suspension of their ATR fleet and all the routes operated by these. Fine, doesn't matter to me as my WAW-SZZ is scheduled to be on an A320 anyway.
But then, barely two days later an even more worrying piece of news appears: OLT Express has suspended all operations and ran out of cash. Now I was expecting something like this to happen later than sooner (their operation was the classic case of expanding too fast, too soon), but I did assume they could still manage to struggle through the busy summer season but no, it wasn't to be.
This of course was bad news for yours truly, coming a week before I was supposed to fly them. Well, I did a quick assessment of my options and basically had two: 1) throw out the SZZ side trip or 2) do a same plane turnaround on Saturday morning in SZZ. Option 2) meant I would still have my new Dash ride plus even a week before departure the flight was still available for 62 USD so despite a nasty 7.05 AM departure time I decided to book it.
I canceled my hotel booking in SZZ and made the best of the situation by booking the five star Radisson Blu Warsaw hotel for under 60 EUR - for years now Warsaw has represented probably the best value for money in Europe (although Athens might be close to it these days) when it comes to hotels as they have a lot of high class business hotels built within the last ten years and during the weekends the rates can be downright cheap. The Westin, Marriott, Radissons, Intercontinental etc. are all usually available for 50-60 EUR.
The Way to Warsaw
The focus on this report is the new EuroLOT Dash 8, so just a couple of pictures from the outbound flight. Chillin' in the Finnair Silver Wings lounge - I'm happy to learn that ever since the grand expansion (hah) they now allow also business class passengers in instead of directing them to the crap Gateway Tower lounge: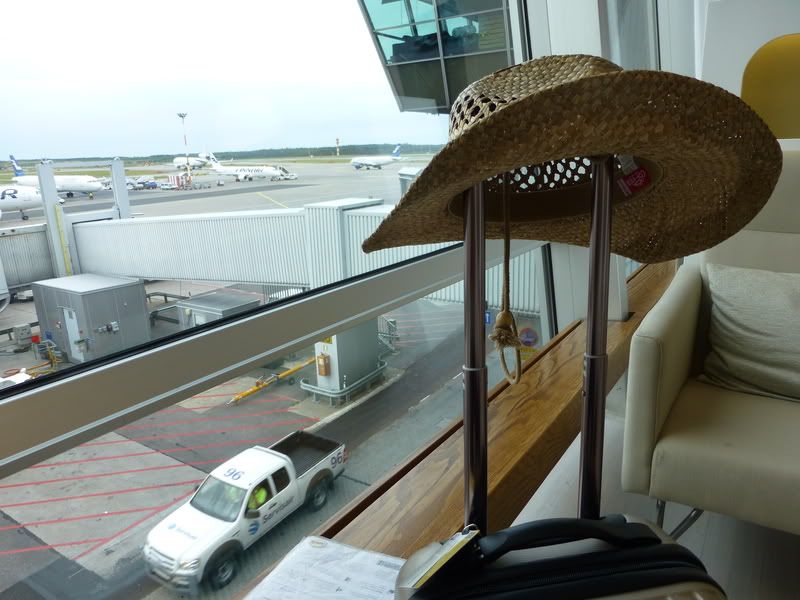 The flight was operated by E190 OH-LKE (already my fifth flight with this one):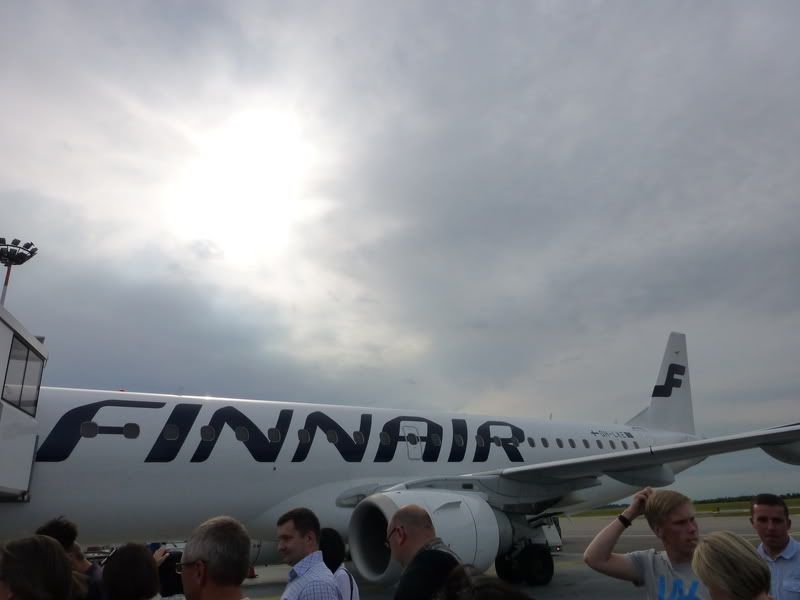 I haven't seen this one before - is this just to celebrate Helsinki's Design Capital year or is this actually a permanent feature of the new livery: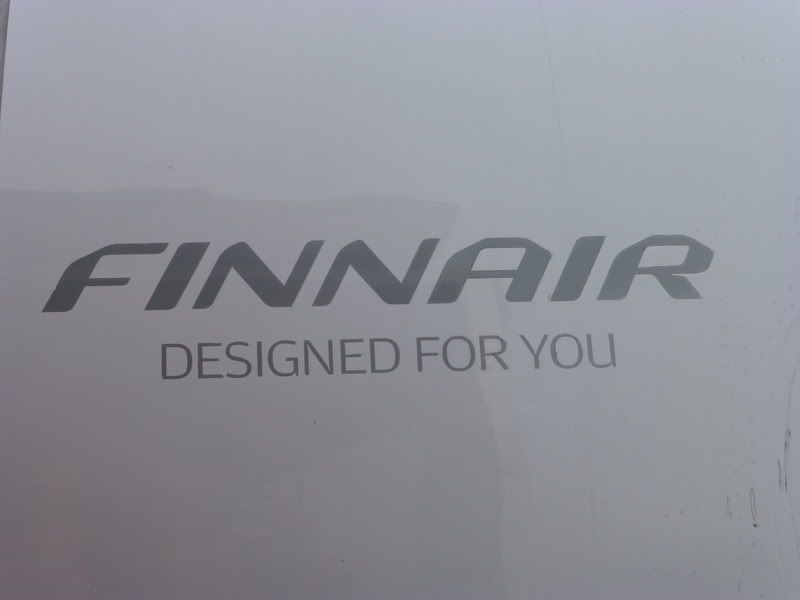 The business class meal - note that there's no appetizer/salad dish anymore. I hope this is just because of the short duration of this flight and not a permanent cut back on all routes: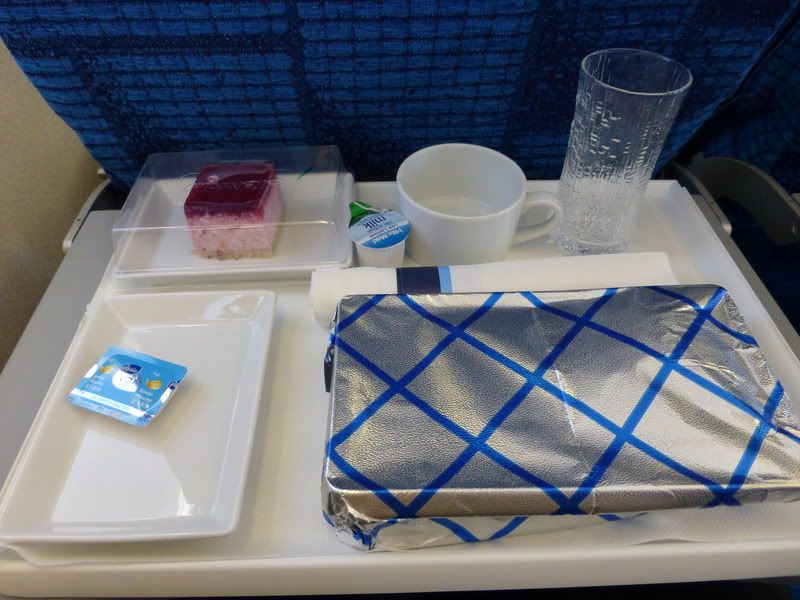 And inside a rather tasty and large piece of salmon fillet with a tasty sauce, some token vegetables and pea puree: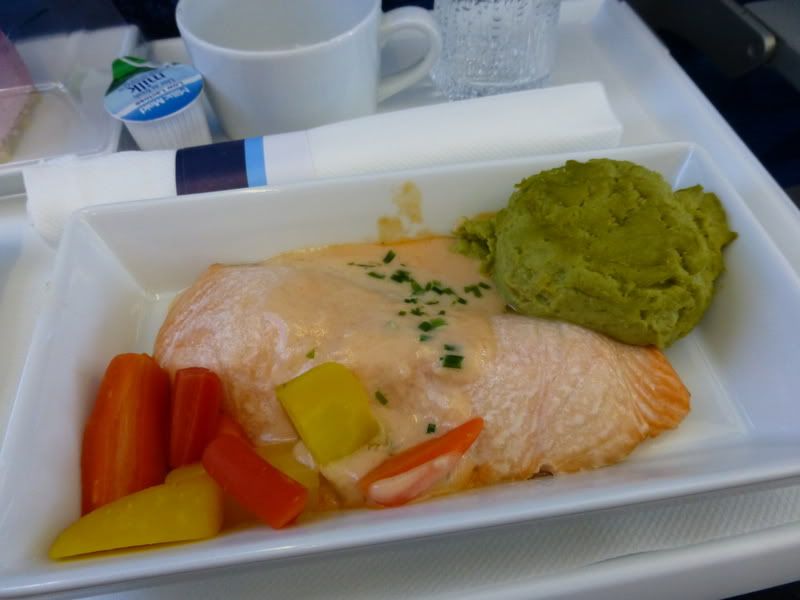 At least drinks were still flowing freely - well there were two of in business class anyway: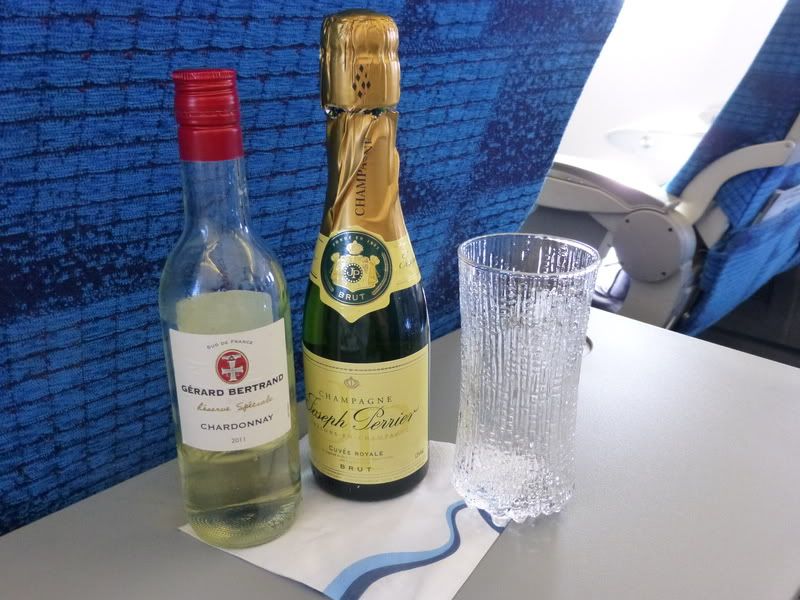 No, these didn't accidentally fall into my bag: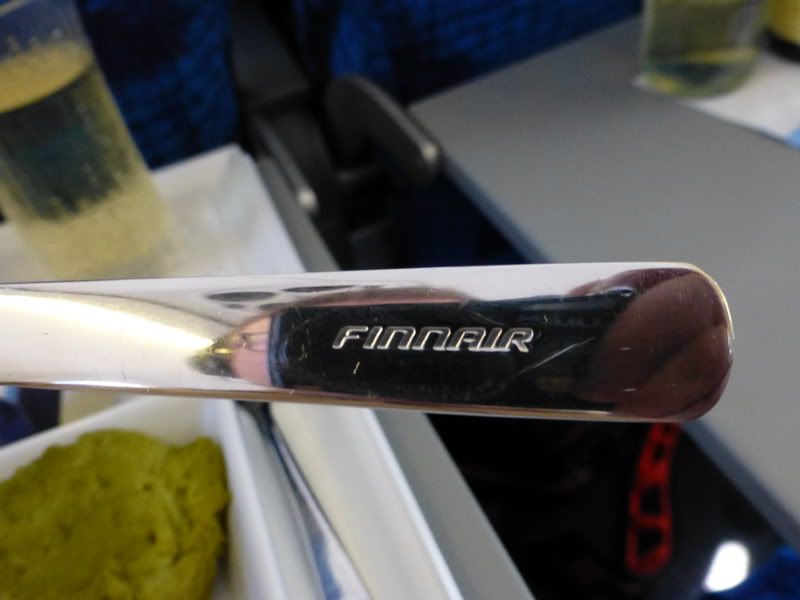 The dessert - some kind of raspberry tart was
very
raspberry indeed and truly delicious: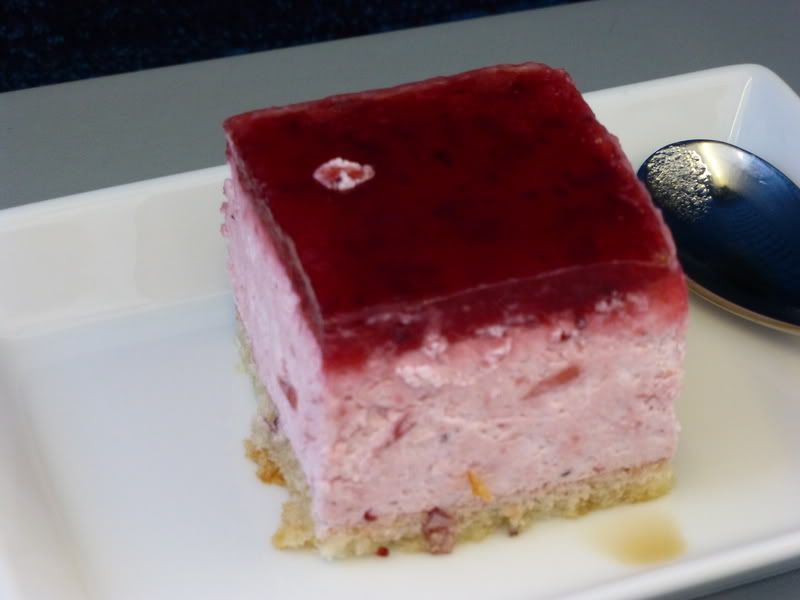 Sad, so sad - charging 3 EUR for those cup noodles is borderline criminal!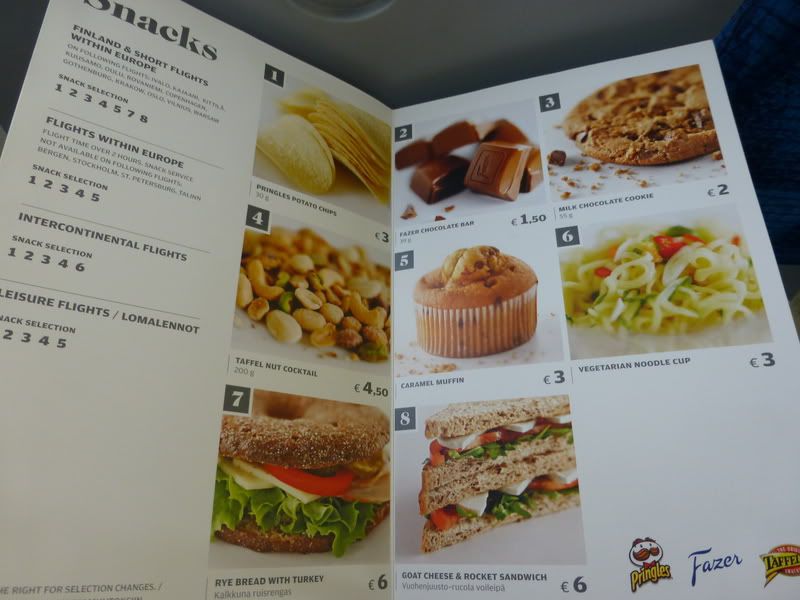 The Radisson Blu Warsaw Centre: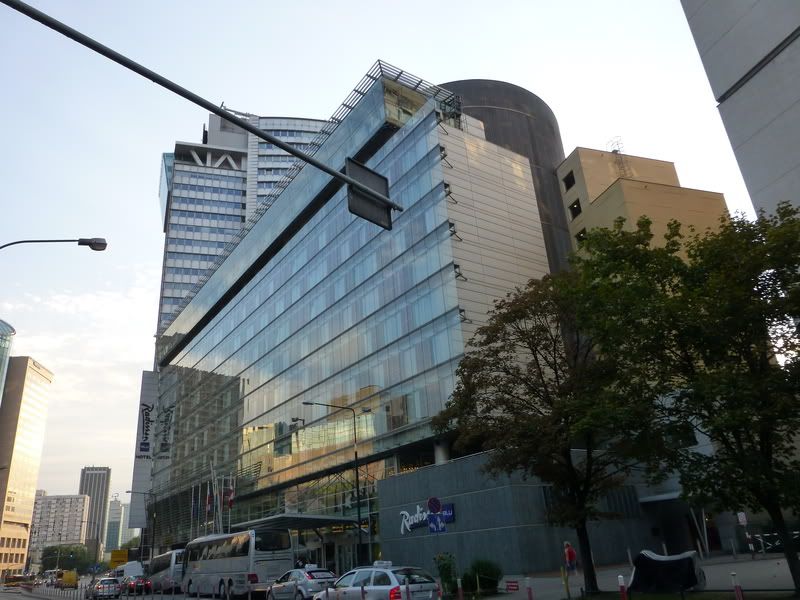 Saturday 4.8.2012
I'm violently shaken awake from a very deep and sweet sleep by the rather harsh beeping of my mobile phone at five in the morning. Completely disoriented (I think my sleep had some sweet nymphs et al in it) it takes me a while to realize that I'm in the Radisson, in the extremely comfortable bed in my well appointed Business Class Room (yeah, they gave me an upgrade). I seriously consider just ditching the whole side trip idea as some four hours of additional sleep and the scrumptious Radisson breakfast sound like a much better deal to me but hey, a man must make sacrifices for his readership.
The bed before I had a chance to mess it up:
The business class rooms come with Nespresso machines: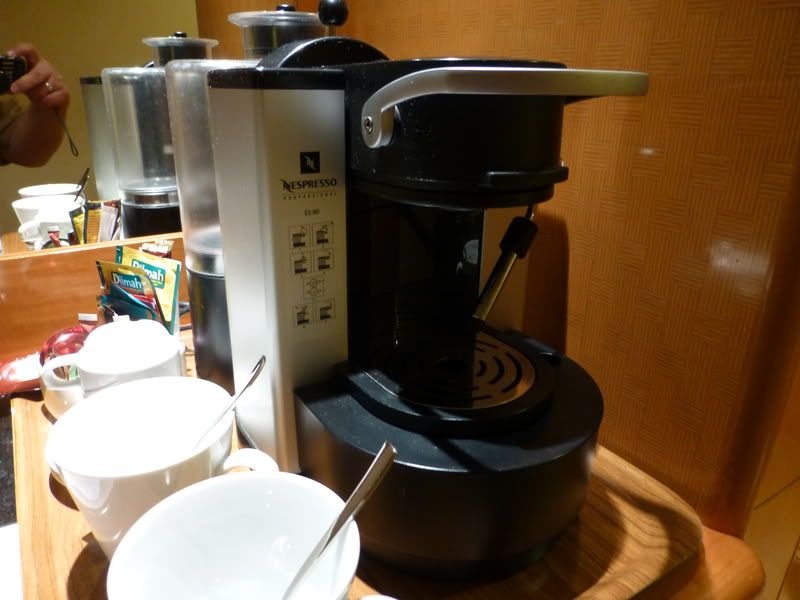 So I find my mind in a brown paper bag, shower up, get dressed and pack up my trash and head downstairs to check out. Since I'll be back after a few hours I leave my rollaboard at the hotel and hop into the taxi the nice (and very bored, apparently I'm the first human contact for her in many hours) receptionist girl called for me.
Rather foggy outside - eerily beautiful actually as the usually very busy streets are deserted at this early hour: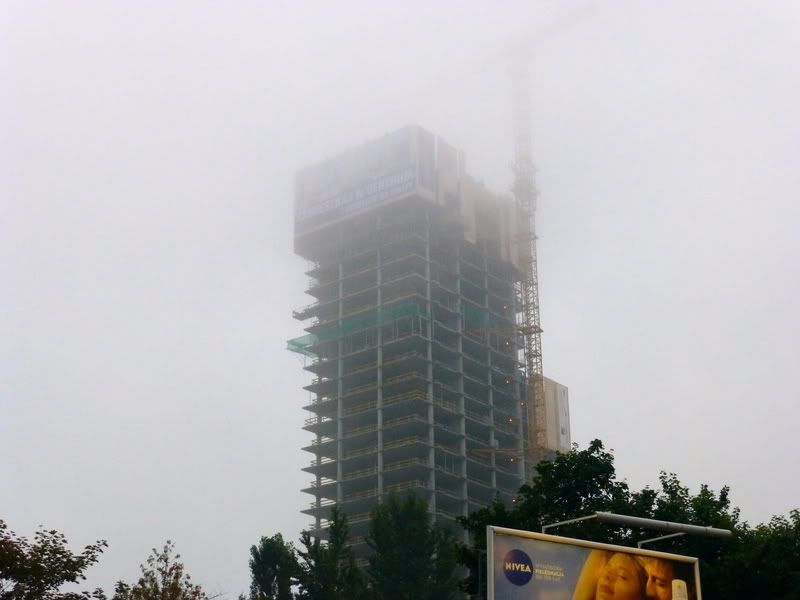 With the empty streets I'm at the airport in a jiffy and the driver doesn't even try to rip me off which earns him a nice tip and me a happy mind.
Well, my happy mind is soon gone after I see the insane security queues inside - apparently plenty of charter flights are leaving at this early hour with the usual "once in a year" travelers: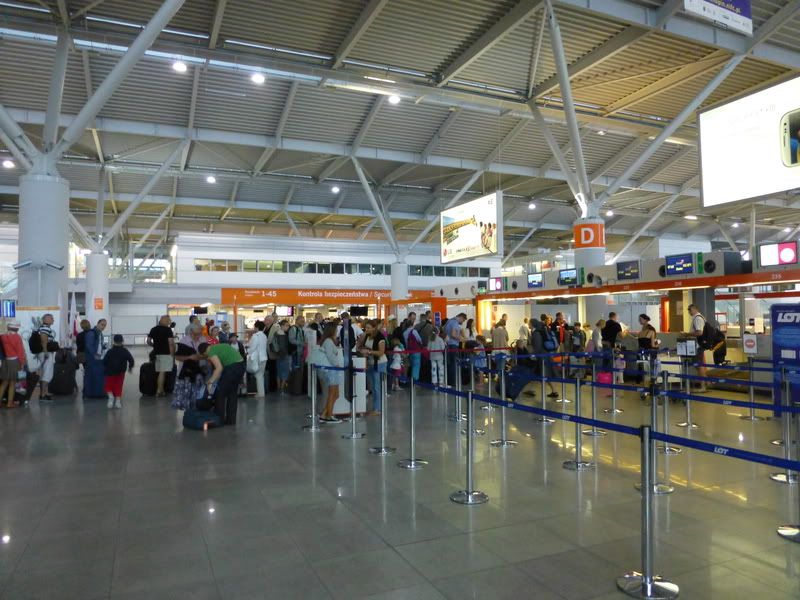 Luckily I spot a completely empty "Business Class" security lane and decide to try that - I'm not sure whether *G gives you access or not but apparently it does as the girl gladly admits me in.
Two minutes later I emerge airside (now that was nice and civilized!) and make a beeline for the LOT Lounge.
These faux waterfalls are just tacky: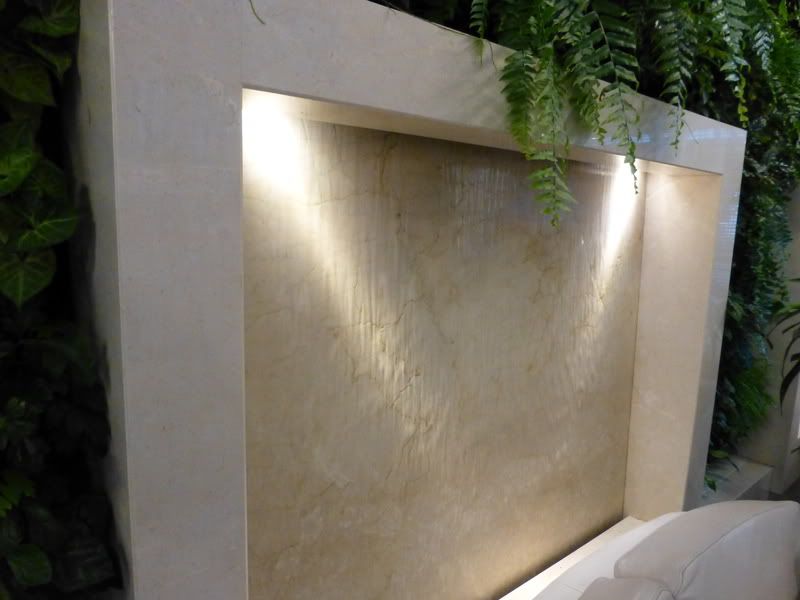 Breakfast:
FIDS - sad to see those canceled OLT Express flights: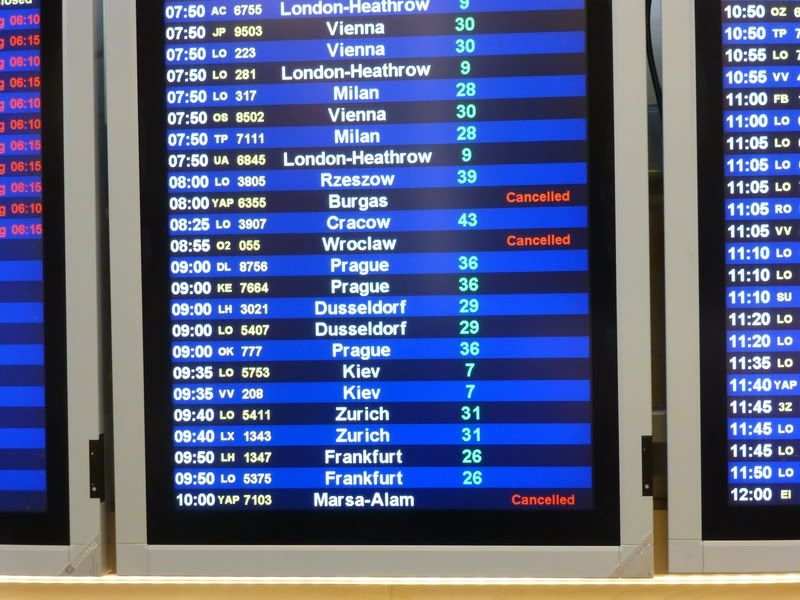 HON section: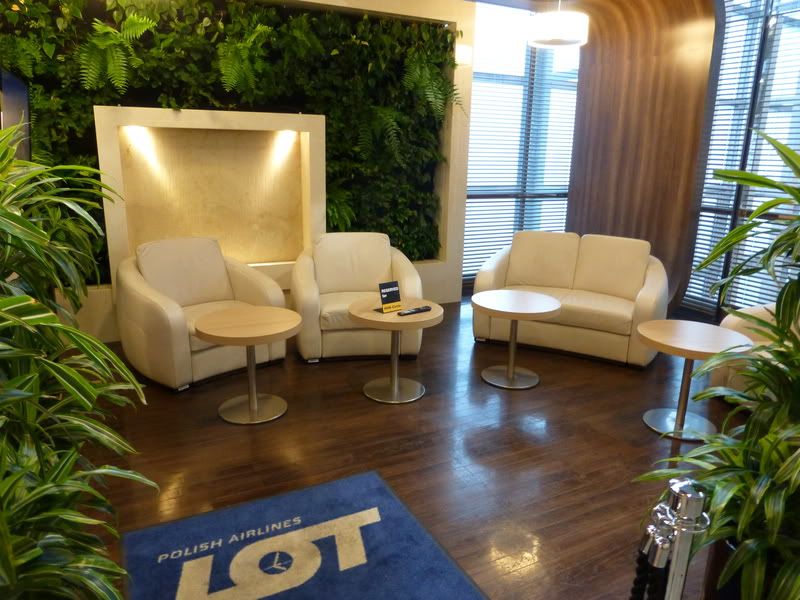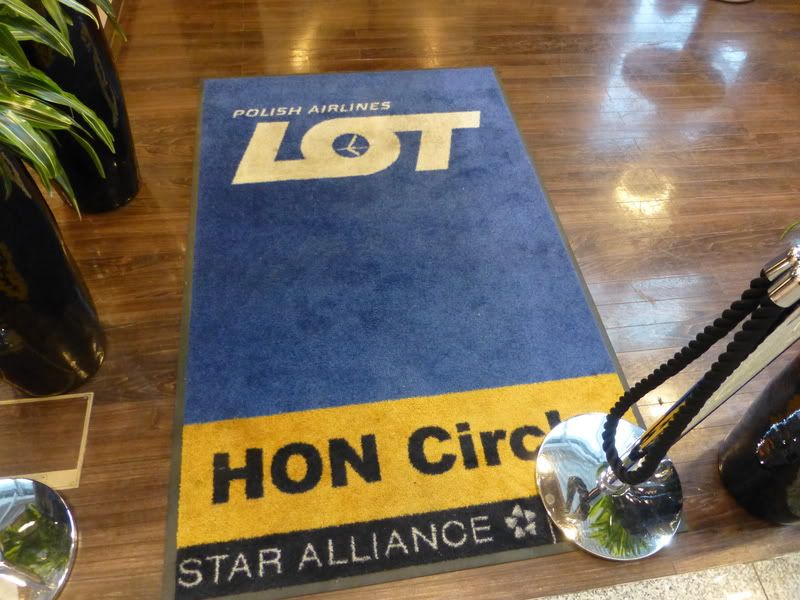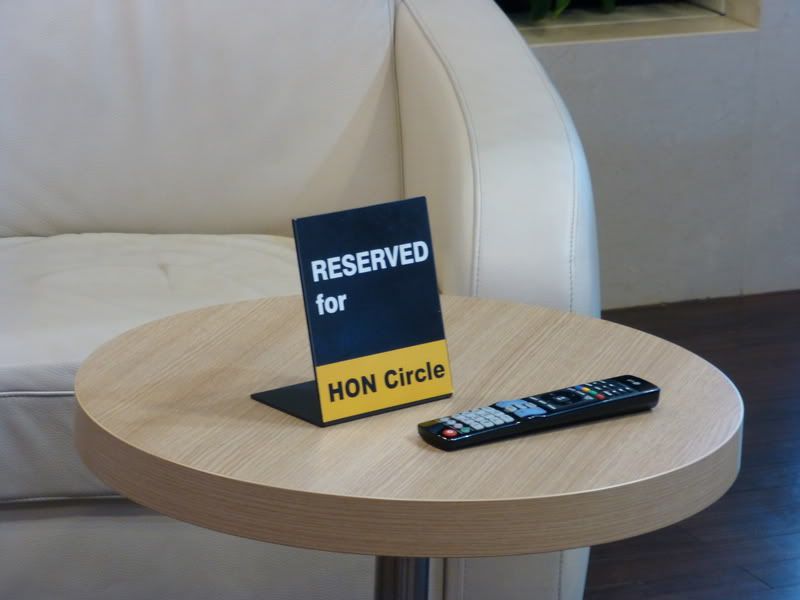 Yes, indeed they have these few chairs and a telly (right next to the toilets!) in a separate (occasionally) cordoned off area reserved for HON Circle members. Not sure how they control it though as anyone could just go and sit there. But here's a challenge to Jonas - you must make HON now since the treatment is this special!
Interesting story dedicated to our UK friends: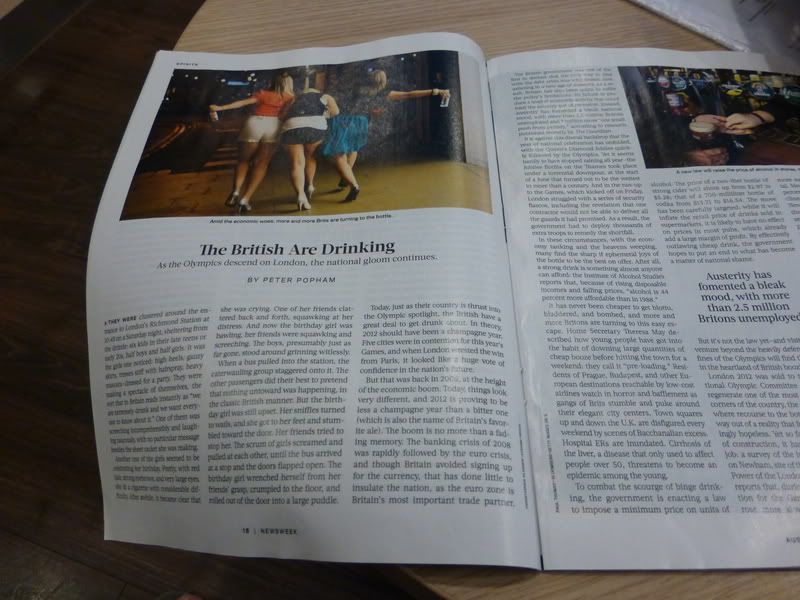 The whole airport seems to be covered in the fog so I'm expecting some sort of delay. Sure enough they show that my flight should board at 7.05 which is the SDT. But soon it actually changes to 6.55 at which time the status changes to "Boarding" and I head to the gate to see boarding in process.
A bus boarding as usual with a turboprop here and apparently we are missing some passengers as we wait in the packed, hot and stuffy bus downstairs for around 15 minutes before the driver finally appears and we drive away. Have I ever mentioned how I hate bus boardings?
Ahh yes, this does look like a Dash:
SP-EQA, EuroLOT's first Dash, delivered in mid-May or two and half months previously. And yes, it does look very new: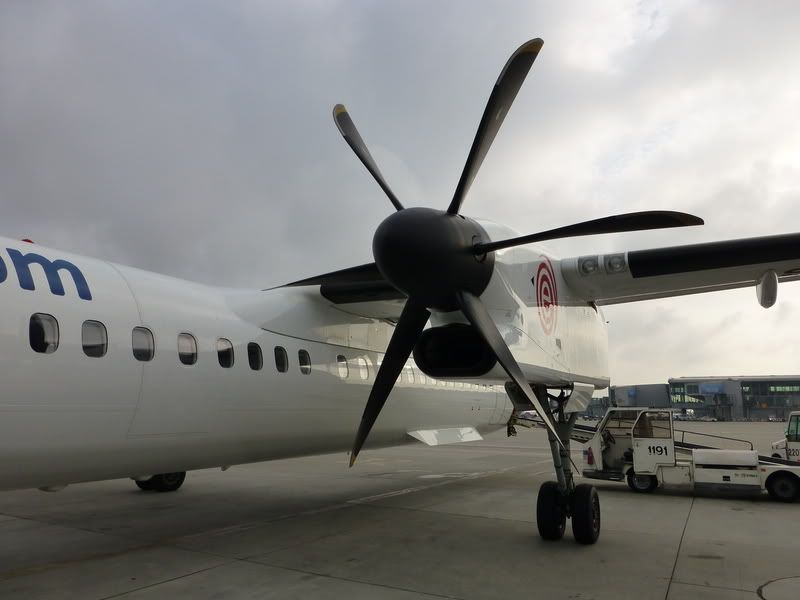 Have they changed that logo a bit - it looks uncomfortably close to the airBaltic's (faux) "cherry bomb" icon:
WAW - SZZ
LO3931 Operated by EuroLOT
Dash 8 Q400 SP-EQA
Seat 3A
7.31 - 8.27
Two FAs in their early thirties on this flight, quite perky already in the morning. For the outbound leg I decided to try the front rows, should also speed up my turnaround at SZZ. Leg room up here is great: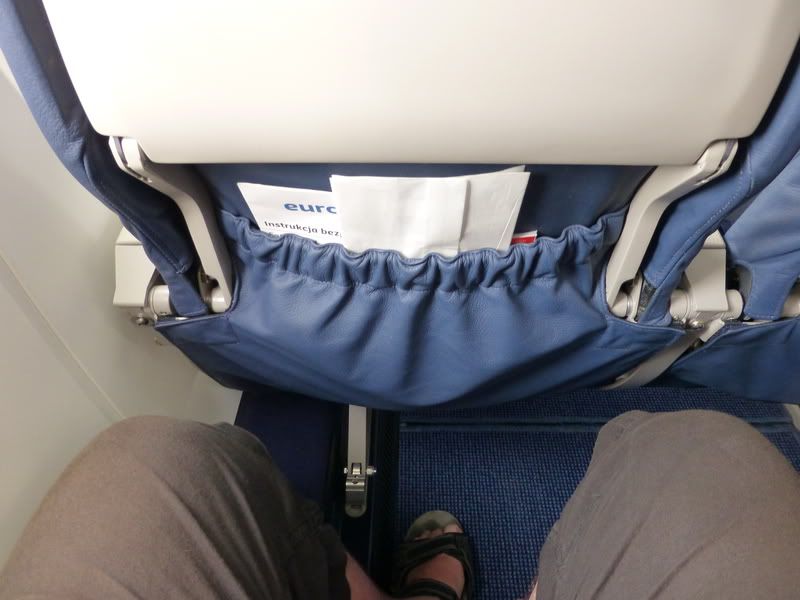 The cabin definitely has the new plane smell, nice. Blue, faux leather seats which look like the same seats (but different color) than BT has on their Dashes: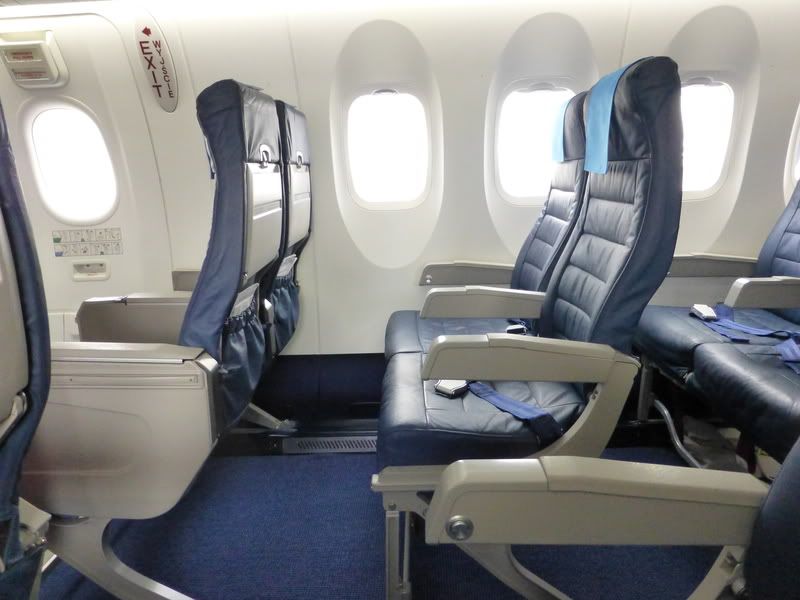 No Dash-8 logo on the belt buckle, bugger: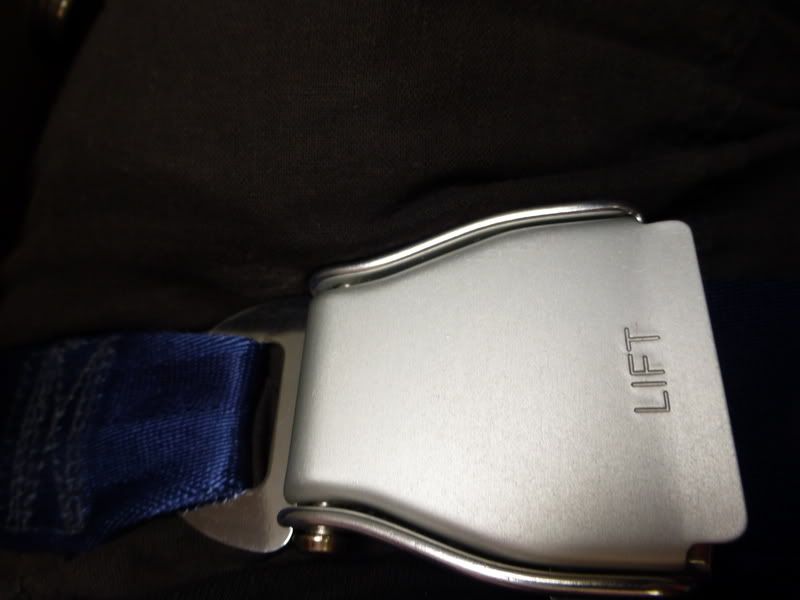 The plane seems to be around half full (or empty, depending on your view of the world). Our flight time is announced as 50 minutes with no reason given for the delay and most definitely no apology or even an acknowledgement for it!. We leave our parking position 26 minutes late.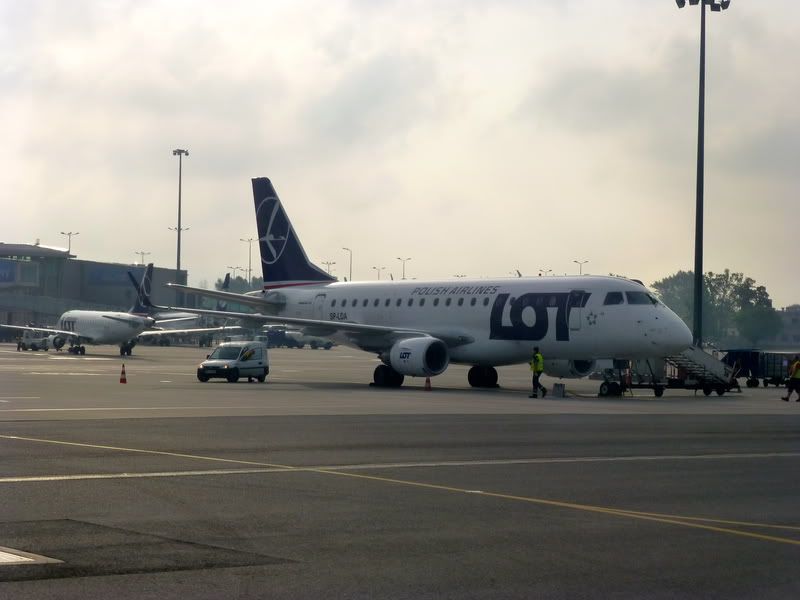 The fog is fading fast and it is turning out to be another gorgeous hot day in Warsaw: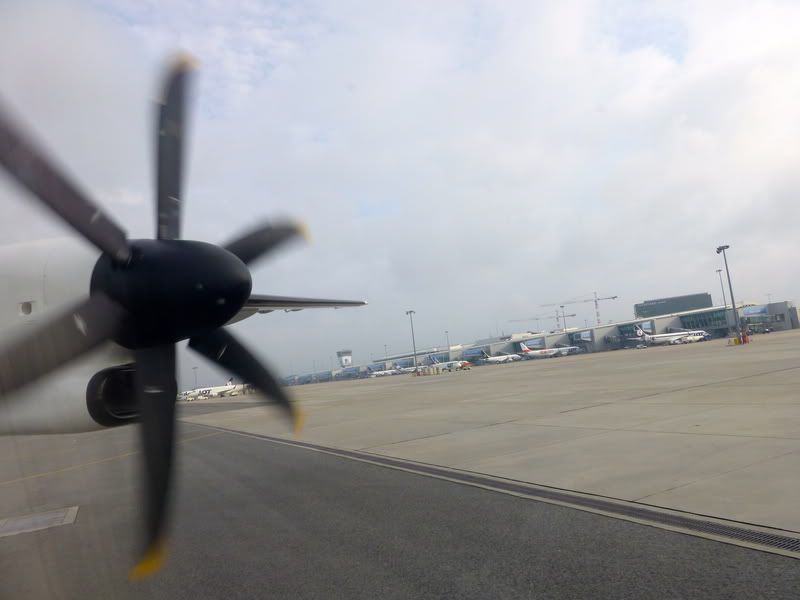 Taking off from 29: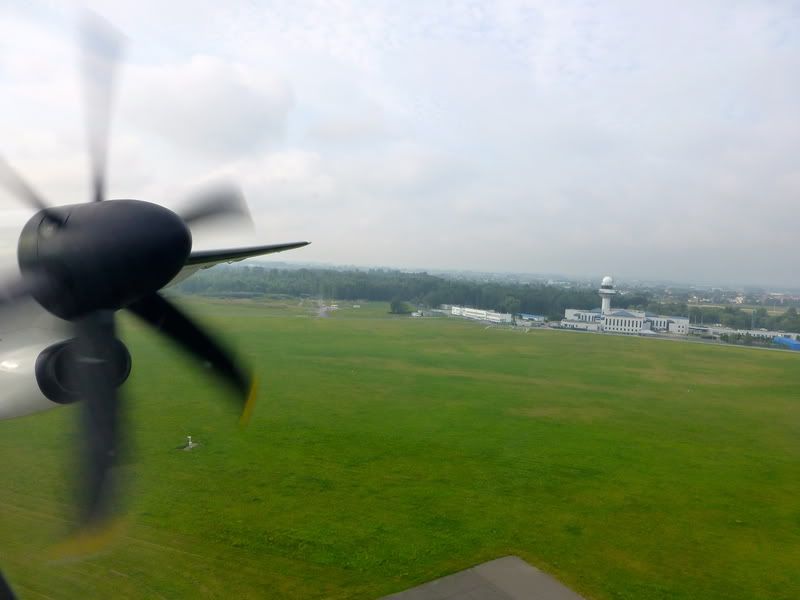 And disappearing into the clouds right away: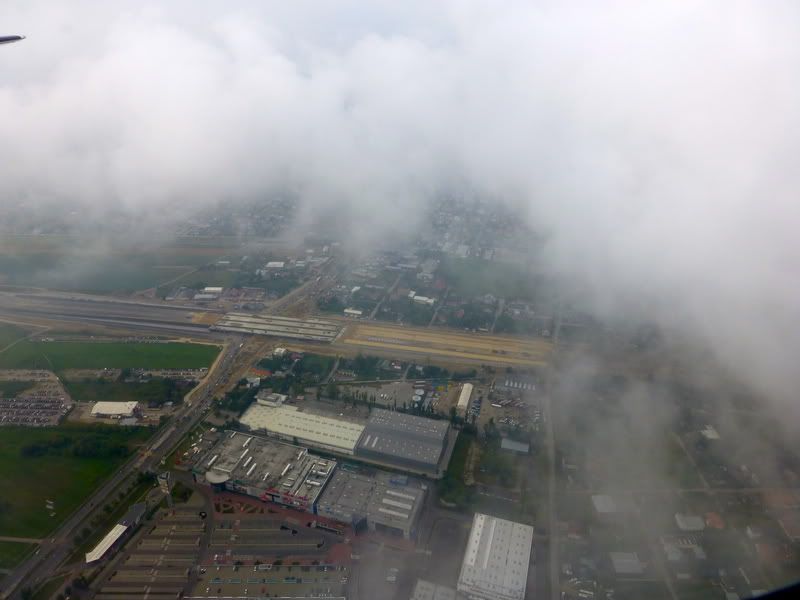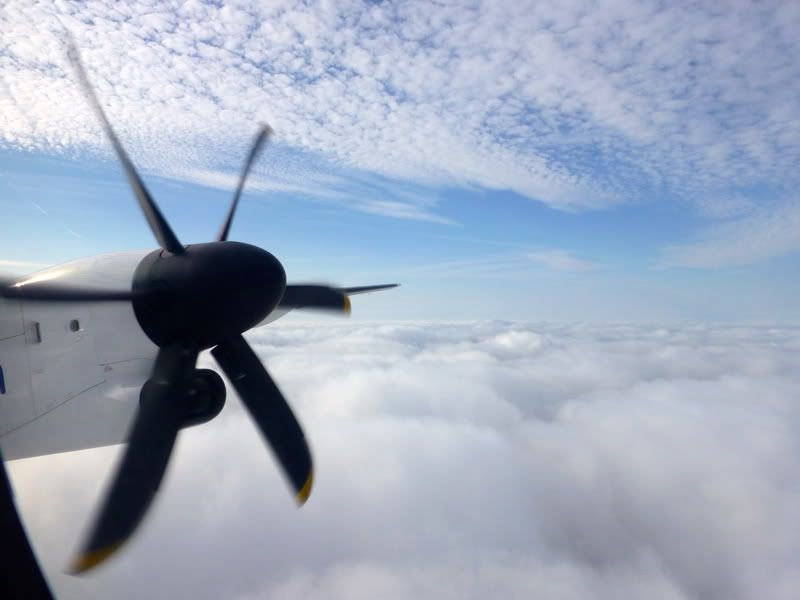 Well, this is a LOT domestic flight so the service is of course the obligatory Prince Polo chocolate bar and a choice of soft drinks. No coffee or tea is available. Actually there's a choice between the chocolate bar and a salty snack (this is new!) but I am a traditionalist so go for the choccie for old times sake: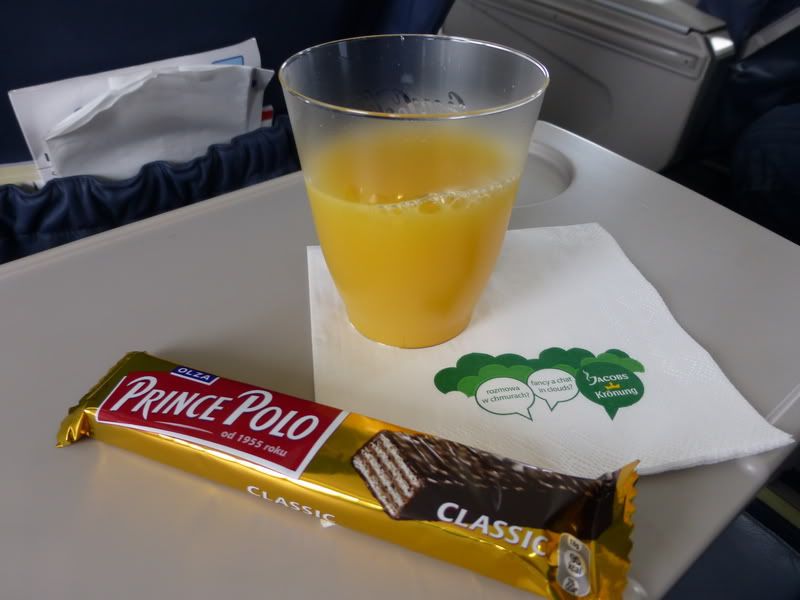 See, I'm not the only one wearing hats:
When nearing SZZ the clouds suddenly give way to the not terribly exciting farmlands of northwestern Poland: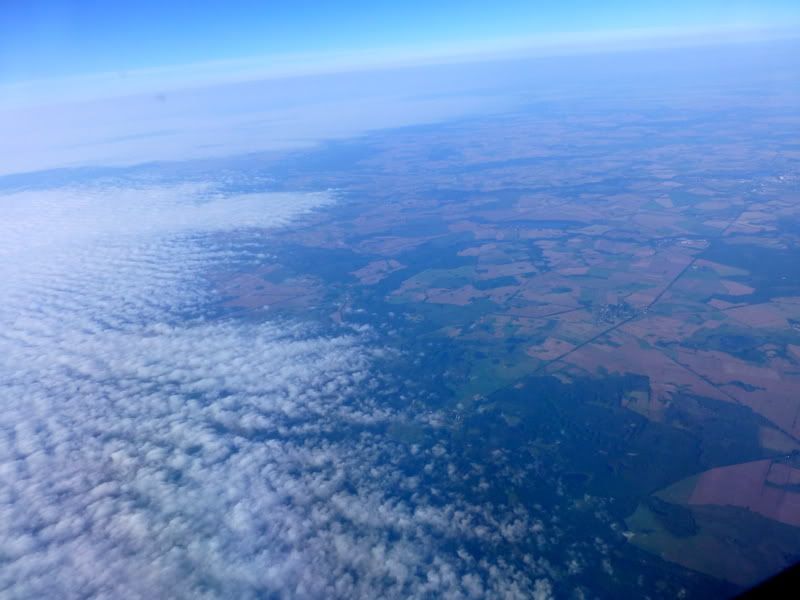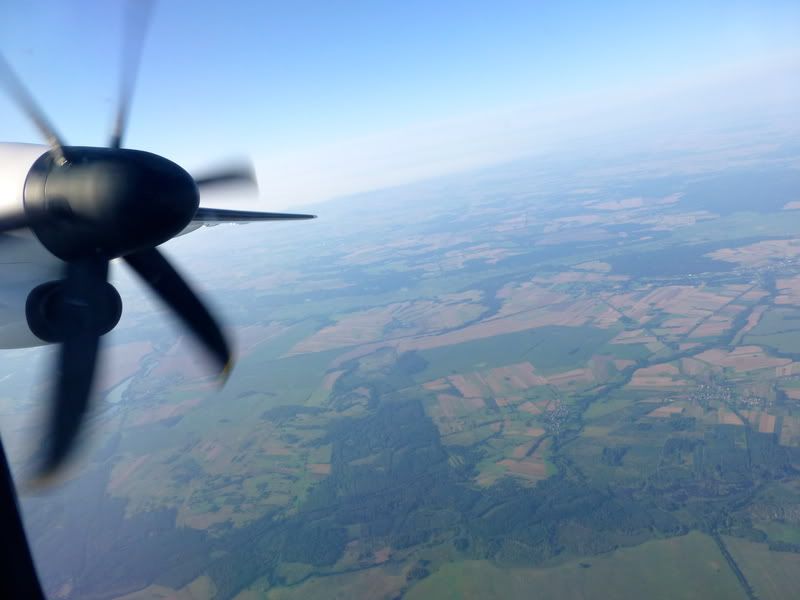 I think this is the city of Stargard Szczeciński in distance: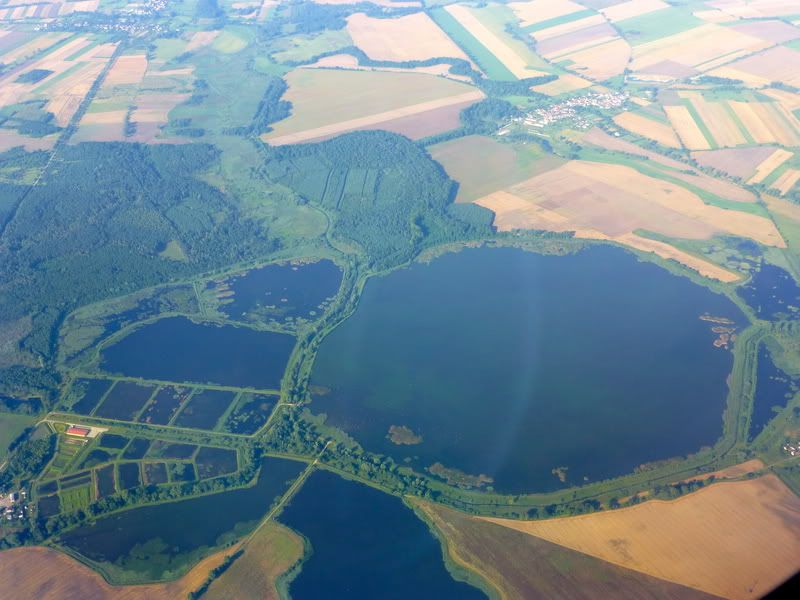 The town of Maszewo: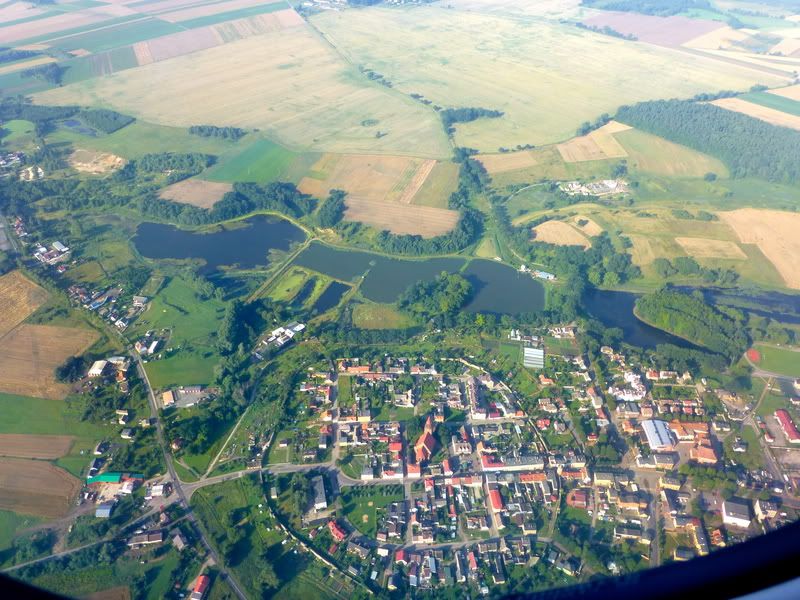 An old mansion of sorts: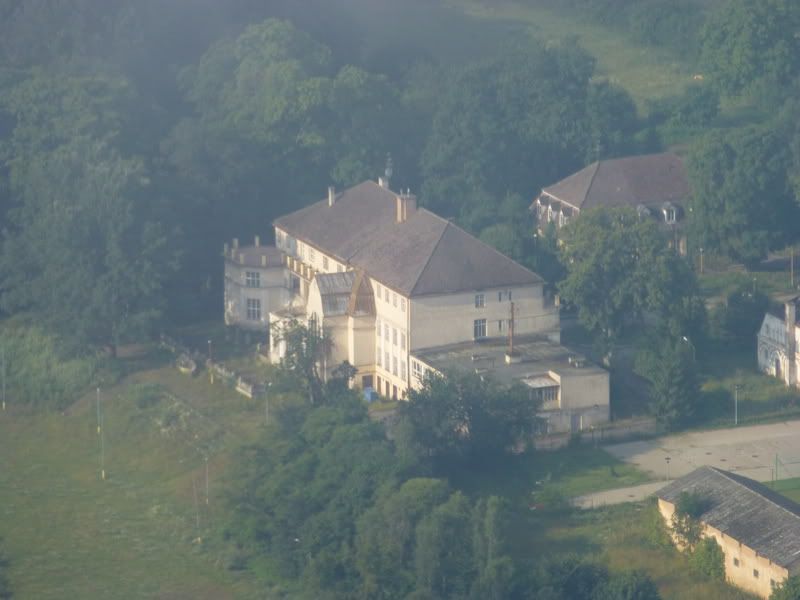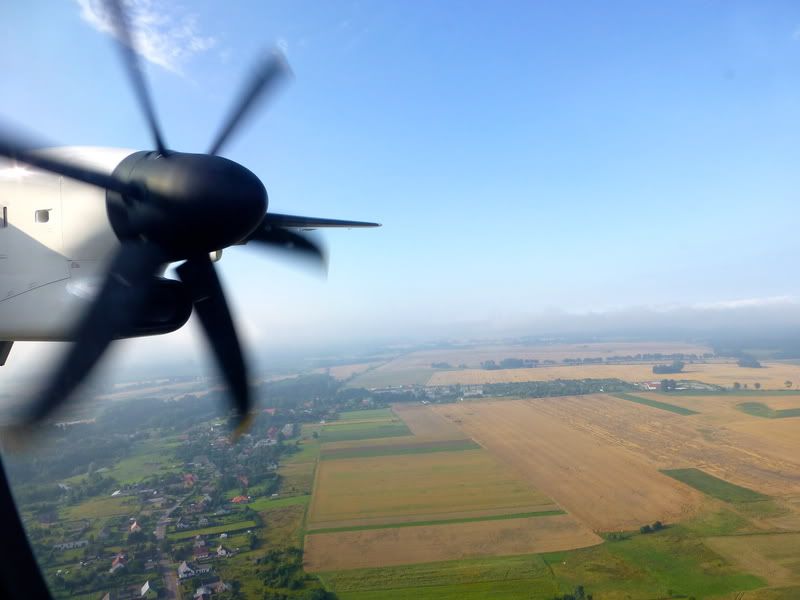 The weather keeps changing, here we are on short finals and the skies are turning gray: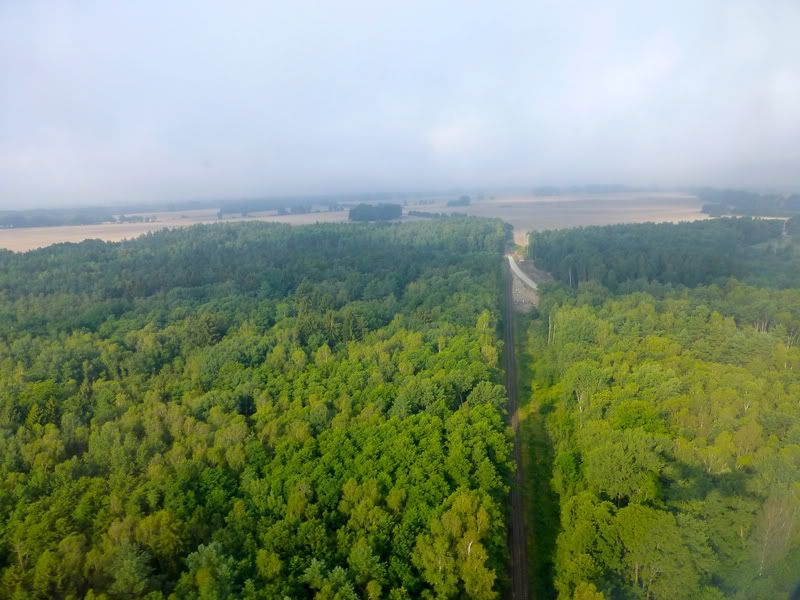 Touchdown on runway 31 after 50 minutes of flight: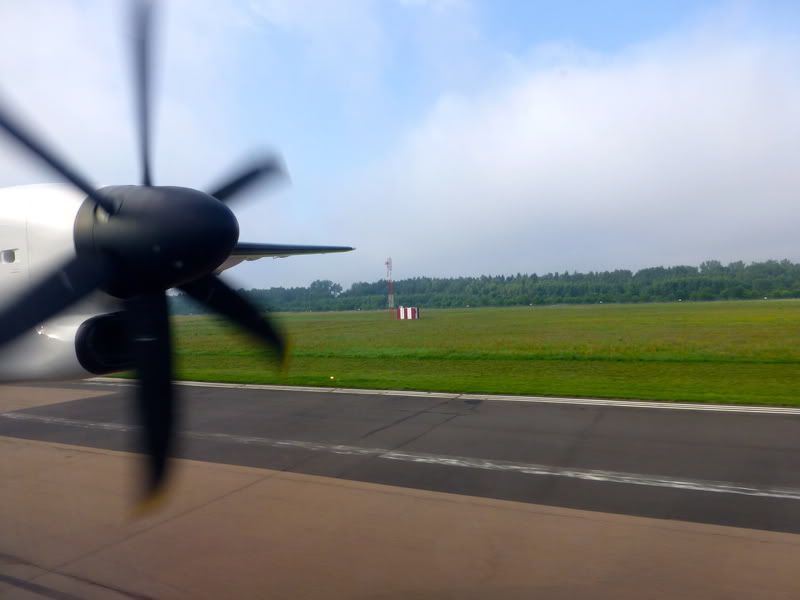 Getting progressively gray here:
Turnaround at SZZ
We stop at a parking position really far from the terminal: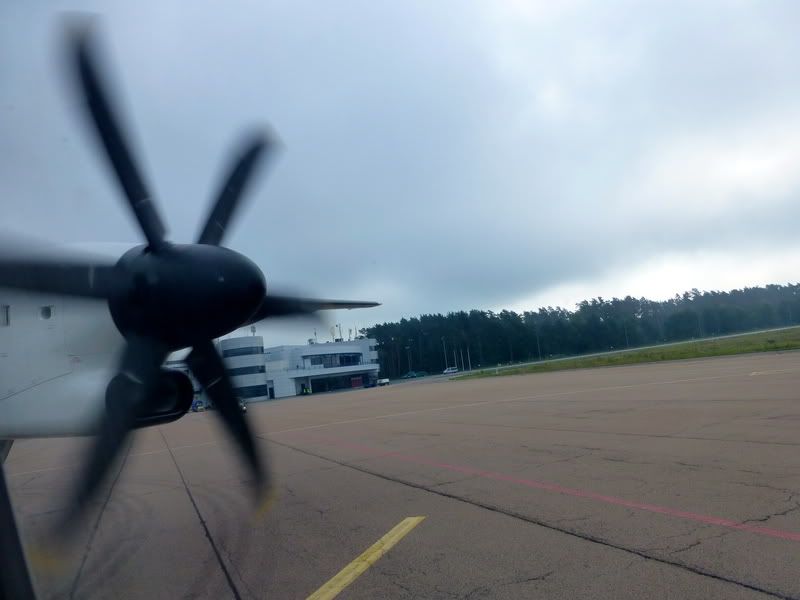 I'm of course the first one to exit the plane. While leaving it I say "I'll be back soon" to the purser, I doubt she really understood what I meant though.
Bye:
The ramp agent, a youngish girl is leading me to the entrance to arrivals. I say to her that I'm flying back on that same flight.
- "Oh, tomorrow?"
- "No, today, in about 20 minutes."
She looks at me like I'm quite mad.
- "You are going back with flight three nine three two?"
- "Yes, I am."
- "You have a boarding pass?"
- "Yes, I do."
She looks at me like I'm quite mad. I decide to loosen up the conversation a bit:
- "I like to fly and wanted to try out the new Dash, a very nice plane."
- "Yes it is."
- "Much better than those ancient ATRs."
- "Yes" (not sure if she understood what I meant though)
- "I was also supposed to fly here with OLT but we all know what happened so here we are."
- "Oh yes, bad luck."
- "Trust me, I'm harmless. I might be crazy but I'm harmless, I promise you that."
We reach the door.
"Ok, good bye and have a nice trip back!".
I enter the terminal building. No chance of making an airside connection here, this terminal reminds me of the old ones in Gdansk and Wroclaw. Luckily I did OLCI so I join the security queue and get directed to a separate lane with no queue in it after someone sees that I'm going into Warsaw. Airside the place is absolutely packed - then I realize that a Norwegian flight to Oslo has just arrived and most of these passengers are on that flight.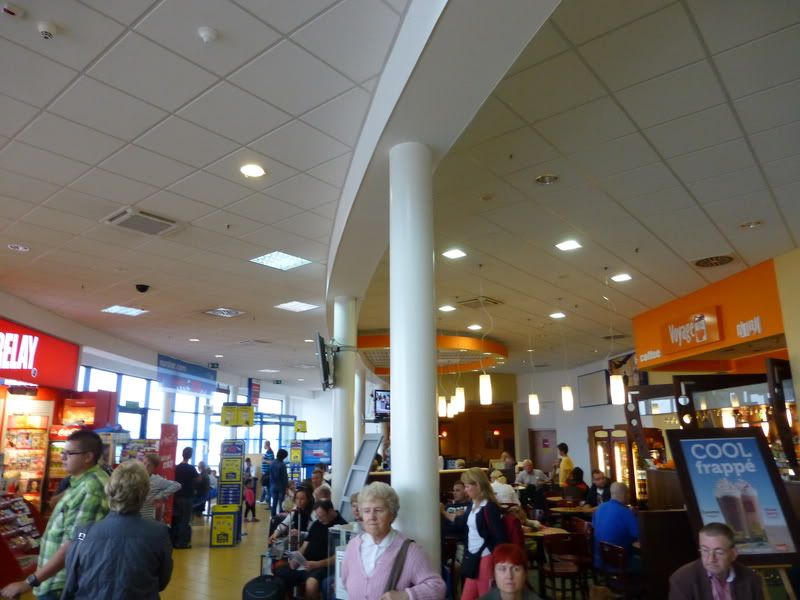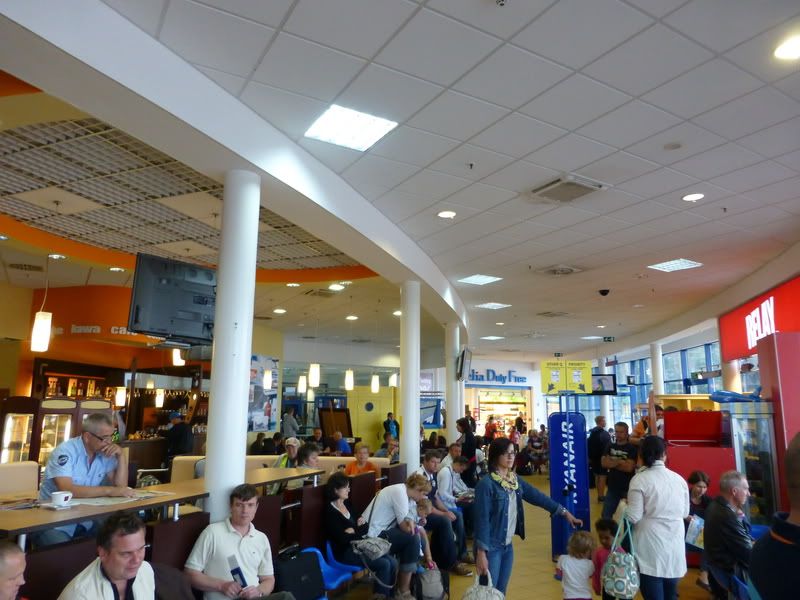 LN-DYB outside, interestingly this bird carrier me on the second ever DY flight into HEL from OSL on the morning of their inaugural day of operations at HEL, see here:
Norwegian Inaugural Day At HEL: OSL-HEL-ARN
(by
FlyingFinn76
May 5 2010 in Trip Reports)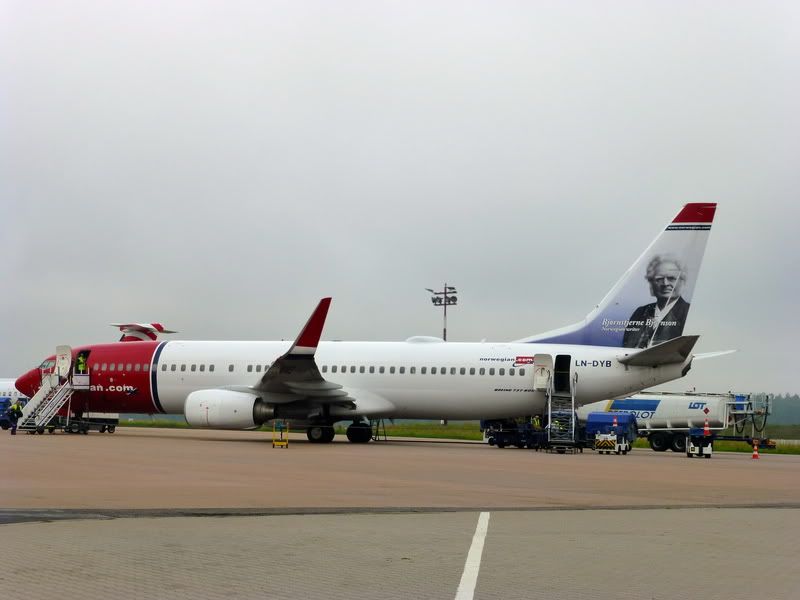 Soon enough boarding for my flight commences and I'm among the first few passengers to start the long walk back: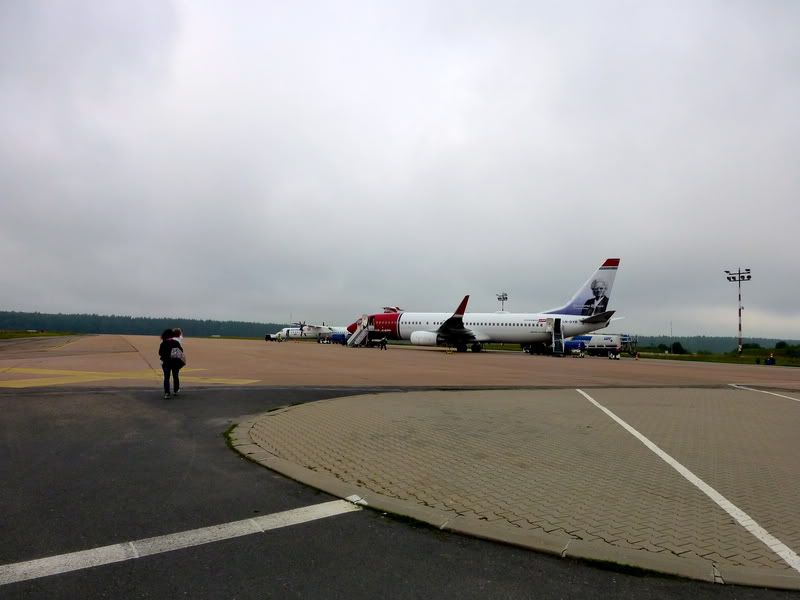 I spot my new friend, the girl who walked me to arrivals standing at the Norwegian plane's door so I give her a wave, she smiles and waves back.
To paraphrase 717flyer - this is a seriously long plane for a turboprop:
SZZ - WAW
LO3932 Operated by EuroLOT
Dash 8 Q400 SP-EQA
Seat 18A
9.06 - 10.01
I crack my usual "This place was boring, I think I will go back" joke to the purser who seems to be very confused by me reappearing some 20 minutes after I left her domain. I tuck into my previous seat and am delighted to find my notebook still in the seat pocket (I realized I had left it in the plane inside the terminal but figured out that they probably wouldn't spot it during the quick cabin tidying up operation and this turned out to be the case!) in front of 3A. However I decided to try the back cabin for the return flight so I continue to my seat, 18A.
The other FA in the back galley is even more surprised to see me - I try cracking some of my usual jokes but she sees right thru me and says "I think you just like to fly" - well who am I to argue with her so I say "Yes, you have no idea how much."
Legroom appears to be tighter here:
Cabin view from the back: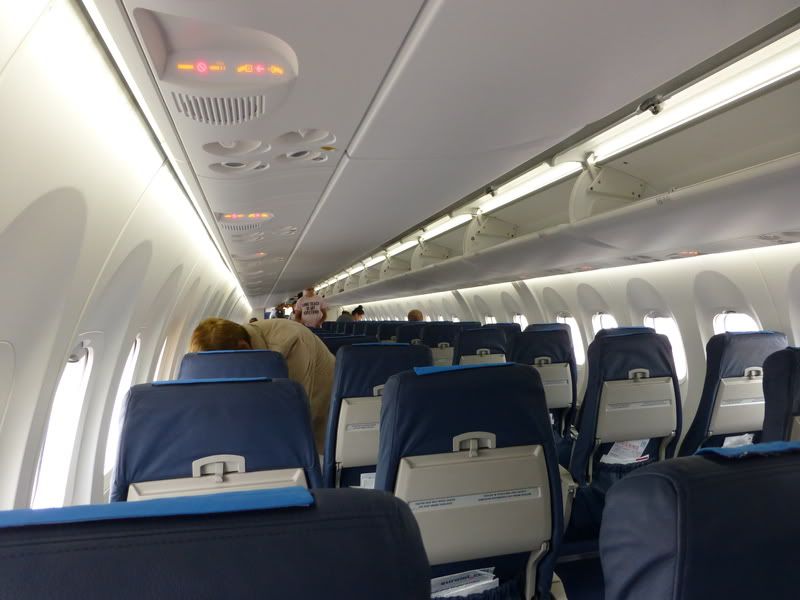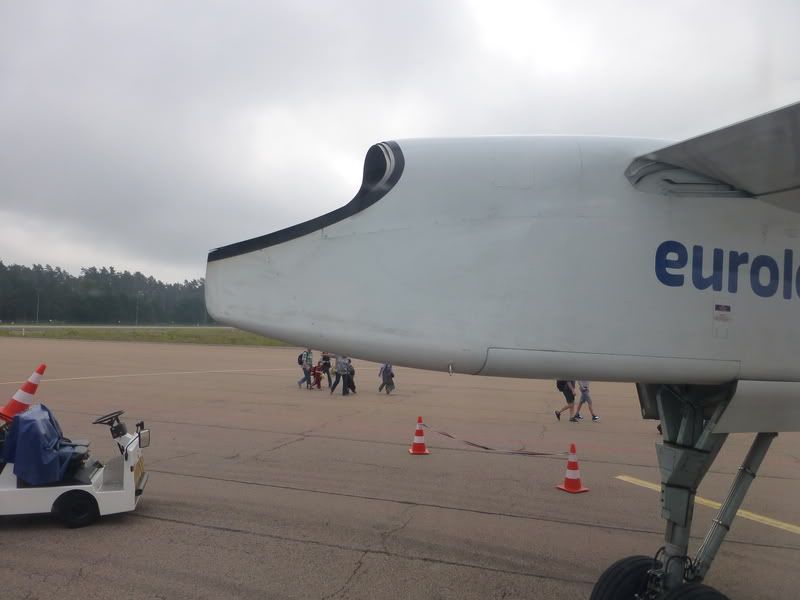 The load on this flight is better, I'd say around 80%. Still an empty seat next to me, thanks a lot!
No chance to catch up with the delay, nobody even tried actually to speed things up. So departure is a good 31 minutes late. At least take off is in the opposite direction on 13 so no lengthy taxi is needed.
The grayness has advanced while we were on the ground: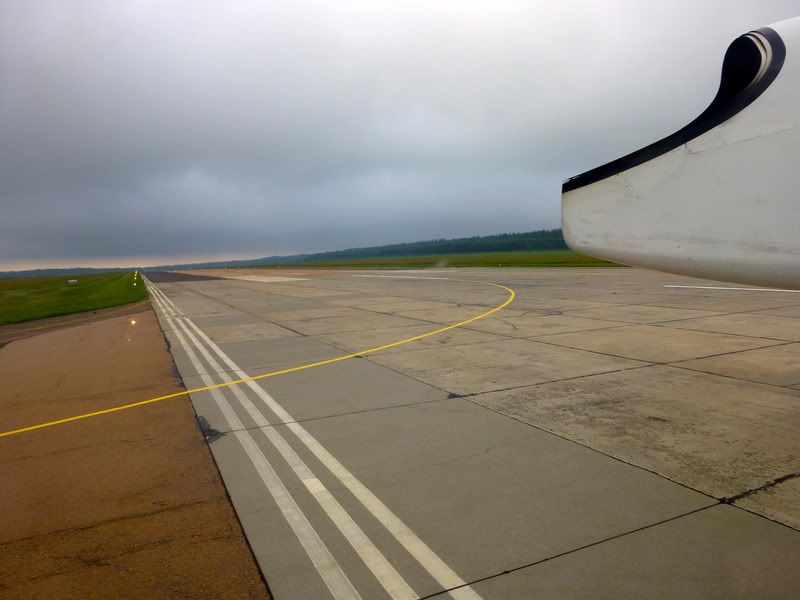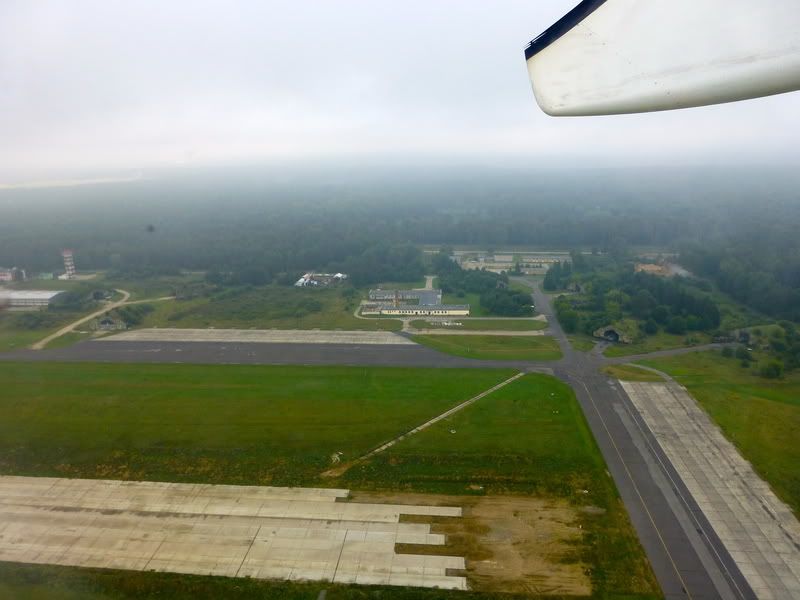 Mostly overcast on this flight too: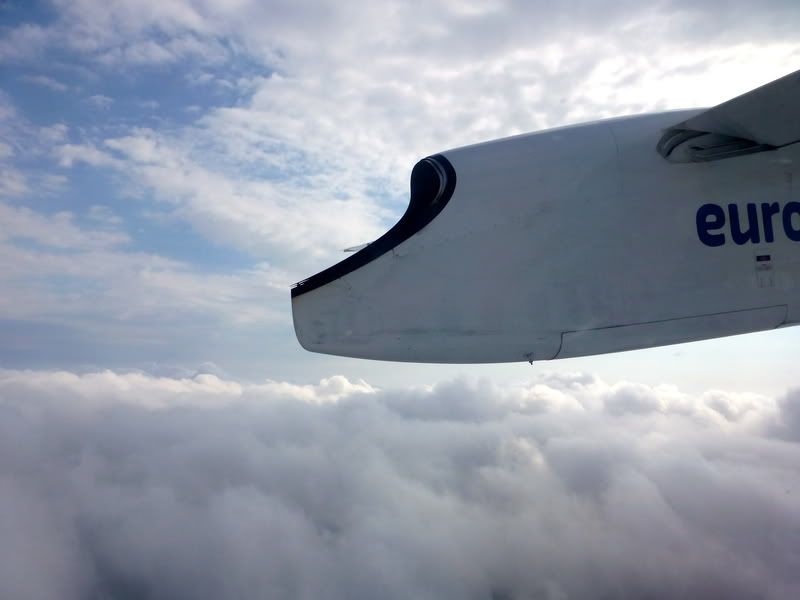 This time I decide to try the salty snack - Krakow Dollars, that's nice since I'm going there in a bit: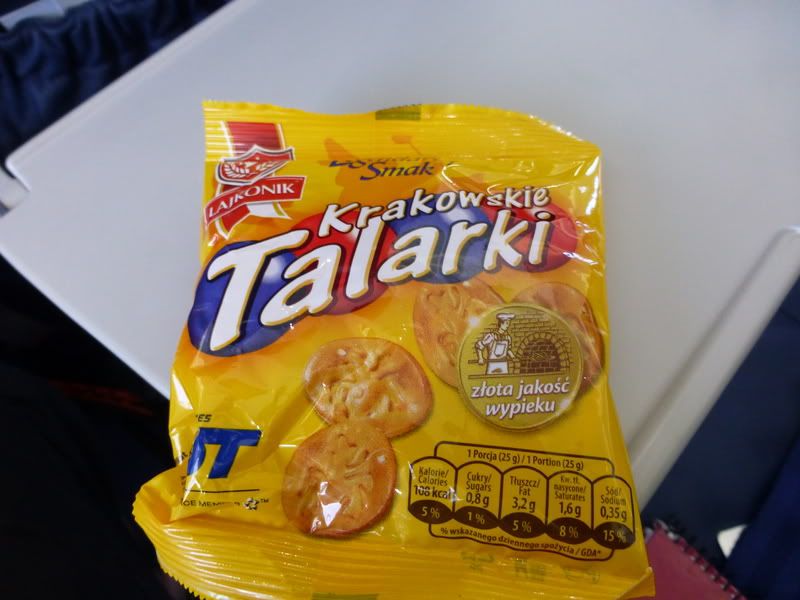 The safety card looks like an engineering blueprint: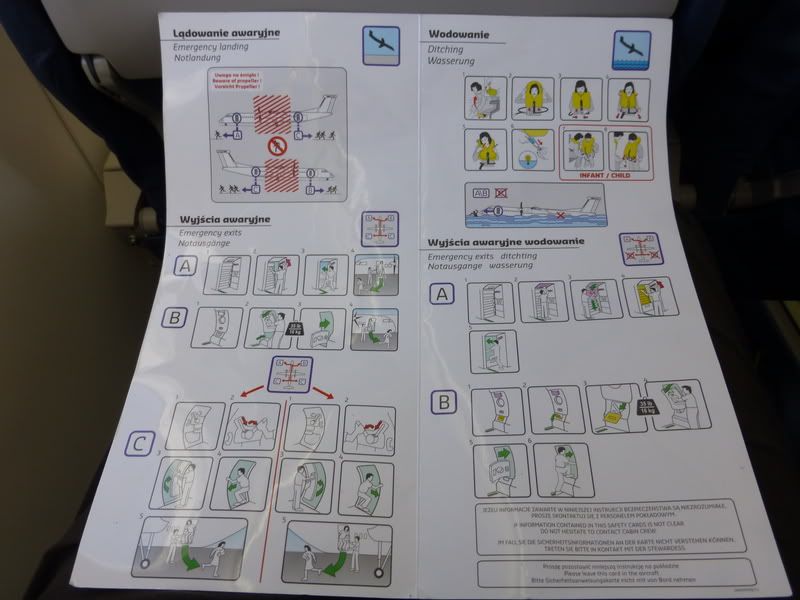 Now this is interesting - you are supposed to take your glasses off in the case of an evacuation. Hell no says I - without my glasses I'm practically blind: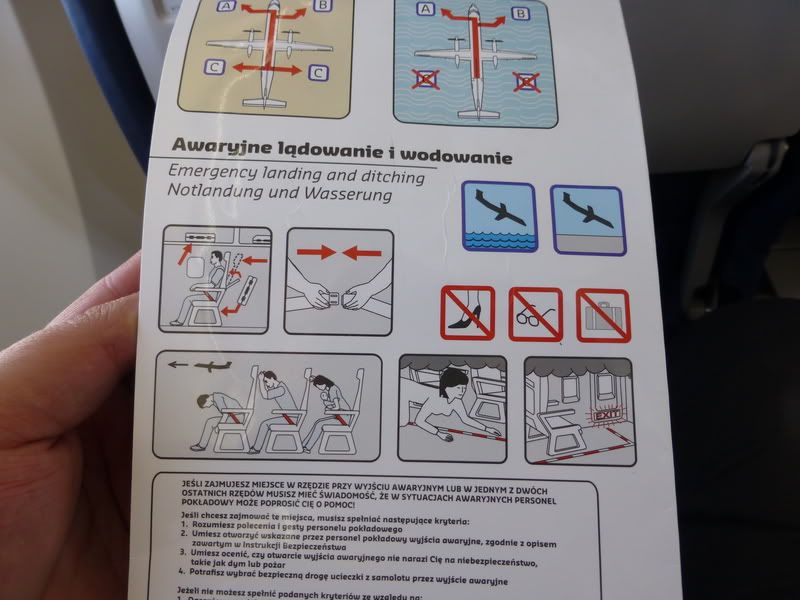 Commencing our approach for WAW: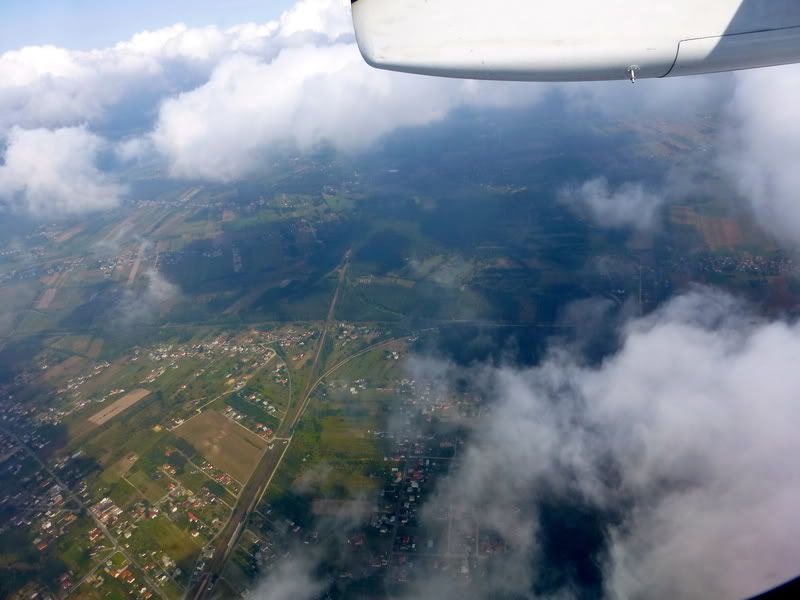 Halo & shadows: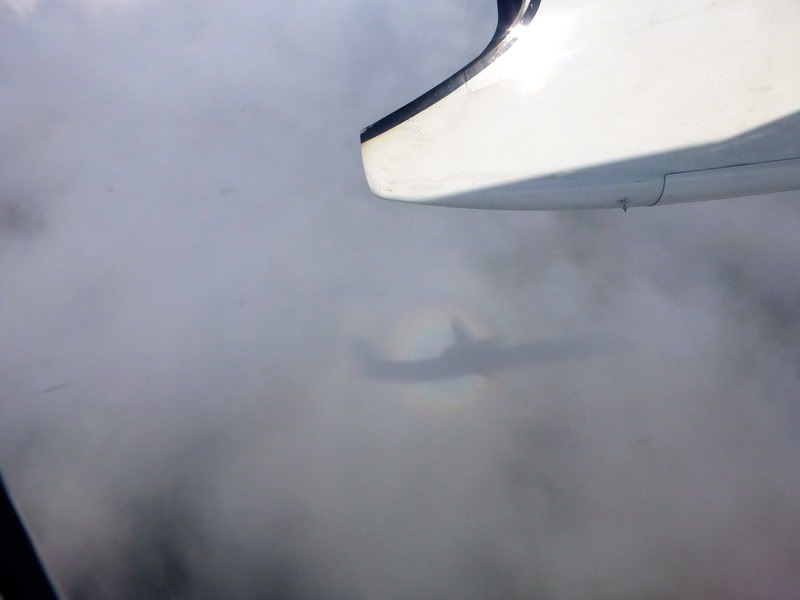 It's not just an American thing, apparently: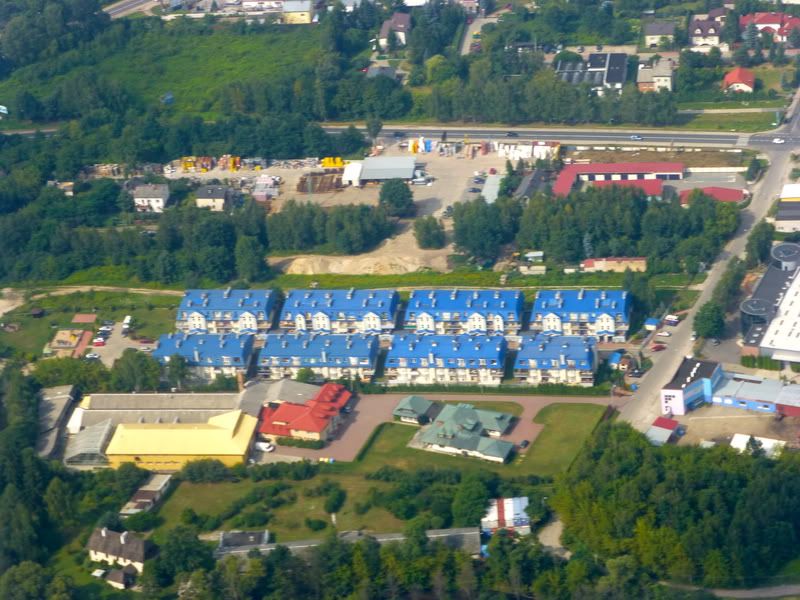 Gear down - the reason why I chose a seat back here: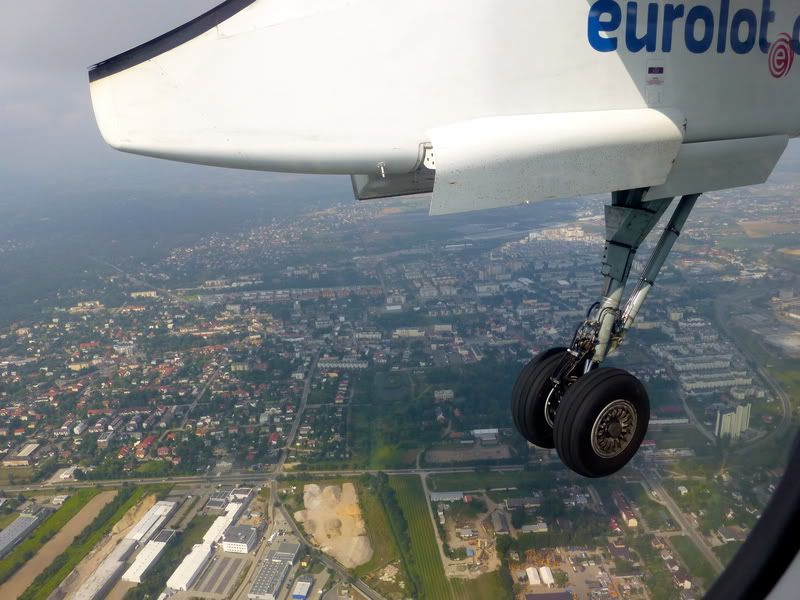 A weird shopping mall: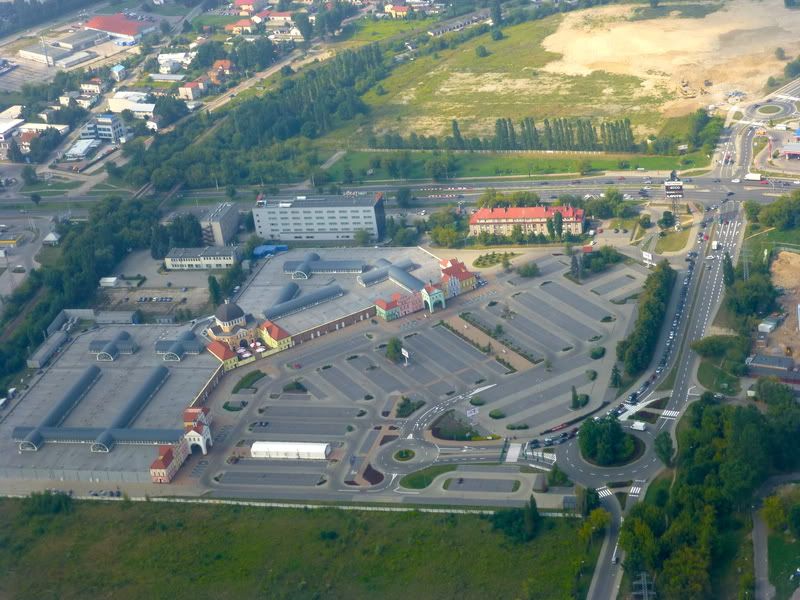 Have I ever mentioned that Poland is going thru a motorway building spree:
Touching down on 33, I tried capturing a "smoky tires" moment but this is all I got: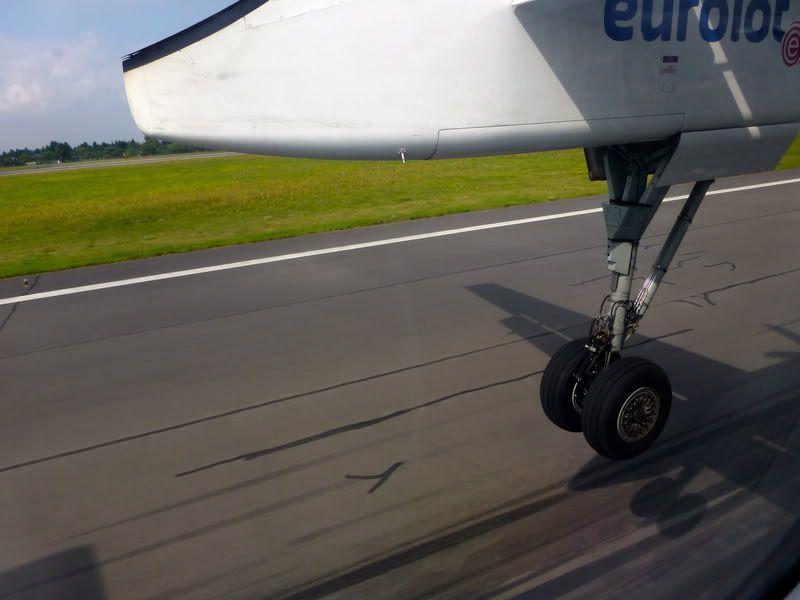 Parking next to a well-ventilated E-jet: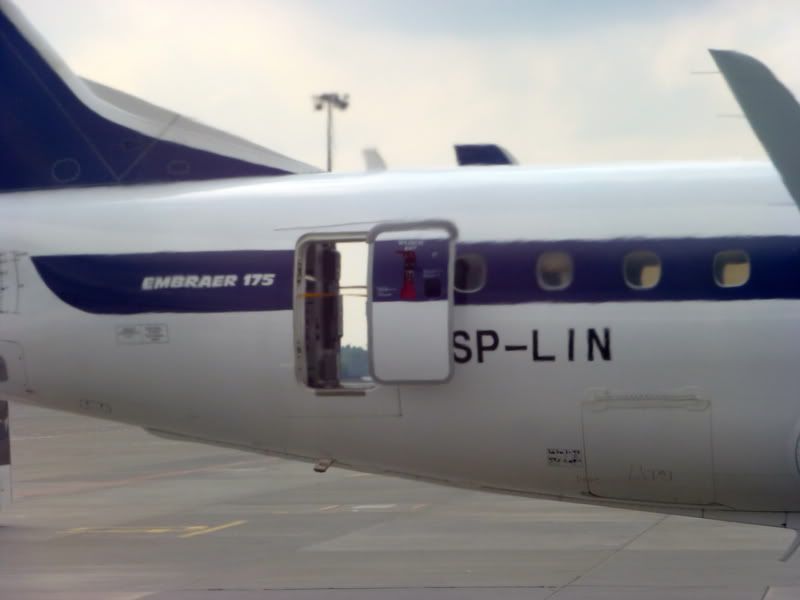 Disembarking:
I tell the purser that I promise to keep away now (well she could still be staffing my KRK flight later, though) - she laughs at this.
Bye: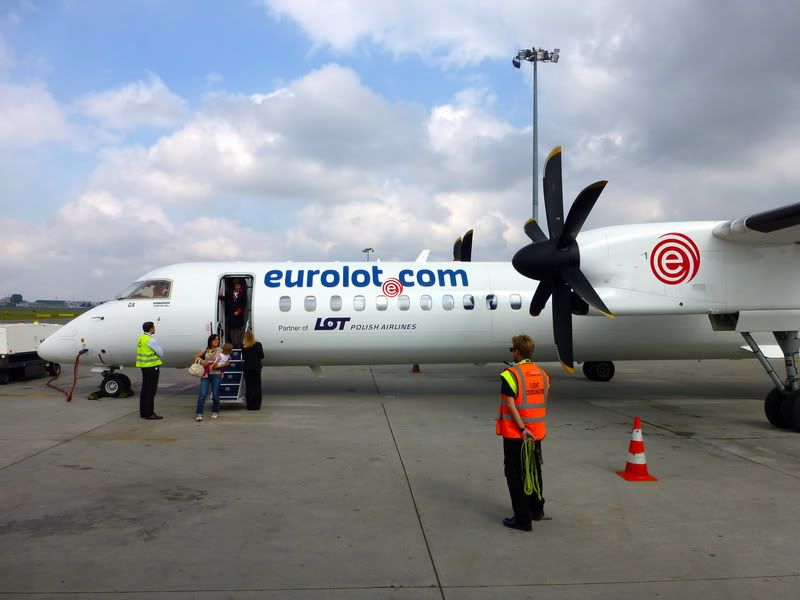 Another bus ride to terminal where I pop upstairs to print off my next boarding pass from a kiosk before heading back downstairs and catching the bus back to city for some hours of sightseeing.
Bonus Section: The New Train Connection to Chopin Airport
In addition to planes I quite like trains. Especially the commuter, urban trains that form an integral part of many cities public transportation networks. Well I actually like all kinds of rail traffic too, but not really buses. They are nasty. Apart from trolleybuses of course.
So I was really looking forward to trying out the new train connection to Warsaw Chopin Airport which was finally opened in the beginning of June. It is a bit of a surprise it actually took so long as there are several tracks which run at very close proximity to the airport but finally as part of their massive infrastructure projects (obviously partly funded by the EU) the Polish government had seen it fit to provide the funding for building the final spur to connect to the existing rail network around the capital. This also included an underground station which apparently was already constructed with the new terminal a couple of years ago.
One really nice thing about the new connection is that Mazovian Trains runs a thru service which connects Chopin airport with the new Warsaw Modlin airport (for LCCs Ryanair and Wizzair) via the city's main stations making the transit between these two airports much less hassle than one could imagine. Well there will still be a shuttle bus ride at the Modlin end as the stop is near but not
at
the airport, but still.
So after spending a couple of hours in Warsaw visiting the Polish Military Museum which has a lovely collection of T-34s, eating a dirt cheap lunch in a traditional Bar Mleczny and picking up my bag from the Radisson and making the obligatory stop at Starbucks (wow, when I was here the last time 2 years ago it hadn't yet invaded Poland - now there were lots of them everywhere!) I reach the Warszawa Centralna station which might just be a good candidate for the "Ugliest train station in the world" award together with the Turku station.
Yes, it looks like an anvil: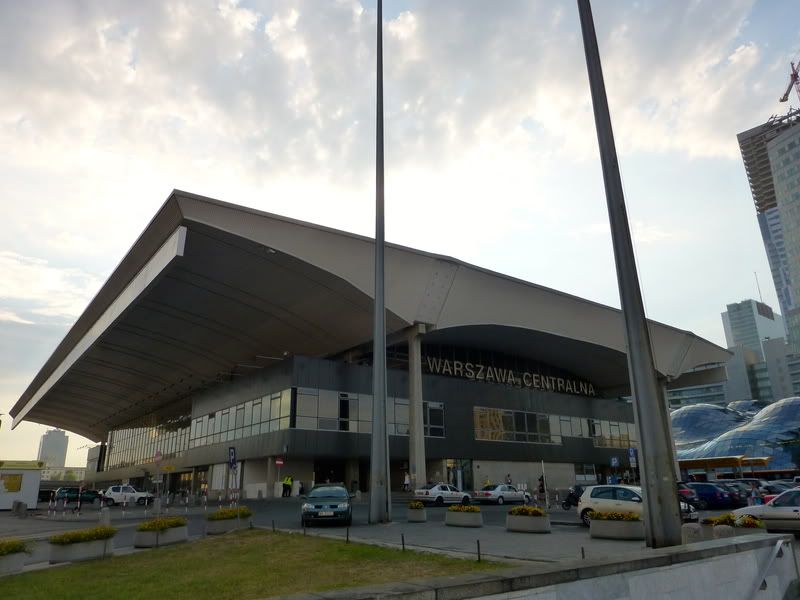 Inside it is not much better: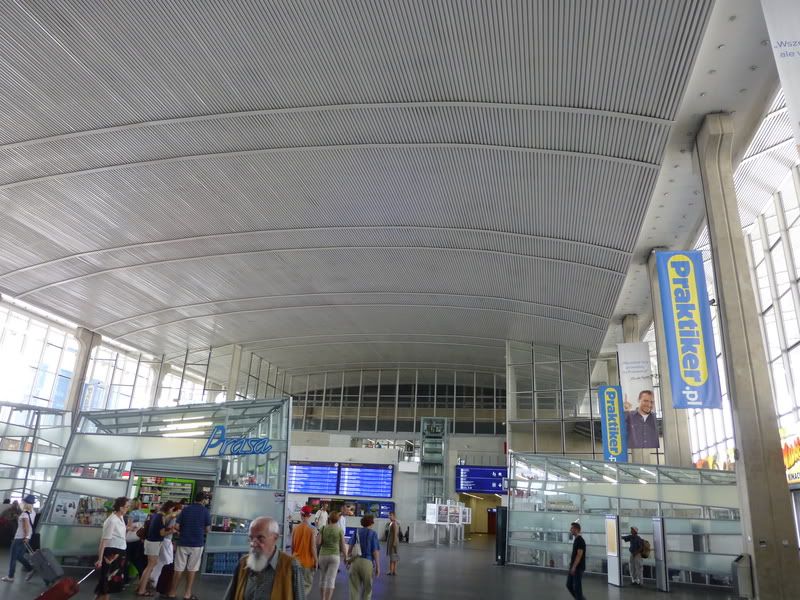 Seeing no ticket machines I queue for a while to the ticket counters. It proves to be impossible to buy a ticket from there as the middle aged lady only speaks Polish, I only speak five words of Polish and the vocabulary needed for buying a train ticket to the airport is not really among those. She seems to point me towards the stairs down to the platforms (the tracks and platforms are all underground at this station) so I assume that maybe there are ticket machines there. Down into the maze of shops and corridors I go. There's a sign (in English!) mentioning ticket machines somewhere in the bowels of these corridors but I fail to find them. Instead I find another set of ticket counters (which are completely empty and I wasted 15 minutes queuing upstairs, grrrr!) but have no better luck here. I think the lady wants me to take the bus instead as she mentions something about "Autobus" or whatever.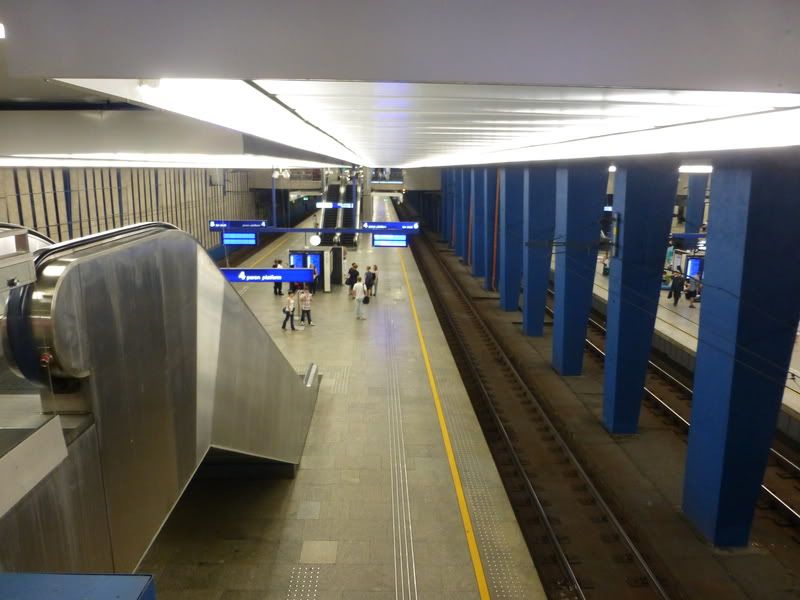 Oh well, maybe I can buy the ticket in the train or if not then I can always play the ignorant tourist card. So I go down to the platform 4.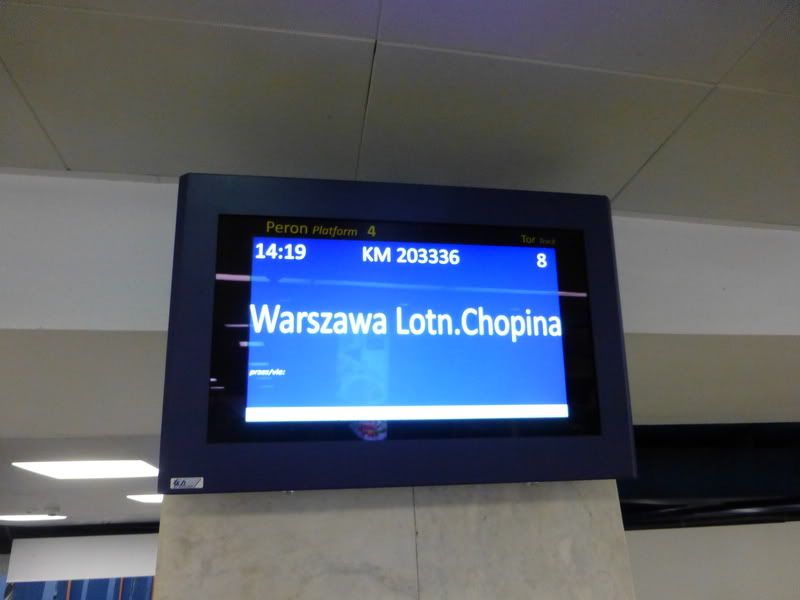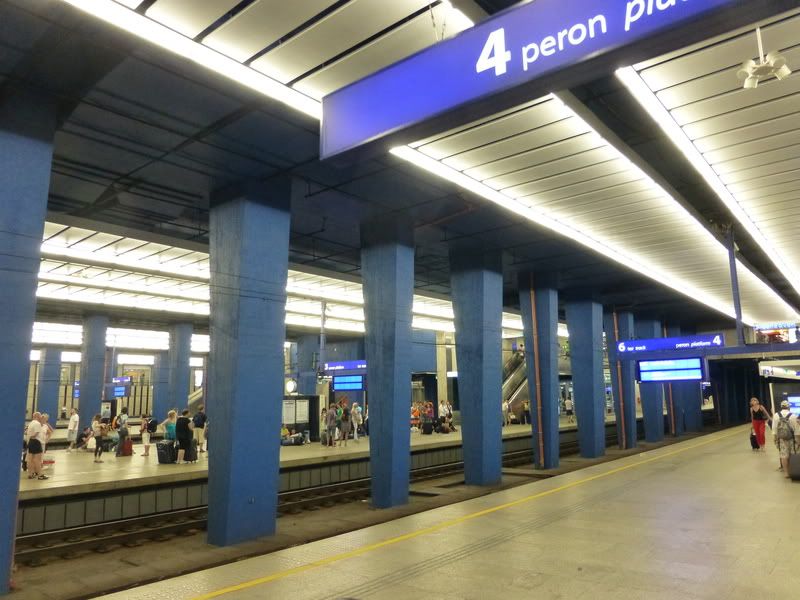 Right after I get there the train pulls in from Modlin - quite a modern one: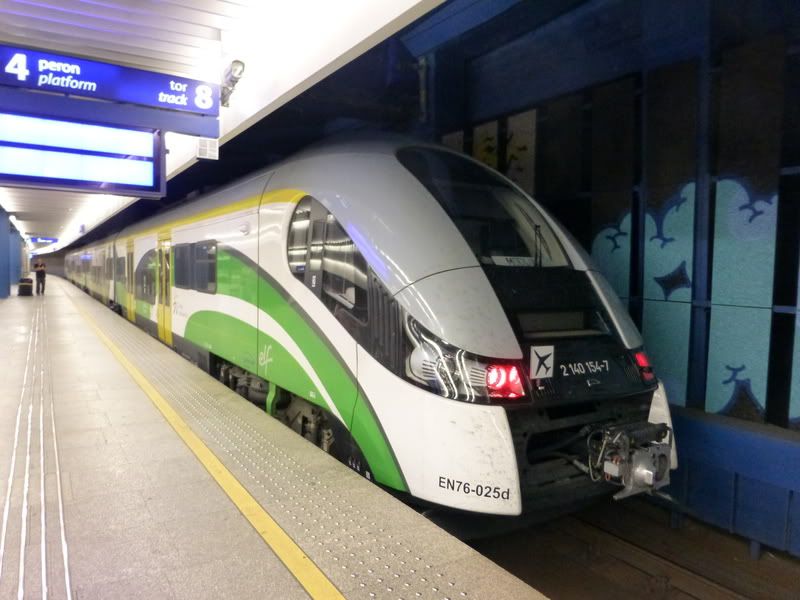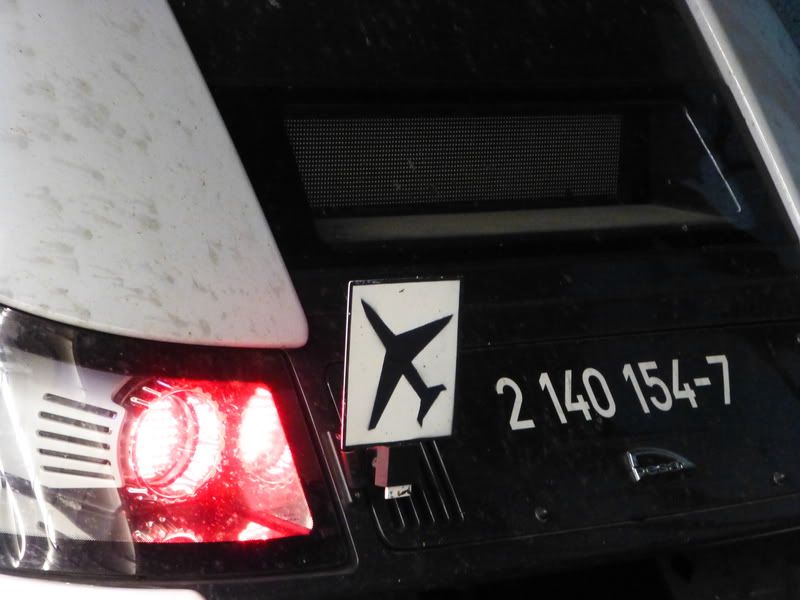 The PKP train going to Lodz from the next platform definitely isn't very modern. Still having missed my visit to Lodz last year I'd definitely want to go: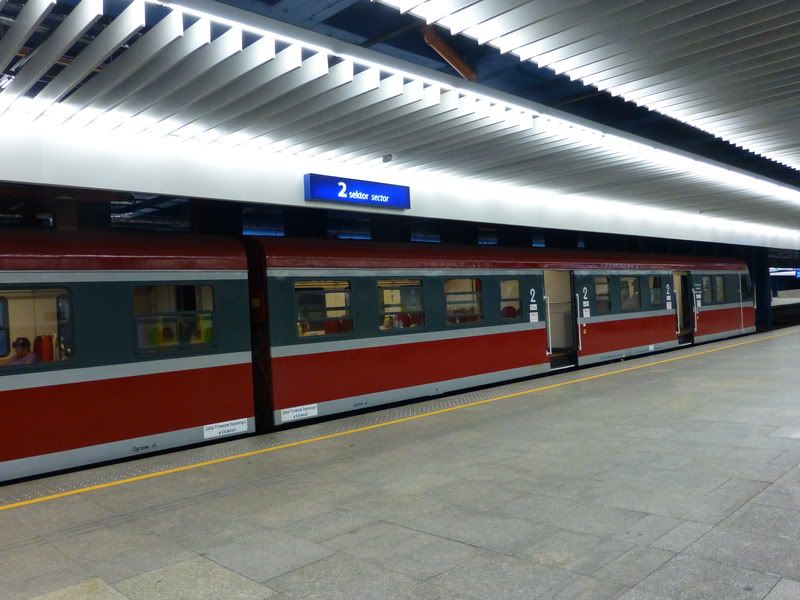 I'm not really sure if this is the correct train as it is completely empty and even there are people on the platform with luggage no one is really making an effort of boarding the train. Since it is five minutes to the SDT I decide to go inside anyway.
Nice: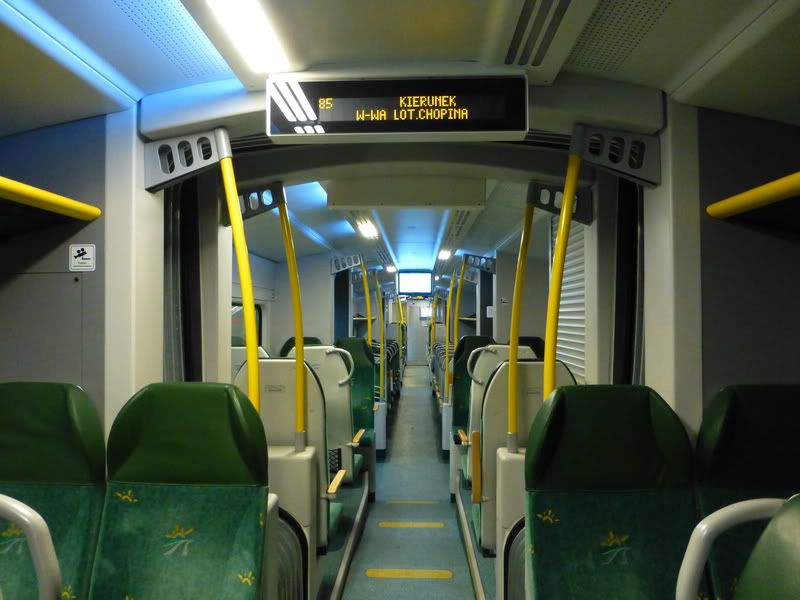 This doesn't really settle my mind over the fact that I'm still lacking a ticket:
Quite comfortable:
It turns out to be the correct train as it departs bang on time and seems to be moving in the correct direction. There are maybe five passengers in the whole train - not a blazing success yet.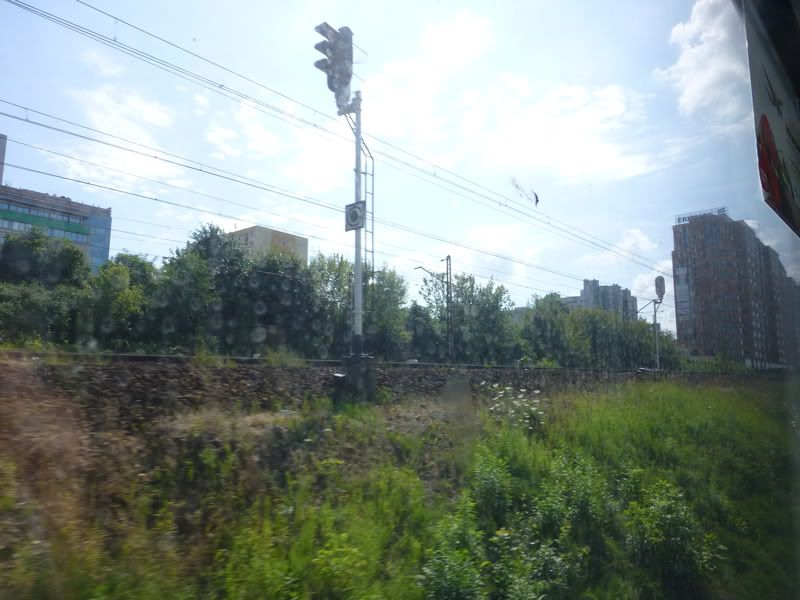 And yes, there's a conductor who happily sells me a ticket (which costs 2.5 times the bus fare or around 2.50 EUR, tsk tsk) so that mystery was solved.
This is definitely not an "Airport Express" type of service as during the 15 or so kilometer journey we stop maybe ten times at various stops so the whole journey takes roughly the same as the bus ride, some 25 minutes.
Heading underground for the last stretch into the airport station: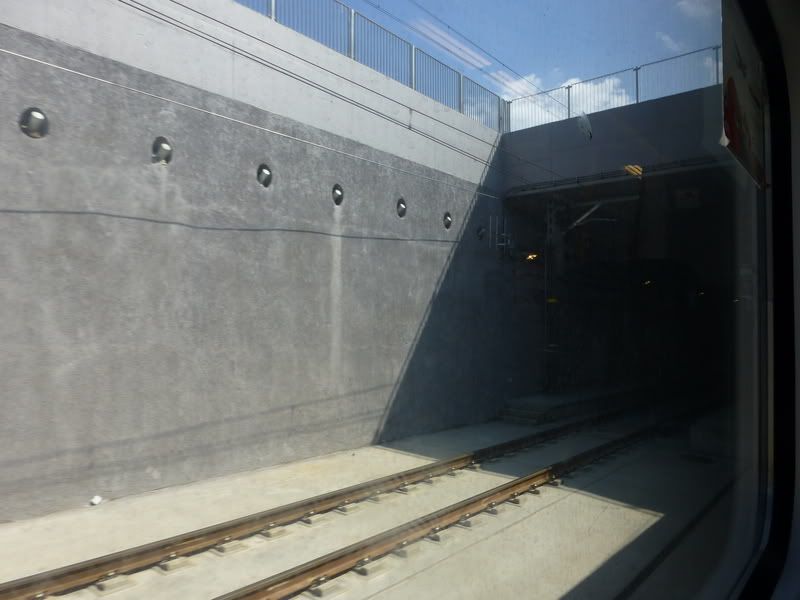 The airport station: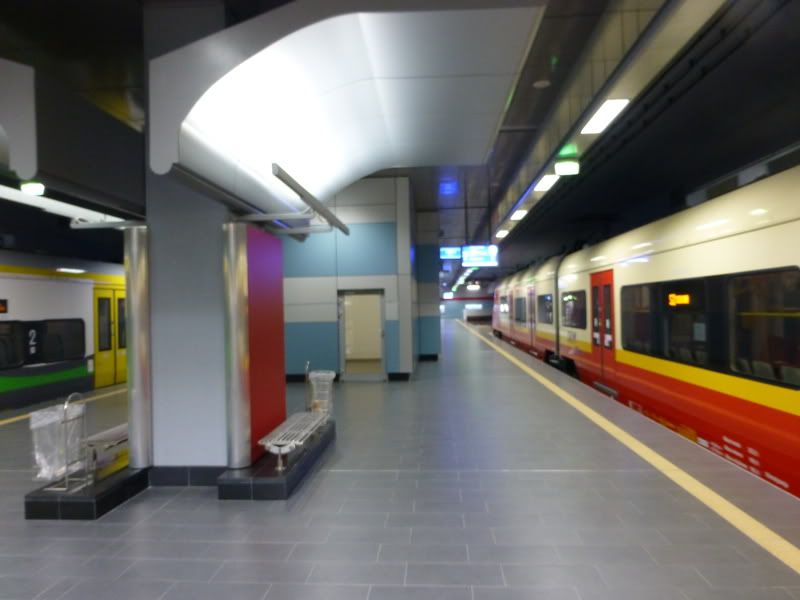 Kinda surprised to see this here - I thought Mazovian Trains was the only operator running to the airport:
Top