In the interest of full disclosure, I am a cross-utilized agent for a ground handling company here in Appleton which currently handles Delta Connection, and we were recently awarded the contract for United Express at ATW. Many of us employees are going to Chicago for SHARES training for two weeks, so that was the purpose for this short hop. This was also my first time flying United, which is something that was way overdue. Now that I've got that out of the way, on with the show!
Sunday, August 19, 2012
United Express (operated by ExpressJet Airlines)
Flight: UA6079
Equipment: Embraer ERJ-145XR, N21154
From: Appleton, WI (ATW), Gate 4
To: Chicago O'Hare (ORD), Terminal 2, Gate F9
Departure (scheduled/actual): 4:13 p.m./4:13 p.m.
Arrival (scheduled/actual): 5:09 p.m./5:03 p.m.
Seat: 2A
My girlfriend Ruby and I arrived at Outagamie County Regional Airport way ahead of my departure time to meet Ruby's aunt Sue, who was flying in on Allegiant from Phoenix/Mesa (AZA) just hours before. Sue came to Appleton to keep Ruby company while I'm gone. The three of us passed the time at one of the airport's restaurants, Creative Croissants and shared the "Macho Nachos." This thing was loaded with cheese, chicken, and pico de gallo. For $10 ($9 with my employee discount), it's a pretty good value.
Soon enough it was time to check-in. I walked over to the United Express ticket counter where there was no line and began using one of their kiosks, when a friendly Air Wisconsin agent interrupted me and said that she would check me in herself. Even though I don't mind using the kiosks, it was a much appreciated gesture. She tagged my bag to ORD and threw it on the belt. One of the benefits of this was that I got a boarding pass on actual ticket stock! These are such a rarity these days at Delta, where even if you're checked in by an agent, you get a boarding pass on flimsy receipt-type paper.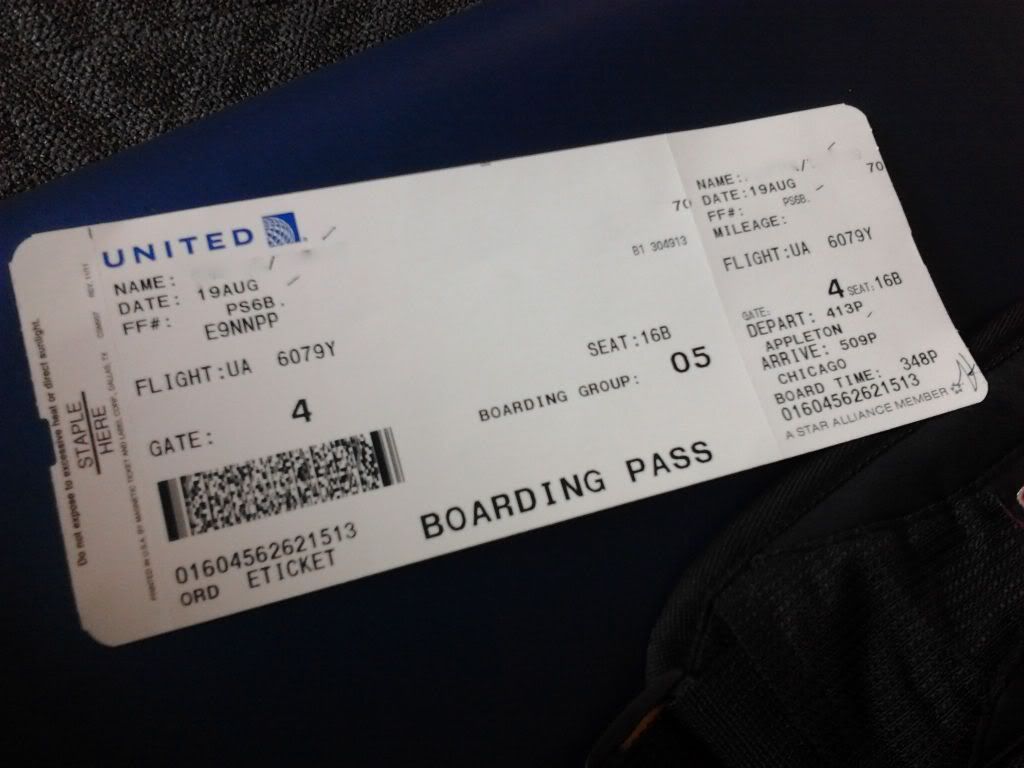 I said my good byes to Ruby and Sue and approached the security checkpoint, where all of the TSA officers recognized me. After working at PHX, it sure is different going to an airport where you can't go five minutes without running into someone you know!
I love these windows right after security at ATW. Note the Northwest wheelchair in the foreground.
For those of you who've never been to ATW, it boasts a staggering eight gates, though only five are really operational. Gates 3, 5, and 7 are Delta; United uses gate 4 and Allegiant uses gate 6. Gate 8 is the former Midwest/Frontier gate and is now used for overflow or charters. These are all equipped with boarding bridges (pretty nice ones, I might add), while gates 1 and 2 aren't. Gate 1 doesn't even exist anymore and gate two still has lines on the ground, but the space is now occupied by a restaurant called 'Delicious Departures.'
As you can tell by the gate situation, Delta is the dominant carrier here now, but it wasn't always this way. UA, DL, NW and YX were all neck-and-neck at ATW for years. Appleton was the birthplace of two airlines, K.C. Aviation, which later became Midwest Airlines and ultimately merged into Frontier; and Air Wisconsin, who's still headquartered here, but whose presence has greatly diminished at this airport, losing their flying contract for United Express and now their ground handling contracts for United and Allegiant here. I hope they can find a way to hang on, but with an aging fleet comprised entirely of 50-seaters and very senior staff, I fear they may go the way of Comair in a few years.
My aircraft, an Embraer ERJ-145XR, taxied into the gate less than 30 minutes before our scheduled departure, so this was going to be a quick turn. I was booked in 16B (not by choice), but I really wanted a seat on the 'A' side and asked the gate agent if there were any available. He asked if 2A was okay. It was more than okay, it was great!
Getting some AvFuel-brand Jet A from ATW's Platinum Flight Center. I deal with Platinum all the time and they're great!
I waited for boarding group 7 to be called and made my way up to the gate. All of the pax were going down the Premium lane instead of the general boarding lane. It makes you wonder why they even have the dual-lane boarding when they never enforce it anyways.
I took my seat in 2A and the friendly flight attendant, whose name I can't remember unfortunately, noticed my airline ID and started chatting me up about the industry. The captain came on the PA before departure and announced that he had asked her to stay seated during the entire flight because of the turbulence and there would be no drink service. That didn't stop her from stepping out of the jumpseat a couple of times during the flight so we could continue our conversation.
See, 2A is a great seat!
Getting ready to pull the boarding bridge back.
We began our takeoff roll after waiting for a Delta Connection/SkyWest CRJ-200 from MSP to land. We initially headed east over Appleton, along Wisconsin Ave., then over downtown, and finally turned to the south over Menasha. From then on, it was difficult to see the ground as some ominous-looking clouds had moved in. The captain was right about the turbulence, which steadily got worse as the flight went on.
The plane may have said 'United' on the outside, but it's all Continental on the inside.
Shortly into our flight the Lake Michigan shoreline became visible.
The fasten seatbelt sign remained on during the entire flight.
We passed over US 45 in the Milwaukee suburb of Wauwautosa and then the captain announced that it would be 15 minutes until our arrival at O'Hare. Soon, after seeing numerous Jewel Oscos out the window, I knew we were over suburban Chicago.
Despite the weather, the landing was fantastic and we rolled past an Iberia A340-600 as the reversers came on. I frantically tried to turn on my phone and snap a picture of it, but it was too late. This has been my biggest regret of the trip so far.
Nice to see some AA metal again!
While the globe has grown on me a bit, I still think it was a terrible mistake to do away with this livery, one of the finest in the US, IMO.
Lots of other ERJs here on Concourse F. We had to wait a minute for rampers to arrive to flag the plane in.
Welcome to Chicago O'Hare International Airport. What an amazing place!
I followed the signs to 'United Baggage Claim' and walked over to Carousel 12 to claim my bag. I guess 12 is the Wisconsin carousel, as flights from Milwaukee and Madison had delivered on the same belt earlier. After waiting more than 20 minutes staring at an empty carousel, I checked with a BSO agent about the status of the bag. He said bags from Appleton hadn't been delivered yet and to stand by. Finally after 25 more minutes, my bag (probably the only one from ATW) was delivered, along with bags from two other flights. United was great in all other respects, but this was atrocious. I know not too many people (if any) check a bag from ATW to ORD without connecting onward, but 45 minutes is unacceptable. It's a good thing I didn't have a place to be at that time.
After retrieving my checked bag, I walked to the bus center and got aboard the shuttle to the ALoft Chicago O'Hare hotel. Once I got settled in, I ventured out and walked to a tiny place called 'Village Pizza' where I had the gnocchi with meat sauce and garlic bread on the side. After dinner I stopped at the 7-Eleven to grab some essentials and then it was off to bed for my 6:00 a.m. class the next day.
Watching the EARLY morning news at 4:30 on Chicago's NBC 5 before class.
My bed... slightly slept in.
Today's class was great and tonight, I'll be hitting the town with some of my co-workers at ATW. It's hard being away from home and from Ruby, but I'm very excited to begin the United chapter of my airline career. I'll be returning home this weekend and, of course, posting about it here. In the meantime, please give me your feedback on this report. Thanks for reading!