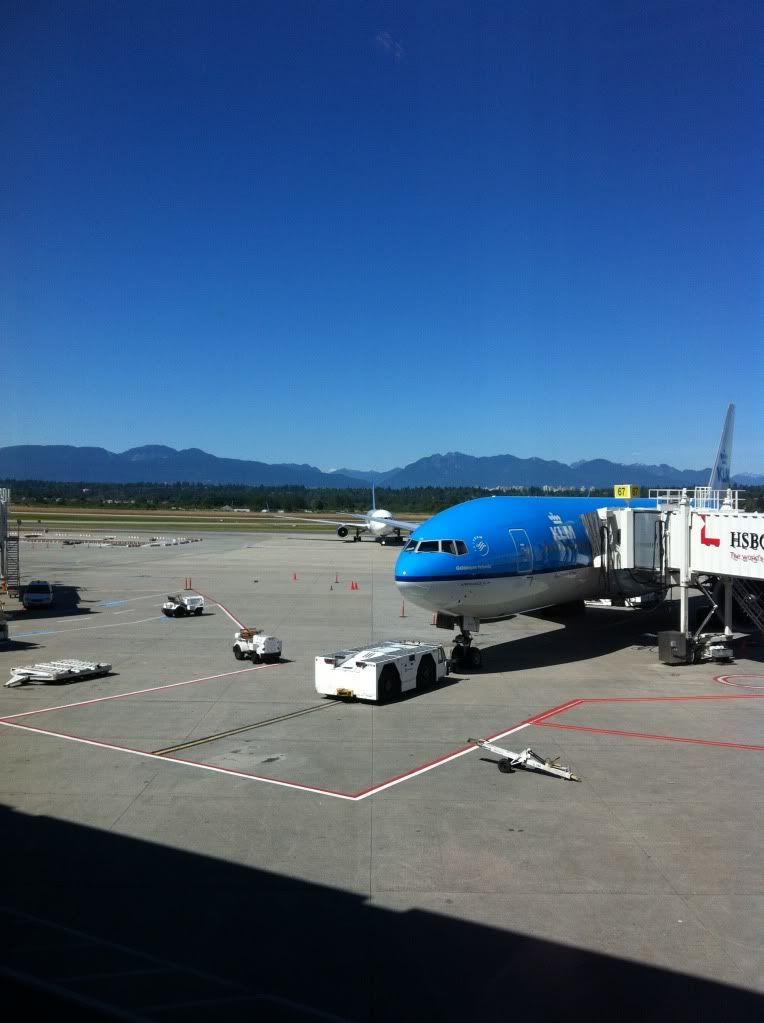 Hello everybody! Welcome to my first ever trip report! To start off I'd just like to explain a few things. First of all, I don't own a digital camera. I used to but I don't anymore so all of these pictures are taken off an iPhone. I know I know, it isn't perfect, I really wish I had one but I hope most of you find this enjoyable enough, I guess you could say there's more quantity than quality in this report. Secondly, this if my ever report so please keep that in mind. I've been reading TR's for about a year and have figured out what I like in a trip report, so I apologise for all those that find something's missing. For example I enjoy lots of pictures, particularly aviation and aircraft related, descriptions of the inflight products and more pictures! I'm not one to take pictures of the meals (although I did take a couple for those who do) and I noticed many small differences on KLM than on previously airlines I've flown and will most likely be pointing them out to you. So, strap in, scroll down and I sincerely hope you enjoy and are happy with my first ever trip report. Any suggestions, comments, concerns, ideas, thoughts or future notes are greatly appreciated cause there's not a chance in the world this is gonna be perfect.
The Trip and Preparation
This trip was a trip I took with a group of people so the airline was not mine to choose. This would mark the 1st ever time I've been to the Netherlands, my first time on KLM, my first ever 777-200ER and 5th flight to Europe and 4th vacation there.
The night before the flight I was in debate weather or not sleeping a lot or not sleeping at all would be the better thing to do so I would be rested upon arrival to Europe. Based on the different tactics my group used, it all depends on weather or not you're able to sleep in economy class seats on an airplane. I wasn't quite sure of myself as I'm not one who can sleep anywhere at any time. I always fall asleep on my connecting flight's within Europe when I have them. So I figured my best option would be to get an average amount of sleep and see how it goes.
I would consider myself an above average flyer. I have had the chance to go on several flights to and around Europe, to Africa, and across Canada countless times. Many people haven't traveled nearly as much as I have had the chance. That being said there are many on here who travel tens of thousands more miles than me every year. So in the grand scheme of things I have traveled a lot but here on A.net, not so much.
The Flight
Date: August 4th 2012
Carrier: KLM Royal Dutch Airlines
Flight Number: KL682
Departure City: Vancouver (YVR)
Arrival City: Amsterdam (AMS)
Aircraft Type: 777-200ER
Registration: PH-BQG (Galapagos Islands)
Scheduled Departure Time: 1600
Actual Departure Time: 1612
Scheduled Arrival Time: 1020 +1
Actual Arrival Time: 1002 +1
Flight Duration: 8h50m
Seat Number: 35J
Configuration: 3-3-3
Notes: 1st 77E, 4th 777, 1st time on KLM
Checking in at the KLM desks was a little packed. Check-In works by first checking in at a self check-in kiosk and then walking into a line to get your bags tagged and drop them off. The problem was the check-in kiosks were right at the start of the line. 4 kiosks for the flight which isn't awful, the entire process took about 10-15 minutes but as the kiosks and line were at the same place, there was quickly a back-up and after you had checked in, you had to stand in line to drop your bag literally in front of the kiosks where a large gathering of people had formed trying to check-in. Perhaps the whole set-up looks nice and smooth when being set-up however when busy it quickly becomes a hassle. It would be very quick to fix, just change the bag drop lines to the other side and you create two distinct lines.
While that may sound like it had me annoyed, I was still incredibly excited for the flight! I had my boarding pass, which was printed on thick paper unlike many self kiosks, my bag was checked and I was on my way. I was much too excited to get airside that I didn't take any pictures until then. It's a shame as I missed The Spirit of Haida Gwaii by Bill Reid, a beautiful Jade Canoe. Also there is a decently sized food court landside with perhaps 6-8 food options and a full service restaurant.
My boarding pass to AMS
The departure of my flight was at 1600, with boarding at 1455. After security I was left with just over an hour to spare. And I didn't waste a second. from 1-3pm is perhaps the best time to be in YVR. All the European heavies are landing, as are all or many of the Asian departures. I don't remember a single gate that was empty the entire time I was there. I'll let the pictures do the talking here.
An AC 77W (C-FIUL), being turned around from it's trip from Tokyo Narita for a nice 13h hop to Hong Kong as AC7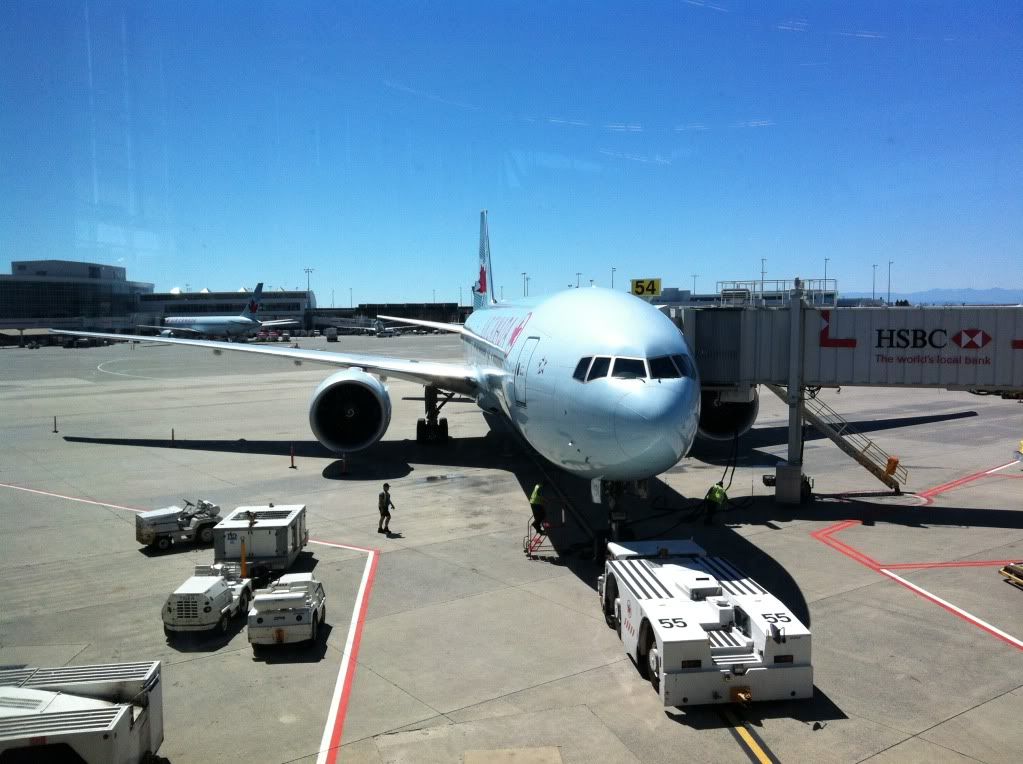 Another AC 77W (C-FIUV), this one coming from London heading to Tokyo Narita
Cathay Pacific 744 operating to Hong Kong as CX839
On an interesting note, Cathay's flight 888, with 8 being a lucky number in many Asian cultures has been given to the HKG-YVR-JFK flight. Feels special as Vancouver isn't particularly a city you would think would receive a special flight number. One would expect London, Paris, Los Angeles, Tokyo, New York (in whole) or another major city to receive this. Making it even more special is that there is no CX1, the standard flight number for a flagship route. Maybe I'm hoping here but It feels special for Vancouver
International wing from the farthest end at YVR, the walkway above is for sterile pax arriving
Walkway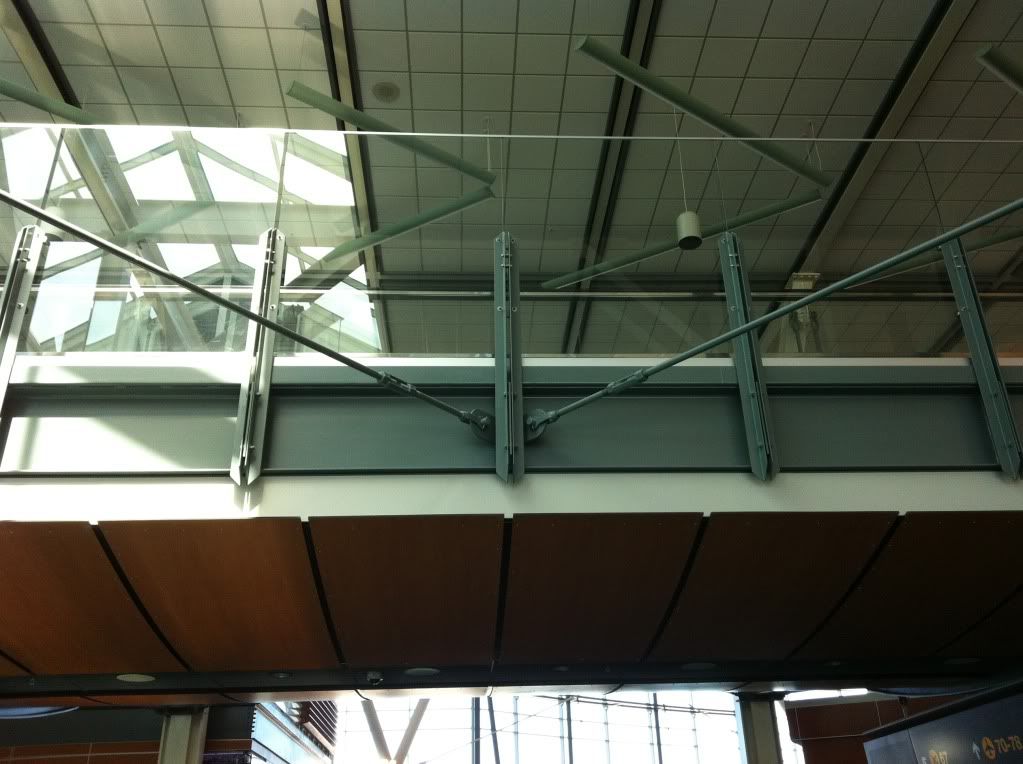 Air China Airbus A332 ready for it's flight to Beijing Capital
A view of the North Shore Mountains in Vancouver
China Eastern flight to Shanghai on another A332 (with KLM tail in the background)
First view of my plane!
PH-BQG with a Phillippines 343 landing in the distance
More views of PH-BQG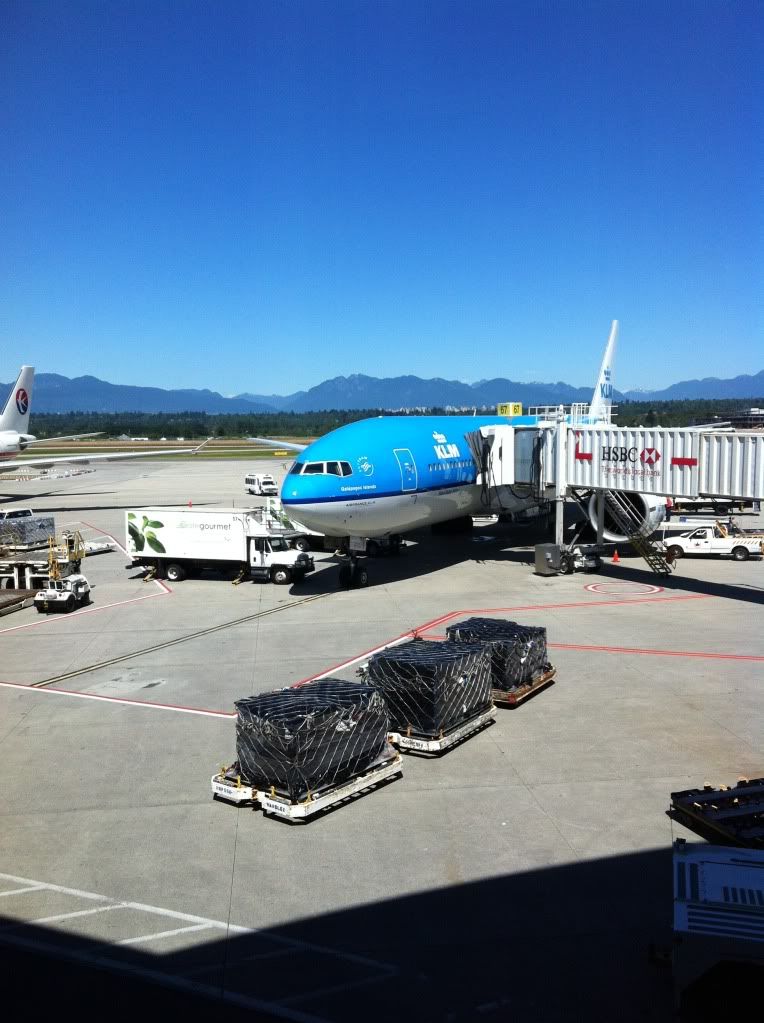 Korean Air with special new horizons of Korea livery being turned around for Seoul-Incheon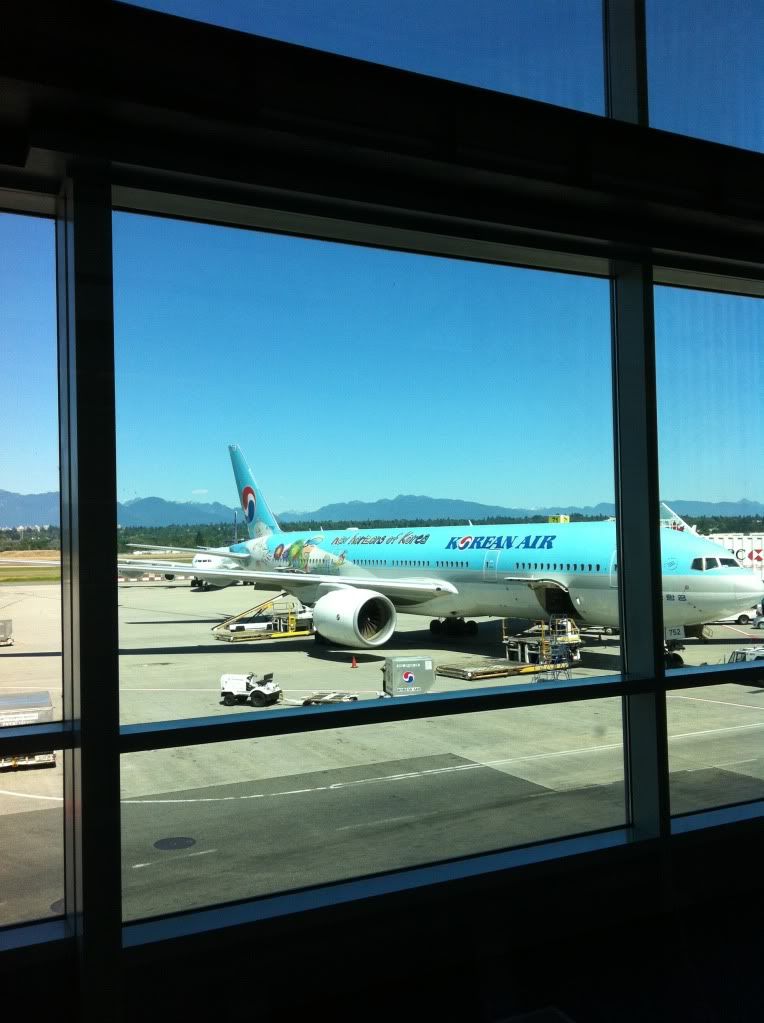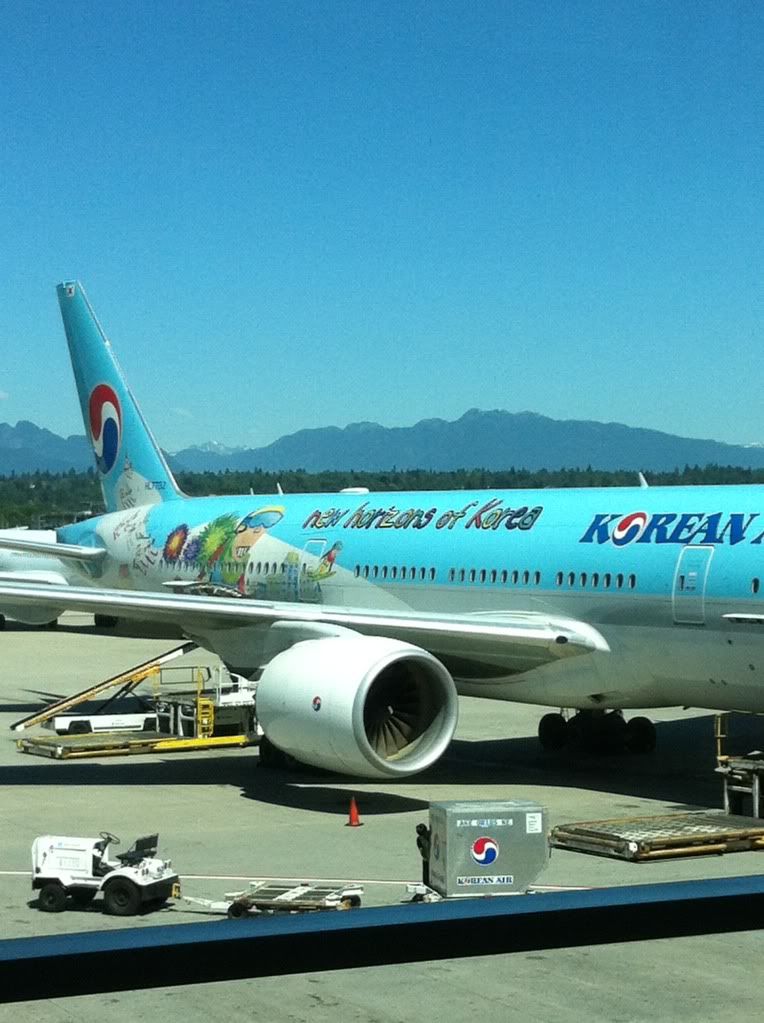 Phillip0ines 343
What a beauty!
There goes the Korean Air!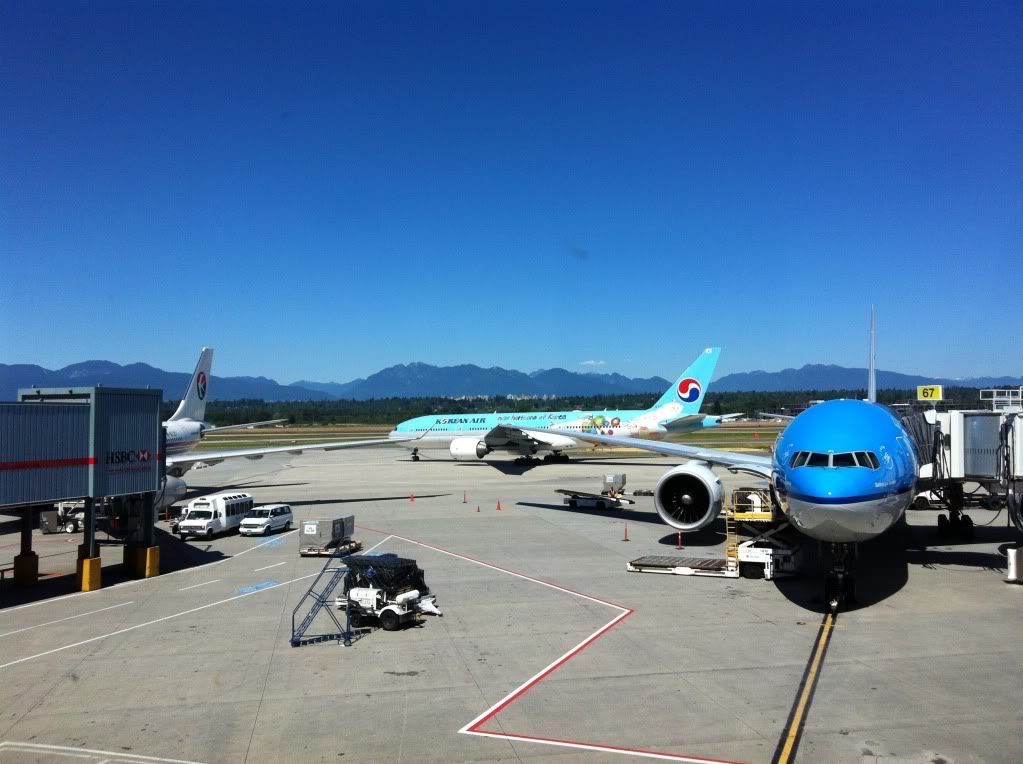 The first of 2 daily BA 744's that operate during the summer, in the winter there is only 1 daily to the best of my knowledge
Guess who just came in??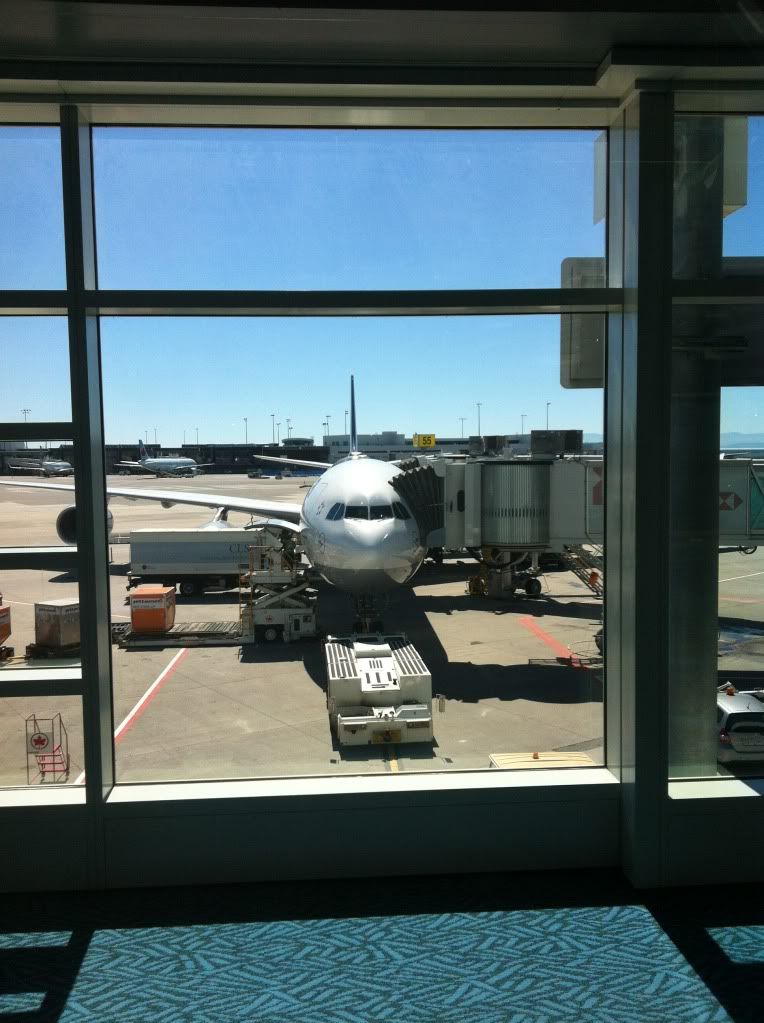 A Lufthansa A346 from Frankfurt!!
Air Transat A330 from Manchester if I remember correctly
The second newest carrier to YVR after Sichuan Airlines, Virgin Atlantic!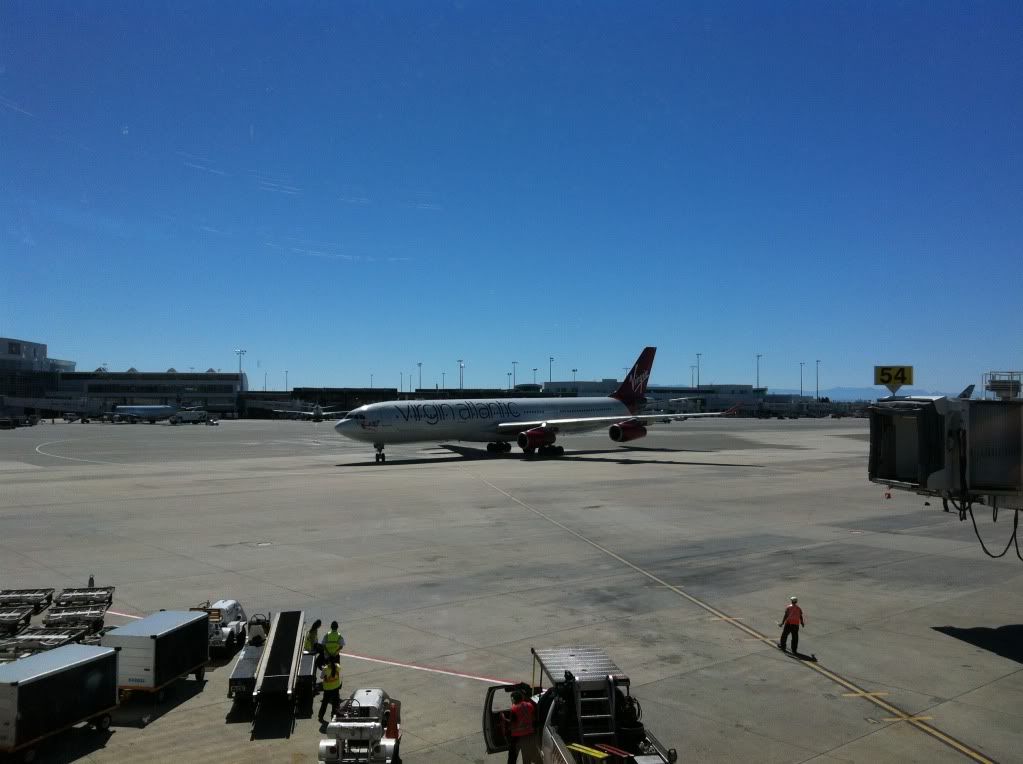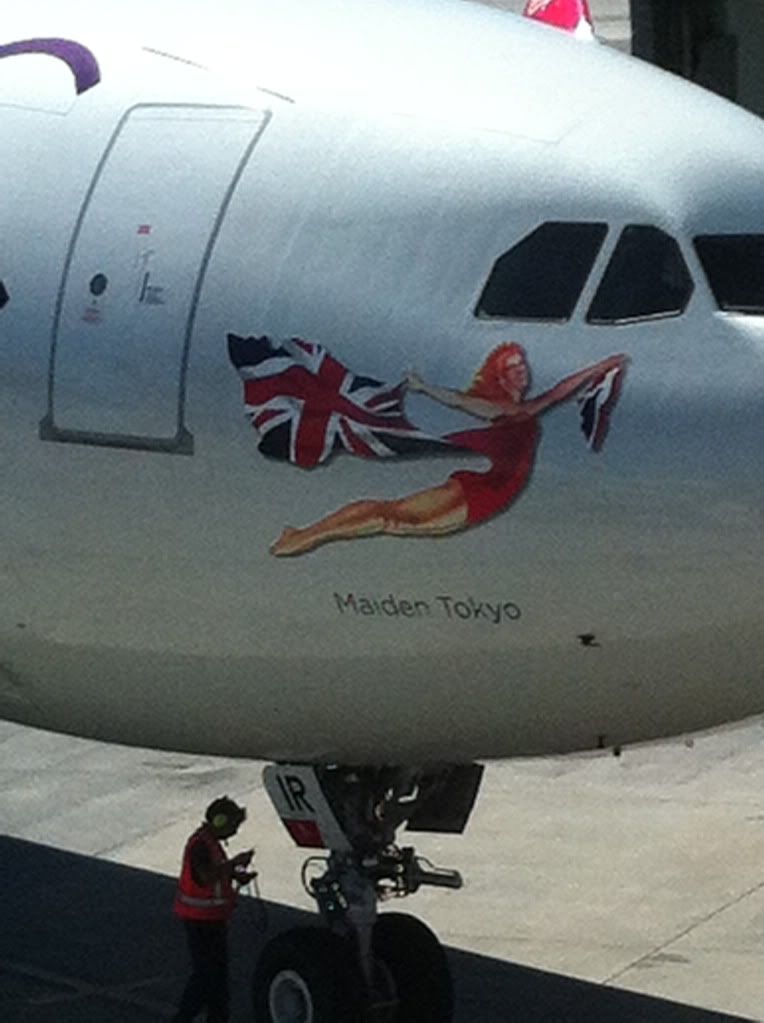 International departures, with a stream and Aquarium with hundreds of fish. Sorry about the lack of pictures for the terminal building, It's truly impressive! I was running out of time though!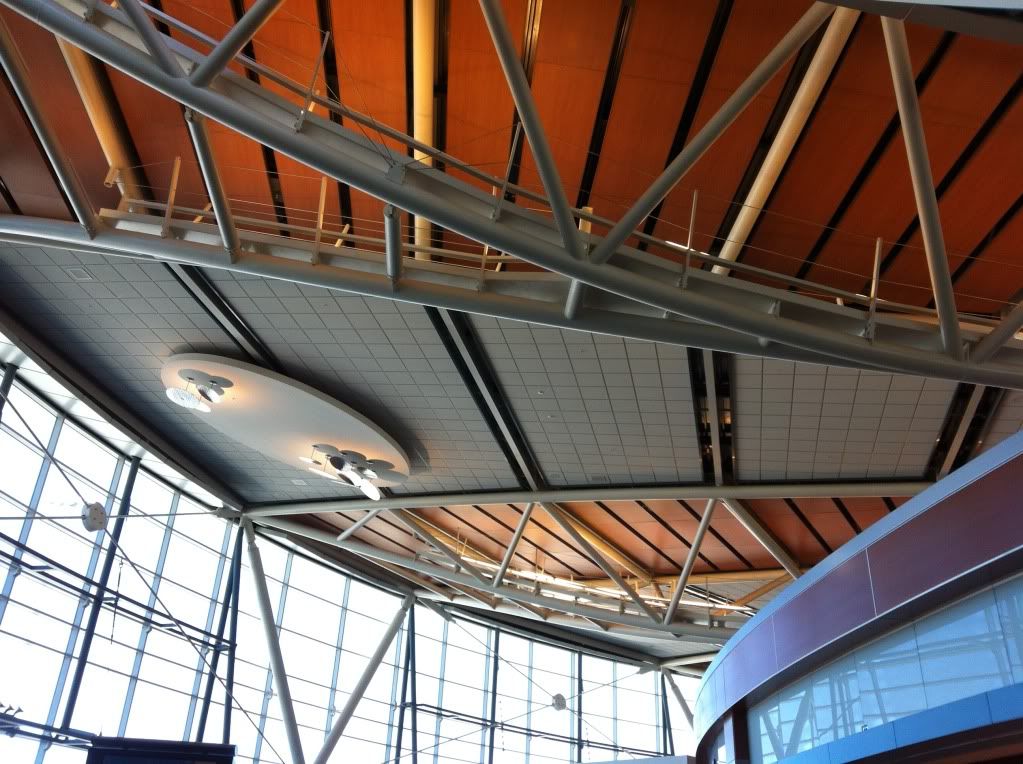 A Condor 767 from Frankfurt
As you can see many pictures have glare or are slightly obstructed by bars in the glass. The international departures terminal at Vancouver is nearly entirely glass. Which walking through is an incredibly astounding view as you can look out both sides nearly all the time. However, taking pictures is another story. As I mentioned with the walkways for sterile pax arriving from overseas, there are walkways down the middle of the departures hall high above for them. However for every gate or every pair of gates there is a small section of glassed walkway on the same level as departing pax for arriving pax before they are taken upstairs. Its cause of this that it isn't always possible to take a picture right from the outside glass. The photos of the Lufthansa A346 are the best example, the nose on picture is through two pains of glass spaced 3m apart, but it's not very easy to tell. But it becomes very obvious on the second shot that it's not taken from right next to the glass. So it becomes slightly challenging. It's nice for 99% of the passengers, not for us 1% who want to take pictures of every aircraft :P
Boarding started 10 minutes late at 3:05. Not entirely sure why as the inbound flight appeared to have arrived on time. I was one of the last to board, and made my way across the plane, down the aisle to 35J, a window behind the wing on the left hand side. (Note there is no I seat as it would probably be confused for a 1)
The small IFE for the flight, will talk more about that later.
My view for the next 10 hours
KLM's fleet
Airborne over Vancouver, a beautiful day for pictures and a great path right over the city heading north for Amsterdam!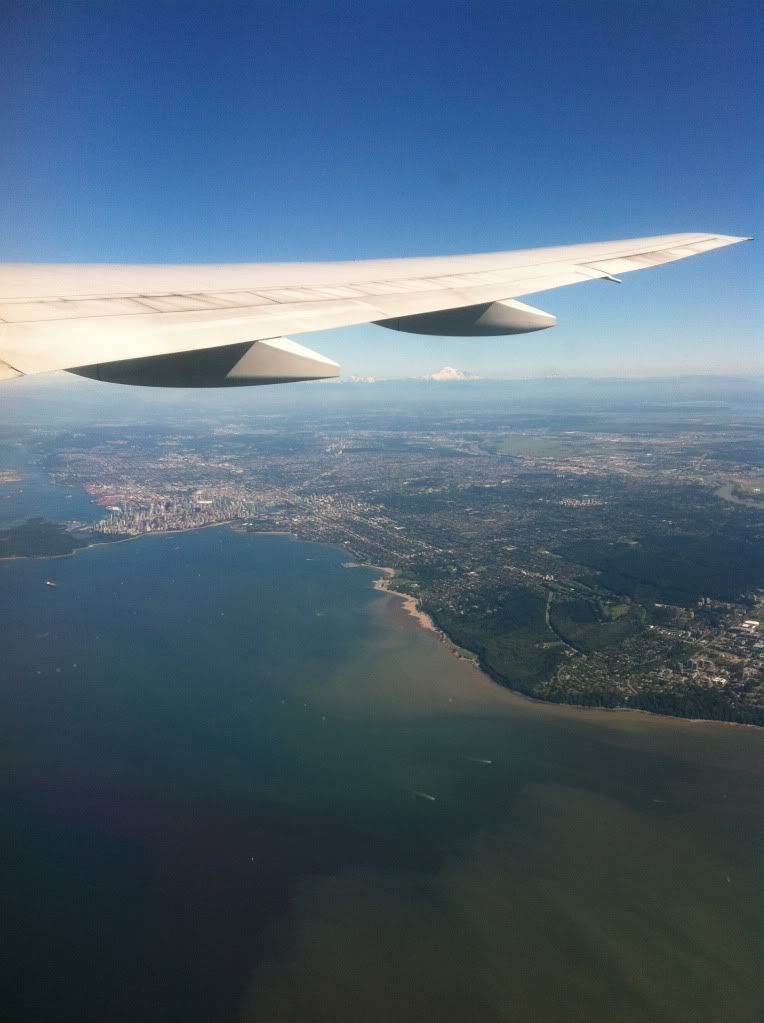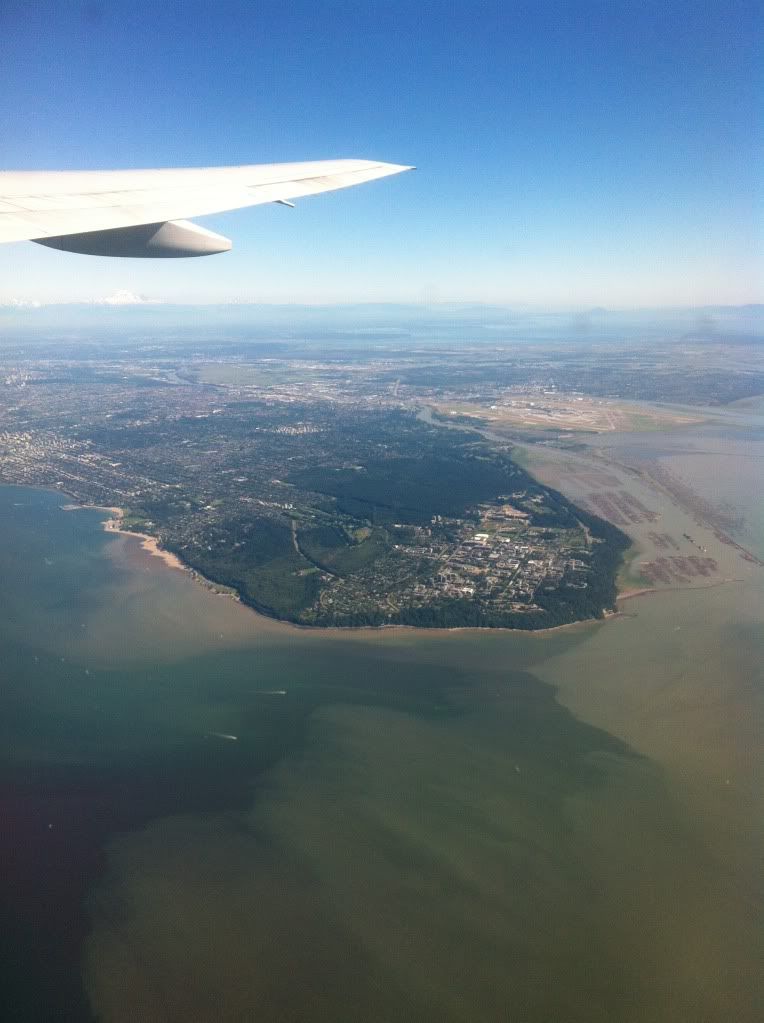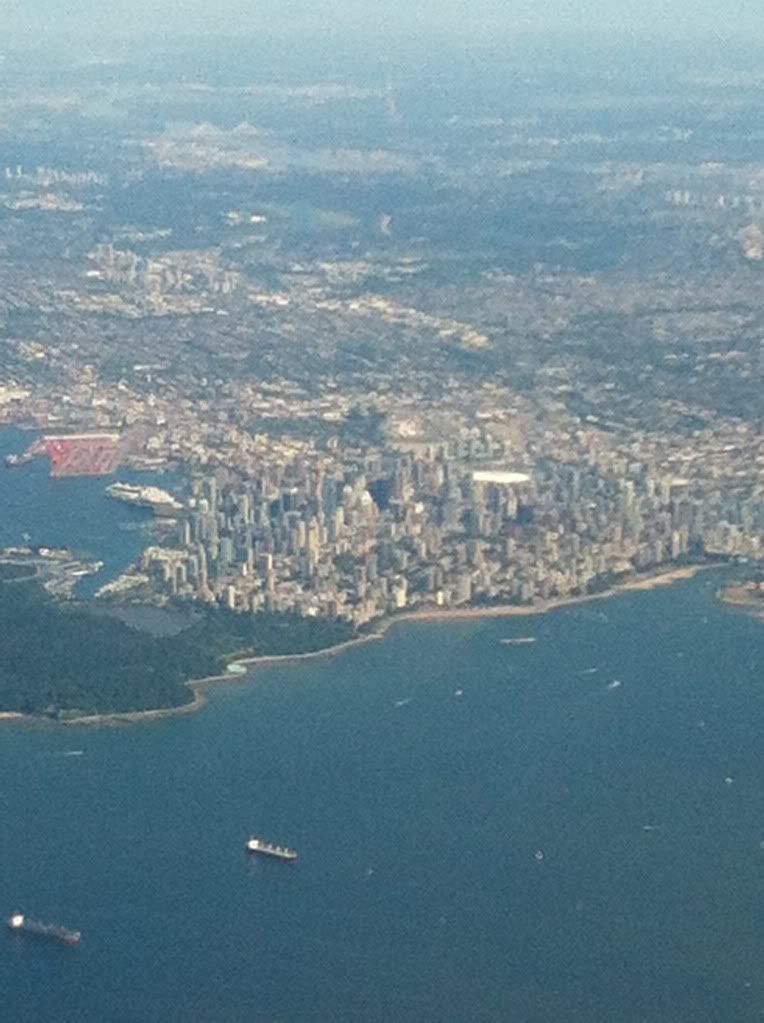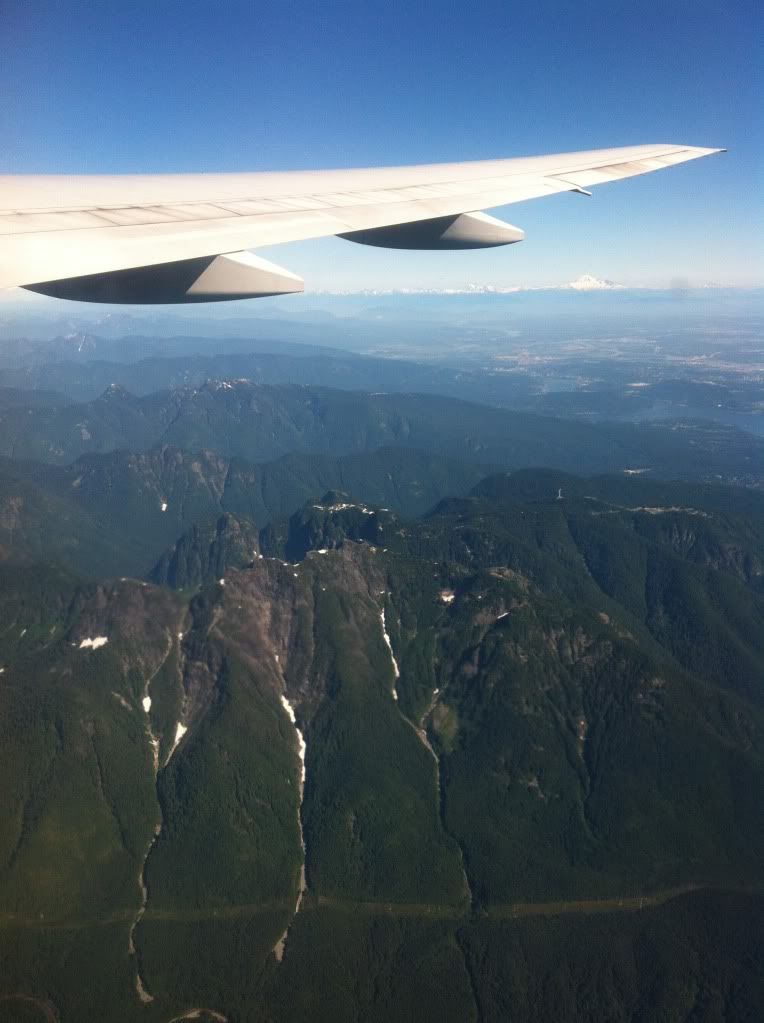 The IFE was switched on roughly ten minutes after we were airborne. The screen was small and controls were through a remote. Personally I am not a fan of remotes. My button for selecting items was broken so I had to push at it very hard with my fingernail, often hitting the left, right, up, down keys. I'd much prefer a touch screen where you can't accidentally pause, stop or entirely quit the movie your watching while sitting, which I managed to do half a douzen times. Very annoying! Can't complain about the content though, not as much as Air Canada which is the main carrier i've flown on, but there were recent movies and I watched a couple movies, an episode of Modern Family as they only have one episode for each show and of course the moving map!
About 45 minutes into the flight hot meals were served. No menu card but I don't understand why any carrier would waste money printing menu cards for economy pax when you receive two options. I've seen many trip reports where it's shocking not to receive one, perhaps my standards are too low. The choices were a chicken curry meal or a pasta with salmon. I chose the salmon and didn't finish it all. Not surprisingly as I'm not a huge fan of airplane food, I find it tasteless, plastic like and not appetizing. The buns they served were delicious however! Freshly warmed and the perfect temperature, I wish I could've had more than one!
Unable to sleep, my time was consumed with watching movies, tv, reading the inflight magazine. Which was thick, but fooled me as the entire second half was the duty free section. I discovered mid-flight that there was a snack-bar set up in the rear of the aircraft. It wasn't much but they had a variety of drinks, two kinds of cookies, various flavours of fruit flavoured mentos and miniature Mars bars. I stole a couple handfuls for a sugar rush I knew I'd need later.
Night-time, but not completely dark as it is summer and we were passing very far north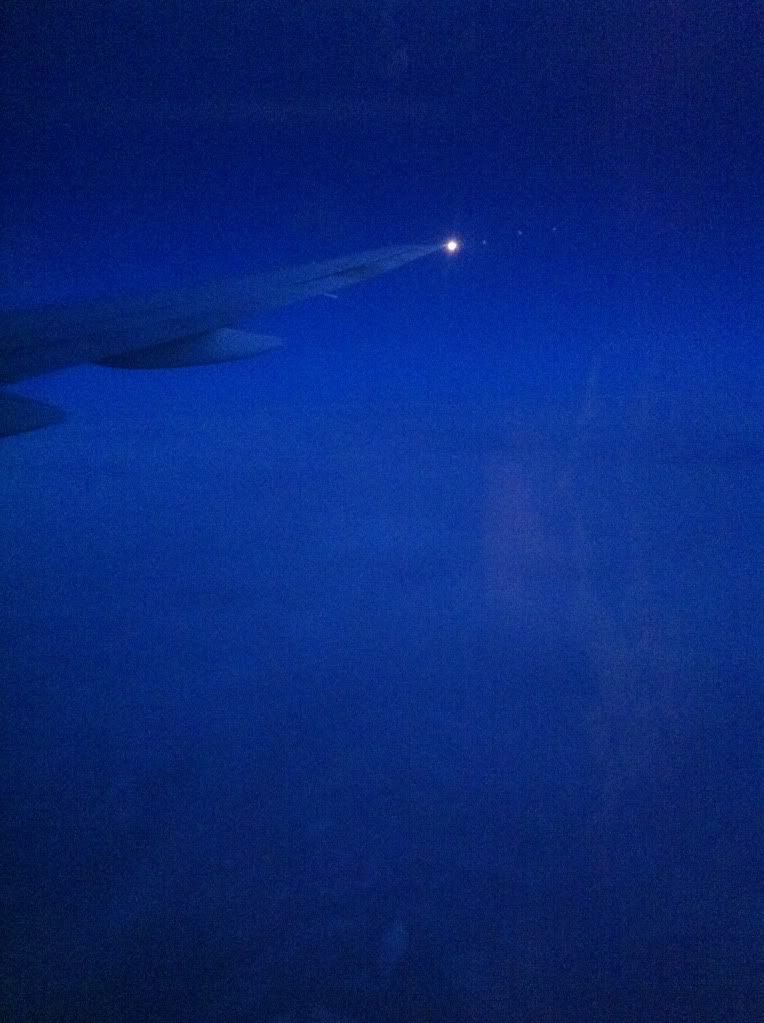 Breakfast was a bland omelet with potatoes. All of it was poorly cooked and not too appetizing.
One thing that was different from many IFE's I've had before is KLM brought up a list of all the connecting flights that morning. Presumably only the flight's of pax on our aircraft. It was complete with gate number and announcements were made regarding any delays.
Landfall!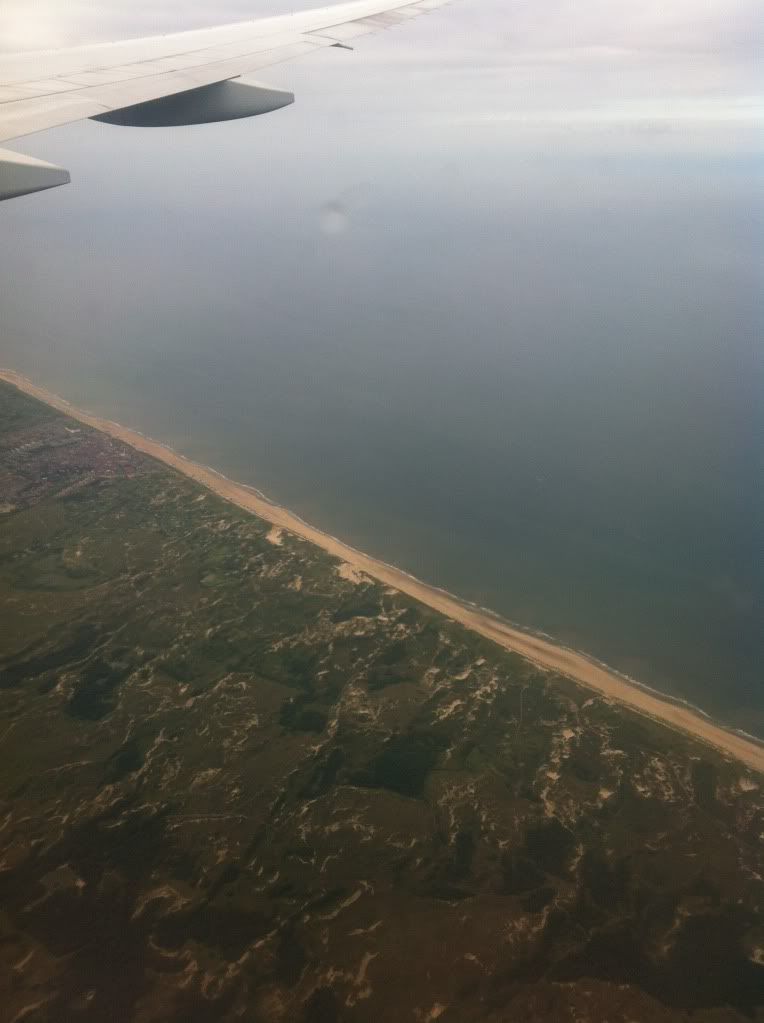 We landed on the Polderbaan which left us with a long taxi to our gate. It was ten minute before you even knew you were at an airport:
Our intended gate was being used by a KLM 744 so we had to switch terminals from E to F. We walked down a unlit dingy corridor. I was shocked by this as Amsterdam was recently awarded one of the worlds best airport by Skytrax. I was excited to see what their terminal had to offer. As this flight took me from Vancouver ranked number 10, to AMS which is number 4. Perhaps I am biased, but Vancouver has a much nicer and newer terminal than AMS.
One thing I find peculiar is the difference in the customs procedures in Canada and Europe. While going through AMS there was just a jumble of lines and you go up and hand an officer your passport. They look at it, sometimes scan it, stamp it and you're on your way. In Canada and when going to the US, there's a simple card to fill out on your flight, then you give your passport and card to an officer or sometimes an automated machine, they ask you a few questions about what you're carrying, then you go through another check-point after you get your bags where they sign off on your card. Is it just a difference in the strictness of procedures?
The Return
Date: August 20th 2012
Carrier: KLM Royal Dutch Airlines
Flight Number: KL681
Departure City: Amsterdam (AMS)
Arrival City: Vancouver (YVR)
Aircraft Type: 777-200ER
Registration: PH-BQO (Old Rauma)
Scheduled Departure Time: 1300
Actual Departure Time: 1305
Scheduled Arrival Time: 1340
Actual Arrival Time: 1318
Flight Duration: 9h13m
Seat Number: 25A
Configuration: 3-3-3
Notes: 2nd 77E, 5th 777
After over two weeks in Europe it was time to make my return. I arrived at 10:15 which left almost three hours to spare. Checking in the self-kiosks had trouble reading my passport. It asked me to insert it again halfway through the process and when I tried it printed out a slip of paper telling me to go get checked-in by a person.
After 10 minutes of waiting in line, I was checking in in a breeze and given 24C. An aisle! No more window seats were left and I was left in a debate over what to do. On one hand as an aviation geek having a window is a must! But I also like to get up a couple times during the flight to walk around, go to the snackbar, brush my teeth and various other things. Eventually I found someone in my group who hated windows and wanted my aisle, so I switched.
Cheap thin paper ticket, even though I was checked in at a desk
After getting a small snack at the little foodcourt on the terrace. I made my way to the gate all the way at the end of F pier. It was pretty fast with all the moving sidewalks.
DL763 taken from a moving sidewalk, excuse the quality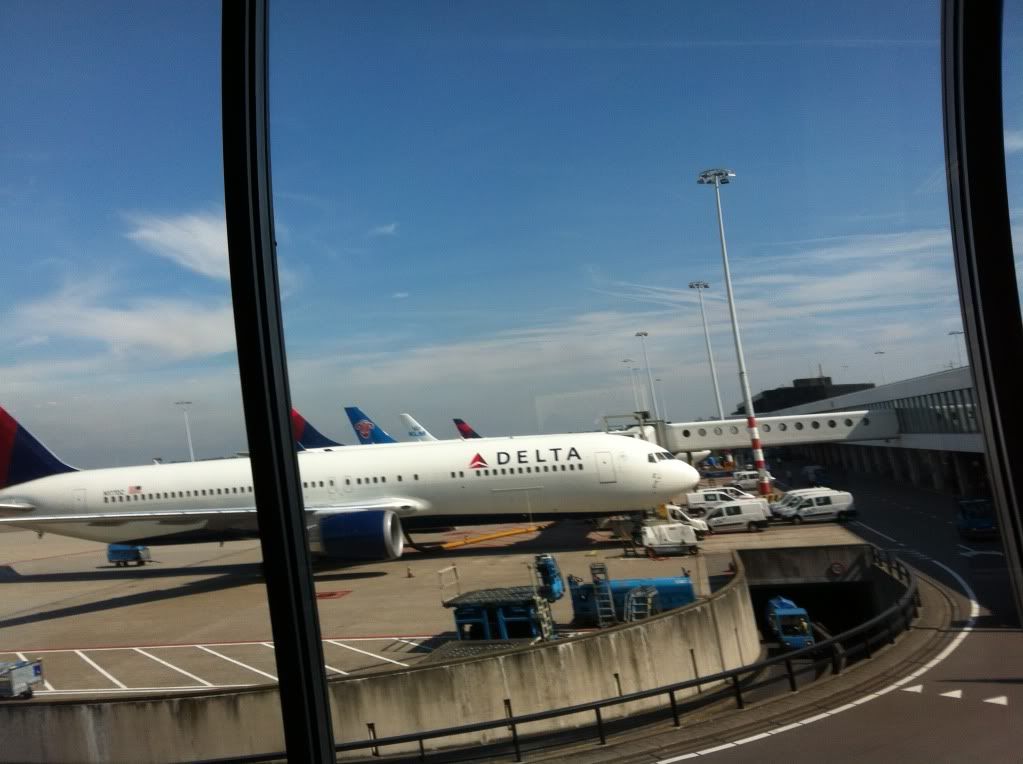 Because security isn't done until at the gate at Amsterdam, there were no good views of the aircraft until waiting in line. Which is where I got my first view of Old Rauma (PH-BQO) ready to take me and several hundred other people to Vancouver, after her last round-trip to Cape Town. It seems that Vancouver is the next stop for flights after Cape Town as the aircraft that took me to Amsterdam was also in Cape Town before.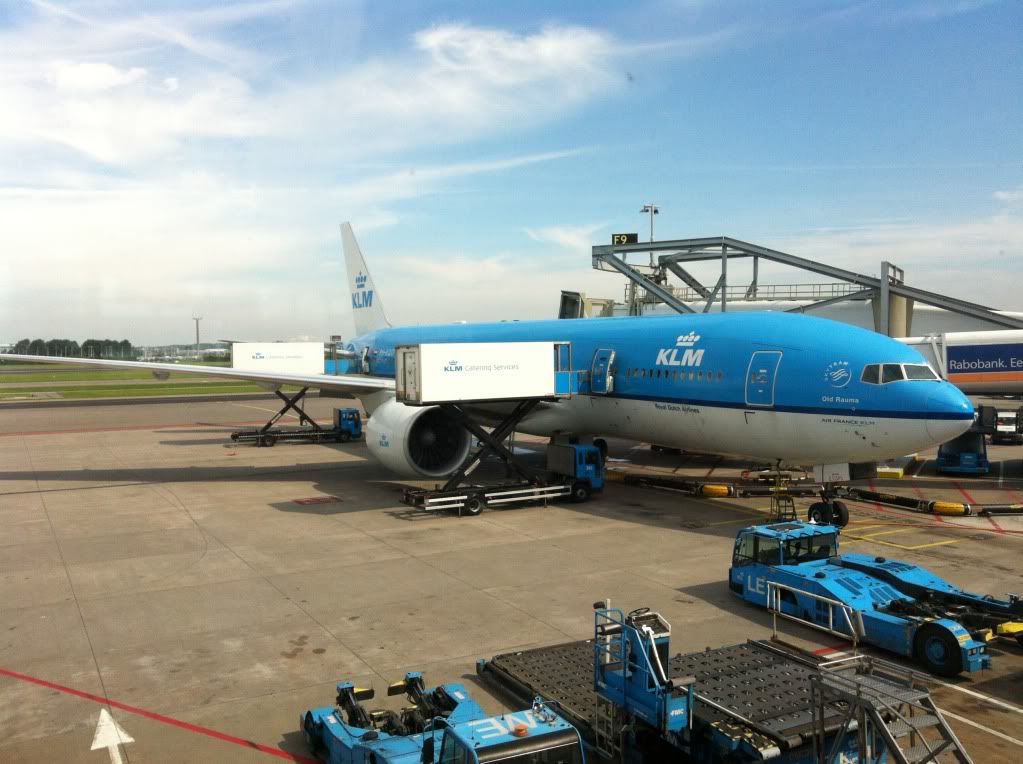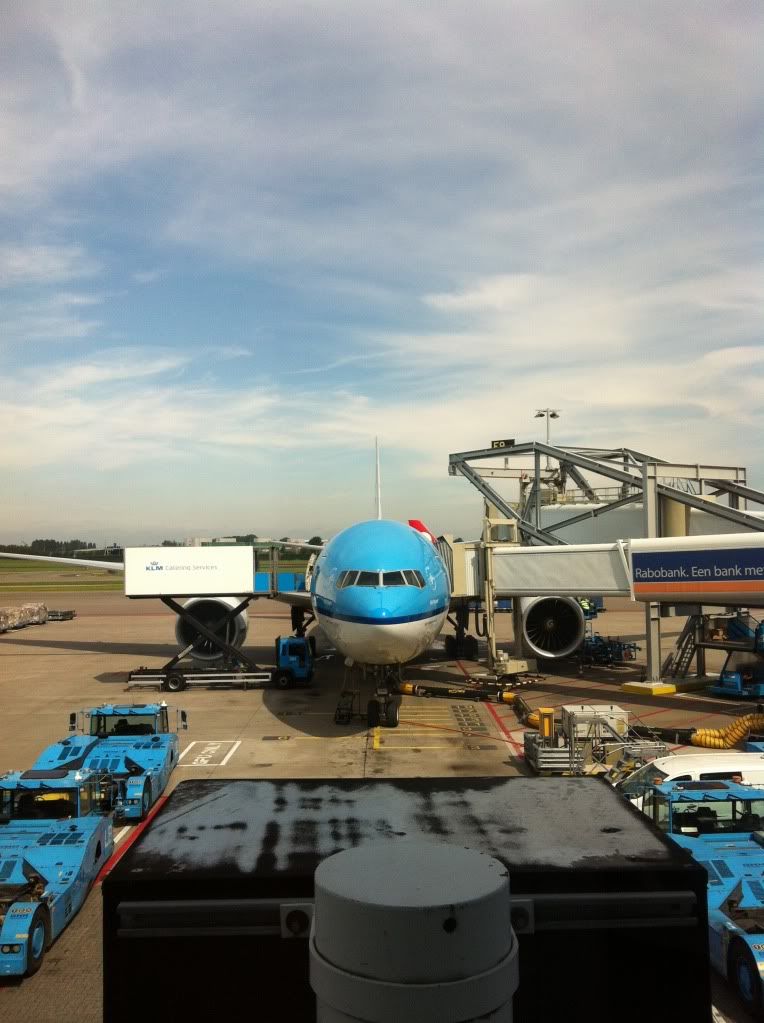 I'm sure that somebody else has figured this out. But KLM is very intelligent when naming their aircraft. At least with the 77E's. On the flight to Amsterdam I was on PH-BQG Galapagos Islands. And the return was PH-BQO Old Rauma. Do you see it yet? Their entire 77E fleet is PH-BQ_. And whatever that last letter is, the plane is named starting with that letter. So PH-BQA is named Albert Plesman all the way to PH-BQP (there is no PH-BQJ) which is Pont du Gard. I have to admit this makes it so much easier when trying to find the registrations. There's no need to find a great spot to see the tail, just look at the name! Also above the cockpit windows are the last two letters of the registration which make it even easier!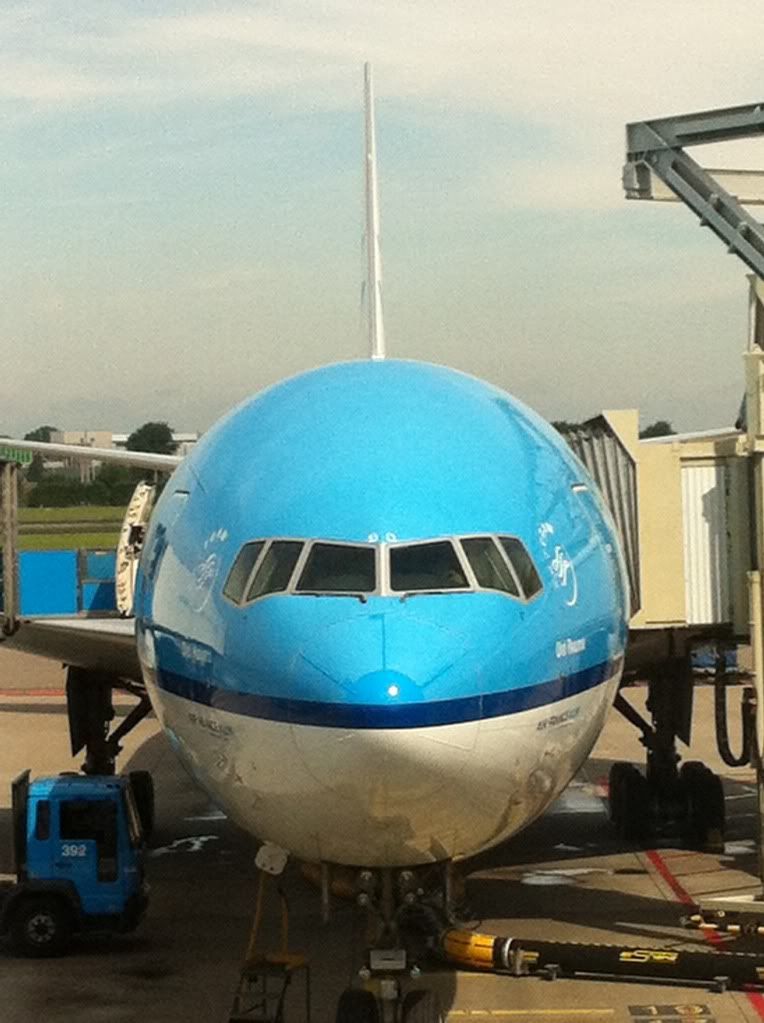 The walk down the bridge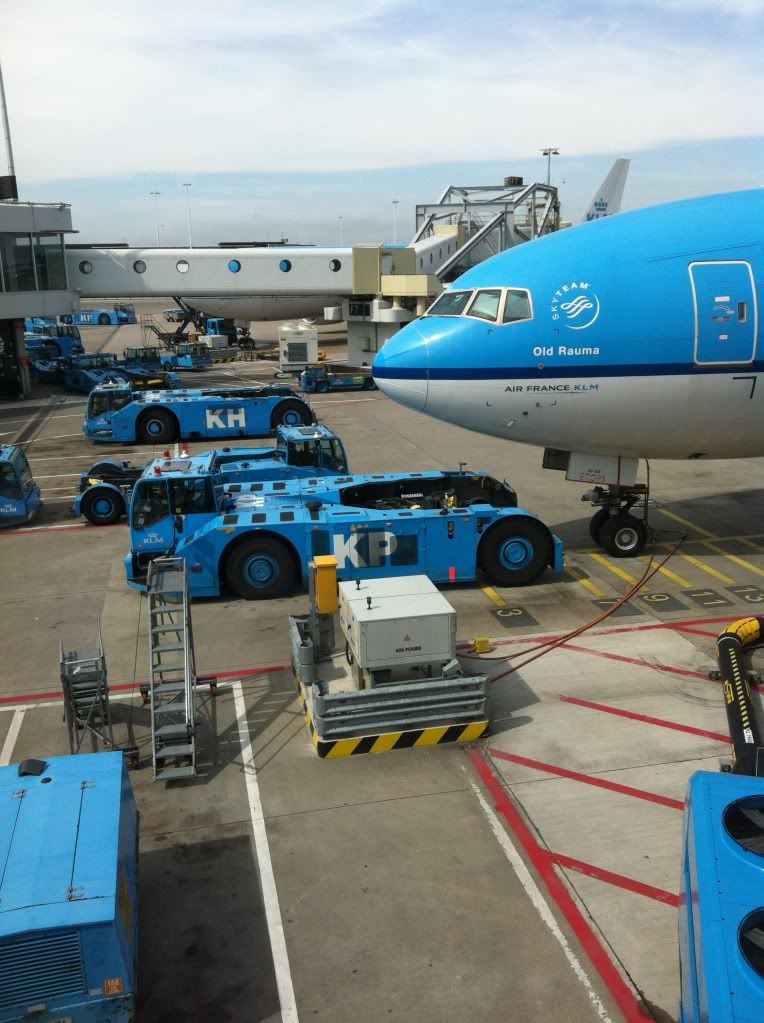 A nice blurry view of the seat.
And the customary legroom shot.
I didn't mention when writing about the outbound flight about the seat. So I should take some time to discuss it's qualities. First of all, a triple seven in 3-3-3 allows for generous seat width, with plenty of shoulder room. I have often find my shoulders hitting my seat-mates when sitting but it didn't happen once when Seat pitch is tight at 31'. The worst part is in the lower back part of the seat, It is extremely hard! I had to sacrifice the pillow that was handed out so I wouldn't have to deal with it. That's the only negative I really found regarding the seat. Recline was very generous as well.
The view from my seat.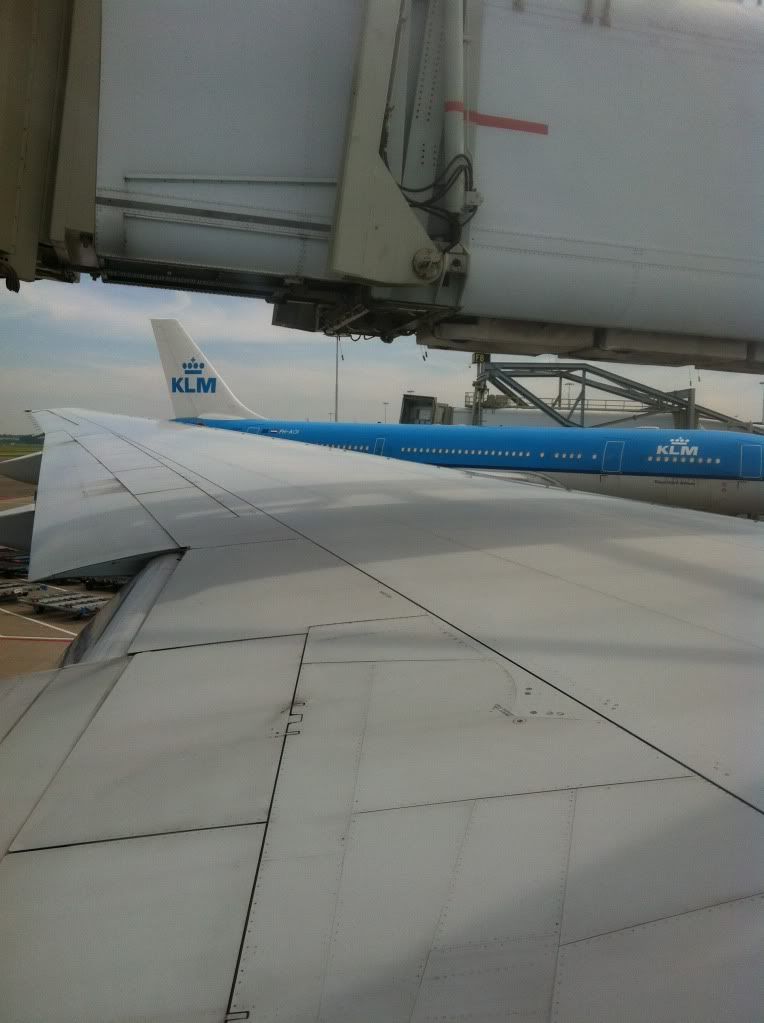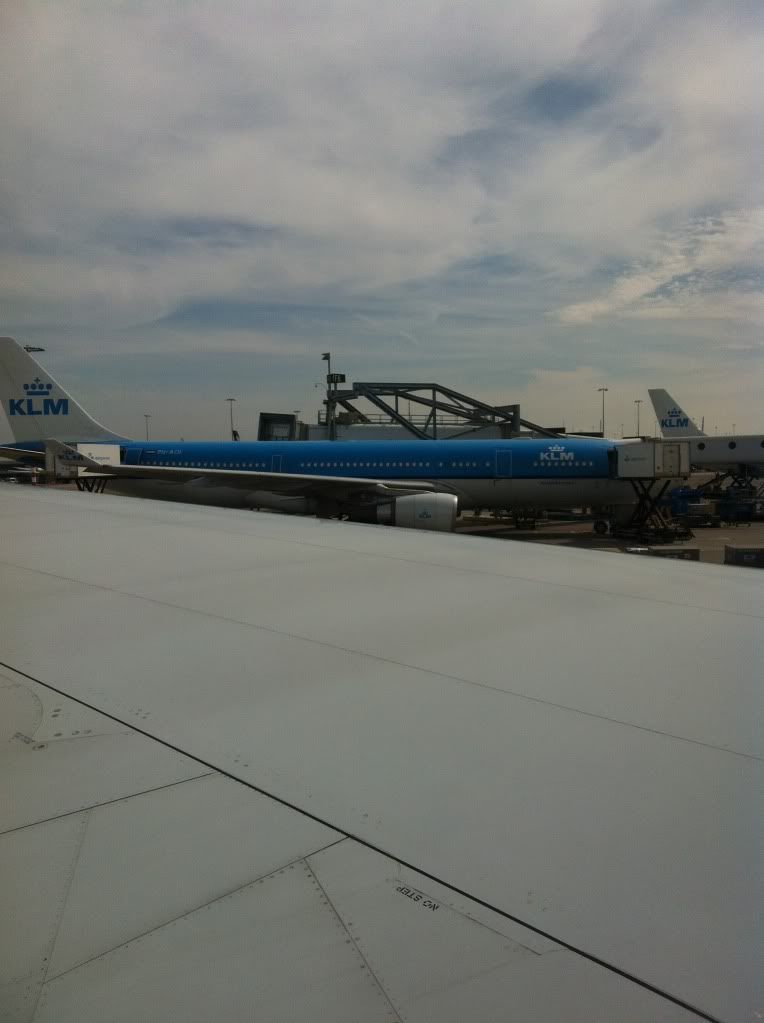 Once we had leveled off slightly a drinks run was made before dinner. I took a Ginger Ale. Not just as it has become the legendary test here on A.net thanks to PlaneHunter. But it's the only pop I can drink without risking being sick.
Half an hour or so after the drinks run meals were served. The options were chicken curry and pasta with spinach if I remember correctly. I took the pasta and was not dissapointed. The best airplane meal I have ever had! I've never flown in J but this was fantastic! It wasn't shiny, tasteless, overloaded with sauce or have an off texture. It was cooked like it would be cooked at home and tasted fantastic! The first time I've ever finished an entire hot meal on a flight. The salad however you can see in the top left was disgusting, the entire bottom half was sauce and it soaked through all the veggies.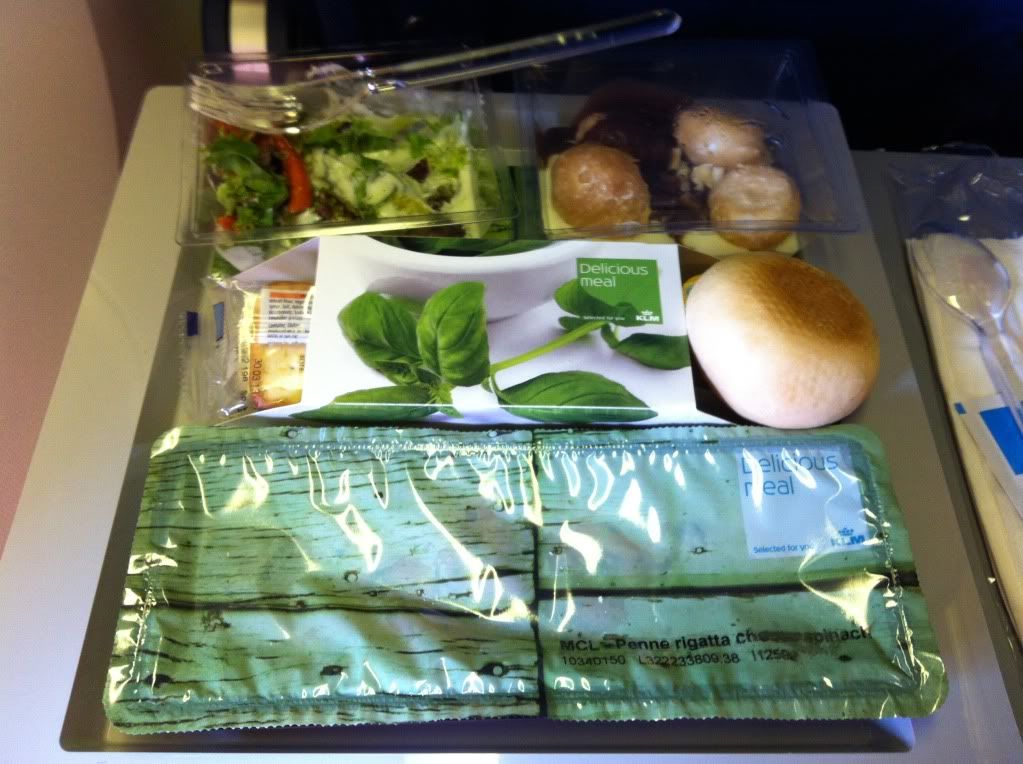 I forgot to take a picture about dessert but after one bite I was through the entire thing in about 30 seconds. It was delicious. Go KLM for great catering and making me like airplane food again!
I blew the last of my euro's on a model 747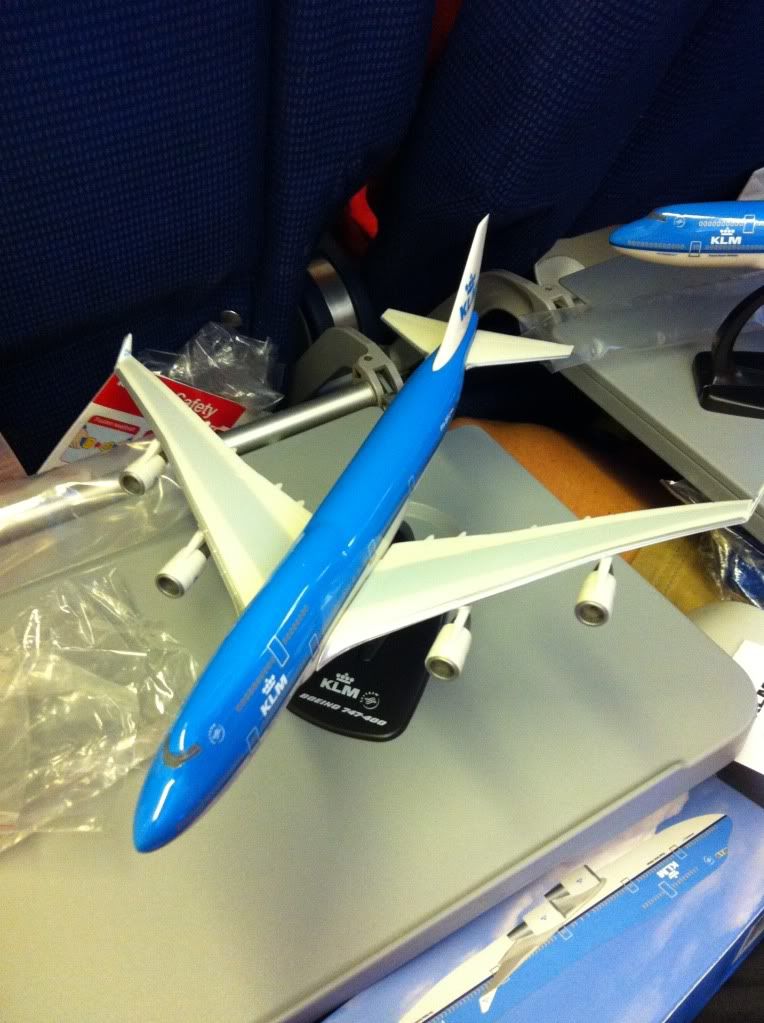 Some nice wing flex here
They even have drinking fountains! How smart!
Around when we entered Canadian Airspace there were snacks handed out. With the choice of ice cream or chips. I asked for both, the lovely FA looked at the cart and said 'I think I can do that' With a big smile. Both were delicious!
Cabin shot from my seat
A nice warm pizza, along with some other little snacks for a lunch while we were over Alberta.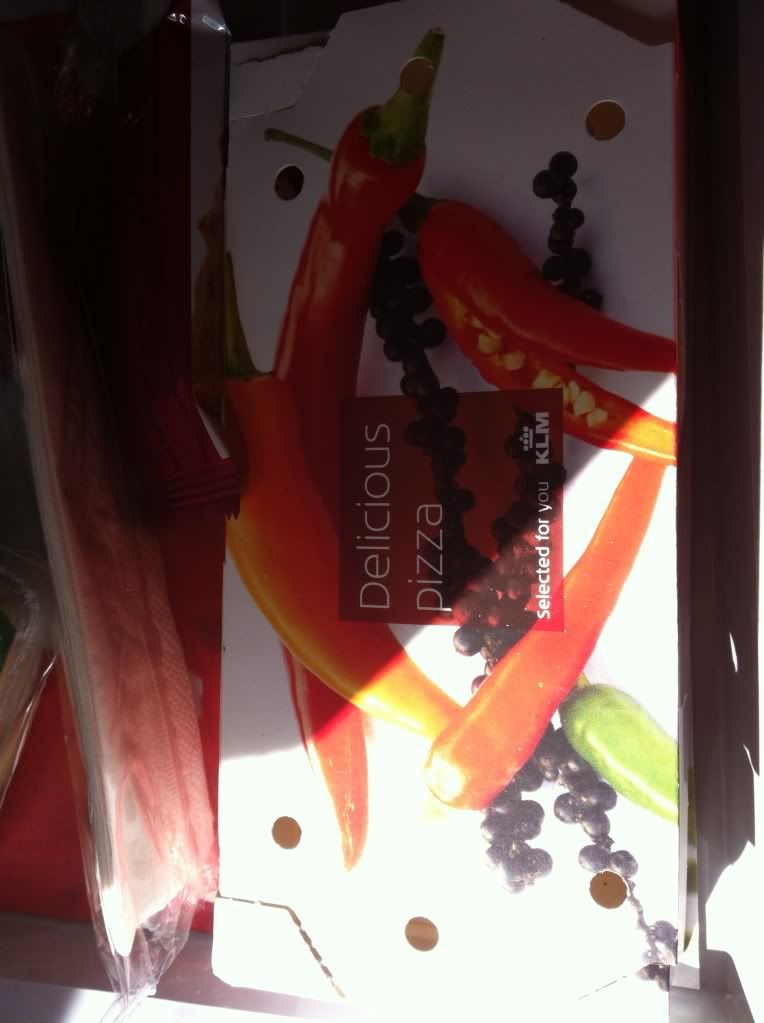 There were a total of 5 drink runs throughout the entire flight. One before the first meal, one during the first meal, water was handed out in little plastic sealed containers after the chips and ice cream. Then another run was done before the second meal, and a final choice of tea or coffee during the second meal.
Not sure why KLM does this but they have signs saying economy class on both sides of each bulkhead. Do we really need to be reminded we haven't paid for business? Perhaps one sign at the galley at door 2 but seeing it all flight becomes annoying.
Picturesque views of British Columbia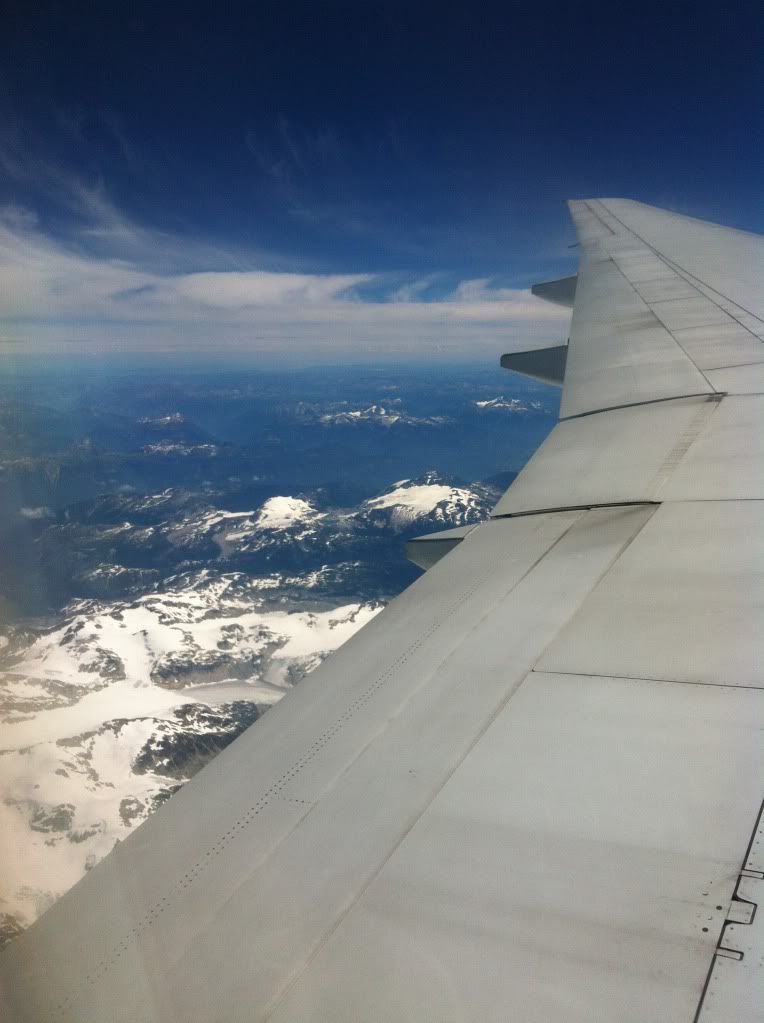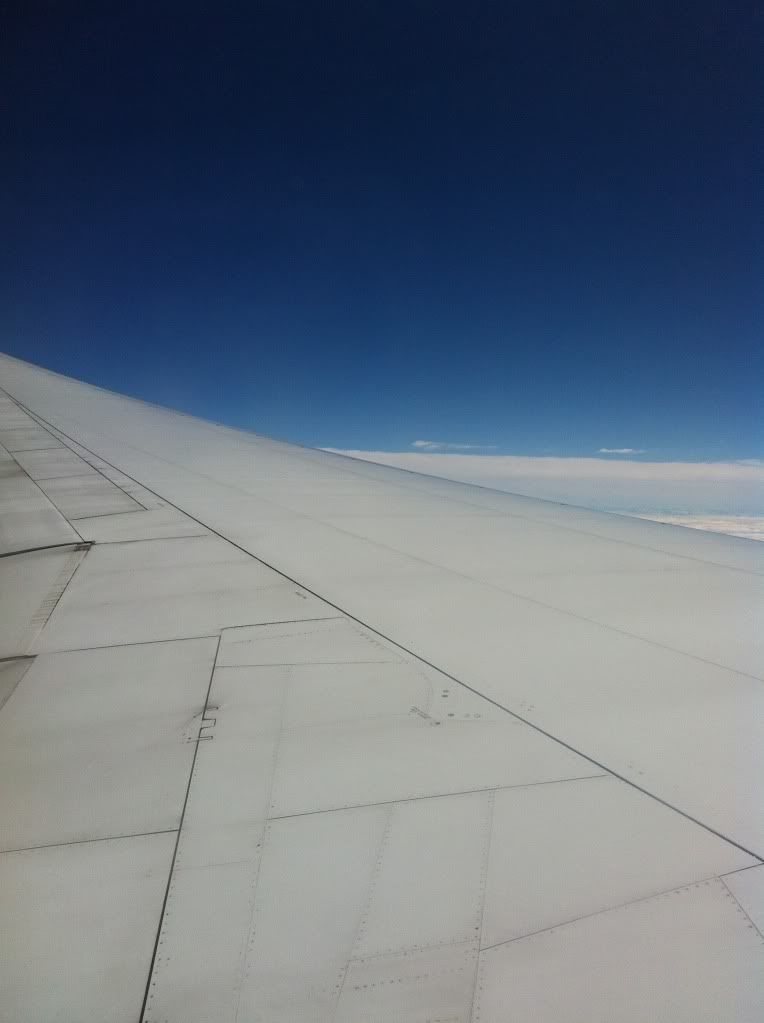 Top