Turkish Airlines Trip Report 2012
Just a mini prologue, Turkish Airlines has been widely discussed here and I have flown their first class (and wrote a report on it). Its offering in all cabin classes is very impressive, given how cost conscious airline it these days. After its short experiment with first class, Turkish Airlines decides to stick with three classes but without first class and a brand new premium economy class called "Comfort" class. As bmi has gone under, I have to search for a new Star Alliance partner and Turkish Miles and More programs seem to provide an acceptable way to maintain Star Alliance gold and the airline looks likes in good financial shape with lots of expansions. It also offers a number of attractive business class fares from various Asian cities to the US via its Istanbul hub. It is a bit out of the way, but the earned miles will make me qualified as their gold elites sooner. That is what I took this flight from Bangkok to Los Angeles via Istanbul. I myself am interested in its Business Class offering, so here is my take!
August 21, 2012
TK 65 BKK-IST LV1055 Arr1710 Airbus A330-200 TC-JND "Antalya"
Bangkok Suvarnabhumi Airport remains my least favorite airport and I try my best to minimize my time there. The whole airport is like a giant slab of cold gray concrete with no warmth and the amount of walking is just bizarre. The amount of duty free shops is just absurd, and the curve window (not to mention the one with the white dots) forbids any reasonable photo taking.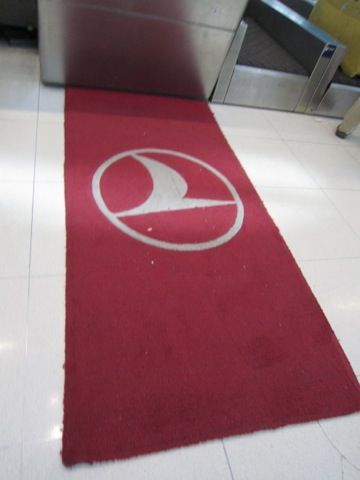 Turkish Airlines uses Aisle S and there are separate check-in lines for business, online check-in baggage drop, and economy class. There are two business class counters and both were busy when I checked in. The agent was reasonably friendly and my request for a bulkhead window seat was honored, and with a light load today, it was no issue to give me 1K. My luggage was tagged to Istanbul with a priority tag and I was instructed to use any Thai Airways lounge. There was no need for lounge invitation, which was somewhat unusual here in Bangkok. Coupon was also provided for fast track immigration and security, which was definitely a nice amenity to offer.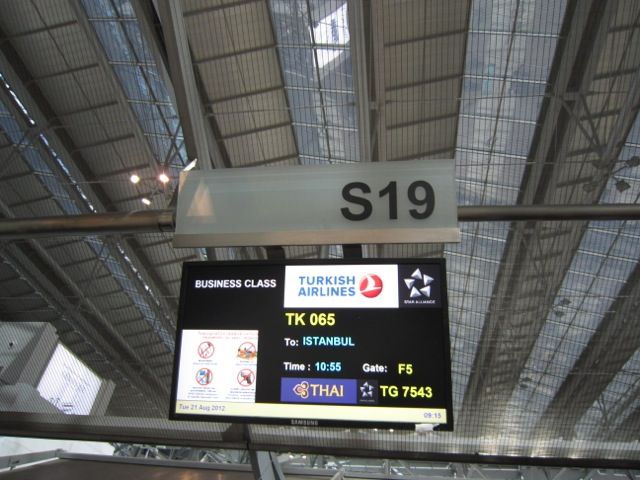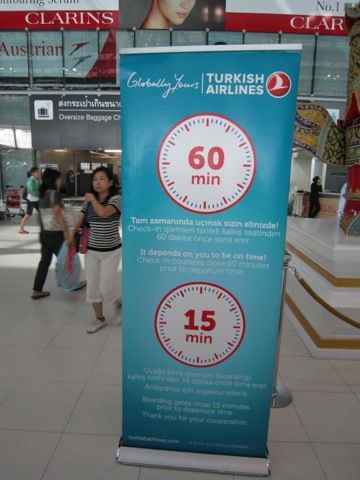 Today I chose the Royal Orchid Lounge, which was in Concourse E, and there was a first class section, which remained empty the whole time. Food was limited to warmed pastries and pork & shrimp dumplings, fresh fruits, sandwiches and mini pastries. There was a full open bar with soft drinks and juices. Two attendants were manning the buffet area. The lounge was not terribly busy this morning, as there were only few TG or Star Alliance flights at these mid morning bank. I took some pictures just to show you all. I also chose this lounge because it has a view of R/W1L/19R, which was the usual landing runway and a view of F Concourse.
I was able to take this bad picture when TK 64 arrived at 9:34am at F5. The dotted window was annoying.
The curving windows don't help even without dots
Photos of the Royal Orchid Lounge (there is another Royal Silk Lounge right across, so don't mix it up)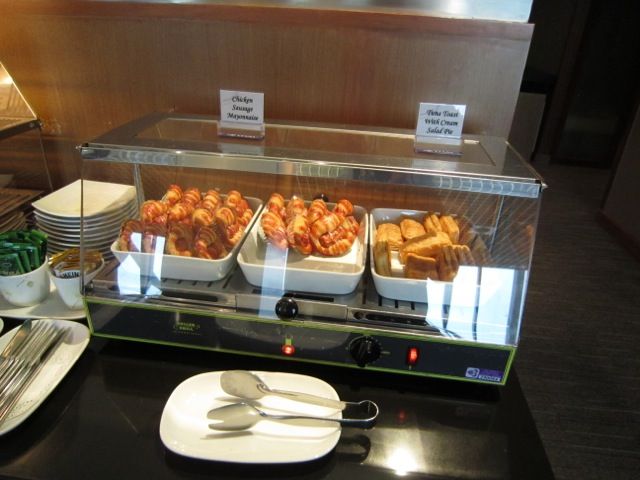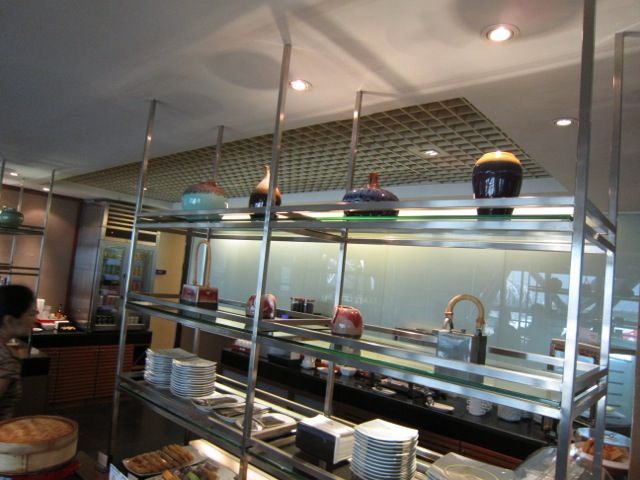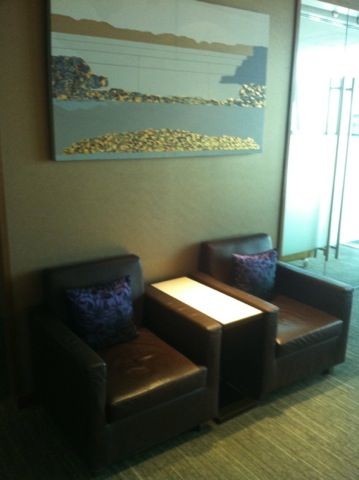 I headed over to the gate around 10:20am, even though the boarding time was stated at 10am, and the flight information screen was showing final call. Of course boarding just started at 10:23am, when I approached the gate.
How absurd this sign was!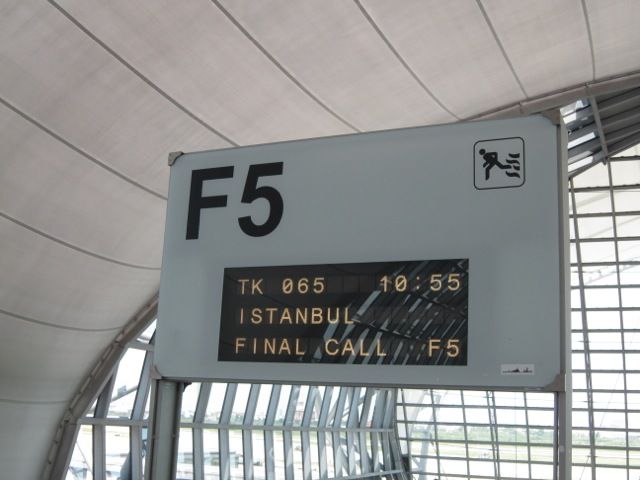 F5 was our gate and there was a separate line for business class passengers
The purser briefly greeted me at the boarding door and showed me which aisle to go. It was a lightly occupied business class cabin today and took the opportunities to take some photos. The F/As were running around but just setting up the bar area with beverages. Nothing was served till everyone in business class was seated.
Cabin Shot before takeoff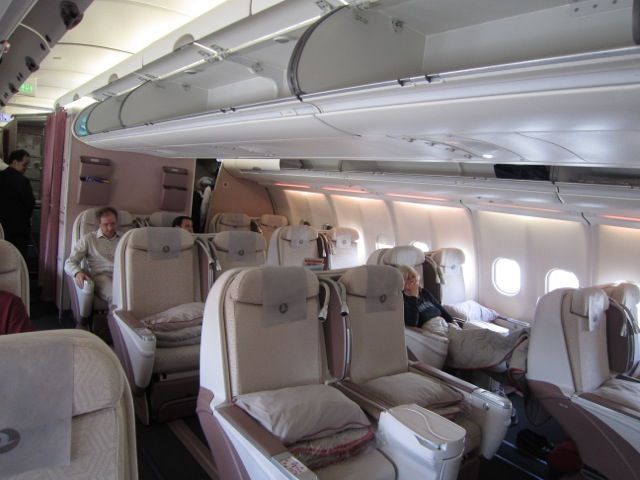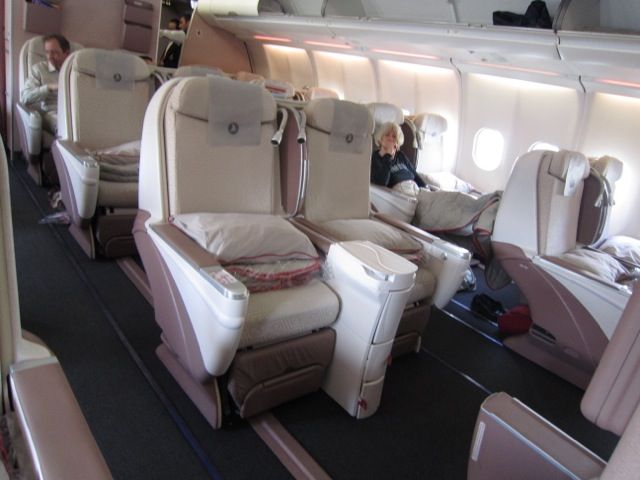 Bar in front of the business class cabin – sort of like a TK signature business class design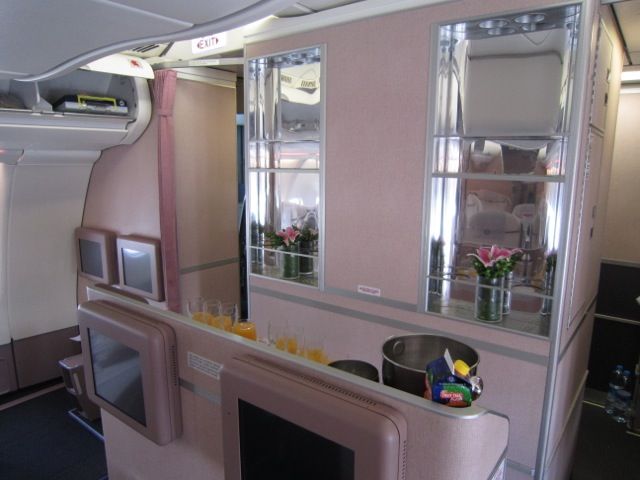 My seat today 1K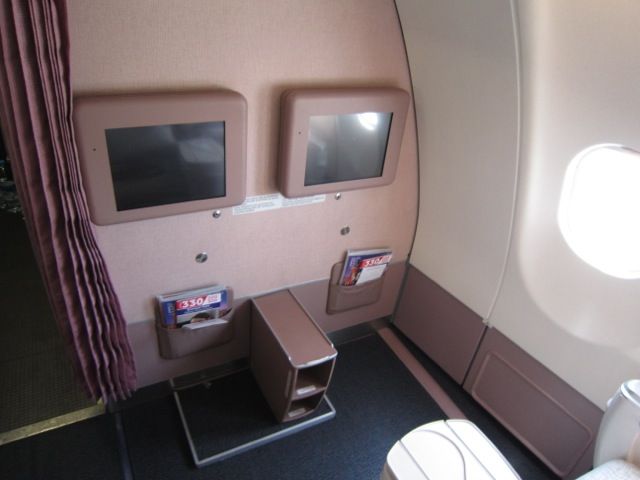 Pillow and Blanket – all TK branded
Beverages were served first by the onboard chef and then the F/As rolled down the trolleys with newspapers, amenity kits, slippers, and noise-canceling headsets. The Chef then offered everyone some Godiva chocolate thins.