Introduction
"The Finn went down to Georgia, he was looking for an ex-Soviet republic.
He was in a bind 'cos he had no idea about the country and was willing to learn.
When he came across this friendly guy sitting in an airplane and being very chatty.
And the Finn jumped upon his seat and said: Boy let me tell you what:
I guess you didn't know it but I've been around a bit."
Having traded a visit to Tbilisi, Georgia (the republic in Caucasus, not the state in the US South) to a visit to Dubai and some additional flying back in February (see the story here:
Russki Way To Armenia: HEL-SVO-EVN
(by
FlyingFinn76
Feb 23 2012 in Trip Reports) ) I was obviously looking for another way to visit the place. Tbilisi has been a popular summer destination for Estonian Air for quite a long time and after I found a dirt cheap one way fare of 103 EUR on OV I decided to book if for July. Well, dirt cheap it really wasn't as some months later OV had their legendary "All destinations 100 EUR roundtrip sale" where one could actually fly
to and from
Tbilisi for the same amount of money, but still...
In addition to these flights I really wanted to try out the Georgian Airline Air Zena. They had a "perfectly" (when you arrive at 4AM no flights is exactly perfect) timed flight to Batumi, the summer capital of Georgia, a huge (for Georgians and some Turks) beach destination on the Black Sea. That sure sounded interesting and a one way ticket ticket on TBS-BUS was only about 50 EUR so I decided to book it.
Well a slight problem was that I couldn't book it. The Air Zena website always died on me, refusing to accept any of the credit cards I tried (four different ones I think). None of the usual travel sites listed the Air Zena flight either. After a lot of searching I finally found Edreams.com who had the flight available, albeit at around 10 EUR more than the Air Zena website (their cut of the cake I guess). So I booked it, received an email confirmation and even an Amadeus PNR that worked and showed that everything was on order.
So I thought I was all set. Bad thought, I know. Fast forward two or so months and Edreams sends me an email that my Air Zena flight has been canceled and I should contact them (the airline, not Edreams) for my options and alternative flights. Well that's complete bullcrap, after all they are supposed to be my travel agency and thus act as the interface between me and the airline but apparently they don't want all that responsibility!
Well, I knew better than to try to argue with the Spaniards (Edreams is a Spanish company) so I contacted Air Zena, and after a false start (which went unanswered) they informed me that the flight is not canceled, although it did have quite a significant schedule change and "by the way you are not on the passenger list", asking me to contact my travel agency to fix it. Well well, this was getting interesting!
As the new schedule was not really that good for me I decided to ditch the Batumi sidetrip and asked for Edreams to refund my money. Well, what did you really expect - they never answered my request. After a couple of weeks I was quite pissed off with them, decided to add them to my permanent shitlist of companies (which keeps growing and growing) and disputed the charge with my bank instead. Oh, and interestingly I also found after reviewing my credit card statements that they had charged me *twice* (but slightly different sums) for the ticket, one under their own company name and one to someone named "Hahn Air" (which Air Zena also mentioned was the "travel agent" who had issued my ticket). Grrr. Needless to say both charges were disputed and reversed by my bank. These kind of monkeys should be put out of business for good! So beware, never deal with Edreams.
So this is what I ended up with: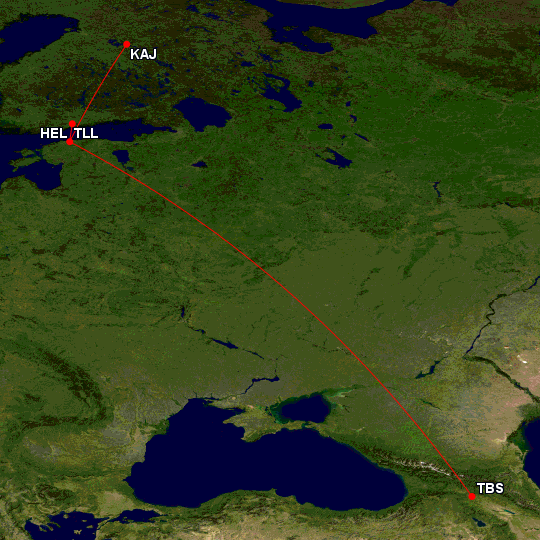 To get back from Georgia I had some very interesting plans and managed to fulfill some of those, but those will be covered on another report later on...
But wait - this is not all. Just before leaving for the trip I was somewhere else in Finland than my home where I needed to get back to. I could always take the train, but then just a week or so before the travel date I noticed that Estonian Air was selling KAJ-TLL-HEL for only 65 EUR. A domestic Finnish flight via Tallinn sounded good, as did the miles they hand out on these itineraries plus the fact that I'd be arriving to HEL from TLL on the noon flight only to fly back to TLL on the 6 PM flight to continue my trip to TBS appealed a lot to me so I booked it... The train would've been around the same price, although this itinerary had me overnighting in Tallinn so the hotel cost has to be factored into the calculations of course.
If only it would have been this simple...
Sunday 15.7.2012
So this story starts in Kajaani, in the northeastern part of Finland, in the middle of grand forests and not too many people. After arriving into town on another train I have some hours before needing to make my way to the airport.
The wide Kajaaninjoki river, tranquil: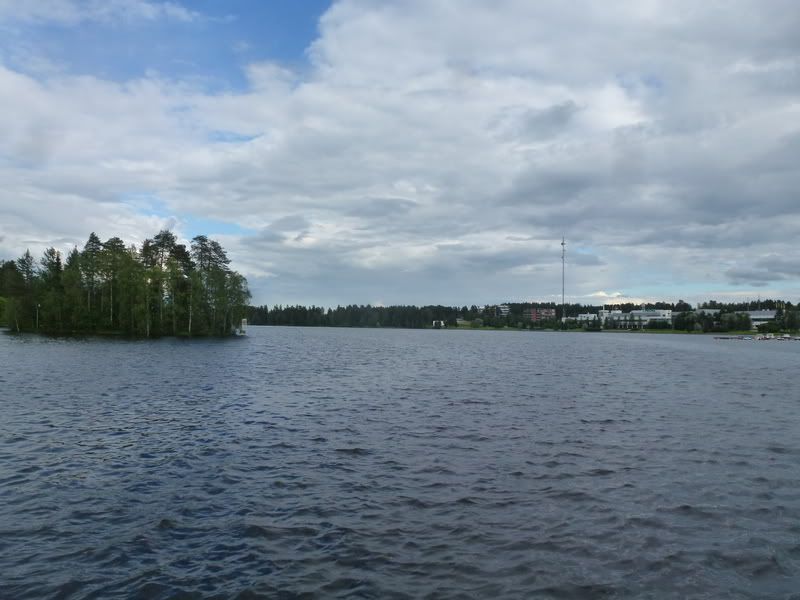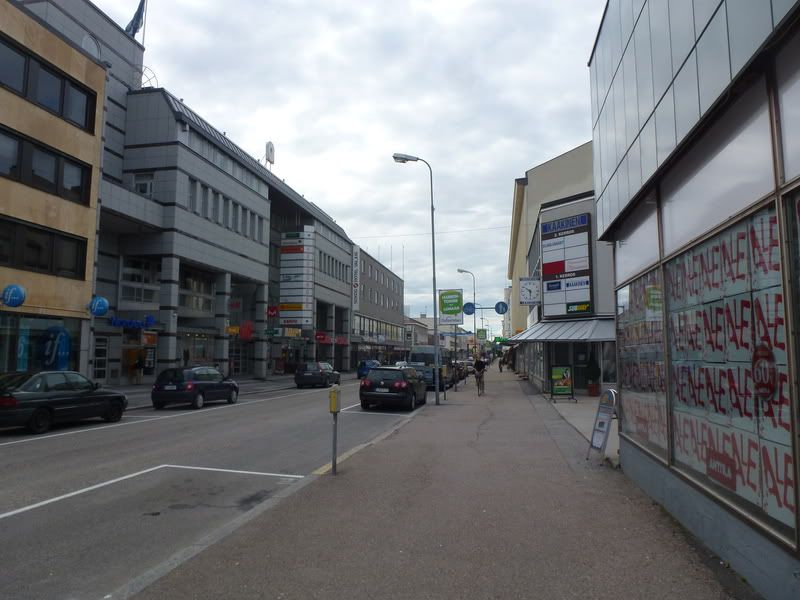 The main square - not too many people up and about this Sunday: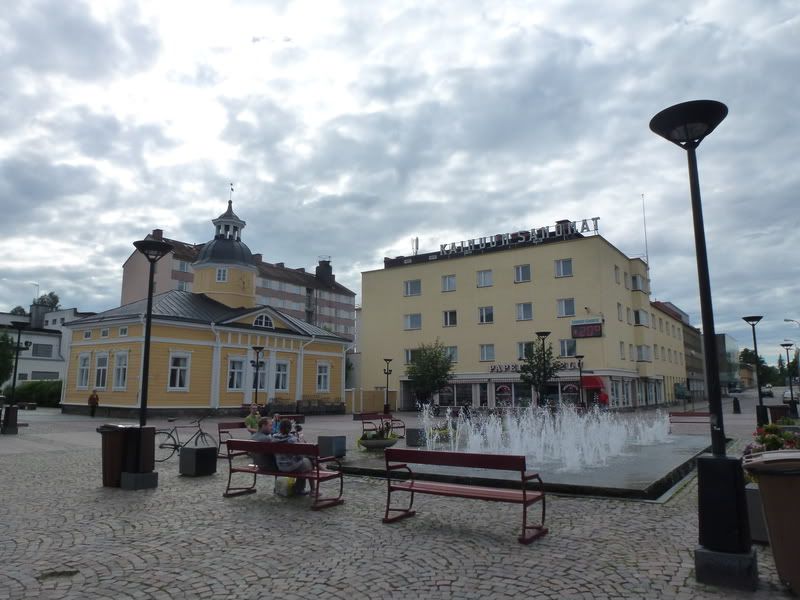 They have some interesting bars here, so what's a better way to pass the time, it's not like this town has much of interest: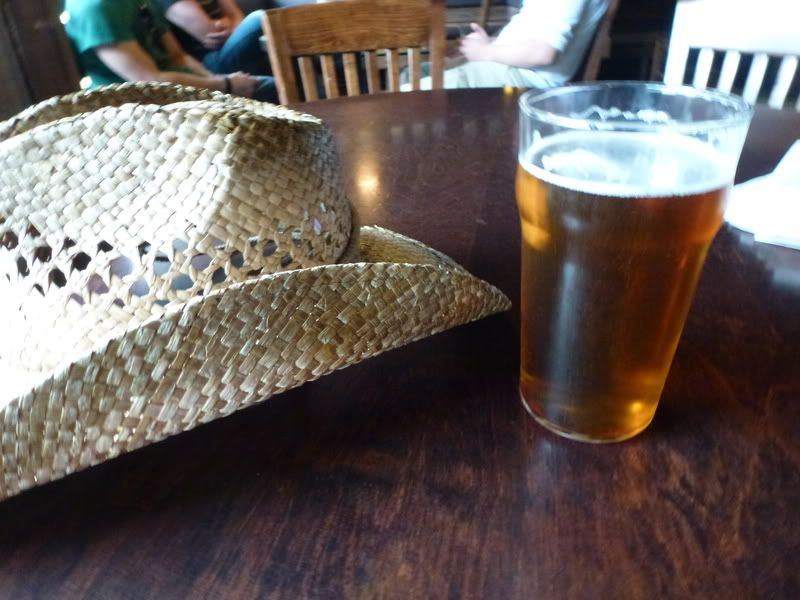 The town church:
Eventually I grab some mediocre food from a restaurant, buy some supplies (beer!) from a supermarket and hop on to a taxi to the airport. They have a bus service that should be aligned to flight schedules but for reasons unknown (well, how about double pay on Sundays in Finland?) this 9 PM flight on Sundays does not warrant one so a taxi it is. Some nice chat with the driver who surprises me by announcing that he is leaving for a day trip to Helsinki (some 600 kilometers away by road) at 4AM the next morning...
Eventually I get to the airport which is completely deserted. No one at check in yet so I sit outside in the sun and decide to drink up the beers I bought as I can't take them onboard anyway (the sacrifices we all have to make!).
Not exactly busy: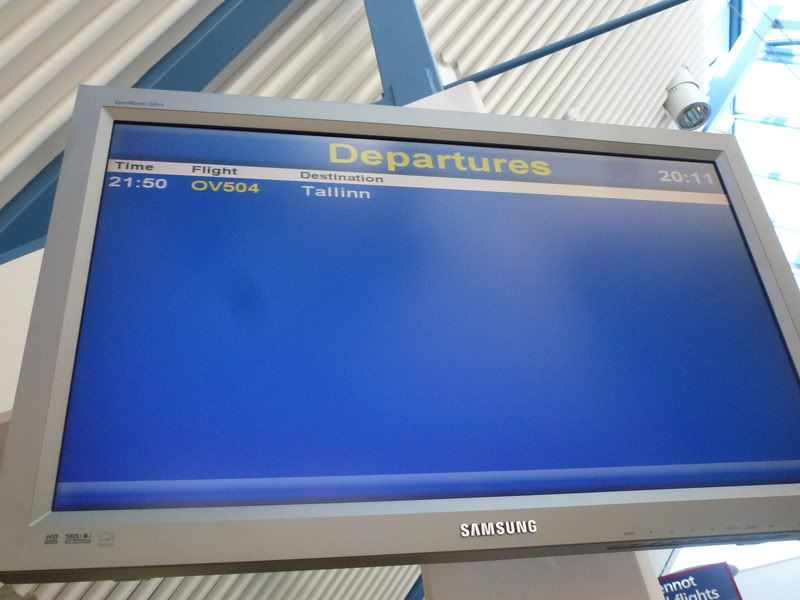 Tranquil:
Inside the terminal: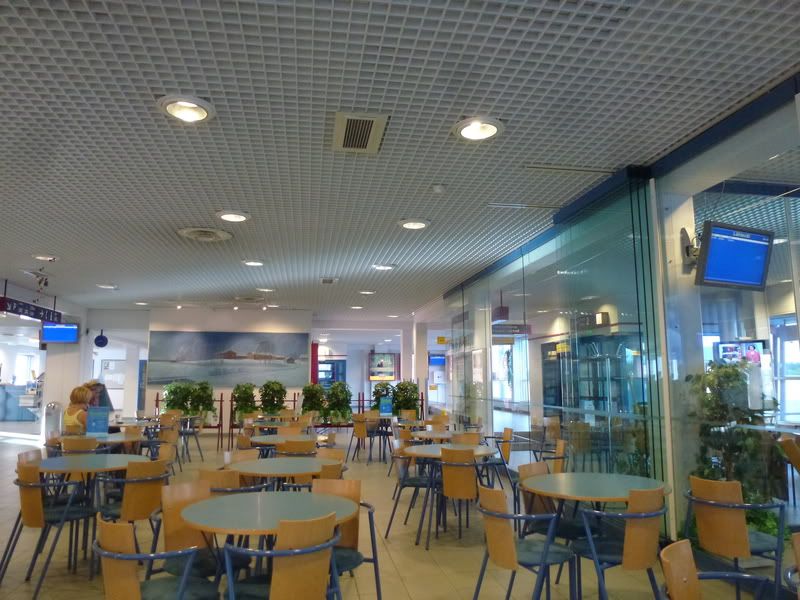 While waiting I check the flight status from the Tallinn airport website - an hour's delay is to be expected, bugger! Half an hour later some other people arrive, including a young Estonian gastarbeiter. A few minutes later I follow him indoors where both him and the check in agent say to me "It's an hour late!", choruslike. Thanks.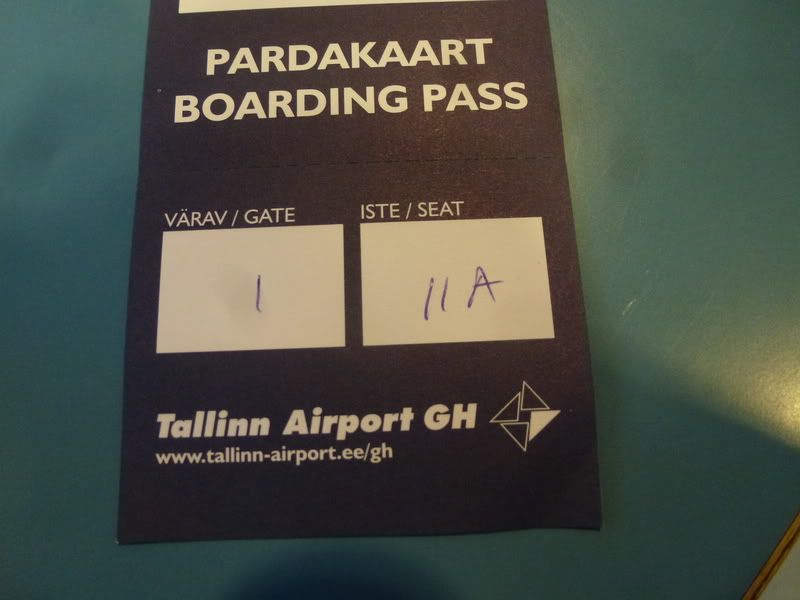 The delay is no good news, it means all the buses have already stopped running to the airport so I will have to take a taxi to my hotel, bugger...
This time I sit down inside to charge up my devices and use the wifi connection. Eventually the lady comes back and says that the flight has just been cancelled. WHAT? Yes, cancelled. Bugger, that doesn't sound good! She informs all the six of us (yes, stellar load on the Saab 340) that she doesn't yet know more and has been trying to call Tallinn to ask for instructions on what to do but hasn't been successful yet. So she asks us to sit down and wait until she has some more information on hand.
Yes, rub it in, will ya: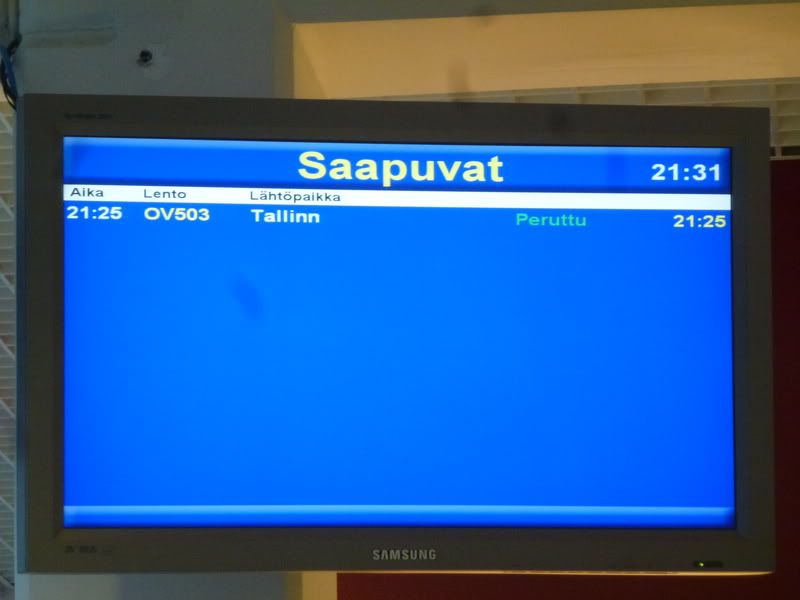 In the meantime I check my options - the only flight for the next 36 hours is the next day's Finnco.. err sorry, FlyBE Nordic early afternoon to HEL, so we will most probably be rebooked to that. But it gets to HEL after two in the afternoon and I was supposed to be there just before noon and have tons of stuff to do before leaving for Georgia. Any little delay and I'd be in quite a hurry, doesn't sound too good.
Ok, let's check the trains. Hmm, one leaving at 3 AM, getting me home around 9 AM - sounds tempting but no thanks! Ok, what's this? 6 AM train, arriving at my local station just after noon. Ok, sold! Well not really, as the VR website (like so many others these days) has this annoying two-step validation process when paying by a credit card and I don't carry my bank account codes around for fun so no dice for e-commerce. Man how do I hate these credit card companies.
In the meantime the lady has returned. It is as I expected - hotel night and a seat on the BE flight next day. I tell her I'll take the hotel room but no need to rebook, I'll take the train. One other passenger prefers the train as well, whereas the Estonian guy apparently had a connection to TAY but they can only book him on the HEL flight and he is told to sort it out at HEL. Doesn't sound too promising, I'm pretty sure the Servisair agents at HEL will be completely unbriefed and clueless about this and it's not like TAY has many flights to choose from for rebooking purposes... He curses a bit about Mr. Taskila's 30K per month salary (yes, this was big news in Estonia, he is the highest paid civil servant in the country)...
Anyway I'm secretly hoping we will get any other hotel than the Scandic as when I stayed there the last time I found that it was a dump (see:
Proper Inaugural Flight And The OV E170: KAJ-TLL
(by
FlyingFinn76
Apr 5 2012 in Trip Reports) ). Not that there are many hotels to choose from in this northern metropolis of barely 30000 people. But my dreams are soon shattered when the lady distributes the hotel vouchers and mentions that she already called us a taxi to "The Scandic"... bugger!
The ride passes in complete silence as all the four of us (two passengers were locals so apparently went home) are rather pissed off.
So here's my room - they were doing a renovation back in April when I was here and apparently it is now finished, although I have no idea what they were renovating since the room is exactly the same dump as back then: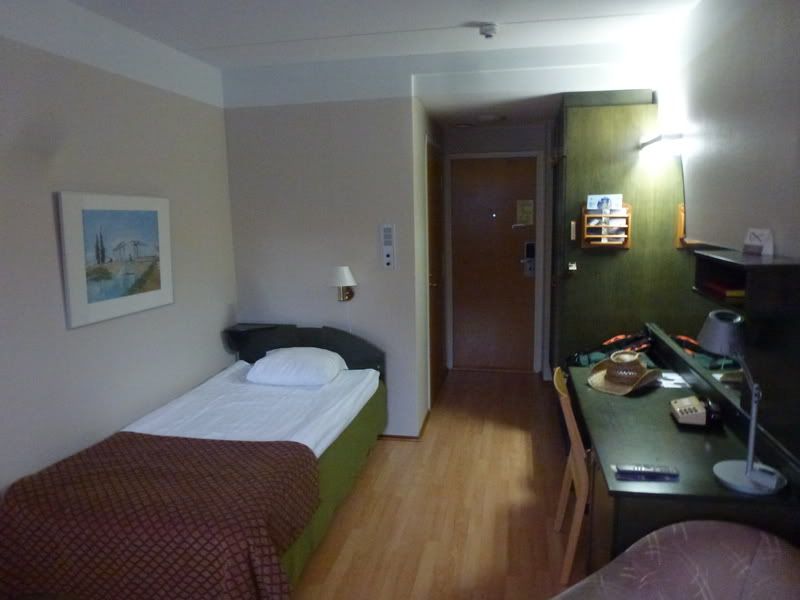 Well, no sleep for the wicked yet. I don't want to leave my train ticket purchase until the last moment so I walk the one mile to the station to purchase it from the self service kiosk (of course these don't need any extra verification when paying with the very same credit card - highly illogical Mr. Spock would say!) and then hit some dive for another beer before retreating to the Scandic for a crap night's sleep.
The river looking quite beautiful shortly before midnight:
Monday 16.7.2012
Ahh, up around five or so the usual morning stuff follows, plus checking out and grabbing a sandwich and a drink (free as I am leaving too early for breakfast) from the lobby shop follows. Then it's another 20 minute walk to the station.
The river in the morning - tranquil: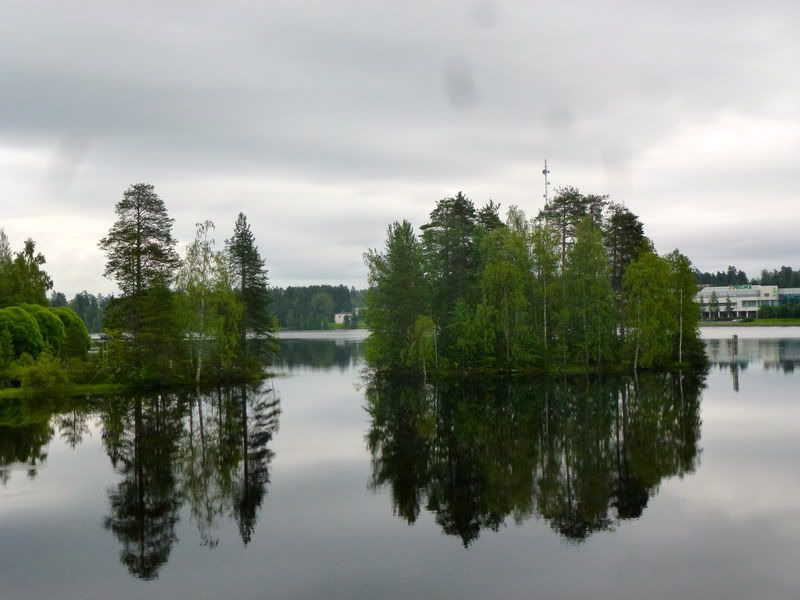 The station - no horrid modern travel centre here, phew: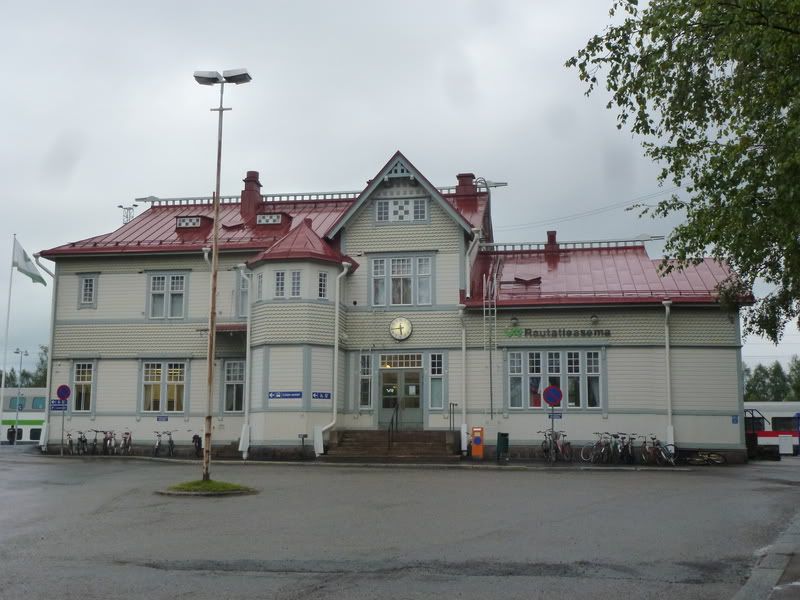 This train is leaving from Kajaani instead of coming from Oulu so it is already waiting in the platform: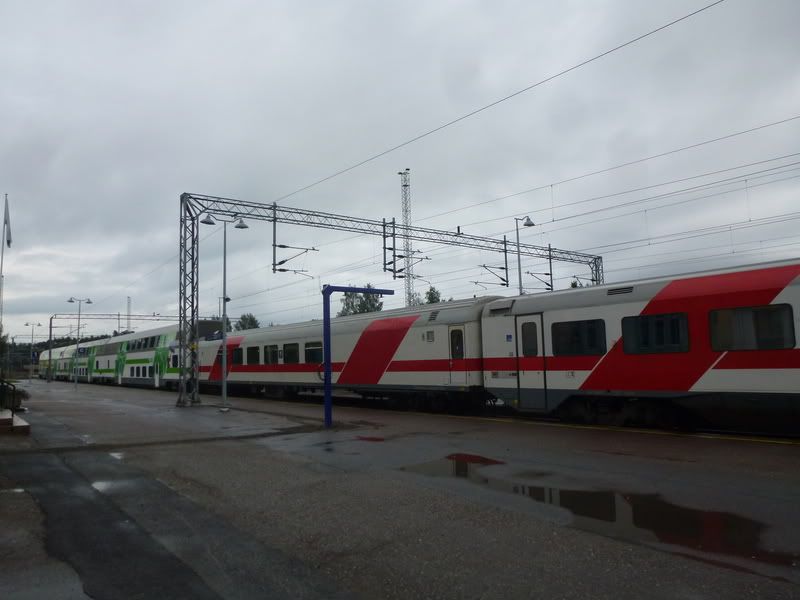 Empty: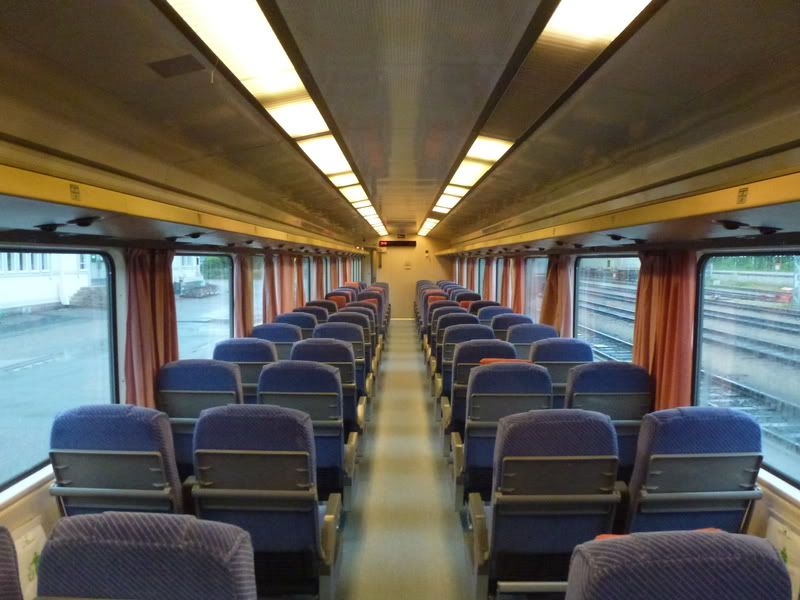 No window seats were available any more - decent legroom on my aisle seat:
I eat my breakfast and then figure out I should get as much sleep as possible. Initially this is easy as there are just a handful of passengers so I find an empty two seater (I have a seatmate) and sleep away until my hometown of Kuopio, some 1h45mins. Unfortunately from that point on the train is practically sold out, so it is back to my own seat. From that point on sleep is also practically sold out, too many noisy people around, too many people walking the aisle up and down, too many people annoying the heck out of me.
So I decide to use the free wifi offered by VR... which of course doesn't work. Bugger. Sometimes it works for a bit, always extremely slow and for the most part of the trip it just gives up. So the next four hours of the trip are boring and very annoying, not exactly lifting my already pissed off mood much. Things get worse at Pieksämäki where a good number of people get off the train (it is an interchange station for trains heading to Jyväskylä, Tampere and finally Turku, although why someone would want to go to Turku is beyond me).
Unfortunately they are replaced by a bunch of people fresh (well not exactly fresh) off the Joensuu train where the weekend featured a very popular music festival. So this means there are a bunch of people who look and
smell
like they've spent the last three days without changing their clothes or washing up, sleeping rough and basically drinking a case of beer
a day
. Yes, you can imagine the sights and smells. This doesn't do any good for my spirits either!
Here's the map of all the Finnish railroads, with my route highlighted: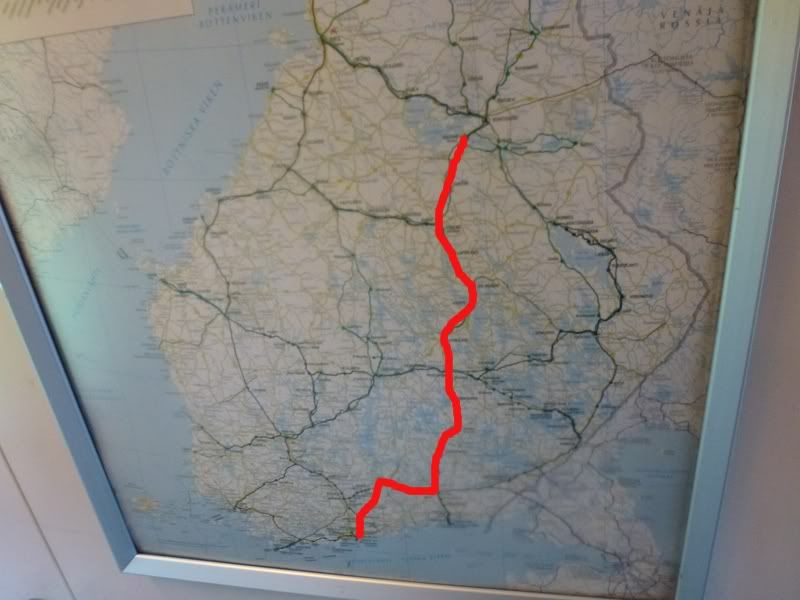 After Kouvola I give in and head to the restaurant car for some sort of lunch. Bad choice, overpriced and completely tasteless, plus I'm surrounded by annoying people who are well into their fifth pints of the morning despite it barely being 11AM! So I wolf down my sustenance (can't call it food) and head back to my seat where I somehow manage to survive the remaining one and half hours and eventually emerge at my local station, six and half hours after leaving Kajaani, glad that this very annoying train trip has come to an end.
I walk home, do all the stuff and errands I needed to do and eventually leave again for the airport with my trusty bus, this time in somewhat higher spirits.
Helsinki Airport
For reasons unknown (ok, they are actually well known reasons - their handling agent is Servisair who just happens to have a presence only at T2) Estonian Air is at T2 even though their SAS pals are at T1. So that's where I step off the bus.
The biggest customer of Servisair at HEL is KLM, I guess that is why you have to use the KLM website to do OLCI ex-HEL. This is by no means a very smooth process, as the HEL-TLL leg is handled just fine but selecting your seat for the next segment seems to be almost impossible. The seat map shows plenty of good seats available, but I can't change my assignment and in the end end up with 23A or something like that, a window seat right next to the CRJ-900 engines in the back, never my choice of a seat! Well, I will deal with this in Tallinn, but this is very bad for the hub-and-spoke operation Mr. Taskila is trying to build!
So thru security I go and decide to tease the girls at the exchange booth a bit by asking whether they have any Georgian Lari (yes, certain members of this board might find the name of the Georgian currency somewhat funny) or Ukrainian Hrivnas (whoops, did I just give out a hint here?). I know fully well they don't, but the girls are cute and I like teasing them.
As part of the Servisair handling package one must sign up for their lounge too I guess, so to the Aspire I go. Which is fine by me as it is a very nice lounge and I actually prefer it to the SAS one.
Before entering I spot this: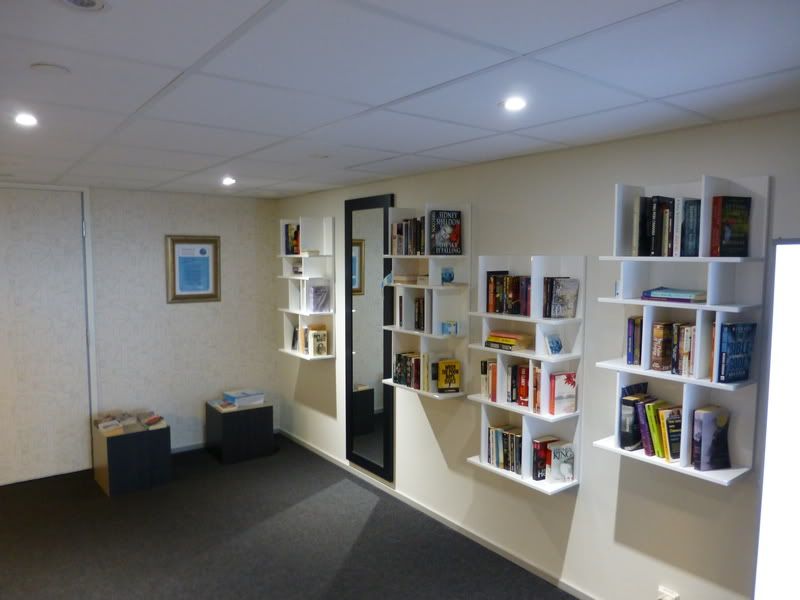 This is the much-touted Airport Library that Finavia opened a while ago - basically a room with some shelves where passengers are free to drop off their unwanted books and pick up some other books in exchange. I haven't seen the place before so good that I stumbled upon it. Jonas would love this concept if he read books, but as he doesn't I guess he should write a suggestion to Finavia to expand the concept to DVDs and lounge access vouchers...
Oh, Servisair is running a summer campaign - well considering I've never seen more than a handful of people in this lounge, most of them Dutch KLM status passengers they sure could use some additional revenue (but 25 EUR still isn't exactly a "walk-in" fare methinks):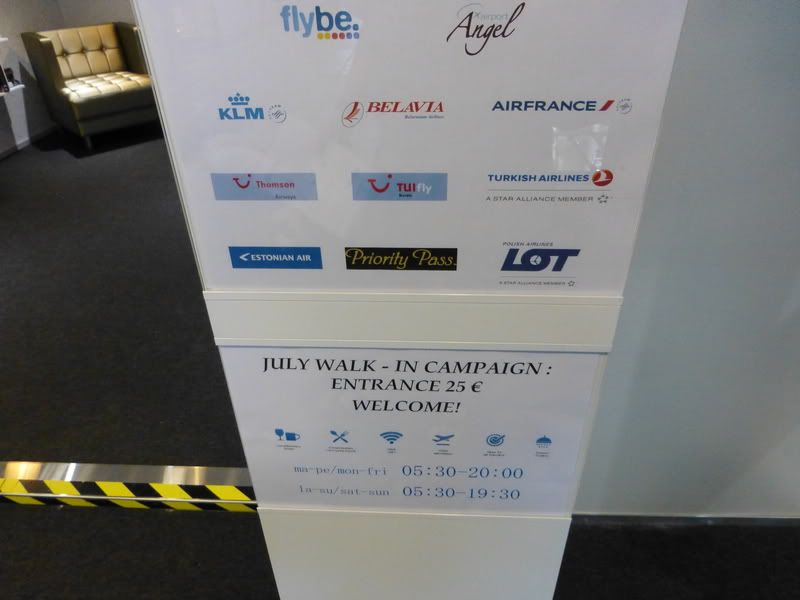 They have some delightful young, cute girls working here and today's no exception. After a quick check of the appropriate credentials I'm admitted. See, I told you it is mostly empty: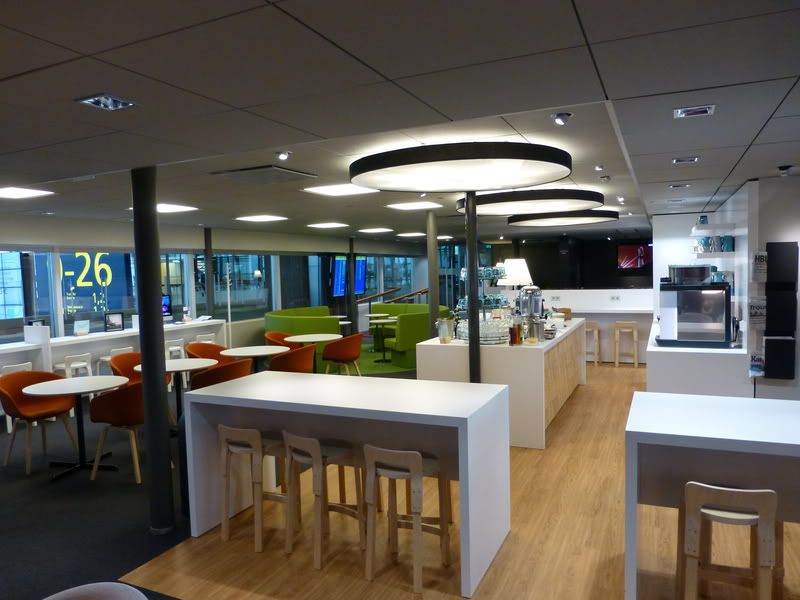 I agree with makeree that this vegetable soup is excellent: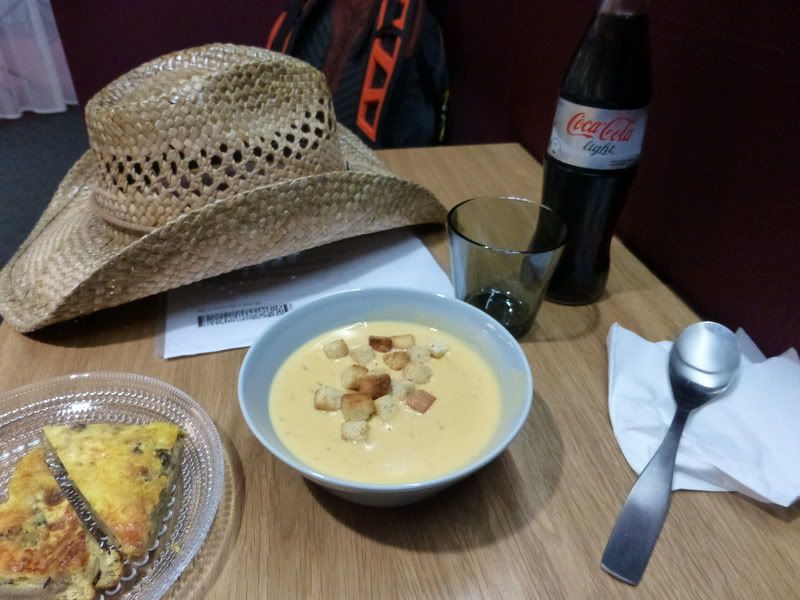 A "gabrielchew" to start another nice trip with two new countries on the agenda - and to celebrate that this is the only lounge at HEL where you can get this for free (if you ignore the ridiculous drink chits at the Finnair Longhaul Lounge which you should):
I'm sort of expecting some sort of replacement plane to pop up, assuming that the Saab I was supposed to fly last night really went mech - this was the reason they cited as the reason for the delay. So when I see this RAF Avia Saab landing I get excited for a moment thinking it might be my ride, but this doesn't turn out to be the case: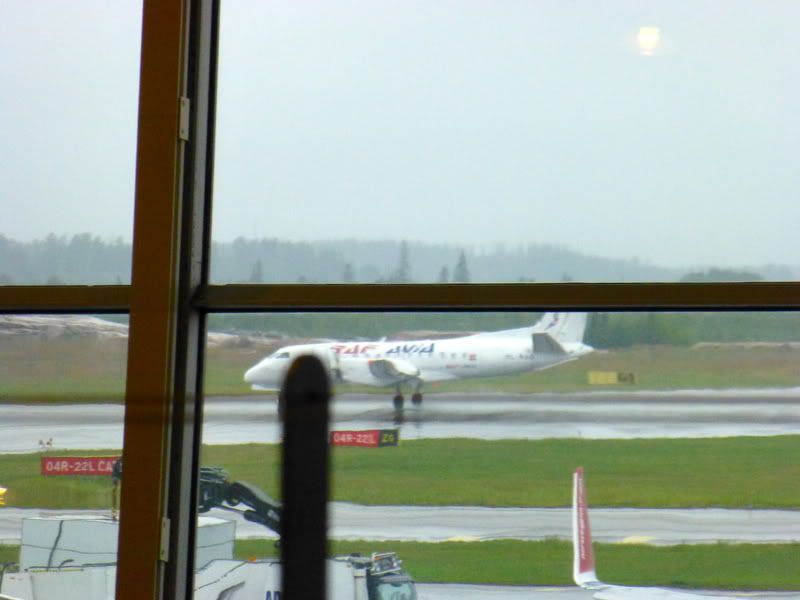 Instead I spot "Hockeybird" standing on the wet apron: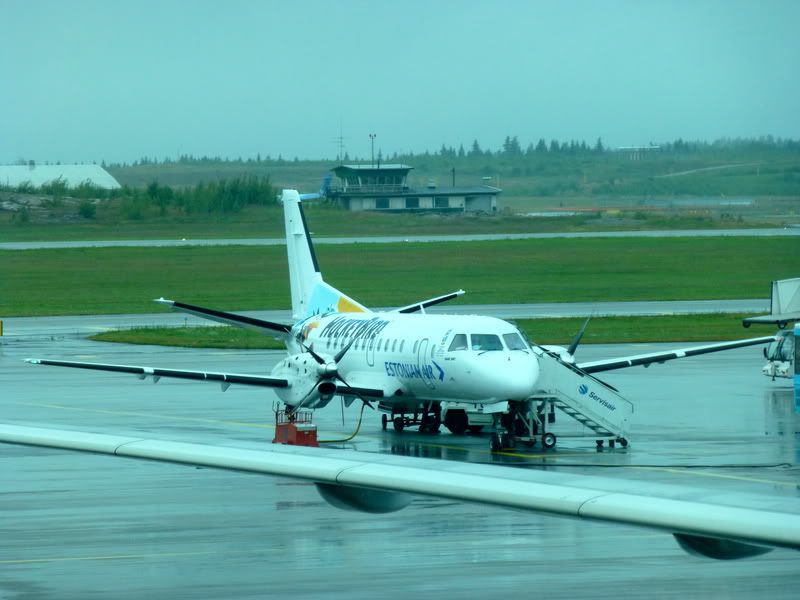 Eventually I mosey over to the gate, which just happens to be in a newly opened bus gate area downstairs. At least the signs are very explicit (but I'm absolutely certain that some people will get lost anyway):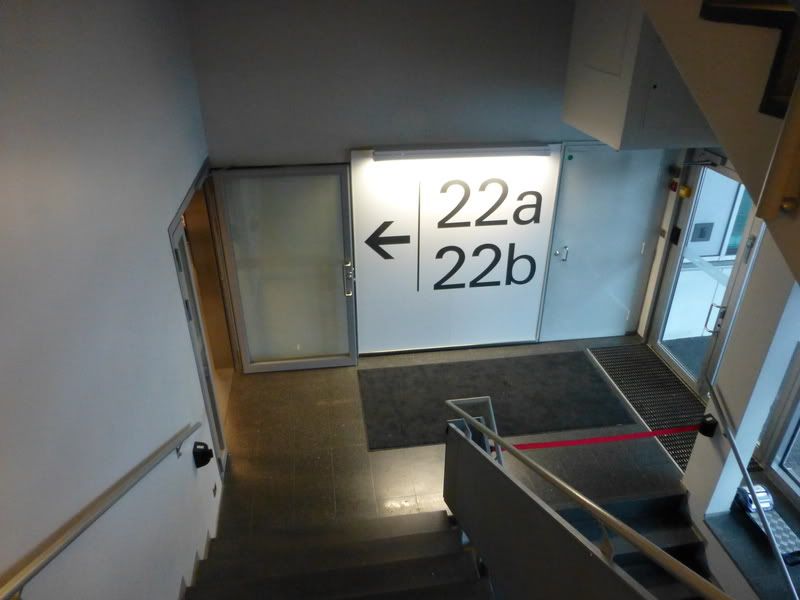 Quite stylish actually: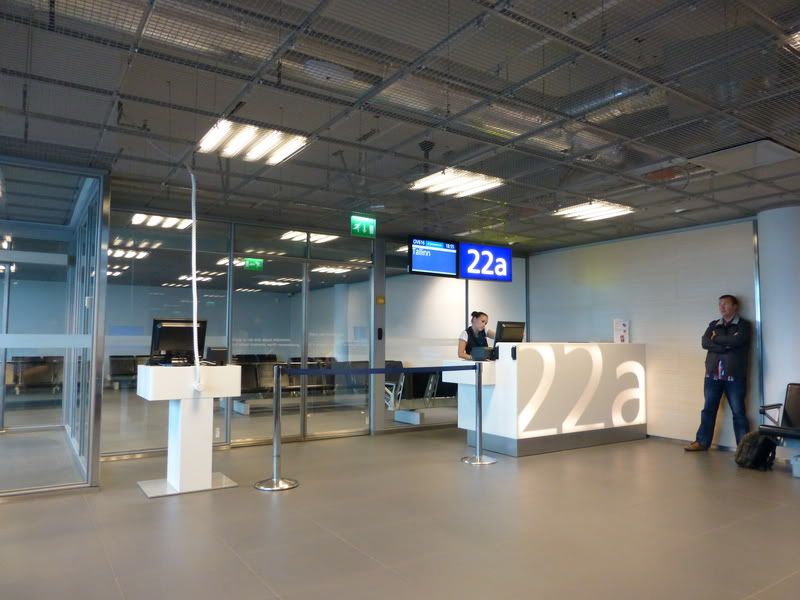 A lot of people are standing there, waiting for the boarding to commence. The gate agent makes an announcement that anybody who was rebooked from the canceled airBaltic flight has to come and see her at the gate. Judging from the number of people who do so it looks like that at least half of the passengers (and probably most of the revenue) on this flight are courtesy of BT. After this is done I ask the girl for a gate check tag for my roller, no way it will fit anywhere inside the Saab. She is happy to give me one.
Right after boarding commences, with the usual short bus ride to the apron: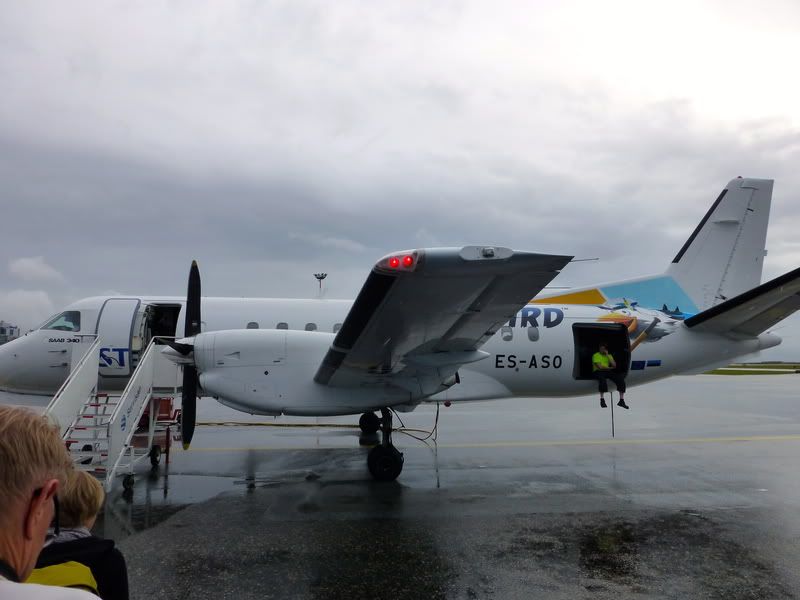 ES-ASO is an old villain of mine, I flew her twice back in March (see:
Day Of The Albino Planes: HEL-JOE-TLL-HEL
(by
FlyingFinn76
Mar 29 2012 in Trip Reports) ) although she was a horrible albino back then. These days she is carrying the special "Hockeybird" livery to celebrate OV's status as the official airline of this years Ice Hockey Championship Games which is kinda weird considering that the event did take place in Estonia... But business is business.
Under the wing as someone prefers: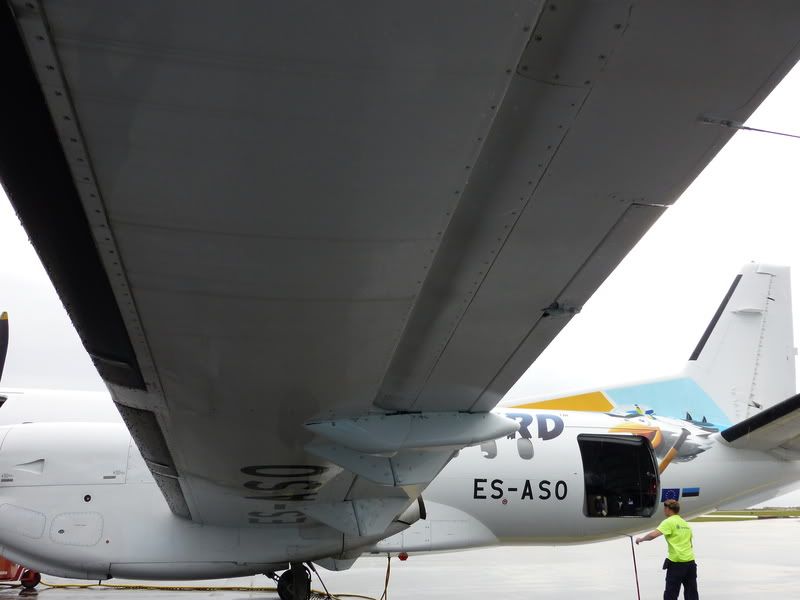 The prop:
The captain must be feeling hot: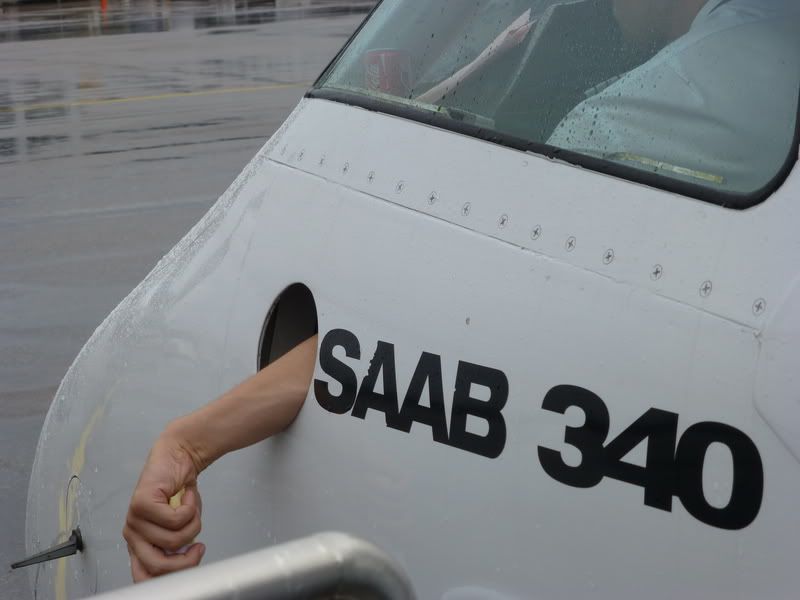 HEL - TLL
OV616 Operated by Estonian Air Regional
Saab 340 ES-ASO
Seat 11A
19.10 - 19.35
A semi friendly blonde FA as seems to be the norm with OV Regional. I picked a seat on the last row and as usual I get the whole row for myself. Around twenty pax in total.
The captain is Swedish, Johan something and he makes a short welcome speech, where the beef is a flight time of 25 minutes.
Notice the kippa the guy is wearing - there was an extended Israeli family traveling to TLV who were rebooked from the canceled BT flight, more on them later: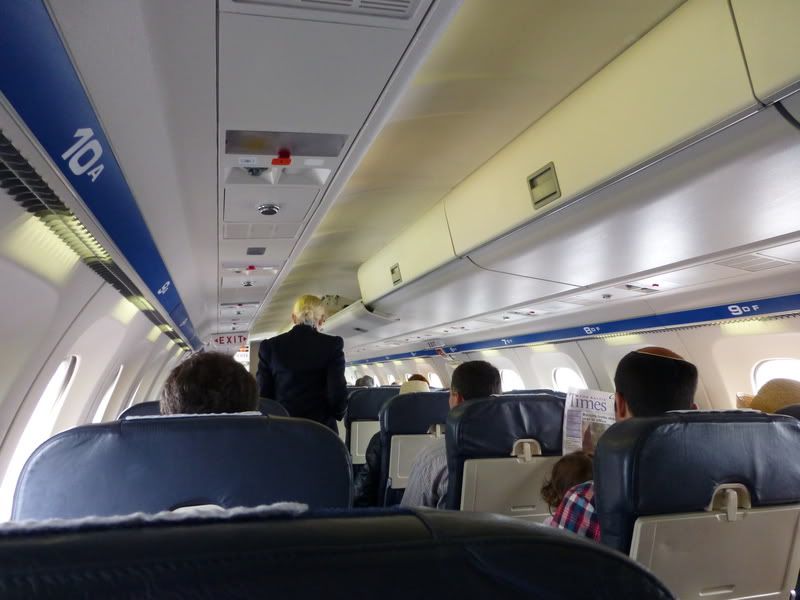 Hmm, I wonder what "when applicable" means in this case - or what are the exceptions when you can keep it up: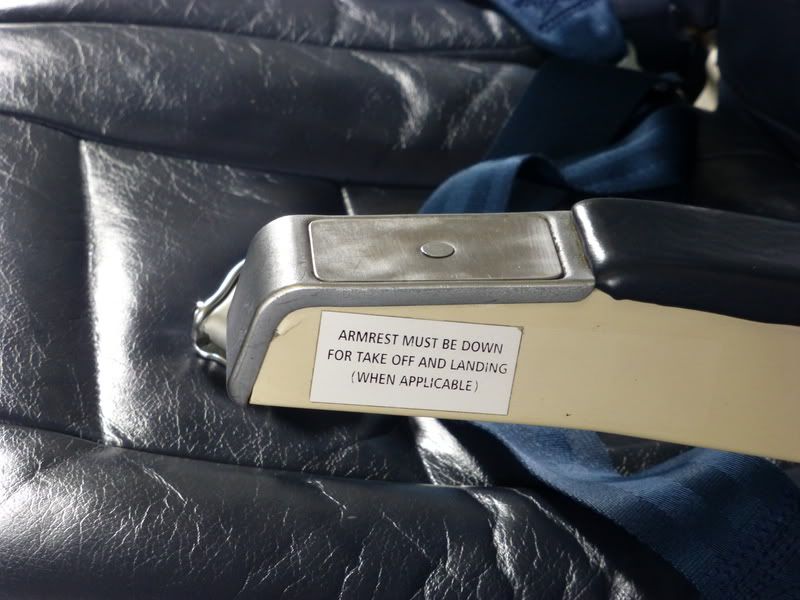 Departure is 15 minutes late after this LOT E170 making a splash (yes, the weather is the usual yucky Finnish summer):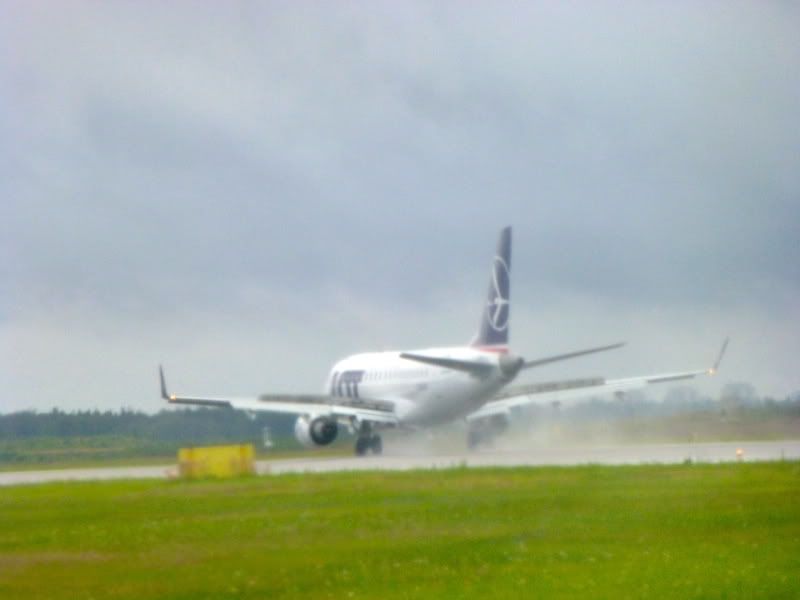 Luckily the far runway is still being resurfaced so the nearby 22L it is for us, meaning a taxi time of just two minutes.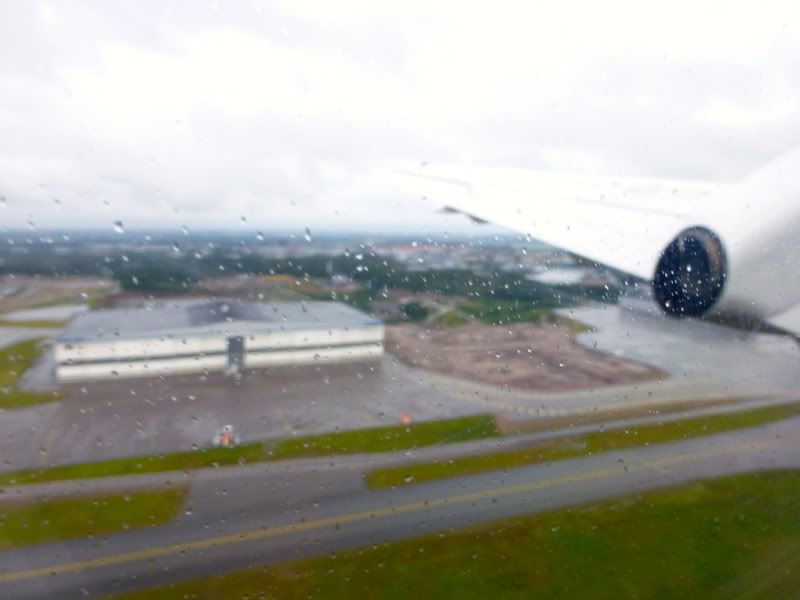 Eventually we enter the murk: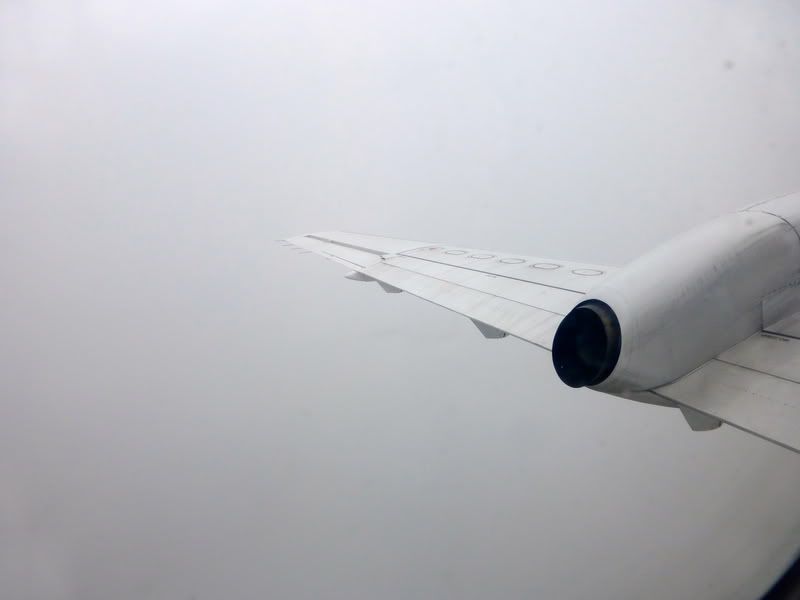 But luckily it lasts only for a few seconds as we are overflying the city centre of Helsinki with some excellent views.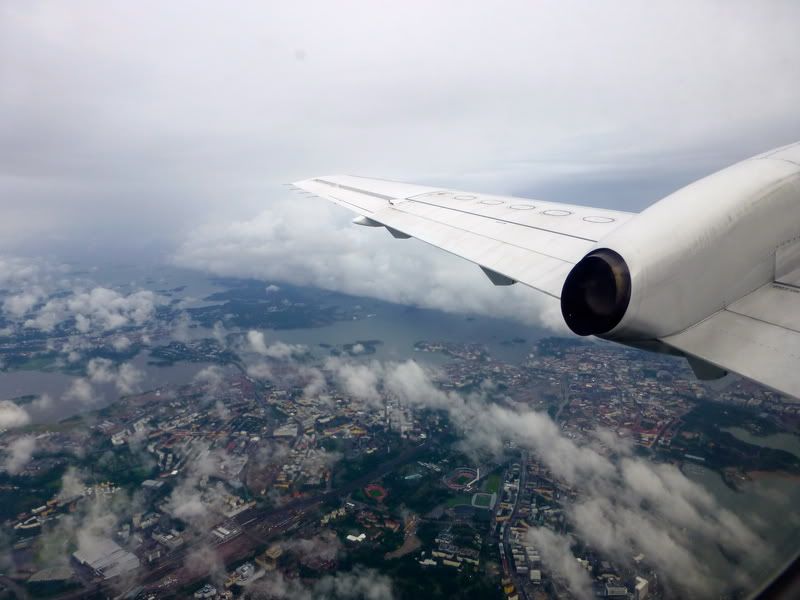 Here's the Olympic Stadium, built for the 1952 Summer Games:
This is the famous Rock Church in Töölö, surrounded by residential buildings: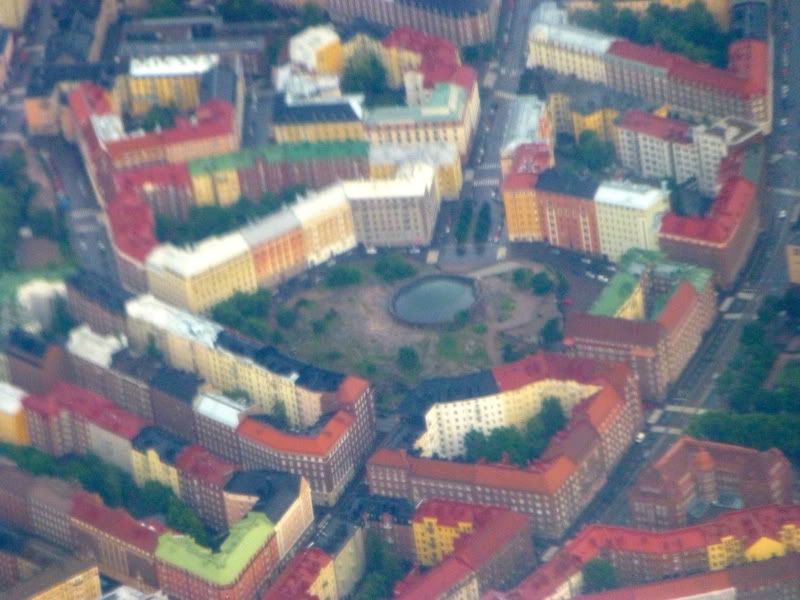 Helsinki Main Station on top, with Kiasma, the contemporary art museum with interesting architecture visible, one can also see the new extension to the parliament building on the lower right corner of the picture: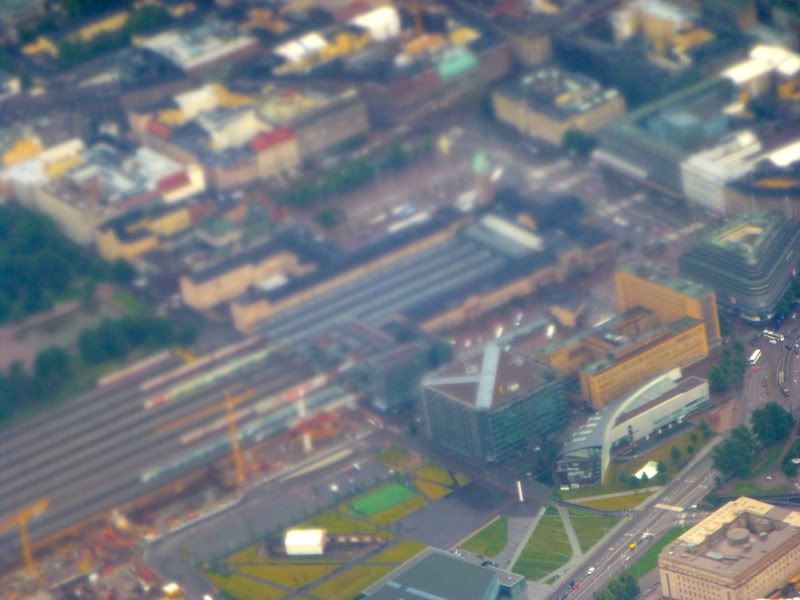 The sea looks a bit rough, I'm happy I'm cruising here above it today:
Service is a Kalev (the famous Estonian candymaker) candy: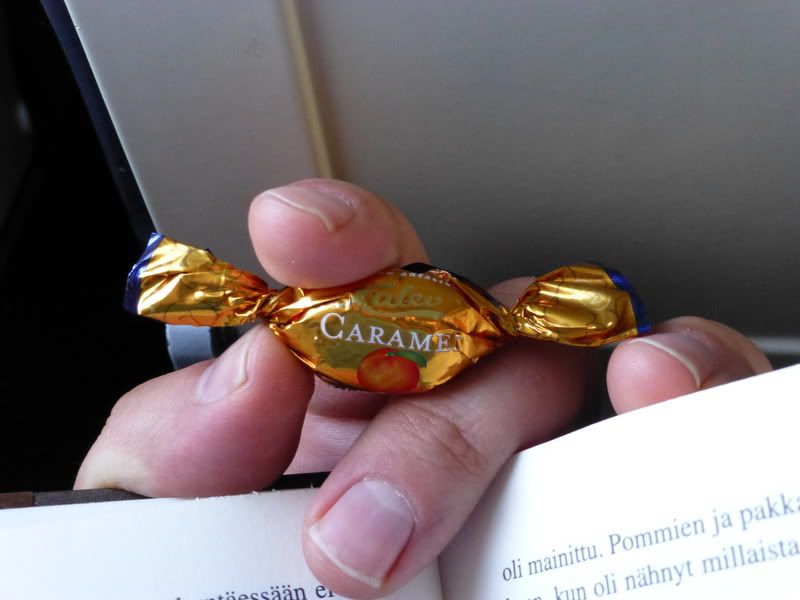 In no time at all we are on approach to TLL, from the east to runway 26 this time. The weather here is much better than back home: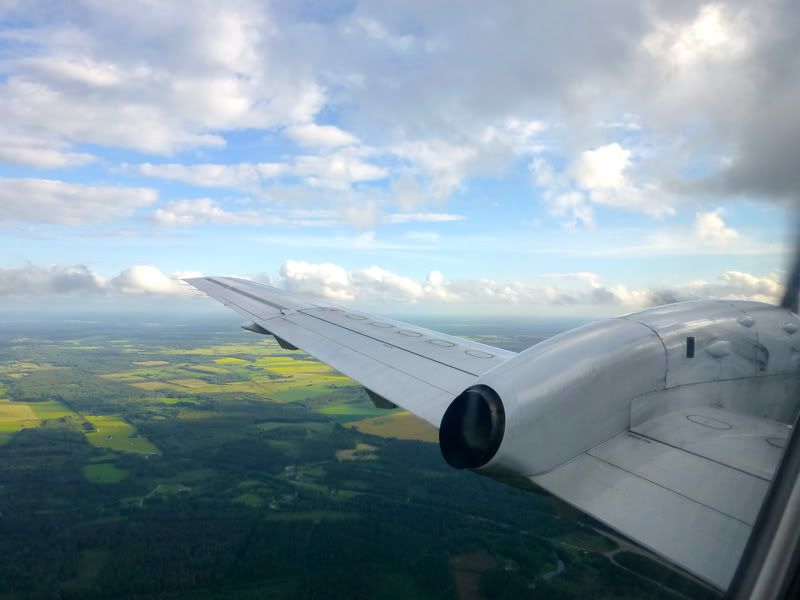 Landing after 23 minutes of flight time: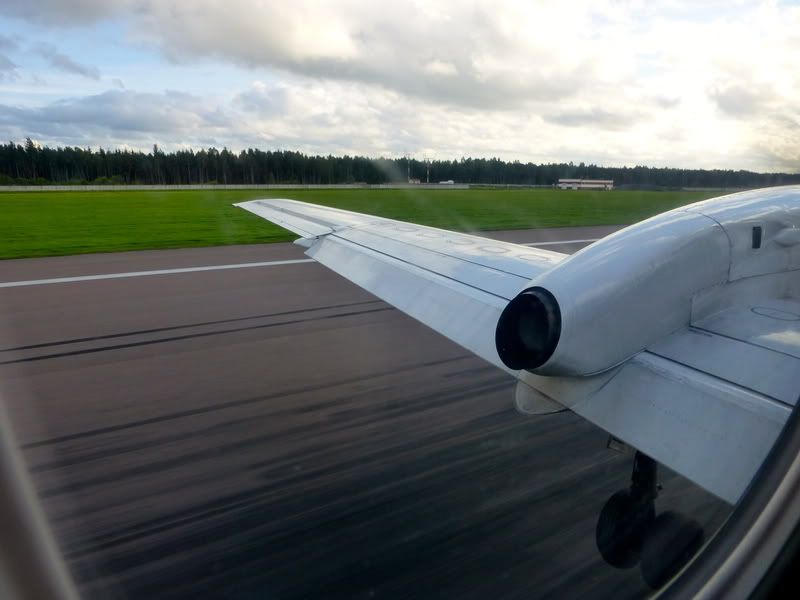 The DOT ATR is still here: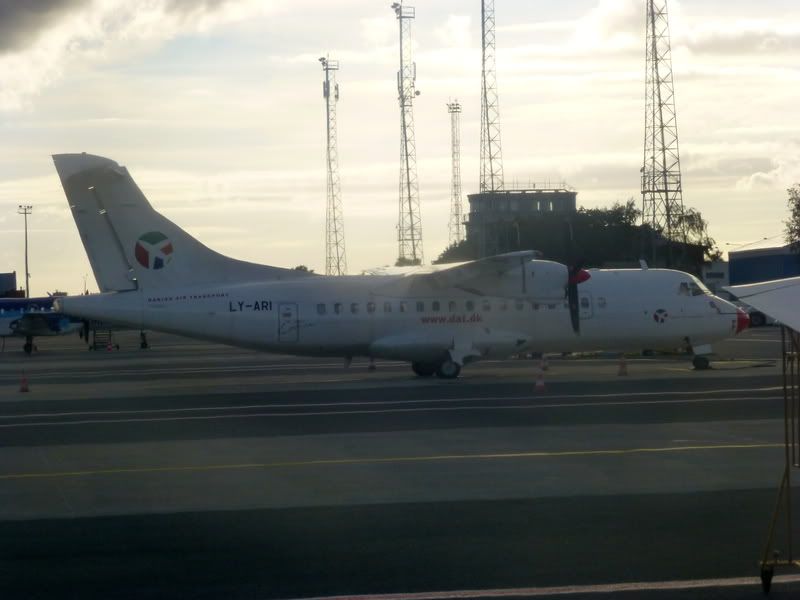 Tallinn
Well, it is a Saab and this is Tallinn which means a bus ride to the terminal. This is relatively quick and I'm out in the public in no time at all. Why not go to the lounge, I hear Jonas ask? Nope, not yet - I've got more than four hours to go so I want to sort out a few things and head into town for dinner. So first I go to the deserted OV check in, decide to check my roller in and ask for a better seat. There are no window seats available apart from the one I already have right next to the engine so I ask for the next best thing - an exit row seat. The girl is glad to give me an aisle exit row seat - just the thing I need for this 3+ hour midnight flight as there won't be a view outside anyway.
Having gotten rid of my roller I then pay the Estonian Air ticket desk a visit. I need to get an official written statement from them about the cancellation of my flight the previous day for my travel insurance. Even though OV refunded the flight fare (which was almost equivalent to the train fare) I am still set to lose the hotel night I had booked in Tallinn as it was too late to cancel it (well, later it turned out they didn't charge my credit card for the stay anyway but back then I had no way of knowing this!). This takes a while as there a Russian girl there who apparently missed her connection to TRD and is now very unhappy to learn that not only she has to spend the night at TLL (at OV's expense of course) but she also has to make a connection to get to TRD (the direct OV flight is not daily). She is first offered TLL-CPH-OSL-TRD and TLL-ARN-OSL-TRD which makes her even more unhappy, apparently because of the double connection (weirdo, I'd embrace the possibility of more flights and more miles!) but eventually they manage to rebook her to just TLL-OSL-TRD and she sets off somewhere. My business is much more straightforward and I get the required document just fine. The girl even manages to apologize for the cancellation - by this time I'm well over it so I tell her it is fine, things like that have a tendency to happen in this business.
Next I go downstairs where they have relocated the bus stop from the departures floor - probably a good idea as the driveway to the upper level had a tendency of getting blocked by cars dropping people off parking just about everywhere. While waiting for my bus I spot this: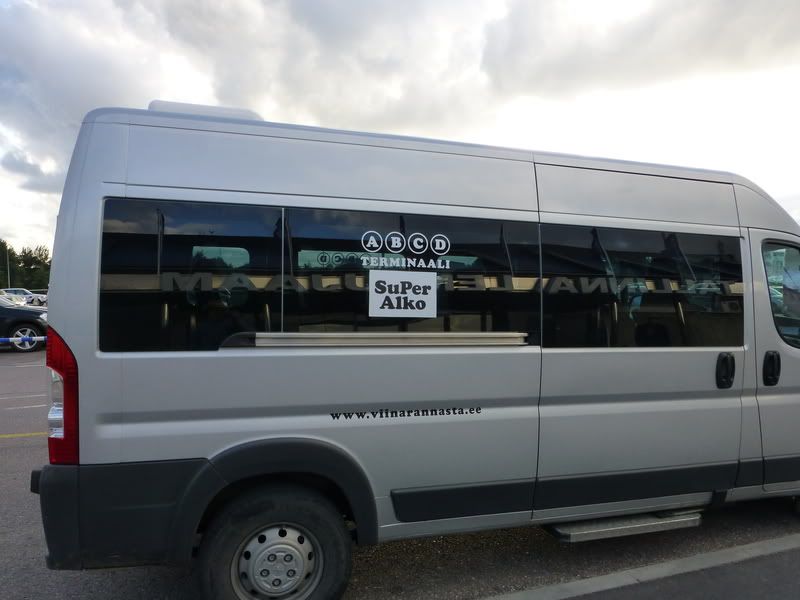 Yes, this is a free shuttle bus to the giant liquor stores at the port, targeted for thirsty and tax burdened Finns. I make a mental note to investigate this matter if I find myself needing a ride to the port in the future.
My bus soon arrives and I hop in and after a couple of stops hop off again near to my target for tonite.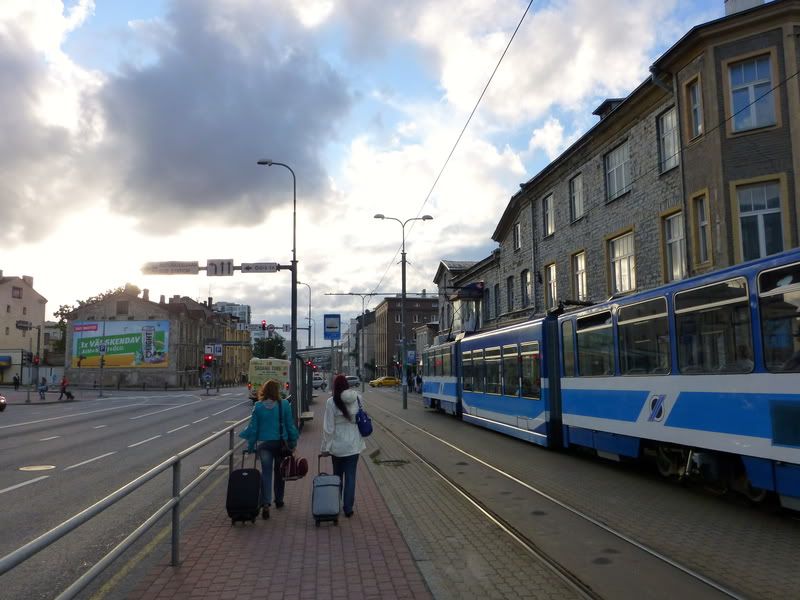 And here we are - this place has been on my TOEATIN list for quite a few years now but I've never managed to make it, probably because it just happens to be a little outside the center, but for today very convenient as it is on the road to the airport, halfway between it and the center: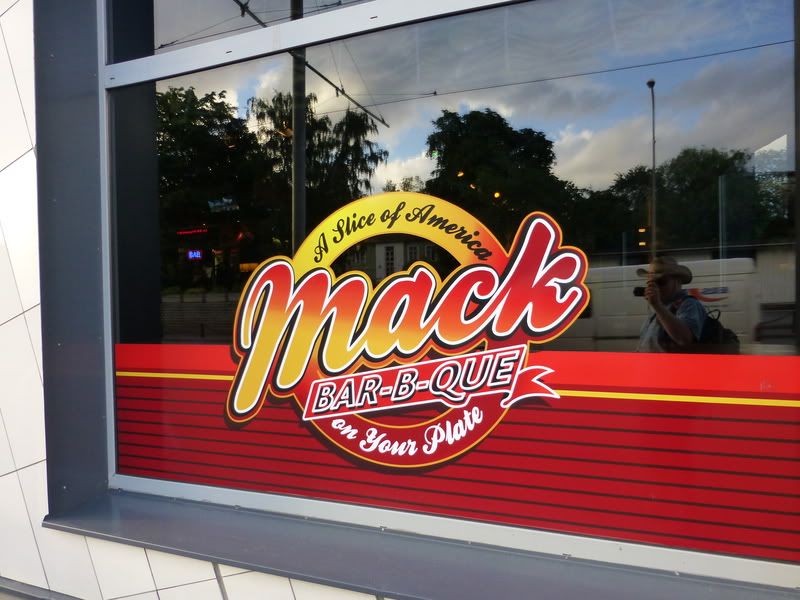 The decoration of Mack's is your usual Americana, although this disco ball just feels quite kitch (sorry Parton87):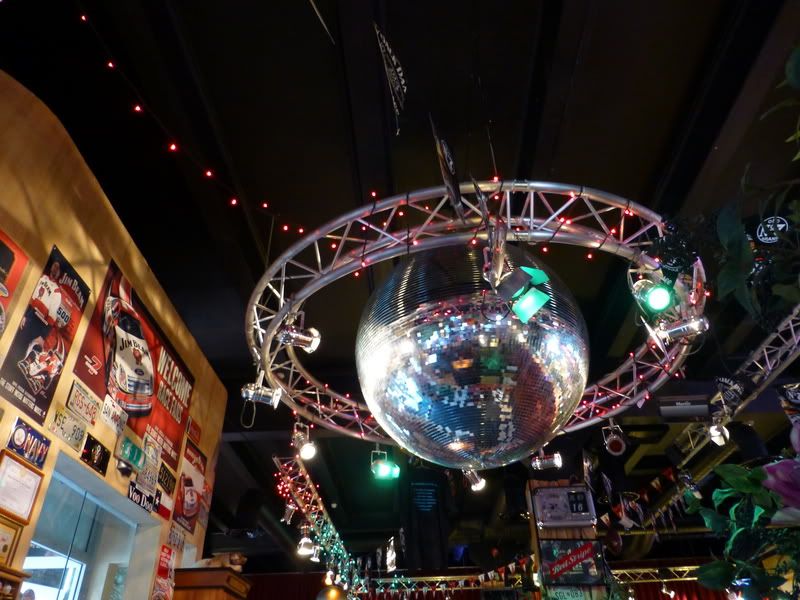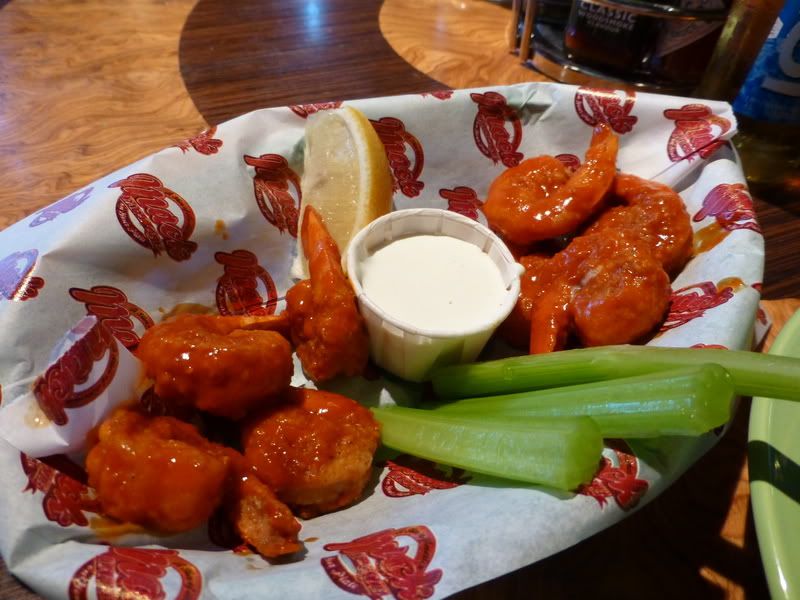 An "interesting" take on Gumbo: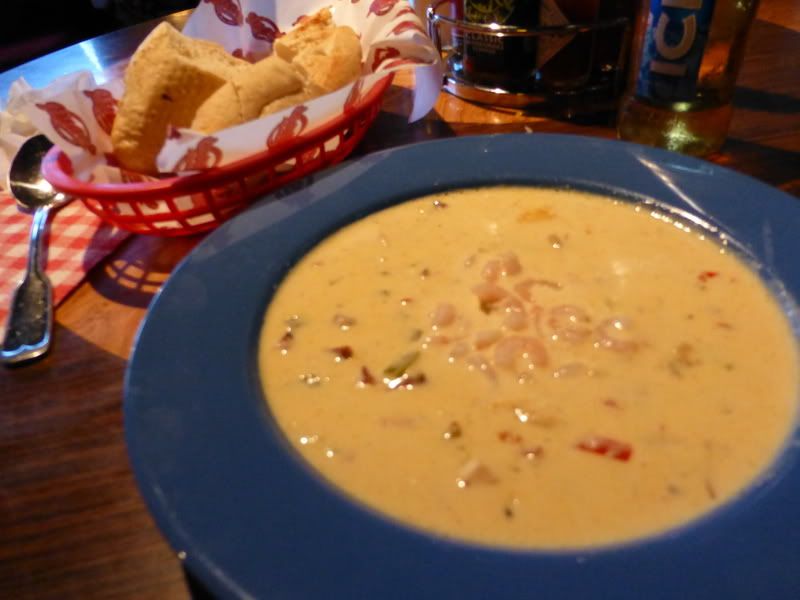 After an average (the appetizers were great but the main course so-so so it averages) meal I make a small stroll around.
The sun is just setting, makes for a nice view behind the Tallinn business district: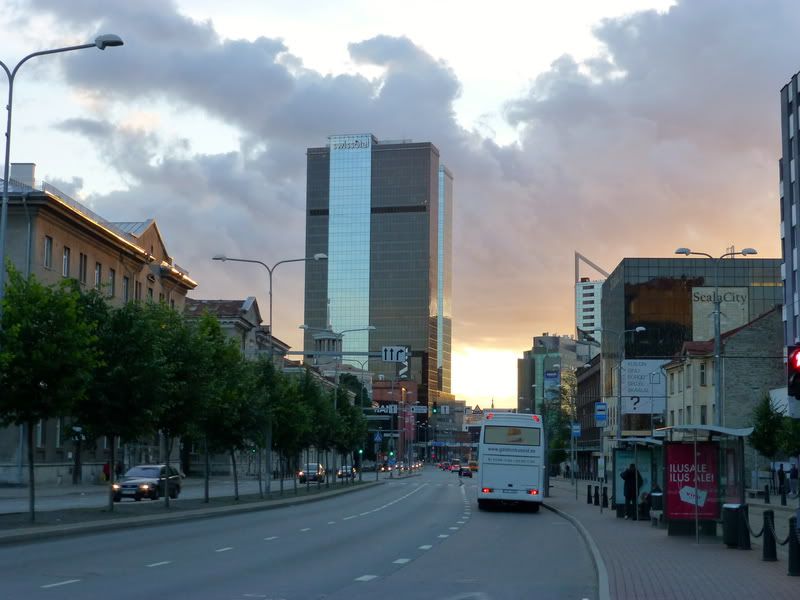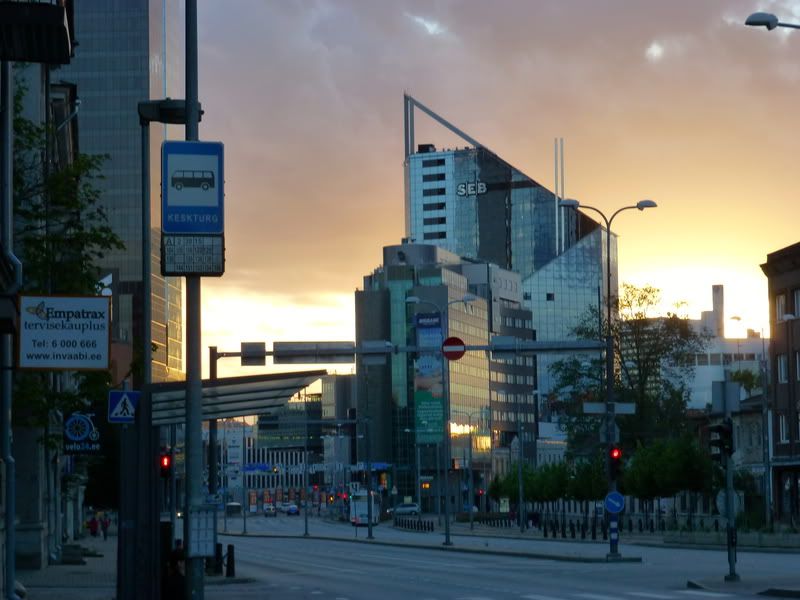 "Don't let them control your thoughts":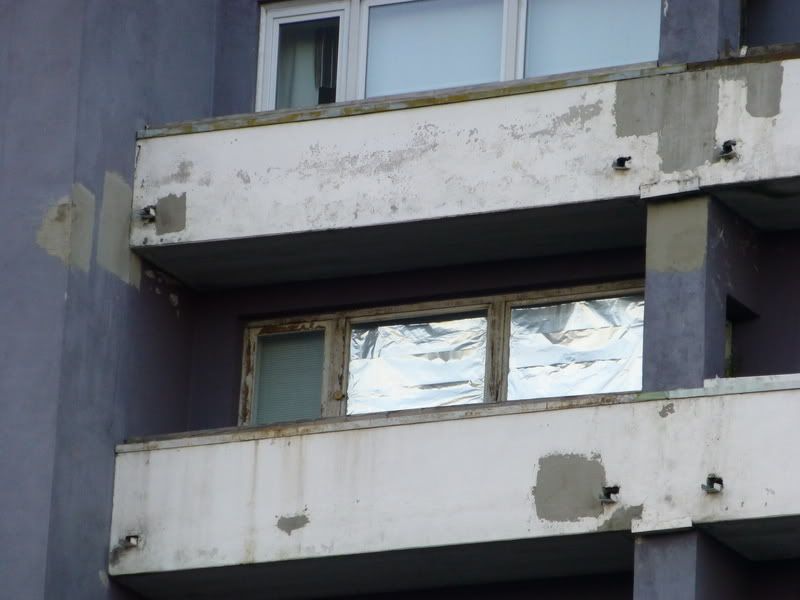 Seeing this I started thinking (as I have a tendency to do after enough beers):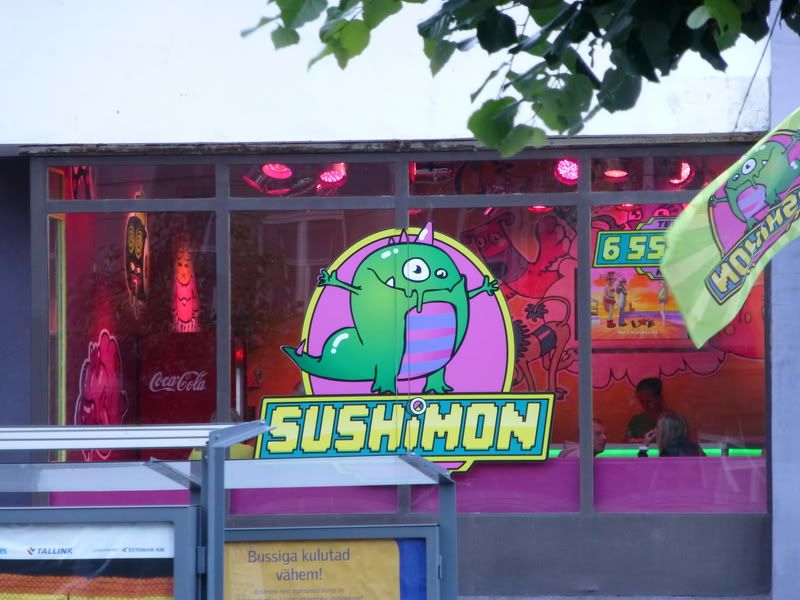 I'm thinking that I'm actually in a city and country that used to be a part of the Soviet Union. More importantly during this trip I will visit four countries, all of which used to be part of the same failed experiment in Marxism-Leninism and blatant denial of the basic human nature. That feels funny, as it's been years since I stopped thinking of Estonia as such - they are a completely westernized nation these days, far more free market and capitalist than my homeland of Finland for example. And thinking it further I'm pretty certain I will see countries that didn't make it as good after the breakup, heck even a country I'm pretty sure would go back to those times in a jiffy given the chance! But maybe this is just the beer talking in me so I better catch a bus back to the airport...
Interesting exhibit of famous people who have traveled thru Tallinn Airport - there seems to be plenty of places to add a photo of me: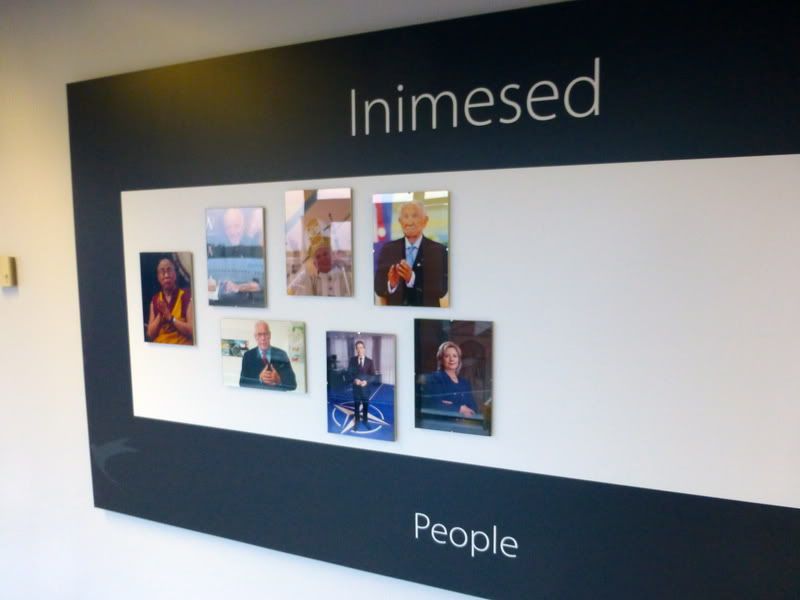 Not many people around this time of the evening - they were waxing the floor, that's why they have the cordon here:
On the way to the Linda Lounge I spot the TLV-bound passengers from my previous flight, still waiting here. Poor guys, it's been three hours since the earlier flight and they even have a toddler with them! I'm not sure how they were rebooked anyway as the TLV flight leaves RIX close to midnight and I don't think there's any flight to RIX anymore this late...
Not too hard to figure out which company is sponsoring this lounging area from the colors (but keep these in mind, we will come back to them later on):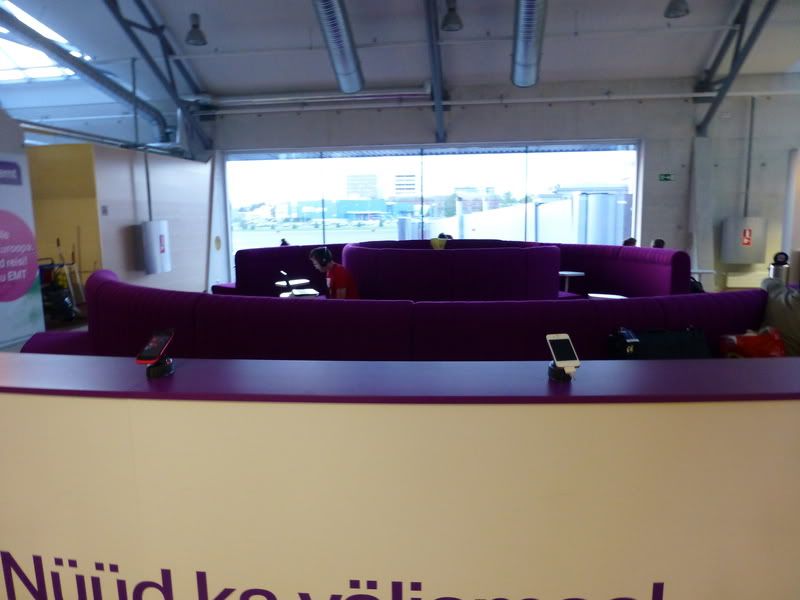 Not surprisingly I'm the only guest in the lounge. TBS obviously isn't popular with the Swedish Business Traveler Horde (TM).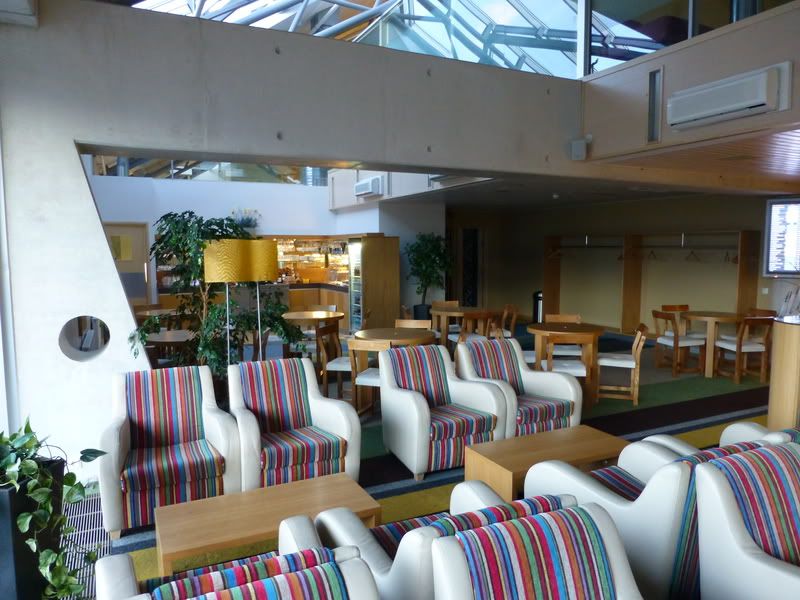 Refreshments - I bought that passport holder from Dubai, several officials have given me compliments on it: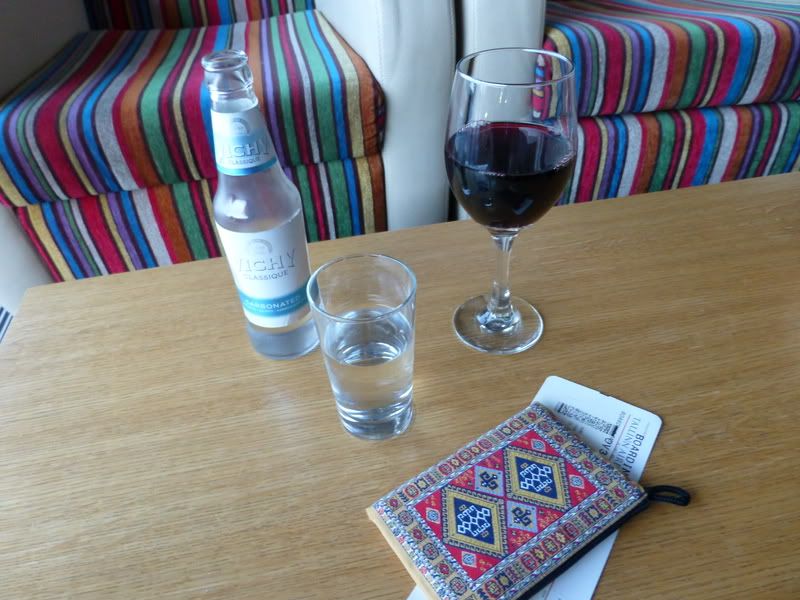 A beautiful E170 pulling in: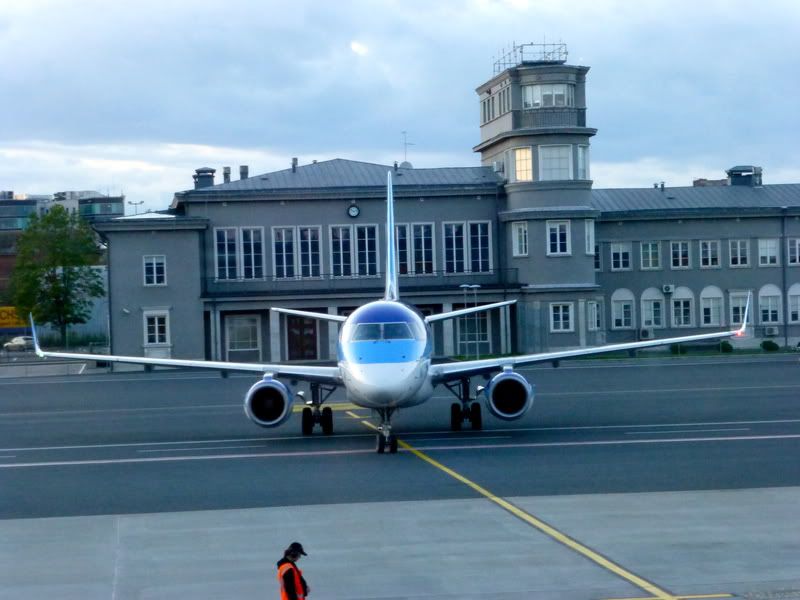 Linda, the mysterious lady of the lake, from the Estonian mythology and their national epic "Kalevpoeg":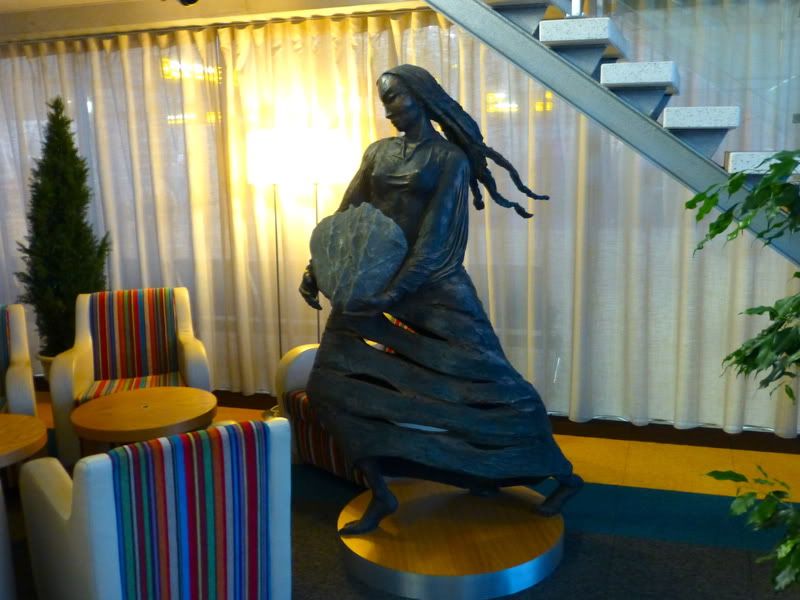 According to the legend (and quite appropriately) the Lake Ülemiste, lying just a couple of hundred meters from the airport was formed from her tears.
I think that will be my CR9 to Tbilisi: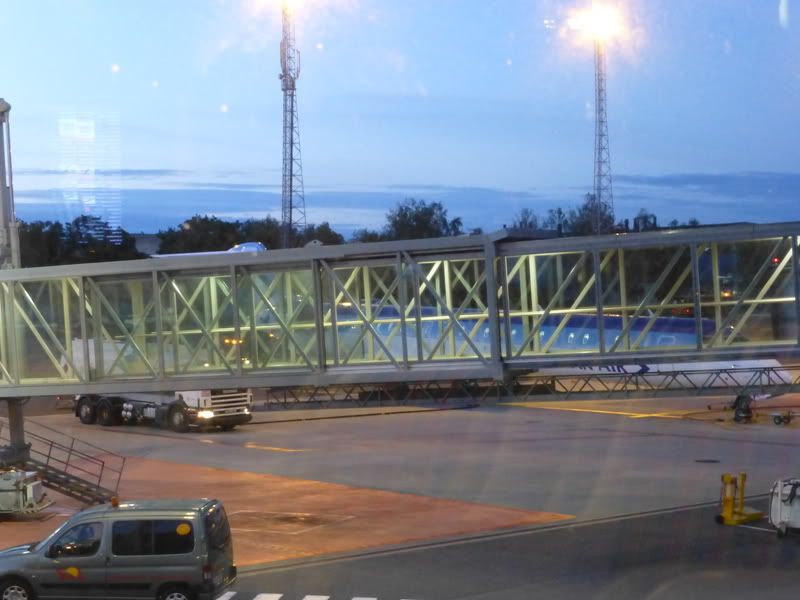 A small 10 minute delay is posted, nothing bad though. Eventually I decide to head to the gate in the non-Schengen part. This is my first time passing through the Schengen border at TLL.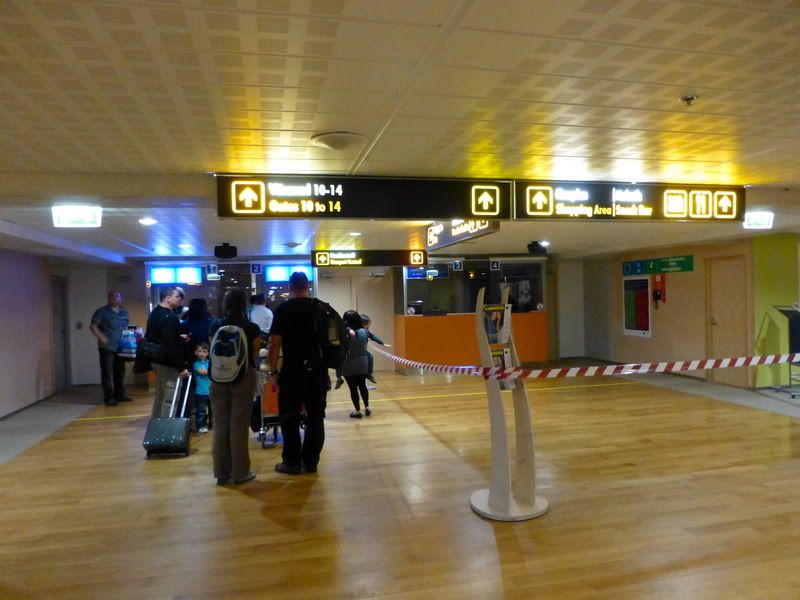 The process can be summarized as interesting. There are plenty of passengers whose papers get a very close scrutiny plus a German-Georgian couple who apparently haven't checked in since they don't have boarding passes, just their itinerary printouts - the (German) guy argues that he came on another flight from Germany blah blah, but the border guard just directs them to the transfer desk. As expected my passport from a small, neutral, non-offensive EU nation doesn't really arouse anybody's interest and I'm through in a heartbeat.
And here she is - looking gorgeous in this light: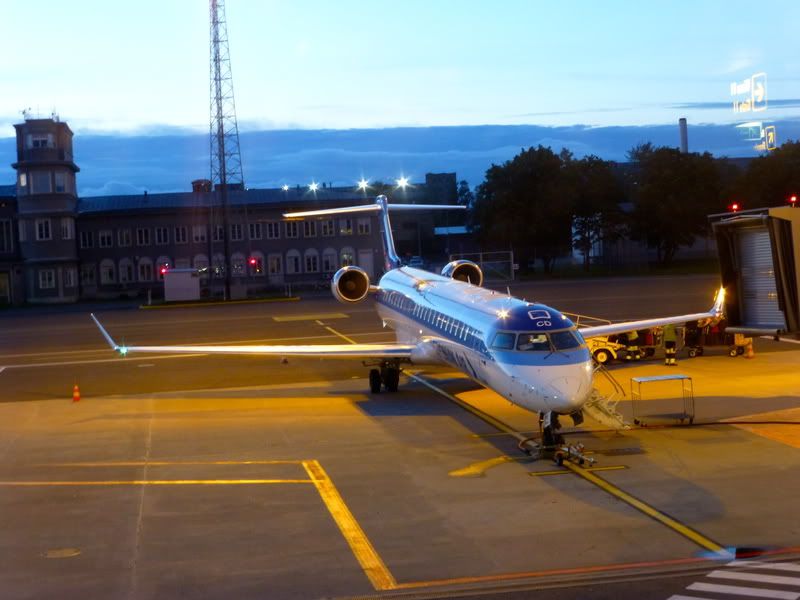 ES-ACD, second flight with this particular bird.
Seeing this gets me slightly excited: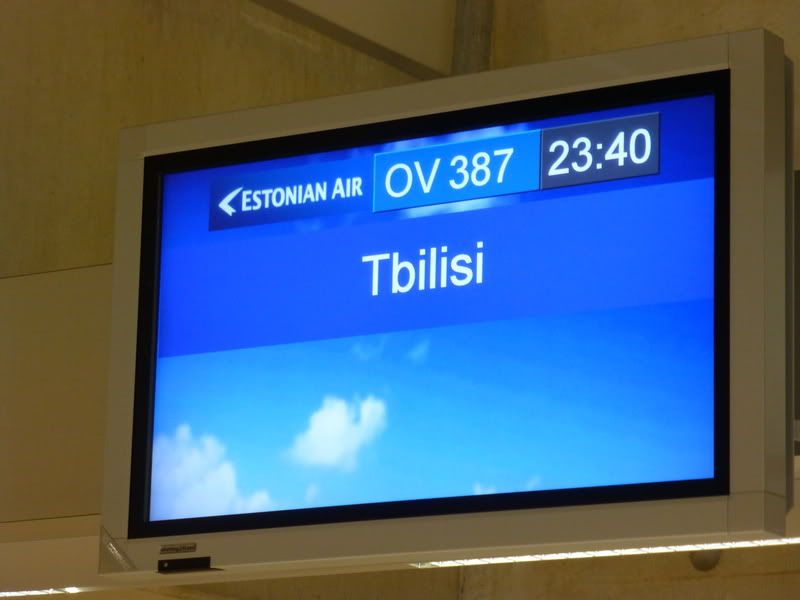 No sign of boarding commencing yet so I decide to lubricate myself a bit more. I really like the Saku brewery and especially the fact that they are not afraid of experimenting with less than mainstream beers, unlike their cowardly counterparts in Finland. Image dedicated to the one man who is responsible for 15% of Stuttgart Airport's yearly revenue - Flieger67: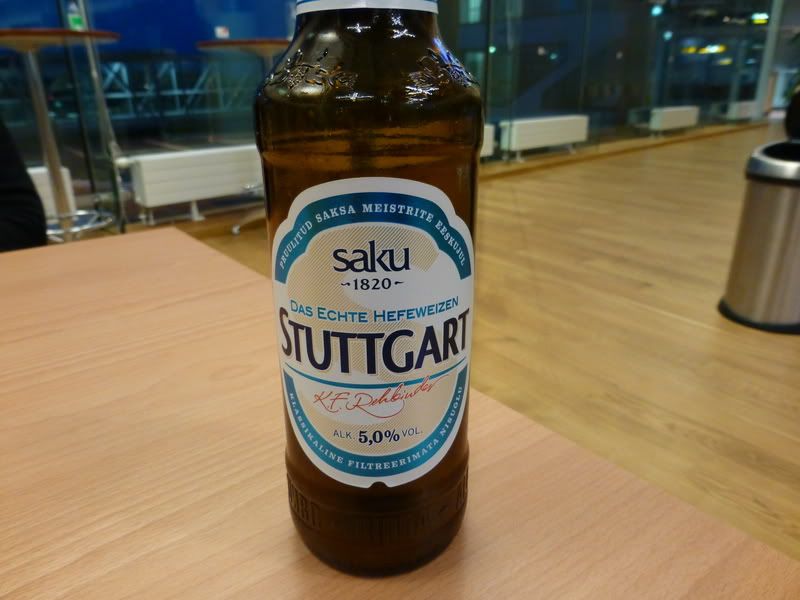 I spot some Finns who were on the Saab with me and head over for a chat. They indeed are on their way for a vacation in Tbilisi. We trade some war stories, these people are extremely well traveled especially considering that they live in the far north of Finland near Ivalo which is a long way from anything interesting. Our chat is cut short by the boarding announcement so let's head to the gate!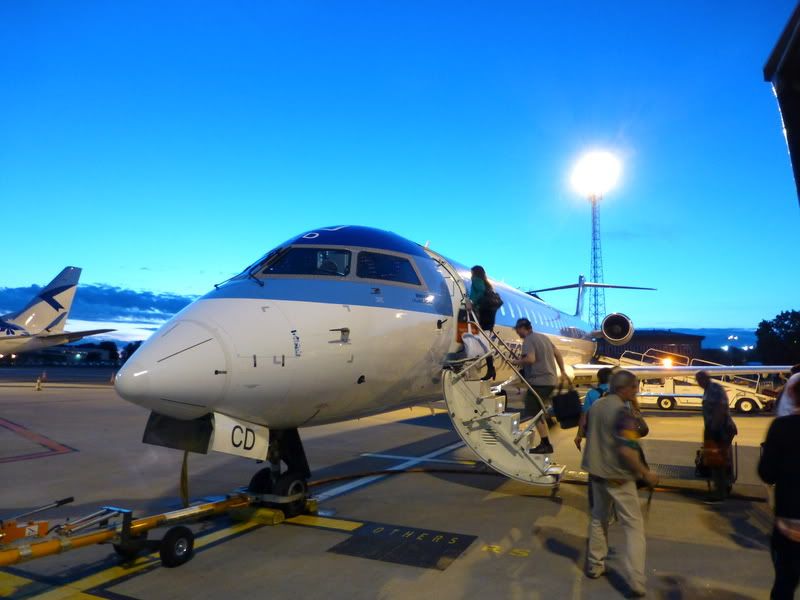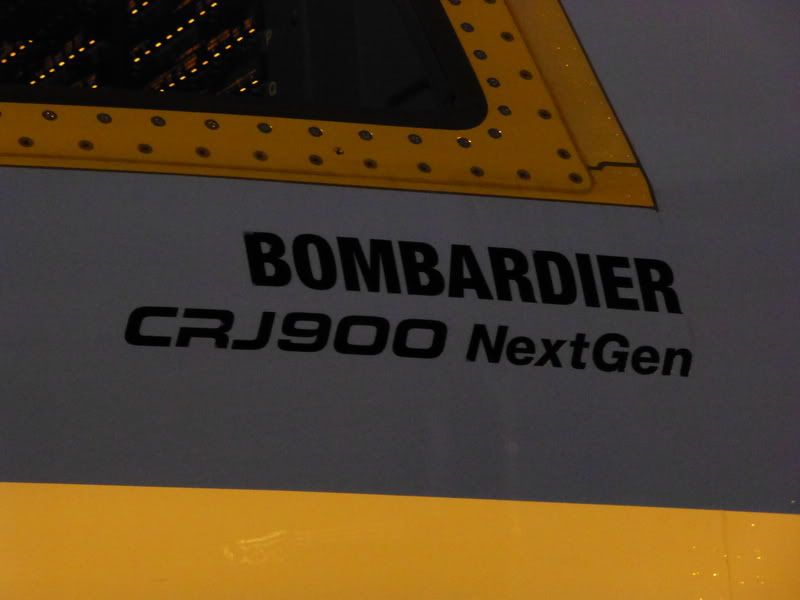 My my, what a long plane this is: