RTW Pt. 10: From BOM to DXB direct? No way! BOM to DXB via ??? on ??
Introduction
Hi everybody, and welcome to part 10 of my around the world trip report series and my 12th report overall. I will keep the name of the airline a secret until later in the report, but I'll let you know that I was scheduled to Fly Emirates (see what I did there?
) until the very last minute. Parts 1-9 and my earlier reports can be found at the bottom of the page.
Background
After years of planning, me and my dad finally decided to go around the world on ID/Standby tickets.
We decided to go to Machu Picchu, Peru in South American and then some Asian Cities.
This was the proposed flight schedule (B means booked):

Icelandair 631 KEF – JFK 30/3/2012 Boeing 757-300
United 1116 EWR – IAH 31/3/2012 Boeing 737-500
United 854 IAH – LIM 31/3/2012 Boeing 767-300ER
TACA Peru 7 LIM – CUZ 1/4/2012 Airbus 320-200 (B)
TACA Peru 101 CUZ – LIM 2/4/2012 Airbus 319-100 (B)
United 855 LIM – IAH – SFO 2/4/2012 +1 Boeing 767-300ER
United 837 SFO – NRT 4/4/2012 +1 Boeing 747-400
Cathay Pacific 503 HND – HKG 8/4/2012 Boeing 747-400
Cathay Pacific 701 HKG – SIN 10/4/2012 Airbus 330-300
Thai 873 SIN – BKK 12/4/2012 Boeing 777-300
Cathay Pacific 751 BKK – DEL 14/4/2012 Airbus 330-300
Air India 102 DEL – BOM 16/4/2012 Boeing 777-300ER (B)
Emirates 509 BOM-DXB 18/4 Airbus 330-200
Emirates 3 DXB – LHR 21/4/2012 Airbus 380-800
Icelandair 455 LHR – KEF 21/4/2012 Boeing 757-200

But as many of you know, you never know on ID tickets and the actual route has been way different then the planned one so far. Luckily I always made plan B and even C. But that will come in later reports.

I was really looking forward and this was shaping up to be a trip of a lifetime!
The report
My last report ended while taking a taxi to the hotel in Mumbai. As we had only 1 day in Mumbai, we set the alarm for 9am. Early for me, but for some early birds such as Markus and the FlyingFinn, the wakeup call could as well be set for 4pm – they like to wake up before 5am!
First place to visit was the Gandhi museum, located in a house that Mahatma Gandhi lived in from 1917-1934. Very interesting, strongly recommended! Only downside is the toothpaste-like smell in there…
Gandhi museum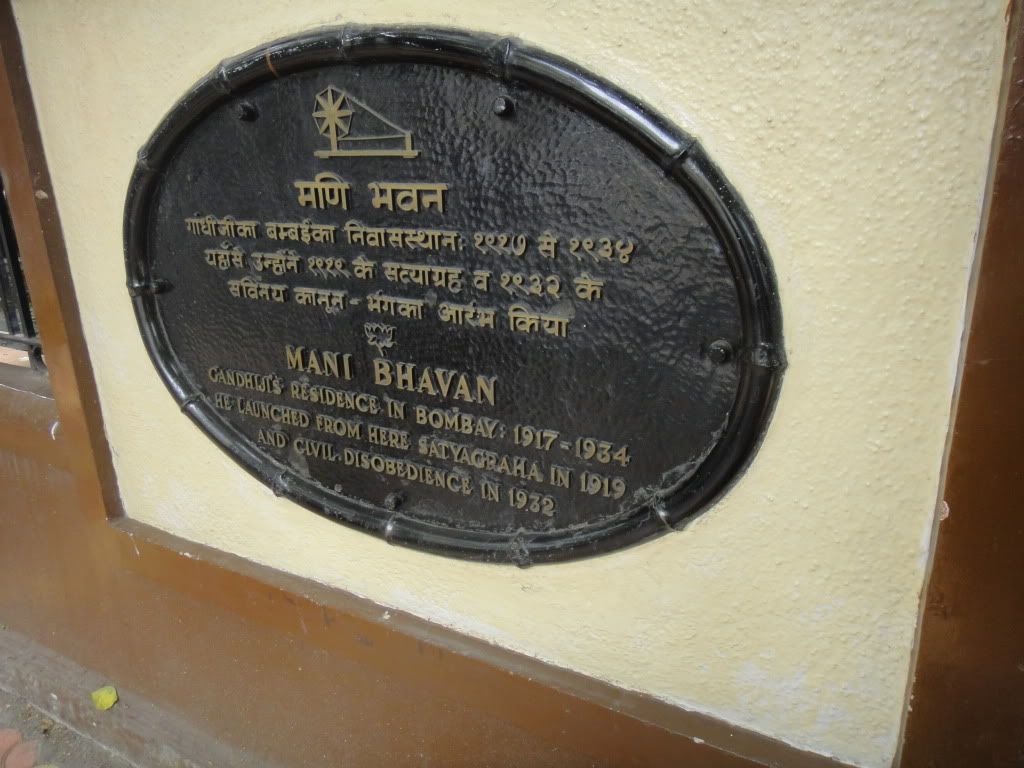 We then went to a park that had a good view over the beach and the Mumbai skyline.
Garden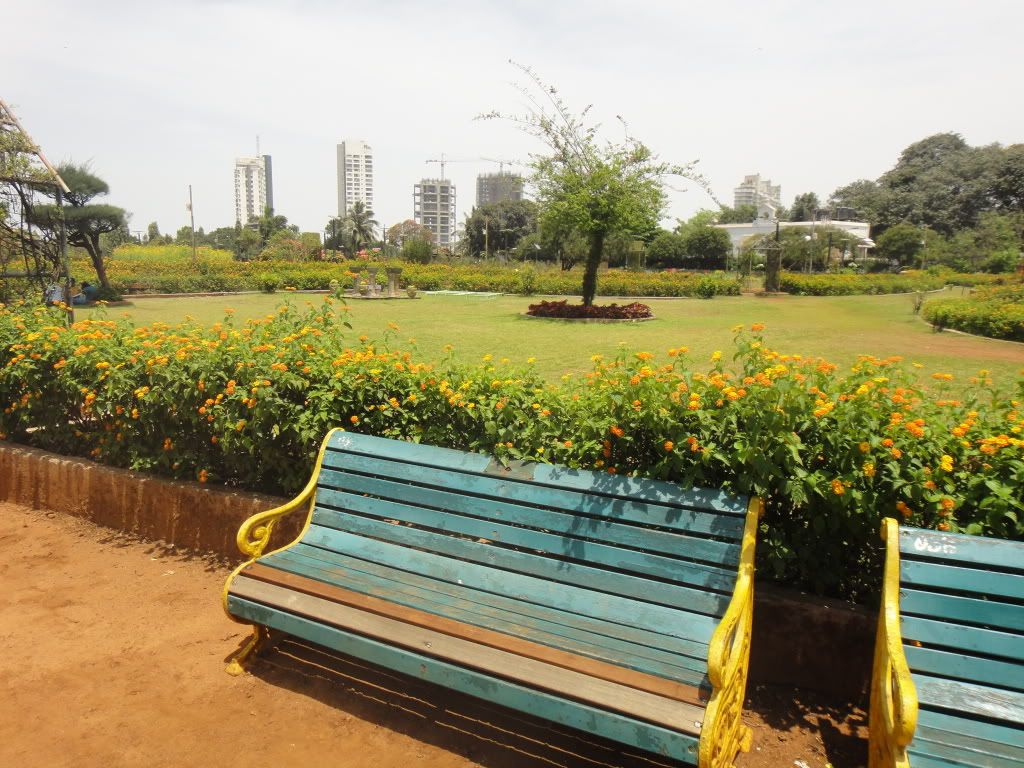 Skyline + beach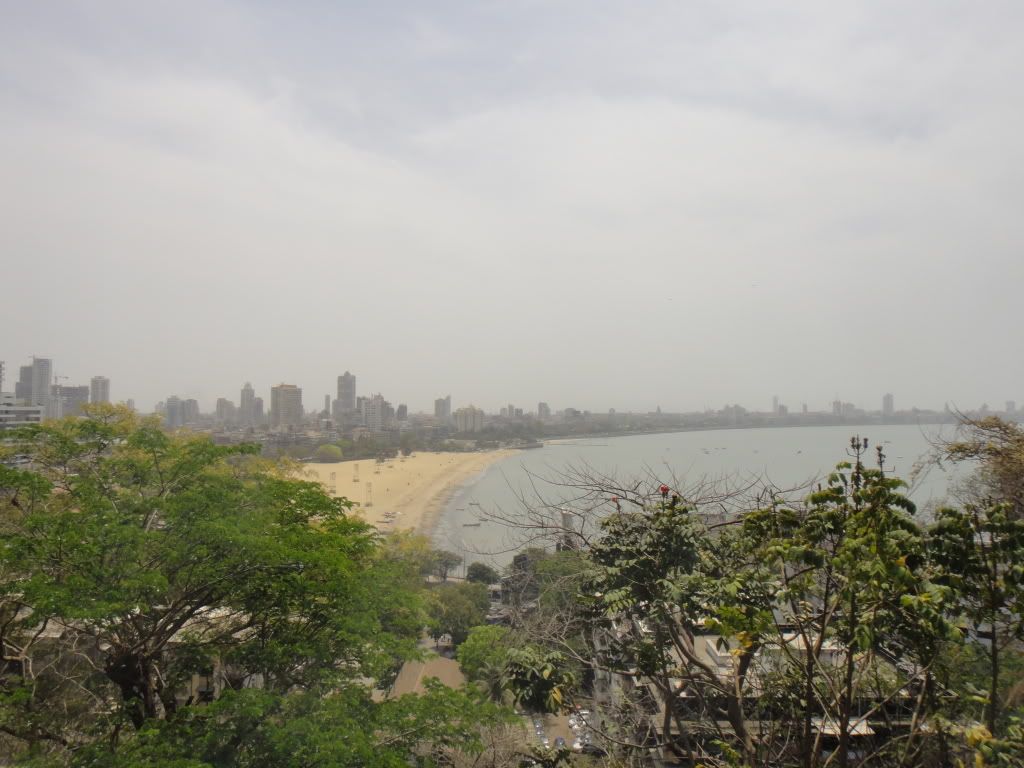 After relaxing for a while in the 35-40 °c, it was time to head inside again. This time it was an aquarium. Nothing special here, and only interesting sights were some little colorful fishes.
Aquarium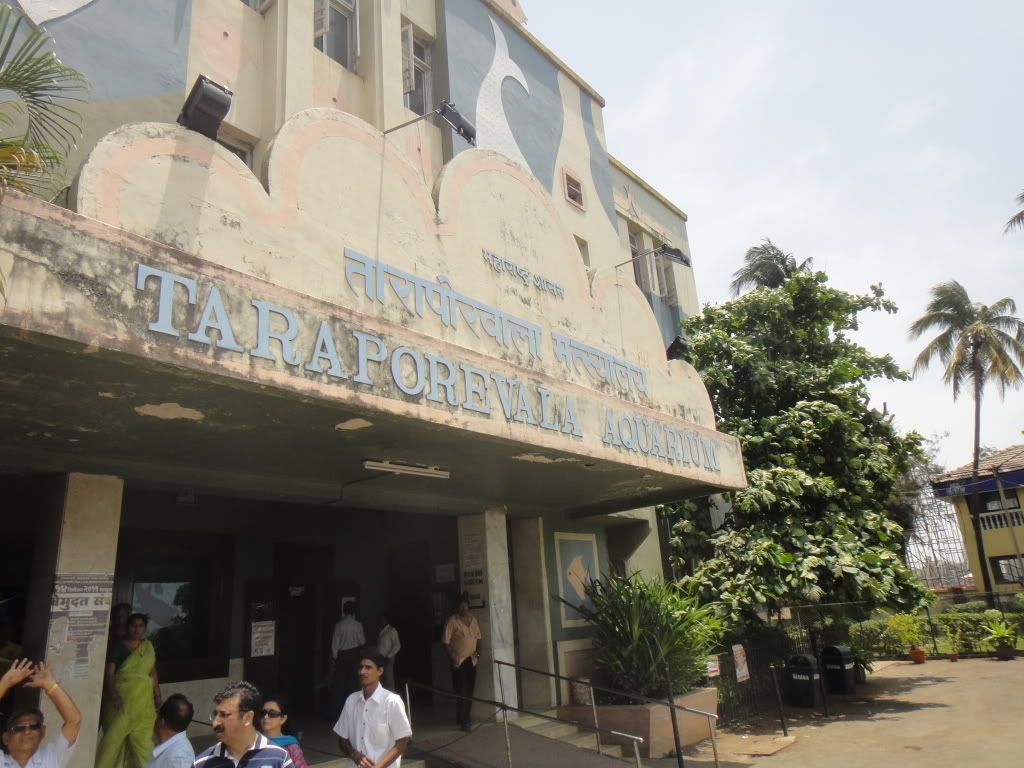 The driver then drove with us to a traditional Indian restaurant that I can't remember the name of, but what I've been told by my aunt that lived in Mumbai for 4 years is one of the finest restaurants around there. We ordered some chicken masala, and I swear, that spicy sauce along with the chicken was the best chicken meal I've ever tasted! Along with some very very thin bread (Pan bread IIRC), this tasted fantastic.
Pic of interior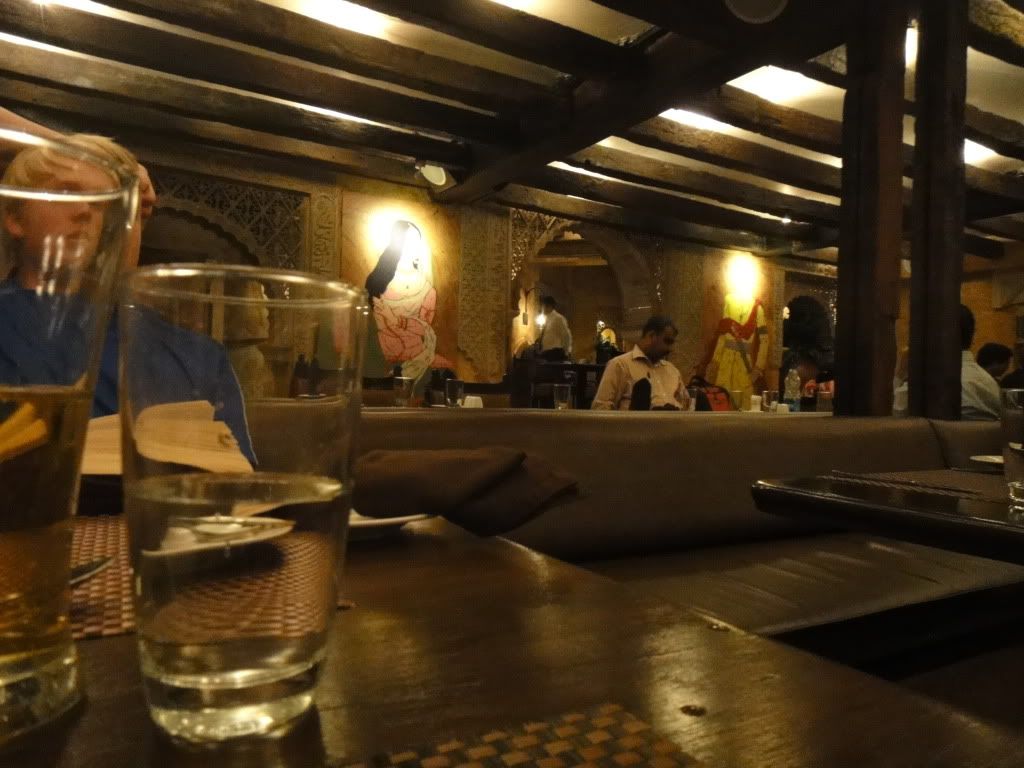 We then drove on and saw another famous landmark, the Gateway of India. Built for a royal visit back in 1800-something, this was the port of entry for the British Royal family.
Gateway of India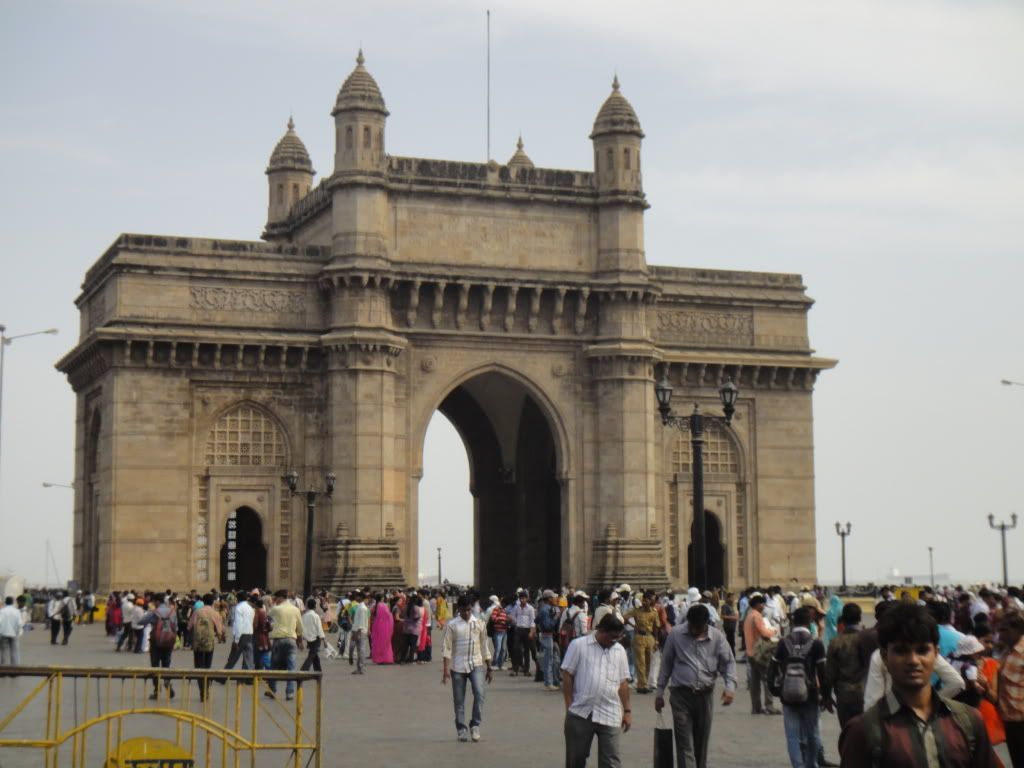 Closeup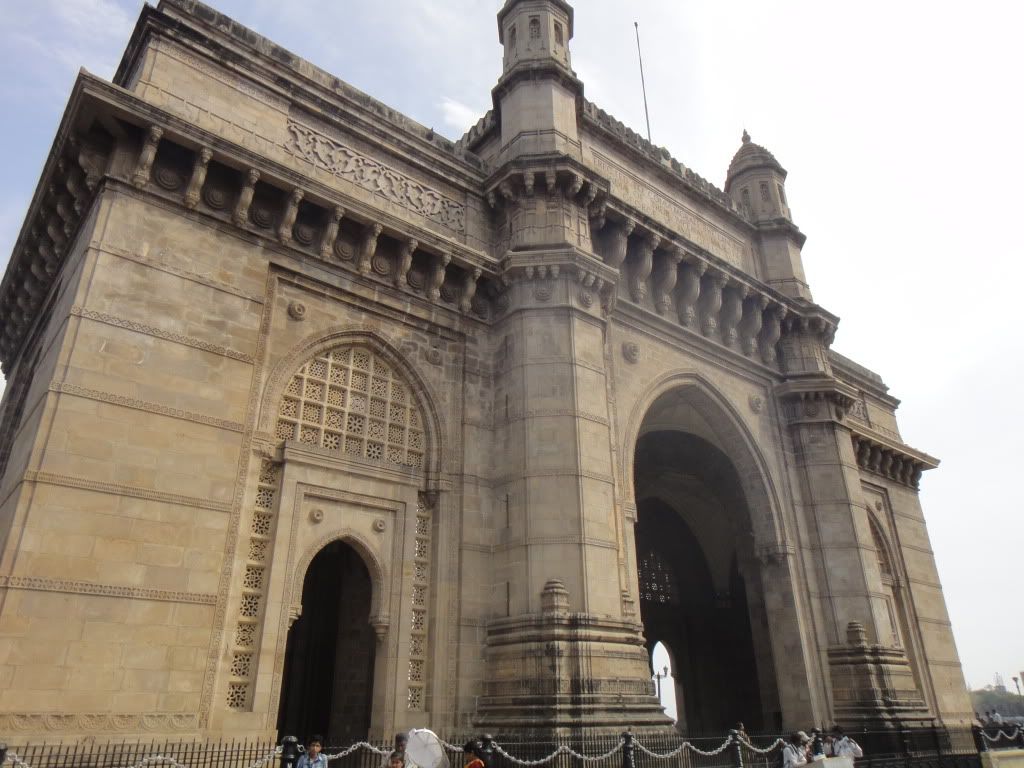 Mumbai skyline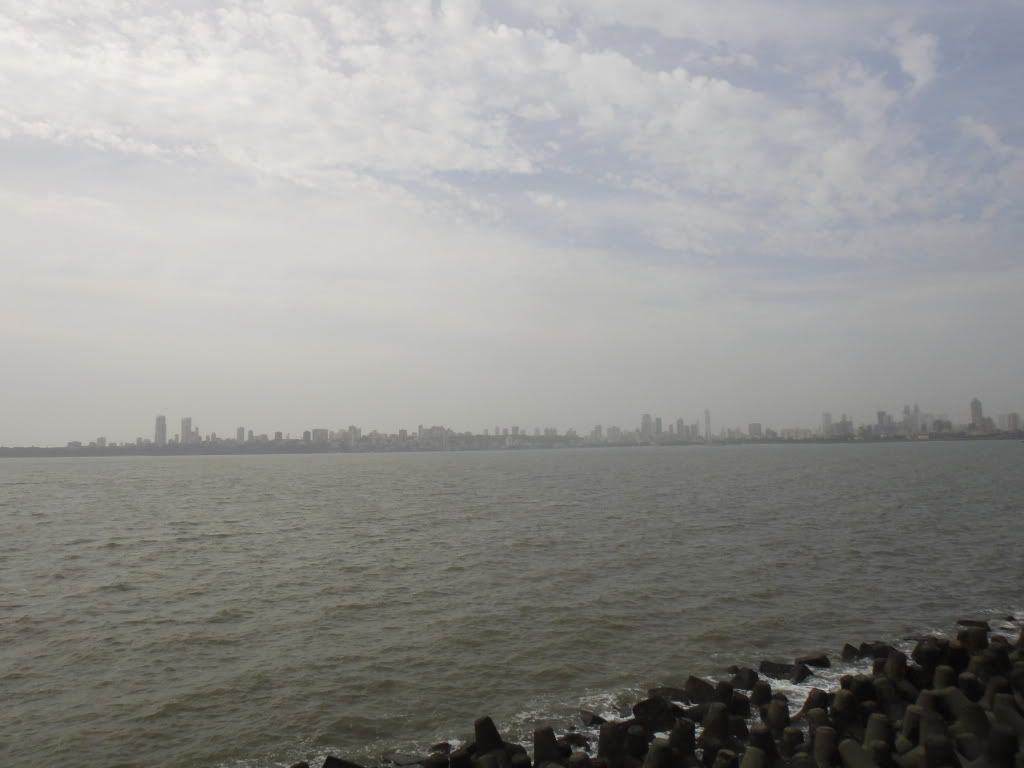 Last visit of the day were the cleaning houses for the poor people of this city. Definitely an eye-opener! This is were families go and wash themselves.
Look over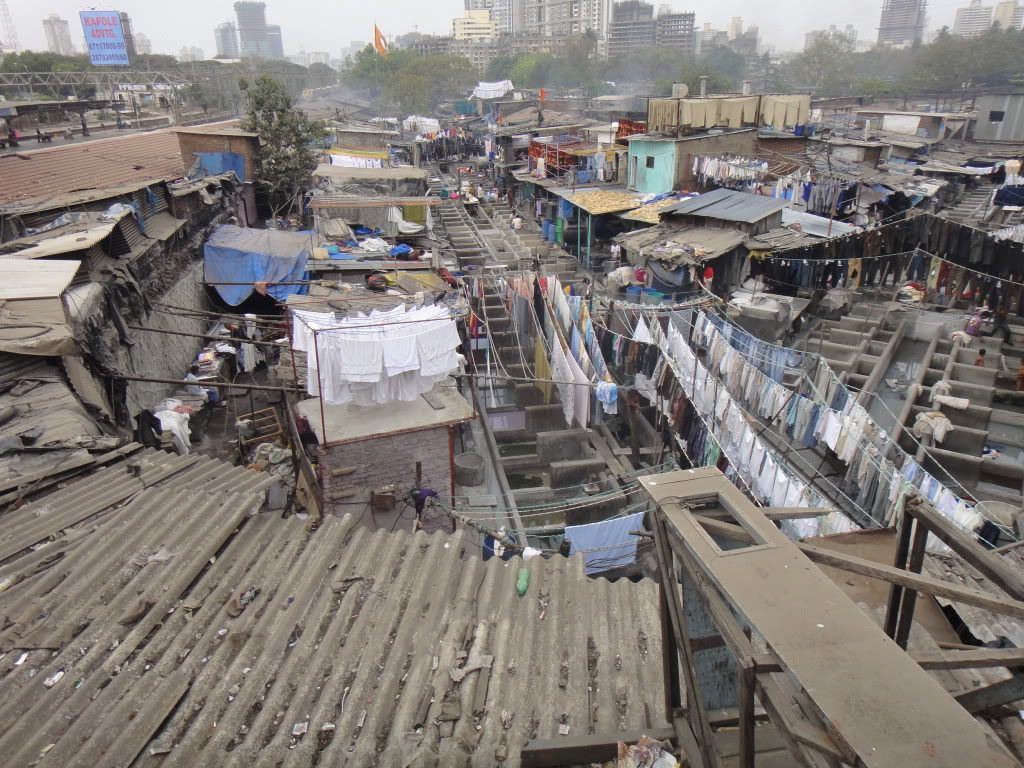 Zoomed in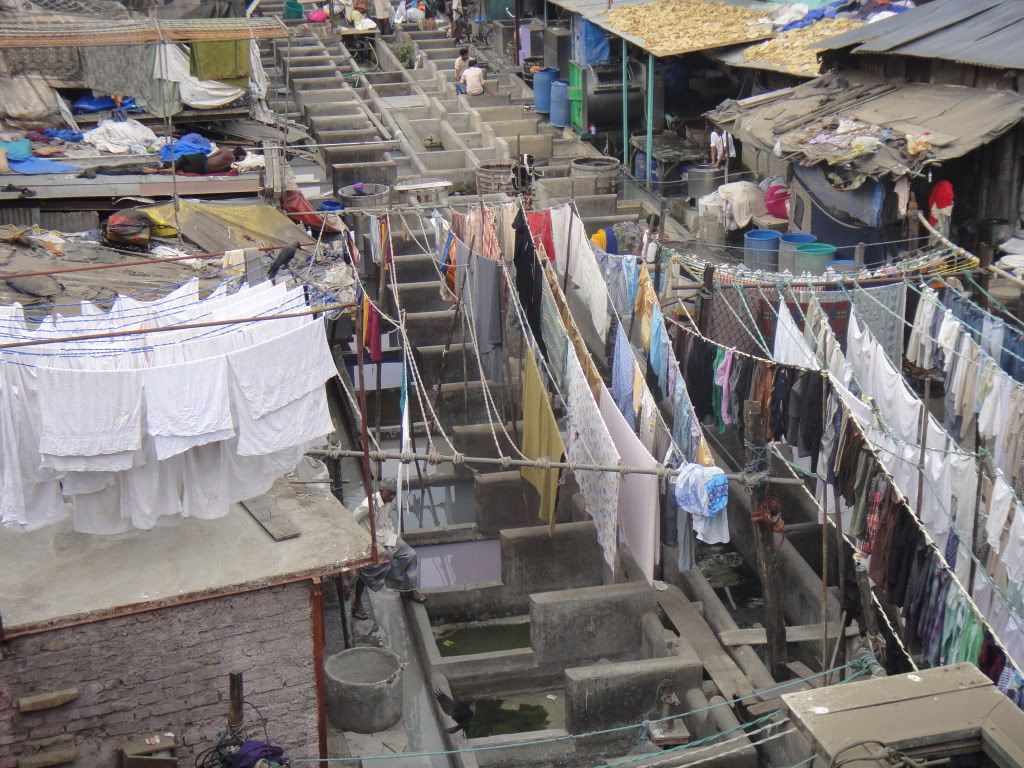 Zoomed more in
We then went back to our hotel, Novotel Hotel Mumbai (4 stars) which actually was very nice. Nice pool, great restaurants and last but not least – views of arriving/departing aircraft!
The next day we woke up at 8am, had some nice breakfast and relaxed by the pool. At 11am we left for the airport. The EK flight didn't leave until 4pm but given earlier experiences of Indian airports, we decided rather play it early and safe than late and possibly ending up missing our flight.
After waiting for 3 hours for results if we could get on the direct EK flight to Dubai. We got some real bad news at 15:00 – no empty seats for the day! Not only this flight, but also the 19:00 and 21:00 departure.
Well, time to think. While returning the EK standby passes to our bag I came across something interesting – we actually had standby passes for Oman Air BOM-MCT-DXB! We looked at the FIDS and sure, WY had a departure to Muscat at 15:40. We ran to the check in counter and came there just as they were closing. Sure enough, they had seats empty! There were even 2 seats together open, but that was about it. This flight had a 95%+ load, so we were very lucky to get aboard! Our assigned seats were 11B+11C. I agreed to take the middle seat.
Oman Air is an airline I've always wanted to try out after seeing their A330 landing in Heathrow back in 2010 at sunset, showing off their gorgeous livery. The great report of them by member
PlaneHunter
showing their nice on-board product, made me wanna fly them even more.
After running through security, we came to the gate at approx 15:30. As I mentioned earlier, I didn't know the rule of no-photo taking, so I just snapped a photo of our beautiful 737, and ran aboard. Doors were closed seconds after we boarded. We had made it, and my first Oman Air experience had began!
Flight information
Date: 18. July 2012
Airline: Oman Air (WY/OAS)
Aircraft: Boeing 737-800 (winglets)
Registration: A4O-BB
Flight number: WY 204
From: Mumbai Chhatrapati Shivaji International Airport (BOM/VABB)
To: Muscat (Seeb) International Airport (MCT/OOMS)
Runway at origin: 32
Runway at destination: 8
Sched/Act departure: 15:40/15:36
Sched/Act arrival: 17:00/16:55
Blocked time: 2 hrs 50 mins
Flight time gate to gate: 2 hrs 49 mins
Flight time RWY to RWY: 2 hrs 21 mins
Seat & Class: 11B (Economy, Y)

Personal information
My 226th flight, 17th in 2012
My 1st flight on WY, 1st on WY 737, 1st on WY 738
My 28th flight on 737, 8th flight on 737 NG, 2nd flight on 738, 1st on A4O-BB
My 47th airport
My 28th airline
Former appearances:
The nose and the wing showing the winglet of the stylish livery of WY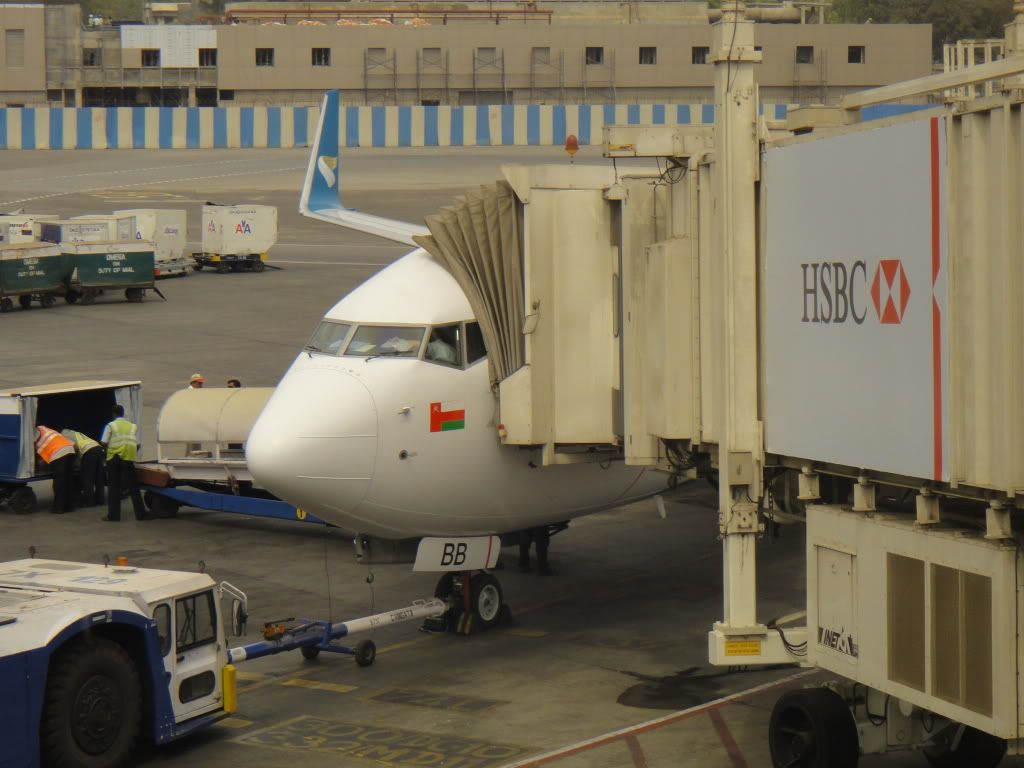 As I was in a middle seat, I couldn't take pictures en route. I took one shot on a bathroom visit of the window seat guy once, and he agreed on me taking a video of the landing in Muscat.
Ok legroom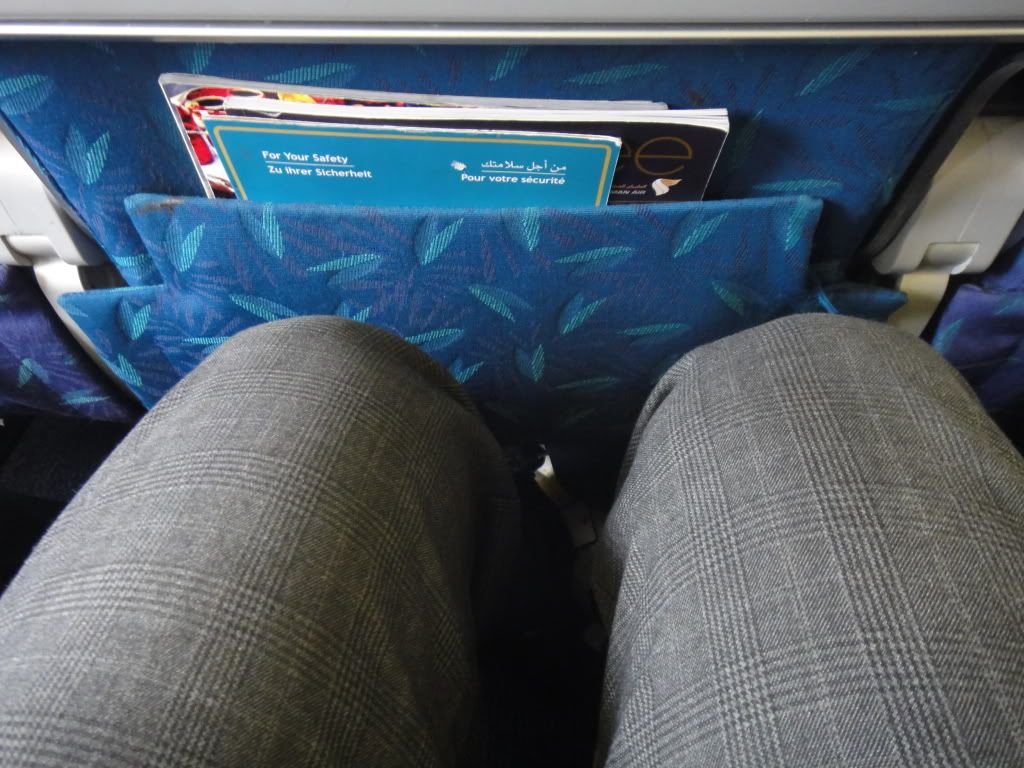 Wingview on climb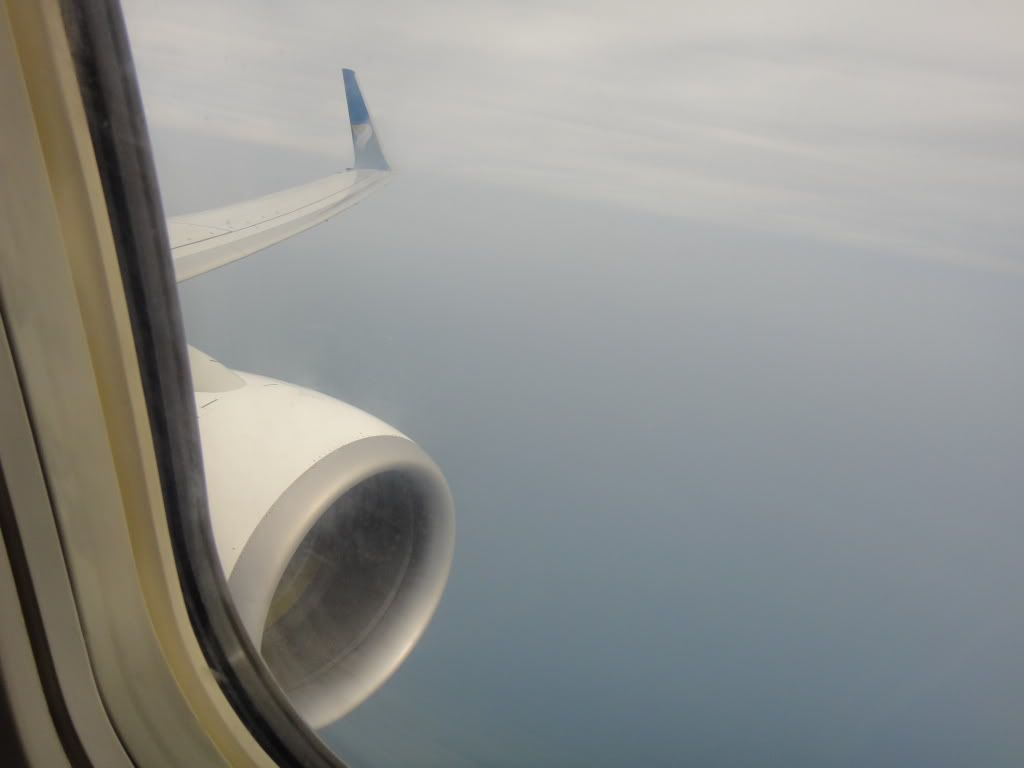 Great meal! Chicken tasted good, the rice were perfectly cooked and that bread was really tasty.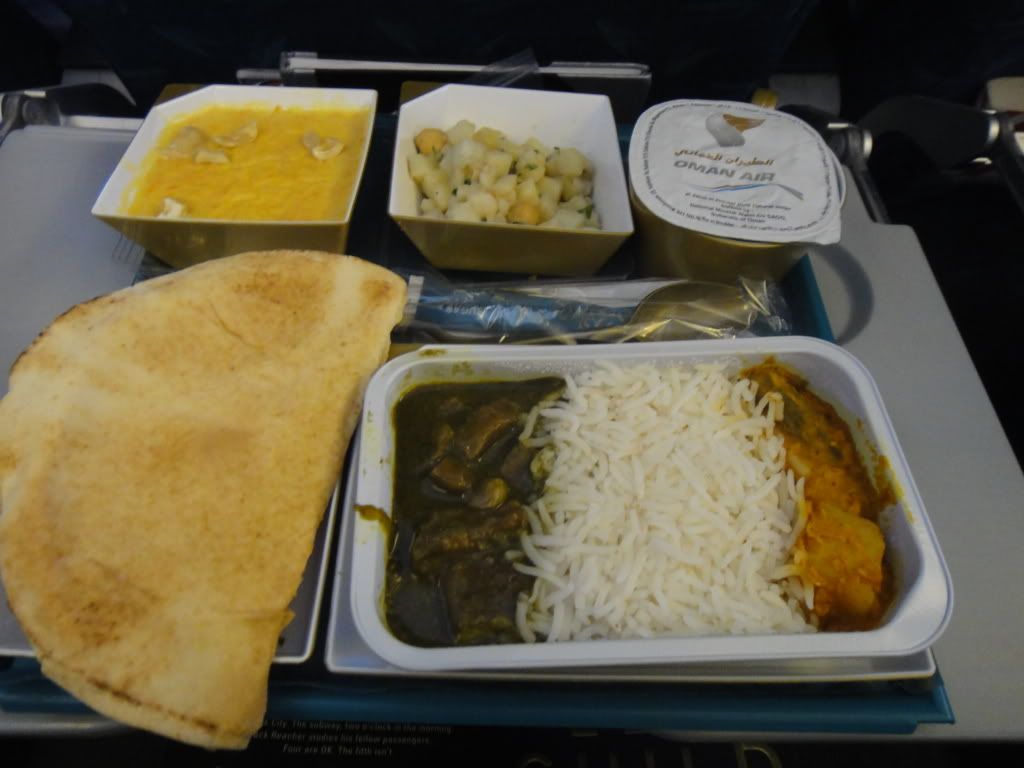 Drink service later on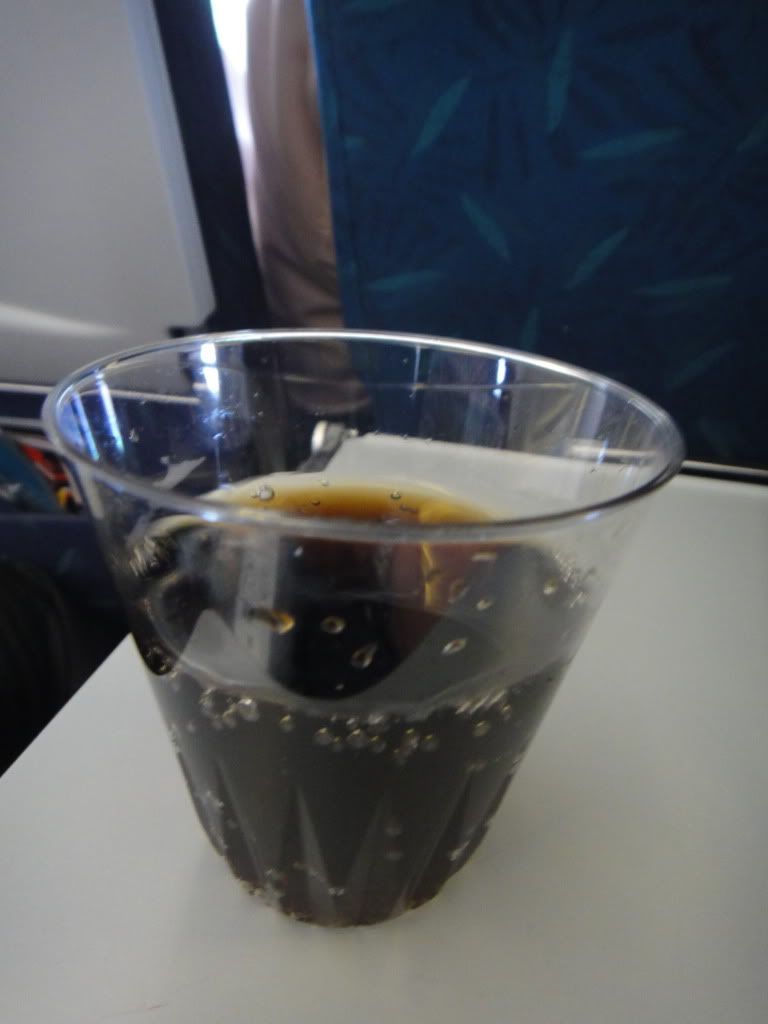 Different type of cabin shot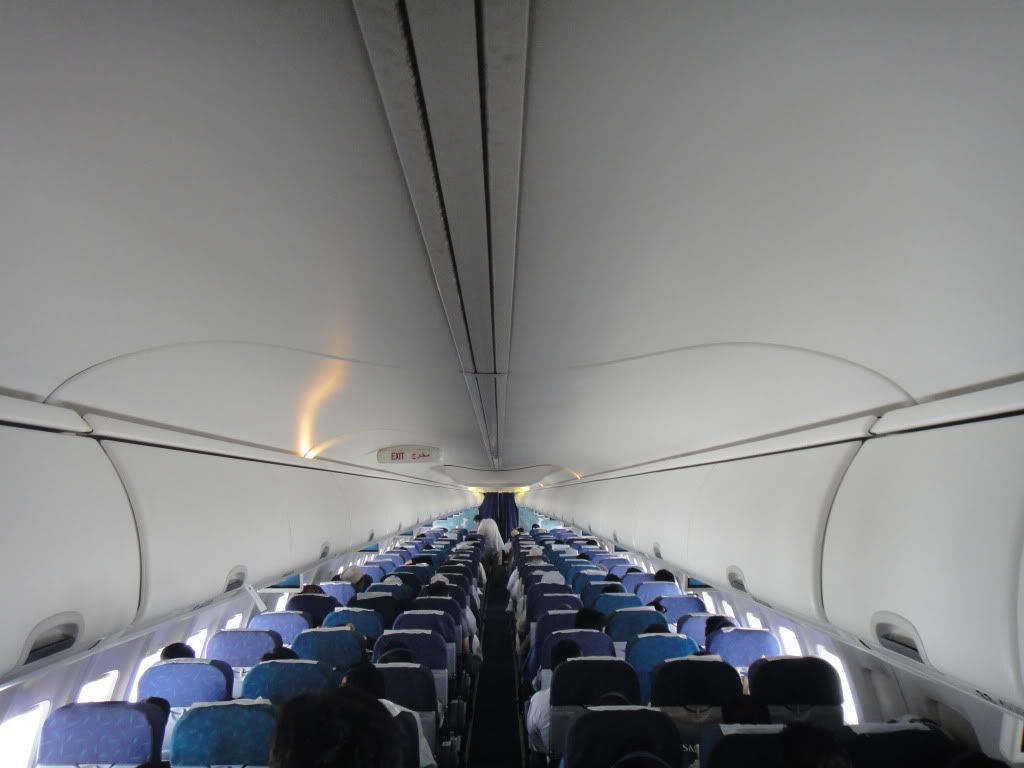 Cruisin'. I disagree to P. the FlyingFinn, the 738 is a gorgeous aircraft! At least it's wing is great if it's wingletfitted…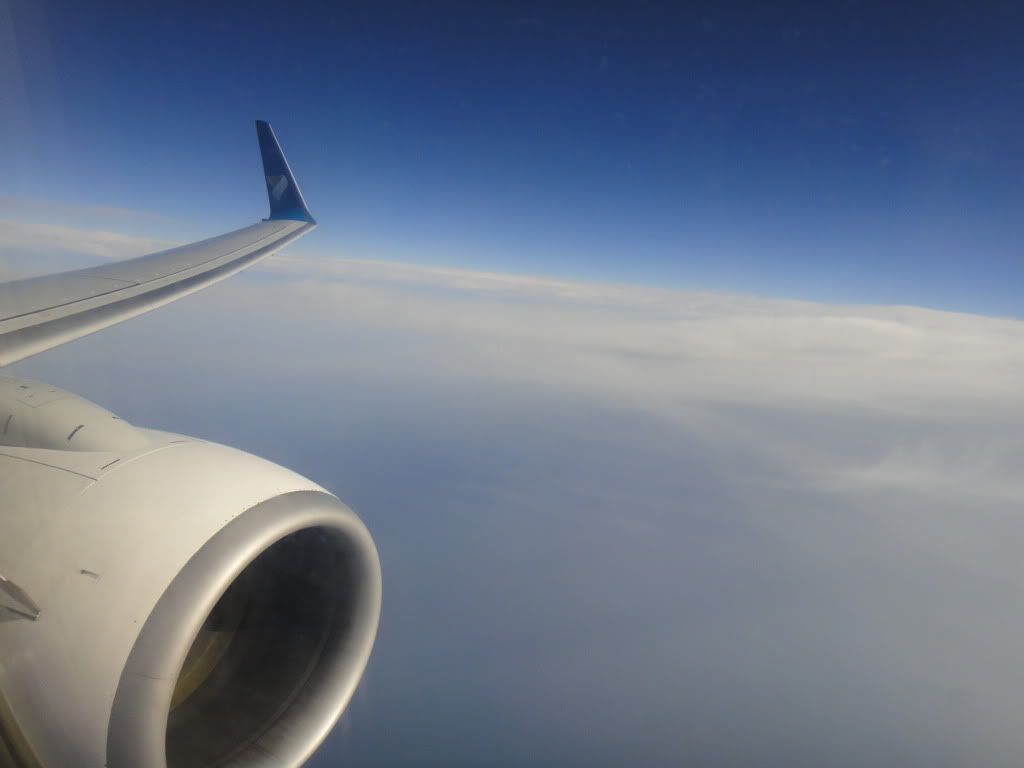 Landing video:
http://www.youtube.com/watch?v=Wjew1AS8f1U
A nice little WY E170 parked aside of us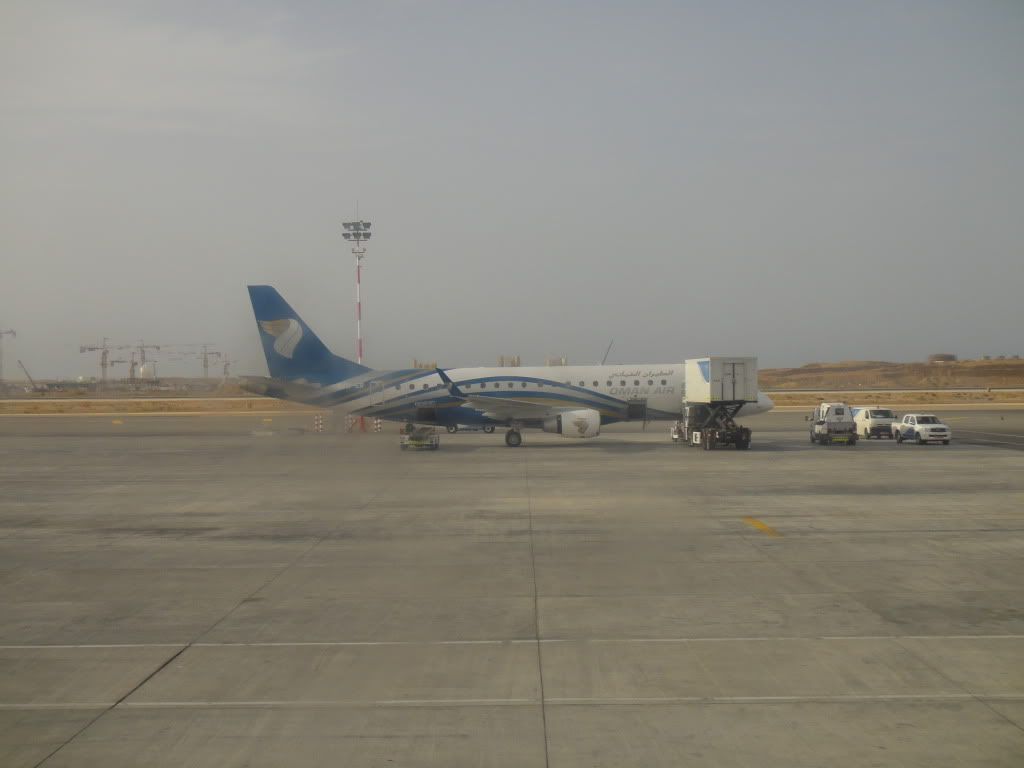 Disembarking from the absolutely gorgeous liveried 737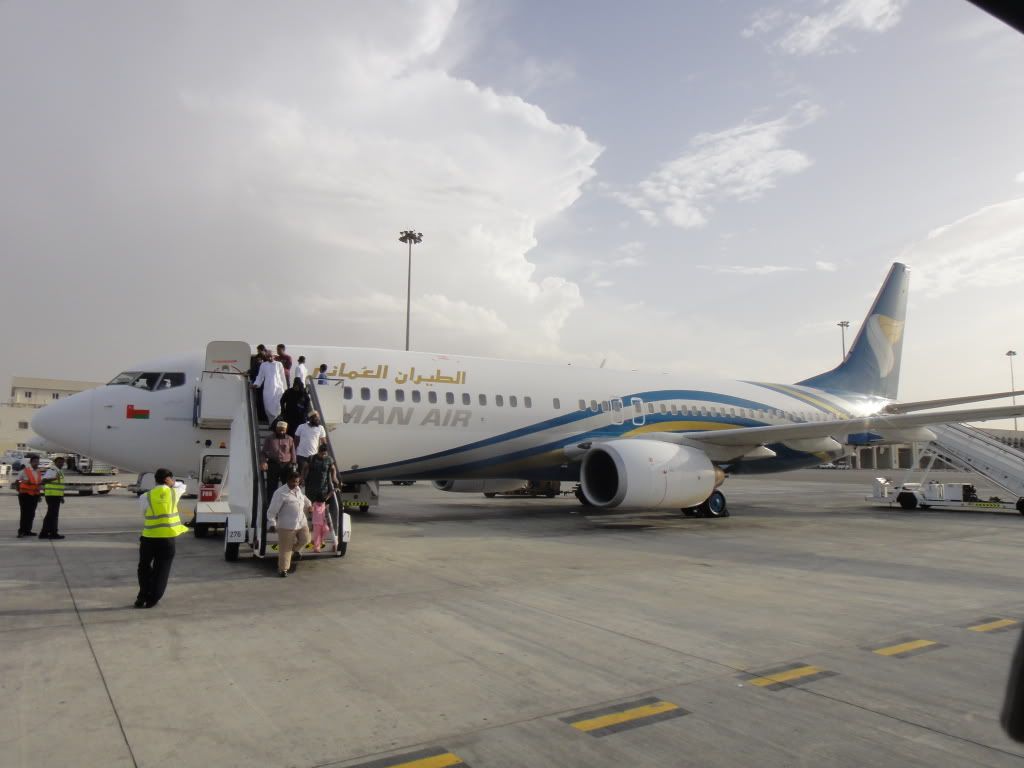 Nice tail logo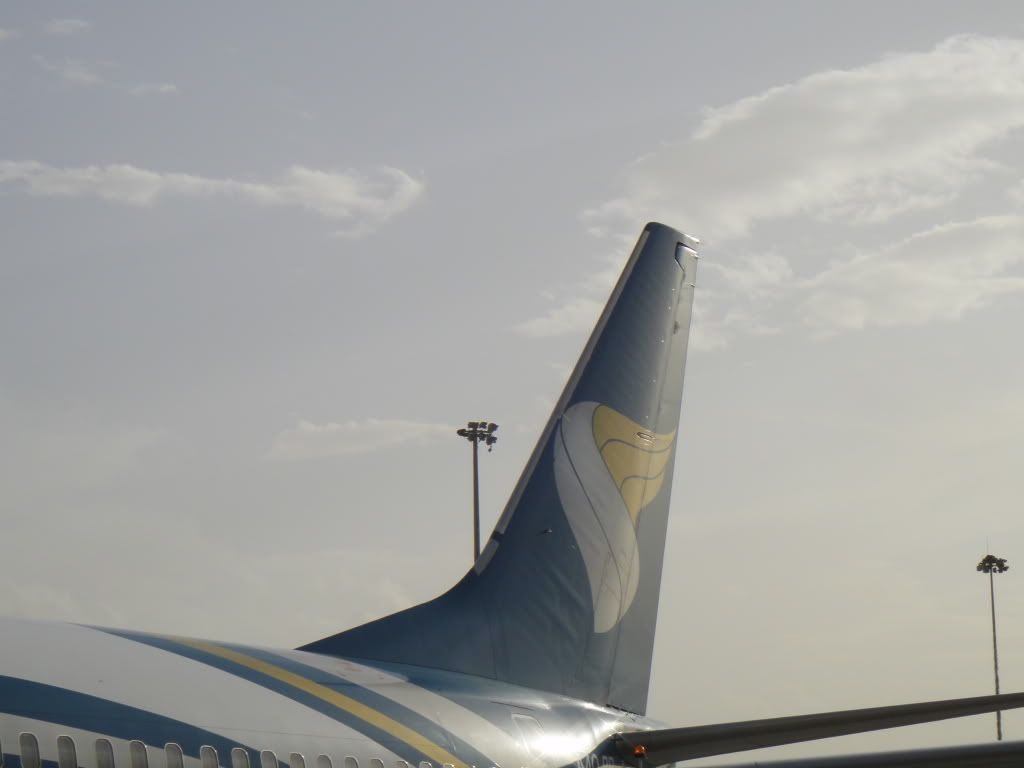 Loads of people coming out of that metal tube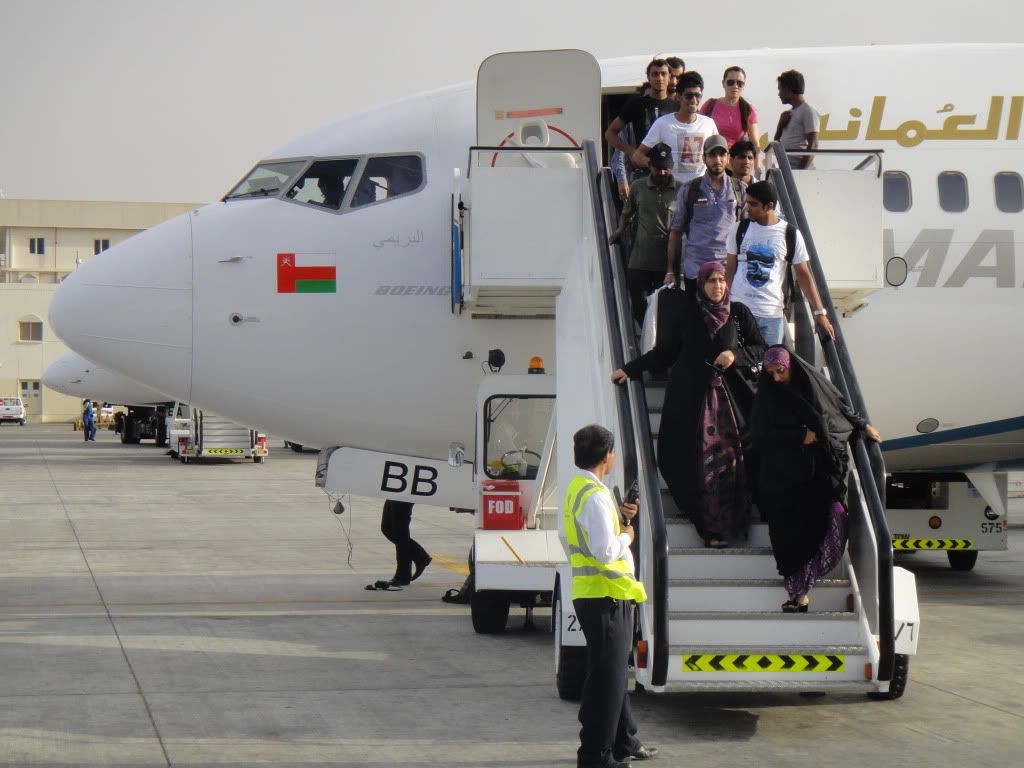 Some WY birds along the way to the terminal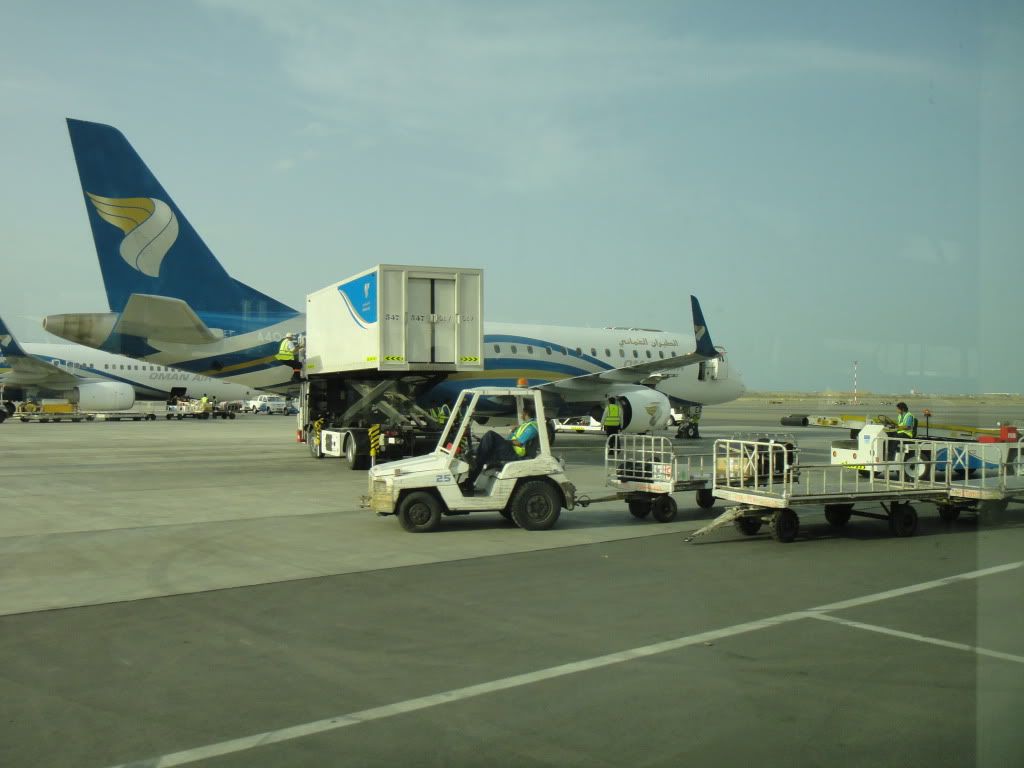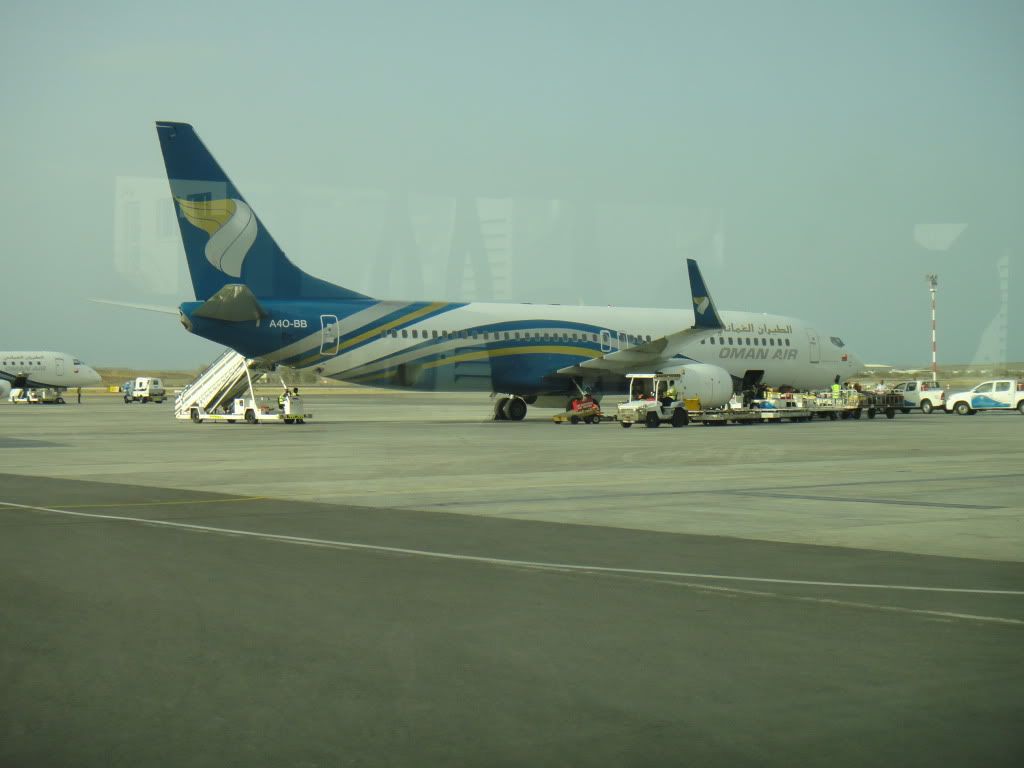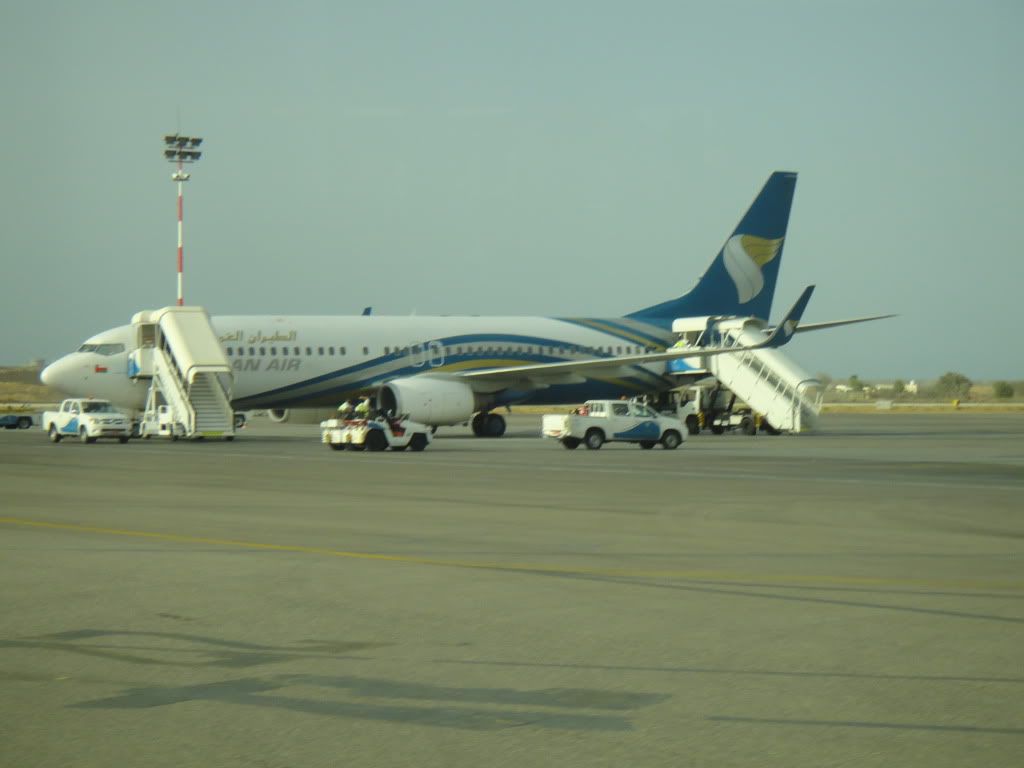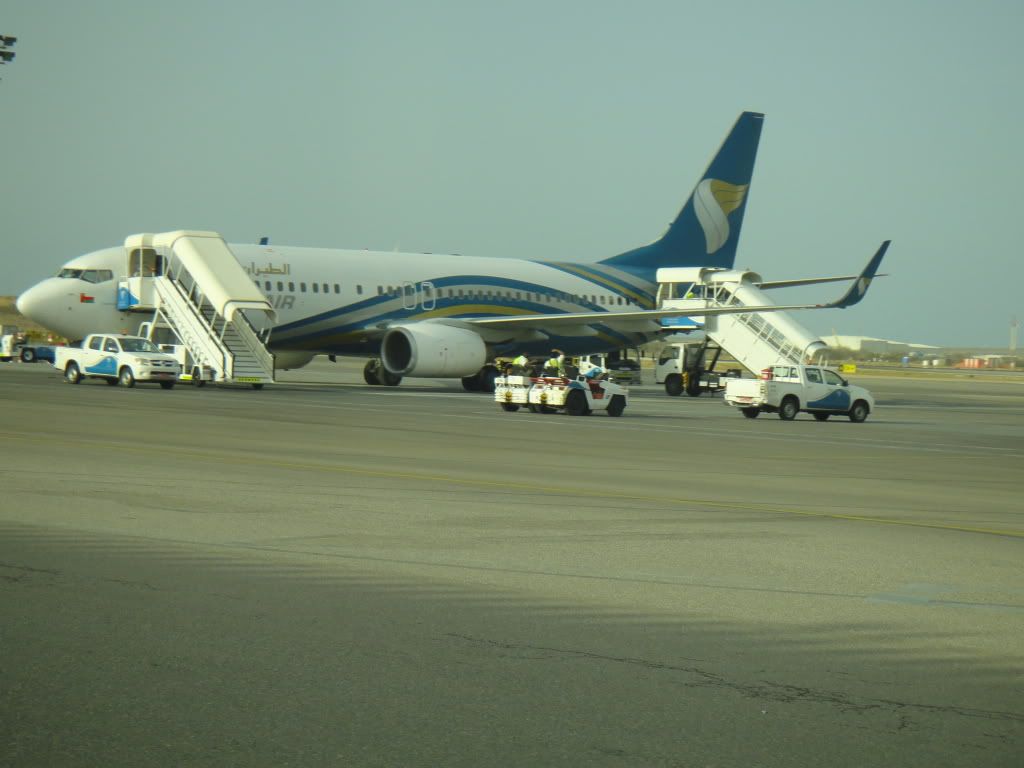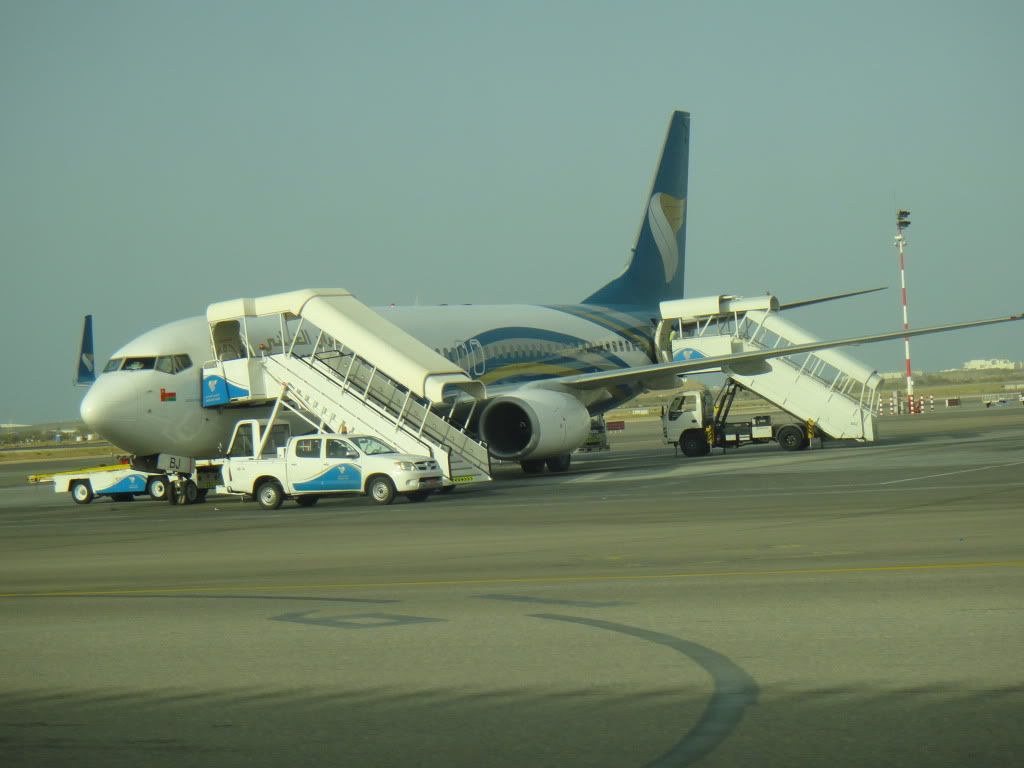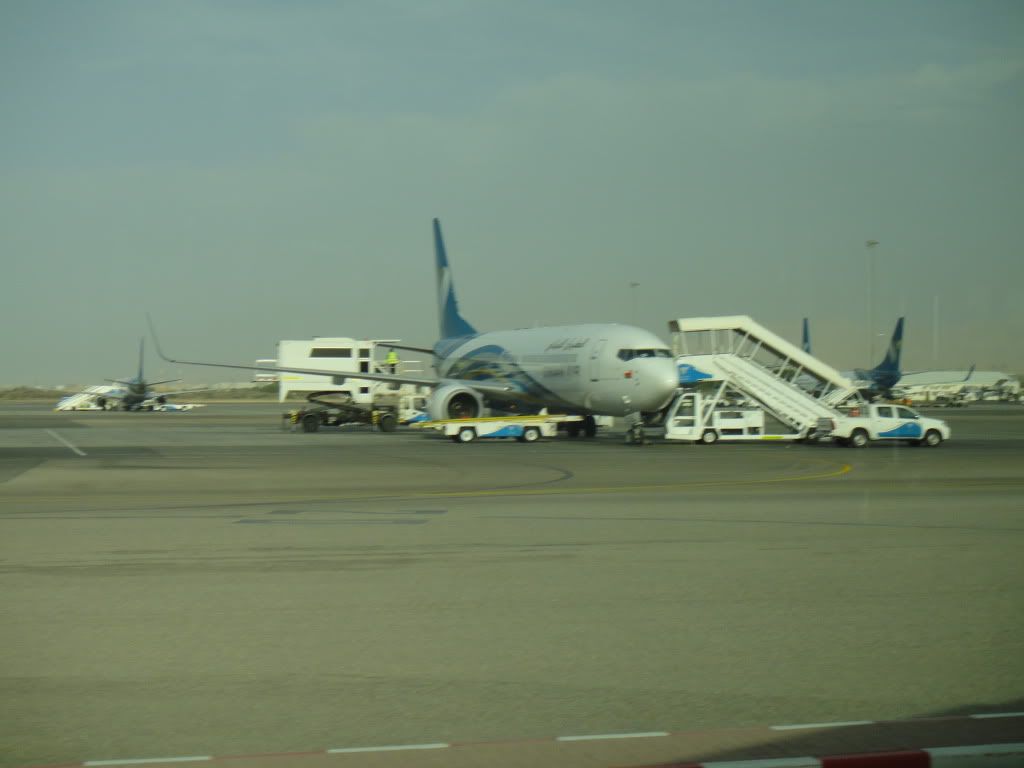 And an airblue A319 from Pakistan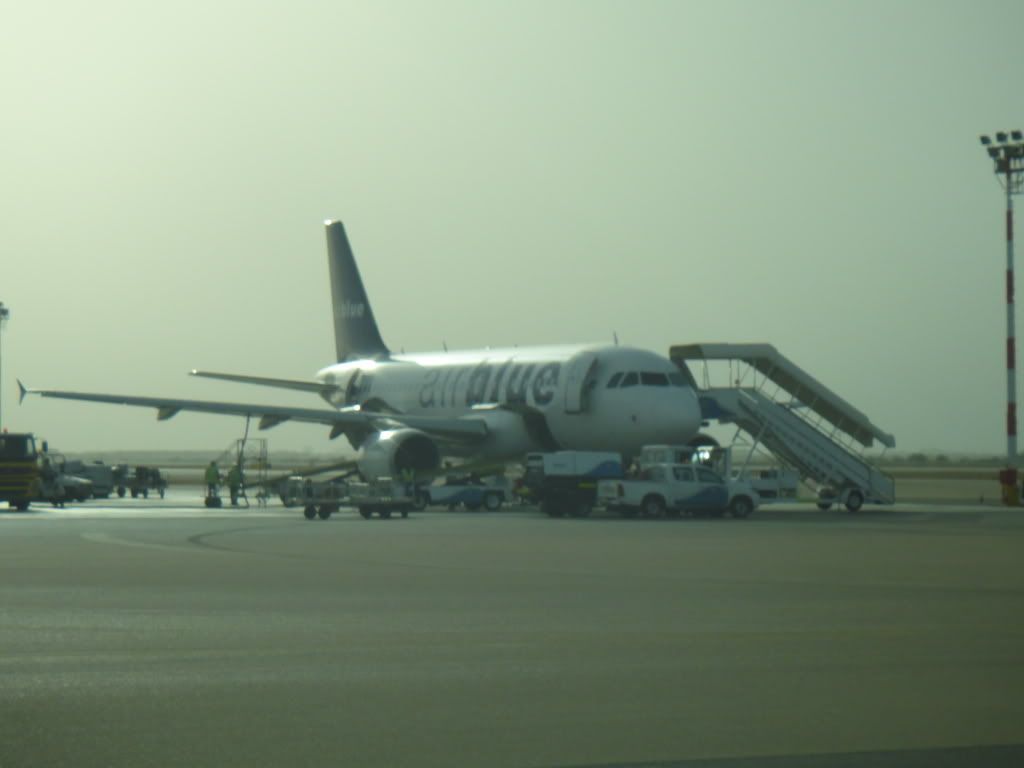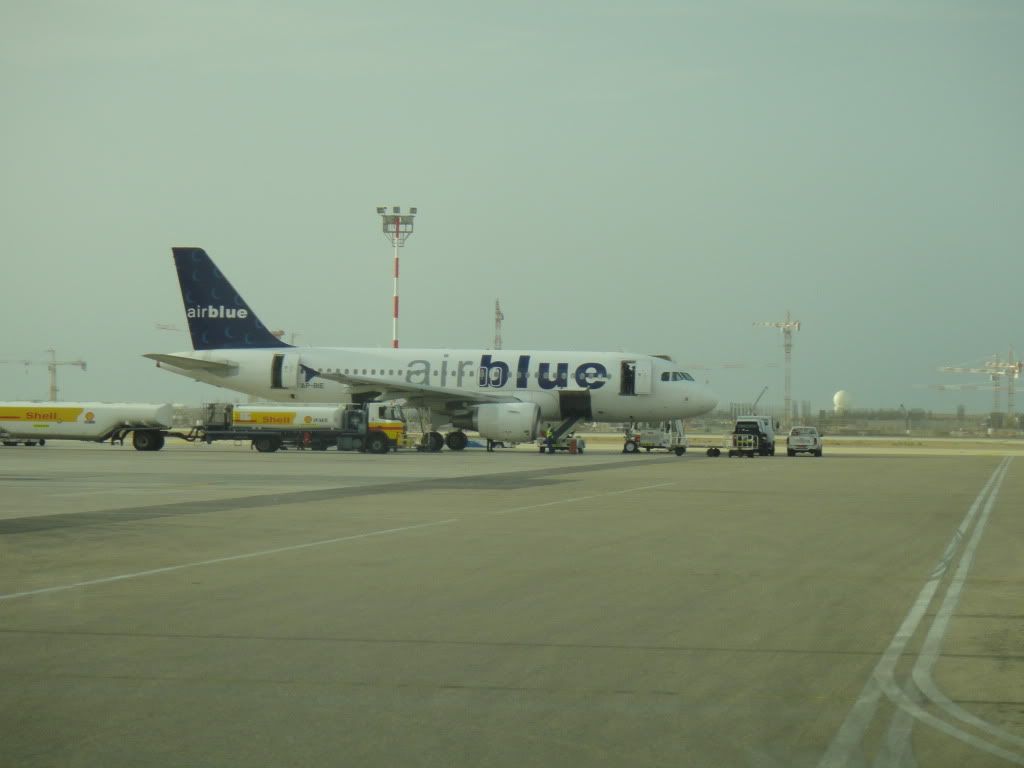 Middle east birds on the ramp (QR 321 & WY 330)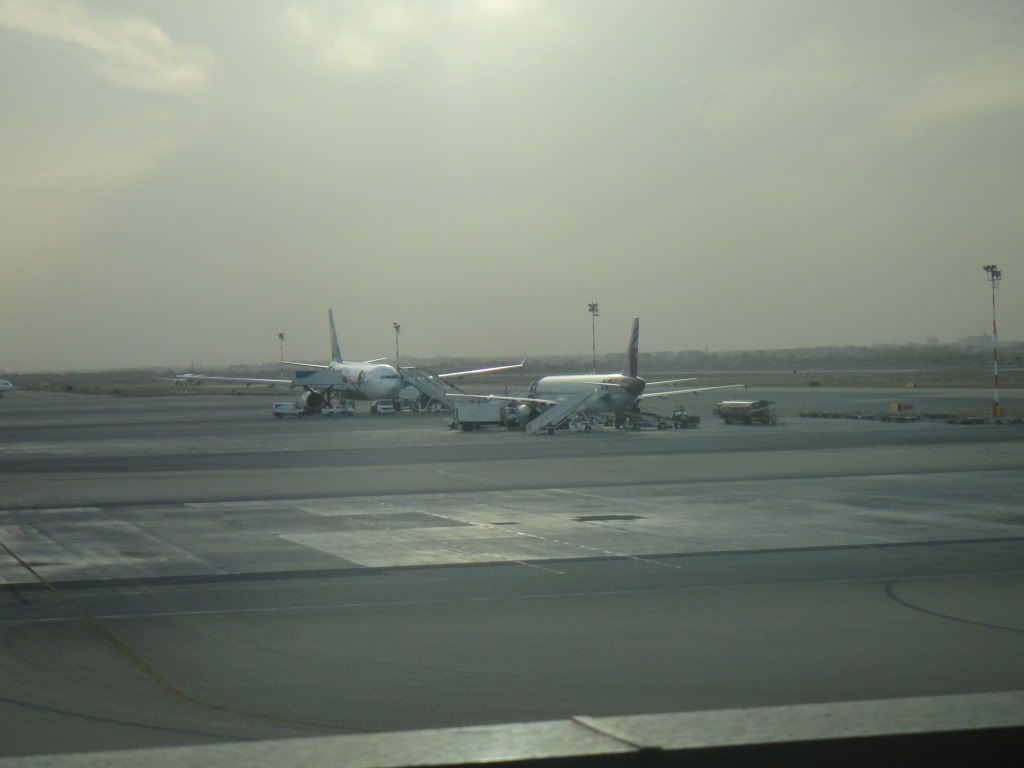 As we of course had no Oman visas and didn't intend to go into the country, we went straight through to transit pax. We told the agent (that was very nice and helpful btw) that we were headed to Dubai and asked if she had any open seats. She told us that, well, on the 6pm/8:30pm/10:20pm flights no seats were open but at 1am she could get us a seat. Well, we had no choice, so we got BPs for WY601 at 1am and she promised she would call if any seats would open up.
Nothing to do then but go to a lounge. After grabbing a burger 'n' coke we went looking for a lounge. The Oman Air Premium lounge was for WY J/F pax only, so we went to the other lounge, used by Swiss, BA and other airlines there. My dad used his *G card to get in. For some reason it didn't work, so we used his PriorityPass instead. The lounge was good for a PP lounge but unfortunately no airside views were possible.
I ate and had a much wanted shower before doing some TR work (I wrote most of pt. 2 – I'll get to Peru somehow! UA/QK IAH-LIM in there) using the wifi. Time passed quickly and suddenly it was 10pm. The Chelsea-Barca CL game was set to start around that time. (For those of you who are football allergic, that means Chelsea of London against Barcelona Football Club in the Champions League.) No TVs in the lounge so we went upstairs. No restaurants had the game on either and soon we discovered that we couldn't watch it anywhere. Bugger.
Pics from lounge:
Shower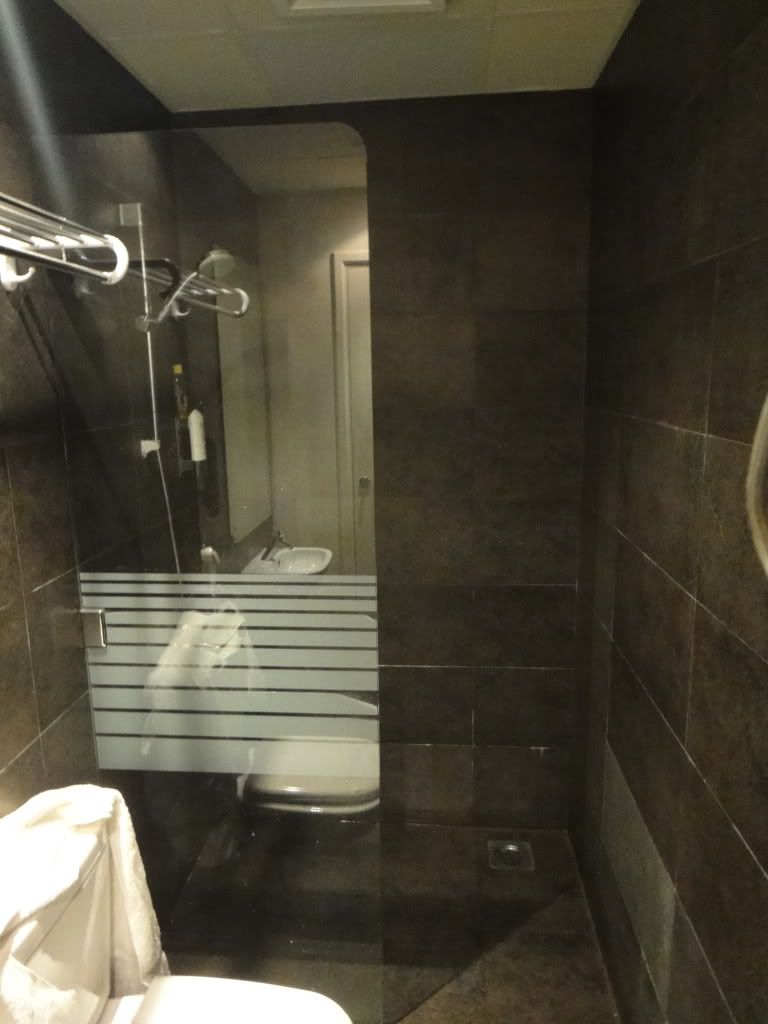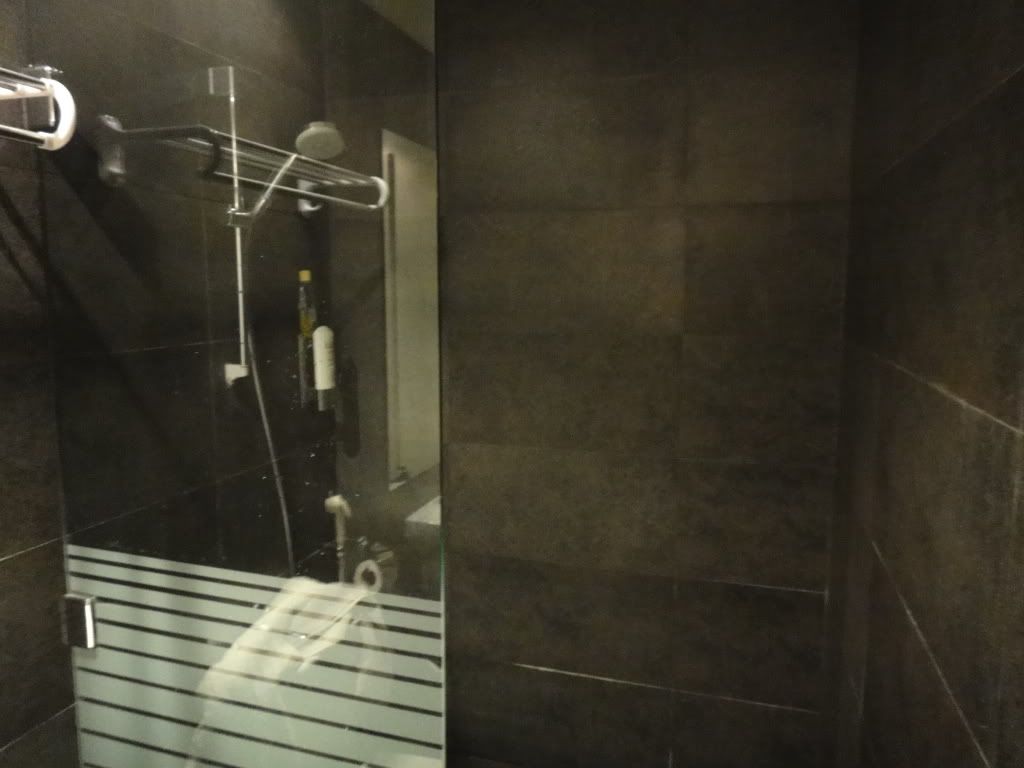 Nice food – tasty sauce! Chicken, rice and chinese spring roll (one of few vegi food I can actually eat
)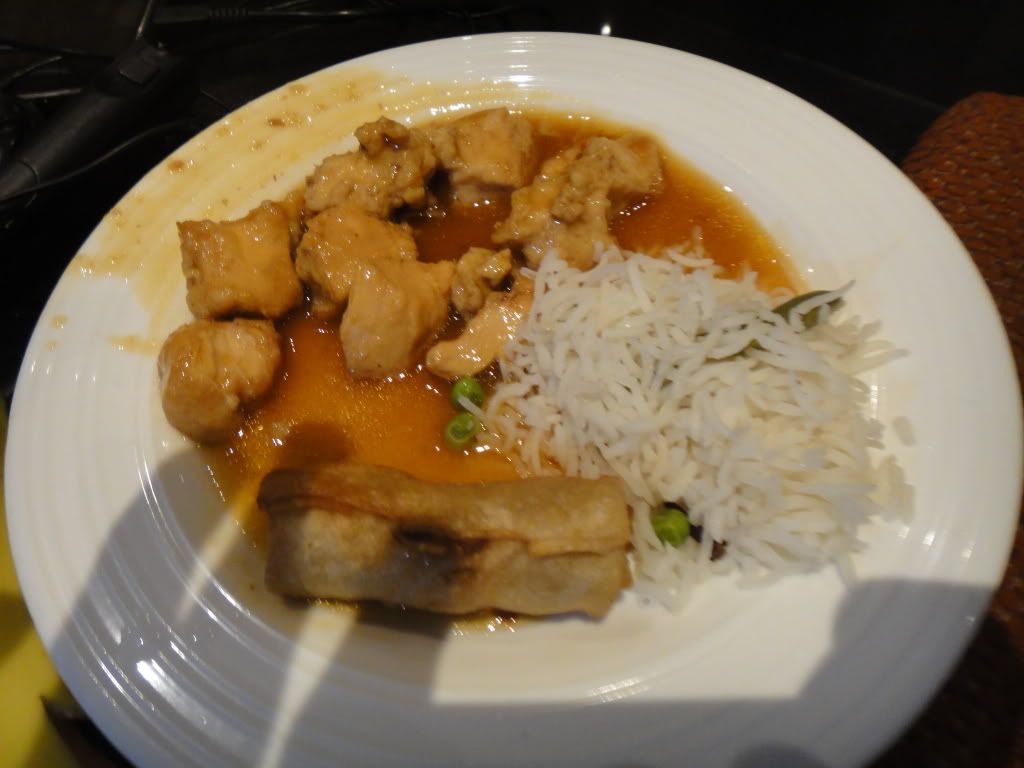 Time flew away fast though and suddenly, at 12:55am, boarding was called for the 1:15am departure. We got seats 31A and C with B blocked. Credit to the nice transfer desk girl!
Photos on the way to the aircraft:
KQ 738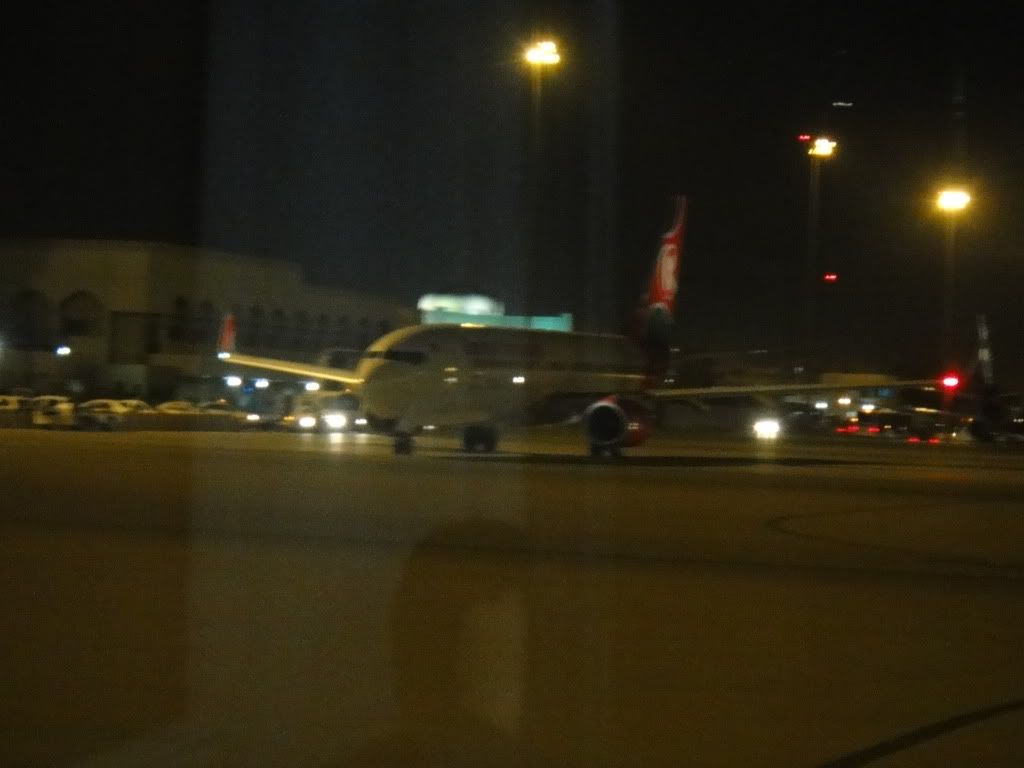 AI 320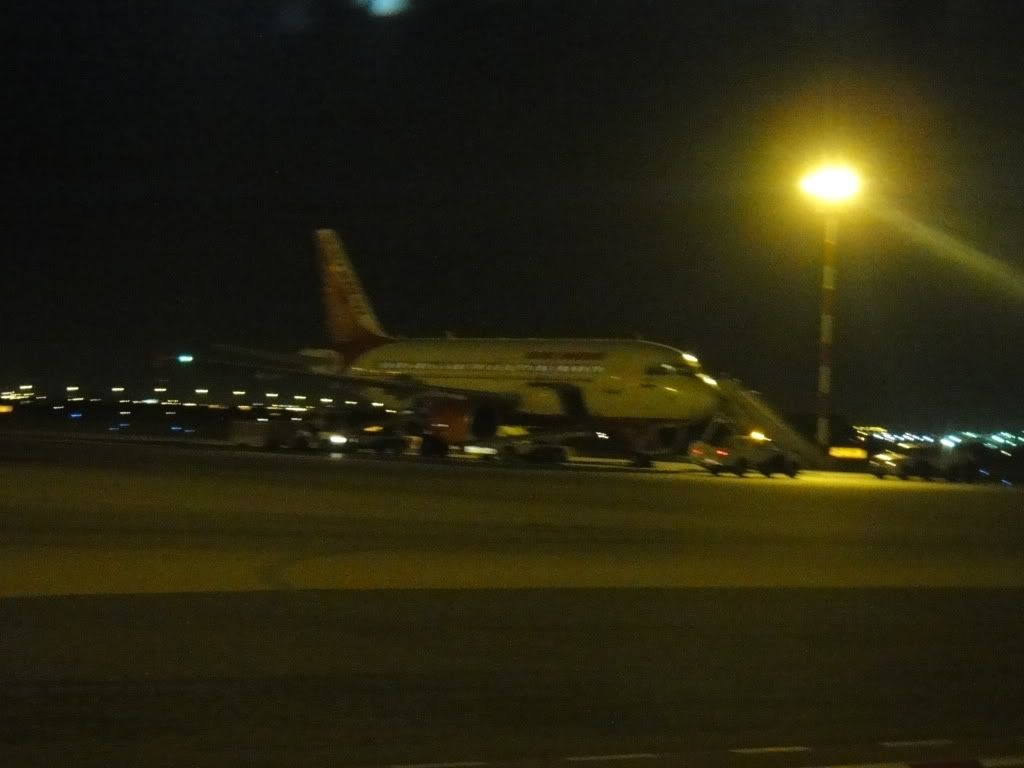 WY 738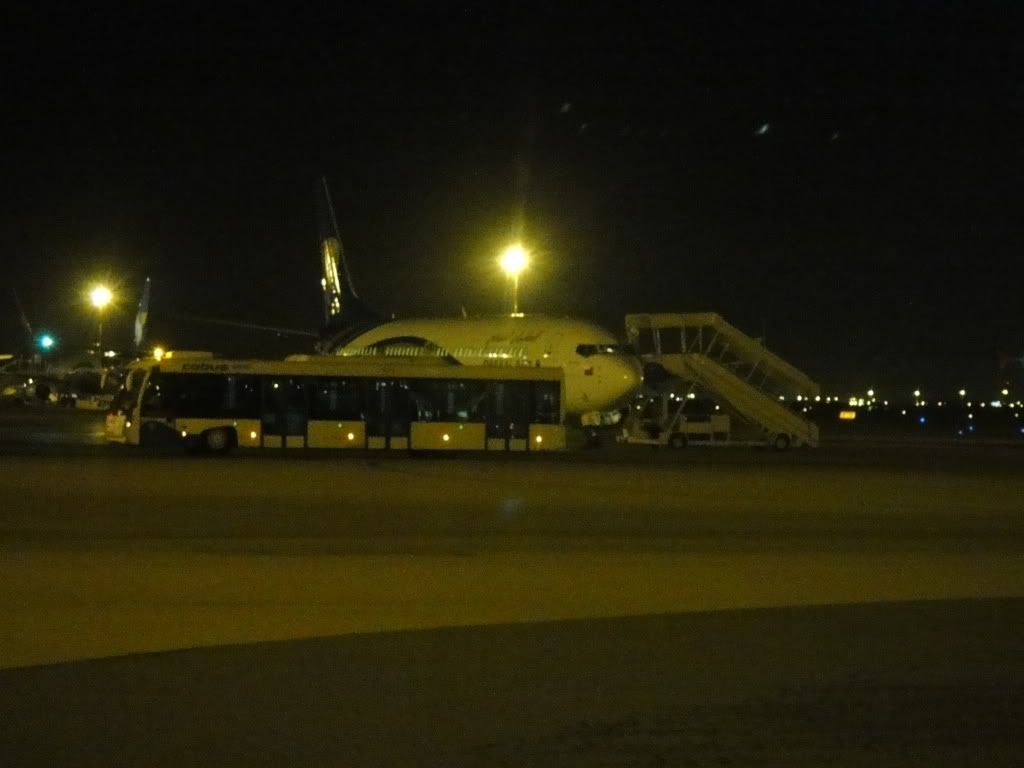 Head on with a WY 737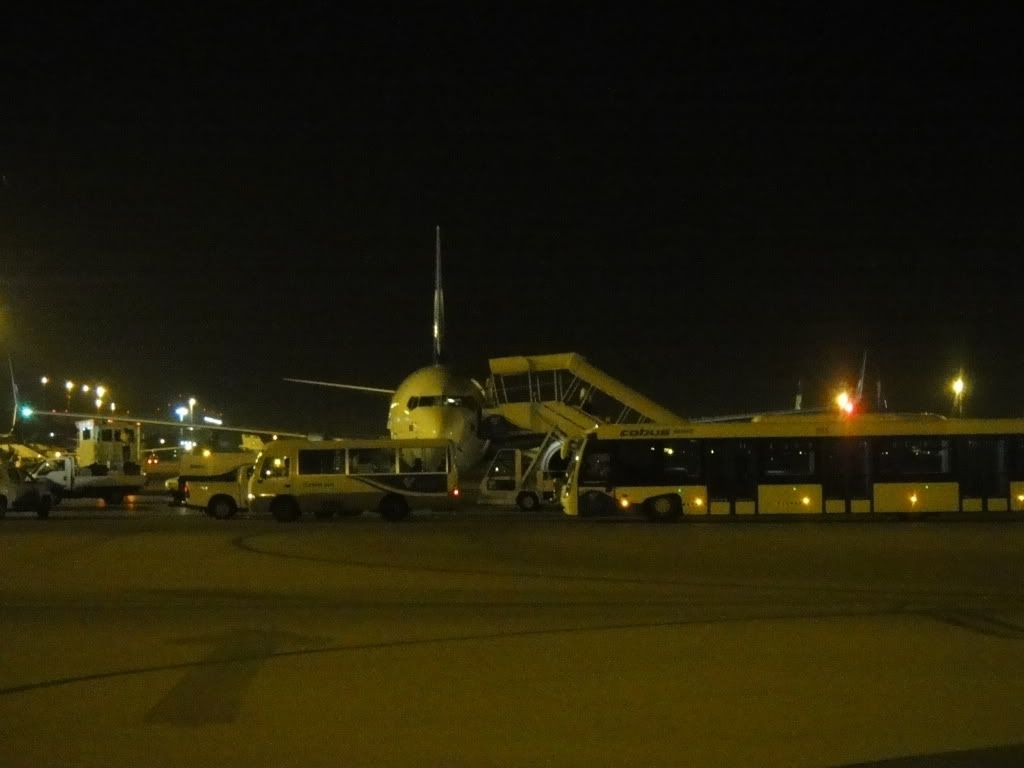 Time for departure to Kenya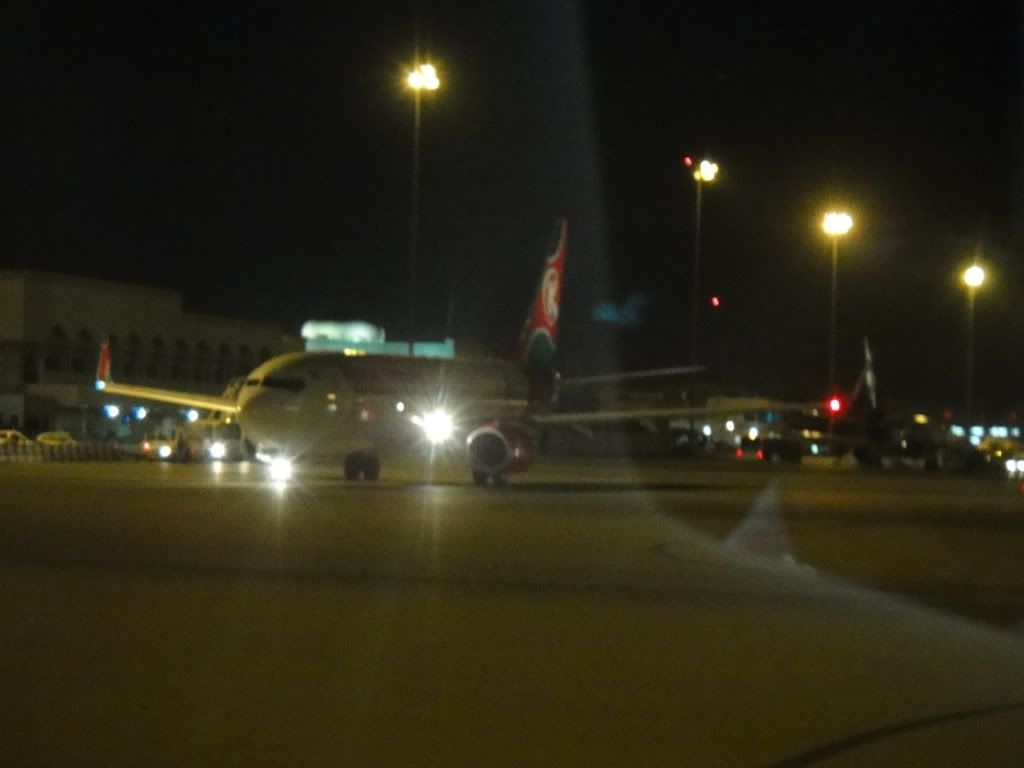 [Edited 2012-08-26 09:54:21]