Hello Dear Airliners!
I have been reading your amazing trip reports for a long time, and now I believe it's time to share some of my flying experiences. In this occasion, I'd like to post a trip report about the one I made to Machu Picchu, Perú from Bogotá, Colombia, using Avianca and Star Perú services on last May.
*As you may noticed on the flag which accompany my name, my native tongue is not English, so I apologize in advance for any mistake I could unintentionally commit. Hope It doesn't annoy you and prevent from reading this TR
Introduction / Background:
Here in Colombia, Machu Picchu has ever appeared as a dream destination for those who are in University years. Usually, that dreamt trip is seem as an adventurous one, maybe doing it by bus, stopping in southern cities of Colombia, Ecuador and Peru, perhaps taking advantage to visit places as Montañita or Mancora. The only issue is that on University years you often don't have enough money to afford a trip like that.
So, you have to start to work, get paid, save and so on to make a trip like the Machu Picchu one. The thing is that, as you are working, which mean having to meet schedules and be restricted to do whatever you would like to do like when you were on University, this adventurous and cheap trip must be forgotten, and get changed into other, maybe more comfortable, but shorter.
Therefore, when I saw an add on the newspaper, advertising a cheap fare between Bogotá and Lima, I didn't think it twice to arrange a journey to visit the majestic Inca ruins located close to the southern peruvian city of Cuzco.
Reservation
The newspaper add which advertised the economical fares between BOG and LIM was from Despegar, a popular travel related web page, very well known here in Latin America. But, as I knew they usually charge some elevated 'administrative fees', I decided to take a look on the LAN and Avianca web pages to see their prices and to buy directly on their web pages.
In both of them, the fares were similar, but I choose Avianca because their hardware (IFE, bigger planes, etc), their schedules and frequencies (6 daily flights -including TACA's ones- Vs just 3 on LAN) and the possibility to accumulate miles on their Life Miles frequent flyer program (I'm far of being a frequent flyer, but you never know what could happen in the future and how can you redeem the miles). So, I decided to buy the ticket, but first I had another issue to resolve.
How to get to Cuzco?
Sadly, both TACA and LAN have differential fares for Peruvian and foreigners. So, a flight which costs around USD 50, ends costing around USD 300 just because my non-peruvian nationality. Then, thanks to the reports I had read here and on some other web pages as Skyscrapercity and AeropuertosARG, I realized I had the option of check in Star Peru and Peruvian Airlines webpages.
Finally, as they have an unique fare for nationals and foreigners, I booked the former for some USD 130 RT, obtaining the possibility of flying the BAE 146, known also as the AVRO 85 or 'Turbolino', a kind of airplane who is not easily seen in Colombia (they were flown by Avianca's subsidiary SAM some years ago, but now they are gone). I had some problems with my credit card (my mom's CC, actually), and when I contacted via email, the Star Perú representative offered me to keep the reserve until my arrival in Lima, giving me the chance to pay directly on their booth at LIM by cash. Finally, I could solve the problem, buying the itinerary with another Card, but anyway the offer was much appreciated.
***
After some weeks of increasing excitement, the day finally came! After a 9 to 5 day at office, I made my way to Eldorado International Airport using the deplorable public transport system, which unexpectedly let me a bit far from the entrance of the airport.
As the check in counters for flights heading to South American destinations were deserted, I was quickly attended by a cold Avianca representative, who handed me my boarding passes to Lima, and assigned the seat 27A, a window one at the back of the plane. I made my way through security, which took me some 15 minutes, and was airside one and a half hour before announced boarding time.
Lufthansa parked on C7 (When I travelled with them, their plane was parked on C8)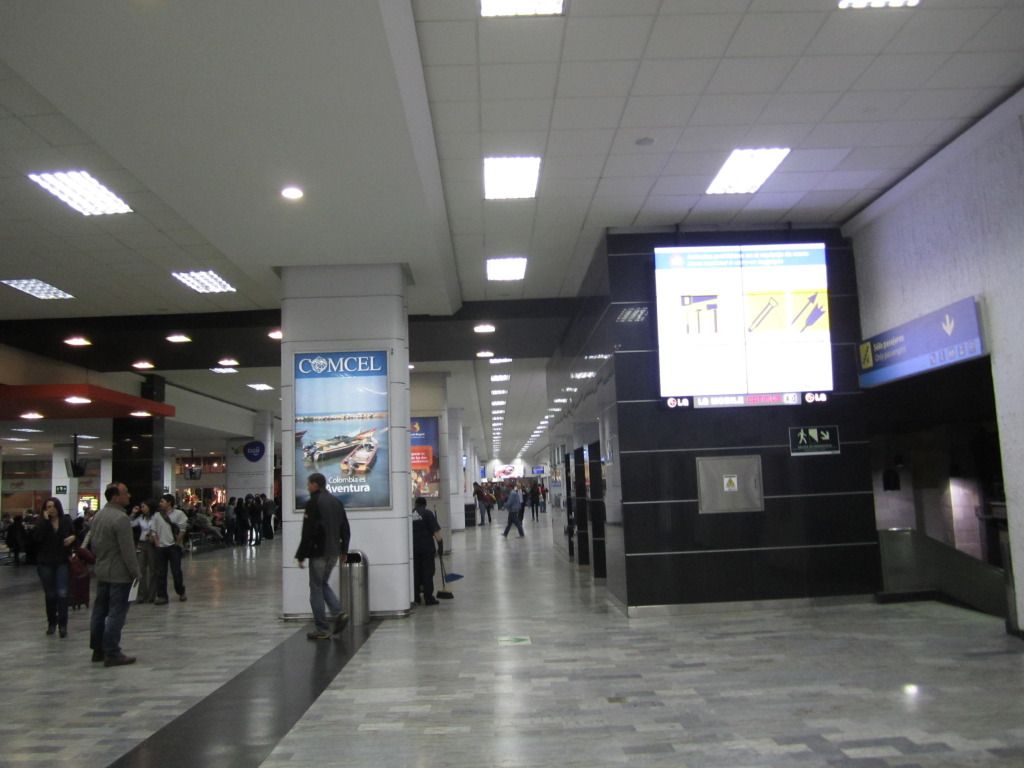 At this time, the gate was occupied by a Copa Airlines' Boeing 737 getting ready for its next duty to Caracas, whose passengers were called to board some minutes later. Apparently, that flight had a light load, as I just saw some 70 people boarding the plane. My fellow passengers started gathering, but the boarding announcement didn't arrived promptly. As no plane appeared, It was getting clear than boarding would be done by bus, what was confirmed by the Avianca agent, according to her "looking for keep the operational efficiency", as she said and translated badly into English (even worst as I'm doing now, believe me!).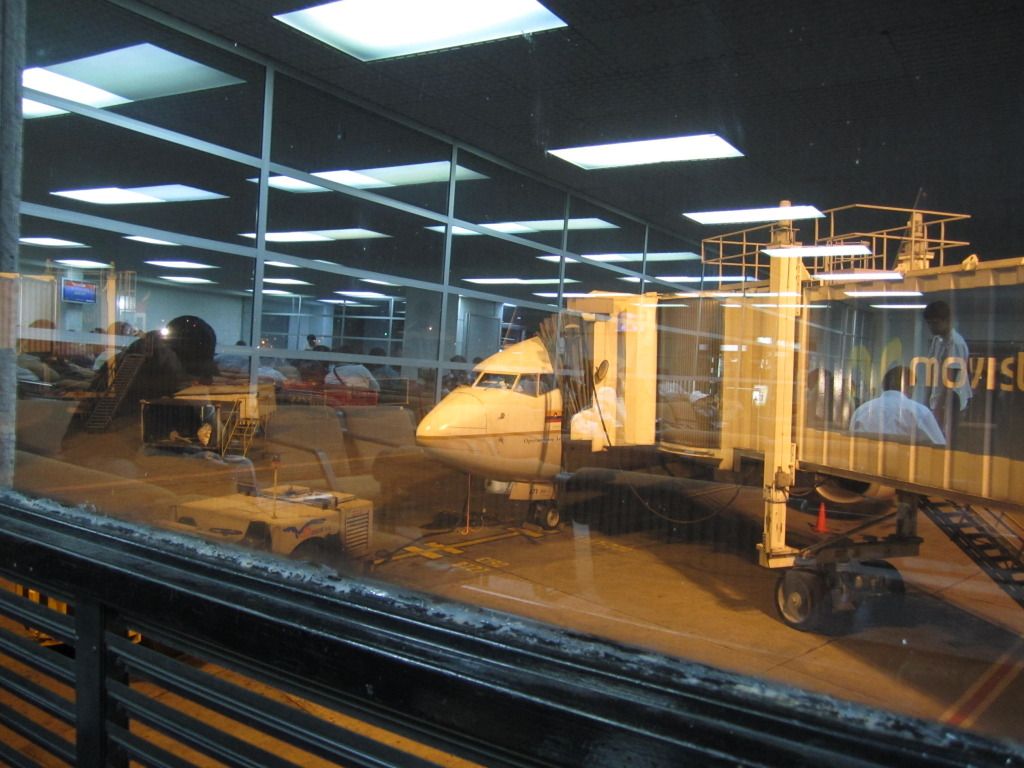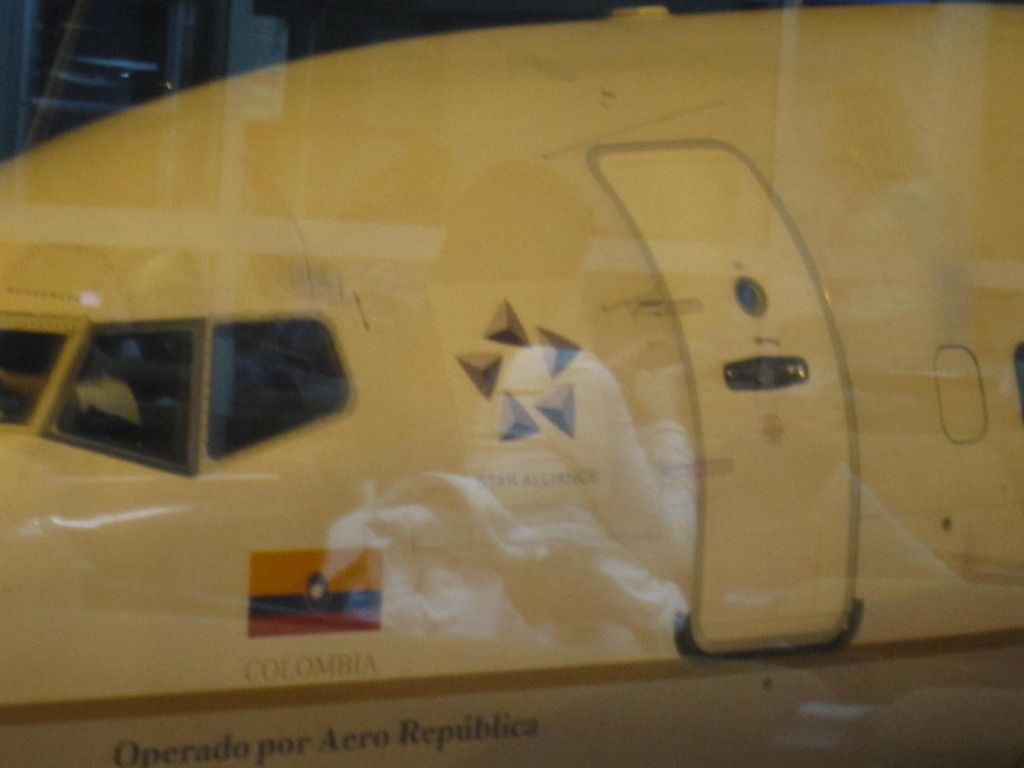 So, down we went, boarded the bus (which was parked close to the Lufthansa's A346 that was being prepared for its long flight to Frankfurt) and were transported to the remote stands, where the white and red Avianca's A320, registered N789AV, was already waiting for us. A small queue was formed, so I took advantage to take some blurry pictures of my aircraft and the others which were parked close, including an under-the-wing one (what a great way to introduce myself in the Airliners community, as I know there is a member who loves these kind of pictures
).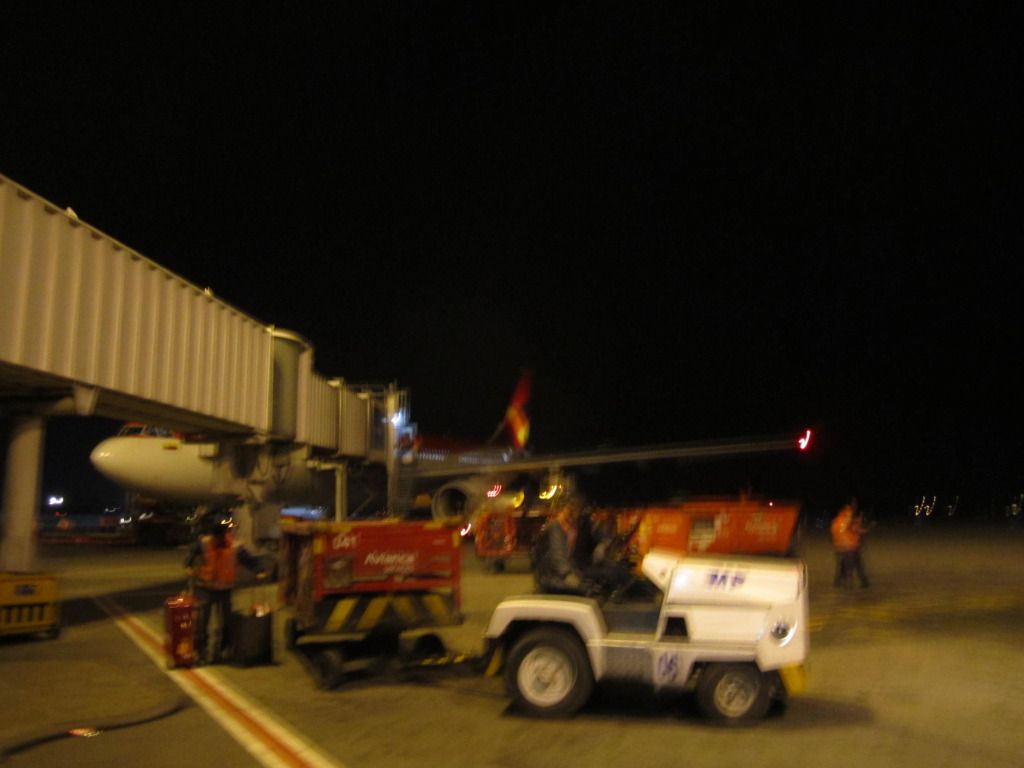 Airbus A330 of Avianca. I guess it just came from MAD and was getting ready for the SCL service. But I'm nor sure...
The Lufthansa plane bound to Frankfurt, seen from the bus
The under-the-wing picture of the N789AV, who was the selected to make the honor of flying me to Lima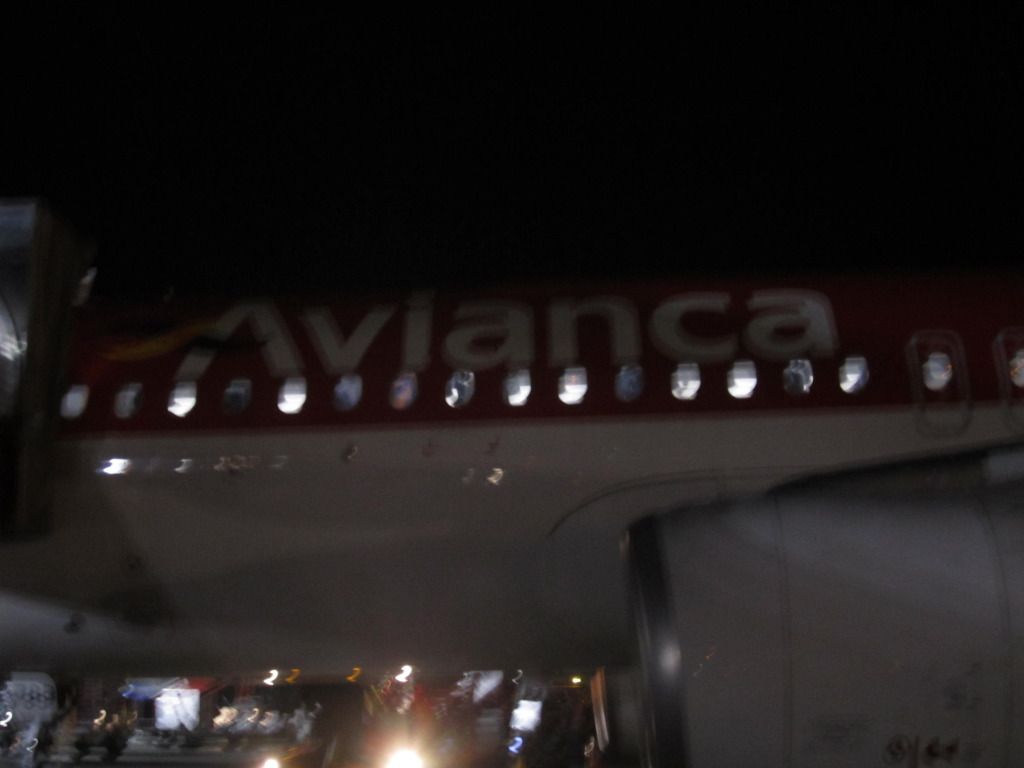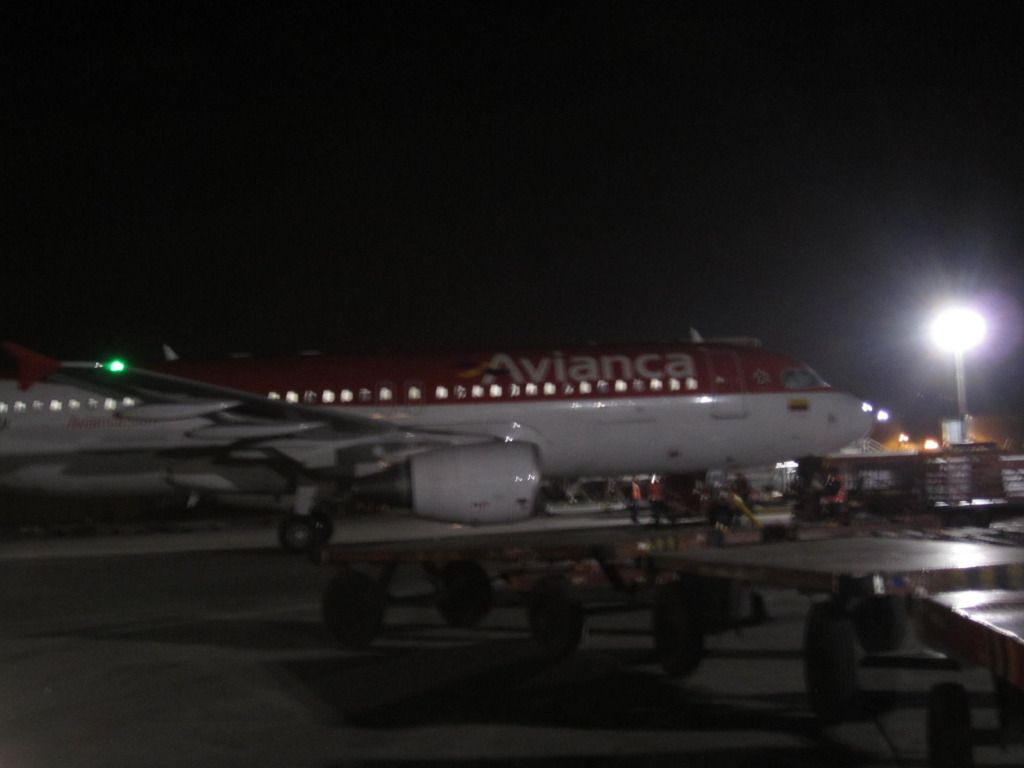 Flight No 1
May 17th, 2012
AV 75
BOG – LIM
21.55 (22.25) – 1.00 + 1 (1.20 +1)
Airbus A320
Seat 27A
Finally I boarded the Airbus, and was greeted by the purser, who showed me my way to my row and was preparing the welcome drinks to the travelers on Business. I asked to move to another seat, as in the bus and in the queue I noticed I'd have some disturbing kids close to my place. She told me that, as the boarding wasn't complete (two more busses were being waited), I'd have to go to my seat, and, in case some seats remain empty, she personally would tell me.
As the boarding process was getting longer than expected, and I was getting anxious, I decided to try my luck with the flight attendant who was on the back galley, doing... nothing. So, again I asked for the load and the possibility of changing seats, but, as sadly usually happens with the AV senior FAs, I got an angry response. In the meanwhile, the other busses full of passengers arrived, completing a good load of some 80%. When boarding was complete the purser came and told me that some middle seat remained empty, so I could move, which I refused as I always prefer the window.
The airplane was in immaculate condition, with good leg room and personal entertainment system. At the end, the middle seat on my row remained empty, and the aisle was taken by a girl who was traveling with her mamma and her two sisters, all of them seated on the same row but in the other side of the corridor.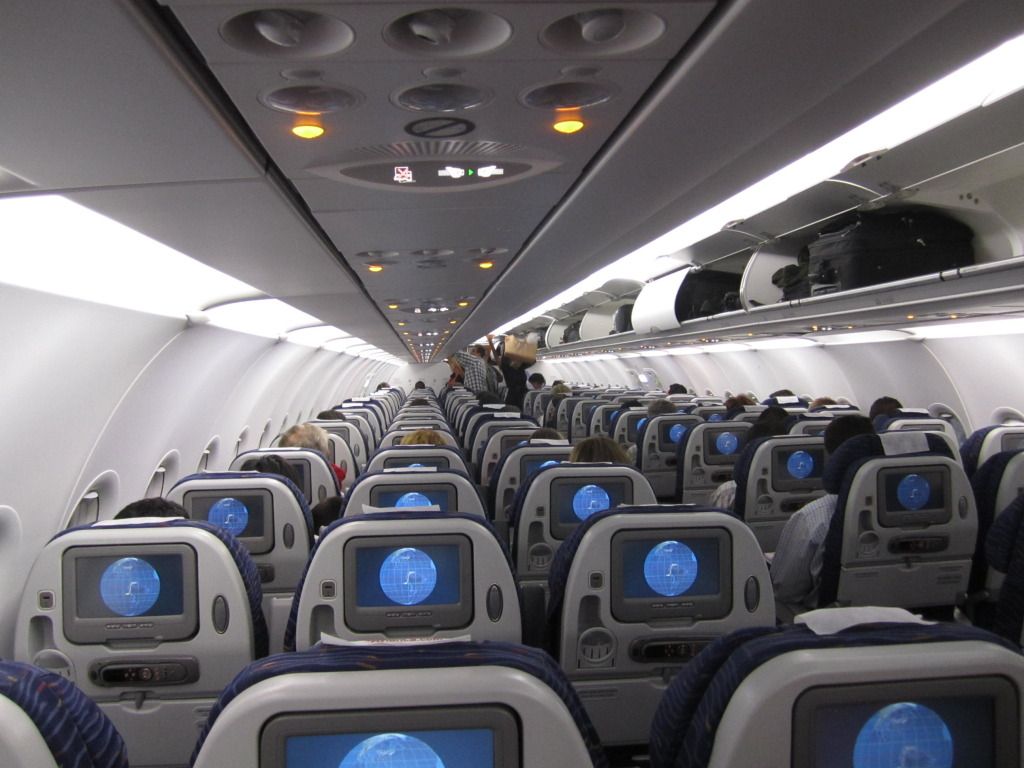 Excellent condition of the aircraft
Incredibly, some of my fellow travelers had some over-sized bags as hand-luggage, so the overhead beans compartments got filled quickly, so people had to carry them behind their front seat in most cases. This entire situation delayed the taxi for some minutes. Our captain, named Juan Montoya, made his introduction, advised to keep fasten our seat belts as the flight would be a bit bumpy, and told us about a long take off queue, where we had got the turn number 8.
As we begun our taxi, the Lufthansa plane started hers. So, was it funny for me to see a machine driven by Juan Montoya behind a german one, who was preferred by the control tower, who gave priority. Formula One fanatic, between 2001 and 2006. Anyone else?
If you use your imagination, there is the Lufthansa plane leaving ahead of us
Finally, some 30 minutes behind itinerary our Airbus took off, heading to Lima. When we reached our cruising level, the entertainment system was turned on, and hot towels were given. I choose to see a movie, "Better life", which was a really bad decision. One hour into the flight and the trolley were seen, but before the service reached my row, it had to be stopped as the plane was hit by a strong but short turbulence. Some 20 minutes later the service was restarted, and I made my chose for beef with rice. I think it was very mediocre, but at least better than what you can expect flying on other carriers on flights of same duration.
It was an uneventful flight (no FAs were seen after the dinner service), and just some minutes behind schedule we arrived to Lima. I had been on this airport 9 years ago, on a journey from Bogotá to Buenos Aires with stops at LIM and SCL with LAN. The change is tremendous, as in this time I find a modern, airy and spacious place, completely different to the one I had seen before. I headed to immigration (felt guilty because I didn't know which was the reason of the holiday I was taking advantage of -Colombia is one of the countries with more holidays on a year-), and fetch my bag who was already riding the baggage claim belt.
LIM is LAN territory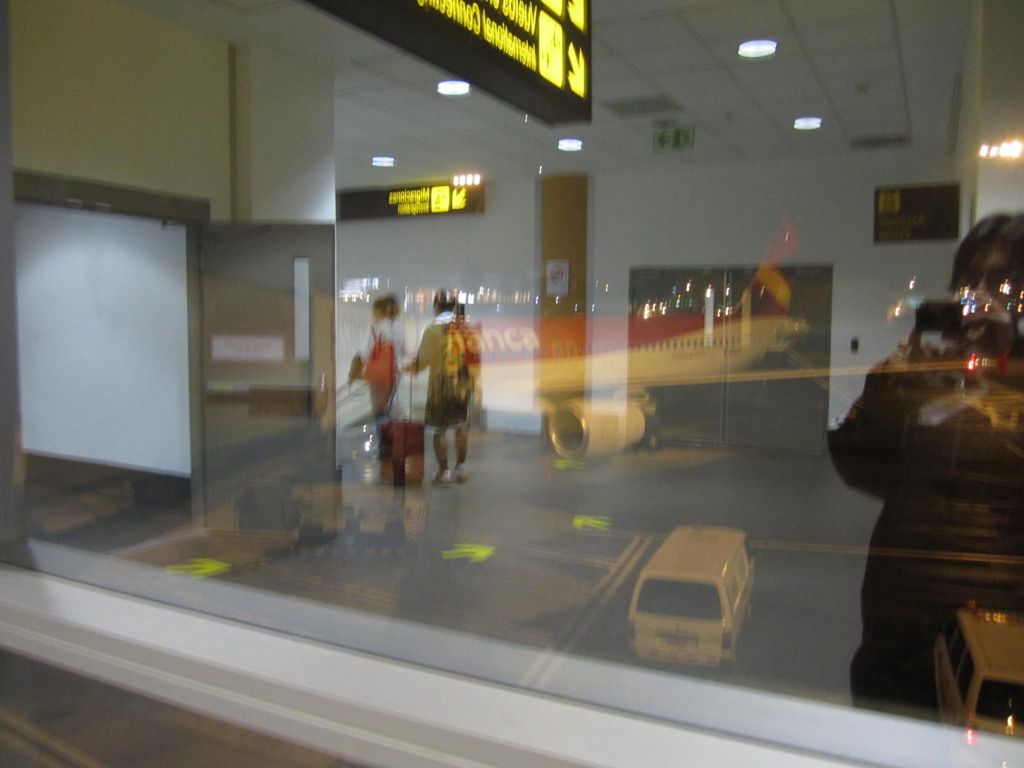 My plane at destination (sorry for the reflection)
At this time, it was 2AM, and my Star Peru flight was scheduled to leave at 8AM. So I had to look for a place to spare the night, finding a good spot close to the Starbucks on the second floor. I stayed there, rested and at 4.30AM I went downstairs and checked for my flight to Cuzco, where I was attended again for a cold agent who assigned me another window seat. With all the procedures done, I could go airside, passing by security which took a bit longer than in BOG. I had some free time, that I used walking around the airport, buying an overpriced orange juice, asking for some information in Peru Rail and sleeping in the comfortable chairs of the waiting area.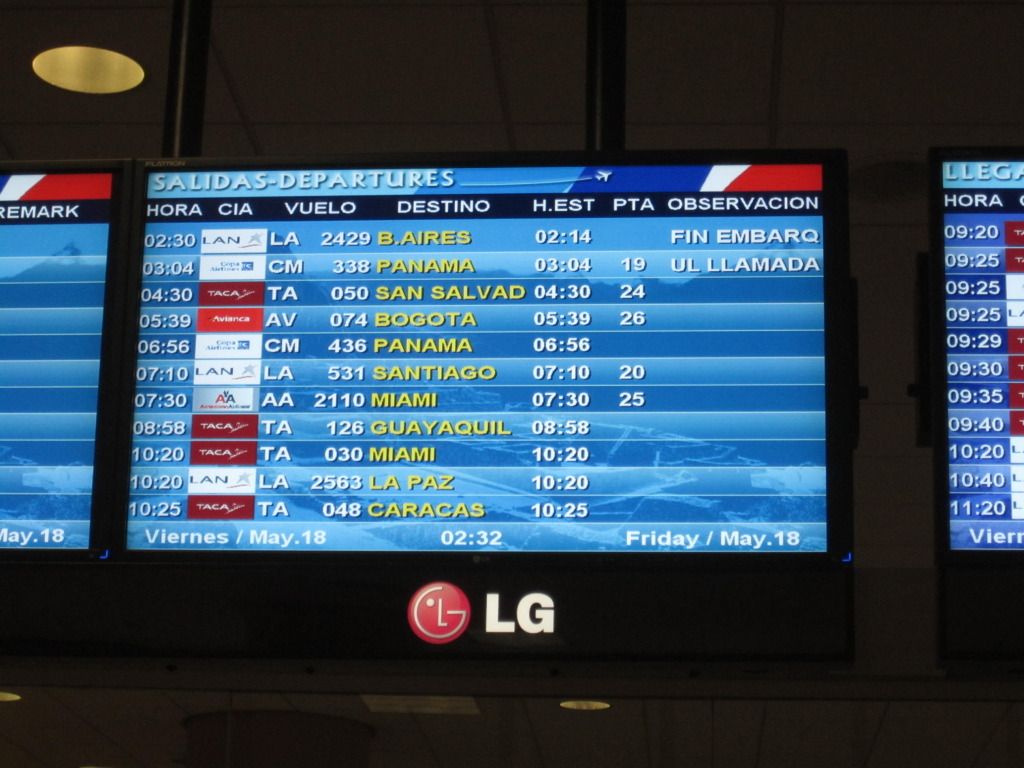 Modern interior of LIM airport
I could see a lot of TACA's and LAN's planes, the first operating mainly internal routes, while the later flying both national and international itineraries. Finally the time to boarding came, one hour before the scheduled time, by the gate 7, located on the ground floor of the airport, which meant we would have a bus carrying us to a remote stand.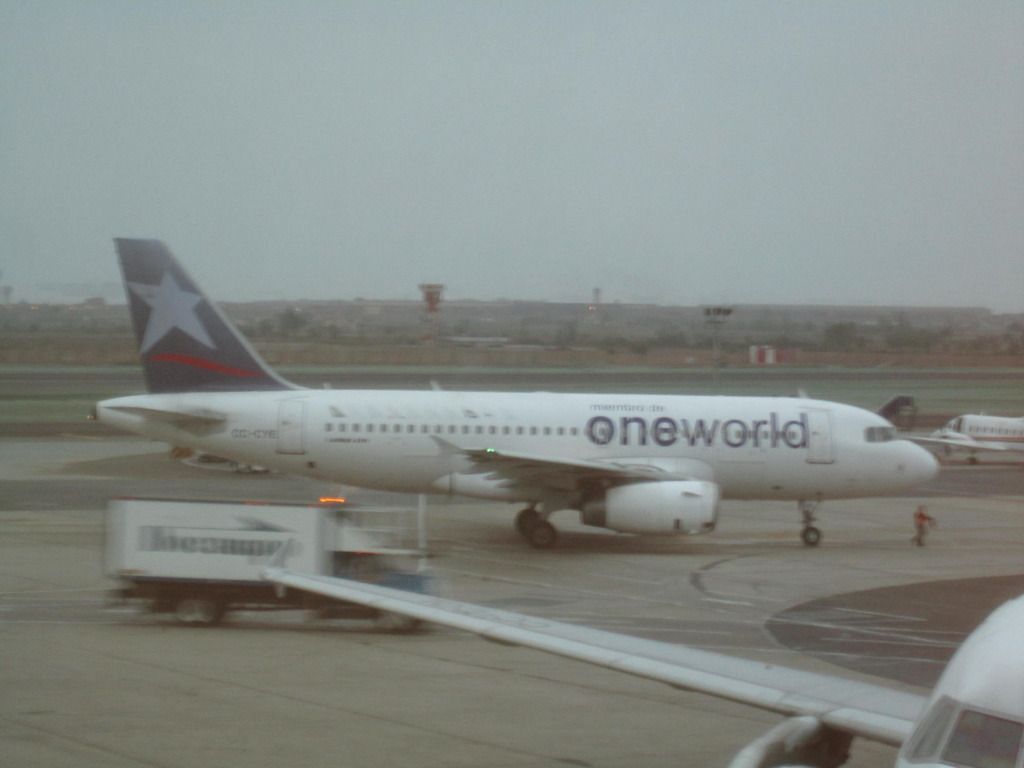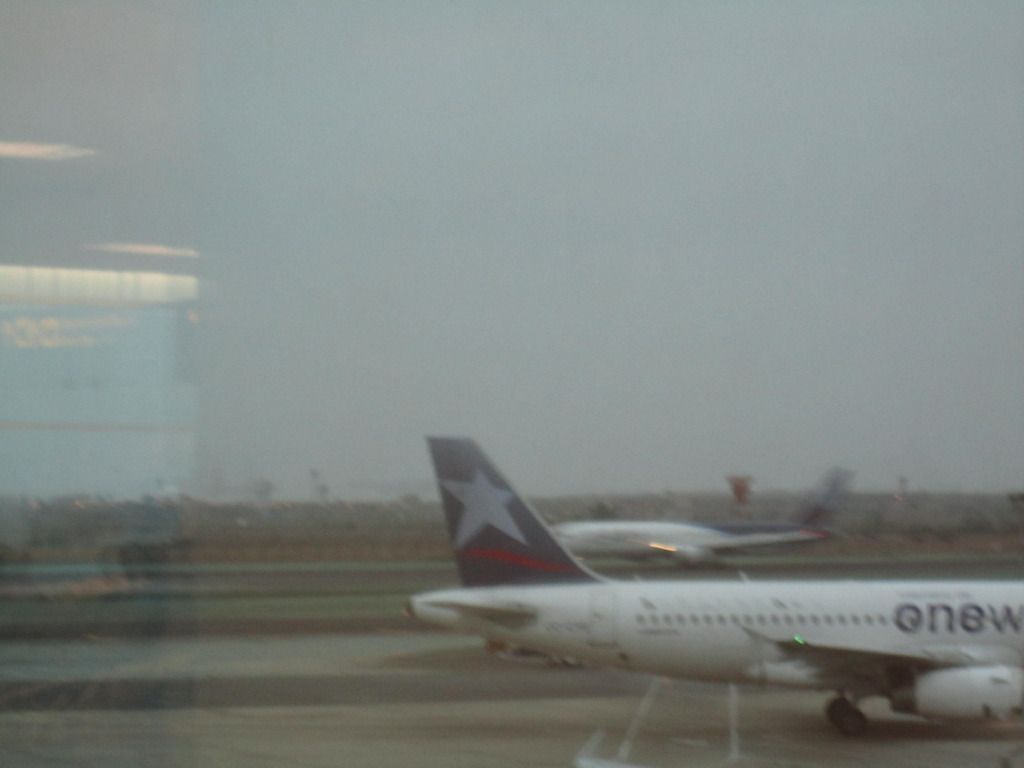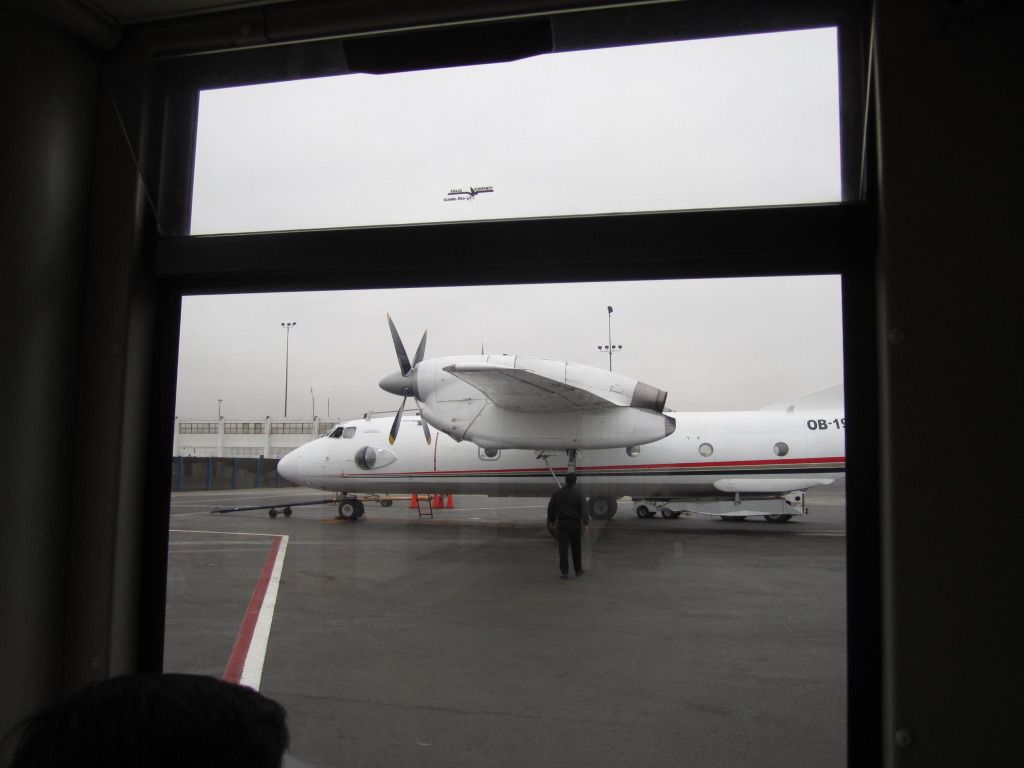 An Antonov seen on our way to the Star Peru plane
Flight No 2
May 18th, 2012
2I 1113
LIM – CUZ
8.00 (7.55) – 9.30 (9.20)
BAE 146
Seat 16 A
Our plane, a BAE 146, was parked on the other side of the airport, next to a LAN's 319. Even if the front and rear entrance were available for boarding, most of the people made a long queue in the forward entrance. As my seat was on one of the last rows of this beautiful plane, I boarded by the rear entrance, where an FA greet me disinterestedly before I got my place. Finally the plane had a load of around 90%, but fortunately the seat next was empty, as did some of the seats on the last rows. This plane has a configuration of 3x3, except for the last two rows which have a 2x2 layout.
Our neighbor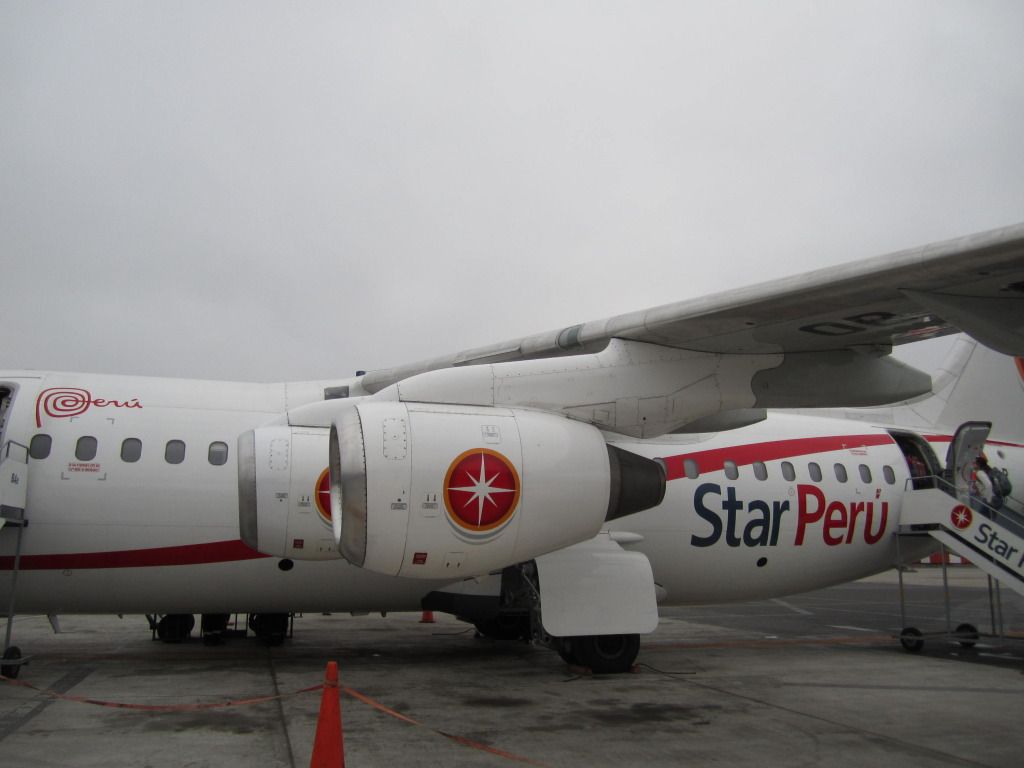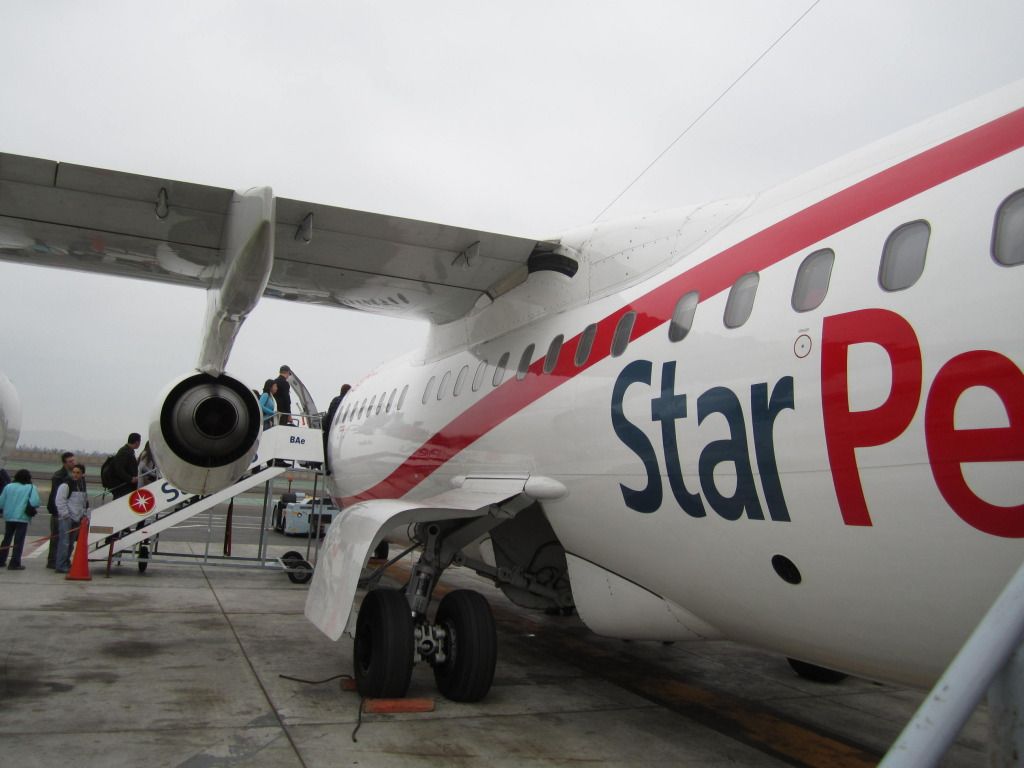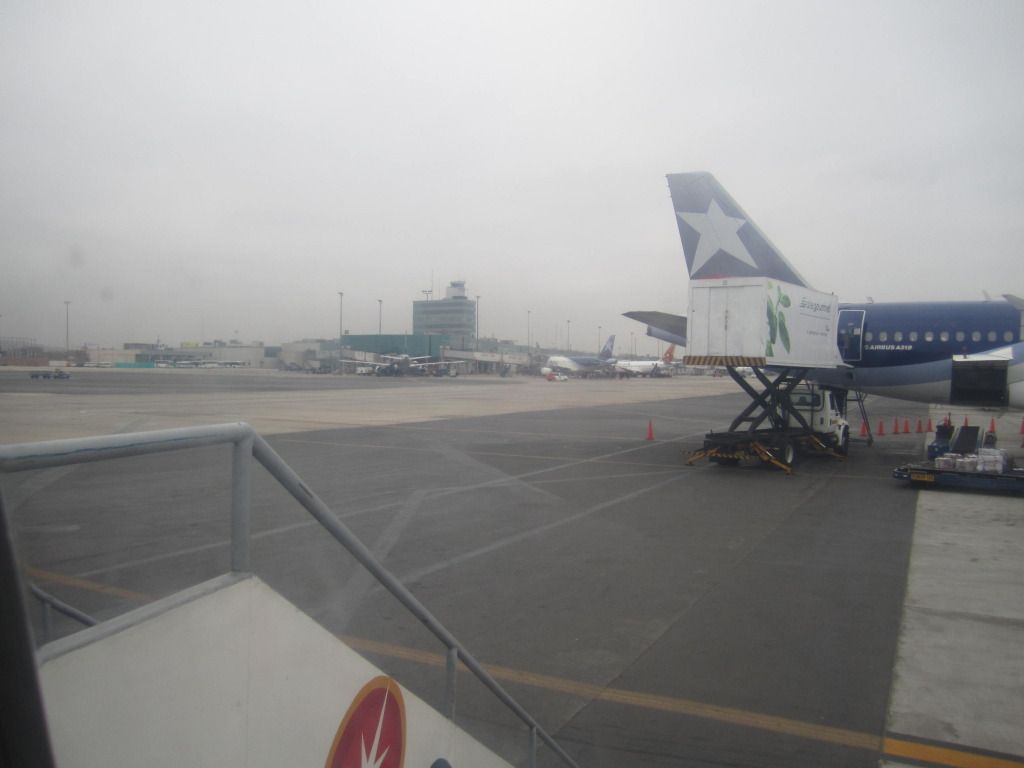 Interior from the very back of the plane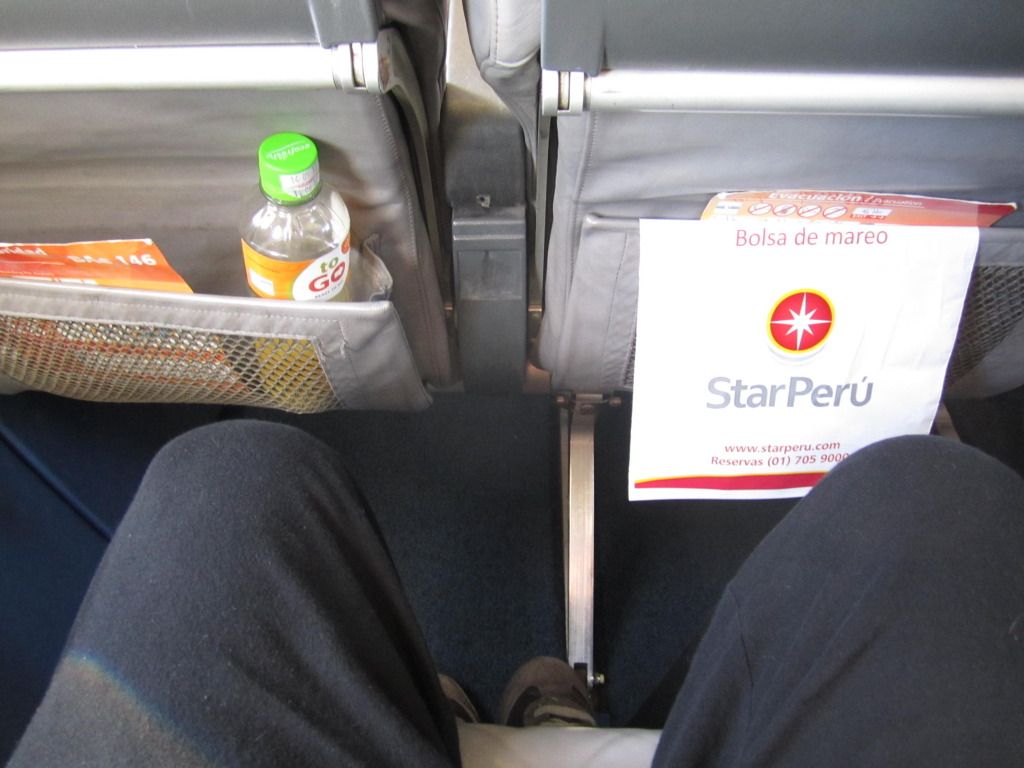 A bit worn out
Some minutes before our SDT, the BAE began its taxi, while captain Muñoz informed that our flight plan had been approved by the control tower, and soon we would be taking off. As said, at 8AM off we were, on a flight which was planned to last 1 hour or so, despite a blocking time of 1.30. As we reached our cruising attitude, the FAs distributed local newspapers, which were followed by the snack service, consisted on a box with a muffin, a sandwich, and a selection of drinks. As I already had my brought-in-Lima orange juice, I chose a coffee to accompany.
Again, the flight was completely uneventful, passing over some stunning sceneries. The approach into Cuzco is amazing, as the plane has to avoid a mountain while align itself with the runway. Half an hour before our SAT we were parked in the gate 2 of the Velasco Acasiete airport.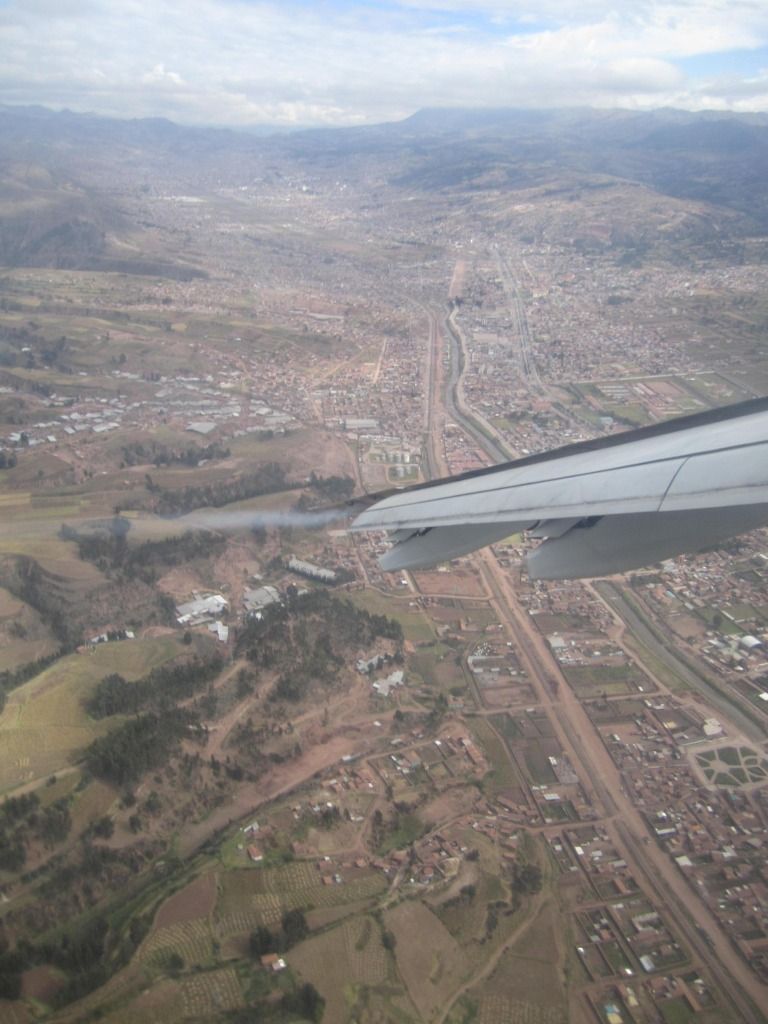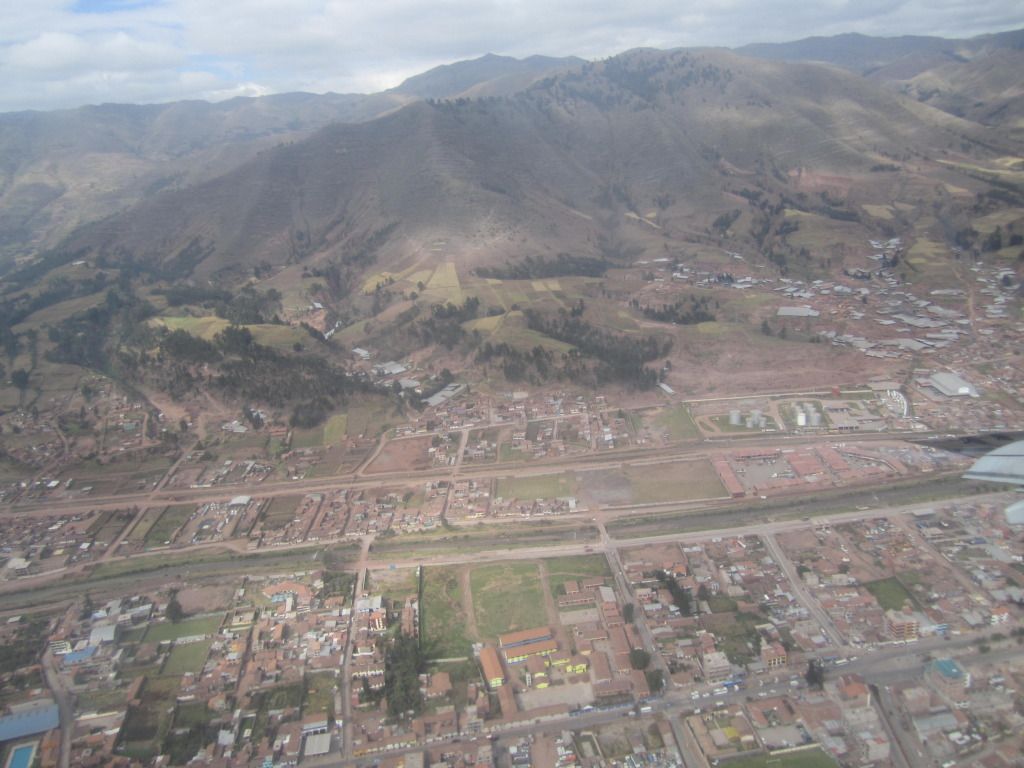 About to land. Amazing descent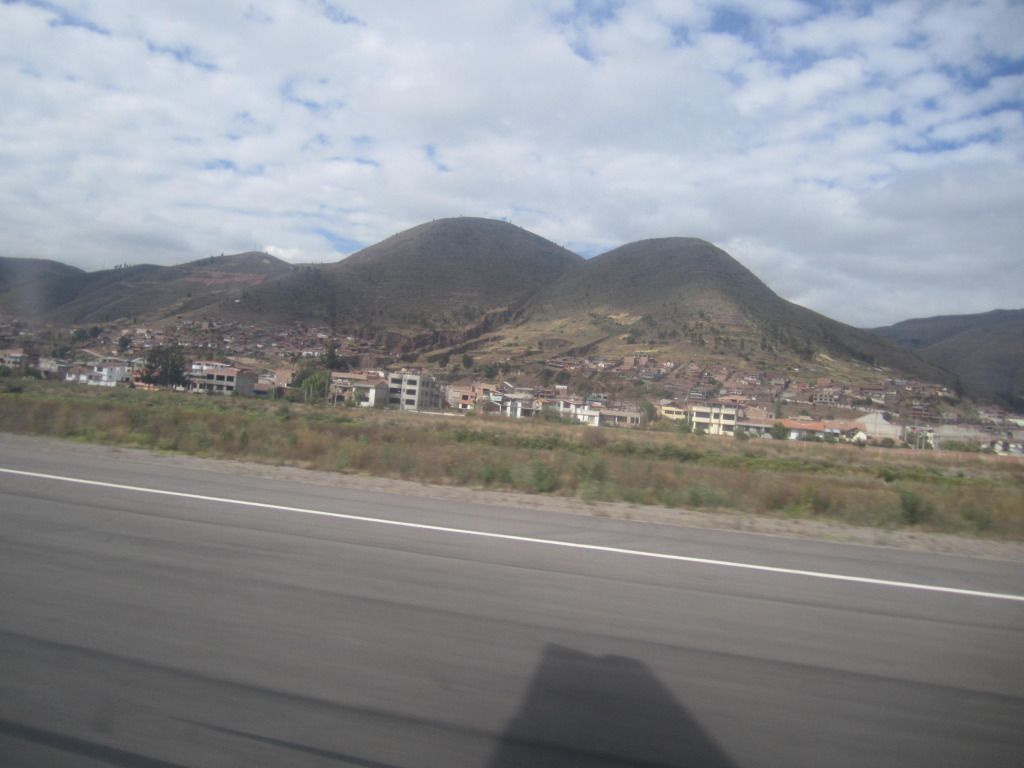 Just landed
So, I gathered my stuff, de boarded, left the airport (didn't have checked luggage as I decided to keep it with me) and took a bus to the city center, in order to buy my entrance to Machu Picchu and my train ticket for the return journey.
My plane at destination
From Cuzco to Machu Picchu I would do the alternative route, which implies using vans, passing by small and remote villages and breathtaking landscapes and saving money. Believe me, at the beginning that last characteristic was the main reason of this route, but after doing it, I can tell you the landscapes really worth the longer and more complicated route.
Cuzco's central square (Plaza de armas)
Stunning scenery on the alternative route
A bit dangerous road on the Santa Maria - Santa Teresa leg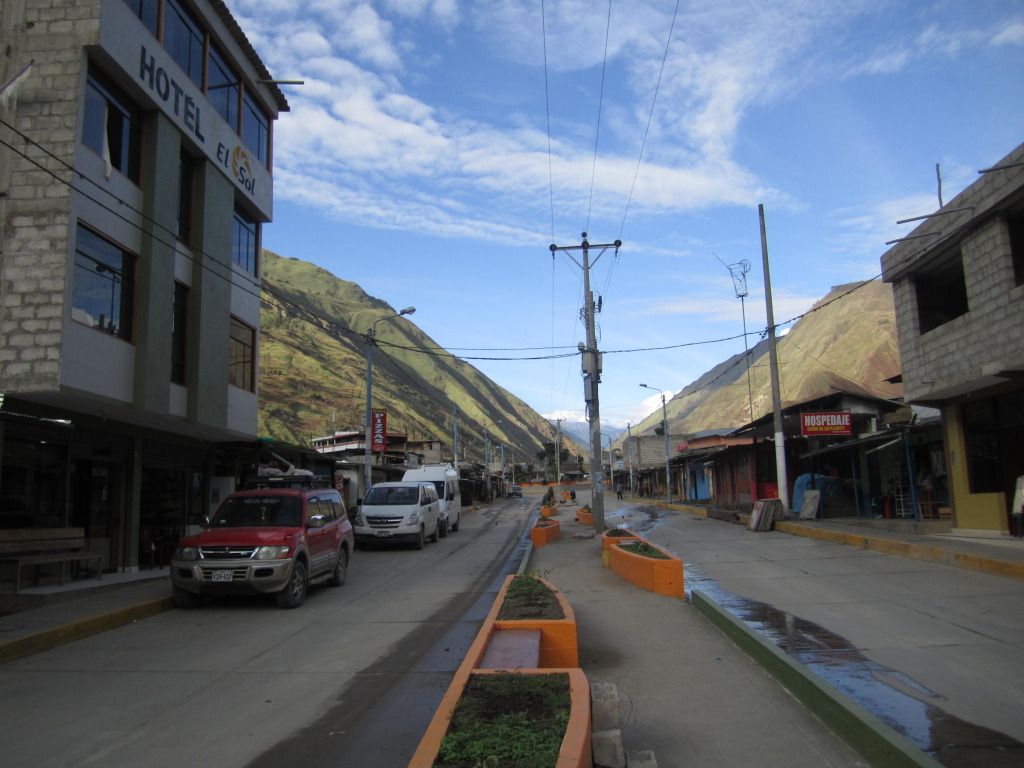 Santa Teresa. At the right you can see the hotel where I stayed the night
The last part of the alternative route implies a 3-hour-long trek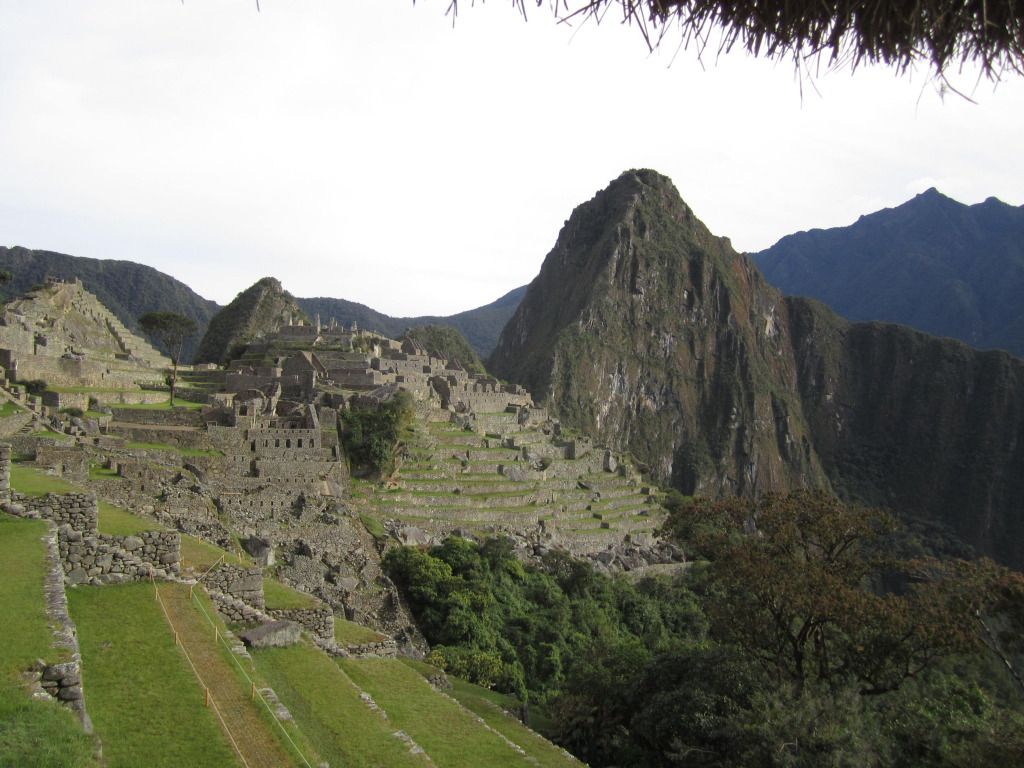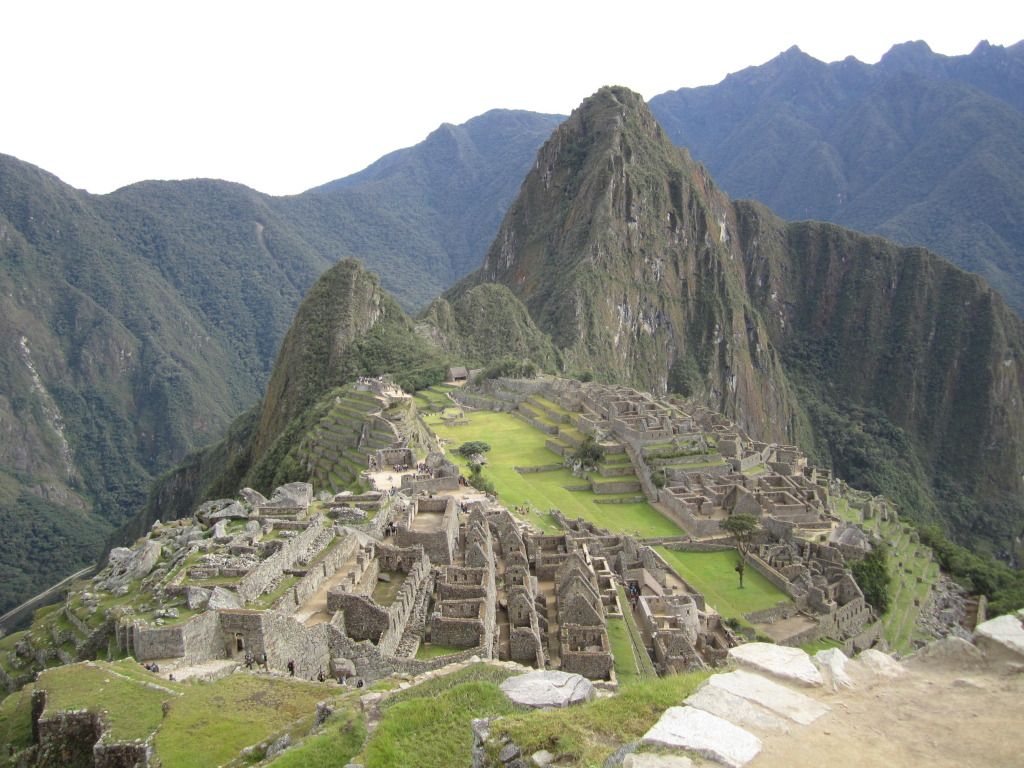 Amazing Machu Picchu!!!
***
Sadly, good things have to come to an end, so three days later I had to made my route back to Bogotá. So, in the morning I took the train from Aguascalientes (the closest town to Machu Picchu) to Ollantaytambo, where I picked a van to Cuzco. Had breakfast and went to the airport, arriving two hours before the scheduled departure time of my flight.
Peru Rail train back to Cuzco (Ollantaytambo to be exact)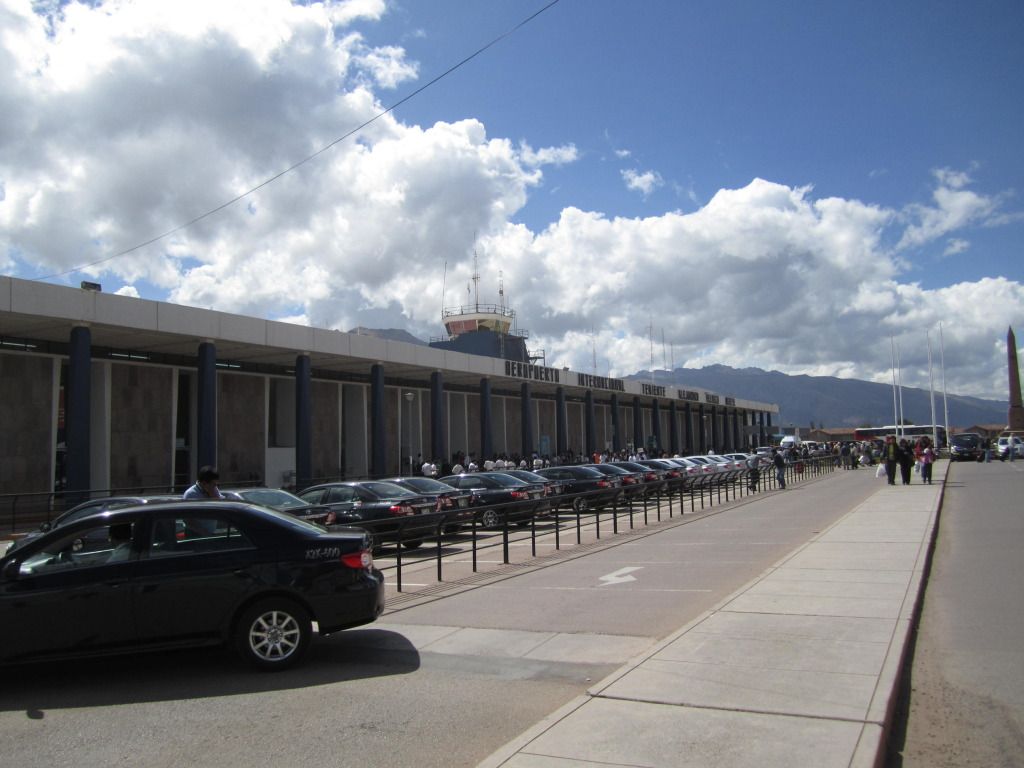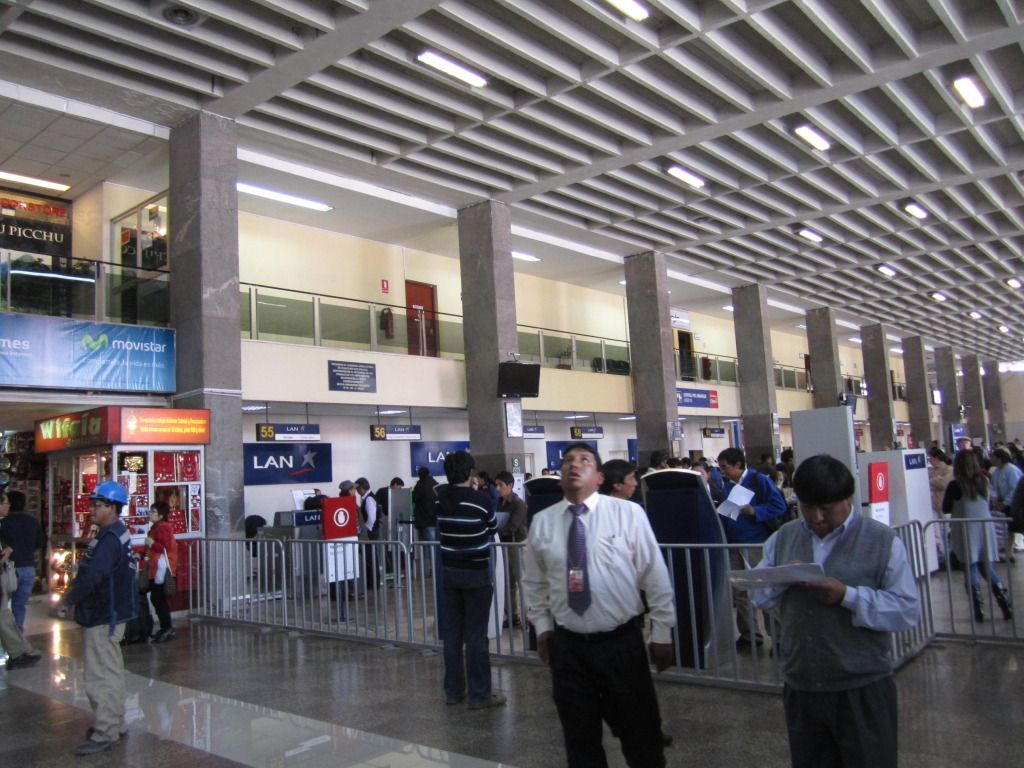 CUZ was busy, with flights of the big 4 airlines (LAN Peru, TACA, Peruvian and Star Peru) leaving, most of them to Lima. Noticeably, the Star Peru counters were empty, so I was quickly attended by a cheerful an attentive agent, who told me that my flight was a bit delayed. I asked her about the possibility of be changed to the earlier flight, as I had a connection to the Avianca's flight to Bogotá at 5.40PM. Actually I made this enquiry without necessity, as anyway I had a good connecting time, but the agent preferred to include me on the earlier flight in order to avoid me any inconveniences.
Immediately I cleared security, and was airside on a matter of minutes. The waiting area of the terminal was full of people, as flights to Lima and Puerto Maldonado were planned to leave soon. Finally the Star Peru place showed off at 12.30, which meant I could fly on another flight, but at the same time than my original one. This caused a lot of confusion, as people from the 1PM flight wanted to board this plane who was serving the earlier one.
Flight No 3
May 21st, 2012
2I 1118 (Originally 2I 1182)
CUZ - LIM
11.20 (13.00) – 12.40 (14.10)
BAE 146
Seat 2F
As said, boarding was called soon and all the people of the Star Peru flights gathered in the entrance to the gate. They all believed the flight was soon to depart was their flight, and the gate agents weren't assertive enough to explain that the operation was a bit delayed.
At the end, when I already was on the plane, I saw how one of the flights attendants had to ask one Brazilian passenger to leave the aircraft as his flight was the later one. Bizarre. For me everything went smoothly as I got the window seat at the first row, giving excellent pitch and good three windows for me. When boarding was almost completed, a man on his 50's asked me to move as he believed I was seated on his seat. The situation was that he was into the later flight (as I was), but he was allowed to travel on this one at the gate, receiving a provisional boarding pass with an "1F" seat on it. That seat doesn't exist, but he thought it should be the window seat of the first row.
Finally the flight attendant assigned him the middle seat, and explained that, as Cuzco is such a high airport and the temperature was elevated, the plane couldn't leave complete with passengers and cargo, so they had to leave people. Then I asked for the capacity and the load, and the response was 77 seats but just 65 passengers.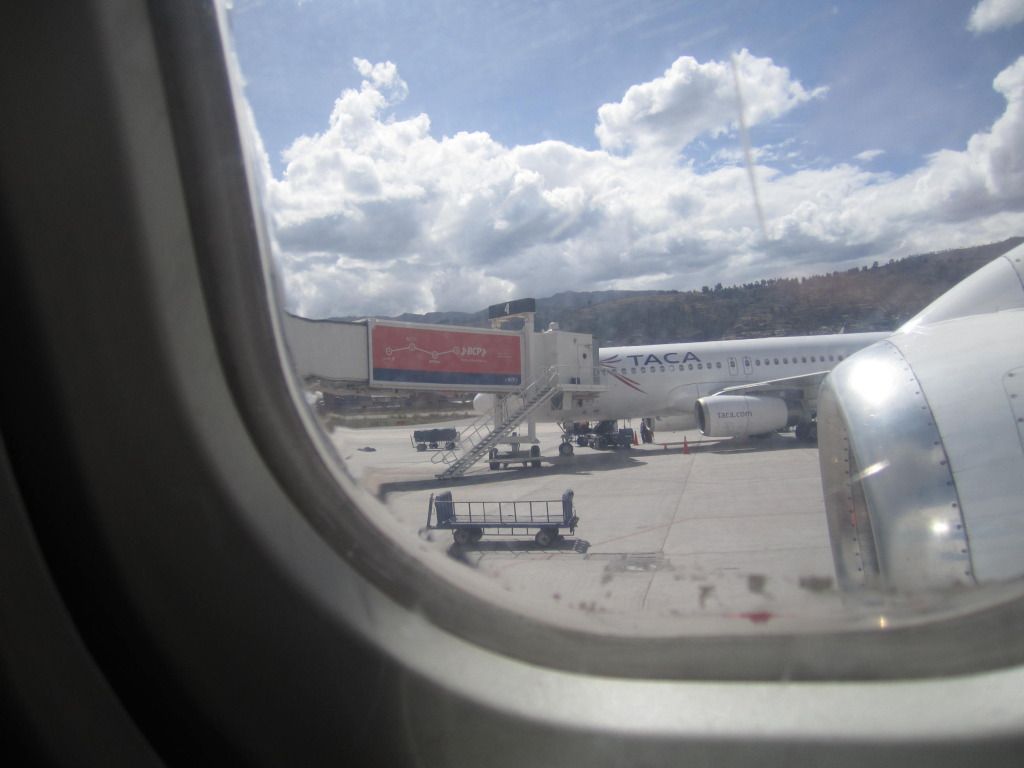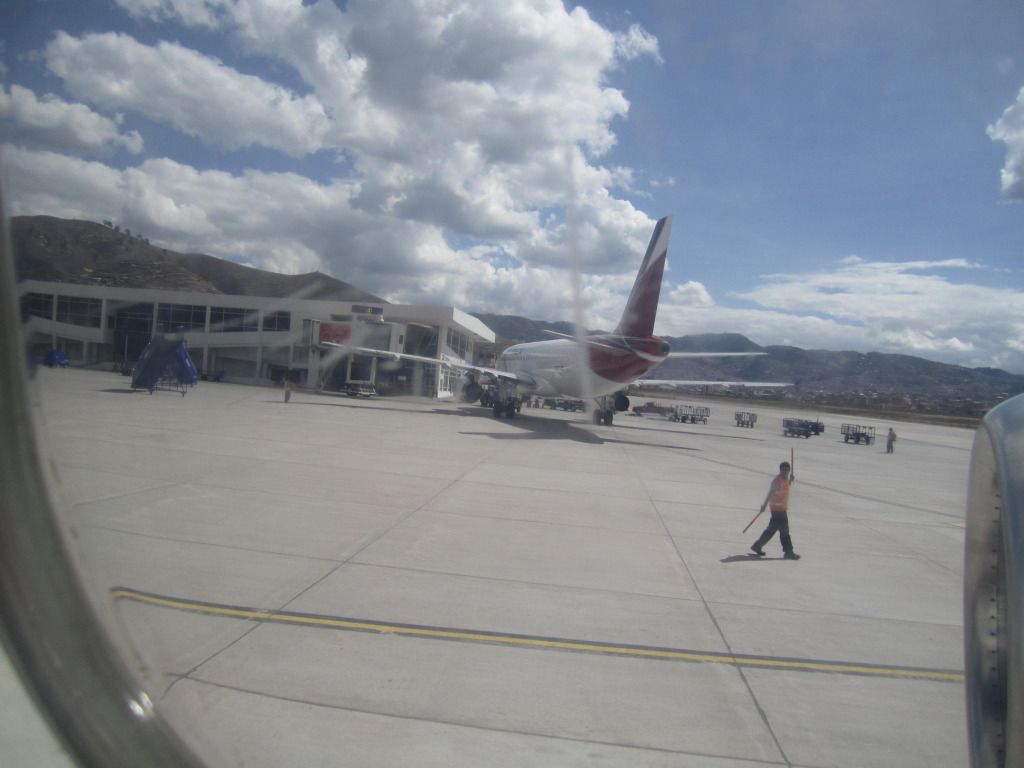 Finally at one o' clock the flight departed, using all the length of the runway to elevate. Again, it was an uneventful flight, where a good part of the load was from a North American school excursion. Again we got the snack box, with the same sandwich and muffin and a drink service, we I went for an orange juice.
About to land in LIM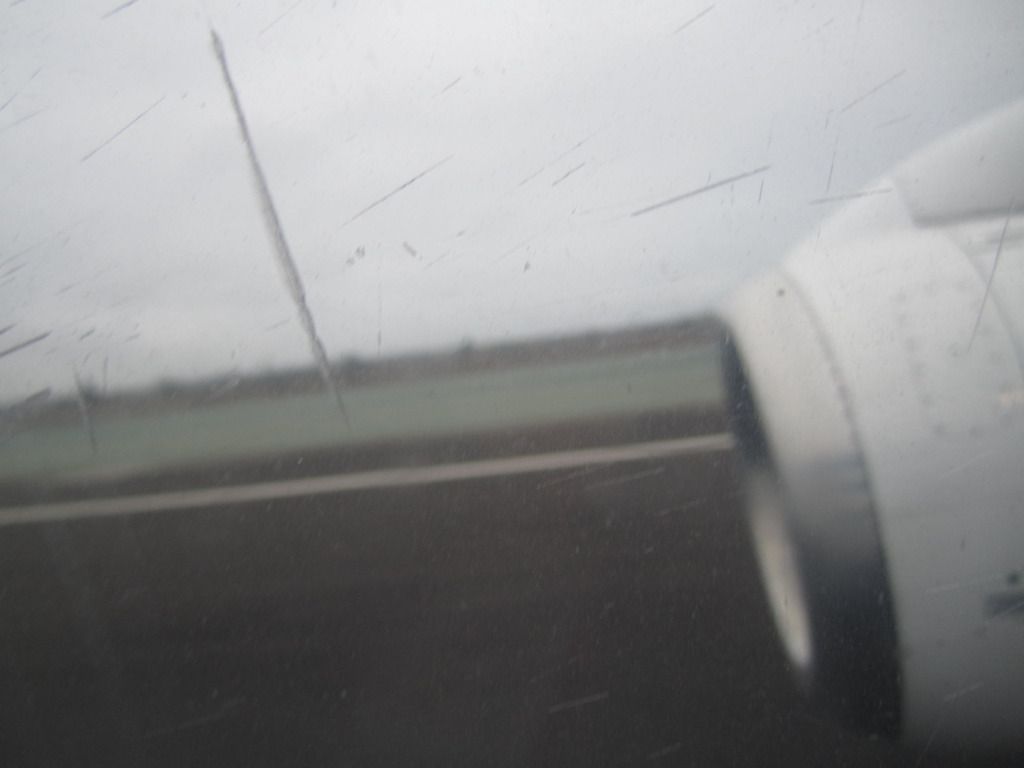 Just landed
The plane, with old livery, on destination
In the foggy Lima a bus was waiting for us to take us to the terminal building. Everything ran fast, so I made my way to the Avianca's counters to check in into the Bogota's flight. In a matter of seconds I was received by another attentive agent, who accomplished my request for a window seat on this, my first ever flight on the AV A330. As I had some liquids (after shave, lotion, toothpaste, etc), I decided to check my bag to avoid problems. With the check in already done, I proceed to Starbucks, a pleasure I only have when I travel, as here in Colombia we don't have that brand. I buy a strawberry "more-cream-than-frapuccino" drink, and proceed to security and emigration.
At emigration I was asked for my Andean travel card, which I realized was on my checked bag. The agent then direct me to another booth, where to beauty (believe me, they don't) girls may attend me. The attention was charging me a fine for this, that, in spite of being a small amount, I had to pay with my credit card as my last Peruvian soles were spent on Starbucks some minutes before.
To increase my frustration, my camera died so I couldn't take pictures of my last segment, on a new type for me… Sorry for that
At that time, the international area of the airport was deserted, with only my fellow travelers were hanging around. I took a seat close to my gate, where all were informed that the boarding would be a bit delayed, as the inbound flight was late. Colombian people is really interesting to see when they (we) are in international airports. First a lady came asking if it was the Avianca flight. Ma'am, as the screen, the boarding pass and the uniform of the agent say, yes, it is. Then a couple, "Have the boarding started yet?" Dears, if there is not a plane around, what do you think? Finally, a lot of people just handing passport and boarding pass to the agent… There is not plane, there is not boarding! Is simple, isn't it?
Flight No 4
May 21st, 2012
AV 24
Top