Dear readers,
Welcome to my latest tripreport, of a trip made around the sole purpose of getting a ride on the Alitalia Airbus A330-200. A while ago fellow tripreporter "JL418" mentioned that the Italian airline was putting this oversized type on their trunk route FCO-MXP on Thursday early morning flights in August. I had a look in my agenda and worked out a trip, which should also help me to higher levels in the Skyteam alliance.
In addition to this, my friend Robert (Parton87) from Sweden figured out that we could make a small meet and greet in Rome and do the A330 together, and of course, have a dinner in town. He also made a trip for himself and I'm sure we will read about it some day too!
Al(l) Italia: 4 flights & the domestic 'Magnifica' A330-200!
Well, after a short night it was time to hit the skies on Wednesday, August 15 2012. I left home at 08:30am, 1h15min should be fine to get everything done e.g. printing out my boarding pass after again online check-in issues with AZ. Additionally I wanted to ask a question to the KLM reservation desk staff about another upcoming trip to the USA. I had 1 hour till departure once I arrived at AMS and got everything done.
The security check for 'Sky Priority' was unexpectedly slightly busy, but after a while staff took me over to the 'Privium lane' which speeded up things a bit. Unfortunately the officer put my bag already towards the x-ray so I told him to grab it back because a bag with liquids was inside (more them my usual little amount). When I took it apart he suddenly said 'take your camera out!' I obliged but told him to stop this stupid behavior because if I didn't told him to stop the bag from x-raying, it was not a problem at all, plus, there is no such rule to have cameras apart during screening.
Anyway, no big issues and through in minutes, airport people where around with questionnaires again, this time I denied. My gate was at the C-concourse, not too much of a walk. While nearing my gate (C16), I encountered with the newly opened
Cafe Comunal
, serving South American flavours and Cruzcampo
I'll try one next time... It was not beer-time yet.

.
The new "Cafe Comunal"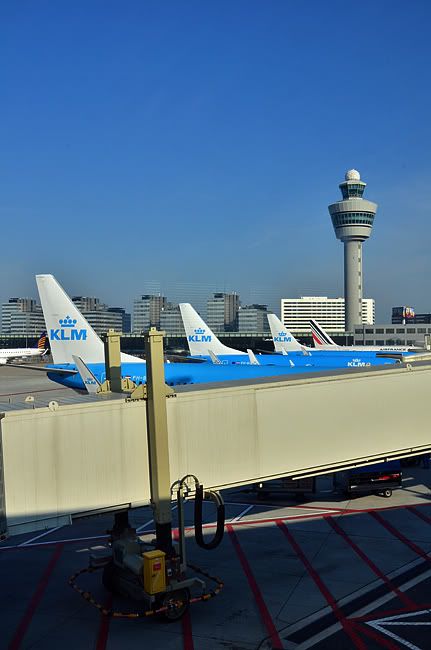 .
Surely this is your typical Amsterdam scene. Blue still rules. Bonjour Air France!
Boarding started almost when I got there, and priority calles where duly made for Skyteam Elite (Plus) members. This is quite a consistent service enforced by KLM ground staff, which I really appreciate.
AMS-TRN
Flight:
AZ119 /15AUG12
STD
09:55
ATD
09:39
STA
11:30
ATA
11:12
A/C:
EI-RDD
(Embraer 175)
S/N:
02F
(Economy class/Y)
View Large
View Medium


Photo © Karl Nixon
Onboard I take my seat in row 2, business class remains empty on this flight. What I noticed is the misaligned windows on these Embraer of AZ, I've not had this before on my other flights on this family (BA, KL, LH, EN, LO). Another thing is the bad seatpitch since my knees touch the seat in front all the time. Moreover, AZ uses a 'sliding seat', so when reclining, the back actually goes backwards, but the seat cushion slides forward, reducing legroom even more. Other then that the cushion is of hard leather look material, making it one of the most uncomfortable seats I've been on till today.
Departure is early, which is good. But when I overhear the load of only 31 passengers (27% loadfactor), it's not a big surprise really.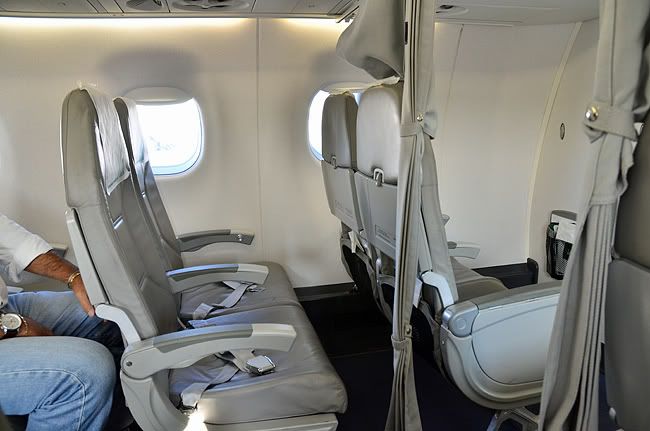 .
Cabin/Seating picture: misaligned windows on these Italian Embraers. Hmm…

.
Legroom on the Alitalia Embraer 175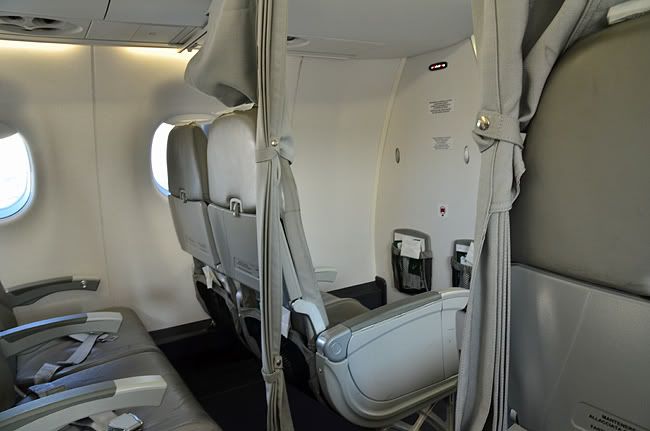 .
Business Class row one does not look good with a missing window

.
SAS does it retro in the morning
I am made aware of the dangerous side effects that my digital camera might have on the aircraft control (yeah, sure!), but since that moment I'm watched more closely since I am in viewpoint from the forward jumpseat.
Taxiing is done at a speedy pace, meanwhile a manual safety demonstration in Italian/English language. We taxi to runway 09, it does not take long to line up and get airborne.
Shame indeed that I can't make pictures, since the busy apron with loads of widebodies is a great view from my seat, e.g. 10 Delta Airlines widebodies parked around the E concourse.
The climb is smooth, and when we reach a higher level soon, I grab my new iPad to put on music and start writing this report.

.
After takeoff from Amsterdam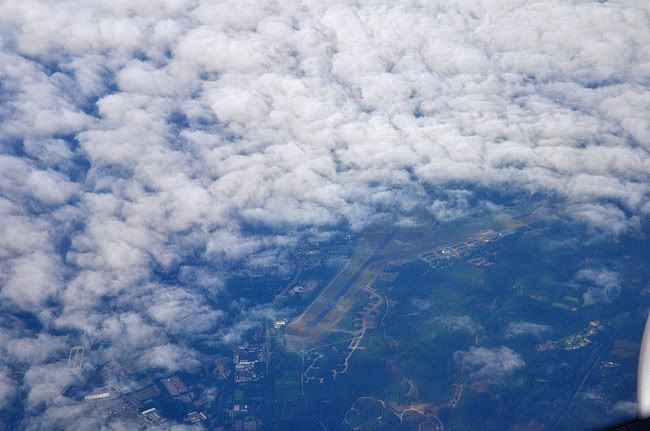 .
A little glimpse of (closed) Soesterberg Air Force Base (EHSB)
The first hour is very uneventful, apart from the service which consists of drinks and a snack in the form of 2 little cookies. I ask 2 drinks and that was promptly answered. Interesting to see peach juice on this flight. I decided to take this. Furthermore which got my attraction is that the cockpit door was kept open during the complete cruise, and the crew were happily talking all together. With the curtains closed though, but still against ANY regulation and an possible unsafe situation. Why all the fuss about my camera then? Go figure!

.
Economy Class Service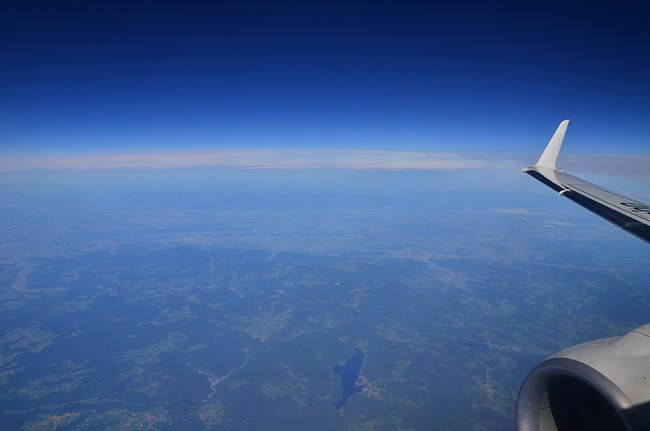 .
Clear and smooth ride over Germany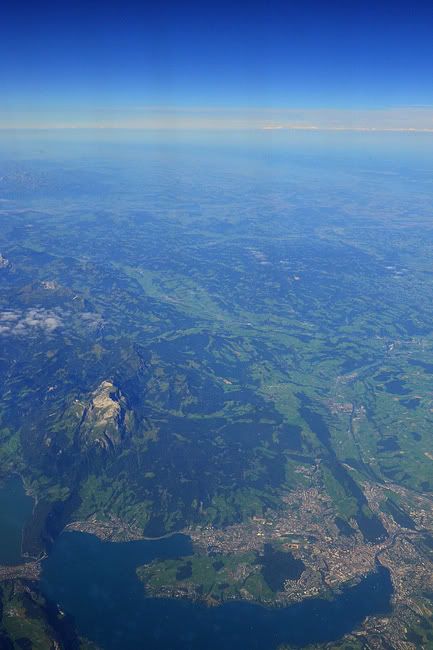 .
…and Switzerland. Here the city of Luzern and the famous peak 'Pilatus'
At some point the Alps mountain range comes insight. And even better, clear views above my beloved Bernese Oberland region. I easily spot the central city of Interlaken, Brienzersee (Lake Brienz) and Thunersee (Lake Thun). Of course, the 3 big peaks (Eiger, Jungfraujoch, Mönch) are visible. A while later I follow the Furkapass road (I've driven this area completely by car) and spot the Rhone glacier as well. Awh... I want to go back here to drive around and go hiking in these mountains.

.
Brienzersee, the city of Interlaken in between and Thunersee overflying the Bernese Oberland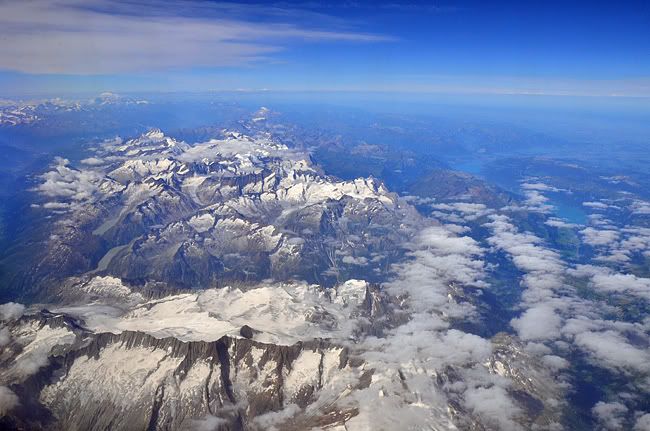 .
Big three: Eiger (13,025ft), Jungfraujoch (11,388ft), Mönch (13,474ft) (among others).

.
The Rhone Glacier below
Soon more clouds move in over southern Switzerland, so I can't see much more now, but anyway... this was a real treat!

.
Entering Italian airspace
We make a righthand turn towards Turin, and start descend. The flightdeck informs in a quick message that landing would be in 20 minutes at TRN, the weather sunny and 25°C. He thanks for flying with Alitalia.
The cabin is prepared and I must say that the purser was nice to me when I mentioned that the load was so bad but it was good for them, or a quiet flight. He replied by mentioning that they have a very long working day... So it was good to have a low load. His boss thinks different, hopefully.
Before landing on runway 36 in complete northerly direction we overfly the city, which seems like being made in the block-style layout which I remember from Barcelona. It keeps the air flowing at ground level on hot days, I've been told long ago.
Well, landing was performed and it took a few minutes to reach our stand on the apron. Disembarking was by steps and onto the awaiting Cobus.

.
AleniaAermacchi industries are around here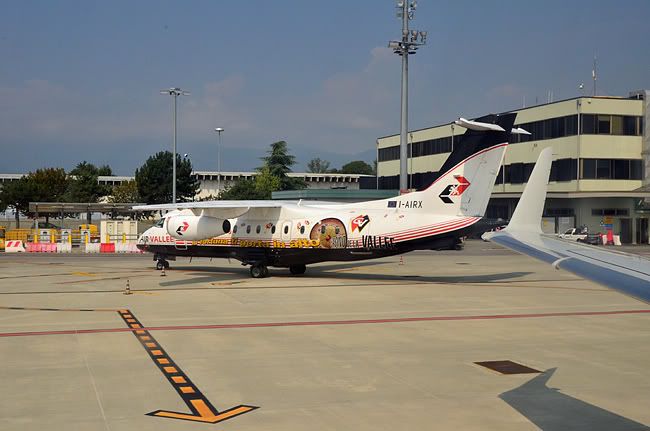 .
Something to catch for me also is this colourful cute Dornier 328Jet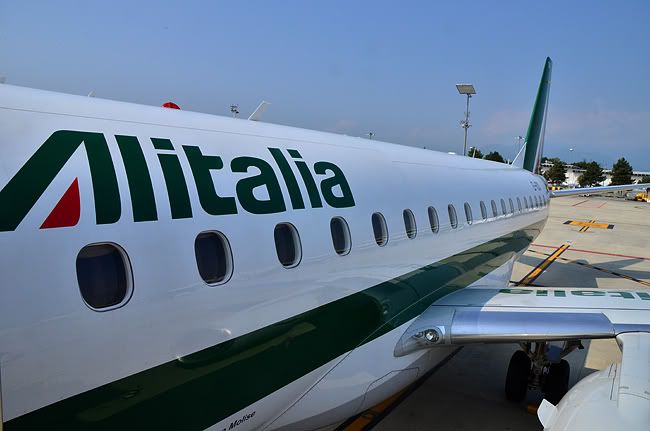 .
Shiny fuselage when I disembark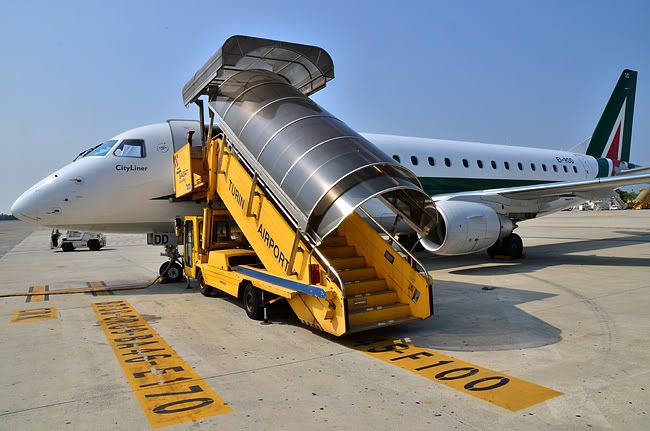 .
A final view on EI-RDD, seen from the bus
When I walk into the terminal building I follow the 'transit' signs which -after a detour- leads me to a security checkpoint. No staff here, everything closed. I had to ring a bell and minutes later staff shows up. I beep but can walk in/out again and found 'OK', my bag goes through including liquida, camera, iPad... No problem for these Italians.
But this transit lane makes not much sense... Maybe re-enter completely is consuming the same amount of time?

.
Turin; a real busy place with loads of transit passengers…
In TRN I find a well kept terminal, offering some shops selling the typical Italian design brands, 2 places to have your caffeine shot and in a certain area it is possible to leech off the Alitalia WiFi network from the VIP lounge. To obtain access you first need to receive a sms though.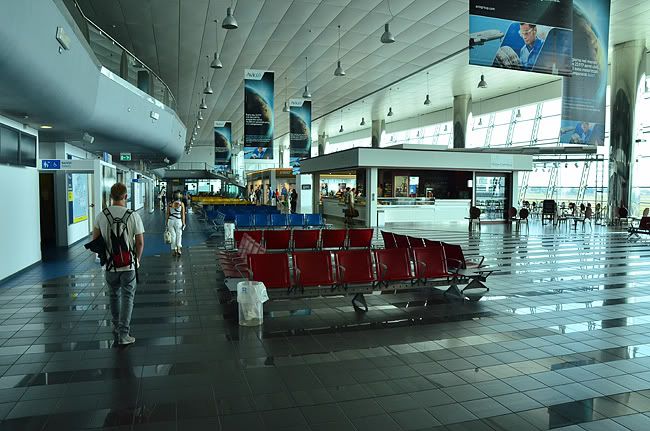 .
Lights off? In the middle one of the few espresso bars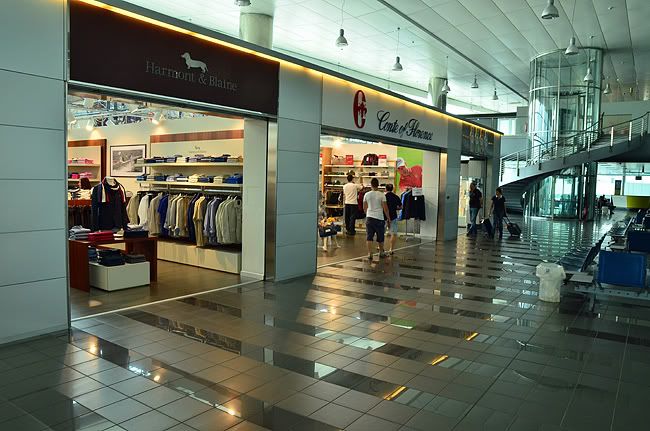 .
Shopping is always good in Italy and some nice brands can be found at airports

.
Ciao, Windjet! I considered flying you. Luckily I didn't! Next please…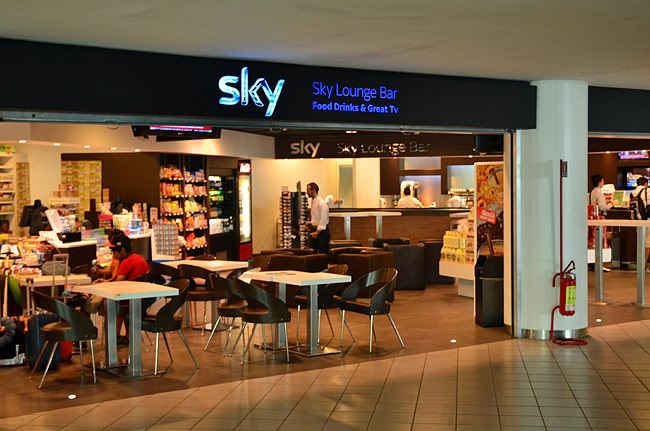 .
Jonas would love this. It has "Great TV" too! Good tasty coffee btw
I sit down to check e-mail and try to do online check-in for the flights tomorrow, but AZ replies that I need to see airport staff for my A330 flight and also the flights on UX are not eligible 'from this airport' (MXP). Life is so easy these days, sigh
Suddenly I hear a call for Mister 'Eric' to Bari. Hey, that seems me! I take my trusty LowePro (hence also purchased by another member lol), and go to gate number 7, where a friendly female groundstaff is waiting for me.
A busgate here, I'm on the second bus with a few others only. When I enter I was clearly last, since we leave immediately. My aircraft is parked next to the -now closed off- Embraer 175 which flew me in (I thought that crew had such a long day today?).

.
I-BIMA, the only Italian registered and their oldest Airbus A319 for me
TRN-BRI
Flight:
AZ1640 /15AUG12
STD
12:40
ATD
12:38
STA
14:10
ATA
14:04
A/C:
I-BIMA
(Airbus A319)
S/N:
03F
(Economy class/Y)
View Large
View Medium


Photo © Stefano R.
As expected, an Airbus A319, and an oldie she is. Boarding via the forward door and I think that this bird is in urgent need for a repainting job. The Italian sun damages the paint, like it's human skin.

.
Give me new paint. Per favore!!
When I step inside, a friendly 'bon giorno' and boarding pass is checked. I'm in row 3, whichnis in the 'business class cabin' or just in front of the curtain here. The middle seat is empty and I am comfortable here. Legroom is good, and not that stupid sliding style seat as I got on Alitalia CityLiner.
Departure is just taxi out from the stand, a little ahead of schedule. Good performance here as well. The safety demo is on the overhead dropdown screens, hardly visible though. But it takes a while and are already on the runway when it finishes. I notice that the purser pushes the 'cabin safe' button on the ceiling of the forward galley, and immediately thrust applied and we were rolling down the runway. It gives a bit rushed feeling to me.

.
Taxiing out. 'cheaper' MeridianaFly is using the jetty. Alitalia does it cheap style by bus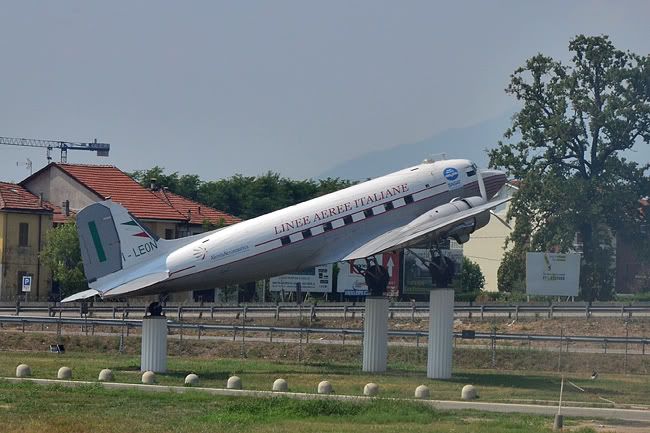 .
Beautiful DC-3: I-LEON of Linee Aeree Italiane

.
…and up in the air again. View towards the airport

.
Good legroom here
Service on this flight is free drinks only and I get coffee and water. The coffee is good here, but they serve only half filled cups. Probably espresso style, who knows.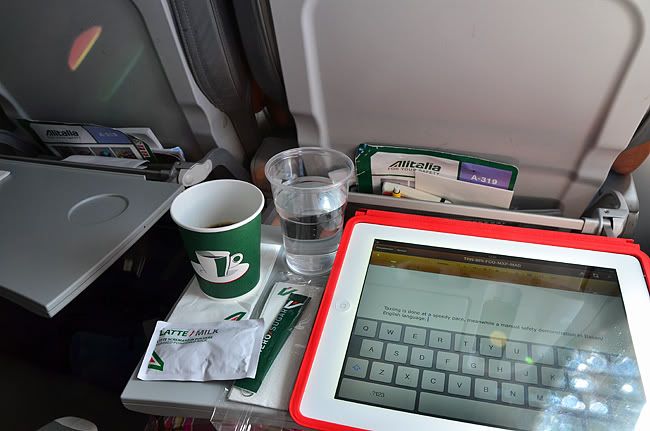 .
Alitalia domestic service and my tripreport being written

.
Calm flight crossing Italy
I doze off for some moments too, music on, sun in my face. Soon we would be landing too, since I woke up when the cabin was already checked. I notice a lot of agriculture around Bari, mostly trees. I think they grow olives here?
Minutes later we touch the concrete of runway 07 and slow down quickly so we can use an intersection to vacate the runway. On the apron here I only see 2 Ryanair Boeing 737-800's, and we park at gate 3, next to one of these examples departing to MST. I wonder if these flights are a success, since from the air, this region doesn't attract me, but I can be wrong too.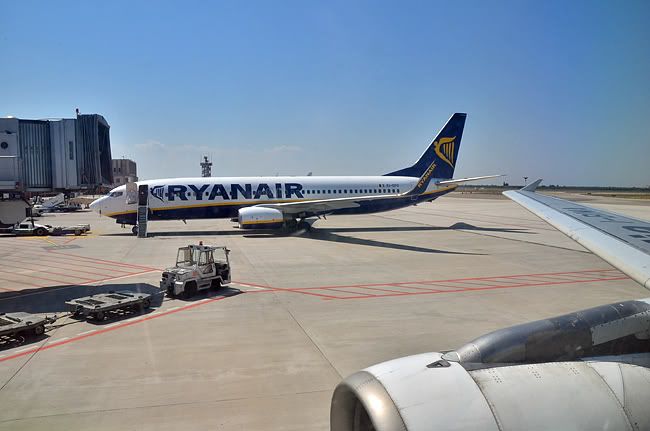 .
At BRI, parking next to Ryanair (this one is ready for MST)
In a change to both Ryanair flights, we use the jetty to disembark and I'm off quickly. Once inside the building (they're expanding it), I do not see any signage stating transfer, hence I decide to go in the pulic.

.
Deplane via the jetty at BRI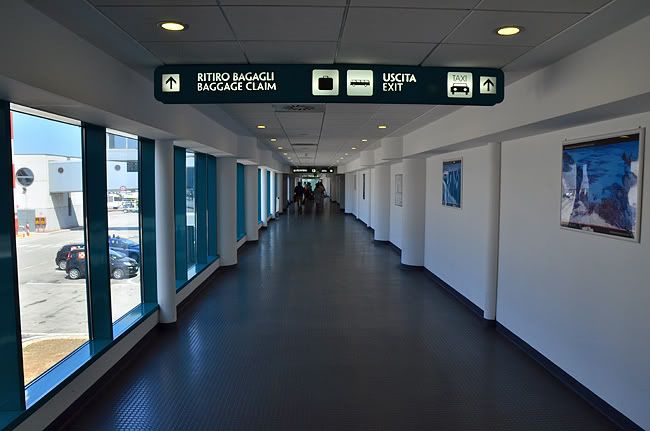 .
Another boring Italian airport corridor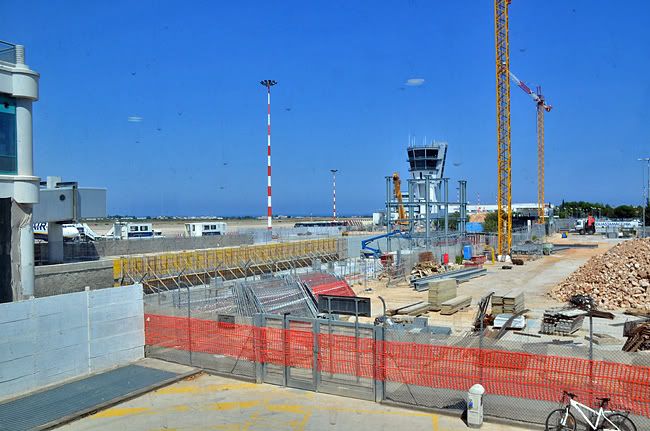 .
It's booming here… in need for expansion? Apperentely they do!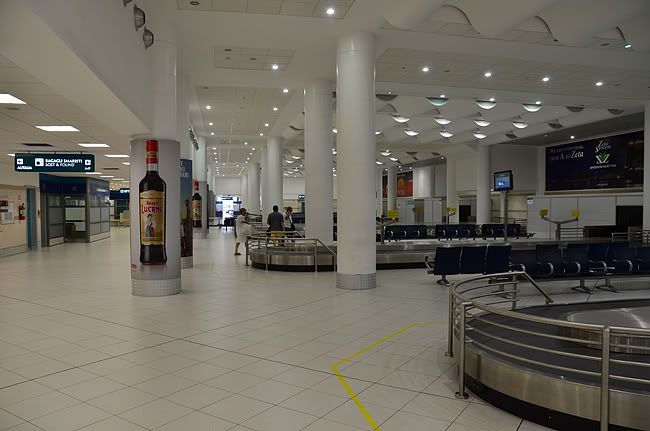 .
Baggage reclaim area

.
Once outside, this is the terminal building from outside
I wanted to print out a original boarding pass here, so I first went to the self service kiosk, where I was very surprised to see my seat, after several hours of trying online check in the day before and finally managed to score 01F, was now changed to 09D. WTF?! It is not even a window. I check the seatmap and notice a change of aircraft, from A321 to the smaller A320. Still, it does not make sense to relocate the forward rows in my opinion, but anyway. In the aft cabin it seems basically nobody was sitting, so I opt for 28F here. OK for me.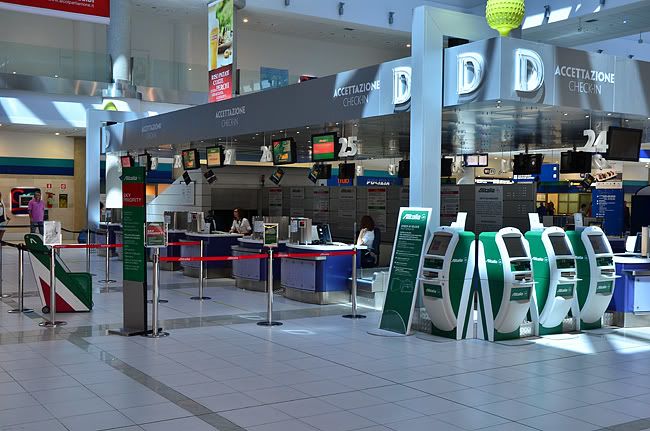 .
Alitalia Check-In. Looks like a pretty set up this way!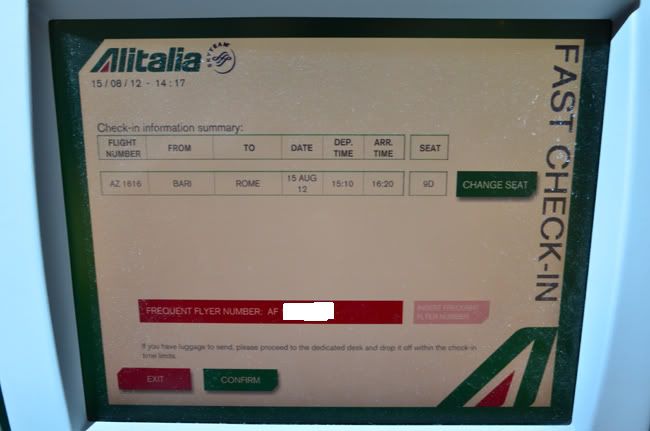 .
Please… no aisle seat!
I try to connect the internet on my phone via the free WiFi (?) offered, but it does not make connection at all. Of course also these things are part of life in these airports.
Security was a breeze here, no beeps or further checks. A few small shops in the clean area, but some are closed. Gate number 4 for my flight to Rome, and indeed, an A320 is being prepared. It's one in Alitalia livery for me.

.
FIDS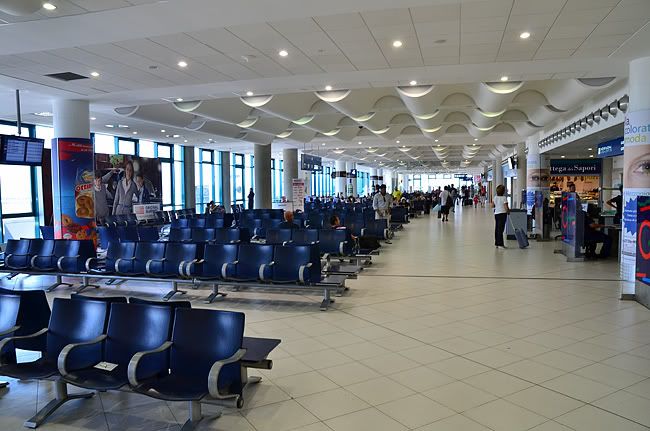 .
Departure Lounge

.
The Airbus A320-200 for my flight to FCO
Boarding is announced really early also here, and when I judge the amount of people around, indeed a light load is to be expected.
BRI-FCO
Flight:
AZ1616 /15AUG12
STD
15:10
ATD
14:59
STA
16:20
ATA
15:59
A/C:
EI-DSO
(Airbus A320-200)
S/N:
28F
(Economy class/Y)
View Large
View Medium


Photo © Nicola Maraspini
Onboard I am friendly greeted, by all 4 crewmembers. Especially an older male is super friendly and even in for a little chat when he recognizes my picture taking of the blowing airconditioning. I haven't seen this for a while, let alone on these newer Airbuses.
The small screens are working this time (first time for me!), but the safety demo is done the old fashioned way or manually. Dropdown screens like on the much older A319 I just flew are not installed on this aircraft either. Sometimes this company is hard to follow...so many difference. You just don't know what to expect.

.
Cabin view on boarding

.
Air Conditioning Blowing around

.
… because I like it
We leave early by about 10 minutes, another great performance here. We taxi out to runway 07 again for take off after a Ryanair 737 lands. I can see the airport during climb as well Bari and it's port fom where you can take long distance ferries to Greece.

.
Lining up the runway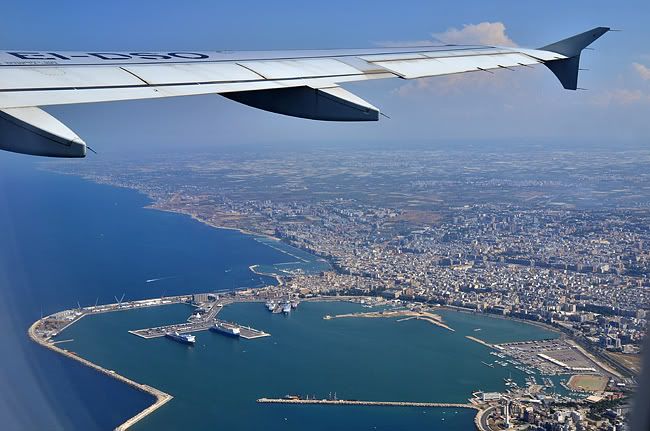 .
Airborne! See the ferries along side in the port

.
Then it's blue… the sea and sky are with you here
The flight is smooth and standard by now. Drinks served, my usual selection again on AZ. Friendly served, and this male F/A answers on my request for coffee that I probably need it because the hot sun makes you feel tired. Well, I think he is right about it.
Meanwhile a female passenger is relocating herself from the last row (30C) to 28C. Why exactly row 28, when 29, 27, 26 where also completely unused... I do not know.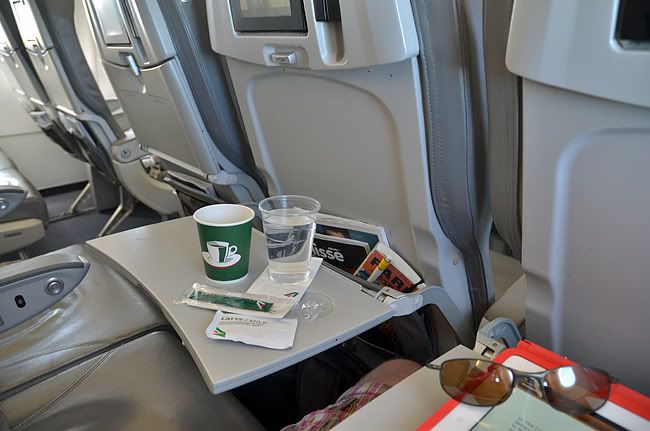 .
Drink service
Before arrival the weather forecast is given for Rome FCO: good conditions and 29°C. The F/A tells me later that it was probably more hot. Once again, he was proven right.
During approach I notice one bad thing again, with the cabin preperation. My bag was not under the seat, as well that lady in 28C, her large bag was located on seat 28B. So the crew was not keeping good attention... where have I seen this before?!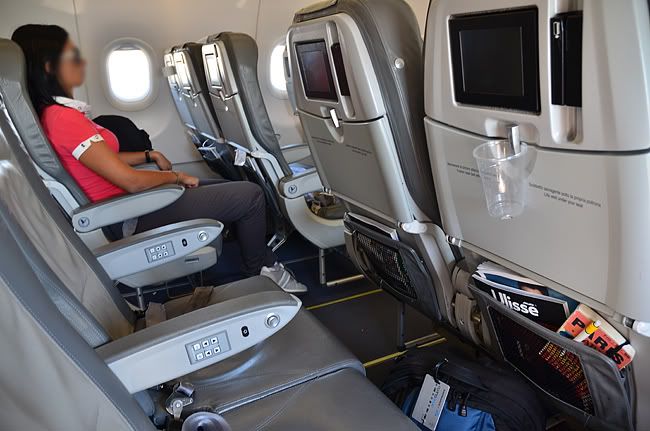 .
Moments before landing: the cabin was 'not secure'
Landing was very smooth, like kissing a runway surface, real good. Taxiing was fast Italian driving, just minutes later we arrive at an unknown parking stand all the way from runway 16L.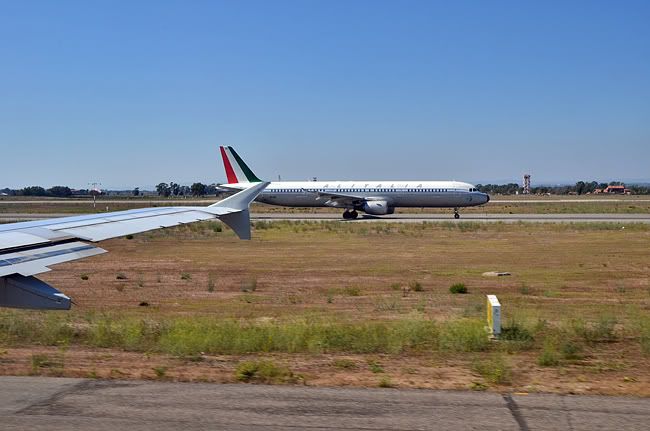 .
Alitalia does it retro too. The most beautiful one in Europe I think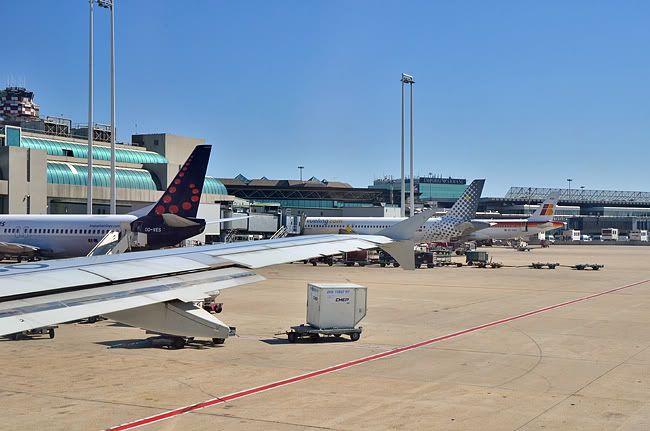 .
For our Belgian and Spanish members… almost there!
A real friendly arriverdeci when I leave, also the captain is at doorside to say goodbye.
---
Here stops my flying for day 1, since I will meet with Robert now for a dinner together. I go to town by Terravision coaches, return for EUR 8,00, a good price but it is very busy at busstop no3 at the busstation. Though the 2nd bus is mine, and Terravision staff keep good control that everybody behaves and waits patiently.
The bus itself is kept in good shape inside, and the ride takes me 35 minutes instead of the expected 1 hour. It is a half past 5pm when I meet up at Termini railway station. We walk slowly to a calm street where we have some delicious Italian food and wine. The total bill for 2 starters, 2 garlic bread, 2 mains, 2 tiramisu, 1 liter wine and 2 coffee was just over 50 Euro. Real good!
After dinner we stroll around a bit till we take the last coach service back to FCO. It leaves at 9.50pm from Termini.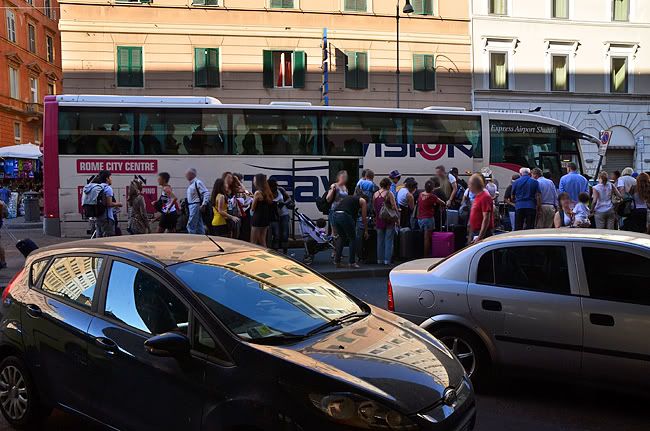 .
This Terravision coach took me into town (35 minute ride, not 1 hour)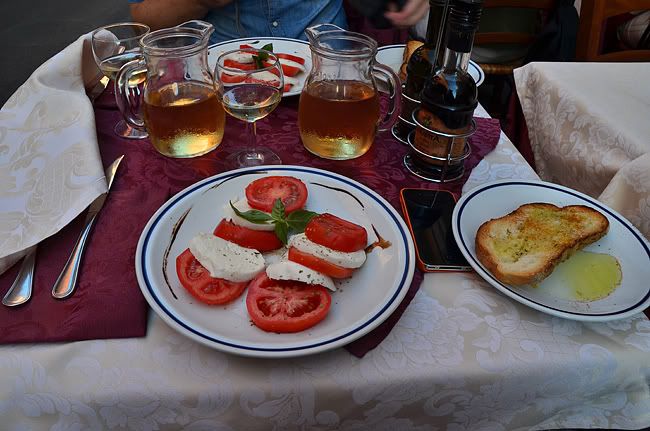 .
Starter: caprese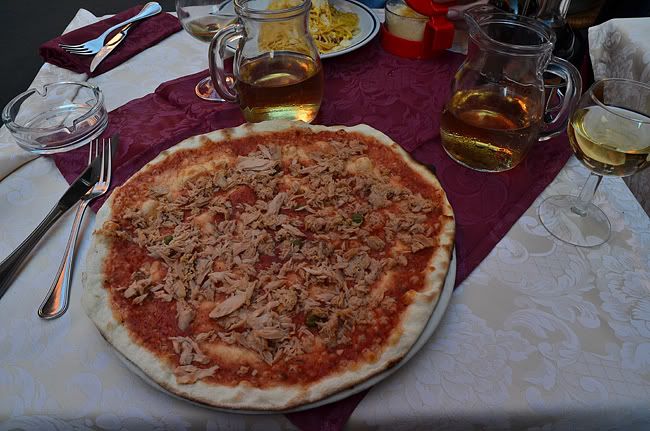 .
Main: one of my best pizza's ever (tuna topping)

.
Alitalia crew member in green dress?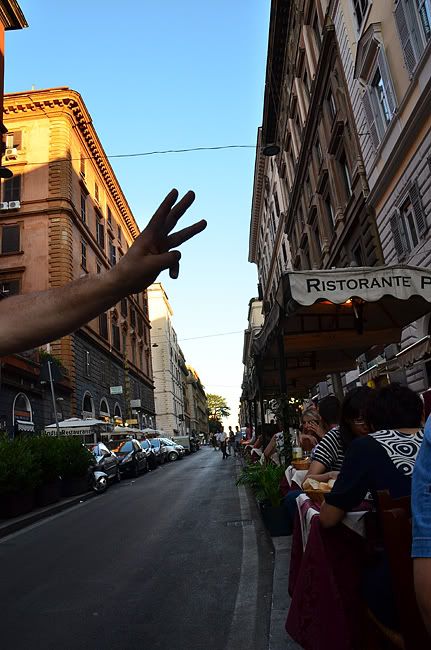 .
Hello from the waiter and a picture of the street we were eating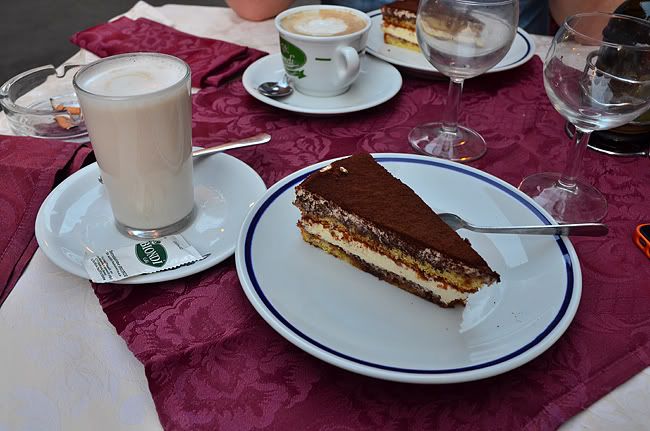 .
Time for dessert? Homemade tiramisu. Yummy!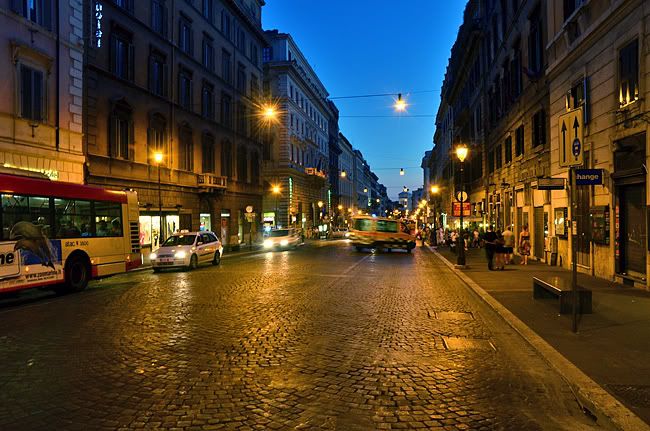 .
A quick after-dinner-walk

.
Tunnel in the night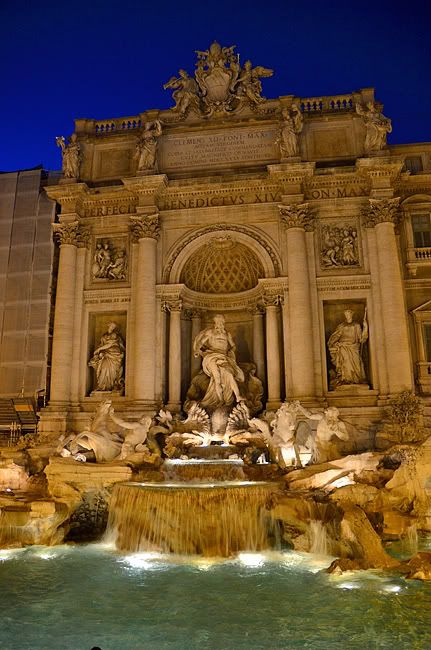 .
Fontains… (I prefer the Barcelona ones lol)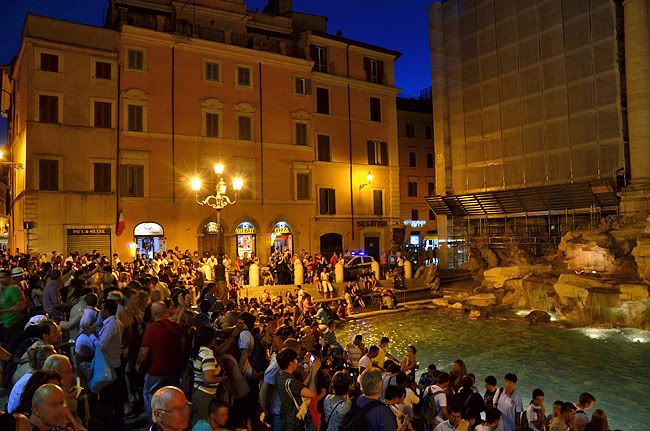 .
… not the only ones around here
Once back at FCO, and before going to our hotel, we want to check-in for the A330 flight, but also the self service kiosk replies 1) reservation not found (after reading my frequent flyer card) and 2) go see airport staff (after input of my ticket number).
We decide to ask a male officer at the reservation desk, who is a bit 'difficult' at first but turns to be real friendly and helped us out.
The agent confirms our reservation, the A330 too, even the registration. I ask if we can get seats allocated and he acknowledges, that he would even give us a boarding pass. He was willing to give us seats in Magnifica class, Alitalia's newest longhaul product. Great! We thank him a lot and go off for a 10 minute walk to the Hilton Rome Airport hotel, where we obtain a twin room on the second floor.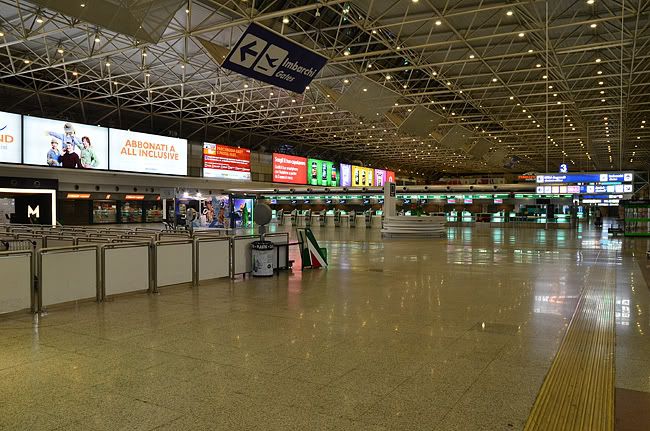 .
FCO terminal departure level. Quiet at night!
The Hilton hotel is good, but not anywhere like 4 stars. The room quite standard, the bathroom can have an update, the prices at the bar insane (beer €7,00 G&T €15,00). We don't make a second order... At least the beer was nice and cold.
In the lobby a free to use 'check-in only' computer/printer is available, but my try on UX doesn't work. Failure of MS Internet Explorer, and after complaining at the reception we obtain a voucher for free internet on the normal PC's, but it does not work again in IE. Therefore I install Firefox, and try again. Now it worked!
Well, afterwards we call it a night and take our well deserved 5 hours of sleep. Till we wake up at 6am, ready to go on. Day number 2!

.
Hilton Rome Airport

.
Hilton Rome Airport: the lobby

.
Hilton Rome Airport: the room. Nothing that impresses honestly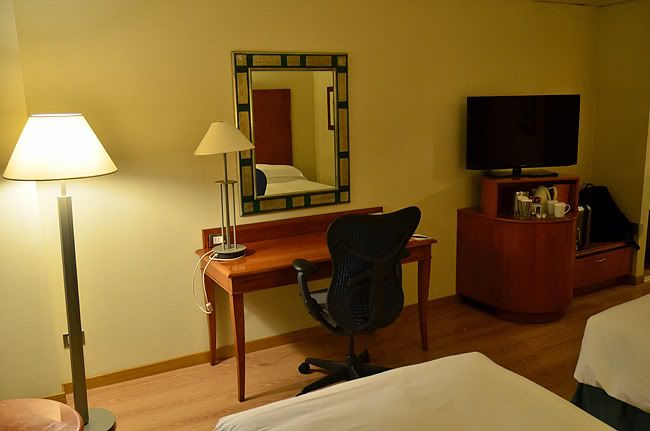 .
Room picture no. 2

.
A sneak preview in the hangars though… (from the room)
---
At 710am we walk off back to terminal 1 from where the domestics flights leave. I talked with Robert about the happenings in Spain with security, and I feel the same sometimes when I'm in Italy. So, still I have a 0,75l bottle of water half empty, and place it in the upper compartment of my bagpack. And guess what? Indeed the officer is as disinterested as his Spanish collegues. I successfully pass without any problem, so I save myself a few Euros and there is no need to buy myself a new bottle.
After we pass we find a similar Sky Bar Lounge as I saw in TRN, only brioches are much cheaper, and my girella is 10 cents more expensive. Strange pricing along the same branded chain of airport bars. It was good though to have this and a 'doppio espresso' for breakfast. Furthermore I spend a bit of money in the Nike Store on a nice t-shirt before heading off to our busgate B14.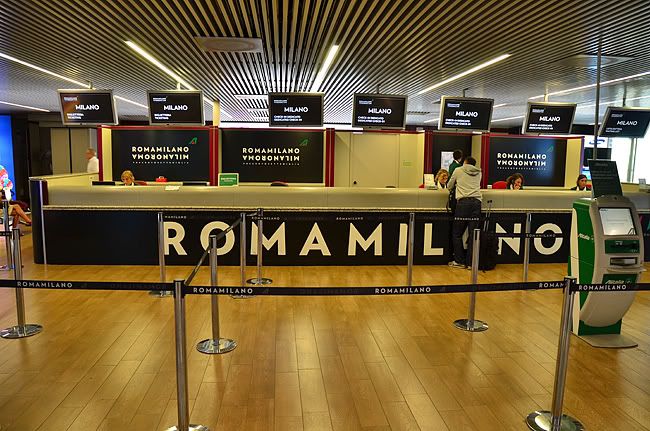 .
Dedicated check-in zone for the Rome-Milan flights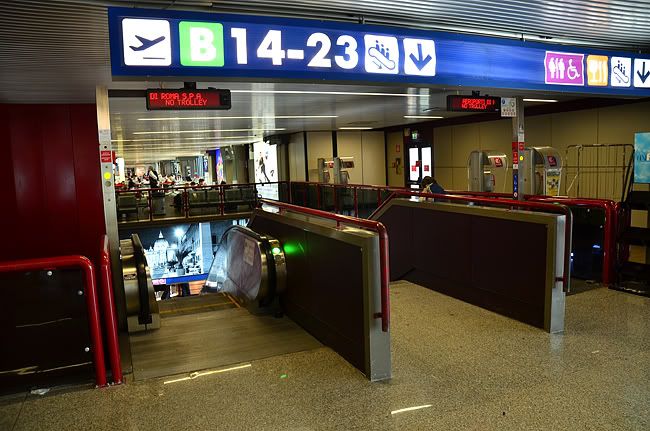 .
Down to the (bus)gate
Boarding starts right away when we arrive, priority boarding strictly followed though not completely: Robert slips through with me
The Cobus is not full at all and drives us along one of these Carpatair Fokker 70s
operating for Alitalia
to a remote spot where I immediately spot the really beautiful Airbus A330-200 in shining paint. When we get off the bus the neccesary picture taking do not give any problems here. Staff are quite relaxed here!

.
The A330 already visible while on the bus. Nice MD-80's too here!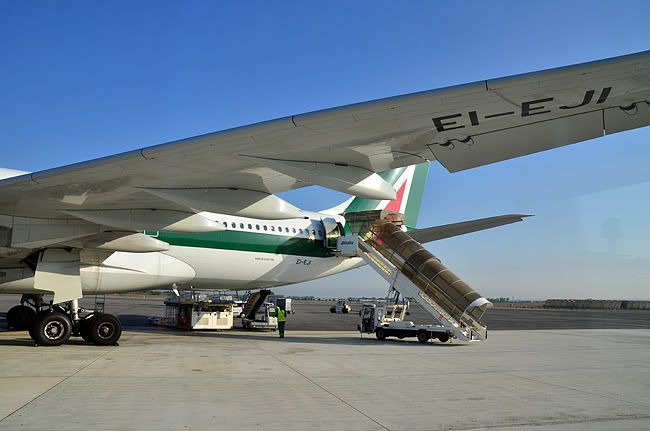 .
Markus likes this. Under the wing of this A330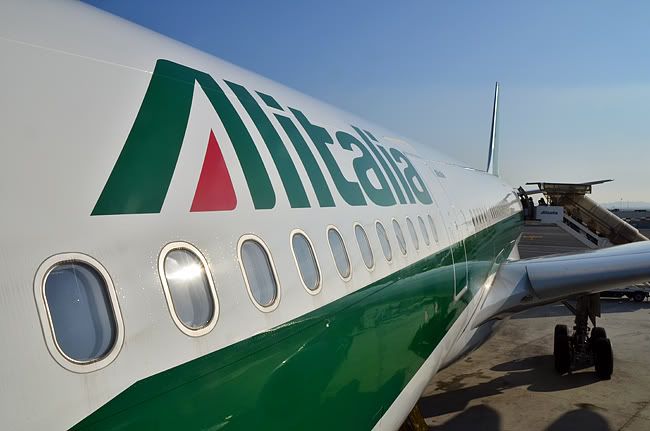 .
Another shiny and clean aircraft. Beautiful!
Boarding via the forward or rear stairs here.
FCO-MXP
Flight:
AZ1016 /16AUG12
STD
08:30
ATD
08:44
STA
10:00
ATA
10:02
A/C:
EI-EJI
(Airbus A330-200)
S/N:
06A
(Domestic 'Magnifica' class/Y)
View Large
View Medium


Photo © Gabriele Di Marco - Roma Spotters Club
Onboard a very warm welcome by a more senior female F/A and greeted by some male F/As also. I am in 06A, so first to the right and through the galley. My seat, first right again: it is in the second business class 'Magnifica' cabin consisting of just rows 6 and 7 and offering 8 seata in total with a comfy 1-2-1 layout. The seat on 06A or L would be my preference since it is ideally located on the window which increases the feel of privacy too.
The seat colours are in a boring grey though, I expected something with green maybe.
Well, a huge (for me) IFE touchscreen in front, good legroom of course, some storage space and power supply. The seat goes lie-flat and offers 2 massage programs too. This is the way to fly on Alitalia. Though I am not directly in love with it. It's my feeling.

.
My seat is 06A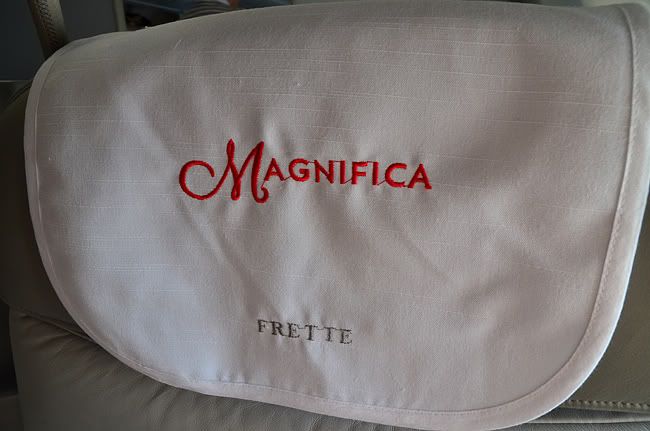 .
"Magnifica Class"

.
I'll survive this hours flight for sure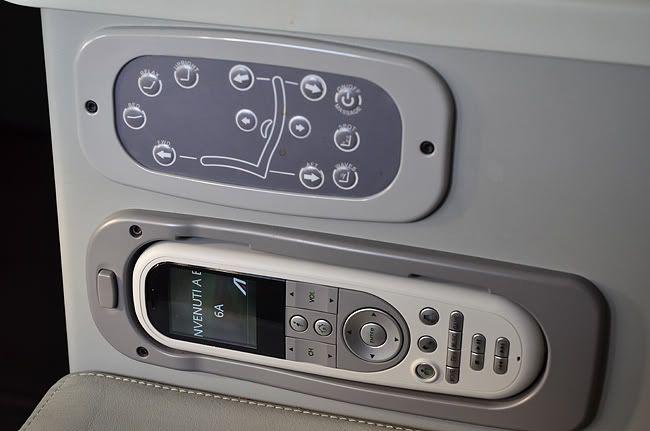 .
Remote control

.
Plug In here…

.
Blling bling (personal?) air fans

.
Comfortable for sure. It makes a flatbed too if you like…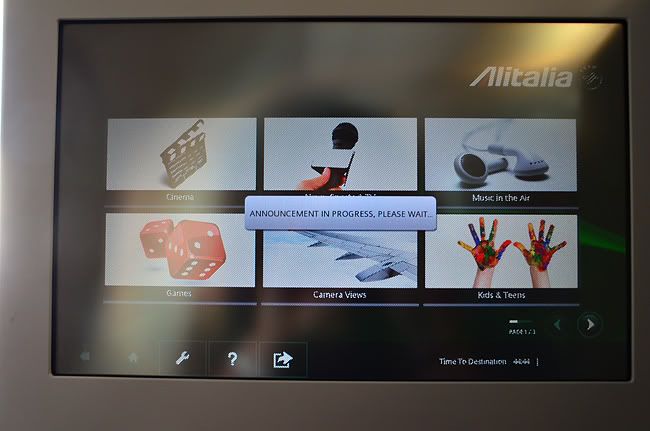 .
Large IFE touchscreen

.
…till the safety demo starts
We leave a bit later, for unknown reason. And taxi out slowly to runway 25 for takeoff. The takeoff roll is not long, not to my surprise: low load of fuel and 86 passengers...
I really hope that this flight is neccesary to re-position the aircraft for operational reasons.

.
On schedule another time on a longer flight…

.
Taxiing with a mad dog taking the skies!

.
Lining up the runway at FCO

.
Off we go! Good climb rate here and a good view too!

.
Where do we go?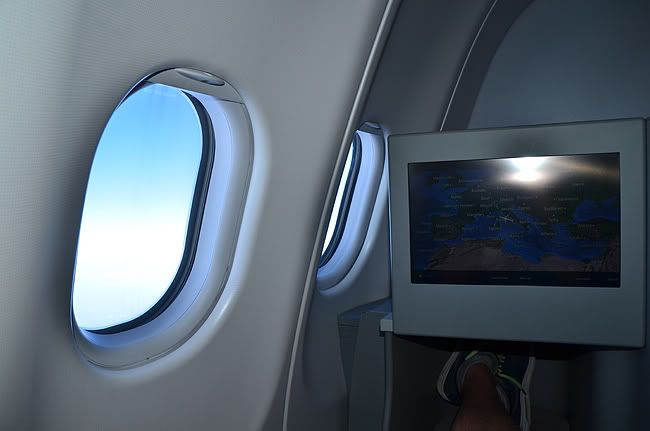 .
A seat with a view for sure!
Once airborne I do some more pictures in the cabin, and once I got back to my seat, coffee is offered. Like usual again. I ask if the crew is OK with my picture taking and he replied "yeah, go ahead!". Later a female F/A comes to make a picture of me when I am in my seat. How nice of her!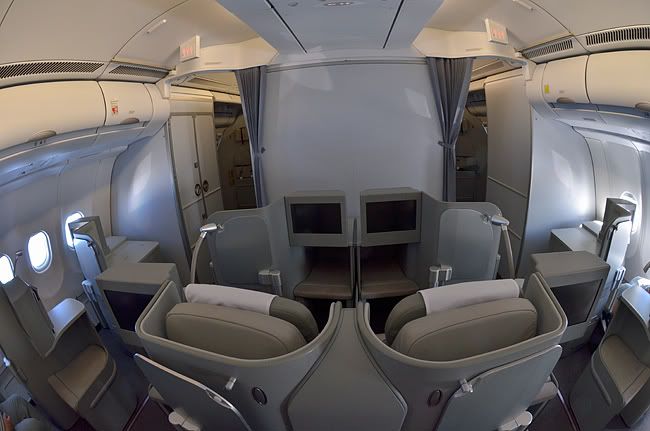 .
Business 'Magnifica' Class

.
Premium 'Classica Plus' Economy Class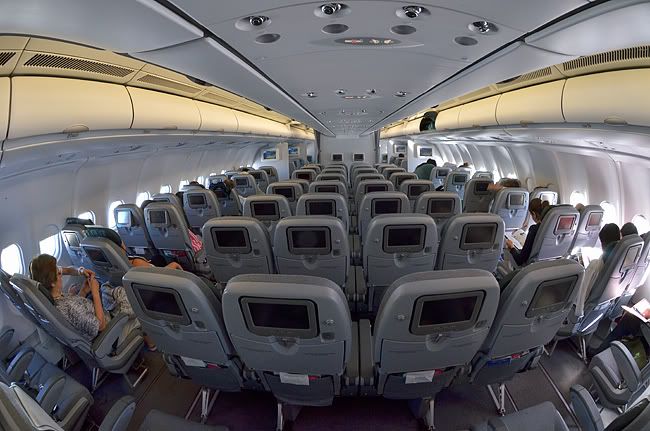 .
Economy Class
The flight continues smoothly and is just under 1 hour, and during descend the captain announces good weather condition also around Milan with a temperature of 24°C on landing.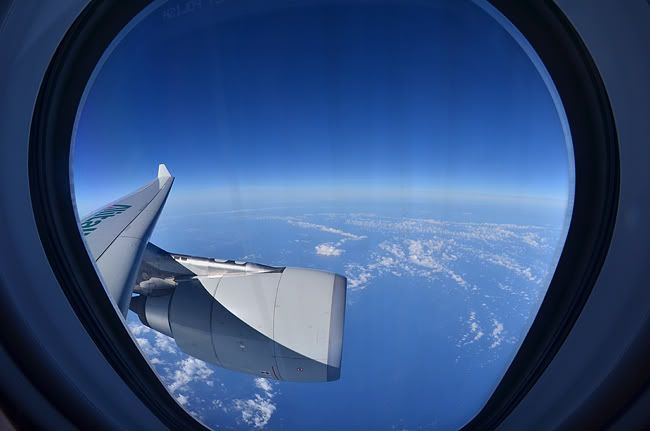 .
Do you understand why I love flying?
I finally follow the approach also on the nose camera, runway 35R for us. A Delta Airlines 767-400 holds short... I really want to fly on it but Nicholas is going to beat me on it despite my US trip.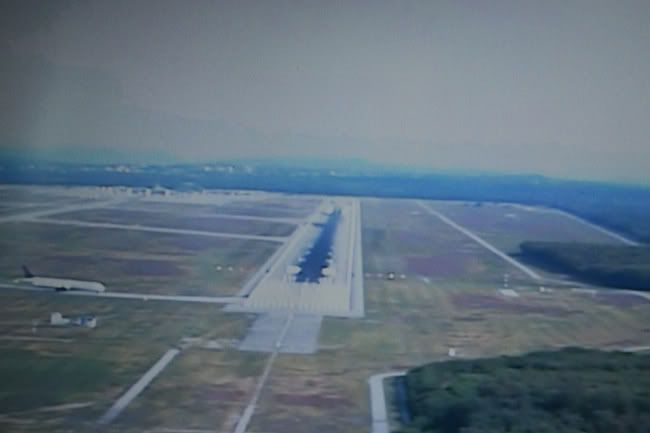 .
Onboard camera just before landing

.
Short finals now…
After landing we taxi to a parking spot and move ourselves in between B-KPG, a B777-300ER of Cathay Pacific and HS-TNB, a beautiful Thai A340-600.

.
Parking next to this beautiful long Airbus A340 from Thailand
Disembarking via forwards stairs, I am the first person off, try to make a picture of the nose section of the aircraft, but a very unfriendly young female agent stops me from doing so. Malpensa, shut up please. Why so unfriendly all the time?!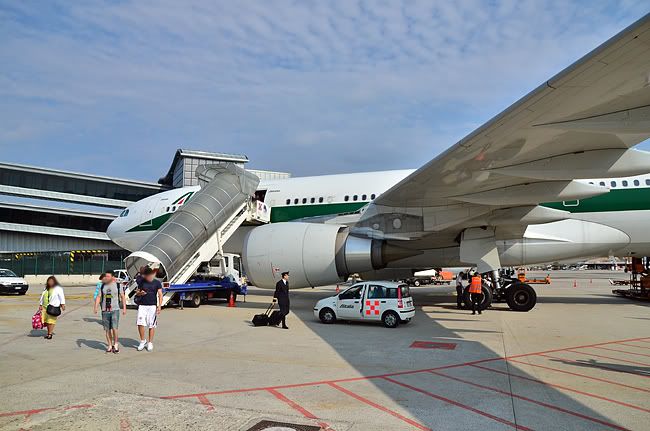 .
After disembarking a final view on this large Airbus
This Milan groundhandling people judge that 86 people fit in 1 bus (in FCO we conveniently had 2 buses), so the tour to arrivals is less comfortable. Still, a great start with this 'special' flight. Also Robert spotted my next aircraft already at the gate, so it seems time to say goodbye to eachother. Robert goes sightseeing in Milan for the day and back a the train at night, while I go on to Spain!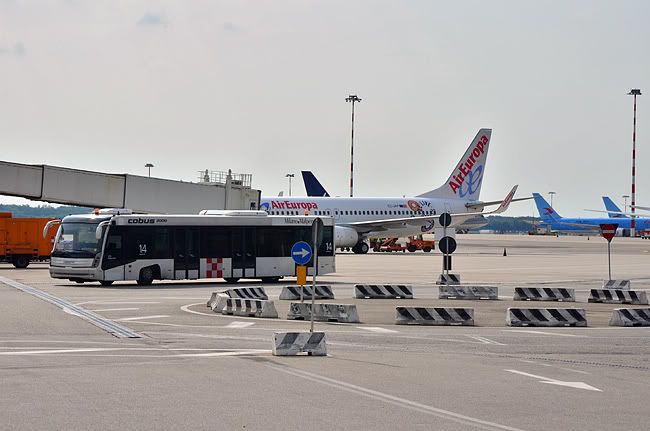 .
Next: Air Europa! On that particular Boeing 737-800
Up the escalator for me, I follow transfers. No additional security check, real welcome by me. Some duty free once back in the terminal, what else is new… the continuation? That comes in part no. 2
Thanks for reading about my experiences on Alitalia, which I personally enjoyed a lot. This airline is somewhat different. Always in for a surprise. Sometimes not customer minded. Sometimes very customer minded. Disinterested staffs all around, but also very friendly people here who are more then happy to have a talk and be of assistance. I think the onboard crews deliver a better experience then the ones on the ground. But this is Alitalia. I like it (although sometimes they just annoy me)


Your feedback, comments, or whatever. I would appreciate to hear from you!

Part no. 2 is coming up soon… with more flights but then on that airline from Spain: Air Europa. Stay tuned…
Regards
Eric