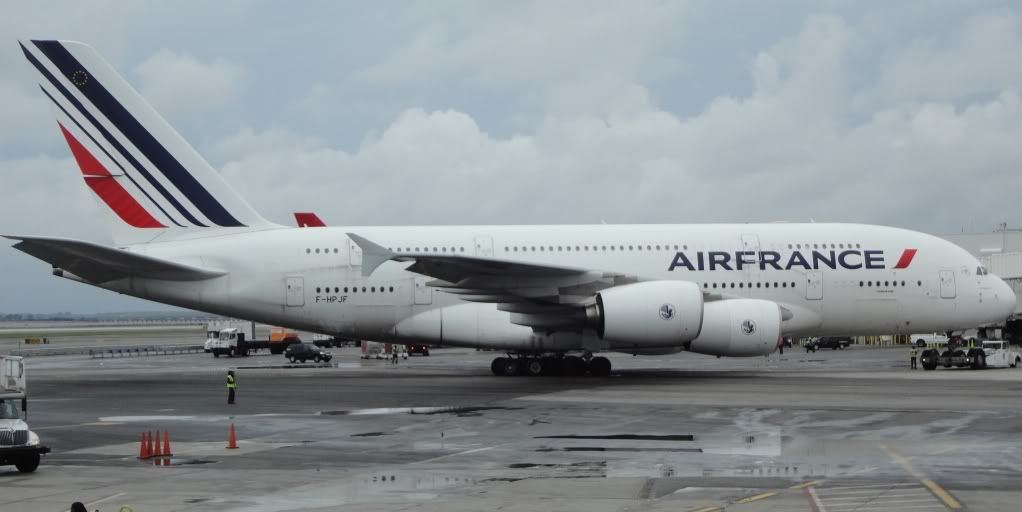 Introduction
The U S of A, a great country IMHO. A country where everything is big, a country I have lived in for a year, a country I have visited many times (mostly in the summer) for vacation or other purposes. This year would be no exception. Visiting friends in Maine, Pennsylvania and Canada while enjoying my 4 week vacation from work.
Hello everyone and welcome to my 14th trip report featuring part 3 of my vacation to the USA/Canada!
It wasn't until the 27th of May when my dad and I started looking for tickets. Booking was done, the same day, on delta.com (as my dad is a SkyMiles member). 6 flights for about 1200EUR p.p, not a very bad deal for the time of year and the date that we booked IMO.
There were a lot of different options for that price, so we eventually chose:
July 21: AMS-BOS // 11:10-13:00 // DL231 // A330-300
August 1: BOS-JFK // 12:00-13:17 // DL901 // A319
August 1: JFK-PHL // 16:10-17:28 // DL3544 // CRJ900 Pinnacle Airlines/DL Connection
August 8: PHL-LGA // 14:10-15:10 // DL4050 // CRJ100 Pinnacle Airlines/DL Connection
August 8: LGA-YYZ // 16:45-18:25 // DL7145 // B736 operated by WestJet
August 16: YYZ-AMS // 23:05-12:10 // DL9399 // B744 operated by KLM
A nice itinerary with all different types, and for me it will be the first time flying Delta longhaul and WestJet. This would also be a chance to catch the fairly "rare" B737-600 type.
This series will be split into 5 parts (due to the many pictures made):
Part 1: AMS-BOS
Part 2: BOS-JFK
Part 3: JFK-PHL
Part 4: PHL-LGA-YYZ
Part 5: YYZ-AMS
For part 1 see:
USA Vacation Part 1: Delta Long Haul: AMS-BOS In Y
(by
adamspotter
Aug 19 2012 in Trip Reports)
For part 2 see:
USA Vacation Part 2: Maine! + BOS-JFK On DL In Y
(by
adamspotter
Aug 26 2012 in Trip Reports)
Every part will not only contain a report of the flight(s), but it will also be accompanied by many pictures of places I visited/things I did during my stay.
So sit back, relax and I hope you enjoy this report!
Map
The map for this part, thanks to the Great Circle Mapper: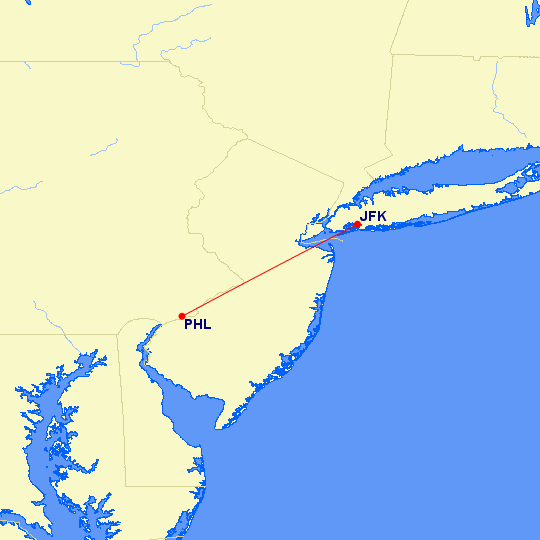 And the map of this whole trip, also thanks to the Great Circle Mapper: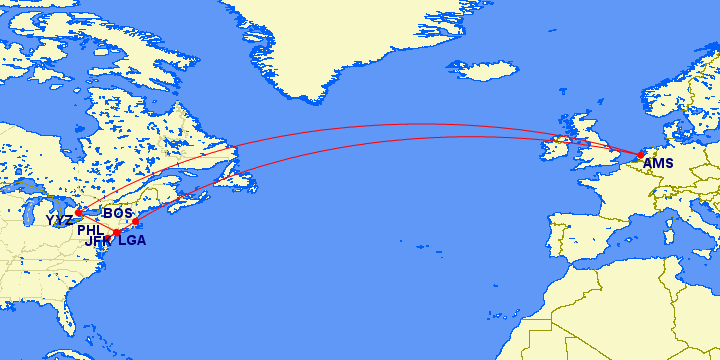 In part 2 I left you guys just deboarding my BOS-JFK flight and entering terminal 3. We had 2 hours to go before boarding time of our next flight that will be departing from the next door terminal, terminal 2. So we took the passenger walkway and headed straight towards T2.
JFK Terminal 2
JFK terminal 2 can best be described as a dump. Way too small, overcrowded, old, falling apart and downright filthy, I won't even describe what the bathrooms looked like! I tried connecting to the WIFI for about 2 hours (eventually 4 hours but more on that later), but it kept on loading and didn't do a thing. As you can understand I wasn't impressed with this place at all.
During our 2 hour layover we looked around at the shops, got a bite to eat and of course did some spotting.
Spotting @ JFK
Like this beautiful whale jet, LH D-AIMF, getting ready for its flight back to FRA: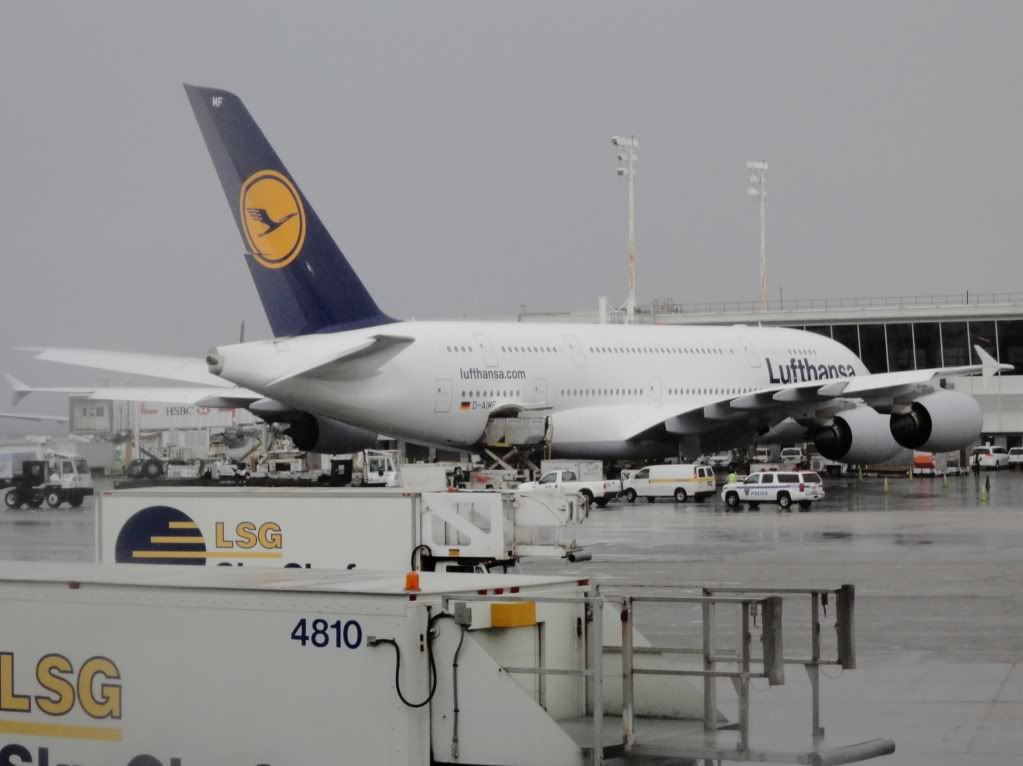 Aeroflot A330, at T1, getting ready for its flight back to SVO: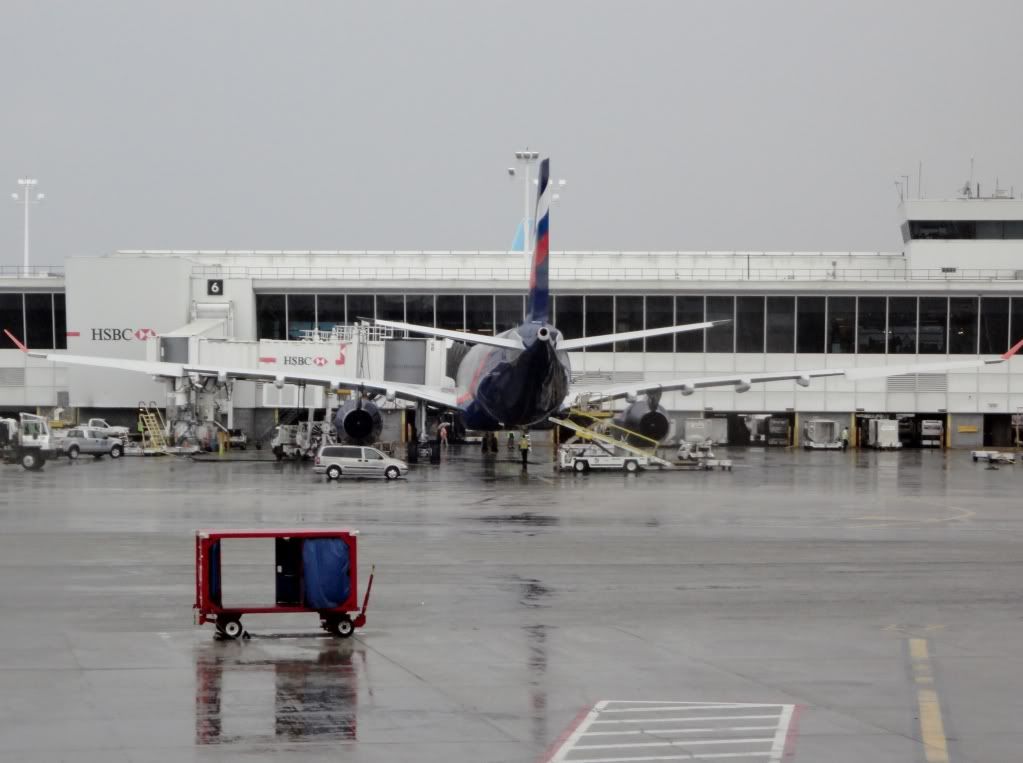 Up close and personal with this DL A319: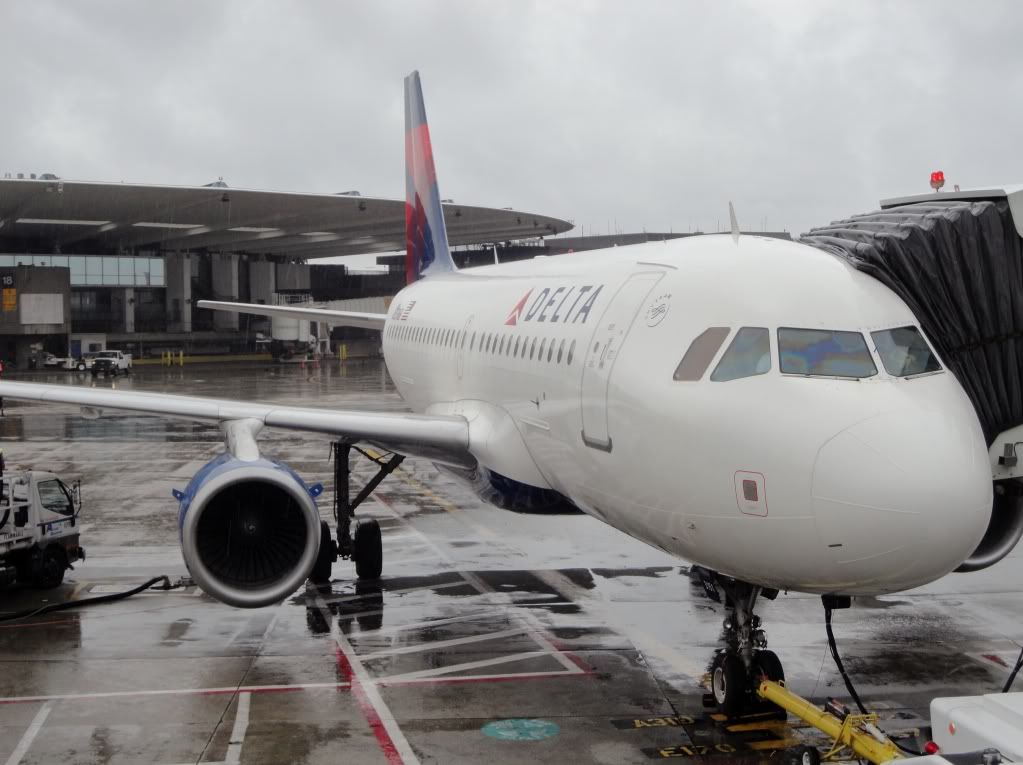 Delta 757:
Gotta love these special SkyTeam liveries!: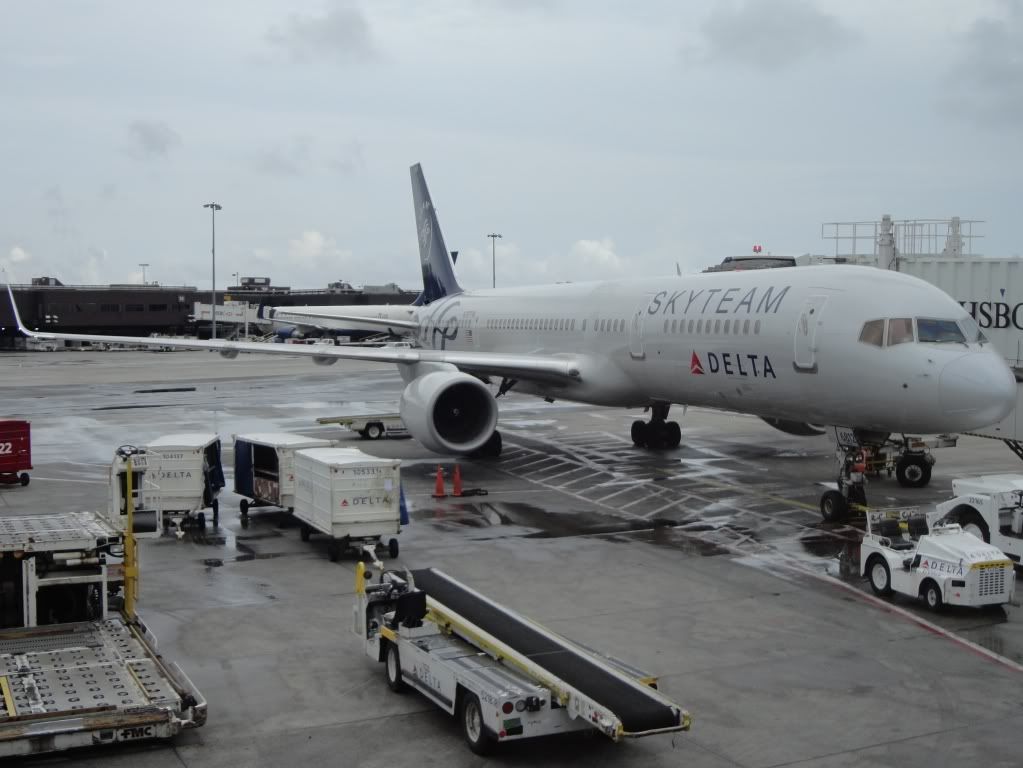 While walking around the terminal I saw another whale jet getting pushed into its gate. So I ran straight to the window to take some pictures, AF F-HPJF getting pushed to its gate for the flight back to CDG: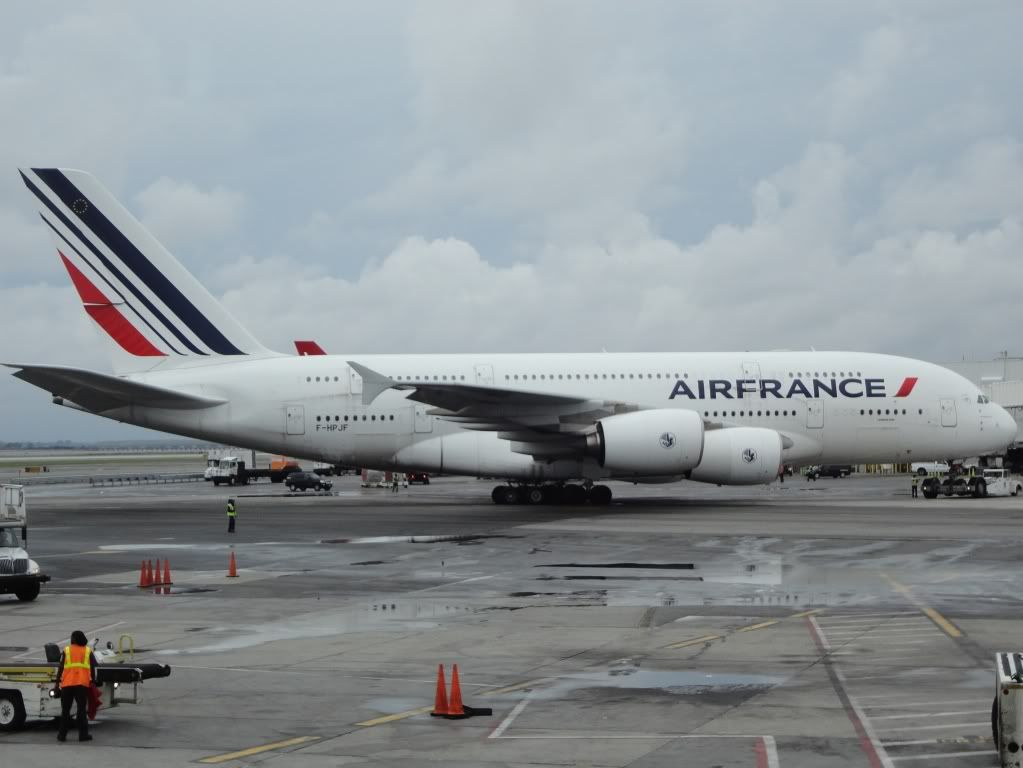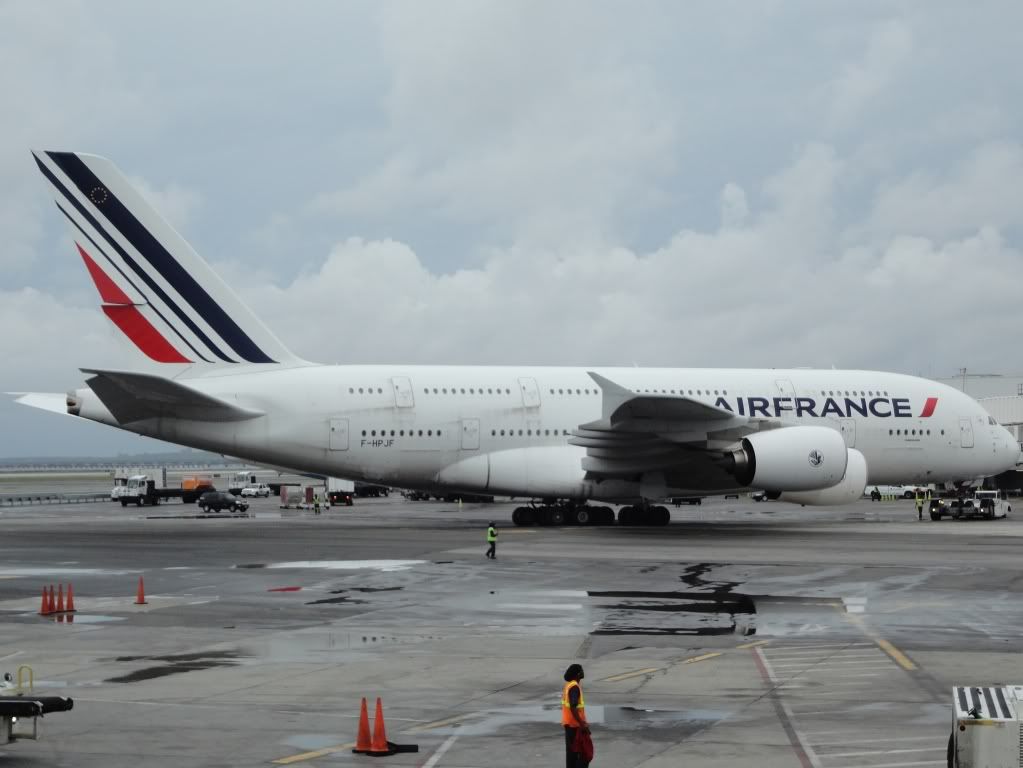 As it was getting close to our boarding time (15:30) we headed to our assigned gate: 25.
Gate 23 and 25 are used for DL connection flights at JFK. After scanning your BP and walking through the jetway you enter into a "metal walkway" . The metal walkway has several exits, marked with A,B,C etc. Each exit is for a different flight. Once arriving at the exit assigned for your flight the plane is right there so you can walk straight to it. Gates 23 and 25 are in each corner of the terminal not too far away from each other. As you can understand it can get very busy at those gates, with all the "connection" flights departing from there and the terminal being way too small.
Anyway, once arriving at the very crowded gate 25 we couldn't see our flight on the screens. There were several announcements being made on the PA, but barely understandable. I decided to go check one of the FIDS at the gate and saw that we were delayed for 40 minutes (new dep. time: 16:50). Not only our flight was delayed, the 5 other flights that were on the FID were also delayed. I'm guessing the reason for all the delays was announced but as I said before it was not understandable.
We made our way out of the crowded area and headed over to the other side of the terminal where there still was some place to sit. There was not much to do now except sit, watch people, read and still try to connect to the WIFI while waiting for our flight: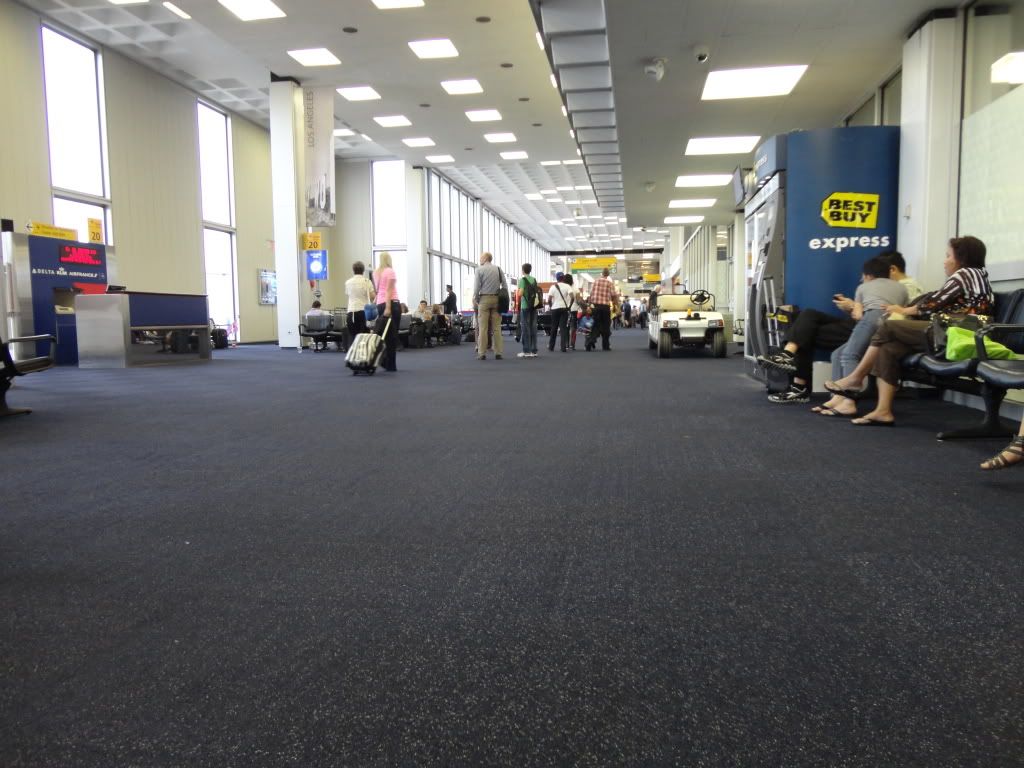 A closer look at the FIDS, our flight was further delayed until 17:06 and changed to gate 23, note there are 31(!) other delayed flights and 3 cancelled: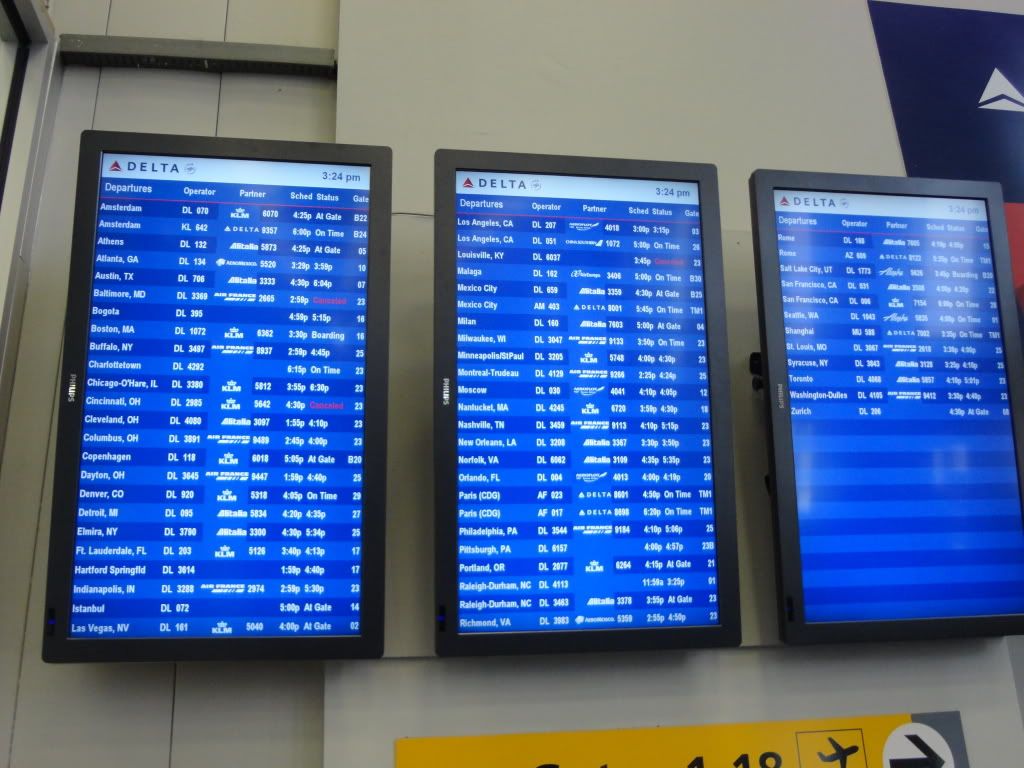 Boarding
Boarding pass for this flight: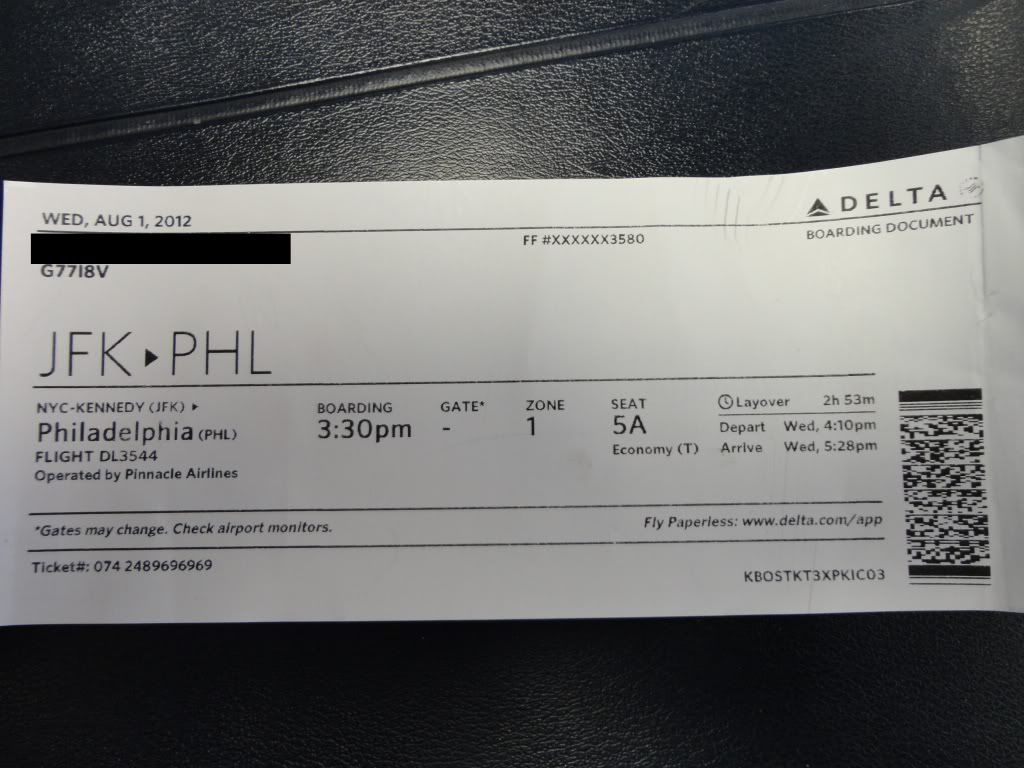 At 16:40 we decided to head over to our newly assigned gate 23. What followed was one of the most chaotic boarding scenes I have experienced in a while.
First of all the corner where the gate was located was packed to the brim, you could barely pass through there. Full of eager people standing in front of the gate waiting for their flight to be called.
Every 5/10 minutes a flight was being called for immediate boarding. After every call people would just scramble to the gate/agents thinking it was their flight, for half of those people it wasn't even their flight yet, imagine how chaotic this looked. During one final boarding call 2 girls(who were being called several times) got their BPs scanned while trying to call their friend who was still at a restaurant further in the terminal. The flight was being closed so instead of heading towards the plane they ran over to the restaurant to pick up their friend, once coming back they were surprised to hear that they were kicked off the flight and the plane was gone.
After 40 minutes of this kind of "fun" flight 3544 to PHL was finally called for boarding at 17:20, 1h50min after our original boarding time!
We zigzagged our way through the crowd, scanned our BPs and headed into the jetway.
01/08/2012
JFK-PHL
DL3544 // 5A
CRJ900 Pinnacle Airlines // N*****
17:55 – 19:25
We walked straight into the "metal walkway" where an agent was standing. She tagged my carry-on with a pink gate claim tag and asked me to deliver it at the aircraft before boarding the plane. After acknowledging we headed to our assigned exit which was exit K out of my head.
After delivering my carry-on to one of the ramp workers we entered the aircraft, but first I took a quick picture of our aircraft, during all the chaos I completely forgot to check the registration of the plane and I couldn't read it off at PHL so any help on how to track the registration is much appreciated!:
No greeting from the 2 female FAs during boarding, they decided to look at me and instead of greet me look away again. I walked past the 4 rows of business class and settled into my seat 5A, to my surprise I was once again upgraded to economy comfort for free.
While boarding was still underway I took a quick look outside: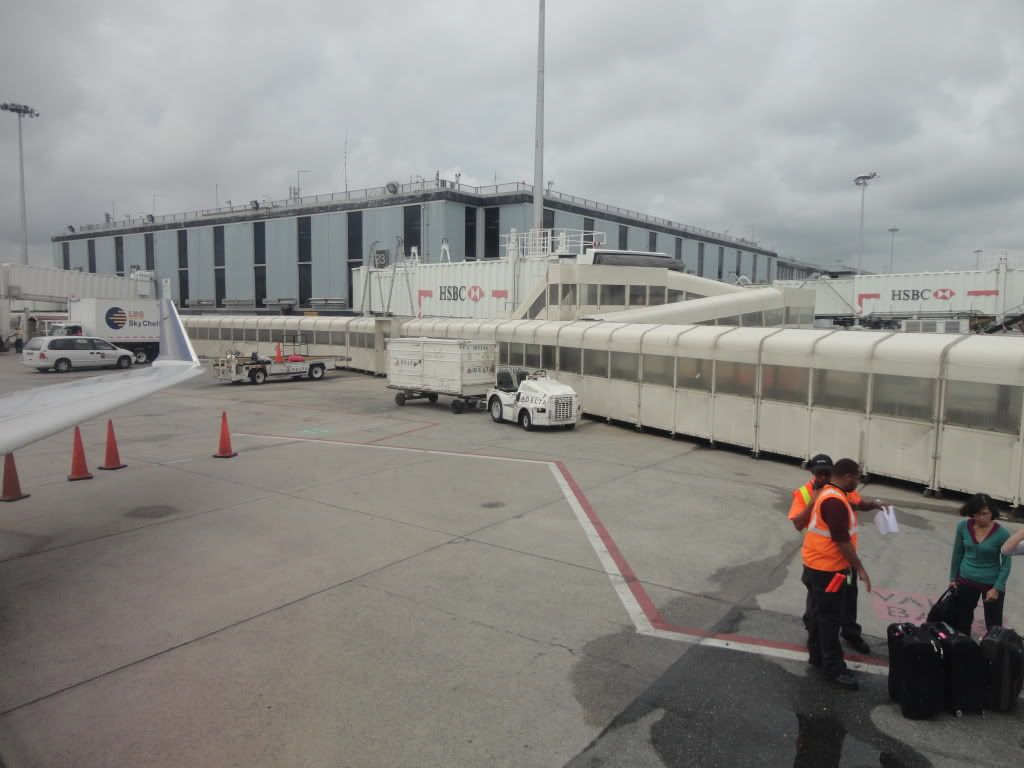 These are the "metal walkways" I was talking about:
The load on this flight will once again be a full 100% in Y with business class only being half full (6/12). The flight crew consisted of 1 female purser and 1 female FA, can't say much about them due to it being another very short flight and there once again was no service in C or Y during flight.
At 17:30 the front left door was closed. The purser came onto the PA with the usual announcements followed by the flight deck with another welcome onboard and an announced flying time of just 33 minutes. There was no apology or reason given for the big delay. We were now all ready to go, or so I thought..
While waiting for 5 minutes on the tarmac the door was opened once again and a ramp worker entered the cockpit. 2 minutes later the pilot came onto the PA announcing a further wait of 15-20 min due to congestion at JFK.
The door was finally closed for the second time at 17:50 and we were ready to go.
Pushback + Taxi
At 17:55, 1h45min behind original dep. time, we pushed back and taxied to runway 22R.
We are clearly at the Delta side of JFK: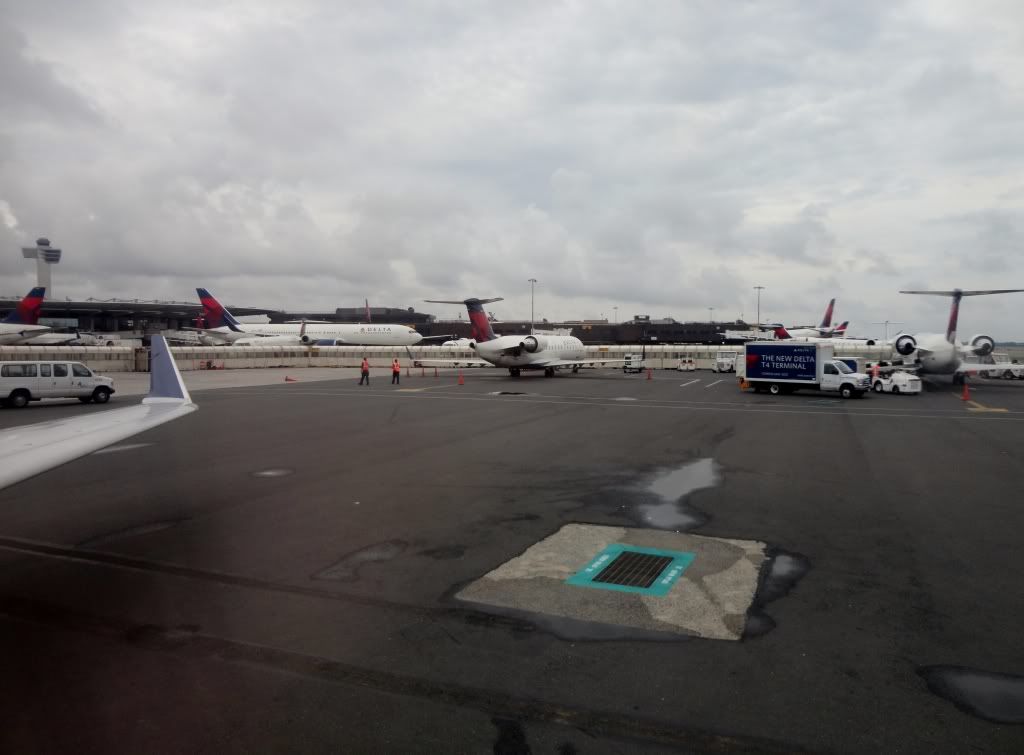 Of course I was once again seated at the wrong side of the aircraft so no terminal views, I did get some aircraft taxiing by on my side.
Like this Mesaba Airlines // CRJ900 // N924XJ:
Mesaba Airlines // CRJ900 // N901XJ meeting its smaller brother, GoJet // CRJ700 // N379CA: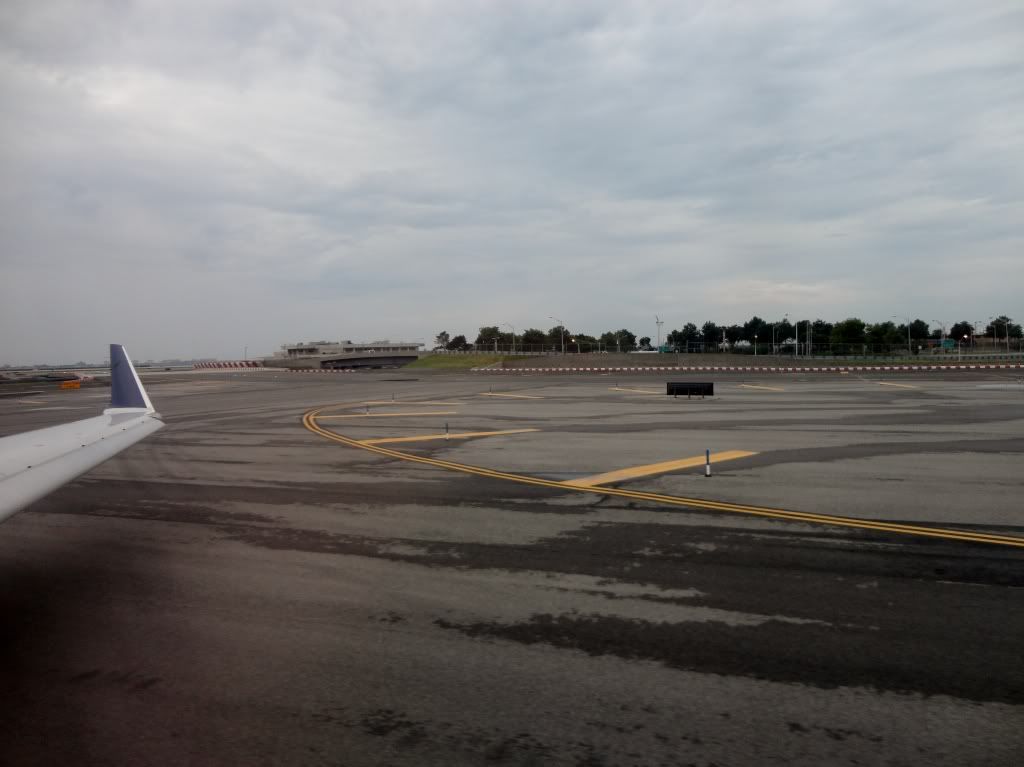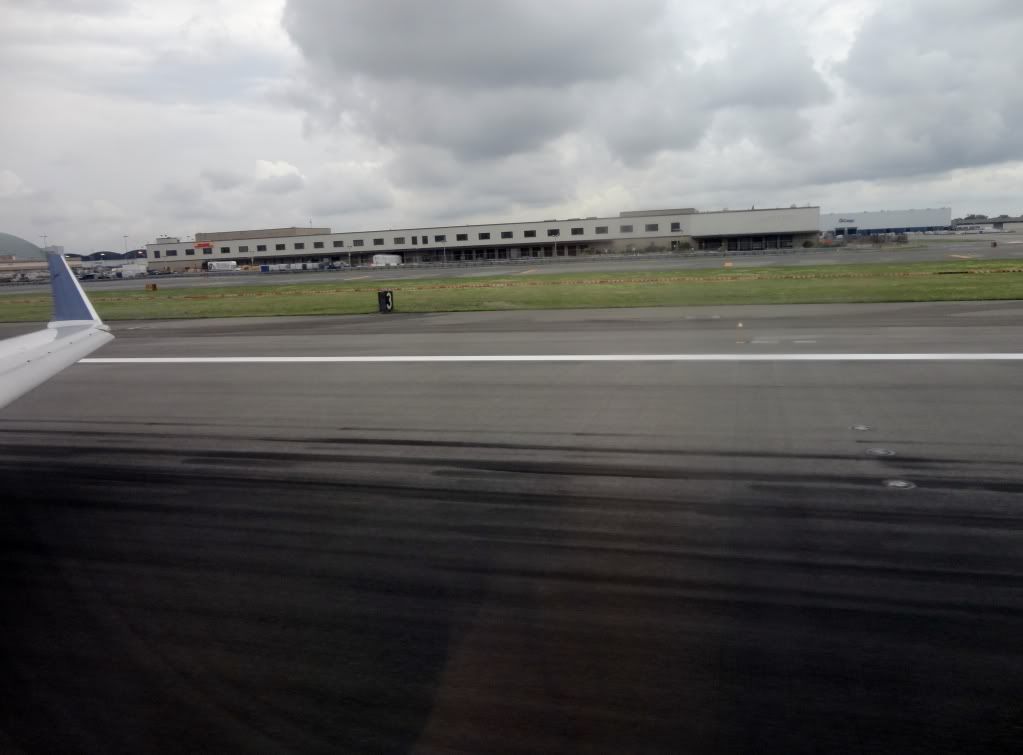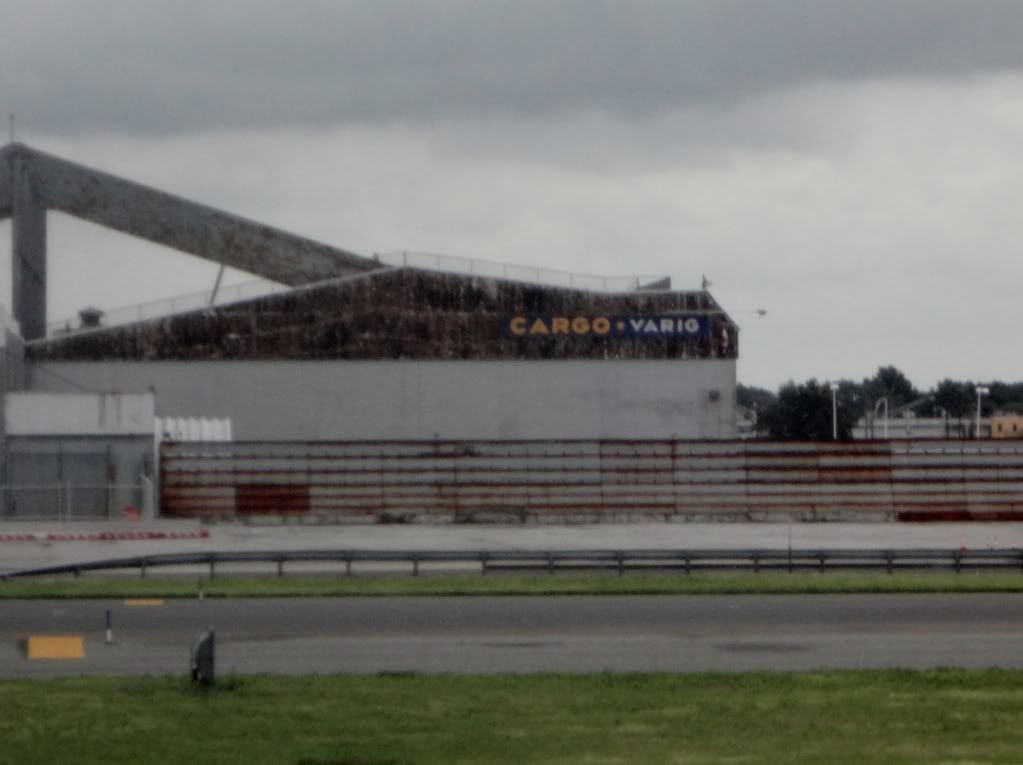 We joined a long line of aircraft awaiting take-off clearance: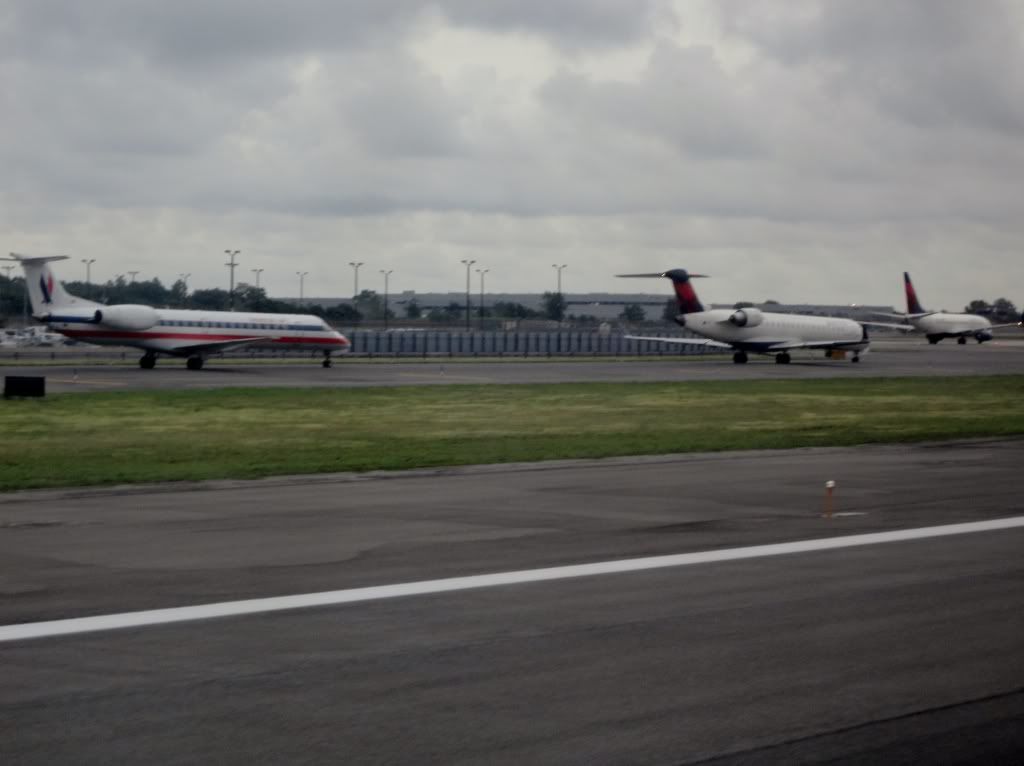 Comair (DL Connection) // CRJ700 // N669CA: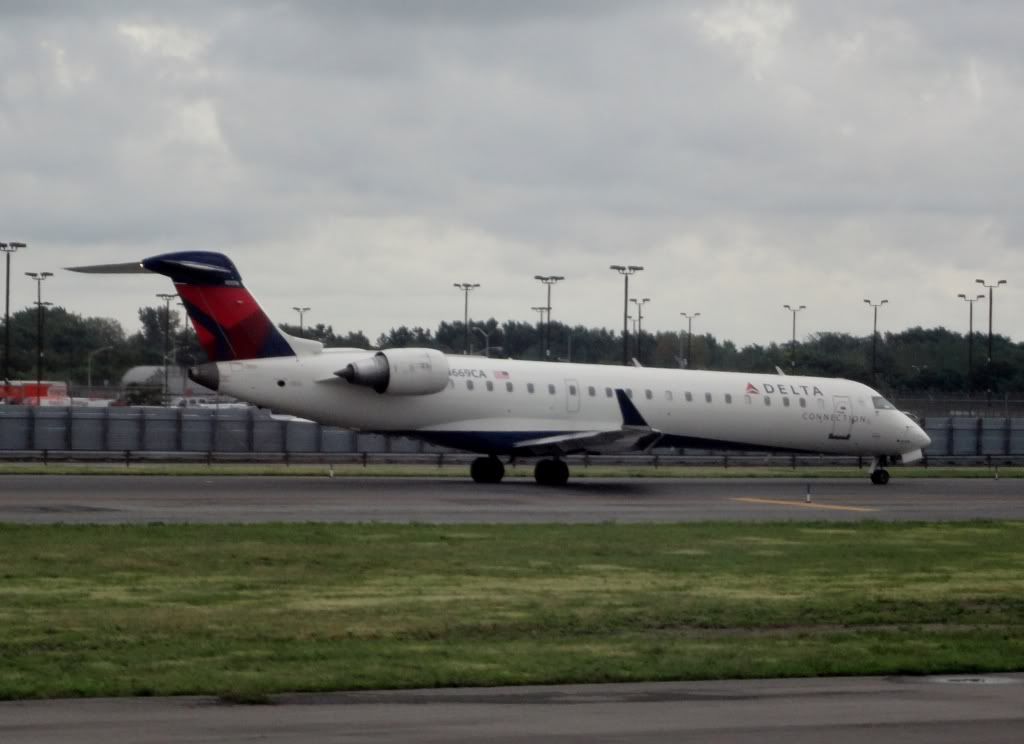 American Eagle // EMB145 // N692AE: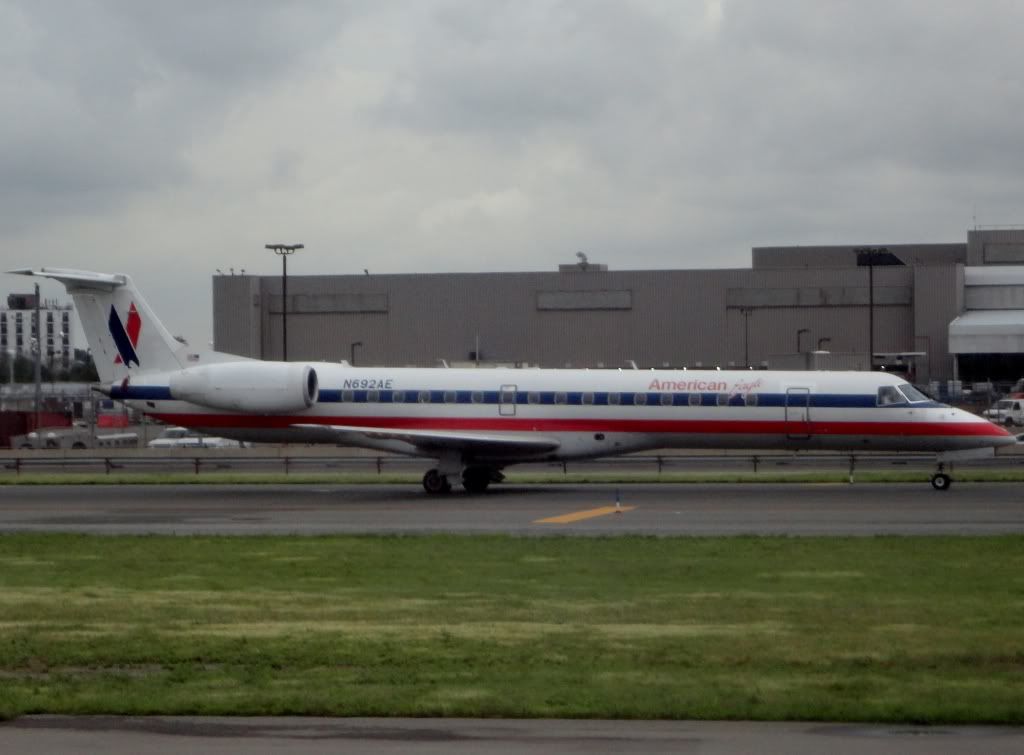 After taking this picture, the purser (who I didn't see) was walking around the cabin. Once seeing me with my camera she told me that the camera was an electronical device and asked me to shut it off immediately. So I was a bit more careful with taking pictures now.
Take-off + Climb
Finally at 18:25, 2h15min behind our original dep. time, it was our turn for take-off. We taxied onto runway 22R and started take-off roll immediately: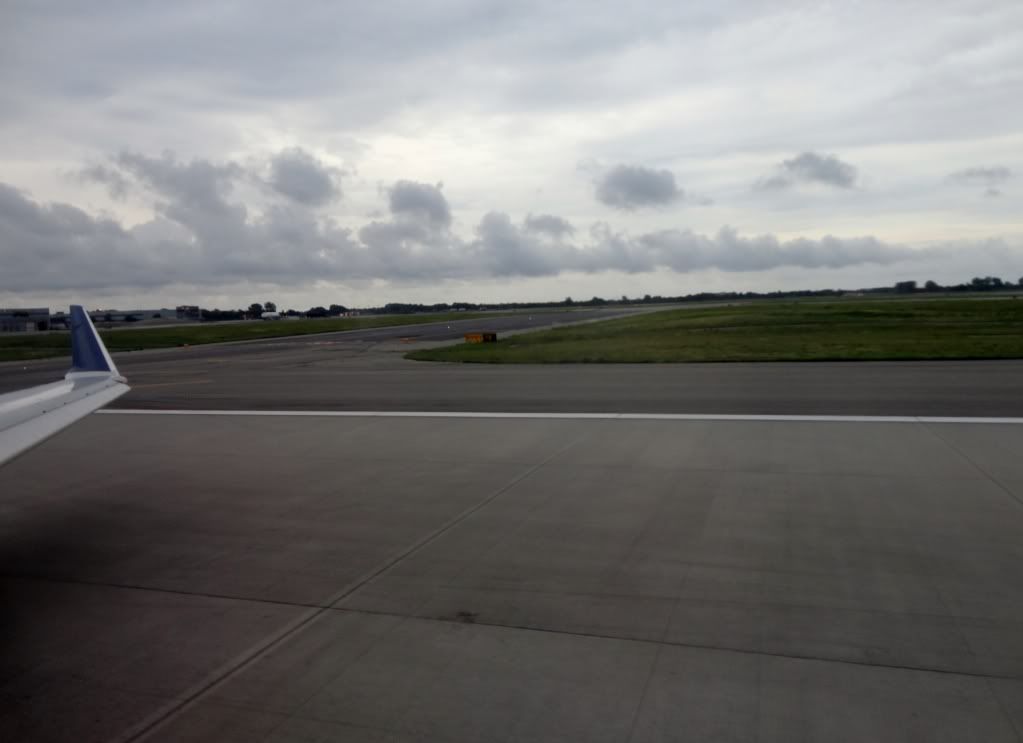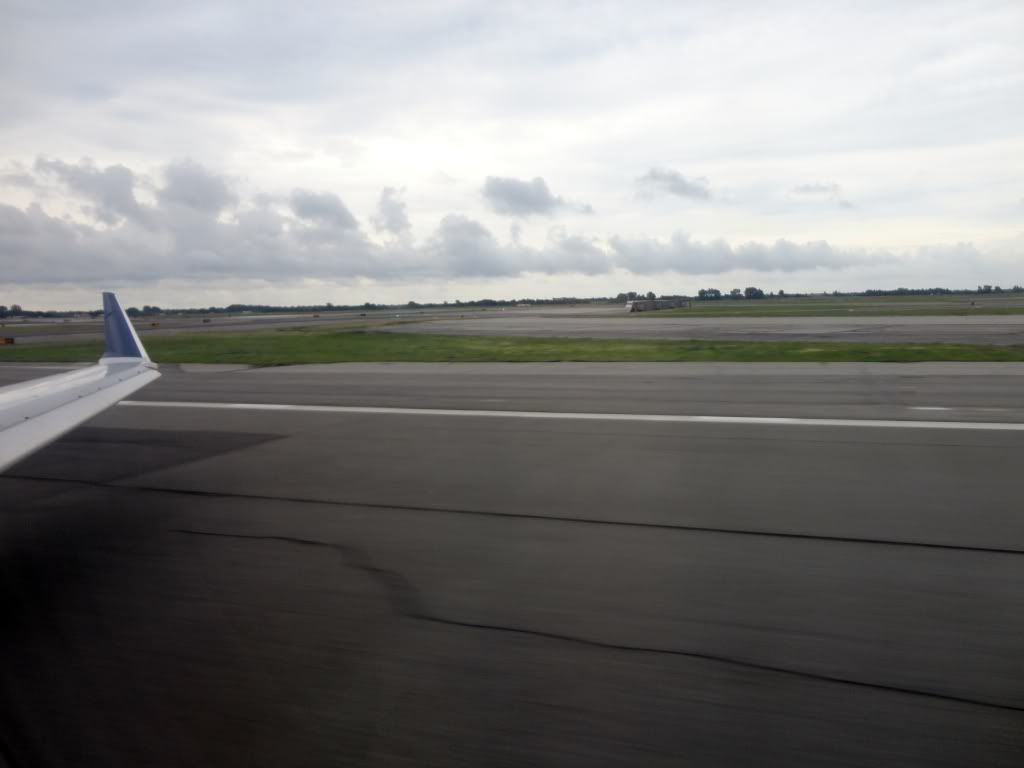 And lift off!: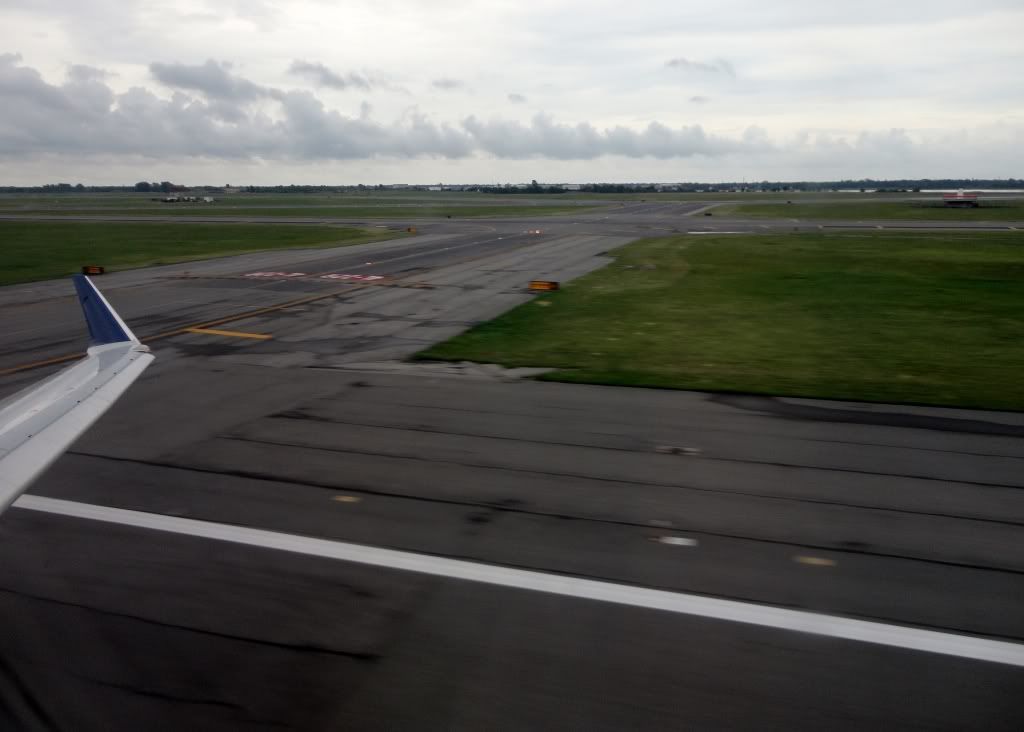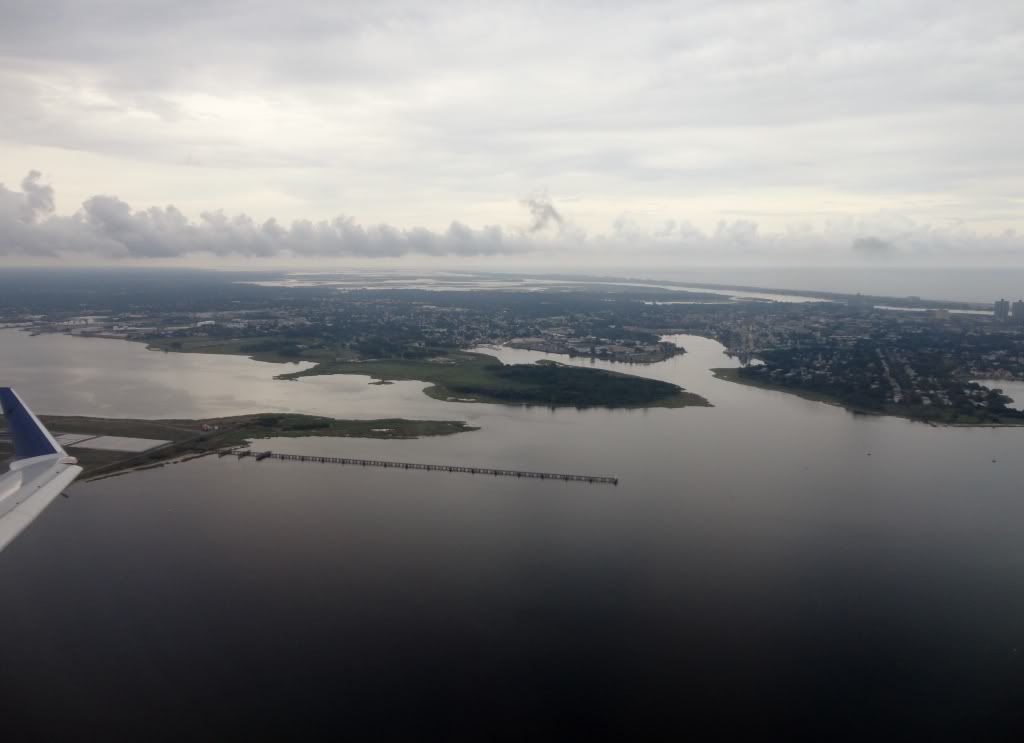 Over the coastline:
Seatback + Contents
The seatback had the same contents as my previous flight except for the safety card of course: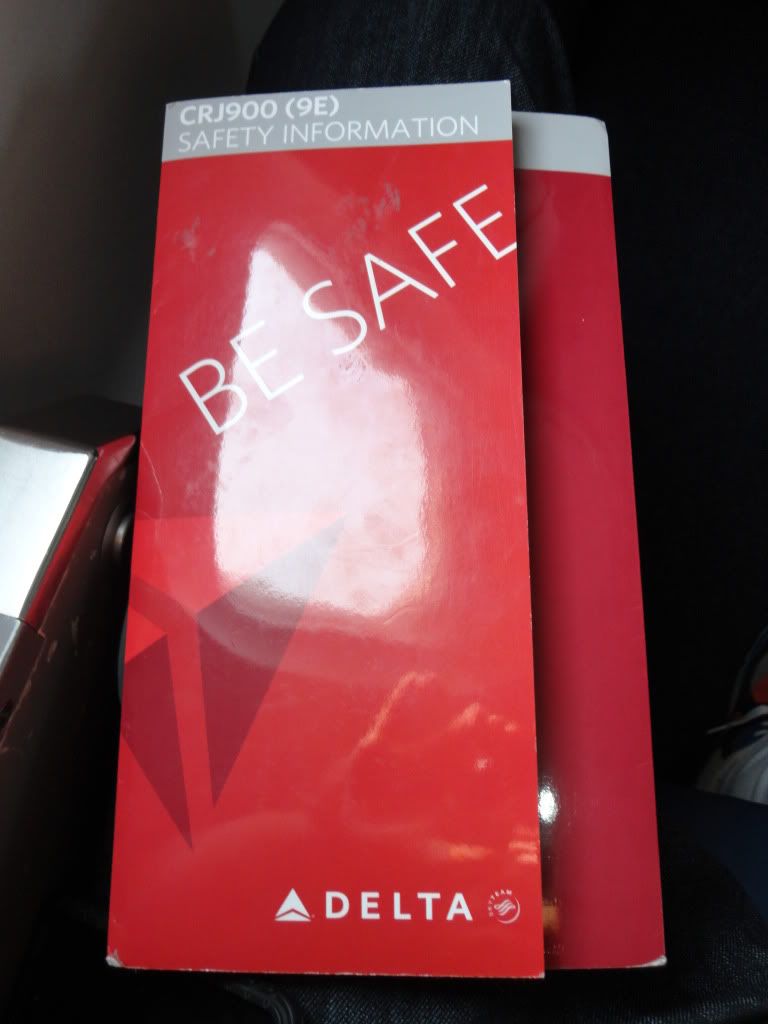 Seatback:
The very nice legroom: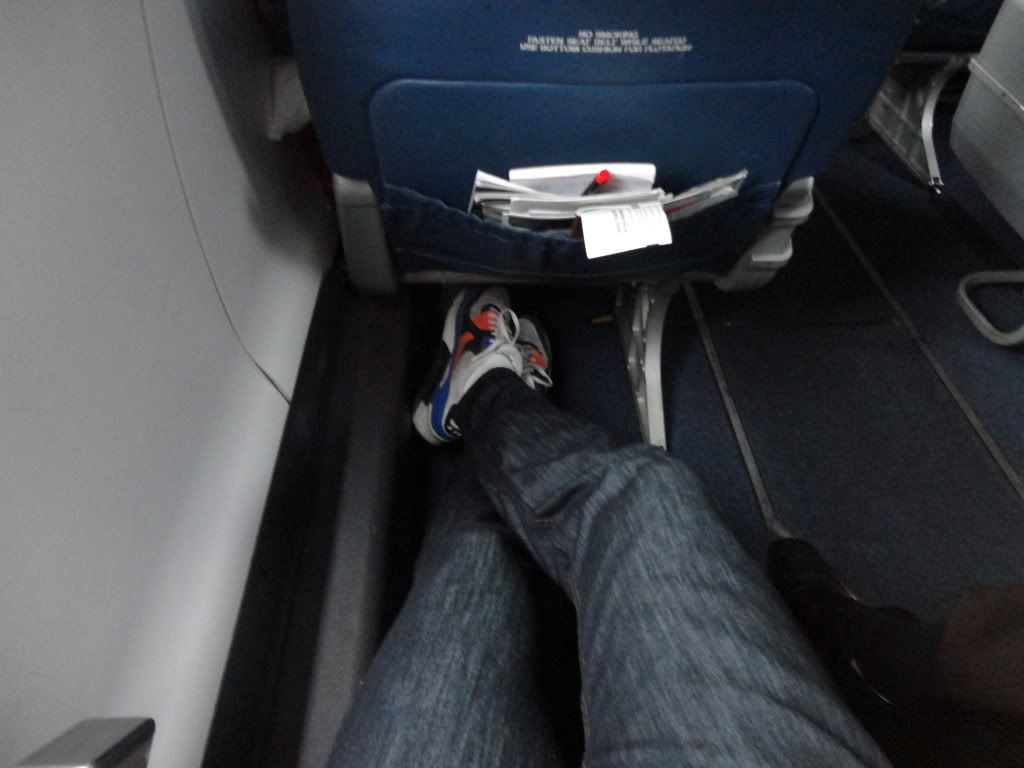 Descent
After cruising at a low altitude (No flight level given) for about 5 minutes we already started descent: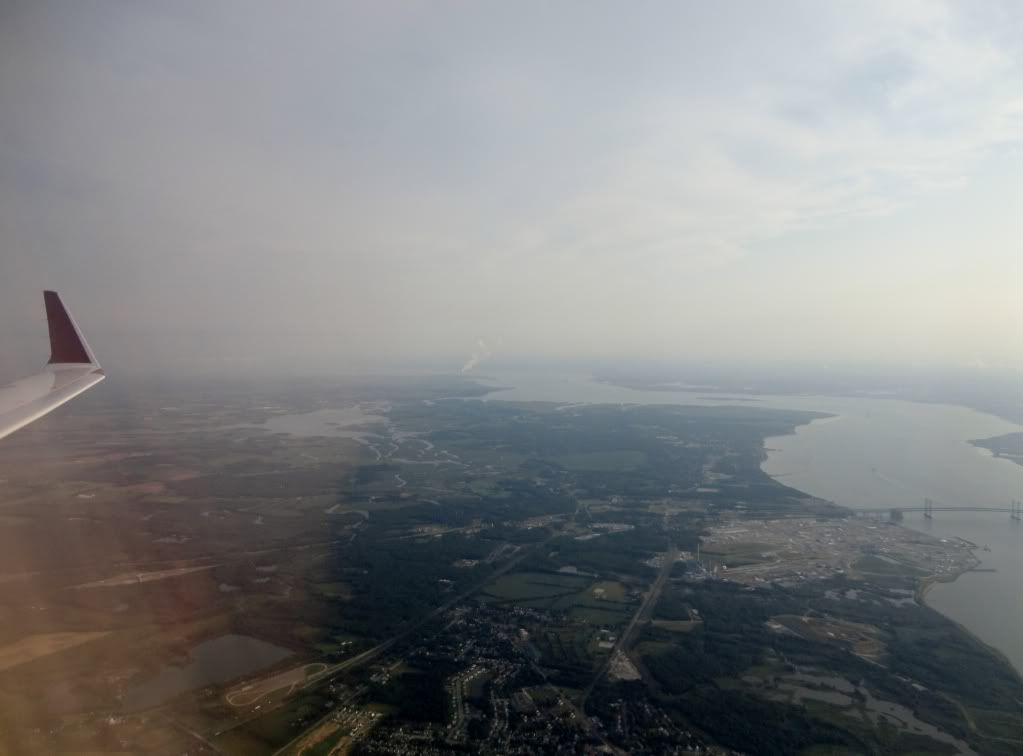 Continued Below