Feedback always appreciated.

I > Background:
As many know, I was based in Bangkok for a project at the end of 2011. During that time, the one country I had never been to was Maldives. Having a free weekend allowed me to change this, as I was able to go on a reasonably priced and timed flight on Sri Lankan via CMB. Since UL has been covered several times (including by myself), I will leave it out of the report.
Now, I could have taken that same UL option back - - but that, would be plain boring. So instead, I decided to investigate other "random" options and noticed that the flag carrier Maldivian Airlines (Q2) operates a sole international link to the south Indian city of Trivandrum (TRV). From there, I could easily take a cheap AI flight on TRV/BOM/BKK.
Whenever I find these "random" routes, I am usually happy - - and this was no exception. So, here is the first report on A.Net on Maldivian Airlines' sole international link between MLE and TRV.
II > Pre-Flight:
a) Before Airport:
Maldivian is the national airline of the Maldives, and operates a sole international flights in addition to inter-island services from its main base at Ibrahim Nasir International Airport. The airline began operations with two aircraft; a Bombardier Dash 8 Q200 and a Dornier 228. It now has a fleet of 5 Q200/Q300 to operate all the various inter-island operations.
For a small airline, Maldivian maintains an excellent website at
http://www.maldivian.aero/.
Booking was easily done and within minutes I had my PDF e-ticket in my e-inbox. The site allowed viewing of my itinerary, but no seat selection or advanced function as flight change, etc. That is all good though for an airline with one international flight.
b) At Airport:
Malé airport is like no other – while it has all the open charm of befitting an island nation, the presence of a huge water taxi operation gives it a level of uniqueness not found elsewhere. Boarding for some long-haul flights were in full swing and the line for the XL Airways flight to Paris was especially long. Thankfully, the line for my flight was rather short and I was quickly attended by an agent without much delay. The agent was very polite and was "shockingly" surprised by me. It is not everyday that someone with a Venezuelan passport flies this route – and of course she wanted to know about the Miss Venezuela pageants. Haha. Anyways, she politely got me my boarding pass and off I went to a fast security check and an immigration clearance.
Unlike the "big carriers", Maldivian used a hidden gate and off I went there to the boarding space. As I reached the boarding gate, I had become a celebrity. Everyone stared at me as I was definitely a novelty for the passengers. Here I was, in a touristy island, and taking possibly the only international flight without white people. Haha. It actually felt quite good, and I got a chance to speak with many of the passengers flying the route. I also got into a conversation with the gate agent and got a fascinating insight into the passenger demographics. So, the load today was 90% with more than 90% of them being Maldivians. Most were headed to India for medical tourism or for shopping or for a job or for education. Most were rather familiar with the route and it seems that this flight serves as a bridge to the better facilities present in India.
Anyways, boarding was called 20 minutes before, and we walked to the Q300 that was basking in the Maldivian sun. Upon entering, I was greeted by the sole cabin crew member who also helped those who needed help with baggage, etc.
Airport - External:
(Malé Airport)
*
Check-in:
(Q2 Check-In; note the huge line for XL)
Airport - Internal:
(Pre Security)
(Open Area)
(FIDS)
*
(Post Security @ MLE)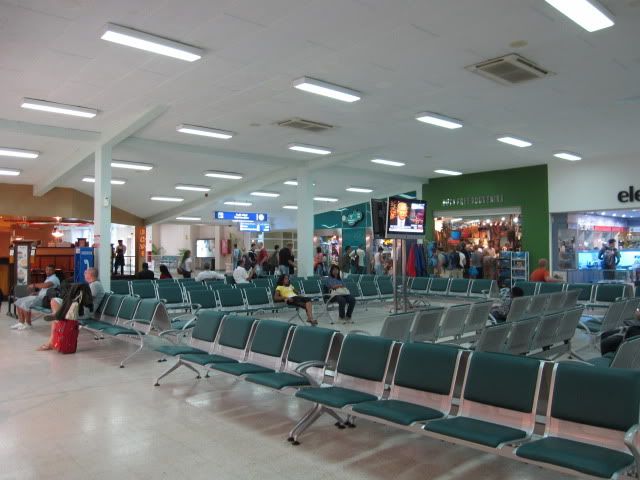 *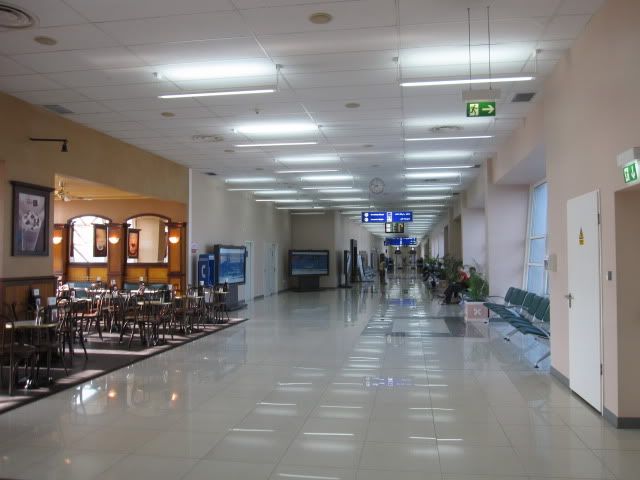 Scenes of the tarmac:
NONE
Lounge
NONE
Boarding:
(Gate Area)
*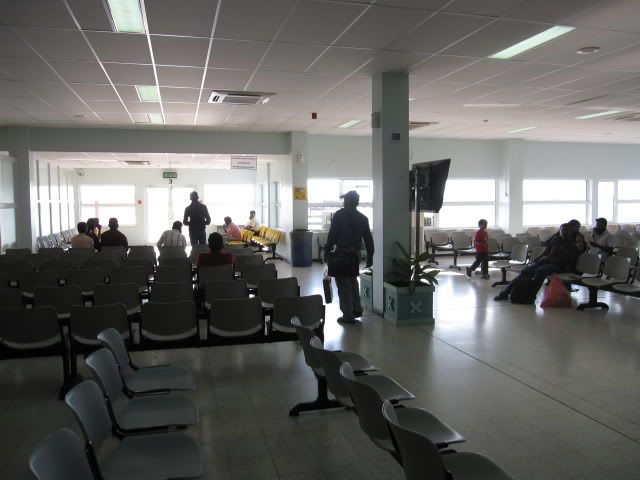 *
(Rather odd?)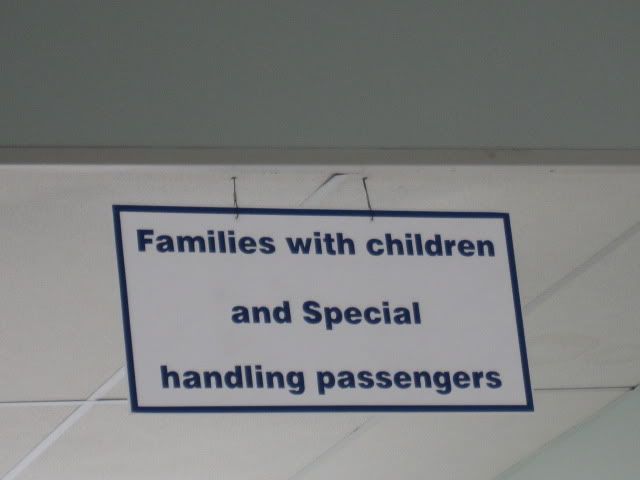 (Boarding: YAY – return of the "ILBST" in the sub-Continent where it originated …)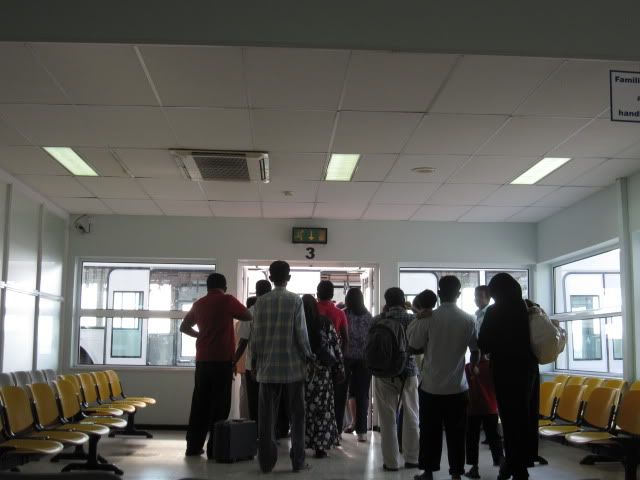 III> In-Flight:
a) Service Schedule + Impressions:
After take-off, this flight had probably more service items than any turbo-prop operation I had encountered:
+ Newspapers were distributed
+ Wide selection of magazines were then brought about
+ Beverage service
+ Snack service
+ Forms for customer feedback were then distributed
b) Aircraft + Seats:
Air Asia's 320 are as generic as they come, with this aircraft being no different. This particular aircraft was well kept and AK's bright red colors meant it was never lost in the crowd. Inside the AK 320, we find relatively comfortable black faux leather seats – very reminiscent of Virgin America. While not the uber slim-line Recaro that Lufthansa made both uncomfortable and famous, the seats are on the slimmer side and equipped with padding less than one would find in aircraft one generation older. Surprisingly, recline was generous for a LCC with rather decent pitch in the "Hot Seats" that row 1 constituted. Further back, the seat pitch was extremely tight.
The bathroom left much to be desired – it could do with a thorough cleaning and it would not hurt if the crew checked on the amenities once in a while …
The Q300 that I took looked really good in Maldivian colors. However, internally, comfort levels are not as bright. This has nothing to do with Q2, but rather, the Q300 cabin which inherently feels cramped. I found it a lot worse than a comparable ATR-42 for example. While the aircraft (and, the bathroom) was kept clean enough, it definitely showed its age.
Legroom was rather cramped and again I felt that it was much worse than a typical comparable ATR. There was hardly any noticeable recline to go with the seat making the entire flight seem a lot longer than it really was.
Aircraft:
(@ MLE)
*
(@TRV – notice the umbrellas I talk about later)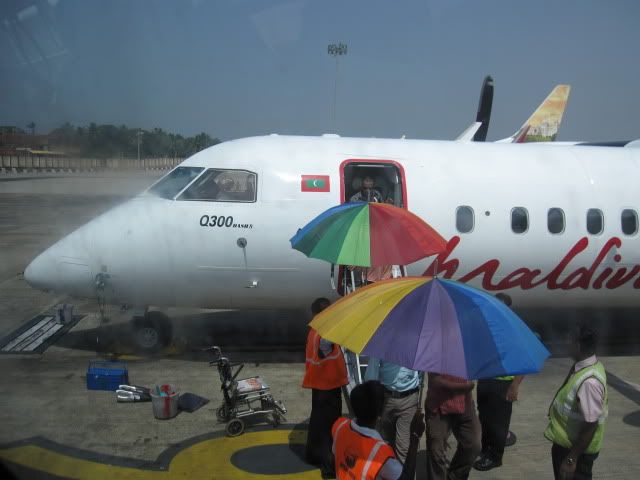 Views from Aircraft:
(XL)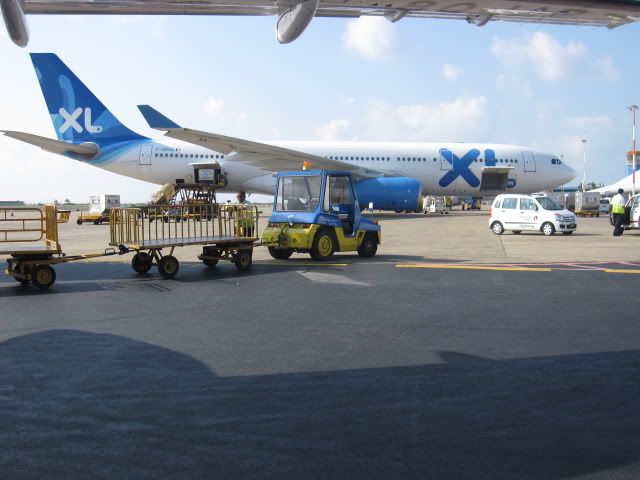 (Goodbye Maldives)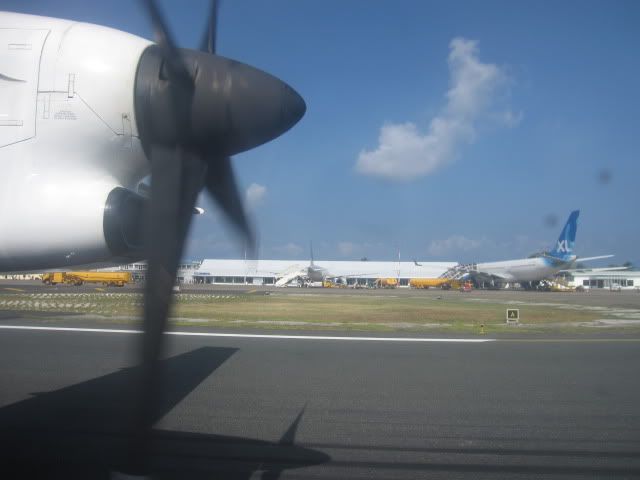 (Stunning Island scenery)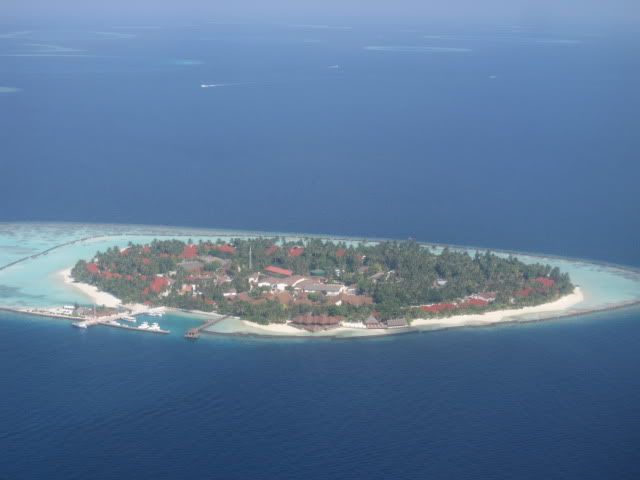 *
*
*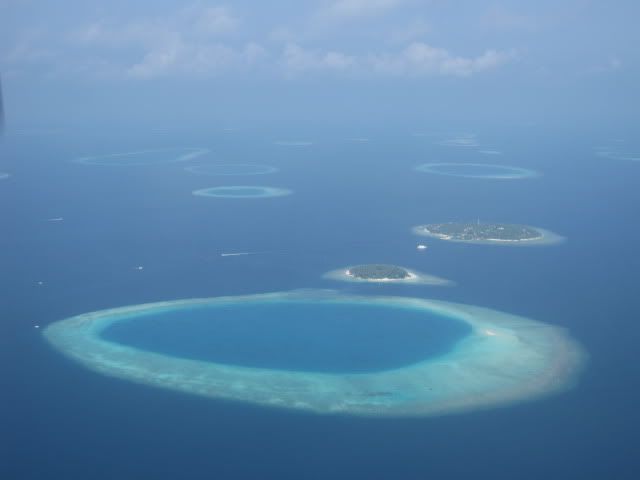 General Seat Views + Seat Legroom
(Legroom)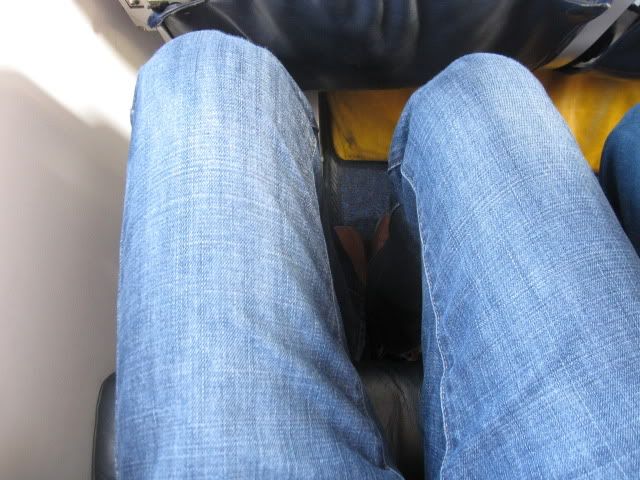 Seat Recline + Angle View:
(Recline)
NONE
(Angle view: Tight space)
Cabin:
*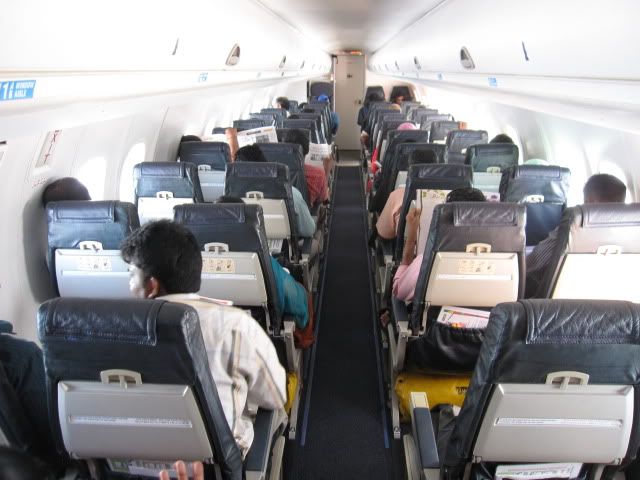 (Bathroom)
c) Meal + Beverage:
For a short flight on a turbo-prop, I was not expecting much. So it came as a pleasant surprise when the meal service consisted of decent enough tray with a chicken sandwich and a chocolate bar. This was all washed down by a very weak tea (surprised they had Equal). Finally, there was some kind of nut which is apparently a Maldivian specialty. Any ideas what it is? Prior to landing, there was a water run and some mints were distributed.
Overall, I was left rather impressed as I did not expect such service on board this tiny airline.
(Snacks on offer)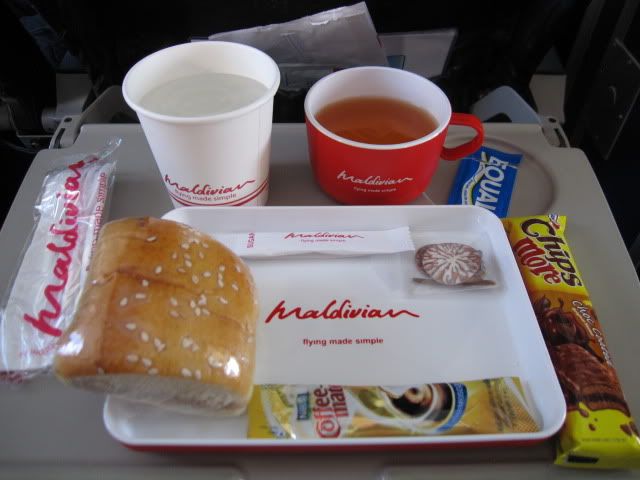 (Candy)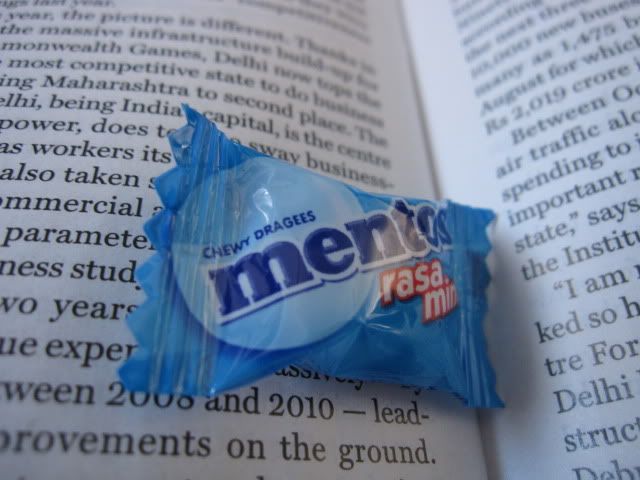 d) Inflight Entertainment:
Maldivian had no in-flight magazine – and this being a Q300, no other IFE. I was however impressed by the generous amount of newspapers and magazines the airline carried on board. Strangely, all the magazines and newspapers were Indian with nothing from Maldivian.
("In-flight magazines", Boarding Passes, etc.: Just look at all the stuff I got from them)
e) Crew:
In-flight service was provided by a sole male crew member. He was a pleasant chap and smiled during the entire duration of the flight. During boarding, the guy helped some with baggage storage, and the entire service was carried promptly and with dignity amidst a very confined space. I am sure he would do well when given a better service delivery challenge. Now seeing my picture taking, he asked if I was into aviation and I answered "YES". He then said he wished he had the usual souvenir to give out. I asked what they were, and he said, "cards". Oh well.
IV> Post-Flight:
TRV was raining when we landed, and in continuing with the small touches of this airline, several ground staff were present to cover the 20 second walk to the waiting bus with umbrellas. I thought it was a really nice touch. Immigration in Trivandrum was a breeze – though, the official was a little confused to what exactly I was doing and in true Indian cultural form asked me a lot of friendly questions which had nothing to do with immigration itself. He was so perplexed by me that he even offered me tea during the "interrogation". That was a first for sure!
The best and surprising part of the journey happened much after the flight. The crew member had given me an email address and asked me to write to them to send me a deck of cards. I didn't think much of it, but had dropped a quick note. After 2 months, imagine my shock when a parcel reached all the way from Maldives to Venezuela with the promised deck of cards (one of the best ones I have from an airline) coupled with several postcards and other random stuff! I was really impressed and pleasantly surprised at the great length of customer service this airline had gone to.
(Customer Feedback Forms)
V> Impressions + Scores:
There is no doubt about it, Maldivian is a gem of a small airline. Being a Q300, there is no expectation of fancy IFE or great seats or meal service. Within the small space it had to showcase itself, it was stellar and upstaged many well-known brands. Above average marks for their website, check-in staff, on-board staff, snacks, post-boarding, magazines/etc. make Maldivian a joy to fly with. The cards and postcards sent in the mail showed how this small airline actually cared about her passenger.
If Maldivian is offered on a route I am flying, I'd pay a premium to fly it. Two thumps up!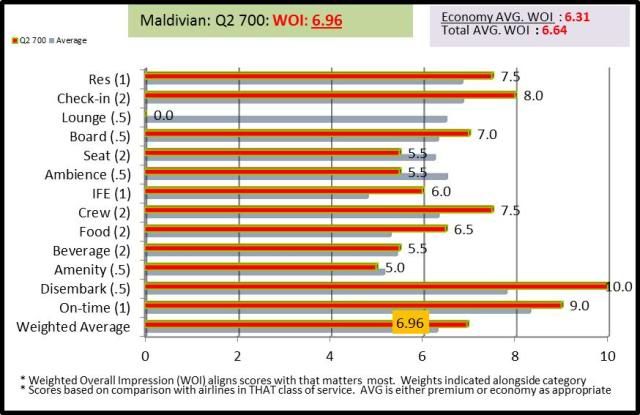 VI> Other Trip Reports:
PREMIUM:
9.27: JET AIRWAYS **FIRST** (110): LHR-BOM: 10/2010
9.27: THAI AIRWAYS **FIRST** (108): BKK-LHR: 07/2010
9.00:
All Nippon: ANA (133): NRT-FUK-BOM: 12/2011
8.66:
Brussels Airlines (93): FIH-BRU: 01/2010
8.64:
Turkish Airlines (59): JFK-IST: 11/2008
8.63:
Jet Airways (88): JFK-BRU: 10/2009
8.61:
Air Canada (49): YYZ-SCL: 06/2008
8.54:
Turkish Airlines (77): GRU-DKR-IST: 04/2009
8.36:
Kingfisher (98): BOM-HKG: 01/2010
8.30:
Jet Airways (74): KWI-BOM: 04/2009
8.23:
United Airlines (72): SFO-SYD: 03/2009
8.11:
Aeroflot (33): MOW-DEL: 09/2007
8.05:
Air India (80): CCU-JFK: 06/2009
8.04:
Korean Air (40): NRT-ICN: 10/2007
8.02:
Delta Airlines (24): JFK-CDG: 08/2007
7.82: UNITED AIRLINES **FIRST** (110): SFO-ICN: 10/2010
7.82:
Singapore Airlines (06): EWR-SIN: 09/2006
7.66:
Sri Lankan (104): DEL-CMB: 07/2010
7.64:
Royal Jordanian (91): AMM-YUL: 12/2009
7.61:
China Southern (103): LOS-DXB: 04/2010
7.57:
Pakistan Airlines (102): ORD-BCN: 06/2010
7.55:
Air Canada (132): YEG-LHR: 06/2011
7.46:
LAN (55): YYZ-JFK: 09/2008
7.38: AMERICAN AIRLINES **FIRST** (112): LHR-JFK: 10/2010
7.38: CATHAY PACIFIC **FIRST** (109): HKG-LHR: 10/2010
7.36:
Turkish Airlines (134): IST-LAX: 10/2011
7.25:
Iran Air (88): BOM-IKA: 12/2009
7.23:
Air Pacific (120): NAN-APW-HNL: 01/2011
7.23:
Virgin Atlantic (81): BOS-LHR: 07/2009
7.14:
Swiss (52): SCL-GRU: 06/2008
7.11:
Aer Lingus (105): MAD-IAD: 05/2010
7.11:
Austrian (79): VIE-JFK: 06/2009
7.07:
Privatair (84): BOM-FRA: 08/2009
7.02:
Qatar (68): DOH-JFK: 01/2009
6.96:
Etihad (61): JFK-AUH: 12/2008
6.93:
Delta Airlines (18): SEA-JFK: 11/2006
6.88:
Egypt Air (123): LHR-CAI: 03/2011
6.84:
ConViasa (65): CCS-DAM: 01/2009
6.82:
Air Burkina (106): BKO-OUA: 06/2010
6.81:
Air Canada (17): ICN-YYZ: 10/2006
6.75:
Afriqiyah + Libyan (113): CAI-TIP: 11/2010
6.70:
KLM (32): EBB-AMS: 08/2007
6.52:
Emirates (99): LHR-DXB: 02/2010
6.39:
South African (97): EZE-JNB: 01/2010
6.36:
Privatair (60): MUC-BOS: 12/2008
6.29:
TAM Brasil (96): POA-EZE: 02/2010
6.25:
Korean Air (45): NAN-ICN: 10/2007
6.21:
Iberia (87): BOS-MAD: 10/2009
6.11:
A SKY (107): OUA-COO: 06/2010
6.11:
TAP Portugal (53): GRU-OPO: 06/2008
6.00:
Gulf Air (75): BOM-BAH: 04/2009
5.88:
African Express (89): DXB-NBO: 11/2009
5.75:
Singapore Airlines (16): CCU-SIN: 10/2006
5.64:
SATA Azores (101): BOS-PDL: 04/2010
5.64:
NorthWest (46): ICN-NRT-SEA: 10/2007
5.54:
Ethiopian Airlines (95): ADD-BOM: 01/2010
5.46:
Icelandair (83): KEF-BOS: 08/2009
5.39:
LOT (54): WAW-JFK: 06/2008
5.21:
Egypt Air (73): CAI-IST: 02/2009
5.11:
Tunisair (115): TUN-ORY: 12/2010
5.07:
TACA (66): JFK-SAP: 01/2009
4.89:
TAAG Angola (117): TMS-LAD: 12/2010
4.42:
Air France: CDG-JNB (25): 08/2007
ECONOMY: Long + Medium:
9.26:
Air India (48): JFK-DEL: 02/2008
9.04:
First Air (129): YEG-YFB: 06/2011
8.74:
Japan Air Lines (130): NRT-BOS: 04/2012 – INAUGURAL
7.99:
WestJet (131): YYZ-YYC: 06/2011
7.38:
Avianca (01): BOG-LIM: 07/2006
7.07:
Sri Lankan (62): KWI-CMB: 12/2008
7.00:
LAN (94): IPC-SCL: 01/2010
6.81:
STP Airways/Euro Atlantic (116): LIS-TMS: 12/2010
6.74:
Air Asia (136): VTE-KUL: 12/2011
6.67:
Air Malta (124): MLA-FRA: 04/2011
6.63:
Vladavia (126): KHV-PEK: 06/2011
6.41:
Air North (127): YEV-YEG: 06/2011
6.41:
Avianca (78): JFK-BOG: 05/2009
6.41:
American Airlines (58): LHR-BOS: 11/2008
6.39:
Condor (85): SEZ-FRA: 09/2009
6.26:
Jet Blue (21): CUN-JFK: 02/2007
6.11:
Caribbean Airlines (119): POS-FLL: 01/2011
6.06:
Air Canada (04): YYZ-YVR: 09/2006
5.89:
USA 3000 (19): PUJ-BDL: 01/2007
5.85:
Spanair (69): MAD-LPA: 02/2009
5.80:
Canadian North (128): YEV-YVQ-YZF-YEG: 06/2011
5.79:
Air New Zealand (42): RAR-NAN: 10/2007
5.52:
Aerolineas (86): USH-AEP: 10/2009
5.46:
TAP Air Portugal (23): OSL-LIS: 05/2007
5.19:
Air Europa (70): LPA-MAD: 02/2009
5.16:
Iberia (71): MAD-BOS: 02/2009
5.11:
Air China (82): FRA-PEK: 08/2009
4.59:
IR Aero (125): IKT-VVO: 06/2011
ECONOMY: Short
8.56:
Paramount Airways (38): BLR-MAA: 09/2007
8.56:
Kingfisher (64): HYD-CCU: 12/2008
8.24:
Kingfisher (14): IXA-GAU: 10/2006
7.87:
Indian (34): BOM-MAA: 09/2007
7.72:
Alliance Air (13): CCU-IXA: 10/2006
7.57:
Indian Airlines (10): DEL-CCU: 09/2006
7.23:
West Jet (03): YYC-YVR: 09/2006
7.15:
JetLite (37): BOM-GOI: 09/2007
6.98:
Air Koryo (100): PEK-FNJ: 04/2010
6.96: Maldivian (137): 12/2011
6.96:
Lao Airlines (135): VTE-KUL: 12/2011
6.70:
Spice Jet (09): CCU-DEL: 09/2006
6.63:
Air Fiji (44): NAN-SUV: 10/2007
6.63:
Jazeera (67): DAM-KWI: 01/2009
6.58:
Air Tran (02): EWR-MDW: 08/2006
6.48:
Air India Express (63): CMB-MAA: 12/2008
6.44:
CO Micronesia (39): ROR-YAP: 10/2007
6.41:
Pacific Sun (43): NAN-SUV: 10/2007
6.37:
Skybus (47): SWF-CMH: 02/2008
6.33:
Kenya Airways (29): NBO-BJM: 08/2007
6.33:
Sky Europe (56): LTN-BTS: 10/2008
6.31:
Indigo (15): GAU-CCU: 10/2006
6.31:
easyJet (57): BUD-LTN: 11/2008
6.22:
Air Link Swazi (28): MTS-JNB: 08/2007
6.22:
Air India (36): HYD-BOM: 09/2007
6.13:
Adam Air (07): SIN-CGK: 09/2006
6.13:
Air Rarotonga (41): RAR-AIT: 10/2007
6.04:
Suriname Airways (118): PBM-POS: 01/2011
6.00:
Transairways (27): INH-MPM: 08/2007
5.95:
Air Canada (05): ALB-YYZ: 09/2006
5.85:
SAS Norge (22): OSL-AES: 05/2007
5.81:
LAM Mozambique (26): JNB-MPM: 08/2007
5.69:
Air Deccan (12): IXZ-CCU: 10/2006
5.67:
Rwanda Air Exp (30): KGL-NBO: 08/2007
5.52:
Sevenair (114): TOE-TUN: 11/2010
5.37:
Felix Airways (92): SCT-SAH: 12/2009
5.11:
Aero Republica (76): BOG-CCS: 04/2009
5.07:
Go Air (35): MAA-HYD: 09/2007
5.04:
Biman (121): DAC-CGP: 01/2011
5.00:
Sky Airline (51): IQQ-SCL: 06/2008
4.96:
United Bangla (122): CGP-DAC: 01/2011
4.96:
Valuair (08): CGK-SIN: 09/2006
4.78:
Air Comet Chile (50): SCL-IQQ: 06/2008
4.74:
Fly 540 (31): MYD-LAU: 08/2007
4.33:
Viva Aerobus (20): ELP-MTY: 02/2007
4.11:
Air Sahara (11): CCU-BOM: 09/2006
(Note on Codes: Y – Economy, J – Business, F – First :: I/D – International/Domestic :: SR/MR/LR – Short/Medium/Long Haul)
(Note on Date: Dates are modified to be +/- 3 days from actual flight date to not reveal actual flight pattern)
VII> Other Pictures:
(Usually pictures of Maldives are like this …)
(But the island has so much to offer … especially when one escapes to places no foreigner goes to. Like, Hulhumale – the new capital and its grand new mosque)
(And all the new housing where Maldivians are supposed to relocate to)

* Unbiased view on how an actual traveler may view the flight
* Not a professional photographer (so please keep in mind)
* Commitment that I won't identify myself to the airline as "reviewing them"