Hello all and welcome to my very first Trip report on a.net! Hope you enjoy reading it!
Background:
Two weeks ago I decided to take a short trip to visit relatives at our family property, in Northern NSW. My uncle (who lives in Coffs Harbour) was also visiting so I decided to fly up to Coffs Harbour from Sydney and get a lift over with him. I left on Saturday 18 August and returned home, by a different route, flying home to Sydney from Armidale Regional Airport on Tuesday 21 August. Both flights were on QantasLink Dash 8s.
With my itinerary decided, I booked the following flights:
Saturday 18 August: QF2106 SYD - CFS (08.40-09.45)
Tuesday 21 August: QF2023 ARM - SYD (13.40-14.55)
Outbound flight:
It was a very early start, grabbing a quite bite for breakfast before leaving for the train station in order to get to the Airport to check-in for my flight to Coffs Harbour. Arrived at Terminal 2 a bit after 7, allowing plenty of time before departure. Check-in was smooth, I walked straight up to the counter, handed over my ID and very soon I had my boarding pass with my requested window seat assigned. Win!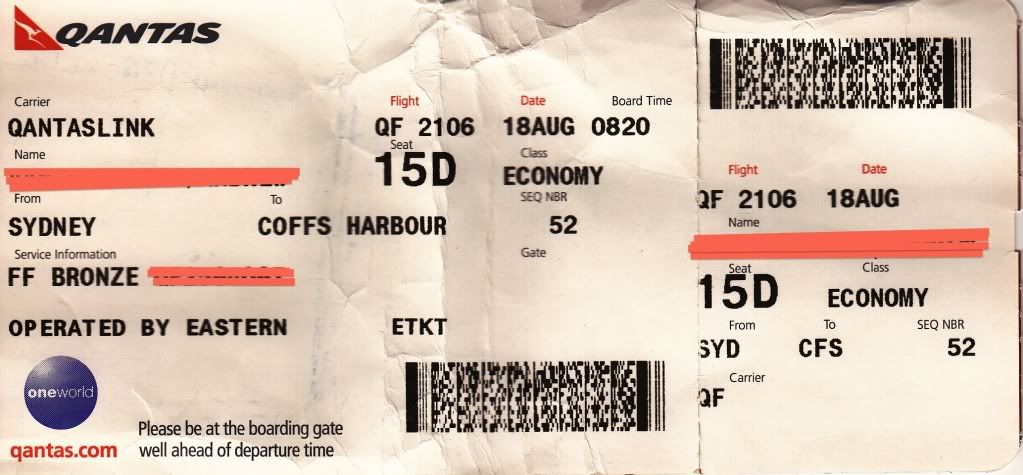 I was slightly surprised there were no electronic kiosks, but I guess there is not sufficient volume to really justify having them, but I must say it's nice to check-in the old fashioned way, once in a while.
Being Saturday morning, it was quite busy going through security but after not too much time I was through and into the departures area. Unfortunately the gate wasn't printed on my boarding passs so I checked the departure screens, however my flight was not up yet. A quick walk around the QF/JQ gates and discovered it would be leaving from gate 54.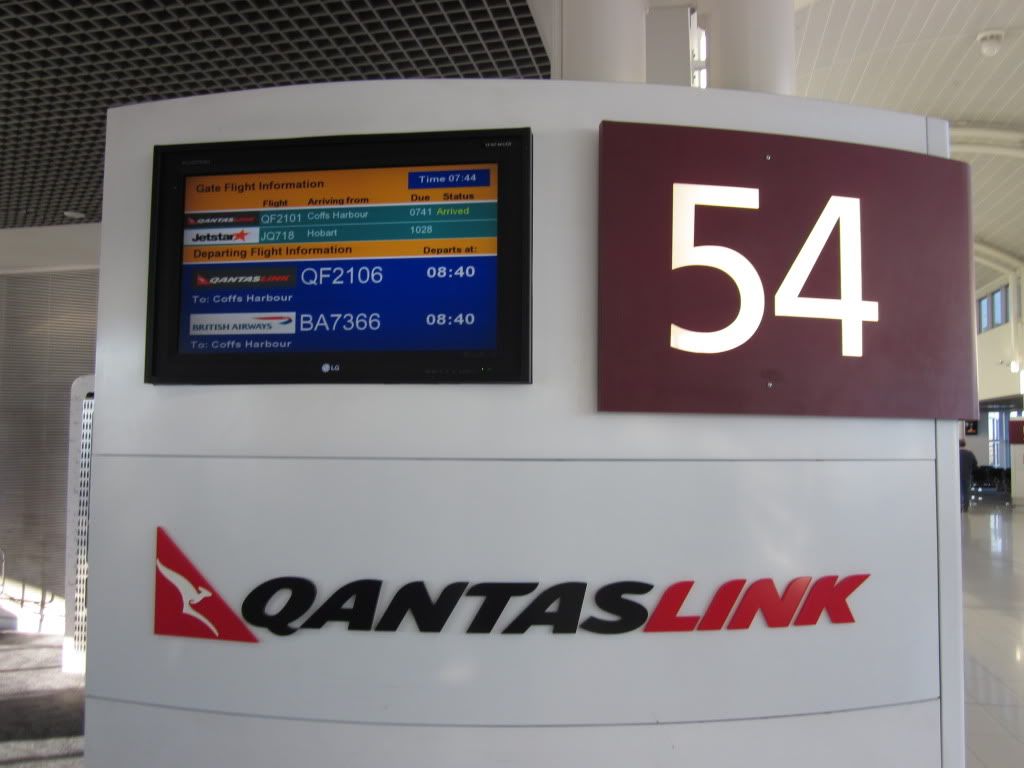 My aircraft for today would be a Q400, painted in a bright pink colour scheme. This aircraft was painted to raise awareness for the National Breast Cancer Foundation.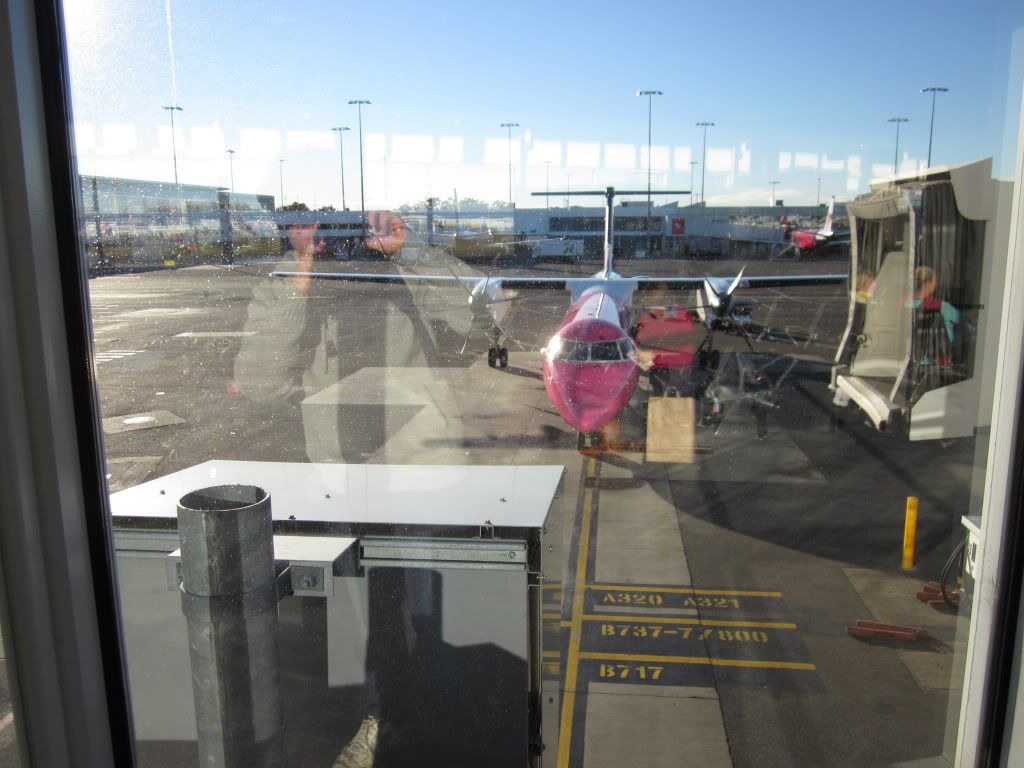 With around 45 mins to kill before boarding, I took a walk around the terminal and did some spotting and taking pics (what else would an avgeek do lol). Here's a few of the better ones I took, please don't judge too harshly, I'm only a beginner!
JQ A320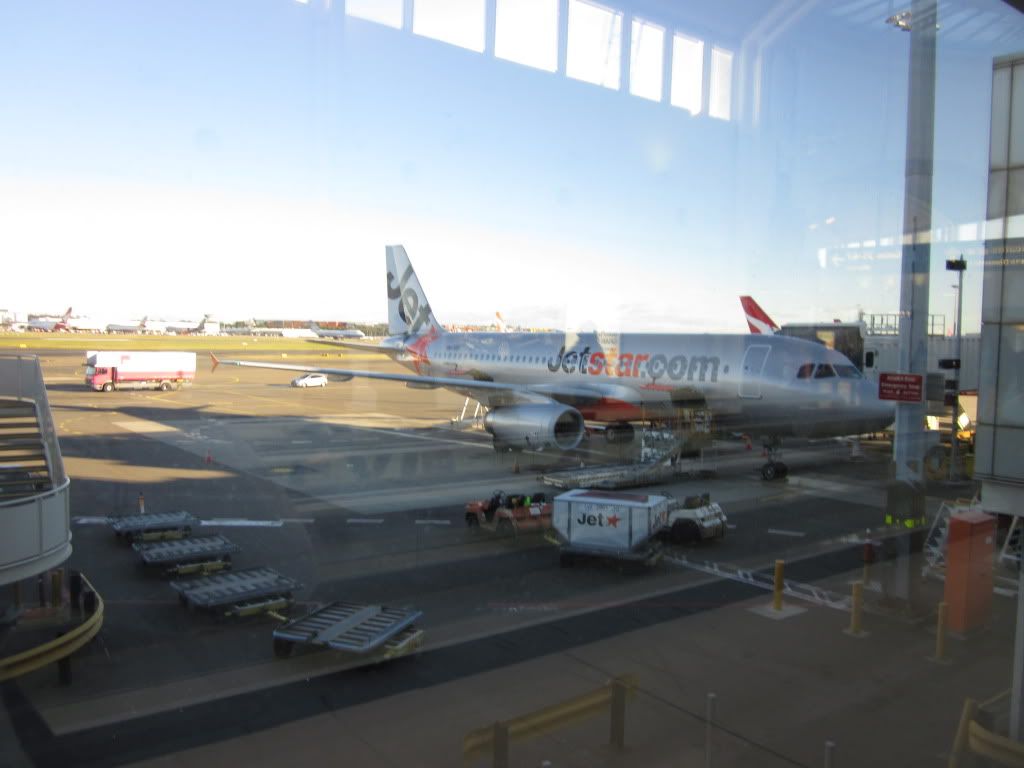 Virgin end of the terminal, featuring one of its A330s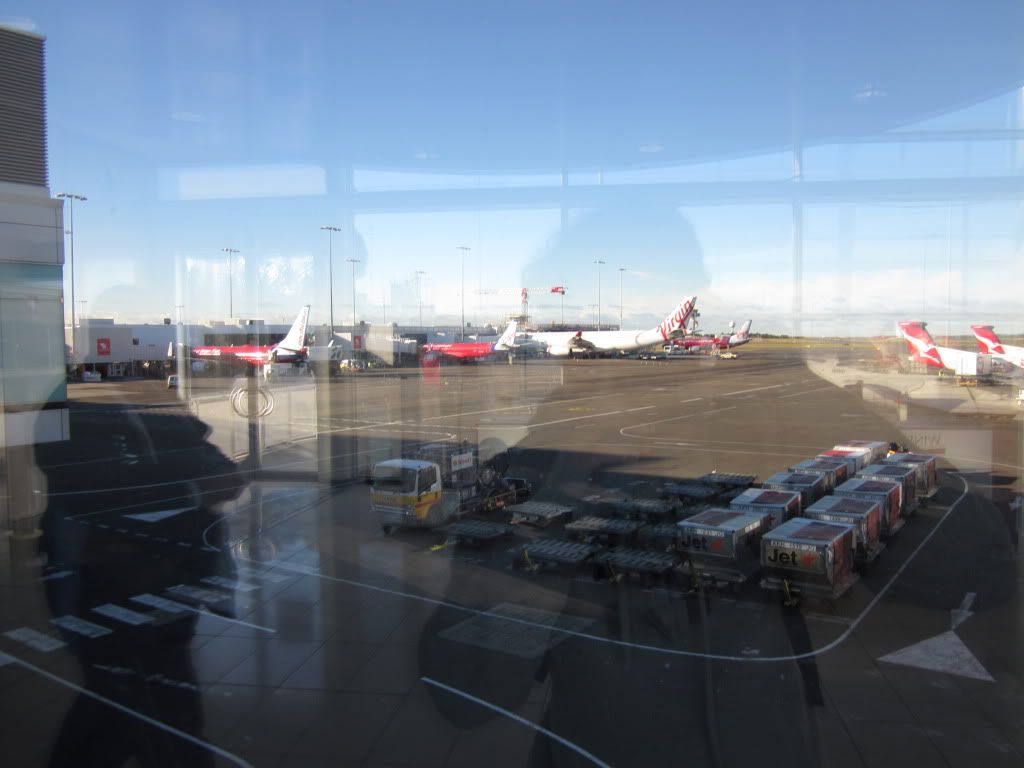 Couple of QFLink Dash 8s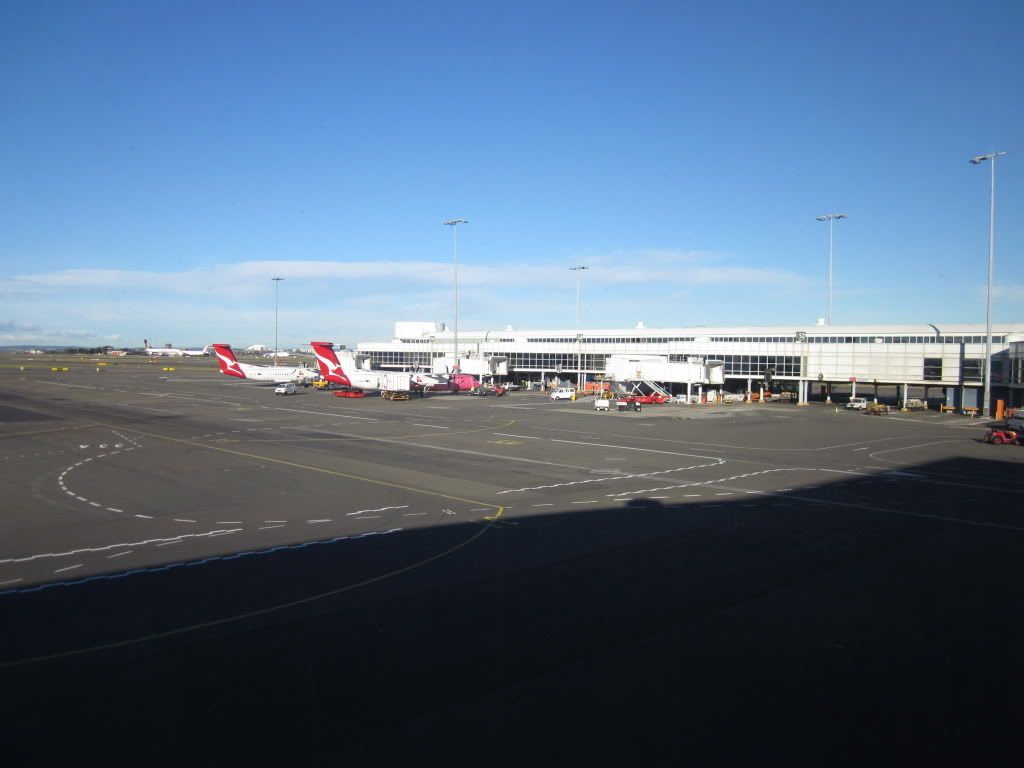 Virgin 737s. First time seeing their new livery in real life, I think it is nice, and fits their new branding well, but at least their old one has some colour to it.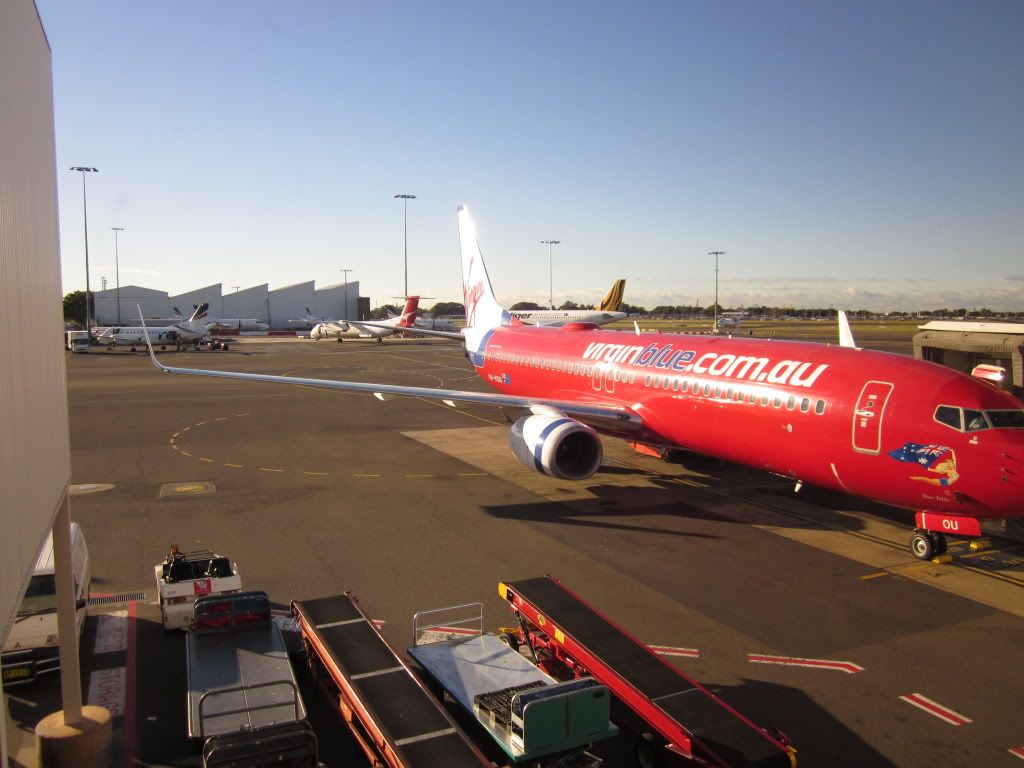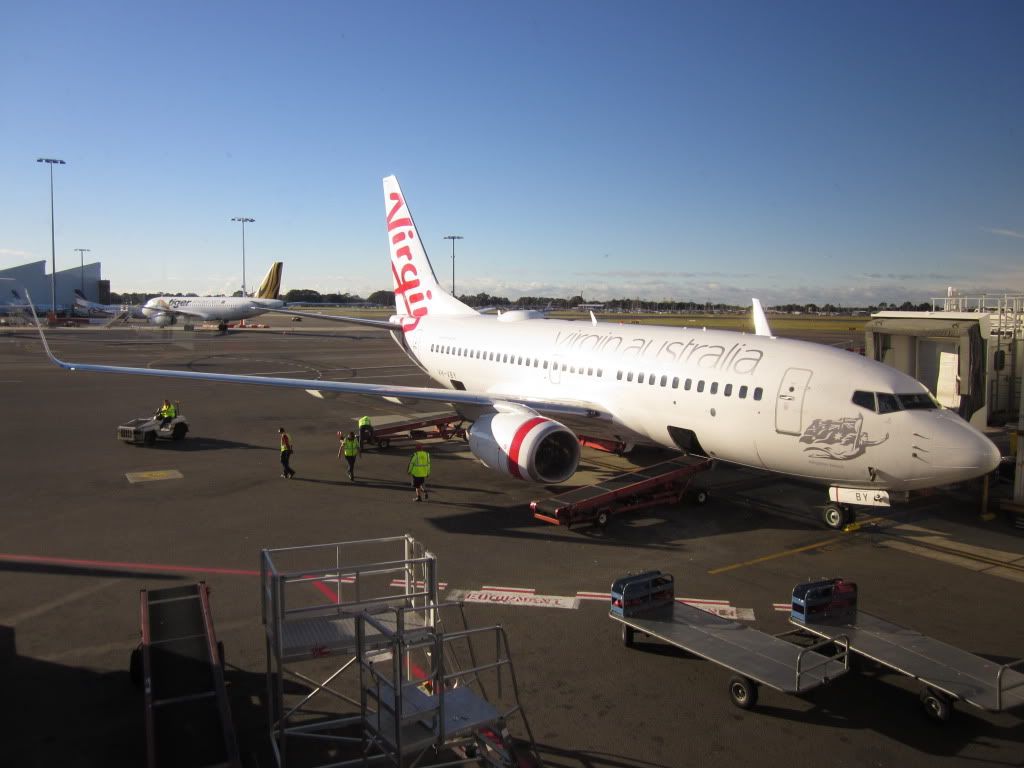 QF 767 taxiing by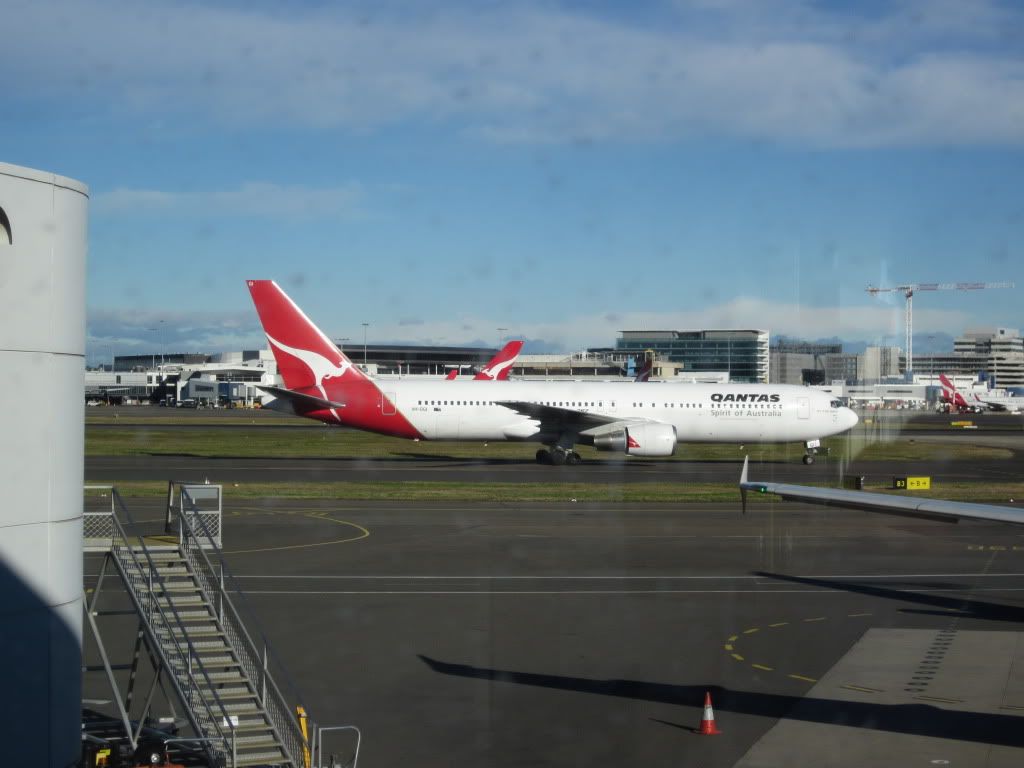 Soon enough it was time to return to the gate for boarding. There was an announcement there would be a slight delay, which only turned out to be about 10 mins, so no worries.
Date: Saturday 18 August
Flight: QF2106 SYD - CFS
Scheduled departure: 08.40
Actual departure: 08.50
Aircraft: Bombardier Dash 8 Q400 (sorry didn't get the rego)
Boarding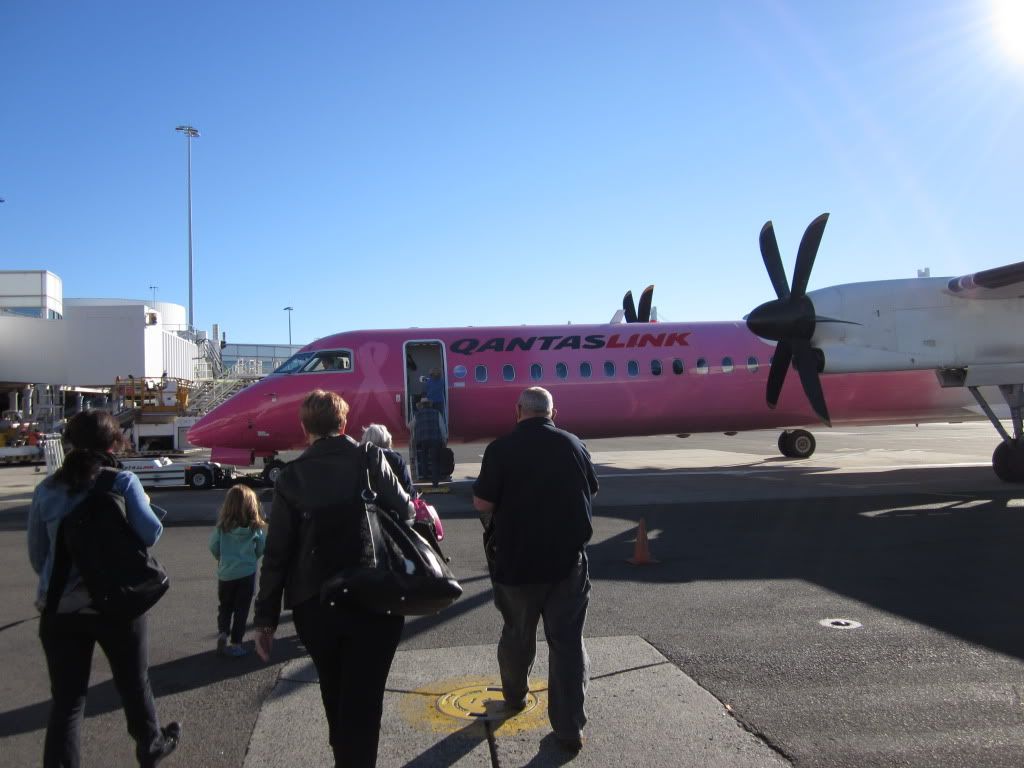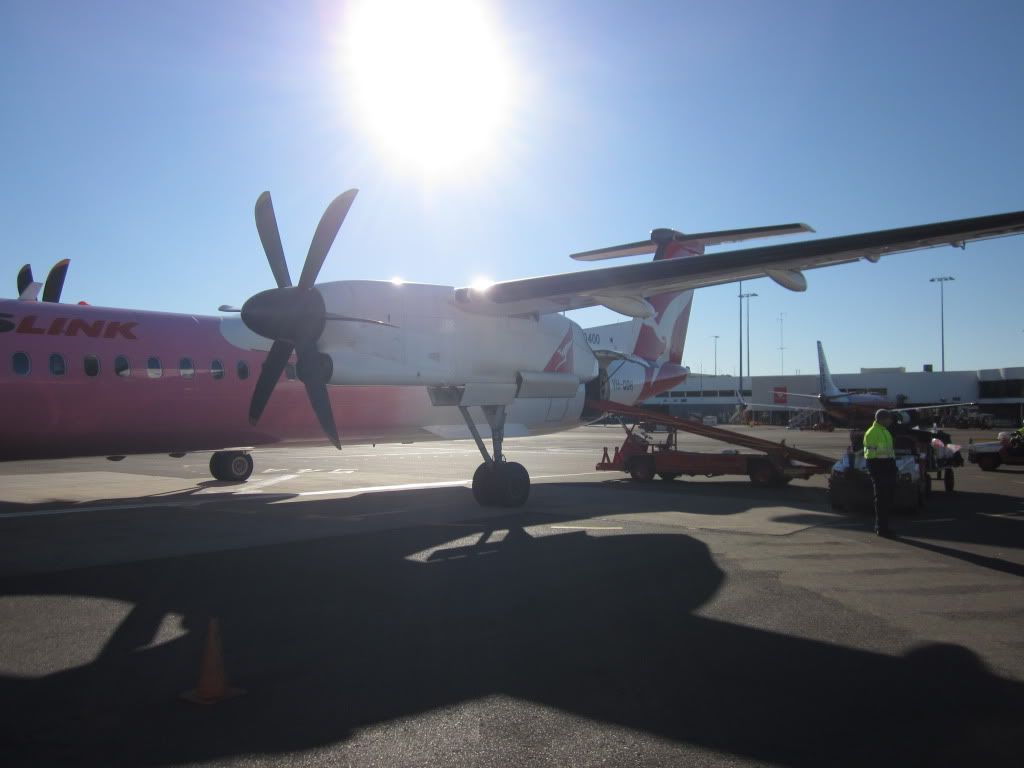 After being greeted by the friendly FAs and directed to my seat towards the rear of the plane, I took my seat in 15D.
View from the window whilst still at the gate.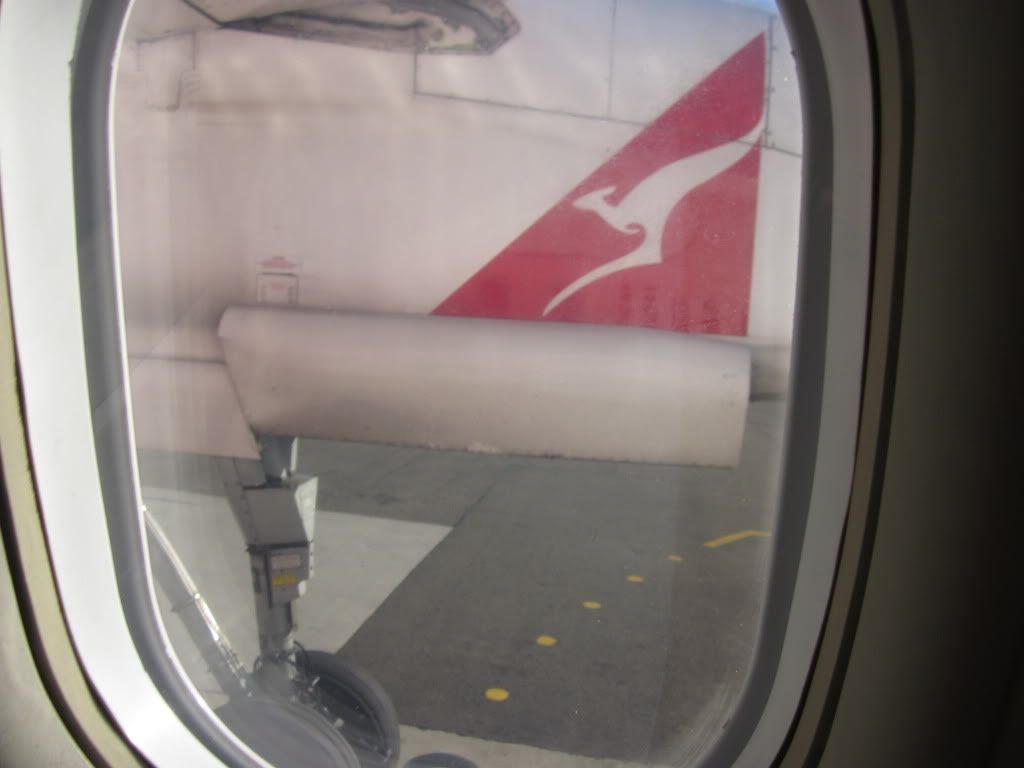 Obligatory legroom shot. More than enough space for this short hop up the coast.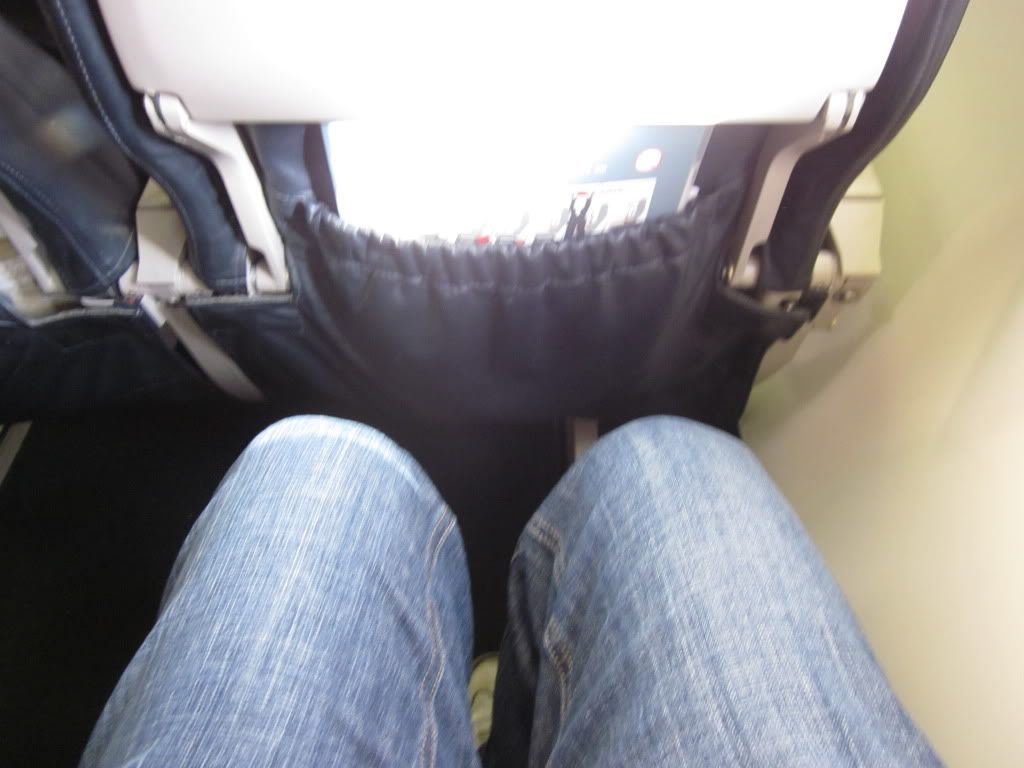 The plane is not too old, judging by the great condition of the interior.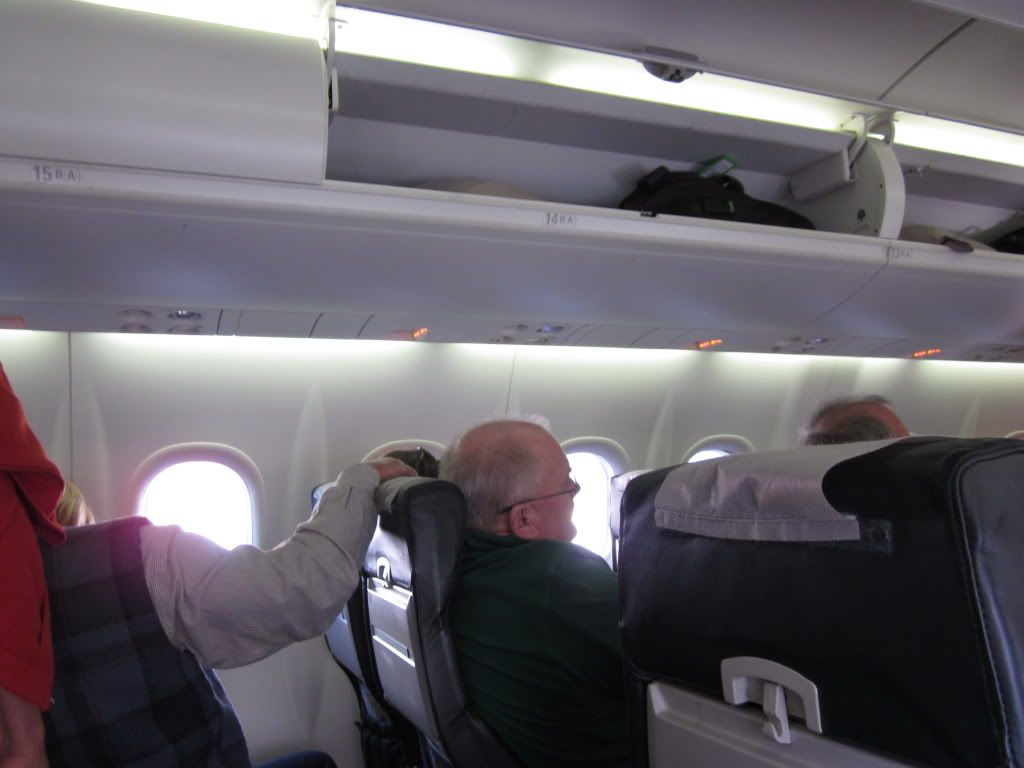 Safety card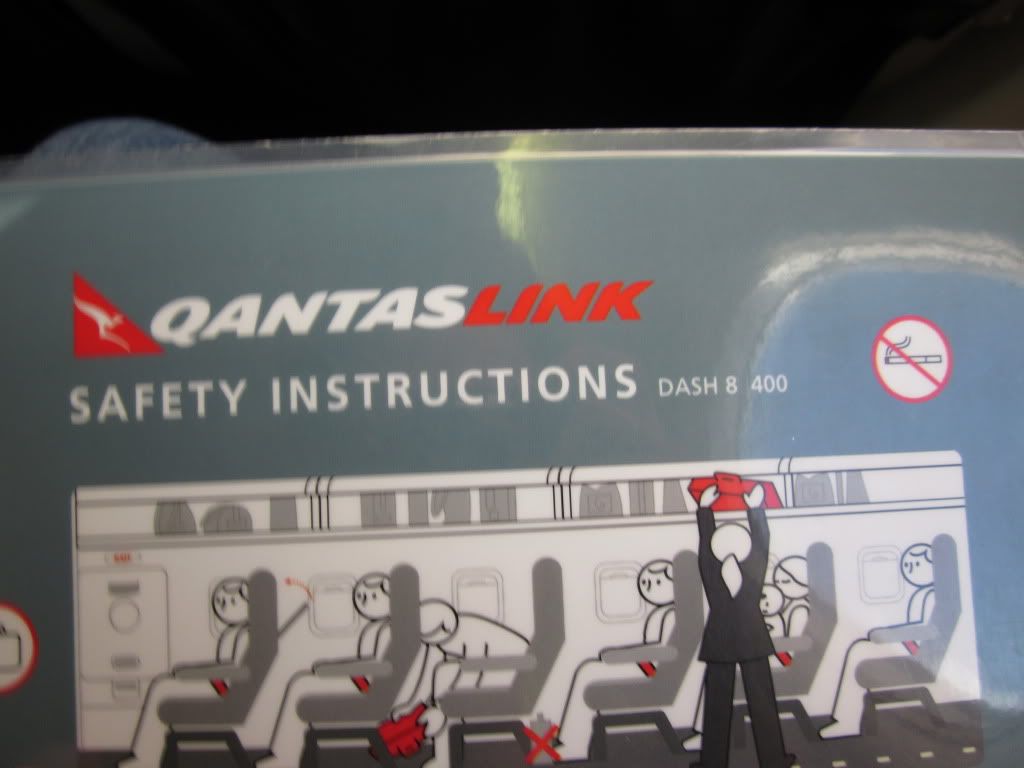 Soon enough, boarding was complete and we started pushback and taxi to the runway. This is my 2nd flight in a Q400 and I was still quite amazed by its performance. Within 10-15 seconds, the little turboprop lifted off and we were away, climbing up to our cruising altitude of 19000 feet. Taking off we headed north, flying up the coastline, with great views along most of the way. Whilst flying, I usually don't take many photos or video the take-off as I prefer to just enjoy the journey, so apologies for only one in-flight pic..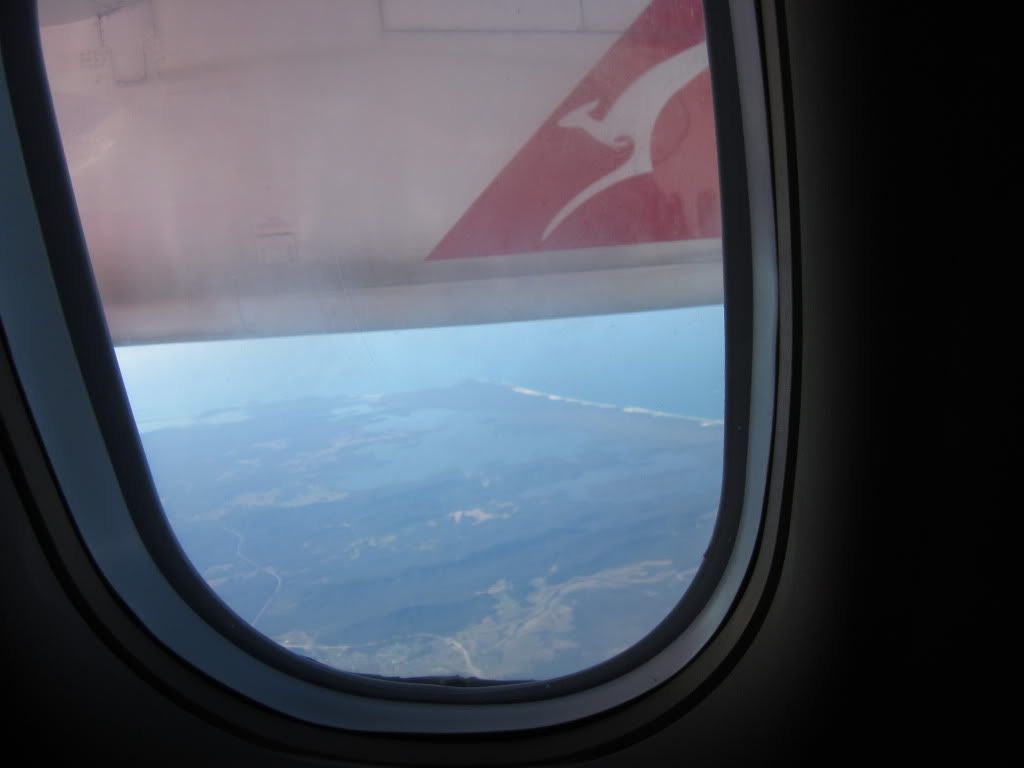 In-flight service was pretty standard for a regional flight like this, some biscuits followed by tea/coffee. Still, a cup of tea at 19000 feet is pretty awesome I think!
Within no time the crew cleared up and took their seats for landing.
On descent we passed over many farms and banana plantations before a smooth touchdown at Coffs Harbour Regional Airport just before 09.00.
Shortly I disembarked and walked through the little terminal to the pick-up area, where after a short wait, my uncle arrived and we drove to the family farm about 250 km west of Coffs Harbour.
I had a great few days with the family and soon enough it was time to return home to Sydney on Tuesday. My uncle had to go back home on Sunday, so I got a lift down to Armidale on Tuesday to get my return flight back to Sydney (Armidale is much closer than Coffs).
Inbound trip:
My nanna drove me down to Armidale, about a 100 km trip south from the farm. We had some lunch in town before heading to the airport in time for me to check-in.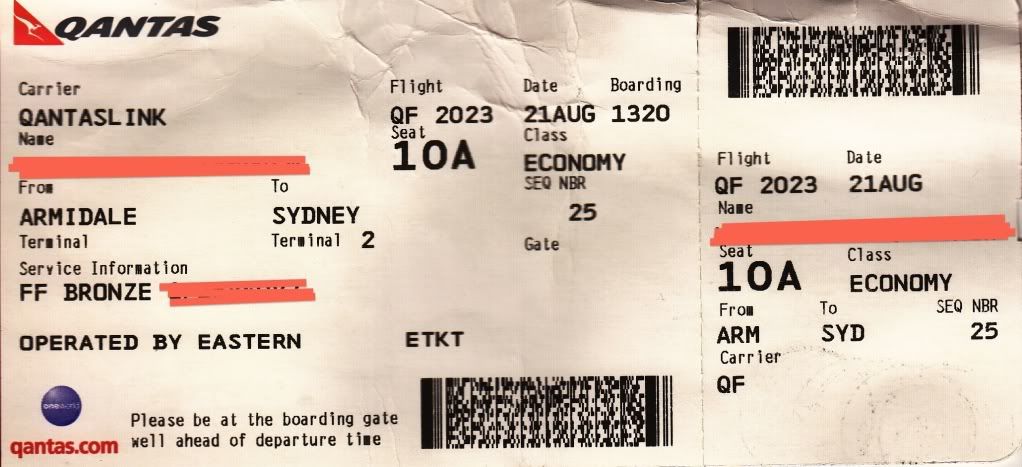 Date: Tuesday 21 August
Flight: QF2023 ARM - SYD
Scheduled departure: 13.40
Actual departure: 14.00
Aircraft: Bombardier Dash 8- 300 series (again, no rego, sorry)
The inbound aircraft arrived late, so my flight was delayed about 20 mins, again, no biggie.
Boarding commenced at 13.40 and I took my allocated seat, 10A, an emergency exit-row window seat! Plenty of legroom!
Although the 300s are older than the 400s, this one's cabin looked well maintained and in good order.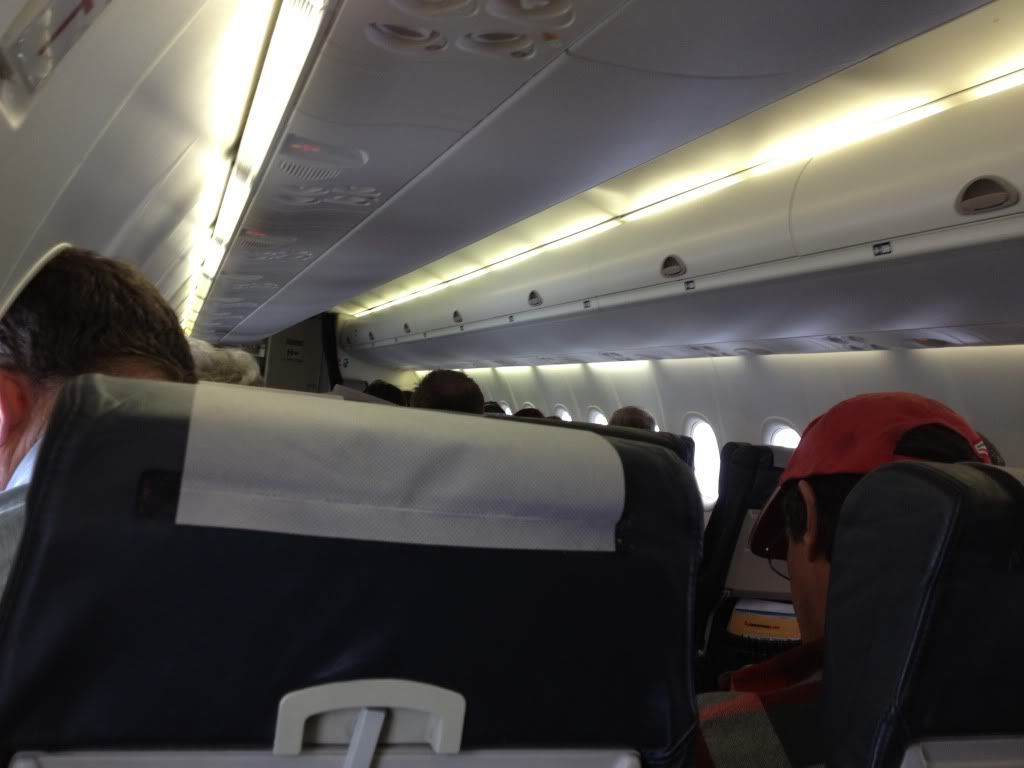 Once everyone was on board, doors closed and we taxied to Runway 15, taxiing along the whole length before completing a 180 degree turn and taking off.
Was a very similar experience to the previous flight, with biscuits served followed by tea/coffee. I'll just post the photos I took. Apologies for the lower quality, these were taken on my iPhone.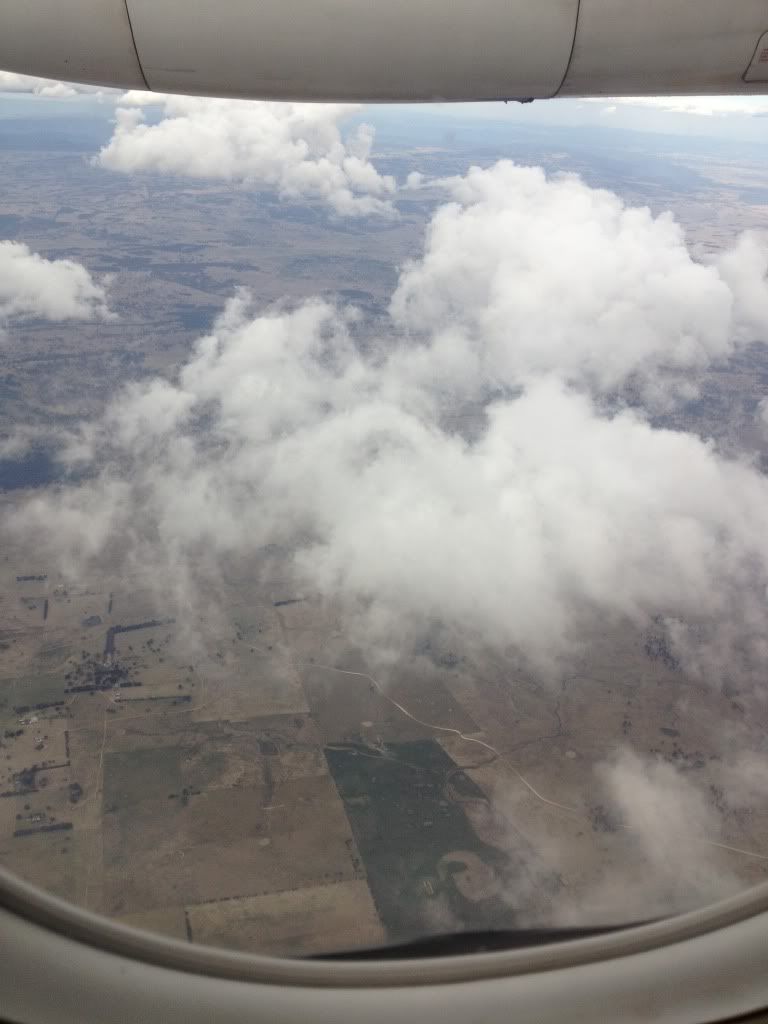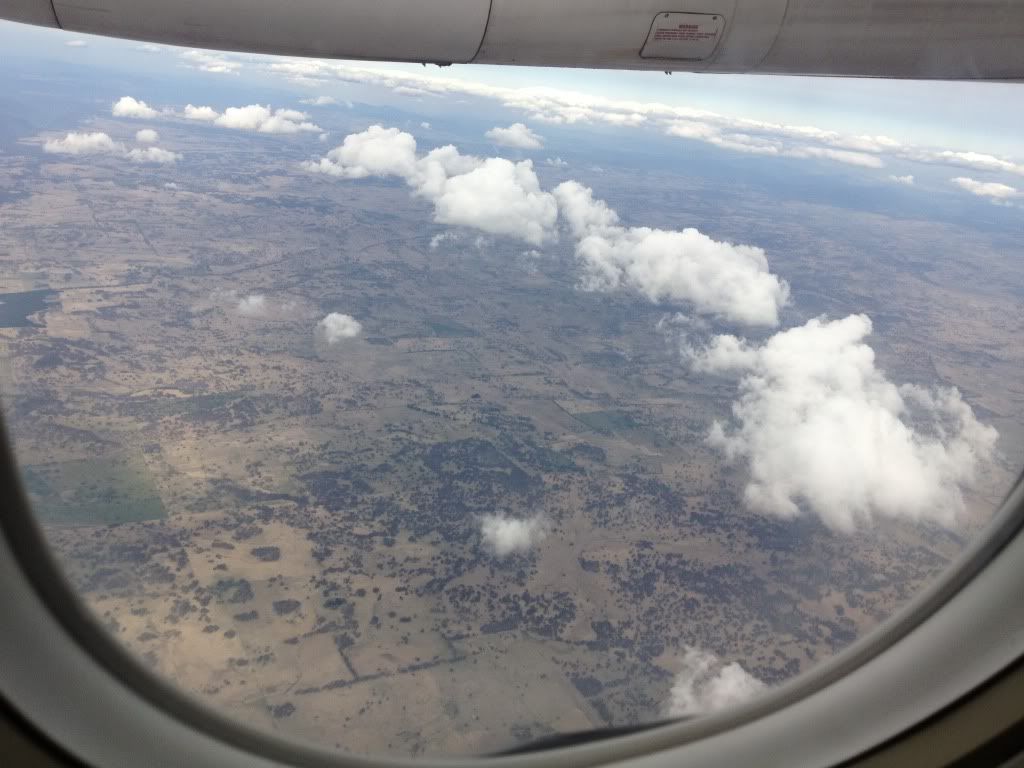 Touched down in Sydney a bit after 15.00. We parked at a remote stand and were bussed back to the terminal.
Overall, two very uneventful and enjoyable flights with QantasLink. Hope you enjoyed reading it.
I'd welcome any comments or feedback.
Cheers,
vaus77W