Introduction
So I had gotten myself to Tbilisi, Georgia (see the story here:
The Finn Went To Georgia: HEL-TLL-TBS
(by
FlyingFinn76
Aug 25 2012 in Trip Reports) ). Obviously I needed a way out - not that I'd particularly like to leave this country, but I have commitments and I'm not sure how the job market in Georgia is these days.
When searching for flights there were some interesting ones, some boring ones and some weird ones. And one of the weird ones caught my attention - Belavia, the flag carrier of Belarus, the closed European dictatorship that keeps longing for the grandiose days of the Soviet Union and not quite wants to wake up and smell the glasnost was offering some decently priced one way fares ex-TBS. Now flying with Belavia would be great not only for logging a new airline, but also the fact that it would make for a convenient excuse for getting a transit visa to Belarus for a visit to Minsk. Belarus visas aren't exactly the easiest things to acquire, so the transit option seemed to be the best one.
The destinations that caught my attention were my final destination of HEL, the easily accessible ARN and finally KBP in Ukraine. In the end I bought flights to Kyiv, as it had me with the longest layover, good for visiting the city. Also Kyiv offered the possibility for another interesting aviationwise experience, more about that on the next part. Cost for TBS-MSQ-KBP was 149 EUR in total.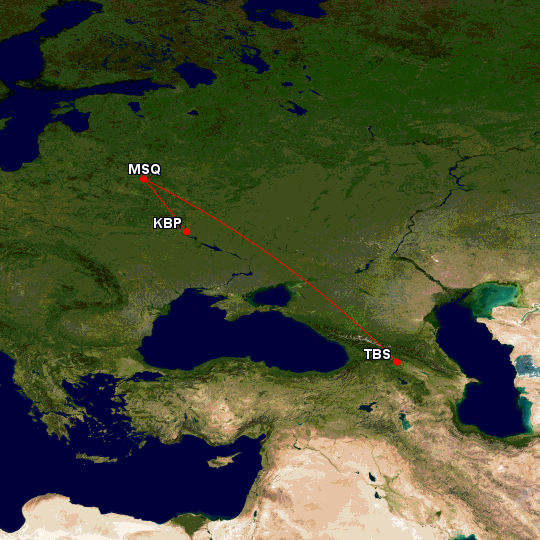 Initially I was planning on getting the visa on arrival. For those countries that have a Belarus consulate or embassy this costs double the normal fee, but as Finland doesn't have one it wouldn't be a problem... Except for the fact that between booking and my trip they actually opened an embassy in Helsinki! So I still had to drag my arse to the embassy a couple of times to drop off my passport and fetch it with the visa, but that was quite okay really. A surprisingly easy process and cost only 20 EUR, quite civilized.
Thursday 19.7.2012
As usual with these westbound flights from TBS the departure is at the wee hours of the morning. Getting to the airport seemed to be a bit of a problem as the bus service stops running at night and even though they have a train connection (with a fancy new train station at the airport which looks
so
cool) the trains are very infrequent and would get me there more than six hours before my flight, no thanks! Well, my new Georgian friend again came to my rescue, and he insisted that he drives me to the airport. Originally he wanted to leave at 2AM for a 4AM flight but I said I'd rather be there around midnight and catch a some zzz. He thought I was nuts but honored my request and met me around eleven at an outdoor bar near my "hotel" at the edge of the old town.
A quick drive to the airport with a stop to take in the panorama of the millions of lights of the Tbilisi valley all lit up - gorgeous view but couldn't get any halfway decent photos of it, sorry!
At the airport we finally bid goodbye to each other, I cannot thank George enough for the amazing kindness and hospitality but he just shrugs it off.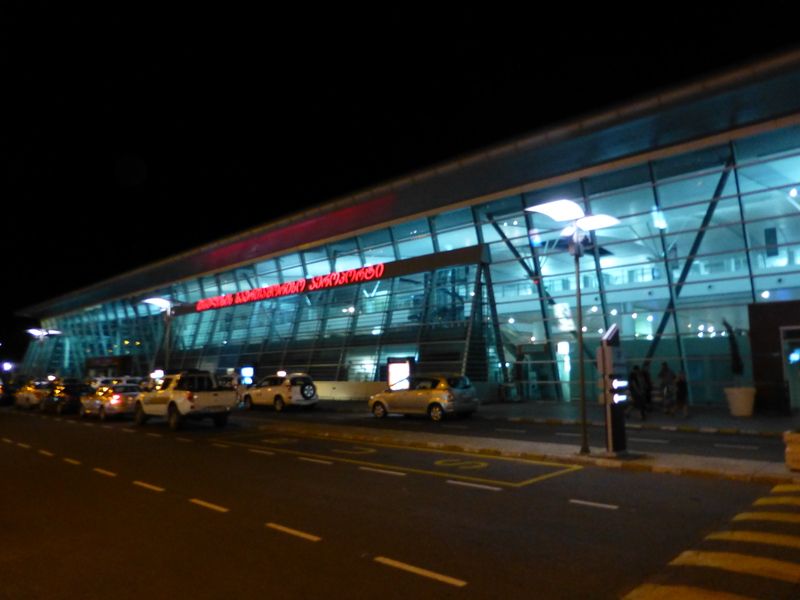 I enter the terminal, take in the quite modern surroundings (it is a new terminal) and then head to the loo to change out of my shorts as the weather forecast for Minsk promised temperatures some 15-20 degrees lower than in Georgia.
Yes, it is around midnight and the place is just starting to get busy:
FIDS - yeah, keep rubbing that Batumi flight in, will ya: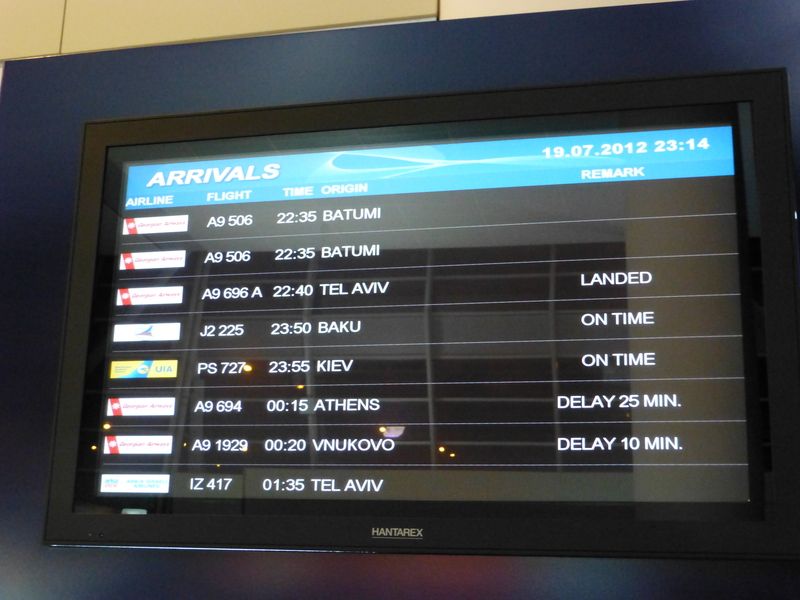 Or maybe you prefer Georgian instead: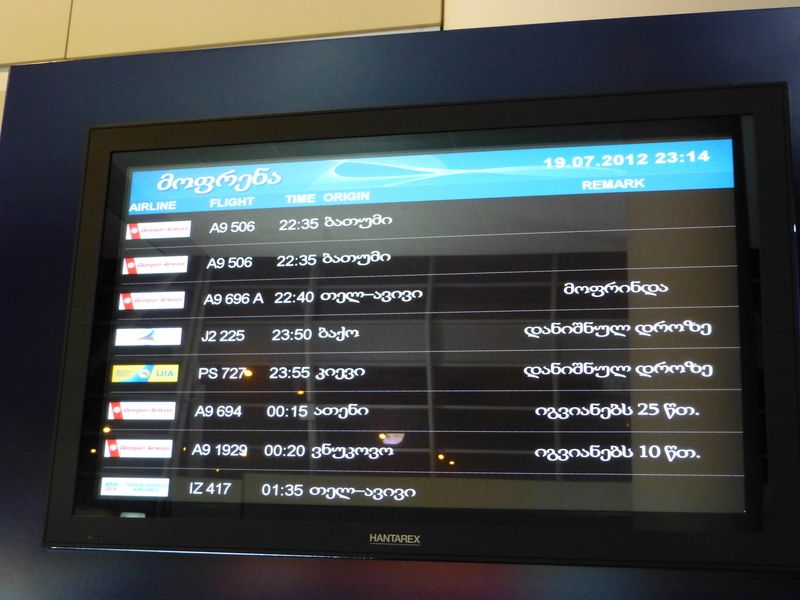 I love you too: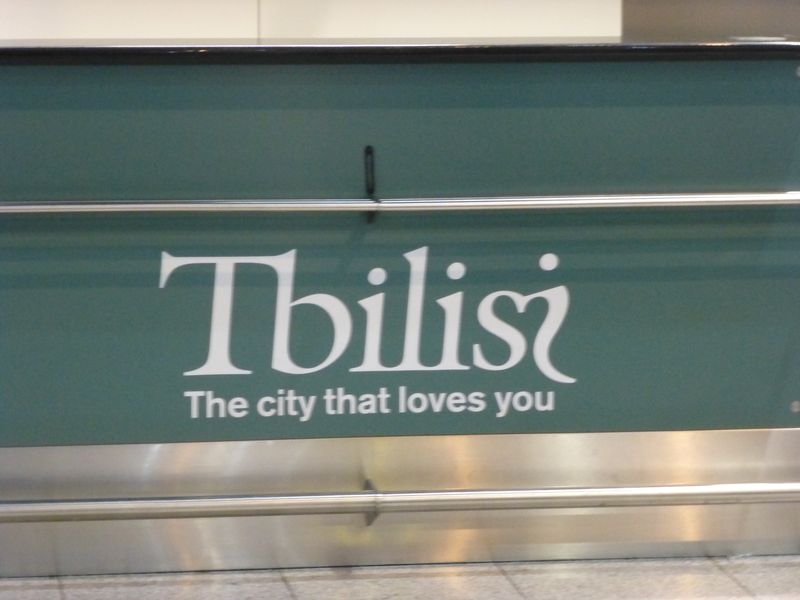 The name of this airline always gives me a chuckle, in the extremely unlikely situation that I'd ever find myself finding them I most certainly wouldn't dare to use the toilets:
The security staff driving around with a Segway: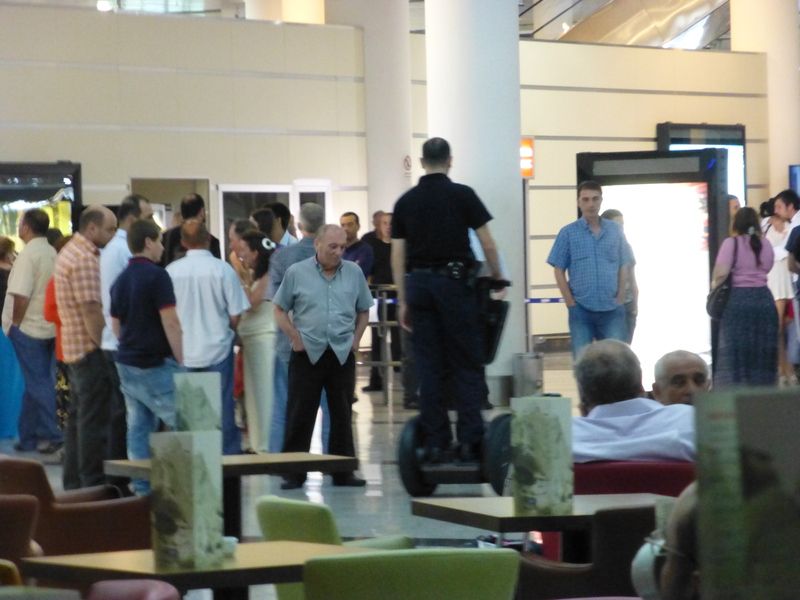 Friday 20.7.2012
When the day turns into the next one I realize I didn't drink any of Georgia's gorgeous wines (some people claim wine was actually
invented
around here) so I have to fix that at the bar - Saperavi, yes please (and a big boo to the Finnish Alko who used to sell a perfectly fine brand of Saperavi but no longer do so, I most certainly hope this is not due to pleasing the Big Bear!):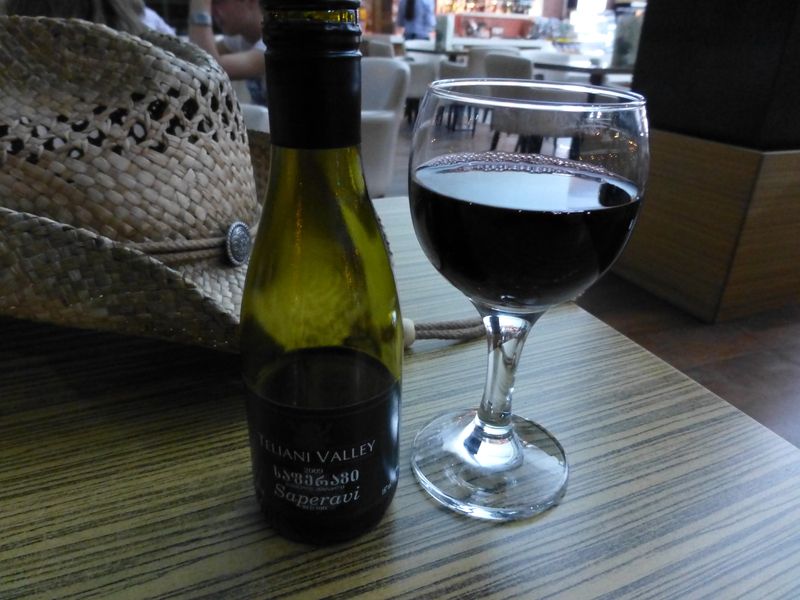 After the wine I still have almost two hours before the check in is scheduled to open so I decide to catch some shuteye. Downstairs is a madhouse with tons of people, but upstairs in front of the passport controls is nice and quiet. I find a suitable corner and drift off...
…only to be woken by a security official some one and half hours later. He asks for my passport and after checking it tells me that upstairs is "no waiting area, go downstairs!". Fine, the check in is about to open anyway so thanks for the wake up, mate!
Some fifteen minutes later the desks are indeed opened: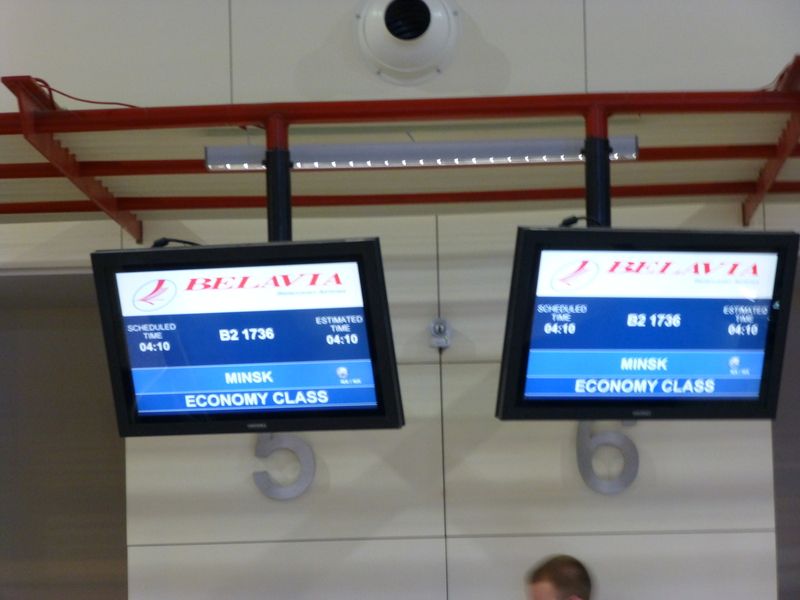 There's a huge scrum in front of them but no clear queues. Well, being the opportunist I am I manage to be one of the first ones to be checked in. The conversation goes like this:
- "Do you have a visa?"
- "Yes, I have a transit visa for Belarus."
- "Visa for Ukraine?"
- "I don't need a visa for Ukraine."
- "Okay."
The girl makes a cursory glance through my passport and tags my roller to KBP (now I just have to trust the MSQ airport baggage handlers!). My request for a window seat in the last row confuses her a bit - "First row?" - "No, last row, please". Well, I end up in the penultimate row but fine with me. Finally she hands me my two boarding passes, wishing me a nice flight.
Upstairs through the immigration where the girl basically asks the very same visa questions as the check in agent (do they have a script?). Satisfied by my answers she stamps me out of the country and I enter the airside area.
This place reminds me a bit of Atatürk airport, well it was built and operated by the same company so hardly a surprise! Just like IST the security here is at the gates too, which is always annoying.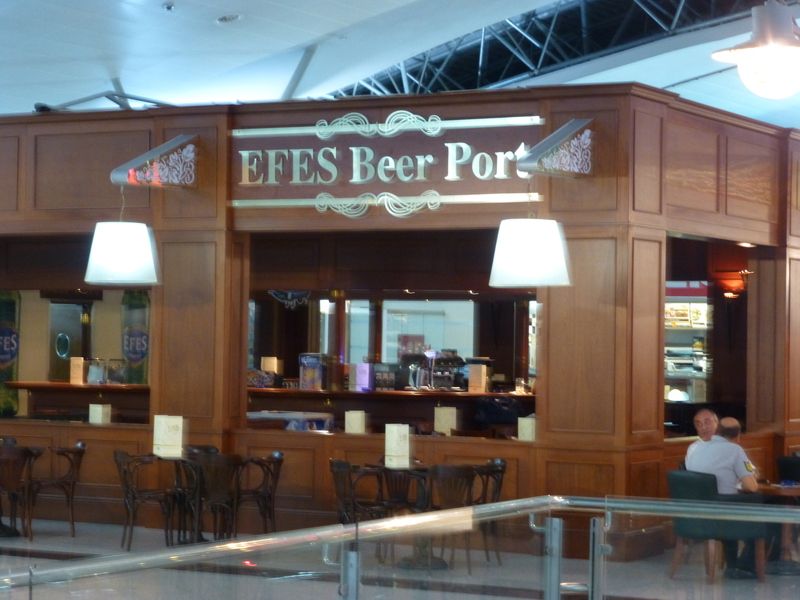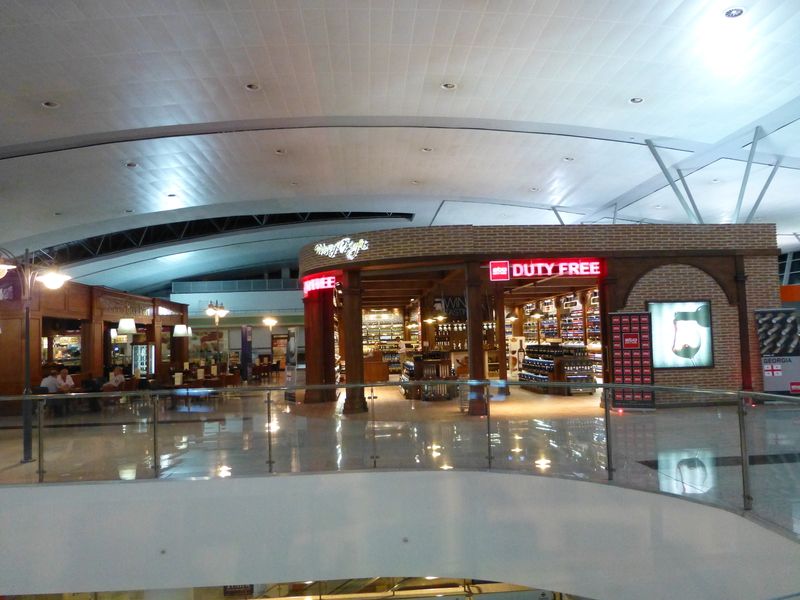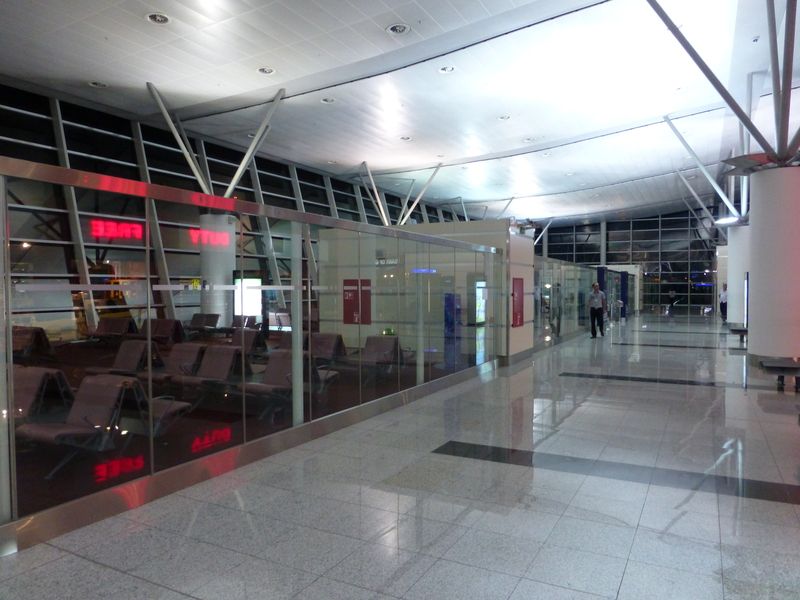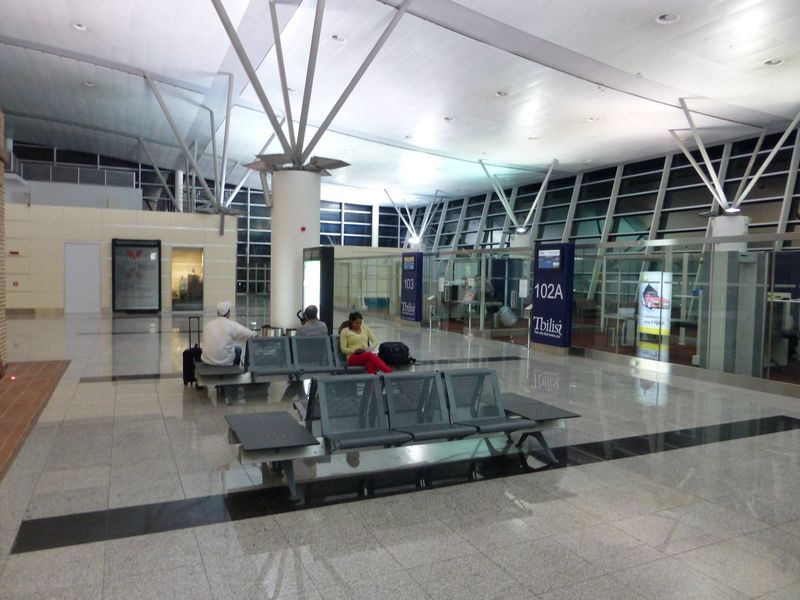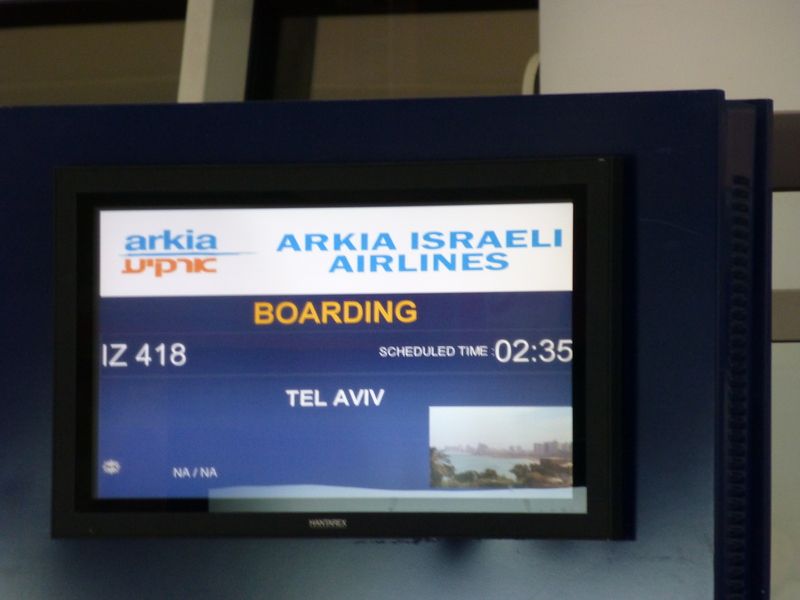 No MickeyDee here:
I spend the last of my Lari on a beer at the Efes Beer Port (price about three times as much as the going rate in the city) and try unsuccessfully to get the free wifi to work.
Eventually I head to the gate where the security checkpoint is empty and the whole process quite smooth. Outside the plane has already arrived, the expected 737-500 model: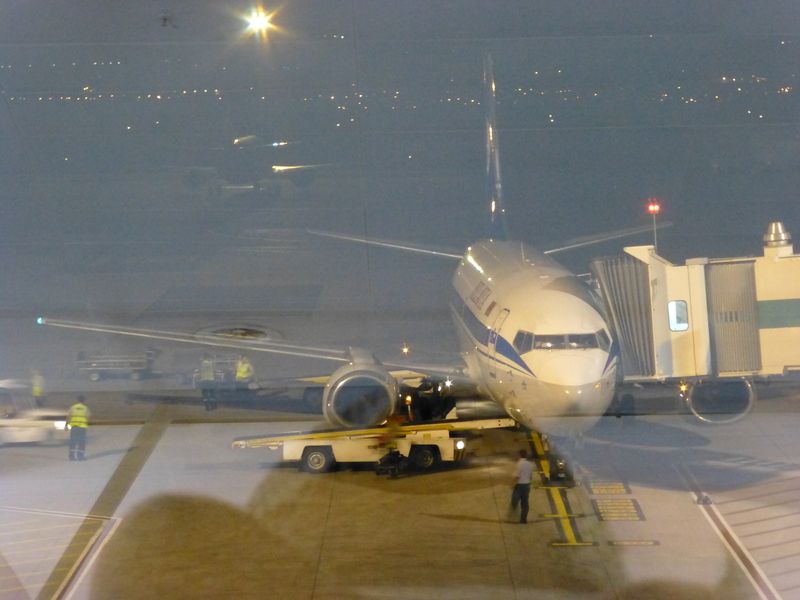 I find a power socket to charge up my mobile and sit down on the carpeting (shudder), trying to resist dozing off (not yet, onboard please!).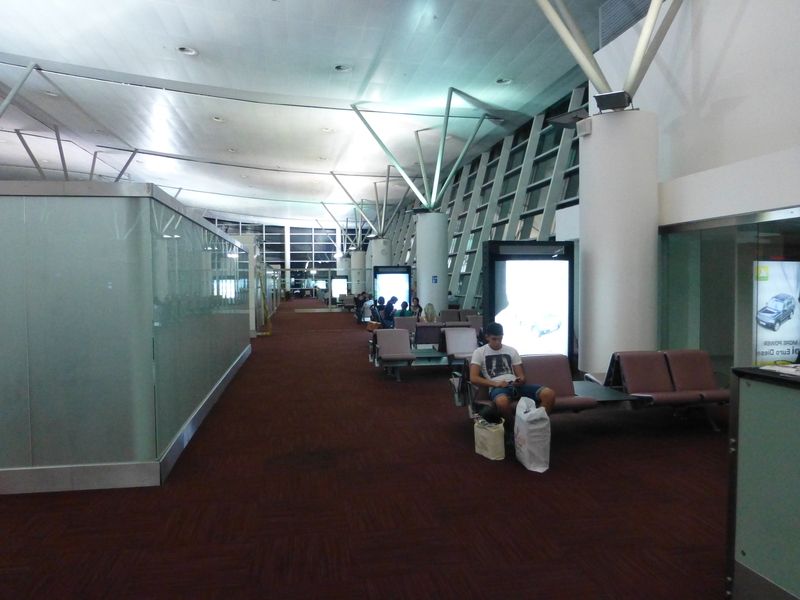 Hmm, what's this: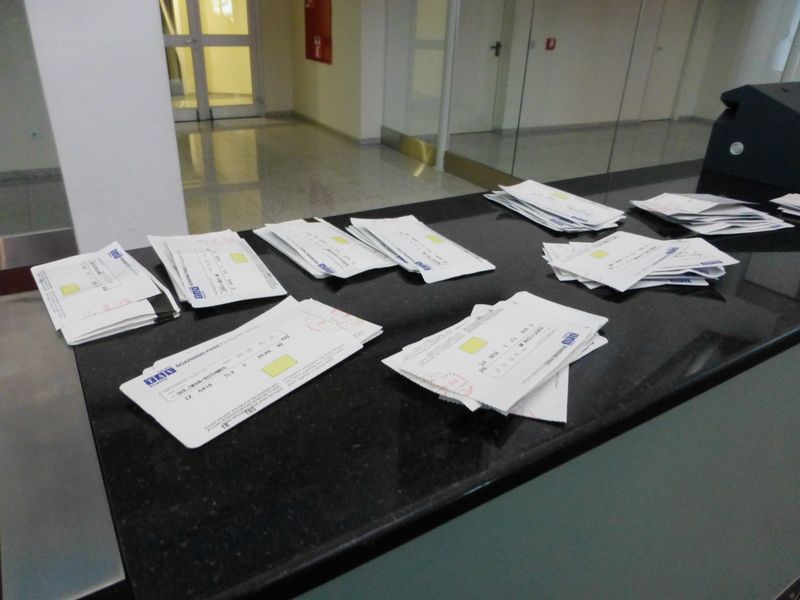 The gate area starts filling up, it soon becomes apparent it will be a well loaded flight. I'm most definitely the only non-Belarussian and non-Georgian passenger on this flight. There's a large group of Georgian teenage boys, some sort of football team wearing their team jumpers and generally being a pain in the arse as only teenage boys can!
After a while two of the Belavia FAs emerge through the security check point carrying duty free bags seemingly full of something - always funny when you see that happening
. After they've disappeared into the jetway the boarding is called barely five minutes later, around three thirty in the morning.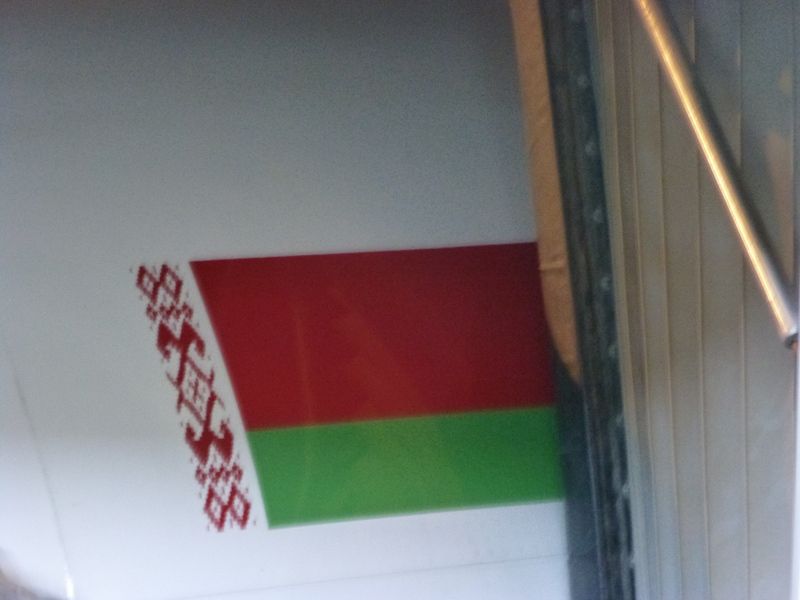 TBS - MSQ
B21736
B737-500 EW-294PA
Seat 22F
04.04 - 06.02
A business friendly welcome from the middle aged female purser in Russian/Belarussian (can't really tell the difference), but she does reply "Hello, welcome." in English after I use this language.
Yep, Belavia it is: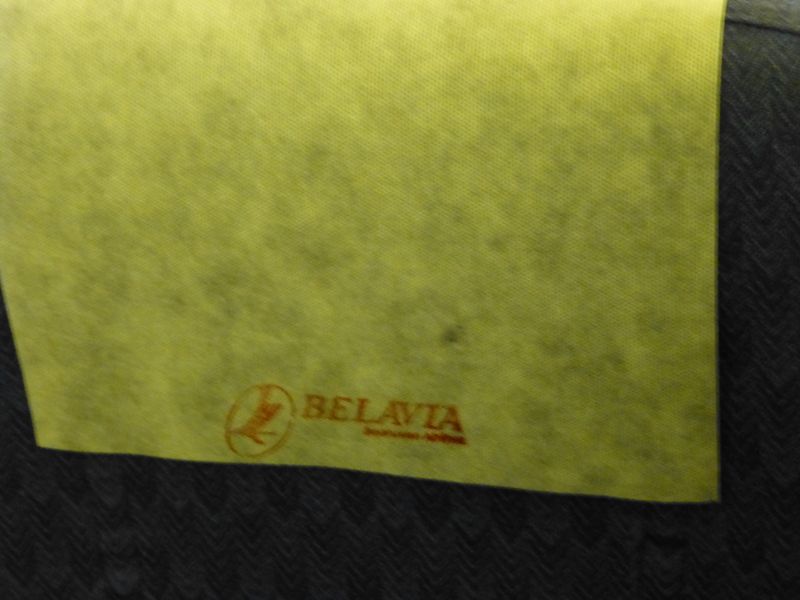 The seats, old fashioned thick cloth seats - notice the seemingly horrible legroom: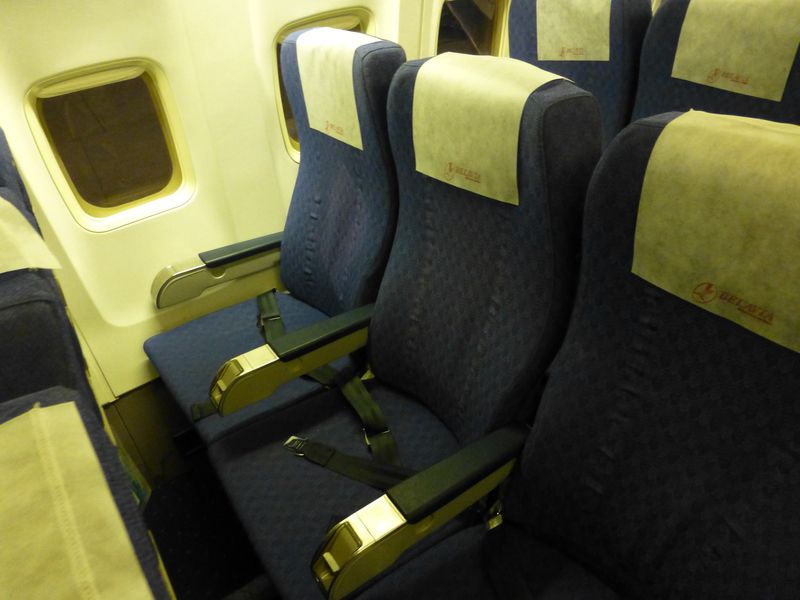 And not only seemingly, the legroom is quite frankly horrible: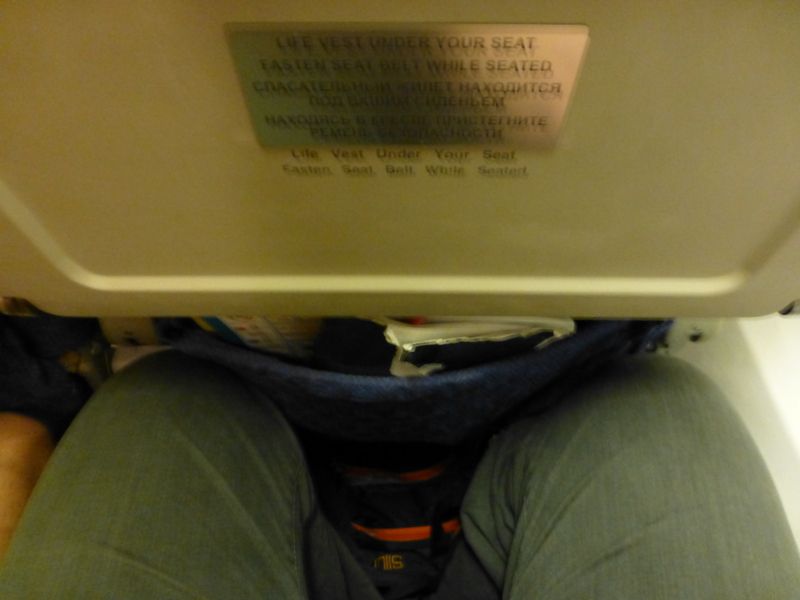 Unfortunately I'm surrounded by the noisy football kids, actually one of them is sitting on my seat so I have to kick him out. It turns out that he has the seat next to me, bugger. These kids seem to be very excited to be going abroad and some of them on the last row (which only has the DEF section BTW, there's a galley on the other side - never seen this on a 737 before!) are trying very hard to impress the cute young FA with their Russian. The poor girl is blushing at the attention.
One of the lads actually spots me watching them and asks me "Is that your seat?". I'm tempted to say that no, it's not my seat, I just bloody enjoy the heavy stench of teenager testosterone in the air and chose to sit there but decide to hold my temper and just confirm that yes, it indeed is my seat.
They could put a PTV here to broadcast some Lukashenka propaganda: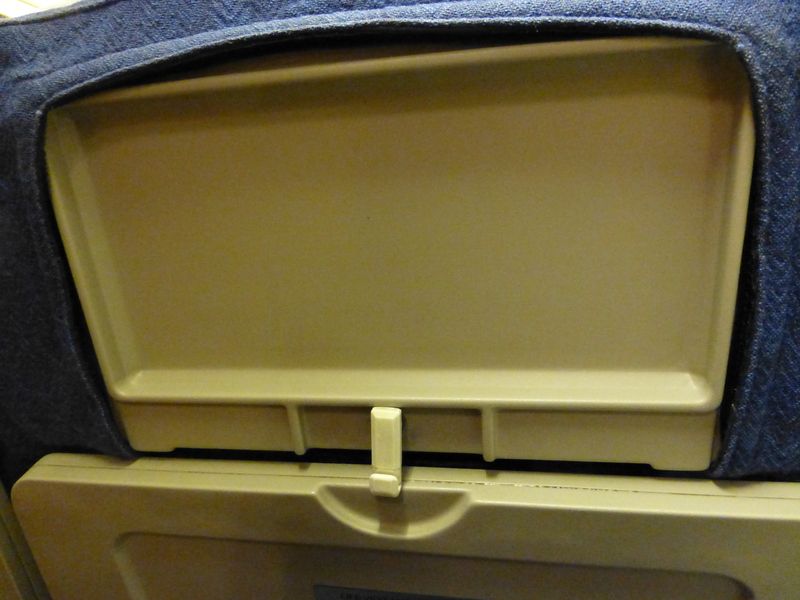 The flight appears to be completely full at least in economy. I think there were two or three rows in front of the curtain, no idea of the load there.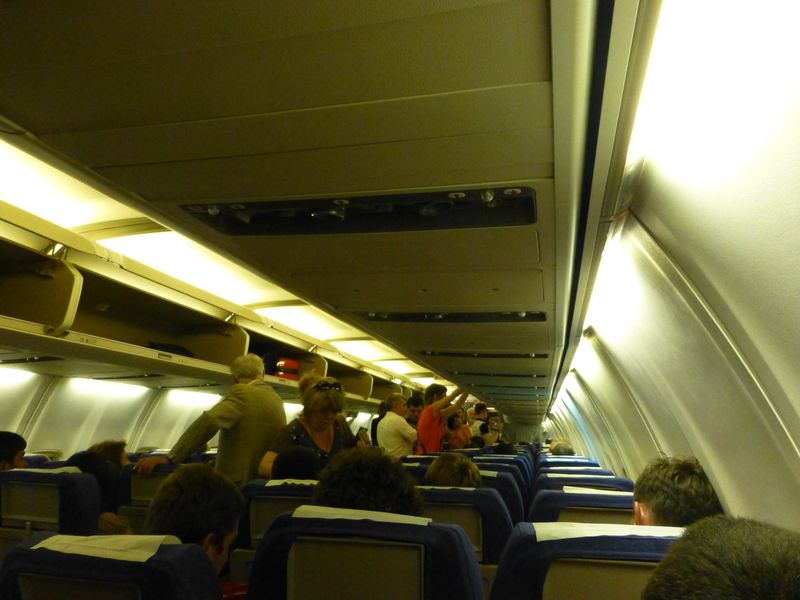 Eventually the purser announces the flight time as 2h50mins (no word from the cockpit at all on this flight) and we push back six minutes early.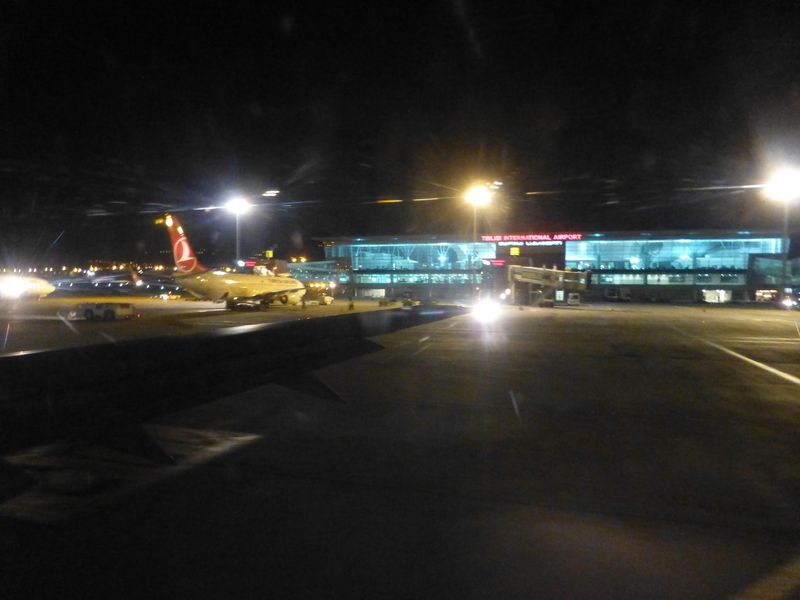 The old, Soviet-style terminal lit up very nicely: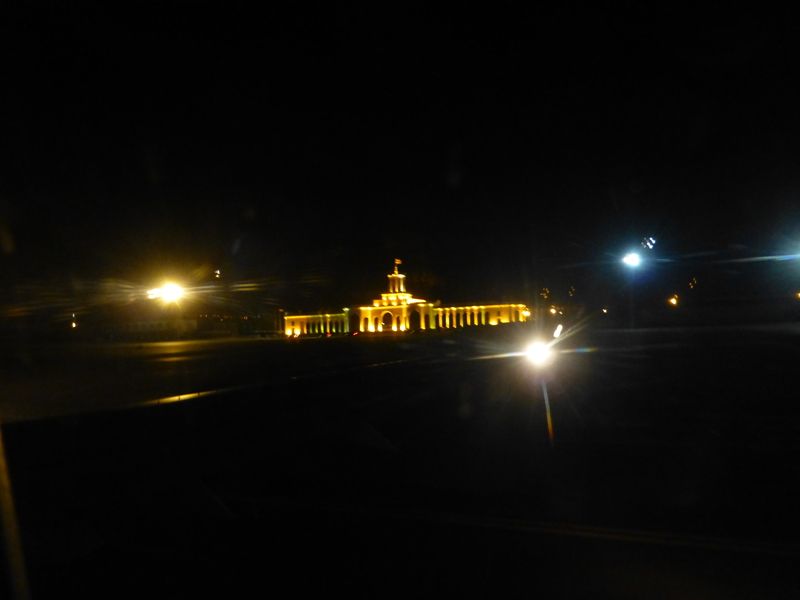 Take off is from 31R a few minutes later.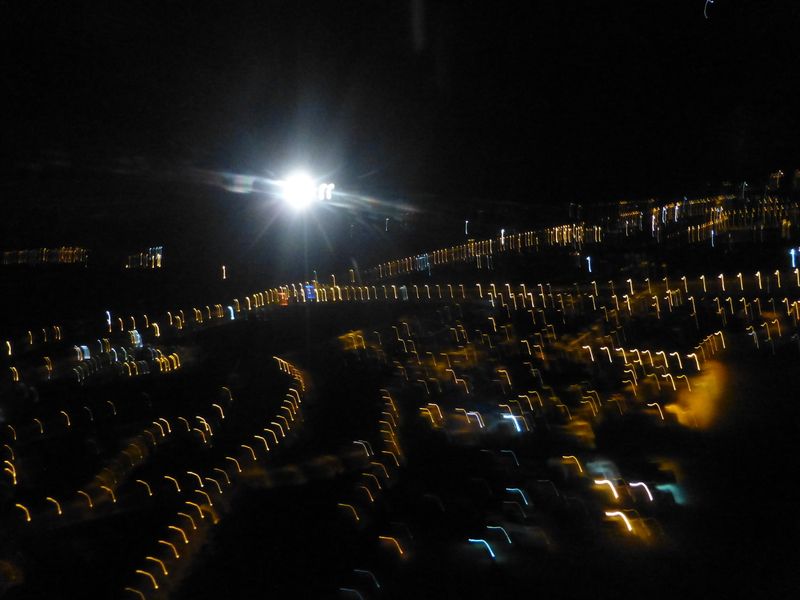 Right after take off I finally fall asleep, despite the noisy teenagers (noise canceling headsets help a lot here) and the crap legroom.
Maybe an hour later I wake up to the service cart reaching my row. Outside the new day is dawning: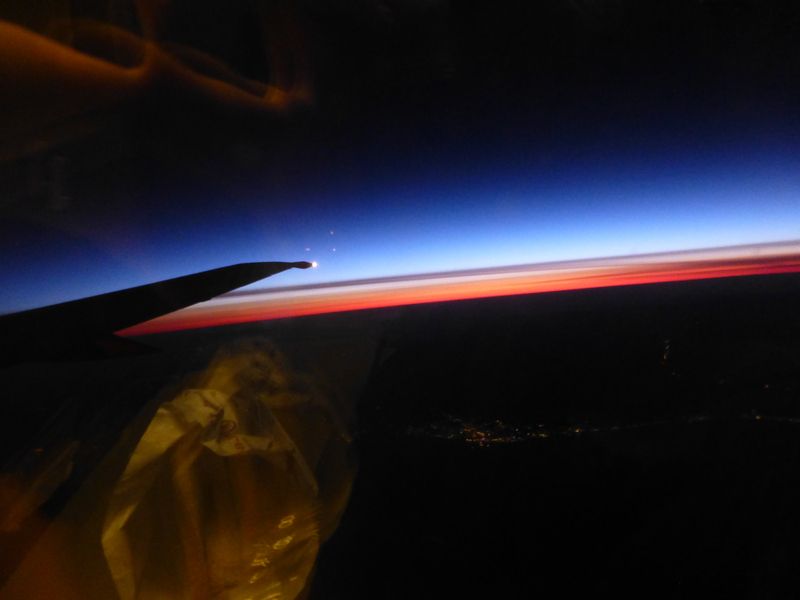 The cute young FA hands me this mystery bag: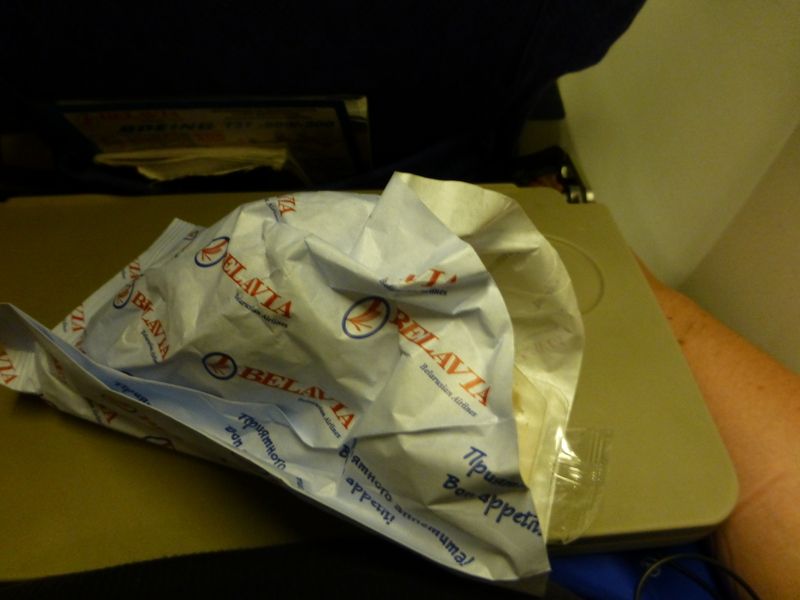 Inside there's a sandwich (I think it was chicken):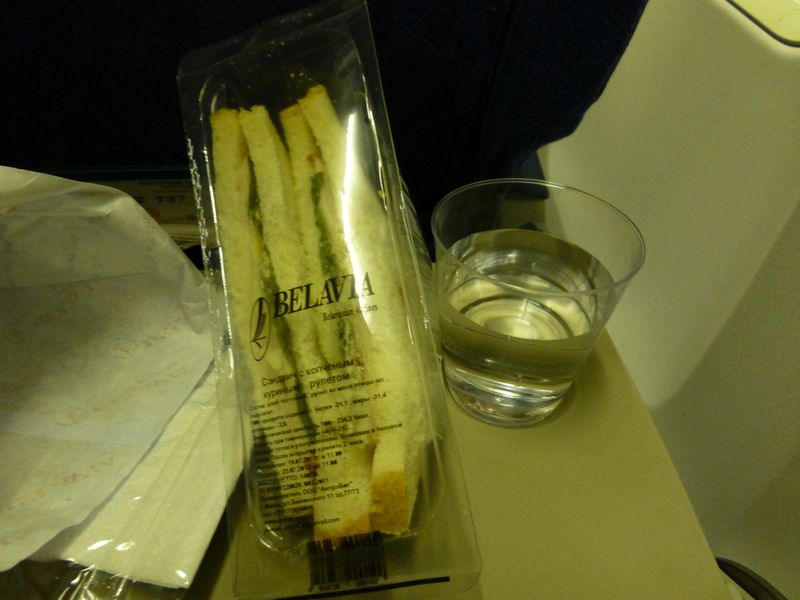 A small chocolate bar and a wetwipe: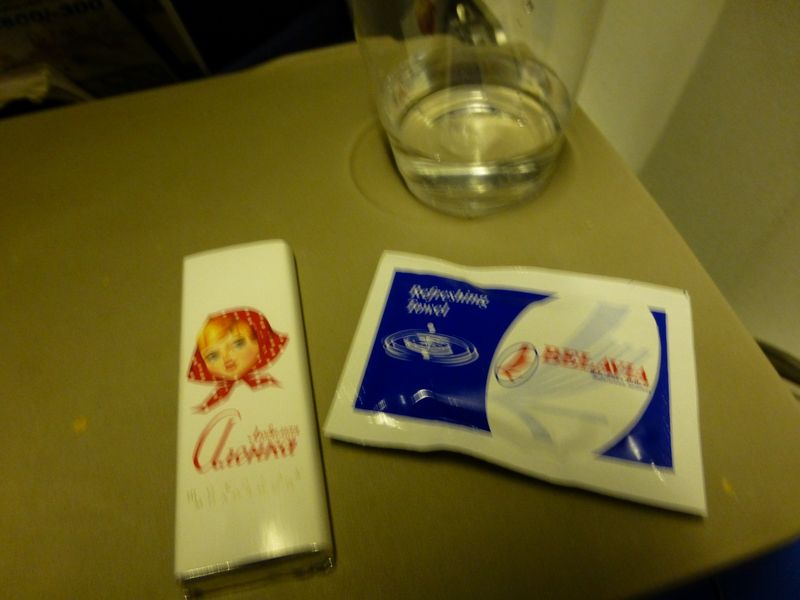 I ask for some water, eat the sandwich (surprisingly good) and the chocolate (excellent), down the water and crash again.
Sometime later I wake up and notice that there's a beautiful dawn view of the Sea of Azov outside: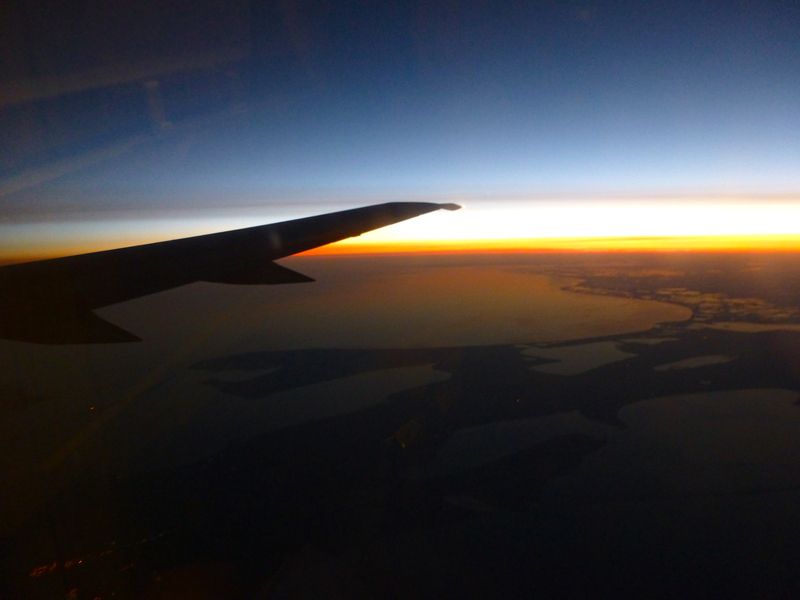 After snapping a few photos I drift off again - this is all the sleep I'm going to get this night so I most certainly need to maximize it!
The next time I come to my senses the crew is just preparing the cabin for landing. Indeed we are already quite low over the Belarussian landscape: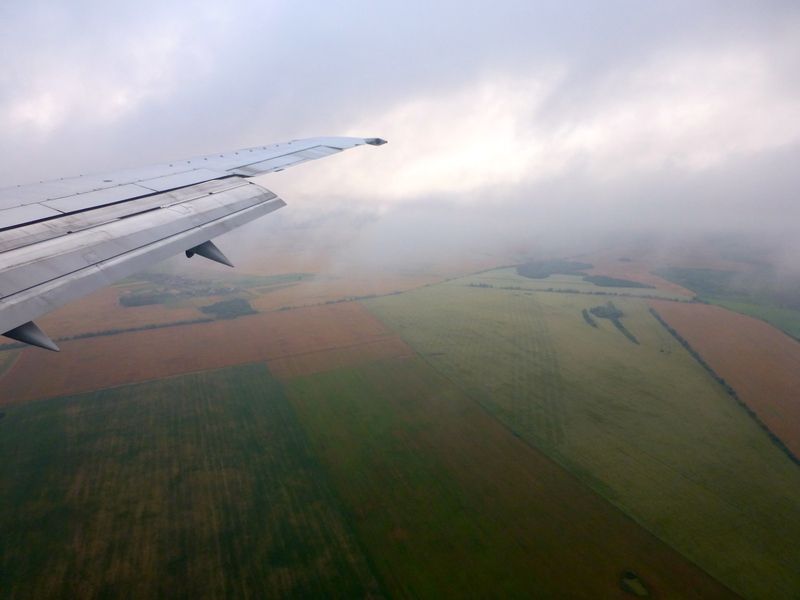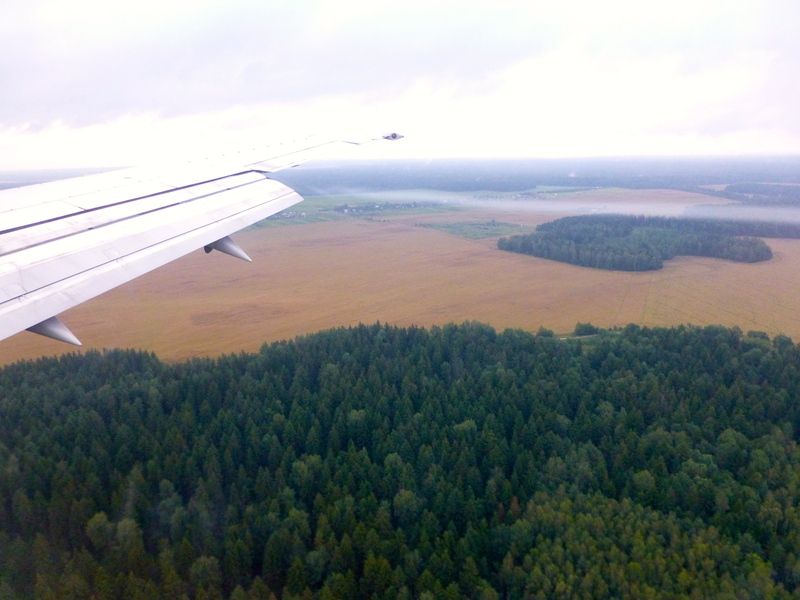 Landing is on runway 31 after around 2h55mins of flight time.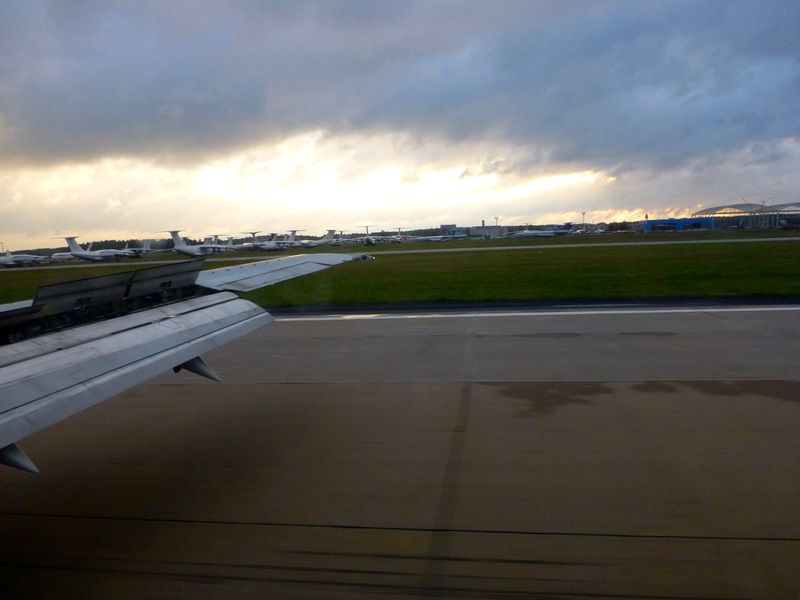 Aeroflotski heading to SVO - notice the IL-76s on the background - there's a lot of old Soviet hardware around here: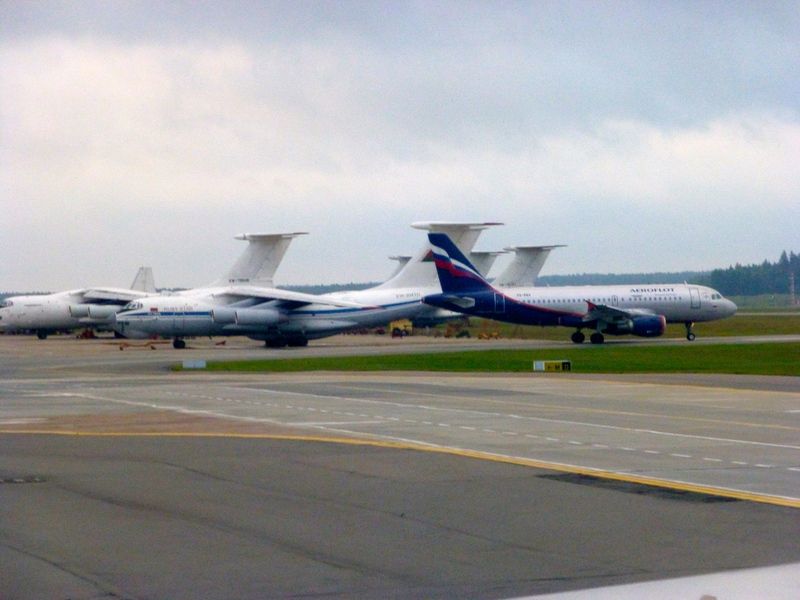 Docking to a jetway next to a larger -300 model: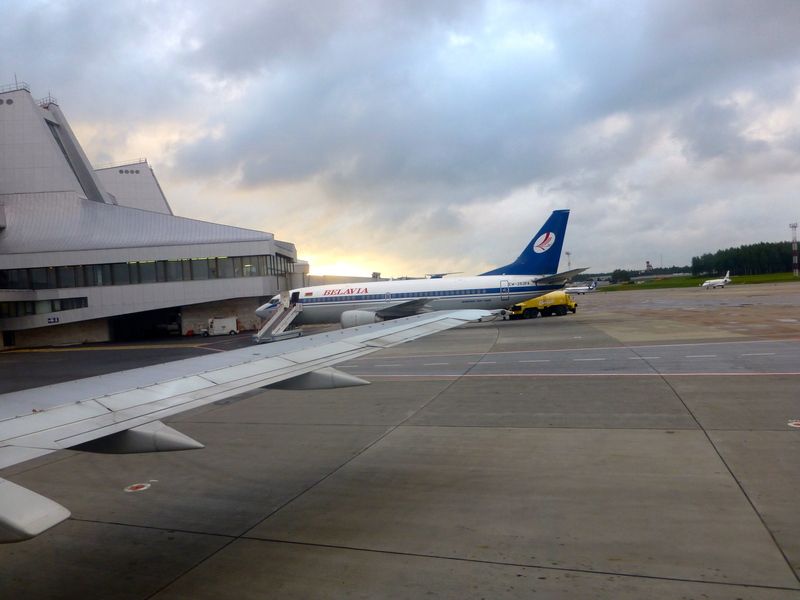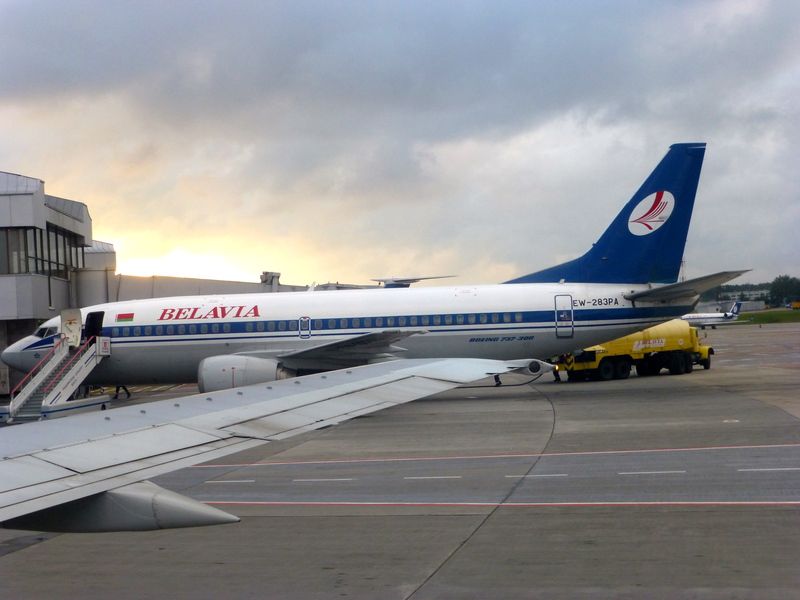 At this point I start wondering just what have I signed up for, after all you hear all kinds of things about Belarus...
National Minsk Airport (yes, that is its official name), take 1
I'm in no hurry to leave the plane, after all it is just past six in the morning so I am one of the last ones to walk down the aisle (hmmm) and up the jetway. Now one of the official scams they run in Belarus is that everyone visiting the country needs a medical insurance policy. Okay, that is not really a scam as I find it a sound policy even though it is against your freedom of choice. But what is a scam is that they only accept policies from certain Belarus companies with a few exceptions (most of these being Russian insurance companies). So before immigration there's a hall with booths for two companies selling insurance.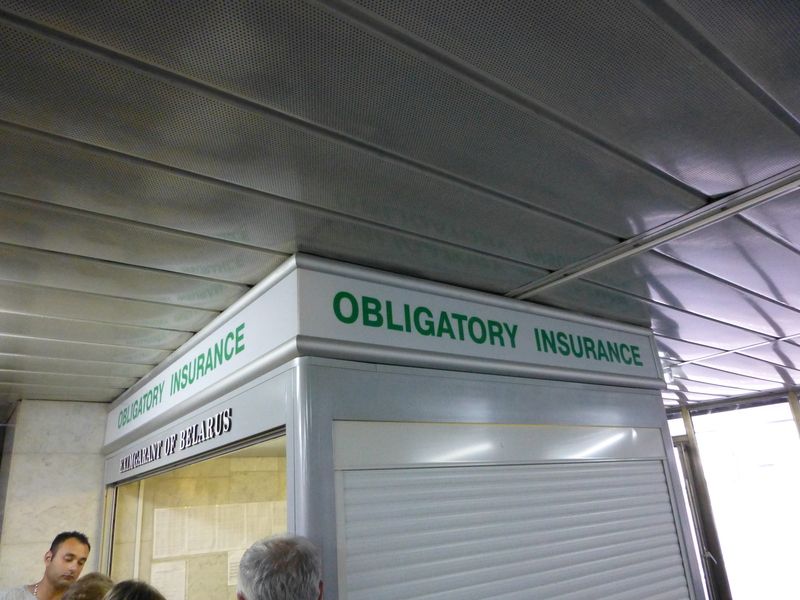 I found some contradicting information, some sources claimed that when entering Belarus with a transit visa (like me) you don't really need the insurance. Some other sources claimed that it is always mandatory for foreigners. So I decide to play it safe and join the queue for one of the booths which takes a long time.
My bird is parked outside.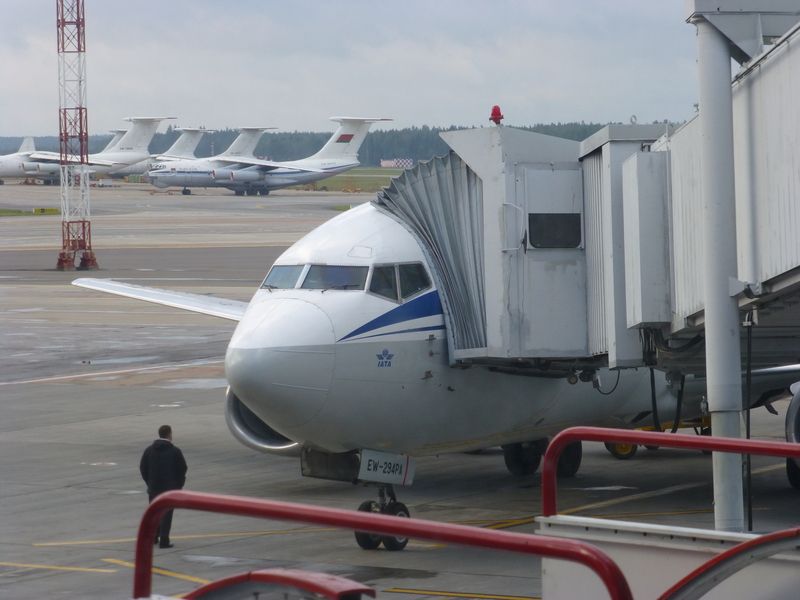 Eventually it is my turn, the woman very effectively prepares the paperwork and after ponying up 2 EUR (very reasonable actually for a single day policy, euro coins accepted just fine) I head downstairs to the immigration hall.
For some reason they never handed out the immigration card onboard (or maybe I slept through it) so I fill one in - the questions in this one actually make sense and are presented in impeccable English, unlike the Ukrainian card... After filling the card in I head for the immigration booth where a youngish woman checks my paperwork and stamps me into the country, just like that! Wow, this was actually far easier than entering the US for example.
I ask somebody in the luggage hall whether I am supposed to pick up and recheck my baggage but the guy assures me that my bag will be going straight to Kyiv, thanks, this is all I wanted to hear!
And then I walk through the customs (disinterested staff couldn't care less) and properly enter the country. Inside the arrivals hall I take a deep breath - wow, did I just enter the most secretive and closed of the European countries just like that? Yes I did!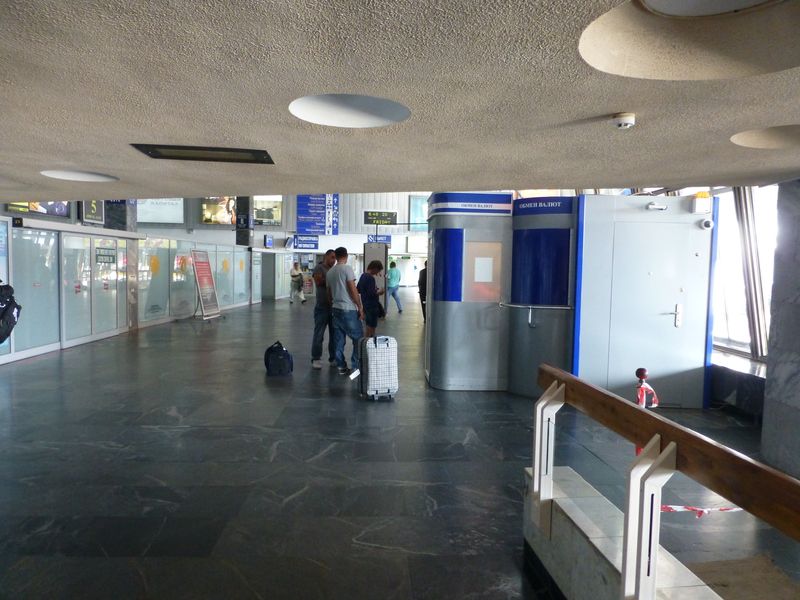 Next task is to get some cash - there's a tiny exchange booth right there so after queuing up I hand in the 80 USD I had left from my US trip a month before and receive a ridiculously thick wad of Belarusian Rubles: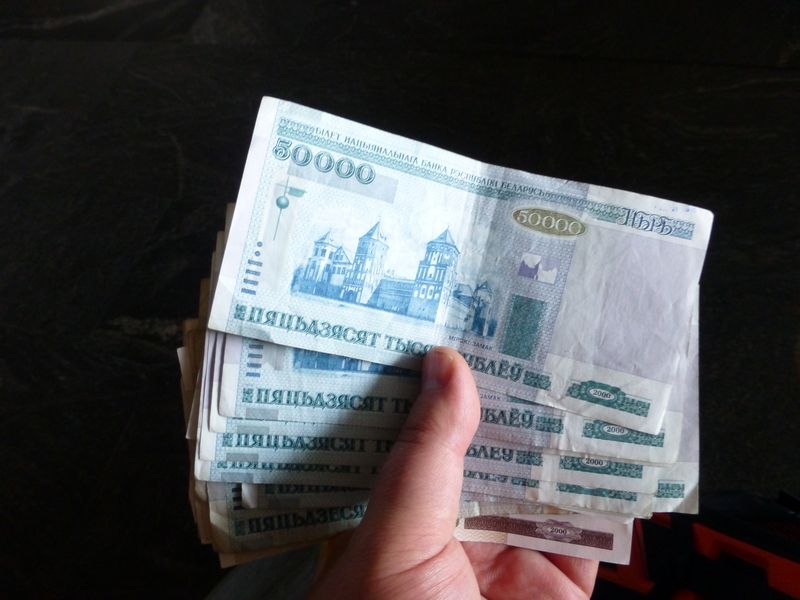 1 EUR is around 10K Ruble so I'm almost a millionaire! Thanks to inflation that's been running amok and a struggling economy there's a constant shortage of cash here - in many places when you paid with large notes the reaction was a lot of eyes being rolled, heads being shaken and theatrical gestures. Oh and they also had some 200 and 500 Ruble notes, or 2 and 5 eurocents respectively - very useful!
Before heading to the city I decide that some breakfast is on order - two levels up on the departure level there's a rather nice looking restaurant which looks just like a restaurant in Leningrad around 1975: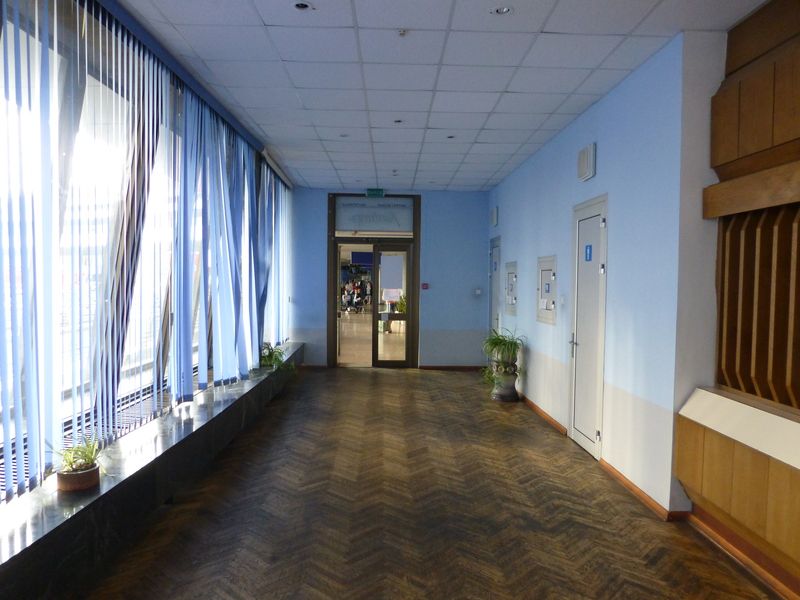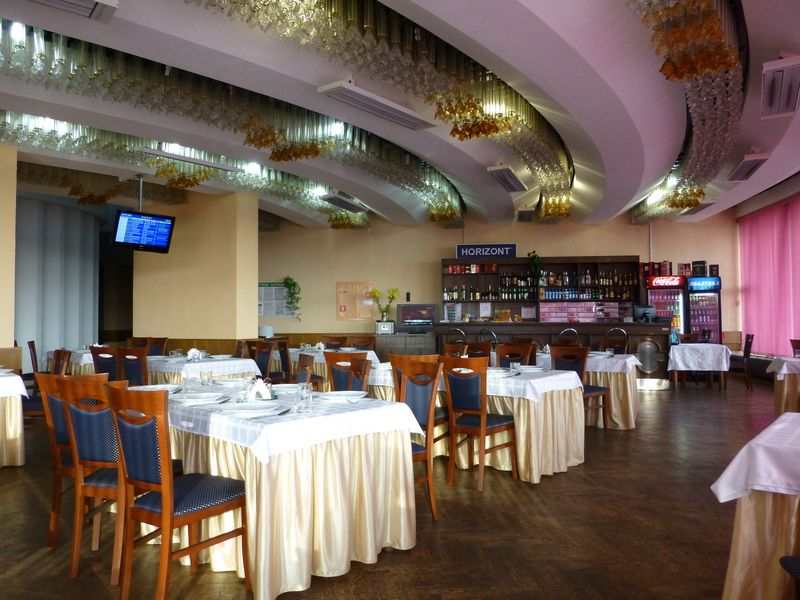 Well, you didn't have Fanta in Leningrad back then and even Pepsi only appeared in the 80s, I give you that: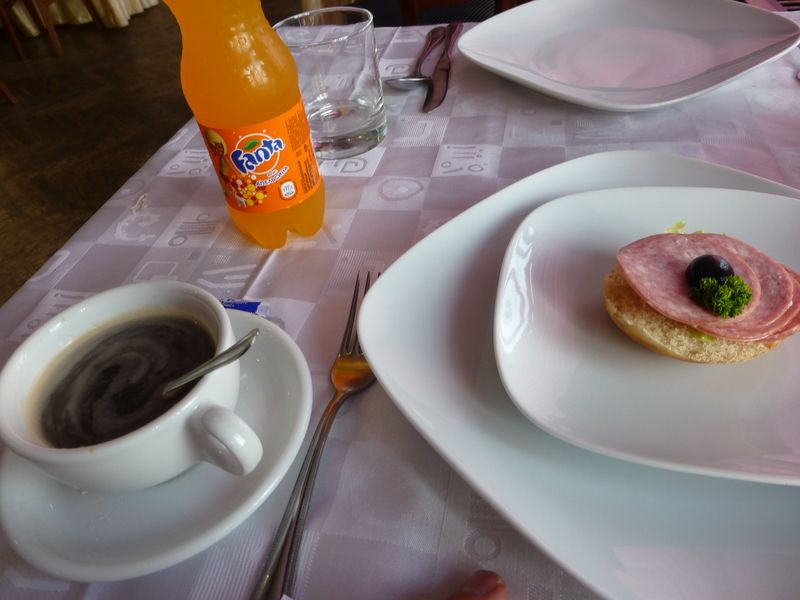 Airport branded sugar, never seen this anywhere else: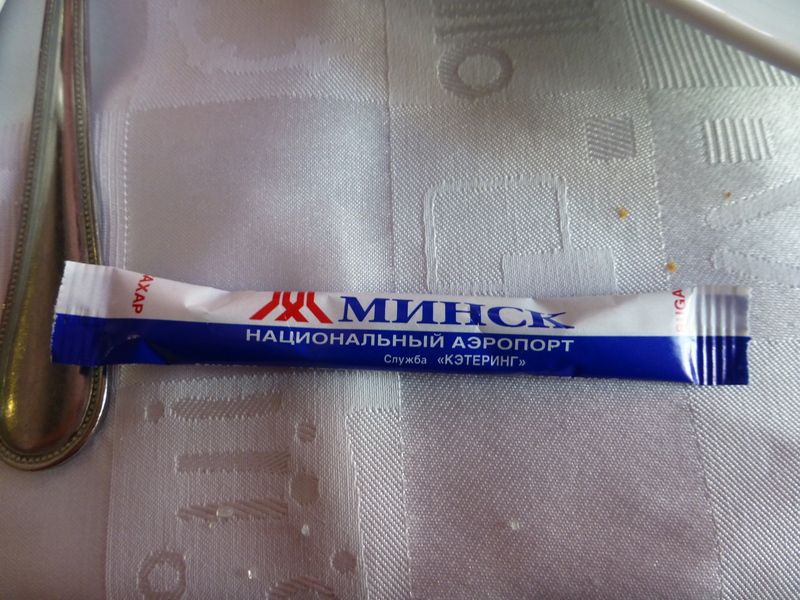 After getting some food and more importantly some caffeine into my system I head out to look for the airport bus which some guides claim is well hidden but the bus stop was very easy to find, actually you can see the bus right in this photo:
MSQ is in the middle of nowhere, over 40 kilometers from the city, but the bus ride costs a very reasonable 1.20 EUR. Sticking to my track record with buses I of course fall asleep somewhere in the middle of the brand new but mostly empty motorways. Eventually I wake up just in time for getting off at the first metro stop, I really want to ride the metro the rest of the way.
Minsk
Here are some pictures from Minsk. I was a little wary of using the camera, after all this is an authoritarian dictatorship with a secret police that is well known for arresting people with phoney charges and keeping a tight grip on its own citizens.
But in general Minsk was a really, really weird place. It had the old Soviet feel everywhere, looked like St. Petersburg or Moscow before they started the reckless building spree that is still going on there. There was notably less traffic and cars on the streets than in many other ex-Soviet places (a sign of the poverty of the average citizen I assume), although there were quite a few high class western bling bling models around, but not to the same extent as in Kyiv for example.
Everything was impeccably clean, there were *a lot* of cleaners around and I'm pretty sure that littering is a punishable offence so people don't do it. And of course there were quite a few police/militia/security folks around - some statistics put Minsk as the safest city in Europe due to the number of policemen per capita!
This is the suburb where I switched the airport bus to the metro: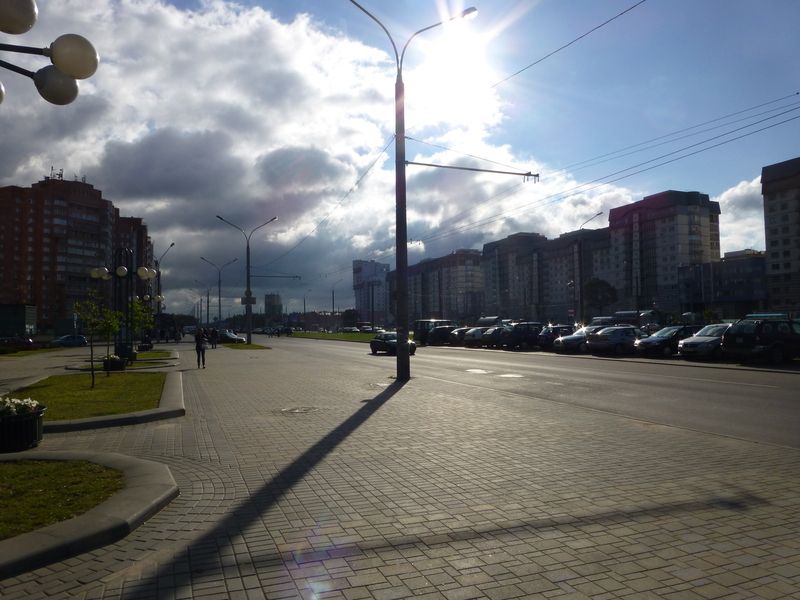 In the centre: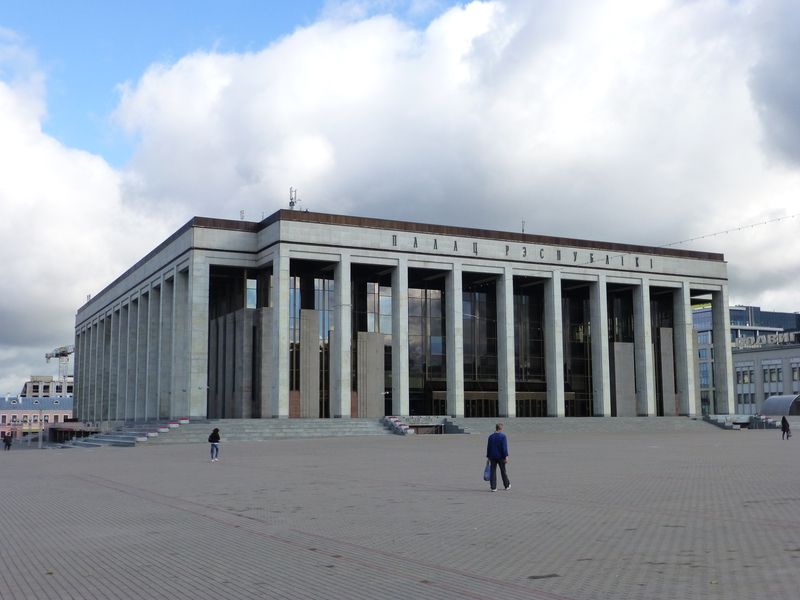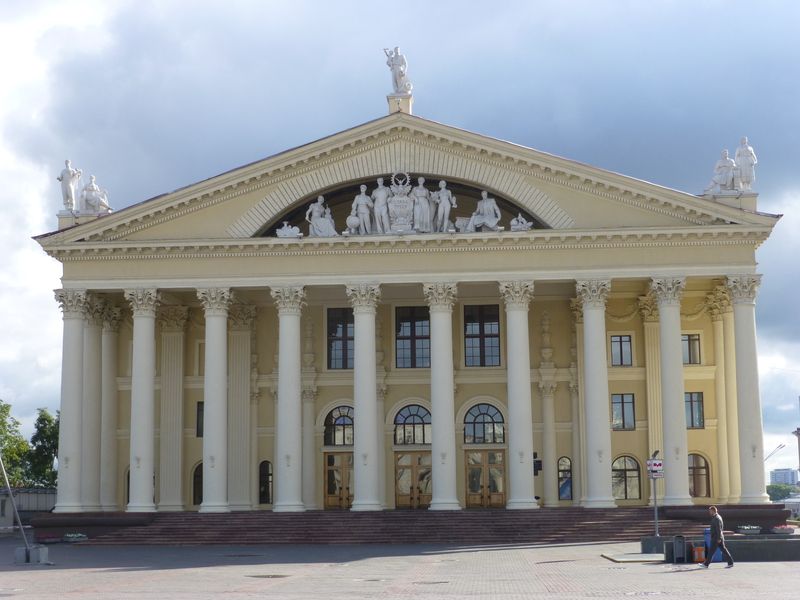 English, ooh: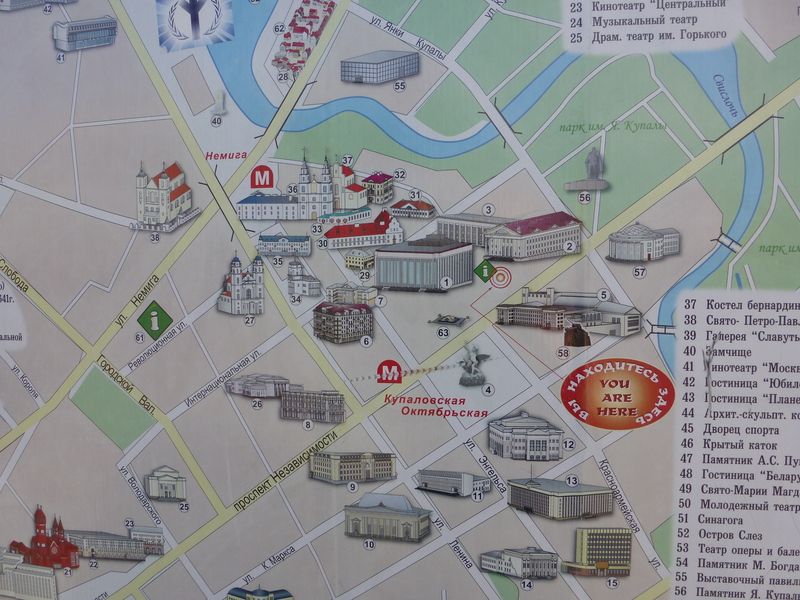 Out of the MEB3 only Etihad flies to MSQ: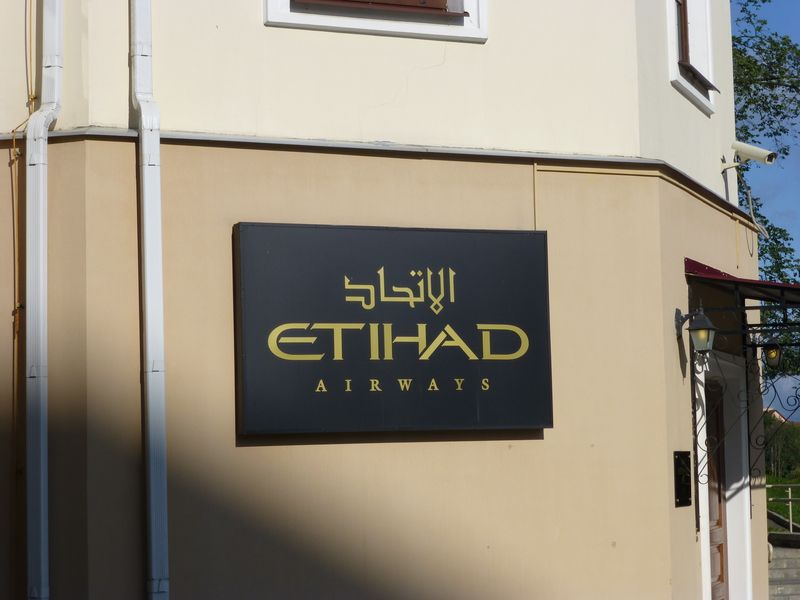 The Svislach river: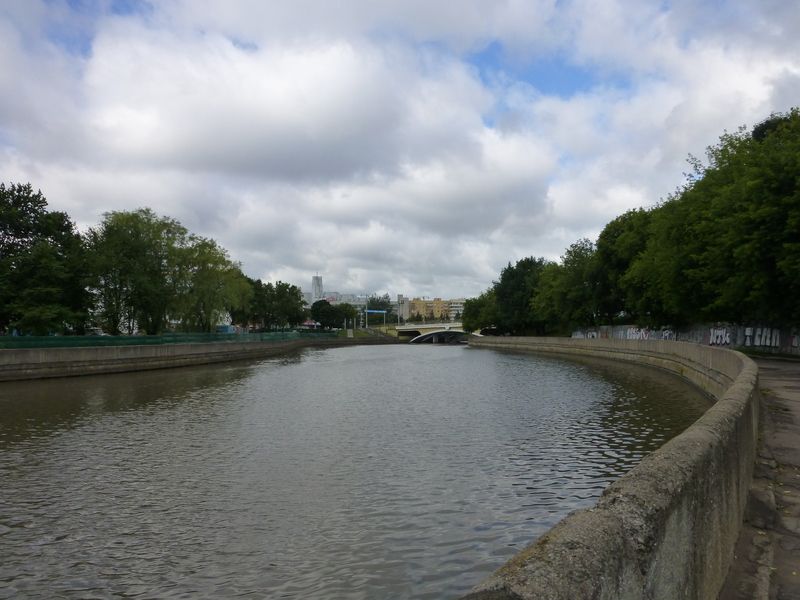 The usual communist monuments galore: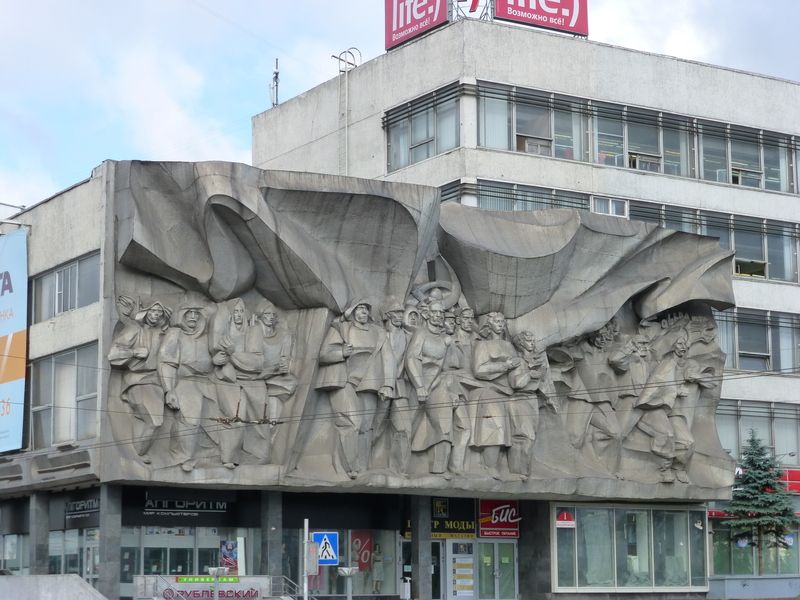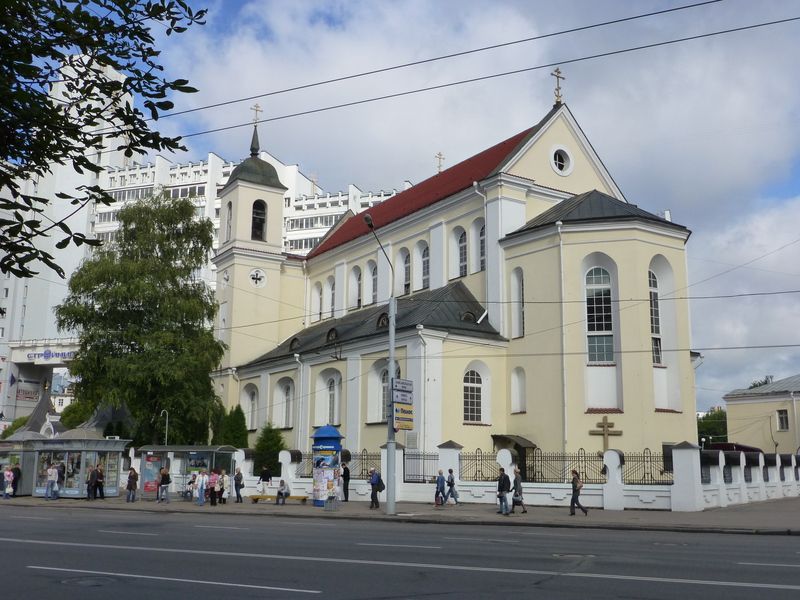 I know some a.netters would love this bar: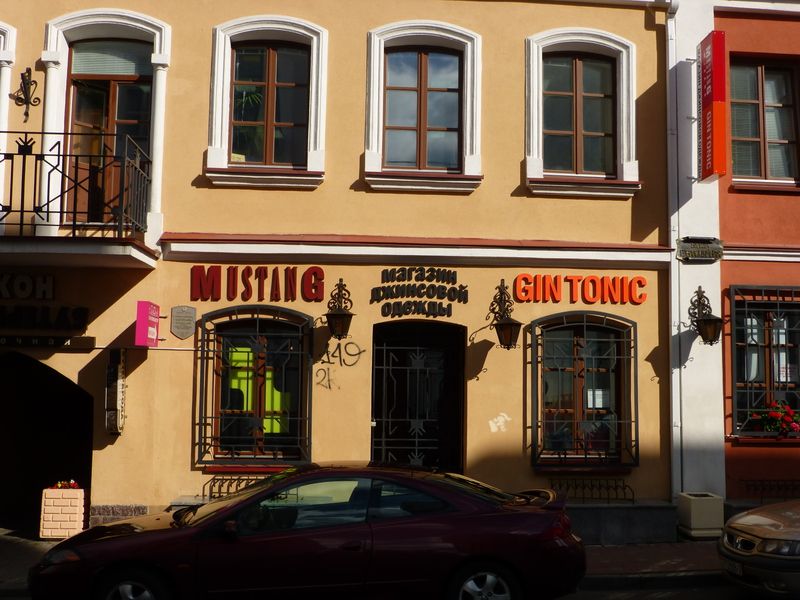 One of the main streets - appropriately named Lenin Street: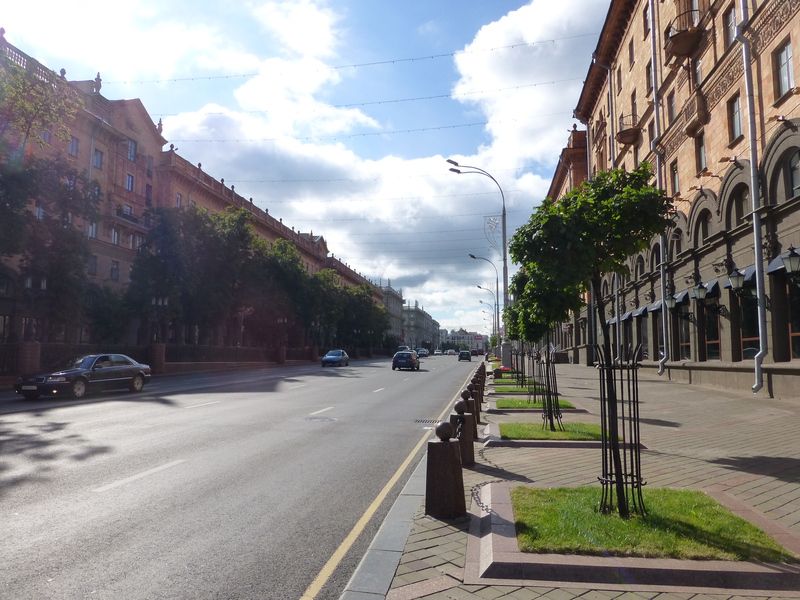 No, this is not a church - it is the town hall: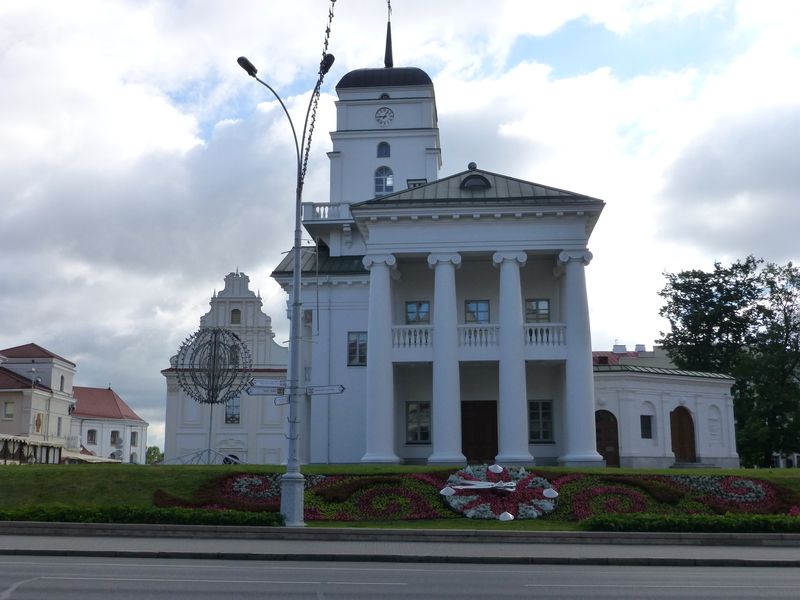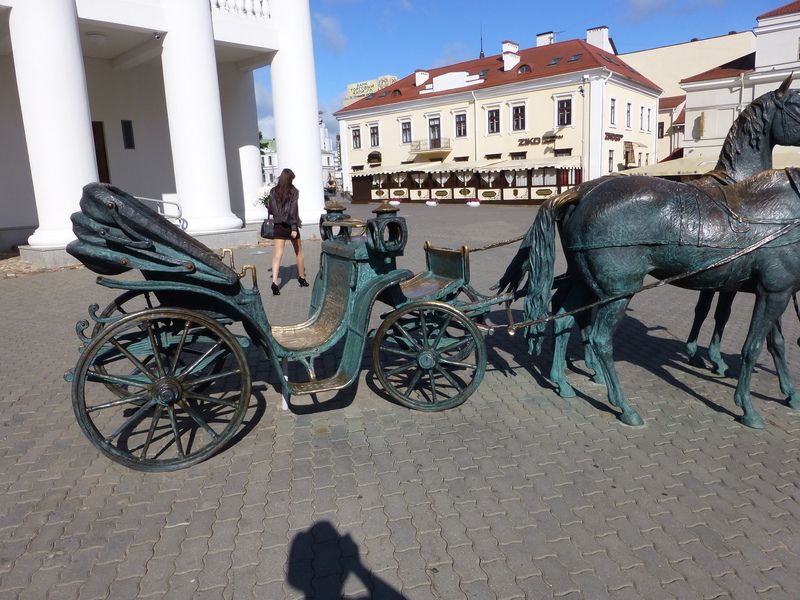 Well this one is actually a church - you can easily see the Lithuanian baroque architectural influences: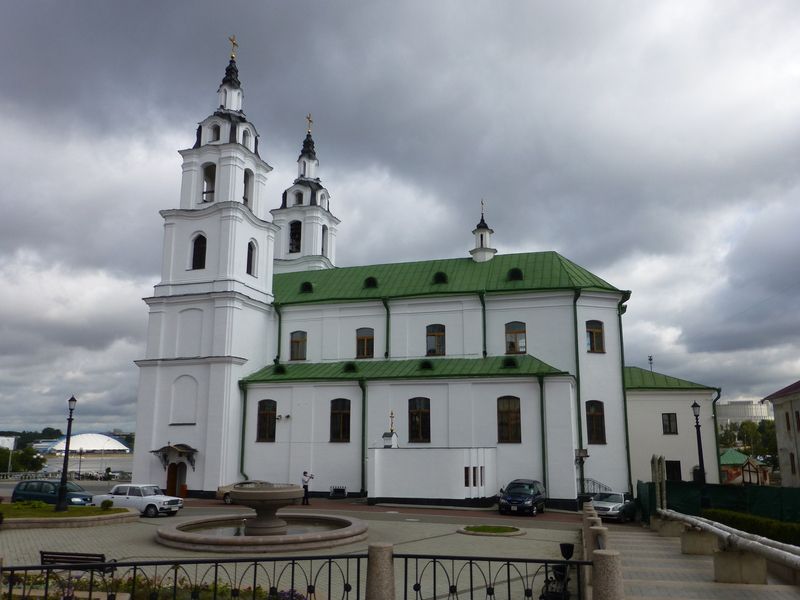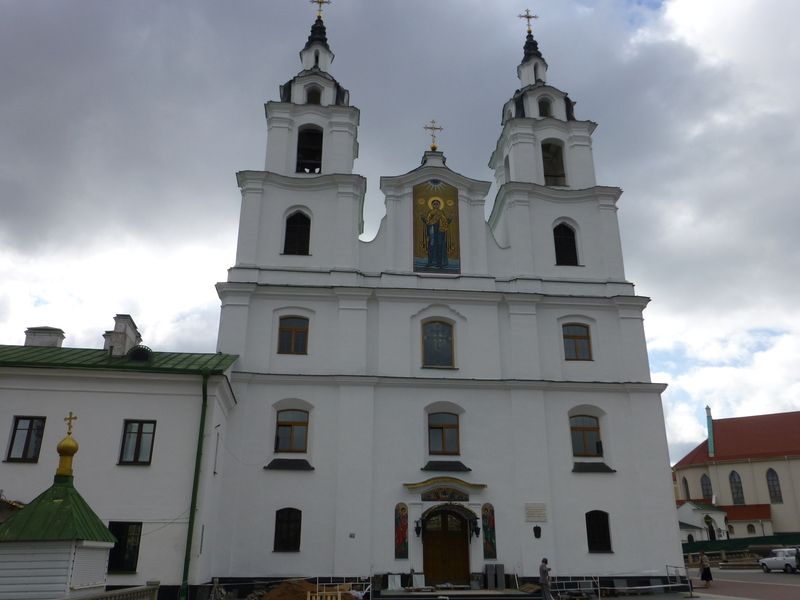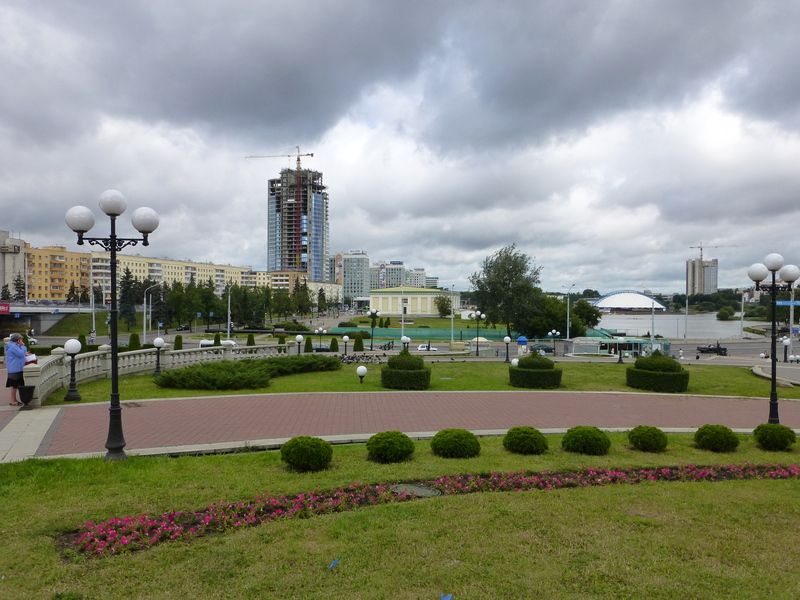 Hotel D'Europe - the best and most expensive hotel in town: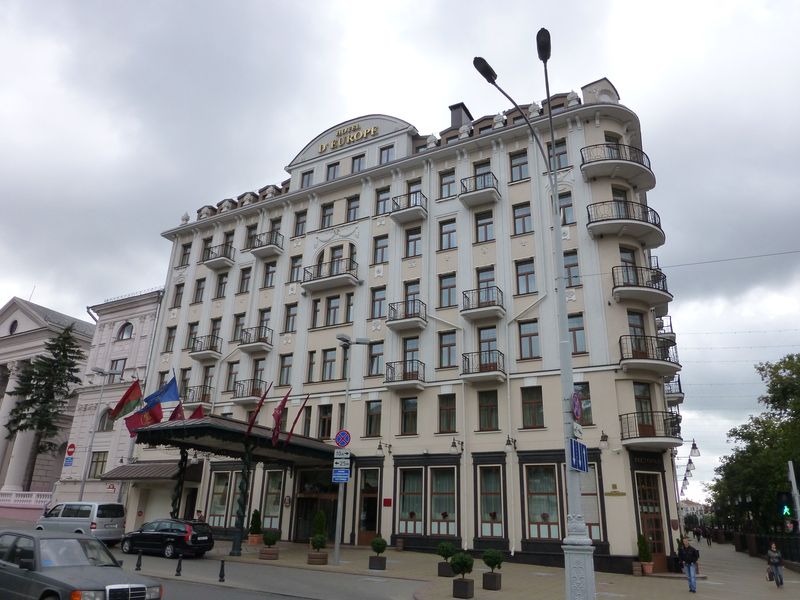 Belarus is indeed is an odd mix of totalitarianism and pseudo market economy - I was quite surprised to see TGIF in town: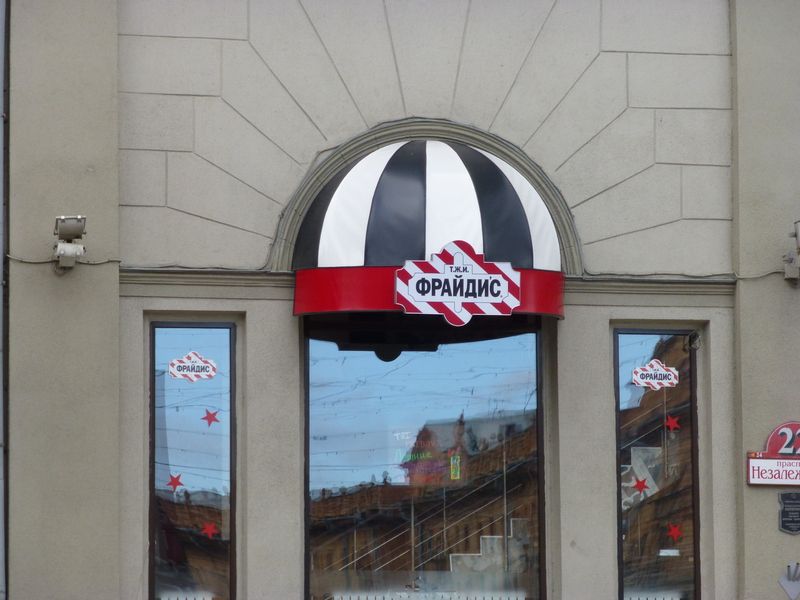 Also McDonald's was there and insanely popular - long queues. I just had to go there in order to be able to say that I've done it: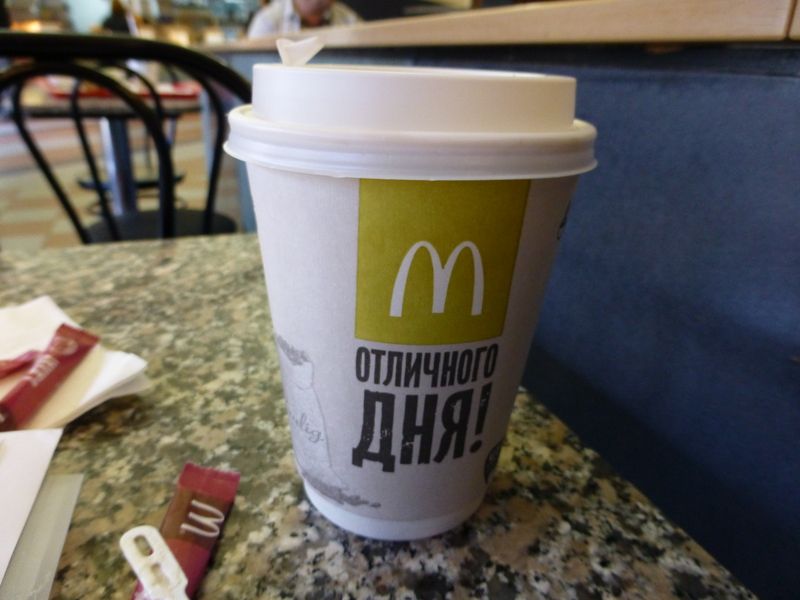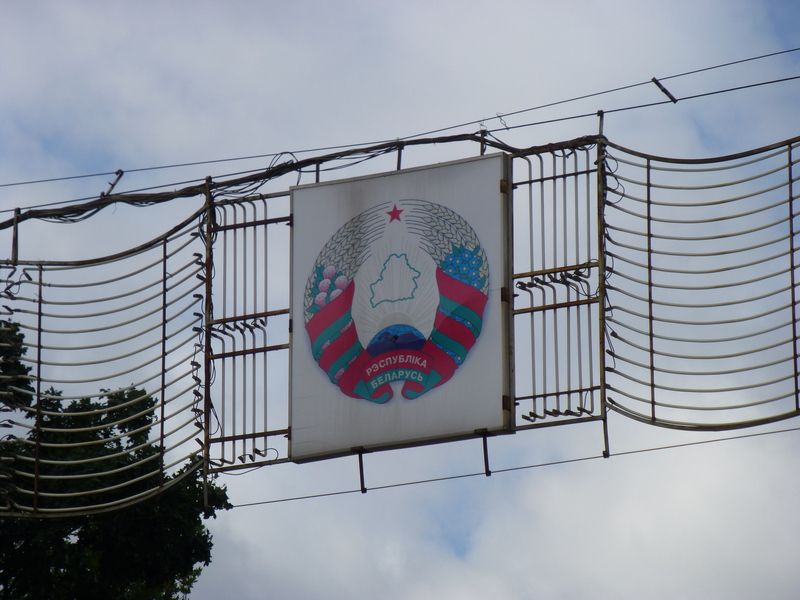 This is the main street - in Moscow this would be clogged with cars: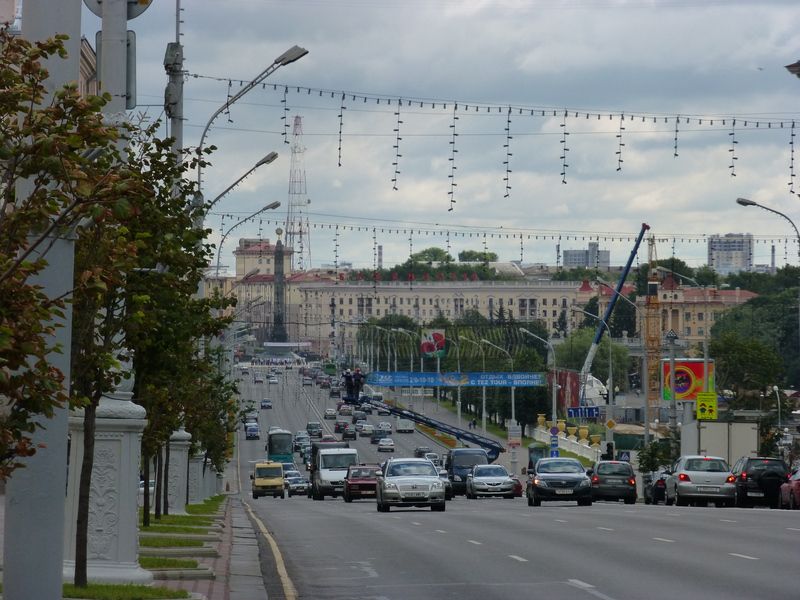 The people need fun and games too: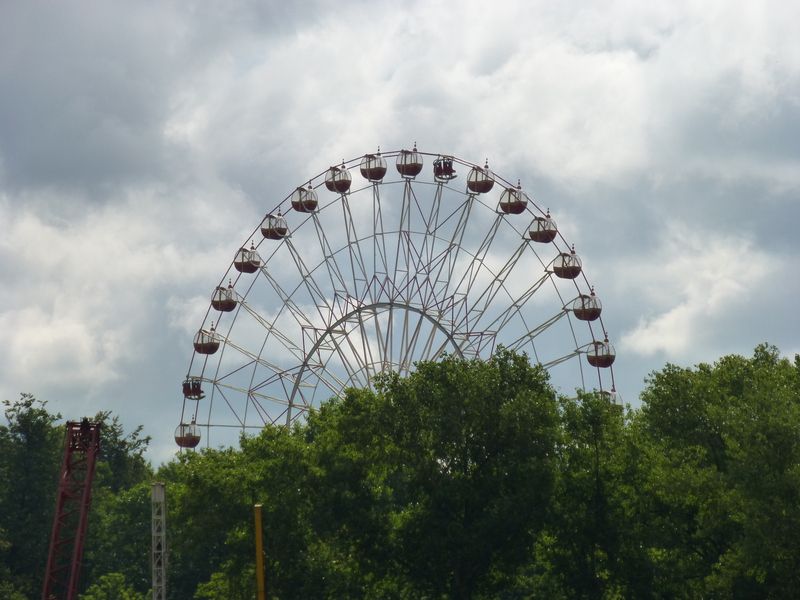 Oh please: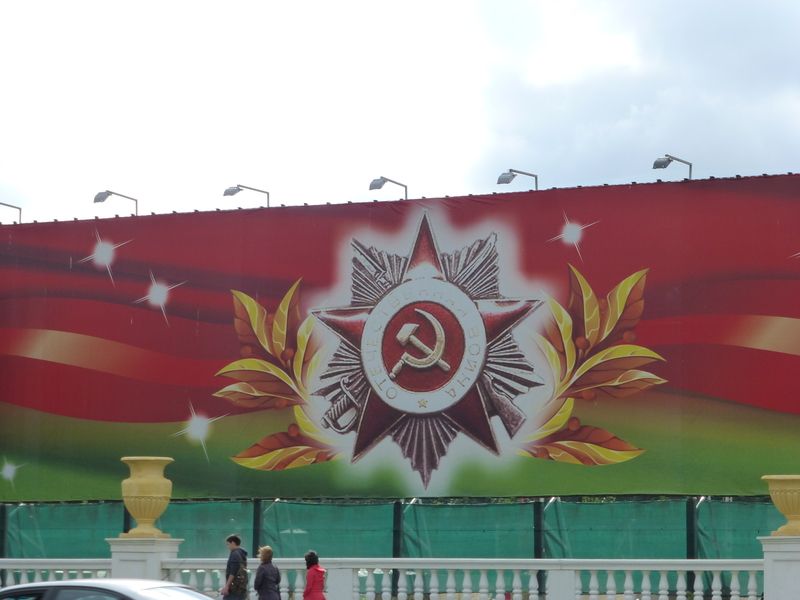 Fun and Games part 2, this is actually a circus - many ex-Soviet places have these fixed circuses as opposed to the big top tent kind of things we westerners associate with the word. I once visited the one in Riga, that certainly was an interesting experience: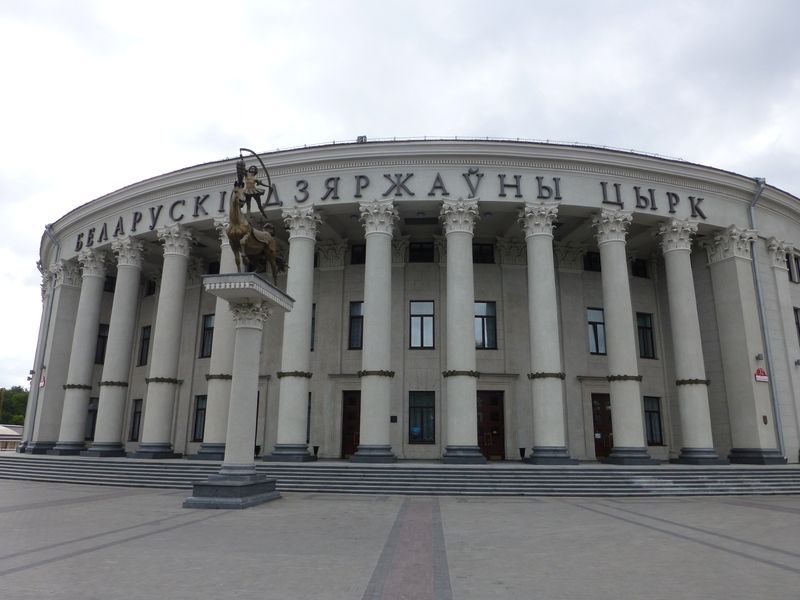 The Svislach again: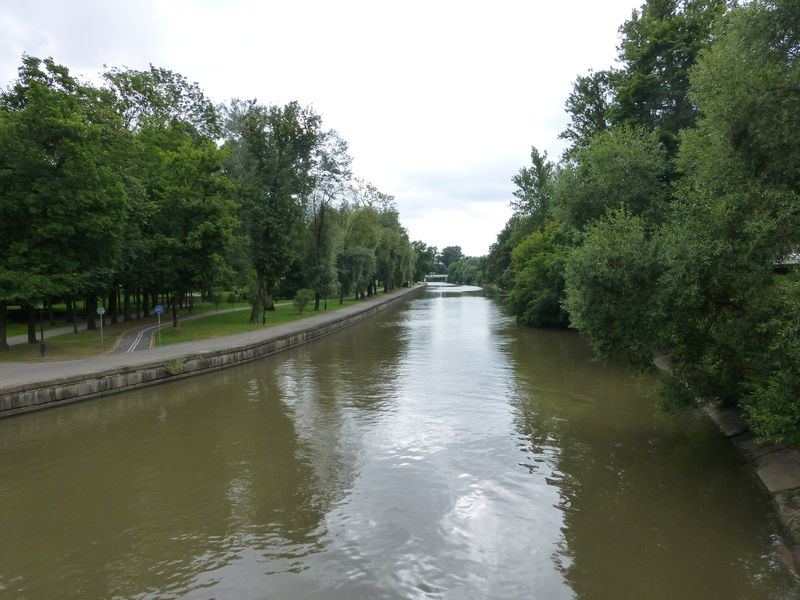 Does this mean the same thing as in Holland: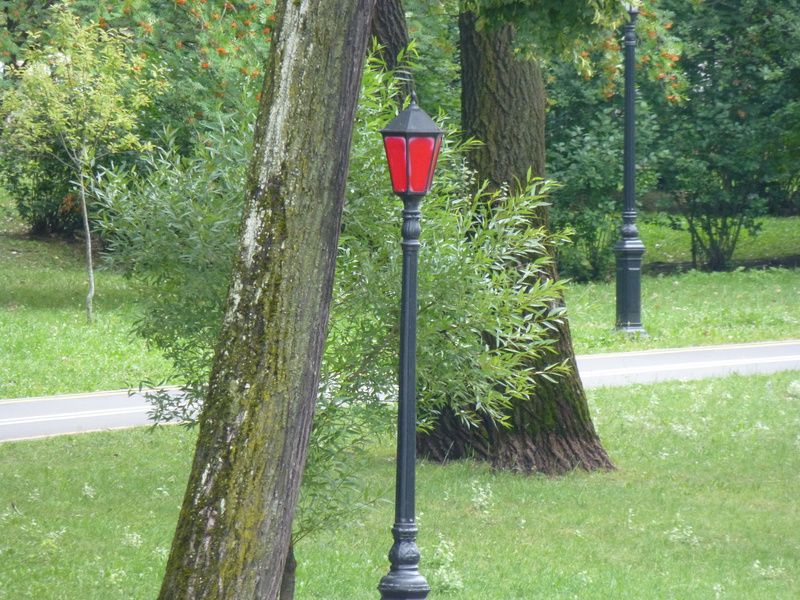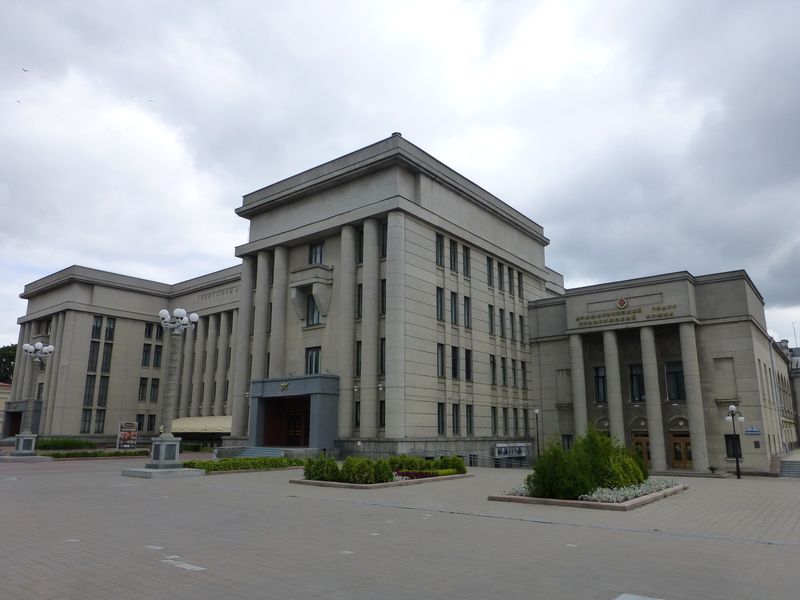 The obligatory imposing tank shot - a T-34 standing in front of some governmental building: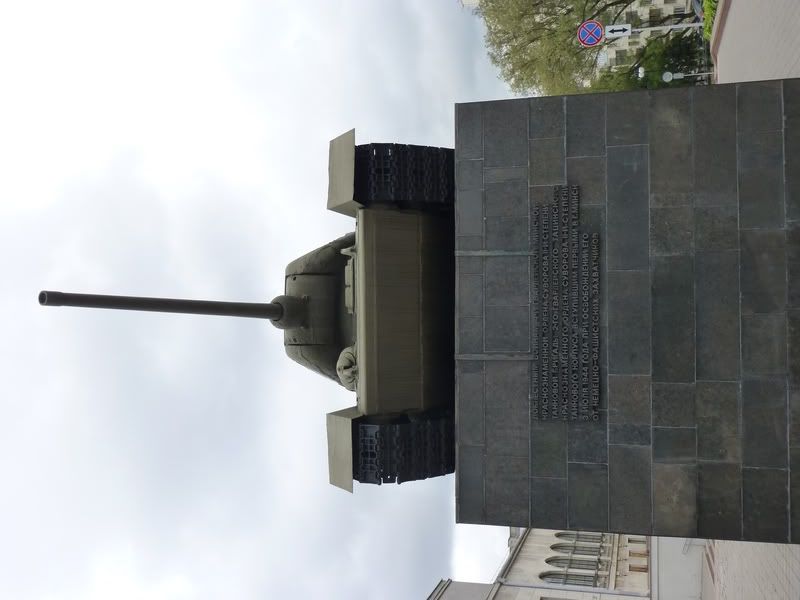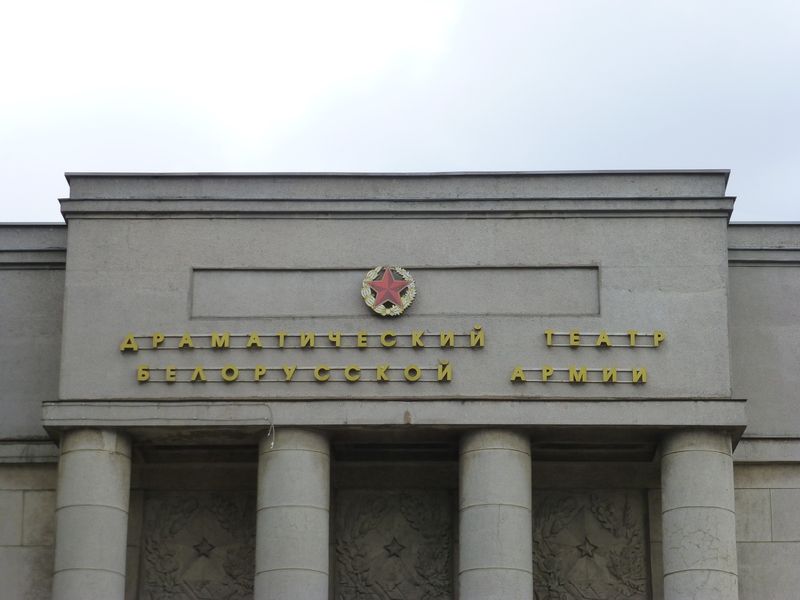 Another government office - had to be discreet with this photo as there were a lot of guards on patrol on the streets around it: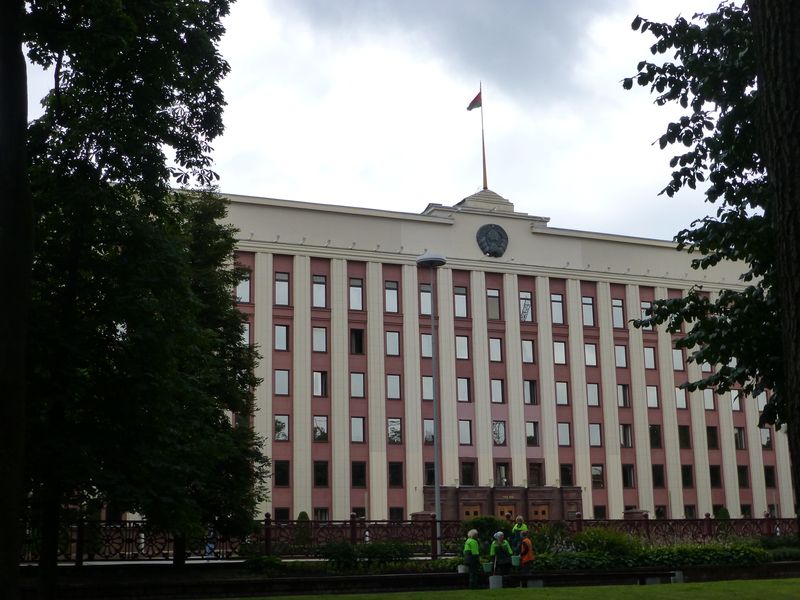 This building apparently is the headquarters of the Belarusian KGB (they never bothered changing the name like they did in Russia proper). It is located right on the main boulevard, in the middle of the shopping area: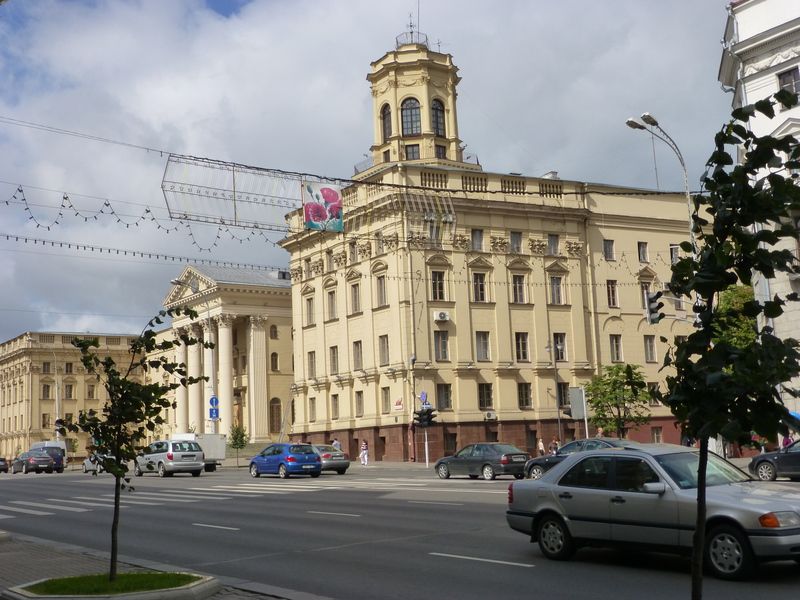 Some tea: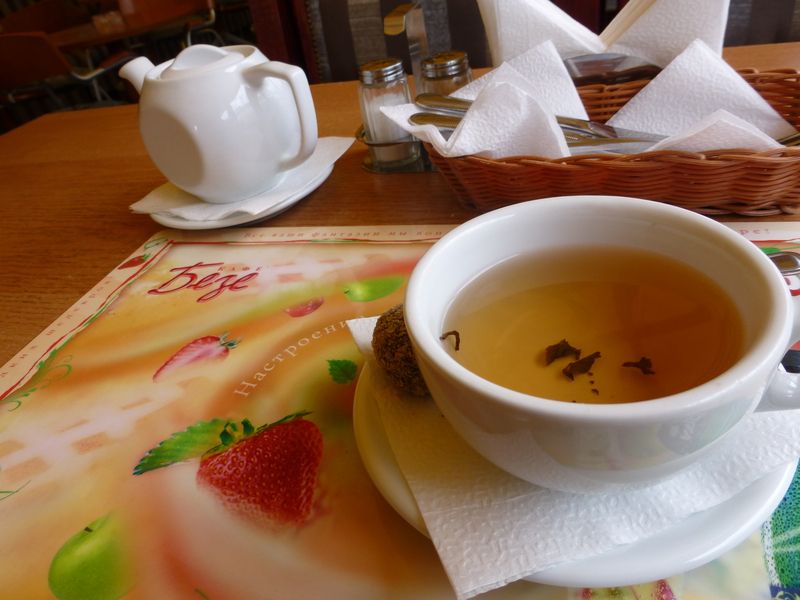 ...and absolutely delicious pancakes on a cafe just opposite the KGB building.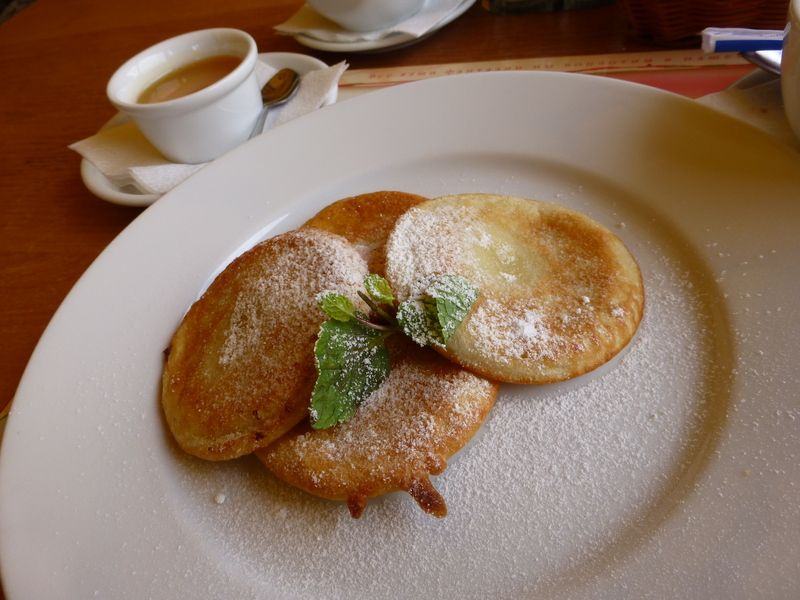 I noticed a very interesting thing in that cafe. My camera was on the table and I was sitting in a covered patio -type of place which extends halfway across the sidewalk, so people walking past were just half a meter from me. The camera was well visible to the people walking past. Every
single
person (and I really mean everyone!) who did so noticed my camera and immediately made a sly, quick look at my face and then sort of hung their heads a bit and hurried away! It really makes you think... I think these people are well accustomed to the constant fear or being photographed and observed and then... well, it usually doesn't come with a happy end, I'm sure. Really odd.
Since the metro costs a whopping 15 eurocents a pop (the standard Soviet system of prepaid tokens bought from a kiosk) I went for a joyride. They apparently have some really fancy and beautifully decorated stations there, but unfortunately they had big signs banning photography, a lot of police around and even some surveillance cameras at the stations so I only took a few pictures and decided to abort that mission.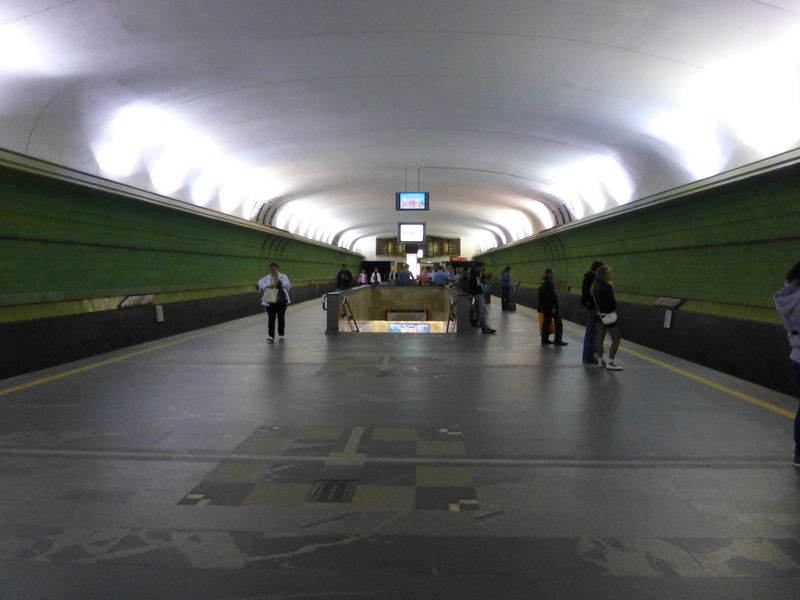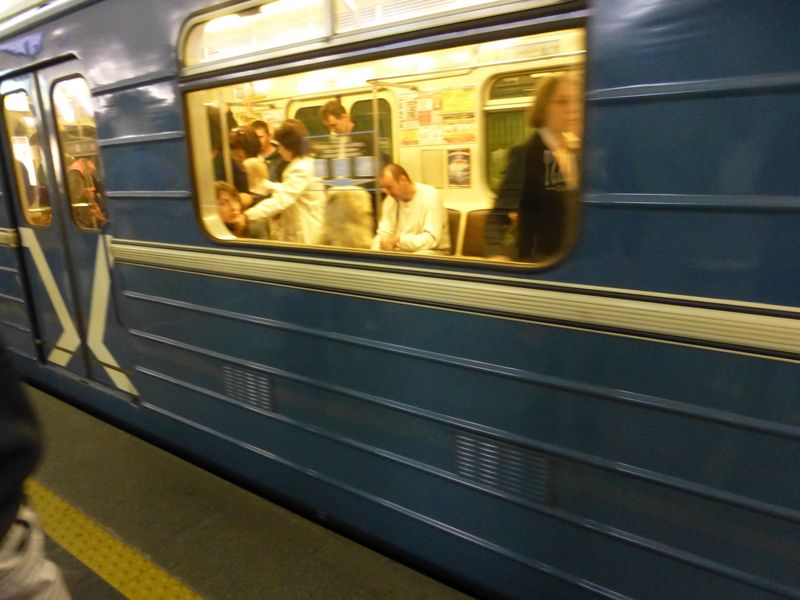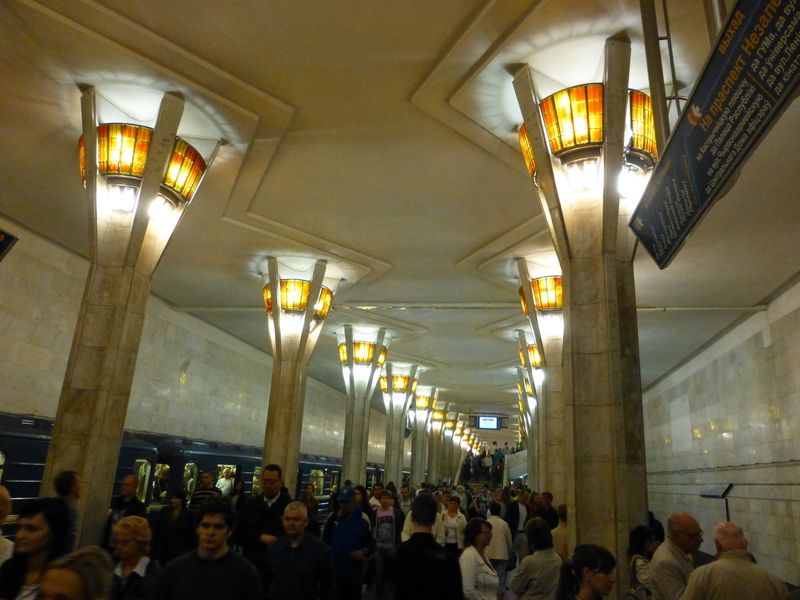 Well, obviously I had to sample some local brews too: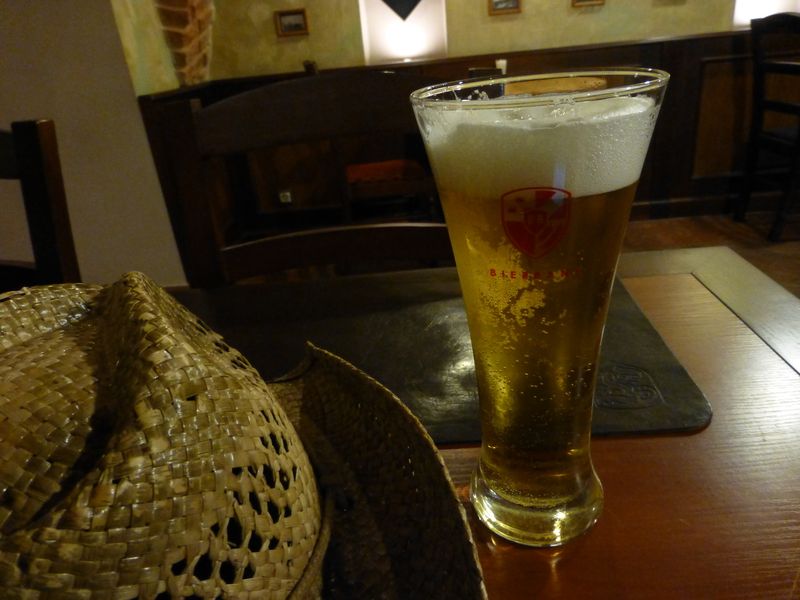 To my surprise I found a sushi chain (Planet Sushi, apparently quite popular in Russia) which offered some other Asian (or more like "BelAsian") versions of Asian dishes. The prices were about the double of the normal food prices (which means they were less than half of western prices) and the menu and the girls even had some basic English: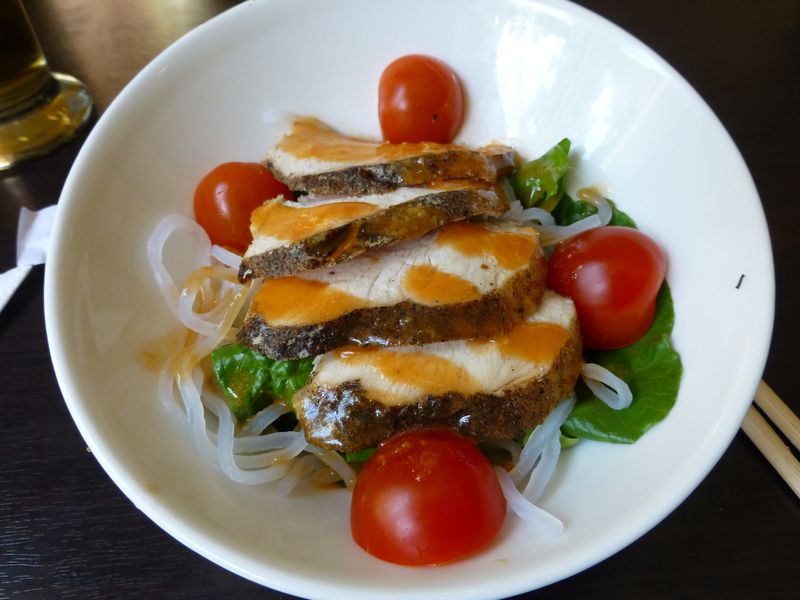 Yeah, speaking of English - don't go here unless you can at least read the cyrillic alphabet. Nobody, and I mean nobody outside the airport really speaks English. The young people at McDonald's and the sushi place knew pidgin English which made things a little bit easier (and after all "Cappuccino" is the same in any language...). Knowing some phrases and key words in Russian makes a helluva difference.
Eventually it was time to head back to the airport. The airport buses leave from the "Moskovskaya" bus station. I had no idea how to get there, but there was a metro station with the same name which seemed to indicate that this would be a good bet. So I ride the metro there, get off and notice a sign saying "Moskovskaya Avtobusvokzal 500m" so looks like I hit paydirt!
While walking there I spot the "Death Star" or the very curiously shaped Belarus National Library, one of the symbols of "modern" Minsk: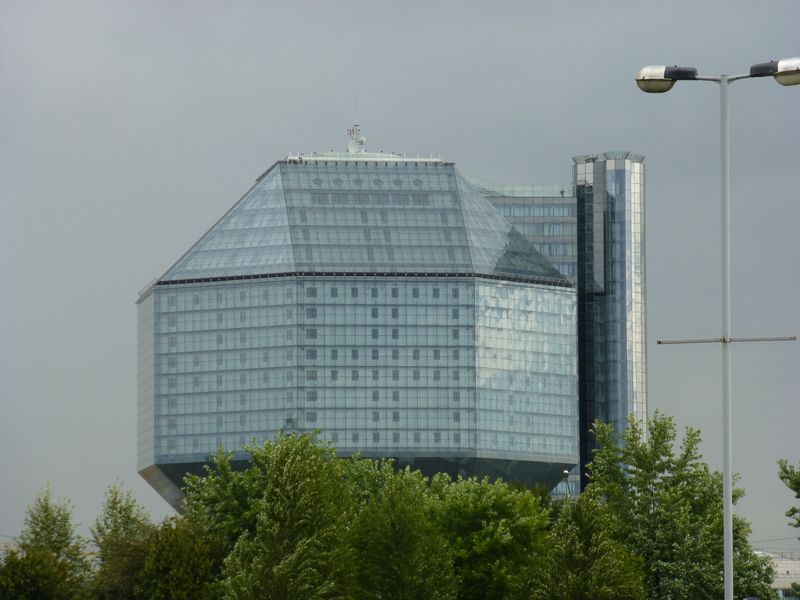 The bus station is straight out of 1950's Soviet Russia: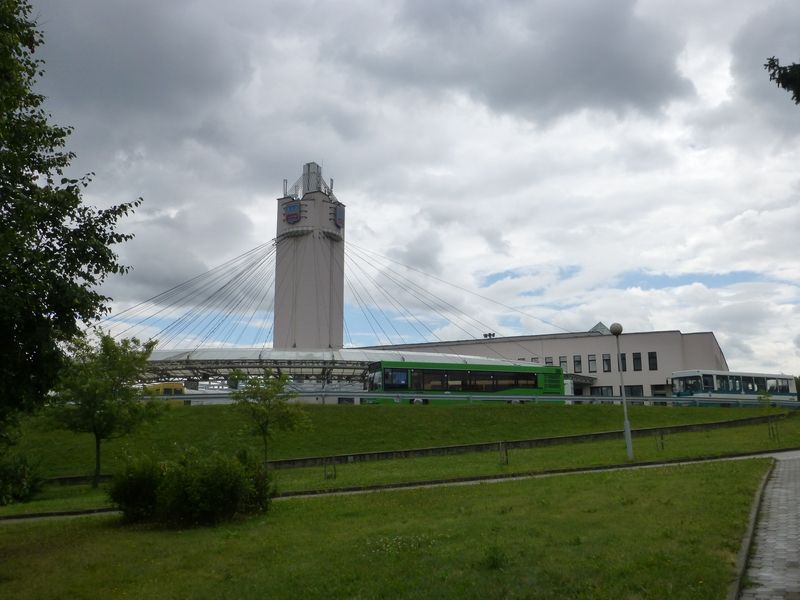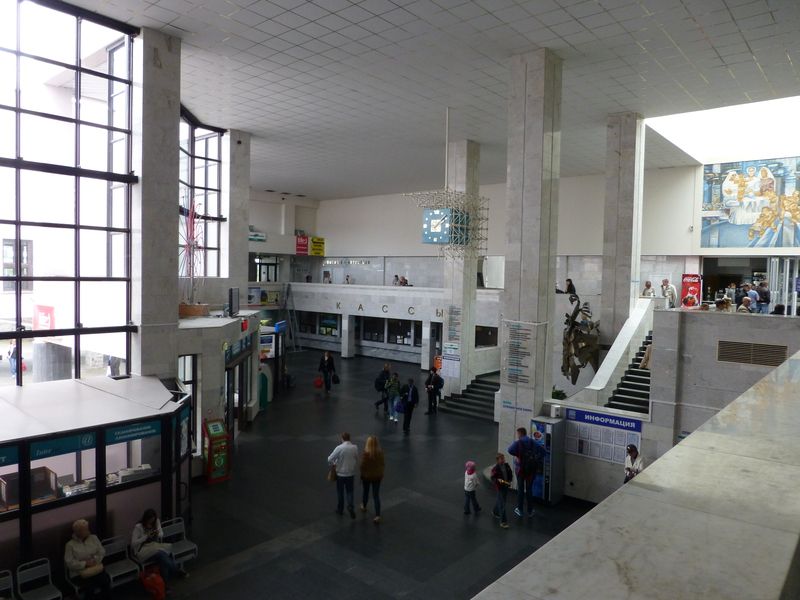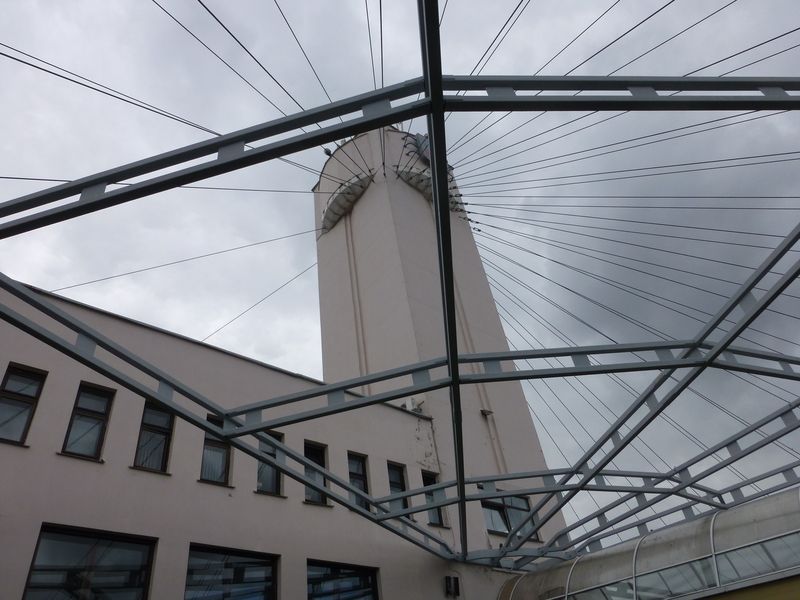 Unfortunately I had to go and use the toilets there - not for the faint of heart, let me tell you that! I manage to buy my ticket from the cashiers and even find the right bus.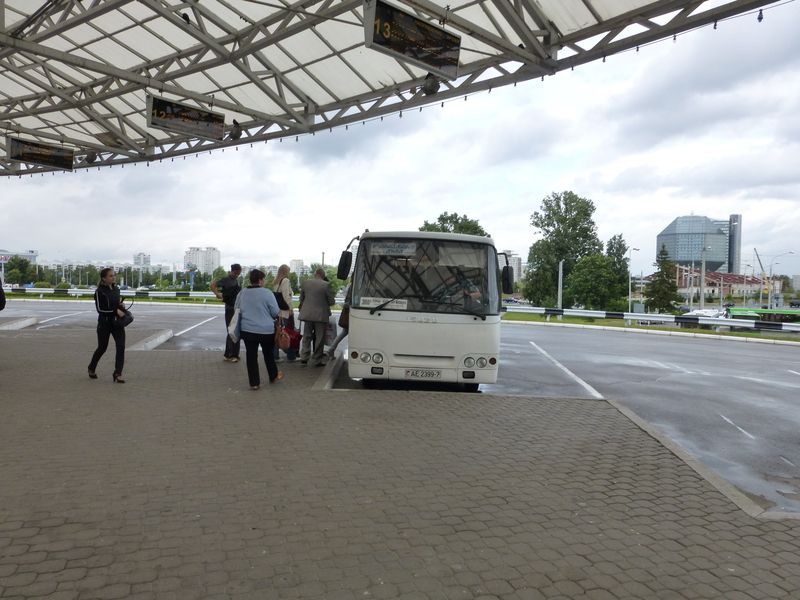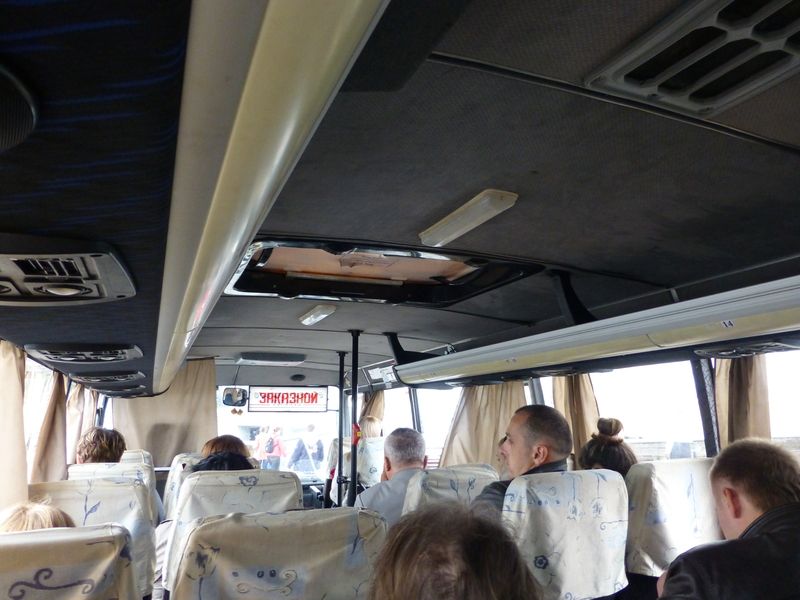 Speeding through the vast Minsk suburbs: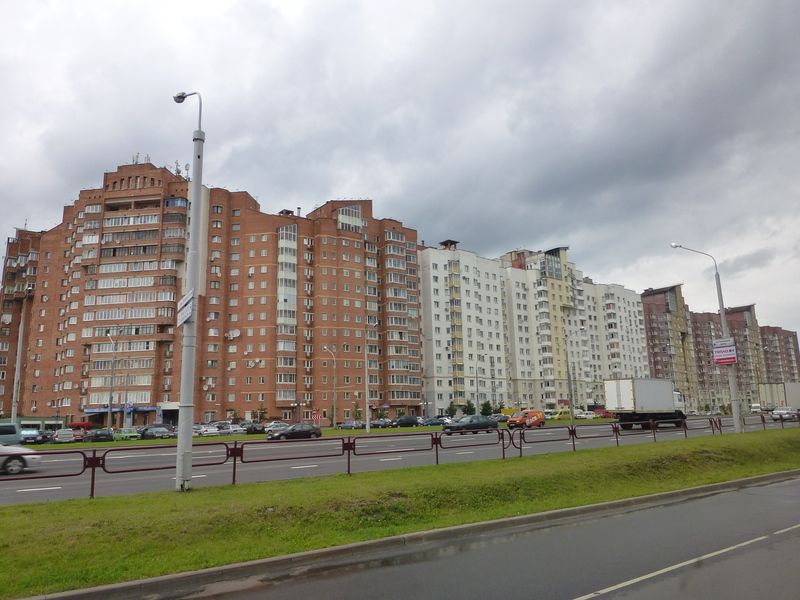 And then the deserted motorways: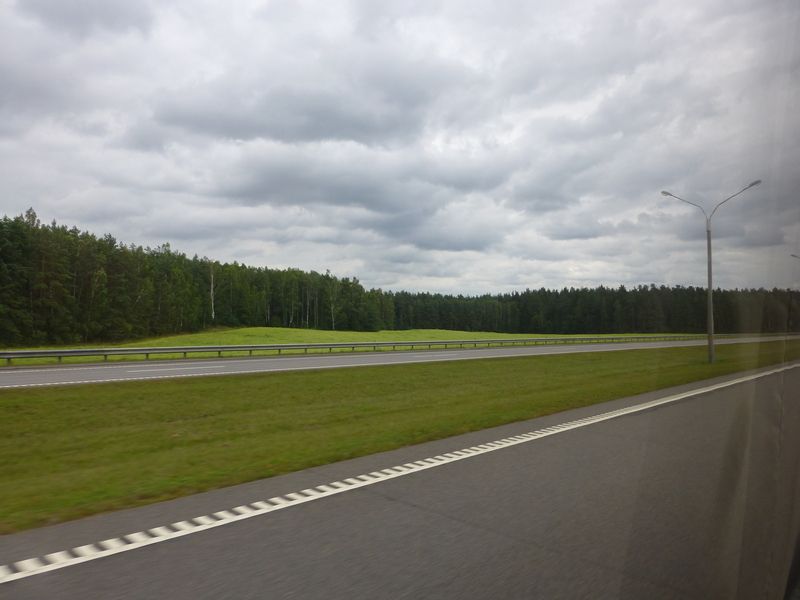 Somewhere along the way I drift off into the land of the dreams...
National Minsk Airport, take 2
So I got back into the airport with some time to spare. There's a wifi network but you need to buy an access card from the shop. This is dirt cheap though (40 eurocents for two hours) - but the lady writes down your passport details when you buy one, hmm...
So I sit down in the bar, use the wifi and buy a (dirt cheap, see this is a trend in Belarus - Jonas would love it here) beer: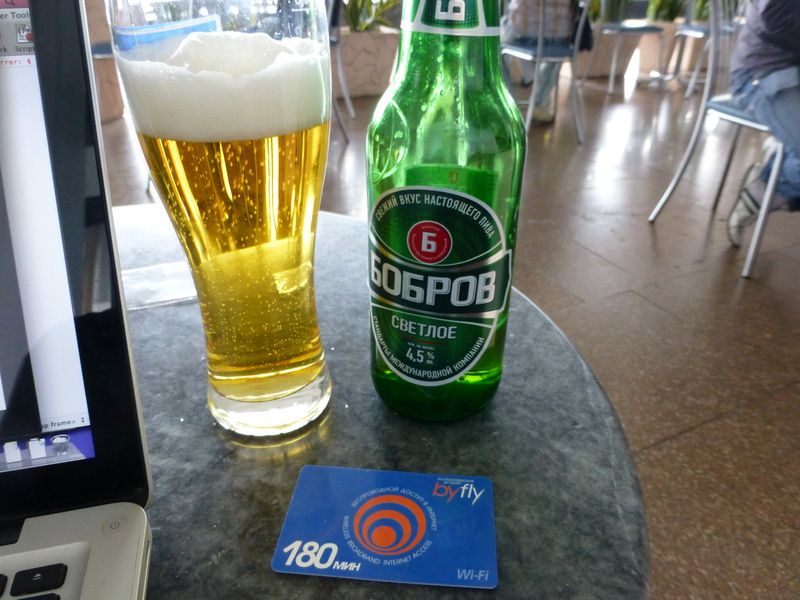 Eventually I head off to find my gate.
Top