Here is it! The last part of my journey to Thailand! This is the continuation of my first report, and will feature my journey back from BKK-SIN!
I have had an amazing 4 days 3 nights in Thailand! It was mostly shopping with my aunt in Bangkok, but we managed to squeeze in a day-trip to Kanchanaburi on day 2. We visited the death railway, the bridge over the River Kwai, and even took the train to Nam Tok, where we had lunch at a rural restaurant! I won't include the pics of my stay in Thailand here, though. I would concentrate on my flight back to Singapore instead! After all, it's A.net!
After a nice buffet breakfast at Citi Bistro in Pathumwan Princess Hotel where I stayed, we had some last minute shopping at the neighbouring MBK Shopping Mall before heading to check out and waited for our transport to the airport to arrive.
5 Stars for this hotel!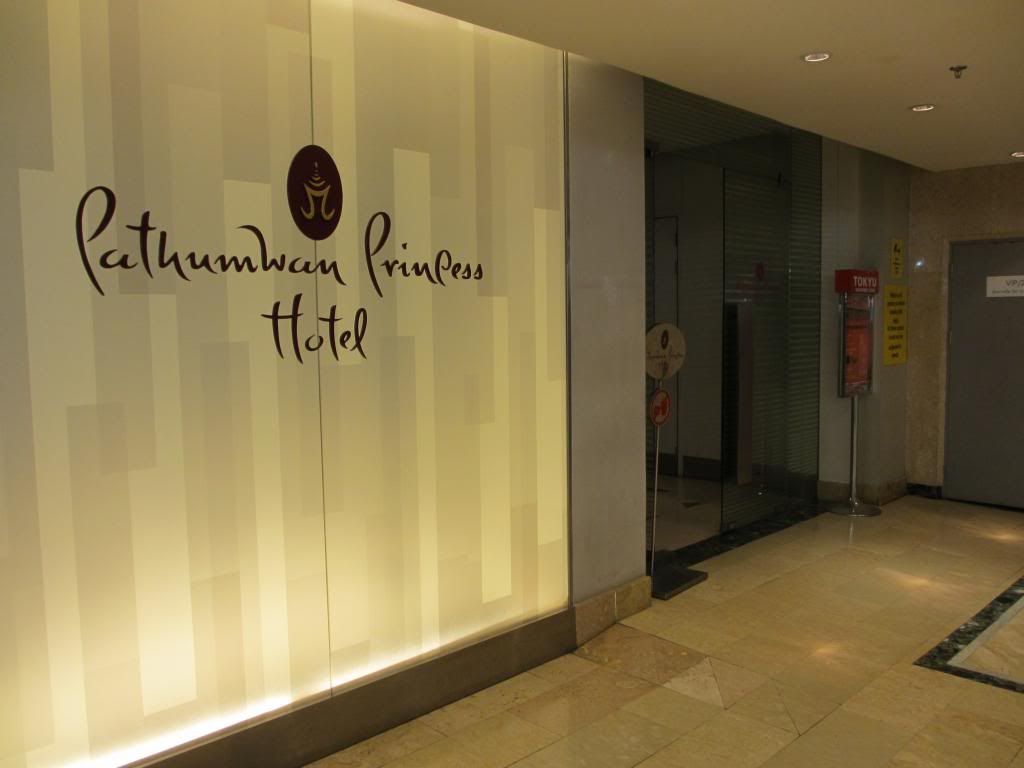 My ride to the airport.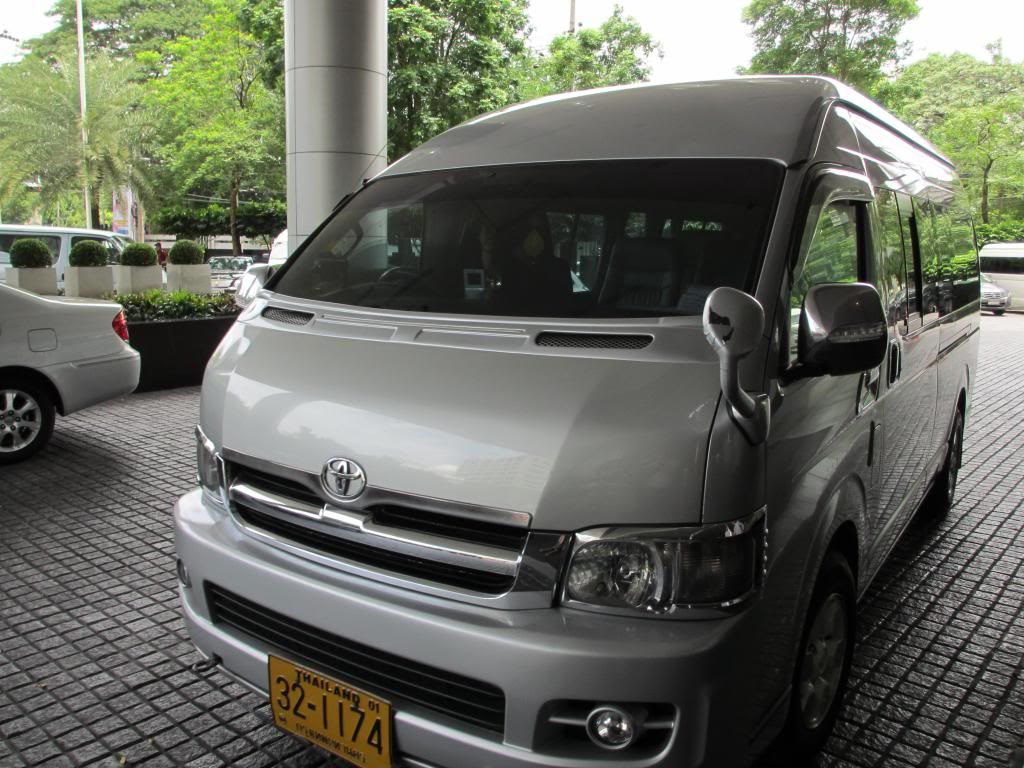 We were not the only ones using the Toyota van that day. After picking us up at Pathumwan Princess, our driver scooted over to Novotel on Siam Square to pick up another 2 passengers, an elderly woman and her daughter. Apparently, as I later found out, we were all bound for Singapore on the same TG flight!
It was a smooth drive to the airport, with no jam at all! Surprising luck in Bangkok! It was a Tuesday afternoon by the way, on 31 Jul 2012.
We soon reached the airport, and quickly checked-in. The lines were ok, and we were done in about 10 minutes, receiving our boarding passes.
The departure drop-off at Suvarnabhumi.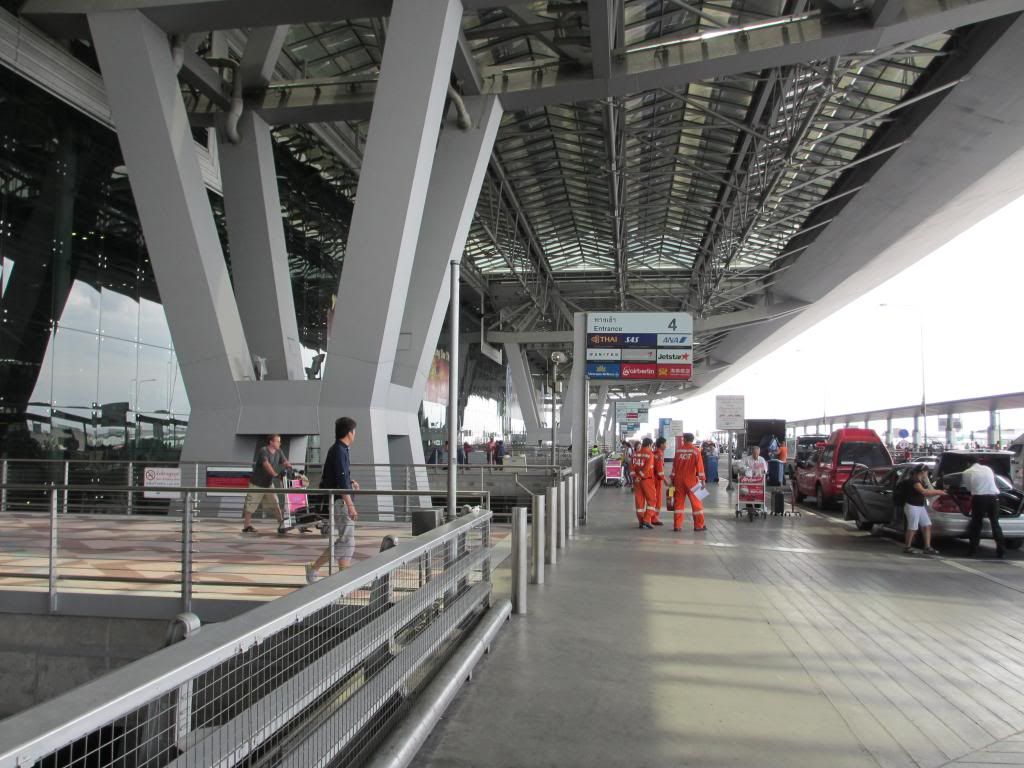 Departure hall.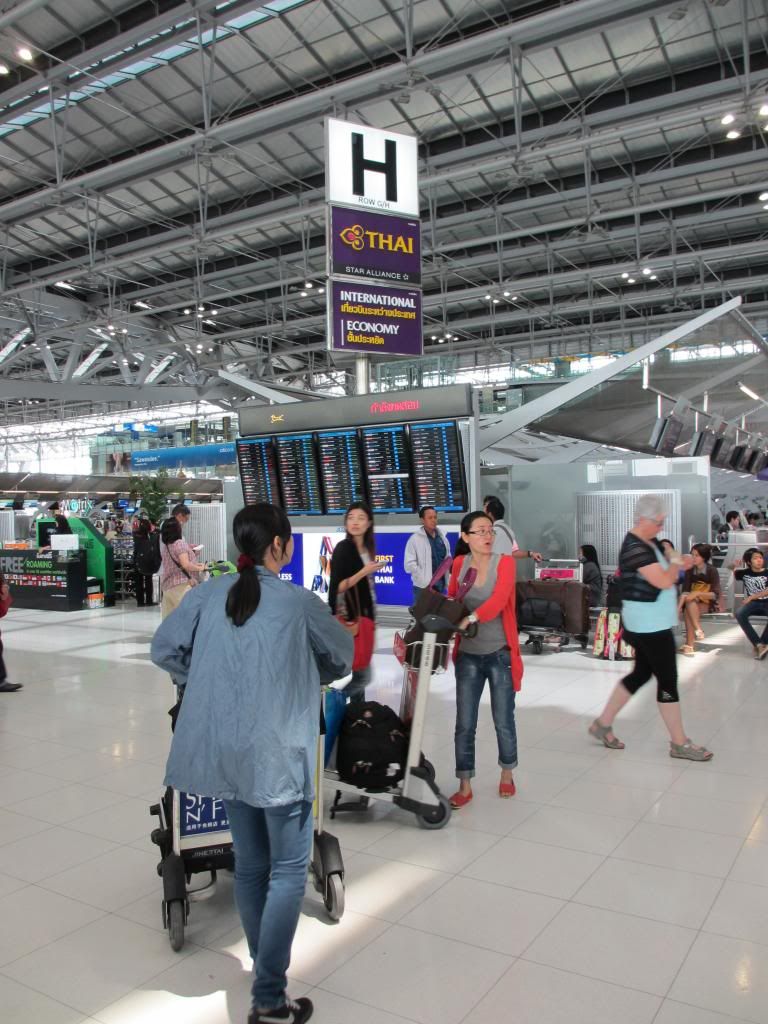 Rather sparse TG counters.
One of the many exotic sculptures in the airport.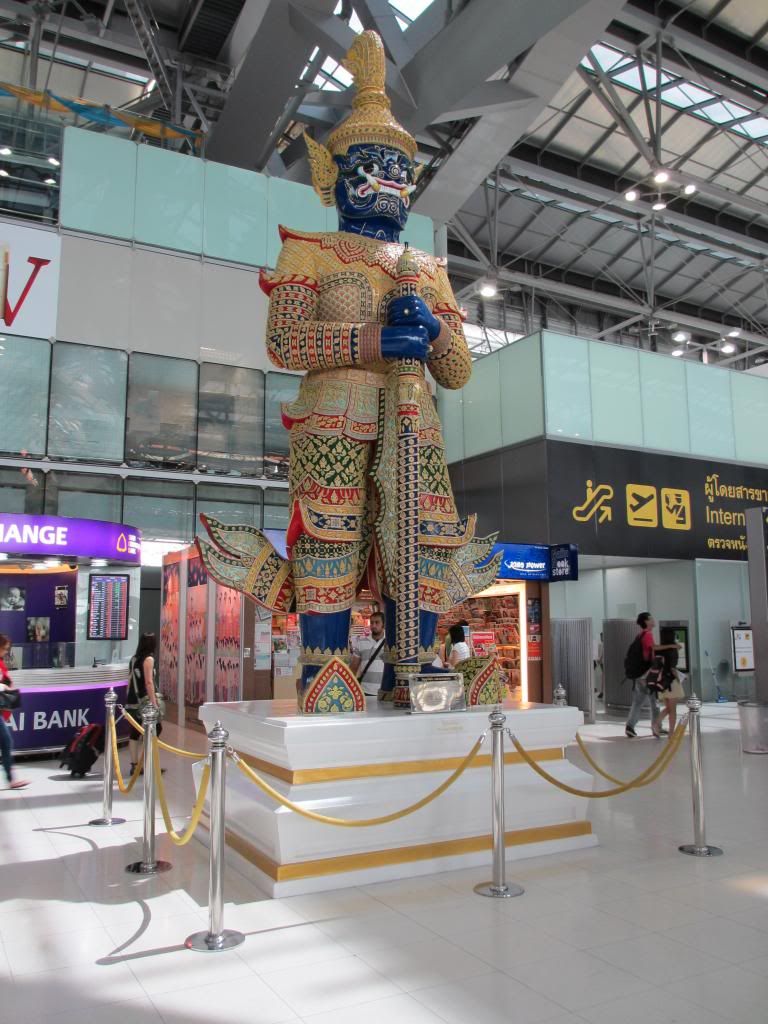 Some parts of the airport were apparently under renovation, and we had to walk some distance to the departure security point. After going through, the security screening was done in a hoarded up area. Immigration was also rather quick that day, as we were airside in 20 minutes.
What a strange name.
The Crown Prince. Happy 60th Birthday!
After some shopping at the King Power Duty Free shops, we headed over to the gate for our flight. We had lunch too at MBK earlier, and since we will be served dinner on the flight later, we didn't have any food in the airport.
When you go to Suvarnabhumi, one of the MUST shoot angles of the architecture has got to be this one. For travellers who have been there, you would be aware that every section of the airport is coded A-E. (or G?) It is built in a systematic way, and the 'entrance' to the every section of gates is always a flight of stairs flanked by a pair of escalators down to the gates. A rather grand entrance, I would say.
This one is section E.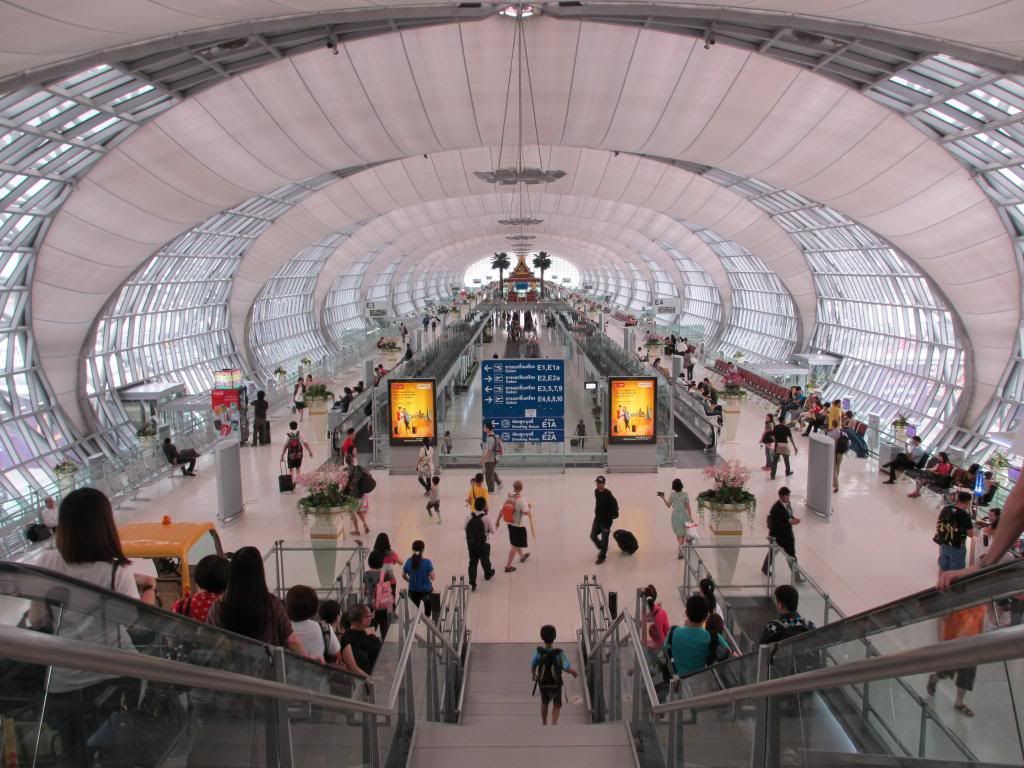 My gate for today, E3. TG409 for Singapore!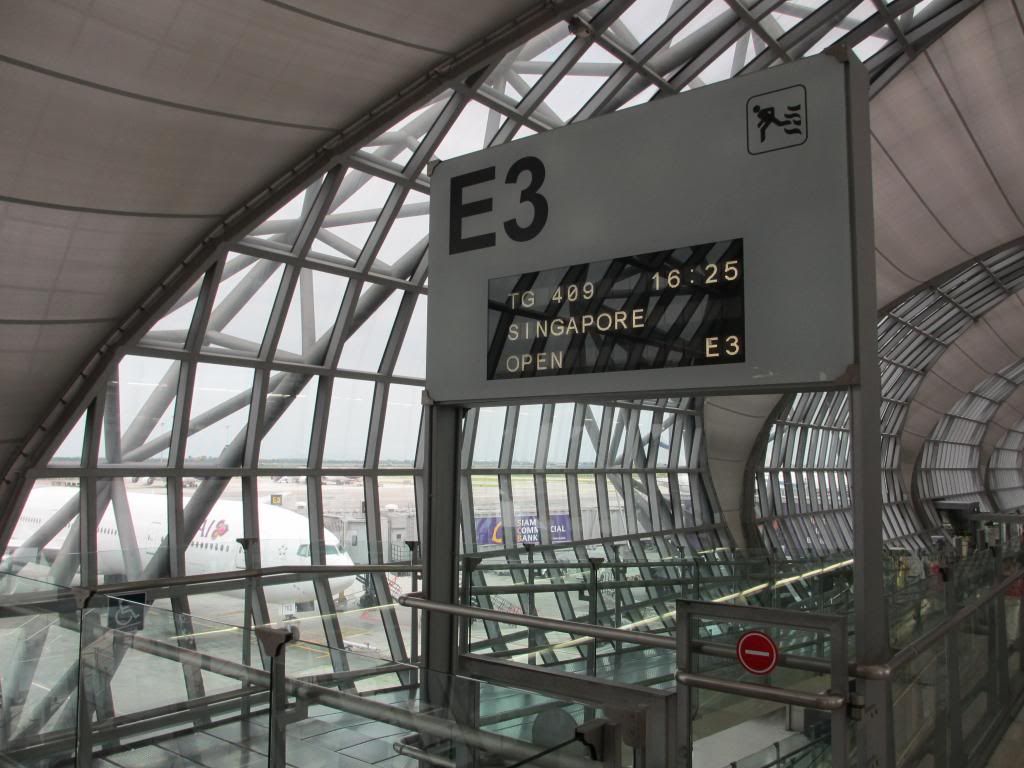 My plane for today, HS-TKD, named 'Thepalai'!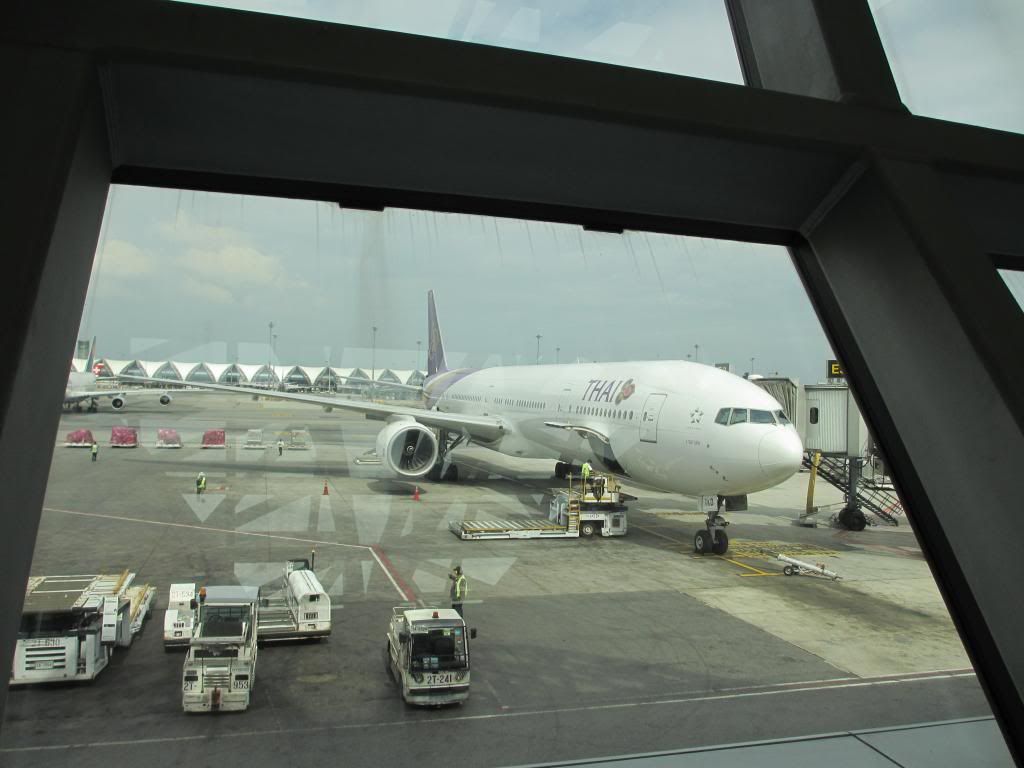 This is my 4th flight on 'Thepalai' this year!
Date: 31 Jul 2012
Sector: BKK-SIN
Flight: TG409
Aircraft Reg: HS-TKD 'Thepalai'
Aircraft Type: Boeing 777-3D7
Scheduled Departure: 1625hrs
Scheduled Arrival: 1940hrs
Scheduled Flight Time: 2hrs 15mins
Spotting and photography in Suvarnabhumi is a nightmare, with the oddly shaped windows which gives horrible results when you try to take pictures.
Here is another view of the bird.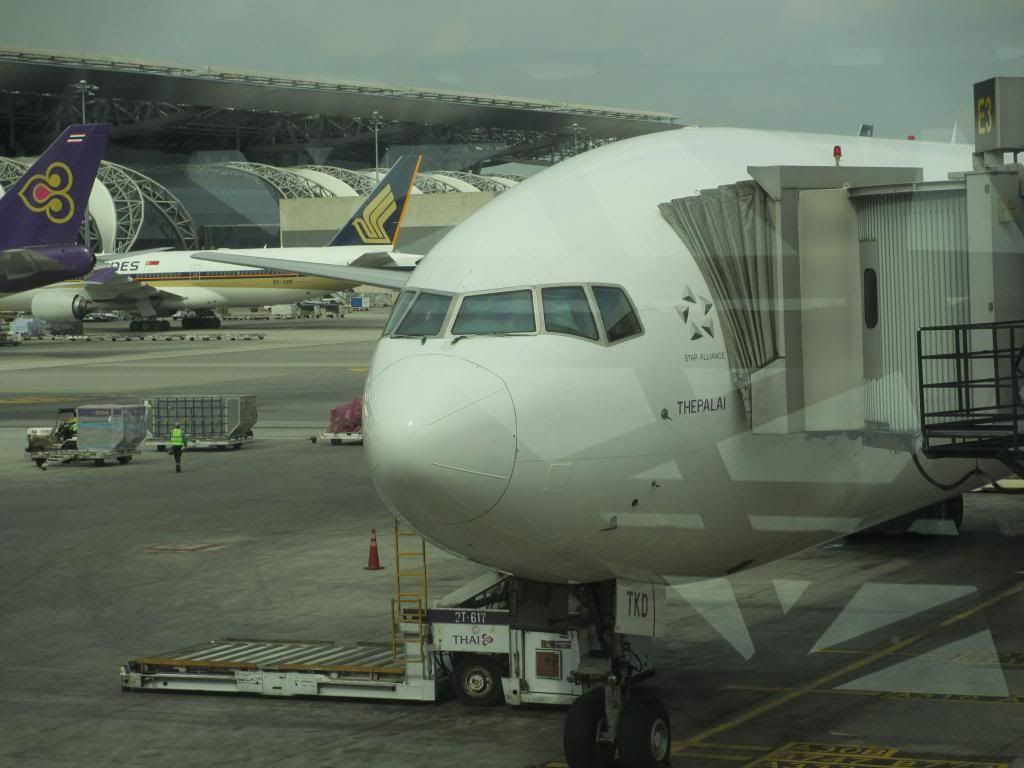 I am hardly excited seeing SQ in BKK. As we all know, SQ only sends it's oldest 772s to BKK, all day, every day. Sad.
After most passengers have entered the gate lounge, the boarding announcement was made. I LOVE how they do it in both Thai and English in BKK! I find the Thai announcements very catchy and it is a pleasure to hear them!
There was more order on this flight than on the inbound from Singapore, as all of the passengers lined up slowly and were very patient! We were on the plane in no time. This time, I was greeted enthusiastically by 2 Thai stewardesses.
We were seated at the 2nd last row of the loooong B773 today, row 71. I had chosen this row as it offers 2-3-2 seating, due to the narrowing of the fuselage at the rear. There were three such rows in the back. As we didn't want 3 seats, where a stranger would be plopped beside, we obviously went for the 2 seaters. Of course, I had the window seat at 71K!
View from my seat during the boarding process.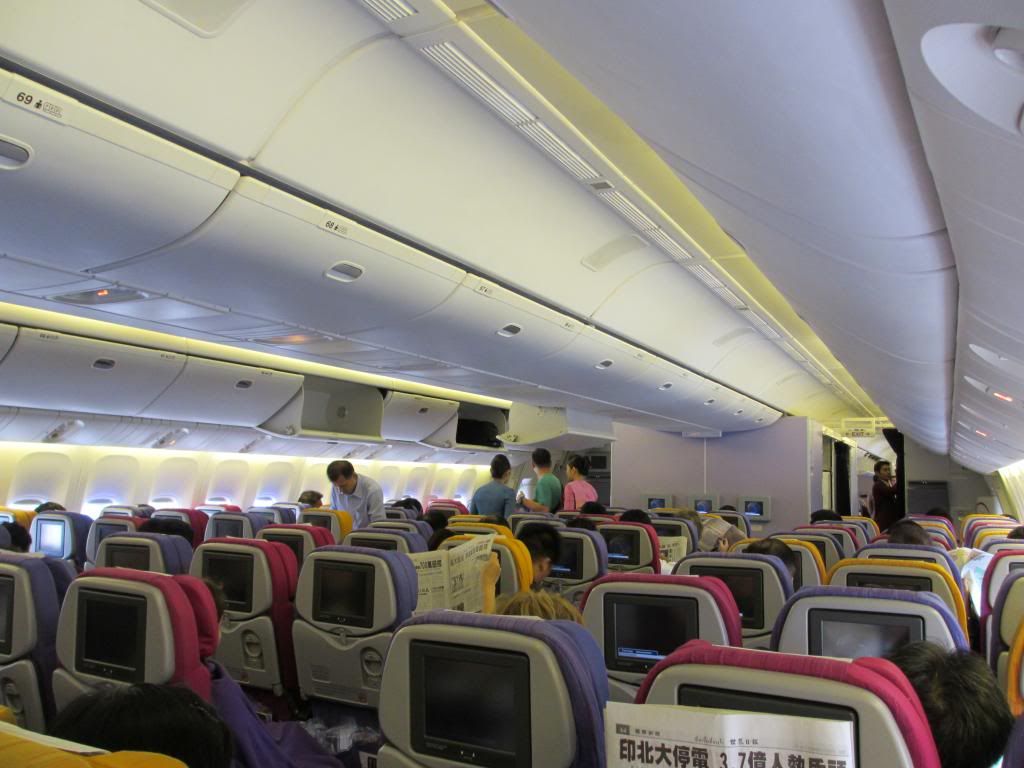 A much, much better view of other aircraft on the tarmac!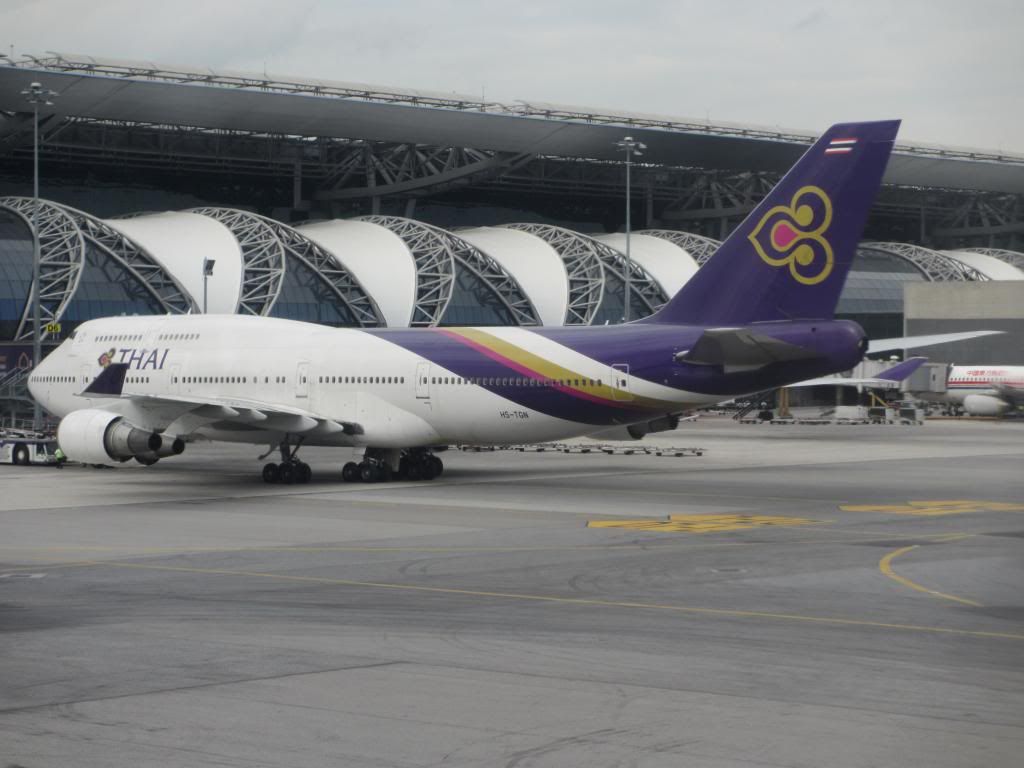 We have this steward already checking out the special meals name list.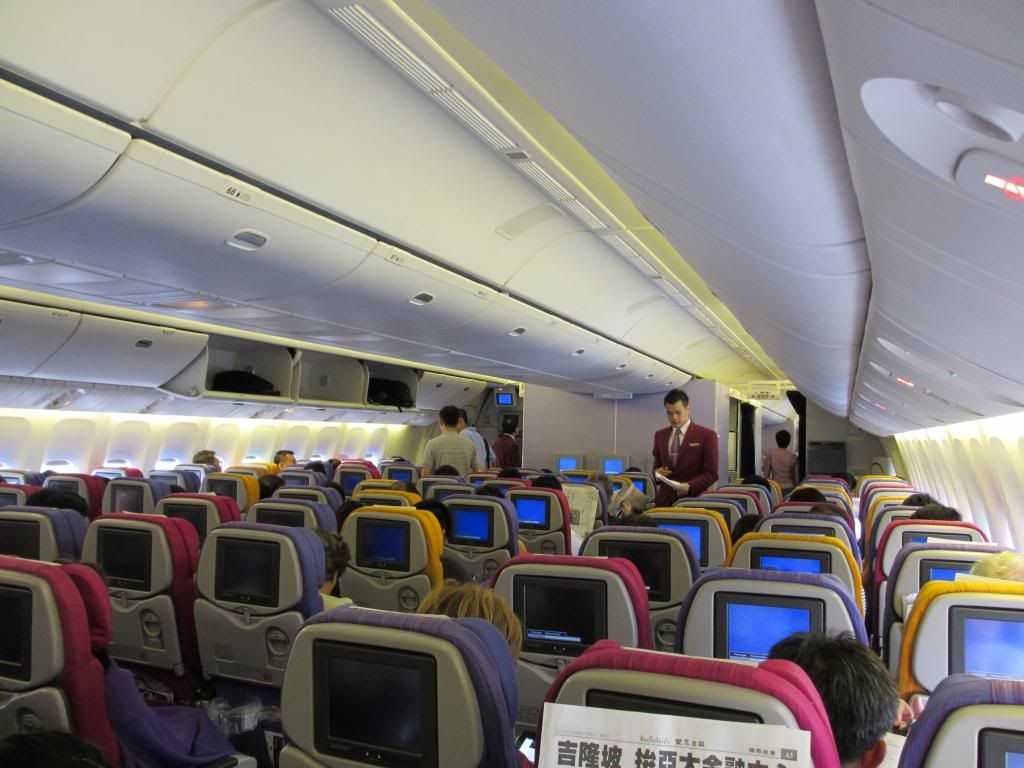 All pax seated.
Doors were closed in quite a while, with all pax seated.
Safety check.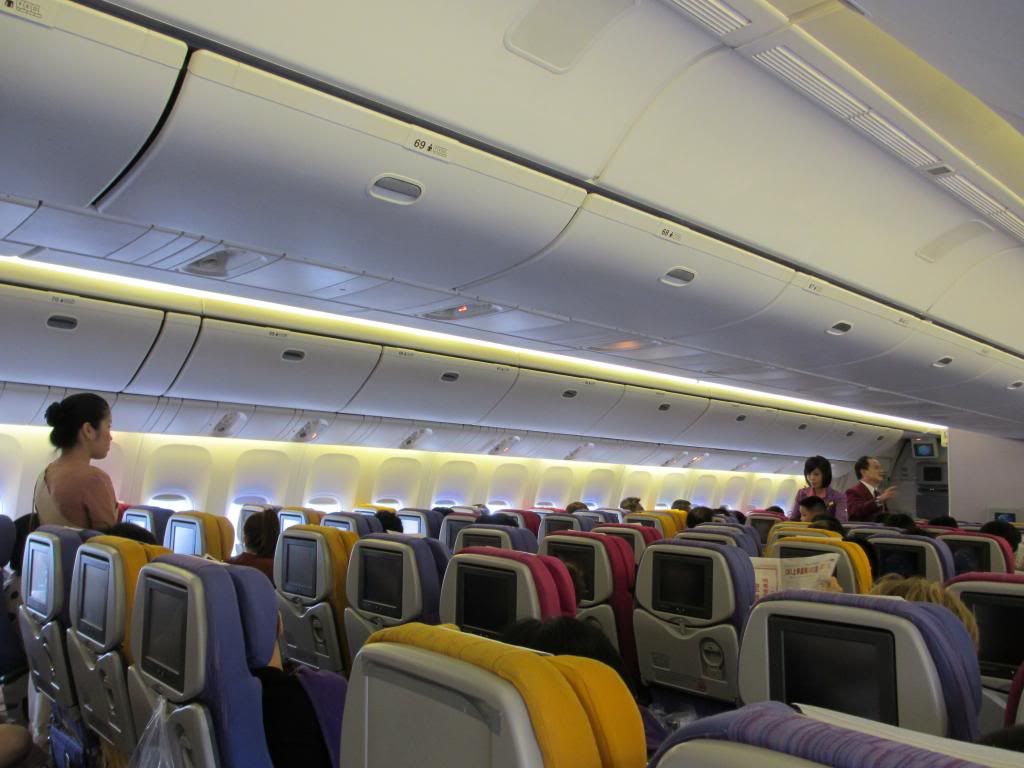 Just before we were pushed back, a TG A330 pulled up beside us! I was thrilled and spammed pictures of it!
HS-TEB coming in!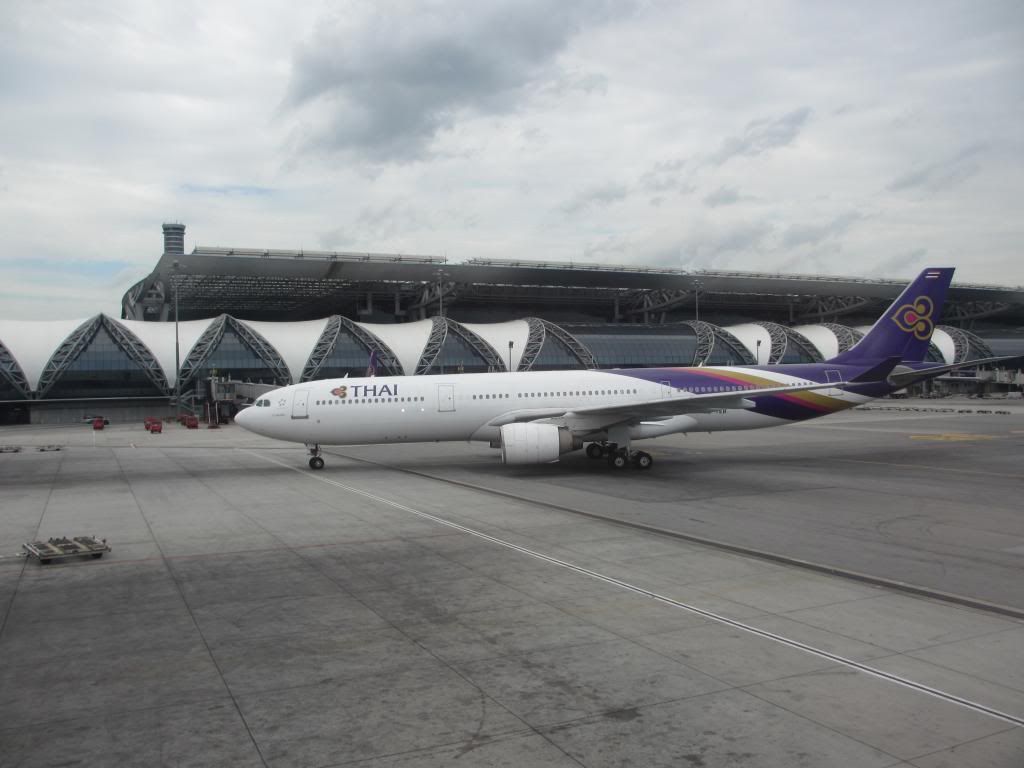 Our aircraft wing interfering with my pic.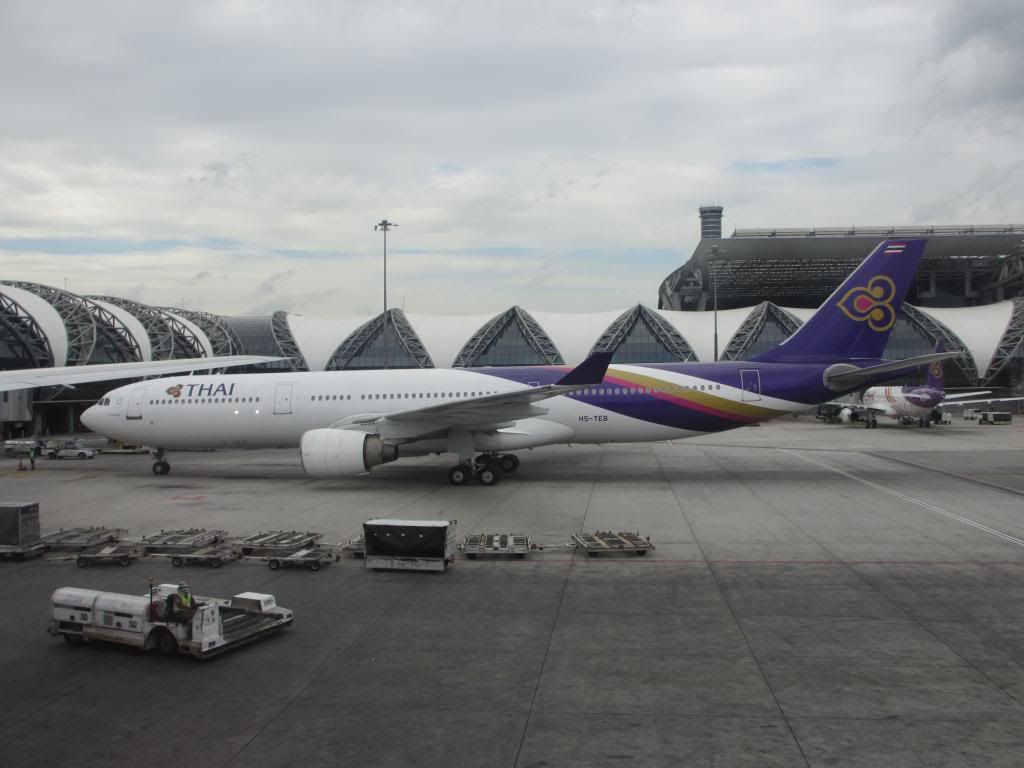 I love doing tail close-ups!
During push-back, the safety video was played, at extremely high volume on this flight. I didn't mind, as I LOVED the Thai music anyway.
On the way to the runway for take-off, I did some spotting again!
Royal Jordanian Airlines A332 ready for take-off!
Another A332! This one probably going to HKG. It was next in line after us.
Take-off!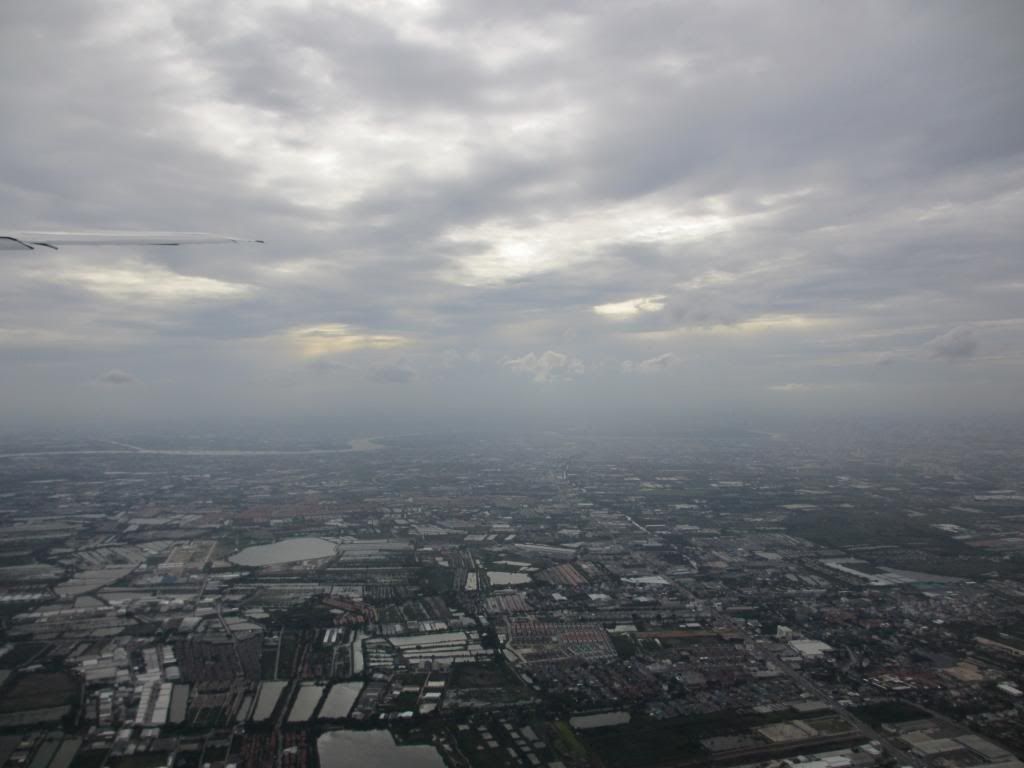 Is that the Chao Phraya?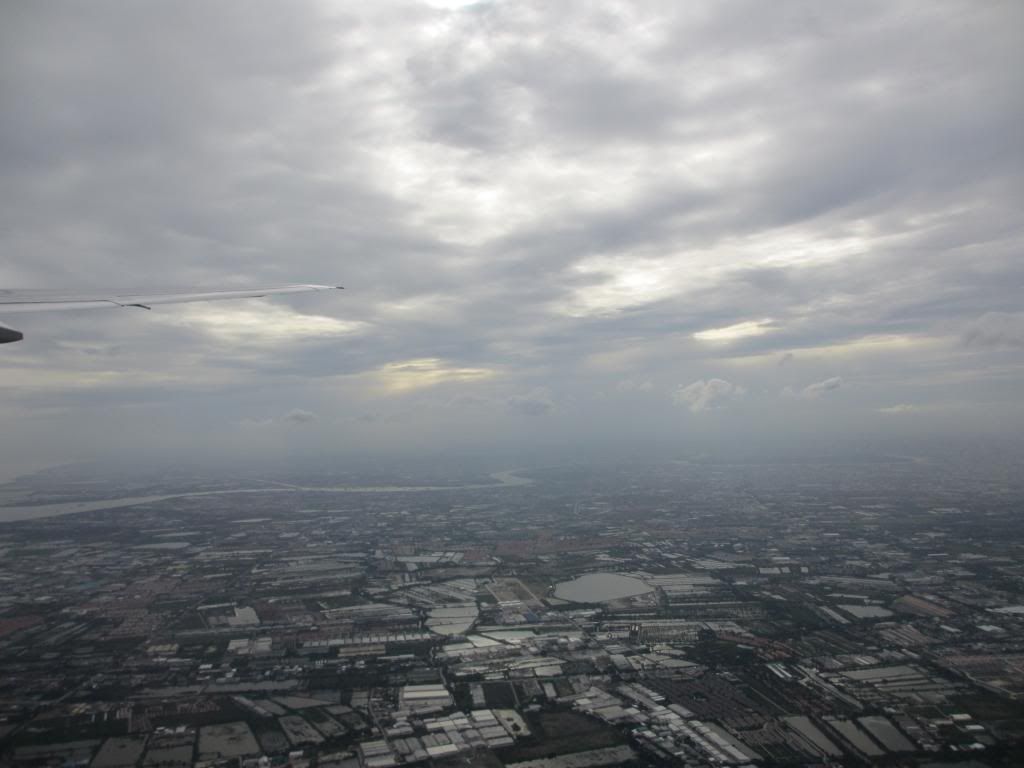 Leaving Thailand behind...
After the seat belt sign was switched off, I hopped up and off to the lav! As I came out, I noticed that no one had left their seats! Perfect chance for a cabin shot! I took quite a few shots and was pretty pleased with my luck when one Thai stewardess in pink came running down the aisle with a death stare and with arms crossed, telling me that I cannot take pics of the cabin!
You should have seen her face, she looked like I had just murdered her parents! She was very rude and was close to shouting at me, with a very condescending tone. I was shell-shocked and quickly kept my camera and returned to my seat. I was totally embarrassed, as she was quite loud.
After a while, when my senses came back, I realized that I had done nothing wrong. I am a frequent flyer and I know the rules. The seat belt sign was off and as far as I know, electronic devices other than phones and devices which emitted radio waves are allowed to be used. Cabin shots are fine. Why was she stopping me? I felt so insulted with the tone and body language she had used. What was worse, every time she walked down the aisle, she maintained that DEATH STARE with me as though I ought to be thrown out the door at that moment. It was fortunate that she was serving the opposite aisle, as I definitely did not want to be served dinner by that grumpy old witch. She maintained her stare all the way till landing. I was very offended.
These cabin shots came at a price!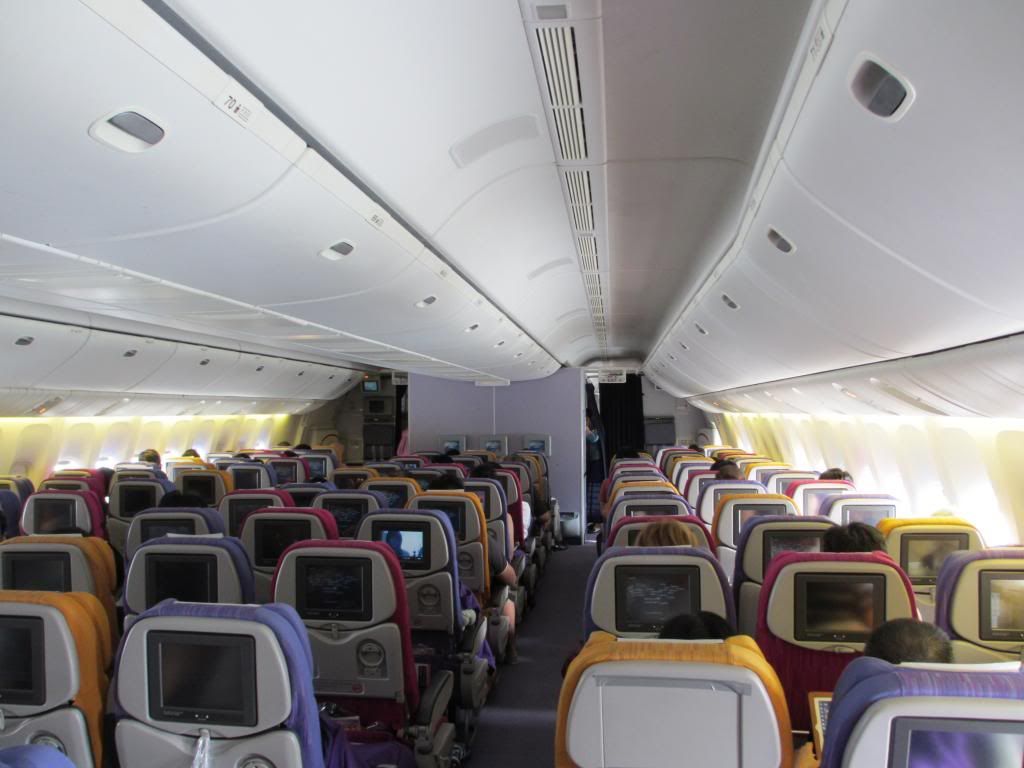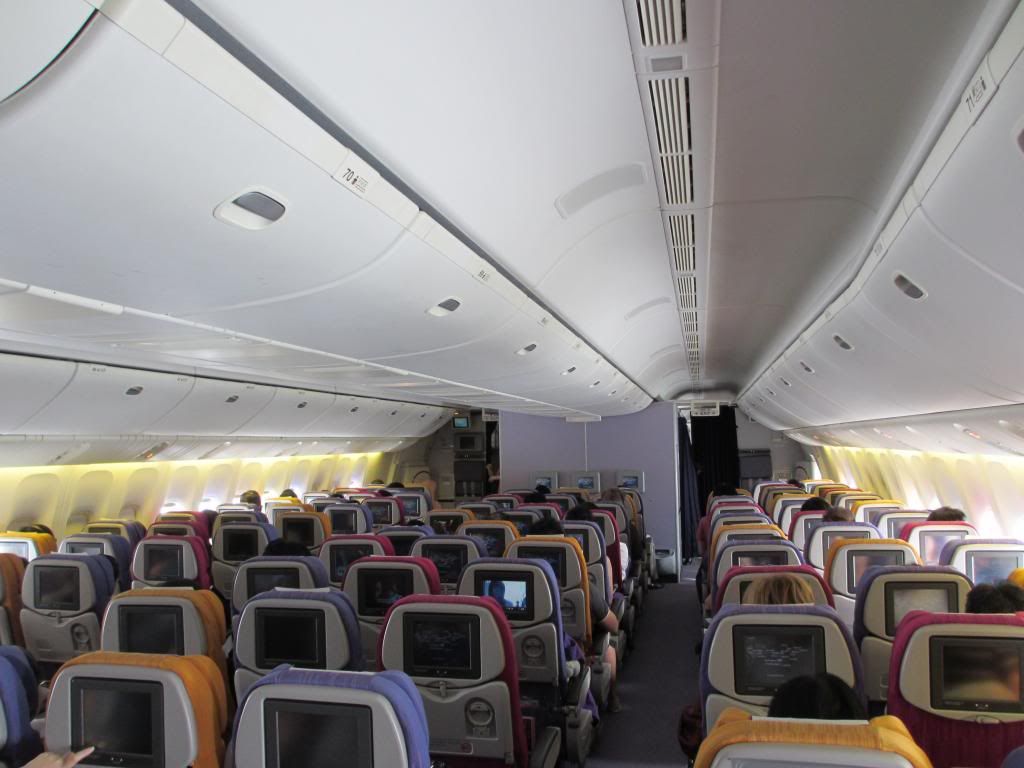 Moments before the witch thundered down the aisle.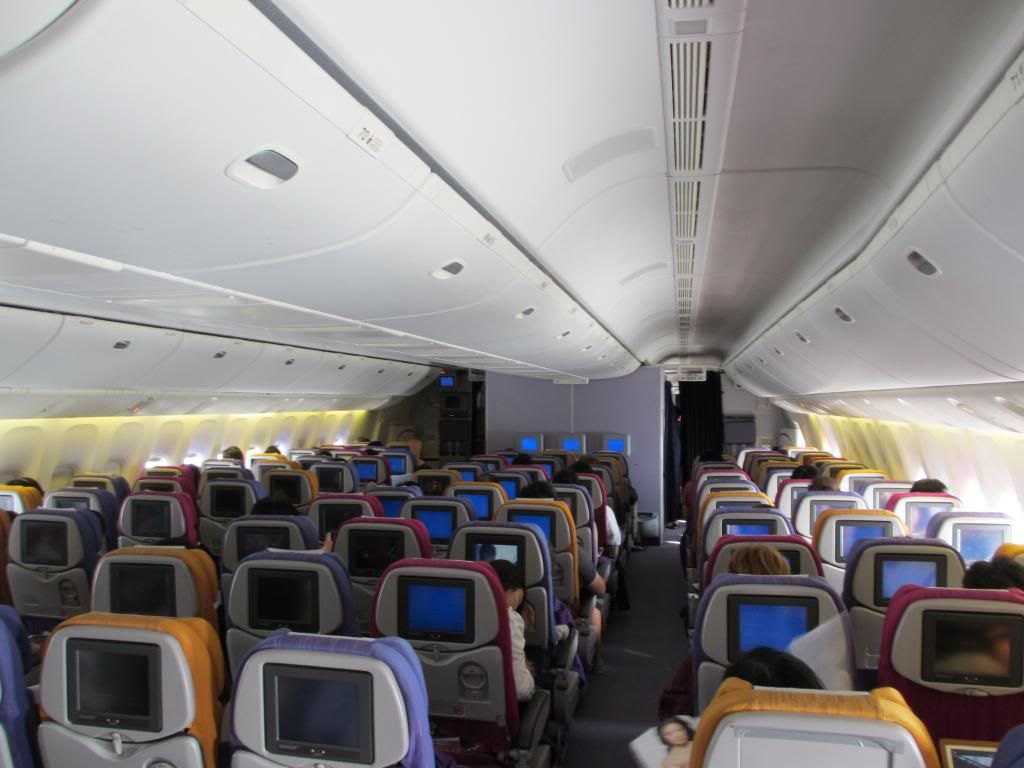 Again, there were no drinks till the meal service. I chose the chicken with chili today. It certainly looks good.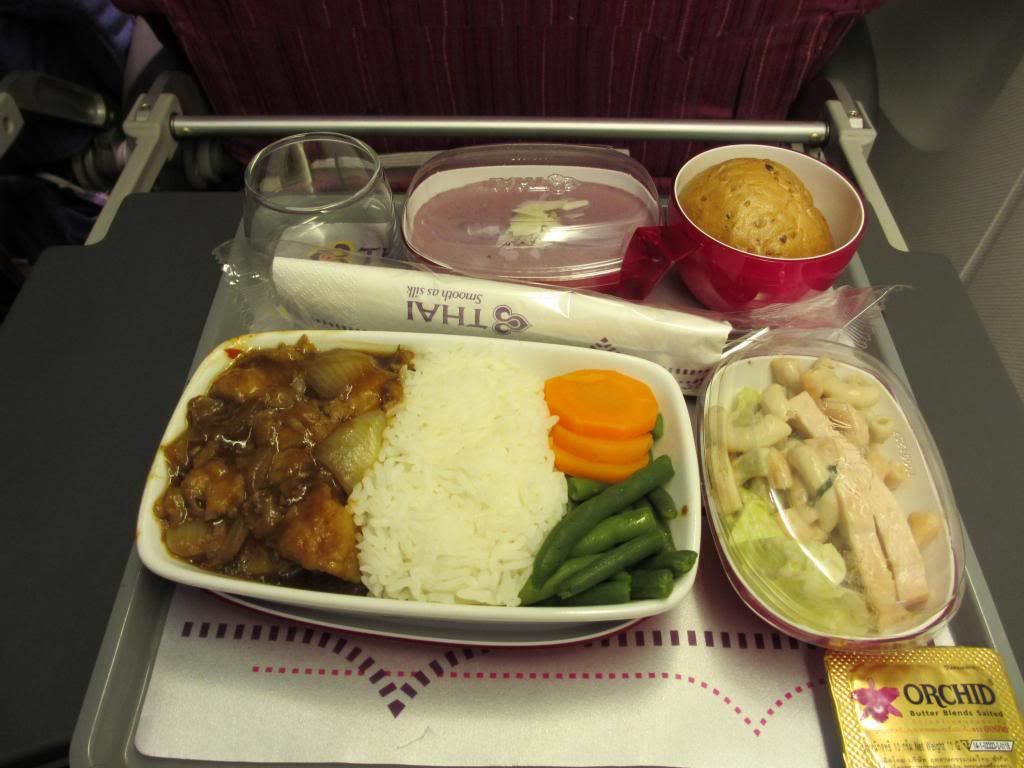 The sald this time was great! I loved the chicken strips, and it was dressed with sesame oil! I loved the fragrance!
Also, the dessert was excellent! The mixed berry mousse was so smooth, and sweet enough to my liking. I was craving for more, but decided not to ask anyway.
After my meal, the sun began to set, as we were flying over east Malaysia. I was treated to beautiful views of the clouds all the way till dark.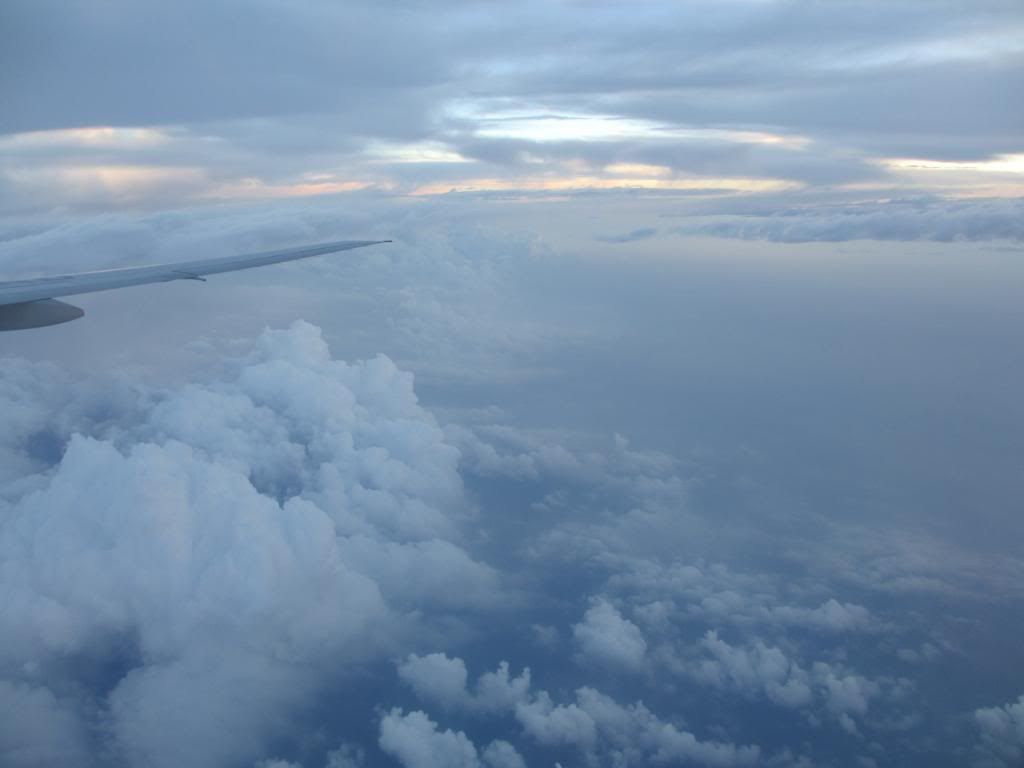 We soon began descending into Changi Airport. Captain came on only 20 minutes before landing, and on this flight, it was quite special as we started descending in light and eventually touched down in total darkness!
This one is the best shot, IMO.
Spoilers deployed!
Descent was very smooth on this flight, and I was soon treated to the city lights of Singapore. Although coming in from the north, I could still see the lights in central and northern Singapore. It was quite spectacular.
After touching down at SIN, it was announced on the landing announcement that we could collect our bags at carousel number 16. It was a nice touch by TG. However, when I reached the terminal, the belt was 18 instead. Probably they changed the belt last minute.
Overall, this flight was only average. Food was excellent, the aircraft and seat was great. However, the biggest failure was the pink Thai stewardess, who should be sacked in my opinion. It was totally uncalled for, and the way she treated me was probably 'criminal', in the words of Ron Kauffman.
It was again, definitely not one of the good flights I had with TG. The pink woman had to spoil the entire company's image.
I will be uploading trip reports of my other longer trips on TG out to ICN very soon. Some of my best TG flights were flown on these trips. I look forward to your comments on my TR, and thanks for reading!
-Anthony CPC
P.s. I don't know about you guys, but I really love the Thai announcements on board TG flights. I am almost obsessed with them. I have heard them so many times with great concentration that I can now even blabber sections of it.
This is one of the reasons why I fly TG again and again. Pretty silly, I guess, but I am an aviation and also language enthusiast. Views on this?