This TR will cover my very first trip on Thai Airways back in Jan 2012!
It was to be my last trip as a civilian before enlisting into Full-time National Service for 2 years! I decided to go to Seoul for a 5 day free-and-easy tour, and after comparing prices, decided to fly TG for the first time of my life!
I paid a decent SGD$998 for my return flight with taxes, which will include transiting at BKK! This will also be my first time stepping on Thai soil, and Suvarnabhumi Airport, which I have heard so much about.
I was to enlist on 10 Jan 12, and my trip was from 02 Jan to 07 Jan, which gives me 3 days to prepare for enlistment after coming home. I had chosen January as the fares and hotel charges will be much cheaper than in December, when it is the school holiday season in Singapore. All tour fares will rocket sky-high, and I do not want to pay more and worse still, fight the crowds!
While booking my air tickets, I was given a plethora of transit timing options. I opted for TG404 afternoon flight to Bangkok, and then the red-eye TG656 onwards to Seoul. As I had never been to Bangkok before, I was hoping to pop out to the city for a little tour before my night flight out to Seoul. At that point in time, I was not sure if my fare allowed me to exit the airport and come back for the connecting flight. I took my chances anyway and booked the tickets. In the event I was not allowed to go out, I would then spend the 8 plus hours exploring the airport then!
I was rather excited on the day of departure as this was a trip of many firsts! I arrived at Changi Airport early, at about 0930hrs. The TG check-in counters were still closed after the early morning TG402 had departed.
Arriving at the departure hall, a shot of the Changi icon.
TG Check-in counters at T1, Row 4.
I headed to the viewing gallery for some spotting, but was greatly disappointed to see 3 Jetstar A320s parked at the gates. I was quite angry actually, as the gates visible to the T1 viewing gallery are almost always occupied by budget airlines. It is always Jetstar or Air Asia, and frankly, I am getting quite disgusted just looking at them. I refused to look out the glass or even take a single picture and decided to while my time away surfing the net on my iphone instead.
Soon, it was about 1020hrs and I would expect the counters to be open for my 1225hrs departure from SIN. I headed to the counters, which were still rather empty, and quickly got my boarding passes. It was airside for me immediately!
Airside at T1.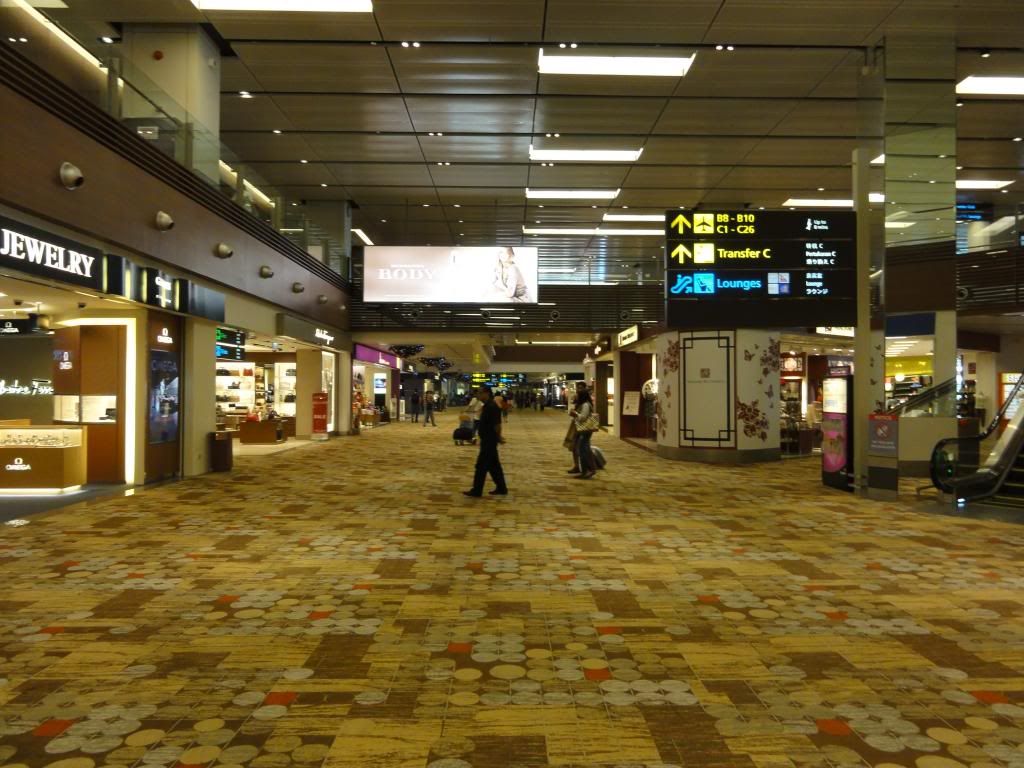 Boarding passes all the way to ICN.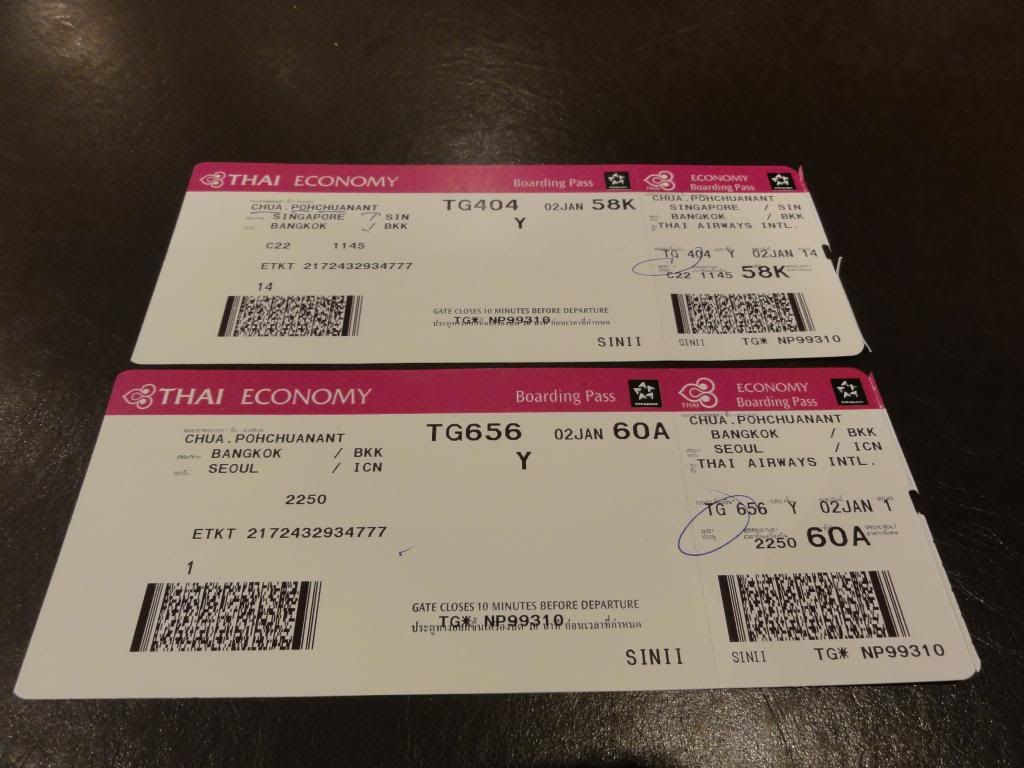 First thing to do, off for some coffee at Starbucks! On the way, I realized that an Air Berlin was coming in and couldn't resist taking pictures of it. I hadn't seen this airline in SIN before. It was new, I guess. Did it fly in direct from TXL?
Air Berlin A332 taxiing into the gate.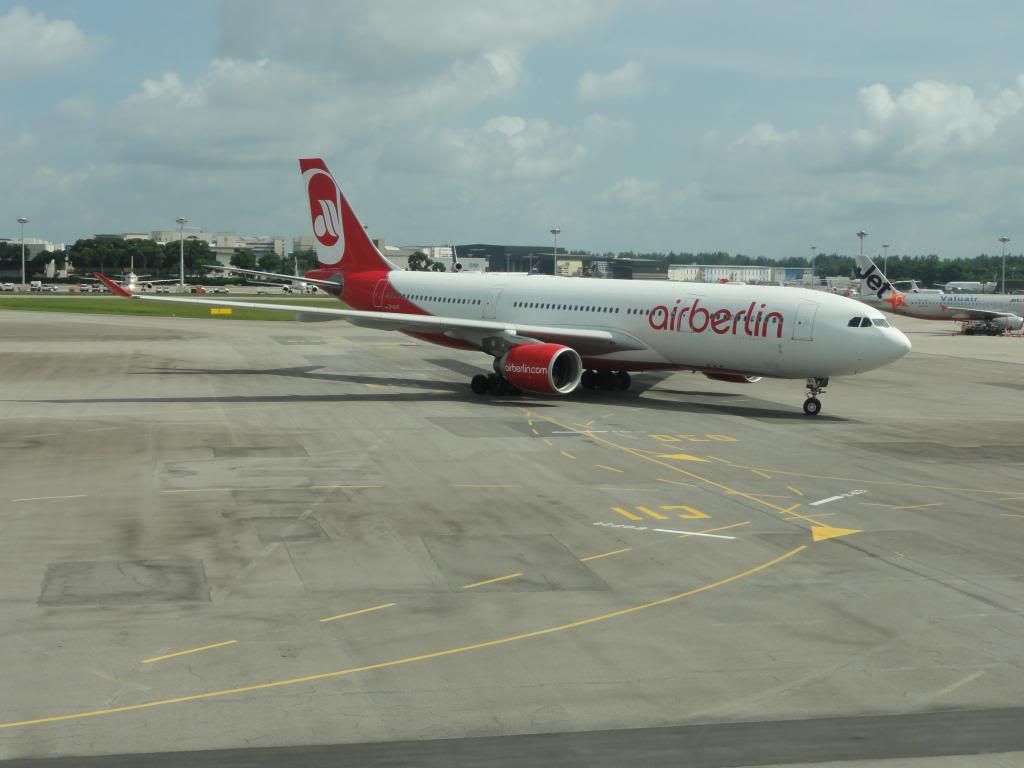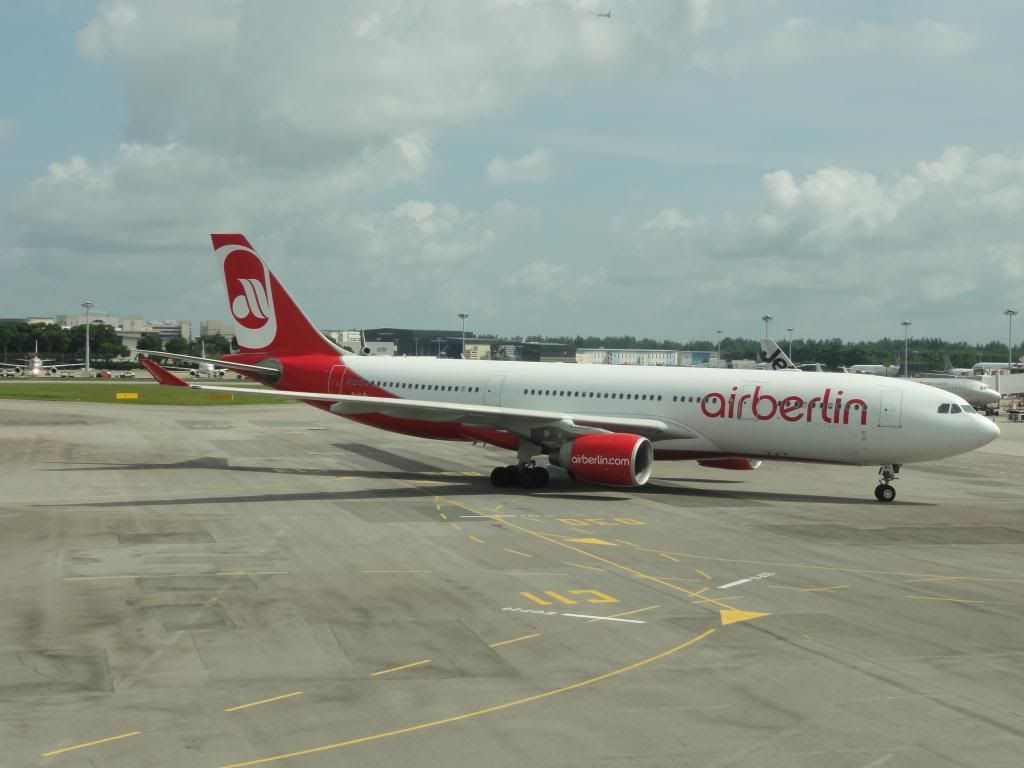 I spent some time enjoying my latte at Starbucks before I made my way to the gate for today's flight. TG404 will depart today from Gate C22, which was a 5-7 minute walk away.
Checking the TG schedule when I booked the flight, it was scheduled to be a B773 on this flight! I had not flown Thai before, but I knew that it was fitted with new seats with touch-screen AVOD. I was really looking forward to this one.
When I reached C22, there was no plane. Gate was open, and I quickly cleared the security screening. The plane was probably coming in soon, I thought. My flight was to be turned around from TG403 coming in from BKK.
About 30 minutes before the scheduled departure time, there was still no sign of the plane! I had a feeling there was going to be a delay. There were no announcements about anything at that point in time.
At 15 minutes before the scheduled departure time, I saw a TG B772 touching down right in front of me on the runway opposite our gate. My heart sank. My first experience of TG's famous aircraft changing would happen today, on my first flight with them!
As expected, the plane taxied into our gate and it was HS-TJD. I was disappointed. This B772 had no AVOD installed. They had new Recaro seats, though. Suddenly, I wasn't so excited anymore. What was worse, we were running late. I didn't want to rush my little excursion in Bangkok by arriving late.
The announcement apologizing for the delay finally came on the PA some 10 minutes after the plane was parked. They told us that we were delayed for about 30 minutes from the time of announcement due to late arrival of incoming aircraft.
All 200 odd passengers had to sit and wait inside the gate lounge for them to rush through all the cleaning, unloading, loading and prep for departure. At about 1325hrs, 1 hour late, the announcement came on that we would be boarded in 5 minutes. Finally!
Date: 02 Jan 2012
Sector: SIN-BKK
Flight: TG404
Aircraft Reg: HS-TJD 'Mukdahan'
Aircraft Type: Boeing 777-2D7
Scheduled Departure: 1225hrs
Scheduled Arrival: 1345hrs
Scheduled Flight Time: 2hrs 20mins
HS-TJD arriving from BKK as TG403.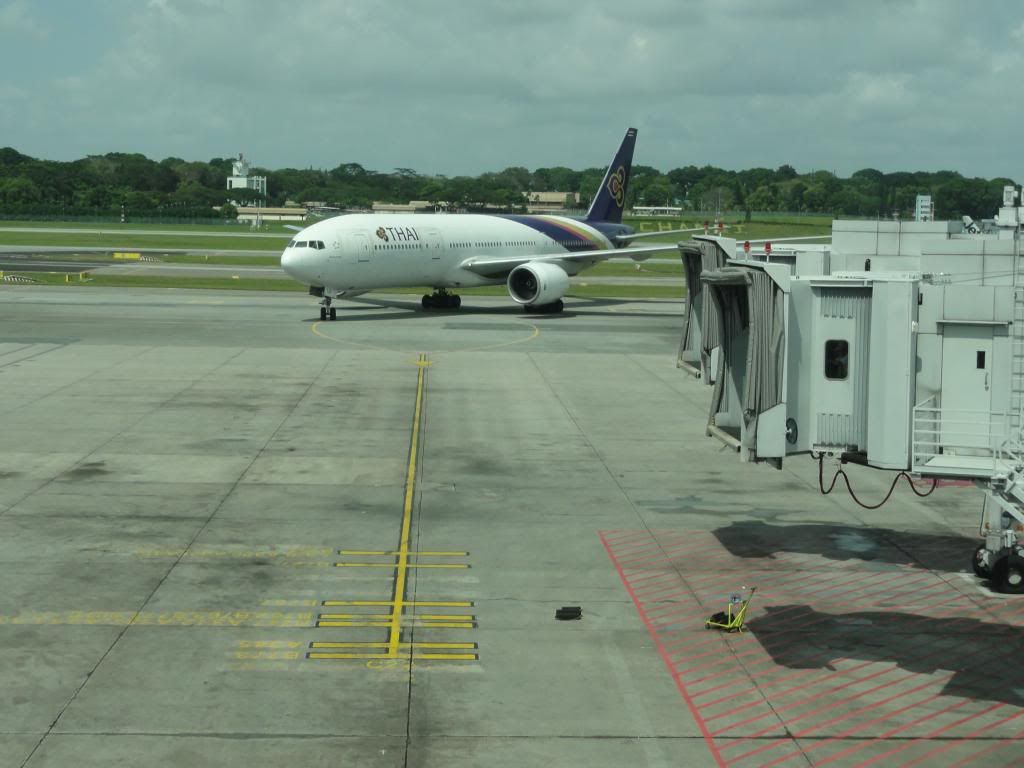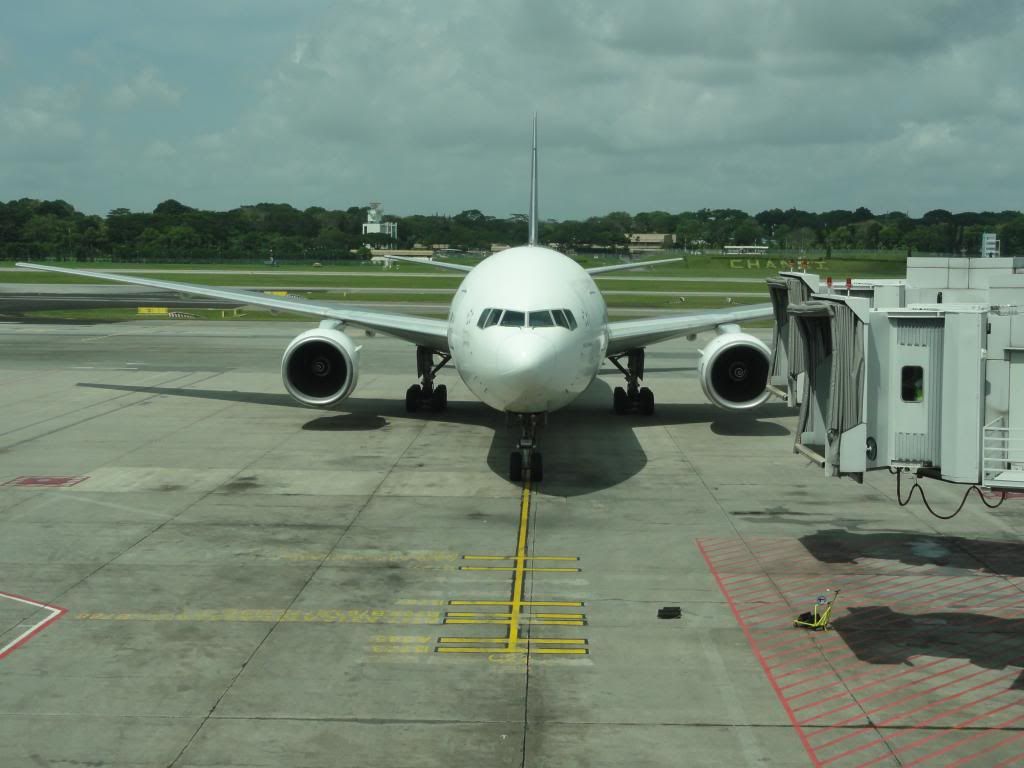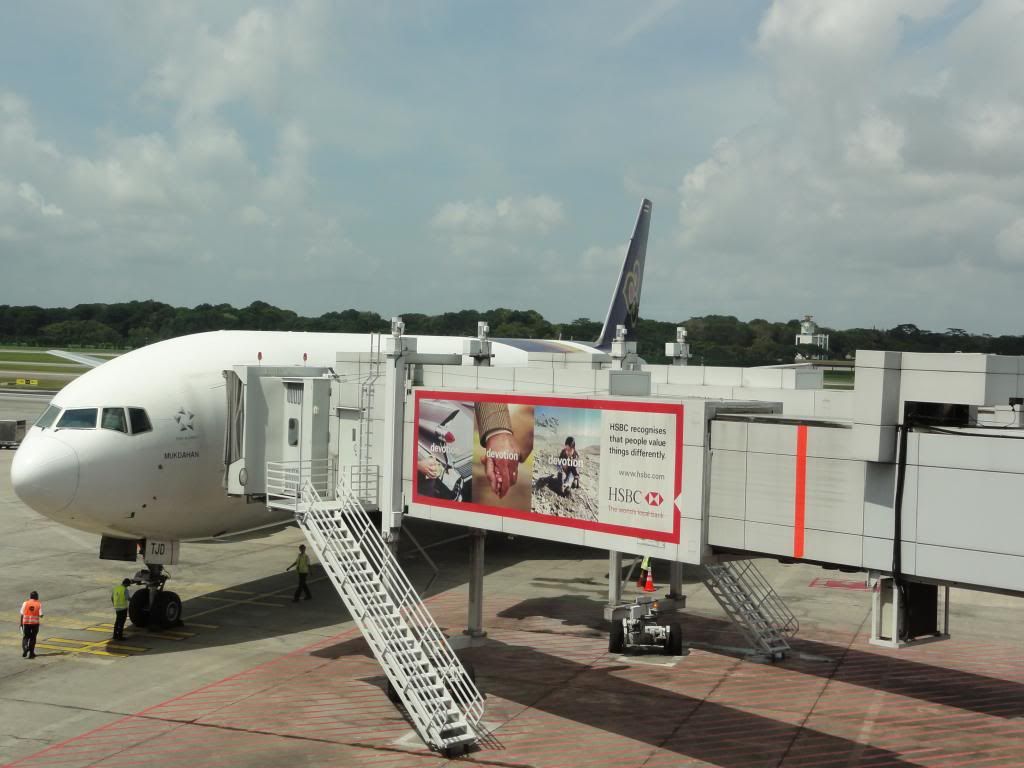 Close-up of the aircraft.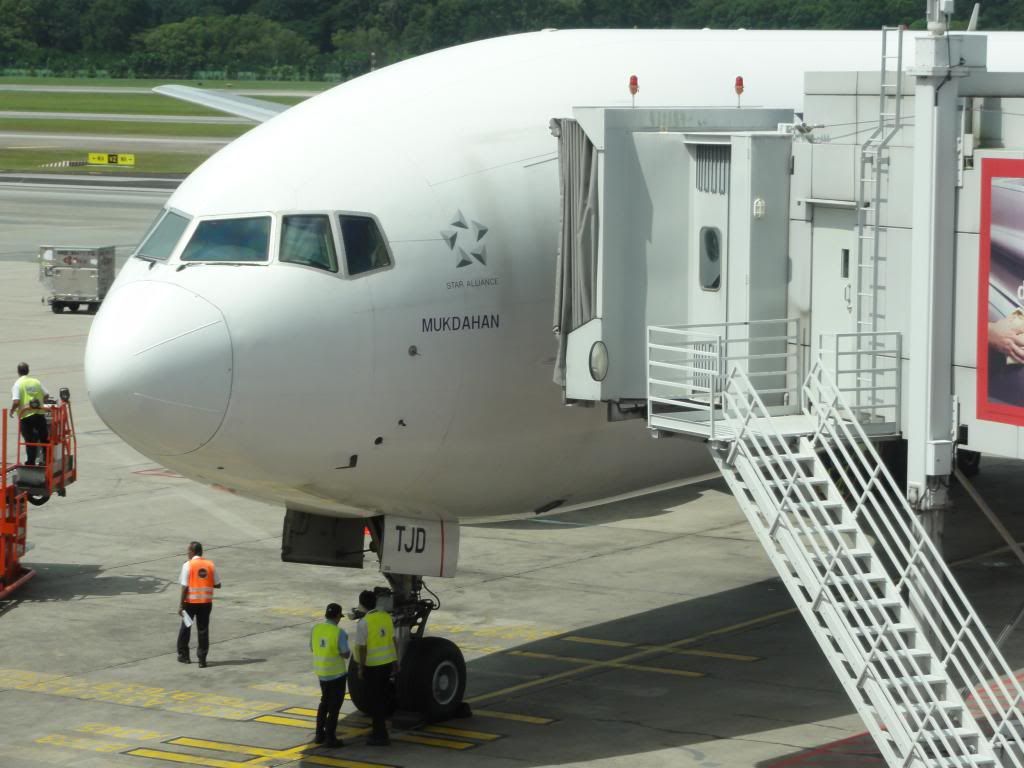 Boarding was orderly and swift, with no pushing or shoving. Announcements was made only in English. I was expecting some Thai, but there were none. For the first time, I was greeted with the traditional 'wai' and "Sawadeekaa" by one Thai stewardess who was smiling broadly.
She was wearing a traditional Thai dress, which looked quite Indian to me. I later learned about TG's uniform change policy, where they will change into Thai dresses to welcome guests onboard, and don them throughout the flight until just before landing, when they will change into their ground uniforms, which are basically light purple blouse with dark purple blazer and a similarly coloured skirt.
Anyway, I was quickly ushered to my seat by a friendly male steward, who made sure I felt at home.
A nice first impression of TG!
My first cabin shot of TG B772.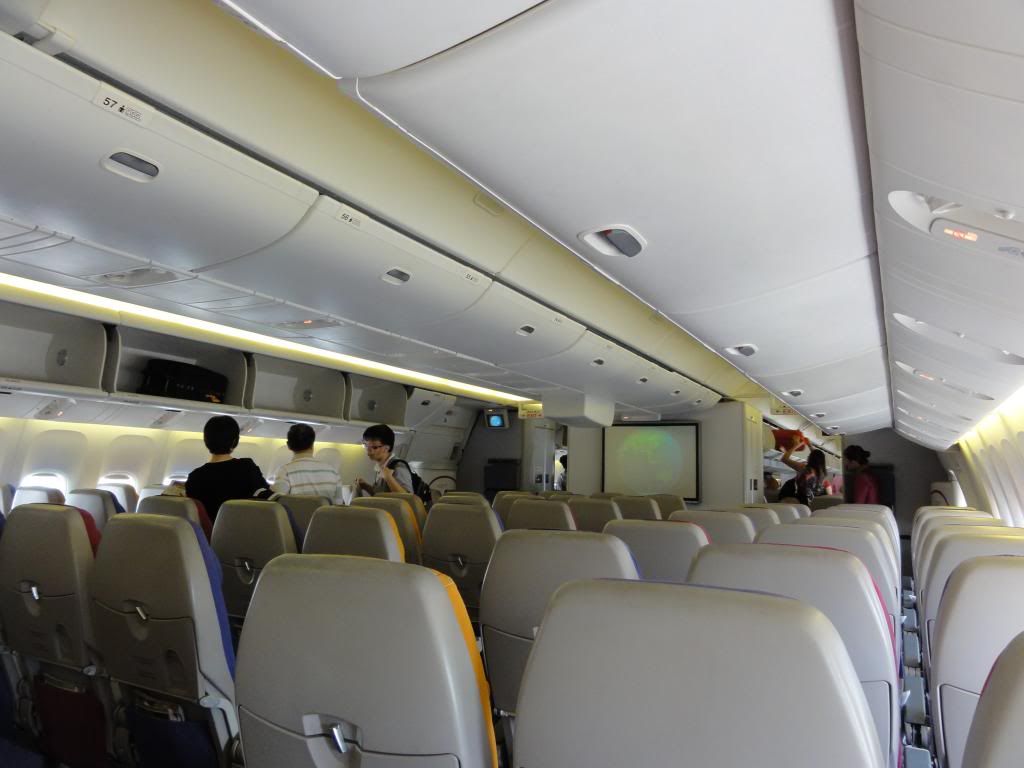 The seats were new Recaro seats which were pretty comfortable and nicely shaped. The only downside was, where were the PTVs??? I believe these seats were meant to be fitted with PTVs but somehow, TG decided to omit them and leave a blank space at the back! It looks like it seriously lacks something, and it feels strange looking at it...
Seatback view.
Sideways shot.
Boarding was complete very soon, and we were promptly pushed back. We were already running late! The captain and crew did not make any apology on board, I had noted. Minus points for TG here.
All aboard!
Safety video was played soon after engine start. I was looking forward to this part, but was let down as the volume was very very low! One could hardly hear anything. It was like watching a silent movie.
Another thing about this flight was that there were hardly any announcements! There was one announcement after boarding and now welcome message at all! It was silent all the way to take-off!
We had a short taxi to the same runway this plane had arrived on earlier, and were soon airborne to BKK! It was a really great day with good weather, which allowed me spectacular views of the clouds in the air.
View of the terminal from my seat.
Take-off!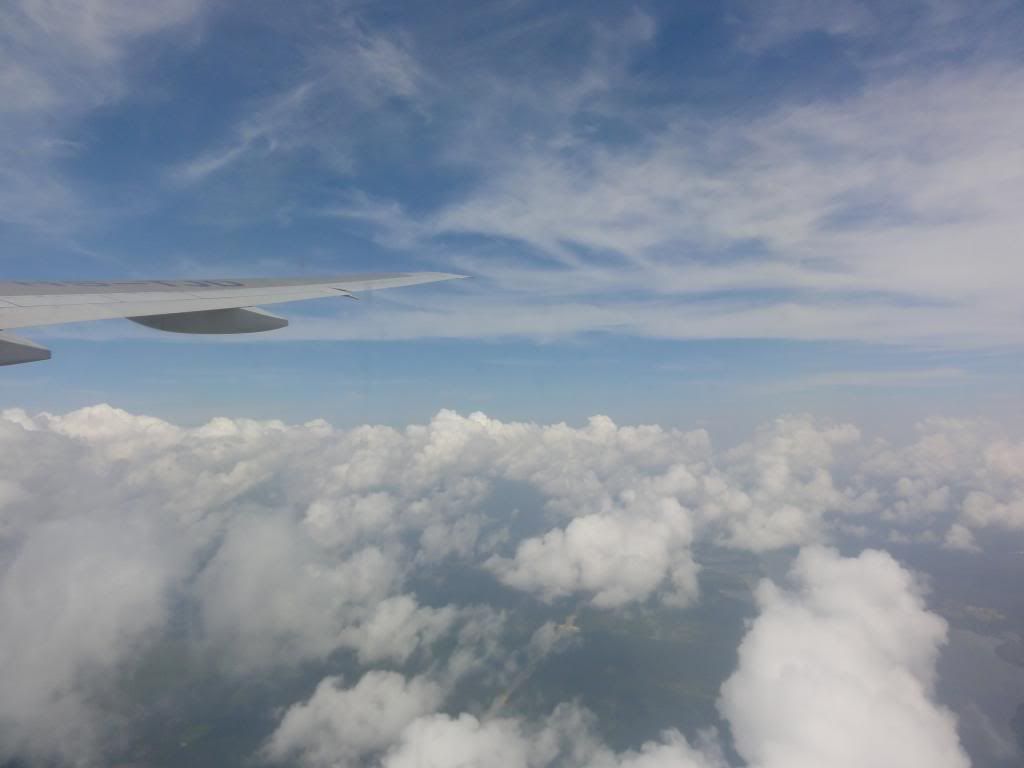 After the seat belt sign was turned off, the welcome announcement finally came! After that, hot towel service began. It was my first time having disposable towels onboard! I was used to SQ's fabric towel, but I really do prefer disposables, so it was a nice change.
Hot towel service.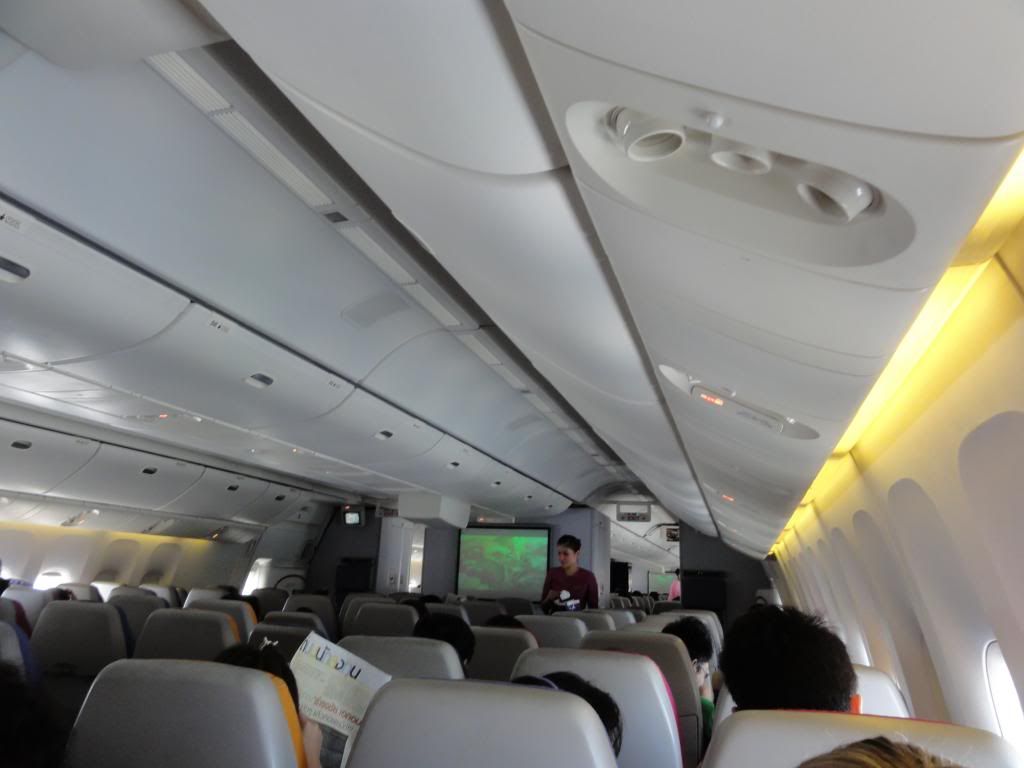 Another seatback shot. I still cannot comprehend why did TG choose to omit the PTVs. Since they had already spent money to refurbish the cabin, why stick to old technology of big screen entertainment?
We soon reached cruising altitude, and meal carts were pushed out. The crew had jumped out of their seats as soon as they could earlier, and were out in 15 minutes!
Serving lunch.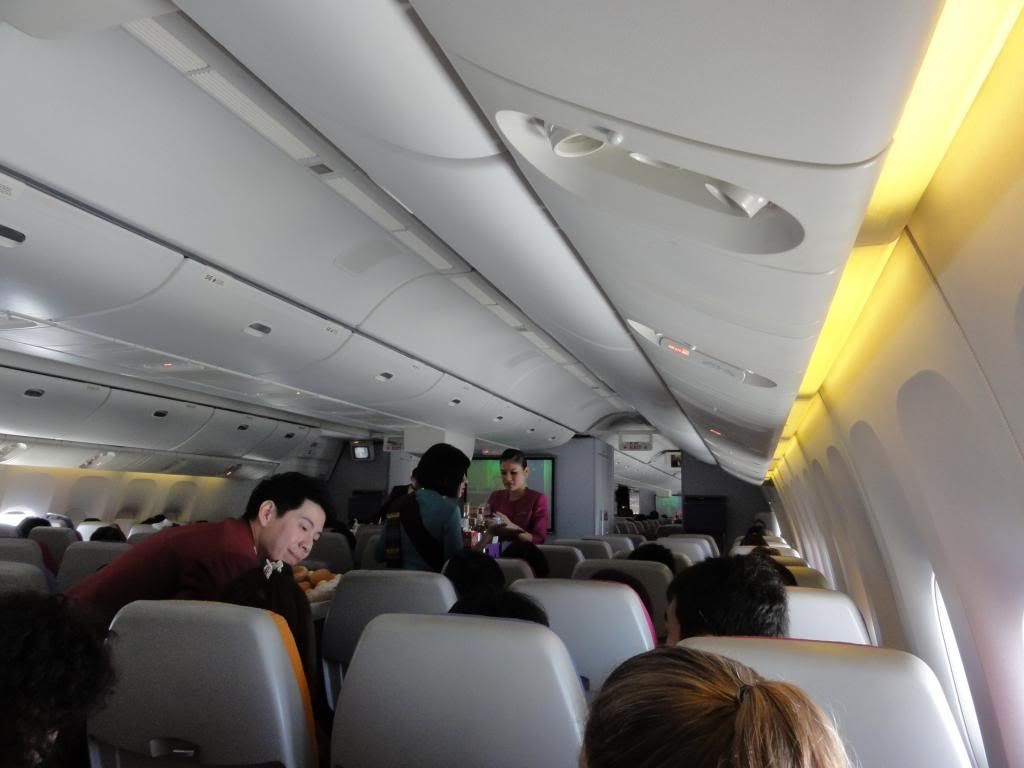 Cruising altitude.
Lunch today was tom yam fried fish with rice for me! I cannot remember the other choice, but I had chosen the Thai option as I wanted to try TG's Thai meal! They offered one Thai option and another Western option.
Lunch!
This was my very first meal with TG, and I was really impressed! It was one of the best meals I had on any flight! The salad was potatoes with shredded tuna, and they even garnished it with a wedge of hard boiled egg. Presentation and taste was top-notch. The main was amazing, with the Thai spices engulfing my mouth the moment I took a bite into the pieces of fish. It was so fragrant and was an explosion of flavours which I had never experienced with an airline meal before. The dessert was mixed berry cake, and the sweetness was just right, with smooth and melt in your mouth texture. It was a really satisfying meal. Bread rolls were served twice, and the rolls were always hot and fluffy. (I cannot count the number of times I have been served rock buns on other airlines.) Drinks were the usual choice, nothing to rant about. Overall, I give this meal a 9/10!
I was already impressed that they could pull off a full meal service on this flight, and the fact that the meal is of such high quality only serves to top it off for me. 2 drink runs were conducted before they came by for the empty trays after everyone had had their fill.
I was extremely pleased and henceforth, will always swear by TG's catering!
Clearing the trays.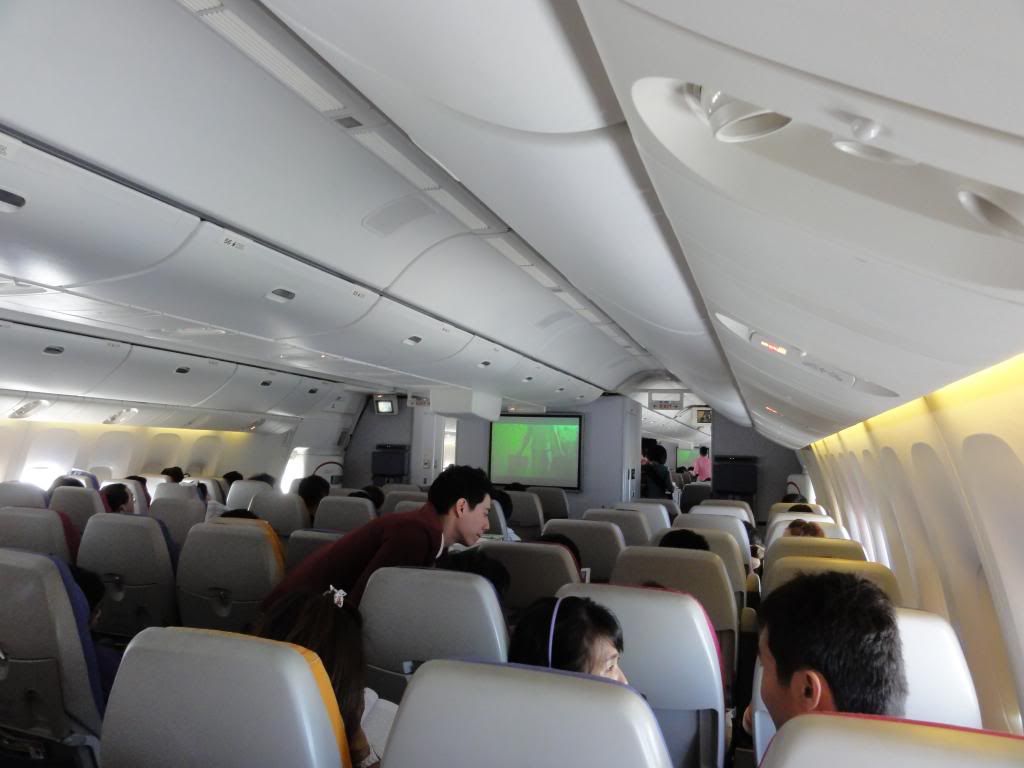 After the meal, I turned my attention to the ancient projector screen. It was showing some random Thai programmes, but the images were with a yellowish tint and the sometimes fuzzy. I gave up on the entertainment and turned my attention to the window view instead. The moving map came on only twice in the flight, and the flight info screen was permanently shown after starting descent, all the way down to BKK.
Soon after, the captain came on the PA about 25 minutes before landing and did his usual arrival announcement. We were descending into BKK, and I was excited, being my first time to Suvarnabhumi Airport. I was raring to get off the plane into the terminal!
Touch down was very smooth, and as we were taxiing to the gate, I spotted this B772ER with front doors opened. Ventilation?
HS-TJU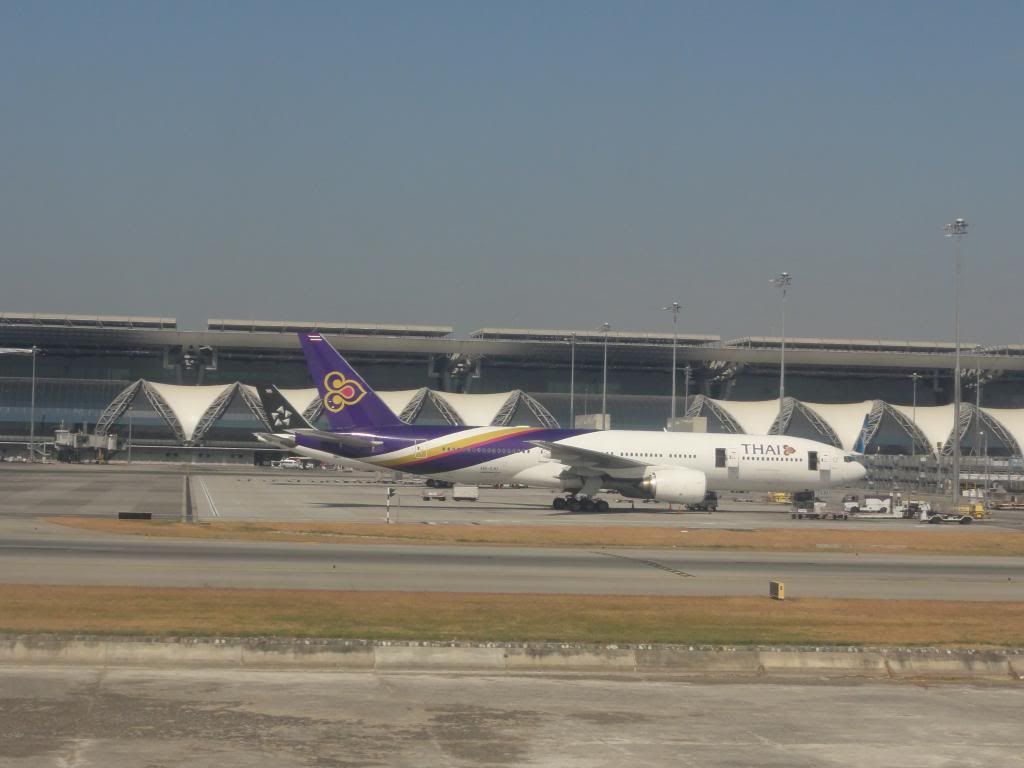 I was quite intrigued by the architectural design of the terminal building from outside, and took a few pictures of them. It looked quite grand and imposing to me.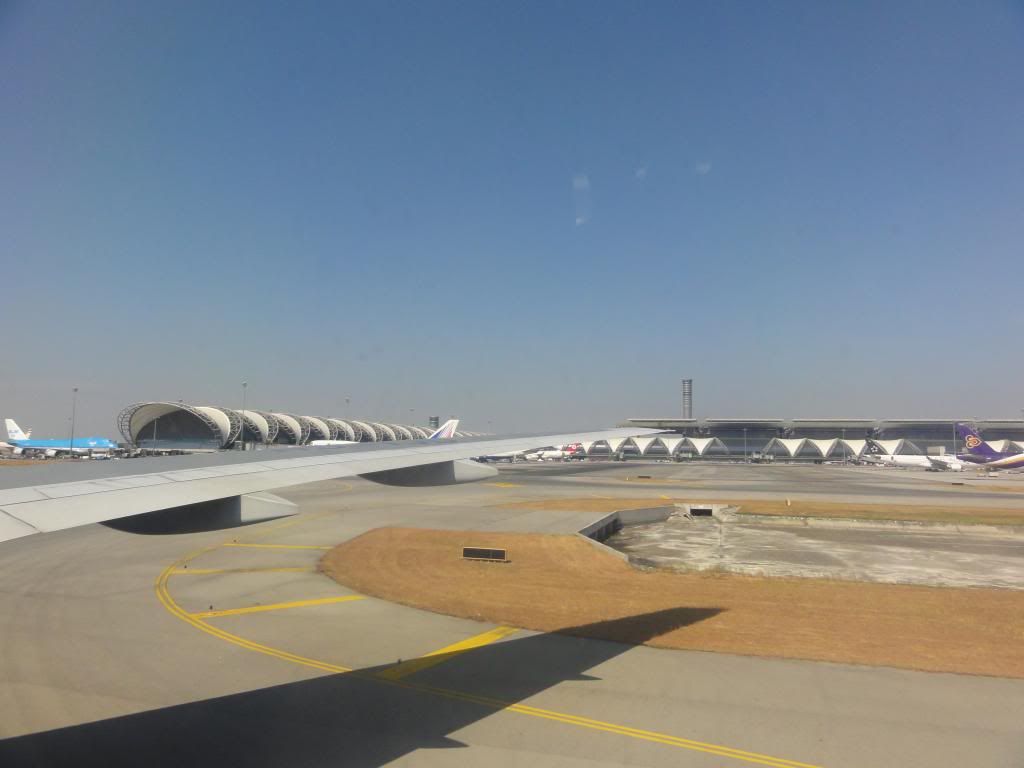 I later learnt this was not the control tower.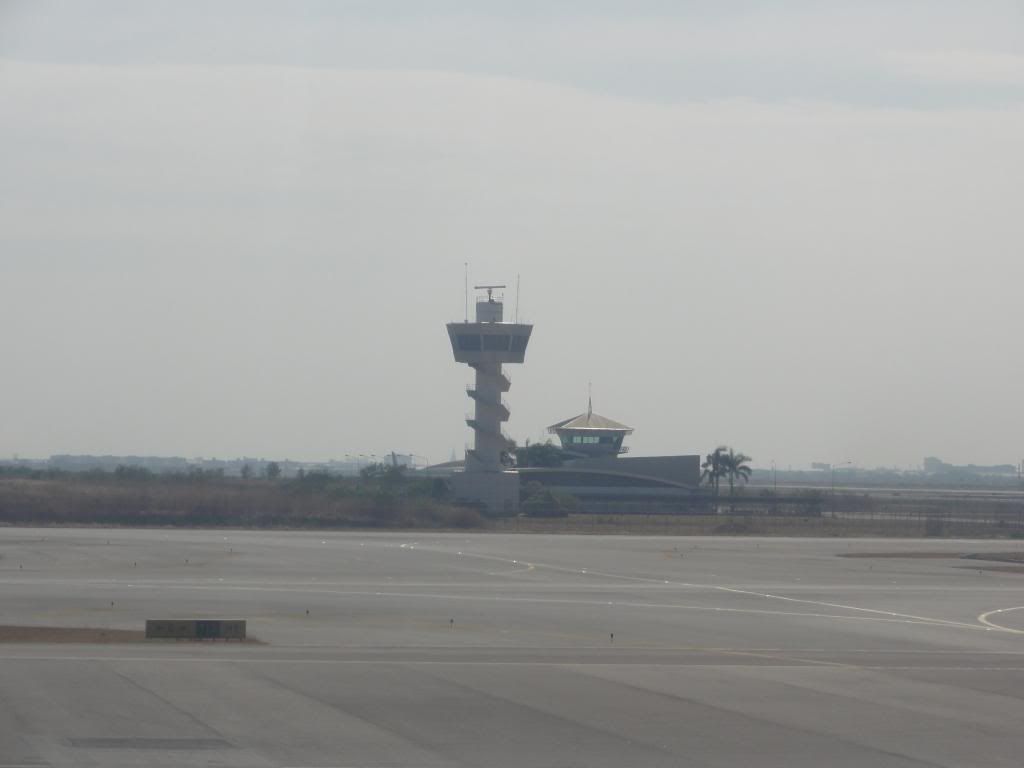 We pulled up beside a KLM Asia B744, which had a rather interesting registration. I thought it was quite funny, and chuckled to myself. I hope nobody was looking.
PH-BFF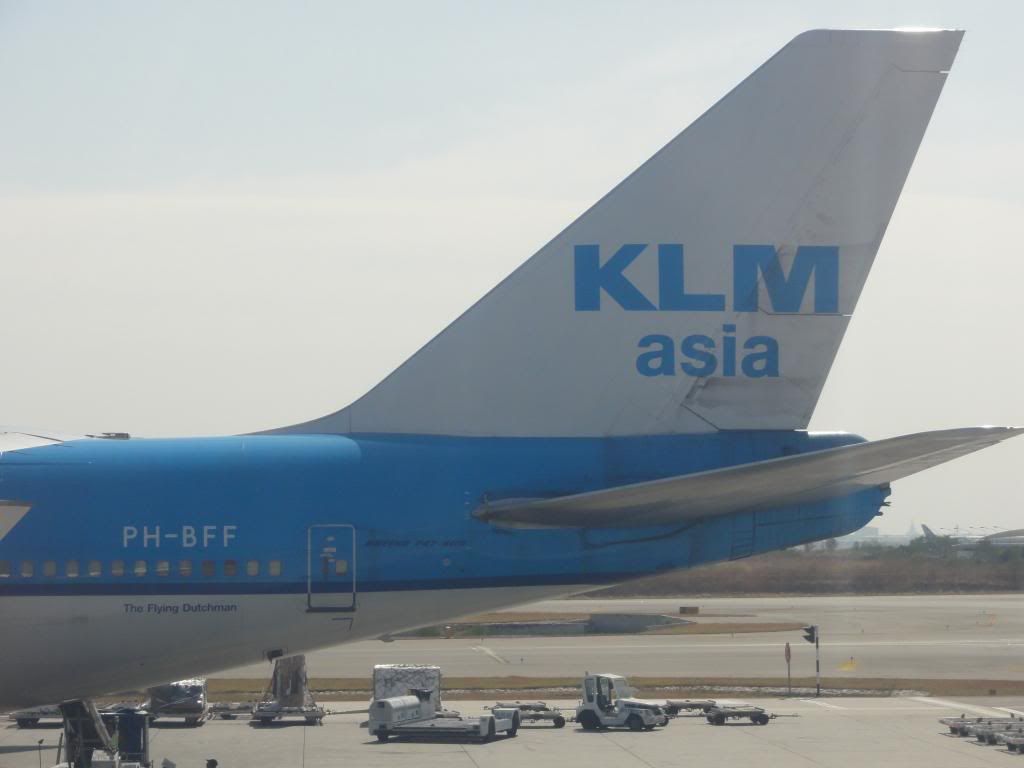 I waited for all the pax in my cabin to deplane before I took a few cabin shots of the aircraft. I do not like people in my pics, actually. It sort of spoils the picture. Cabin shots without the passengers look so nice, IMO. The cabin crew, though, adds to the beauty.
Closing the overhead bins.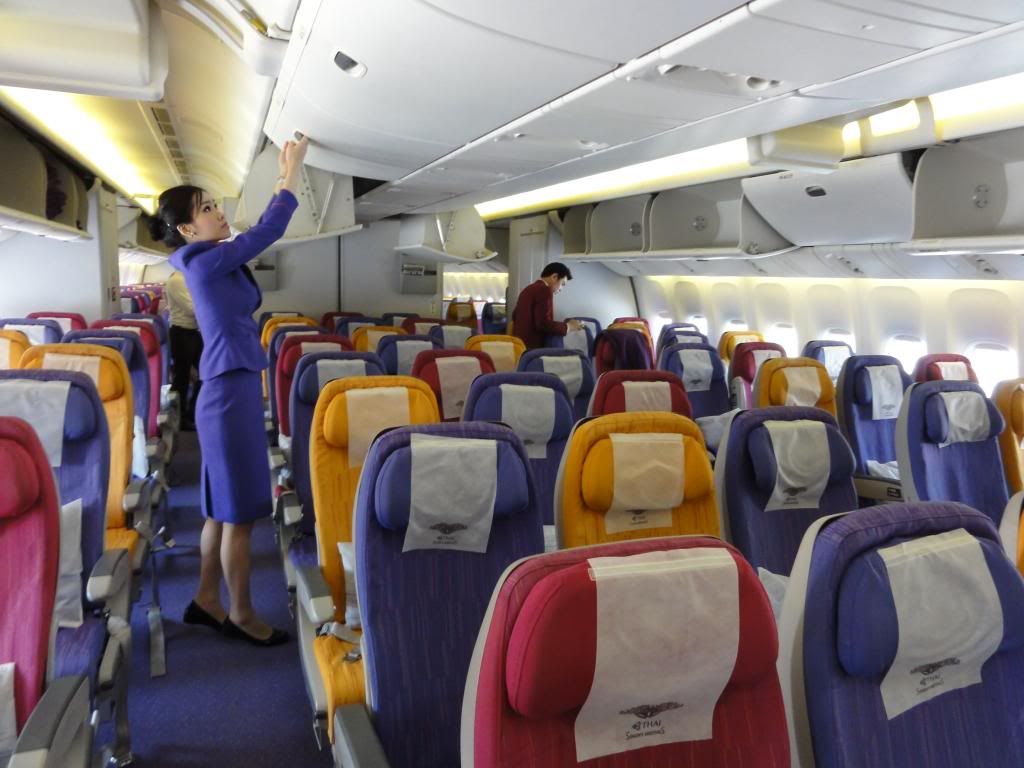 Business Class! How I wished I sat here instead!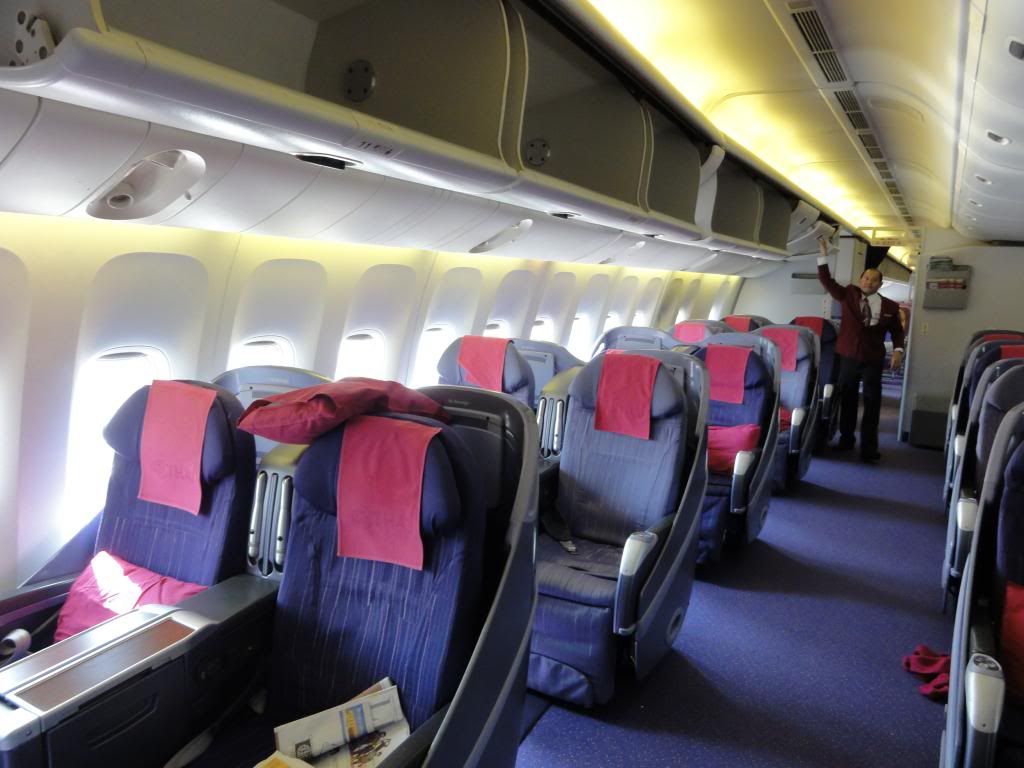 In my opinion, the 2-2-2 config is much better than the 2-3-2 on the 772ERs and 773s.
It was 'wai' all the way to the jetway, as I bade farewell to the friendly crew.
My parting shot to HS-TJD.
Overall, this was a great first impression for me! Although there were no PTVs, I didn't mind on this short hop. What's more, the seats actually looked quite nice, other than the blank back. The food was TOP NOTCH, and service was very good. Although I had not had any of the crew do anything special or gone the extra mile, their smiles and 'wai's actually got me very happy already!
It was indeed a satisfying flight, and I am already looking forward to my flight tonight to ICN!
Just a side note, while I was booking my trip, I was actually ignorant of the fact that TG B772s have no PTV installed. Therefore, I had booked TG656 over TG658 for the flight to Seoul, as TG404 SIN-BKK and the other 2 flights back to SIN later in the week were all B773s. TG656 and TG658 departs 30 minutes apart to Seoul from Bangkok. I wanted some variety to the flights. I only discovered that TG B772s have got no PTV when I did some research later, and immediately facepalmed myself. It was 5 and a half hours to ICN from BKK and I had just put myself on a B772! I could have enjoyed myself on TG658's B773 instead! What made it worse was the flight I just took from SIN was changed to B772! So, it was PTV-less all the way to Seoul!
Anyway, back to the terminal.
Right after stepping into the airport.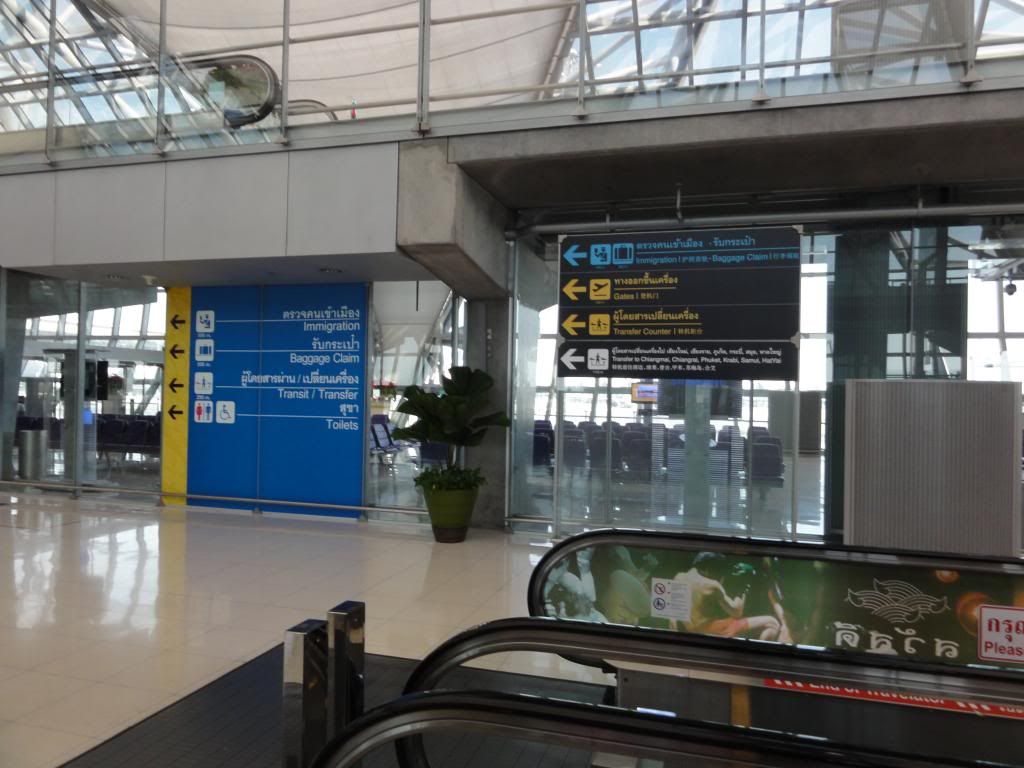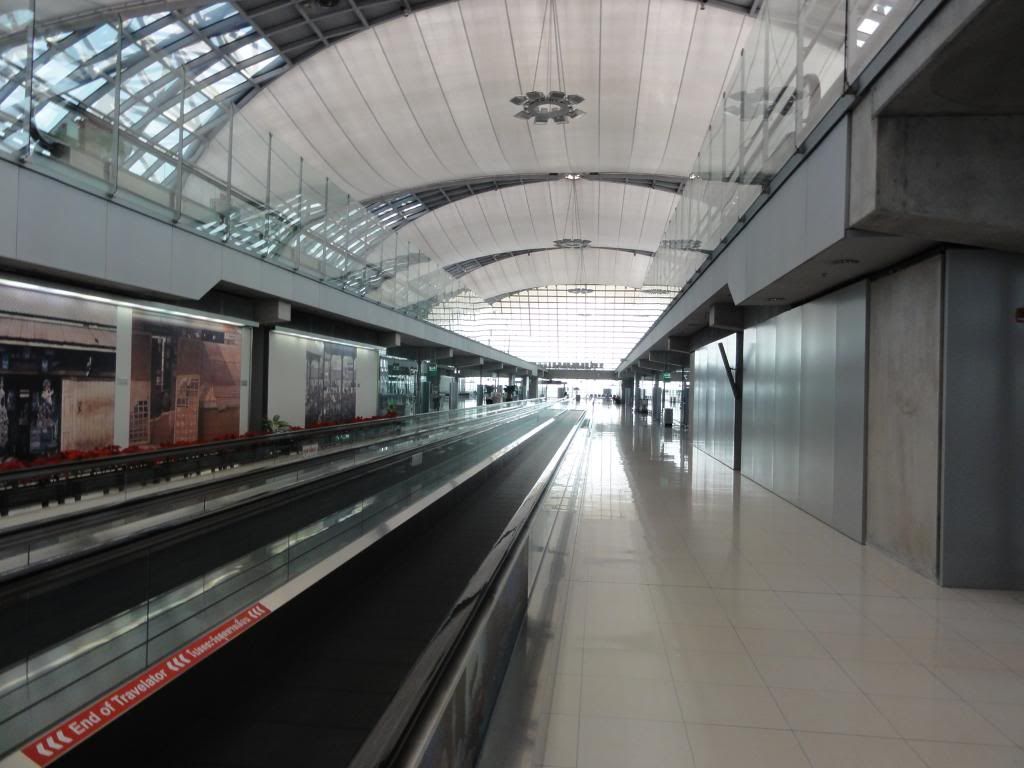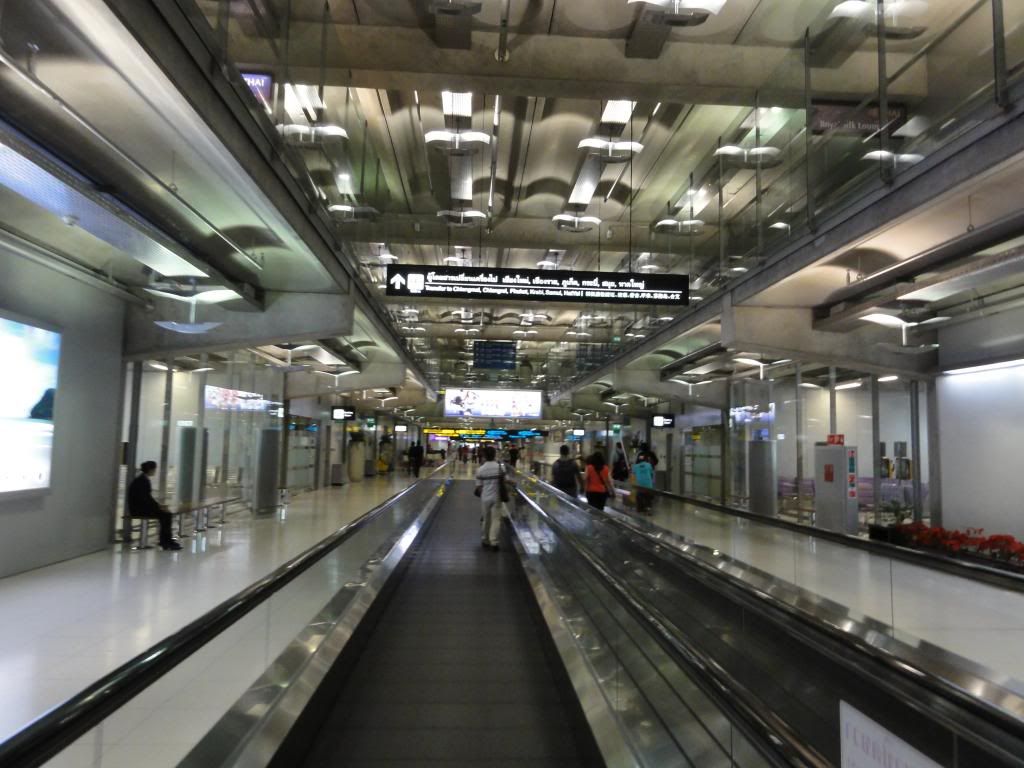 Near the immigration.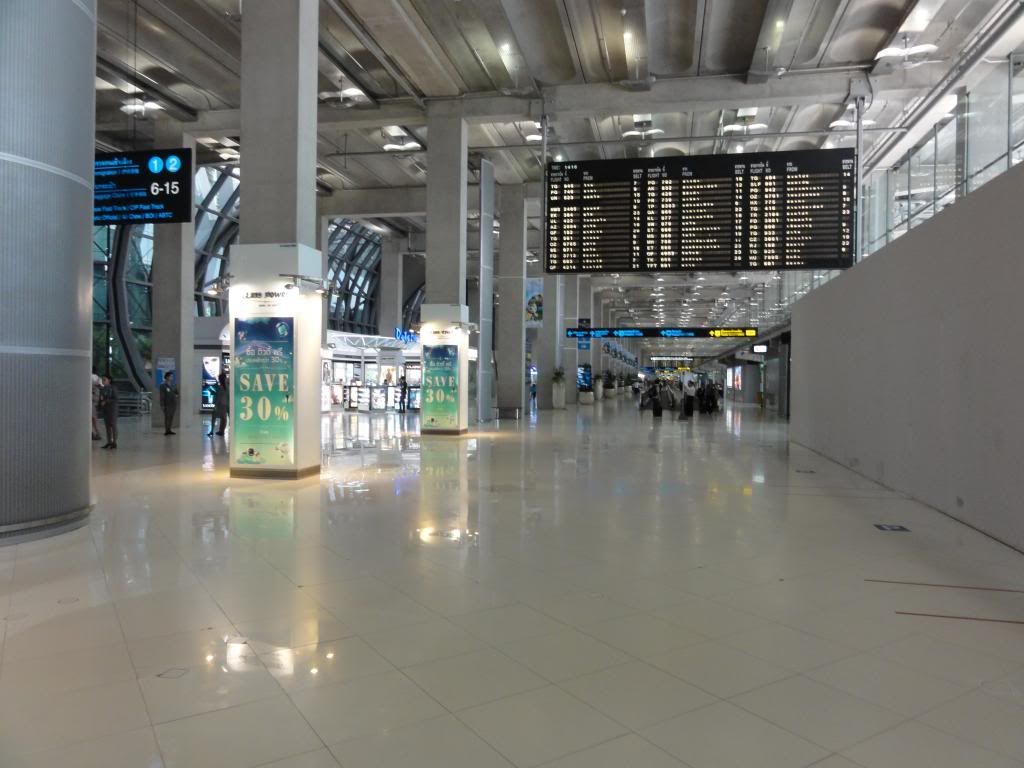 It was my first time in Suvarnabhumi, and I didn't know which way was transfer! Wait! I wasn't going to transfers! I wanted to clear immigration and get out!
One thing about Suvarnabhumi is the long distance you need to walk to get to different places! I walked for almost 20 minutes in the airport before reaching immigration! This is something AOT needs to do something about.
I wondered if my boarding pass to Seoul would grant me access back into airside later at night, and after thinking for a while and roaming around the airport(my gate was very far from immigration), I approached a customer service staff and asked her if I could go out.
Alas, she could speak only a smattering of English, and she couldn't understand what I meant. It was probably too much info, haha. She brought in 2 more staff who helped her to analyze my questions and finally, after much discussion, they told me it was possible. I was overjoyed. They then asked me for my passport to check my nationality, as not all passports can grant entry into Thailand without a Visa.
I quickly queued up and was kept waiting in the long lines for about 20 minutes. This was my first taste of the Suvarnabhumi immgration lines. After the long queues and all, I finally cleared immigration and quickly skipped past the carousel(my bags were checked all the way to ICN, the check-in staff at SIN had informed me).
I was out in no time!
My first look of the arrival hall.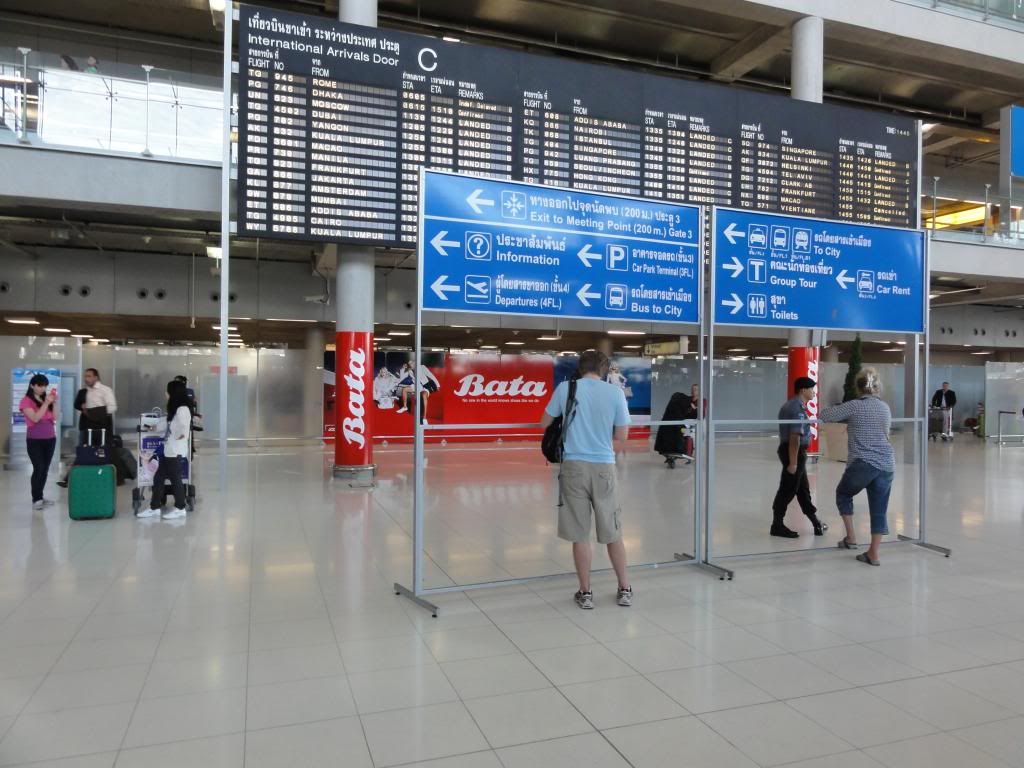 I had done my research at home, and was planning to ride the Airport Link to the city! Now, I had to look for the station...
Ah! I found it! It was all the way down into the bowels of the terminal.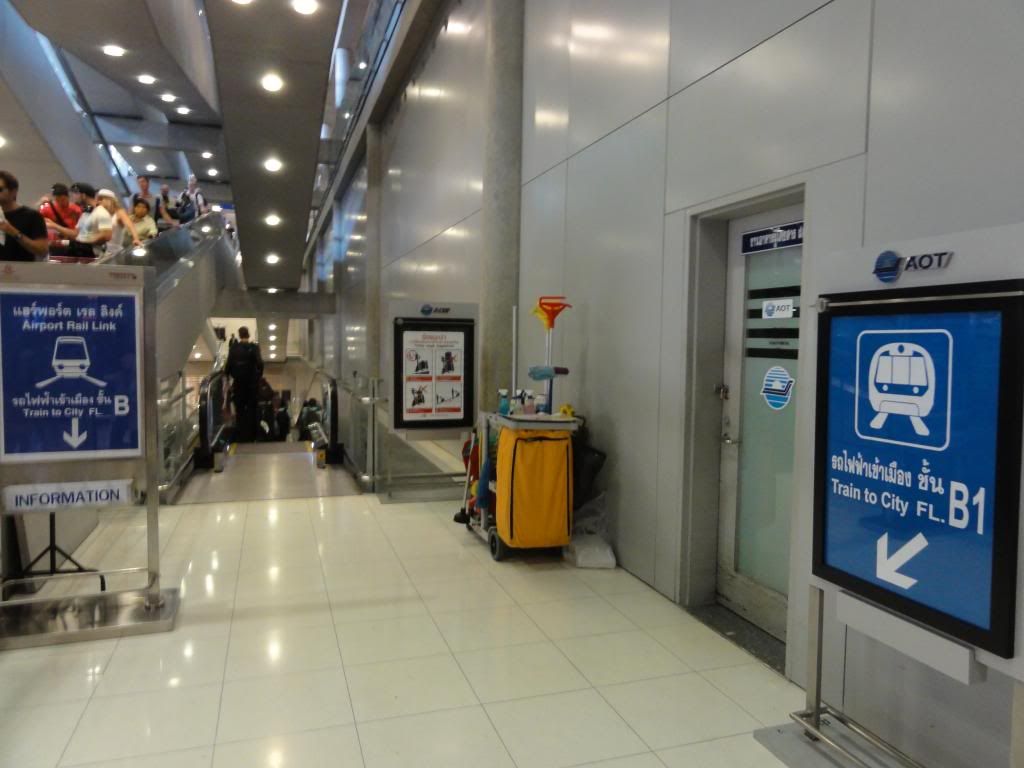 At the basement of the terminal.
Suvarnabhumi Station!
Airport Link was the train service between downtown Bangkok and Suvarnabhumi airport. It was opened in 2010, so it was still pretty new. The station was sparkling and so clean! There were 2 kinds of trains, express line and city line. Express line trains run from the airport non-stop to either Makkasan station(City Air Terminal) or Phaya Thai station. City line trains stop at every station all the way to both Phaya Thai. There were 8 stations altogether. The city line train takes about slightly over 30 minutes to go to Phaya Thai, the last station. Phaya Thai was an interchange station linking the Airport Link with the BTS Skytrain, which you can take to other parts of the city.
The train interior.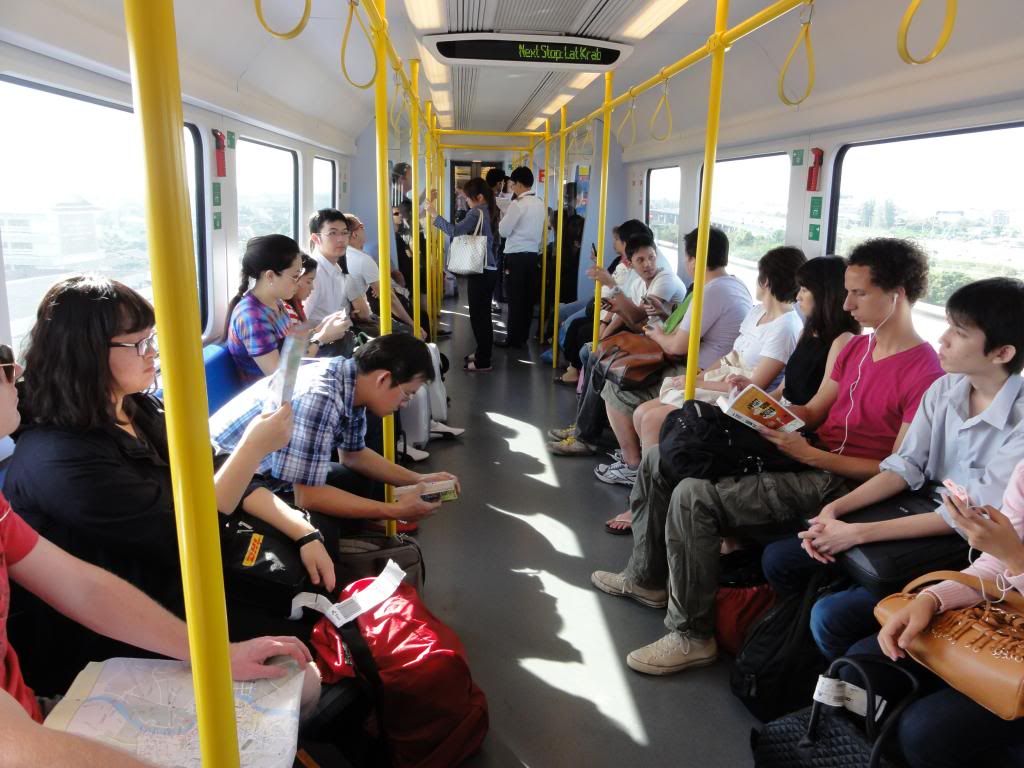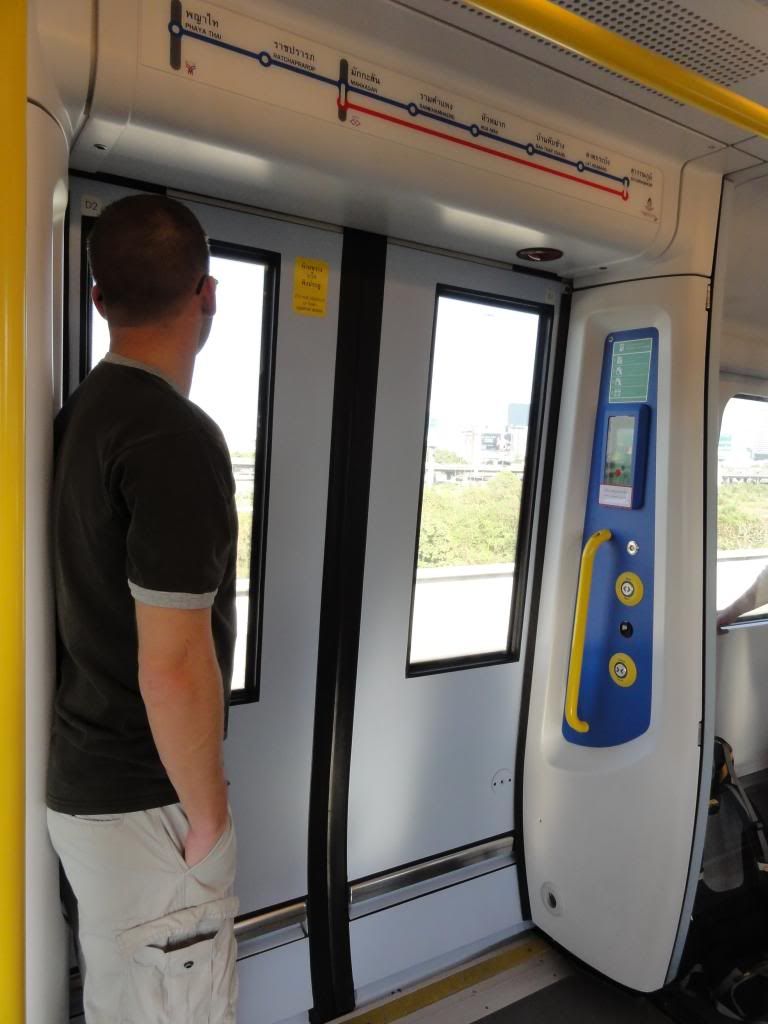 Alighting at Phaya Thai.
I noticed alot of western tourists here, and later, also in Bangkok. They probably flew all the way from Europe, Australia or USA. Is Bangkok very popular with them?
The City Line train.
After alighting from the Airport Link train, you go down the stairs and after exiting the fare gates, proceed down the sheltered linkway to the BTS Skytrain station which is linked. The Airport Link and BTS are treated as 2 different systems, and one has to buy tickets again at the BTS station.
The sheltered linkway to BTS Phaya Thai.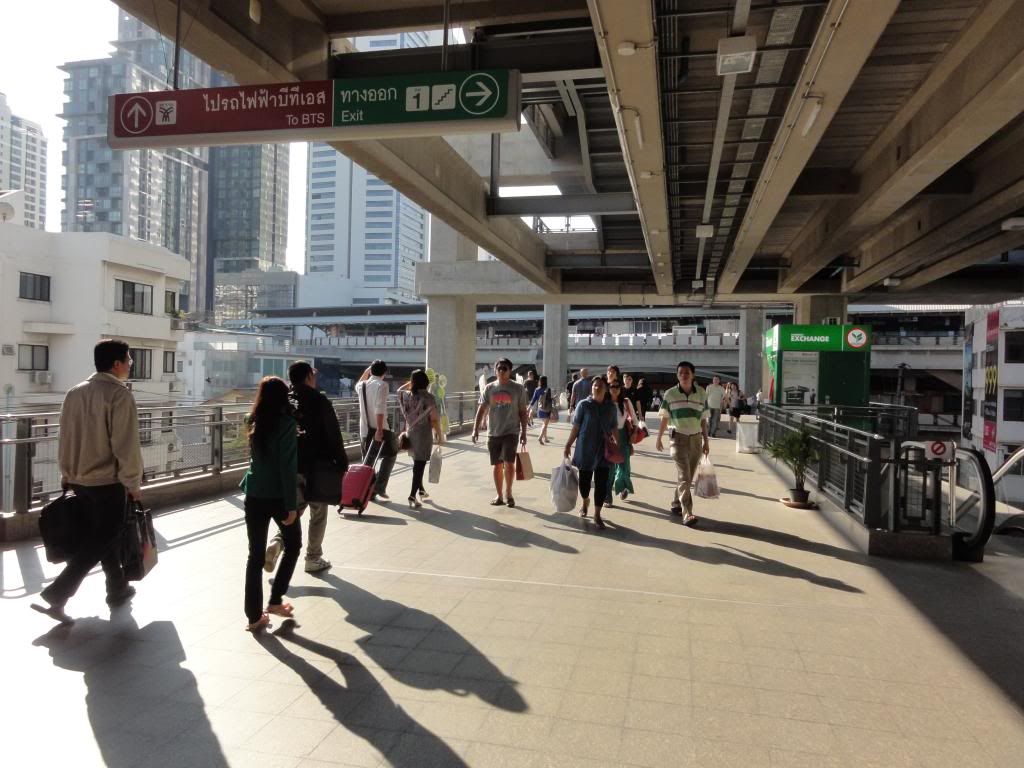 The tracks of the BTS visible.
You won't get lost with these helpful signs found all over the stations.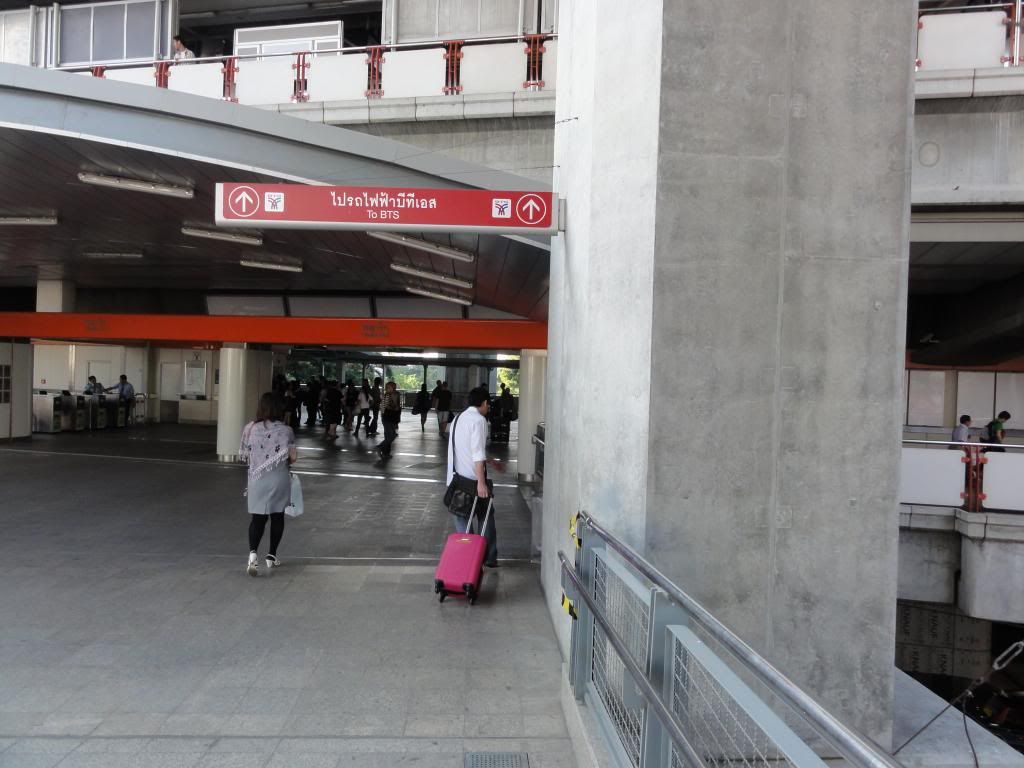 BTS Skytrain
Today I will be popping over to the most famous and high-end shopping district in Bangkok, SIAM station. There are big shopping malls like Siam Paragon, Siam Discovery, and the famous grand old dame, MBK Centre. (On my other, more recent trip to Bangkok in Jul 2012, I would be staying in Pathumwan Princess Hotel just next to MBK Centre. Very convenient.)
TRs for that trip here:
SIN-BKK (TG404)
SIN-BKK-SIN On Thai Airways
(by
anthonychua527
Sep 1 2012 in Trip Reports)
BKK-SIN (TG409)
Back Home To SIN On TG!
(by
anthonychua527
Sep 3 2012 in Trip Reports)
I will be posting this trip's Part 2: BKK-ICN very soon! Watch for it!
Thanks for reading this lengthy report. I hope you enjoyed the pictures.
-Anthony CPC