Disclaimer:
This TR is a bit more haphazard/less organized than some of my other ones, but is primarily designed to provide some insight on the Y experience (comfort/amenities/processing, etc) that one can expect when flying on a US carrier to deep South America. Noticeably, there is a large absence of trip reports on such sectors.
Also, the added bonus is indeed some spotting pictures taken around GRU, an absolute playground to the delight of a-netters.
Background
In January, I had to travel to São Paulo, originating in Chicago. Ordinarily, I would prefer to fly Star Alliance for travel since I have elite status, but my options were fairly limited since the ticket was booked relatively close to departure date. The most competitive fare, with the best scheduling times, was on a Delta itinerary. Lately, I have been flying Delta and noticed their Y product has improved, so I decided to give them a try, long-haul.
Currently, Delta operates a daily flight each to its hubs in Atlanta, Detroit and New York (JFK). While the ATL/JFK-GRU flights have been established for some time, the Detroit to Sao Paulo route is relatively new. Without going into the hairy details of the drama that seemed to surround the DL LAX-GRU upstart, I believe that the slot was eventually transferred to launch DL DTW-GRU a few months later. Circa November 2010, it began with a less-than-daily frequency, although now it has gone up to daily service.
In the back of my head, I was aware that the DL flight from DTW to GRU uses an older 767-300 model, without the new interior enhancements. Unfortunately, the catch was, in order to secure the decent fare I found, I had to fly outbound through DTW on one of the sectors. A round-trip itinerary via ATL and JFK, both of which fly to GRU on the 767-400 (which DOES have the new interiors, including a PTV) priced out way higher. PTV's are generally the deal-breaker for me on long-haul flights, if I am in Y. I was willing to settle forgoing the option for half the journey.
Nevertheless, I managed to get "creative" with the booking engine and secured a return flight via ATL for the same price, knowing the 767-400 series aircraft used on the return route would have the better in-flight product offering. Any routing through JFK was completely out of the question.
Outbound Journey from ORD and connection in DTW
Day of departure soon arrived, and luckily no issues with weather getting out of Chicago. Delta uses terminal two at ORD, which is both a blessing and a curse. The beauty of it is that security is generally much quicker when compared to using T1 or T3 with UA or AA. The downside is that the walk to the gate at Terminal 2 is generally long.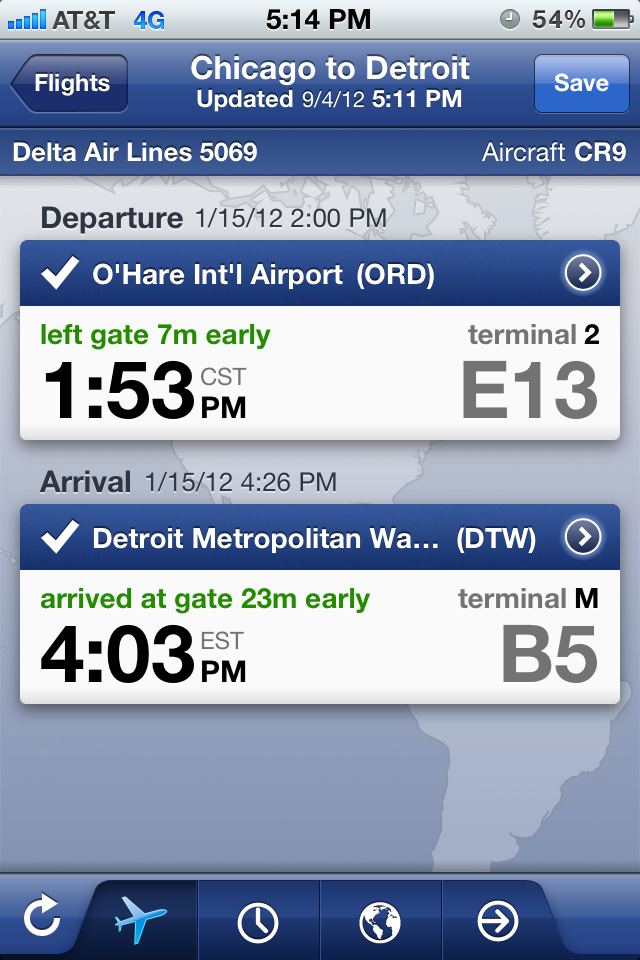 Each time I fly on a CRJ, the more I realize I just cannot stand them. Anyhow, the flight from ORD to DTW is luckily very short and was uneventful. For me, it also brings back memories of summer visits to Michigan from my youth days, when I first flew on a Fokker F-100 on AA from Chicago to Michigan and was marveled by the views of the lake and flying over downtown Chicago. The landing at DTW was rough and the pilot must have braked hard, because it sent my water bottle flying a few rows ahead of me from underneath the seat.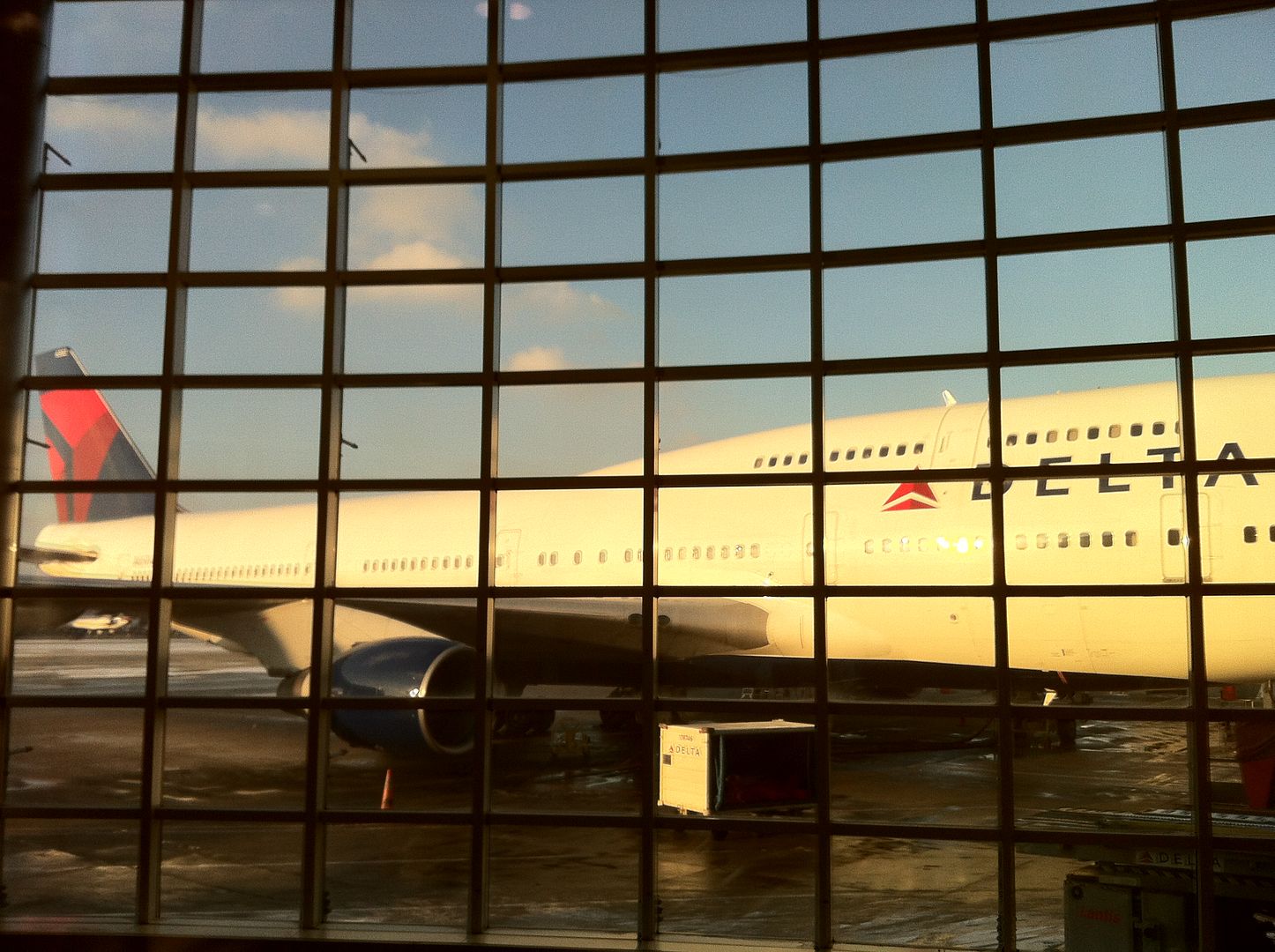 Anyways, after deplaning at the B concourse, I strolled through the beautiful McNamara terminal in Detroit. Funny, I had literally just walked through it less than 14 days prior coming back from SJU haha (hence my newfound awareness that Delta has upped its game). I had forgotten how pristine it still is. By far, the trendsetter for modern airport renovations. I still have impressions of the NWA brandings from my prior visits in 2005 and 2008. Amongst them, painful memories of tight connections resulting in missed flights to SBN back from my college days. So nightmarish
I met with a friend in the Delta lounge in the 'A' concourse and proceeded to watch the Giants-Packers game (more like slaughter). He was very kind to bring me in as a guest since he has access privileges to the lounge. The one we went to, which is in the center of the concourse near A38, is very sizable. From a glance, lots of room in the TV lounge and separate areas for those who prefer to work/read or remain in quiet zones. Also, a bar area where you could prepare your own beverages and small snack items. In reality, very few differences from the United Club lounges (same catering and self-service options).
TR Proper: Detroit to São Paulo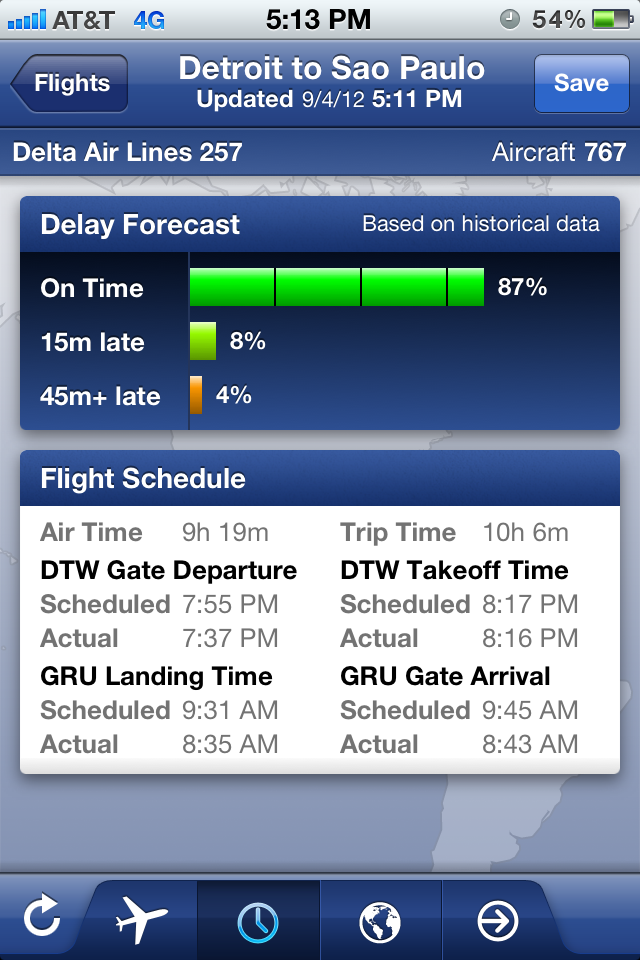 Roughly 45 mins prior to departure, I proceeded to the gate area to make a few phone calls and grab a few snacks for the flight. I had heard that the route is still in its development phase, as most Brasilians are not familiar with DTW, but that seemed debatable when I observed that it seemed like 80% of the flight was speaking Portuguese, based on the passenger makeup and languages spoke.
It didn't really appear to be a full load on today's flight, but granted, this was before MLK day, so the holiday situation may have had some impact. In the gate area, announcements were made in English and likely a memorized recitation of Brasilian Portuguese made by the gate agents. The few American passengers on-board were called up for Passport/Visa checks and then the process began.
The good aspect of the McNamara terminal is that the plethora of space in the boarding area somewhat minimizes the effects of "gate lice" standing by the podium. Being a lowly mere SkyMiles frequent flier "member," I waited until Zone 4 was called before heading down the jetway, fearful that the bin space for my carry-on was likely forgone, since I was one of the last ones to board (the older 763 does not have the refurbished bins that can accommodate extra carry-ons, and so space is indeed limited prime real estate). I ran into this issue back in 2008 when I flew Air Canada from Toronto to Santiago, Chile on a 767-300, and wound up having to gate-check.
At any rate, the crew was primarily (in fact entirely) US-based with the exception of one flight attendant who you could tell was Brasilian. More on him later. The flight was approximately 80% full, and I, seated in 23A, watched as the safety demo began on the overhead monitors as "Deltalina" appeared to make her safety announcements. The Brasilian passengers seemed enthralled by the safety video on both the outbound and return journeys, laughing at the funny moments, applauding at the end of the demo, etc.
"Eu ligo para voce mais tarde!"
Now, back to the crew: as I mentioned, entirely all American-based except for one. At first, some what of a rough beginning impression. One elderly male crew member was barking at a young Brasilian teenager, who likely understood little English, that his bag was too large to fit in the overhead bin space. The banter ensued for a few more moments, but what was puzzling is that clearly, you have a cultural miscommunication going on here, but this particular gentleman was overly bullish in his approach and, I don't know, it just seemed to come off as very "ugly American" in its demeanor. Situations such as these can be handled with a bit more professionalism - to avoid coming off as crass.
Now, the one Brasilian flight attendant serving my section was particularly exceptional. From the get-go, you could clearly tell he wanted to establish some sort of rapport with the rest of the customers, initially asking (whilst we were parked at the gate) for all the "PASSAGEIROS BRASILEIROS" to identify themselves as he cracked a few jokes and made some comments that seemed to get them all to laugh. Later on, during the flight, he was taking photos on his SLR and getting them to sing a chant just before our final descent into Guarulhos. I didn't catch why exactly he was photographing, perhaps it was a commemorative flight for him, but overall he seemed to exude some sort of "above and beyond" characteristics that really identified him as a example of superior customer service, particularly in a coach cabin. I made sure to thank him for doing a good job as I deplaned, something I always feel that is important when I deplane.
At any rate, our taxi to the runway was uneventful, and fortunately free of a de-icing process, which (as I discovered at DTW a few weeks earlier) can amount to a painful extra 15-20 mins of sitting on the tarmac.
Once we were airborne, we glided over lake Erie and our flight path had us heading Southeast, over the Appalachia region and off the coast of North Carolina, trickling straight over the Atlantic in the Bermuda triangle region, then making landfall around the Guianas.
Once we reached our cruising altitude, the first feature film came on, "Moneyball," and the flight attendants began the first round of beverages. Alongside a snack of pretzels and peanuts, I did pop a Dramamine and ventured to explore Delta's free Beer and Wine selections, ultimately choosing to start with sampling the wine.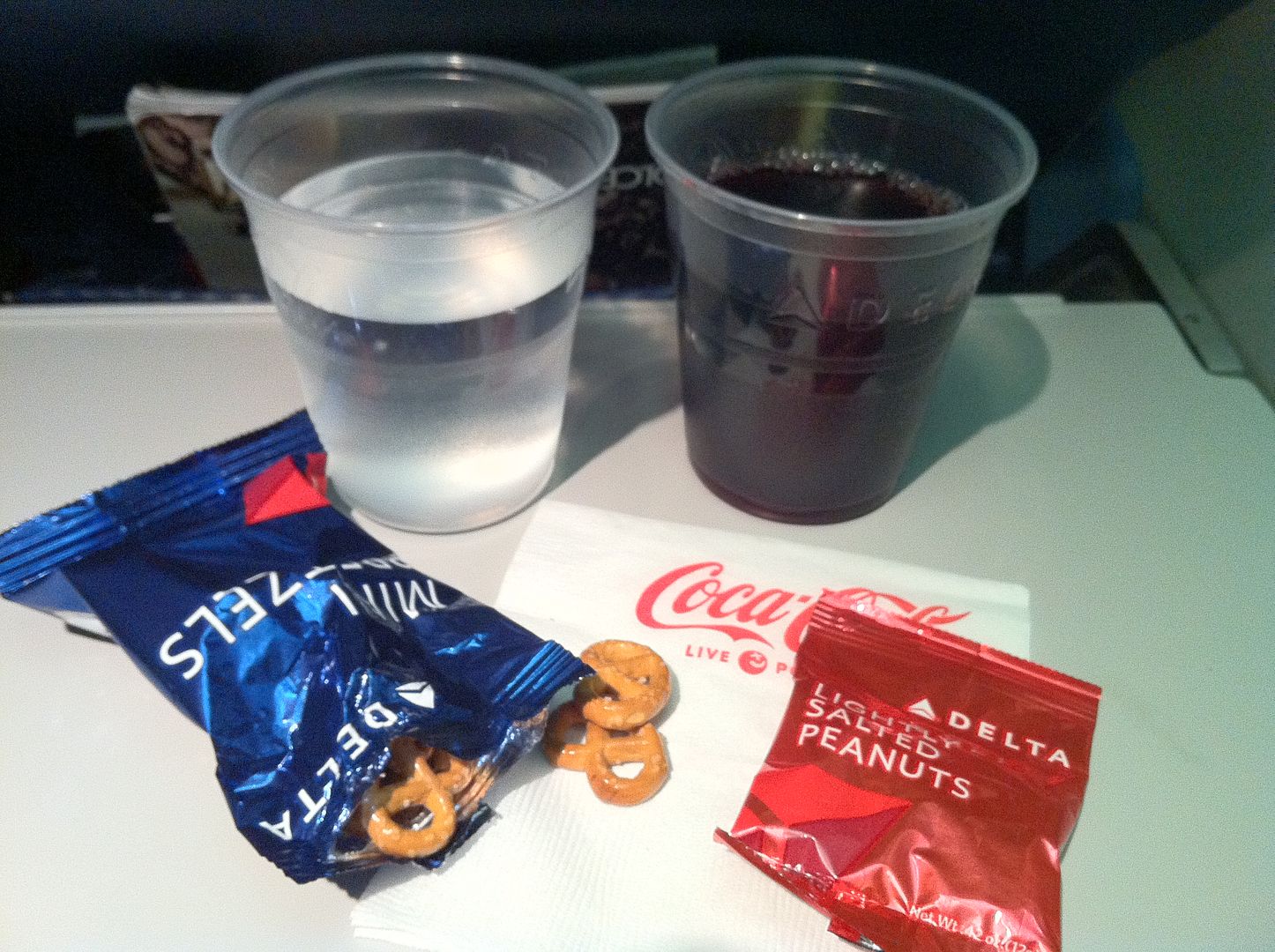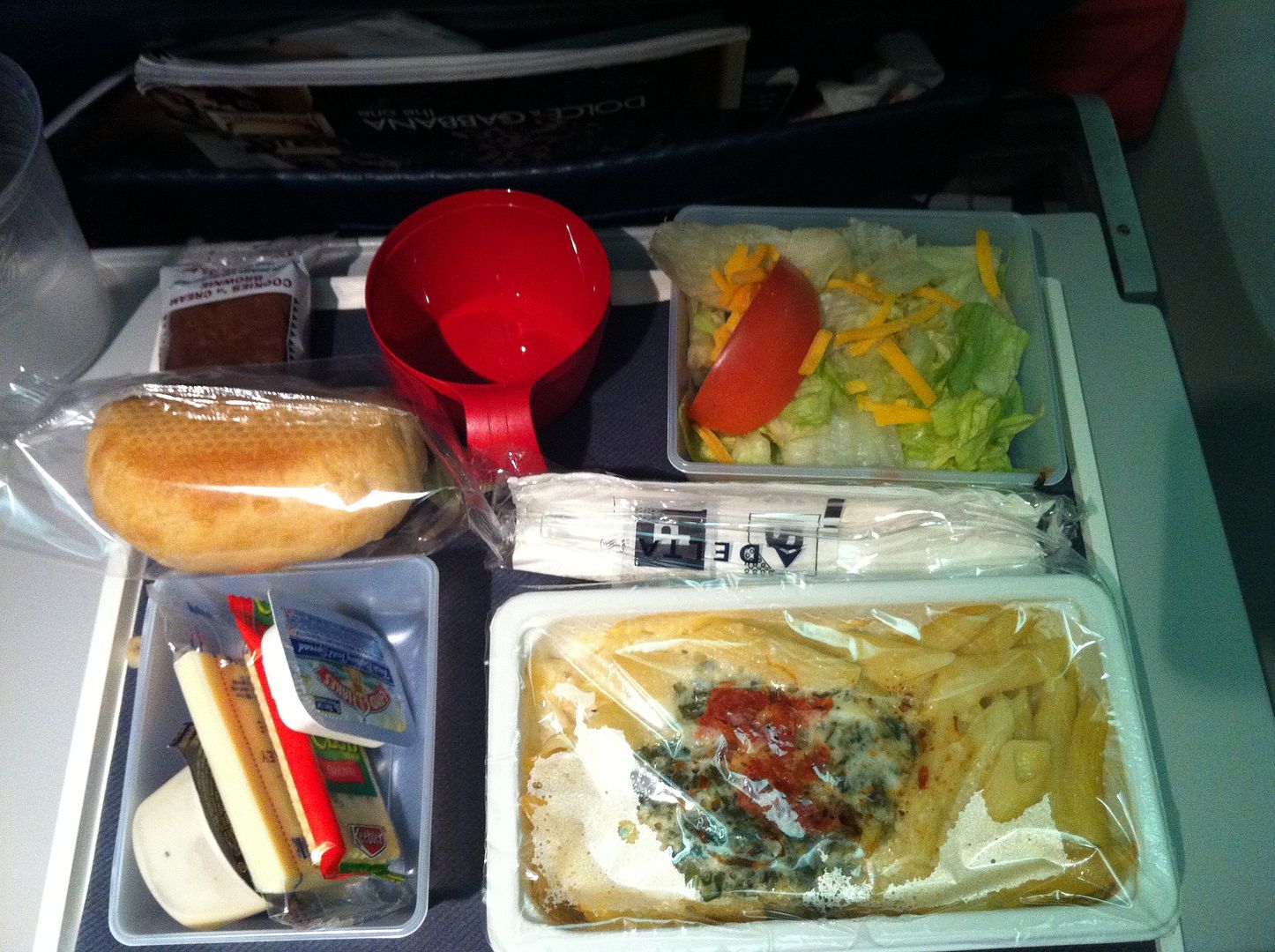 For starters, the wine came out of a boxed carton. Not to sound judgmental, but in my opinion, that is particularly tacky. Secondly (and I was asking in Portuguese, so perhaps this could have been also lost in translation) but it seemed like the wine was classified as "French" or "American" almost as though I was ordering coffee? So without really asking for clarification, I went along with the "French" option, which turned out to be a pretty mediocre Merlot, but hey, beggars can't be choosers. I noticed the guy seated across from me ordered two Heineken's at once, so I don't think the "one drink only" rule was really applicable here.
Anyways, like all semi-bad wine, things started to taste better as I "forced" it down, and not really in the mood to switch to beer, I ventured to go for a refill once the dinner drinks cart came down. The Brasilian flight attendant seemed quite happy to booze the cabin up, as there were definitely multiple rounds of the classy wine served to both myself and the two Brasilian men seated in front of me. Three (or was it four?) glasses later, I was jammin along to some tunes and enjoying my meals and alcohol. I was having a good time! The cabin atmosphere seemed lively and the FA's were working hard and cracking jokes. Party on Delta!
Our dinner service options consisted of the standard, "Chicken or Pasta." Normally a high-protein eater, I decided to opt for carbs to help me sleep easier, so I selected the pasta. Examining the contents of my tray, I saw that we received an iceberg lettuce salad starter, single tomato wedge, a quasi-stiff role, and an interesting looking, "Cream brownie" for desert, alongside accompaniments such as a stick of Tillamook cheese, crackers, butter etc. The main course had some pesto and alfredo bake to it.
I know I say this often, but the main dish was essentially like a microwaved TV dinner, but really it tasted just fine. The whole meal was quite satisfactory. Not the best airline meal I have every had, but reasonably filling and did the trick. The brownie, in particular, was quite sumptuous. It had an oreo base to it, unlike anything I've ever tried before. Dieting, for me, goes out the window on flights...I'm desperate to make sure I don't go hungry and I get sleep, that is all I care about.
There was also a coffee and tea service after the trays were distributed. Again, all done in a professional manner. For whatever revenue Delta misses out on by serving free beer and wine in Y (which truly cannot be very much, considering I've had plenty of boxed wine in my college days which costs pennies in places like Spain), they make up in Duty free revenue. The gentlemen seated in front of me spent at least 15 minutes making purchases, something that marveled me.
By now, we were into the second film, "Crazy, Stupid Love," a movie that I had previously watched on a SFO-ORD flight roughly a month prior, so I figured it was time to attempt sleep. The cabin lights were dimmed as the meal and duty free services had concluded, so I plugged in my headphones and did the best I could to get some shut-eye.
I did not get the most comfortable sleep, but the hours certainly seemed to pass by quickly and I woke up seldom to re-shift. I recall once waking up to see us passing over Guinea on the flight map, but everything was fine.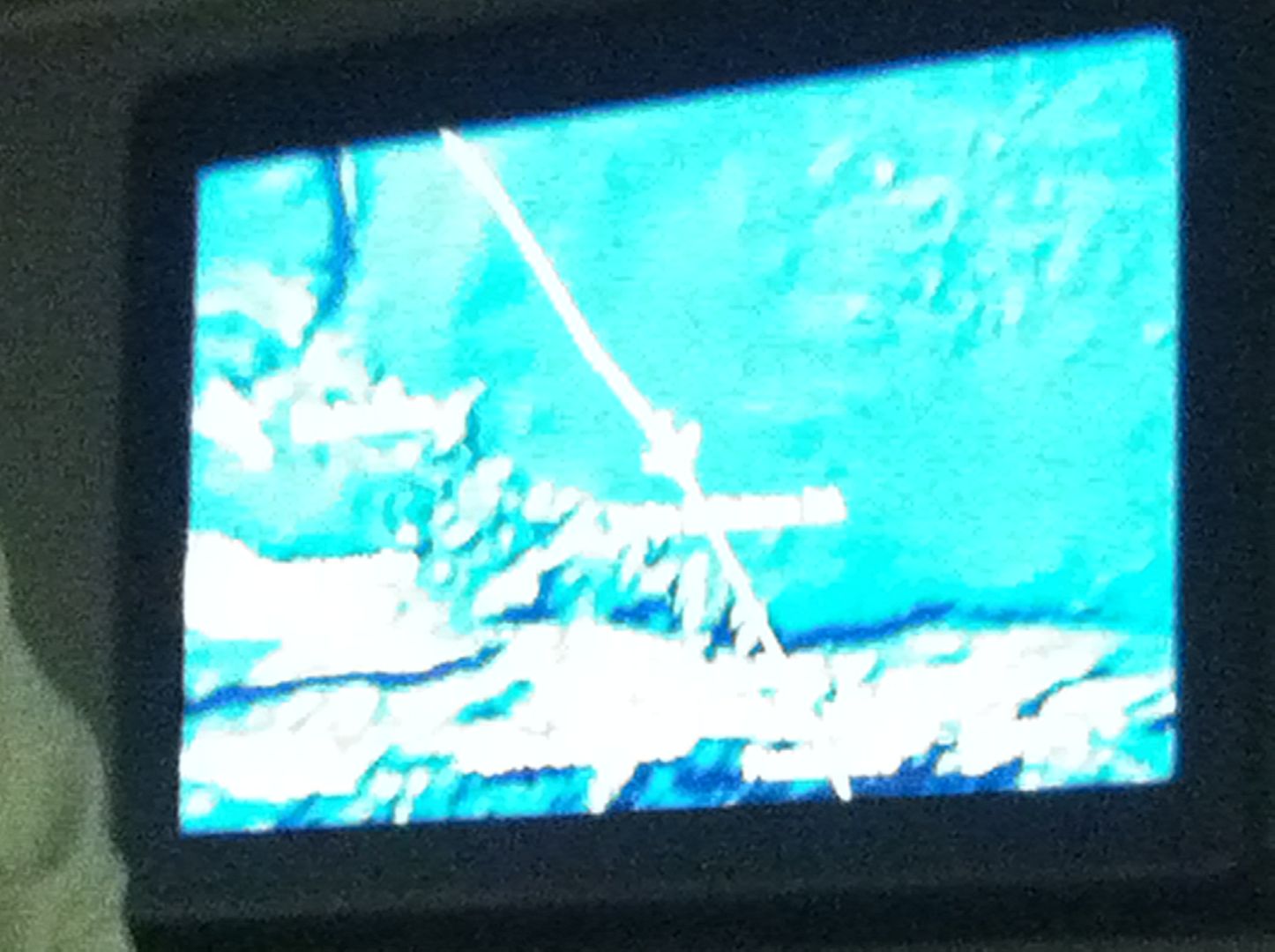 Southbound flights tend to arrive later in the morning during the southern summer, so it was well into daylight once the cabin lights had been turned on, and opened up my window shade to see that it was indeed already light outside. The sitcom
"Glee"
was playing on the overhead monitor, which I stared at in a post-sleep daze awaiting the breakfast cart. Based on my predicted timings, we couldn't have been more than an hour and a half from initial descent.
The pre-arrival "light breakfast" service consisted of strawberry yogurt, a dixie-cup serving of minute maid juice, and a warm "egg mcmuffin" style sandwich, which had egg and a layer of gravy on an english muffin. I must confess, it was quite delicious haha. Probably a microwaved Jimmy Deans. Coffee, tea and water beverage service also followed.
As a nice bonus, the captain came on the PA system to announce that, thanks to headwinds, our arrival into GRU would actually take place an hour earlier than scheduled. With that said, the crew scurried down the aisle to prepare the cabin for arrival, and as we descended beneath the clouds, the massive, urban sprawl of São Paulo came into view.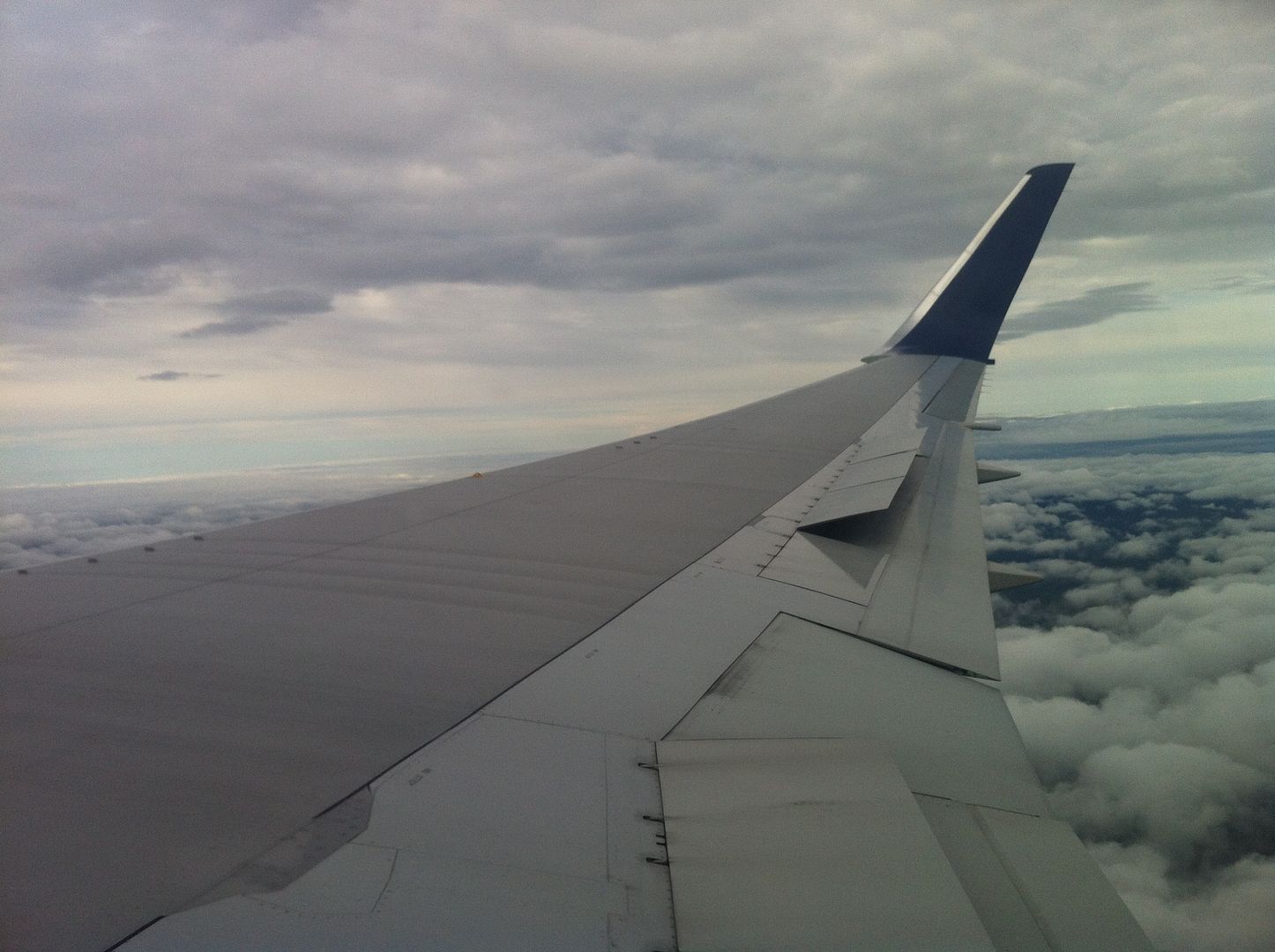 Once on the ground, we had a relatively quick taxi to Terminal D departure zone, where all Delta flights arrive. Seeing that we arrived at the same time as the JFK flight, I knew customs would probably be somewhat of a nightmare. Not only that, but every major international flight from the EU had touched down as well, also thanks to the strong tailwind.
It took roughly an hour, but we processed through immigration control and made our way into the messy, chaotic Guarulhos airport terminal. We hailed a cab and were on our way into Villa Olympia.