Introduction
My previous travels had gotten me as far as Kyiv, Ukraine. To get home from there I had a special flight in mind. To catch that I had to stay for two nights but it definitely was worth it - plus I could visit a certain place in Kyiv I missed on my last visit there three years prior.
The special flight was of course Air Ukraine International's direct KBP-HEL flight. Well nothing special about that flight apart from the fact that for a while now it's been operated by the still very rare Antonov 148 regional jet. Yes, this is the first passenger jet built in Ukraine for several decades and one that looks just like an Avro RJ but with only one pair of oversized engines instead of two pairs of hairblowers. The PS flight set me back a somewhat steep 160 EUR - both OV and BT were available for half that price but hey, for a special plane type I'll gladly pony up the monies. As a side note I actually booked this flight while on the road on another trip, from a pub in Tartu, Estonia back in April...
The simple route for today:
I kept fearing for an equipment change, but quite remarkably nothing like that happened beforehand, not even a schedule change. Go PS!
Kyiv, Saturday 21.7.2012
My objective for my free day in Kyiv was the Ukrainian State Aviation Museum, located right next the other Kyiv airport, Zhulyany, just seven or so kilometers from the city centre. I arrived there in a very nice (if you are into retro Soviet cars) Lada taxi. Some pictures from this very nice museum: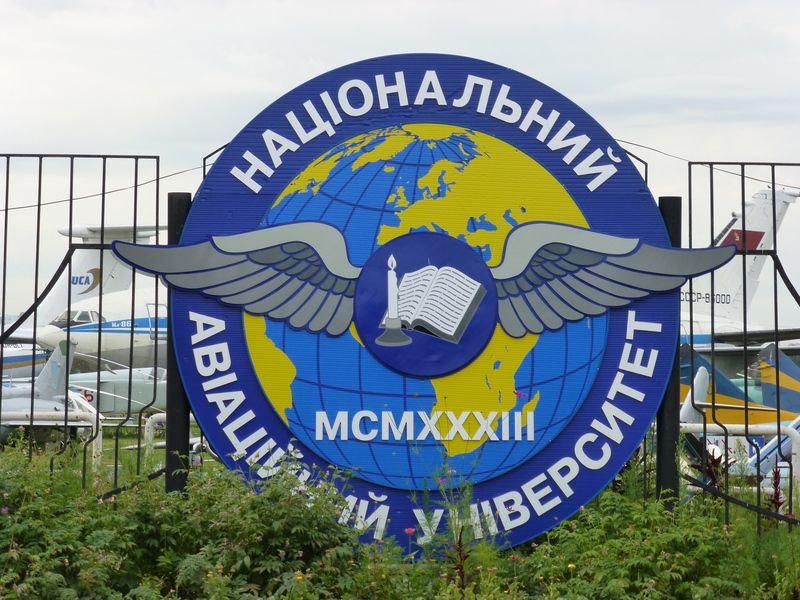 A WizzAir Ukraine A320 taking off - the carrier moved all of its operations to IEV some time ago. When I flew them on my last visit here they were still operating ex-KBP: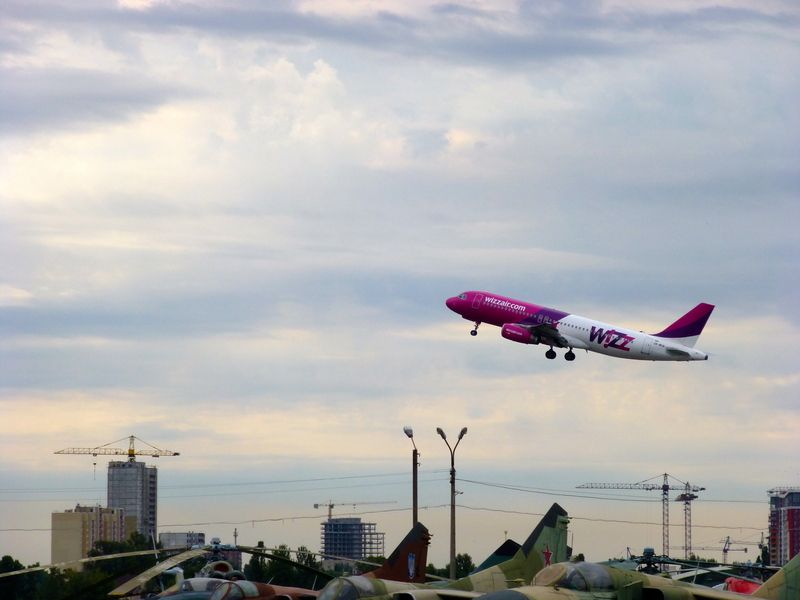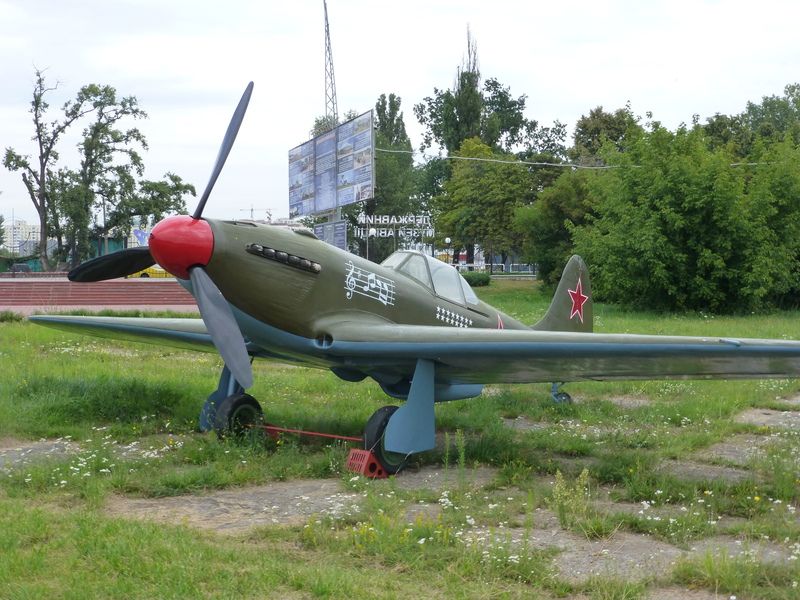 Even though it is mostly military planes there are a few interesting airliners too.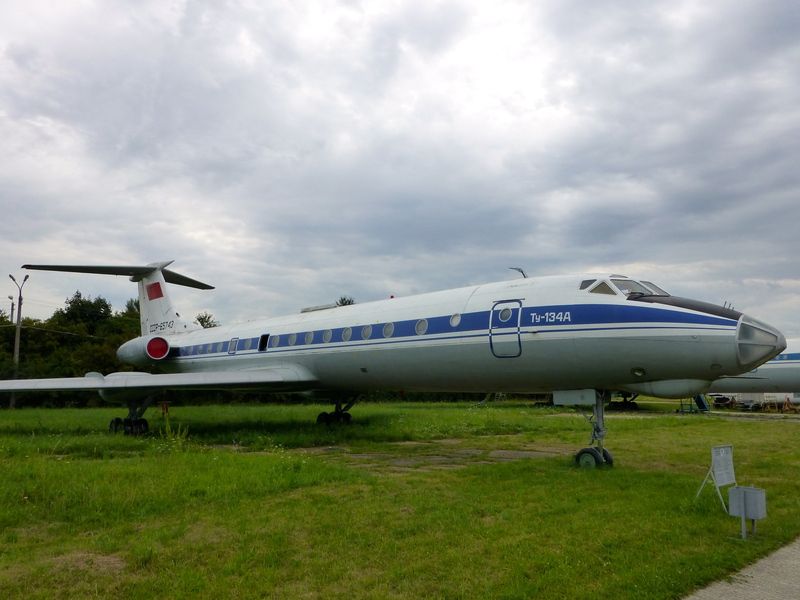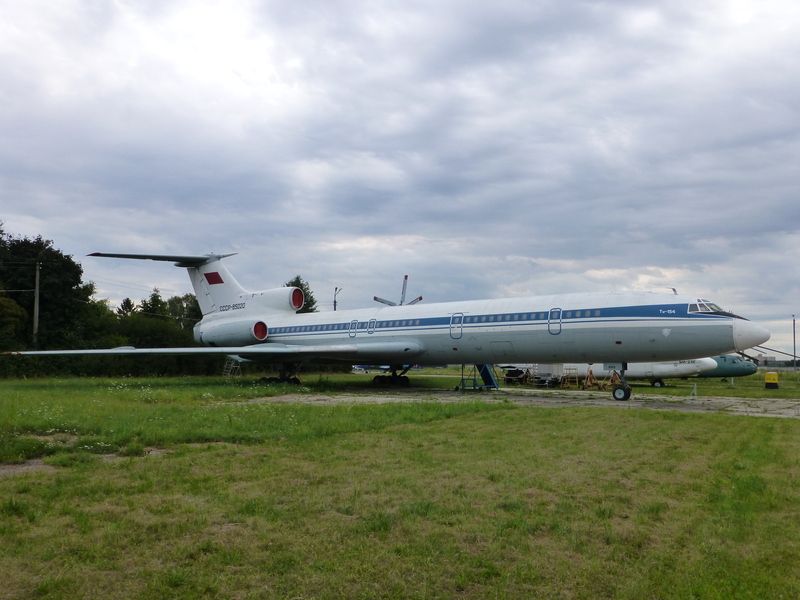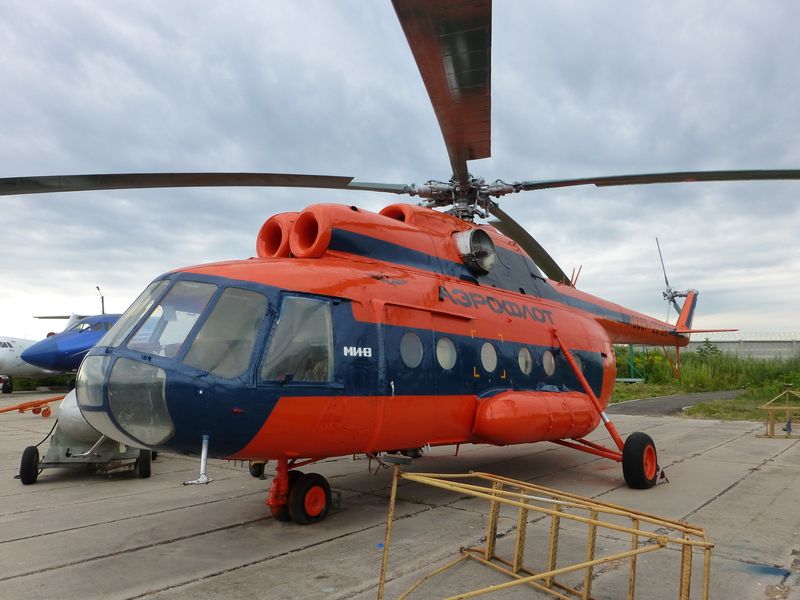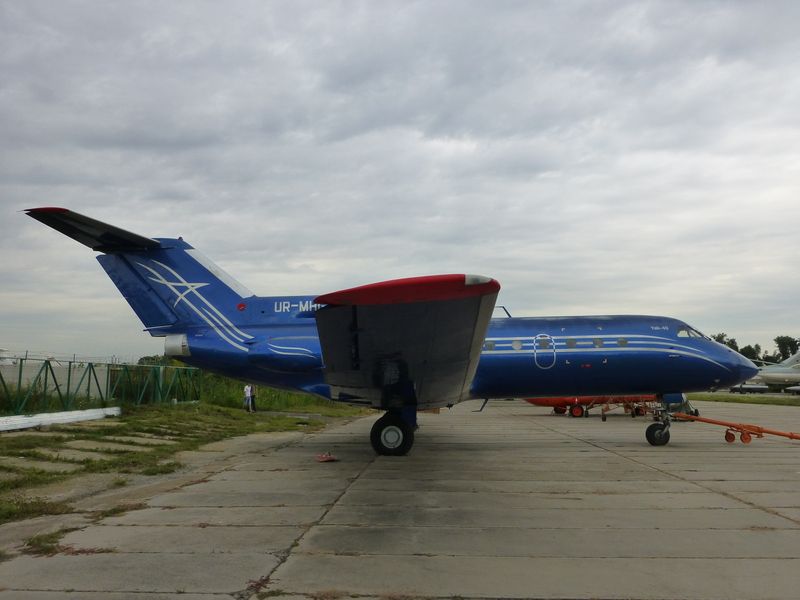 UTAir Ukraine ATR 72-500 taking off: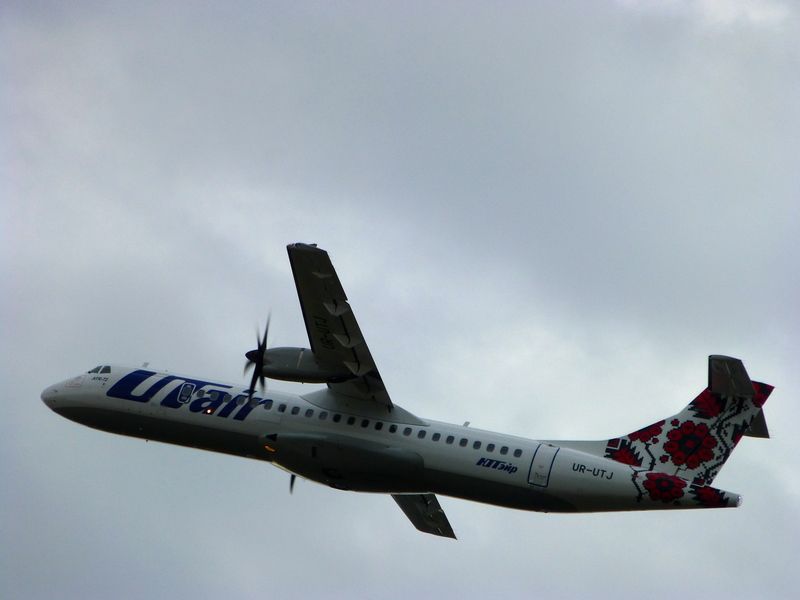 This is how close to the taxiway you are: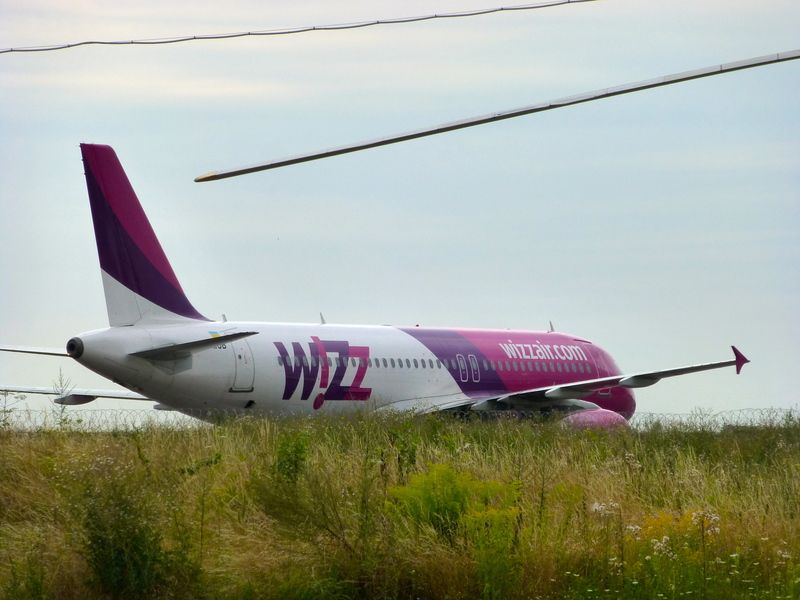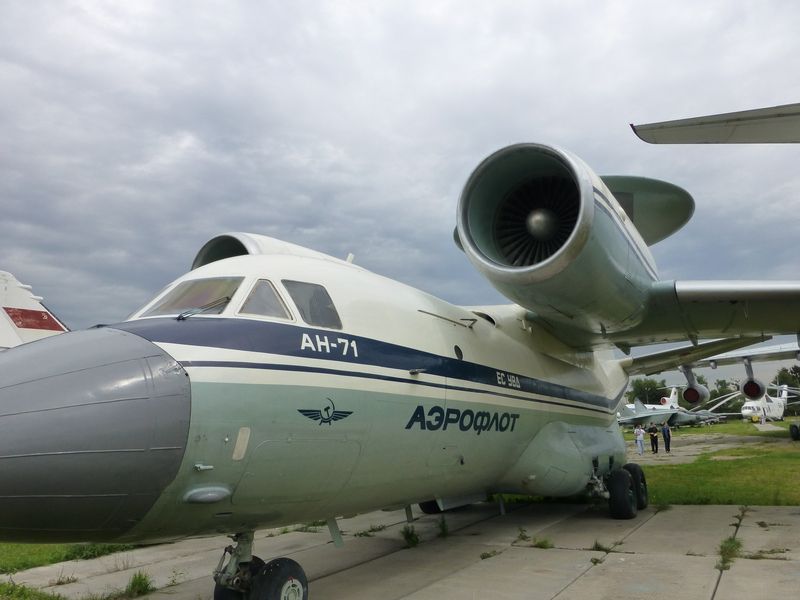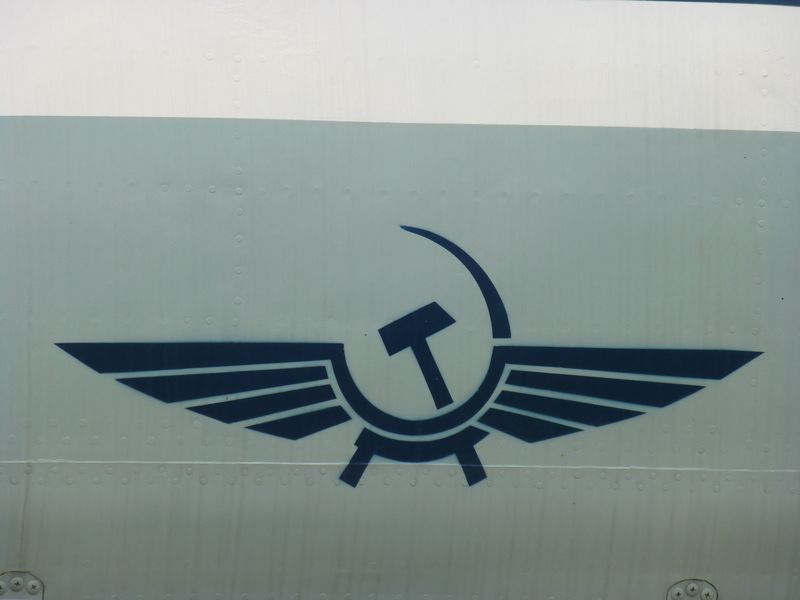 By paying a little bit extra you could go inside this IL-62: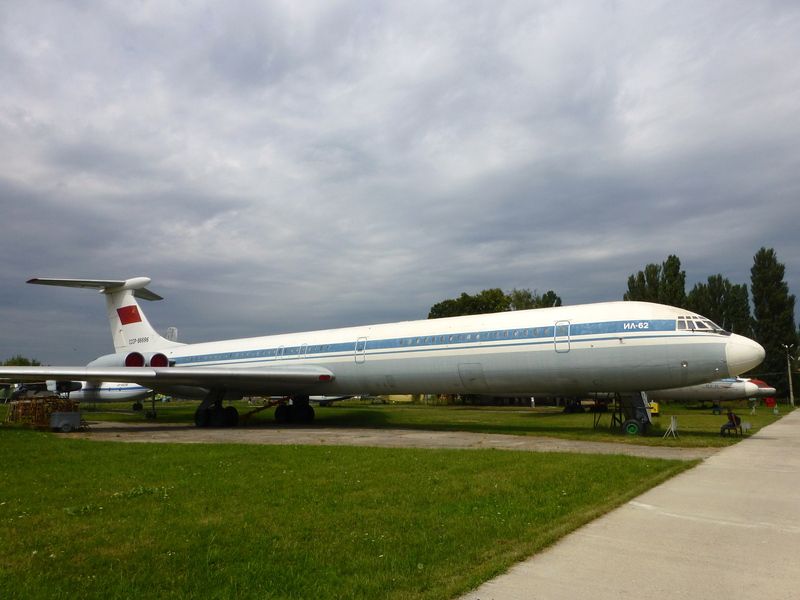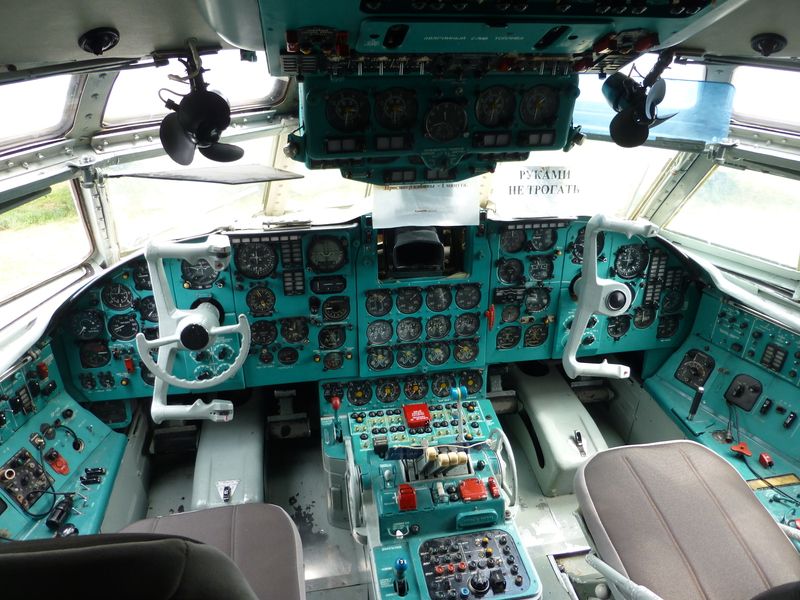 No wonder they needed a flight engineer: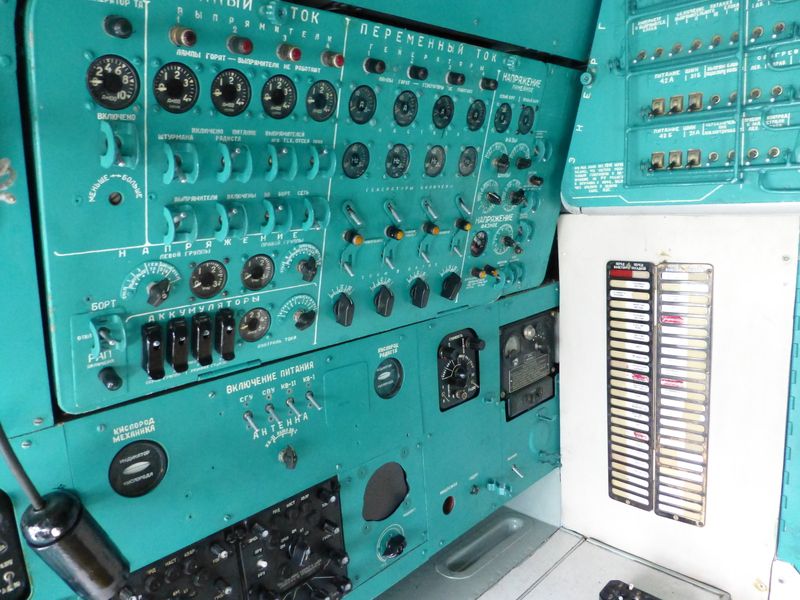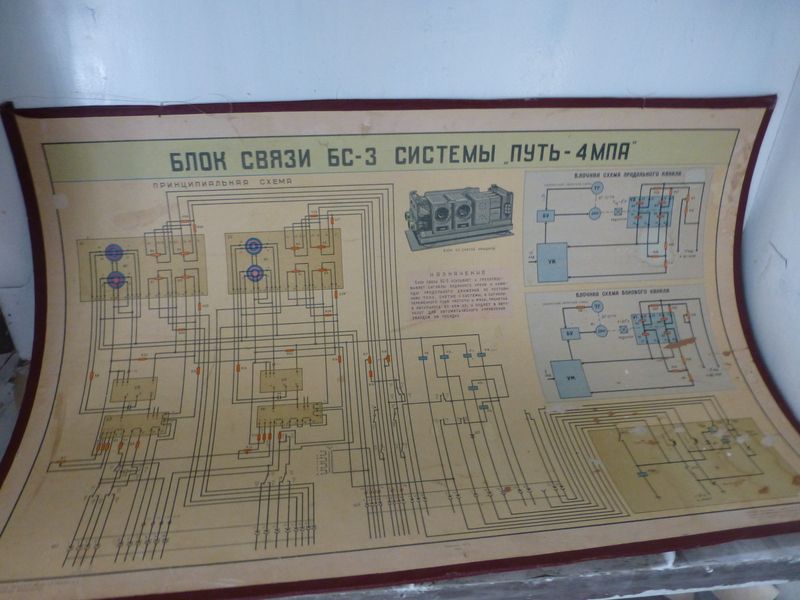 No overhead bins, just a shelf: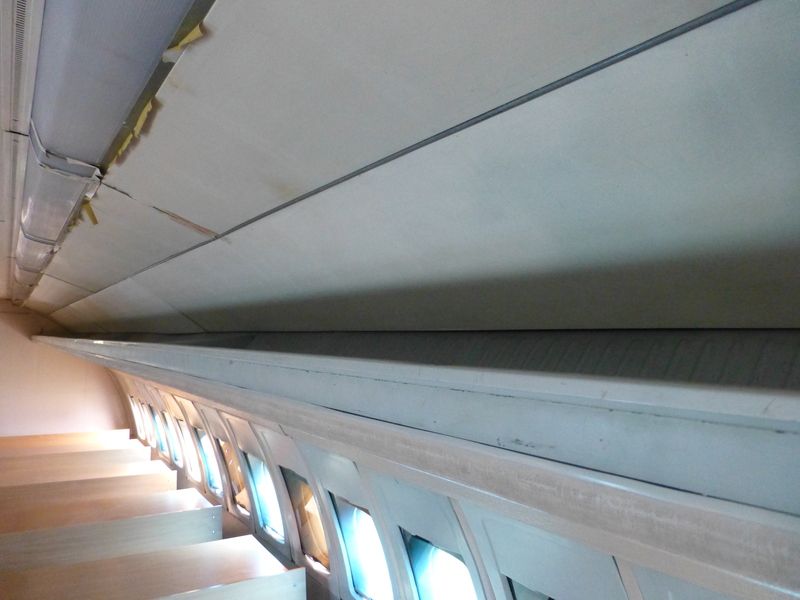 Unfortunately the seats were missing: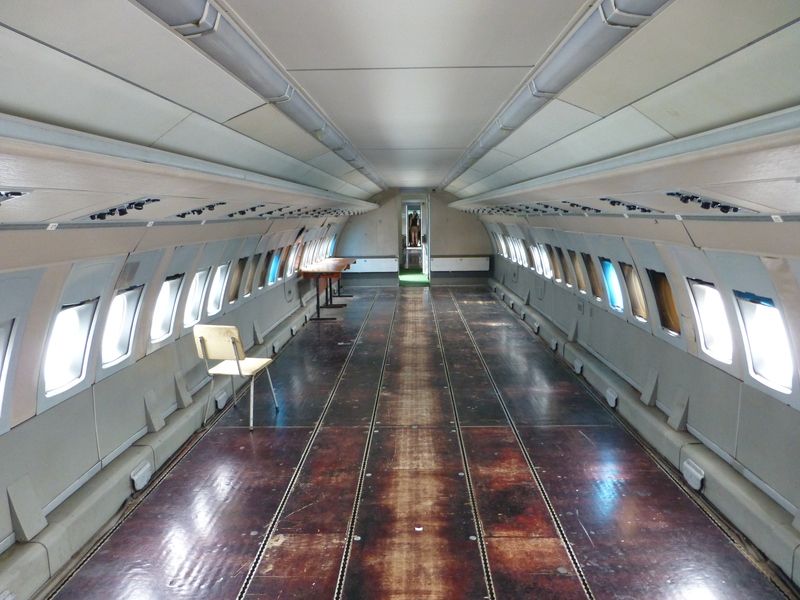 A beautiful Tupolev Tu-104: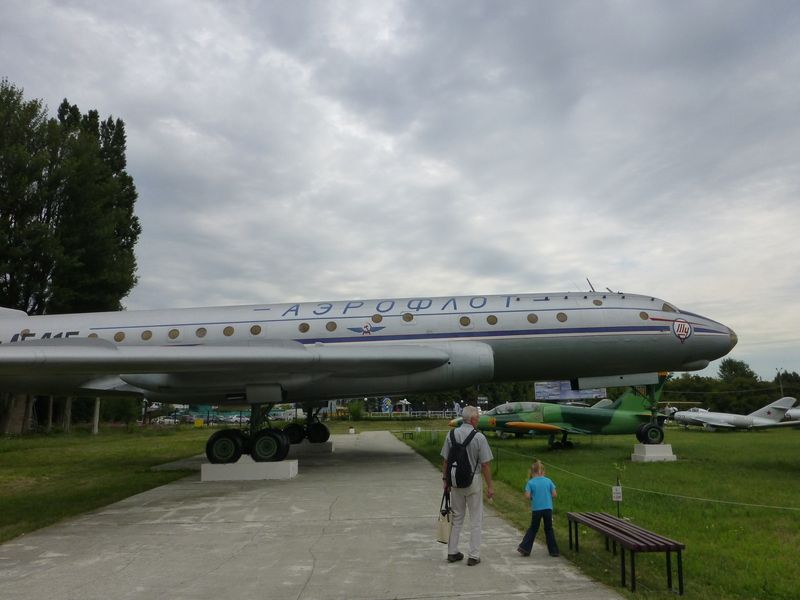 "Under the wing, you know":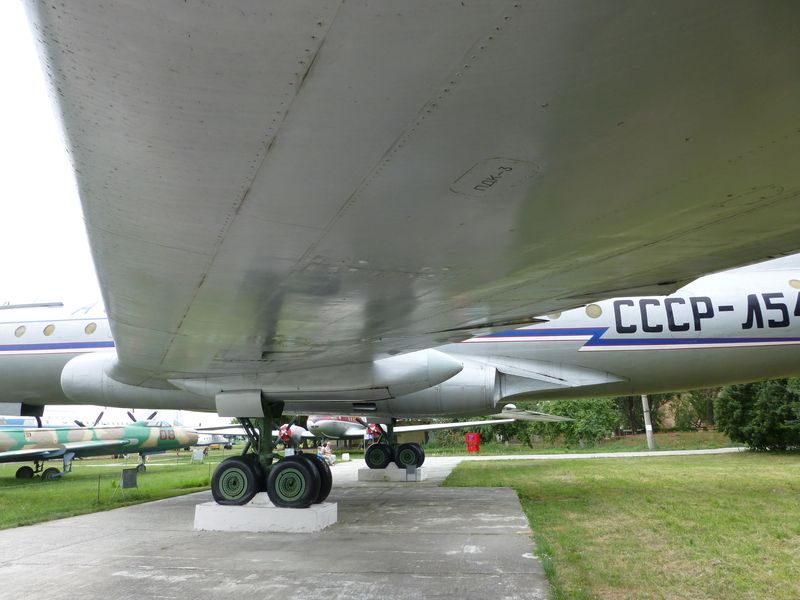 After spending a few hours there I just hopped on a random bus, well the only bus running to the museum with the idea that it would drop me off at a metro station somewhere where I could take the metro back to my hotel. Well, this one certainly took me on a ride as I ended up somewhere deep in the suburbs on the eastern side of Dniepr - well that was actually quite refreshing!
Lovely bus interior: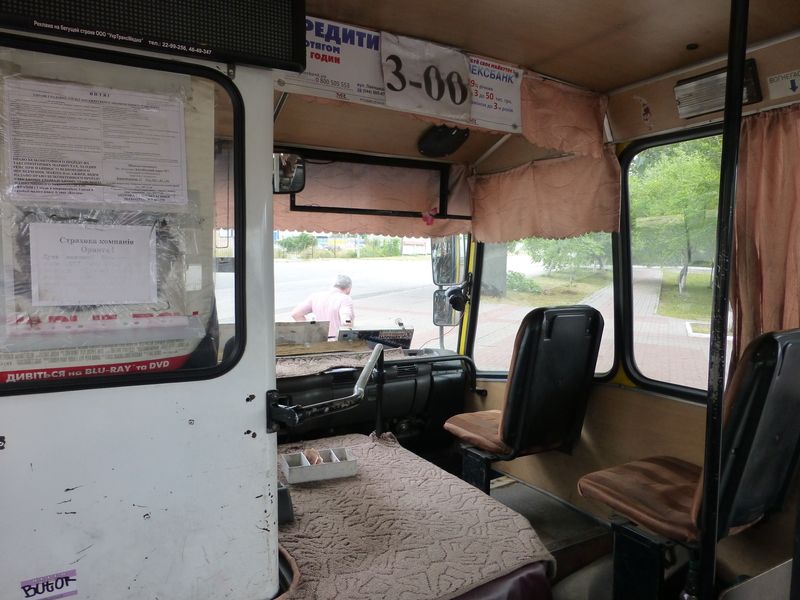 Is this the driver's personal stash: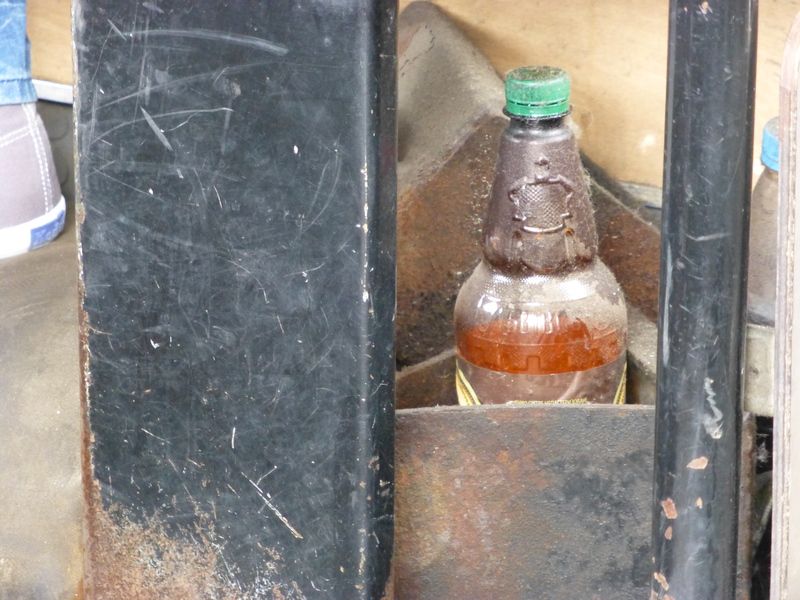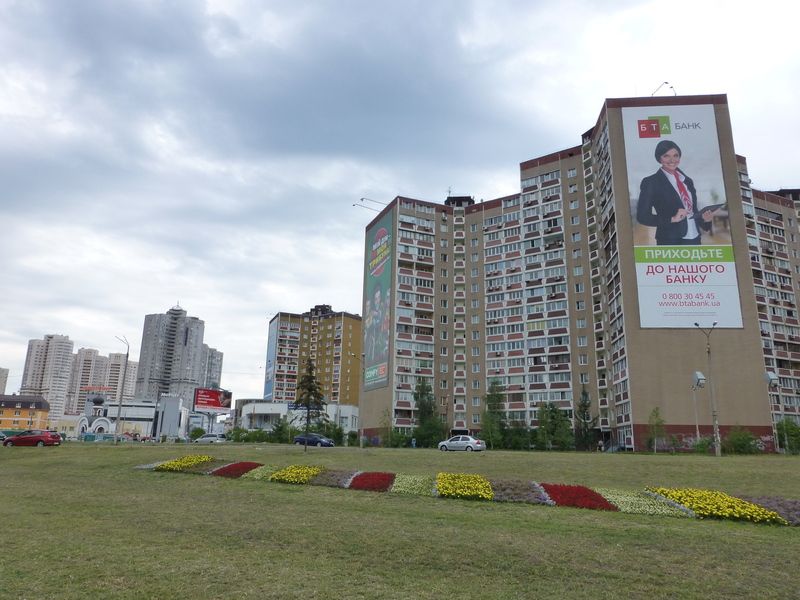 One of the finest terms ever coined by a Finnish journalist is calling the post-communist countries "Shack economies" - Ukraine certainly is a prime example of this (yes, it means that a lot of commerce and business is still conducted in all kinds of shacks and open air markets, often out of the reach of the taxman):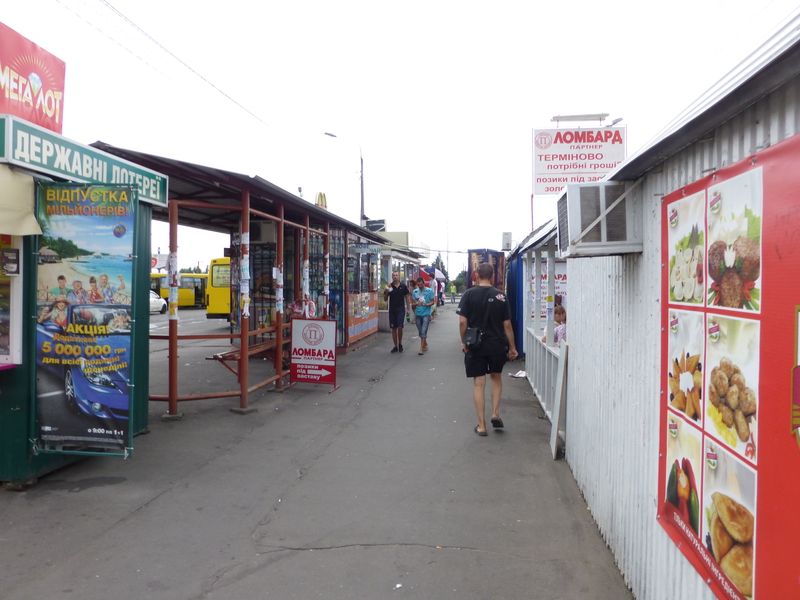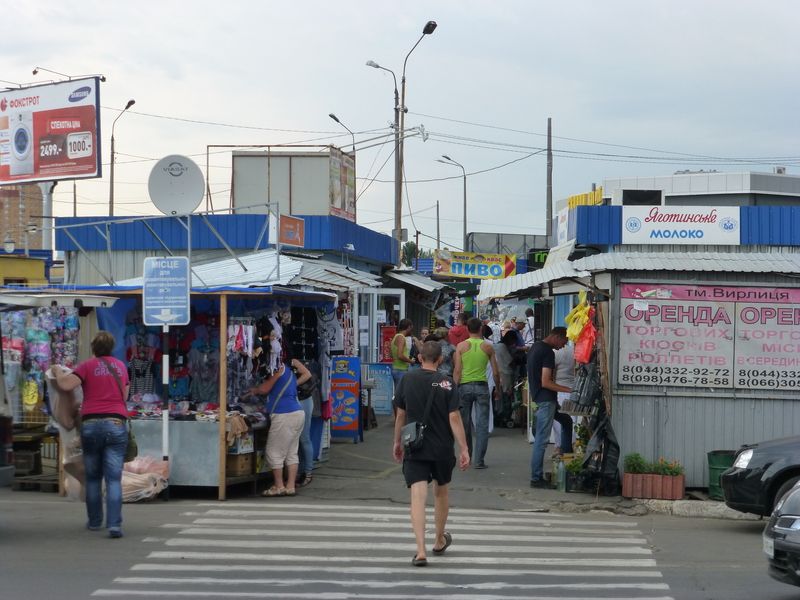 Eventually I reached a metro station and took the metro back to near my hotel: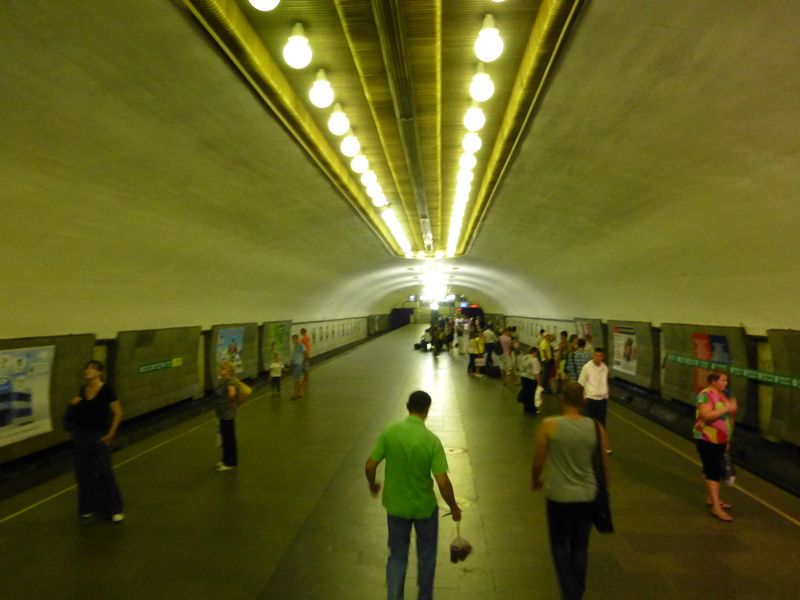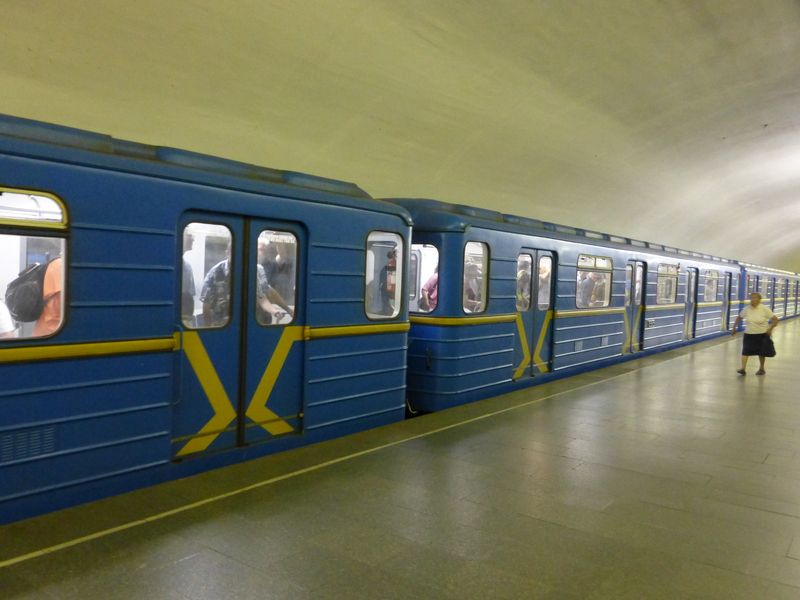 Together with the Tbilisi metro the Kyiv one is one of the deepest running systems in the world and these looooong escalators definitely make it feel so: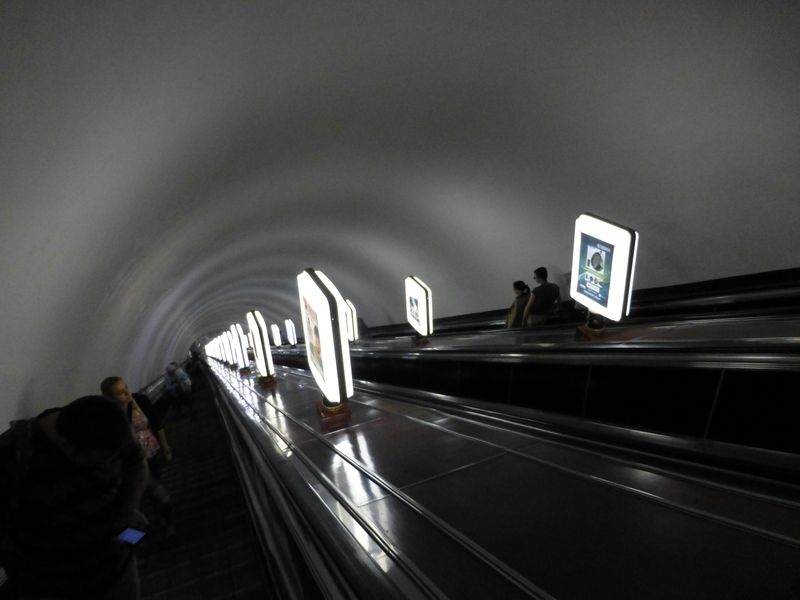 I was feeling quite half assed for the rest of the day so apart from my little jaunt to see how the real Kyivites live I just lazed around in my hotel, picking up some quite horrible take away Chinese for supper and admiring the impressive thunderstorm that cooked up during the evening hours and continued all night.
Sunday 22.7.2012
After a bit of a lie in (a noon departure - nice) it is time to get on the road again walking through the deserted Sunday morning streets (yes, Kris Kristofferson was definitely playing in my head even though I wasn't really coming down) to the station to catch another SkyBus to the airport. Traces of the rain are still visible even though it finally stopped: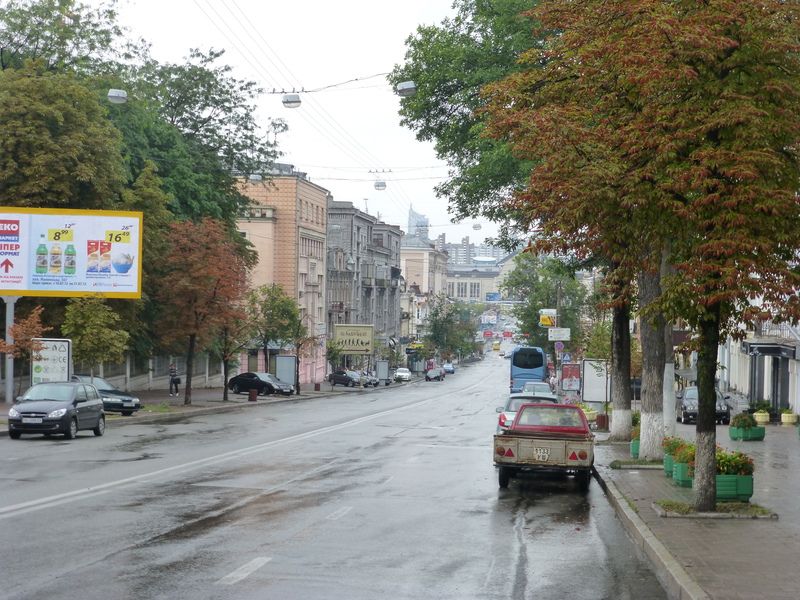 Out from nowhere a young guy appears and asks me something in Russian or Ukrainian (can't tell the difference). I answer in English and and he switches to rather good if heavily accented English and asks where the station is. I point right down the street where one can see it, a kilometer or so away. Next he proceeds to play one of the oldest tourist scams in the book.
After walking down the street a bit he suddenly bends down as if to pick up something and suddenly shows me the thing he picked up. It turns out to be a thick wad of (faux) US Dollars wrapped inside a plastic bag. He feigns this surprised expression on his face and says "Look what I found!". I try hard to suppress my laughter and say "Well congratulations, you are a lucky man!"
We walk forwards a bit and then he says: "I want to share this money with you, old Russian tradition for good luck". I hesitate for a moment, the vision of a paid First class seat aboard Cathay Pacific's flagship LHR-HKG flight flashing fast in front of my eyes before blinking and saying: "No thanks, finders keepers. You found it, you keep it.". I keep walking forward, he keeps following me and blabbering something. Next I say to him: "Why are you still walking? You are rich now, take a taxi!". I think he misunderstands me because he says: "You want to come to taxi with me?". I keep walking forward.
Suddenly another young guy comes running after us yelling something. He starts babbling something about "my lost money" and so on. The first guy shows him the bag. The guy says to him "Show me your wallet, did you steal money". He opens his wallet and shows the other guy that it is empty. Next he asks me "You, show me your wallet!". I almost burst out laughing and say "Yeah right. Nice try." and walk away. The guys are left standing there, probably cursing me but sorry, my skin is teflon.
Eventually I reach the station. The entrance hall on the old side is quite impressive: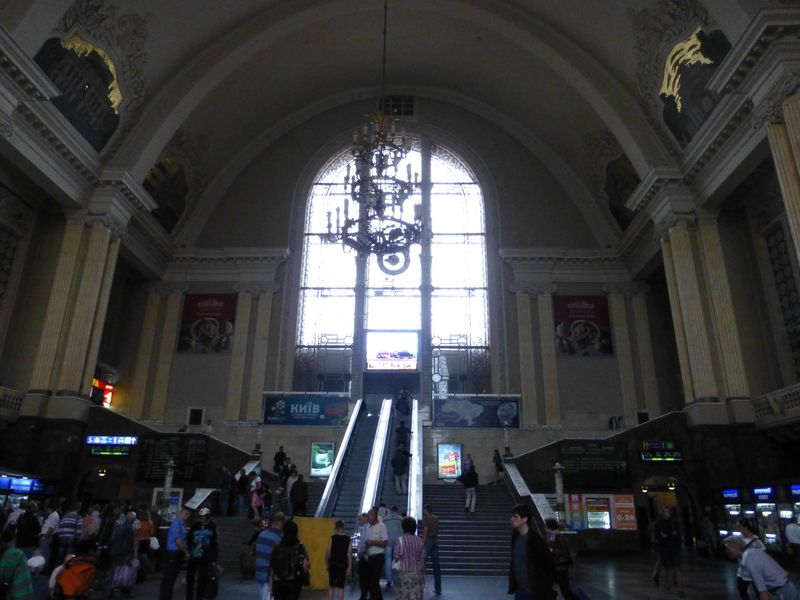 On the other end on the Pivdenny side the station hall is just as impressive but for quite different reasons: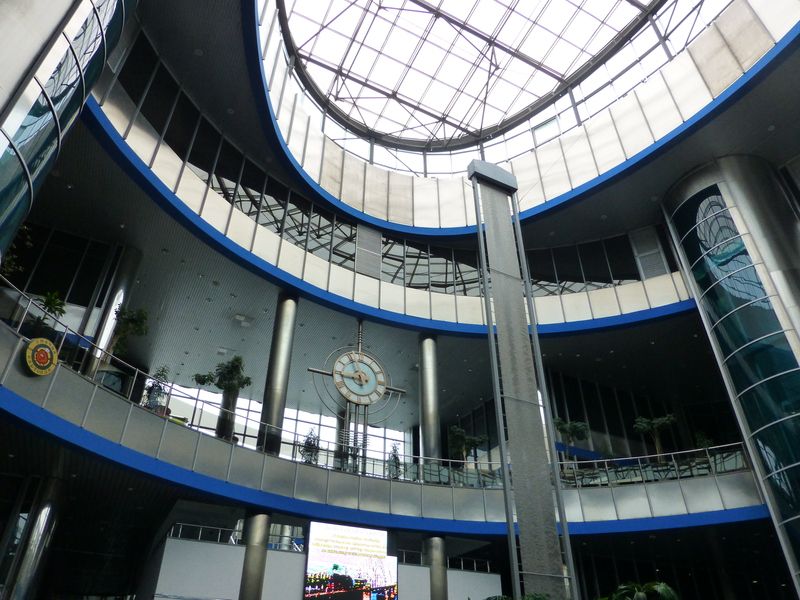 That's a lot of trains: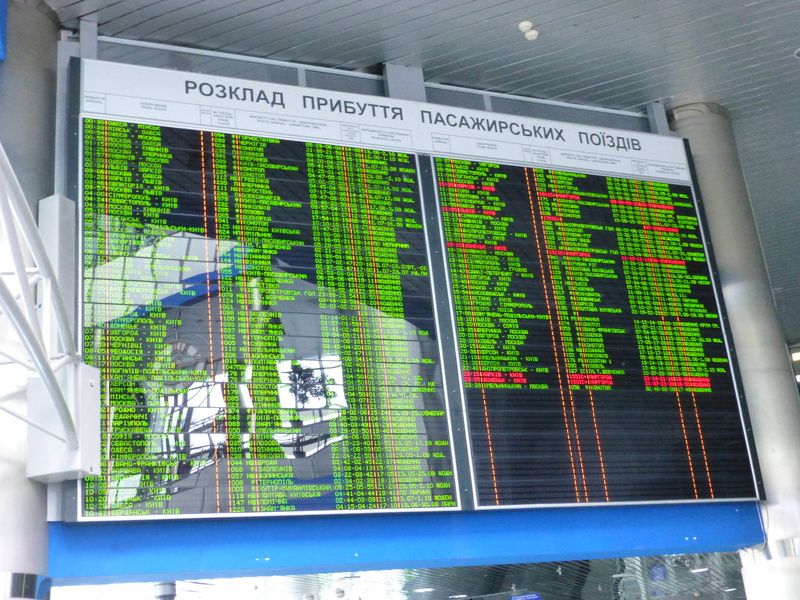 Outside I buy an Ukrainian hot dog (yes, it comes with pickles) for breakfast from one of the many kiosks selling everything legal and half of the illegal articles under the sun (see, shack economy):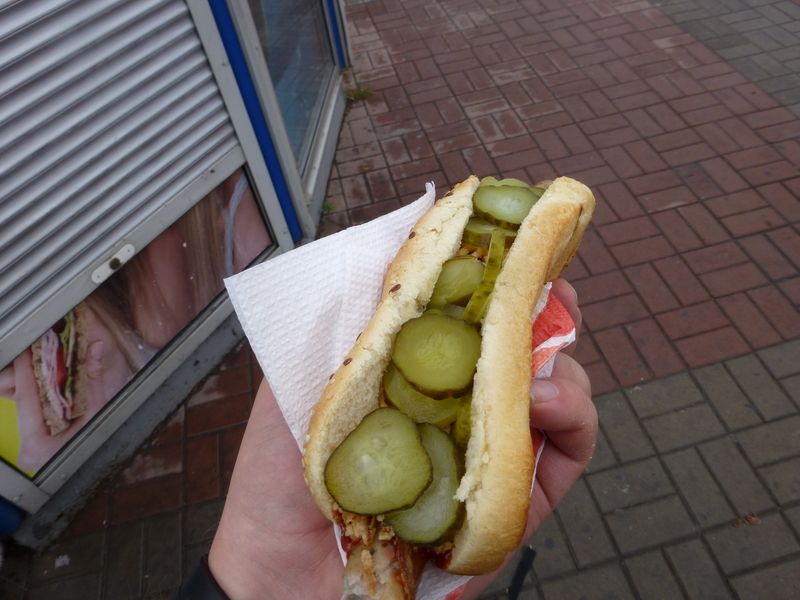 Then I catch the SkyBus to the airport. This one is a full sized bus but has absolutely miserable legroom plus it is completely packed and the seat in front of me is broken so it keeps reclining on my lap whenever the girl there tries to lean back. Oh and the Orthodox priest sitting next to me smells like he hasn't seen deodorant or a shower since the day Ukraine became visa-free for the citizens of the EU!
Beach on the Dniepr river - not sure if I would like to swim there as the water must be quite polluted: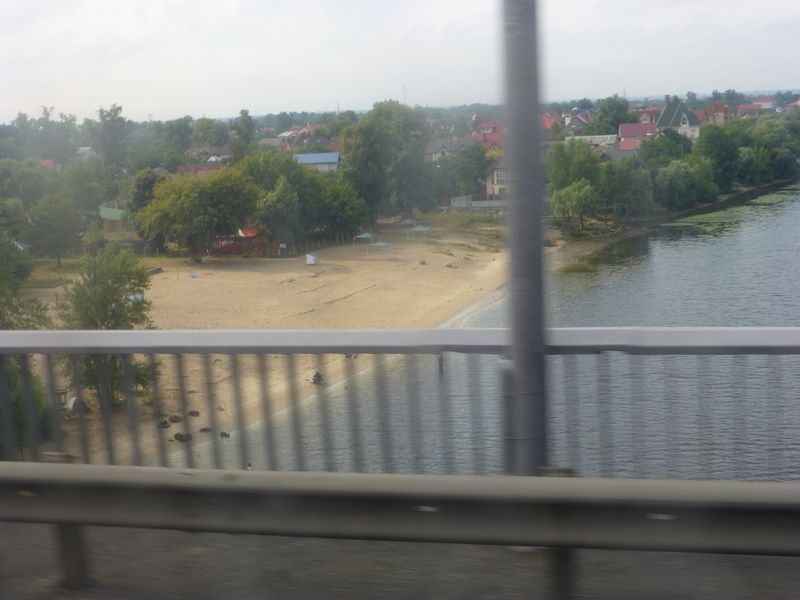 Kyiv Boryspil Airport
KBP has changed a lot since the last time I saw it. Now UIA is located in Terminal F, which didn't even exist three years ago. Interestingly this terminal was originally intended as a LCC terminal but nowadays in addition to UIA most of the international airlines at KBP use it - well there aren't any real LCCs here anyway.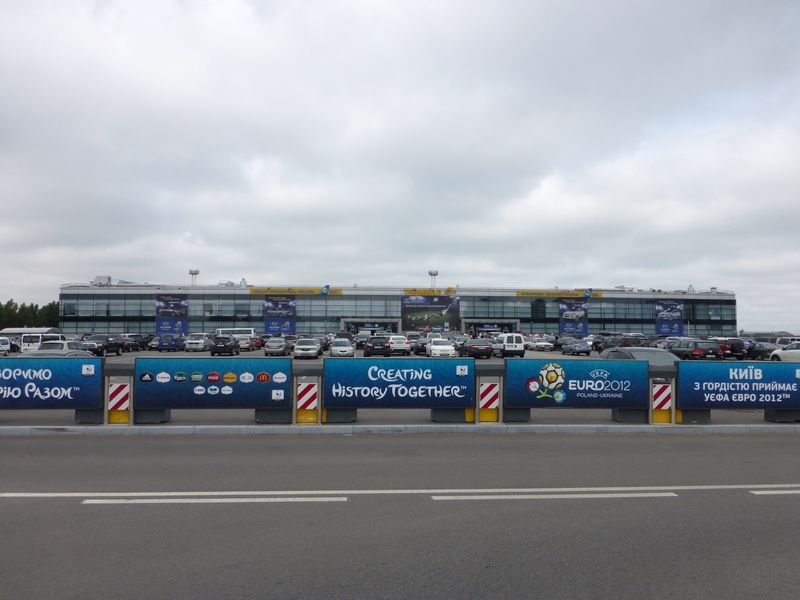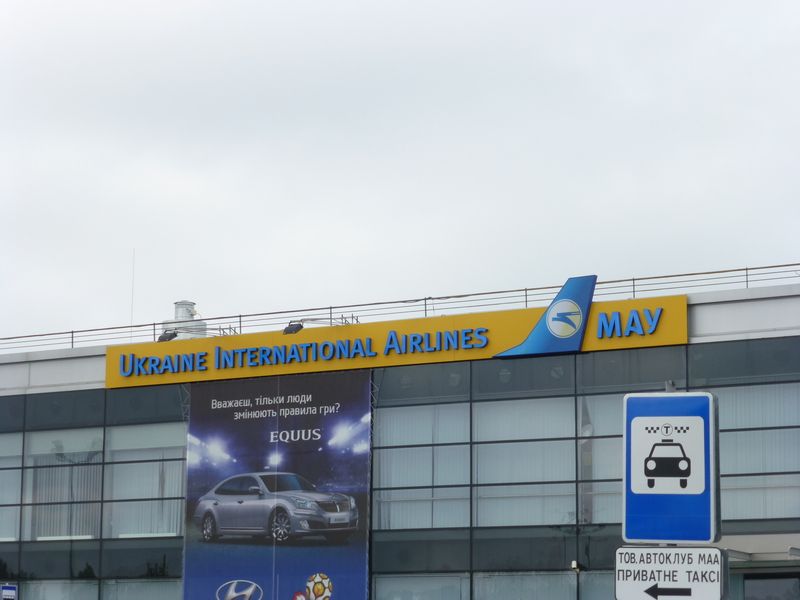 Inside the terminal is just as chaotic as I remember the old terminals to be - lots of people everywhere: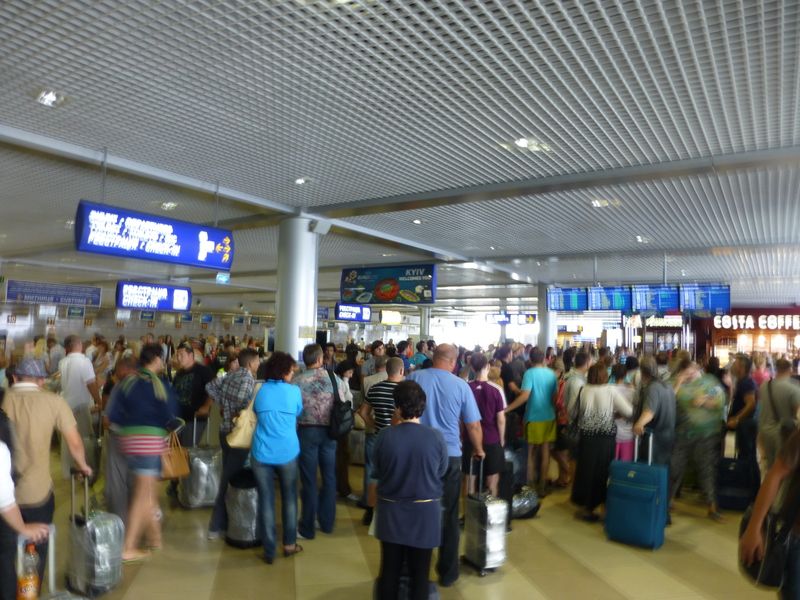 Nice: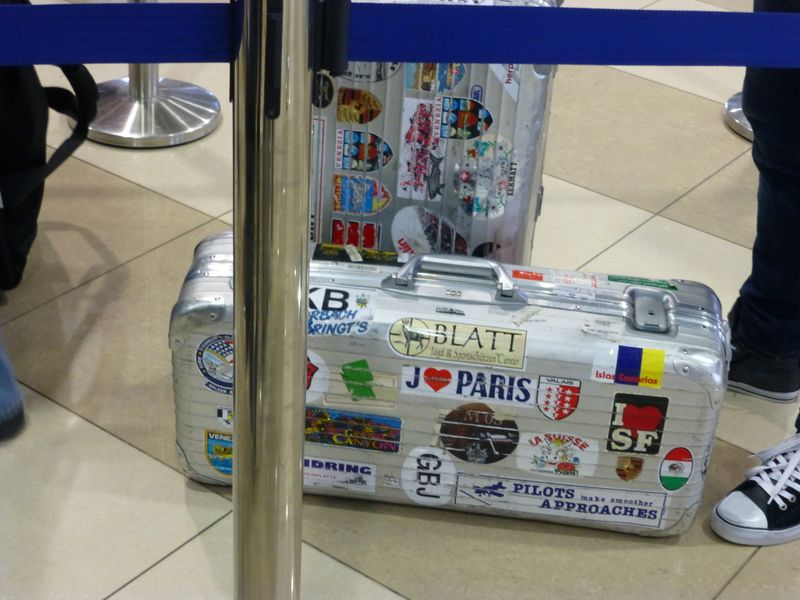 I locate the shared UIA check in counters and queue there for a while. For a while I think Markus or Flieger67 is making a quick biz trip to Kyiv as the suit guy in front of me looks exactly like him, but after we chat a bit he turns out to be Dutch instead. The queue is dog slow - they are checking in an extended Chinese family and none of them appear to speak anything else than Chinese, they have around 257 pieces of luggage to check in and most of them of odd sizes, requiring frequent trips to the oversized baggage drop off point...
Just when I reach the counter I notice that there's actually a baggage drop lane a few desks to the left - having done OLCI and all I think I could've used that (well later it turns out I could've used the business class check in desk as well but more on that later). Oh well, I drop my roller off (thank you, I've hauled it around long enough plus I've got my dangerous Belarussian liquids inside) and the girl is kinda confused "You are checked?" "Yes yes, online. No boarding pass.". Eventually she gets it that I just want my boarding pass printed and baggage taken care of and manages to do it.
Costa, the Starbucks of the emerging nations: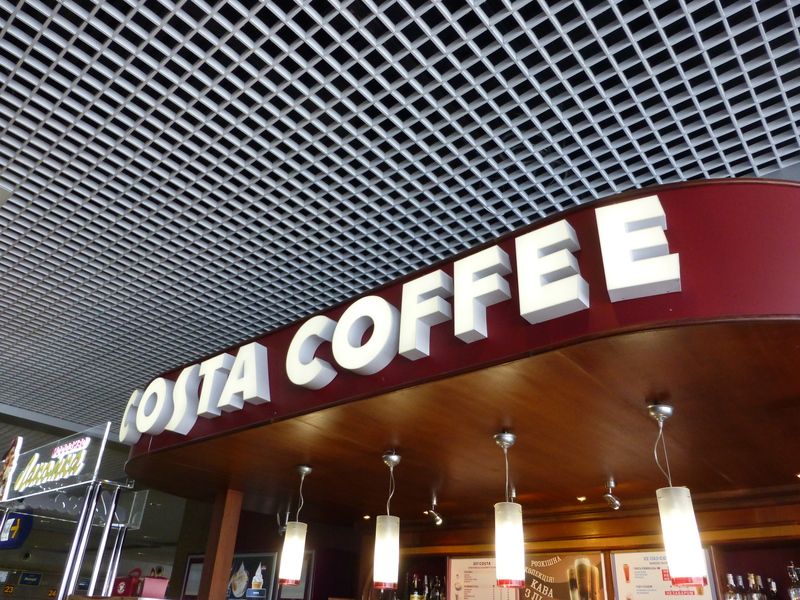 Since Costa is here I grab a huge cappuccino and go off to the side to enjoy it. To my delight I discover that the terminal also has a free wifi which even works surprisingly well.
View from the other end of the check in desks - these people are queuing for a FlyDubai flight (to DXB of course, what did you expect, ORY?) even though the desks are not slated to open for another hour: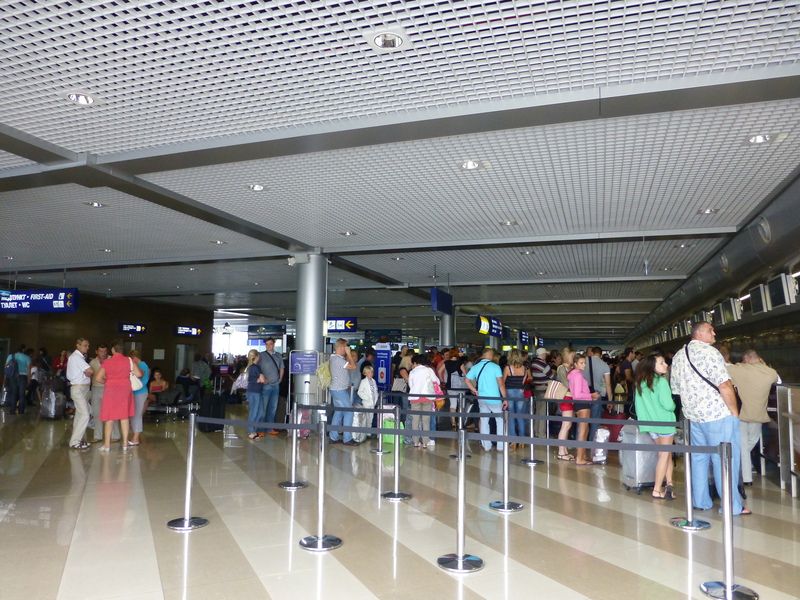 Some Ukrainian state IL-62s parked on the apron:
Having finished my oh so dangerous coffee I head upstairs to departures. This customs instruction poster looks a bit weird - I do have cash on me, belonging to me but am I a legal entity or not. Oh and plenty of printed materials with me too: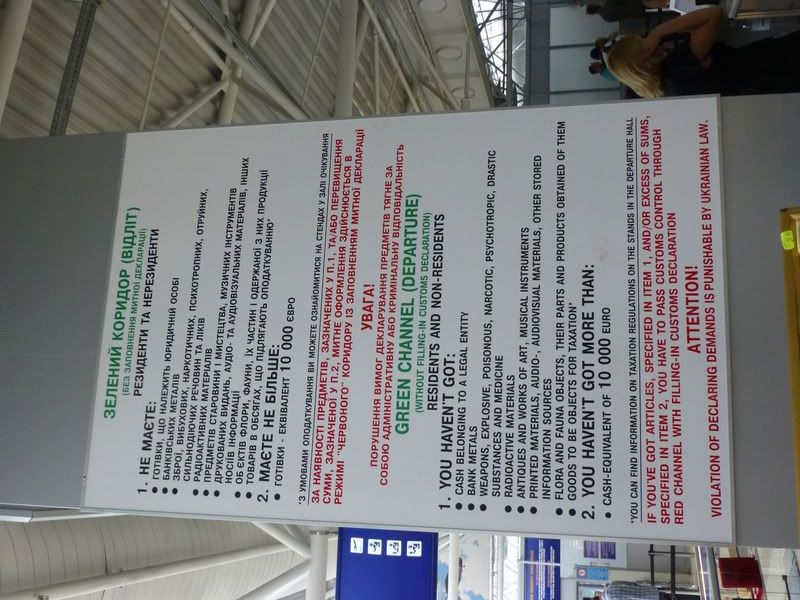 How about an official Euro 2012 football from the souvenir store - only 100 EUR: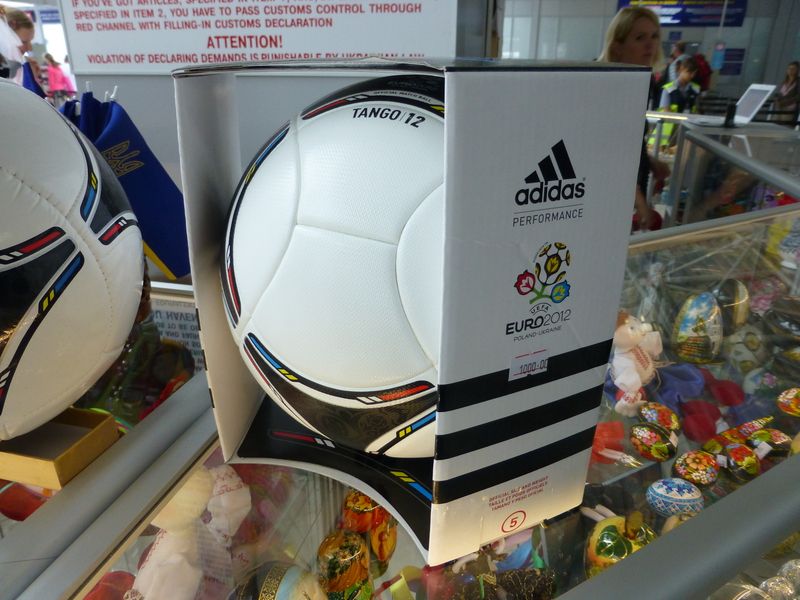 Passport control and security are effortless and smooth, with some very nice security officers: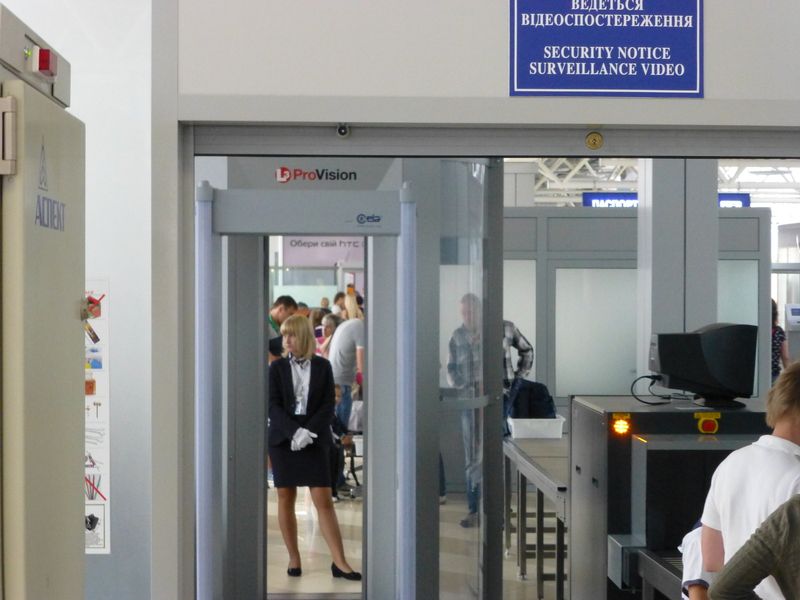 As per the modern norm you are dumped right in the middle of the duty free store after it: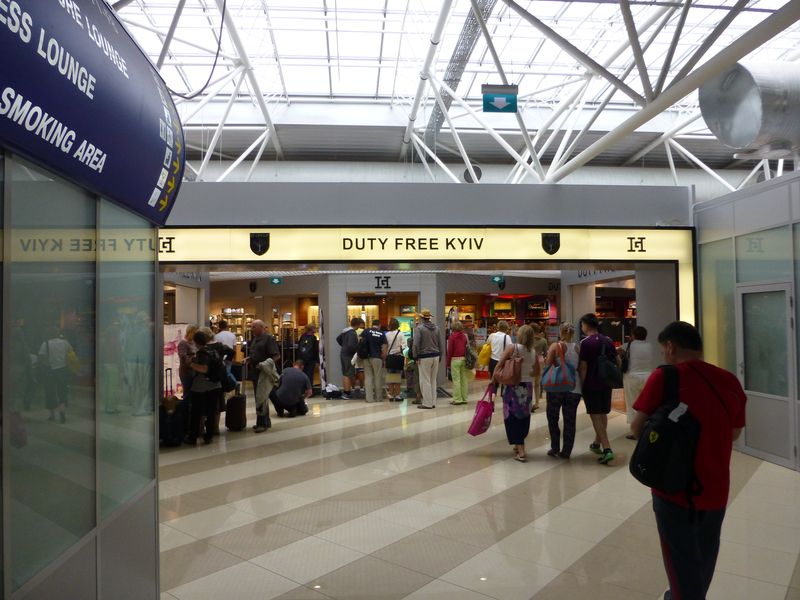 I do some shopping (and discover to my delight that when paying with Hrivnas one can get the change in Euro) and then take a look around the departure hall. Sure this one looks a little low cost (no jetways, bare metal structures etc.) but also quite modern and doesn't really look that different from the old international terminal: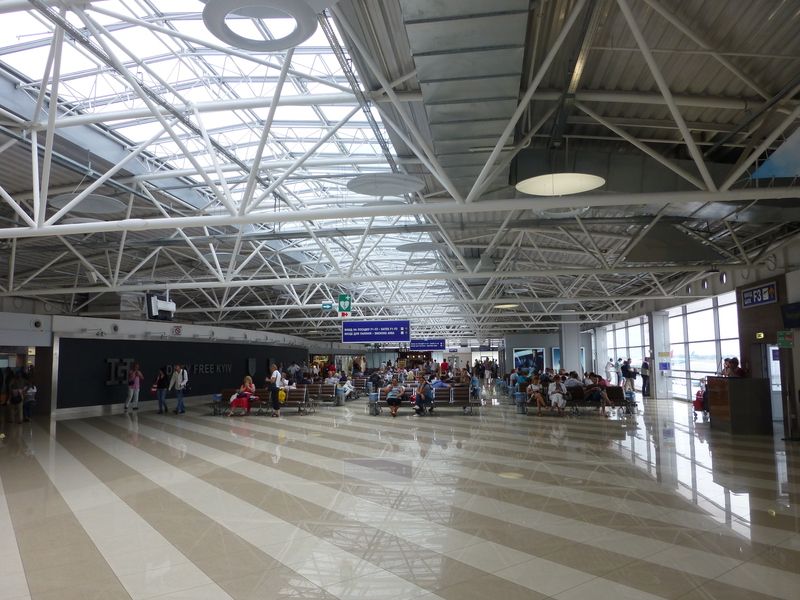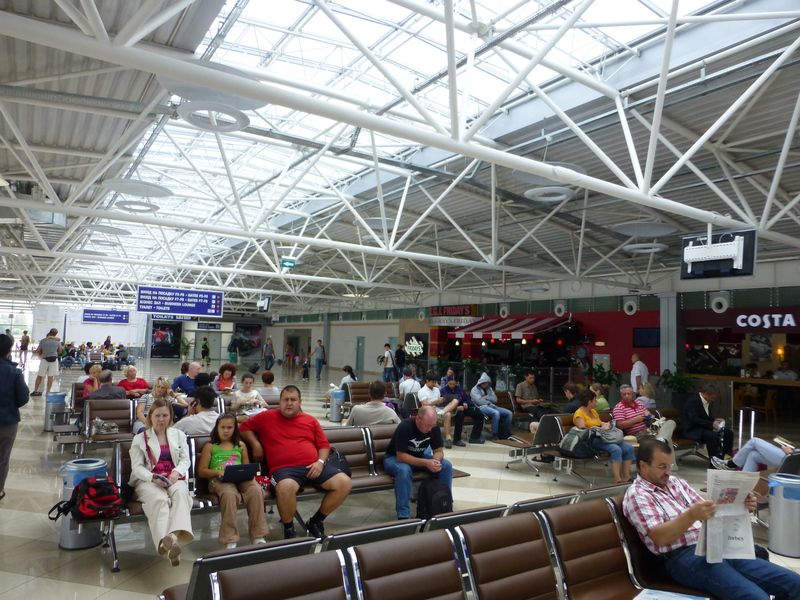 Nice apron views due to the large windows: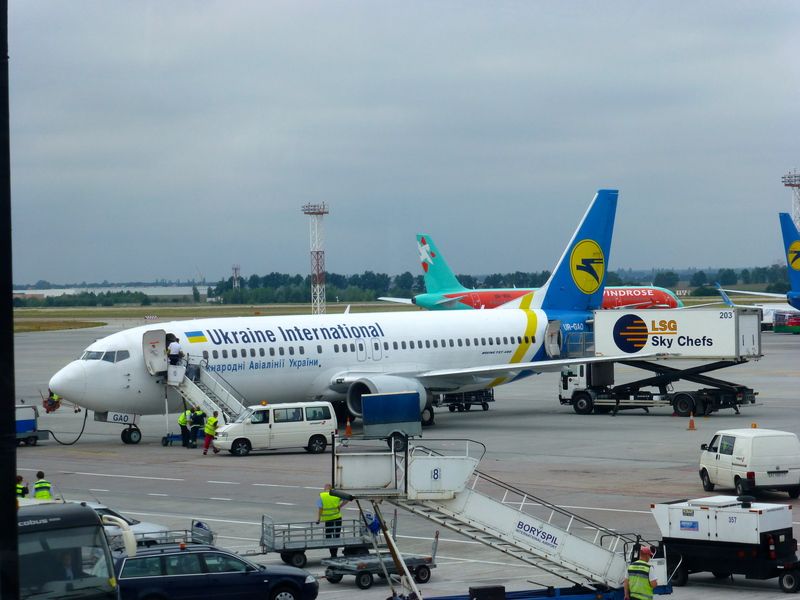 Nice livery but just what the heck is that name, "Windrose":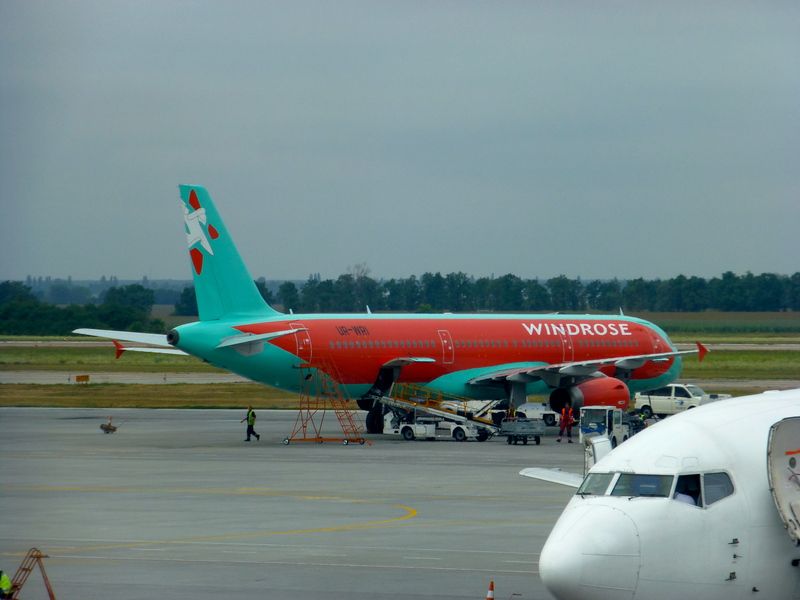 Something interesting landing from Greece: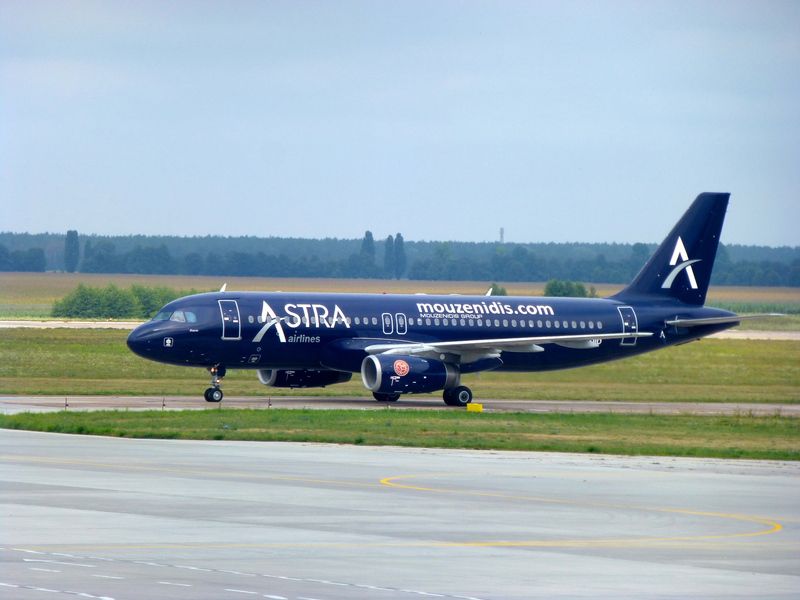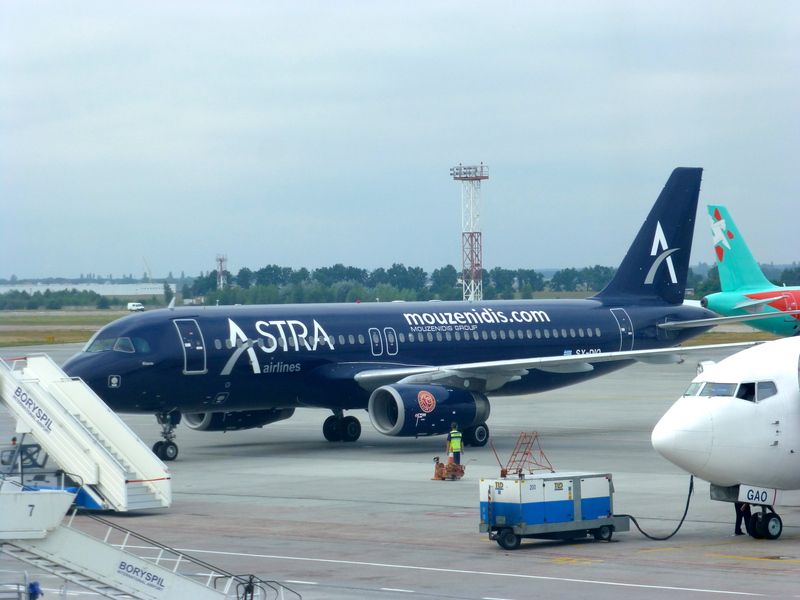 UIA runs the only lounge in this terminal - sadly no access today (or so I thought):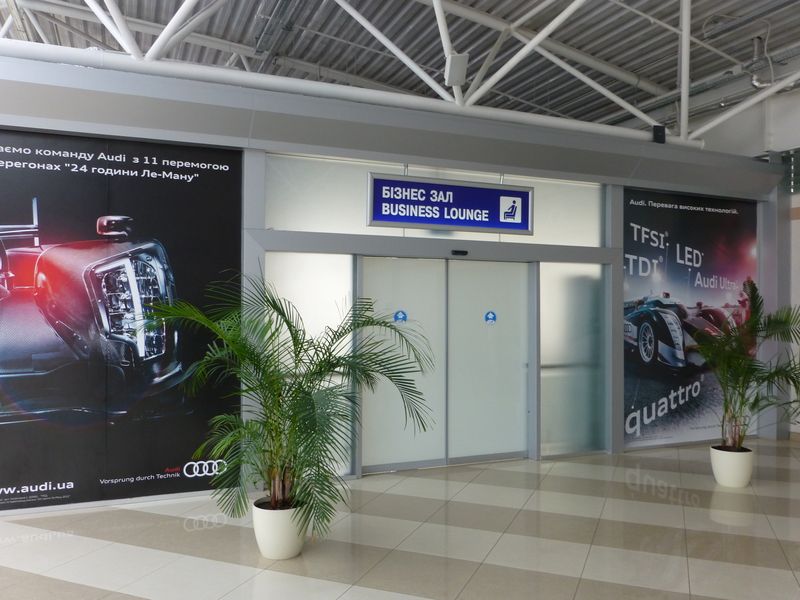 After taking a small tour around I head to the bar at the TGIF for a couple of beers. The guys at the bar try hard to make me take some vodkas to go with them but I tell them that no vodka before noon, thank you.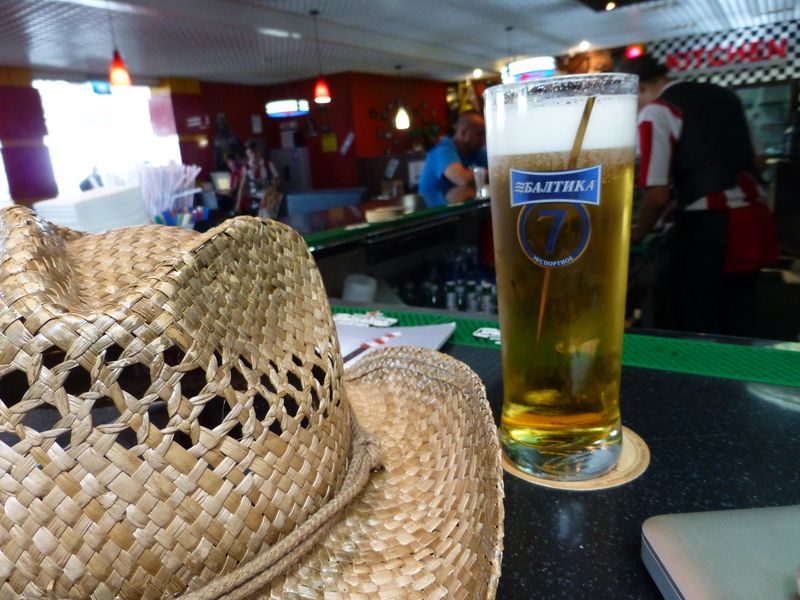 While there I decide to check out the Flying Blue rules regarding UIA (they are a partner). To my surprise I notice that in addition to mileage earnings Flying Blue status actually qualifies one to use the business class check in desks and even the lounge! I really want to check out the lounge so I down the last of my beer, pay up the tab and head towards the lounge. Unfortunately I'm too late as halfway there I hear a boarding call for Helsinki - oh well, I guess it wasn't meant to be...
Hmm, where is this: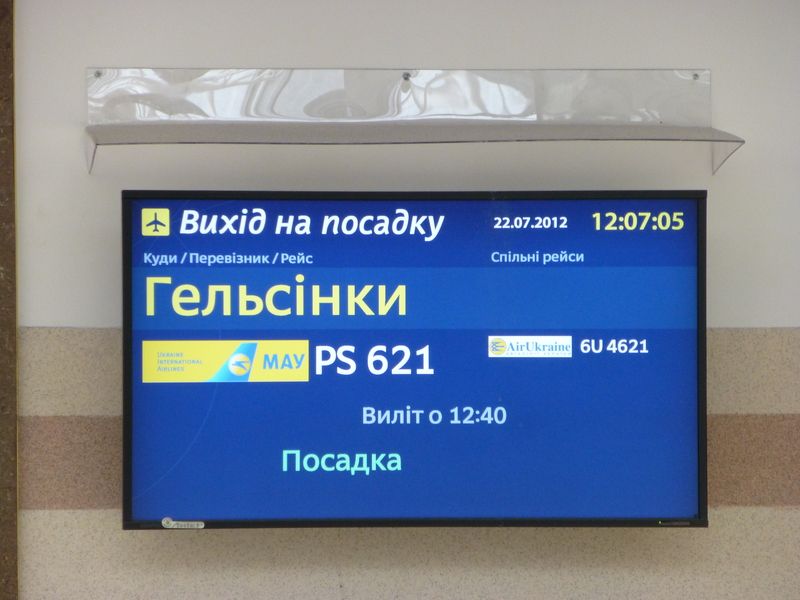 Oh, I get it: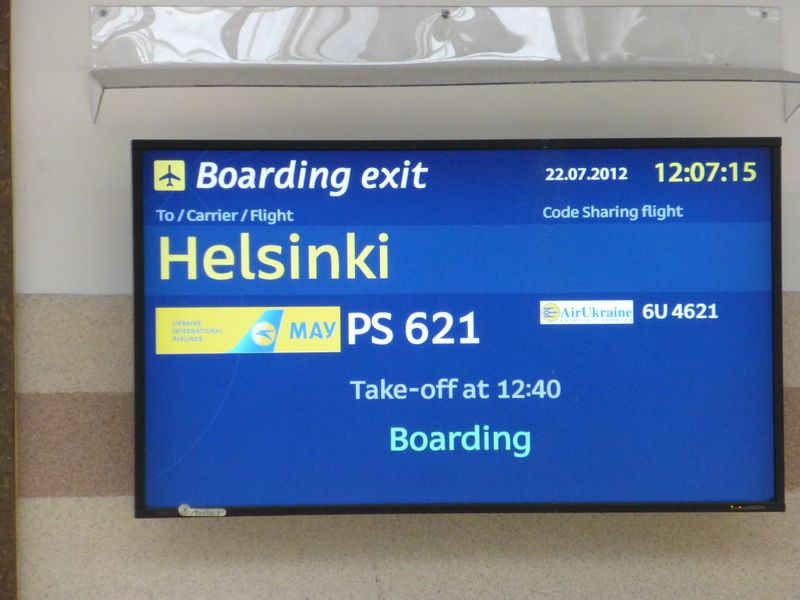 As I mentioned no jetways here so downstairs to a waiting bus we go. Well a bus or a "moving advertising platform" - who knows: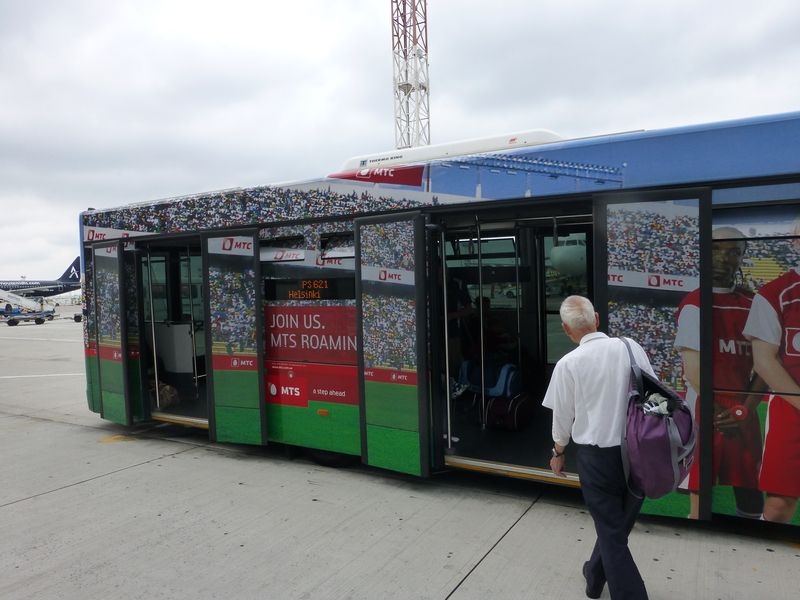 Have I ever mentioned how I hate bus boardings? There's a long wait for some last minute passengers as usual. I chat some with some Turkish guys living in Finland who are coming from IST while we wait. Some 75% of the passengers appear to be Ukrainian with most of the rest being Finns and some oddballs like the Turks thrown in for good measure.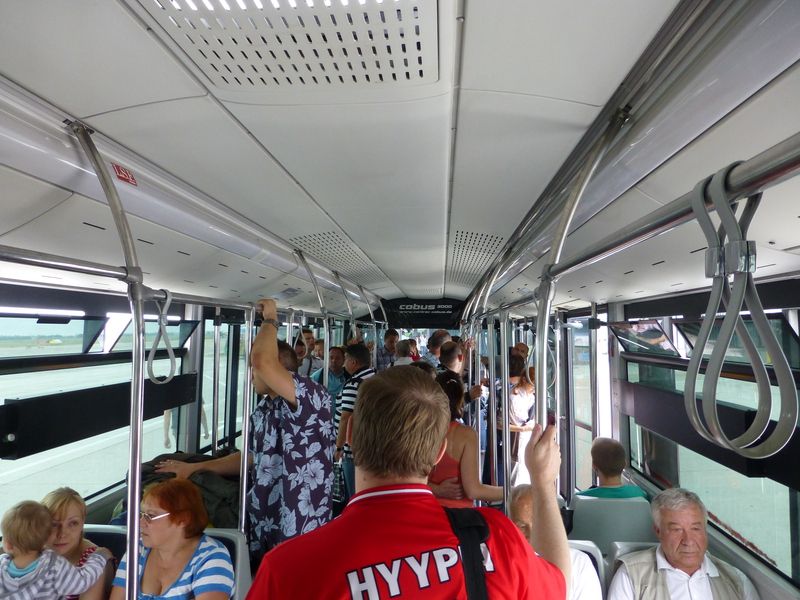 No chance for any photos from the bus, annoying: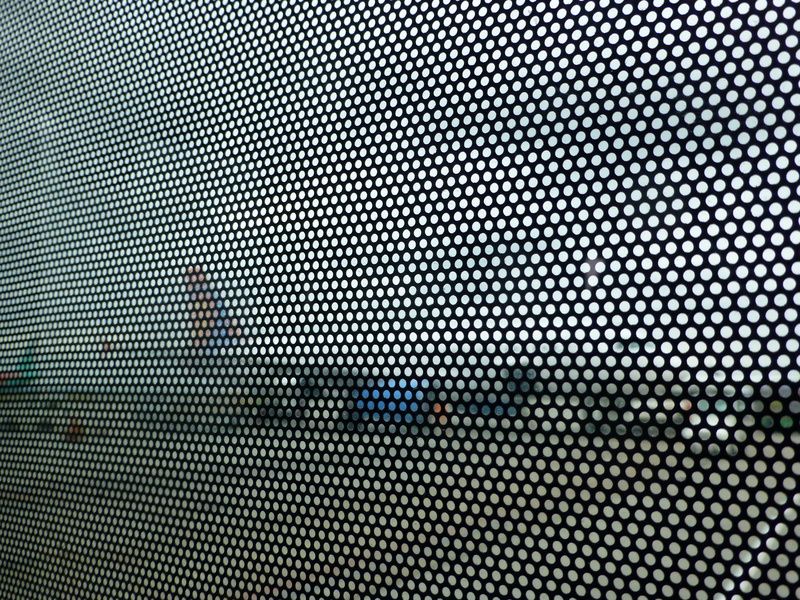 Eventually the bus stops in front of... what else than the expected AN-148, yes!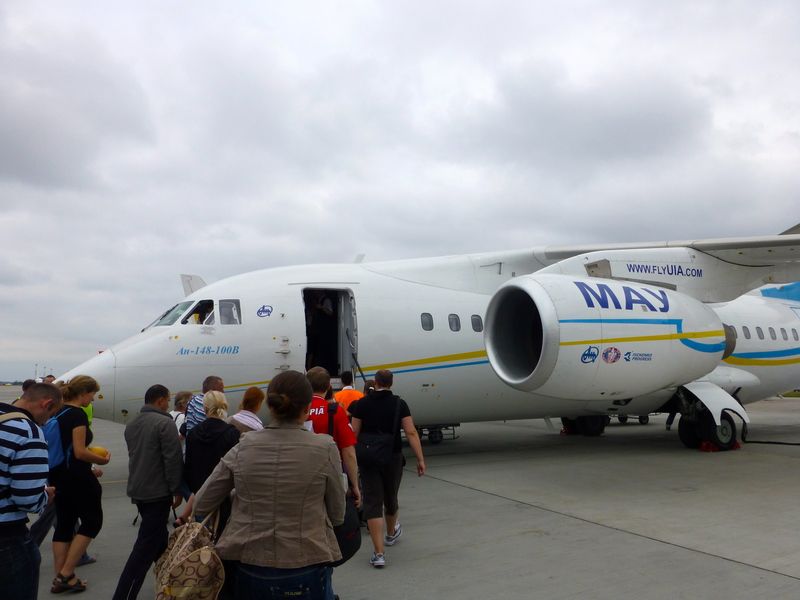 Looks a bit like an Avro: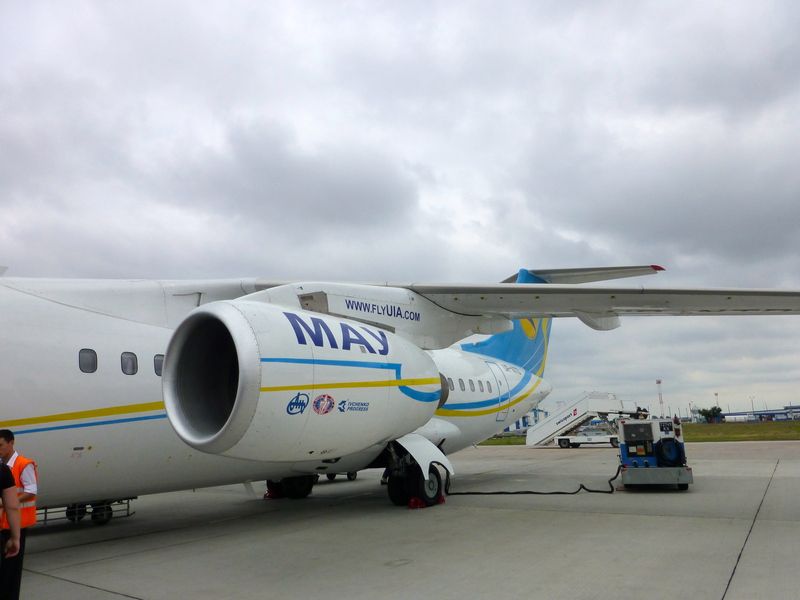 Except for these oversized engines: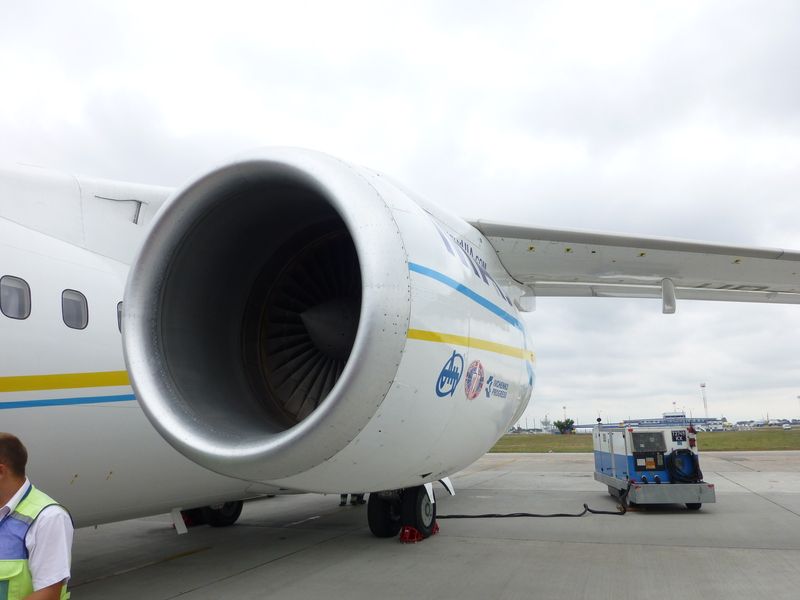 Ok, it indeed is: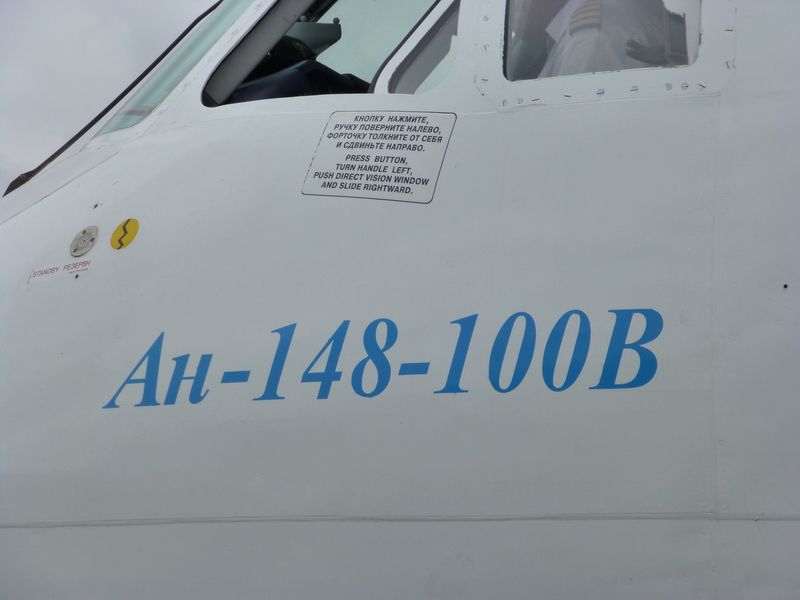 Once more: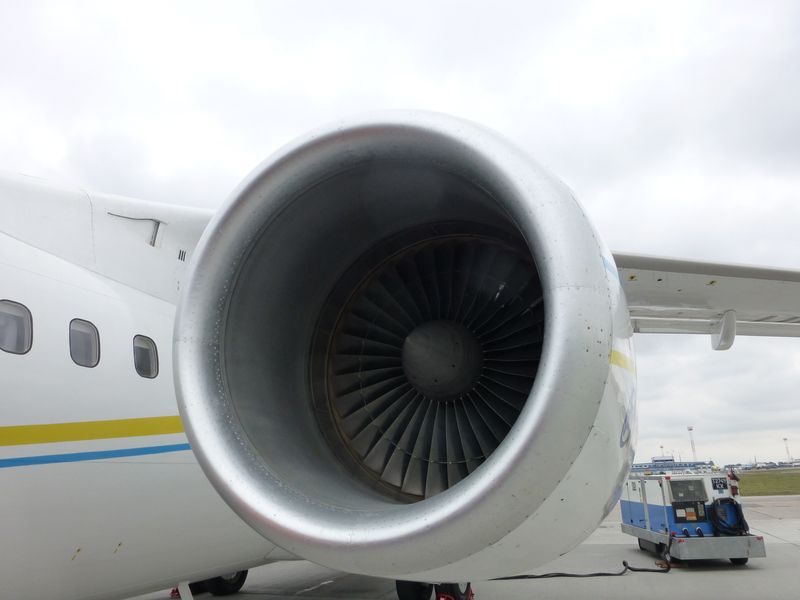 KBP - HEL
PS621
AN-148 UR-NTD
Seat 15E
12.42 - 14.39
Inside a business friendly young male purser is greeting us. The crew has gotten new uniforms since I last flew with UIA and these ones are way nicer than the in-your-face old bright blue uniforms.
There are three rows of real business class seats in 2-2 layout, colored gray:
Whereas economy seats are in blue-gray two-tone. Notice the legroom on the "bulkhead" row: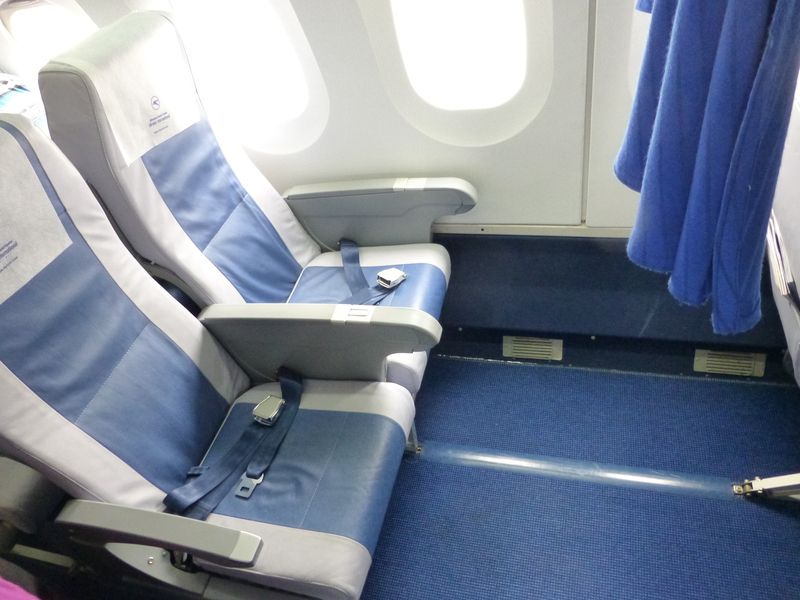 Notice the lack of legroom on the non-bulkhead row: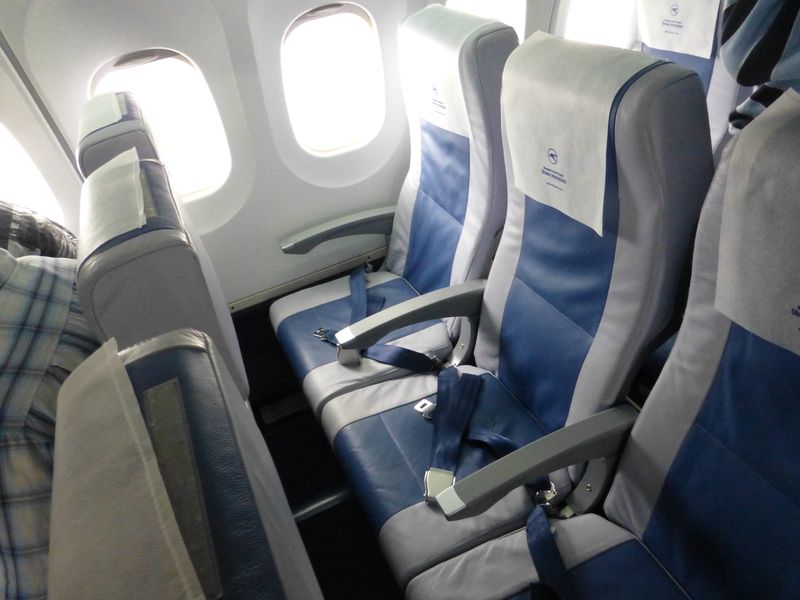 Seats are in 2-3 layout just like they are supposed to be on an Avro (too bad some greedy operators cram in 3-3, that is very tight).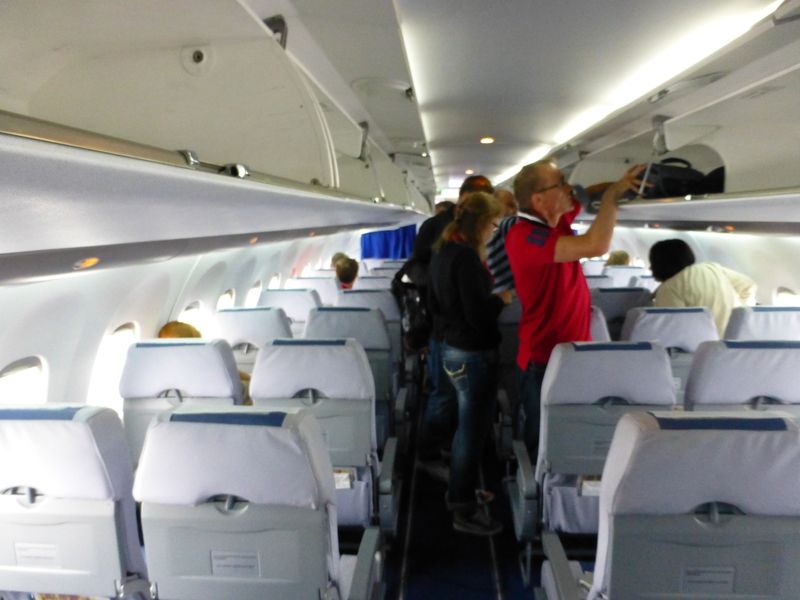 My seat is on the penultimate row, for some reason the last row was not available for picking from the OLCI. A bunch of Ukrainian guys are assigned seats there: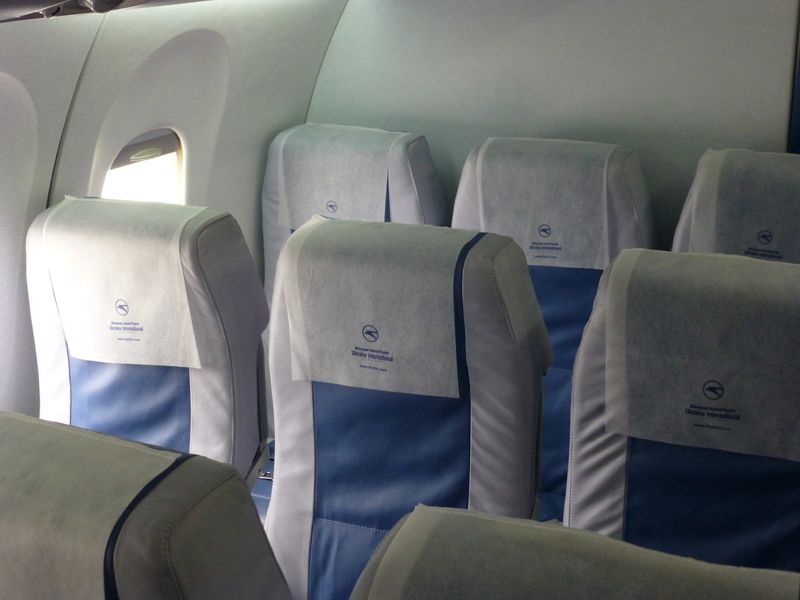 The curtain to the back galley is closed, the second FA is hiding behind it to avoid having to greet passengers (or maybe she actually has some real work to do):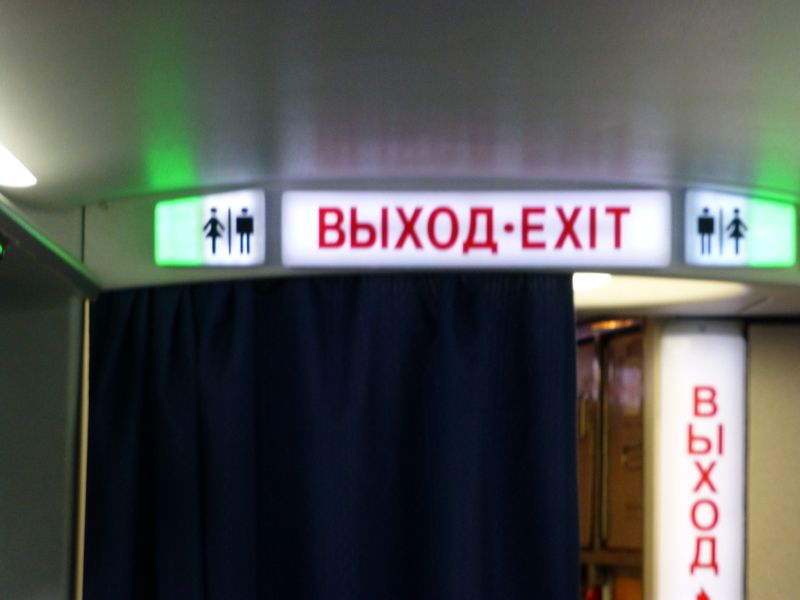 Legroom is indeed not the greatest: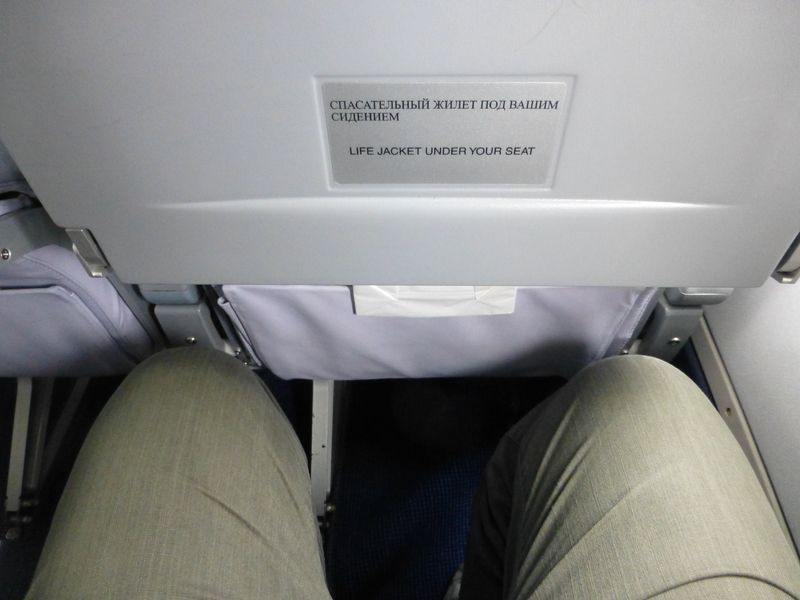 "Good to know" like Markus would say: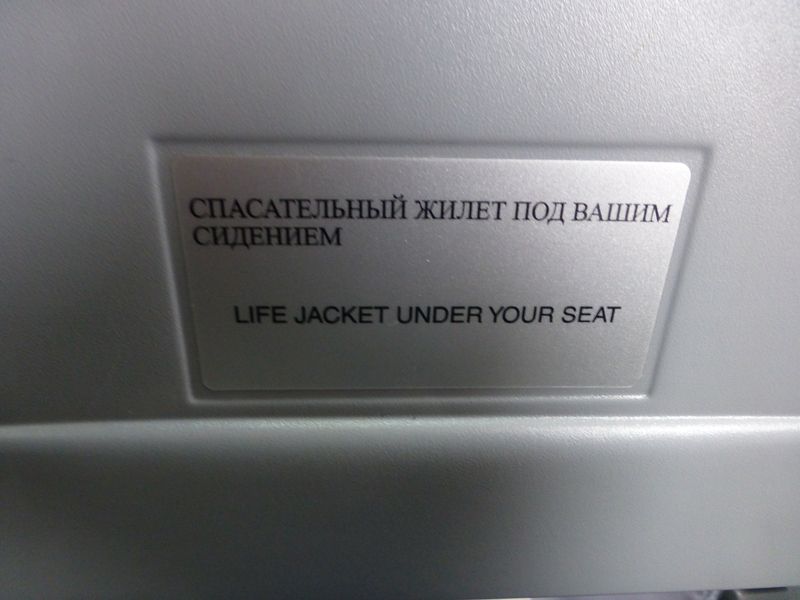 Modern cabin controls although the light looks kinda weird - reminds me of frog spawn: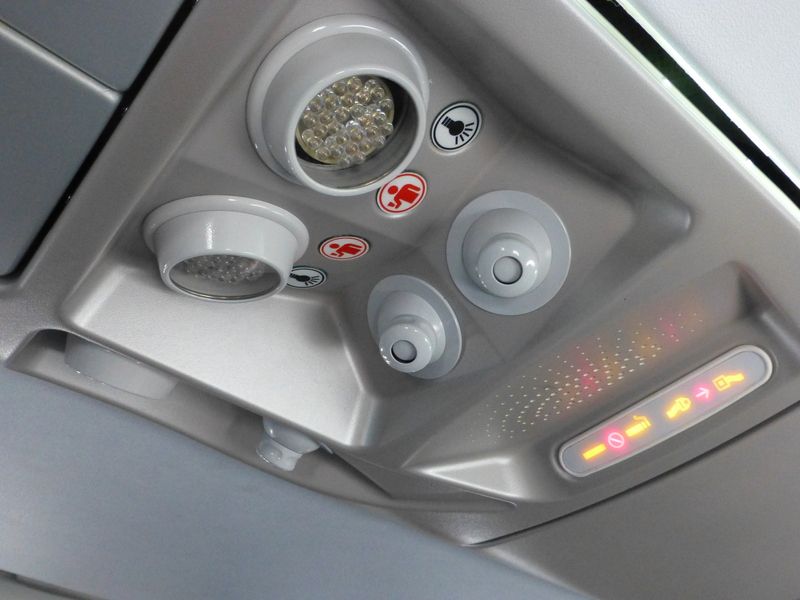 The load is good, only a handful of empty seats in economy and some passengers in business class as well. After AY withdrew from this route UIA has a monopoly and it seems to be paying off.
The things people carry as hand luggage: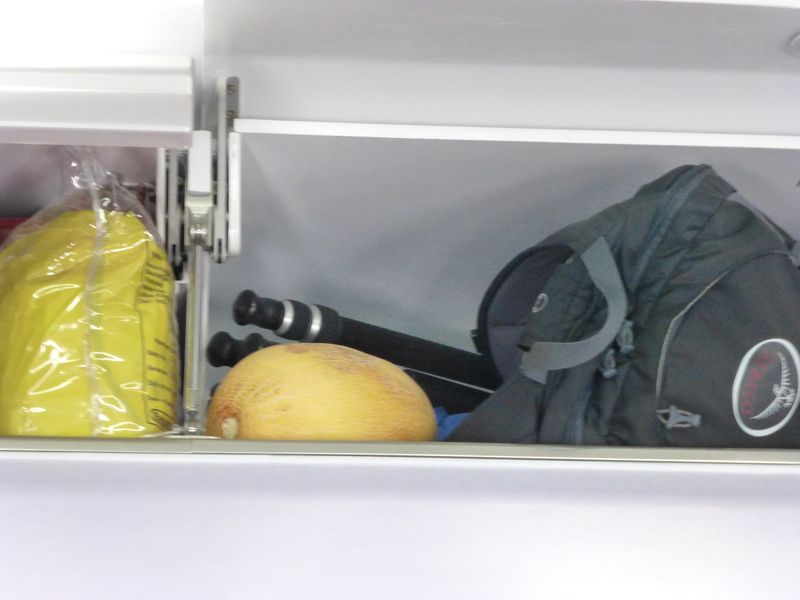 The safety card - confusing and looks quite amateurish: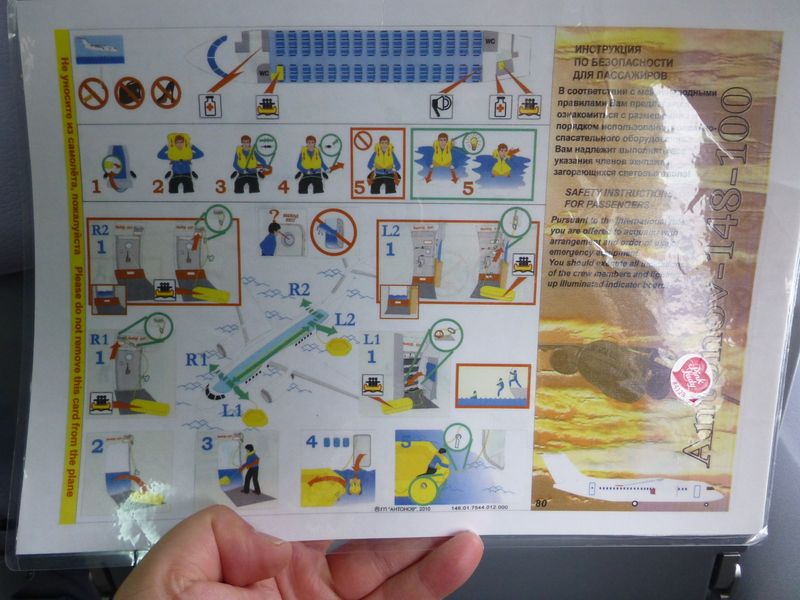 And this plane looks just plain ugly: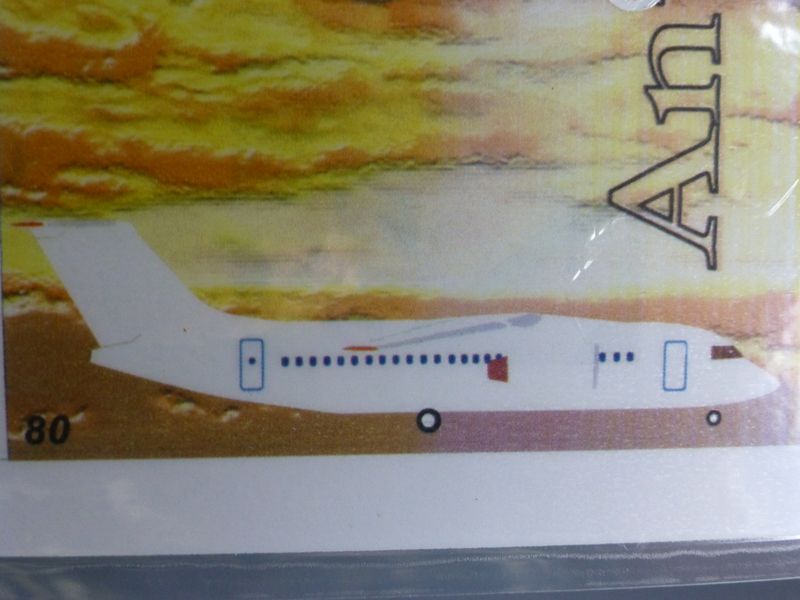 A view to the inflight magazine - I'm sure PlaneHunter will find some errors here in no time at all: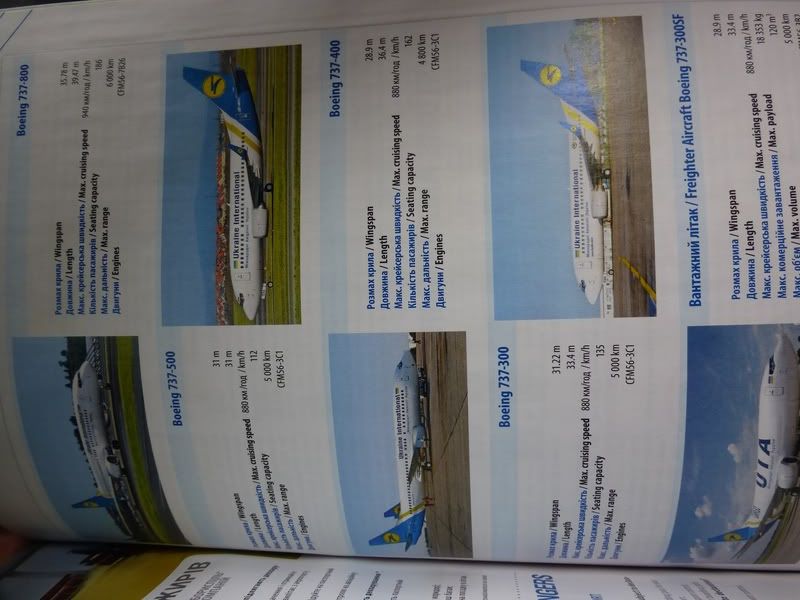 The second FA makes an appearance for securing the cabin - Markus would like her: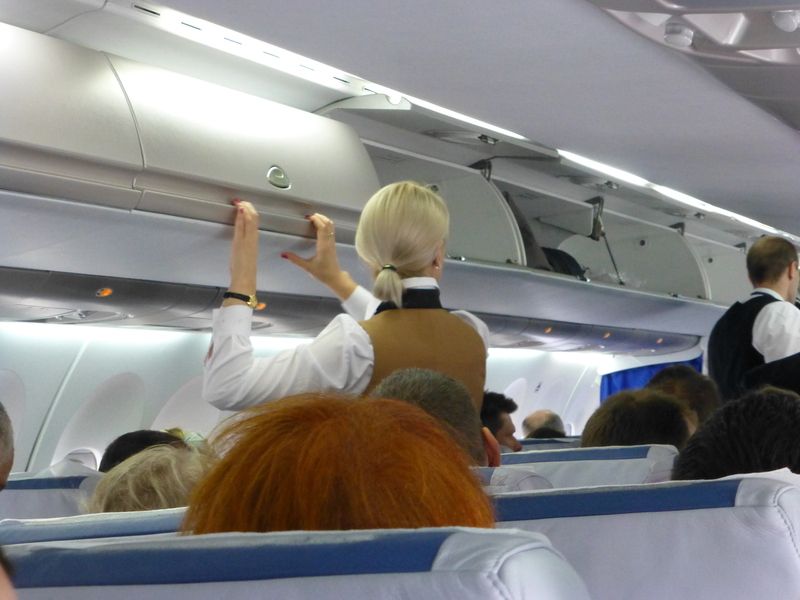 A flight time of 1h50mins is announced with departure pretty much on time.
Hmm, interesting to see a Sterling bird here - also notice the Lada: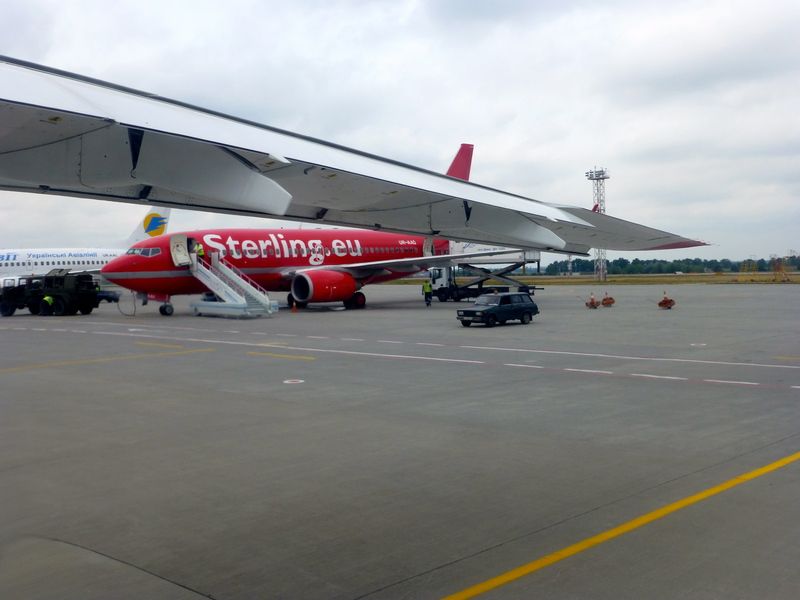 Hmm, is it "Sterling" or "Sterli":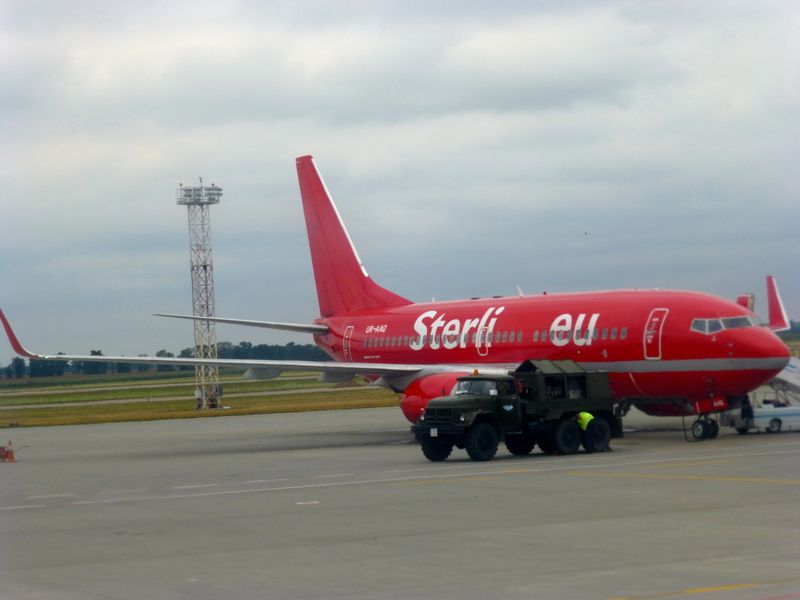 UR-AAQ is operating for AeroSvit these days, apparently they aren't sweet enough to repaint their loot.
Oh and apparently they aren't sweet enough to equip their 767 with BOTH winglets: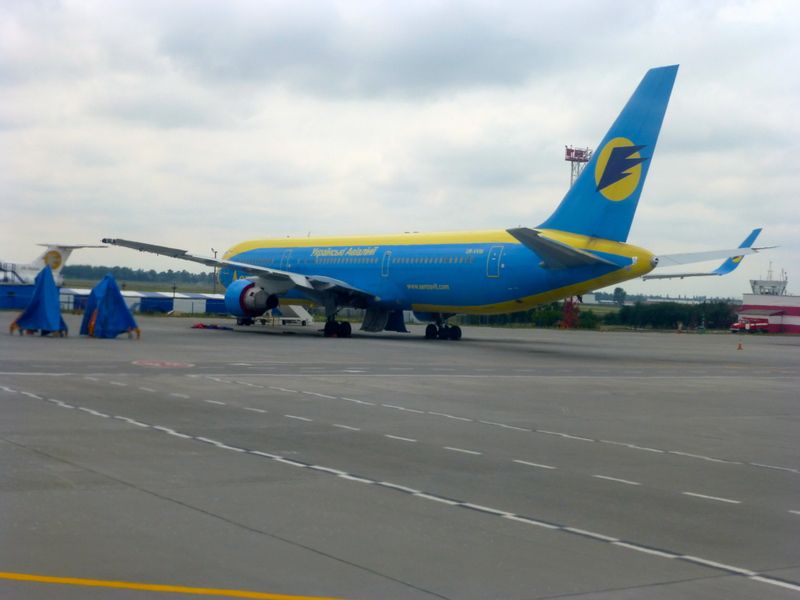 At least this one has two, must be the flagship of the fleet: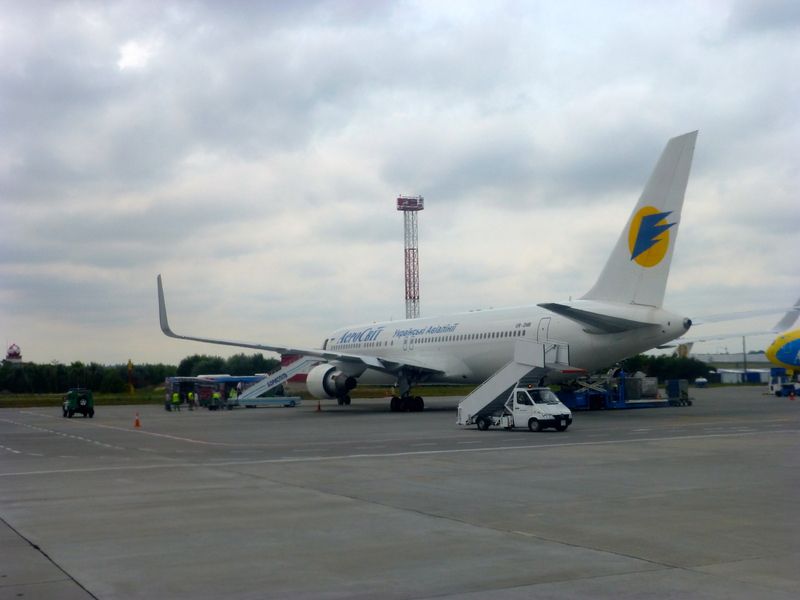 It takes around 10 minutes to taxi to runway 36R, but at least we are allowed to overtake these Dniproavia ERJ-145 and AeroSvit 737 - the excellent STOL performance of our Antonov might have something to do with it as well since we enter the runway somewhere in the middle: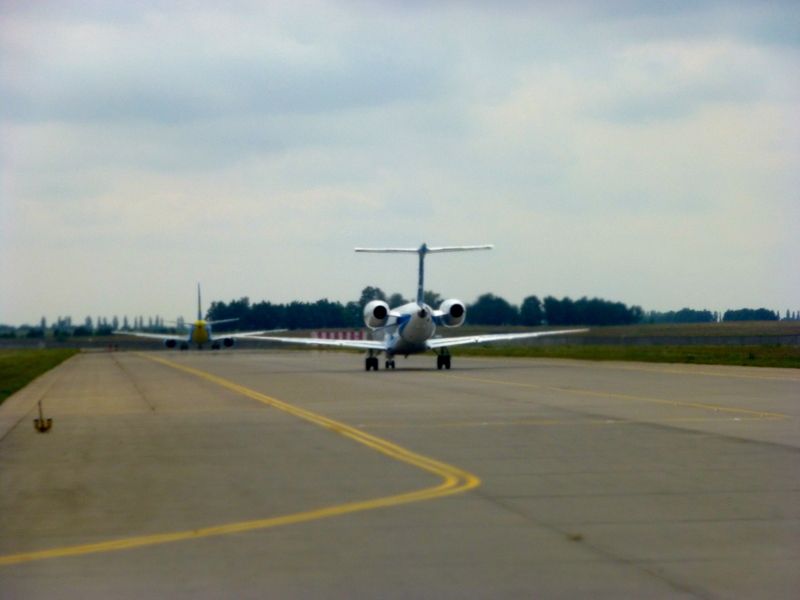 Take off is like in an Avro, very powerful and not using much of the runway. The engines are quite noisy though, noisier than in the obvious comparison, the Avro.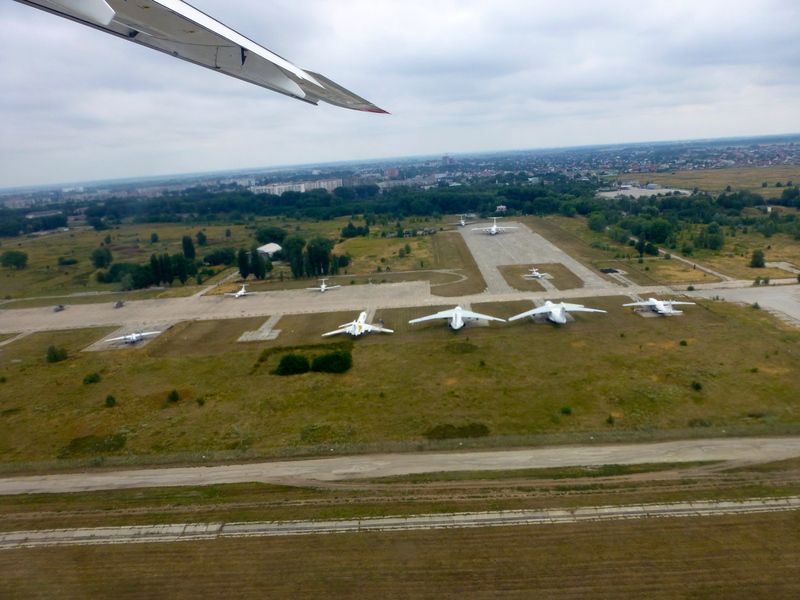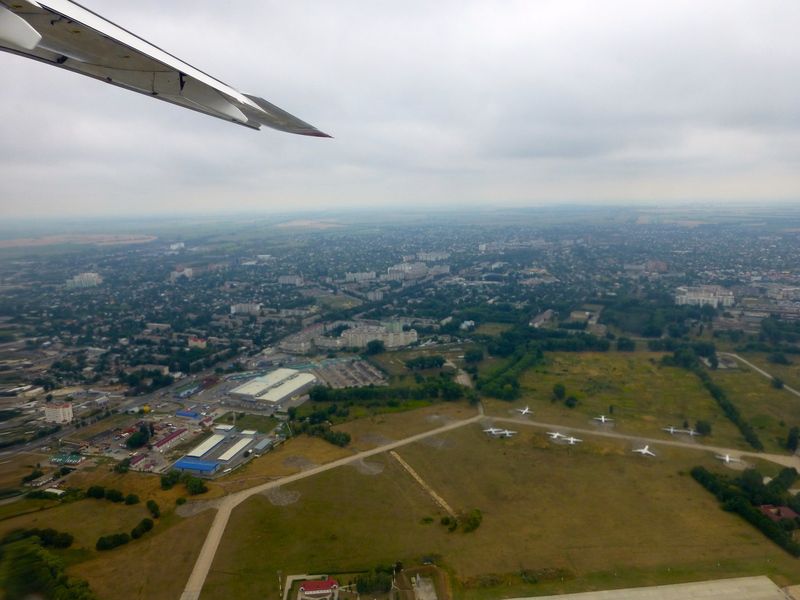 Boryspil city: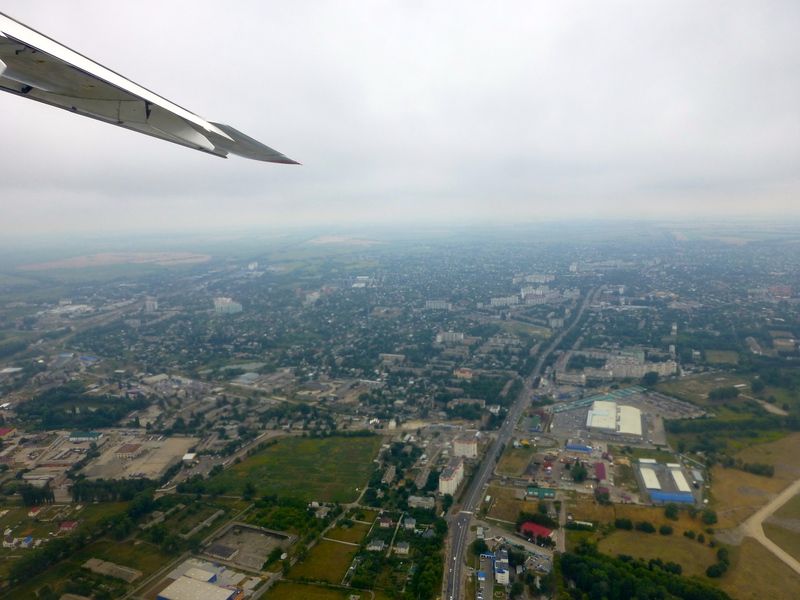 This would be the view for most of this flight: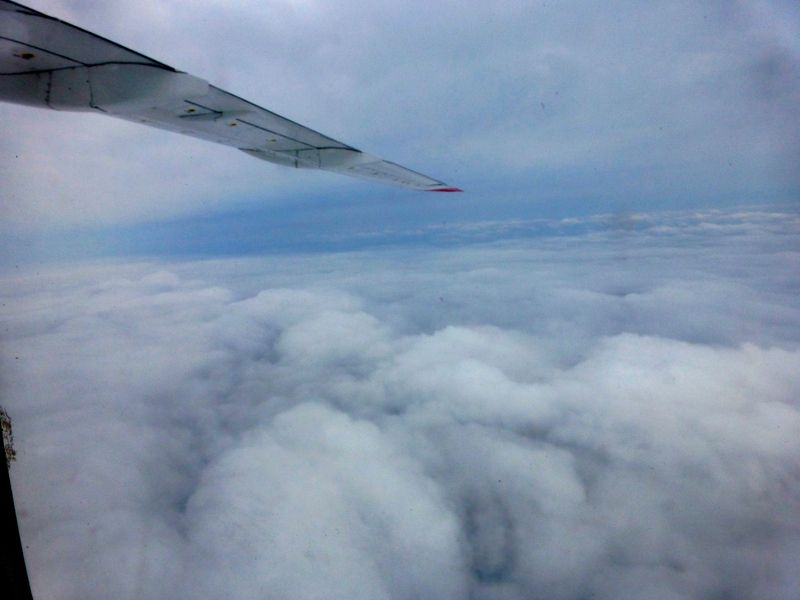 Now here's a shot for widebodyroga - it is not only the Indian people who seem to do this (oh and I forgot to mention on the earlier part that those Ukrainian seatmates of mine also suffered from the "inflated balls syndrome"):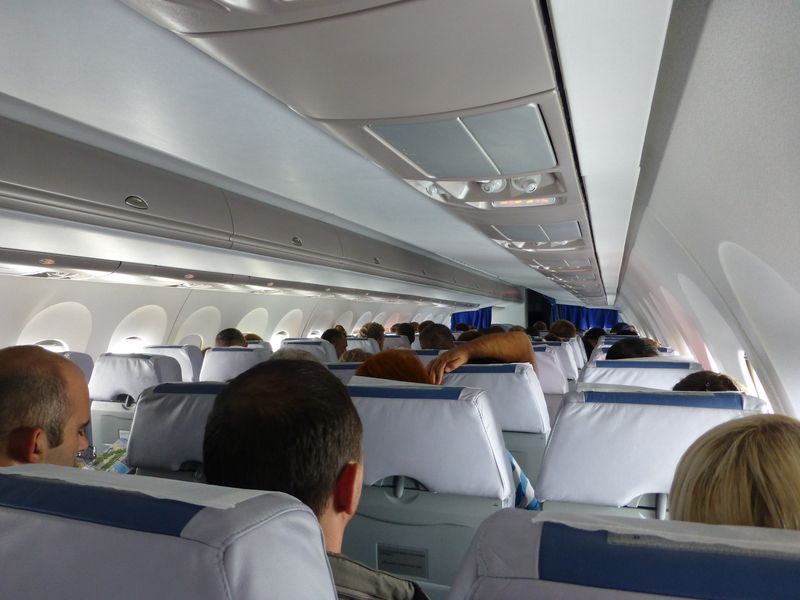 Gross: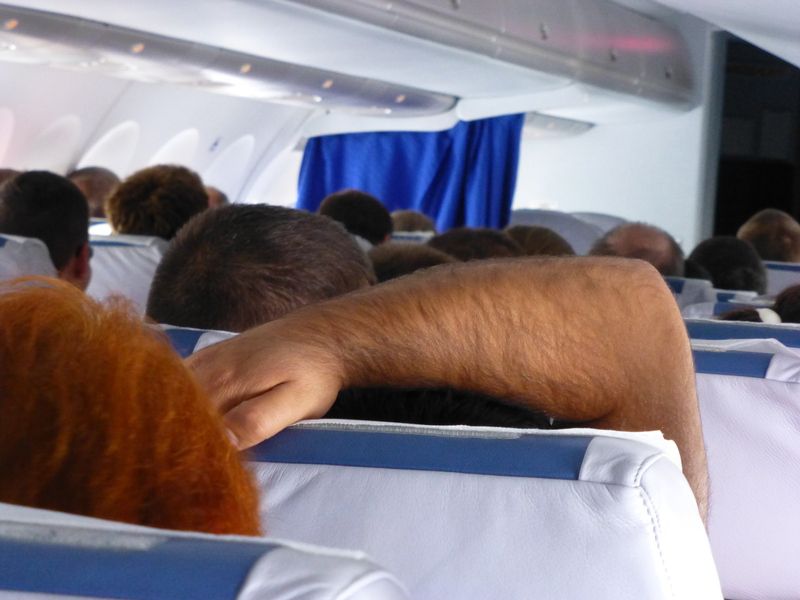 I decide to make a visit to the little boy's room and to explore the back galley a bit.
Cabin view from the back - I actually like these subtle colors: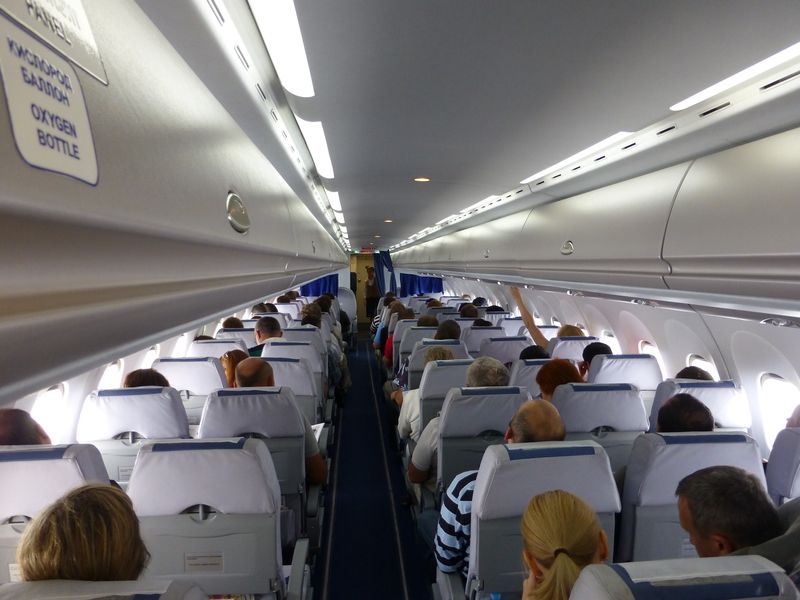 They have this funky transparent colored wall between the galley area and the cabin: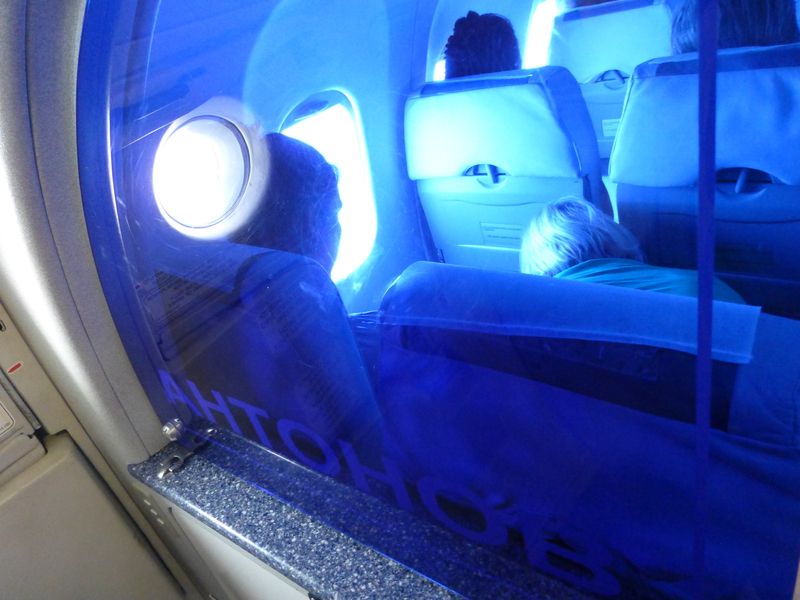 View of the back galley area - notice the FA rummaging for something in the storage cupboard (pantry?):
The back door:
Map of all the emergency equipment on board: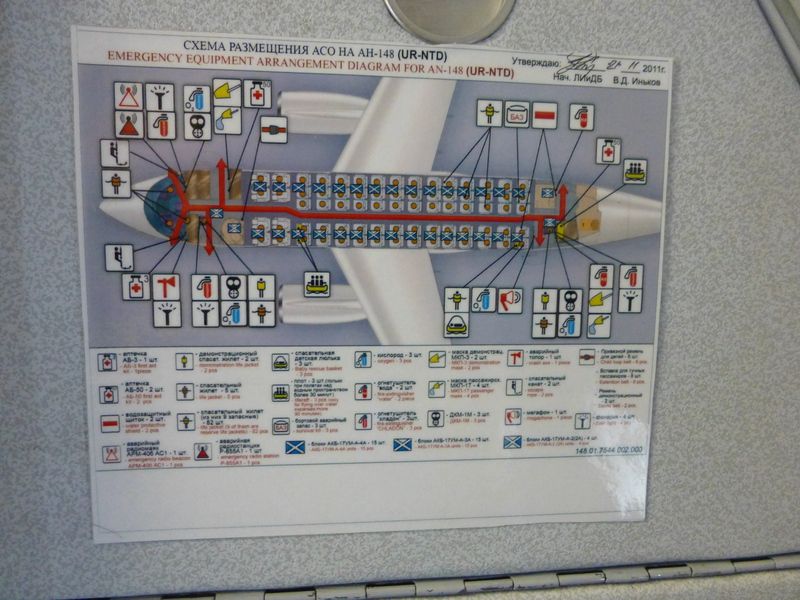 And very nice for them to print the reg here: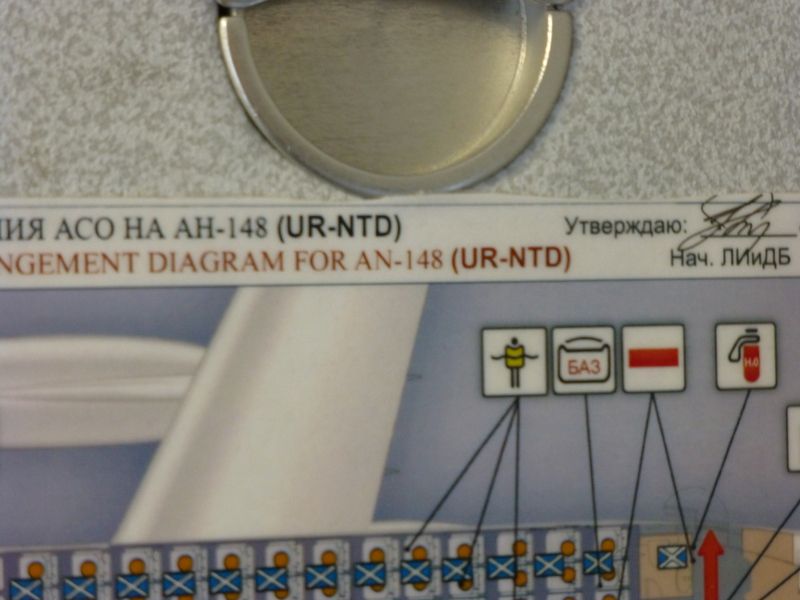 Wonder what's in it - a Rambo knife perhaps or maybe a spare IPad: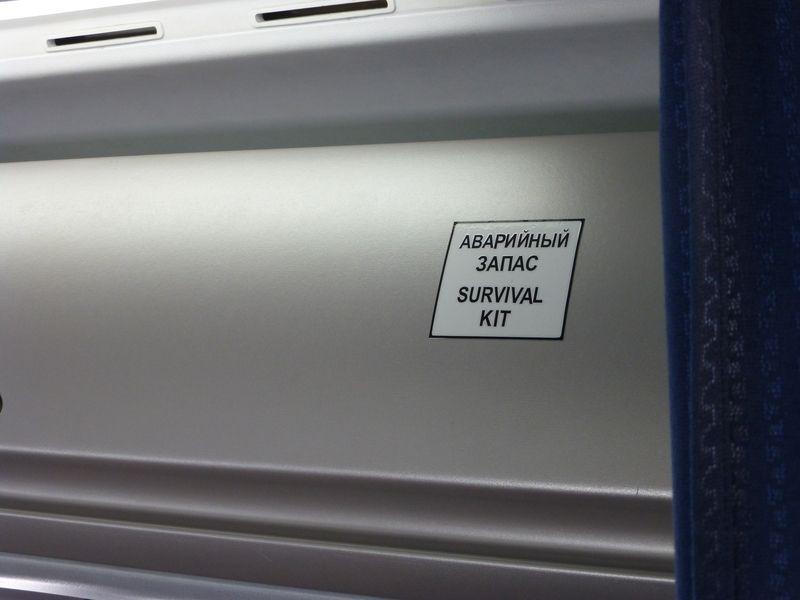 Some shots from the lavatory: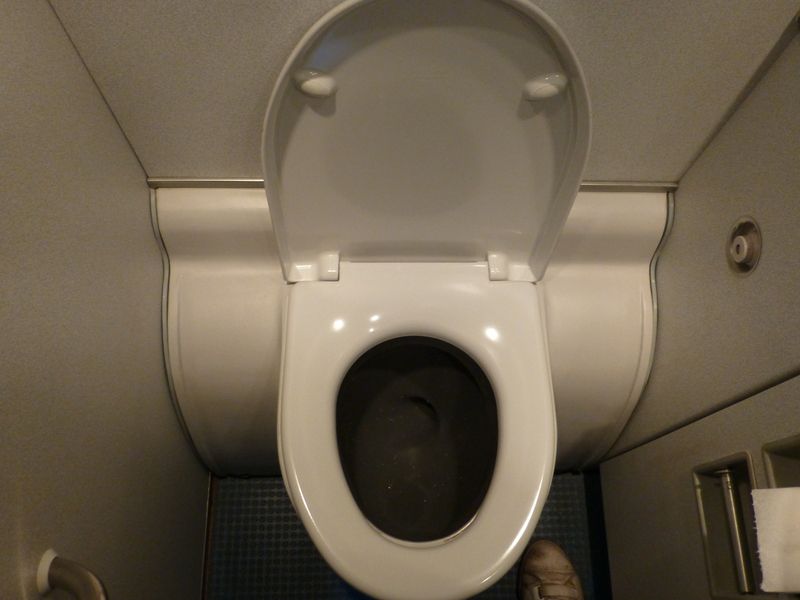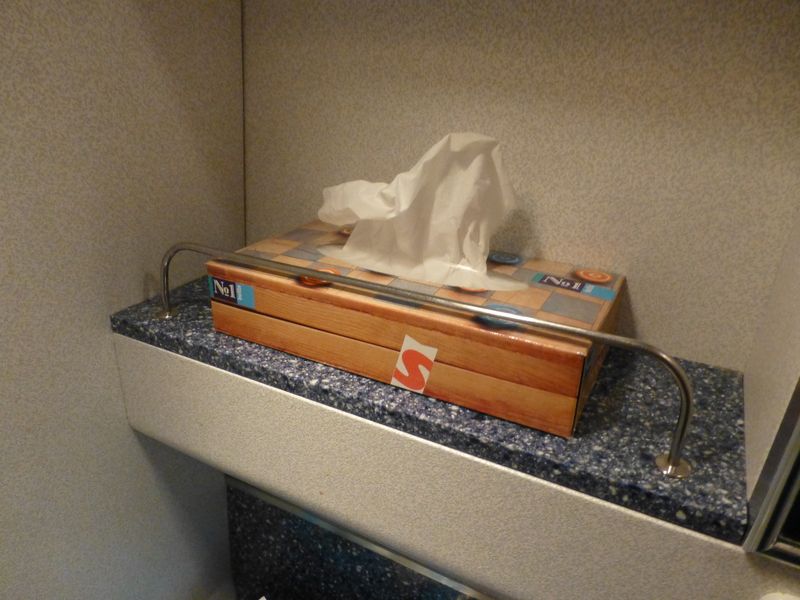 Top