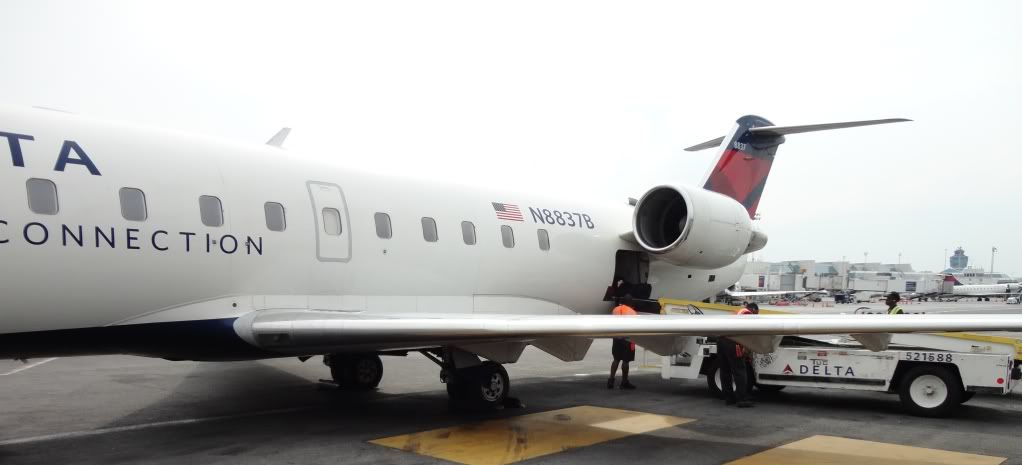 Introduction
The U S of A, a great country IMHO. A country where everything is big, a country I have lived in for a year, a country I have visited many times (mostly in the summer) for vacation or other purposes. This year would be no exception. Visiting friends in Maine, Pennsylvania and Canada while enjoying my 4 week vacation from work.
Hello everyone and welcome to my 15th trip report featuring part 4 of my vacation to the USA/Canada!
It wasn't until the 27th of May when my dad and I started looking for tickets. Booking was done, the same day, on delta.com (as my dad is a SkyMiles member). 6 flights for about 1200EUR p.p, not a very bad deal for the time of year and the date that we booked IMO.
There were a lot of different options for that price, so we eventually chose:
July 21: AMS-BOS // 11:10-13:00 // DL231 // A330-300
August 1: BOS-JFK // 12:00-13:17 // DL901 // A319
August 1: JFK-PHL // 16:10-17:28 // DL3544 // CRJ900 Pinnacle Airlines/DL Connection
August 8: PHL-LGA // 14:10-15:10 // DL4050 // CRJ100 Pinnacle Airlines/DL Connection
August 8: LGA-YYZ // 16:45-18:25 // DL7145 // B736 operated by WestJet
August 16: YYZ-AMS // 23:05-12:10 // DL9399 // B744 operated by KLM
A nice itinerary with all different types, and for me it will be the first time flying Delta longhaul and WestJet. This would also be a chance to catch the fairly "rare" B737-600 type.
This series will be split into 5 parts (due to the many pictures made):
Part 1: AMS-BOS
Part 2: BOS-JFK
Part 3: JFK-PHL
Part 4: PHL-LGA-YYZ
Part 5: YYZ-AMS
For part 1 see:
USA Vacation Part 1: Delta Long Haul: AMS-BOS In Y
(by
adamspotter
Aug 19 2012 in Trip Reports)
For part 2 see:
USA Vacation Part 2: Maine! + BOS-JFK On DL In Y
(by
adamspotter
Aug 26 2012 in Trip Reports)
For part 3 see:
USA Vacation Part 3: Big Delay + JFK-PHL On DL
(by
adamspotter
Aug 30 2012 in Trip Reports)
Every part will not only contain a report of the flight(s), but it will also be accompanied by many pictures of places I visited/things I did during my stay.
So sit back, relax and I hope you enjoy this report!
Map
The map for this part, thanks to the Great Circle Mapper:
And the map of this whole trip, also thanks to the Great Circle Mapper: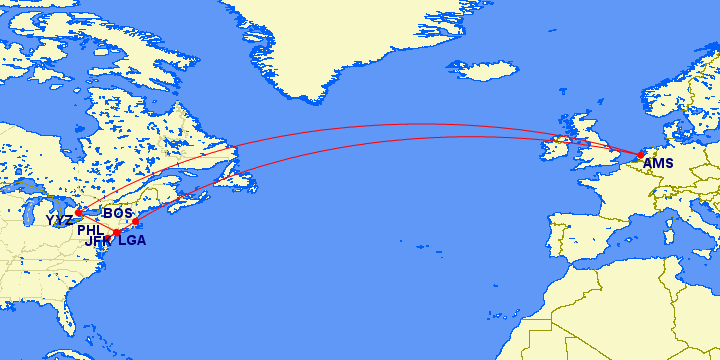 It is Wednesday the 8th of August at 08:30 when my alarm clock goes off. After a nice week in New Holland, PA it is time to move on again, time to fly again! Today it's off to Exeter, Ontario in Canada for the last week of my vacation, time sure flies me thinks while heading to the shower.
After a nice shower my I-pod "pings", I have gotten an email from Delta Messenger stating that my flight is already delayed for 35 min, new dep. time 14:45. Here we go again, I was thinking, as long as we make our connection!
Getting to PHL
Our friend was kind enough to take us to the airport. Despite the expected delay we left at 10:00 for the 2 hour ride to PHL. Exactly 2 hours later, at 12:00, we arrived at PHL and got dropped off at Terminal D. We bid our friend goodbye and headed inside the terminal.
Check-In
As always I had checked in online the night before for my PHL-LGA leg. Checking in for my LGA-YYZ leg (operated by WestJet) was not possible on Deltas website. Understandable so I tried it on WestJets website, check-in wasn't possible on their website either as they couldn't find my confirmation #. Hmm ok, I'll check at the airport then.
Once entering terminal D I headed over to one of Deltas SSKs. I printed out my BP for the PHL-LGA sector. As I still wasn't able to check-in or select a seat for my WestJet flight, the SSK spit out this Connection Information Document for me:
Hmm ok, I'll see if the check-in agent can do anything for me while I drop my bag off. But first a quick look at the FIDS, Flight DL4050 to LGA was now further delayed until 15:10. Now this is going to be a very tight connection!
I joined the baggage drop off line and 15 min later it was my turn so I approached the check-in agent. While handing over my passport + BP I put my bag on the scale and explained the situation. I asked if it was possible to check me in/print the BP for me as I have a tight connection. He explained to me that is wasn't possible as it is a WestJet flight and that I have more than an hour to connect at LGA. I told him that I didn't have more than an hour because my flight is delayed, which he didn't know about yet. He eventually told me to head straight to the gate once arriving at LGA (No really??) where they will assign me my seat and print out my BP. He then handed me this seat request ticket, apologized and wished me a good day: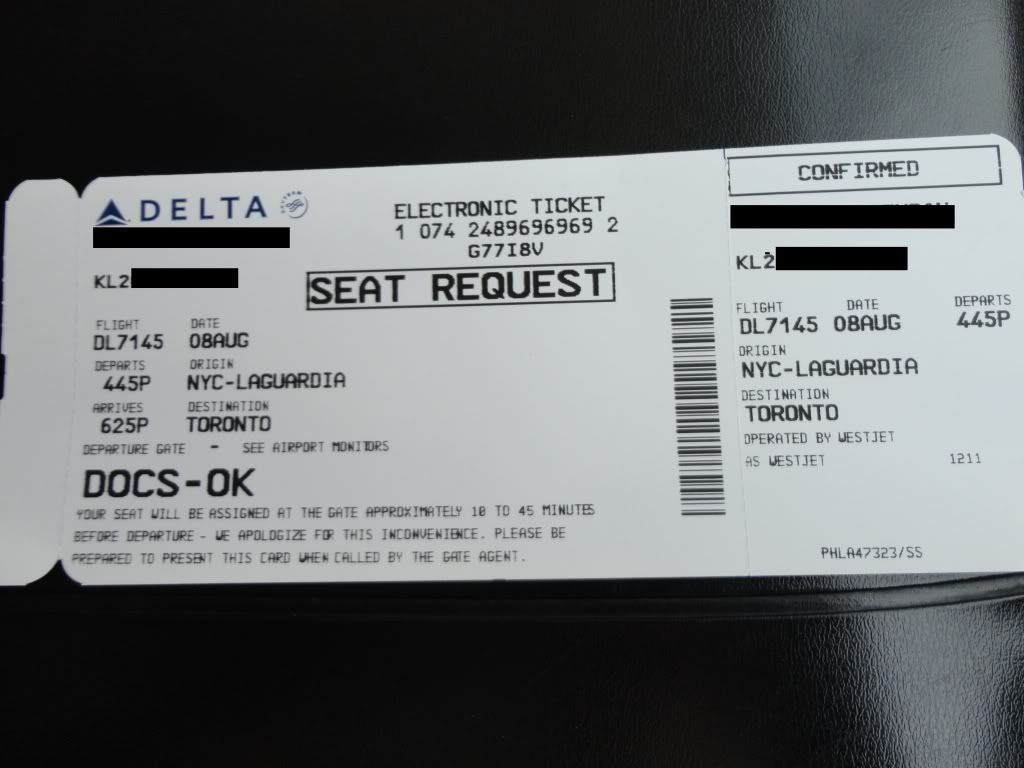 Security
Now it was off to security. This time security was quite different compared to my previous experience at BOS. Once arriving there, there was quite a line. 20 min later we were through the passport + BP check. 10 min after that we were through the x ray screening without a problem.
PHL Terminal D
I had now arrived at PHLs terminal D. Terminal D is quite an ok terminal (much better then Terminal 2 @ JFK) except for, once again, the bathrooms. They smelled bad and were downright filthy, were the cleaners on strike during my vacation or something?
Anyway as we still weren't feeling to good about our connection we decided to head over to the gate and see if there was an agent that could do anything for us. But first a quick look down the almost empty E gates: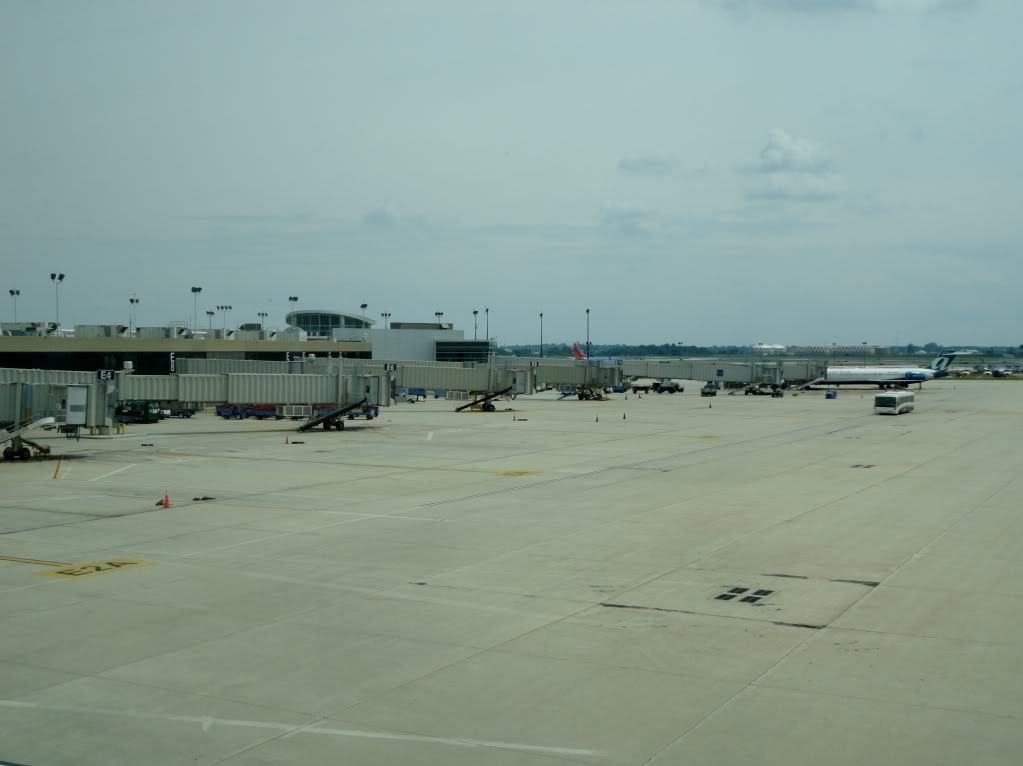 And a quick look down the D-gates with an old Continental livery: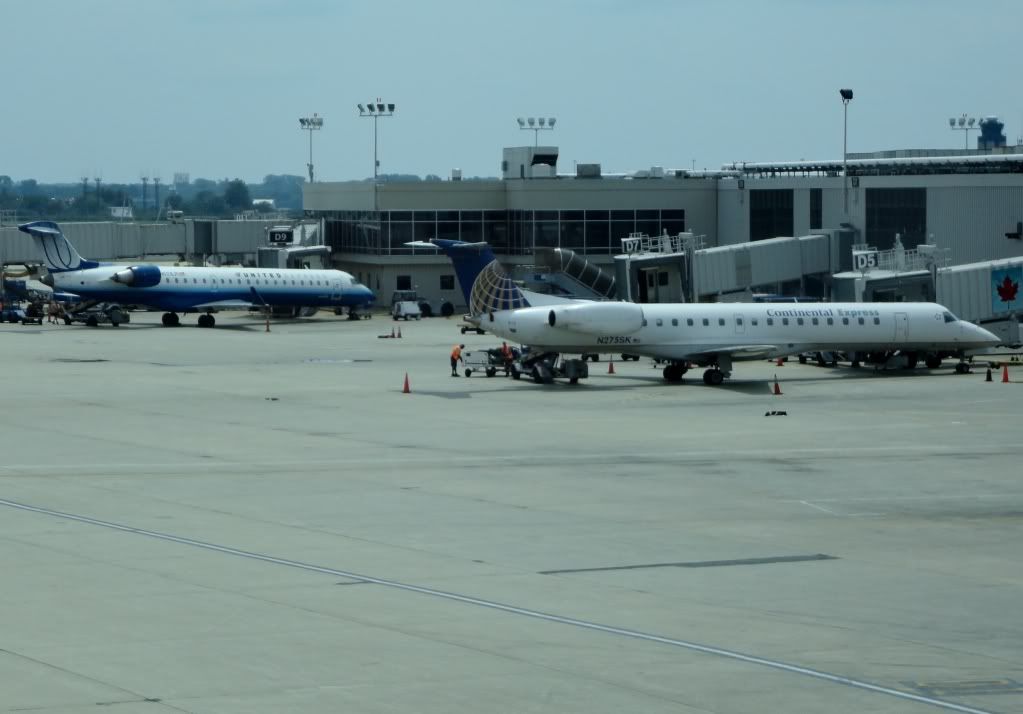 Once arriving at our assigned gate D8 there were 2 agents there. We approached one of the friendly female agents and explained our situation. She immediately offered to confirm us onto the next WestJet flight which would be leaving just 1h45min after our original one. She printed out this document for us and told us to show it at the gate if we missed our connection:
Feeling a bit relieved we thanked her, got a bite to eat at Dunkin Donuts and did some spotting.
Spotting @ PHL
For some spotting I headed down to the end of terminal D where I got some nice views of aircraft taxing by and landing in the distance.
Comair (Delta Connection) // CRJ900 // N695CA: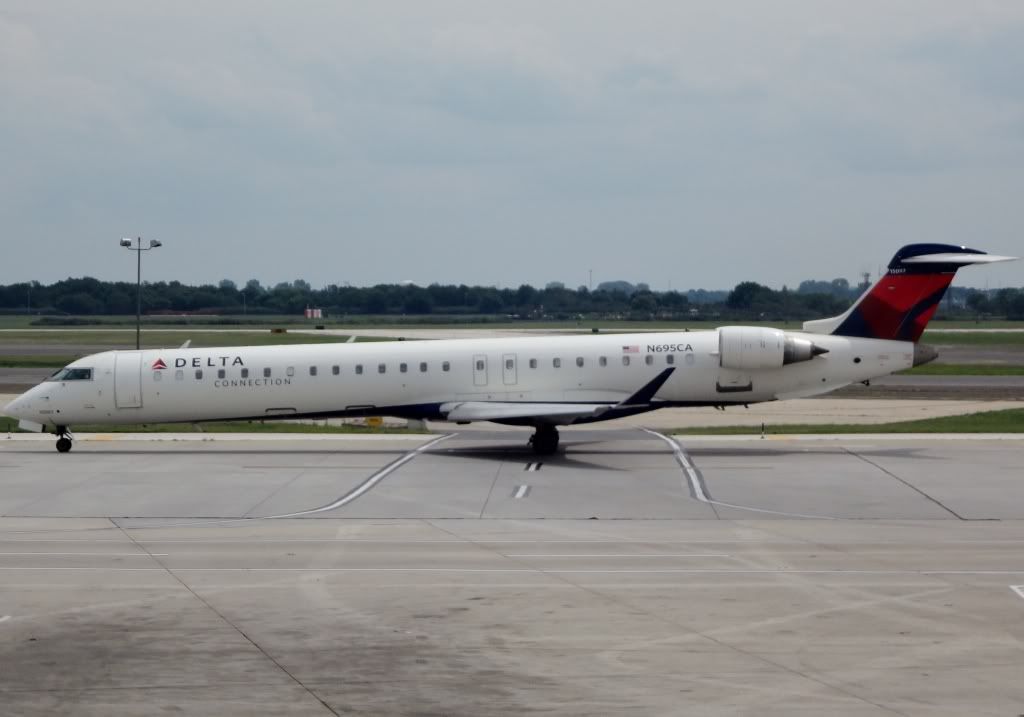 US Airways // EMB190 // N944UW: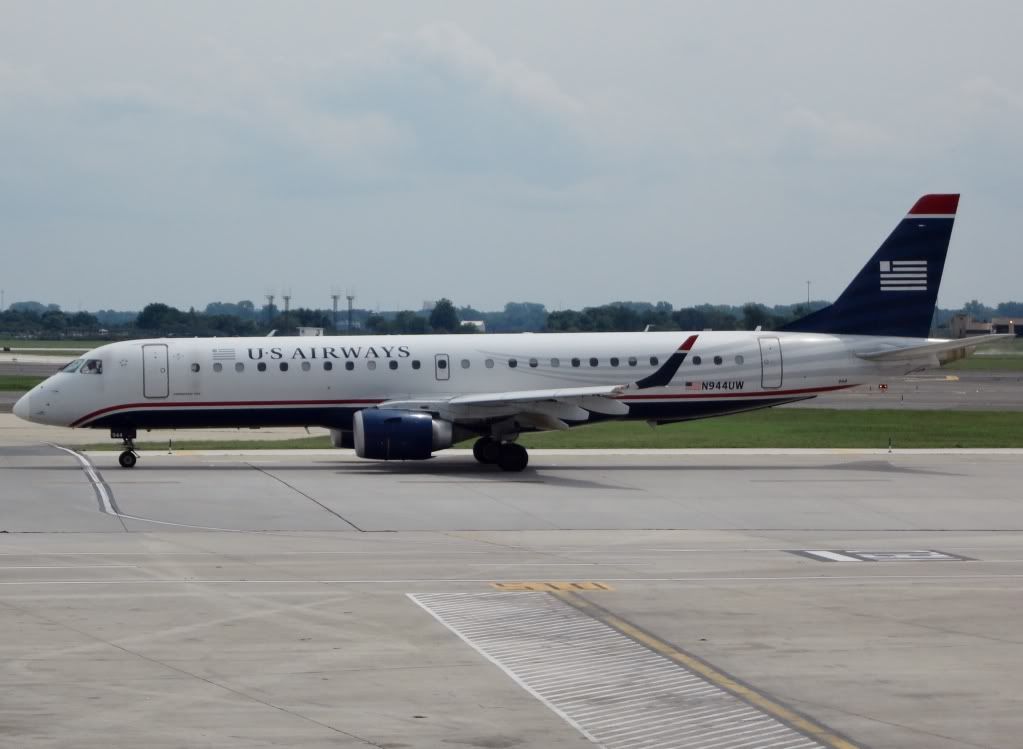 Air Wisconsin (US Airways) // CRJ200 // N408AW: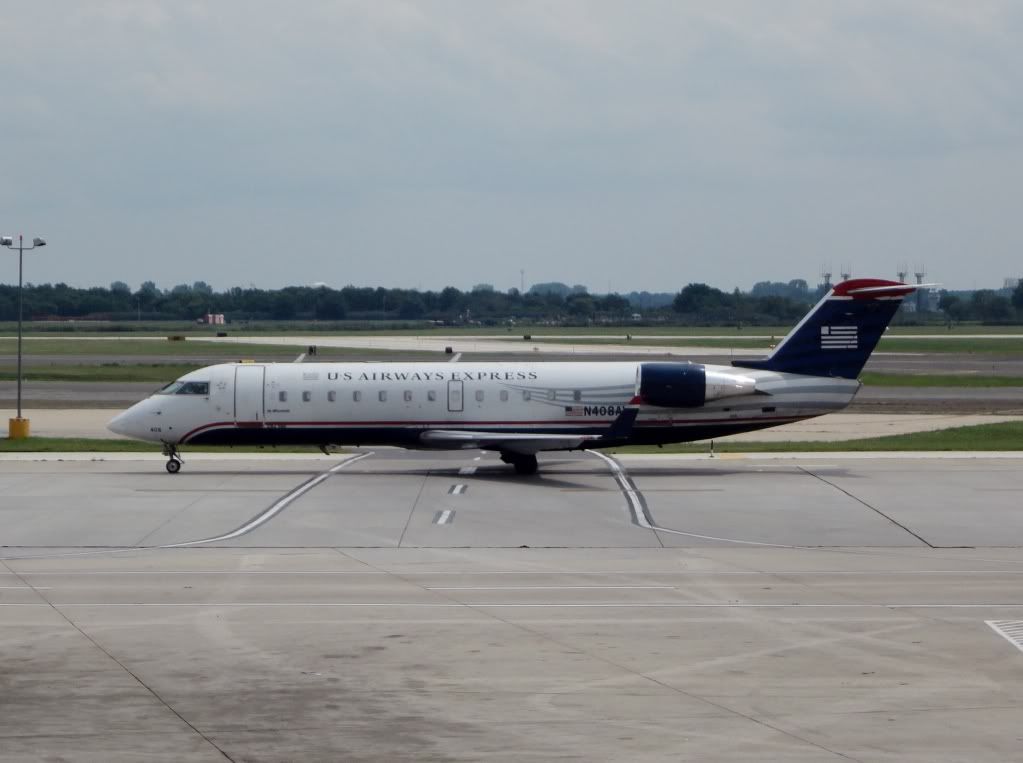 Delta // A319 // N343NB: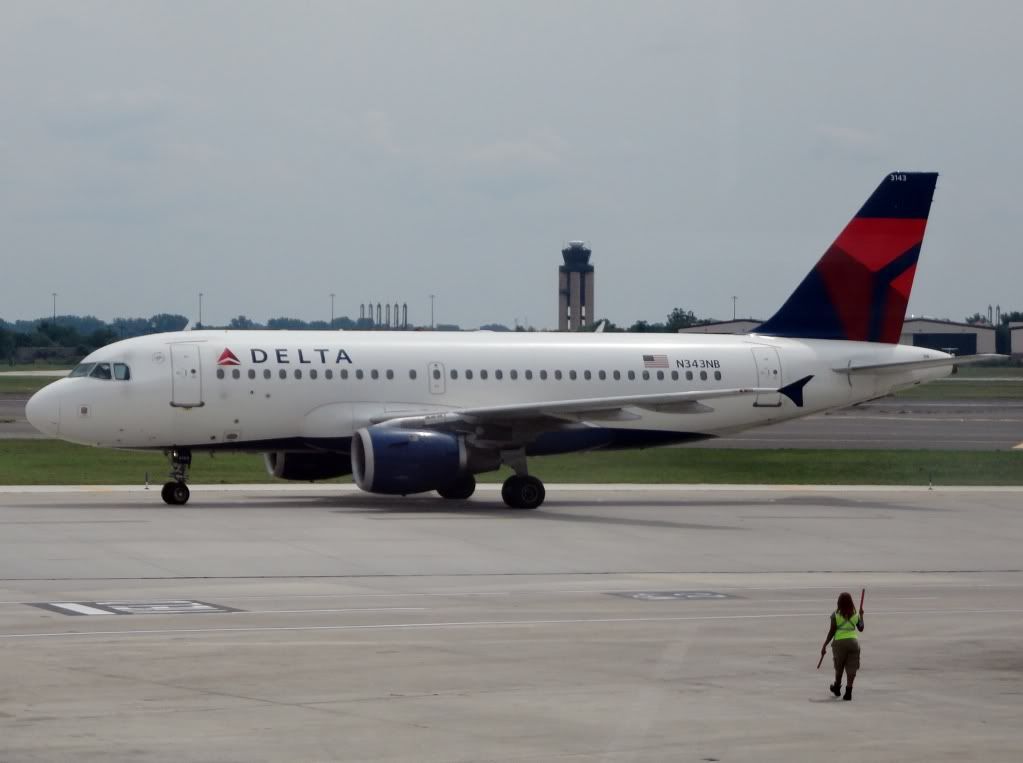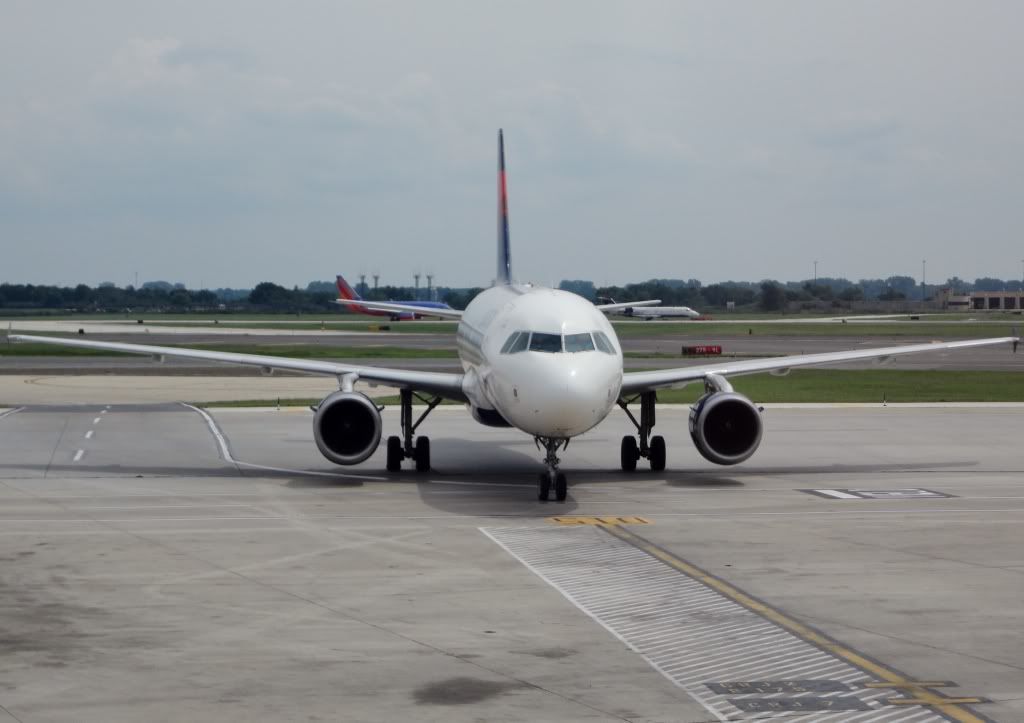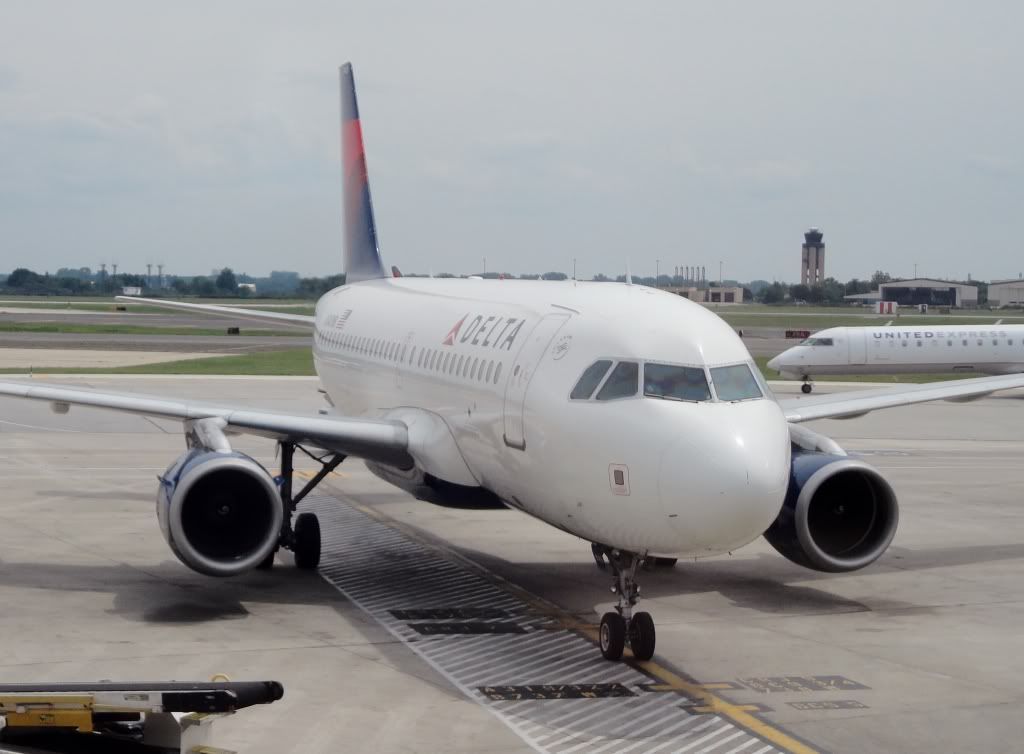 Mesa Airlines (United Express) // CRJ700 // N512MJ: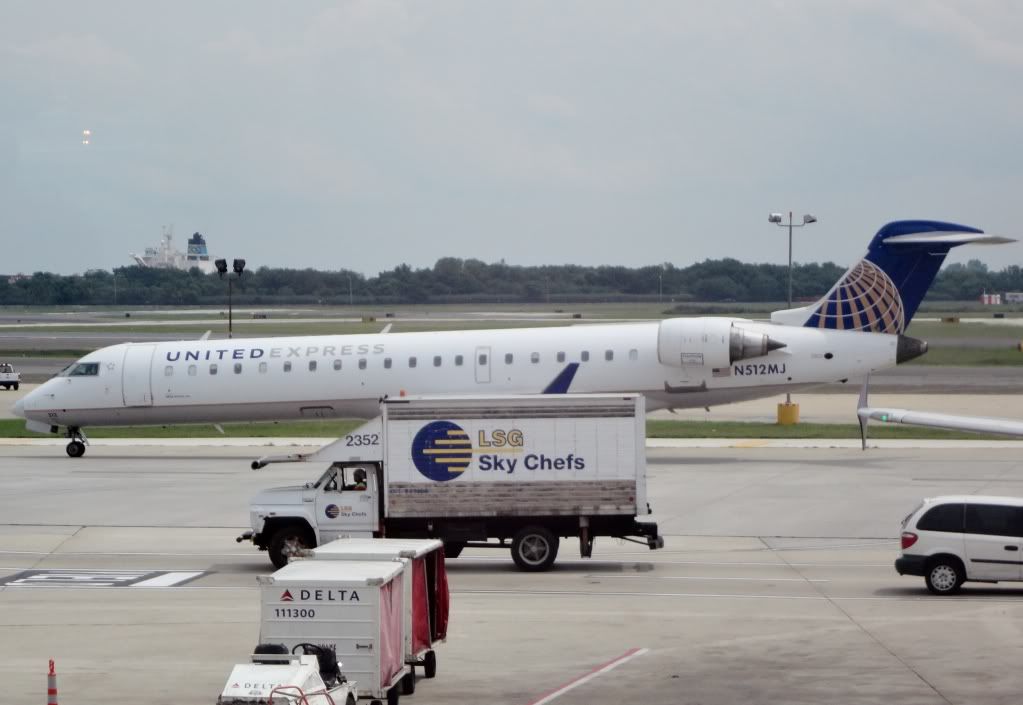 Comair (Delta Connection) // CRJ900 // N678CA: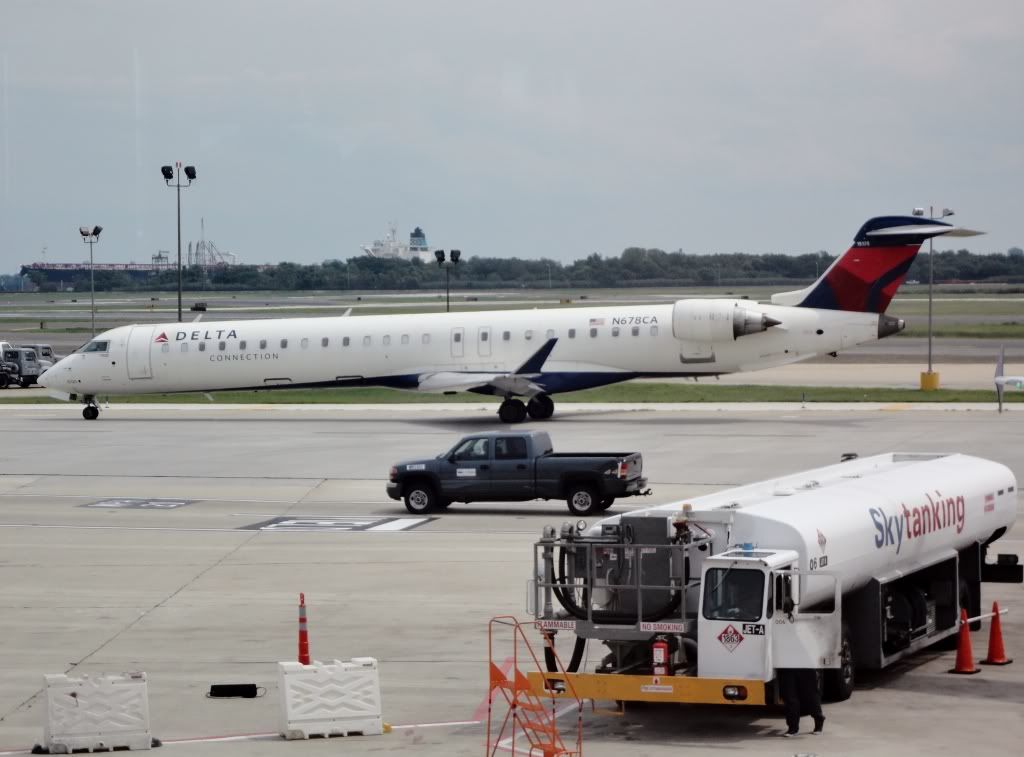 Republic Airways (US Airways) // EMB175 // N125HQ: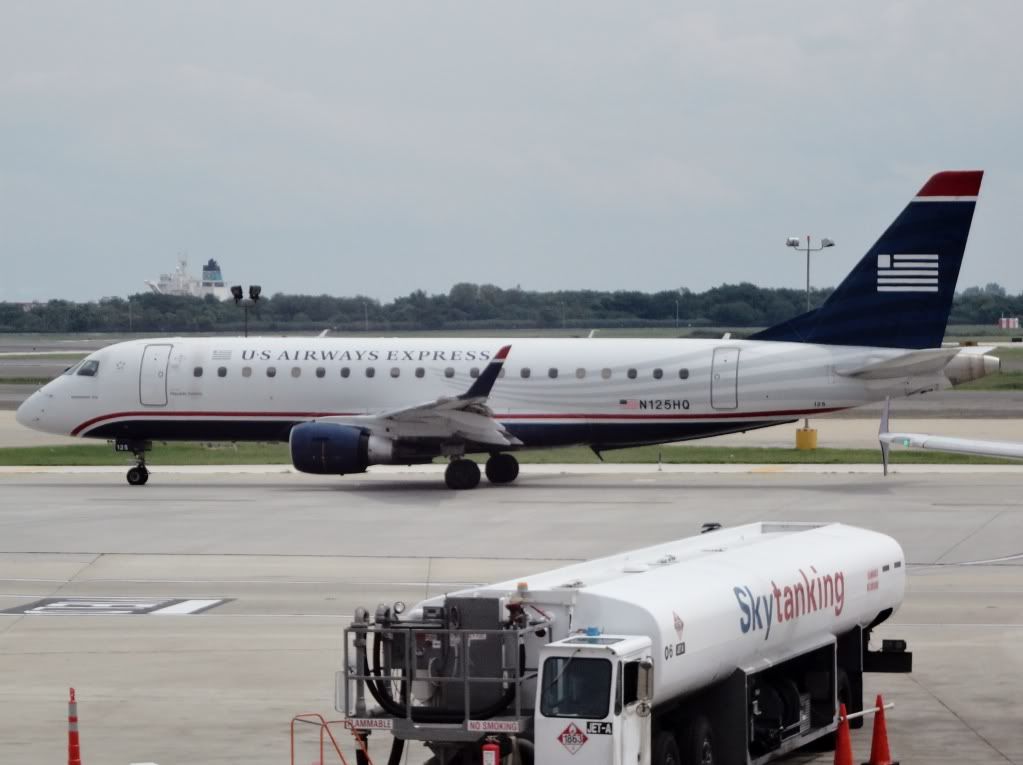 Republic Airways (US Airways) // EMB175 // N116HQ: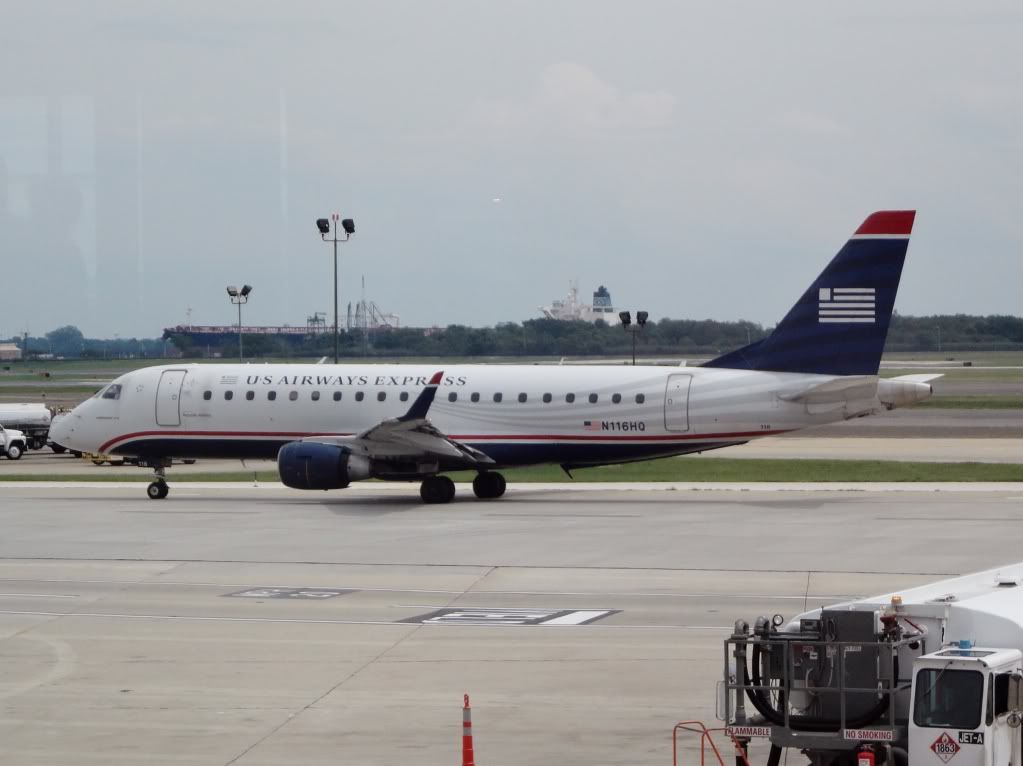 Southwest // B737-700 // N202WN: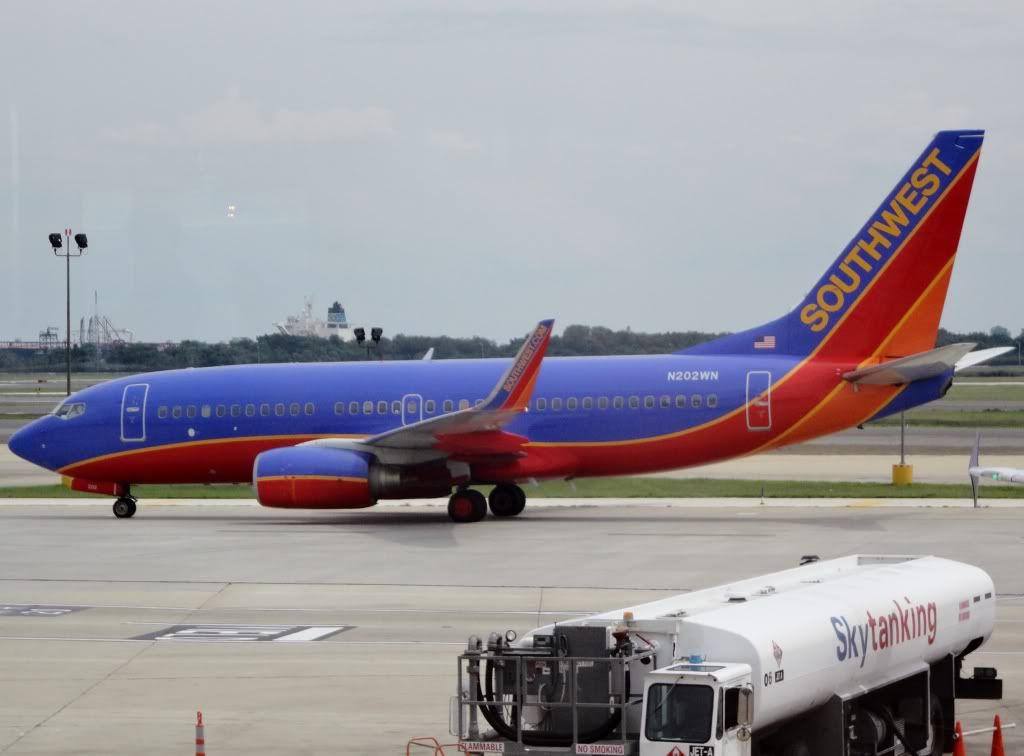 US Airways // B757-200 // N202UW: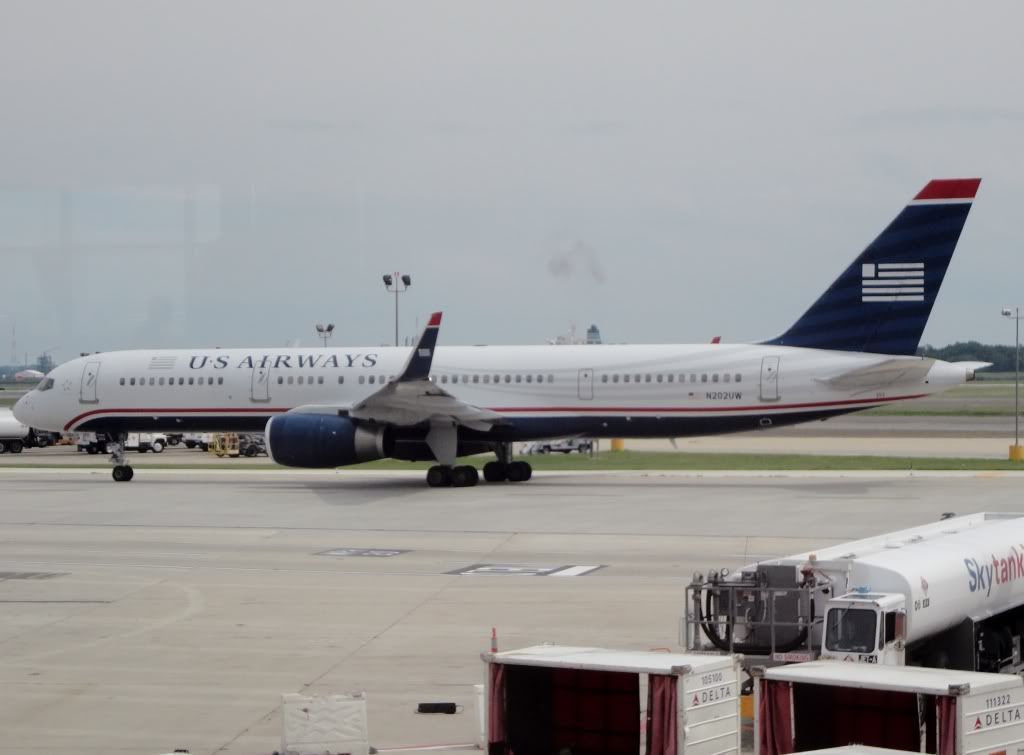 United // B737-800 // N14219: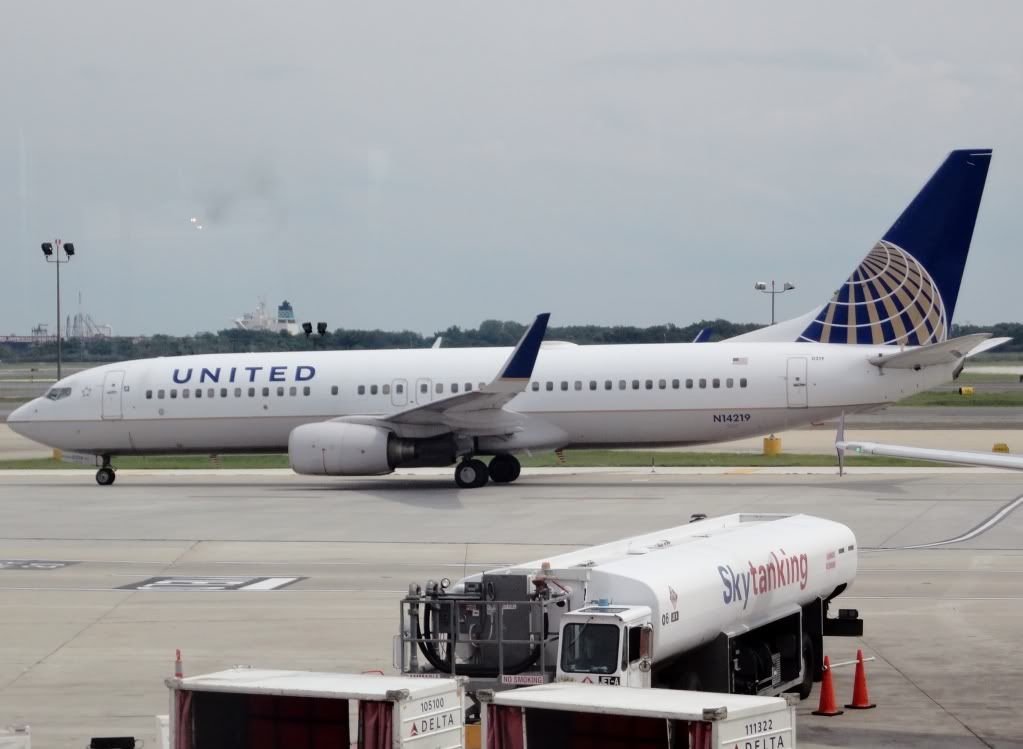 After a nice spotting session we walked a bit more throughout the airport and visited some shops before heading back to our gate D8. Time of departure was still 15:10 (1hr delay) but the inbound was scheduled to arrive at 14:50 so I wasn't very optimistic in departing "on time".
While waiting at the gate our aircraft came taxiing in at 14:55, N8837B will be doing the honors on this short hop. A CRJ400 instead of the scheduled CRJ100: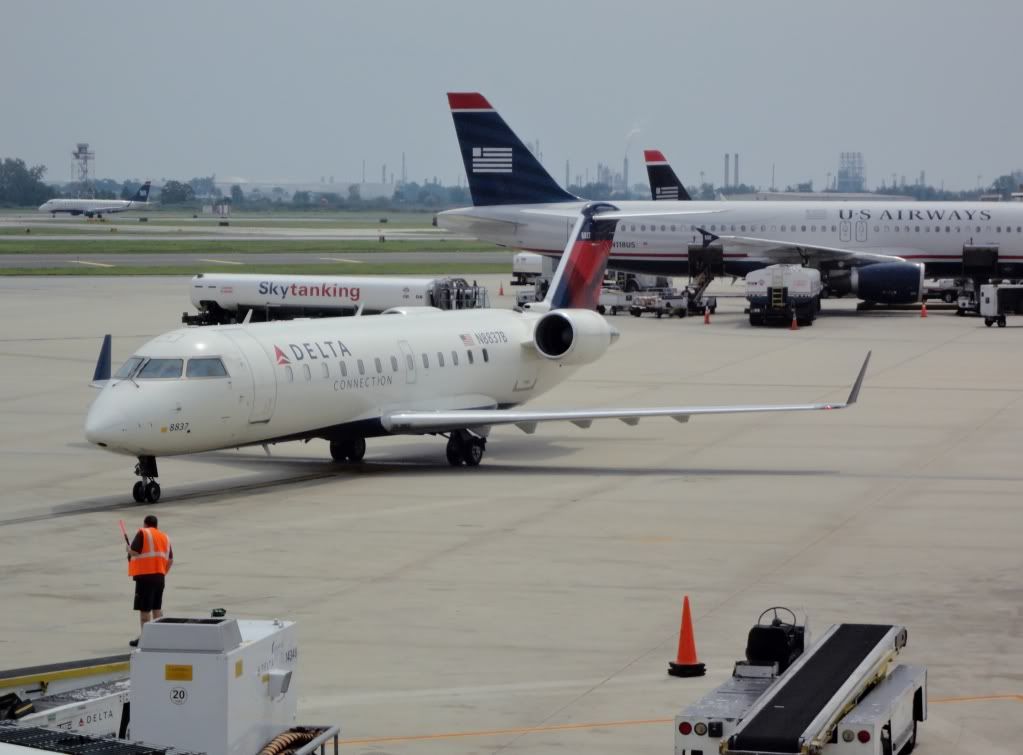 Judging by the amount of people at the gate area this was going to be a very light load despite the small aircraft. Just before boarding, one of the gate agents walked around tagging most of the carry-on's with the pink Delta gate claim tags.
Boarding
My BP for this short hop:
Eventually at 15:10 boarding was called for flight DL4050 to LGA. First all the status passengers (which consisted of 2 people) and then the rest. I got my BP scanned and walked down the jetway.
08/08/2012
PHL-LGA
DL4050 // 5D, then 8D
CRJ400 Pinnacle Airlines (Delta Connection) // N8837B
15:35 – 16:30
While walking onto the tarmac I put my carry-on on the cart and headed towards the aircraft. Once entering the aircraft I was greeted by a very friendly and chatty female FA, this set the tone for this flight!
I headed towards my seat 5D and immediately took a look outside: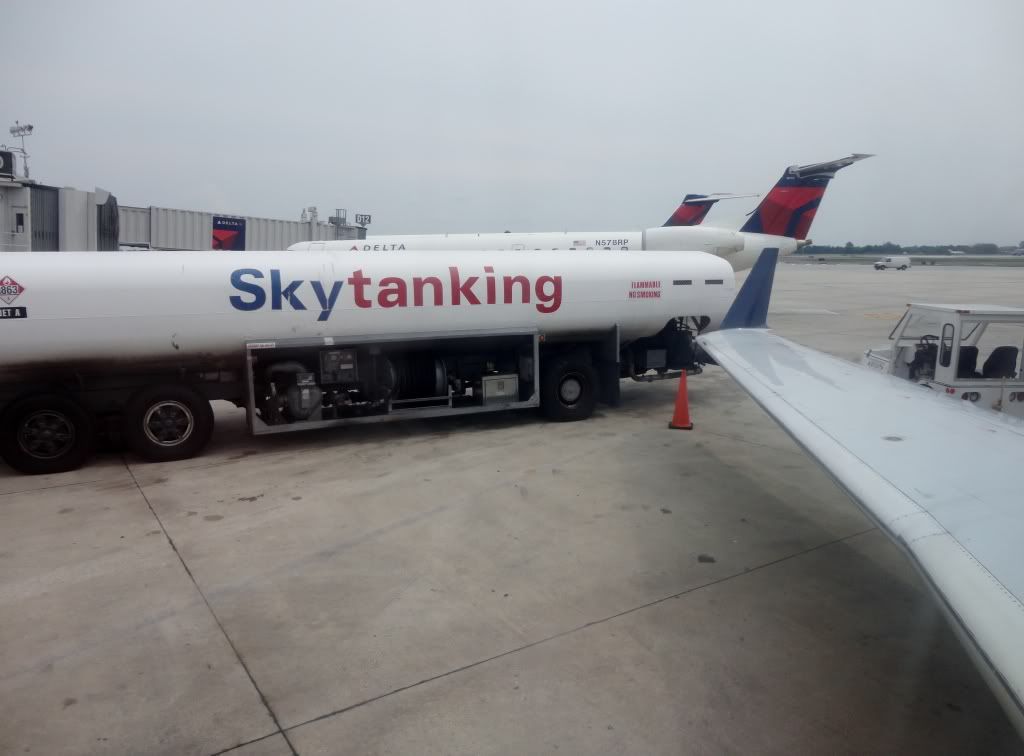 As boarding was nearing its end the female FA approached me and suggested I go sit a few rows back in the emergency exit row as she saw I was quite tall. Very nice of her to suggest that to me, so I grabbed my belongings and headed towards seat 8D. The new view from my seat: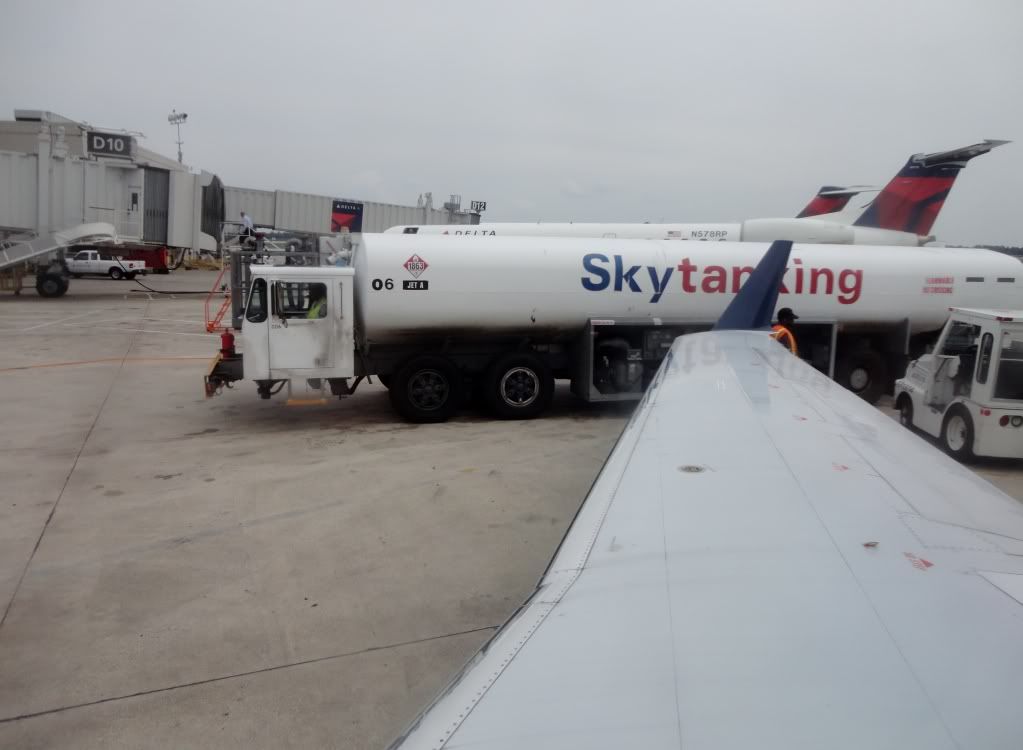 Flight load on this small aircraft was quite empty at 30%. Flight crew consisted of 1 female FA, Brenda is her name. She is probably one of the best FAs I have had in a long time. Professional, very friendly, chatty and nice and personal (but not TOO personal). She really seemed to enjoy her job and even managed to hand out a little snack with water during the flight (I know, probably due to the light load).
At 15:20 the door was closed and Brenda came onto the PA welcoming us onboard with a special welcome to all SkyMiles and other Skyteam members. She also mentioned the amount of miles we will be earning on this flight. After that came the safety demonstration.
Once that was done the pilot came onto the PA with another special welcome and an announced flying time of 30min. He also mentioned that he tried to find out why there was a delay, but couldn't, as there was a crew change here at PHL and he didn't get the possibility to talk with the other pilot.
Pushback + Taxi
Eventually at 15:35, 1h15min behind original dep. time we pushed back and taxied towards runway 27L: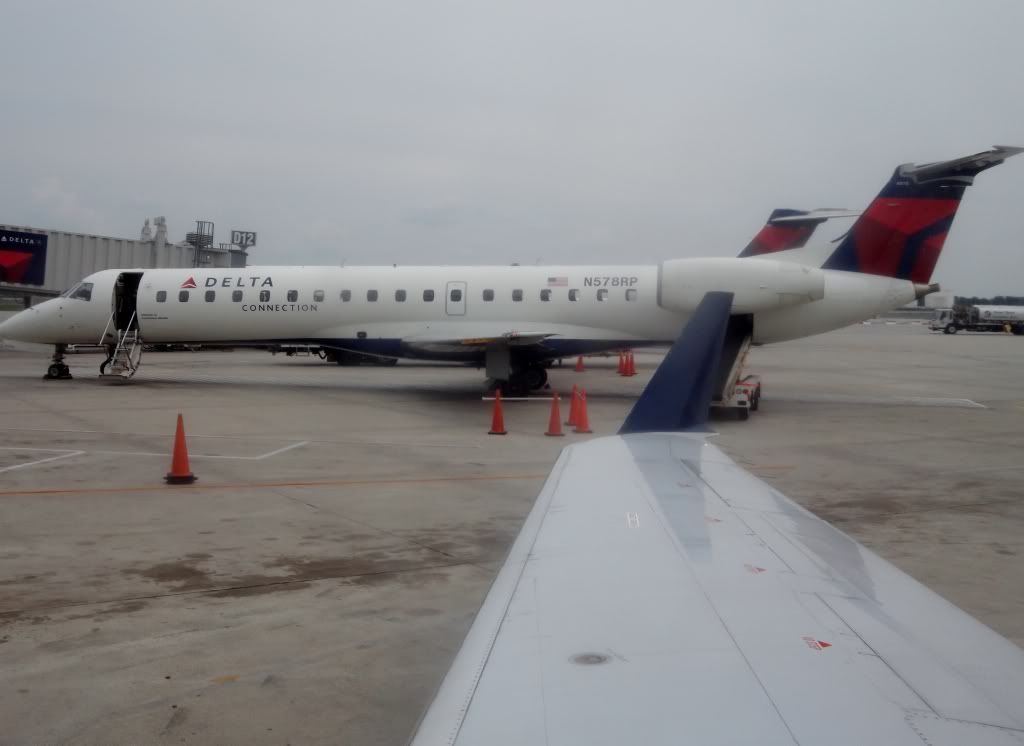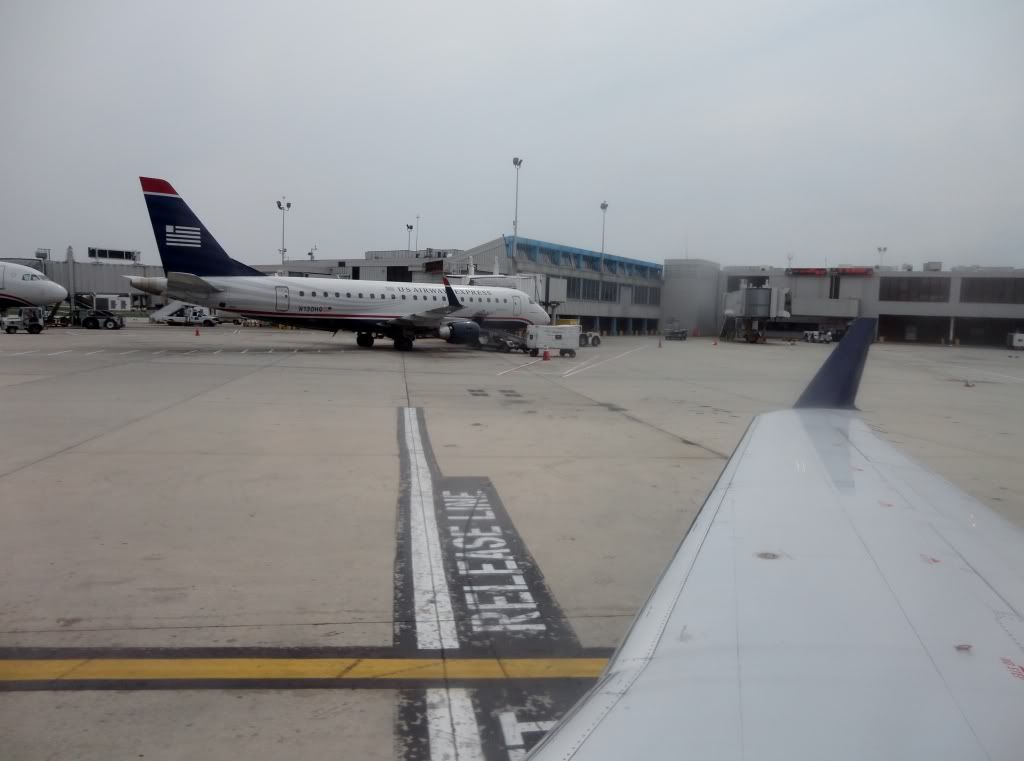 This is clearly US Airways land: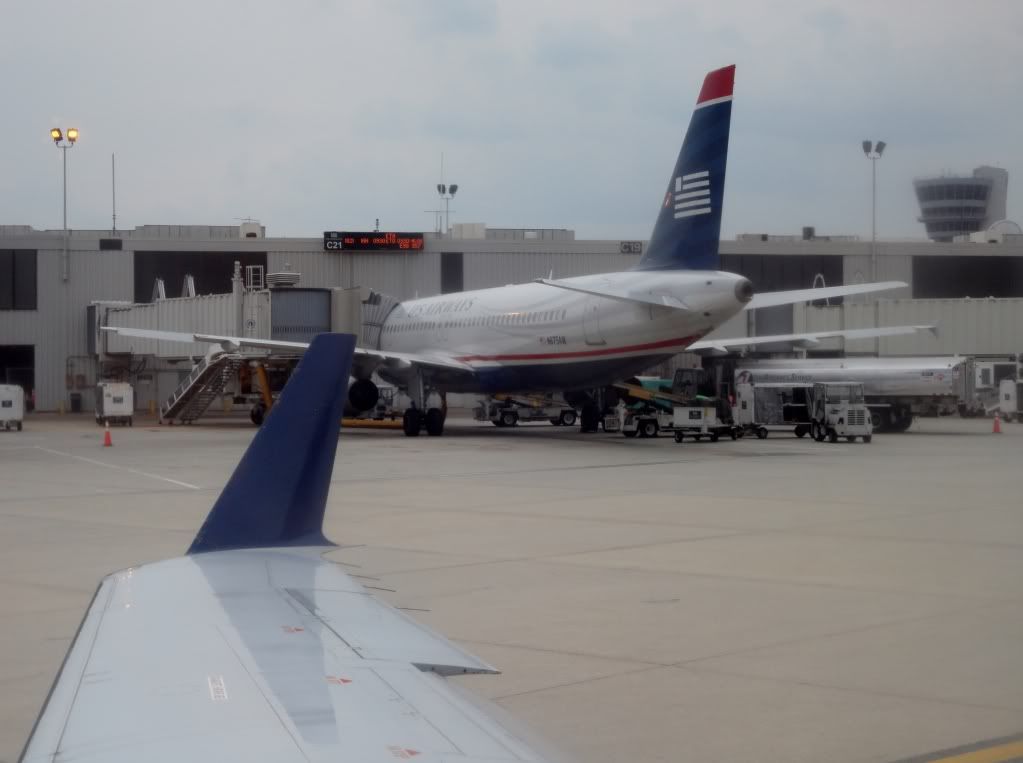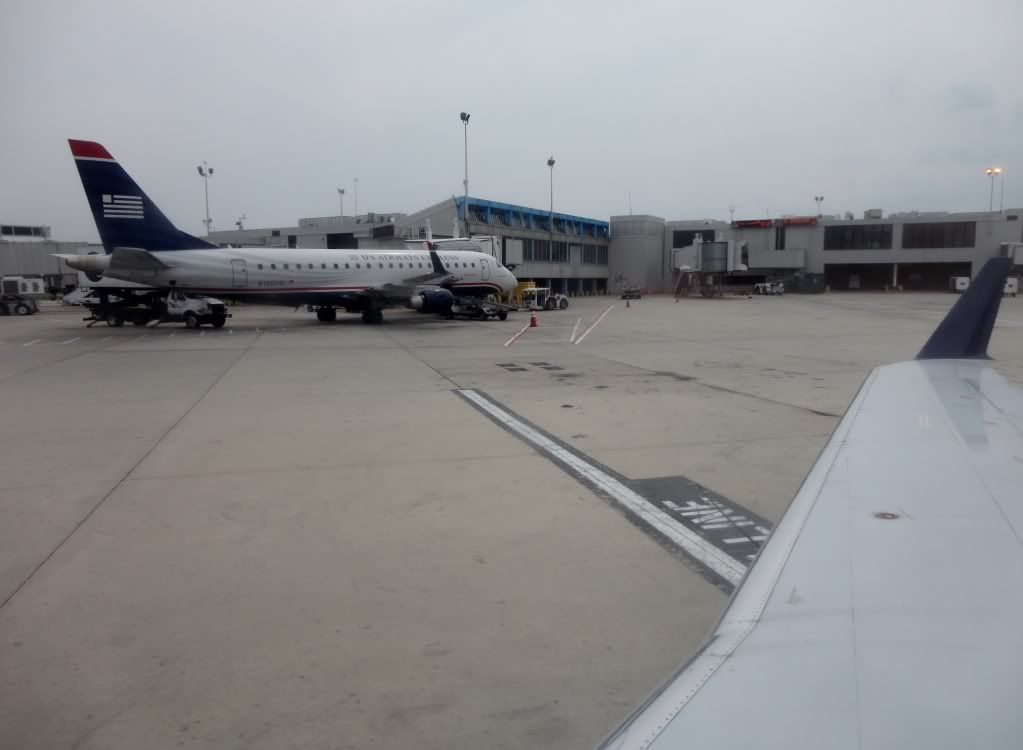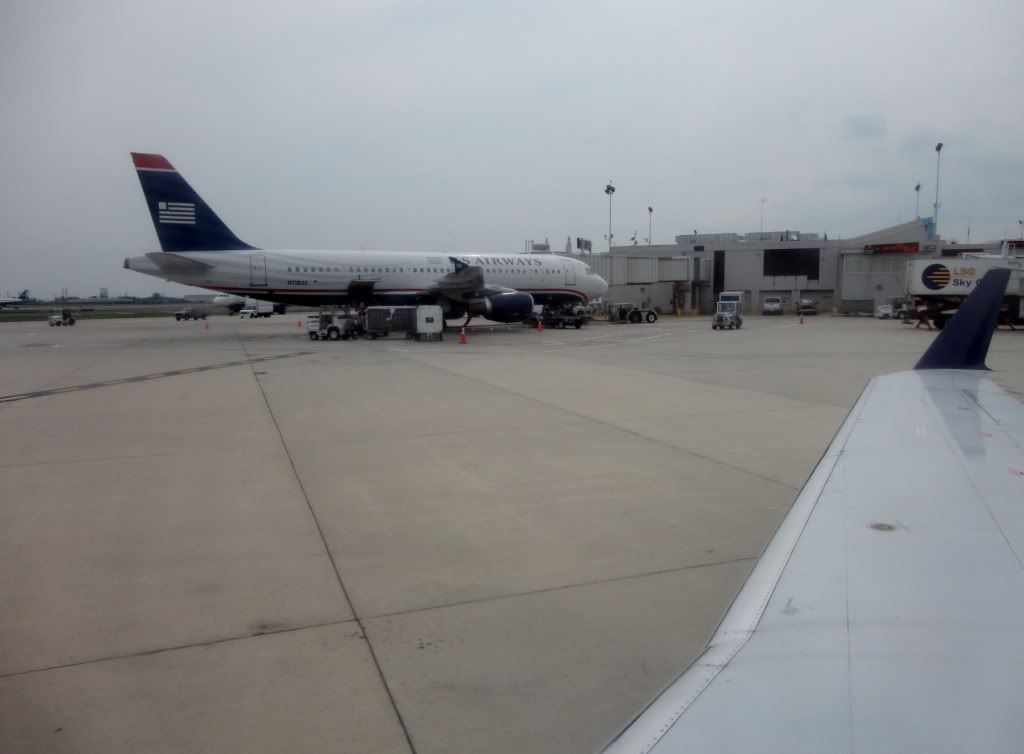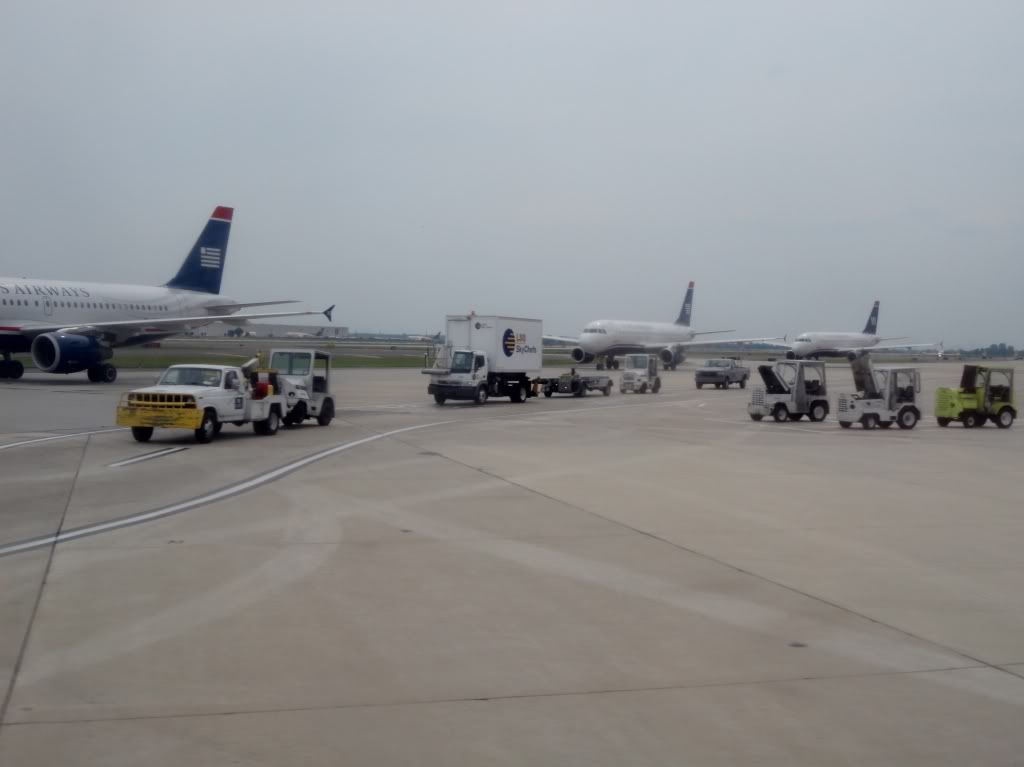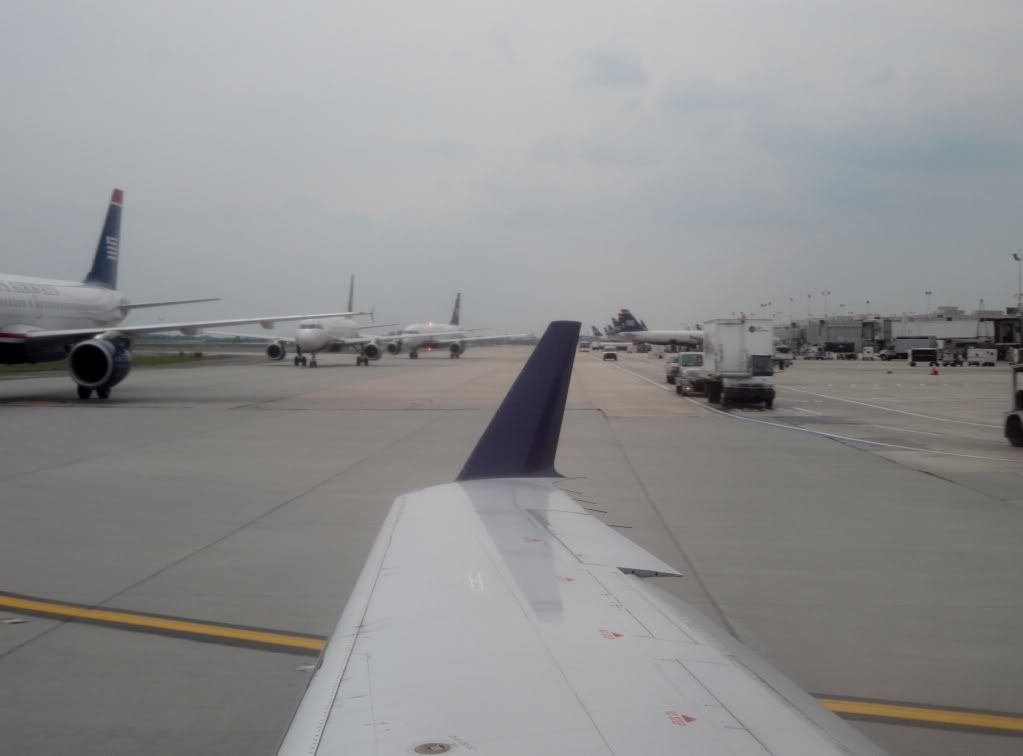 Lufthansa A340 landing on runway 27R from FRA: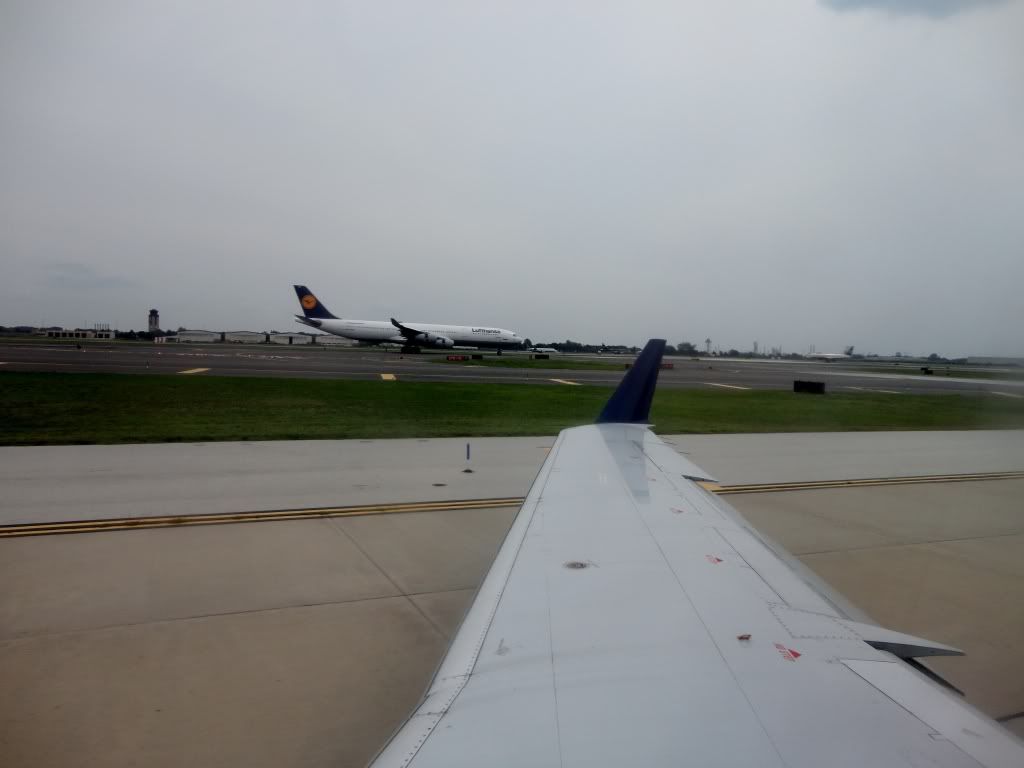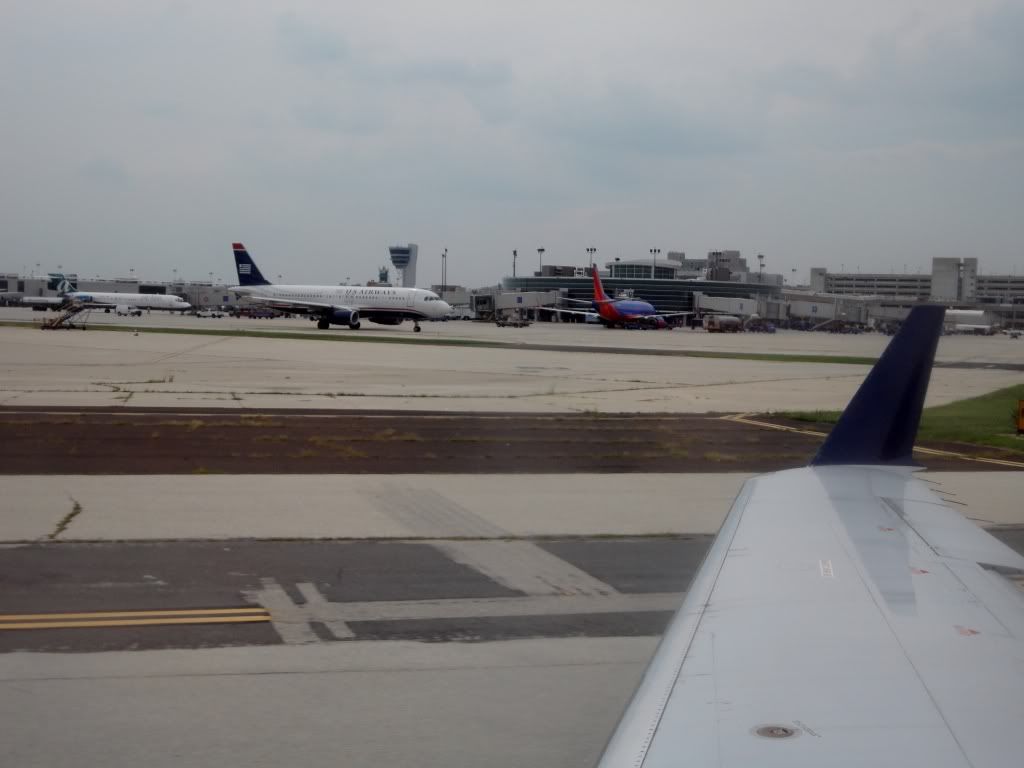 Crossing runway 27R: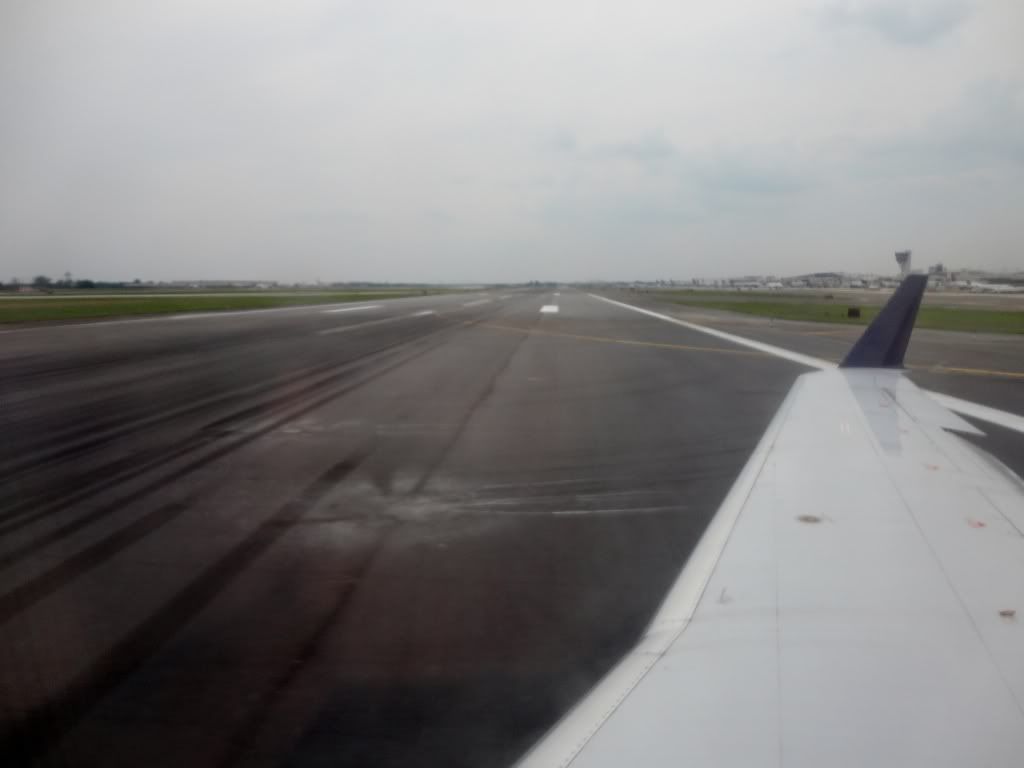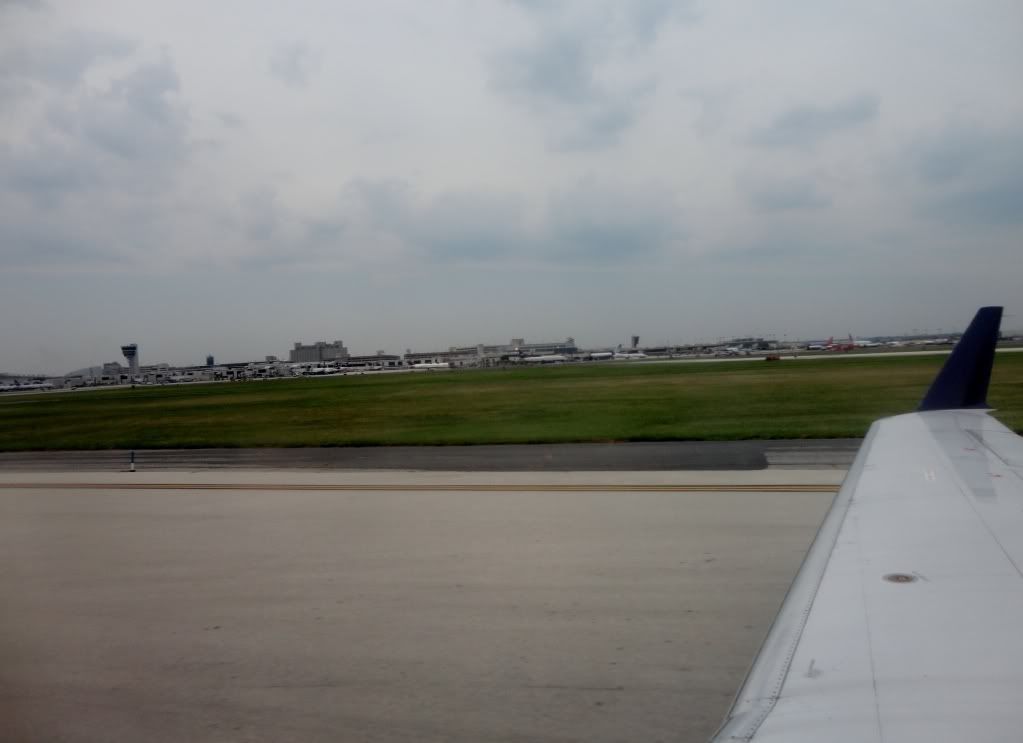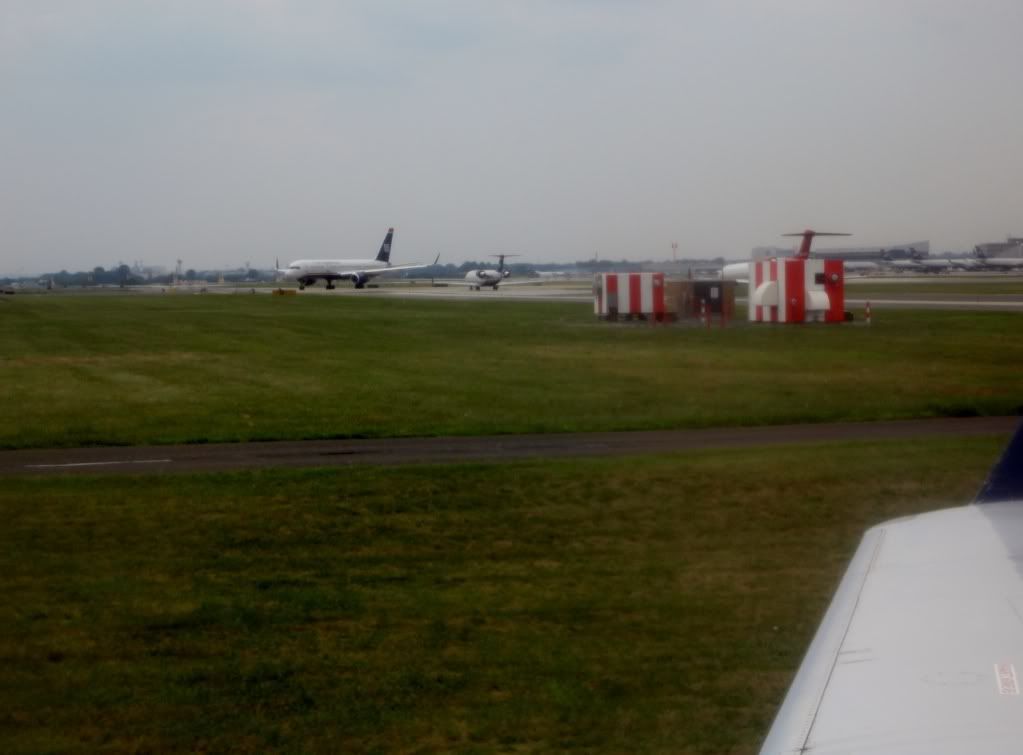 Continued Below