United: Chicago to Delhi (via Newark)
*Side note: I wish this were a nonstop flight from ORD for selfish reasons, but I digress.*
Background
My sister and I decided to take a summer vacation to a robust destination, and conveniently a few of her friends were planning on visiting Thailand for a week. Both she and I agreed we would join them, but make a stop in Delhi prior for a few days to visit a some family members and relatives. Our Thailand destination of choice was Koh Samui, located on the Eastern side of the peninsula (separate TR).
She being in NYC, and me living in Chicago, this journey involved many hours of creative planning. Ultimately, I figured that our best initiative was to book round trip USA-India itineraries and then "nest-in" the DEL-Thailand portion separately. Although not the most time-efficient, this plan did generate significant cost savings and had us together for the majority of the journey (one of the critical elements that needed to be fulfilled in order for our Dad to give us the green light to travel).
Of course, she being somewhat of a "high maintenance" traveler, her preferred method of journey was to get to Delhi on the nonstop Continental (United) flight from EWR, which I reluctantly agreed to do. I had already flown the Delhi to Newark sector previously (TR can be accessed
here
) so for me, this wasn't going to be anything new or exotic, but given that I had found the journey satisfactory on the previous occasion, I was willing to concede to meet her needs. Plus, I am a Star Alliance elite flyer, and this would be a good way to insure I would stay on track to hitting status again this year.
So, the outbound flights were determined: I would fly from Chicago to Newark, meet her at EWR, and together, we'd fly off to Delhi.
On the return journey, however, our inbound flight from Thailand to Delhi only afforded us a 2 hour connection in DEL before the CO (UA) flight back to EWR, so instead we settled on flying SWISS from DEL to ZRH, where we'd both separate and fly onward to JFK and ORD each. The UA/LX combo was available for sale on Orbitz for a decent price. The SWISS portions will also be covered in a separate TR.
There is also a great TR written by Pradat (planiac787) published a few months ago, which can be accessed
here.
Day of departure
One of my buddies from Chicago works for United, and arranged a tour of the Network Operations Center (NOC) for a group of us at the Willis Tower downtown for several of us on Wednesday, August 1. Excitedly, I took him up on the offer, although I was cutting it close considering it was scheduled for 10-11 AM, and my flight was leaving at 1:02 PM
Well, needless to say I did cut it close: the tour operator was very good, but also very detailed. It was too bad that you are not allowed to take pictures at the NOC, although I HIGHLY recommend taking a tour if you're ever visiting or based in Chicago. Sadly, I didn't make it as far as the Emergency Operations Center, as I had to cut it short and b-line it (no pun intended) to the Blue Line to catch my flight to O'Scare.
I checked my bag all the way to Delhi, but unfortunately, even with Premier Access, I still had to circumvent the line at T1 in order to make it in time for my UA flight to EWR. The flight was boarding my group as I hustled to the gate.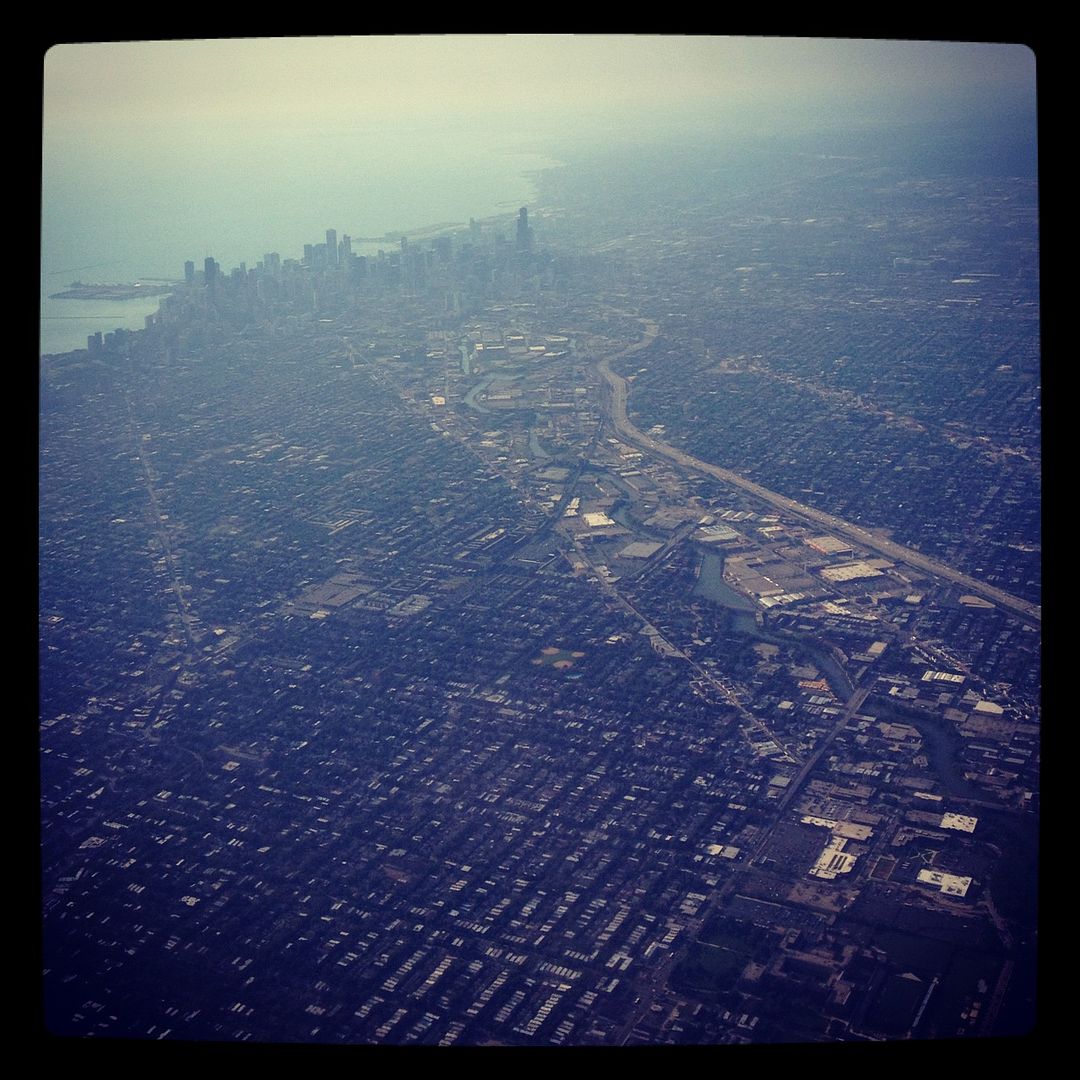 The outbound flight was pretty standard operating procedure. We weren't necessarily on-time, but the flight itself was uneventful. It was a PMUA bird flying to EWR on a 757, which is nothing too impressive.
I'm a huge sucker for the United Snackbox Buy-On-Board products (I know) but I've also been lucky several times in receiving these items free of charge. Today was another one of those days as the scanner malfunctioned. It was a nice bonus considering all I had consumed that day was a coffee and a protein shake in the morning in the midst of my morning hustle-and-bustle.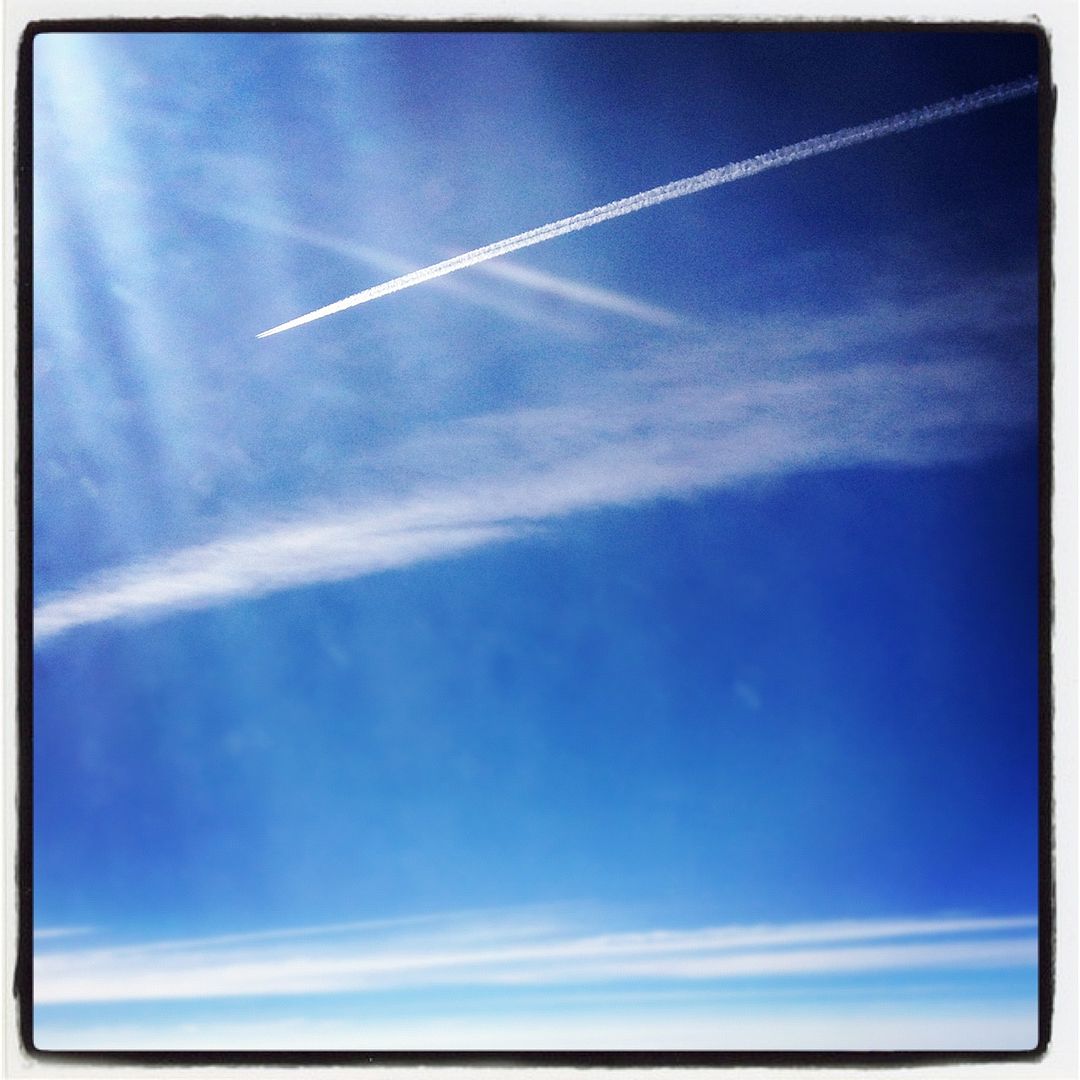 The snack box is quite yummy, and contains various assorted crackers, cheese spread, hummus, almonds, olives, roasted pepper bruschetta, and chocolate-covered blueberries. The views outside the aircraft worsened as we made our way eastward, although there were nice shots of Cleveland, OH and various cloud formations along the way.
We arrived into a really ugly Newark on a pretty gross and rainy day. I actually started to feel nauseous on this flight and was ready for it to be over. Somehow, I felt very stressed out about the concept of flying on a 10 hour + journey in Y. India visits also cause me a great deal of anxiety, but save that for a later discussion.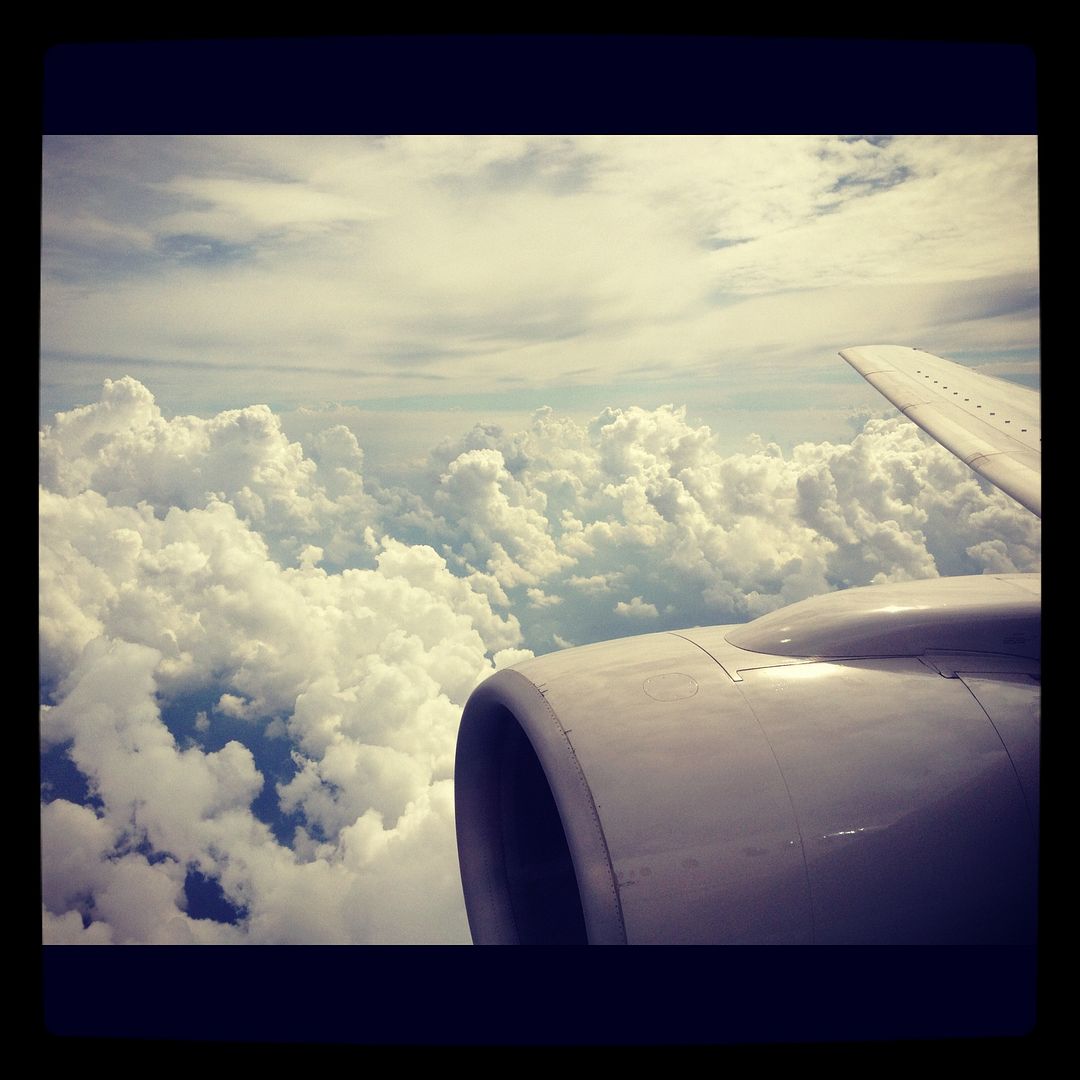 Putting the "EW" in Newark
EWR transfer
I have club access to the UA lounges, so I headed to the United Club located near gate 120 in Terminal C. My sister was delayed en-route from downtown Manhattan to EWR, so I sat in the lounge, caught up on e-mails and basically had a few cocktails as I waited for her.
my original boarding gate at C-138, although this would later change.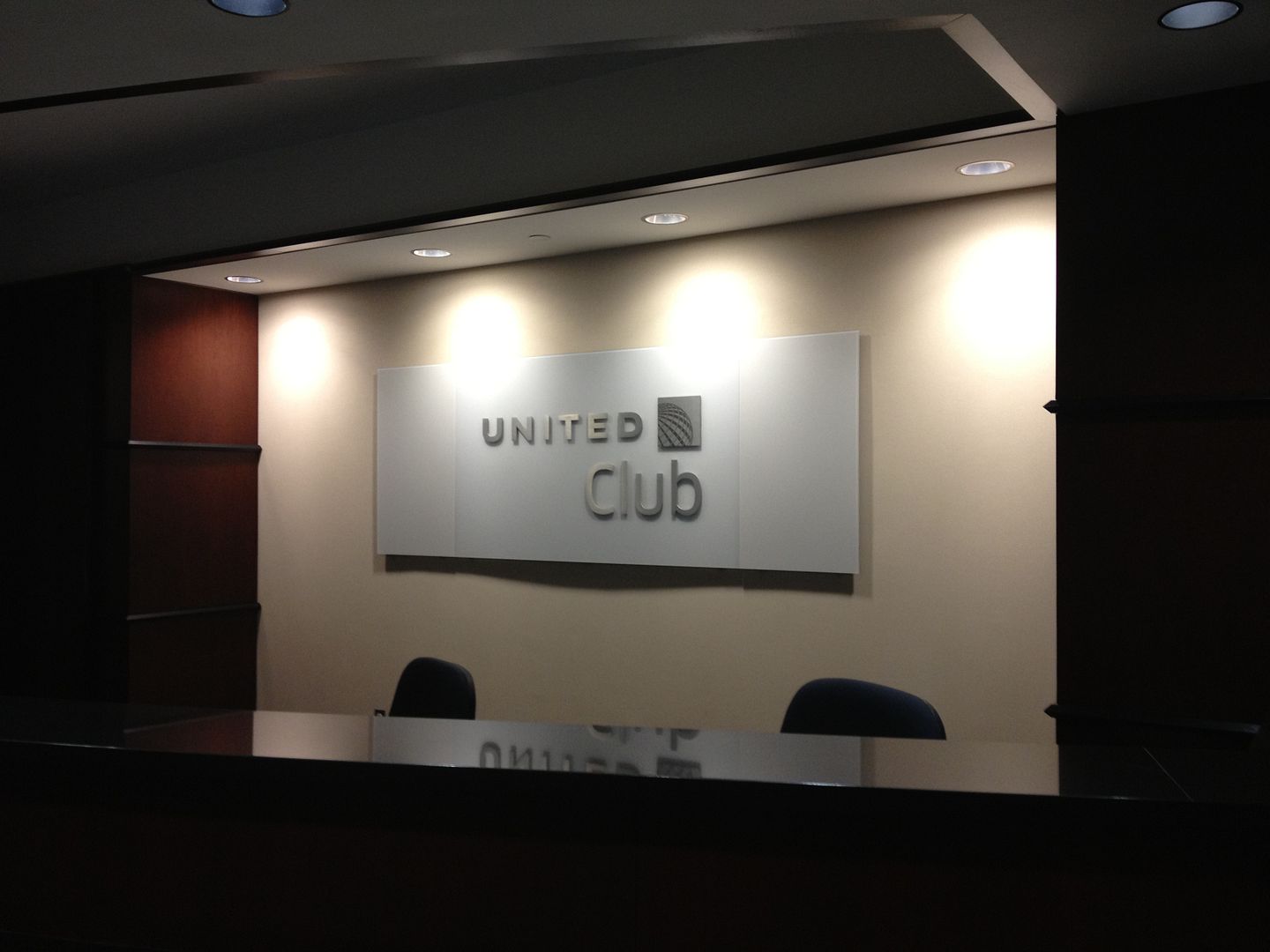 United Club near C-120
For anyone questioning whether or not a United Club membership is worthwhile or not, I HIGHLY recommend it if you are based out of a UA Hub city, or one that offers the lounge. Obviously, the tangible benefits include a better work/relaxation environment and nice facilities, but I think that the agents who work at the lounges are by far the most helpful, knowledgeable and friendly airline employees. I absolutely adored the agents working at this particular lounge and will be sending them a Thank-You note.
It was, however, depressing to notice some frustrations with the newly merged carrier, expressed by these agents. Based on a conversation I had with one, policy changes and other hiccups seems to have really drained many of them. It's never a good sign when the best of your airline employees become dissatisfied with the state of their employer.
At any rate, the EWER lounge is a great way to kill time and freshen up. It goes through waves of busy periods and slow periods. I must add that the lack of electrical connectivity is a big problem and many people were struggling to find places to charge their devices in the sitting areas. Unlike some of the other United Club lounges, the really nice thing about EWR is that your boarding times to international destinations are indeed announced.
My sister arrived into EWR a bit stressed out and dirty from the journey en-route, so she enjoyed a nice shower and snacks to freshen up before our flight.
How cute/sentimental was it that it just happened to be Rakhi day 2012 when we landed in Delhi? Here I was, the good younger brother chaperoning his placated sister with Wine and Cheese before the ULH flight.
As it turned out, we were subjected to a two and a half hour mechanical delay. A few cocktails deep, I was ready to get on the flight and pass out. When they announced that our flight was boarding, we left the lounge and made a few duty free purchases (sigh, the Indian "gifts" that keep on giving in the form of Johnnie Walker Black) but ultimately, we were subjected to sit at the gate area for an extra 30 mins regardless.
Boarding
Despite the hold-up, boarding was amusing. Our flight was also boarding next to the flight to Sao Paulo. I had traveled to GRU earlier this year, and I am obsessed with Brasil, so this was kind of a neat surprise
My worlds were colliding!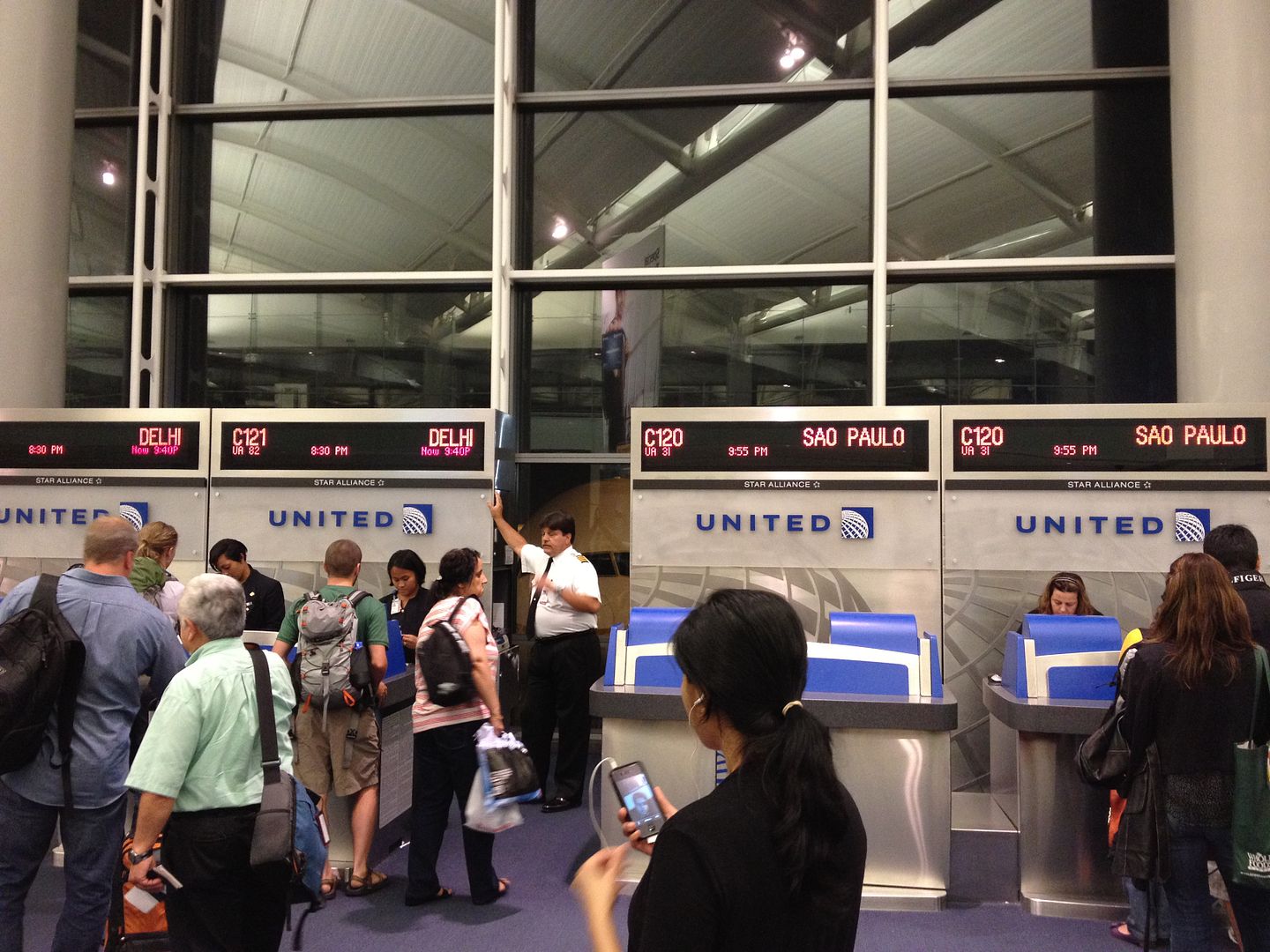 A UA plane being serviced by a CO truck....hmmmmm?
Indians are notoriously bad about following instructions for the queue. One agent (who probably deals with this twice a day on the DEL and BOM flights) remarked, "ladies and gentleman, please calm down, we're all going to the same place on the same plane."
I was in no rush to get on board. I would be sitting for the next 14 hours so why the hell was I in any need to be stuck in a seat?
On Board
I was displeased to see that due to the mechanical issue, our flight had been swapped out for a PMCO bird without EconomyPlus. The day before, I was delighted to see we had originally been assigned a plane with the modifications. I even called ahead to get my sister in Y plus (even though she is non-elite and on a separate reservation) and was excited to have the extra legroom. As it turned out, the bird we were transferred to was not.
However, I had been saved by the empty seat next to me. It really does make all the difference.
The interior of the 777 looked exactly as it had 2 years ago when it was a CO aircraft. The PTV even said "Welcome to Continental Airlines" on it. Ooooooookkay? Integration who?
"Welcome Aboard Continental Airlines!" Wait......wha???
By now, it was nearing 11 PM, and I had been in transit for 12 hours already. The delay on the ground was obnoxiously long, without even a single announcement for the hold-up. Fortunately, the PTV was functional and I watched probably about ¾ of an entire film before we lifted off.
At any rate, the CO system is, by far, one of the best. Really has something for everyone and the screen is very user friendly, quick to respond, and intuitive. It does not take long to load films and audio, and you are not subject to annoying advertisements. I felt comforted. There are over 200 films in multiple languages to select from.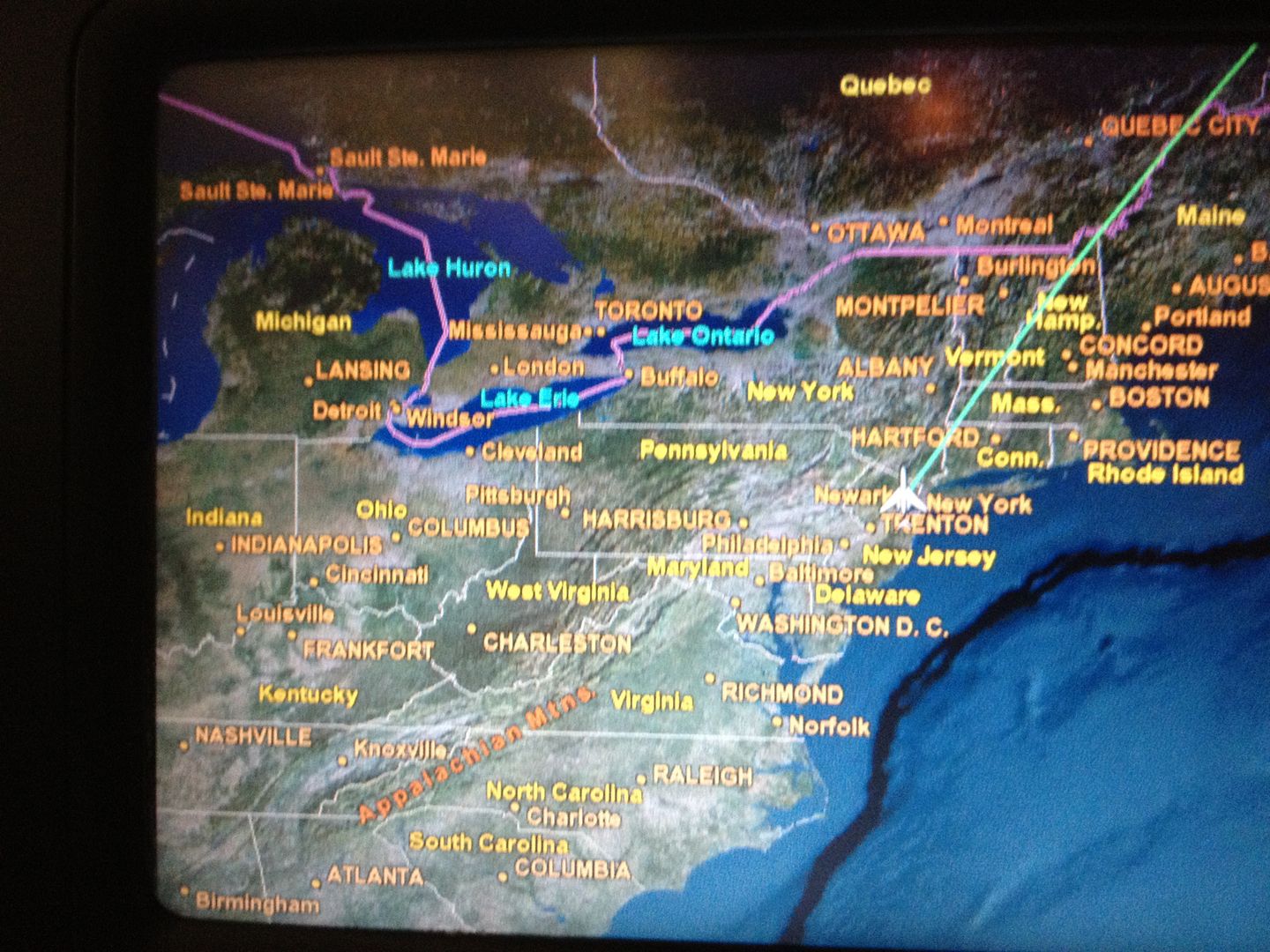 Alas, I wish I would I could definitively say, "the IFE on the UA 772 is excellent for _____ reasons," but I cannot in this case, because, well, who knows what type of frame you're going to ultimately fly on? I have no idea what the alternative system offers on PMUA birds, or one that features the "integrated" product. So, no reviews without guarantees. Sorry about that, guys.
Finally, wheels were up!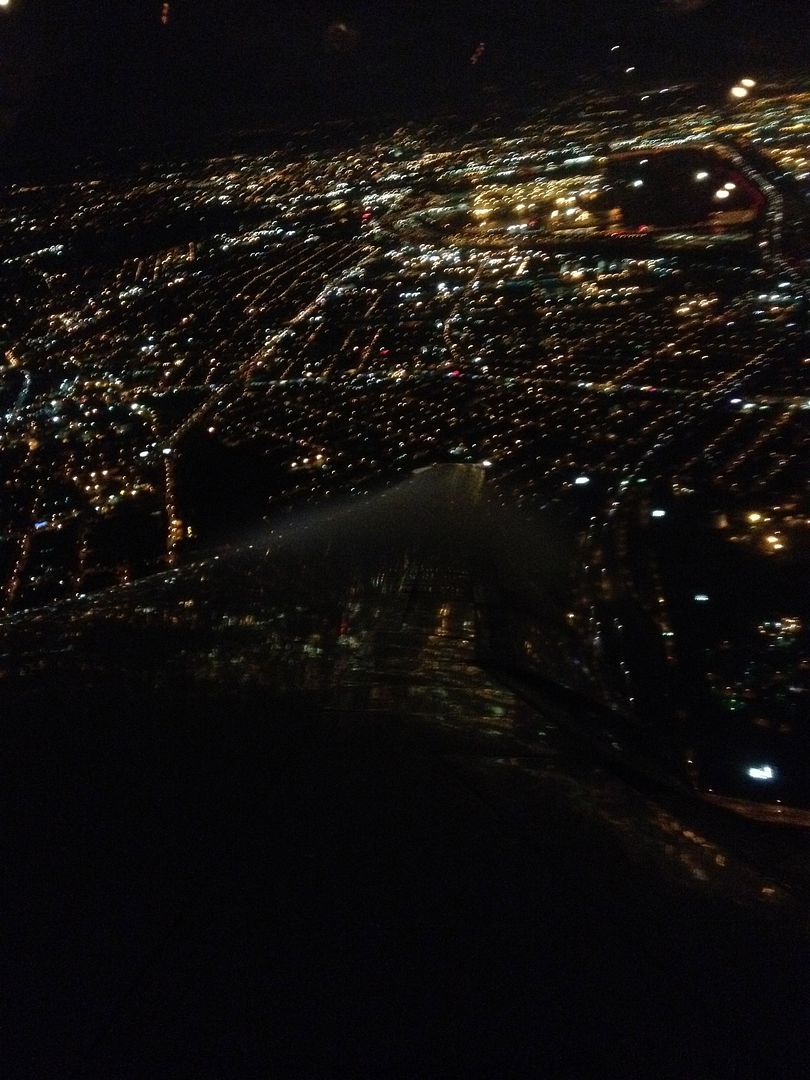 The crew, unfortunately, were nothing to write home about. The service, per expectations, was somewhat hasty and average. Meals were literally tossed out to the passengers. Although nice to get dinner quickly, nothing was really done with the simple things like a smile, which can go a long way. One was actually not even looking at me as she spoke harshly to her assistant, "I don't know why [referring to one passenger] is getting all upset with me. Something about being served a non-vegetarian meal and getting the chicken and now he's screaming for the head purser because of his religion and I can't deal with this. I just can't."
Not that I wanted to eavesdrop, but that is not setting a good impression. Come on, United (or is it still Continental?) you've been flying this route for over seven years. Whatever happened to "go global, act local?" Understandably, some people can get defensive about religious dietary concerns, but this is not a new practice in the airline industry. If you are senior enough in your company to be flying the glamour routes, then you should be held to higher standards of professionalism and global awareness. Shame on United (Continental?)
Beverage runs were conducted prior to the meal service. Alcohol was not complimentary (not even beer and wine) which definitely needs to change. Then again, how many cocktails did I imbibe in the UA lounge prior? Having lost count, I shan't complain
Meal service was standard Vegetarian or Non-vegetarian. I am not vegetarian, but my rule of thumb on the long Delhi flights is to go Non-veg first, then Veg second. Something about the way the meals are cooked.
Anyway, I'm actually shocked to report how much I inhaled the first meal. Maybe it looks unappetizing to some, but the food was actually delicious. I ordered a chicken which came with a nice, zesty Adobo sauce, a decent heap of well-cooked Mexican rice and warmed mixed vegetables. Side salad with some odd corn-and-lettuce medley (with Cucumber, Chili and Lemon) and a dish of Dahi (Indian Yogurt). Dessert was this very interesting Mango pudding with chunks of actual (or artificial, who knows it was still delicious) mango pieces. Probably loaded with sugar and calories (fine by me, I was on vacation, no diet). Although it certainly passed my test (I have low standards), I don't think Lychemsa would have approved. D minus
Finally, usual accompaniments such as salad vinaigrette, achar mango and dinner roll.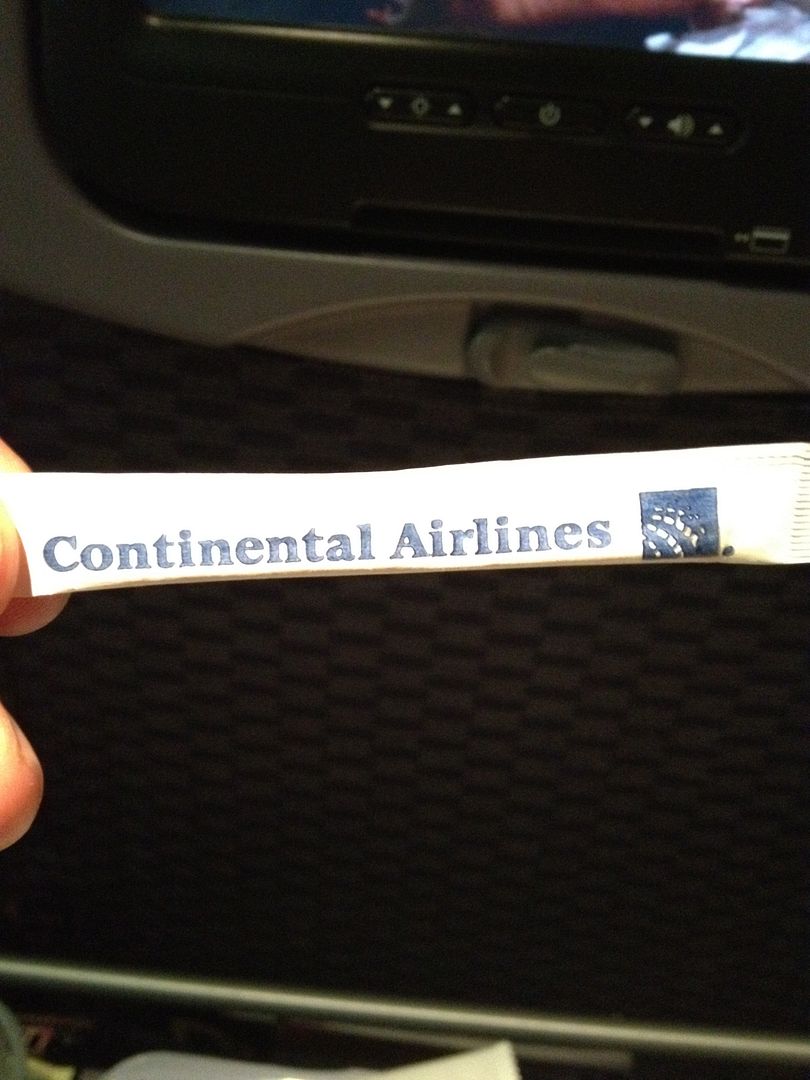 Oh, and I discovered this gem
But seriously, the food was delicious. Am I some hopeless, pathetic plane foodie? I ate every crumb. Or, it could be because I was starving. Hahaha.
At any rate, I settled into a movie and popped an ambien. Right before dozing off, I received the in-flight snack from the crew which contained a vegetarian chickpea roll, a Nature Valley bar, a twix and a bottle of water.
The "Snack" aka mediocre provisions
The flight actually proceeded quite uneventfully and very smoothly. There really isn't much to report here other than the fact that the back of the galley were stocked with snacks for passengers, and I'm sure the crew came by with water runs every so often. Duty free probably came around whilst I was asleep, but it was open to passengers up until arrival.
I was in line to queue to brush my teeth before one of the crew members snapped at me, "you CANNOT stand in the kitchen." I gave her a bewildered look. I noticed it was the same crew member that had literally thrown out meals to the passengers. Not impressed.
However, other ones were a bit nicer to speak with, telling me how often they work the Delhi or Mumbai flights. Usual chit-chat.
One major drawback about this flight is that there are no exterior views outside the aircraft (at least from my vantage point in Y). The entire cabin resembles a windowless cave/dungeon because of the disjointed sleep cycles from the majority of the PAX. As such, it can feel long and depressing at times
but that's where the PTV comes as a saving grace.
grasping for straws
An hour prior to landing, we were served the second meal. I went for the Vegetarian item this time. I chose this strategically because I knew that the non-veg option would probably consist of nasty eggs, as they usually do. On an ultra long-haul flight, I don't trust how my GI system will react to eggs cooked on board 12+ hours after wheels up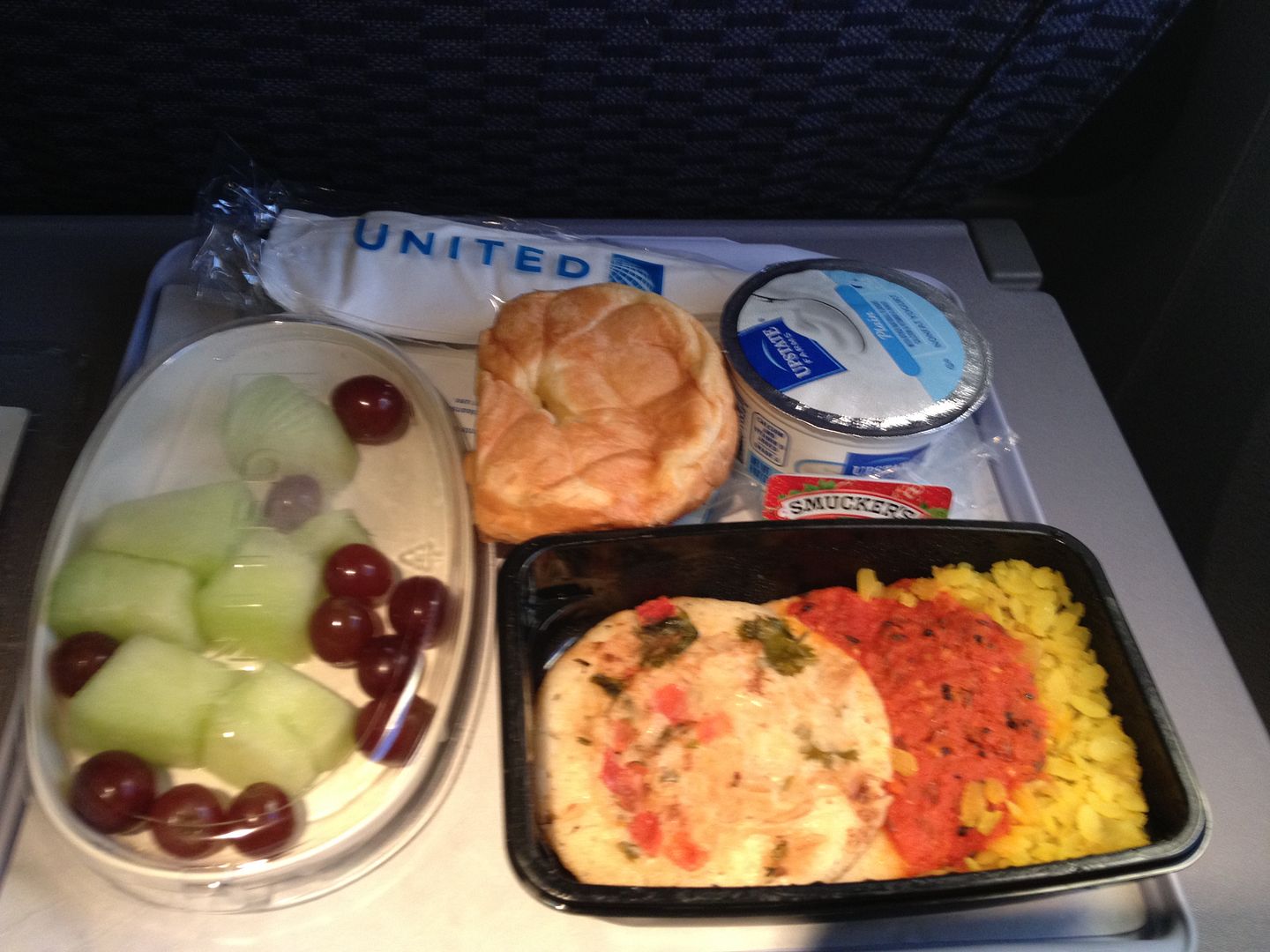 Again, I was surprised by how much I enjoyed the food, haha. This time, it was a Dosai (which is a southern Indian dish, somewhat similar to a Crepe, made out of rice and lentils). It came with a tomato curry sauce and yellow Dahl (lentils). Again, I snarfed up the slightly bland but nevertheless tasty-entree. The side fruit entree left a bit much to be desired (come on, UA, throw in some watermelon and pineapple here!) but we also got a croissant and more Dahi. Tea and juice followed.
Other than that, not much else to say with regards to the final moments of the flight. Between a few hours of shut-eye, and maybe browsing through 3-4 films and collecting a jukebox to make a playlist as I slept, the flight passed uneventfully. It is truly brilliant how well-timed it is to allow for an 8 pm arrival into Delhi. It does wonders for adjusting to jetlag.