End of August it was again time for some flying ... and who doesn't like that? I had to events to attend. One in Magdeburg in Germany running until Sunday and starting on Monday morning there was another event scheduled in Saint Petersburg in Russia. So a nice triangle was on the plan for me. The middle flight was set quite early as AirBerlin was offering a late evening flight from Berlin to Pulkovo on Airbus A320. That would give me a new airline and two new airports as at that time the flight was scheduled for the new Berlin-Brandenburg airport. OK ... we all know the story so in the end that flight left from Tegel again - an airport I had been at before and of which I thought I would never use again.
For the way down to Germany I booked myself on flights with EstonianAir Stockholm-Tallinn-Hannover. Also giving me two new airports, a new airline and the Saab 340 I was hoping for since some time. Well ... this flight was not under good circumstances. First my ARN-TLL segment got cancelled and I got rebooked on a later flight. Leaving me with the situation that my TLL-HAJ flight left Tallinn before I even started the first segment ... dont those guys check for connections when they rebook you? I wrote an email to Estonian and got moved to an earlier flight out of ARN so I could make my connection. Some days later the TLL-HAJ got cancelled and I got moved to the flight one day later which would have made me miss the first day of the event I was going to. So I cancelled the whole connection (which got completely refunded by the airline) and booked myself another simple flight on AirBerlin ARN-TXL which was the only other cheap option at that point.
For the way back I could have taken some direct flight LED-ARN but of course that would have been to simple. I started looking in flights involving the Antonov 148 via Kiev but they had a horrible timing so I again looked into EstonianAir to catch the Saab. They offered a nice connection via Tallinn on Saab340 and E170 with good times so I went for this way. Aaaaand again the timechange came down on me ... the TLL-ARN flight got moved one hour ahead. Luckily I had enough buffer between the flights so the connection still worked. I was just hoping to finally catch the 340. That left me in the end with the following setup:
map by GCMap
=====================================================
After getting up way to early for my liking (3:30 AM) I went to Arlanda by bus and train to arrive there quite well on time. But you never know so I was happy to have a bit of buffer. I walked over to Terminal 2 where AirBerlin is operating from ... not giving me a new airport but at least a new terminal.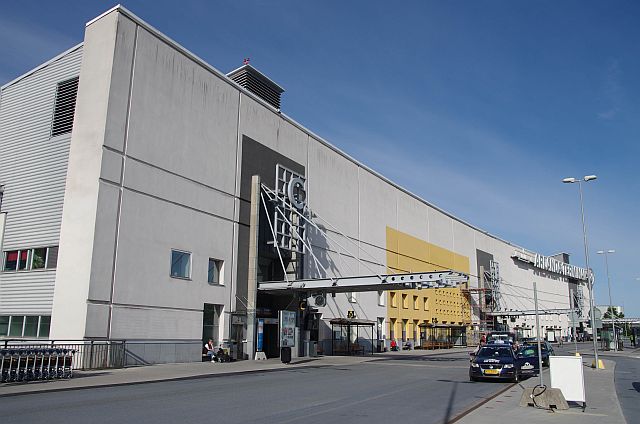 There was some construction going on inside but its not looking to bad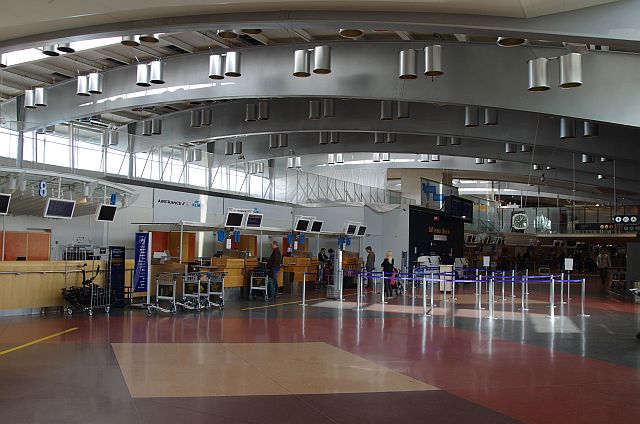 only two desks were open for checkin but the line was not very long so it was completed quite fast - no problem here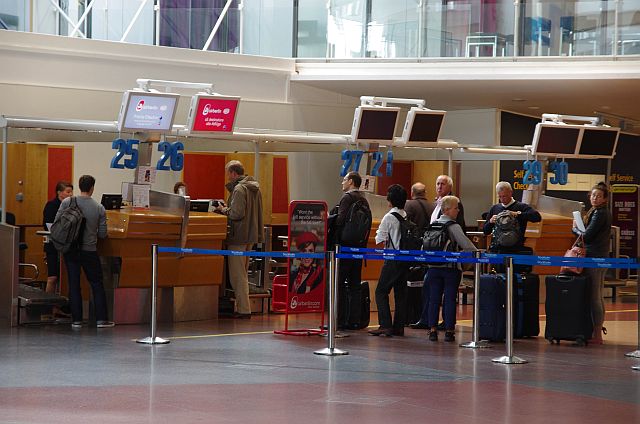 As T2 at Arlanda has not much to do landside I went directly to security in the hope to catch some other traffic going on.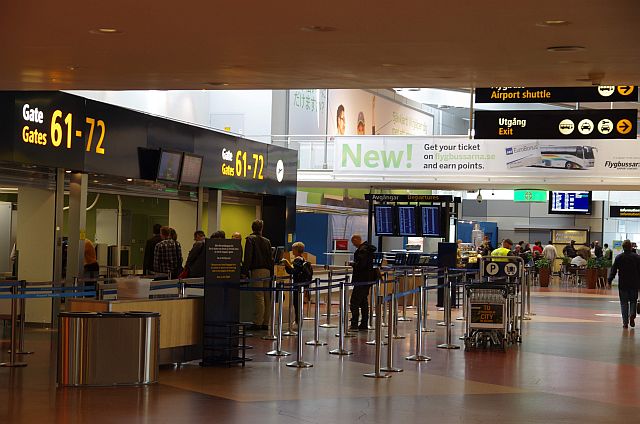 airside of the terminal is even smaller than landside. Some shops ...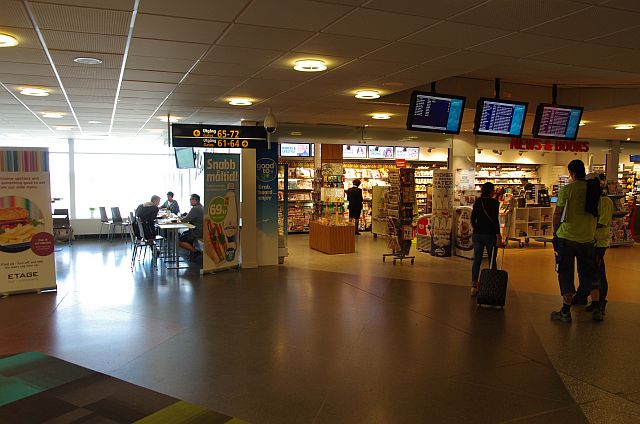 ... and snackcorners are available.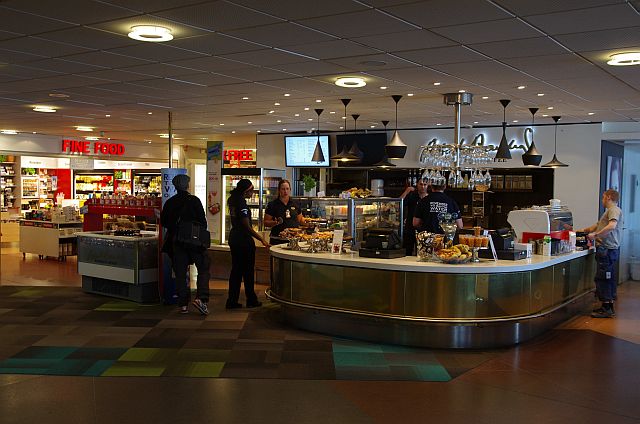 Here the construction work was more obvious ... and also more needed ... lets have a look at my (still empty) gate.
The gate area has very limited seating but there was a sign in a corner that there would be more seating upstairs ... so why not have a look. My plane was still not there so plenty of time to explore the terminal a bit. Up the stairs ... and I ended in front of an empty reception desk.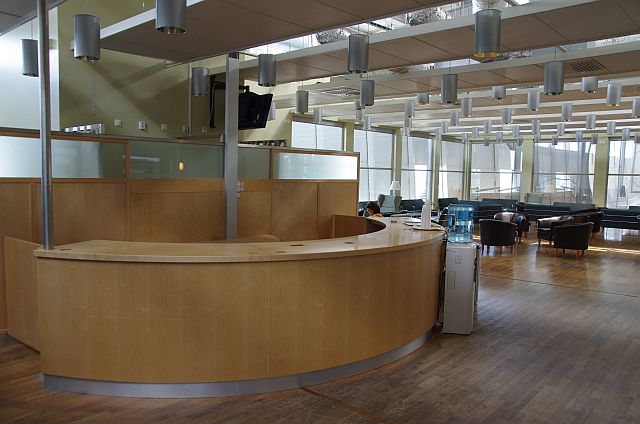 A lot of empty seats up here ... not the typical gate-benches but more old-fashined lounge seating.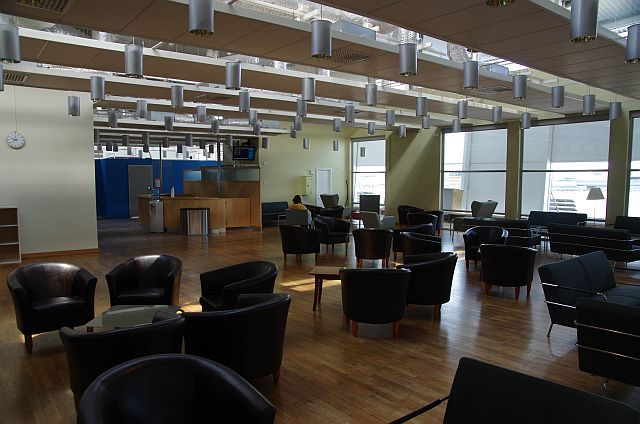 hmmm ... reception desk + lounge seating ... yes, this had been a lounge in former days. A Finnair lounge apparantly as this left-over sign told me.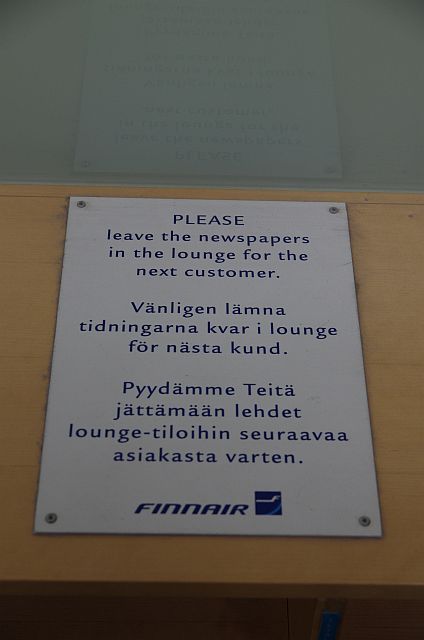 Time to go back to the gate ... urgh ... whats that ... I know that bird ... you once replaced the ATP I booked ... seems they are still operating for NextJet.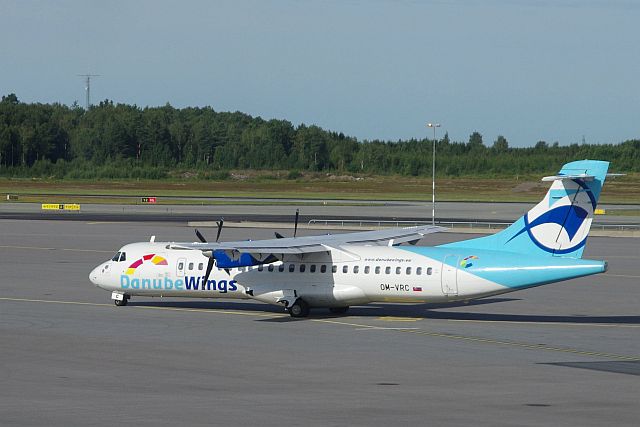 And there is my ship for today ... D-AHXH will bring me to Berlin today ... my second flight on a B737-700 (first one was on KLM earlier this year).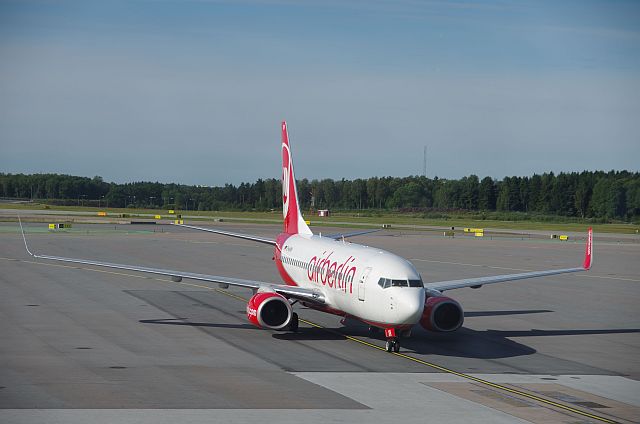 They made a quick turnaround and boarding started only some minutes late (because the plane was also slightly delayed on the inbound leg).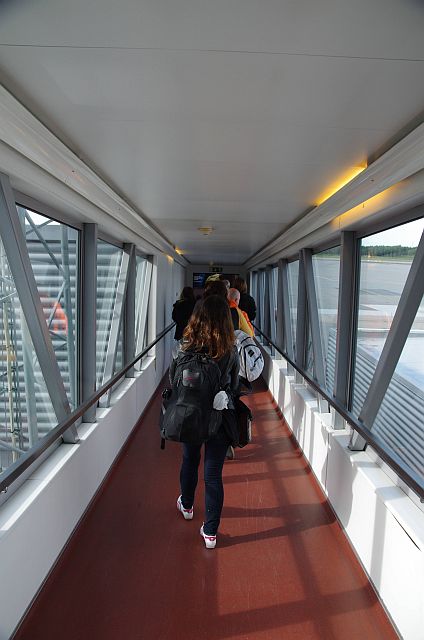 Entering the plane I made the first contact with one of the best flight attendants I ever had. He was standing at the door greeting everyone with a broaaaaad smile. As soon as he saw my camera (big DSLR, you know) ... "that's some serious camera you have there!" ... smiled at me and welcomed me onboard. I settled down in 5A and was quite surprised about the legroom ... I have quite long legs but my knees were not even touching the seat in front of me ... WOW!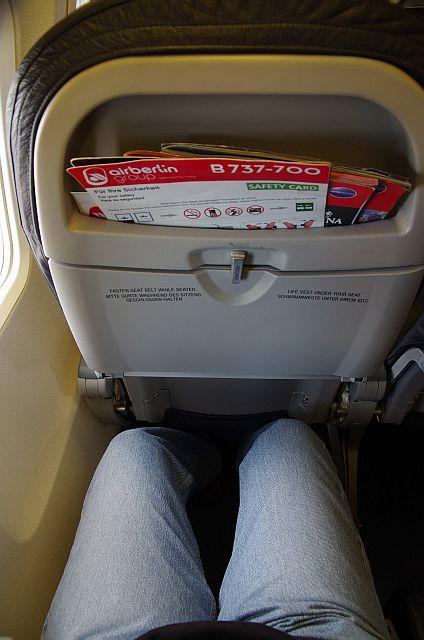 737-700 ... yes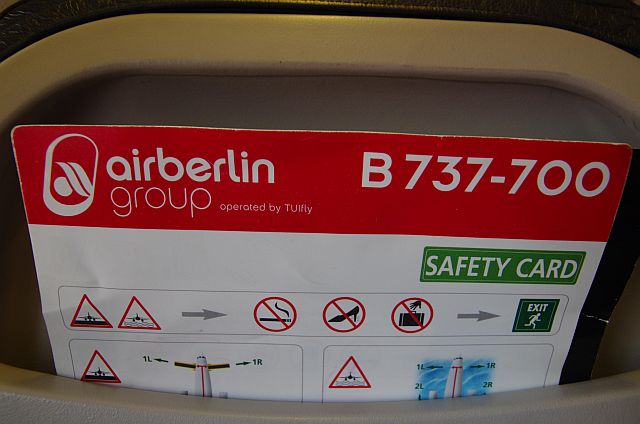 let's look closer ... hmmm ... operated by TUIfly ... that kinda explains the non D-ABxx registration of the plane ... but then I am even more surprised about the legroom for being a tourist shuttle.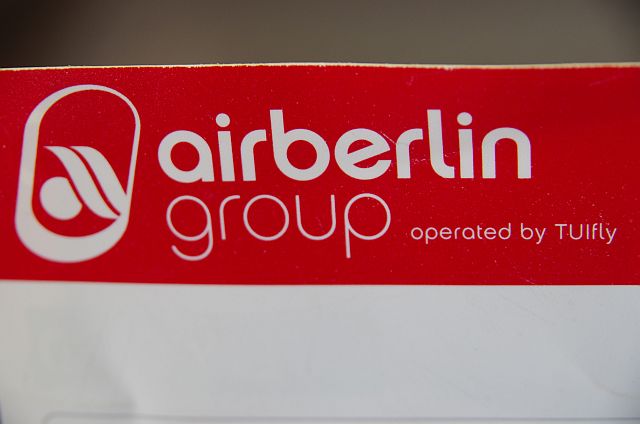 Pushback was more or less on time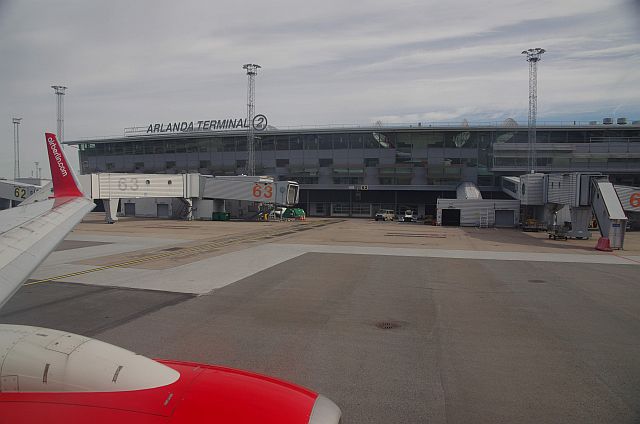 We followed this America bound A330 to the active runway 01L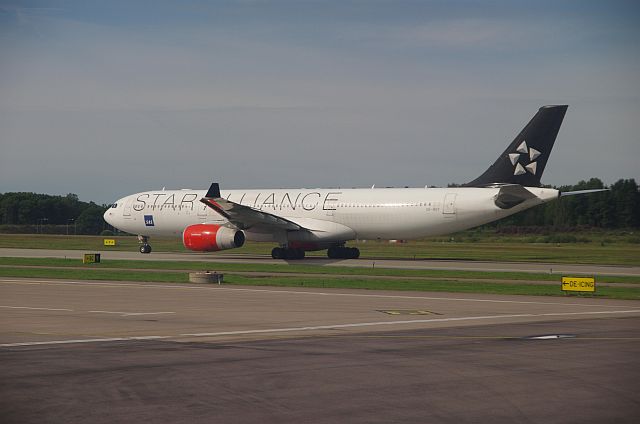 He was gone soon and so we could also perform our takeof in northerly direction ... of course me now sitting on the wrong side to take photos of the airport.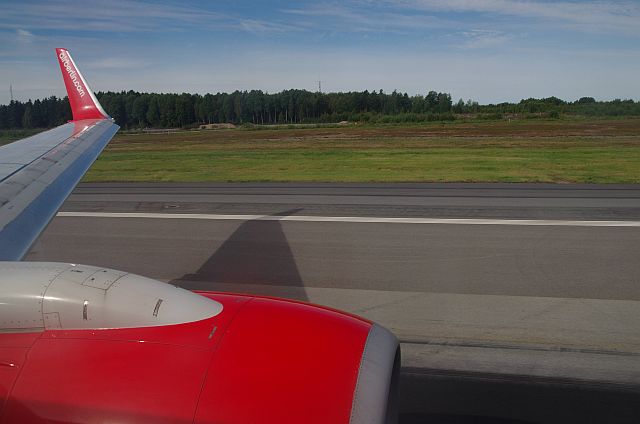 but ... lucky me ... we did a tight enough turn back south towards Berlin so I got a good overview of Arlanda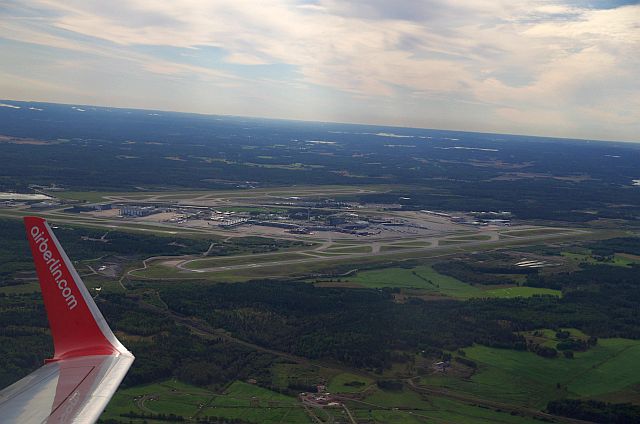 The flight was more or less following the Swedish coastline giving me some nice views ... clouds permitting of couse (whcih was not the case for most of the time).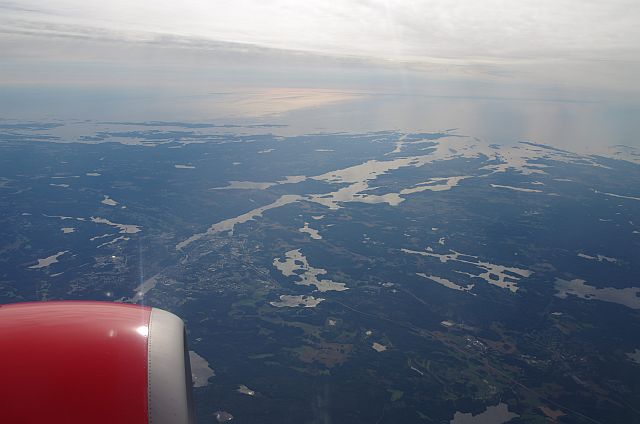 The crew soon started their service ... and here we have him ... he really made this flight special. A great guy ... thanks a lot for all the smiles ... *thumbs up*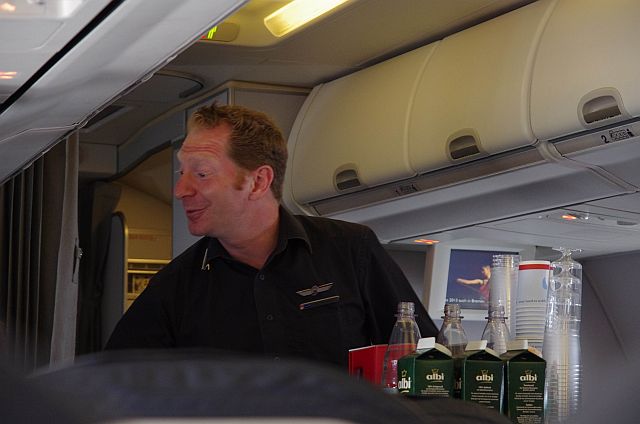 I opted for some salty snacks and a coke.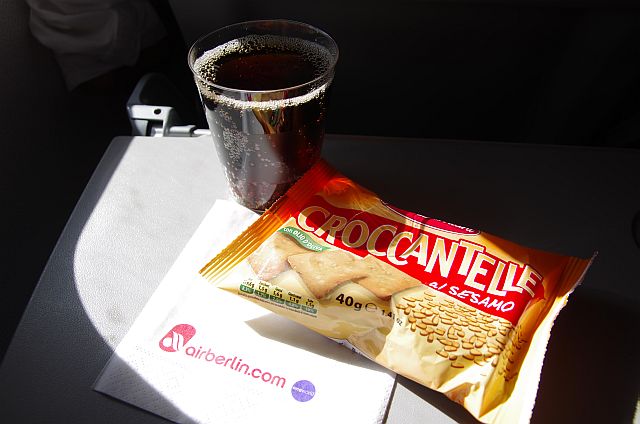 The monitors were down all the time (inkl. takeof and landing) and showing flight data and some Goofy cartoons ... A mix I was quite pleased with
Passing by the Danish island of Bornholm ... sadly hidden behind many clouds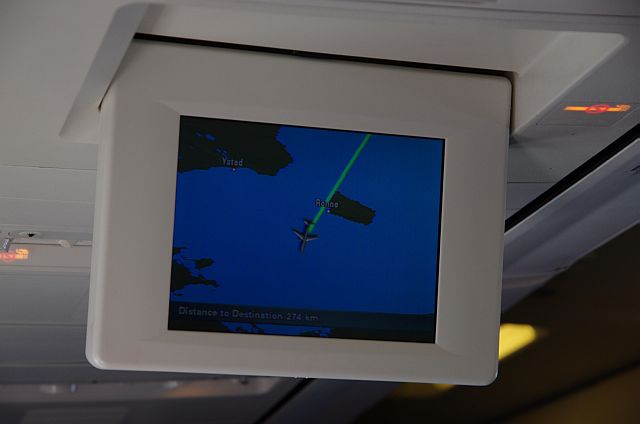 red and blue ... nice contrast ...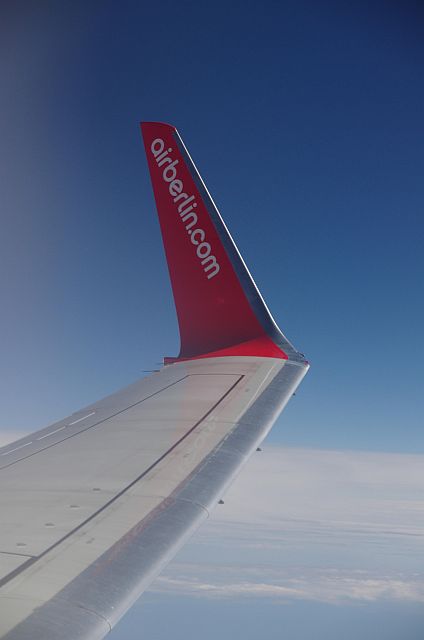 already well in the descend towards Berlin we passed the Polish coastline
Ehhhmmmm ... flight deck? ... we are flying AWAY from Berlin????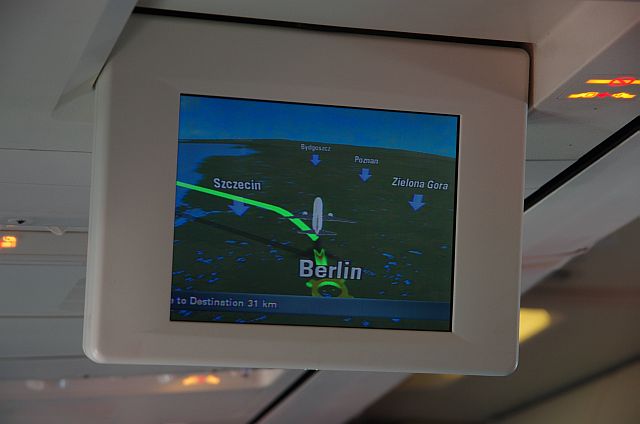 Well ... it seems they have some strange approach pattern these days and soon we turned back towards our destination and I got the typical view for the westerly approach into Tegel.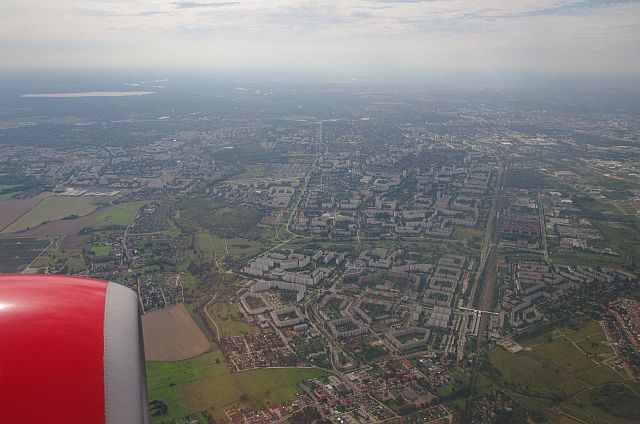 yup ... strange approach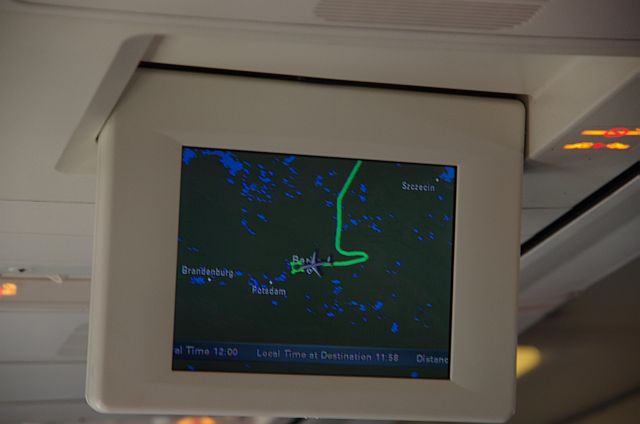 Hello Berlin!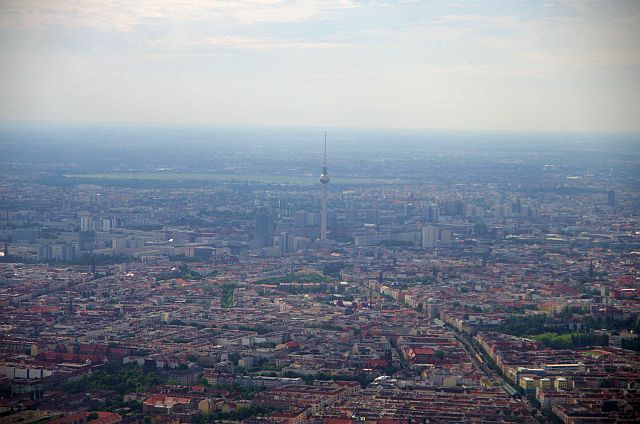 and hello Tegel ... thought I would never be back here again.
Well ... Tegel should work better on their ground service. We stopped about 30meters short of our gate as no marshaller was there to guide us into the parking position. Finally someone came ... we reached out position ... just to be informed by the flight deck that there is no one there to move the bridge ... Tegel!!!! You should do better than this!!!
During deboarding the typical chocolate hearts were distributed (oops ... I "accidentally" took two). Then we had to share a baggage belt with an Iberia flight from Madrid making the arrival area quite crowded.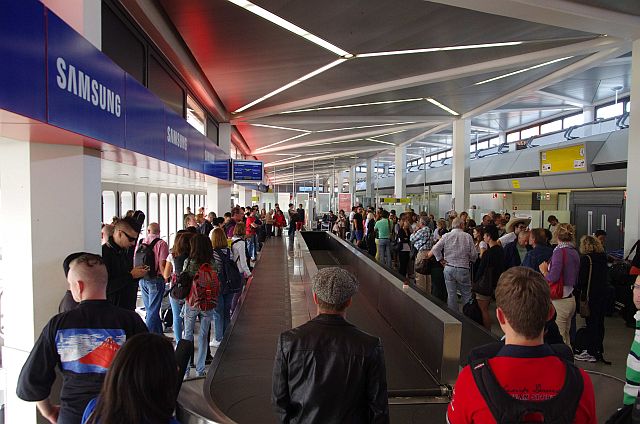 I moved on to the bus bringing me to the train station and to my train to Magdeburg.
=====================================================
On Sunday afternoon it was time for travelling again ... train and bus brought me back from Magdeburg to Tegel where I arrived some comfortable time ahead of my departure.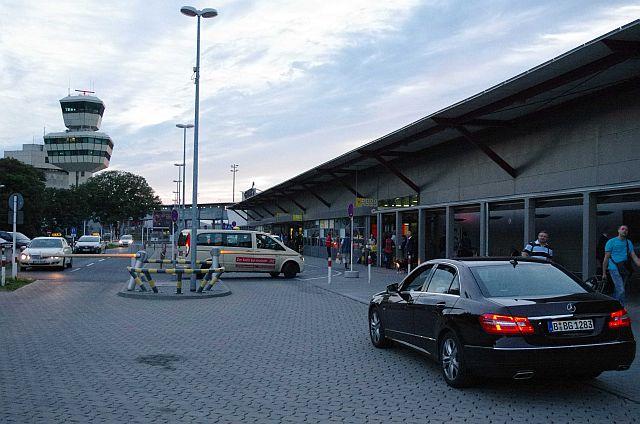 despite all the extra checks our lines at checkin for Russia (on left left) were a lot shorter than for the flights to Scandinavia (on the right). There were two flights to Russia leaving at about the same time (to Moscow and mine to St.Petersburg).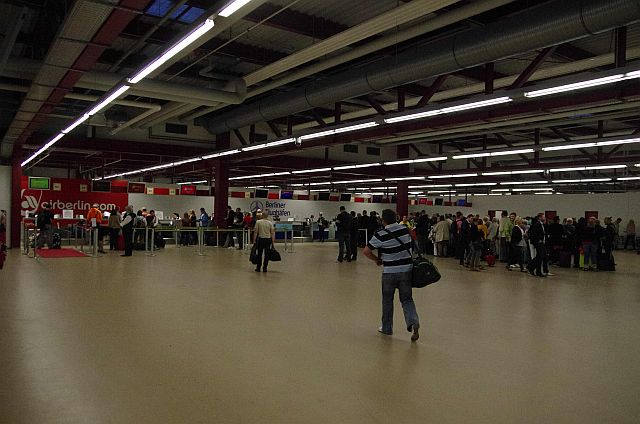 there was a check of the passport and visa before lining up for checkin. Then another check during checkin (including that I had to show the ticket for my flight back). After security there was another passport control. Aaaand another one at boarding ... thats a lot of controls before they even let you on a plane to Russia.
After passport control we had to wait in a small holding pen from which both Russia flight were departing. Thats where I felt the most that Tegel is on its limits and not really built for the amount of traffic they have to handle right now.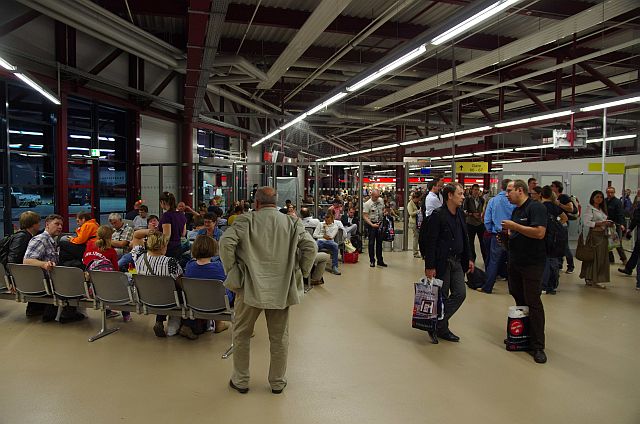 boarding started some minutes late but it would be fast as the plane was waiting on the apron directly outside of the door (no bus needed this time).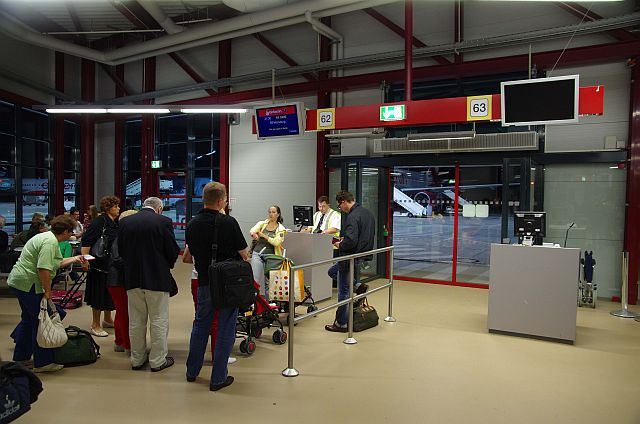 "Passengers with in rows please use the raer stairs" ... umpf ... who translated that ... at least the german text showed me that with my seat 20F I was allowed to board using the rear stairs ... nice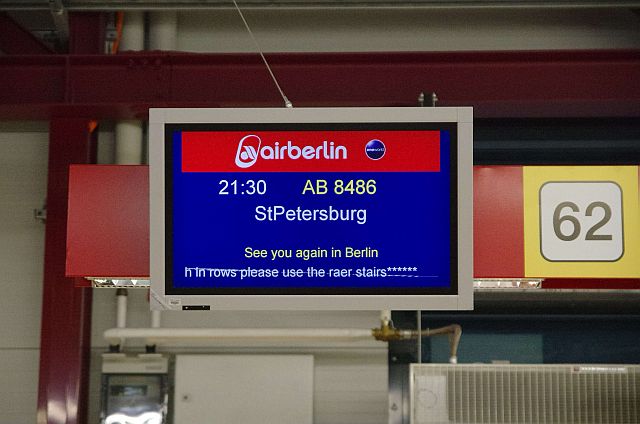 some more red and white in the night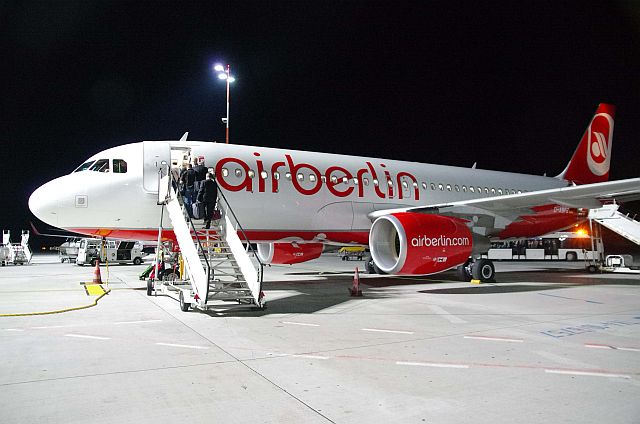 under the wing ... of course ...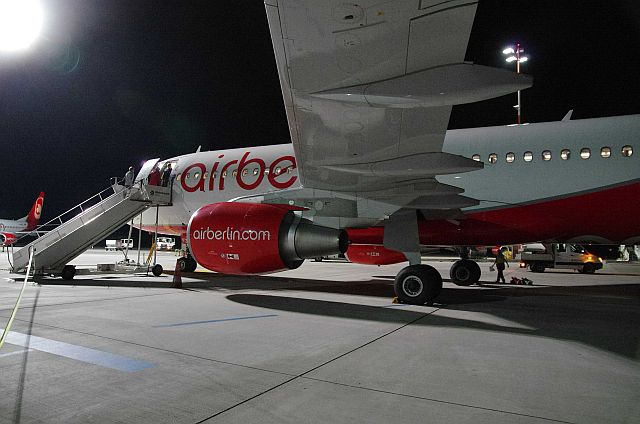 ... and up the raer ... sorry ... rear stairs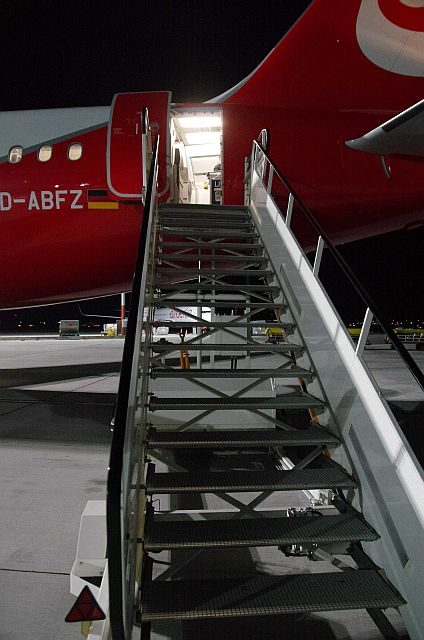 not everyone got the announcement about the backdoor so I had to fight my way against people boarding in front for seats at the far back.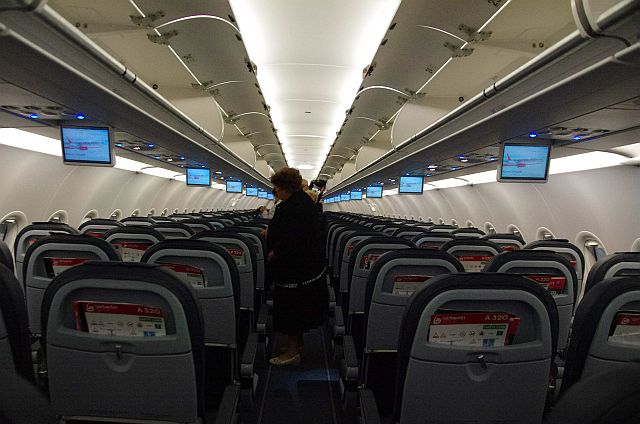 also here the monitors would be down all the time including take off and landing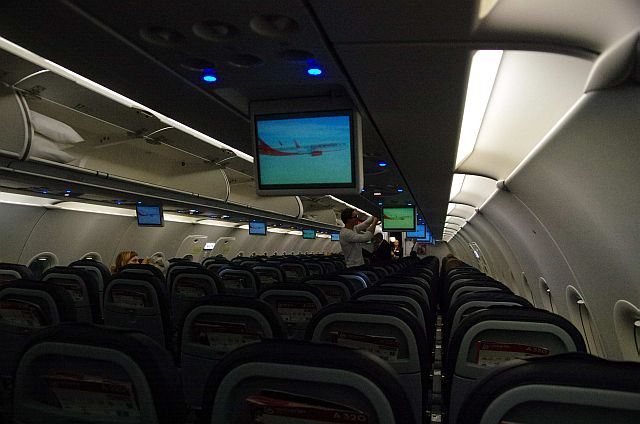 everyone in? ... OK ... lights off and here we go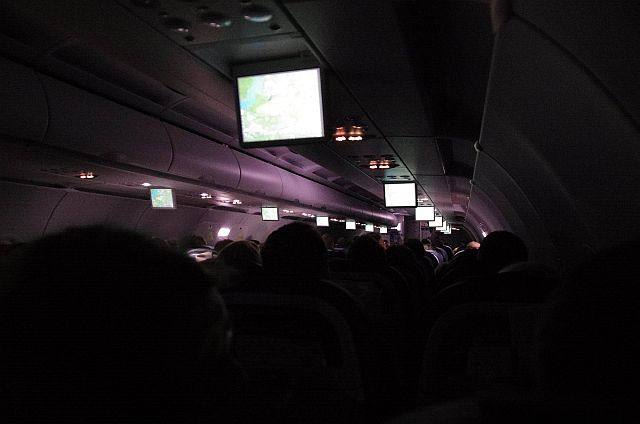 There was a serious lineup for departure. I counted six planes waiting on the taxiway in front of us ... is this JFK now? ... takeoff was in westerly direction so I first only had some suburbs on my side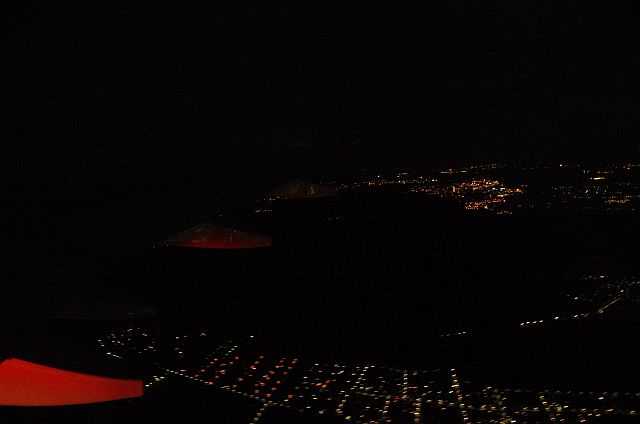 But the we turned north and finally northeast to St.Petersburg and I got really great views down on the illuminated German capital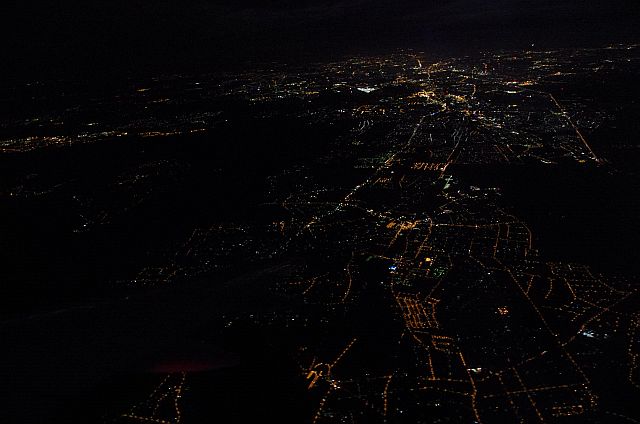 passing by Tegel again (the bright spot down there)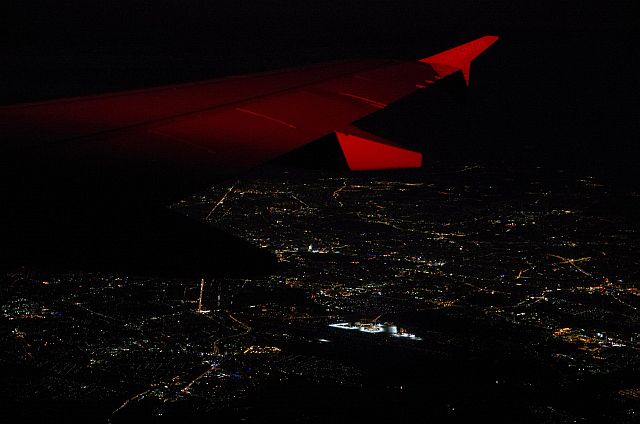 and here's Berlin in full nighttime glory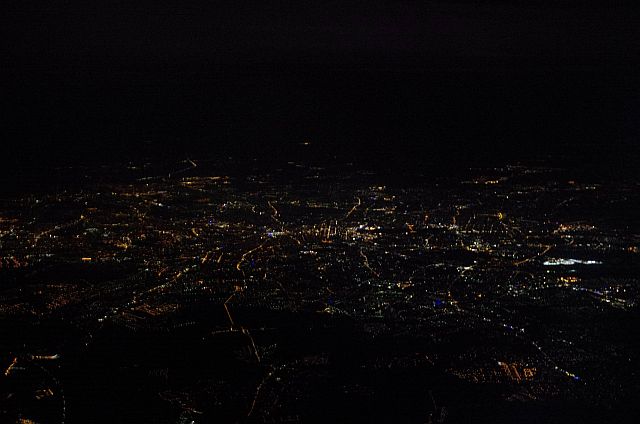 Seating on this AirBerlin A320 was a bit tighter than on the TUIfly Boeing but still good for the flight time we had. The cabin crew was not as good as on the previous flight but still of the nice kind ... nothing to complain about. Shortly after leaving Berlin sandwiches and drinks were served ... no problem to get two drinks.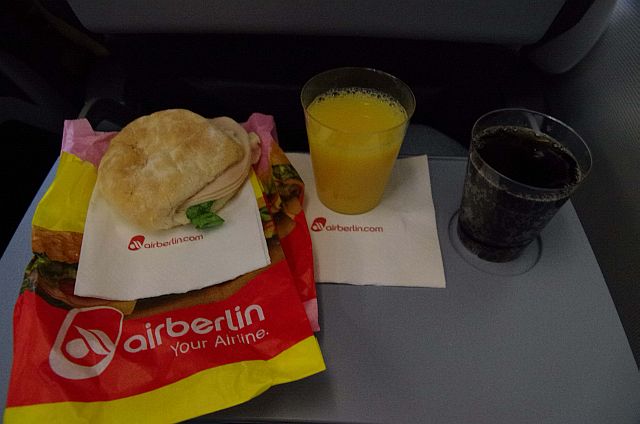 ETA looked somehow strange until I found out that apparantly they had programmed St.Petersburg in the wrong timezone so it always showed our arrival an hour early on local time.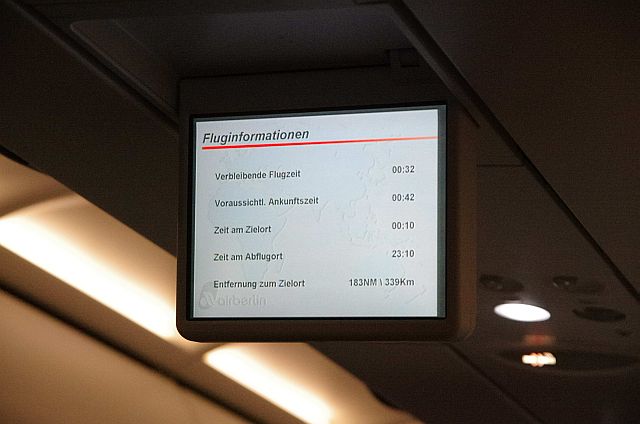 Are you shure Tallinn is in the middle of the sea? Would I even get an aircraft carrier landing on my flights back home???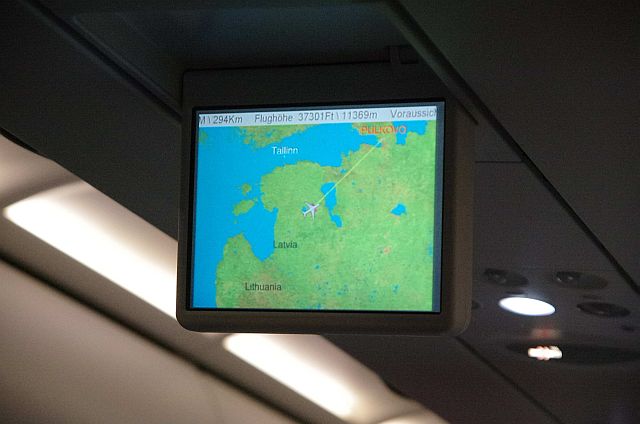 flying at night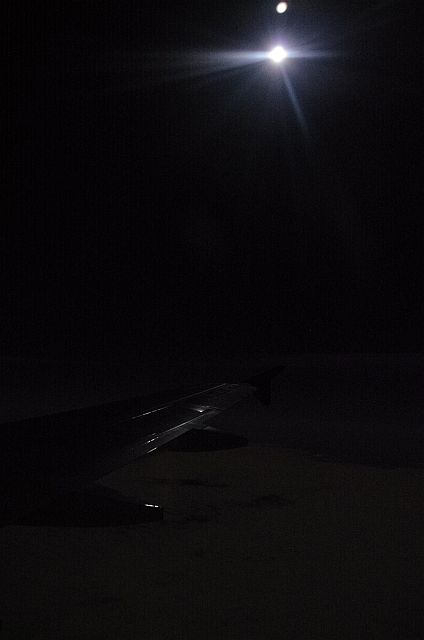 approaching LED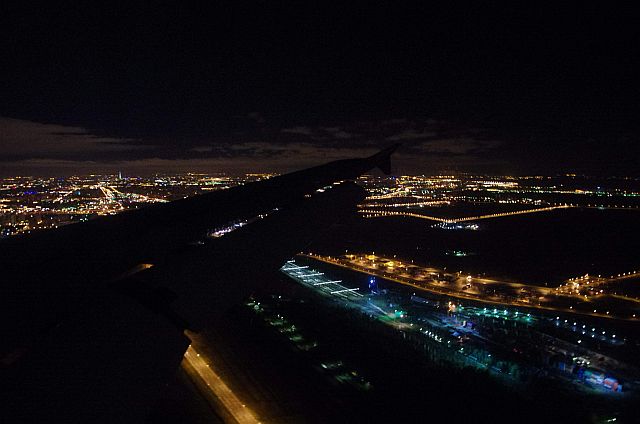 aaaand touch down ... my first time on russian soil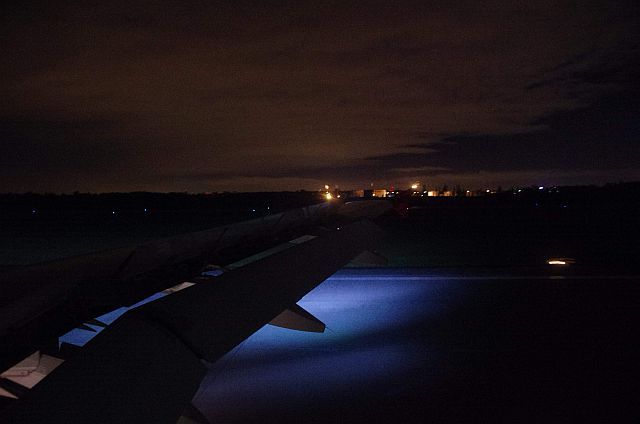 As we landed on the southern runway in westerly direction we had to cross the complete airport diagonally to get to the international terminal 2. At one point we had to stop and the captain made an announcement about the long taxi time and that we should keep seated. But maybe due to the bad english language skills a couple of passengers got up and started unloading the overhead bins as they apparantly thought we were already parked at the terminal. Only after some loud "SIT DOWN!!!!!!" announcements from the flight deck they finally did so ... we just had to continue taxiing with open bins ... luckily nothing fell out.
passing by the domestic T1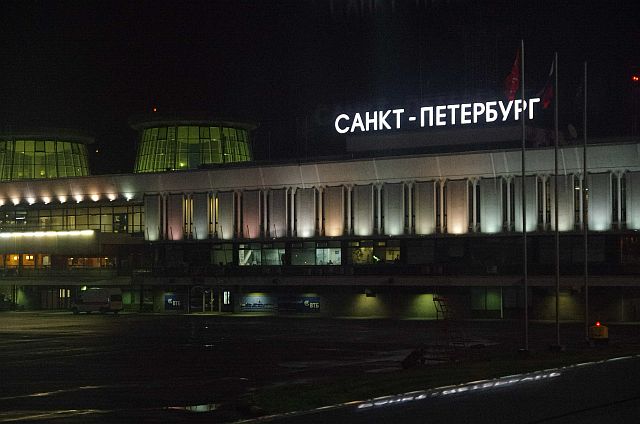 We got a remote stand in front of T2 and were unloaded into a bus and brought to the terminal.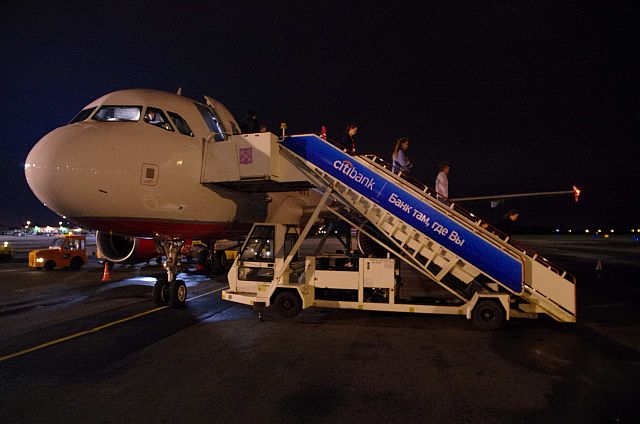 After immigration by some rude russian officers and after picking up my suitcase I found the prebooked hotel shuttle waiting for me. I finally arrived at the hotel shortly after 3AM for a short nights sleep and a start of my working day at 9AM.
=====================================================
After some busy days in Saint Petersburg and one day of sightseeing (beautiful city with horrible traffic) I again got a shared hotel shuttle back to the airport. Russia has some strange security as they do a first rough security check with XRay and metal detectors right when entering the terminal. Finally inside I had some time left as you are only allowed to proceed through customs and by that into the check in area (yes, that is after a customs barrier) when the desk opens.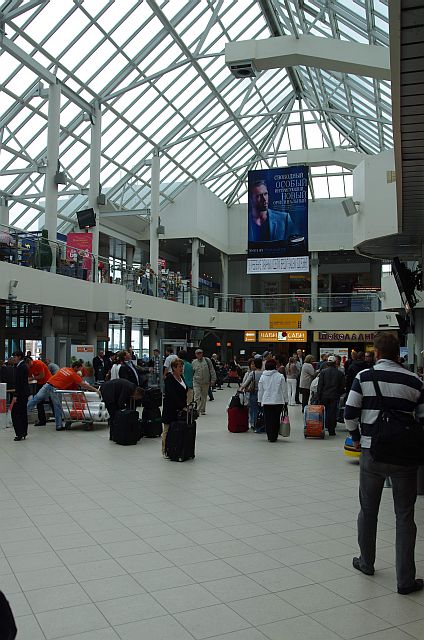 That was scheduled for my flight to happen two hours before departure ... we were let through and lined up at the desk given on the info screens - the display at the check in desk was not showing any info at this point despite advertising for the new terminal they are buliding at LED (its about time).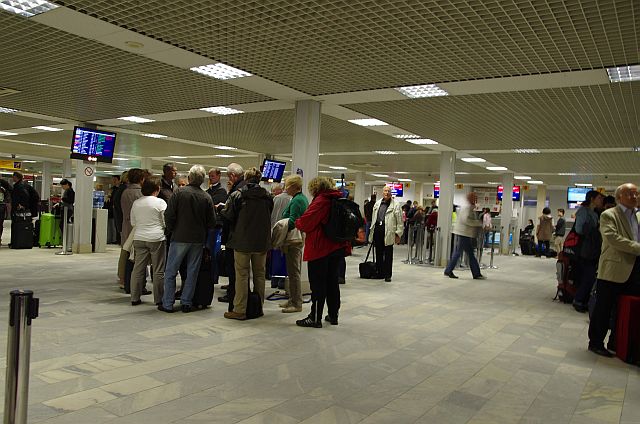 about five minutes after the scheduled opening the screen showed a Czech flight to Prague ... ehhmmmm ... Prague is a nice city but not really where all of us wanted to go that afternoon. So one man out of the line cought one of the airport personell and we were told to line up at another desk as there apparantly had been a change. And there we waited ... and waited ... until about 40min late someone from the EstonianAir ground handling arrived and checked us in ... in a very slooooow speed (if you can call it speed).
After that I made my way through immigration and through the final security into a holding pen for four bus gates ... a pen that got pretty crowded soon as three flights were leaving from there at around the same time ... and its not especially large.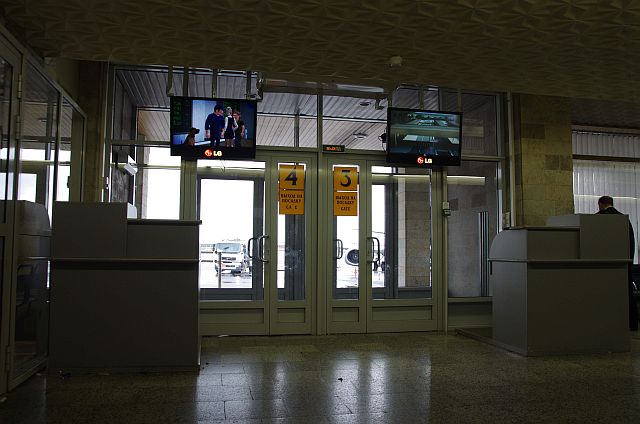 "Gate open" ... without any personell????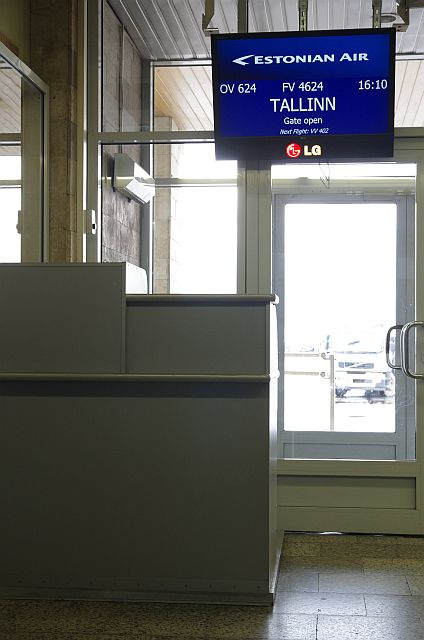 Well at some point the ground handling came and one of the airport security opened the doors as the bus for us arrived ... one bus was well enough for a not even full Saab 340. We got dropped off at our small prop ...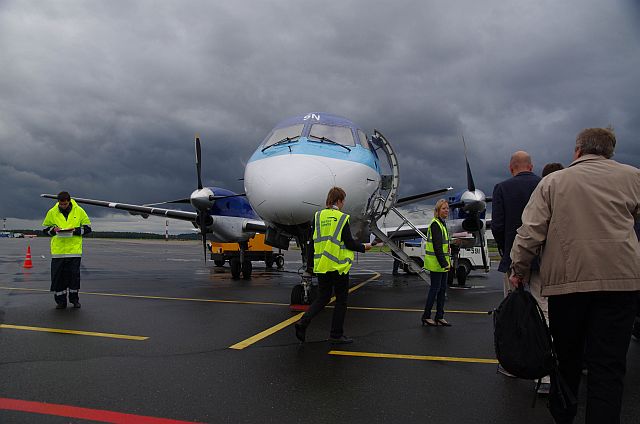 passing by another security officer counting that all uf us really were boarding the plane we climbed up the stairs ... of course with a nice view on the prop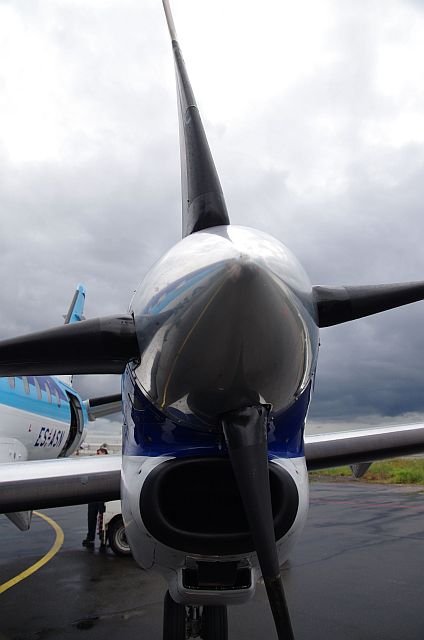 on our (this time short) taxi to the closest runway we came by two Lufthansa planes stored here due to the strikes of the Lufthansa personell which caused quite a lot of cancellations during that day.
that flat brownish "thing" down there is the complete international terminal ... most likely the worst airport terminal I have ever used.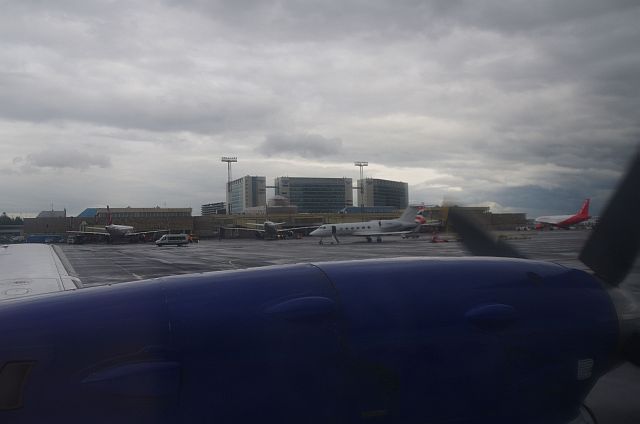 but at least they have some interesting traffic around ... UTAir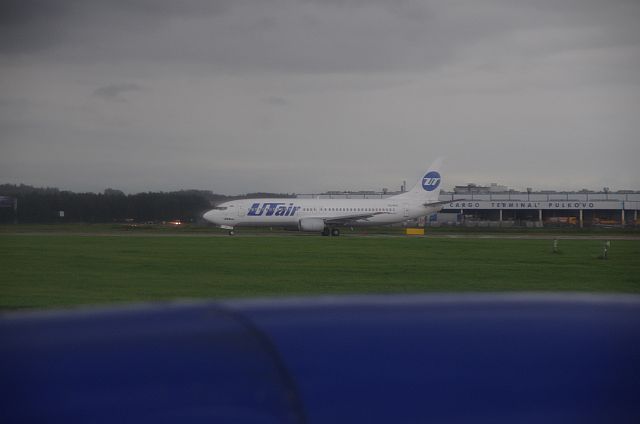 Rossiya ... the airlines with its homebase here at LED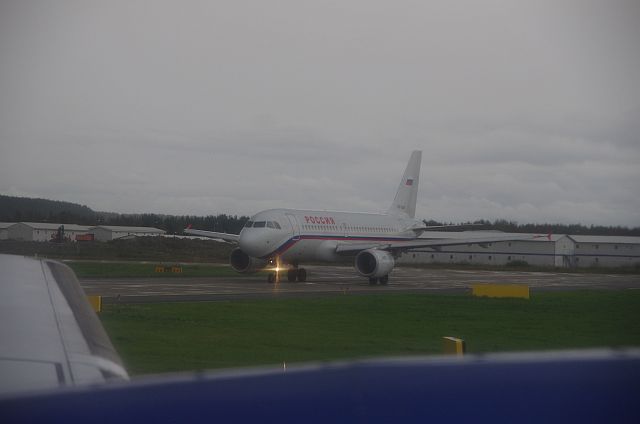 During takeoff I got some nice view of some Rossiya and Transaero longhauls stored on the domestic apron. You can also see the construction site of the new terminal on the left beside the old domestic T1.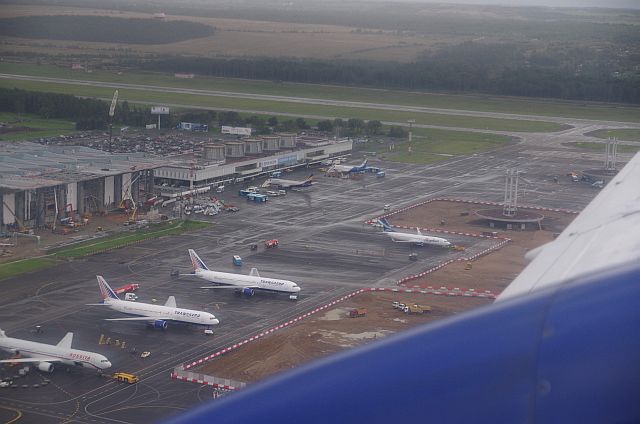 Props rule
after appearing a bit rude in the beginning the lady in the cabin turned to be really nice. We got freshly heated muffins (yummy) and drinks like coffee, tea or juices. Some minutes later she even came around with some more muffins for those who wanted as she had more than needed it seems ... I gladly accepted as they were really good.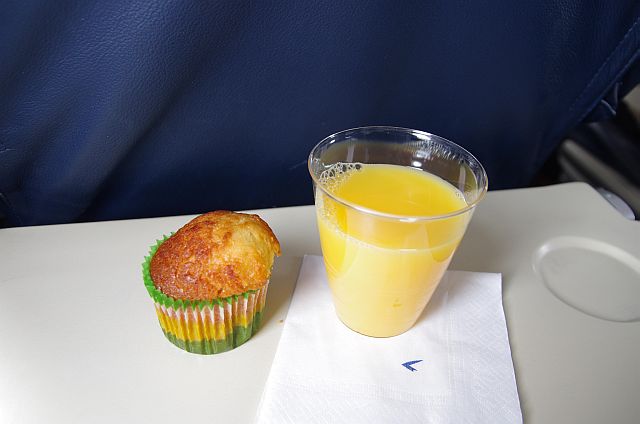 speaking about "good" ... the legroom isn't ... I was not even able to sit with my legs straigt ahead ... the space on these Saabs is shurely limited ... limited a lot.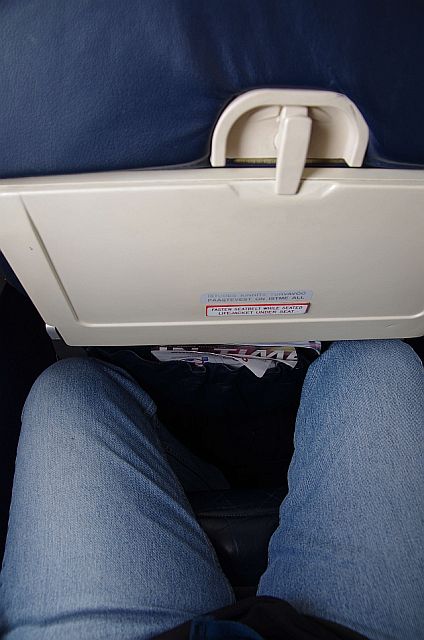 hmmm ... I am not flying enough props ... love to see the engines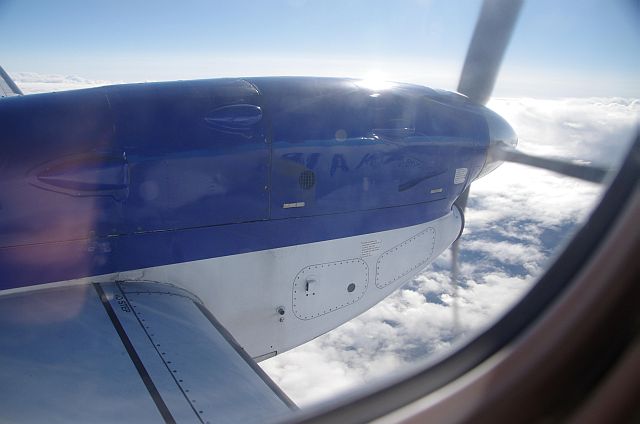 view of our small, worn out but otherwise clean cabin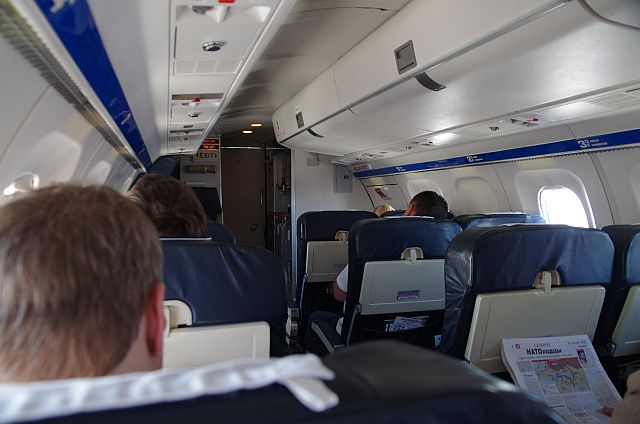 during descent we got some hard candy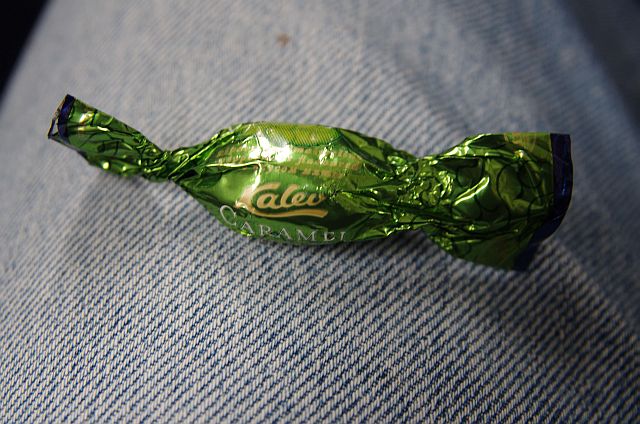 my first view on Estonia ... somewhere down there between the clouds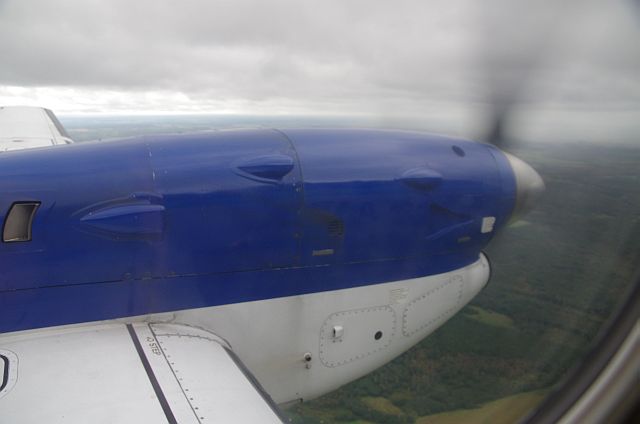 and touchdown in Tallinn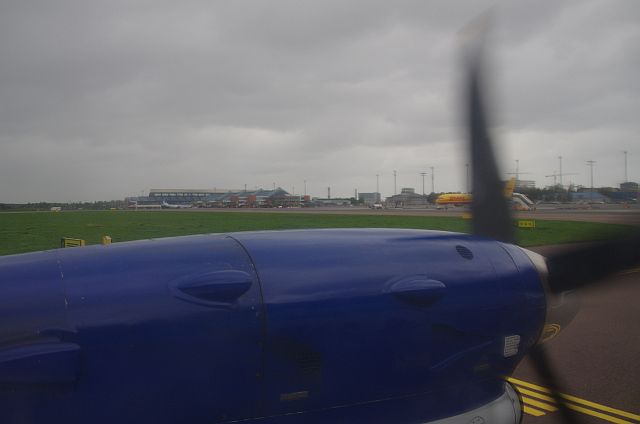 interesting stuff here on the apron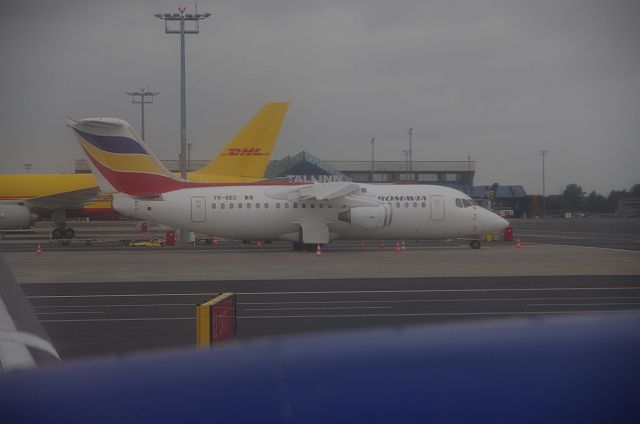 we got our parking position somewhere far away from the terminal between the cargo planes and some other small props.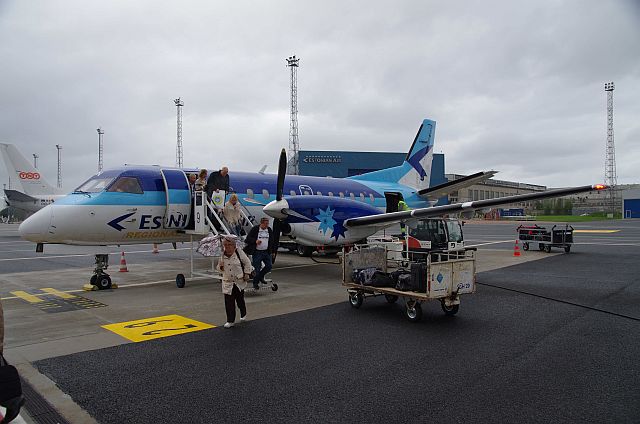 now it gets really strange ... no idea what that is ...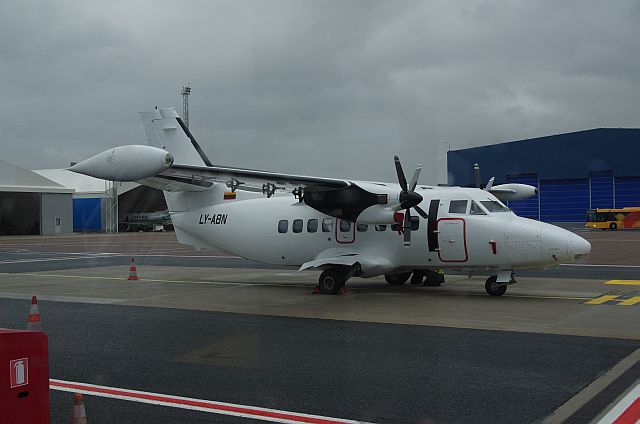 during our busride to the terminal I also found Estonians albino-Saab ...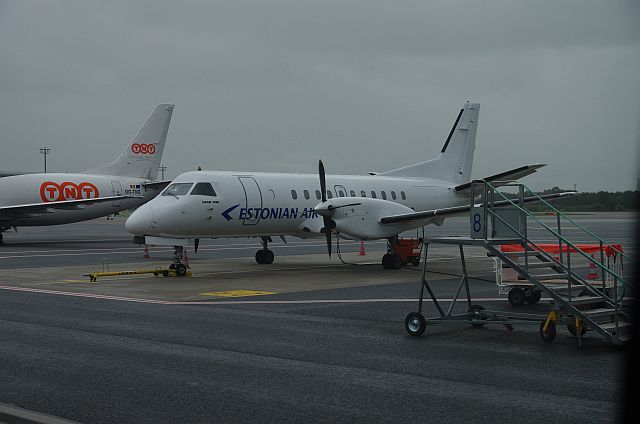 ... and the blue sistership to our plane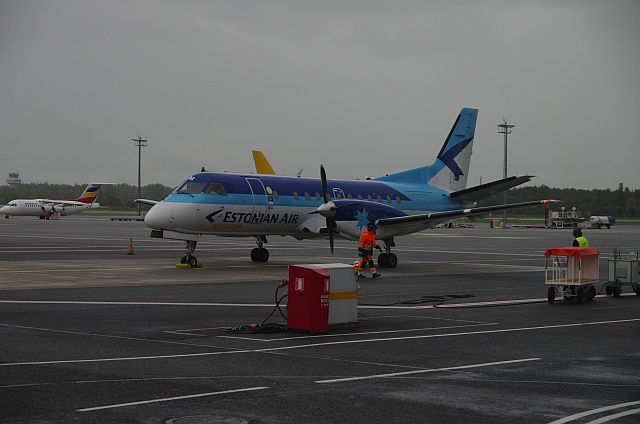 Tallinn has a funny looking terminal ... it seems someone was a fan of triangles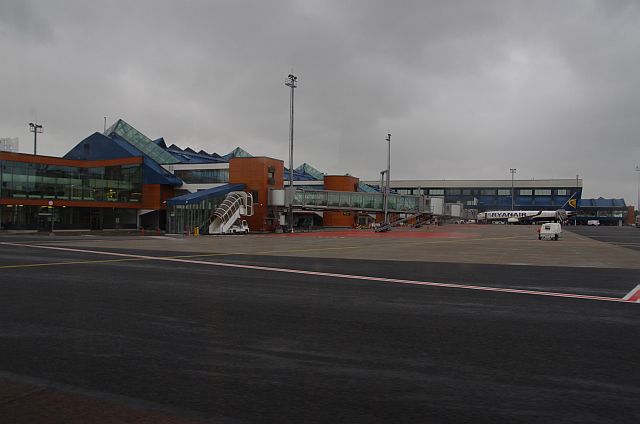 We got dropped off at one of gates and went up to to arrival floor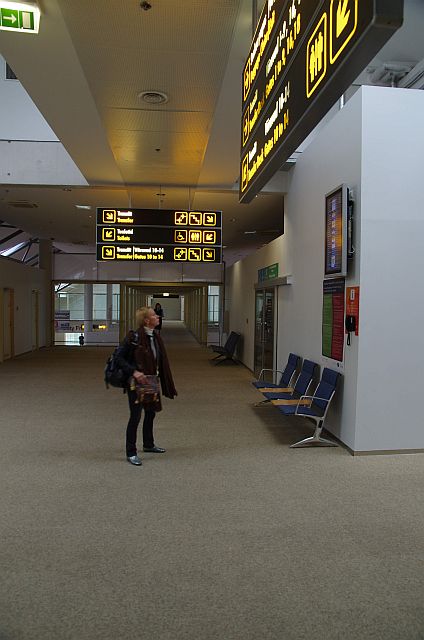 as I was transferring into Schengen I had to go through security ... just that the doors to transfer-security were closed and that there was just a sign to take the closest house telephone and call security to come up ... luckily someone else had already started that so we soon had some security upstairs to control our handful of passengers. After getting controlled (the metal detector was hypersensitive and beeped for everyone) I was allowed to go downstairs again to the departure gates.
I settled down at one of the gates to check out the free wifi ... working well btw.
Finncomm ... ehhmmm ... Flybe coming in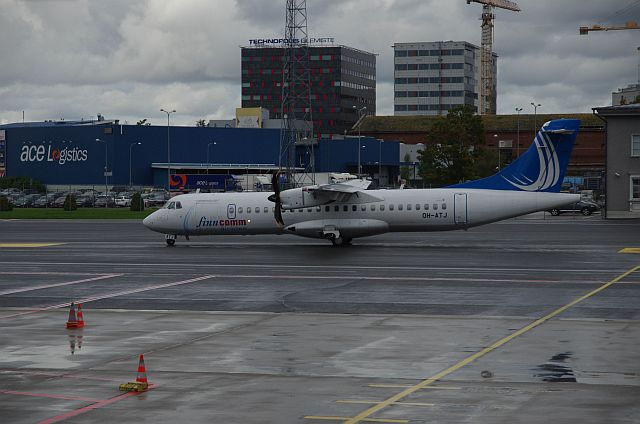 no ... this photo is not doubled ... a second Finncomm ... ehhmmmm ... Flybe coming in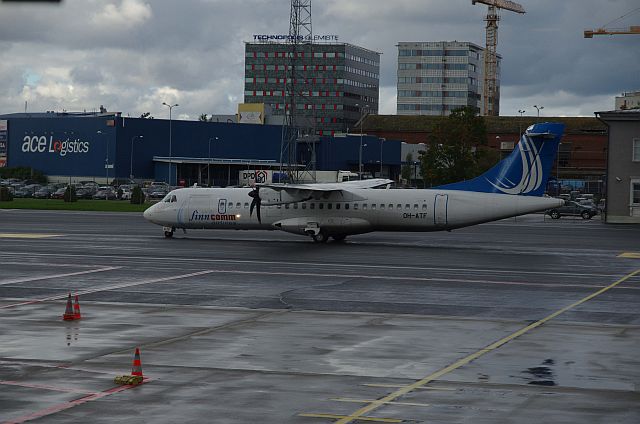 After being assigned to Gate 9 in the beginning we at some point got assigned gates 8 and 9 ... which are on oppsite sides of the building ... ???? ... In the end we were moved to gate 8 ... I think due to the incoming flight being a bit late.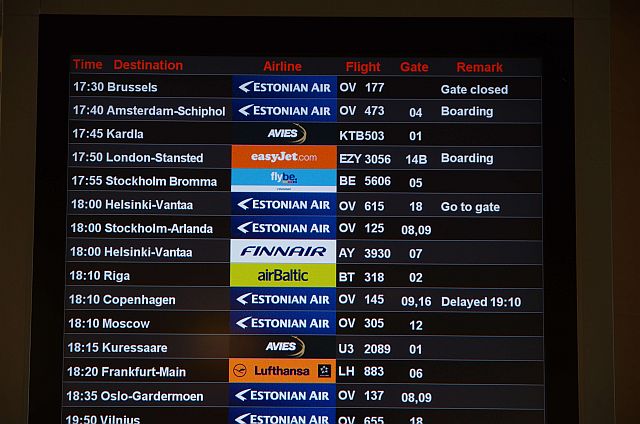 Due to the delay I had some more time to look around the terminal.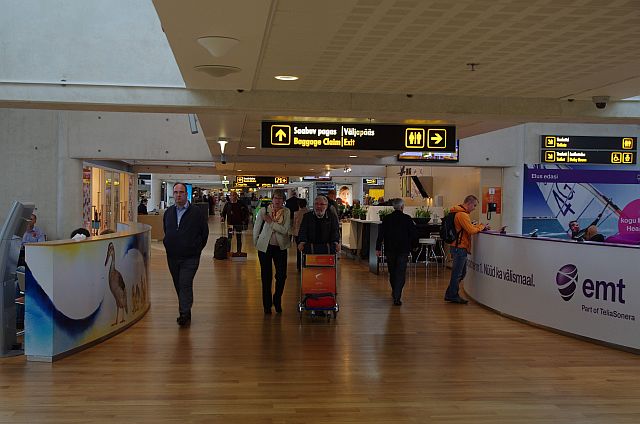 I went to ask someone at the transfer desk to change my seat as I only got an aisle during checkin at LED ... no problem and I was moved to the windowseat directly beside me (as it turned out the aisle seat then stayed free during the flight)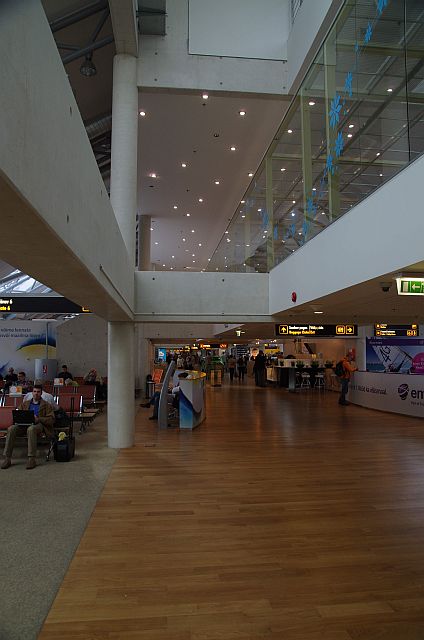 lots of Estonian here ... surprisingly ...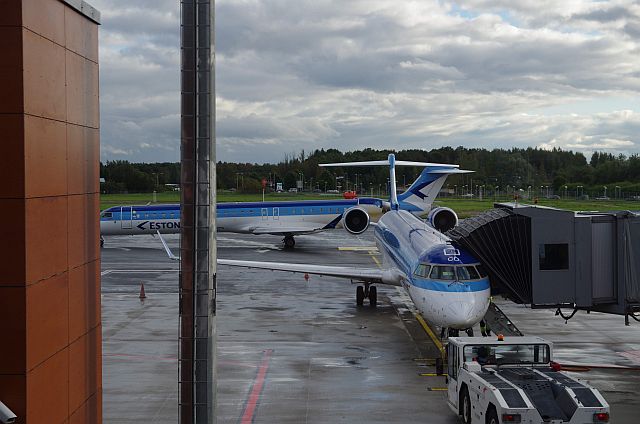 our new gate 8 for our flight to Arlanda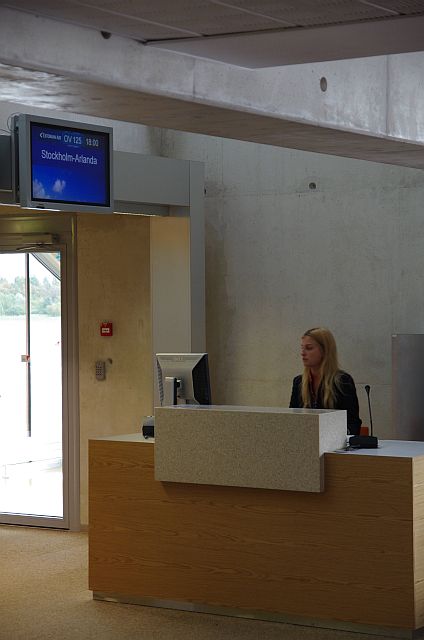 our bird to ARN coming in ... getting ready for a quick turn around and a crew change (the new crew was already sitting between the passengers and waiting)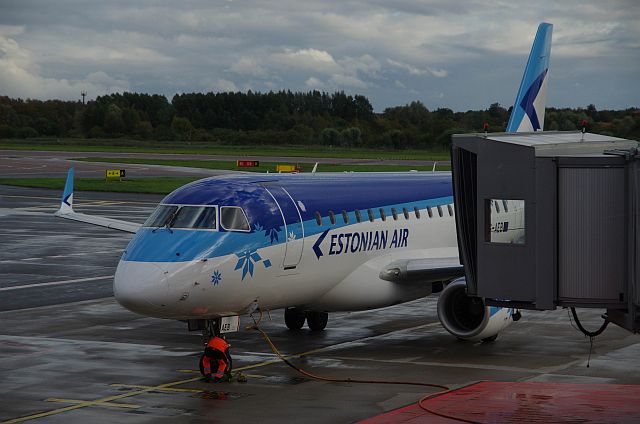 hmmm ... here in Tallinn Lufthansa is still operating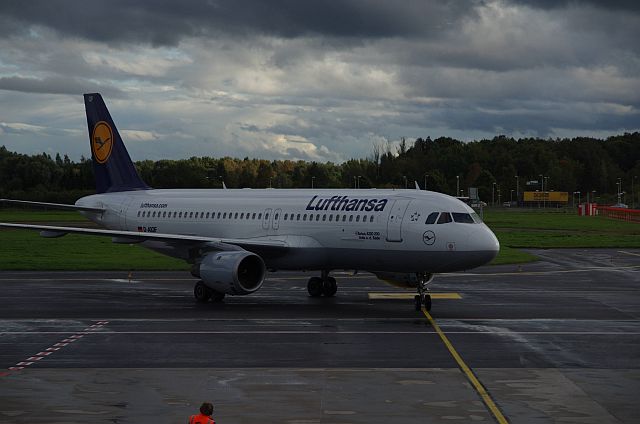 After they finished the turnaround we were finally allowed to board the plane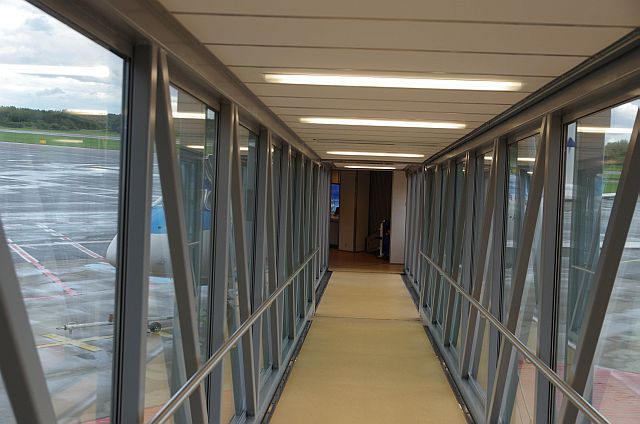 The seat pitch was a lot better than on the Saab (but still not as good as on the AirBerlin flights)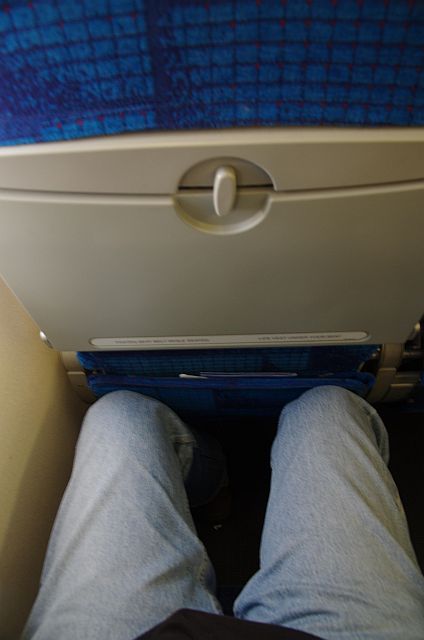 our (now empty) gate at the triangle-terminal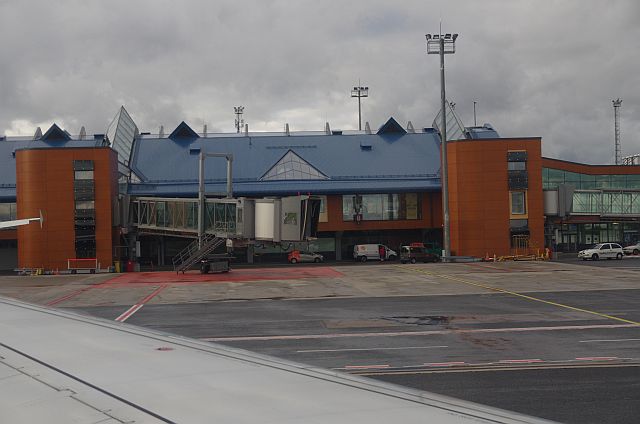 more interesting planes seen during taxi (seems to be some show-planes)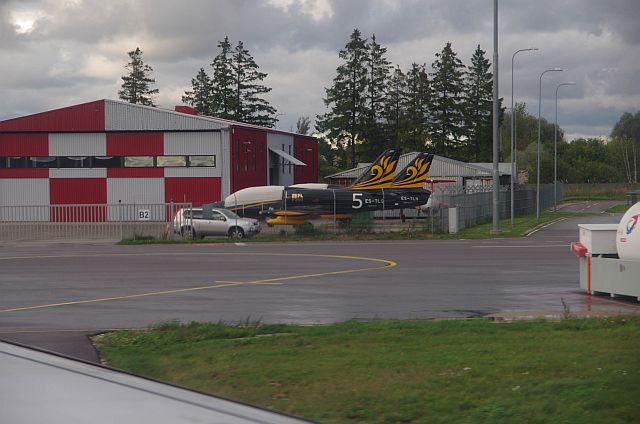 another interesting plane of the Estonian Boarder Guard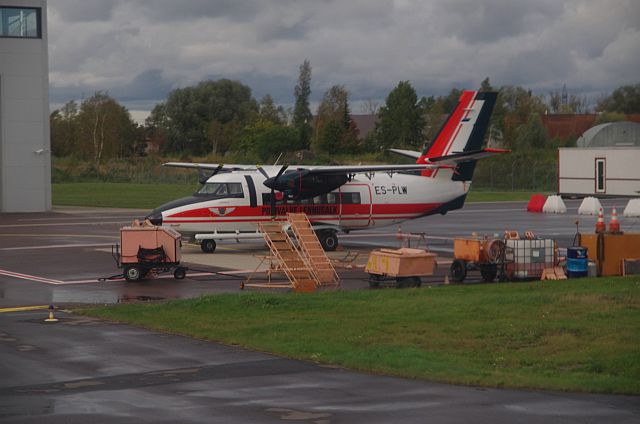 ... leaving Estonia again ... after a short stay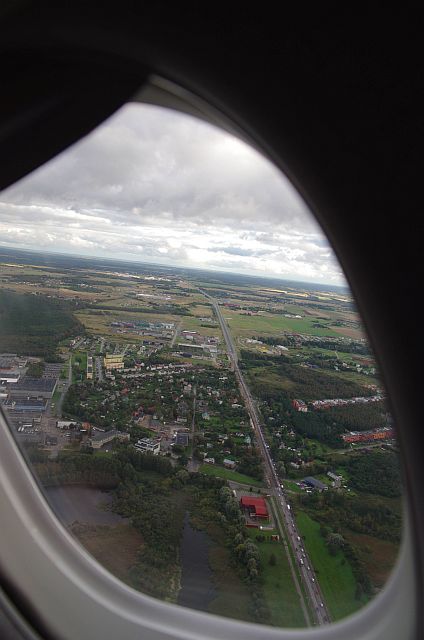 niiiiiiice wing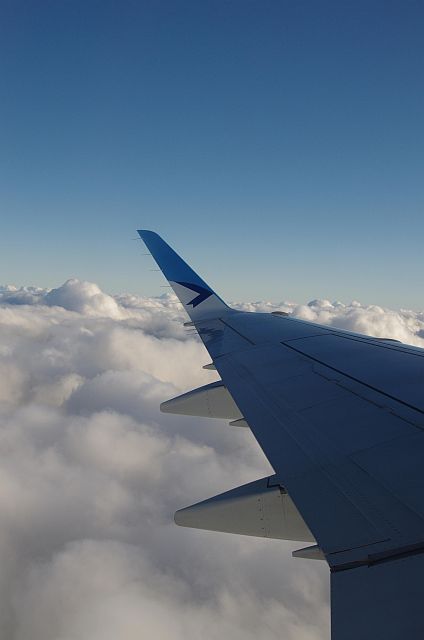 it seems to be a very new plane ... clean and well maintained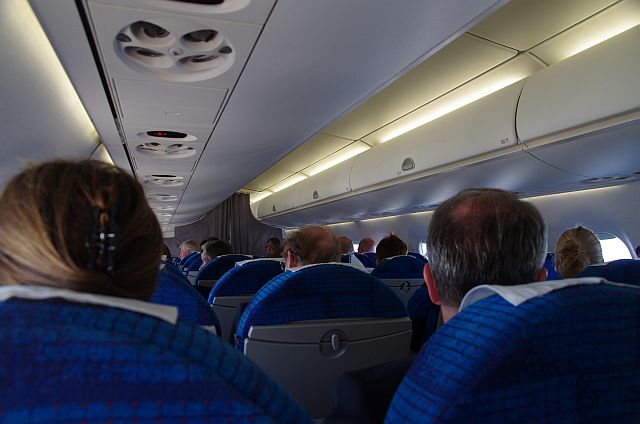 Service consisted of a small biscuit and either tea, coffee or water (no juices or muffins this time)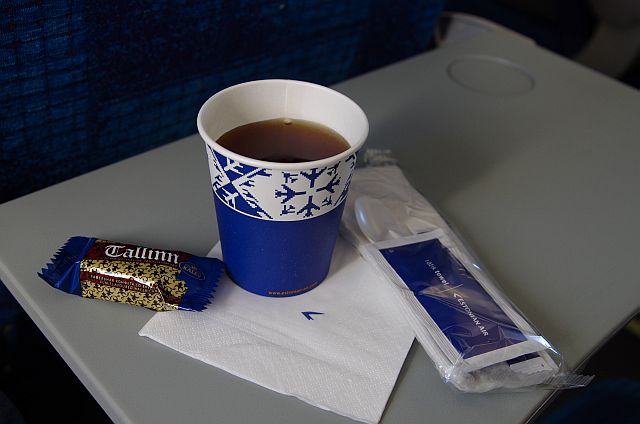 looove those winglets ...
It seems there are some rainfalls going on over the Swedish coastline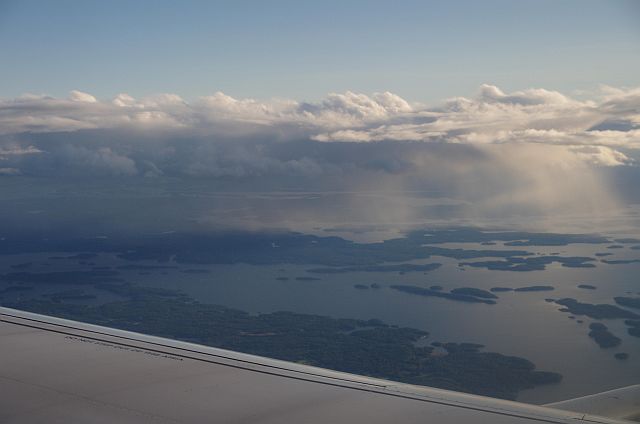 passing over all those islands I realized that this is not the typical approach from the east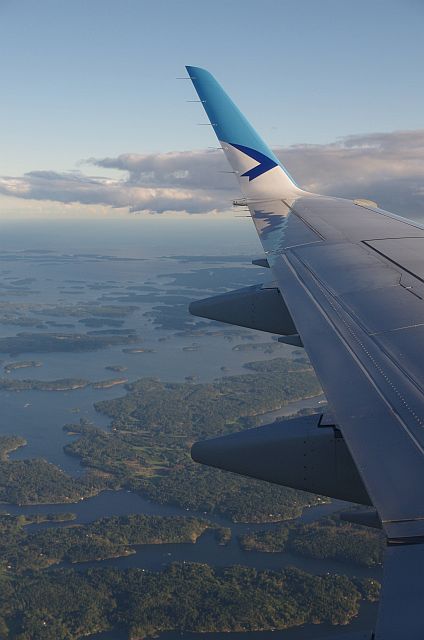 we were much farther south than normal more or less directly passing by Stockholm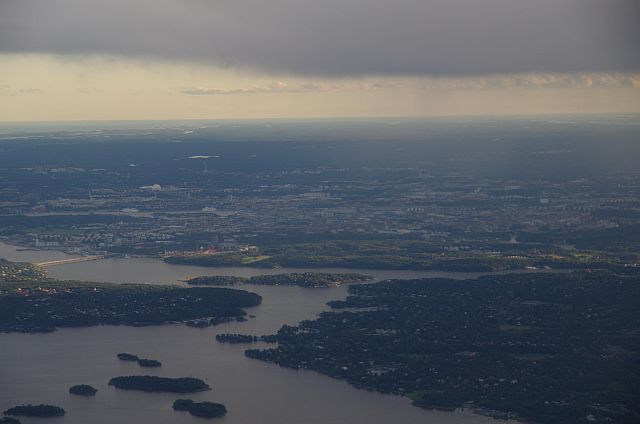 Then we turned north and lined up for the new runway 01R (my first time oprating on that runway)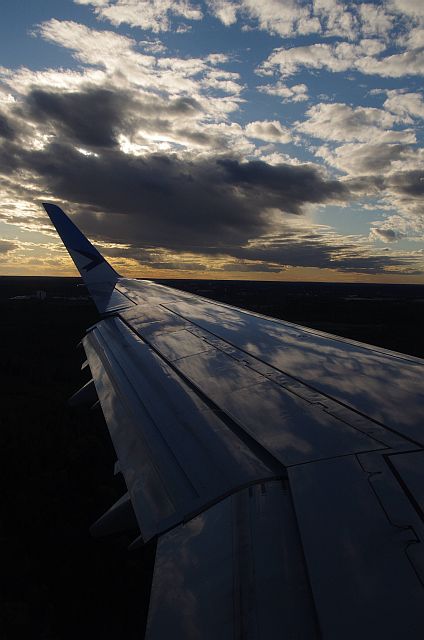 Welcome back in Arlanda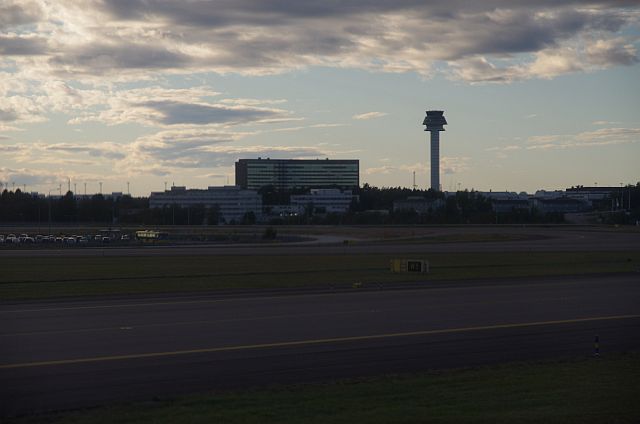 Some A.netters will remember those planes from our meeting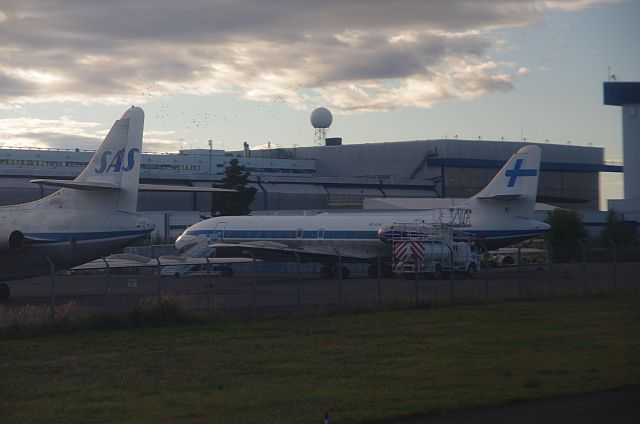 also here some Lufthansa planes were in storage due to the strike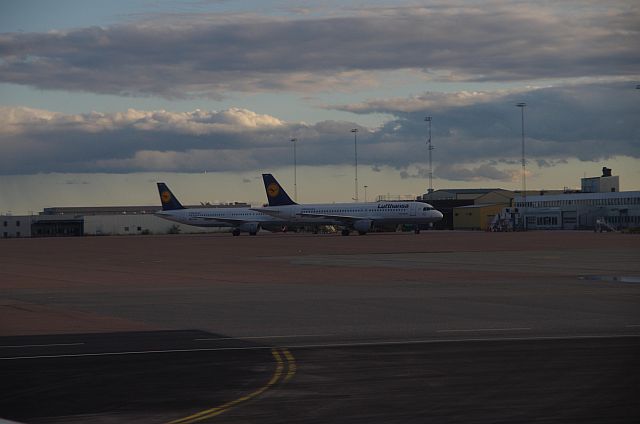 longhauler getting ready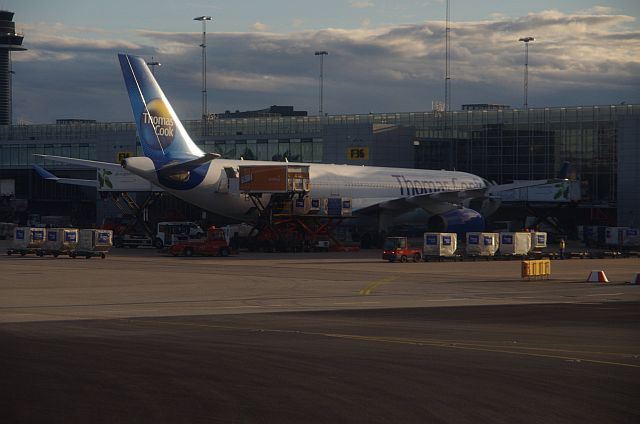 We again had to wait on the apron as our gate was still occupied ... by this guy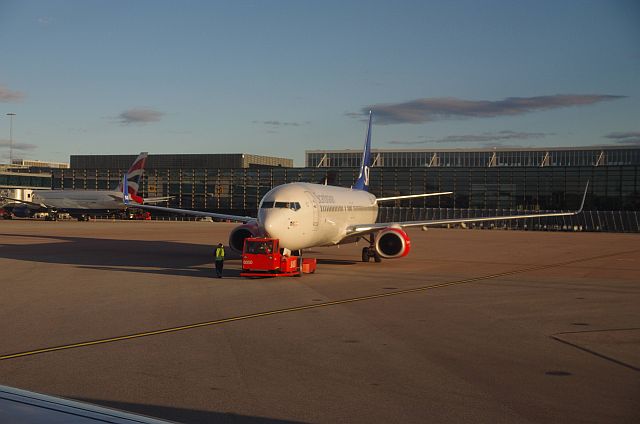 deboarding was quit fast ...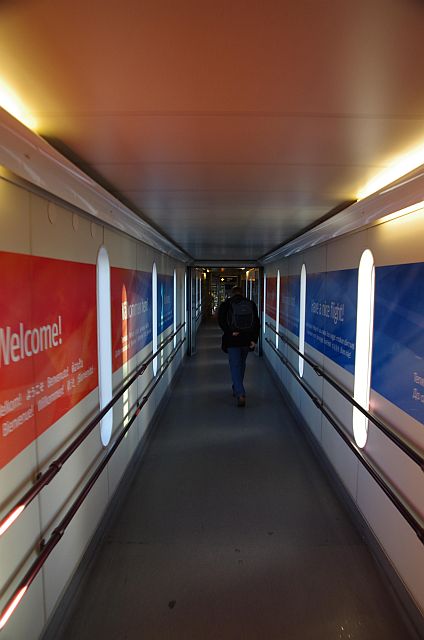 ... and soon I was again connected with my suitcase
After that a short dinner at McDonalds followed and then a train ride back home.
=====================================================
Conclusion:
Air Berlin: I was positively surprised. Much better service and seatpitch than what I had expected. For that price really good. I would just avoid any transfer at TXL (see below)
Estonian Air: Old and worn Saab, new and nice E170. Good service on the Saab, mediocre on the flight to ARN. Ground handling at TLL was good whereas the handling at LED was horrible. Also problems with a lot of cancellations and schedule changes. Over all not bad but I will maybe fly different airlines in future.
Berlin Tegel: Never expected to fly to/from that airport again. Overly crowded now with bad ground handling. I think I will wait for BBI to open before I fly to Berlin again.
Pulkovo: To keep is short ... the worst airport I have ever been to. A real shame for that otherwise beatiful city. I hope they finish the new terminal soon and improve things.
Tallinn: Nice airport (for transfers at least) ... maybe a bit understaffed if you have to call out for security.