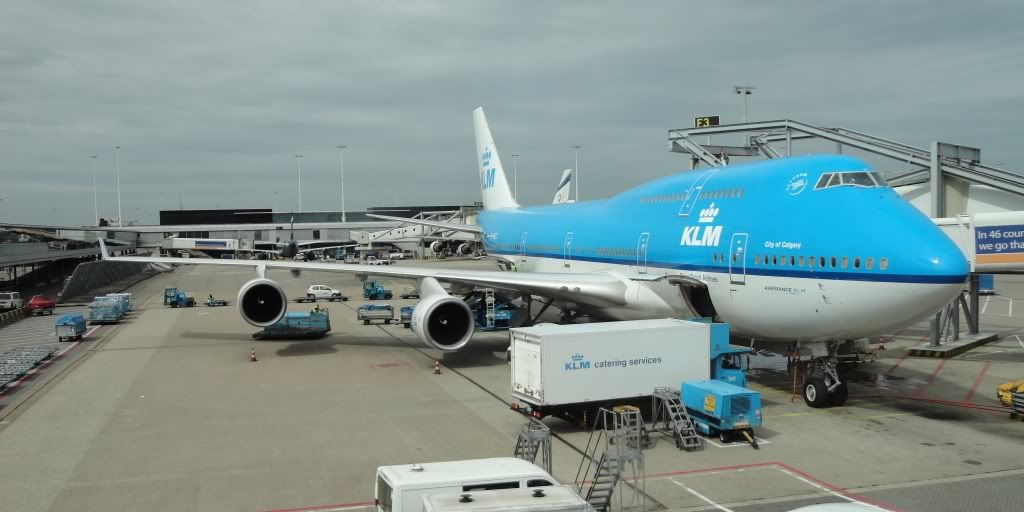 Introduction
The U S of A, a great country IMHO. A country where everything is big, a country I have lived in for a year, a country I have visited many times (mostly in the summer) for vacation or other purposes. This year would be no exception. Visiting friends in Maine, Pennsylvania and Canada while enjoying my 4 week vacation from work.
Hello everyone and welcome to my 16th trip report, my final report on this series featuring my upper deck experience on KLM!
It wasn't until the 27th of May when my dad and I started looking for tickets. Booking was done, the same day, on delta.com (as my dad is a SkyMiles member). 6 flights for about 1200EUR p.p, not a very bad deal for the time of year and the date that we booked IMO.
There were a lot of different options for that price, so we eventually chose:
July 21: AMS-BOS // 11:10-13:00 // DL231 // A330-300
August 1: BOS-JFK // 12:00-13:17 // DL901 // A319
August 1: JFK-PHL // 16:10-17:28 // DL3544 // CRJ900 Pinnacle Airlines/DL Connection
August 8: PHL-LGA // 14:10-15:10 // DL4050 // CRJ100 Pinnacle Airlines/DL Connection
August 8: LGA-YYZ // 16:45-18:25 // DL7145 // B736 operated by WestJet
August 16: YYZ-AMS // 23:05-12:10 // DL9399 // B744 operated by KLM
A nice itinerary with all different types, and for me it will be the first time flying Delta longhaul and WestJet. This would also be a chance to catch the fairly "rare" B737-600 type.
This series will be split into 5 parts (due to the many pictures made):
Part 1: AMS-BOS
Part 2: BOS-JFK
Part 3: JFK-PHL
Part 4: PHL-LGA-YYZ
Part 5: YYZ-AMS
For part 1 see:
USA Vacation Part 1: Delta Long Haul: AMS-BOS In Y
(by
adamspotter
Aug 19 2012 in Trip Reports)
For part 2 see:
USA Vacation Part 2: Maine! + BOS-JFK On DL In Y
(by
adamspotter
Aug 26 2012 in Trip Reports)
For part 3 see:
USA Vacation Part 3: Big Delay + JFK-PHL On DL
(by
adamspotter
Aug 30 2012 in Trip Reports)
For part 4 see:
USA Vacation Part 4: Off To Canada!: PHL-LGA-YYZ
(by
adamspotter
Sep 9 2012 in Trip Reports)
Every part will not only contain a report of the flight(s), but it will also be accompanied by many pictures of places I visited/things I did during my stay.
So sit back, relax and I hope you enjoy this report!
Map
The map for this part, thanks to the Great Circle Mapper: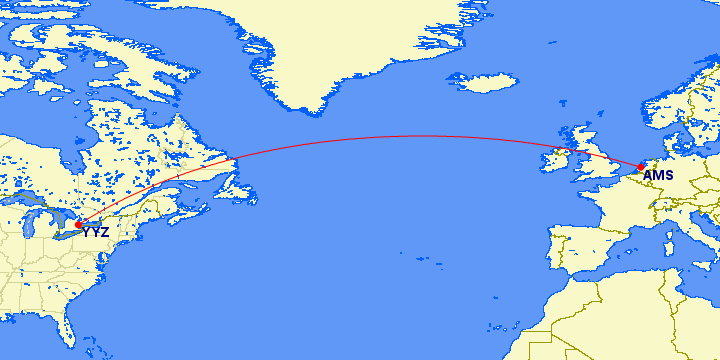 And the map of this whole trip, also thanks to the Great Circle Mapper: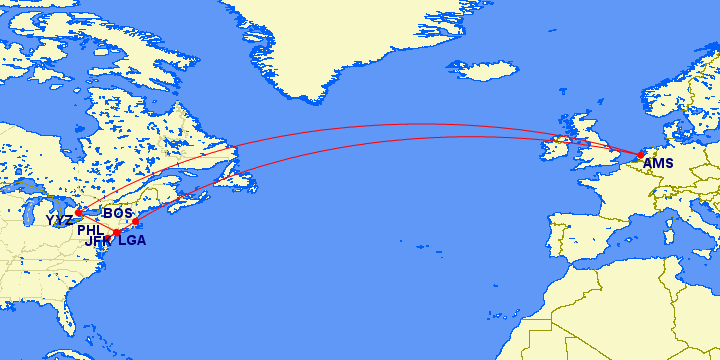 In part 4 I left you guys deboarding my great WestJet flight at YYZ from LGA. Once entering the terminal building we headed straight towards immigration/customs. As the KLM flight had arrived just before us the immigration hall was filled with a lot of Dutch people.
After about a 15 minute wait we approached the immigration agent. After answering a couple of questions our passports were stamped and we were let through without a problem. Quite a difference to the last time I tried to enter Canada!
Once arriving at the baggage claim area our luggage was already on the belt. After collecting them we headed through customs and were in the arrivals hall without a problem.
Our final destination for today will be Exeter, Ontario where friends of ours live. Exeter is about a 2 hour drive away from YYZ. As transportation we chose to take the Robert Q Airbus company to London, Ontario where one of our friends will be picking us up for the 30 minute drive to Exeter. We booked our tickets online before our vacation at a cost of 54.52CAD per person.
As it was dark during the whole bus ride I wasn't able to take any pictures. However here is their website which should give you an idea of how the bus that we took looked like:
http://www.robertq.com/
After a nice and relaxed 1h45min drive we arrived at Robert Qs bus station in London. From there our friend picked us up and we drove towards Exeter. A 30 min drive later and we arrived in Exeter where we will be staying for our last week before heading back home..
Niagara Falls
During our stay we enjoyed the company of our friends, did some final shopping and swam quite a lot in their own pool and the great Lake Huron. One day we also decided to visit Niagara Falls. The last time I visited Niagara Falls I was a 1 year old kid, so don't remember a thing about them.
Feeling quite enthusiastic we drove the 2 hour car ride down to Niagara Falls. Parked the car at one of the many parking lots and headed down to the falls.
The Skylon, or what I would call a fake CN tower: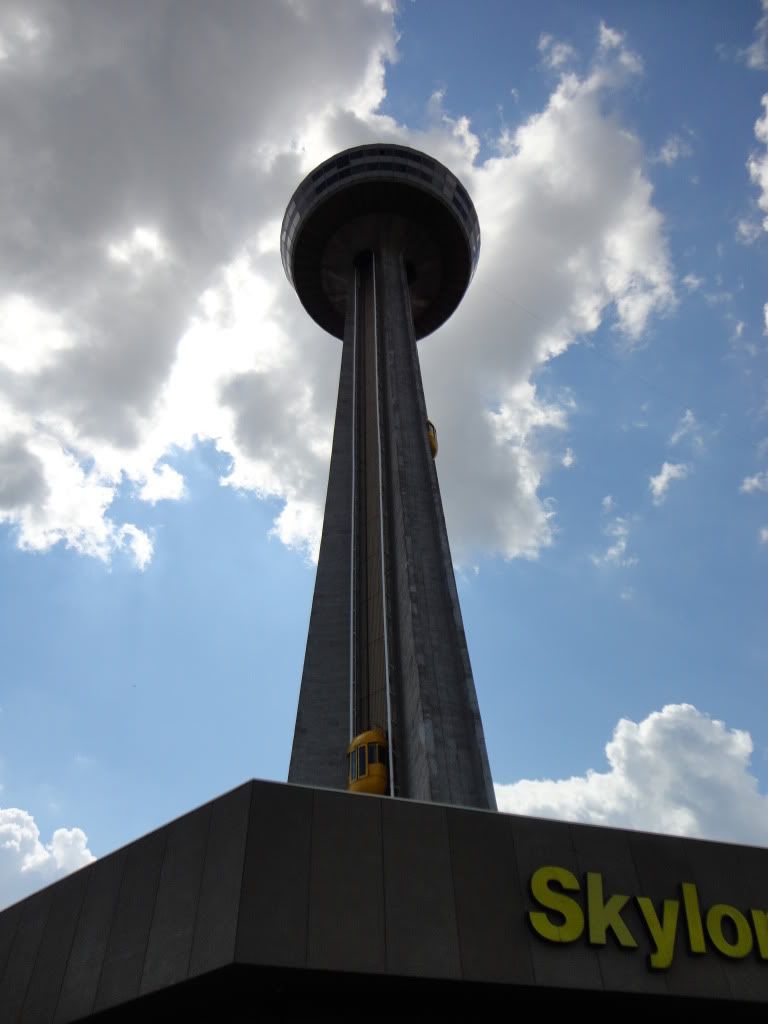 Almost there: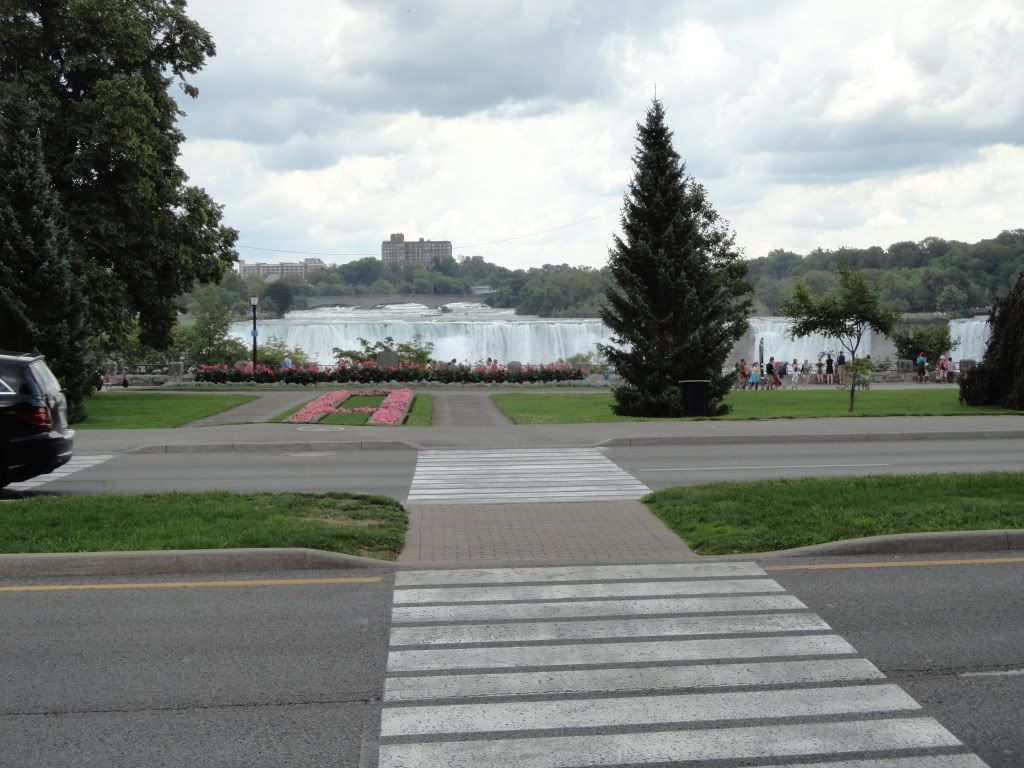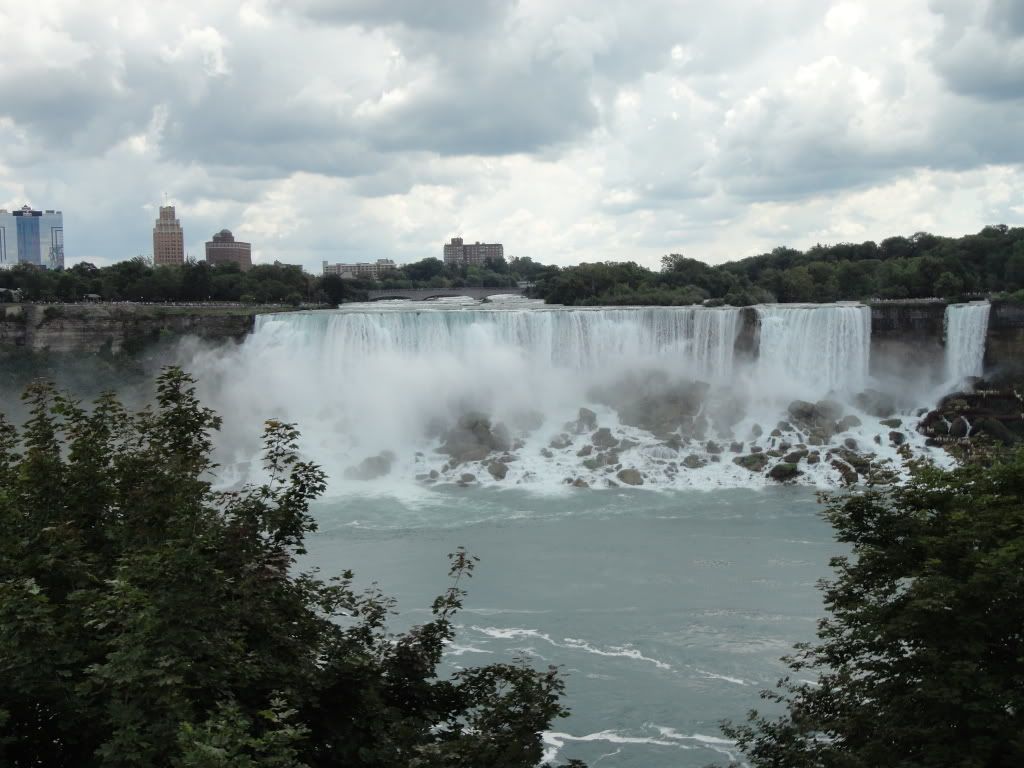 The American side: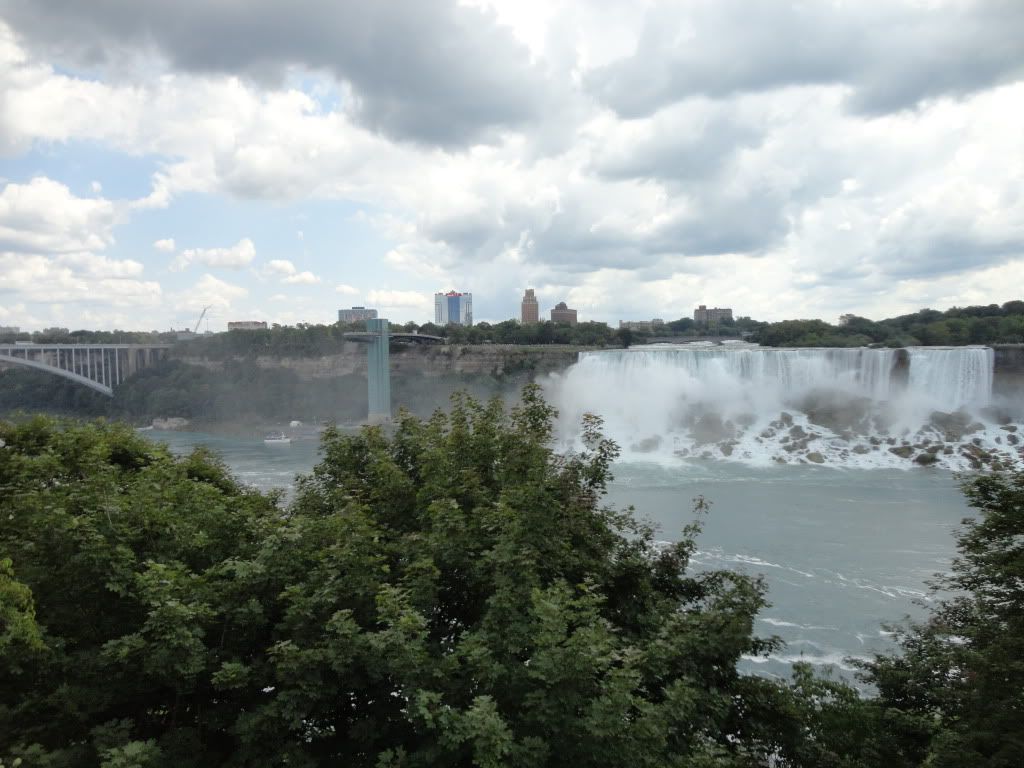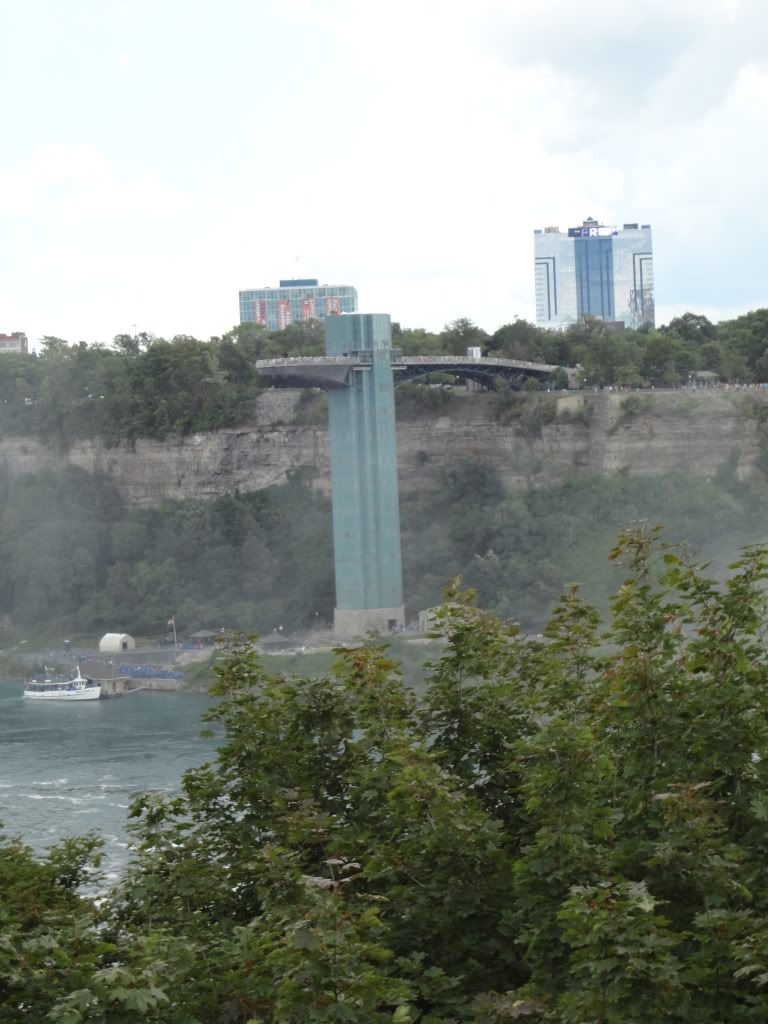 Rainbow Bridge: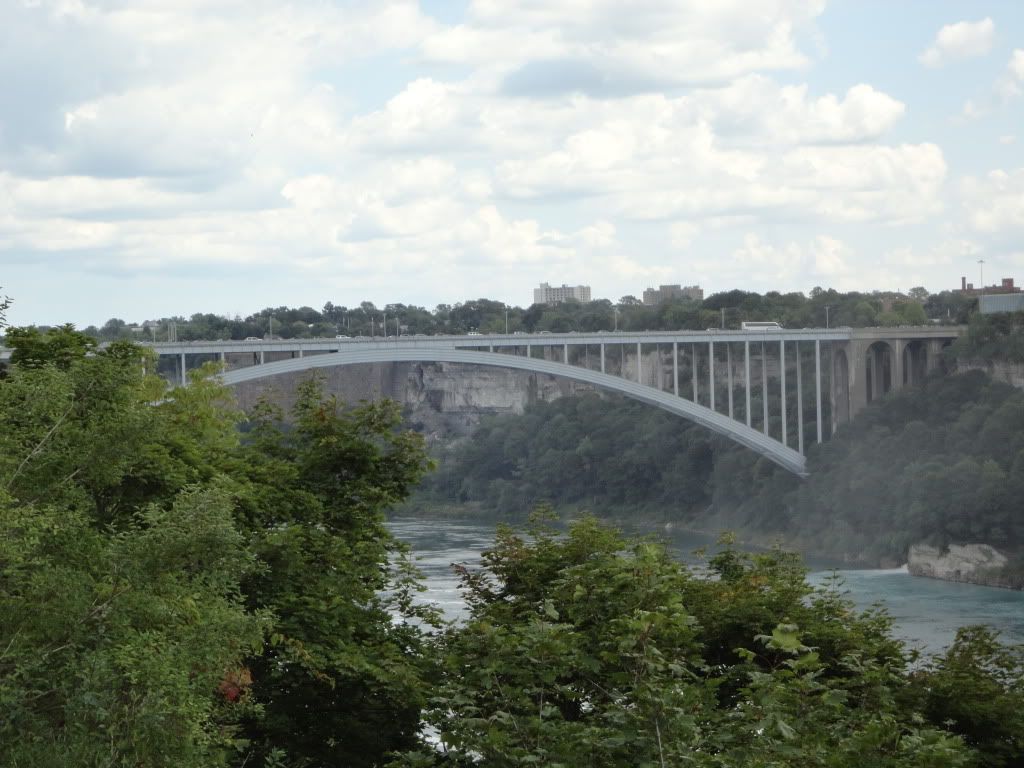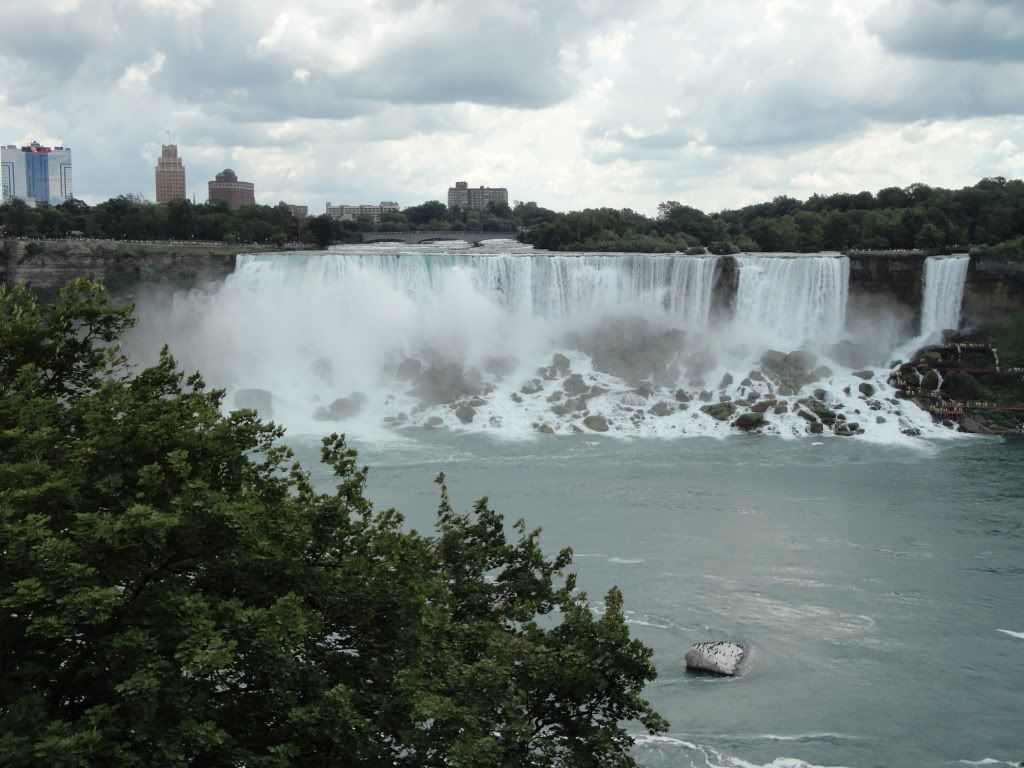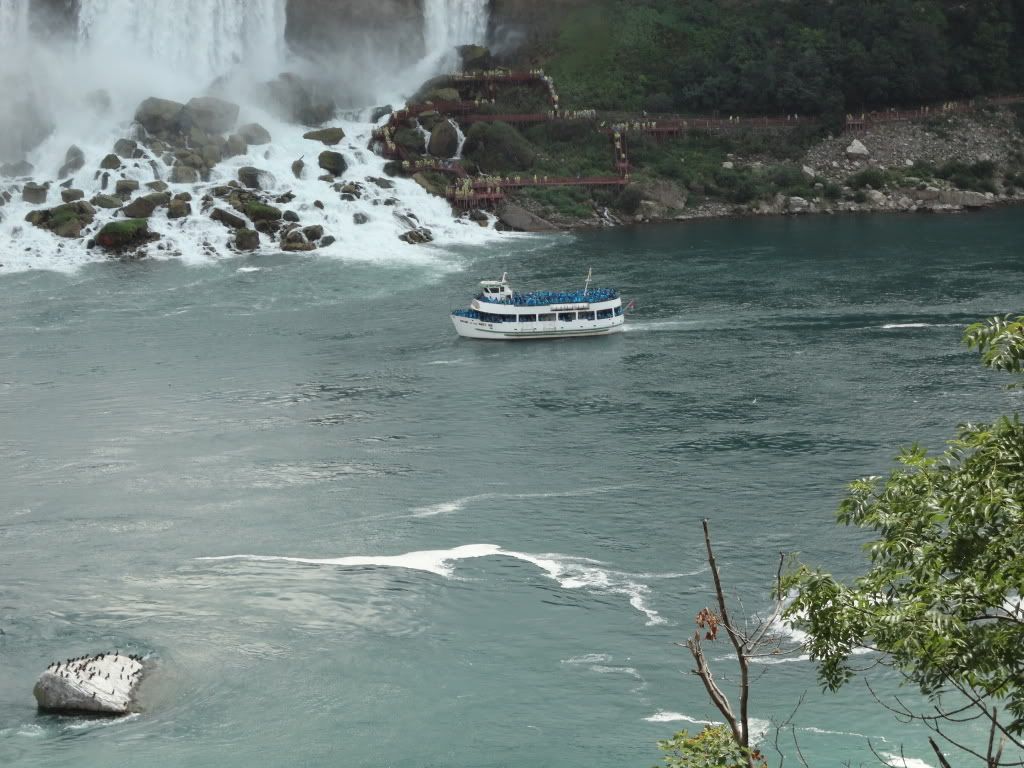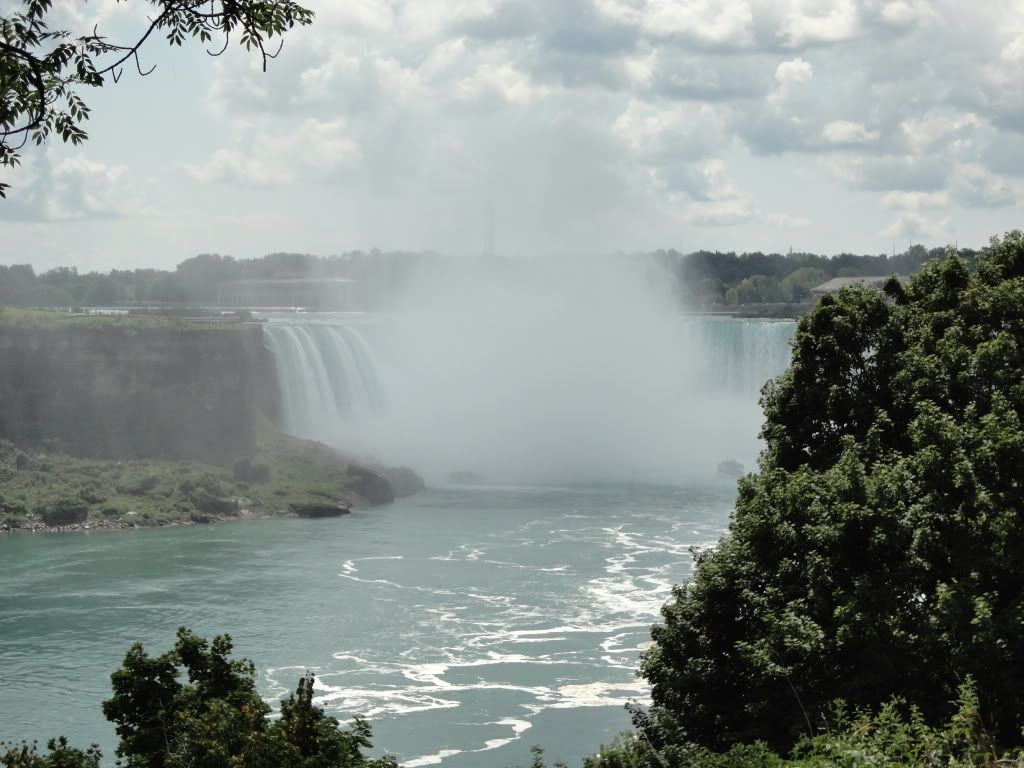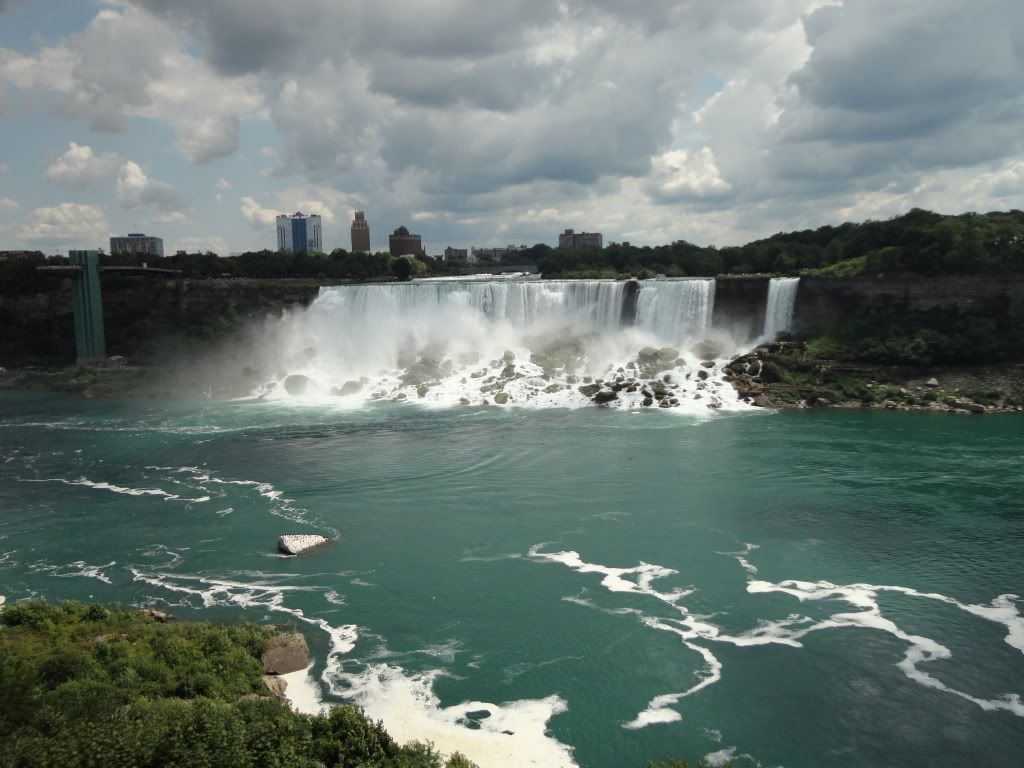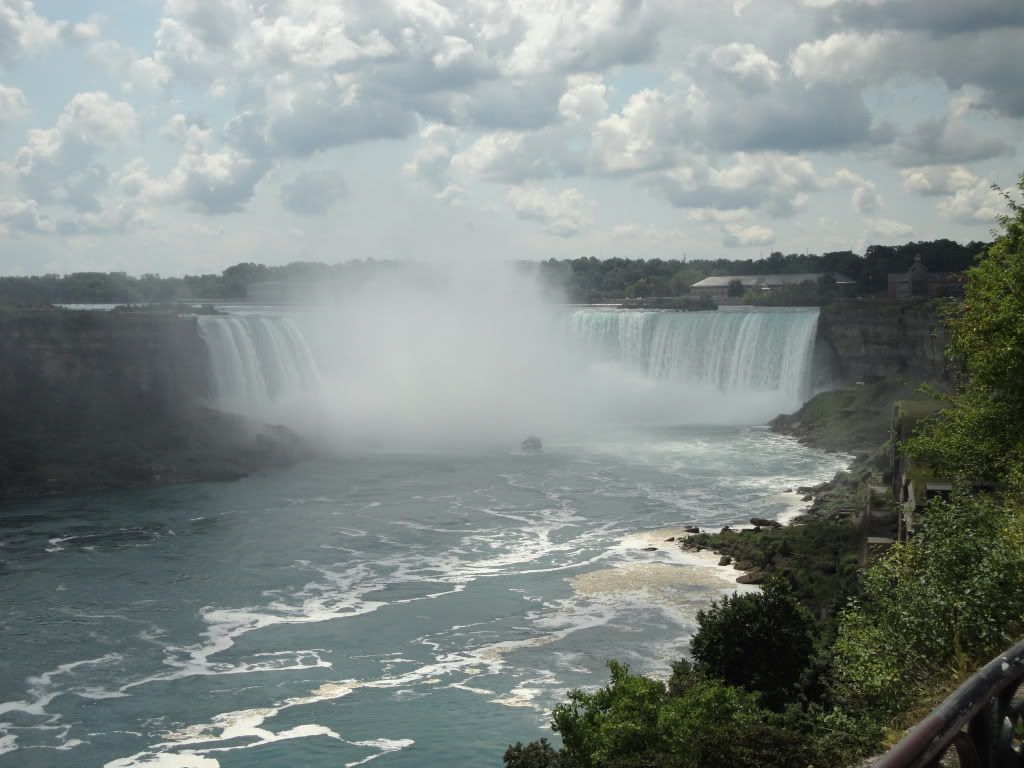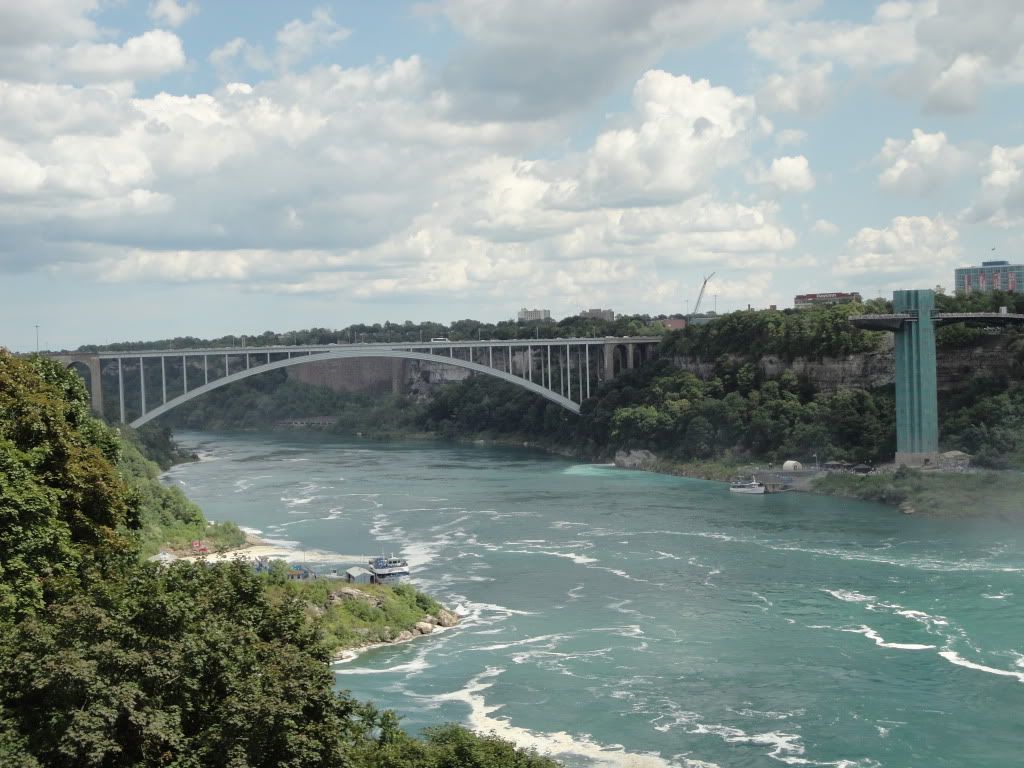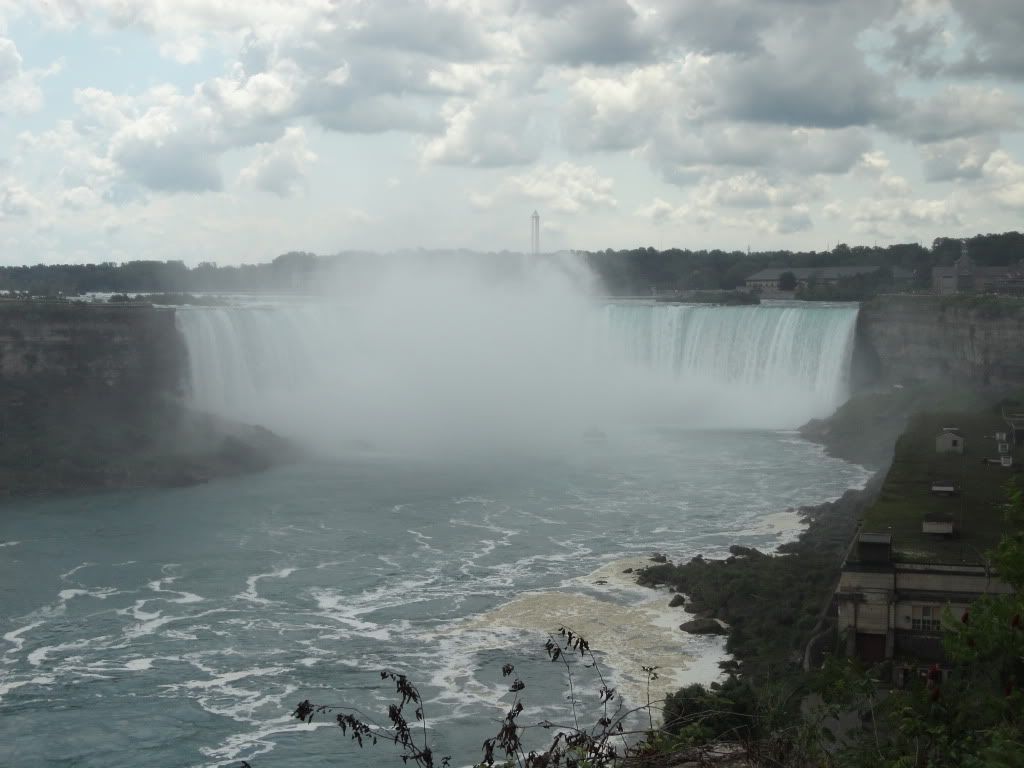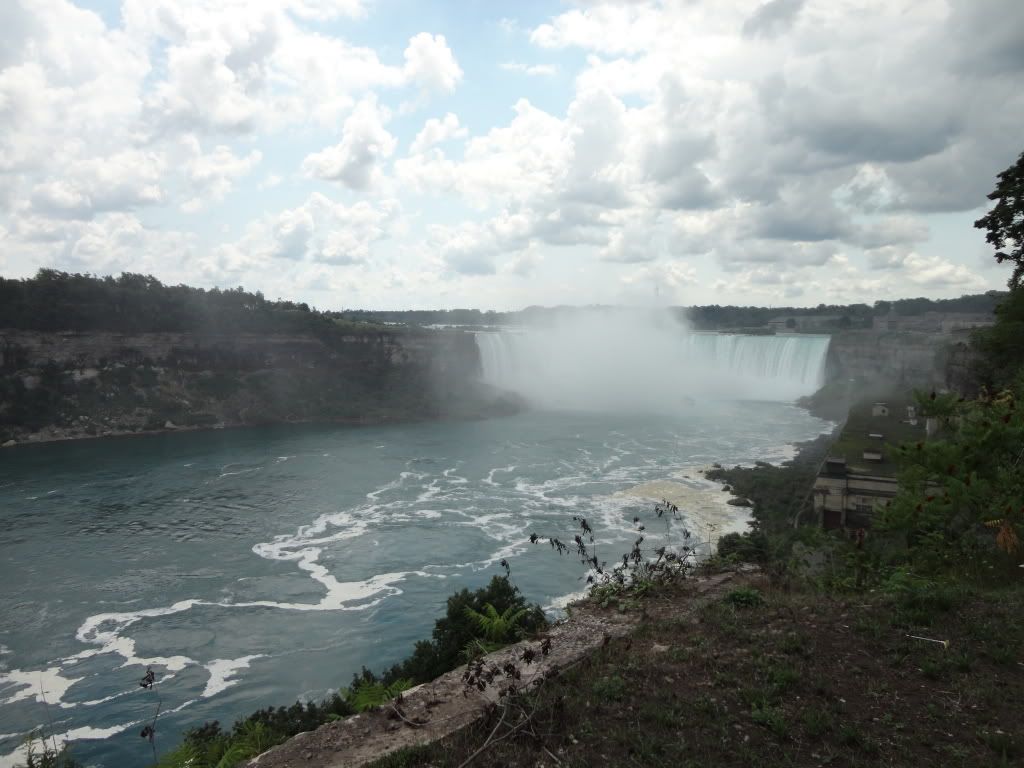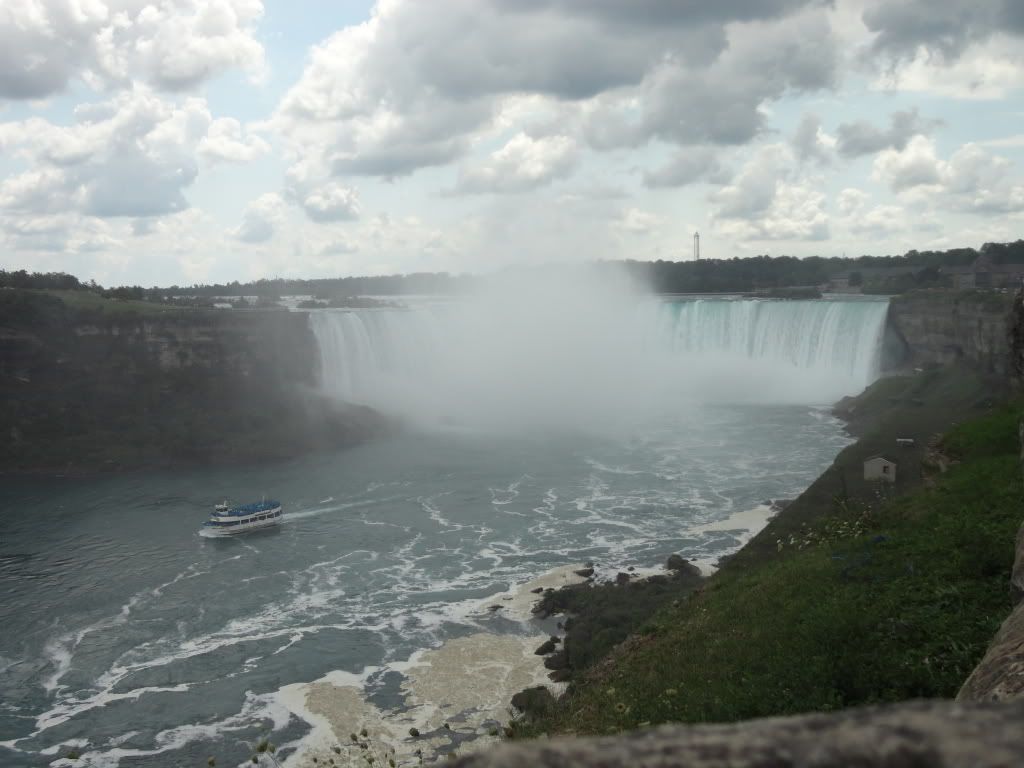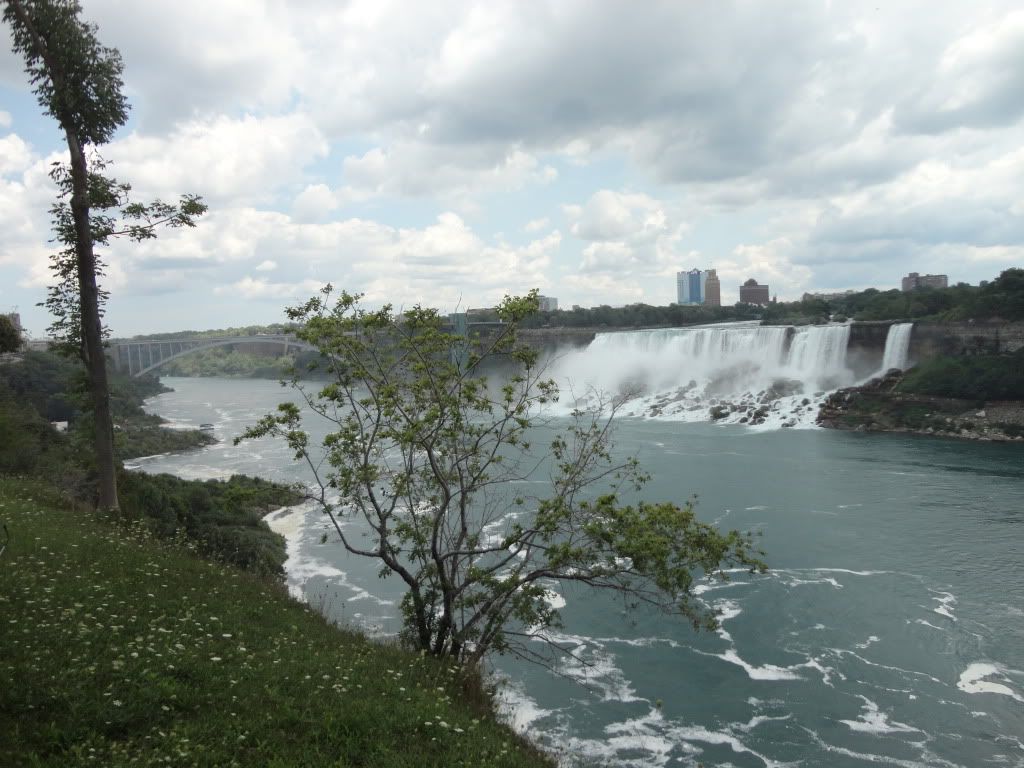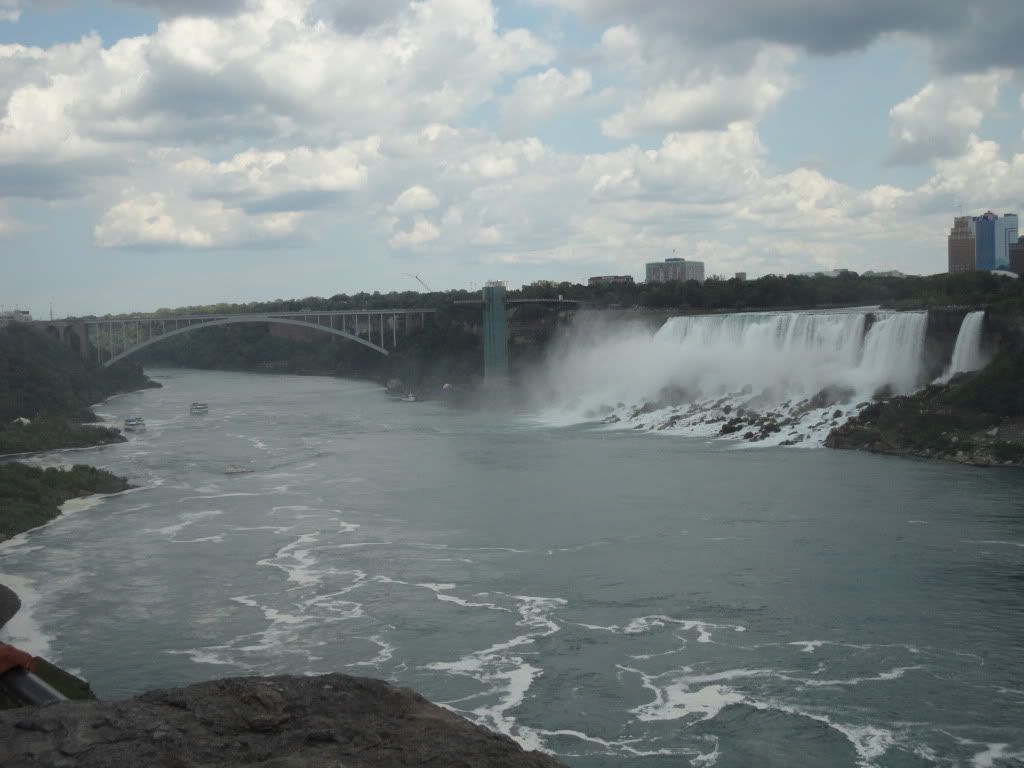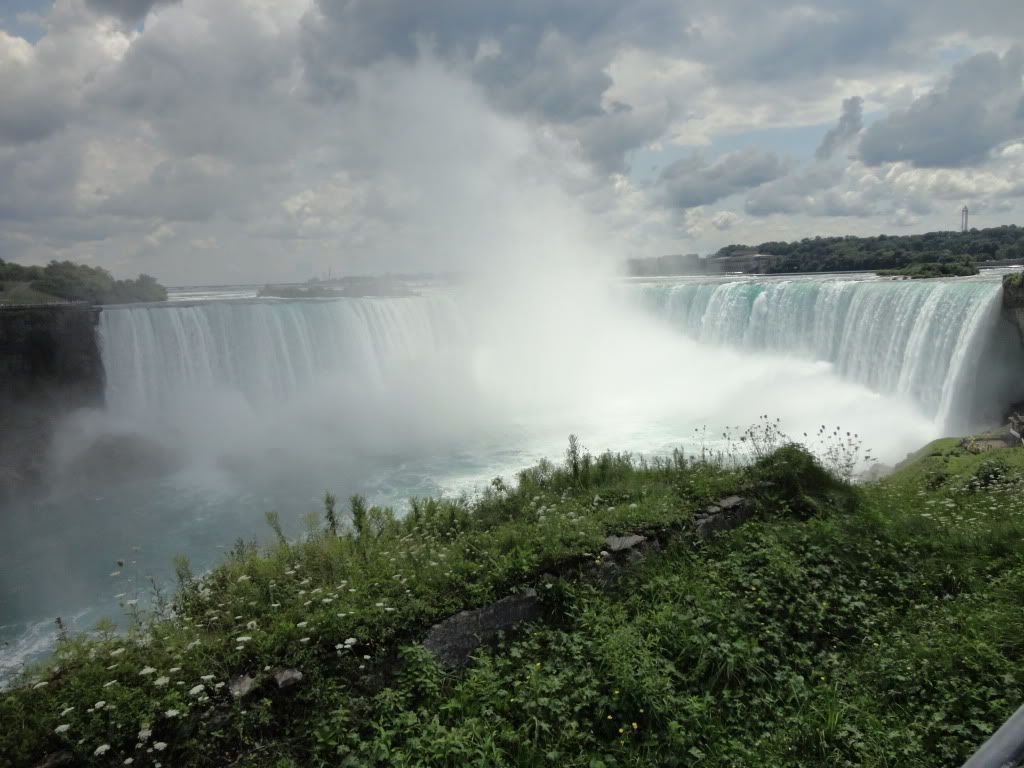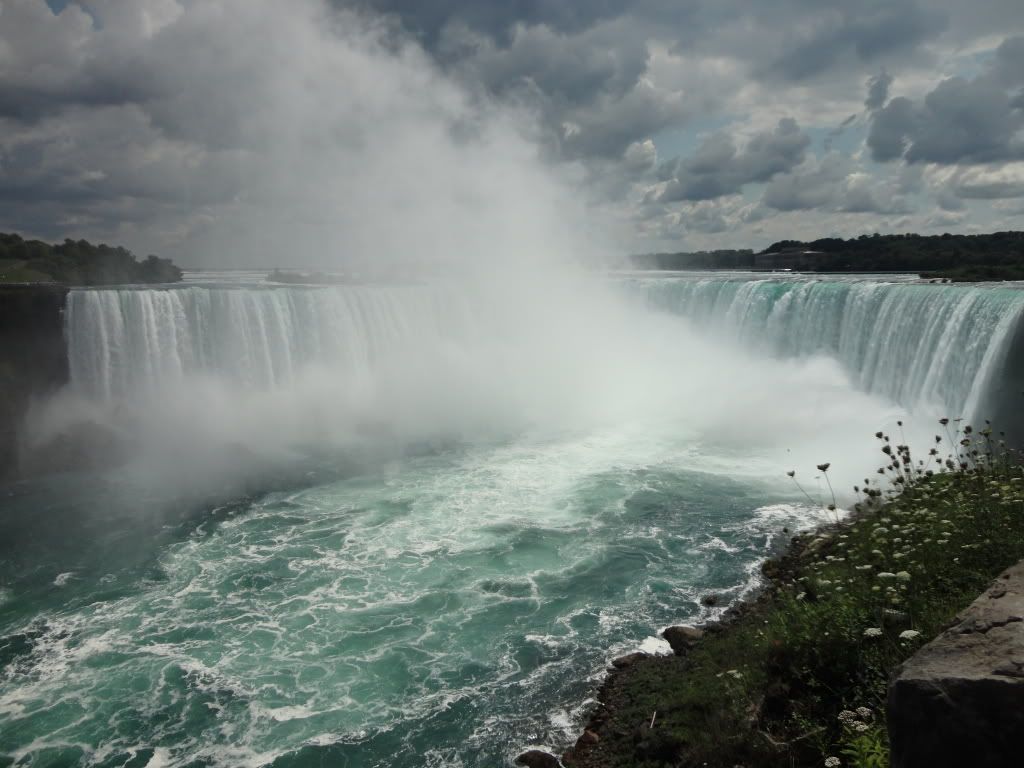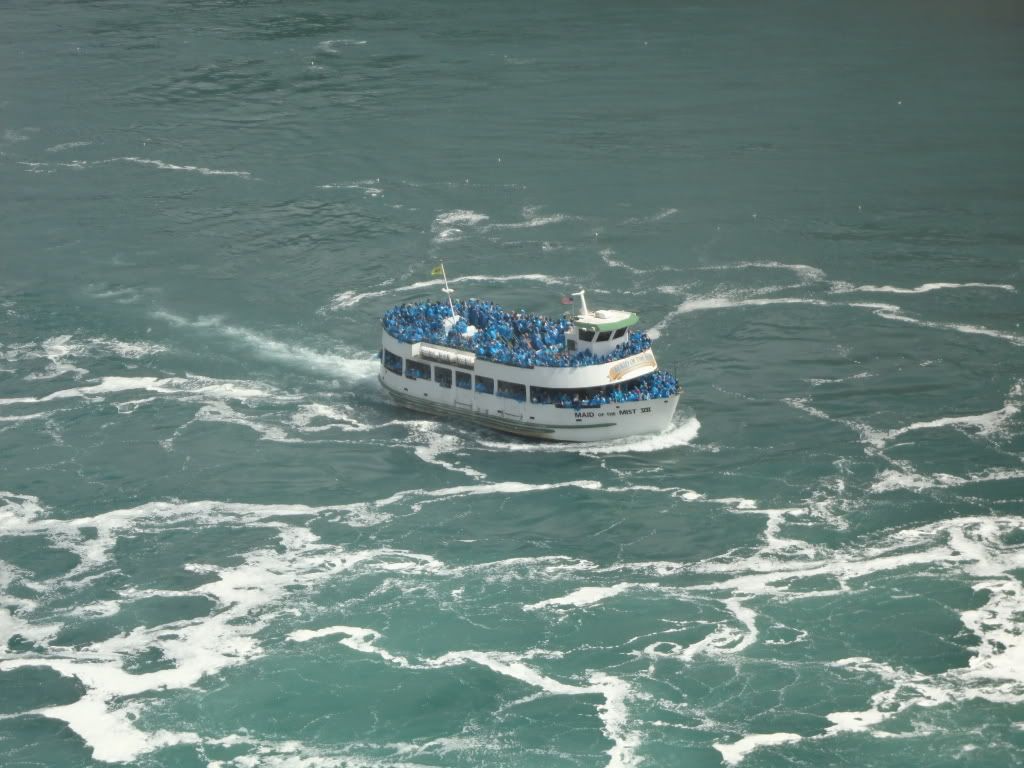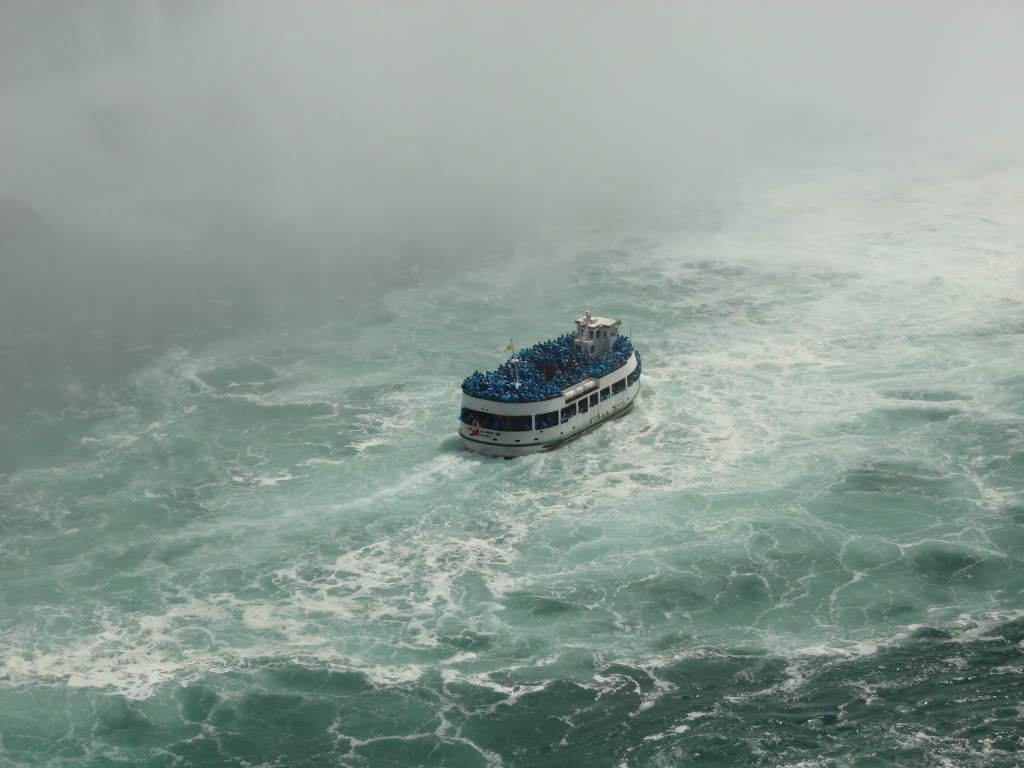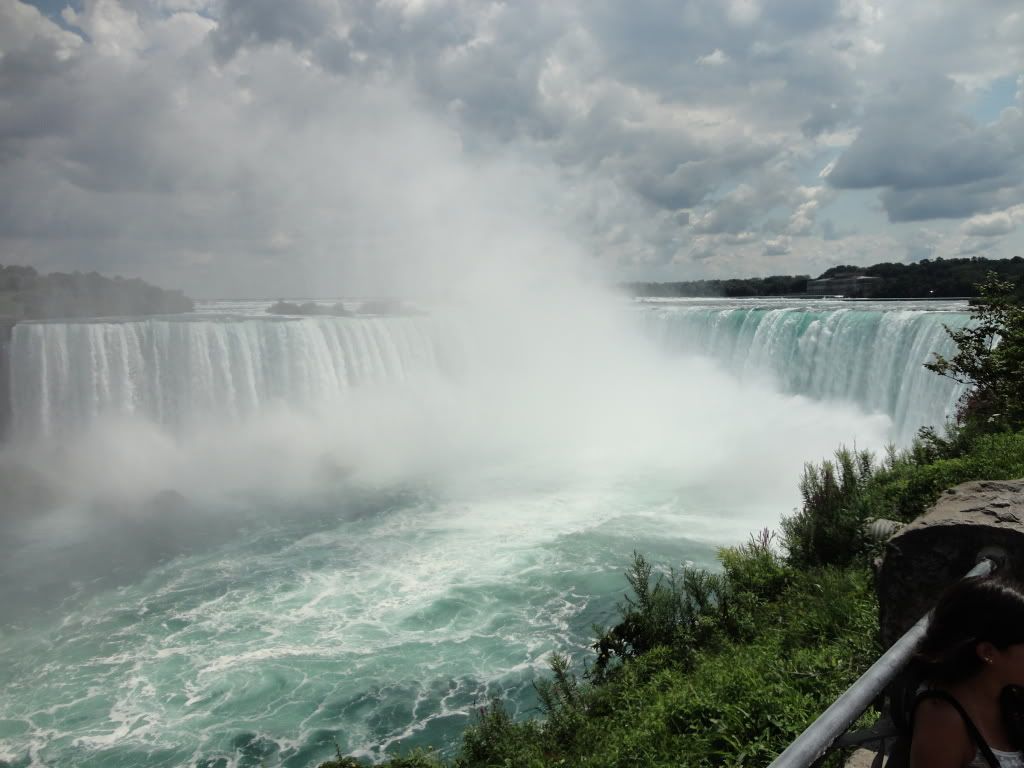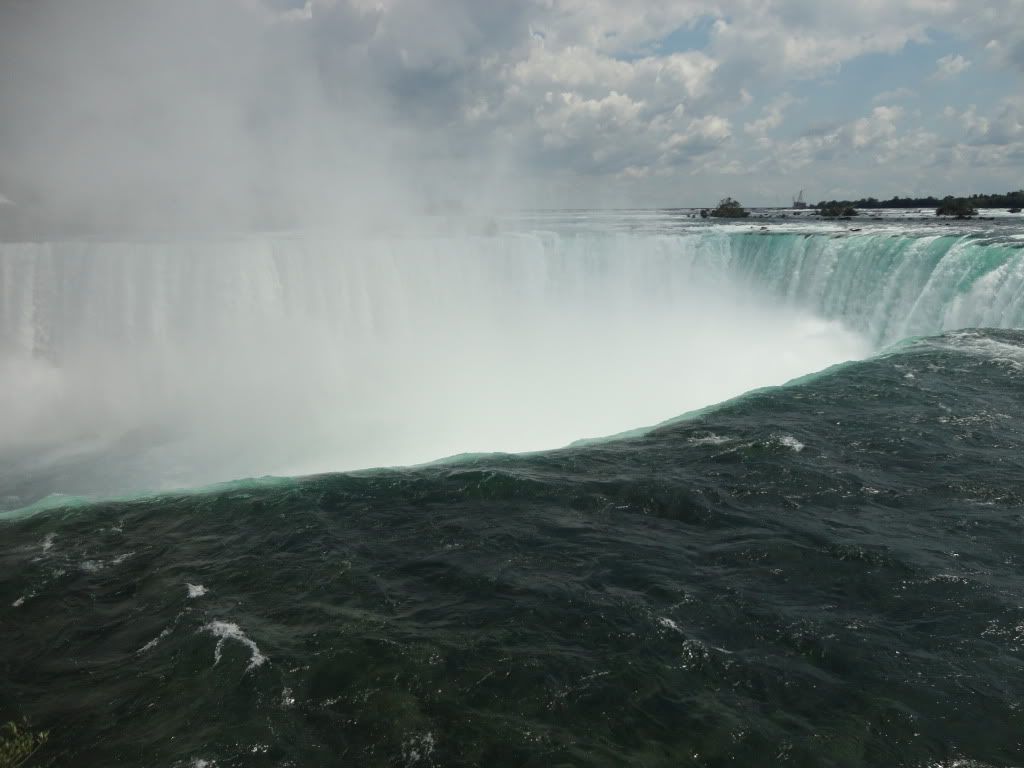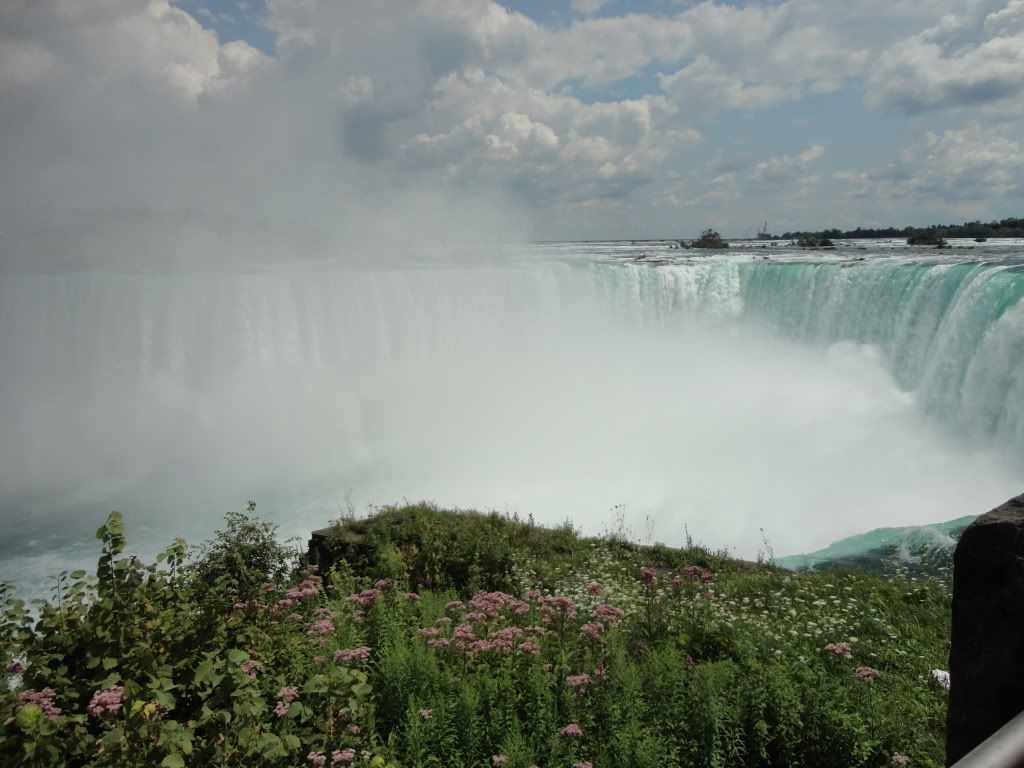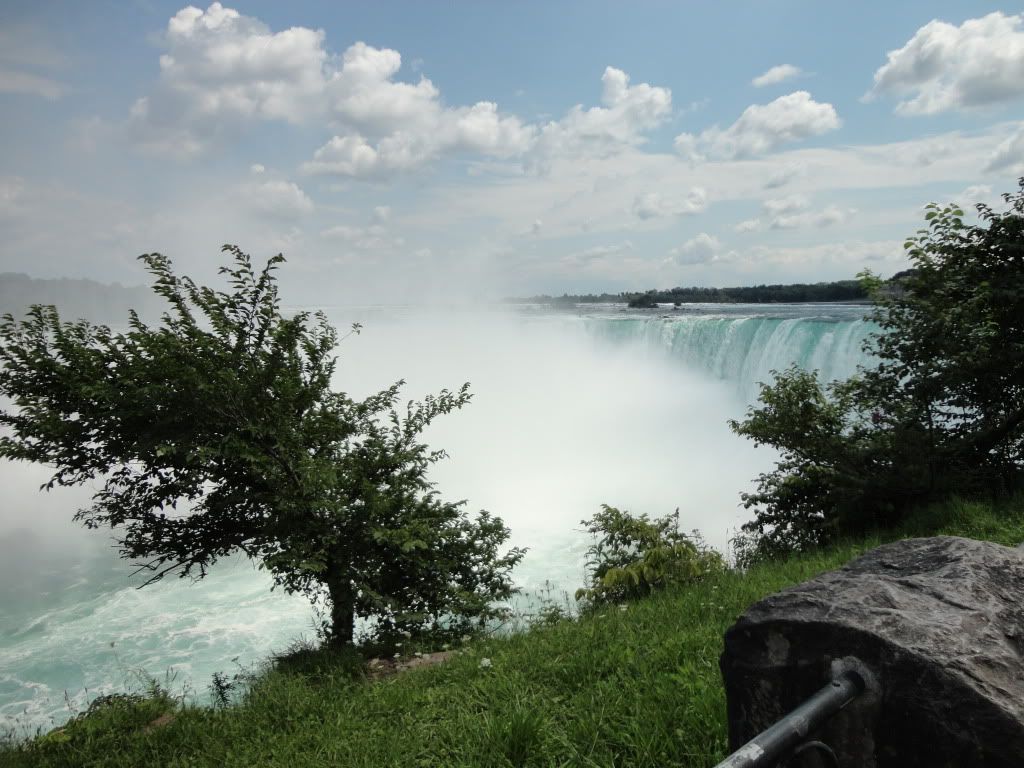 After a nice visit to the falls we drove up to Niagara on the lake. On the way you see a lot of beautiful scenery and houses.
Niagara Floral Clock: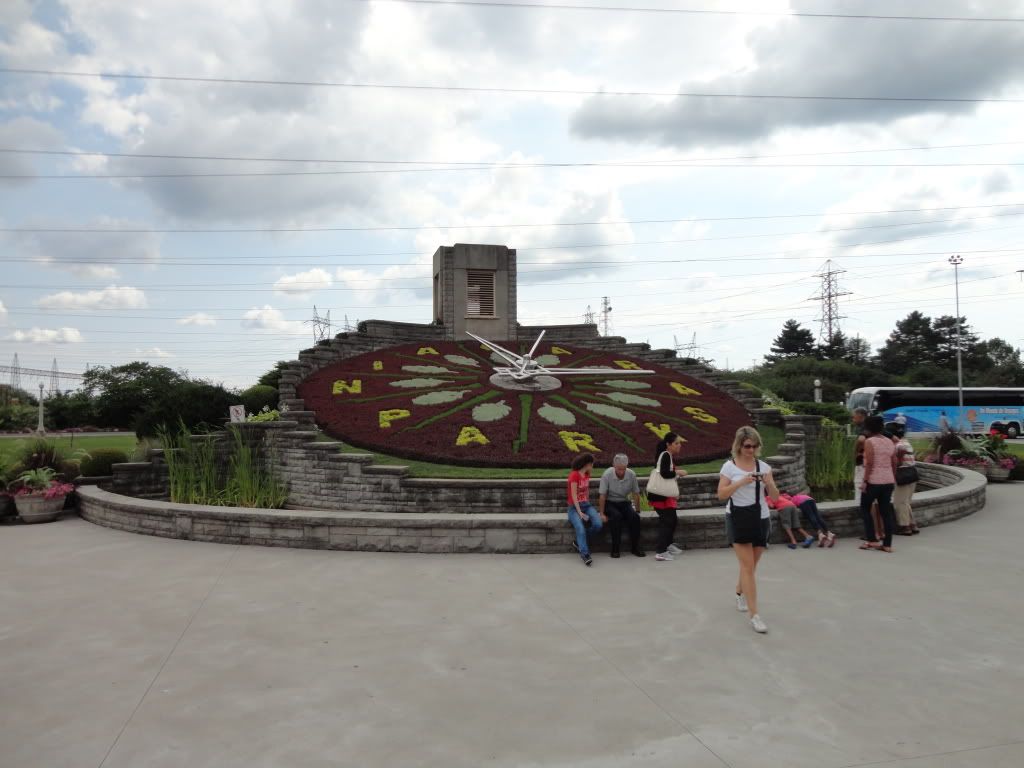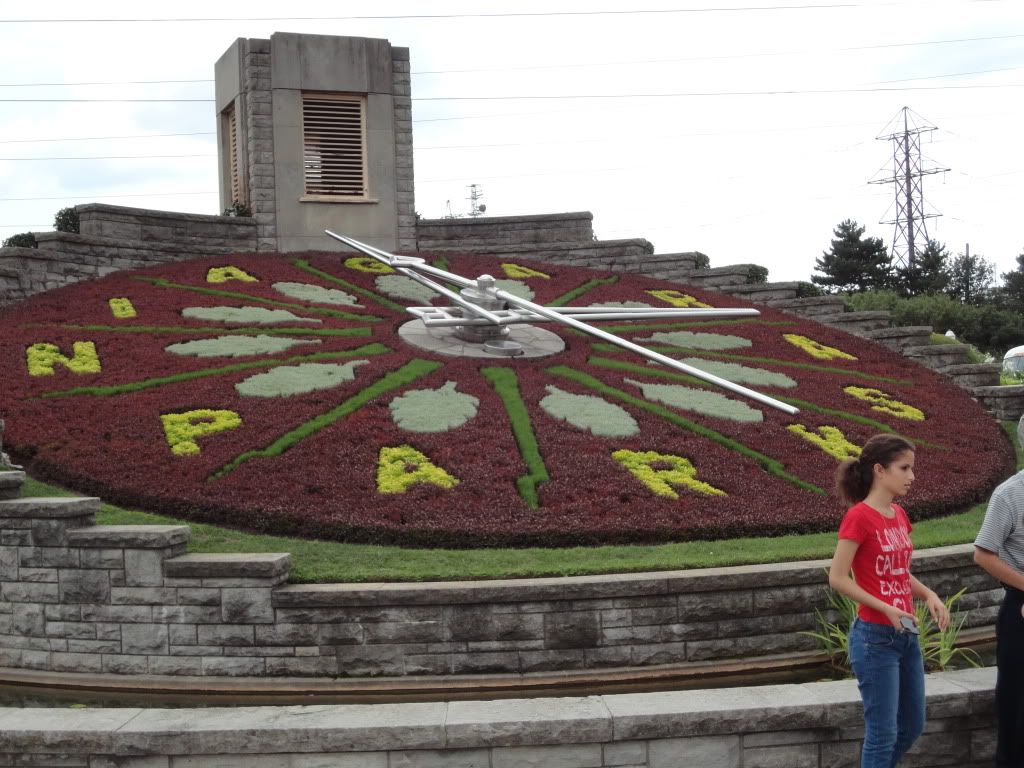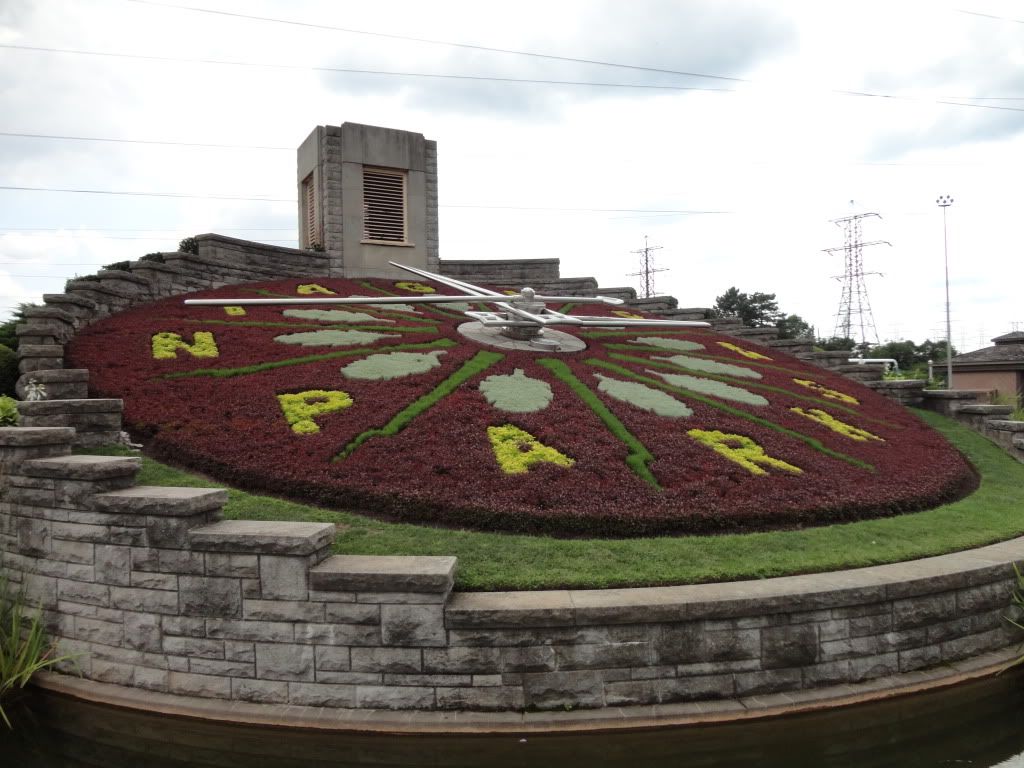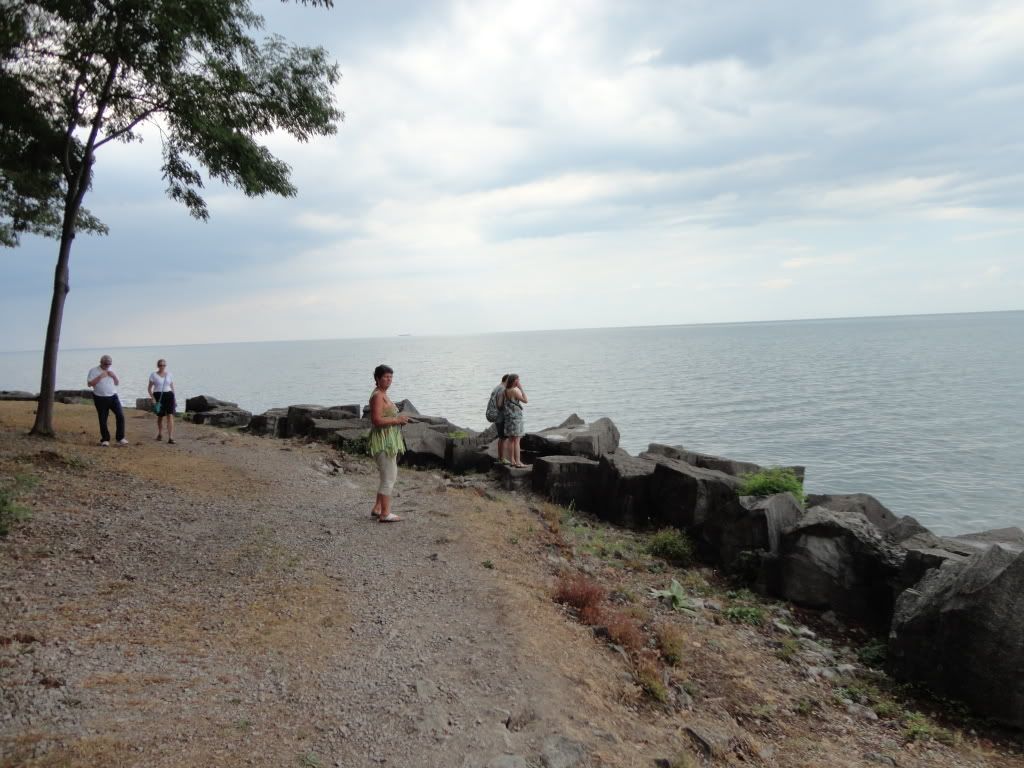 Getting to YYZ
It's Thursday the 16th of August. Unfortunately, the end of my vacation. It's time to head back home, time to get back to "real life" , time to start working again.
As many of you know KLM has 2 daily flights between AMS and YYZ in the summer time. One leaving YYZ at 17:35 with the A330 and one leaving late at 23:05. Equipment on the later flight is either the 777 or the 747 combi. When choosing which return flight we wanted, my dad and I opted for the later flight hoping to get some sleep.
So it wasn't until after supper time, at 17:30, when we left Exeter for the airport. One of our friends was kind enough to drive us over to the airport. After about a 2 hour drive we arrived at Toronto Pearson's Terminal 3. We bid our friend farewell and headed into the Terminal building.
Check-In
As always we had checked in online. We had pre-selected seats 24 J/K, but decided to upgrade to economy comfort during online check-in. Once arriving at the check-in area there came a very nice surprise. We got an upgrade to Business Class, very nice!
Feeling quite excited we headed over to KLMs service desk situated next to the check-in area. After about 10 minutes we got our new BPs and headed over to the Sky Priority lane to drop our baggage off. It was our turn right away and after 5 minutes our baggage was tagged with Sky Priority and checked to AMS.
Security + Lounge
It was now time to head through security and on to the KLM/AF lounge. But first a picture of the nice looking check-in hall: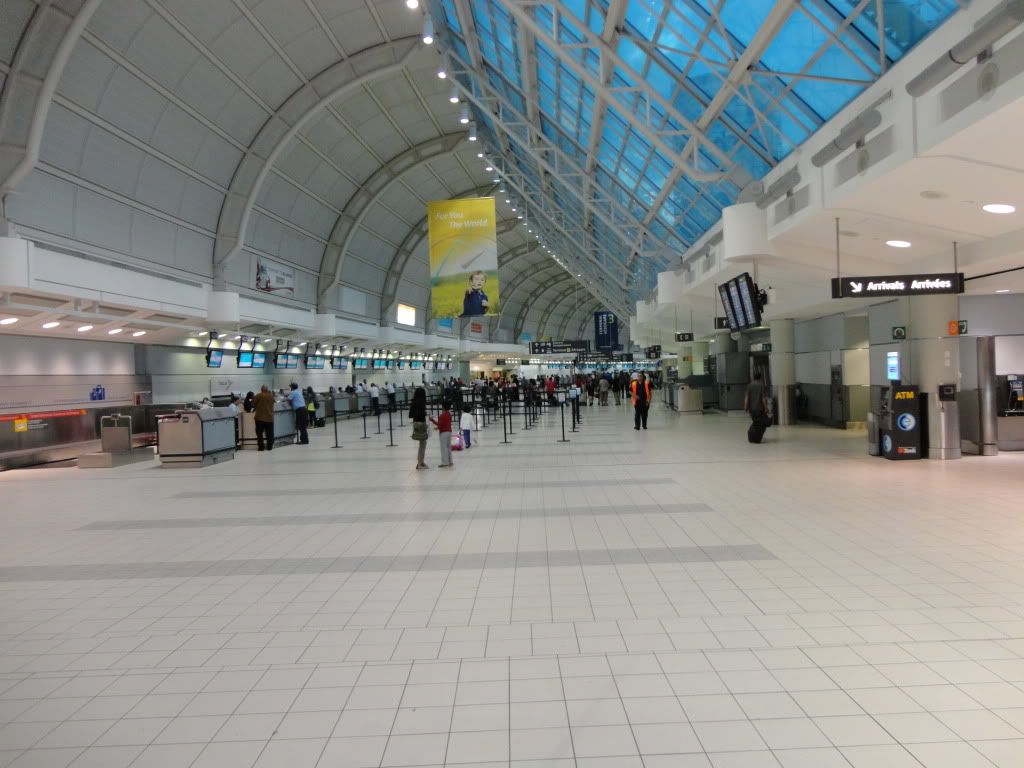 KLM check-in area: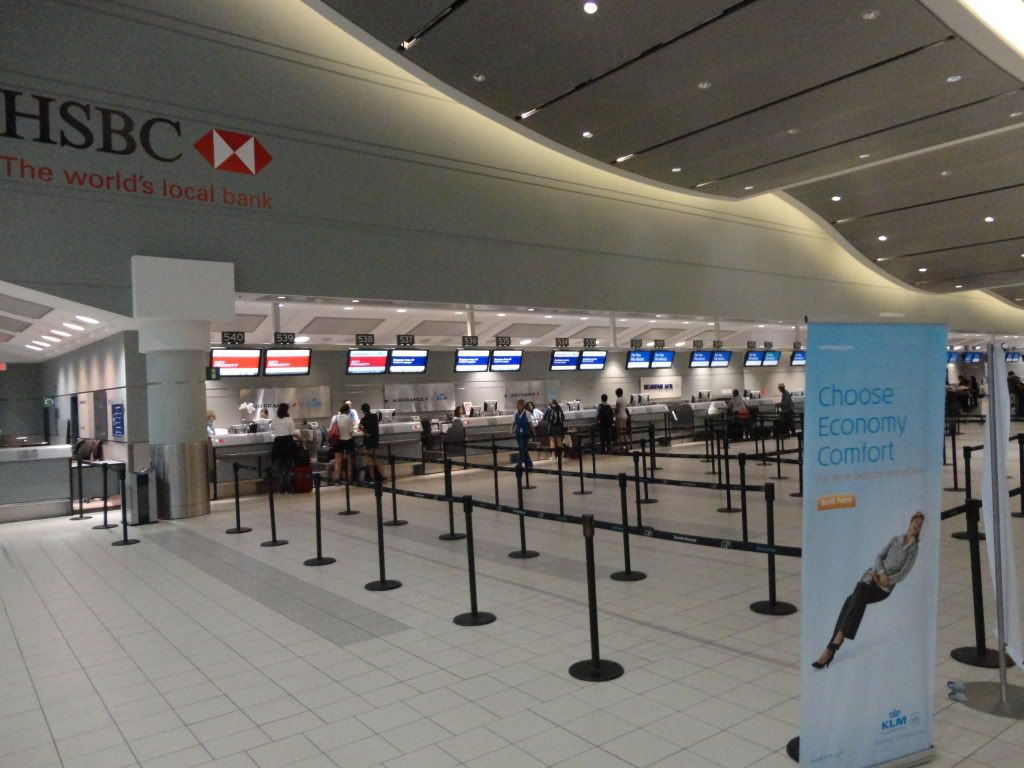 No priority lane at security (or at least I didn't see it or it wasn't open). But after 10 minutes I was through security without a problem. After looking around in the various shops we headed over to the KLM/AF lounge which is situated opposite gate C32 and close to our assigned gate C35: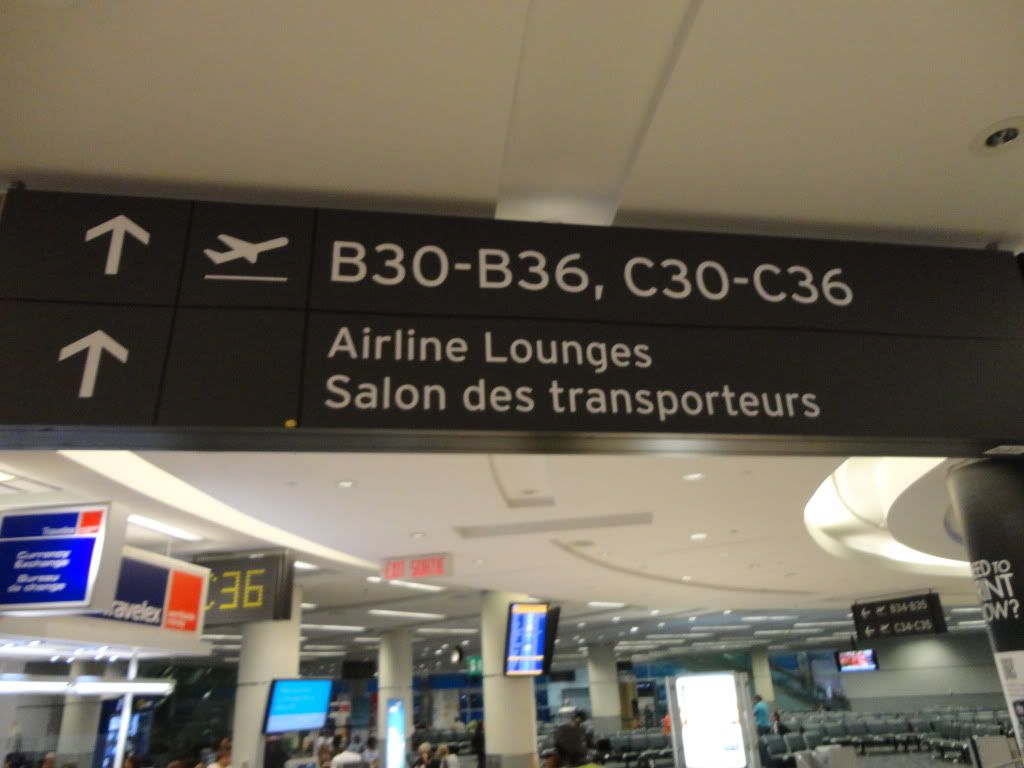 FIDS: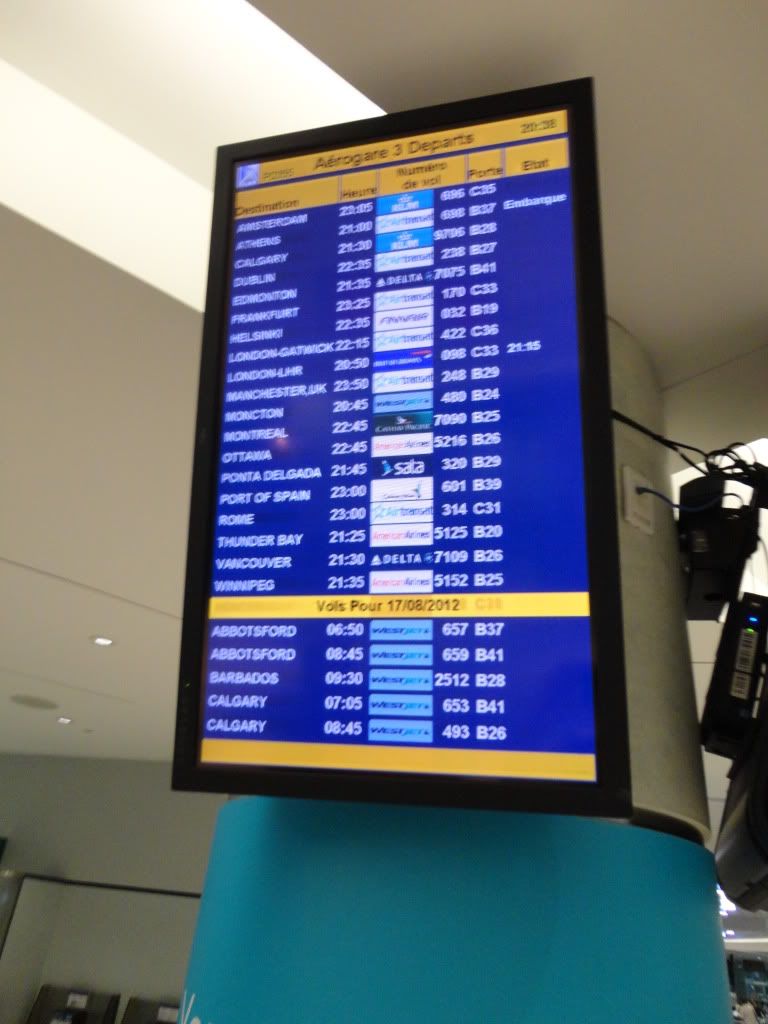 We headed up the elevator where the different airline lounges are situated: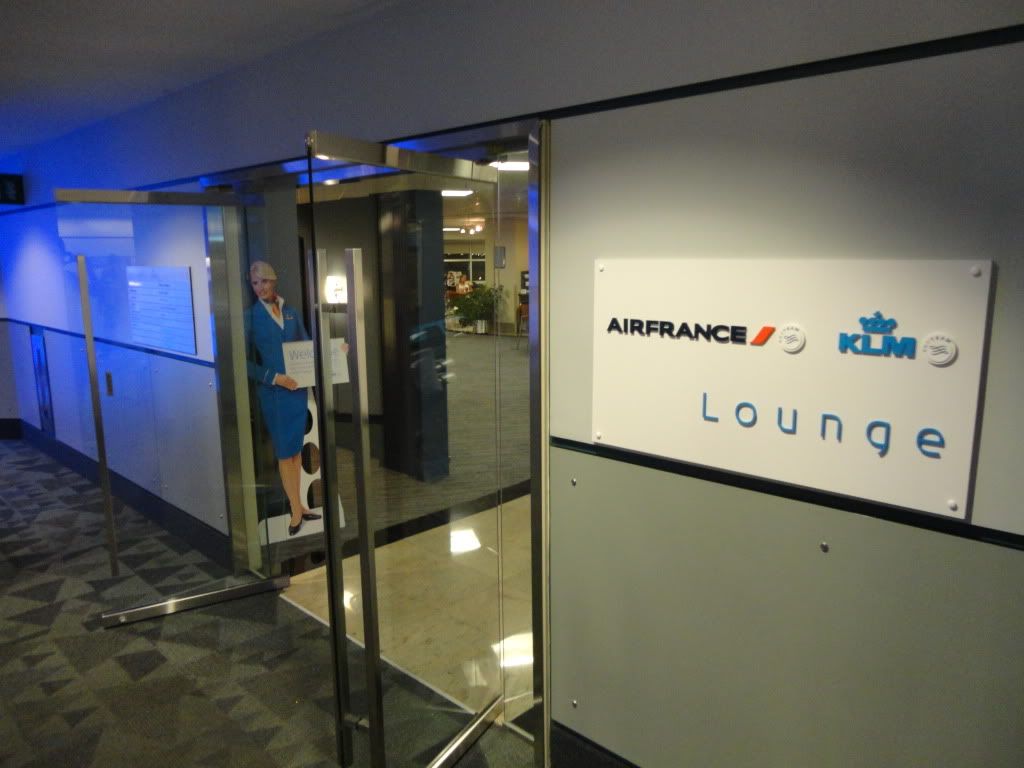 The KLM/AF lounge is an OK lounge, nothing special. It has a variety of drinks/booze/snacks and warm soup on offer. It is a nice place to relax before your flight, although I would say it is a bit too small as it was quite crowded. Therefore I didn't take that many pictures. My dad and I decided to settle in at the computer area situated at the back of the lounge while frequently getting something to drink/eat: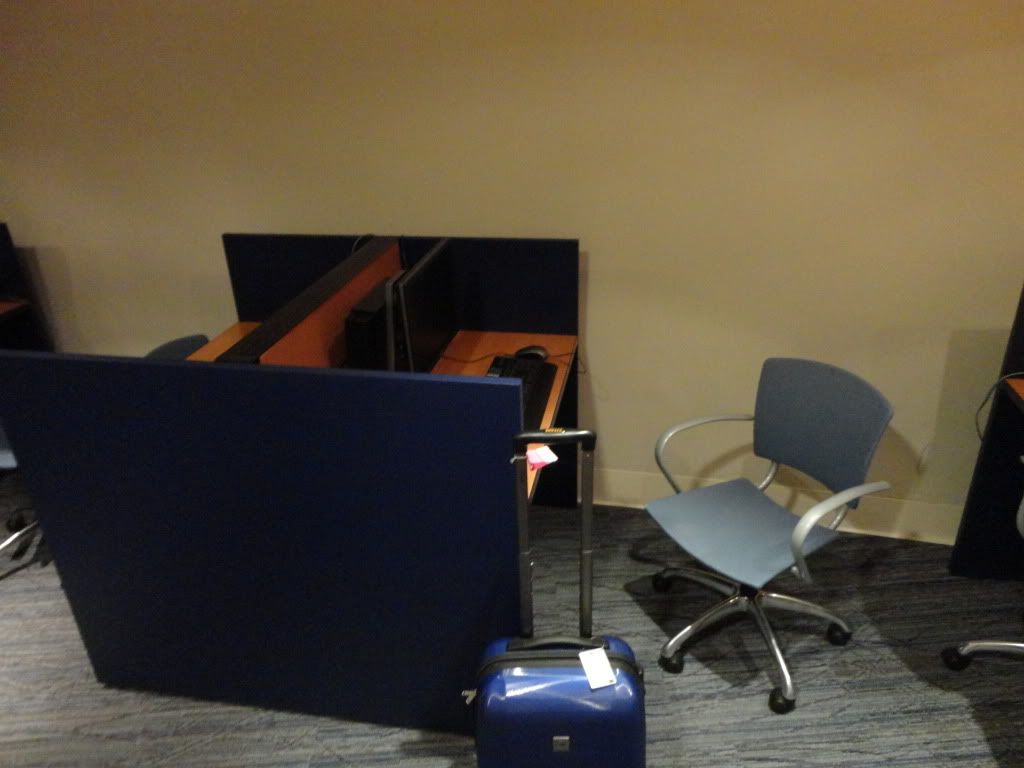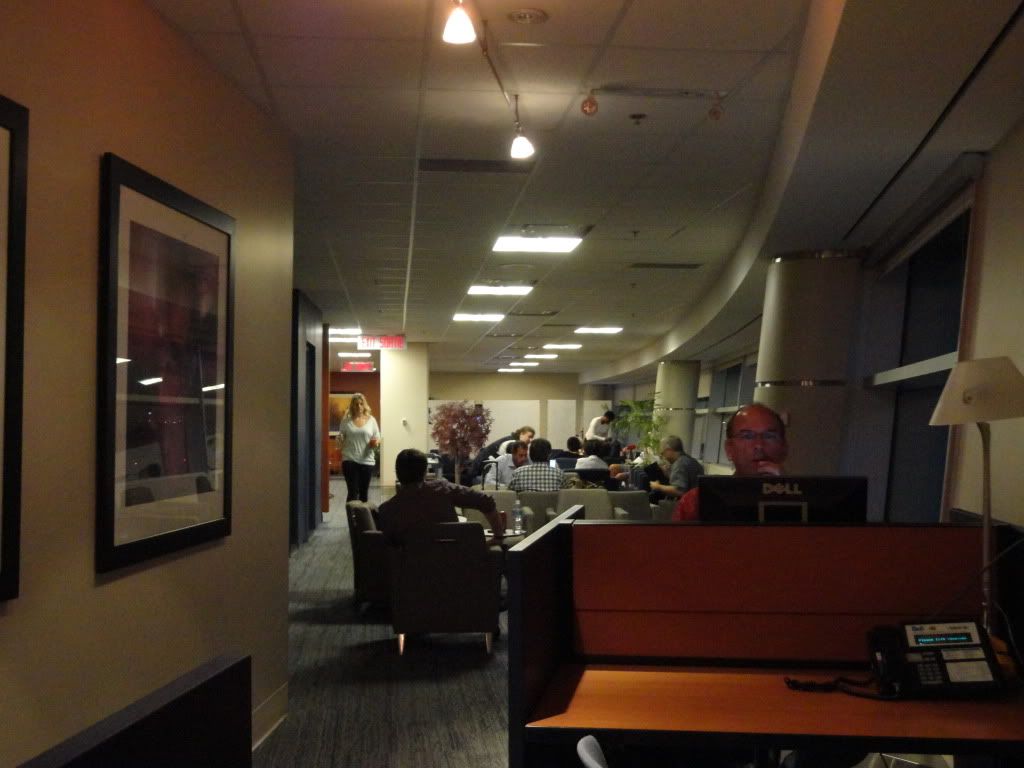 Cheers PH!: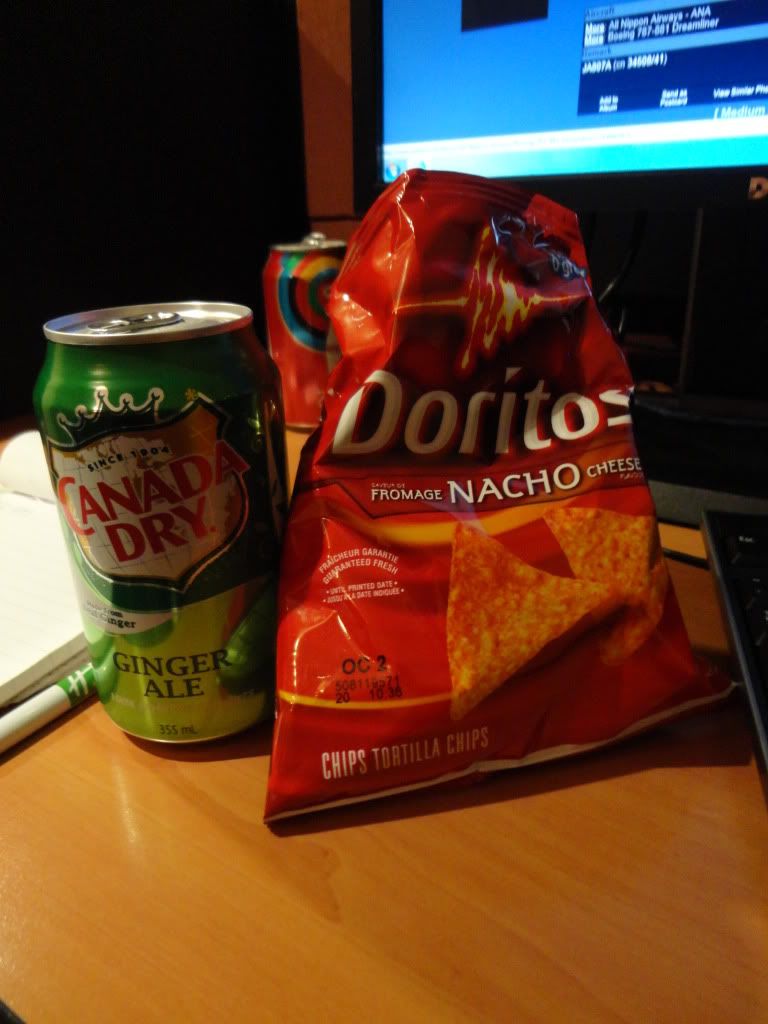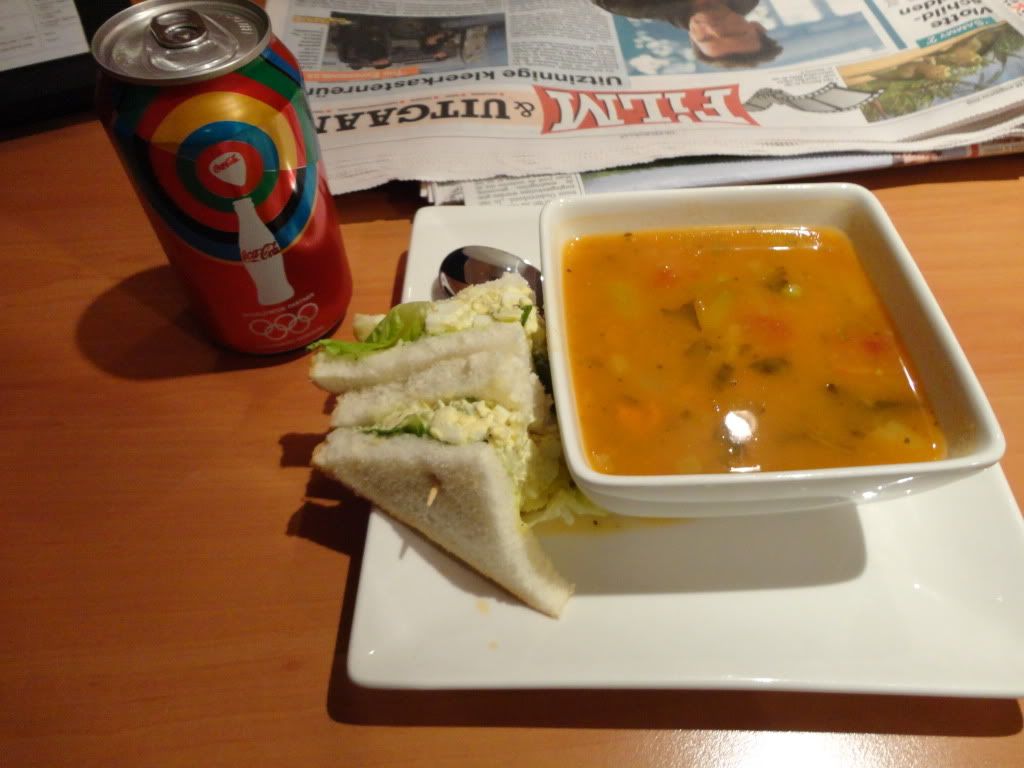 Boarding
BP for this flight: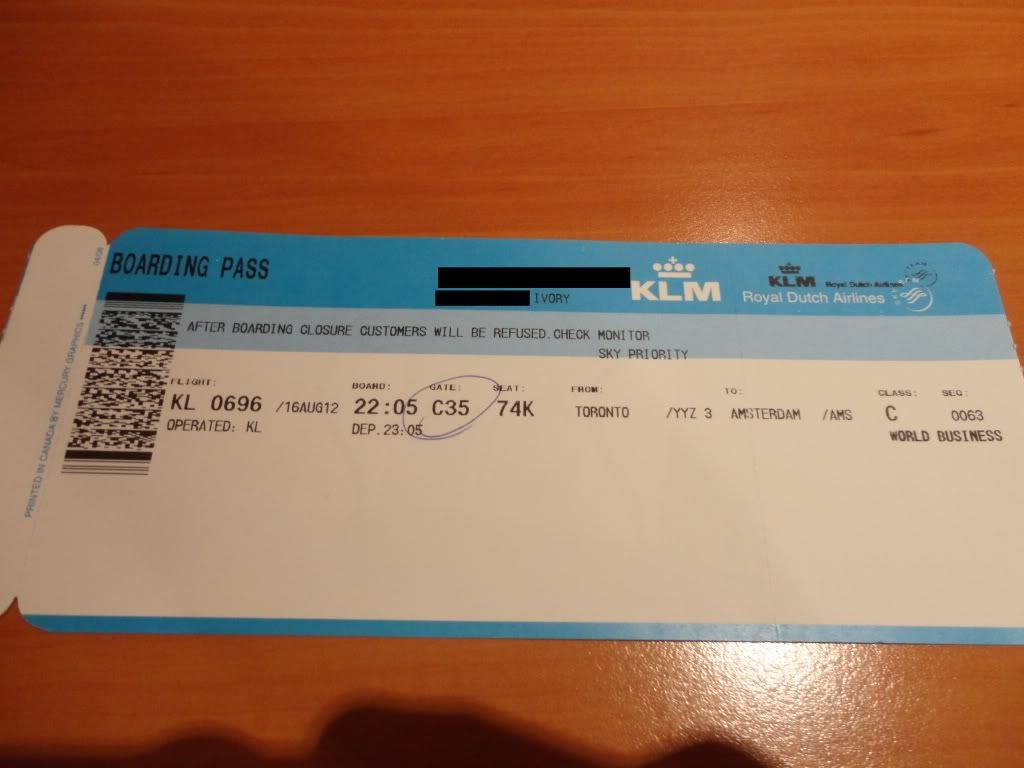 At 21:50, 15 minutes before boarding time, we headed back downstairs to look around at some more shops before heading to the gate.
We arrived at our assigned gate C35 exactly at boarding time: 22:05. 5 minutes later, at 22:10, boarding was announced and the usual chaotic boarding scene was created. One of the gate agents handled this well and asked everybody to take a seat to which half the people complied.
First the families with small children and people needing special assistance were called for boarding, followed by the Business Class passengers.
So I zigzagged my way through the crowd and headed towards the Sky Priority lane. Got my BP scanned, passport checked and headed into the jetway.
16/08/2012
YYZ-AMS
KL0696 // 74K
B747-400 KLM // PH-BFC
23:05-12:10
Continued Below