View Large
View Medium


Photo © Jakkrit Prasertwit
Hello folks!
Last weekend I took a trip to Cambodia. I've never been so I though it would be neat to check out the place for the weekend. I was disappointed that Angkor Wat Cambodia doesn't fly to Suvarnabhumi. Would be neat to check out a new airline.
I chose Thai Airways again and I hate to sound like a broken record but; they were the cheapest on the route!
Cheaper than Bangkok Airways and much cheaper than Air Asia. Best off all, an opportunity to log more Royal Orchid miles and get full service on a short flight and not get penalized for any abrupt changes in schedule.
My flight in both directions was on HS-TDK.
HS-TDK in her prettier days.
View Large
View Medium


Photo © Paul Jongeneelen
This was a flight I almost missed as I slept the night before and slept through my alarm clock but thunder & lightning woke me and I realized that I had less than 90 minutes before my flight left.
I shot out of bed, grabbed my suitcase, down the elevator and ran down the street to get a taxi.
Oh and I put my clothes on before I did all of this.
...
This storm was my alarm clock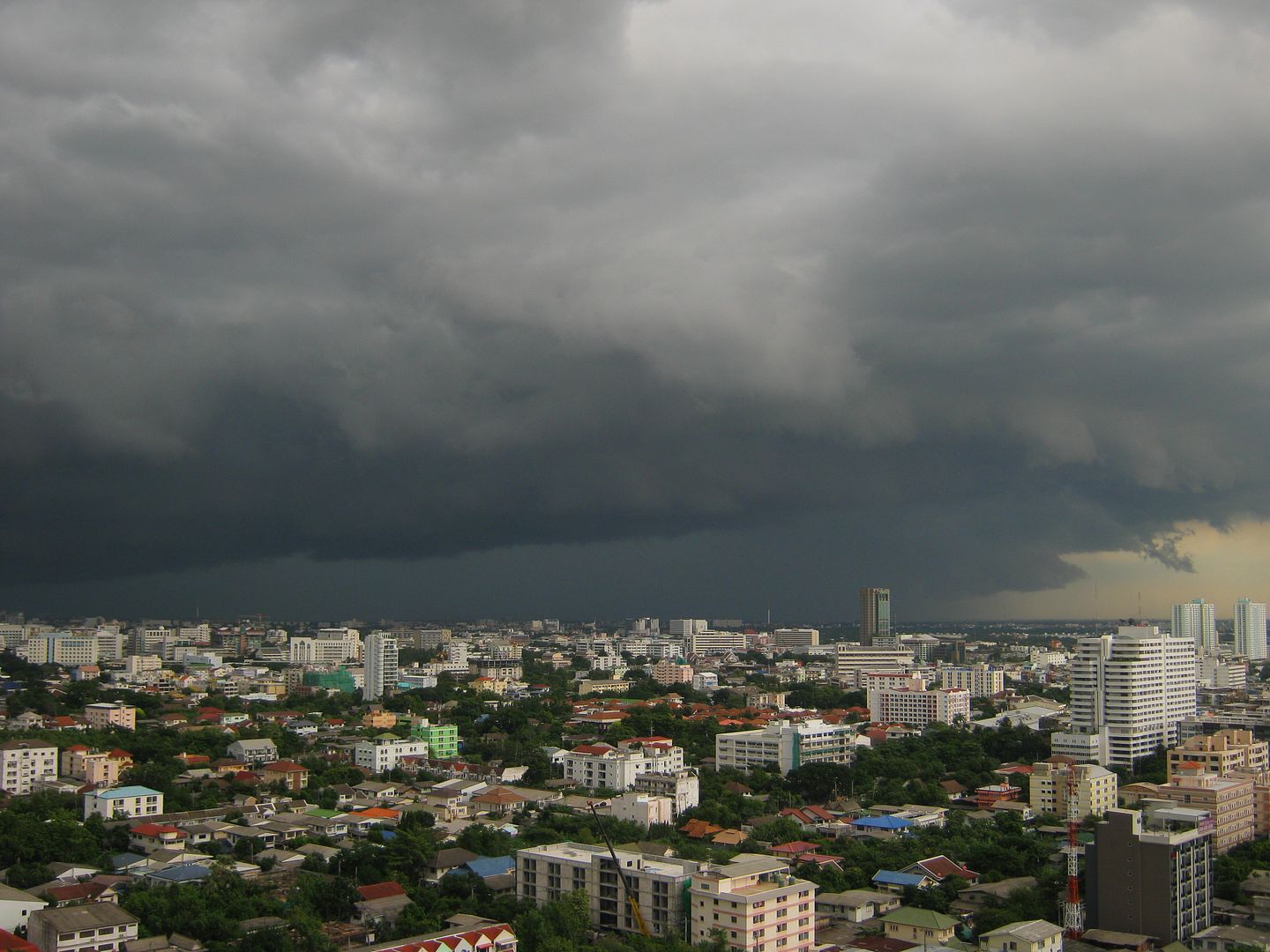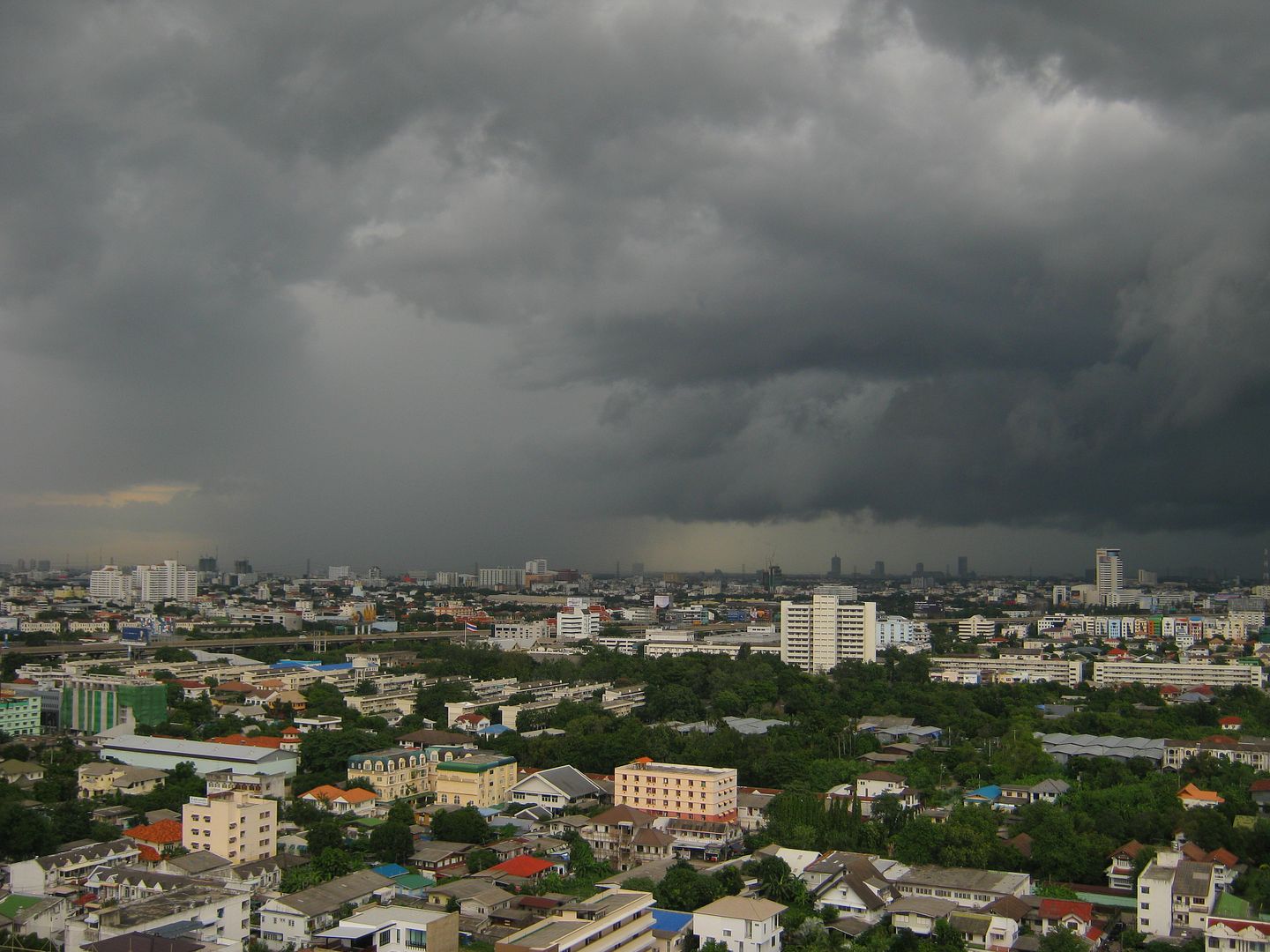 I was lucky to get one of those crazy drug induced Bangkok taxi drivers that drive with the accelerator pedal pushed all the way to the floor. It's always a treat to get these guys as a taxi driver because I usually get stuck with the slow ones.
Luckily we were going against the flow of traffic so it was open toll way. The rain was really intense and at times couldn't see anything but intense rain through the windshield but that didn't stop the taxi driver from going over 160Km/h. (98MPH approx.)
In retrospective, we shouldn't be alive but hey, I made it to my flight.
The airplane angels were looking over me.
Normally it's sunny in the mornings but the unusual morning storm woke me up. I got a fast taxi driver which I rarely get and I made my flight, got a window seat and no one sitting next to me.
Check in went smooth as there were no lines, going through customs was swift and the flight boarded and pushed back on time.
So much rain, I couldn't make out what airline that was parked next to us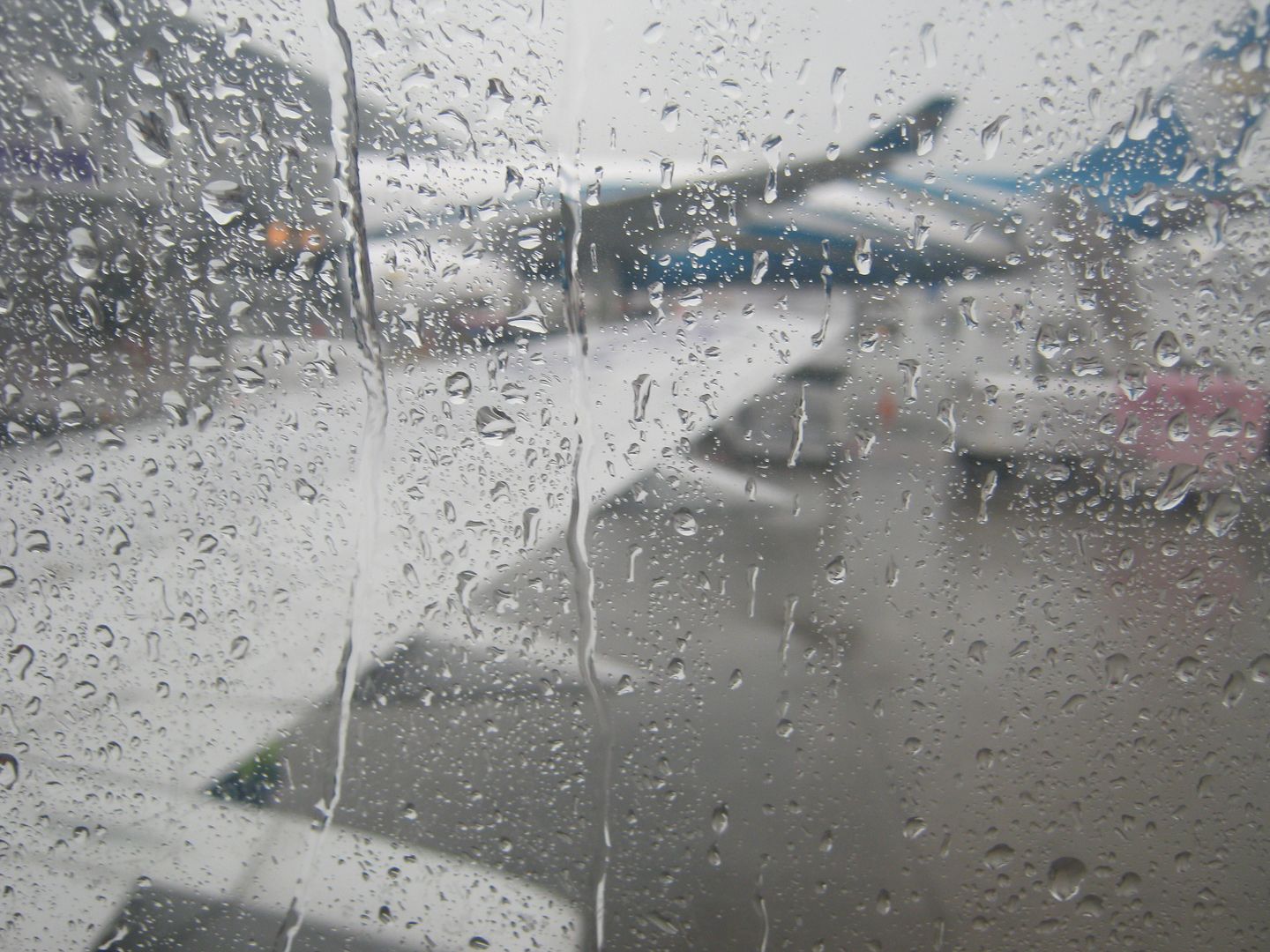 safety demo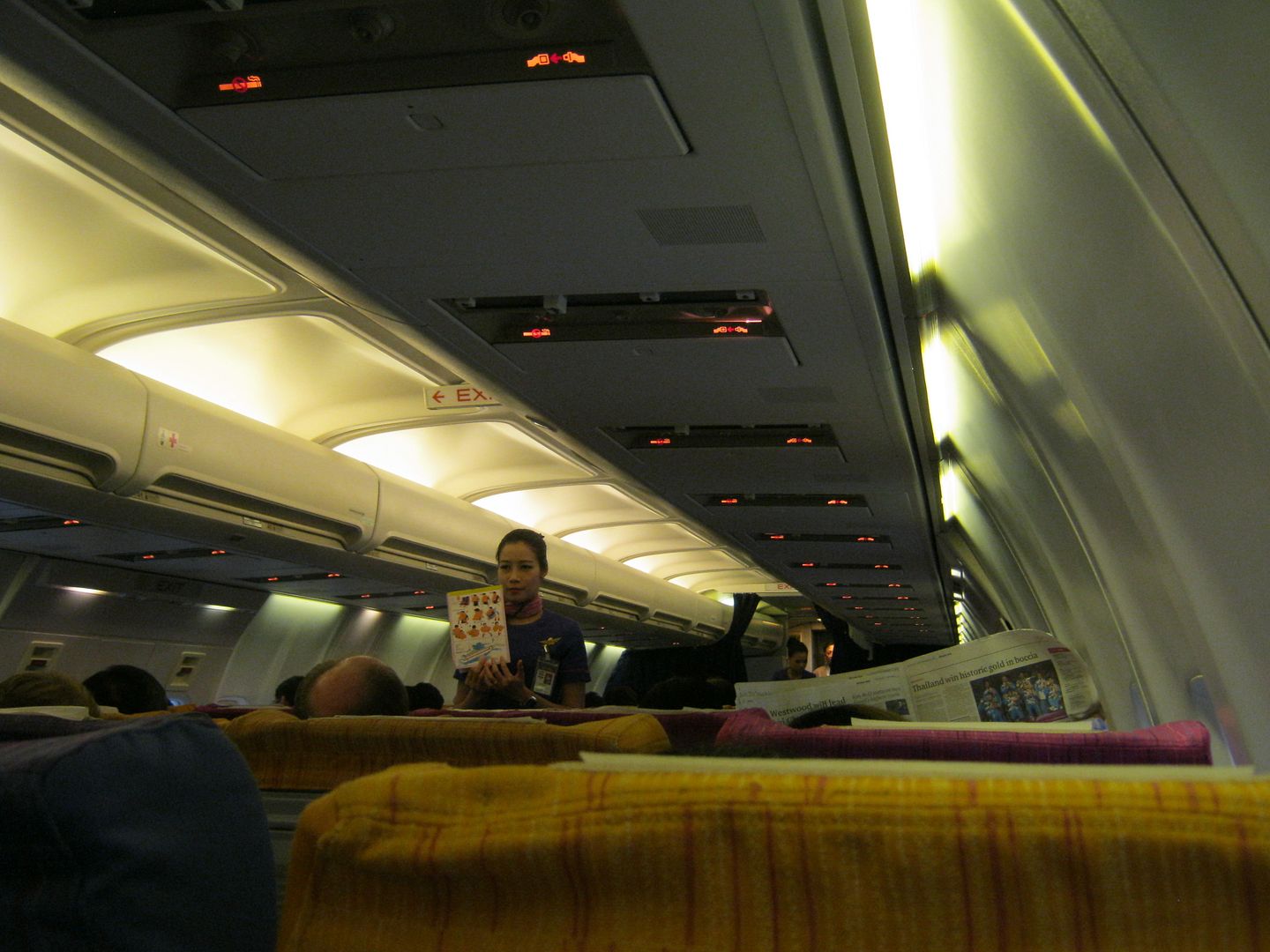 Despite the rain, the flight was very smooth. I was expecting turbulence but the flight was smooth as silk…..
...
Rain soaked BKK.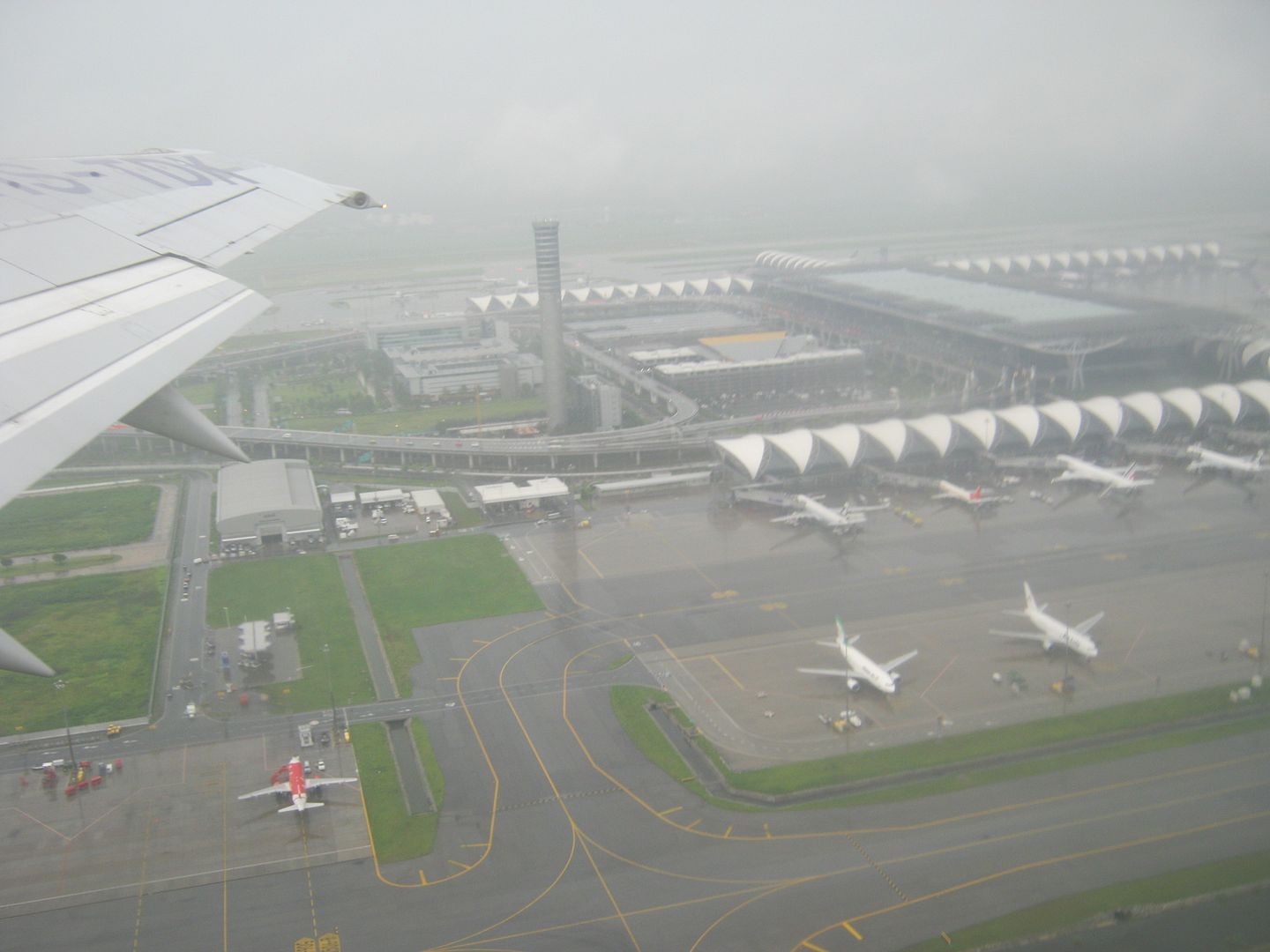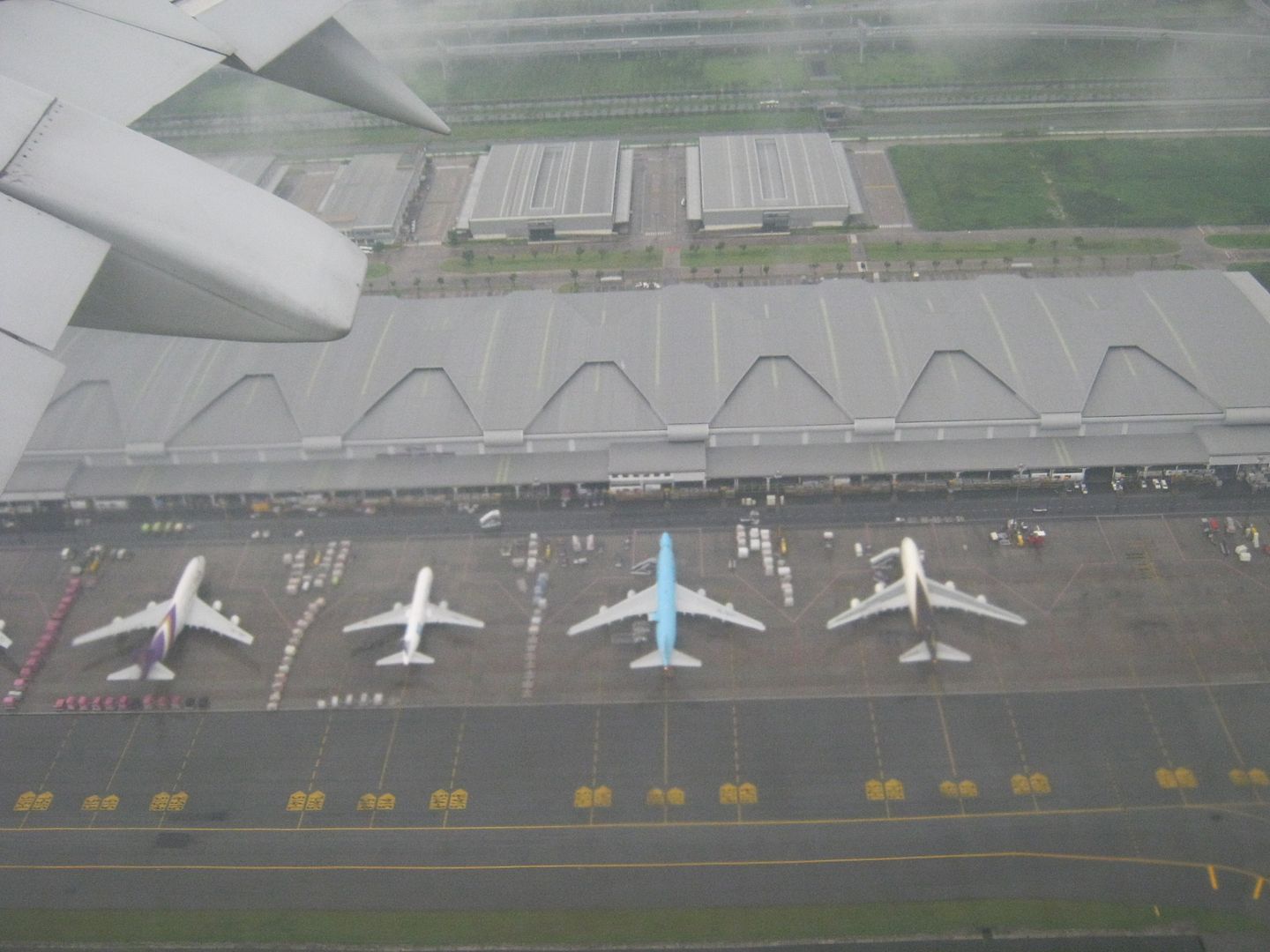 Can anyone identify that 727 parked on the ground?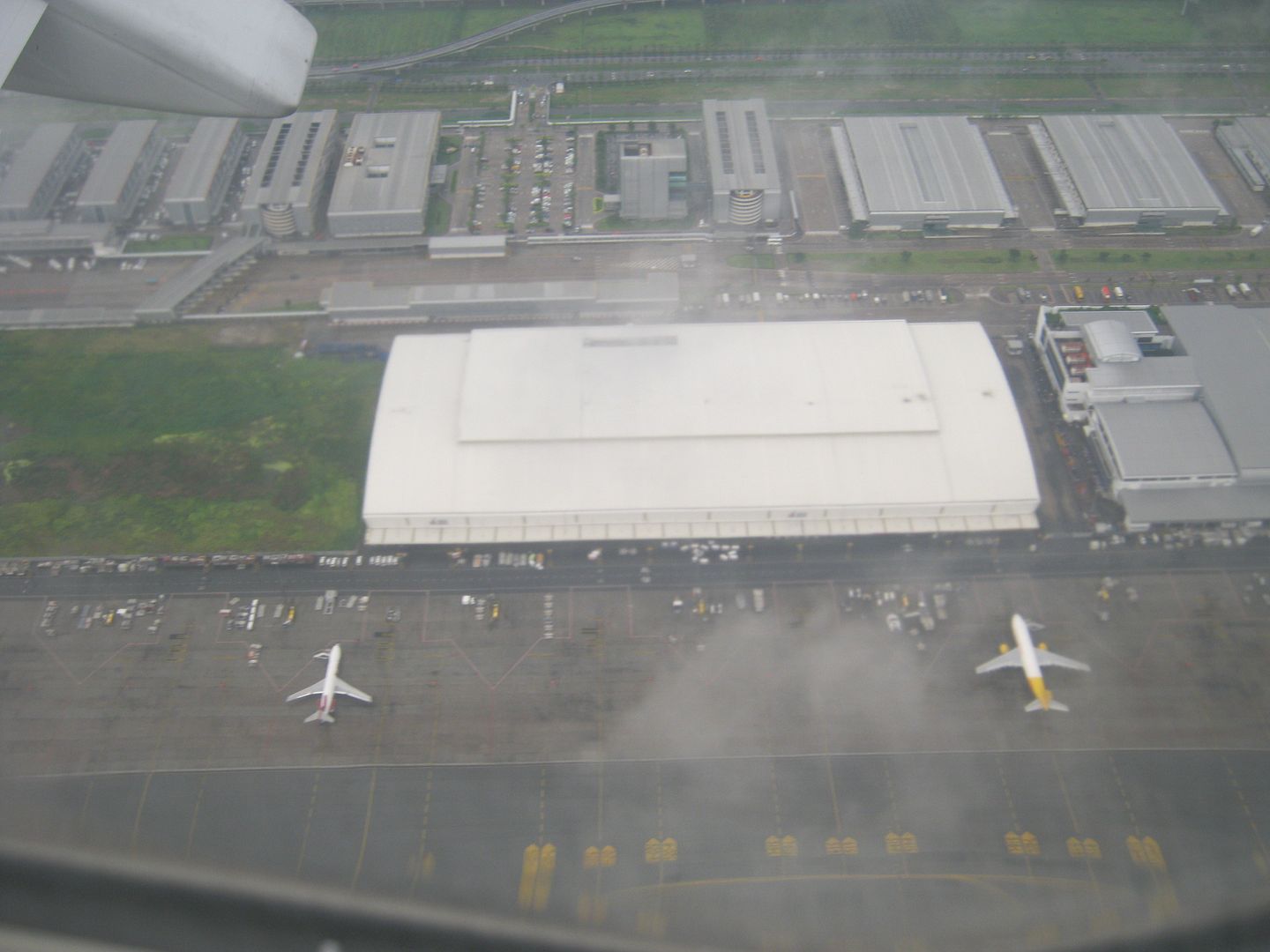 Climbing above the clouds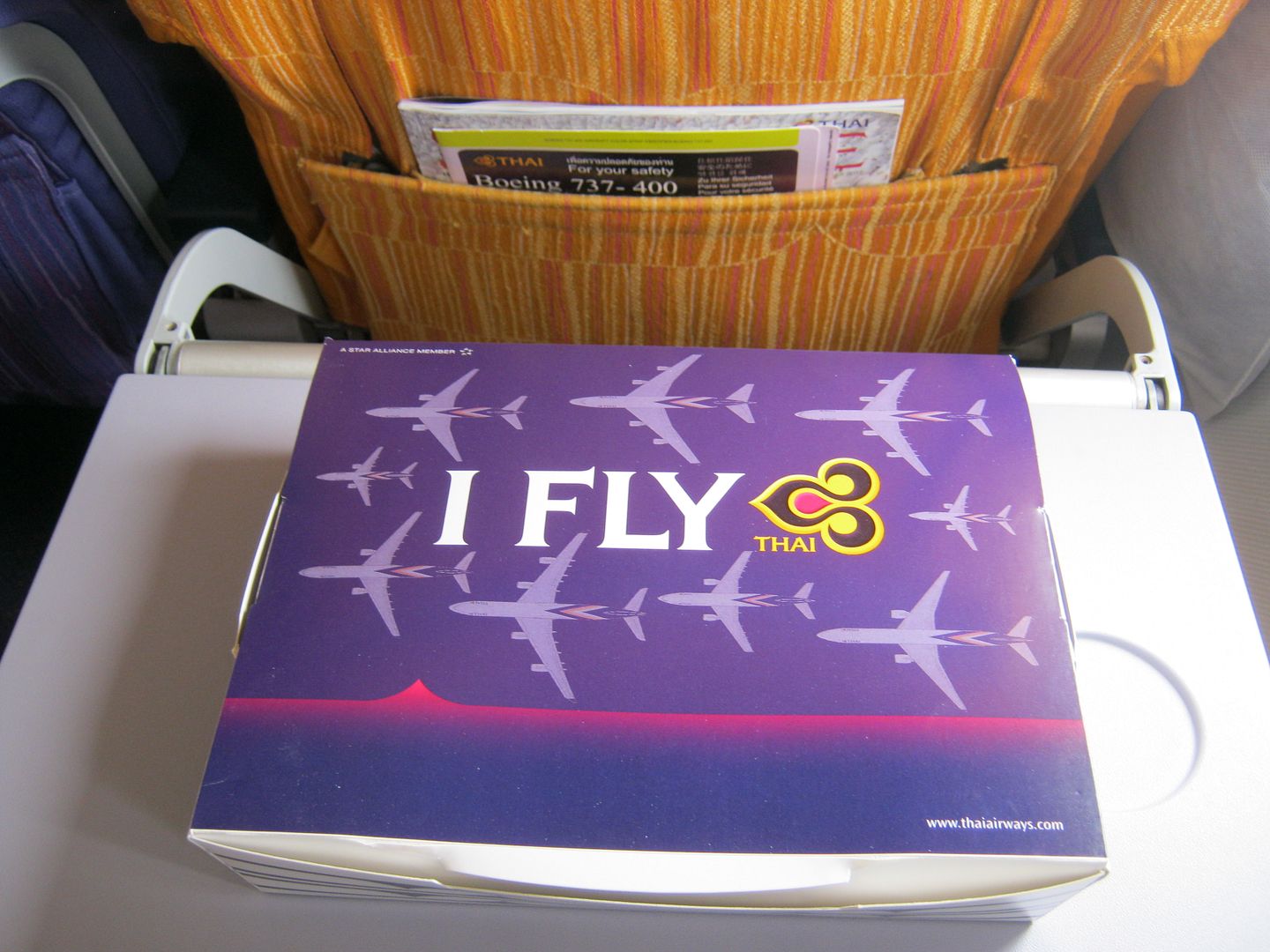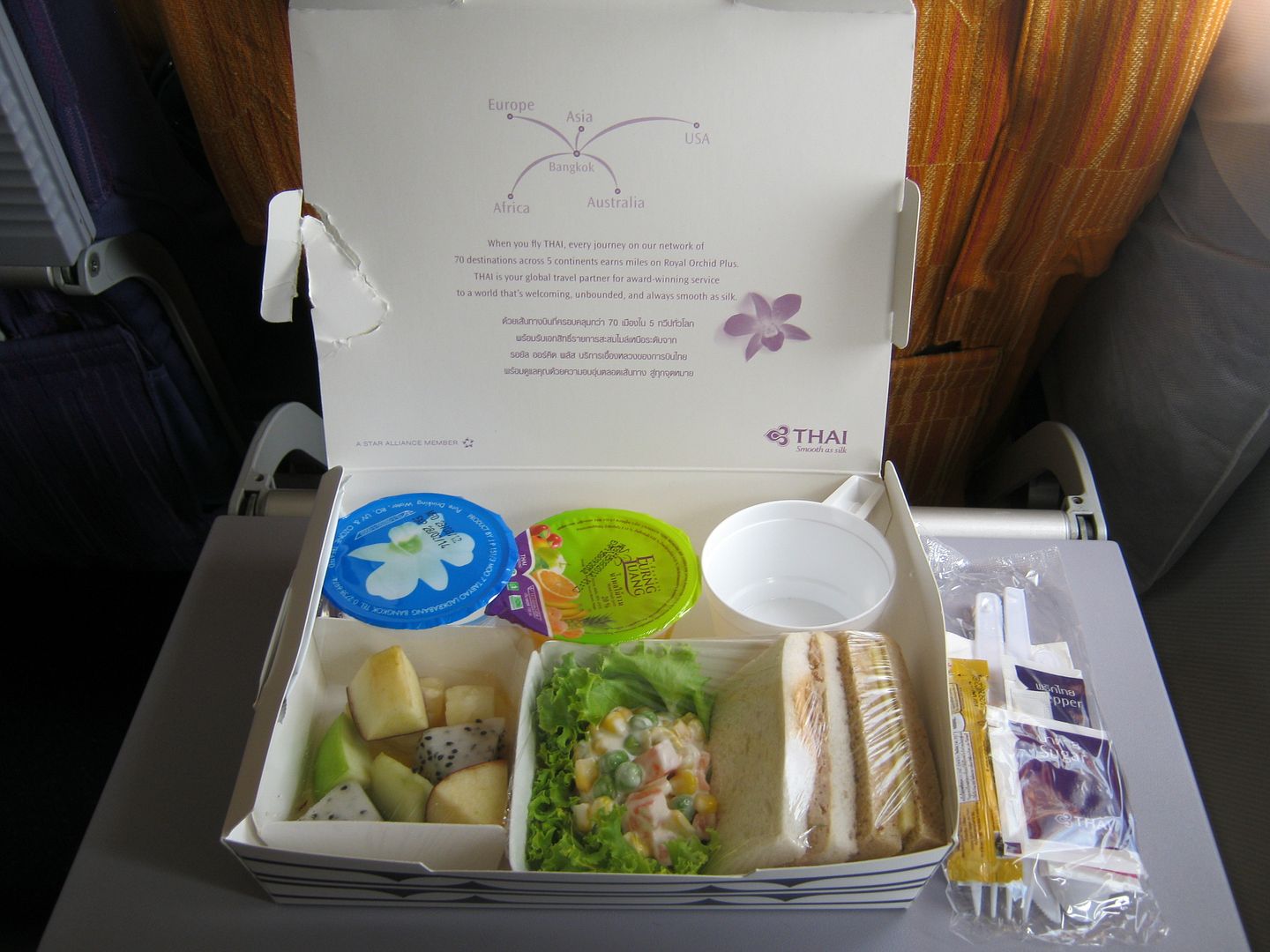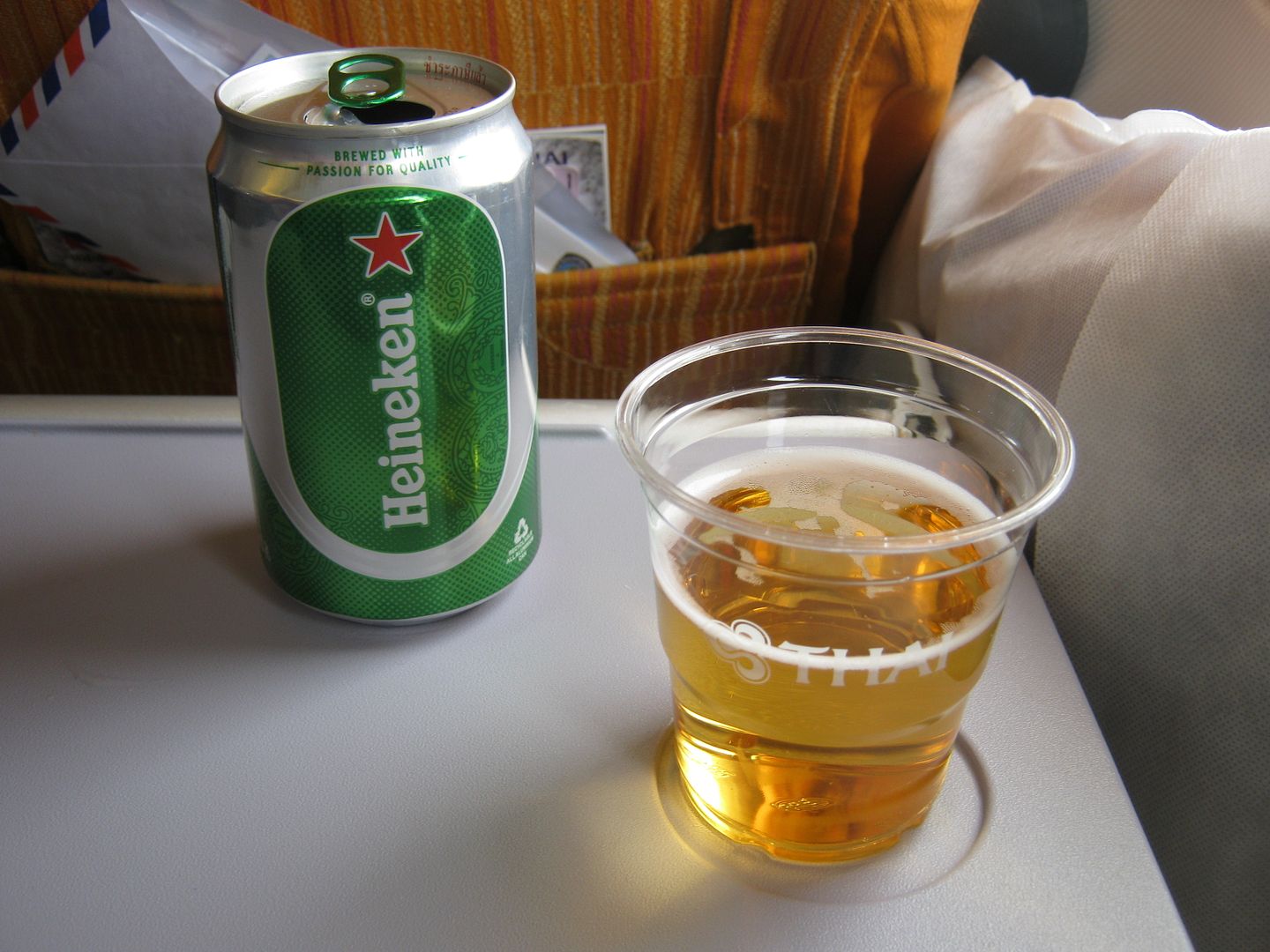 Descending in to Cambodia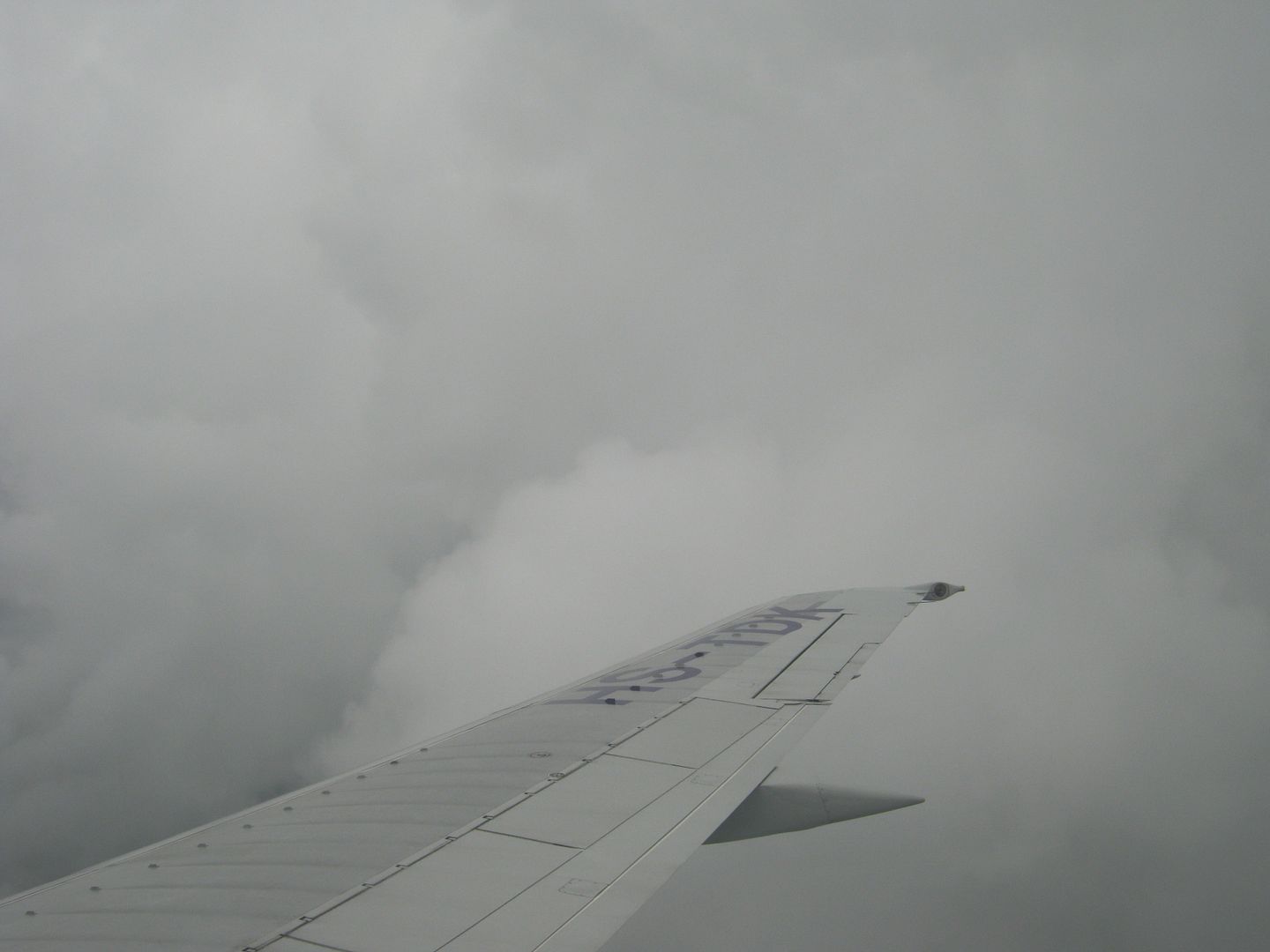 This looks just the way it did in those old National Geographic Magazines!
...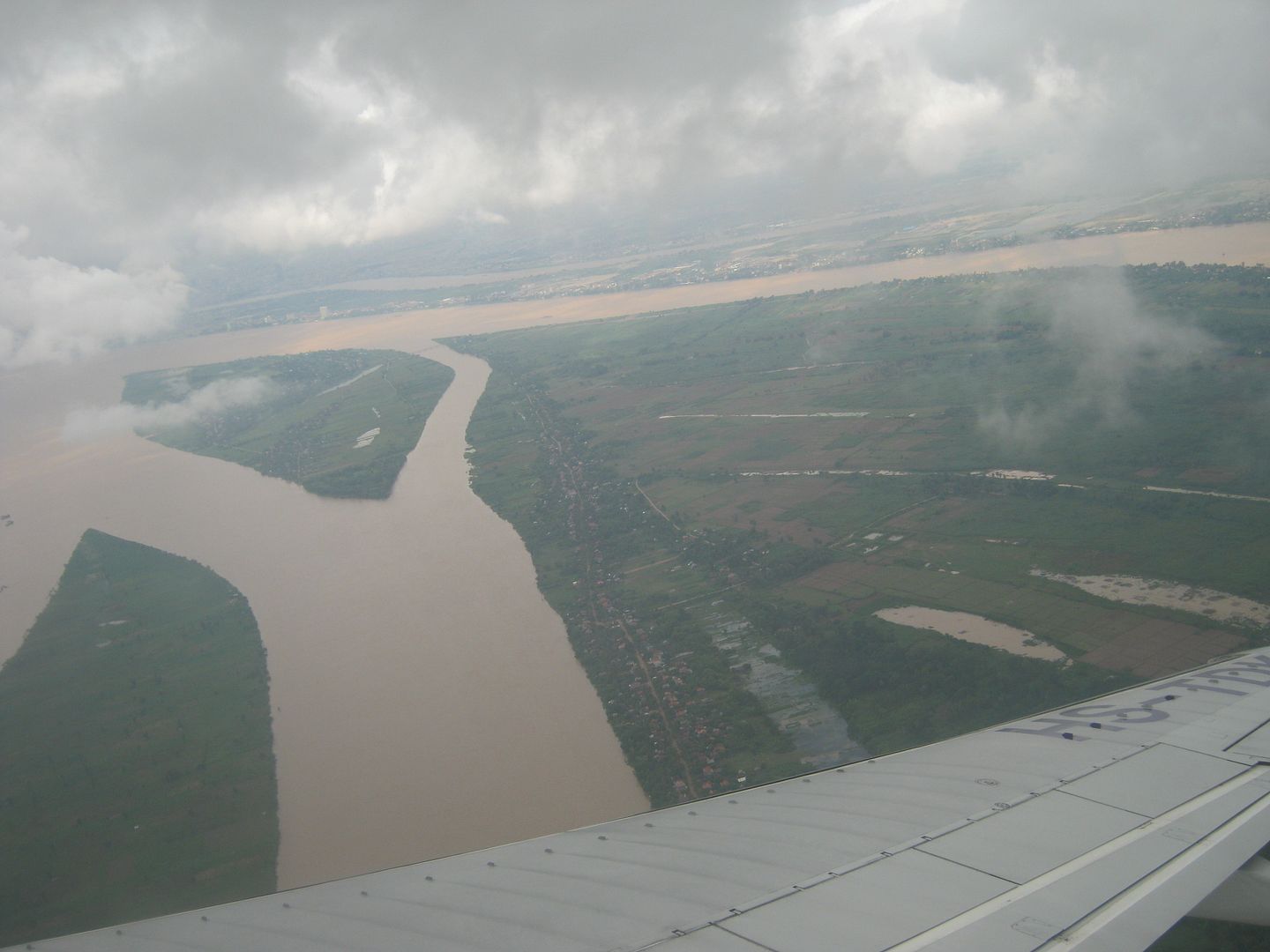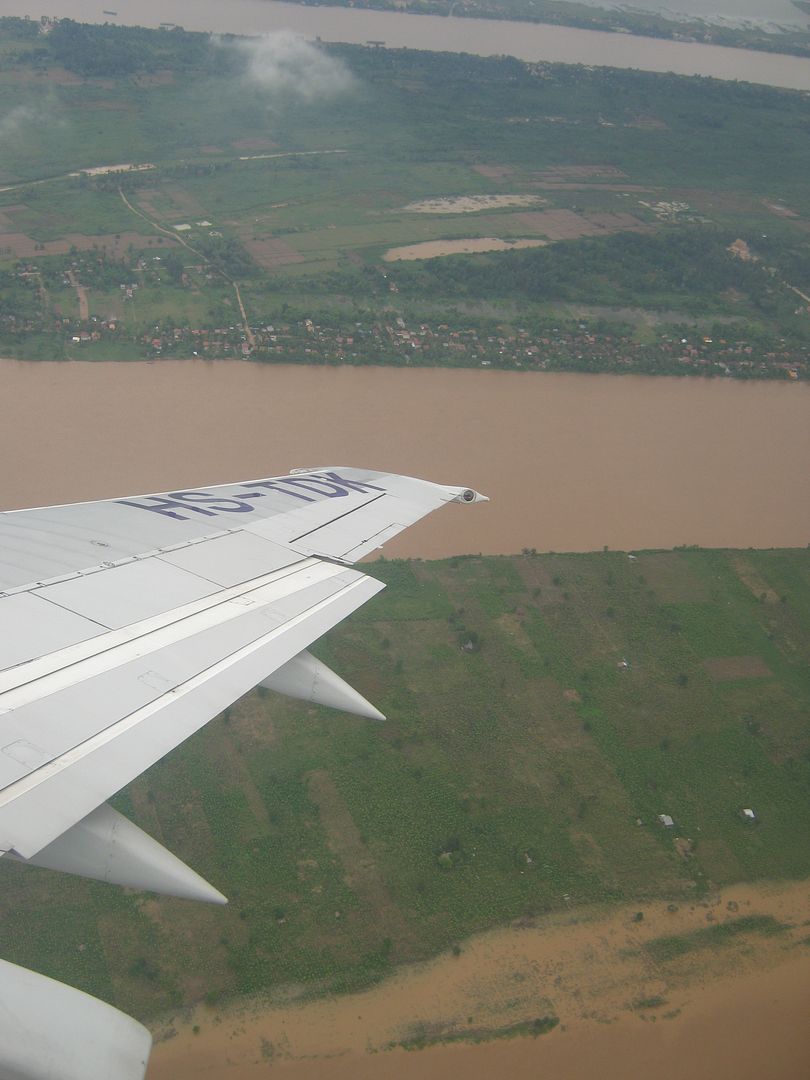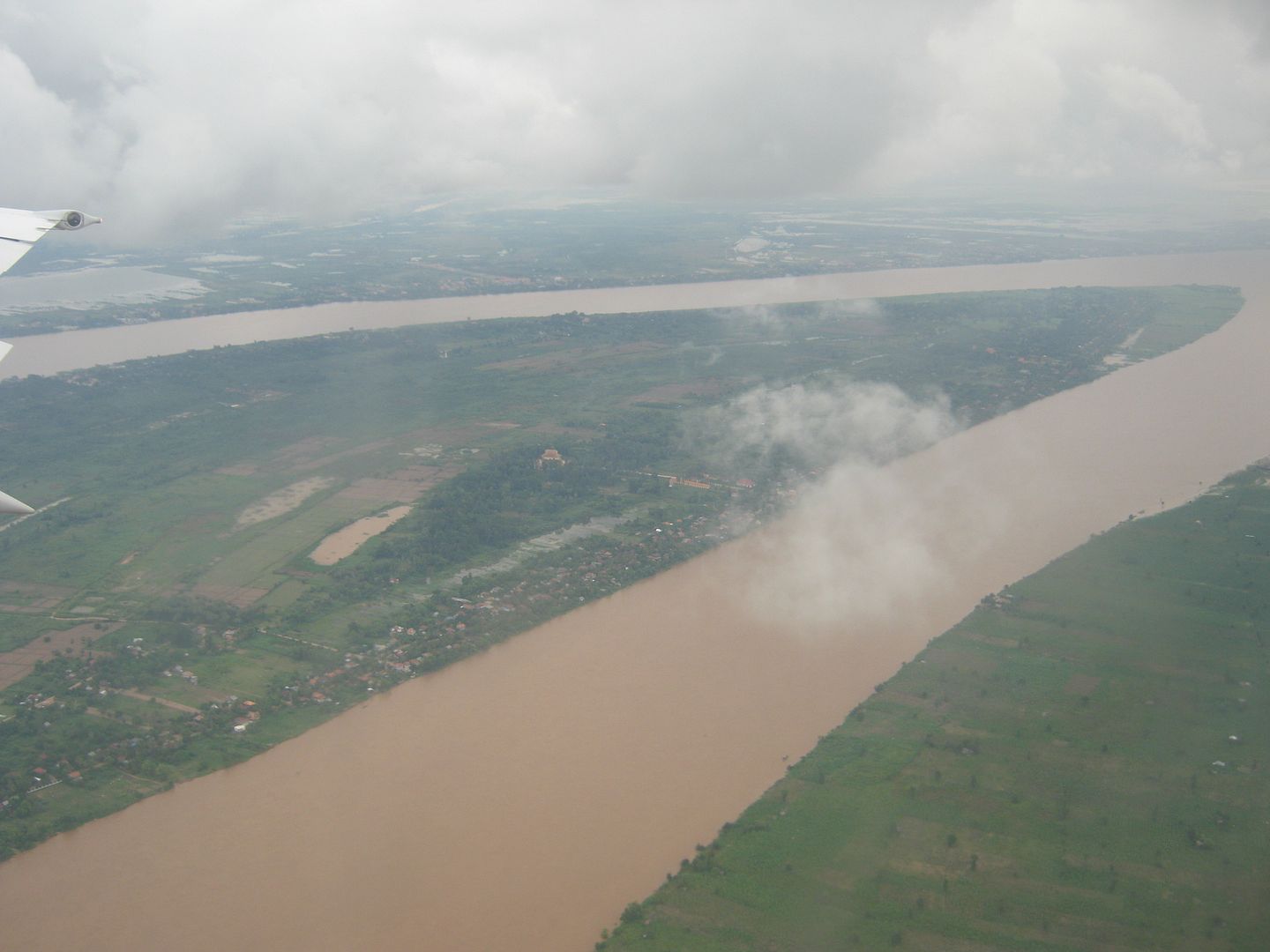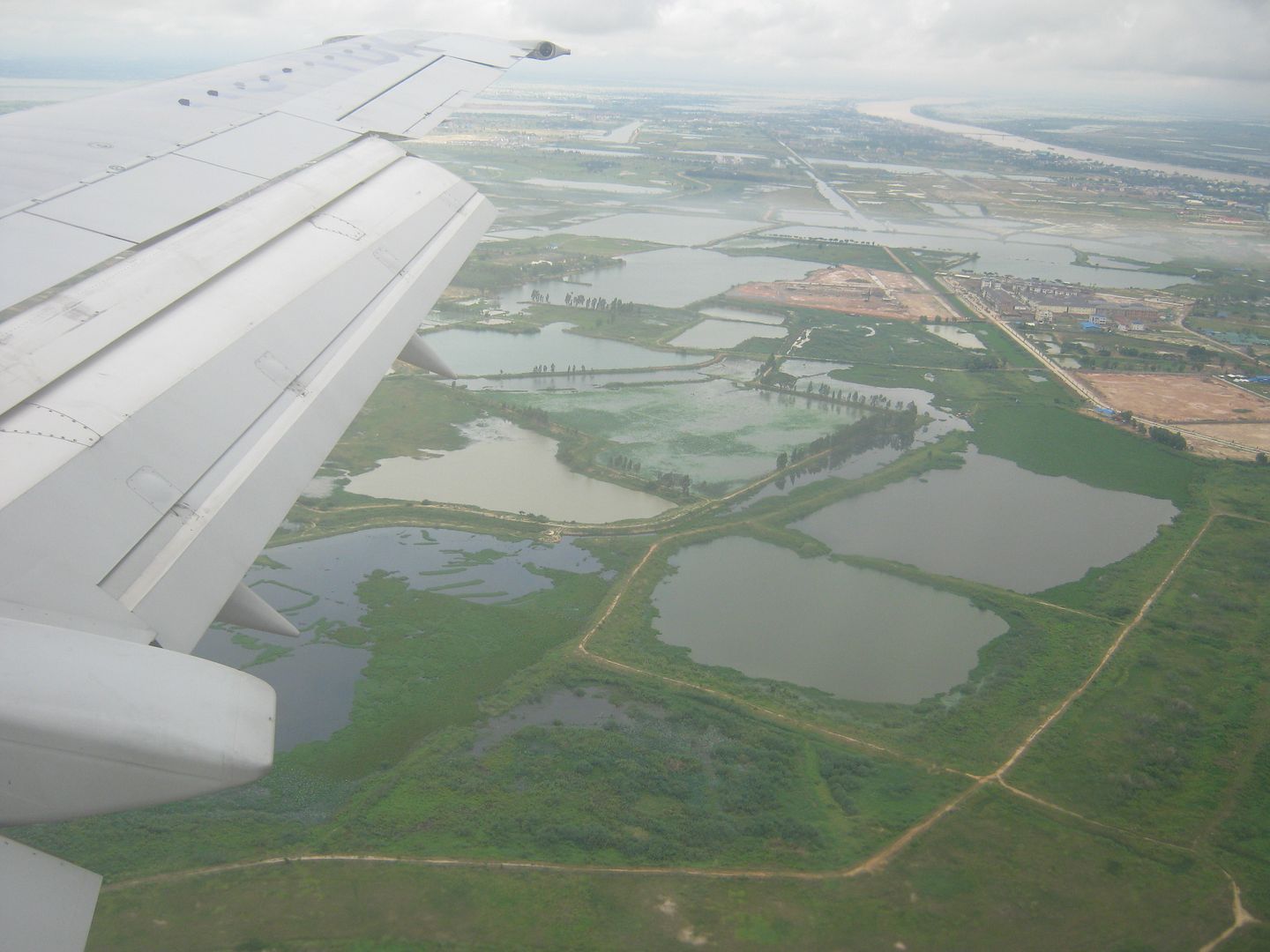 We touch down in Phenom Pehn right on time.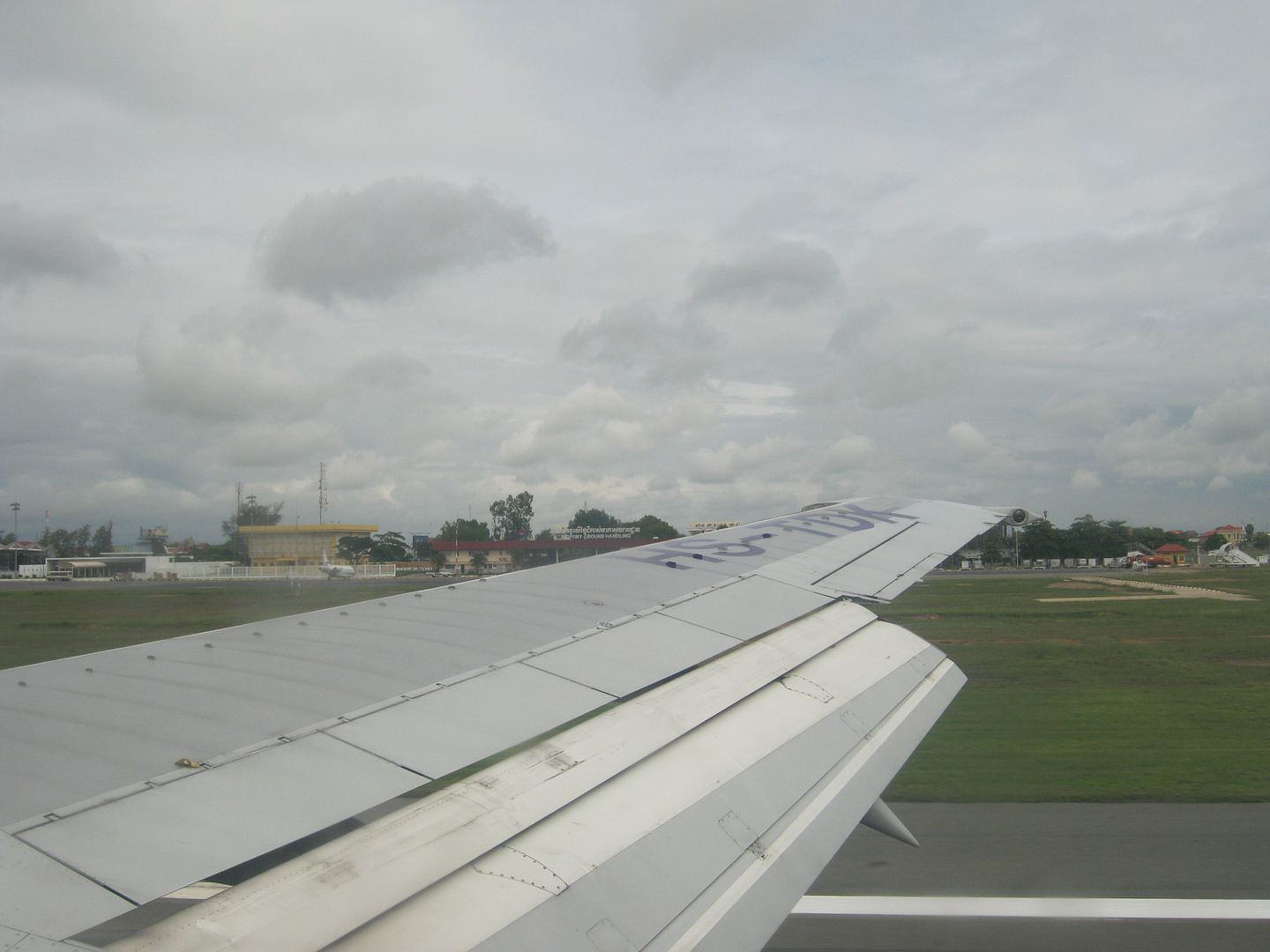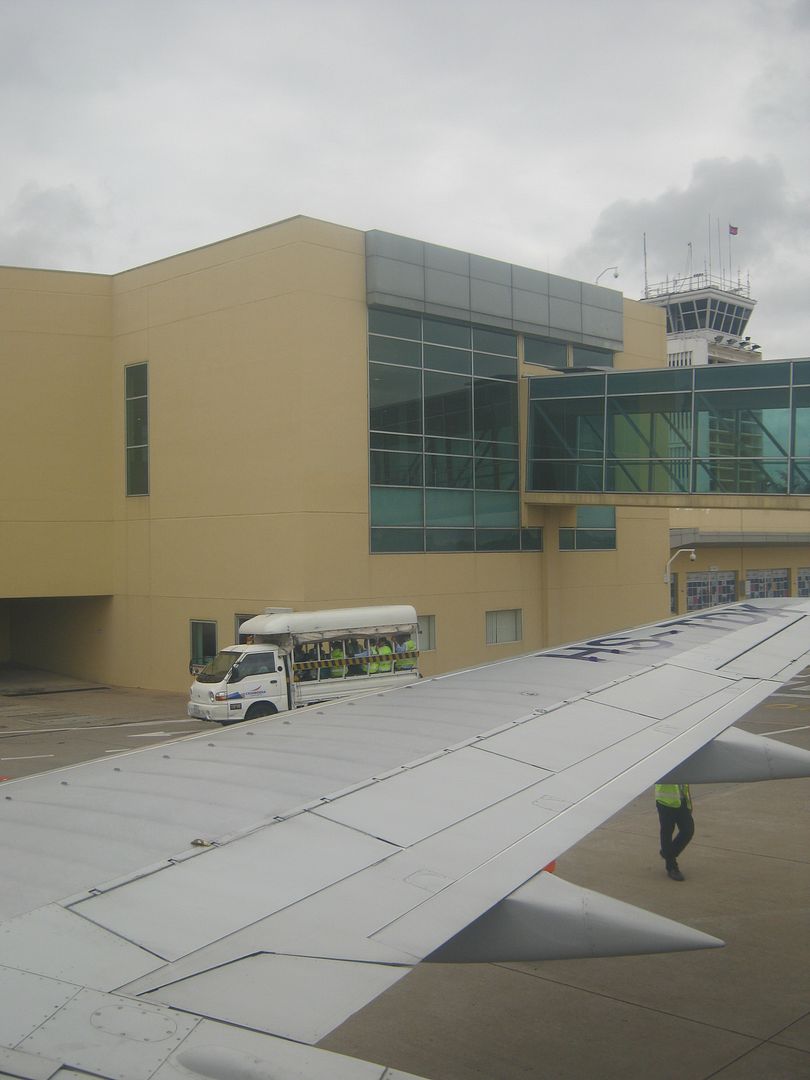 Went through customs, gave a photo, paid for my entry visa and in to Cambodia.
I exchanged my Thai baht for the local currency and instantly became a millionaire!
That ended up being a big mistake since the Cambodia Reil is an almost worthless currency. I should have got US dollar because it's easier to manage. Couldn't fit all that money in to my wallet.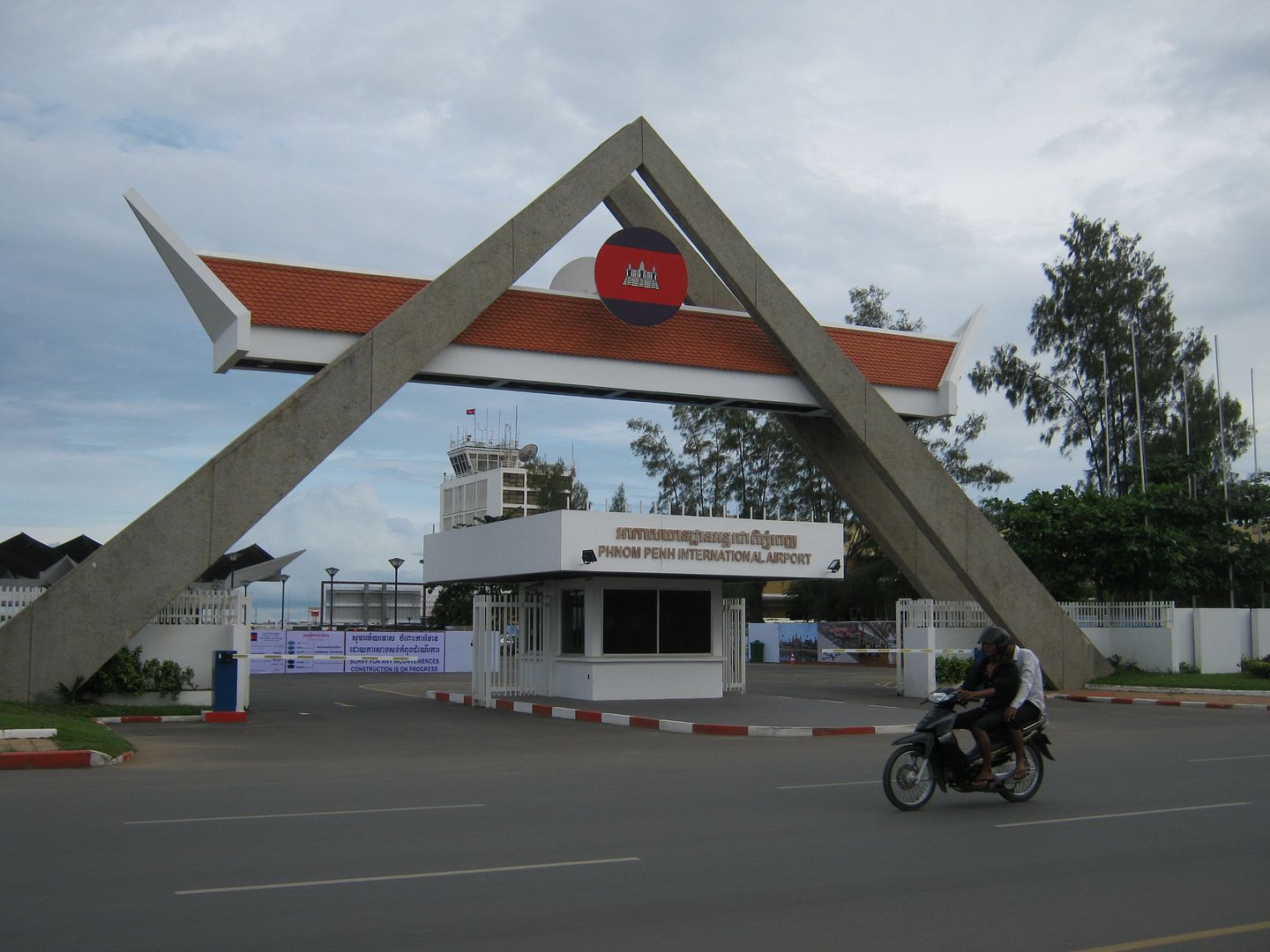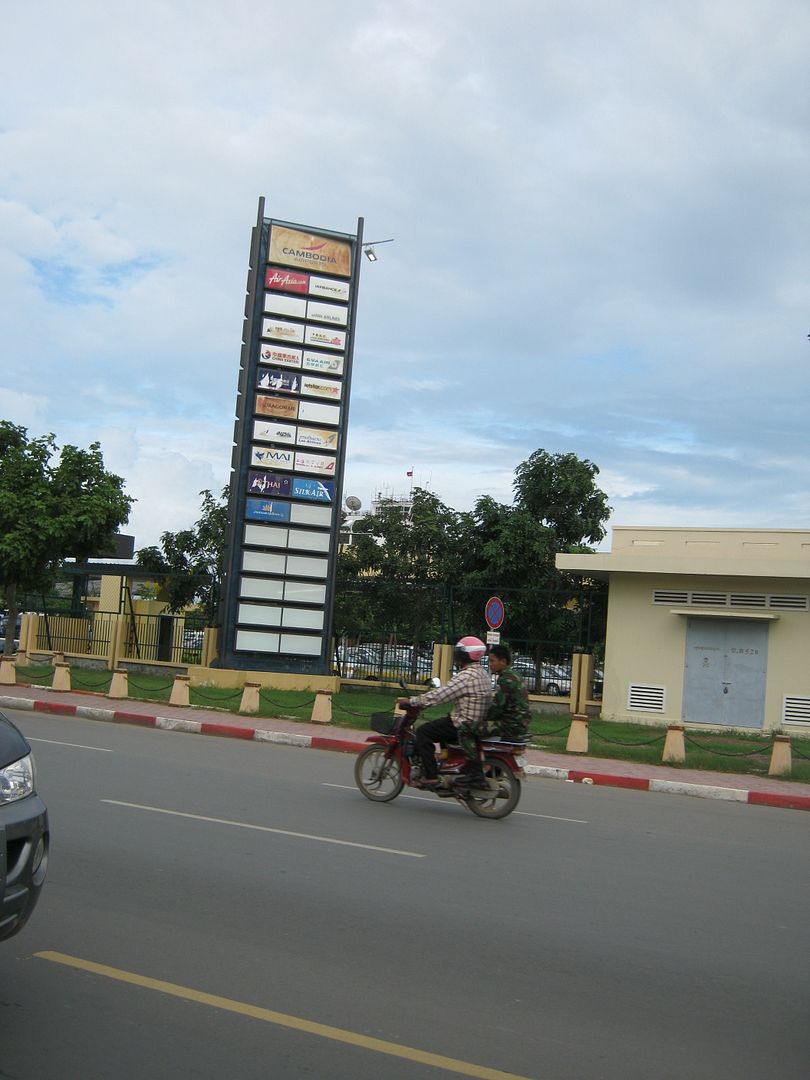 Got a ride to my hotel. Stayed at the Amari Watergate which has nothing to do with the Amari hotel chain but at $18 USD per night, I'm not complaining and the hotel was new and clean.
The hotel has two computers for guest to use. I check my email and went to Airliners.net to look at the aircraft I flew on. Looked like another Airliners.net member had stayed at this hotel and used this very computer because it was in the 'favorites' of this computer.
I did some sightseeing, toured around took pictures and other touristy stuff.
Neat design in the elevator at the Amari Watergate.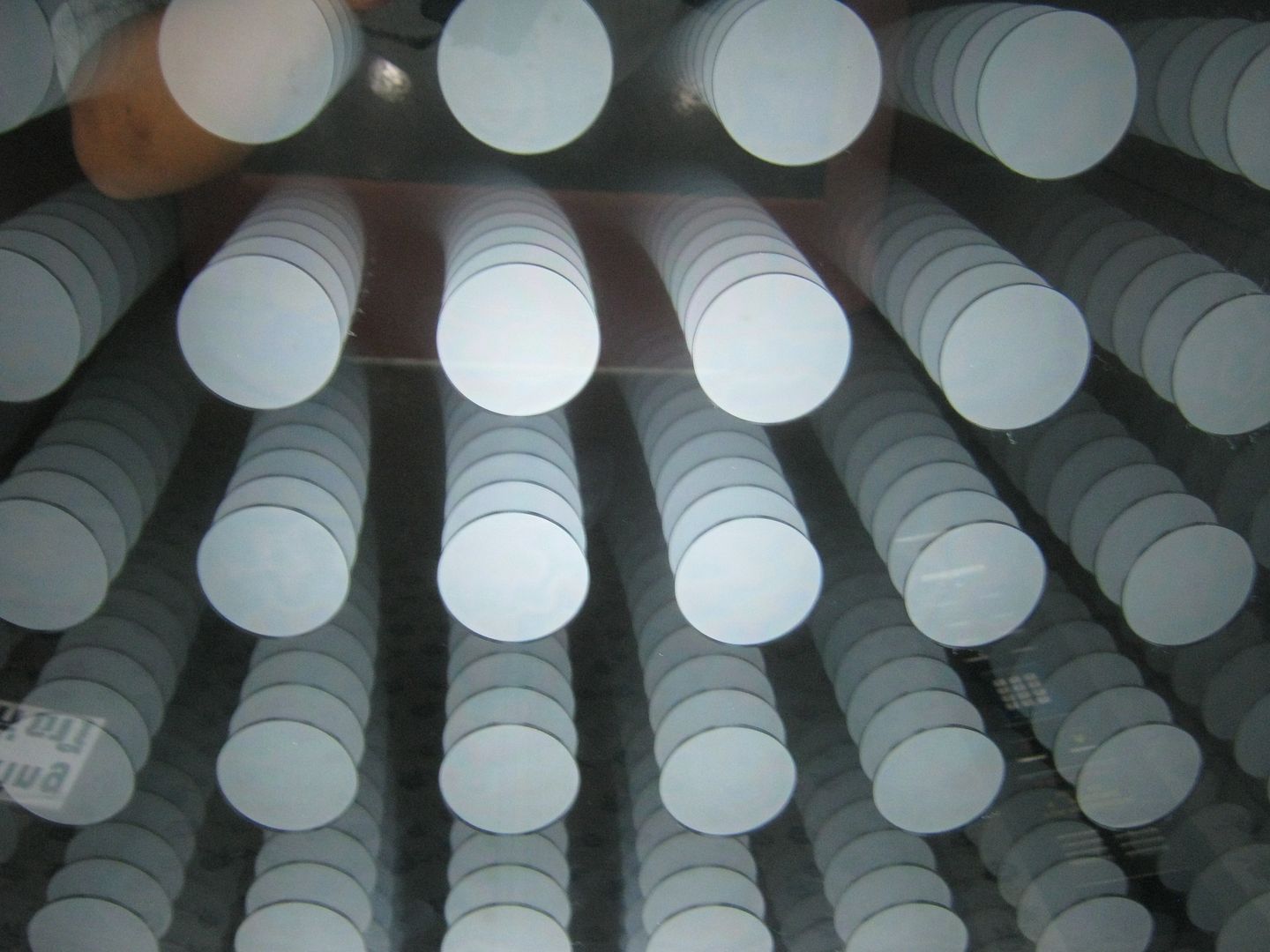 Locals playing volleyball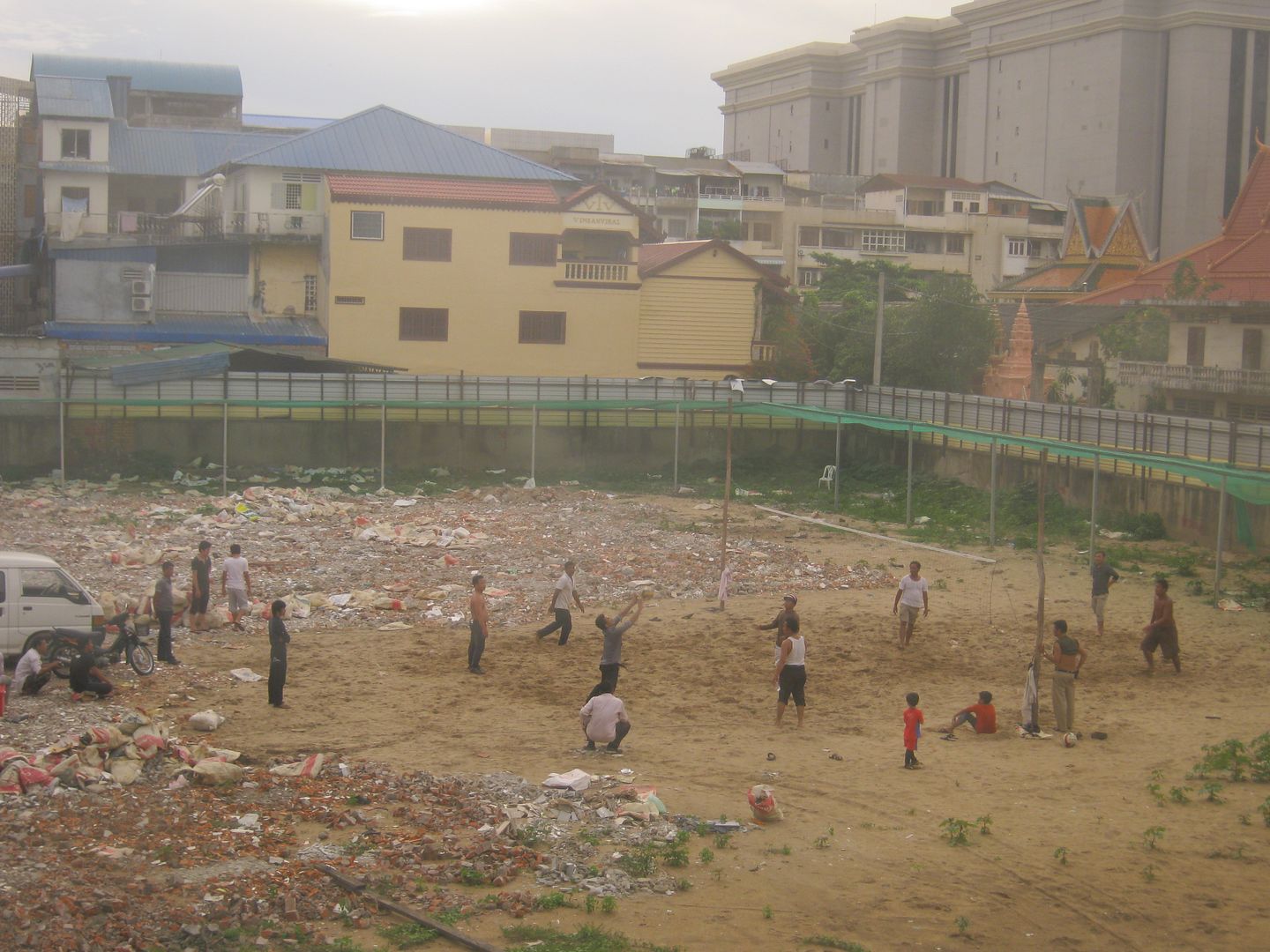 temples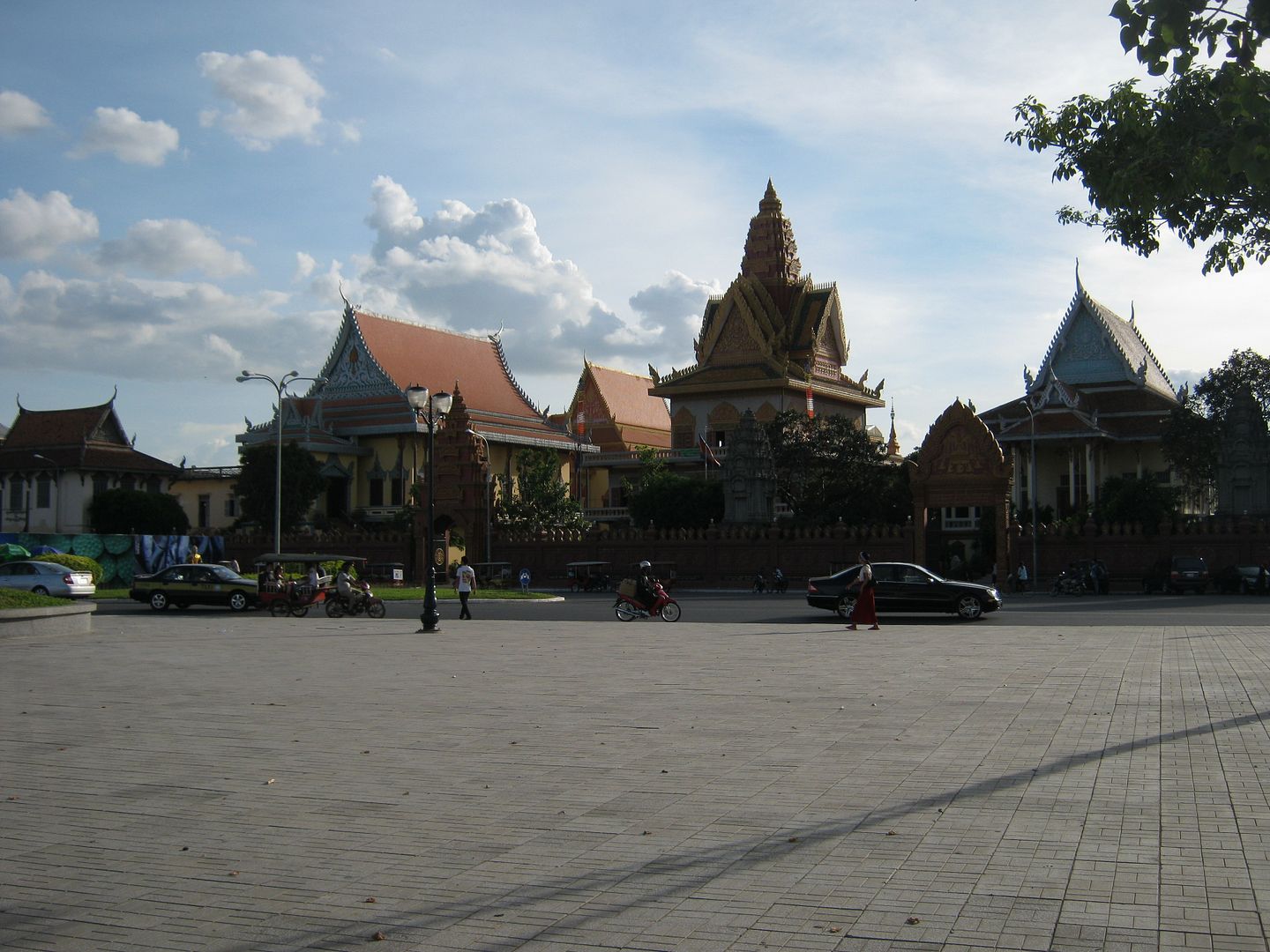 Took walks along the riverside, looked at temples and drank lots of wine because there is no mark-up / wine tax like in Thailand.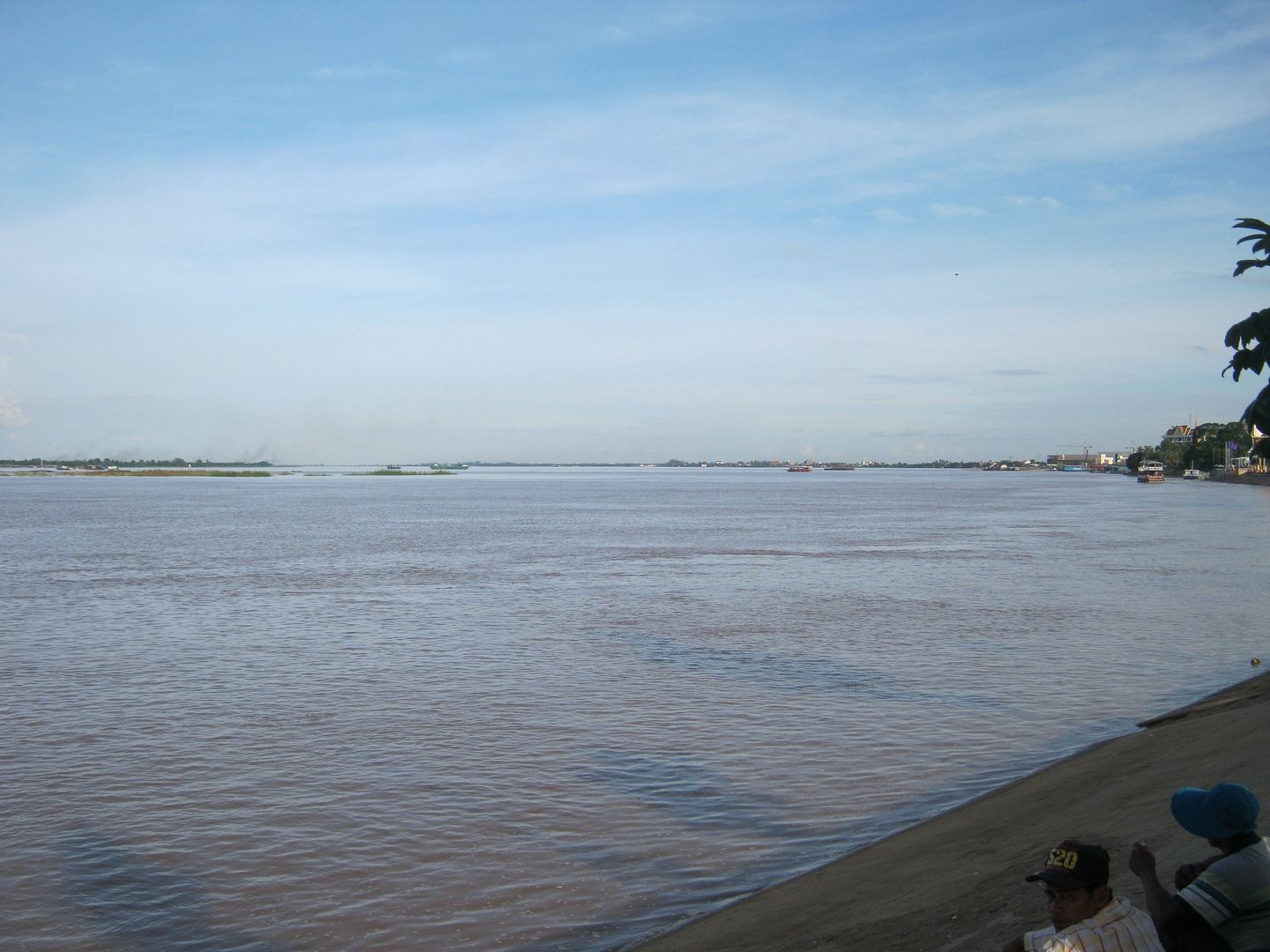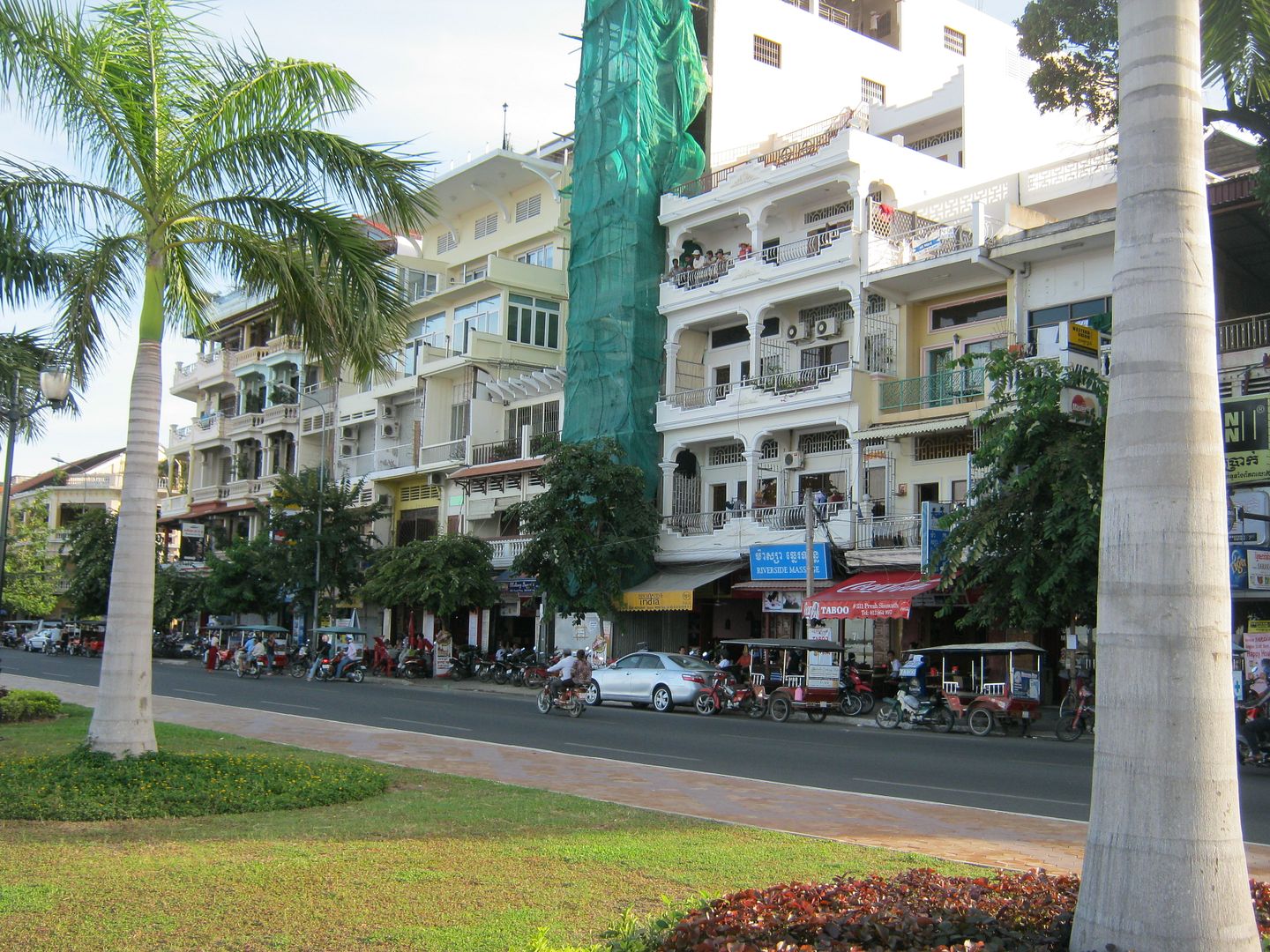 Went to a cool bar & grill on the riverfront. It was great to have a different beer for a change. I love my Chang Classic and Leo back in Thailand but this Angkor Stout was a real treat!
Never thought I'd find a stout from southeast Asia.
The steak was delicious too.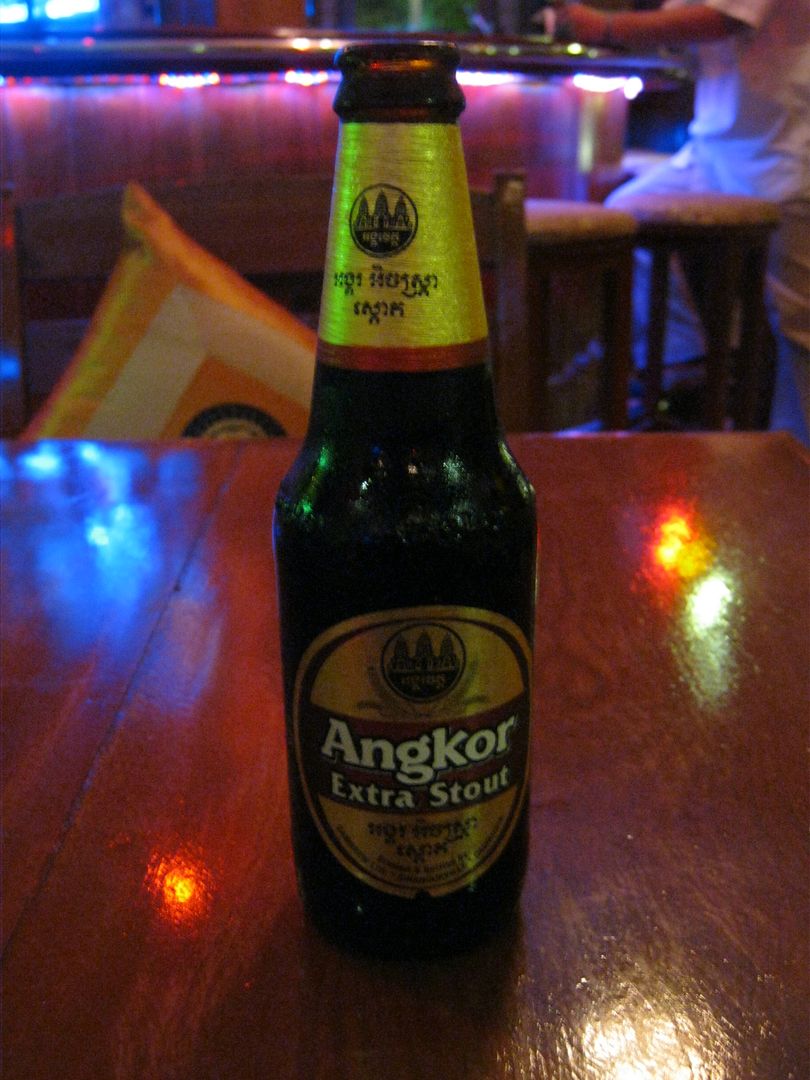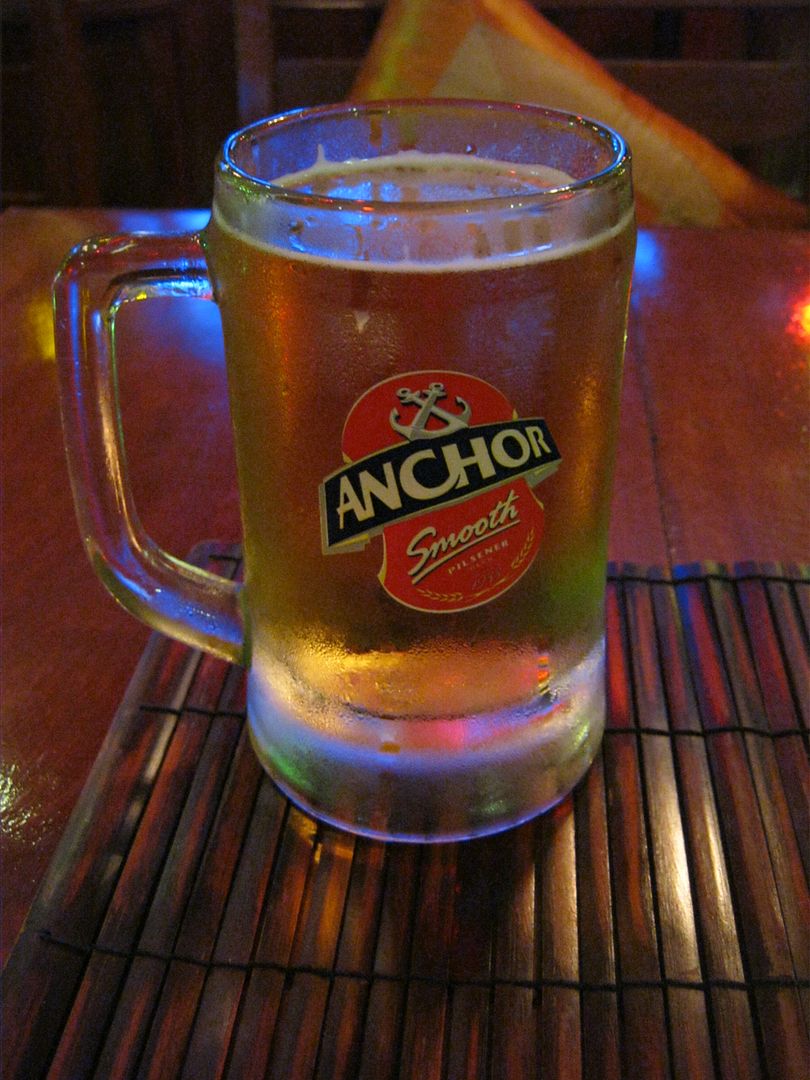 I was nice.
...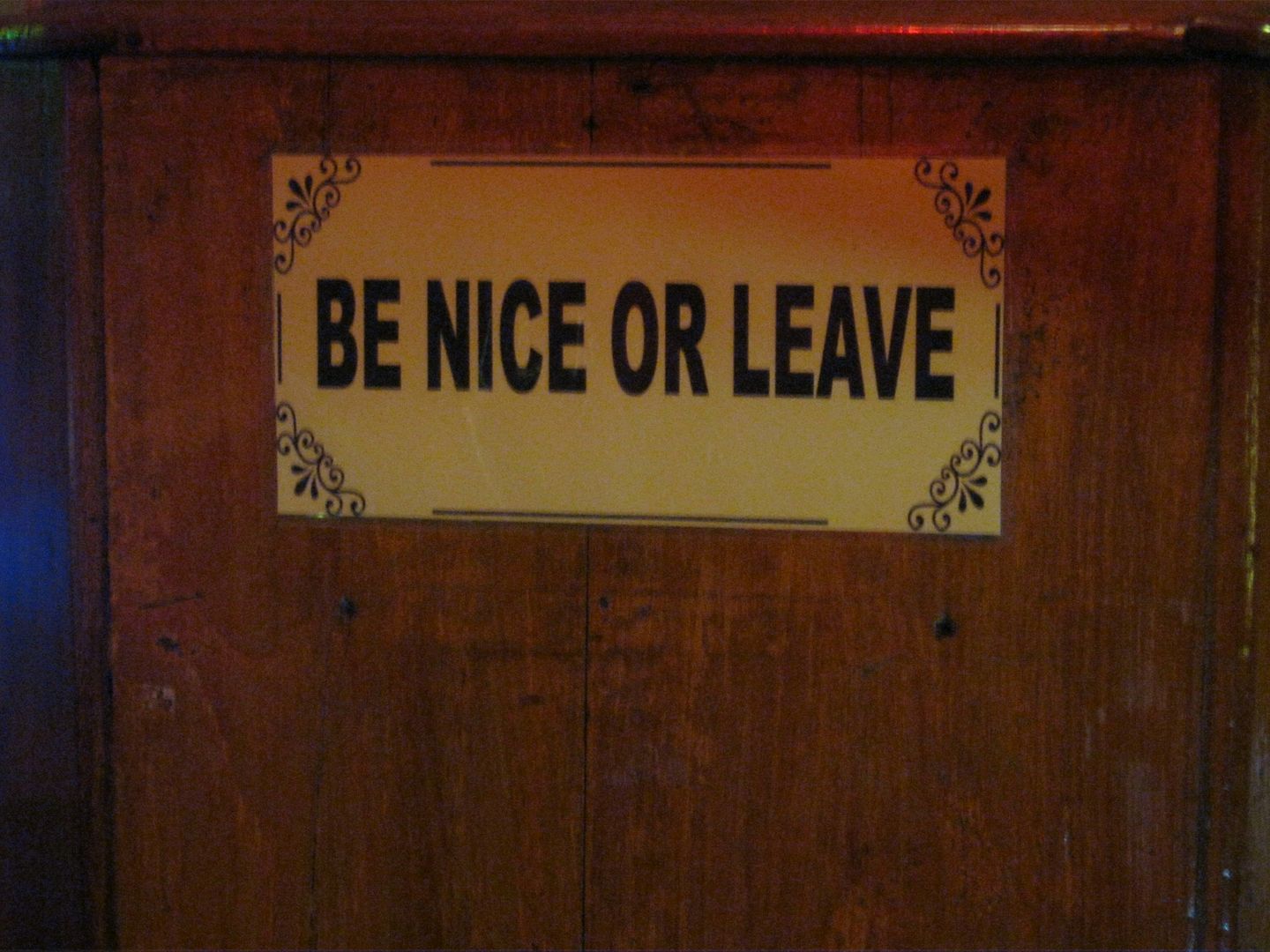 The highlight of the trip was visiting a shooting range on the outskirts of town. It was a 30 minute rickshaw ride across town.
This shooting range has all sorts of weapons; AK-47s, M-16, Uzis, grenades, grenade launchers, rocket launchers, rugers, RPD, etc.
I've never shot an assault rifle before but as they say, when in Rome…
I went for the M-16.
I obliterated a cocoanut a got my target 15 out of 20 rounds. Not bad for a first timer.
The guy at the shooting range kept trying to up-sale me on the rocket launcher but that was a whopping 1,407,000 Reils ($350USD).
I passed on that one.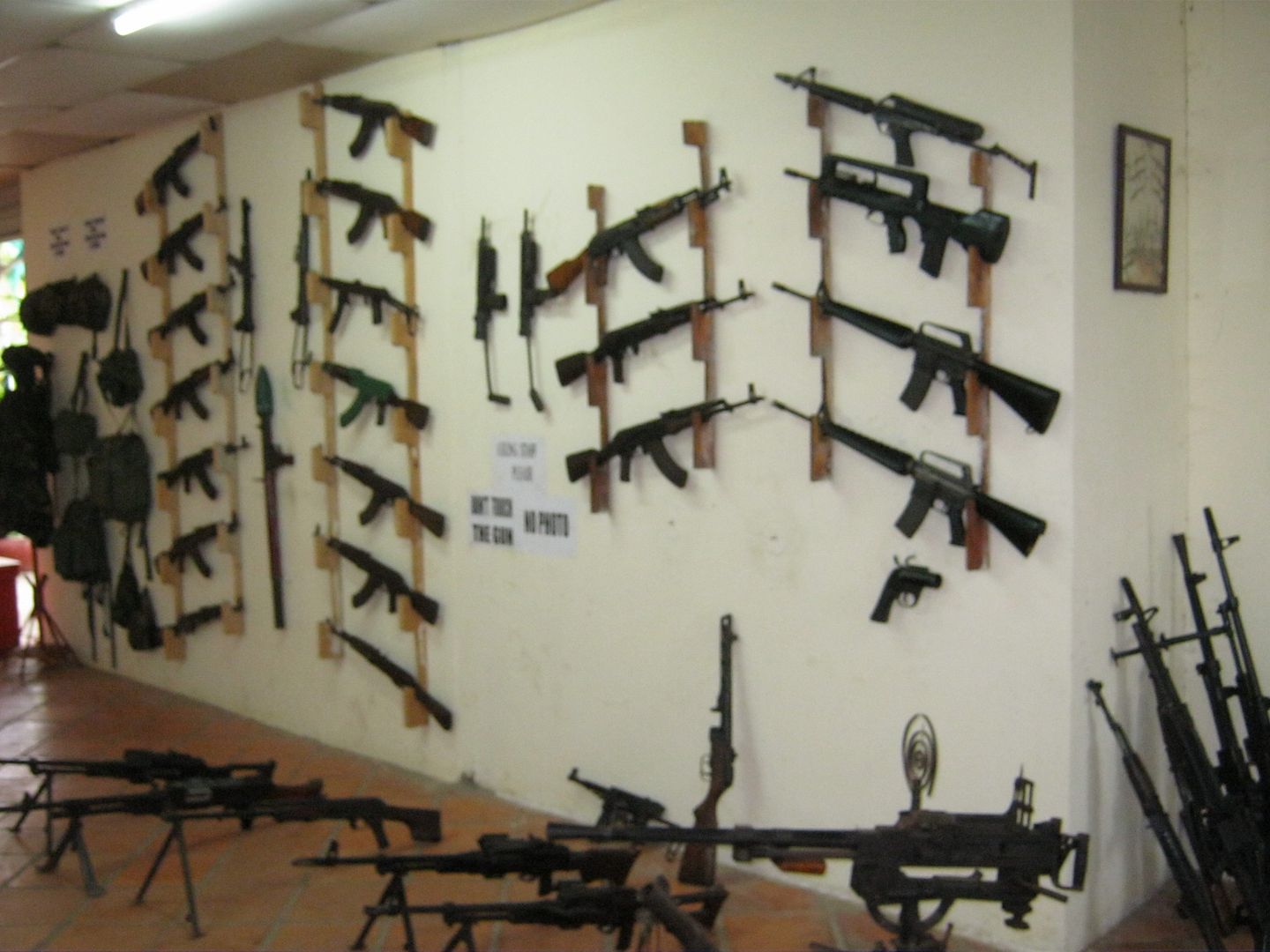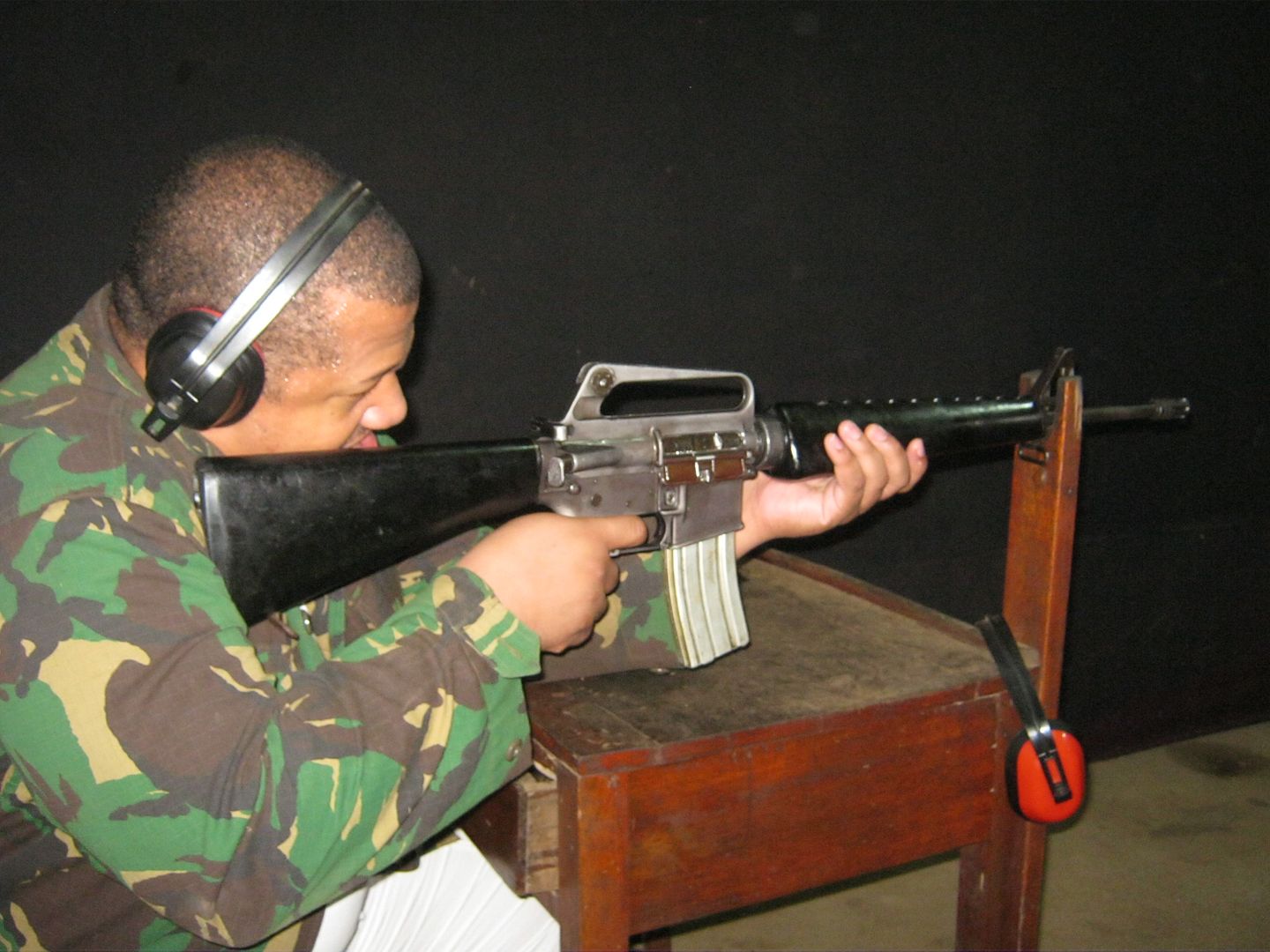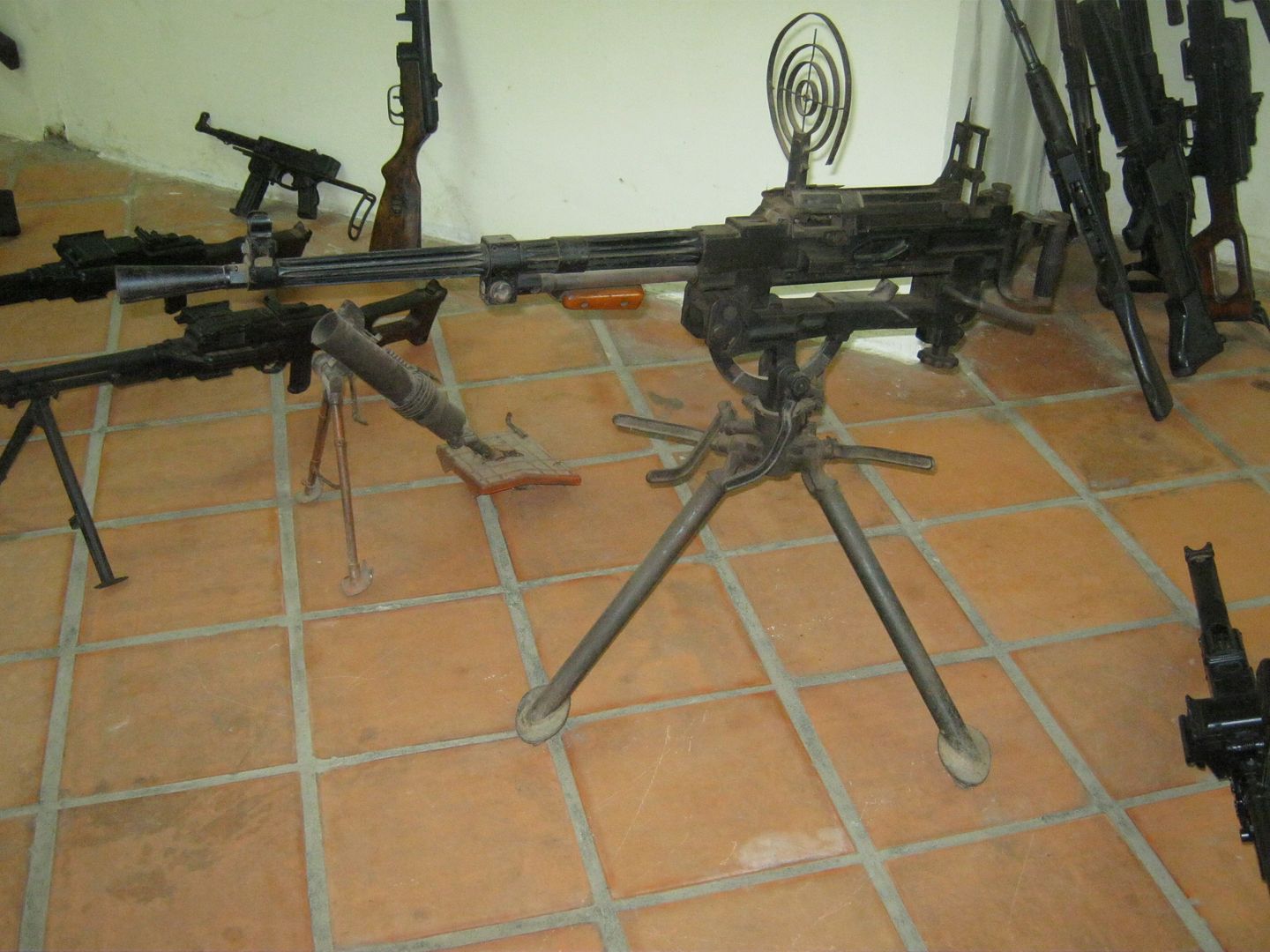 Rode the rickshaw back to town.
I like this building.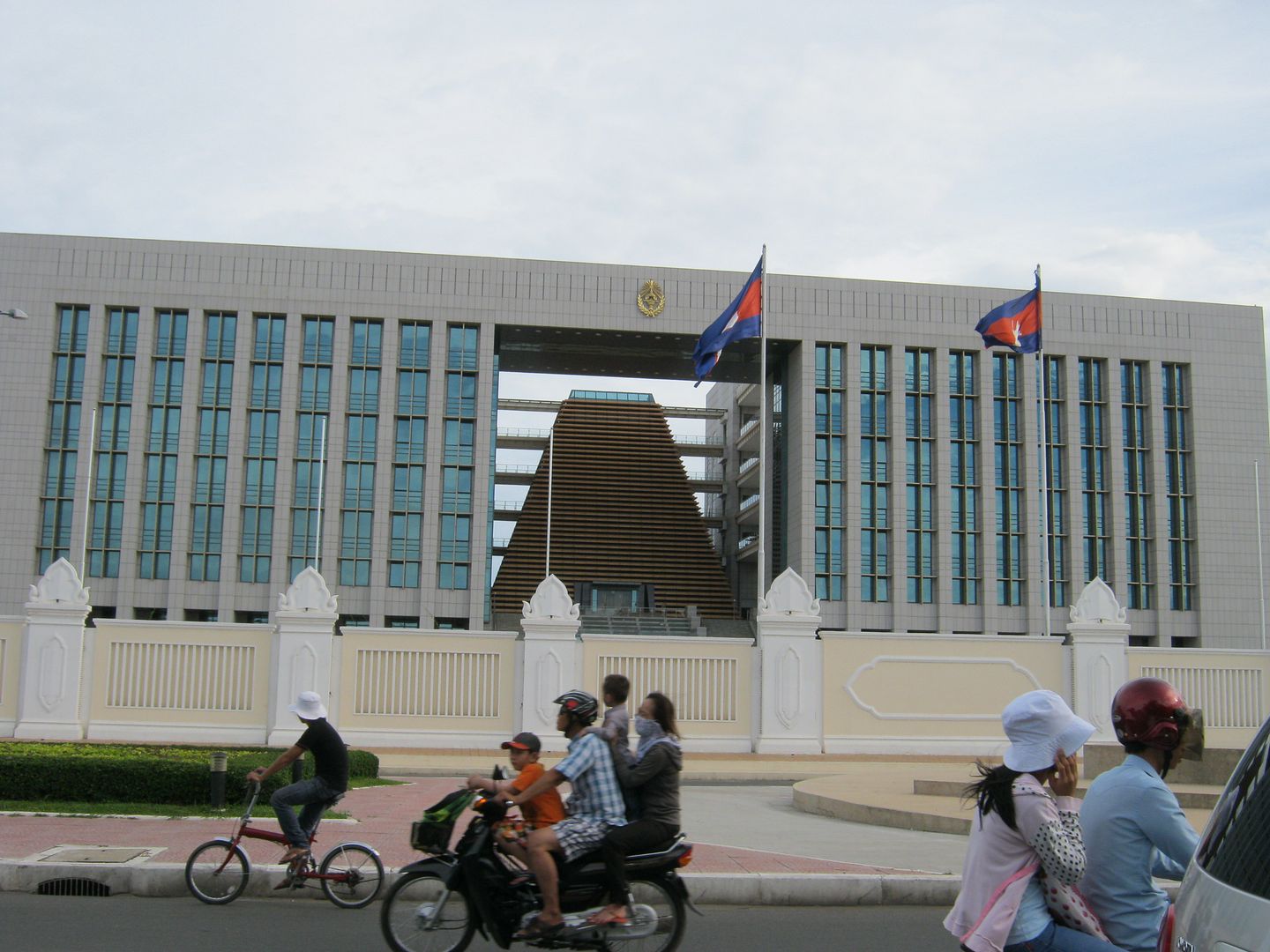 Did more touristy stuff the following days.
I even ran in to a guy I went to college with years ago in San Francisco. What a small world!
A coffin shop.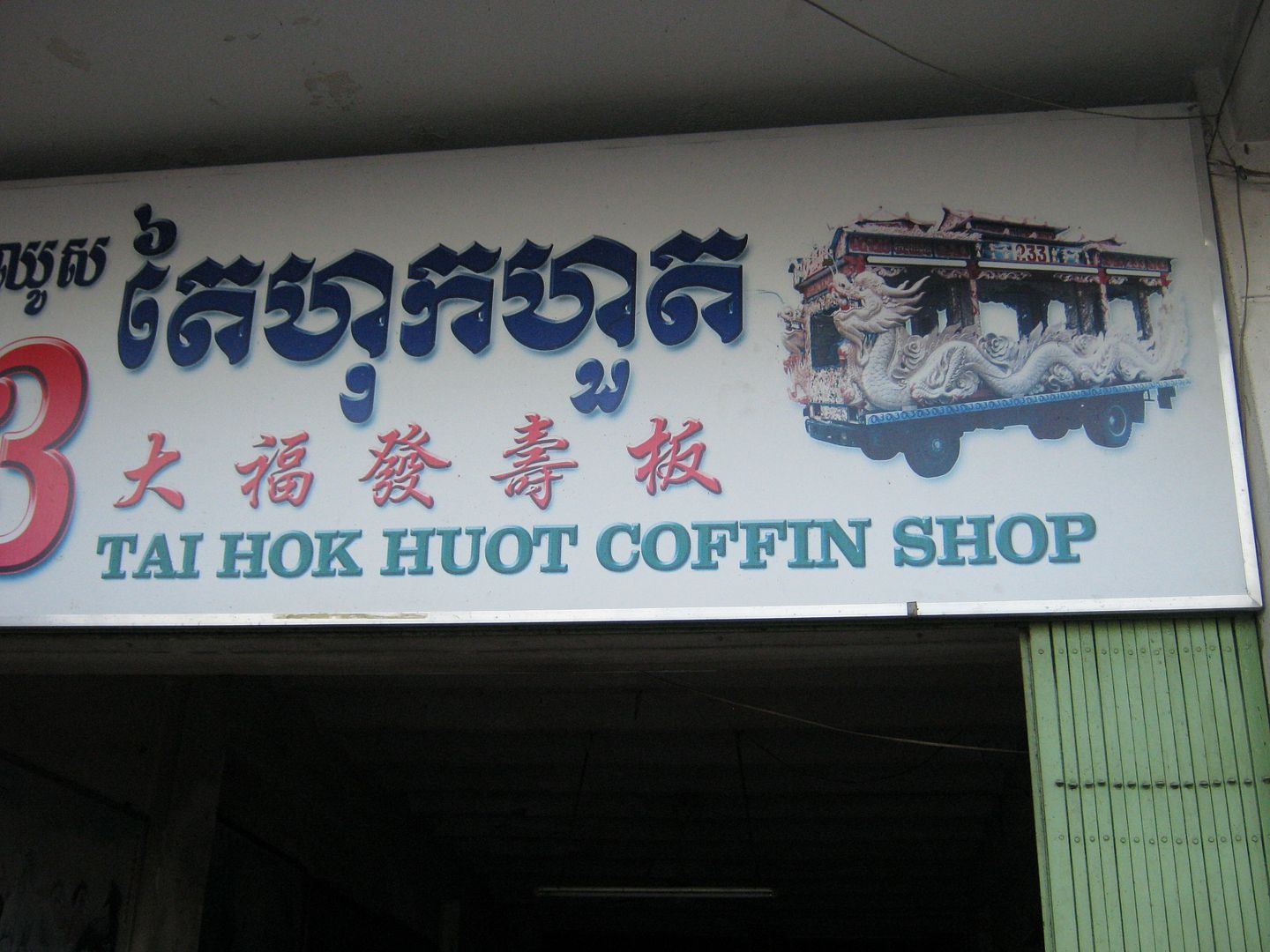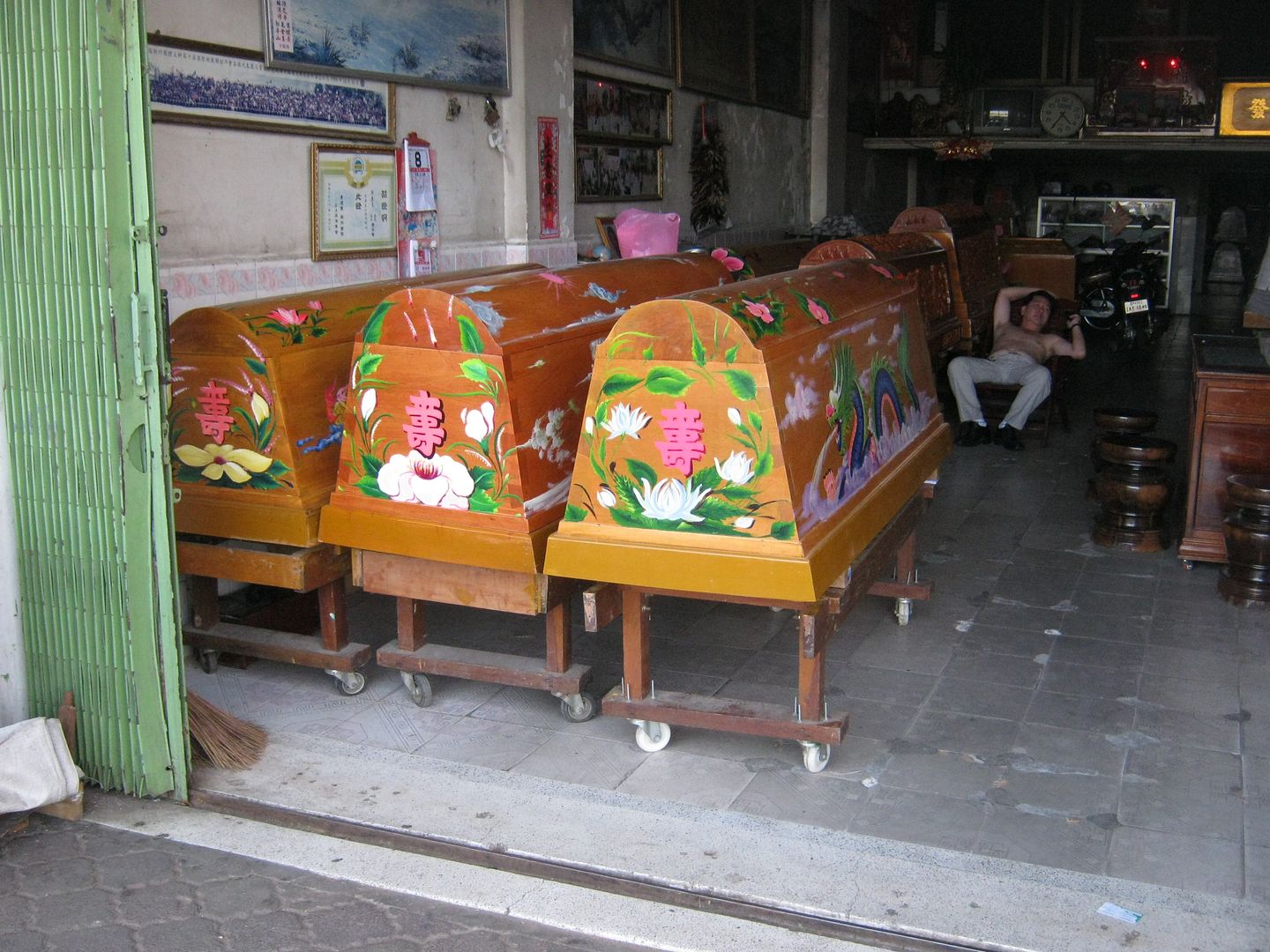 Typical street in Phnom Penh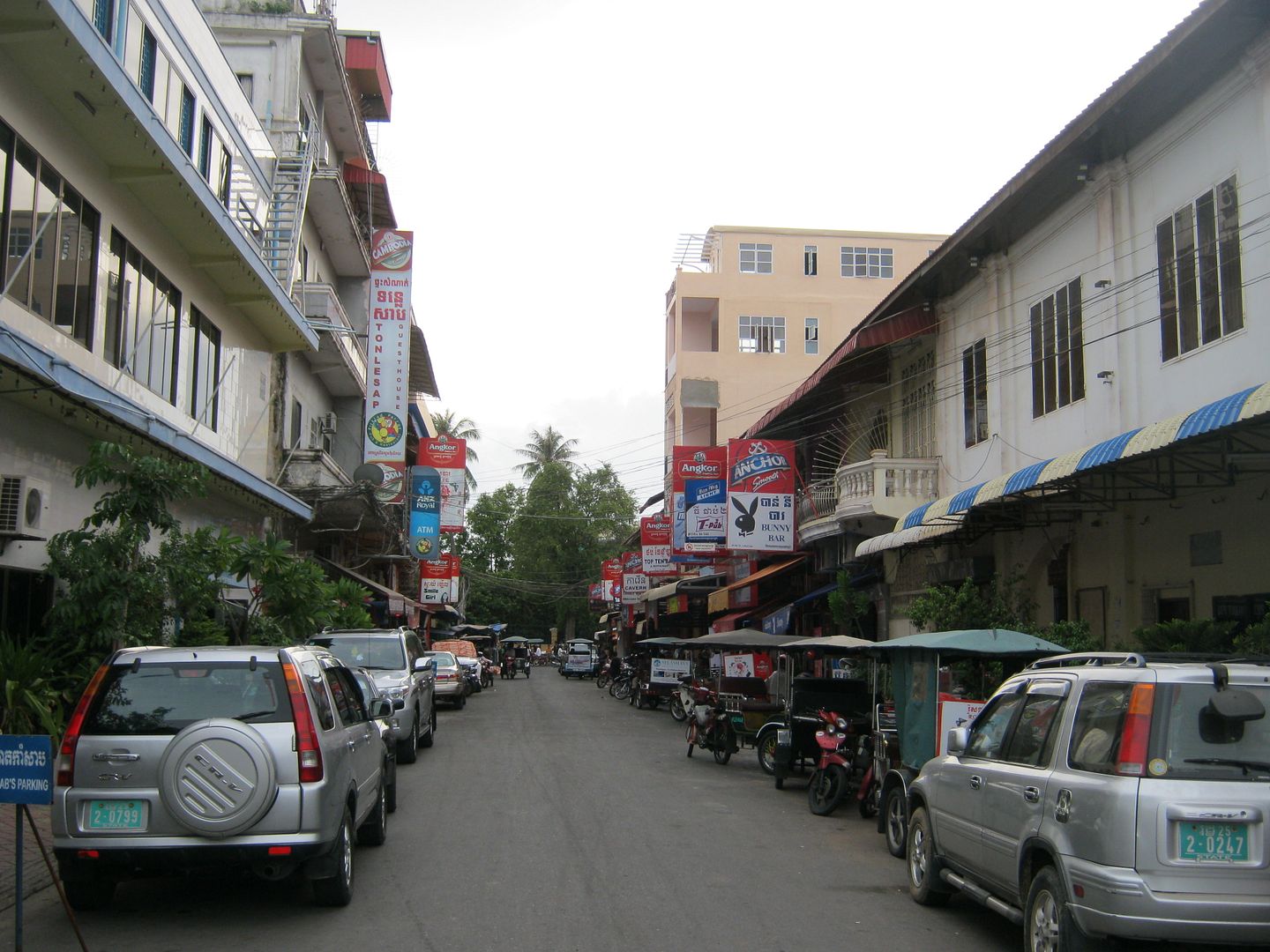 No comment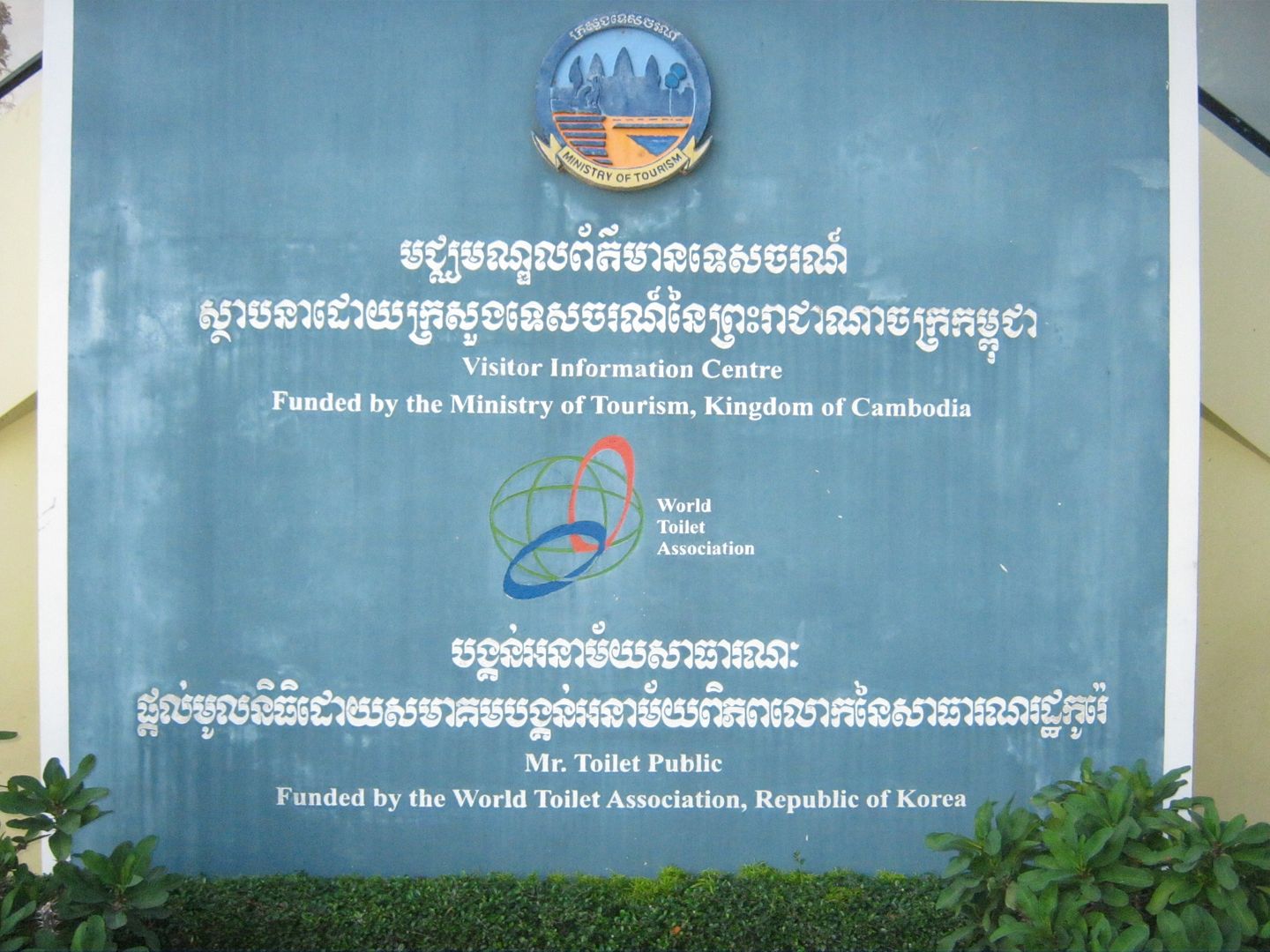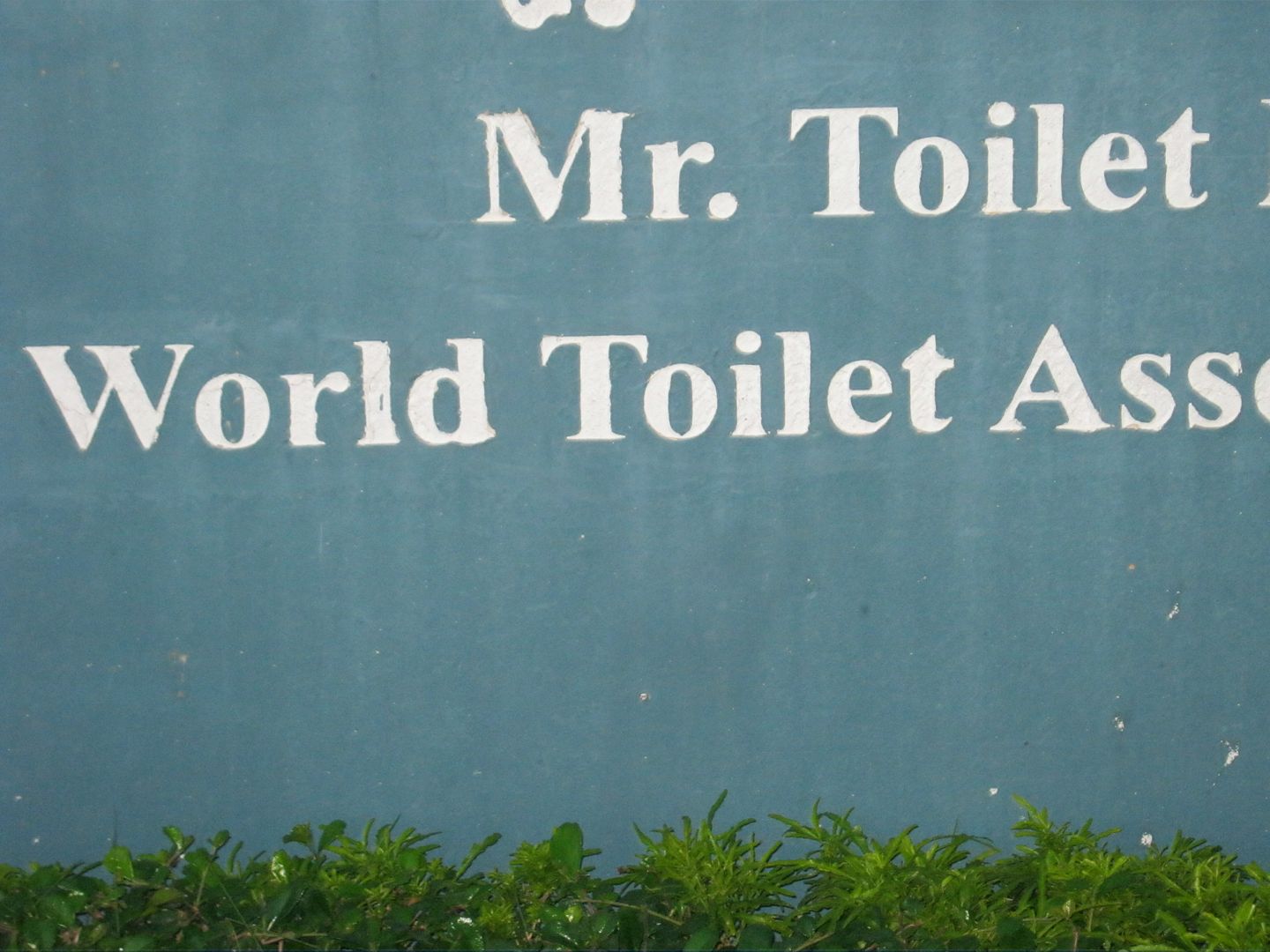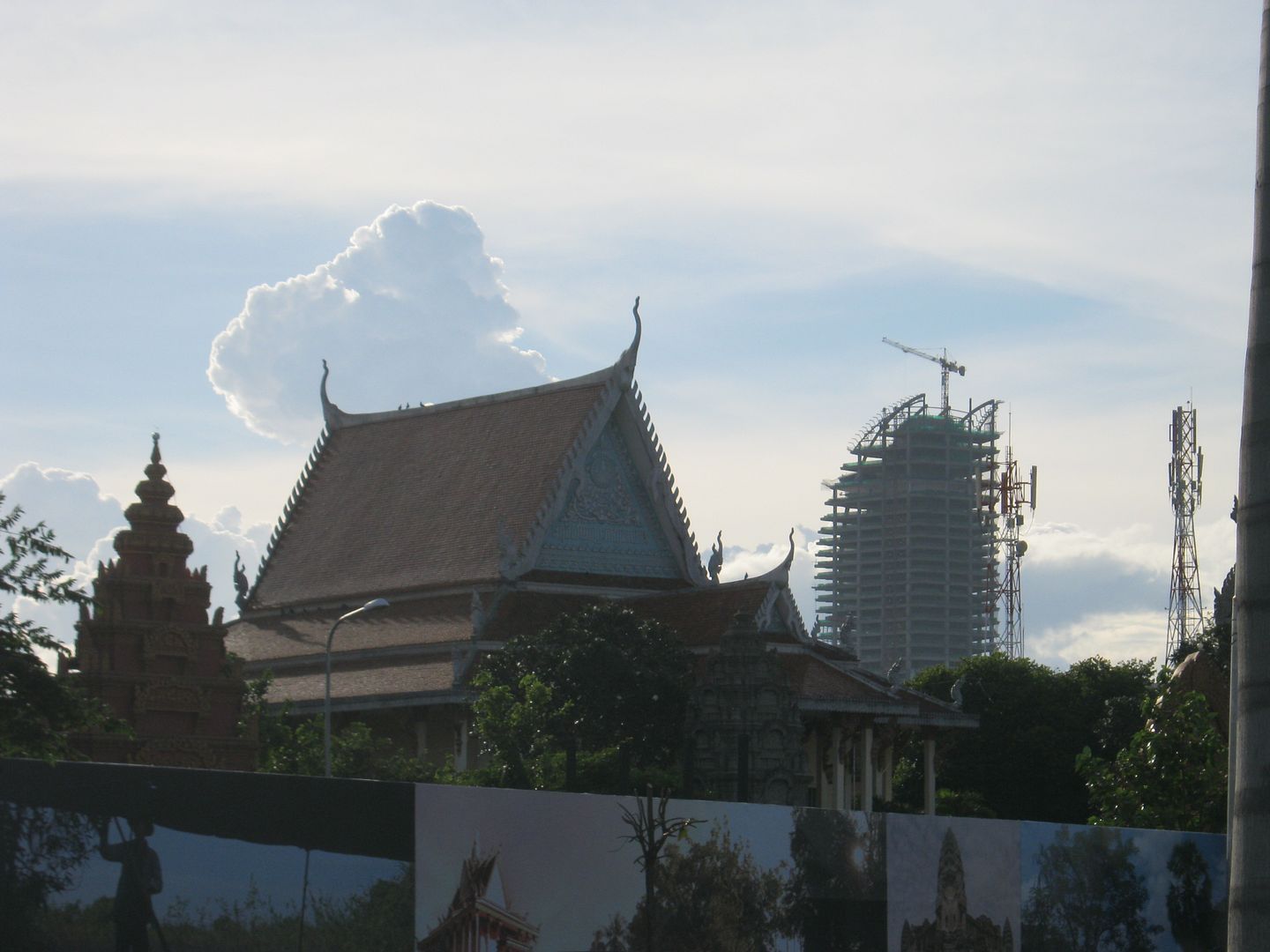 The locals were very friendly but the taxi drivers were very pushy. They can't take "no" for an answer.
Often times, locals would ask me if I knew Beyonce.
I really wish I did.
Made friends with a Filipino cover band at a bar and they dragged me to a casino the following day. I was not going to gamble but I went to the casino any way just to check it out. Their casino had a dance competition to win a brand new Toyota Altus. I would have taken photos but they were strict about taking photos inside.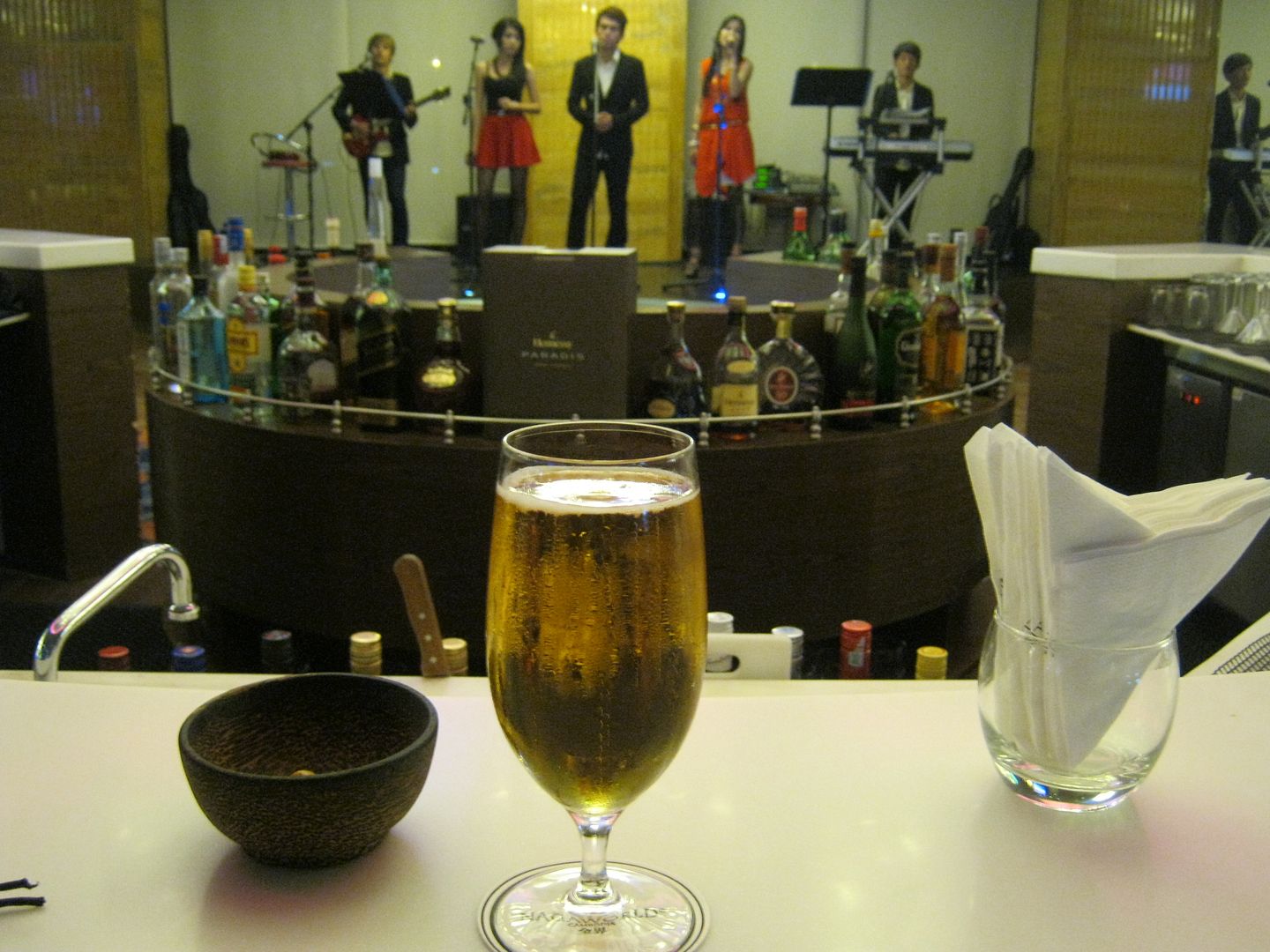 Mekong River at sunset.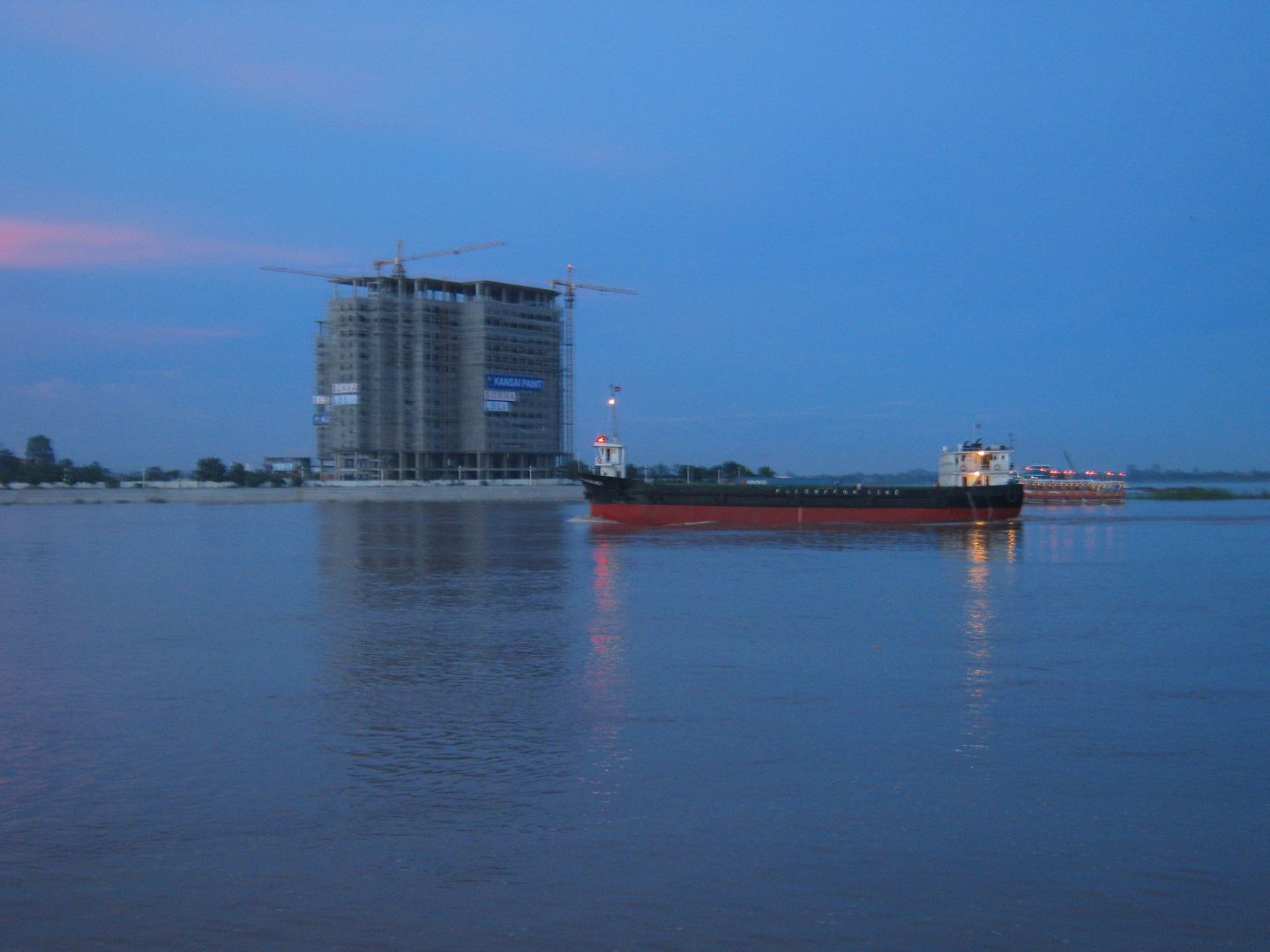 I like this picture.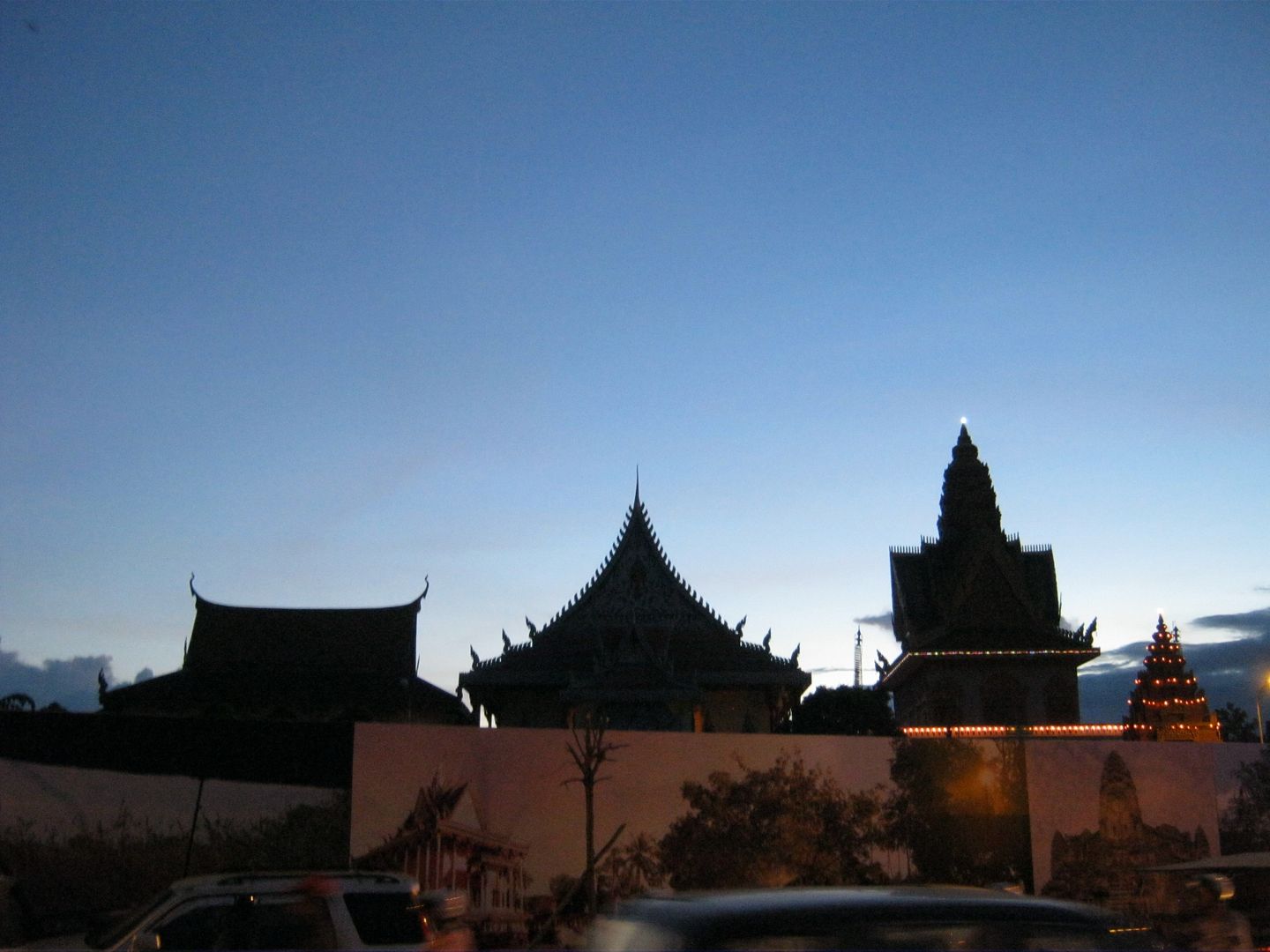 It was time to head back home to Bangkok. I rode a rickshaw back to the airport and had one last Angkor beer – on the way to the airport.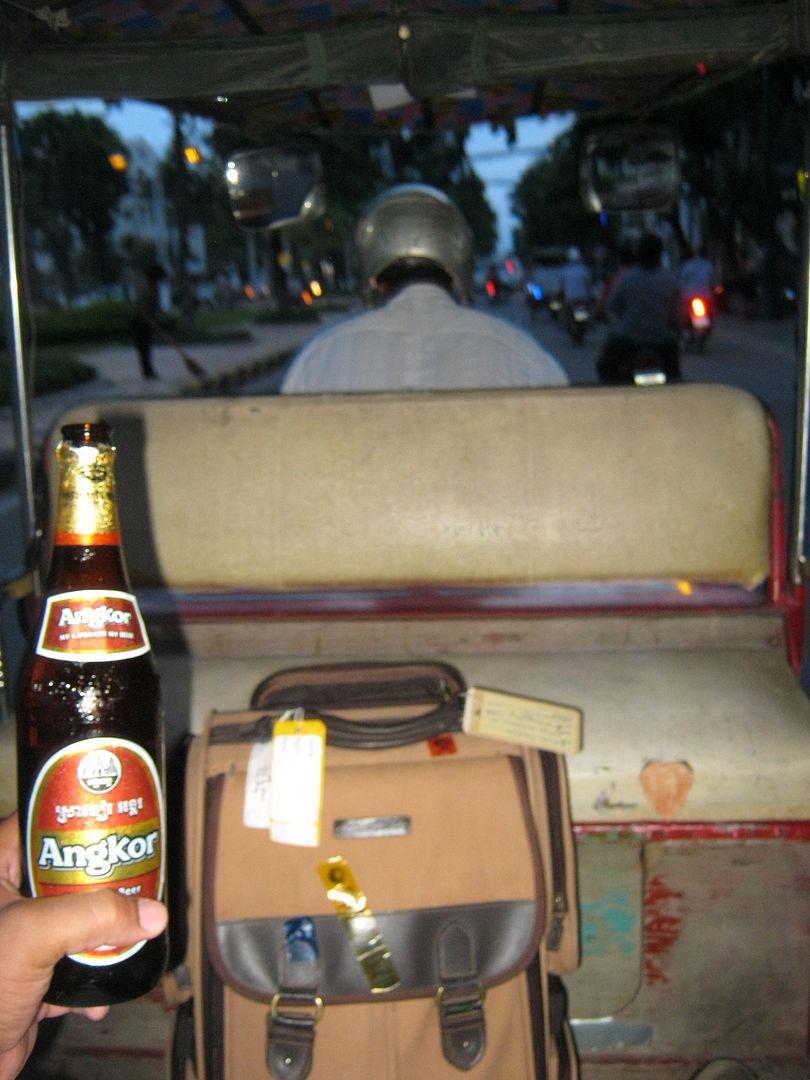 Drop off at airport.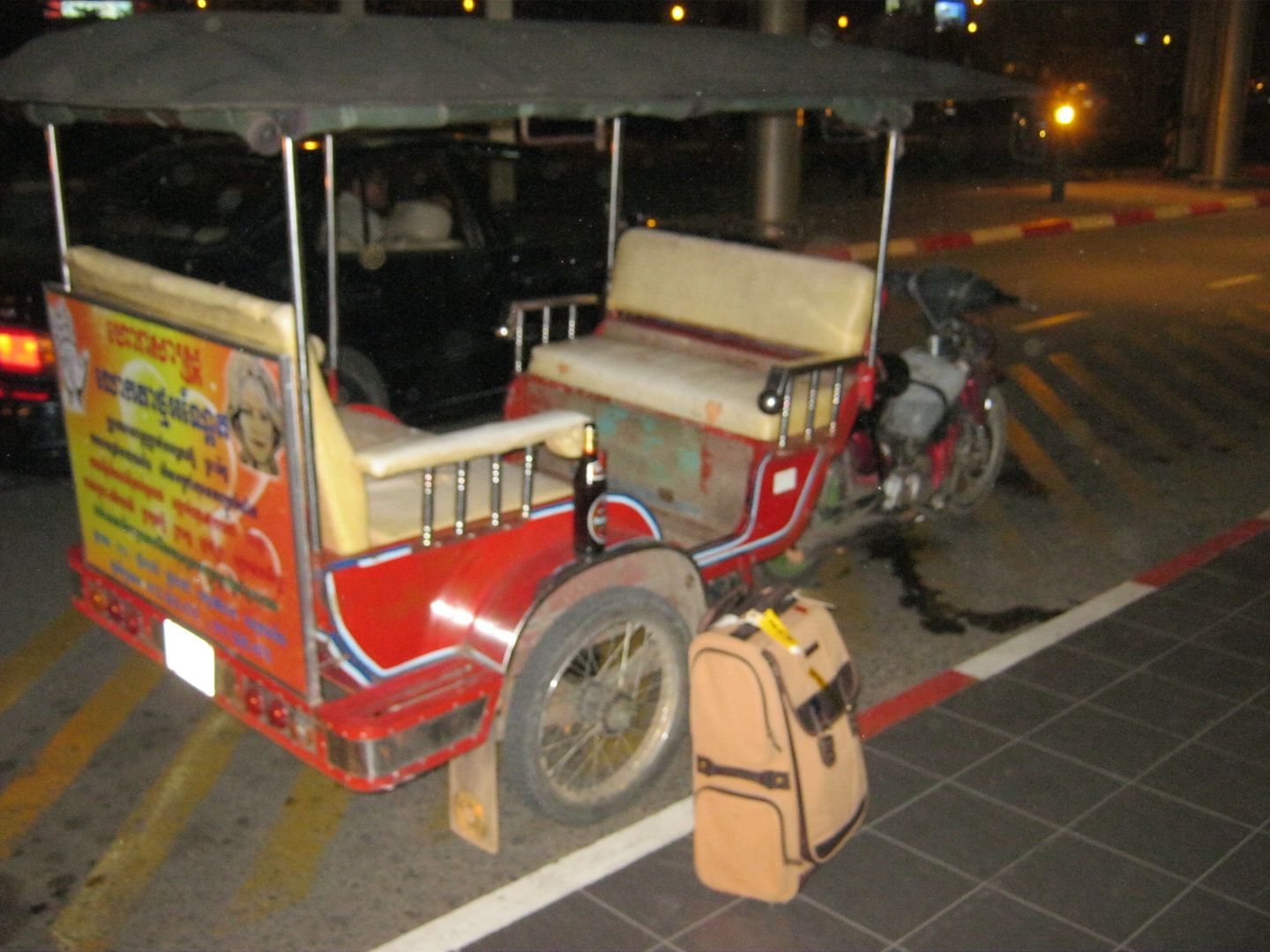 The departure terminal was a throwback to a time when large families would all go to the airport to see their loved-once off or arrive at the airport. Reminds me of going to O'Hare as a kid back in the 1970s to drop off or pick up a relative from the airport.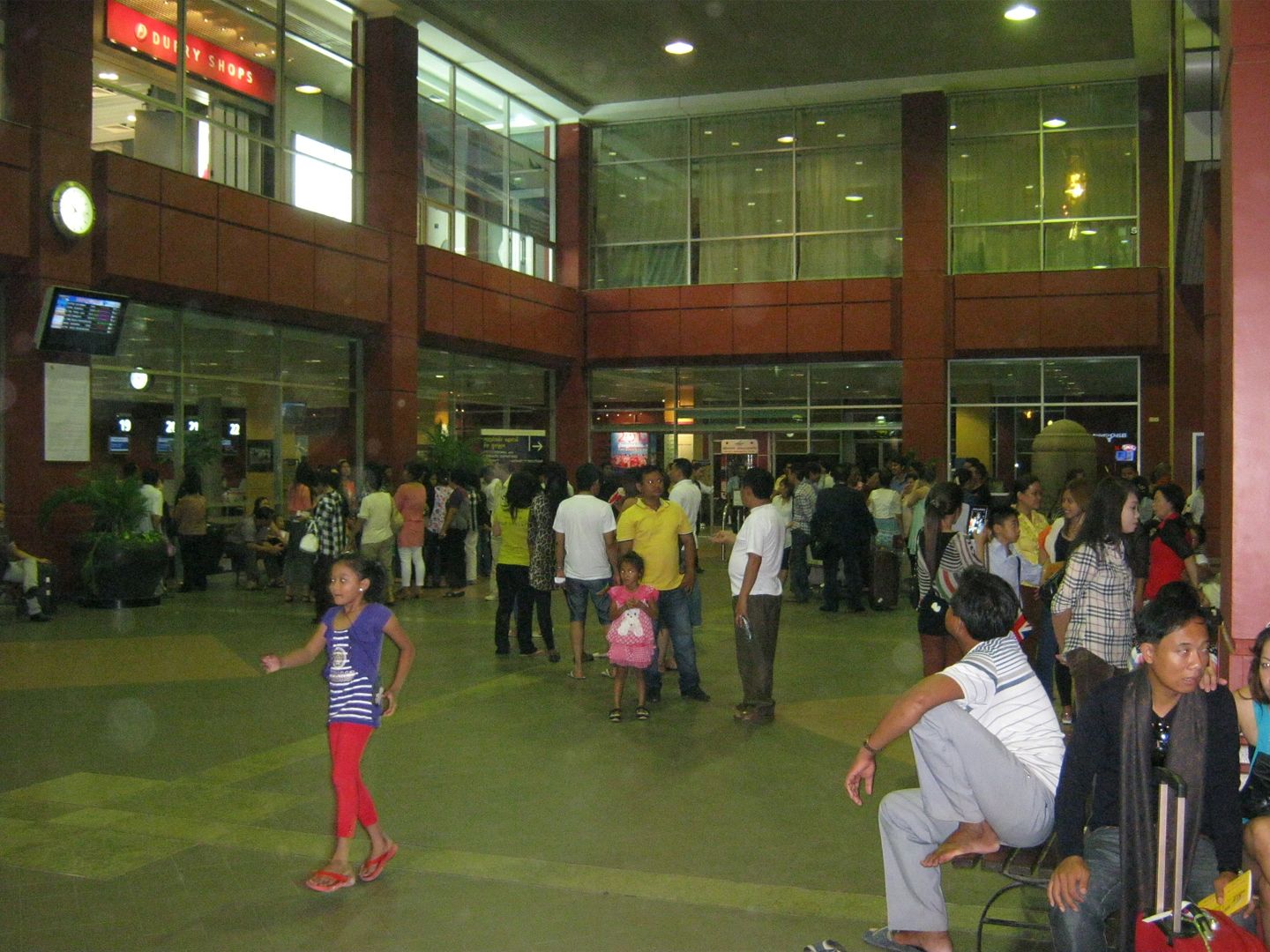 Check was quick and I am glad that I checked seat guru before my flight because I was assigned a 'wall seat'. I changed that immediately. This time, I had a window seat and entire row to myself. I had my own little office.
Quick & easy check in as always with TG.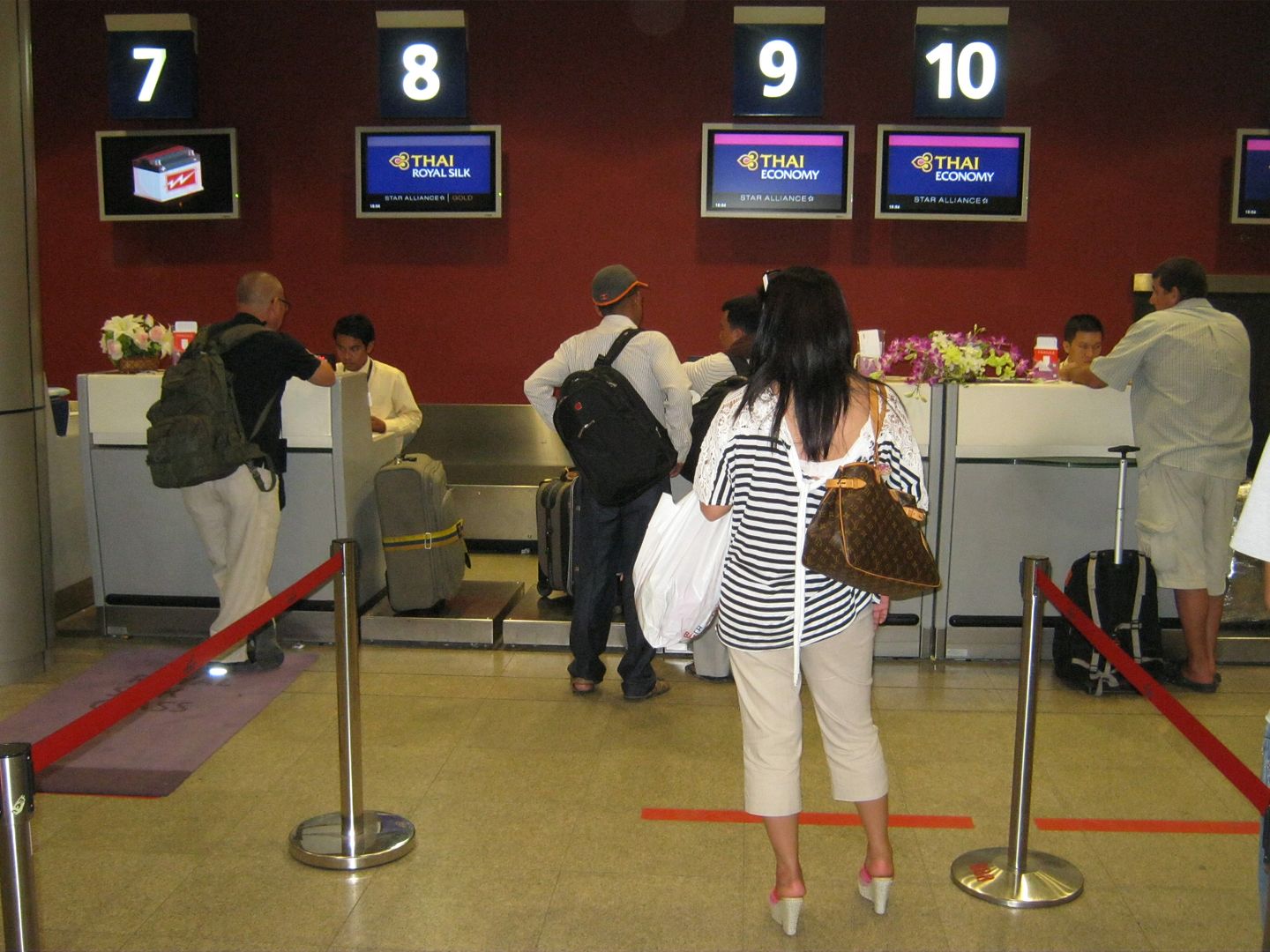 Small lounge at Phnom Penh International.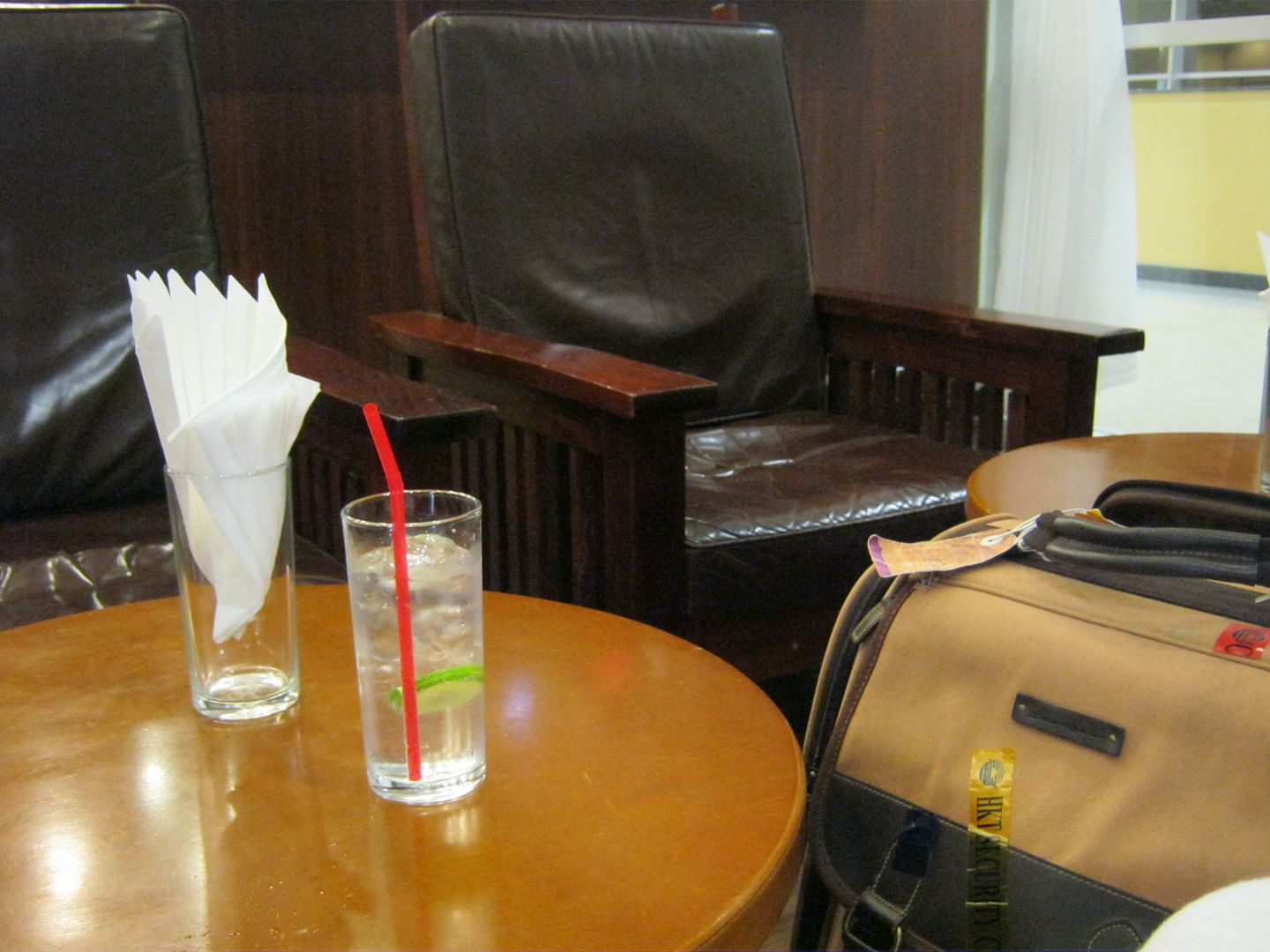 Free Internet at the airport.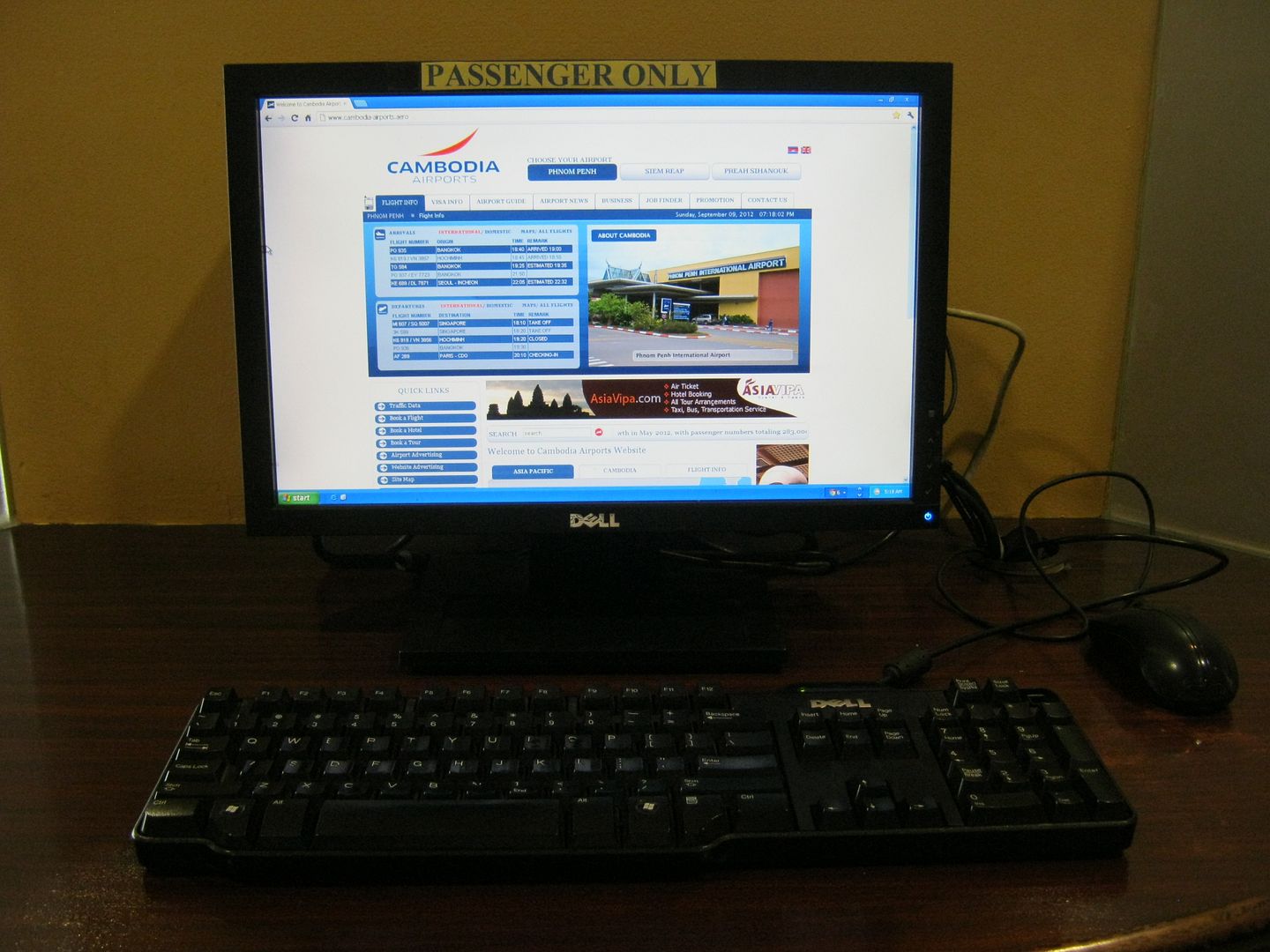 My return flight was a code share flight with Lufthansa.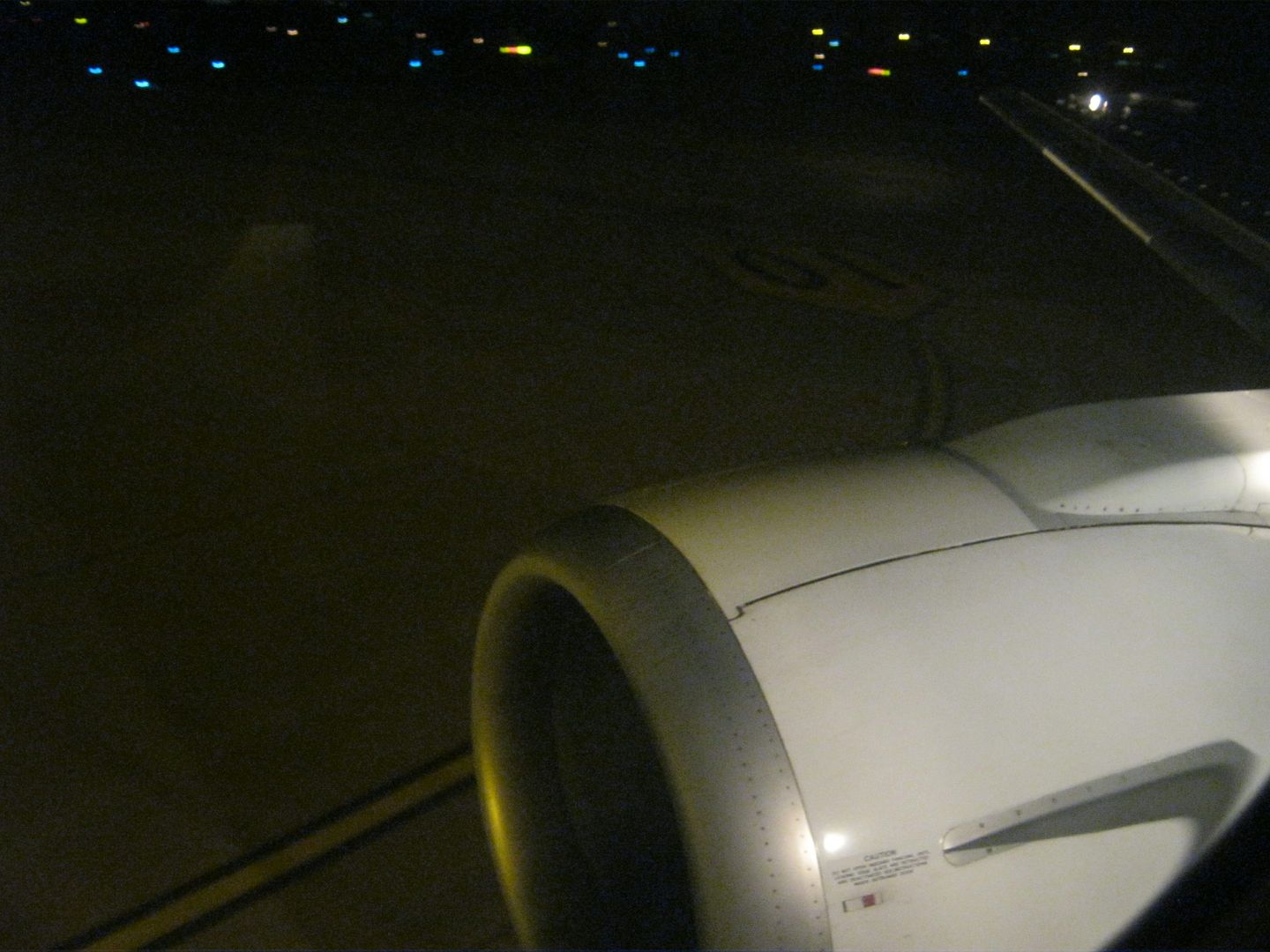 Flight left on time, meals were served and had a special commemorative Singha / Thai Airways A380 can of beer. Perhaps they may be worth something to a beer can collector.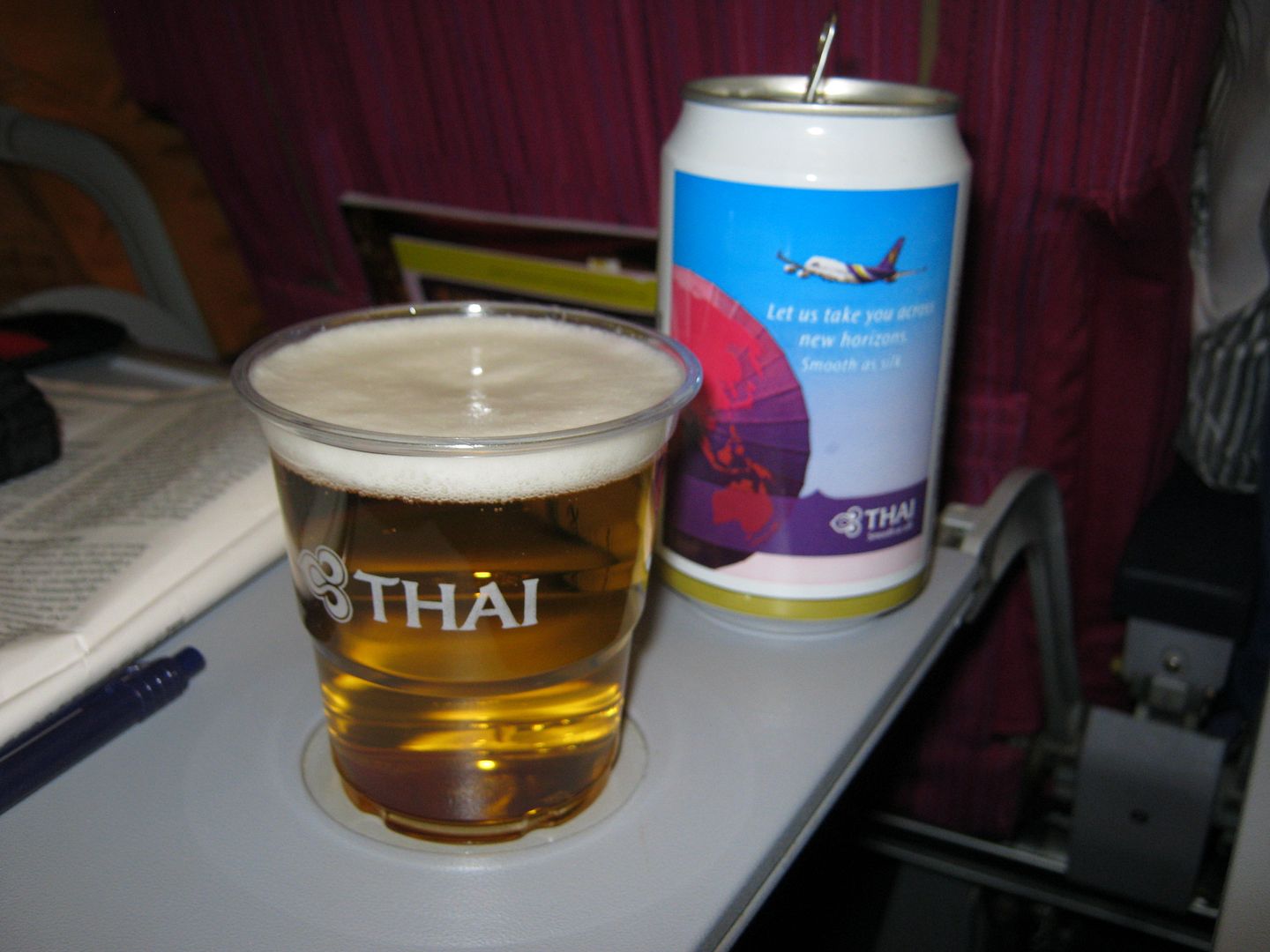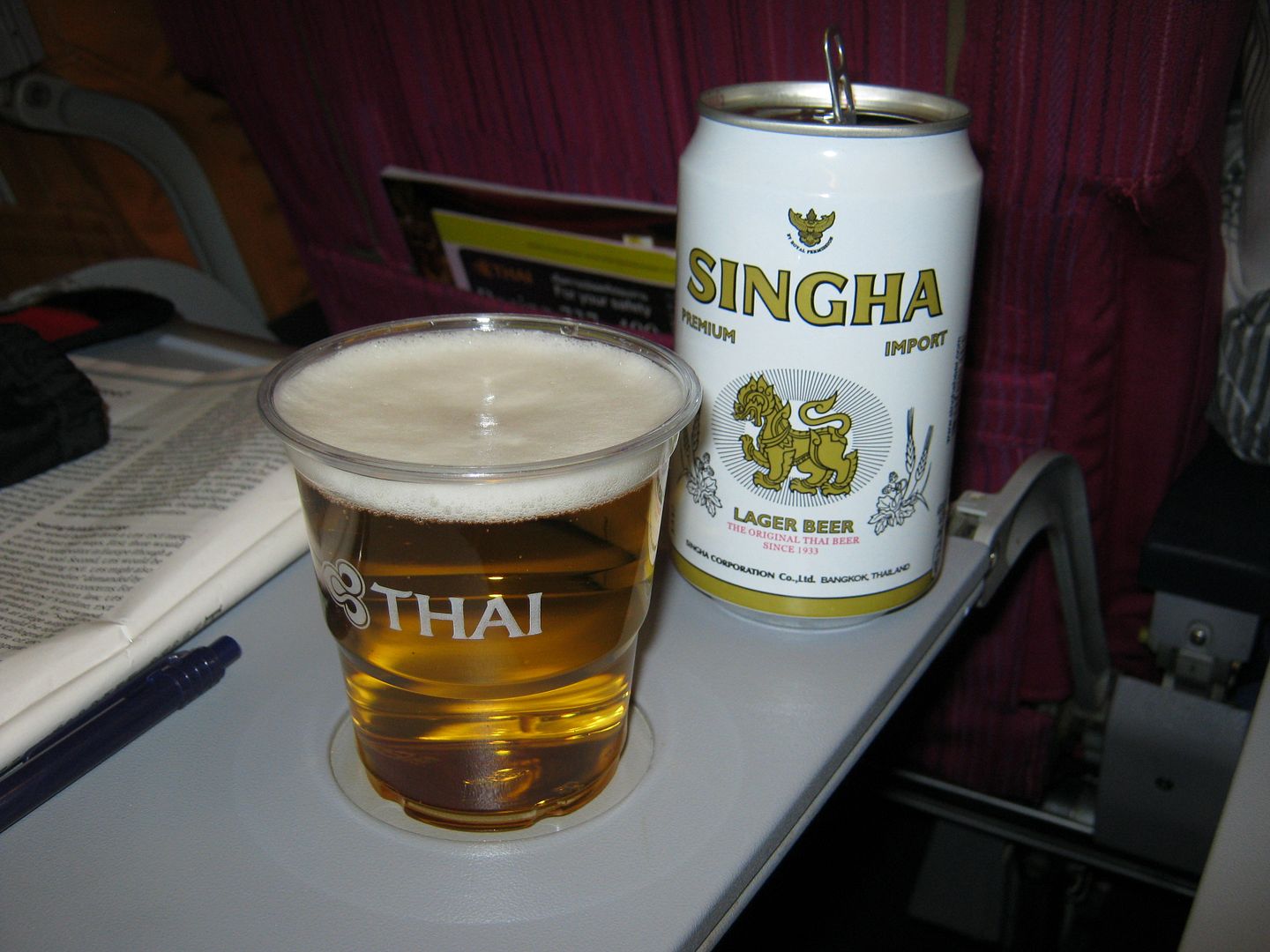 In-flight meal on the return flight.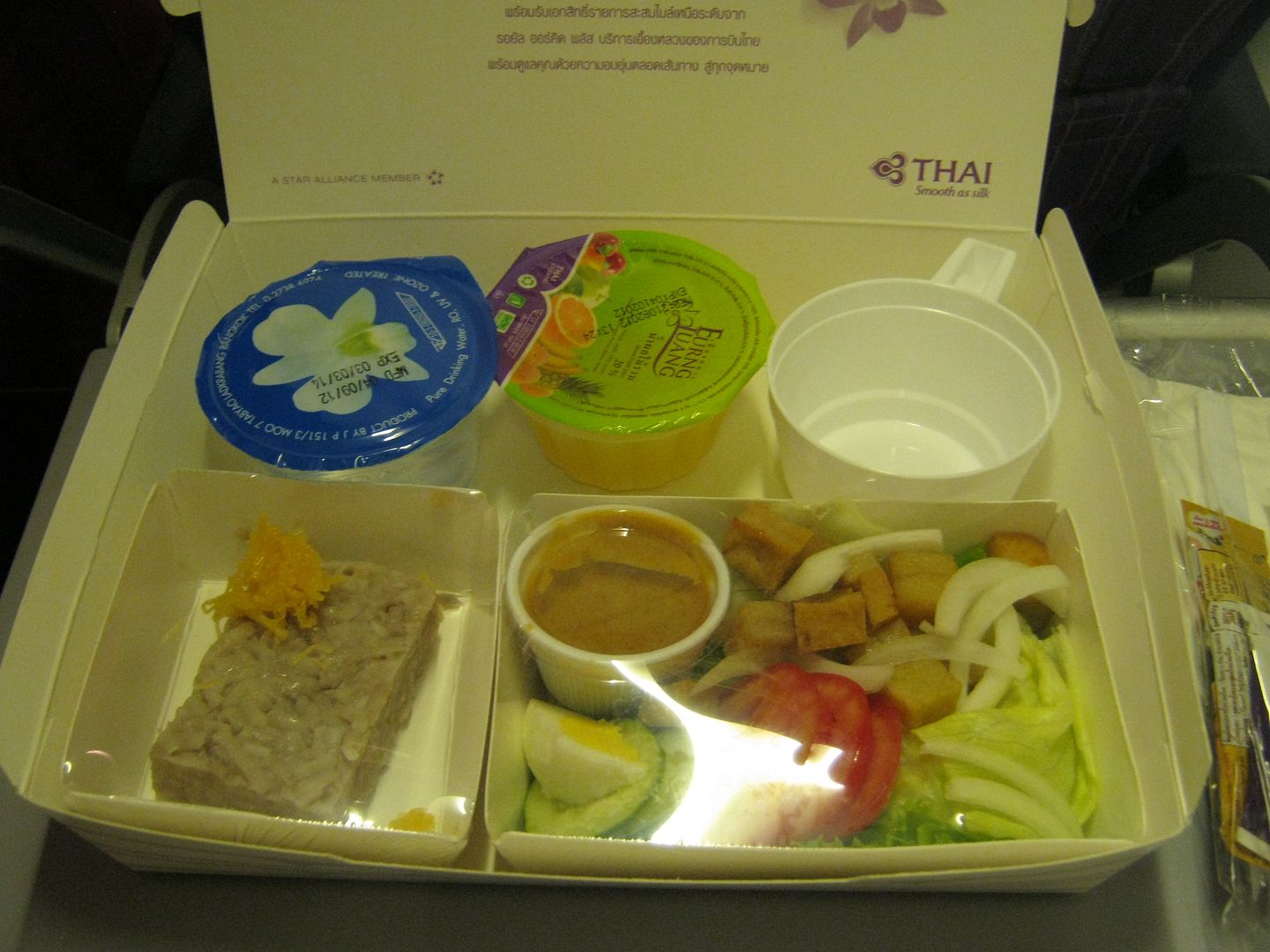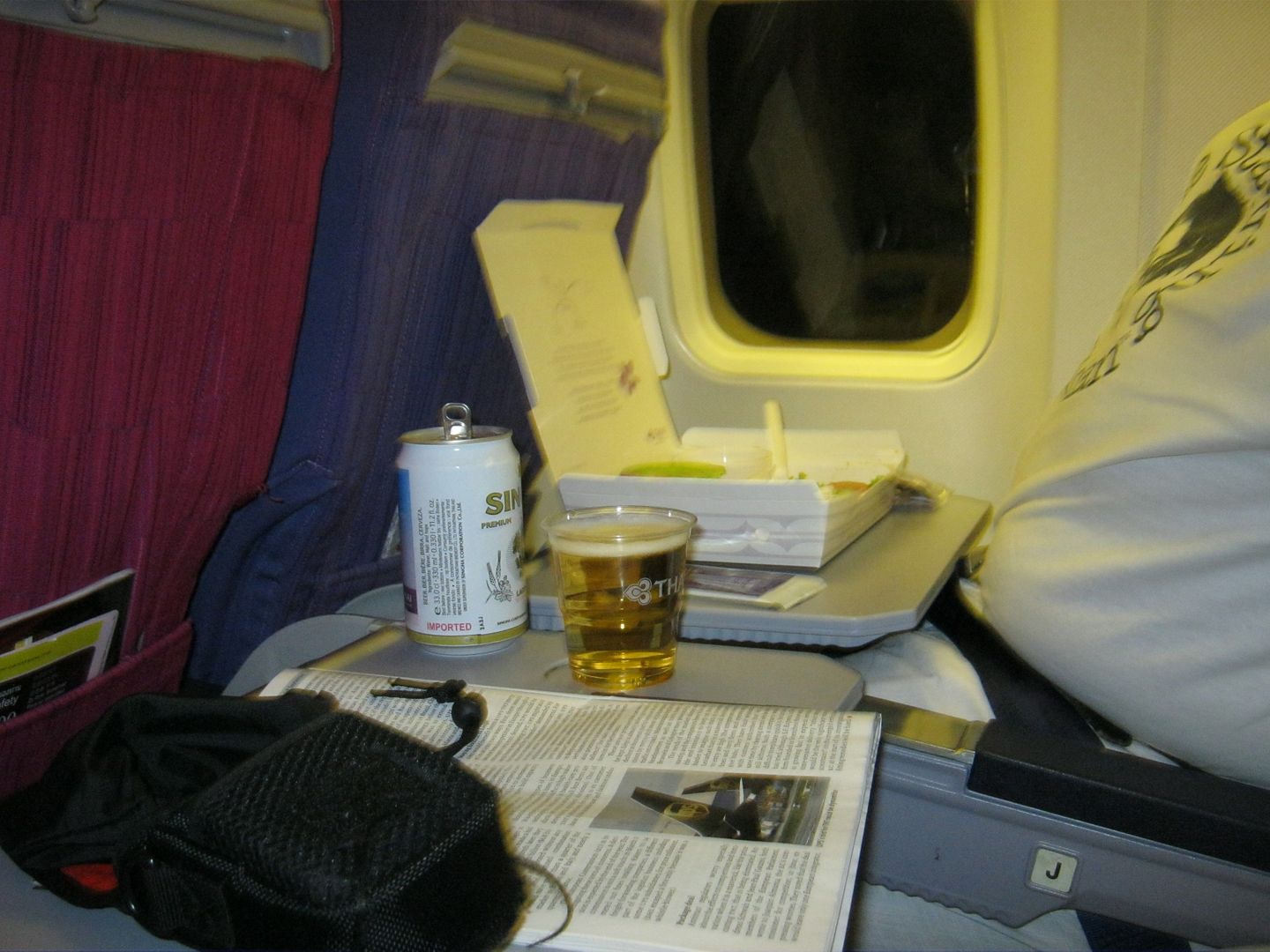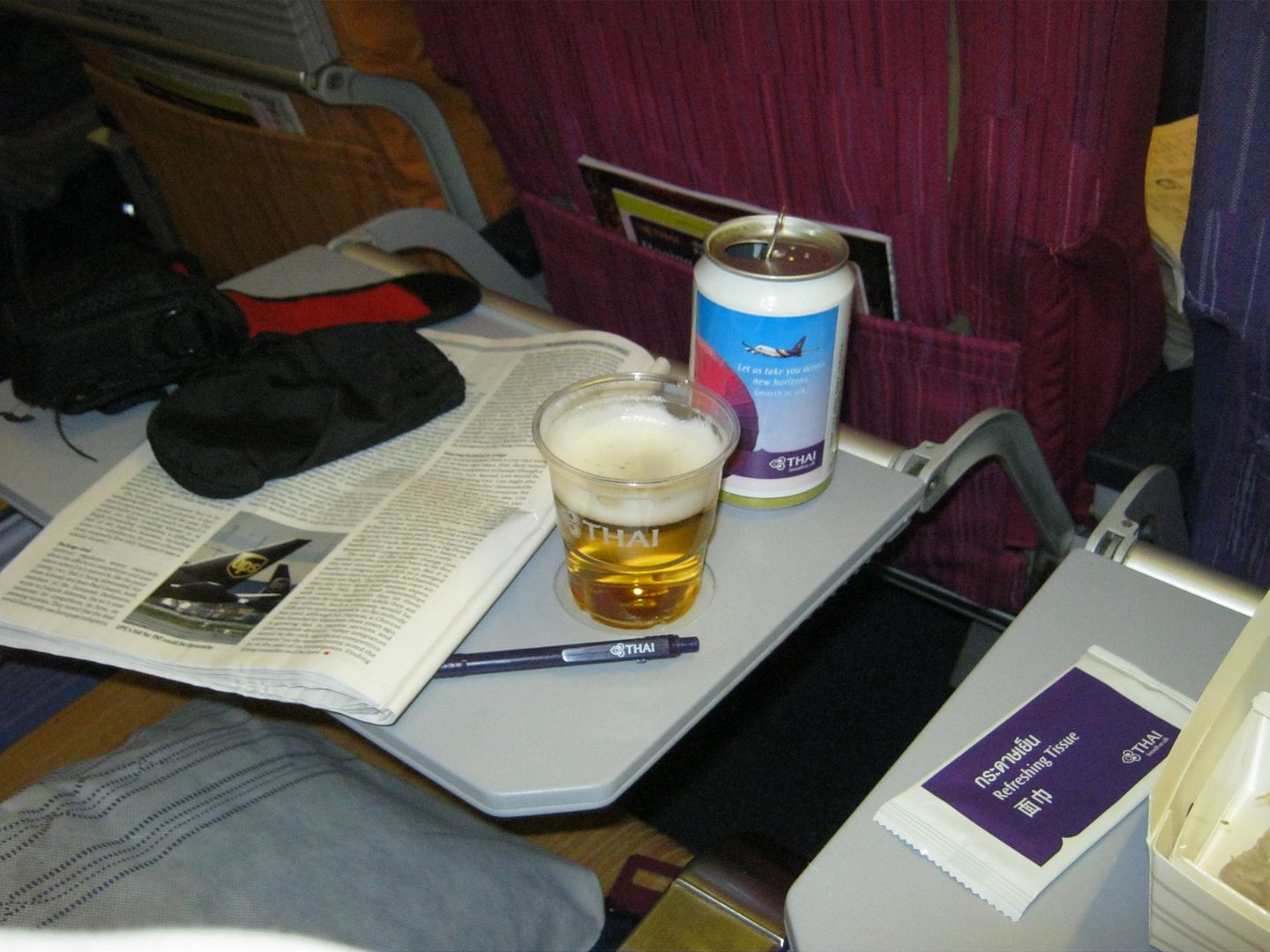 Touch down at BKK on time and then we were loaded on to buses to the main terminal. Hopefully once the low-cost carriers are thrown out of Suvarnabhumi and send to Don Muang, the need to use these buses will not be as common.
This time around I wasn't accused of smuggling in fruit like on my previous trip.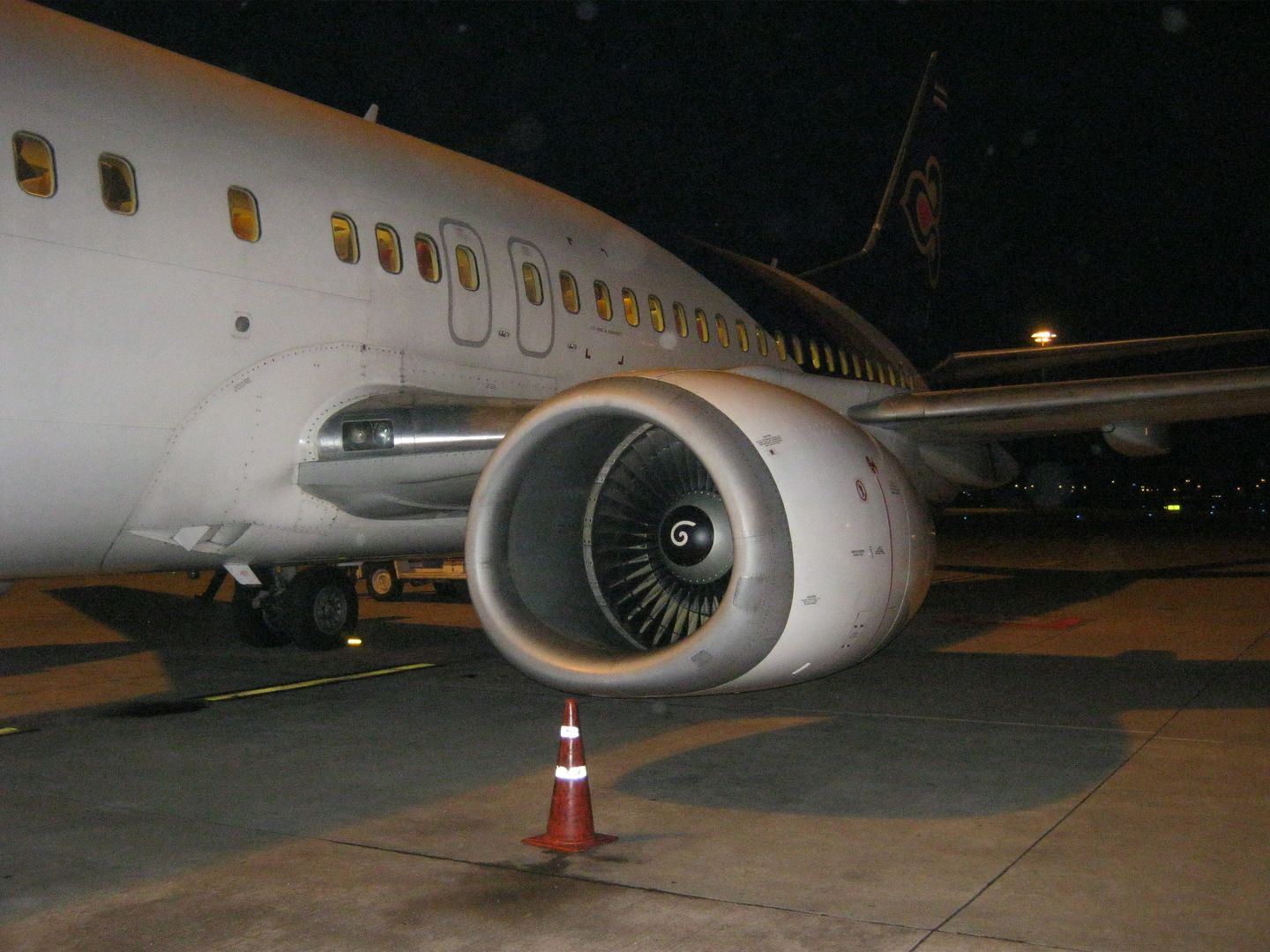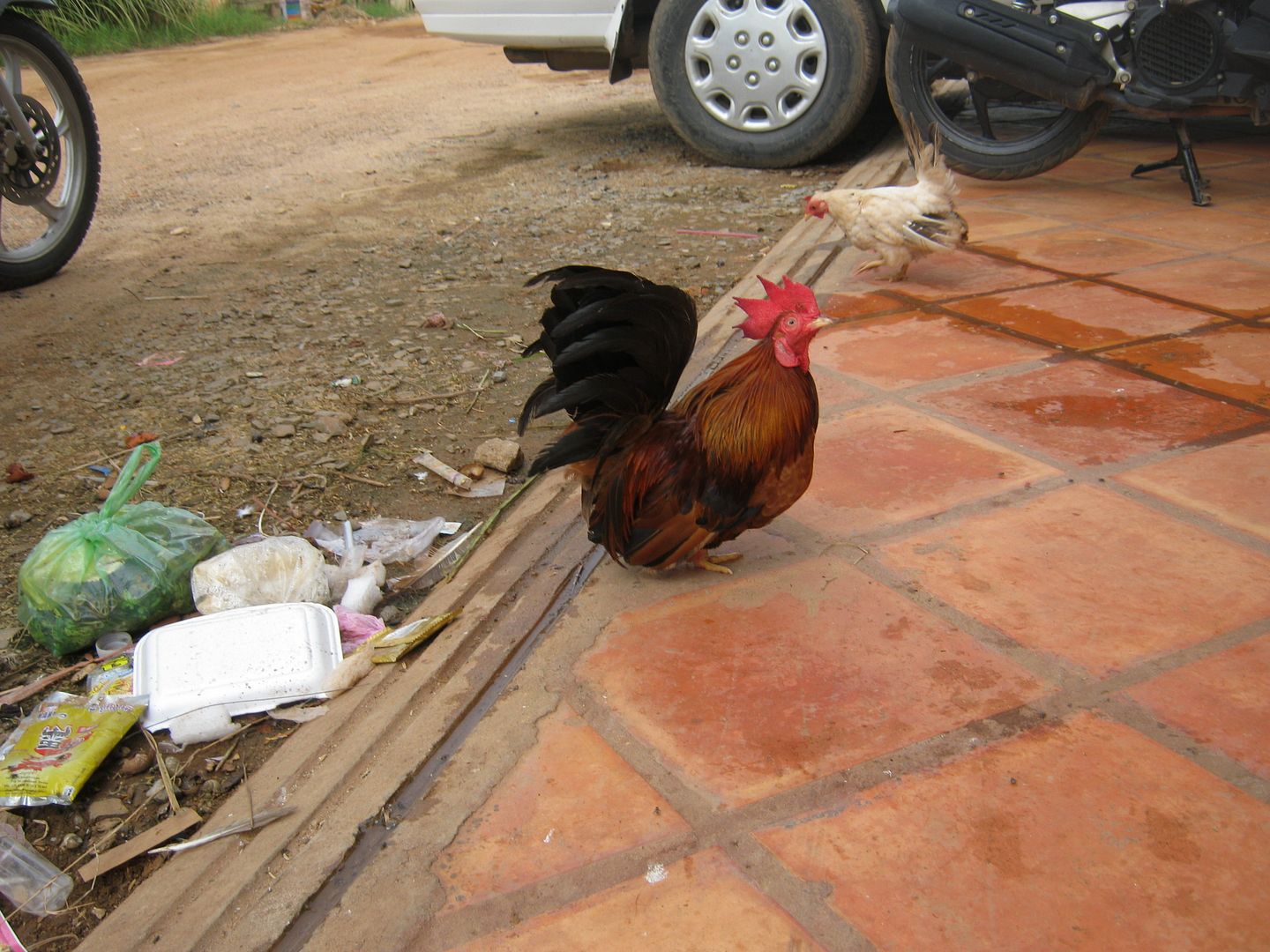 View Large
View Medium


Photo © Poowin Bunyavejchewin
[Edited 2012-09-17 14:12:03]
[Edited 2012-09-17 14:16:53]