INTRODUCTION
Not long after our adventures in Hong Kong earlier in May 2012, it was time to get cracking for ideas on our next trip. The Japan and Hong Kong trips ravaged my entire stock of vacation leaves, which meant that I could only afford to go on weekend trips. We had a couple of Jetstar travel vouchers in our possession and made sure to use it during the booking. After much deliberation, the country we decided to travel to next is..
.. Indonesia!
To be more specific, we decided on Jakarta. This would be my second time to the capital city of Indonesia, having been there the first time back in 1997 where I flew on a KLM Boeing 747-400. We decided to fly one-way to CGK on Valuair, and give ourselves a treat by flying Lufthansa on the way back to SIN. What's more interesting is that this would be my first time flying on an Airbus A340-300.
And then some time after booking the tickets in June, news broke out that Lufthansa was pulling the plug on the route we were flying on. Such a shame to see it go, really!
PART I: DEPARTURE
14th SEPTEMBER 2012, FRIDAY
Changi International Airport (SIN/WSSS)
Carrier: Valuair
Flight: VF 205
Aircraft: Airbus Industrie A320-232 (9V-VLE)
Class: Economy Plus
Seat: 2A
Terminal: 1
Gate: D30
Estimated Departure: 2005hrs
Actual Departure: 1957hrs
TO
Soekarno-Hatta International Airport (CGK/WIII)
Terminal: 2D
Gate: D1
Estimated Arrival: 2055hrs
Actual Arrival: 2039hrs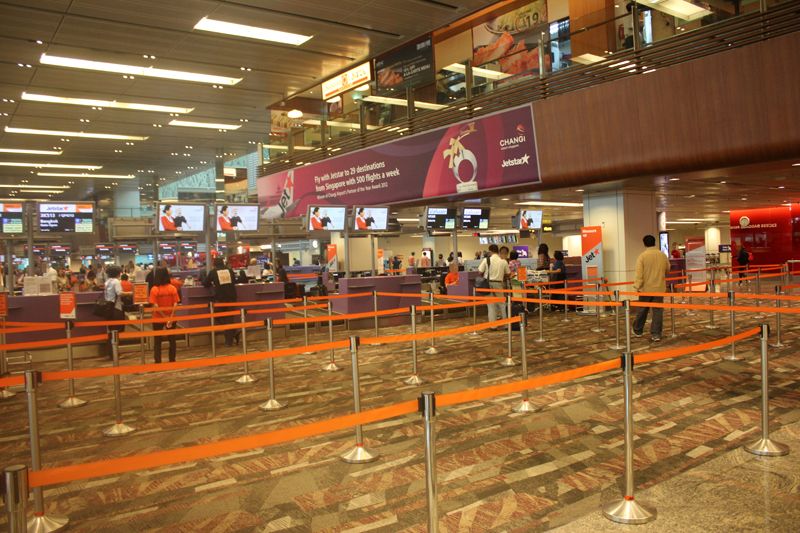 The Jetstar counters are empty on this side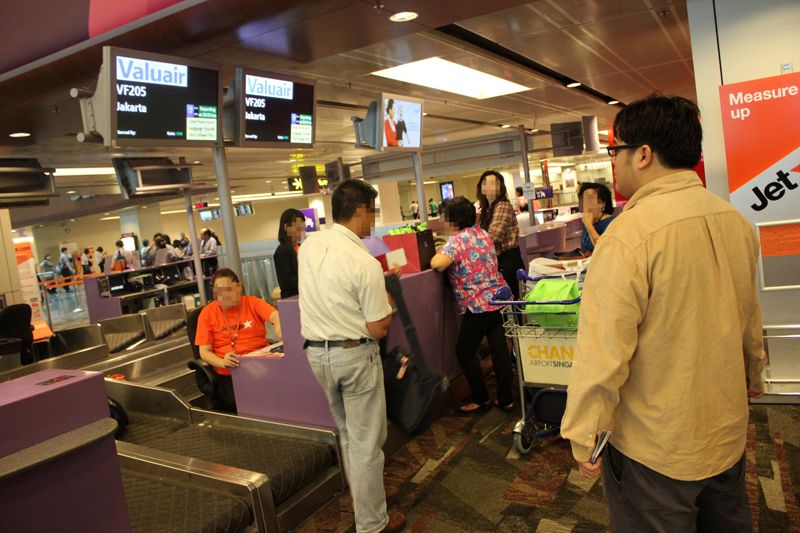 We're next in line
The bustle of activity behind us
Checking-in was not a hassle at all as we only had carry-ons to deal with. After a short while, the counter girl issued us our boarding passes. We then walked over to the other side of the Terminal to meet up with one of Aaron's colleagues from his conscript days. He was due to fly to LAX via HKG that same night on Cathay Pacific.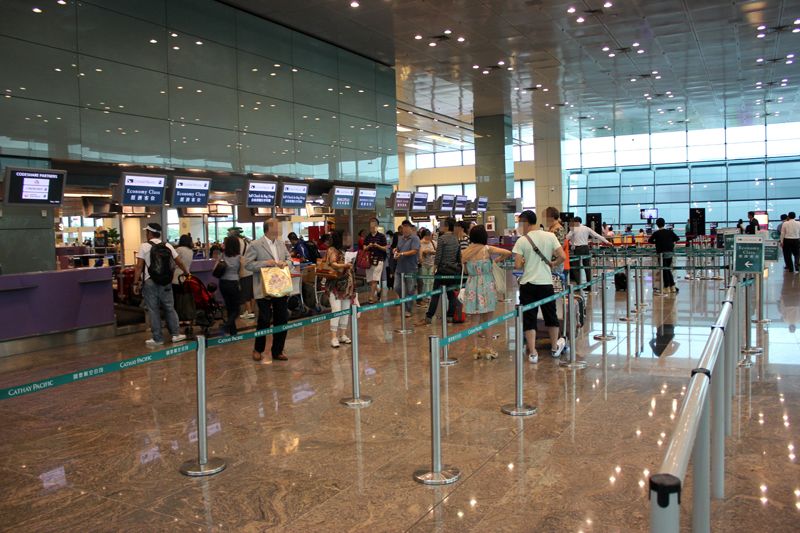 Cathay Pacific counters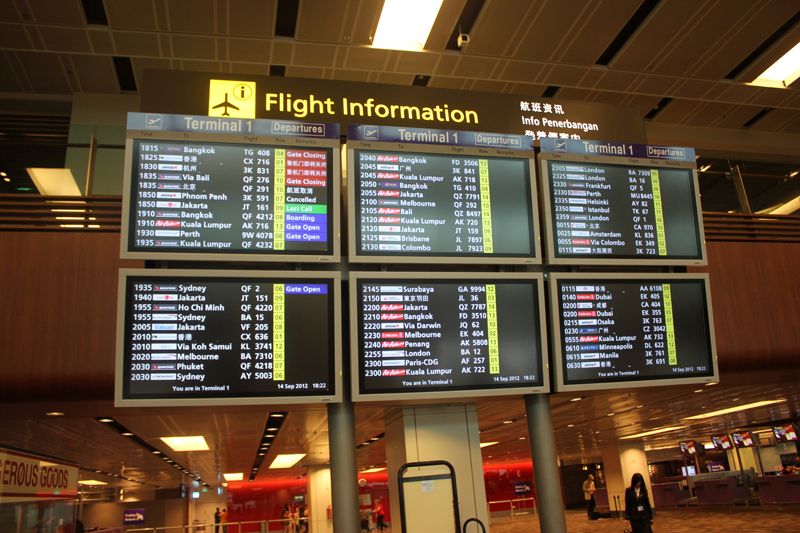 Departures for that evening
As we had some time to burn, we decided to have a meal at KFC up at Level 2 of Terminal 1. I do have to admit that I really miss the old interiors of Terminal 1 before the revamp. Oh well..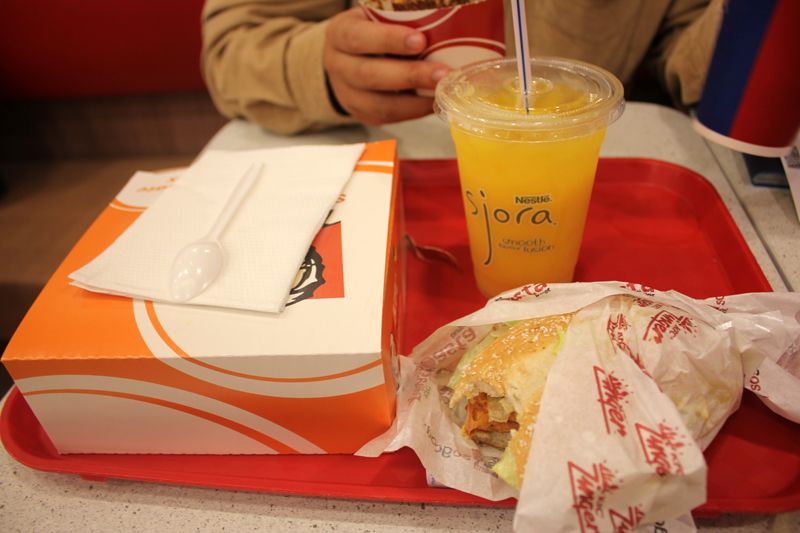 Mine!
Passport + Boarding Pass
After the quick bite, we headed over to the revamped Viewing Gallery. We bumped a familiar face in the local aviation enthusiast community, who was there with two of his friends for some evening spotting. Of course, we had spotting of our own to do too!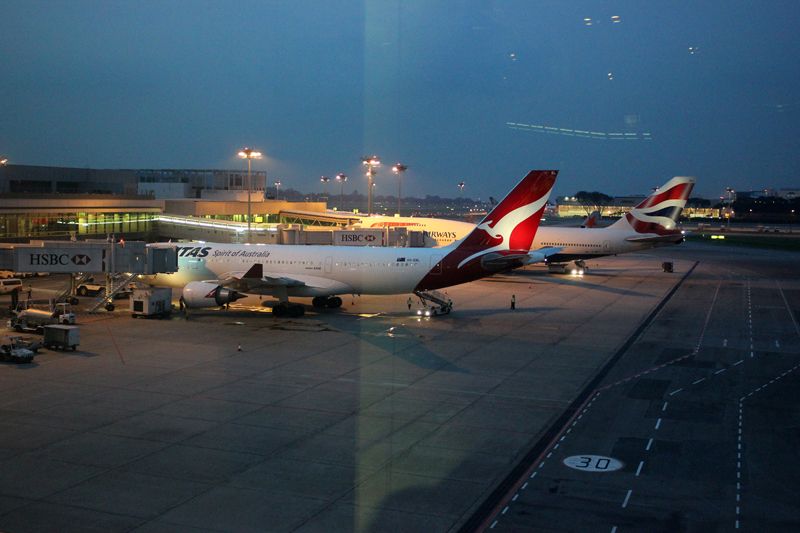 Qantas Airbus A330-203 VH-EBL "Whitsundays" – formerly in Oneworld livery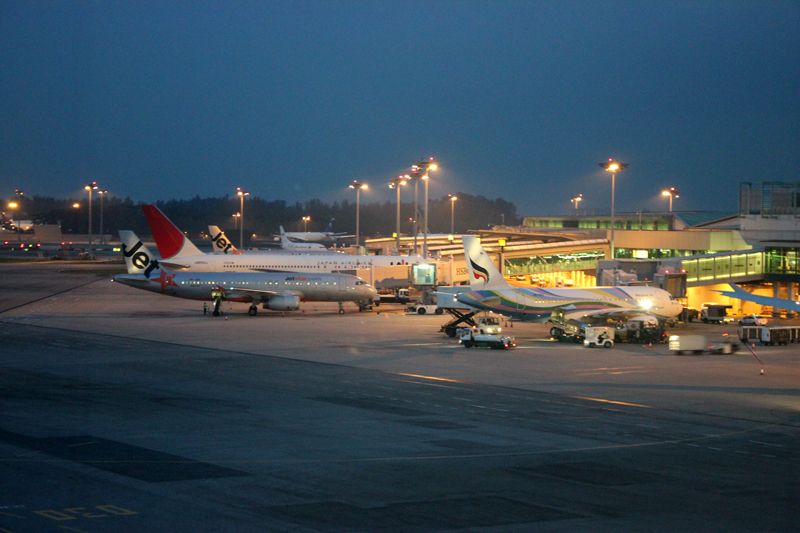 More parked planes
Cathay Pacific Airbus A330-342 B-HLK
The awful playground in the middle of the Viewing Gallery
We then went back down to the Departure Hall to change some Singapore Dollars to Indonesia Rupiahs at the RHB Bank counter. I obtained IDR 750000 from the exchange. Now if only IDR 750000 was of equal value to SGD 750000..
After bidding goodbye to Aaron's friend and one of our close pal who came to see us off, we went through Immigration and emerged out to the other side. As expected, airside was bustling with activity at that hour.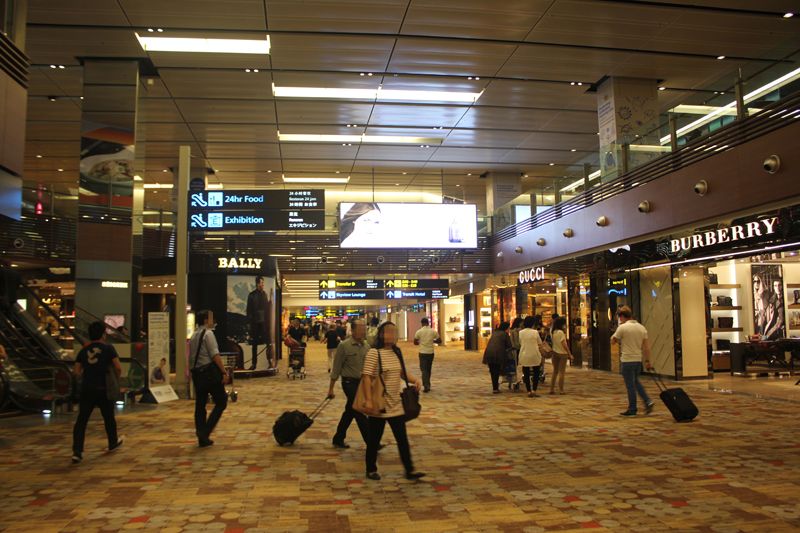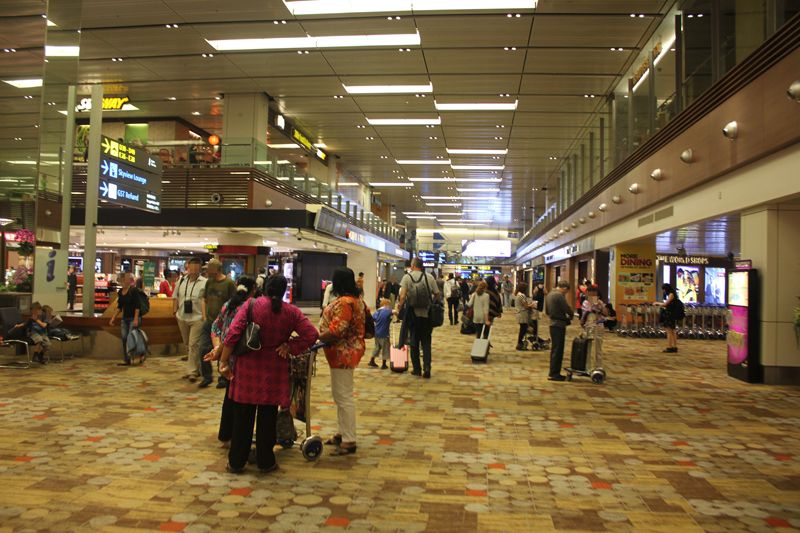 Terminal 1, airside!
We got to our Gate pretty quick, as it was not that far away. There were a few people being screened by the security officers. Only one guy had his bag frisked, where the officers found a metal butter knife within the depths of the bag. Clearly, someone failed to pay attention to the displayed list of prohibited items out at the Departure Hall. Needless to say, the two of us got screened and sped past him.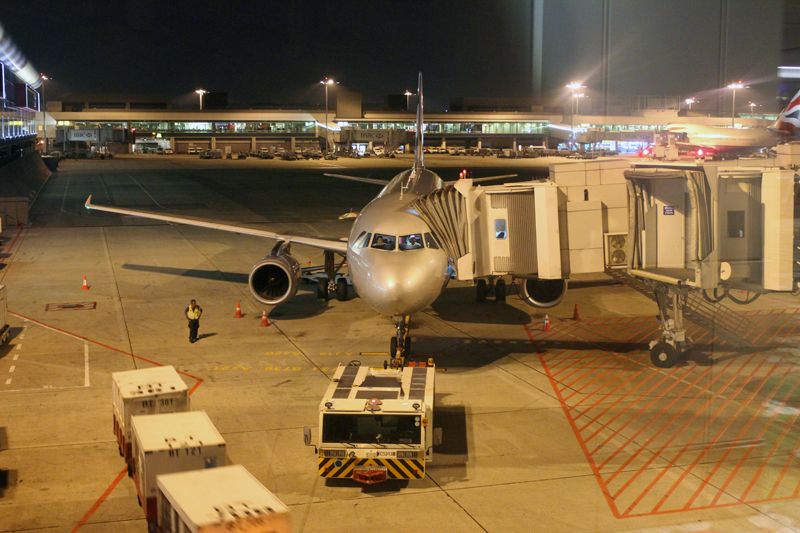 Our plane – Valuair VF 205 Airbus A320-232 9V-VLE parked at D30
We proceeded to the jet bridge and into the inviting interiors of 9V-VLE. The friendly Filipino FA at the door greeted and directed us to our seats, which was really not far away as we sat at 2A and 2B.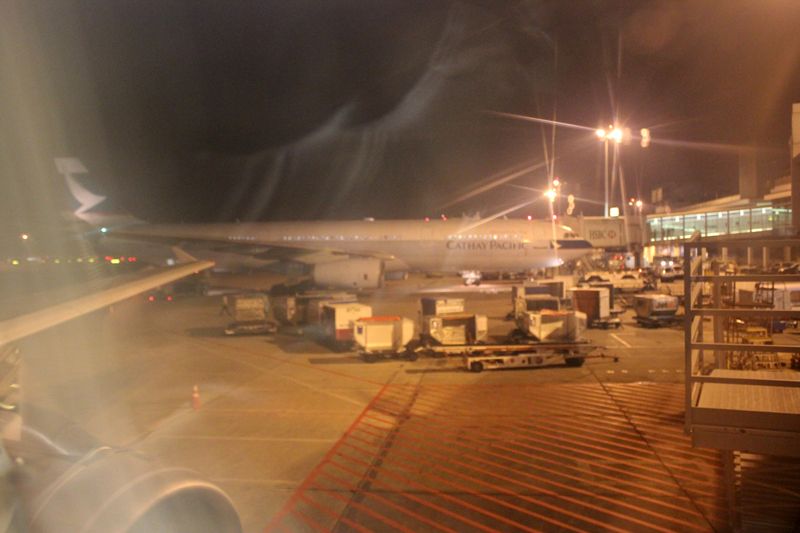 B-HLK parked next to us
One of the FAs, appeared next to 9C and greeted us with a smile. He then notified that we had purchased the Value Bundle and was there to note down what would we like for the refreshments to be served later on. The friendly chap did not look like a Singaporean Chinese to me. True enough, I caught sight of his name tag – Kazuya. What a pleasant surprise! We later got to know that the First Officer is a Japanese as well.
Everyone had boarded and the doors soon close, followed by pushback. The flight was somewhat full, save for the empty seats at the entire of row 1. We then taxiied to the active runway for the evening. Fortunately, it was my favorite runway – 20C!
http://www.youtube.com/watch?v=5qE1cOJHnpk
Don't you just love the sound of those engines at takeoff? When the seatbelt signs went out, the cabin lights was turned back on and the FAs swung into action.
Seat back check.. pass!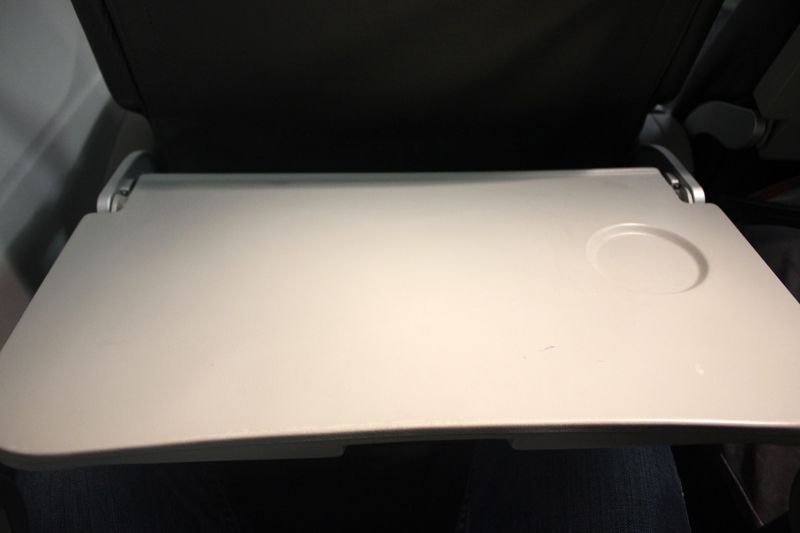 Tray table check.. pass!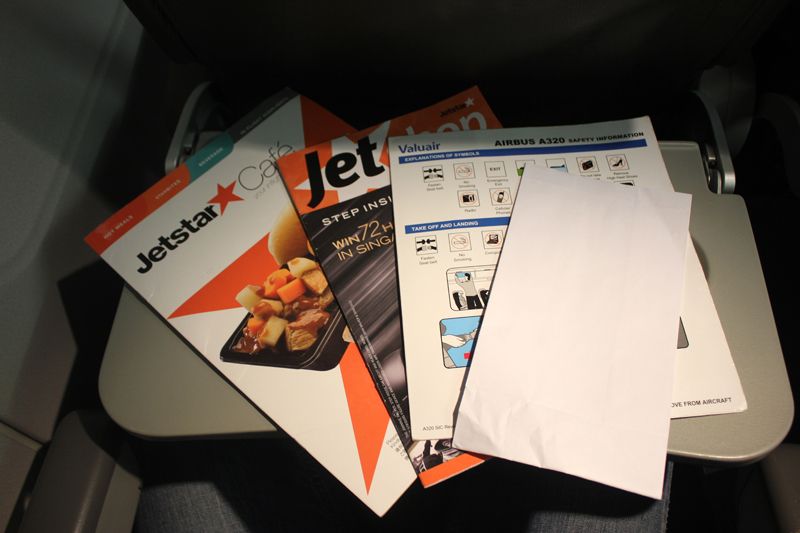 Seat pocket contents.. adequate!
Whoops, the model on the Jetstar magazine looks a little torn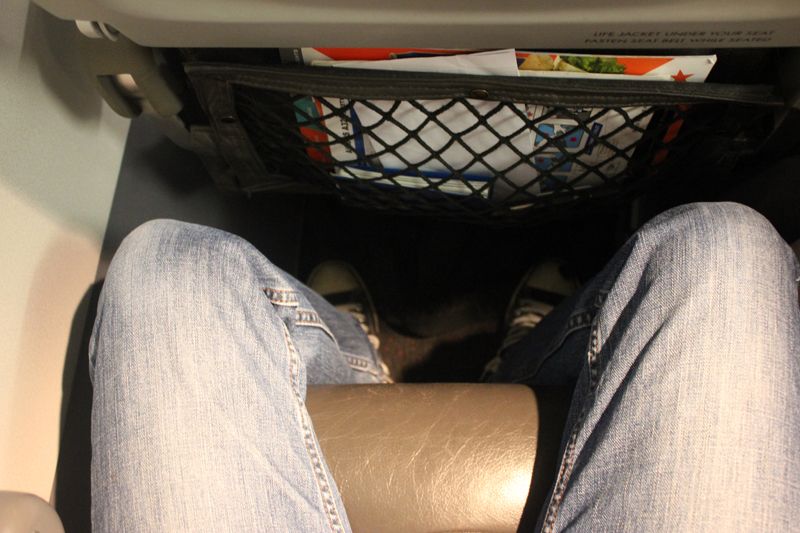 Knee room
Feet room
Kazuya soon appeared once again with our requested beverages and left for the galley. He returned about three minutes later with our meal for the flight. He did so with a smile, which reminded me of the outstanding Shinkansen refreshments trolley crew back in Japan. I really love the fact that the Japanese people take hospitality really seriously and their ability to connect with the people they meet. Aaron struck up a conversation with Kazuya in Japanese, good knows what they were talking about!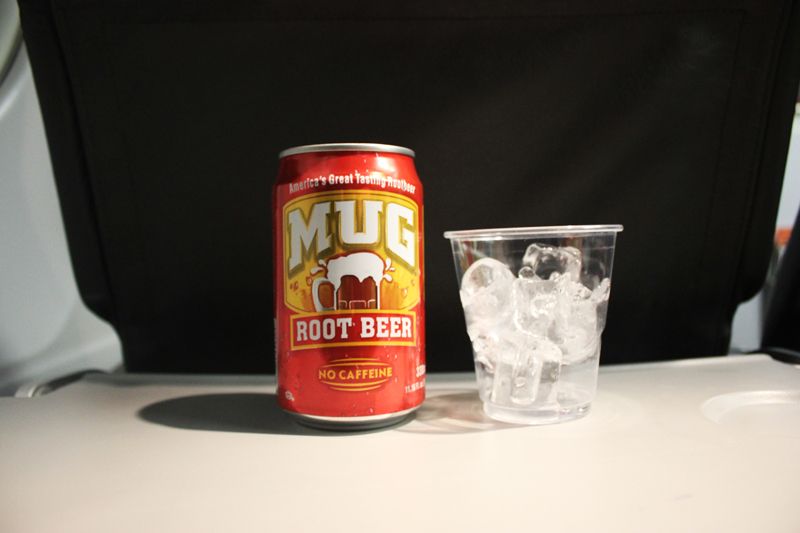 You can't go wrong with Root Beer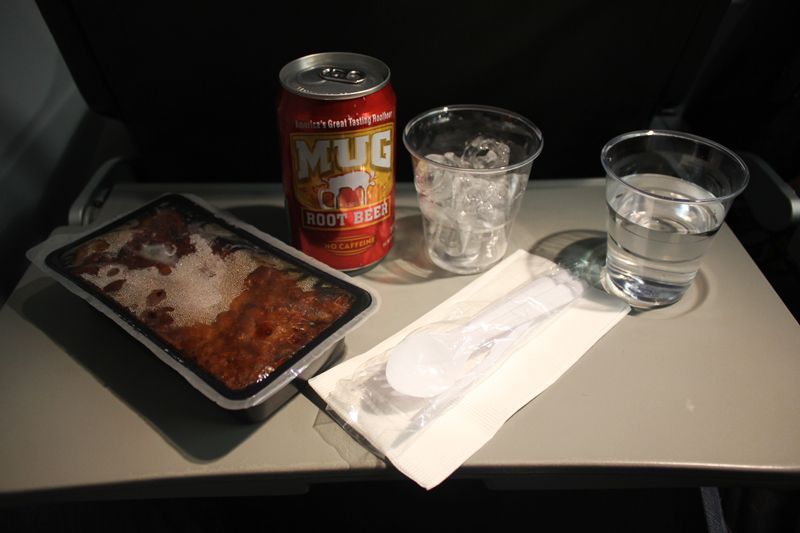 Beef Lasagna with drinks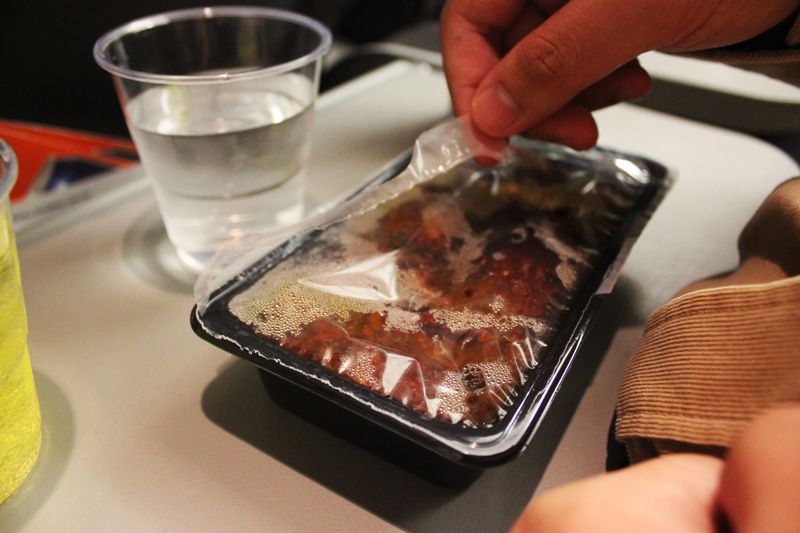 Oh dear..
Aaron calls it the "Scoot problem" because apparently the heated meals on Scoot comes in the same packaging, where the plastic edges simply tear.
How now?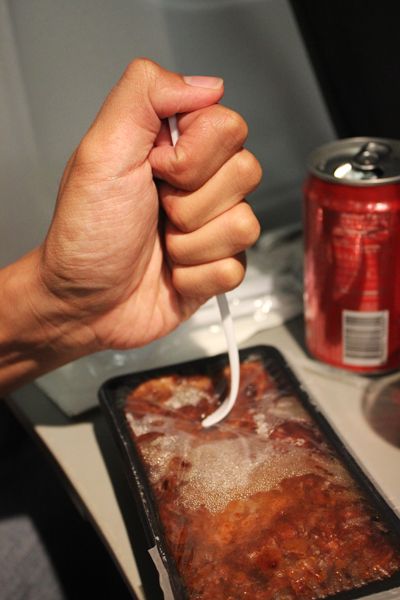 Exactly WHAT is that wrapping made of?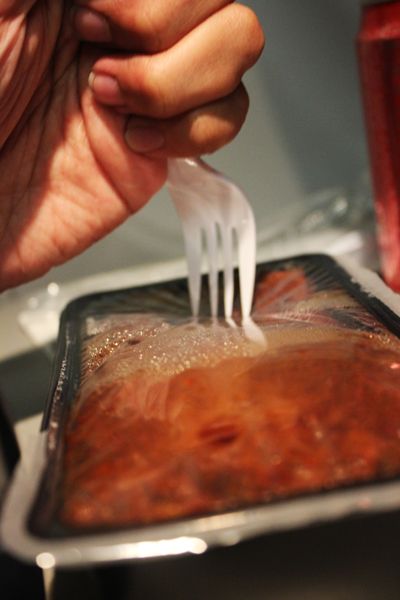 Even a fork didn't manage to get it done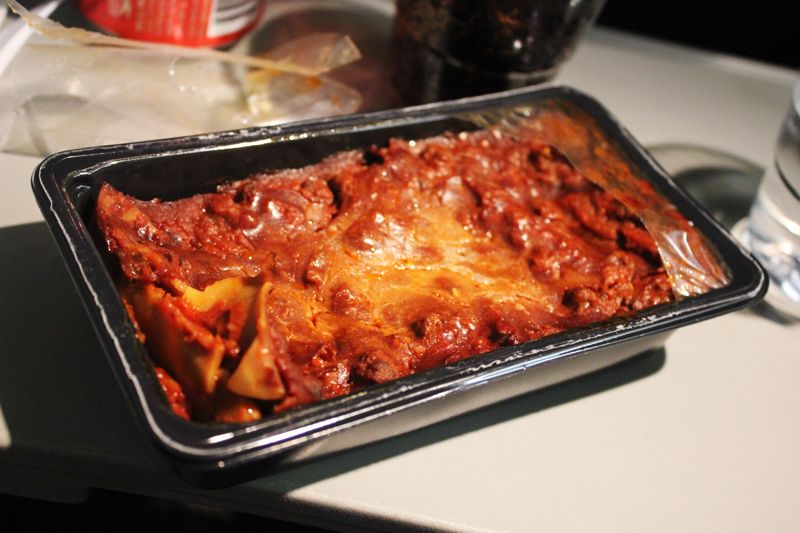 Persevere, and you shall be rewarded with Beef Lasagna
Sweetcorn Bun
Kazuya later returned with our second round of complimentary beverage.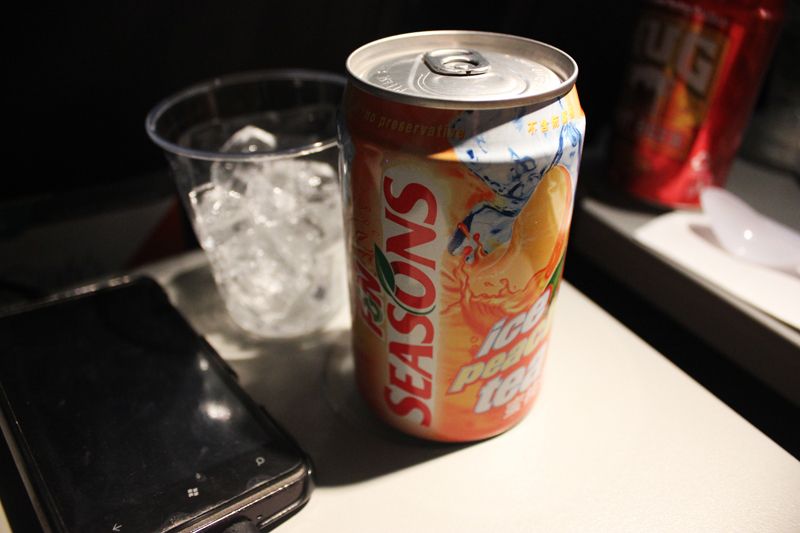 Everyone had finished their meals and the FAs started their in-flight sales trolley run. While that was going on, a female FA was going round politely asking for any rubbish that we passengers would like to give up. Upon noticing her nametag, I found out that she is Japanese too. Now this flight seems like a Jetstar Japan one instead!
About ten or fifteen minutes later, descent started and the FAs went down the aisle for the last time to collect any remaining rubbish. They then prepared the cabin for landing at the Pilot's direction over the PA.
http://www.youtube.com/watch?v=Chtk5VqQWhA
We had quite a lengthy taxi as we landed at the other side of where we were supposed to be parking. However, I am more than happy to welcome this because we taxiied along the Western Cross, which reminds me of the Southern Cross back home at SIN. We eventually reached our Gate and halted to a stop. As usual, people sprang up when the seatbelt signs pinged off.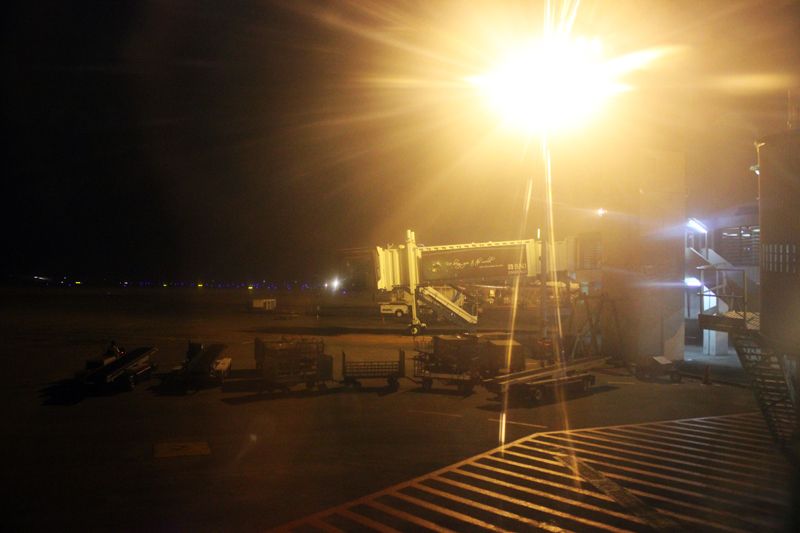 Parked
The doors soon opened and passengers began disembarking. We decided to let majority of the passengers go first before we did. Kazuya, unfortunately, was nowhere in sight so we couldn't say thanks to him. The other Japanese FA, Ruika, was at the door with the Filipino FA and bade goodbye to the passengers. We decided that it is our turn to leave and did so. We both couldn't help it, smiled to Ruika and said "ありがとうございます". She replied "ありがとうございました!" and bowed with a smile. You really got to love the Japanese!
Goodbye, 9V-VLE!
Welcome to Jakarta!
After walking through the somewhat quiet and dimly lit terminal, we somehow ended up in the immigration counters for Indonesian citizens. One of the uniformed staff there motioned at us to go back where we came from and to the right. We found the correct immigration counters and began to queue up for our turn.
Now this is the part where it starts to get annoying. It was my turn and I headed over to one of the counters to get my passport processed. Miss Theresia was the officer tending to me. After stamping on one of my passport's pages, she asked in a irritated tone "Immigration card?". This caught me by surprise and I said that I didn't have one. She then exclaimed "AHHH" loudly, threw my passport onto the countertop and rudely pointed to the right. Jeez woman, what is your problem?
Aaron then came over, saying that he too has been told to get an immigration card over at another counter to the left of where we were. We headed over to the concerned counter, only to find out that they did not have any immigration cards. The man at this counter then pointed to the another counter across the hall. It's like playing treasure hunting, no?
We approached the counter across the hall, where seven or eight Airport staff were busy gossiping (I understood what they said) or fiddling with their phones and didn't seem to notice that me and Aaron were standing in front of them. Thankfully, one finally noticed us and handed over two immigration forms. She even gave Aaron a pen as he didn't have one to fill the form up with. Having completing that, we returned to the immigration counters and was finally granted access into Indonesia.
After going to the end of the hall and turning left into the baggage claim area, we noticed a man in a yellow jacket held up a sign that said "AARON THESEIRA". This was really a pleasant surprise because we did not arrange with the hotel that we were staying at that we would like a pick-up service. We identified ourselves and apologized to the man that we got stuck at immigration. He laughed it off and said that he thought we weren't coming. He led us out to where our transport was waiting.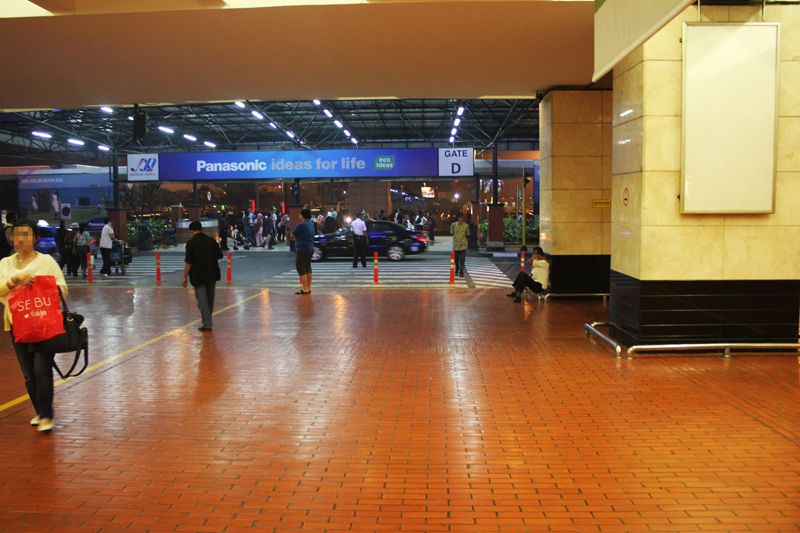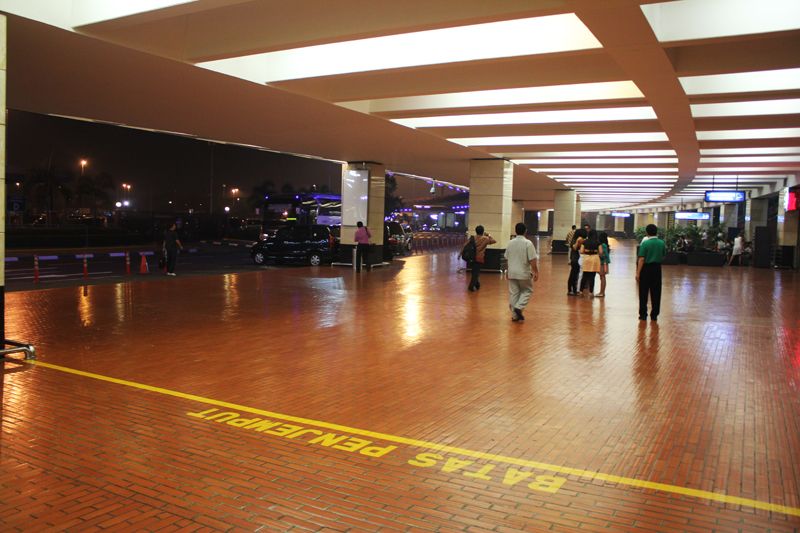 Just outside of the Arrival Hall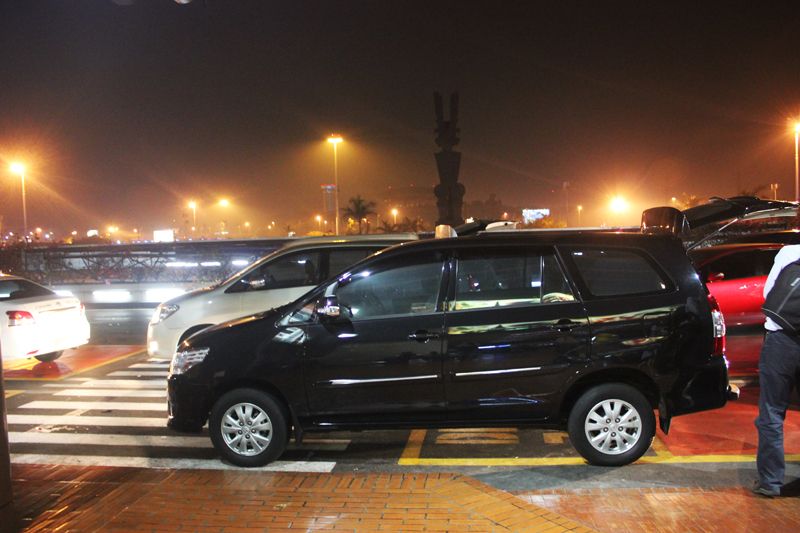 The air was VERY hazy!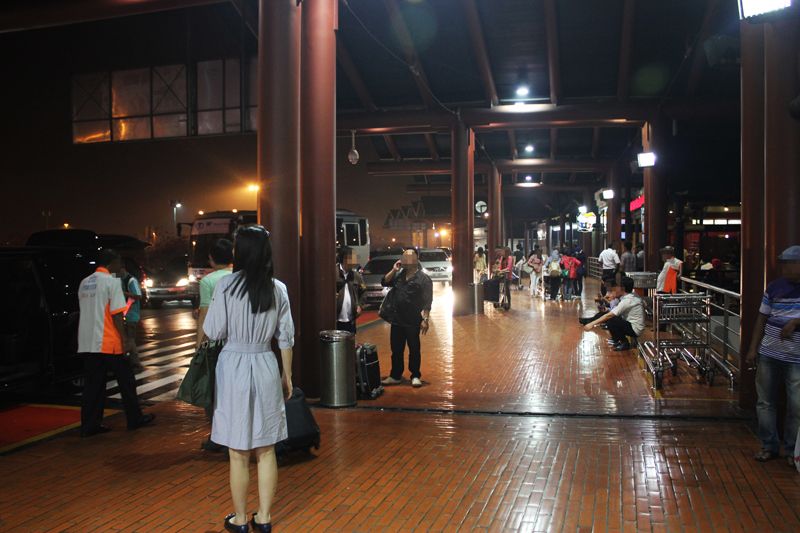 While walking over to the hotel's minibus
[Edited 2012-09-18 10:00:47]