Introduction
Hi all. First off I'll get introductions out of the way. I'm Alex. I live in High Wycombe, England. I love to travel and in particular, fly (Obviously).
Right that is that out of the way.
This will be my first ever trip report, so don't be expecting brilliance, in fact quite the opposite. I apologise for poor writing etc. in advance.
So, in January 2012 I turned 18. I had been working since I left school at 16 and accumulated enough dosh to give myself some time away. I was deliberating which exotic, far-flung corner of the world to visit when I received some fantastic news; my cousin was getting married.
Now, a bit of back story here. My Uncle, his wife and two kids moved to Jacksonville, Florida in 2005 and I hadn't seen any of them since due to time and financial constraints (As you can imagine).
So, back to the report. I gave my uncle a ring to see how they all were and to pass on my congratulations to my cousin. I then spoke to aforementioned cousin and she said it's a shame the rest of her family who live in England can't be there for her wedding day. That's when I put two and two together.
I asked if it would be okay to come over for a couple of weeks and was welcomed with open arms. I then started planning for flights and dates.
I decided early on that I wanted direct flights, as this would be my first time flying solo so to speak, so I didn't want the extra hassle of connecting flights. That meant flying to MCO direct as JAX doesn't support transatlantic crossings.
Many of you will know there are only two options from London direct to MCO, British Airways and Virgin Atlantic, both from LGW, which happens to be my preferred London airport (Even though it is furthest from me, it's always been efficient with hardly any lines at security when I've flown from there, maybe I've just been lucky)
So, BA or VS. A choice I'm sure many, many people have to make every day. Having never flown either airline previously, I was open to both. Prices were within £1 of each other, so I was going to have to decide on times and cabins. I had already decided I was going to fly WTP with BA of PE with VS.
I chose BA for pretty much one reason. The 777. I had never flown the 777 before and have always admired it as an airframe. The only viable Virgin offering on the day was the A330 service, as it arrived at 15:30 local time and I had to be there before 17:00 otherwise I wouldn't have been able to get a lift from my Uncles friend. The 747 service didn't touchdown until after 17:30 so it wasn't an option unfortunately.
Having flown the A330 a couple of times previously, a chance at a 777 with those glorious GE90's was impossible to pass up.
Here are the details for the flight
Airline : British Airways
Flight : 2037
Route : LGW – MCO
Departs : 21 Feb 2012 11:40
Arrives : 21 Feb 2012 16:30
Equipment : Boeing 777-200ER
Registration : G-VIIP
Seat : 13K
Report
I woke up bright and early at 6:30AM. I took the dog out for a walk and then got myself ready to leave. I know from experience what the traffic is like on the motorway going down to Gatwick is like in the morning, so I wanted to leave early to avoid getting stuck. Luckily I had a private taxi to get me there, he's more commonly known as granddad.
*Apologies if you are mentally scarred by the above image, I just wanted you to know what I had to put up with for two hours on a motorway ☺
I stuck my bags in the boot of the car and said my goodbyes and was off.
How much is that doggy in the window?
On the way to the airport
At the airport
I checked into the self check-in machine (A first for me) and all went smooth as I dropped my bag off and headed towards security. I said goodbye to my granddad and headed through security. It was practically empty. By this time it was 10:00AM and I expected the North terminal to be busier, but luckily it was pretty quiet.
I got through security in under a couple of minutes and headed to my normal spot in the North terminal (In the coffee shop overlooking the last few gates) and sat down for a coffee. It wasn't great.
Second from the end would be my steed for the day.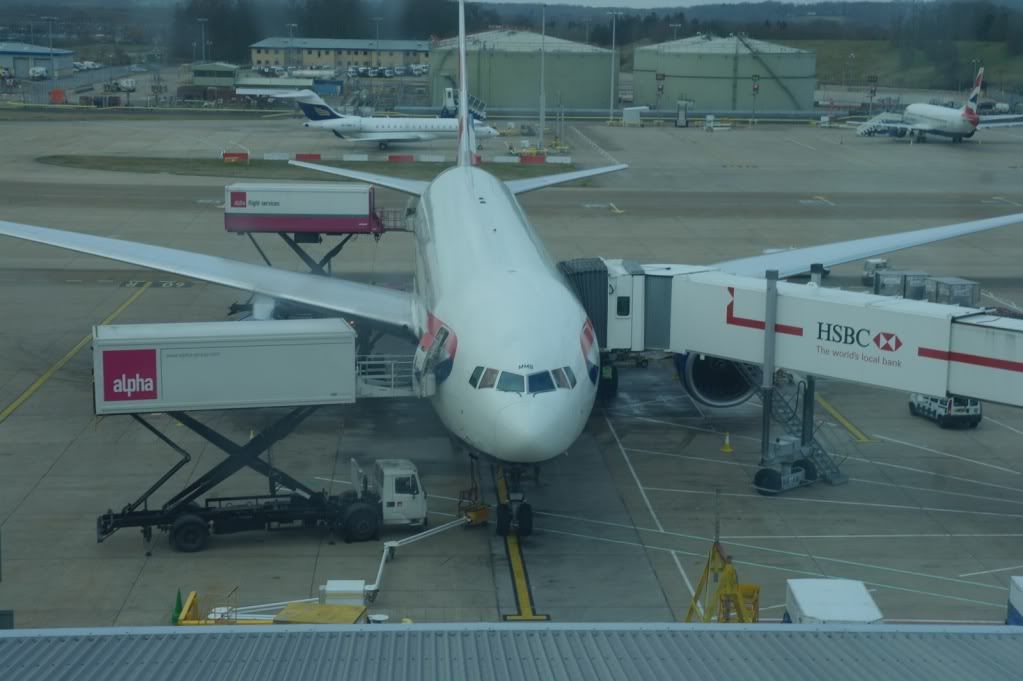 G-YMMB readying for departure to Bridgetown.
Soon my gate opened and I headed down and boarded. Boarding was quick and efficient. My first impressions of the WTP cabin were: clean, tidy, dated. In that order. The seats were comfortable and leg room was ample. The biggest disappointment was the screen, which is way too small in my opinion, especially for something double the price of economy.
The captain came over the PA to announce flight time was estimated to be around 8 hours 30 minutes. It was 9 hours 25 minutes in the end but we'll get to that.
We soon enough lifted off into the gloomy skies above Crawley and headed up to our cruising height of 38,000 feet.
Take off video here (Filmed on my Galaxy Nexus so apologies for quality)
http://www.youtube.com/watch?v=sUd0QosmNBY
Soon enough the seatbelt sign was turned off and the drinks cart came around, I opted for a Heineken.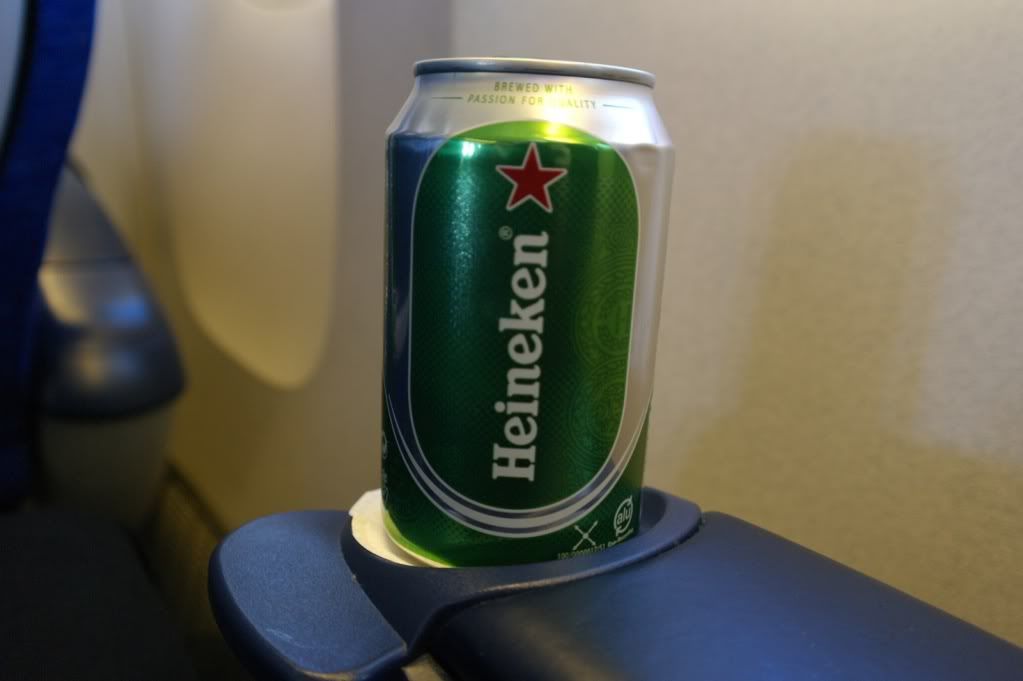 The WTP cabin was very empty. With the entirety of row 13th being vacant apart from me. The cabin felt very open and airy, maybe this is the 777, maybe this is due to the fact that it was empty.
Here are some shots I took over the Atlantic and Greenland.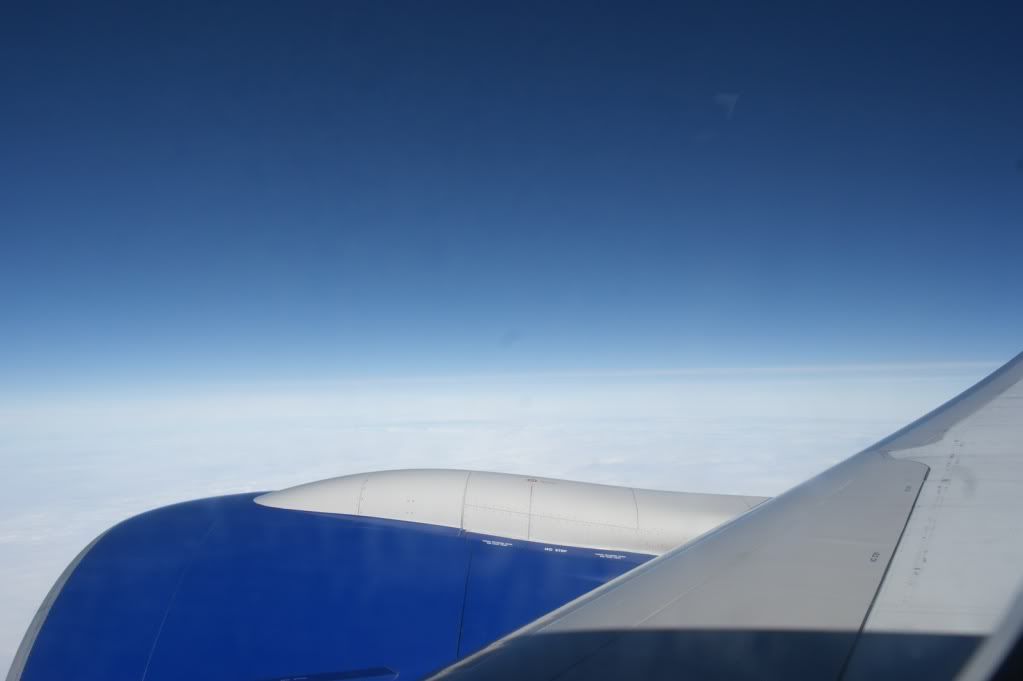 Unfortunately I cannot report on the quality of the food as I opted against it as I was far too busy watching The Office and Extras on my tablet.
We experienced some pretty rough turbulence passing through 12,000 feet. I'm not scared of little bumps by any means, but it does get a little unnerving when you feel like the aircraft is being caught in downdrafts then updrafts over and over again, but I digress. The air smoothed out under 10,000 feet and we made two turns to line up with runway 17L.
As we made our first turn to the right towards SFO I could hear passengers doing the classic "Look there is the airport, we'll have to go down pretty fast to make that" as we passed over the airport at 6,000 feet ☺
Anyway, here is a video of the landing, again sorry for the quality.
http://www.youtube.com/watch?v=53uhKeH6KJY
Immigration
I was expecting bad things from US immigration, as I've heard all of the horror stories and what have you. I was actually pleasantly surprised. Immigration went fairly quickly, about as quickly as anywhere else I've been anyway. Baggage reclaim didn't take long, about 30 minutes after leaving the aircraft and I had my bag and was out of the airport.
I was welcomed by my uncle's friend who had kindly offered to drive me up to Jacksonville. At 11:00pm I arrived at my Uncle's house and was relieved to have somewhere to have a shower and a sleep.
The wedding
Two days after I arrived was the day of the wedding. Here are some pictures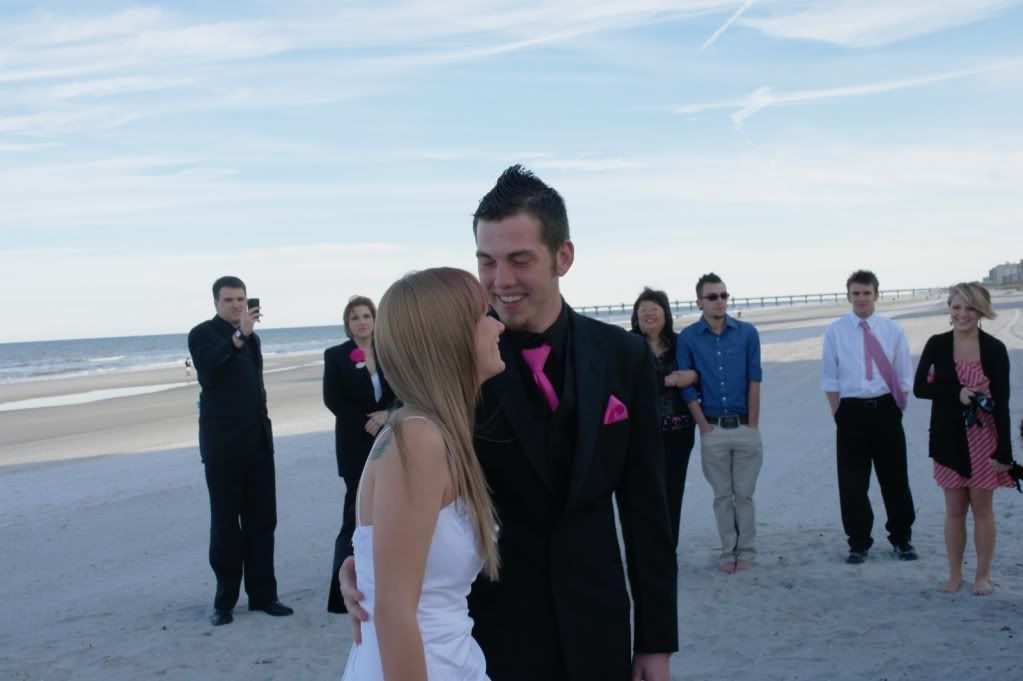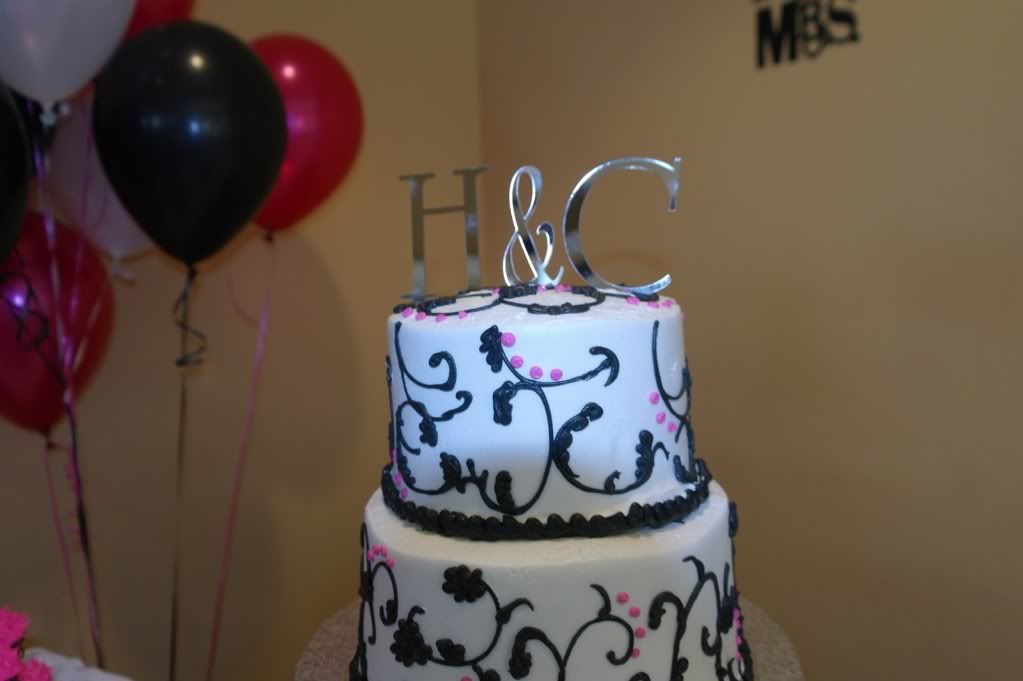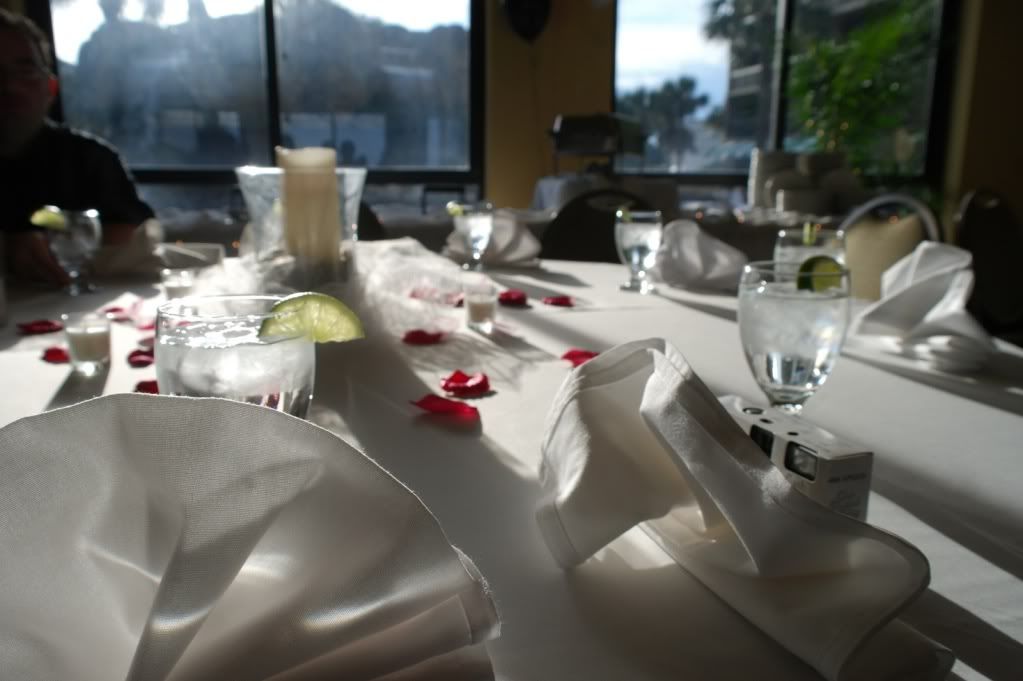 It was a fantastic day, and I was very happy to have been there.
I had a great time in the US and I'm sorry this is such a poor TR but I'm sure in the future I'll improve. I'll leave you with some pictures of the lovely people and animals I stayed with for a month.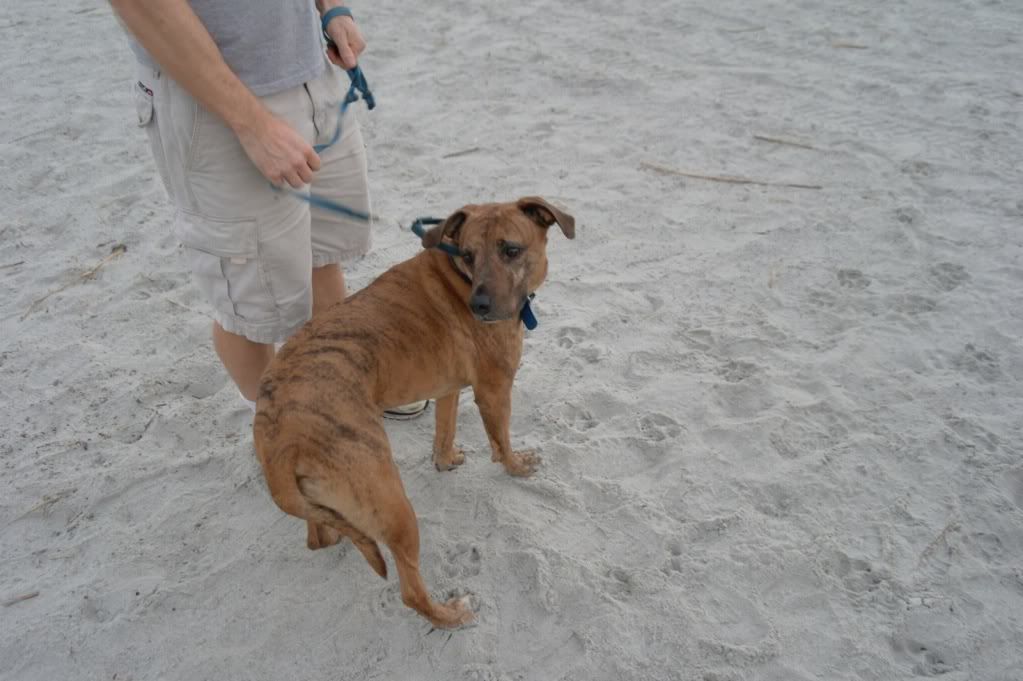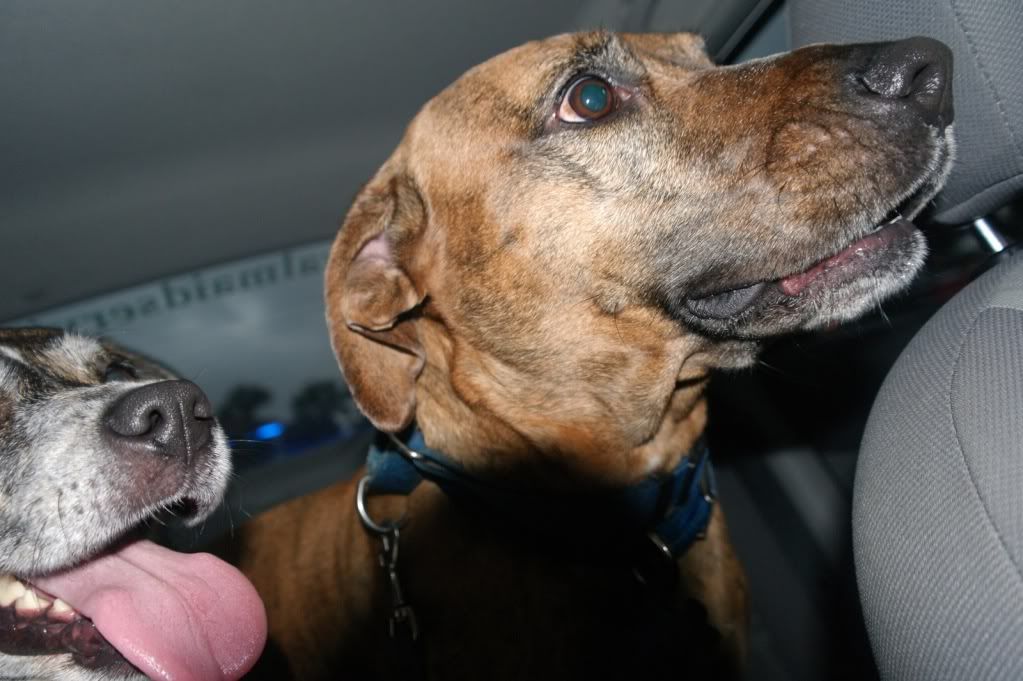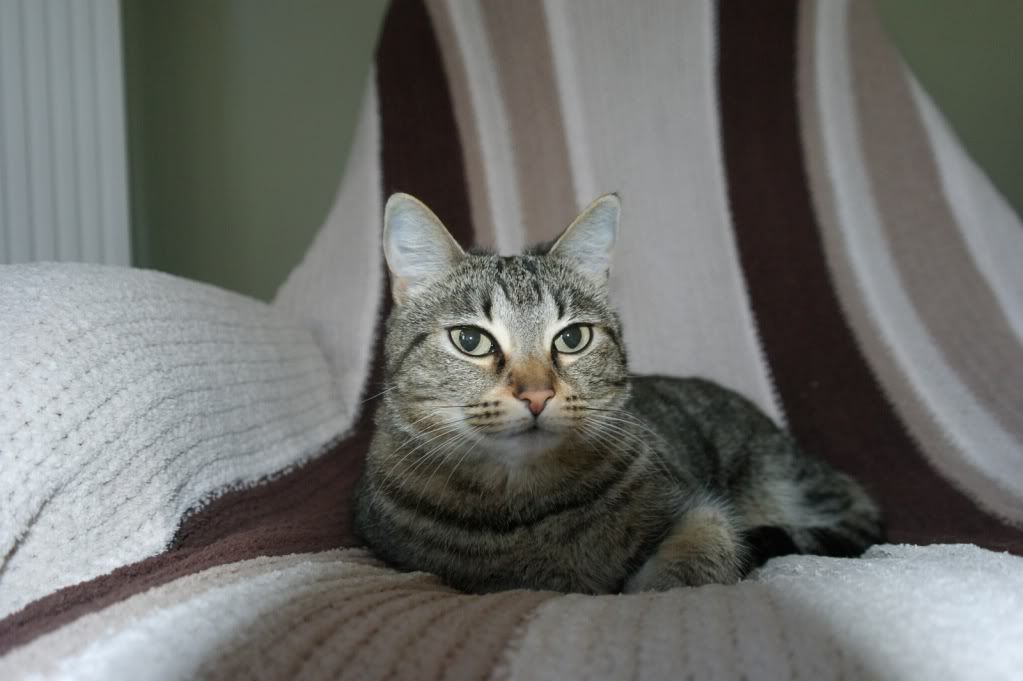 RIP Timbo x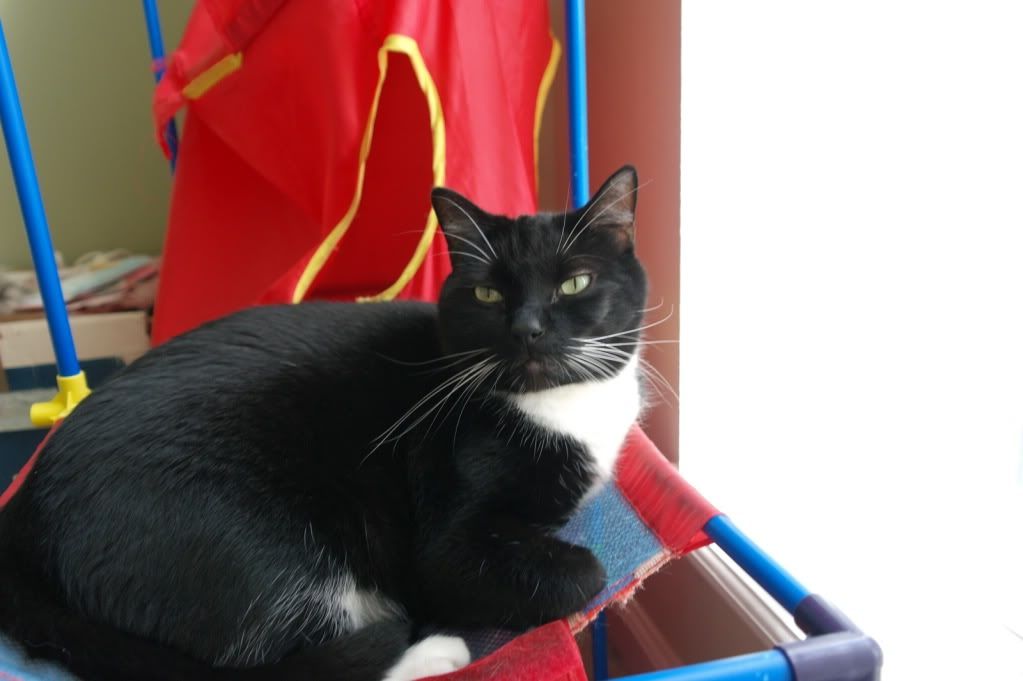 Thanks all for reading, Alex.