Hi there all,
After my previous inaugural trip report on GA, I'm ready for a 2nd one now. This time, I'll twist it a little bit by making a comparison between SQ and CX on their shuttle service between SIN and HKG.
1. FREQUENCY & FLIGHT TIMINGS
SQ operates 7x daily on the route, while CX on certain days operates up to 9x daily. CX also operates a red-eye flight out of SIN at 1am+ to reach HKG early morning at 5am. The schedule offered by CX definitely wins here as it provides greater flexibility in terms of flight timing. Ticket prices of CX are almost always cheaper than SQ, albeit by a few dollars only. Therefore, first point goes to CX. SQ (0-1) CX
2. T1 vs T3
While T1 had been fully renovated with added attraction and shops, I still think that T3 is a more premium and well rounder terminal overall. CX operates out of T1 and SQ flights to HKG depart from T3. Both CX and SQ operate from T1 in HKG, so it doesnt have any advantage over one another. It's obvious that my choice goes to SQ in this department. SQ (1-1) CX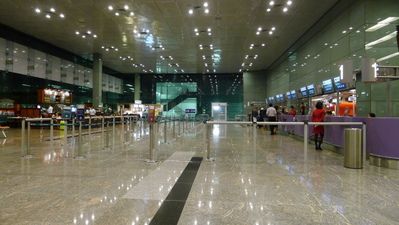 An aerial view of CX check-in counters at T1.
3. HARDWARES
SQ, while operates lesser frequency to HKG than CX, uses the best of their aircrafts to date to HKG such as B777-300ER, new A330-300 and A380s with AVOD and bigger size PTVs. Ironically, the hardwares used by CX on this route are the total opposite. A mix of old A333, B772/3 and B744s with tiny PTV and non-AVOD are utilised by CX. I wonder if these old planes are still relevant in today's competitive airlines industry (esp CX being a 5* airlines) where every airlines is trying to upgrade or has upgraded their equipments. Thumbs down to CX. SQ (2-1) CX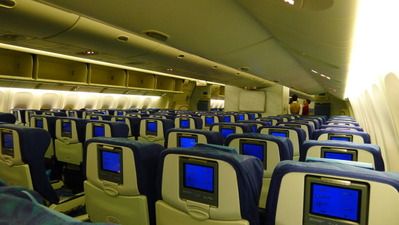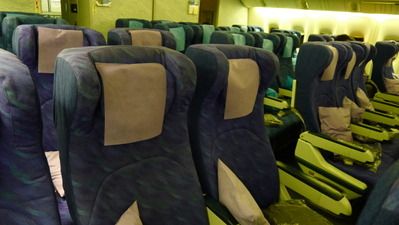 Cathay's old B777-200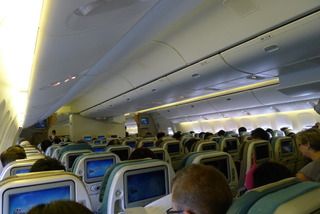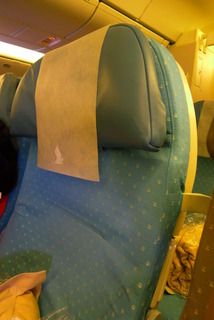 Singapore Airlines B777-300ER and A380's seat
4. LEGROOMS
As a 5'9"-er, I do not have any problems sitting on both SQ and CX seats. Both airlines offer "above the standard" legrooms on all flights. However, I'd choose SQ for better comfort. CX seats are just not as well padded and comfortable as SQ's and I read somewhere that the new economy class seats are not any better, either. SQ (3-1) CX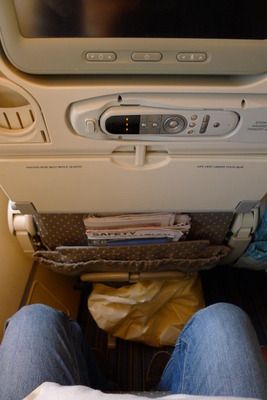 vs.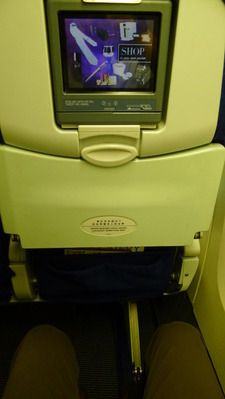 SQ vs. CX
5. AMENITIES
Menu booklet, hot towel and snack/drink service are offered on both legs of SQ flights. CX does not offer any of those except snack/drink service on the HKG-SIN sector. I'm not sure if this is consistent on all CX flights though. SQ (4-1) CX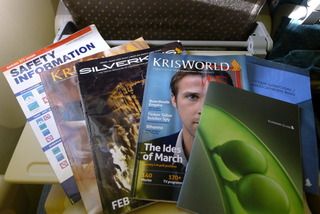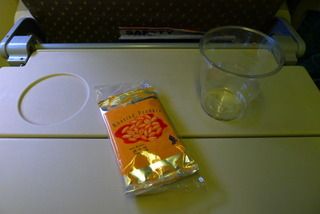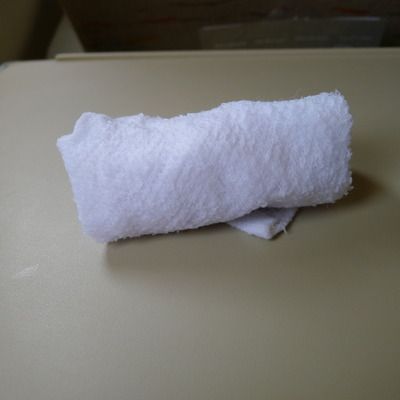 SINGAPORE AIRLINES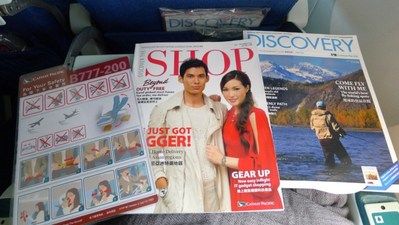 CATHAY PACIFIC
6. INFLIGHT MEALS & SERVICE
This is subjective indeed! However, based on my numerous experiences with CX in the past, I had never liked their food on board. The food tends to be on the bland side, simple and no-frills kinda feeling. Not to mention the small quantity too. Let's see how they fare this time round
>> TO HKG
I definitely appreciate the big portion of SQ meal here. The beef stew was tender and tasted almost like home-cooked meal to me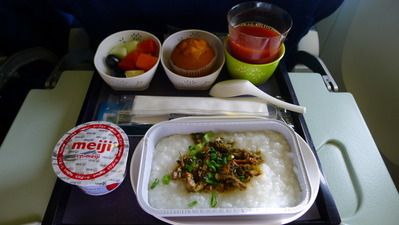 Like most people say, when you're in Asia, try the Asian food. I did choose the duck porridge and surprisingly, it was very tasty. The other option available was egg with sausage and it was very good too apparently.
>> TO SIN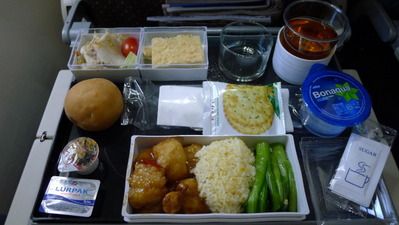 SQ meals have never failed me. I can almost be sure that I won't go starving everytime I fly with Singapore Airlines. The chicken flavoured rice was fluffy and full of flavours. I tend to think that HKG catering makes better food than SIN though.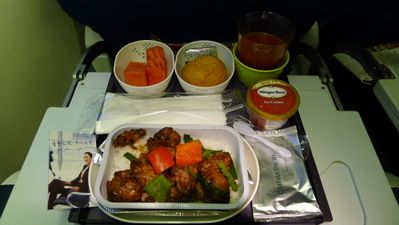 Now, this is the real surprise! Notice that small Haagen Daz tub there? Hehe... I was pleasantly surprised that CX pulled out this outstanding meal service on the returning flight to SIN. Not only the meal was tasty and plentiful, but the service was also superb. If I may say this, the attentive service and professionalism from CX crew surpassed my experience with those on SQ. But I'm just referring to this particular flight sector and it may not represent CX as a whole. I just love this "black beans with black pepper chicken" meal. Absolutely delicious
Tough decision in this department. I'd say both SQ and CX did equally well, with CX having a slight advantage because of the ice-cream...LOL. SQ (4-2) CX
7. INFLIGHT SHOPPING
Both airlines have a great selection of products carried on board and they also allow pre-ordering of items to be delivered on your flights. However, purchases on SQ's KrisShop do not qualify for frequent flyer points (i.e. KrisFlyer), while they do on CX's Asia Miles programme. Pre-ordering condition on SQ requires a minimum of 3 days placement before departure flight when CX only requires a minimum of 2 days. CX also carries a wide selection of diecast planes in their shopping list, which is definitely a big bonus for a serious collector like me
. CX is the clear winner. SQ (4-3) CX
My new "babies" ...LOL
8. CONCLUSION
With a score line of 4-3 in favour of SQ, the winner stands clear in this competition. To be honest, had I not flown with SQ previously, I would have been loyal to CX too, simply because of the equally great onboard service, cheaper fares, and more flight frequency.
Now, what say you? Let's start the poll running. Thanks for reading again!
Regards
Jim
My previous trip reports:
Short Escapades with Garuda Indonesia
[Edited 2012-09-18 23:15:47]
[Edited 2012-09-18 23:36:14]
[Edited 2012-09-18 23:39:53]