Here I am again, now on Part 2 of my trip on Thai Airways to Seoul! This is part 1 here, if you have not read it yet.
Thai Airways To Seoul (Part 1: SIN-BKK)
(by
anthonychua527
Sep 4 2012 in Trip Reports)
As I have mentioned in the above report, I would embark on a shopping trip to the Siam area in Bangkok on my short stopover in the city. After spending the entire afternoon shopping, I had my dinner and made my way to Suvarnabhumi Airport at about 8.30pm for my 11.30pm flight to ICN.
My planned route to the airport will take me on the BTS Skytrain from Siam to Phaya Thai, where I will transfer to the SARL to Suvarnabhumi Airport. I had intended to take the express line all the way to the airport, but just as I reached Phaya Thai, the express train had left and next one was 30 minutes. No point waiting, so I just took the city line, which stops at several stations along the way. The journey would take about 25 minutes.
Siam BTS Station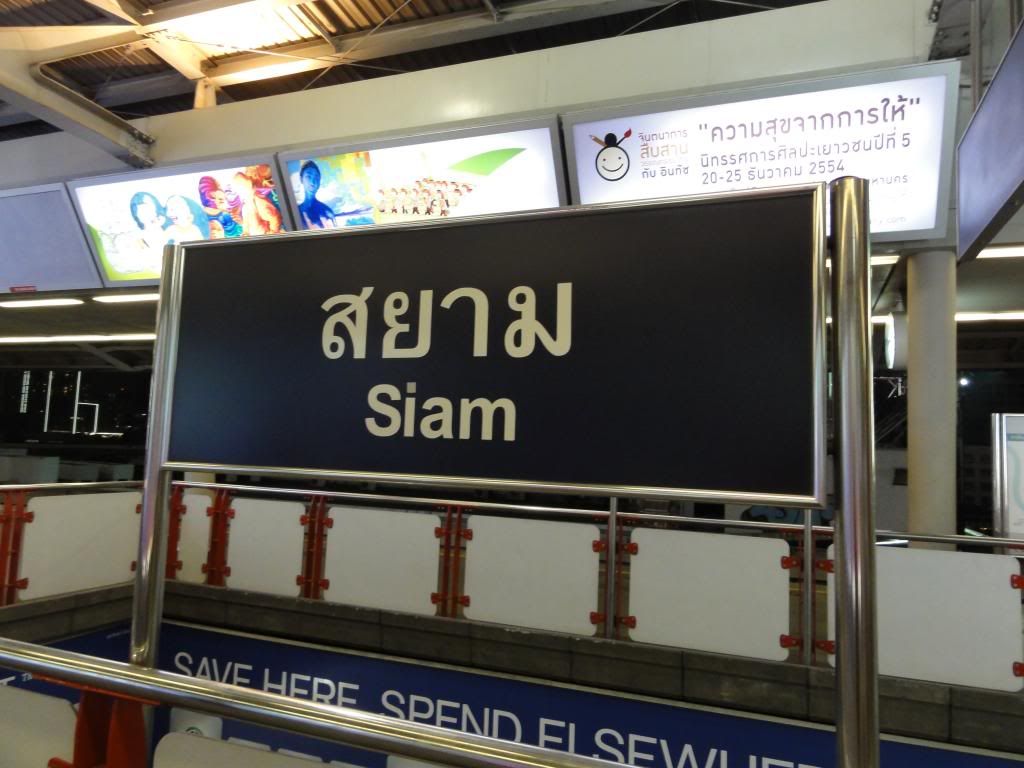 BTS Train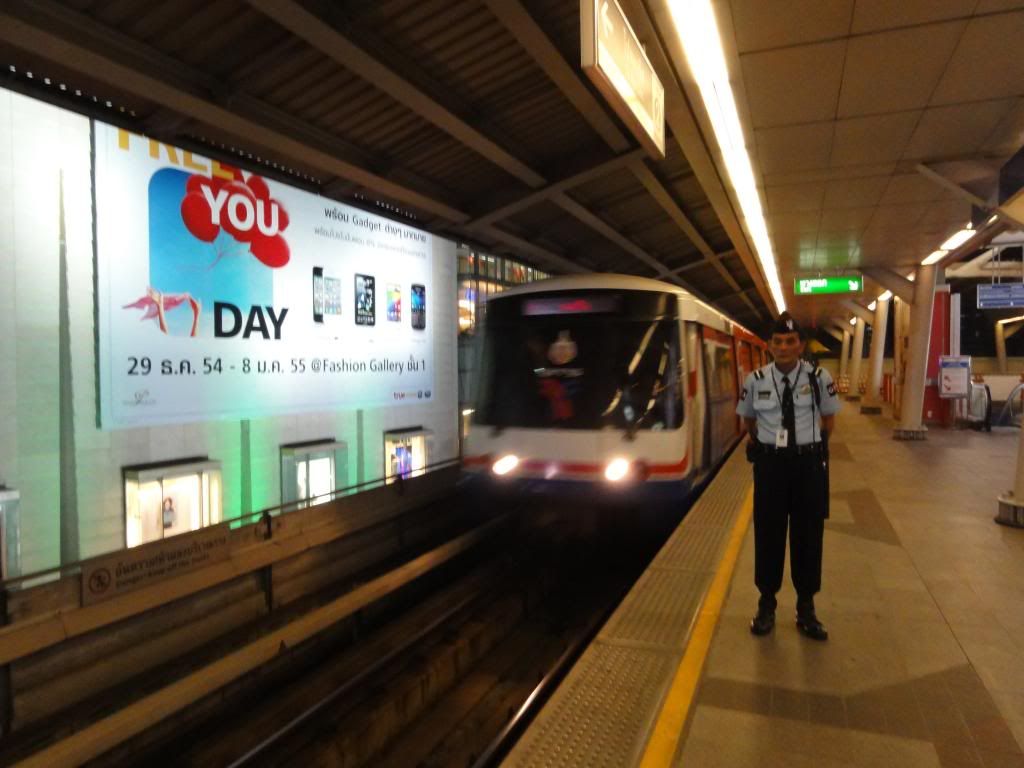 Quite crowded at this time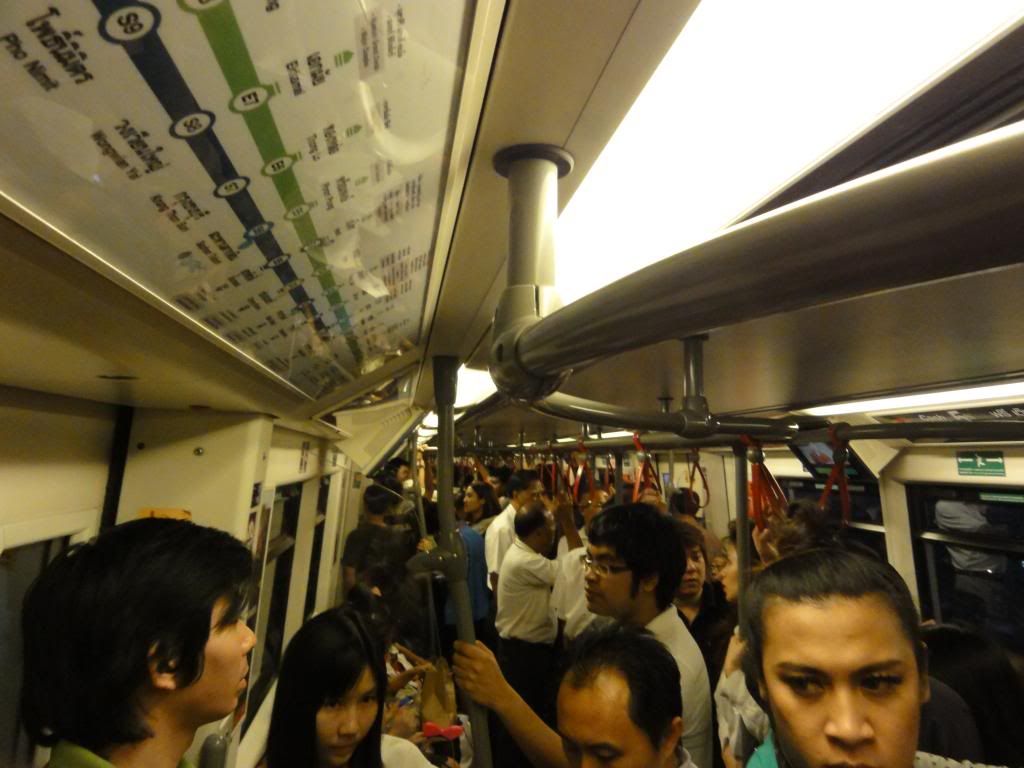 Transfer at Phaya Thai Station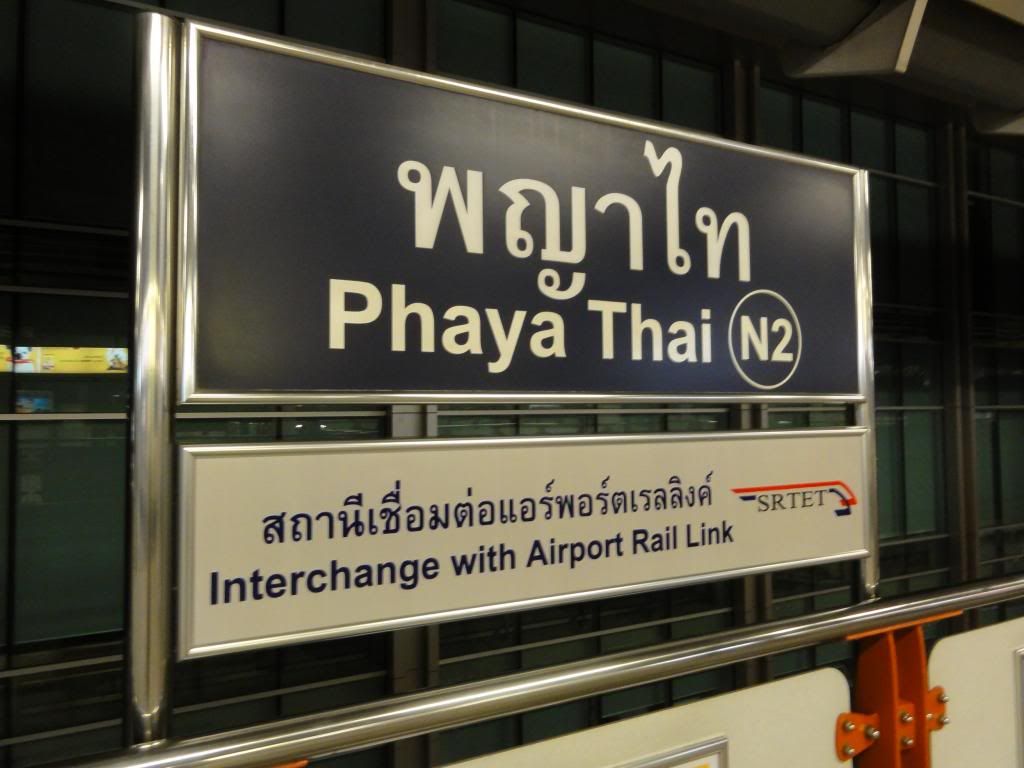 Interior of the SARL train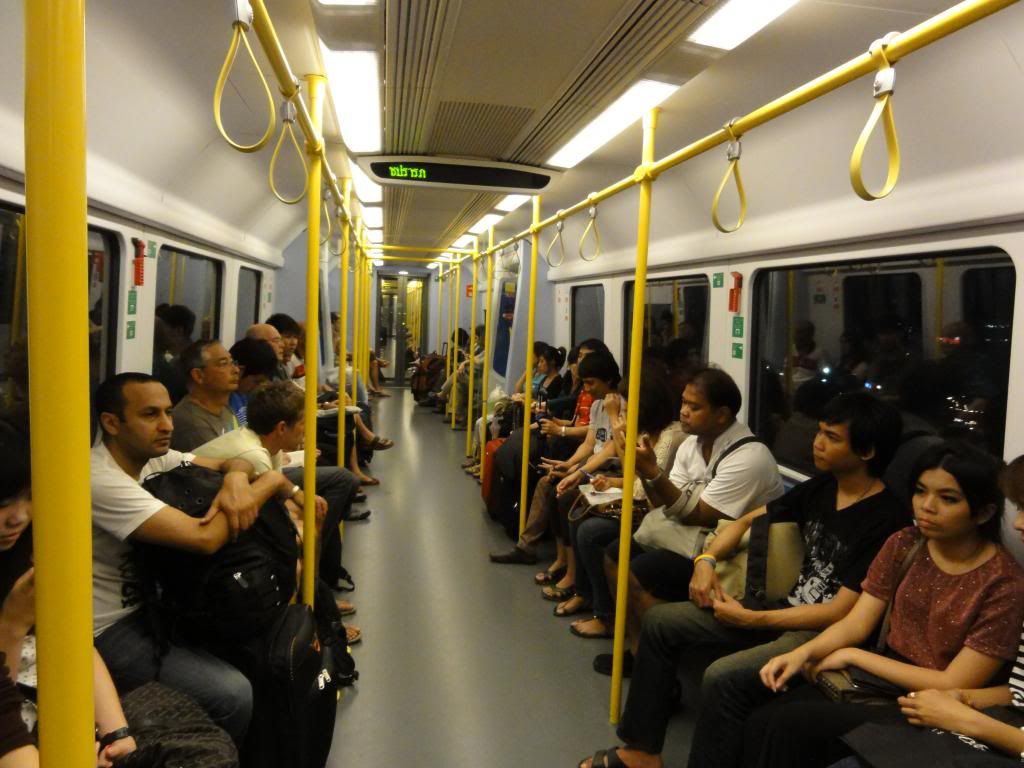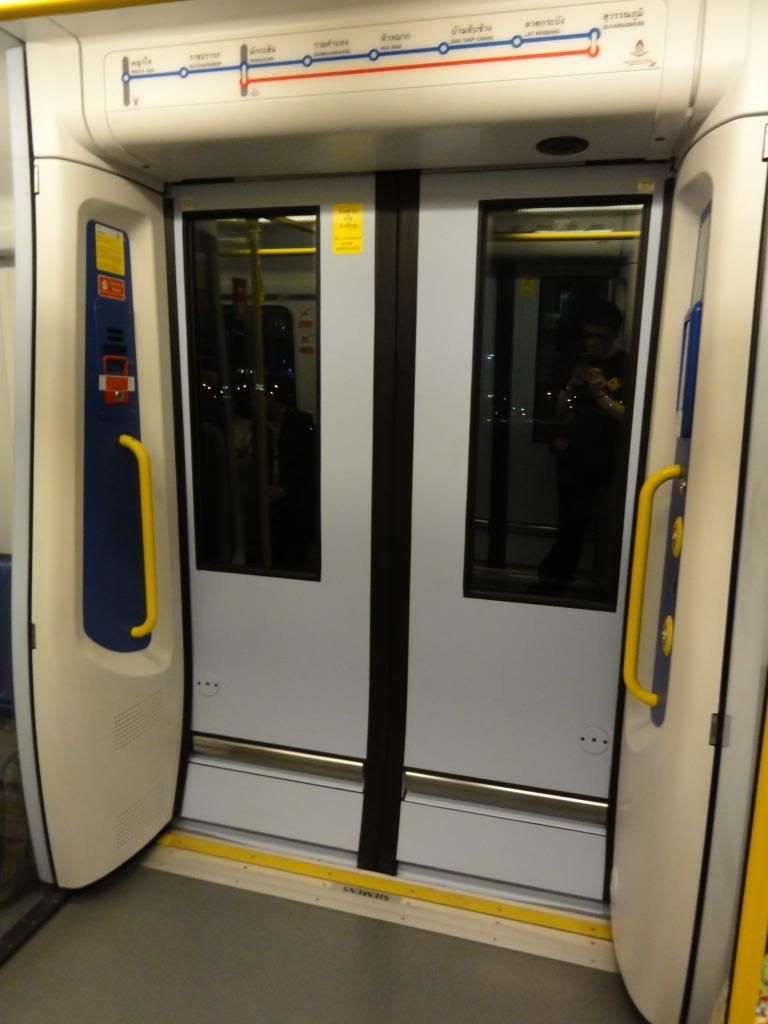 Suvarnabhumi Airport Station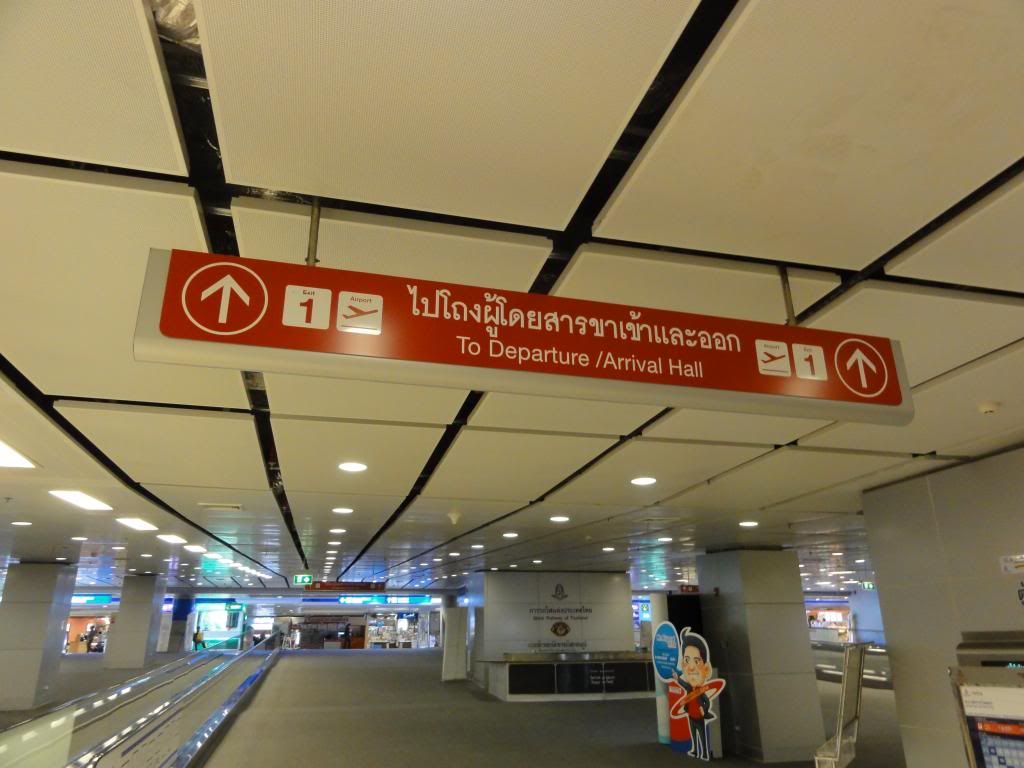 I arrived at about 9.40pm at the airport, and after taking a few pictures of the famous 4 storey glass wall, I went up to the massive departure hall. There was no need to check-in as my bags were checked from SIN-ICN direct and I already had my boarding pass to ICN, printed at SIN earlier that day.
Flight information display
4 storey glass wall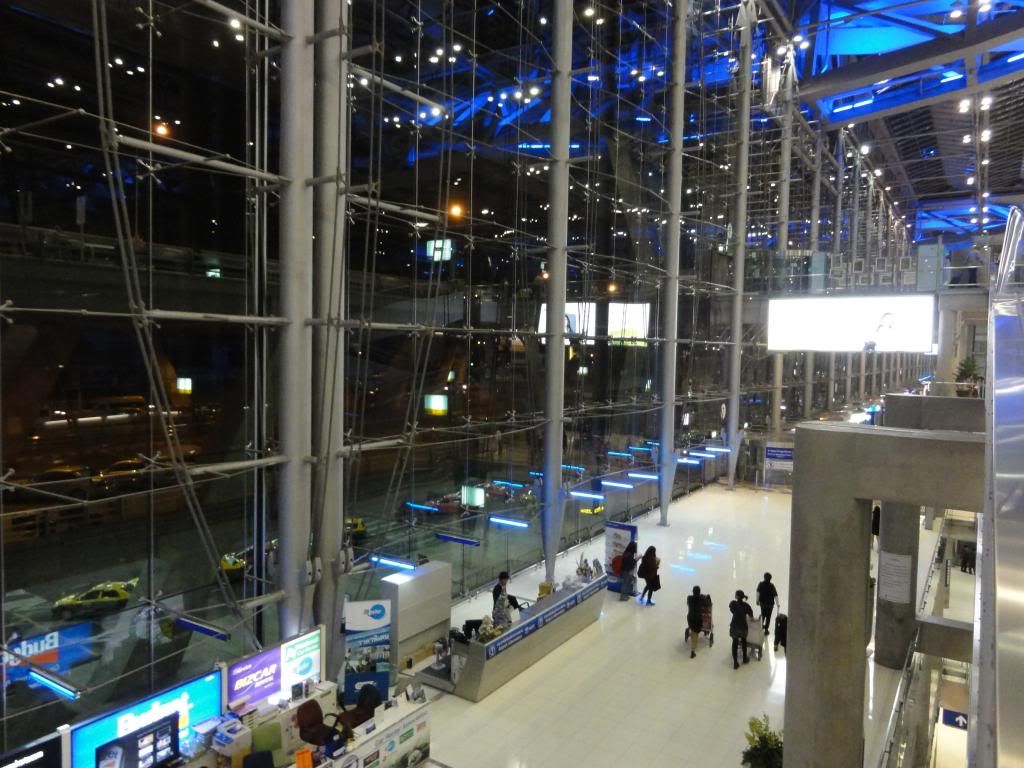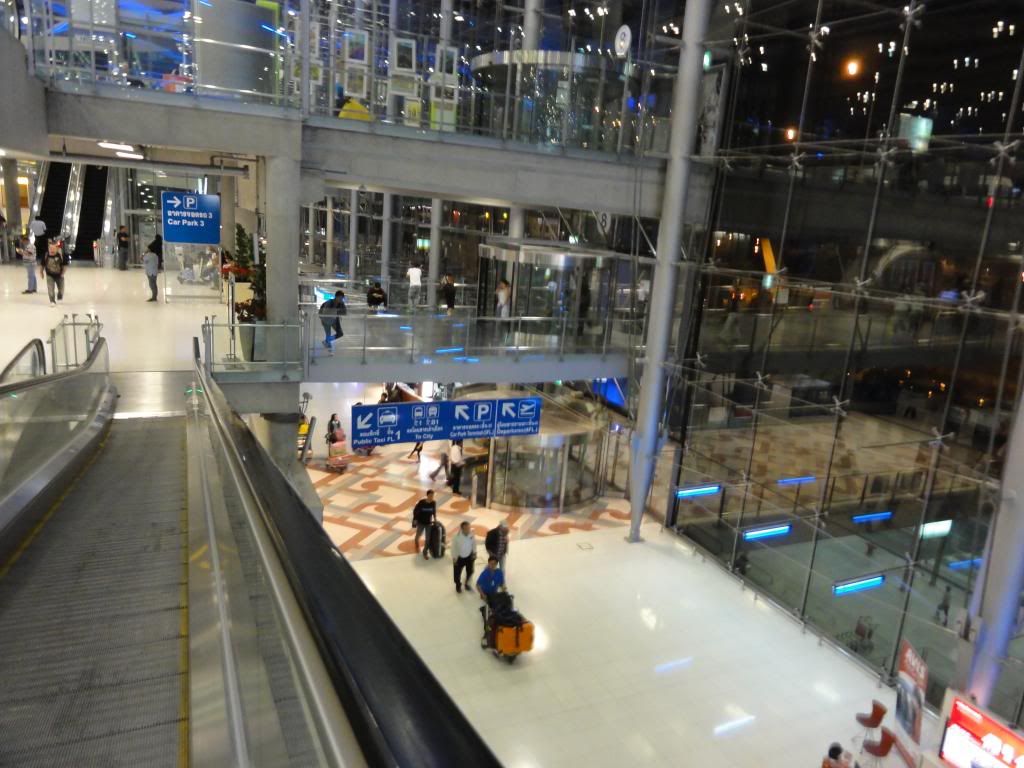 The massive Suvarnabhumi departure hall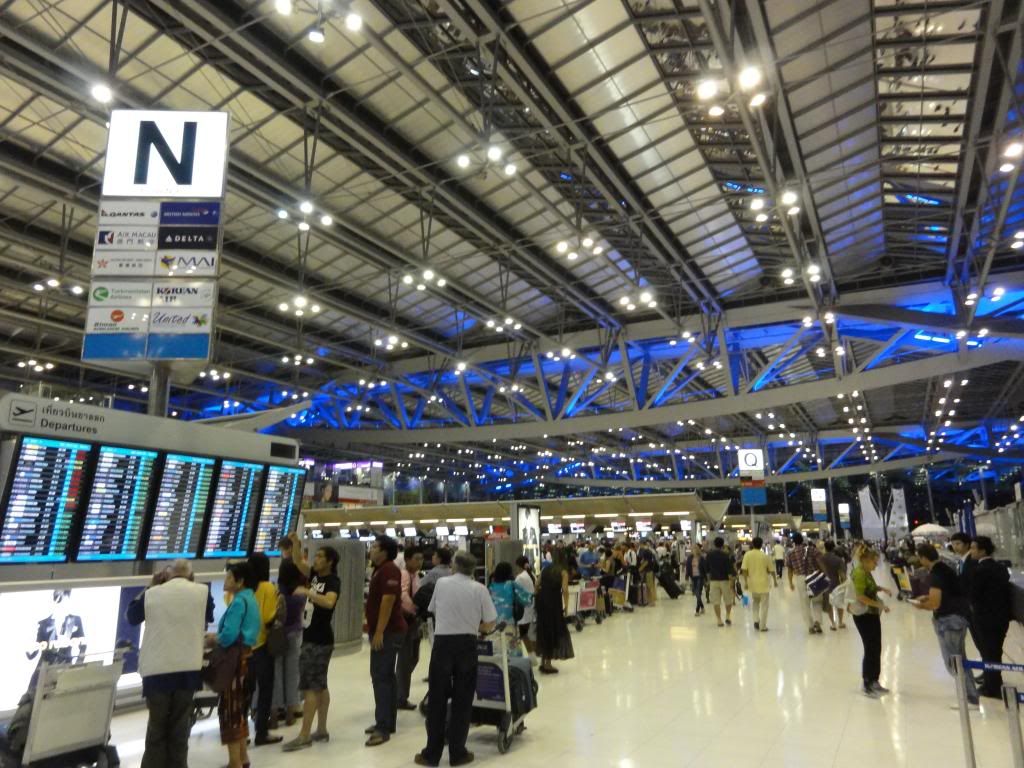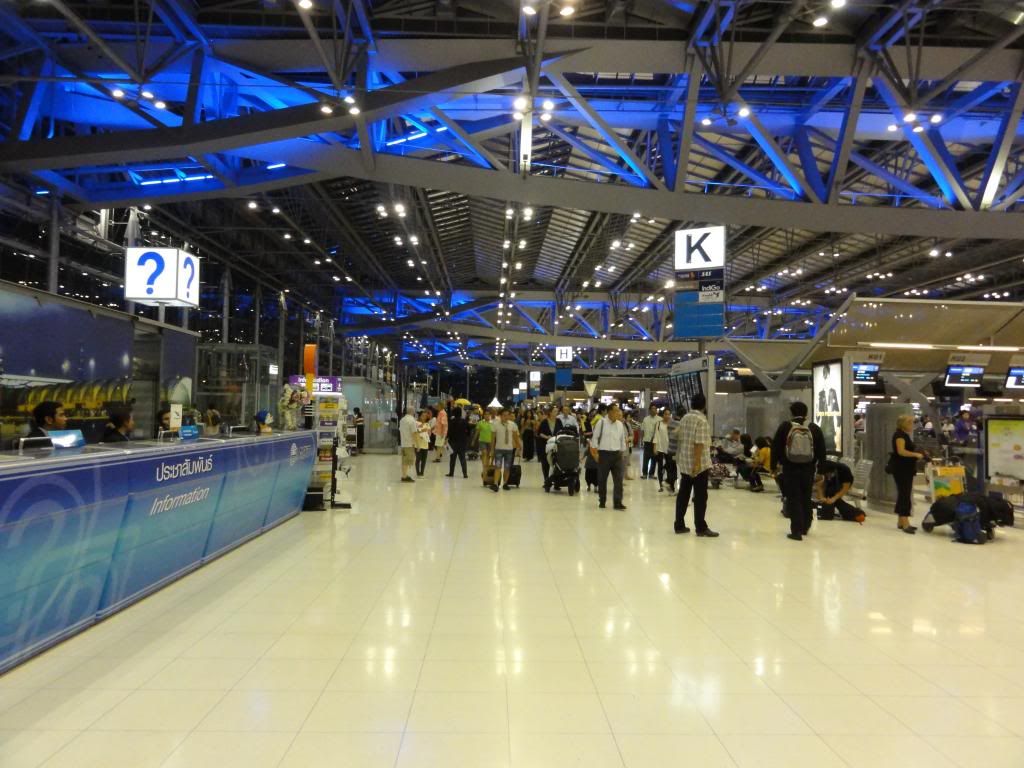 Thai cultural exhibit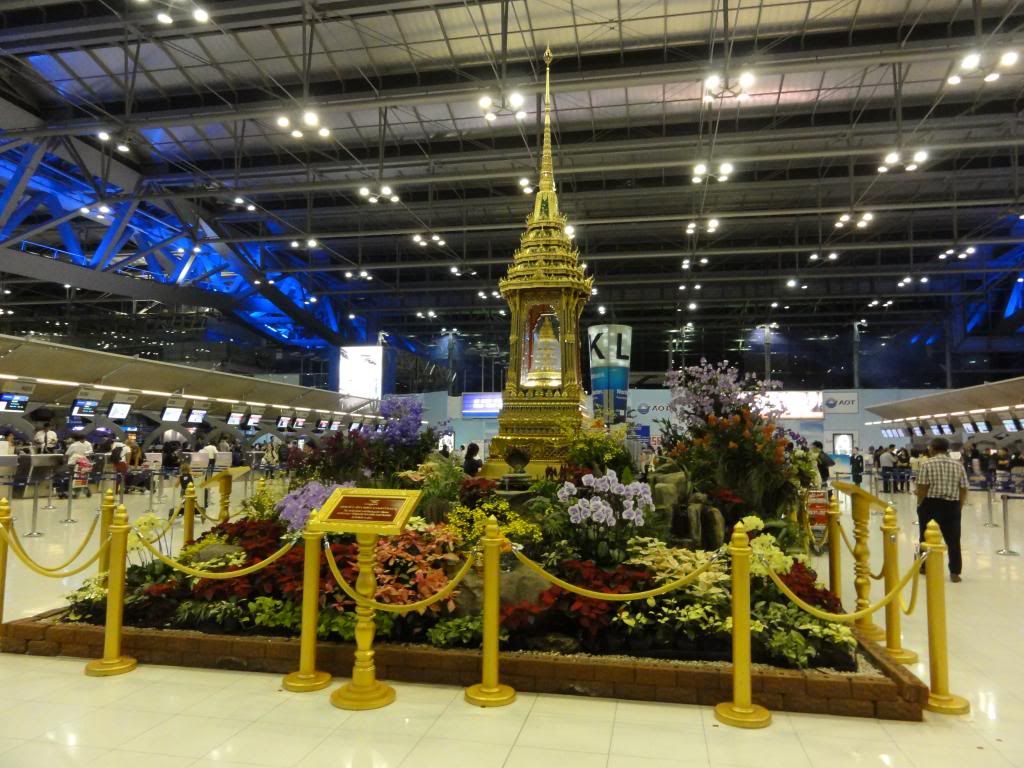 An exhibit dedicated to the Thai King
There were quite a lot of people departing at this time of the day, and I sort of expected long queues at immigration. I wanted to explore Suvarnabhumi Airport airside, as this was my first time there. After clearing the customs and security, which was quite fast, to my surprise, I was airside in 30 minutes.
Airside!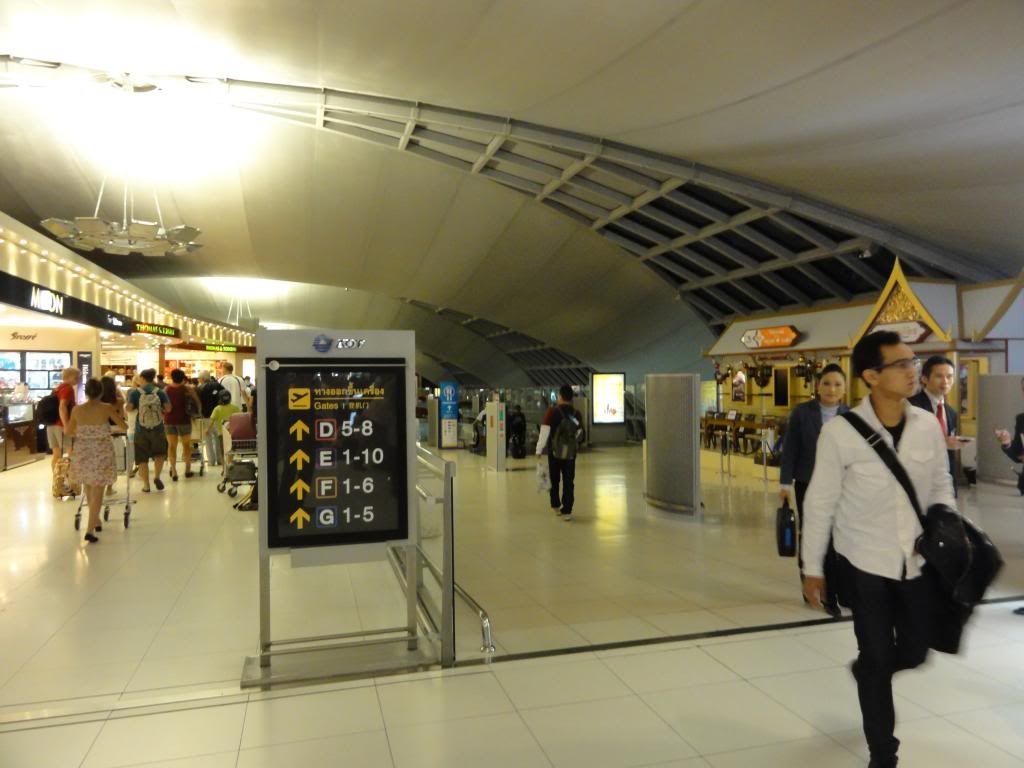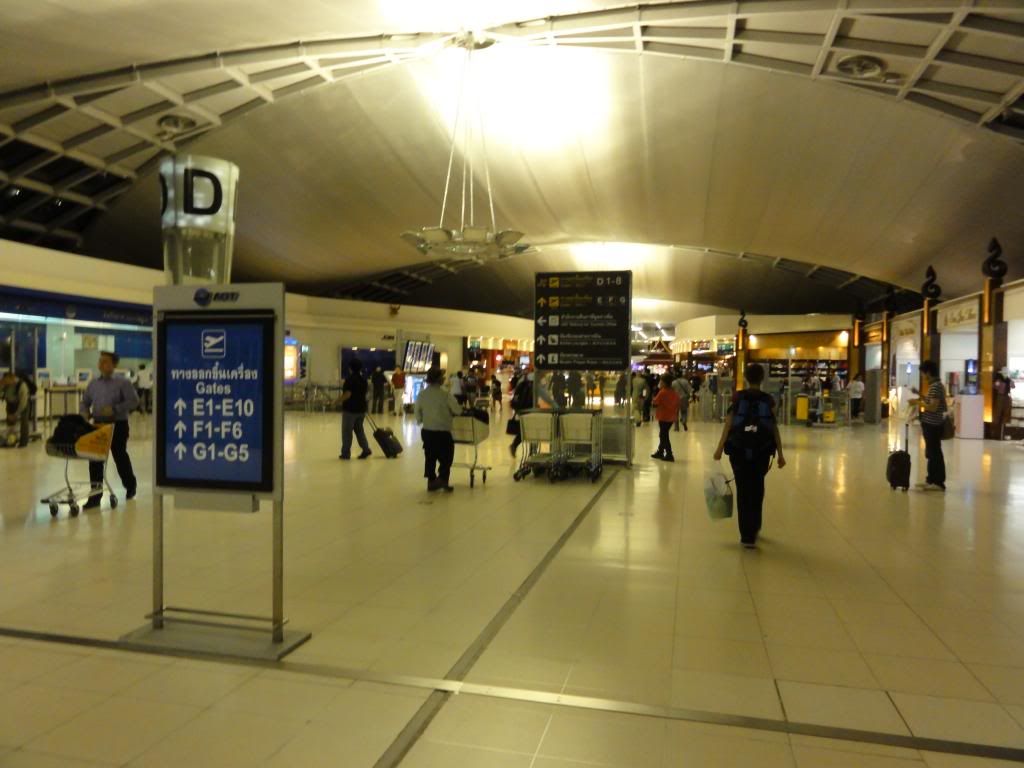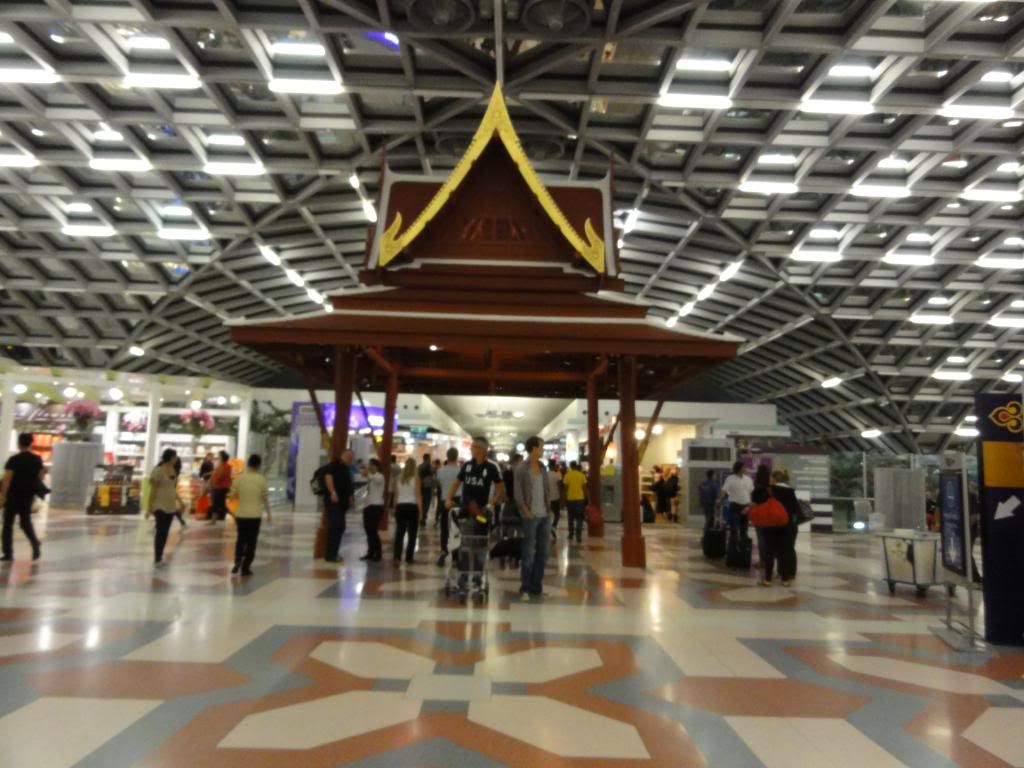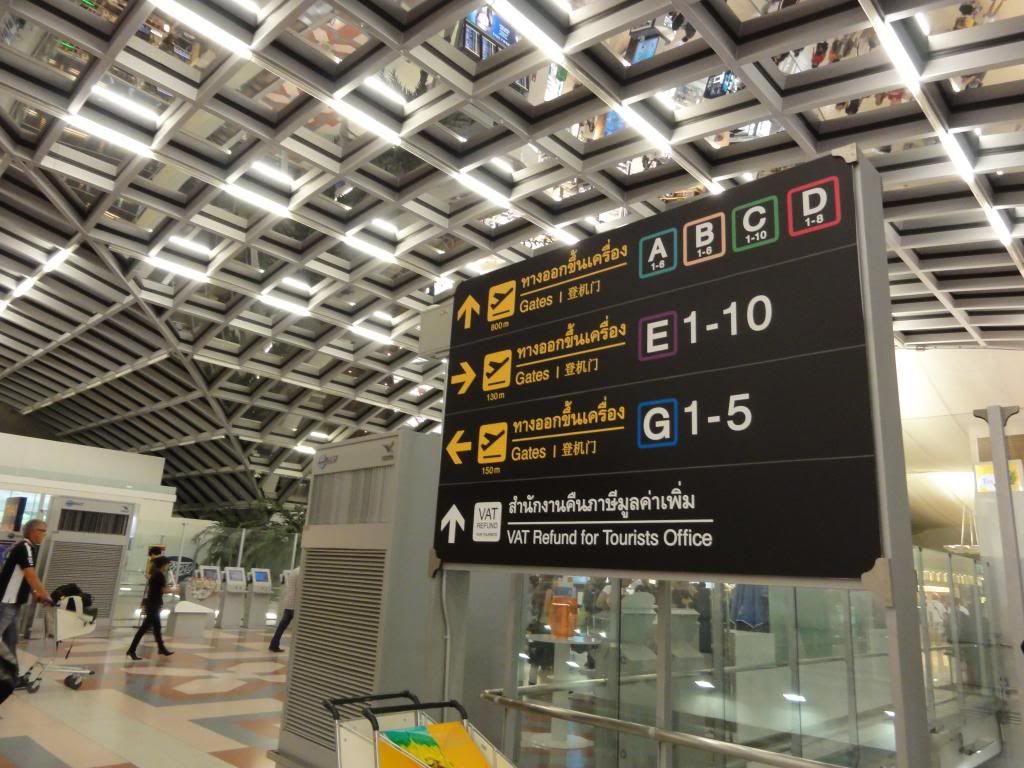 Most shops in airside were by the King Power Duty Free chain, selling all the usual duty-free stuff like alcohol, cigs, perfumes, souvenirs and food. There were many shops located at different places selling exactly the same thing! It was mainly repetitive, and not very impressive. I would later learn that the foodstuff sold here are grossly overpriced.
There were restaurants and cafes like Starbucks near my gate. They even had a Dairy Queen outlet next to Starbucks. I spent most of my time walking around and then made my way to the gate just as it opened.
I would depart from Gate E3 that day, with boarding scheduled to be 2250hrs. My flight was TG656, departing at 2330hrs, scheduled aircraft type is the Boeing 777-200.
'E' Concourse
The compulsory 'Suvarnabhumi' shot!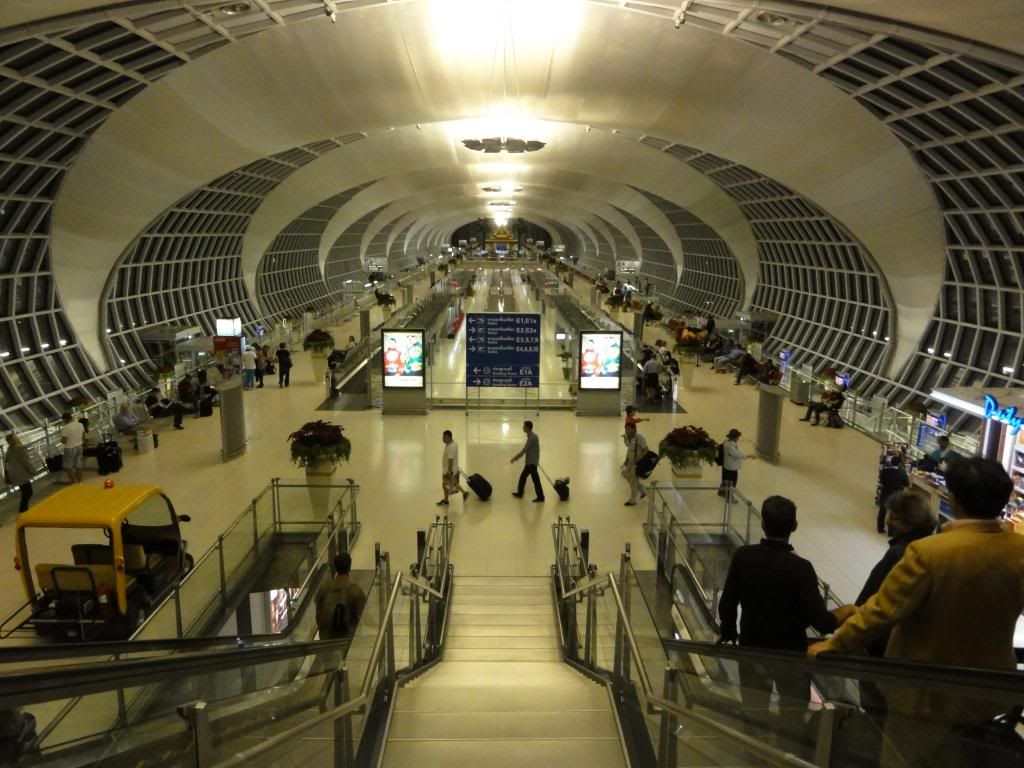 Gate E3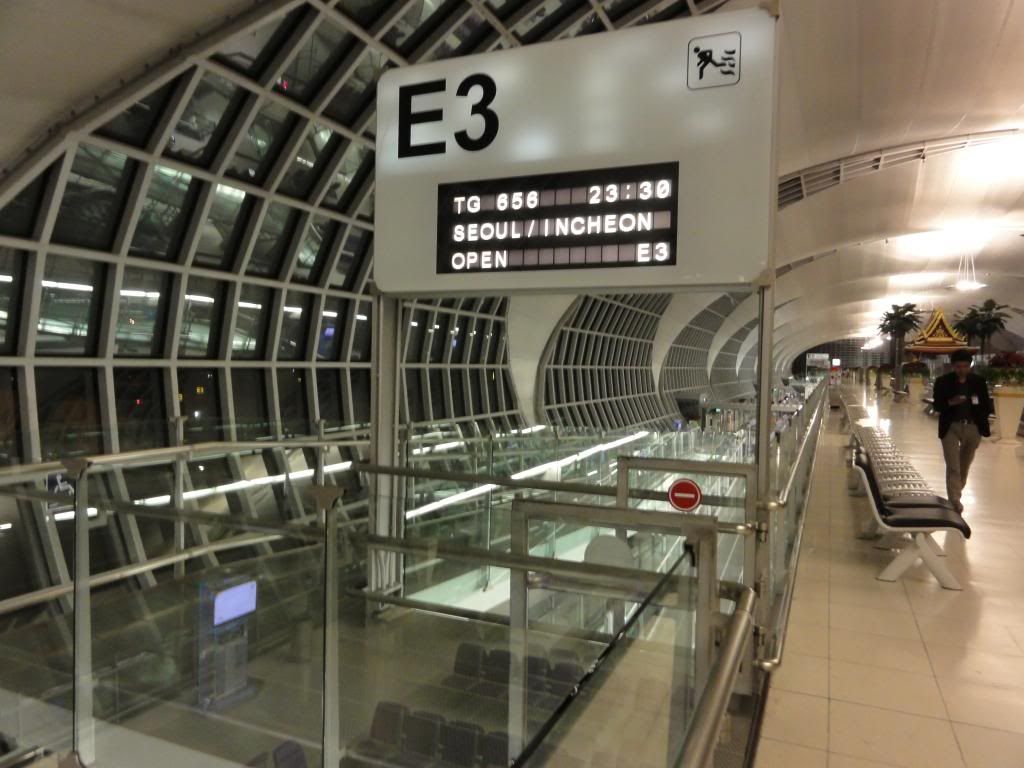 As expected, I was one of the first few into the gate lounge! I had no idea I was about to spend the next 2 hours sitting on those seats!
Gate lounge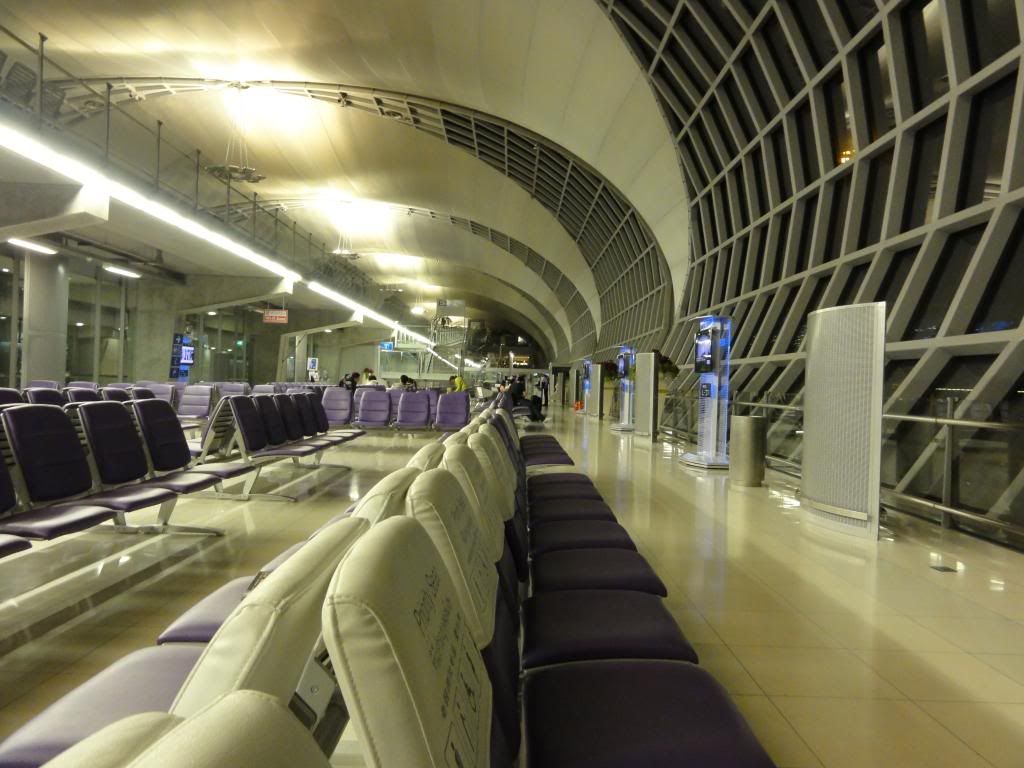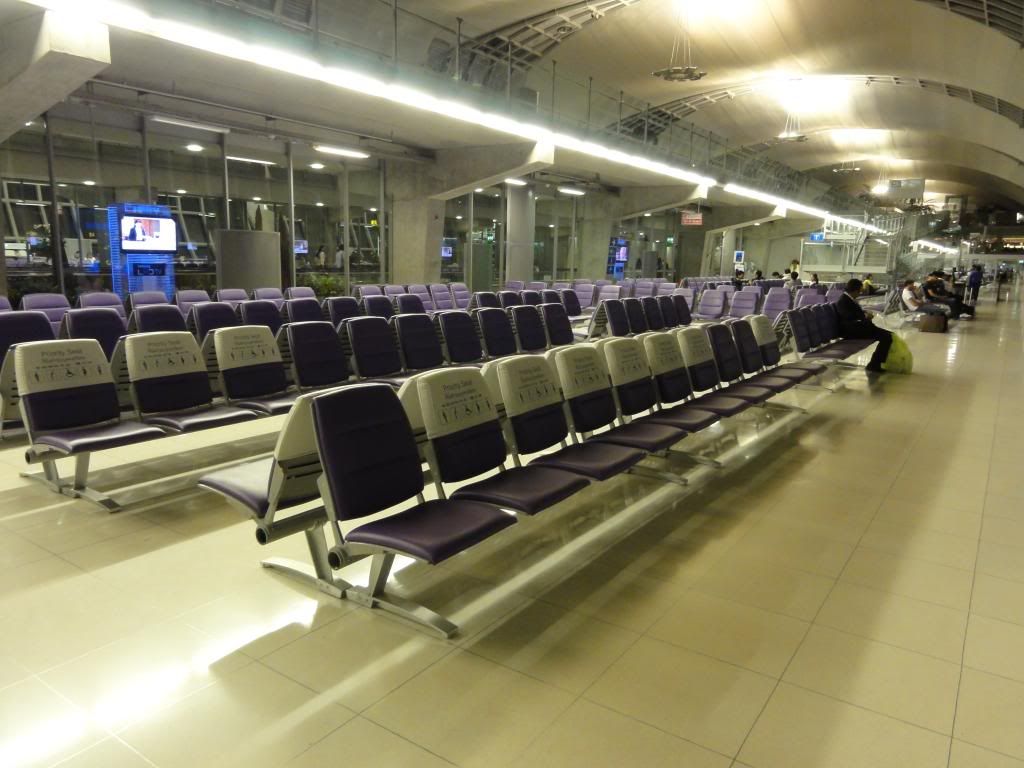 I glanced out the darkness and as expected, a Boeing 777-200 was sitting there. It was HS-TJC. Hopes of a last minute change were gone. It was going to be a boring 5hrs and 25mins to Seoul. Although it was an overnight flight, I was not known to be able to sleep on planes. It just never happens. The thought of spending the next 5hrs 25mins staring at an empty seat back was painful.
Date: 02 Jan 2012
Sector: BKK-ICN
Flight: TG656
Aircraft Reg: HS-TJD 'Mukdahan'
Aircraft Type: Boeing 777-2D7
Scheduled Departure: 2330hrs
Scheduled Arrival: 0655hrs
Scheduled Flight Time: 5hrs 25mins
As we approached the boarding time of 2250hrs, an announcement came on. There was a technical problem with the aircraft, and there was to be a delay of 30mins. The second delay on TG on the same day! What luck. Anyway, I was sort of rather relieved as I really didn't want to be on that plane.
A second announcement would declare another 30 minutes delay. By that time, passengers were climbing up the stairs and going back to the shops to kill time. I was quite tired by then, and had already visited the 'happy room' 3 times.
By 12midnight, I was getting impatient. We were supposed to depart 30mins ago! Finally, at about 0020hrs, boarding calls were made and you could hear a collective sigh of relief across the gate lounge!
I was one of the first down the jetway, ignoring all the business class priority boarding mish-mash. To my surprise, the movable sections of the jetway were closed, and the side door was wide open. Instinctively, I went out the door and down the stairs, where I was greeted by a bus! We were not going on HS-TJC after all! TG had given up trying to fix the plane that night, after almost 2 hours! I was excited, as I was silently praying our replacement plane would be a B773!
I was very happy with the turn of events and the chance to be bussed to a remote stand at Suvarnabhumi! I think thats pretty rare for an international flight?
Took a few pictures on the ground too! There was a KE B773 fully loaded waiting for pushback, also bound for ICN.
KE B777-300 (Sorry for the bad quality)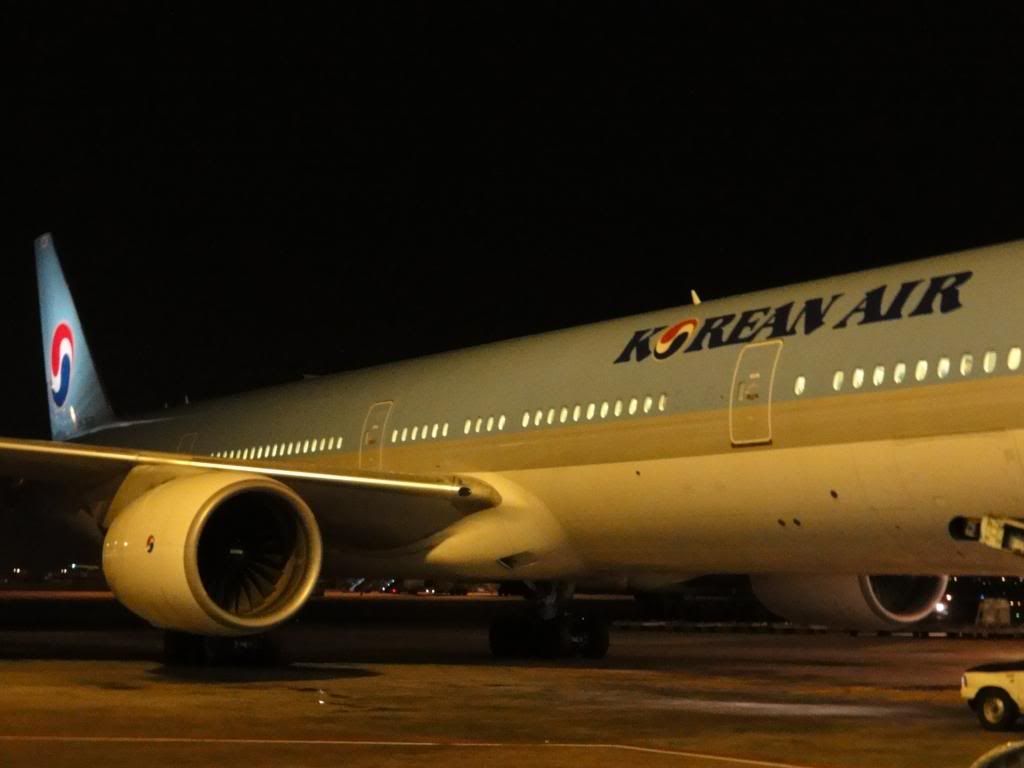 Bus that would take me to my replacement plane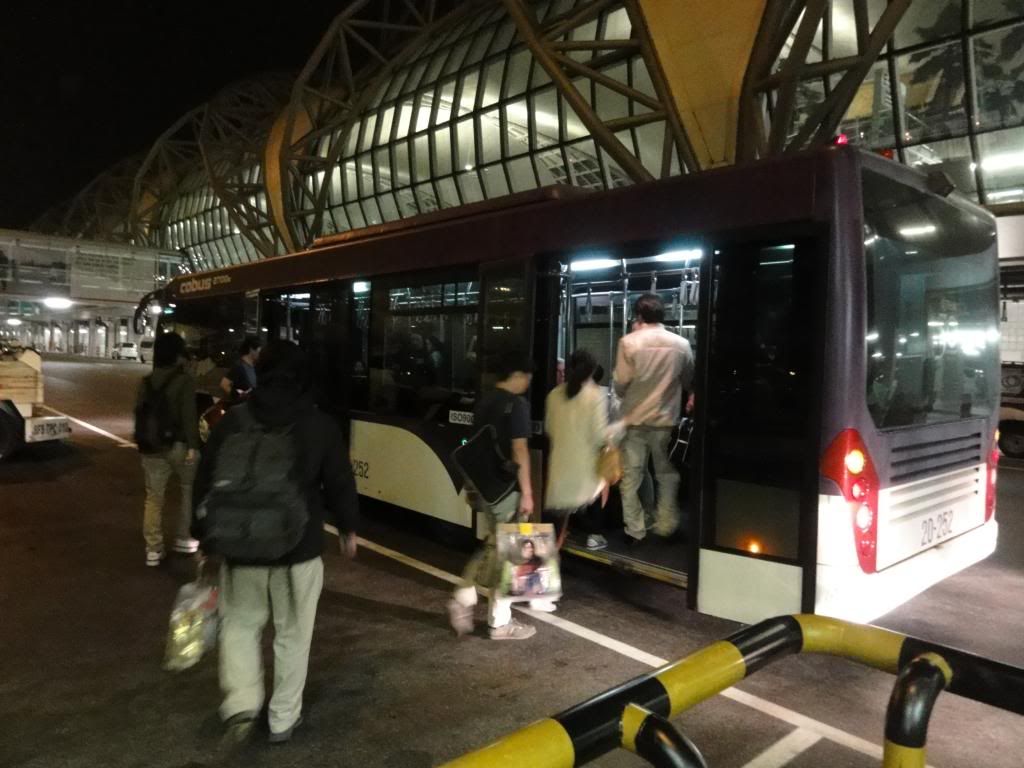 After whizzing around what seemed like quite a while, we came to a stop in front of another Boeing 777-200! My eyes darted around anxiously, looking for the tail number. I couldn't believe my eyes! Not only was it still a Boeing 777-200, it was the exact same plane I flew from SIN-BKK earlier that day! It was disappointment again! HS-TJD would take me to ICN tonight!
HS-TJD ready for boarding
Huge RR Trent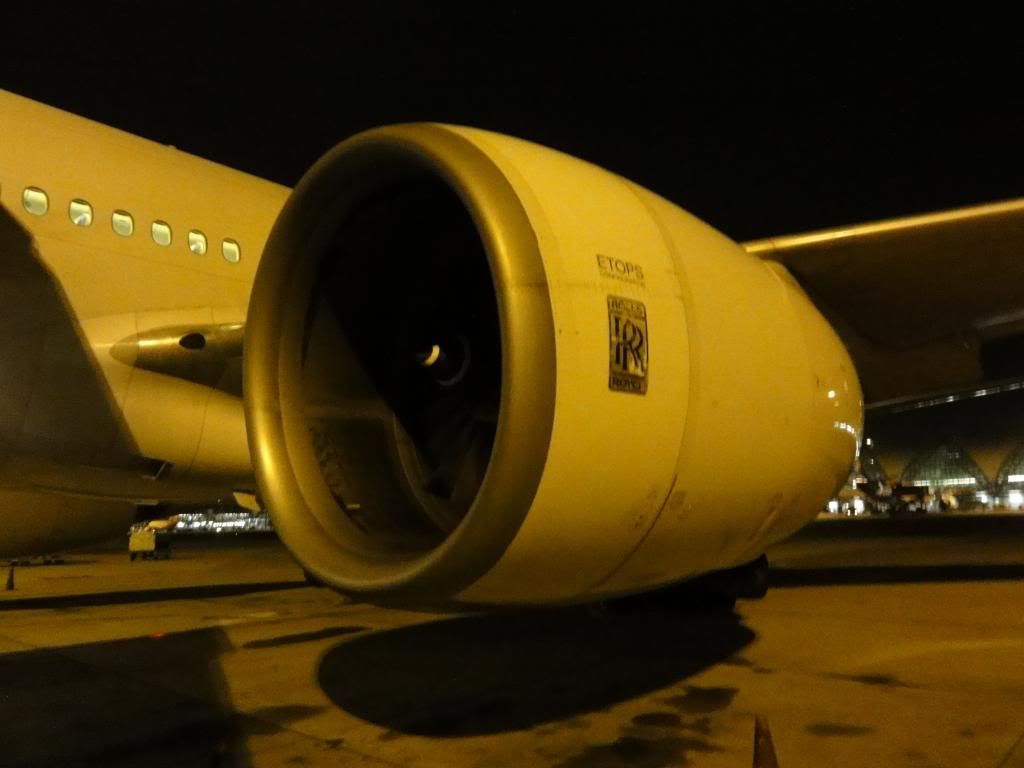 Boarding was quick, and with all the customary 'wai' and 'sawasdee kaa', I was on board. We were running very late, more than an hour behind time! There was catching up to do. There was a flurry of activity around the cabin, and I was actually quite impressed they actually got a replacement so fast. Boarding was very swift and the crew were extremely professional.
There were many Koreans on board this flight. The cabin was filled with the chatter of the Korean language, and I felt like I was in Korea already!
All passengers were seated by about 0045hrs, and we quickly pushed back and the safety video was shown.
Almost all onboard
Crew getting busy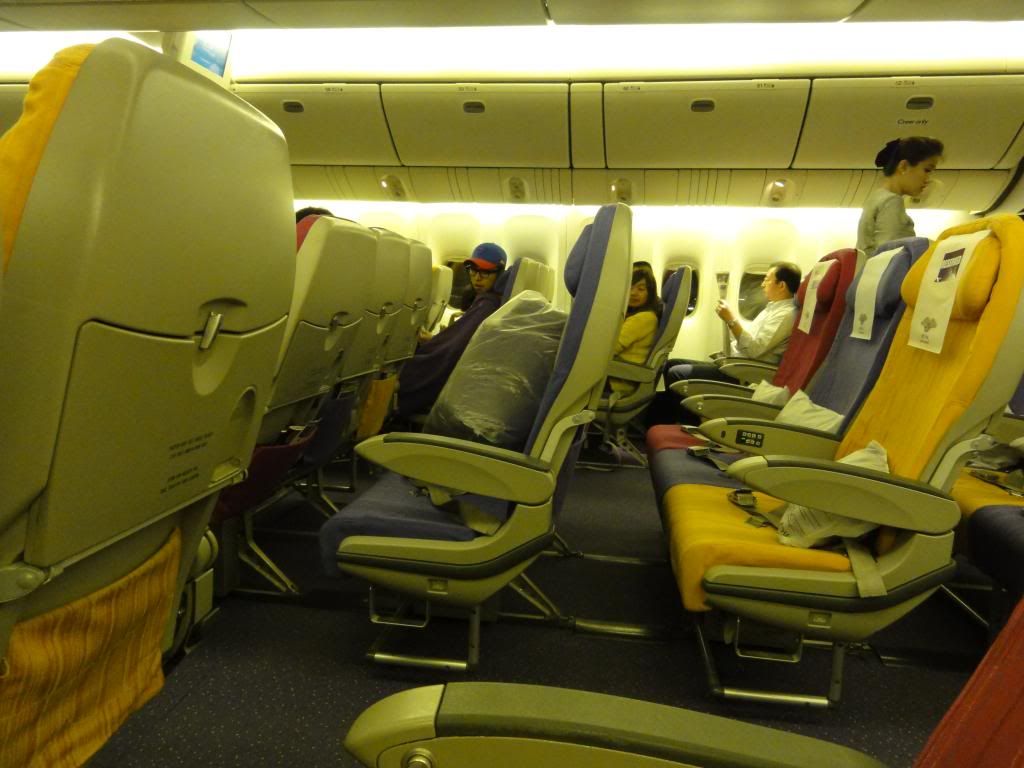 Doors are about to be closed
I was seated on the last 2nd row, as it was a 2-3-2 arrangement which would leave me with a more comfortable ride at the window seat. My luck was good, as the seat next to me was empty, meaning I had 2 seats to myself! The centre set of 3 seats for the last 3 rows were also empty, being labelled as 'crew rest'. Interesting. During the lights out, the crew would actually take turns to take naps on those seats! They behaved just like any other passengers, and were napping with the blankets! It was quite a sight!
Crew rest seats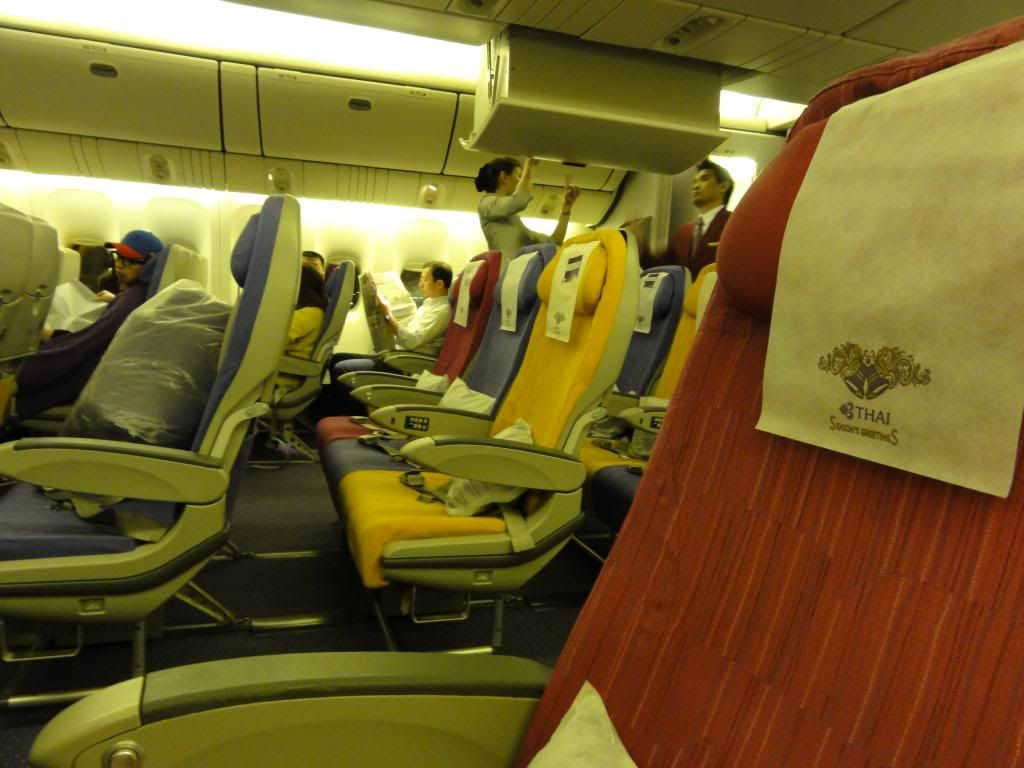 Safety video being played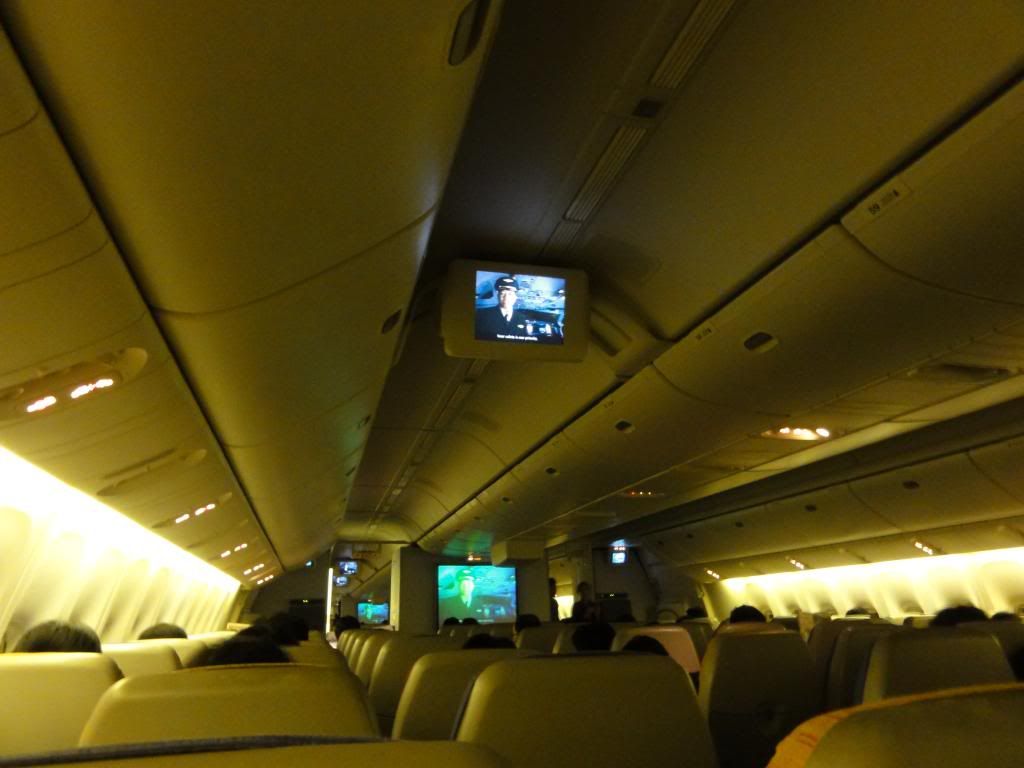 We took off at about 0100hrs, about 90 minutes behind schedule. After a smooth take-off and reaching cruising altitude, the seat belt signs were switched off and the crew sprang into action.
The hot towel service was done and this followed by the 1st drink run. Pretty much like my SIN-BKK hop.
15 minutes later, a snack service was done. A simple mini croissant with ham was handed to me accompanied by a drink. Now, this is what distinguishes TG from the other carriers.
I have flown KE, OZ and SQ on red-eye flights SIN-ICN many times. On those flights, no snacks were served after take-off. It was lights out immediately after a drink run, and breakfast would be served only 90 minutes before landing, at about 4-5am. I was left hungry throughout the flight and desperately counting down to the breakfast service. Note that SIN-ICN is at least 1 hour longer than the BKK-ICN I was on that night.
It was so nice of TG to offer a light snack before lights out, and then serve breakfast like the other carriers 90mins before landing.
Mini croissant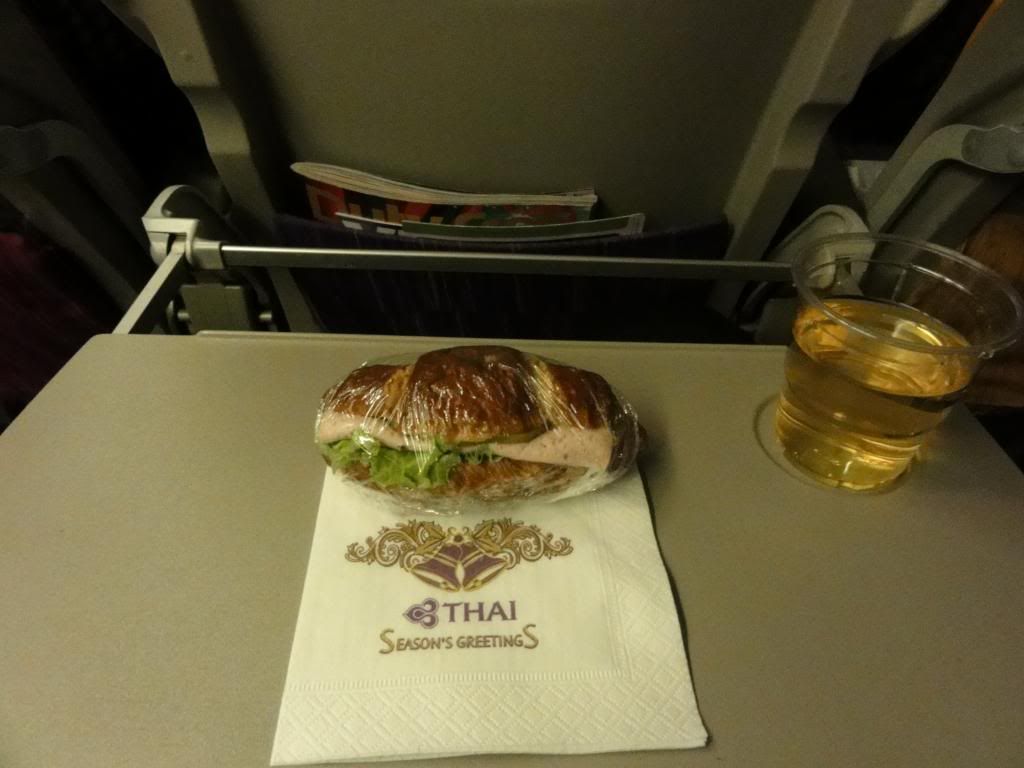 Like I mentioned, I can never sleep on a plane. I just do not know why. I had intended to watch the big screen IFE on this flight, with my earphones already prepared.
After lights-out, I was utterly horrified. ALL the overhead and projector screens were SWITCHED OFF. Totally! It remained switched off until the lights came back on for breakfast service. No moving map, no shows, NOTHING.
I had to spend the next 2 1/2hours staring into the dark cabin. I do not wish to mention the details, but it was one of the longest 2 1/2hours ever.
After my torturous stoning, the lights finally came on, and the smell of coffee and warm buns wafted down the cabin.
There was yet another hot towel service, to freshen up the passengers after their naps. A drink run followed, and not long after, the breakfast cart came down the aisle.
Breakfast service
I had stir-fried chicken with rice, and it was served really hot and fresh! The bread rolls were really soft, and were nice and hot! I was served 2 pieces of bread, a bun and a mini croissant! They were really generous! Also, being on a Korea bound flight, they even served Kimchi with the meal. It was a nice touch and really satisfying. TG's catering had won me over again.
Breakfast! Some of you probably would not fancy RICE for breakfast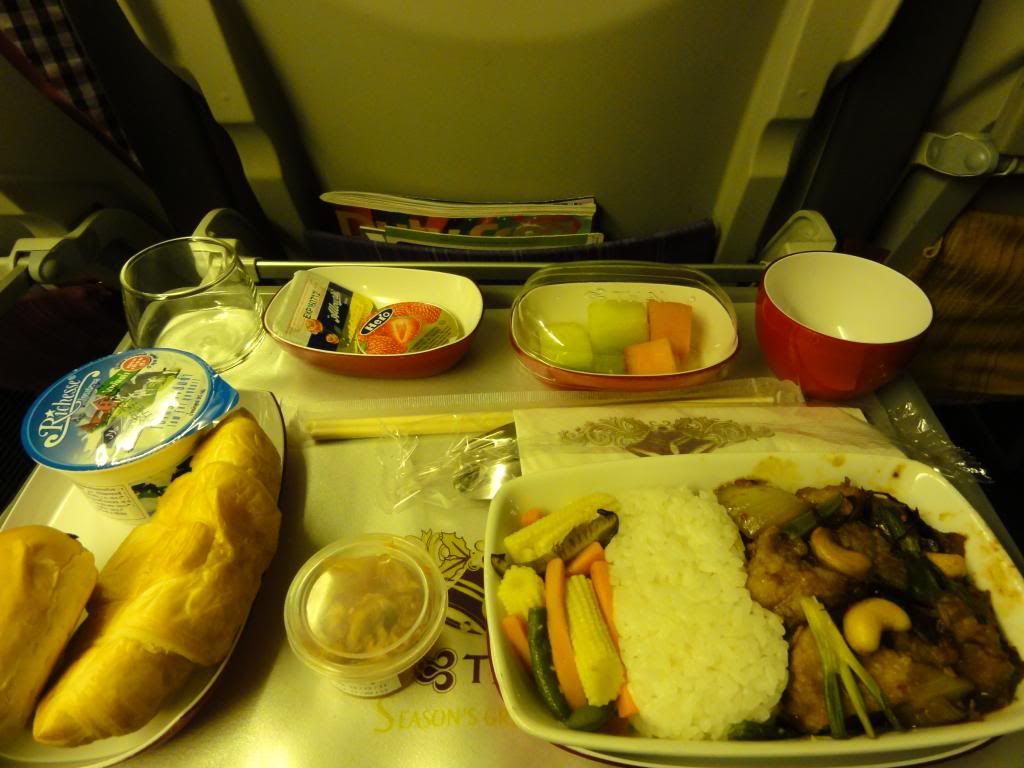 After my most satisfying meal, the sun had already begun to rise over the horizon. I was so happy we were about to reach Seoul.
The approach into ICN was very beautiful in the morning, and it was really smooth. It was winter, and I could see the snow covered Korean landscape spread out below me. It was really breathtaking.
Upon disembarkation of the aircraft, I quickly made my way to immigration. Having arrived into Seoul for so many times. I knew the queues would be very long with a widebody arrival. I overtook hundreds of passengers along the way and literally broke into a run!
All non Korean Air/Asiana Airlines arrivals into ICN will beat the satellite terminal. You have to take the shuttle train to the main terminal to clear customs and collect the baggage. It was a long walk, but I had done it too many times to count.
I sailed through immigration and collected my baggage. I wonder what went through the immigration officer's mind as he flipped through page after page of my passport only to see so many ROK stamps staring back at her.
Arrival hall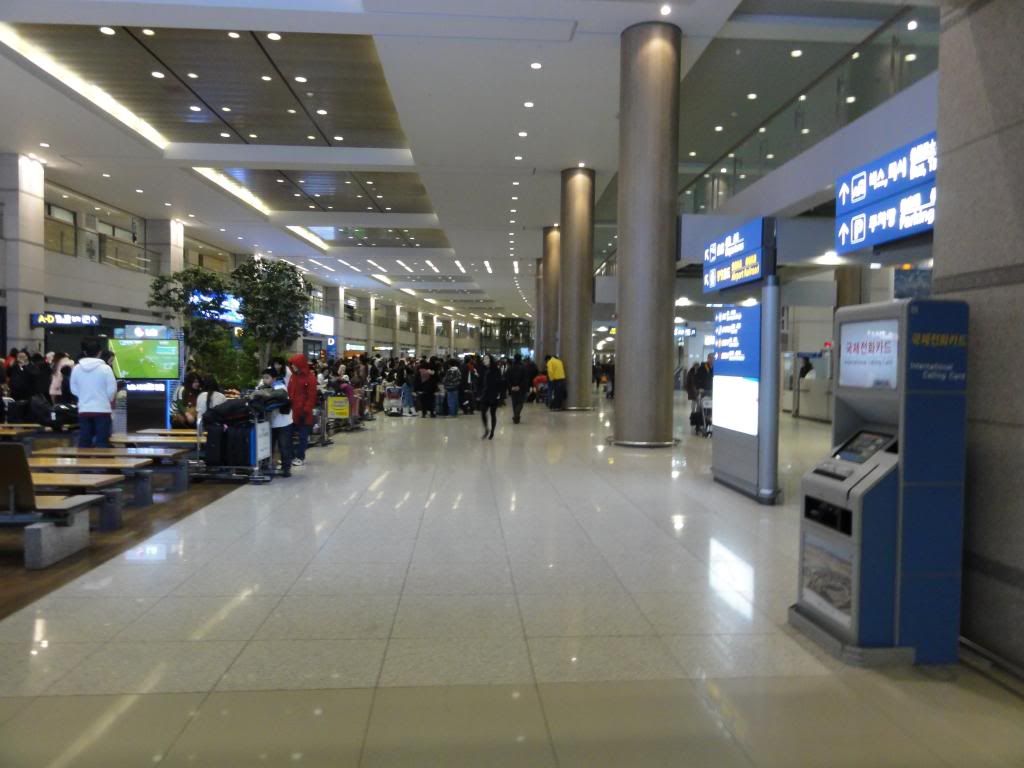 I would be staying at Lotte City Hotel on this trip. My route to the hotel would take me on the Airport Express direct to Gongdeok station, where the hotel was located right above. How convenient!
After a quick stop at the Family Mart, I was on my way. It was winter and about 2 degrees celsius outside. The airport express train station was located at the Incheon Airport Transportation Centre. One had to cross the road to another building. I had to take out my down jacket from my suitcase. However, I was extremely LAZY to open it. I decided to walk out the airport in my long sleeve t-shirt and jeans! It was less than 50 metres anyway!
The crossing to the Incheon Airport Transportation Centre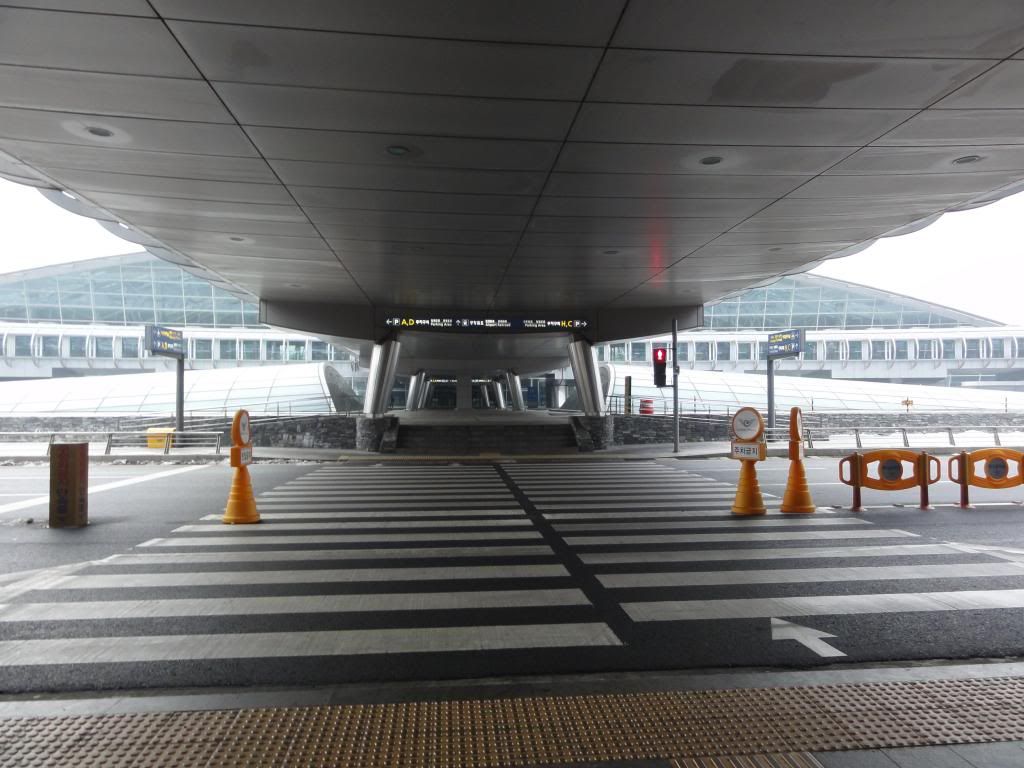 Incheon Airport Transportation Centre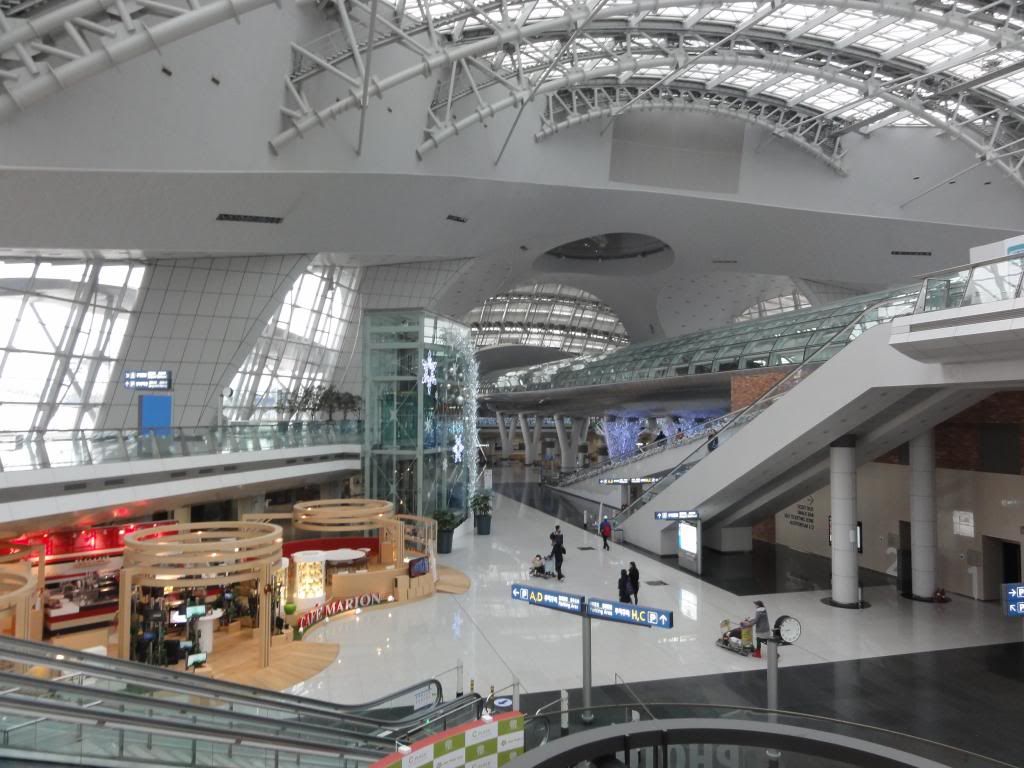 To Seoul!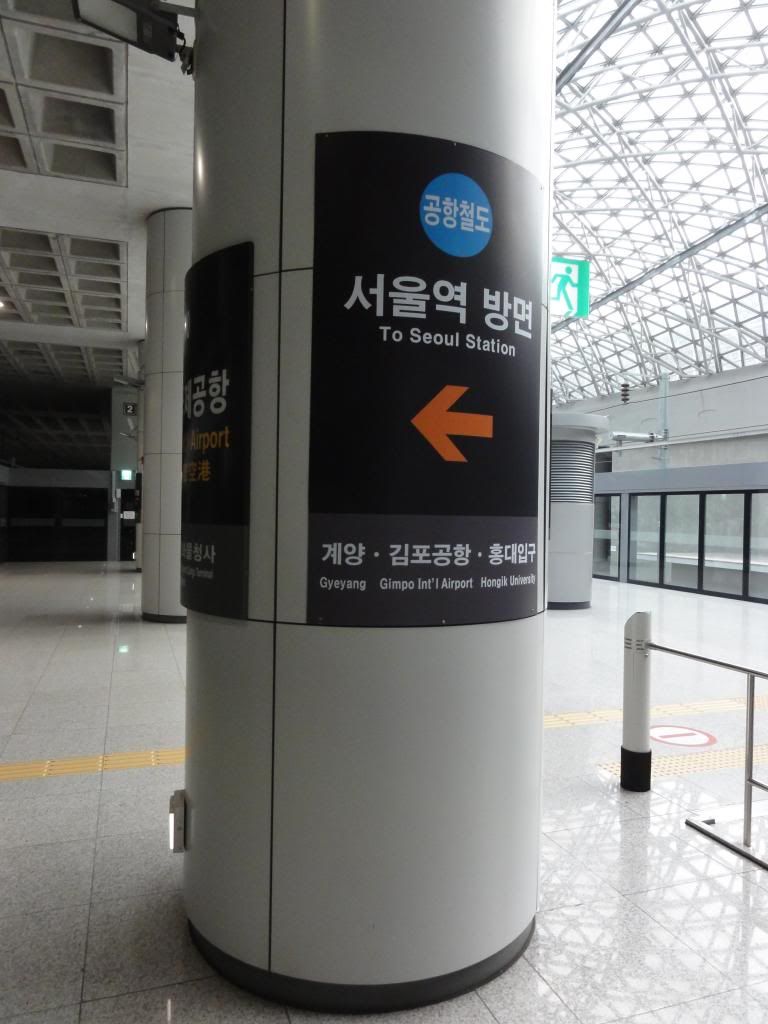 Let me tell you, it was bone chilling. I literally dashed across that road into the warm confines of the next building. I would have to brave more cold later at Gongdeok, as I would discover that the subway stations in Seoul are hardly heated enough. The cold air from ground level would blow right into the underground, chilling you to the bone if you were not adequately dressed.
Seoul AREX train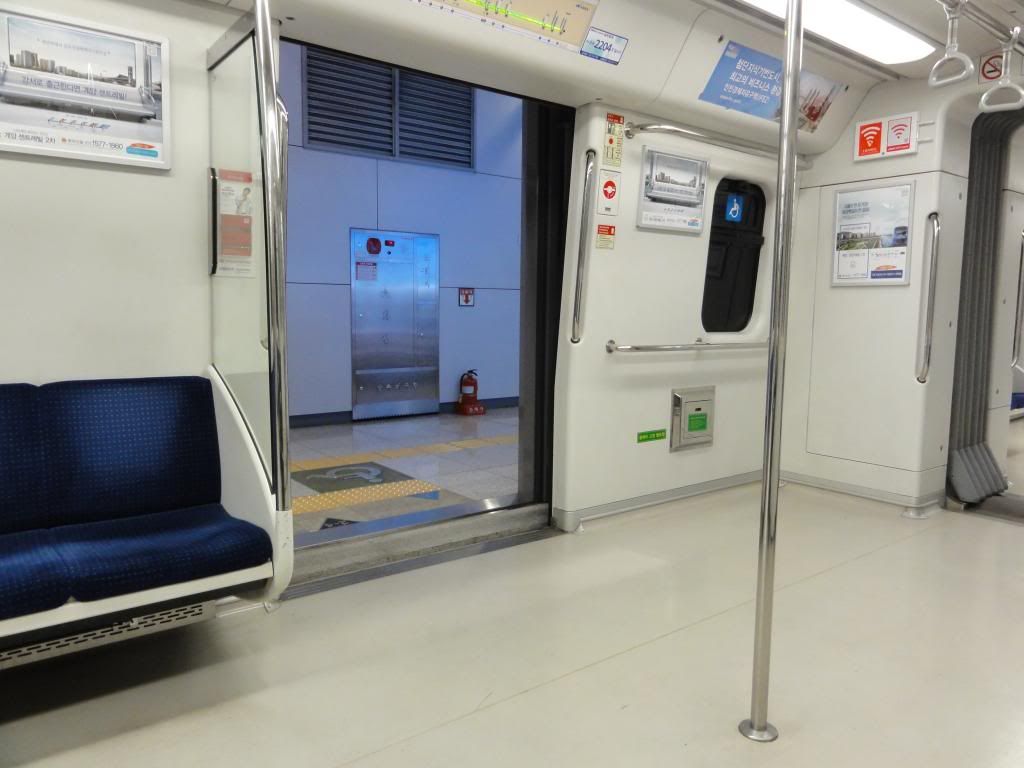 While on the train, it was nice and warm. Even the seats were heated. There was a little Korean kid seated next to me with his mother beside him. Innocently, he asked his mum why 'hyong' (big brother) was not wearing any jacket. By that time, I had already invited MANY stares throughout the train who are wondering why is this MAD MAN dressed so lightly in the midst of winter. His mother explained to her that she did not know, but probably big brother was strong. LOL
I remained silent and flashed a grin at the pair.
I turned my attention to my suitcase and to my horror, I spotted this: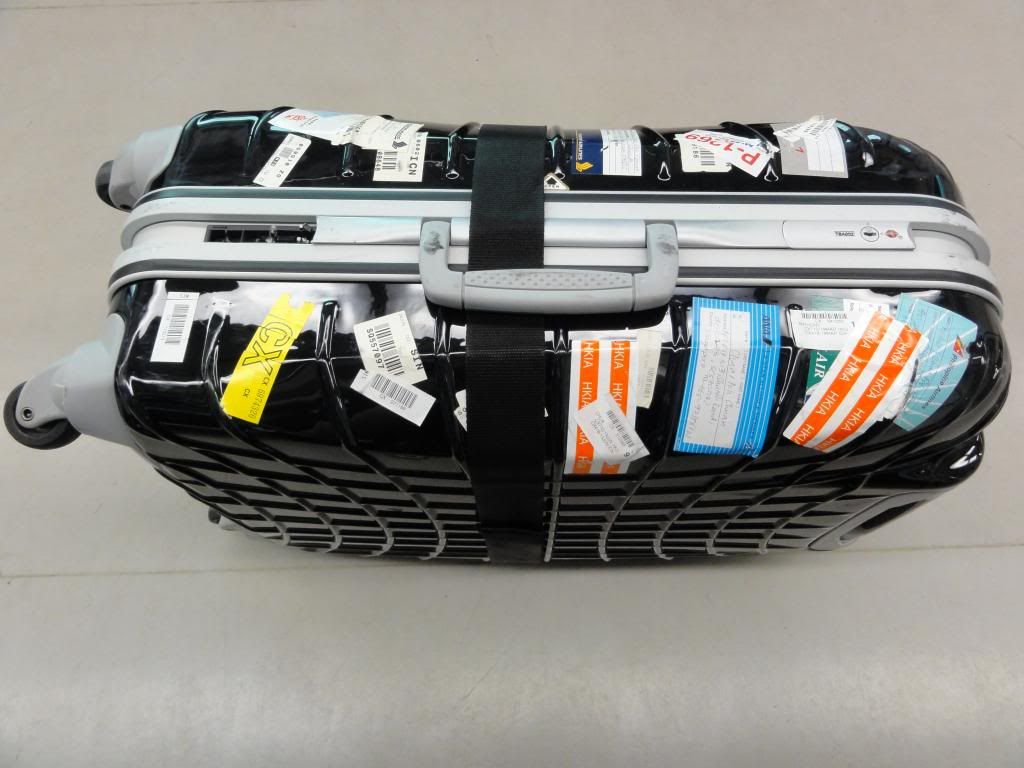 One of my latches were knocked clean off! I had made the big mistake of not checking my bag when I collected it. I was now miles away from the airport, speeding towards Seoul! No way I would turn back and make a claim!
I was rather appalled at the damage. This was the most serious damage I ever had on my check-in bags. I ended up having to buy a new one in Seoul, and eventually made my claim on my way back to Singapore.
Overall, I was quite disappointed with this flight. There was the 2 hour delay at BKK, non-existence of IFE (no PTV plus big screen was TURNED OFF), and my damaged suitcase. The only redeeming factor was the food and service. That said, it was a good experience transiting at BKK, as it was rather smooth and fuss-free. I had a great time in Bangkok as well.
After 2 continuous flights on TG with no PTV, I was certainly looking forward to my return trip, where both ICN-BKK and BKK-SIN would be on the Boeing 777-300.
Thank you for reading my lengthy report. I do sincerely hope you guys enjoyed it. Comments are definitely welcome!
Look out for Part 3: ICN-BKK! I will try to churn it out real soon!
-Anthony CPC