"The CR-K to go, heading for Nantes"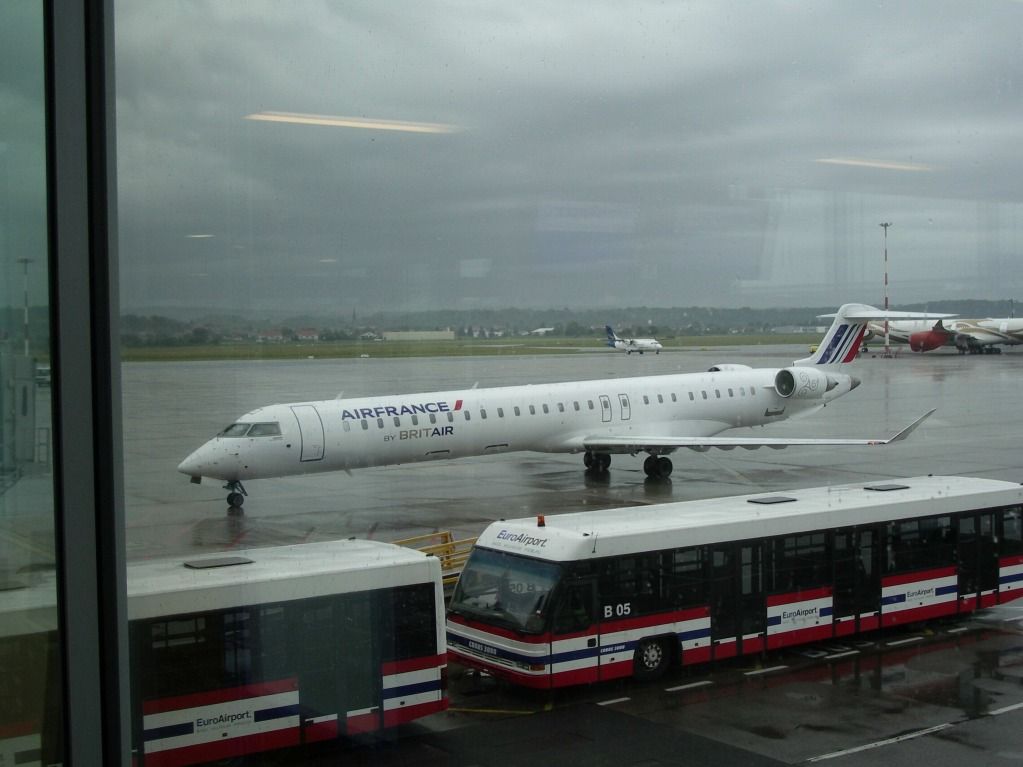 Bonne journée, dear readers,
a relaxed late afternoon arrival yesterday from
AB, Swiss Made, To Visit A New Unesco Site
(by
FLIEGER67
Sep 14 2012 in Trip Reports)
and a shorty night ahead at the homebase once more.
I need to pick up some people at BSL airport Saturday evening.
That might be a good idea to park the car Friday morning at BSL, doing some flights and heading back to the airport Saturday late afternoon, ready ontime for the pick up. Well, that´s at least my point of view to clear the requirements!.
Now that´s a nice zigzag routing for today, isn´t it?:
Thanx to, once again:
http://www.gcmap.com/
There is an immediate need to catch up a new departure airport, logged here with no. 220:
Departure Airports II
auf einer größeren Karte anzeigen
The actual done routes:
Tripreporters Flüge II
auf einer größeren Karte anzeigen
And the first 200 departure airports:
Departure airports
auf einer größeren Karte anzeigen
No more time to wait now, on the way again.
Friday, 08.06.2012
.
.
.
.
Service Air France AF 7335 operated by Brit Air
Scheduled: 08.35 // 09.40
A lazy late morning departure with two more hours on the road turns out like a close to standard wake up time for me.
Up at 04.00 am and short thereafter on the way through the black forrest.
Safely arrived to say the least with all these crazy drivers and lot´s of trucks around these Friday morning.
Well, someone should transport all these internet orders through the night for a quick home delivery!.
F3 is the place to park the car. By surprise OLCI works perfectly fine after some other previous no OLCI experiences ex MLH.
Seats selected, no printout as usual. Something to collect from the self service kiosks at the airport.
Wideroe saved the booking this time,
leg one and two on one confirmation, the fare per leg
50.00 Euro´s this way.
Not that much pax around here.
Close to no time to wait at security and heading for, usually the lounge, but not at MLH.
"Wir wünschen einen angenehmen Flug", well, not for BA today, but "Al heure" from gate 1 looks like ok with me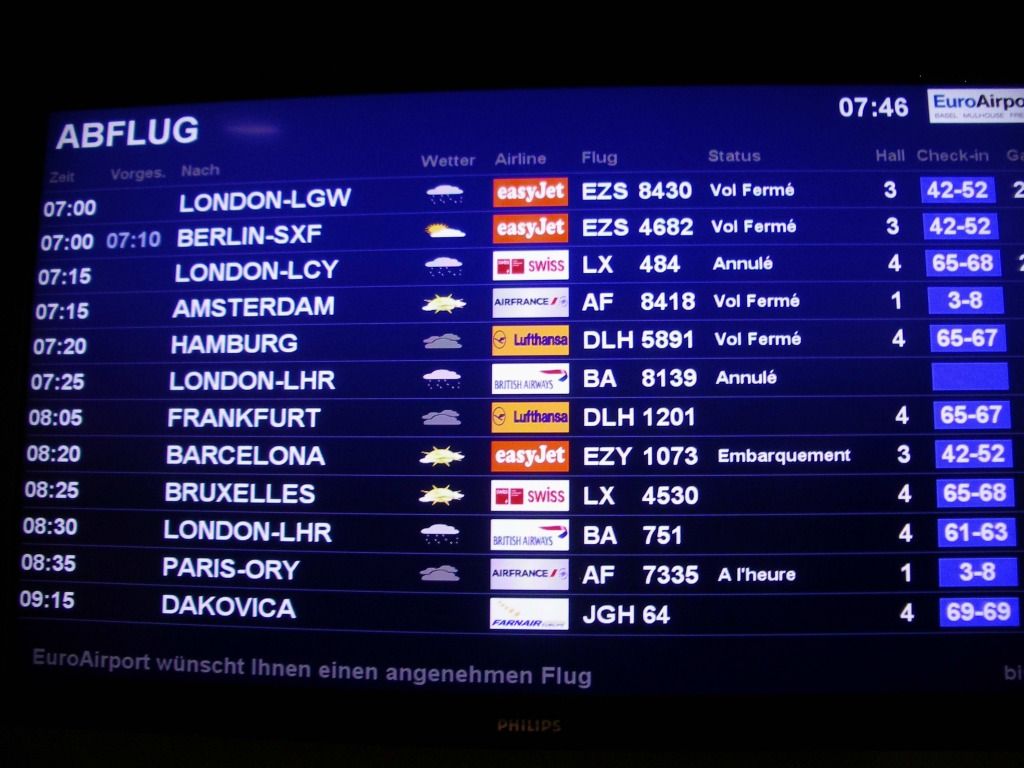 There is the CR-K on schedule, sure ok for me.
Something like this short to the gate
And the reg shot shows me with F-HMLJ a new one for the log. Leg no. 7 on type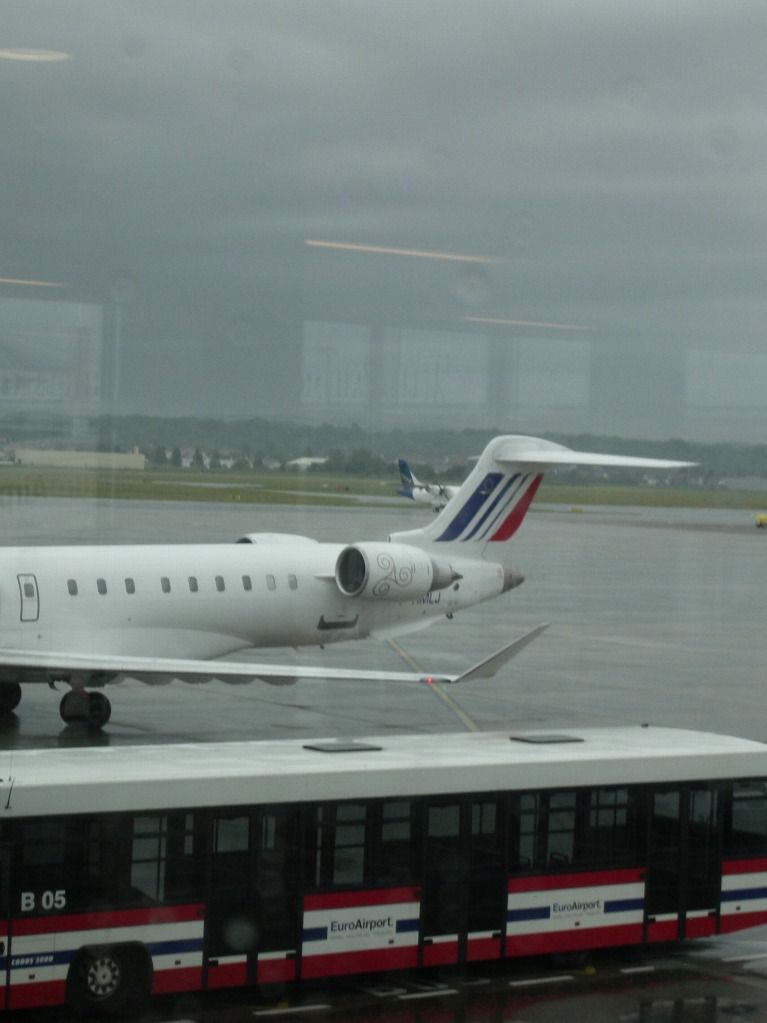 In service with Brit Air since 01.09.2011. There are 13 planes on type in the fleet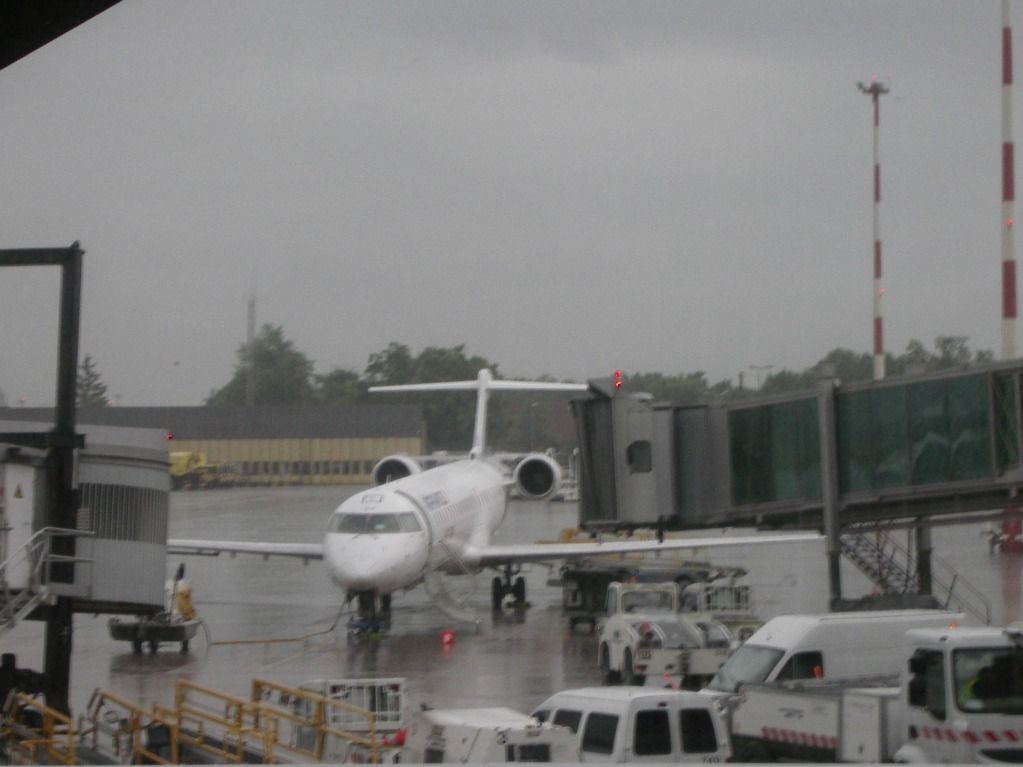 08.35 am, perfectly ontime, "Britair" and me leaving 16 degrees with this wet mess and it´s heavy rain now from the 3900 meters runway "One-Five" without a further stop.
Cockpit crew is from France. The captain with a very short welcome during taxi, once again short prior to descent. No route or flightlevel info.
45 minutes to go for ORY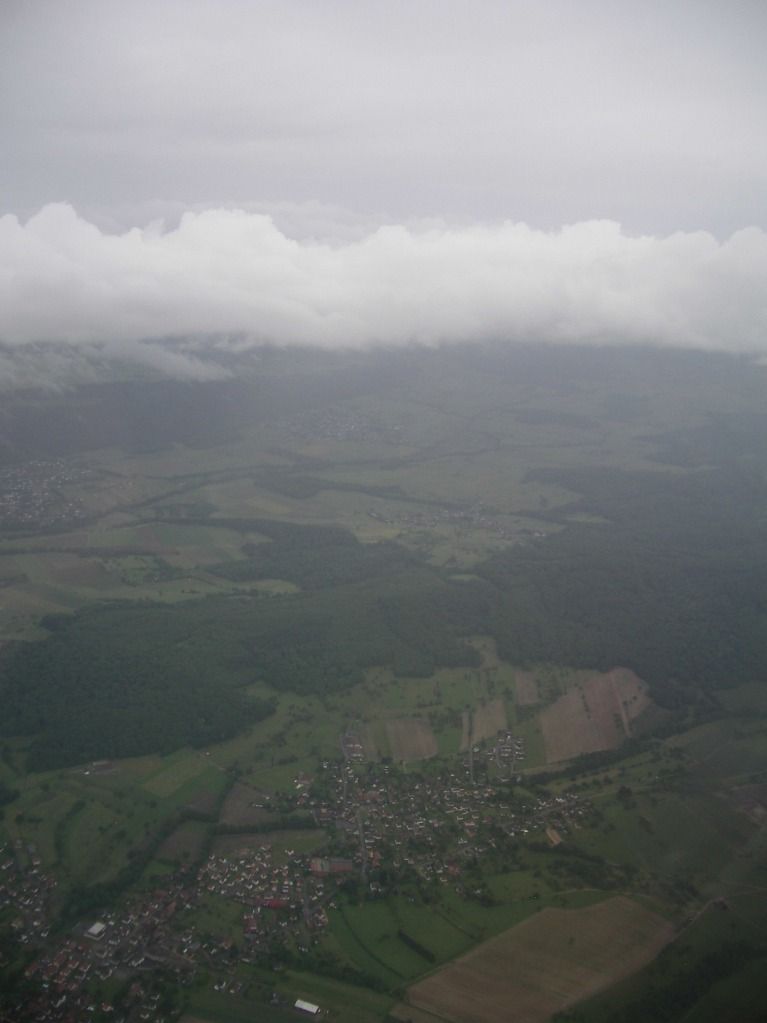 A much better feeling here inside with the bright grey clean leather seats.
Legroom is ok here in 3A, two seats for me
Forward cabin view, the load is 40% only with mostly biz pax on the way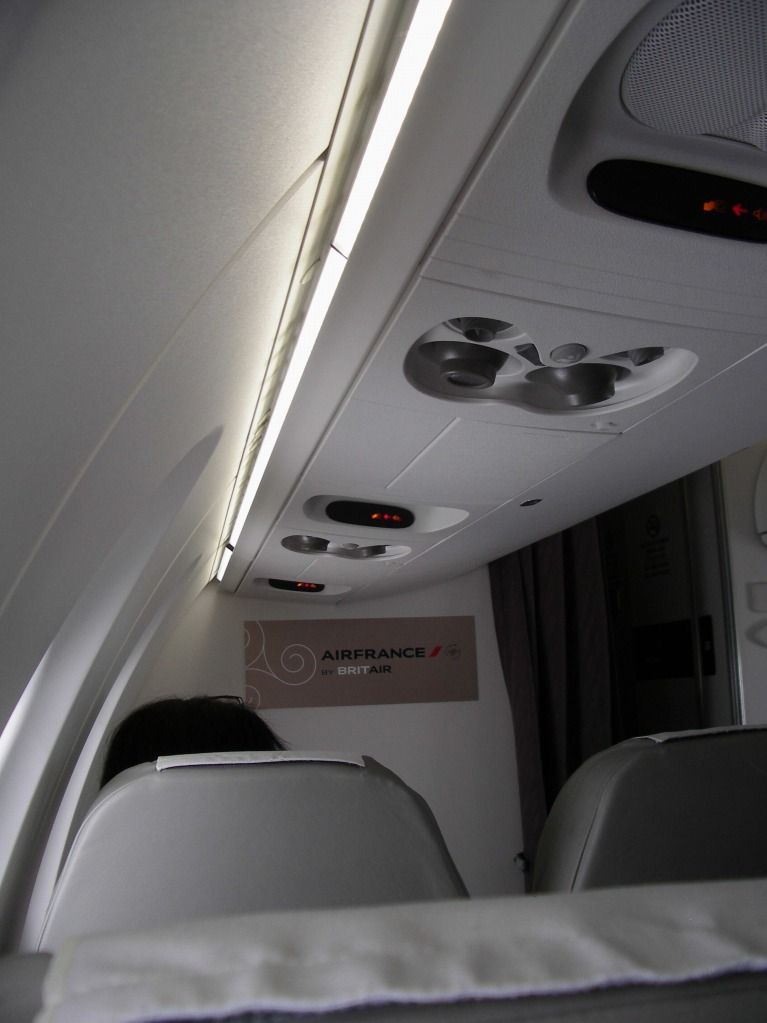 Cabin crew is one elder ok male FA together with an also elder and nice woman.
Service is a croissant, water, coffee, tea for free.
"Consignes de securite", sure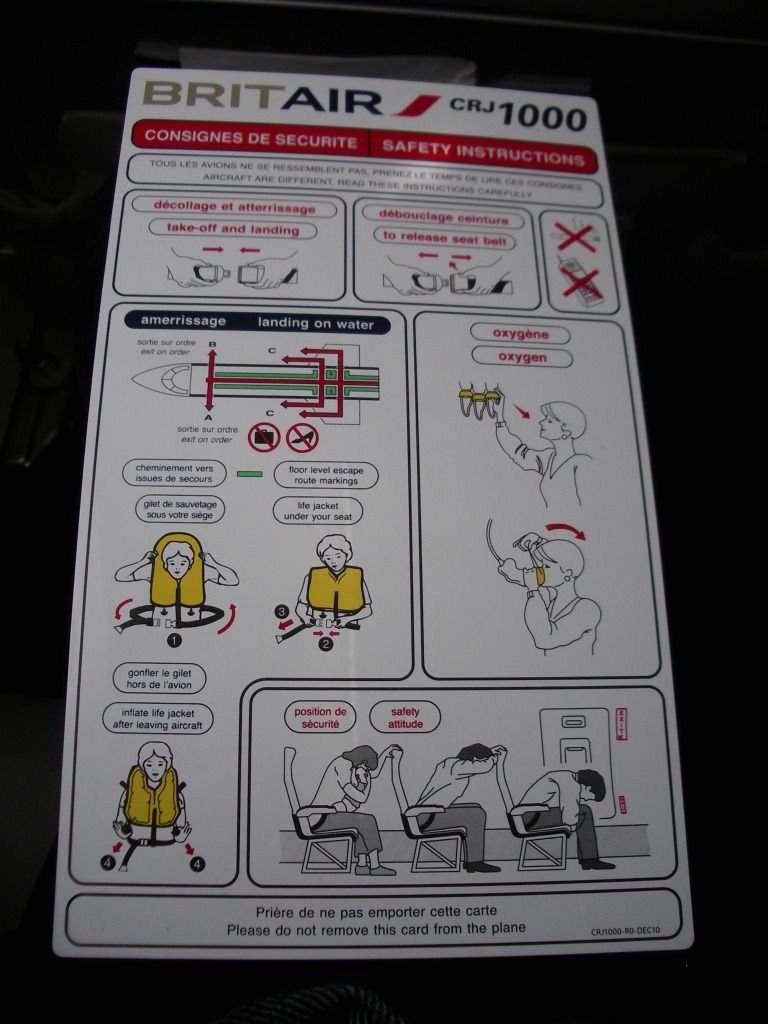 Inde, well, maybe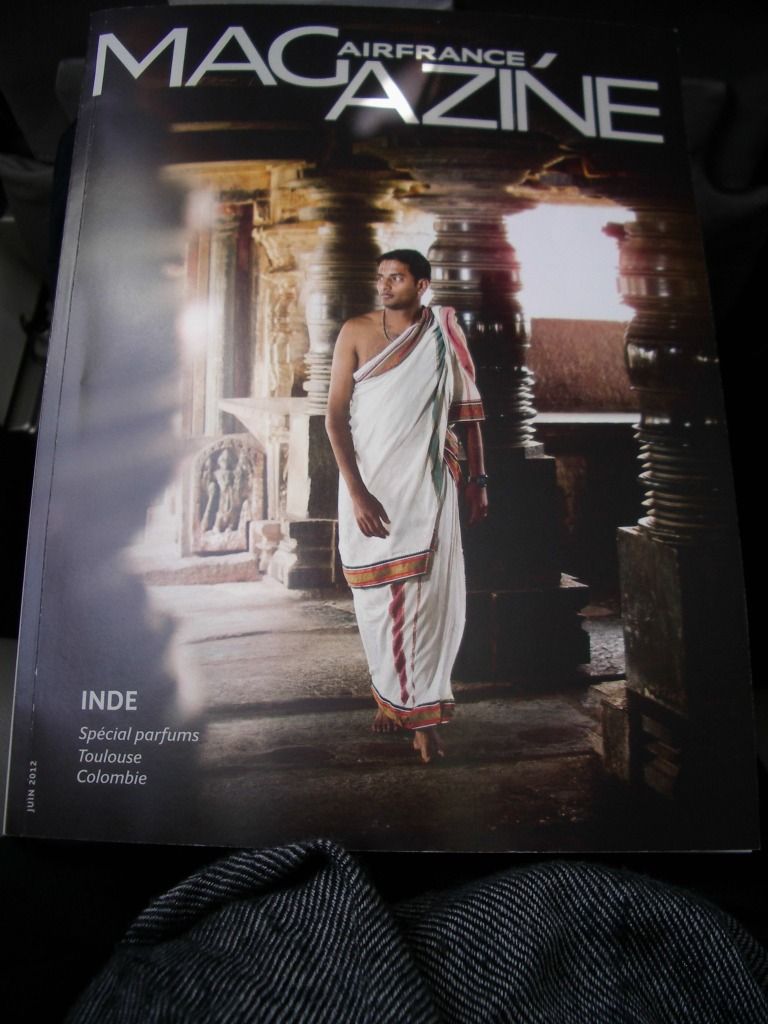 An winglet cruising through the clouds and you know, it´s not the best place for a calm cruise directly at the top of the cloud layer. Shaky all the time till our descent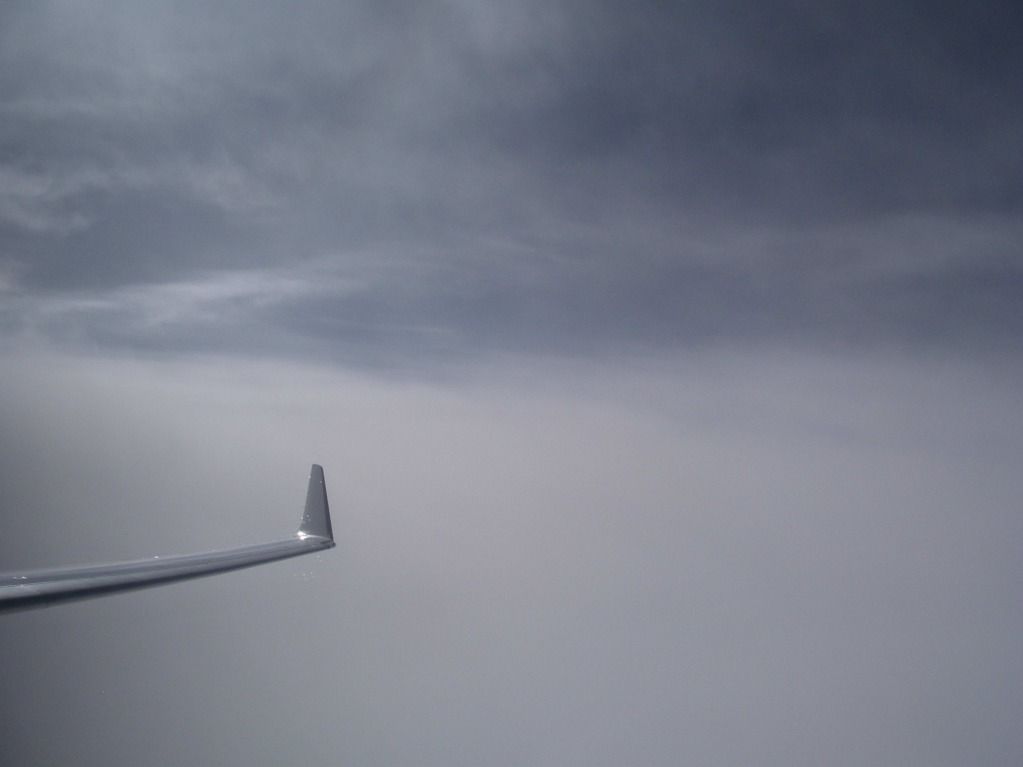 Much better weather conditions close to ORY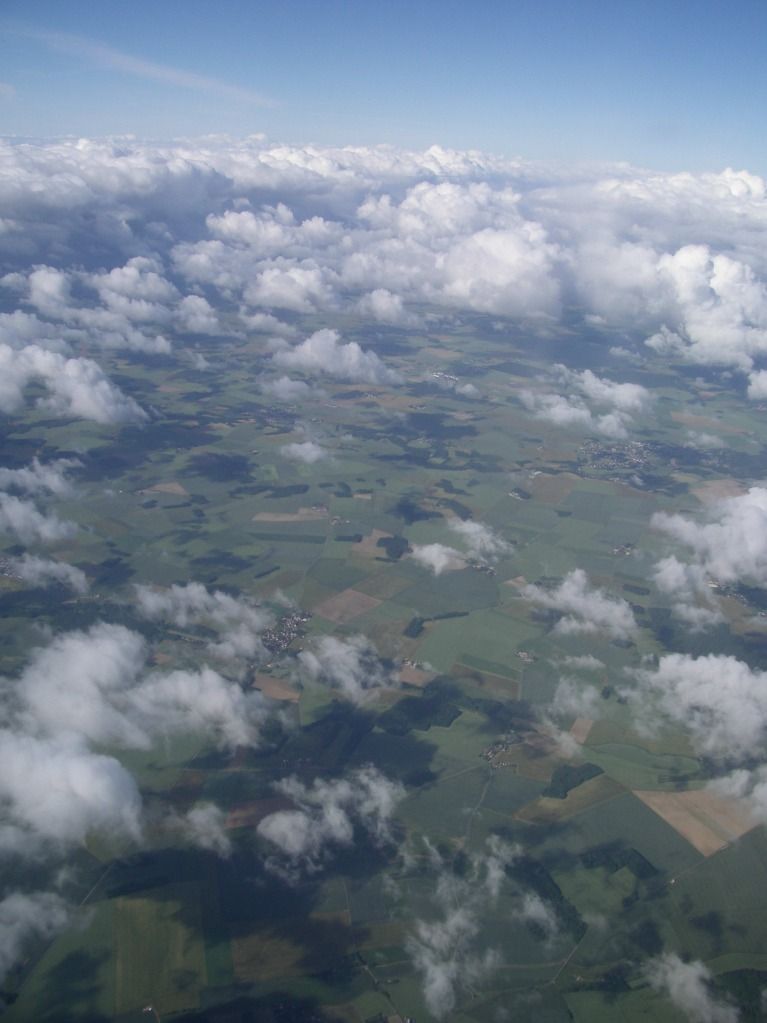 Racecourses anyone?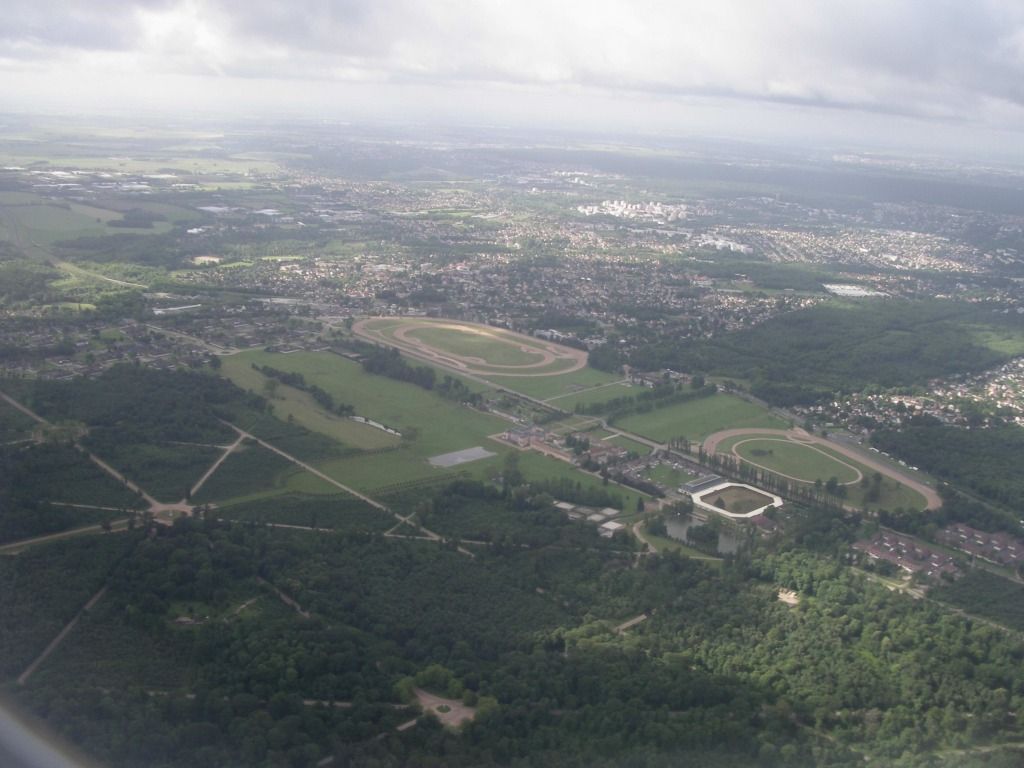 Or also some castles to go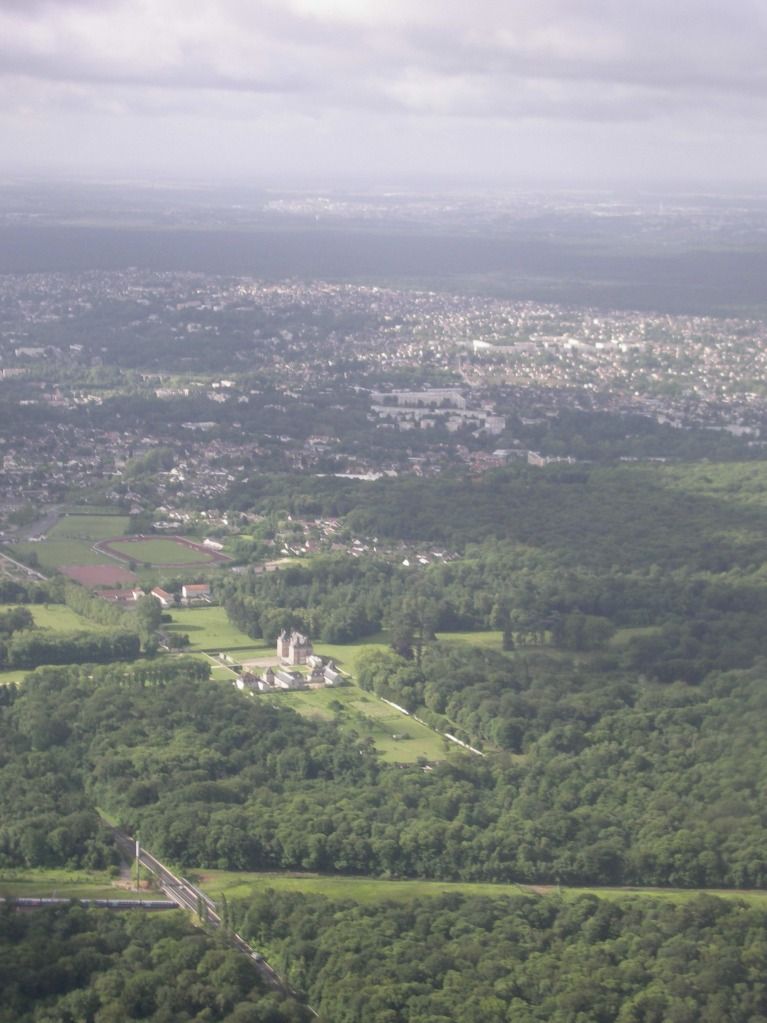 Touchdown at the 3320 meters runway "Two-Six". 9.35 am, short ahead to schedule, 14 cloudy degrees here.
Welcome to ORY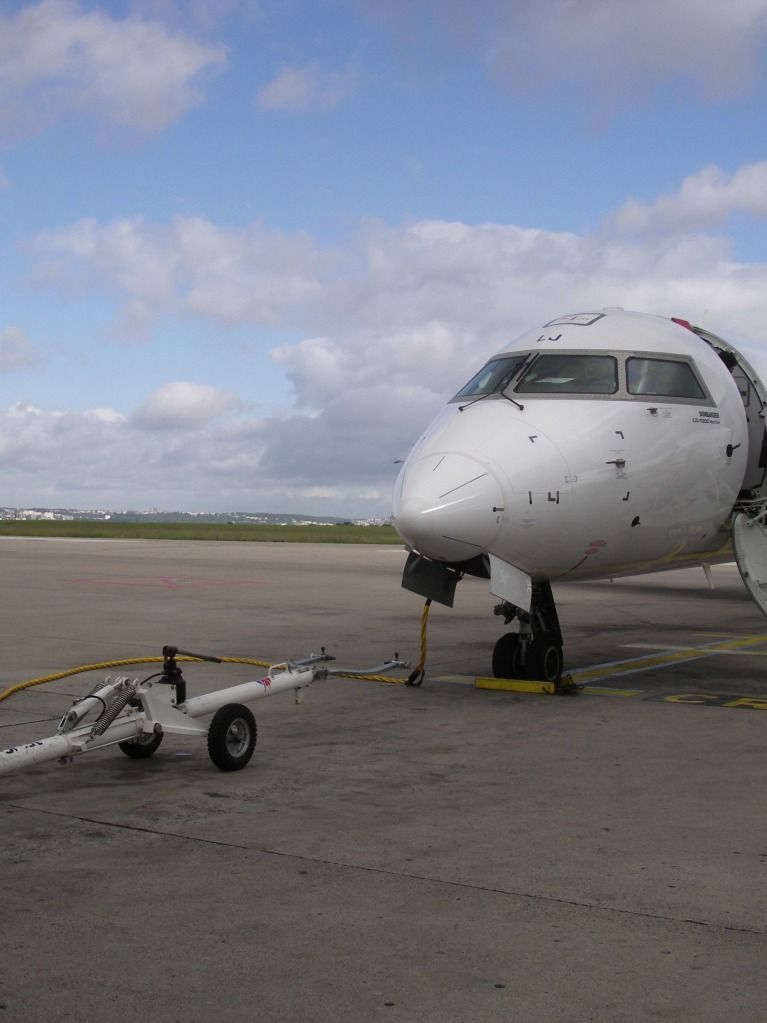 No way for the black clouds to bother me, the sun is coming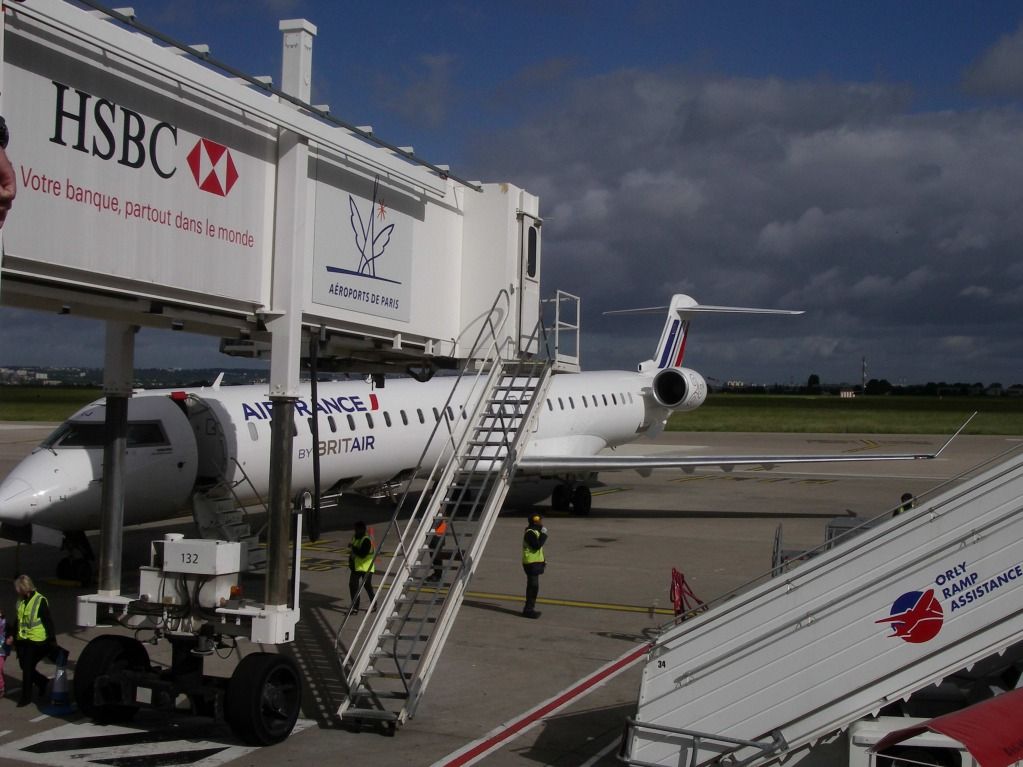 ORY, where you should take the chance to shuttle by the free Orlyval train to terminal Sud for some interesting planes like this
Or also maybe this way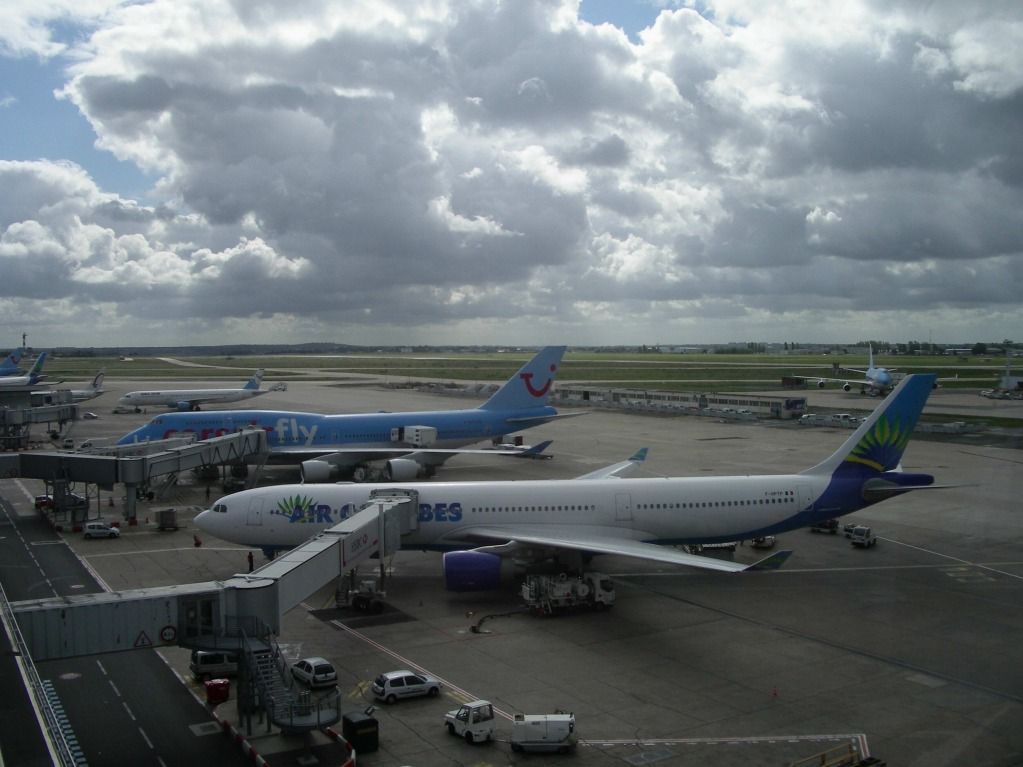 Aigle Azur, why not, if it´s possible?
Anytime when I´am here, it is a sudden exotic north african feeling here. At least it smells this way!.
There are a couple of interesting flights on the screen
For example Iran Air bound for LJU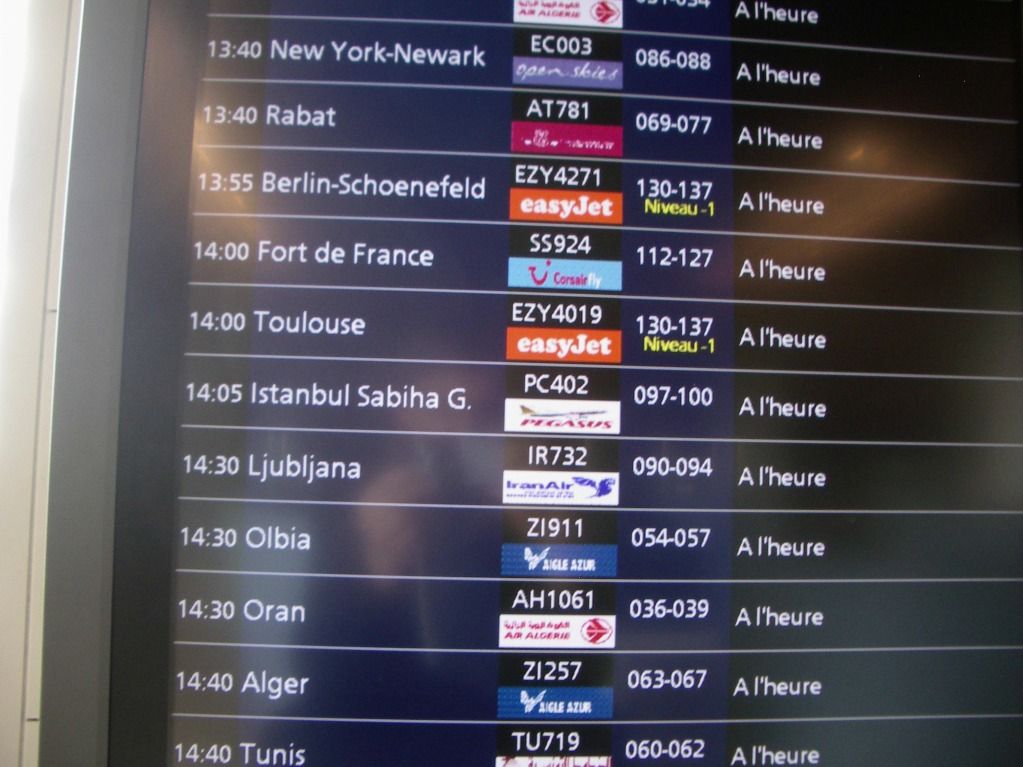 Ok, time flies, I should return to Orly Ouest now.
.................................................................................................