Hello and welcome to my trip report covering four flights I recently had with Turkish Airlines from Bangkok to Nice via Istanbul and return. I report will be in two parts: the first part will cover the outbound flights: BKK-IST-NCE, and the final part will have some destination pictures as well as the return NCE-IST-BKK. I hope you enjoy reading.
Some background information about the trip, well, it all began when my mother saw an advertisement of a 6-day all inclusive package tour to the French Riviera at a rather attractive price, and the dates of this trip were perfect that all of our family members were free to go on the trip. So my parents bought the package for all five of us. Airlines and routing were picked by the travel company, and it turned out to be Turkish Airlines via Istanbul. To me, it was a great choice as this would be my first flight with Turkish Airlines. Also, two of us have a gold status with Star Alliance so we could enjoy the benefit of lounge access pre-departure and during the 3-hour transit in Istanbul. But this means that one person would be left out from accessing the lounge, so my father decided to buy himself Business class to remedy that.
Here is the detail of the first leg,
Date: 7 September 2012
Airline: Turkish Airlines
Flight: TK69
Route: BKK-IST
Class: Economy
Aircraft: Airbus A330-300
Registration: TC-JNL
We arrived at the airport around 2:30 hours before the flight departure time. We headed to Turkish Airlines check-in zone and looked for our tour company representative. We found out that all other people in our group have already checked-in and proceeded through passport check. So we walked to Turkish Airlines check-in desk. But before we got to it, we were approached by two ground staff who asked us if we were flying with Turkish Airlines, and when we said yes, one of the agents put a Turkish Airlines sticker on my polo shirt while the other one put a carry-on tag to my hand luggage. I suppose the reason for putting TK logo sticker was to easily identify its passengers for when TK staff had to go and look for them when the flight was closing.
Check-in area was quite empty at the time we got there, so we went straight to an empty counter. Then we got our boarding passes directly to Nice and our baggage was checked through to Nice as well. We were told that we could use any of Thai Airways lounges at Bangkok Airport. I asked the check-in agent about the load on the flight to Istanbul, and after a few seconds checking in the system, he replied that around 10 seats were unsold in Economy.
Then we were off to Passport check, there was quite a long line for the Thai and Foreign (manual) passport check counters. But as a Thai passport holder, we could use the automatic machine which had a much smaller waiting line, so we went to use the machine was done within minutes, even though I'd prefer to go to the counter to get a stamp on my passport. Security check was done straight after passport control, and it was empty, so we got through within minutes.
Seeing that our boarding gate was in concourse G, we headed to Thai Airways lounge in concourse E which I believed was the closest TG lounge to our gate.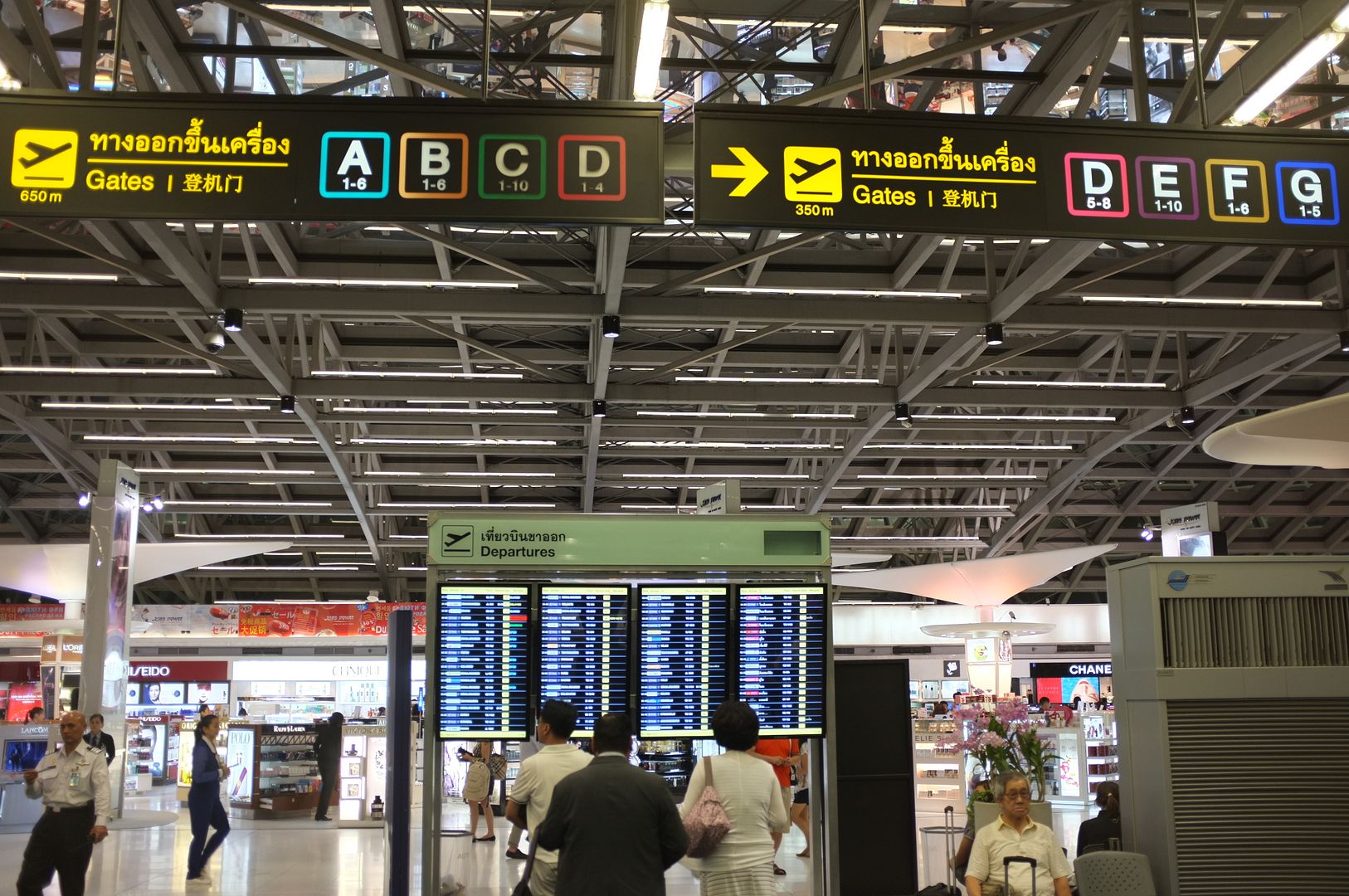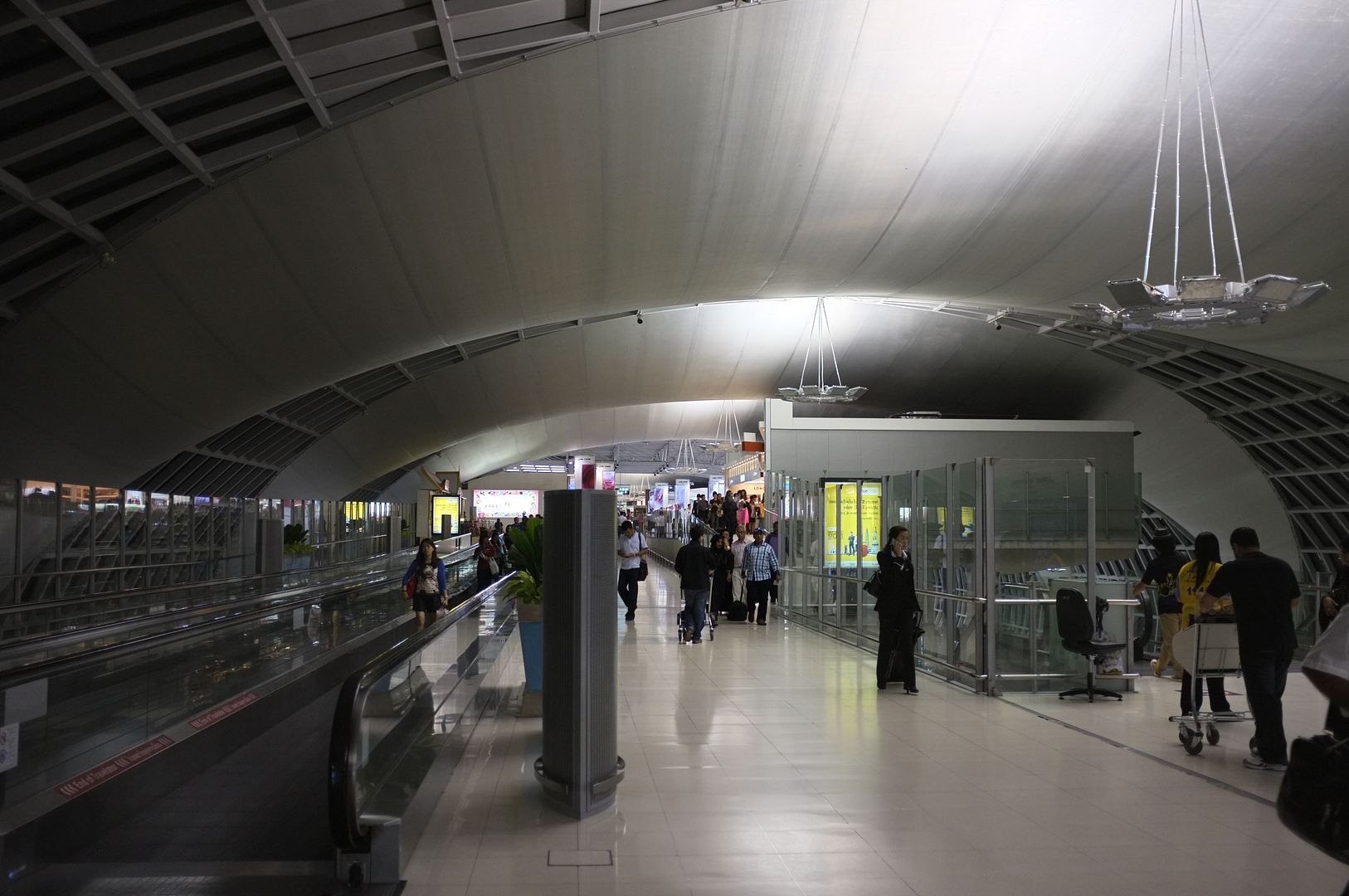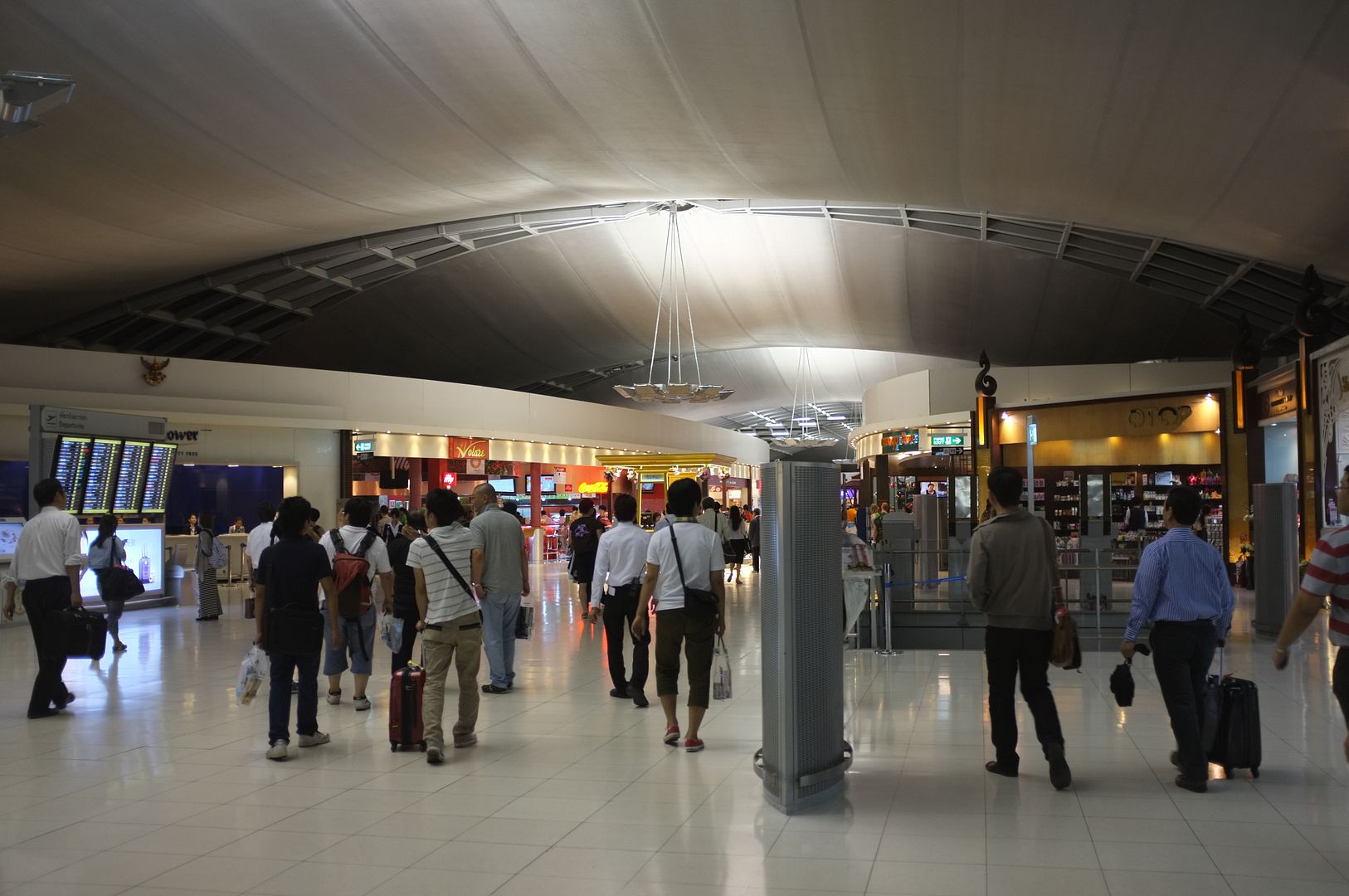 The lounge was quite busy due to a number of European-bound flights departing around mid-night time. Nonetheless we managed to find five seats together in the lounge.
Some pictures of the lounge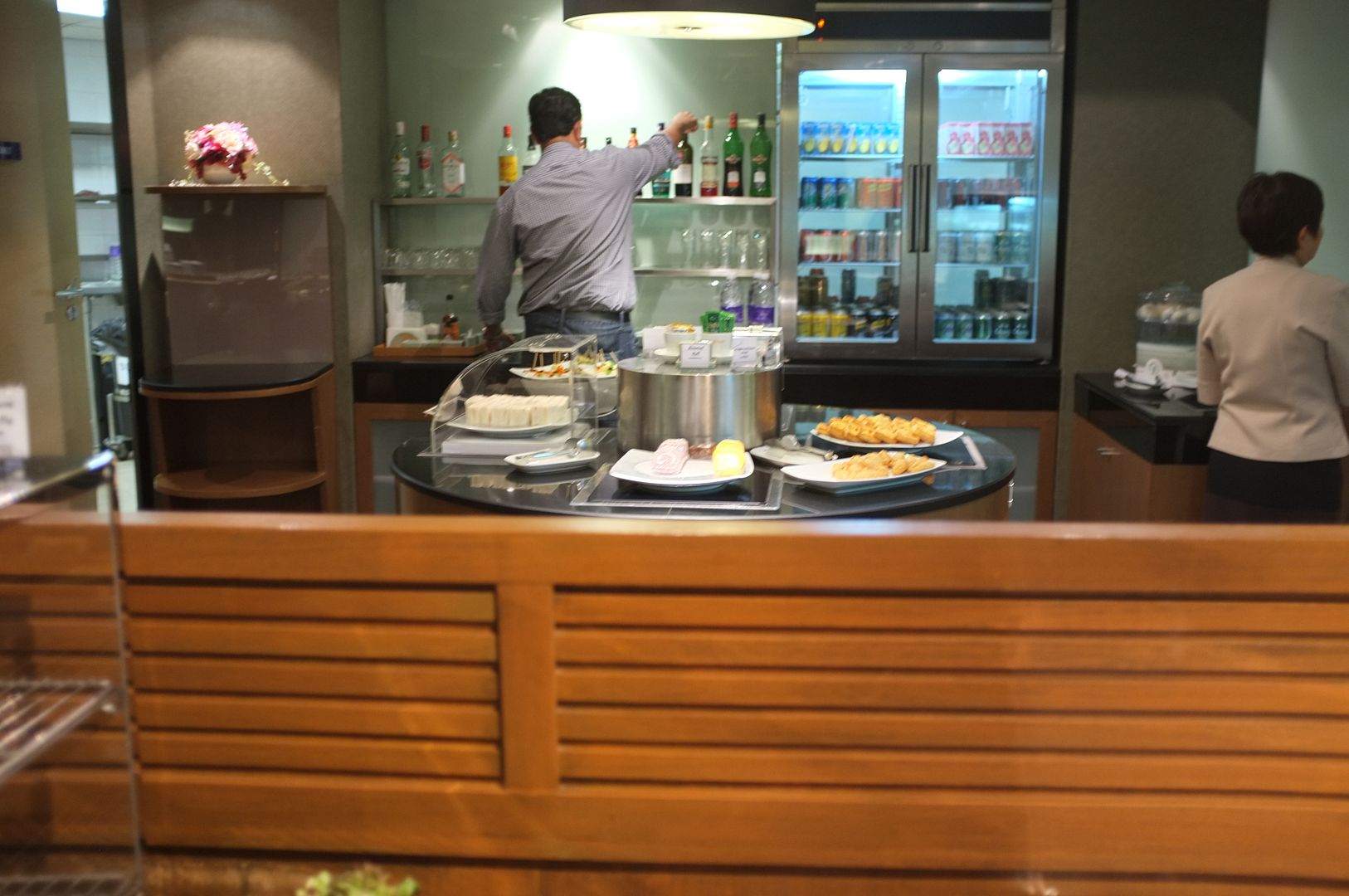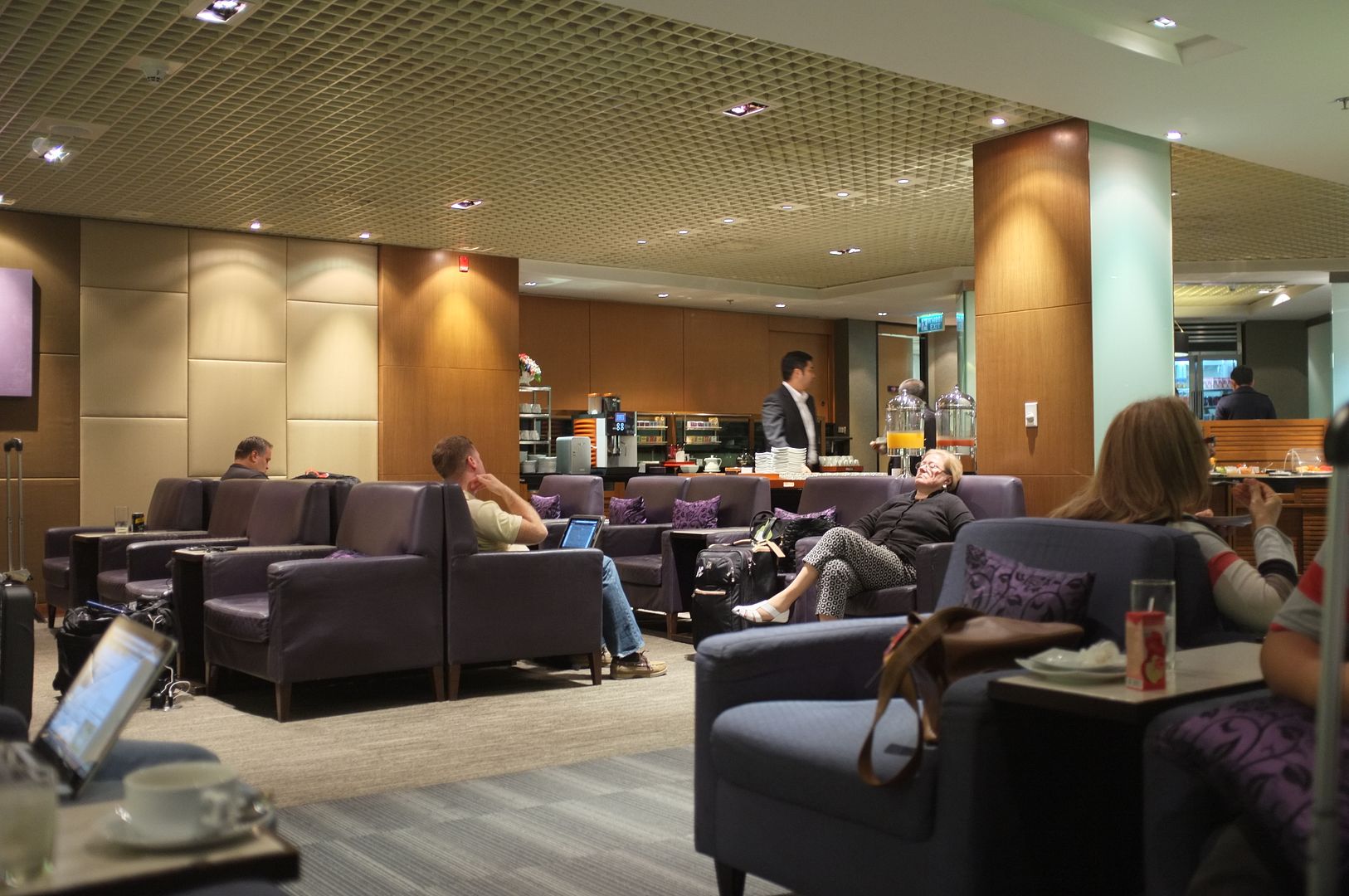 Snacks I had while waiting for the flight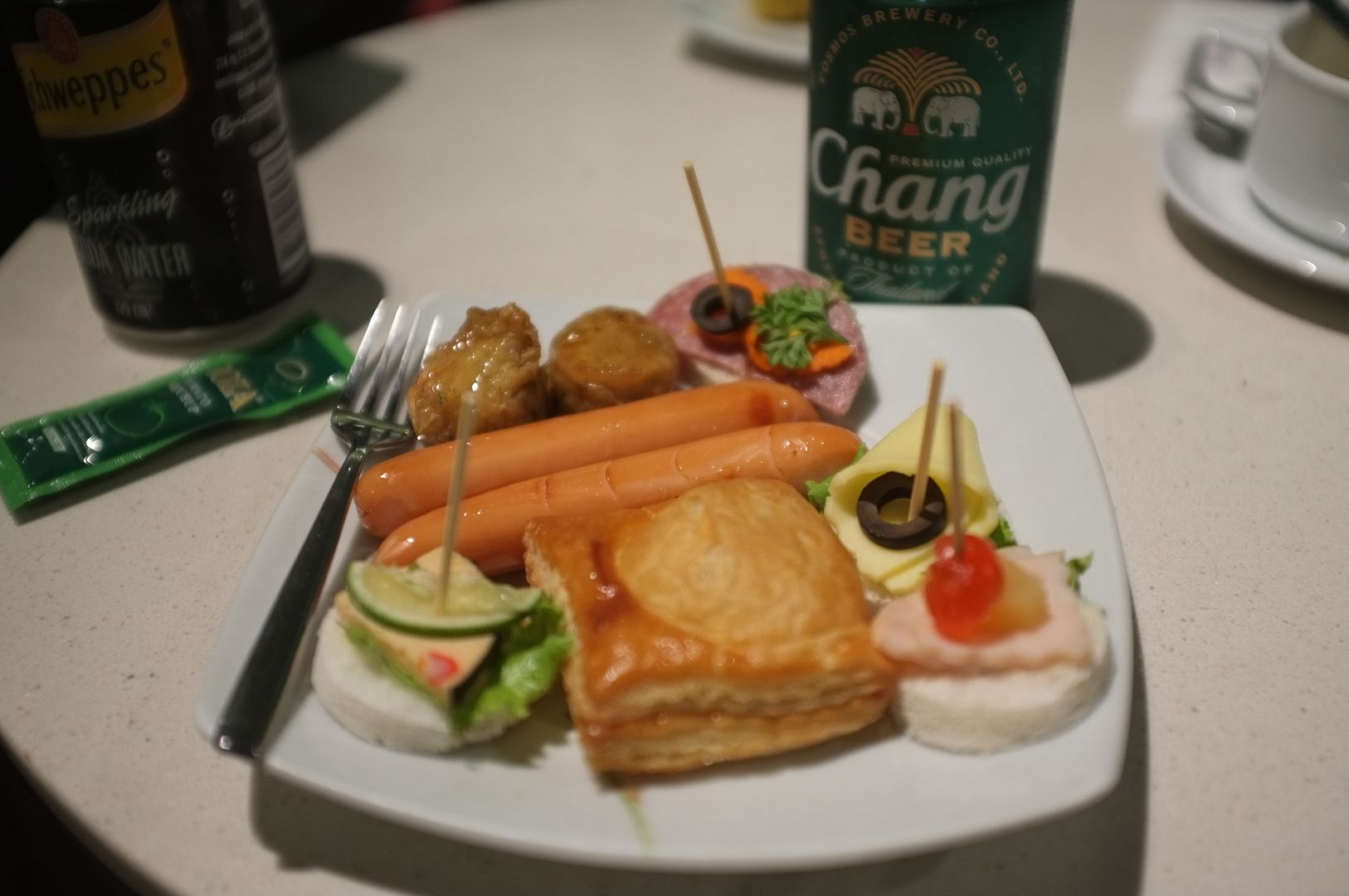 At the boarding time, we left the lounge for the boarding gate in concourse G, passing the dayrooms (transit hotel)
Due to the design of the terminal, it was impossible to see anything outside the building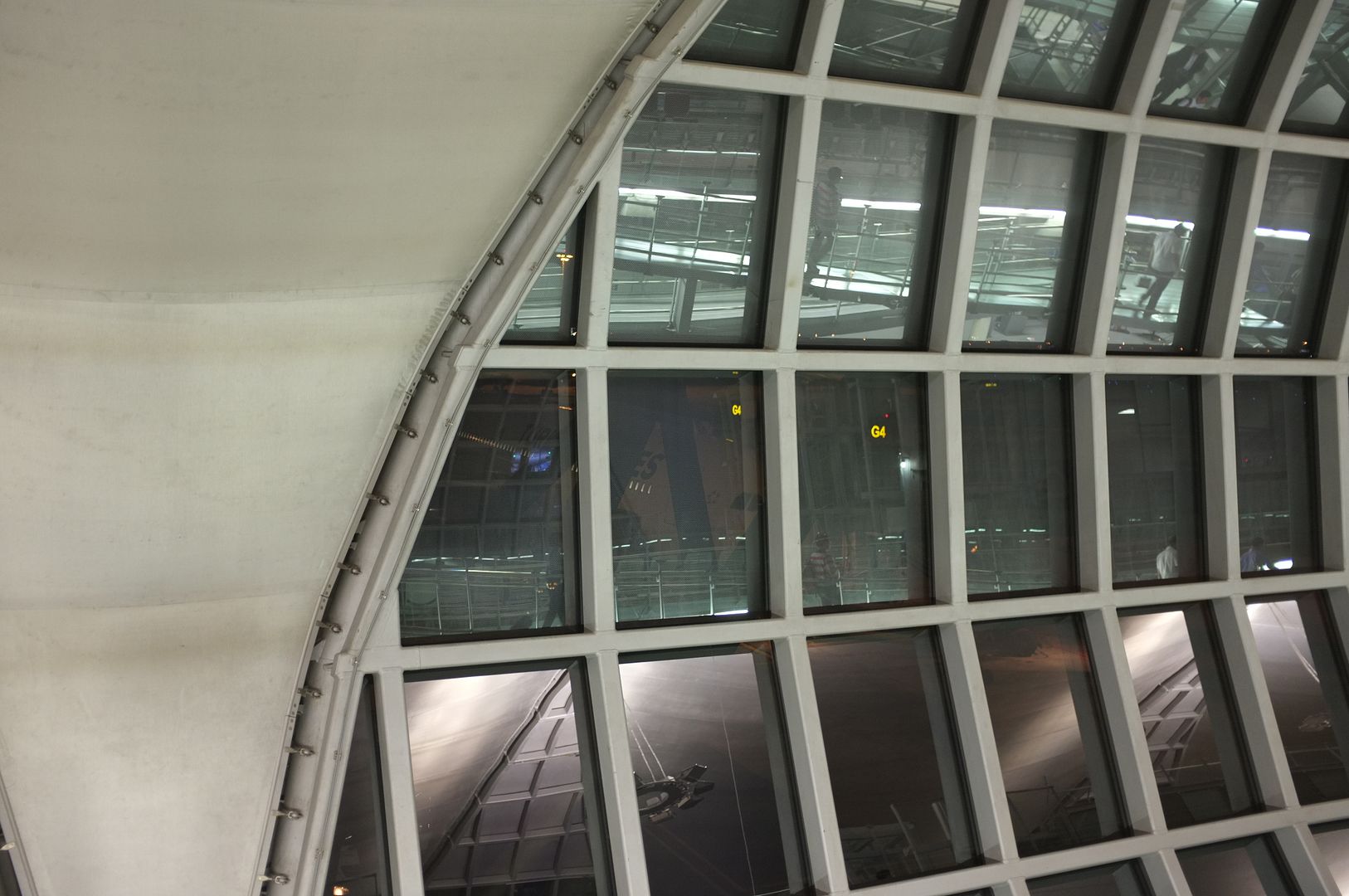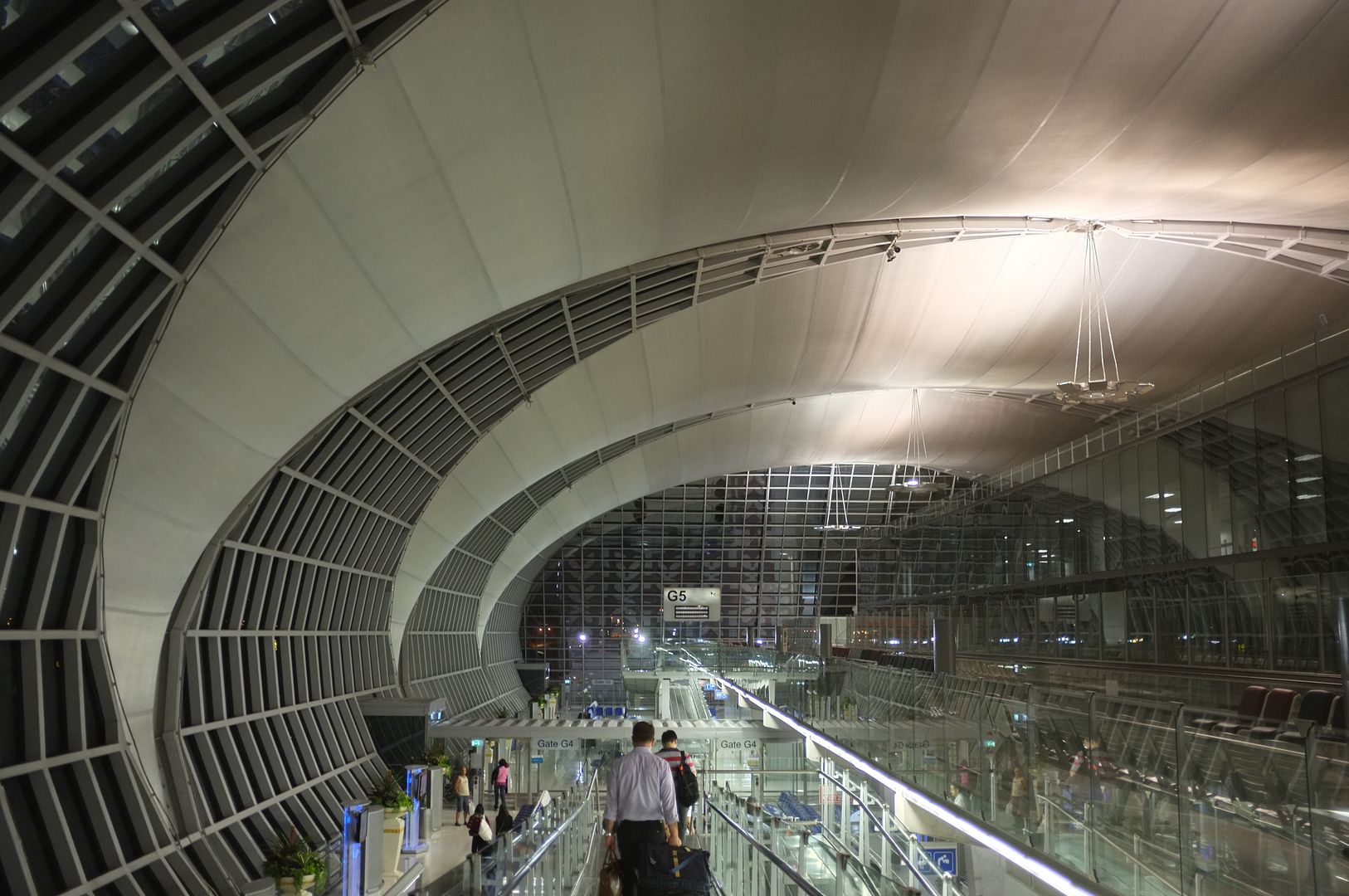 When we got to the gate, our flight was already on final call and most of the passengers have already boarded the plane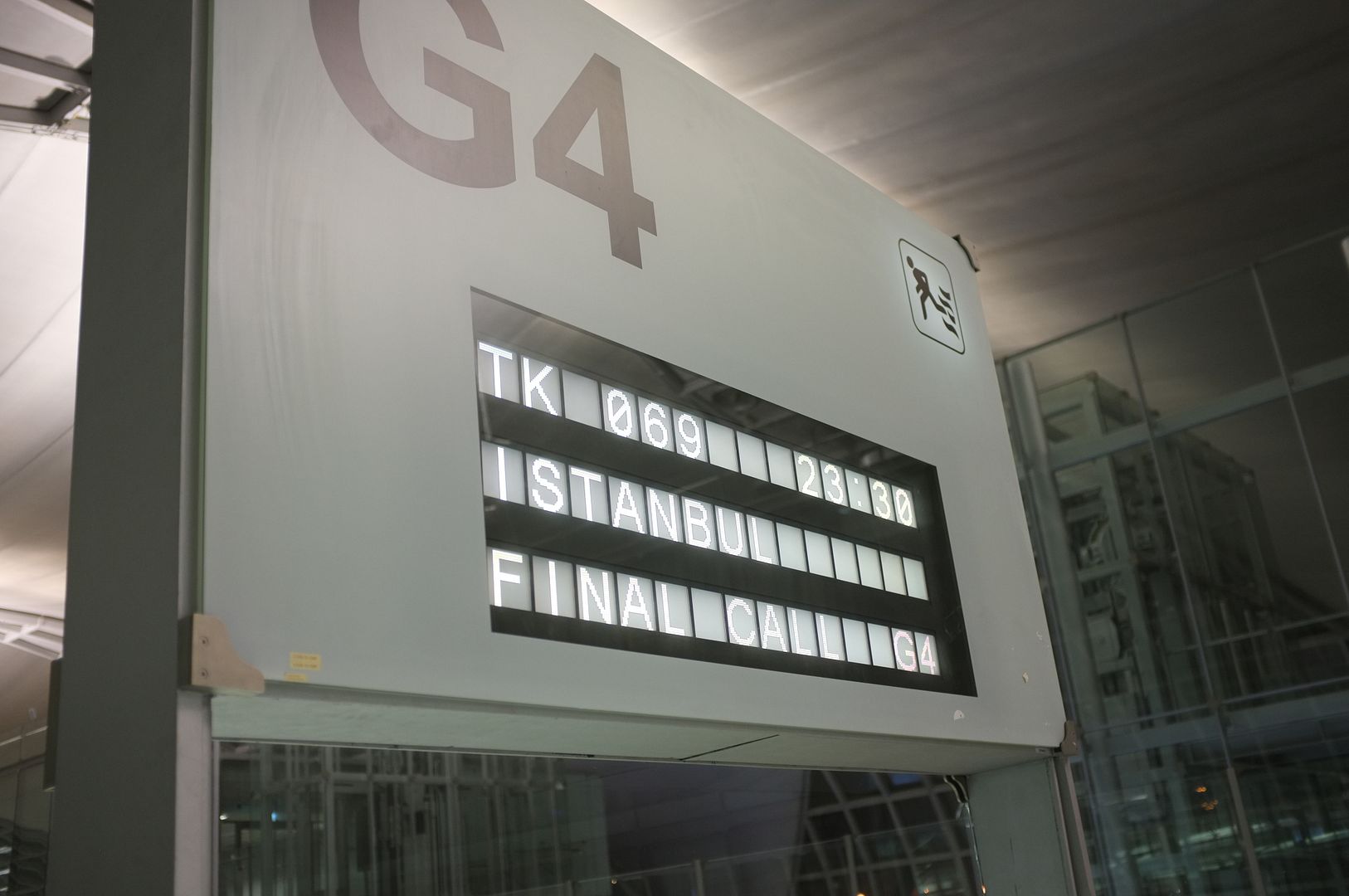 At the aircraft door, the chef-on-board welcomed passengers, and another crew member distributed an amenity bag. As I stepped inside the cabin, the cabin temperature was uncomfortably hot. At our seats, we found a pillow, a blanket and a pair of headphones.
The cabin
Amenity bag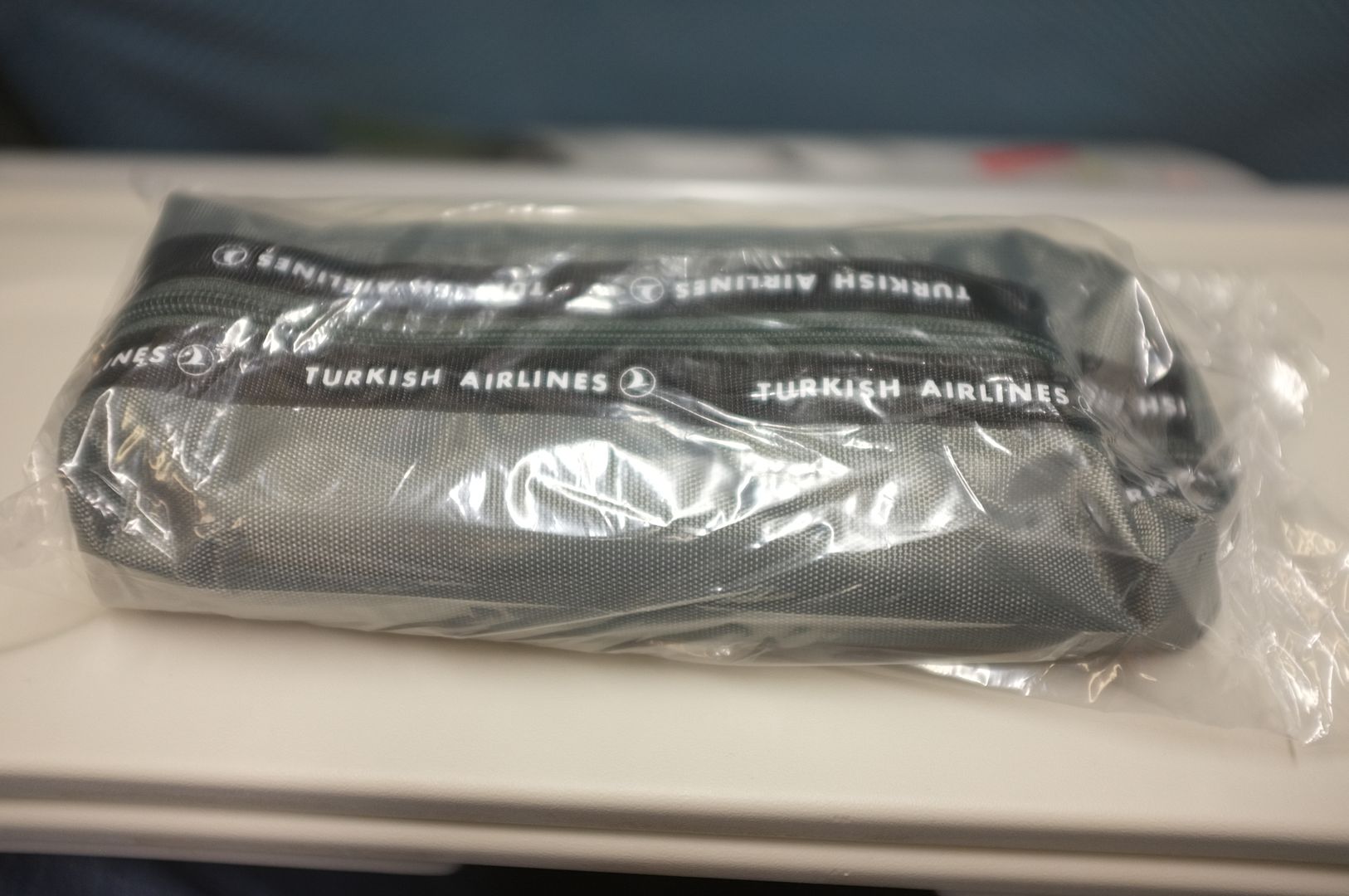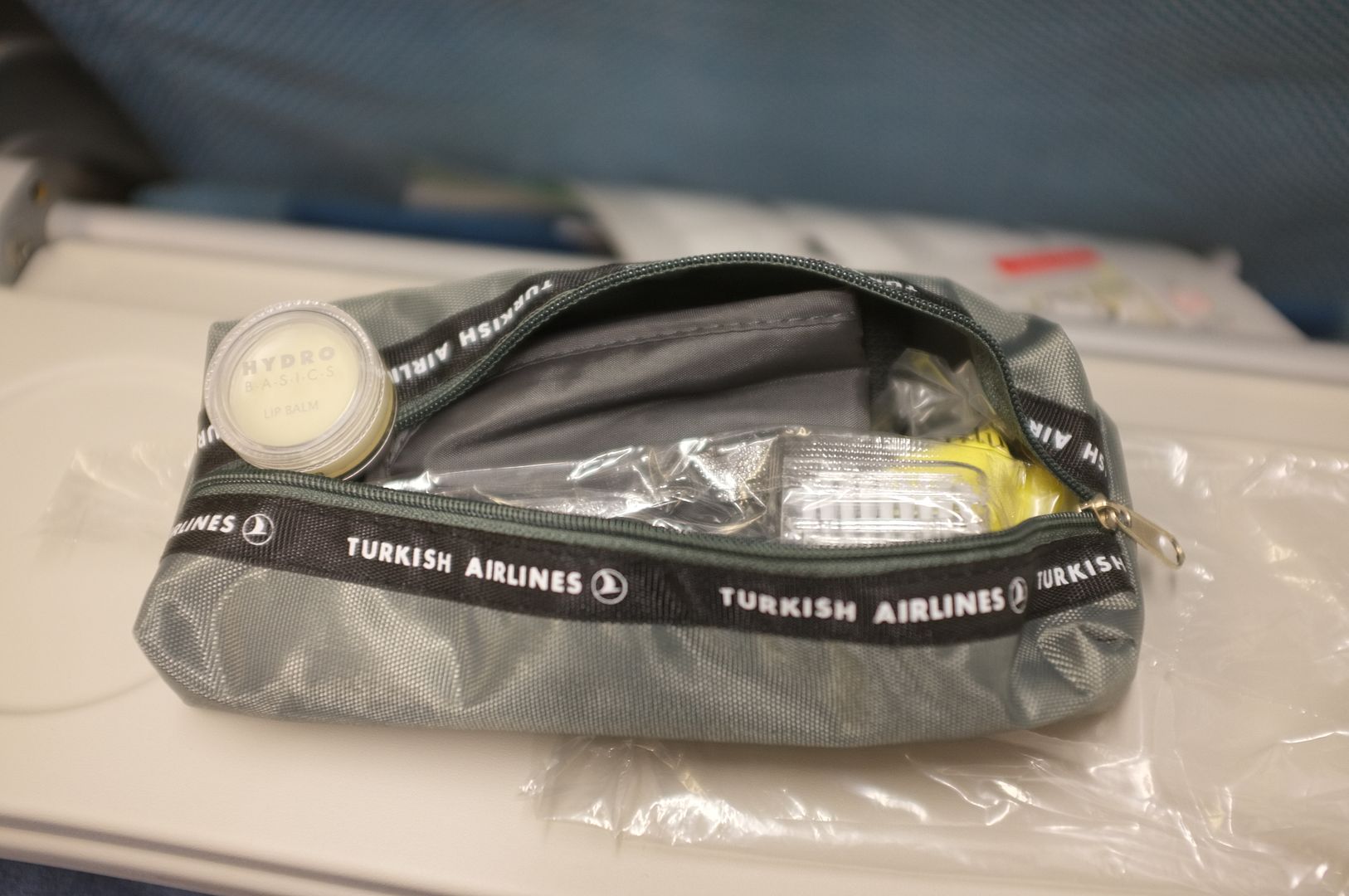 In-flight entertainment system was already switched on: the system has over 100 films and 100 music albums. For the night flight, I didn't make much use of it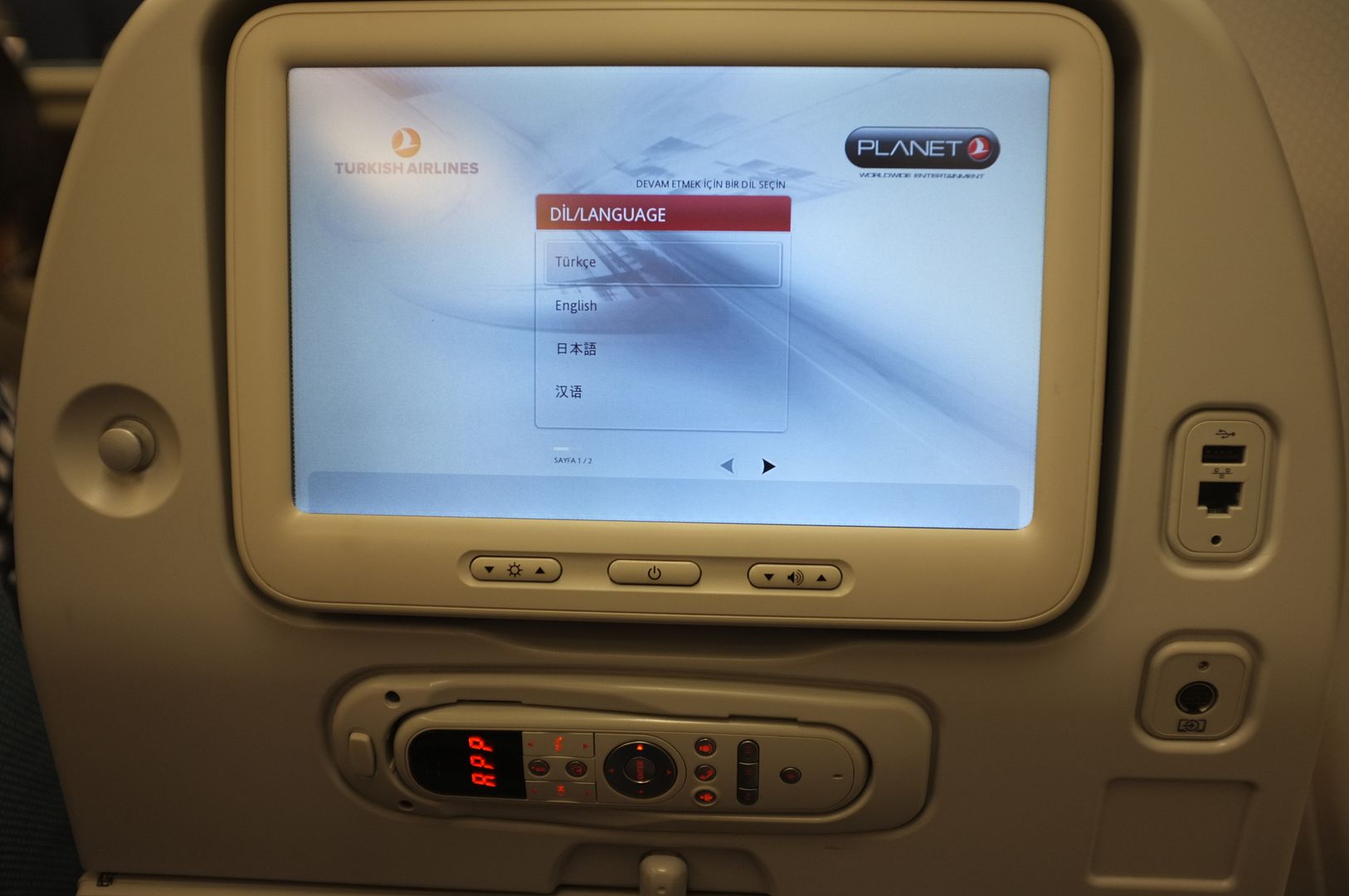 But I did switch to the forward camera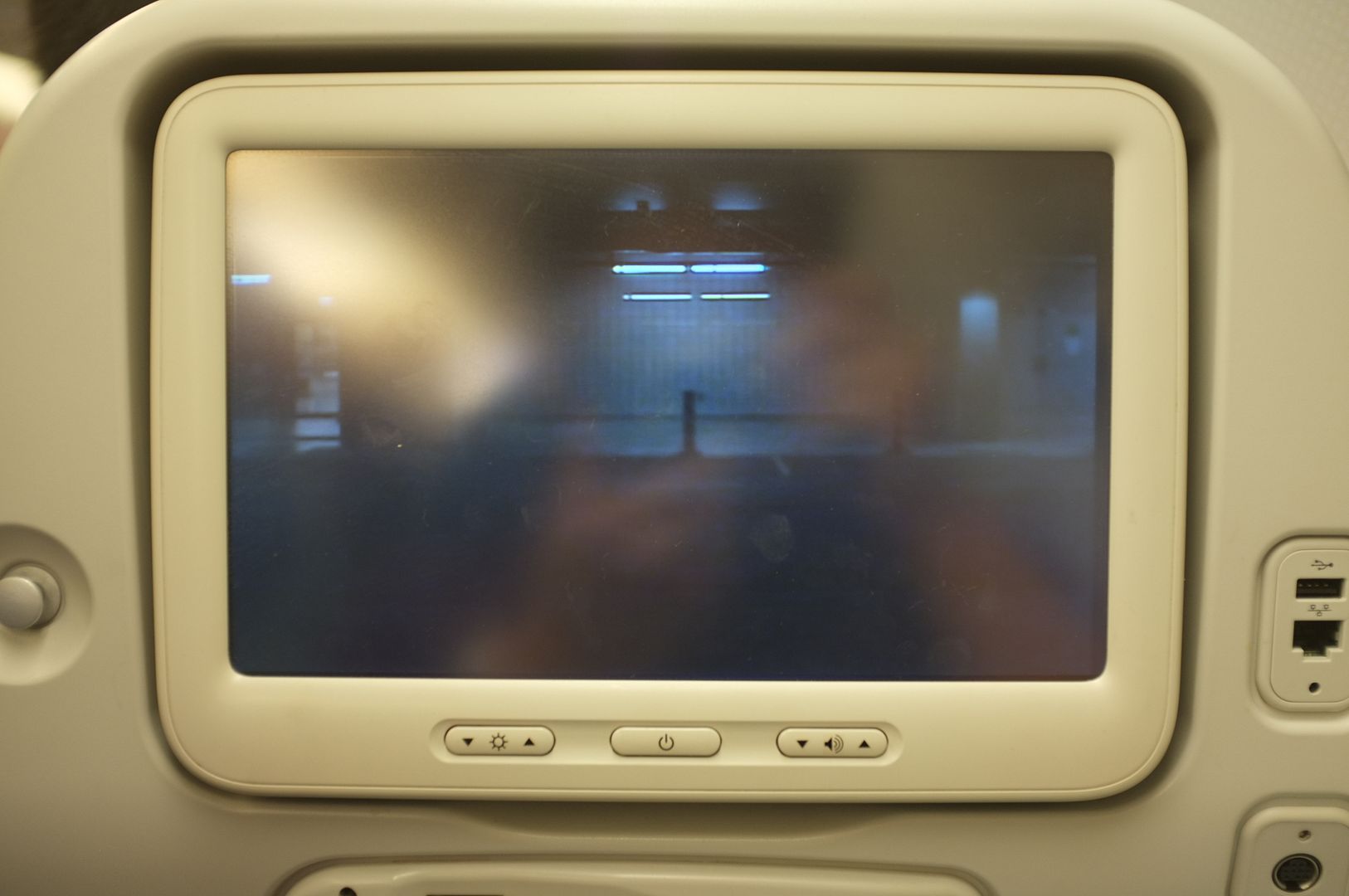 Push back was more or less on time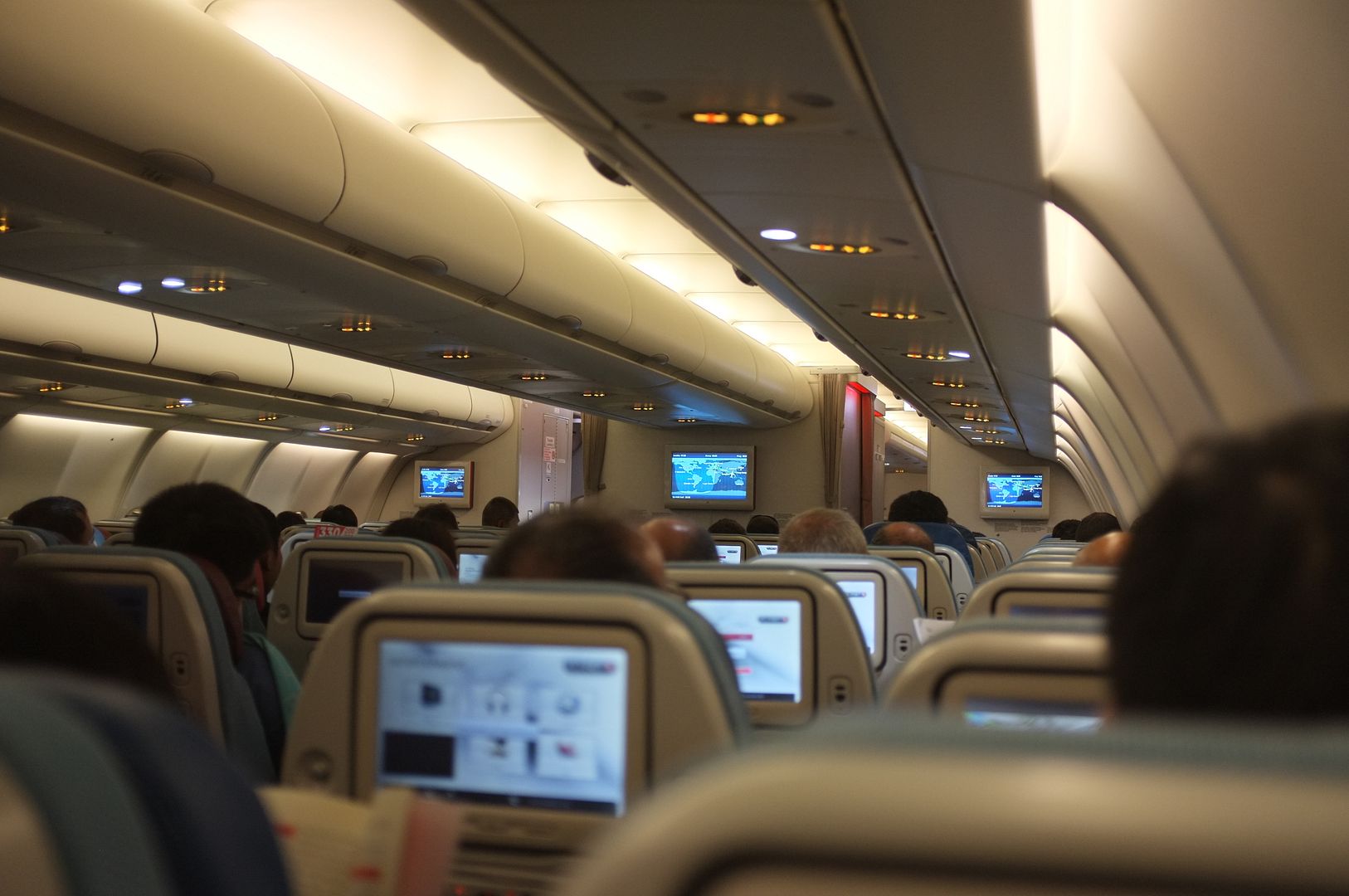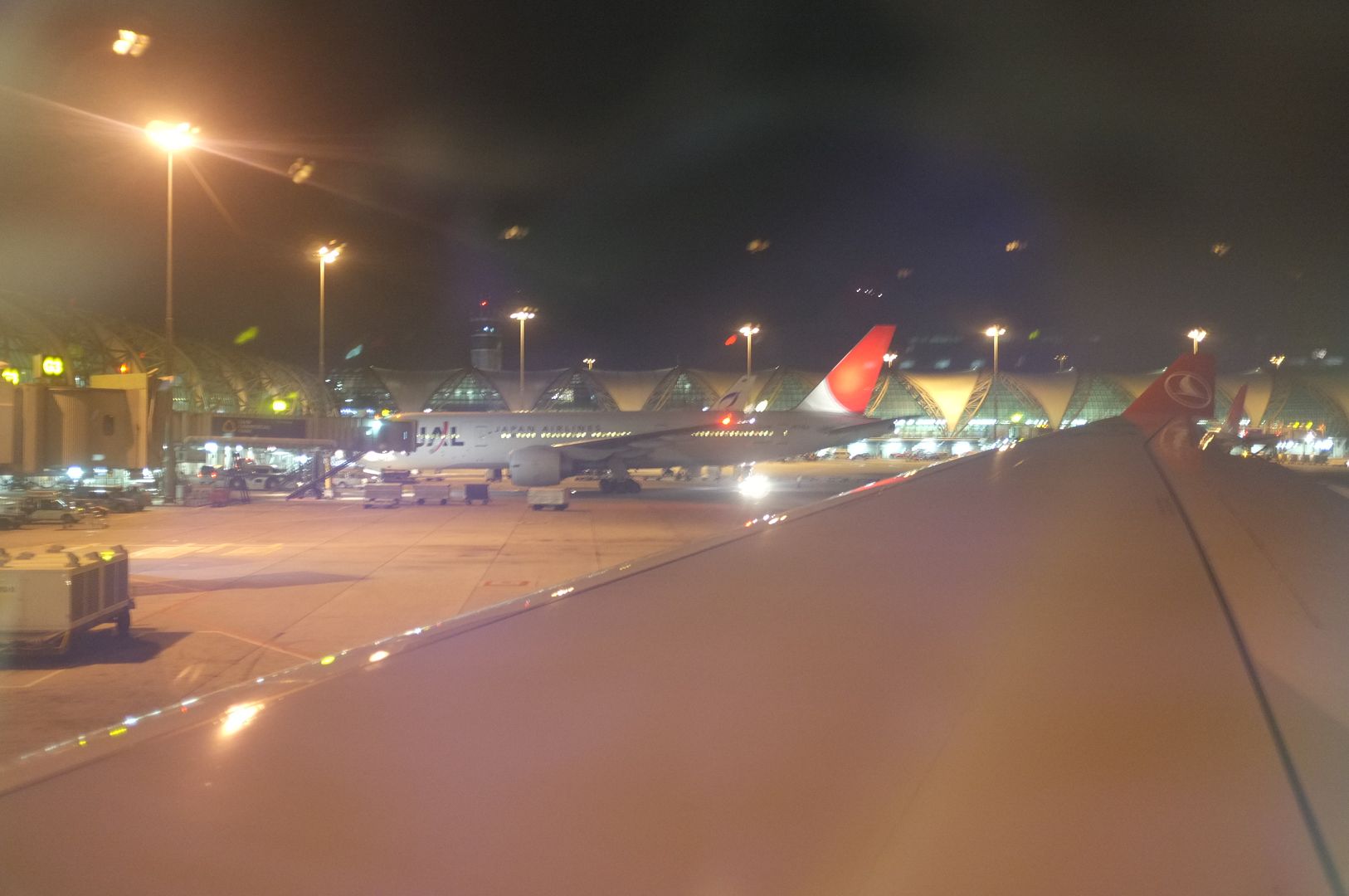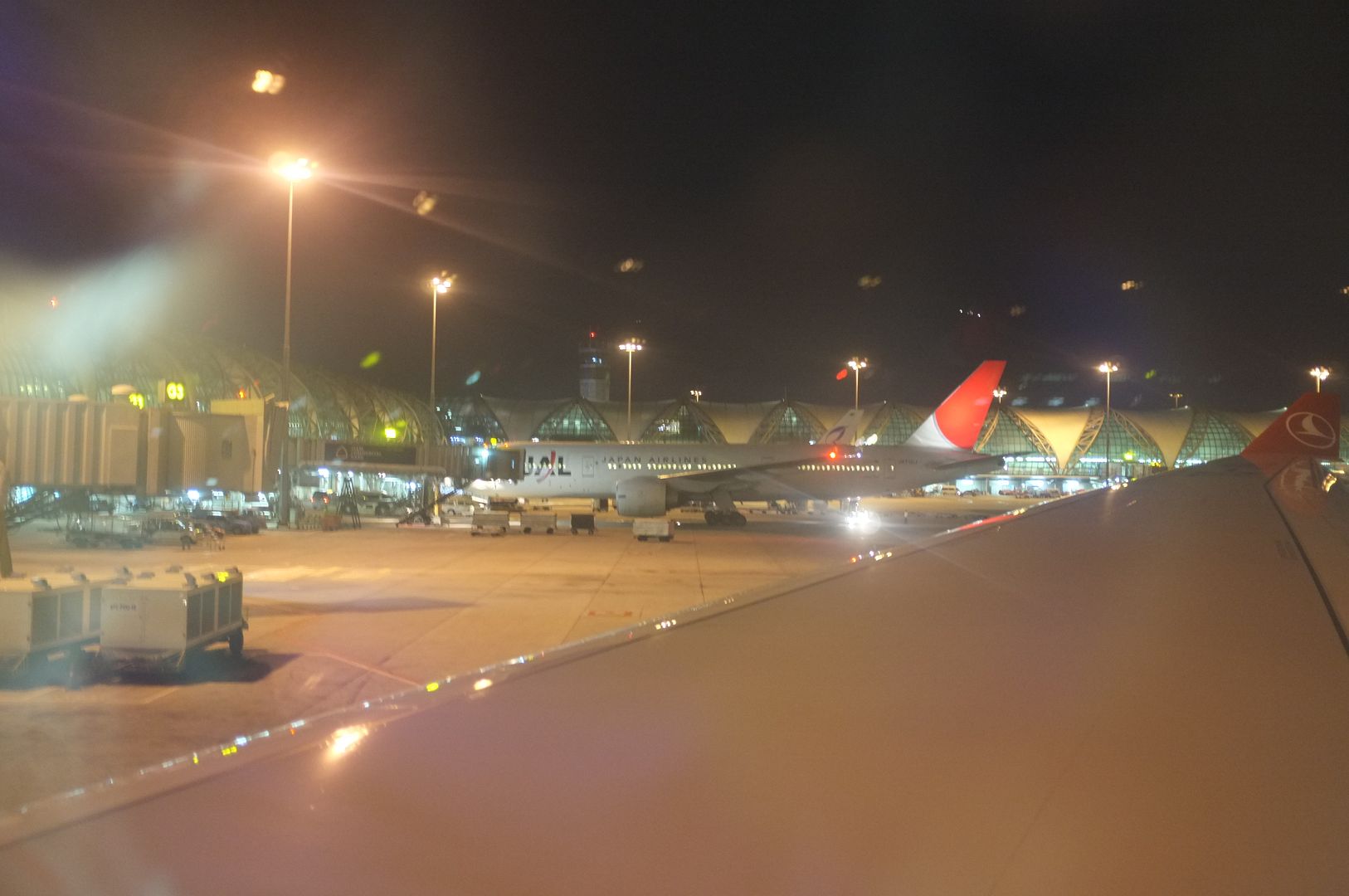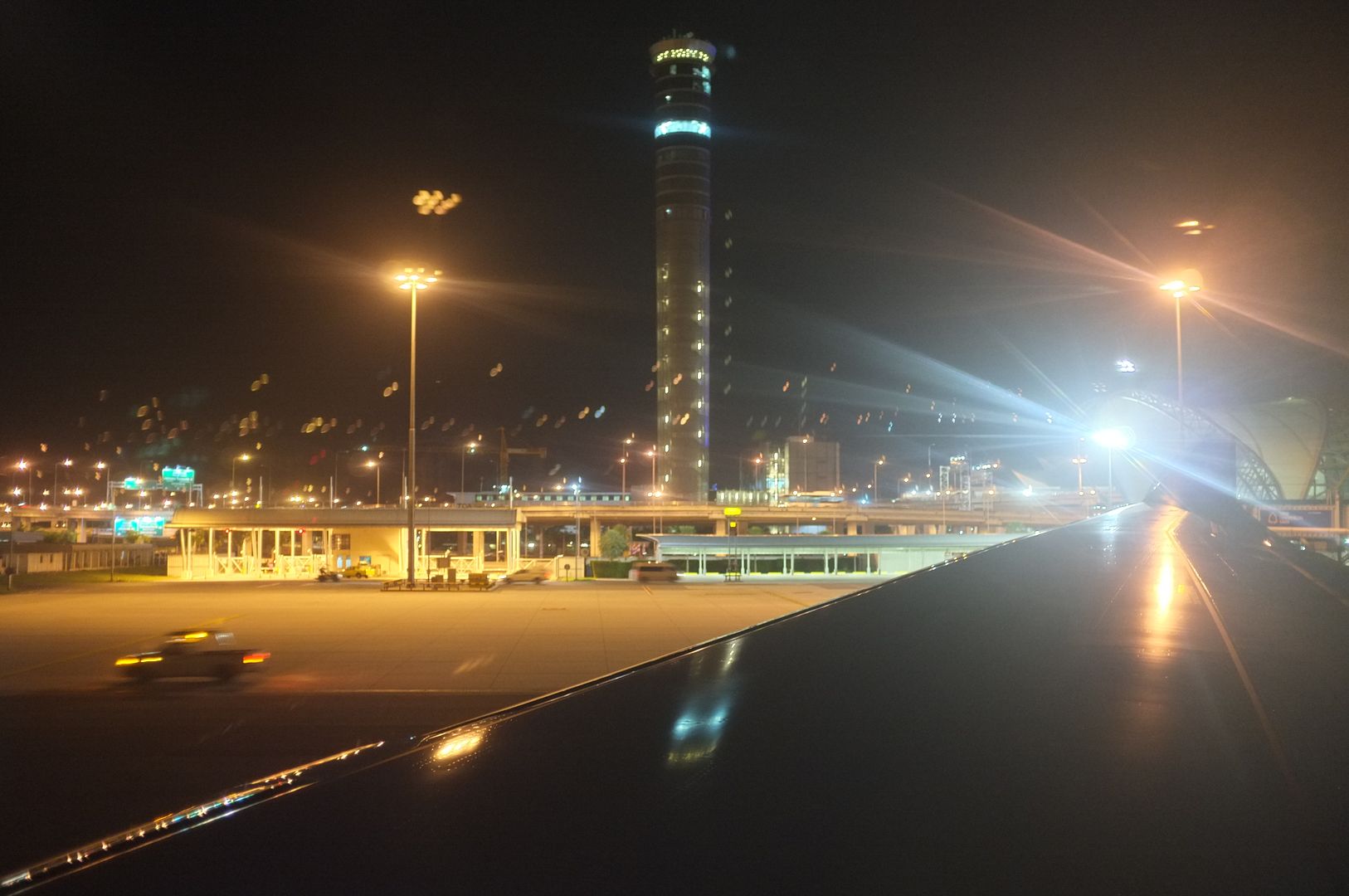 Took off!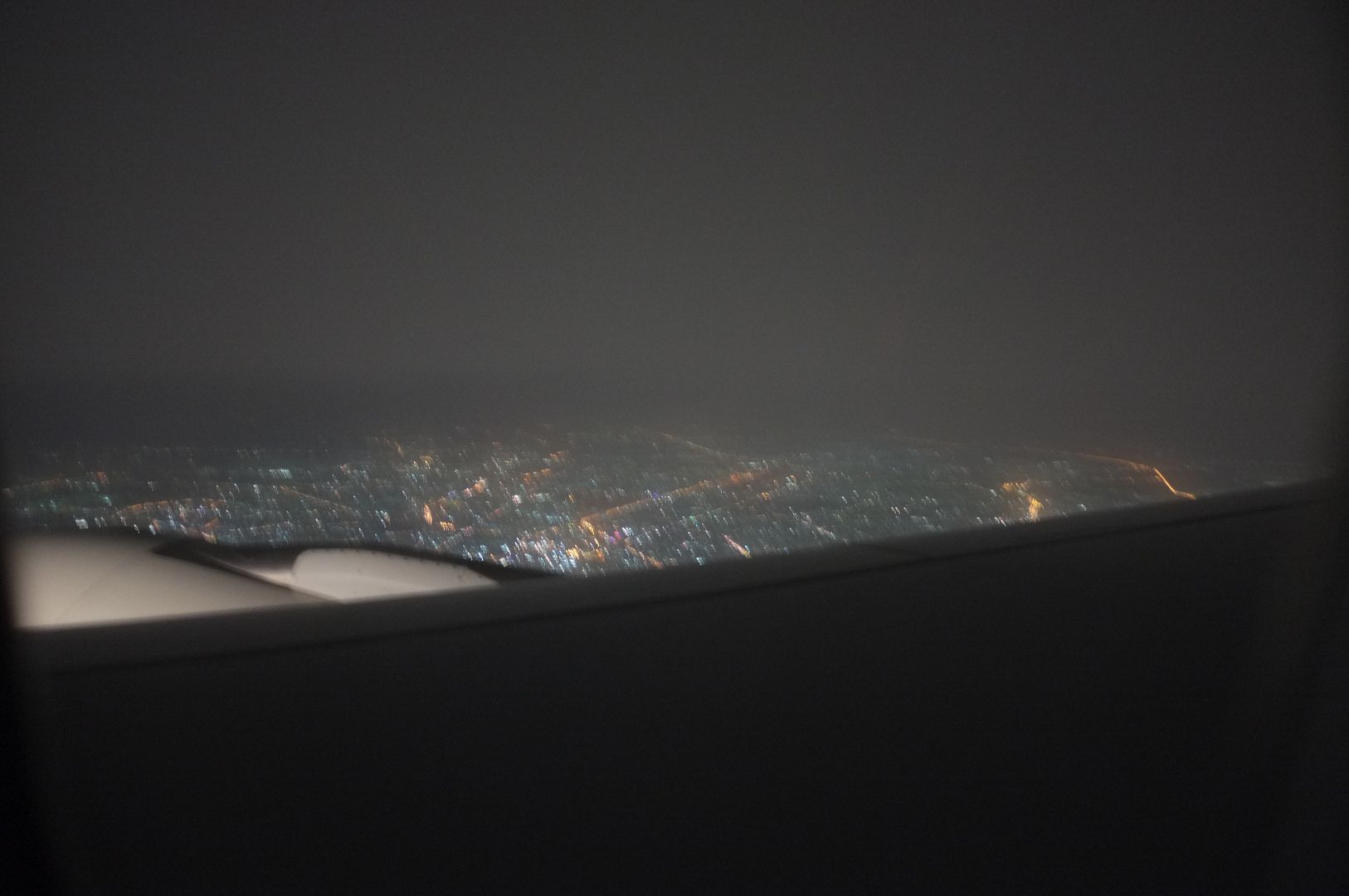 Leg room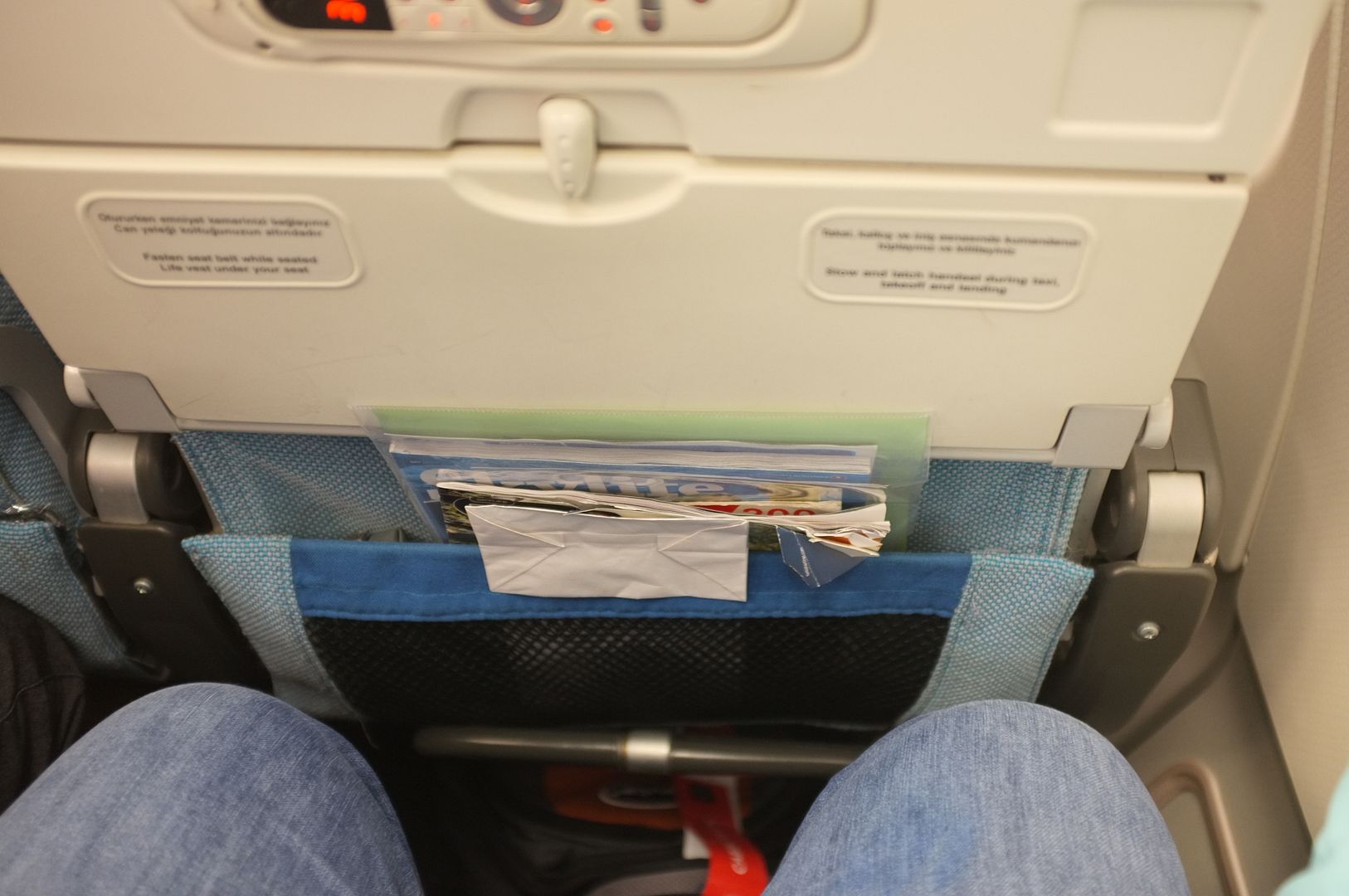 Remote control and headphones
When the seatbelt sign was switched off, the crew came over and distributed menu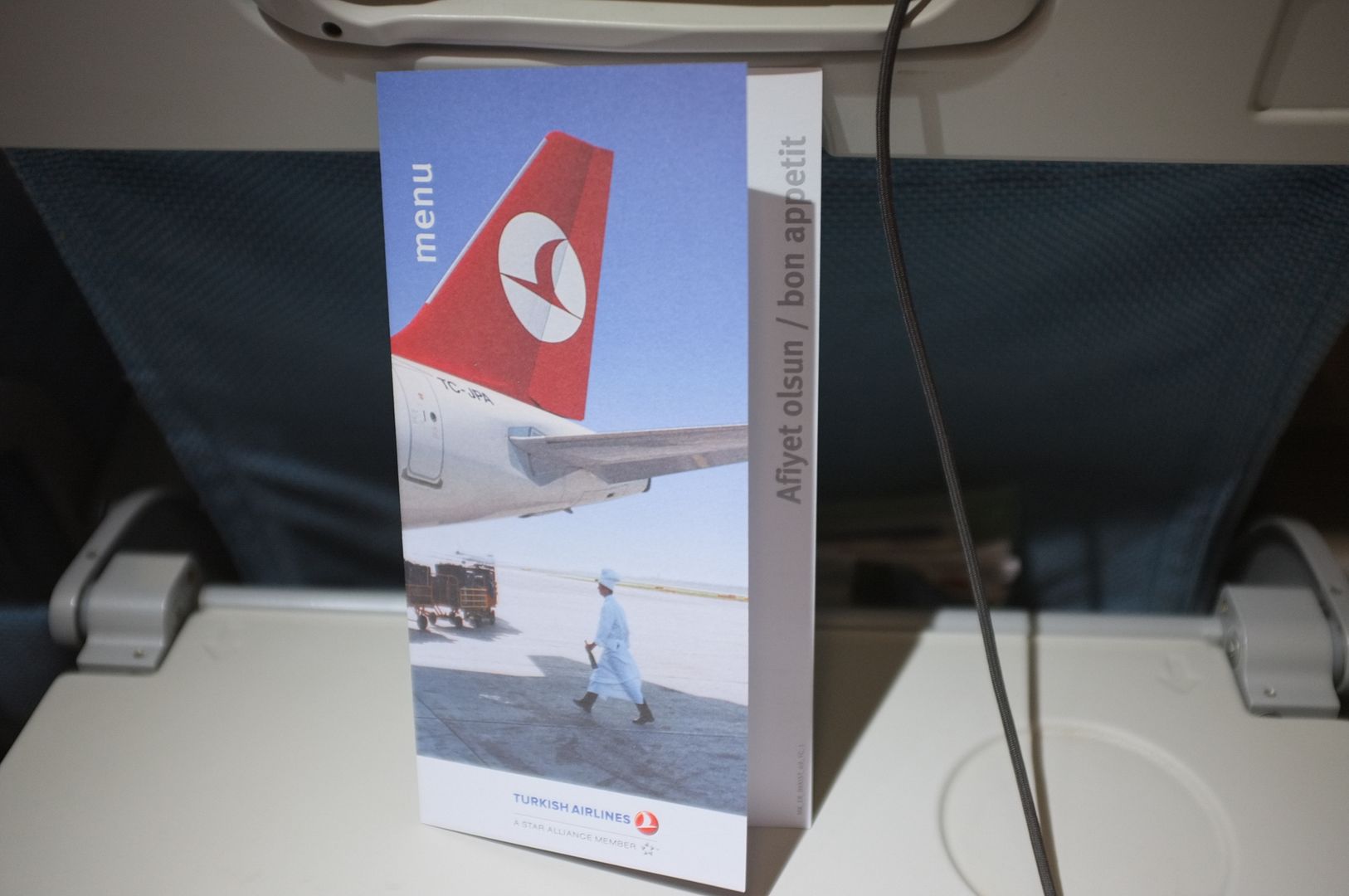 The two options for main course were grilled chicken breast or 'plakapong' with green curry. Interesting to see the word 'plakapong' written in the menu, this is a Thai word for sea bass.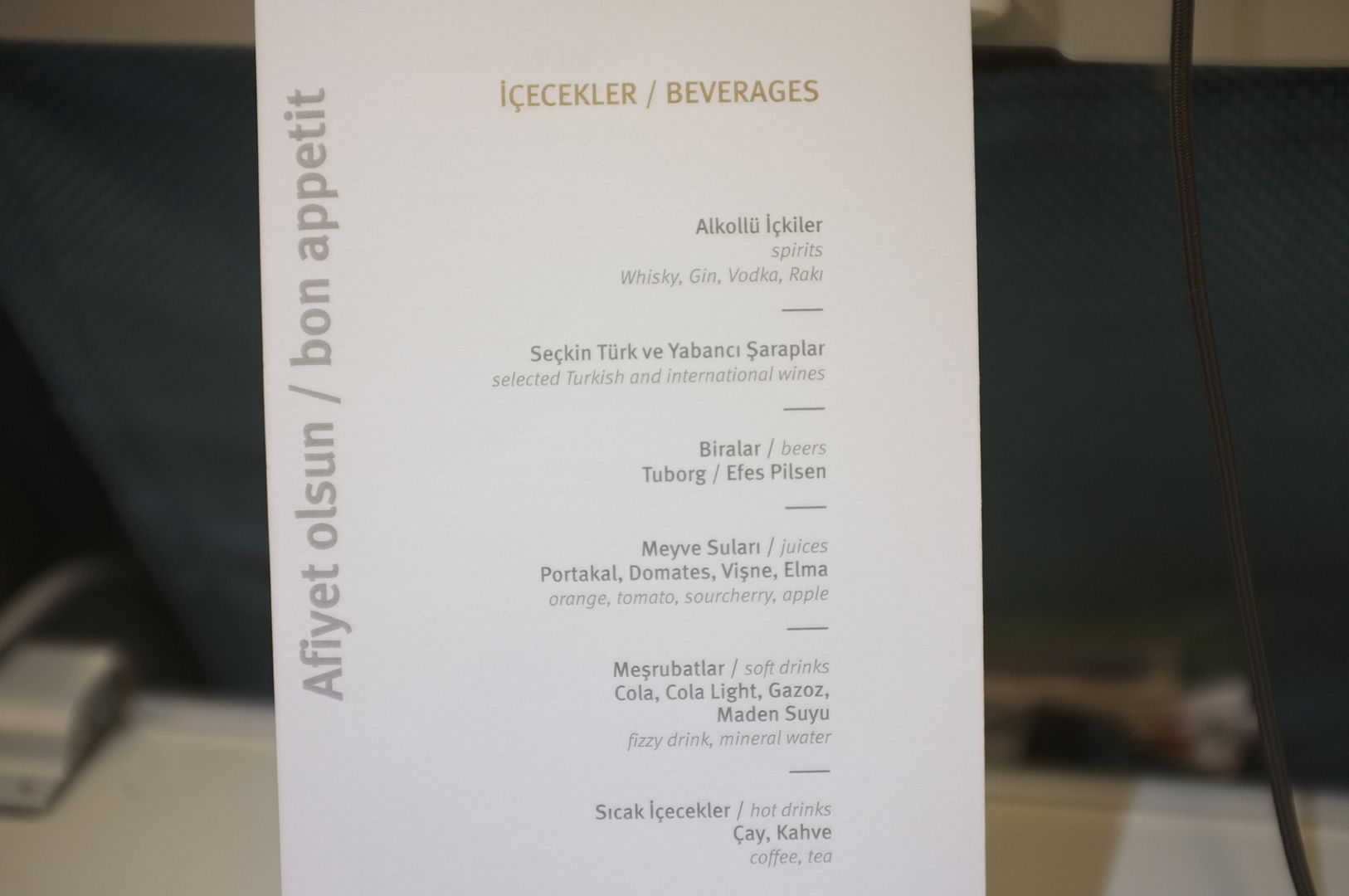 Map of the flight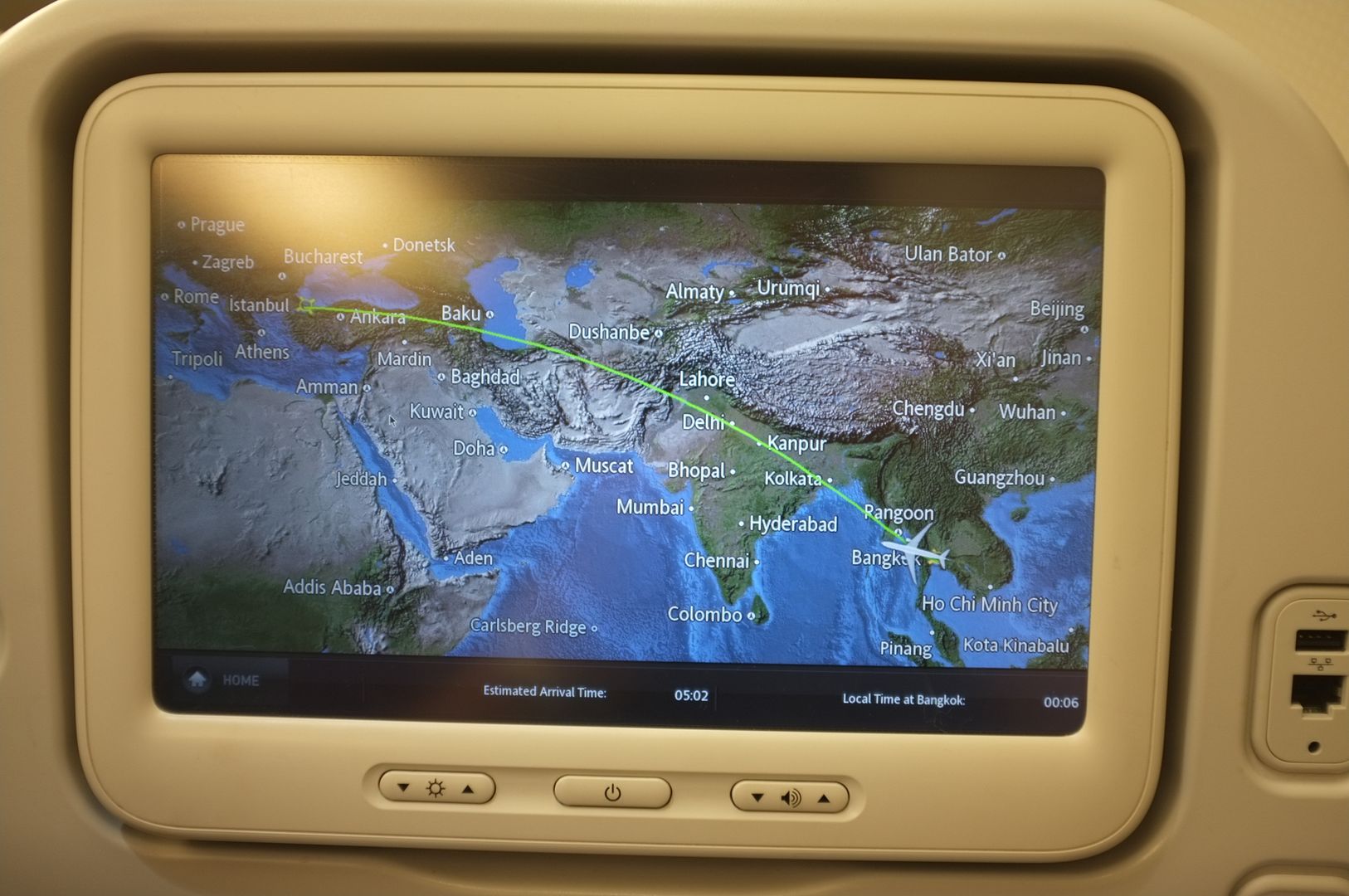 Very slowly, the crew served dinner together with drinks. I chose the fish with white wine.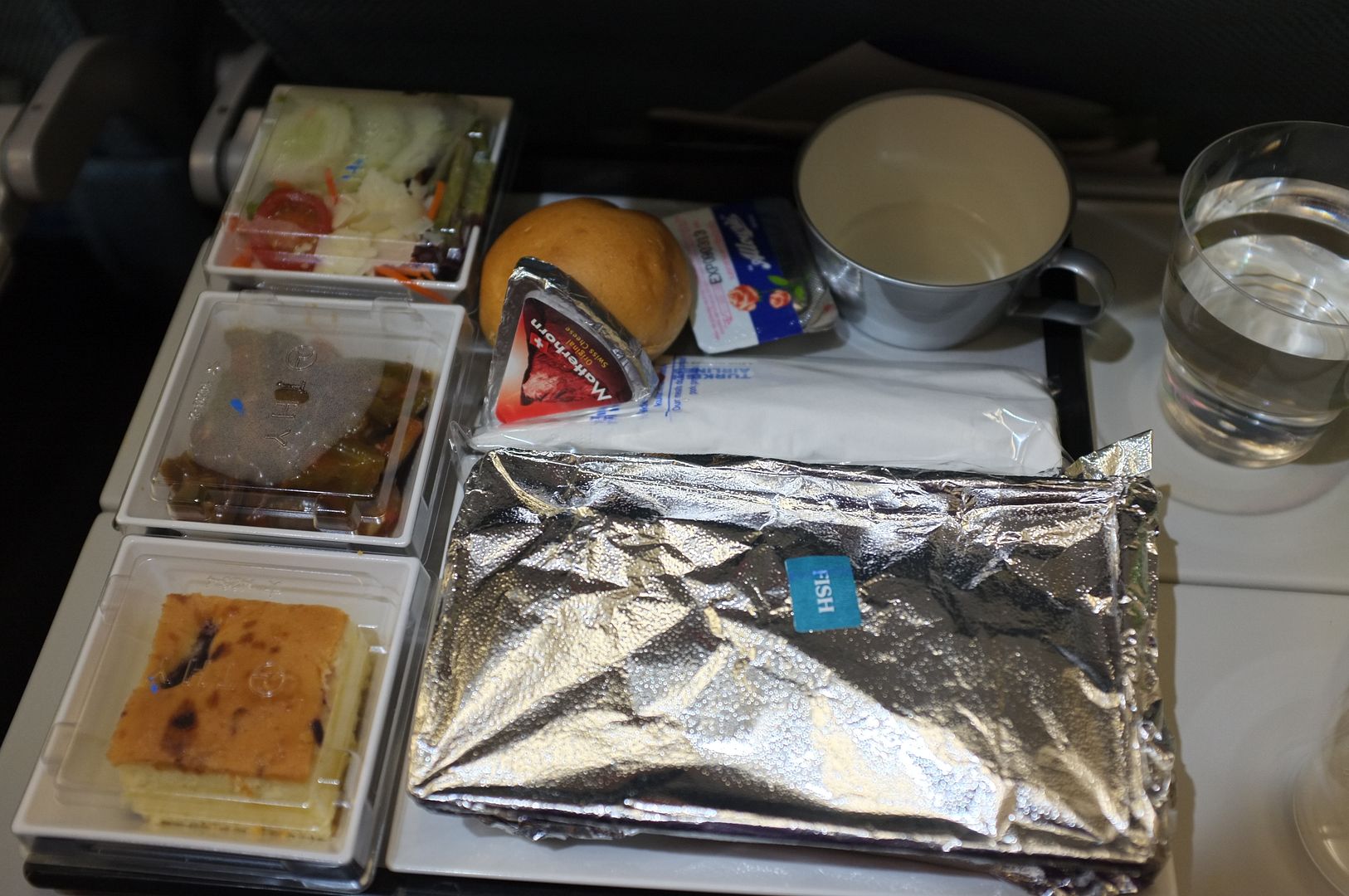 Gardenfresh seasonal salad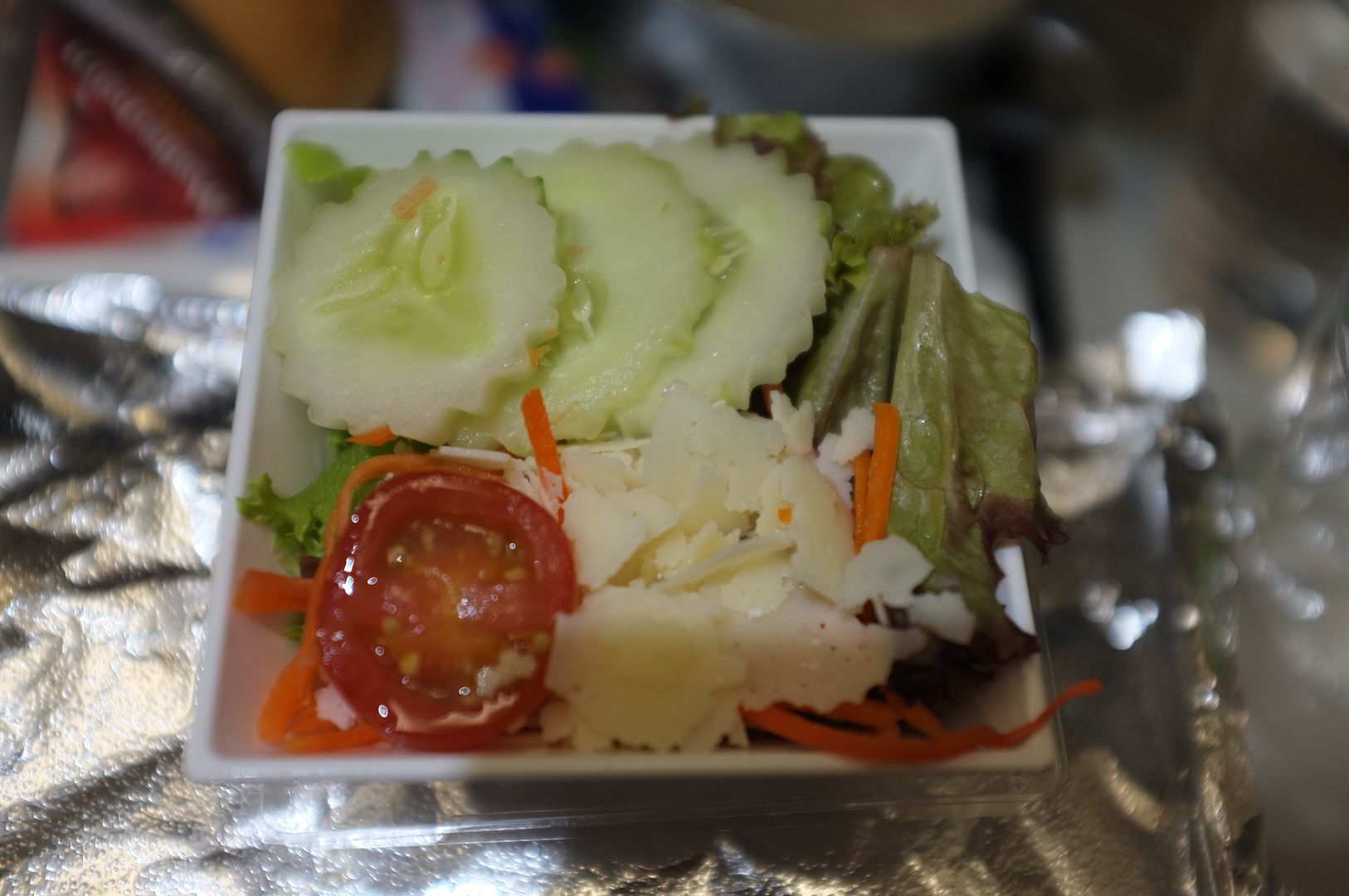 Fried eggplants and peppers with tomato sauce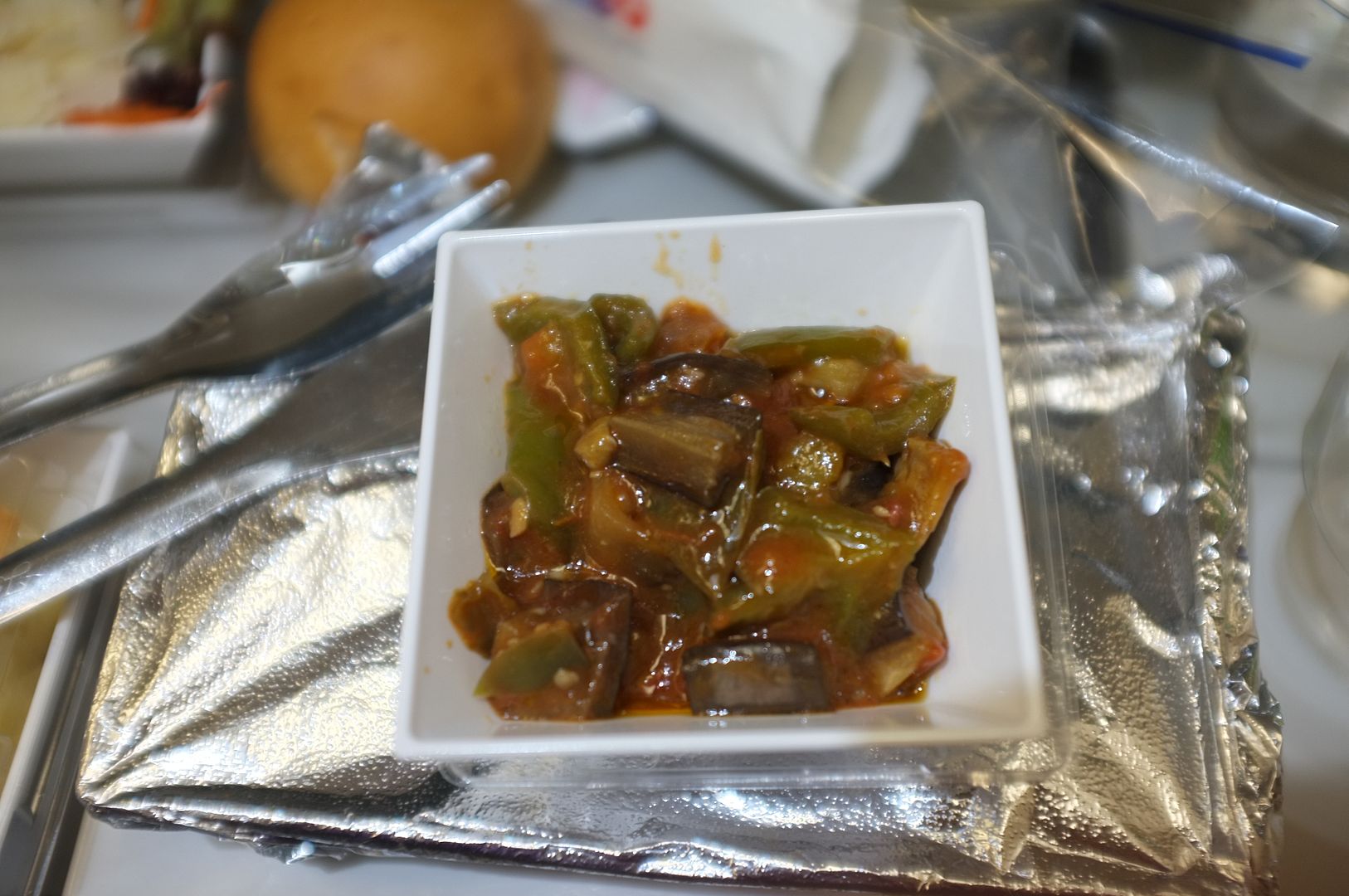 Fish with green curry, vegetable and rice
Sour cherry cake
By the time the crew came to collect the dinner tray, we were almost over India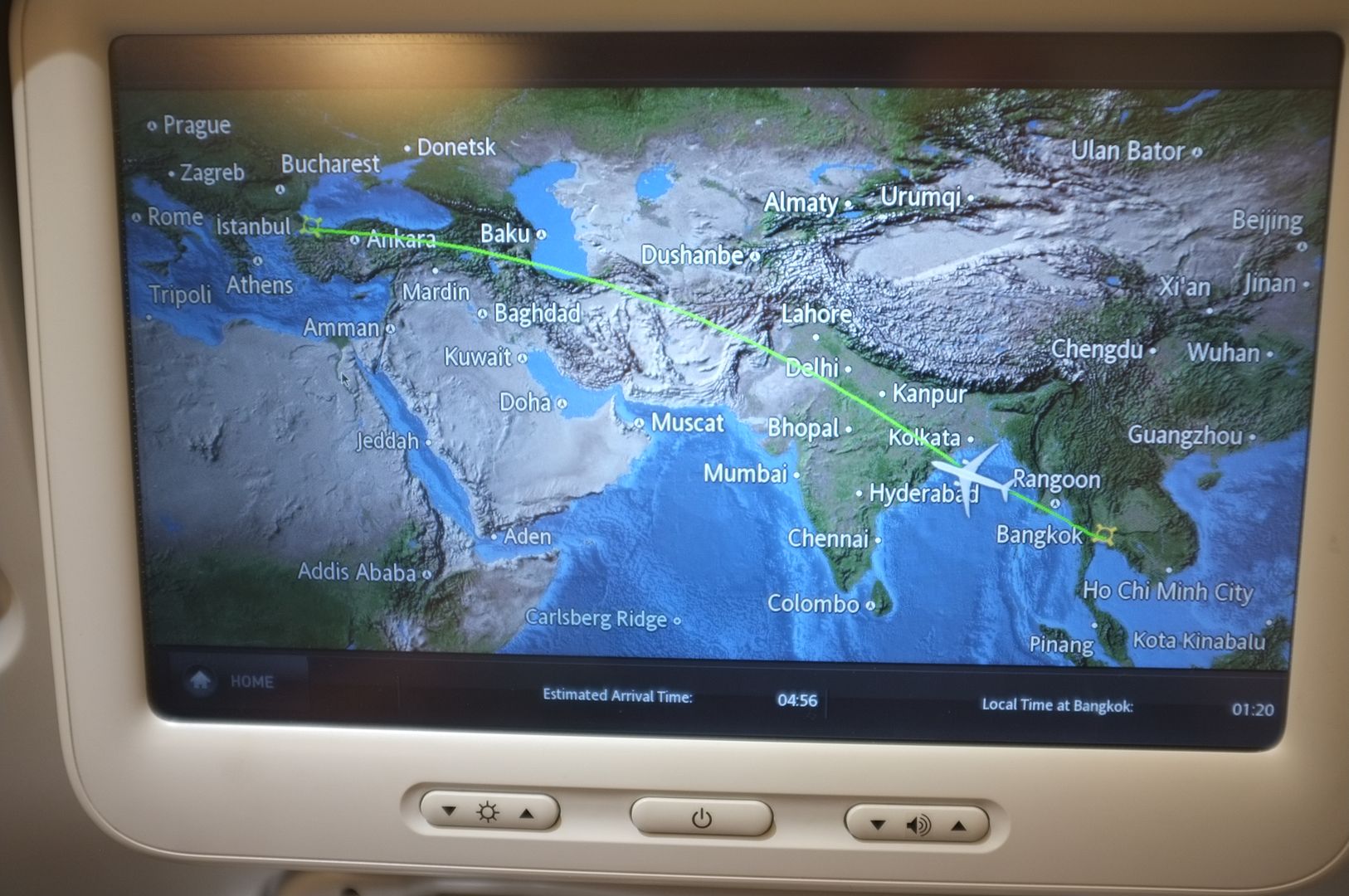 Then the crew handed out a packet of nuts and drinks. I would have thought that this should come before the meal.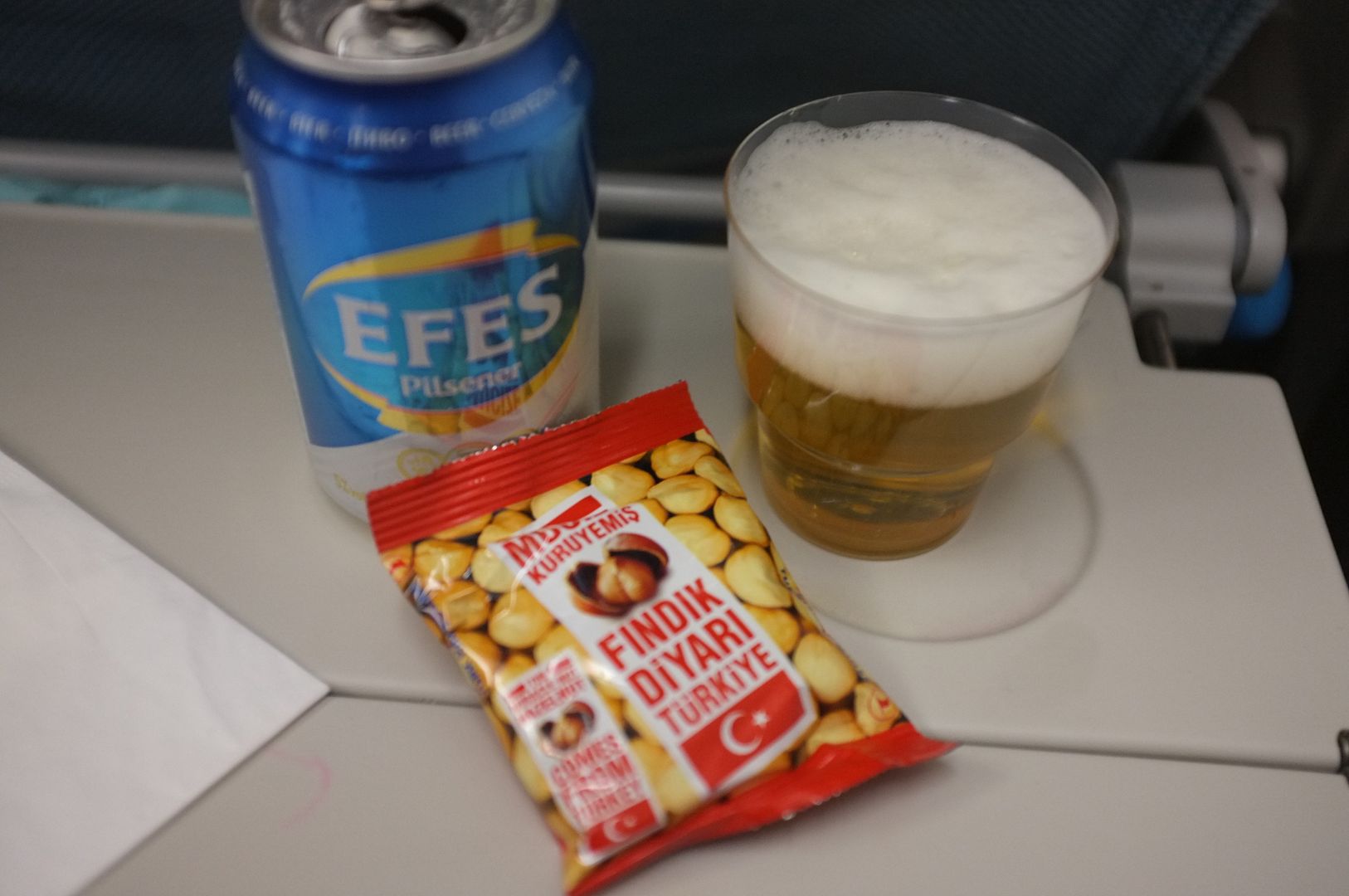 Finally, drink bottles were given to everyone before the cabin light was turned off. I slept for most of the next 6 hours, though not comfortable. Woke up when the cabin light was turned on and went to the lavatory, and it was in a rather dirty state.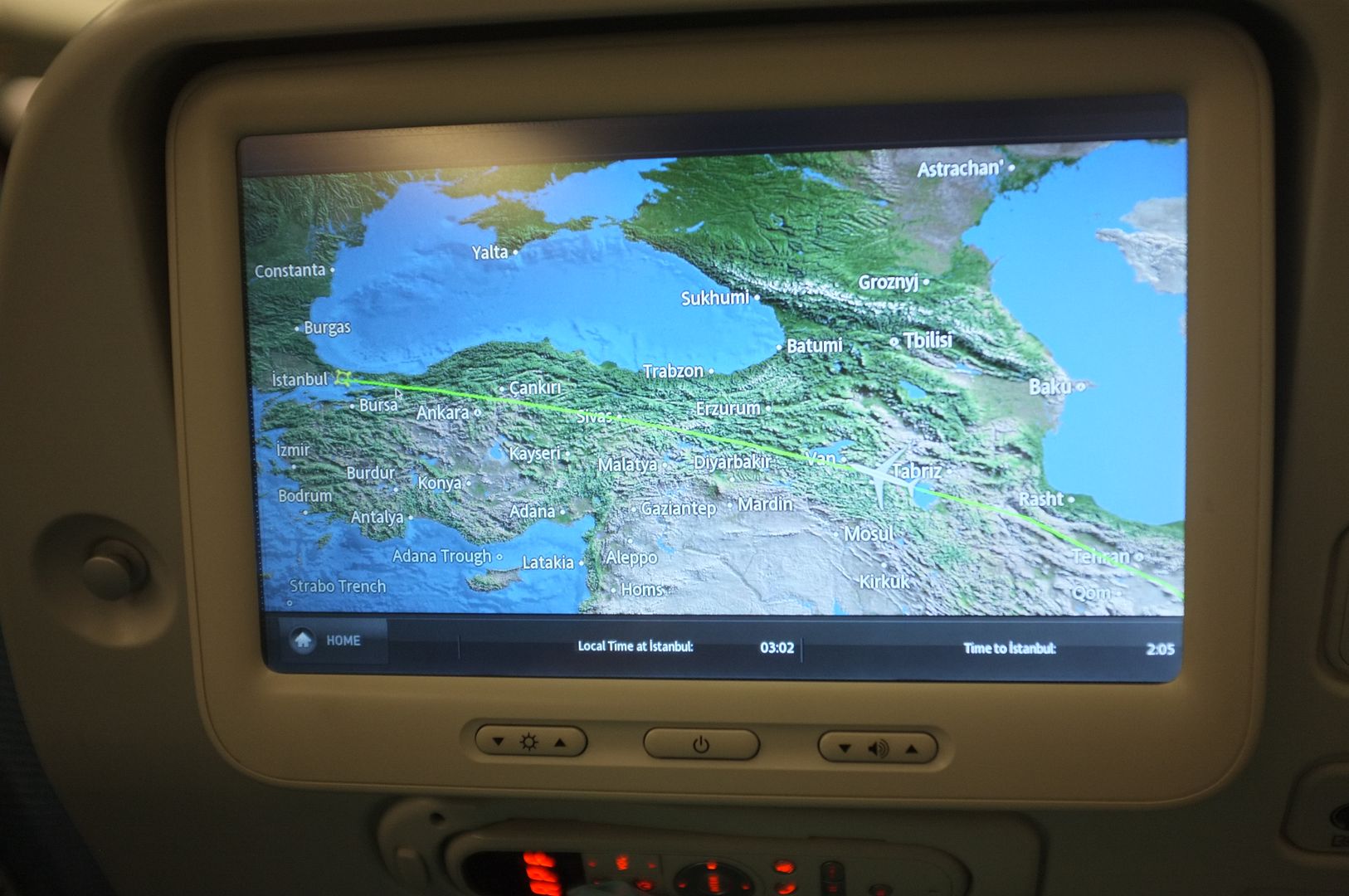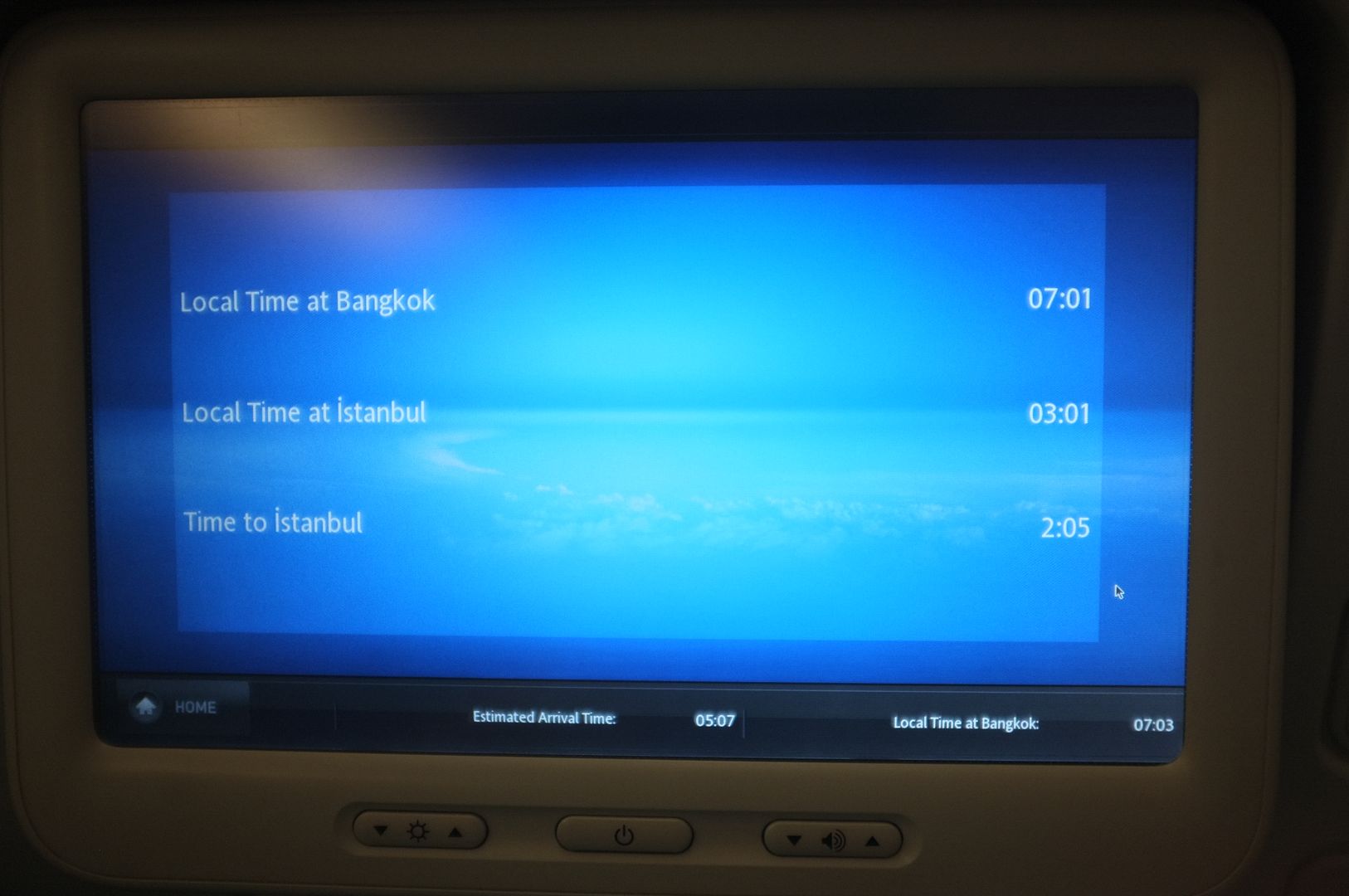 Breakfast was served, together with coffee and orange juice. Notice the coffee was served in a plastic drinking cup, rather than a coffee cup.
There was only one option for breakfast:
Seasonal fresh fruit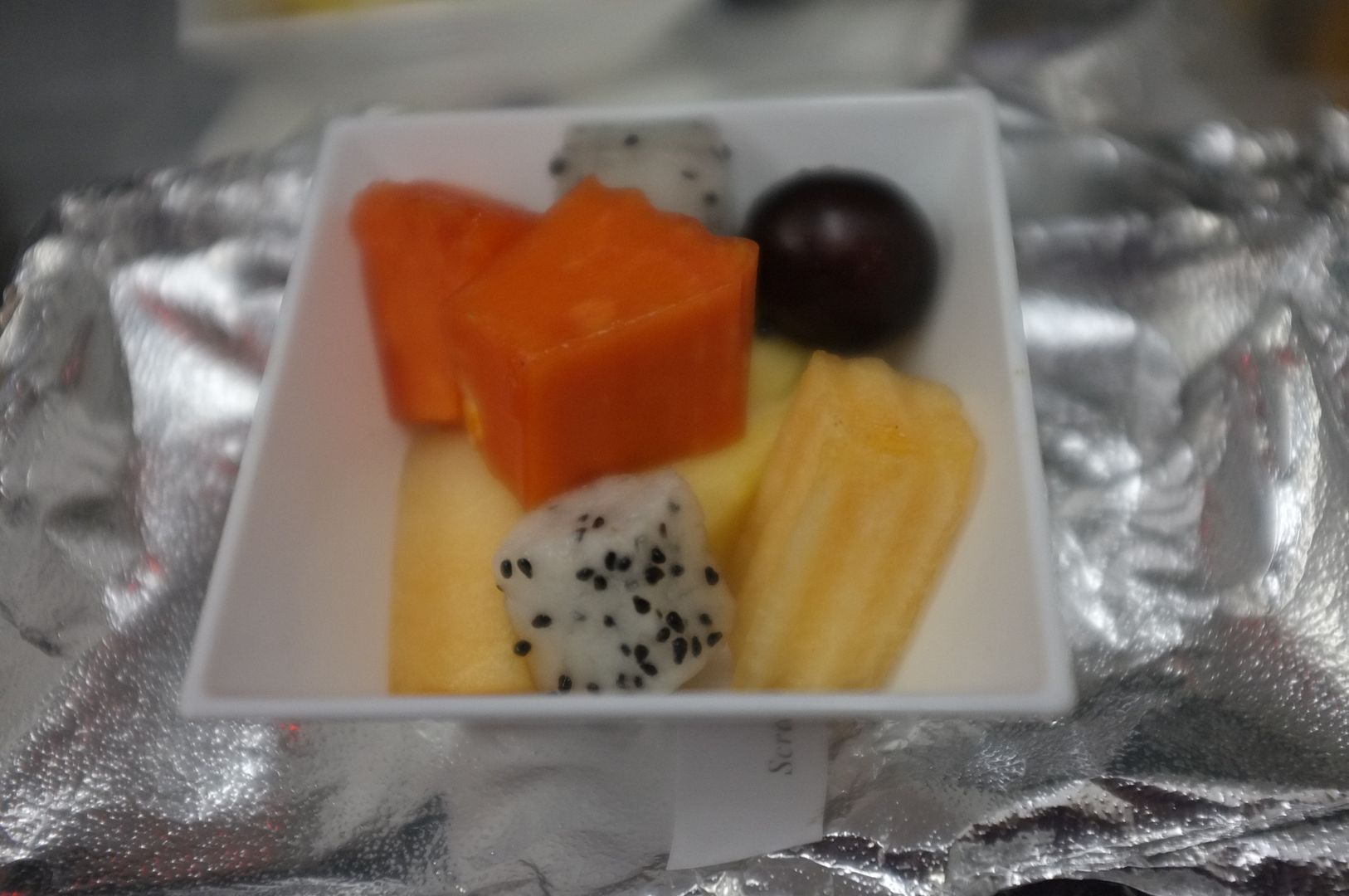 Assorted cheese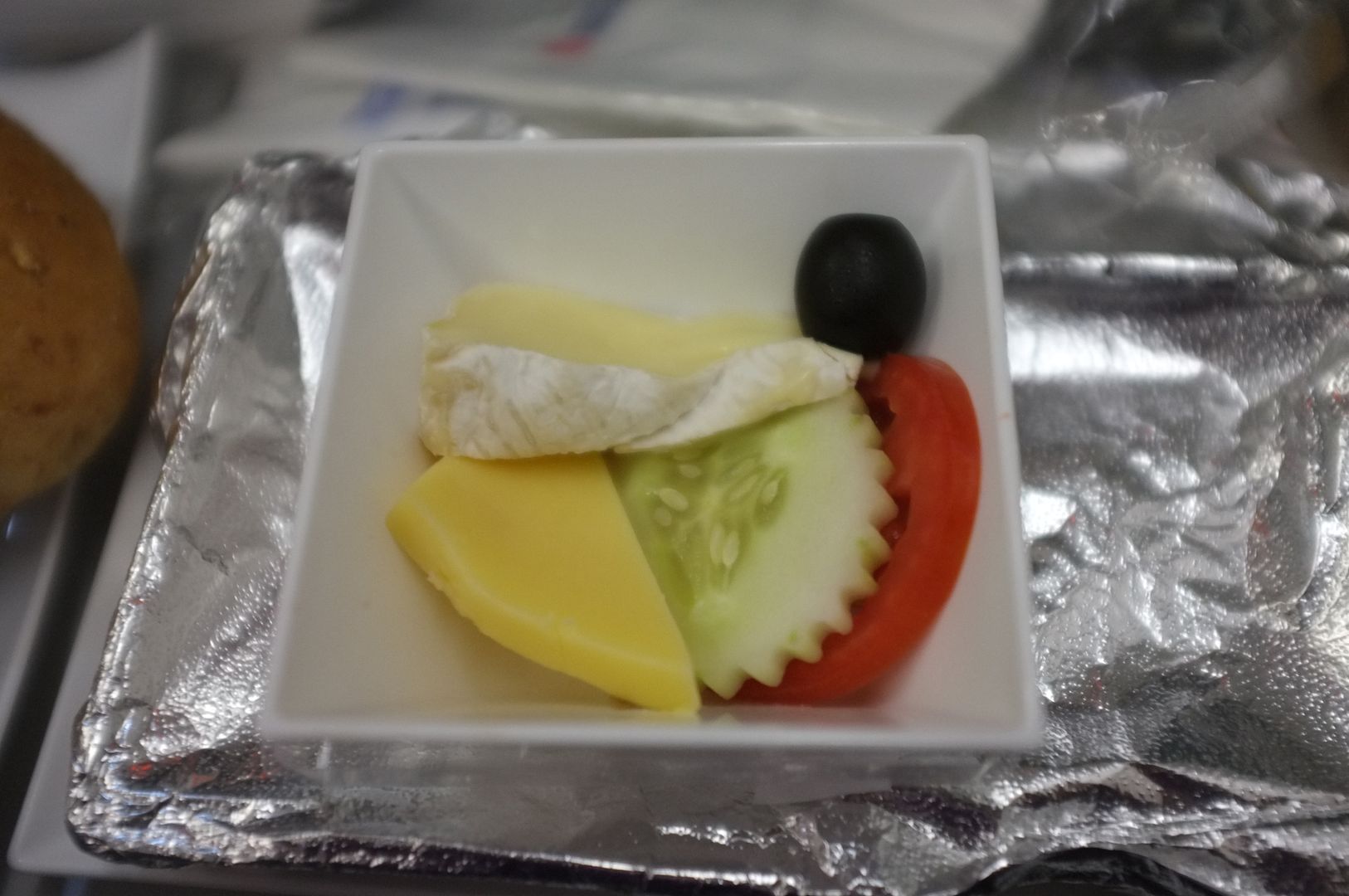 Scrambled eggs with tomatoes and green peppers, turkey ham and cheese toast, grill cherry tomato
Cabin taken during breakfast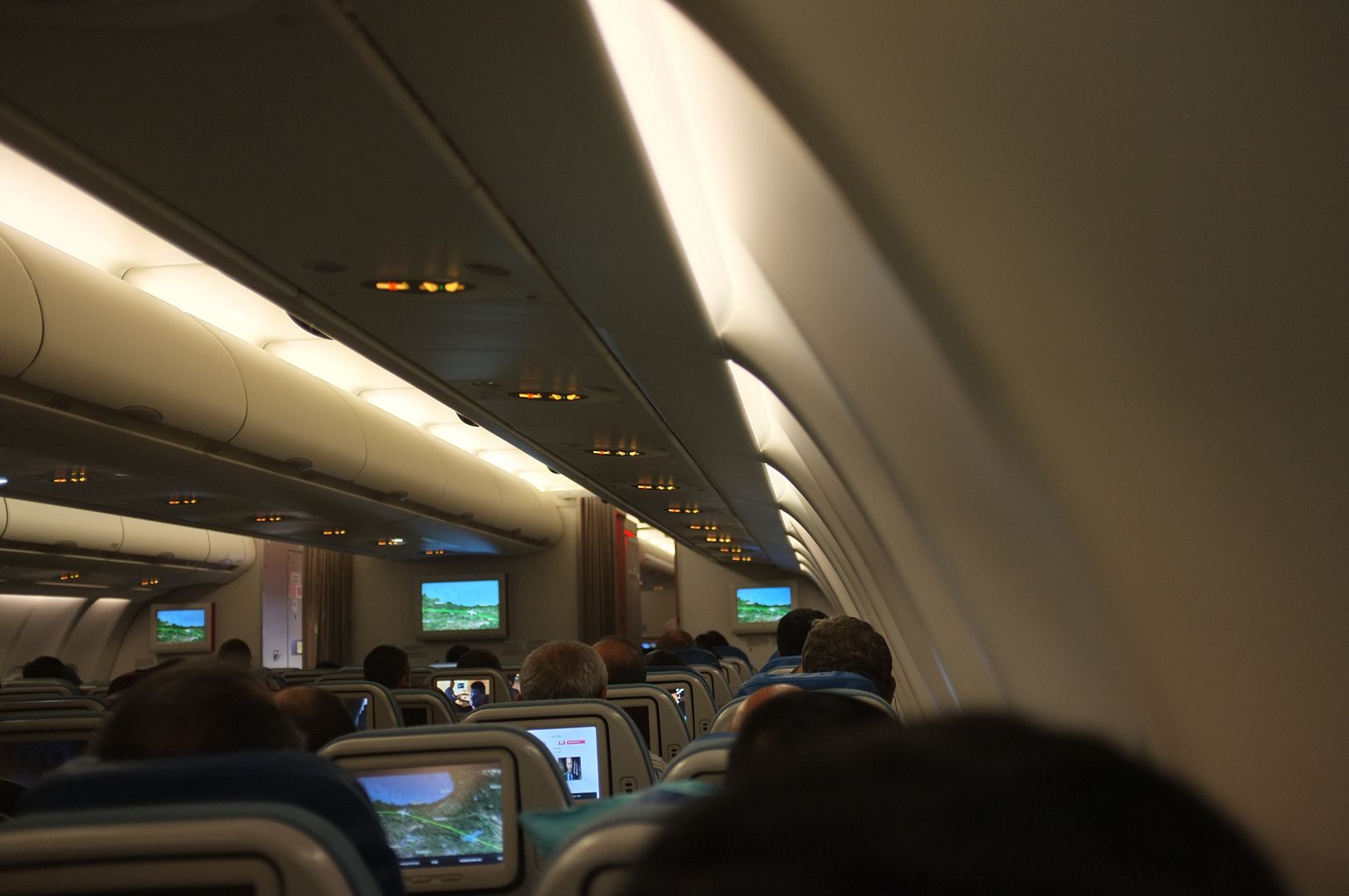 Safety card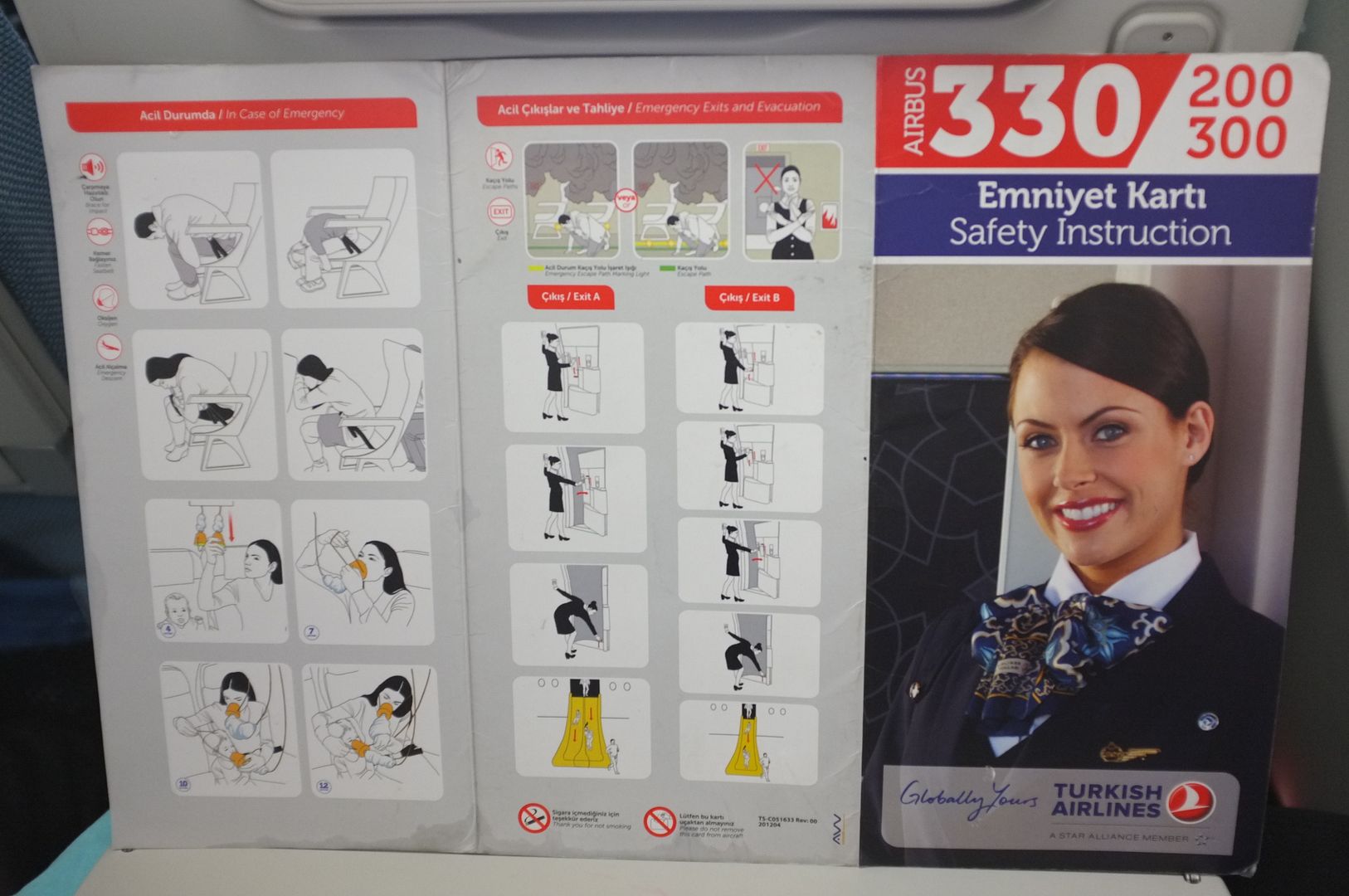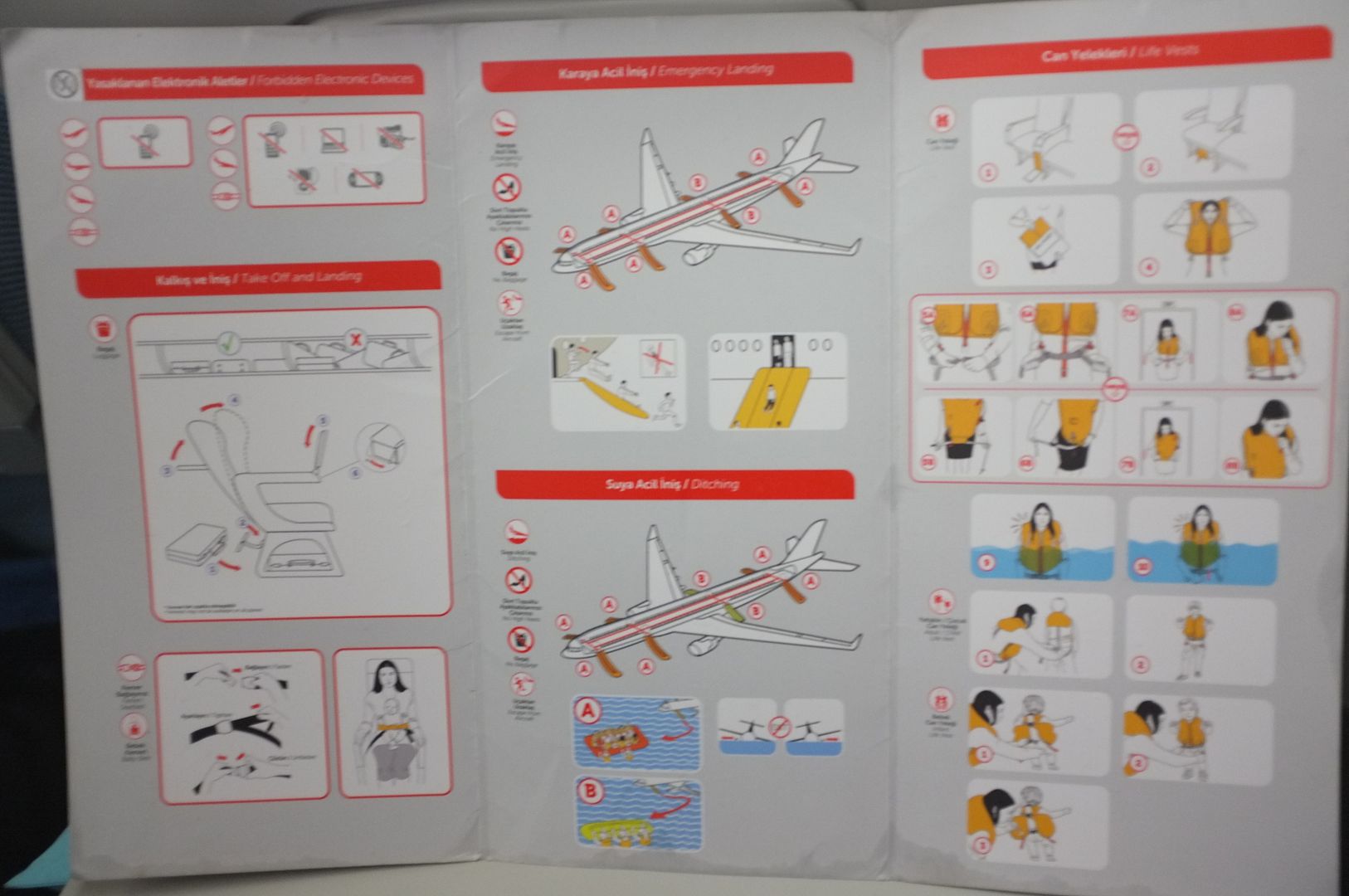 Reading materials and puzzles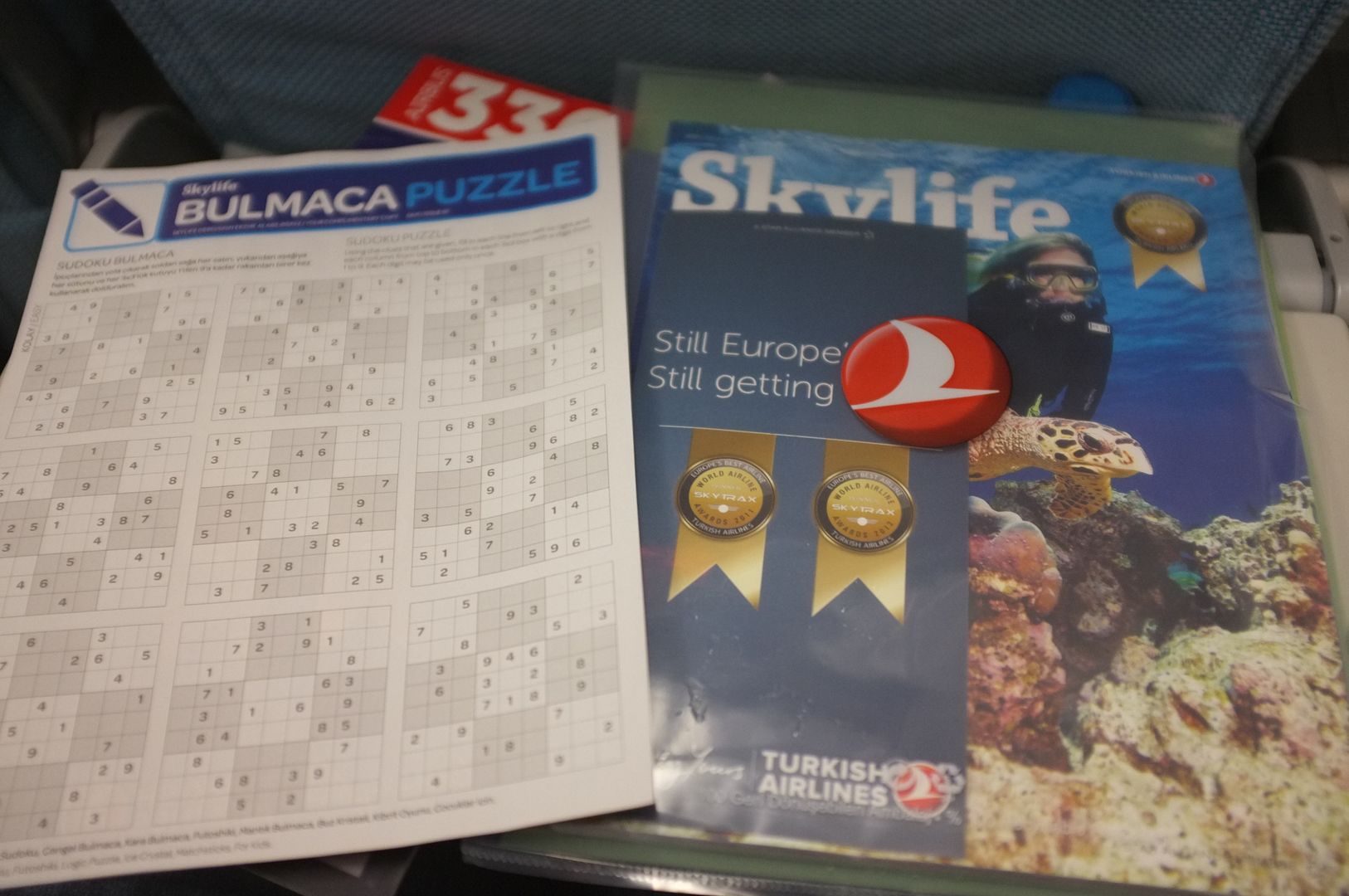 Soon later, the cabin crew prepared the cabin for landing. We landed in Istanbul around 30 minutes ahead of schedule time.
The airport looks quite empty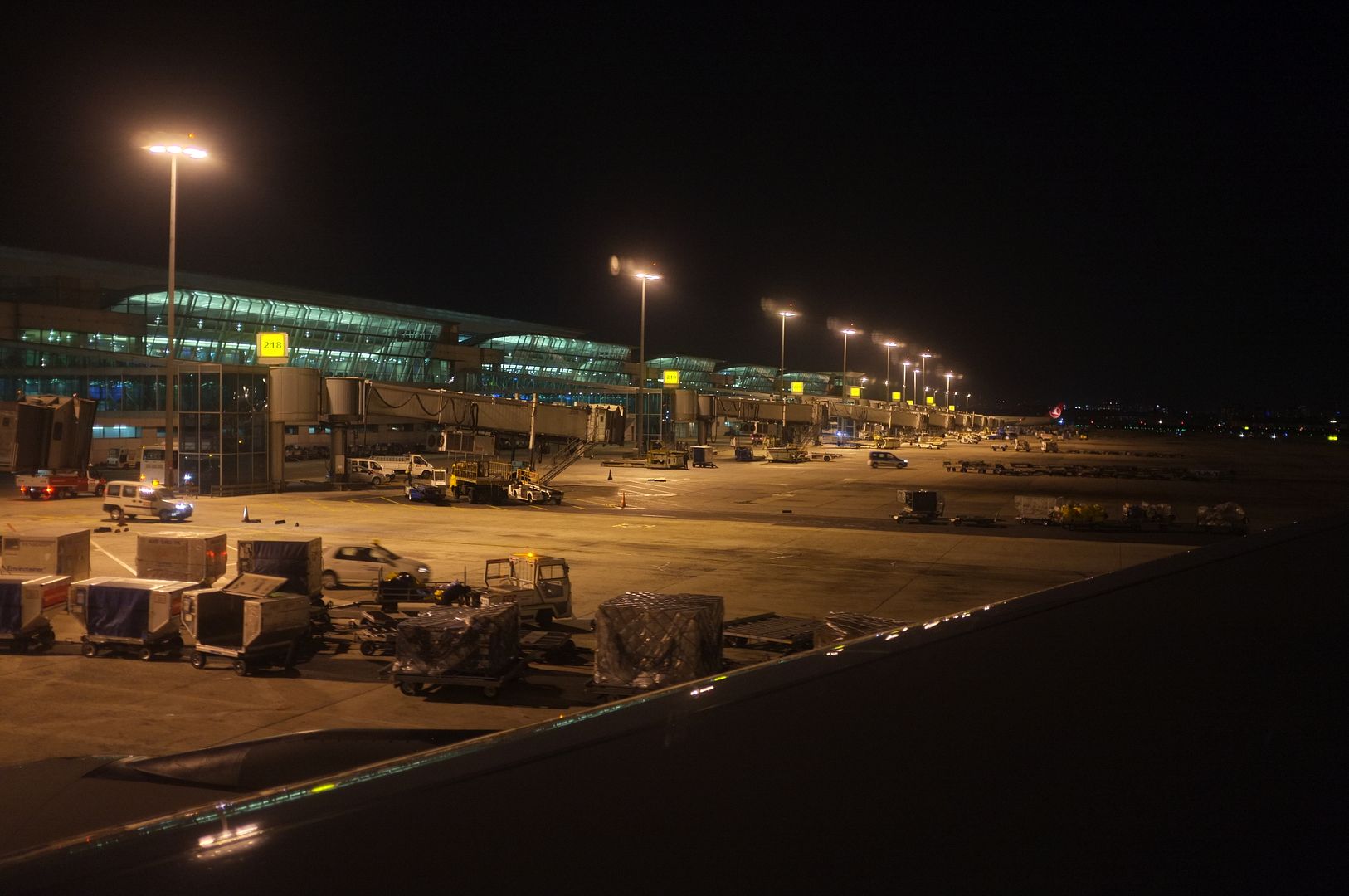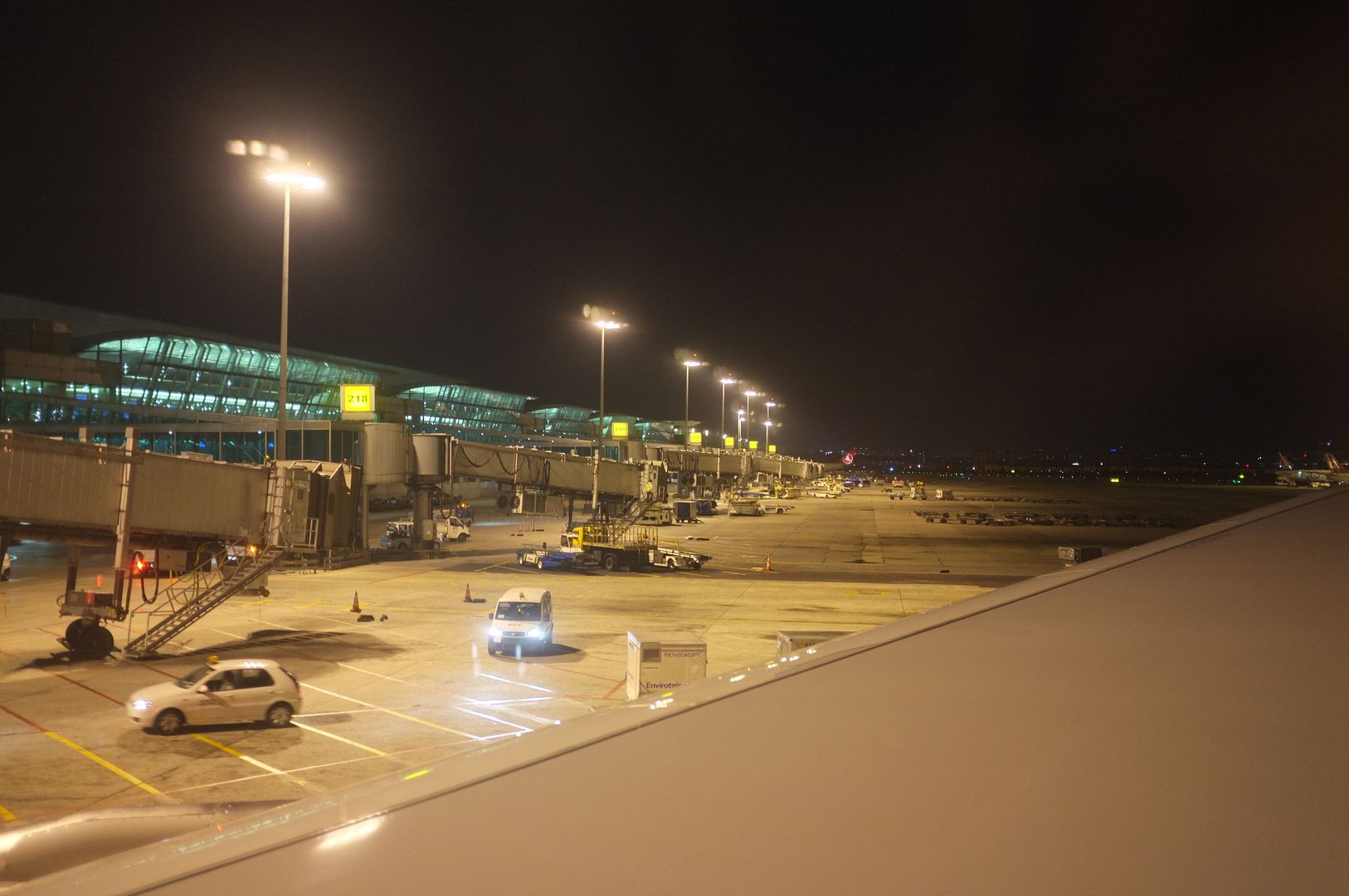 My seat
Disembarked the plane
After leaving the plane, we only had to walk a short distance to proceed to transfer, where our next-flight boarding pass was checked and had to go through security x-ray. The line for transfer was very long, but it moves very fast and we didn't have to wait for longer than 10 minutes until we were clear.
Next stop was the Turkish Airlines lounge. When we arrived at the lounge, there was a long line of passengers waiting to be admitting to the lounge. Those holding Business Class ticket can enter by scanning their boarding pass. Status passengers have to present our boarding pass and frequent flyer card before being allowed to enter. The lounge was very busy so I didn't take pictures inside. I will include some pictures of the lounge in the next part on the return trip. For the lounge, there were hot breakfast available, but as I didn't feel hungry, I only had small snacks.
After the lounge visit, we headed directly to our boarding gate
Some pictures taken along the way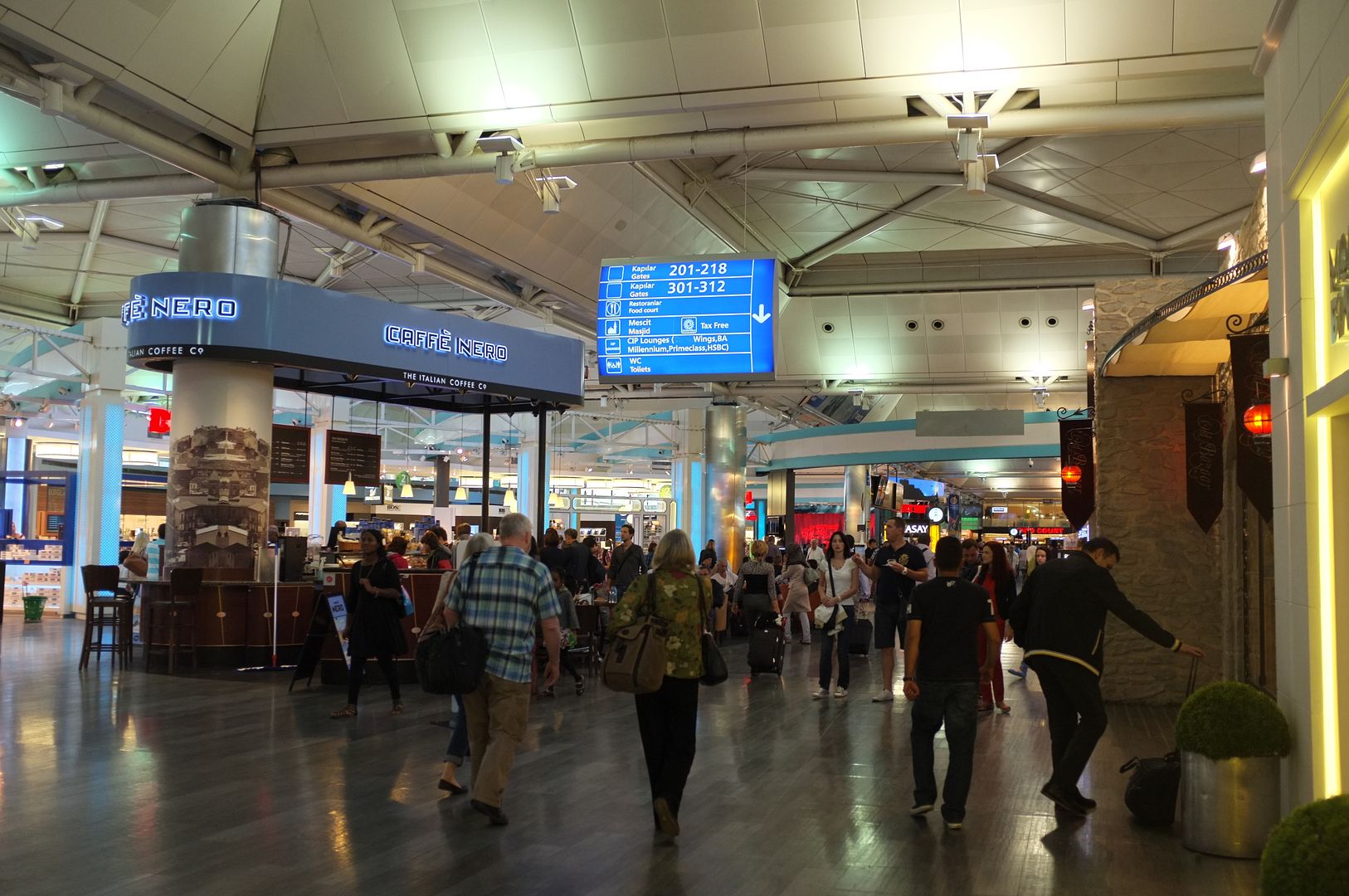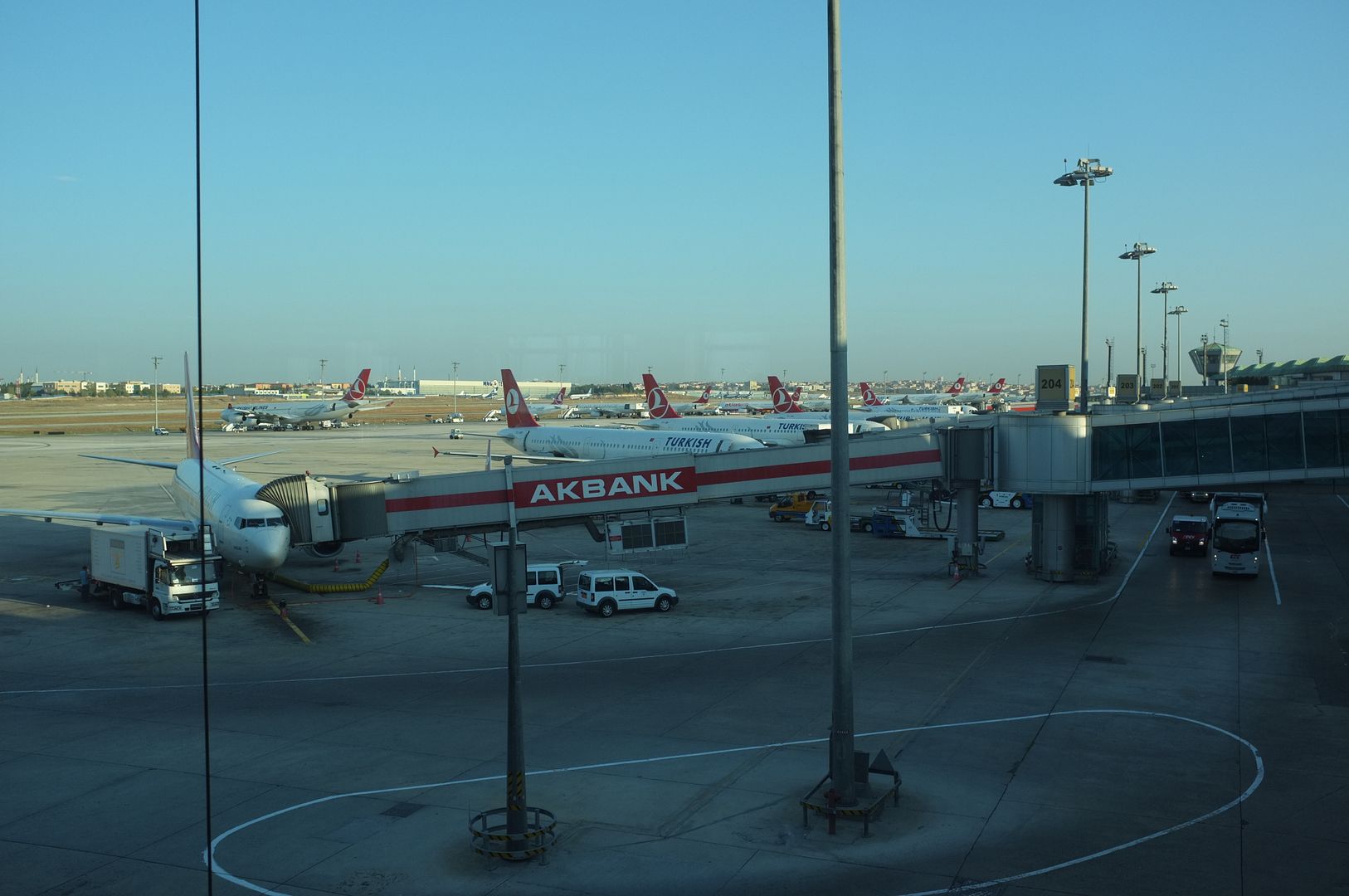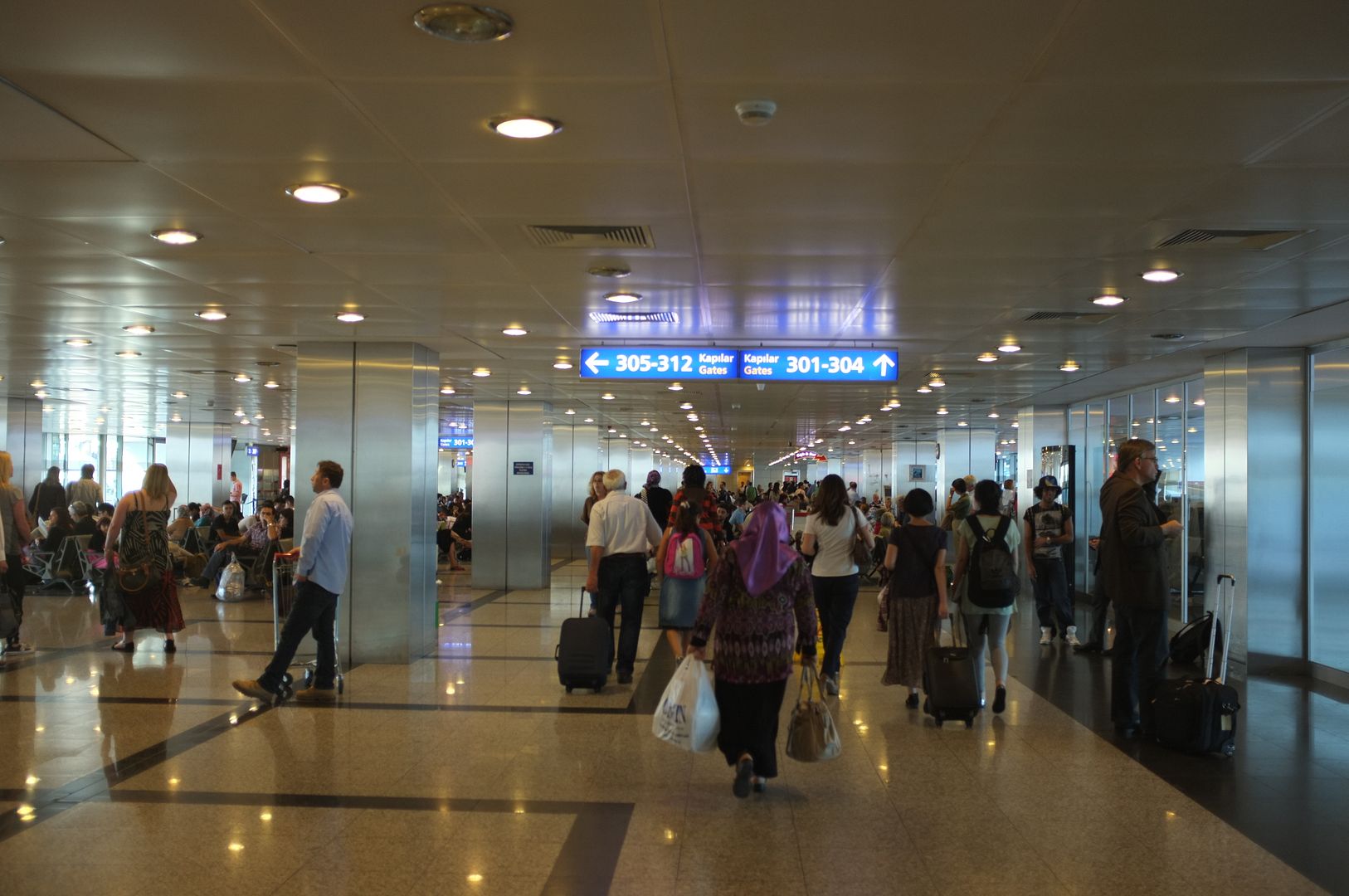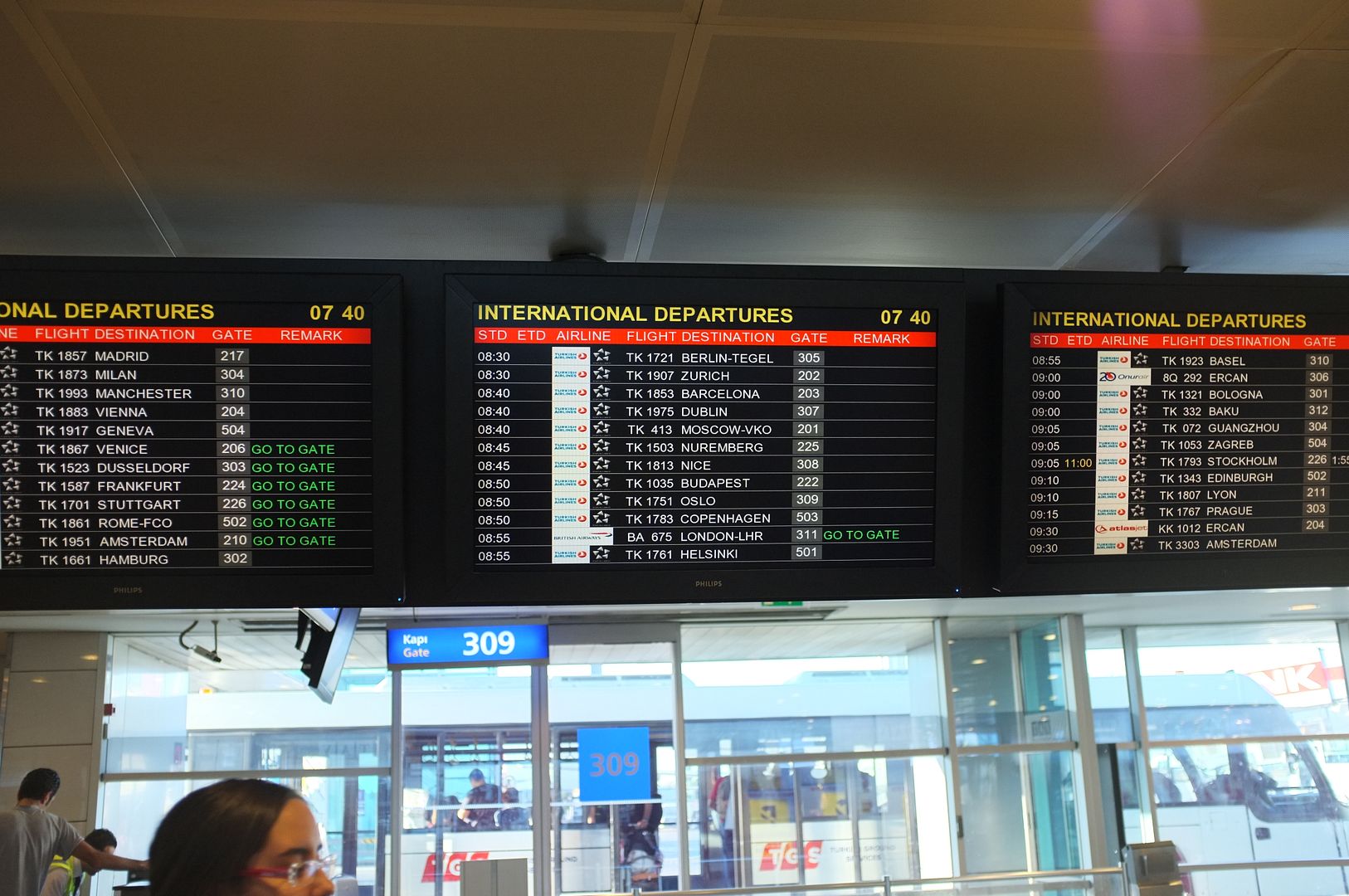 The waiting area of our bus gate was quite packed. But after 10 minutes of waiting, our flight was called to board: by seat row number. As our seats were towards the front of the Economy Class cabin, we were one of the last groups to board the bus (on the second bus).