Part II: The Return TK flight from LAX to BKK via IST in Business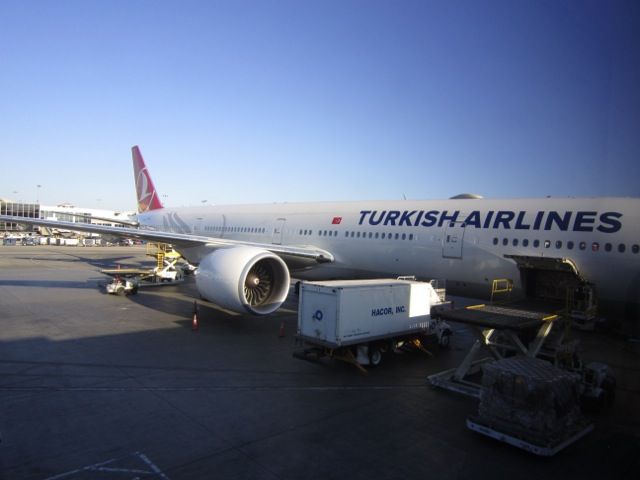 As promised, I will write a report on the return flight from Los Angeles to Bangkok via Istanbul on Turkish Airlines' Business Class. First I have to apologize for the lack of cabin pictures as the flights were pretty full on both segments but since I have pretty much showcased the cabin on the first two segments, I don't think you will miss out much. Second, I have lost my log towards the end of the flight, as the paper slipped under the gap between the side storage bin and the seat. It was impossible to retrieve it, so my departure time is not as accurate as I like. Thankfully I have flightradar to fall back to, so I retrieve the flight route and related data. Anyway, these two flights showcased extremes of Turkish Airlines – a very good flight from LAX to Istanbul and a very poor flight from Istanbul to Bangkok. Consistency is severely lacking with Turkish Airlines.
September 13, 2012
TK 10 LAX-IST Lv1820 Arr1710+1 Boeing 777-300ER TC-JJK "Akdeniz"
Check-in at LAX:
As my uncle's car entered the final stretch of 105, I saw the beautiful Turkish Airlines' 777 landing at R/W24R around 4pm. It arrived early, which meant an on time return departure. Tom Bradley was going through extensive renovation, but I am very concerned about the ground traffic, as the curbside can't really be expanded even though the terminal itself has gotten larger in size.
Turkish Airlines uses Aisle C for check-in, and it was very busy in the economy line. The business class check-in counter was clearly labeled and there was only one passenger in front of me. The agent was friendly and she checked me all the way to Bangkok. To give TK credits, their outsource ground agents were pretty good at least in the premium area.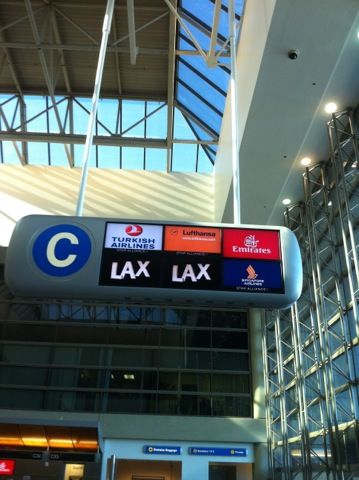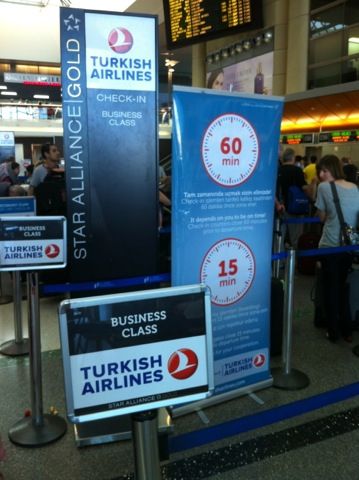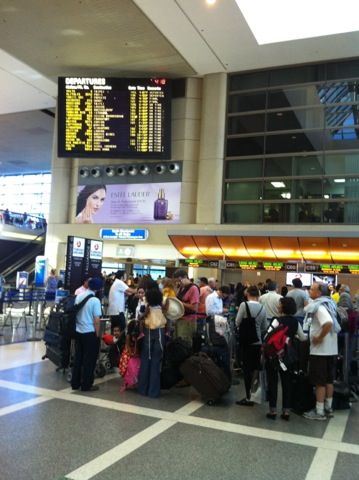 Despite not particularly busy, TSA line at TBIT was slow, as they only opened two counters, but at least there was a priority lane. As expected Turkish Airlines uses Star Alliance lounge and despite with only the late Lufthansa and Swiss flights, the lounge was pretty busy. There were still seats available but I could imagine the afternoon rush and the late night rush. There were some hot food available, including a very nice Thai Chicken Curry Soup, along with sandwiches and light packaged snacks. There were many self-service beverage stations throughout the lounge. I got some peanuts and Milano cookies, as mid-flight snacks were lacking in Turkish Airlines. Who knows if they will serve the sandwiches?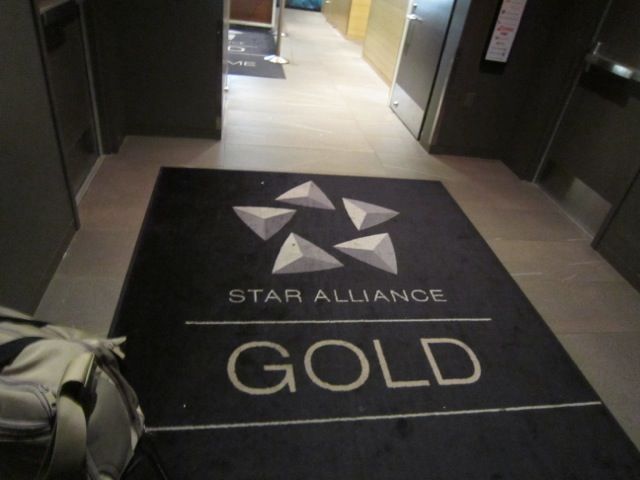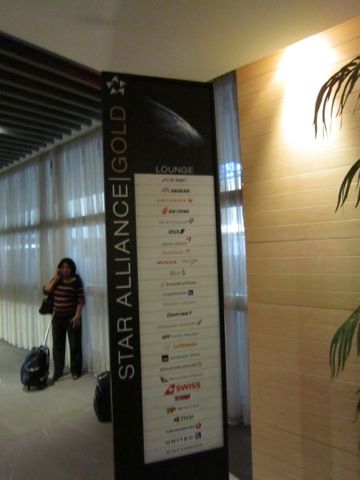 Air Berlin A330 with the BER Brandenburg airport logo – heading to Dusseldorf this afternoon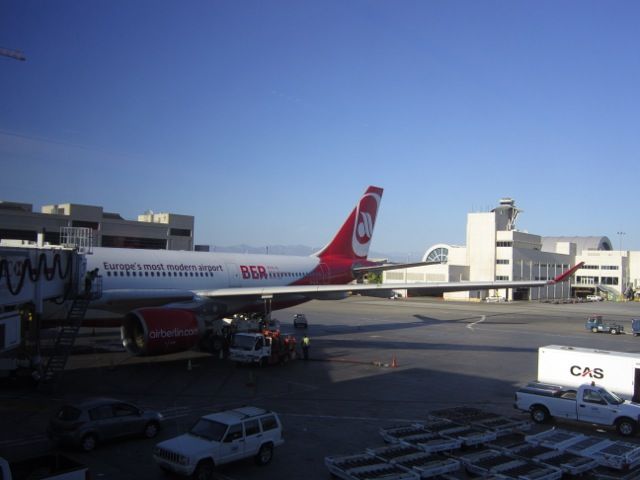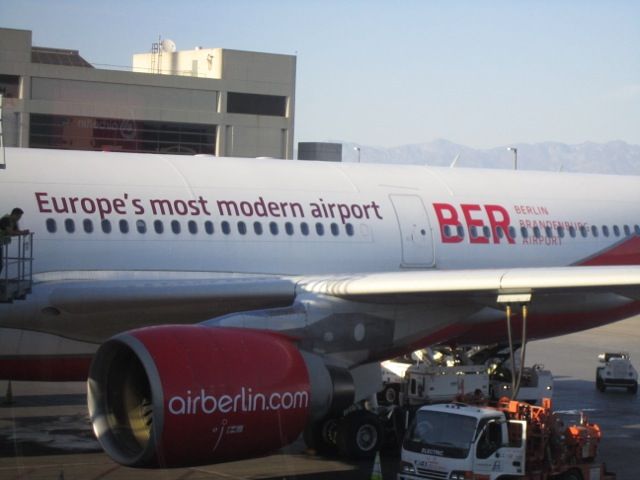 BA Oneworld logo jet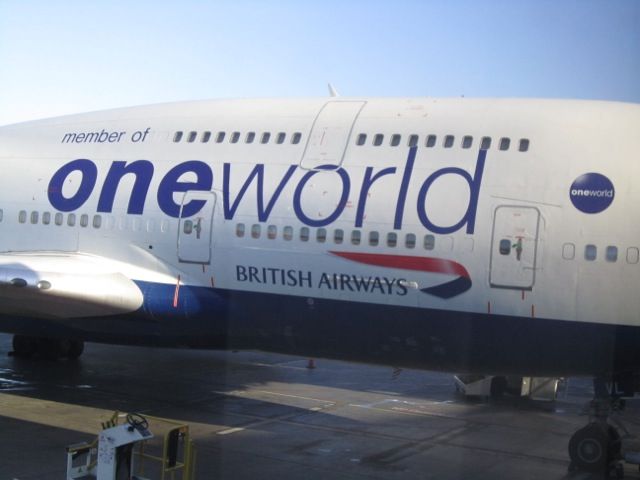 Turkish Airlines Boeing 777-300ER TC-JJK "Akdeniz" a 2 years old jet – beautiful in this warm California afternoon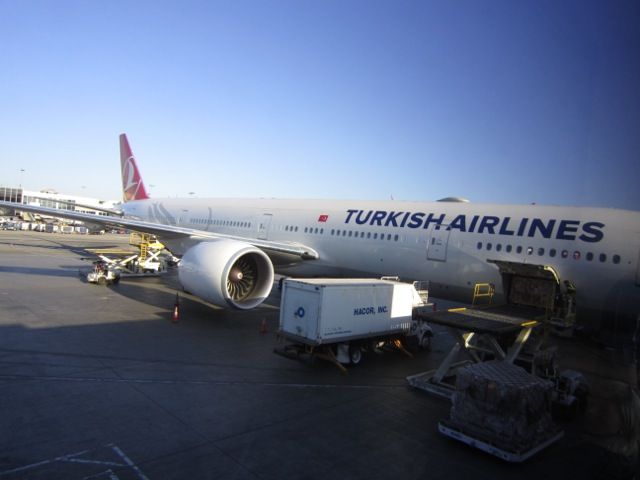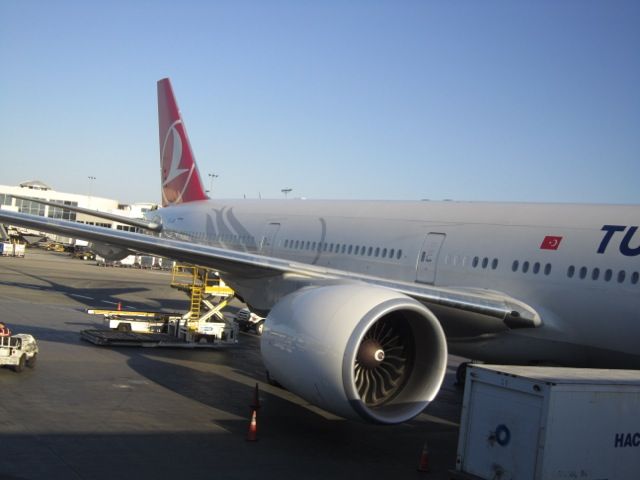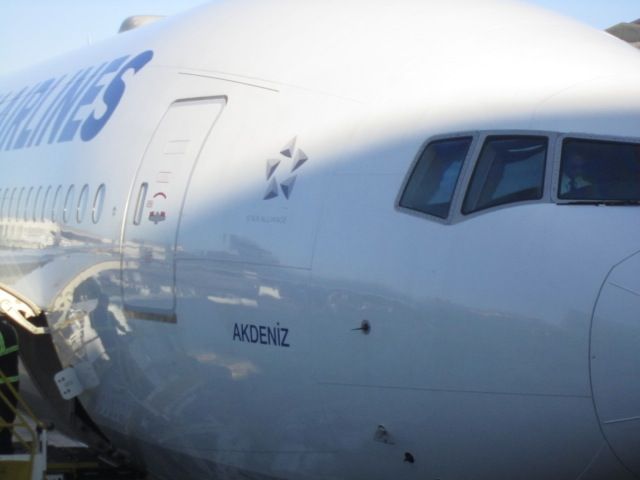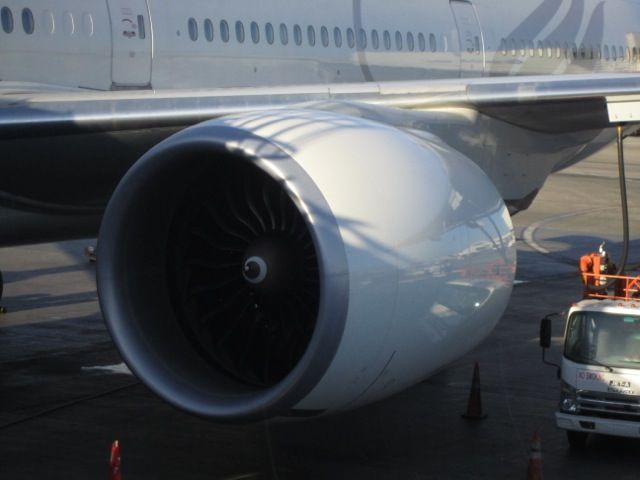 Gate 103 this afternoon
Boarding began at 5:53pm and there was a business class boarding line on the left of the gate. Priority boarding was strictly reinforced and the whole boarding was less chaotic than Istanbul. There were two jetways used, which made the whole boarding process easier. At the door, I was greeted by the F/A and thank goodness that they were smiling today. It meant a decent flight for one of Turkish Airlines' longest flight.
The cabin at boarding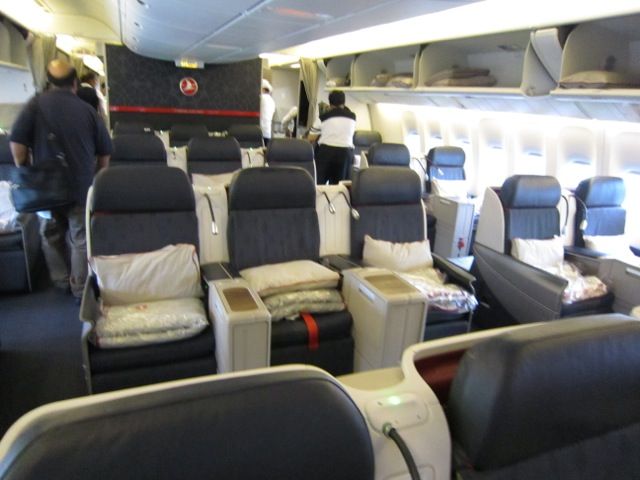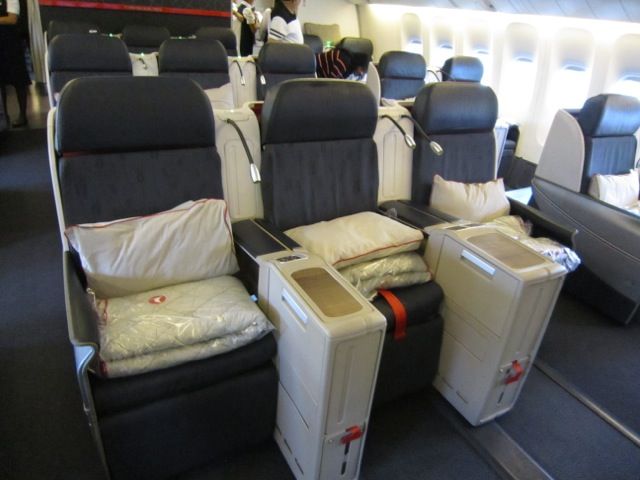 My seat 2K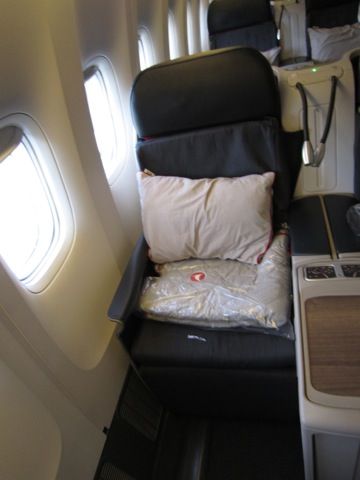 Pre-takeoff beverage of orange juice, water, and champagne were served, along with Godiva thins, along with amenity kit (old style, not iPod case) and slippers. Menus were personalized today, which was a good sign. There were indeed two chefs on board today.
I remembered the boarding was completed on time for the 6:20pm departure, but for some unknown reasons, we were being hold in the gate for an extra fifteen minutes. LAX was not very busy at this time of the evening, and we took off from R/W25R at 7:03pm for this twelve hours and twelve minutes flight. The routing was a bit unusual, as we did not head towards North after takeoff. We flew towards Kingman and Flagstaff in Arizona as we reached our initial attitude of 33,000feet. Then we continued to head east towards Gallup, Lamar, Lincoln, Omaha, Ames, Waterloo, Oshkosh, Manitowoc and Traverse City before reaching Canada. We flew past Elliot Lake, Amos, and Labrador City before climbing to 35,000feet and towards the Atlantic Ocean. We did not cross Greenland today and remained a bit south of it and climbed to 37,000feet before reaching the Irish Coast and cities of Enniscrone, Ballyjamesduff, Vriginia, and Drogheda. We then flew over Liverpool and Manchester airport, and then towards Lincoln, Amsterdam, Dortmund, Floss, Nitra, Budapest, Arad, and after passing Burgas, we began our descent.
Shortly after takeoff – a beautiful early evening here in LA
The Bathroom – I managed to take some shots of the bathroom before takeoff. The black color scheme is nice but dirt is very visible, especially water stains. The bathroom was becoming nasty within short period of time. The trash can is also too small for a long haul aircraft used on a twelve hours flight.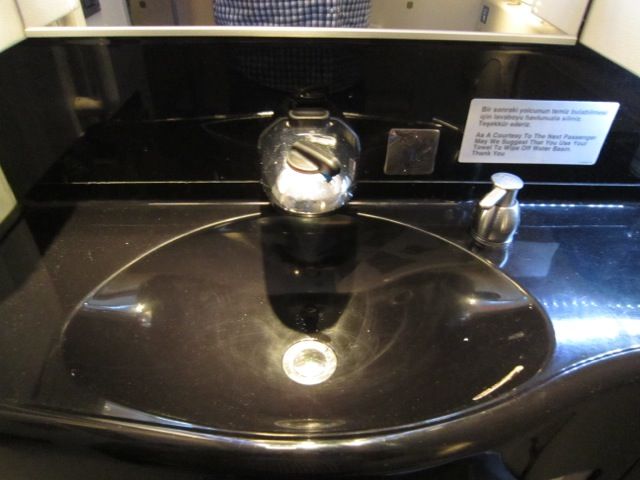 Dinner is served shortly after takeoff. The procedure is the same as always – hot towel is first served, and then beverage order is taken. Linen is placed on your table and then beverage with mixed nuts!
I have a glass of champagne and a bowl of mixed nuts is served. I miss the old canapé service.
Table is then setup individually and water is then offered along with the meal.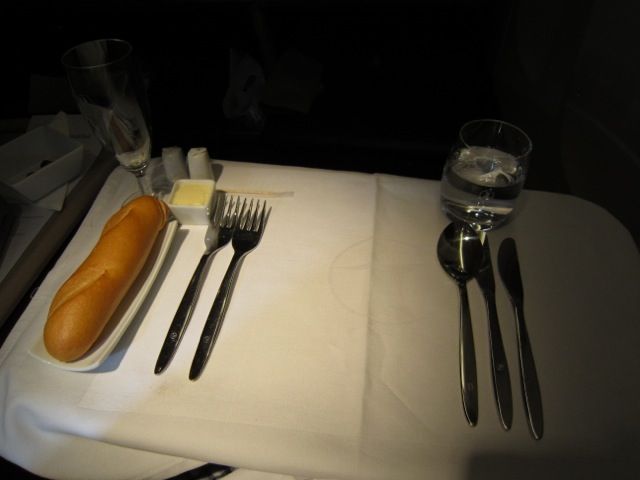 Bread is then offered and today's selection included nice French baguettes, soft white and wheat rolls.
Really nice baguette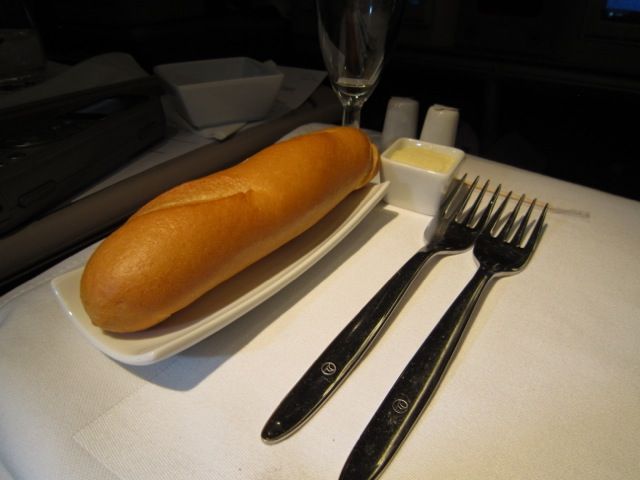 Selection from our trolley
Salmon Tartar/horseradish cream
Shrimps in olive oil
Stuffed eggplant marinated in olive oil
Hummus
Spicy lentil salad/goat cheese
Curried chicken
"Borek" homemade cheese puff pastry
I have a selection of everything.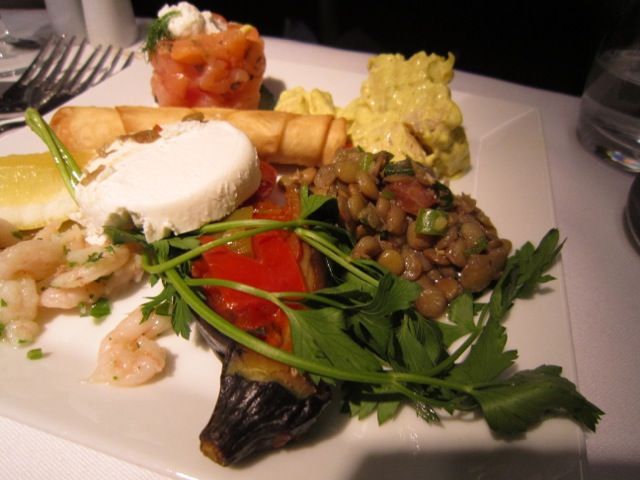 Salmon tartar and the homemade cheese puff pastry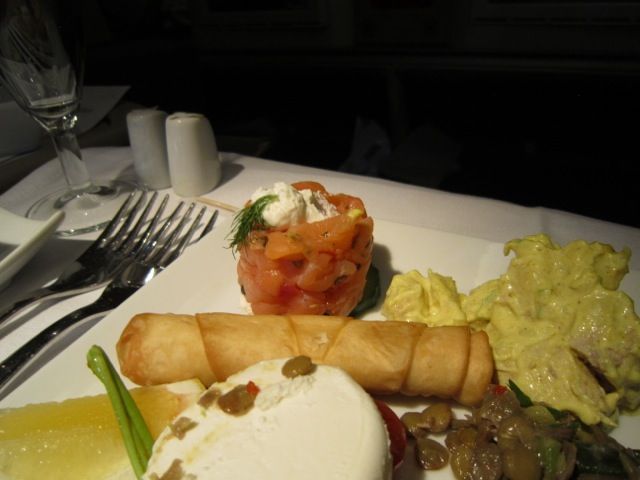 And/or
Vegetable Soup
Crispy vegetables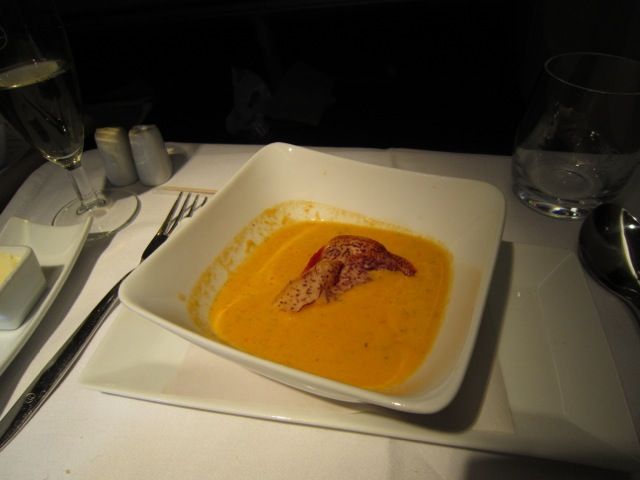 Please choose from our selection:
Grilled Fillet of Beef
Mustard curry butter
Sautéed leaf spinach & leeks/mini carrots
Or
Vulcano Prawns
Steamed Rice
- Basically a sweet and sour prawn dish – a bit too sweet for my taste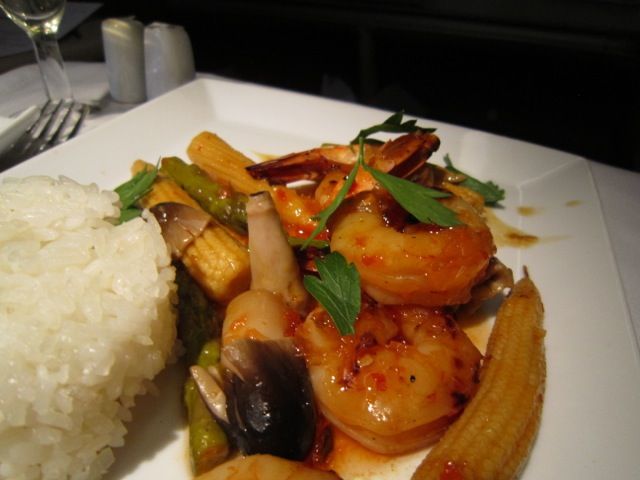 Or
Goat Cheese Ravioli
Sun-dried tomatoes
Sautéed artichokes and asparagus
Parmesan
Assorted cheese, fresh fruit and dessert from our trolley
Turkish Desserts
Strawberry Strudel
Vanilla sauce
Chocolate Tarte
Green tea ice cream
You can basically order everything and my selections today are the strawberry strudel and chocolate tart.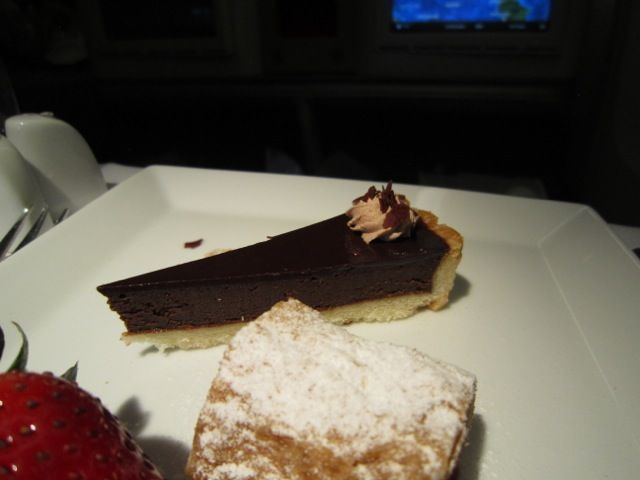 Coffee and/or tea
Digestives from our trolley
Petits Desserts
Once again, this course never made its appearance and this sort of bothers me, as the F/As choose what to and what not to serve. If this course is being cut, the menu should be edited accordingly. The F/As basically did not serve tea and coffee until breakfast time and of course, on request. The meal itself is once again good, but there are not many beverage refills during the flight. They should set up a beverage trolley so the F/As do not need to run back to the beverage station every time they need to refill a beverage. The whole procedure is poorly designed.
Lights were turned off after dinner service as most passengers settled for the night. I was very tired this evening, so I went to sleep after watching a few episodes of "Big Bang Theory" and after we left the US air space. But I noticed that they actually set up a mini beverage stations in the self-service bars instead of clearing the beverage station ASAP. The same dried fruit packages and fig candies were available. The F/As are a bit nicer on this flight and the F/A serving our aide is very good. She is friendly and personable, unlike other stoic F/As. She actually made an effort to serve the sandwiches midflight and not to mention offering some beverages.
Smoked salmon and cheese sandwiches (no additional desserts like IST to USA flights)