First of all, I have to thank Tom (TupolevTu154) for his inspiration to make this epic trip to Russia, and LXM83 for his help with booking domestic flights online. Also, Soren (Birdwatching) needs to be thanked, as when helping him plan a trip to Russia, I stumbled across some interesting flight options that I went on to book for myself.
My final itinerary for the 8 days was as follows – 9 flights in just over a week!
LHR-FRA – Lufthansa A321
FRA-VKO – Lufthansa A320
DME-GDZ – Alrosa Tu-154
GDZ-VKO – Gazpromavia Yak-42
SVO-AER - Vladivostok Air Tu-204
AER-SVO – Aeroflot Il-96
SVO-LED – Aeroflot A320
LED-CPH – SAS MD82
CPH-LHR – SAS MD82
This first trip report will cover the day trip from Moscow to Gelendzhik. I won't cover the first two Lufthansa flights as we've all flown them before – service was good as always and I enjoyed the free Warsteiner beer! I actually missed my connection in FRA due to a late departure from LHR, and got rebooked on a later flight to DME, but Lufthansa handled it very efficiently. Danke Lufthansa.
I was really struggling to find a flight on the Tupolev Tu-154, as nearly every single airline has retired them now and when booking 6 months in advance, there's a real risk of substitution. However I did some research into Alrosa after seeing Tom's trip report, and found that they don't have any Western aircraft in their fleet, which was good news. Next step was trying to find out where they fly, and then even harder, trying to find a flight that fitted into my schedule. I wanted to spend at least 2 full days in Moscow for sightseeing, so didn't want to waste too much time hanging around airports or overnighting in a different city.
Luckily, I found out that they fly once per week DME-GDZ-DME on a Friday, and I was arriving on Thursday evening so I could make the flight the next day. It departed at 12:15pm too which wasn't too early – great! The turnaround in GDZ was quite short, so I didn't want to risk it and decided to book a different flight back. I'd also get to try a different airline and/or aircraft type then. A quick look showed there were several options, but first I went to book the Alrosa flight, at the ultra low price of 65 EUR – amazing value for a flight of that distance (1203 km). Unfortunately the return options weren't so cheap. There was an Aeroflot A320 for 110 EUR, a VIM B757 for 160 EUR or a Gazpromavia Yak-42 for 125 EUR.
Well that was an easy choice – Gazpromavia! It was quite frustrating having to pay almost double for the return, but it was totally worth it, especially seeing as the Yak-42 was cheaper than Aeroflot's A320 flight. Both flights were booked on agent.ru, after emailing them to take my British credit card off their blacklist of foreign cards. I also had to enter my name in Cyrillic (from my visa) – for this I switched the language on my Mac to Russian and used the virtual on-screen keyboard to carefully enter all the letters. It added a sense of excitement to the booking!
So on the Friday morning, I headed to Domodedovo Airport on the Aeroexpress train. I made the mistake of getting a coffee and croissant at Paveletsky Station before taking the train – very poor coffee and a stale croissant for 7 EUR. Never mind. That was my only expensive purchase in Moscow; I found everything else to be extremely reasonable. I don't know why it has such a bad reputation (apart from accommodation costs, which are in fact scandalous).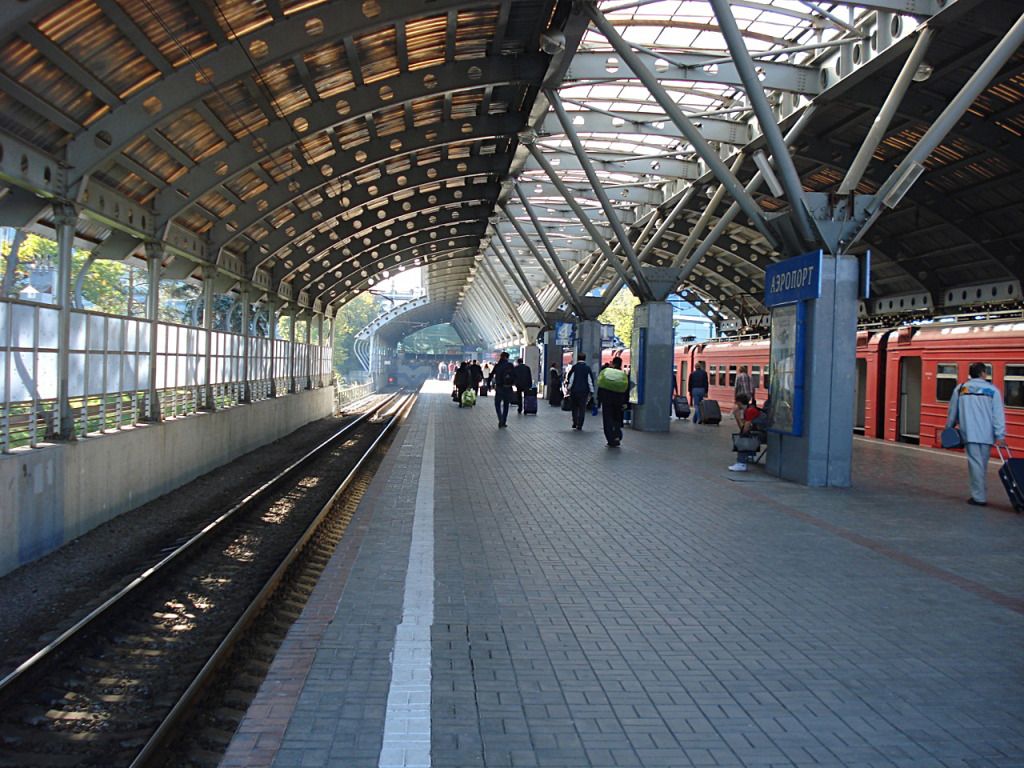 The check-in desk was easy to find after looking at the departures board. I was hoping the flight would be half-empty (I had emailed Alrosa one week earlier, and they said only 10 passengers were booked on my flight, but that seemed too good to be true!) So I was dismayed to see a huge queue at the check-in desk, but it later emerged that several flights were using that desk. I asked the girl for a window seat at the rear of the cabin, but she gave me the middle seat 8E. I asked her to change it but got a firm NYET back, so I walked off. Here was my boarding pass and itinerary printout:
I was through security in less than 5 minutes, and sat at the gate with 2 hours to waste after arriving early to ensure I didn't miss the flight. There wasn't much to see, only a few Airbuses and Boeings about.
About an hour later our Tu-154 was towed into the empty gate, and it looked beautiful! This was the one that actually crashed in 2010 and was subsequently repaired, so I was extremely lucky to get RA-85684.
After boarding, I initially sat in my correct seat of 8E, but after realising that there were indeed only 10 passengers, I moved to the back. Most passengers sat in the front to escape the noise from the engines, so I had the last 15 rows to myself – amazing!
My empty row, I was sat in seat 25F: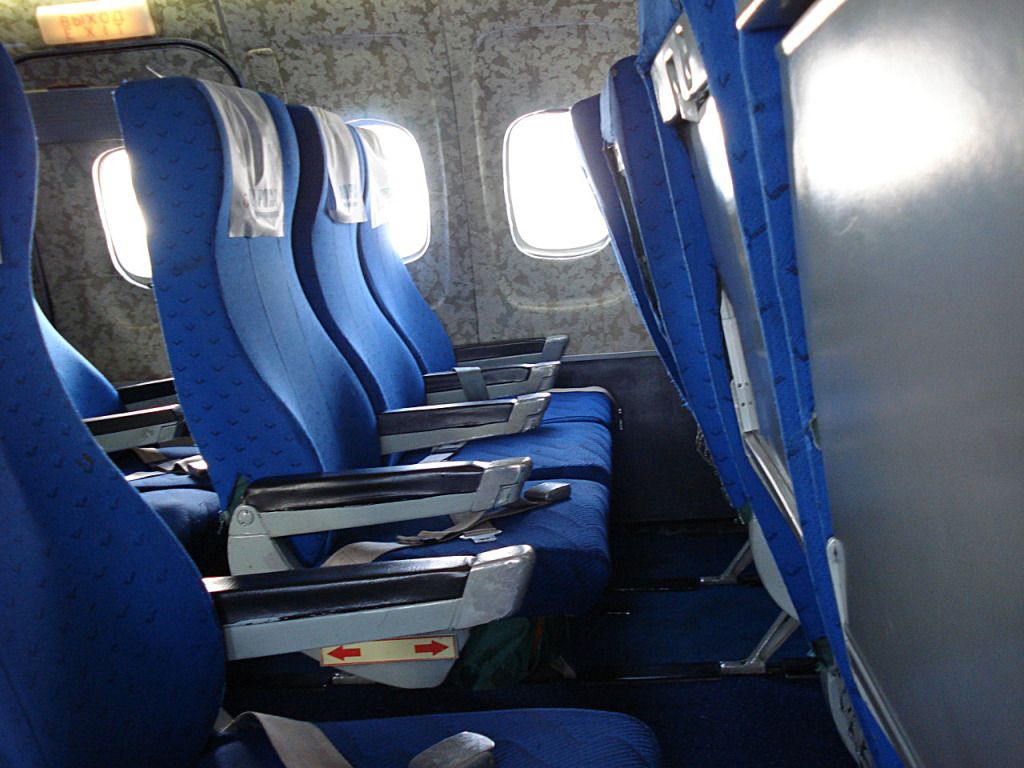 After pushback, the 3 engines were started in sequence. The sound was amazing and I couldn't believe I was finally on board. We had a short taxi to the active runway and then an exhilarating takeoff. Here's a video – I recommend cranking your speakers up:
http://www.youtube.com/watch?v=WnPFOQDrvkM&feature=youtu.be
Climbing: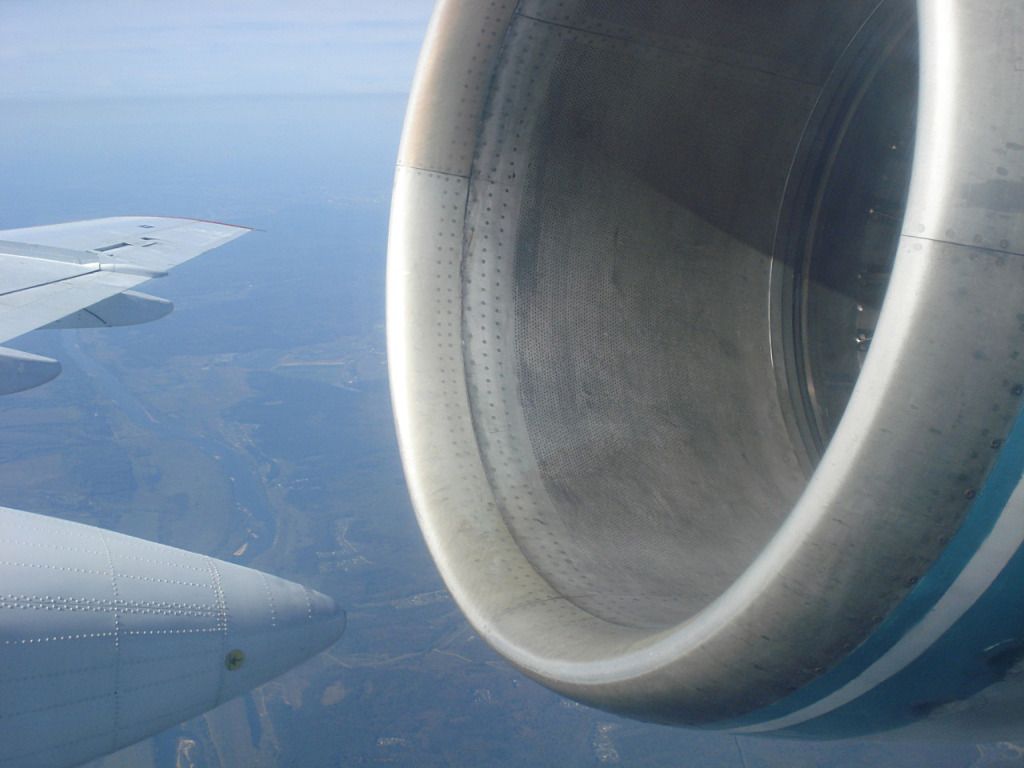 The carpet peeling away to expose the aircraft frame: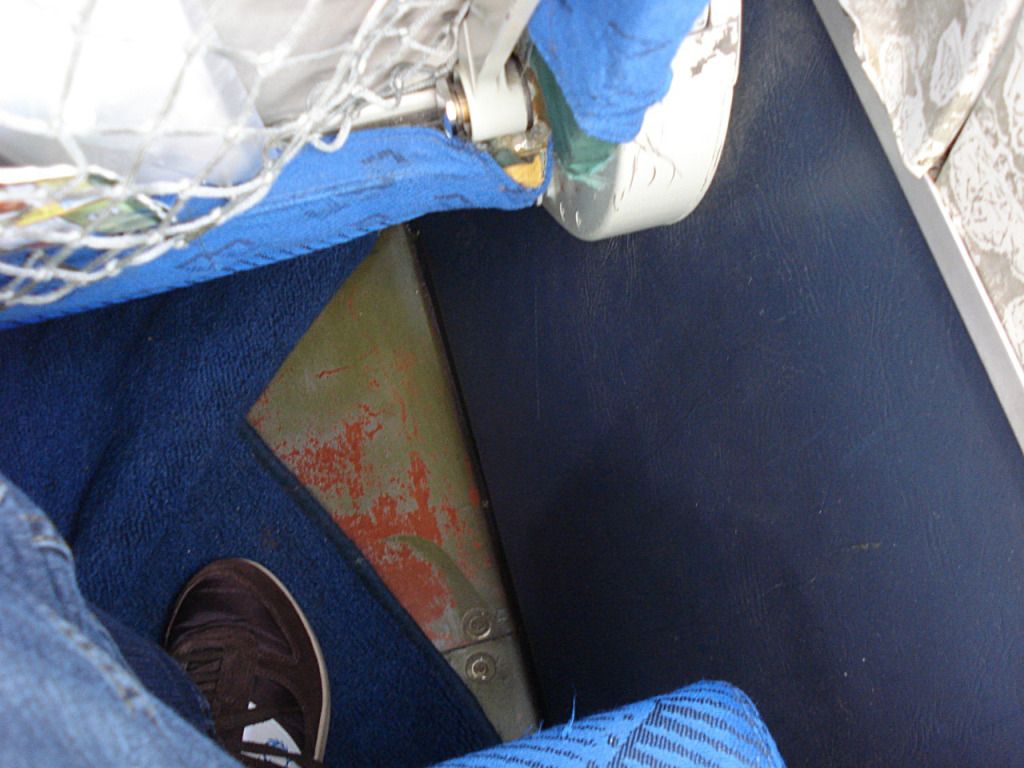 I put my feet up and lay sideways for a few minutes, enjoying the freedom I'd never have outside Russia:
The in-flight meal was served quite soon after takeoff, and was surprisingly good.
Everything tasted fresh (including the bread) – even the coffee was pretty decent. Afterwards I went to look at the lavatory – it was unsurprisingly disgusting inside and smelled bad. Nonetheless I took 2 photos: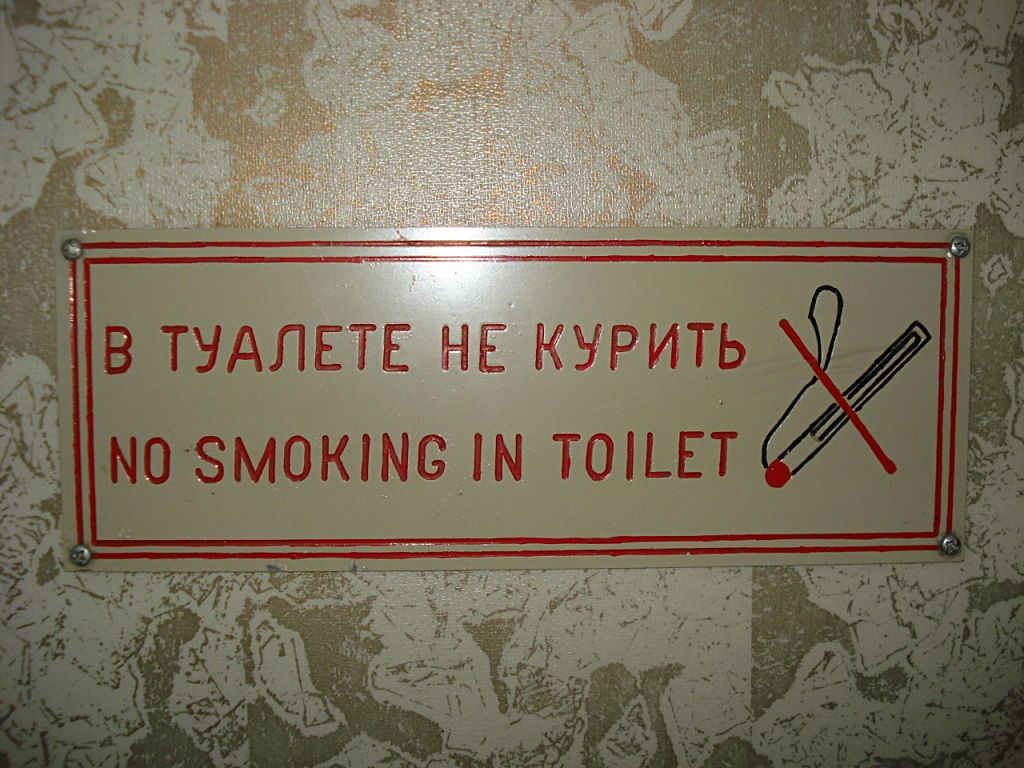 After getting home, I found that a safety card had accidentally been misplaced in my bag.
Before coming I'd asked a Russian friend to translate some text into Russian for me – it said:
Good day! I'm sorry but I do not speak Russian. I am a glider pilot and since my childhood I have loved to fly. I came to Russia to fly on airplanes that are rare in the UK (such as the Tu-154 and Yak-42) - I really admire them. I waited three years for the opportunity to come here. Please, can I visit the cockpit during the flight? It is my lifetime dream, and I will be very happy if this is possible! Thank you very much for your help.
And in Russian:
Добрый день! Прошу прощения, но я не говорю по-русски. Я пилот планера в Великобритании, и я с детства люблю летать. Я приехал в Россию, чтобы слетать на редких в Великобритании самолетах (таких, как Ту-154 и Як-42) - я действительно восхищаюсь ими. Я три года ждал возможности приехать сюда. Пожалуйста, могу ли я присутствовать в кабине пилотов во время полета? Это мечта всей моей жизни, и я буду очень счастлив возможности её осуществить! Большое спасибо за помощь!
I had a printout of this and I took it to the member of cabin crew who looked the friendliest. He smiled, grabbed my arm and literally dragged me to the front of the plane. I was told to wait outside, and after he went inside to speak with the pilots, he came back and said in broken English, "captain is eating, wait here". He pointed towards the empty business class seats, so I sat there. Several minutes later, the flight engineer opened the cockpit door and beckoned me in. I was finally inside!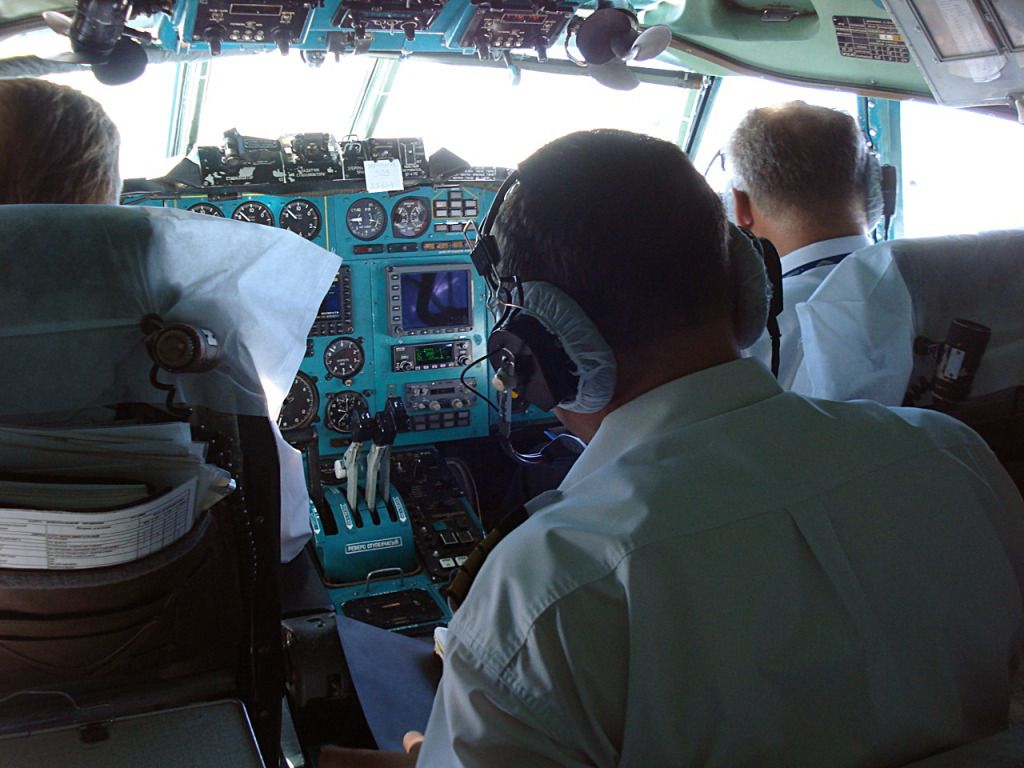 None of the crew spoke English, but I held up my camera and the flight engineer gave me thumbs up. Clearance accepted! I was amazed to see a paper chart still in use:
I was given a headset to listen to ATC, but it was entirely in Russian. Occasionally I'd hear an American voice, one was from Turkish Airlines, another Cathay Pacific and another USAF plane. The ATC controller replied in poor English to those international flights, it was hard to make it out. Here was the approach chart for Gelendzhik:
There was no sign of them asking me to leave before landing, so I just stayed. My seatbelt on the jump seat was half-broken so I didn't bother with it. About 10 miles away, the airport came into sight and the flight engineer prodded me, pointing it out and just saying "Gelendzhik".
Here's a video of the landing from the cockpit. Listen out for the "terrain ahead" message as we came in rather low... the landing was also off centreline although it cannot be seen in the video. The sound of the thrust reversers was amazing too.
http://www.youtube.com/watch?v=A9LPji2aS1c
After landing I took one final photo and shook hands with all the crew, saying "spasiba" to thank them in Russian.
We parked on the apron so had to disembark via stairs and take a bus. I took this photo but was shouted at angrily by a policeman at the bottom of the stairs. He took my camera off me at the bottom and must have asked in Russian to see the photo. I told him that I'd deleted it (not that he understood English), and after looking at him innocently for a few seconds, he shoved the camera back into my hand. Ok, well I still had the photo…
Gelendzhik Airport was tiny, and within a minute I was outside enjoying the 32 °C heat of the Black Sea. I had about 3 hours before my flight back, and an hour to wait before check-in. I contemplated asking a taxi driver to give me a one-hour tour of the local area, but none of them spoke English and I didn't want to miss the flight back. Luckily there was a bar outside the airport, so I sat there for an hour, enjoying 2 Russian beers and using the free wi-fi from the terminal.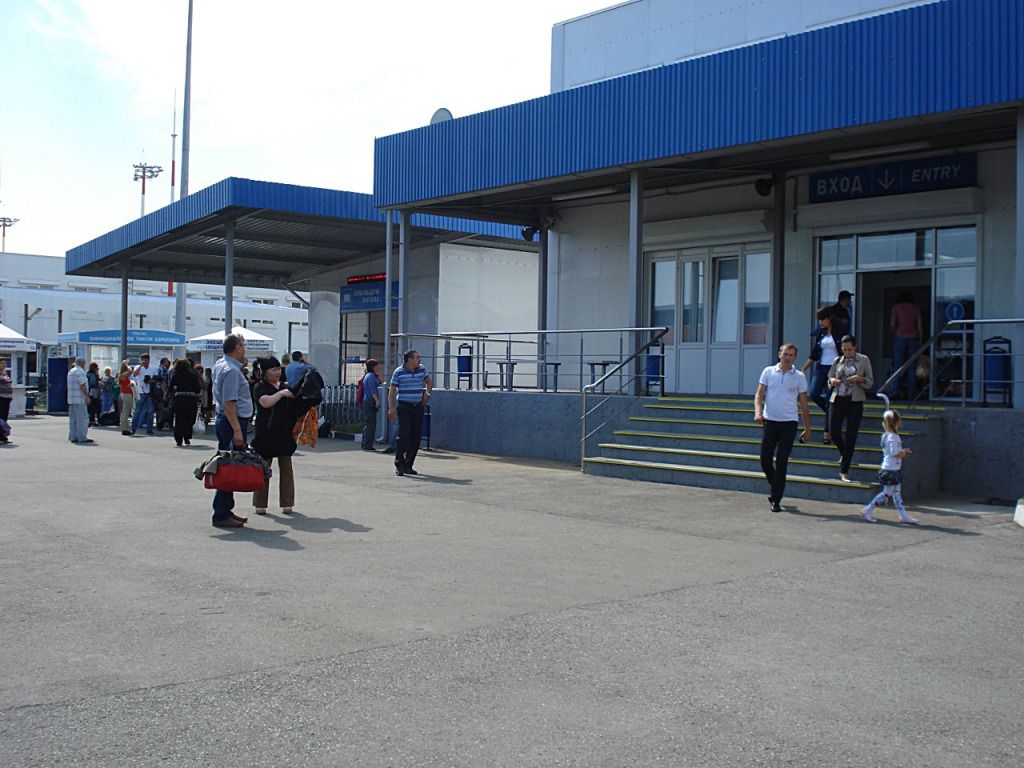 After an hour, I went inside to check-in and was surprised to see the girl spoke very good English. I asked for a window seat and was given one – very happy. The flight back looked full. There was no point going through security yet as beyond security was just a tiny room with one shop, so I went back outside to have another beer in the sunshine. I also watched the Alrosa Tu-154 depart back to DME and enjoyed the loud, smoky takeoff.
We got taken to the aircraft by bus again and soon I was settled into my comfortable seat on the Gazpromavia Yak-42. We boarded through the rear stairs, which was very cool, but again I was stopped from taking photos. I got out my mobile phone and snapped some photos on there, hoping it would be less conspicuous. And I was right, they didn't notice.
I have a video of the takeoff but it was spoiled by screaming babies, so I won't bother uploading it. Some nice views of the coast after departure:
We were soon above cloud:
Another safety card that I found in my bag after getting home: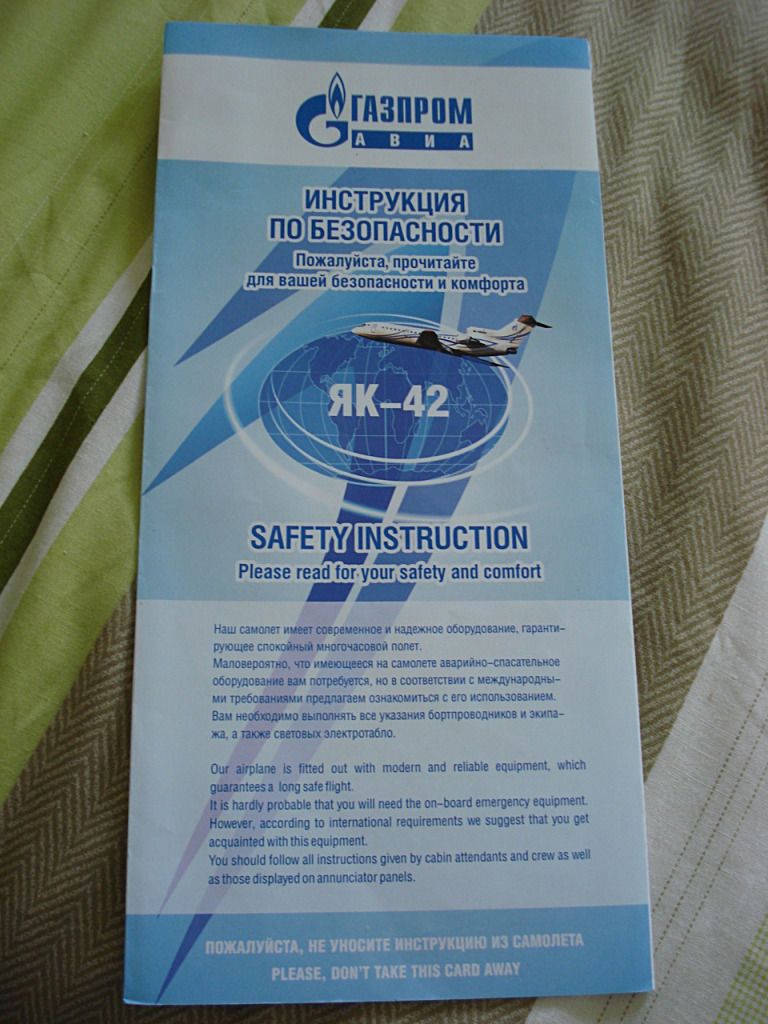 The cabin crew on Gazpromavia were all young, female and extremely good looking. I wondered if Gazprom handpicked them or something. I'd be happy to fly with them again! We had another full meal served, which was impressive. Again, it was very good quality and I enjoyed it.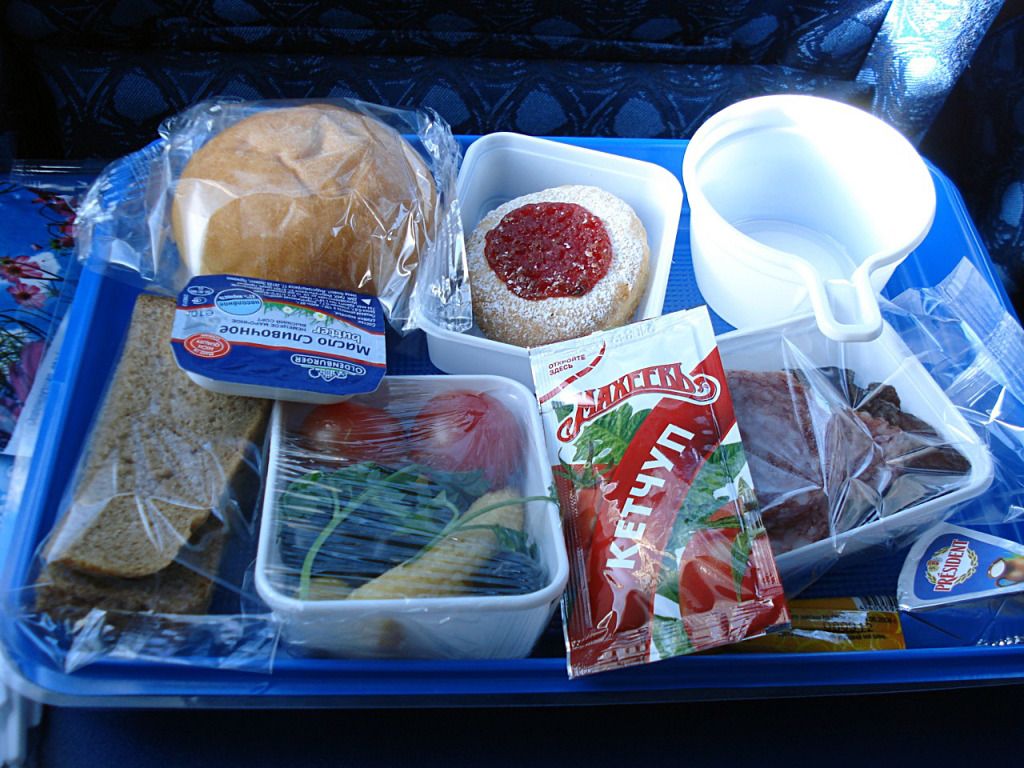 Afterwards, I took my Russian printout to the cabin crew again, and this cute girl smiled at me. She told me to wait whilst she spoke to the pilots. To my delight, I was led into the cockpit again. The 2 pilots on this flight were both younger and spoke quite good English, so we spoke lots about aviation. They took their headsets off and put the ATC on loudspeakers so we could all hear it. At first they wouldn't let me take photos, but after I looked disappointed they said I could, providing they were just of the instruments and not of them. So here are 3 photos: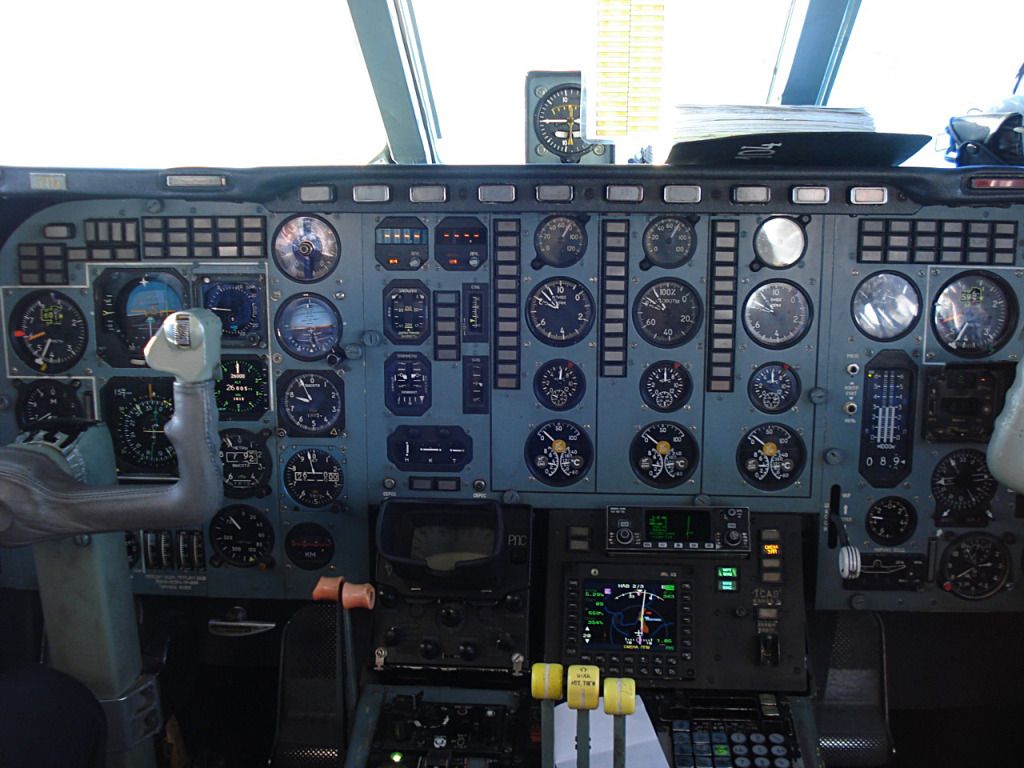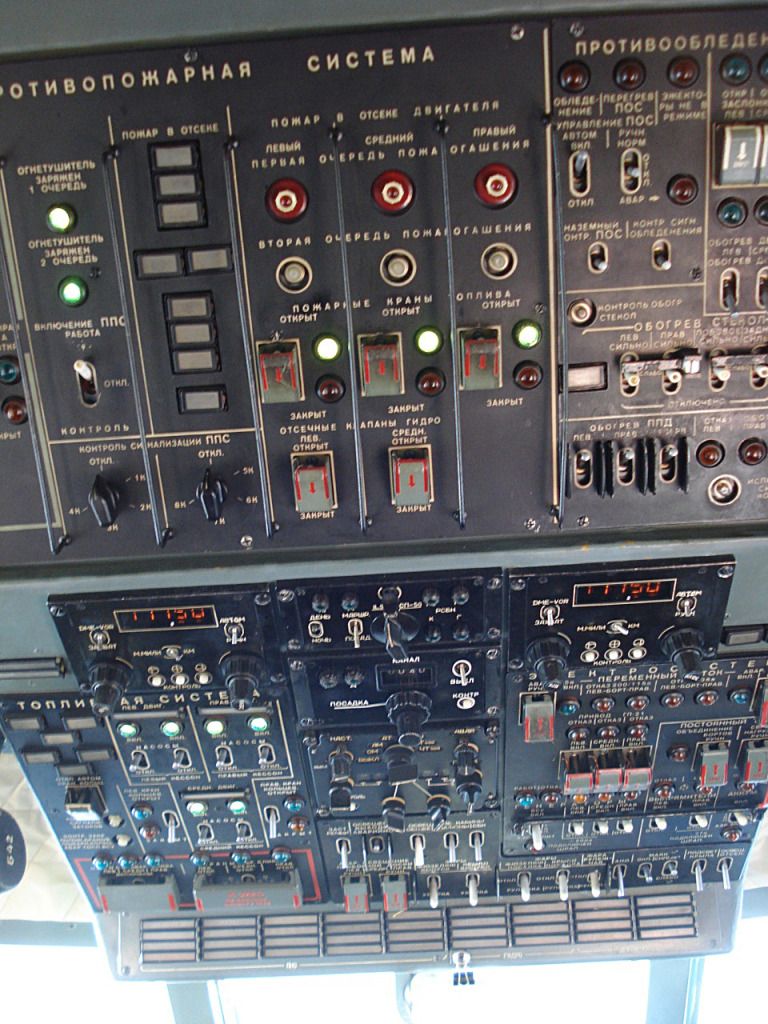 The best quote came from the co-pilot. He said, "this Russian flight computer, copied from America flight computer. But this work better, Russian computer Mac but America PC, ahaha". He spent the next 2 minutes laughing hysterically to himself at his joke. I was a bit concerned that they weren't actually flying; the 2 pilots both turned around and were chatting to me without monitoring anything. Ah well…
I sat there for a good hour, until we started our departure into Moscow Vnukovo. I was hoping I could stay for the landing, but they said it wasn't possible and I had to leave once we got to around 18,000 ft. The other passengers in the cabin looked at me suspiciously, wondering why I had a big grin on my face and why I'd seemingly disappeared for an hour.
We had a very smooth approach and landing into VKO. I have a video again but there were so many screaming babies that it spoils the video. I was glad to be in the cockpit for 2/3 of the flight and avoid those babies.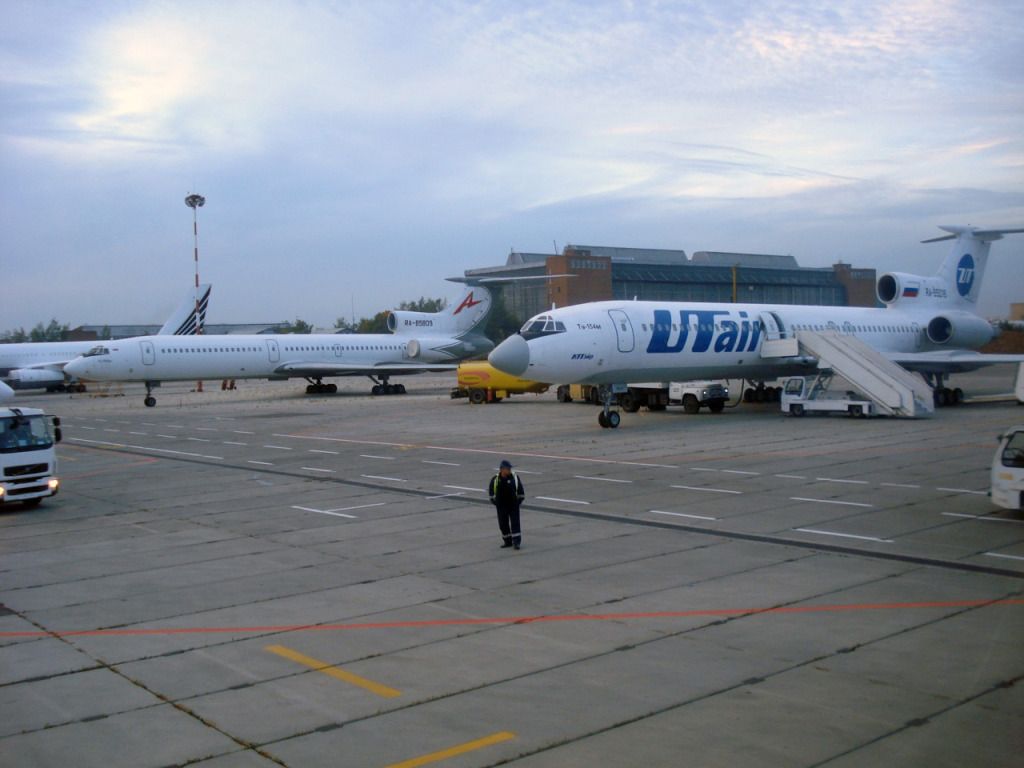 Once in our parking position, we had a bus to the terminal. As we were on the other side of the runway, we had to drive all around the airport and the bus took almost 20 minutes, much to the dismay of the Russian passengers. It was great for me though, as we drove past lots of Russian aircraft including Tu-134s, Tu-204s, Il-86s etc. No photos unfortunately as we had a policeman on the bus standing next to me.
I had to wait 45 minutes for the next Aeroexpress train to Kievsky Station, so I grabbed another beer (bargain at 2 EUR) and used the free wi-fi for 30 minutes. I love the fact that everywhere in Russia seems to offer free wi-fi – it's so useful.
I finally got back into my hostel bed, happy with the amazing day out and grateful to all the crew that made it happen. Can't wait to visit Russia again!
Coming in Part 2 of my trip report: flights on the Tu-204 and Il-96, involving drunken Russians and an accidental release of oxygen masks…
Thanks for reading – comments and questions welcome