To the US on United. BOM-EWR Non Stop!
BACKGROUND
I had a business trip lined up to my company's office in Iowa. This meant a long process of booking air tickets, planning accommodation, airport transfers, etc. Out of these, choosing the right airline was the first and most important step. All travel arrangements are handled by our efficient Travel Desk, but I was free to give them my preferences.
After a long process of selection (or rather elimination) involving multiple permutation & combination, I finally decided to take "The Non Stop" My tickets were booked on United's 15 hour Ultra Longhaul flight from Mumbai to Newark! My routing was BOM-EWR-ORD-CID – a total of three flights and a travel time of 24 hours, 19 minutes!
This would be my first ever Ultra Longhaul Flight and I was excited for sure!
United's non-stop to EWR – UA 49 was originally designated CO 49 before United and Continental merged to form "The New United". It was and still is operated by Continental's GE-90 powered 777-200ERs. The crew on this flight also belongs to pre-merger Continental. This non-stop service was started a few years ago, when a handful of other operators started India-US non-stops. The other non-stop services between BOM & the US were by Delta & Air India both operating to JFK. Delta later routed the non-stop to its hub in Atlanta before discontinuing the route. Air India too shifted the flight from JFK to EWR.
There have been a few reports on these other ULH flights, but I believe this would be the first trip report on United's BOM-EWR Non-Stop!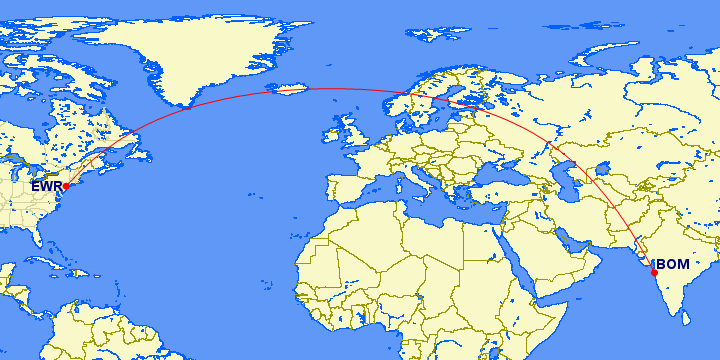 PREPARATION
UA 49 departs BOM at 2300hrs. This means that I have the whole day to pack my stuff for the month long visit to the US. I had to ensure that I restricted myself to one checked bag and that too up to a maximum of 50lbs (approx. 23kg) to stay within UA's free baggage limit. Packing done, I decide to check if the incoming flight – UA 48 was on schedule. I log on to United's website and I am shocked to see that it shows up as cancelled!
I make frantic calls to United's call centre and the following conversation ensues:
Me: "I am flying on UA 49 to Newark tonight and the website shows that the incoming flight – UA 48 is cancelled today! Does this mean that tonight's UA 49 is cancelled too?"
UA: "Let me check on that"
After a few anxious moments,
UA: "Sir, your flight tonight is on schedule."
Me: "Are you sure? How can you operate the flight when there is no inbound aircraft?"
UA: "Umm, give me a minute to check on that"
After a minute,
UA: "Don't worry sir; the flight is leaving on time!"
Me: "Where will you get the aircraft from?"
UA: "Sir, last night's UA 49 was cancelled due to a technical issue, so that aircraft is already at BOM."
Me: "Ah I see! So you guys fixed whatever needed to be fixed, correct?"
UA: "Yes Sir"
Me: "OK, Thanks for your help!"
UA: "Sure Sir. Have a nice flight!"
Now I am sure that a majority of my co-passengers wouldn't have these anxious moments because they weren't aviation geeks like us. Who would track the incoming aircraft to gauge the status of the outbound except nuts like us? Sometimes ignorance is bliss…
The rest of the day passes quickly, and soon it is time to leave for the airport.
REACHING THE AIRPORT
The company car arrives at the right time to pick me up. I am travelling to the airport during the evening rush hour, so I have kept a little bit of a buffer just in case we get stuck in traffic. And we do encounter some heavy traffic on the way to the airport. Nevertheless, I reach the airport on time.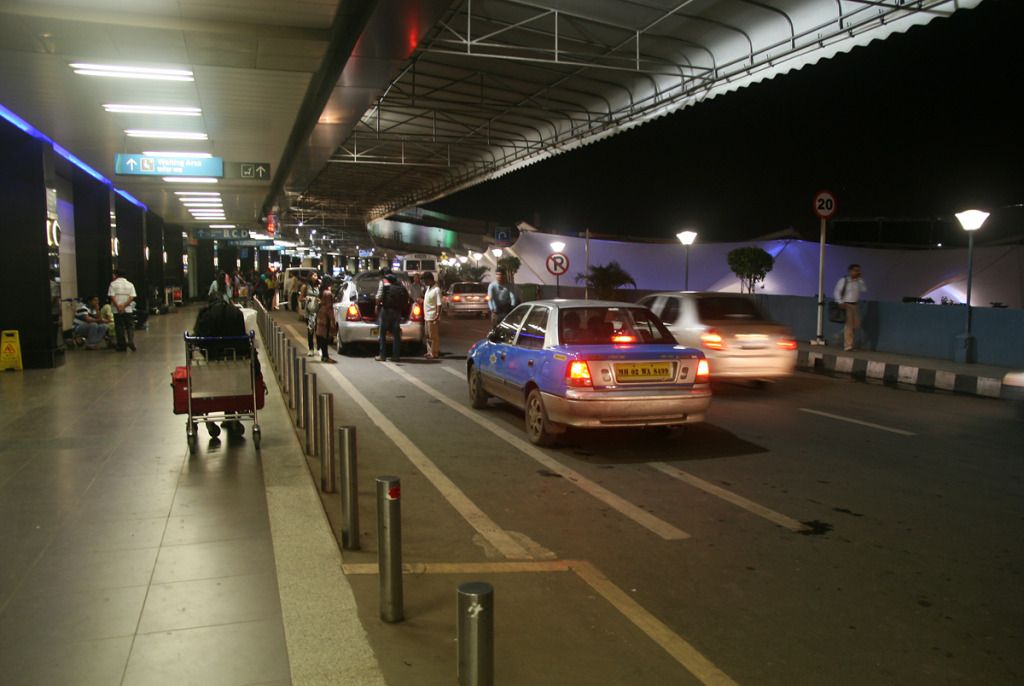 Most international long haul flights depart BOM during the night, so the rush hour at the airport is just beginning. As is the case with any airport in India, there are hordes of family members bidding farewell to their sons/daughters/husbands/wives/brothers/sisters/friends, etc. I put my bag on a trolley and walk towards Gate A, where United's Check-In counters are located.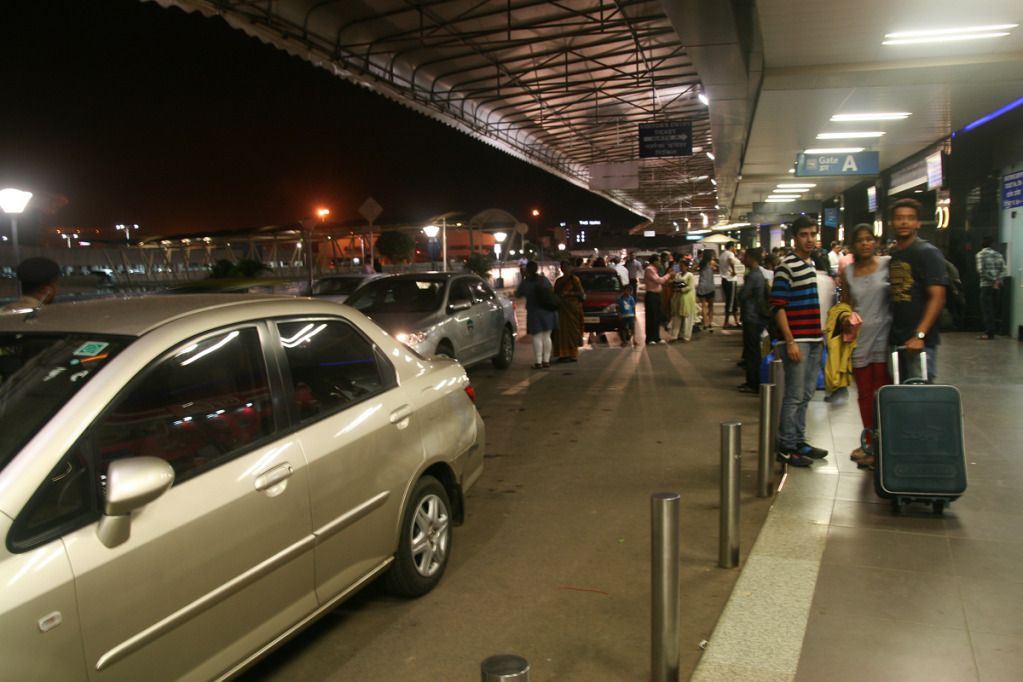 CHECK-IN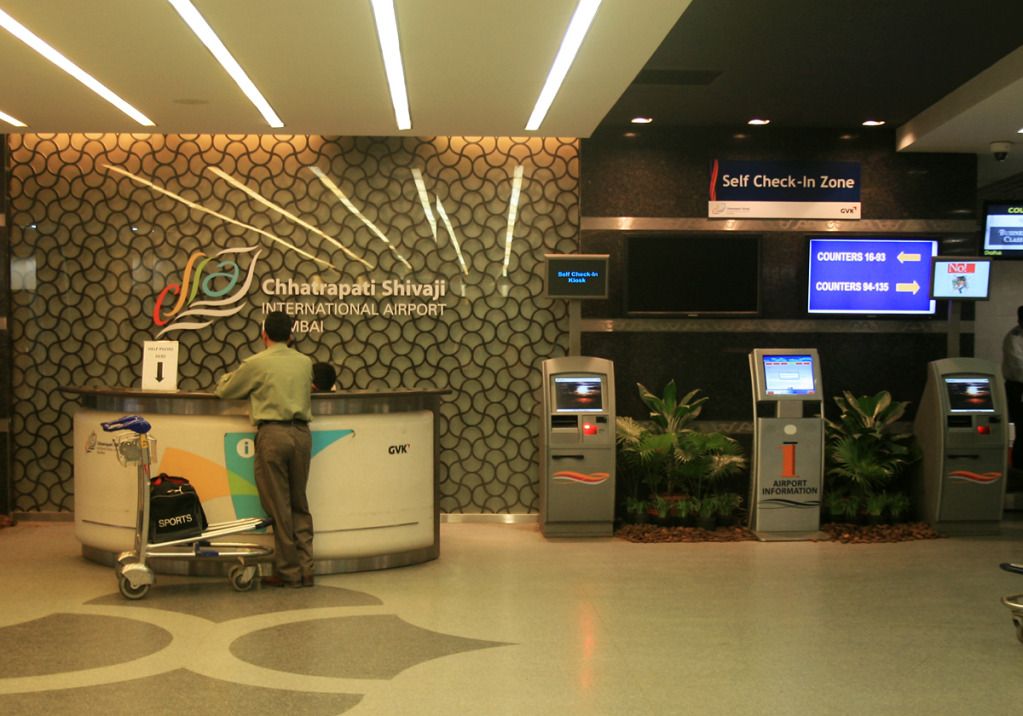 There is a long queue at Check-In and three counters are assigned for Economy Class today. United's Mumbai based ground crew come along, check passengers' documents and ask a couple of mandatory questions about their baggage.
The ground crew also inform passengers that tonight's flight is absolutely full (understandable, since the previous night's flight was cancelled) and there is a chance that some passengers might be offloaded and accommodated on UA's partners' flights. I explain my routing to them and they ask me to speak to the check-in agent.
My turn to check-in comes after nearly 20 minutes of waiting. The check-in agent assures me that I would definitely get on this flight, as I had two more connections to make. My check-in bag makes the weight cut, and I am handed my boarding pass and departure card.
After filling out the departure card, I make my way to Immigration which takes less than a minute to complete!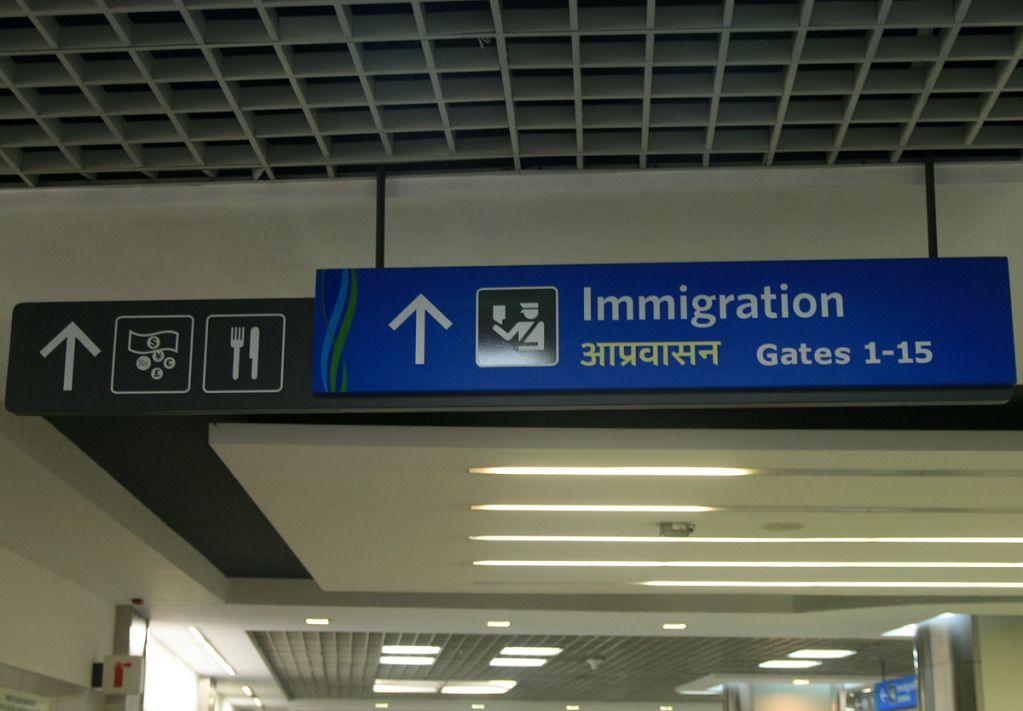 After this follows another queue for Security Check. This takes around 15 minutes, after which I am released into the world of Mumbai Duty Free!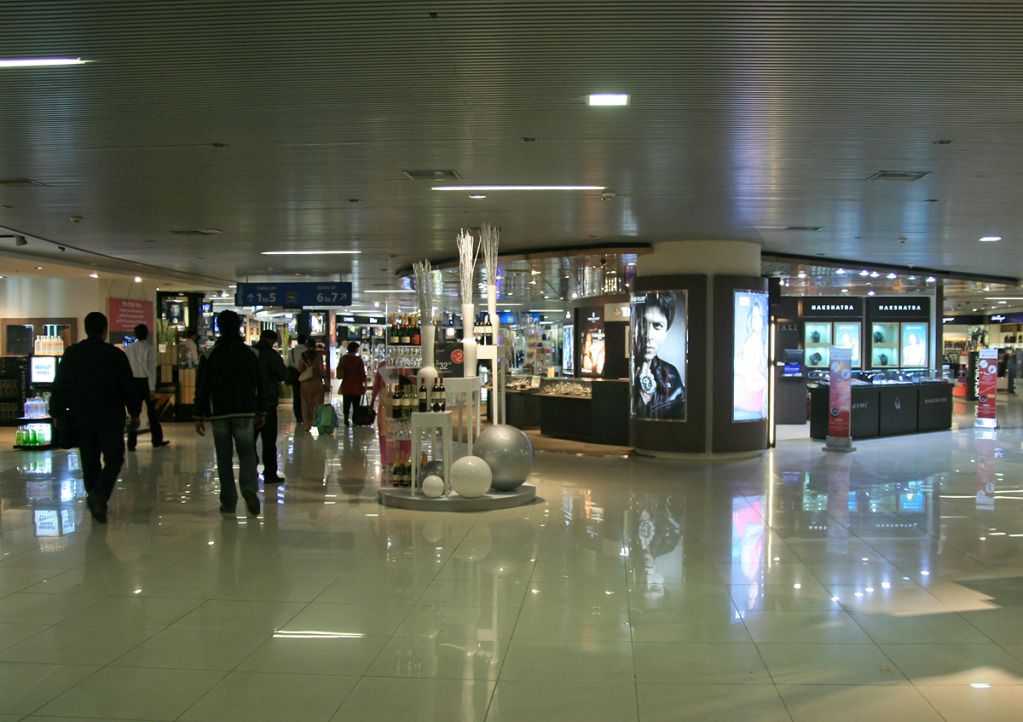 Directions to the lounges at BOM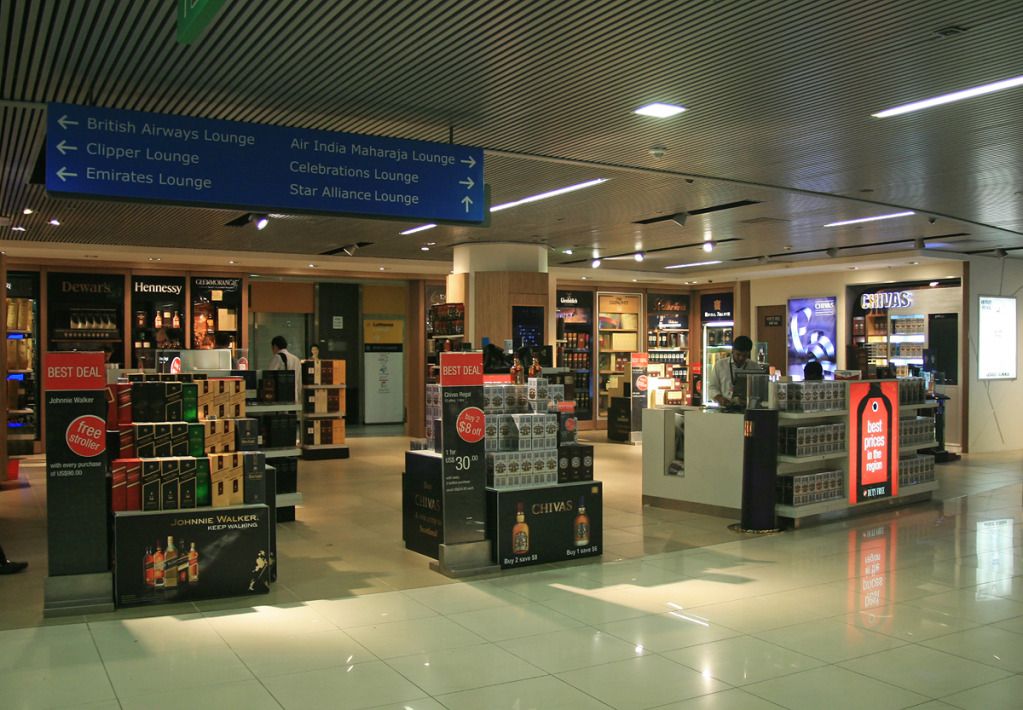 I always make it a point to check out the prices at the BOM Duty Free stores, to compare it with the ones at my destination. I have noticed that BOM is consistently cheaper than most of the airports I have been to – including DXB and BKK!
A view of the F&B area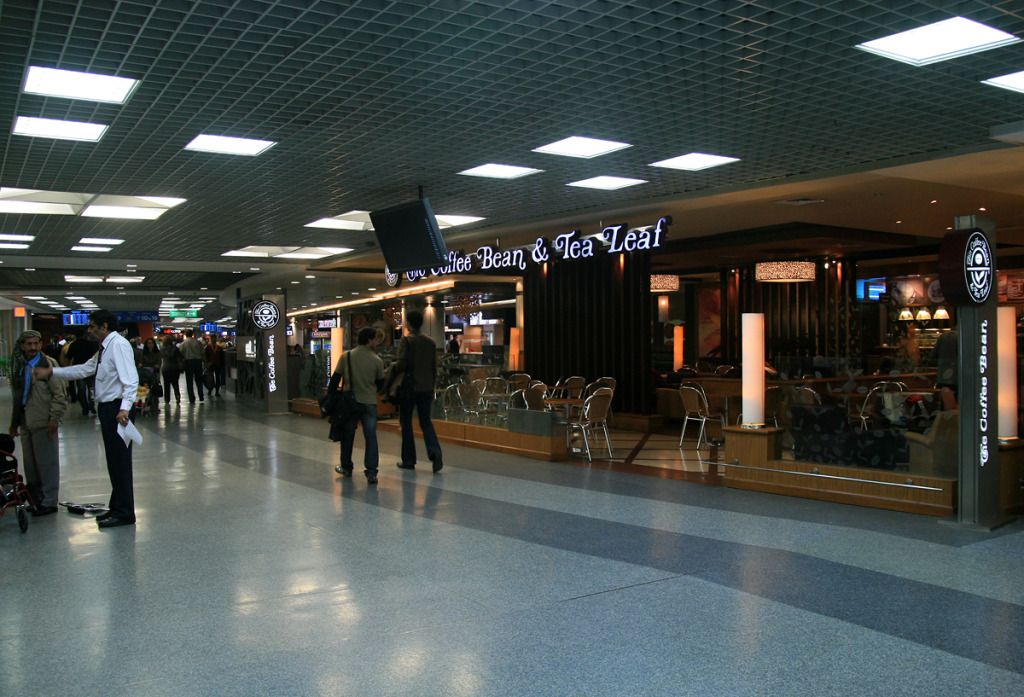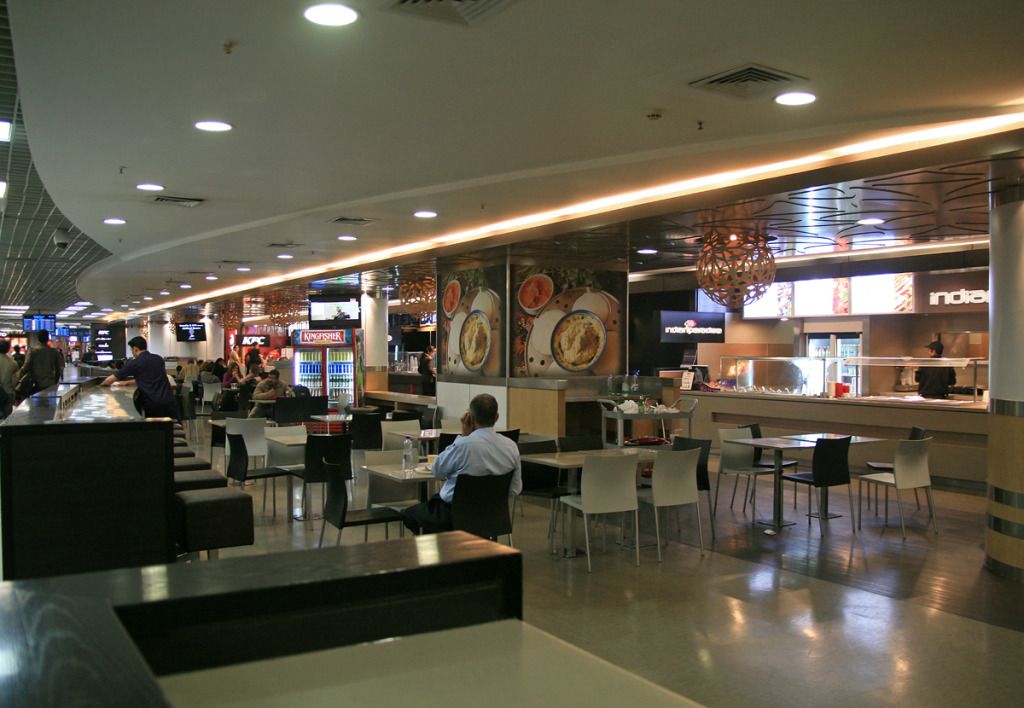 Not having enough time to visit my usual Clipper Lounge, I walk towards Gate 2A, from where UA 49 would depart tonight. Gate 2A has a secondary security check point to cater mainly to the US bound non-stops. I go through the whole drill of removing my belt, shoes, etc. which takes another 10 minutes. After this, I sit down inside the security hold area and wait for the boarding call.
My boarding pass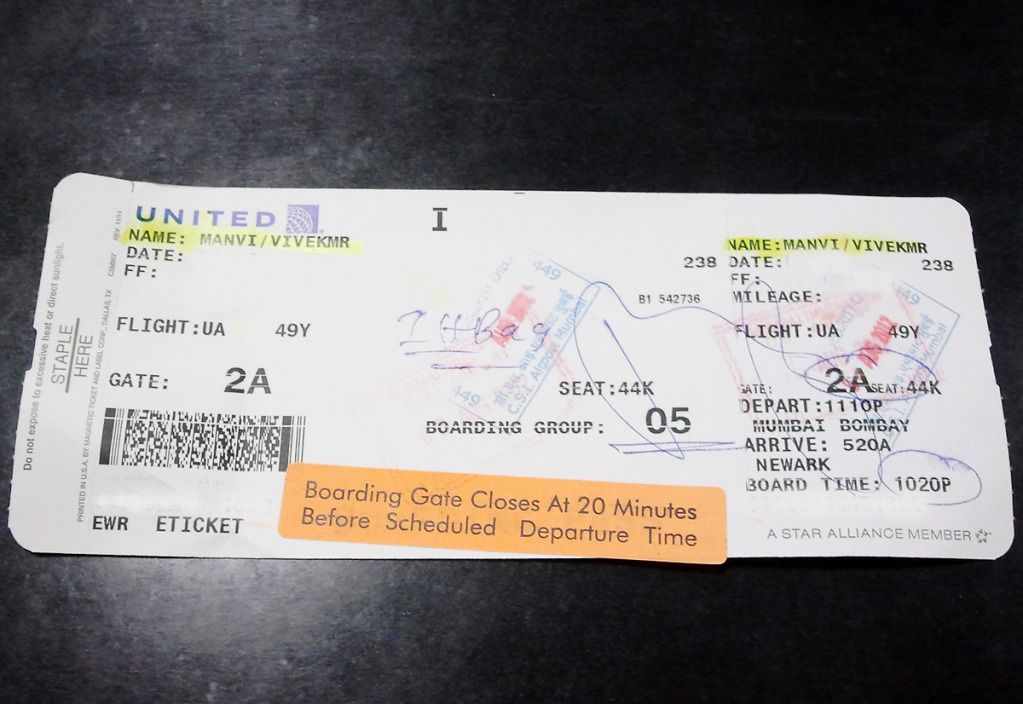 The holding area is completely packed, and I am curious to know if UA had indeed offloaded a few people. I wonder if the B777-200ER was capable enough to haul 250 odd passengers & crew and their luggage, along with a belly full of fuel across 7000 miles to EWR.
BOARDING
Sector: BOM-EWR
Airline: United Airlines
Flight: UA 49
Aircraft: Boeing 777-200ER
Registration: N77019
Scheduled Departure: 2310 Actual Departure: 2330
Scheduled Arrival: 0520 Actual Arrival: 0452
Seat: 44K
The scheduled boarding time of 2220 comes and goes, but there is no sign of boarding. Finally UA announces a 15 minute delay for boarding which makes the wait a bit longer. Anyway, boarding finally begins at around 2245 with a sequential boarding process announcement. I was part of "Boarding Group 5" which meansthere is still some time to go before I get on the plane.
Finally boarding for our group is announced and I walk across the aerobridge and on to my first ever Ultra Longhaul Flight. I am greeted by a senior non-smiling FA and directed towards my seat.
As expected, the flight looks completely full, and passengers are still stowing their carry-on bags in the overhead bins. It takes another 5 minutes to make my way to my seat on the absolute last row of the 777. Thankfully, I have an aisle seat in a group of only two seats, which means I could easily stand up and walk around on this insanely long flight!
Boarding is completed by 2315, which means that we would depart slightly behind schedule. The First Officer comes online, welcomes us on board, announces the flight details and mentions that we were now ready and waiting for clearance to push back.
THE FLIGHT
We finally push back at around 2330 and I prepare my ears for the sweet GE-90 startup "moo". Sure enough, the massive power plants come alive with their trademark mooing sound, and UA 49 is ready to undertake another 15 hour marathon run to EWR.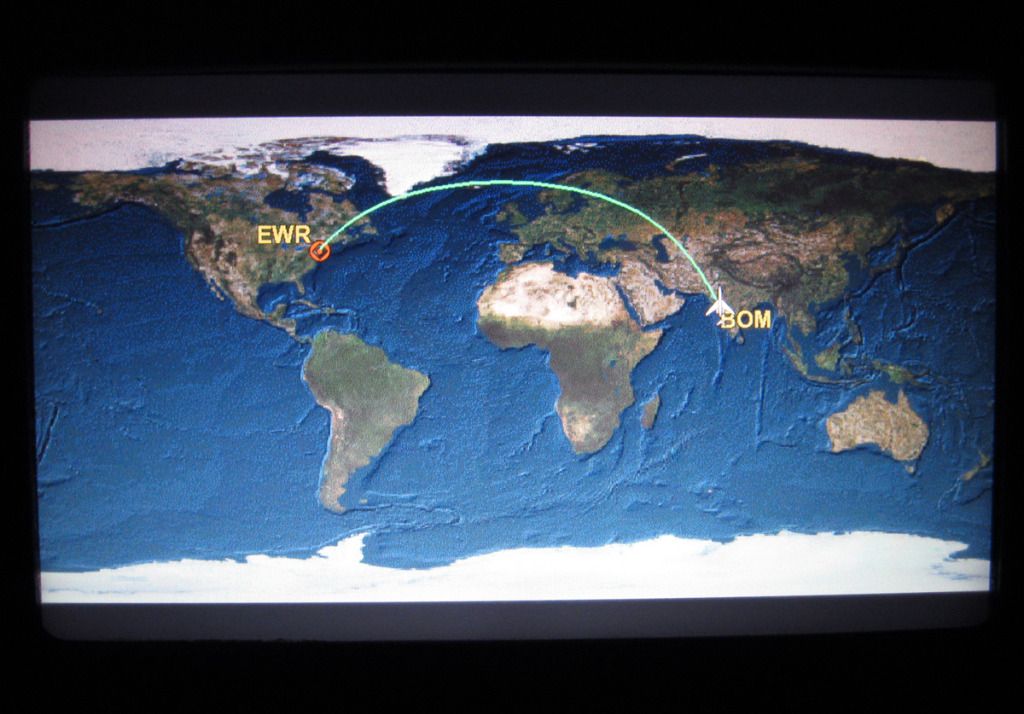 We soon line up on Runway 27 and with a mighty roar, rocket into the night sky. After a minute or two of heading west, we bank right and set a north westerly course.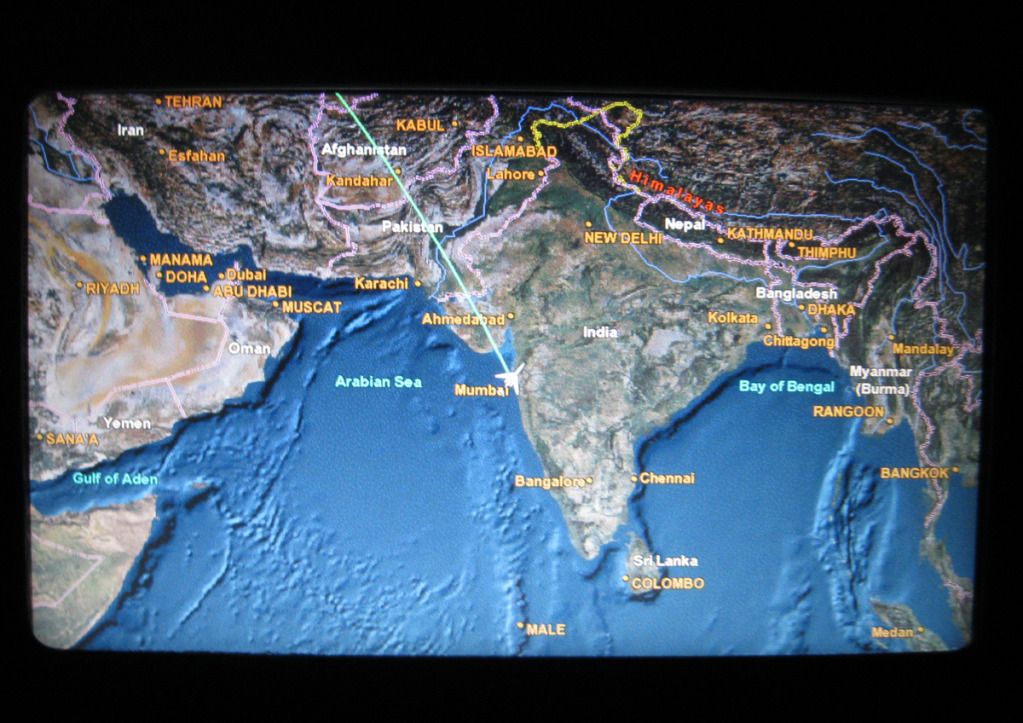 It is now time to explore the IFE, which consists of PTVs with AVOD. It is going to be a long night ahead – literally, and the IFE better be good.
I browse through the Movies on offer. There is a wide choice of movies spanning a variety of genres. Note the "Time to Destination" on the top right corner!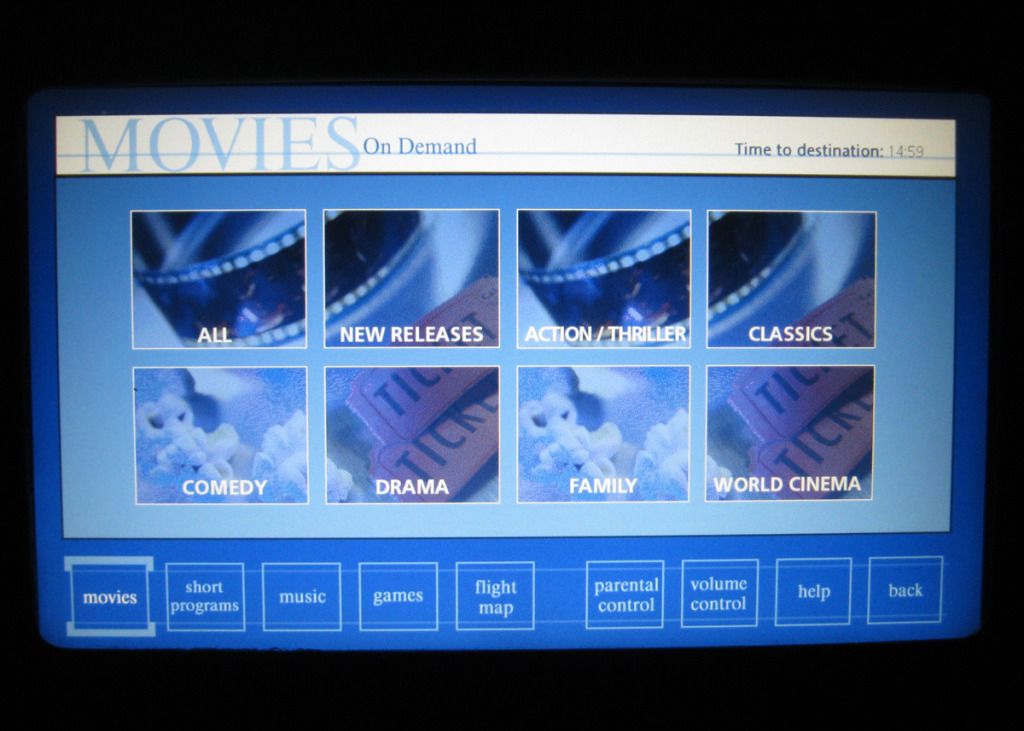 I select "The Hunt for Red October" starring Sean Connery and Alec Baldwin.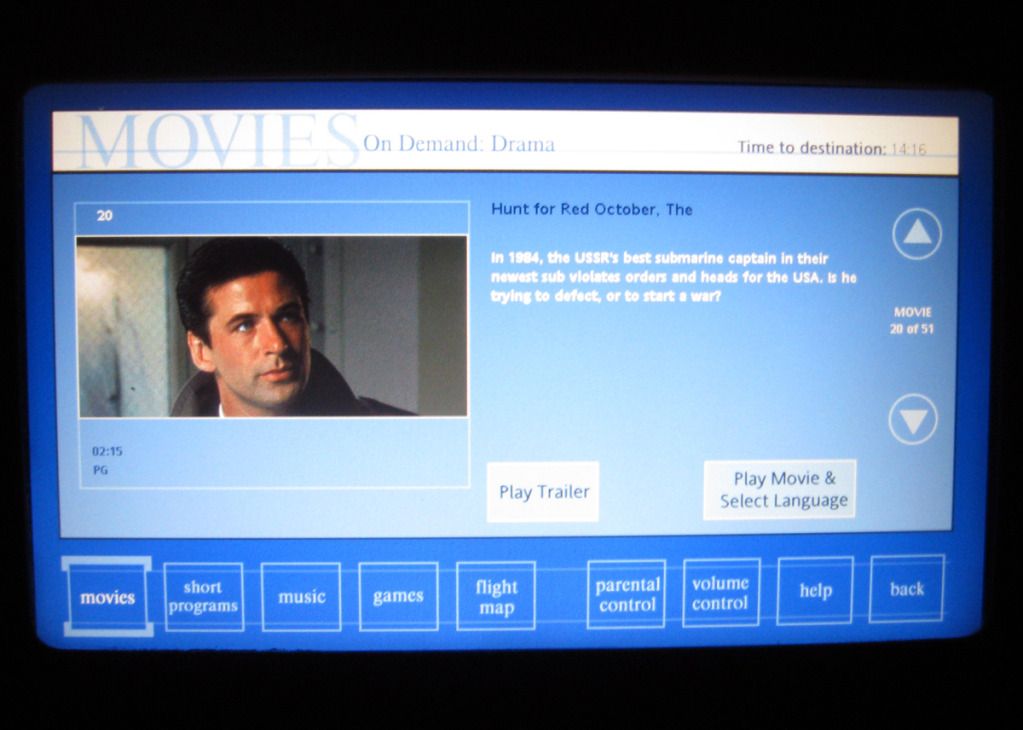 The crew comes out with the meal carts around 30 minutes after take-off. The meal service begins from the front of the aft cabin where I am seated, so I would be one of the last ones to be served. It takes roughly 30 minutes for them to reach me and by then, they have run out of the non-vegetarian option!
I settle for the vegetarian dinner consisting of a salad, cottage cheese gravy, cauliflower & capsicum gravy served with rice along with a bun and some yoghurt. The "dessert" is a packet of chocolate chip cookies, which I thinkis a really poor choice on United's part.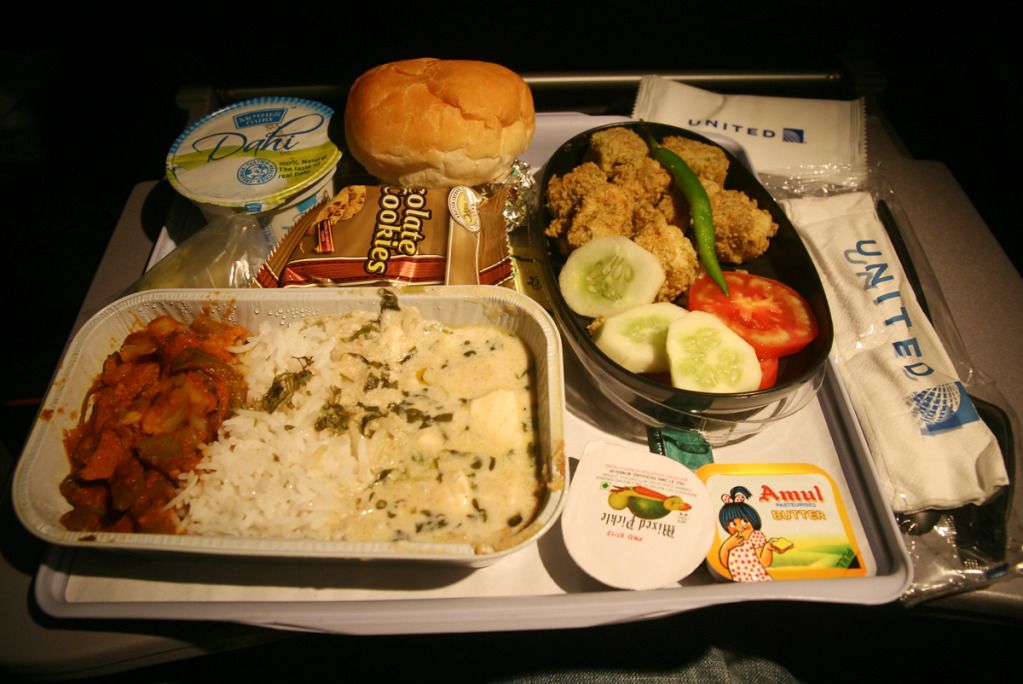 Look at that chilly!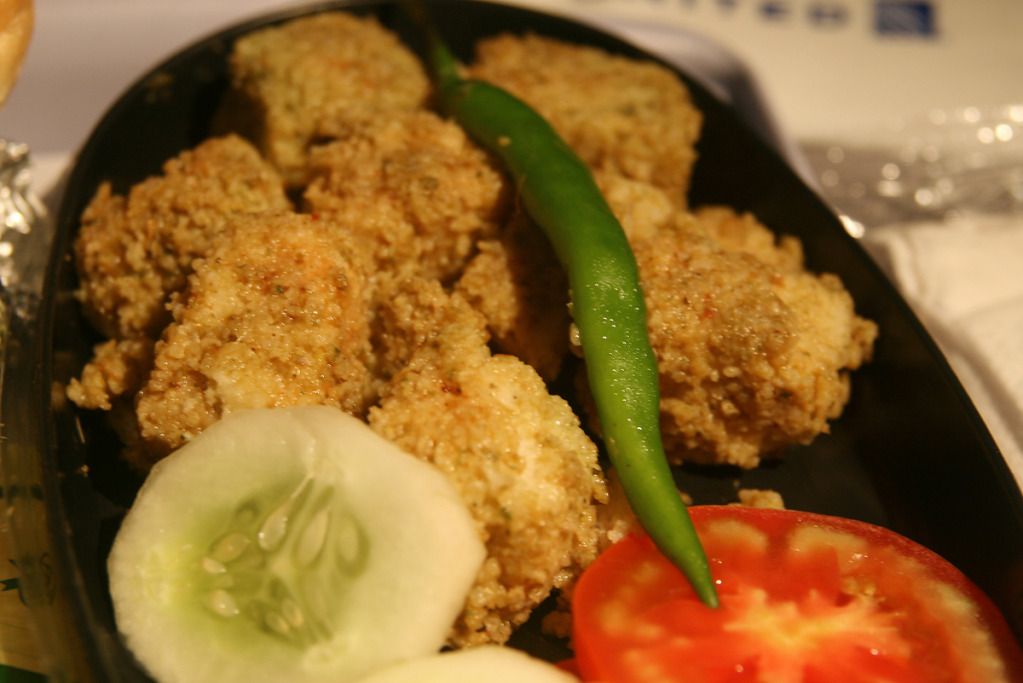 United charges $7 for an alcoholic drink ($6 for beer) in Economy Class. I choose Absolut with Sprite.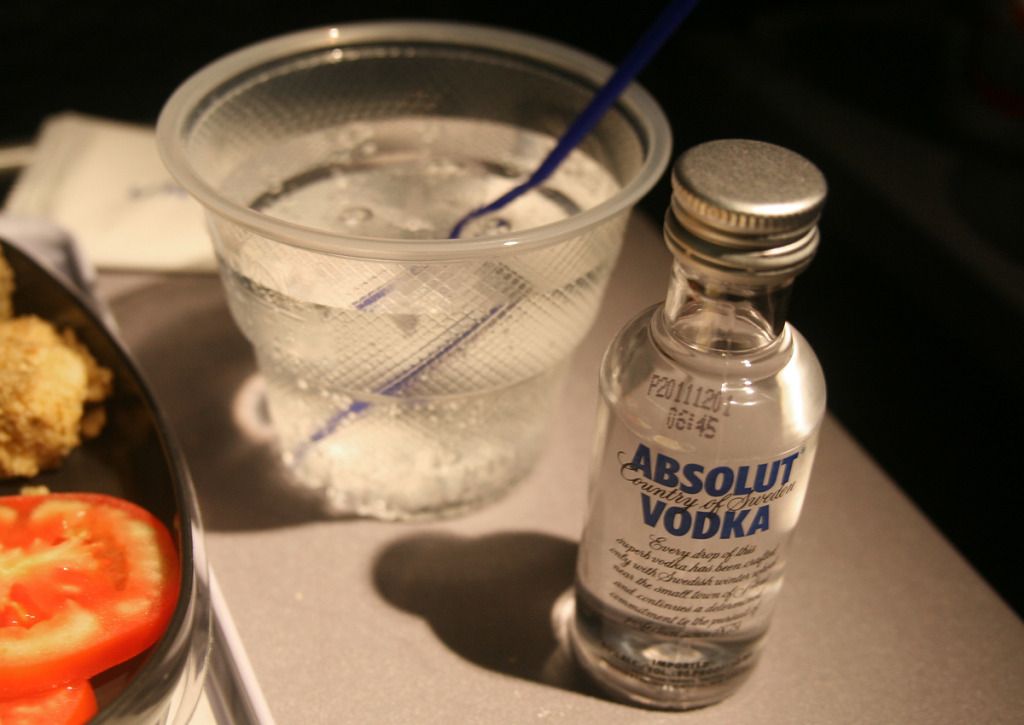 One observation here – the FAs seemed to be engaged in their own conversation (read gossip) while serving the passengers. And they were talking loudly, not whispering. Every now and then they would pause for a few seconds, ask a passenger what they wanted, and go back to their chatting. They were talking to each other even while handing out the meal trays or glasses of drinks. They didn't even respond when the passengers thanked them! How rude!
The meal is decent, nothing too great about it and I finish it off while watching the movie. After the movie ends, I decide to see where we were.
Still a long way to go!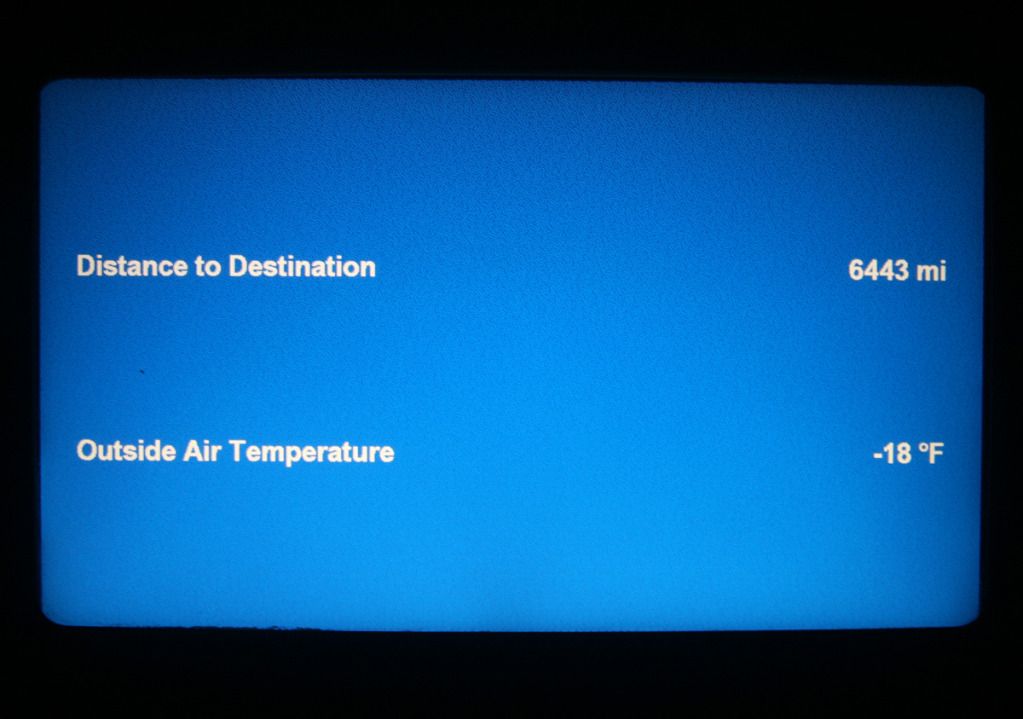 I am surprised to see that we are now flying over Iranian airspace near the town of Mashhad. Do American carriers routinely fly over Iran?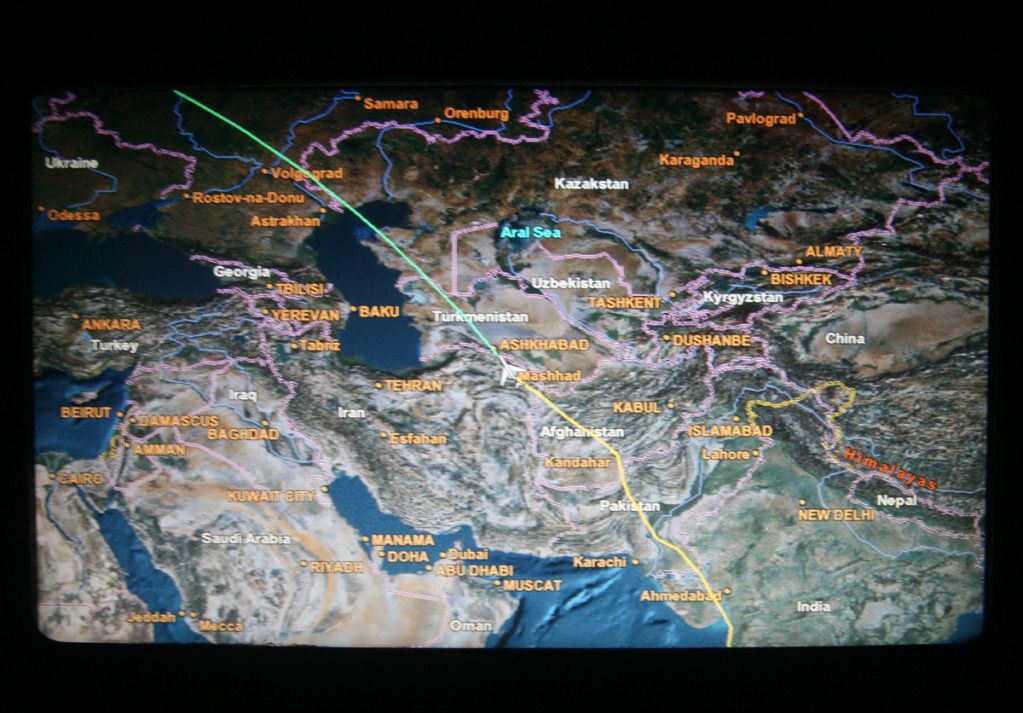 The FAs go through the cabin distributing snack packs consisting of a potato sandwich, a packet of chips, a bar of Kit Kat and a bottle of water. Something to munch on in case you feel hungry later on.
I try to catch some sleep, as I am feeling pretty exhausted. I can barely sleep for an hour in that cramped seat.
Still more than 8 hours to go!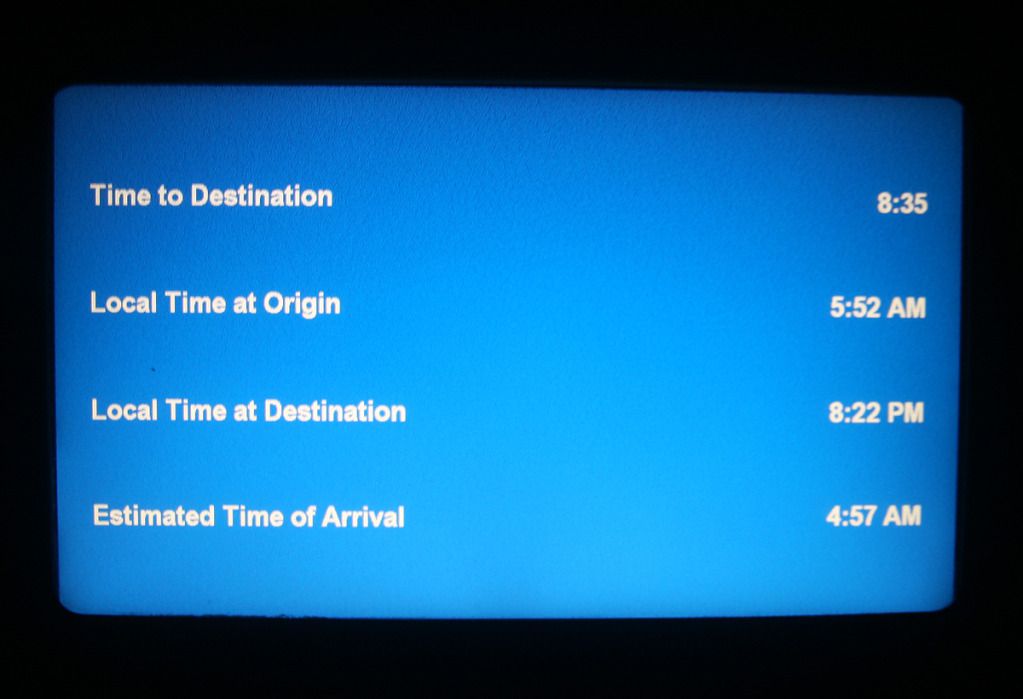 We are now flying over Western Russia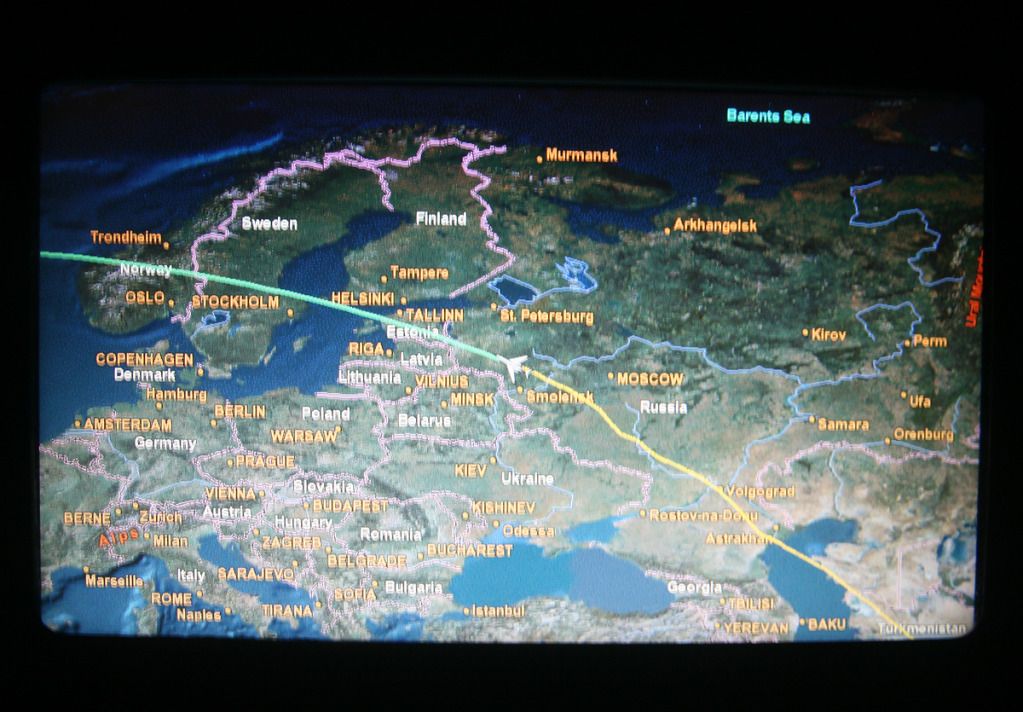 These ULH flights get boring after a point, as there is nothing much to do. IFE helps, but only to some extent. How many movies can you watch at a stretch? With these thoughts running in my mind, I try to get some more sleep.
I wake up when we were flying over Norway. I must have slept for an hour and a half!
Opening the window, I can see daylight and clouds below us! It is summer, and the night lasts for barely a few hours in this part of the world.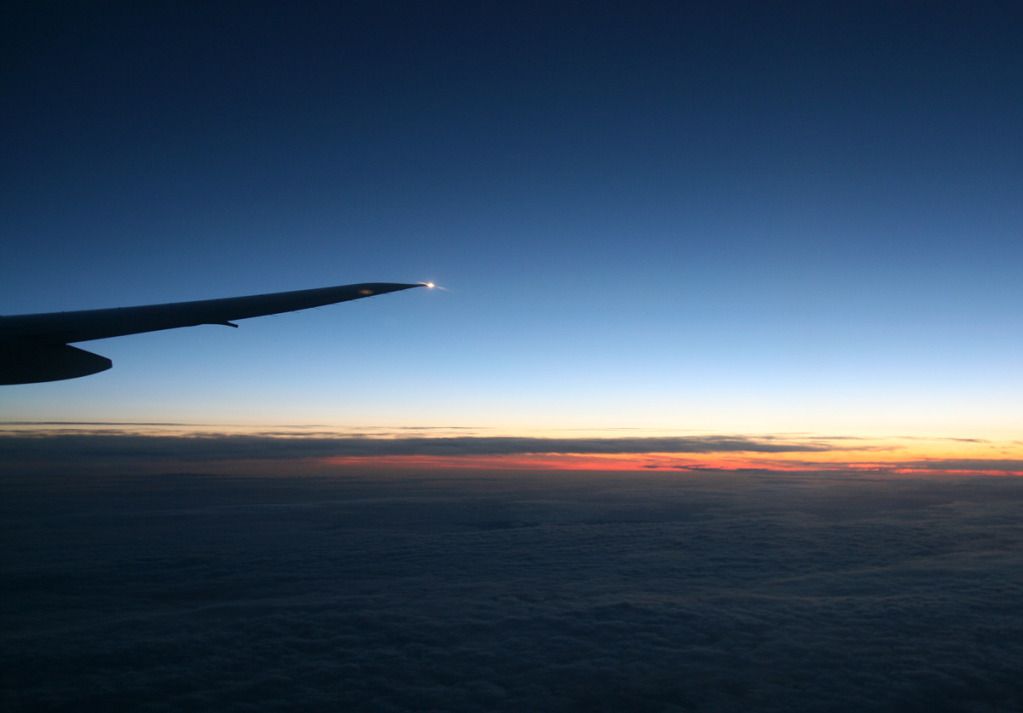 A welcome sight as opposed to the continuing streak of darkness that accompanies this flight!
Seven more hours to go before we land! And we've been airborne for eight hours! This is a flight that never seems to be ending.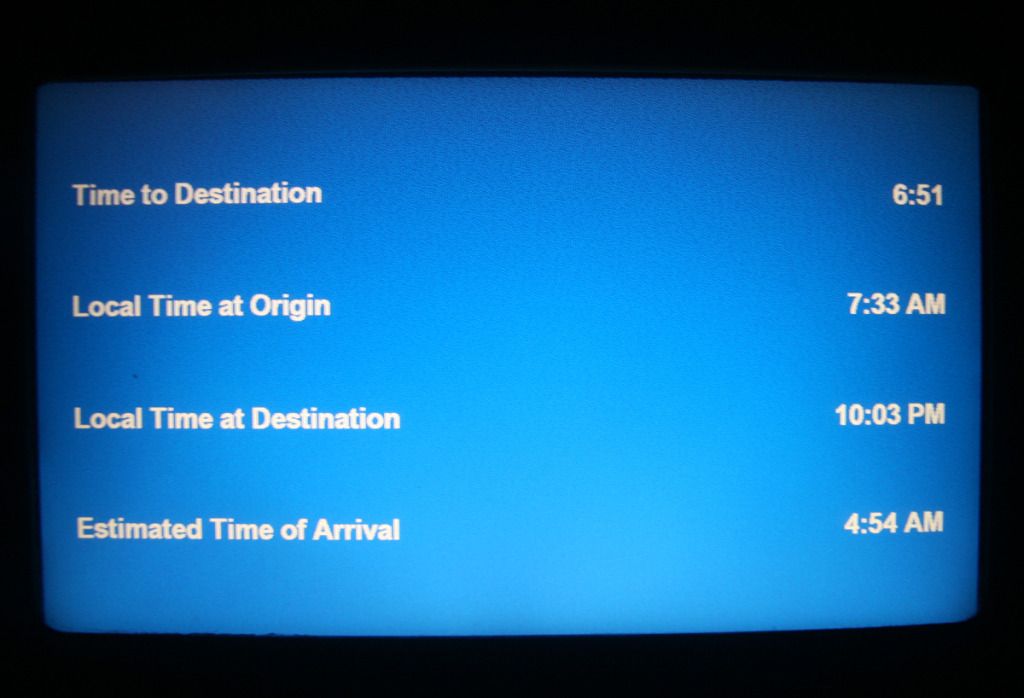 IFE time again. This time I decide to watch a TV show and choose an episode of "Friends"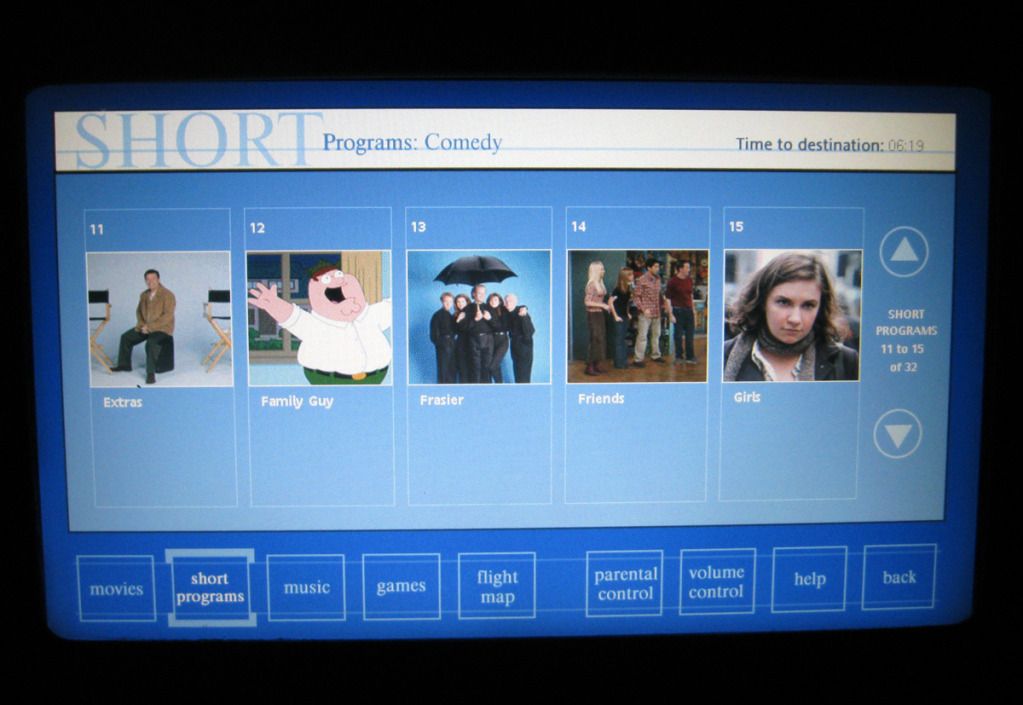 "Friends" keeps me entertained for a couple of hours, and now we are flying over the Atlantic Ocean, just south of the coast of Iceland.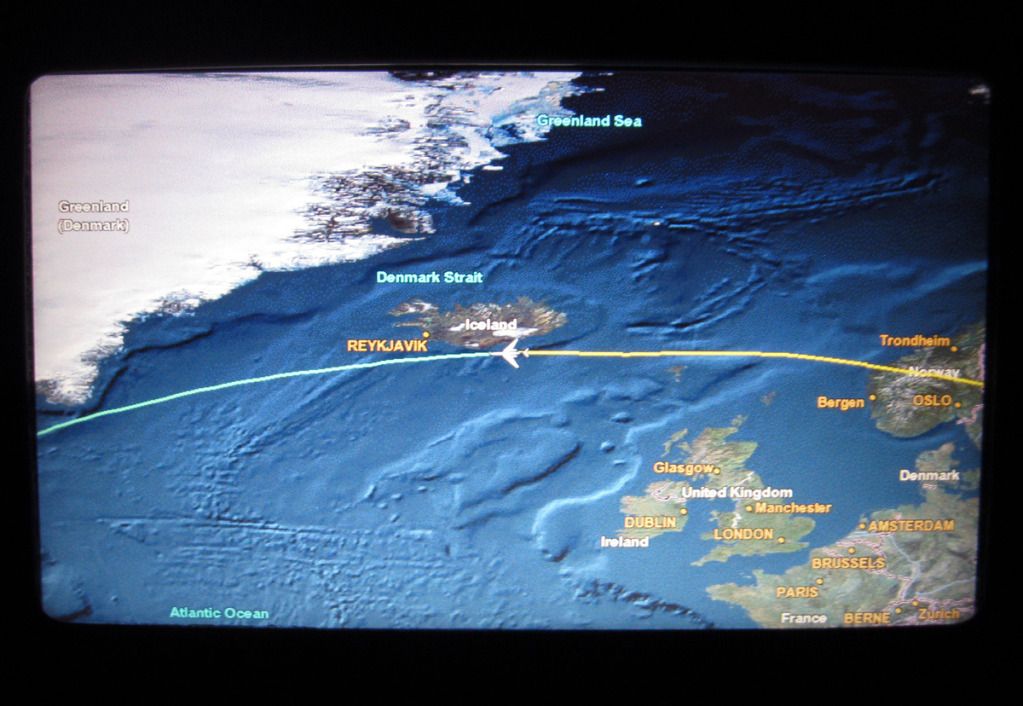 I am tired of sitting and I get up and visit the restroom and I find it decently clean. Maybe it is because everyone is sleeping now. Let's see how it looks like before landing. I stand for some time in the rear galley to stretch my legs. I ask a male FA for coffee and he promptly makes one for me. We chat about the flight and I tell him about my love for aviation among other things. Then I ask him if he and the other crew were part of Continental before the merger. He smiles and responds in the affirmative, and then adds "I hope it always remains that way!" Hmm, did anyone say merger?
What should I do now, I think. OK, let's watch another movie. I choose "The Italian Job" starring Mark Wahlberg and Charlize Theron.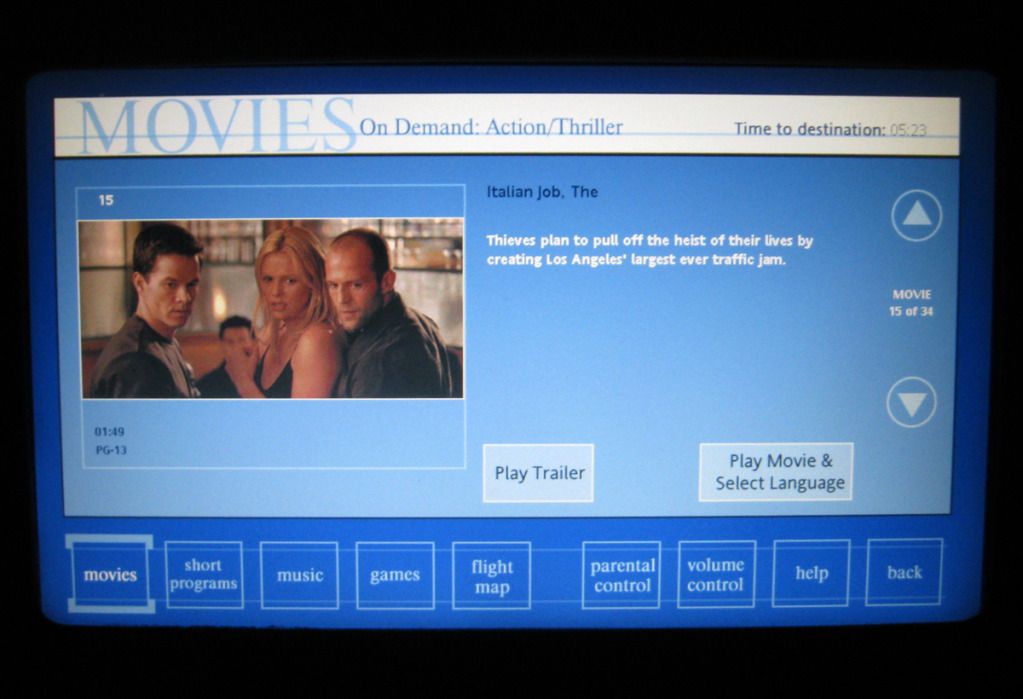 My seatmate who is an Indian student returning to college in New York alerts me to a spectacular view outside the window. This is a snow-capped peak near the Icelandic coast. Is it an active volcano too? Who knows?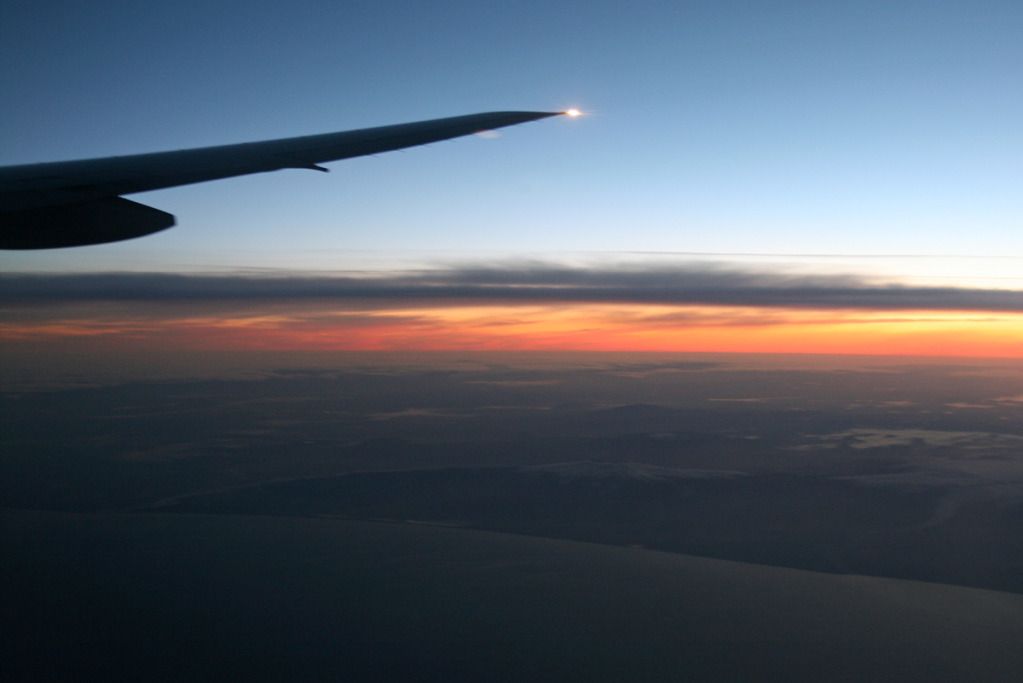 When the movie ends, I take a look outside. The daylight has started to fade away as we fly near Greenland and head south. No more views outside the window! Huh!
I decide to watch yet another movie – my third one for this flight. I choose "Mission Impossible: Ghost Protocol" this time. Although I have seen it already, the fast paced action keeps me entertained for the next hour.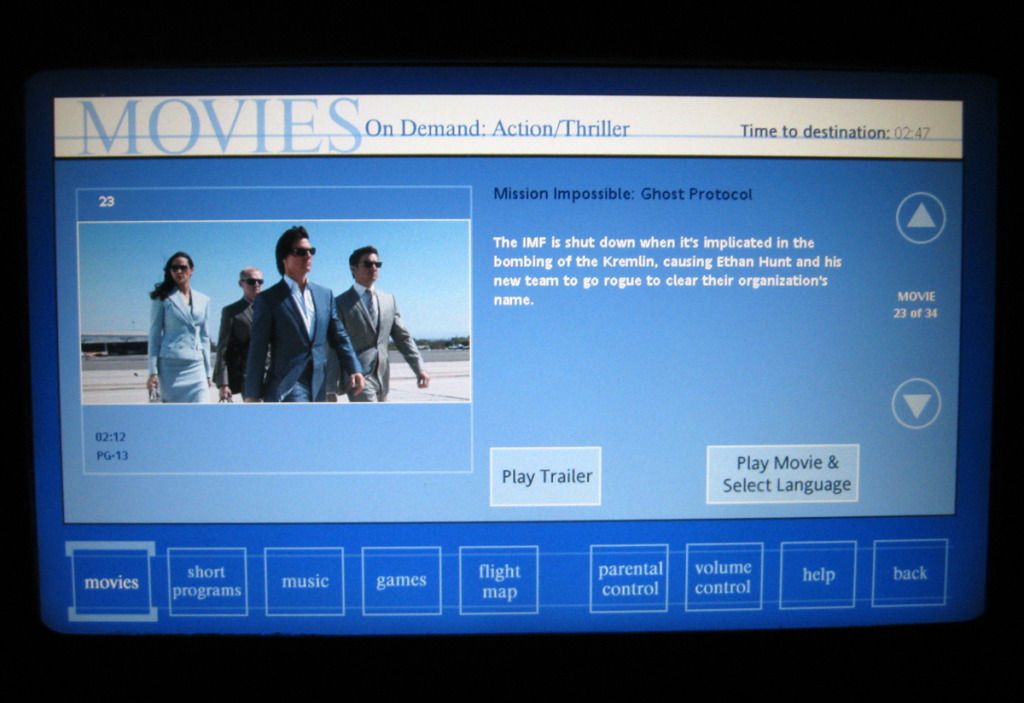 About two and a half hours before landing, the crew begins the breakfast service. People start waking up slowly and there is a queue for the restrooms.
The breakfast consists of a minced chicken cutlet and omelet served with boiled veggies along with fruit cuts, yoghurt, a croissant and a cup cake. It is average but since I am quite hungry, I devour it quickly. This is followed by another round of coffee.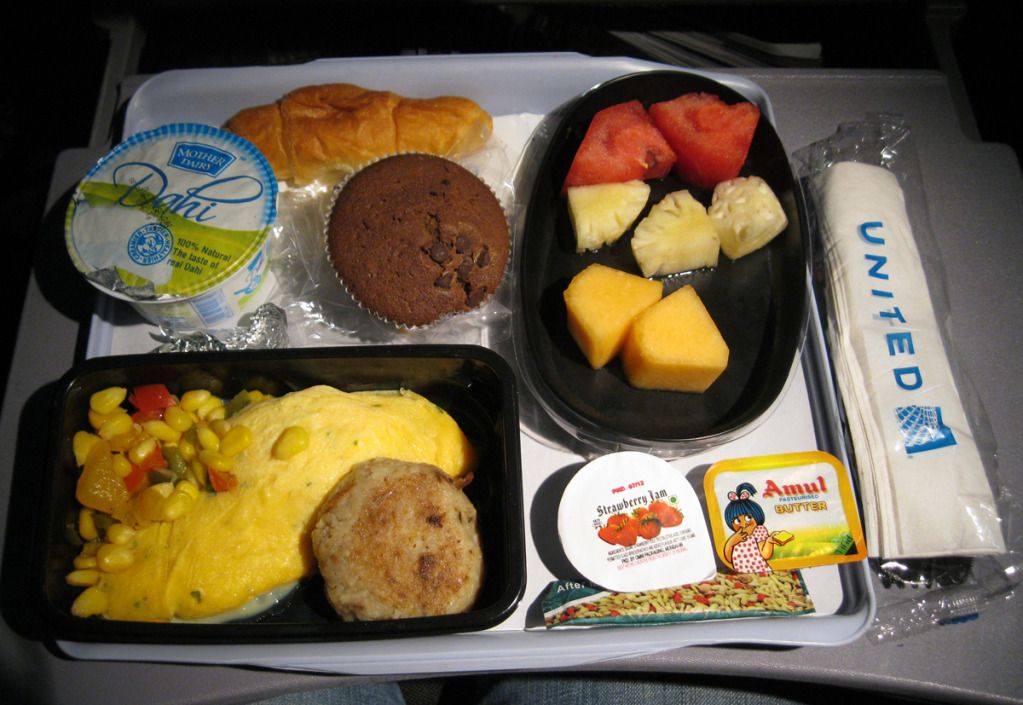 As I finish my breakfast, we are about to cross the Canadian border and enter the US. This is the final leg of what seems to be a never ending flight. There is now a buzz in the cabin as the crew go around distributing US arrival and customs cards.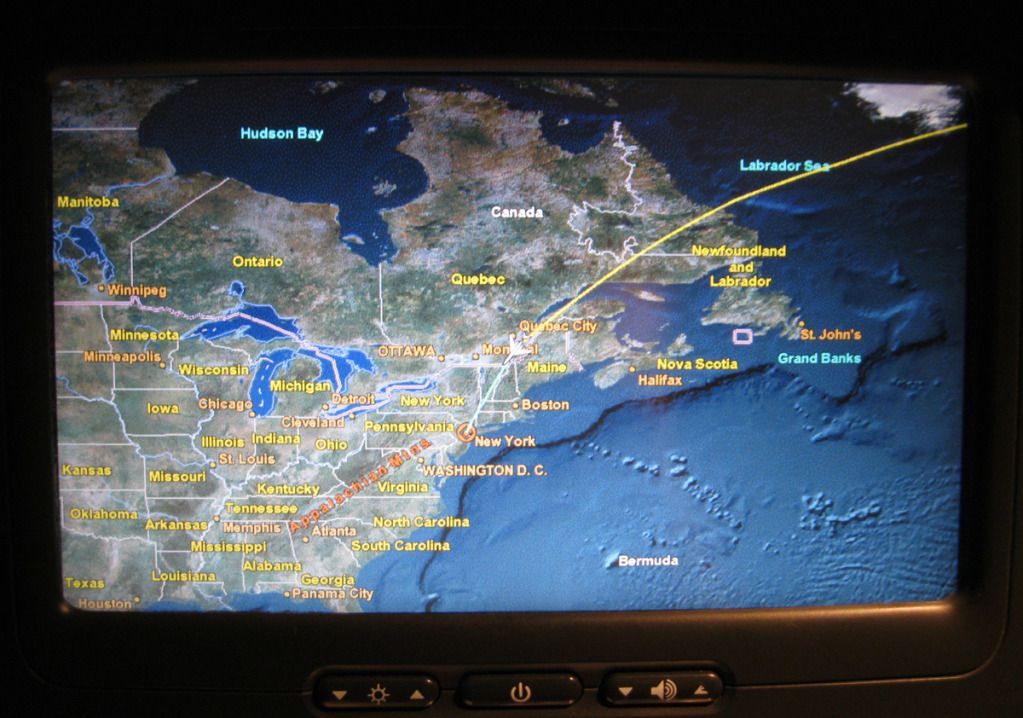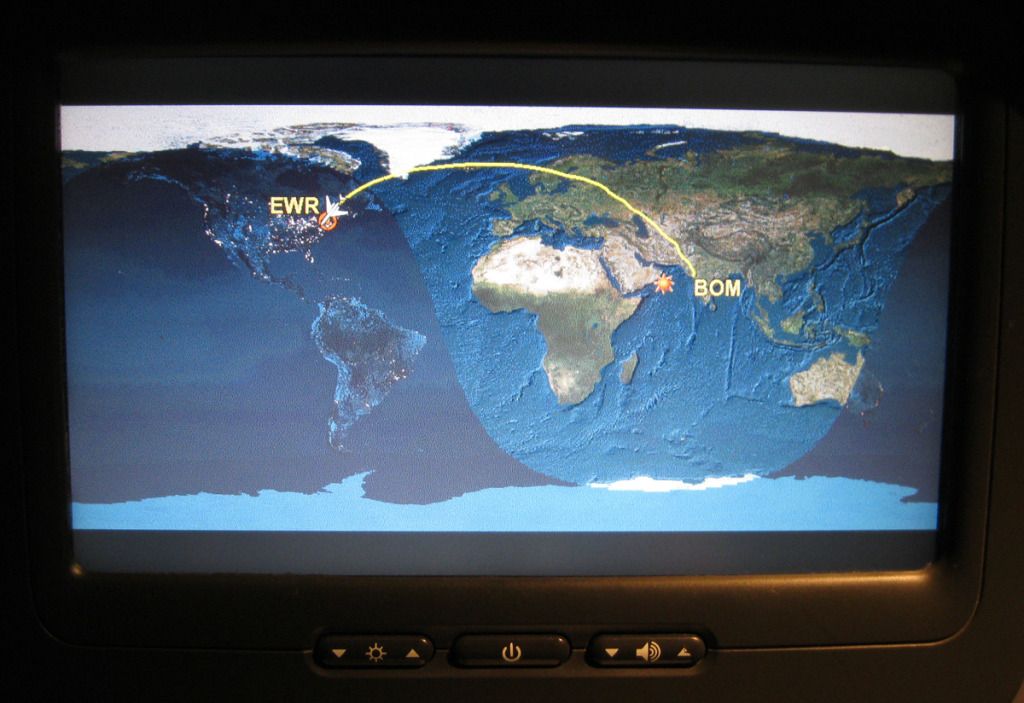 The PA system comes alive with the FO announcing the beginning of our descent into Newark. The crew walks through the cabin and prepare for landing.
It is still completely dark outside but I can make out lights of towns passing below us as we approach our destination. With a series of wide turns, we line up on the runway.
ARRIVAL
At exactly 0452 local time in Newark, nearly 14 hours after our departure from BOM, our mighty 777 makes a smooth landing. The reversers shatter the pre-dawn calm at the airport and we quickly exit the runway.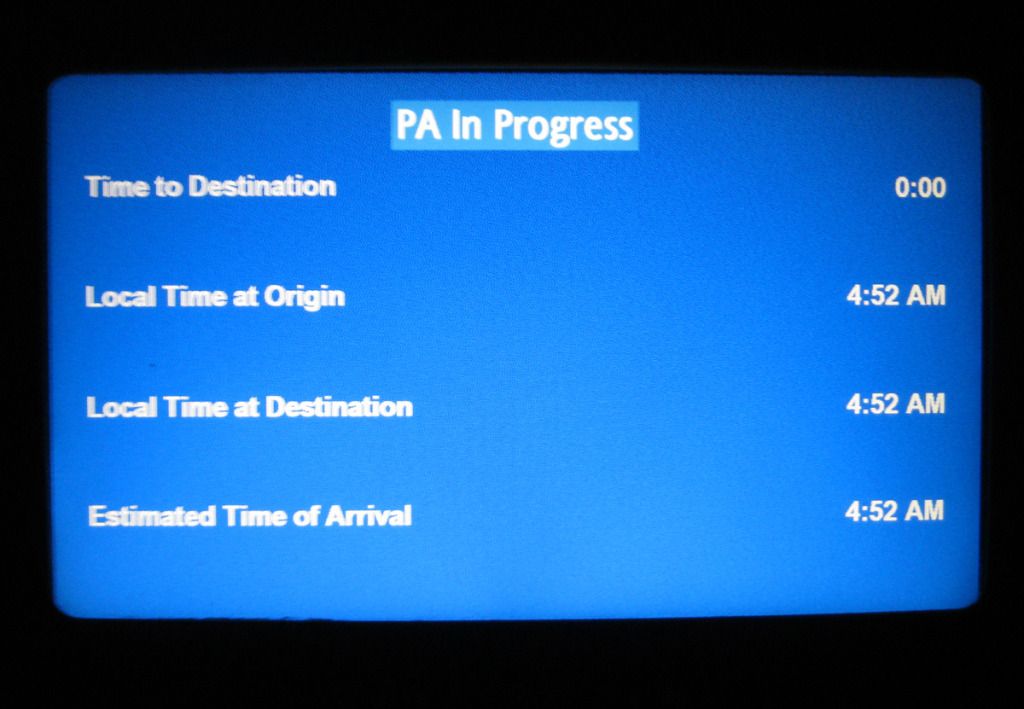 After taxiing for nearly 7-8 minutes, we dock at our assigned gate. The engines shut down and the sound of a hundred seat belts clicking reverberates through the cabin bringing an end to my first ever Ultra Longhaul flight!
I am dead tired and look forward to getting off this aircraft. I have two more flights ahead of me, and I need a cup of some really strong coffee.
I am one of the last ones to exit the aircraft, and I thank the crew as I walk out. I am greeted by wide smiles, perhaps the first genuine smiles I saw from the crew on this flight!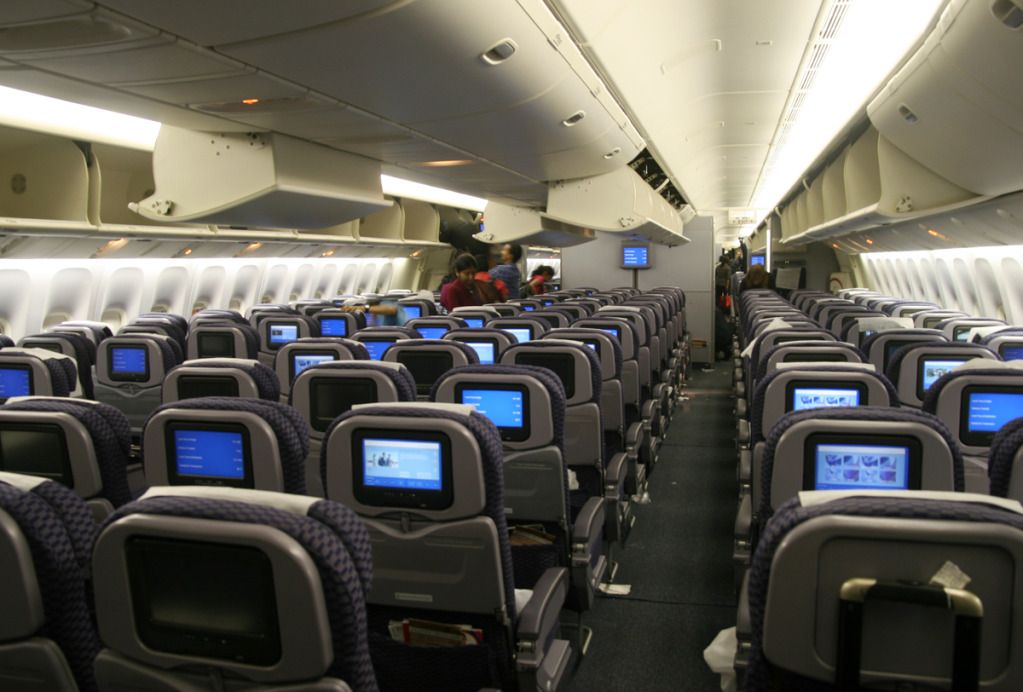 Hope you guys enjoyed reading this rather long, or should I say Ultra Long Trip Report? But then, a 15 hour ULH flight deserves a suitably long report, no?
Comments welcome!
My Previous Trip Reports:
Namaste Delhi – The Terminal 3 Experience
Experiencing Emirates Business DXB-BOM A340-500
Discovering Emirates - BOM-DXB - 777-300ER
Flying The Good Times: BLR-BOM On Kingfisher A320
To Bangalore on Jet Airways B737-800
The Kingfisher Experience: BOM-SIN-BOM A330-200
BOM-HKG-BOM Cathay Pacific B744/A333
Voyage To Nepal: Nepal Airlines/Buddha Air
BOM-HYD-BOM On Kingfisher + Spotting At HYD
BOM-DEL On Air India, Brand New A321
BOM-GOI-BOM On IC. A320/A300B4
BOM-DEL-BOM On IC A320/AI 743 Combi DEL Fog
BOM-KUL-PEN-KUL-BOM On MH/Air Asia
BOM-AMD On Air India 743 Combi Upper Deck
BOM-CMB-BKK-CMB-BOM On SriLankan Airlines