This is the second installment, covering the Vladivostok Air Tupolev Tu-204 and Aeroflot Ilyushin Il-96.
First some background information:
I originally planned to fly from Moscow to St Petersburg with Rossiya on the Antonov An-148, and actually booked it for the reasonable price of 80 EUR. However as time went on, I read about Rossiya's frequent substitution on this route (and found that in fact, the An-148s almost never flew between Moscow and St Petersburg). So I started looking at other options to fly between the two cities.
I found a good option via Kaliningrad that involved a Ak Bars Aero CRJ-200 from DME-KGD, and then Rossiya again with the An-148 from KGD-LED (much less likely to be substituted). I could also stay overnight and spend 24 hours in Kaliningrad, at the expense of one less day in St Petersburg. Although this option wasn't so cheap, it was tempting as I've not flown a CRJ-200 since 2004, the An-148 looked 99% guaranteed and Kaliningrad would be another place to tick off on my list.
However when helping Soren (Birdwatching) plan a trip to Russia, I discovered that Aeroflot had added an extra flight each day from SVO-AER, operated by Vladivostok Air on the Tupolev Tu-204. Now that looked good too. But how to get from Sochi (AER) back to St Petersburg? There are direct flights but none of them were cheap. I looked into flying SVO-AER-SVO-LED all on Aeroflot, which seemed crazy – flying out and then back to where you came from, just to take another onward flight. In the meantime I got a refund on my original Rossiya flight, just losing a 10 EUR cancellation fee. It was good to get most of my money back considering the fare was a promotional economy one – this would never happen in Western Europe!
A quick dummy booking on the Aeroflot website showed that on my required dates, the SVO-AER-SVO-LED itinerary could be done for 130 EUR, not bad for 3 flights. I was going to do all 3 flights in one day, arriving late at St Petersburg. When clicking on "more info" for the last flight of the day AER-SVO though, it showed it as being operated by the Ilyushin Il-96… I stopped in my tracks.
Some further research showed that Aeroflot were using the Il-96 for the last flight back from Sochi, for the whole of September. It was my lucky day! I quickly booked the flights before the price increased. It would mean arriving back at SVO at 23:55 and staying overnight, before taking the first flight of the day to LED at 06:55. But 130 EUR for 3 flights including the Tu-204 and Il-96, it would all be worth it! More on my overnight experience later…
So on the day I checked out of my hostel and made my way by metro to Belorussky Station, to take the Aeroexpress train to SVO. Once there, I had to take the shuttle bus across to terminals A & B on the other side of the runway, so I followed the signs. There were several Russians waiting and through our broken communication it turned out they'd been waiting ages for a bus – I was a bit worried as the waiting area had no staff present and half the lights were switched off.
I was wondering whether to try and get a taxi across to the other side of the airport, but didn't think taxi drivers would be interested in a short journey. Luckily, a woman came along 10 minutes later and checked our itinerary printouts to ensure we needed to be at the other terminals. We were led outside to a shuttle bus and driven around the runway to the other side, passing lots of interesting aircraft including lots of abandoned Tu-134s and Il-86s. I was now outside the ancient terminal B:
Inside it was very cramped and full of smoke from people smoking.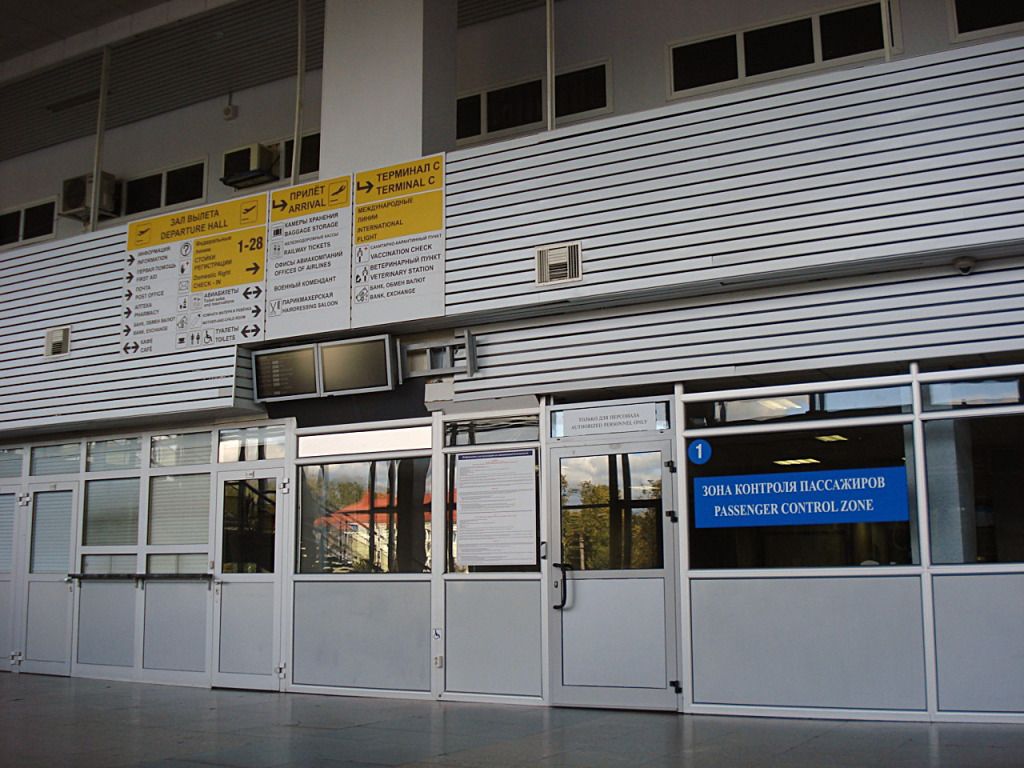 The check-in wasn't open for another 45 minutes – I'd arrived very early to ensure I didn't miss the flight again. Once open I requested a window seat and was given 13A looking over the wing. They were quite surprised to see I didn't have a bag to check-in – I decided to take it on board. My liquids weren't even noticed at the various security checkpoints, I had no trouble taking toothpaste, shower gel etc. in my bag even though they were over 100 ml.
Once in the departures lounge I saw a stall selling toasted sandwiches so I went to buy one. The girl didn't speak a word of English but I pointed to the menu. She didn't know which one I wanted, so I wrote the price on some paper and she knew which sandwich that price corresponded to. It was a basic ham and cheese toasted sandwich but a bargain at 50 rubles, about 1.25 EUR. I then went to get a beer but was ripped off at 6 EUR… not such a good price.
You couldn't really see much from the windows:
After boarding was announced, we were taken by bus to a shiny new Tu-204 – again I couldn't take photos sadly. At Sochi they were laid back though and there's several ground shots later on. Sitting next to us at SVO was an Il-96 with its engines covered up: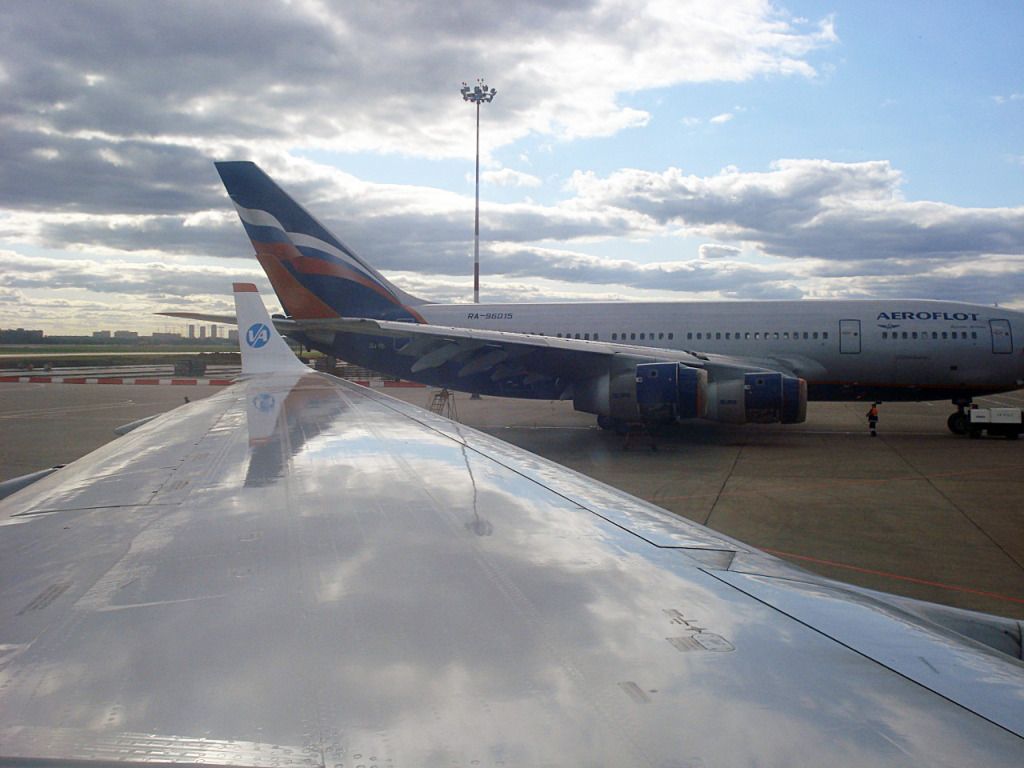 When boarding through the front stairs I asked the cabin crew who welcomed me if I could quickly take a photo of the cockpit – I wanted to test the waters for a flight deck visit later. I had a feeling that the more modern Russian airlines were stricter, and as expected she replied no, it wasn't permitted for passengers to visit the cockpit at anytime. Never mind… at least I'd done the Tu-154 and Yak-42!
We had a short taxi to the active runway and then a very light takeoff, we didn't use much runway despite the 95% load:
http://youtu.be/Bg-tLgKg3Ew
We climbed very quickly to our cruising altitude and the winglet looked great reflected in the wing:
Another decent in-flight meal was served – Russia impressed me.
And a safety card which mysteriously found its way into my bag:
I found the Tu-204 to be very unstable in flight and it seemed to keep swaying side to side – after an hour or so I started to feel a bit sick. It wasn't long before we started the descent into Sochi though, taking us right over the gorgeous coastline and coming in for final approach over the Black Sea.
Our landing was quite eventful. We had a very smooth touchdown, and thrust reversers were deployed. However there was then a huge thud, which I can only assume was the aircraft going over a pothole in the runway. The entire plane shook and half of the overhead panels dropped, exposing the oxygen masks. Some passengers were hit by plastic panels falling on them, and the cabin crew frantically came around to check on them.
I didn't want to risk extending my video to show the damage, as some staff were standing right next to my row and the passengers next to me were a bit suspicious of me videoing the landing. But the landing video is here:
http://youtu.be/CO47MDReCTo
We then disembarked via steps and to my surprise, I wasn't stopped from taking photos. A member of ground staff actually smiled at me when he saw me snapping away.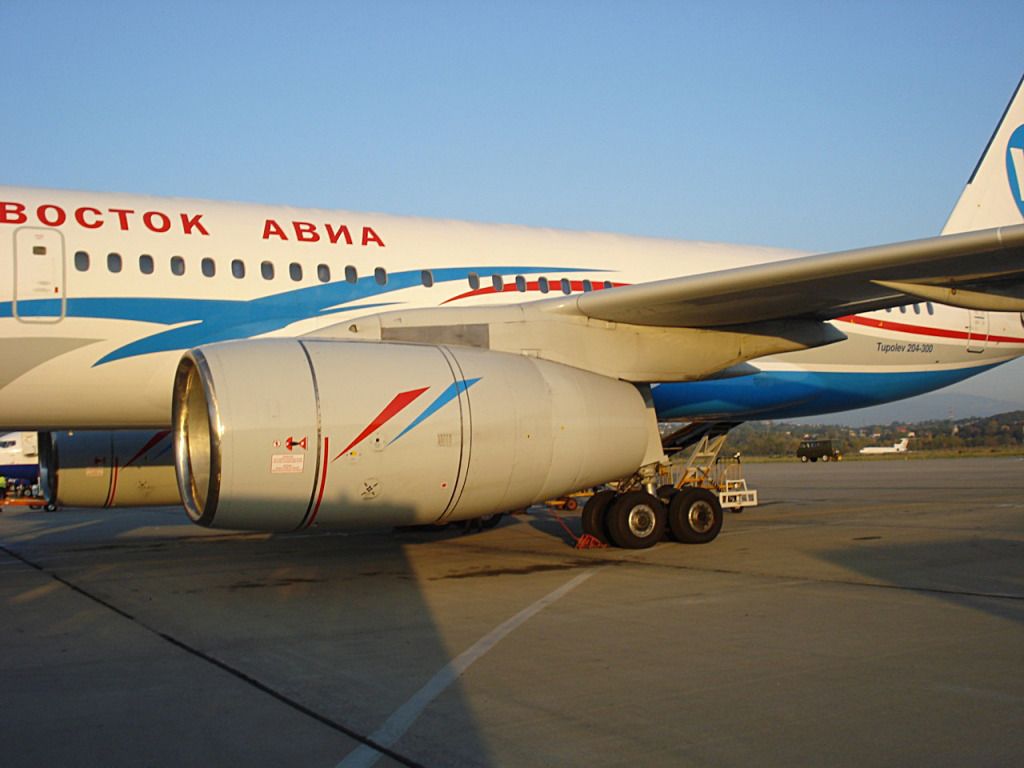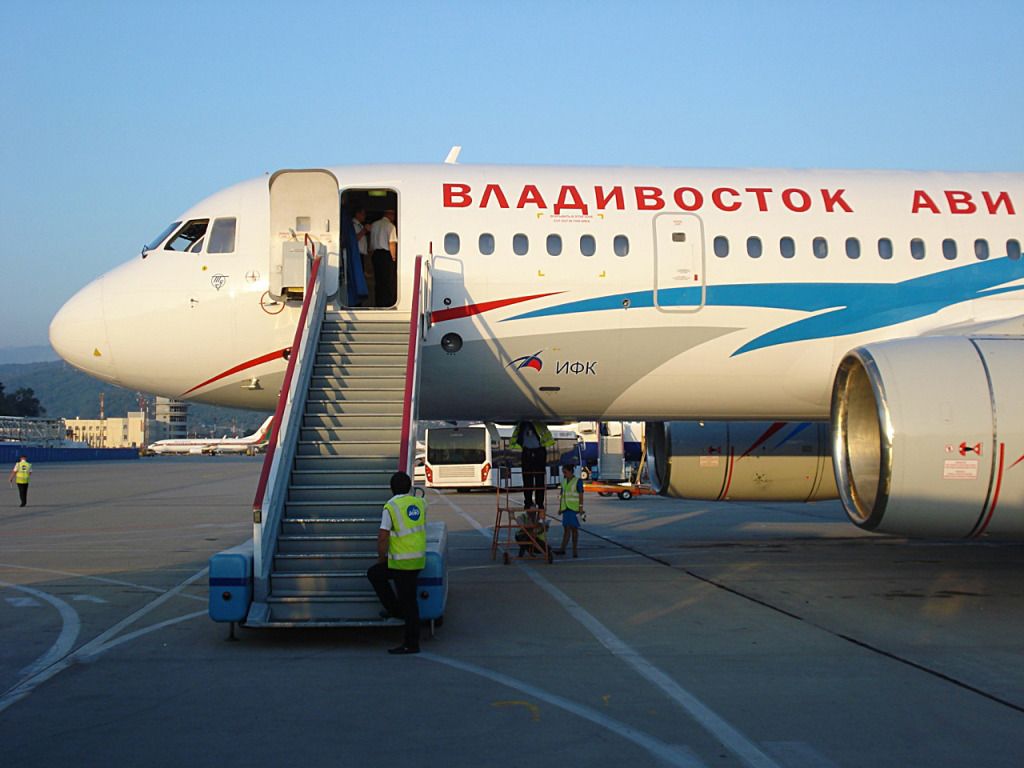 I had an hour to wait before I could check-in for the return flight, so I went outside. It was extremely humid and hot outside, and I got mobbed immediately by taxi drivers, grabbing my arm and asking which hotel I was at. I decided to head straight back inside. I found a small bar selling snacks and drinks, so I grabbed a beer. The girl working there spoke good English and we flirted for an hour because I was the only customer. She was amazed that a British person was visiting her remote part of Russia, and even more so that I was staying only 2 hours!
Here was the check-in area:
I'd already checked-in online the night before for the Il-96 flight and got a window seat. I'd tried it with the Vladivostok Tu-204 too but as it was a codeshare, it didn't work and had to wait until the airport. I got my boarding pass for the Il-96 flight back and was happy to see my seat assignment hadn't changed since online check-in. Another 2 hours to wait, so back to the bar to see that girl…
Some Russian men then came over and ordered shots of vodka. They heard me conversing in English and asked the girl where I was from. They then started speaking to me in English (or rather just shouting out football clubs… Manchester United! Chelsea! Liverpool!) They insisted on buying vodka for their new English friend and we spent the next 90 minutes drinking. When the flight was called for boarding it was rather difficult for us all to stand up and move. Good fun though!
We boarded the almighty Il-96 in the dark so my photos weren't great.
It was a full flight and we were some of the last to board, so the overhead bins were already full. My suitcase was pretty large and I couldn't find any space for it, so the cabin crew stowed it in the galley for me.
The flight back was full of drunken Russians (including myself I guess…) It was very rowdy with people staggering up and down the aisles, and a permanent huge queue for the toilets. The air conditioning also seemed to be broken, meaning it was very warm inside the cabin.
My next in-flight meal… I could easily live on a diet of Russian airline food!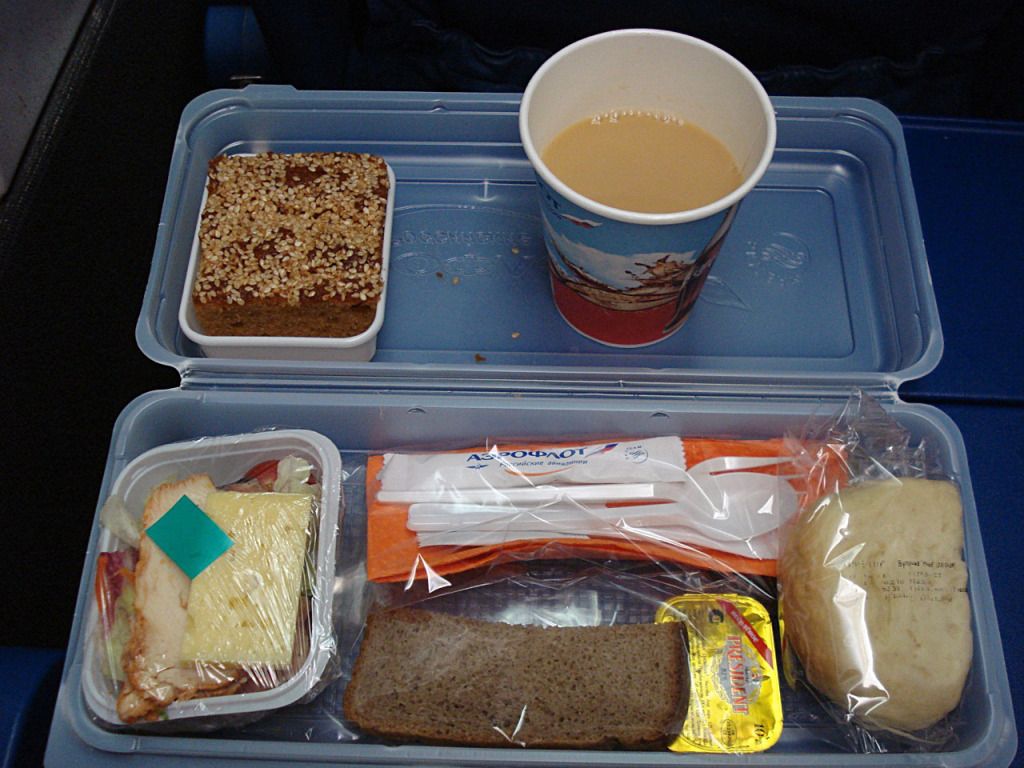 And the safety card:
We had a quick descent into Moscow using full airbrakes and then a very smooth landing. I got a photo of the aircraft from the gate but was shouted at in Russian again.
At Sheremetyevo, they have little "capsule hotels" on the top floor of the Aeroexpress terminal, which can be rented for as little as 4 hours – more details on their website:
http://www.eng.v-exp.ru/
I needed one for approx. 5 hours, from midnight until 5am when I needed to check-in for my next flight. The capsules looked pretty nice and I tried to book one online, but the form was only in Russian and only seemed to offer the more expensive double rooms. I emailed them, and it took 9 emails back and fore to eventually persuade them to reserve a room without me using the online tool.
However they quoted the same price for a single room as for a double room, which I knew shouldn't be the case. I then asked a friend in Russia to make an enquiry for me – and he was quoted less than half the price. So he booked it for me (using my Cyrillic name from my visa) – once again a case of there being one price for locals and one price for foreigners. The 5-hour rental was then just 25 EUR, a bargain at 5 EUR per hour.
I checked-in and they were surprised to see a foreigner booking under a Cyrillic name, but they honoured the rate for me. My bed was very comfortable and the room was also en-suite with toilet and shower. It was very clean too.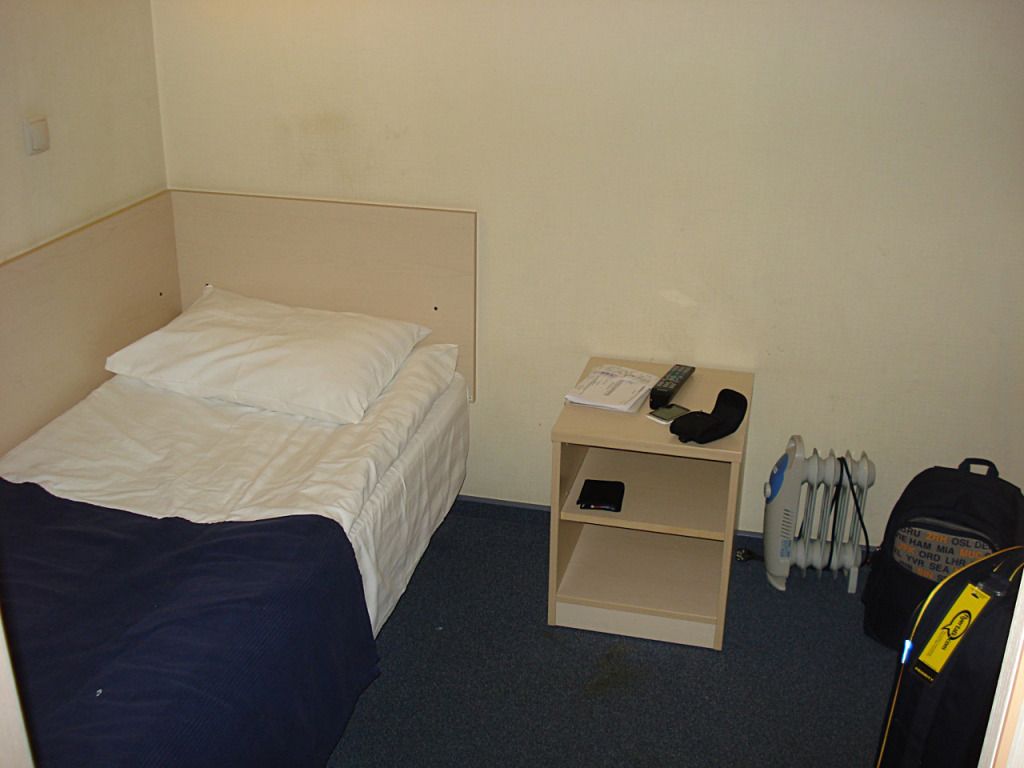 At 5am I dragged myself out of bed, got dressed and checked-out of the hotel. It was only a 5 minute walk to the check-in area where I dropped off my suitcase and collected my boarding pass. They had a Costa Coffee so I got a large cappuccino (slightly overpriced at 5 EUR but I really needed one).
I'd requested a window seat in the final row of the Aeroflot Airbus A320, so I could try and rest. After boarding it became apparent that the 2 seats next to me were vacant, so it was perfect. We pushed back and took off on time. Here's a video of the takeoff at dawn:
http://youtu.be/JX_82iUUJlc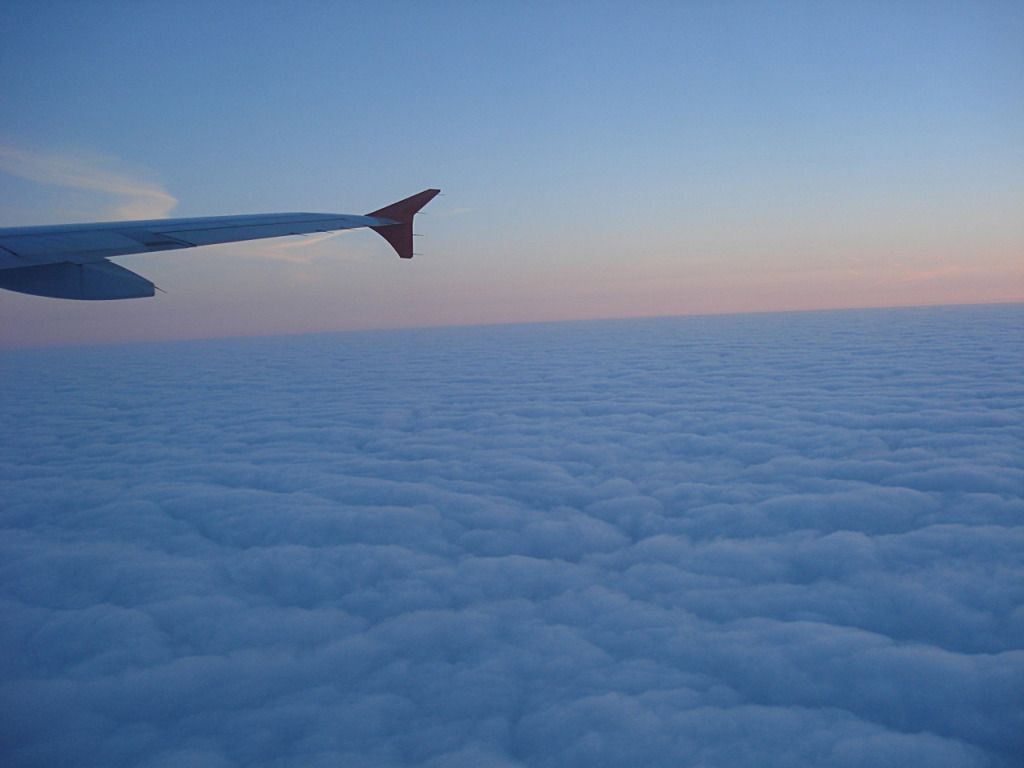 We were then served breakfast – a savoury croissant with ham and tomato inside, orange juice and coffee. It was very nice.
The pilot made an announcement about our flight time, speed, cruising altitude etc. He seemed to speak good English however the speakers muffled the sound so I couldn't make out much. It wasn't long before we started our descent – the flight duration was almost exactly an hour.
Here's a video of the landing:
http://youtu.be/mX9X174DLvA
We disembarked via steps again but there were 2 policemen at the bottom of the steps, so I didn't attempt taking any photos. Within 10 minutes I was outside the airport, boarding the shuttle bus K-39 to Moskovskaya metro station.
Comments and questions welcome again – and thanks for reading!