KE BKK-ICN-LAX RT in F including A380 Trip Report
Korean Air has been an A380 operator for two years and I have always been dreaming of flying it. However as some of you know, KE has introduced some new fare codes to distinguish their in-flight product, and F on A380s are known as suite and has a special code "R," which means that you can't use it on a number of discounted first class fares. There is an "A" inventory, but in general KE F on transpacific flights are pretty expensive and as this roundtrip indicates, KE F is good, but not as excellent as Singapore Airlines and Cathay Pacific. I just can't justify paying the fares, and despite being part of Skyteam, Delta does not allow award travels on Korean Air's first class. I have thought about doing KE J but just kept on putting off, as there were often better deals on other airlines. Finally a few months ago, as Myanmar decides to open the country up and raises the exchange rate of its local currency with the black market, many premium class tickets become dirt cheap overnight, and I can't resist to buy one set on Korean Air first class, and the best part is that I can use the R fare, which means A380 flights to LAX or JFK. KE has tried to cancel all tickets but after many DOT complaints, they retracted their cancelation and restored all the tickets, but KE no longer honors the rules that go with it and you cannot change any part of the ticket, which I actually have an issue with. If you honor the ticket, that includes the fare rules. But anyway, this is not part of my trip report or discussion here. I will focus on the in-flight service aspect. Korean Air A380 indeed is amazing and I like the all business class upper deck with all the bars. The concept of Celestial bar is excellent and I enjoy all the new facilities. The first class cabin is definitely not as fancy as Emirates or Singapore Airlines, but is still pretty functional. F/As are friendly and attentive (I don't really use this word much), despite limited English verbal skill. Catering is excellent but of course they can use a few more appetizer choices.
This is the link to my Korean Air First Class album, and I will add pictures continuously especially when I flew back to Bangkok on September 27. Anyway, you can view the full album anytime you like.
http://s1213.photobucket.com/albums/...65/Carfield76/KEA380September2012/
September 16, 2012
KE 654 BKK-ICN Lv2345 Arr0705+1 Boeing 777-300 HL7532
Check-in:
Since I have arrived from Yangon, I headed straight to the Korean Air's transit desk located in the East Concourse, and there was a bit of wait tonight especially they did not have a separate premium check-in counter, which was fine, as I did not expect it at a non-hub airport. There was only one person in front of me and compared to the BA line, it was really nothing. The agent was efficient and polite, and I was given boarding passes for all segments, as well as a lounge invitation for the CIP First Class lounge located at Concourse G.
Lounge at BKK: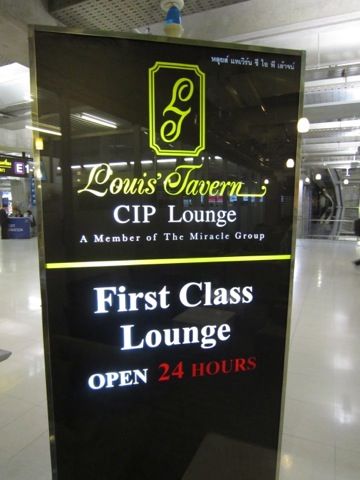 Korean Air uses two lounges here at BKK – the Sky lounge, which is the Skyteam lounge and where KE sends its business class passengers, and the CIP First Class lounge at Concourse G, which it sends its top elite and first class passengers. Let say both lounges are unimpressive and I find it quite strange that Korean Air has not seek a space to establish its own lounges especially with three daily flights to Seoul and a daily flight to Busan. The CIP first class lounge has nothing first class about it. Food is the same as all Louis Tavern lounges (the mother company is Louis Tavern), and there are some sandwiches, fruit, and mini dessert, as well as an open bar. There is soup service and tonight's choice was chicken and macaroni soup. The wifi is available on request and the only good thing about the lounge is the amount of space and it is less crowded than the Sky lounge in these busy late night rush in BKK. As a priority pass user, it is okay, but as a first class passenger, this lounge is not even up to that standard. I should have used the newer Louis Tavern lounge at Concourse G in hindsight. For priority pass users, go to the newer Louis Tavern lounge further down Concourse G at level 4 (departure level) and adjacent from gate G2, and don't waste your time as this so-called "first class" lounge here at Level 3.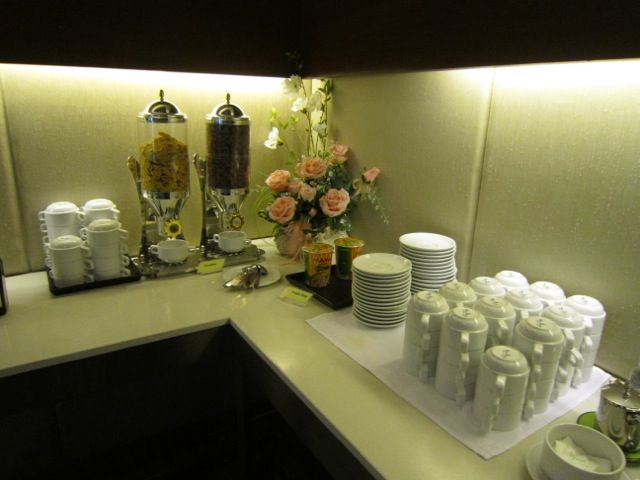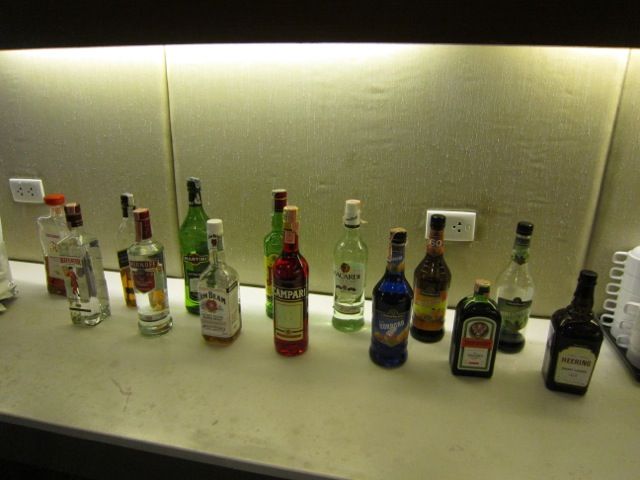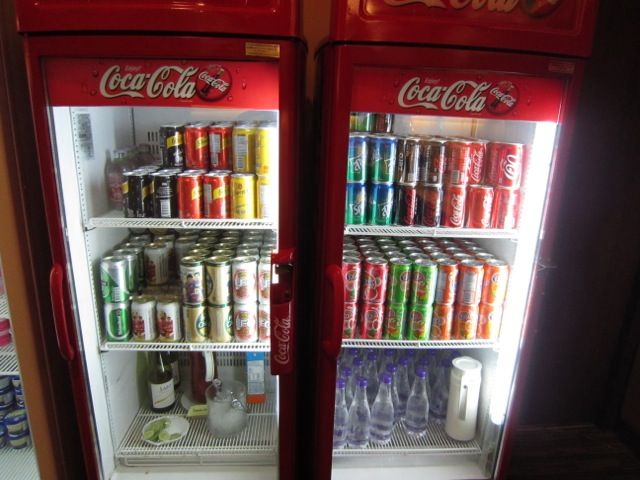 Ugly ceiling
Gate E5
Flight information: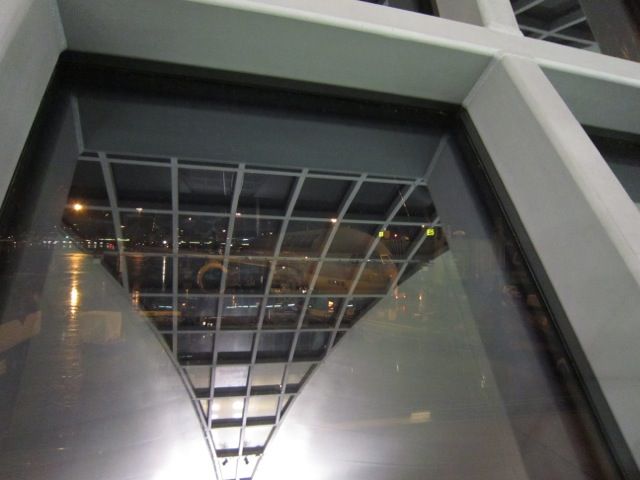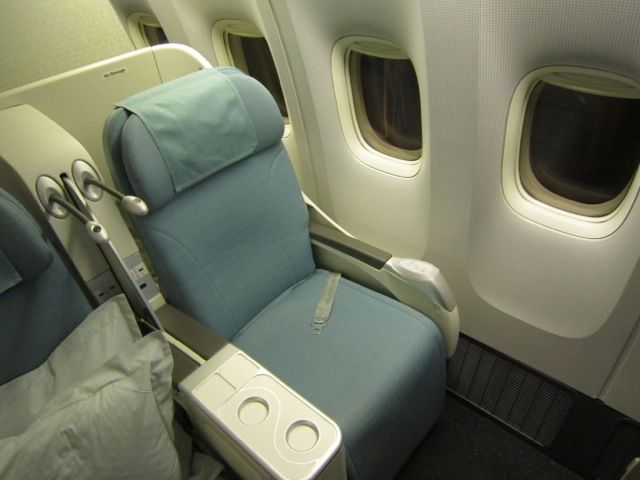 Korean Air uses this regional Boeing 777-300 on the Bangkok runs, and HL7532 was the aircraft used tonight, and its sister ship, HL7531 worked the first evening departure of the night. E5 was our gate tonight and the gate was fairly busy but not over crowded. They were mostly Korean tourists going home after holidays. It was raining outside so I presumed the inbound flight arrived a bit late from Seoul. Boarding did not begin till 11:30pm, but the agent immediately made sure me and the other F passengers were the best to board the flight. That was very impressive and the purser and the F F/A were already at the gate welcoming passengers, and with two F/As in first class, the other passenger and I got our own personal F/A. The service was immediate, with beverage order taken, along with newspapers and magazines. The premium load was rather light this evening in both F and J. The male purser also made his greeting immediately to each F passenger. Champagne this evening was Laurent-Perrier Cuvee Rose Brut, which was the choice for all Asian regional flights. A bowl of macadamia nuts was served as well, and the F/A never stopped refilling the champagne glass. This is what I called service – never took away an empty glass without asking if you want more.
Door was finally closed at 11:51pm and we pushed back at 11:59pm. Due to the rain, the taxing was a bit slower than normal, but with no much traffic, we took off from R/W19L at 00:17am for a four hours and twenty-four minutes flight to Seoul. The flight was longer than normal, as we had to take a different route to avoid the typhoon in Okinawa and the Busan area. Our route took us towards Surin as we climbed to 33,000feet, and then towards Danang, Vietnam, and then towards Hong Kong and Guangzhou. We headed towards Wuhan and even eventually Tianjin, before descending to 29,000feet and crossing the Bohai Gulf and Yellow Sea towards Korea!
Catering:
Seat belt sign was turned off at 00:25am and the F/As immediately came with today's menu. The schedule service was a beverage service with small hot savory, and then breakfast prior to arrival. However, the F/A made it very clear that you could choose to have your meal anytime you want. I just told her that I would like my breakfast prior to arrival and she suggested that breakfast to be served an hour and ten minutes prior to landing. My entrée order was also taken at this time.
Spirits
Johnnie Walker Blue
Glenfiddich 15 Years Old Malt Whiskey/Jack Daniel's
Beefeater Gin
Absolut Vodka
Bacardi Rum
Brandy & Liqueurs
Cognac Remy Martin XO
Cointreau/Crème de Menthe
Crème de Cassis
Bailey's Irish Cream
Champagne
Laurent-Perrier Cuvee Rose Brut
*Available on Southeast Asia and Oceania flights
White Wines
Chablis 1er Cru 2007
Available on all flights except Japan
Gewurztraminer 2010
Available on Southeast Asia, China and all European flights except Germany
Red Wines
Chateau Giscours 2006
Available on all flights
Le Corton Grand Cru 2007
Available on Southeast Asia, China and all Europe flights except Italy
Founders Reserve Porto, Sandeman
Available on all flights
2012/09/06
I stuck with champagne, especially when pink champagne was served. Hot towel started the service before the hot savory was passed out, which was a traditional chicken pandan - marinated chicken wrapped in bamboo leaves. Champagne just kept on flowing till I finally was ready to go to sleep. The F/A also asked if I needed any duty free service after the beverage service. Since it was a regional flight, there was no amenity kit or duvet service. As typical these days with most Asian airlines, the cabin was warmer than I liked, so duvet was not necessary. However, it is a bit cheap for KE not to offer amenity kit and pajama on a redeye flight, but the toilet was well stocked with toothbrush sets, shaving sets, and various amenities. Jurlique hand lotion was available too. But in the past, they passed out a basket of ear plugs and eyeshades and these items might not be available or only on request now.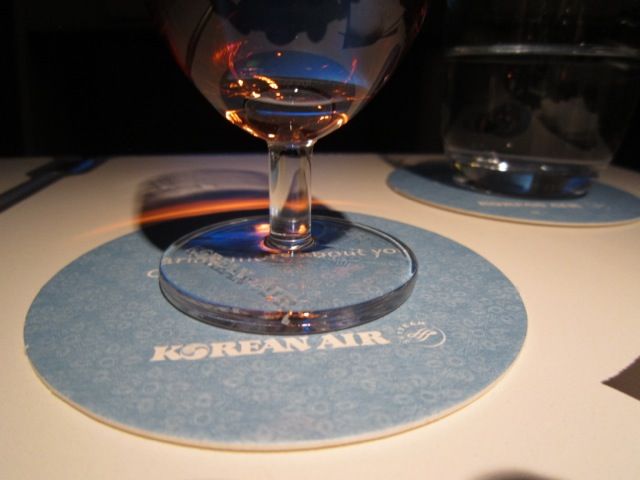 Hot Savory
Chicken in pandan leaf served with pandan chili sauce