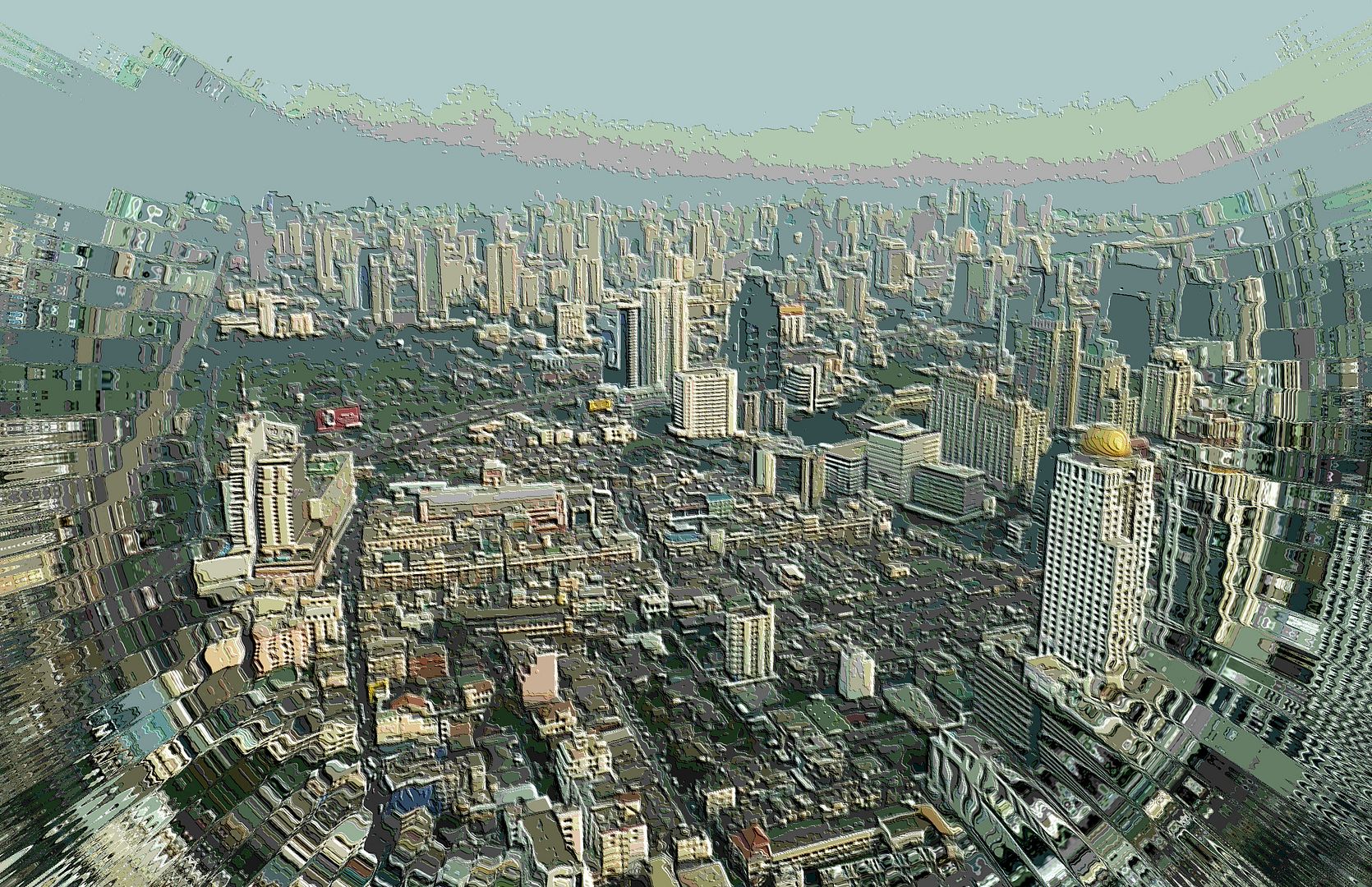 Map generated by the Great Circle Mapper - copyright © Karl L. Swartz
Intro
In early 2012 my brother and I decided to go on another Asia tour. Our focus was on Dubai and Bangkok, but later we also decided to include a short stay in Taipei in order to visit the Taipei 101. We had planned to combine one-way flights from the beginning to the end, but it turned out to be much cheaper to return to Dubai again before going home. As usual, I tried to include as many new carriers as possible.
First of all, we booked a very cheap Munich-Doha-Dubai roundtrip on Qatar Airways, an airline which I had wanted to try for a long time. In order to get from Dubai to Bangkok, I would have preferred Gulf Air as it would have been another new carrier, but there was no service to Bangkok on the desired day of travel. So we chose SriLankan Airlines which had impressed me back in 2006. Finally, we decided to fly China Airlines, another new airline for me, from Bangkok to Taipei. Details about the last two sectors will follow in the next part. In the end, we had booked nine flights (both Business and Economy Class) on five different airlines, including three new ones. This is what the final itinerary looked like:
Munich-Doha
Doha-Dubai
Dubai-Colombo
Colombo-Bangkok
Bangkok-Taipei
Taipei-Seoul
Seoul-Dubai
Dubai-Doha
Doha-Munich
Map:
Map generated by the Great Circle Mapper - copyright © Karl L. Swartz
This part of my current series will focus on the DXB-CMB-BKK sectors on SriLankan Airlines, our stay in Bangkok and the BKK-TPE flight on China Airlines.
Part I can be found here:
5* Carrier, Hilton Suite & Dubai's Epic Landmarks
(by
PlaneHunter
Aug 10 2012 in Trip Reports)
Sunday, March 2012
Dubai (DXB) - Colombo (CMB)
SriLankan Airlines UL228
Scheduled times: 22:50-04:40
Actual times: 23:40-05:24
Flight duration: 03:51 (hrs)
Distance: 2041 miles
Economy Class, seat 55A
Airbus A330-243
4R-ALB (MSN 306)
Delivered in 11/1999
2nd flight on 4R-ALB
16th A330-200 flight
26th A330 flight
After having spent a nice day in Dubai, we took a taxi to the airport more than two hours before departure. We didn't have to wait more than five minutes in queue, but the check-in process took much longer than expected. After the young agent had entered our data, nothing happened for a while. Then she wanted to see our visas, but I told her that we didn't need any in order to enter Thailand.
Some more minutes passed without any notable progress and after I had asked whether there was a problem, she referred to a "missing entry" in our reservation. Then, after talking to an older colleague, she asked for my credit card for verification. I gave it to her, but apparently the system didn't accept it.
I was slowly getting annoyed, but finally everything worked out and she could print our boarding passes.
I had already pre-reserved our seats, but that hadn't been easy either. During the booking process on SriLankan's website, I had been able to select seats for both flights, but the assignments had changed when I checked the reservation again later. Interestingly, on one sector we had been moved to a row which didn't exist according the seat maps on the carrier's website. So I tried to select new seats, but the system only accepted changes on one sector - an error message showed up when I tried to change the other seat assignments.
After several failed attempts - spread over two weeks or so - I finally called SriLankan's worldwide hotline. The young male agent wasn't overly friendly and his English wasn't great either. However, I was finally able to get the desired seats (window and aisle in the back, just before the fuselage curvature) on both sectors.
Back to Dubai Airport. We had plenty of time left, so we kept walking through the terminal for a while. There's a very interesting exhibition about the development of aviation in Dubai in the passage between Terminal 1 and Terminal 3. But something's fundamentally wrong here: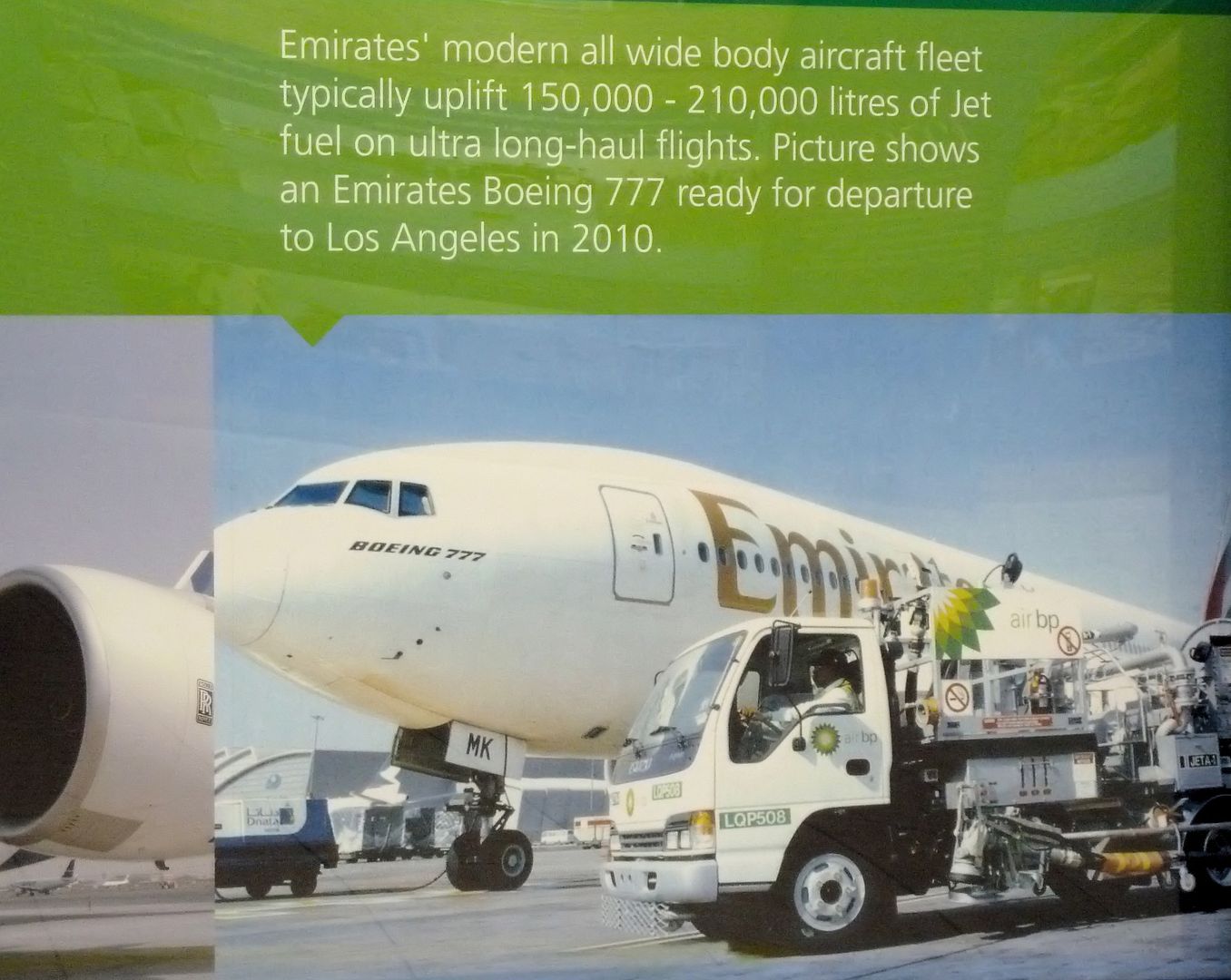 Any idea? The first user with the right answer gets a free ginger ale (or another drink) during a future meeting.
As mentioned above, I had four nice flights on SriLankan Airlines A330-200s and an A340-300 in 2006 (report can be found
here
). Now I was certainly hoping that I wouldn't get the same aircraft (
4R-ALB/ALC & 4R-ADA
) again. Actually I was even hoping to get one of the new fleet additions. Since 2006, UL had added three used A330-200s (formerly operated by bmi, Yemenia and Thomas Cook Airlines) as well as one A340-300 (formerly operated by Cathay Pacific).
The plane, inbound from Kuwait, arrived on time, but I was very disappointed when I discovered a "B" over the cockpit windows...
4R-ALB
is one of seven A330-200s in the fleet and flew me from Frankfurt to Colombo in 2006.
Unfortunately, boarding didn't commence as planned and after the scheduled departure time (22:50) had passed, I was getting a bit concerned. But then a gate agent announced that boarding would start at 23:10, referring to
"congestion at the airport"
- which didn't make any sense.
Boarding finally commenced at 23:15 and we stepped on board a few minutes later. We received a friendly welcome, but the crew couldn't really impress me later during the flight. Many seats were already occupied by passengers originating from Kuwait and it was obvious that most people on this flight were guest workers.
4R-ALB
used to be equipped with comfortable turquoise seats back in 2006, but now those were rock hard and looked totally different:
Additionally, the lumbar support was inflated which didn't feel good at all. I pressed the button to deflate it, but it didn't work.
The seat back confirmed that UL had only replaced the covers. My PTV would remain black throughout the whole flight:
What I found disappointing as well was the reduction of legroom - the 32 inch pitch which I had enjoyed in 2006 was gone, while the large IFE box was still there: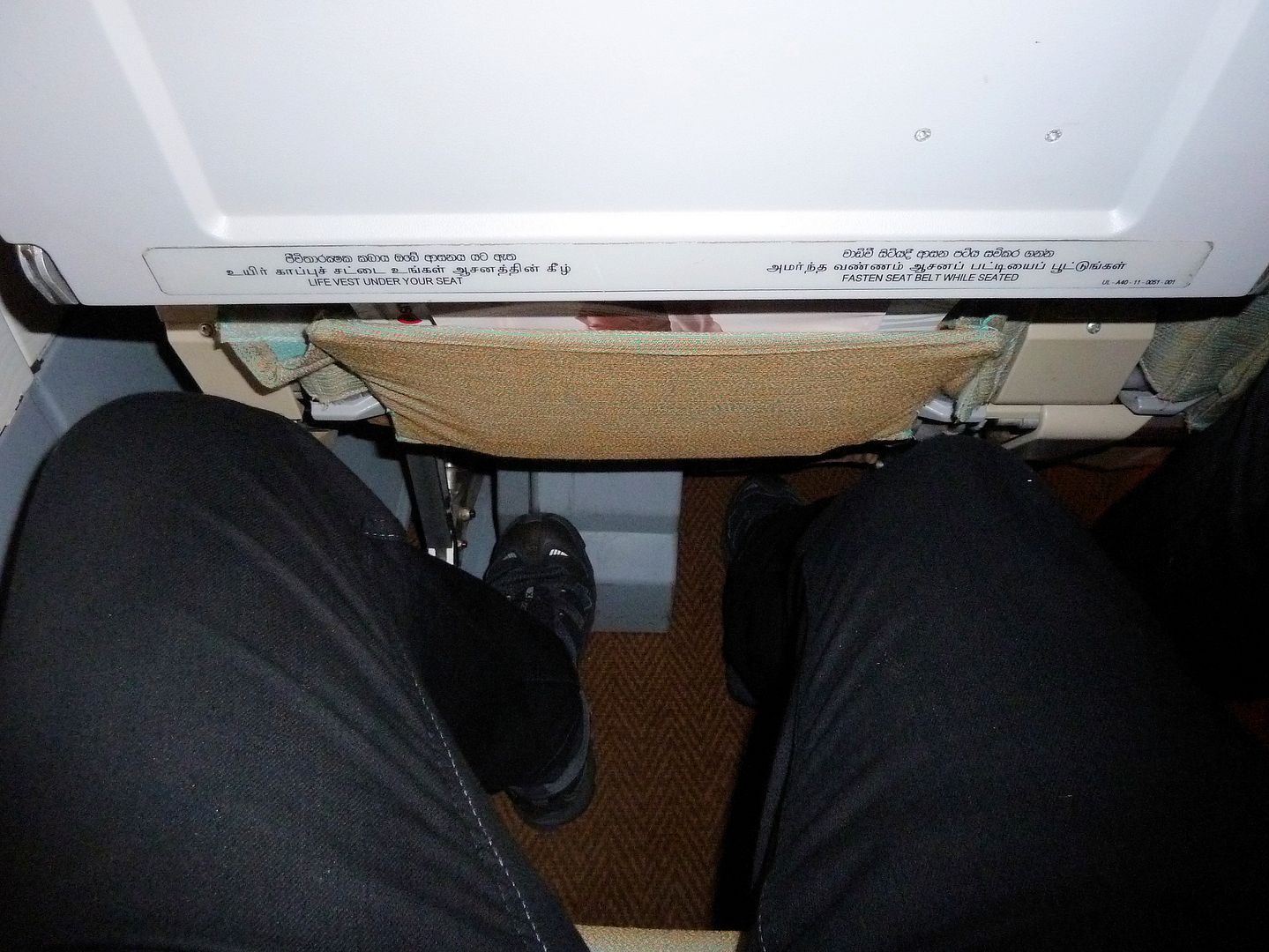 While the reduction of legroom didn't bother me so much, my brother (who is taller than I) felt totally cramped.
The whole cabin looked worn - and so were the tables which fell down on our legs after unlocking: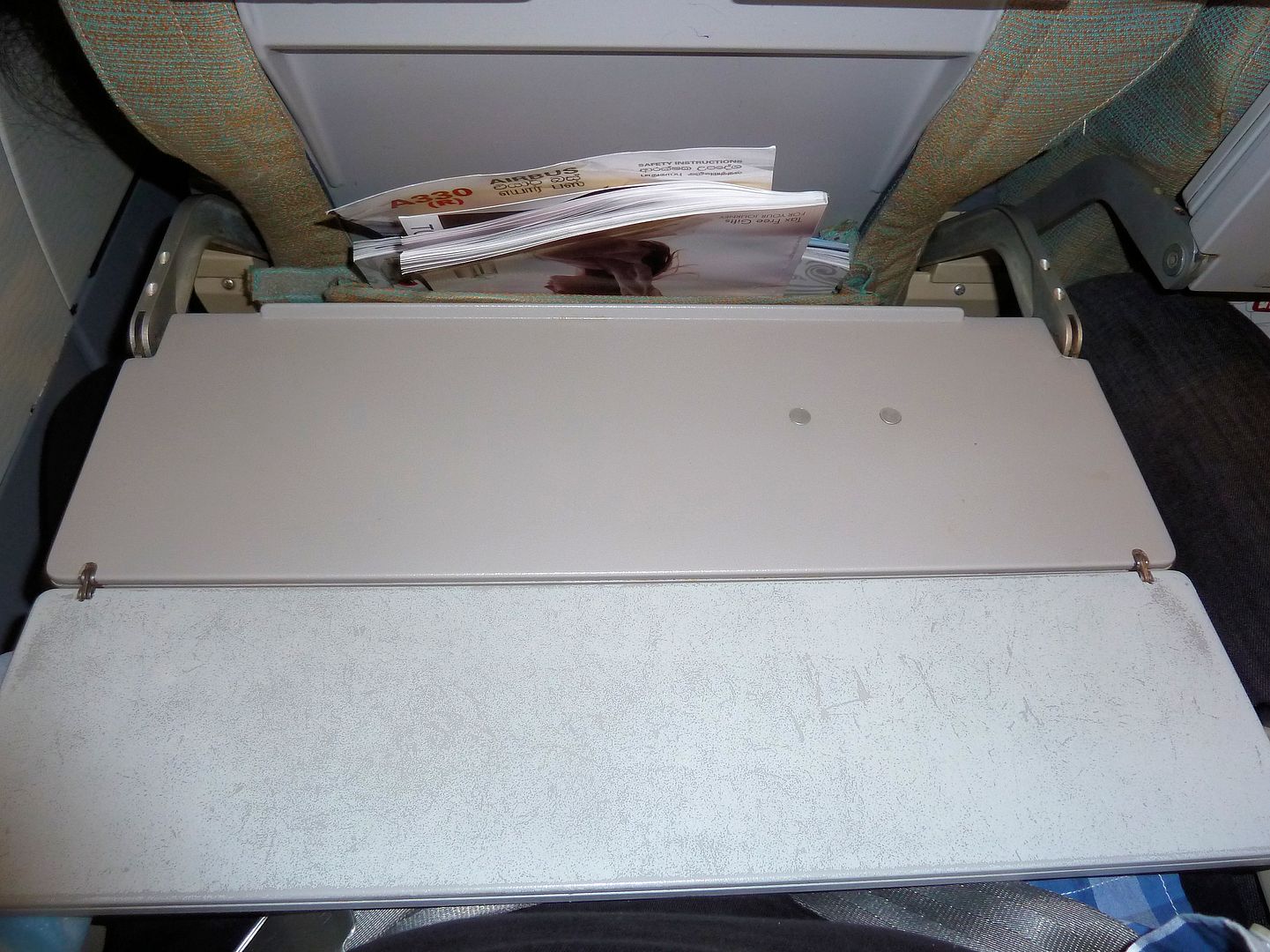 My handset's front side still looked fine...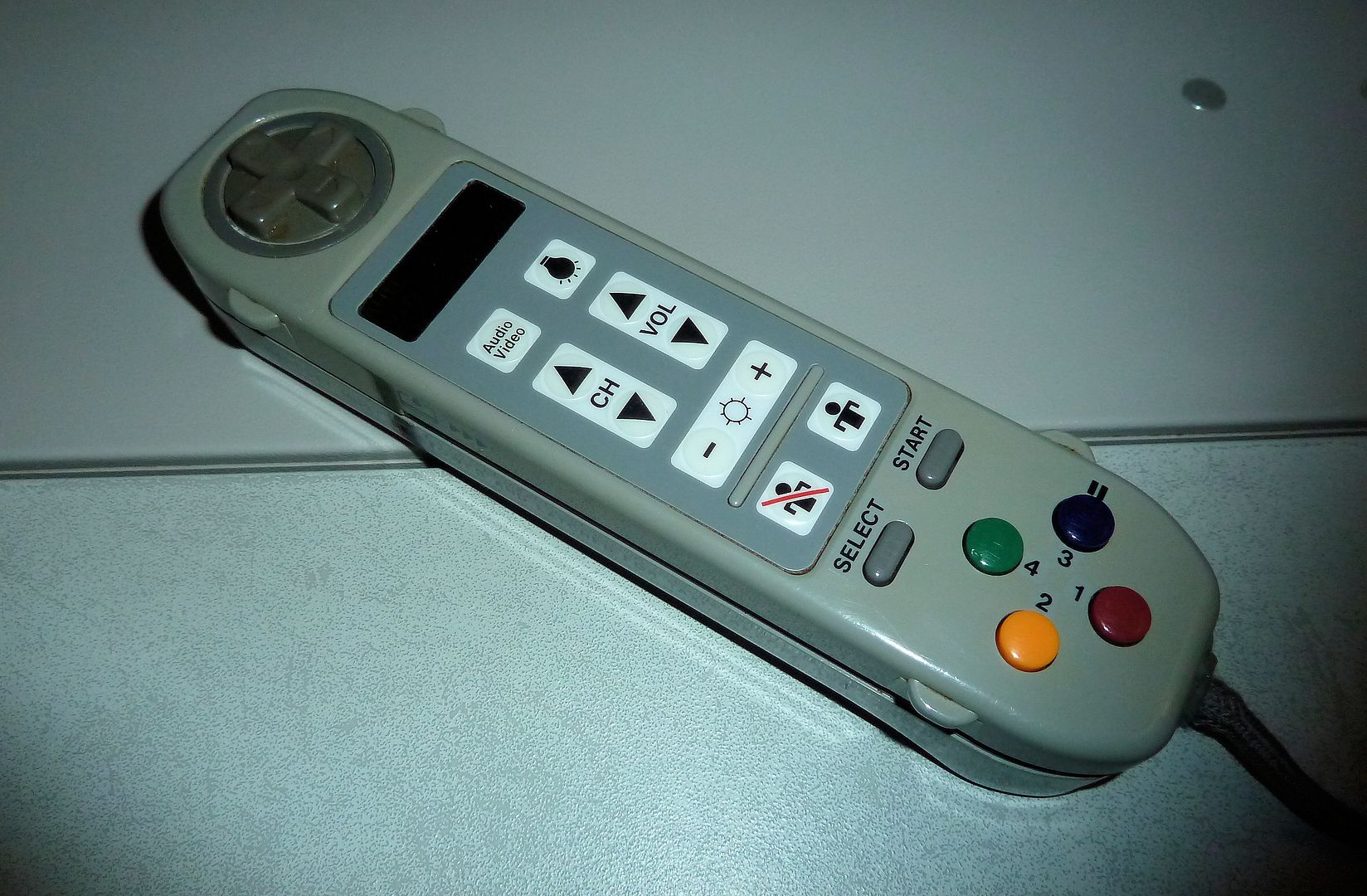 ...in contrast to the back side: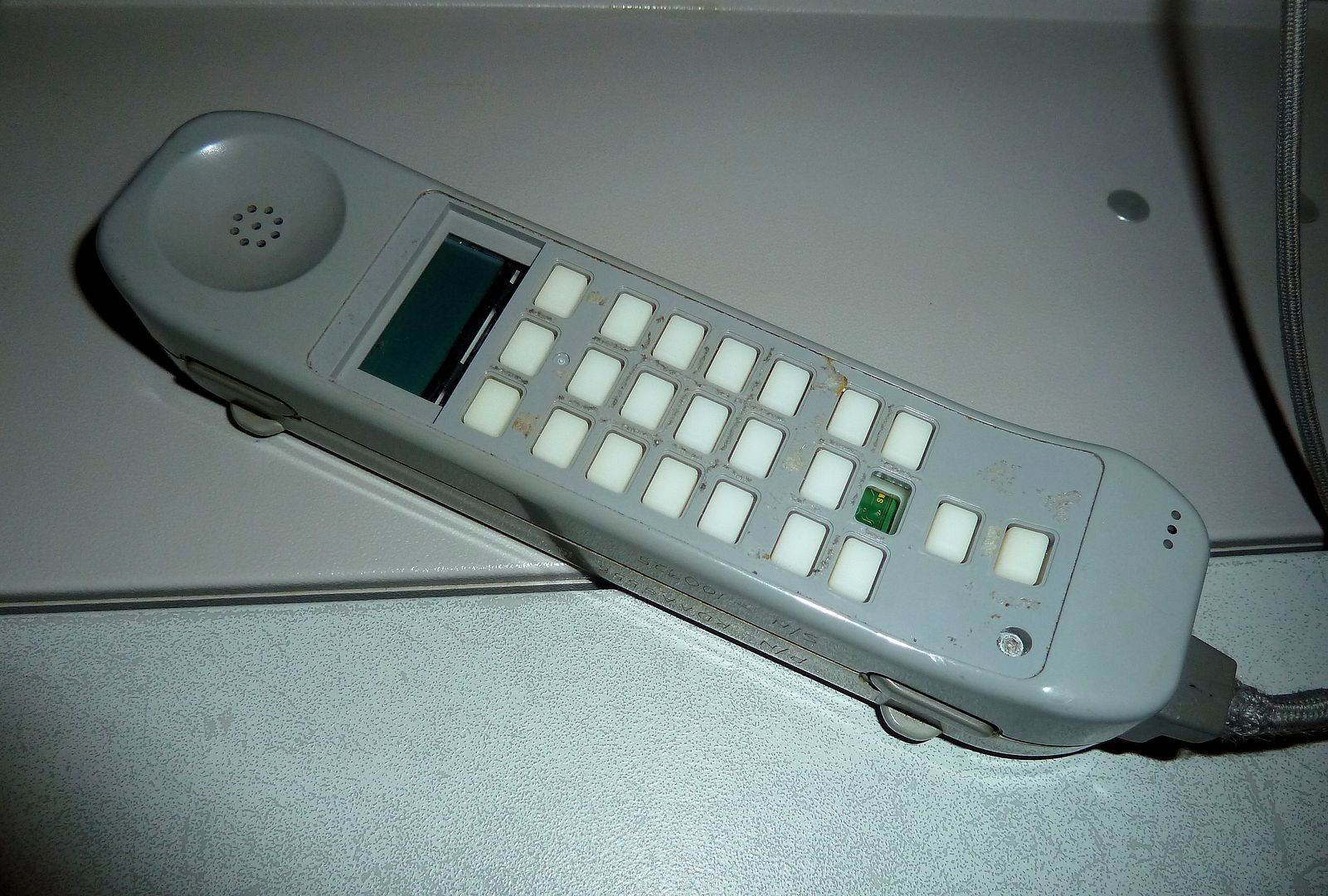 I cannot say much about the headphones which I didn't use due to my inoperative PTV: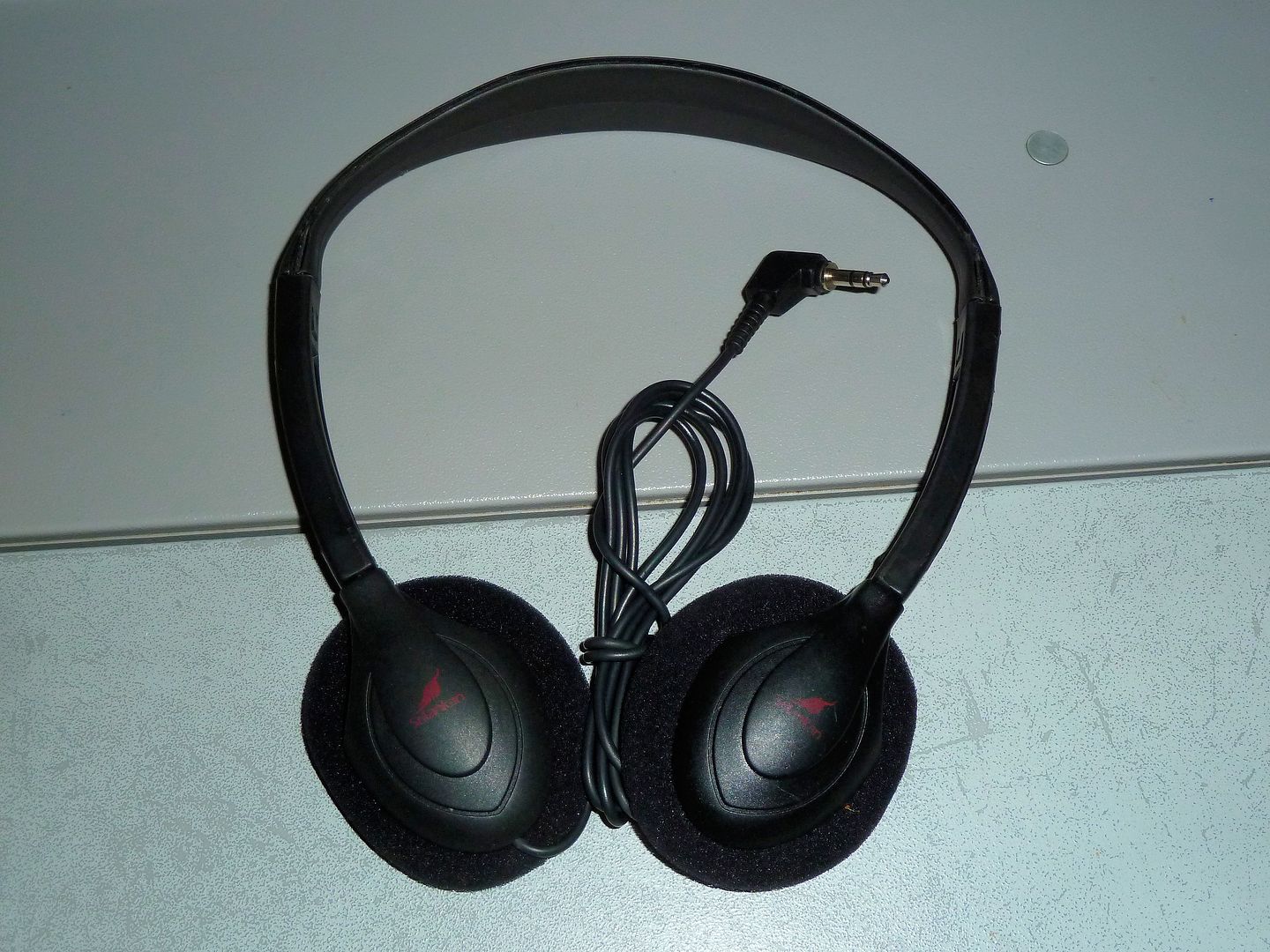 Inflight magazine and safety card:
Shopping guide:
I couldn't find an IFE guide in my seat pocket, but it would have been obsolete anyway.
At 23:25, after boarding had been completed (load factor somewhere between 90 and 100 percent), the captain made a welcome announcement which was hard to understand for acoustic reasons. According to him, we wouldn't be able to leave the gate earlier than
"30 minutes from now"
. He also mentioned something about
"ATC"
and
"Muscat"
, but I didn't understand the whole sentence. However, there was no reason to be concerned about because we would still have plenty of time for the transfer at Colombo. After the announcement, the flight attendants distributed cold towels.
We finally left the gate a bit earlier than announced and took off shortly before midnight. Tasty nuts and drinks were offered about 30 minutes after takeoff. I was glad that SriLankan still had
Schweppes Dry Ginger Ale
but I didn't get the whole can: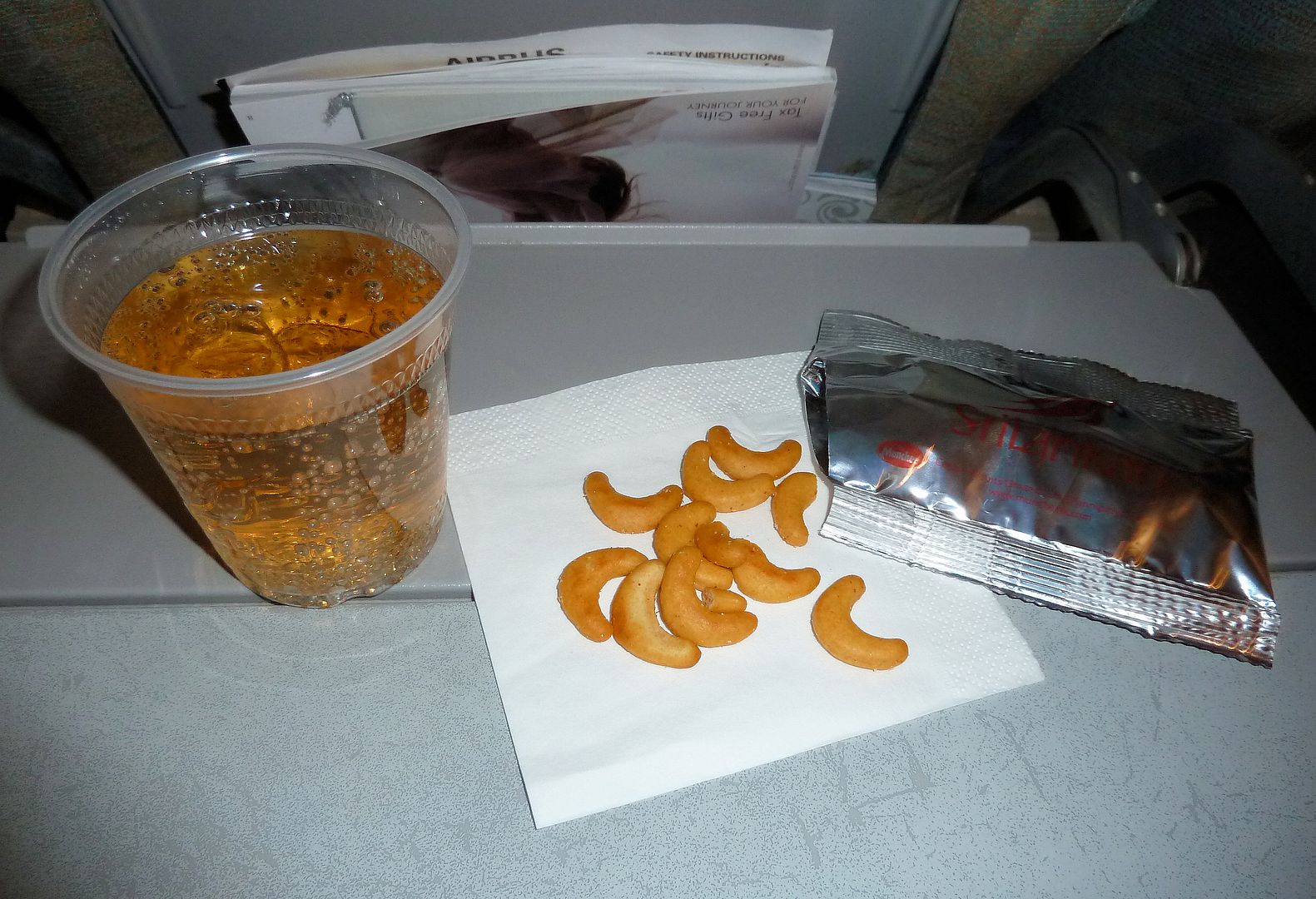 Hot meals were served shortly after the snack service. SriLankan still provides pretty menu cards (which get distributed and recollected again):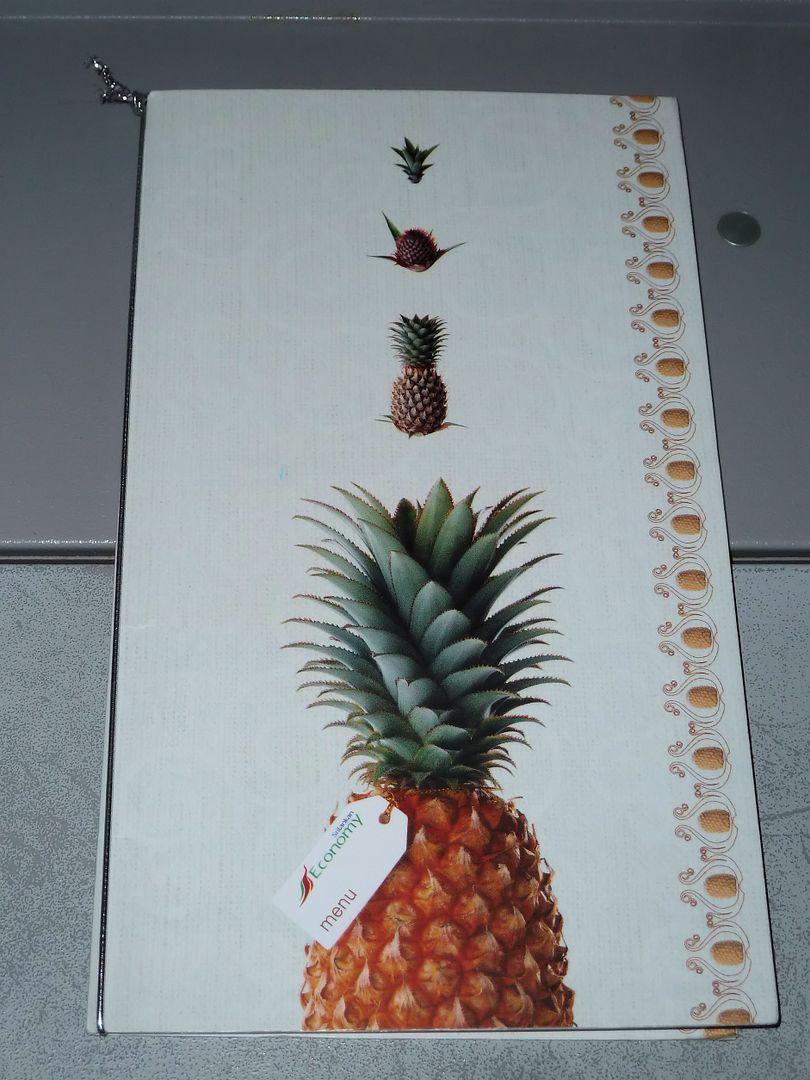 One cannot complain about the bar service: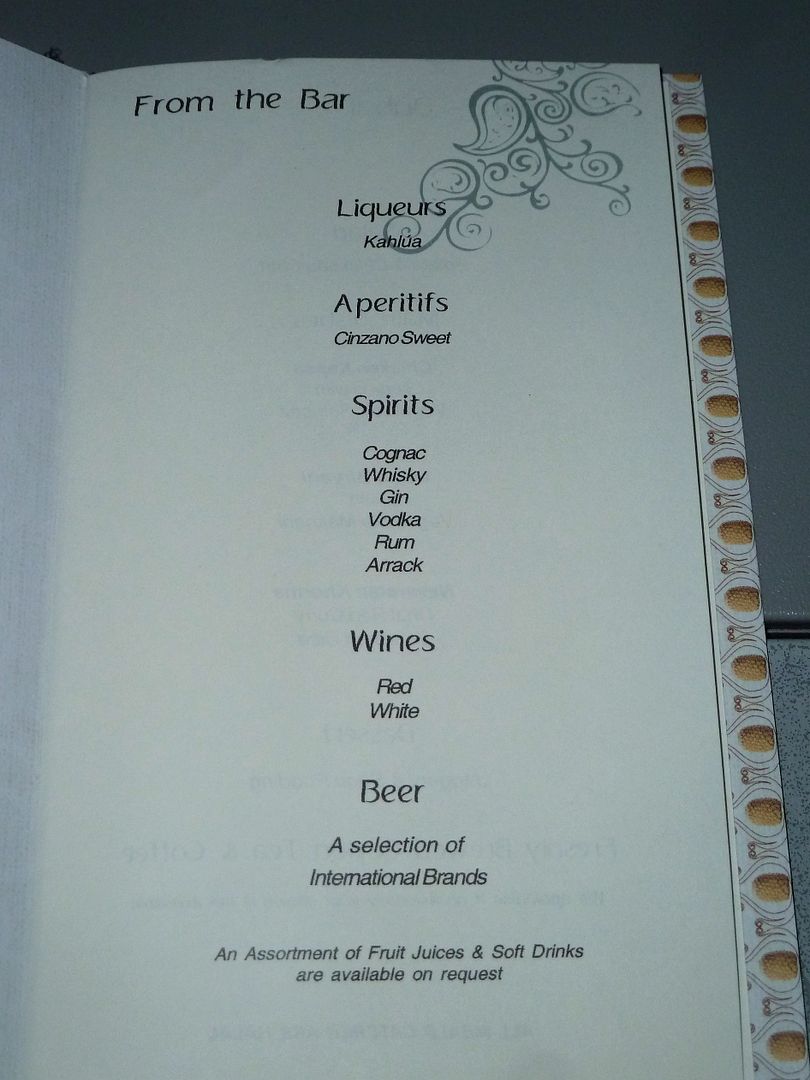 SriLankan still offers a choice of three main courses - and the food descriptions sounded very promising:
My brother wasn't hungry and rejected his meal, while I decided to try the lamb. Very nice tray: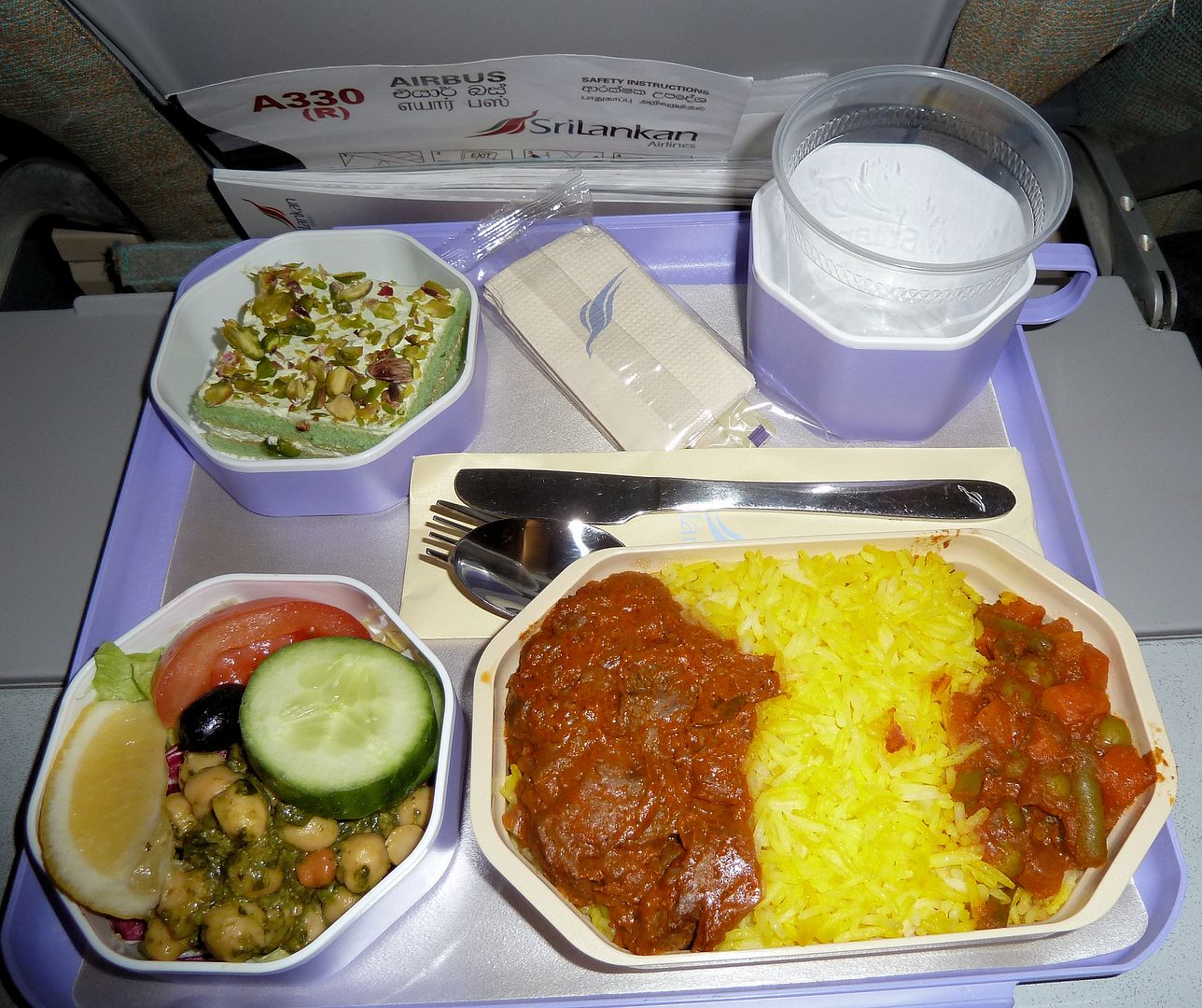 I was totally impressed by the main course - meat, rice and sauce tasted very good. However, the salad had been spilled with a disgusting sauce and the pistachio cake was extremely sweet.
After dinner, I tried to get some sleep, but failed. About one hour before arrival, I was totally shocked after opening a lavatory door - it looked so horrible in there that I immediately shut the door again and went to another lavatory. Don't ask me to go into detail any further...
Well, the other lavatory was in acceptable condition and I was able to lock the door, but, as I found out later, the sign "vacant" was stuck.
There wasn't much to do for the rest of the flight behind my black screen: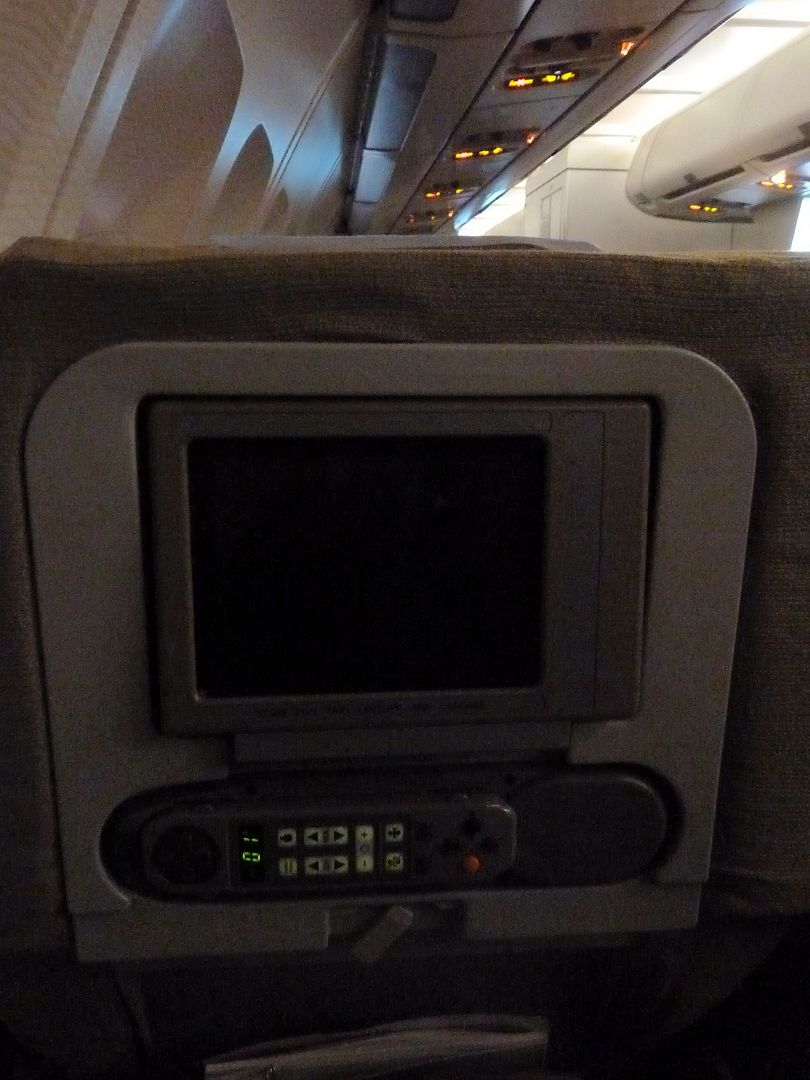 My brother's IFE didn't work properly either, but at least he could watch the airshow channel: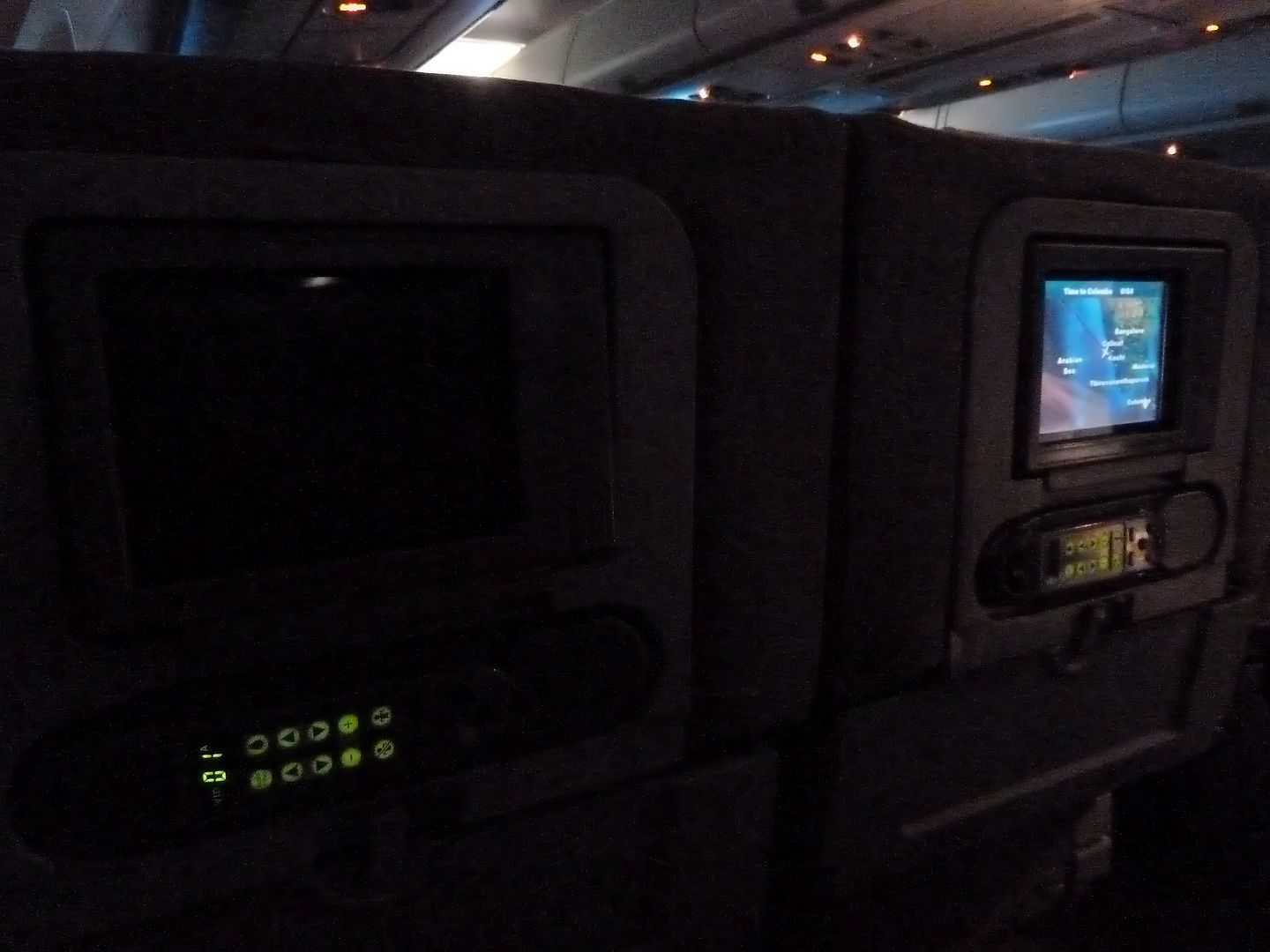 Airshow channel also running on the overhead screens:
Surprisingly, the front camera view appeared on the screens during final approach.
We touched down in darkness after a flying time of 3 hours and 51 minutes and taxied to a remote parking position next to some other SriLankan aircraft. Many passengers jumped up and started pushing and shoving in the aisle...probably they were in great fear that the busses would leave them behind on the apron.
Anyway, there was no reason to hurry, so I took some more cabin pictures. The interior is very similar to the one on Emirates' A330-200s:
Nice design: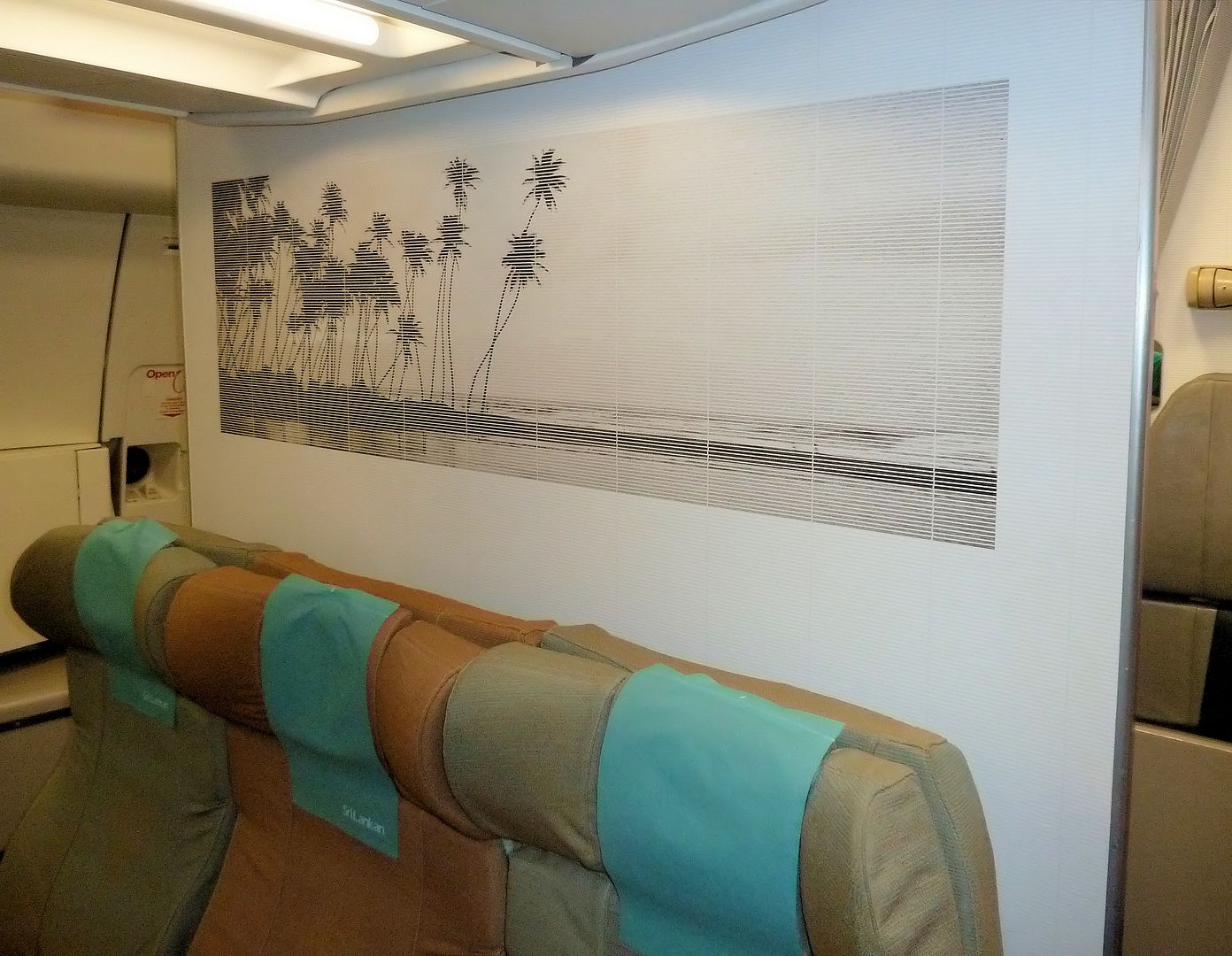 I'd have preferred to fly on sister ship 4R-ALA in the background: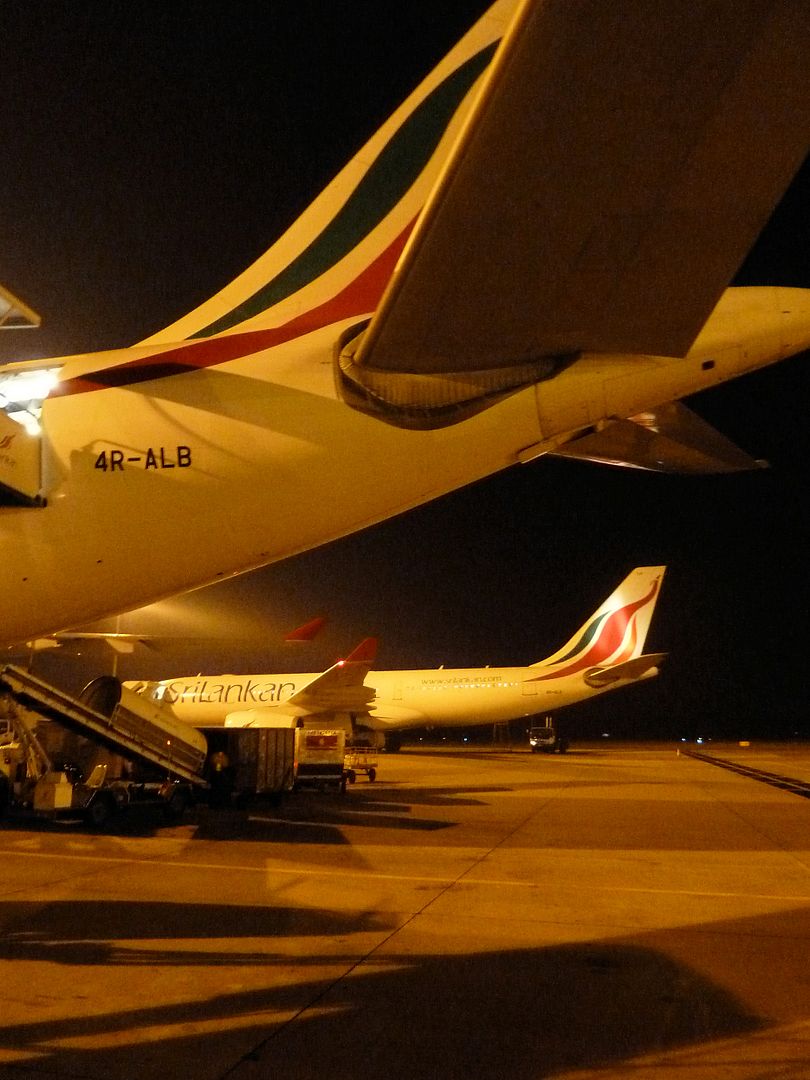 Monday, March 2012
Colombo (CMB) - Bangkok (BKK)
SriLankan Airlines UL422
Scheduled times: 07:20-12:15
Actual times: 07:21-12:39
Flight duration: 03:31 (hrs)
Distance: 1487 miles
Economy Class, seat 60H
Airbus A340-311
4R-ADA (MSN 032)
Delivered in 09/1994
2nd flight on 4R-ADA
12th A340-300 flight
17th A340 flight
Former appearance:
Back in 2006, I had been impressed by the nice and clean terminal building. This time, however, it didn't appear well-kept any longer and the restrooms were filthy.
There was only one A340 parked at a gate position - and that gate turned out to be ours. My worst fear came true when I identified the plane. There are six A340s in the fleet, but I got
4R-ADA
again which flew me from Colombo to Frankfurt in 2006...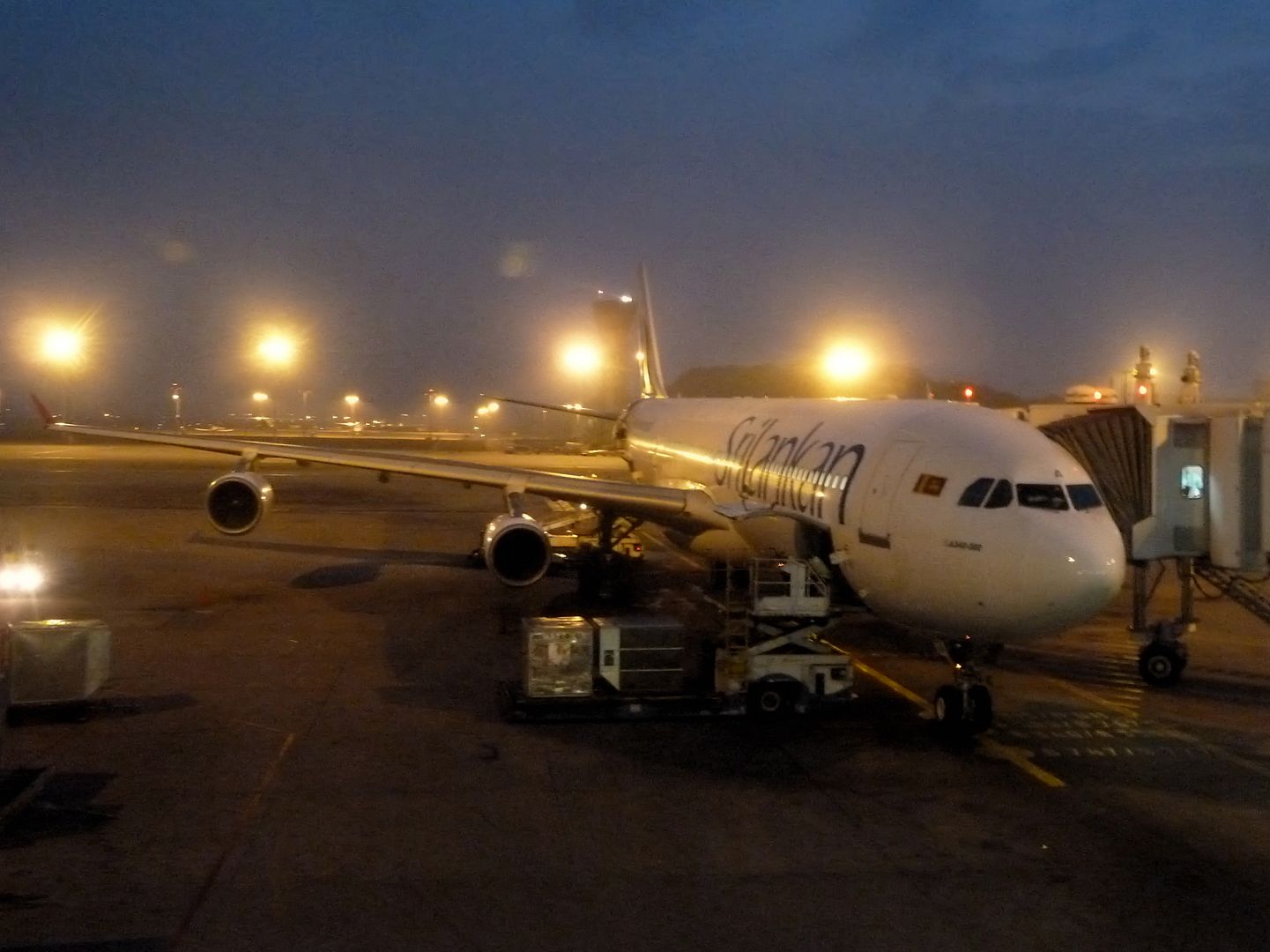 Two "old friends" in a row, that's what I call bad luck...but I was too tired to bother. We passed security once the gate had been opened and I took a seat. Spotting opportunities were limited, but I at least I can say that I logged Mihin Lanka's entire fleet...which consisted of one A320 and one A321 back then.
This is SriLankan A320 4R-ABO, one of eight frames in the fleet:
Numerous tourists from Europe kept filling up the gate and I was expecting another packed flight. Boarding commenced on time and we soon received a friendly welcome again - and this time the entire crew turned out to be nice.
The interior was in better overall condition, but everything looked worn. Seat colors hadn't been changed since 2006: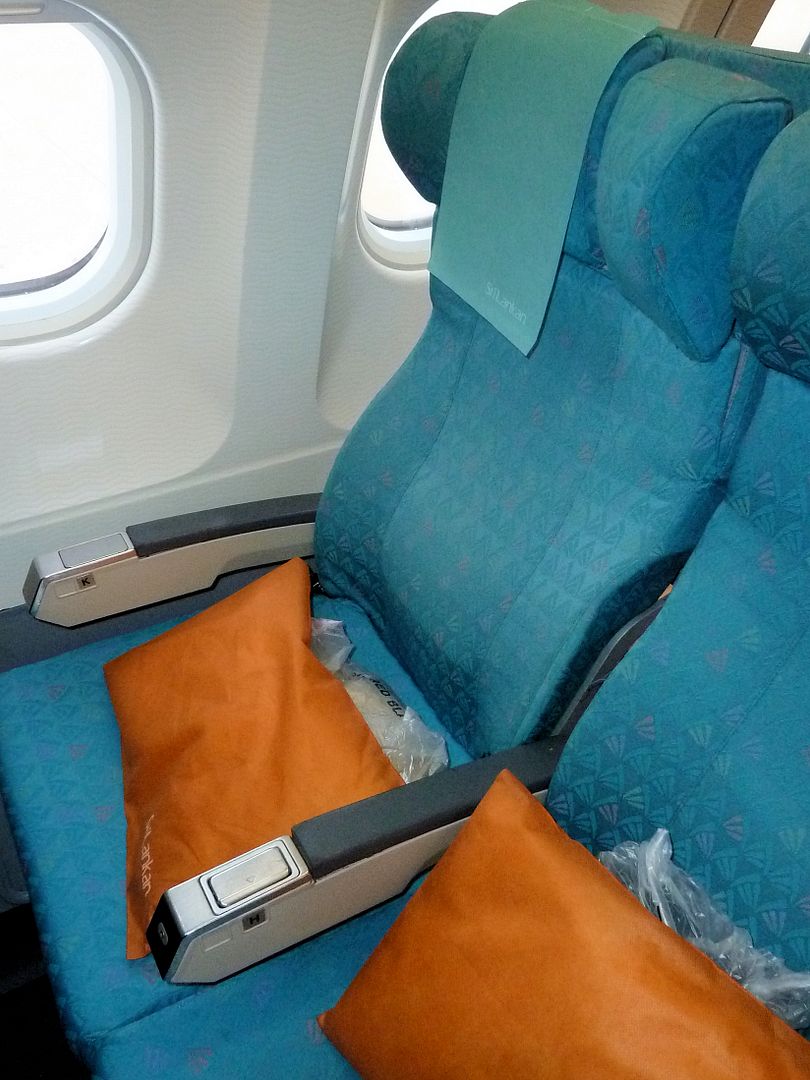 Both PTVs in our row were working this time:
As expected, the seats were hard again, but there was even less legroom: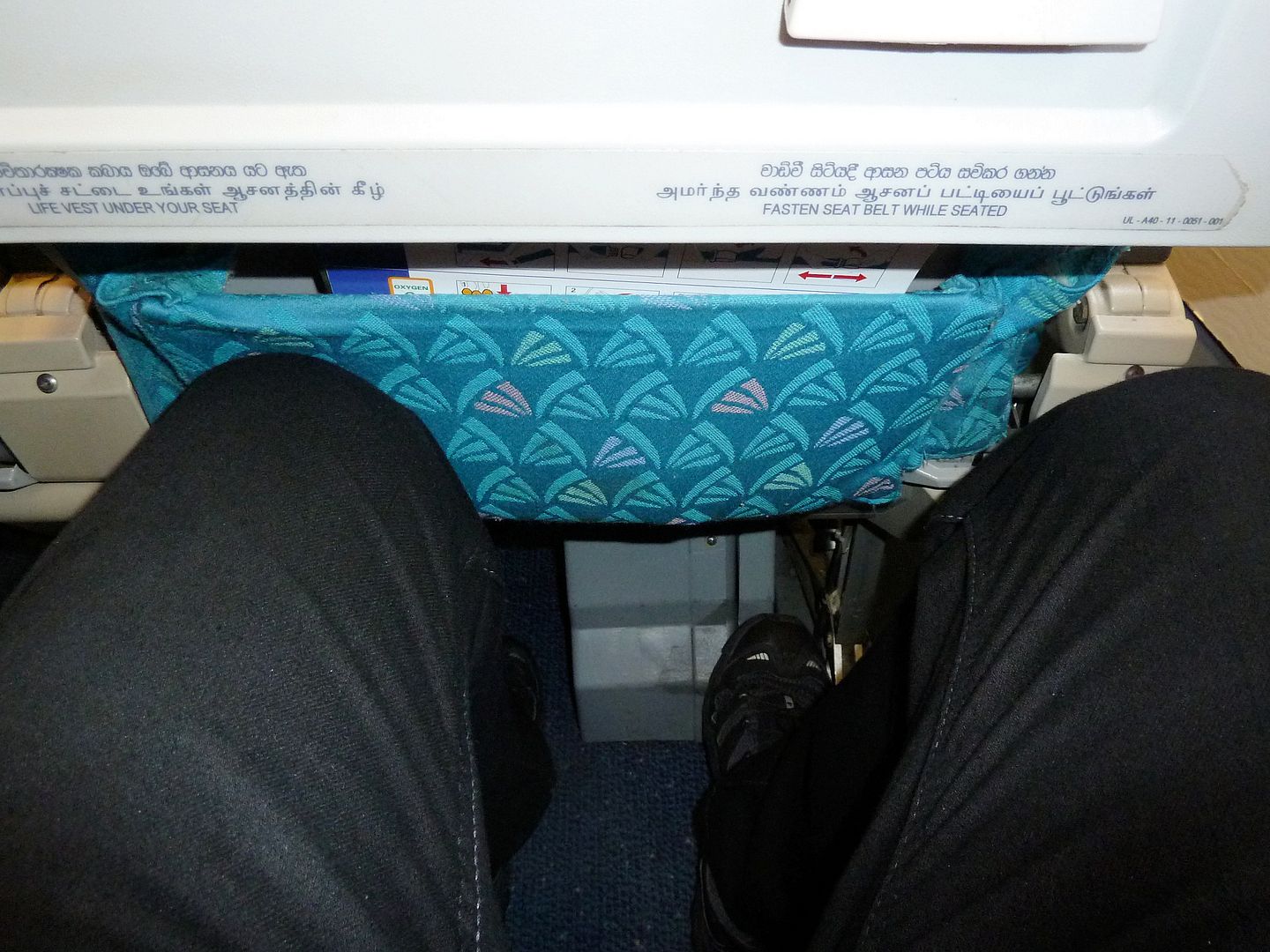 As seat pitch was slightly more generous in the window seat, I let my brother move there. Otherwise the flight would have been a torture for him.
In addition to the usual magazines, I also found an IFE guide in my seat pocket this time - however, I didn't check whether all advertised entertainment options were indeed available: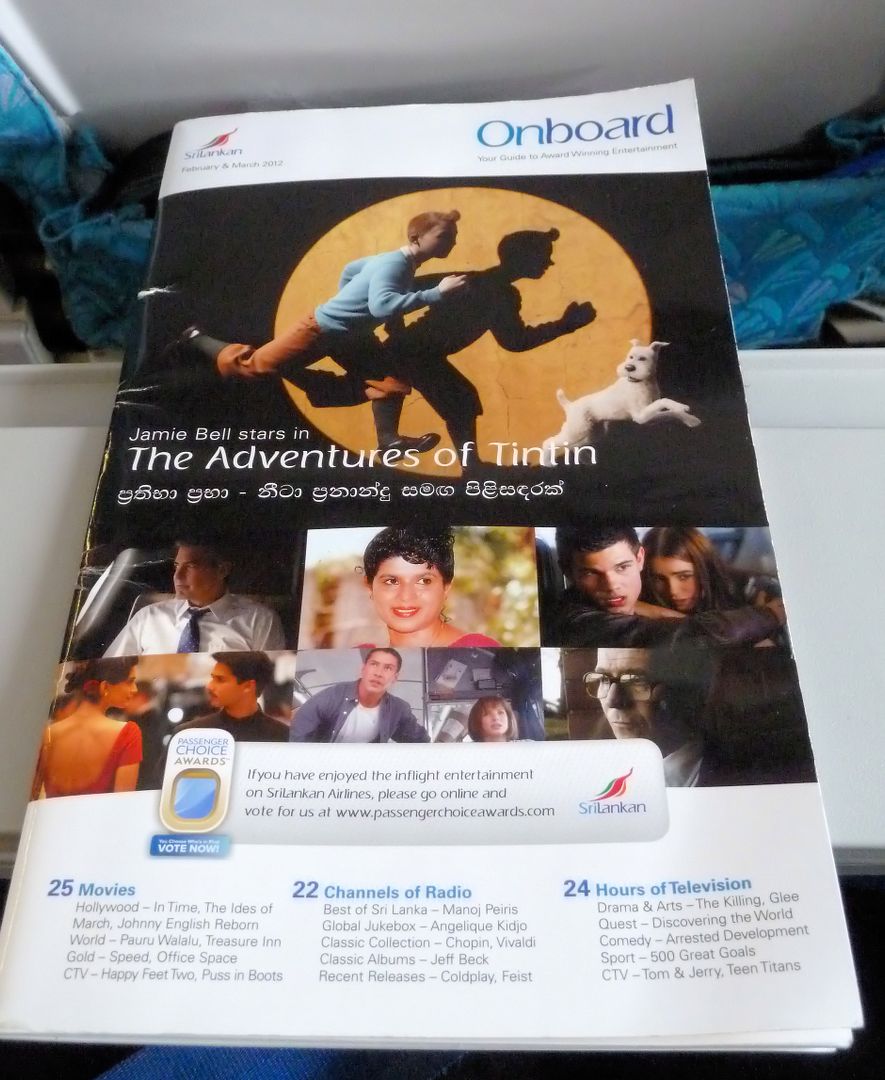 What I noticed with disgust was a bad smell in the cabin. And what I found even more disgusting was the fact that one lavatory apparently hadn't been cleaned properly before boarding.
In his welcome speech, the captain announced an on-time departure and a flying time of 3 hours and 15 minutes. We were indeed pushed back almost on time, taxied straight to the runway and started a typical A340 Classic takeoff roll: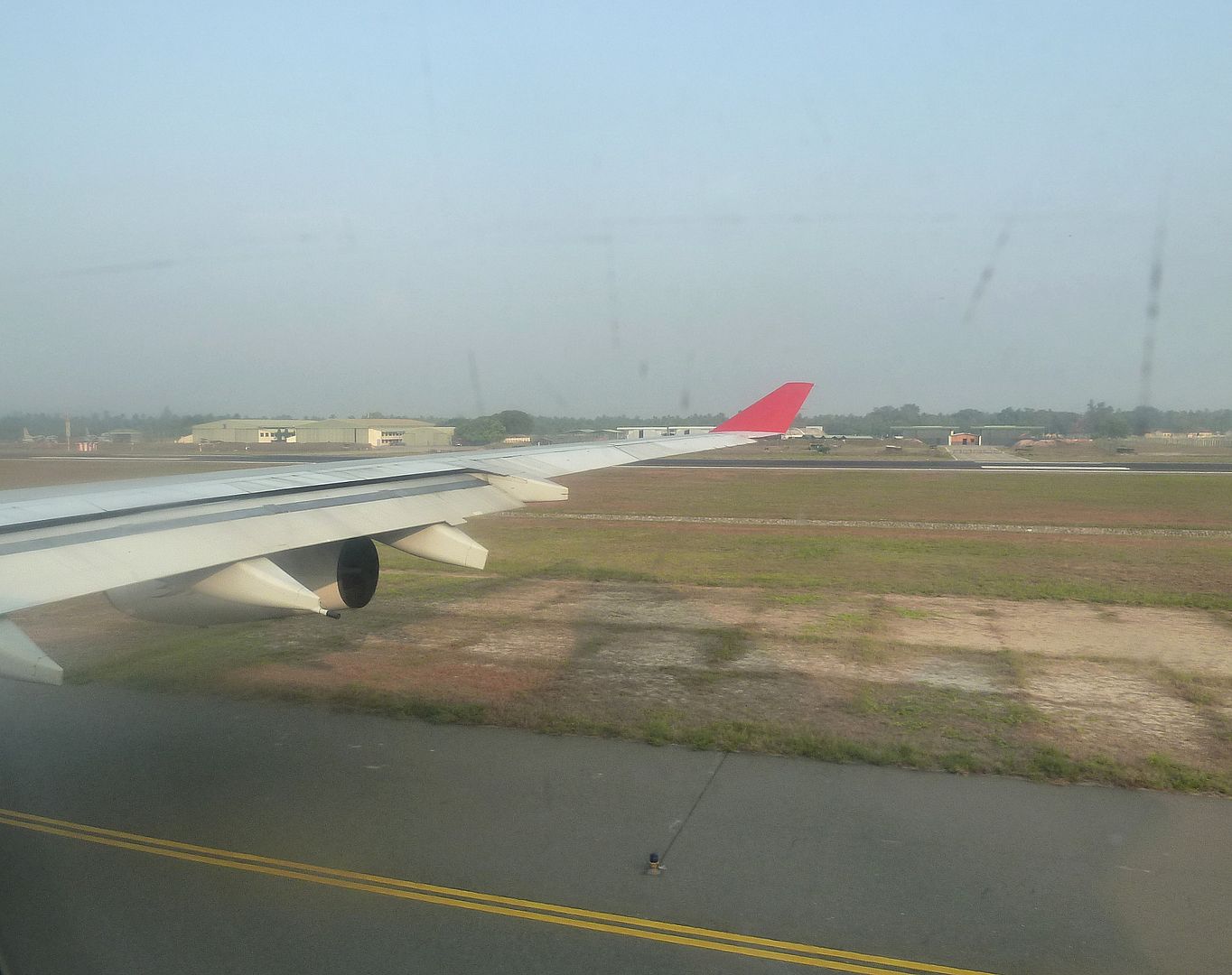 Menu cards were also distributed on this flight:
Interesting options once again:
My brother and I ordered the omelette...
...which turned out to be fine, just like the potatoes and the mushrooms. But I didn't like the "grilled signature chicken sausage" - and the fruit pieces didn't taste fresh. This time my cold drink was served in a glass - that had already impressed me back in 2006. Unfortunately, the coffee tasted burned.
The seat belt signs had already been switched on before breakfast service, but nothing had been happening for 30 minutes or so. But just after we had finished our drinks, the plane suddenly dropped - which felt like being hit by something.
There was total silence in the cabin as people were paralyzed for a short moment. And then I discovered numerous people with wipes in their hands cleaning walls and overhead ceilings because their drinks had splashed upwards! Well, one should never underestimate the
Bay of Bengal
!
Less than a minute after the event, the captain made an announcement, referred to sudden turbulence and advised passengers to remain seated with seat belts fastened. However, the seat belt sign was switched off again after a while. Perfect opportunity for a cabin shot:
As usual, I had been watching the airshow channel most of the time. Almost there:
After circling for a while, we finally touched down after a flying time of 3 hours and 31 minutes. Taking approach and landing pictures through the dirty window had been a bit difficult, so here's just one - Transaero's 747-400s are frequent visitors at Bangkok: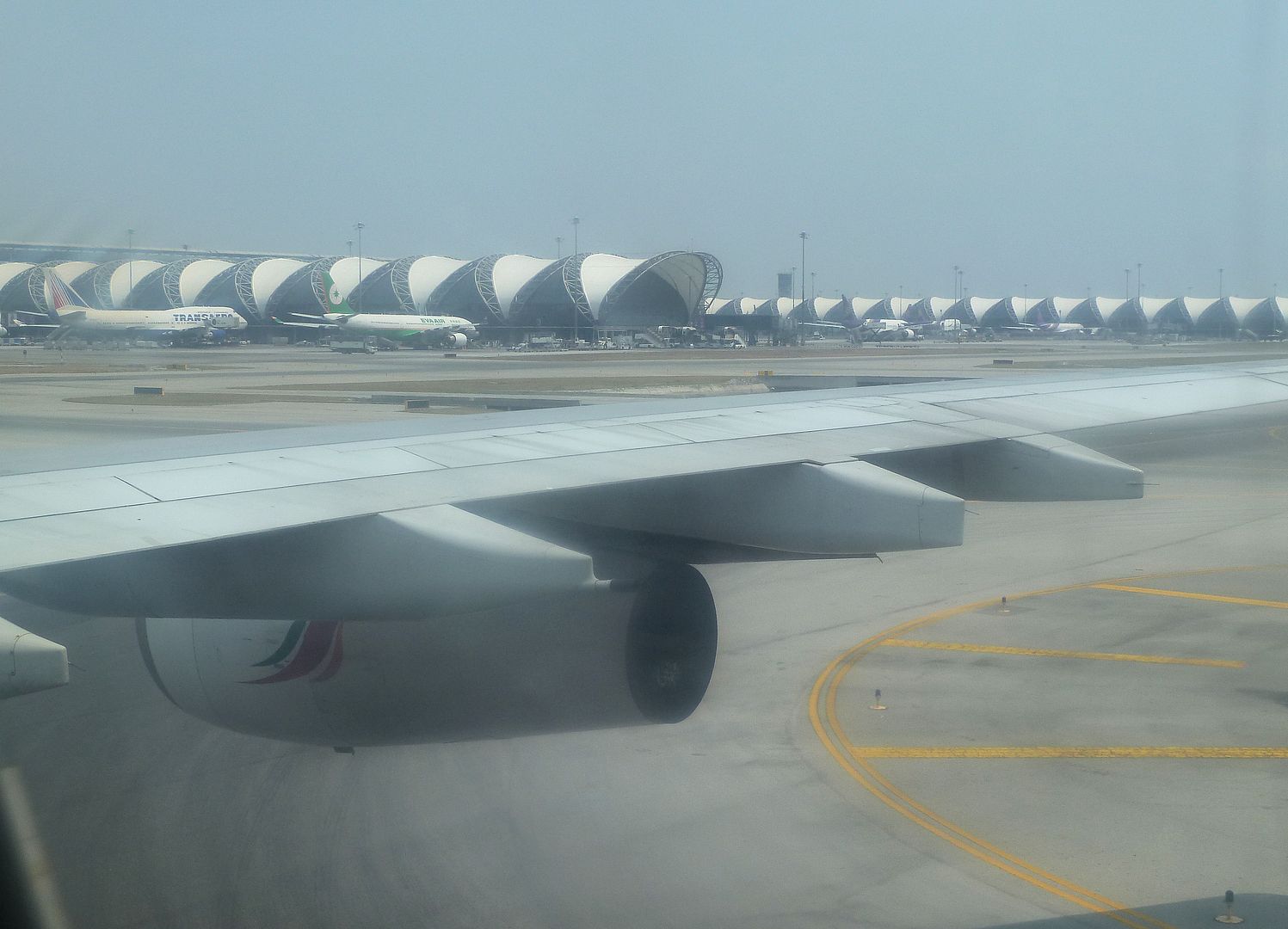 We arrived at the gate 24 minutes late and once we had left the plane, we walked straight to the immigration hall. Apparently, numerous other flights had just arrived, too, because huge queues had formed - and they were moving very slowly. So we were stuck for at least an hour, probably much more. Of course we weren't happy to find ourselves in such a situation again after the bad experience at Dubai Airport...and this time it was much warmer in the "waiting area".
[Edited 2012-09-24 10:00:23]