Welcome to my 7th Trip Report!
Shortly after I have returned from CGK in June, I realized that I have some events that I need to attend in Jakarta and Surabaya in September. As I have some spare time in September, I started to plan out my itinerary to CGK. While direct routing from MEL to CGK on GA would be much more efficient, I finalised the trip with a more 'complicated' itinerary.
While I was planning my itinerary, a colleague of mine has been asking me to fly with her to her hometown in Surabaya (SUB) for a long time, since the day both of us was transferred to MEL from our previous post in SIN.
As most of my previous trips was to CGK and SIN, I have no opportunity to get on a flight to SUB with her. Therefore, this time I will have the opportunity to get into SUB, it was time for me to fulfill
a promise kept
.
[Background
Some of you may think that I came up with the idea to fly on Royal Brunei Airlines (BI), but actually it was my colleague who came up with the proposal to fly BI. While actually I had flown on the airline before, but looking at the deal BI offered for the route, it was clear that we will fly with BI this time round. Furthermore, it would give me an opportunity to report my BI experience on the forum this time round.
Royal Brunei Airlines (RBA/BI) is the flag carrier of the Sultanate of Brunei, the country located north of the island of Borneo. It was found in 1974 and has since expanded to serve some cities in Asia, Australia, Middle east, and LHR in Europe. Currently BI operated a fleet of 9 aircraft, serving 14 destinations. With their size, it is obvious that this airline is 'hidden' under the shadows of the big boys in the region, such as SQ, MH, or TG. Melbourne was one of the latest addition into their network, which was served by a daily 772 flight from its main base, BWN.
As my colleague and I had common spare time during that period, we agreed to fly to SUB on September 21st.
Check-in
The day started early for me on that Friday, as I had to wake up early on 7.00 am and get my bags into the tram bound for my colleague's place, where we had booked the Starbus, an airport shuttle that would conveniently link your address to the airport at a cost of AUD 17. The Starbus van arrived slightly later than the booking time but it did not put our schedule at risk, as we are still ahead of time.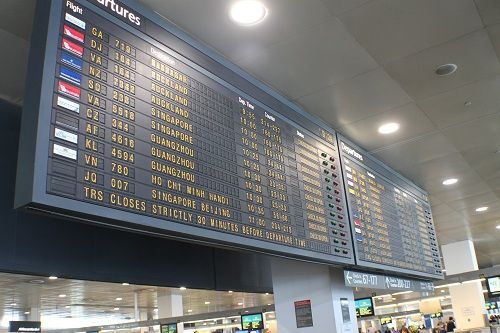 Old-style FIDS at T2 Melbourne Airport
After the 20 minutes ride in the freeway, we reached Terminal 2 of Tullamarine Airport. We arrived early as planned and the check-in desks was only open after we waited there for around 20 minutes. Despite using eight check-in desk, large queues of passengers were formed for BI check-in. The man who was in-charge of my check-in desk was very thorough and prolonged the check-in process, which eventually I could proceed without any trouble.
Long queue at BI Check-in desks
The International Departure area, only passengers allowed to enter from this point onwards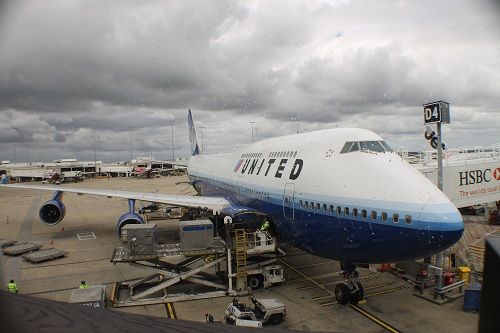 View of UA B744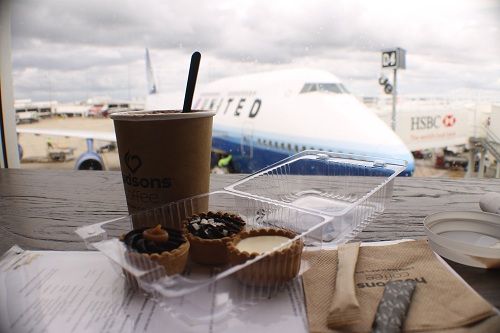 Breakfast with the view of UA 744 out of the window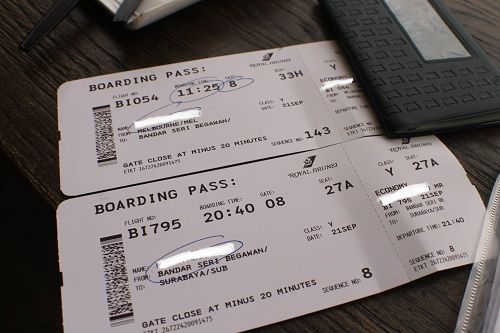 Boarding pass printed for both BI 54 and BI 795 sector
After check-in, we proceed to the security check area and immigration. The immigration queues were extremely long in MEL, filled by passengers bound for UA, JQ, QF, NZ, and BI flights. They urgently need to improve on this area. Following the long and tiring immigration queues, we proceed to a coffee shop which provides a good view of parking stand D4, which a UA 744 was parking on the stand that time.
Boarding
FLIGHT DETAILS
Flight Number: BI 54
Type of Aircraft: B777-212ER
Registration: V8-BLA (L/n 378, Leased from SQ since 01.06.2010)
Seat: 33J
ETD: 12.25
ETA: 17.25
JQ A332 ready for departure to SIN
Our aircraft today, V8-BLA
We proceed to the assigned gate 8 after enjoying our hot beverages. There were still some time before boarding call was made, and hence I used that time to do some planespotting with my beginner photography skills. Observed some of DJ and JQ operations out of MEL, while my colleague were still doing some work on her tablet. The boarding call was made with the order of Business Class passengers, Passengers requiring assistance, and Economy class passengers. Long queue of passengers were forming, which shows loads were almost full for the flight.
Our aircraft and the long aerobridge
Long queue for boarding at gate 8
Boarding
On the L2 door, two of the flight stewards welcomed us onboard, and showed us the direction to our seats, 33H and J accordingly, which was the third row of the Economy Class seats. Our flight on that day was operated by V8-BLA, an aircraft used to fly for SQ as 9V-SVF. As seen in the pictures, the SQ interior remains even after the aircraft was leased to BI. After the doors were closed, a Muslim prayer was played in the Inflight entertainment system, praying for the safe journey ahead. The inflight safety video was then played after the prayer, while the aircraft was heading for the runway.
The purple and blue seat as seen in old SQ interior
The seat 33K beside my seat
Adequate legroom for the flight
Seatback view
Prayers prior to take-off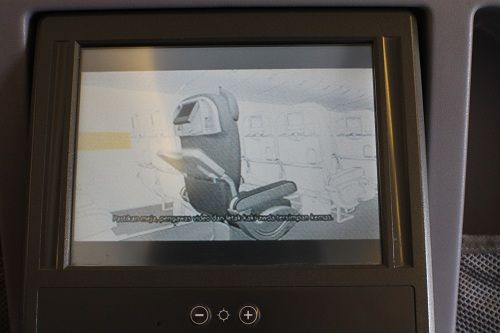 Safety video
The flight took off at around 12.35pm local time, and headed northerly for BWN.
In-flight
Views of the cabin after take-off
Welcome onboard 'Skyshow' Inflight Entertainment System
English or Bahasa Melayu, anyone?
Shortly after take-off, the Skyshow inflight entertainment (IFE) system was activated. As I was extremely tired, I selected a list of songs that I listened usually and turned them to near-maximum volume on my headset, and started sleeping, while the infants on row 30 started crying. I was awaken when the crew was distributing peanuts with choice of drink, and then continued sleeping again.
The peanut and OJ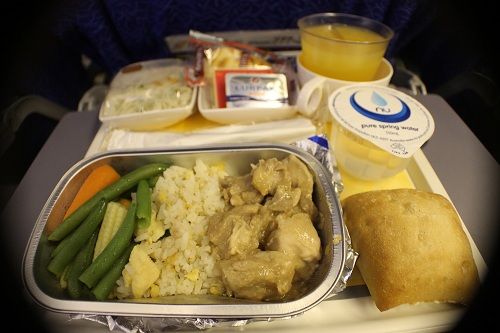 My meal tray with Lemon chicken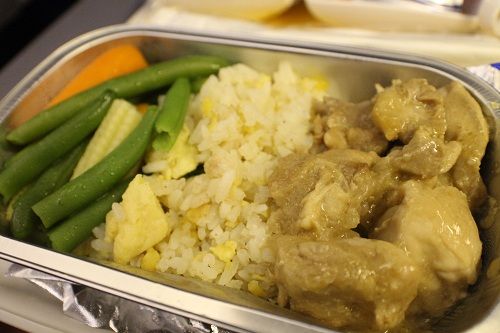 Closer look at lemon chicken meal
The vanilla ice cream dessert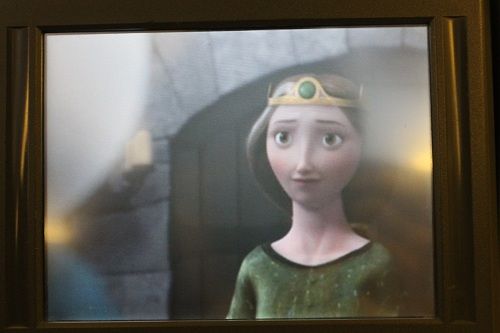 Scene from 'Brave' in IFE.
The crew pushed their meal cart for the meal service around 2.5 hours after take-off from MEL. The meal consist of Lemon chicken with fried rice or Roasted beef with mashed potatoes, which I opted for the first choice. The fried rice tasted good and quite filling. Then I tuned for the Disney's animation film 'Brave' which was featured in their IFE guide. Later on, after the meal service, crew members coming around with trays of vanilla and hokey pokey flavour ice creams. It feels good to watch a movie while eating a vanilla ice cream.
Compared to my previous flight onboard BI, this time round, the set of cabin crew members was less robotic, and they indeed made the extra effort to interact with passengers, although the load were near full on that day. The steward, Mr. A, serving my aisle joked that he was the most forgetful flight crew as he actually forgotten our meal choices, shortly after he asked what choice of meal do we want. On the next row, when some passengers complimented that the lemon chicken was delicious, he joked that 'Really? I should cook lemon chicken at home next time then," which passengers laughed to his response.
Passengers were either taking a nap or enjoying 'Skyshow'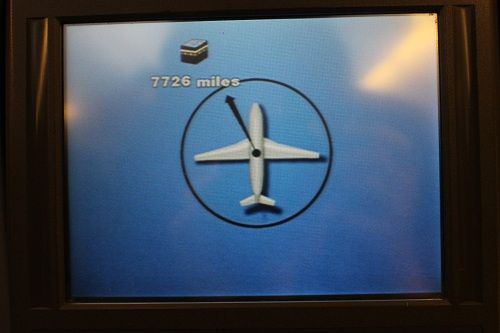 Distance to Mecca is shown as part of the moving map
Rows 30-32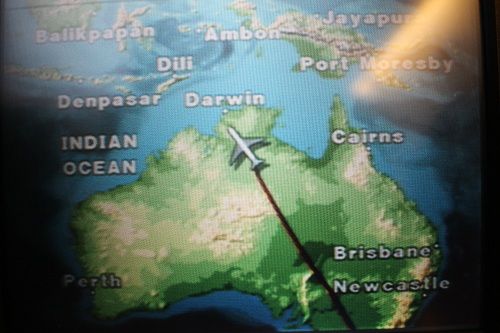 Our flight progress in the moving map
Throughout the flight, the crew members came down into the alley to offer some rounds of drinks to keep passengers hydrated for the 6.5 hours flight. They also actively helped passengers traveling with infants. Shortly before descent, the crew distributed snacks consisted of oreo.
Landing into BWN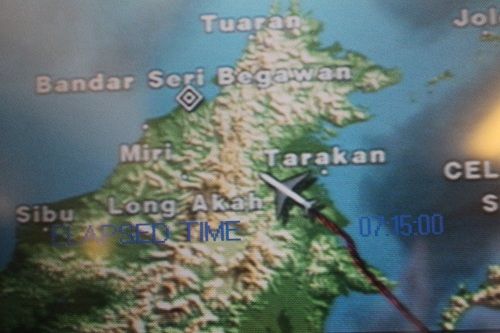 Approaching BWN
Islands seen on descent
Views while on approach to BWN
While we were flying over Sulawesi, Captain Sofyan, as he introduced himself in the PA, announced that shortly the aircraft would start its descent into BWN. The weather was expected to be clear with the temperature of 26 degrees celcius. On descent, crew members collected the headsets as the IFE was switched off. Views of Borneo rainforests was seen outside our window as we approached BWN airport.
Welcome to Brunei International Airport (BWN)
We touched down at BWN around 5.15pm Brunei local time, which was two hours slower than MEL. Crew members apologised that with the ongoing renovation project at BWN, passengers movement are limited and hence inconvenience were caused. My colleague and I were one of the first few economy passengers disembarking the flight, being seated at the third economy class row.
Now, its time for us to wait for our connecting flight, BI 795 to SUB which was scheduled to depart around four hours from our arrival in BWN.
[Edited 2012-09-25 11:10:53]