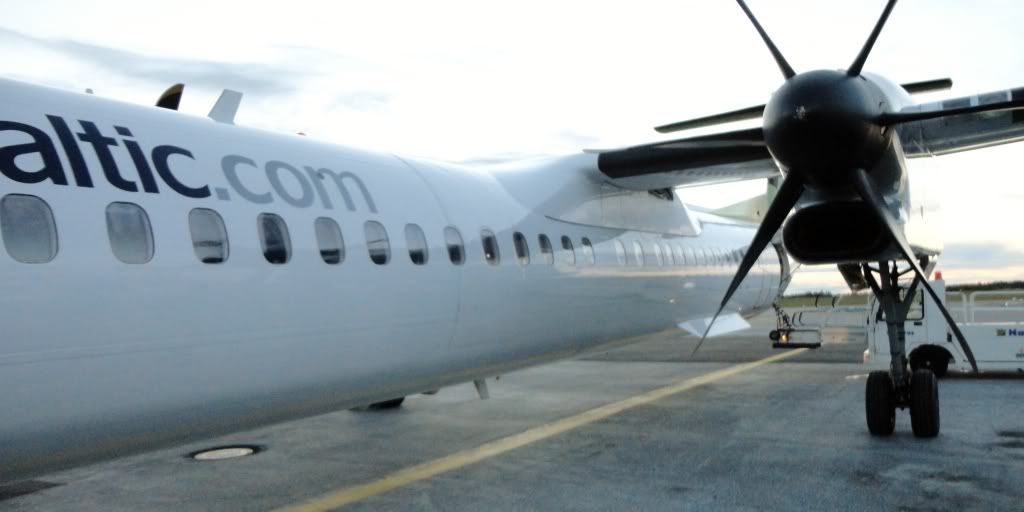 Introduction
Let me take you back in time for a second. Back before my great summer vacation, as I then started booking flights for this weekend trip. KLM were having some nice offers to different European destinations to which I decided to book a round trip.
Of course I wanted to chose an airport that I haven't been to before so after scrolling through the different destinations I chose Helsinki Vantaa Airport and booked the flights immediately. Departing AMS on Saturday (September 8th) mid-day and arriving back Sunday (September 9th) in the evening.
Of course I didn't want to keep it at these 2 flights, so I decided to book some more (ex- HEL) once I got back from my vacation.
So an absolutely fantastic vacation in the USA/Canada ( for trip reports on my vacation see the bottom of this TR) followed and once I was home again I immediately started looking for some interesting flights ex HEL. After about an hour of searching different websites, I found an attractive fare on Air Baltic from HEL to ARN via RIX. Leaving HEL on Saturday night and departing from RIX early on Sunday morning, both flights with a Dash 8. With BT being a new airline and RIX a new airport I booked the flights right away.
All I needed now is book a flight from ARN to HEL to catch my evening KLM flight back to AMS. As many of you know there are a lot of different airlines that fly this route. As I have been wanting to fly Norwegian for a while now I decided to look at their fares first. I immediately found an acceptable fare and booked it (leaving ARN mid-day).
Spending the night in Riga meant I had to book an hotel. As I will be arriving in RIX at night and departing RIX bright and early the next morning my preference went out to an hotel close to the airport. The closest (and cheapest) hotel was the Sky High Hotel located just a 5 min walk from RIX, so I made a reservation there.
Hello everyone and welcome to my 17th trip report featuring part 1 of this weekend trip I made. Due to the large amount of pictures made, this series will be split into 2 parts. Part 1 will contain my first 2 flights (AMS-HEL-RIX), while part 2 will contain my last 3 flights (RIX-ARN-HEL-AMS).
So sit back, relax and I hope you enjoy this report!
Map
The map for this part, thanks to the Great Circle Mapper: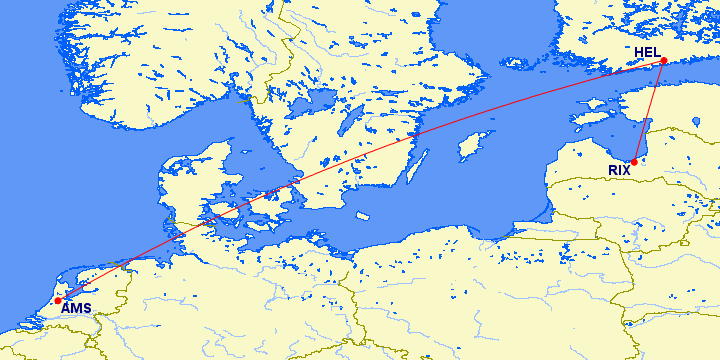 And the map of this weekend trip, also thanks to the Great Circle Mapper:
Getting To AMS
It is Saturday morning the 8th of September, after being "on the ground" for 3 weeks it was finally time to fly again! With my first flight of the weekend not leaving AMS until 13:55 I took advantage of the opportunity to sleep in, so at 09:00 my alarm clock went off and I did my usual morning rituals.
Getting to AMS was a bit different than my usual 5 minute train ride to the airport. The reason for this was construction work being done on the rails during the whole weekend between Amsterdam Sloterdijk station and Schiphol (with my stop being the only one between those two).
Instead of the train I decided to take the metro 2 stops and then take the bus no. 310 to the airport.
I intended on catching the 11:09 metro, so at 10:50 I grabbed my belongings and headed towards Amsterdam Lelylaan station.
I arrived at the station around 11:05 and 4 minutes later my metro came: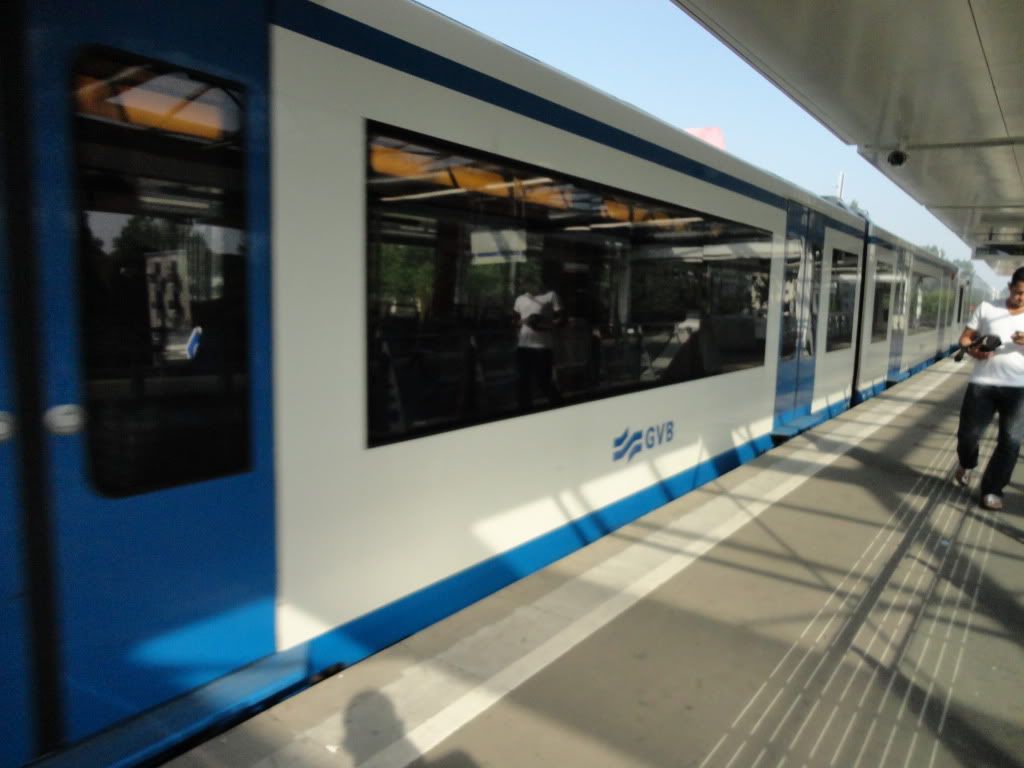 2 stops and a 7 minute ride later I already arrived at my stop: Amstelveenseweg. From here I walked downstairs to wait for the no. 310 bus. After waiting for 10 minutes at the bus stop, the bus arrived and 15 minutes later (at11:45) I arrived at the airport and headed straight upstairs to the KLM check-in area.
Check-In
As always I had checked in online the night before so all I needed to do now was print my BP. While using the SSK to print it out, I decided to take the offer for an upgrade to Business class. After doing the payment the machine spit out my new BP and I headed towards security.
Security + Lounge
I used the priority lane at security and was through within 5 minutes (after the security guard wanted to check out my binoculars). My next stop was the KLM Crown lounge. After taking the escalator up 1 floor I entered the lounge, handed over my BP, and was granted access.
The KLM Crown Lounge has been covered here many times so I won't bore you too much with details about it.
During my stay I made use of the free WIFI while regularly getting something to eat/drink and catching up on some trip reports: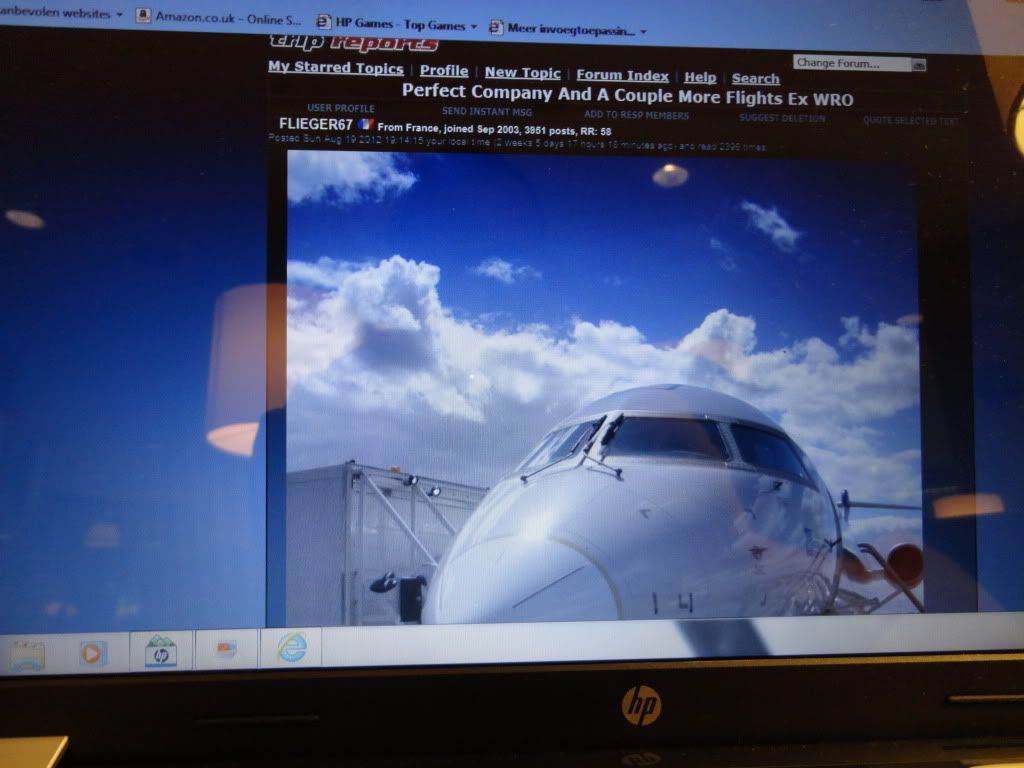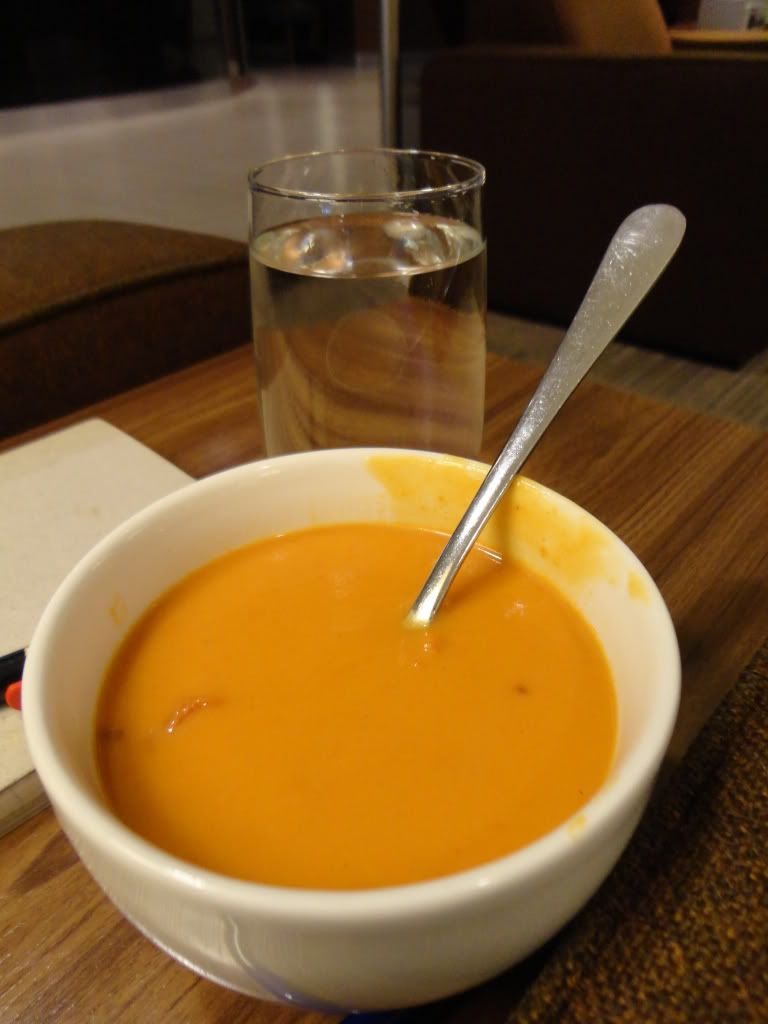 While in the lounge I also got an e-mail and text message from KLM stating that I had a gate change, although it was the same gate that was already on my BP: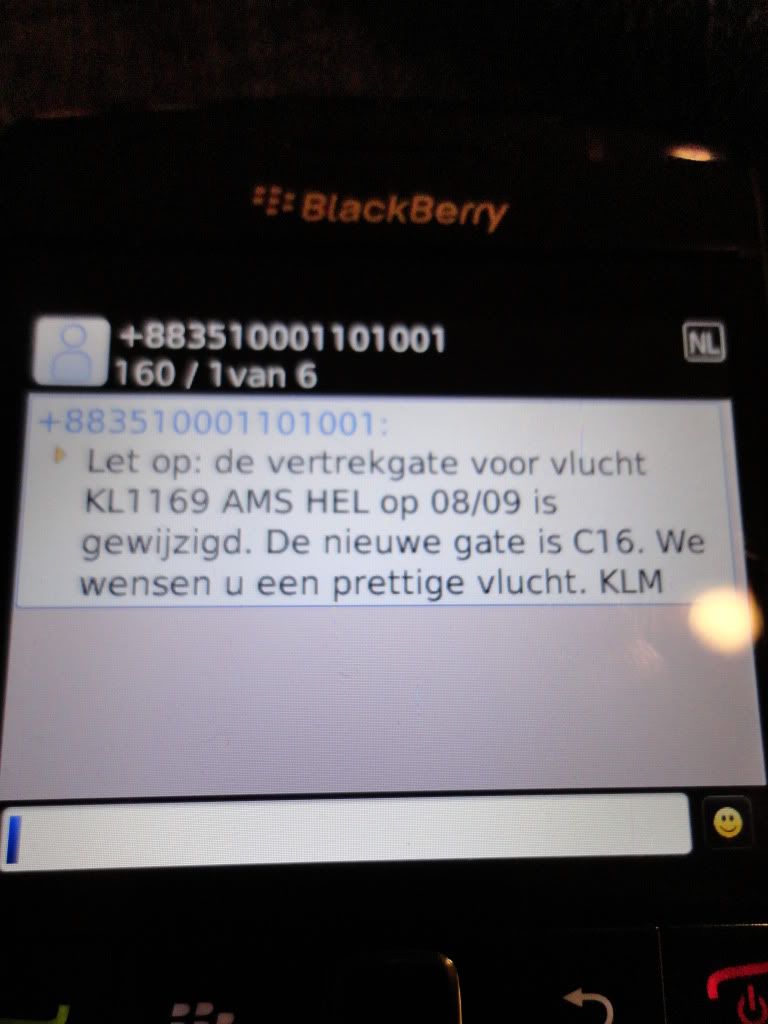 Boarding
BP for this flight: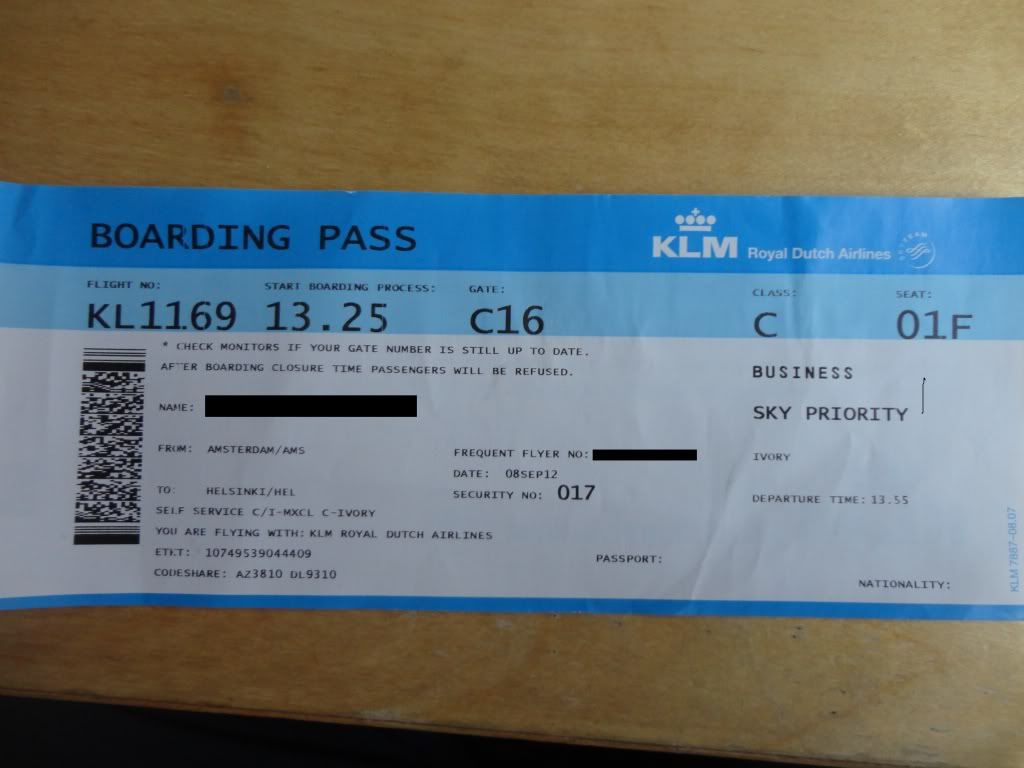 At 13:15, 10 minutes before boarding time, I bid the agents farewell and headed towards my assigned gate: C17. Gate C17 is situated at the very end of the C pier so a 10 minute walk followed. While on the way I realized I had forgotten a personal item in the lounge, so I quickly headed back to grab it and started my journey to the gate once again.
Once arriving at the gate, at 13:35, there was quite a long line for boarding. Being in Business class I got to use the priority lane which was empty. I approached the gate agent and got my BP scanned. The door to the jetway was still closed as the aircraft was still getting prepared by the crew. After a 5-10 minute wait the "all ready" sign was giving and we were let into the jetway.
08/09/2012
AMS - HEL
KL1169 // 1F
B737-700 // PH-BGM
14:20-17:35
While entering the aircraft I was greeted by 2 female FAs with a big smile and took the first left to my seat: 1F. While the aircraft was filling up I took a quick look outside where a Corsair747 came taxiing by. Always nice to see such a bird at AMS, I'm guessing it was here for maintenance as it headed straight towards the hangars: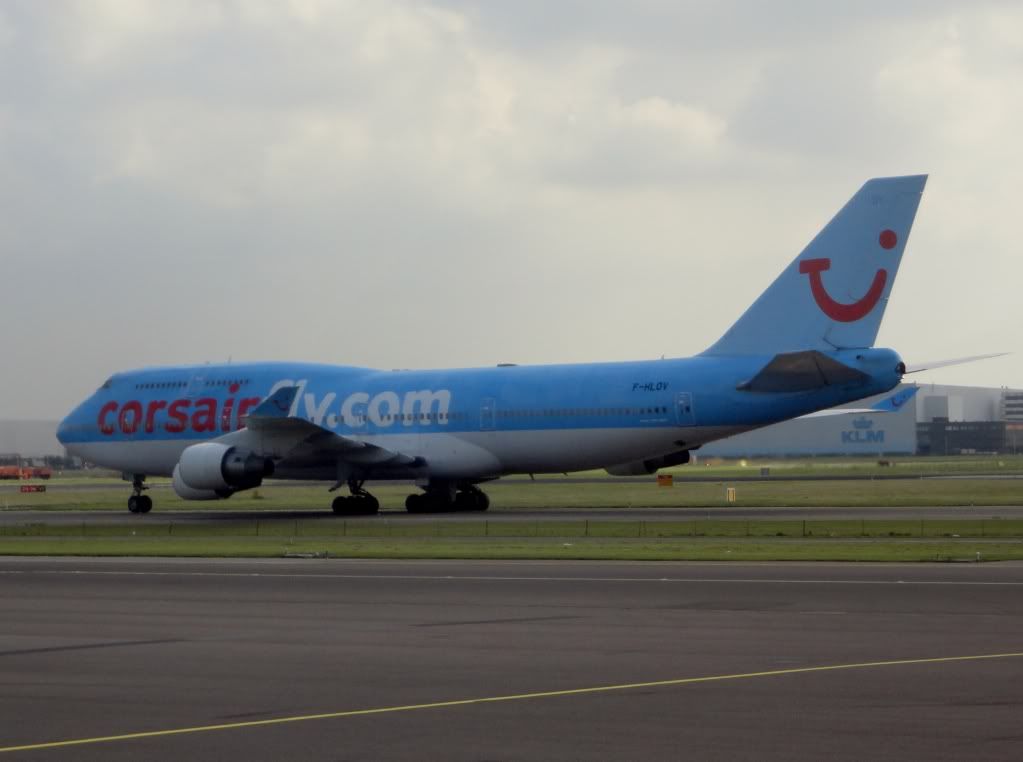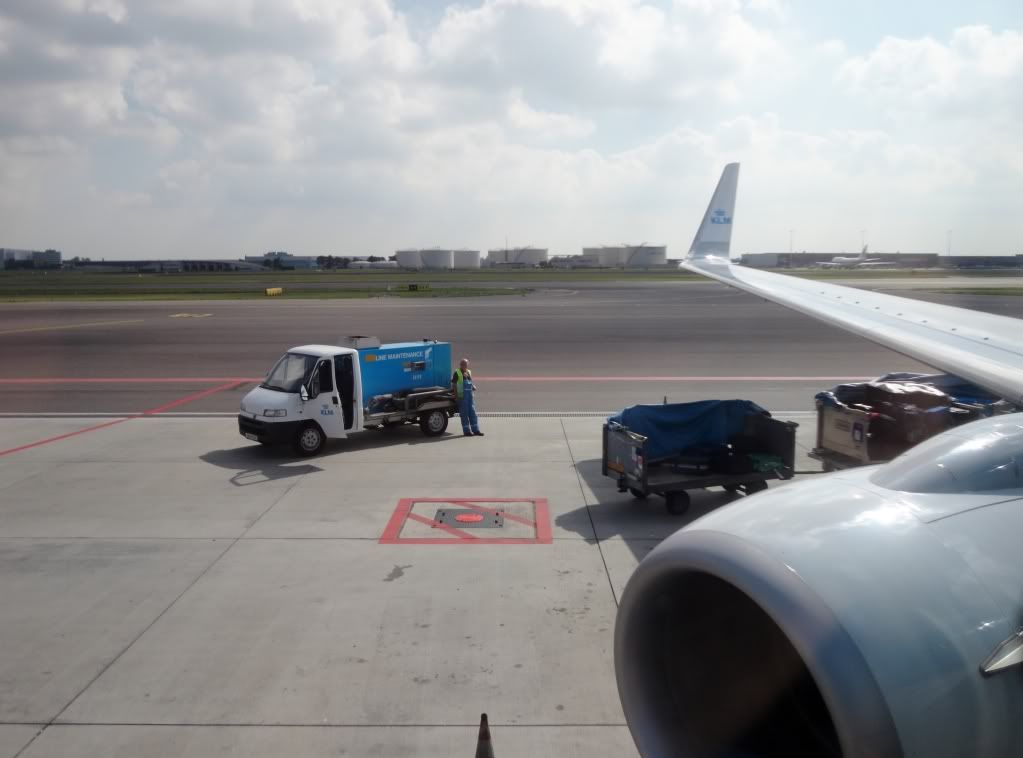 Our next door neighbor, which started pushback: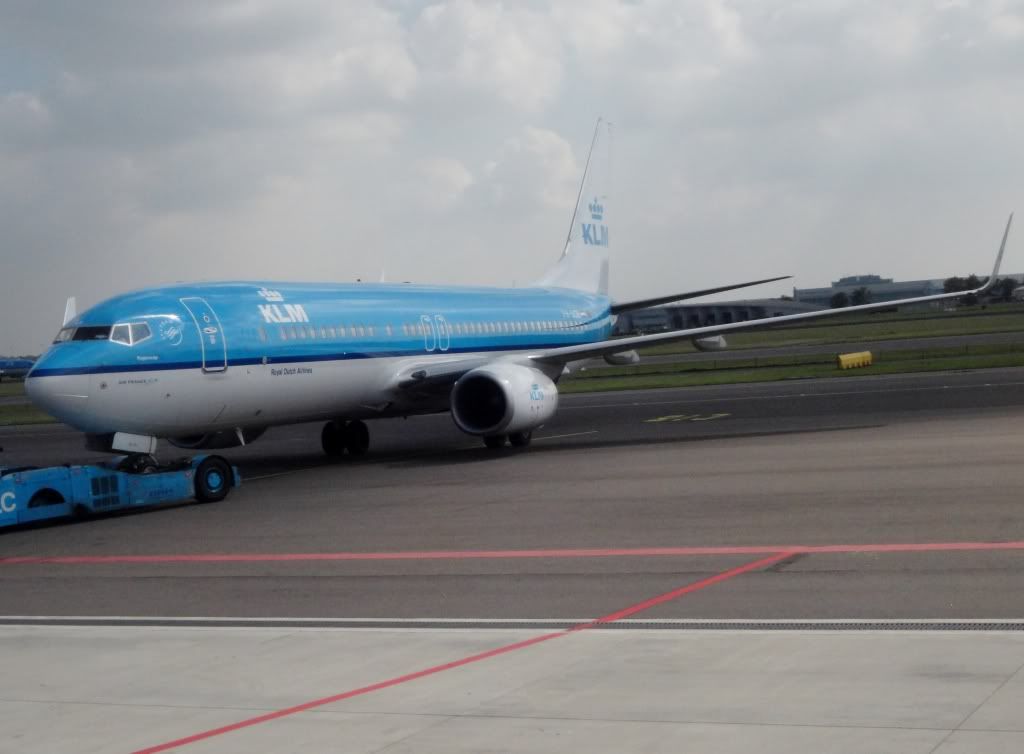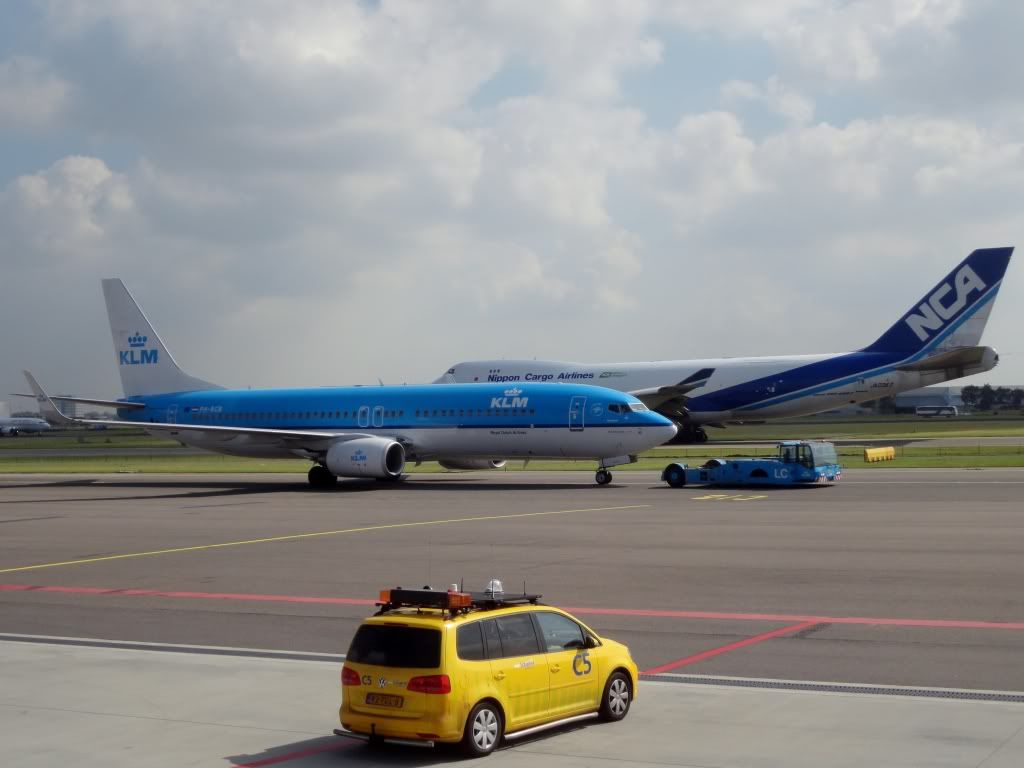 Once everyone seemed to be onboard we waited for a while with the door remaining open. After about 5 mins the captain came on the PA, introducing himself as Jeroen van de Berg, and welcoming us onboard with the usual announcements. He also stated that there was a passenger missing and her baggage was being offloaded at the moment which caused the further delay. He hoped the baggage will be offloaded soon so we can start our journey towards HEL.
While the cabin was getting very warm the captain came onto the PA once again apologizing that he hadn't given the reason for the slight delay in the first place. Apparently the planes stabilizer broke while it was standing in Bergen so it had to get fixed. That took some time and now it still wasn't fixed all the way (but safe enough to fly with).
This was also the reason that the cabin was getting so hot as the air conditioning wasn't working. He sincerely apologized once again and hoped to be able to start the engines soon to get some cold air into the cabin.
While waiting for the passengers baggage to be offloaded I took the opportunity to do some spotting from my window. Like this DHL A300 taxiing to the cargo ramp: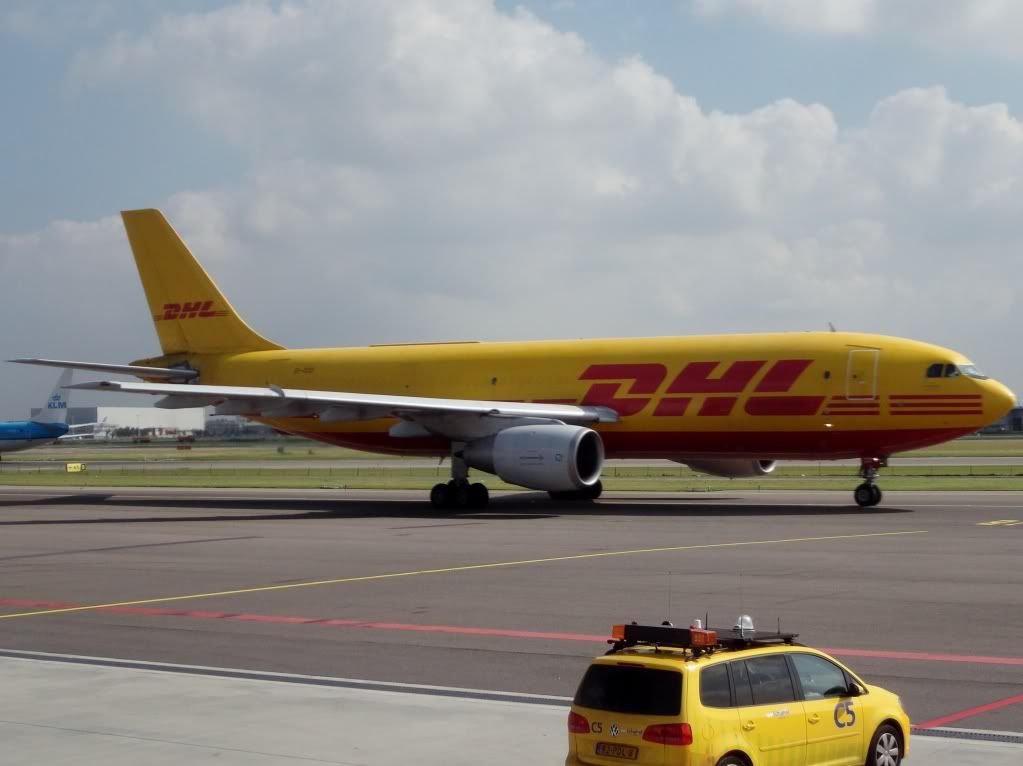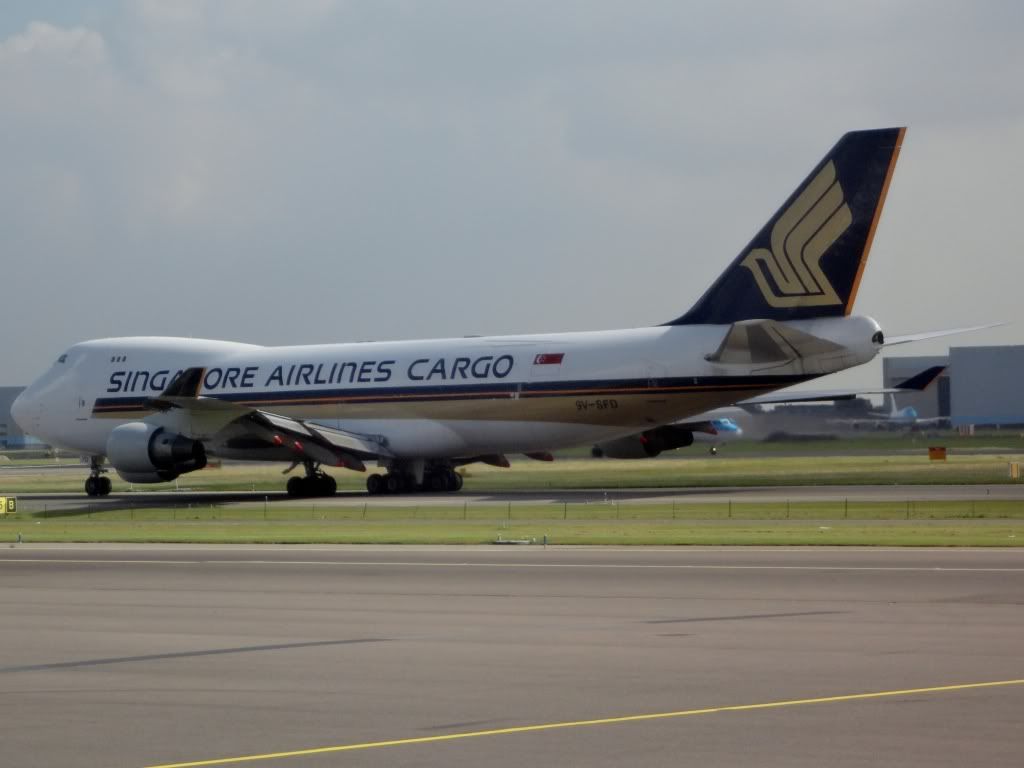 A little preview of the next airline I will be flying: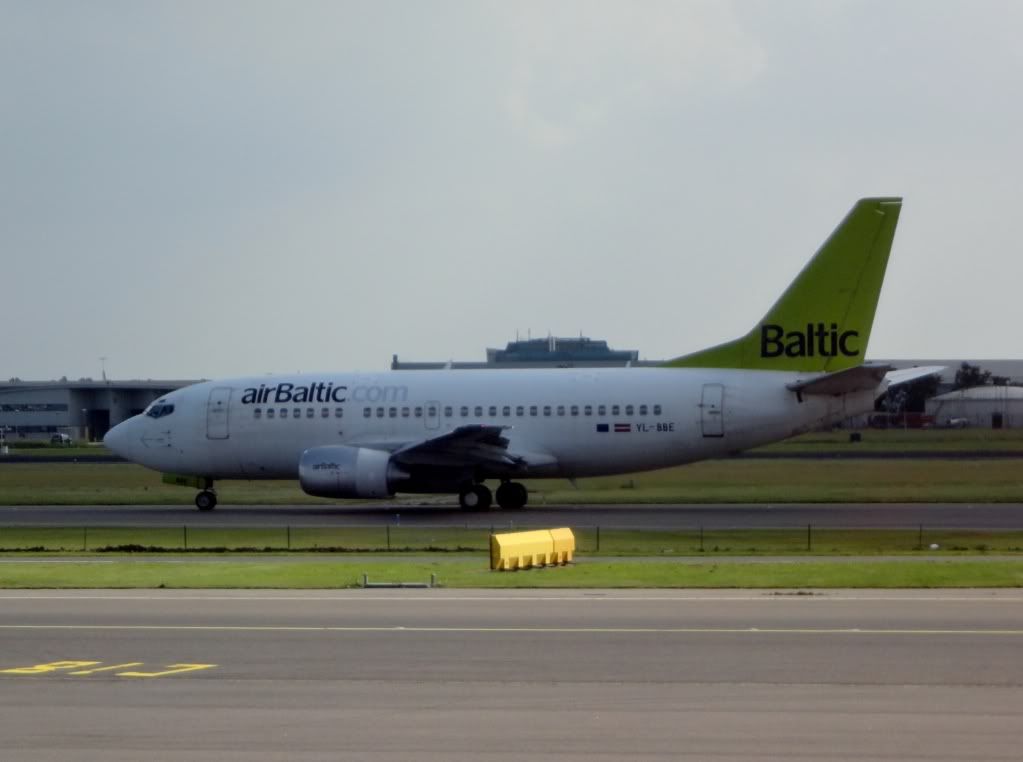 5 minutes later the captain came on the PA once again with good news. The baggage had been offloaded and we were ready to go.
In the meanwhile the front door was closed and the FA came around in the Business cabin offering newspapers, I opted for De Telegraaf.
Flight crew on this flight consisted of 3 female FAs and 1 female Purser. The female Purser will be serving the 2 of us in the Business cabin. She was very nice, calling me by my last name the whole time and did her job with a smile. Flight load in Y was close to 100%.
The doors closed at 14:10 and the Purser came onto the PA with the usual announcements and apologizing for the slight delay once again. With an announced flying time of 2 hours, the drop down screens were showing the safety demonstration: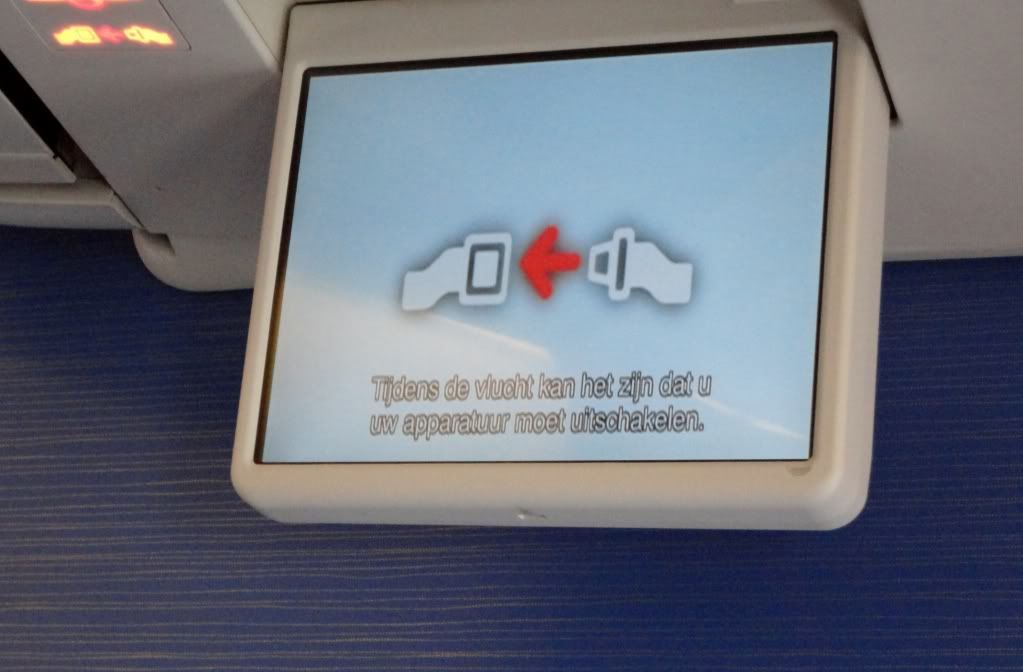 Pushback + Taxi
At 14:20, 25 minutes behind schedule, we started pushback and made a short taxi to runway 24 also known as the Kaagbaan: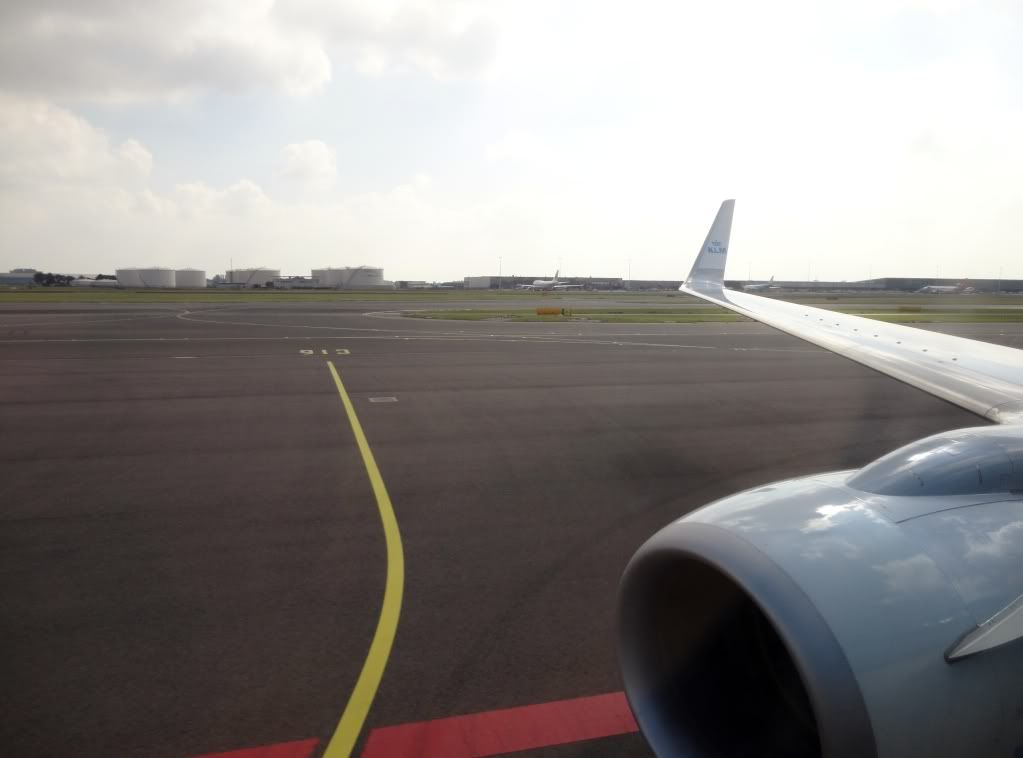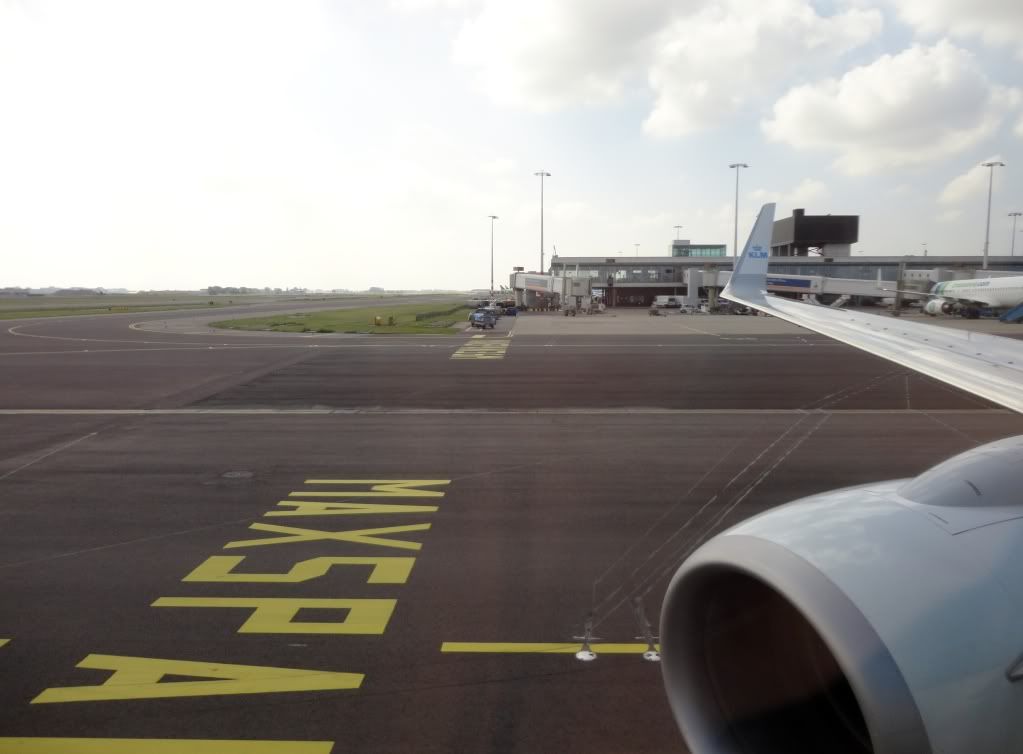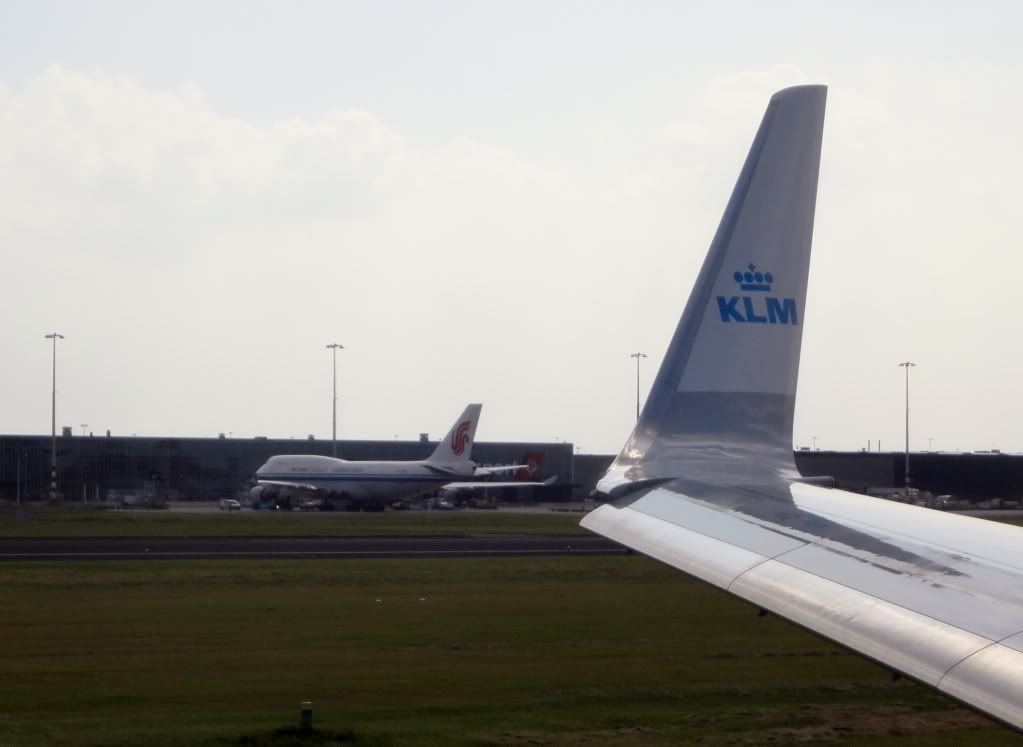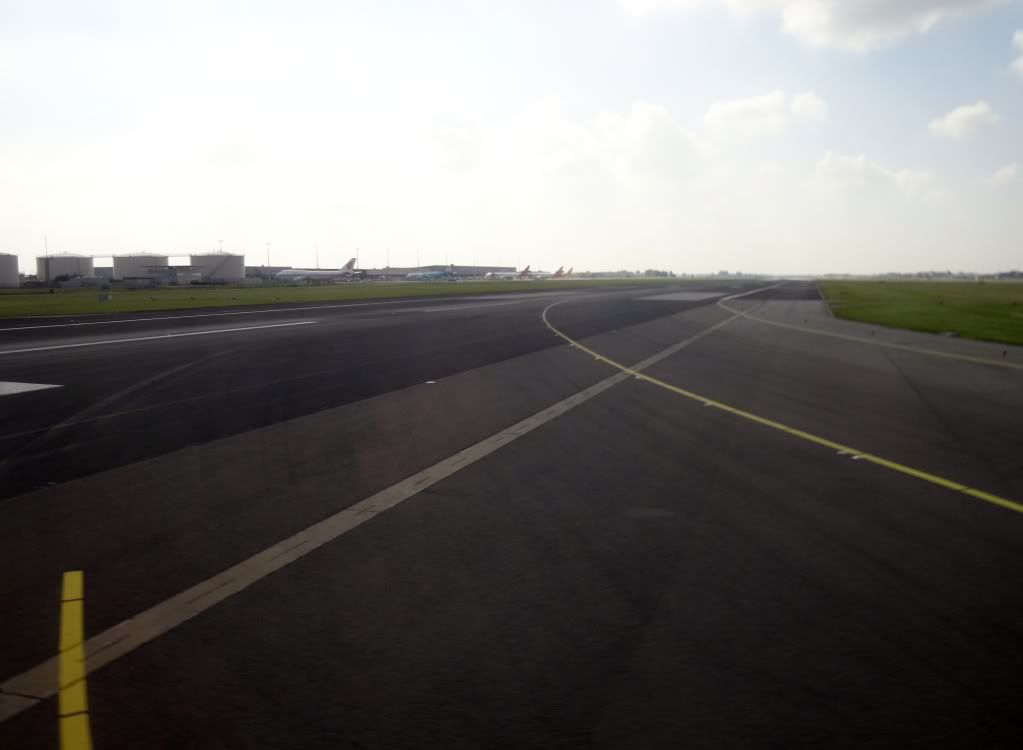 Take-off + Climb
5 minutes after pushback, at 14:25, we rolled onto runway 24 and started take-off roll immediately: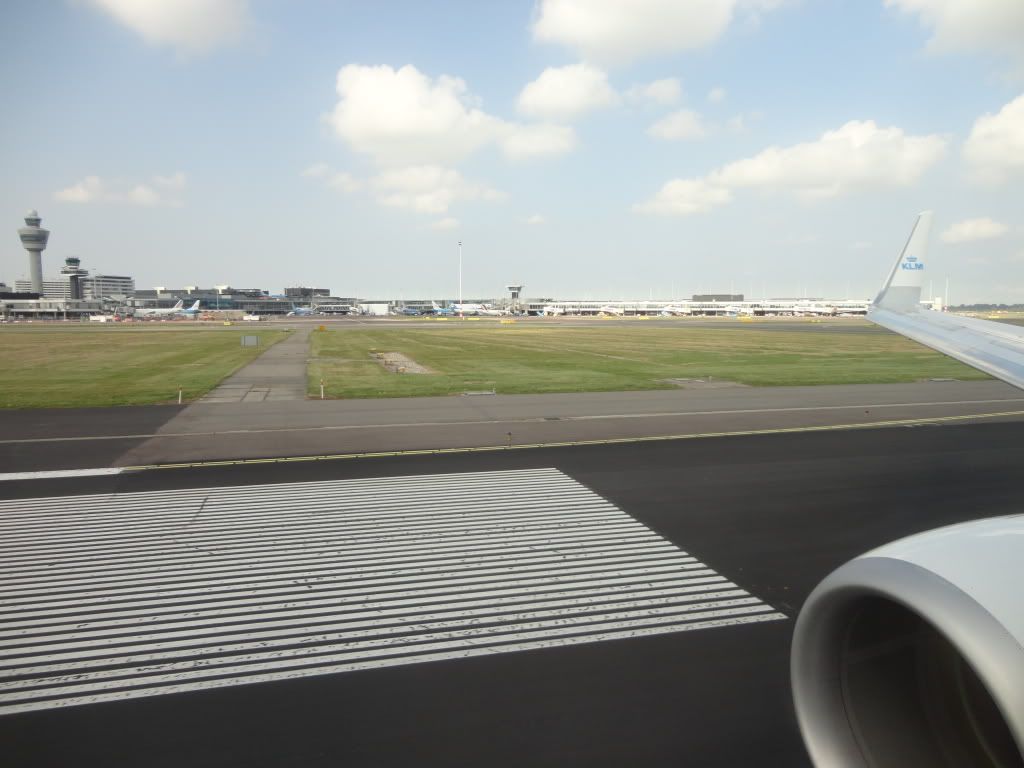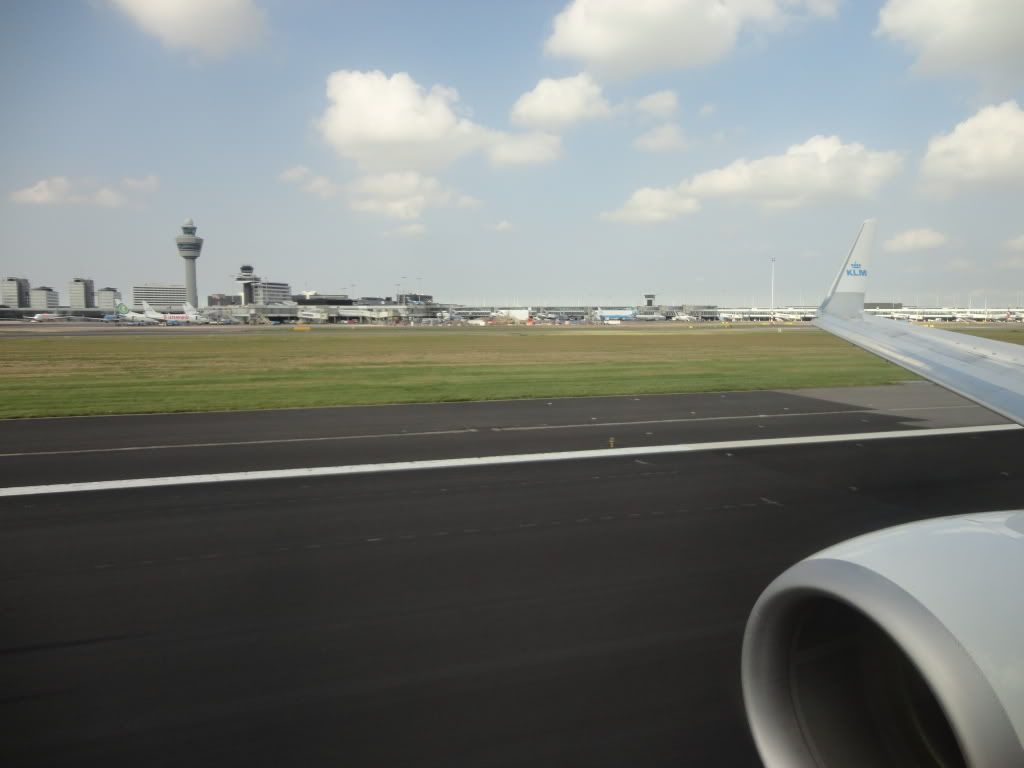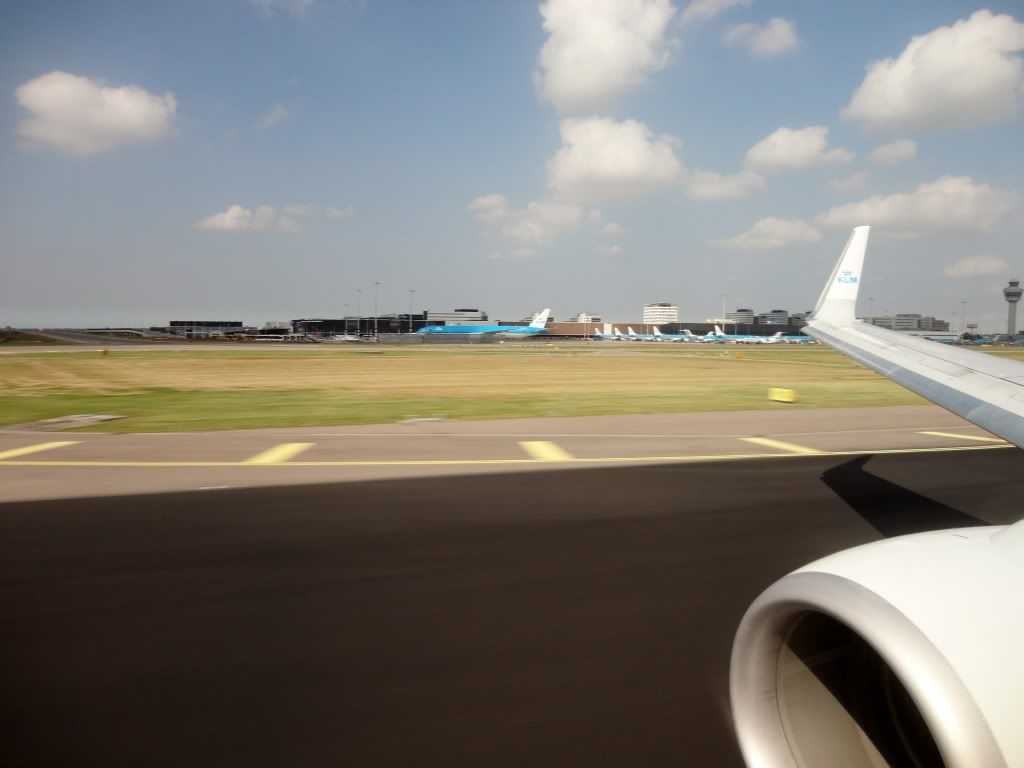 And lift off!: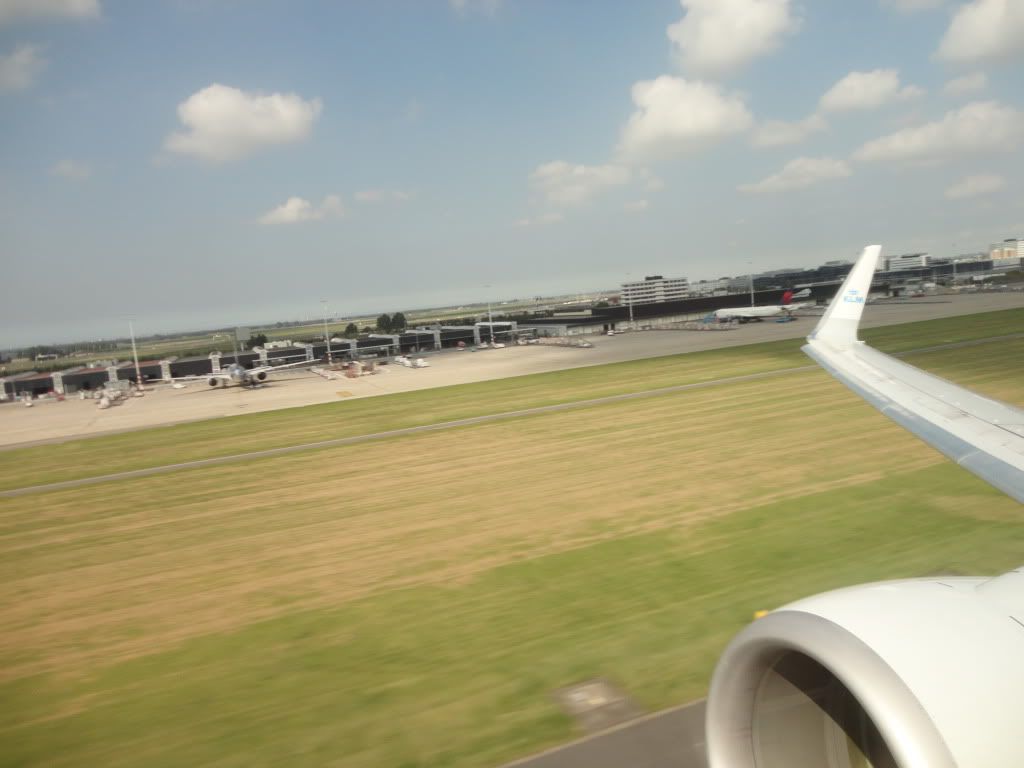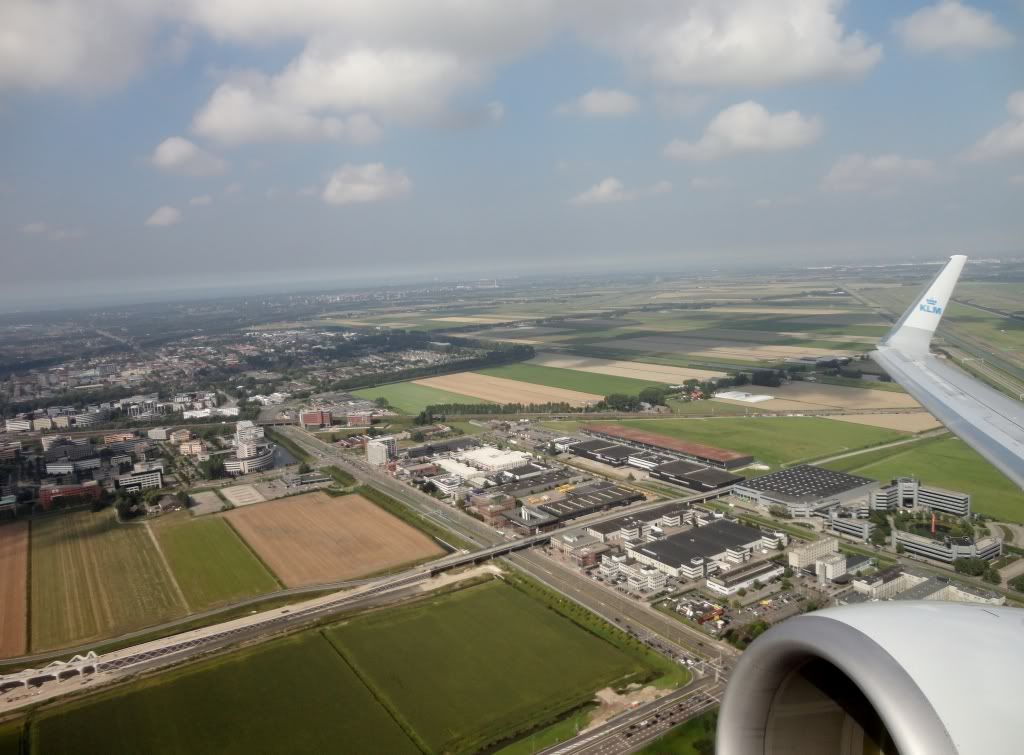 Seatback Contents
Legroom shot: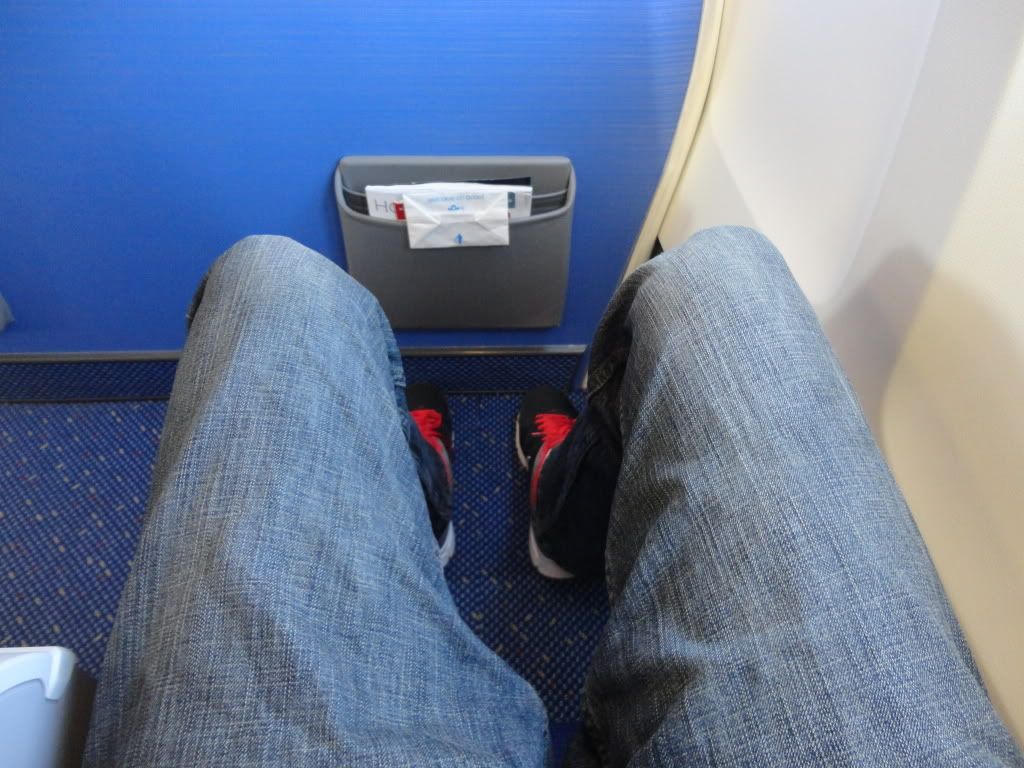 Bulkhead: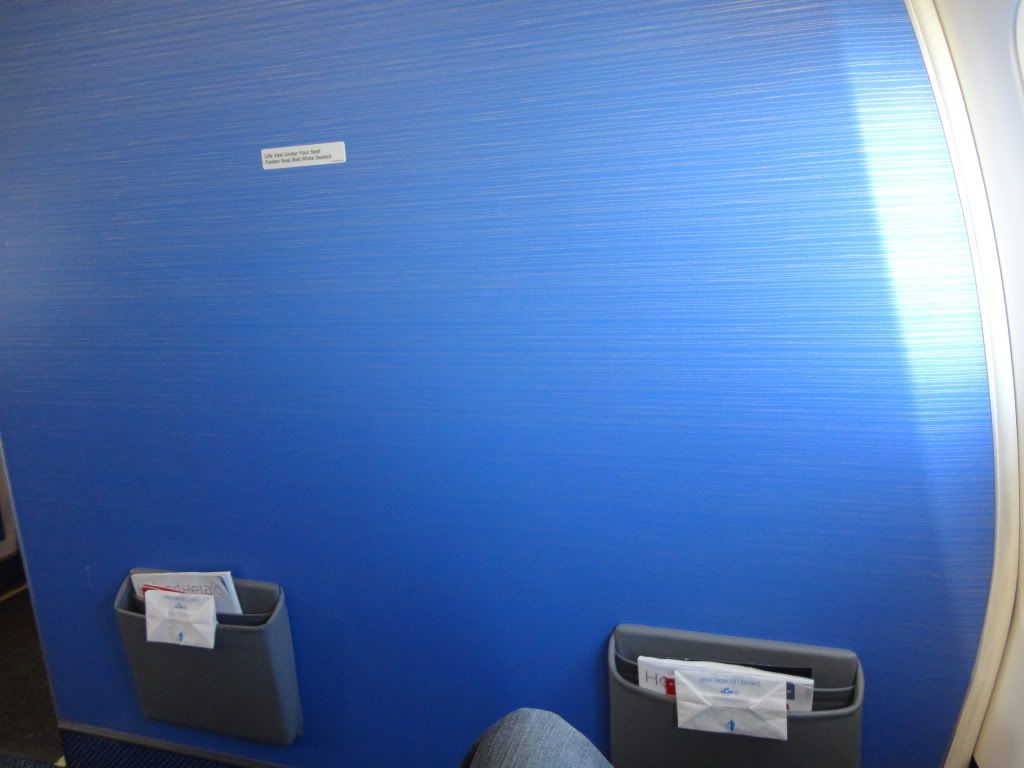 Holland Herald Magazine September 2012: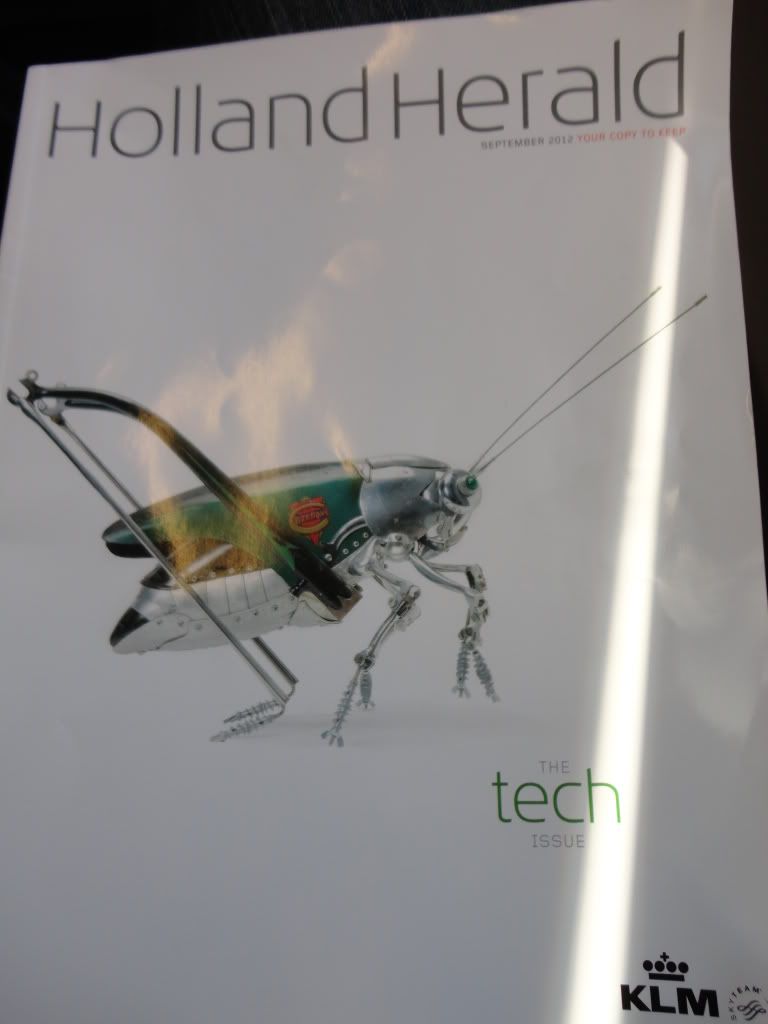 Safety card: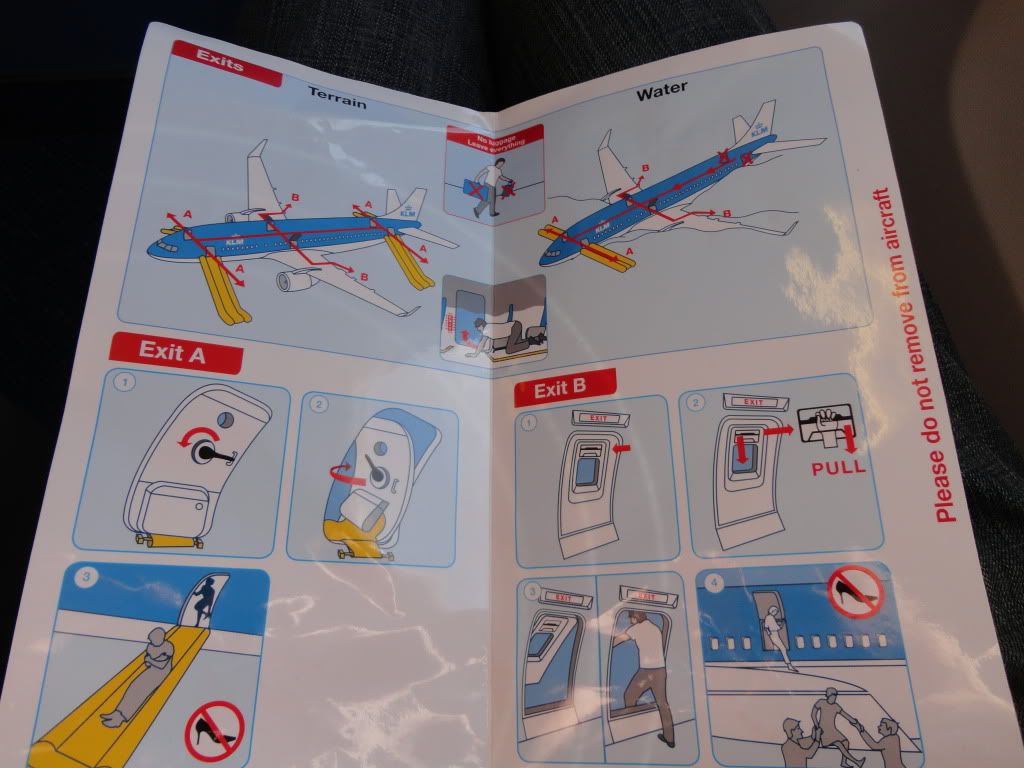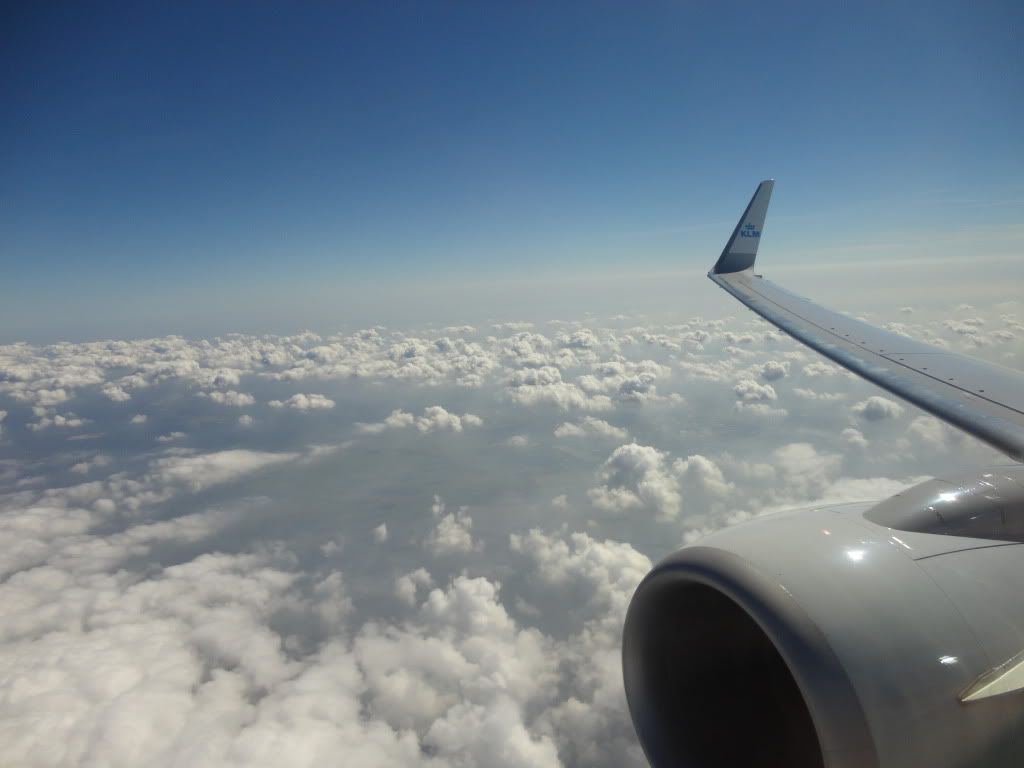 The drop down screen was showing the airshow throughout the whole flight which I thought was very nice:
Once the seatbelt sign got switched off the Purser came around offering a smoking hot towel: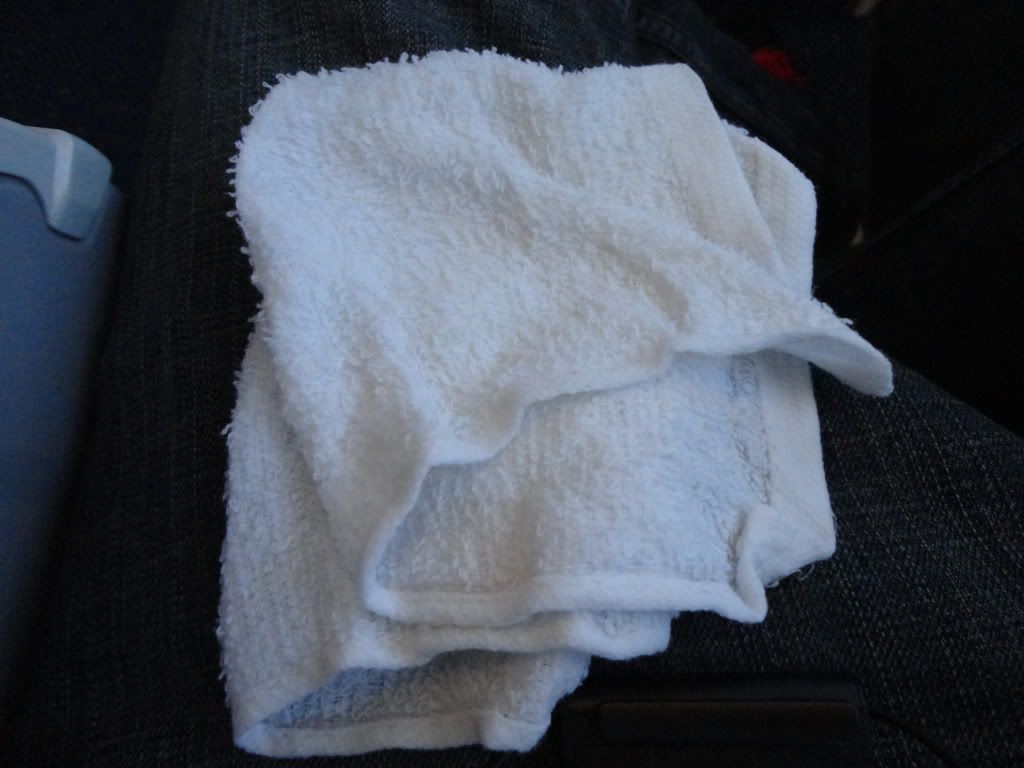 Snack Service
After collecting my hot towel the Purser asked what I would like to drink. After answering with a Sprite, she went in the galley for 2 minutes and arrived with my drink and a bag of nuts: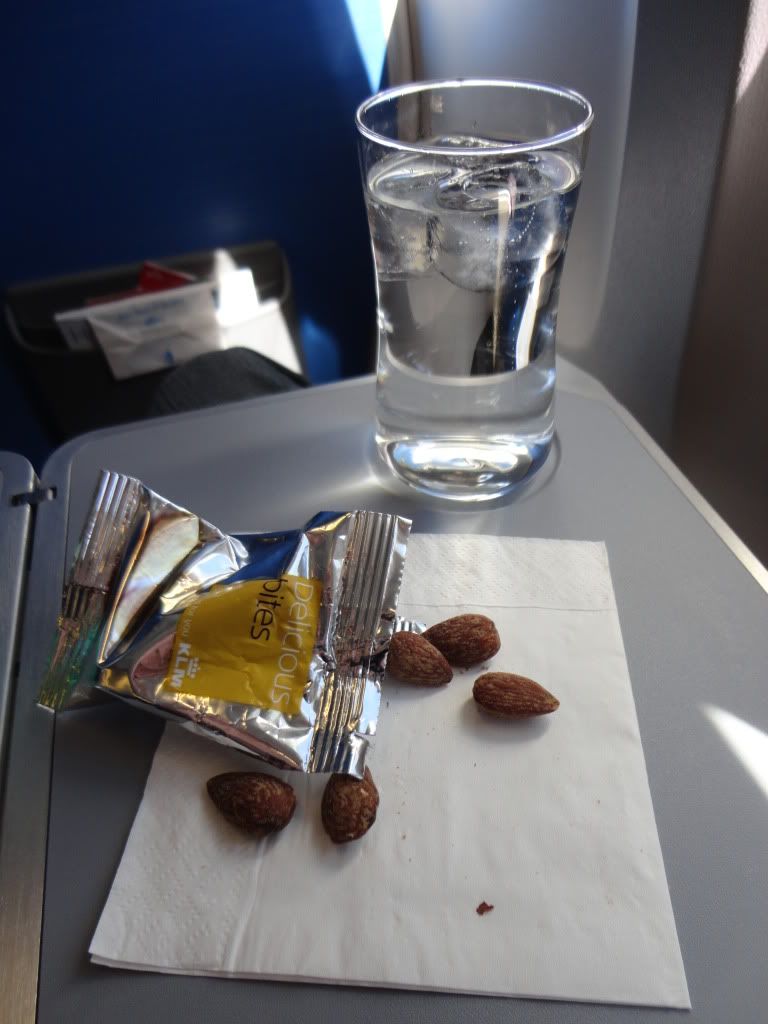 At FL370: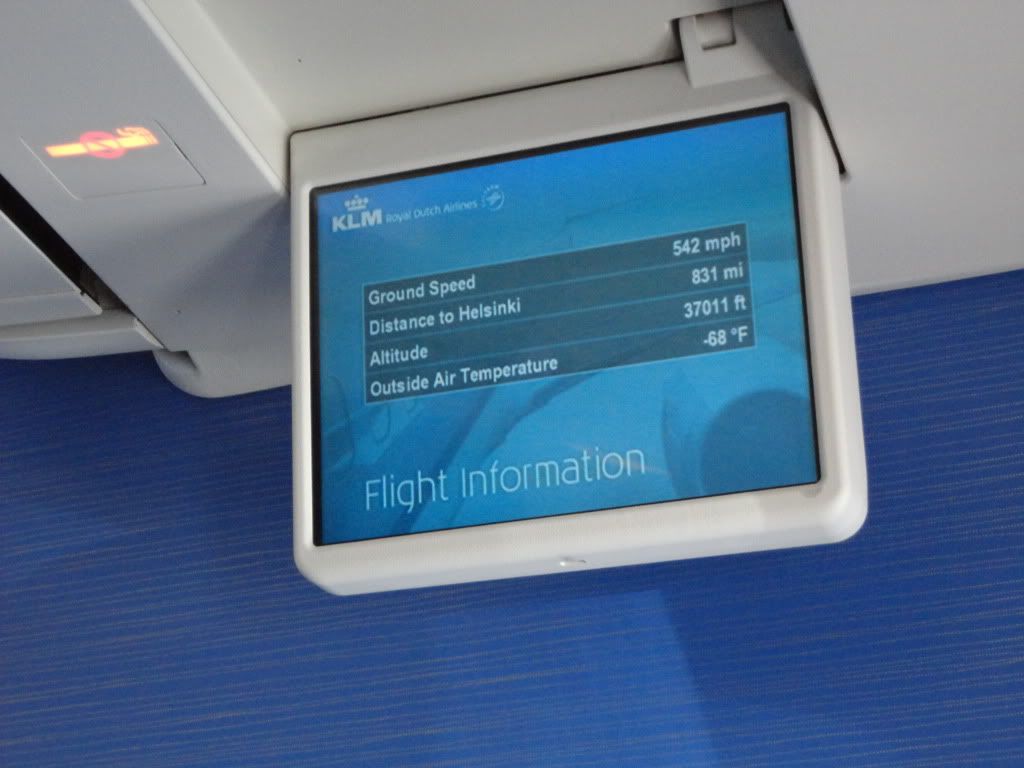 Continued Below