Feedback always appreciated.

I > Background:
Remote countries have always fascinated me. The allure to understand how people live there, and the landscape that frames this has always been the driver to go to countries where most don't venture to. Most of these times, I have been rewarded by incredible vistas and reminded of the generosity of the human spirit. One such country I wanted to explore was Eritrea. Formed in 1993 as a breakaway from Ethiopia, the former darling of the international community had retrenched under a single-dictatorship and had recently earned the moniker of being the "North Korea of Africa." Censorship is so high in Eritrea that DPRK is apparently dubbed as "free" by comparison …
All this fascinated me, and as my calendar opened up in 2012, I was packing my bags to head to the country by the Red Sea. In this trip report, I capture the first trip report on Eritrea, and the first flight on Lufthansa's vital link via Jeddah. Alongside, I will provide some glimpses of the country and try to convince you that Asmara is probably the nicest city in Africa – far better than Cape Town ☺.
II > Pre-Flight:
a) Before Airport:
Deutsche Lufthansa AG is the flag carrier of Germany and the largest airline in Europe in terms of overall passengers carried and fleet size. Employing around 120,000 employees, the world's fourth-largest airline in terms of overall passengers carried, operates to 18 domestic destinations and 203 international destinations in 78 countries across Africa, Americas, Asia and Europe. Operating out of its hubs at FRA and MUC, Lufthansa is a founding member of Star Alliance, and basically you should not belong to the aviation community if you have not heard of them. Recently, it has been mired in poor profitability and labor unrest as it tries to adapt to the realities of a newer world – of increasing LCC competition, mega-Asian carriers, and an European market in turmoil.
Booking for my flight was done on Lufthansa's excellent website at
www.lufthansa.com.
Probably, one of the best websites by a major airline, online services are a breeze to do there. Within minutes, I had a nice looking e-ticket printed and delivered to my inbox after having spent some time studying the online seat map. One of the things I love about LH's site is the ability to continuously pull up tickets and make several seat selections. It did not have a change booking facility, but that is hard to do given LH's notoriously complicated ticketing fare basis'.
b) At Airport:
After an amazing week of adventure in Eritrea, it was sadly time to leave. Several people had warned us of the notoriously ineffective airport, so we allowed an abnormal (for me) 3 hours cushion prior to the flight.
Asmara airport is forever stuck in time, and the first thing you notice is the synonymous feeling of a sleepy African airport where lights are dim as the country struggles with an energy shortage. Even prior to entering the airport, your bags are screened and your "exit visa" checked to see if you have the freedom to leave. No wonder my tour guide (under some alcohol) said that they were living in a prison. Apparently, getting a foreign visa was far easier than getting the Eritrean exit stamp.
After passing through this interrogation, you walk through a shed to the small terminal where LH's flight was the major thing that evening. Check-in is busy, but the woman is quickly able to process me through the dedicated Business Class desk. There is even a First Class desk where an expat (most probably World Bank) Honors Circle member is welcomed like an old friend. Meanwhile, the woman is a little confused with my passports. I had entered Eritrea on my Venezuelan one, but of course need the Liechtenstein one to enter Europe. She struggles to put this information in and has to get supervisory help. However, she is pleasant throughout the whole thing, and unlike in West Africa where overzealous French guards are deployed on Air France flights protecting fortress Europe, the Germans are much more dignified and can conduct the process with grace. Minutes later, I have a boarding pass and my preferred seat 3A which happens to be in the quieter mini cabin on the 340. When asked about a lounge, she smiles and shakes her head. C'est la vie.
I don't know why people scare you with these horror stories about Africa – none hold true in Eritrea. Quick immigration (except an Italian woman who has "again" outstayed her welcome), security, and customs (mostly to Eritrean nationals and expats) later, I am air-side with over 2 hours to spare, one small café, and a duty free store that is ubiquitous with countries that have never quite emerged from the 1980's. All one can do is observe the various passengers and try to construct why they are in Eritrea.
With 45 minutes to go, boarding is announced which basically implies that you move from one section of the terminal to another nearer to the boarding gate. The entire process seems silly to me, but I guess provides an employment generating activity in the country to the LH agent who tears off your boarding pass. However, as we close in to the departure time, the LH agent seems to have disappeared and been replaced by a growing sense of restlessness amongst the passenger group. Interestingly, this frustration is mostly amongst us white people including an Italian man who is super nervous about missing his Bologna connection. I don't blame him as MCT's in FRA are
almost never
realistic especially when doing Schengen/non-Schengen transfers and with so many LH flights arriving at a bus gate. Why LH and some other Star Carriers do it remain a mystery to me, with worst offenders being LH/AC 45 minute transfers on Schengen/non-Schengen. Anyways, after the boarding time passes, the same LH agent comes and tells us that boarding will be delayed (seriously?) and departure will now happen 50 minutes later. During the entire time, no apology or explanation is given, and I am disappointed that the German LH manager makes no attempt to come and greet his premium passengers (like the Italian) who would be missing their onward connection and are in a state of panic.
When boarding is announced, the typical Star priority scheme is replaced by a general mad dash to the plane via disembarking through a dingy staircase and walking to the tarmac. I must say though – the LH 340 in the evening light of Asmara airport looked absolutely stunning. Too bad my camera did not work, and I did not want to linger on the tarmac for a super long time. Another novelty was boarding the aircraft through 3L on to the aircraft where a crew that was in chaos trying to finish everything for departure greeted me.
After a little while, champagne/OJ/water was offered, and I settled in with some water. F load was 0% (as with all LH African flights I have been on), J load was 60%, and Y load was 90%.
Airport - External:
(Asmara Airport)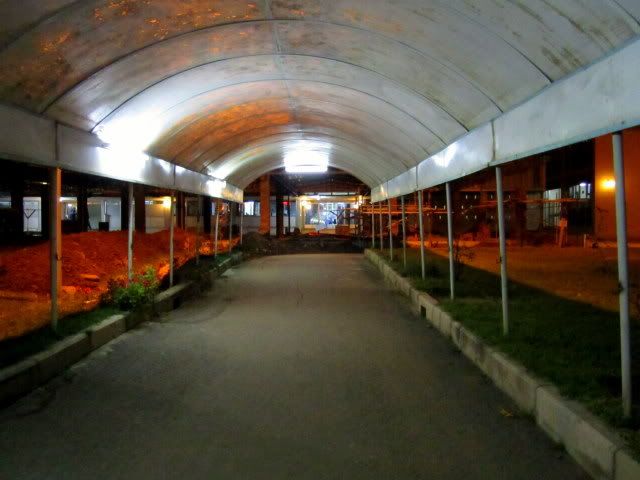 Check-in:
(LH Check-In)
Airport - Internal:
(Pre-Security @ ASM)
(FIDS)
+ There were none +
(Post-Security @ ASM)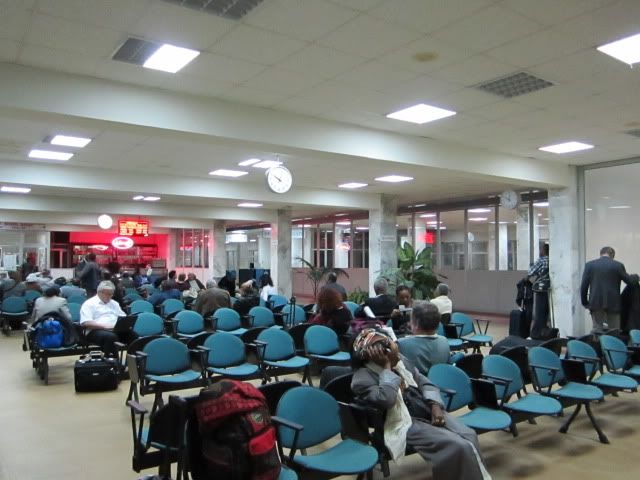 *
Scenes of the tarmac:
+ No aircraft on tarmac +
Lounge
+ NO LOUNGE @ ASM +
Boarding:
(Gate Area)
*
*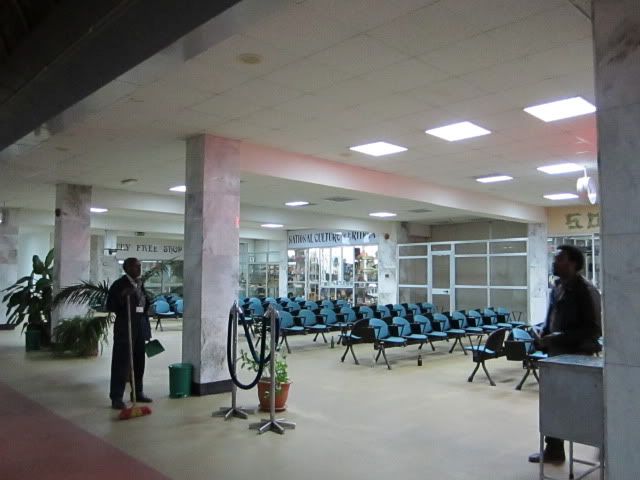 (Chaotic Boarding)
III> In-Flight:
a) Service Schedule + Impressions:
On the seat, typical LH amenity kit awaits you with the covering for the headphones which are connected to the seat.
On ASM-JED:
+ Water/OJ/Champagne (pre-departure)
+ Skimpy hot towels
+ Light snack service
On JED-FRA:
+ Newspapers distributed prior to take-off
+ Skimpy hot towels
+ Another light meal service
+ Breakfast prior to arrival / Or, packaged.
One thing Lufthansa MUST be complimented for is the amount of "localization" it provides to flights befitting of a global carrier. On this flight, I was rather impressed with the safety information and all announcements made in both Arabic and Tigrinya (!) – the official language of Eritrea. Really, hats off, as LH can clearly demonstrate that one can be proud of their German heritage and yet be able to adapt to a global clientele. Hear that Air France …
b) Aircraft + Seats:
The Airbus 340 remains one of the most graceful aircraft ever built, and looked stunning on THE Asmara tarmac. Too bad about the dubious economics. Inside this Lufthansa bird, was the typical J class layout that I am ever so familiar with (I have CCS-FRA as the #1 segment I have ever flown and most of it is in these confinement). LH's J-class leaves a lot to be desired. The lie flat is always thoroughly uncomfortable … but still better than say the 2/3/2 madness that you see on AF's 77W's. Deconstructing the seat, you realize it is fine in the upright position. However, the moment you begin to recline, it becomes extremely tight. On several occasions, my leg would just get stuck ... and I am NOT tall by any means. Finally, as mentioned, the seat is uncomfortable in the sleep position. I mean, I do like some lie-flat seats ... like SQ old Raffles, but LH continues to be definitely pre-historic. I simply cannot believe they went for this same utter crap when the 380 was launched, and remain convinced that the only person who had a good night sleep here is the woman featured in the LH ads (trying to find it BTW). Overall, this particular aircraft seemed tired. The bathrooms had not been thoroughly cleaned and I found litter even though I used it immediately after boarding. Amenities were missing and only stocked after I alerted the purser. Overall, I think it is time to refurbish these aircraft, or retire them.
Aircraft:
(Stunnng 343 – stock)
Views from Aircraft:
(Goodbye awesome Eritrea: Asmara Airport)
(Approaching Jeddah)
(@ JED)
*
*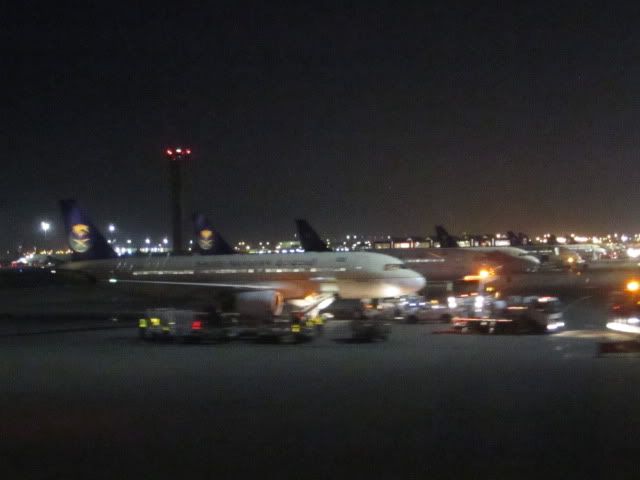 *
*
*
*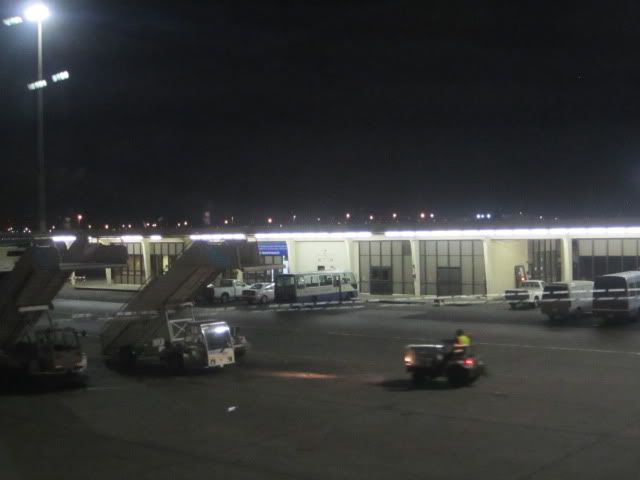 General Seat Views + Seat Legroom
(Legroom)
(Around Seat)
Seat Recline + Angle View:
(Recline)
(Angle view)
Cabin:
(Always chose this when booking)
(Empty F Class)
(Bathroom)
(Kinda nasty @ boarding)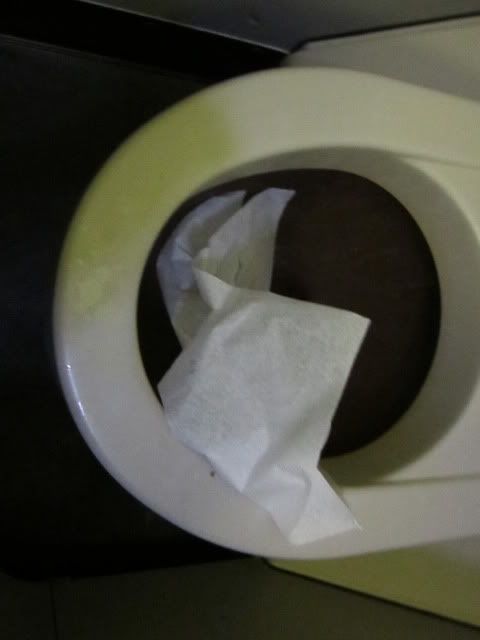 (Where are the usual amenities?)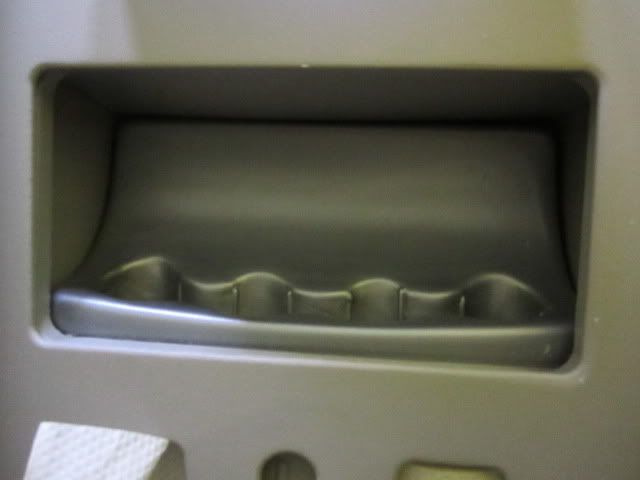 (Around Aircraft)
(Yet, never have seen an aircraft with it …)
c) Meal + Beverage:
As many long term readers know, I find Lufthansa's JCL meal service to be positively horrible. Even if the quality of the food is SA Czech Airlines">OK, the quantity makes me feel I was living in some ration controlled East German town. On their CCS-FRA flight, I actually ask for Y-meals these days. It is actually quite bizarre as FCL meals on LH are generous and very good, and even comparative Y-meals are decent. Somehow, it is the JCL meals that seem to fail against global benchmarks.
This flight was no different. However, I feel it is hard to judge as the odd flight time plus the stop in Jeddah makes it difficult to judge whether the service was appropriate or not.
On the leg from Asmara to Jeddah, there was no choice (poor), and you were given some very basic Arabic mezze with a cheesecake. It was strange not to have any "western" option. To be fair, the mezze plate was actually rather good – while the dessert was more Y-class than J. This was washed down with some Diet Coke as the wine and champagne offerings were rather weak – except the Riesling which was good as always on LH.
On the leg from Jeddah to Asmara, again there were no choices. We were offered some excellent fresh fruit and some equally nice canapés. This is one meal that I thought was rather good and portioned well for the time of the flight. Lack of choices though was very poor in JCL for any flight that is over 6 hours.
Finally, prior to landing, one could have a breakfast … or could (like me) do the "breakfast on the go" option. Personally, I find these to be a great thing on LH and got the same with a nice sandwich and some yoghurt to boot.
Overall, an average performance, though the flight hour and nature made it hard for me to be as critical as I normally am with LH JCL meal delivery.
(Menu)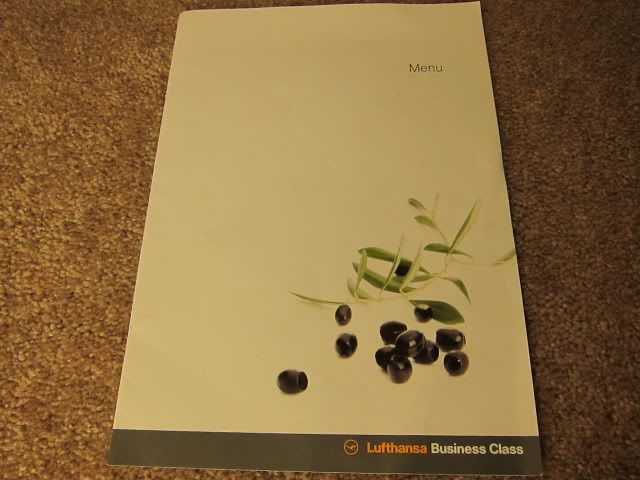 *
*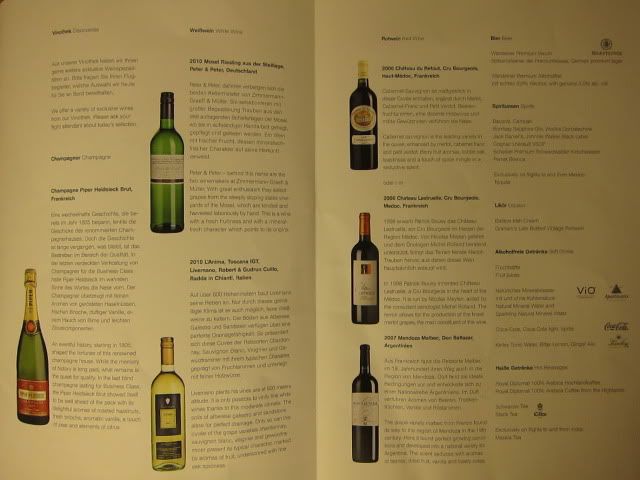 (ASM/JED)
(JED/FRA)
(Water before you sleep)
(Breakfast-To-Go)
d) Inflight Entertainment:
Lufthansa's IFE is clearly a generation behind. While their "new" AVOD is better than the past, the limited amount of movies and TV shows get tiresome as do the old controllers. Moreover, it really is time to change those nasty headsets and tiny screens. Thankfully, the 748 is a huge improvement, and I look forward to it being rolled out across the fleet. The LH inflight magazines continues to be one of the best out there with a section on their fleet which even our A.Net resident expert "PH" will approve. Though, I am convinced sometimes PH wrote it …
(LH AVOD – with local lingo)
*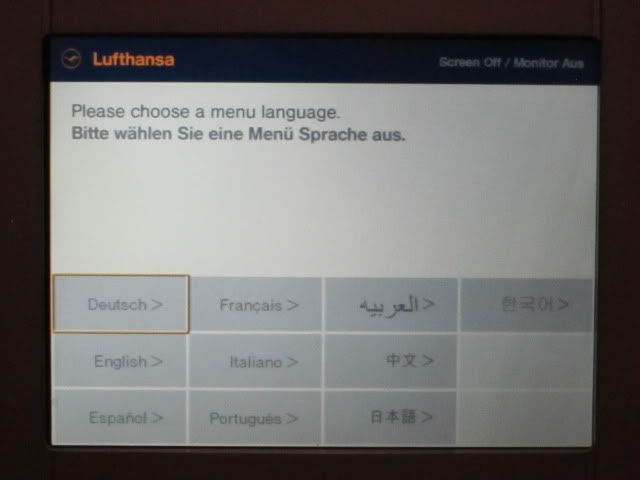 *
*
*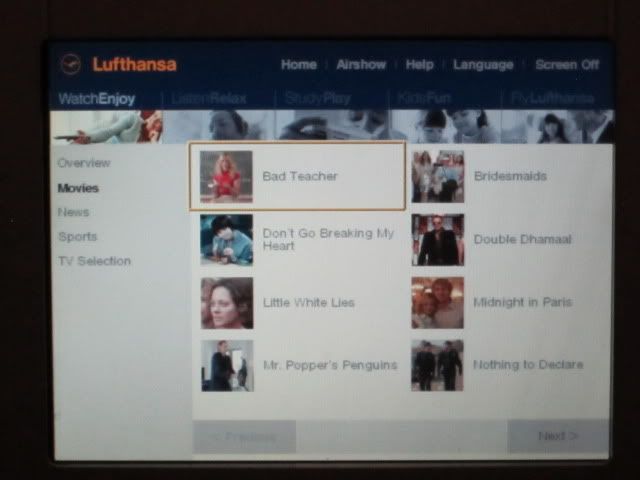 *
*
(Those seriously LH-needs-to-change-this-headset)
(Our route & Red Sea Crossing)
("In-flight magazines", Boarding Passes, etc.: Just look at all the stuff I got from them)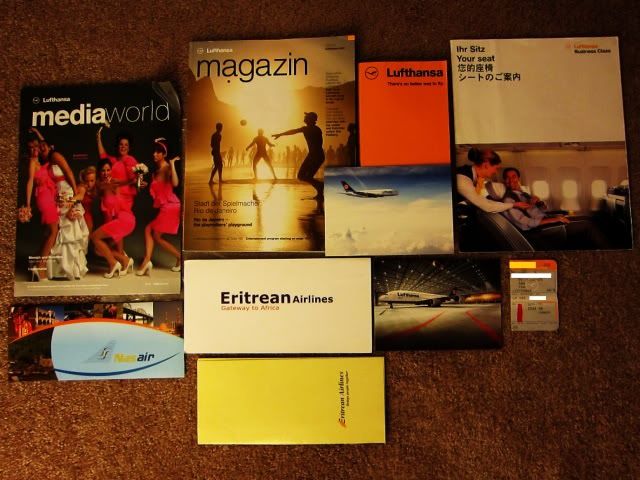 e) Crew:
The crew on-board was typical Lufthansa. Pleasant (but not overly friendly), task oriented, and (for the lack of any better word) very German. In very typical LH fashion, they were not too helpful during the boarding process and there was not into much smiling. Like many of their counterparts, they did not have the Asian flair for service, nor the dry humor that makes me really adore crew on SOME BA, VS, SA, etc. flights. Yet, at the same time, they efficiently went about their job and got everything done. I appreciated them asking me about my interest in "breakfast-to-go"; I liked the fact that the did water runs; I liked the fact that they responded to call button requests with ease; I liked the fact that they were not rude to their passengers. So in the end, very typical LH. On a side note, I think the best LH crews are when you have a diverse group including some Asians (Japanese and Indians are the best) and the awesome ex-SN Belgians that have infiltrated the ranks!
IV> Post-Flight:
Unsurprisingly, the aircraft landed at a remote dock in FRA. The pecking order of flights on Lufthansa is clearly evident from where they send their aircraft – almost ALL flights from Africa I have been on land remote; half of my CCS flights land remote; nearly all my flights to Asia (NRT/HKG/DEL/BLR) and North America (BOS/JFK) land at a gate …
Even though the pilot made up most of the time in the air, a bunch of people missed connections, and disembarkation in general was very haphazard. For God's sake LH, send a bus solely for your premium customers! It amazes me that Fraport runs such a good operation elsewhere and in its home base, it is a model of inefficiency at times! Thankfully, I had no connection, and was landside in 45 minutes … not too bad for FRA.
(My new favorite gin makes it!)
V> Impressions + Scores:
This was a classic Lufty experience for me. Nothing overly stood out in terms of product – both hard and soft. The check-in experience was good, and LH cannot be faulted for not having a lounge at ASM. Perhaps, they could do what's done at other African airports and offer a meal voucher at the one café? Boarding was chaotic and disappointing. On the flight, both the hard product and the soft product were acceptable without being anything that will stand out. And as always, LH got me to my destination without too much drama or negative feelings about poor crew.
However, as I have said in the past many times on A.Net, and in private to LH management, this is simply not enough. The risk LH has is that it continues to lose its middle premium segment (JCL travelers) to better equipped Asian and Gulf carriers. Heck, even the product on U.S. legacies such as US Airways, Delta, and United is a whole lot better. The super premium demand will always be there – Germany is a rich O&D market and M&M (as crappy as it has become) still has a loyal following. However, these super premium traffic is small (as shown on this flight) and the middle premium segment is the one who ultimately gets to be high premium.
Lufthansa has done a lot of things right – it has globalized its product offering and made more attempts than ANY European carrier to become more international. This is particularly evident in a market like India where it has taken over as the preferred European carrier – instead of British Airways. For this, it must be congratulated. However, that is no longer enough.
The flight itself gets no thumps up or down. Of course, I will continue to fly LH. However, this will continue to be because of its network depth and schedule reliability, and not because of its service. If an alternate airline exists on a route, I will seriously consider it, and even pay a premium for the better service.
VI> Other Trip Reports:
PREMIUM:
9.27: JET AIRWAYS **FIRST** (110): LHR-BOM: 10/2010
9.27: THAI AIRWAYS **FIRST** (108): BKK-LHR: 07/2010
9.00:
All Nippon: ANA (133): NRT-FUK-BOM: 12/2011
8.66:
Brussels Airlines (93): FIH-BRU: 01/2010
8.64:
Turkish Airlines (59): JFK-IST: 11/2008
8.63:
Jet Airways (88): JFK-BRU: 10/2009
8.61:
Air Canada (49): YYZ-SCL: 06/2008
8.54:
Turkish Airlines (77): GRU-DKR-IST: 04/2009
8.36:
Kingfisher (98): BOM-HKG: 01/2010
8.30:
Jet Airways (74): KWI-BOM: 04/2009
8.23:
United Airlines (72): SFO-SYD: 03/2009
8.11:
Aeroflot (33): MOW-DEL: 09/2007
8.05:
Air India (80): CCU-JFK: 06/2009
8.04:
Korean Air (40): NRT-ICN: 10/2007
8.02:
Delta Airlines (24): JFK-CDG: 08/2007
7.82: UNITED AIRLINES **FIRST** (110): SFO-ICN: 10/2010
7.82:
Singapore Airlines (06): EWR-SIN: 09/2006
7.66:
Sri Lankan (104): DEL-CMB: 07/2010
7.64:
Royal Jordanian (91): AMM-YUL: 12/2009
7.61:
China Southern (103): LOS-DXB: 04/2010
7.57:
Pakistan Airlines (102): ORD-BCN: 06/2010
7.55:
Air Canada (132): YEG-LHR: 06/2011
7.46:
LAN (55): YYZ-JFK: 09/2008
7.38: AMERICAN AIRLINES **FIRST** (112): LHR-JFK: 10/2010
7.38: CATHAY PACIFIC **FIRST** (109): HKG-LHR: 10/2010
7.36:
Turkish Airlines (134): IST-LAX: 10/2011
7.25:
Iran Air (88): BOM-IKA: 12/2009
7.23:
Air Pacific (120): NAN-APW-HNL: 01/2011
7.23:
Virgin Atlantic (81): BOS-LHR: 07/2009
7.14:
Swiss (52): SCL-GRU: 06/2008
7.11:
Aer Lingus (105): MAD-IAD: 05/2010
7.11:
Austrian (79): VIE-JFK: 06/2009
7.07:
Privatair (84): BOM-FRA: 08/2009
7.02:
Qatar (68): DOH-JFK: 01/2009
6.96:
Etihad (61): JFK-AUH: 12/2008
6.93:
Delta Airlines (18): SEA-JFK: 11/2006
6.91: Lufthansa (139): 02/2012
6.88:
Egypt Air (123): LHR-CAI: 03/2011
6.84:
ConViasa (65): CCS-DAM: 01/2009
6.82:
Air Burkina (106): BKO-OUA: 06/2010
6.81:
Air Canada (17): ICN-YYZ: 10/2006
6.75:
Afriqiyah + Libyan (113): CAI-TIP: 11/2010
6.70:
KLM (32): EBB-AMS: 08/2007
6.52:
Emirates (99): LHR-DXB: 02/2010
6.39:
South African (97): EZE-JNB: 01/2010
6.36:
Privatair (60): MUC-BOS: 12/2008
6.29:
TAM Brasil (96): POA-EZE: 02/2010
6.25:
Korean Air (45): NAN-ICN: 10/2007
6.21:
Iberia (87): BOS-MAD: 10/2009
6.11:
A SKY (107): OUA-COO: 06/2010
6.11:
TAP Portugal (53): GRU-OPO: 06/2008
6.00:
Gulf Air (75): BOM-BAH: 04/2009
5.88:
African Express (89): DXB-NBO: 11/2009
5.75:
Singapore Airlines (16): CCU-SIN: 10/2006
5.64:
SATA Azores (101): BOS-PDL: 04/2010
5.64:
NorthWest (46): ICN-NRT-SEA: 10/2007
5.54:
Ethiopian Airlines (95): ADD-BOM: 01/2010
5.46:
Icelandair (83): KEF-BOS: 08/2009
5.39:
LOT (54): WAW-JFK: 06/2008
5.21:
Egypt Air (73): CAI-IST: 02/2009
5.11:
Tunisair (115): TUN-ORY: 12/2010
5.07:
TACA (66): JFK-SAP: 01/2009
4.89:
TAAG Angola (117): TMS-LAD: 12/2010
4.42:
Air France: CDG-JNB (25): 08/2007
ECONOMY: Long + Medium:
9.26:
Air India (48): JFK-DEL: 02/2008
9.04:
First Air (129): YEG-YFB: 06/2011
8.74:
Japan Air Lines (130): NRT-BOS: 04/2012 – INAUGURAL
7.99:
WestJet (131): YYZ-YYC: 06/2011
7.38:
Avianca (01): BOG-LIM: 07/2006
7.07:
Sri Lankan (62): KWI-CMB: 12/2008
7.00:
LAN (94): IPC-SCL: 01/2010
6.81:
STP Airways/Euro Atlantic (116): LIS-TMS: 12/2010
6.74:
Air Asia (136): VTE-KUL: 12/2011
6.67:
Air Malta (124): MLA-FRA: 04/2011
6.63:
Vladavia (126): KHV-PEK: 06/2011
6.41:
Air North (127): YEV-YEG: 06/2011
6.41:
Avianca (78): JFK-BOG: 05/2009
6.41:
American Airlines (58): LHR-BOS: 11/2008
6.39:
Condor (85): SEZ-FRA: 09/2009
6.26:
Jet Blue (21): CUN-JFK: 02/2007
6.11:
Caribbean Airlines (119): POS-FLL: 01/2011
6.06:
Air Canada (04): YYZ-YVR: 09/2006
5.89:
USA 3000 (19): PUJ-BDL: 01/2007
5.85:
Spanair (69): MAD-LPA: 02/2009
5.80:
Canadian North (128): YEV-YVQ-YZF-YEG: 06/2011
5.79:
Air New Zealand (42): RAR-NAN: 10/2007
5.52:
Aerolineas (86): USH-AEP: 10/2009
5.46:
TAP Air Portugal (23): OSL-LIS: 05/2007
5.19:
Air Europa (70): LPA-MAD: 02/2009
5.16:
Iberia (71): MAD-BOS: 02/2009
5.11:
Air China (82): FRA-PEK: 08/2009
4.59:
IR Aero (125): IKT-VVO: 06/2011
ECONOMY: Short
8.56:
Paramount Airways (38): BLR-MAA: 09/2007
8.56:
Kingfisher (64): HYD-CCU: 12/2008
8.24:
Kingfisher (14): IXA-GAU: 10/2006
7.87:
Indian (34): BOM-MAA: 09/2007
7.72:
Alliance Air (13): CCU-IXA: 10/2006
7.57:
Indian Airlines (10): DEL-CCU: 09/2006
7.23:
West Jet (03): YYC-YVR: 09/2006
7.15:
JetLite (37): BOM-GOI: 09/2007
6.98:
Air Koryo (100): PEK-FNJ: 04/2010
6.96:
Maldivian (137): MLE-TRV: 12/2011
6.96:
Lao Airlines (135): VTE-KUL: 12/2011
6.70:
Spice Jet (09): CCU-DEL: 09/2006
6.63:
Air Fiji (44): NAN-SUV: 10/2007
6.63:
Jazeera (67): DAM-KWI: 01/2009
6.58:
Air Tran (02): EWR-MDW: 08/2006
6.48:
Air India Express (63): CMB-MAA: 12/2008
6.44:
CO Micronesia (39): ROR-YAP: 10/2007
6.41:
Pacific Sun (43): NAN-SUV: 10/2007
6.37:
Buffalo (138): YZF-YXY: 10/2007
6.37:
Skybus (47): SWF-CMH: 02/2008
6.33:
Kenya Airways (29): NBO-BJM: 08/2007
6.33:
Sky Europe (56): LTN-BTS: 10/2008
6.31:
Indigo (15): GAU-CCU: 10/2006
6.31:
easyJet (57): BUD-LTN: 11/2008
6.22:
Air Link Swazi (28): MTS-JNB: 08/2007
6.22:
Air India (36): HYD-BOM: 09/2007
6.13:
Adam Air (07): SIN-CGK: 09/2006
6.13:
Air Rarotonga (41): RAR-AIT: 10/2007
6.04:
Suriname Airways (118): PBM-POS: 01/2011
6.00:
Transairways (27): INH-MPM: 08/2007
5.95:
Air Canada (05): ALB-YYZ: 09/2006
5.85:
SAS Norge (22): OSL-AES: 05/2007
5.81:
LAM Mozambique (26): JNB-MPM: 08/2007
5.69:
Air Deccan (12): IXZ-CCU: 10/2006
5.67:
Rwanda Air Exp (30): KGL-NBO: 08/2007
5.52:
Sevenair (114): TOE-TUN: 11/2010
5.37:
Felix Airways (92): SCT-SAH: 12/2009
5.11:
Aero Republica (76): BOG-CCS: 04/2009
5.07:
Go Air (35): MAA-HYD: 09/2007
5.04:
Biman (121): DAC-CGP: 01/2011
5.00:
Sky Airline (51): IQQ-SCL: 06/2008
4.96:
United Bangla (122): CGP-DAC: 01/2011
4.96:
Valuair (08): CGK-SIN: 09/2006
4.78:
Air Comet Chile (50): SCL-IQQ: 06/2008
4.74:
Fly 540 (31): MYD-LAU: 08/2007
4.33:
Viva Aerobus (20): ELP-MTY: 02/2007
4.11:
Air Sahara (11): CCU-BOM: 09/2006
(Note on Codes: Y – Economy, J – Business, F – First :: I/D – International/Domestic :: SR/MR/LR – Short/Medium/Long Haul)
(Note on Date: Dates are modified to be +/- 3 days from actual flight date to not reveal actual flight pattern)
VII> Other Pictures:
(LH's JCL Amenity Kit)
(And, now the stunning Eritrea: Go there before it changes!)
(Asmara: Africa's best kept secret)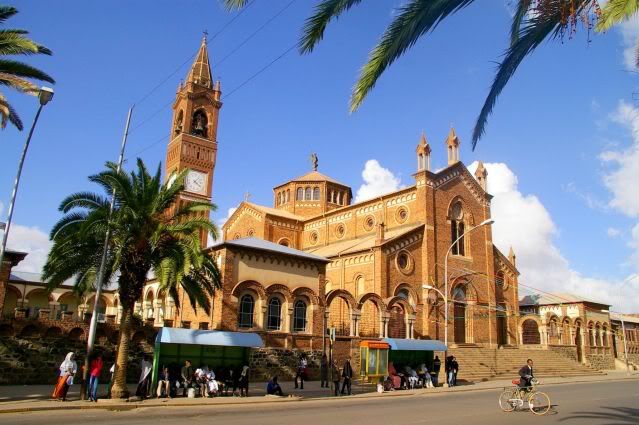 (Not southern Europe)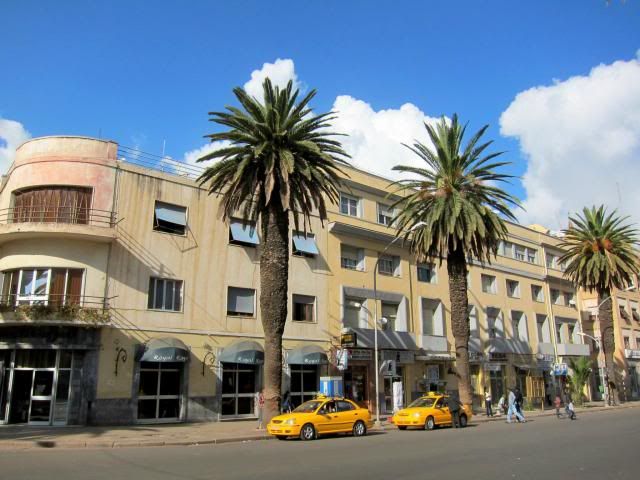 *
*
*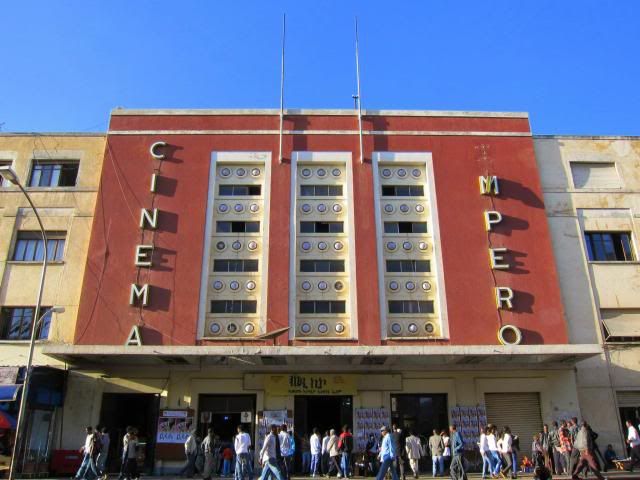 *
*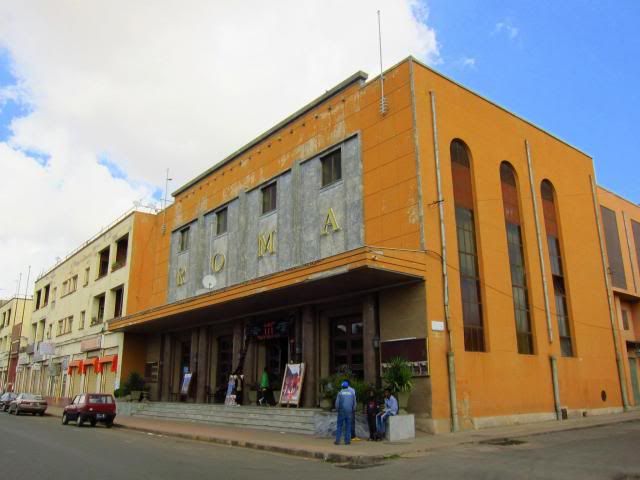 *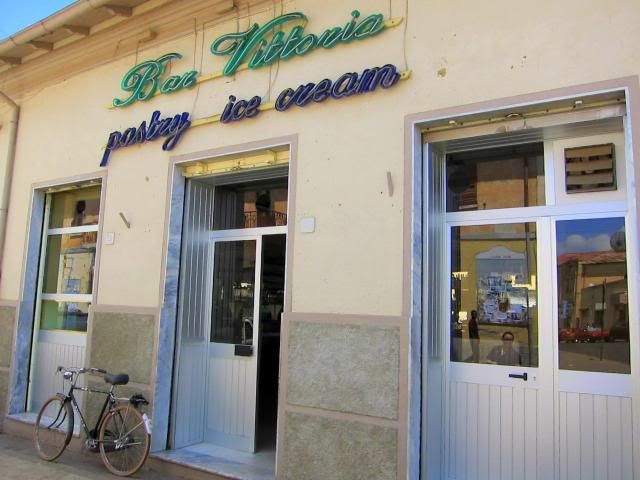 *
*
*
*
*
*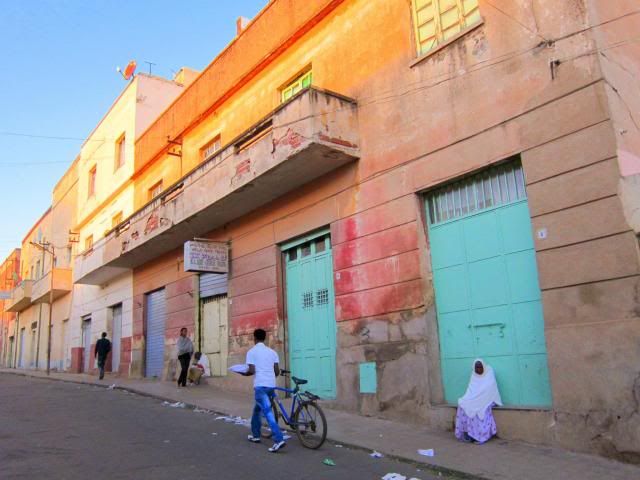 *
*
*
(Amazing café @ Asmara)
*
*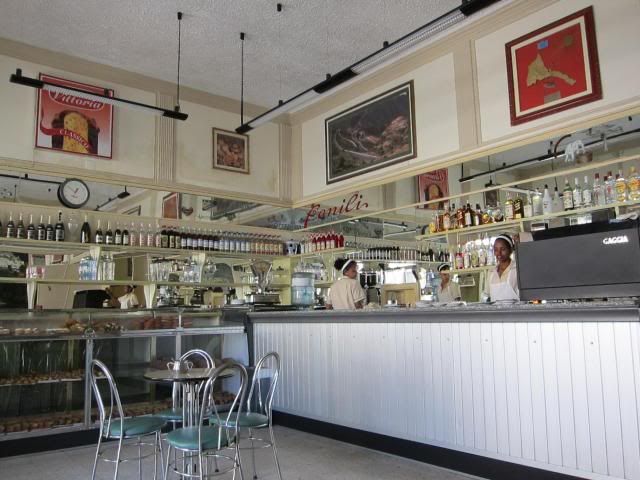 *
*
(From Asmara, you take a spectacular road to the coast)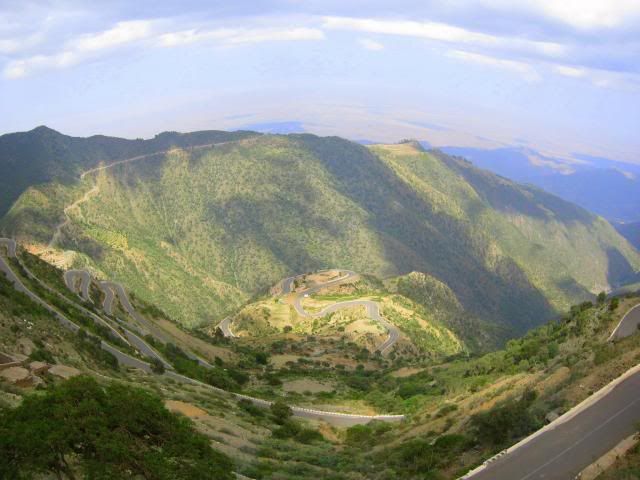 *
(To coastal towns that make Zanzibar seem ordinary)
(And beaches that are some of the best in the world)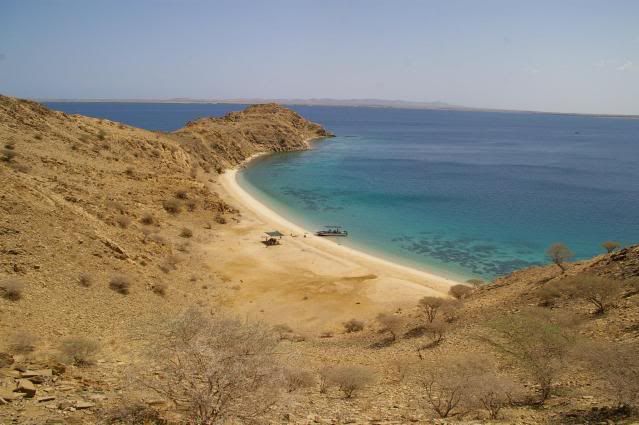 *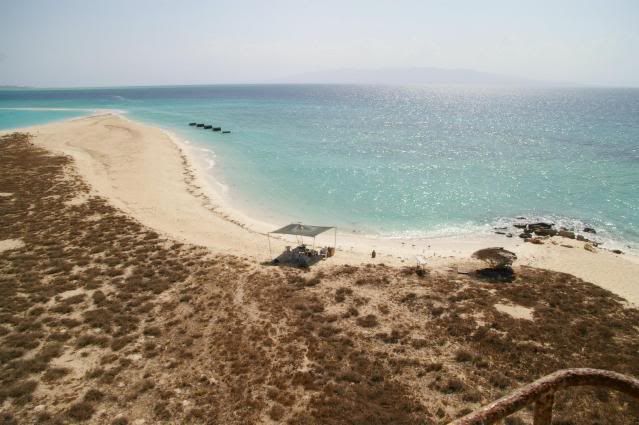 *

* Unbiased view on how an actual traveler may view the flight
* Not a professional photographer (so please keep in mind)
* Commitment that I won't identify myself to the airline as "reviewing them"