Welcome to part 2 of the trip report, I hope you have seen part 1 on BI:
A Promise Kept (Part 1): RBA Carry You Home
(by
dirktraveller
Sep 25 2012 in Trip Reports)
After spending a few days in Surabaya, Indonesia. It was time for me to proceed to my next stop, Jakarta. Although there were many local Indonesian carriers flying between Jakarta (CGK) and Surabaya (SUB) with multiple flights daily, my choice still goes to Garuda Indonesia (GA).
Background
Being the flag carrier of Indonesia, Garuda Indonesia itself served 33 domestic destinations out of its main hub in CGK, along with its secondary hub DPS and UPG. The route between CGK and SUB itself is the busiest in the country, with different airlines competing for the traffic between the two busiest cities in the nation. GA operated 16 daily flights between CGK and SUB with their 738 fleet. Hence, join me as I explored
Garuda Indonesia's busiest route in its network.
Please allow me to show some pictures of Surabaya, "The city of heroes" of Indonesia, before I proceed with my GA experience.
Ciputra World Shopping Centre, one of the newest Shopping Malls in Surabaya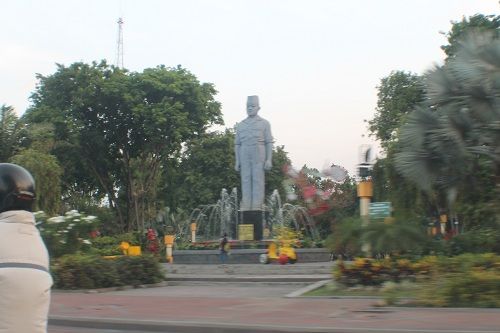 Statue of one of the local heroes.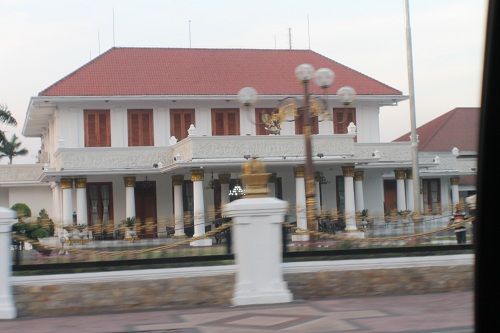 Official Residence of the Governor of East Java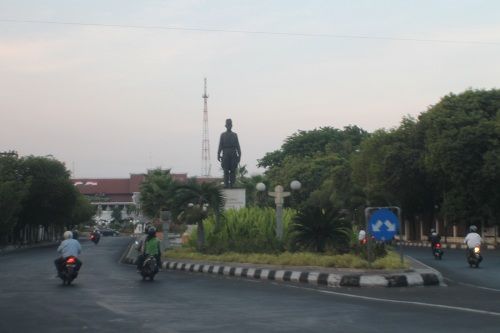 Another statue of Independence hero, with the Surabaya City Hall in the background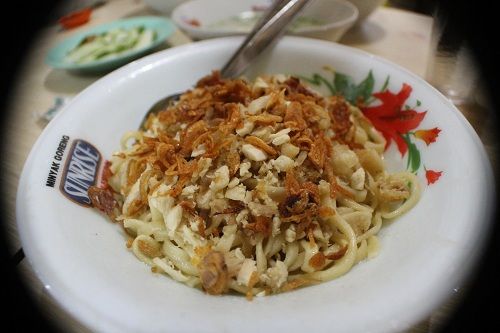 My favorite food in the City of Heroes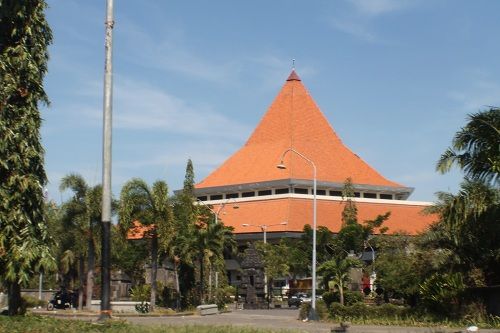 Tenth of November Institute of Technology building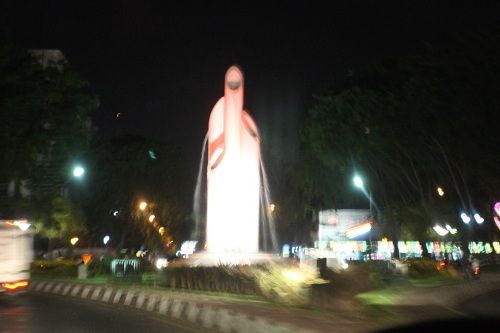 The Bamboo statue, the main weapon of Indonesians to defend their homeland during the Dutch Occupation
The trip began : Juanda International Airport, Surabaya, Indonesia
Check-in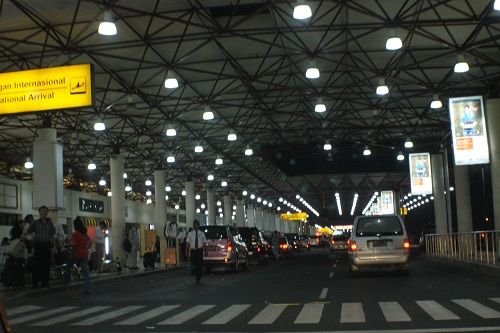 Drop-off point in SUB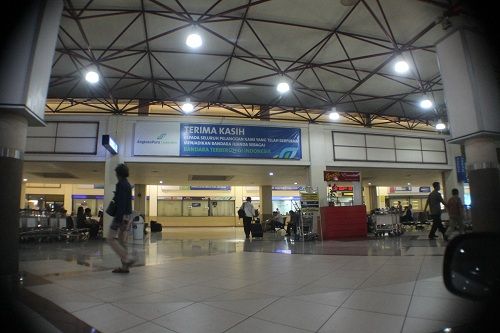 SUB curbside
At around 1930hrs I reached the main drop off point of Juanda's International Terminal and proceeded to GA Check-in counter. Despite not having any international flights out of SUB, GA check-in counter are located in the International Terminal of the airport. The difference is that International passenger would proceed to the left side for immigration process, while domestic GA passengers proceed to right side and head for the link to domestic terminal.
After my episode of disappointment with GA's ground service back in July (http://www.airliners.net/aviation-forums/trip_reports/read.main/222100/), I was not expecting much about this flight.
IMG]http://i1113.photobucket.com/albums/k502/dirktraveller/Spring%20trip%202012/IMG_9205.jpg[/IMG]
Check-in desks for GA flights to CGK and DPS
Domestic terminal gate area
During the check-in, the man who served my desk told me that my GA 333 flight would be delayed. While one part of myself was about to say "Not again, GA!", the check-in man then asked my permission to re-book me in the GA 331 flight, which departs an hour earlier than my original flight, at around 2105hrs. I then agreed to it and have my bags checked-in. The check-in man then thanked me with the signature GA clasp and wished me an enjoyable flight to CGK.
I was still amazed with the efficiency and attitude the GA staff in SUB had, which was much better than the ones I encountered back in CGK in July. Apparently my hope and prayer that their ground service improved has been answered
. Then I headed straight for our assigned gate 8.
Boarding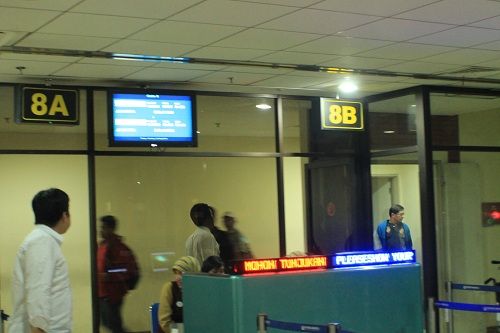 Gate 8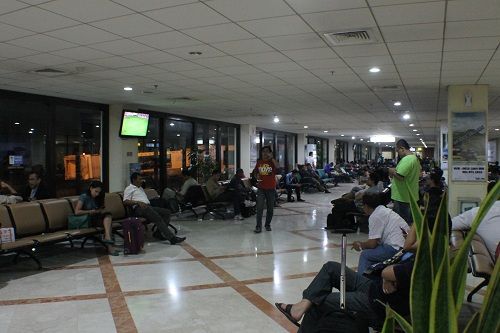 Passengers of GA331 waiting for the boarding call.
After waiting for around 30 minutes, the boarding call for our flight was made, with the sequence of passengers in Business Class and those who required assistance, followed by those in green, blue, and red stickers.The stickers are designed to indicate whether the passengers are seated in front, center, or rear economy section on the aircraft. No welcome drink on domestic flights, but sweets were offered before pushback instead.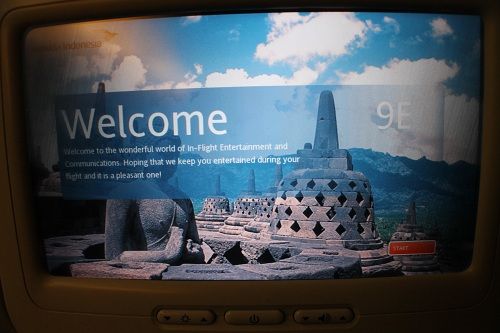 Welcome on board GA
After the full load of passengers boarded the flight, the doors then closed, and we started our pushback. The flight took off from SUB at around 2115hrs.
In-flight
During the short 1hour10minutes flight into CGK, the IFE was operated in full swing and headsets were available for passengers to enjoy the GA IFE system. The meal service consisted of meal boxes containing bread and mineral water, along with choices of drinks. As I had reviewed GA 738 before in the forum, I would leave you with photos throughout my flight between SUB and CGK.
Economy Class seats on the 738: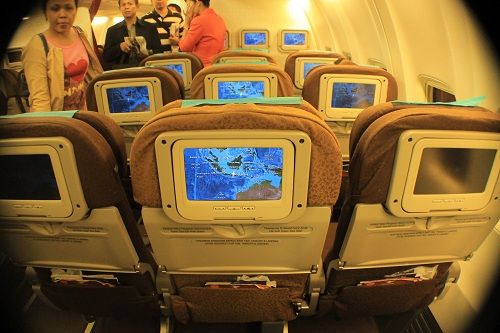 Note the IFE box in the middle seat, quite cramp for my legroom in 9E
Our flight routing on that day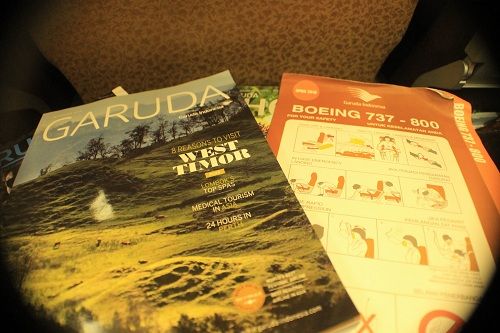 GA Magazine and Safety card
GA Snack box
Contents: Bread and mineral water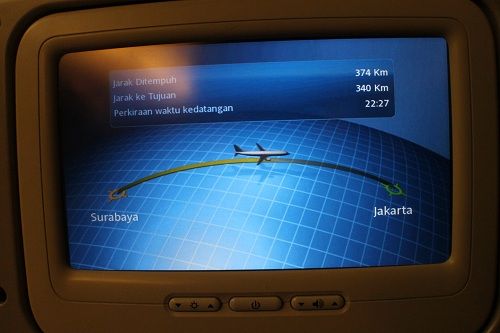 Halfway there
Finally GA opened this route, have been waiting so long for them to open the route!
Landing into CGK
Approaching CGK
After a short 55 minutes cruising in 34000 feet, the captain announced that we were on descent to CGK, and instructs cabin crew to prepare for landing. The approach into CGK encountered slight bumps, although weather forecast appeared to be fine according to the PA. The flight landed in CGK at around 2235hrs. After the 738 reached its parking spot, passengers disembarked through aerobridge to Terminal 2F, GA's base for domestic flights.
CGK Domestic Terminal 2F:
Directions to Baggage claim and Transfer desk
The walkway leading to the arrival hall
The revealed plan to renovate CGK airport by 2014
GA Transfer desks
Travellator heading to baggage claim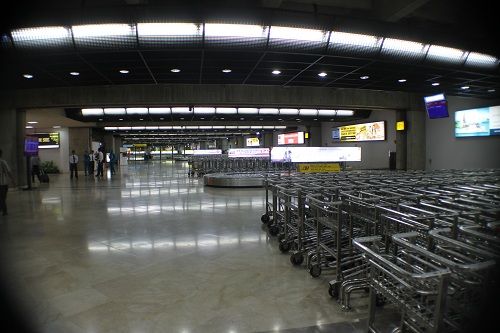 Quiet baggage claim area in CGK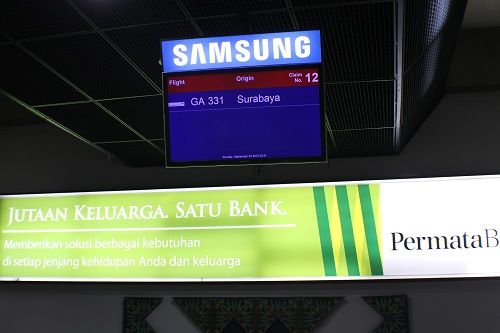 Display information about the baggage claim carousel assigned for our flight from SUB
Final thoughts about the flight
In their busiest route, Garuda Indonesia had delivered the great inflight service for such a short domestic flight. Along with flexibility in schedule and its above standard facilities, it is obvious why GA could have good loads on their 16 daily flights between SUB and CGK.
However, the real surprise was the good GA ground staff in SUB, who had the quick thought of rescheduling early passengers to another flight as soon as he know their flight is suffering delays. Well done GA and keep up the good ground service standards this way!
Thanks for reading and don't hesitate to leave a comment!
See you on the next part of myTR.
Regards,
Dirktraveller
[Edited 2012-10-02 05:08:47]