Greetings, fellow A.netters. This is the 3rd and last part of the trip reports covering my trip to Seoul and back on Thai Airways back in Jan 2012. In case you have not read the first 2 parts:
Thai Airways To Seoul (Part 1: SIN-BKK)
(by
anthonychua527
Sep 4 2012 in Trip Reports)
Thai Airways To Seoul (Part 2: BKK-ICN)
(by
anthonychua527
Sep 20 2012 in Trip Reports)
Now, let's get down to business. After 4 wonderful days in Seoul, it was time for my flights with TG again!
Incheon Airport is my all-time favourite airport. I just never get tired of going through this world class facility. Today was no exception. My flight was to depart for BKK at 1000hrs, but I had made my way to the airport early by Airport Limousine Bus, and arrived nice and early at about 0730hrs.
There were plenty of counters servicing TG, and with just a short wait, my bags were checked all the way to SIN and my boarding passes were handed over.
Boarding passes to SIN!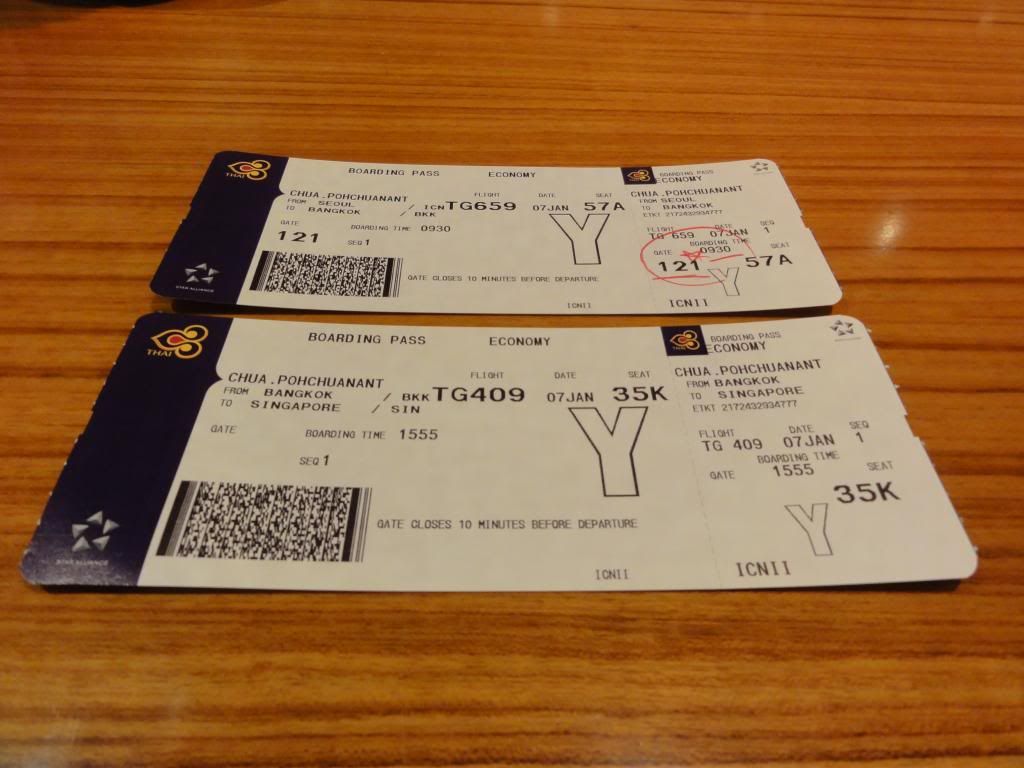 After ensuring my bags have passed through security without further screening, I made my way to the restaurants at level 2 for my breakfast. I always make it a point to visit the Kayageum Korean Restaurant for a meal before leaving Seoul, and today was no exception.
Upon arriving at the restaurant, I was informed that half the restaurant had been booked for an event, and the other half was full. There were a few customers behind me and we were all politely ushered to their sister restaurant, Haneul.
According to the airport signs, Haneul was a higher end restaurant as compared to Kayageum. Both belong to Sheraton Walker Hill, though. I ordered the kimchi soup for my breakfast today. Service was top notch and I left a very satisfied customer.
Breakfast!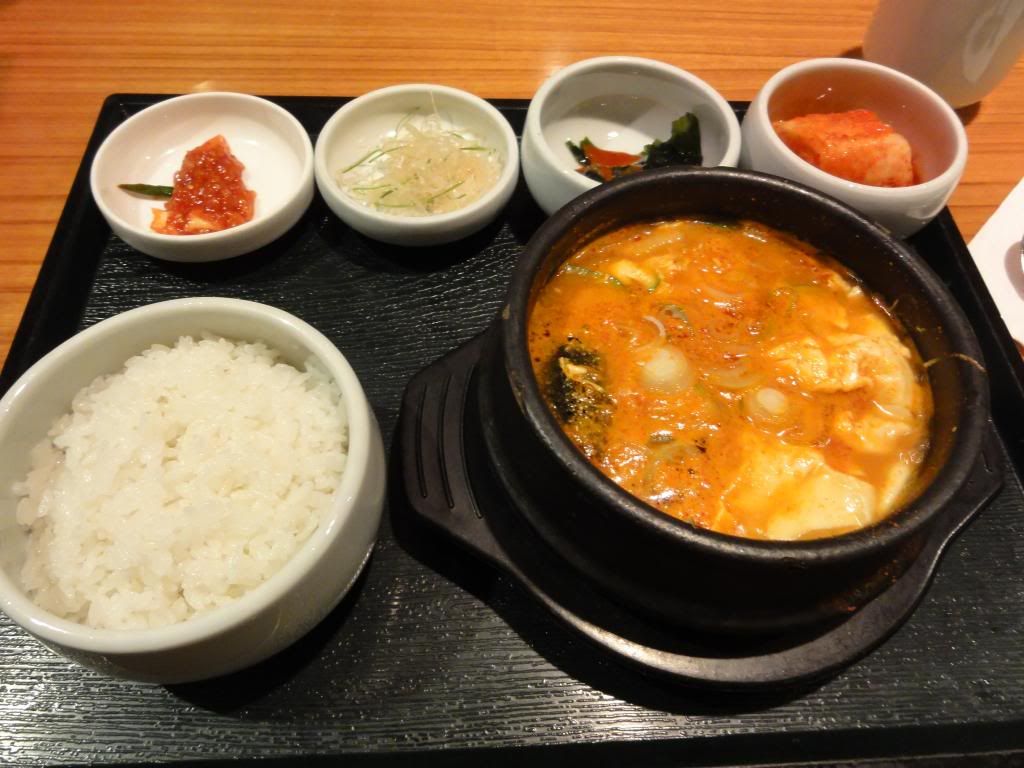 After my breakfast, I made a stop at the Baskin Robbins for my favourite Green Tea ice cream, and then proceeded airside.
At Incheon Airport, the security screening and immigration are not visible to the public side of the terminal, and all goodbyes had to be said before passing through the glass walls, disappearing from view immediately. You just couldn't turn back and wave after you had entered, unlike in most airports.
Queues for the security screening were average, but I was cleared in 5 minutes as there were many booths and the service was very efficient. Immigration was done in another 5 and I was soon airside.
After roaming through the main terminal for a bit, I made my way to the satellite terminal where my flight will depart today. (At ICN, only Korean Air, Asiana Airlines, and a couple other small local carriers use the main terminal. All other airlines operate from the satellite terminal, accessible only by the underground shuttle train.)
There was a passport and boarding pass check at the escalators leading down to the shuttle train station, and there was no turning back to the main terminal after you had passed this point.
I arrived at Gate 121 at about 0900hrs, and my plane today would be HS-TKD, operating flight TG659 to BKK.
Gate 121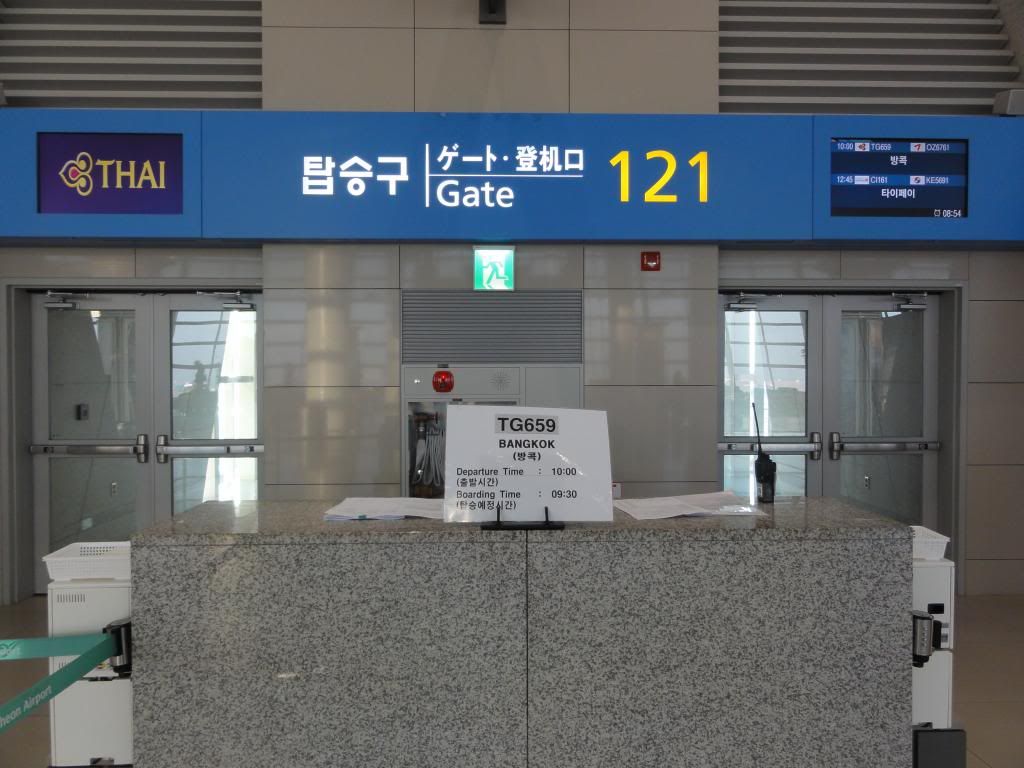 Flight information, seating arrangement and all other relevant information were displayed on a movable board near the gate. I like the fact that TG actually puts in the aircraft registration into the board, considering the fact that the gate today would offer very limited views of the aircraft outside, due to the position.
Information
Our neighbour going to HKG
The only view of the aircraft from Gate 121
Unlike the other gates in ICN, Gate 121 offers the worst view of the aircraft due to the position near the duty-free shops.
Boarding began at 0930hrs sharp. Business class/priority passengers queue on the left, and economy class passengers on the right. The former was let through first, followed by the latter about 3 mins later. Boarding was organised and smooth, and I was 5th in the Economy Class line.
Date: 07 Jan 2012
Sector: ICN-BKK
Flight: TG659
Aircraft Reg: HS-TKD 'Thepalai'
Aircraft Type: Boeing 777-3D7
Scheduled Departure: 1000hrs
Scheduled Arrival: 1355hrs
Scheduled Flight Time: 5hrs 35mins
Boarding the aircraft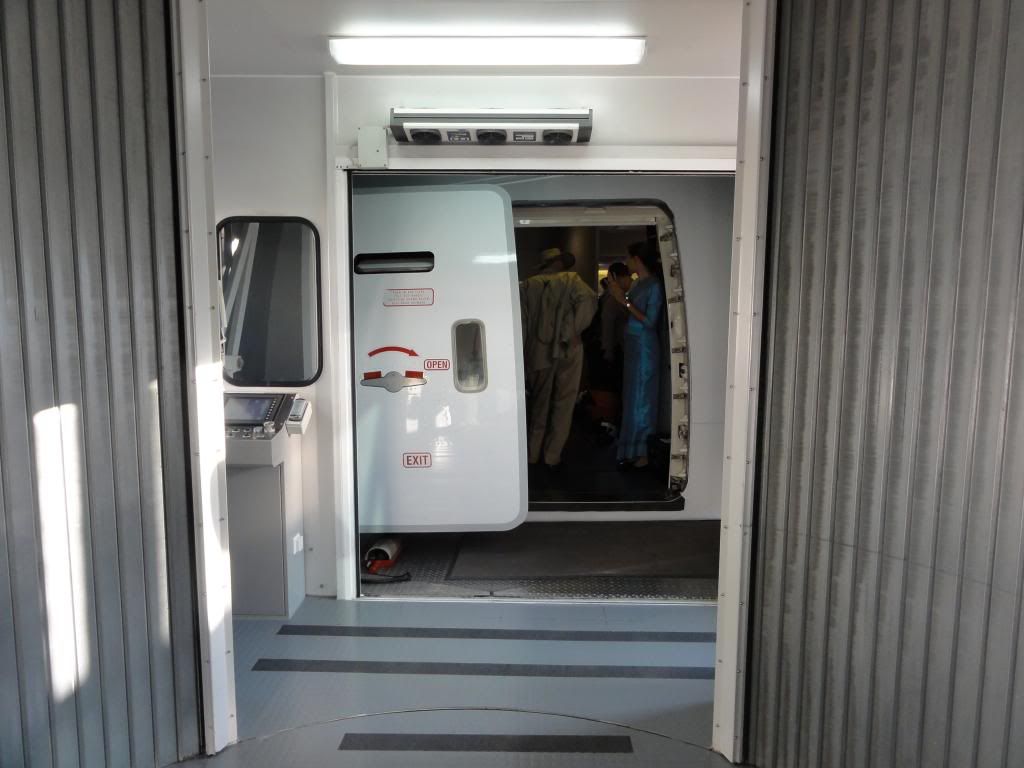 Snapshots of the Business Class Cabin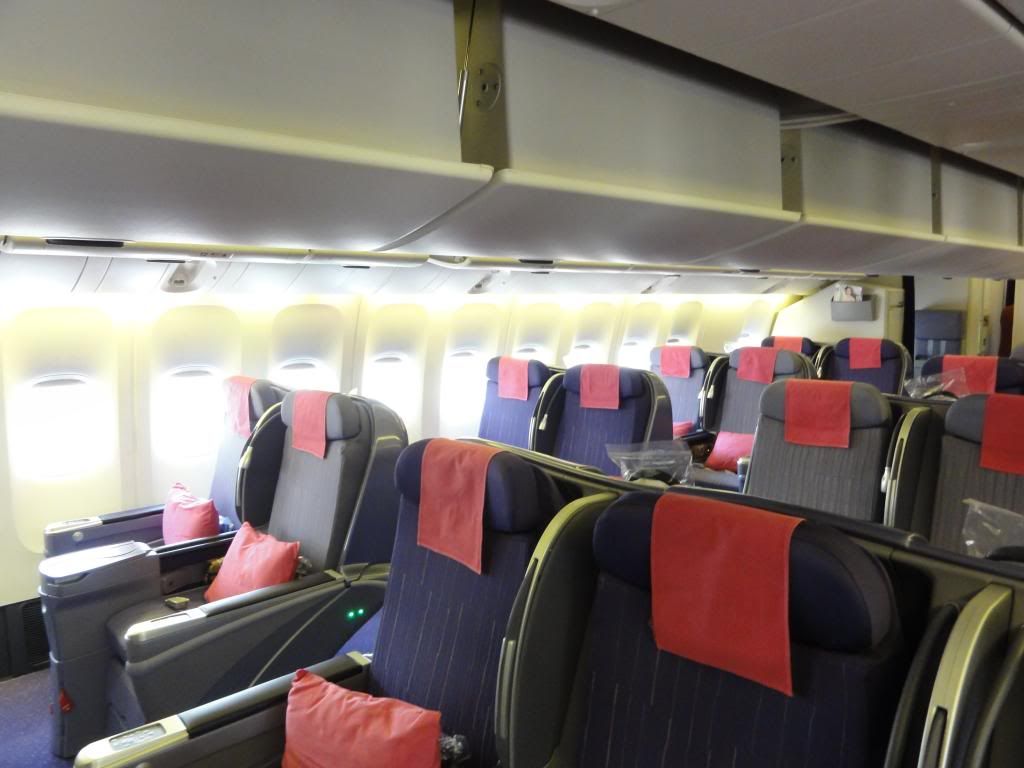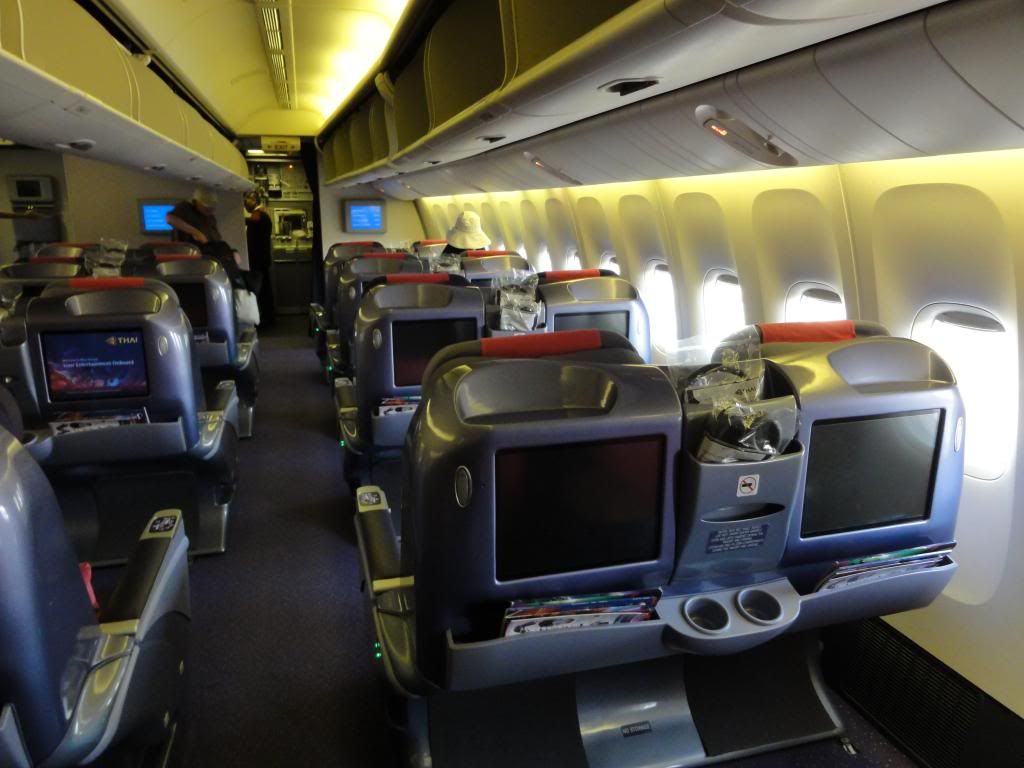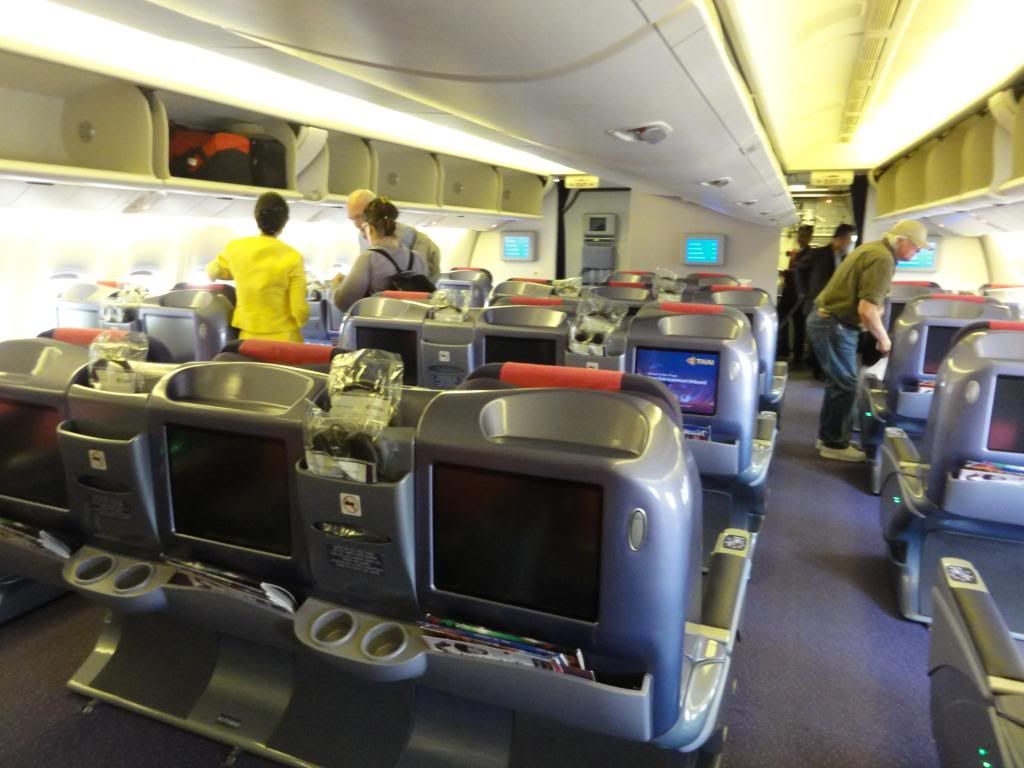 Economy Class Cabin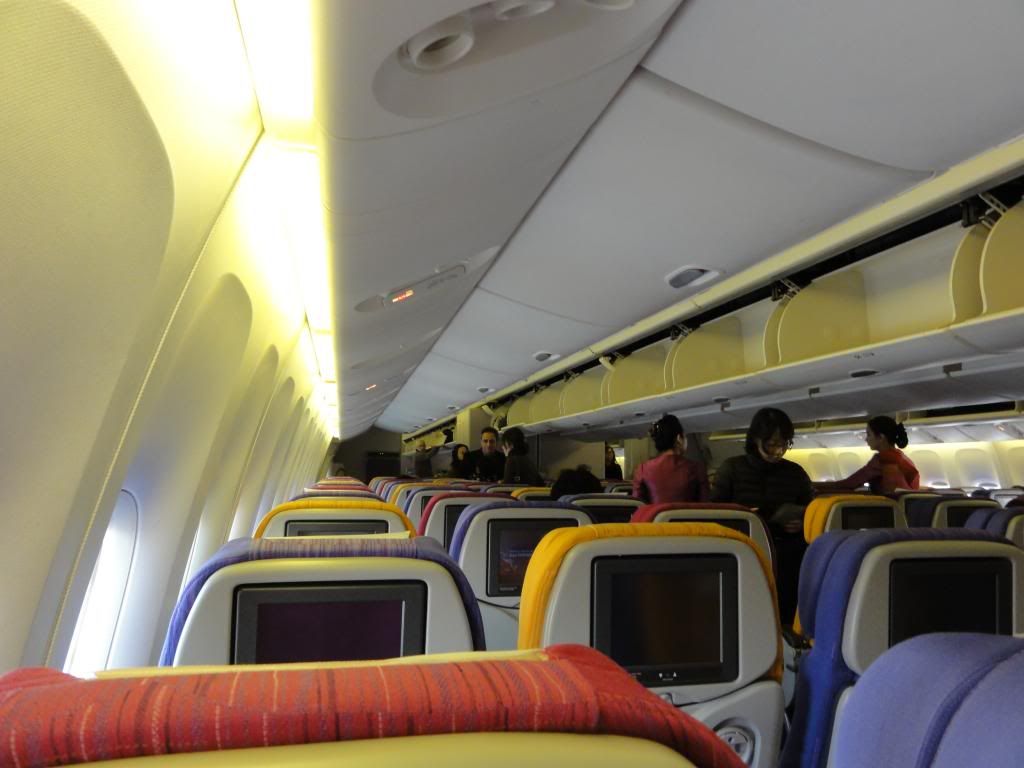 After being ushered by a male steward to my seat 57A, I quickly settled down and started exploring the AVOD system. This was my first flight on TG's B773 and first touch with their AVOD system.
TG's AVOD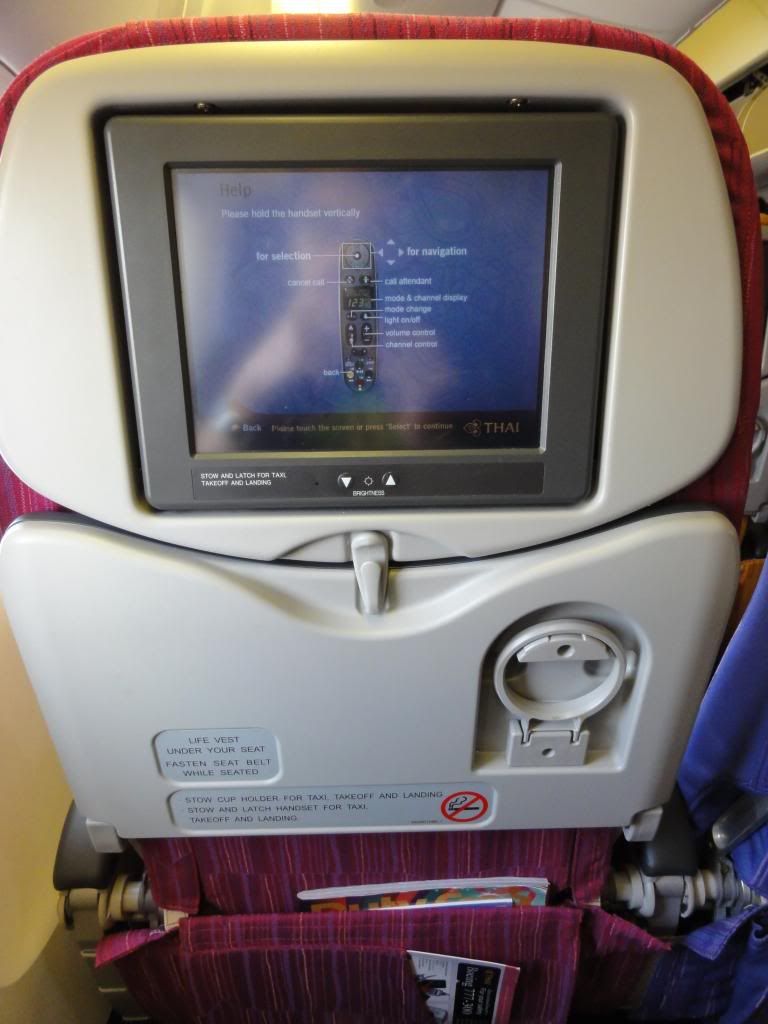 The AVOD system onboard TG was by no means as good as Emirates ICE or SQ's Krisworld, but it was good enough in my opinion. There was a good selection of movies, music, shows and games. It was also a touchscreen system. I find it quite smooth to operate and it was above average in standard. It would be adequate even for long haul.
Of course, I took a few pictures of the outside view as well.
The ICN satellite terminal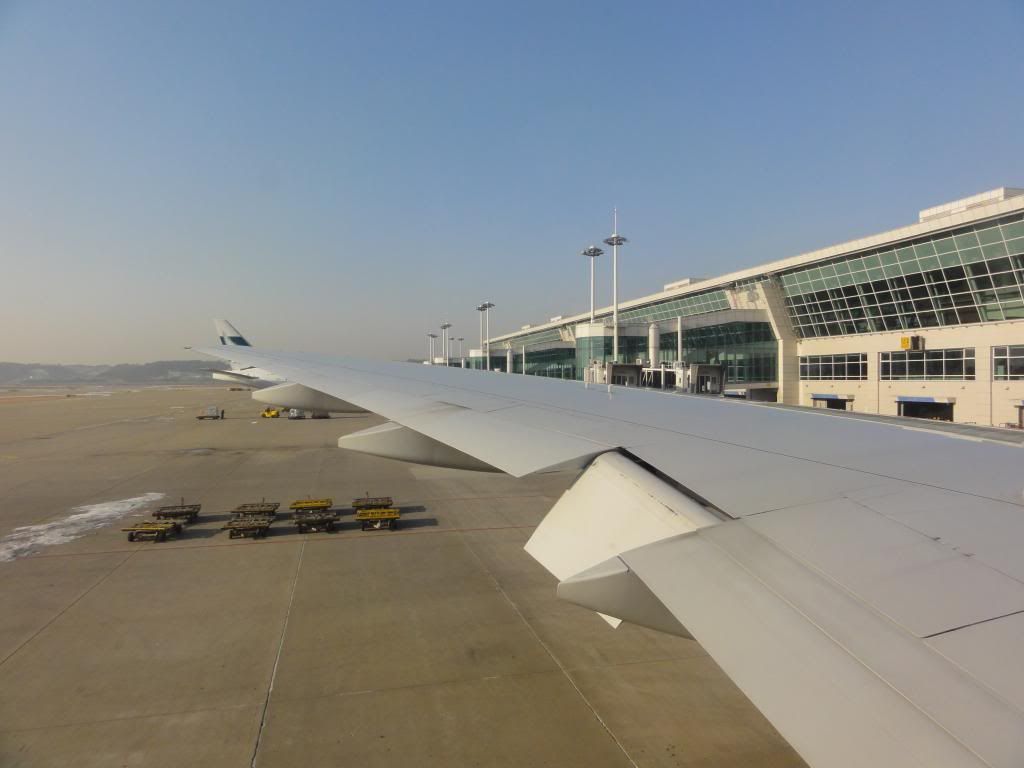 Being one of the first to board, there was quite some time before boarding would be completed.
Boarding in progress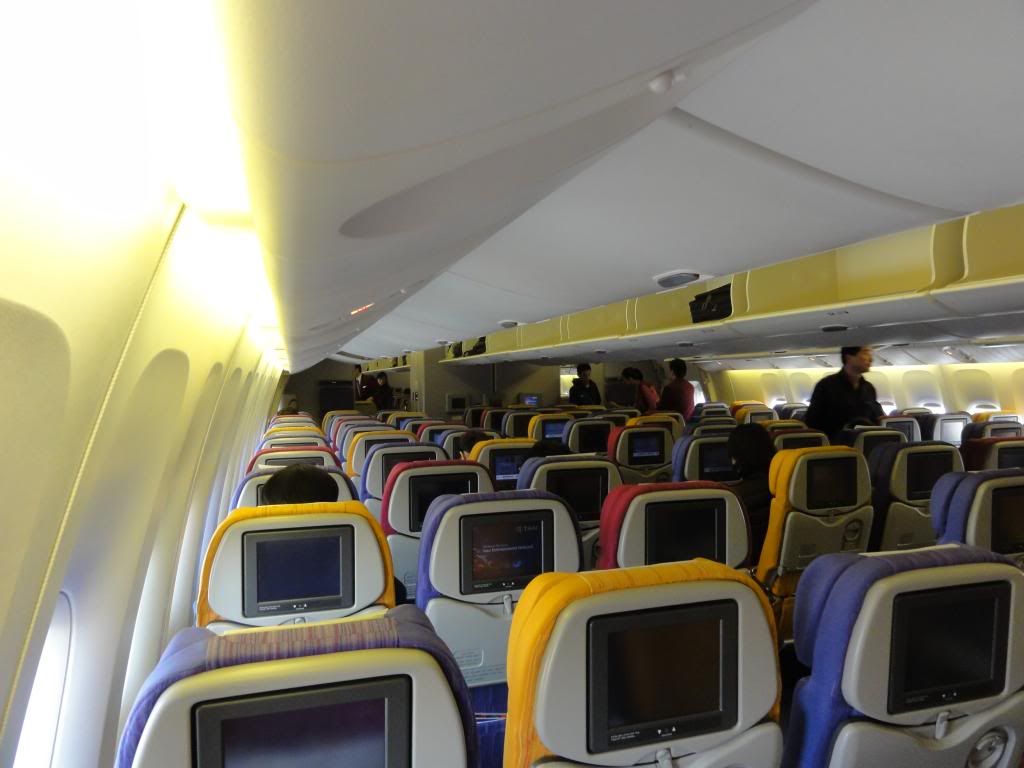 Boarding was completed by 0955hrs and we were pushed back at 1002hrs. TG was very punctual on this flight, in my opinion.
The safety video was soon played, and on this flight the volume was just nice, unlike the inaudible level on my flight into Seoul.
Safety video in action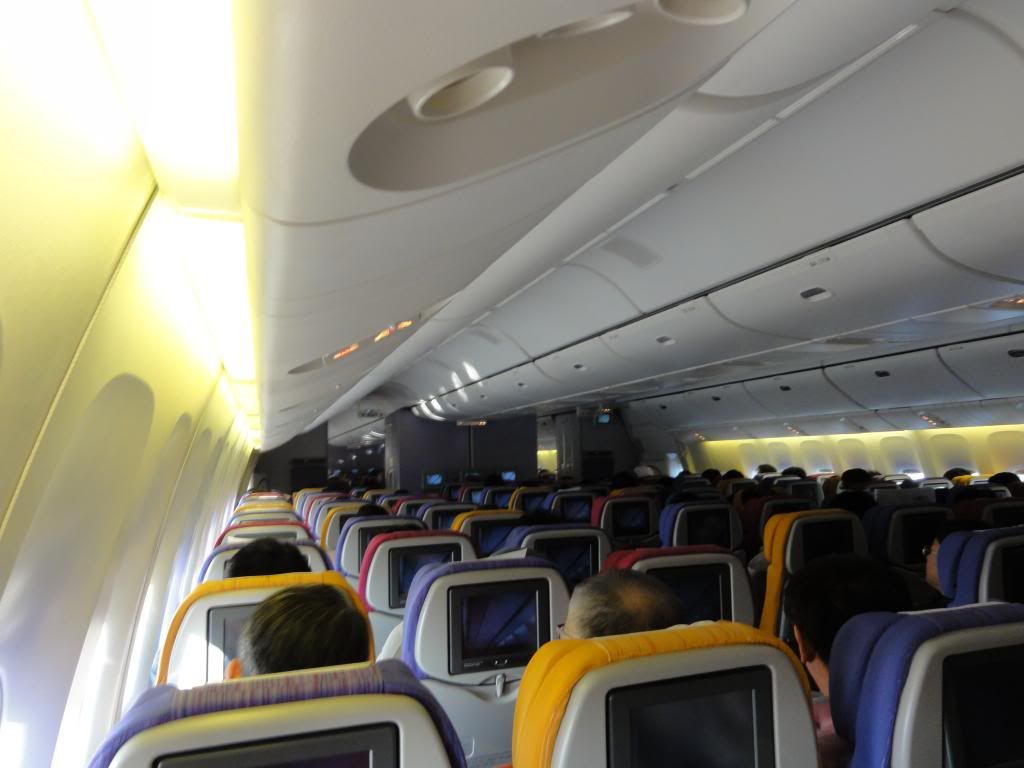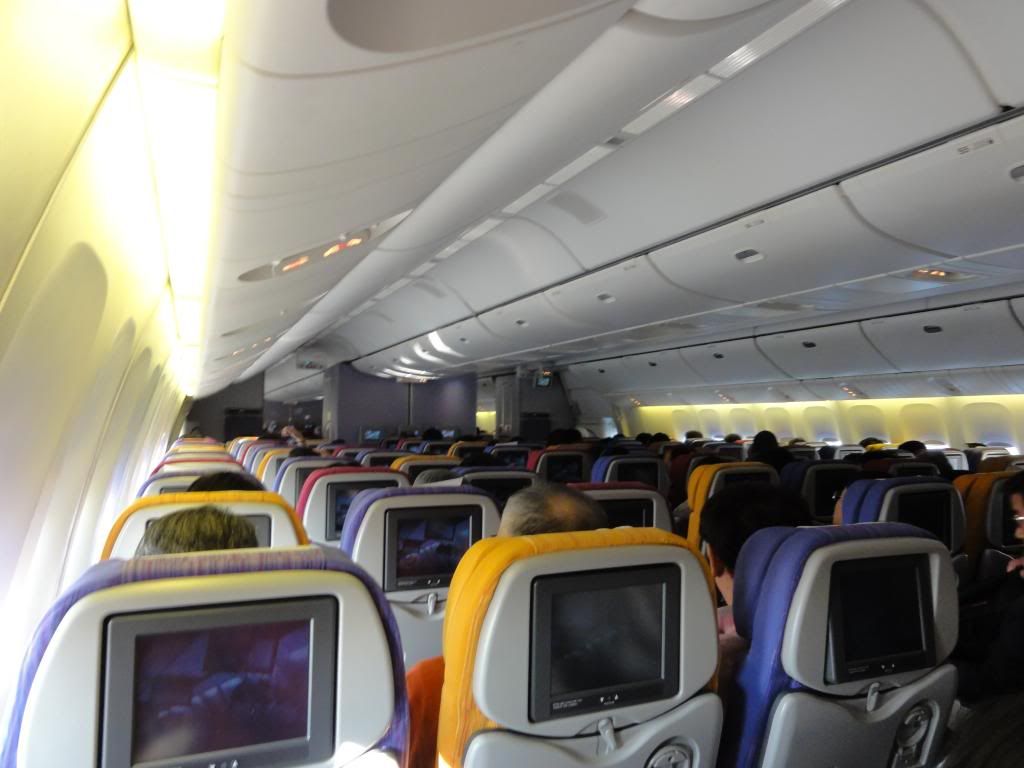 View out the window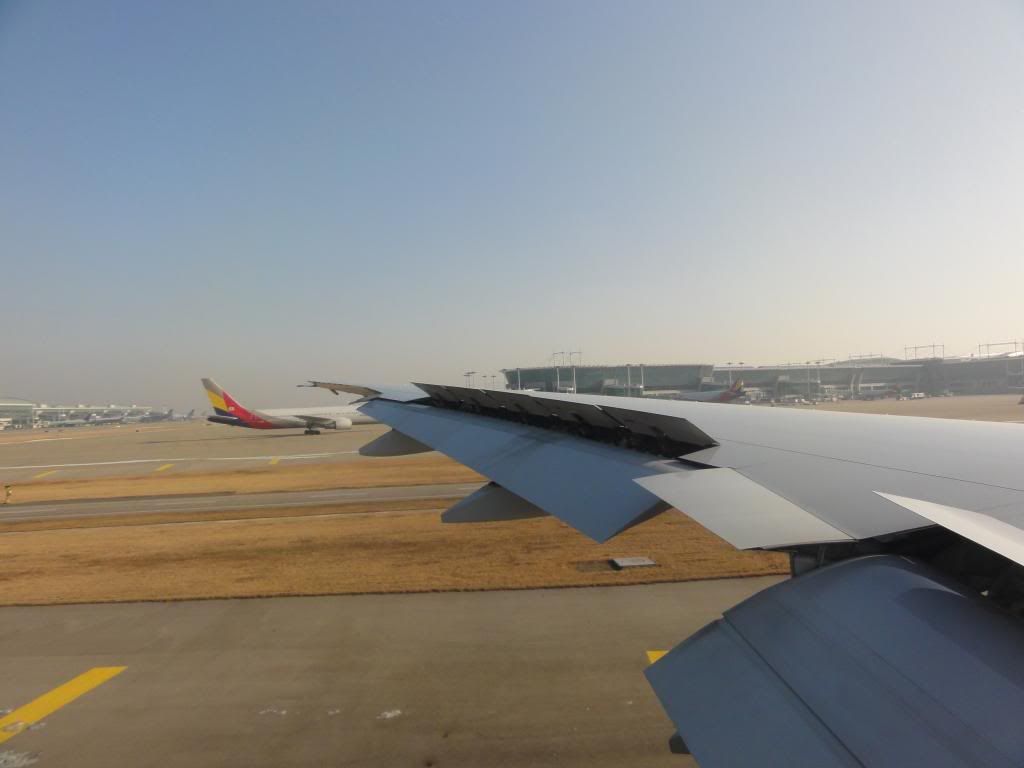 We taxiied for about 10 minutes into the runway and was airborne by 1010hrs.
After takeoff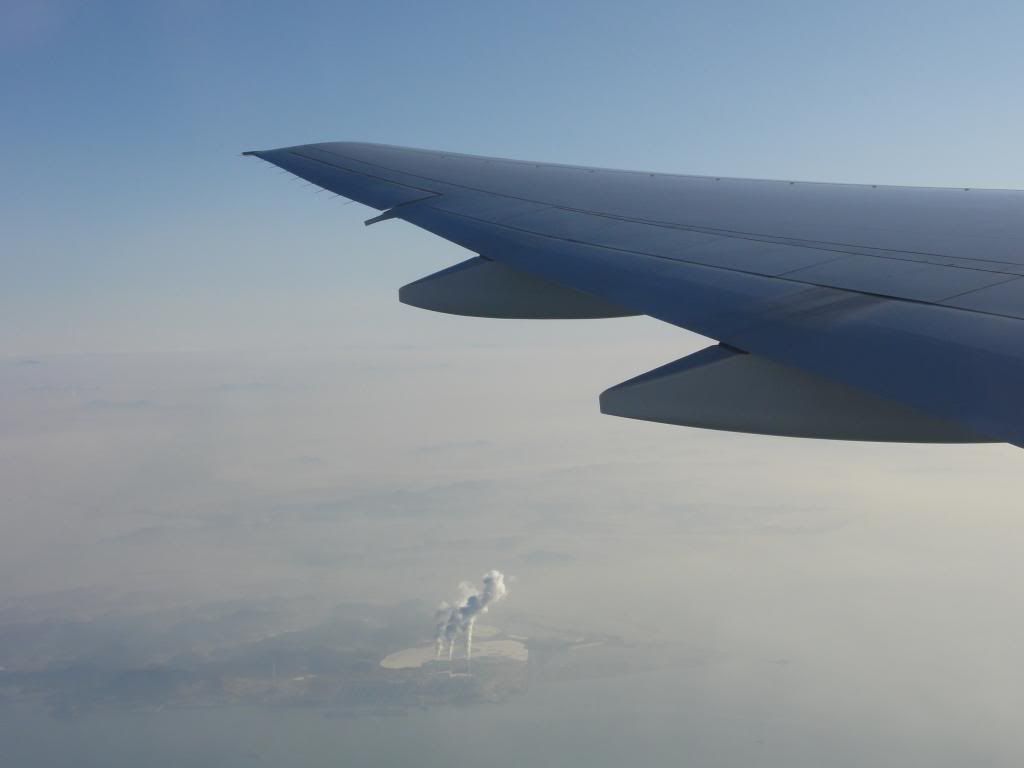 Immediately after the seat belt sign was switched off, the crew sprang out of the seats and prepared for service. The hot towel service soon commenced, and that was followed by a snack/drink run.
Pack of roast almonds and OJ
I was left to explore the AVOD for the next 30 minutes while waiting for my lunch.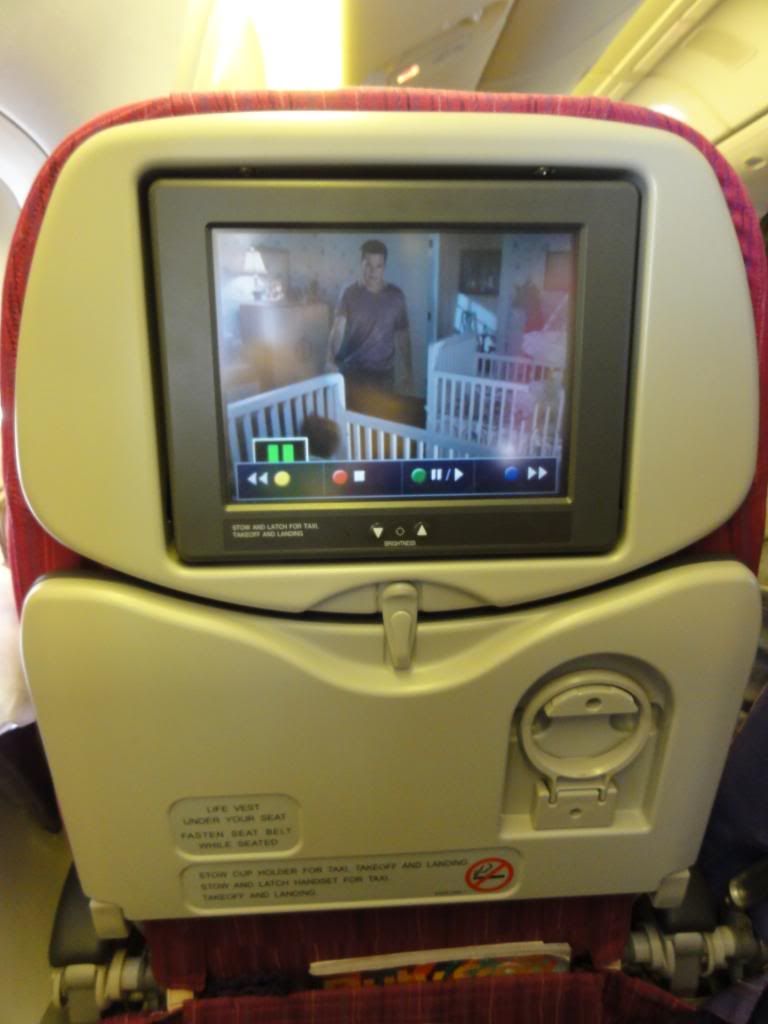 The meal carts were soon into the aisles and I was served lunch.
Meal service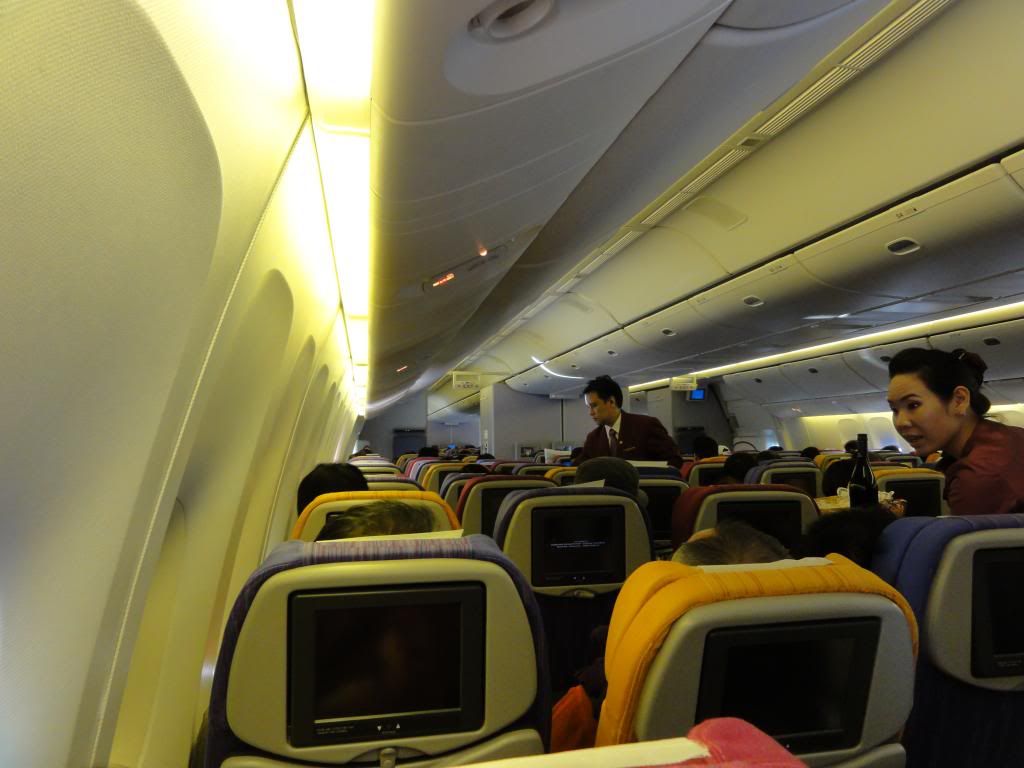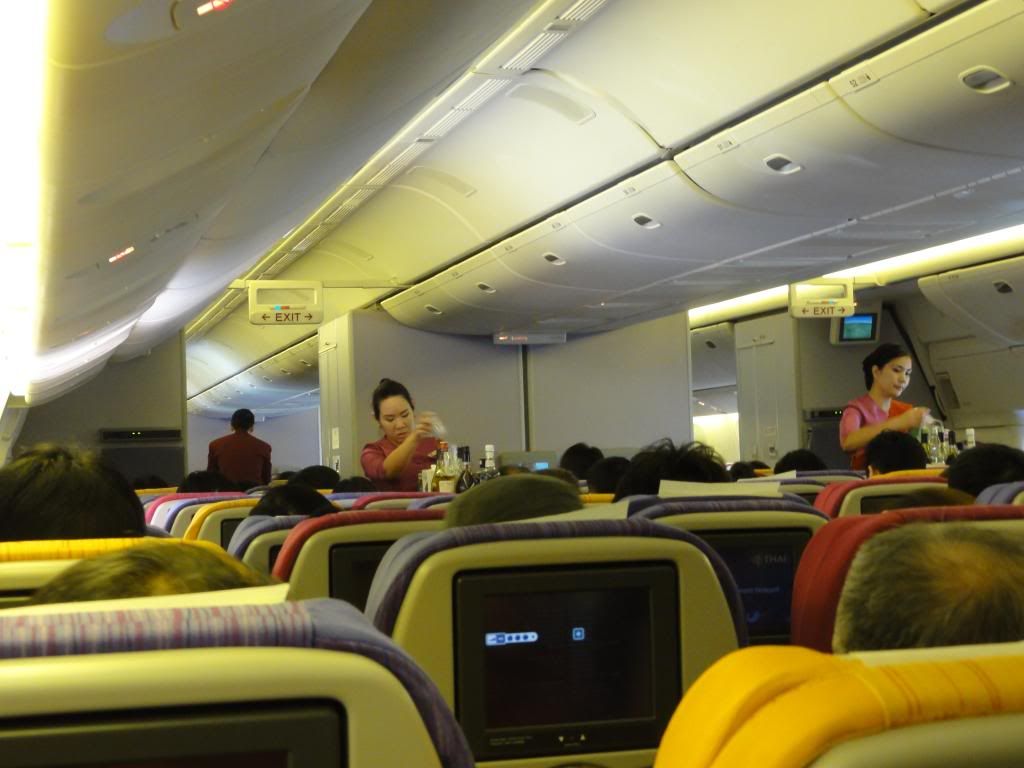 I chose the black pepper prawn fritters with rice.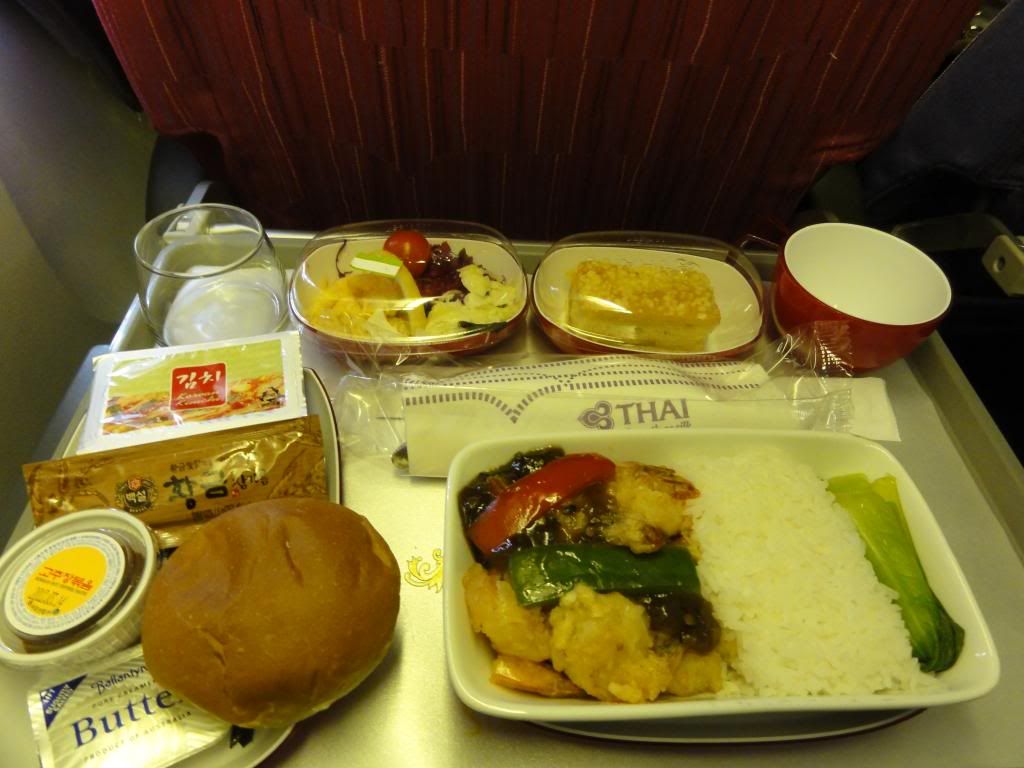 The meal was, as expected, excellent. The chicken salad was nicely done, sprinkled with some sesame oil. Main was hot and fresh, and this being a flight from Korea, the meal was accompanied with Kimchi, Gochujang (Red pepper sauce) and Korean sesame oil. The bread roll was warm and fluffy, and the crew came down the aisle about 3 times offering more. Dessert of apple crumble pie was not too sweet, nicely done to my liking.
Full bar and drinks service was offered after the meal trays were handed out.
After a hearty lunch, I made my way to the lav and took a few pictures of the cabin. Surprisingly, most of the passengers were seated. Where was the post meal lav rush??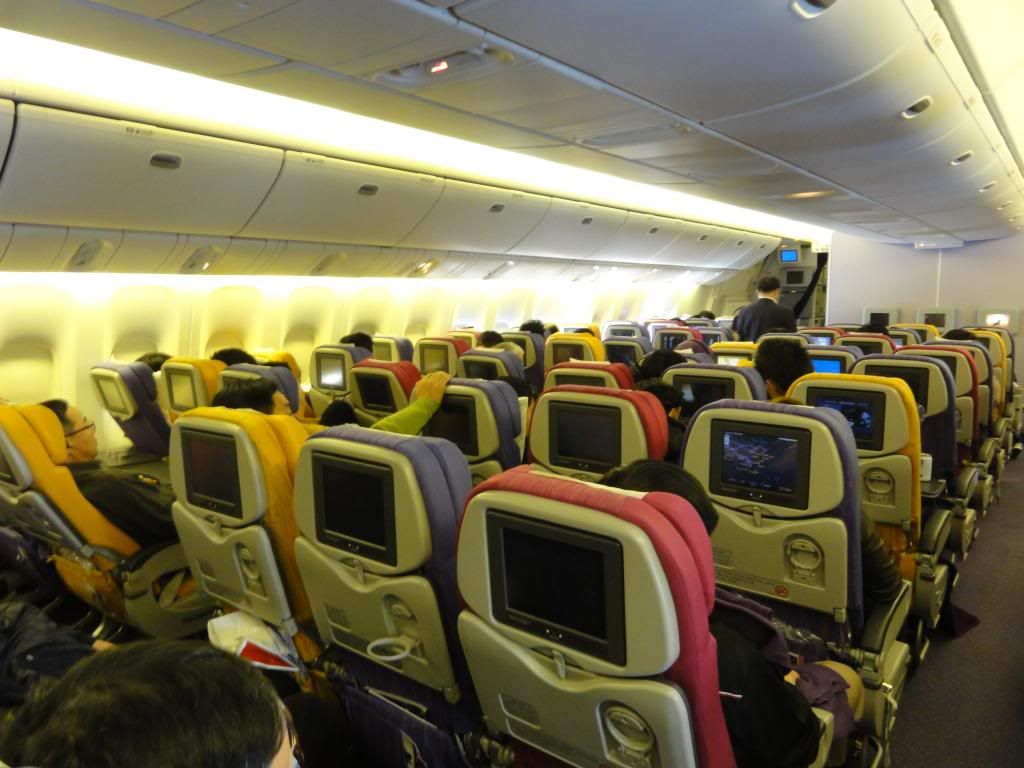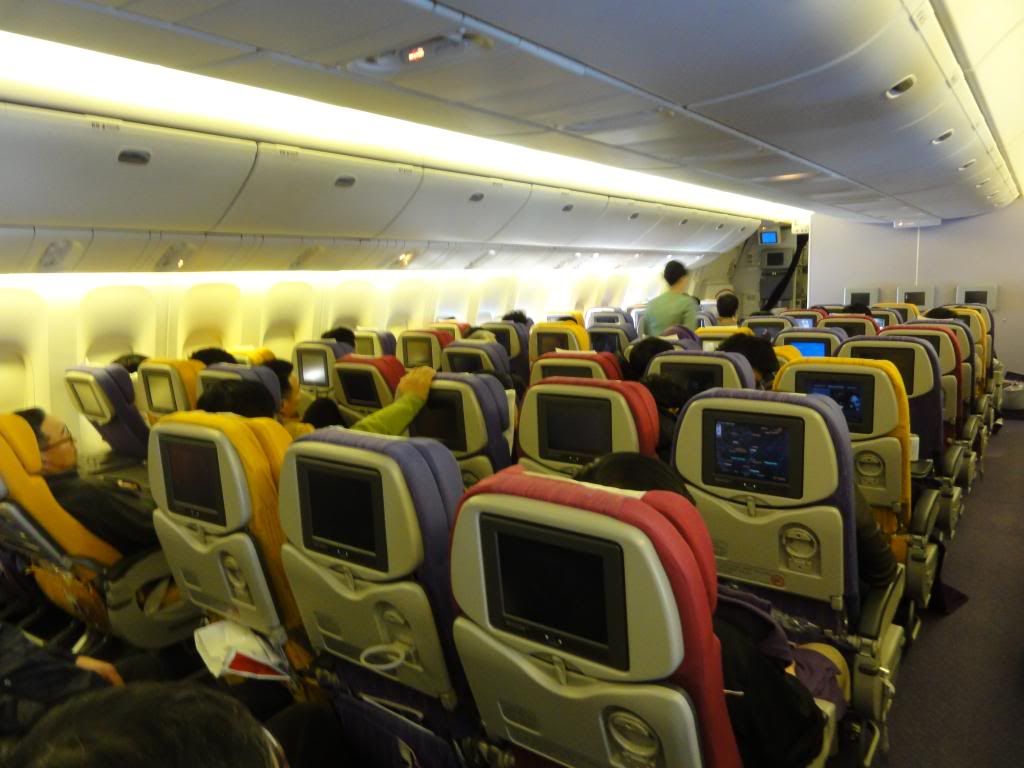 The next 2-3 hours was spent watching a movie and listening to the music available on the AVOD. Drink runs were frequent, and the crew certainly made sure everyone was well taken care of.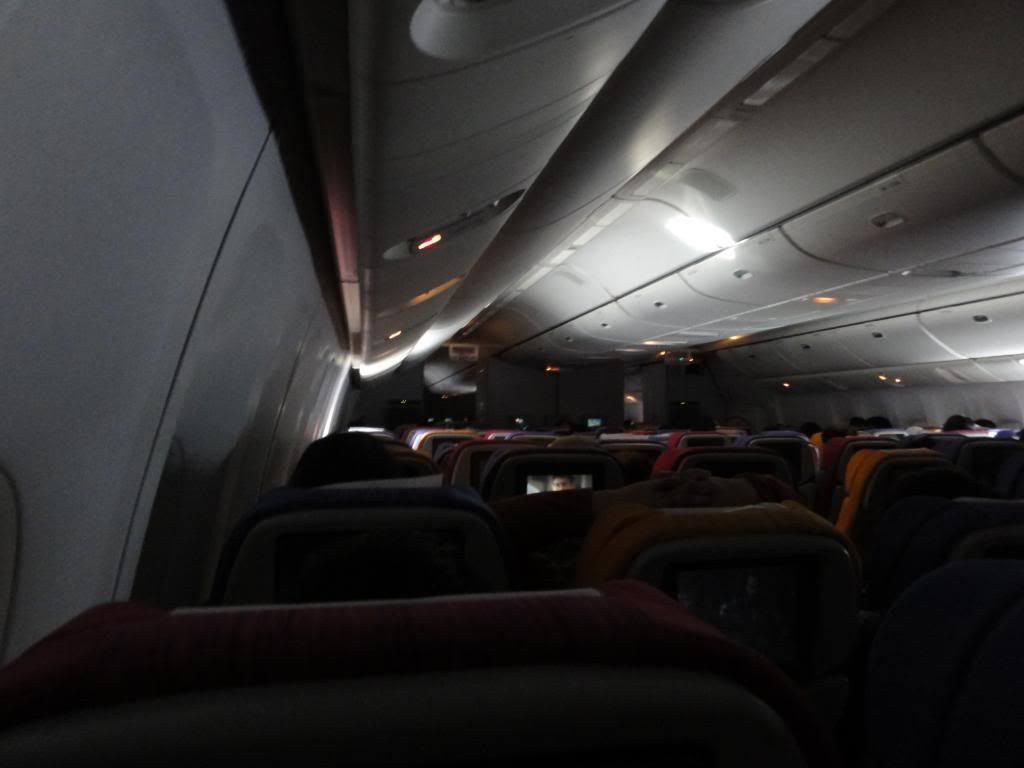 At about 90 minutes before landing, the lights were switched back on, and we were served a light snack in the form of a ham sandwich. Drinks service was done once again. I give credit to TG on this nice touch in ensuring that we were not only well hydrated, but well fed on this short regional flight.
Pre-arrival tea break?
Soon, about 30 minutes to arrival, we started our descent into Bangkok Suvarnabhumi Airport. Weather was clear, and I could manage quite a few nice pictures of the Thai landscape.
Pre-landing cabin shot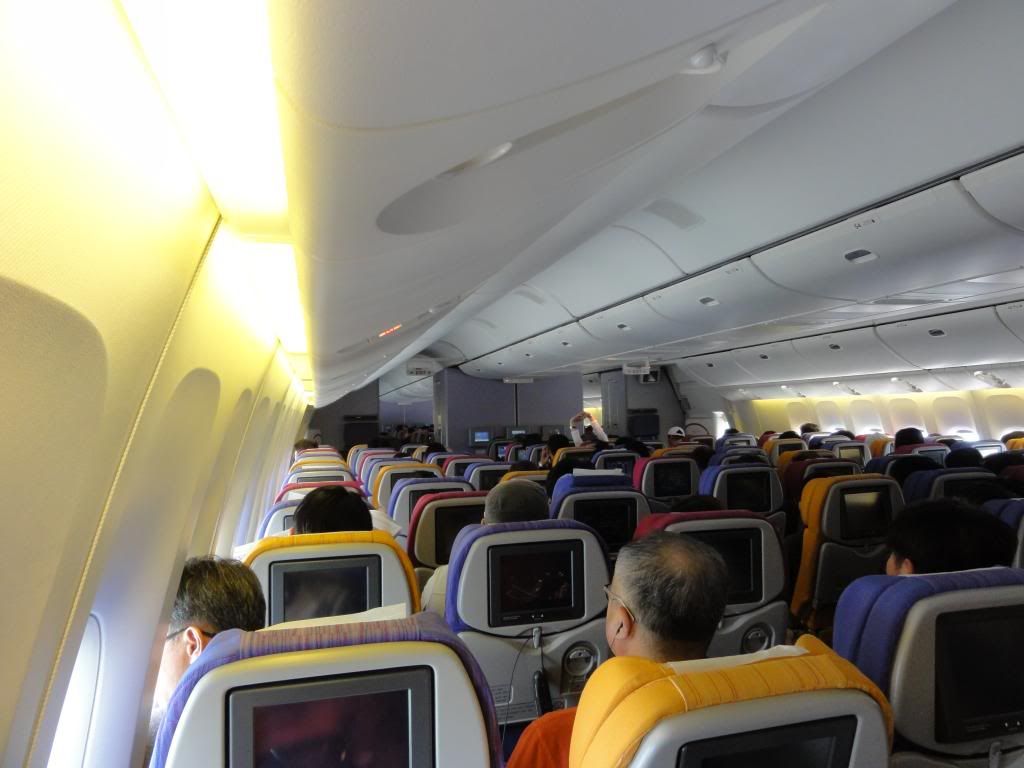 Descending into BKK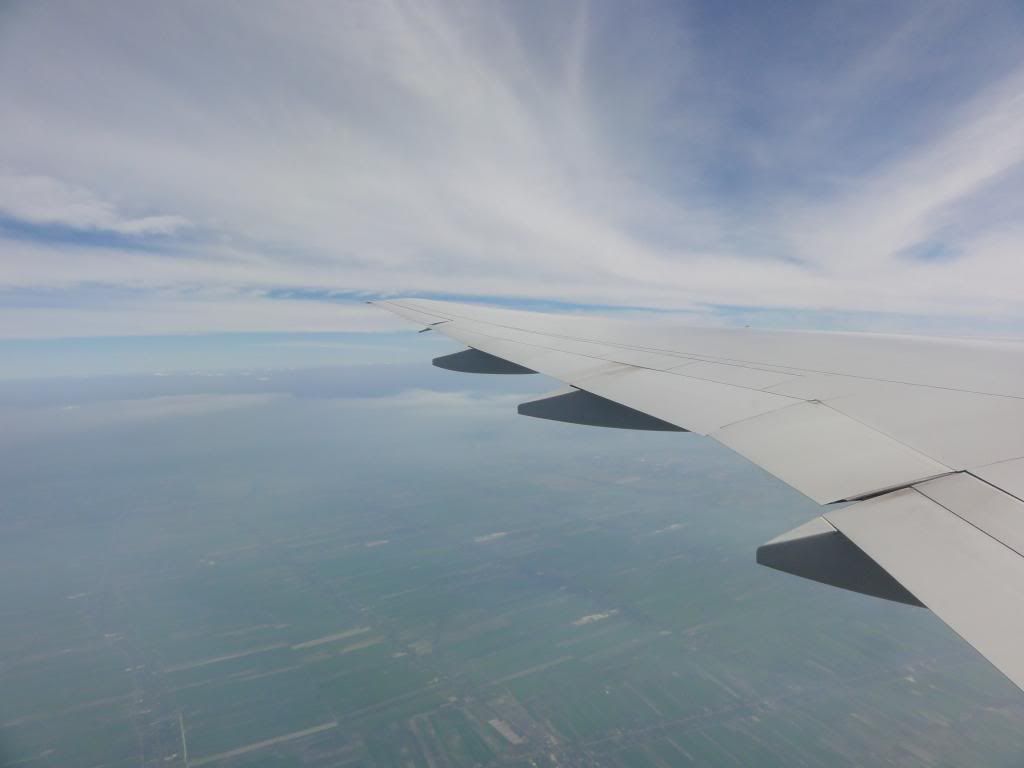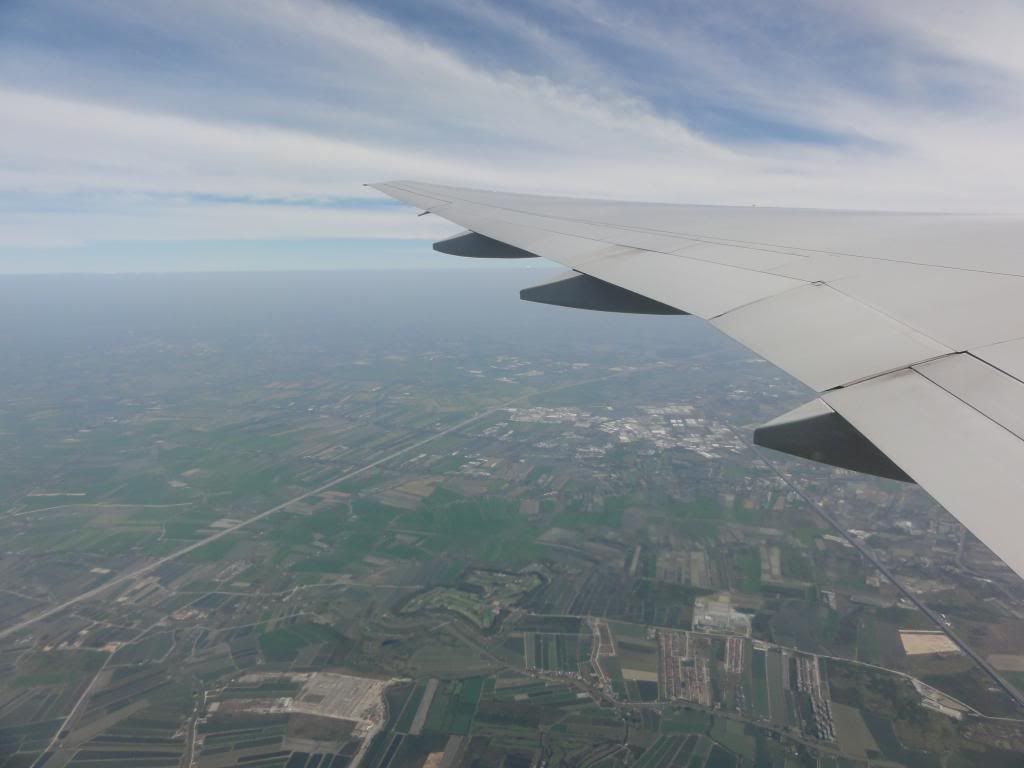 We landed right on time and taxiied to Gate C4. Engines were powered down at 1359hrs local time. As I was on transit and had about 2 hours before boarding my connecting flight, I was in no hurry to disembark.
Parked at Gate C4 next to this AF B772ER bound for Phnom Penh
Disembarkation
Cabin shots look better without the passengers :P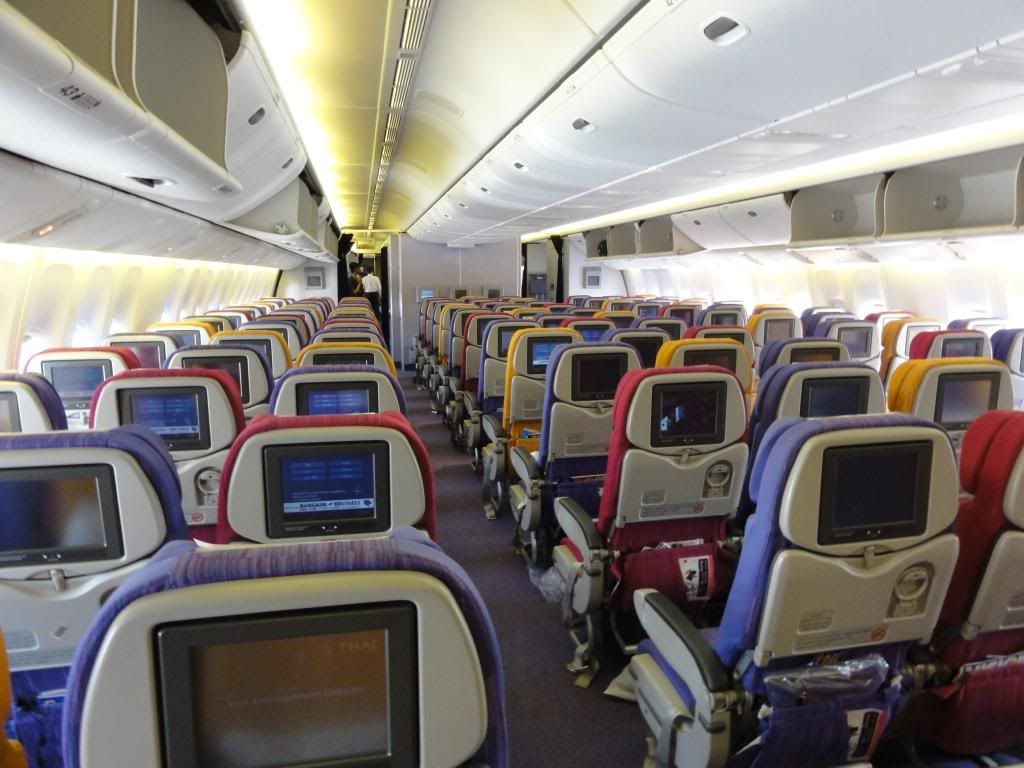 The AF bird from the gate lounge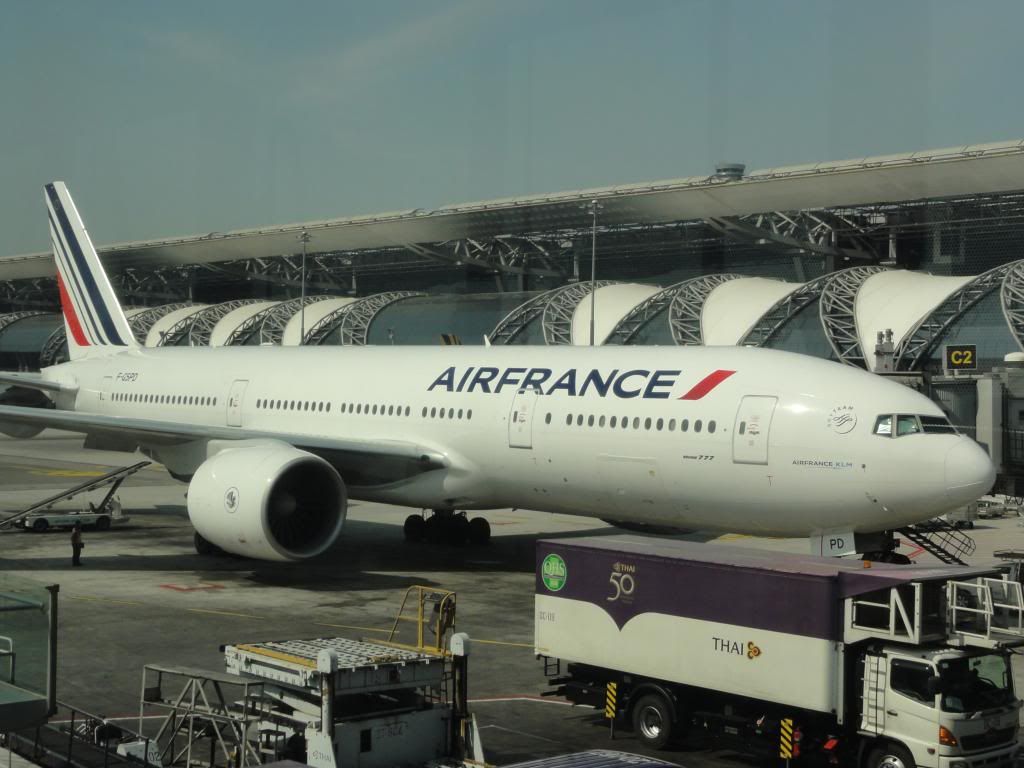 Out into the terminal building
The immigration area. Not going through today!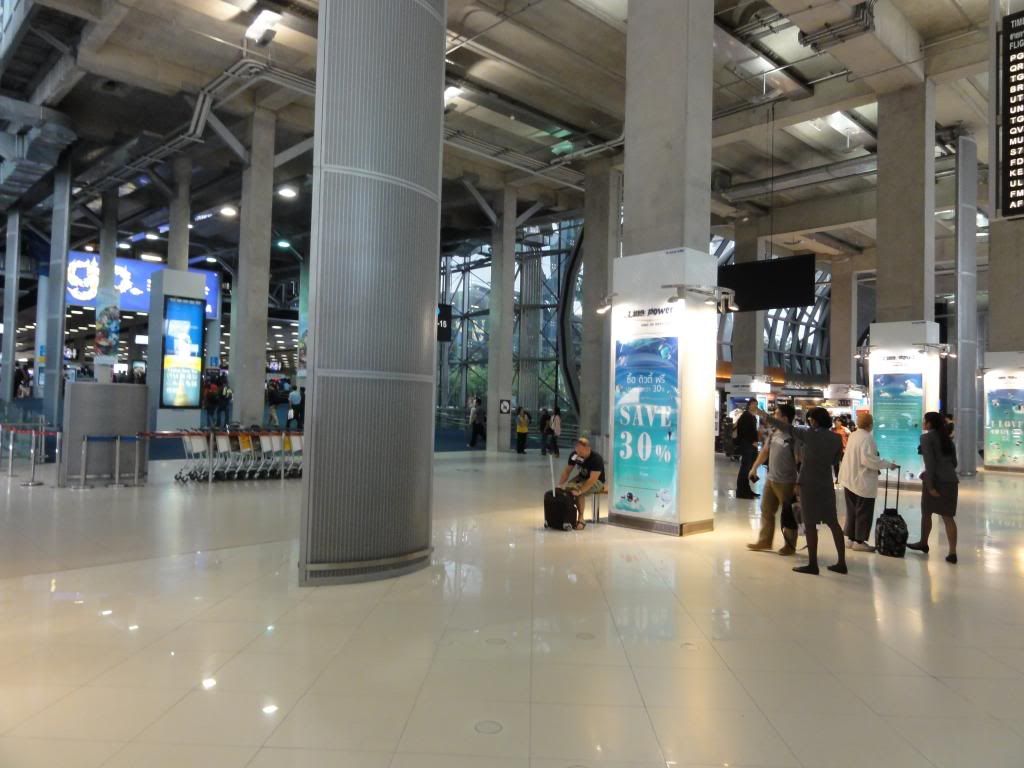 Just as I was strolling down the arrivals, I had the sudden craving for some more authentic Thai food. :P At the arrivals just before going through transfer security check, I stopped by this little Thai food shop and ordered some Basil Chicken Rice.
Boarding pass back. Nice logo!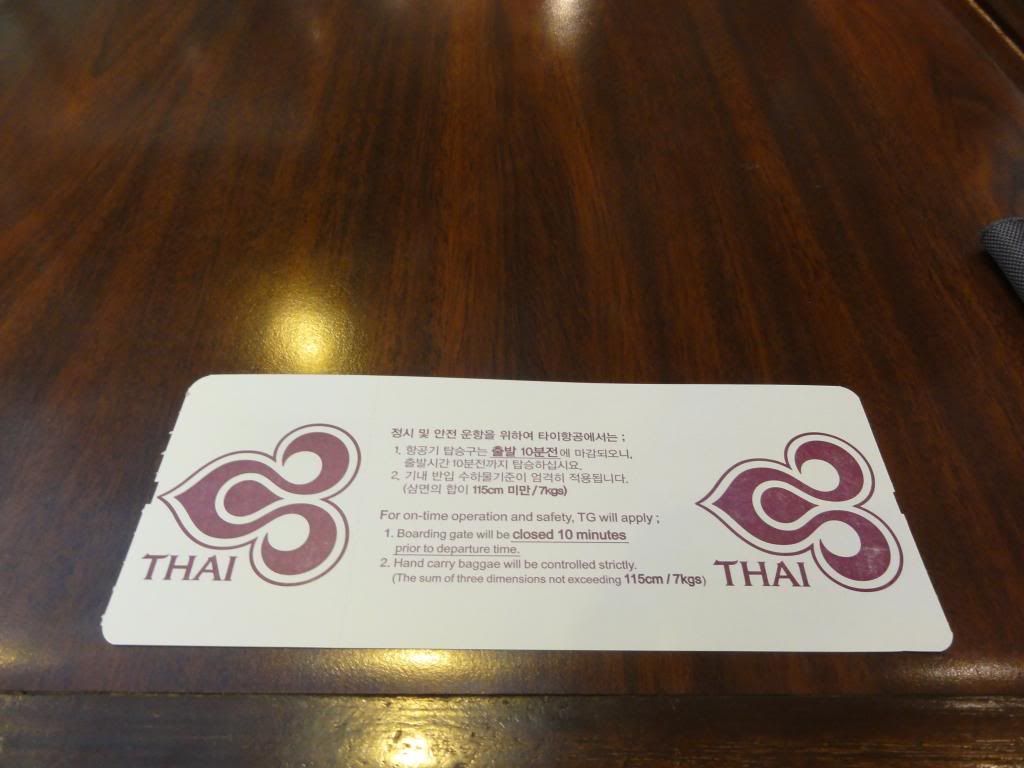 Transfer was quick, with no queue. I was cleared in a couple of minutes and made my way up to departures.
Departures at 1455hrs. 1 more hour to boarding.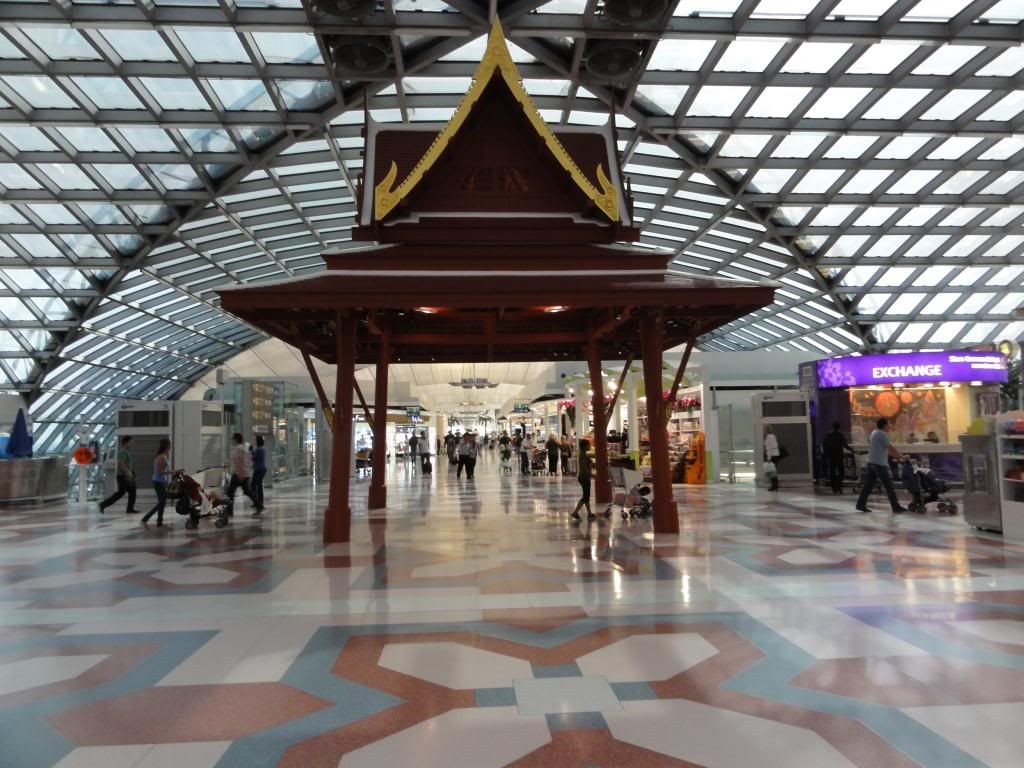 A quick check with the FIDS showed that my flight to SIN would depart from the gate I had just arrived in, C4! I wondered if they would use the same plane which had taken me from ICN, as both flights were scheduled to use the B773. I would find out later.
Exploring the departure level.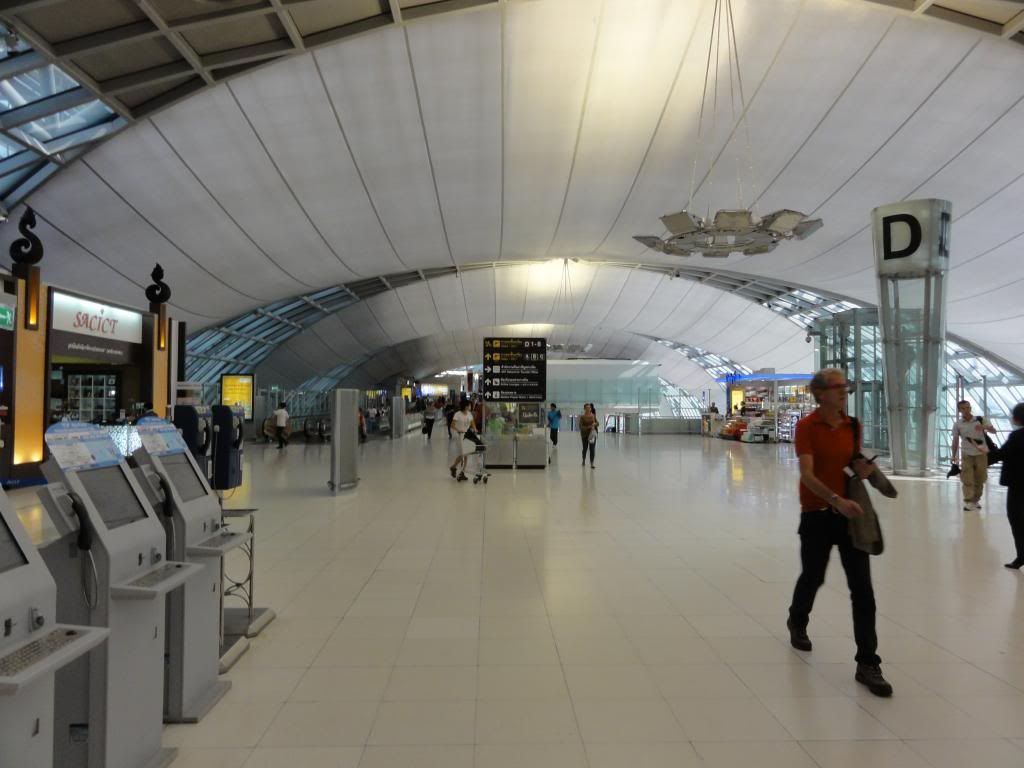 Duty-free shops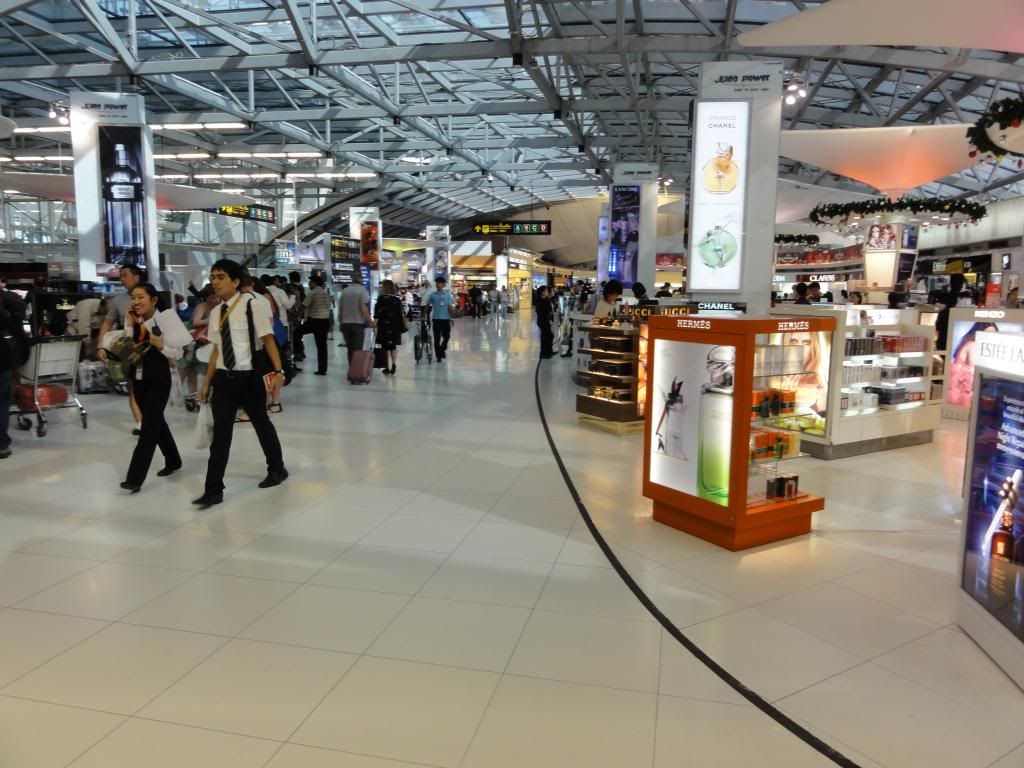 Sculpture near immigration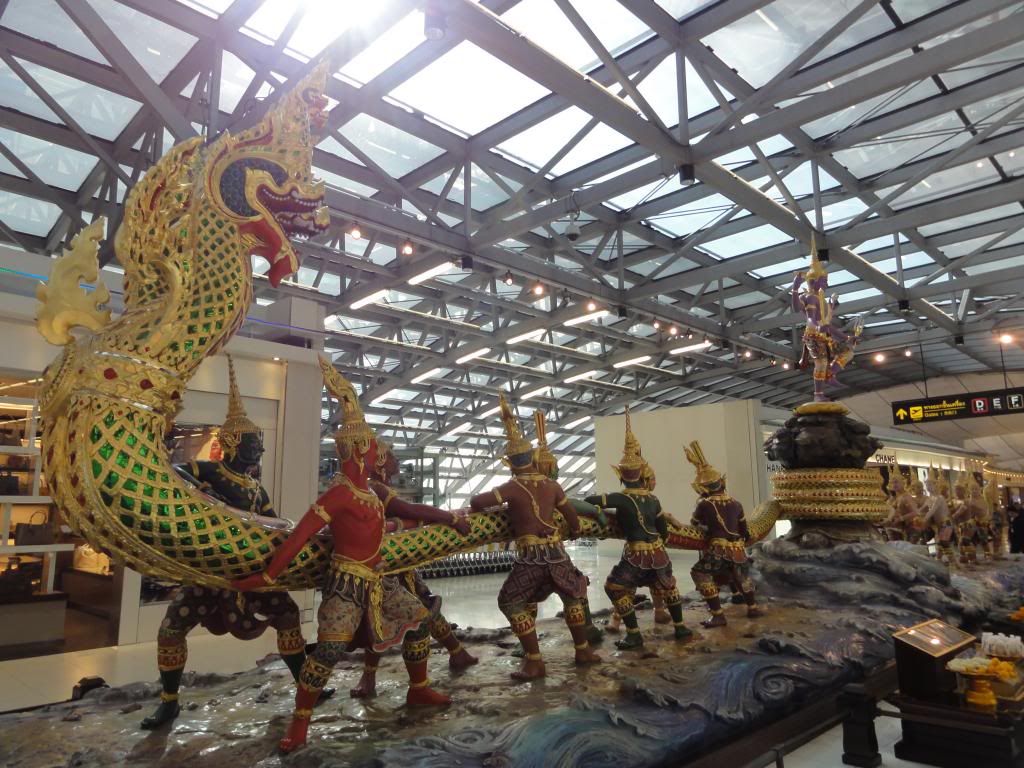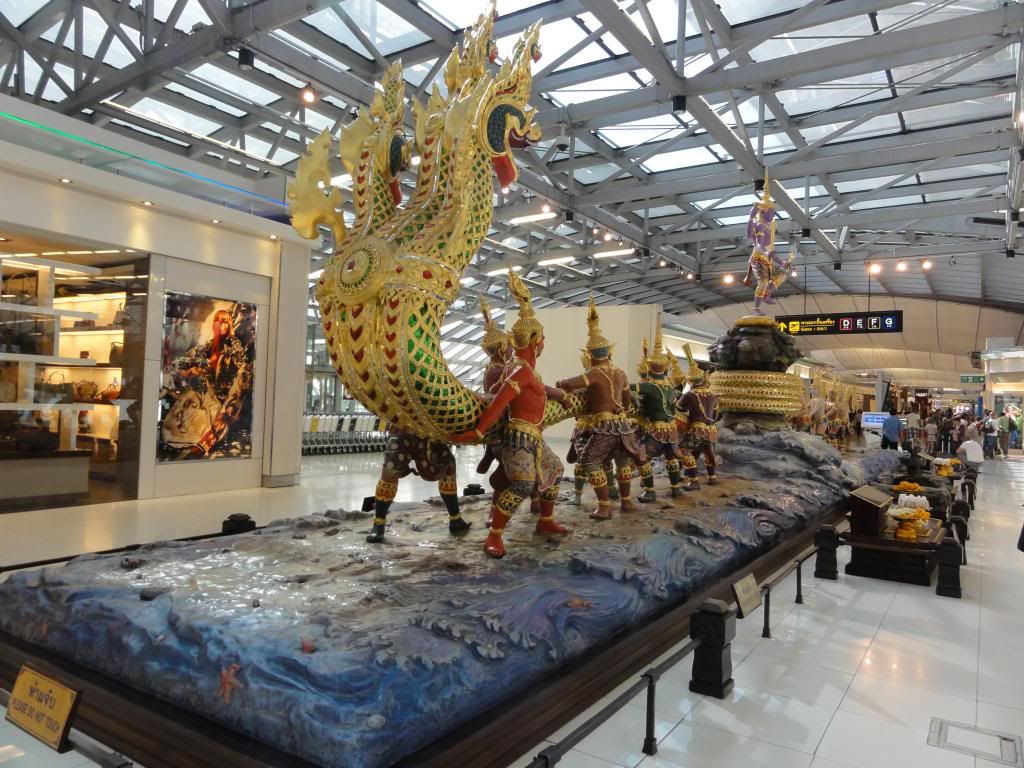 More terminal views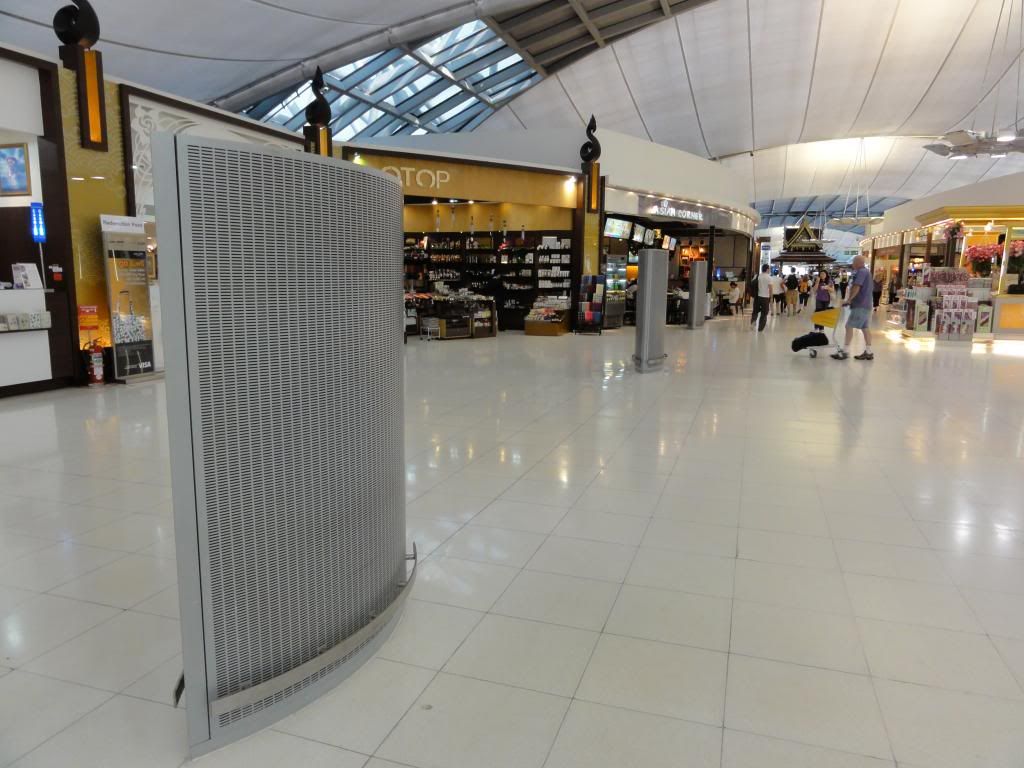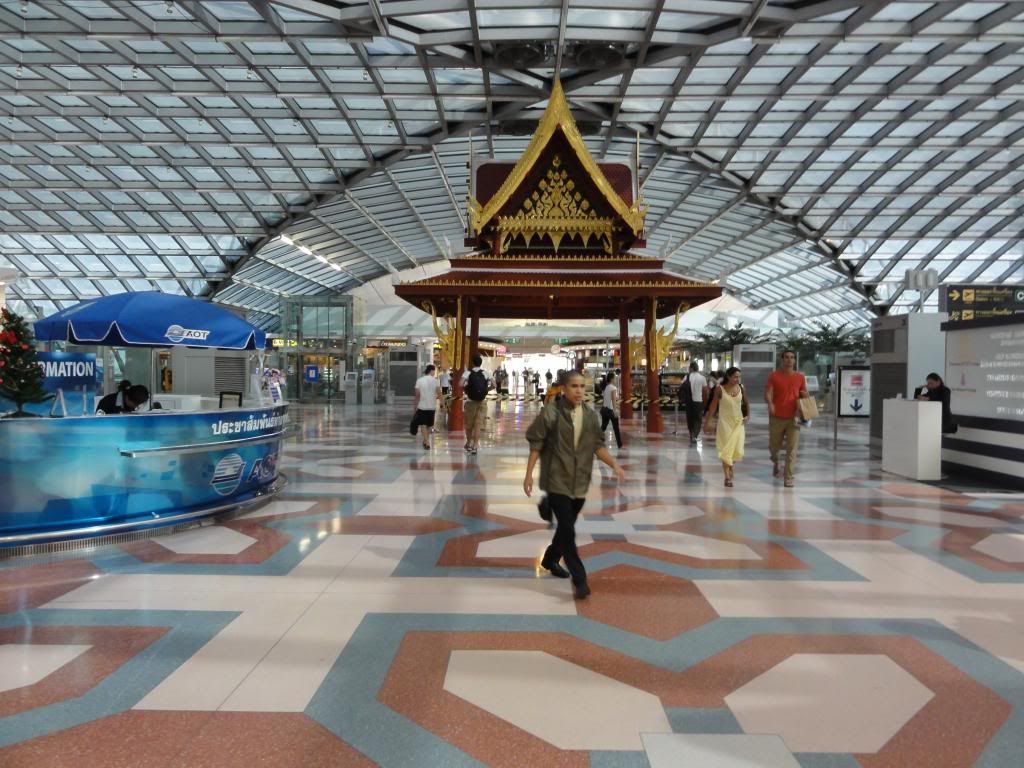 More shops
Like I have mentioned in my previous TR, Suvarnabhumi Airport, although having many shops, most are just repetitions belonging to the same King Power Duty Free selling similar items. One gets bored after a while.
A short transit like this is OK for this airport, but I wouldn't know what to do if I had a long layover at Suvarnabhumi.
Soon, it was almost time for me to go to my gate. I arrived at Gate C4 at about 1505hrs, excitedly looking out at the tarmac to see which B773 would take me to SIN.
Lo and behold, sitting there was HS-TKD, the exact aircraft which had taken me from ICN earlier this morning! I was a little disappointed, as I had wanted to add a different B773 to my log book, but oh well.
Concourse 'C'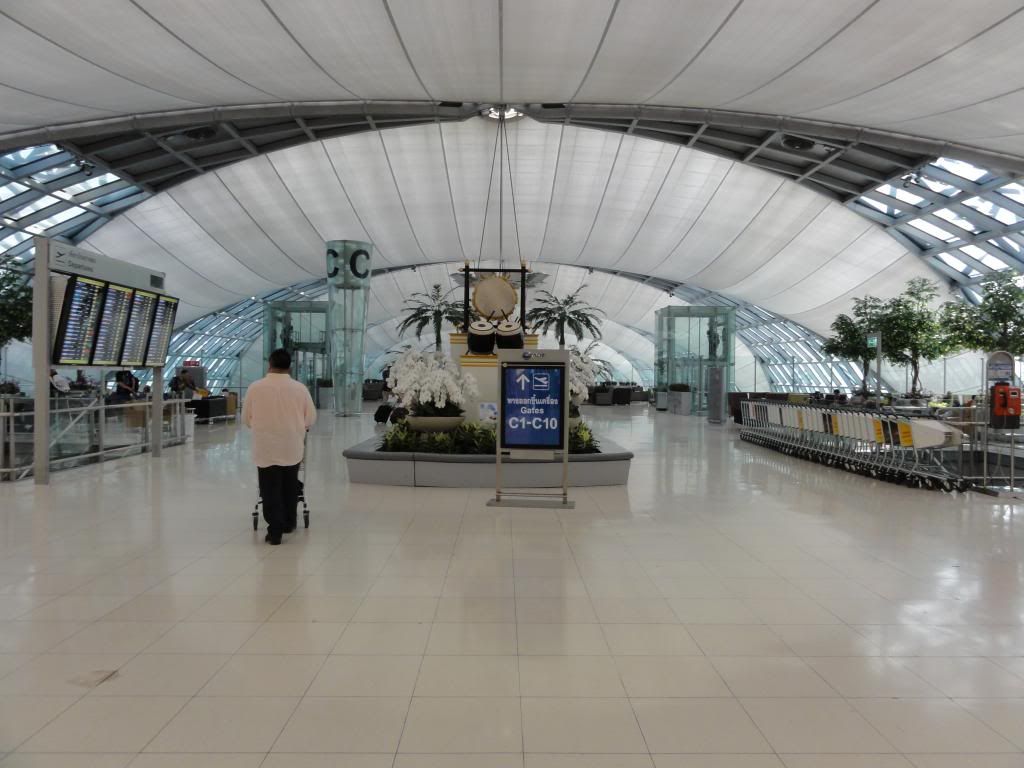 Customary Suvarnabhumi Airport shot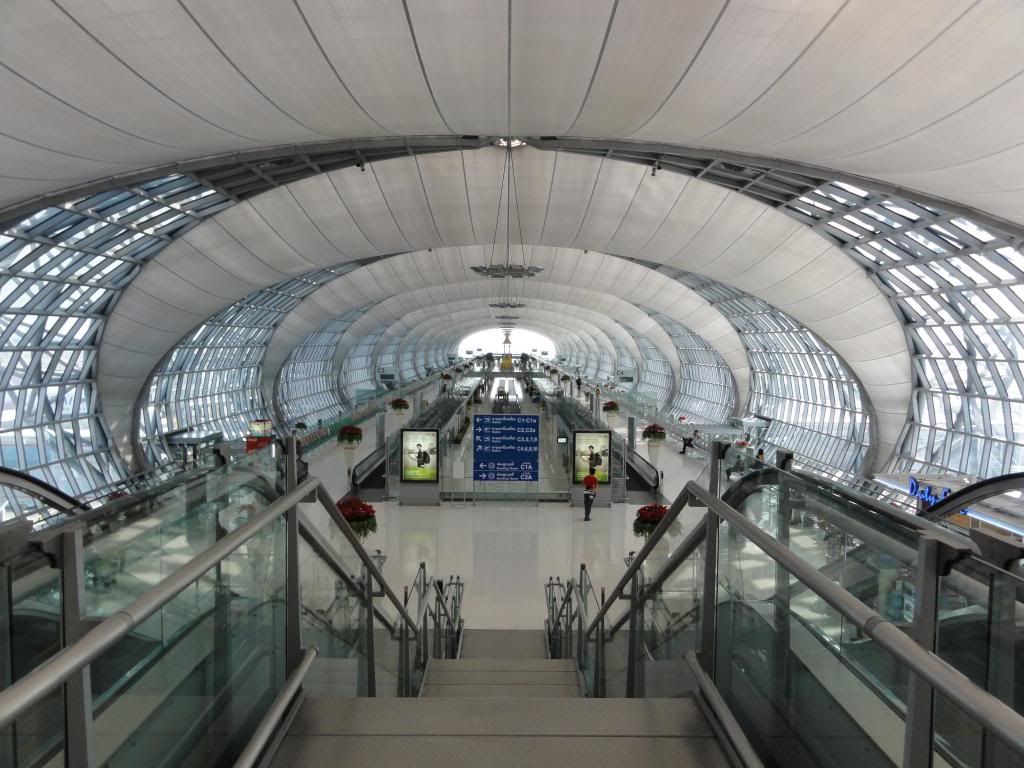 TG409 to SIN, gate open!
'Thepalai' looking back at me, unmoved since arriving from ICN.
Down the ramp into the gate hold 'room'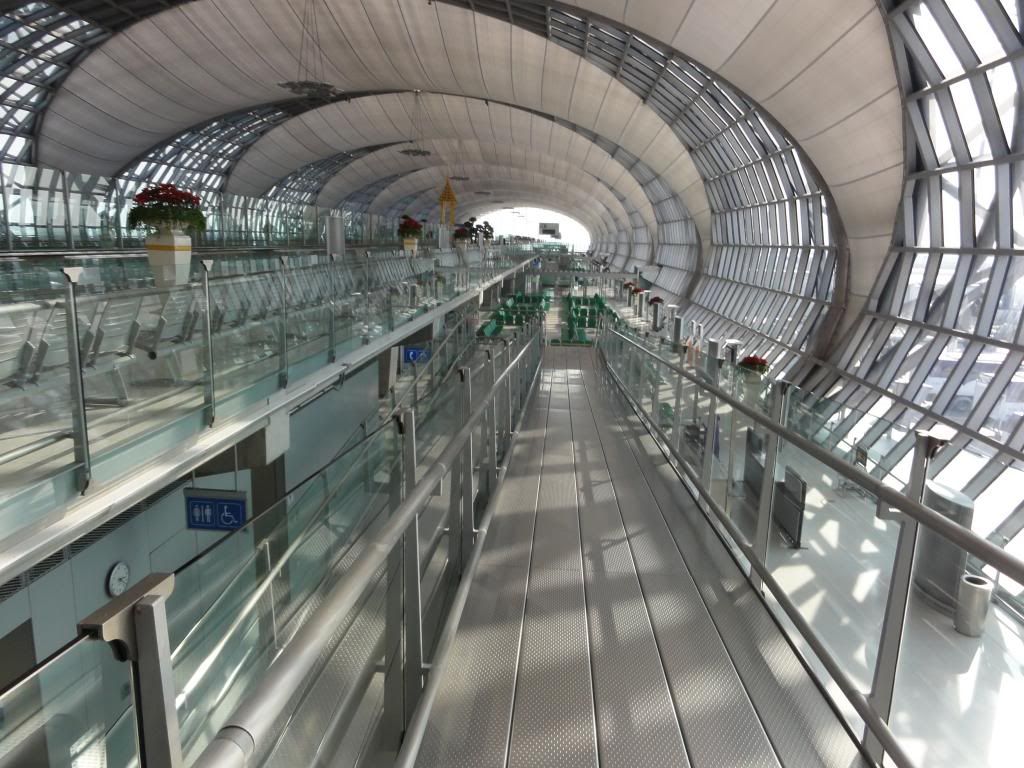 One can never get a decent aircraft shot at this airport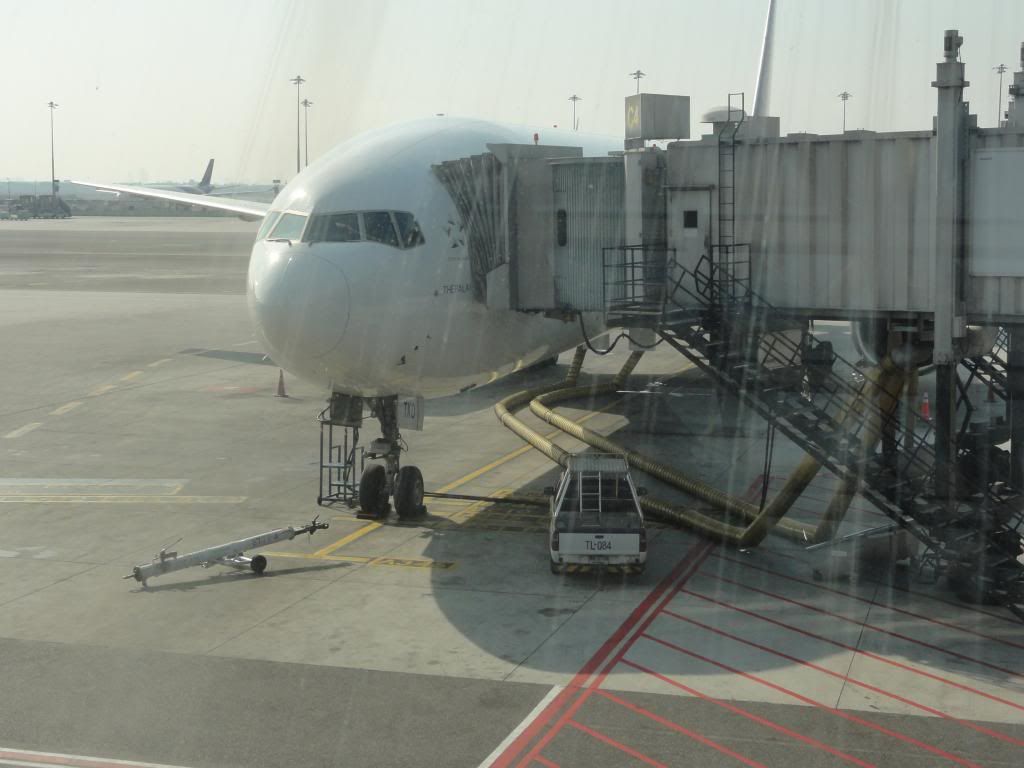 Empty gate hold. I was the first person to arrive.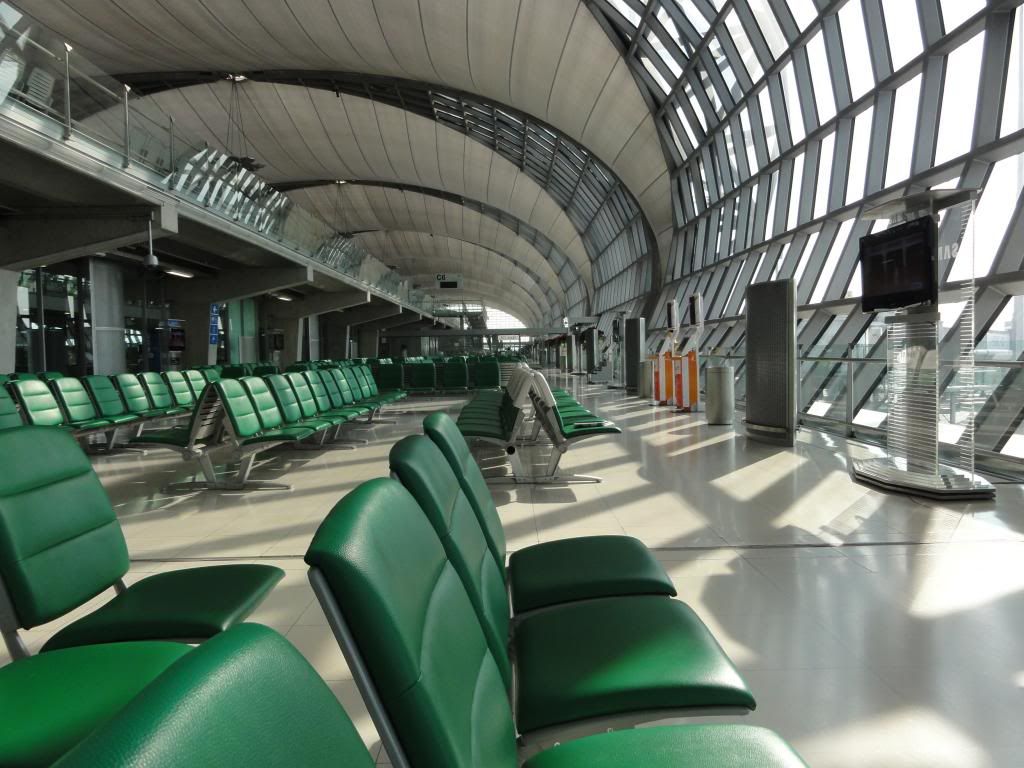 Date: 07 Jan 2012
Sector: BKK-SIN
Flight: TG409
Aircraft Reg: HS-TKD 'Thepalai'
Aircraft Type: Boeing 777-3D7
Scheduled Departure: 1635hrs
Scheduled Arrival: 1940hrs
Scheduled Flight Time: 2hrs 05mins
We would be operating quite full today, as more passengers eventually filled up the entire gate hold room, apart from a few seats. Boarding commenced 5mins late at 1600hrs.
I was greeted once again in the traditional Thai way at the door, and was ushered by another male steward to my seat at the forward economy cabin, seat 35K.
Window view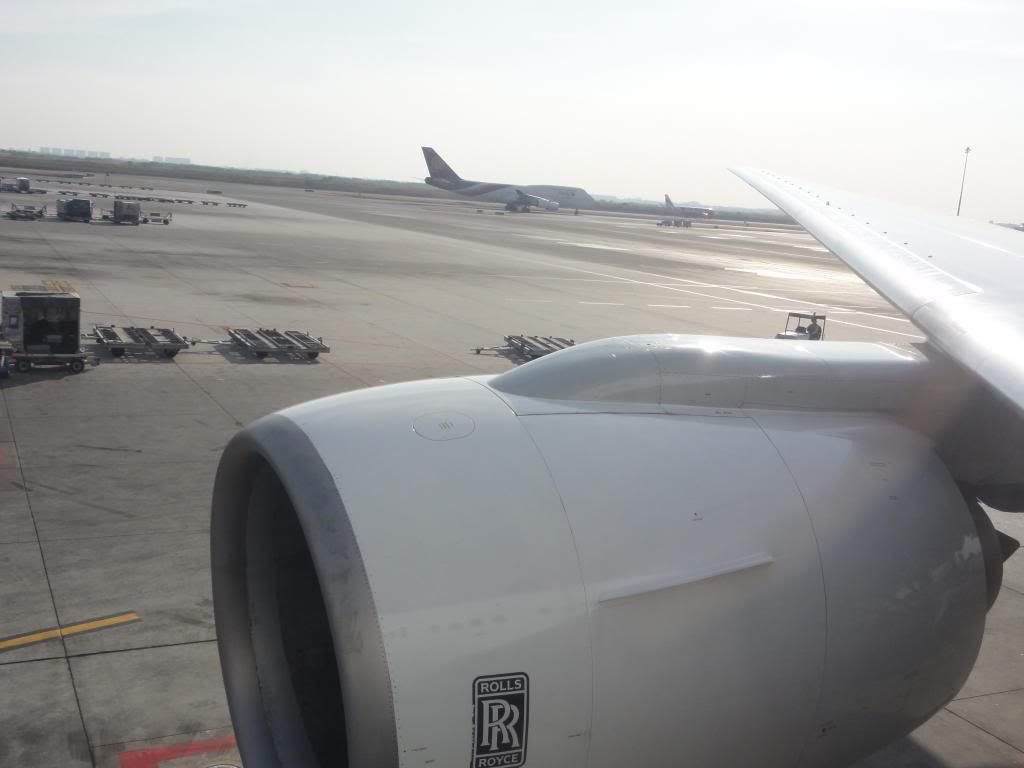 Looking out the window, I was surprised that I was actually forward of the engine. On a typical B773, economy class normally starts at about the wing area, and such views were only possible in Business Class. I was quite pleased with myself for choosing this seat.
Rolls-Royce logo on the Trent engine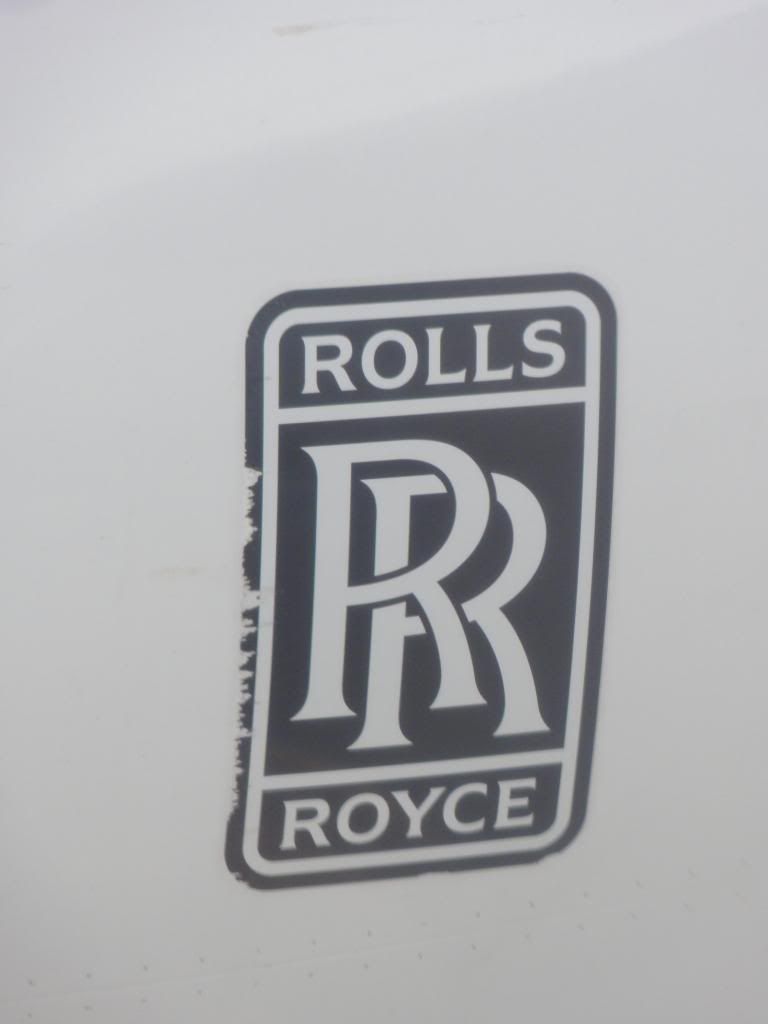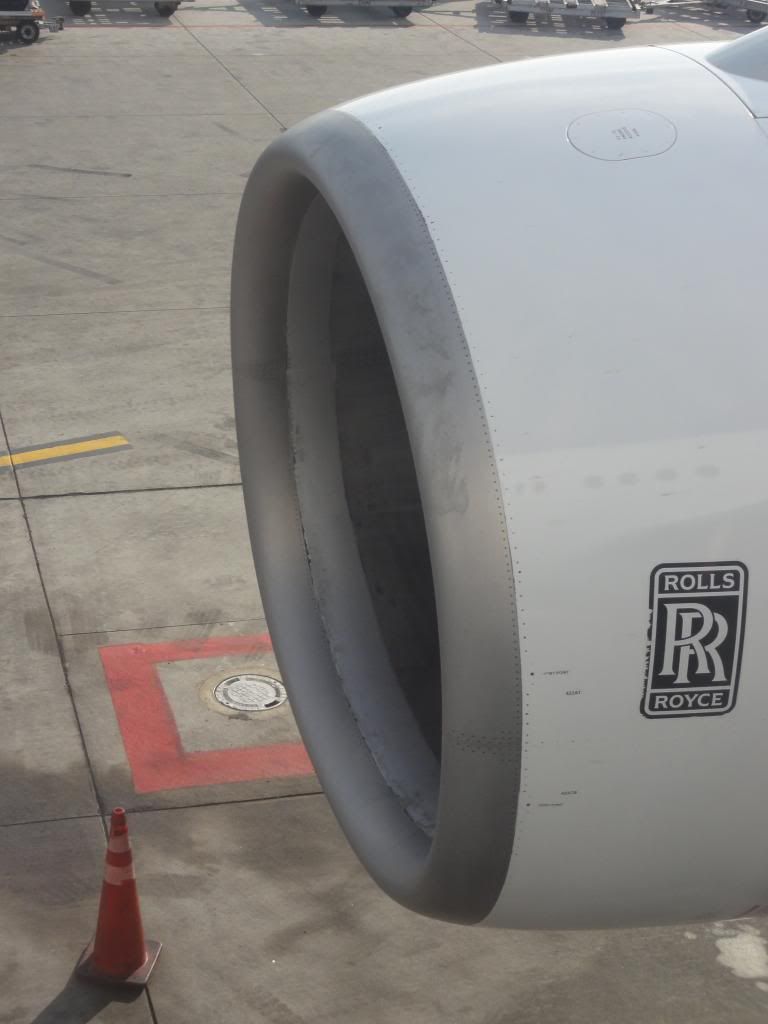 The Trent Powerplant in all its glory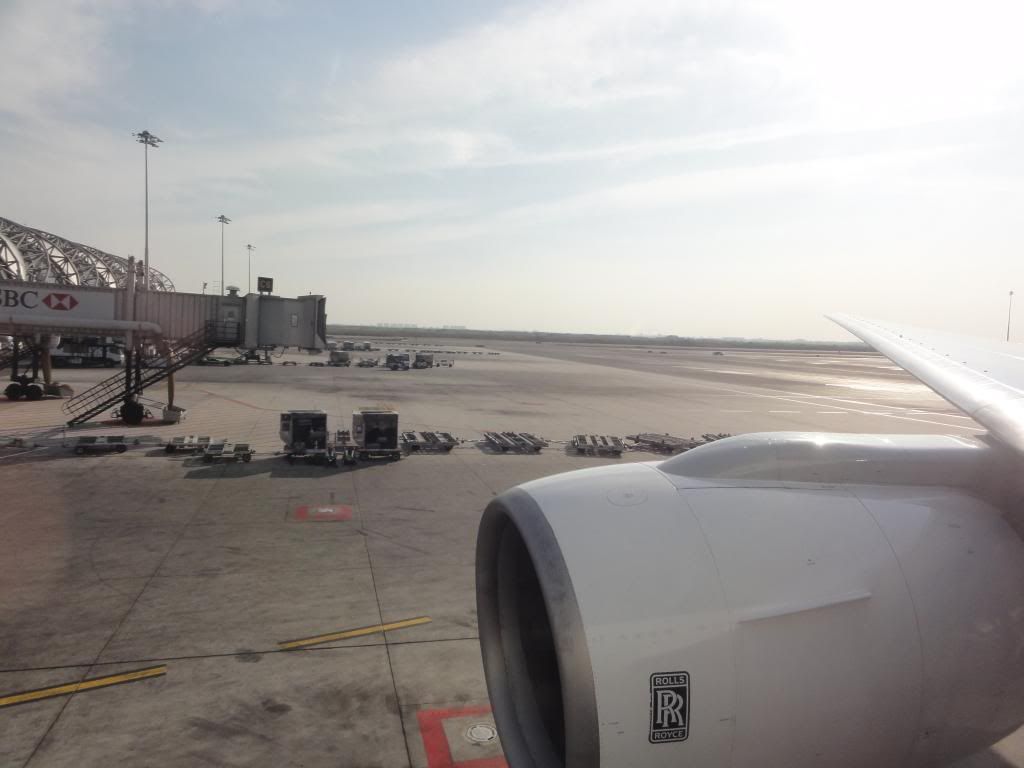 On this short 2hr hop to SIN, my PTV would be permanently set to this channel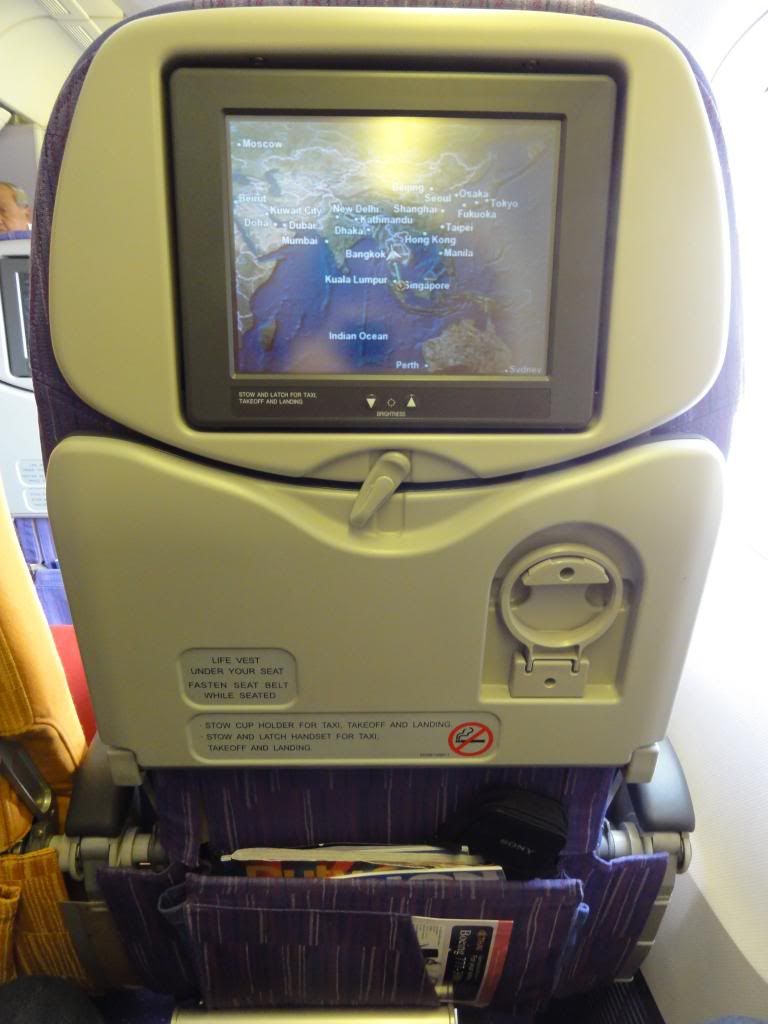 At 1627hrs we commenced our pushback. Quite an on-time departure, only 2mins behind schedule.
Cabin view during pushback and engine start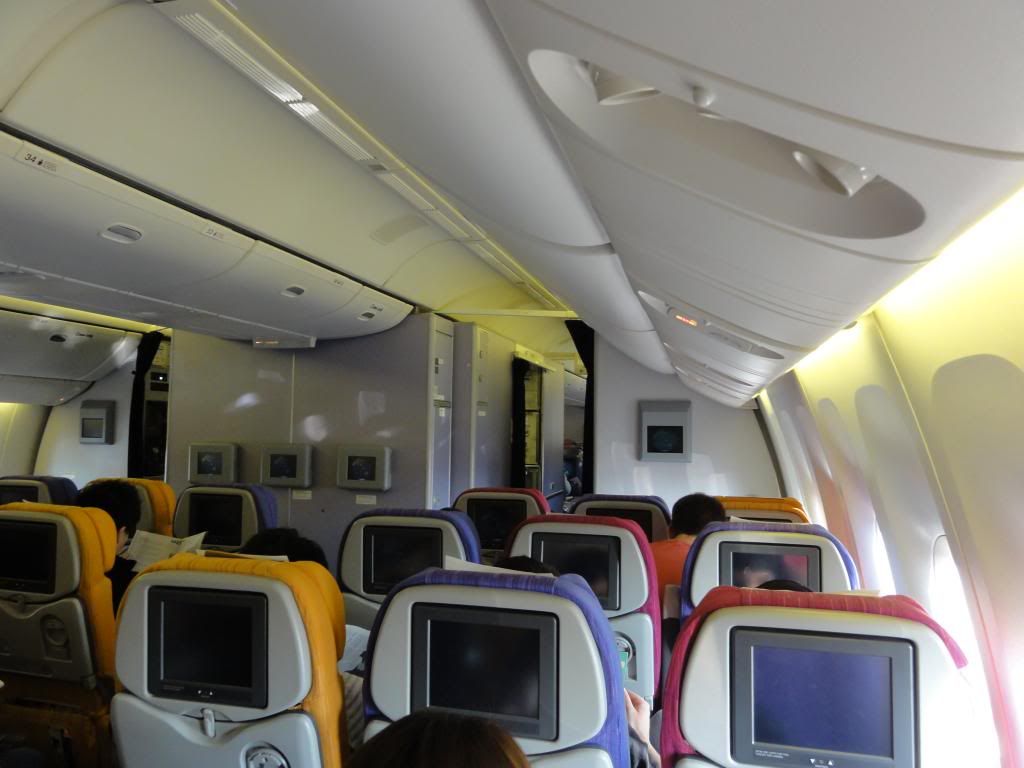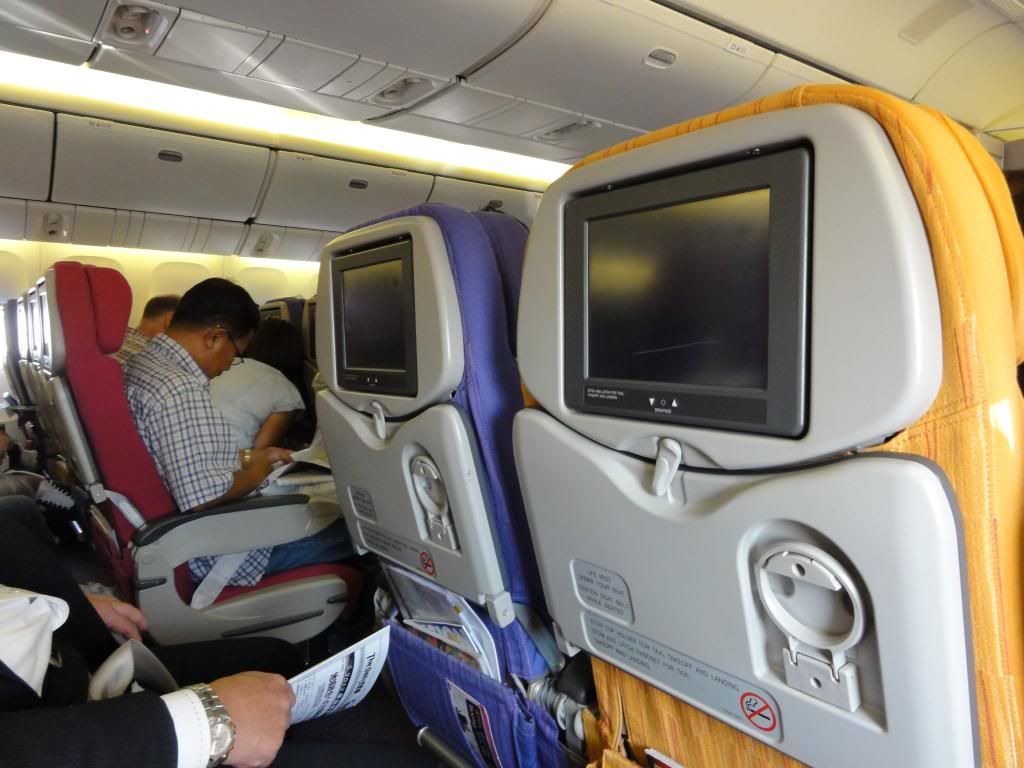 It was a 3-3-3 layout on this B773, and I was accompanied by a Japanese man on his way to Singapore, probably for business, from the way he was dressed. The middle seat was empty, as we occupied the aisle and window seats.
As we taxiied to 01L for our departure today, I took some pictures along the way.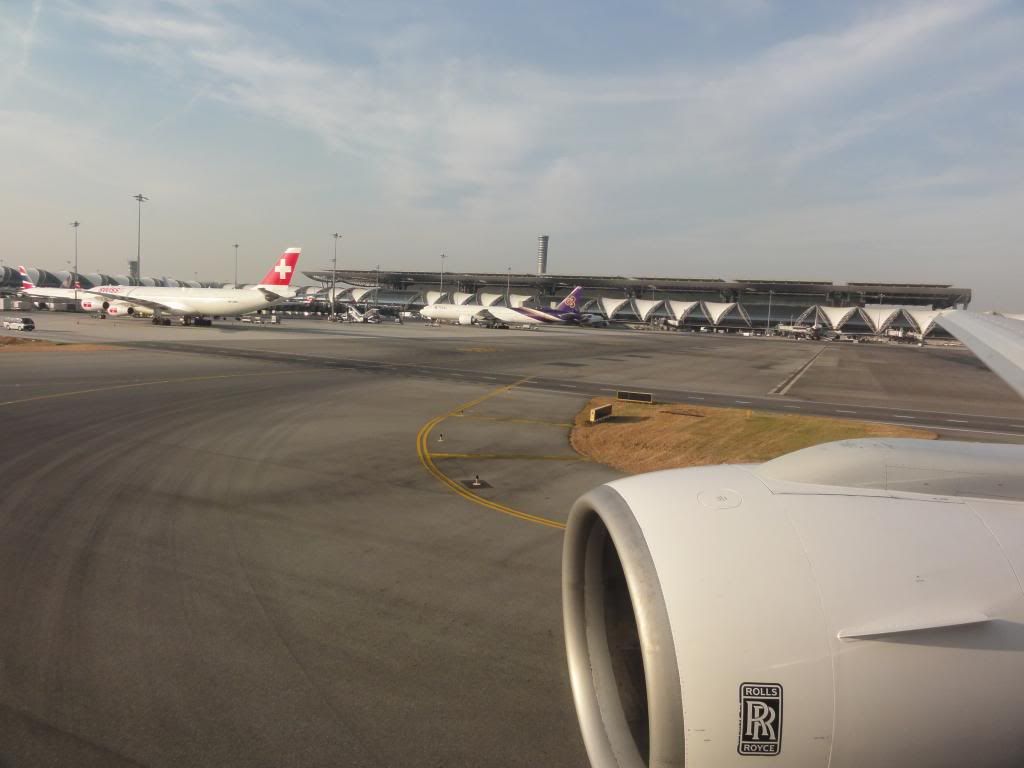 Swiss A340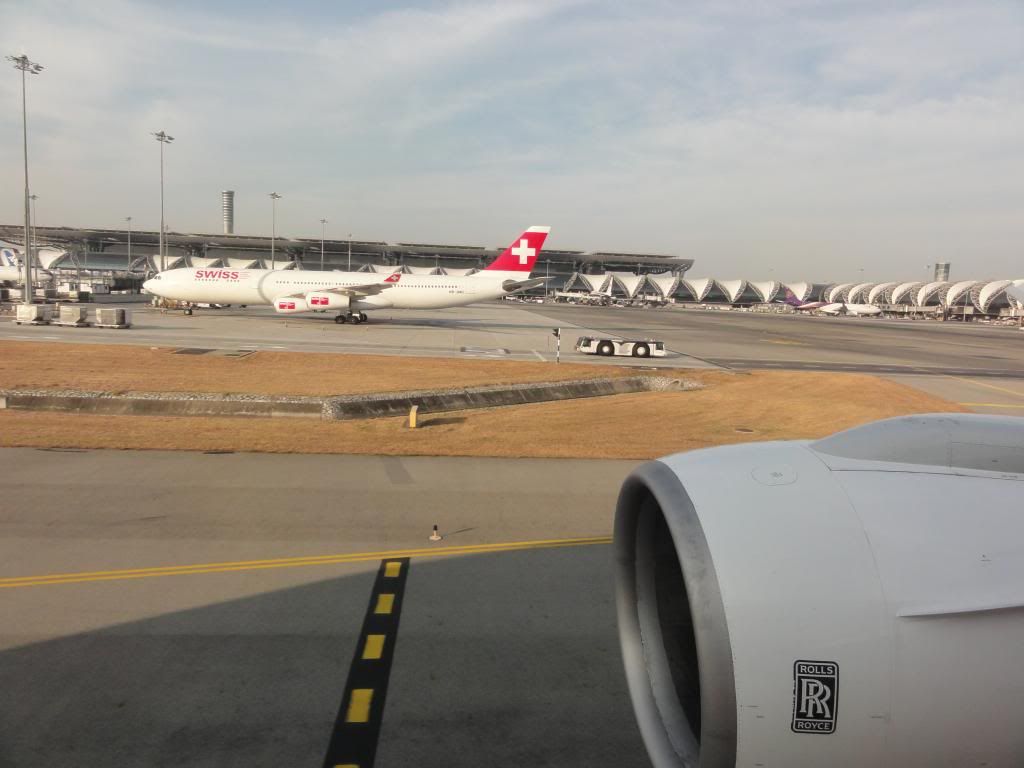 Company A330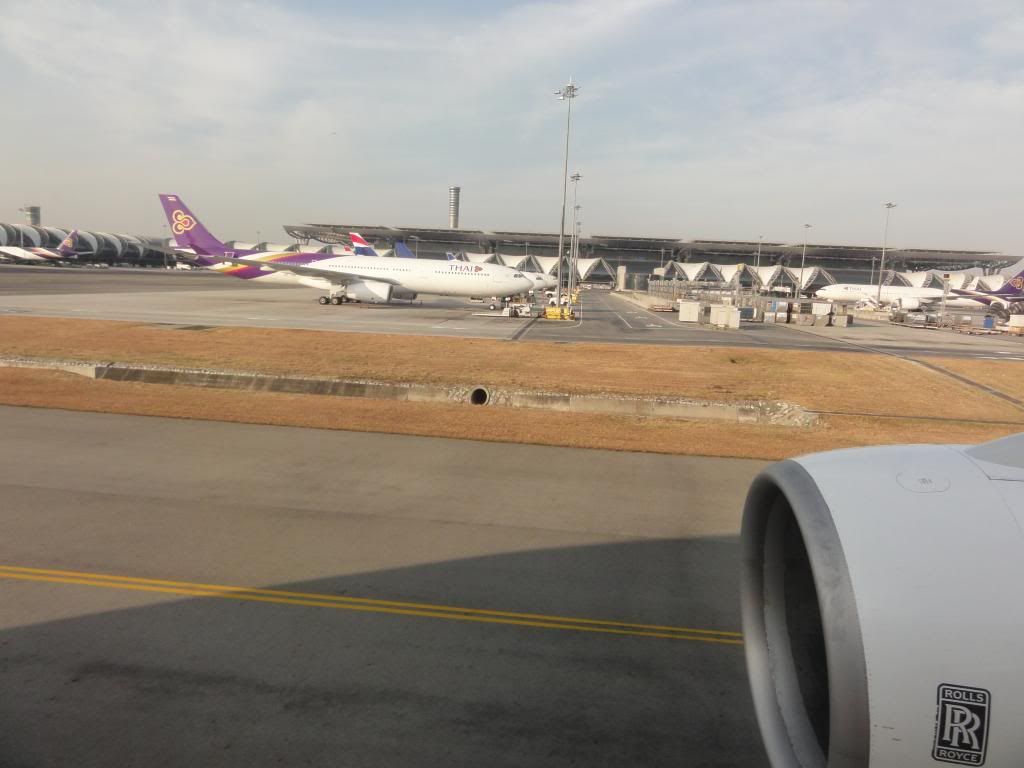 OS B772ER at the background
Glad to see GF. Missing these birds at SIN!
An EY B77W with an El Al B744 peeking from behind
The range of airlines in BKK are just so diverse! Indeed, I had a field day even on the short taxi for departure at 01L.
Cabin shots just before roaring down the runway!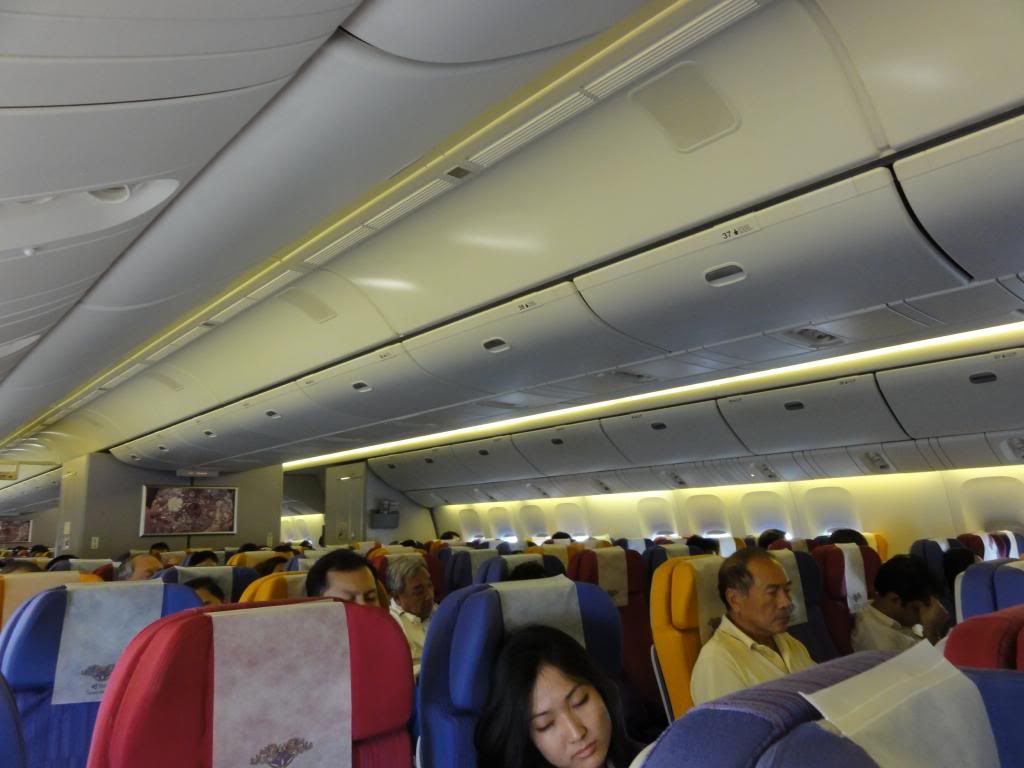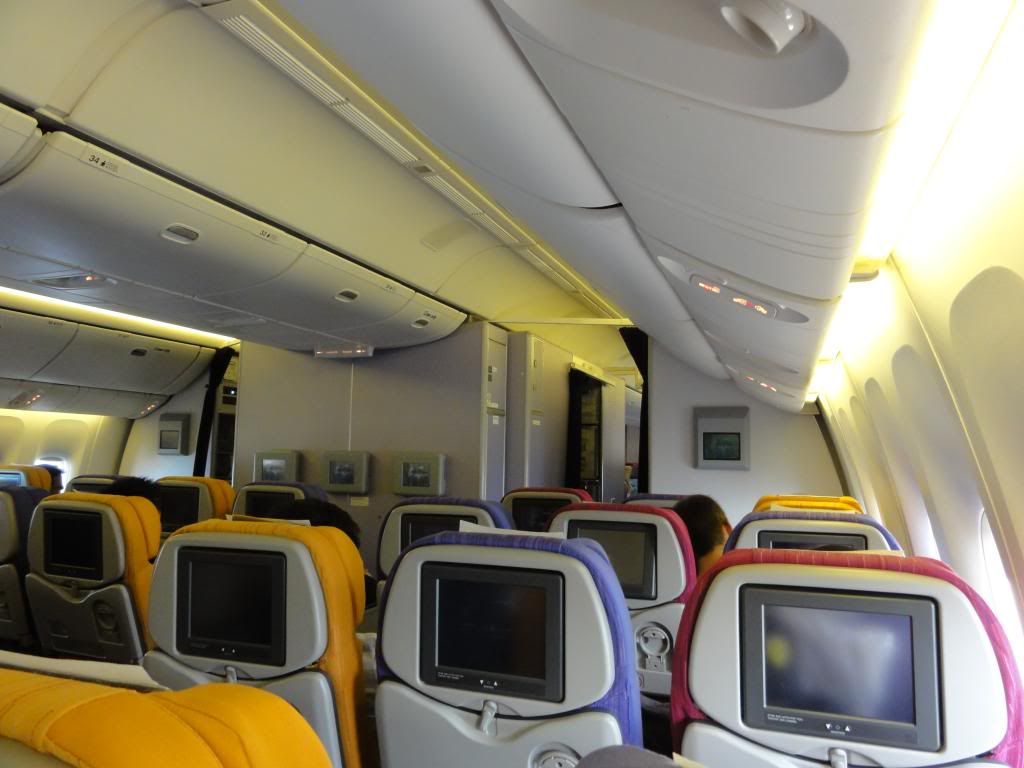 Take-off!
We were soon airborne, and I was treated to views of Bangkok city and even the Chao Phraya River.
The famous Chao Phraya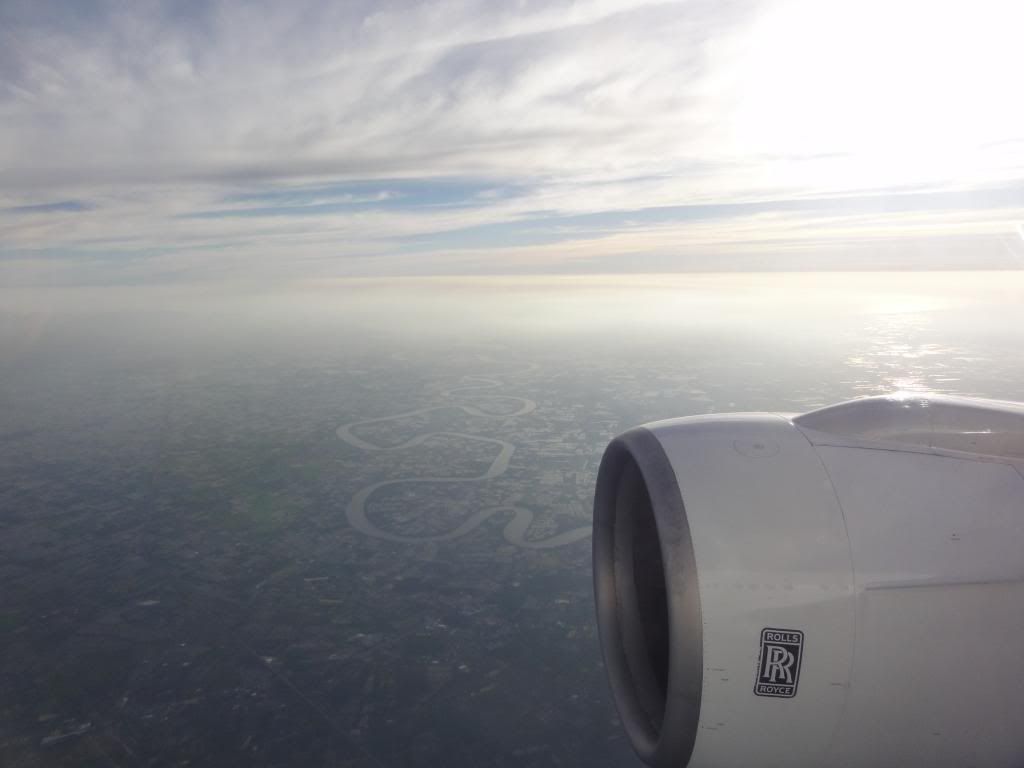 Leaving Thailand...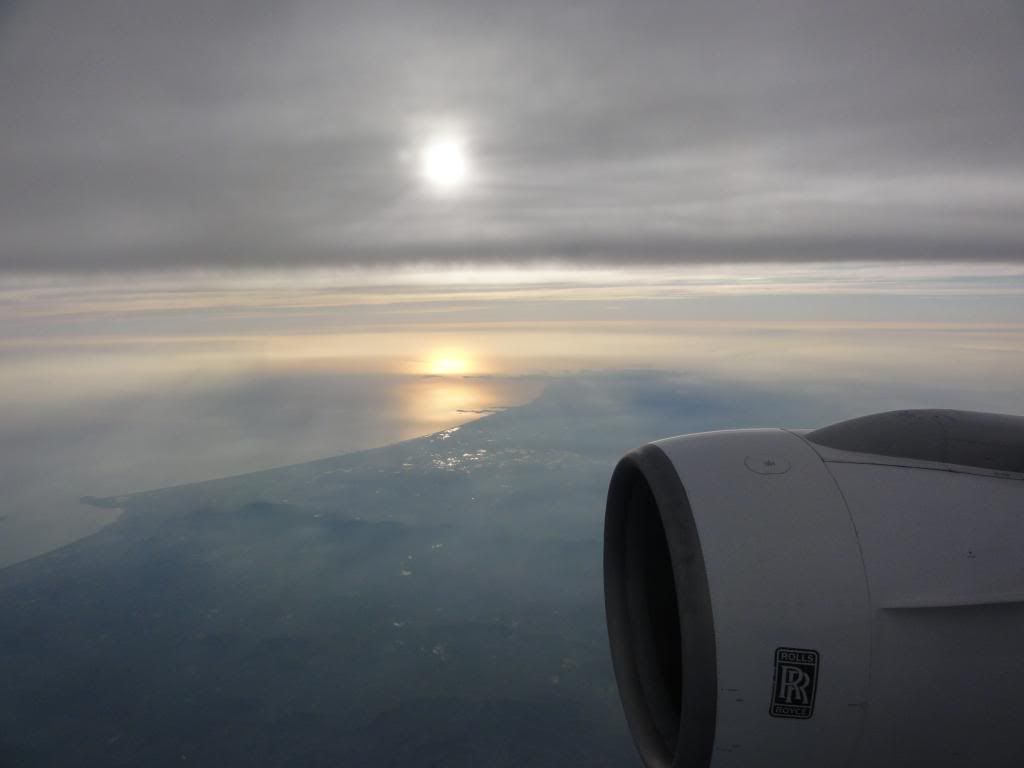 Into the clouds
As with the inbound into BKK, this was a short sector with FULL service. The crew sprang into action immediately after the seat belt signs were turned off, and dinner was served approx. 20mins after take-off.
I chose the prawn curry with rice. Apparently, as I would later discover, this was THE CHOICE for most passengers, and I actually took the last one! I was initially told that they had run out of this choice when it was my turn, but the nice stewardess had gone into the galley and managed to get me one, which she said was the very last one. How very lucky.
My dinner
It turned out to be very good, and adds plus points to the already stellar catering quality of Thai Airways! They really never fail to impress with their food! I wonder what they serve up front? Must be even better.
The potato salad was really good, with the potatoes lightly smoky in flavour, and there were prawns in it as well! Main was excellent, with the curry being of the right spiciness. Bread rolls were again served twice, and the desert, some milk/cheese/caramel mousse, was excellent. I wished they sold this at Starbucks!
Soon, it was sunset over Malaysia. I just had to take some really nice pictures of the scenery outside. There was nothing much to do anyway, as I could not complete any movie with the lack of time. Relaxing and appreciating the view outside was the best IFE.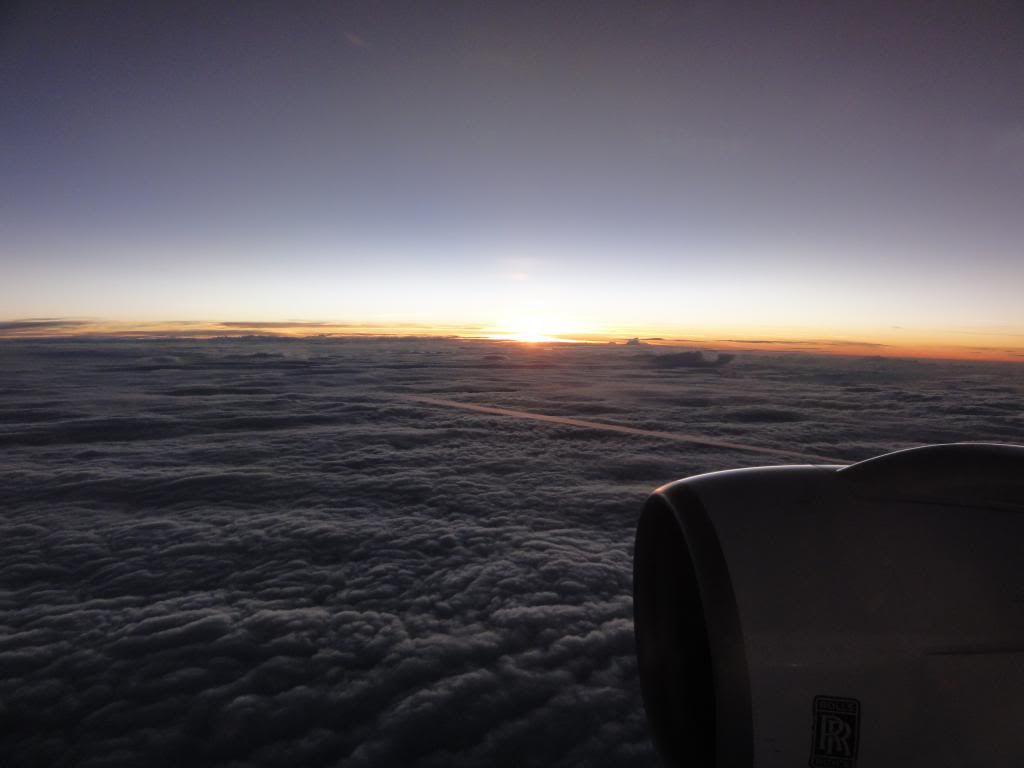 We were soon descending into Singapore. It was already dark by then, and I tried my hand at night photography! We were approaching from the north today. The landing lights were switched on soon after, and the beautiful Trent engine was illuminated in all its glory.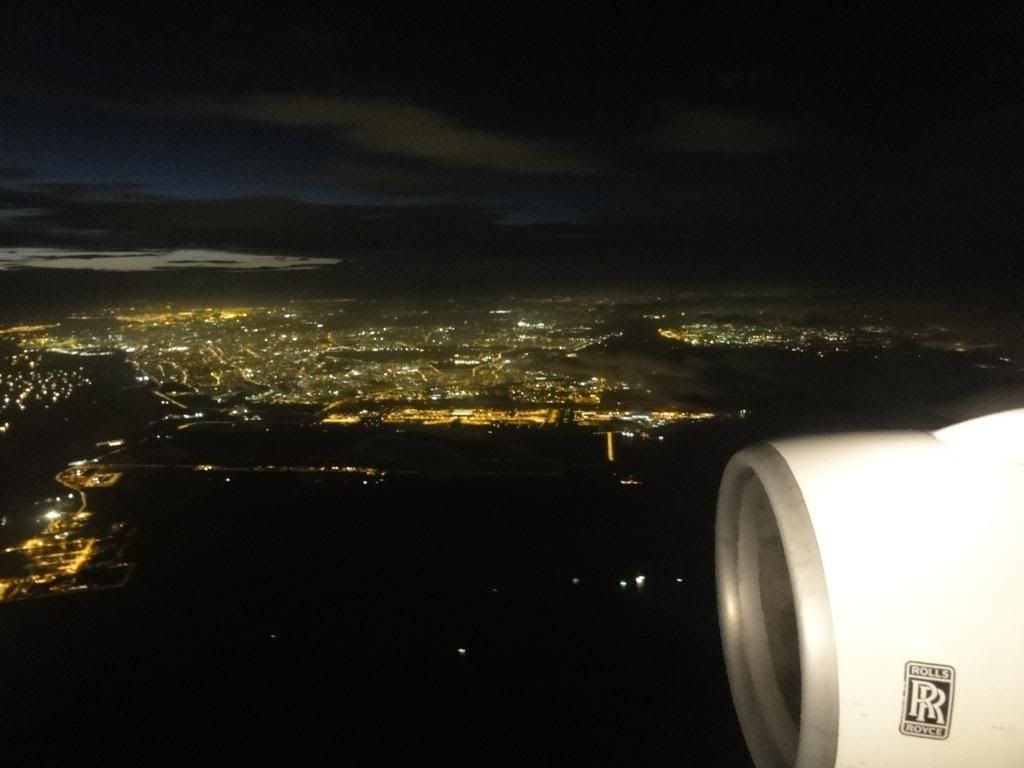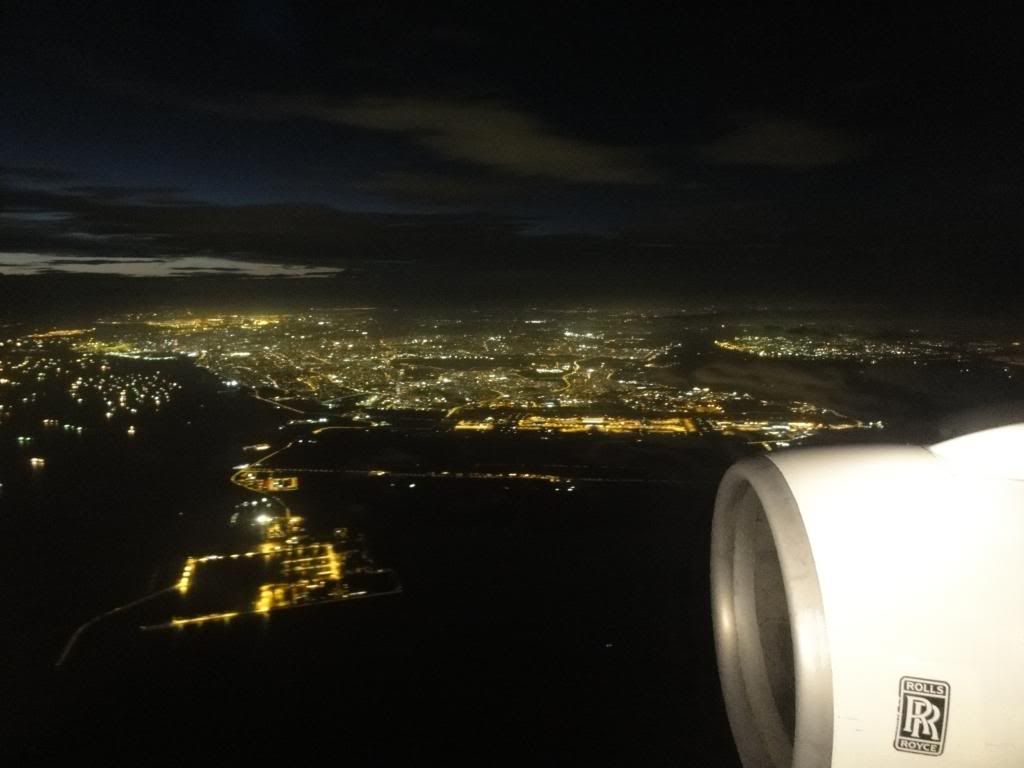 We touched down at Singapore Changi Airport ahead of schedule at about 1930hrs.
With that, my maiden trip with Thai Airways has come to an end. Overall, I was very satisfied. Putting aside the delays I experienced on the way to Seoul, the overall experience had been positive. What came out tops for Thai was its food and service. I just loved the Thai cuisine on their flights, and the Korean touches in meals served on their Korea bound flights. The crew were very friendly and I certainly experienced first hand the legendary Thai hospitality onboard their flag carrier.
The hardware on offer was also of high standard. Although the B772 had no PTVs, I applaud TG's maintenance of the aircraft. Both B772 and B773 aircraft were almost 15 years of age, but were so immaculately maintained, it felt like they were only less than 5 years old! I definitely do not mind the age of the aircraft given the excellent condition they were in. I certainly look forward to flying their newer B772ERs or even B77Ws and future A380s!
As for the delays, I was actually quite happy I got to be bussed to my aircraft in BKK, something not so common on flights like these! Other than that, I was not really drastically inconvenienced and could not really complain.
Bangkok's Suvarnabhumi Airport may not be comparable to hubs like HKG or ICN, but it does the job pretty well. Other than the lack of stuff to do, the airport was a good place to be in generally. Service on the ground was also well synchronized and I was quite satisfied with what I got.
I certainly will fly Thai again, and true to my word, I was off to Seoul again with TG just 4 months after this trip, with a similar itinerary.
I hope you have enjoyed reading my lengthy report and I apologize if my pictures are of inferior quality. Keep the comments flowing in, so that I can improve on my TRs in future. Thank you and Sawadee Krap.
P.S. I have booked myself on Thai's first A380 flight from Singapore this Sat, 06 Oct. I am certainly looking forward to the experience and watch out for my TR coming soon!
- Anthony CPC
[Edited 2012-10-02 05:19:47]
[Edited 2012-10-02 05:21:10]