Hello everyone,
thanks for joining me to share my latest travel experience.
It's about a random intra-european flight, however the airline I would use is probably not that common: JAT Airways.
JAT Airways is the state carrier of Serbia, based in Belgrade. They have a fleet of a couple of ATR42 and 10 rather classic 737-300's.
It is actually quite an old and traditional carrier, having flown 707's and DC-10's in the past.
Some years ago they rebranded themselves to "JAT Airways" with a new livery. Actually it's the most ugly livery I know and I have no clue which marketing agency came up with that, but basically it's an all white plane with 3 colored dots on the tail. Great...
Booking was made over an online travel agency. I booked one ticket Frankfurt-Belgrade-Frankfurt and lateron was trying to fit an interesting sidetrip inside. I was first looking at Montenegro Airlines to Tivat or Podgorica, but either schedules or prices didn't worked out. So I booked another flight on JAT from Belgrade-Sarajevo-Belgrade with an overnight stay at a hotel in ildiza, a few Kilometers away from Sarajevo airport. This flight was supposed to be operated by an ATR42 but was later switched to a 737. I only later discovered that BEG-SJJ-BEG are less than 300 km meaning a very short flight, but hey, a flight is a flight.
The routing would leave me 4 hours each way in Belgrade. I've flown JAT some years ago, found them bad (although on time) and found BEG airport even worse. Especially airside was nothing than white walls, this awful dotted black plastic floor which makes some awful noise when people take their trolleys over it (I remember they had such floor in the old Kai Tak aiport!), almost no windows, no shops, nothing. Security was done at the gate and the holding area behind had seats for 20 passengers. But aparently they did renovations, and this time I would have Priority Pass and therefore lounge access, so waiting time should be fine. Furthermore timings where that way, that on the outbound my plan was to walk to nearby town Surcin and have a dinner at a local restaurant, and inbound left me a few hours to visit the aviation museum at BEG airport.
However I feel sad to only have one night in Sarajevo and thus not being able to visit anything. Sarajevo was under a 3 years siege, had a dramatic history in that time and I remember quite clearly that during schooltime this was heavily discussed in class, as actually Bosnia is quite close and somehow in the middle of Europe. I would love to come back with more time, also visiting nearby Montenegro, Albania, Kosovo and some other Baltic states. I heard there is a great rail pass for the Balkans, but this is another story.
Anyway, with everyhting settled, the plan was the following:
Saturday 25AUG12:
Frankfurt-Belgrade 14:50-16:40
Belgrade-Sarajevo 21:10-21:55
Sunday 26AUG12:
Sarajevo-Belgrade 06:30-07:10
Belgrade-Frankfurt 12:00-14:00
Last preperations were to see with whom I could earn miles on JAT. In the past LH codeshared and it was able to earn LH miles, however this is history now. I was not able to find a single airline other than JAT to earn miles with. I am not expecting to flight JAT again a lot in the future, and I am not too keen to sign up for every airline fidelity program if it doesn't make sense.
Nevertheless I took a look on their website. It is absolutely average, extremely uninspiring and while informative, there is not much else you can do than booking flights. No Webcheckin either by the way.
JAT has a new frequent flyer program which was launched mid June. It is called "Extra Flights Club" and is completely different from everything I have seen before. There are no partners and you don't earn miles. All you need to do is have 5 flights with JAT (one way) and you get one free (one way). That's it! You need to keep your ticket coupons and boarding passes and then call a JAT office to book your flights. So I signed up, as getting 1 more flight on JAT in 12 months sounds doable. This program is clearly not made for connecting flights, but I guess JAT's main business is point to point to Belgrade, they offer a few connection routings, especially to Bosnia and Montenegro, and one some days to south-East Mediterreanan destinations, but they concentrate on transit connections to Former Yugoslav states and not further.
Anyway, after signing up, I logged in and was shocked. It's basically a blank, full of bugs, webbased excel program with filter and sorting functions (not sure what this is about) and some random pop up windows. Considering this program is brand new, I have no clue how ever in the world someone would be able to see their status of earned "flight coupons" on that website.
But anyway, enough introduction, let's start with the trip!
This time I decided to took the train to reach Frankfurt airport. Timing was ideal to get a nice sleep, breakfast and then head to the airport. By purpose I arrived way to early 2:30 hours before the flight. As there was no online-check-in, nor seat selection on their website, I wanted to get a nice seat and I would like to spend the rest of the time in the landside Luxx-Lounge before boarding.
Arriving at the airport, Condor from Seattle had a 24 hours delay (the board was showing "via Cologne", so somehow the plane had to stop there?) and also another Condor flight from Panama had "only" 17 hours. It's always the same with Condor. They have such problems with their long haul fleet and they usually take days or even weeks to get the delays readjusted, as it would affect their whole operation. Not a reliable airline in this regard for sure.
Also interesting was their flight to Halifax, which was via Manchester (what the heck?) and also an interesting Iran Air A300-600 to Tehran via Ljubljana in Slovenia. Not sure what this is about, don't they refuel in FRA?
However my flight was still not showing on the huge departure board as I was too early. Not sure where to check-in. I just walked from C to B and saw the counters of JAT Airways with only a few people in front of them.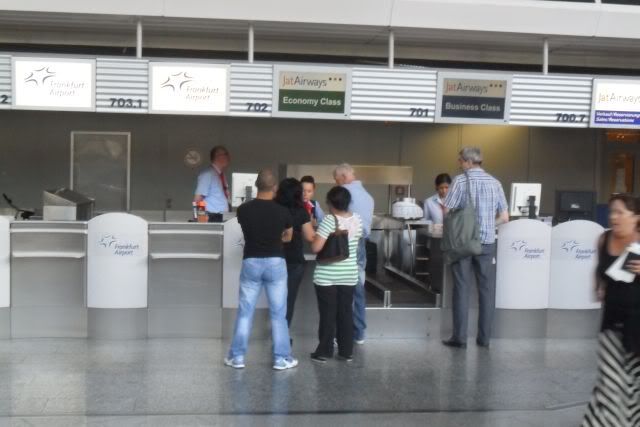 One Business and one Economy Class counter was opened, as well as the Ticketing counter next to it, staffed by a guy with a rather cheap and casual with polo shirt with Jat Airways on it.
The two check in counters were staffed by Acciona agents. The lady was very friendly and aparently trained, as a supervisor was helping her. Anyway, she did a great job. Also, I realized that all hand luguage is weighted with JAT. No exceptions. I asked if she could issue my boarding pass for the onward sector to Sarajevo, but since it was on another ticket, this wouldn't have been possible (actually I'm not even sure it would have been possible if it was on the same ticket, since JAT doesn't seem to be fit for transfer passengers). I received a window seat as requested in the back and my frequent flyer number was entered. Boarding pass was generic (and awful looking) Acciona boarding pass. I don't get it. Why everywhere in the world third party carriers use such awful looking boarding passes? I mean, they don't have to have 3 colours or so, 2 are fine, but maybe they could make a nice design, with clouds, a plane or whatever on it...
Once checked-in I proceed upstairs to the Luxx-Lounge. This is a landside lounge, which I can access with my Priority Pass. It used to be the American Airlines Admirals Club, but was closed a year ago or so, as AA considerably downscaled their operations and moved to their Oneworld-Partners in Terminal 2. Now it is basically unchanged. Even the staff is the same. While it is landside, has no views and is rather old, I like the Club feeling there, and staff is very nice. It's usually calm, quite clean, they have a good drinks selection, while food is rather basic: Usually some hot dog kind sasuages, a soup, some prepacked cakes and chips. During breakfast hours they would have prebaked rolls and jams as well as some cereals.
Nothing fancy, but a nice place to spend time. Wifi is free, and they have nice showers, too.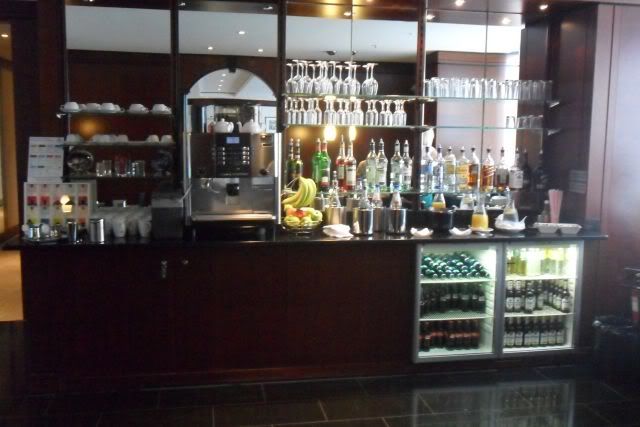 I had a sauaage, some orange juice, a slice of chocolate cake and a Baileys. Boarding was supposed to be at 14:00, 50 Minutes prior departure! That was actually the arrival time of the inbound flight, which I saw was on time. I left the lounge at approx 13:45 and went to C, which is used exclusively for non-Schengen passengers, usually heavily by Condor (which had 5 planes or so docked there), as well as Lufthansa (usually a lot to Asia). US Airways is also using these gates, as well as El Al and the mentioned Iran Air flight. JAT is randomly there I believe, as I also saw them departing from B a few months ago.
Passport checks took a few minutes. Before entering the passport check a lady of Fraport checks your boarding pass. She was very cheerful, making jokes, wishing nice holidays etc. Very relaxed.
Our gate should be C2 todays, This gate is interesting, as it can be used for Schengen and non-Schengen flights. It's accessible by two own security check points (one from the Schengen area, one from the non Schengen area). It has a duty free self service machine inside. No wait at security as all passengers have already joined the waiting area. The flight will have a rather light load, as not much passengers were there.
Saturday 25AUG12:
Frankfurt-Belgrade 14:50-16:40
YU-ANK, Boeing 737-300
The plane was already there. It looked indeed rather old and I can again just not understand who came up with this awful and uninspiring livery.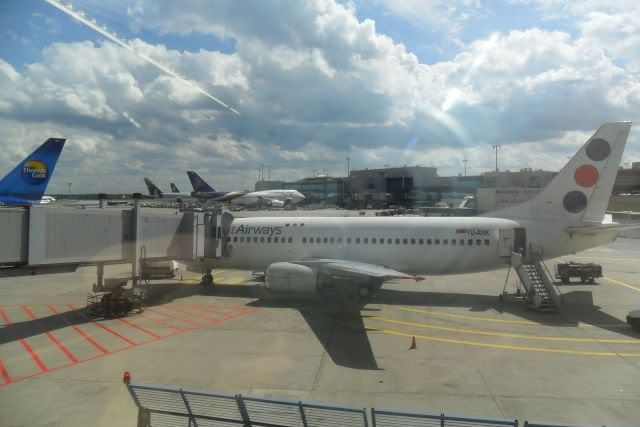 The first impression of the plane was "back in time". It looked clean and well maintained enough, however the whole design is such 90's. Blue old style cloth seats, no headrests, old overhead lockers, old overhead panel controls. No IFE (however tere were sockets for headphones, even those "tube style" headphones could be used, and controls were this "roll" things. I believe they are unused.
Seat numbers are stickets placed over the windows.
I found my seat in row 20, seat A. This plane has 23 rows. 20C was taken, but the middle seat remained empty. I believe load was approx 50% in economy class.
The seat itself was so so. While the cushion was comfy enough, the seatback was a little hard and the missing headcover makes it unhygienic for me. Seat pitch was quite ok however. Again, the plane looked clean and well maintained, so that's a plus. However the window was quite dirty, but I could clean it with a wet tissue. I somehow enjoyed being back on a classic plane.
No boarding music, however once we were all seated there was an announcement from the captain in Serb and English welcoming us on board, uopdating weather in Belgrad and saying we would fly for 1h35mns. The sound quality was abysmal, it was rather like what you would understand from a pilot being on ATC.
Time to check the content of the seat pocked. No barf bag, but a nice Safety Card and their inflight magazine, which is quite okay and everyhting is in Serbian and English. A little article about Vrsac, a city at the boarder to Romania, too. Coincidently this was the boarder station when I took the train Timisoara (Romania)-Belgrade (Serbia) last time I flew with JAT (I fly Wizz Air to Timisoara, train to Belgrade, then JAT back to Frankfurt).
Only a few pages in the back about JAT, showing their destination map (besides TLV, their most far away destintions are Stockholm and London, and interestingly they fly to Girona rather than Barcelona).
Then there was their whole schedule printed on one page, showing me that passengers on my flight could get either connections to Tivat, Podgogrica (quite Ok connecting times) or Sarajevo, Skopje and Malta (awful connecting times of Several hours). No coincidence most people are only flying to Belgrade. No Belgrade airport or city information either in their magazine, like a map or infos for connecting passengers.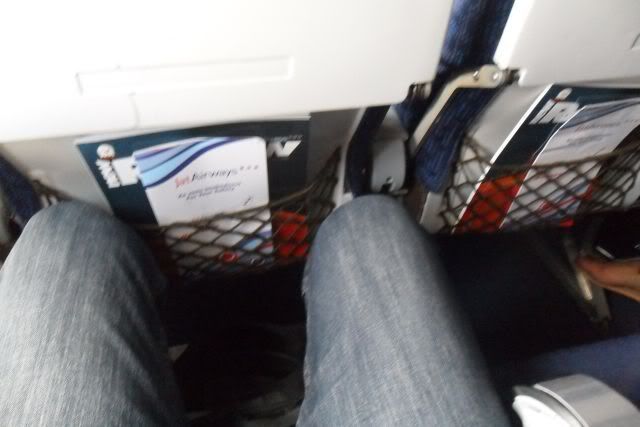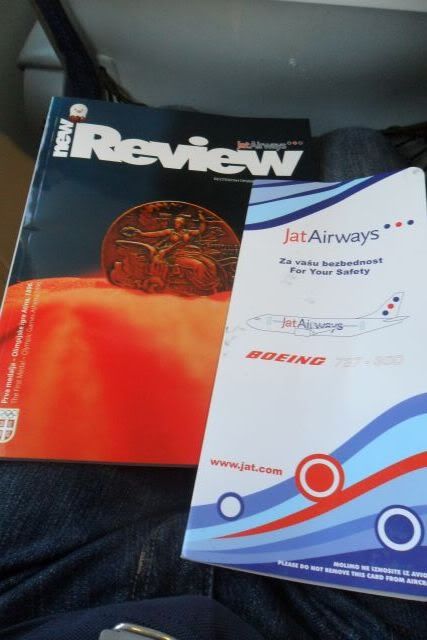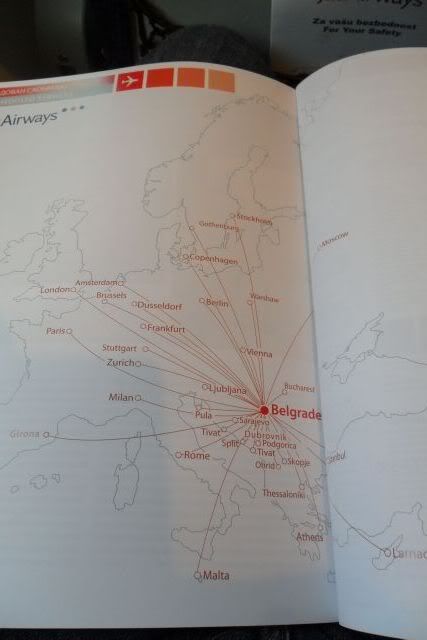 Staff was very old school. While I have nothing against old staff, this was somehow stereotypical. 4 flight attendant, 3 female, one male. One lady however was a little younger. Don't expect nicely groomed FA's, no, they could work in a supermarket, office or anywhere else. They don't seem to have any uniform. The uniform is basically black/blue trousers and a white shirt. The shirt of the male FA was 3 times too big, you could see his cigarette packet in his breast pocket shining through, and everyhting looked so cheap quality and badly ironed, too. They all have their airline ID pinned to the uniform, and this airline ID is still with the JAT-Logo they used 10 years ago.
We departed from our gate a few minutes late and taxied past an array of Condor 767's and the Iran Air A300-600. I would love to fly on that plane.
Safety demo was conducted manually in Serb and English. Not any specific check of the cabin though. We took off from the "Startbahn West" whih involved some 10 minutes taxing.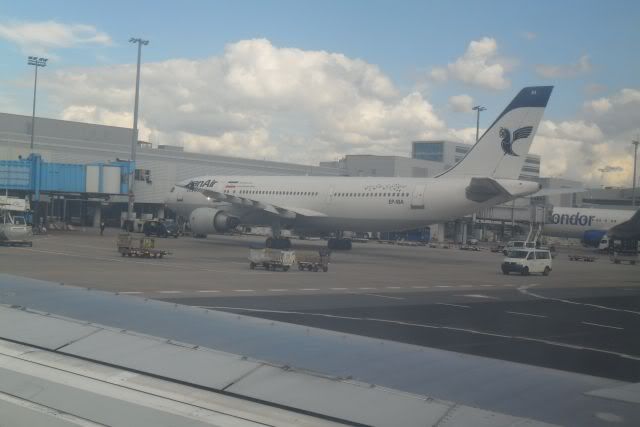 Nice was to pass a XL Airways-Germany aircraft, which has a nice livery I think.
We took off just after a Thai Jumbo. That's when I realized the cockpit door was actually open! How cool is that! A carrier which keeps the cockpit door open during departure (and actually they kept it open the whole flight. I love this airline
We had a nice view over Darmstadt.
Then they came through with the inflight snack. It was a sandwich with cheese. Nothing is branded "JAT" on board. The napkin is a cheap white one (look how it has been cut in the picture!) and drinks were water, pepsi or juices, tee and coffee served in cheap white plastic cups. I took some water, which had ambiant temperature. Then crew disappeared.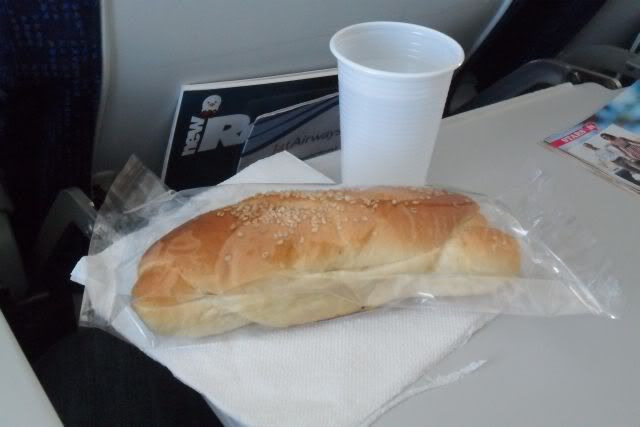 Later in flight there was a strong smell of cigarette smoke in the aft cabin, coming from the lavatory. I don't think that this was a crew member, though, but they should do something against it, especially since they made an announcement after take off that smoking in the lavatory is not allowed.
Another passenger played a shooting game on his Ipad at full volume. This all together was rather awful, but hey, what can you do about passenger behaviour... I then listened to music and had actually quite a relaxed flight, as we overflew lake Balaton in Hungary:
Soon enough fasten sign was turned on, as we were passing some very dry landscape. This time the crew conductet a check if anyone has correctly fastened seat belts. The approach wasn't very interesting, as we came in from the north.
We touched down in Belgrade on time and as we turned onto the taxiway, announcements were made that transit passengers should contact the ground staff or visit the transit counter. The pilot was taxiing quite fast, faster than you would usually do on other airports. The whole airport area looks quite outdated. You pass some houses that are now ruins as well as an impressive hangar in soviet brutalism architectural style with fading old logo JAT tiles on it. I am unsure if it is still used, as all doors look closed. There are some old 727 rotting in the sun in front of it. The activity in general seems quite low here.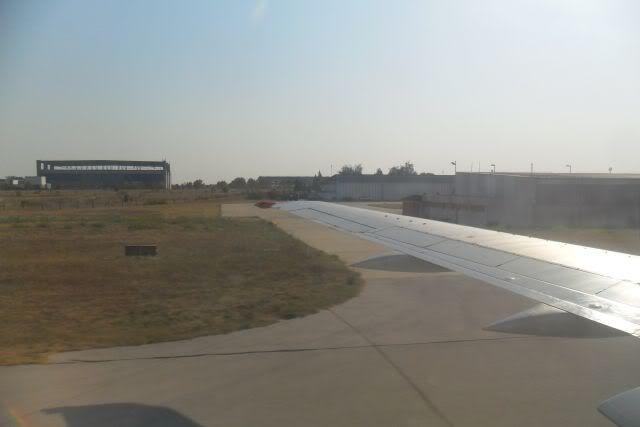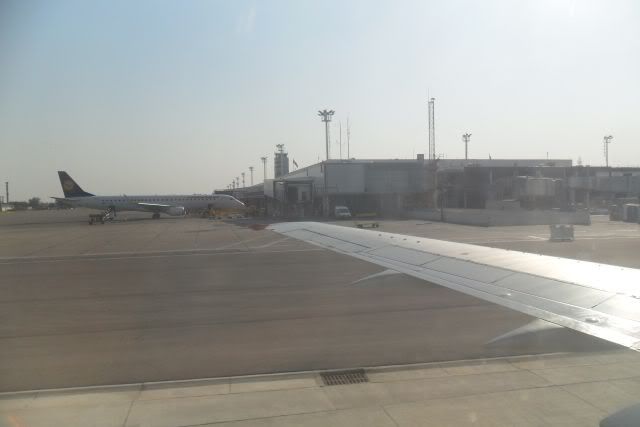 We docked at a C-Gate. These are linked to the A-Gates and have not been renovated. This is how I remembered Belgrade airport. Imagine how the whole airport looked a few years ago, it was exactly like this! You really step back in time once you enter the building. Arrivals are not segregated from departures, which is quite handy for connections. I realized the whole place was very hot and realized that initally there was aparently no inbuilt air condition. Independent air condition units have been placed on the floor later on, but they're leeking and not doing the job well.
I passed some construction and a complete dark corridor to reach the main "hall", which is the A-Gates and already been renovated. This part is definitely nicer. I believe this is the best you can do when you have to look at costs. Nothing fancy, quite sterile, but a lot of windows and a lot of light colors. Each gate has a secluded waiting room, and you need to pass a security check to reach the holding area, similar than in Singapore i.e.
Old terminal style:
Construction:
New terminal style:
However the place feels a little cramped, as they placed a huge duty free shop in the middle of the way. Another thing which I realized everywhere around the airport: They kept these huge old departures board with these little black turning letters. And they are actually functional! It just seems that they built a new airport around them! I don't get it, as they installed nice Plasma-TV-Style departure boards everywhere, so why keep these old things, which are as high as the whole building and look awful and probably cost much more to maintain than the TV-displays.
With the rebuilt A-Gates, the location of the transfer desk has changed. I remember it has been between A and C gates and was an - although very old and unstylish - "real" desk, just as a transfer desk should be. Now it has moved to an unconvenient location, not central, and difficult to find. And it's probably the most unattractive area in the whole airport. The desk is basically like a train ticket counter somewhere in Russia: A huge glass window with a little hole to speak with the agent and get the boarding pass.
The agent was asking me silly questions, wanted to see my confirmation and my boarding pass FRA-BEG (as if was allowed to be here without boarding pass!) and then issued a boarding pass for my connecting flight without asking me for a seat preference and assigning seat 6B. The boarding pass was on plan white paper with the same check in system that Airfrance uses.
I decided not to bother, went to the ground floor to passport control, not showing my onward boarding pass yet. The immigration lady asked me if I where in transit (how could she knew? Is it unusual for a German passport holder to visit BEG?) and I replied that yes. She wanted to see my onward boarding pass, asked me to be back at 20:30 and stamped me in.
Arrivals is a rather calm affair. I expected more taxi touts etc. However I noticed a unbelievable number of car rental company counter, at least 20 of them!
I went up one floor to check in and while there was quite some activity around at other check in counters, the JAT check in counters were completely empty. A little surprising for the home carrier. There are "web check-in stations", which are basically two regular PC's on a desk, and you can visit the airline website, print out your boarding pass on regular paper from there, just like home. No fancy kiosks and all that. And of course, the home carrier JAT, is basically the only airline not offering web-check-in in BEG. Also I realized Montenegro airliens has quite an impressive operation in BEG.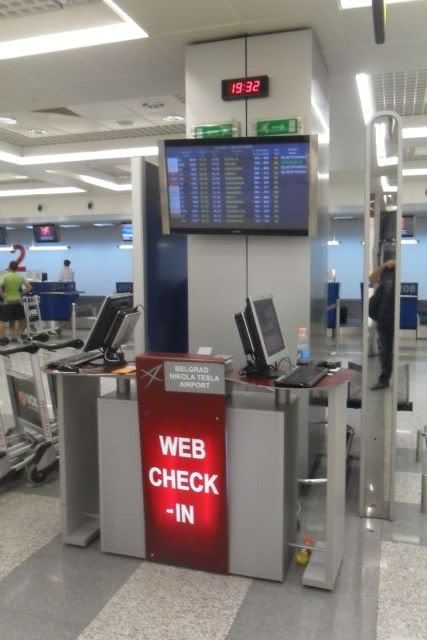 I went to one of the empty JAT counters to change my seat. The elder man there seemed a little bit grumpy at first, but had no problem to do that and assigned me 13F. I don't like seats over the wing, but I guess that was enough asked.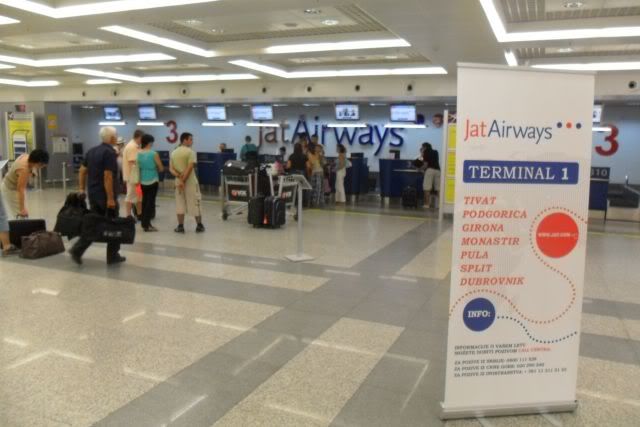 On the way outside I visited Terminal 1, which is linked to Terminal 2. It is a socialistic style building which is used for regional JAT flights i.e. to Tivat, and also for holiday destinations. This is travelling back in time again.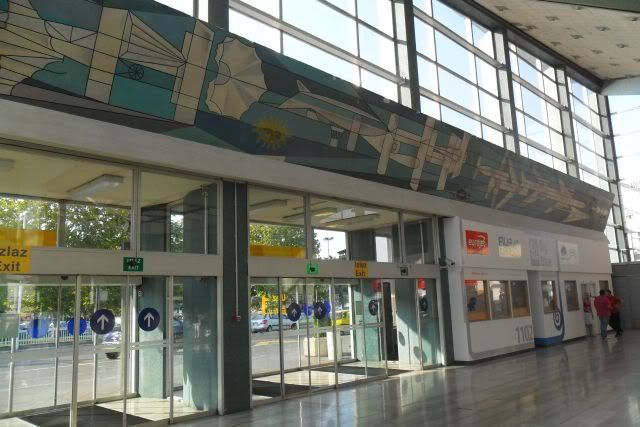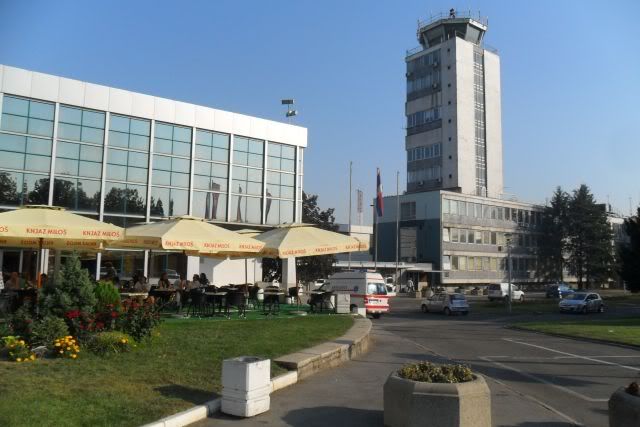 Then it was time for my visit to Surcin, the little town next to the airport, where I wanted to find a restaurant. I looked the itinerary up on Google Maps. I was supposed to follow the airport perimeter, and at some point turn right to a "yellow street" which would lead me to Surcin. The whole trek would be around 2,5 kms, taking me 40 minutes or so.
This area is totally deserted. You pass by a completely inactive Cargo area and some DC3's rotting in the sun.
At some point I came to the intersection and didn't saw the "yellow" road going on the left. Turned out that this "yellow road" was actually a beaten path through some fields, including a young straying dog!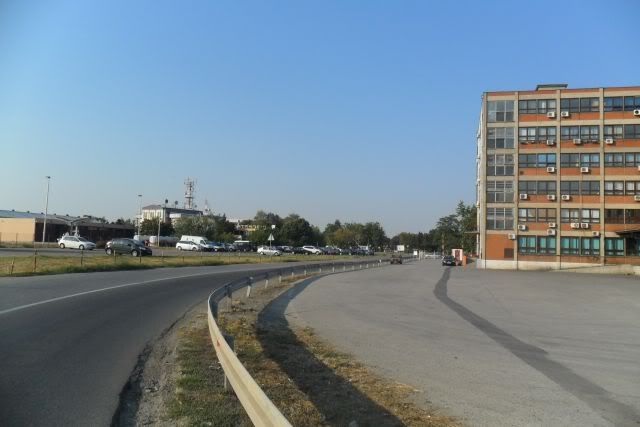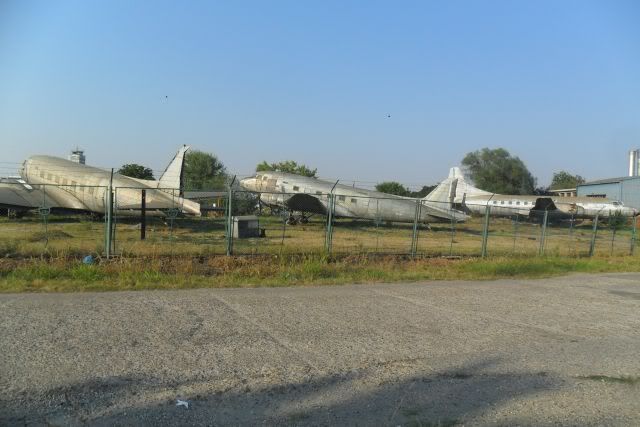 Well, no risk no fun and so I walked through the fields, which were completely dry due to the heat and the sun. Some Garbage here and there, and then I reached Surcin and the next straying dog, which however left me alone as he preferred finding a spot where he could put his extrements...
Surcin is a very relaxed and quiet town. I found basically a kiosk, but not a single restaurant. I bought a bottle of water and followed the main road, which is actually rather a through road with quite a lot of traffic but not much around it. I reached the end of the town and found a place with a big "grill" sign over it. However I was hoping for some kind of terrace to sit outside, and this was something to enter into. Inside it was full of smoke and strange people drinking rather than eating, so I left again.
At this point I was quite unsatisfied and thought I would take one of the random busses into the next town, as I knew that from there, bus line 72 could bring me back to the airport. Busses are passing every few minutes going to different desinations, but as I just needed to get to the next town I figured out that I could take any one. I stopped the first one and asked for a ticket. They couldn't sell on board, as you need to buy some kind of prepaid card, but he just told me to sit down, let me step from the bus a few stops later, telling me to wait for the airport bus on the other side. And that's were I found a sign "Herc Restoran" along the main road.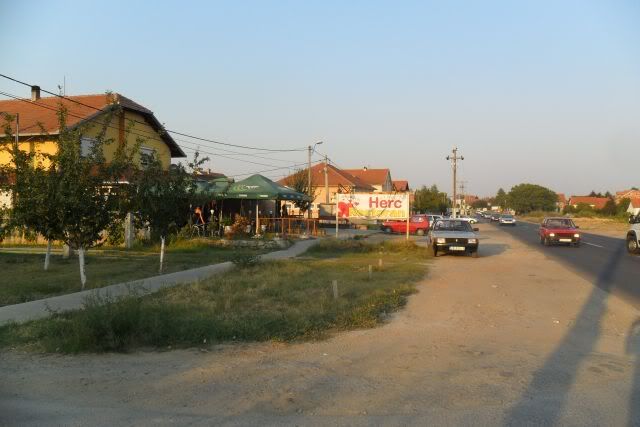 A nice terrace in the sun, and I went inside and asked if they had something to eat. The guy was very friendly, spoke good English and went through half of the menu with me, which was very helpful as Serbian is a language with not much common things in German, so I didn't understood anything in the menu.
I settled for chicken on a stick barbecued, and told him to bring me 2 starters, one with Salad.
What came was great: The barbecue chicken, then a delicous yet simple salad made out of tomatoes and cucmber, topped with some kind of white cheese, and on another dish I received some kind of local ham, again with the white cheese. This came with oven warm bread and a Fanta. With tips I paid around 900 Dinars, which is 7,50 EUR or so. Good value in my opinion!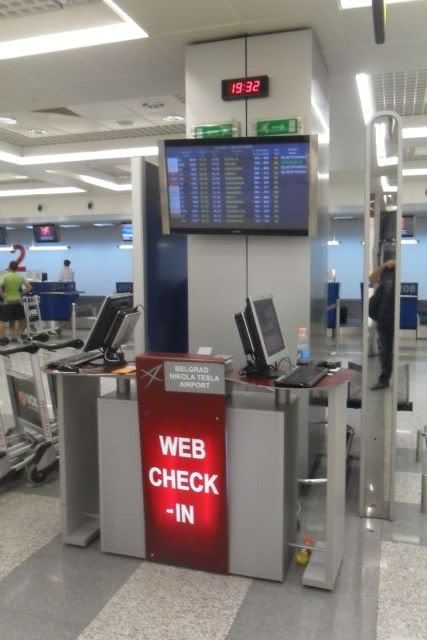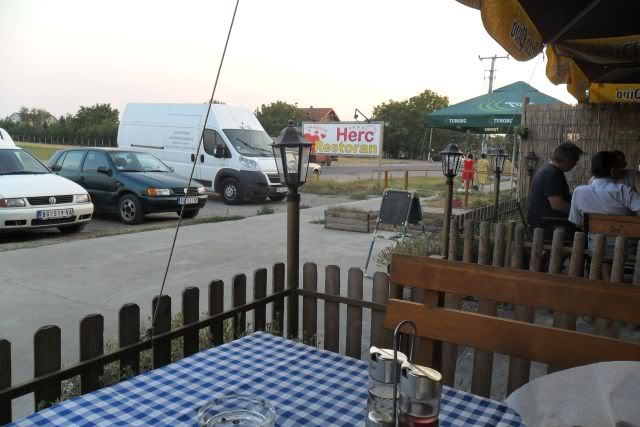 After this delicious meal it was time to get back to the airport. The bus came soon enough, again no ticket but just been told to sit down, and minutes later I was at the airport.
I figured it would have been the better choice to take Bus 72 right away after landing to reach the town Ledine, rather than walking to Surcin, but hey, I had time and it was fun somehow.
Security check was a breeze, as I was allowed to use fast track with my Priority Pass. However I was suprised to see a centralized security check point, as there were security checks at every gate again. Somehow uneffective. I understand they need security checks at the gate due to the transit passengers, but then just get rid of the centralized security check point for departing passengers.
Just a short wait behind the security for immigration, and I was let out of Serbia, interestingly with no stamp.
I had a little over an hour left til my flight and decided to go to the lounge. There is only one of them at the airport, called "Business Club". The entry is quite nice with a red carpet. Basically every airline uses this lounge, including Low Cost Carrier "Norwegian" (I wonder who they are sending there).
The lounge seems brand newly renovated and is very nice. It has no windows, but the whole area has black leather sofas and modern white couch tables. Each area has it's own TV, which is huge and you can choose your program. Furthermore Wifi is free, and they have a few computers as well. The place is spotless.
The drink selection is suprisingly good, as the food is: Soup, Rolls, but also a nice salad buffet with everything from noodles, Tuna, Tomates, Cucumber, Olives etc...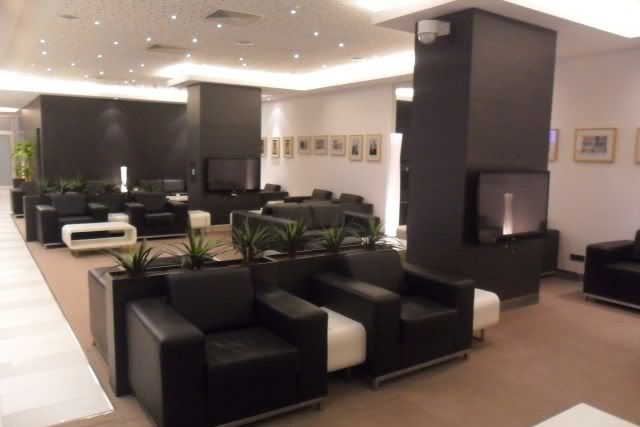 I wasn't that hungry after the filling meal, so I rather drank a digestiv and made use of the Wifi. I was the only passenger around that late, and they already started to clean the place.
Only annoying thing, is that the announcements are broadcasted at high volume in the lounge as well. This is especially annoying as they announce basically anything. I.e. they would announce when the gate is open, and then when it is boarding in a second step. While my gate was opened, it didn't turned to boarding even 20 minutes before the flight. Of fear of missing my flight to Sarajevo I nevertheless left the lounge and went to my gate, to pass a rather relaxed security. They didn't even cared about my pockets and that the metal detector rang like crazy.
Saturday 25AUG12:
Belgrade-Sarajevo 21:10-21:55
YU-AND, Boeing 737-300
As I entered the holding area I realized this flight would be rather empty. Maybe 30-40 passengers, but probably enough to upgrade the ATR42 to a Boeing 737.
Nothing happened til around 21:00, so I approached the counter to ask if he could put my frequent flyer number into the booking. Aparently there is no such option. You just register your flights after traveling yourself on their website. Incredible...
Our plane:
Nice AND Air Djibouti">DY plane next to it: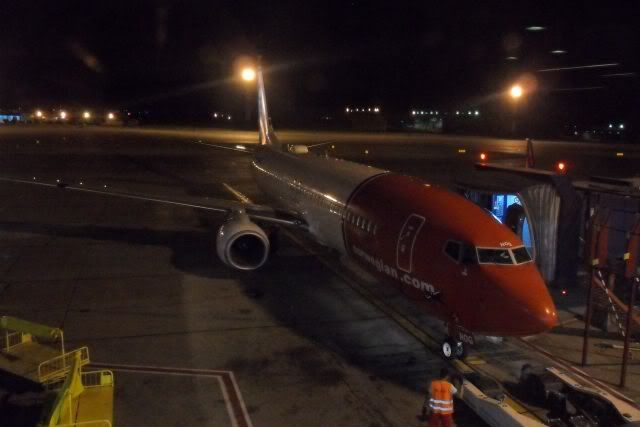 Boarding started approx 5 minutes before STD, but this went very fast due to the load. I saw a lot of KLM, Alitalia and some other boarding passes, so I believe this flight is actually booked quite a lot with connecting passengers, and obviously issuing onward boarding passes work, even with different airlines. Interestingly this flight had only a codeshare with B&H Airlines, which I found strange as I thought this airline is not operating any flights anymore. Maybe the continue just to sell code share flights?
Once I stepped onboard, there was a considerable difference compared to my Frankfurt-Belgrade. First of all I was greated by a young and always smiling lady, and also the senior flight attendant was nice. Secondly, the cabin was not looking so old, they had the old grey LH seats in it (however missing the headcovers again). While the seats showed signs of heavy using, it made the cabin feel more modern and brighter. However no real business class here, as middle seat would have been left empty as with LH. But there was no one seating there anyway.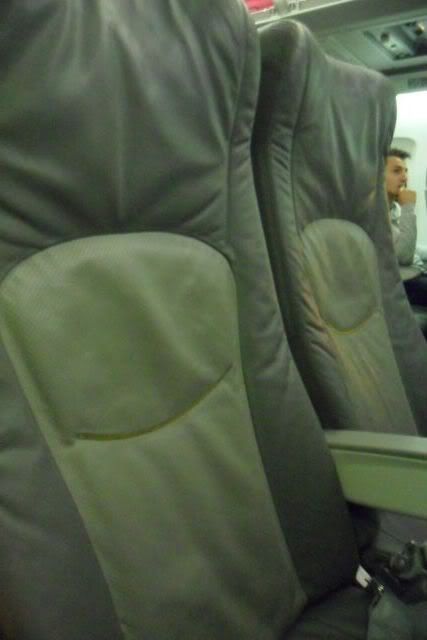 As I was the last to board I walked back to the cabin to find a free row for myself, rather than taking my assigned seat 13F. I was turned back by the attendant in the back which told me not to sit in the last rows, so I settled with 19F which was fine.
As far as I could see, JAT operates with a crew of 4 on each flight, and one of the attendants would sit in the D-seat of the last row instead of jump seat during take-off and landing.
While this crew was nicer, especially the eversmiling young female attendant, the male attendants were again dressed with shirts 5 times to big (I believe they have one size only?) and looked very cheap again.
We pushed back 15 minutes late and rocketed in the sky due to the light load.
The captain announced a flight time of 35 minutes. During that time they were still able to do a drinks round.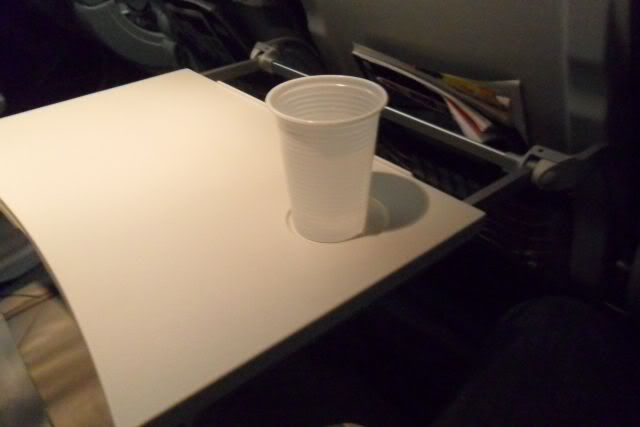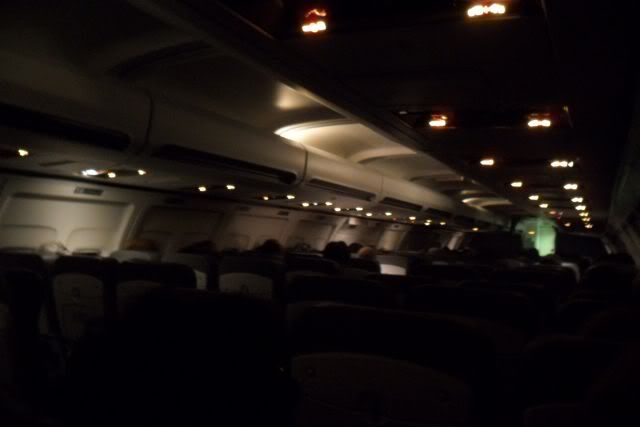 Since this was a very short flight (actually one of the shortest that JAT is operating) soon enough we started our approach. We overflew the city somehow, but I wasn't on the correct side to see the city center... Nevertheless we came in over houses, bright lighted billboards etc and landed 8 minutes after schedule at Sarajevo airport and parked at one of the two jetway positions next to an Austrian Fokker 100 which arrived from Vienna a few minutes earlier.
Disembarktion was fast as the airport is quite small.
Sarajevo Airport at night:
I took a taxi to my hotel, the Terma & Spa in the suburb of Ilidza, very close to the airport. The ride took less than 10 minutes and naturally the driver didn't turned the meter on. I was not bothering as I was prepared to know what to pay anyway.
Once we reached the hotel the taxi driver was asking for 20 Mark which is 10 EUR. I told him that's 10 Mark and he said: 10 Mark for the ride and 10 Mark airport supplement (which is rubbish). Told him last time I paid 5 Euro, and he understood he won't be able to rip me off, so 10 Mark was the price and off I went in the hotel.
The hotel was really nothing to write home about. A huge old run down hotel, some kind of wellness thing (but probably with a standard of 20 years old) and a lot of noisy people around in the hallways. This is also when I realized that this was a muslim country by the way, prayers, music etc were quite exotic.
The room was old, way too hot, but too noisy outside to open the windows and I had a really bad and short sleep.
Hey, but that's the price you pay when you do silly weekend trips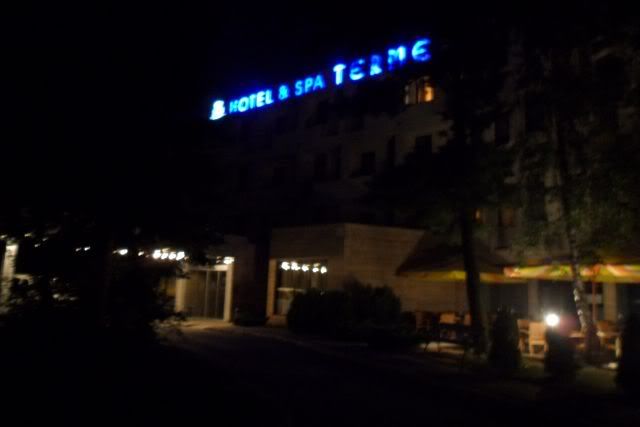 Saturday 25AUG12:
Sarajevo-Belgrade 06:30-07:10
YU-ANK, Boeing 737-300
The alarm clock rang way too early and I went down to the reception lobby, which was all dark. Staff were sitting on sofas in one corner and chatting.
Check out was quite straightforward and the receptionist called a taxi for me which cames minutes later.
The driver was way nicer than the day before. Speaking only a little English he really tried hard to use this little English in a little conversation. He told me a little bit about himself and he turned the meter on
At the airport the price was some 11 Mark or so, I gave him my remaining 15 Mark and told him to keep the change (what would I do with a couple of Bosnian Marks anyway?) and he was really honestly thankful.
There was quite some activity that morning at the airport, well at least the amount of activity you could expect from such a little place.
The landside area is quite small but nice. It's really basic. Arrivals on one side, departures in the same hall on the other side, some 6 or so check in counters. There is a plaque remembering french soldiers which died at that place.
I felt a little sorry for not being able to spend more time in a city which such a hard past but I'll make sure to return one day. I am sure these people have a lot to tell and as far as I know Bosnia is a very nice country.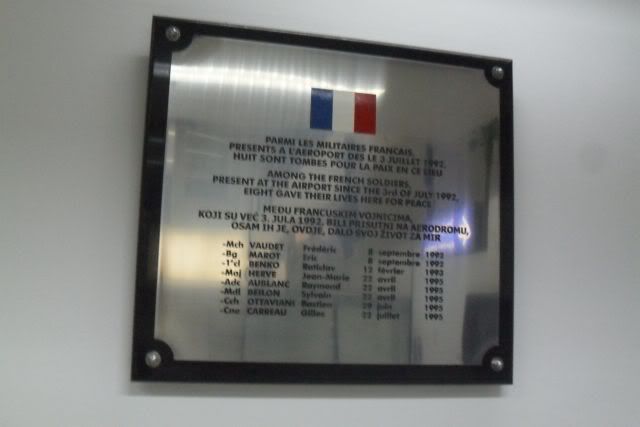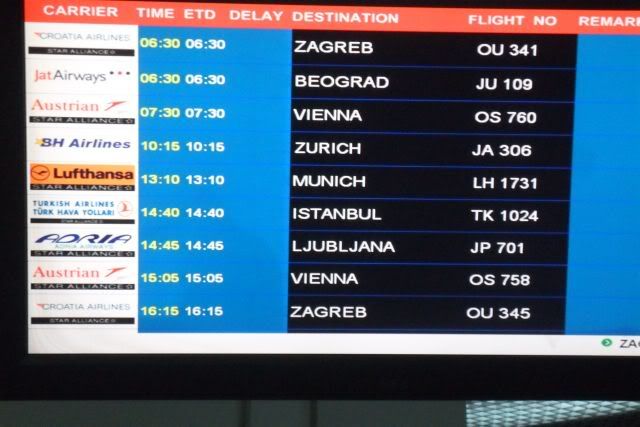 I checked in online the day before. With SJJ airport you check in online not with the airline, but on the airport website. No matter which airline you fly. I checked in online and although the website says that this is just a pre check in and you need to collect your boarding pass at the aiport they seem to have upgraded the system since I would have been able to print a proper boarding pass. If I only had a printer. So I had to collect the boarding pass at the airport anyway and received it from a very friendly check in guy. The boarding pass was on Sarajevo Airport branded stock.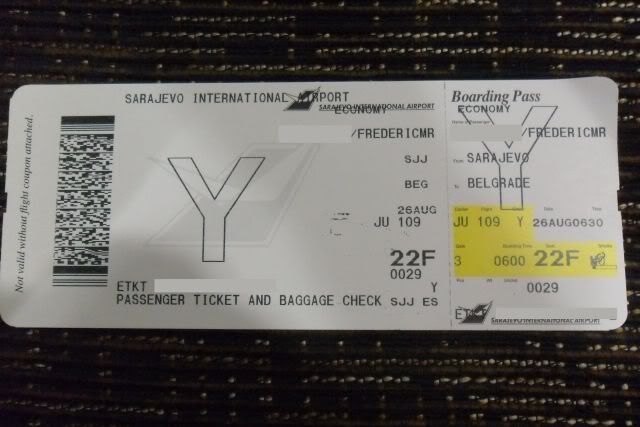 Getting through Security was quite a breeze as all is quite small here. Behind security there are a few stores and a big window fassade with seating area and even huge cushions you could sit on.
There is a lounge, too. Actually the Priority Pass shows 3 lounges, which seems quite a lot for such a little place. That said, the lounges are quite a letdown. Basically behind security there are 3 or 4 kind of conference rooms, which they call "lounge". Outside there is a desk, which is in the middle of the public area. You basically register there and just go in one of these "conference" rooms, which could be storage rooms as well... Basically the lounge was a windowless room of 15x3meters, with a door opening directly on the security screening area, two sofas, TV, some magazines, drinks and basic sandwiches. Hot drinks were not available, which is strange. I believe they bring you these on request, since I saw another lady in the lounge having a coffee. Anyway, their "lounges" are really nothing to write home about.
The "lounge":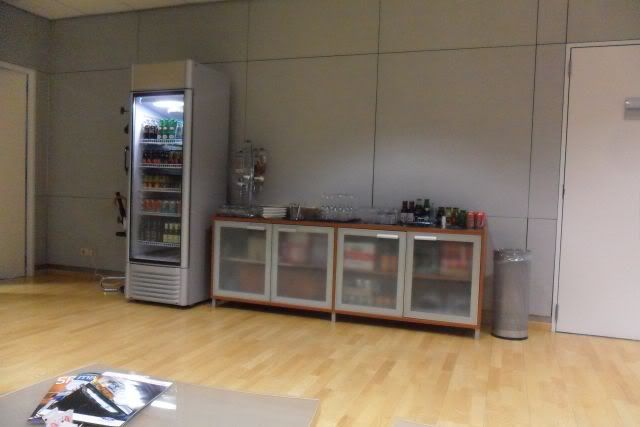 Luckily soon enough boarding was called. There was a Croatia Airlines Dash 8 being boarded at the same time.
On board, we were greeted by the same crew as the evening before, so they had quite a short night as well. Is this usual that crews have such short overnight layovers? Really hard I think...
Boarding was completed very quickly and we left some 10 minutes or so early.
I wouldn't go too much into details on this flight, as it was basically a copy/paste from the evening before. Drinks were given, we had some nice hilly views and soon enough we came in over Belgrade and the soviet style appartments from New Belgrade.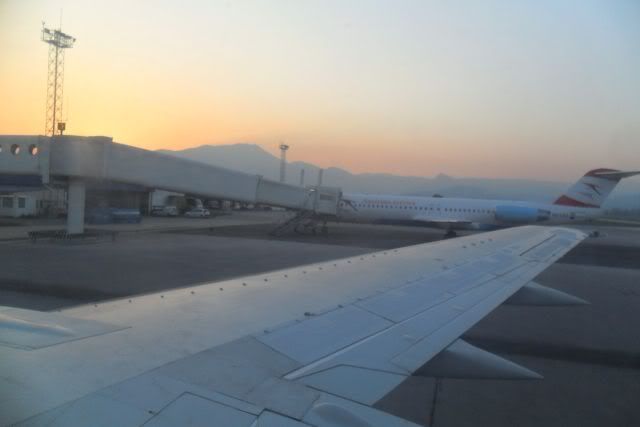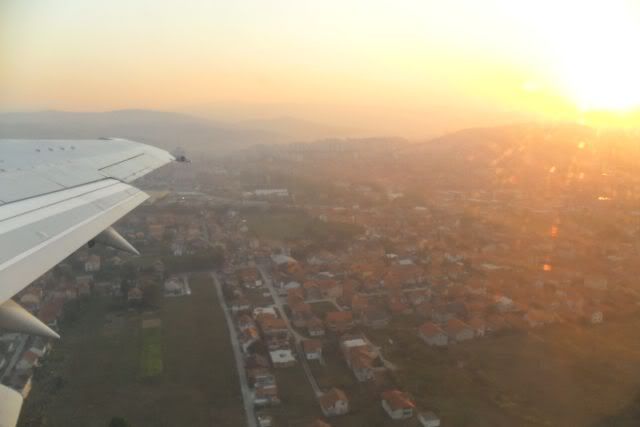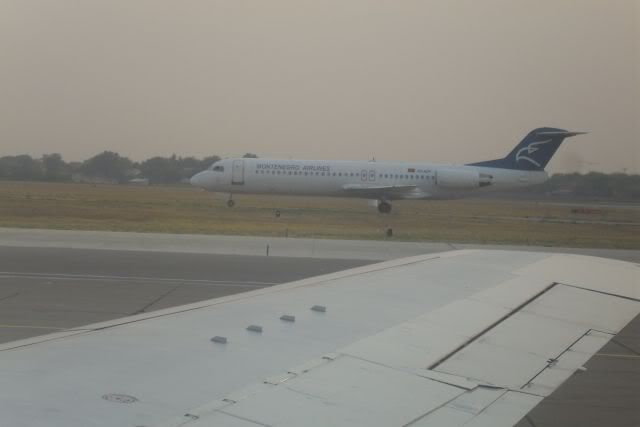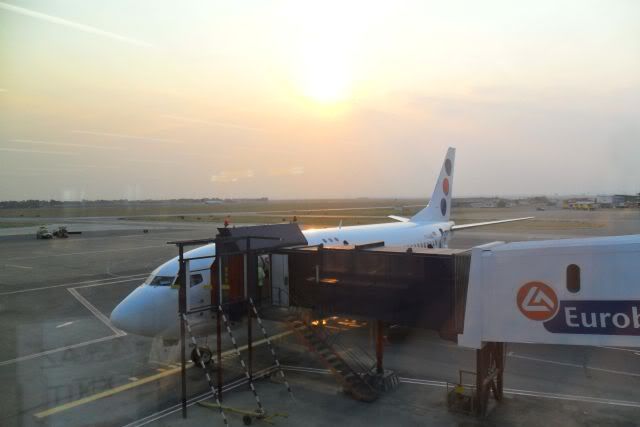 Obviously we arrived early. There were quite a few connecting guests on this flight which I encountered at the transit counter again. There I was given my onward boarding pass, which interestingly was issued on another check in system than the evening before. This time it even didn't had the JAT logo on it and looked really bad... Strange that the airline gives me different boarding pass types from one day to the other in their home airport.
Anyway, I was debating if I should go landside to the museum, which was my initial plan. I did went landside through immigration, again no issues, but after walking a little bit outside I realized that all I wanted was some good sleep and food.
So I went back airside and into the lounge. As you can remember I wrote that the lounge was quite nice, and indeed no disappointement. Breakfast was basic, with breads, jams etc but that was fine for the morning. Had a joghurt drink with it.
As I saw another young couple sleeping, I felt confortable to do the same, and the couches were nice enough to have some good sleep. If there wouldn't have been these announcements all the time. I had a few hours of more or less good sleep and woke up by the noise of the lounge staff clearing breakfast and replacing it with lunch. As I was quite hungry I had myself a nice mix of salads and sandwiches and got ready for my departure back to Frankfurt.
Saturday 25AUG12:
Belgrade-Frankfurt 12:00-14:00
Boeing 737-300, registration unknown
At the gate there was again this ridiculous second security check, however this time they did it properly and cared.
Our plane: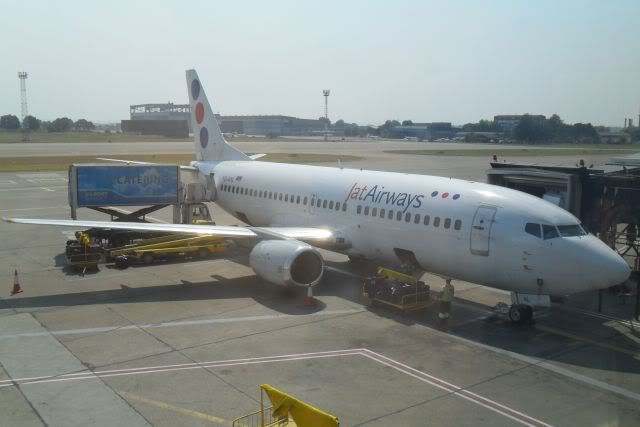 One I would love to try:
Seldom type and nice livery:
This time we got another 737-300, with again another type of seats. There is no consistency in their fleet...
What can I say about that flight? Well it was basically the same boring flight as the day before. Same kind of service, exactly same sandwich, and really average crews with cheap looking uniform. I was sitting in the last row, which I had for myself, which is cool. On the other row there was a couple with their dog, which they took out during the flight and nobody cared, but this is fine with me. It was a very small dog anyway.
However we arrived more or less on time, 8 minutes delay, but this is okay in Frankfurt. We got the same hybrid gate (C2) in Frankfurt, however immigration took some time as there is no electronic automated gate in this area.
So what to say about this trip?
The stay in Belgrade was great, as I love getting off the beaten paths and the food was really nice. Had a great time there. The airport is getting acceptable. It's fine actually, although really basic and not fancy. But it's functional, with the exception of the secondary screening. I understand they need that for transfer passengers, but in this case just get rid of a central security checkpoint and do everyhting at the gate...
Sarajevo airport is nice. I can't tell much about that town, as I was there just a few hours, but I would love to return.
And what to say about JAT?
I would say they're lost in time... Their planes have an age of 20-30 years or so, but seem well maintained. They have no proper frequent flyer program, their website is basic, they have no corporate identity. They get the job done and get you from A to B, but that's it. They are not part of an alliance and do not codeshare much. Would I use them again? Well, if schedules and price are fine, why not, but it wouldn't be my preffered choice. There is no incentive to use this airline rather than someone else.
Hope you enjoyed this report. Thank you for reading and feel free to comment.