It was time to head off to Washington DC to visit some friends and to enjoy the city for a while, so I made a booking with British Airways - and decided to pay the extra €200 or so to fly in World Traveller Plus. This is the first part of the trip.
British Airways
BA5952 - DUB-LHR (Operated by Aer Lingus)
4 October 2012
Airbus A320 - EI-DEN - St. Kieran
Seat: Economy 6A
Departure: 06:40
Arrival: 08:05
View Large
View Medium


Photo © Mats Salder
When I woke at 3:45am, I snoozed my phone and it didn't even cross my mind that I was going to be travelling that day - I was that tired! When it went off again minutes later, I remembered why it was still dark and got myself up and ready to go. I finished my last minute packing and wandered down the road to the cab rank and took a taxi to the airport. I always enjoy the drive at that time of the morning, as most of the city was asleep.
On arrival at Dublin Airport about 5:15am, I took note of the large queues of passengers at the Aer Lingus area waiting to check-in for their flights. I hold a Gold Circle card (Aer Lingus' Frequent Flyer programme) so I took myself to the Gold Circle/Business Class desk. After a 30 second wait, I was seen by a very friendly agent who gave me boarding passes for both this flight and my flight to Washington, and tagged my bag all the way through. I was also advised that upon arrival at Heathrow, I should stay on board as the transfer passengers would leave through the rear door to the transfer bus. I already knew this, but it was great to see that it was communicated effectively.
Another benefit of holding a Gold Circle card is Fast-Track Security in Dublin, so I was straight through and immediately took myself to the Gold Circle Lounge. It was completely packed full of people, but I found a seat and got myself some fruit salad to snack on while I waited. Right next to me out the window was the gorgeous Aer Lingus retro jet, which I hoped to be on.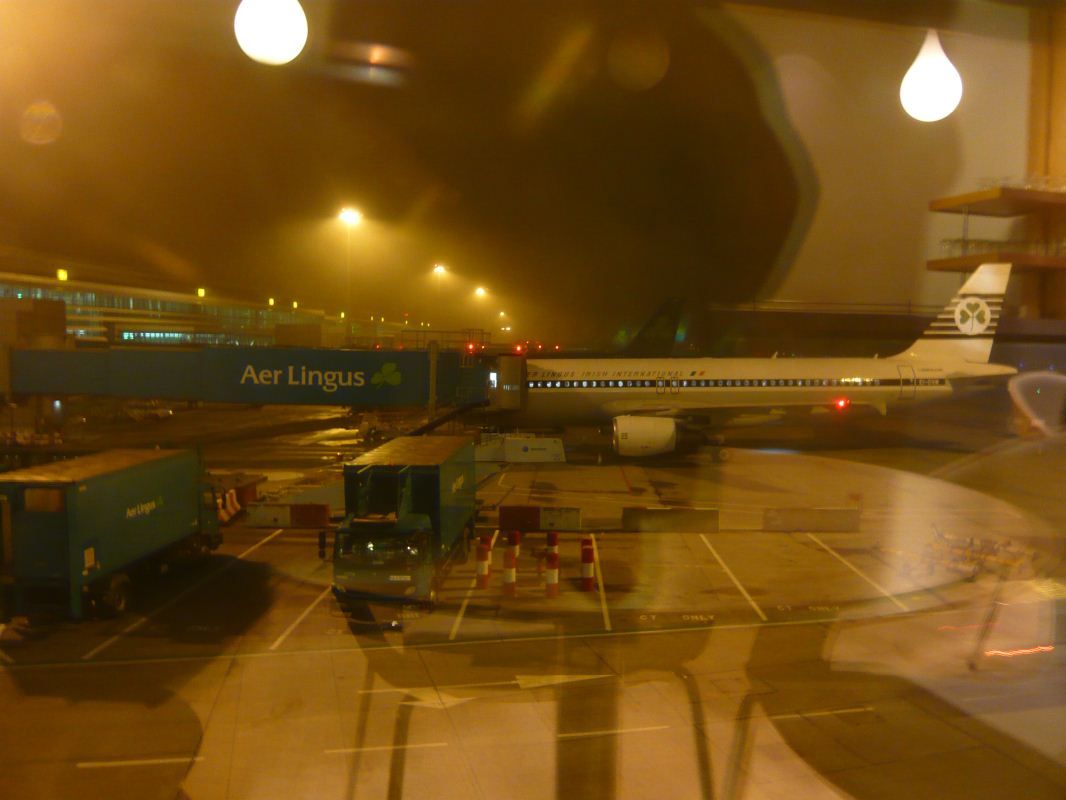 Alas, it wasn't to be, unfortunately! Beside me was the selection of food and drink.
Upstairs, there is a smaller version of the same thing.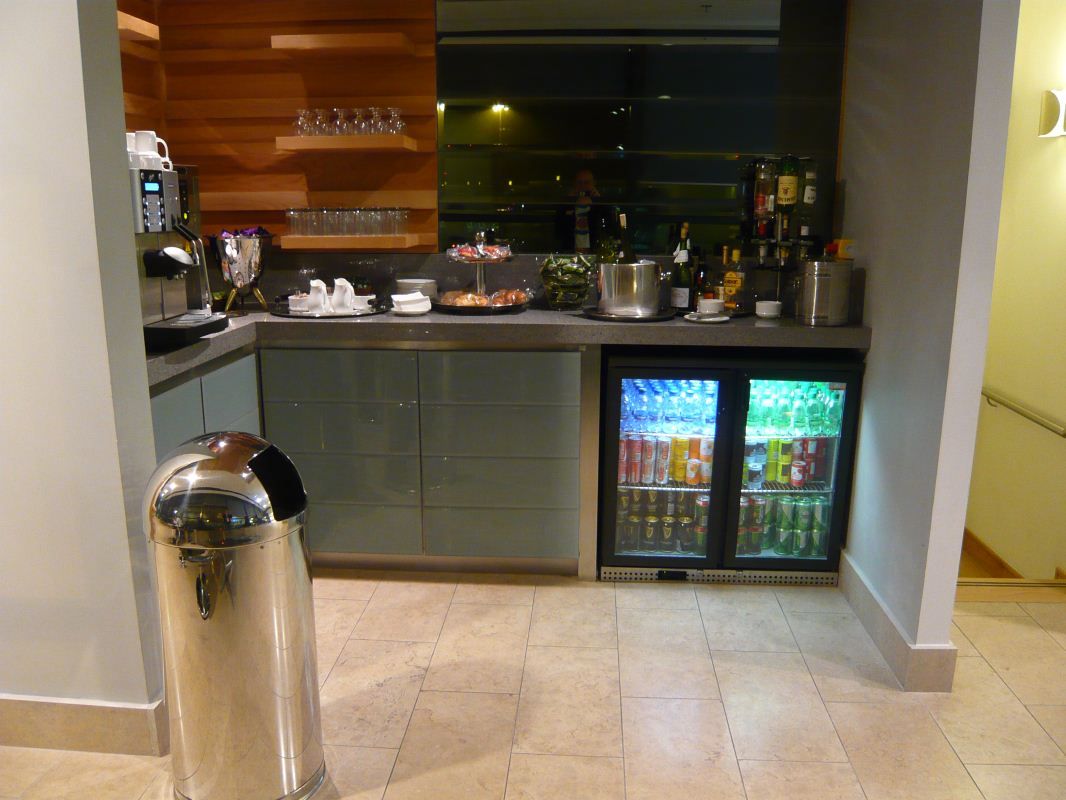 I always notice that the lounge toilets have a large aiming space
After a short while, it was time to go to gate 409.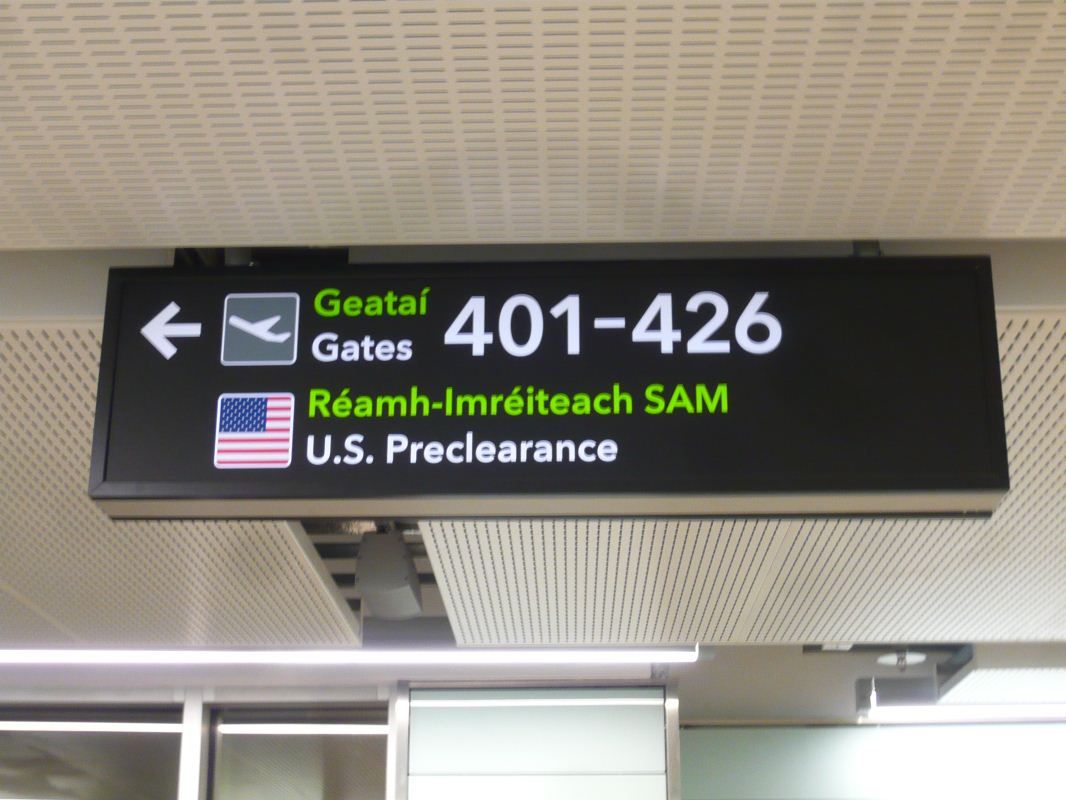 You can see from the next shot that this is the area where you go downstairs for US pre-clearance if you're flying directly from Dublin. Unfortunately, I wouldn't get to do this as I was going via Heathrow.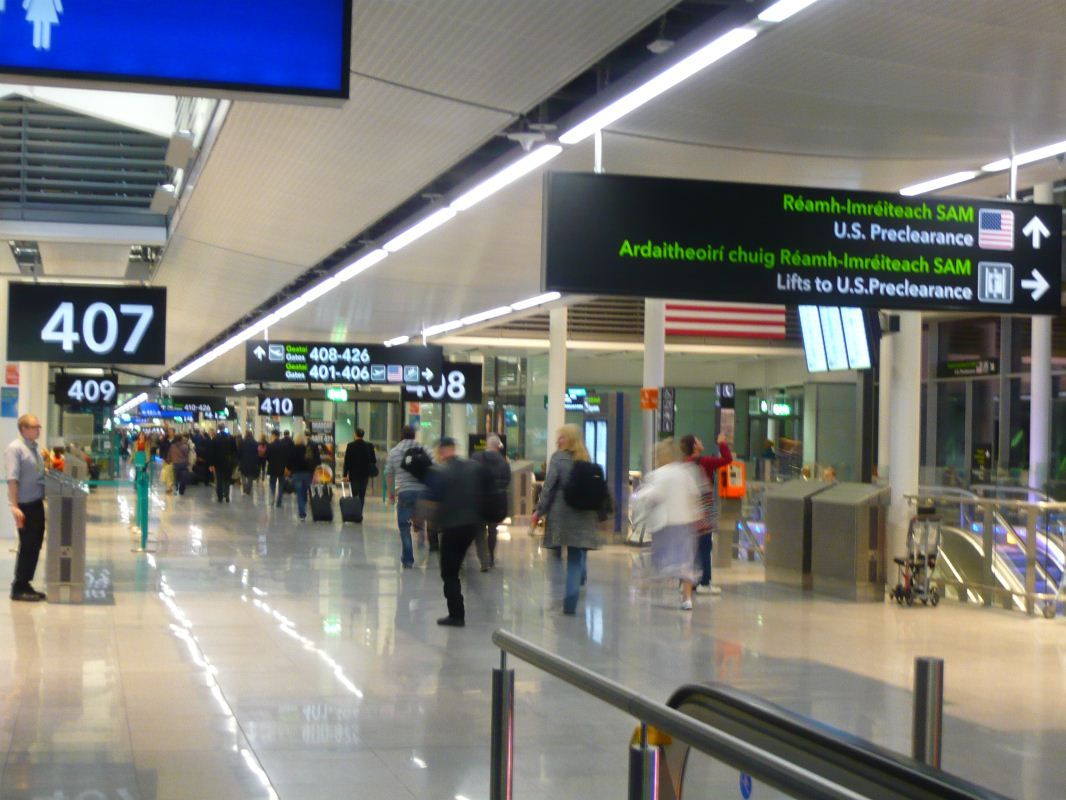 Boarding was called and I was first on the aircraft. Throughout boarding there were many announcements advising people stowing their cabin baggage to step in from the aisles, and that it was a busy flight this morning so please stow coats and small bags under the seat in front.
The view from 6A where I was seated...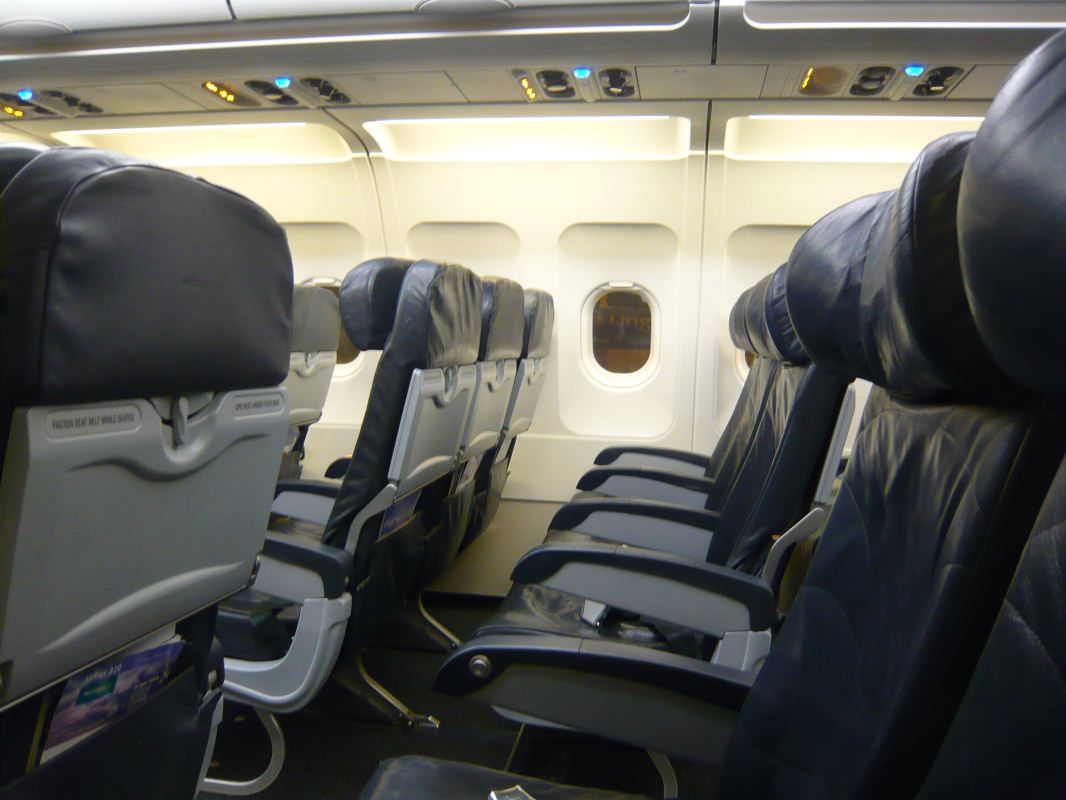 Okay, so how about some proper views then?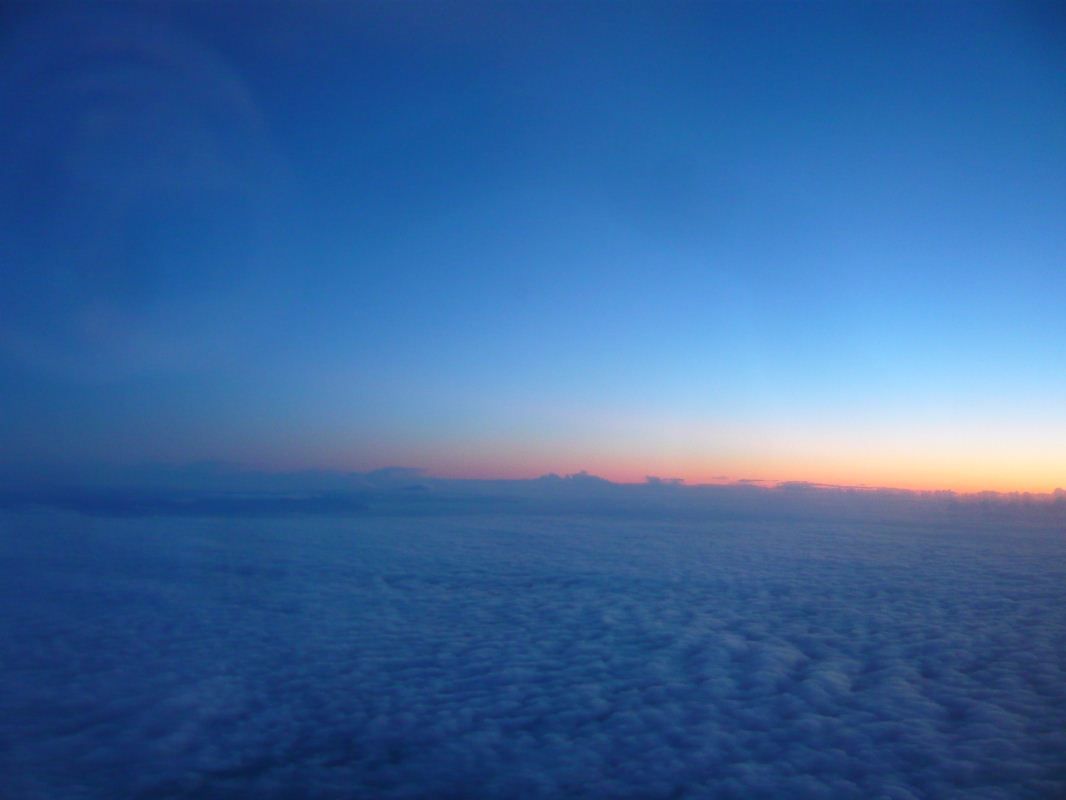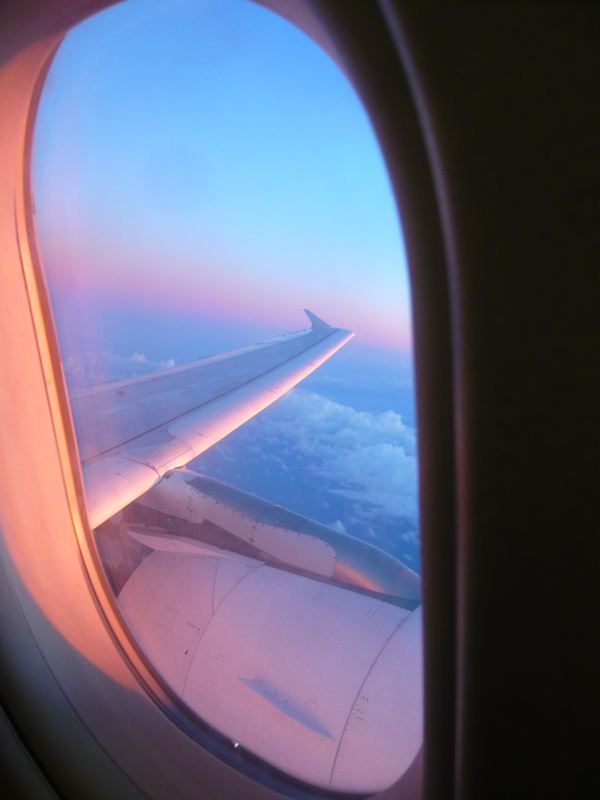 Of course, as anyone who has read my Trip Reports before would know, I never fly Aer Lingus in the morning without having the breakfast. This time I noted the potato portion had morphed into something new. Quite fine though!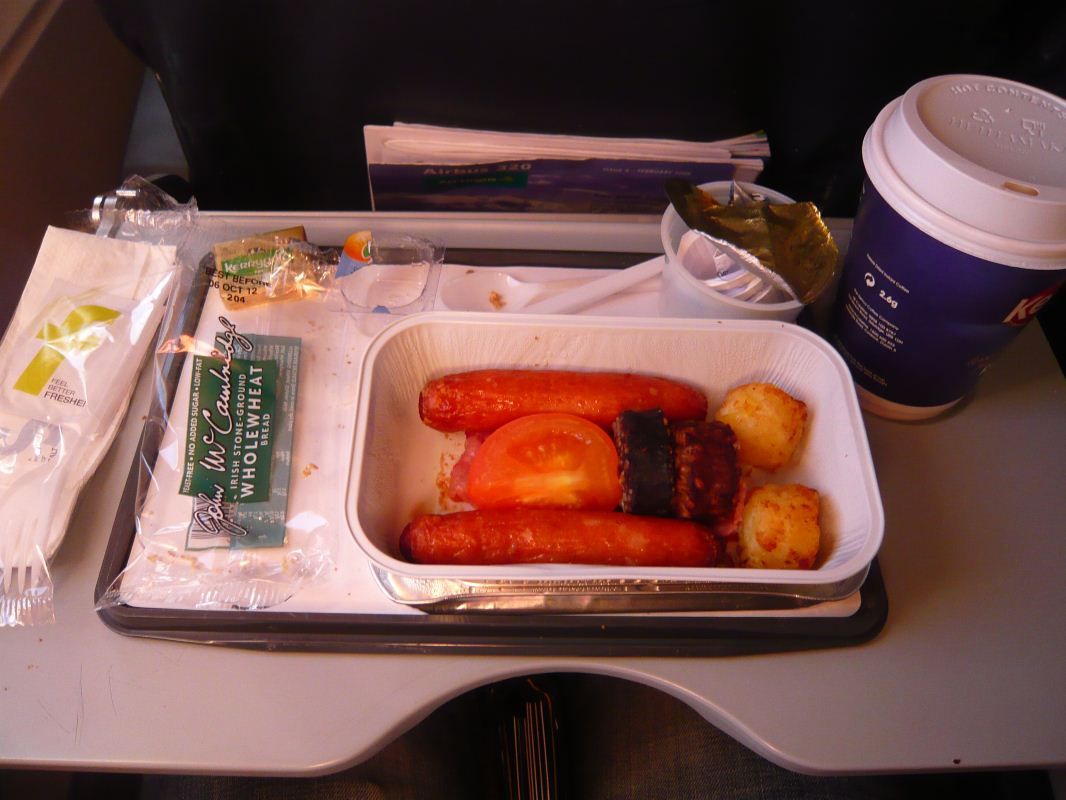 We arrived on time. After waiting for all the Heathrow passengers to disembark, it was down the back stairs and over to the bus. Not without a photo though!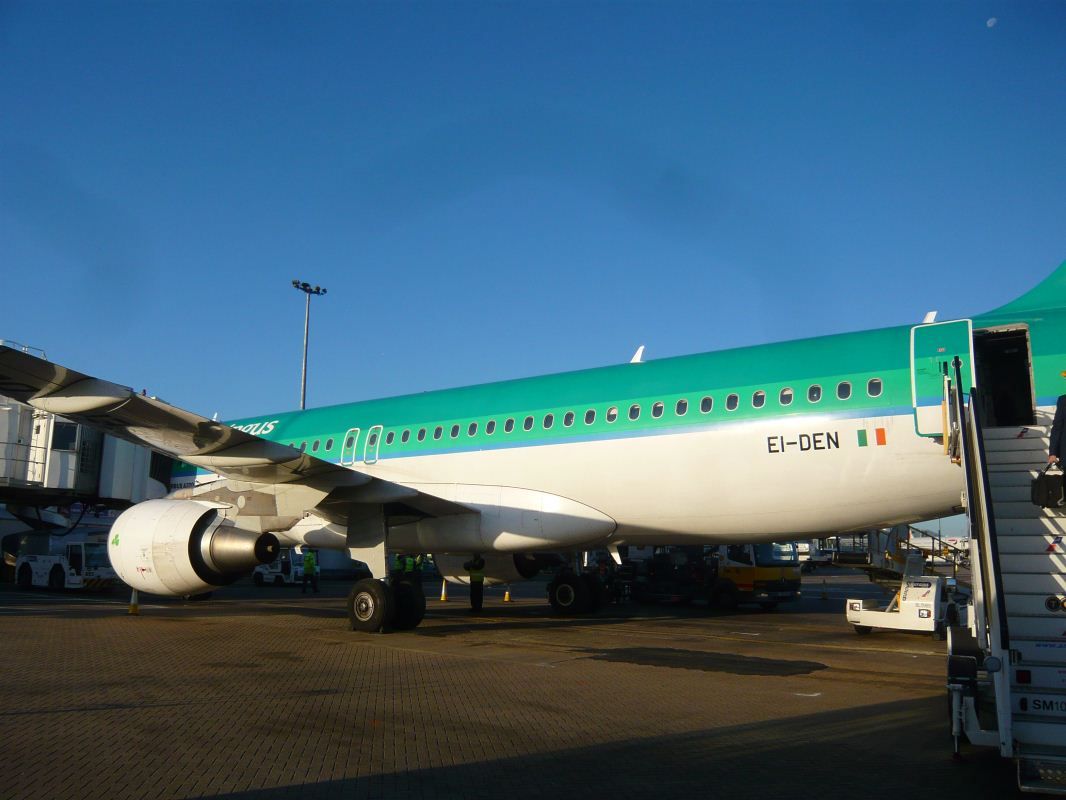 ... and what's this?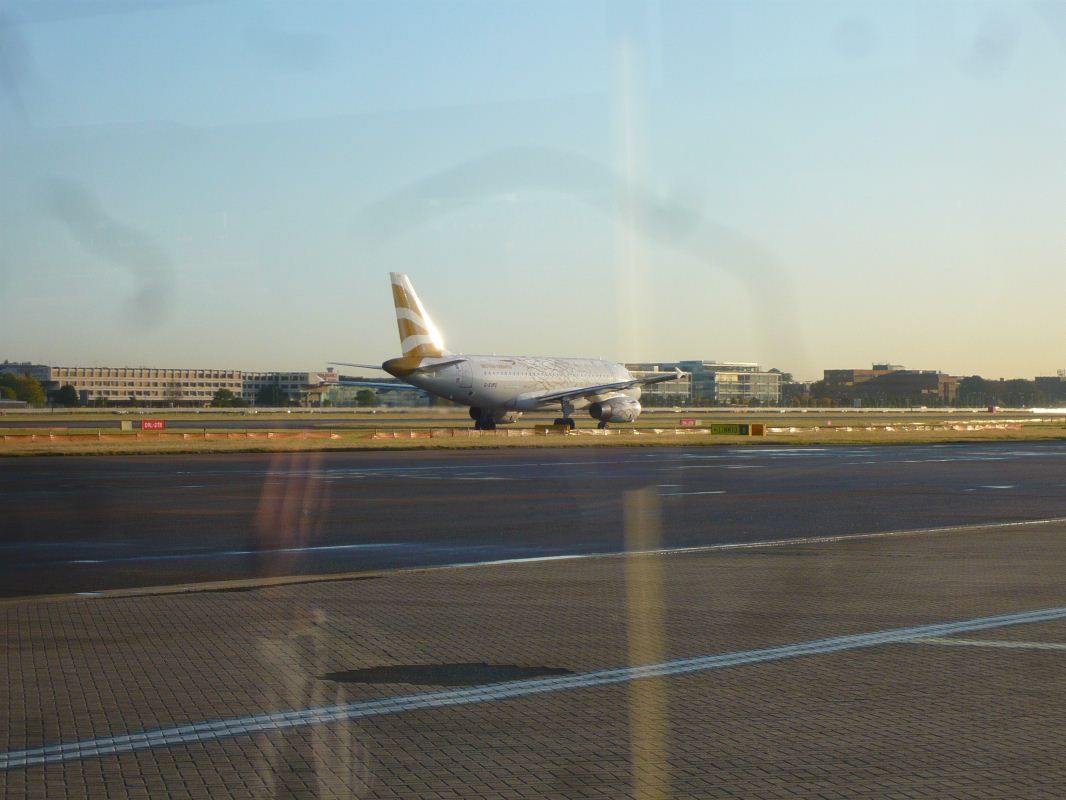 Anyway, we arrived at Flight Connections central, and onto another bus to Terminal 5. Through Passport control (where the agent was surprised I had an Australian passport and a mostly Irish accent!) and through security again into Terminal 5.
British Airways
BA217 - LHR-IAD
4 October 2012
Boeing 747-438 - G-BNLN
Seat: World Traveller Plus seat 29A
Departure: 10:45
Arrival: 13:30
View Large
View Medium


Photo © Andrew Hunt - AirTeamImages
Once through security, I basically waited near the lifts at a departure board waiting for my gate to come up. As soon as gate B35 popped up onto the board, it was into the lift for me and onto the transfer train, up another lift and I sat near the gate.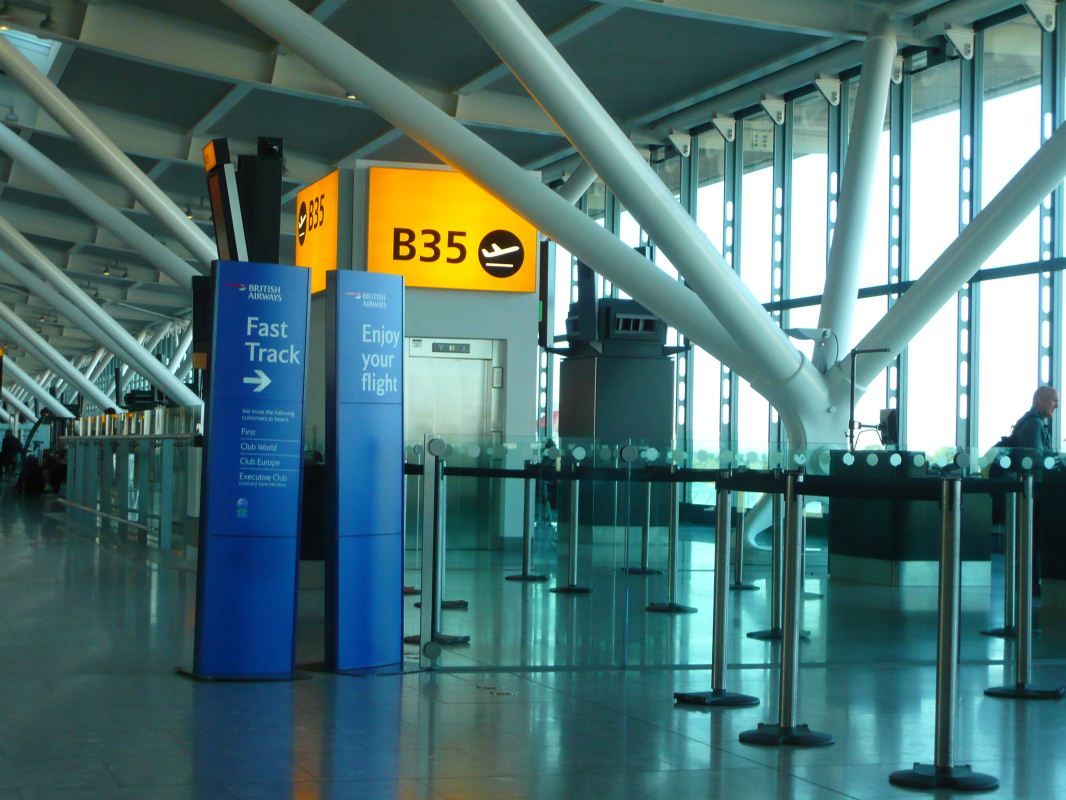 Of course, Terminal 5 has great viewing so I was able to eyeball my aircraft prior to boarding.
Boarding was a bit strange. They pre-boarded people with children and while they were doing so, they advised all First Class passengers to go back to the lounge on an individual basis. Club World passengers were also told they would be boarding after Economy on this flight.
Anyway, general boarding was announced and as it was a flight to the USA, there was additional security provided by G4S. They looked over the boarding pass and Passport after the agent had scanned it. Myself and the gate agent had a bit of banter about the strangeness of the World Traveller and World Traveller Plus cabins boarding first.
Down I went towards the aircraft and I was selected for additional security. It didn't take long for the guy to go through my very lightly loaded cabin bag, and then frisk me and wish me a pleasant flight. Straight on board to seat 29A which is hands down one of the best two seats in World Traveller Plus (the other is 29K). It is the window seat here, and apologies for the blur as I was rushing the picture not to look too geeky!
You will note I am standing directly in front of the seat as there is no seat in front (there is in front of the B seat). The view from the seat looks like this.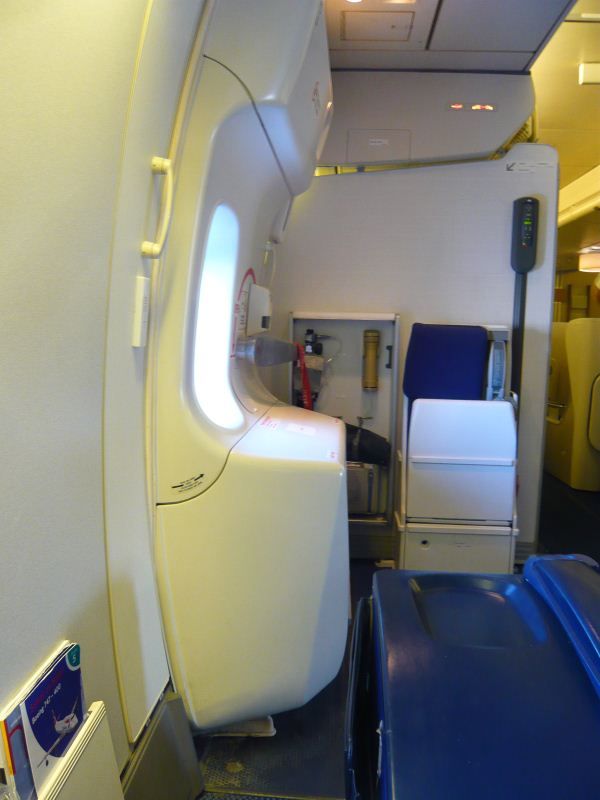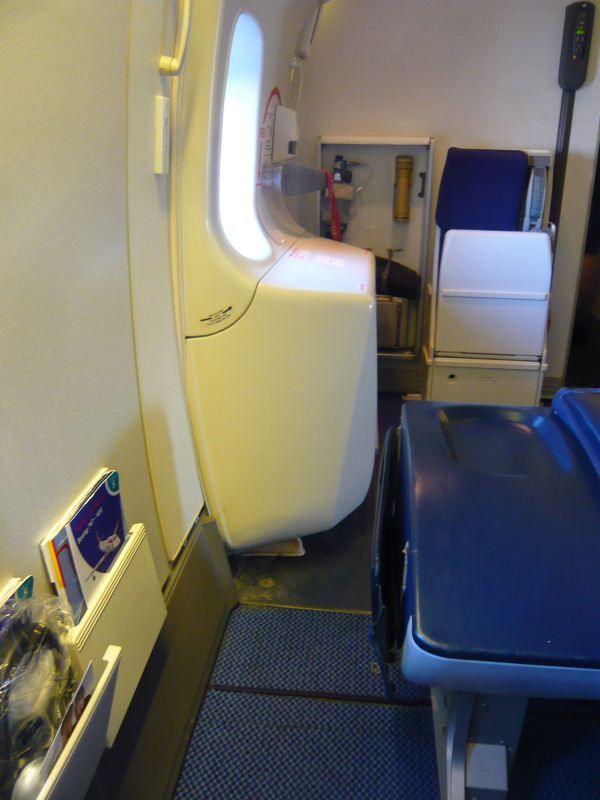 That blue shelf part is the B seat in front extending sideways. I have sat in that seat before (it's a single) and it's not great due to the fact that you can't see out as there is no window next to it. The seat pockets are in the wall like this.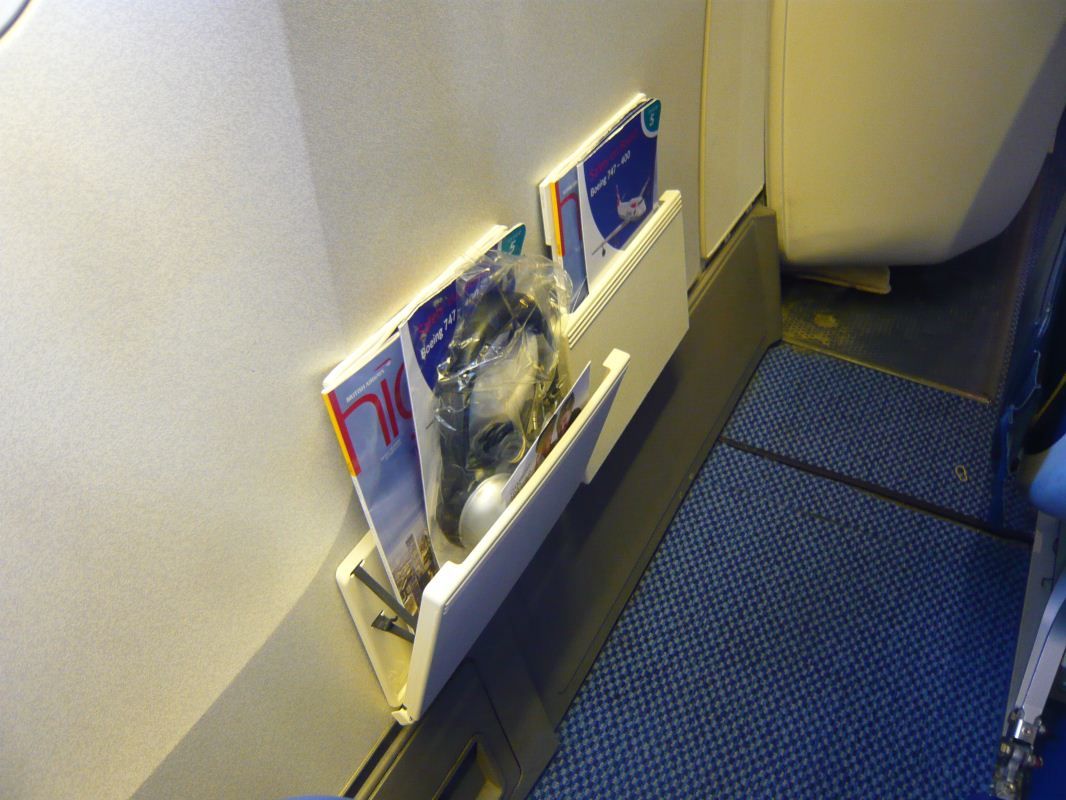 A view of the cabin from my seat.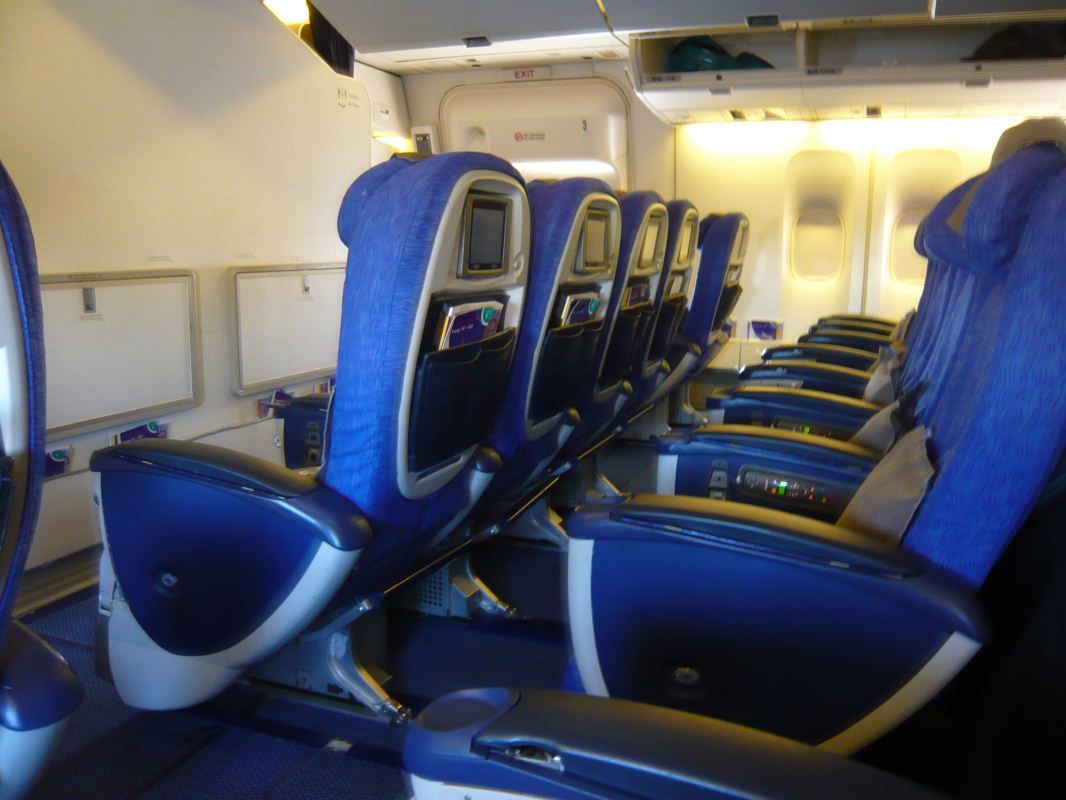 The view out of my window at the gate.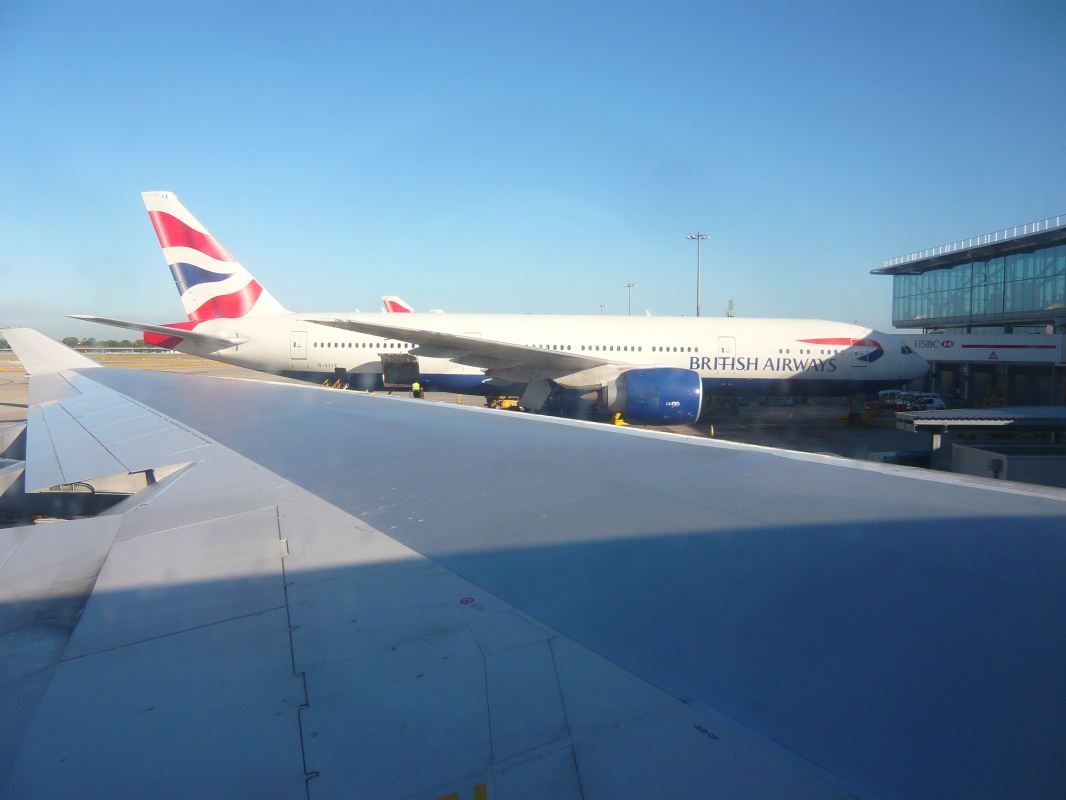 The drink holder, though I didn't need it for reasons which I will explain later.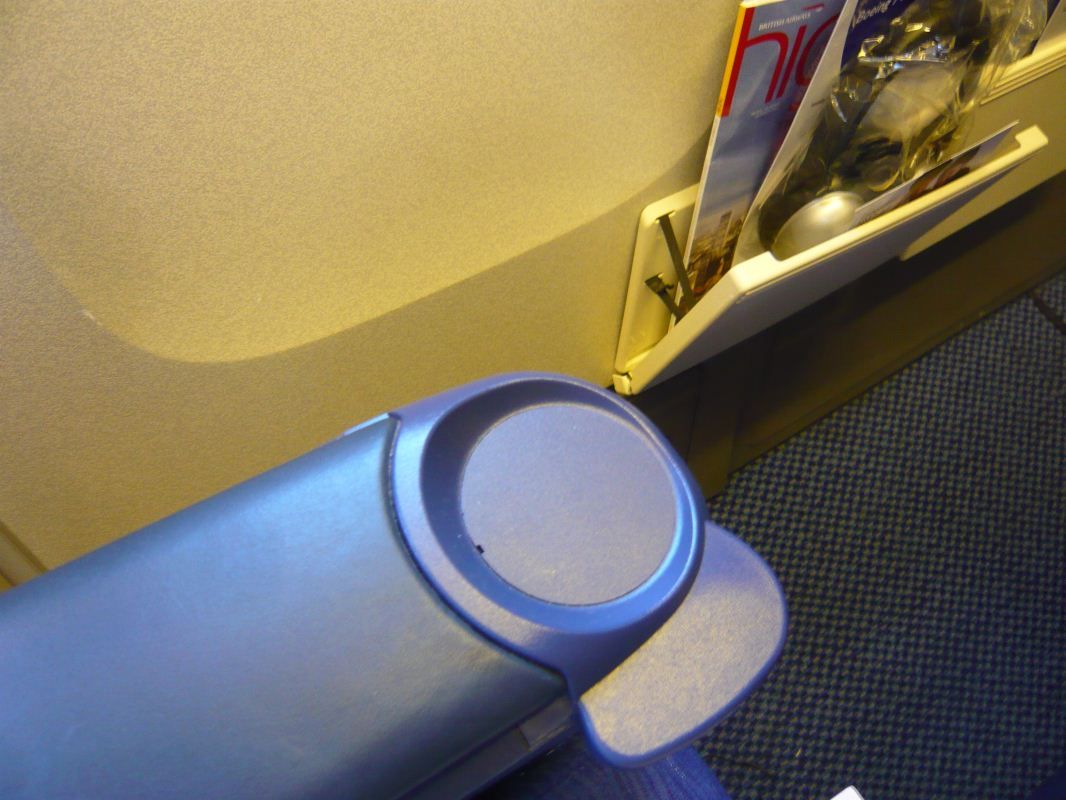 The cabin crew were very friendly and chatty, which was a delight. While I was sitting down I was offered a newspaper which was quite welcome since I was first on board and it promised to be a while until we were in the air.
There had been a configuation swap on this flight, so everyone's seats were reassigned a week or two before the flight. I got the e-mail, logged in and of course selected the vacant exit row seat, which was another €20 or so on top of what I had already paid for seating. The guy sitting next to me was upset that his friend wasn't sitting next to him, and he was chatting to the poor guy in the seat behind him saying that was his friends original seat and generally moaning about the fact they weren't sitting together.
He was quite nice though and got chatting to me - his friend had the seat next to him free, so I said the crew wouldn't have a problem with him moving, as I'd done this before. He got confirmation from the cabin crew that this was okay, but as he didn't do this until we were on the move, he had to wait until after takeoff. That didn't bother me - I had extra space and could use the seat and tray next to me for my stuff! Happy days!
US Customers and Immigration Cards were handed out prior to take off, then we had the safety demonstration (the crew took out my PTV for me). While waiting for take off, we found out why the First Class passengers had boarded last and why we were delayed about 20-30 minutes - the system that moves the seats in First had broken and they were fixing it. It was successful it seems, and we eventually took off after a small 5 aircraft queue to depart.
World Traveller Plus has been enhanced and now includes a choice of main which comes from the Club World cabin, probably to match the Qantas Premium Economy service which BA and QF codeshare on to Australia.
Menus are distributed and look like this.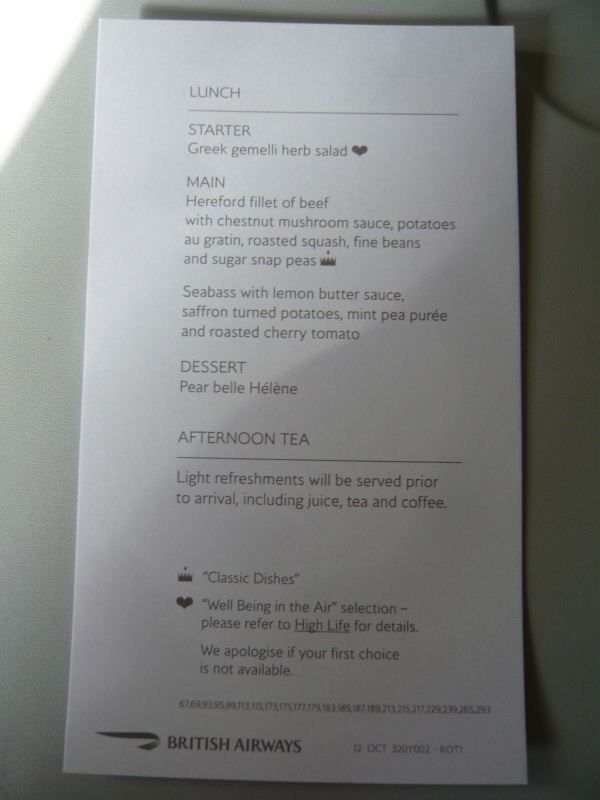 In flight of course, the lighting changes...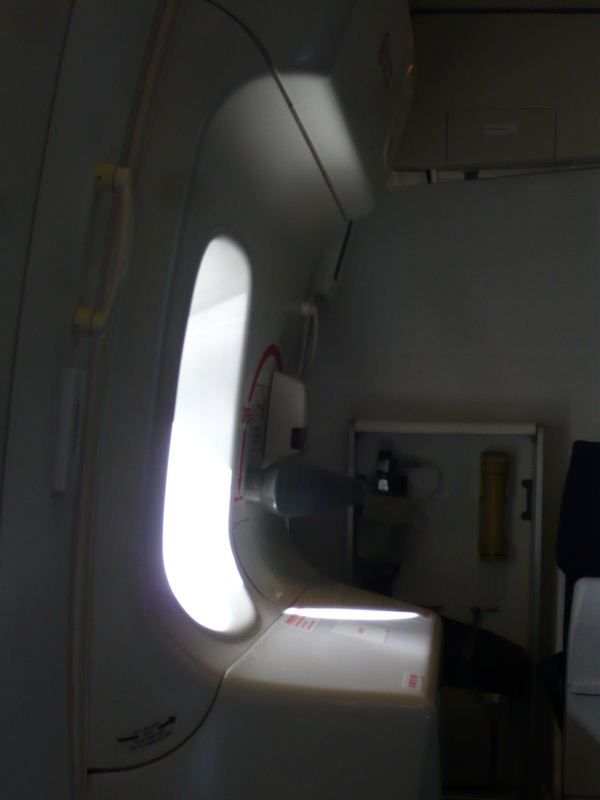 Plus the wing flexes upwards to cut off some of the view through the somewhat scratched window
Noise cancelling headphones are found on each seat when you board. I was to find out that yet again I had a pair of headphones where only one side worked. Luckily, I got to use my former seatmates pair which were working perfectly.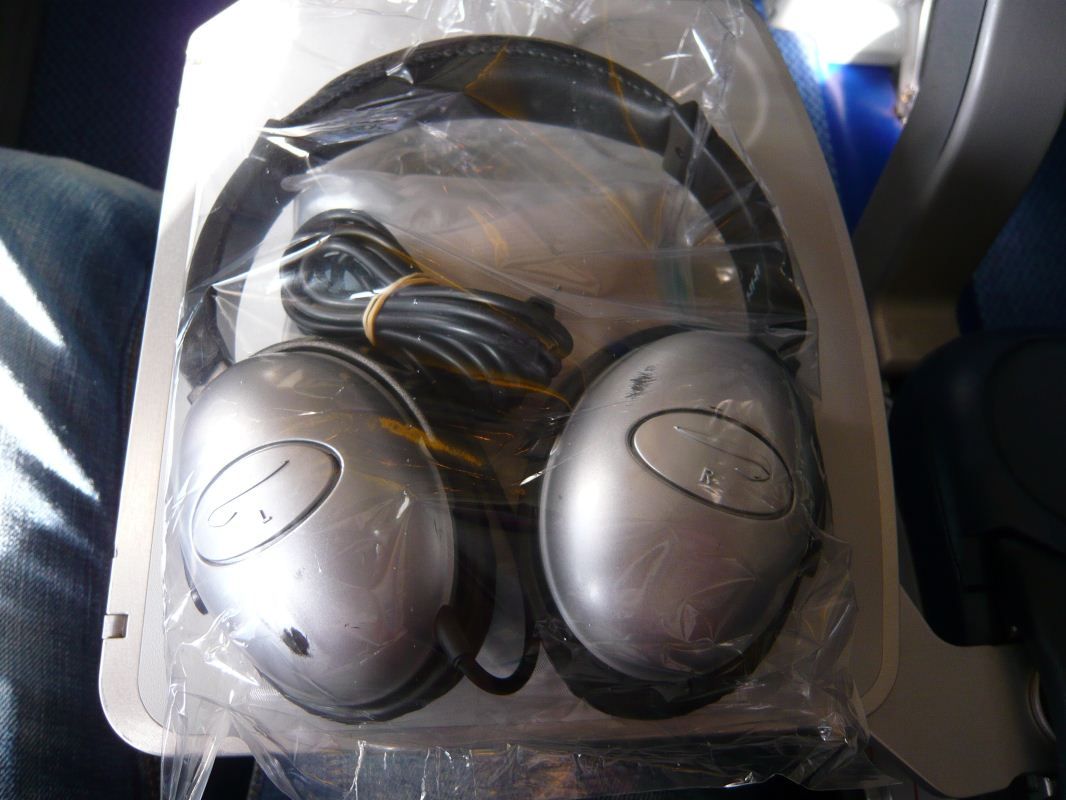 You also get an amenity kit! Which seems to contain a pen! Something everyone is always running around looking for to fill in the immigration cards and never seems to have.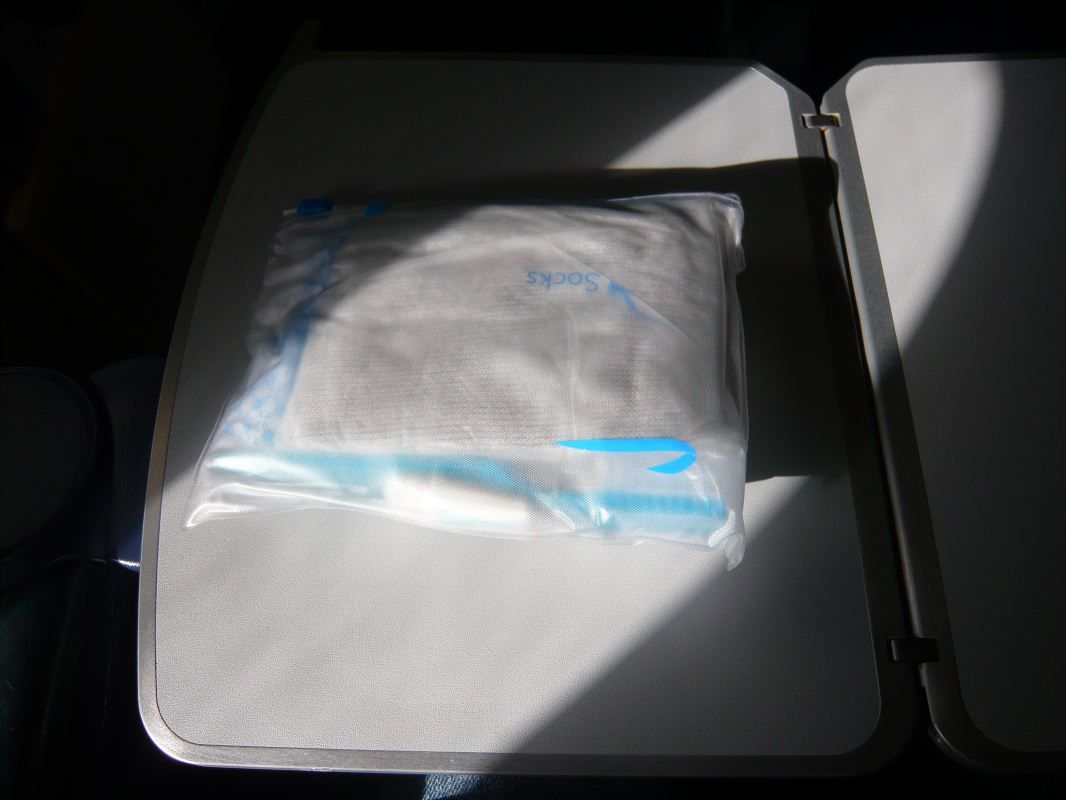 Drinks service commenced and I chose red wine as I planned to have the beef dish later. There was a choice of two red wines and I chose the Cabernet Sauvignon as I always do.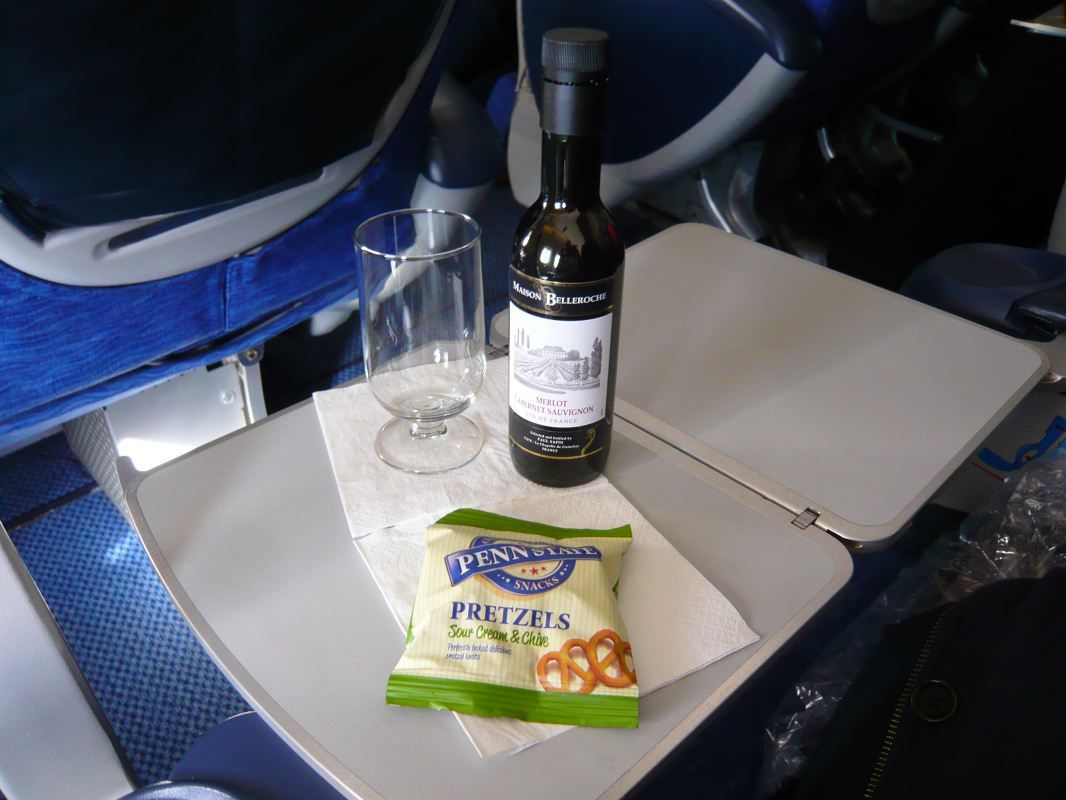 Of course, the inflight entertainment had been switched on by this time, so I was able to pick a movie.
I thought the selection was pretty poor to be quite blunt. However, once I looked more closely there were things I didn't mind seeing. In the end I watched American Pie Reunion which was okay, Magic Mike which had lots of eye candy, an episode of Gordon Ramsay Behind Bars, and then an episode of Modern Family. Clearly I don't sleep on board!
In addition to the Safety Card there is a folder about World Traveller Plus and how to work the seat. This is similar to the other classes above World Traveller Plus.
Soon, the trolley came around for our lunch service.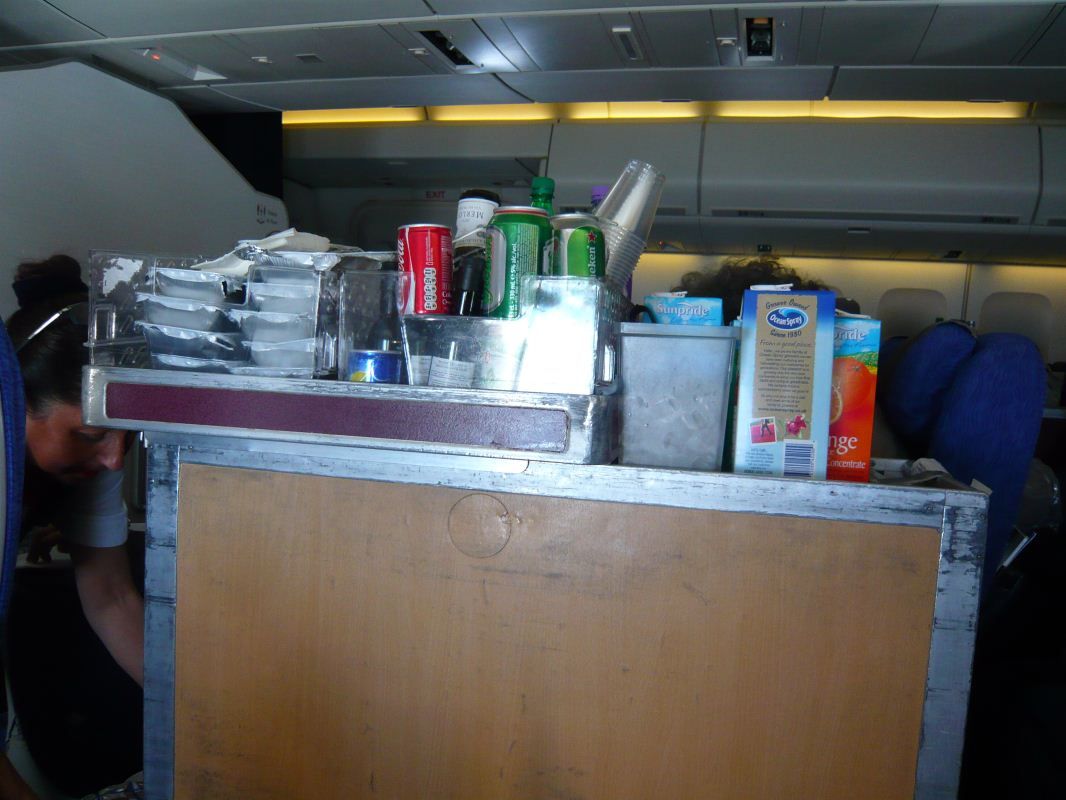 The starter was a Greek gemelli herb salad. The main was a choice of Hereford fillet of beef with chestnut mushroom sauce, potatoes au gratin, roasted squash, fine beans and sugar snap peas or Seabass with lemon butter sauce, saffron turned potatoes, mint pea puree and roasted cherry tomato. I chose the beef of course. Dessert was Pear belle Helene - basically a chocolate mousse with some pear in it.
Once I took off the cover, I saw this.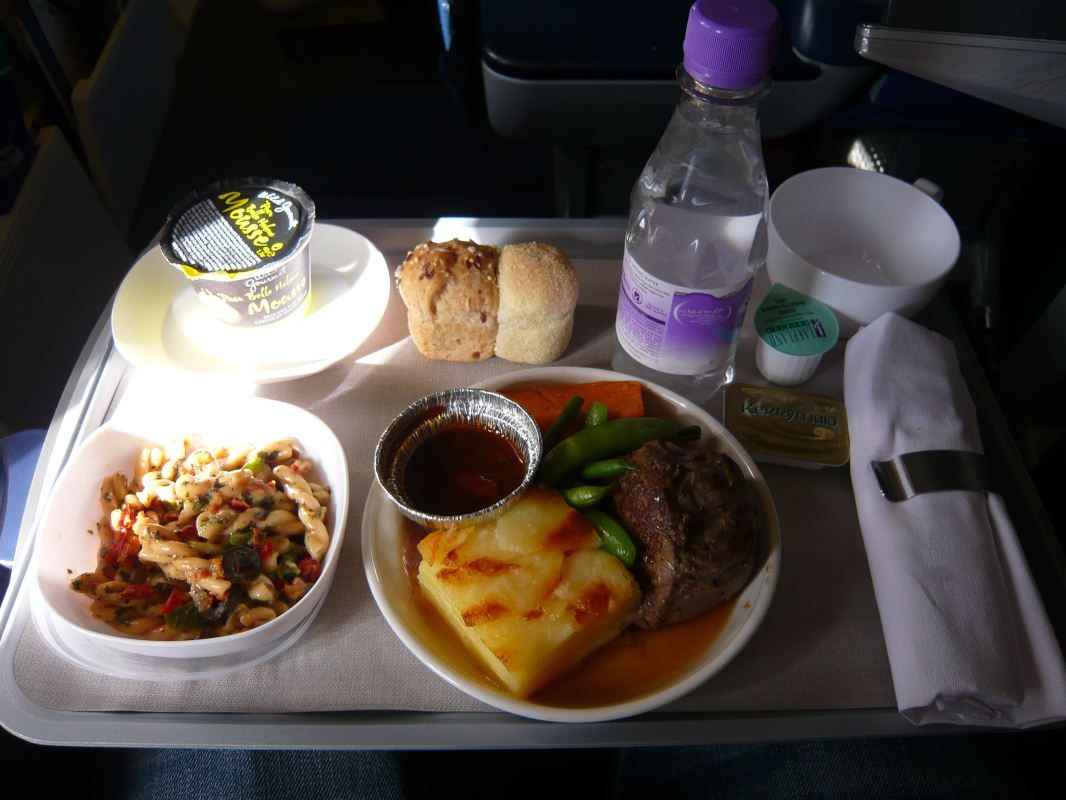 Of course, I wondered why the chestnut mushroom sauce was presented in a little foil pot and guessed that some people probably don't like mushrooms so it let them choose whether to have it or not. As I eat virtually everything, it was poured over the meat quick smart!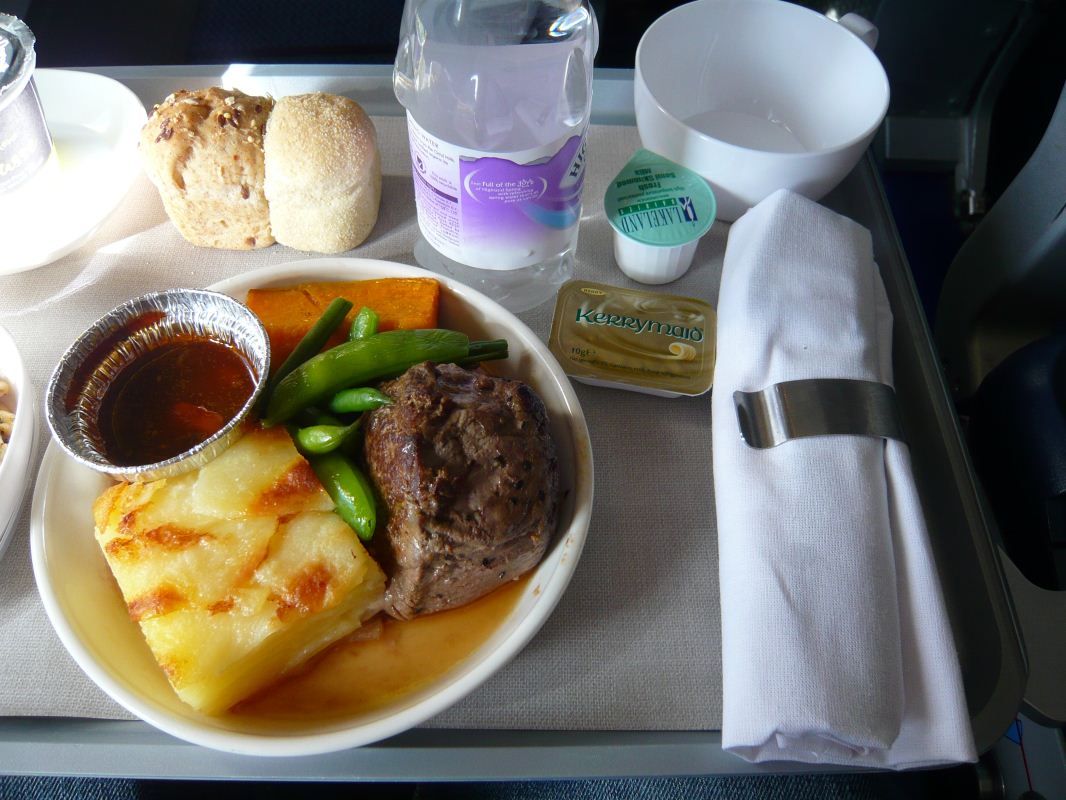 The cutlery was all metal which is great. I found the knife very unsuited to cutting through such a thick portion of meat, but eventually got more adept at it and demolished the entire meal. British Airways food has improved so much over the past year or two, so it's always delicious.
During the flight (or, during my movie viewing), I went back to the galley several times. They had trays of orange juice, cranberry juice, apple juice and water for people to take as they wished. I had about 8 glasses through the flight, probably annoying people no end with my getting up and down. That said, I was taking two at a time and once three!
Afternoon tea was served about an hour before landing and I chose the chicken salad sandwich and some tea.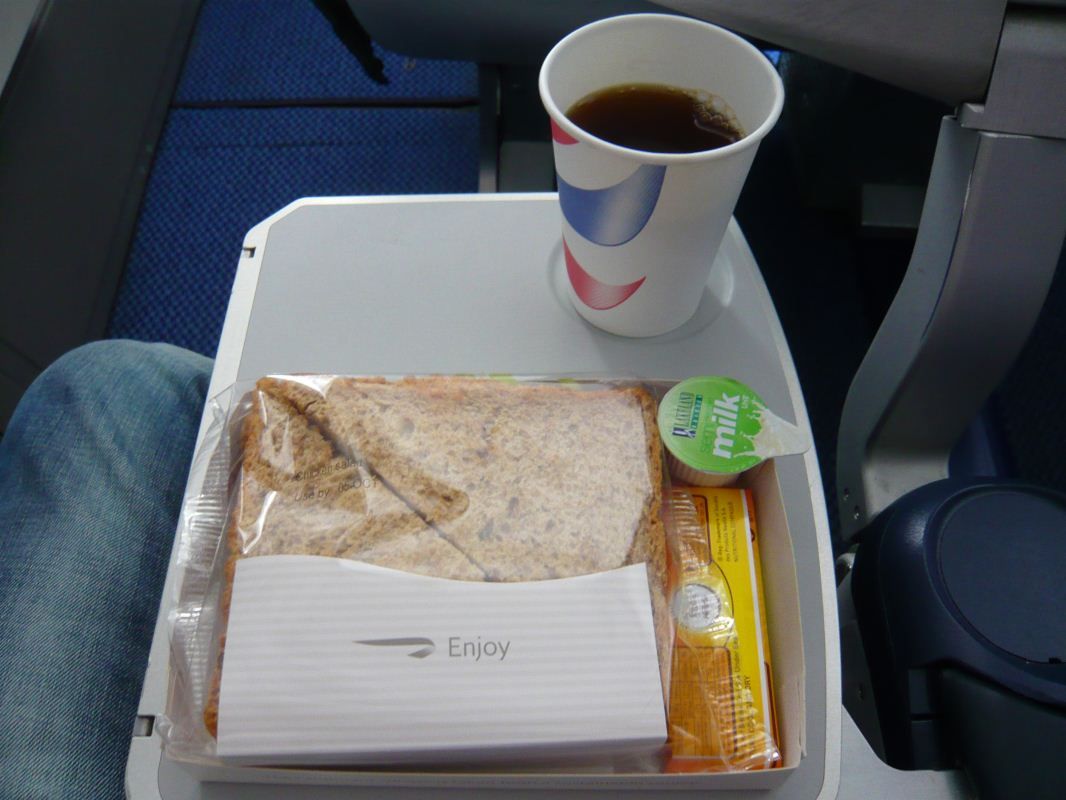 We landed at Dulles and proceeded to our gate.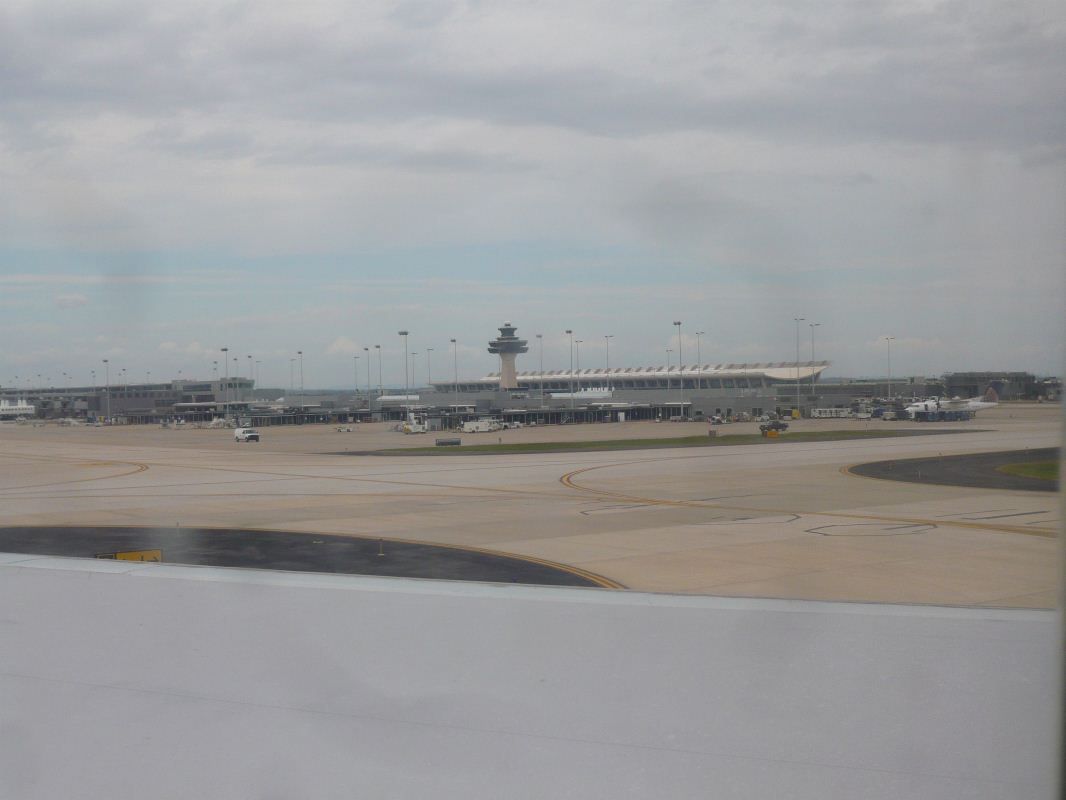 These views are kind of iconic as I had never been to Dulles before, and the airport was featured pretty prominently in Airport 1975, Airport 79: The Concorde and to a lesser extent in Airport '77.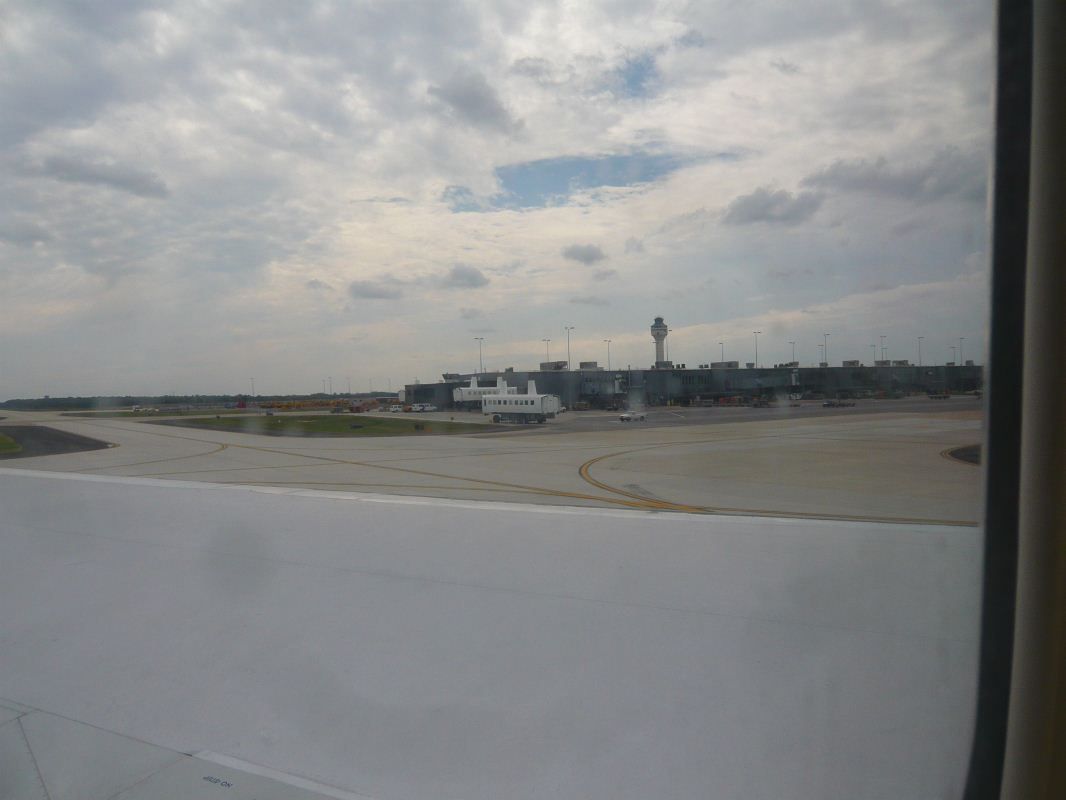 I was disappointed we were hooked up to a gate as I had heard international arrivals were supposed to get in the "plane mates" / mobile lounges to the International Arrivals Building. Happily, we went off the aircraft, into the terminal, down some stairs and we were on one! Happy days! These machines were also featured in the aforementioned movies so I was kinda thrilled to be on one. On the way, we passed an Air France A380 and, happily, an Ethiopian 787.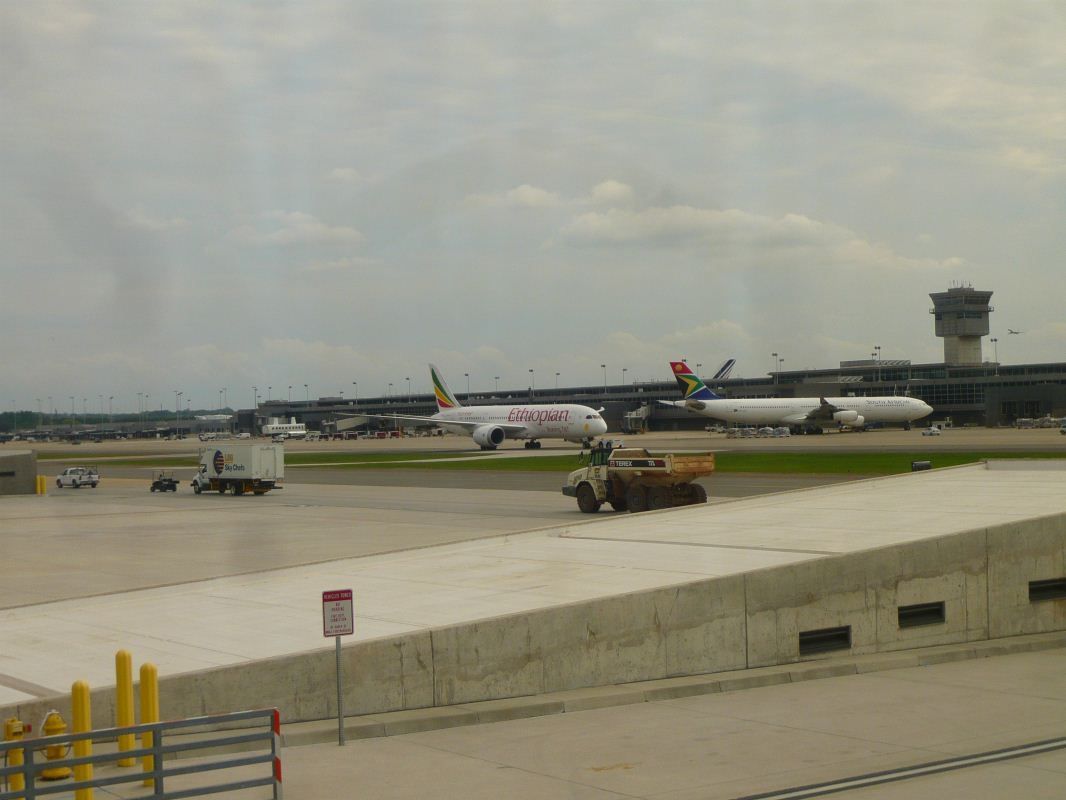 I was one of the first off the plane mate, and only one person had arrived at each customs and immigration agent before me so I only had to wait a minute before I was seen and got to do (once more) my four fingers right hand, thumb right hand, four fingers left hand, thumb left hand on the scanner before being let through to baggage claim.
Dulles airport is retro to the max! I absolutely love how all the signage is consistant and in an old 1970s style font. I thought it was gorgeous that it hadn't been modernised to death (there were FIDS of course). I got the bus and off I went to Washington DC.
I have no complaints with World Traveller Plus at all. The service from the Cabin Crew was very good, the food was quite delicious as I've come to expect from BA lately, and everything was as it should have been. I am looking forward to doing it all again when I go home in a few days time. That will be from Miami though!
I hope you enjoyed the report! Keep an eye out - there should be a few more from me in the next couple of weeks, including some on American Airlines. Please feel free to comment