Greetings, fellow A.netters!
I am back with yet another trip report to Seoul! This trip was made last year (2011) in September, where I had taken advantage of the low fares of CX to fly through HKG to ICN! I was given the full range of flights on all sectors to and fro to choose from, and after much consideration, I ended up with the following arrangement:
13 Sep 2011 SIN-HKG CX714 0115-0510
13 Sep 2011 HKG-ICN CX410 0930-1405
15 Sep 2011 ICN-HKG CX417 1015-1300
15 Sep 2011 HKG-SIN CX635 1525-1910
As you can see, the flight from SIN to HKG would be a red-eye. The hours were pretty bad, and I was not expecting to get even a wink of sleep on this flight. However, this would allow me to go on the early morning flight from HKG to ICN, arriving comfortably into Seoul at 1405hrs.
Most of Changi Airport's Terminal 1 have already been renovated, and I wanted to take a look-see! Therefore, I made my way to the airport early, and arrived at the check-in counters at 2215hrs, 1 hour early!
The counters were sparse, with just a few Business Class passengers at another queue, and 3 other passengers on my side. In less than 10 minutes, I had received my boarding passes and bags checked all the way to ICN.
Airside
The 'viewing' gallery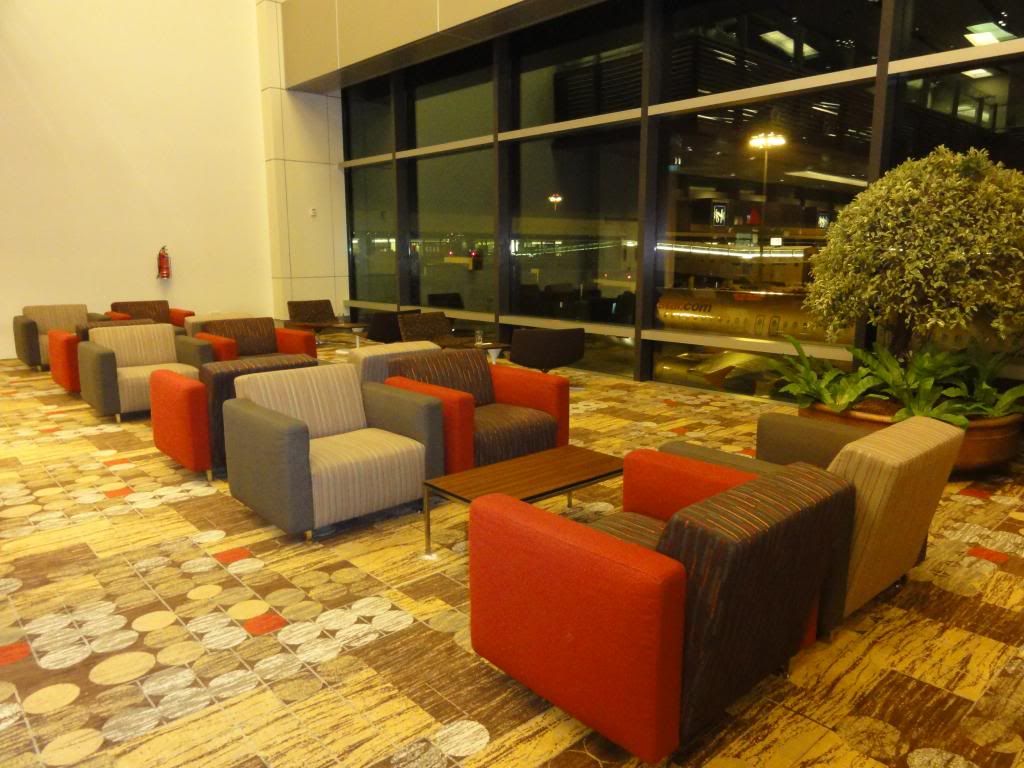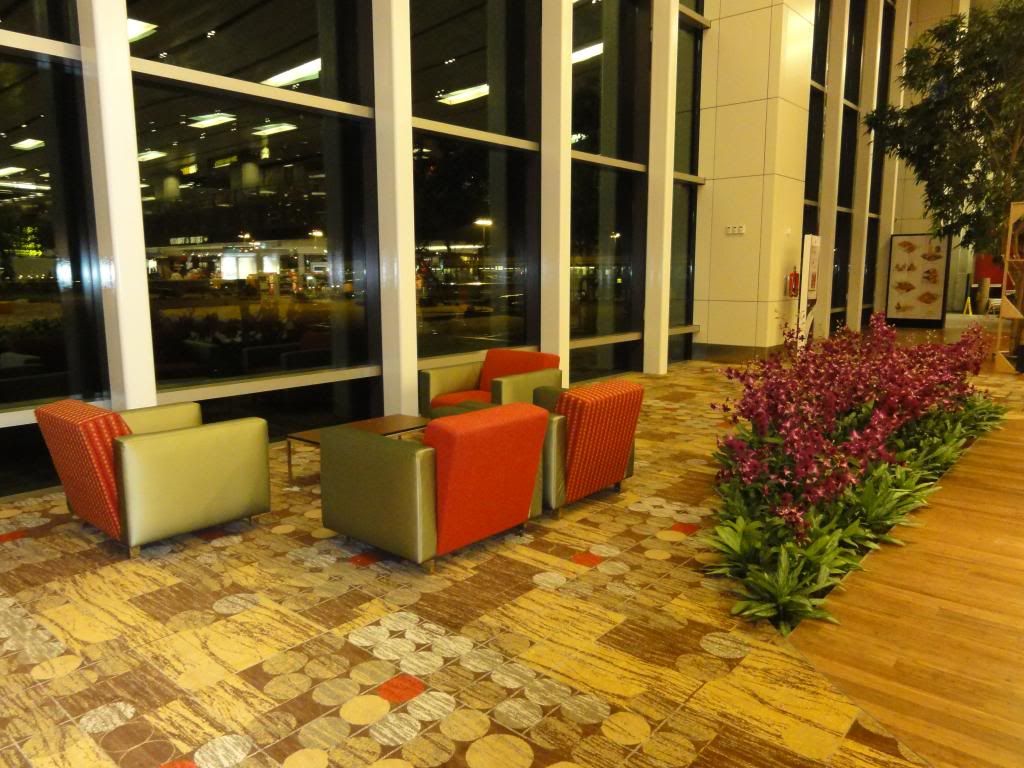 The walkway to my gate (too early to go now)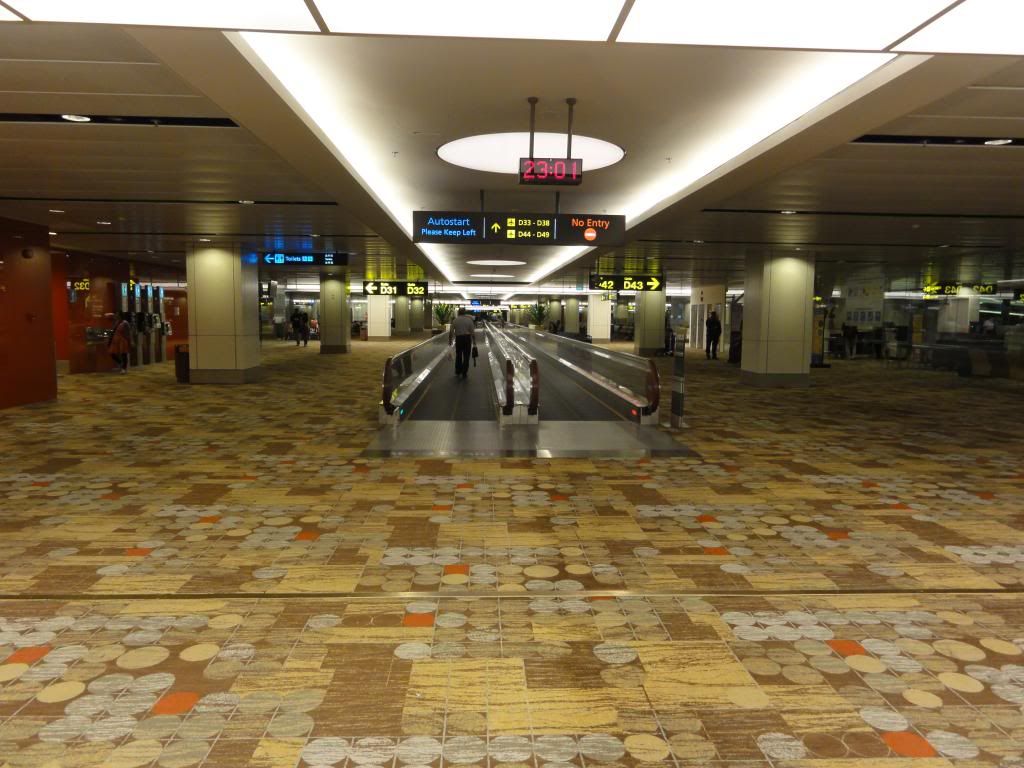 As there were still sections which were either cordoned off or not renovated yet(still clad in the old green carpet), I made my way to Starbucks for a light snack.
Today, my flight CX714 was scheduled to be an Airbus A330-300. CX has quite a number of A330s in their fleet, and the age, interior and configuration greatly differs from one another. The B-HL* series are the oldest in the fleet, with the ancient regional business and economy class seats, with the exception of a few of them which featured the new herringbone business and fixed back economy. B-LAA and B-LAB have the slimline economy seats found on the newer B773s(non-ER). The rest of the fleet(all other B-LA* series) have the latest herringbone business and fixed back economy.
My ticket definitely did not state the type of A330 I was getting, and I was excited to find out! On previous trips with CX which had A330s scheduled, I had always got the oldest ones, B-HLK & B-HLI, and this time, I really want to get on the new ones.
At about 12 midnight, I made my way to the gate. I was craning my neck to look out of the windows to get a view of my aircraft, and most importantly, the two letters on the nose gear doors! :P
The letters 'AG' on the nose gear doors almost had me jumping for joy! It was B-LAG! Finally, I had nailed one of CX's newest birds! This one was delivered in 2009, which makes it less than 2 years old!
Date: 13 Sep 2011
Sector: SIN-HKG
Flight: CX714
Aircraft Reg: B-LAG
Aircraft Type: Airbus A330-300
Scheduled Departure: 0115hrs
Scheduled Arrival: 0510hrs
Scheduled Flight Time: 3hrs 55mins
I observed that the load on this flight was very light, about 30% in economy. That was probably due to the fact that this flight arrives in HKG at such an unearthly hour, therefore not very popular. Probably the early morning CX710 would be a better option for pax going to HKG.
Boarding commenced at 0035hrs, and as usual, I was one of the first to board!
Down the jetway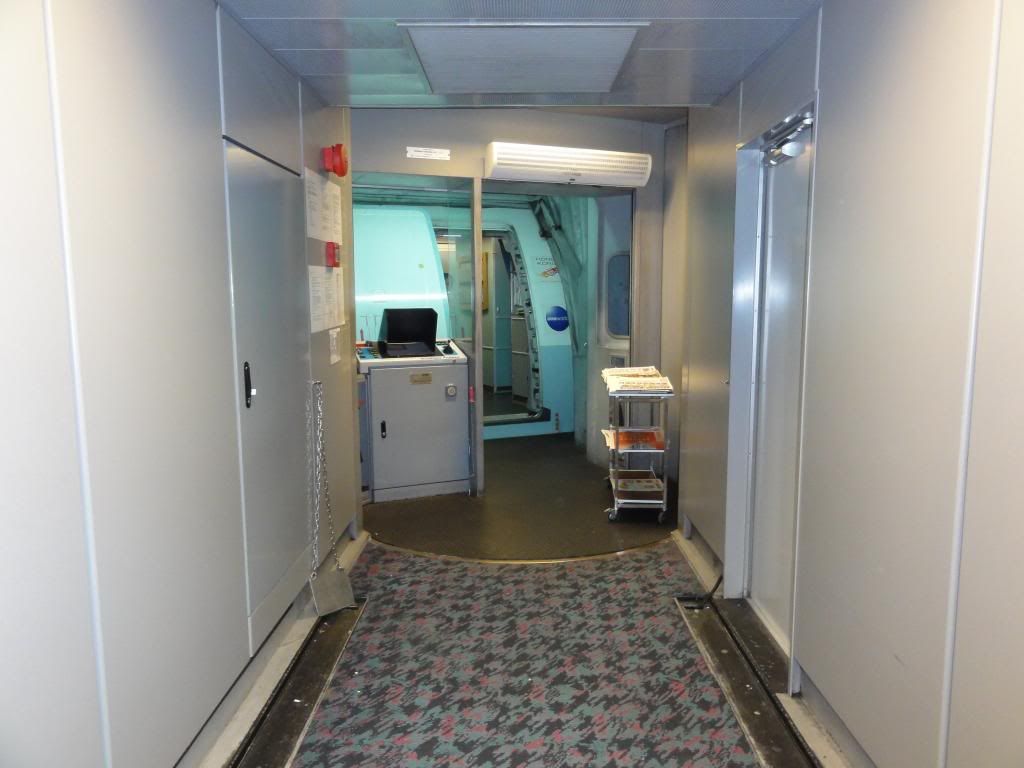 The new economy class! (At that time, that is)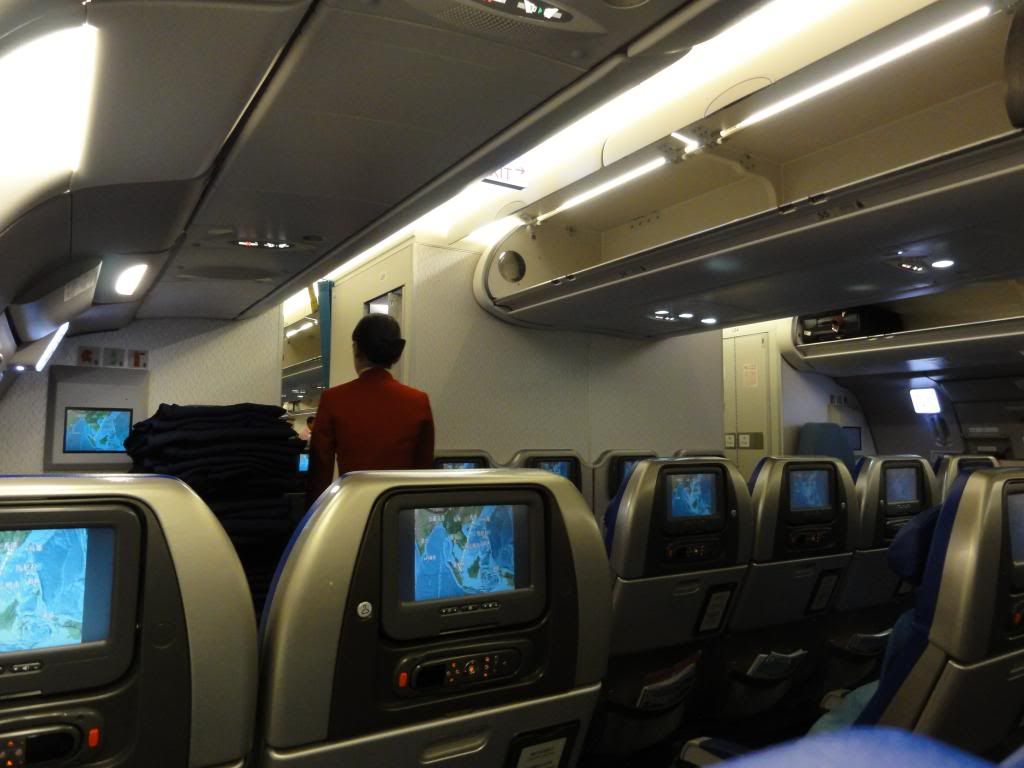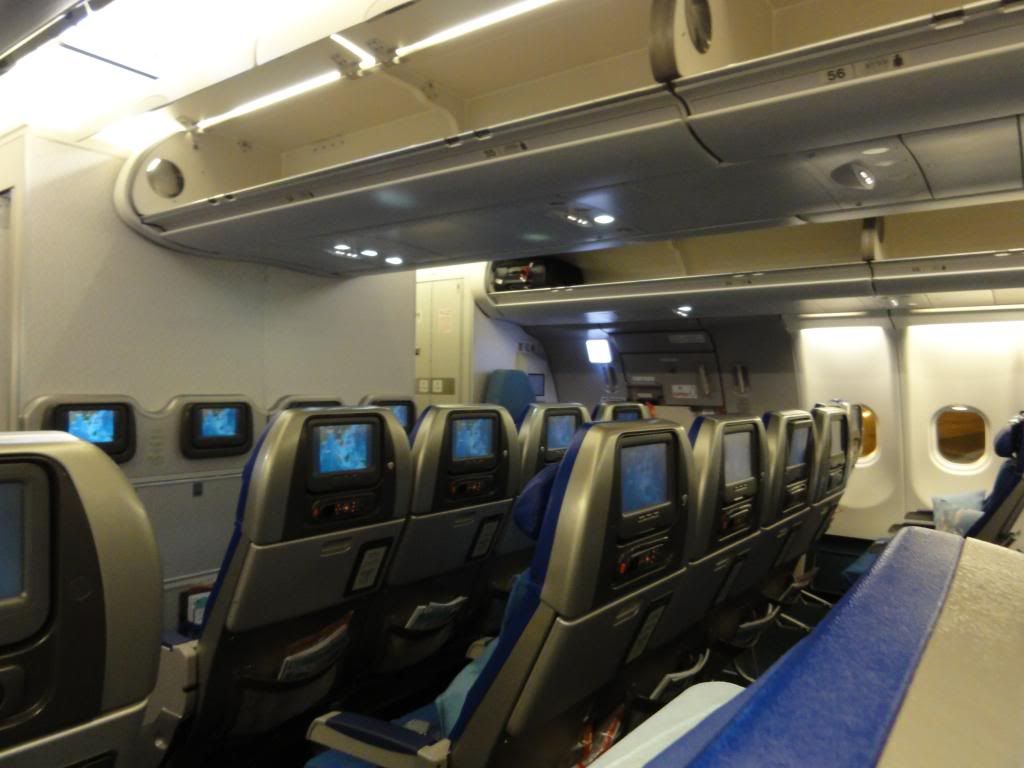 Nice and new pothole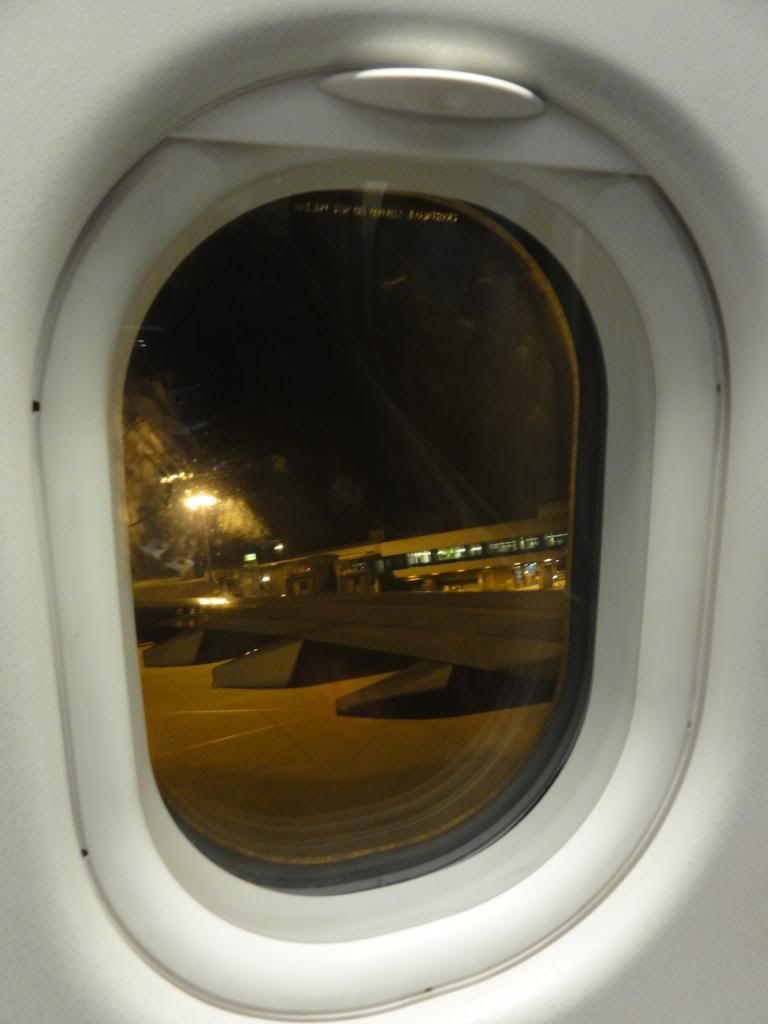 The latest AVOD by CX
Boarding was completed in just 15 minutes! Well, considering the number of pax, it was sort of expected!
Doors closed
Look at the empty seats!
We were pushed back ahead of schedule at 0055hrs, and soon rocketed off RWY 02C for a northerly departure to HKG. By then, I was already fiddling with the new CX AVOD, and happily choosing my movie for the night. The AVOD system was great, with an amazing selection of the latest movies and shows. The screen was big enough, and the clarity was excellent. The only drawback was the lack of touchscreen capability. In my opinion, CX's AVOD was definitely as good as, if not better than KrisWorld!
Have I mentioned that I just cannot sleep on planes? Well, on this flight, this would definitely hold true. With only slight 2 hours of cruising, sleeping was out of the question.
After the seatbelt signs were turned off, the crew came down the aisle and handed out a pre-packed wet tissue pack with the CX logo printed on it. No hot towels on Cathay!
A drink run followed, and after a loooooong wait, supper was served only at 2am! CX tends to take their time with the meal service, as experienced on previous flights with the carrier. Meals were served about 30-45 minutes after the seatbelt signs are switched off. This time, it took them almost 45 minutes. There was also a full bar/drink service after the meal trays were handed out.
Tonight, I chose the fried rice with egg. Some of you would probably not fancy rice at such an hour??
My late supper (or early breakfast?)
The meal was impressive. The main course was nice and hot, and tasted as though it had just been cooked. There was a warm bread bun, some fresh cut fruits, Haagen Daz ice cream, and even a little Toblerone bar! Unlike TG, the bread was only served once.
Overall, the meal was great, but a little too filling at this time of the night, perhaps? I have no complains, however.
After the meal, lights were switched off despite the short time left, about 2 hours to descent.
I spent the rest of the time watching watching a movie. I did not complete it though, spending some time fiddling with the rest of the stuff on offer.
At exactly 30 minutes before landing, the captain came on the PA and made the descent announcement. CX has an amazing sense of timing. On 99% of the flights I had taken with them, the pilot always comes on the PA for the descent EXACTLY 30 minutes before landing. His concluding phrase would always be, "Cabin crew, 30 minutes to landing." Has anyone noticed yet?
We descended into the darkness, and landed at HKG at 0500hrs.
Arriving into HKG at this hour, the terminal was deserted. It was very quiet. Apparently, most of the pax on this flight were transfer pax. We made our way to the transfer, only to see it closed! We were later told by an airport staff that the counter would only open at 0630hrs.
I quickly found a seat near the transfer desk and tuned in to my trusty MP3 player to while away the time.
After clearing the transfer procedures, I was released into the also-deserted departures area. All the duty-free shops were closed. The restaurants/food court area was open, though, and I had a hearty Hong Kong style breakfast.
Boarding for my flight to ICN would be at 0850hrs, and I spent the rest of the time relaxing at the food court after my meal.
At 0845hrs, I made my way to Gate 24. This gate was very near to the restaurants, and I soon arrived after a short walk.
Gate 24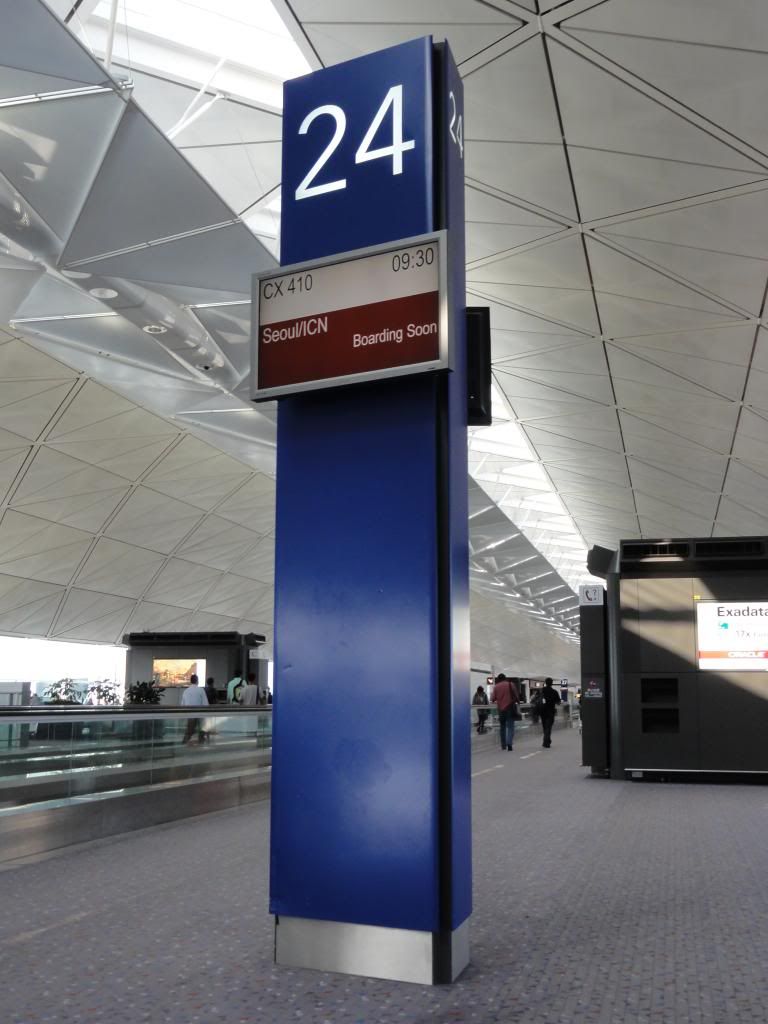 Today's flight was scheduled to be a Boeing 777-300. I wasn't excited at all, as I had flown on this type too many times to count, either with CX or other carriers. Our flight would be operated by B-HNJ today, one of the older B773s in their fleet. Expected.
Date: 13 Sep 2011
Sector: HKG-ICN
Flight: CX410
Aircraft Reg: B-HNJ
Aircraft Type: Boeing 777-300
Scheduled Departure: 0930hrs
Scheduled Arrival: 1405hrs
Scheduled Flight Time: 3hrs 35mins
Boarding began on-time, and I was again one of the first to board. The disappointing interior of the aircraft hit me once again when I boarded.
Aging CX cabin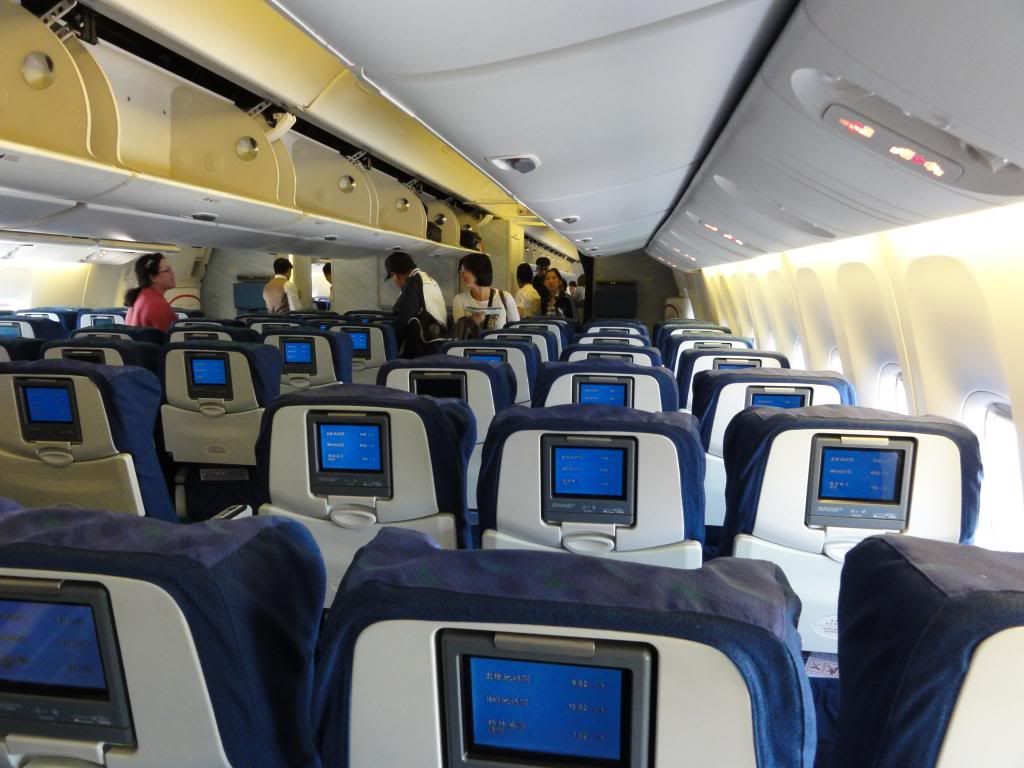 I have never had a liking for Cathay's B773s. The seats are really old, and the fabric on some of the seats looks so loosely fastened. Although there are PTVs installed on every seat, this was the old loop system, with no AVOD, and the screens were so small and picture quality was almost non-existent. I have had one too many flights where the screens were so fuzzy, I couldn't even watch anything.
I turned my attention to the outside.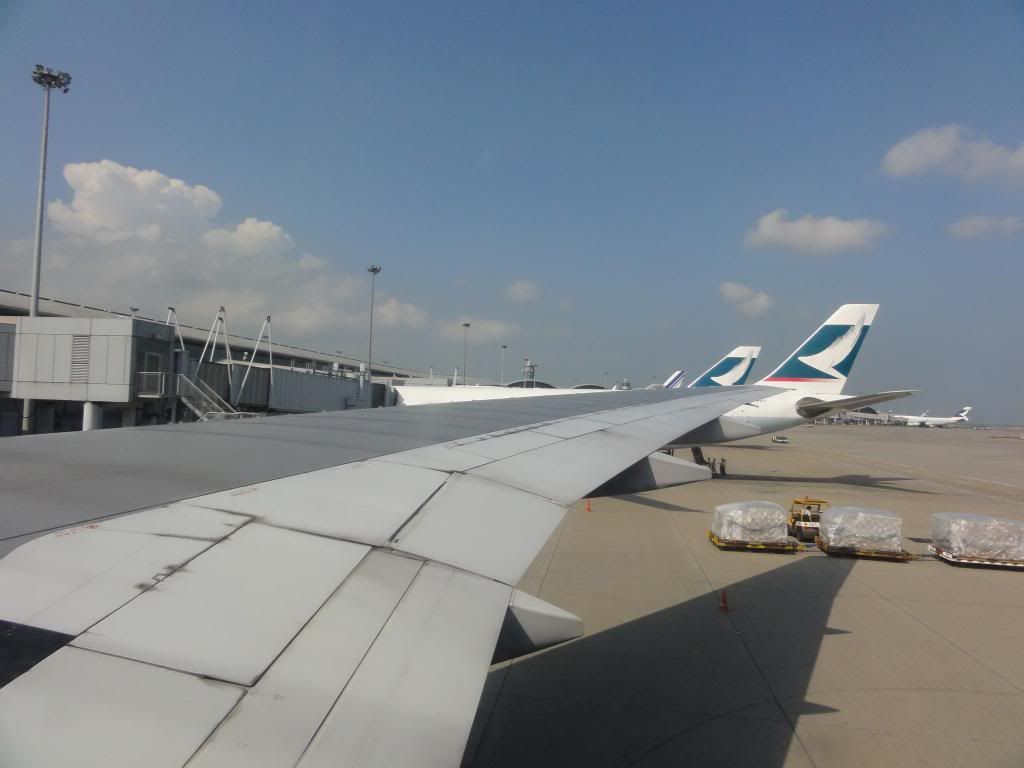 Luckily, my screen today works just fine.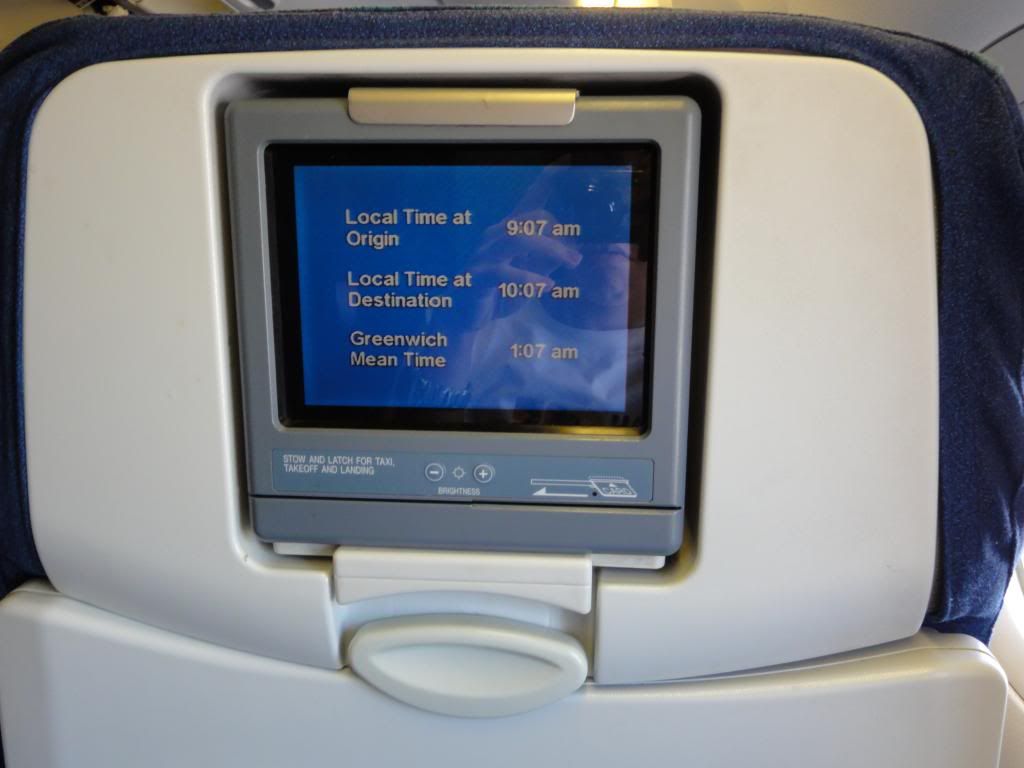 Pothole shot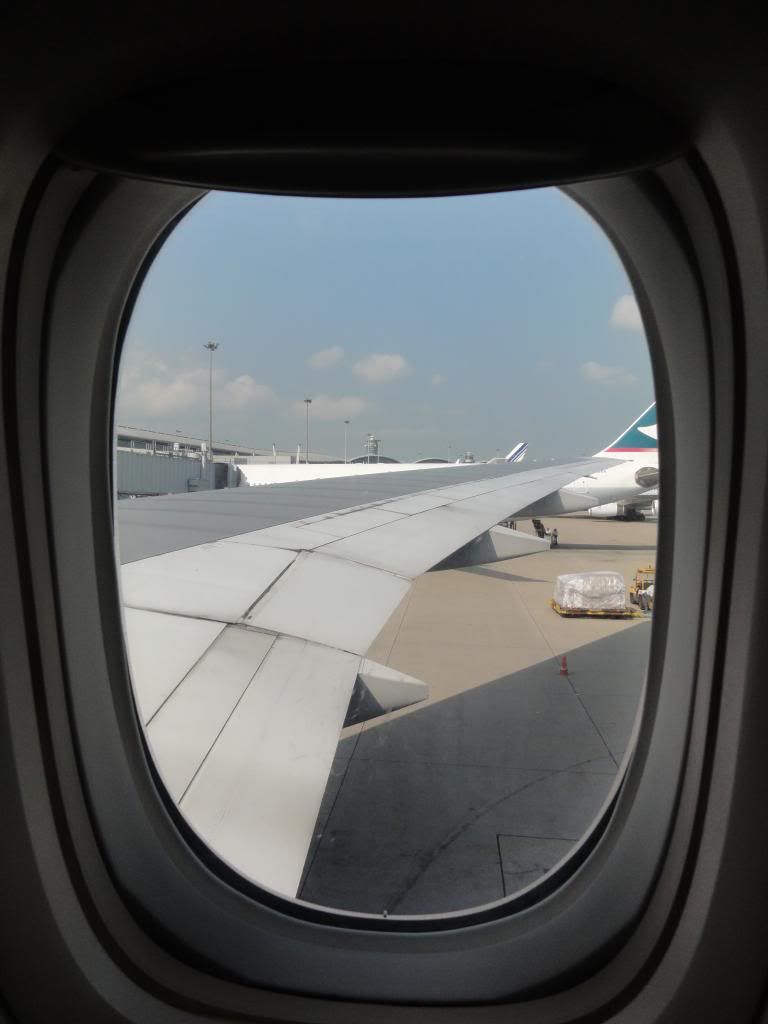 Load was rather light today, and we were pushed back early at 0915hrs.
Doors closed
Taxiing to the runway
We roared off the runway at about 0935hrs, and the seatbelt signs were soon turned off. I would have to wait another 45 minutes before breakfast is served.
Climb and cruise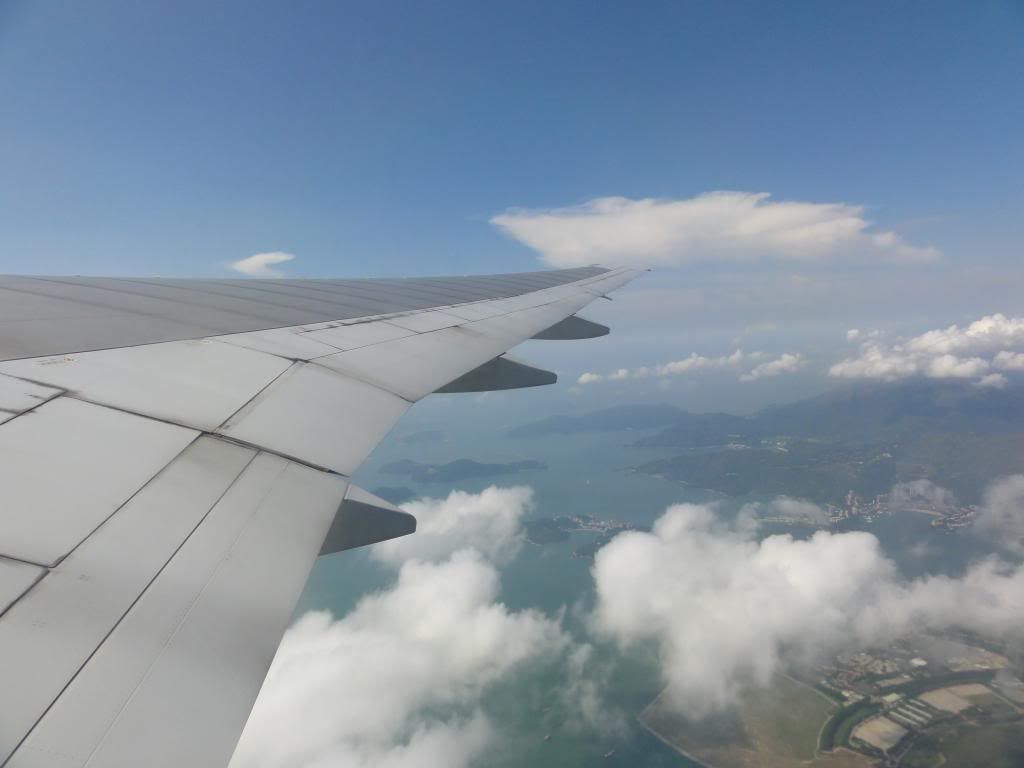 The wet tissue and drink service was soon completed. Breakfast came at 11am, a good 1 hr after the seatbelt signs were turned off.
My choice of breakfast was sweet and sour chicken with rice. The meal was well heated, and it was definitely filling. The only part which appealed to me was the egg custard pudding dessert. That was really nice. The rest was only average.
Breakfast!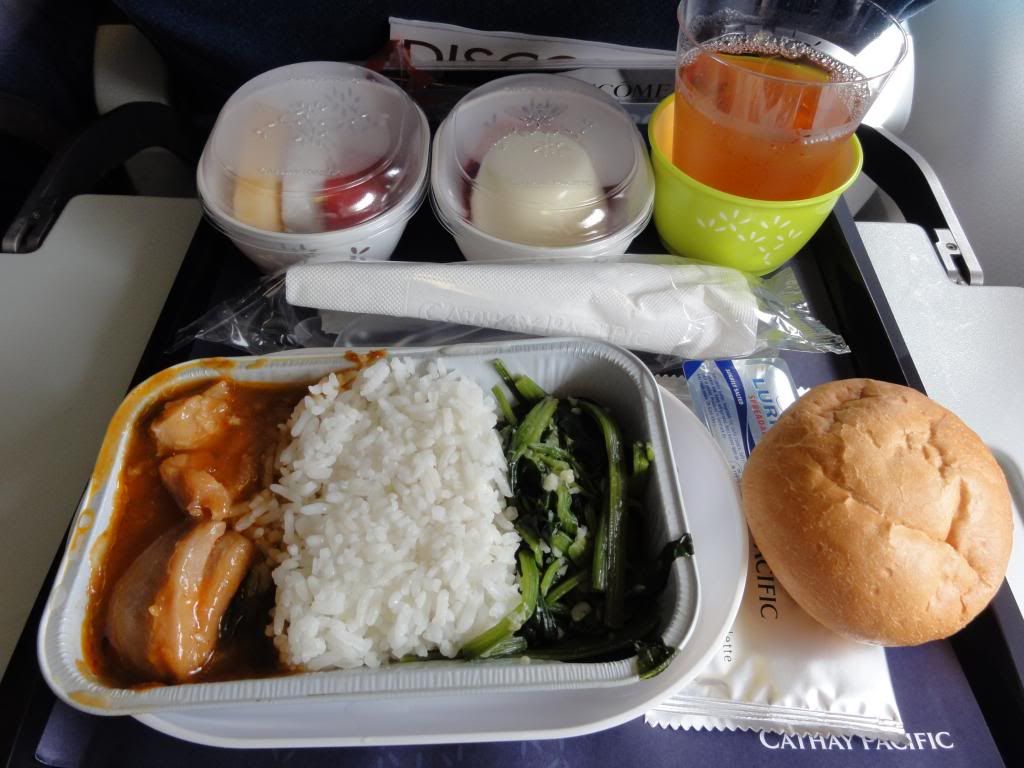 The usual drink/bar service followed. As I did not drink, I asked for more OJ instead. The last time I had alcohol on a Cathay flight, I was knocked out from SIN all the way to HKG! I woke up only when the passengers were disembarking. Never again. Not this time, at least. :P
The next 2 hours were spent watching a movie on the loop IFE. On this kind of system, you have to choose your movie in the IFE magazine beforehand, and you couldn't change your mind, as all the other movies would play at the same time. Want a change of movie? Wait for the movies to all finish playing.
Drink runs were frequently conducted, and after an uneventful flight, we landed at ICN at 1405hrs, 5 minutes ahead of schedule.
And this concludes part 1 of my journey.
Overall, I was only satisfied with Cathay Pacific. In my opinion, they should have a more consistent cabin product. There are just too many variations of the economy product, and one had no control of which type he would end up with. While the SIN-HKG sector was run with the new product, the HKG-ICN sector was done with an ancient dinosaur aircraft. SUch inconsistency would eventually annoy frequent flyers.
The crew were polite and friendly, and did what they were supposed to do with a smile. One gripe of mine was the delay in serving meals, as mentioned above. Other than that, service was swift and efficient.
Whether I would fly CX again would depend on the fares and if they would upgrade their aircraft to a more consistent standard. I am aware that they are already introducing the latest cabin products as of Sep 2012, and will definitely look forward to experiencing it onboard.
Hope you have enjoyed my report. I apologize for the lack of pictures on this TR, as I was rather tired on this trip.
Do keep the comments coming, I do appreciate feedback for improvements on my future TRs.
Thanks!
- Anthony CPC