"Standby on KL and the F100 by Montenegro Airlines"
Zdravo, dear readers again,
this is the continuation from where I left you
in Tivat:
Stunning Approach For TIV By Montenegro Airlines
(by
FLIEGER67
Oct 2 2012 in Trip Reports)
Back at the hotel and good to go for one of these shorty travel nights!.
Sure, there are some more flights to do today:
With great thanx to this tool:
http://www.gcmap.com/
TIV is counted as no. 222 on the departure airports map:
Departure Airports II
auf einer größeren Karte anzeigen
All the flown routes:
Tripreporters Flüge II
auf einer größeren Karte anzeigen
And the earlier 200 departure stations:
Departure airports
auf einer größeren Karte anzeigen
Looking forward to a new and hopefully sunny day.
New and hopefully sunny?. Oh yes, it is!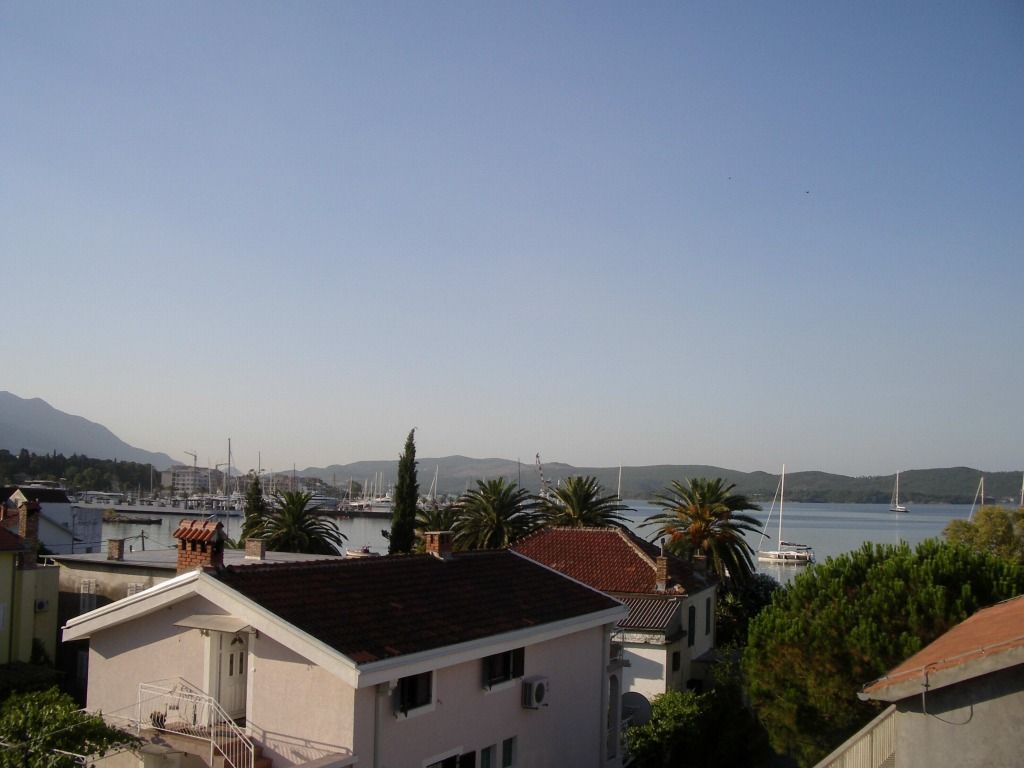 This is Hotel San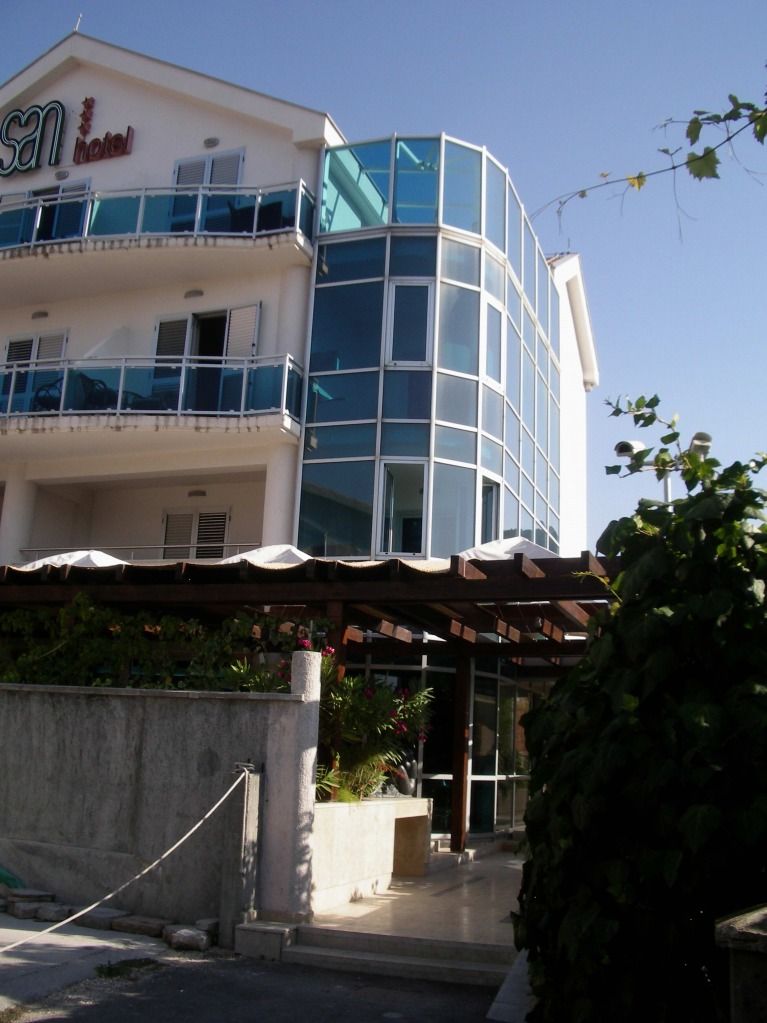 The fare B&B is 53.00 Euro´s, sure ok here.
Ready for breakfast now?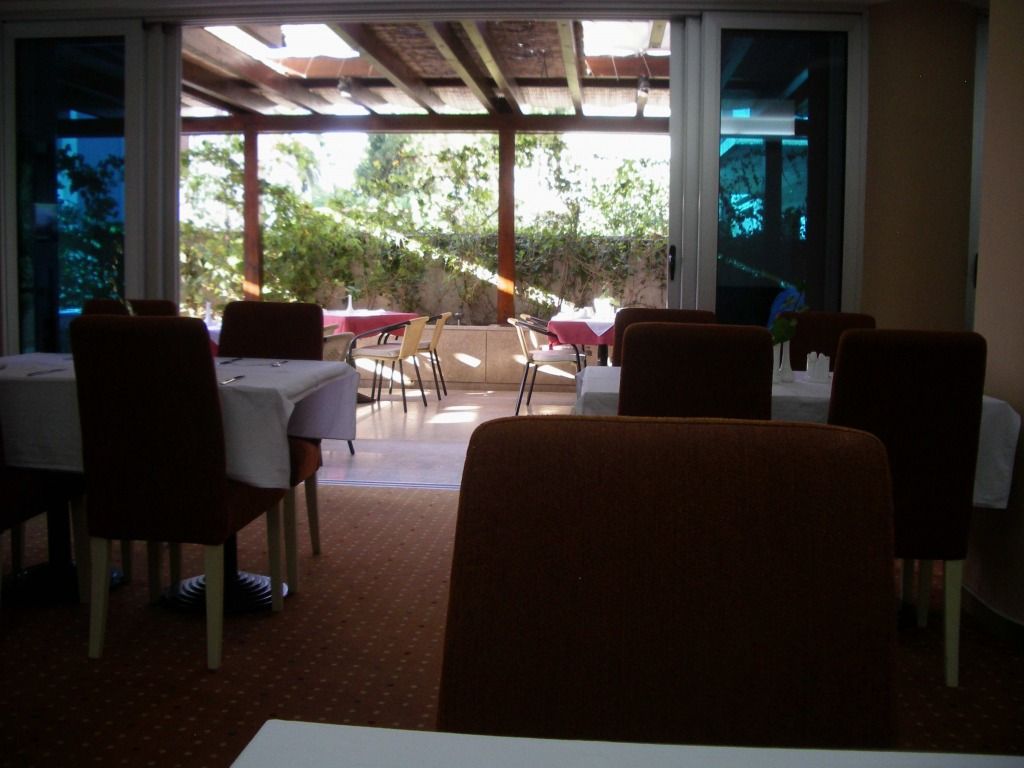 Small, but everything what I need on offer
The hotel´s beach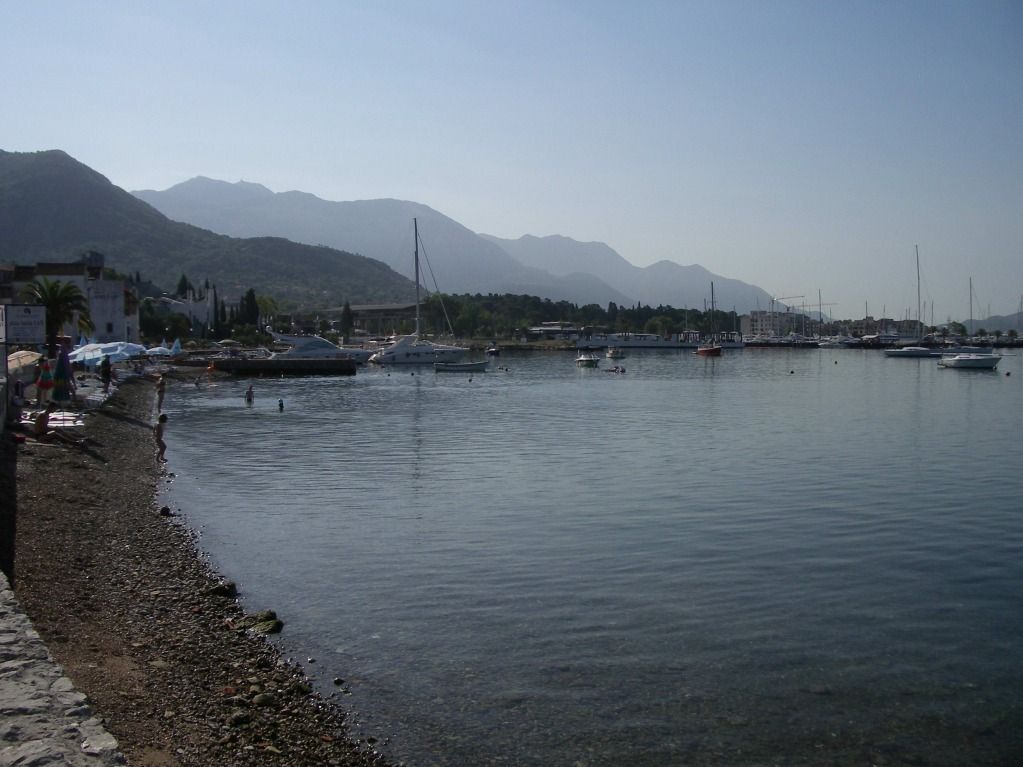 Let´s go for another view to Porto Montenegro.
Puro Beach, isn´t it Ibiza, really?
This is a former military area, nowadays rebuilt as one of the supreme yachting harbours around the med and on the other hand side used as a museum.
By sub anyone?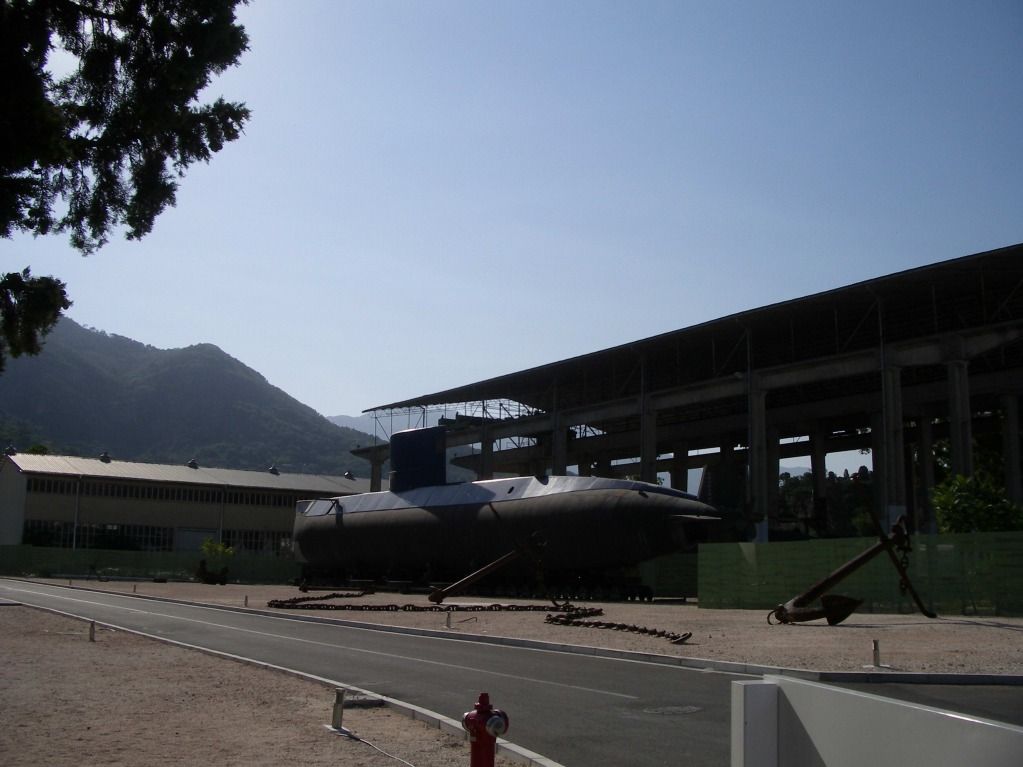 Palms, yachts and blue sky
Really well done here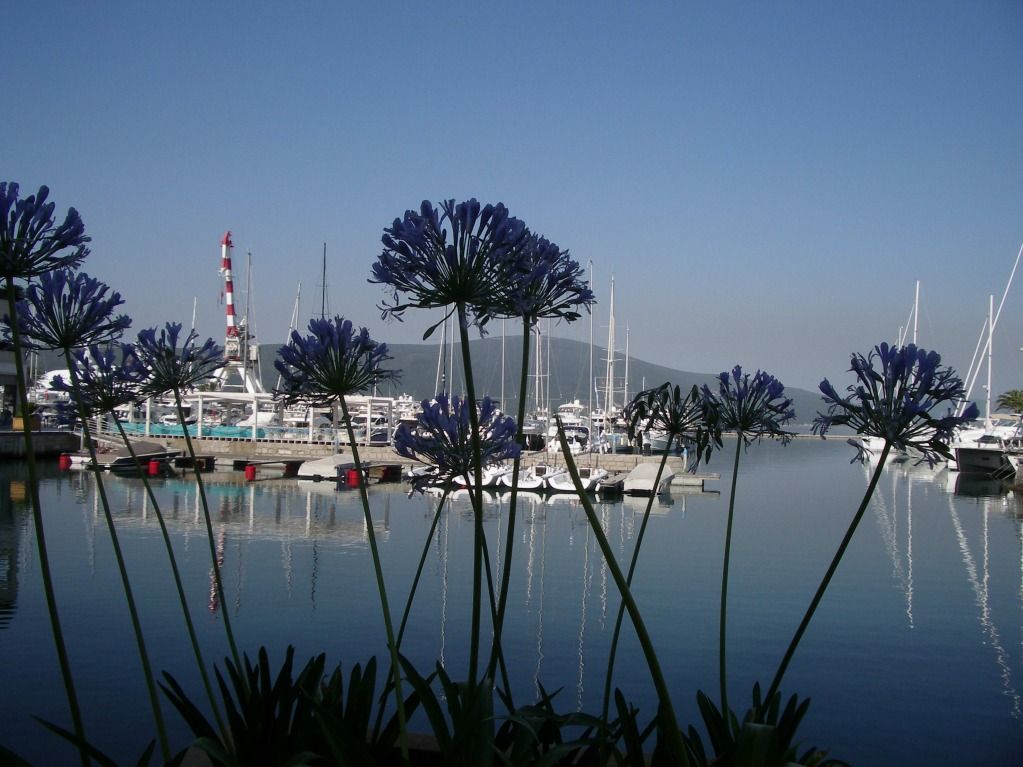 Ships from all nations around
All nations?.
Well the majority looks like Russian owned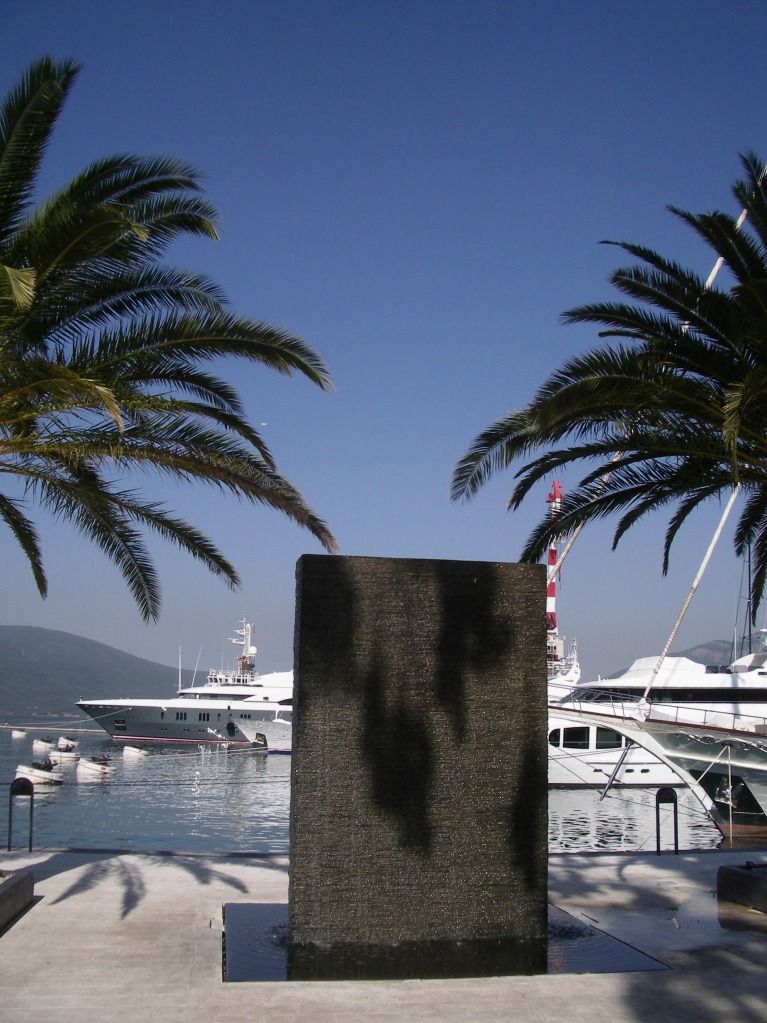 "Jadran" in daylight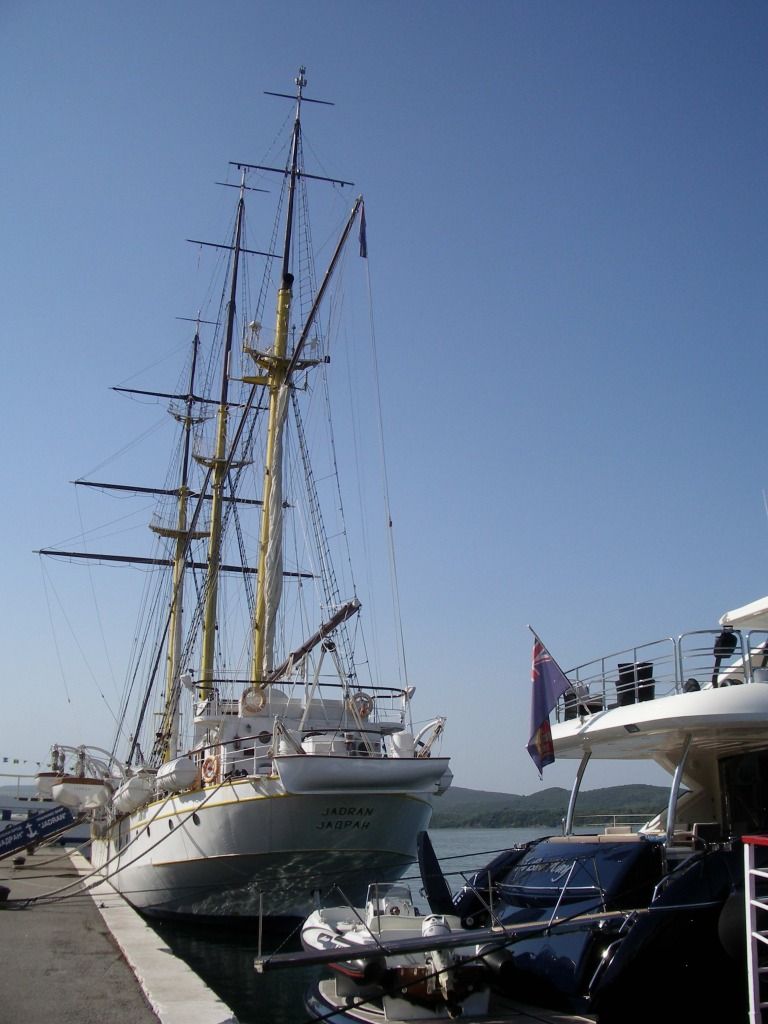 The old town
Seaside view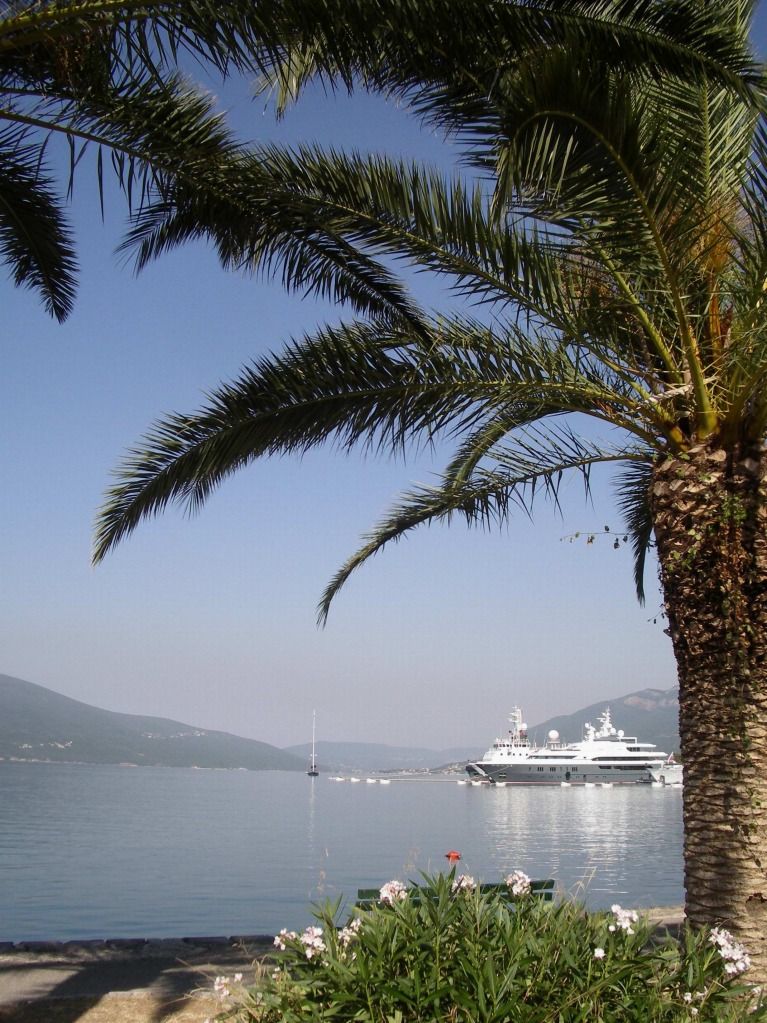 And some more of these tiny ships on the way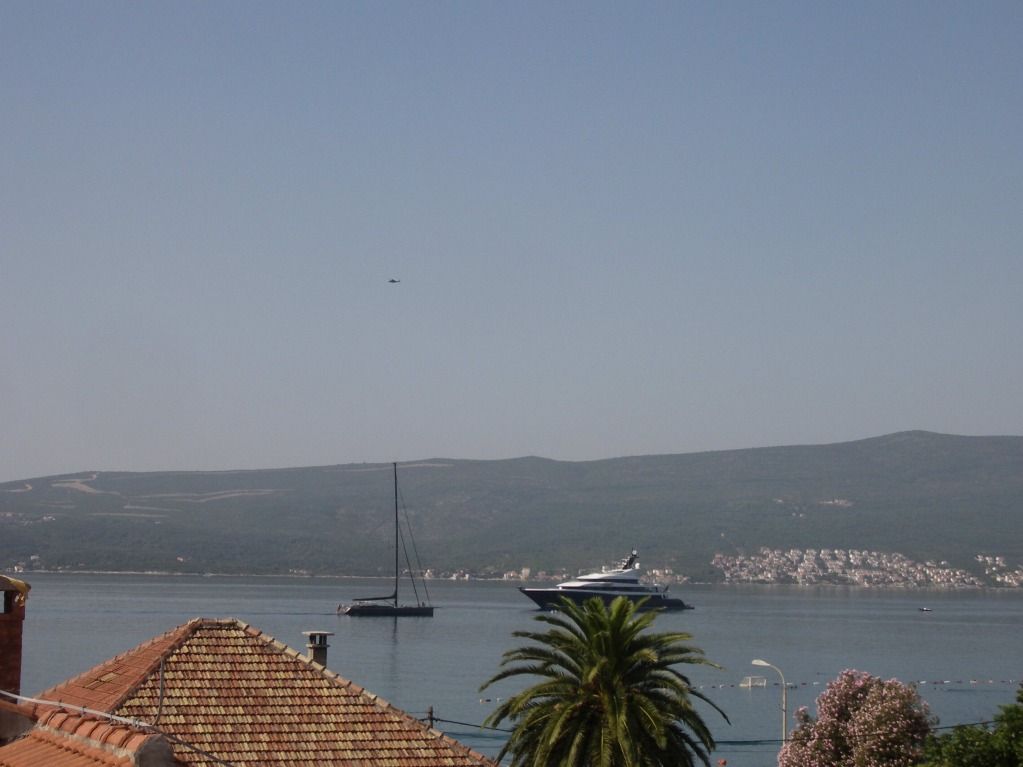 Ok, bye now for hotel San, the owner and the staff,
sure a nice place to stay in Tivat.
And heading for the airport, the same way like yesterday, of course.
Russia, Serbia, Ukraine and the one and only western destination with Copenhagen on the arrivals screen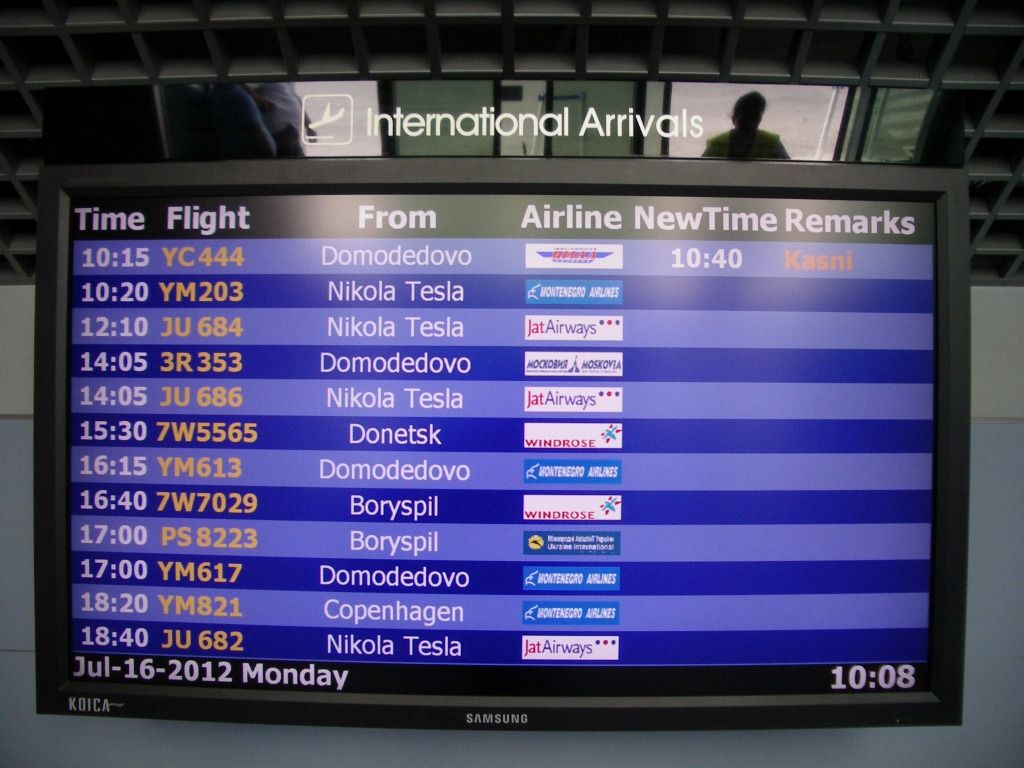 And where should I go today?
Monday, 16.07.2012
.
.
.
.
Service YM 820 operated by Montenegro Airlines
Scheduled: 12.10 // 14.55
Flowers for Tivat
Tower and terminal view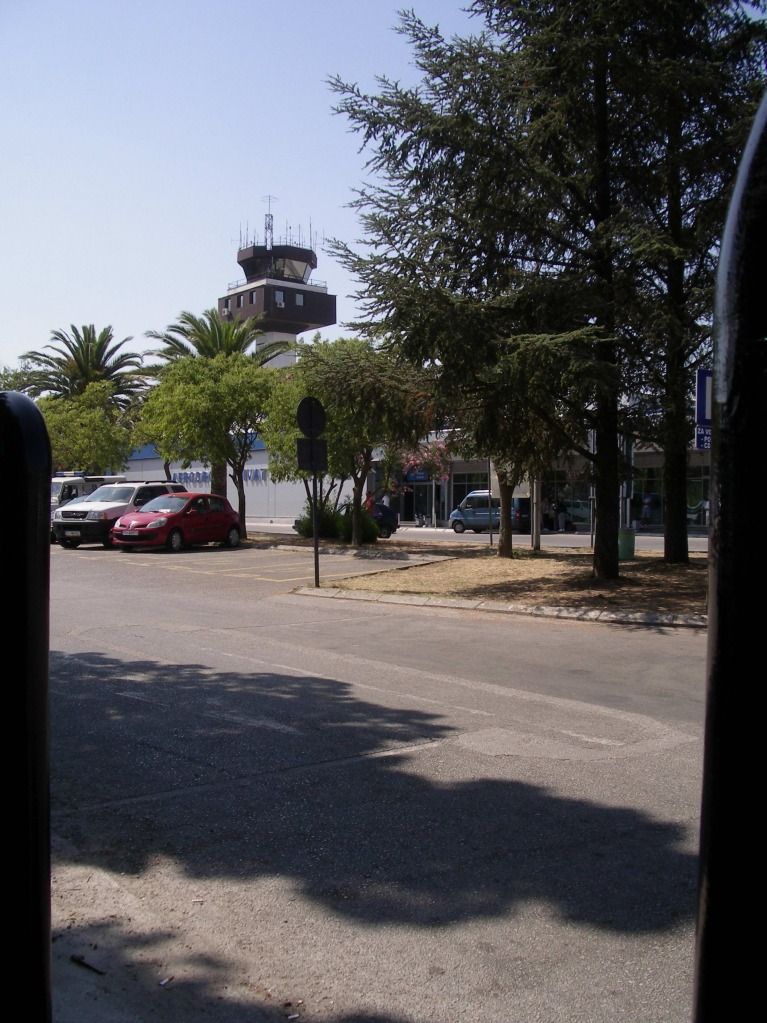 How to close the airport entrance Montenegro style
Delay for Yamal and also my plane inbound from BEG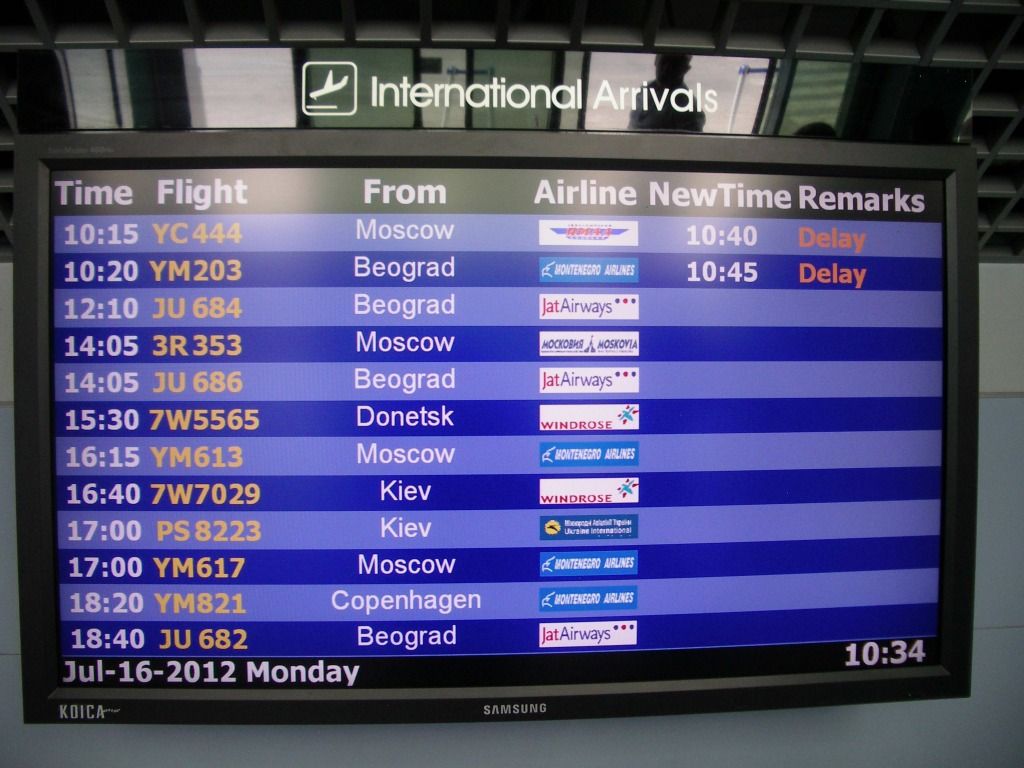 The fare is again 80.00 Euro´s, secured by Flugladen.de. This is the return leg from yesterday´s BEG-TIV.
Check-in here, but not for me.
Done, thanx to the nice guy on duty, yesterday in BEG
Let´s go airside now, close to no time to wait.
The russians are through and the Montenegro pax are somewhere else!.
Apron view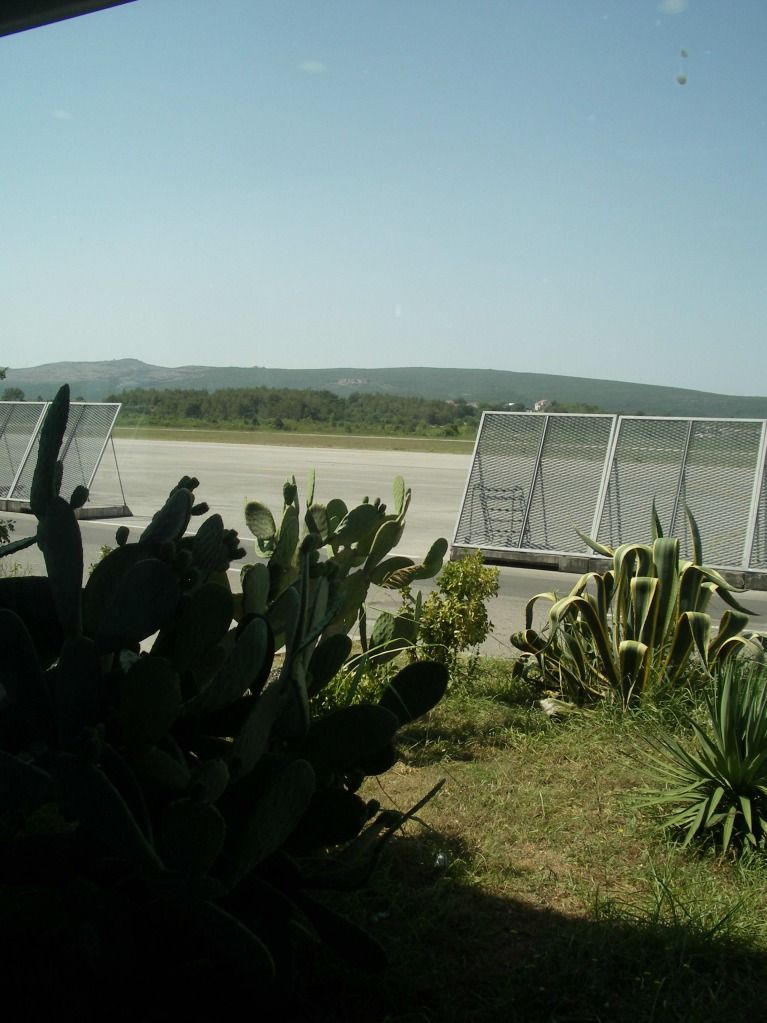 Something special, at least from my point of view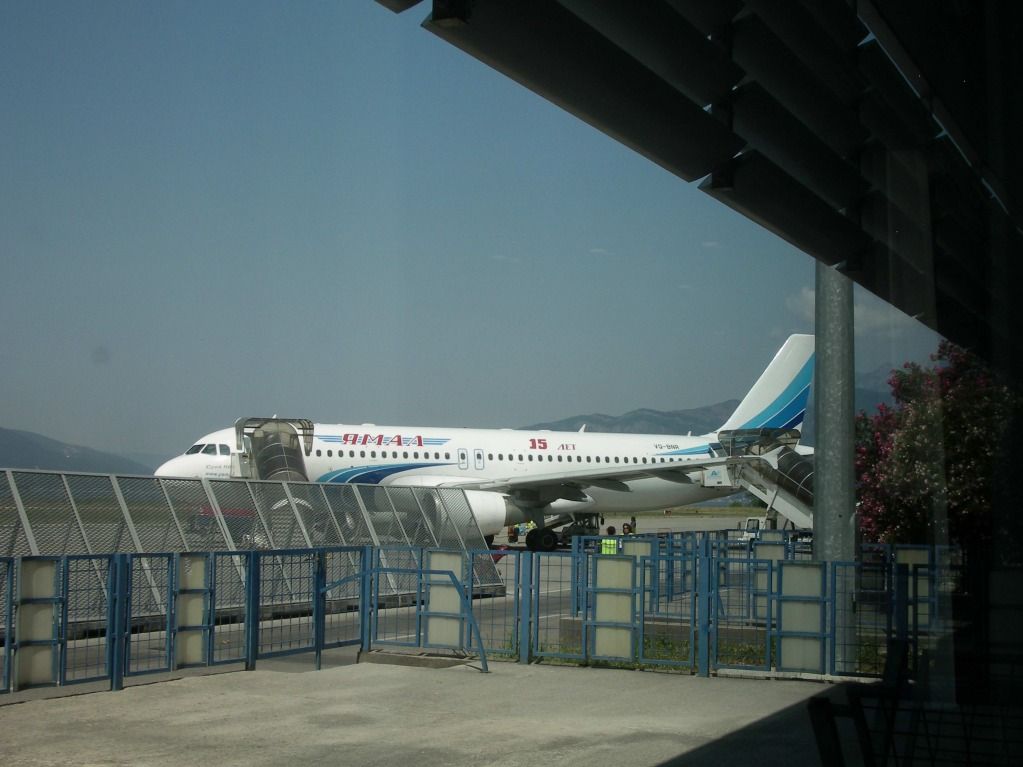 Well, the scheduled F100 for me, please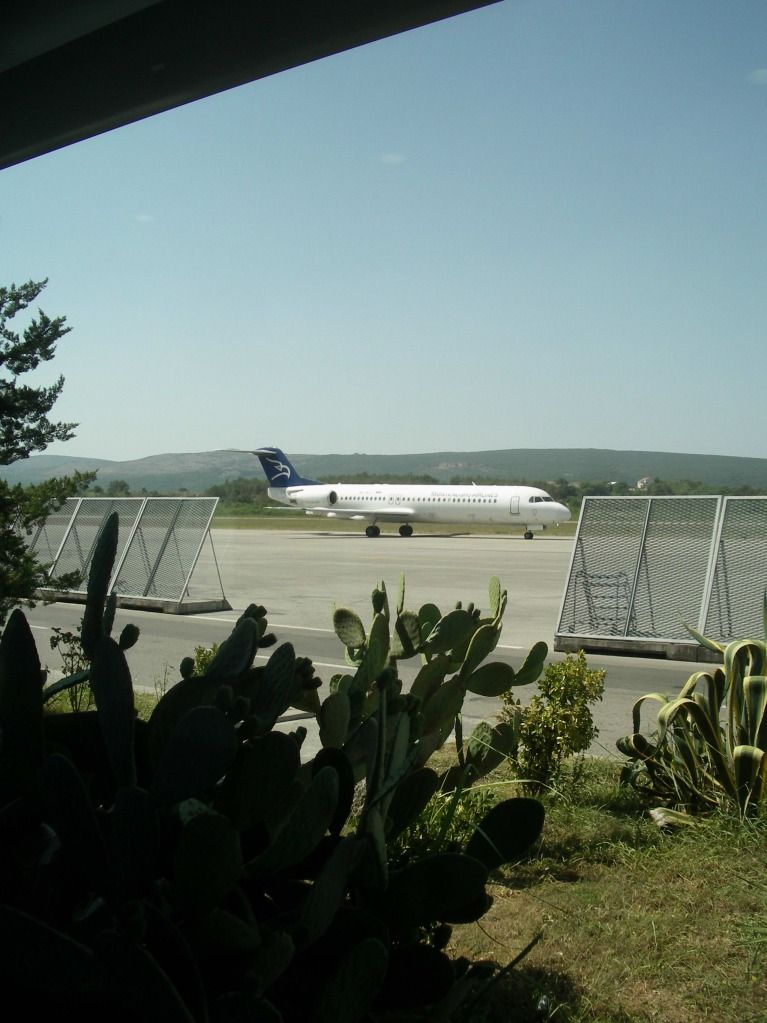 Turning around
4O-AOT it is now
Yes, new to the log, leg no. 33 on type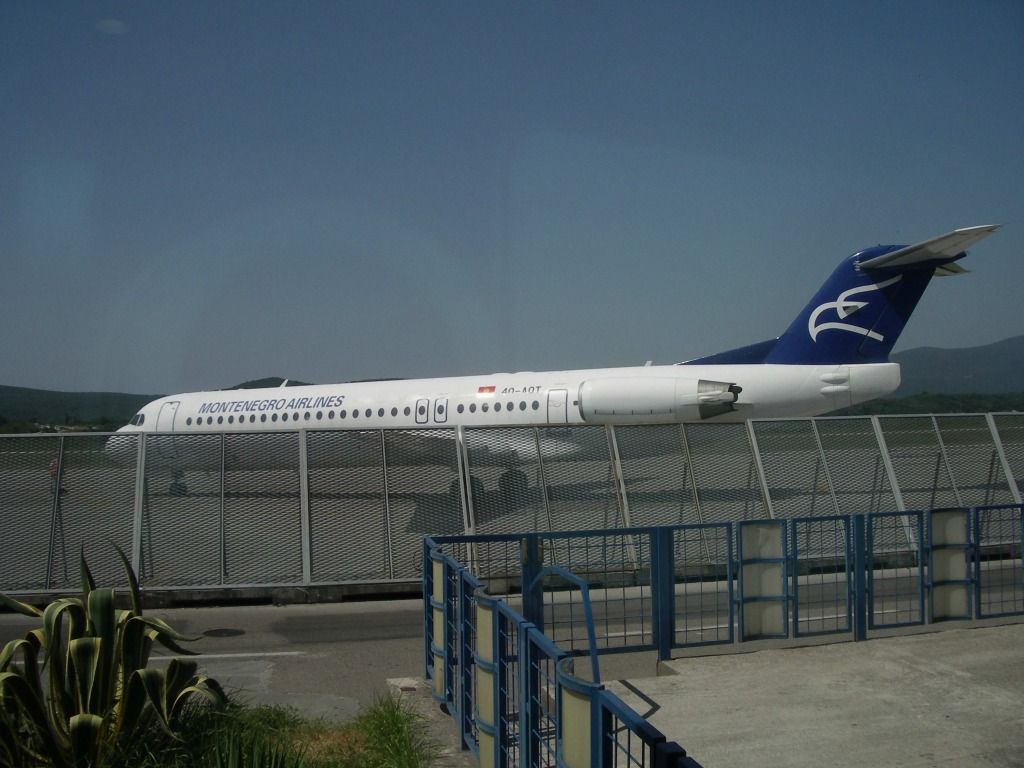 And Yamal is running further late
Fire fighters needed?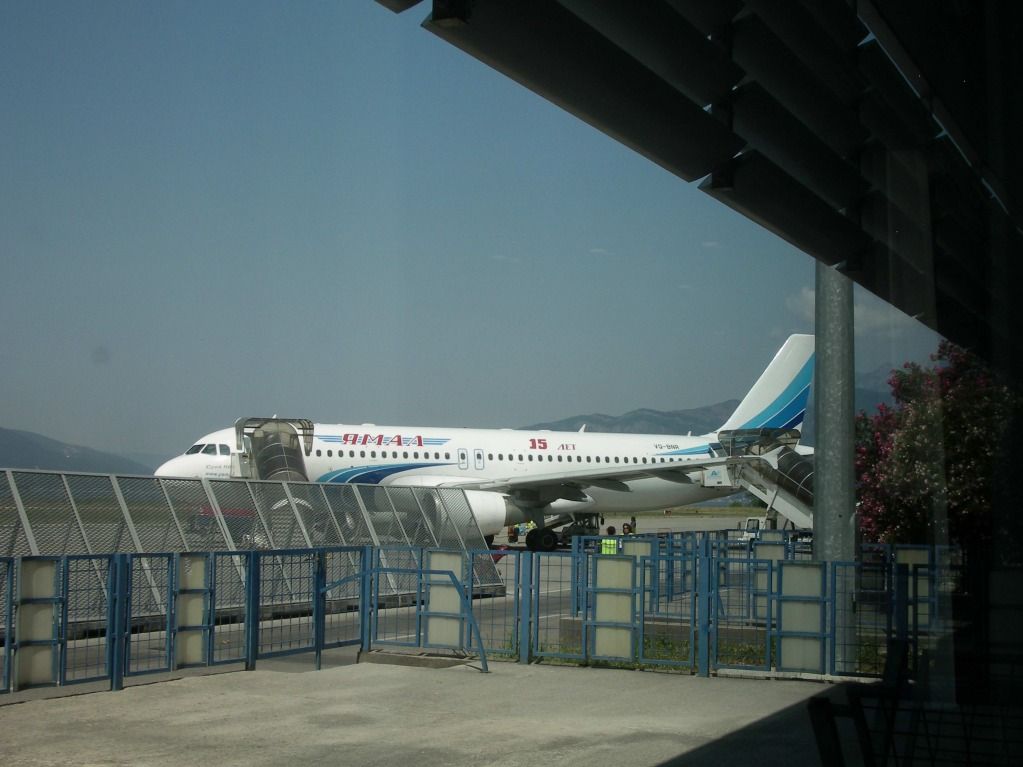 The small gate area, 2 for CPH, no lounge here
Sun, cactus and the plane
Well, the russians doing good biz by the duty free shop
Sure interesting with two flights only to play, who from the pax here is heading for Russia or to Copenhagen.
Well, I´ve failed miserably. I´am sure there are much more scandinavian looking people around for CPH. But in the end most of the pax boarded for Yamal and not that much are still at the gate for CPH.
Both movements side by side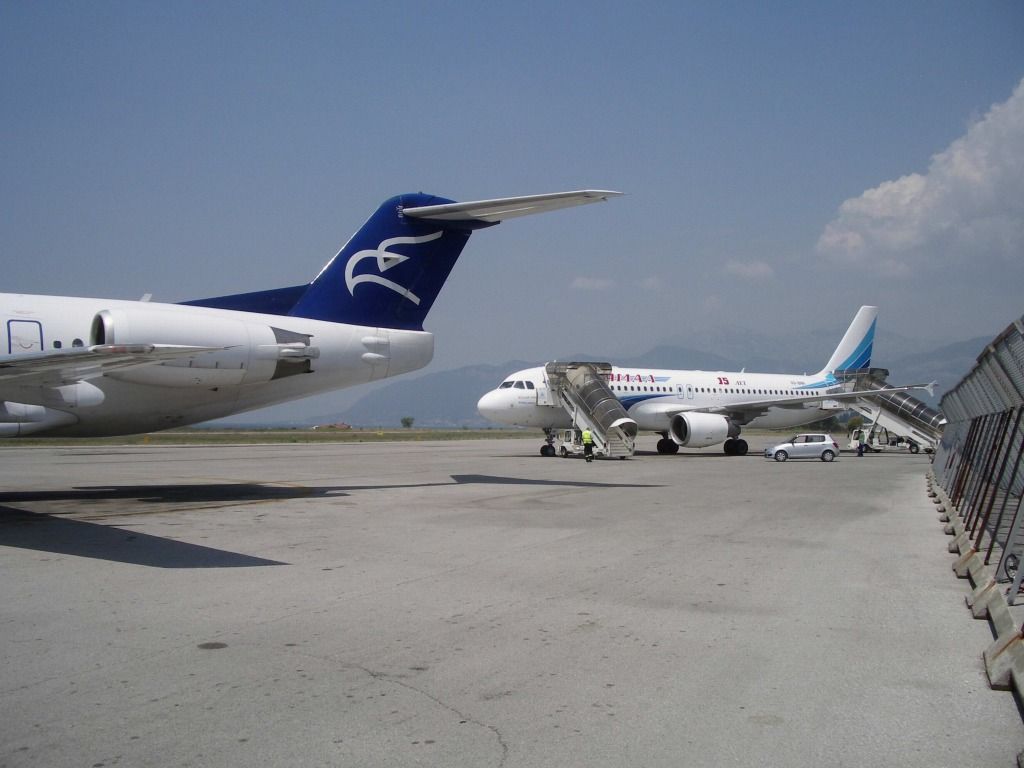 In the air since 09.04.1992 with Aviacsa, Transwede, TAM and Montenegro Airlines.
The latest supplement around the five in the fleet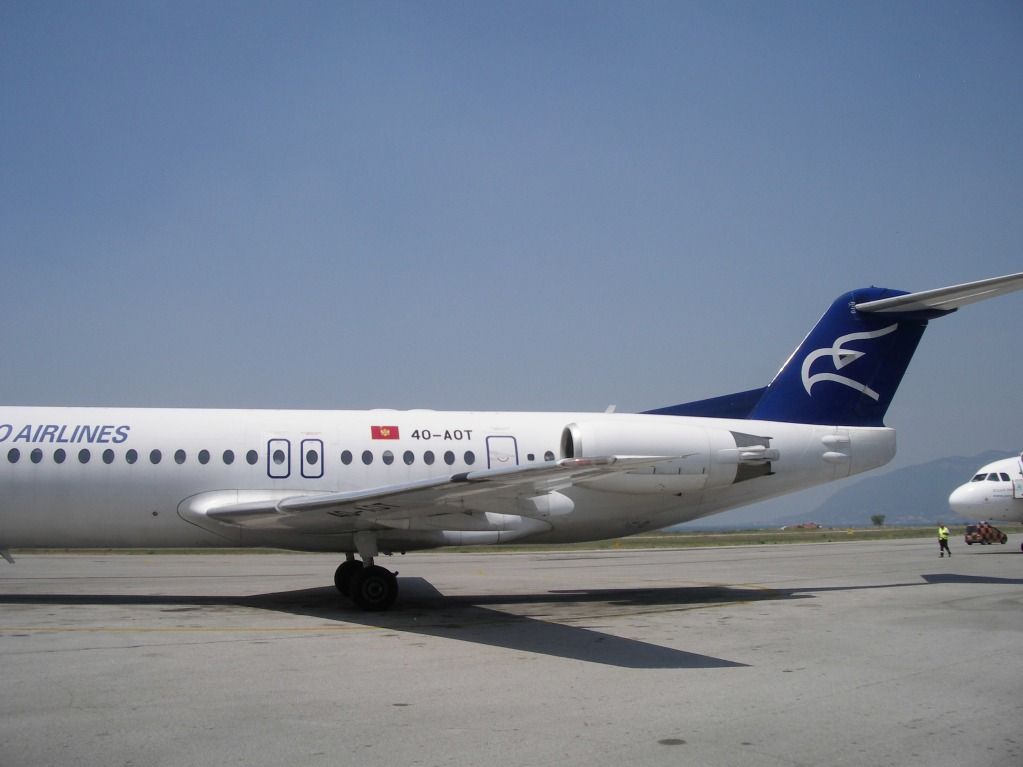 Boarding now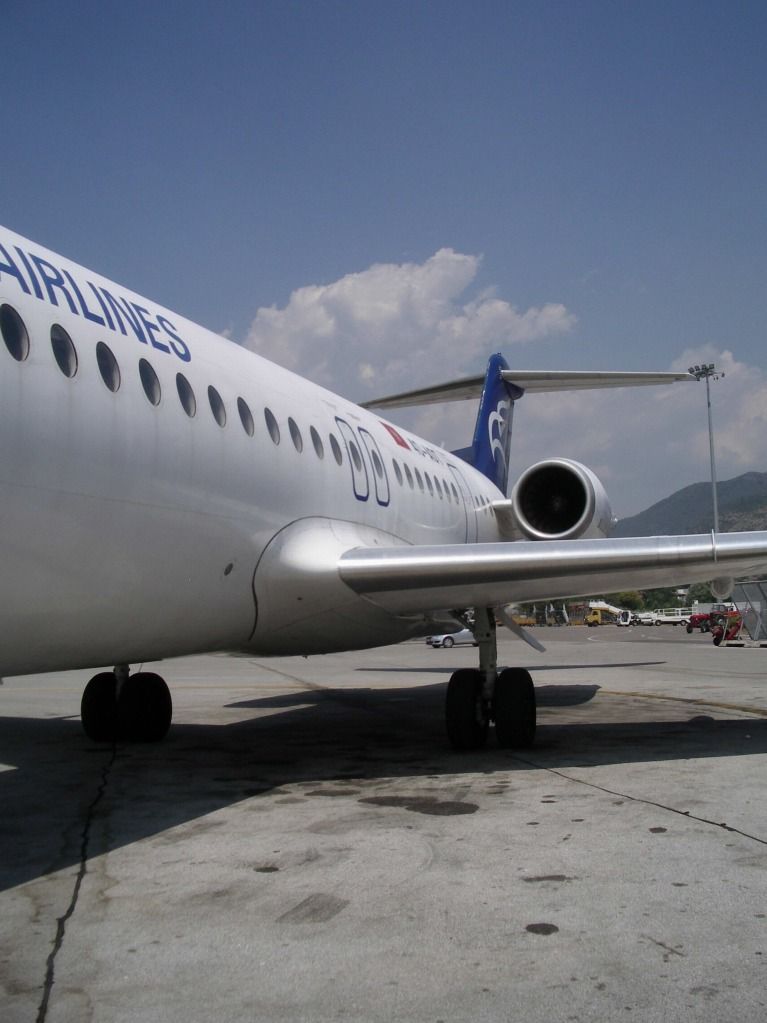 Fokker wing view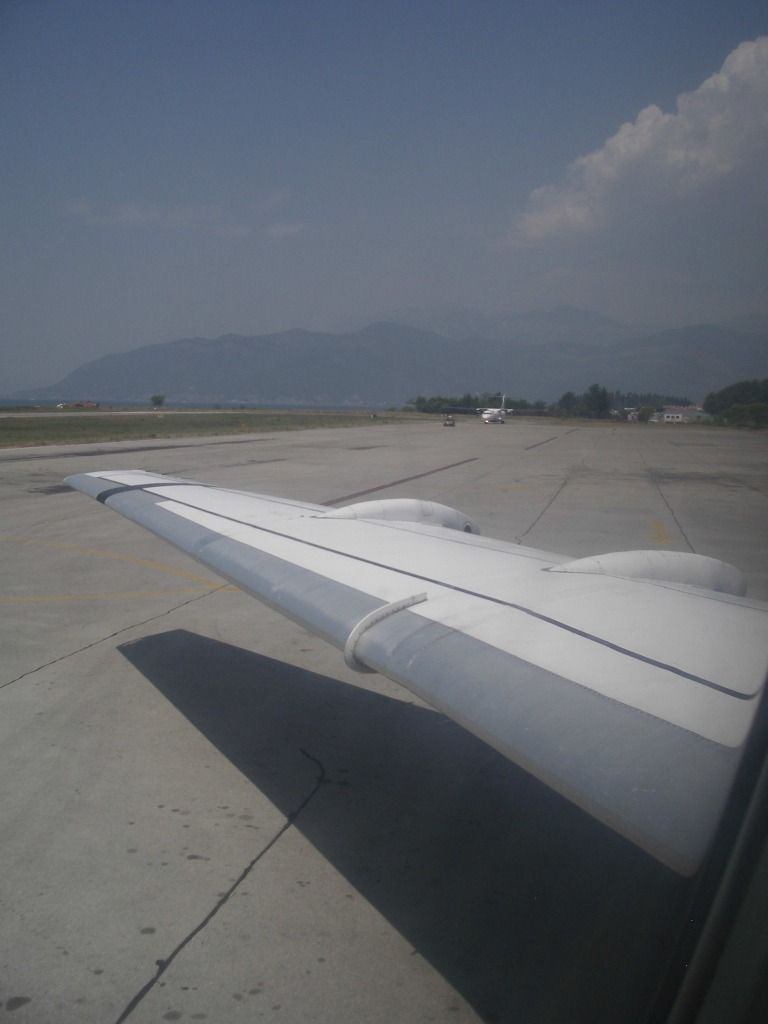 12.10 am, ontime, 2.00 hours, 35 minutes to go for "Montair" now.
36 degrees, sunny, clear sky, love it.
This plane is really well used to say the least
8F and three seats for me here.
A tough decision around boarding.
A good looking young woman in 6B. 6A is originally assigned for me, but comfort win´s, with three open seats in row 8!.
I´ve asked at the airport for a seat change, more in the back of the plane. Ok, originally I want to know about the load. But the desk lady in her sixties has definitely no knowledge about the new times after the lift of the iron curtain.
Njet, no seat change possible.
Njet, no load info.
Njet, to go any extra mile here.
But who knows, she is maybe especially trained to handle the huge number of russian pax!.
Cockpit crew is from Montenegro, the pilot with a nice and detailed information inflight.
Routing is BUD-VIE-PRG at maximum 35000 feet.
But anyway I like to count another F100
Cabin crew is one middle aged biz friendly male, one elder female with the same impression and one young and nice woman.
There is also a middle aged security guy on the plane with exactly the style what you wait for with an security guy!.
Cabin view with the dark grey leather seats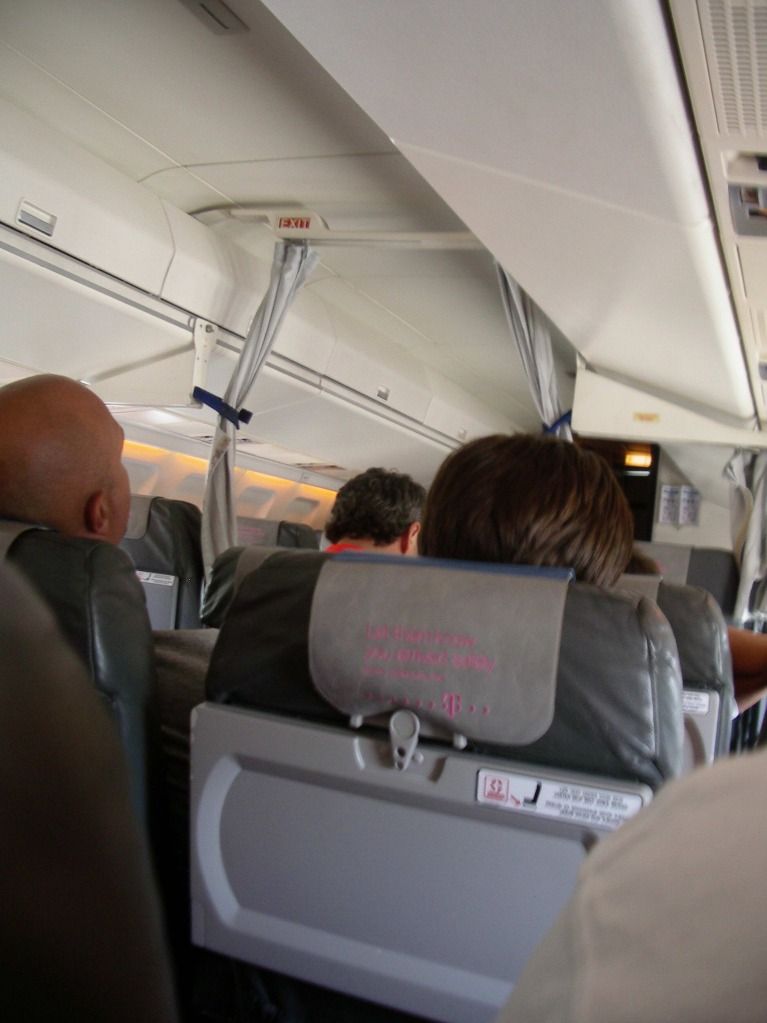 Backtracking and turning for departure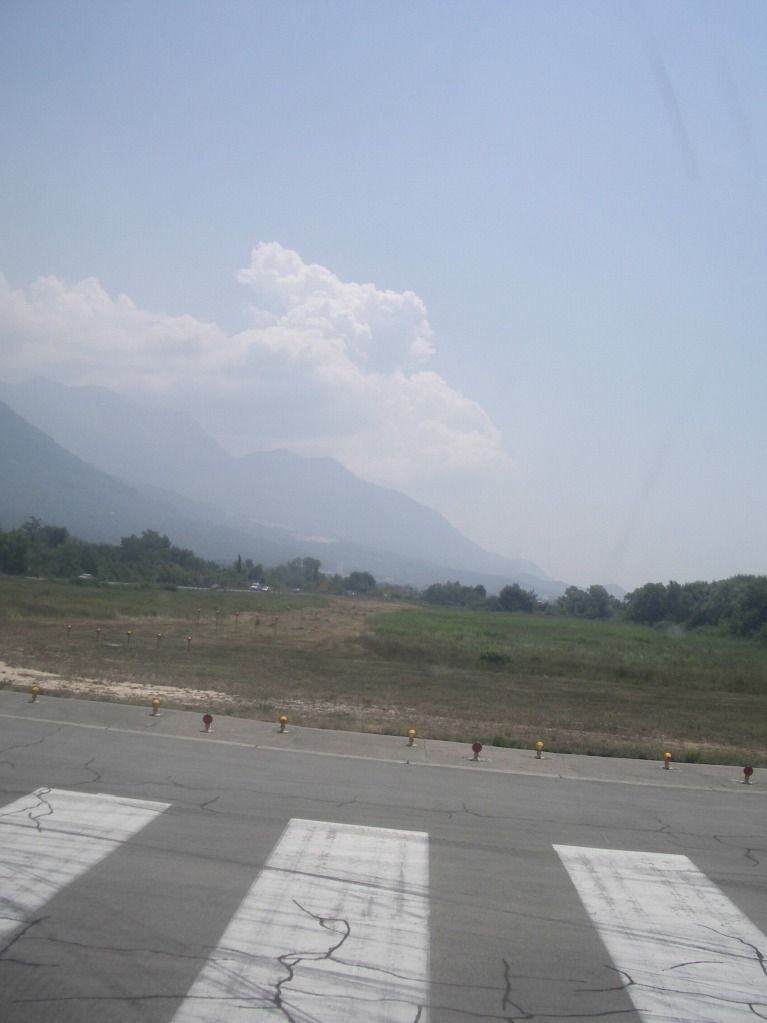 On the way we go from runway "Three-Two" like arrivals yesterday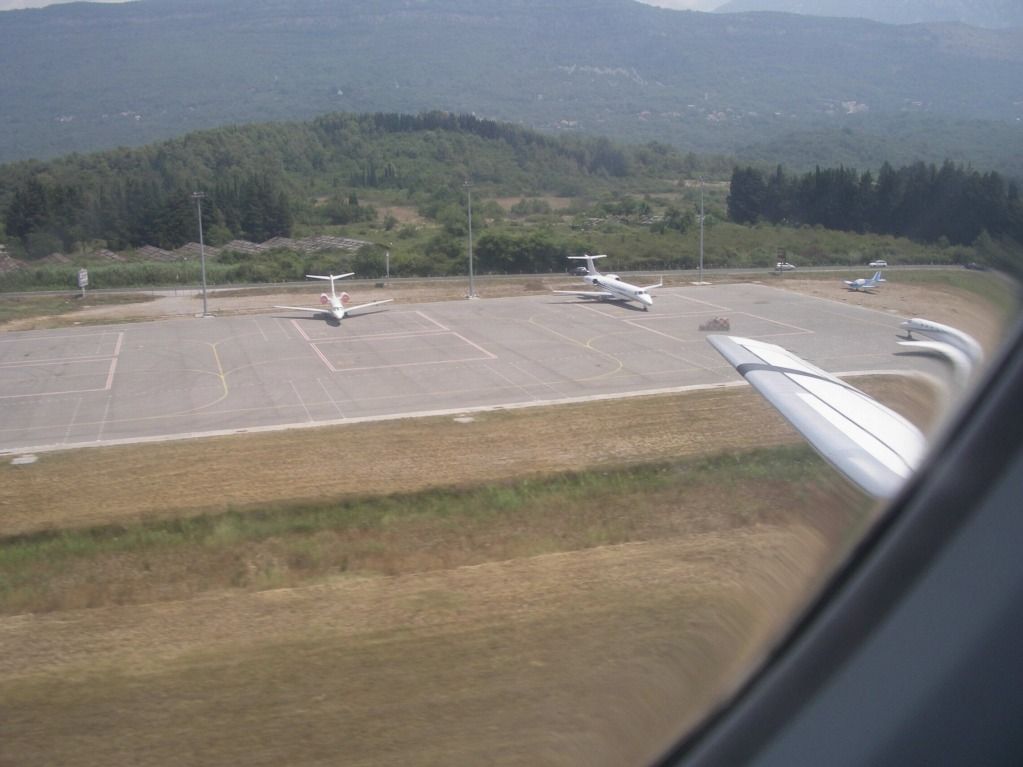 Definitely, some mountains around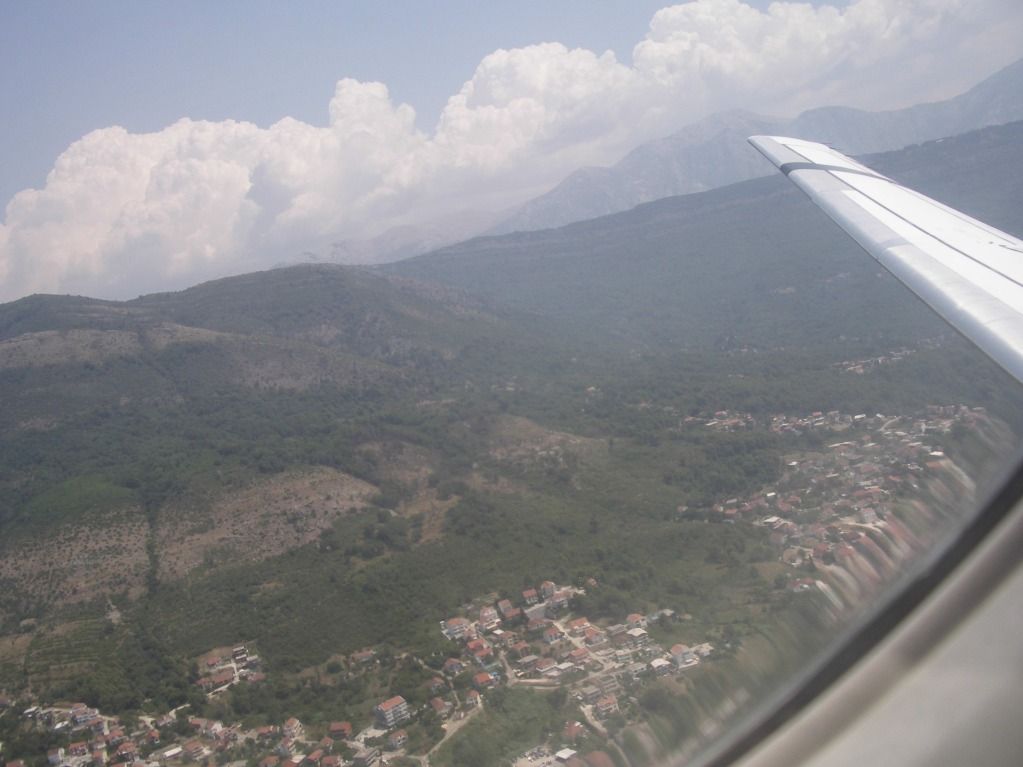 Turning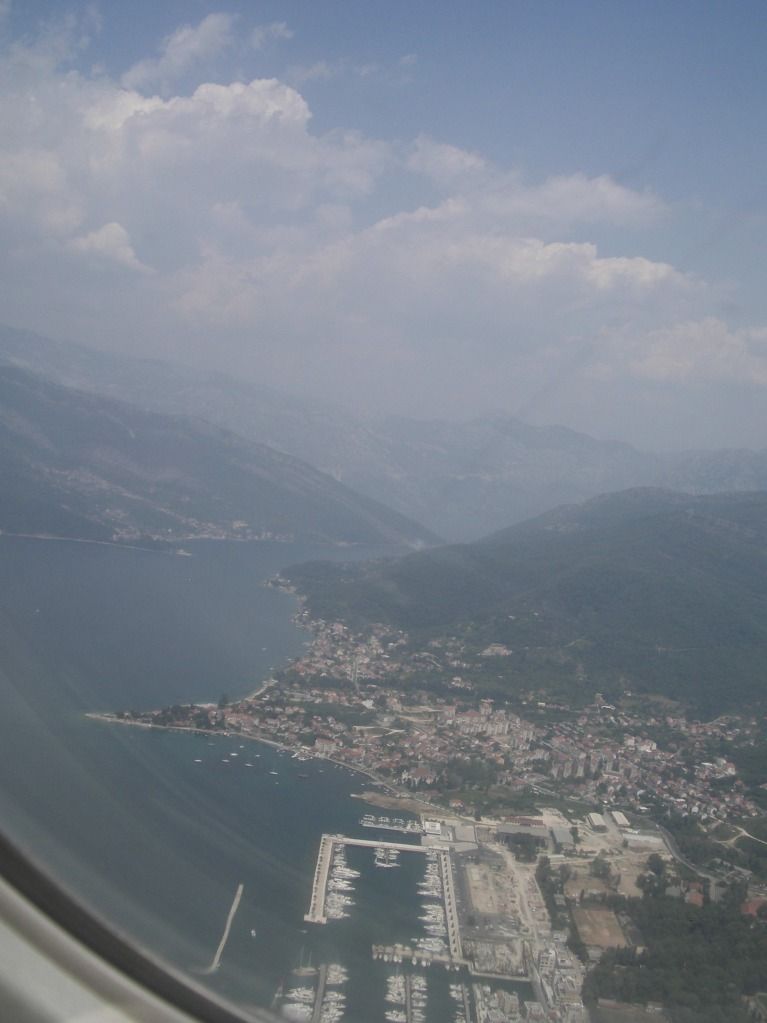 Above the Bay of Kotor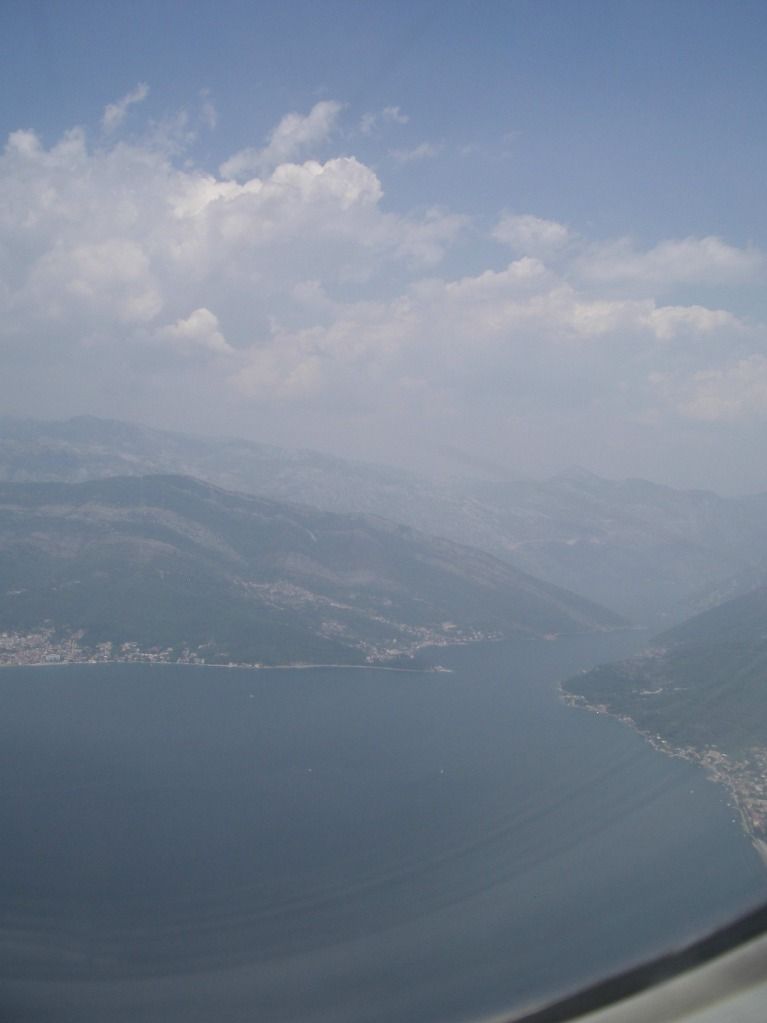 I like this view
Some beaches down there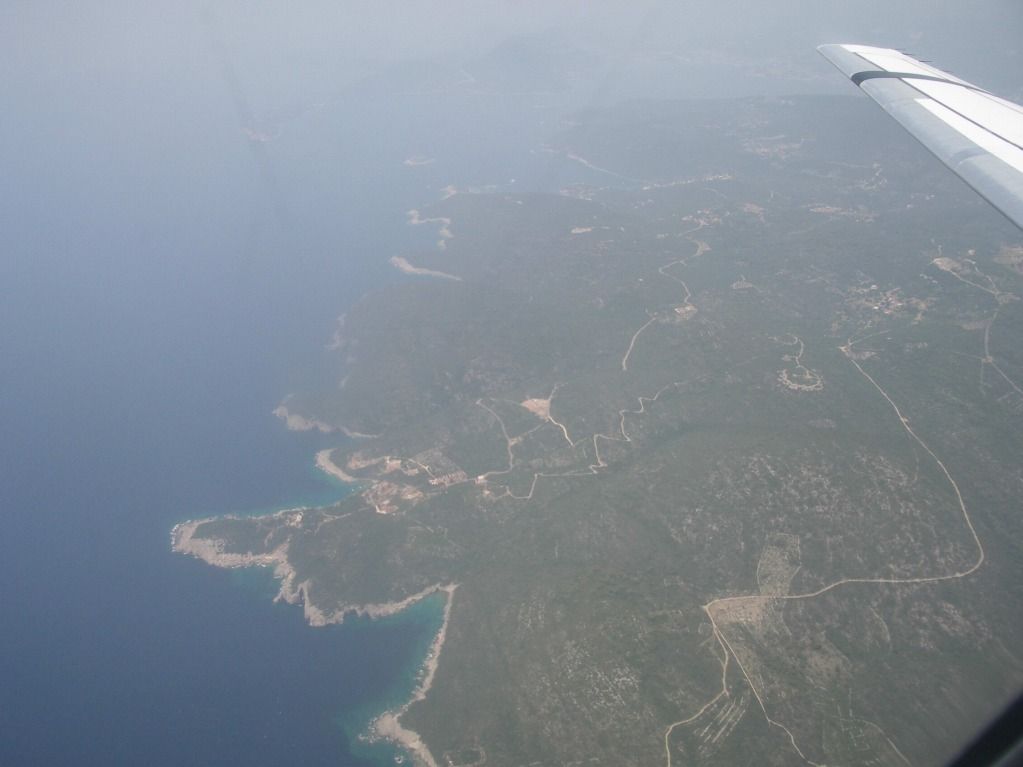 "Bezbjednost u avionu", sure I know!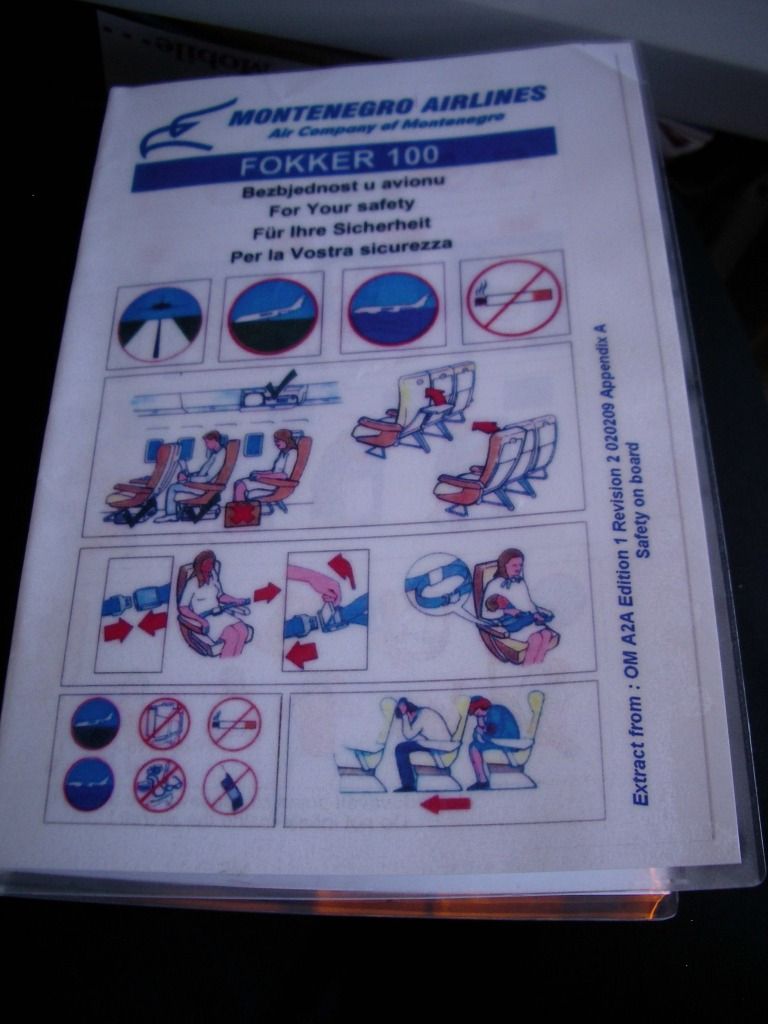 Legroom is good here
The Fokker wing view
Oldfashioned cabin paneel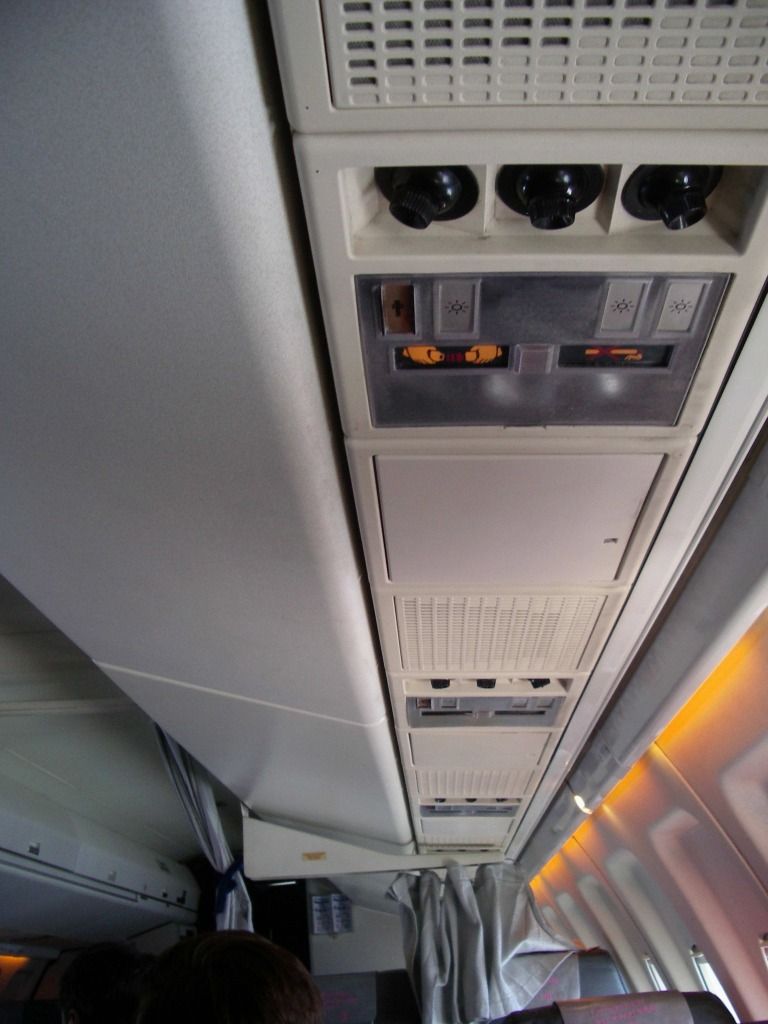 A last view for Montenegro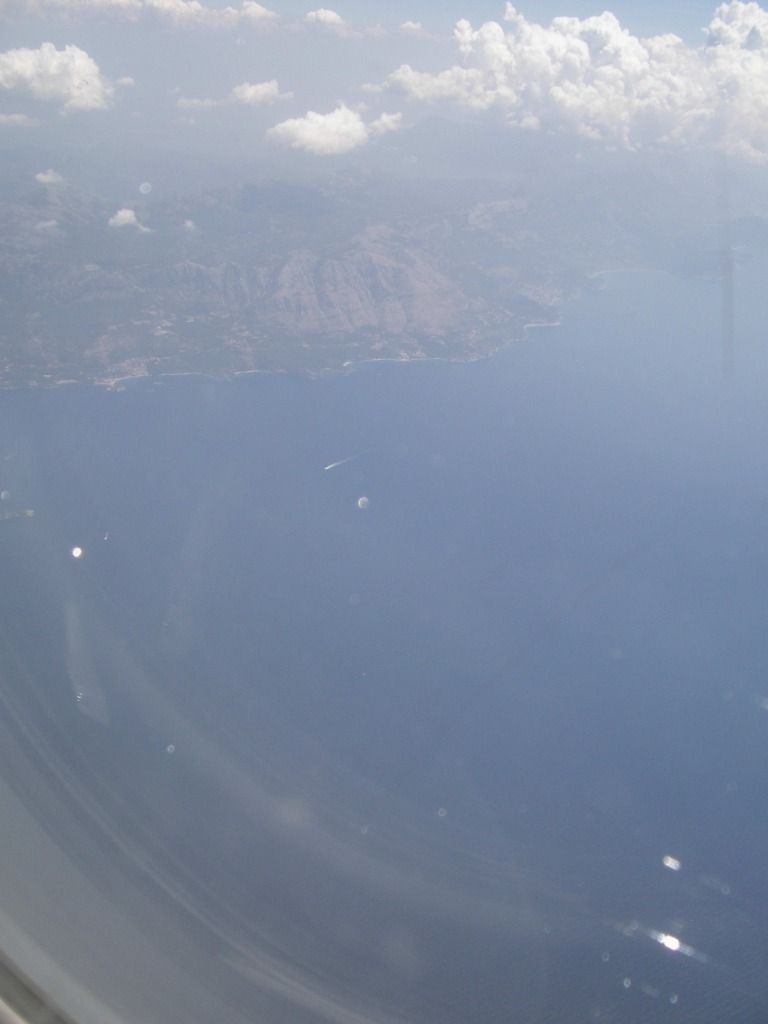 Sheepy clouds on the way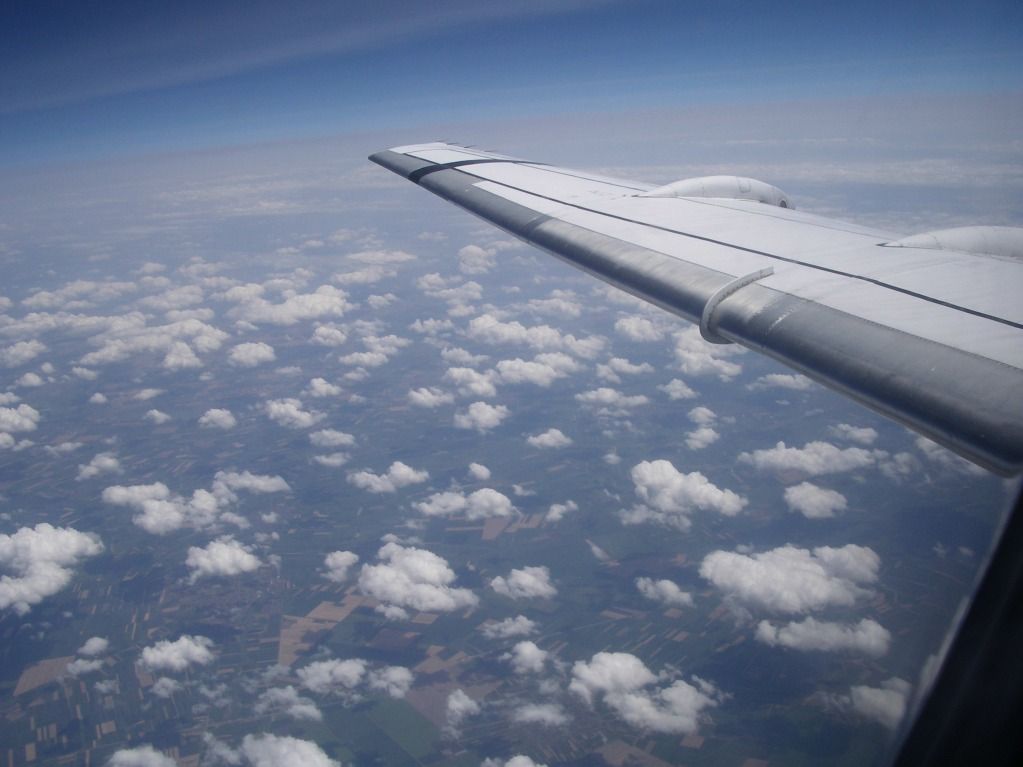 Service by Montenegro Airlines, long haul!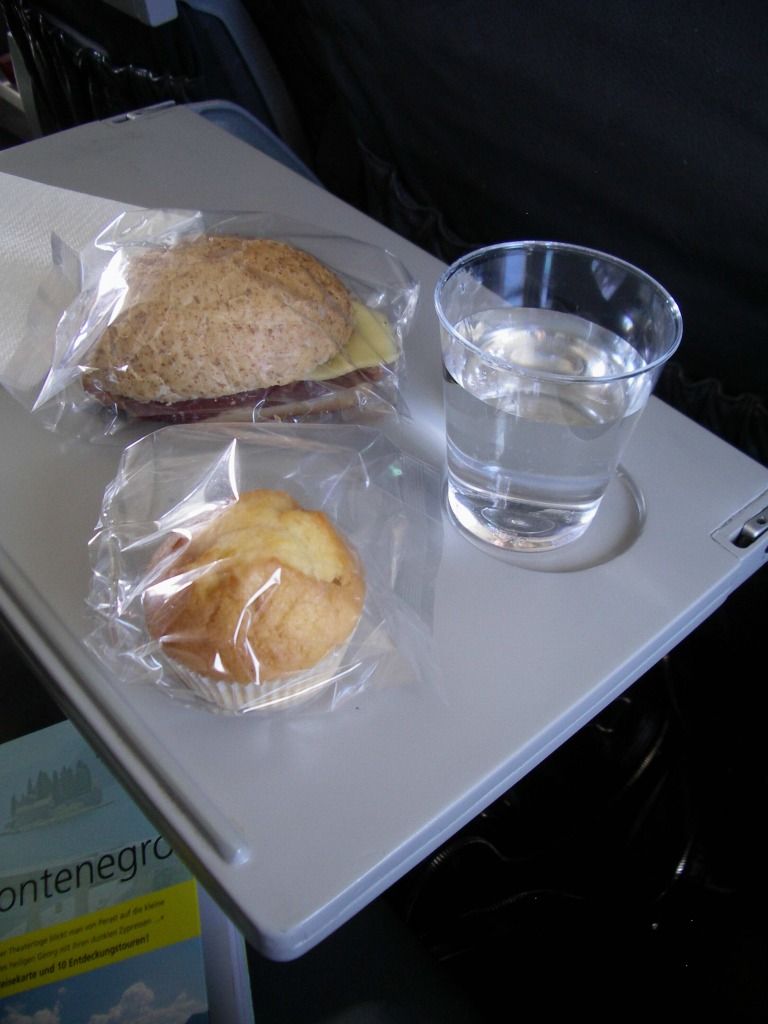 Cabin view from the rear galley.
The load is 70%, a couple of danish vacationeers and the others mostly VFR traffic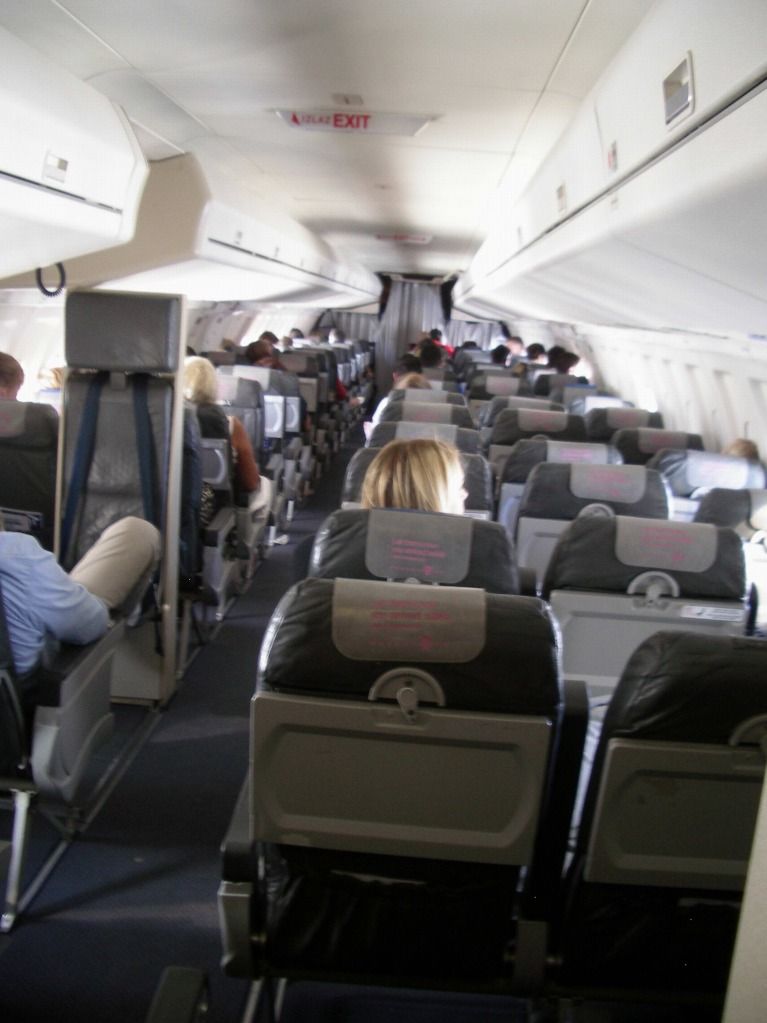 Duties done and I´am sure you know what follows.
My terribly exciting Montenegro travel book shows me the way into dreamland and I´am back again with this somewhat well known view very close to CPH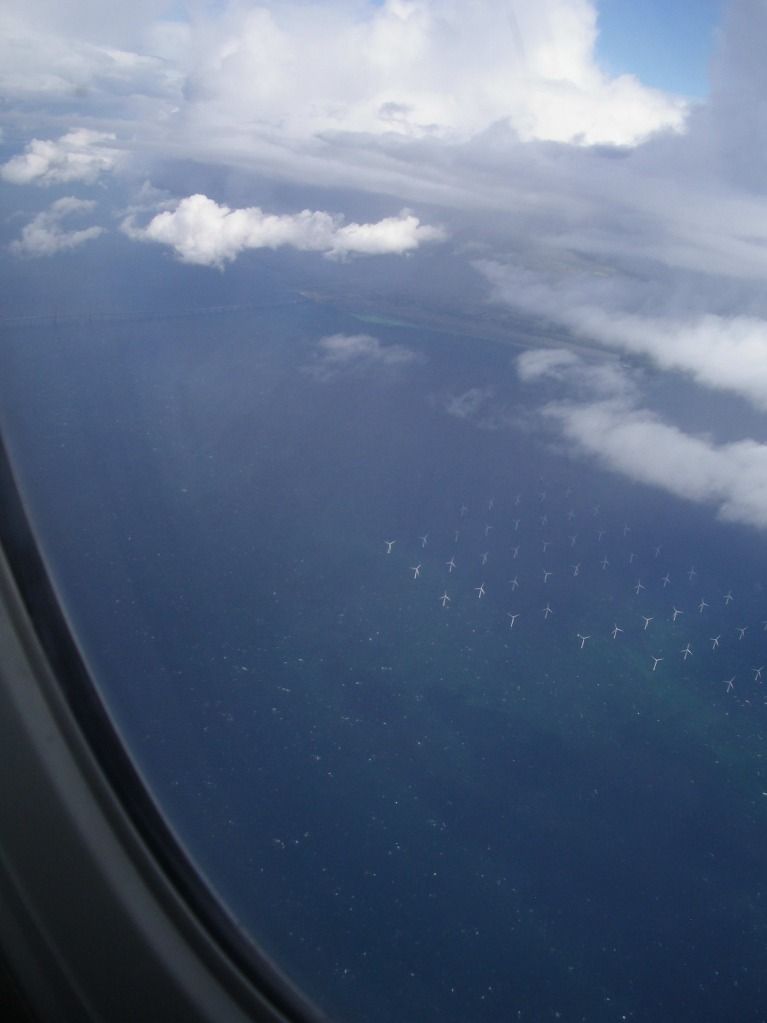 The bridge to nowhere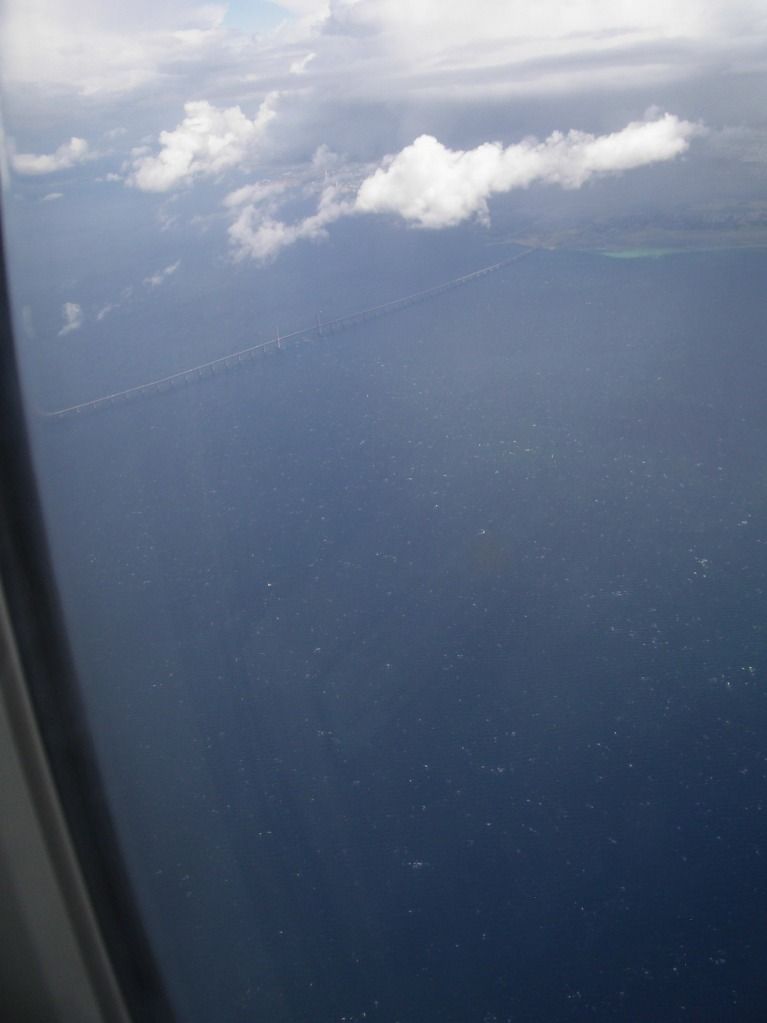 Traffic under the bridge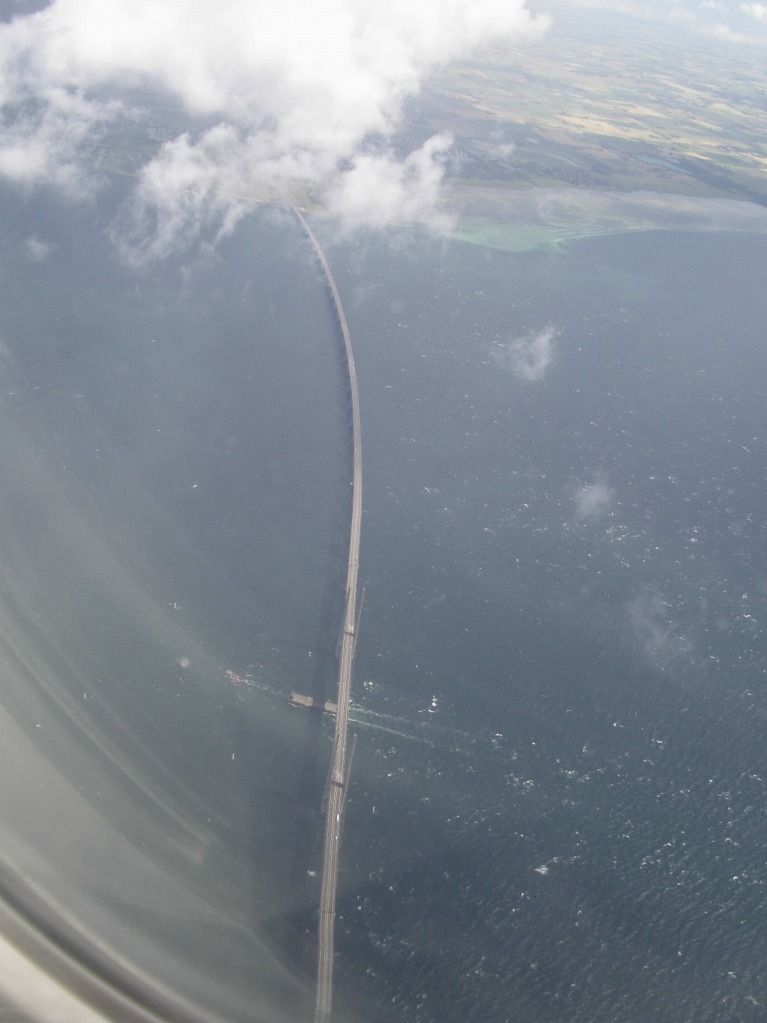 Touchdown at the 3300 meters 22L, 2.55 pm, ontime. 18 partly cloudy degrees here. Now that´s a difference.
Bye now for 4O-AOT, great to meet you today
Two more legs to go with these reliable company from the Netherlands. No question, I´am sure everything goes well!.
..................................................................................................