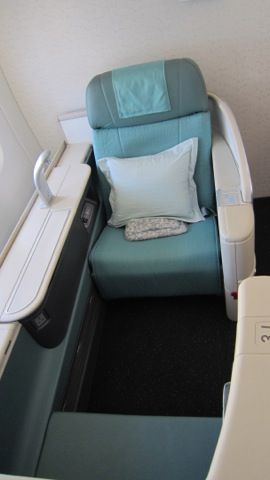 As promised, here is Part II of my report on Korean Air's A380 flying back from Los Angeles to Bangkok via Seoul Incheon in first class. I got to experience the best and the worst segment of the trip, and my feeling about Korean Air remains the same – there are still lots of work for KE to do if it wants to climb up to the top tier and as of this point, its ground, lounge, and some parts of the inflight services are still work in progress, and Asiana Airlines really outshines Korean Air in many aspects. If Asiana Airlines A380 has similar facilities or innovative concepts, it can easily put KE down big times, just simply of Asiana's superior services, seats, lounges, and ground services for premium passengers.
September 27, 2012
KE 18 LAX-ICN Lv1300 Arr1750+1 Airbus A380-800 HL7615
The day before, KE 18 had a last minute aircraft substitution to Boeing 747-400 and I was sort of worried. Thank goodness for flightradar24 and I manage to track KE 17, the inbound flight, and HL7615, an A380, left ICN on time, and what a relief!
I arrived at LAX about two hours and thirty minutes prior to departure. Korean Air uses Aisle B for check-ins and the counters were easily spotted and there were separate lines for first, business, online baggage drops, and regular economy. It was highly organized considered how large this plane. First class was not terribly busy, as I knew later on the reason why, and the counters were also handling all the business class line passengers too.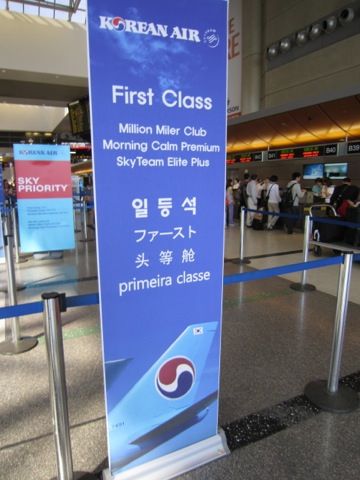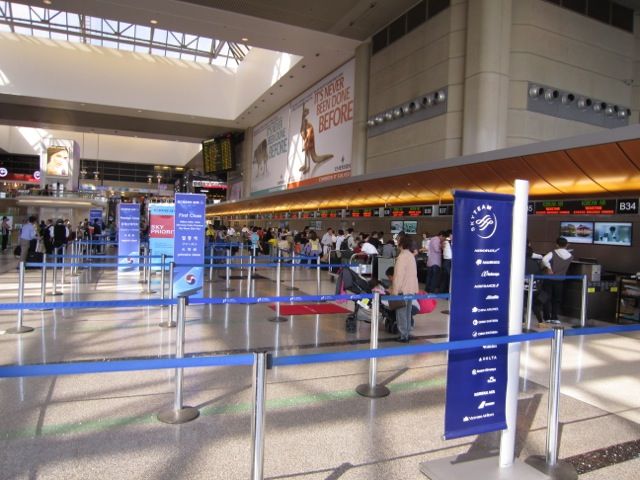 A friendly agent checked me in and I told her to check me only to Bangkok. The automated baggage tag was shown me to Yangon, and the agent quickly fixed and reprinted it. She gave me the boarding passes for all the KE segments. My bags were tagged appropriately and the agent made sure I know where the lounge is and told me which checkpoints to use. The service was good, and it was a good start.
I really like the orchid on the premium check in desk.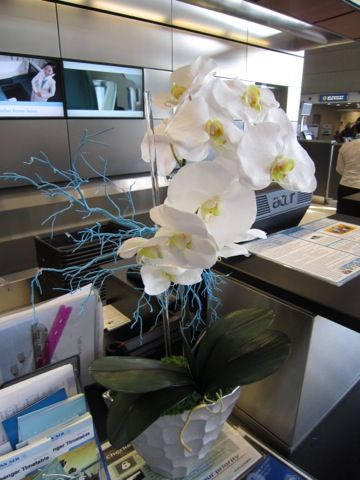 TSA was being its usual self in Tom Bradley but at least no stupid body scanner here! I immediately headed to the Skyteam lounge, as it was my first visit. Of course, after visiting all four lounges (five if you can RELAX), this Skyteam (Korean Air in reality) is definitely the worst lounge out of all five, and it is a joke. The capacity is too small to handle an A380 premium passengers load, and I just cannot imagine how crowded this place is during the late night hours with China Southern (soon A380), KE (some nights had two flights), and China Airlines.
Entrance to the lounge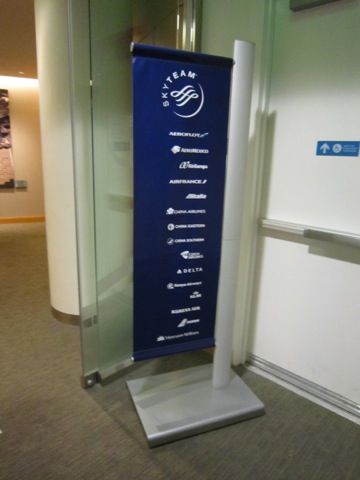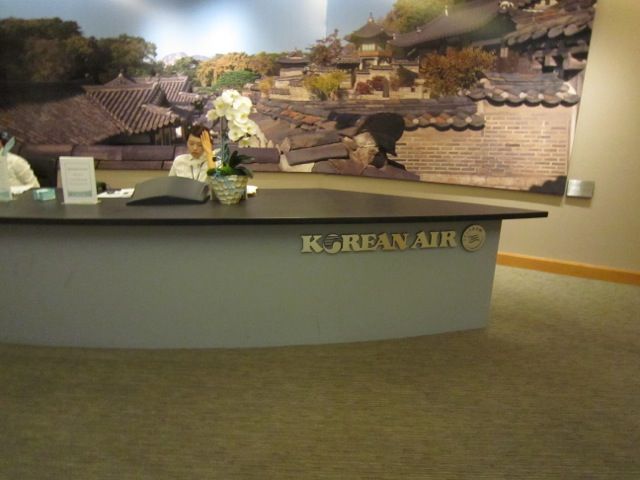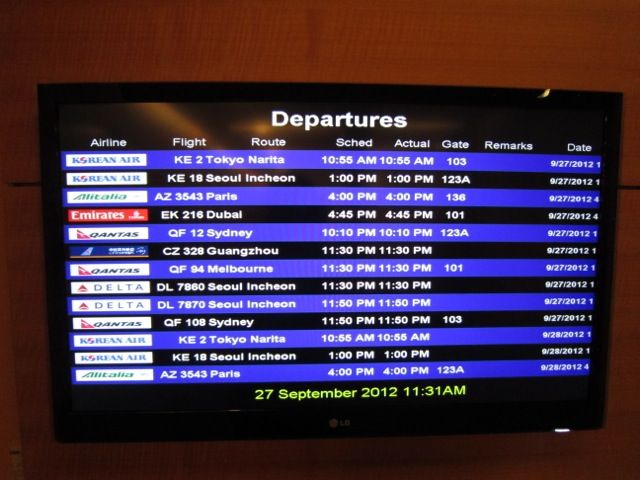 A380 display
I ended up just taking pictures of the first class section, as business class section was totally full and I felt awkward to take pictures. The only lounge with any kind of natural light is the first class section of the Star Alliance lounge at TBIT, and I am sure that it has to do with TBIT rather than the preference of the airlines.
The first class section is relatively small and has small stations around the lounge. Food includes some warm dishes, as well as chicken noodle soup, along with the usual sandwiches and packaged snacks. There is a specialty coffee making machines, along tea and the usual fridge filled with cold drinks, beers, and bottled waters. There are self-service wines and liquors. Very typical stuff! I am happy enough to get my chicken noodle soup. If I am one of the Skyteam airlines, I will definitely be worried about the state of this lounge and what kind of impressions does it give passengers? There is definitely nothing premium about this lounge, and with the expansion, I will be definitely in the drawing board to think of a new lounge, when Star Alliance will open a larger lounge. There is no business center with printers and fax/copy machines, and maybe time to think about it.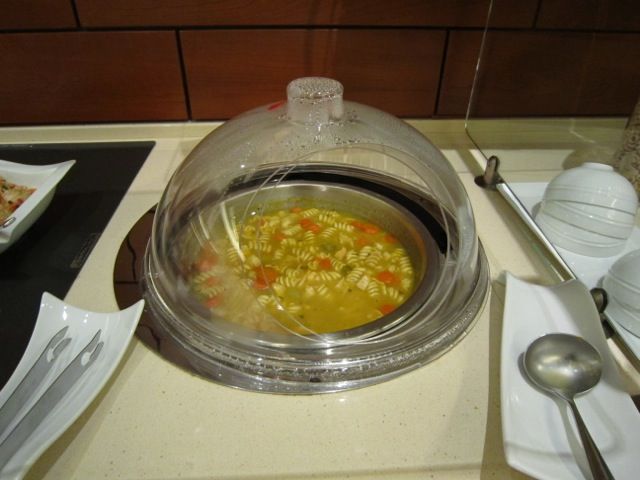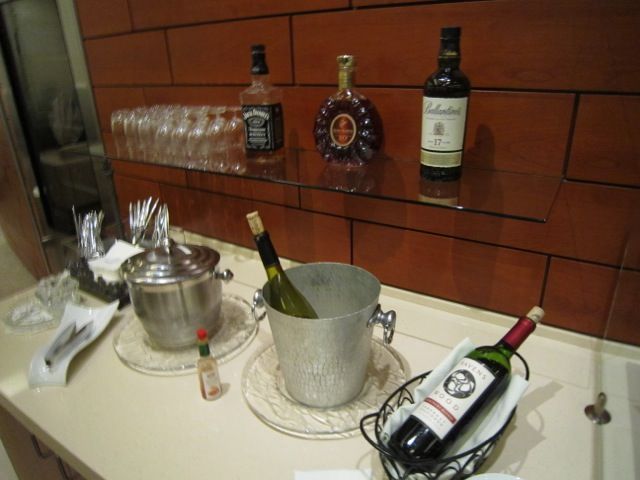 Service from the reception desk was lukewarm, and the agent forgot my request to change the TV from the Golf Channel to CNN. Anyway, the agents were polite but not extraordinarily friendly.
[Edited 2012-10-07 09:02:03]