Dear readers,
It was one of those dreary February days, spring seemed a long way off and during a quiet late shift at work I started playing around looking at flights. AF is always good for throwing up some interesting places and aircraft combos and before I knew it, my attention was drawn to Pau. I didn't really know very much about Pau, but its location close to the Spanish border was interesting and there were some reasonably priced one ways available out of BSL/MLH Euroairport in the early morning.
After some searching in the reservations system, I saw that Cityjet fly between Pau and LCY and, even more impressive, the timings were condusive to a daytrip. Discovering that one ways could be booked with LX on their newly launched LCY-BSL route sealed the deal. Well, of course such a trip is far much more fun when done with a fellow a.netter and sure enough Markus aka Flieger67 agreed to join me.
OLCI didn't work with AF, it was the first time this has happened to me and it leaves you feeling rather unsettled, knowing that you actually have to check-in at the airport. No problems with Cityjet or Swiss though. So, only 10 days after returning from New Zealand, it was time to go flying again.
23.5.12
My alarm sounds at 4am, not even when I'm working do I have to get up this early. I set off about 4.45 and disaster nearly strikes a couple of minutes into the journey when, out of habit, I automatically followed my usual route to work. As I approach the traffic lights just before the motorway, I suddenly realized that no, I need to drive to Basel today! As there is no other traffic about, a last minute lane change is possible and I breathe a sigh of relief.
Arrival at Basel is about 50 minutes after I set off, I park in S2 & then proceed through to the French side of the airport. A quick look at the screens and then I scan the hall to see if I can see a familiar face. A few minutes later Markus arrives and we proceed to the check-in machines to get our coveted boarding passes.
Early morning view from the car park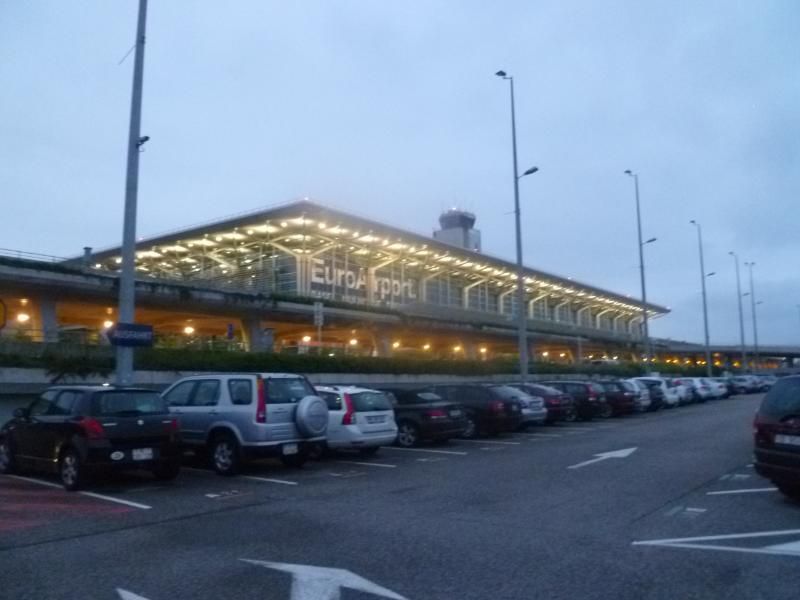 Today's departures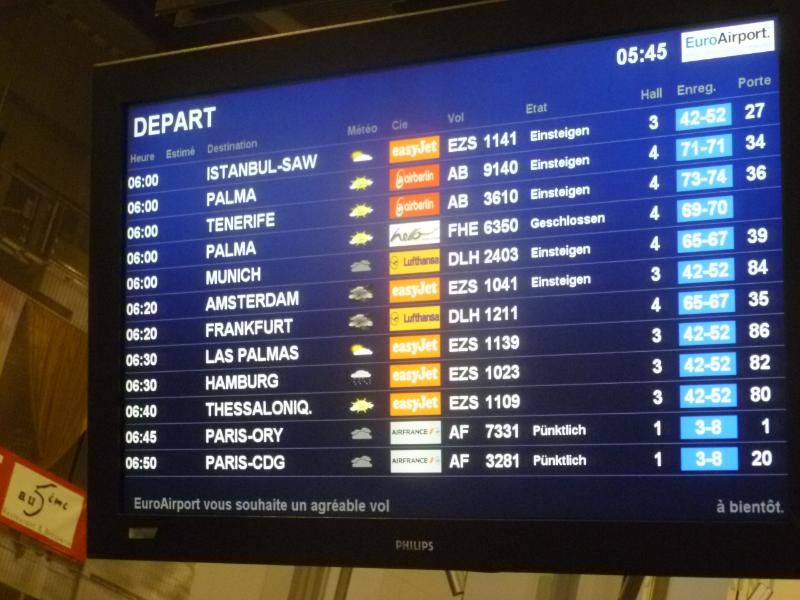 Note the big delay on EZS to LGW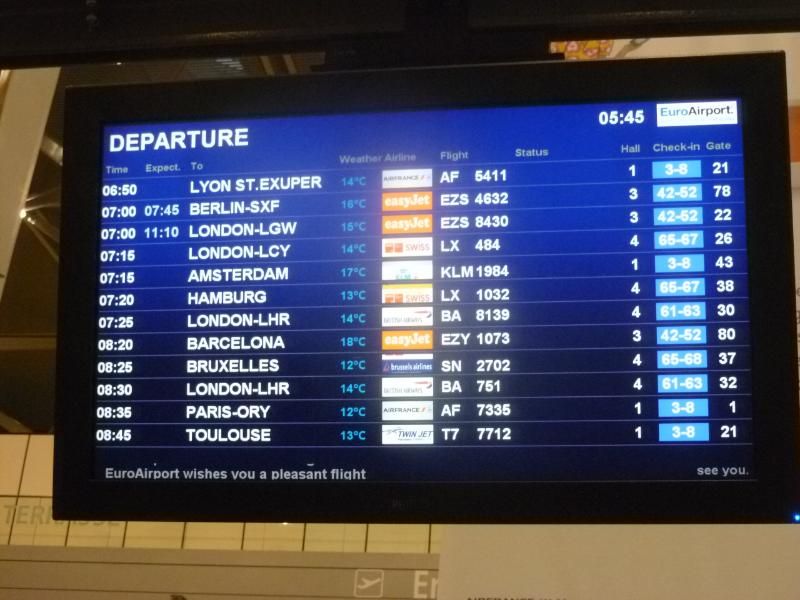 Check-in on the French side, a mirror image of the Swiss side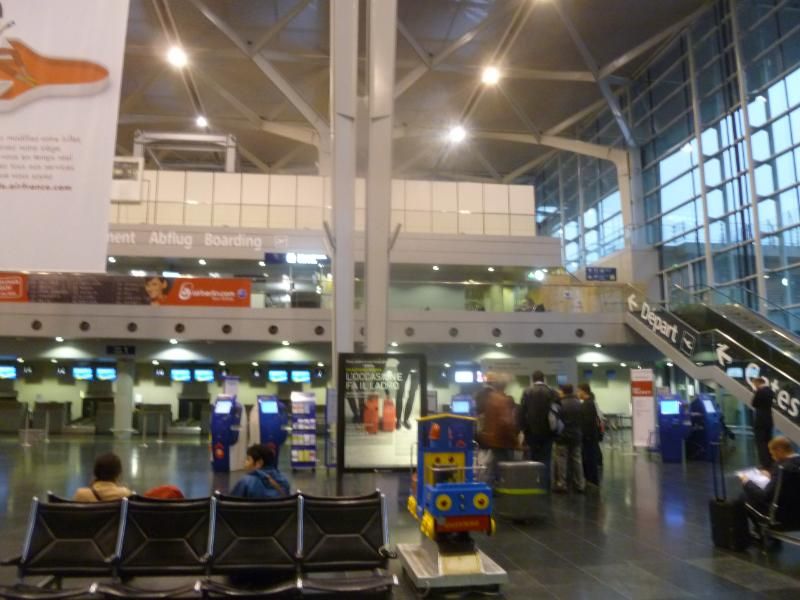 There's a bit of a queue at security but thanks to somebody's gold card, we get to use the fast lane.
easyJet & Regional's early morning E-jet to CDG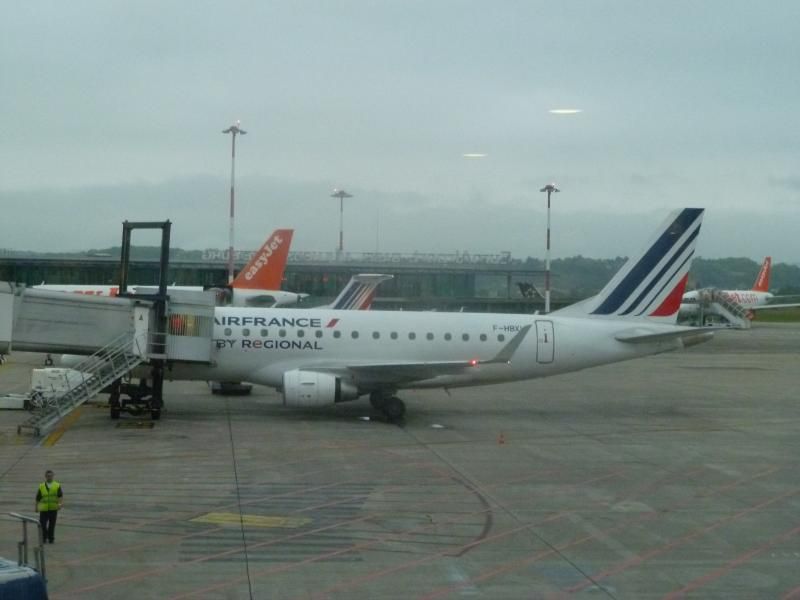 Close up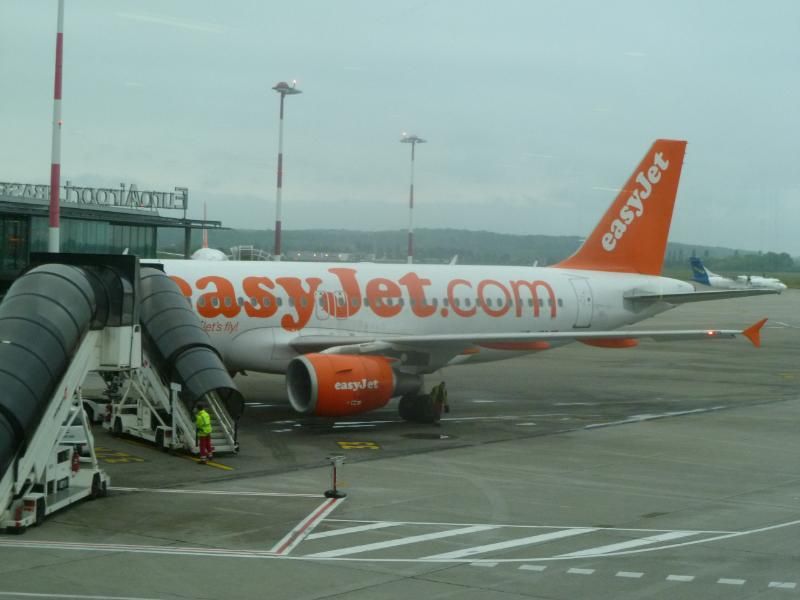 Our service for Lyon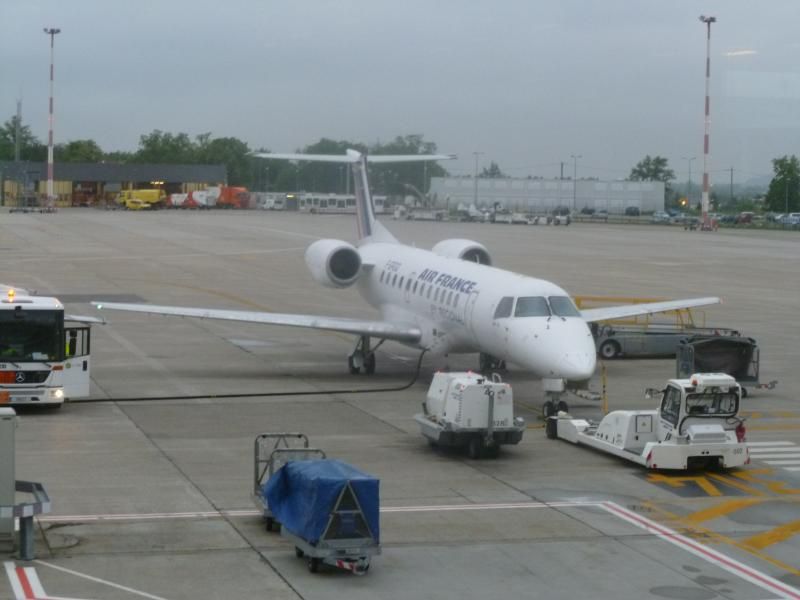 Basel's most famous resident
MLH-LYS
AF5411
STD 0650 / ATD 0701
STA 0740 / ATA 0742
F-GRGQ, Embraer 135 operated by Regional
Seat 14F
23 Pax
1st leg on the E135 & this machine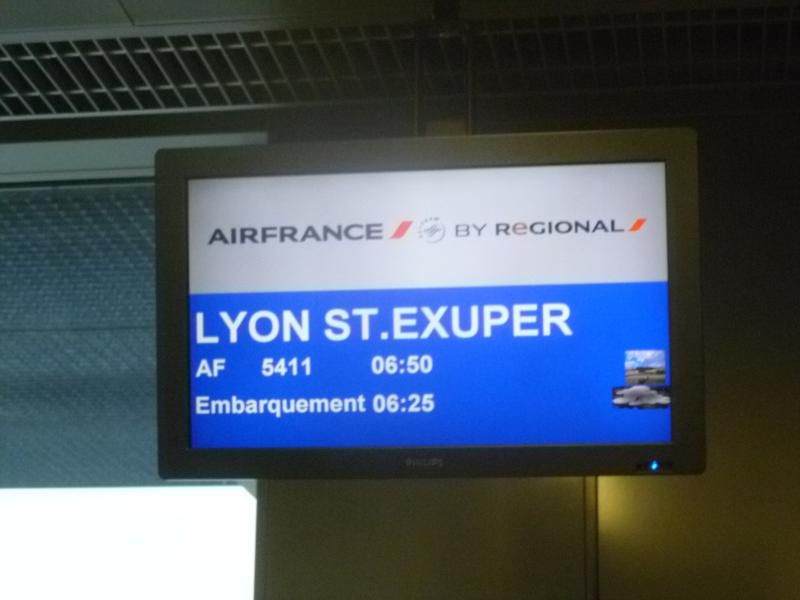 Boarding starts at 0630 and as usual we wait until the end. Well, we thought we did, after some time another few passengers turn up, making today's load 23 or about 50%. There is a Swiss lady with a baby who sits on the row in front, funnily enough she also takes our next flight to Pau.
Across the tarmac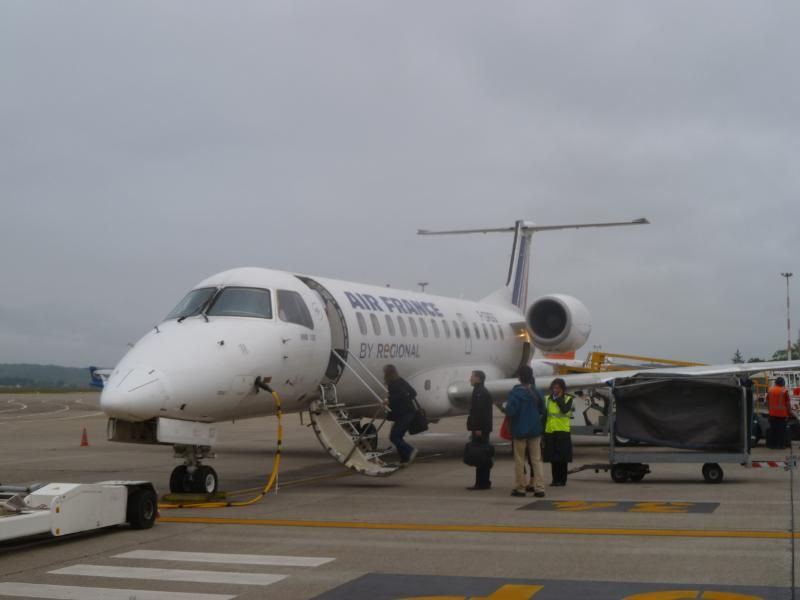 The E135 for sure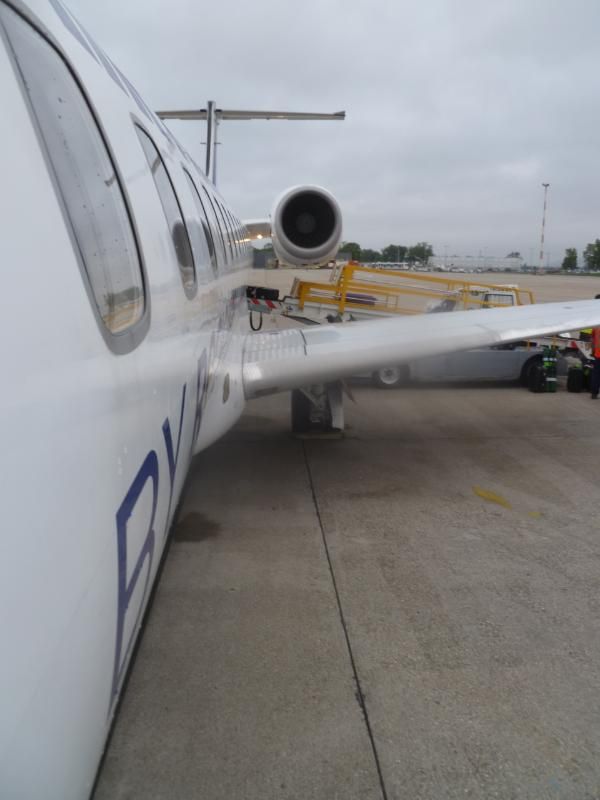 Nice comfy seats (forgot the legroom shot!)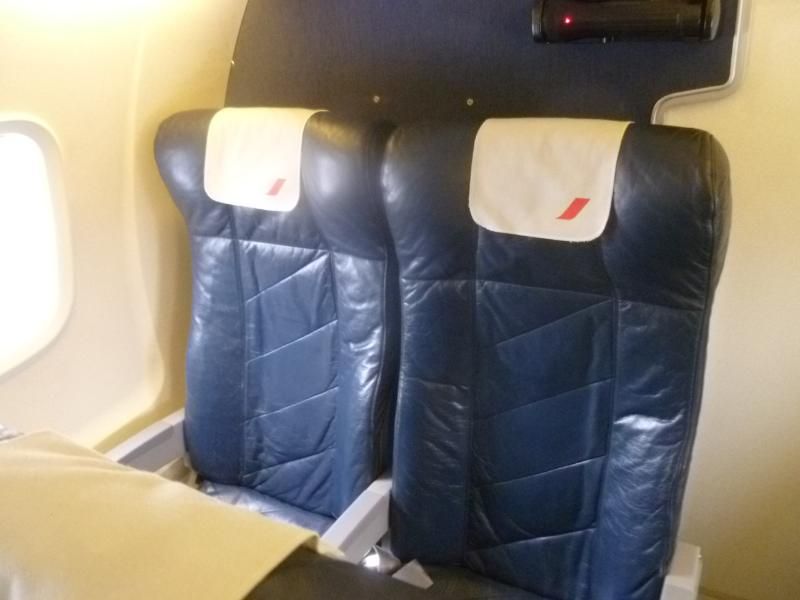 Cabin shot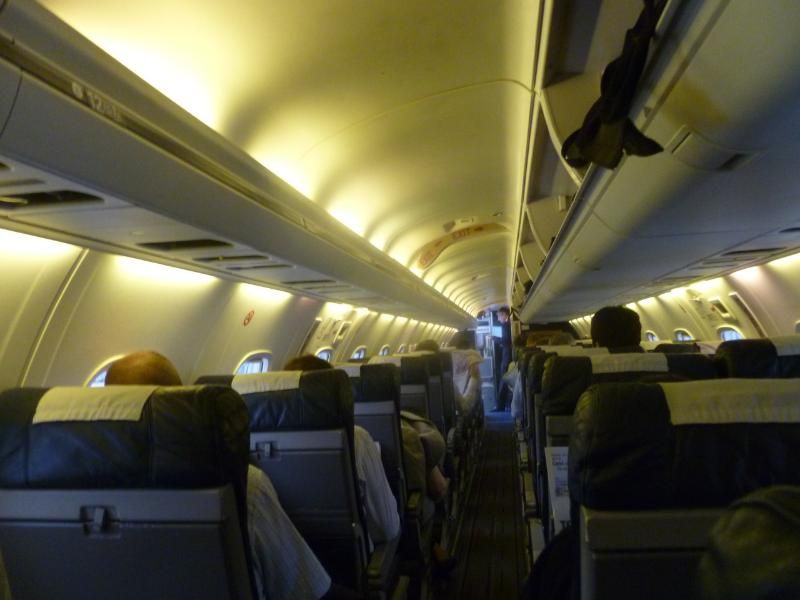 There is one male FA on this morning run and we are given some info from the flight deck: flight time 40mins, weather in LYS cloudy and with drizzle. Sounds like a really super spring day! Pushback is at 0654.
LX are represented here too, this time with the *A livery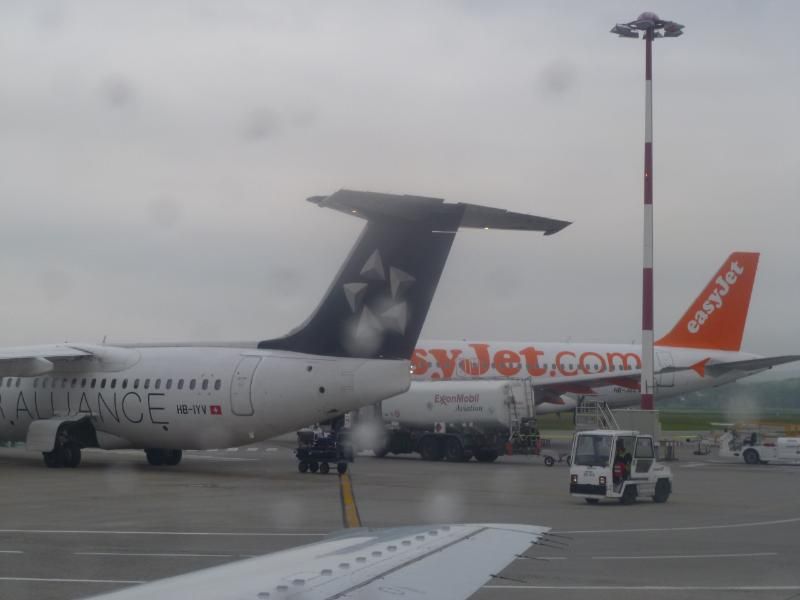 BritAir's CR-K for ORY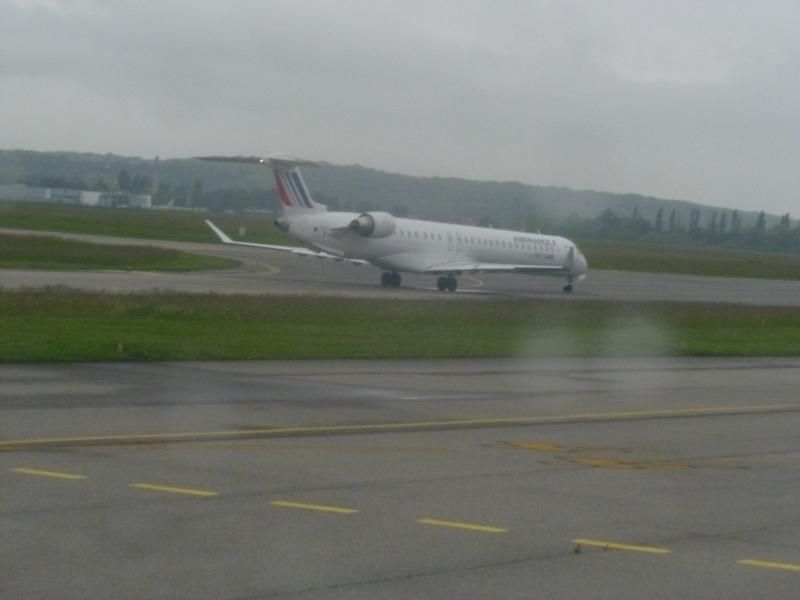 As the aircraft is lightly loaded we don't need the whole runway and take a shortcut, lifting off from runway 15 at 0701.
Bye bye BSL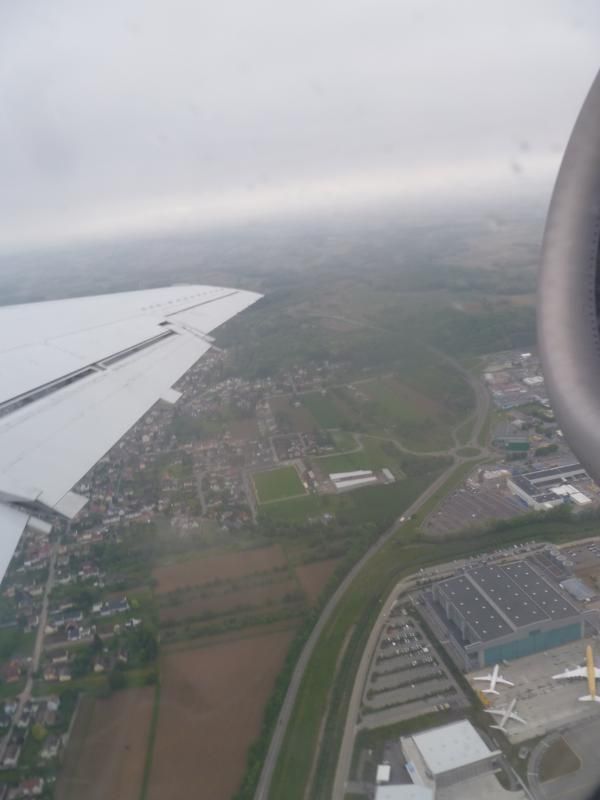 Above the clouds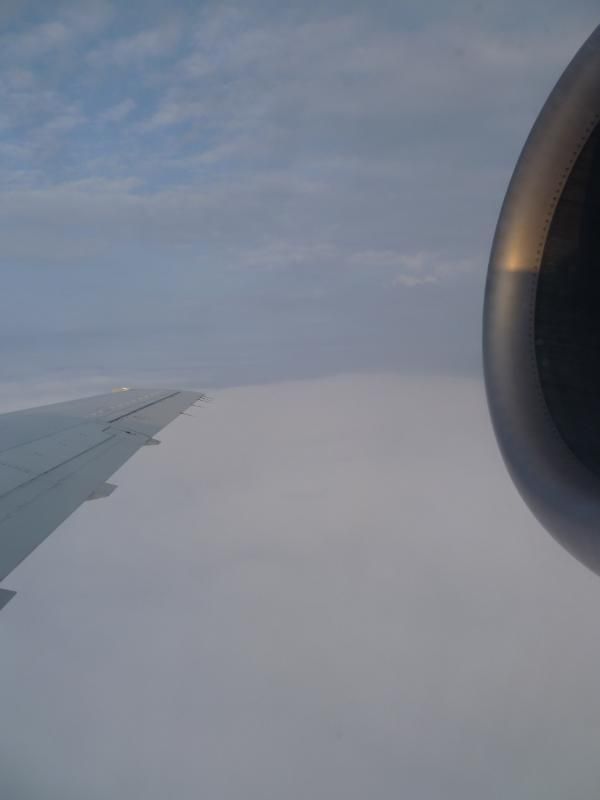 It wouldn't be a trip report of mine without some mountains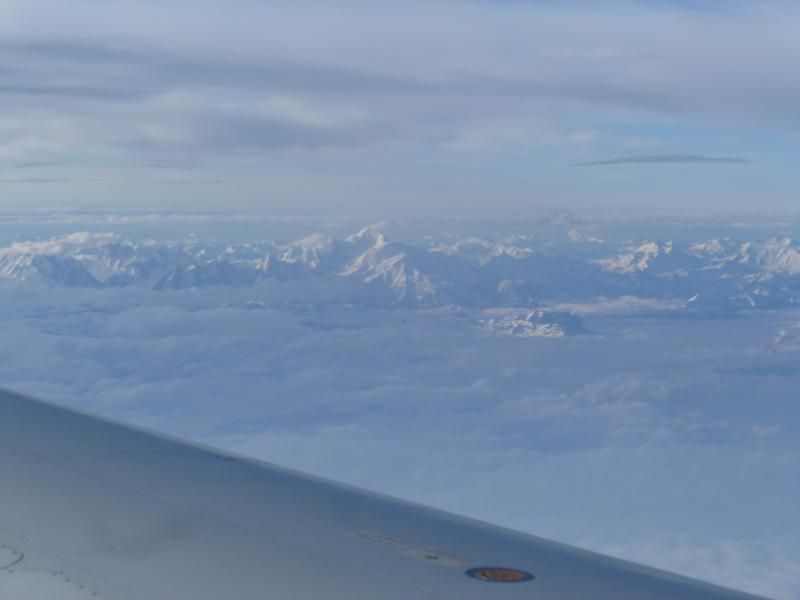 …and again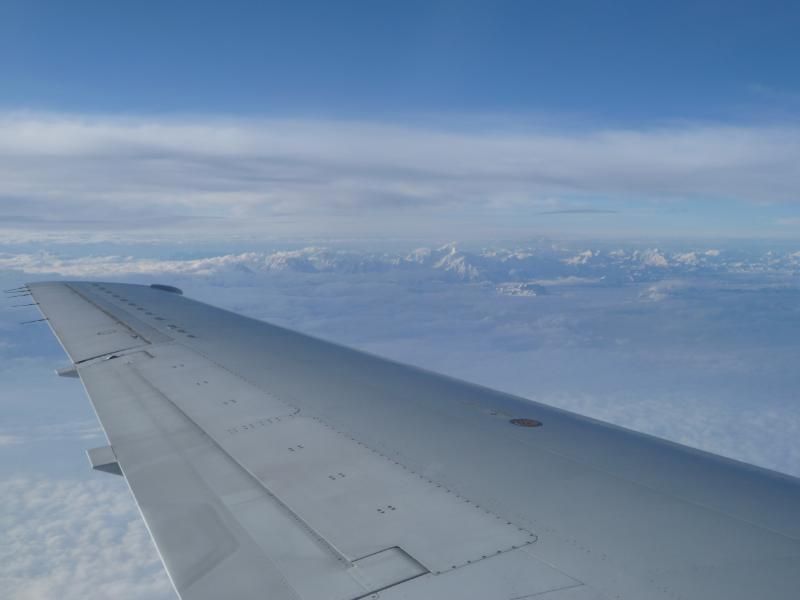 A swift service on this quick hop
Breakfast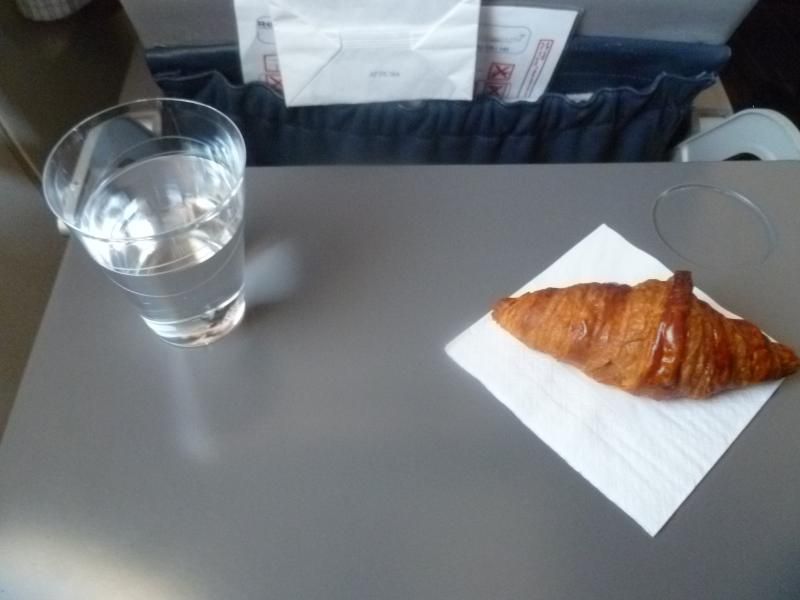 On approach into LYS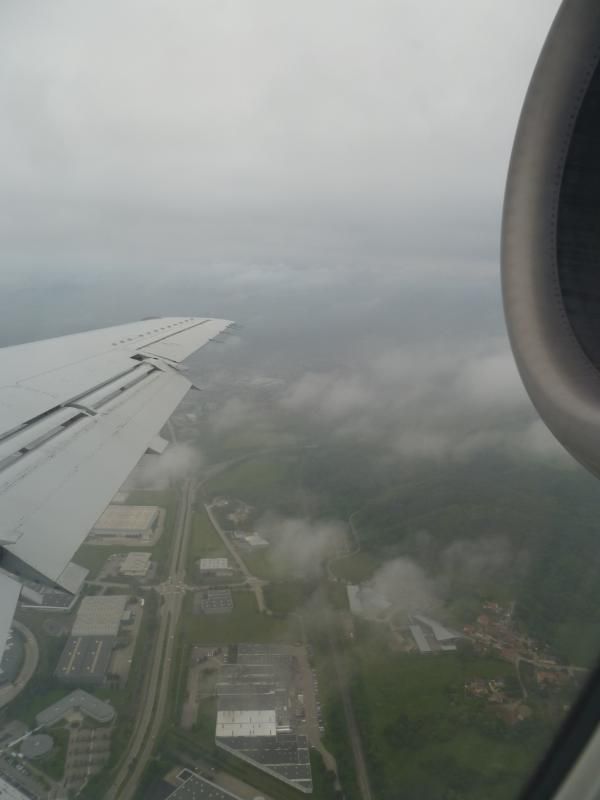 Le péage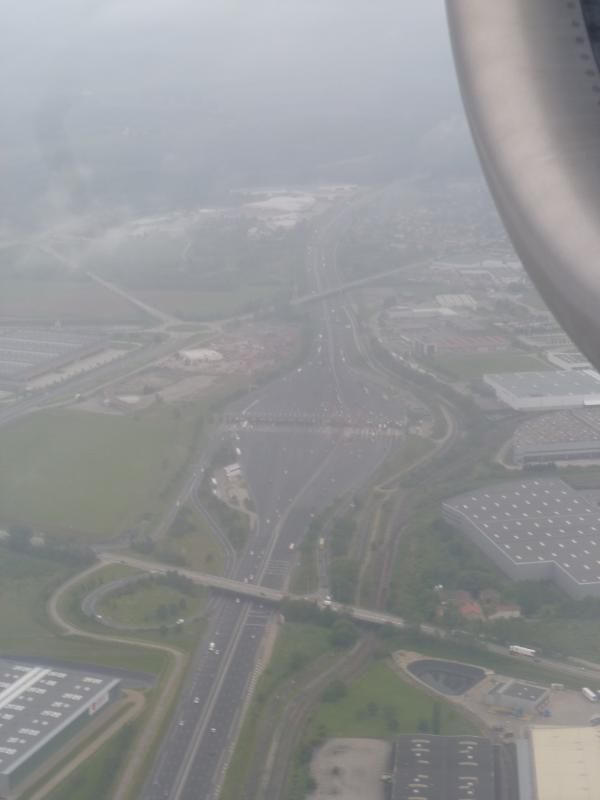 Fantastic weather!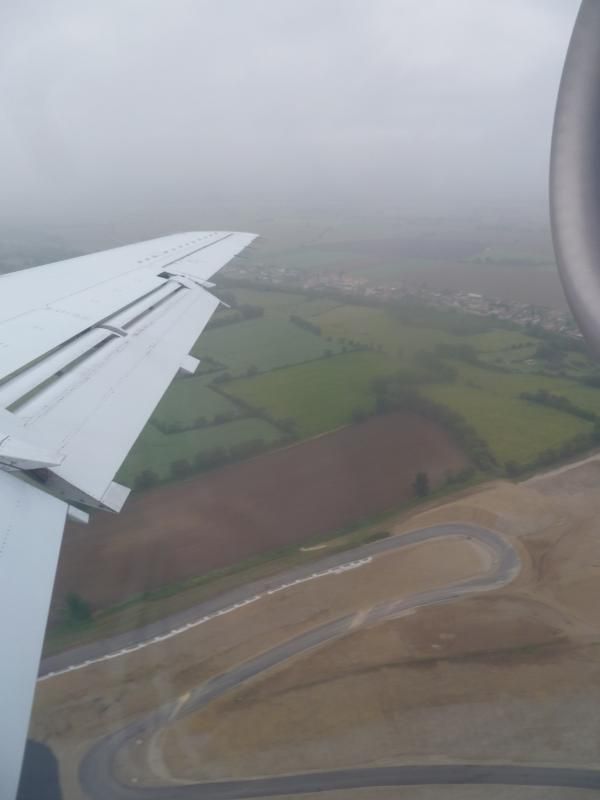 We land at 0742. There's a nice variety of AF aircraft on the tarmac and a constant stream of planes landing behind us. This is a well organised operation here at LYS.
Welcome to Lyon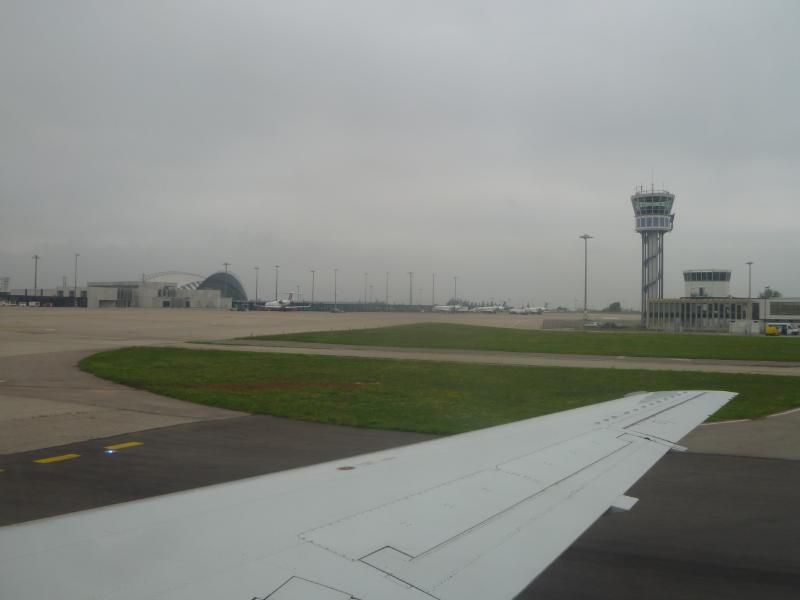 Who's in charge here?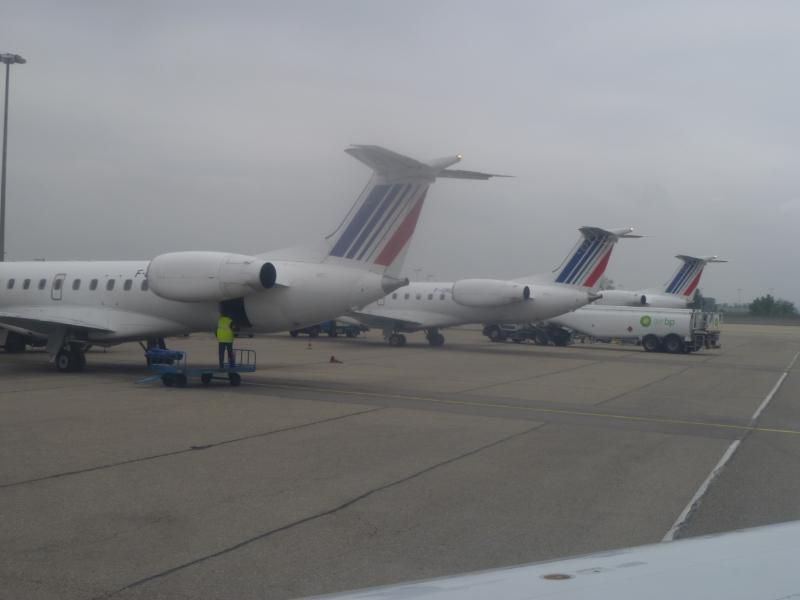 Lyon
We're on an open stand and have a short walk across the tarmac to the terminal building.
Some advertising for the tourists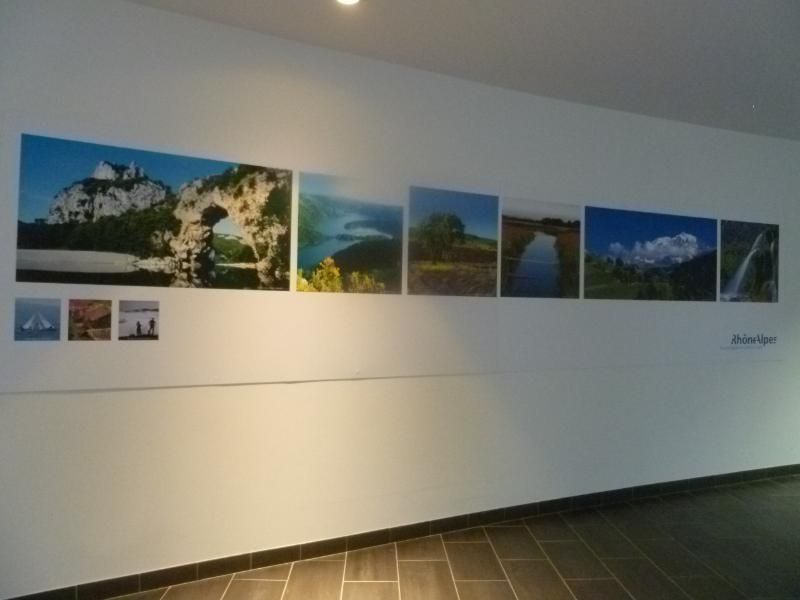 Where is everyone?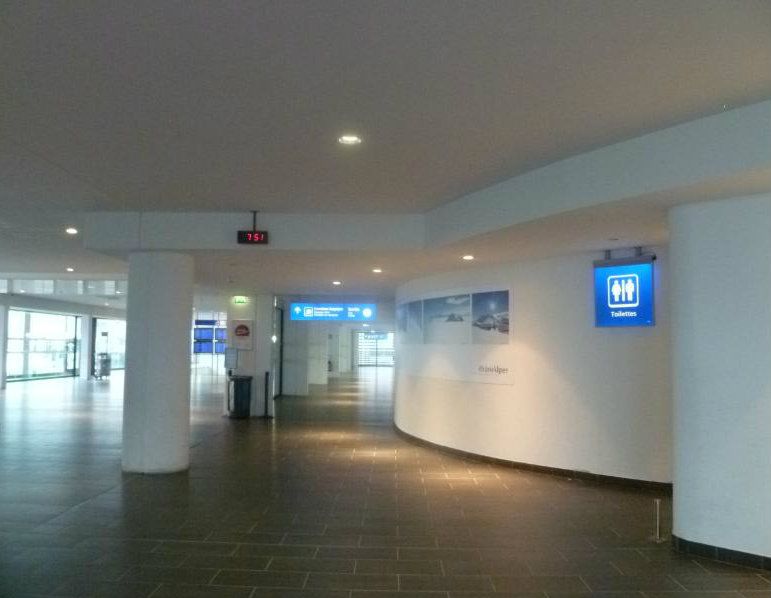 A lot of activity here in just 15 minutes!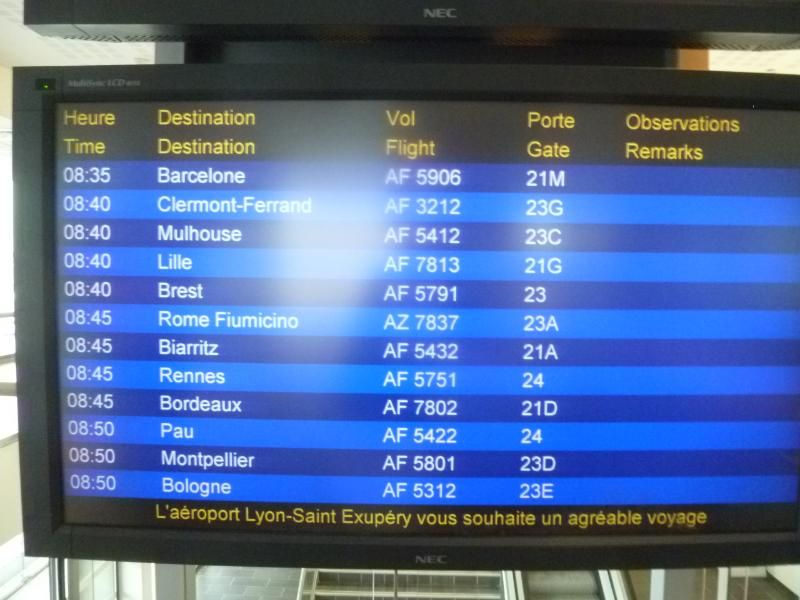 There's a lounge here and again I am treated to the benefits of having a travel companion who has gold status. You need a pin code to access it, but Markus knocks and we are let in. It's a small lounge, with drinks and biscuits/crackers on offer and the place is pretty full.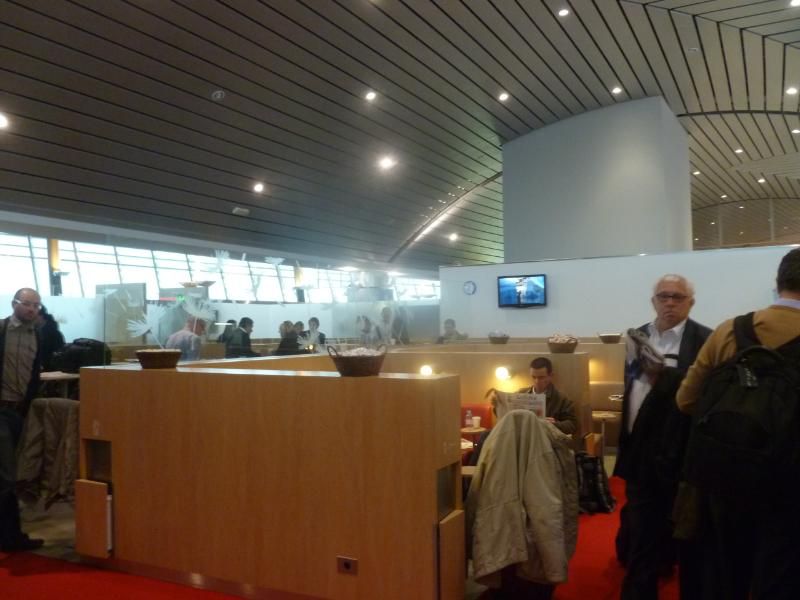 We stock up on some nibbles and drinks and then slowly head down to the gate for our next flight.
Gate area by the lounge
LYS-PUF
AF5422
STD 0850 / ATA 0901
STA 1025 / ATA 1015
F-GVZM, ATR 72 operated by Airlinair
Seat 18A
Load, 30-40%
1st leg on the ATR72 & this machine
Boarding for leg number 2 starts at 0835 and there aren't many passengers in sight. We walk across the tarmac to the aircraft taking us to Pau. Never having been on one of these birds before, I didn't realize the only door is at the back. That means that the back row essentially becomes the front and vice versa. Still, a very low load on this run so plenty of space, we reckon about 30%.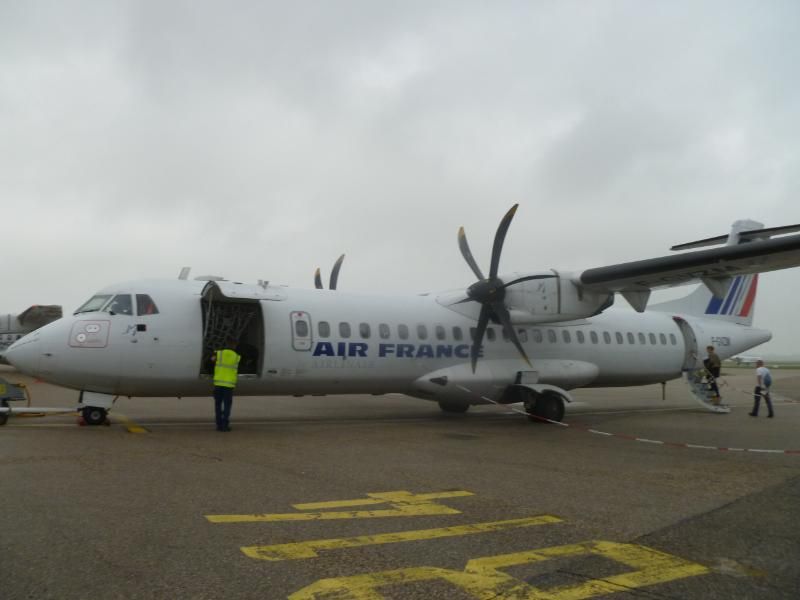 Checking the reg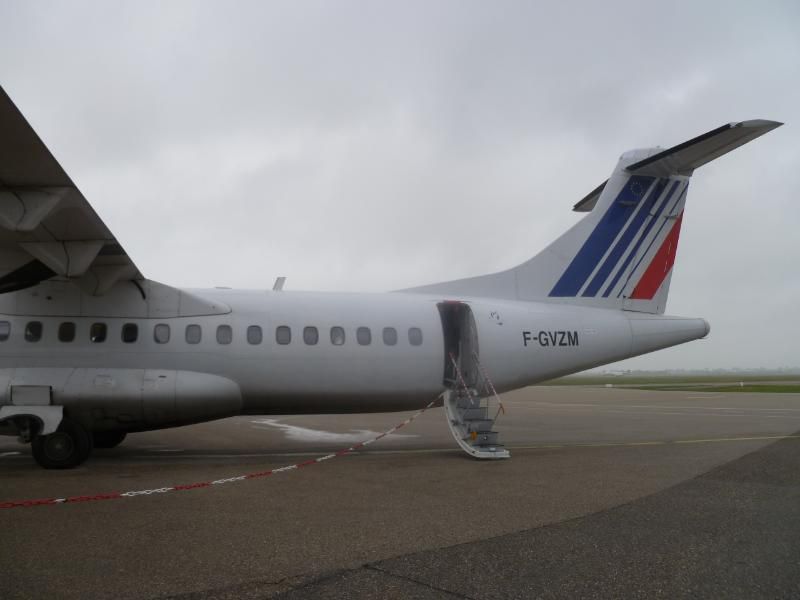 Under the wing, nearly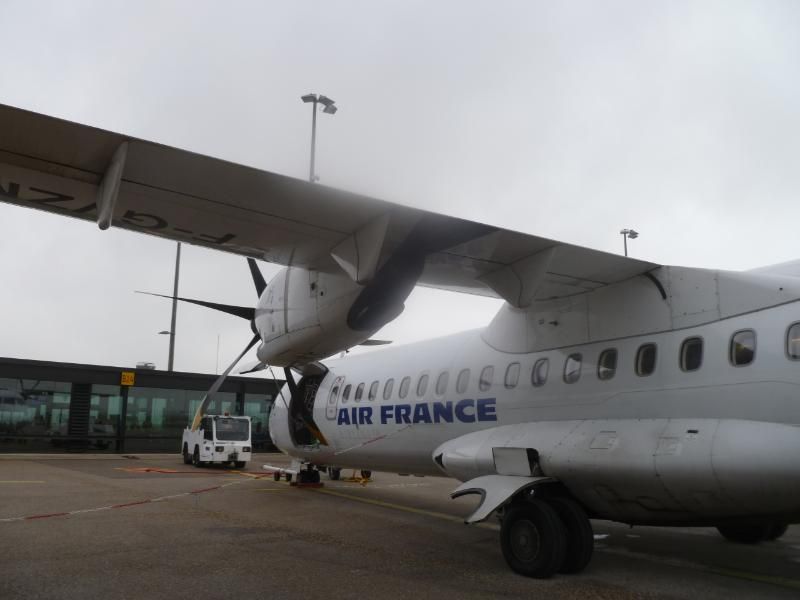 Pushback is at 0851. An announcement from the cockpit is made but it is impossible to understand any of it. We take off from runway 36L at 0901, a queue of traffic in front and behind us. 1 male and 1 female FA on this leg.
Company traffic everywhere you look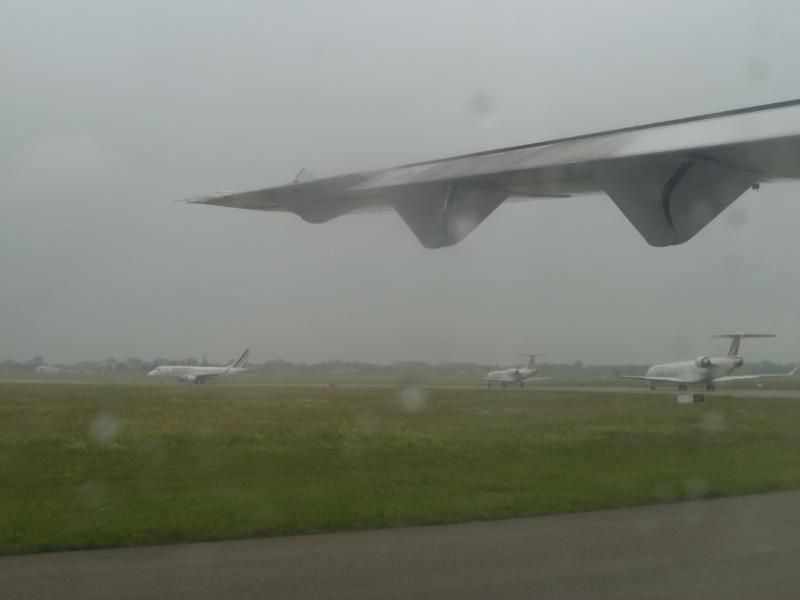 LYS from above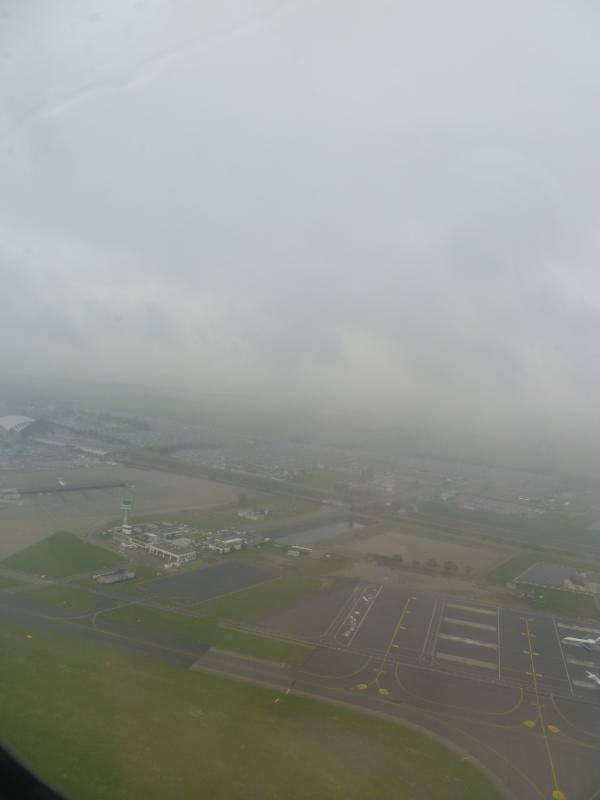 Cabin shot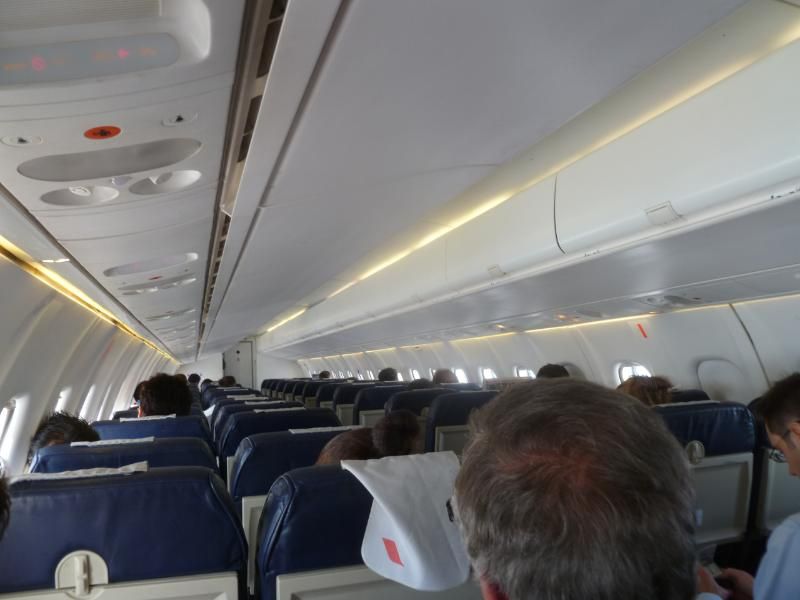 Snack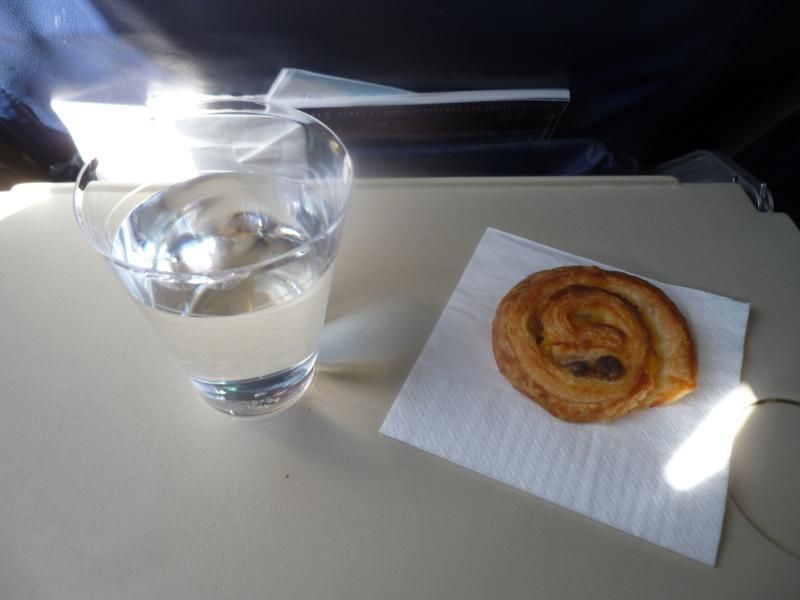 Above the clouds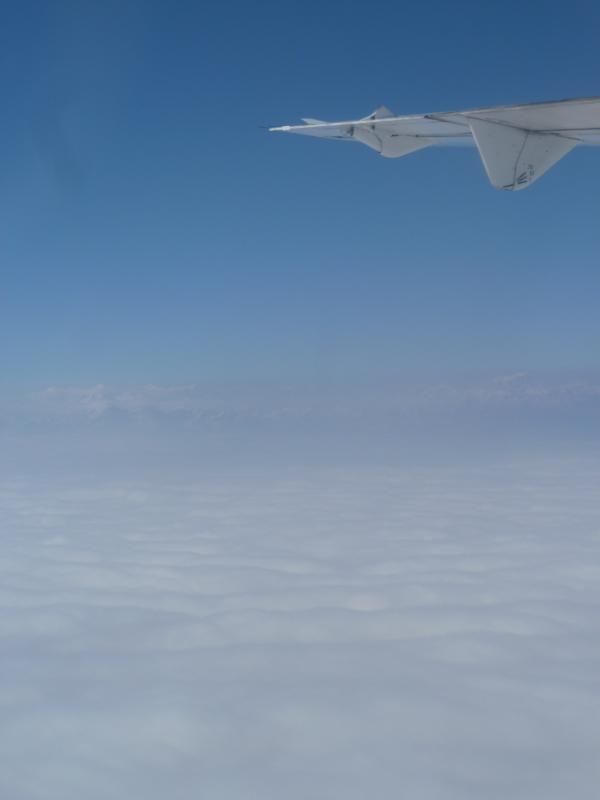 Finally some views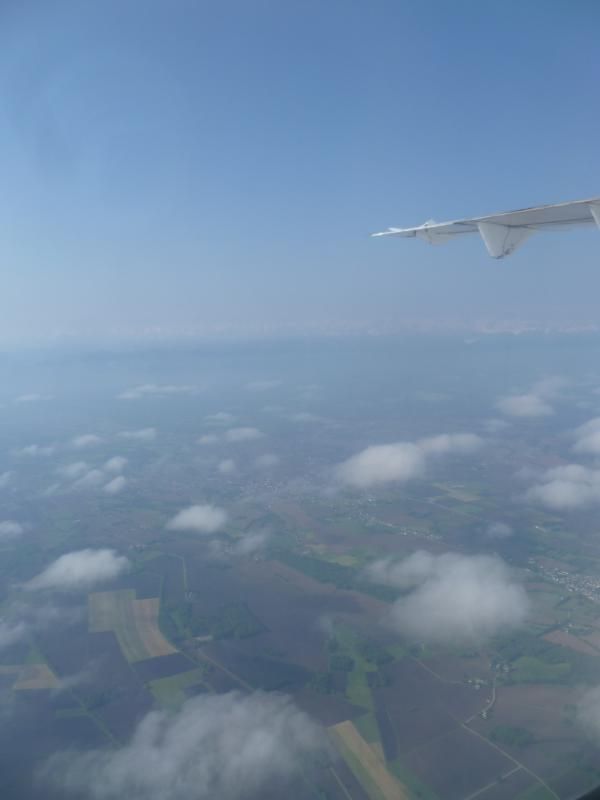 The flight is uneventful and we catch up on our news.
Clouds again on approach into Pau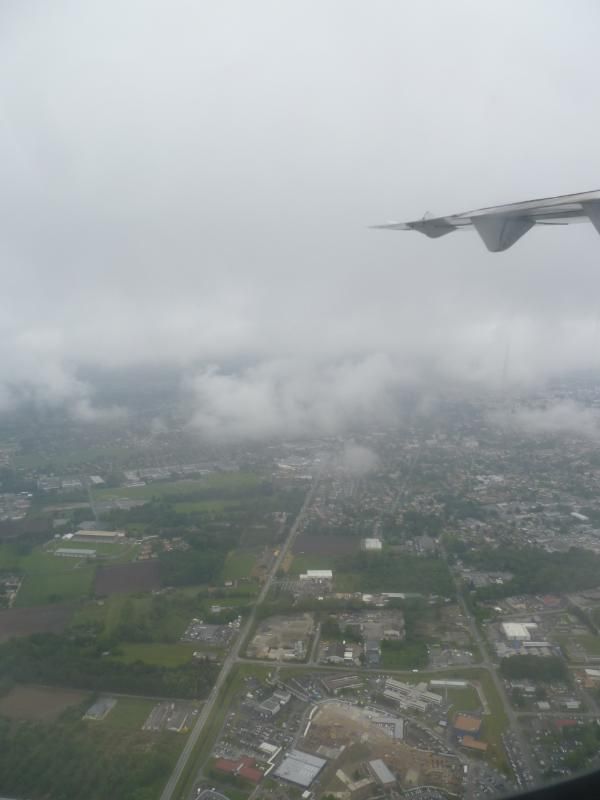 Horse racing anyone?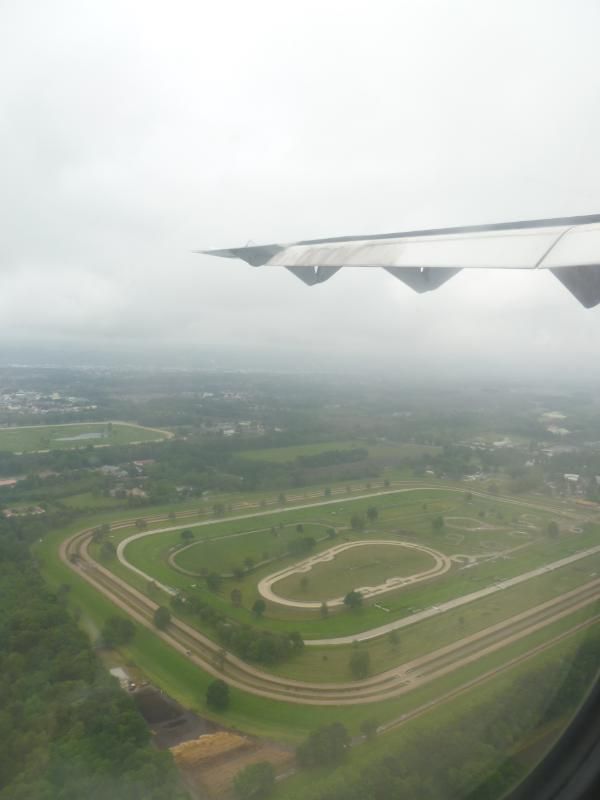 Landing is on runway 31 at 1015, the weather in Pau not looking much better than it was in LYS.
Bienvenue à Pau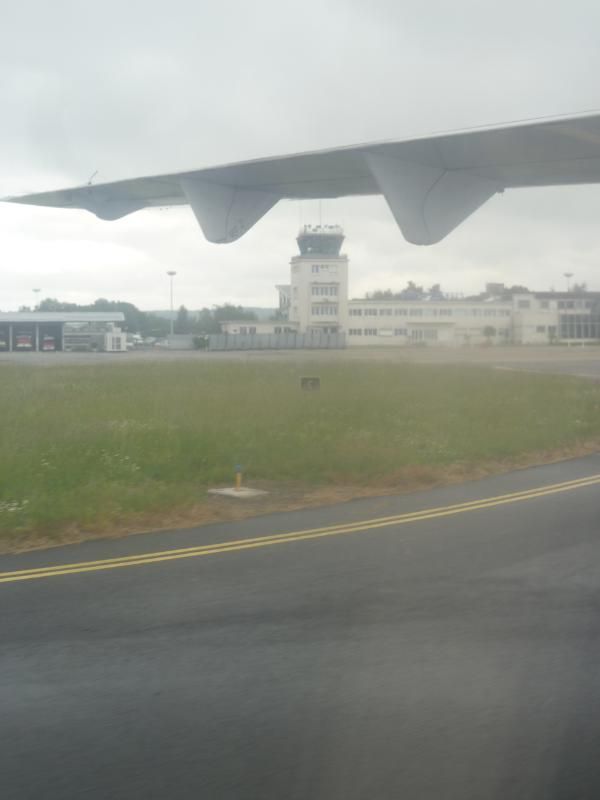 Very old looking airport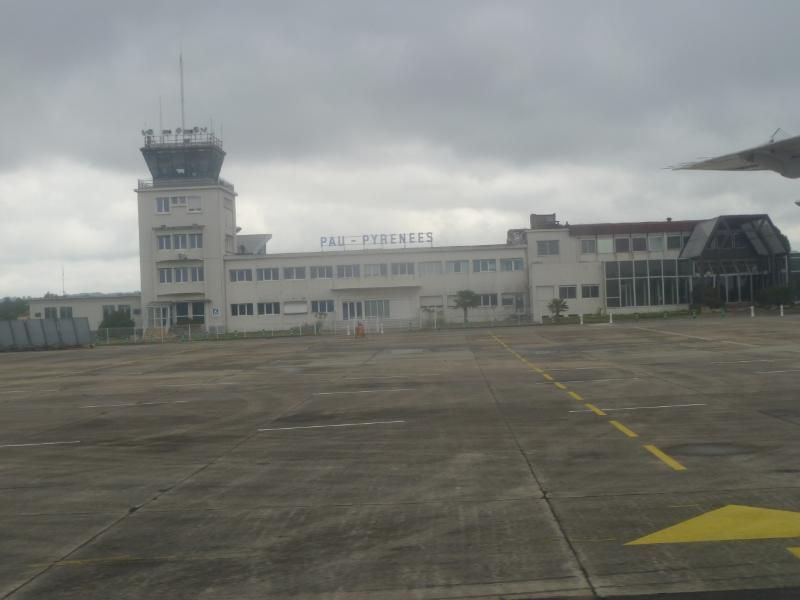 Some action on the tarmac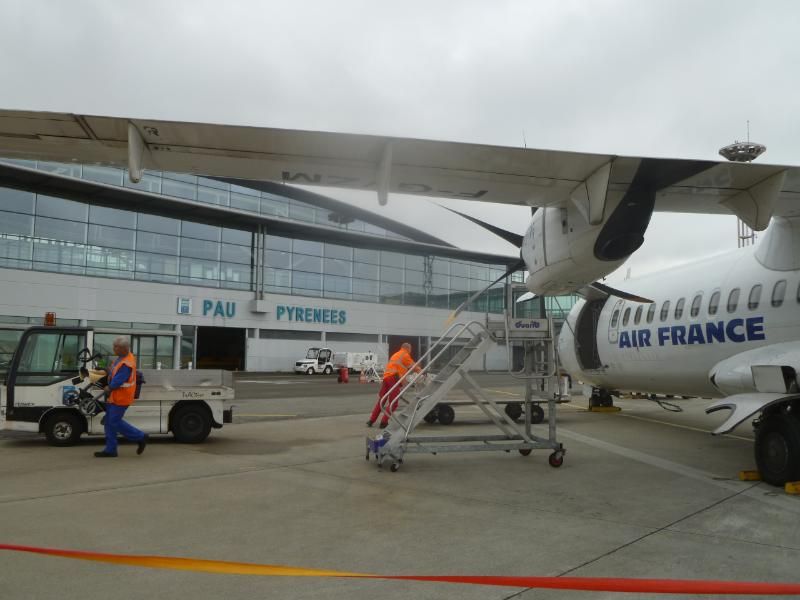 The morning service from Paris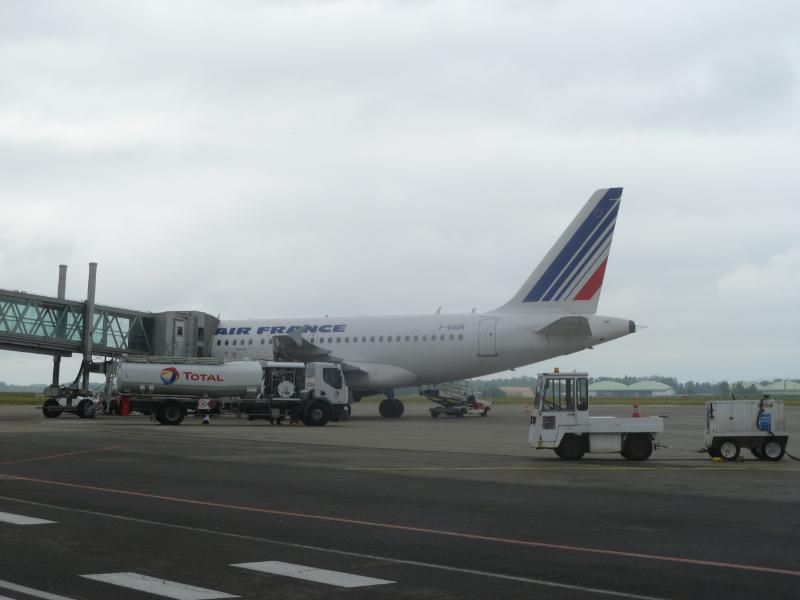 A nice vintage poster in the terminal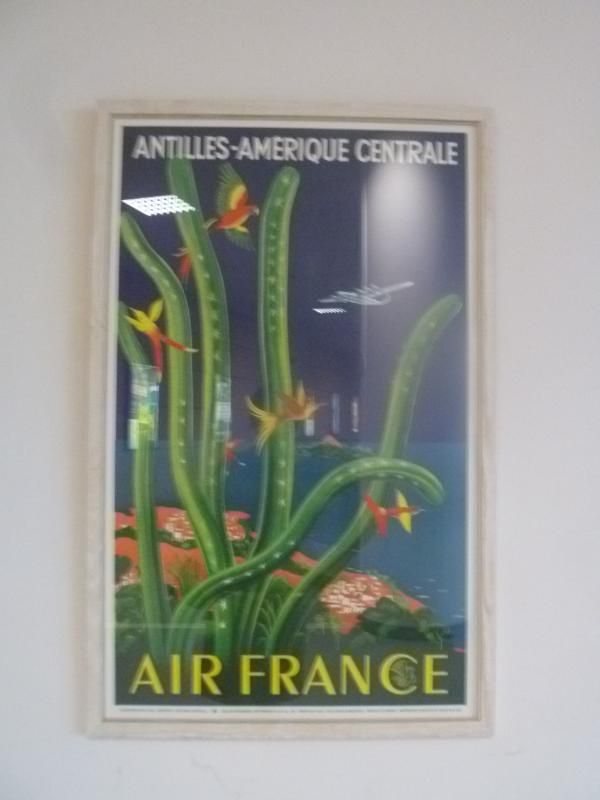 Our timing is spot on and we don't have to wait long for the bus, which for the bargain fare of 1E takes us down to the town centre in just under 30 minutes.
Pau
I'd seen on the internet that there was a funicular in the town and this is confirmed by Markus' guide book. Well of course we have to try this out. However, when we locate the bottom station I felt a little bit cheated. This funicular is one of the shortest ones I've ever seen, take a look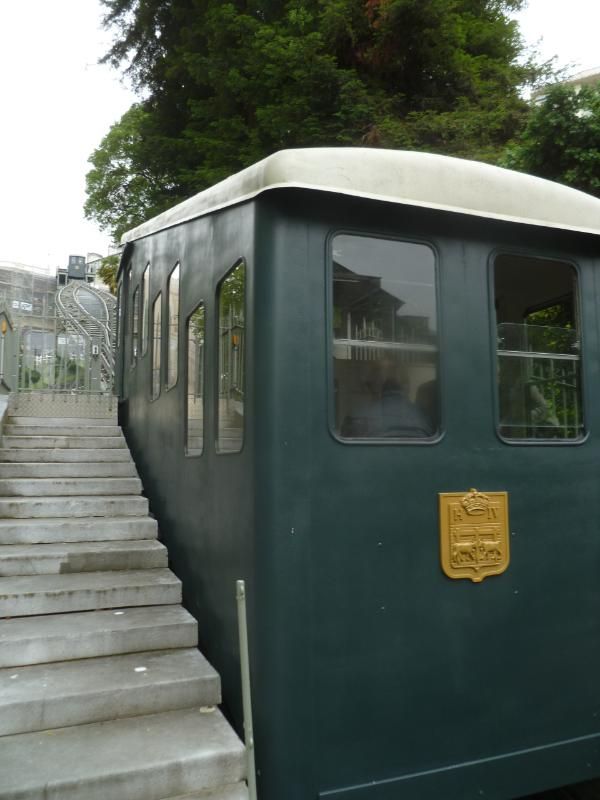 View from the ride. At least it was free!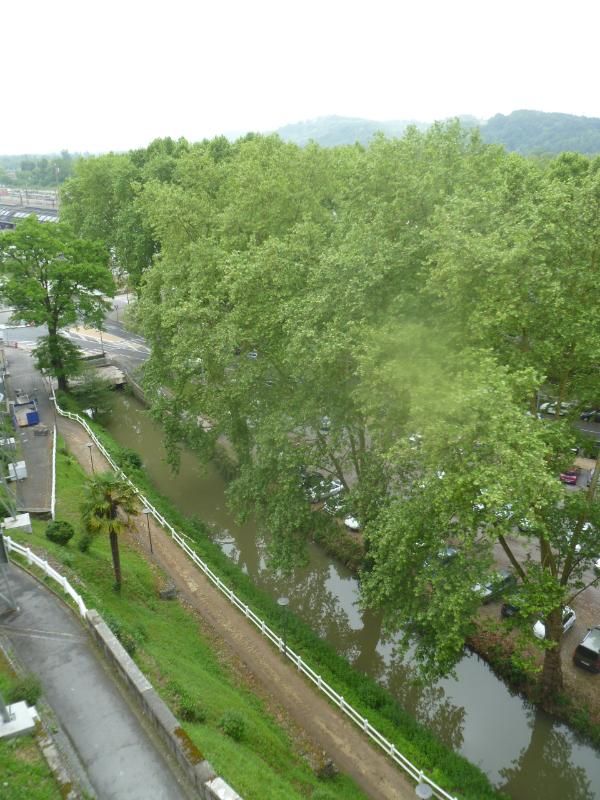 Top station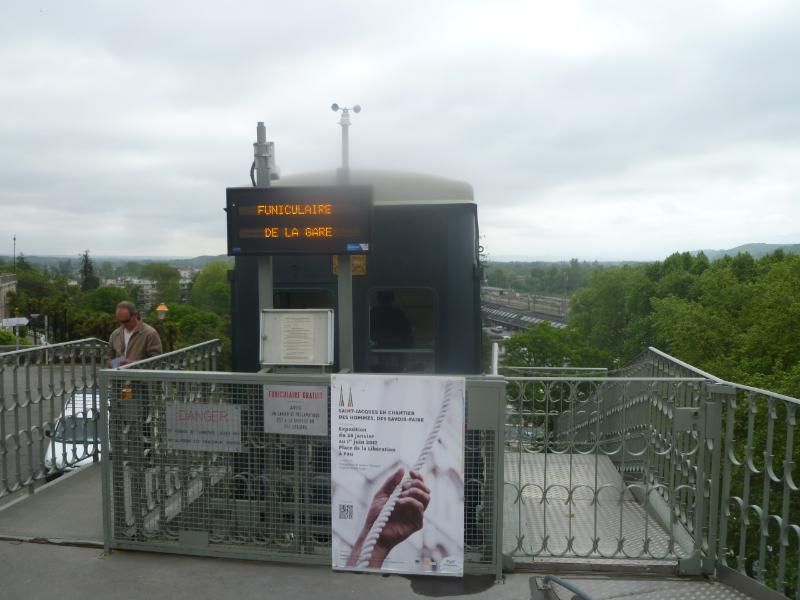 Here are some impressions of a rather sleepy Pau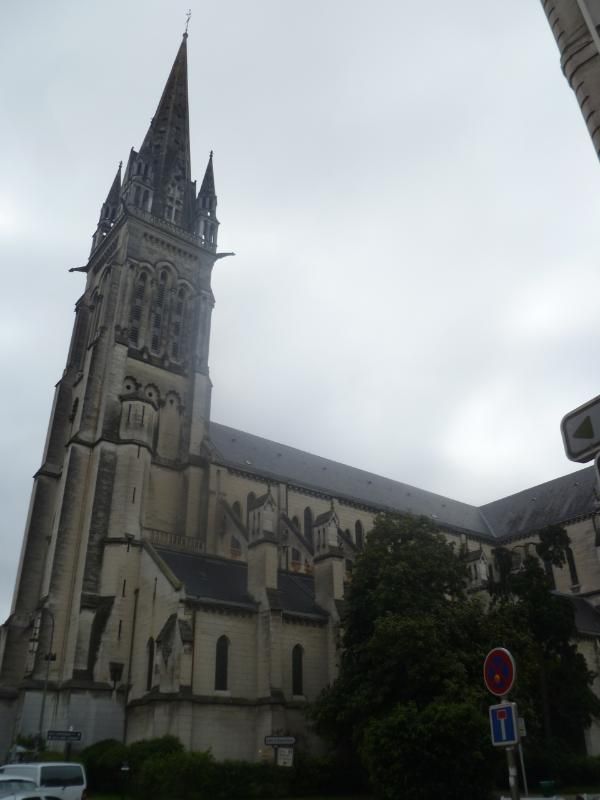 Park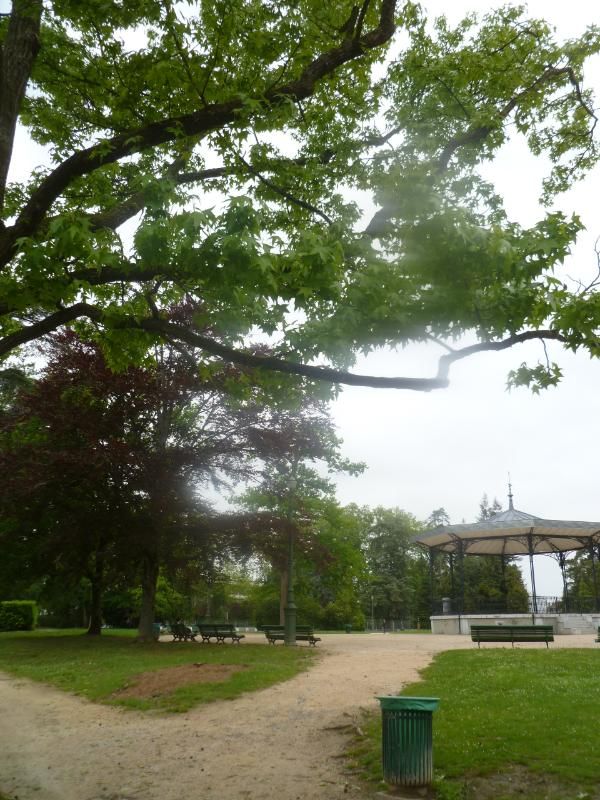 In the town, finally the sun appears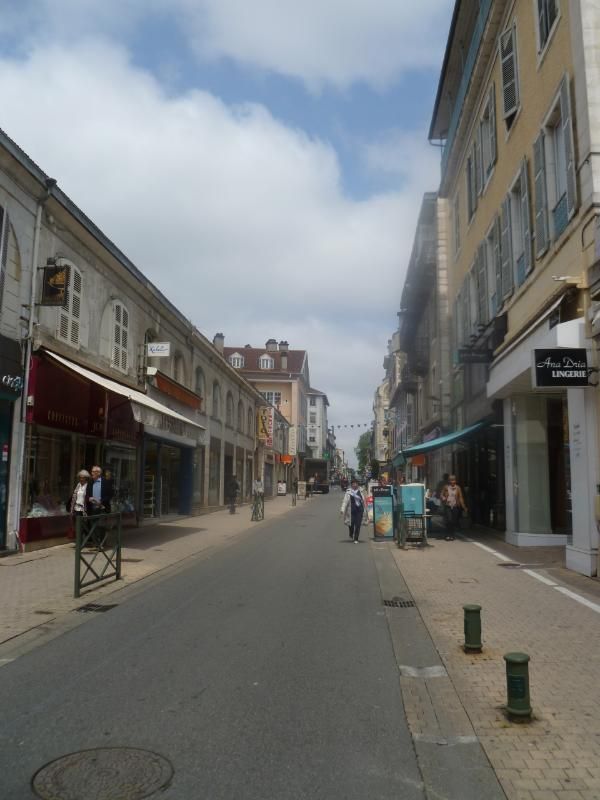 Couldn't go on a spending spree in Sephora, damn liquid restrictions
We get back to the airport in plenty of time. There isn't really much to see or do at the place, so we have a wander outside before collecting our boarding passes & proceeding through security. There's a tiny souvenir shop which opens up shortly before departure.
Our bus
The new terminal, definitely looks a lot better
Not many flights today
View down from check-in to arrivals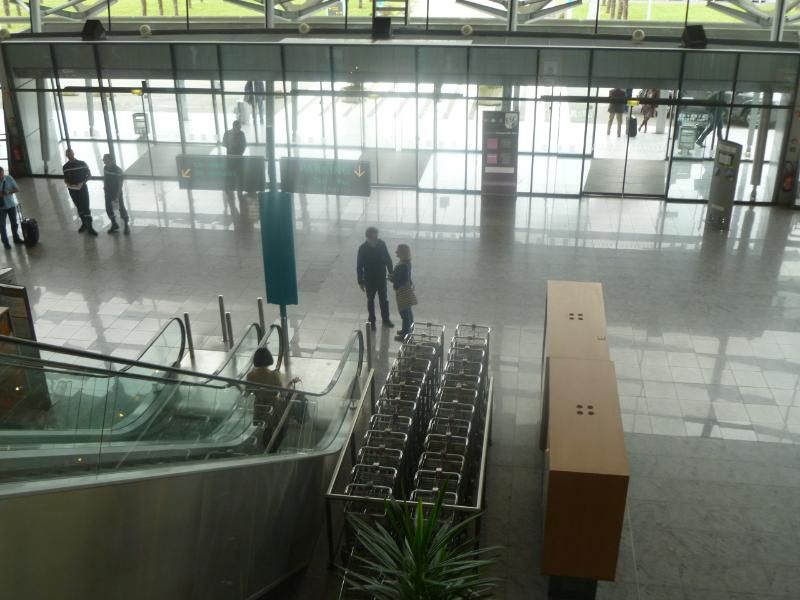 Check-in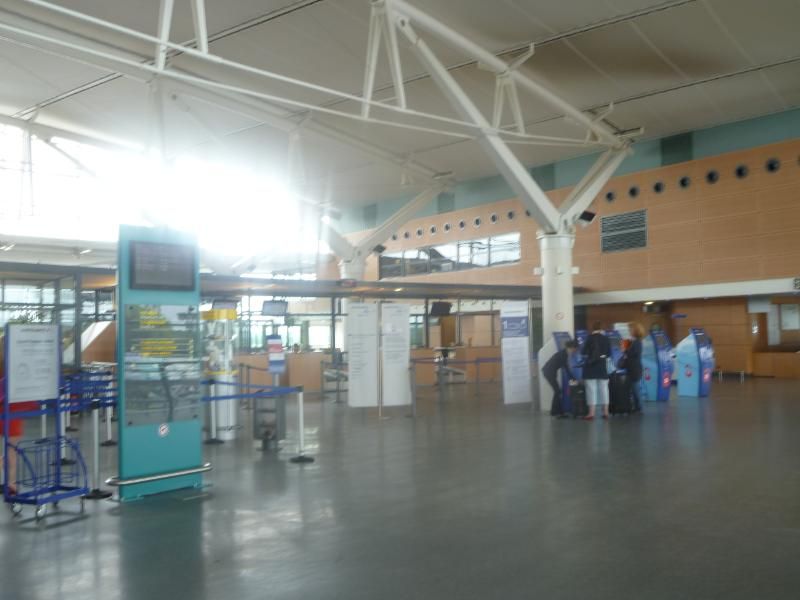 Plenty of seats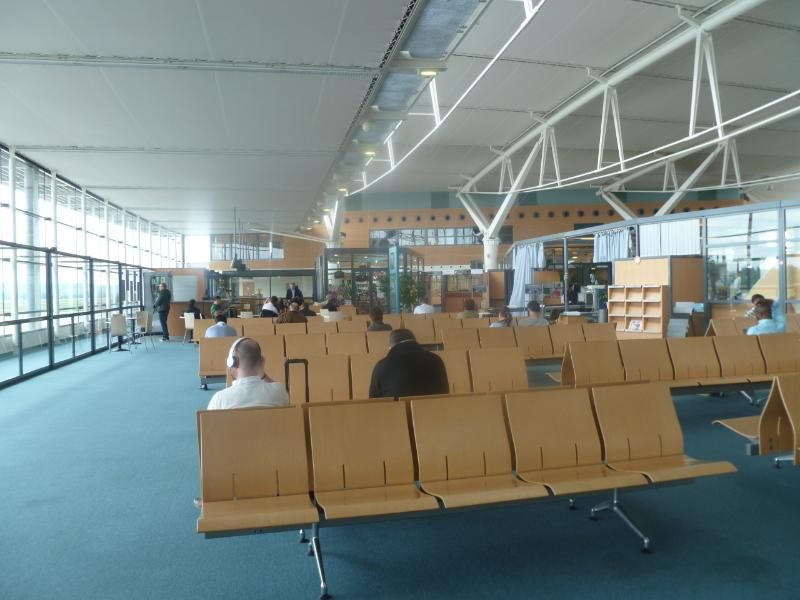 Some military activity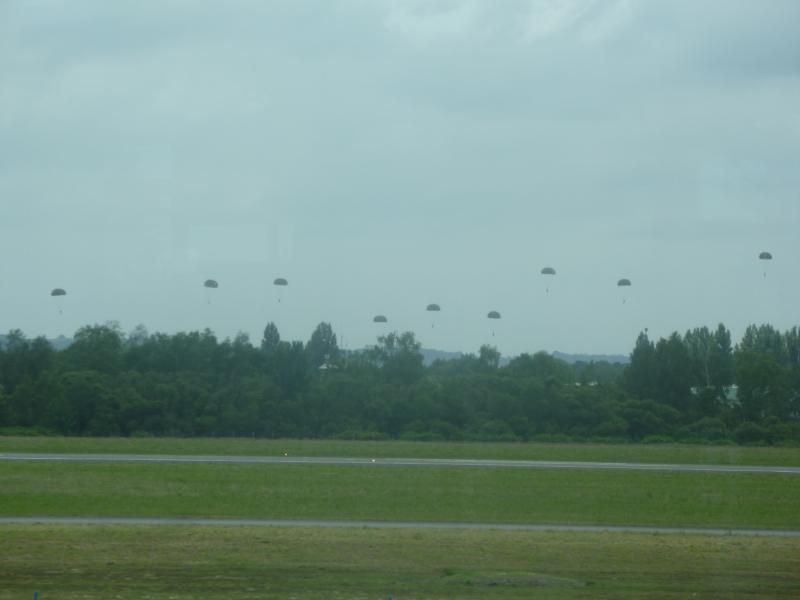 The only aircraft on the tarmac, must be ours