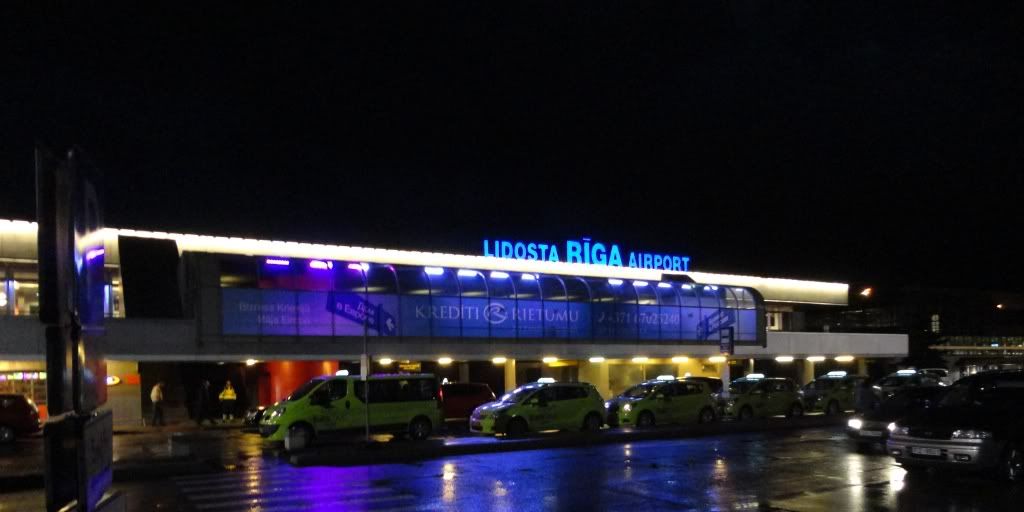 Introduction
Let me take you back in time for a second. Back before my great summer vacation, as I then started booking flights for this weekend trip. KLM were having some nice offers to different European destinations to which I decided to book a round trip.
Of course I wanted to chose an airport that I haven't been to before so after scrolling through the different destinations I chose Helsinki Vantaa Airport and booked the flights immediately. Departing AMS on Saturday (September 8th) mid-day and arriving back Sunday (September 9th) in the evening.
Of course I didn't want to keep it at these 2 flights, so I decided to book some more (ex- HEL) once I got back from my vacation.
So an absolutely fantastic vacation in the USA/Canada ( for trip reports on my vacation see the bottom of this TR) followed and once I was home again I immediately started looking for some interesting flights ex HEL. After about an hour of searching different websites, I found an attractive fare on Air Baltic from HEL to ARN via RIX. Leaving HEL on Saturday night and departing from RIX early on Sunday morning, both flights with a Dash 8. With BT being a new airline and RIX a new airport I booked the flights right away.
All I needed now is book a flight from ARN to HEL to catch my evening KLM flight back to AMS. As many of you know there are a lot of different airlines that fly this route. As I have been wanting to fly Norwegian for a while now I decided to look at their fares first. I immediately found an acceptable fare and booked it (leaving ARN mid-day).
Spending the night in Riga meant I had to book an hotel. As I will be arriving in RIX at night and departing RIX bright and early the next morning my preference went out to an hotel close to the airport. The closest (and cheapest) hotel was the Sky High Hotel located just a 5 min walk from RIX, so I made a reservation there.
Hello everyone and welcome to my 18th trip report featuring part 2 of this weekend trip I made. Due to the large amount of pictures made, this series will be split into 2 parts. Part 1 will contain my first 2 flights (AMS-HEL-RIX), while part 2 will contain my last 3 flights (RIX-ARN-HEL-AMS).
For part 1 see:
KLM Business To HEL + A BT Dash 8: AMS-HEL-RIX
(by
adamspotter
Sep 27 2012 in Trip Reports)
Map
The map for this part, thanks to the Great Circle Mapper:
The map for this weekend trip, also thanks to the Great Circle Mapper:
It's 05:15 on Sunday morning the 9th of September when my alarm clock goes off. It's not as early as Markus usually has to wake up, but still pretty early for me! While getting out of bed, I make my way towards the bathroom to take a nice shower that will hopefully wake me up.
After a nice and refreshing shower I gather my belongings and head towards the reception desk. The same receptionist as last night was still there and seemed to have just woken up. I purposely tell her "good morning" with a big smile on my face which she clearly doesn't appreciate but hey, I had a laugh in the inside!
After handing in my key I took the 5 minute walk towards the terminal building where I arrived at 05:50.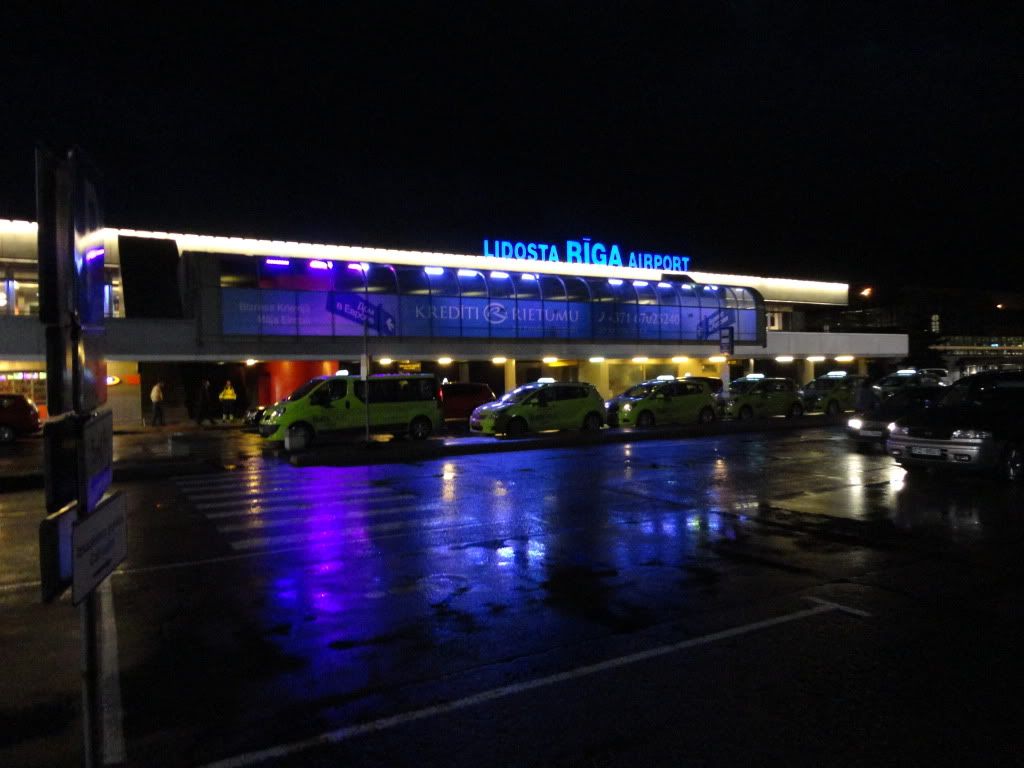 Check-in area: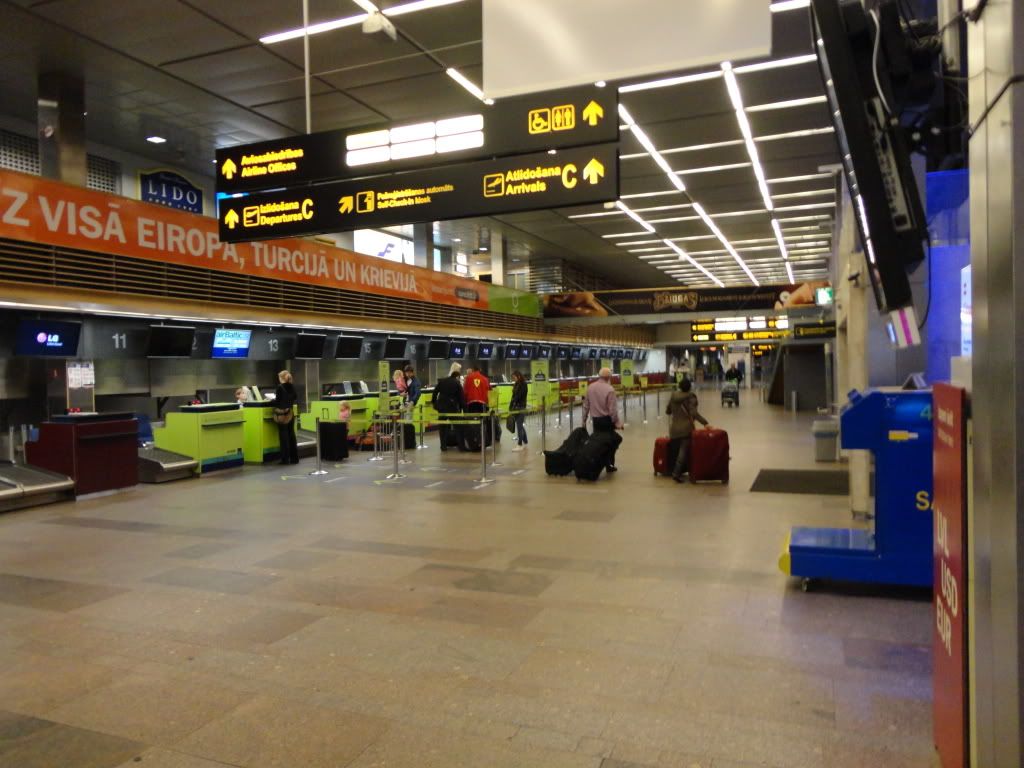 As I already got my BP yesterday at HEL I headed straight towards security. There was barely anybody there so I was through within a few minutes without a problem.
As there wasn't much to do or see this early in the morning I decided to head straight to my gate and wait there. Assigned gate for this flight is B10, a bus gate. So I headed downstairs to ground level where my gate is: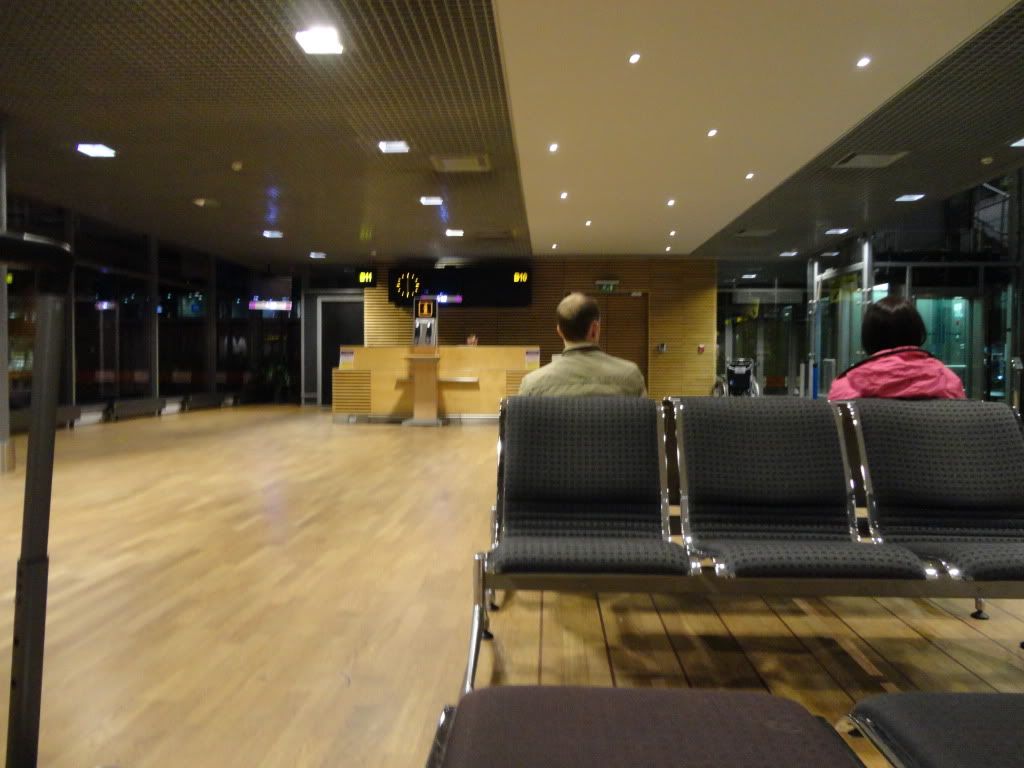 The FIDS don't look all to interesting this morning, except for the Uzbekistan Airways flight to JFK:
Boarding
BP for this flight: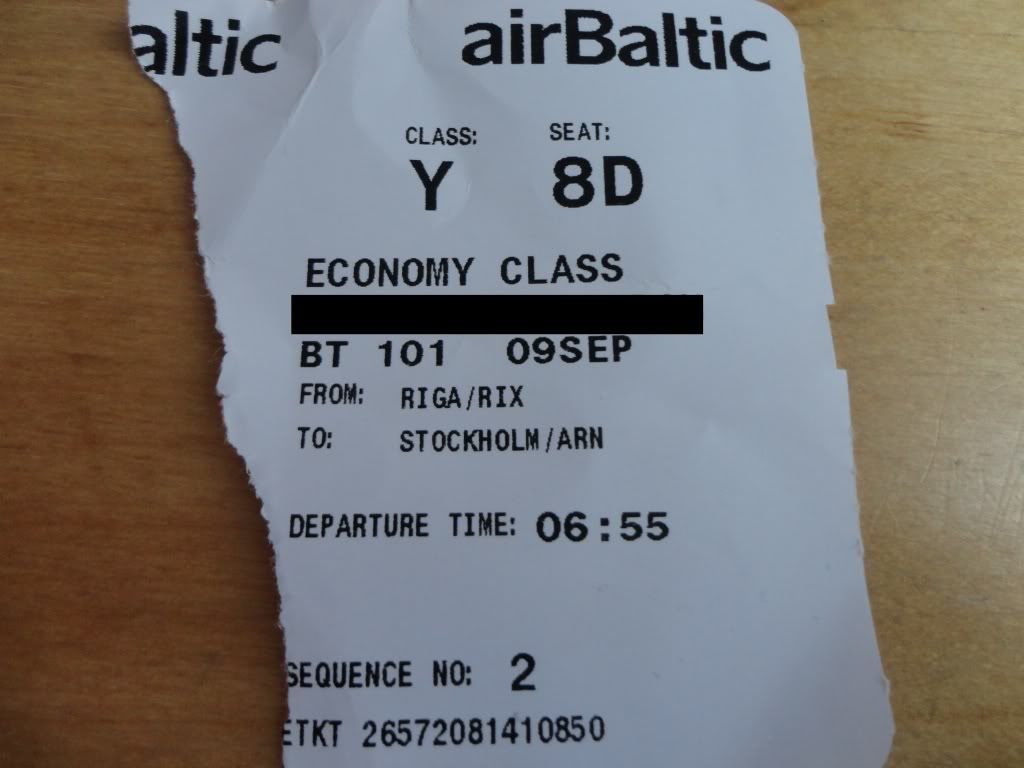 After playing a game on my laptop for 10 minutes, boarding is called (at 06:22) for flight BT101 with destination to Stockholm Arlanda. I grabbed my belongings and joined the small formed que. The gate agent scanned my BP and had trouble with tearing it as there was no tear line (which is why my BP looks like that in the picture above). I stepped into the waiting bus and 5 minutes later we made our way towards our aircraft.
Once realizing there would be no equipment change all I was hoping for now was a new registration. Last night's flight I got YL-BAX and this morning I get:
YL-BAF, a little more than 2 year old prop delivered factory fresh to Air Baltic on 27/07/2010 and a new registration for me.
I exited the bus and took one last shot of this nice and looong prop: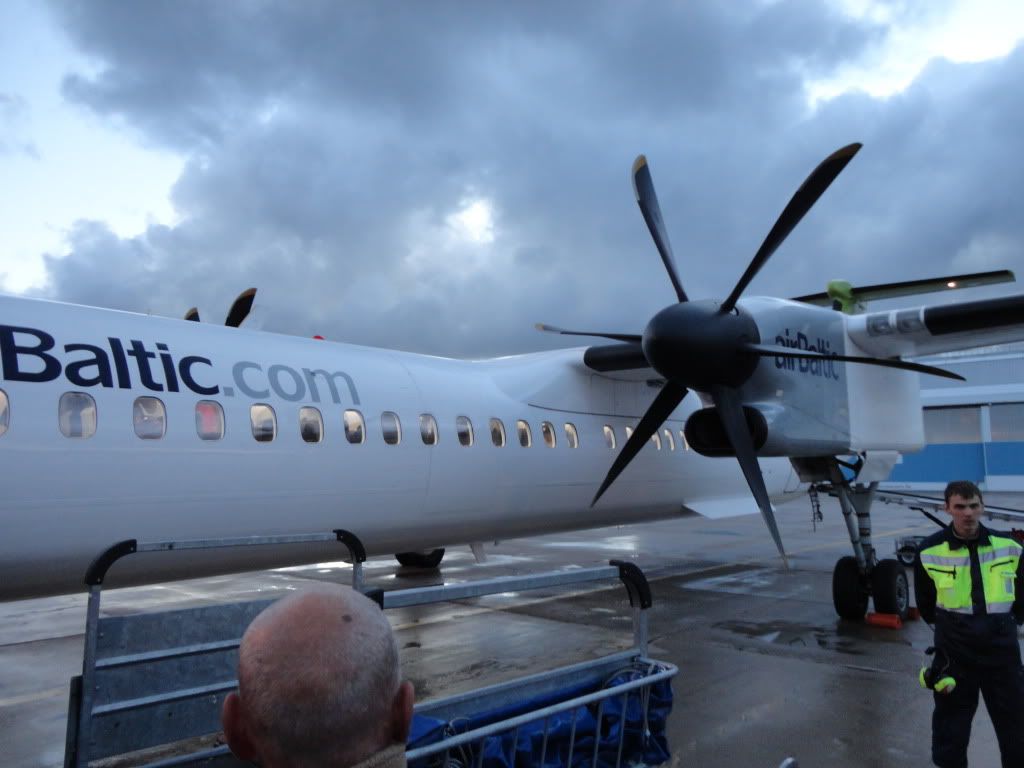 On Board
09/09/2012
RIX-ARN
BT101 // 8D
Dash 8-400 // YL-BAF
06:45 – 07:02
While entering the aircraft I was greeted by a female FA and made my way towards my seat: 8D. After getting settled in I took a quick look outside: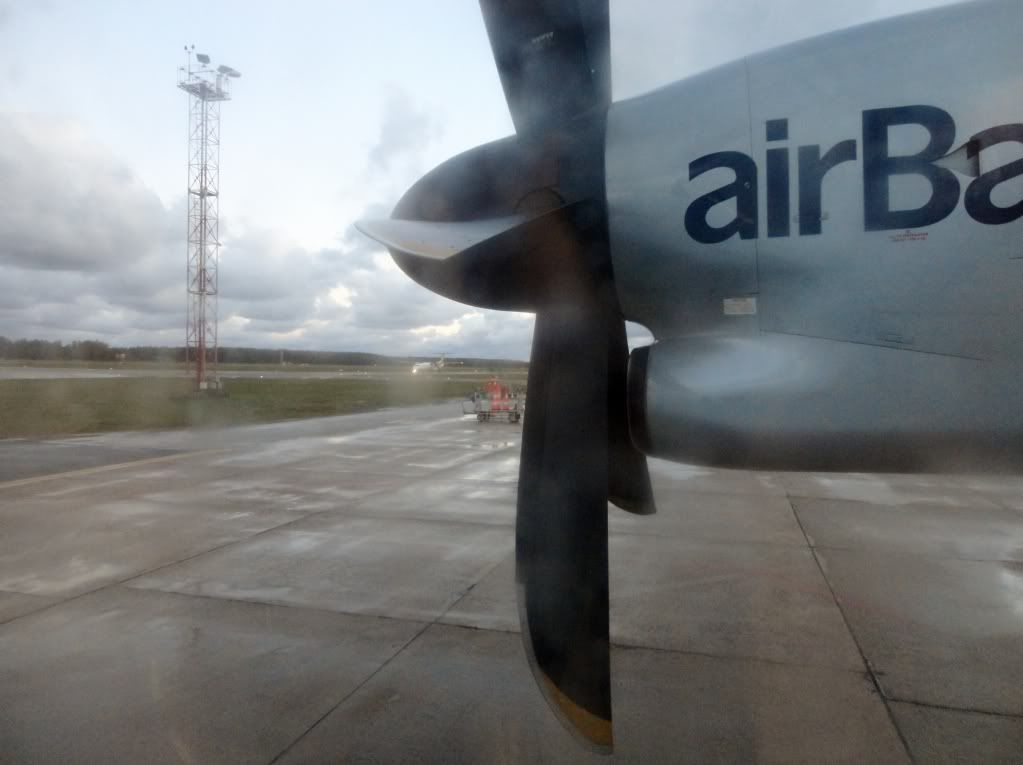 Flight crew consisted of 2 female FAs, nothing too special but they did their job with a smile. The door was closed at 06:40 and one of the female FAs came on the PA with the usual announcements and an announced flying time of 1 hour. No welcome from the cockpit, only later during flight with some info. Flight load was half full at 50% with the seat next to me occupied, but after the doors were closed my neighbor moved up a few rows which was very nice.
At 06:45, 10 minutes ahead of schedule, we started taxi to runway 36: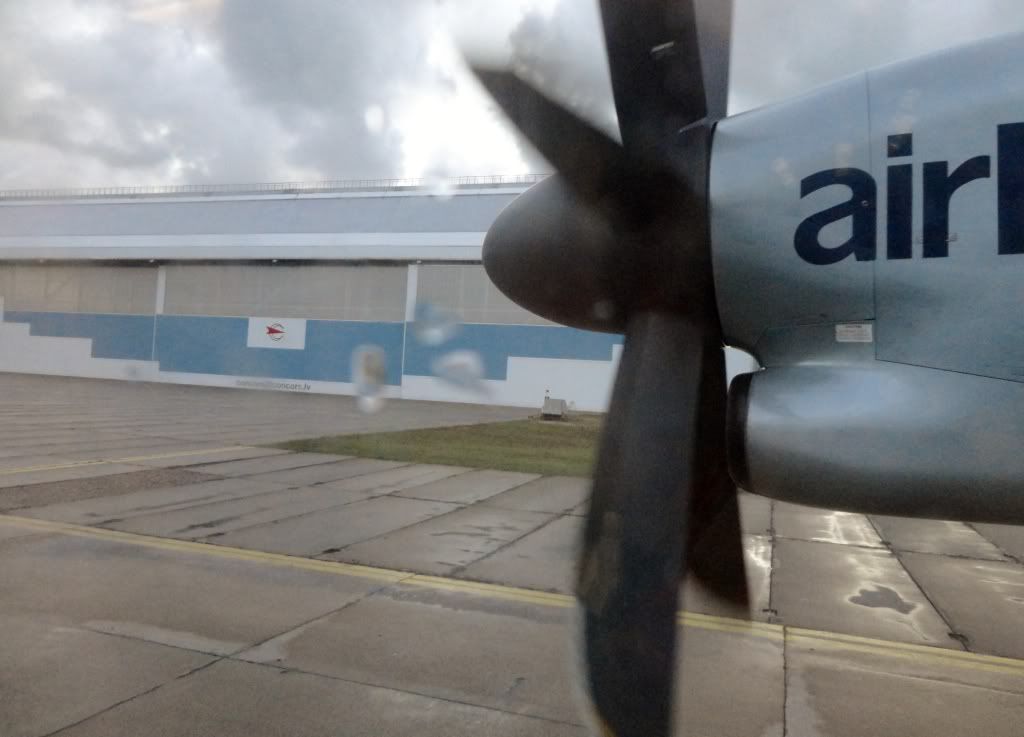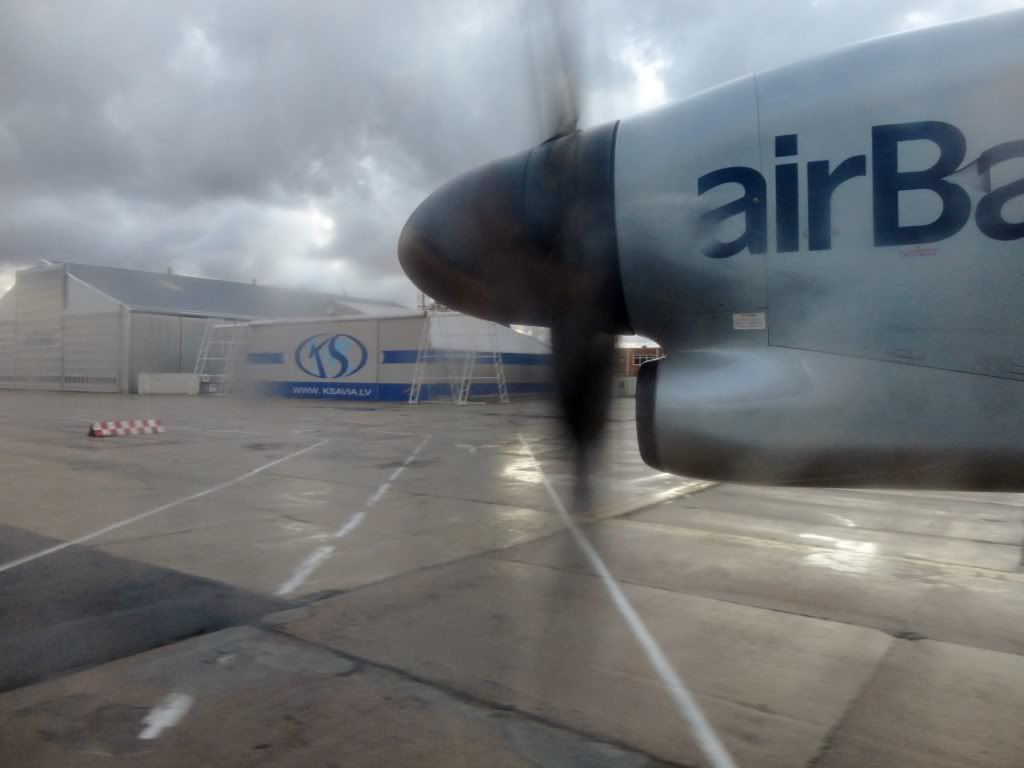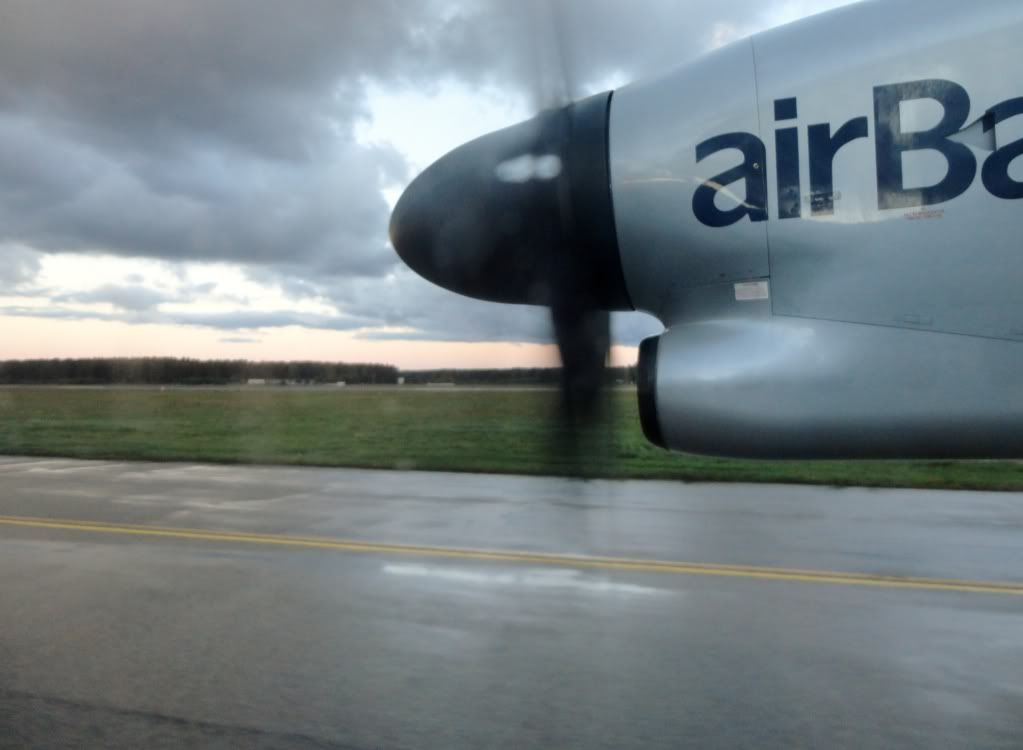 Take Off
At 06:50, still 5 minutes ahead of schedule, we rolled onto runway 36 and started take-off roll immediately: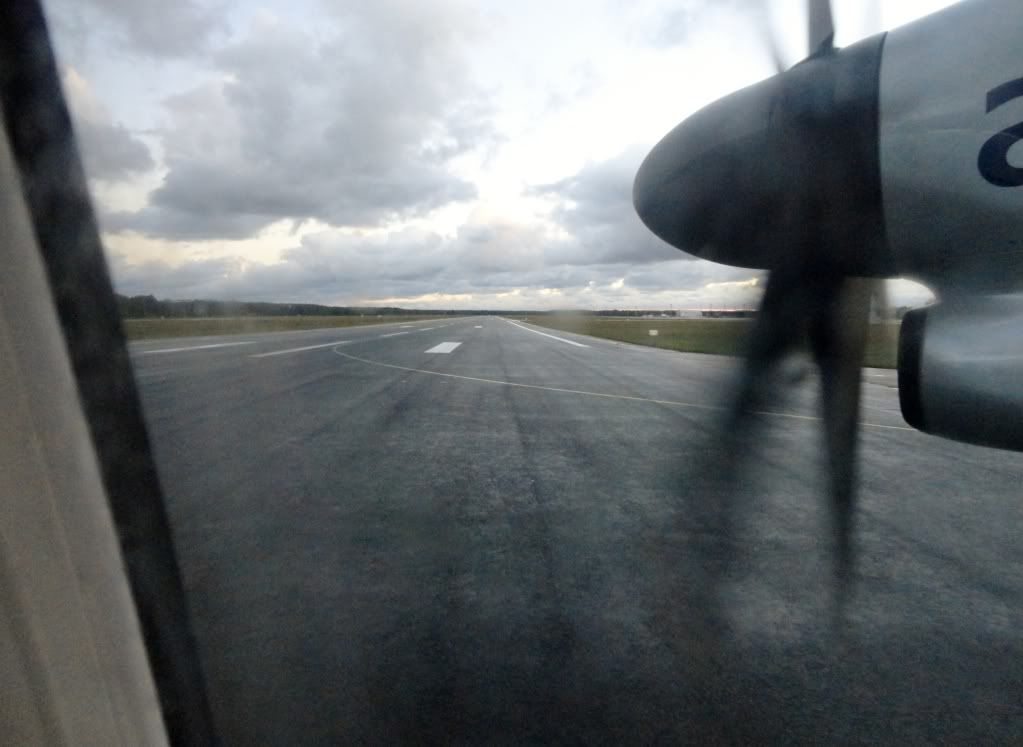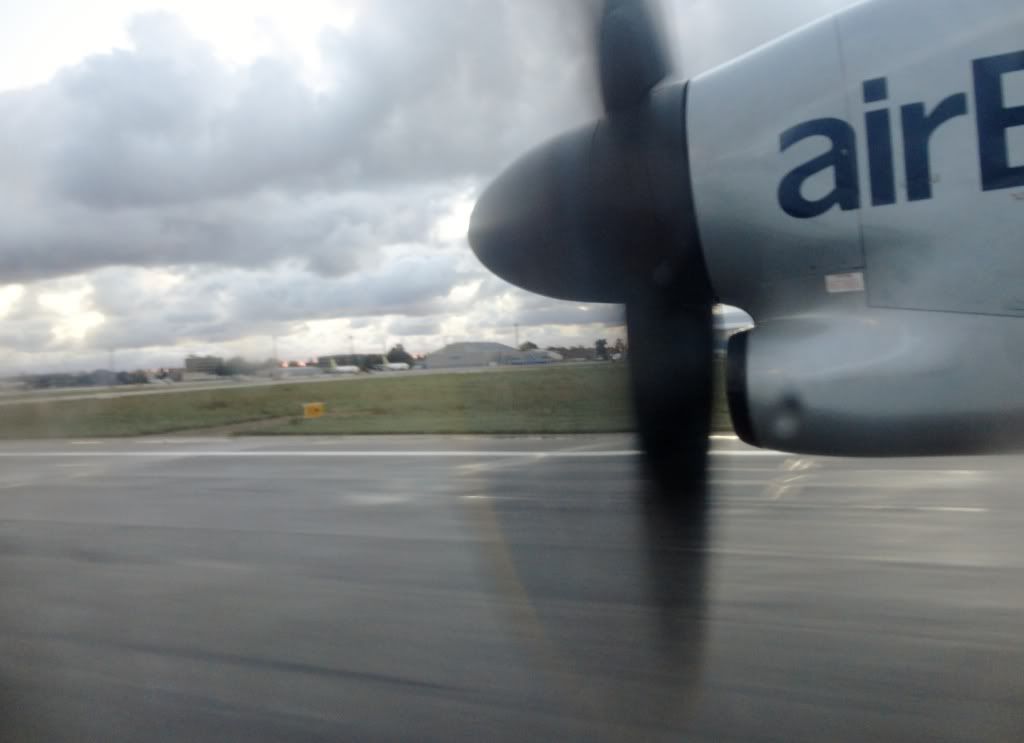 Lifting off in no time: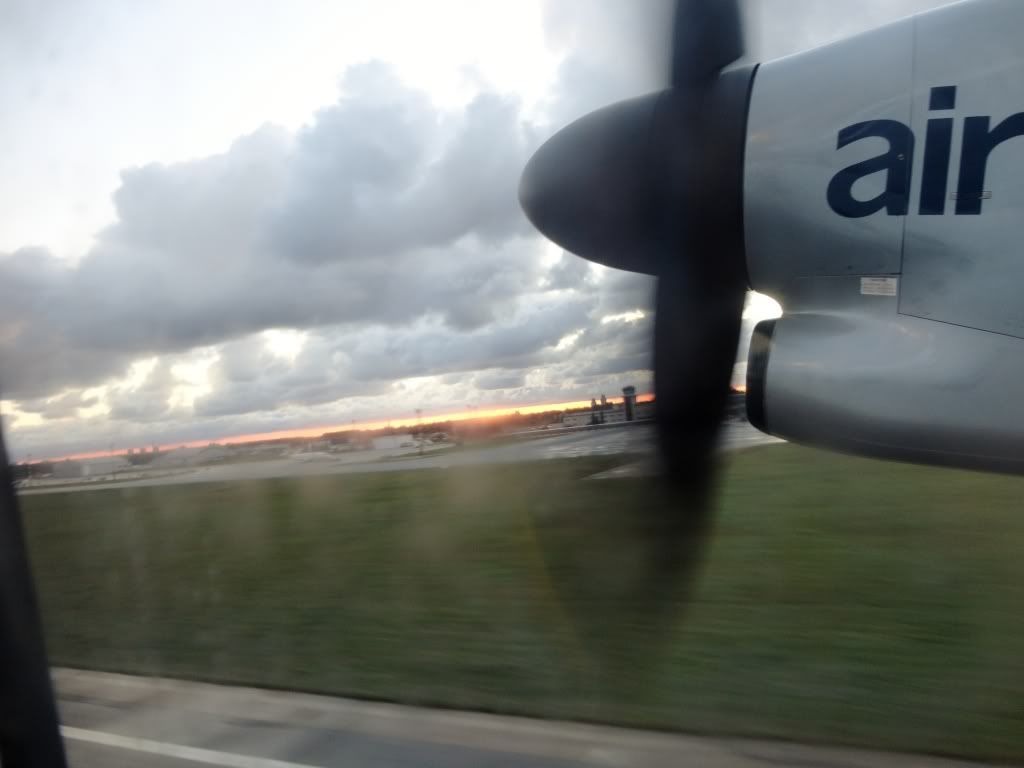 The sun coming up in the distance: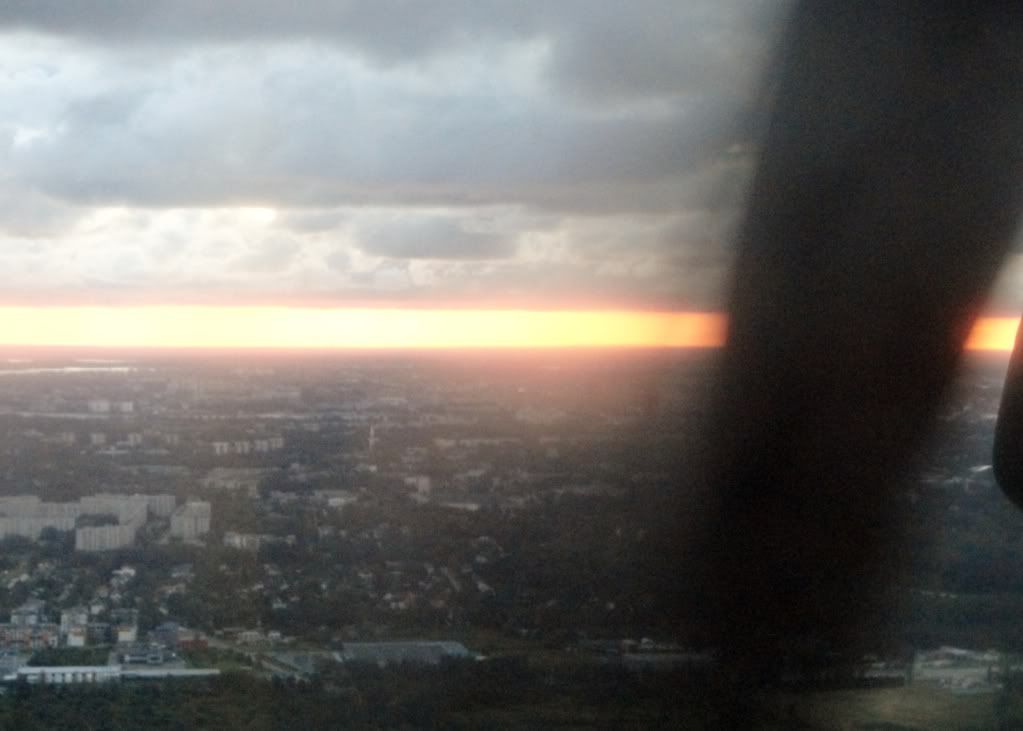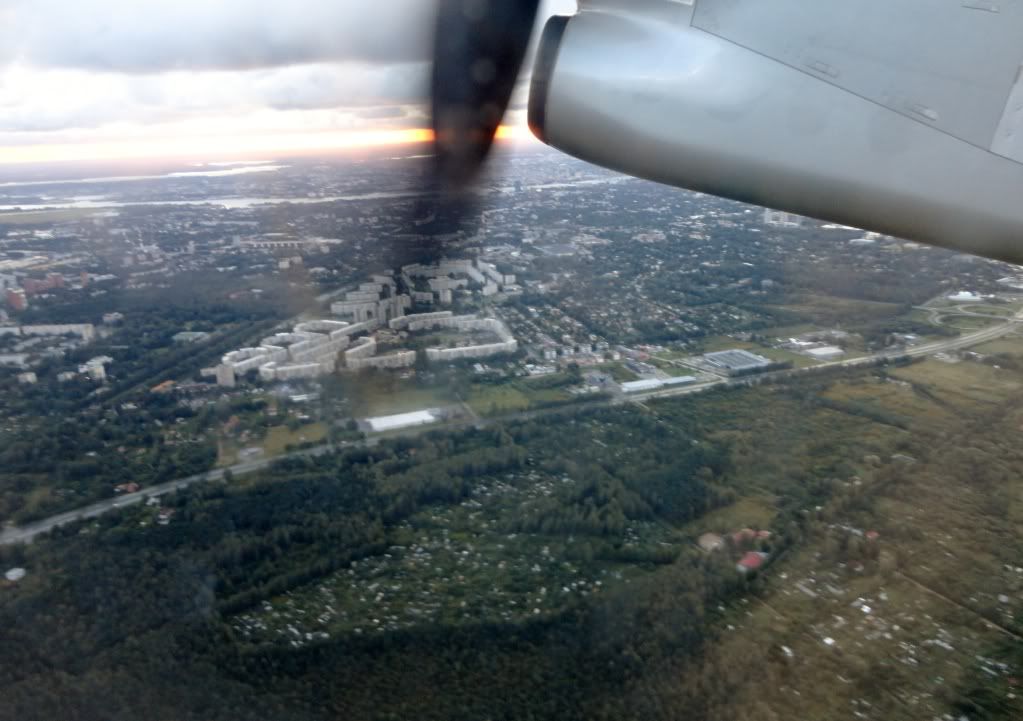 The city of Riga in the background: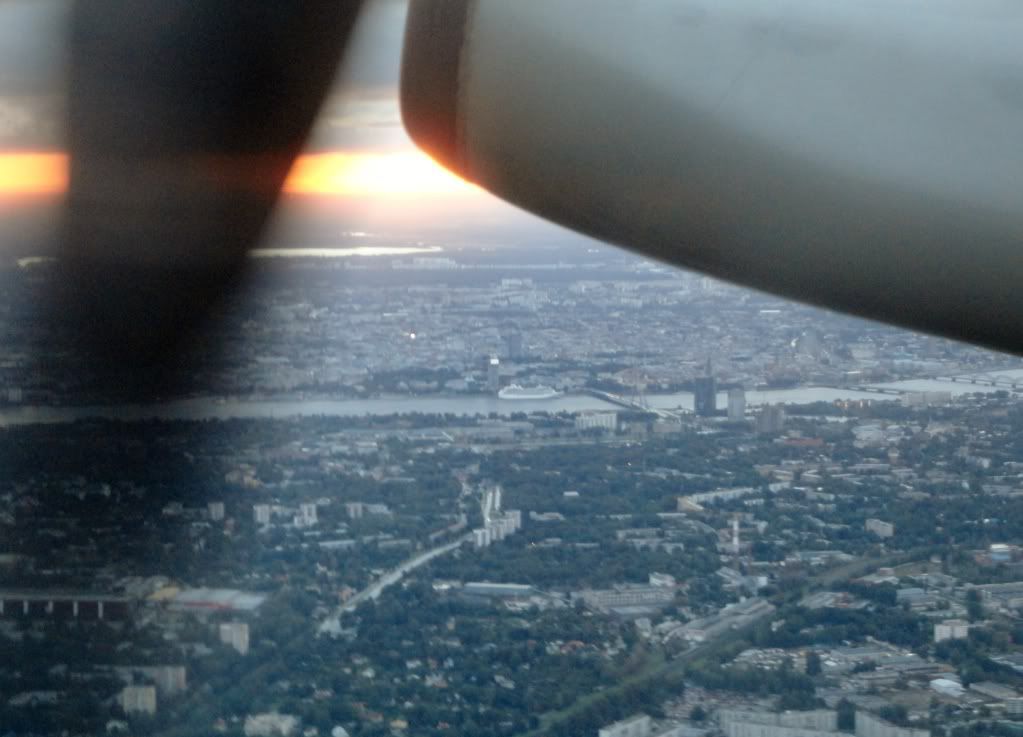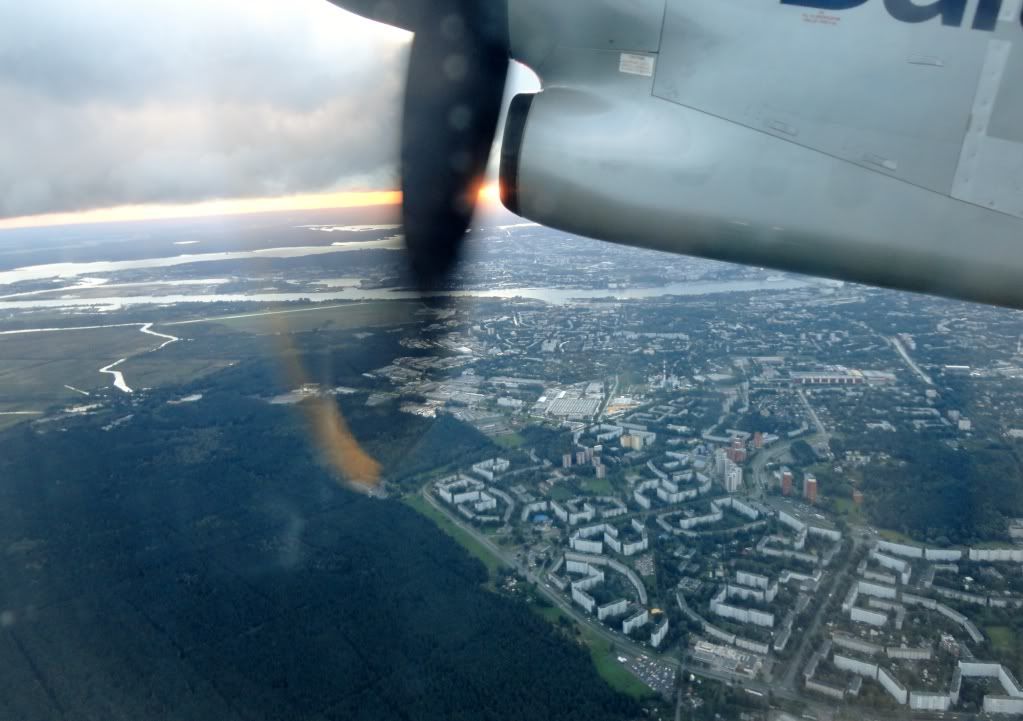 Air Baltic logo: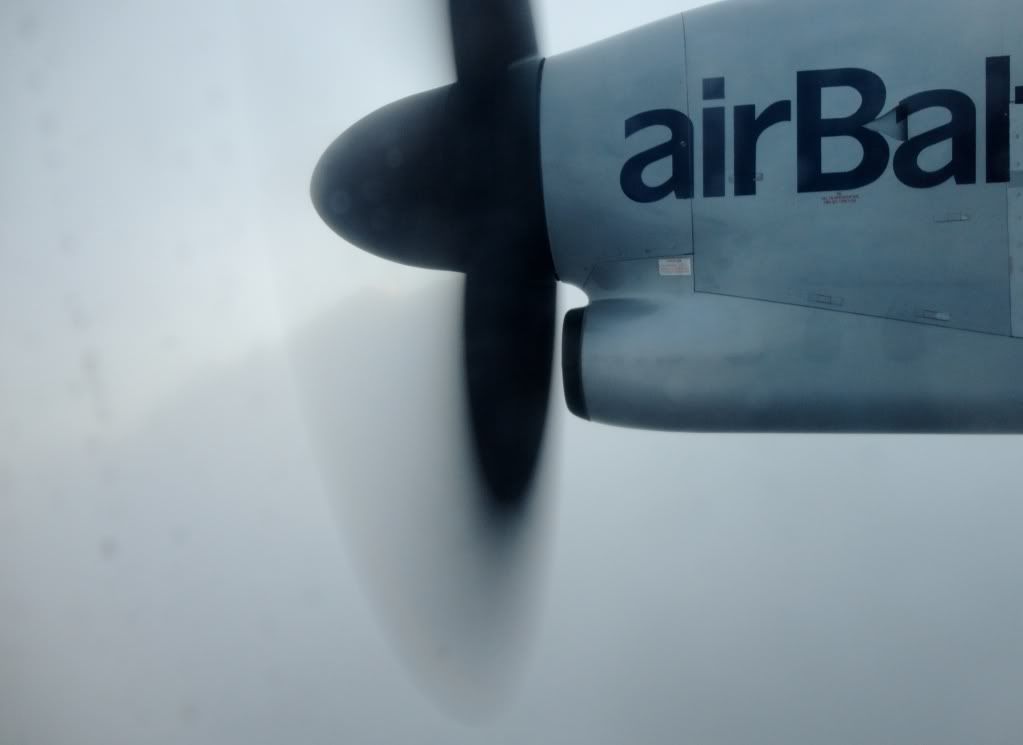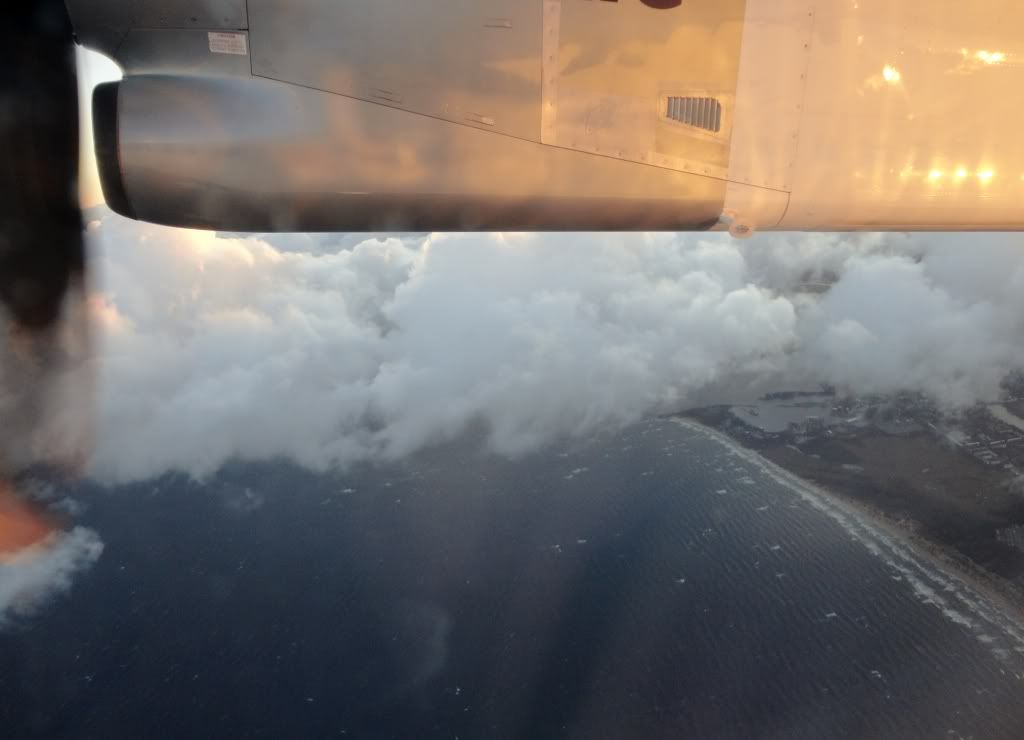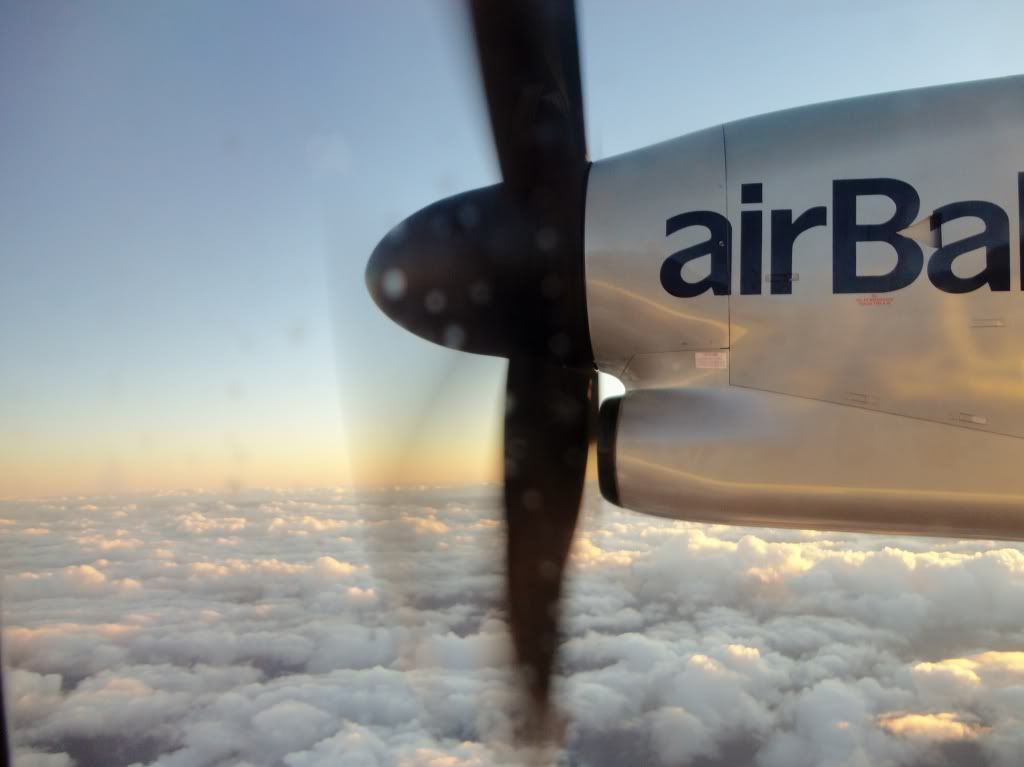 Seatback Contents
Seatback contents were the same as last nights flight.
BOB Service
Once the seatbelt sign got switched off the FAs performed the usual BOB service. I ordered a coffee to wake me a bit up, it got served in quite a big cup and tasted quite nice I must say. Price was 2.50EUR: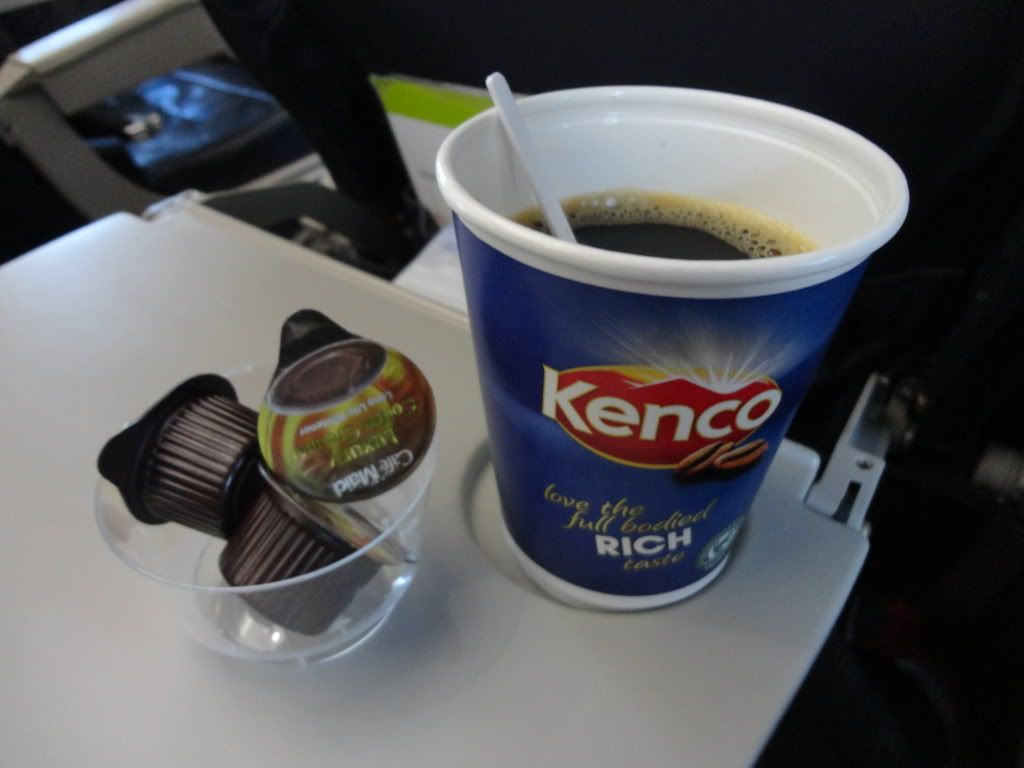 The sun coming up over the Baltic sea caused for some nice pictures: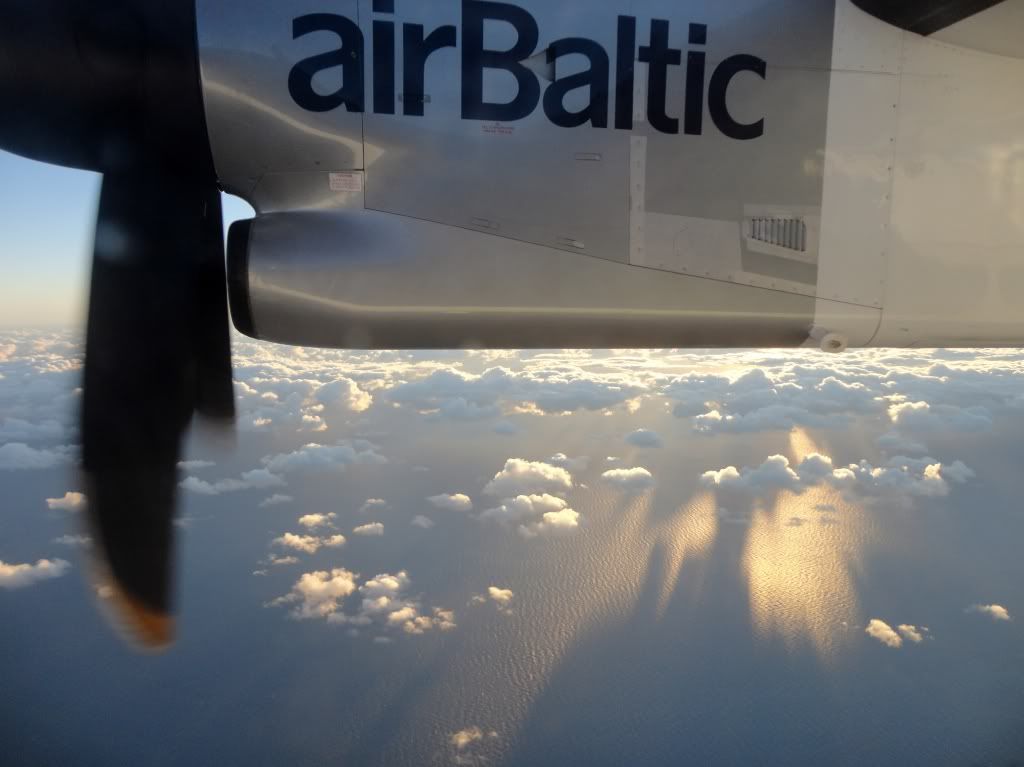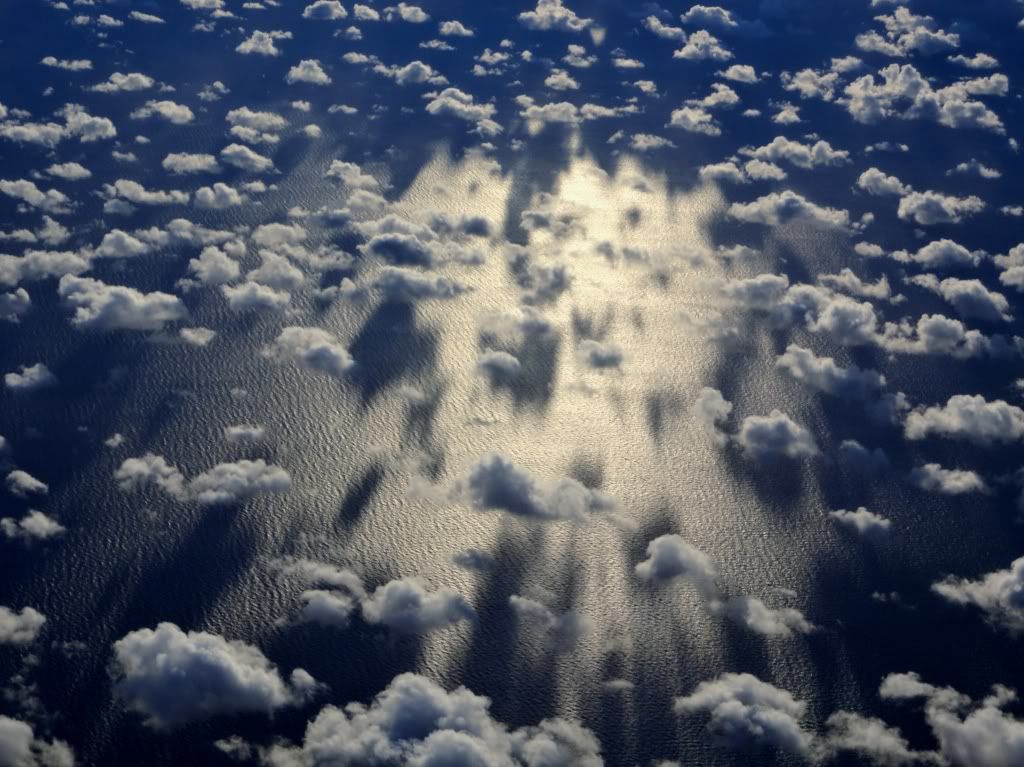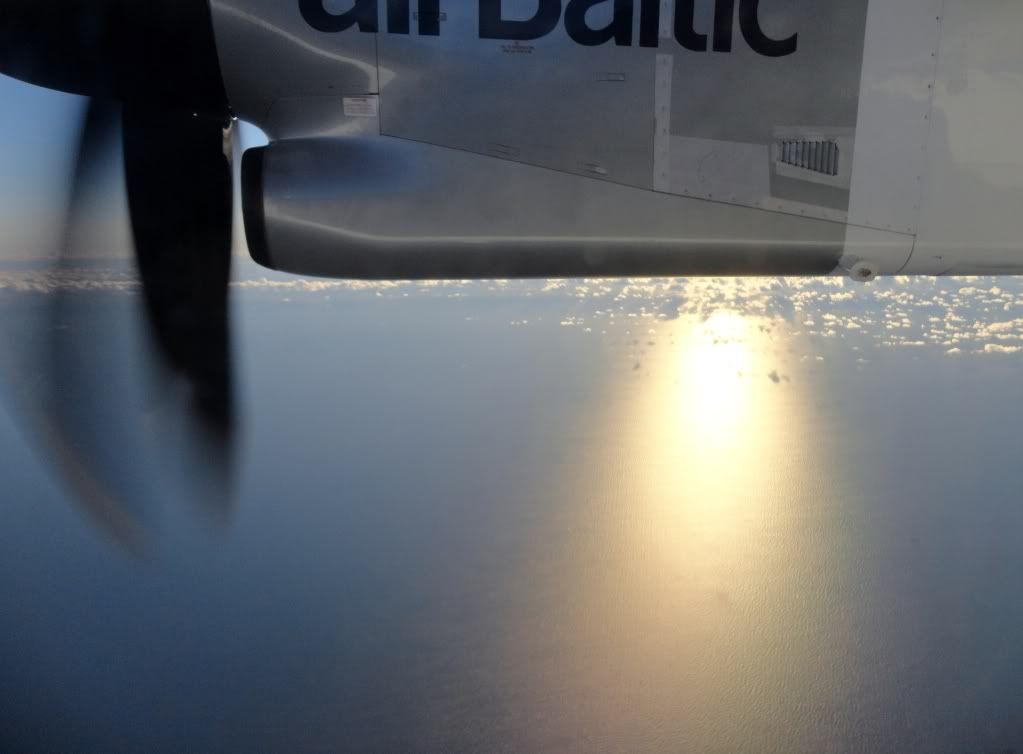 Once land was in sight, we started our approach towards ARN: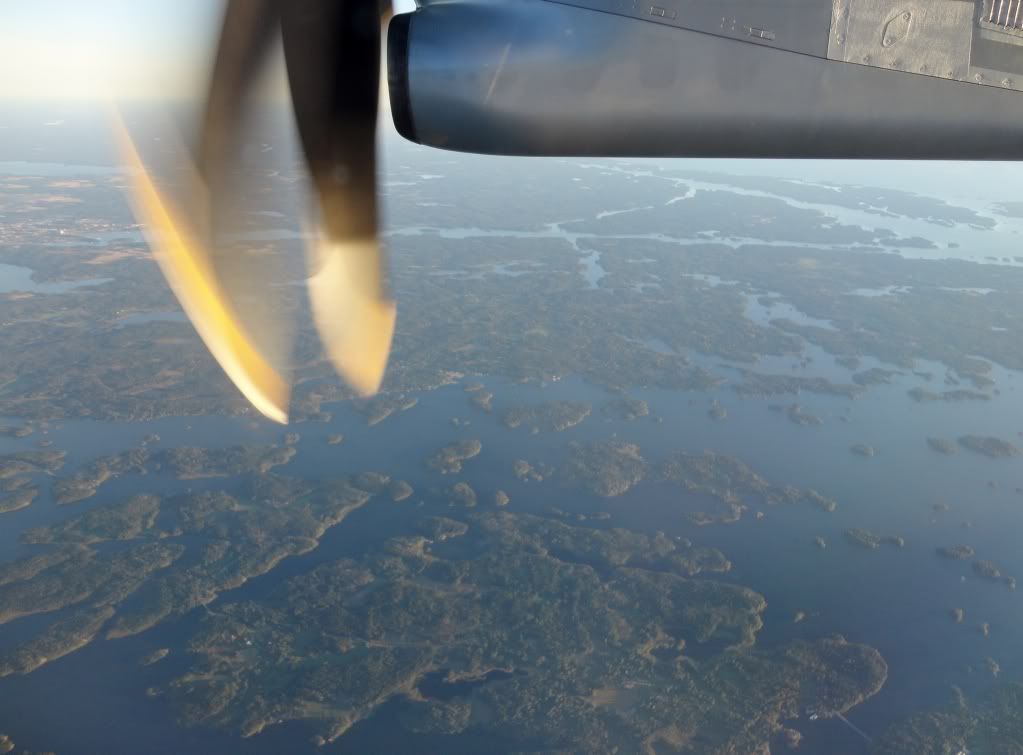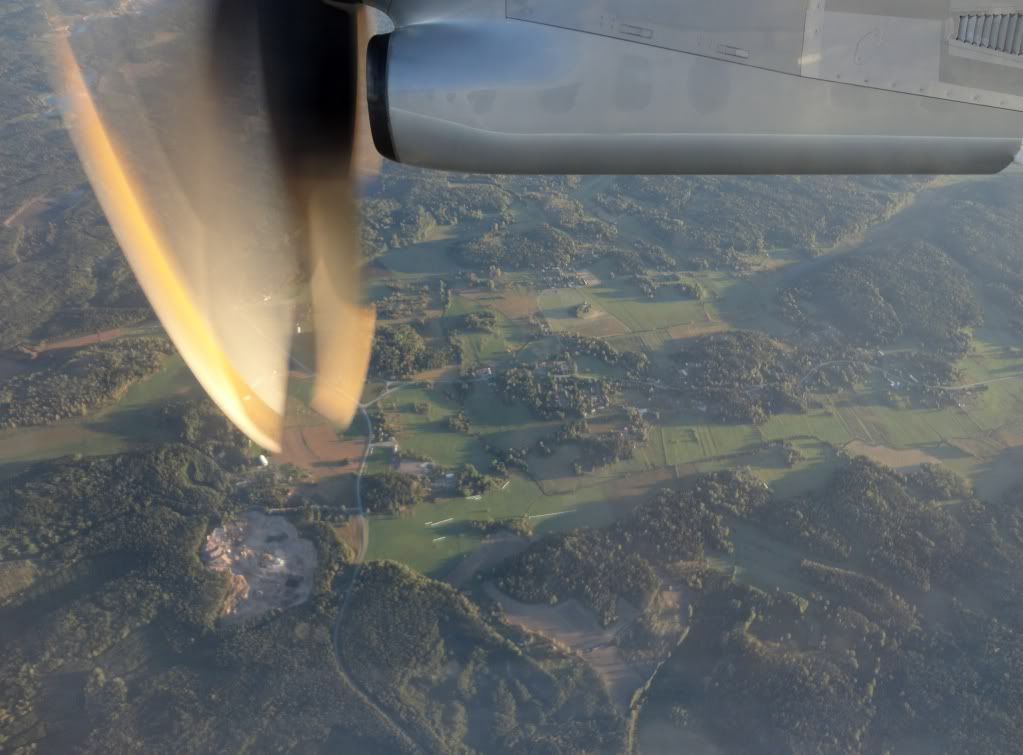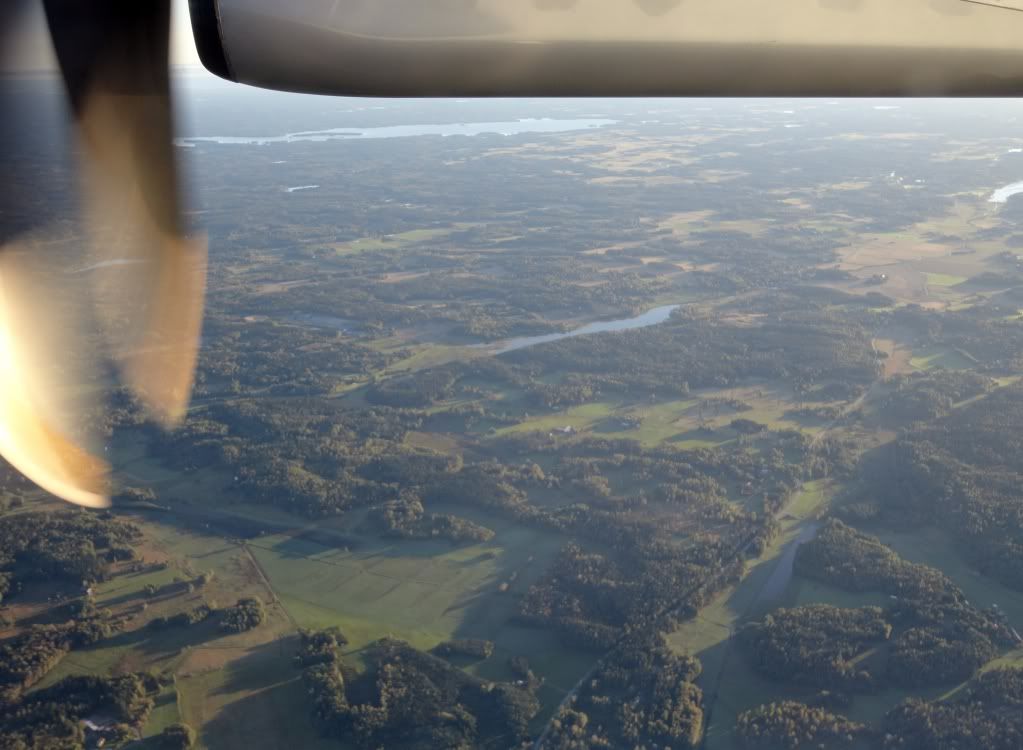 Landing
After a couple of turns we were into final approach for runway 26: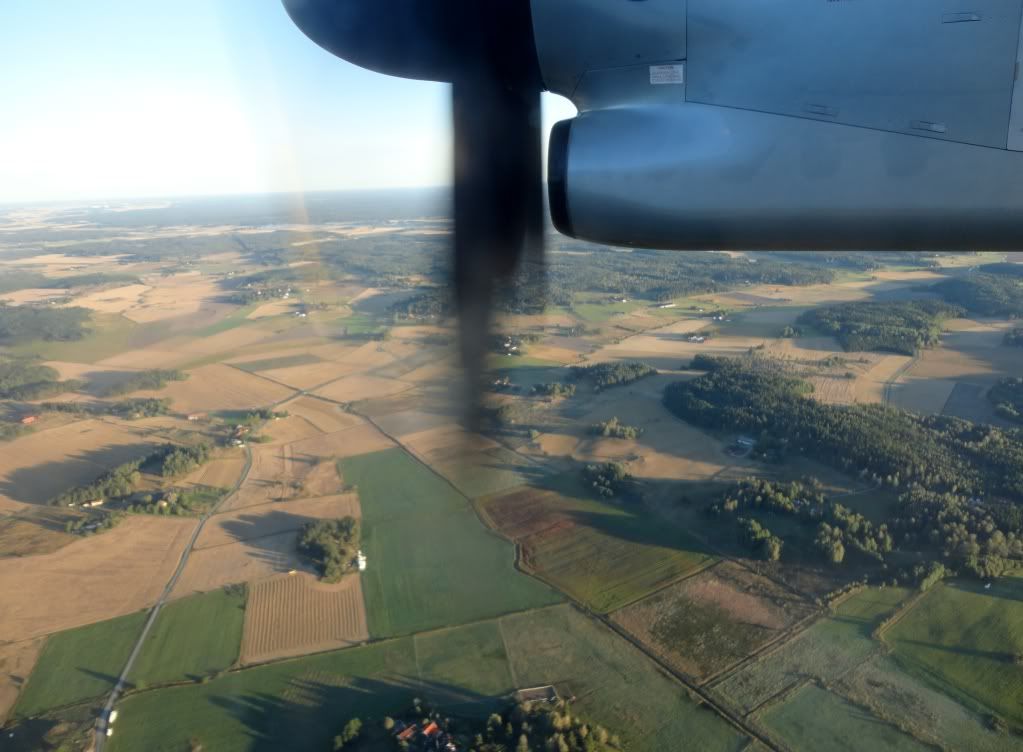 Gear down: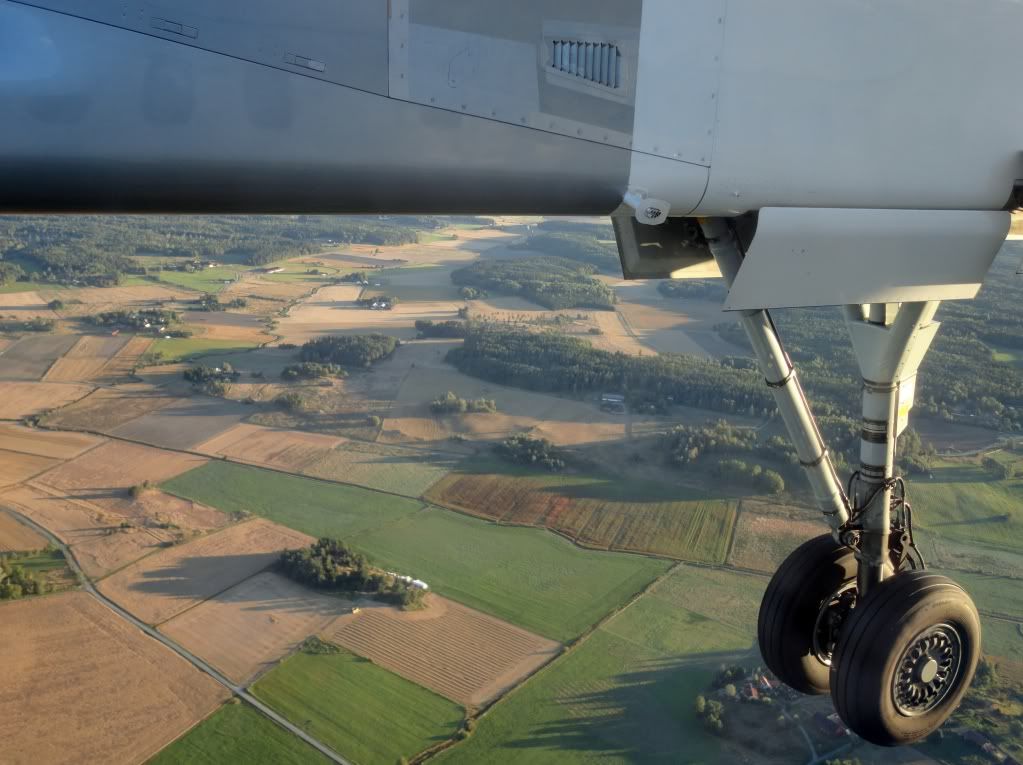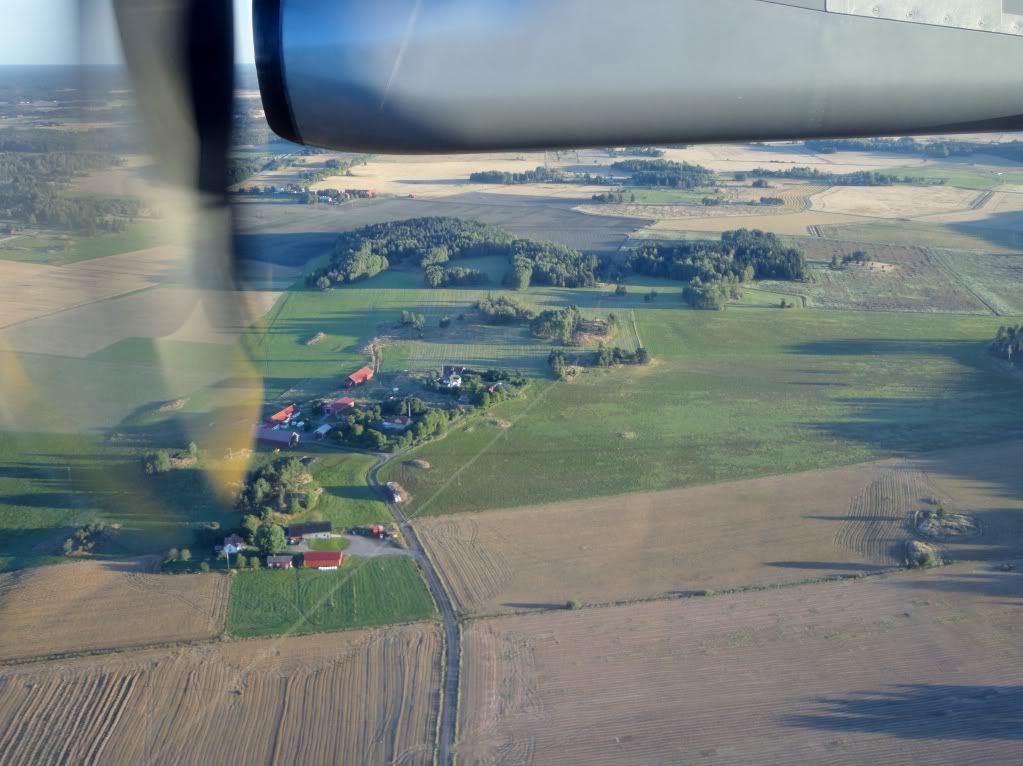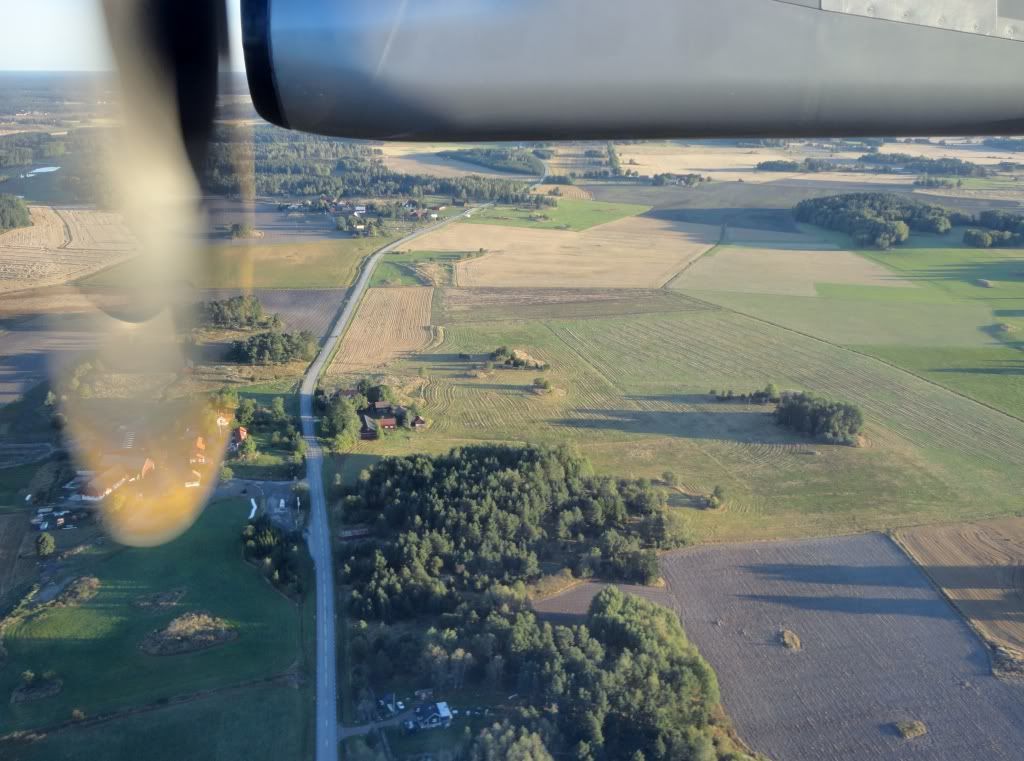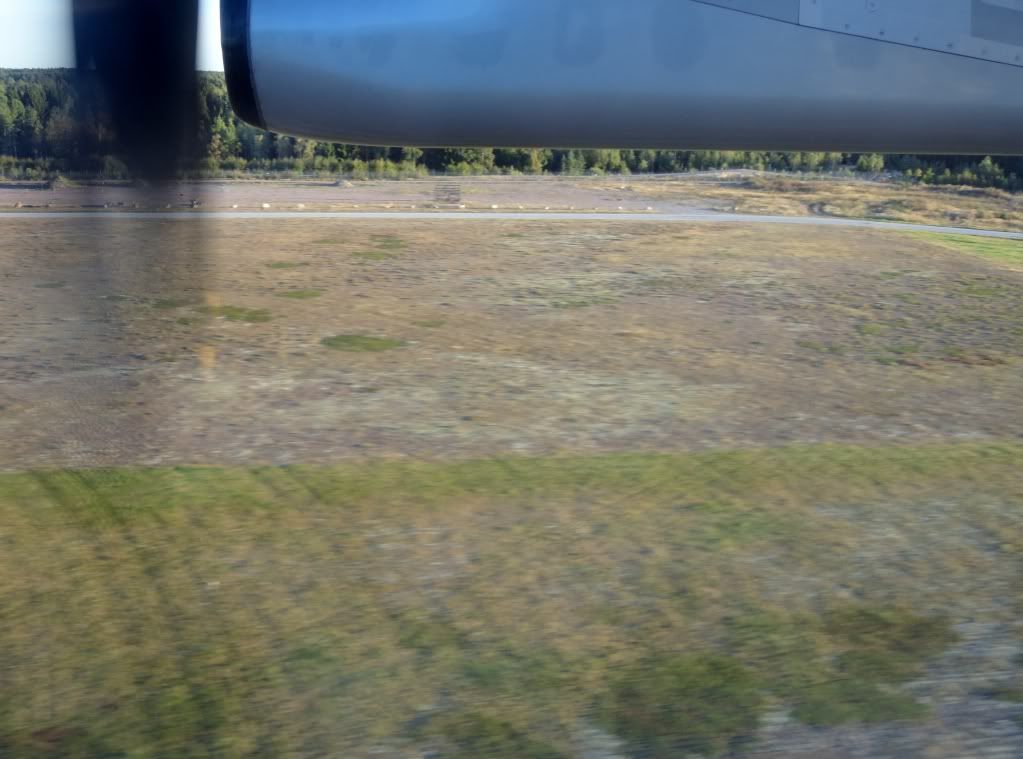 And touchdown at 06:58, 12 minutes ahead of schedule: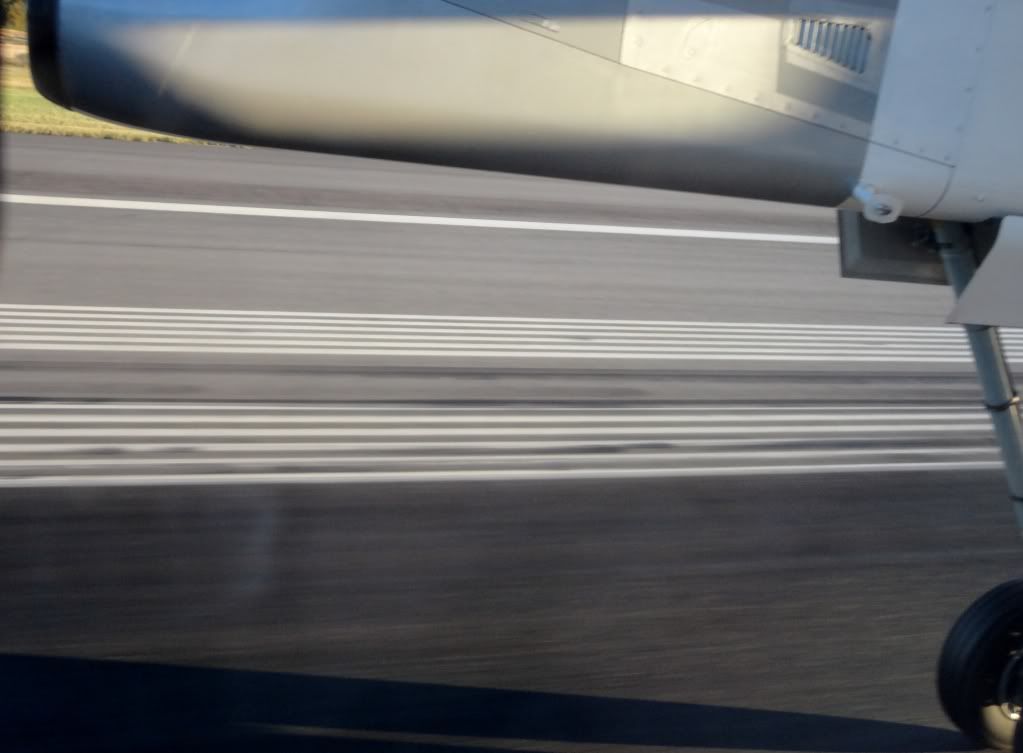 We exited runway 26 and taxied to our assigned gate: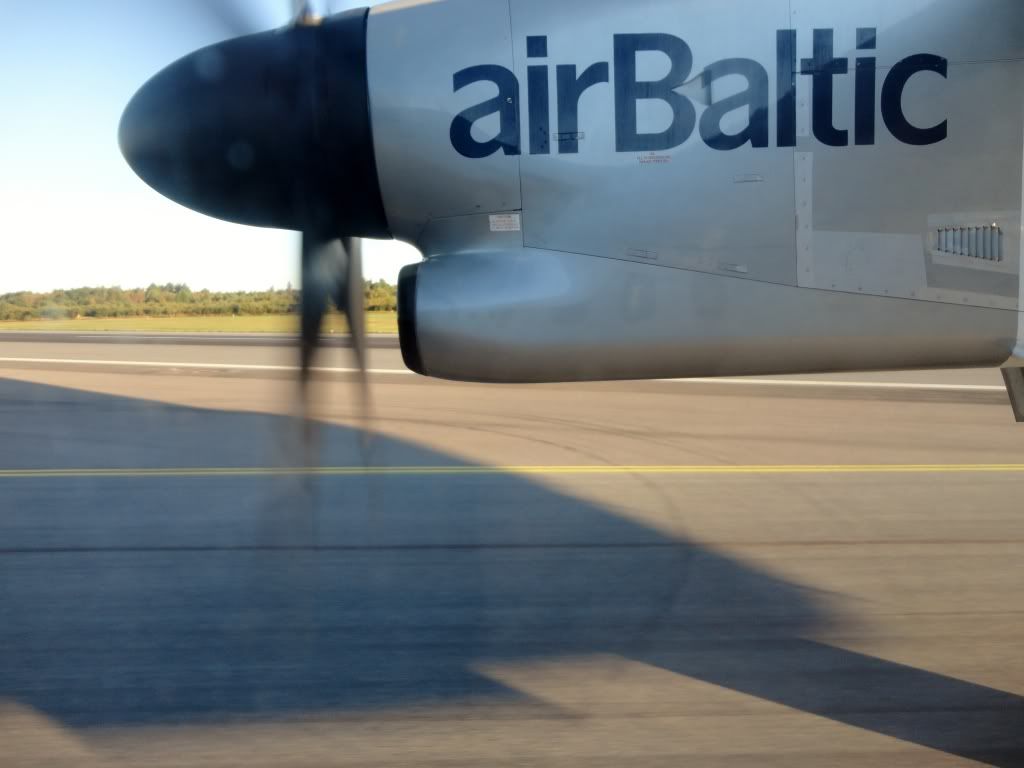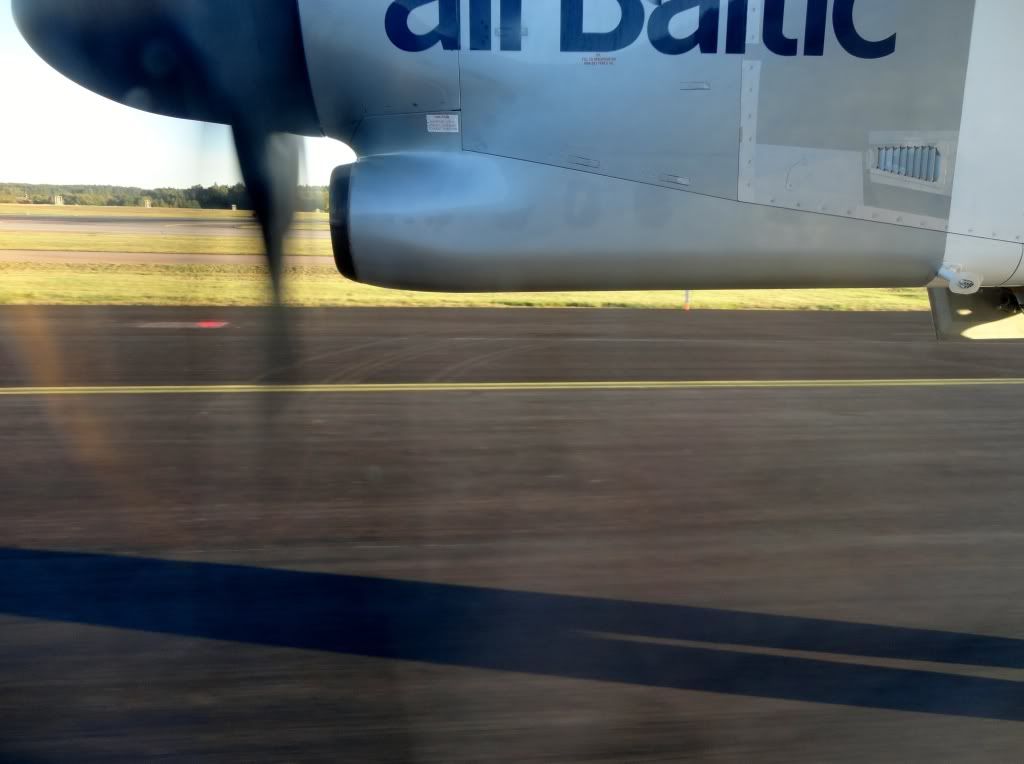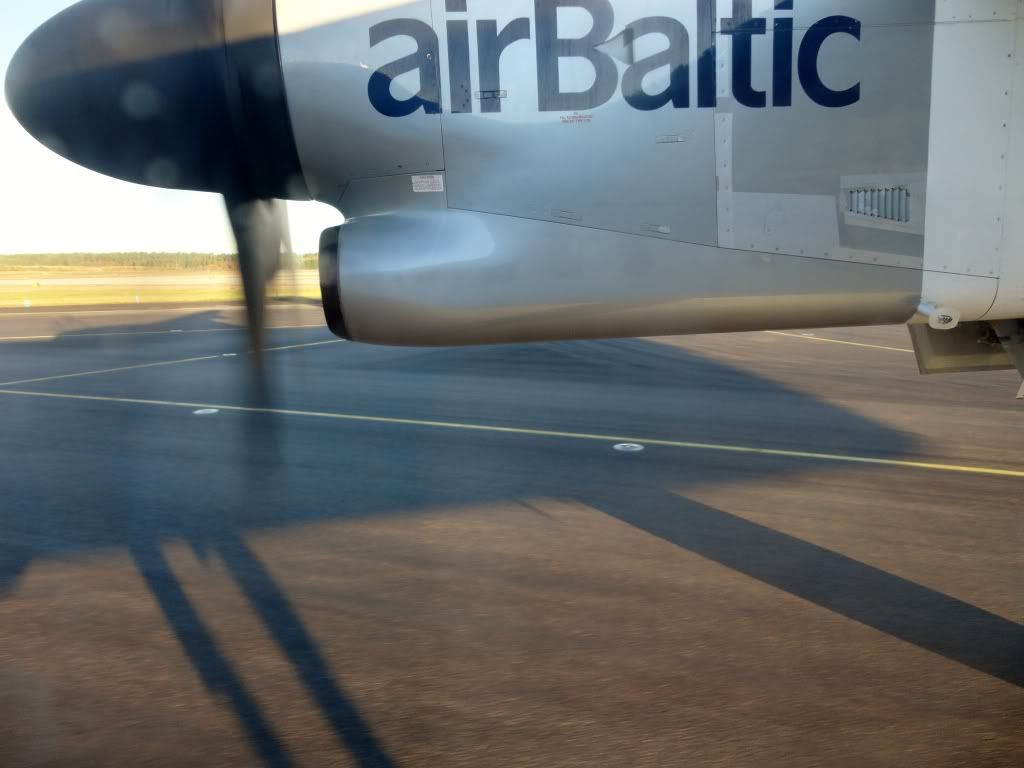 The UA 757 will be heavily delayed, but more on that later: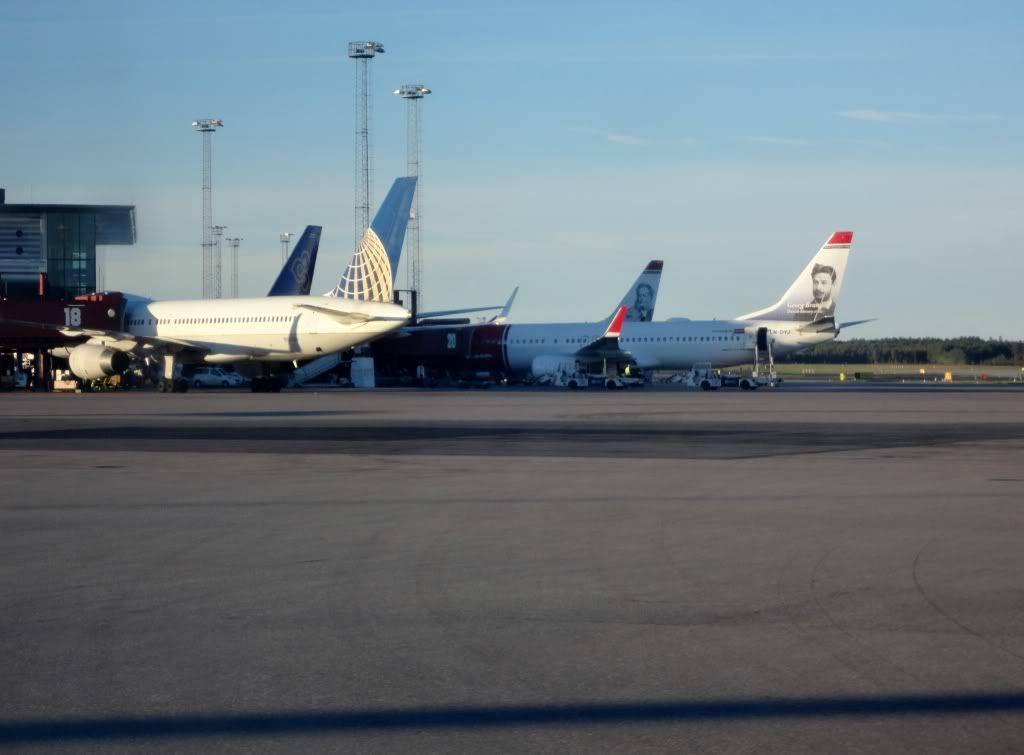 A good old MadDog, catch them while you can as Alitalia is phasing there last ones out very quick: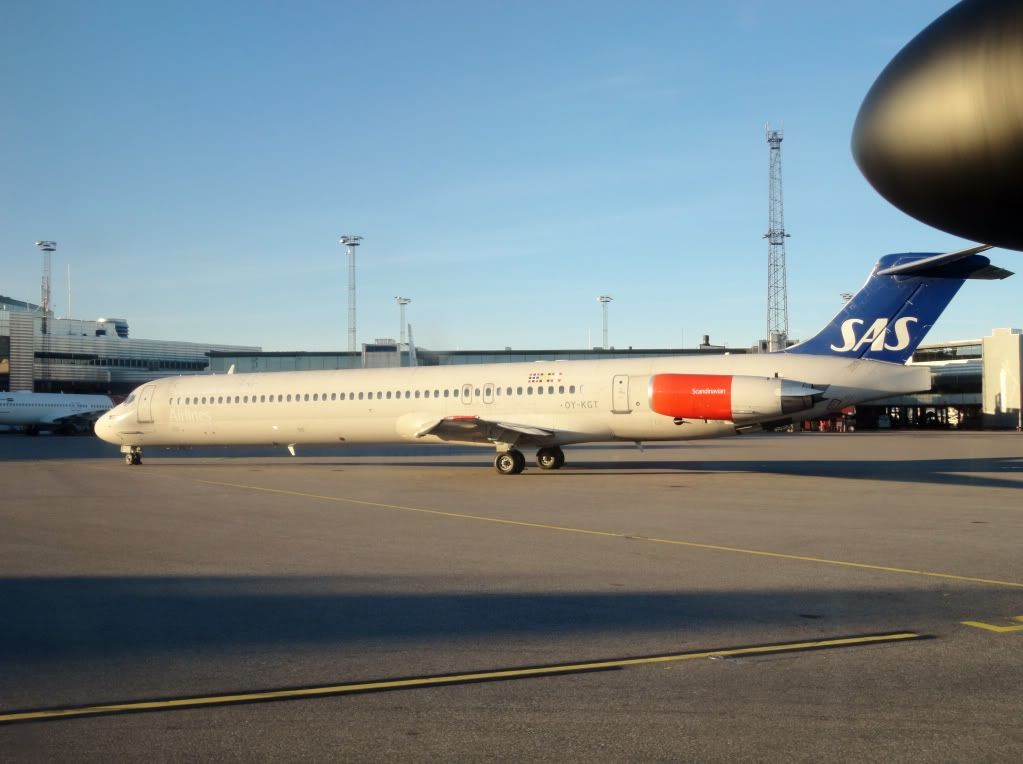 This Norwegian 737 (LN-NOR) turned out to be the plane that will fly me to HEL later during the day: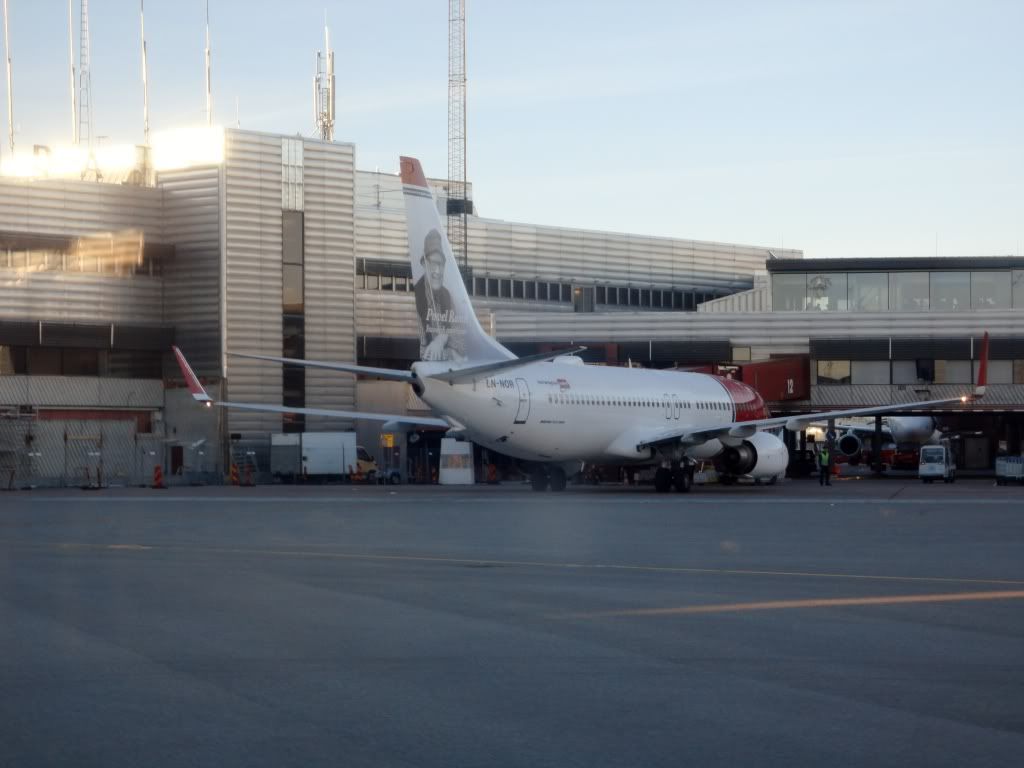 And in our final parking position at 07:02, still 8 minutes ahead of schedule, well done BT: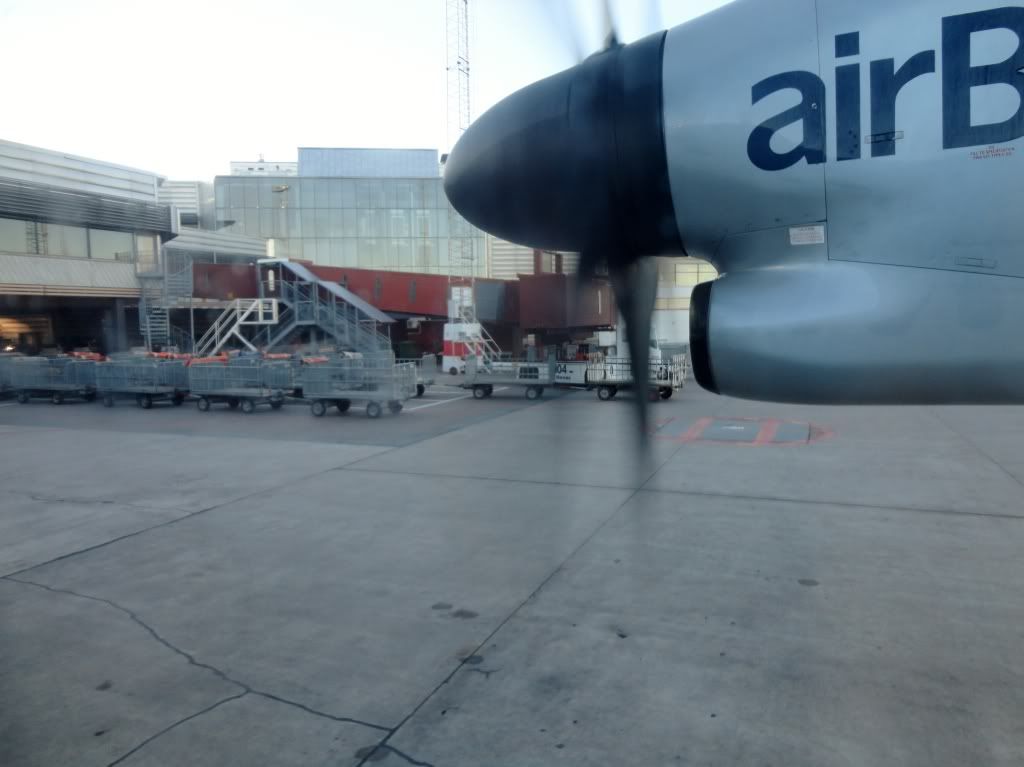 Once the seatbelt sign got switched off I bid the crew farewell, exited the aircraft and headed towards the terminal building.
Spotting @ ARN
As my Norwegian flight to HEL won't be leaving until 12:25 I decided to do some spotting from the same place I spotted a couple of months ago, which is at the end of the F gates and offers nice views of aircraft taxiing by after landing on runway 26.
But first a quick picture of my aircraft: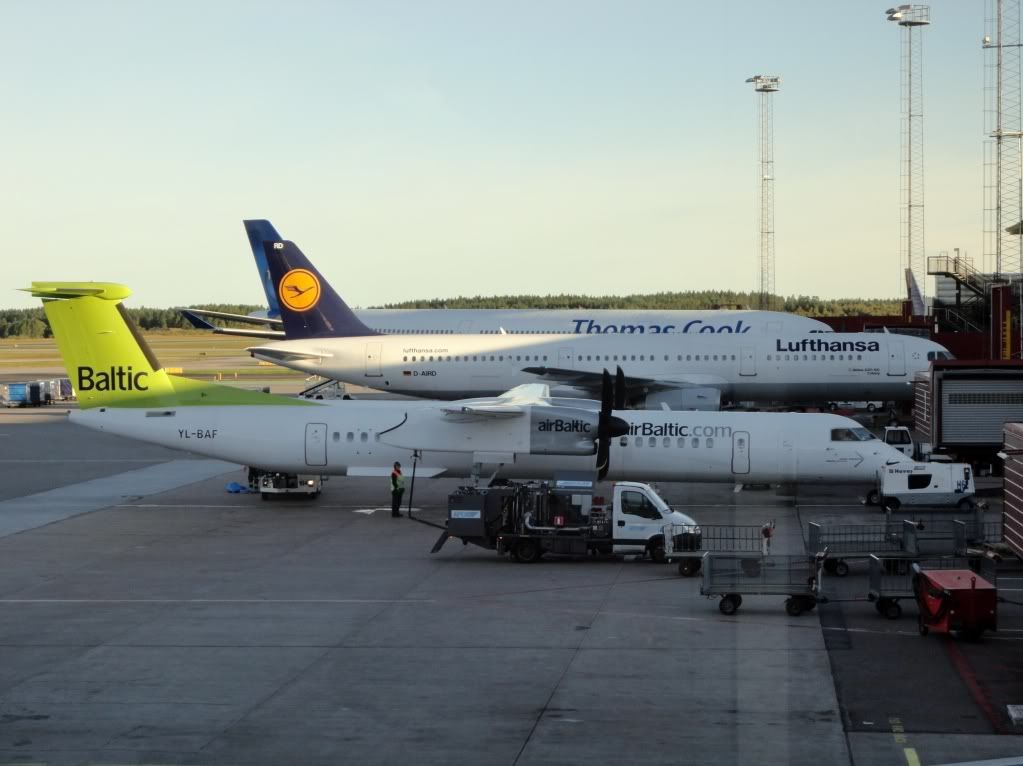 And the heavily delayed UA 757: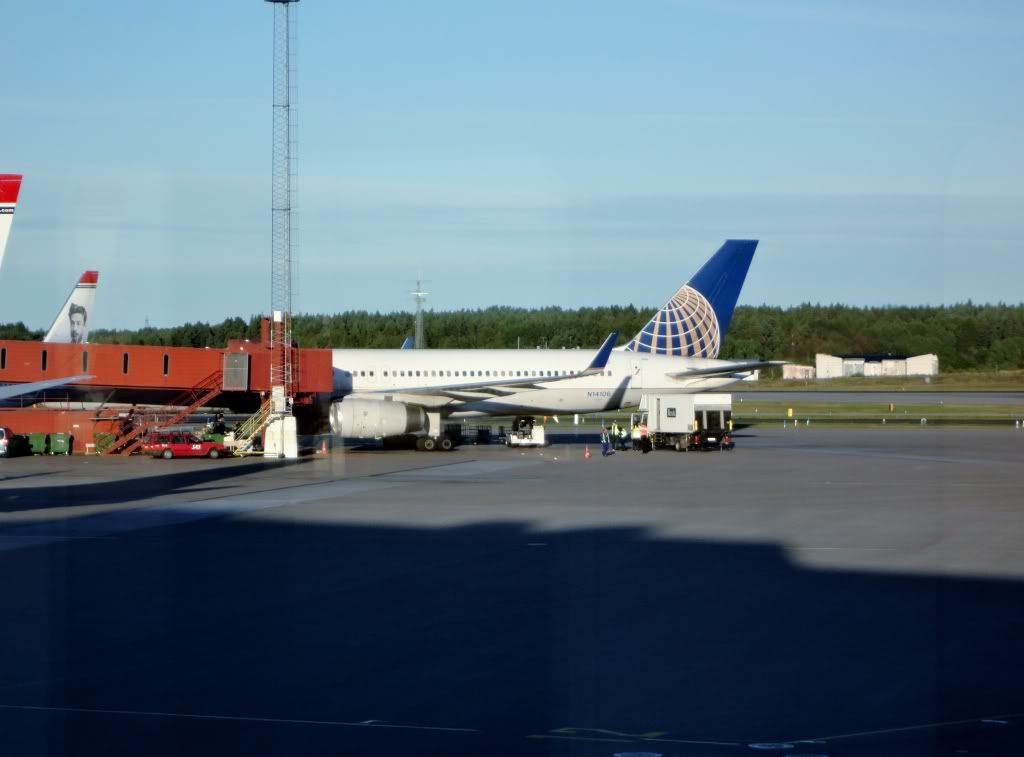 Continued Below