Sawadee Krap, and greetings, all! Finally, 1 week after my inaugural flight on TG's brand new A380 from Singapore to Bangkok, I have time to actually sit down and pen down my exciting journey!
Well, first of all, this wasn't the first flight for TG's A380. It was only the first flight from Singapore, and the 4th flight of the day, on the first day of service for this Thai superjumbo. Nevertheless, it was just as exciting to be on this bird right on the first day of commercial operations, but I could have been happier on the inaugural TG600 BKK-HKG earlier that morning.
BACKGROUND
I had come across an offer for this inaugural flight from Singapore on TG's local website, and without much hesitation, booked myself on the first flight to BKK, and then back to SIN on the same plane 2 days later. I would have a short stay in Bangkok, just in time for some food/shopping.
Using the TG system, I chose seat 81K for TG410 to BKK, and 62K for TG409 to SIN. This way, I would get to try out the upper and lower decks of this plane. If I am not wrong, my fare should belong to the lowest 'V' or 'W' class, so I was quite surprised I was allowed to book the upper deck economy. My tickets and seating was confirmed on the day of booking, some 2 weeks before 06 Oct, the day of departure.
In my opinion, TG's A380 has a very special layout. For the first time on any A380, the entire main deck is economy class, with first, business and a small economy section on the upper deck. Most carriers would place their first/suites at the very front of the main deck, with either a full business class upper deck, or a small economy section also included. Anyway, having flown SQ's A380 economy on either decks, I prefer the upper deck and would definitely want to try TG's offering as well.
Well, 4 days before departure, while checking my booking, my seat 81K on TG410 was bumped to a seat on the main deck! I was quite annoyed, and promptly followed up with a strongly worded email to both TG's Singapore and Bangkok offices. The next day, the Bangkok office replied that my chosen seat was not available, and I could choose any row up till 73. That meant I was restricted to the main deck, if you had seen the seat map. I followed up with an even more strongly worded email, and the next day, I was promptly switched back to 81K, followed with a written apology from TG, quoting 'problems' with their system.
I take it with a pinch of salt. TG's reluctance to seat pax on the upper deck economy is well known throughout the forum on A.net, and many fellow A.netters have been bumped to the lower deck, unfortunately. This is especially so on the inaugural flights to HKG and SIN on 06 Oct. Oh well. 1-0 against TG this time.
DEPARTURE
On the day of departure, I made my way to Changi Airport very early in the afternoon, and arrived at about 4pm. The TG counters were still open for TG414, an A346, and check-in at this time was out of the question. Well, I had not intended to do so until at least 7pm then. My flight TG410 was to depart at 2200hrs.
Therefore, it was off to the newly renovated viewing mall at Terminal 1 for some plane spotting. I managed to catch TG414, the graceful Airbus A340-600 being boarded at Gate D34. I will definitely try out this type one day, and on TG too!
Some pictures of the A346, and other aircraft...
TG A346, HS-TND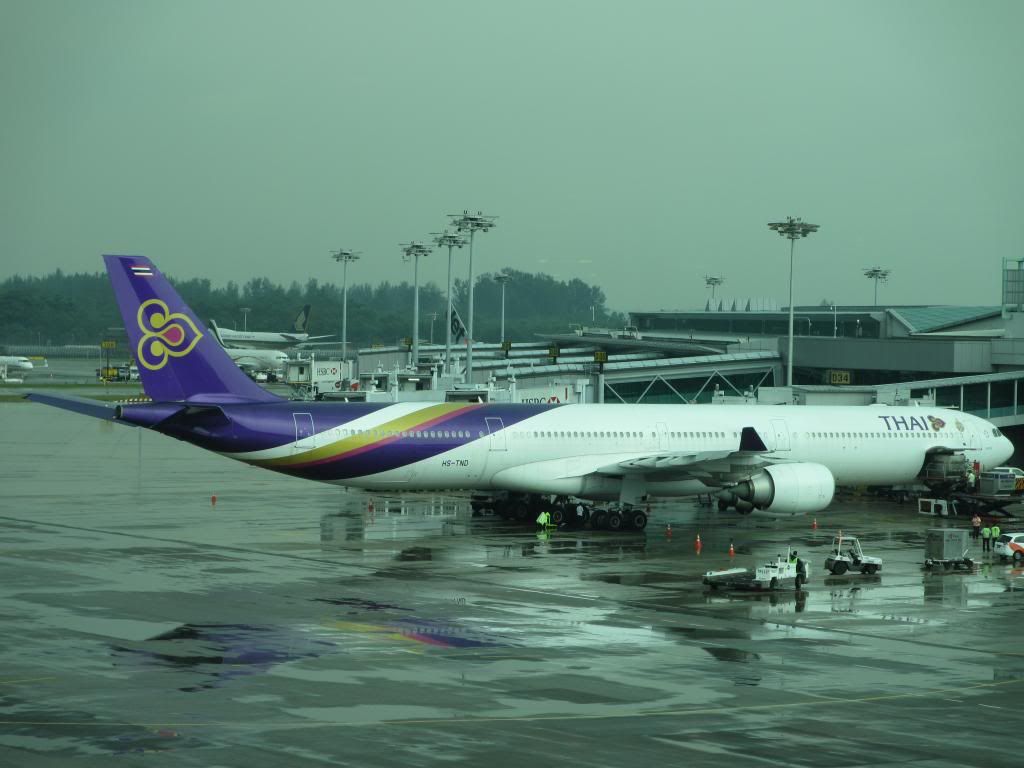 Starting up for flight TG414 to BKK!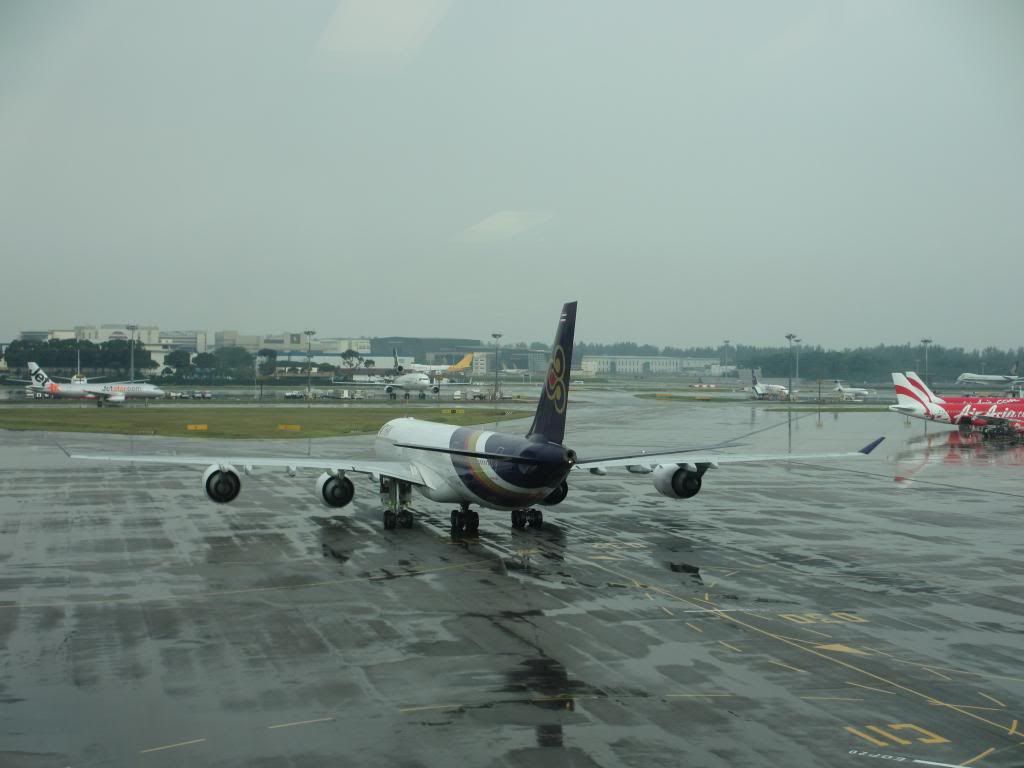 Emirates B77W
British B744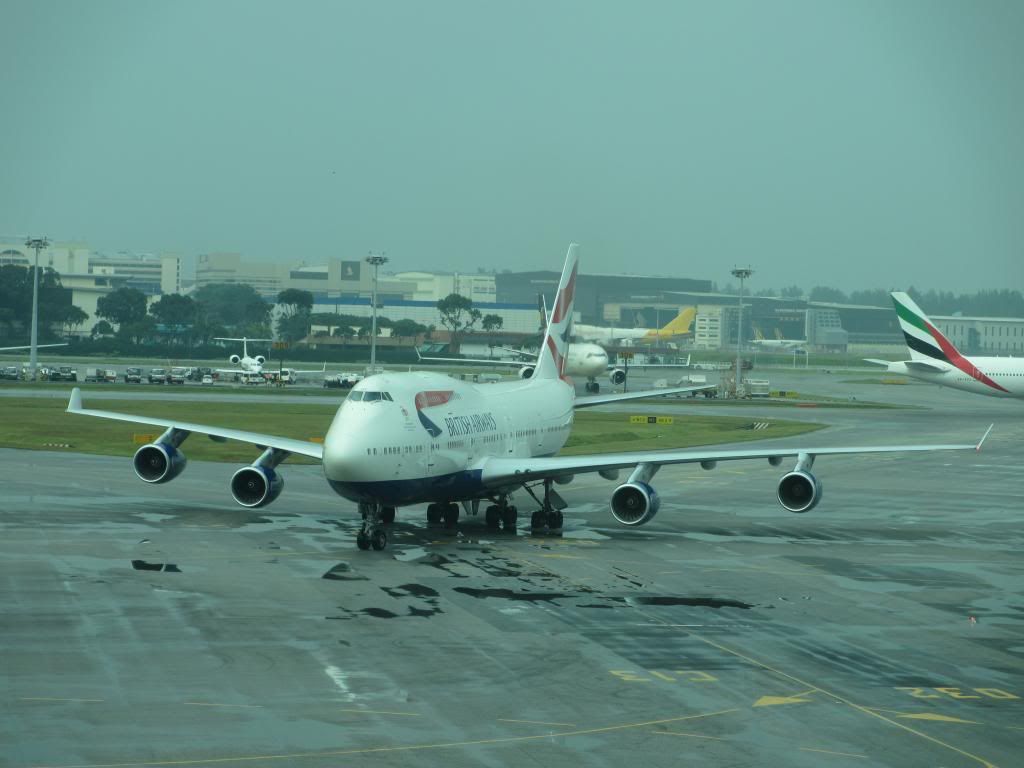 SIde view
Turkish Airlines A333
Finnair A343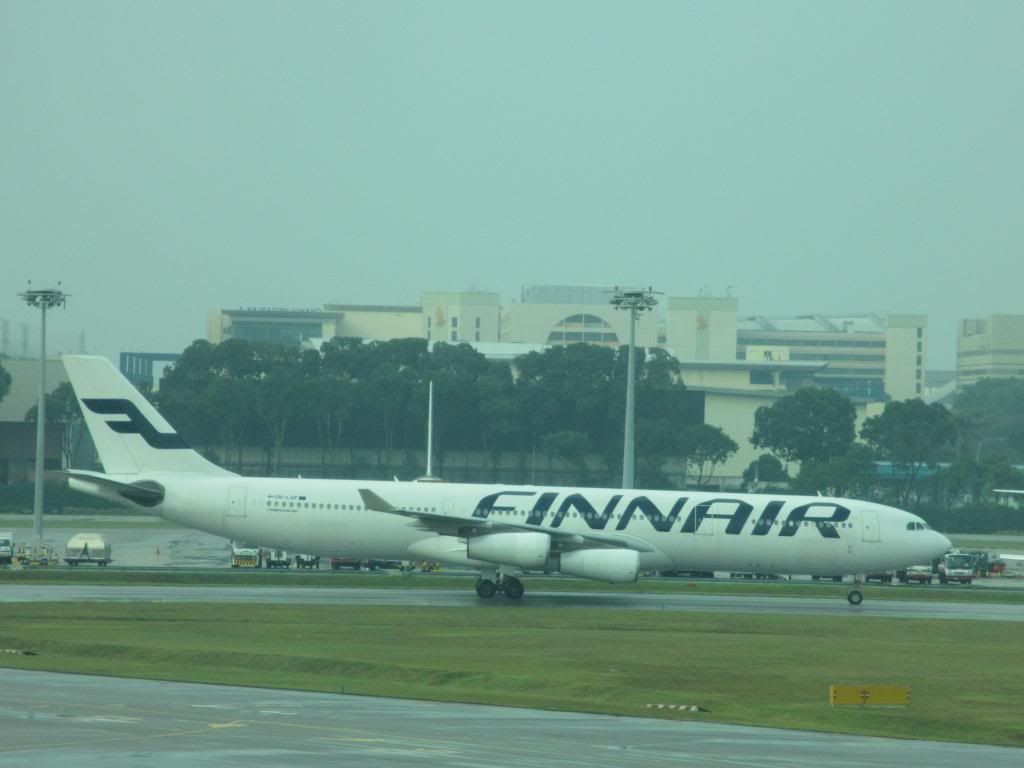 KLM Asia B77W
At 1920hrs, the time TG's check-in counters open for TG410, I headed over and was handed my boarding pass very quickly. Immigration was quick, as I used the automated clearance, being a Singapore passport holder. I was soon airside, and being very early, headed to Starbucks for some late dinner and a drink before heading to Gate D46. Boarding today was scheduled to be at 2120hrs. I had expected there to be some action, however little, at the gate, and planned to go over at about 2100hrs instead.
Boarding Pass shot
Starbucks at T1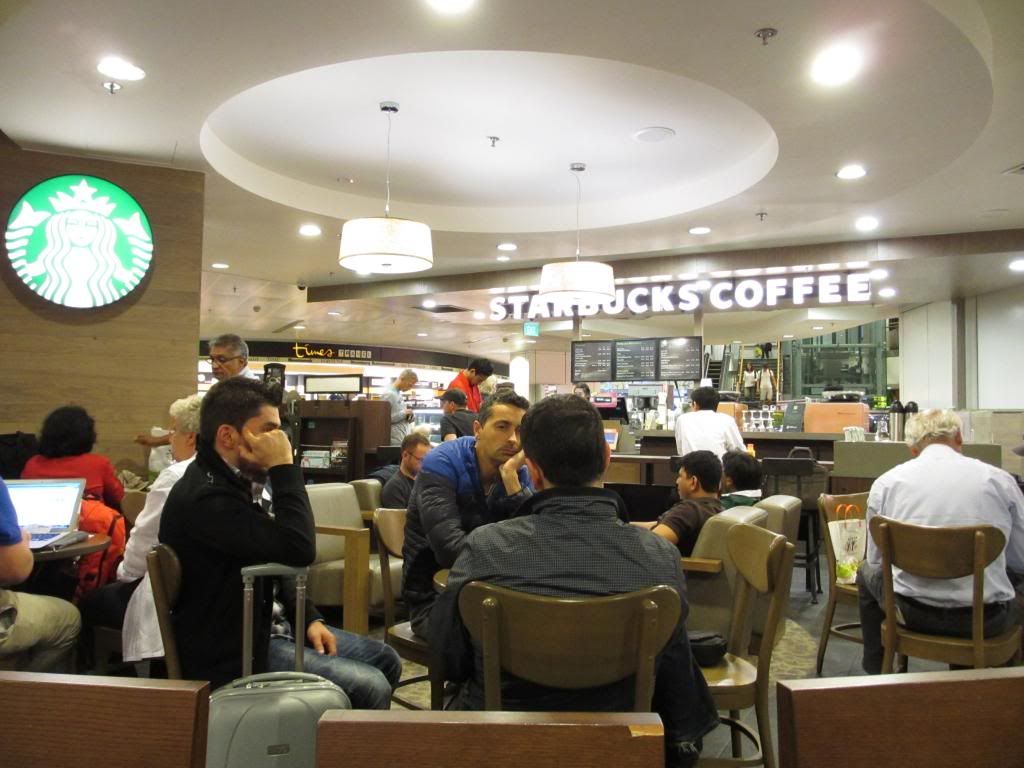 At about 2055hrs, I made my way to gate D46, a good 5-7 minute walk away.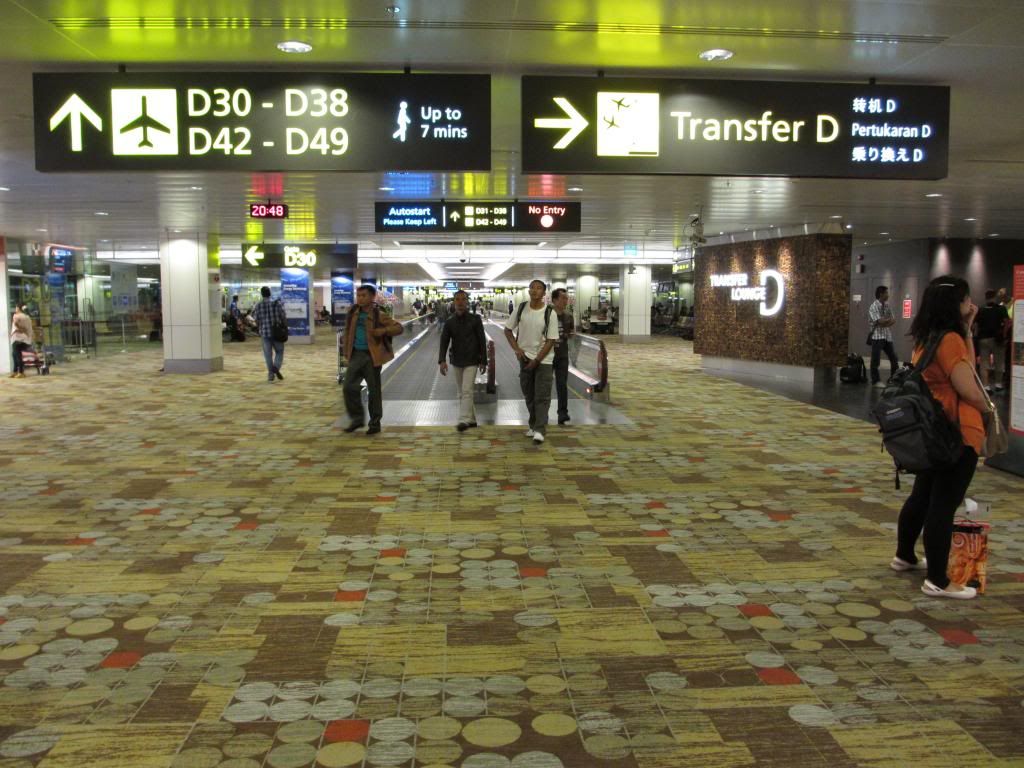 Upon reaching the gate, I observed nothing different from any other flight departing from SIN, not even an A380 poster anywhere. This was the start of the disappointing lack of activity on this inaugural from SIN-BKK.
Gate D46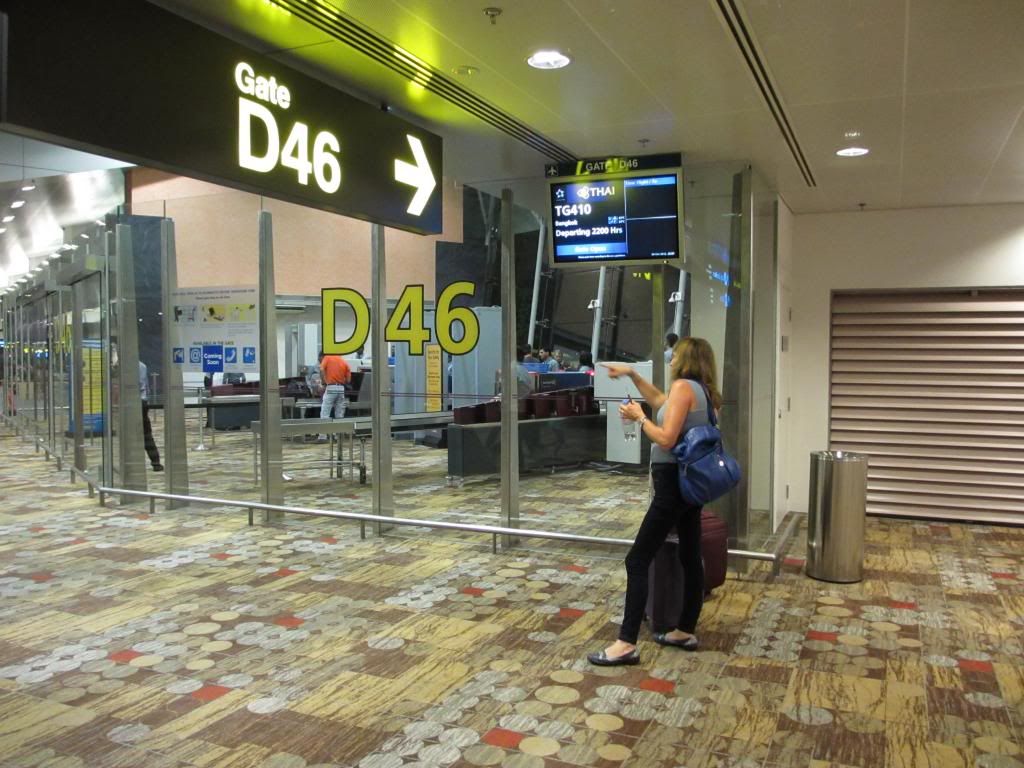 After clearing the security check, my boarding pass was checked and I was inside the gate lounge. There she was, Si Rattana staring back at us! What a beauty! Up close and personal.
HS-TUA 'Si Rattana' in Singapore!
I couldn't get a better shot in conditions like this, at night time with all the reflections. Well, I just had to make do with this picture then.
Flight info for the day:
Date: 06 Oct 2012
Sector: SIN-BKK
Flight: TG410
Aircraft Reg: HS-TUA 'Si Rattana'
Aircraft Type: Airbus A380-800
Scheduled Departure: 2200hrs
Scheduled Arrival: 2320hrs
Scheduled Flight Time: 2hrs 20mins
I had observed about 5-6 Singaporeans (could tell from their speech) wearing a TG A380 polo T-shirt, and carrying a big tote, which I supposed carried the souvenirs. They were gathered at the doors leading to the jetway, and were discussing the aircraft. Later, they mentioned to a rather senior looking gate agent in the TG purple uniform that they wanted to visit the A380. "Quick one, ah" was the reply, and 4 of them disappeared down the jetway on their little 'tour'.
Meanwhile, at about 2100hrs, they was a flurry of activity as the cabin crew and pilots came into the gate from the aircraft, and were swiftly ushered out the lounge into the terminal for a photo shot. I was extremely disappointed as they had chosen not to do it inside the gate lounge. Passengers interested to take pictures were unable to do so, as we were all confined to the gate lounge after clearing security. I had to make do with these...
Group photos with the public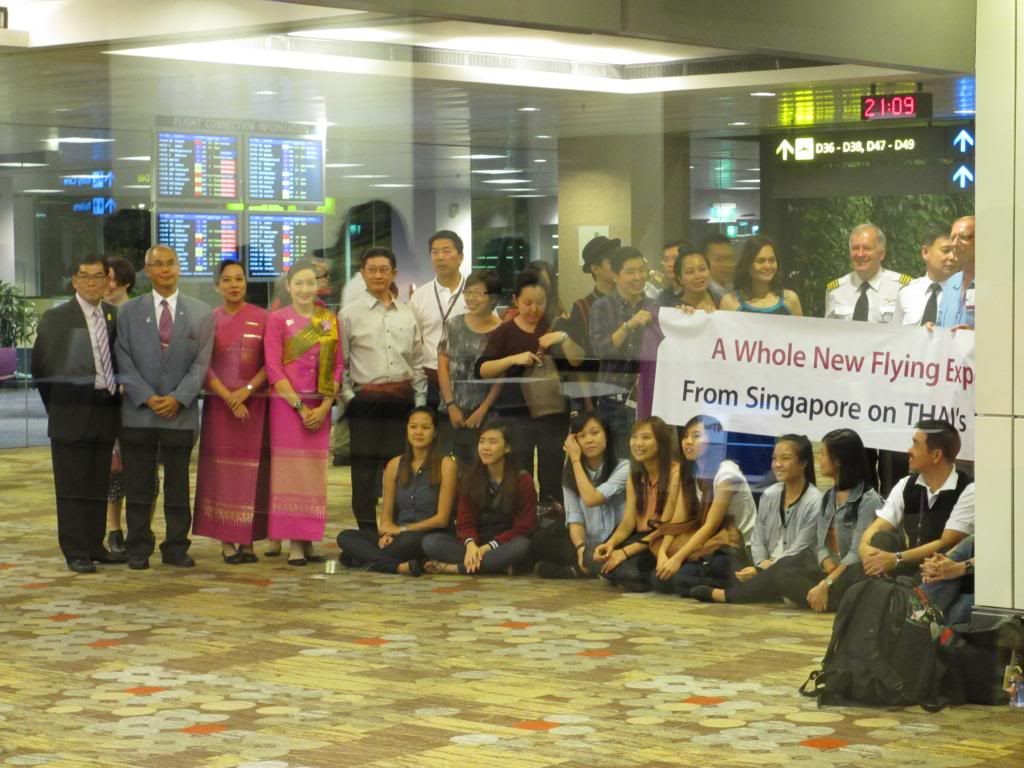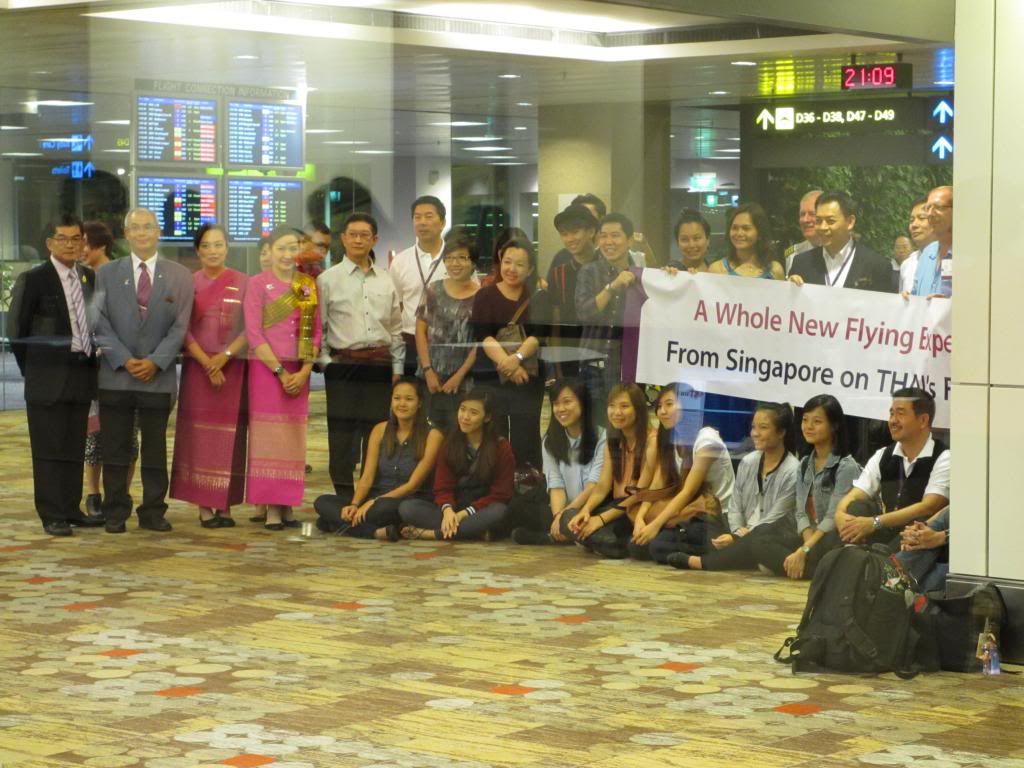 After a couple of shots with the banner, the crew scurried back in and down the jetway back to the aircraft, and that was the END of all the 'activity' on this inaugural flight. A terrible disappointment, I would say. Is that all TG is doing for their inaugural A380 flight to Singapore? FIrst day of service too?
At exactly 2120hrs, boarding was called. It was quite chaotic as nobody heeded the seperate boarding calls for premium and economy passengers to board. I went through at the first instance anyway and was on my way to the upper deck. The staff members mentioned earlier were on hand to give out the souvenirs for all passengers, regardless of cabin class. It was a TG A380 luggage tag, nothing more. Not even a goodie bag.
Before the doors were opened for boarding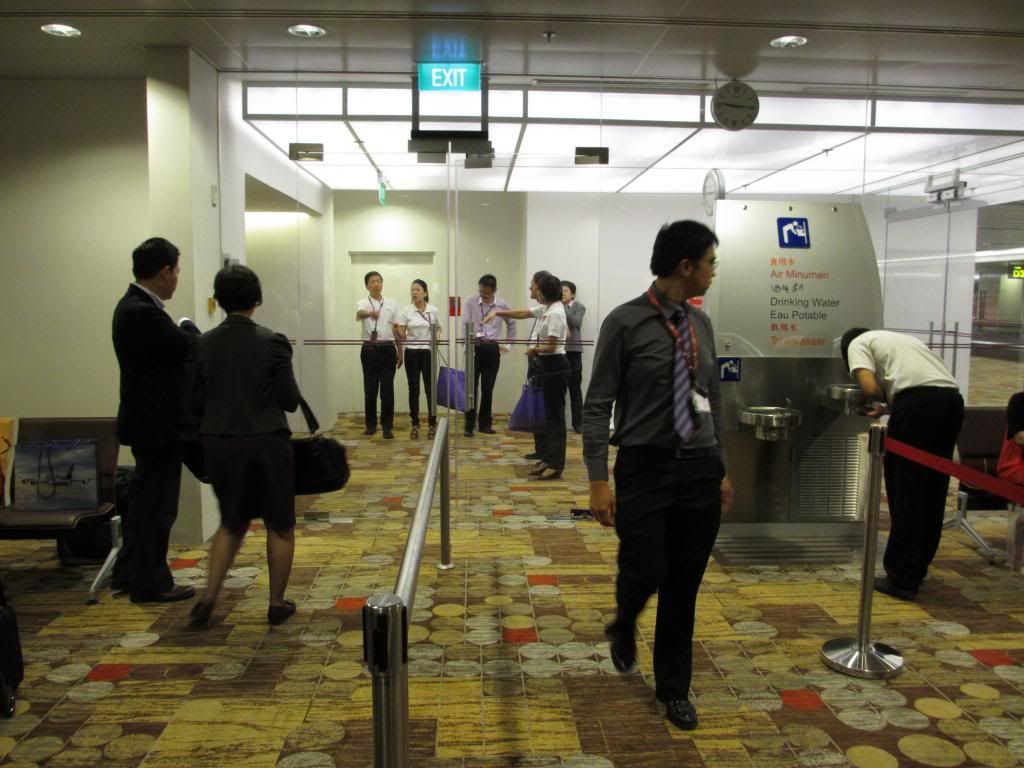 Should be quite full tonight.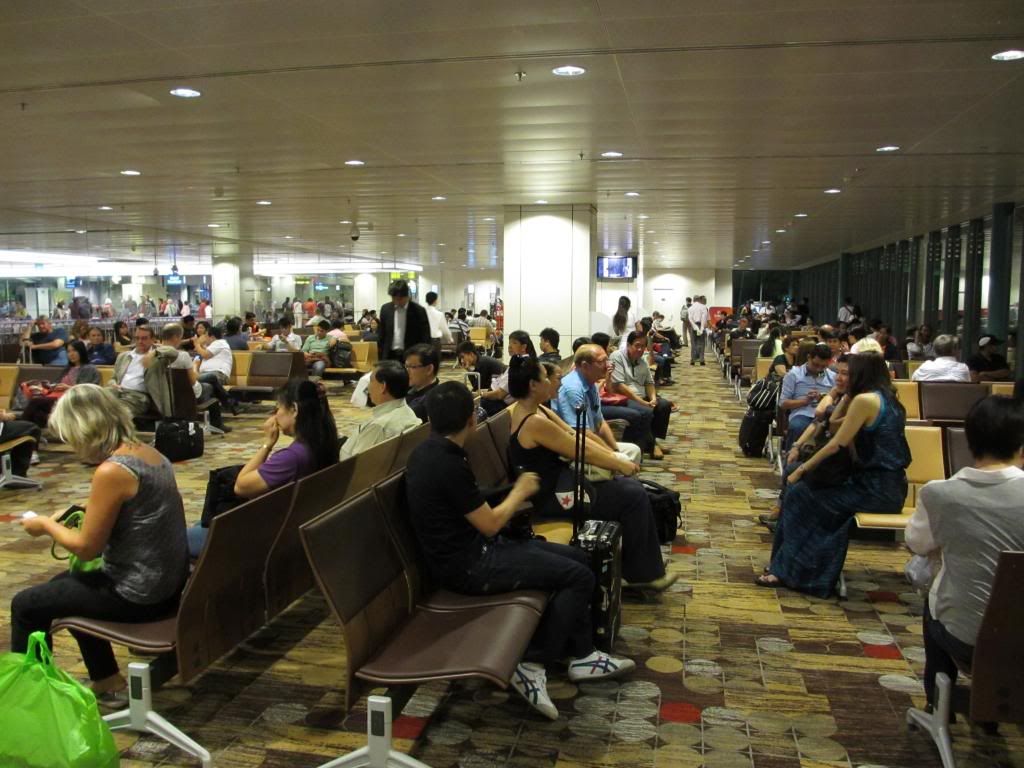 FInal preparation for boarding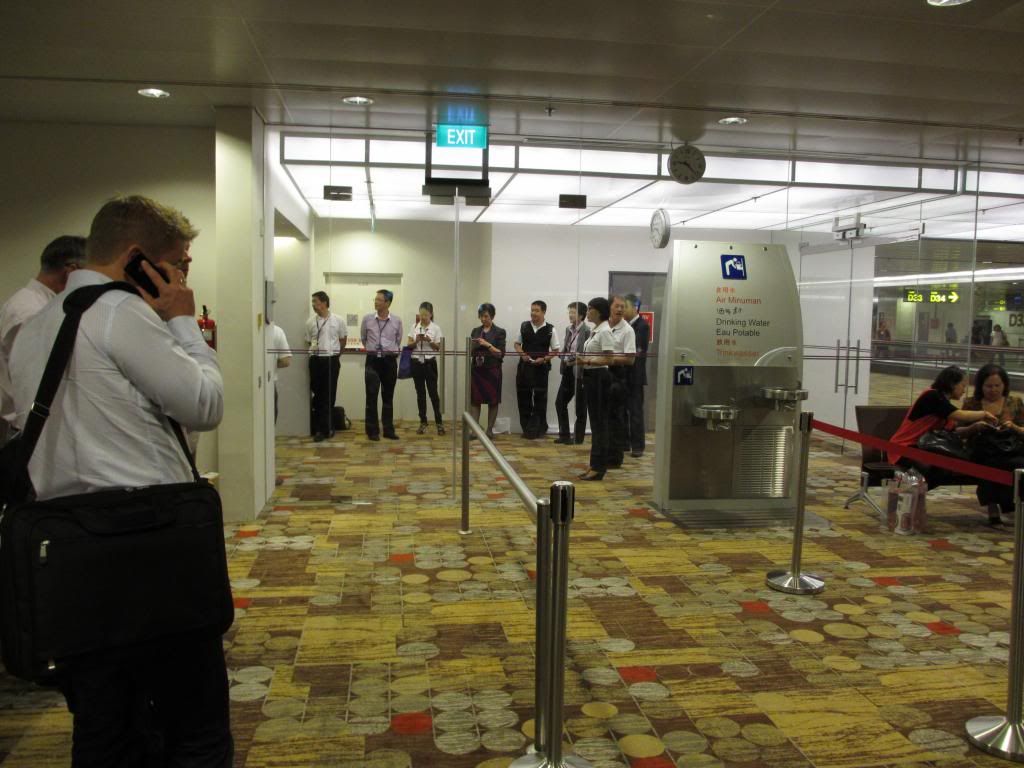 Boarding by seperated jetways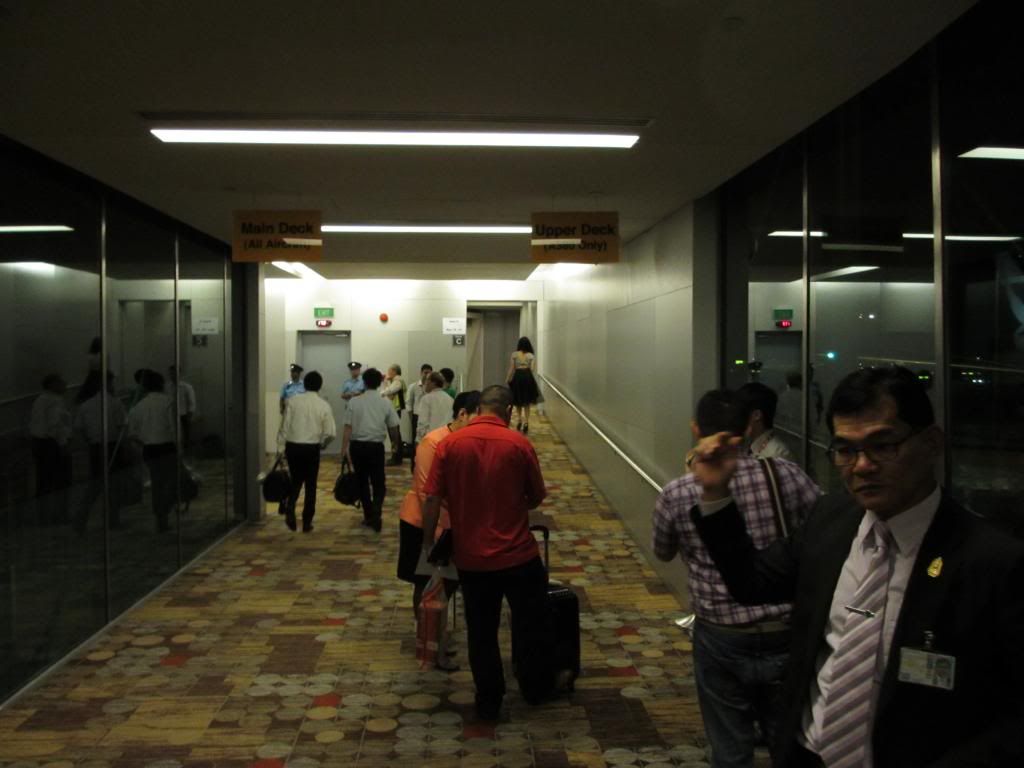 Upper deck door U1L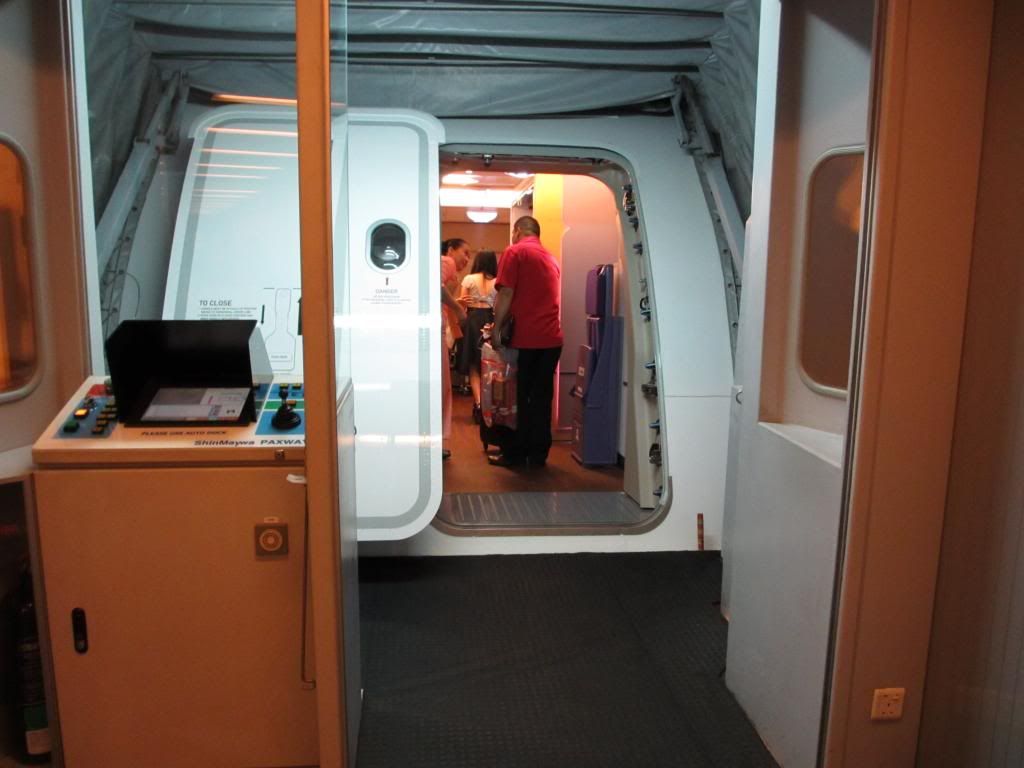 Entering by door U1L, I would pass the Royal Silk class cabin. Not letting go of the chance to photograph the Royal First Class as well, I turned left upon entering the aircraft and here we go, the 12 coveted seats of sheer luxury!
Royal First Class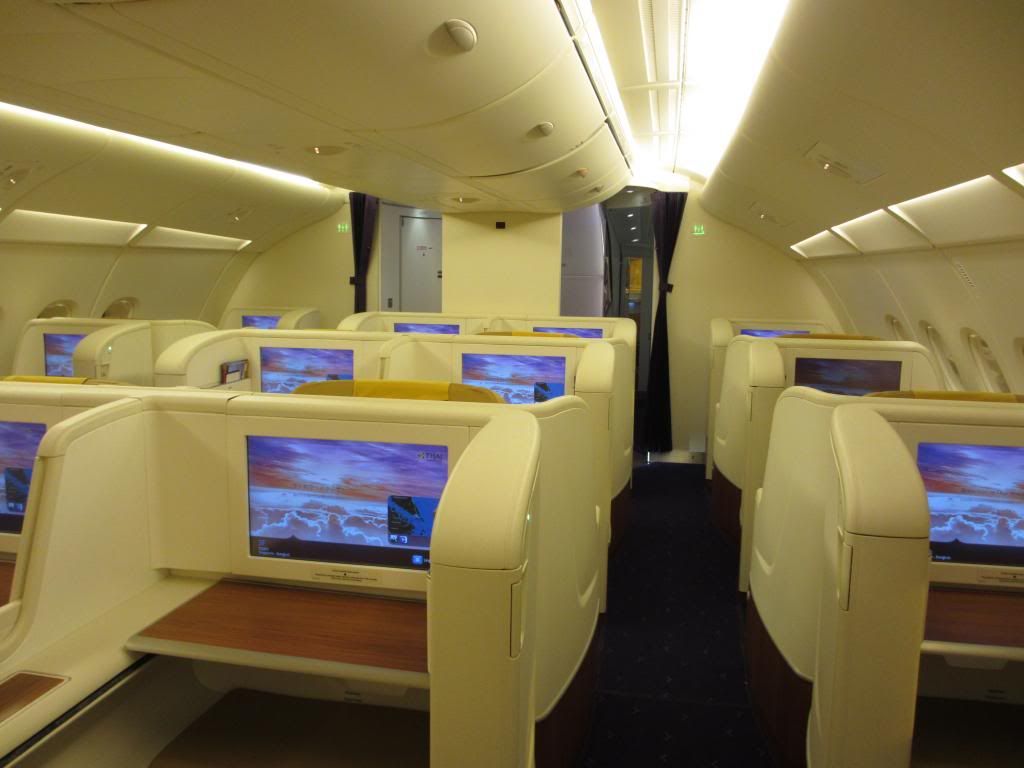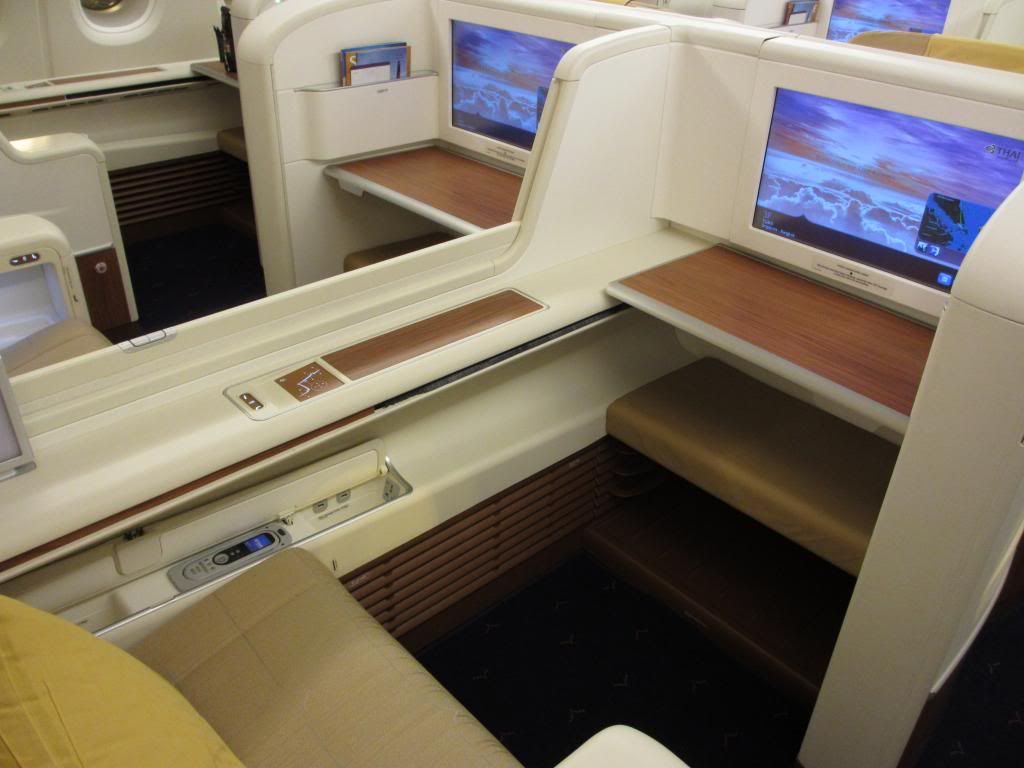 WIndow seat is always best!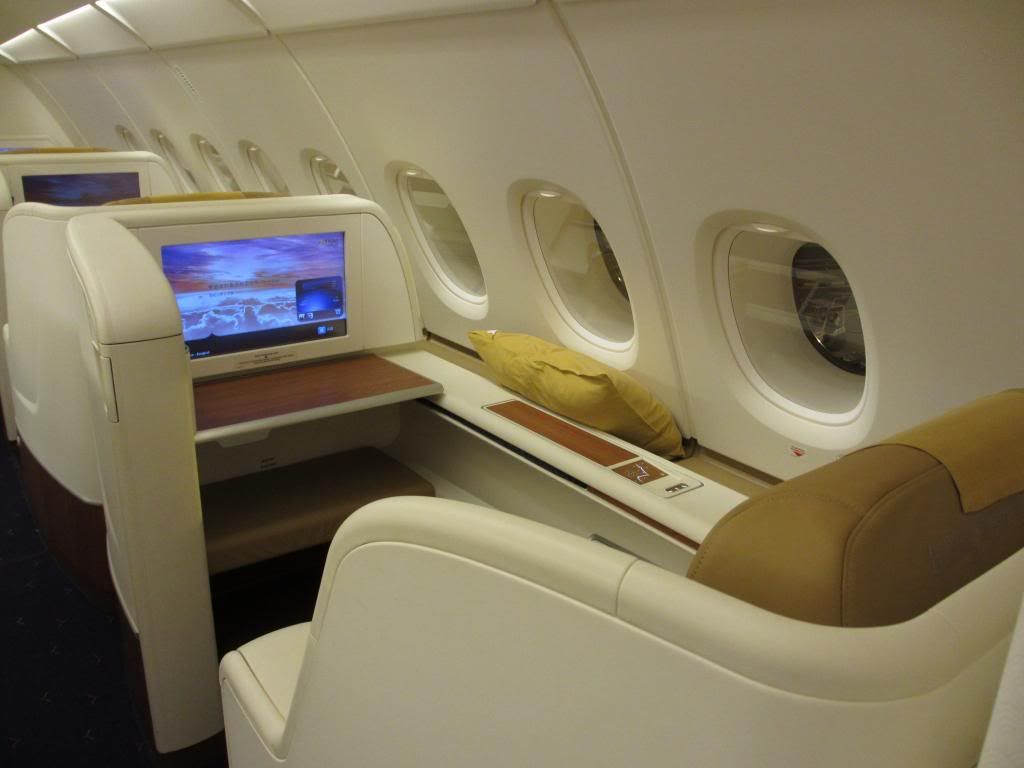 In my opinion, the seats look quite plasticky and lack privacy. I would very much prefer SQ or EK suites over this one. Actually, even SQ's normal First Class on their B77Ws are better. Oh well, I can't comment further since I have not actually flown on any one of these.
Royal Silk Class Galley
The crew were very accomodating to photographers and generally smiled at all of us who snapped away like some madman. This was probably only the case on the first day of service of a brand new aircraft type, as TG crew can get rather defensive on trigger happy snappers like us, as I have experienced before.
Royal Silk Class Cabin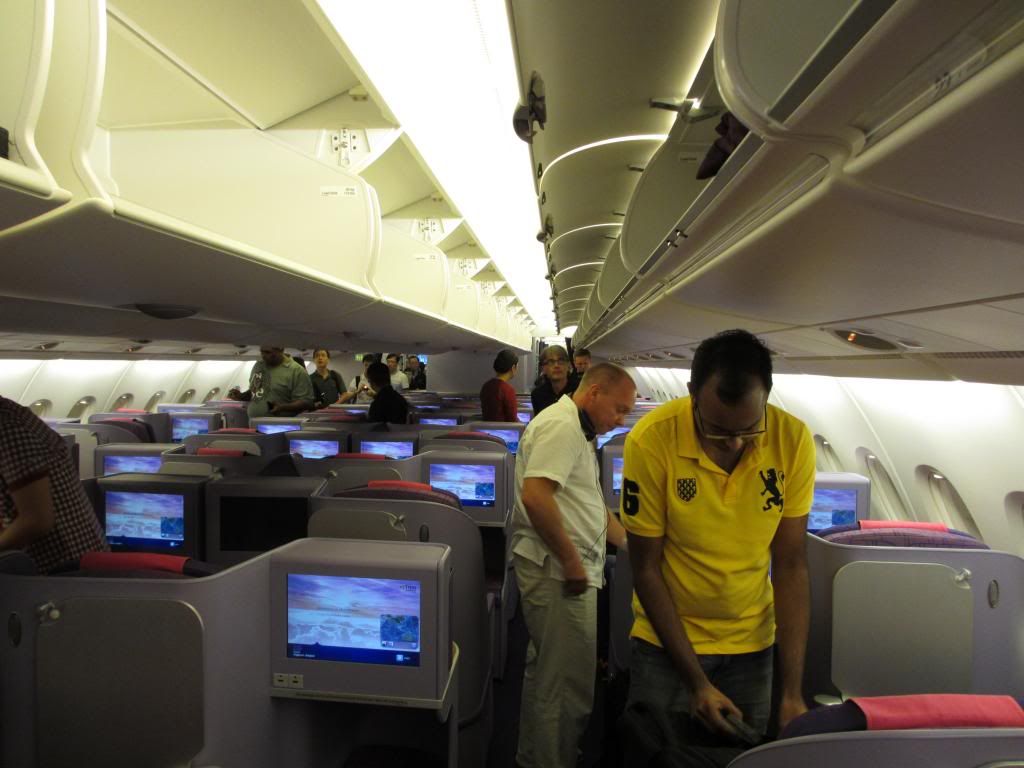 TG offers the staggered layout for their Royal Silk Class. Some seats on Royal Silk offer even more privacy than the ones up front in Royal First! This is especially so for the window seats with the seat nearer the window, like this one.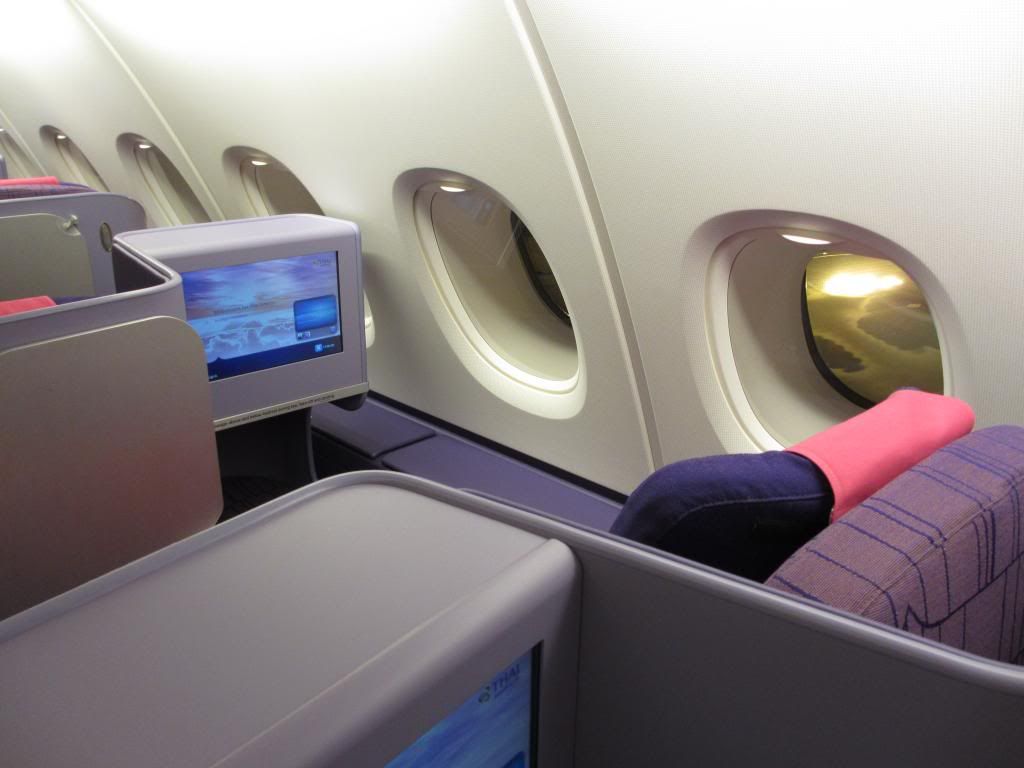 The Royal Silk 'Bar'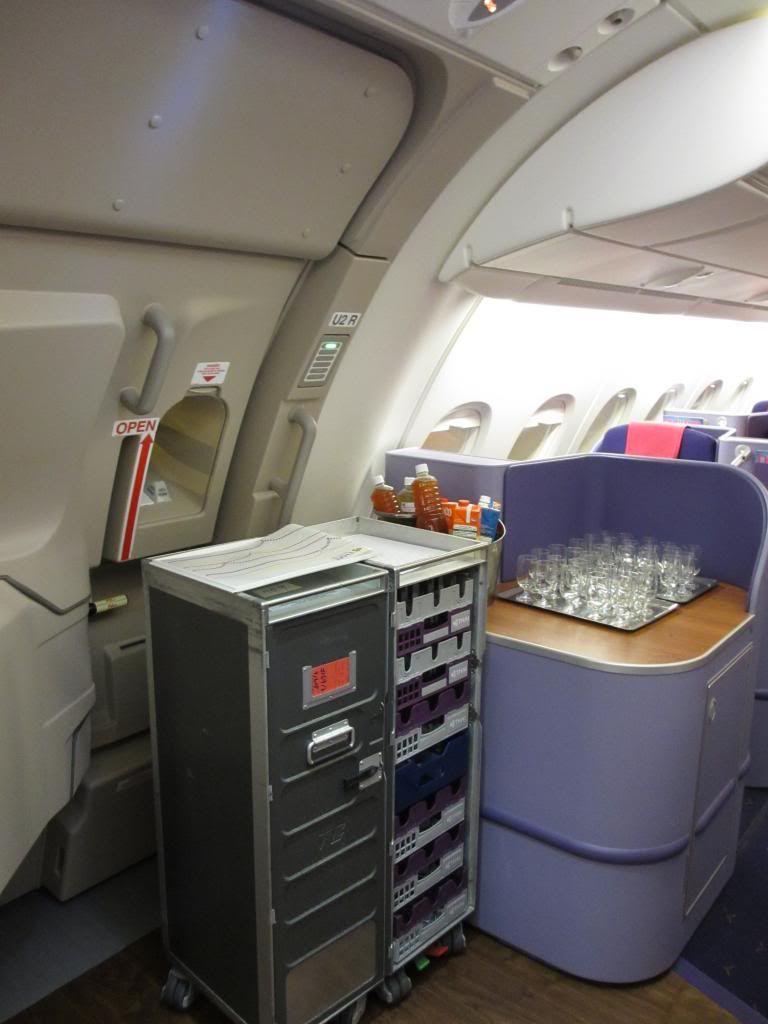 TG's A380 seems to be sparsely equipped in the premium cabins, with no fancy bar, no inflight shopping, apart from a rest area in Royal First Class, which looks very simple IMO. Compared to EK or even KE, this was a losing point for TG here. Basically, TG concentrates on seats and more seats. No frills.
After the 60 seats in Royal Silk Class, we have our 'mini' economy class cabin at the rear of the upper deck, consisting of 58 seats. For an economy class cabin, it is actually really quiet, exclusive and comfortable in here.
Upper deck economy
Note the close proximity to Royal Silk, seperated by just a divider.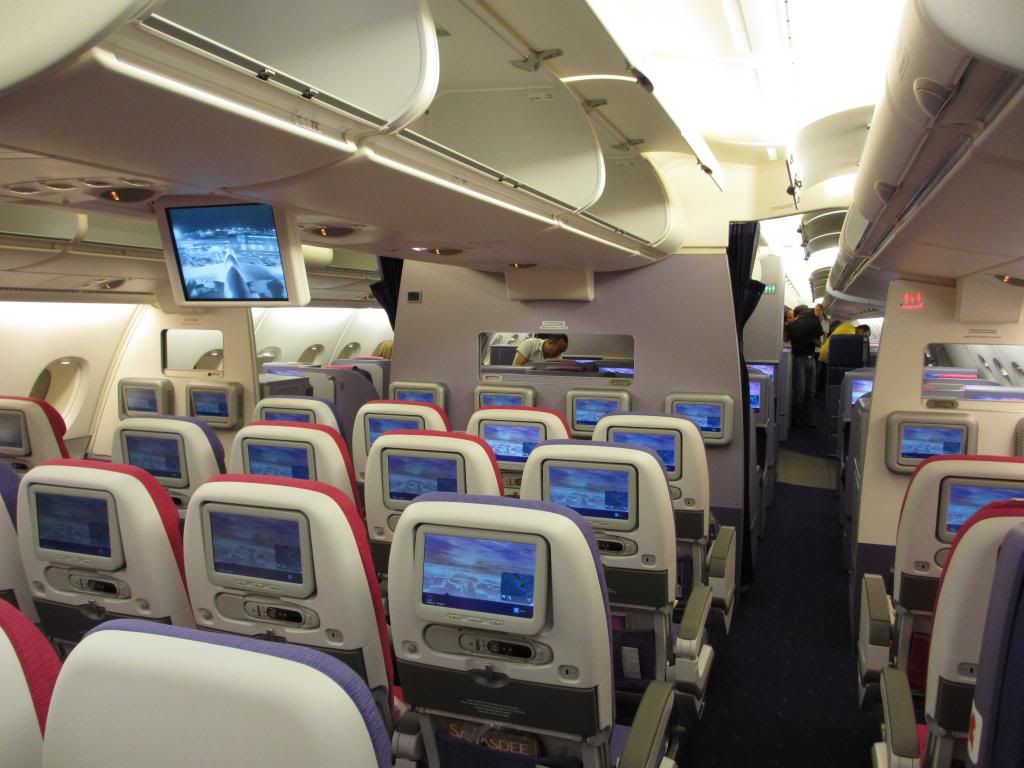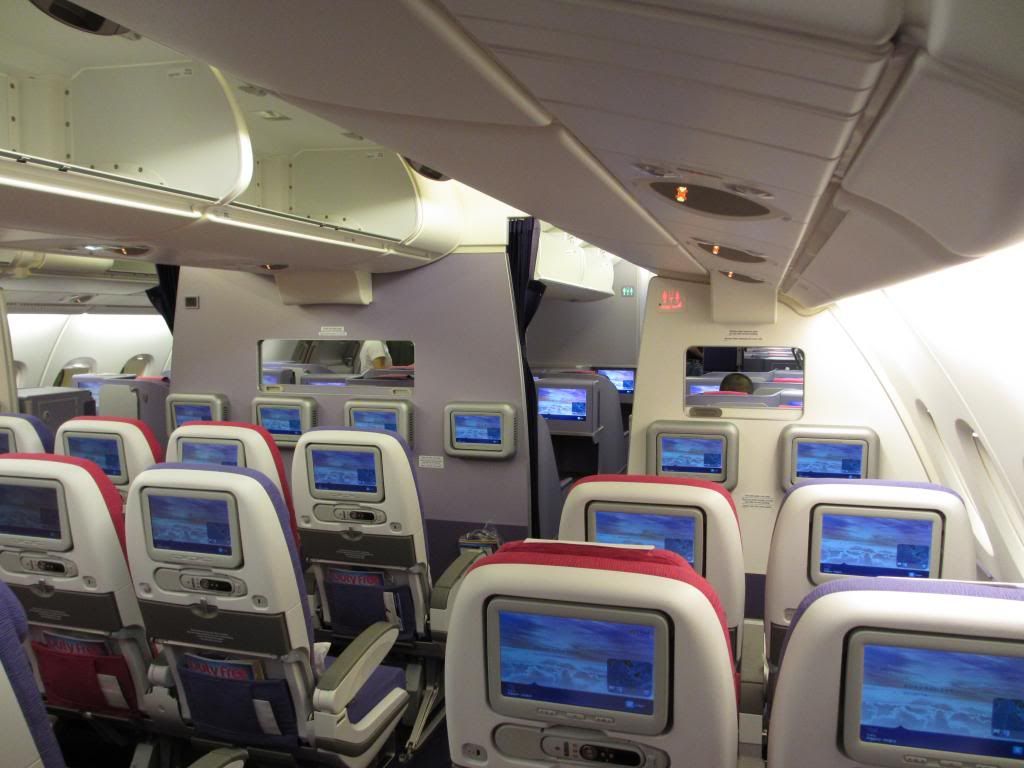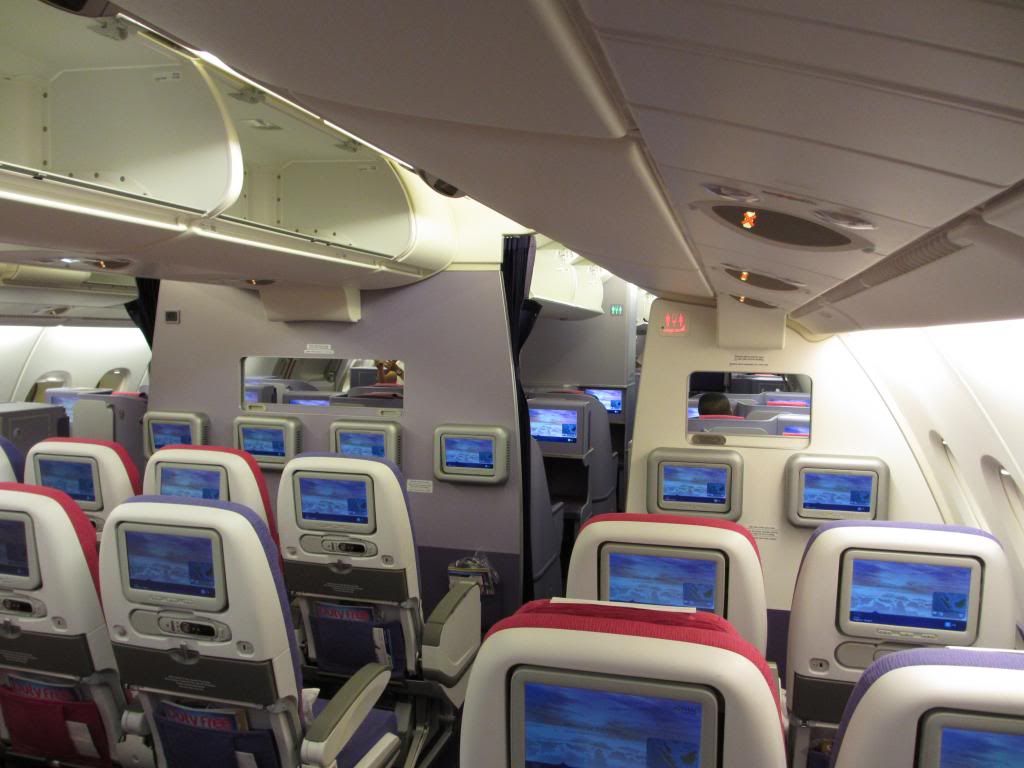 An exclusive 2-4-2 arrangement on the upper deck.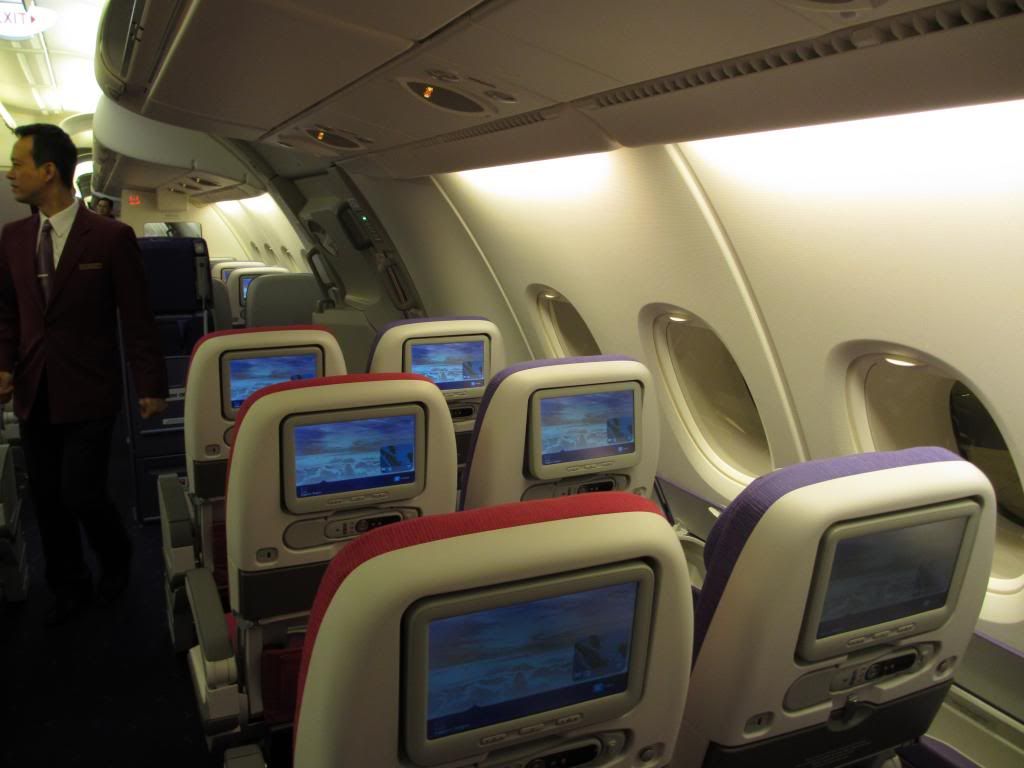 The colour scheme is a slight change from the tri-coloured seats of the previous generation. On this scheme, TG concentrates on two main colours as shown, and does a pretty job with it.
Also, these new Recaro seats on the A380 look so good from both front and back!
First thing to do: off to the lavatory for a few pictures. This was a brand new aircraft, after all!
Brand new lav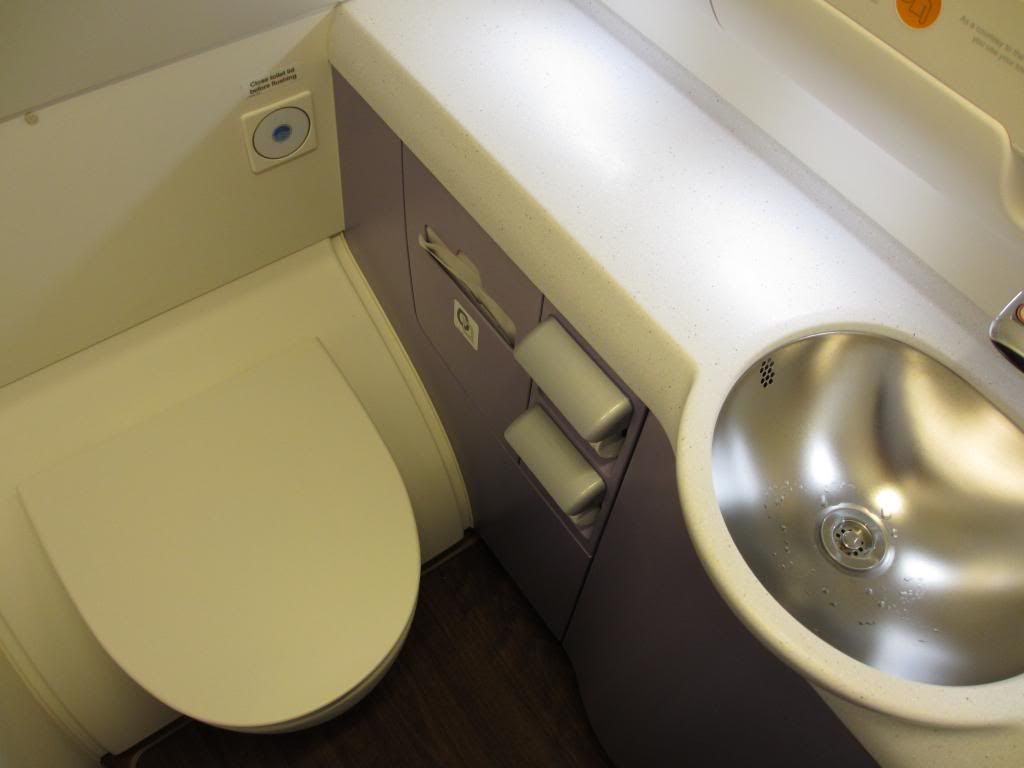 It was then down the 'spiral' stairs to the main deck for some pictures too! I just love the abundance of purple in the cabin!
Rear stairs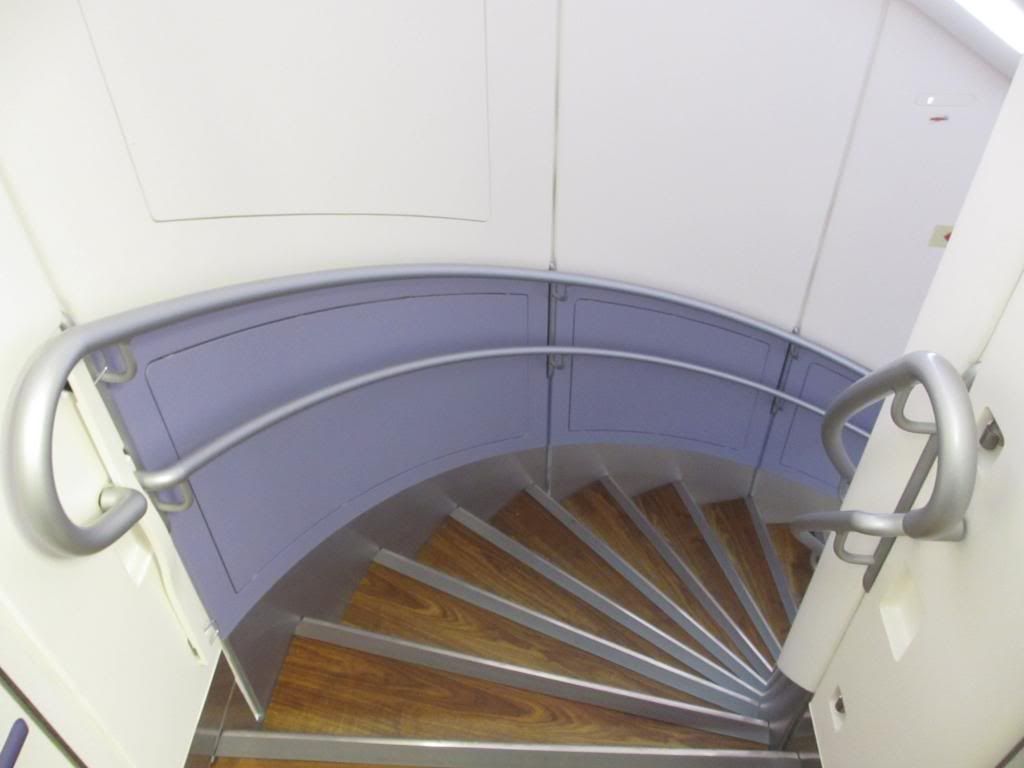 Main deck economy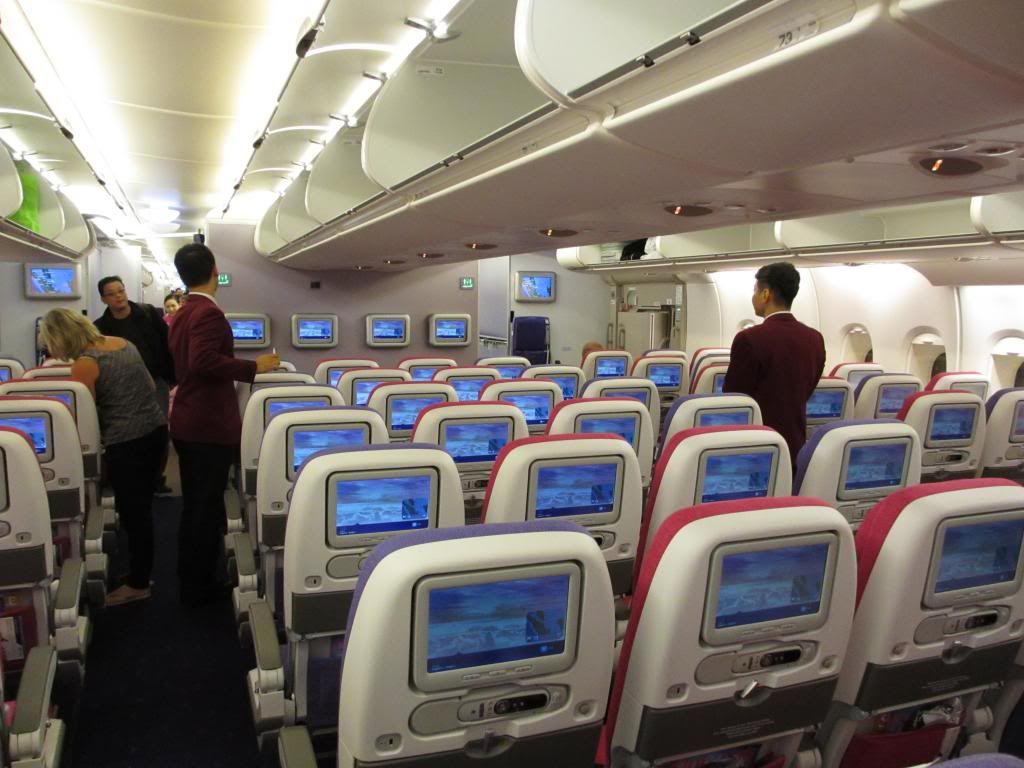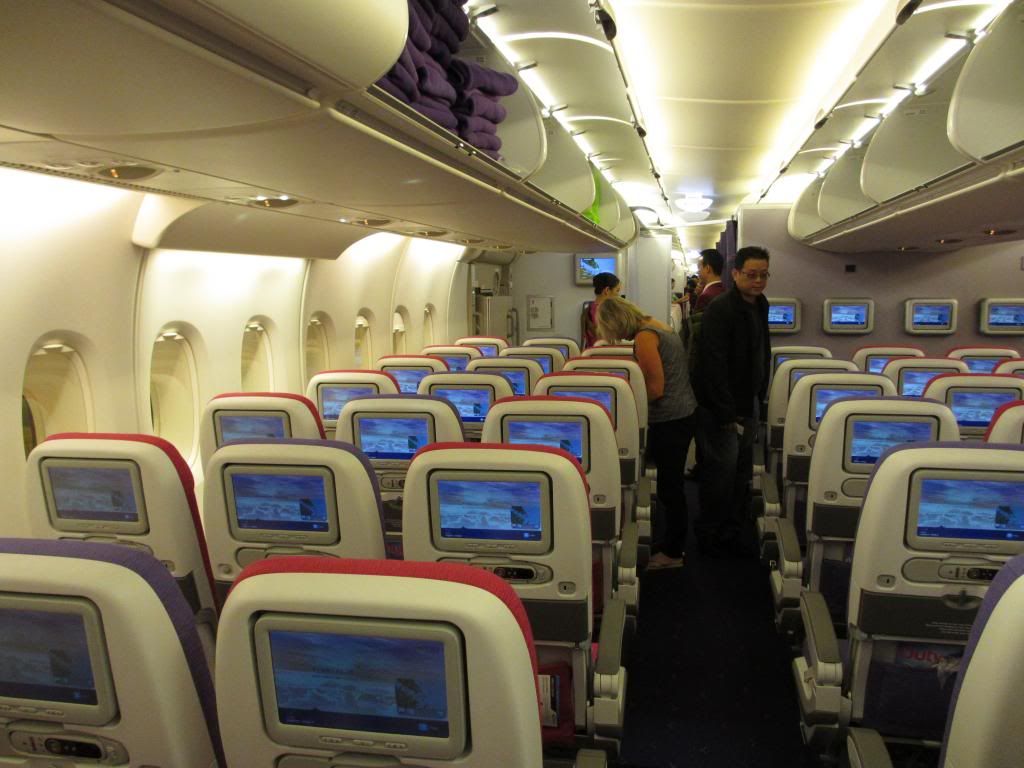 The main deck, as with all A380s, was really huge and abundant in space. One probably does not feel claustrophobic here. You get 10 abreast here, though. However, I prefer my upper deck cabin. In fact, I like small widebody cabins to massive ones like the A380. That is why I love the A330!
10 abreast, 3-4-3 seating, as on all jumbos.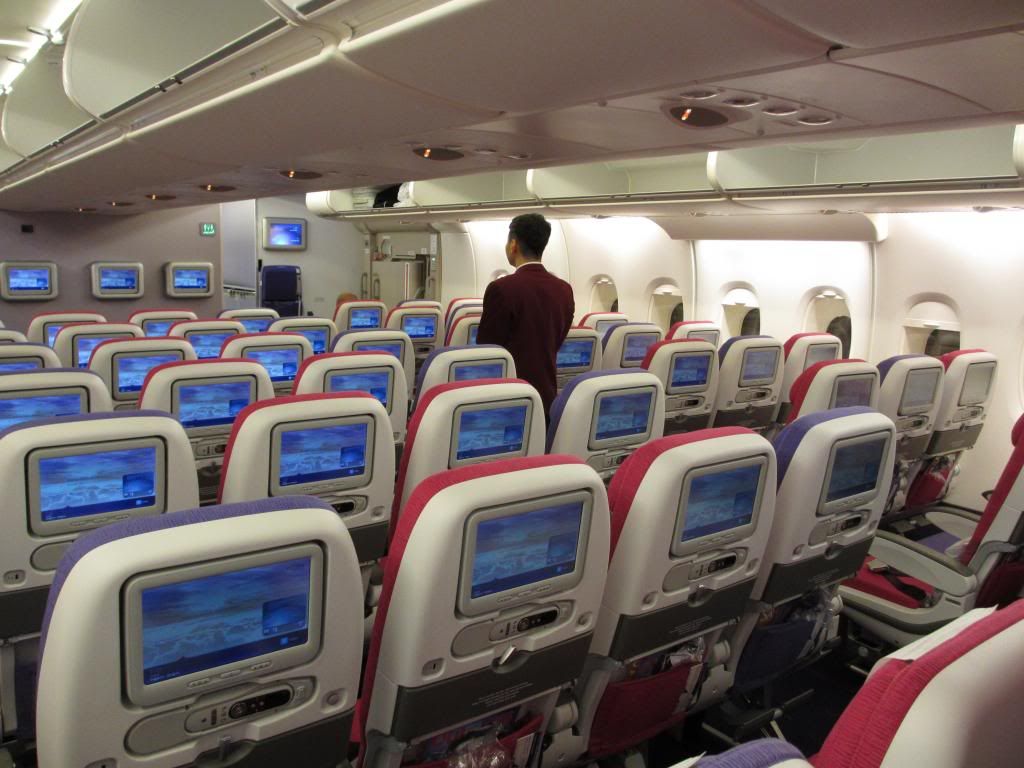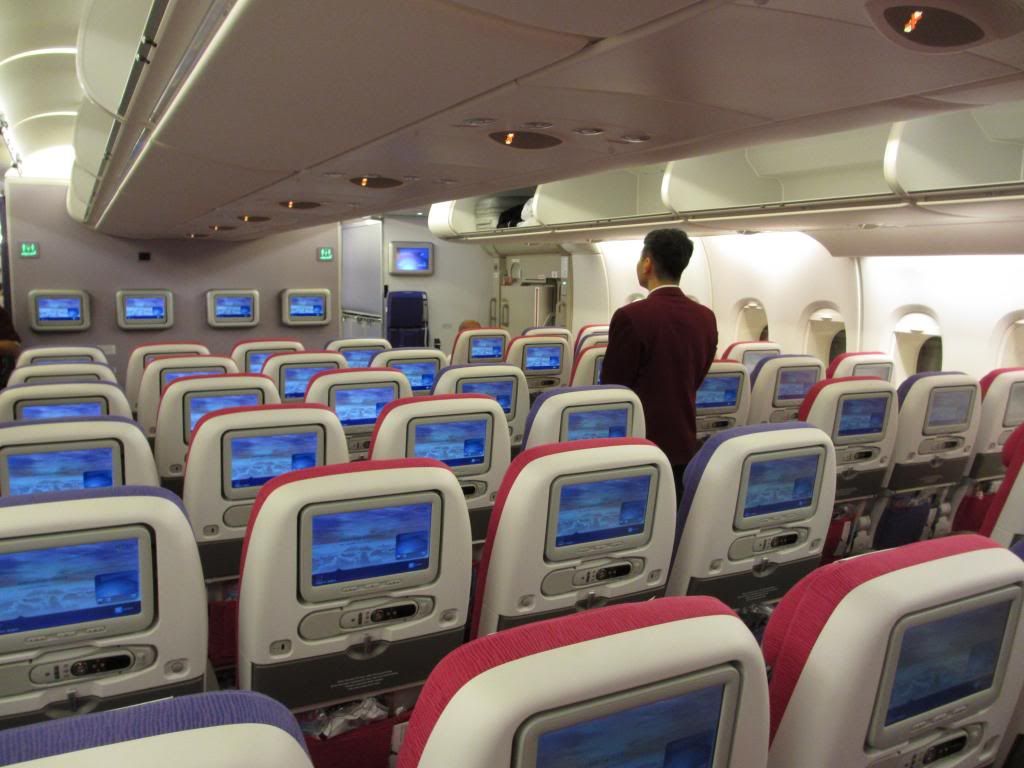 Door M5L
It was then back to the upper deck to check out my seat for today, 81K!
The new TG AVOD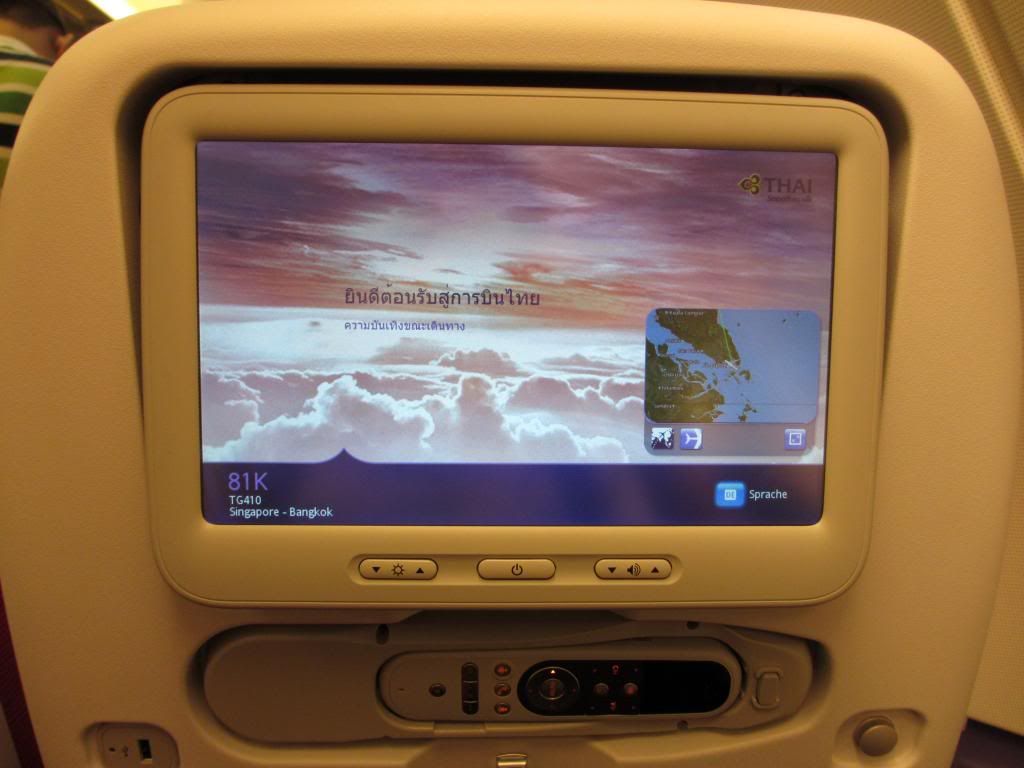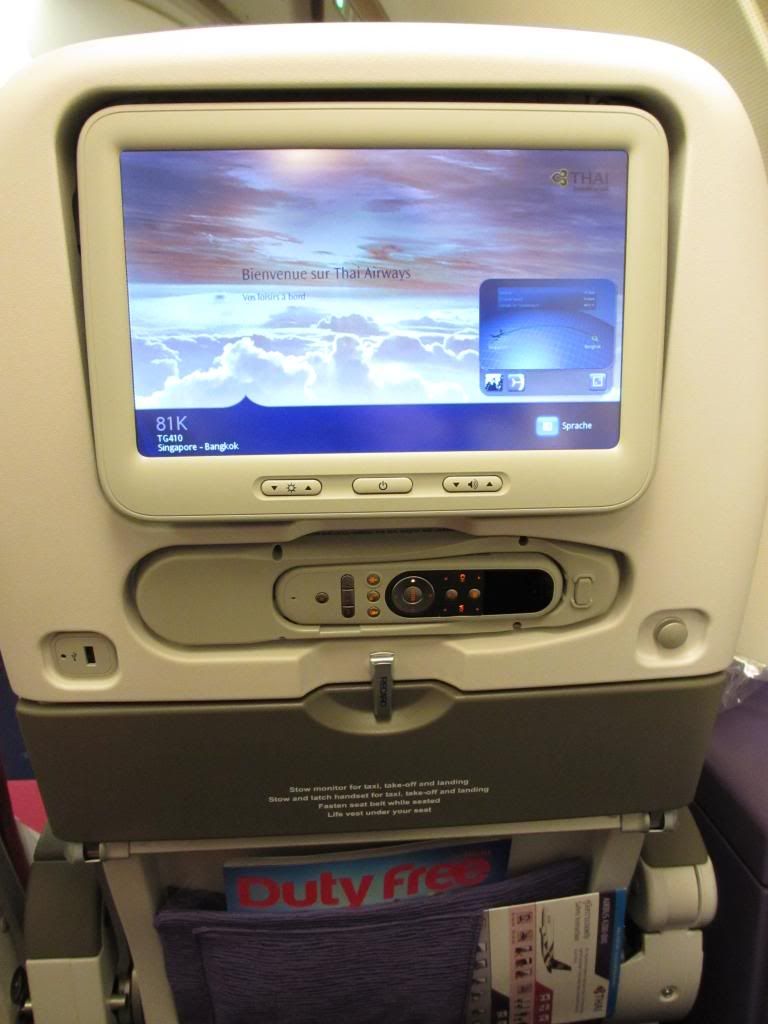 The new TG IFE system, providing AVOD, is really impressive to me. A quick browse through the functions revealed a big change from the older AVOD system provided on the older B777s. This one offers loads of choices, and is on par with SQ's Krisflyer, if not better. I would definitely be happy sitting here for long hauls to Europe. The touchscreen is very responsive, and there are added extras like the menu, loads of information about TG and it's aircraft, BKK airport and it's destinations. It also has the all important tail camera view on the A380. I give TG 8/10 for their latest in IFE. This one is the Panasonic system, if I'm not wrong.
Also, on all A380s, there is the side stowage bins for all window seats on the upper deck. One of my favourites, I would say, as I could stow my messenger bag in it without having to put in on the dirty floor under the seat in front of me. Trust me, those aircraft cabin floors are teeming with germs, however new the aircraft may be. Another incentive for the window seat!
The side stowage bins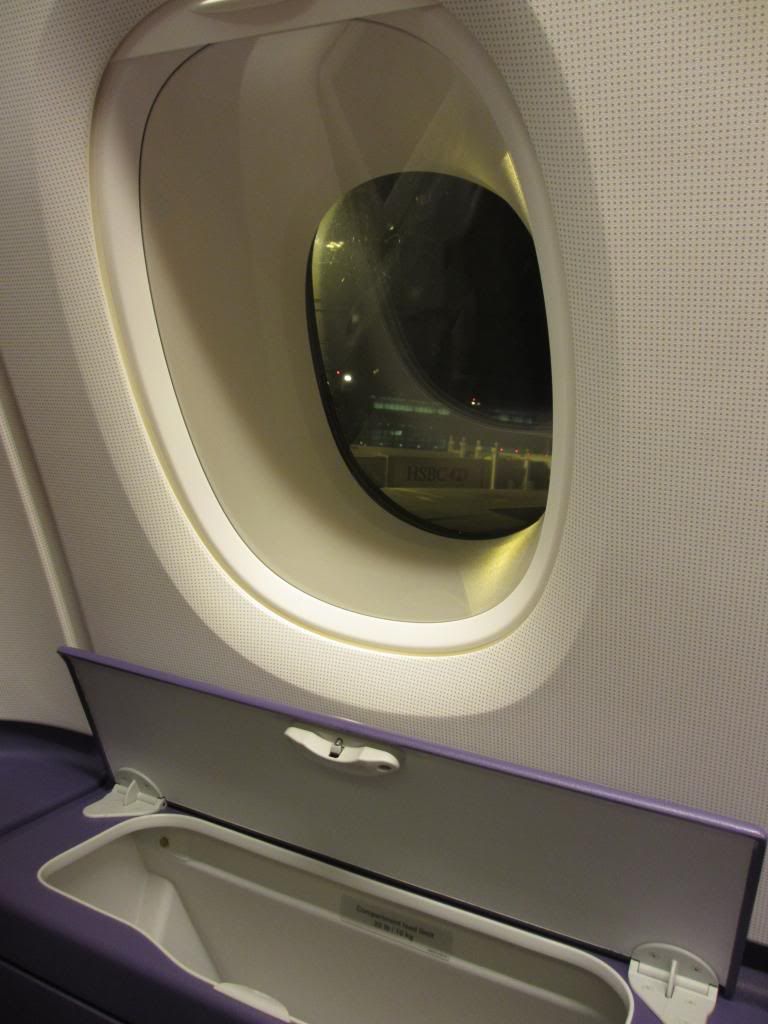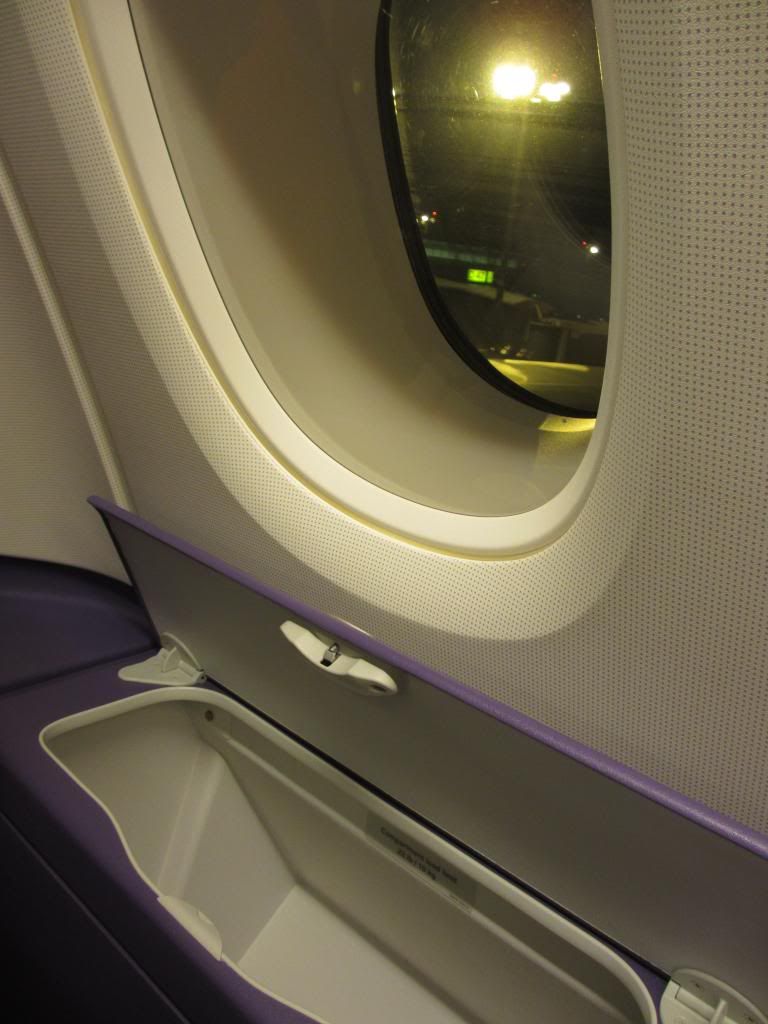 Seat pitch is a standard 32", pretty sufficient for me, a 1.71m guy.
By this point, people armed with D-SLRs were scooting around both my cabin and the Royal Silk cabin spamming photos.
Doors were closed soon after, and we were pushed back at exactly 2205hrs. A little behind schedule, but still acceptable. The crew in charge today was a man, and he came on the PA with the usual greeting, safety announcement and other mish-mash. We have a 2 Thai pilots and another caucasian captain up front today. The caucasian was Captain Paul, and was probably there to guide the 2 TG pilots on a new type. I gather he should be from Airbus? Correct me if I'm wrong. Shortly after, the safety video was played.
The safety video was totally different and brand new, specifically created to herald the A380's service. I believe this video will replace the older one on all TG flights eventually. The new safety video is more modern, and it even looks very much like Emirates' new offering. Did they consult the same studio or something?
Here is the link to the new TG Safety Video on YouTube
http://www.youtube.com/watch?v=JScZgQdYnCA&feature=g-all-u
All ready to go!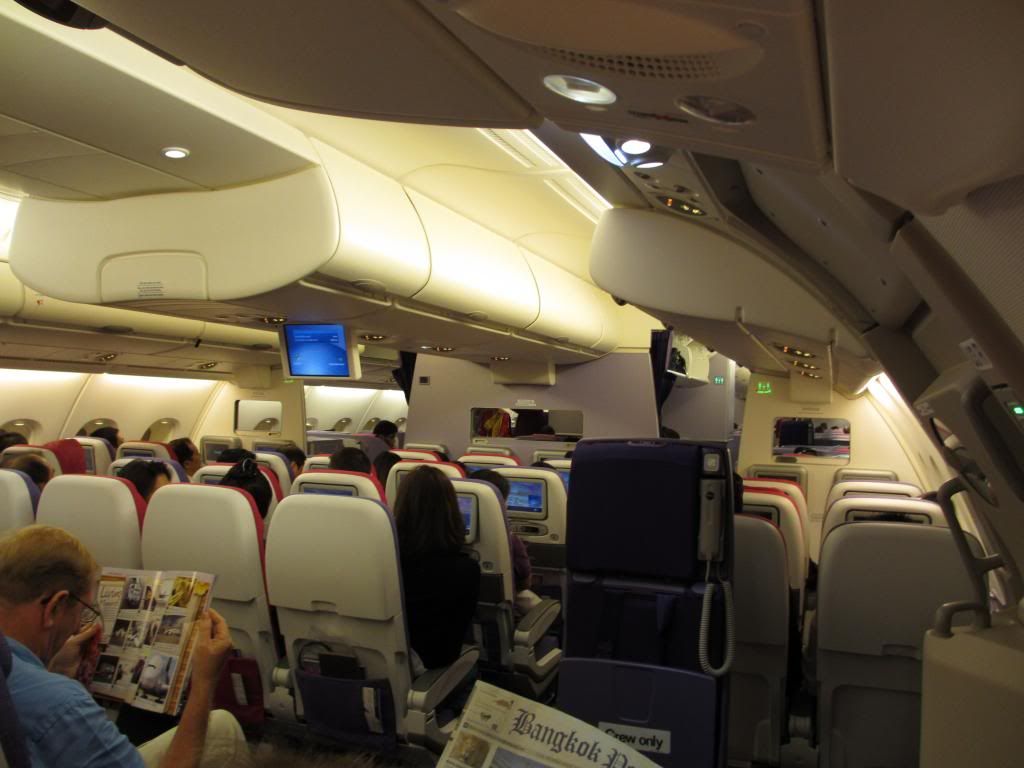 A little trace of mood lighting. Never saw it again throughout the flight. Safety video in action!
The engine start up on the A380 was so silent, I could hardly hear any noise, other than a very soft rumble! On the upper deck, the sound is even less audible. As we start our taxi, the cabin sounded as if we were still at the gate!
The best IFE on an A380. Best results on day flights, though.
Today, we will have a short taxi to RWY 20C for a southern departure, and a 180 degree turn towards East Malaysia and onwards to Thailand.
After a very short taxi, the Trent 900s spooled up and we rolled down the runway and soon, into the dark Singapore sky. Smooth as silk, as TG would say!
Departure!
We ascended slowly, and made a smooth turn northwards.
Information on our flight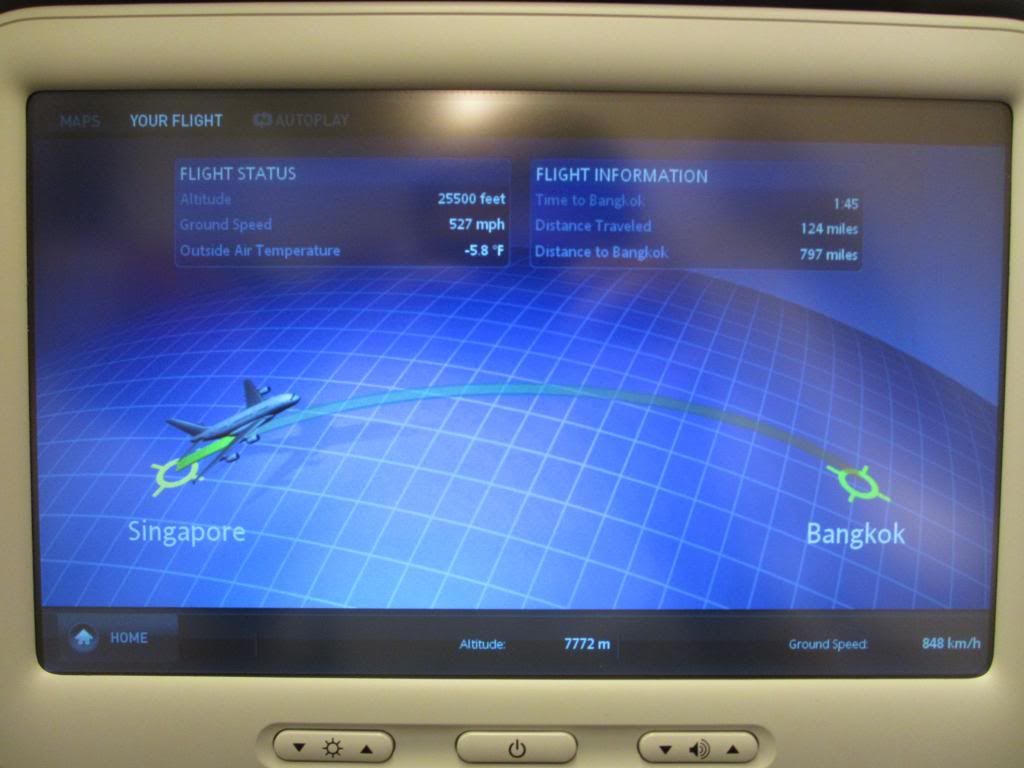 Seat belt signs were turned off at 2230hrs, and the crew started the hot towel service, as on all TG flights. Our cabin here only has 58 seats, and it was completed in no time. Soon after, the captain came on the PA with his welcome, and then the crew collected the used towels and disappeared into the galley to prepare for the meal service.
Hot towel service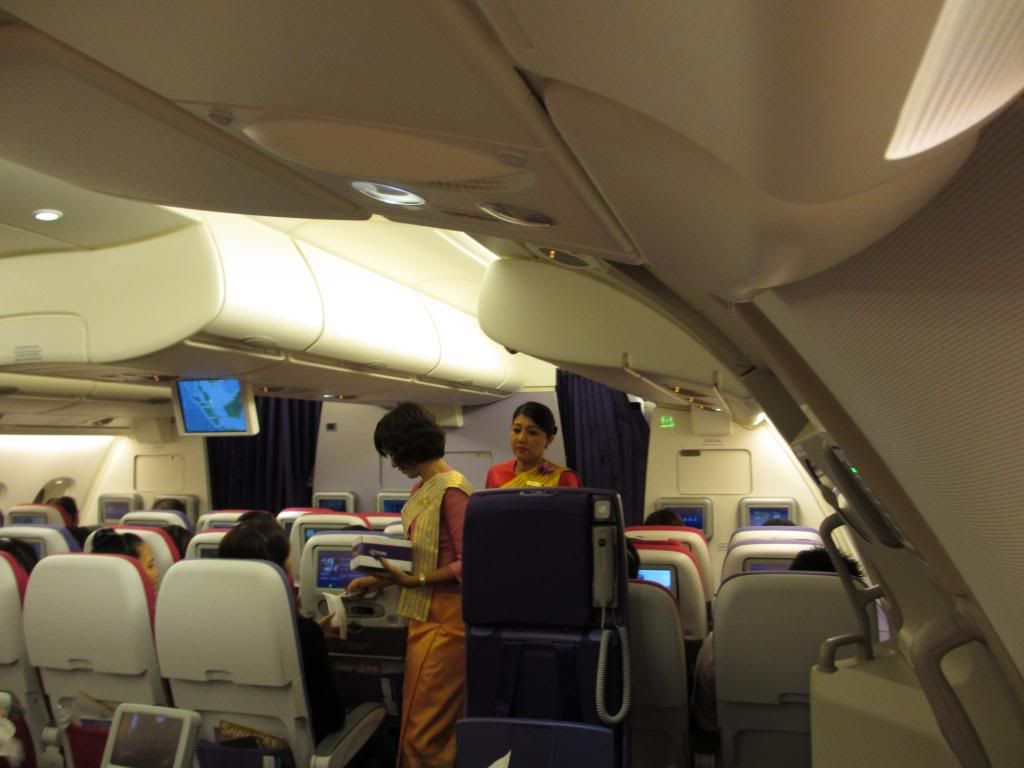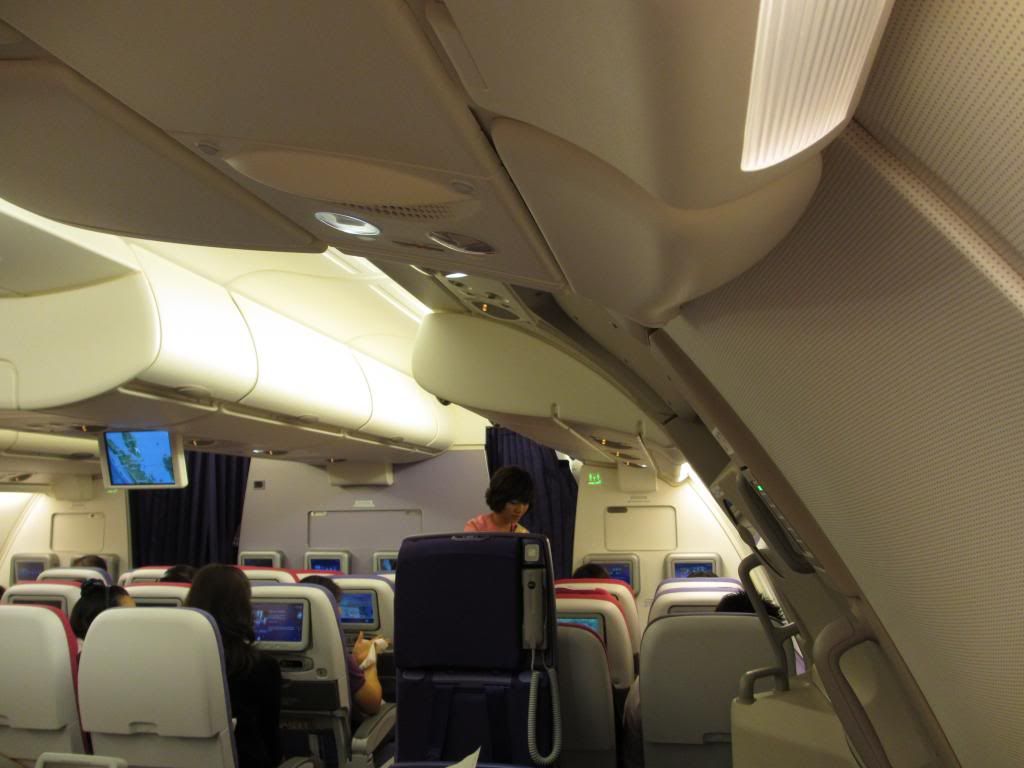 About 5 minutes after the towels were collected, the captain came on again and announced that we would be flying through turbulence in about 5 mins. The seat belt sign came on and everyone was strapped in again. 2 minutes later, the aircraft launched into a tirade of shaking and buffeting up, down, left and right. We continued shaking and bumping up and down for the next 30 minutes, as the captain tried to avoid the turbulent area by changing both our course and altitude for the next half an hour. We started off at 36000, up to 37500, 38000 and finally 40000feet. Our flight path took us left and right, banking in and out of Malaysia over Kuantan, in an attempt to avoid the bumps.
Our zig-zag flight path
Eventually, we passed the turbulence at about 2305hrs, and the meal service was started. On a short 2 hour hop like this, a full meal service is already rushed as it is, but on this flight, 'rushed' takes on a whole new meaning. Although we had a lack of time, the crew were still very professional and the full meal service, together with the bread run and the full bar/drink run was properly conducted. By the time the last cups were collected, we were already halfway into the descent into BKK.
Meal Service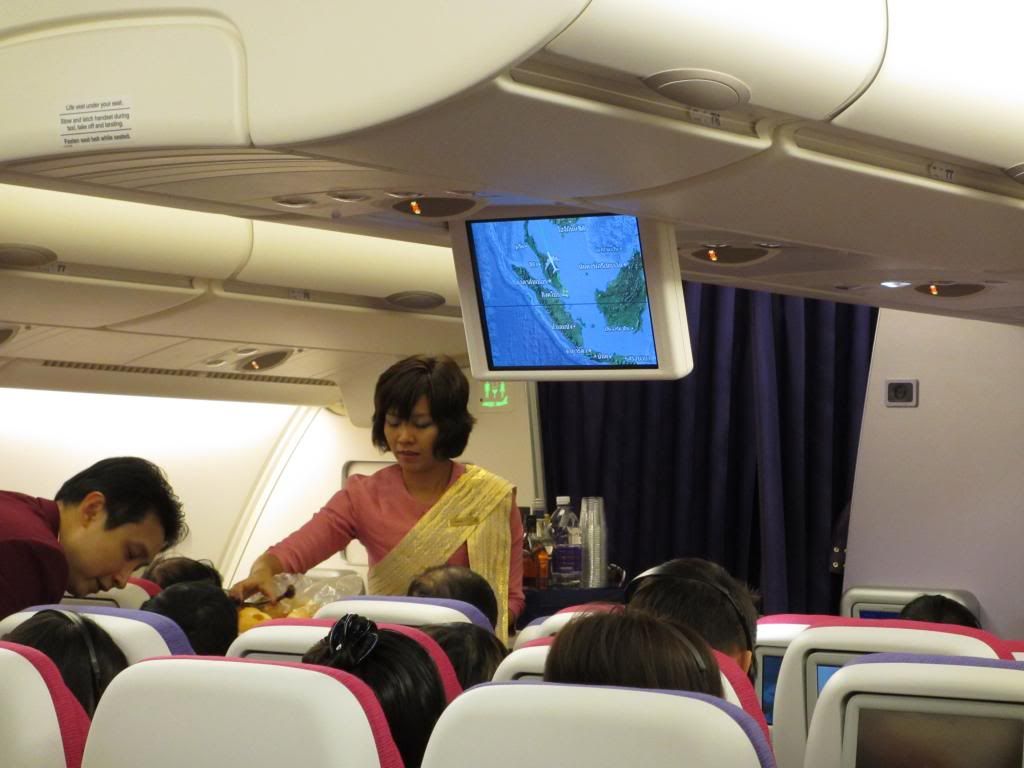 Seatbacks up for the meal service please, sir!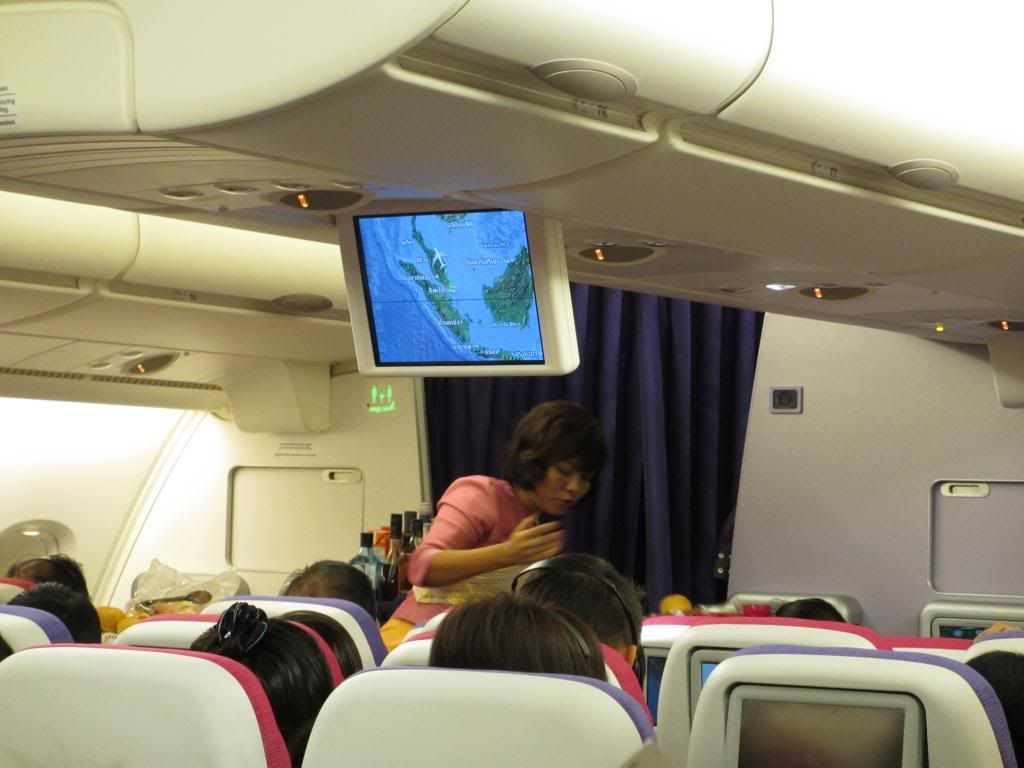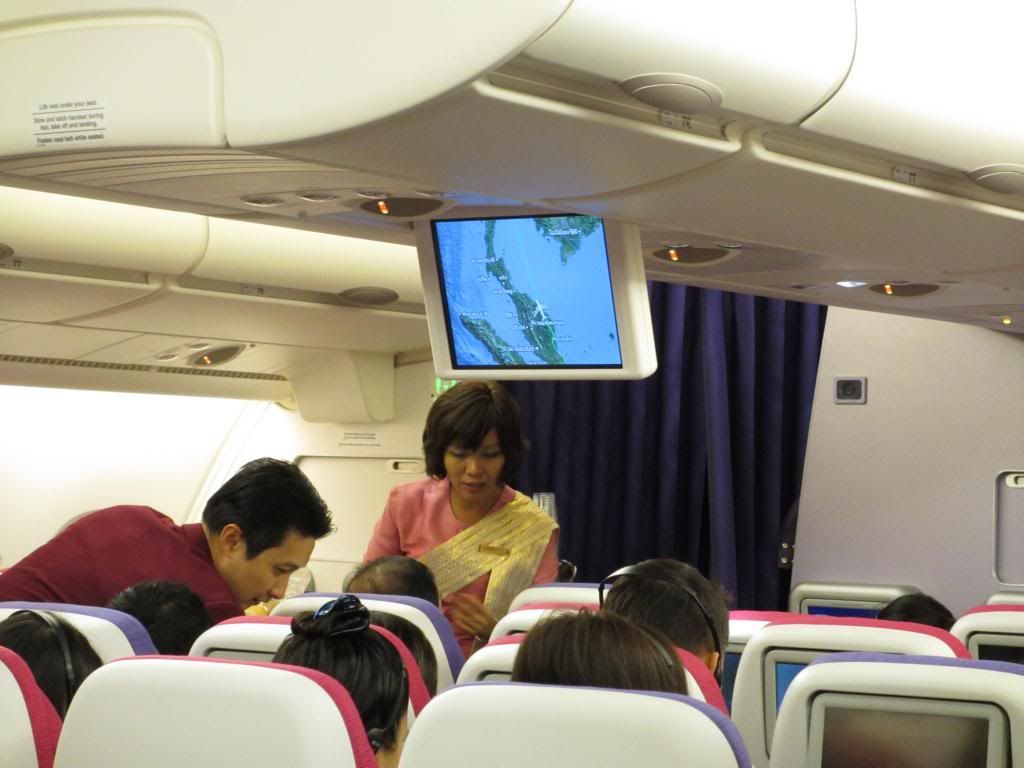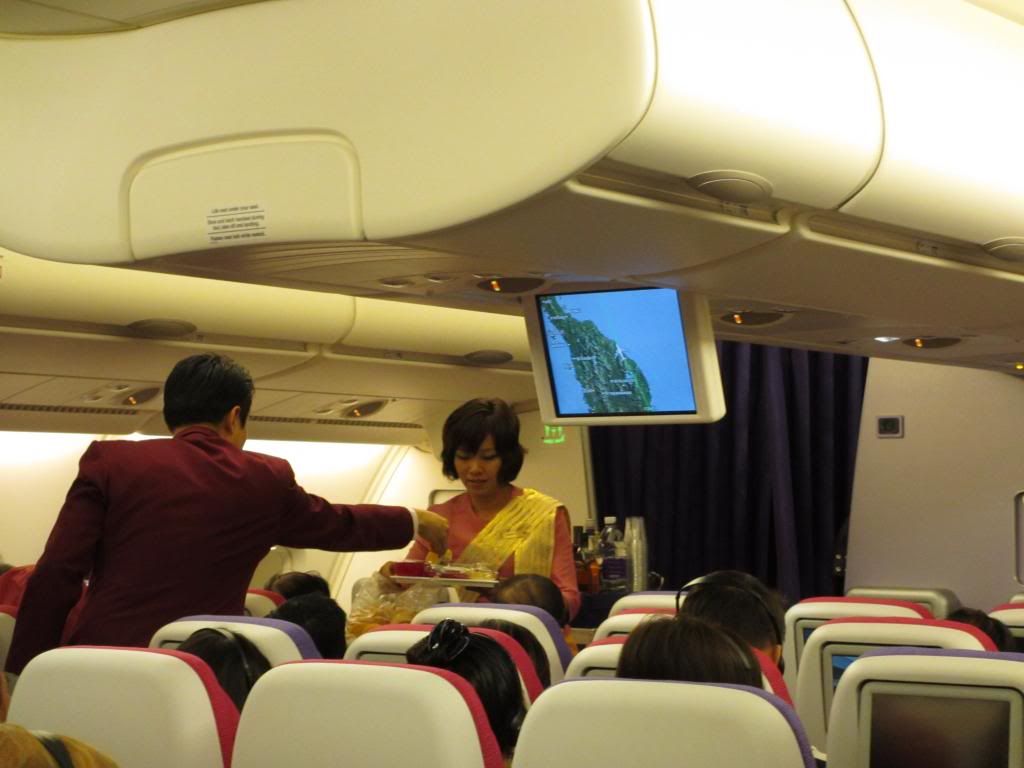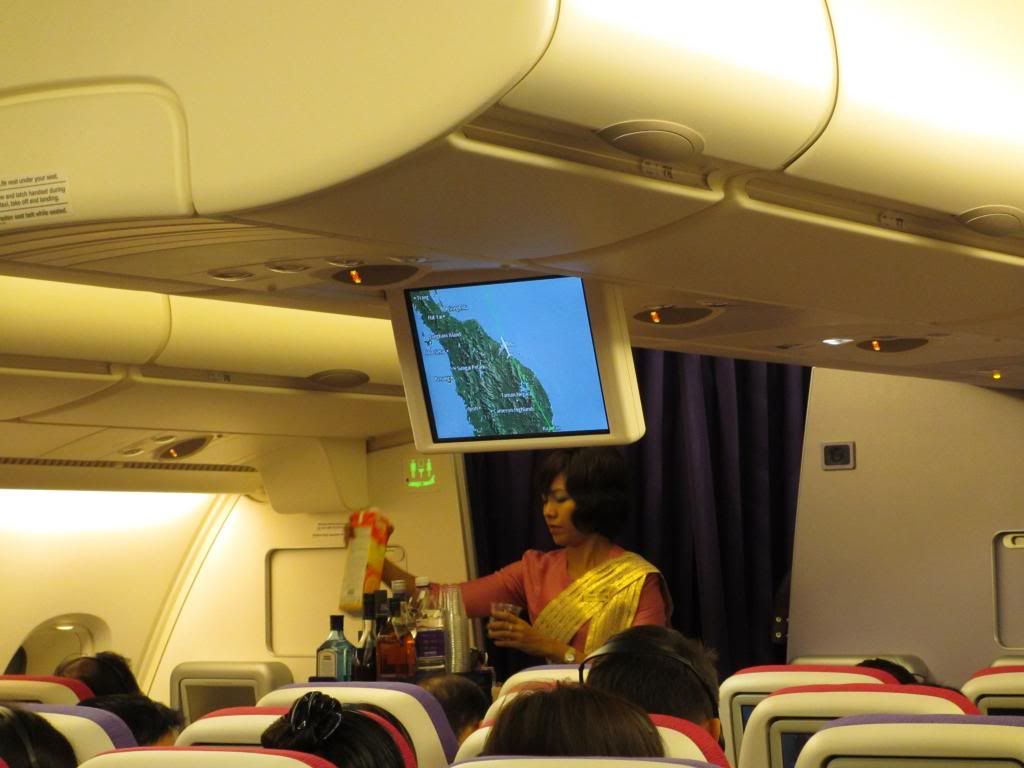 As the upper deck economy cabin was small, 2 crew, Ms Rachada and another male steward served all 58 passengers. The choices on offer was fish with rice and chicken with noodles. I went for the latter, as rice was a little too filling this late at night.
Chicken with noodles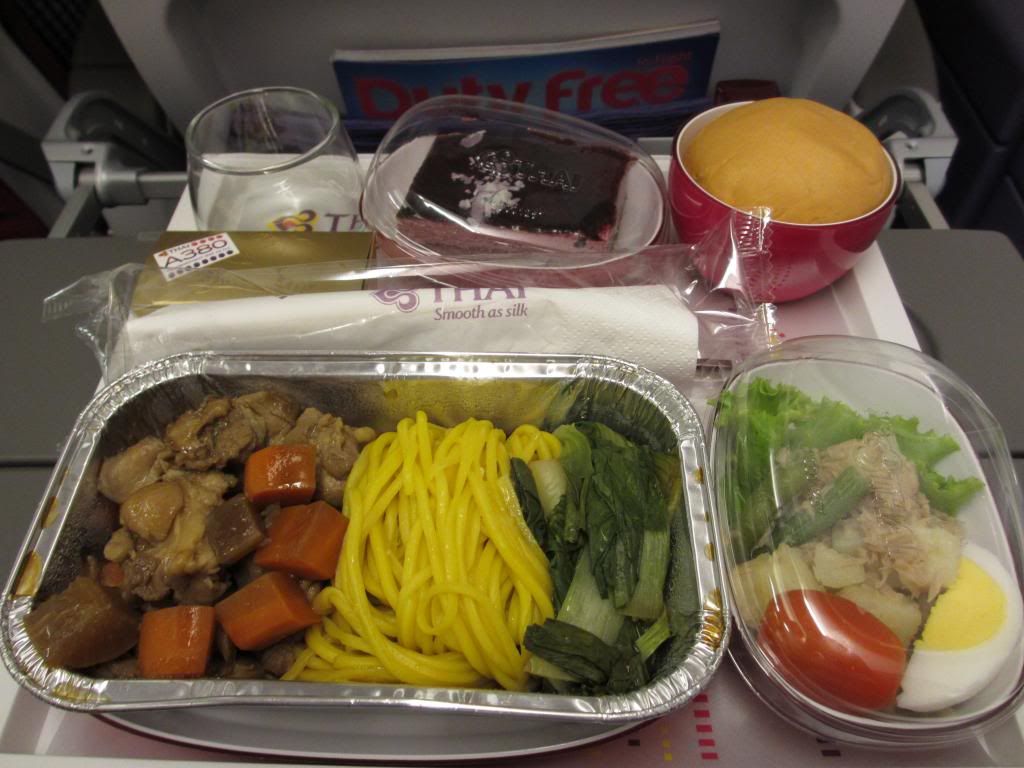 As usual, the meal did not disappoint. Outstanding is the word used to describe TG's catering. The appetiser was tuna salad with smoked potatoes was very good, drizzled with sesame oil. The main was hot and tasted as if it was cooked right on the aircraft. Bread roll was also fresh and I was offered twice. My favourite dessert on TG was also on offer on this flight, the blueberry mousse cake!
On this special A380 inaugural from SIN, they offered a small box of 2 chocolate pralines together with the meal. A little disappointing. I believe the passengers on TG600 first TG A380 flight that same morning got the same thing as well.
TG A380 special choclate box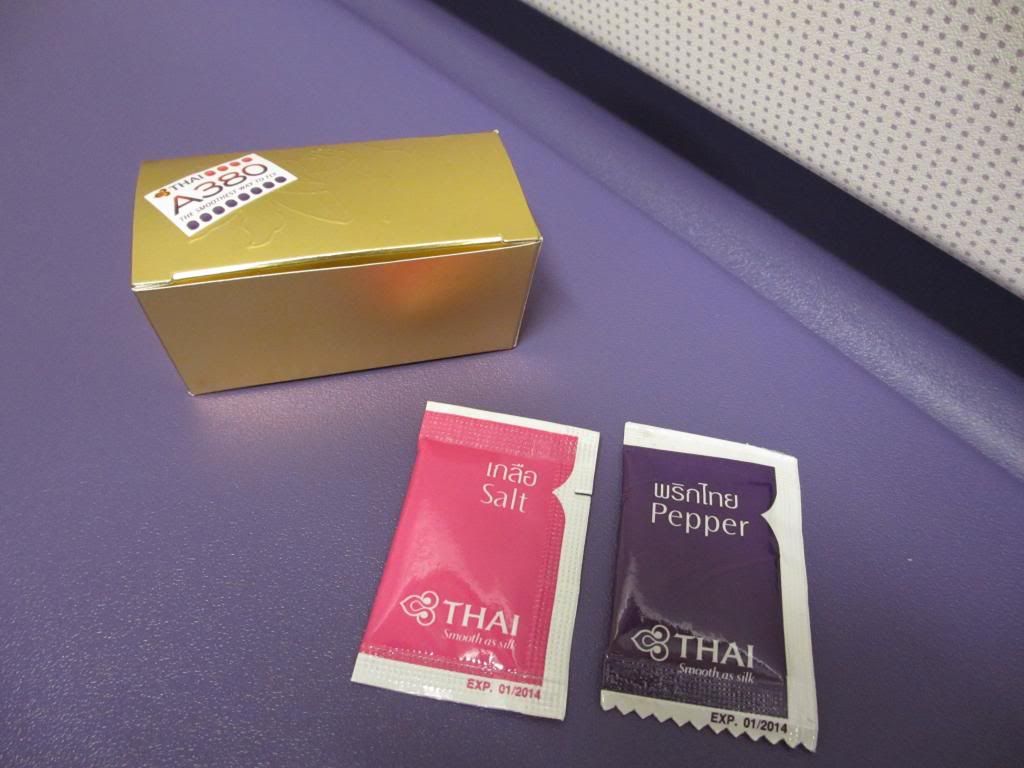 It was too short a flight to have a movie on the IFE, so I had it permanently switched to the moving map channel. The full bar/drink service followed, and I began filling up my Thai immigration form, and later just sat back and relaxed for the rest of the flight. We were already descending when I was fiddling with the window shade.
The A380 window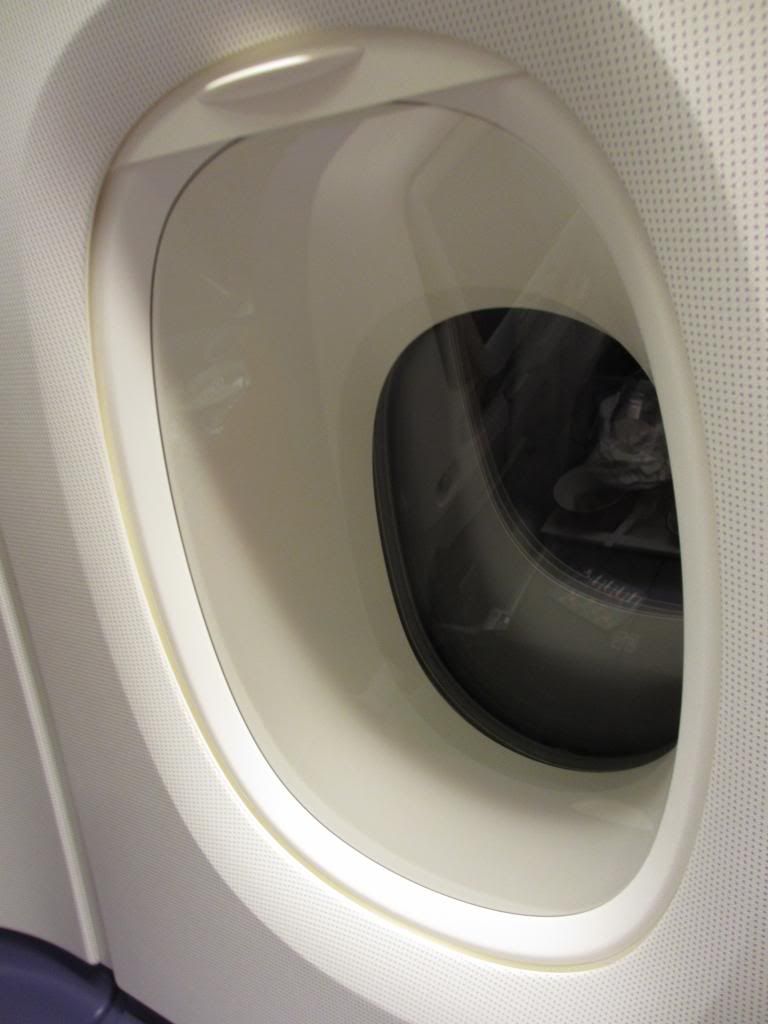 One horrible thing about the all A380s has got to be the windows. I have never seen worse windows on any other aircraft. The distance between the inner and outer layer is so far, these windows are so difficult to look out of, and taking pictures or videos is a nightmare. Those on the upper deck have the fuselage curve, which makes it even worse. The inner layer gives you the impression of a large window, but when you look into it, the outer layer is just as small as an ordinary widebody. I feel cheated. Oh well.
After the bar service, the crew started handing out one final souvenir for this inaugural flight, a pack of cards. This was another disappointment, as I would expect some TG branded key chain or something else, but cards? We could easily request a pack or 2 on other TG flights elsewhere. Oh well, another disappointment.
At 2245hrs (BKK time), we started descending from 40000feet. 5 minutes later, the landing announcement was made, and the crew had to rush to prepare everyone for landing. One thing on this flight, the lights were dimmed for landing even before the cabin check, and the crew had to grope in the dark asking passengers to put up their seatbacks and secure the seatbelts. Quite interesting, I would say, never seen before on other airlines. By the time the crew were seated at their stations, we were already at 4000feet, almost there.
The one and only overhead screen in my cabin was switched to the tail camera mode, and all passengers could see our descent and touch down at BKK. On this night flight, all we saw were lights though. I noticed we were in a slightly crabbed position on our touch down. There was probably some crosswind at BKK.
At 2315hrs, 5 minutes ahead of schedule, we landed at Bangkok Suvarnabhumi Airport. This was one of the smoothest landings I had on an A380, and we slowly taxiied to Gate E4.
I was in no hurry to disembark, as I had no connections, and it was already so late, it didn't make a difference what time I arrived at the hotel. I waited for most of the pax at my side to deplane, and embarked on my 2nd round of photos!
Disembarkation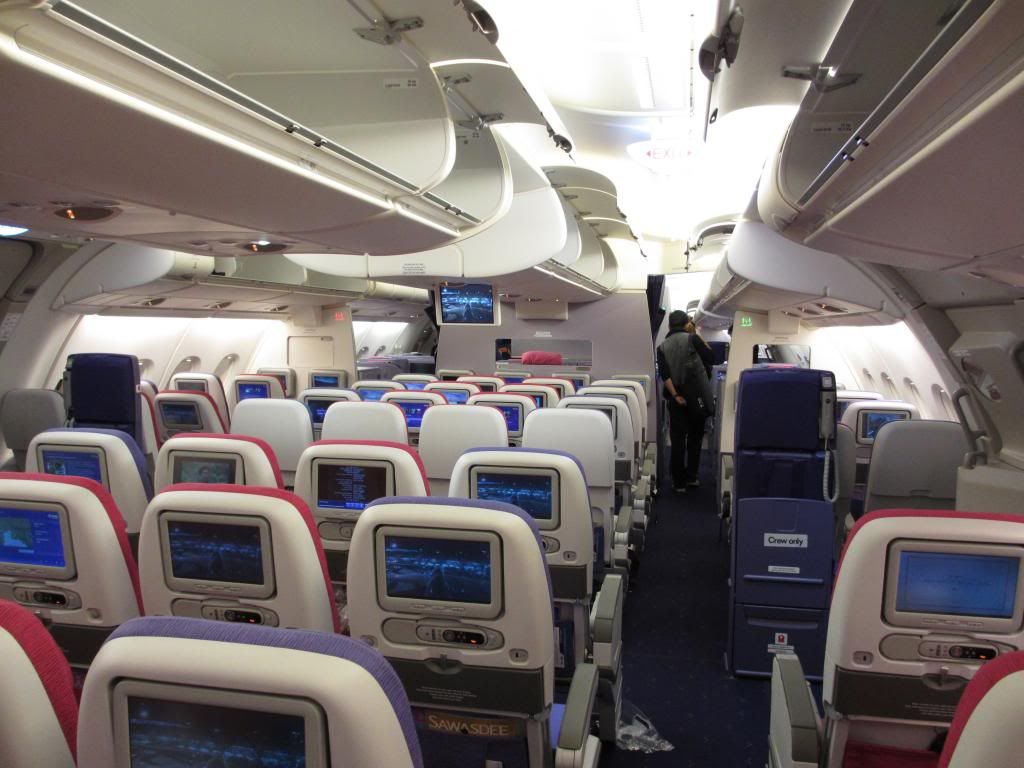 Royal Silk Class again!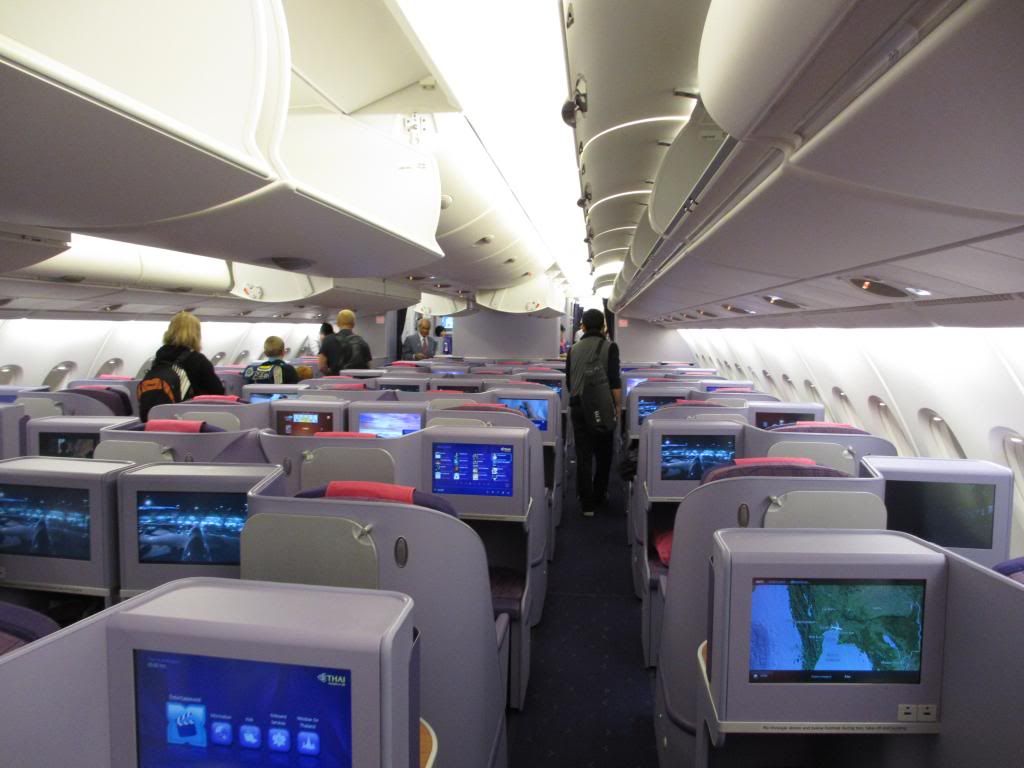 Not so ideal seat. The one closer to the window is better, IMO.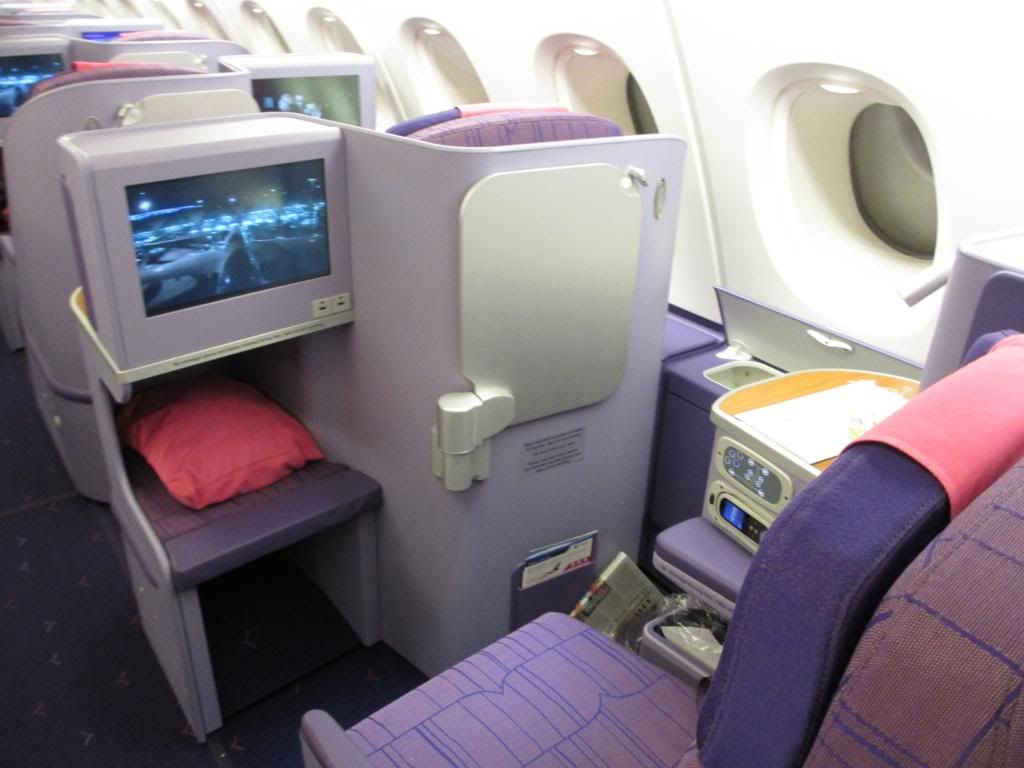 At the exit, there were crew gathered there, and I requested for a crew shot! One male steward offered to be the photographer, and here we go, crew shot on TG's A380!
A very satisfied passenger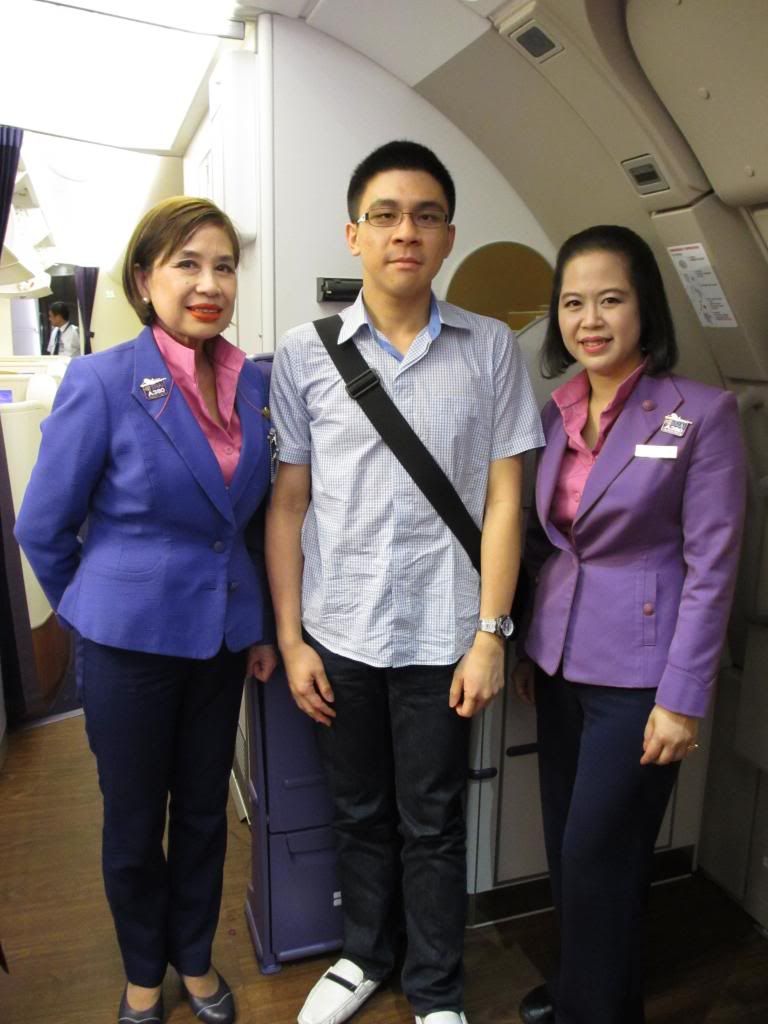 After I had my photo, another westerner requested the same and he had it too! I was on my way out, and took a last shot of the aircraft from the jetway.
Bye bye Si Rattana (at least for the day!)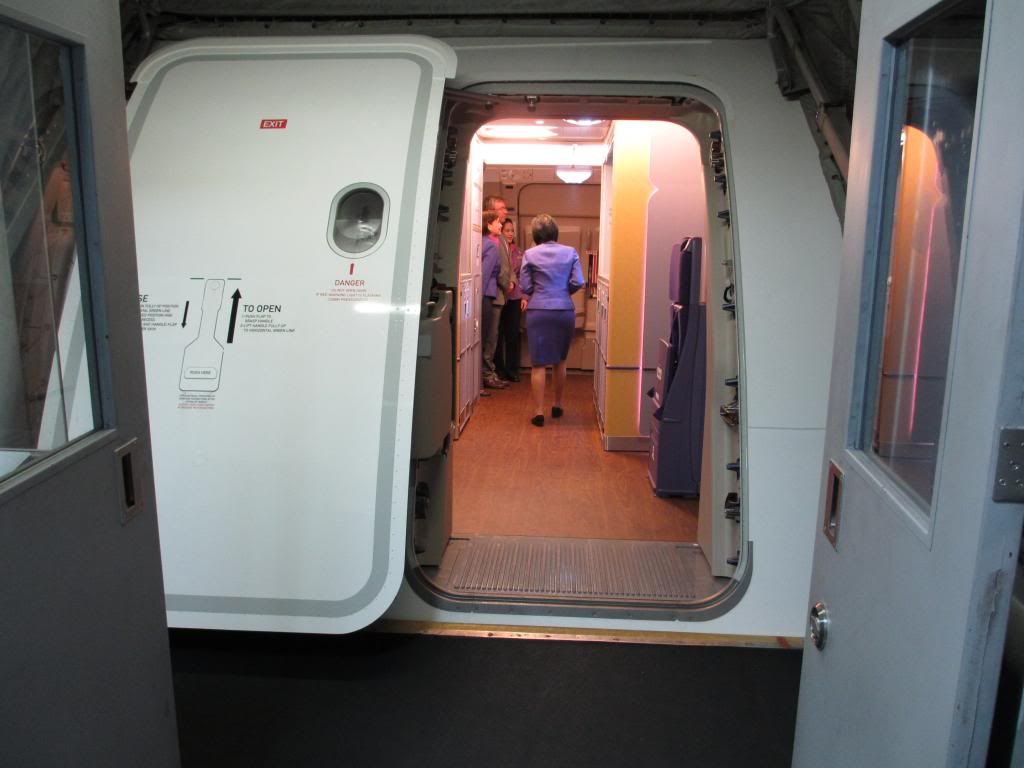 Suvarnabhumi had long been prepared to handle the A380 already, with this gate specially equipped with the 3rd jetway for the upper deck. Emirates had already flown their A380 to BKK for quite some time, so this was expected. TG could finally use the facilities starting now!
The 3rd jetway
Terminal building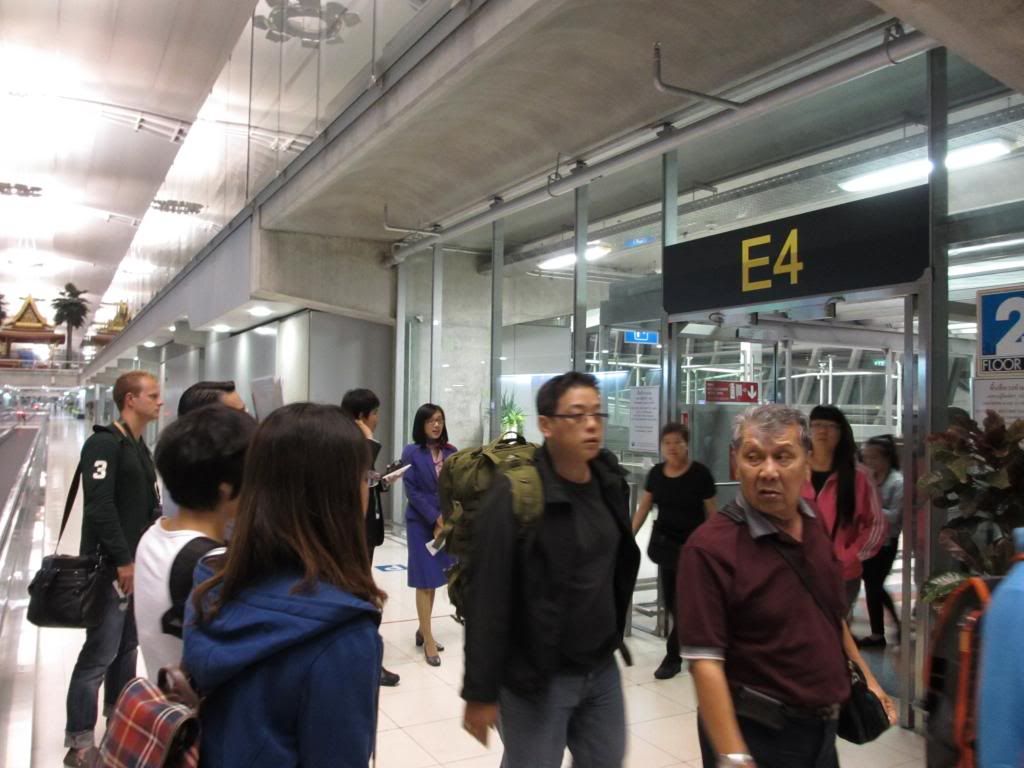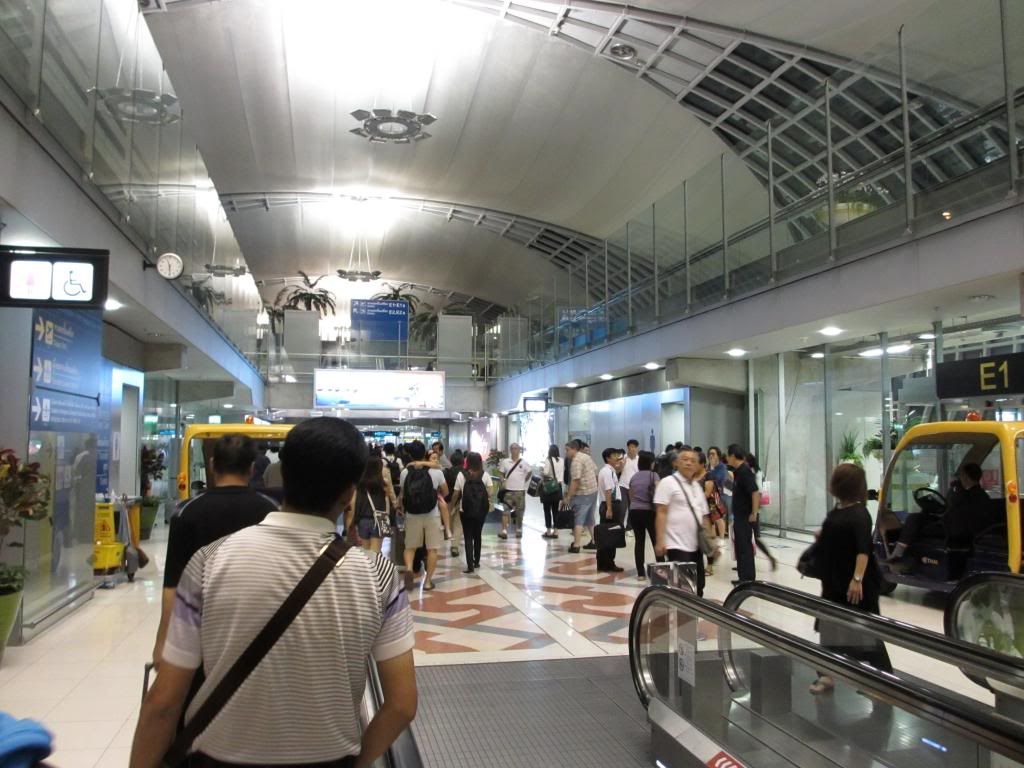 500 passengers from a full A380 was no joke, and with most headed towards immigration, I was definitely worried about the lines. Suvarnabhumi's lines are notoriously long. With this A380 arrival, it might get worse. I quickly sailed past most of the passengers in a bid to get to the immigration before most of them. It was getting late.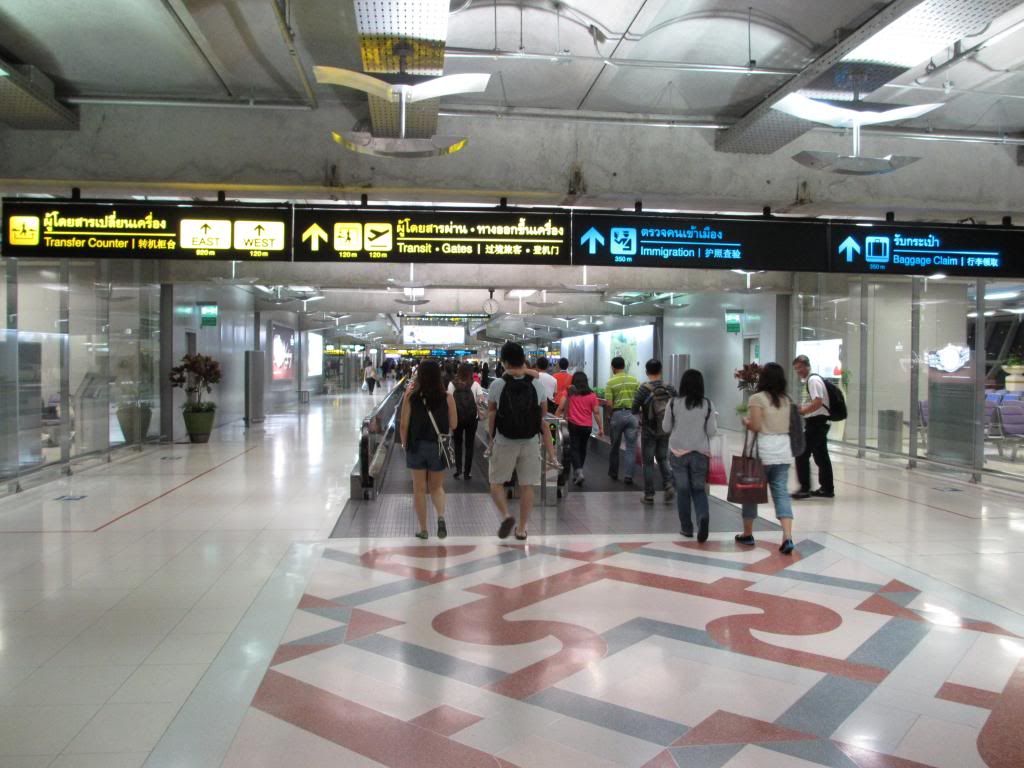 Approaching immigration
Immigration lines were still ok when I got there, but about 10 minutes into waiting, I noticed the rest of the passengers coming and the lines extended beyond my line of sight. I was cleared in 15 minutes and headed to carousel number 23 for my baggage, which did not appear until 40 minutes later. Priority bags came in 10 minutes, and the rest of the bags took very long (at least 25 minutes) to appear, and mine was one of the last out. This was probably due to the fact that I checked in too early at SIN. It was an agonizing wait, standing at the carousel, with midnight looming over my head. I was starting to get sleepy and wanted to get to my hotel fast.
Waiting, and waiting...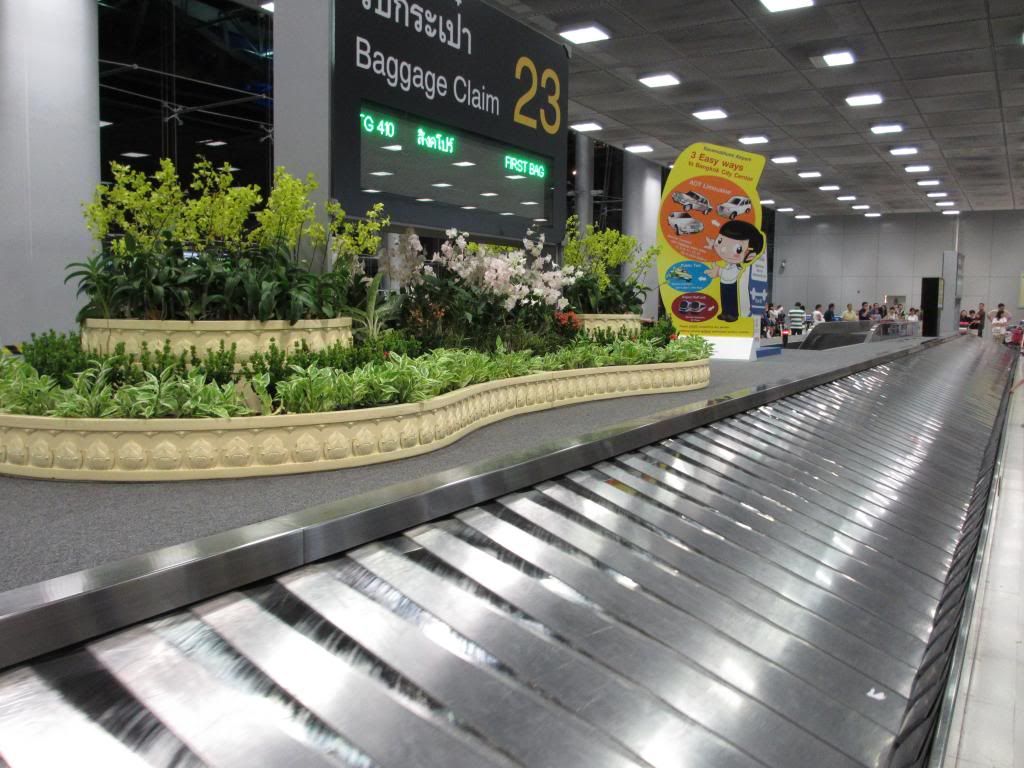 After finally getting my bag, I scooted off to the taxi stand and off to Pathumwan Princess Hotel, my home for the next 2 nights.
[Edited 2012-10-14 06:18:06]