After a few very busy weeks at work I have finally found some time to continue writing the trip report about my recent visit to North Korea in August.
For previous parts of the trip report please follow the links below.
DUB to LHR with EI (Y class) and LHR to PEK with BA (J class)
Comrades, To North Korea! Part 1 - DUB To PEK
(by
gialloboy
Sep 2 2012 in Trip Reports)
PEK to FNJ with JS in J
Comrades, To North Korea! Part 2 - PEK To FNJ
(by
gialloboy
Sep 3 2012 in Trip Reports)
This section will cover three domestic flights that took place over three subsequent days in August. I understand our tour group rented the plane from Air Koryo at the quite reasonable sum of 4000 Euro which is quite manageable, given there were 20 of us to split the costs.
The flights took us from FNY to Samjiyon, Samjiyon to Chongjin and Chongjin back to FNJ.
After spending a very short night in Pyongyangs Yanggakdo Hotel we were up at 5am the next morning for the 30 km ride back to FNJ.
FLIGHT ONE: FNJ to YJS with JS in Y
It was quite a busy day in FNJ, mind JS5113 was a Charter booked by our tour group.
I believe the KL flight is a very recent addition to Air Koryo's schedule.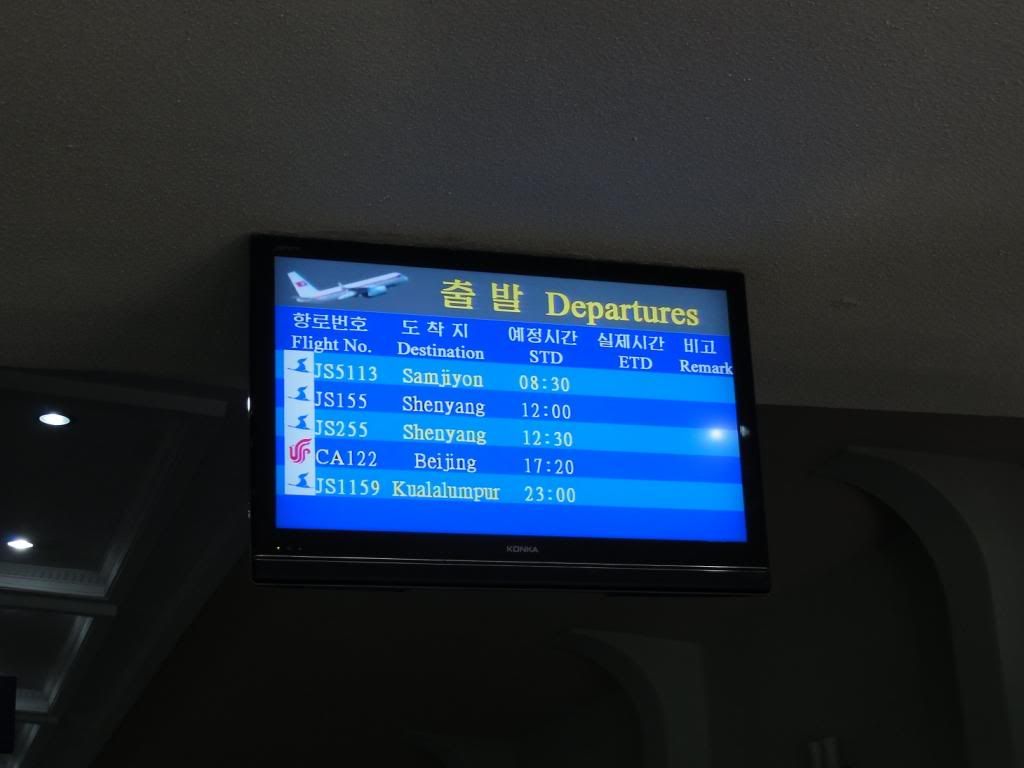 Not much to temp us at FNJs duty free shop!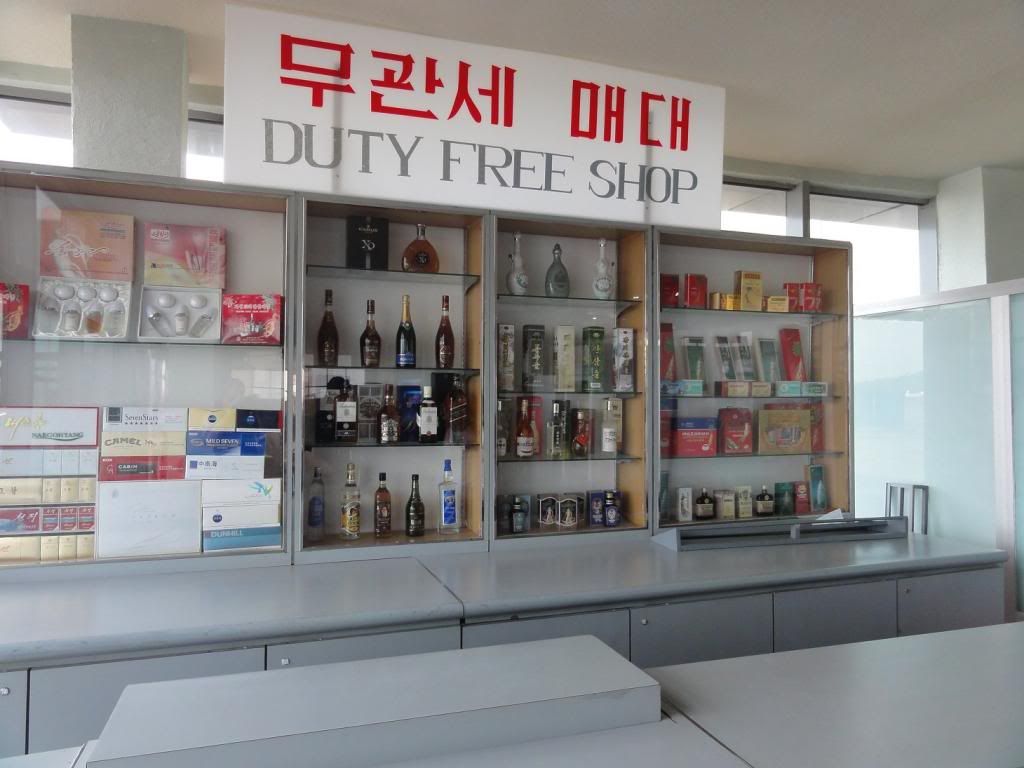 Ready for the 20 second ride to our plane!
Boarding pass. Mind they ever enforced any seat allocations so everybody just sat where they felt like. Load was about 70% as the North Koreans crammed in a few "officials"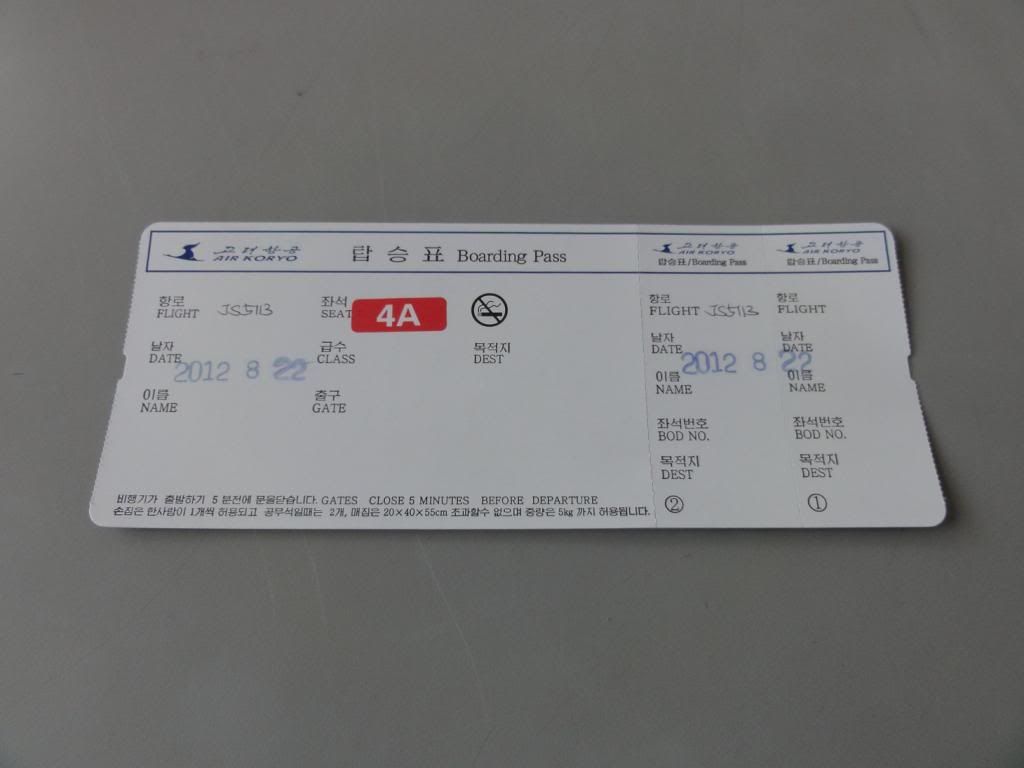 And there she is – our AN24 ready to take us to Samjiyon!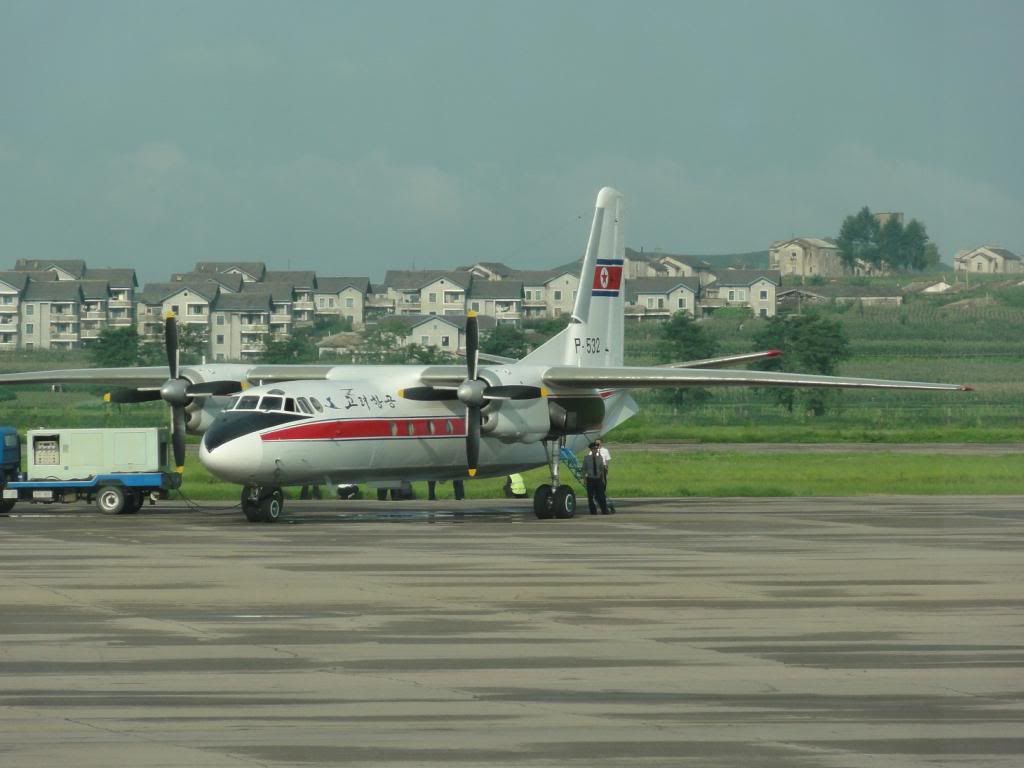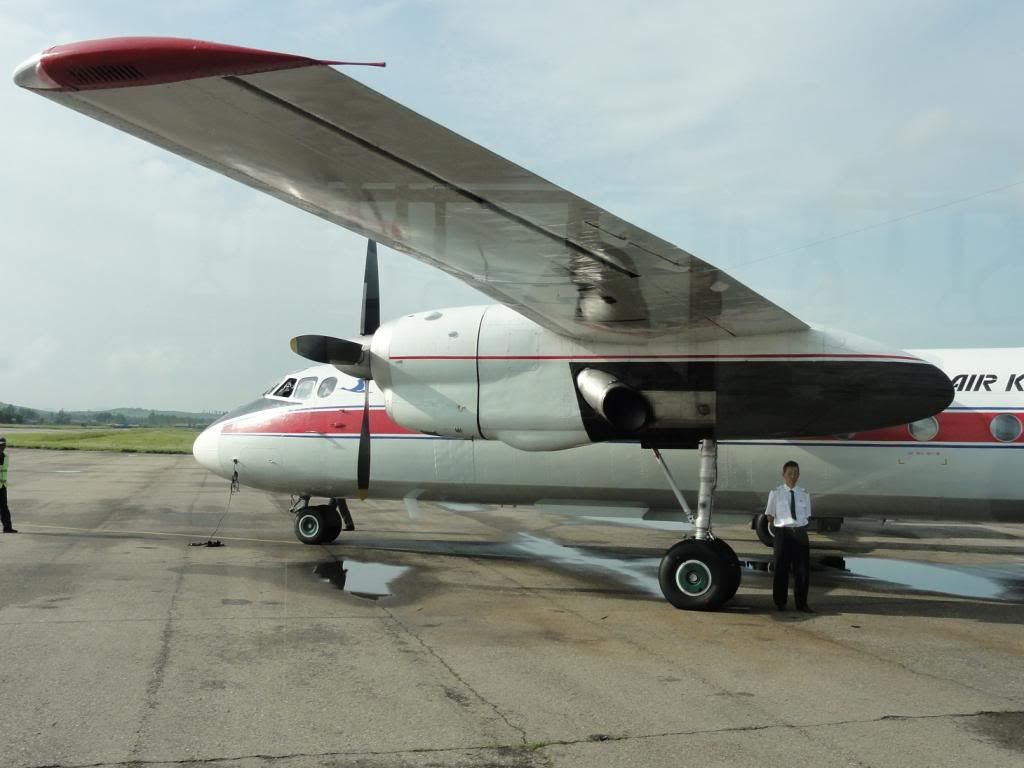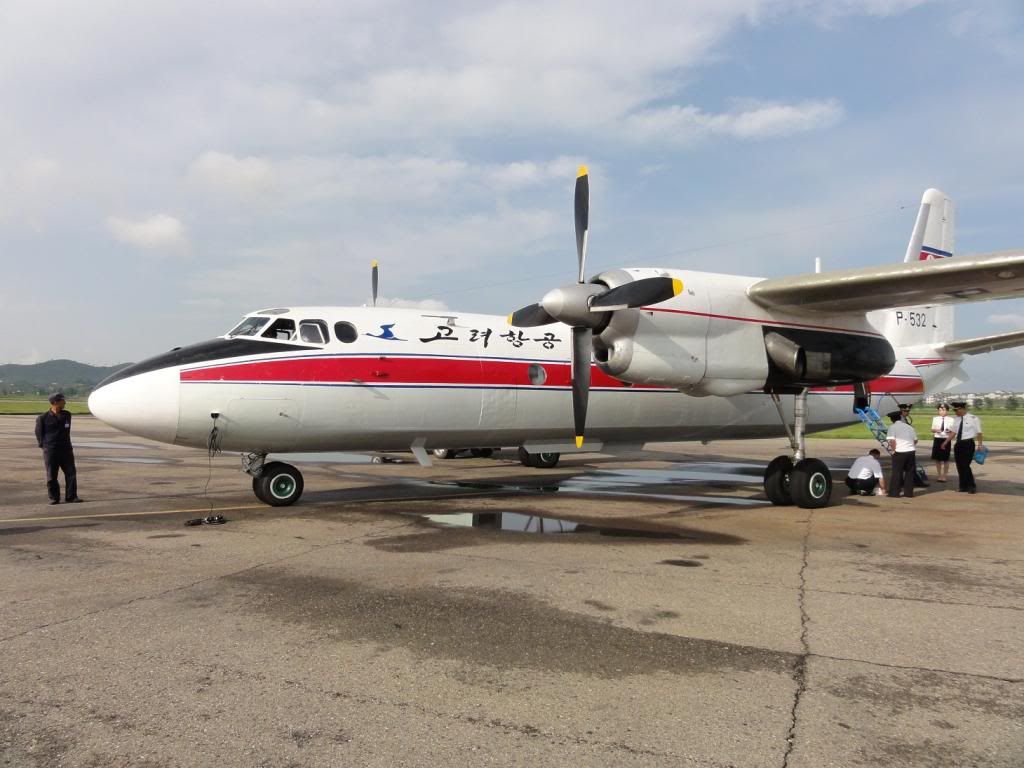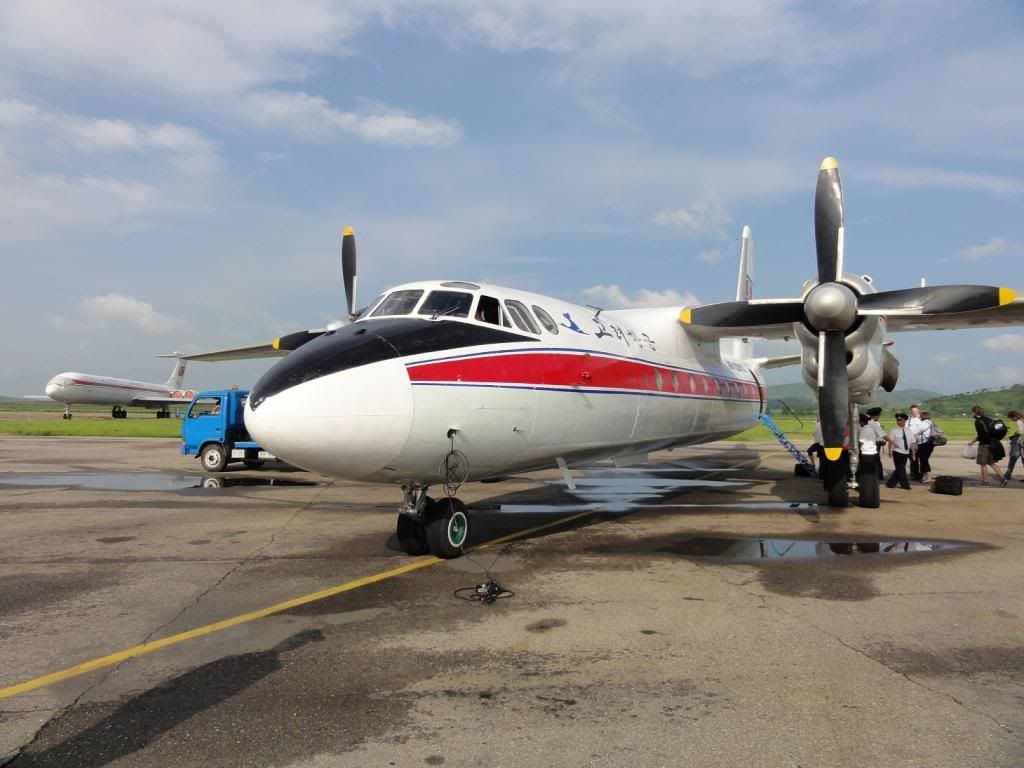 Yours truly, beaming with delight to fly on this museum piece!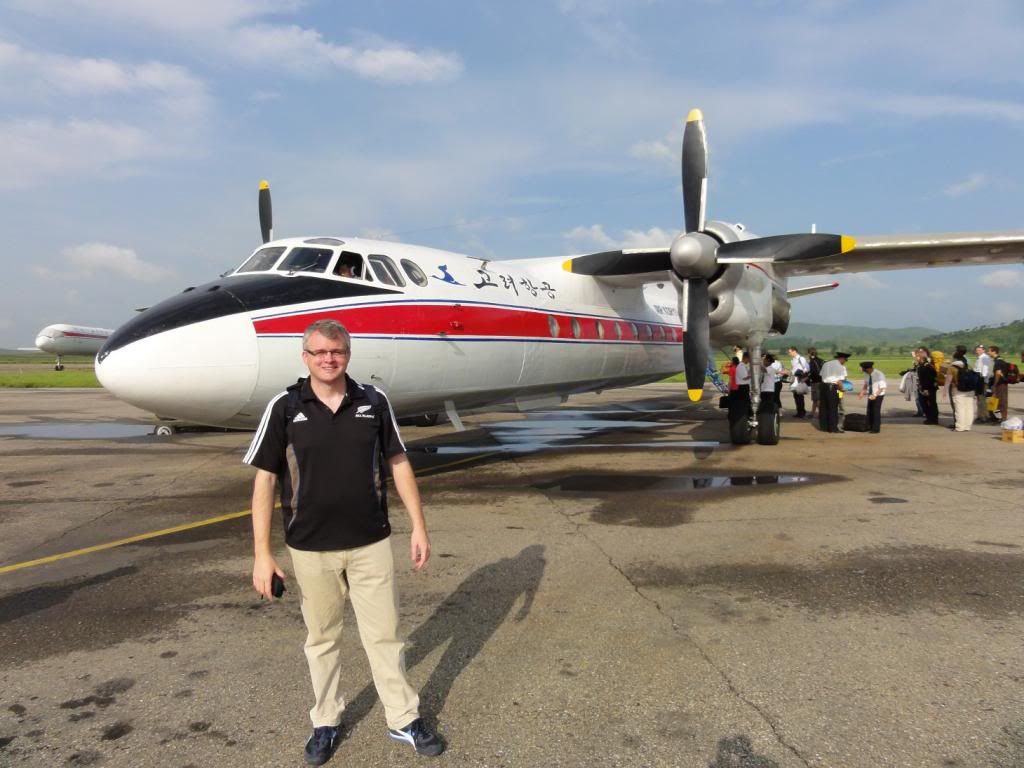 Air Koryo's fleet lined up in FNJ – note the flagship TU204 in front. I think herself or her sister (yes, they have two which were only bought in 2011!) brought us over from Beijing the day before!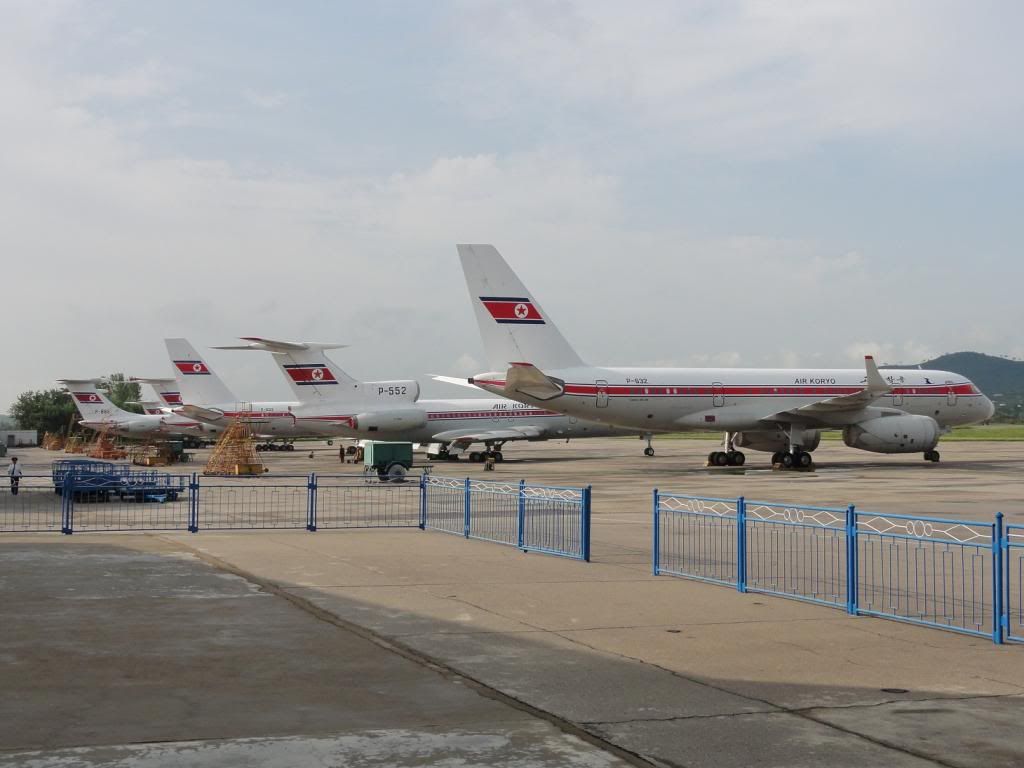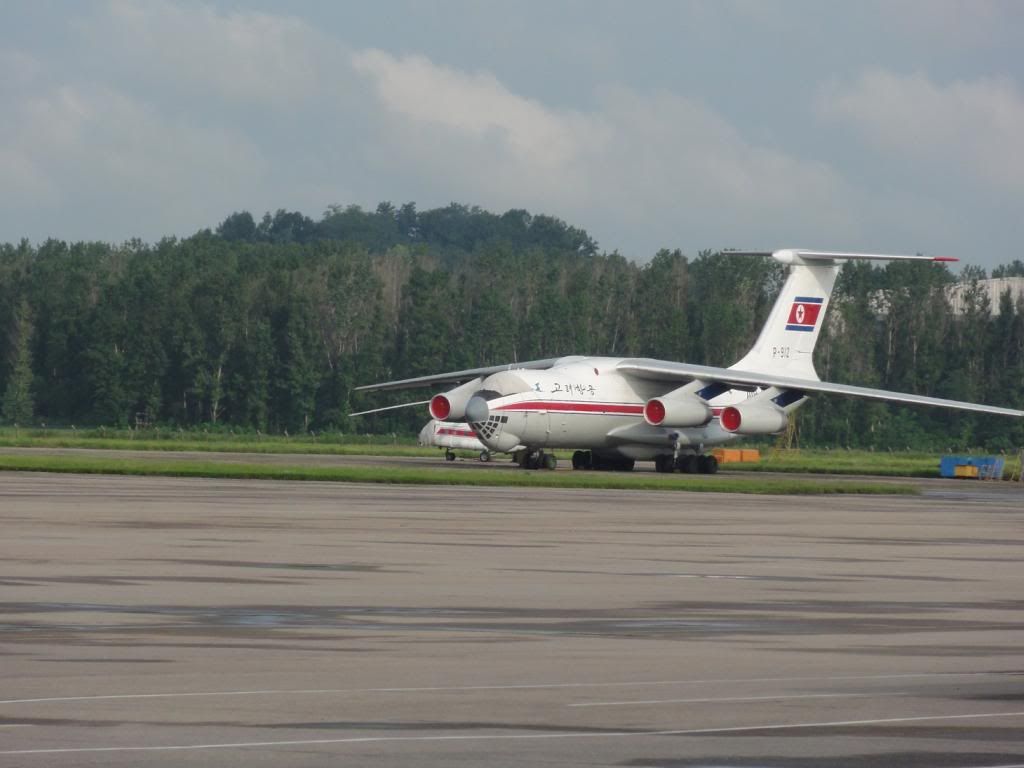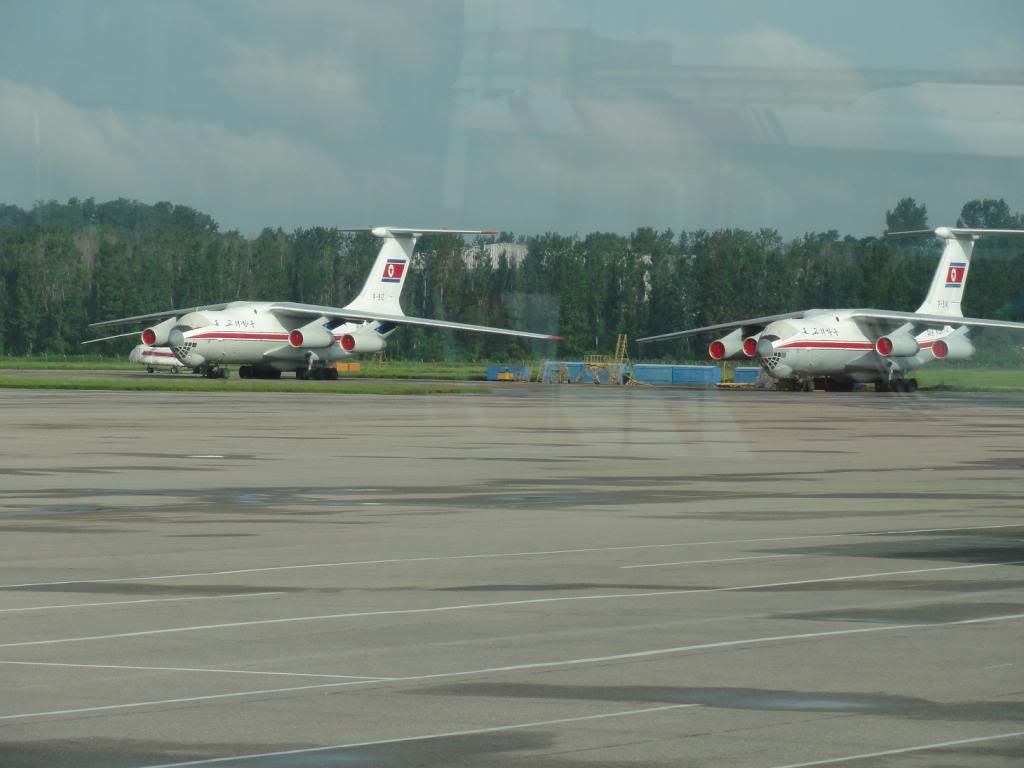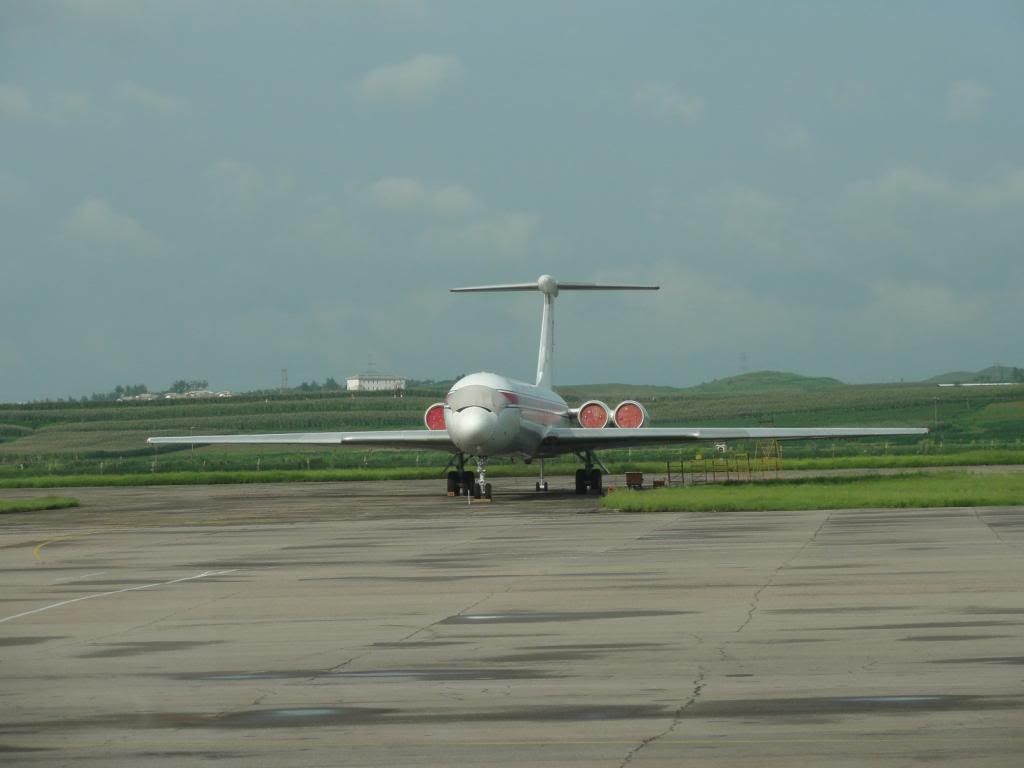 FNJ – old control tower and new terminal: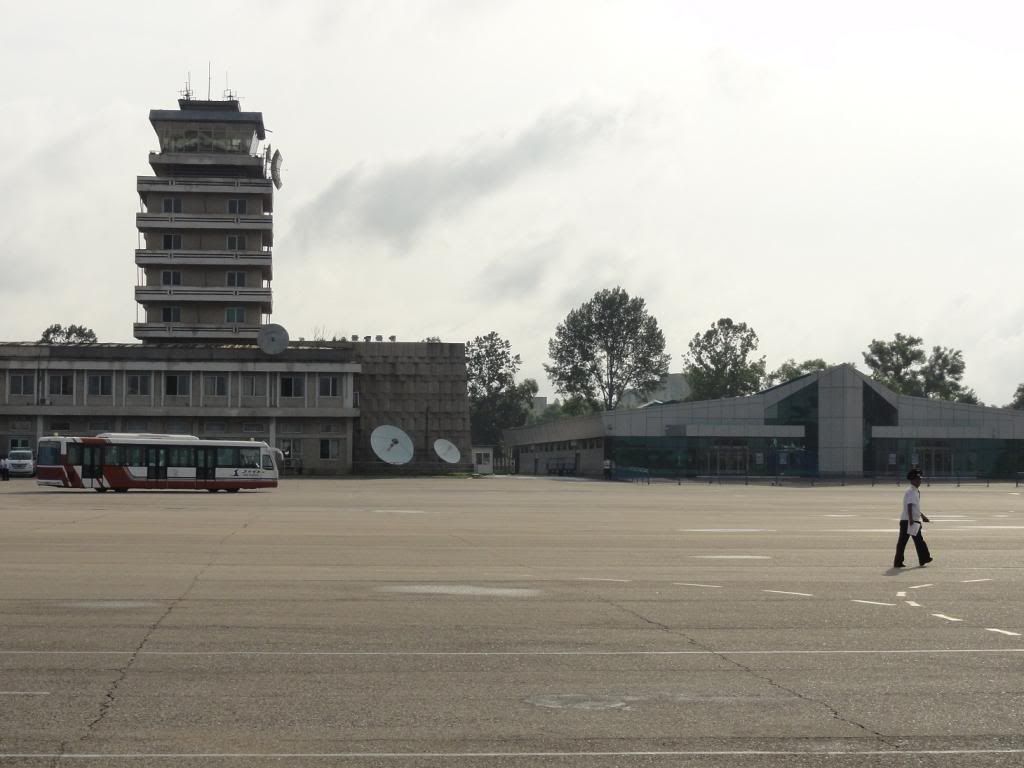 Boarding – they did not like photos being taken inside the plane but we took them anyway...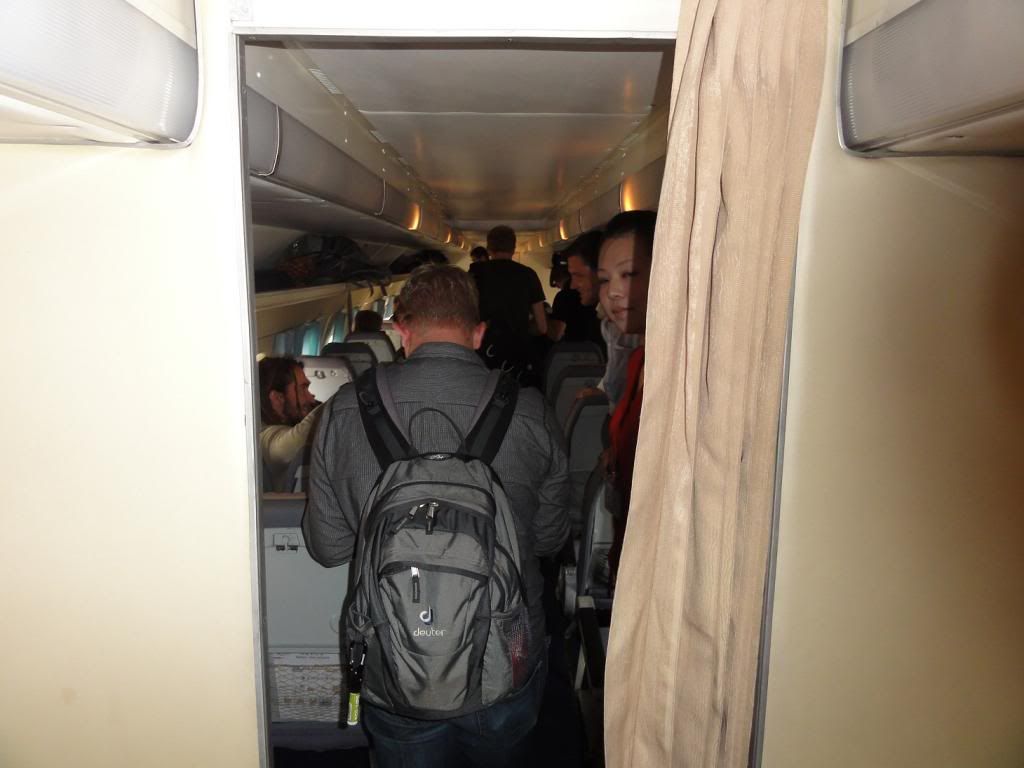 Good legroom for a 40 year old plane built in a country that ceased to exist 20 years ago!
Funky circular window!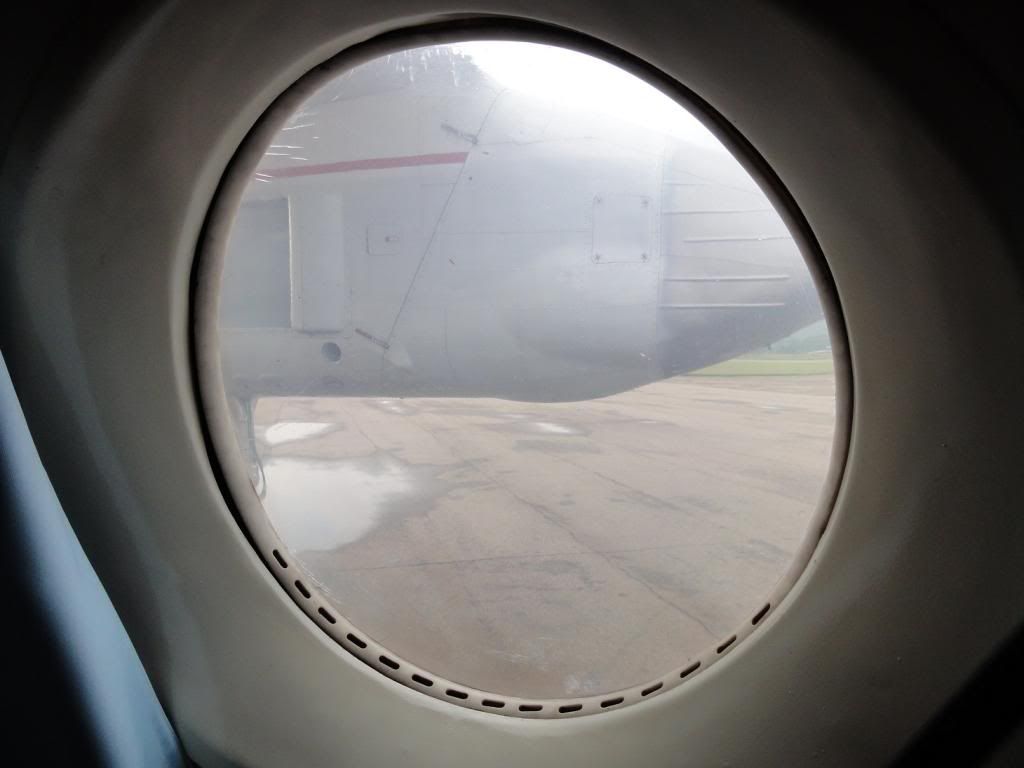 Safety instructions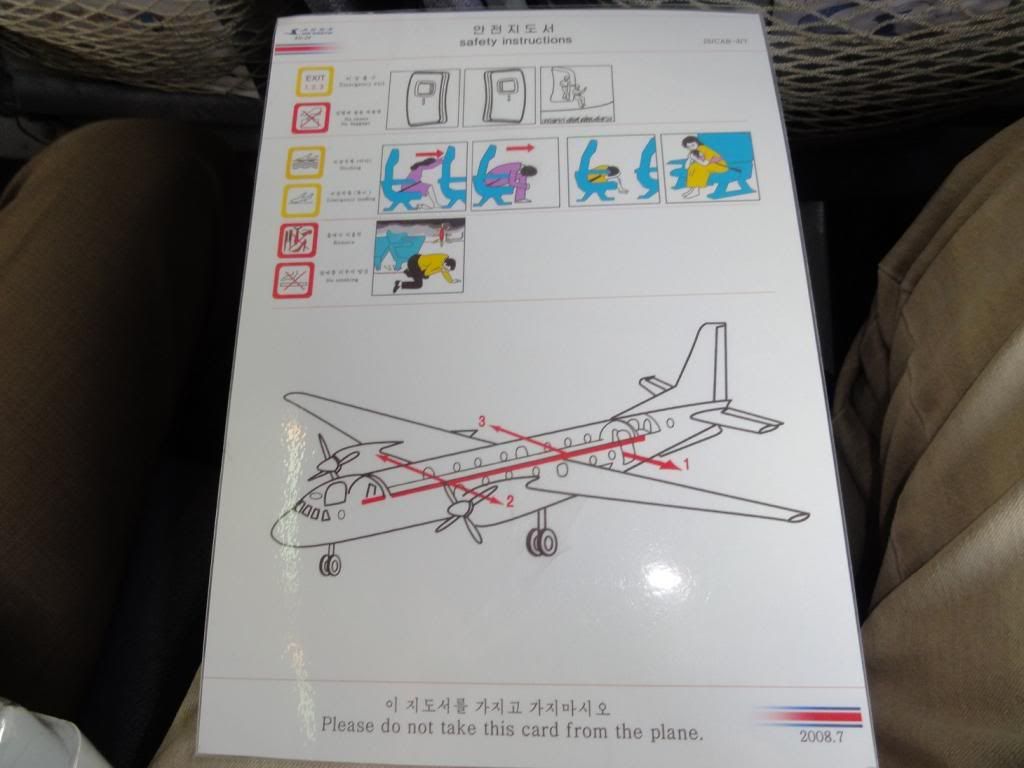 Take off!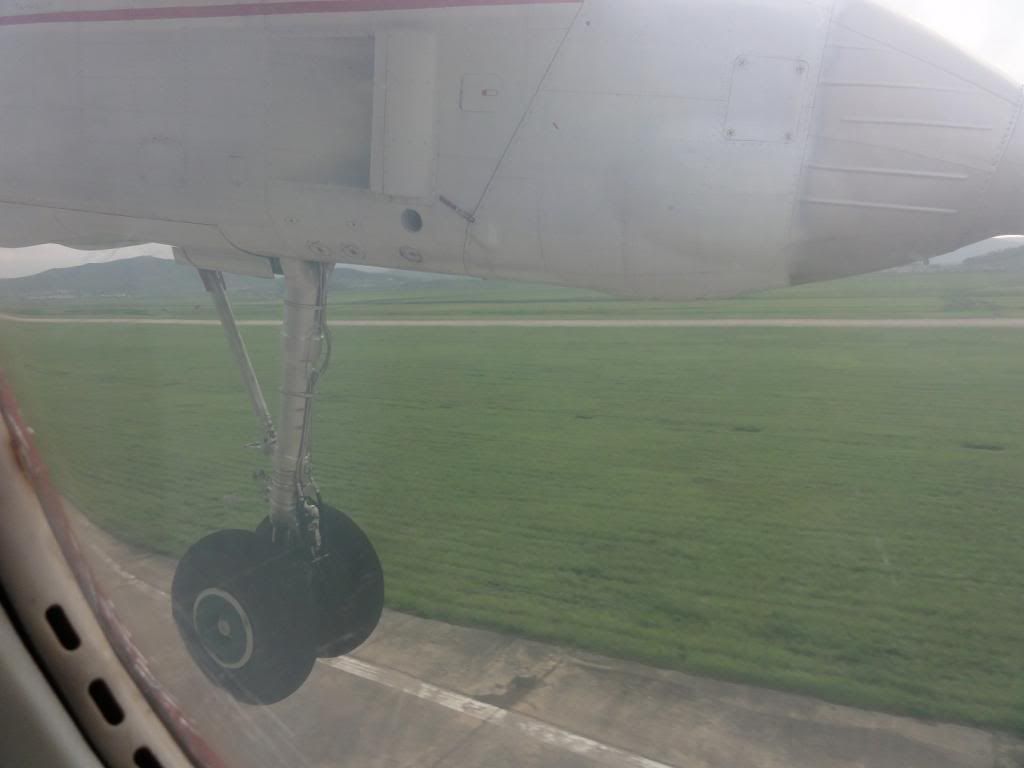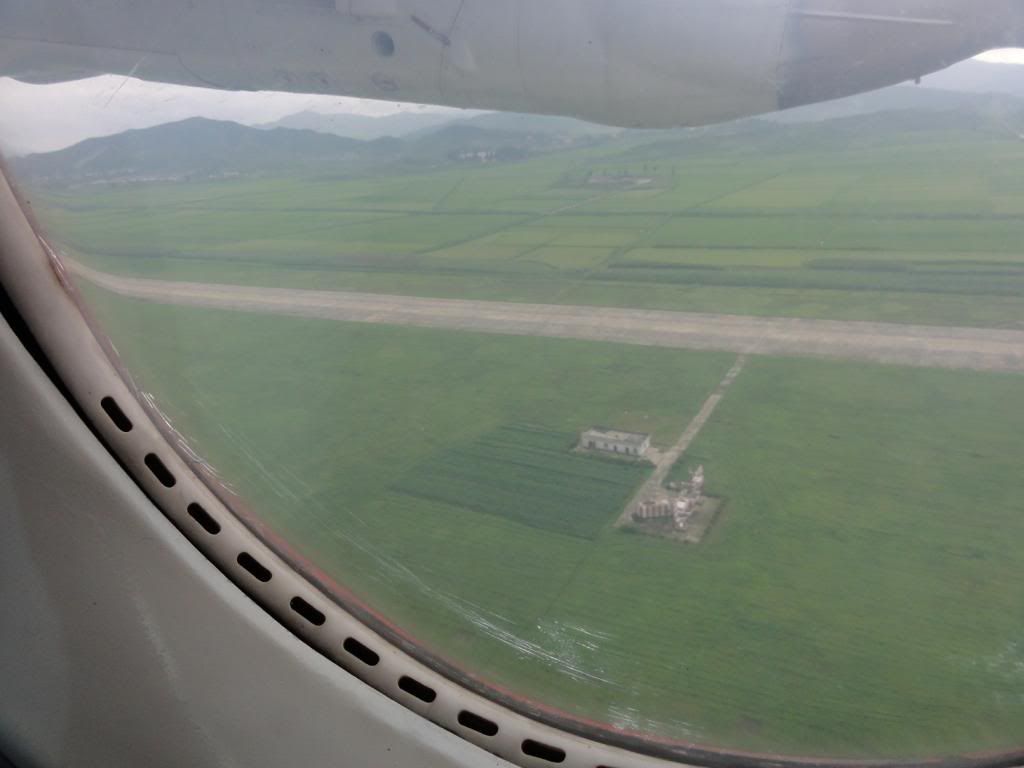 Sea of Japan in the horizon
There was nothing in terms of catering or entertainment. An elderly North Korean in a uniform sat next to me but would not talk much. He seemed friendly so maybe just lack of English on his and lack of Korean on my behalf. They do provide copies of the Pyongyang weekly so I could catch up on the leaders' exploits and the terrible deeds of the imperialist puppets in the South...
After 90 minutes in the air we touched down in a very misty and pleasantly cool Samjiyon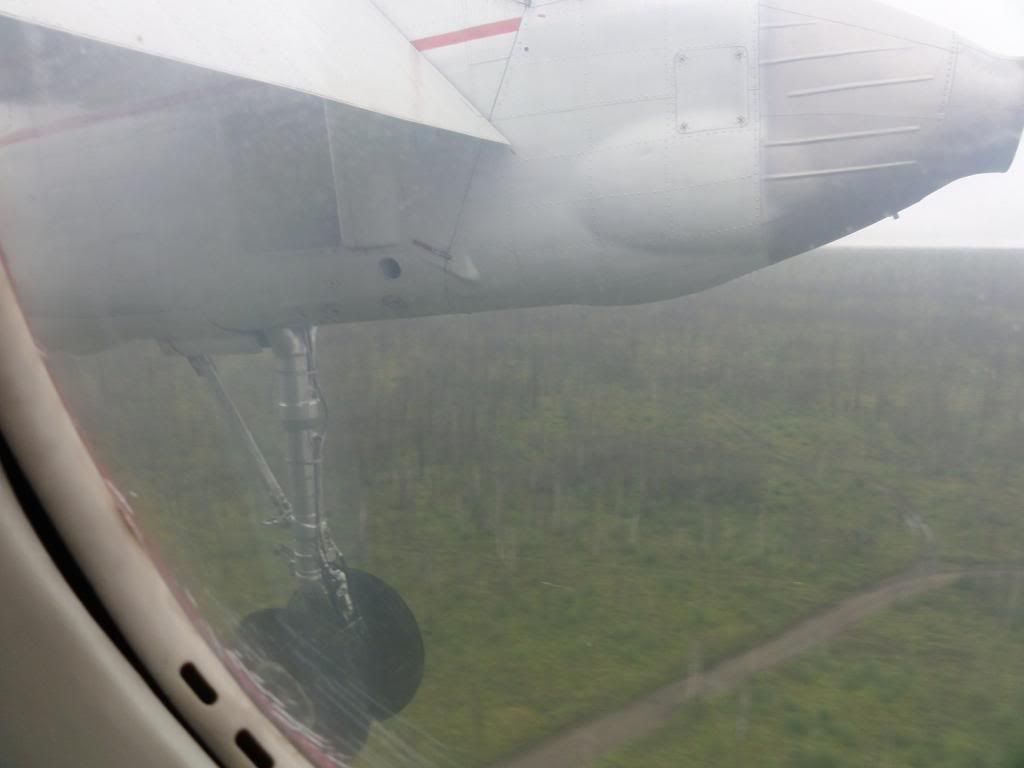 Samjiyon Airport is the gateway to North Korea's rugged and beautiful north. The Airport is located near to Mount Paekdu. Tour groups fly to the airport for scheduled journeys to this significant landmark and to see the birthplace of Kim Jong Il. All tours to the area will include a trip here.
http://en.wikipedia.org/wiki/Samjiy%C5%8Fn_Airport
Stretching our legs in Samjiyon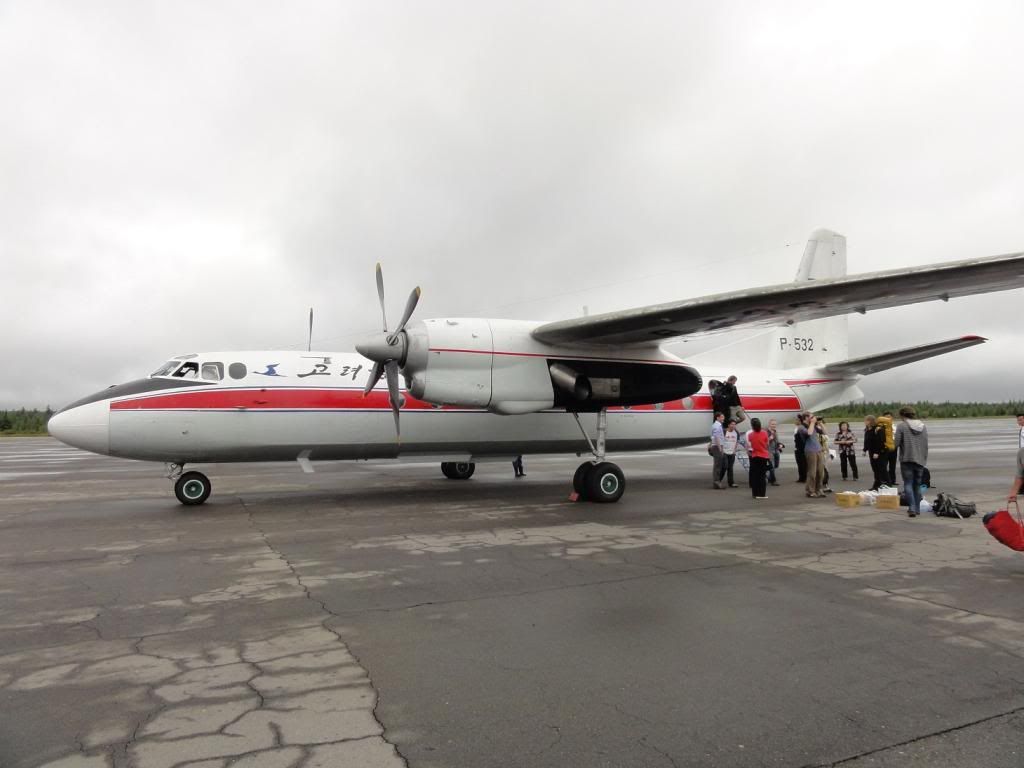 The Terminal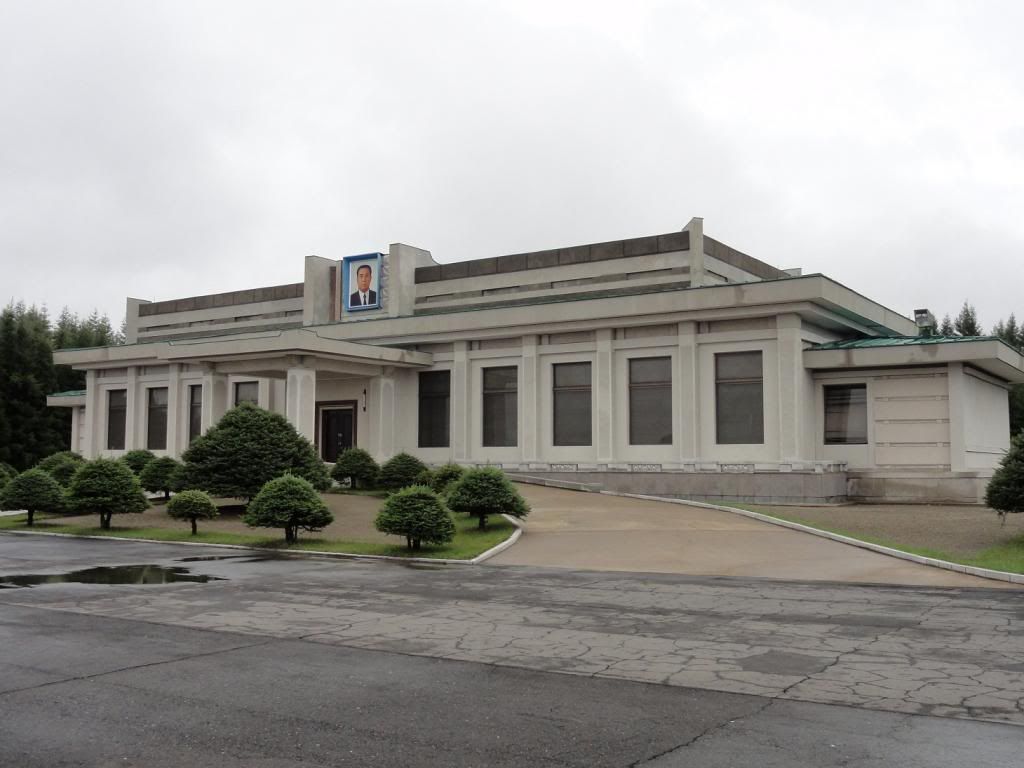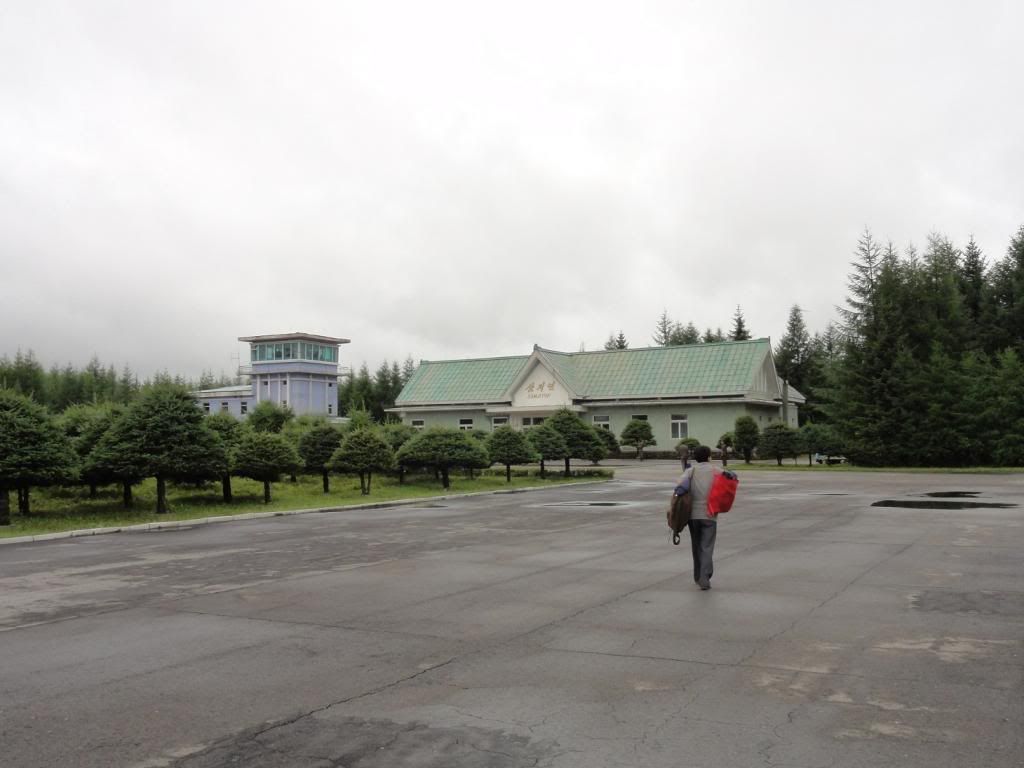 After boarding our KITC (Korea International Travel Company – the government body that controls all foreign travel in the DPRK) we were on our way to Mount Paekdu.
Mount Paekdu is of significant importance to all Koreans and would possibly one of the top travel destinations in the world, if it was in a country more accessible than North Korea.
http://en.wikipedia.org/wiki/Mount_Paekdu
The road to get there was very poor!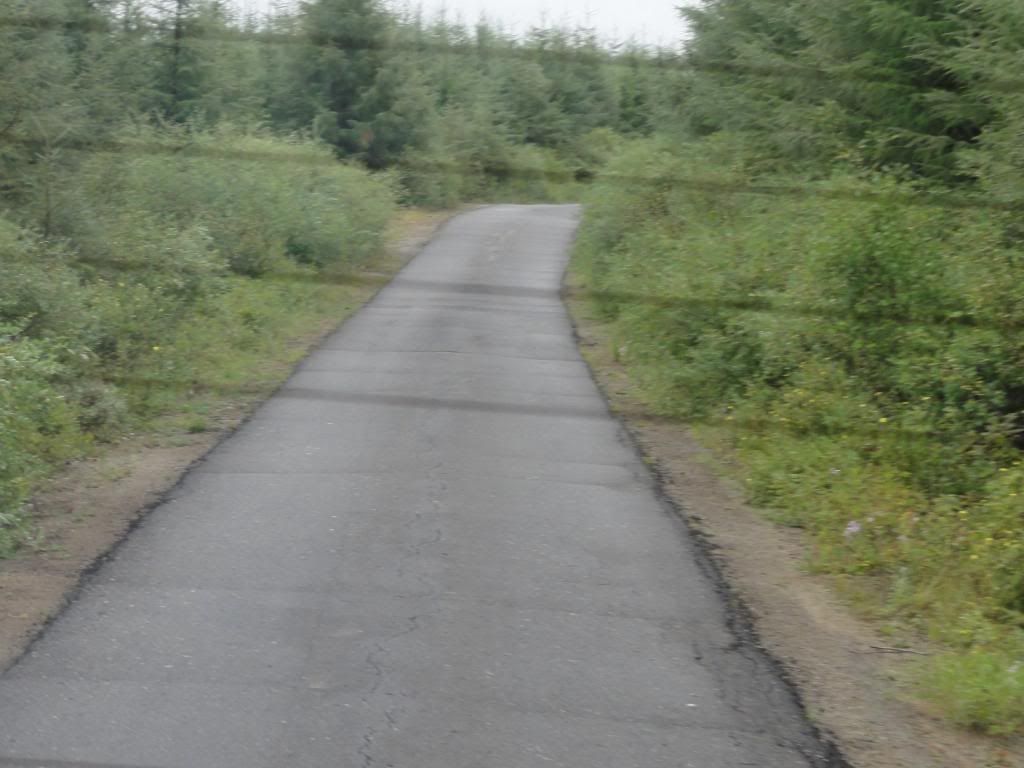 Mount Paekdu impressions – I will let the pictures do the talking!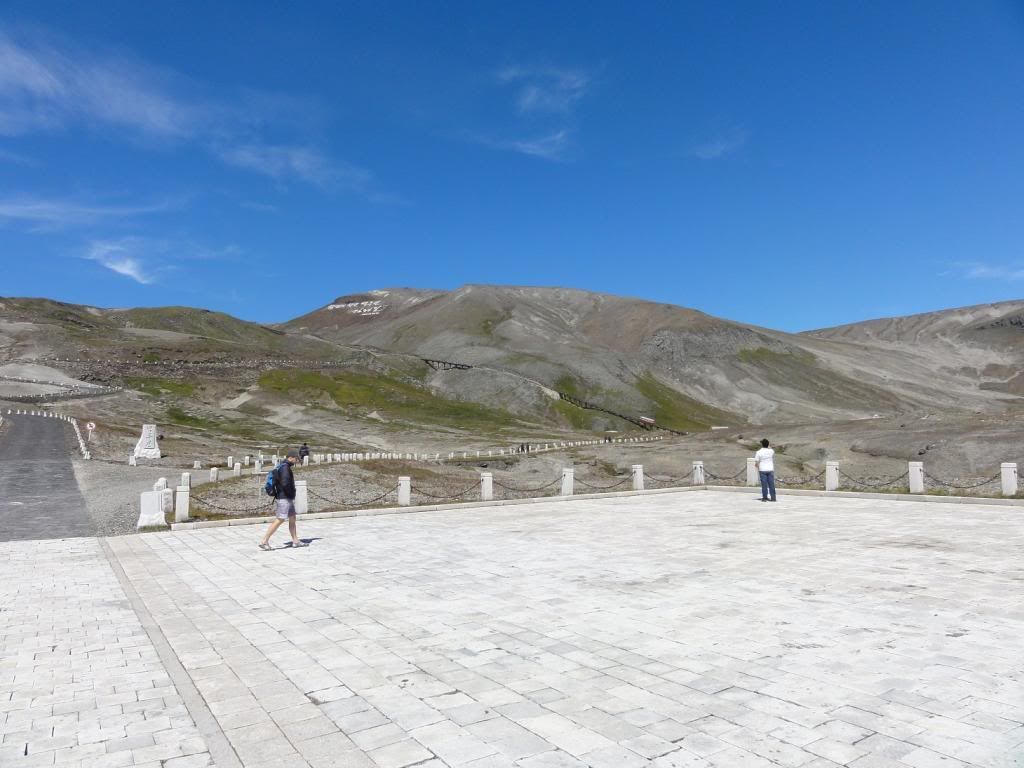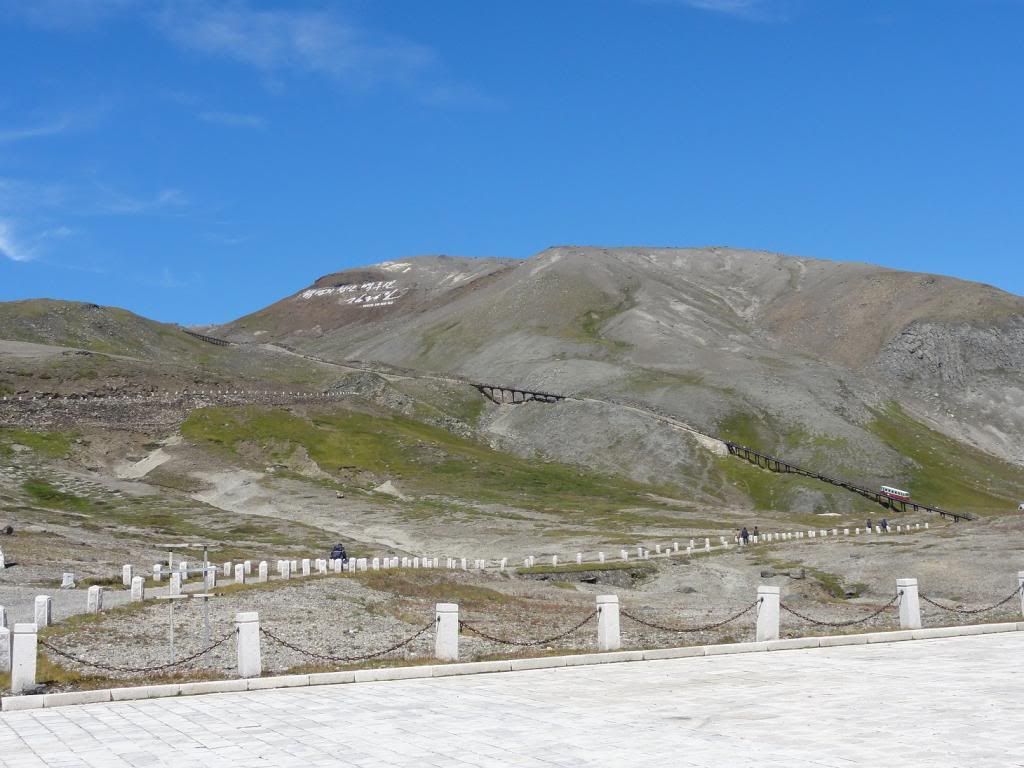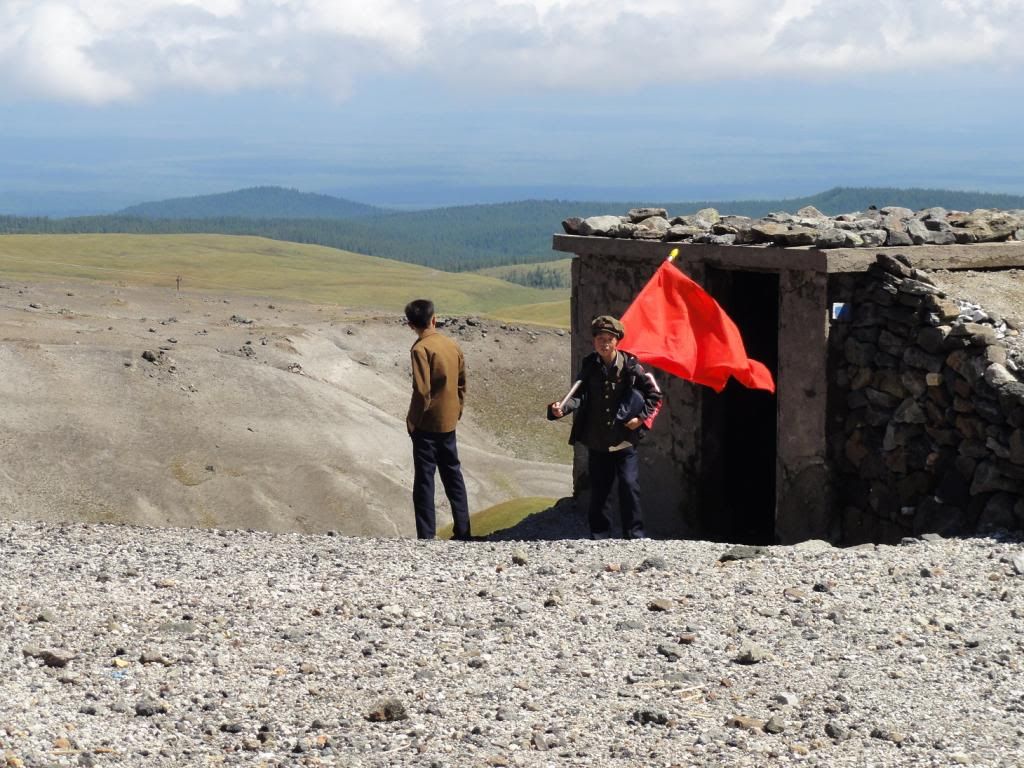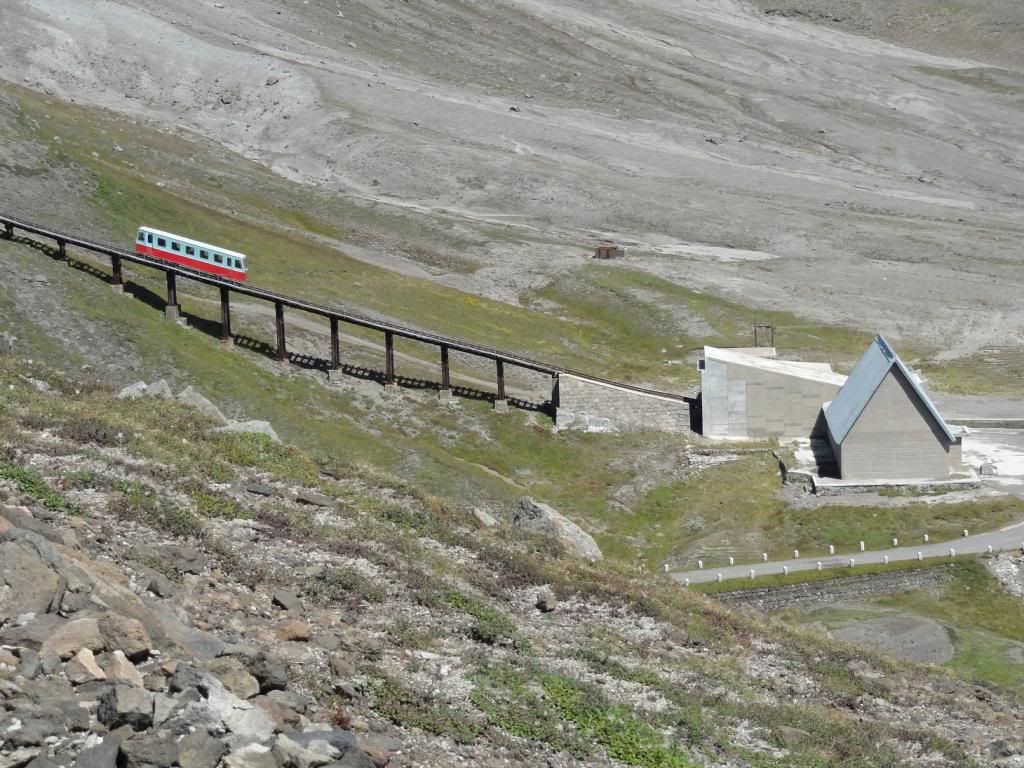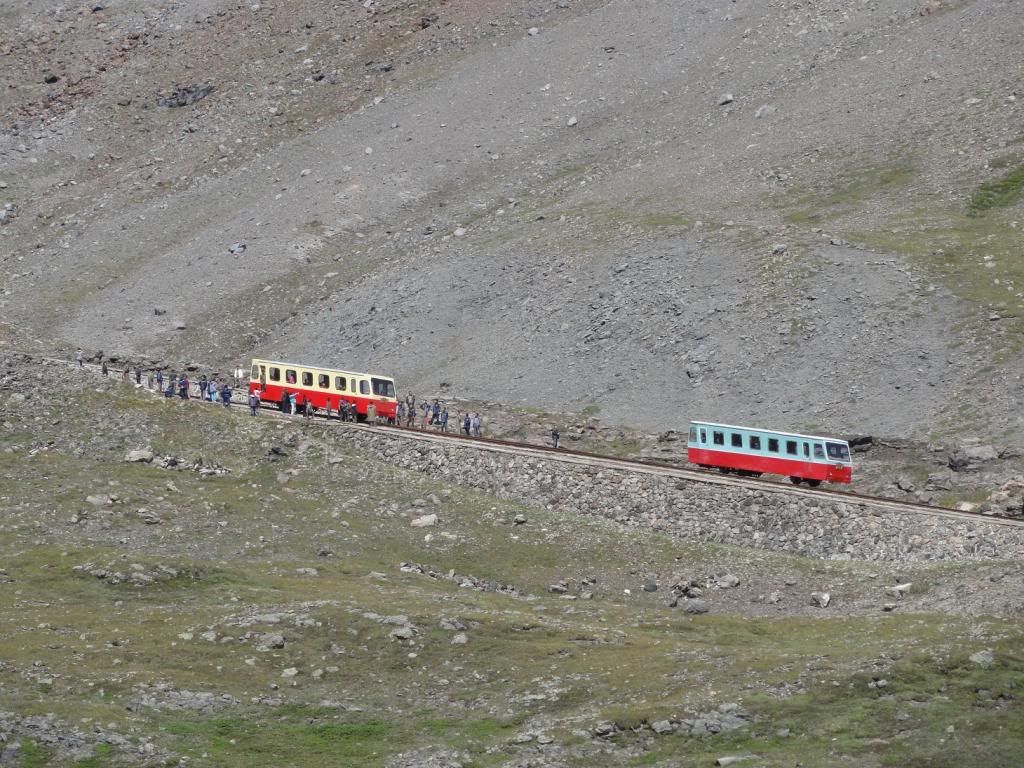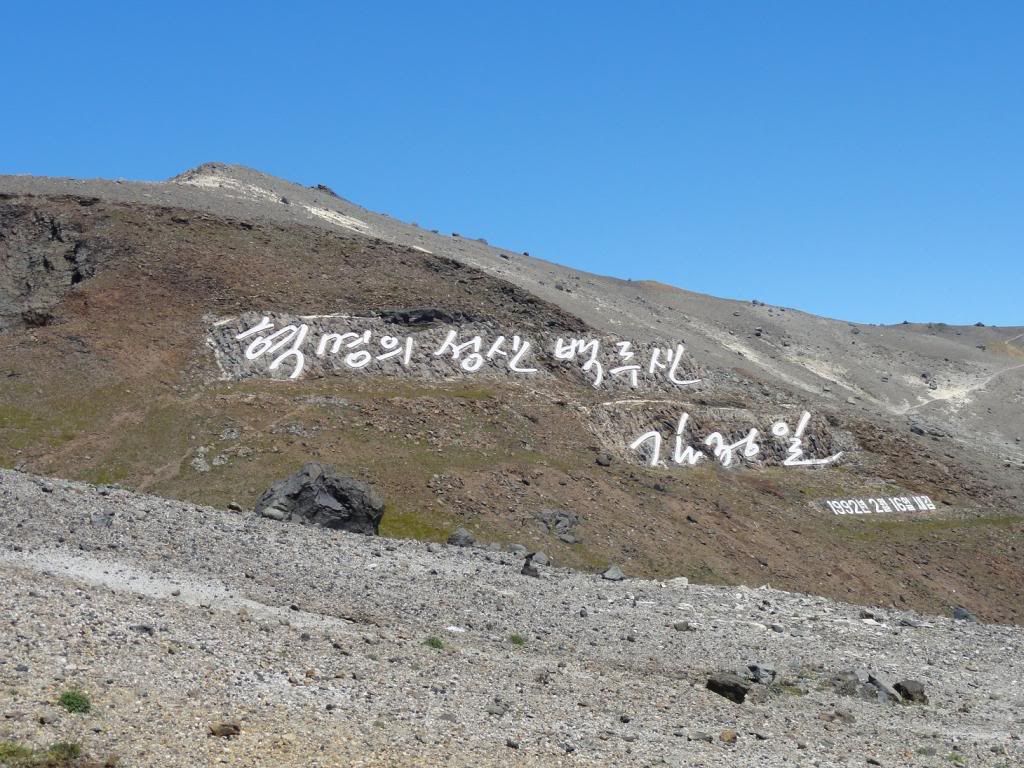 Finally – after 60 minutes of hard climbing – the magnificent peak!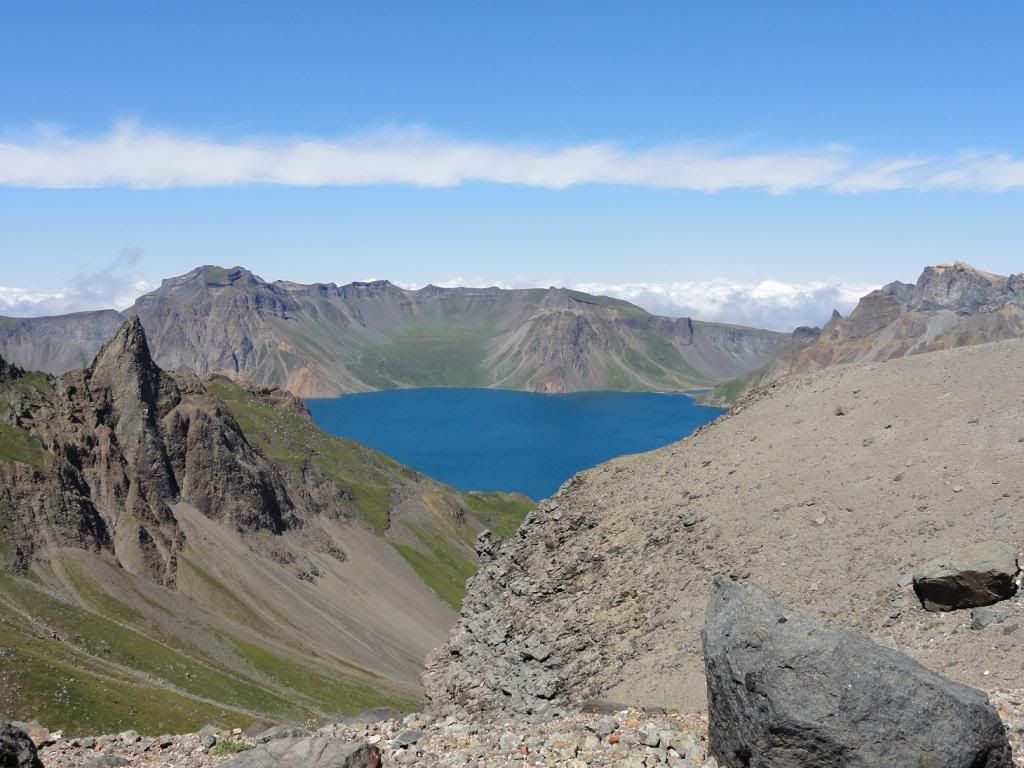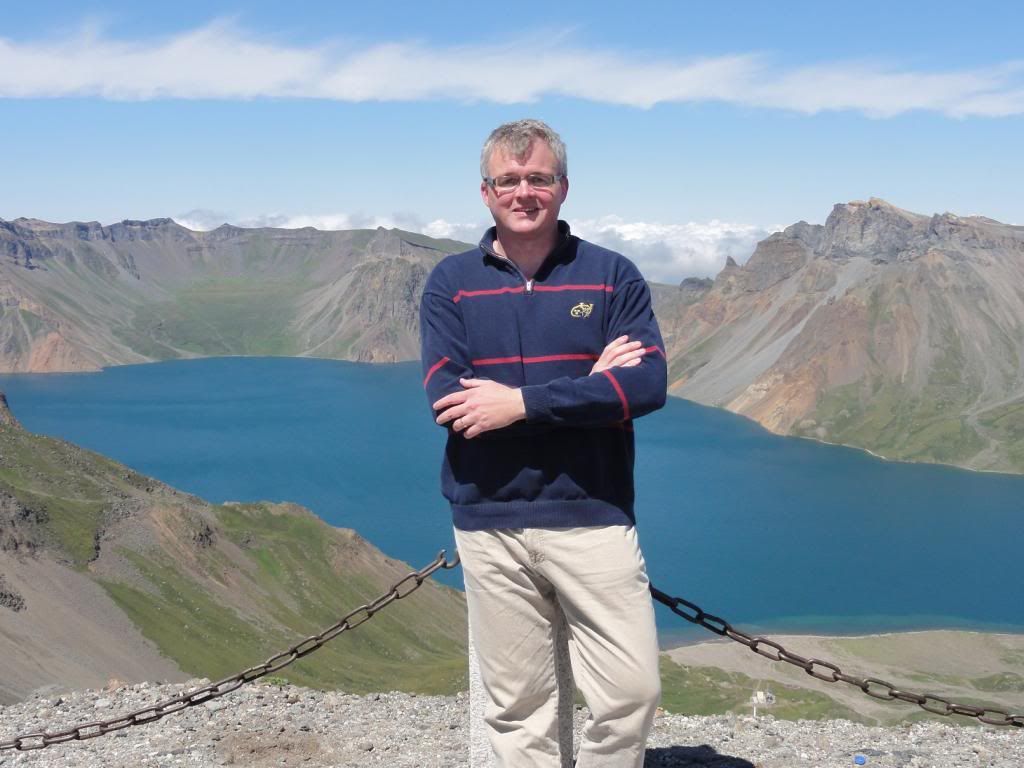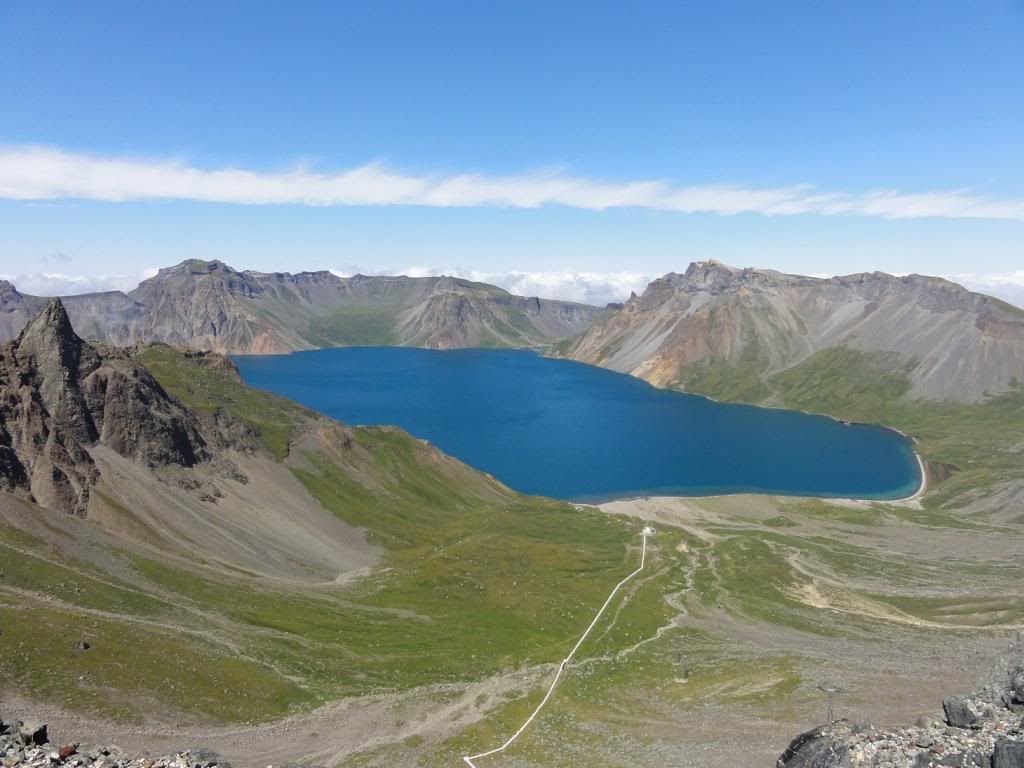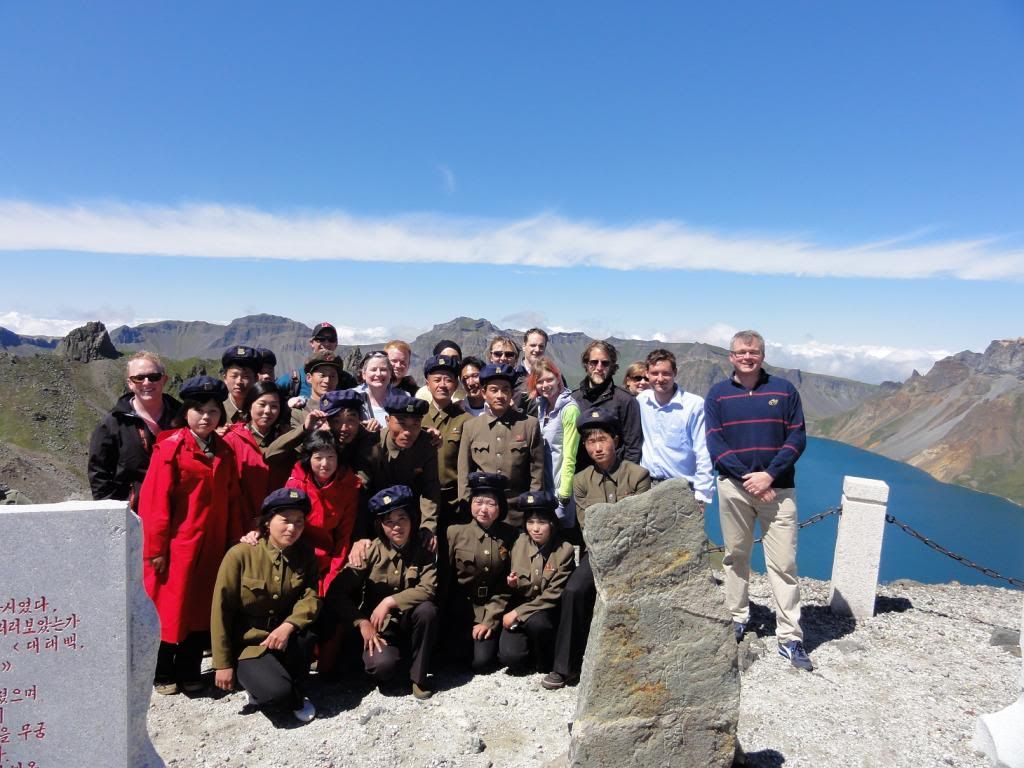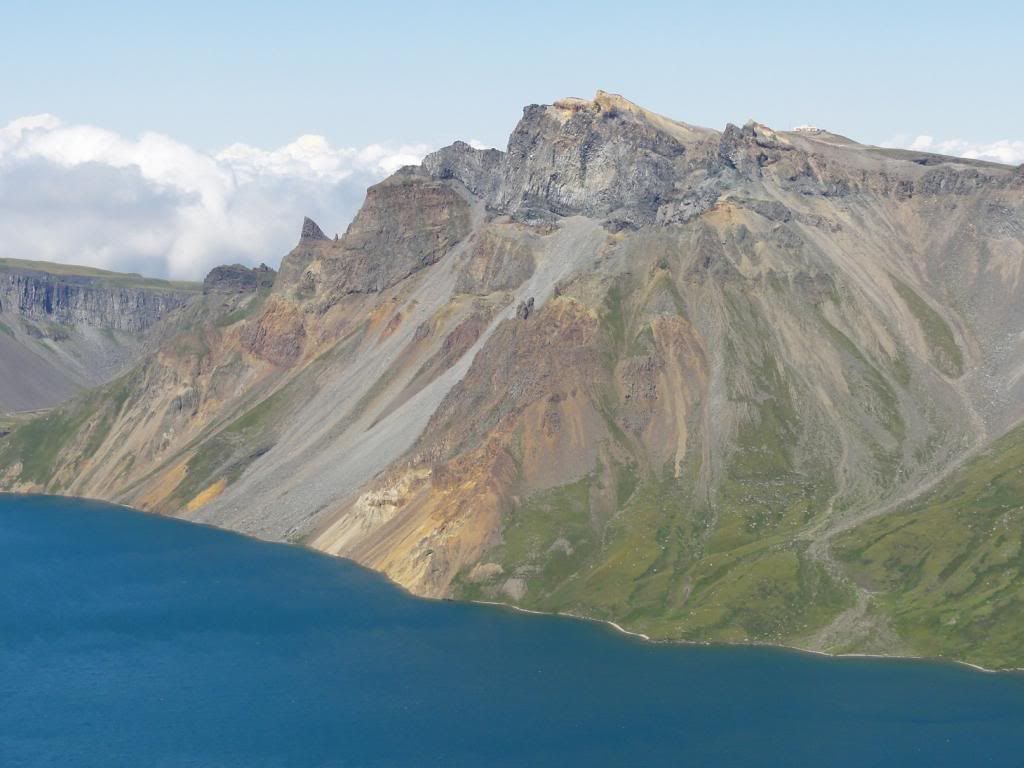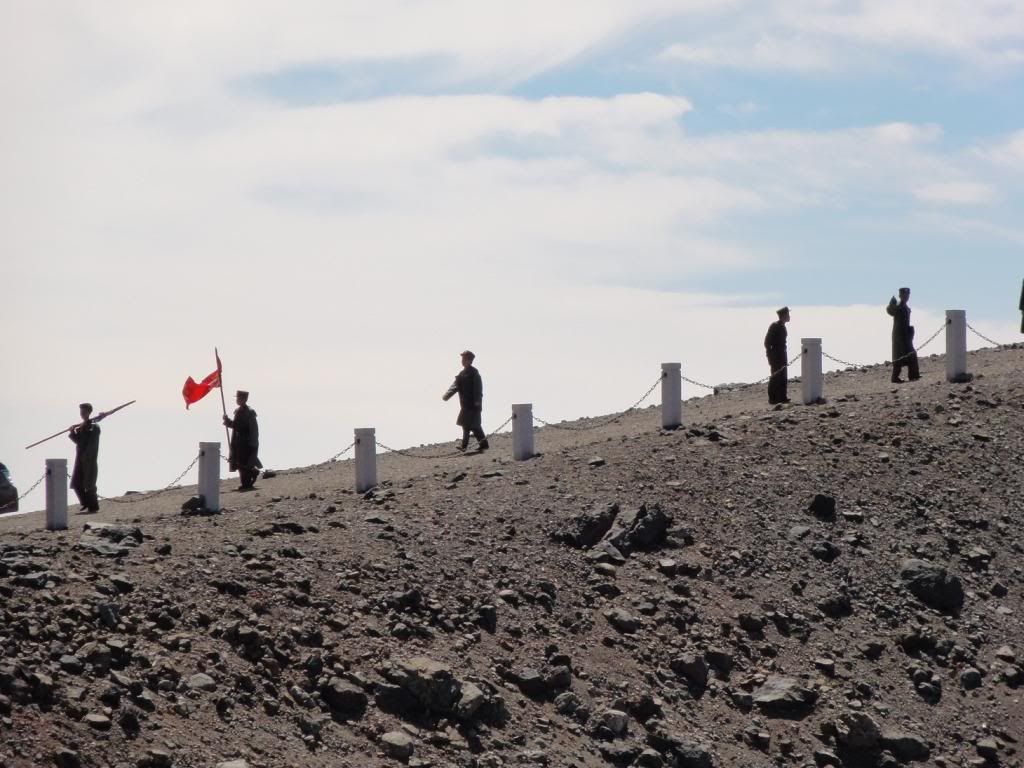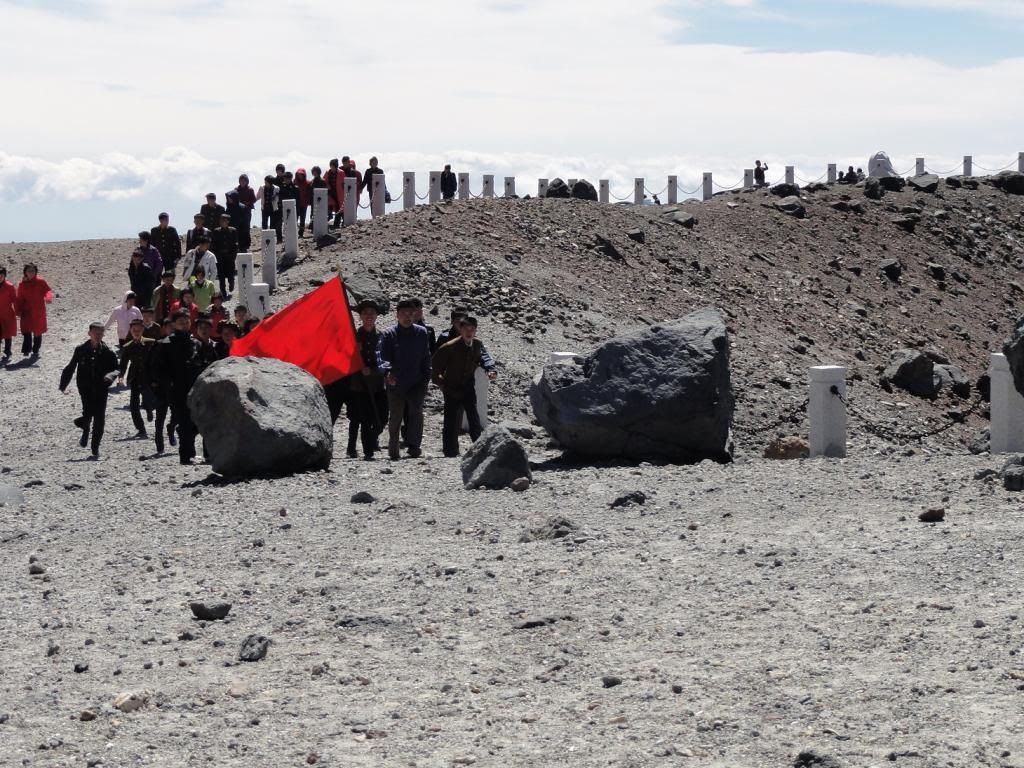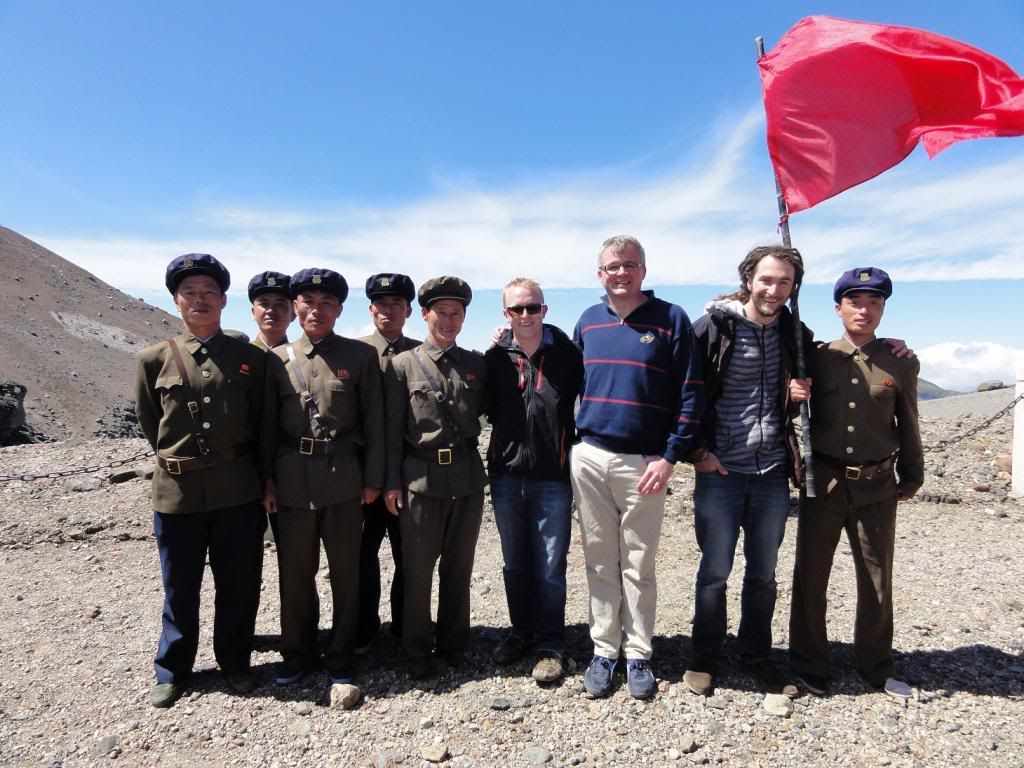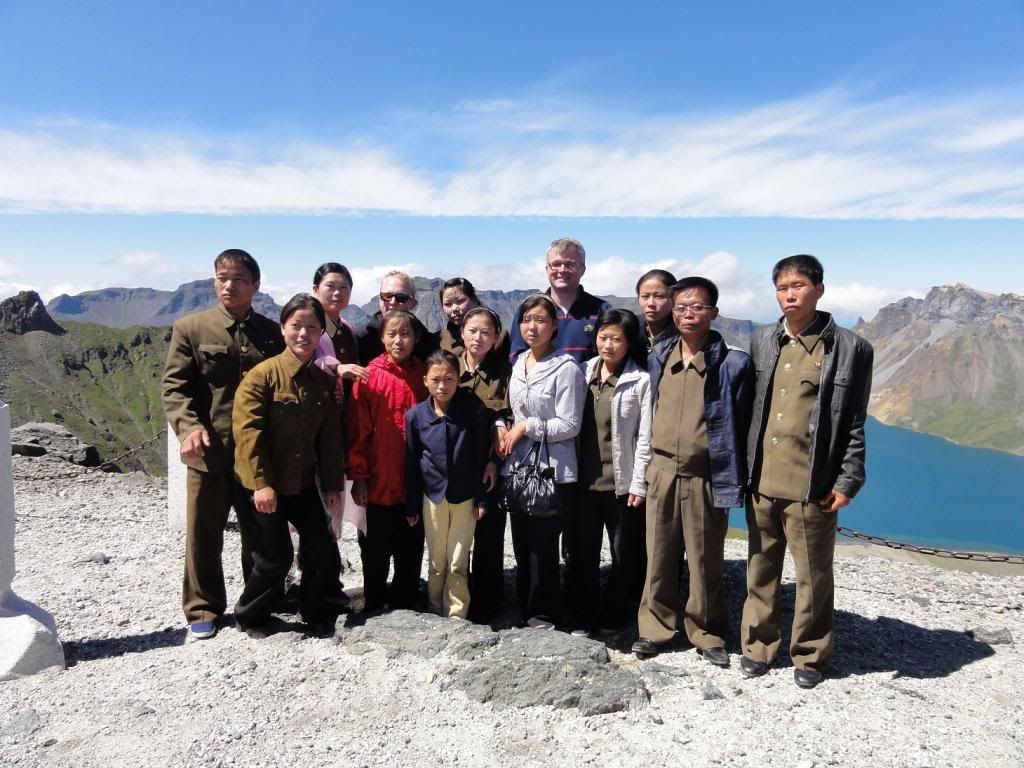 Back down by cablecar...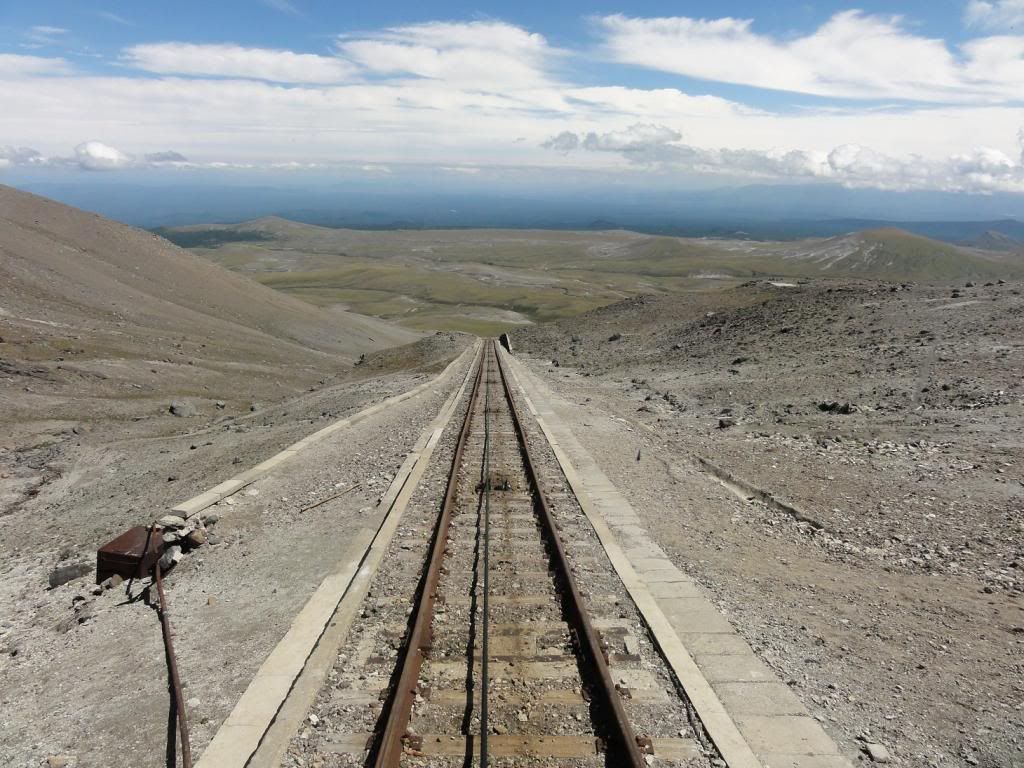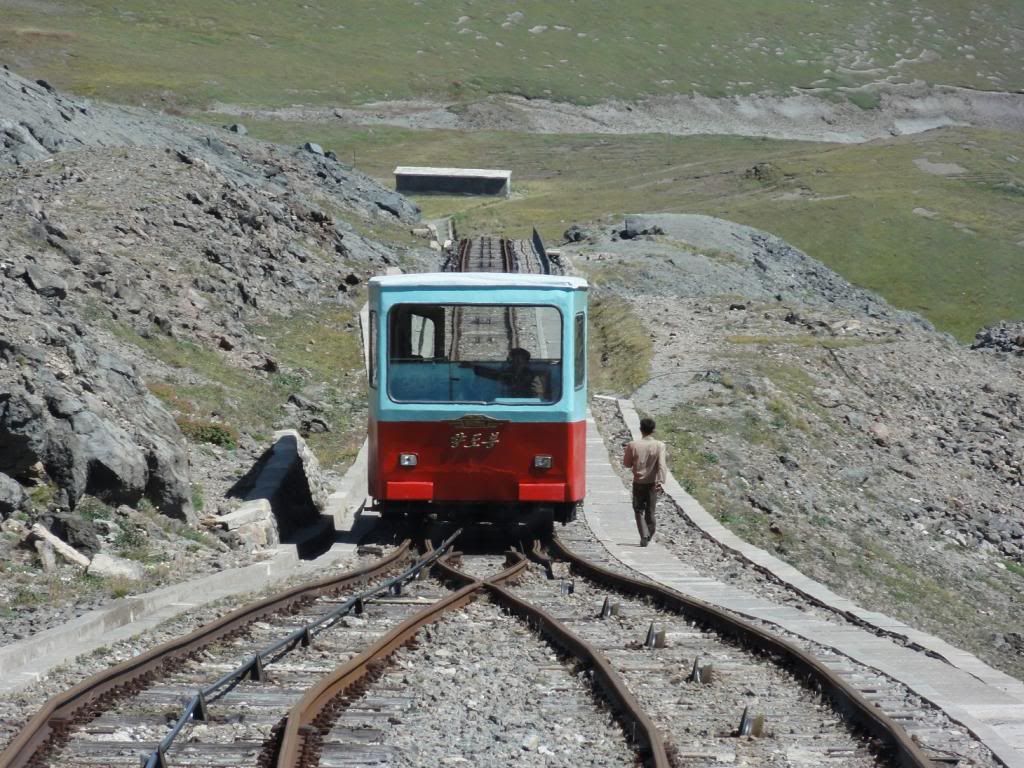 Driving to Kim Jong-Il's birthplace (disputed by western sources), with stop for a picnic lunch. Mind the other side of the gorge is China. There were Chinese tourists shouting across at us... just another bizarre day on a bizarre trip to a bizarre country...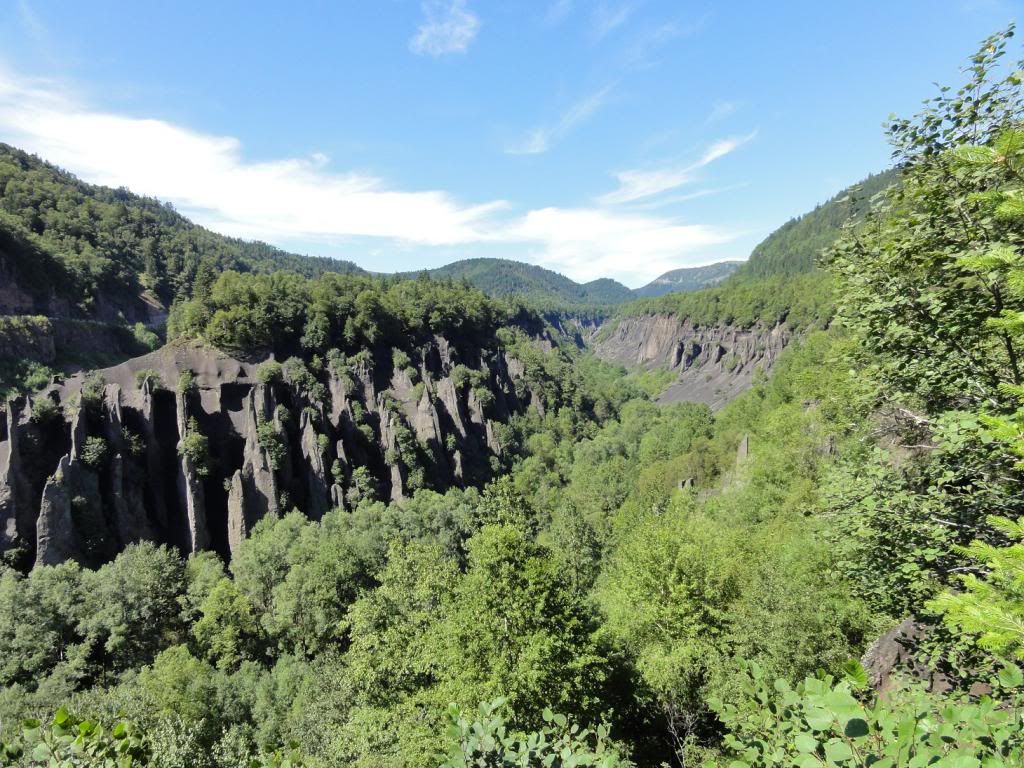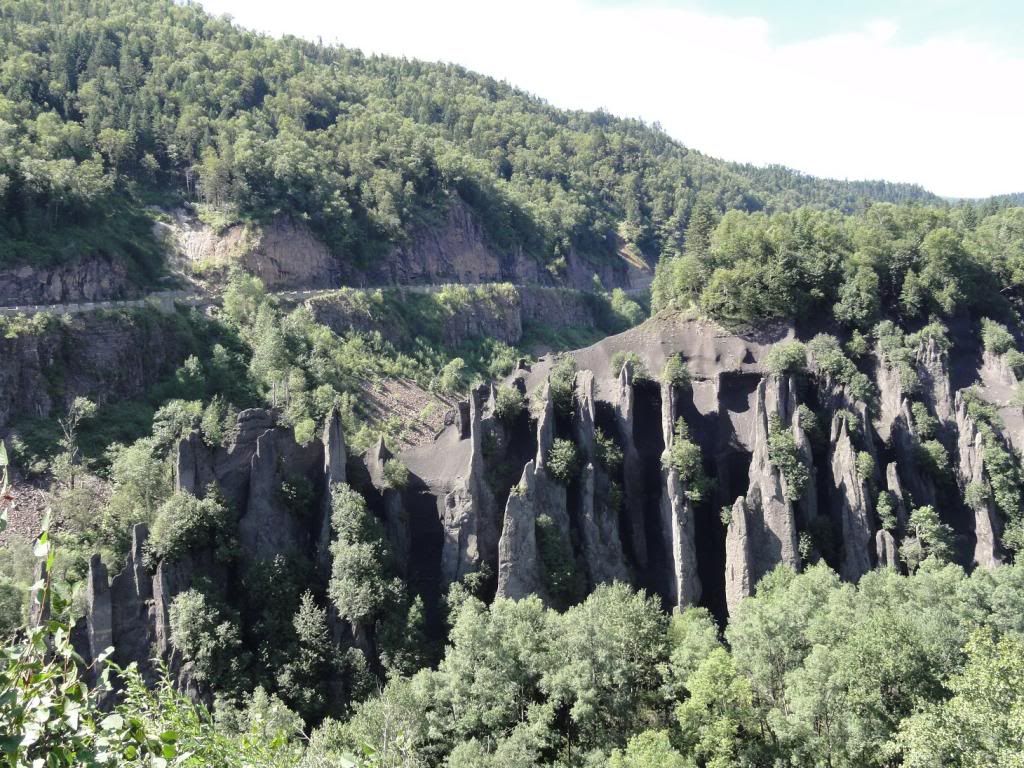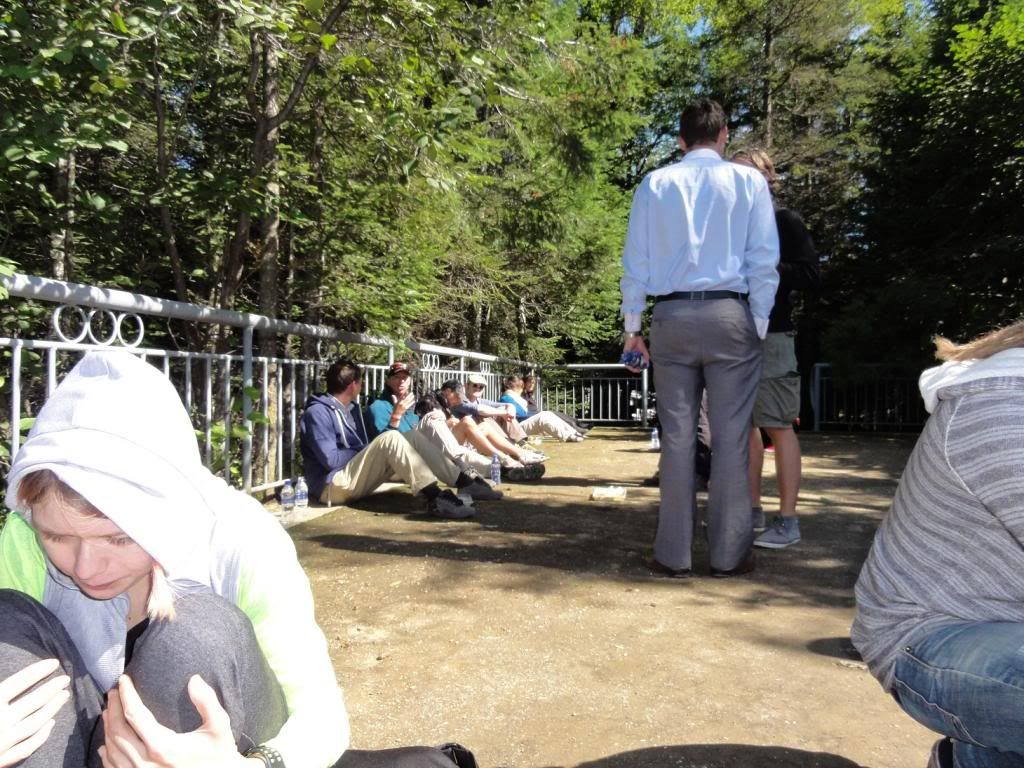 This is the secret camp, where North Koreans claim Kim Jong-Il was born (Western experts claim he was born in Khabarovsk, Soviet Union)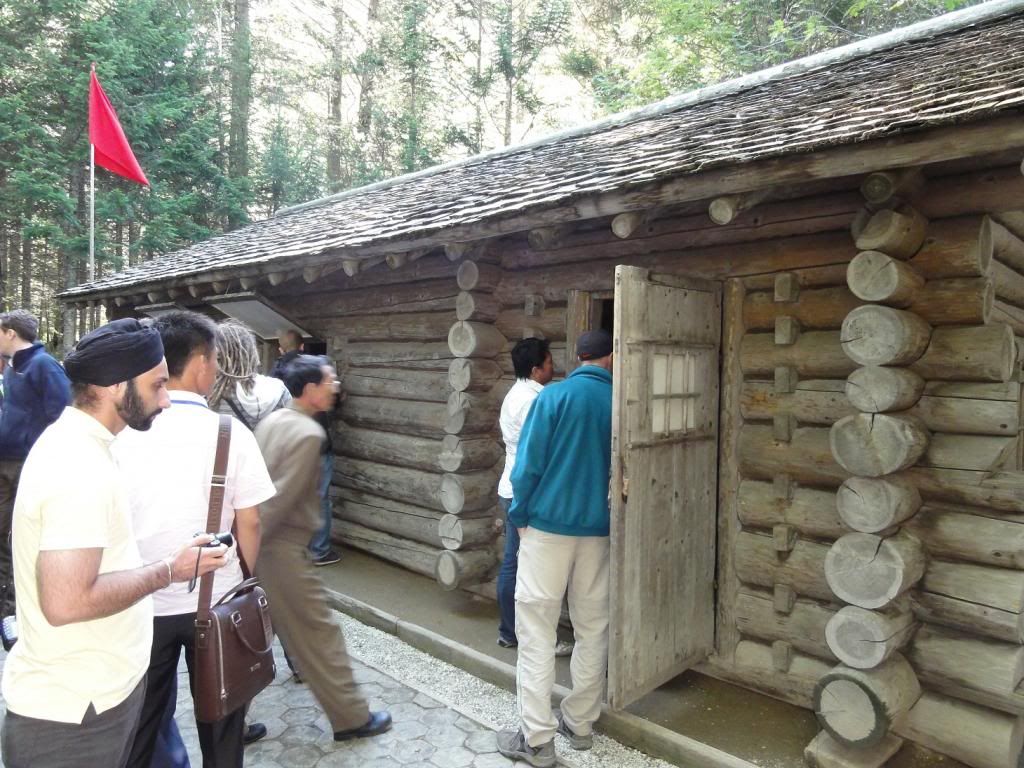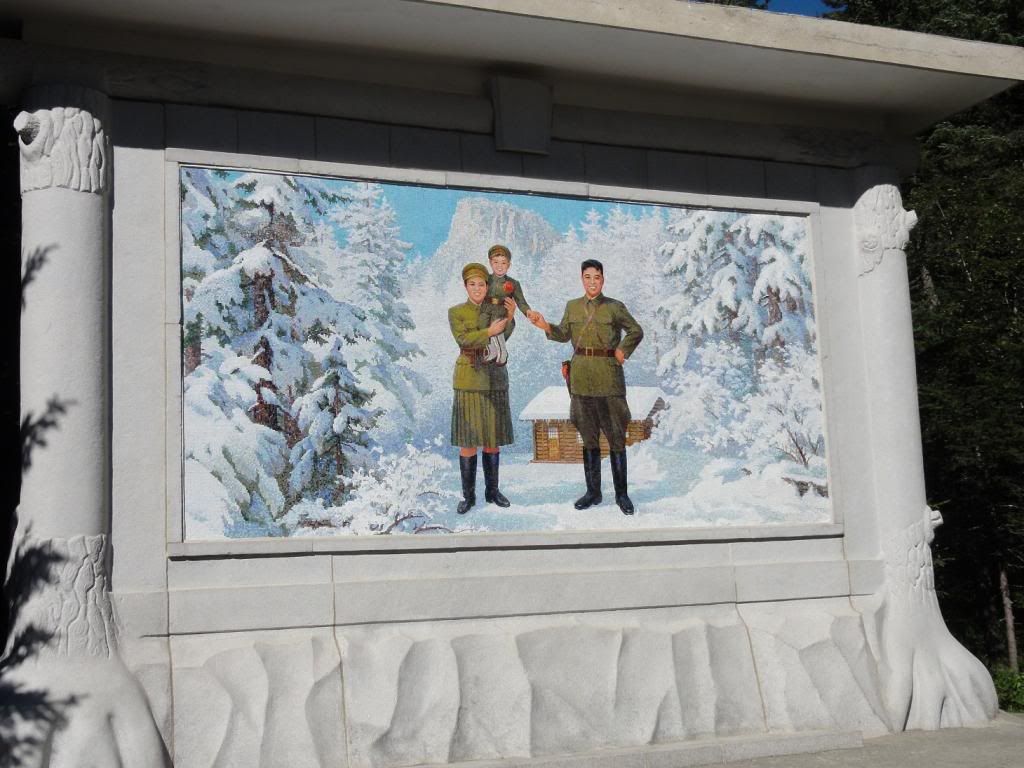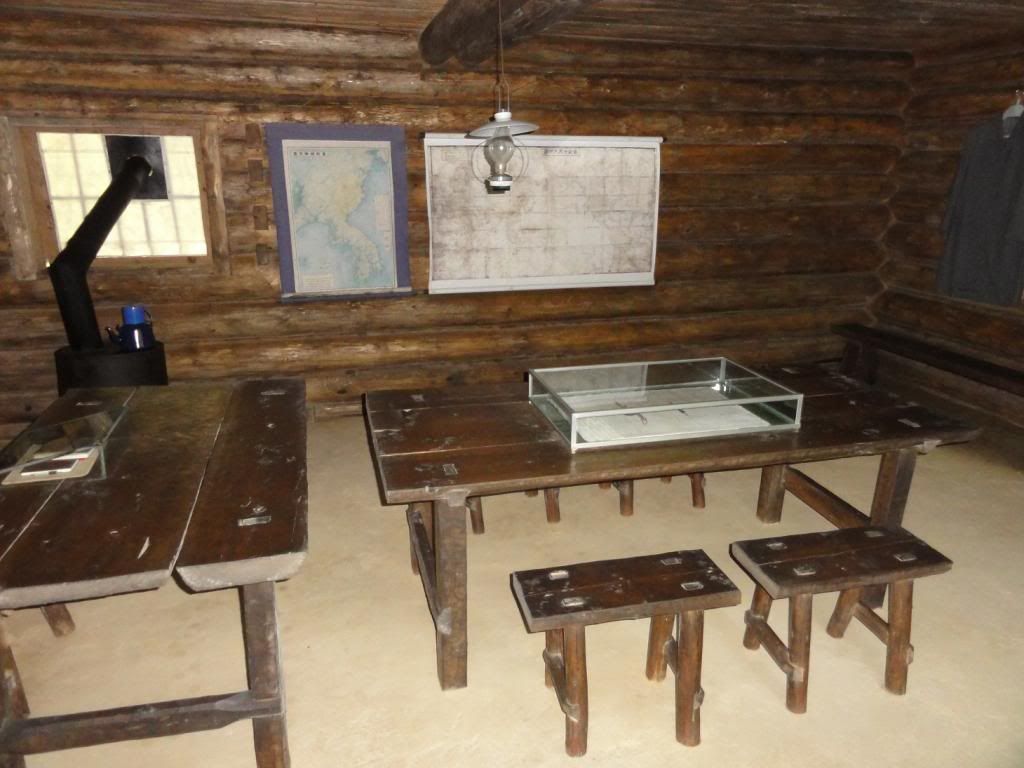 Next – some small town with a waterfall. Nice, but our naught tour group was more interested in buying quite too many bottles of Mount Paekdo blueberry wine at a mere 0.50 Euro a bottle! May I add that the evening got more than a little bit messy...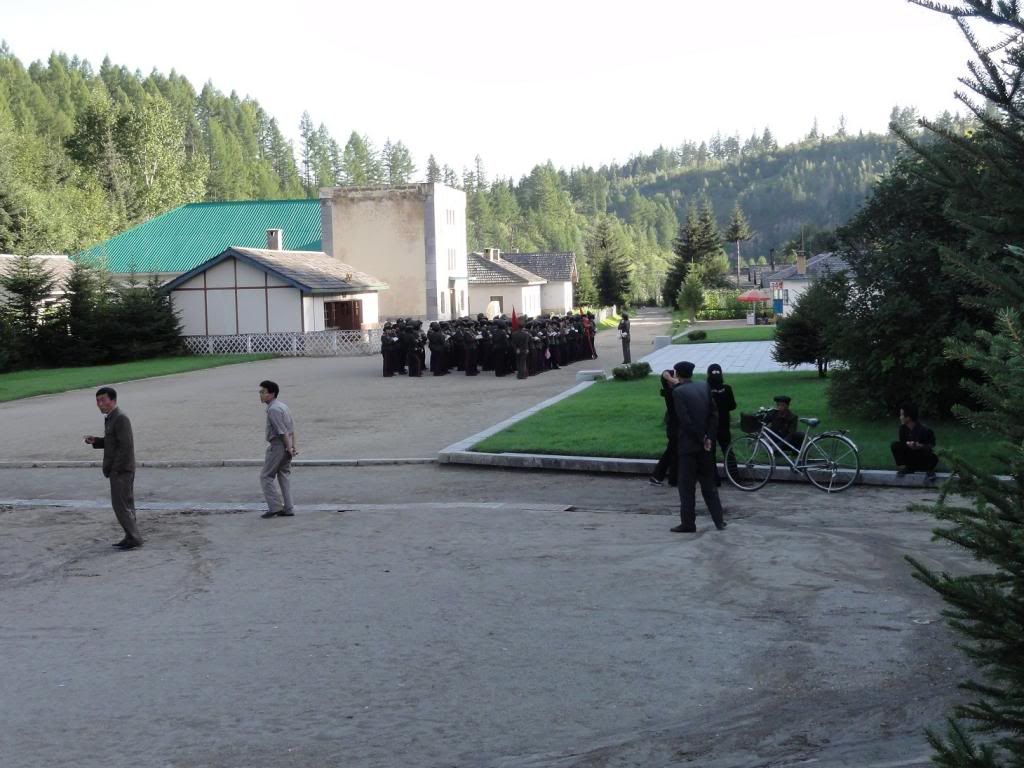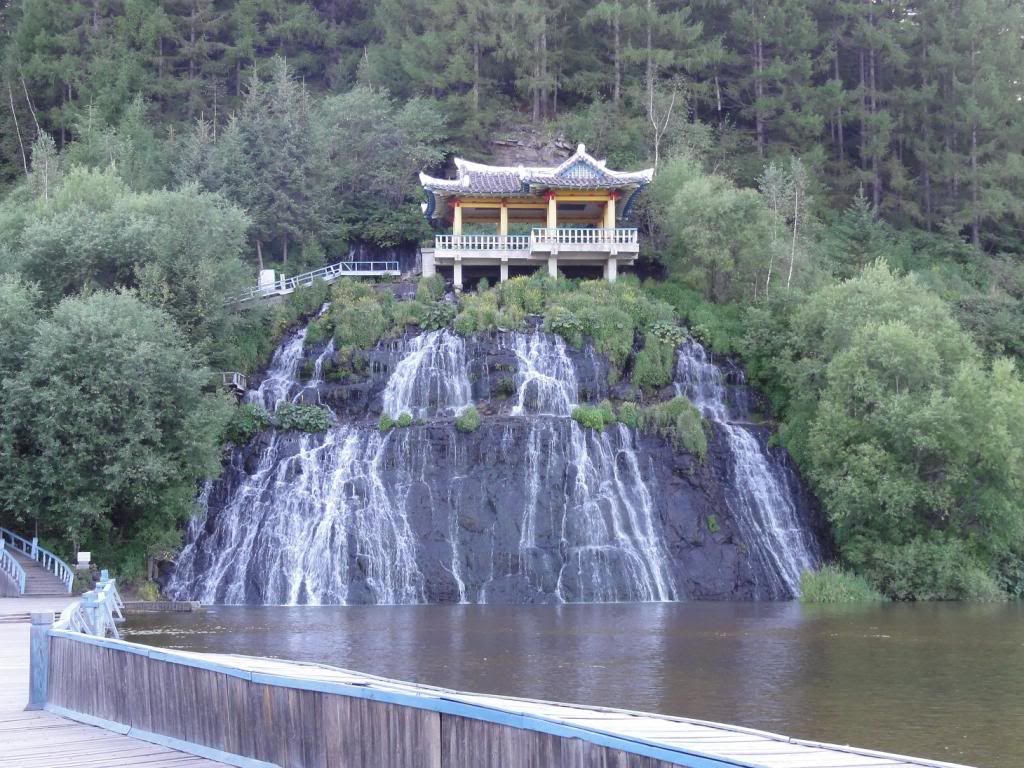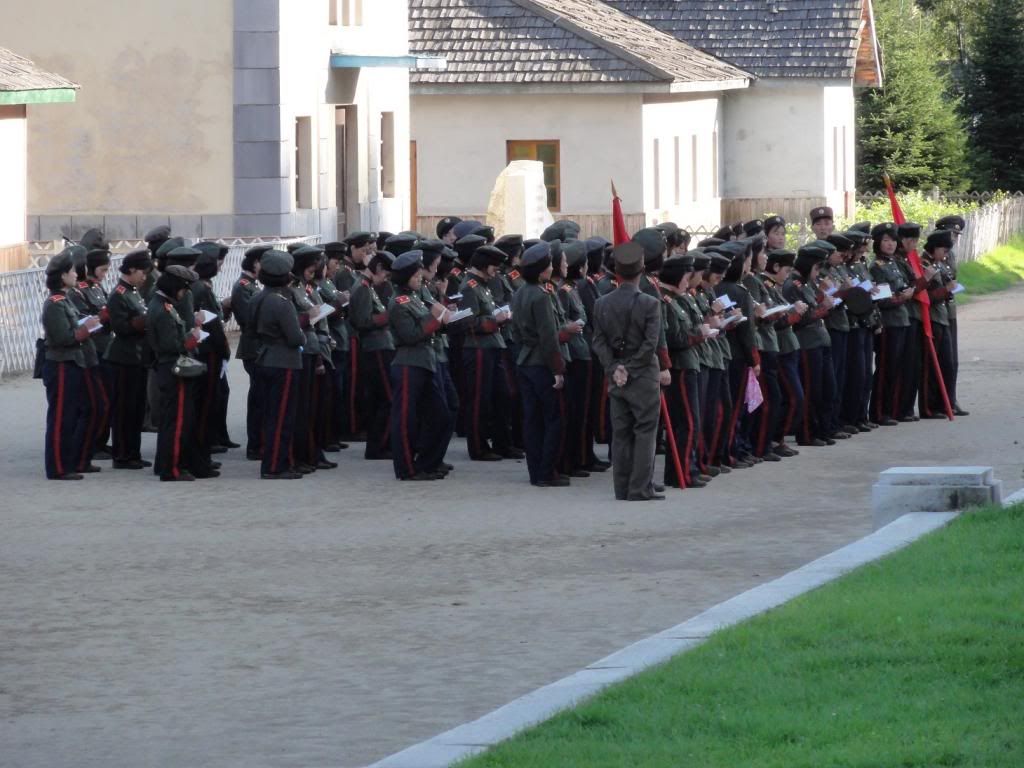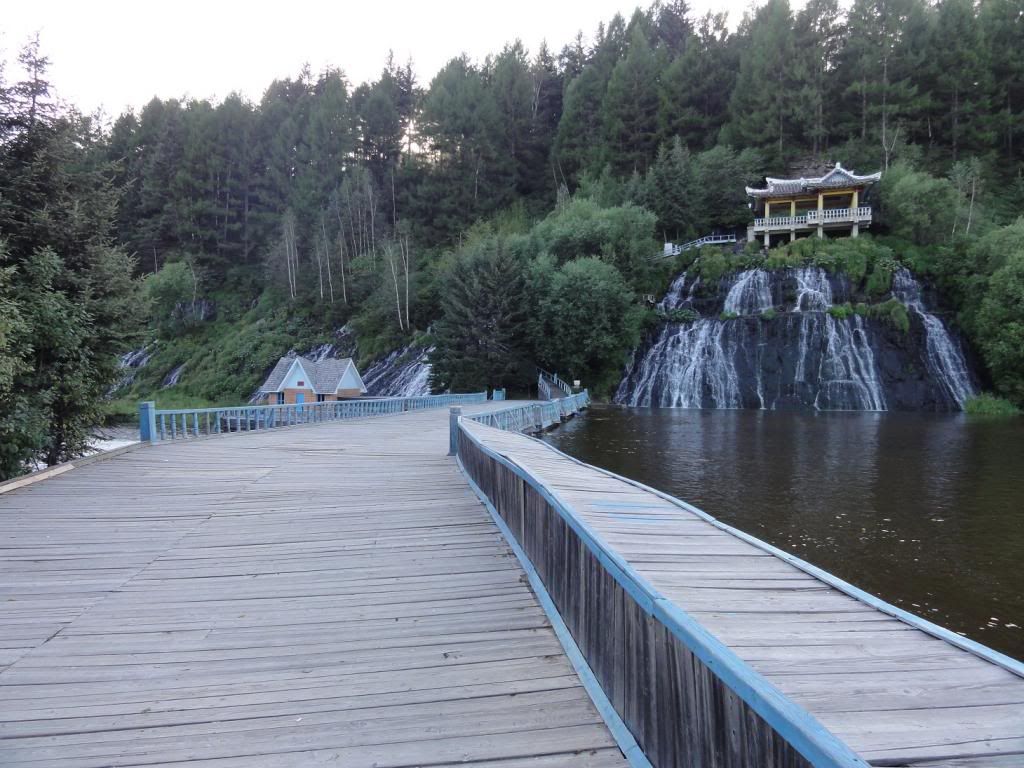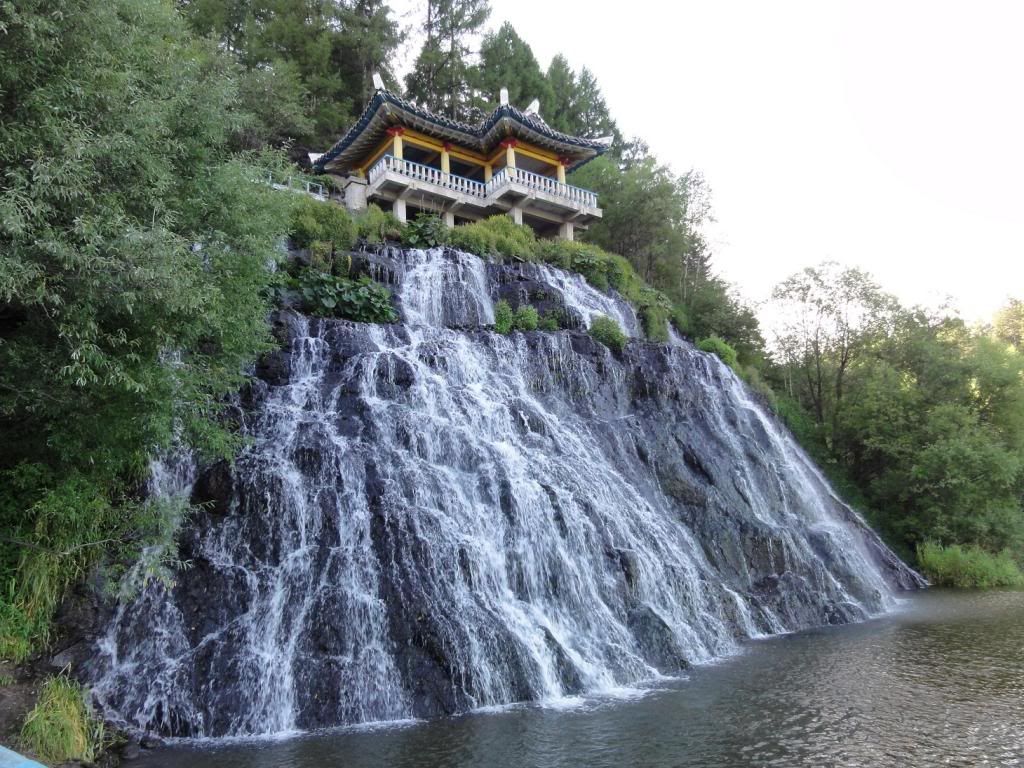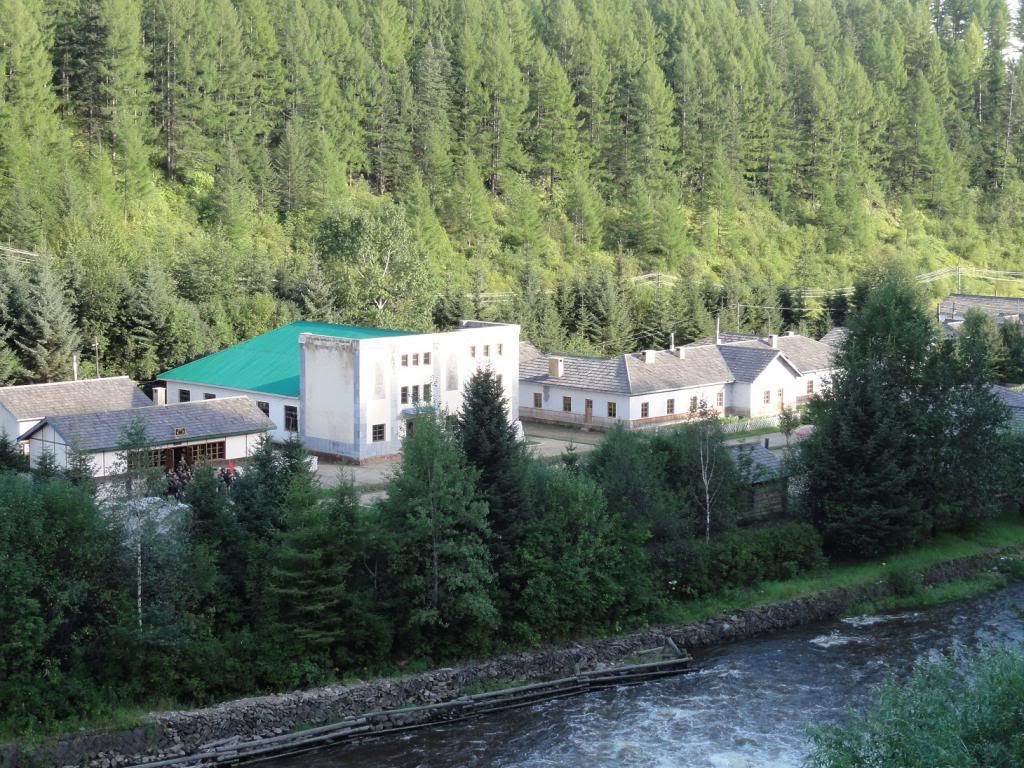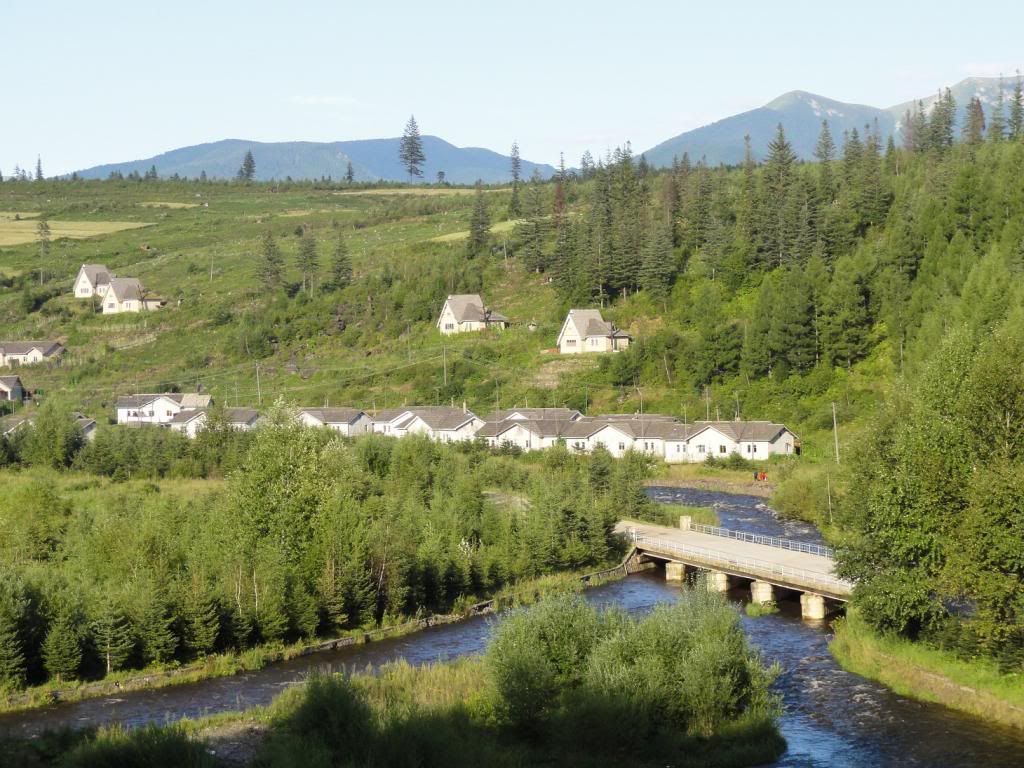 We spent the night in the Beagabong mountain hotel – REDRUM, anyone?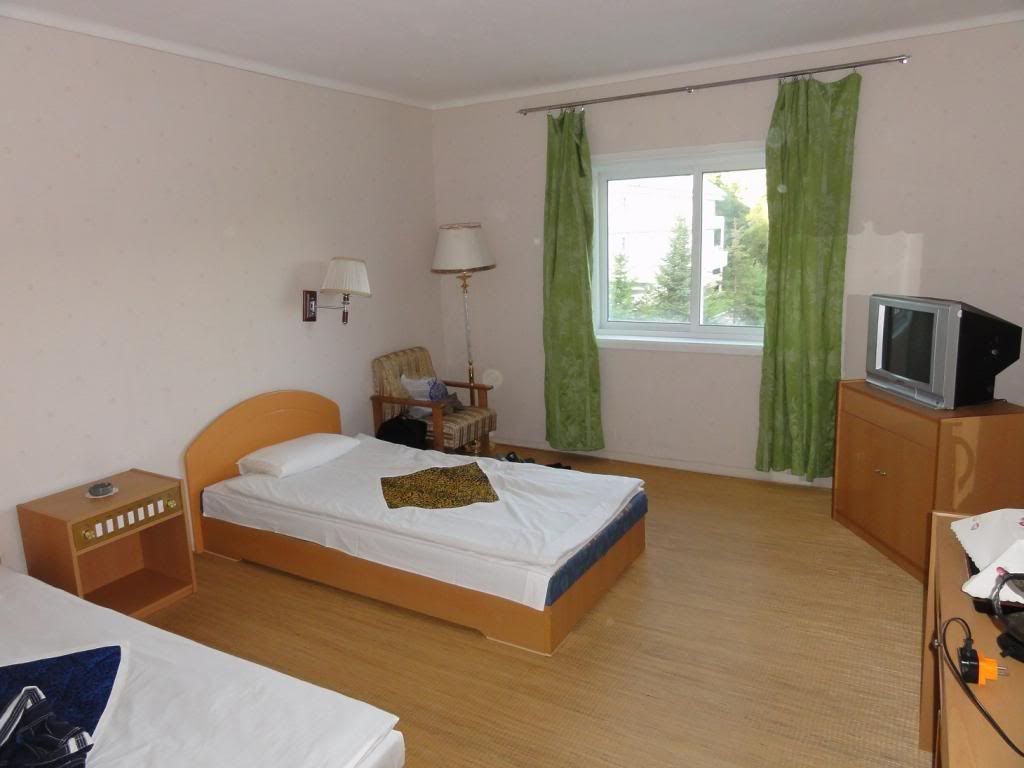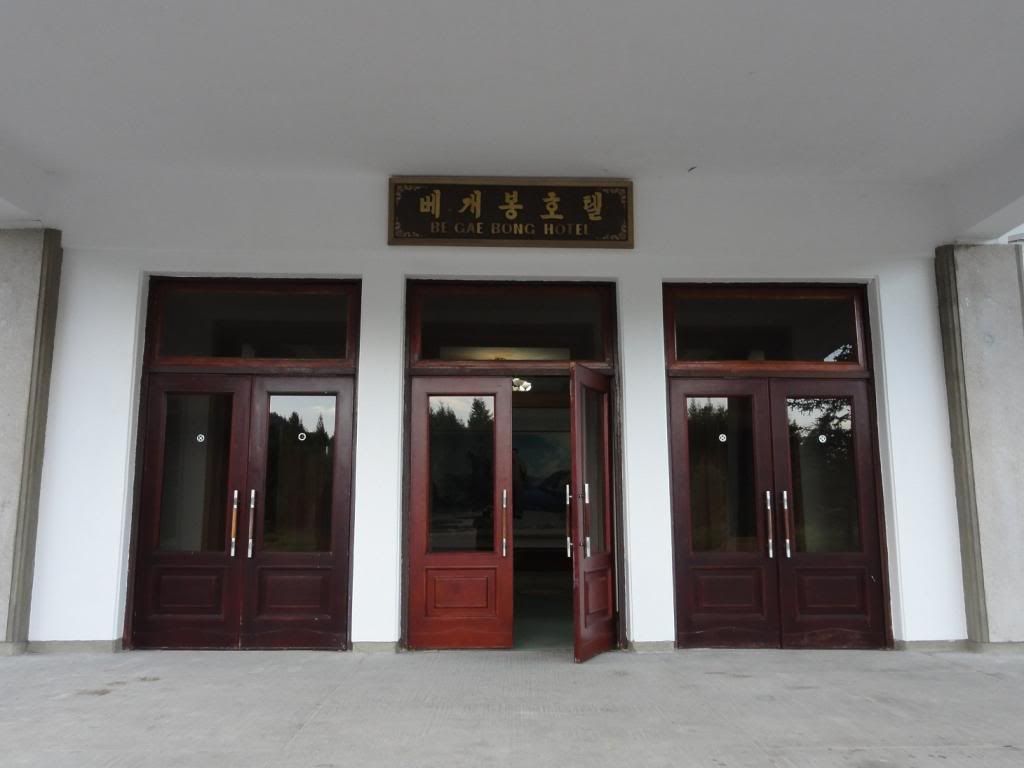 Next morning – after an absolutely ridiculous night of ludicrous drinking we were off to the Samjiyon Grand Monument! And Grand it was... like all monuments in NK!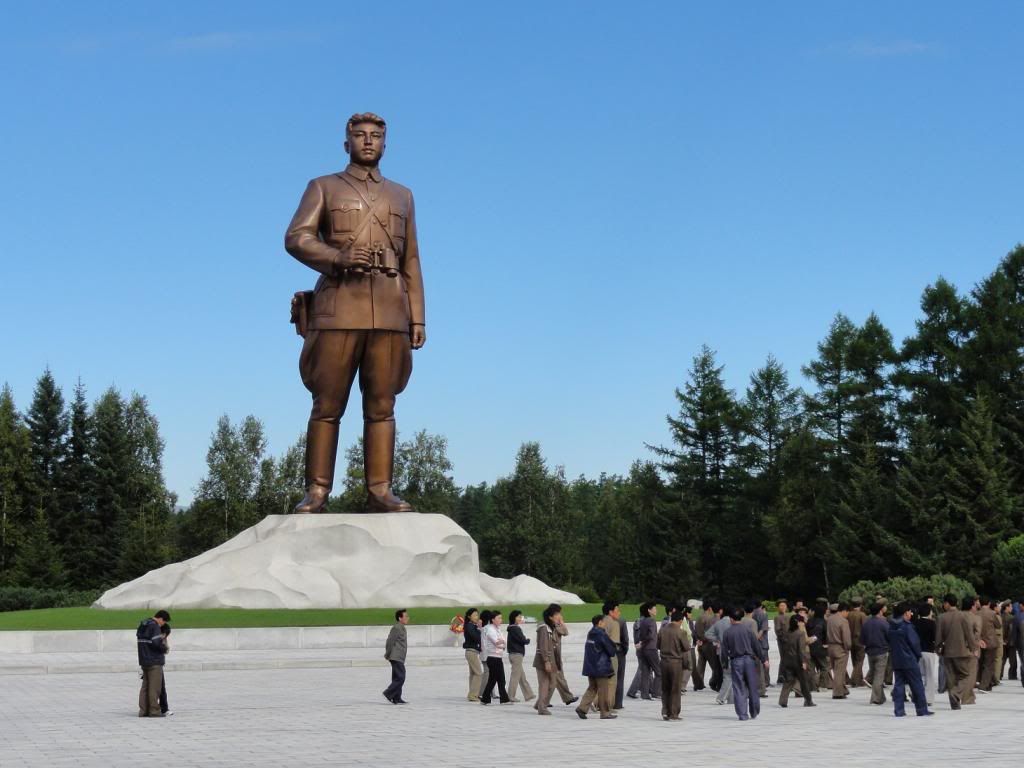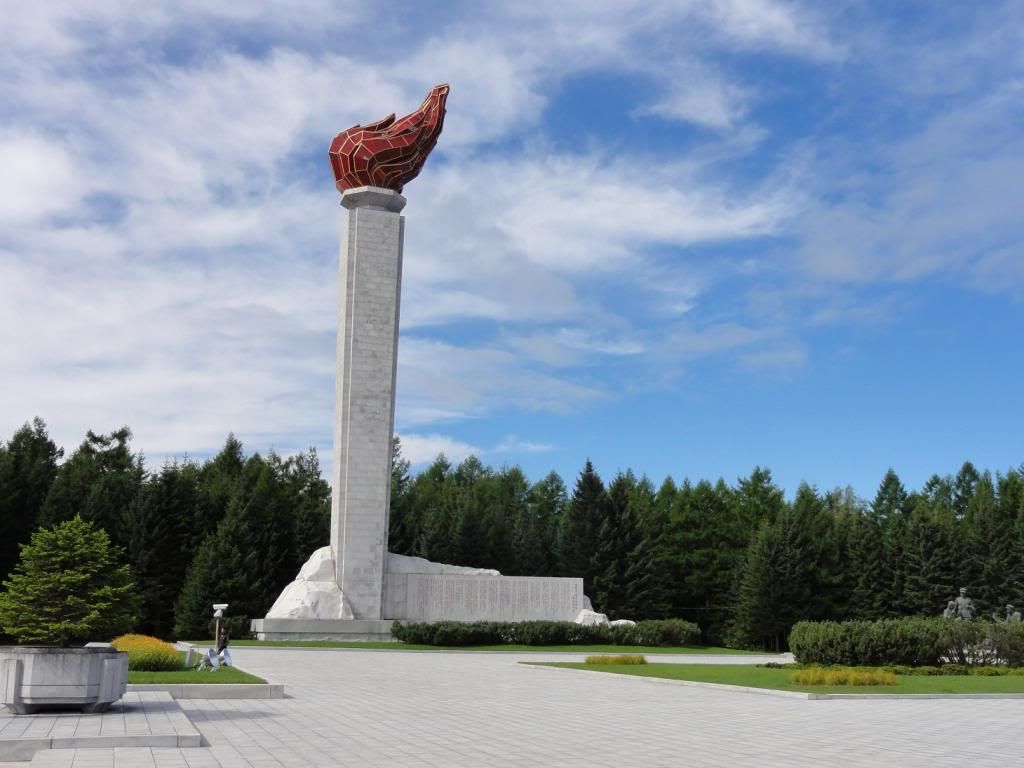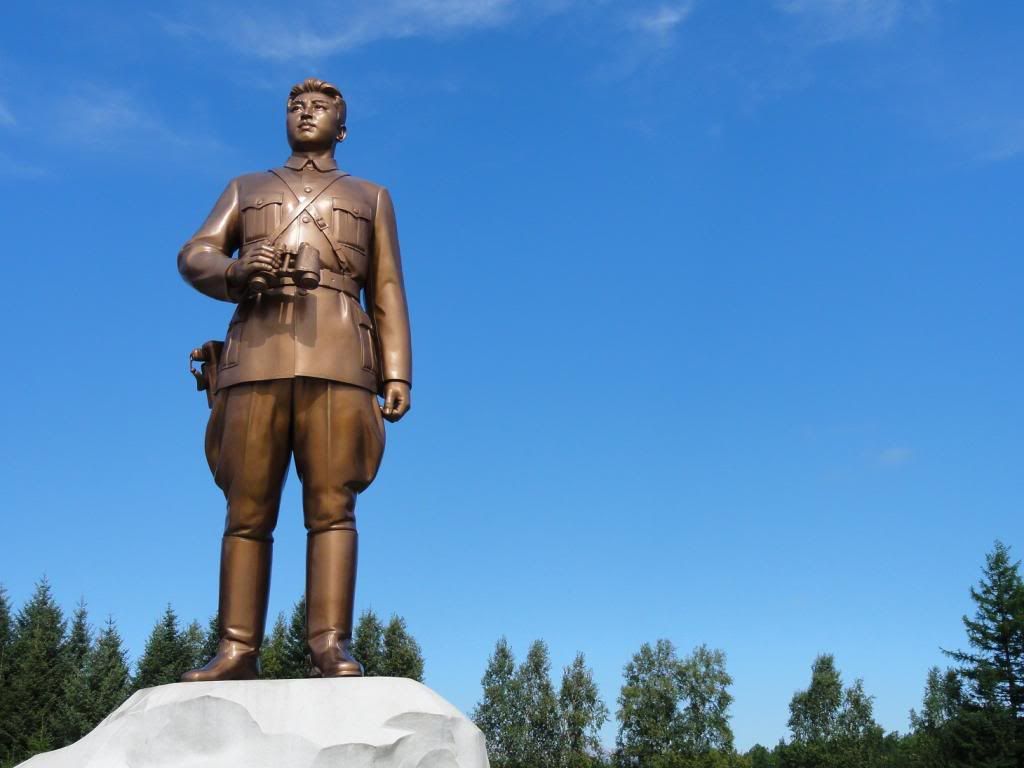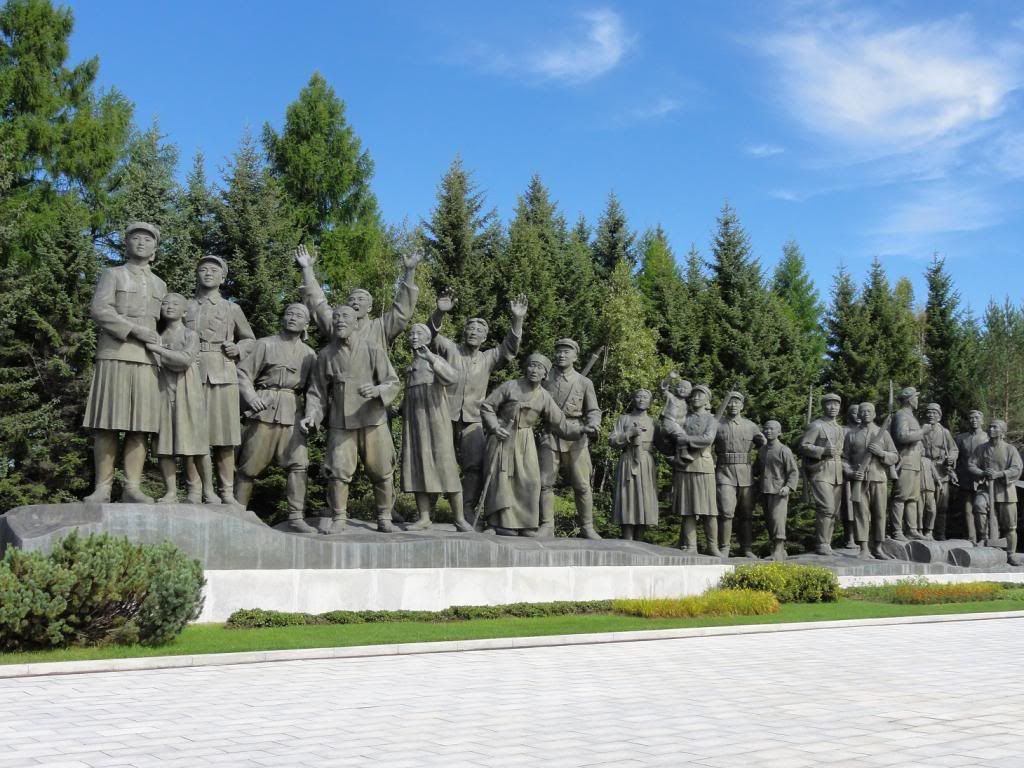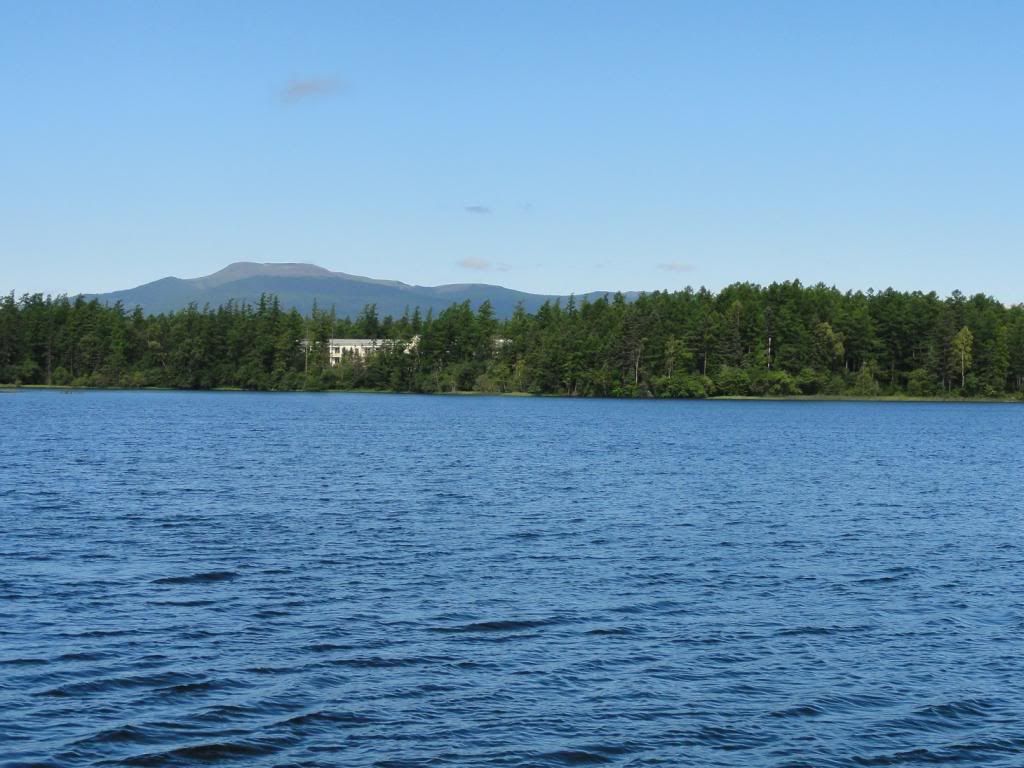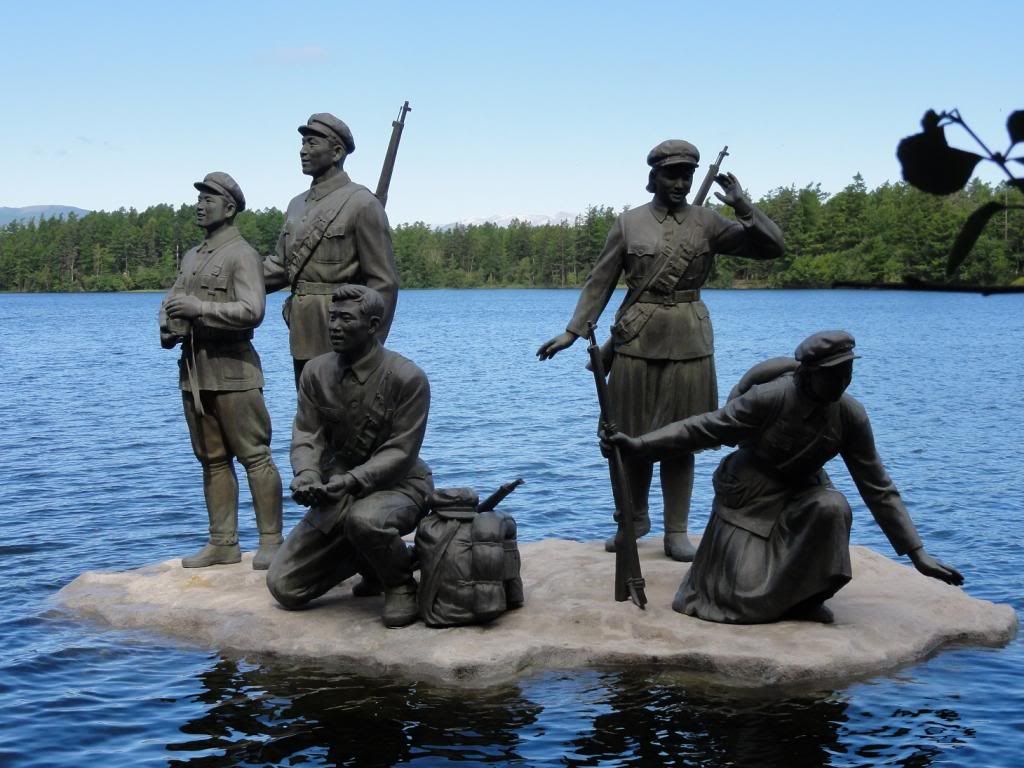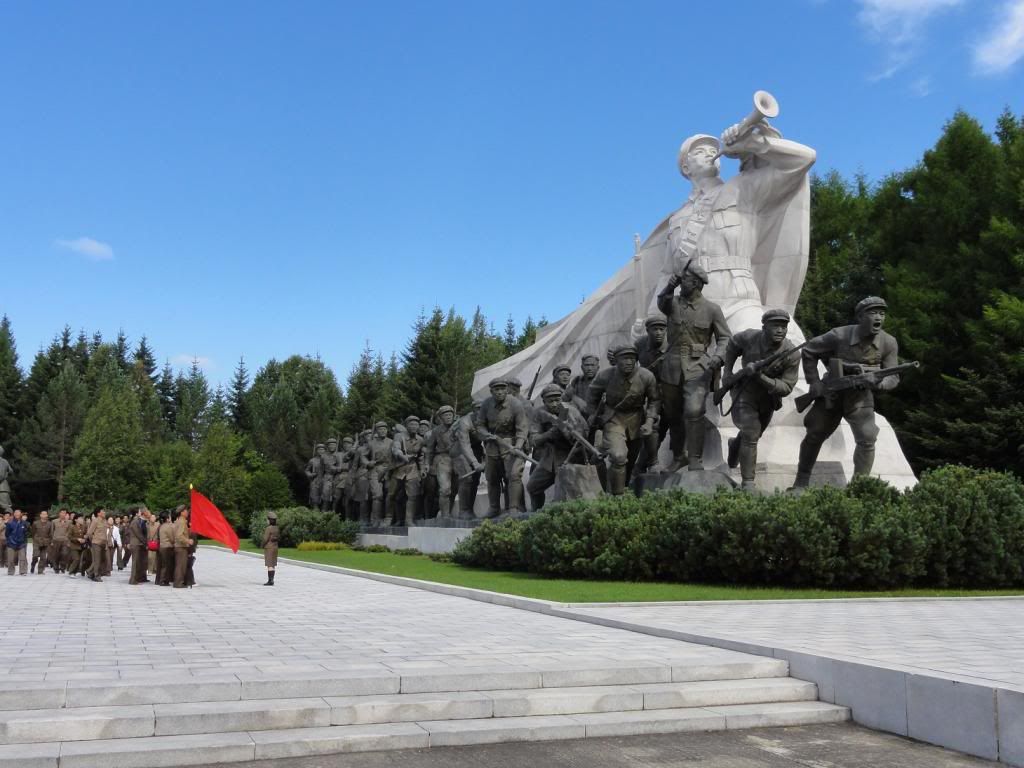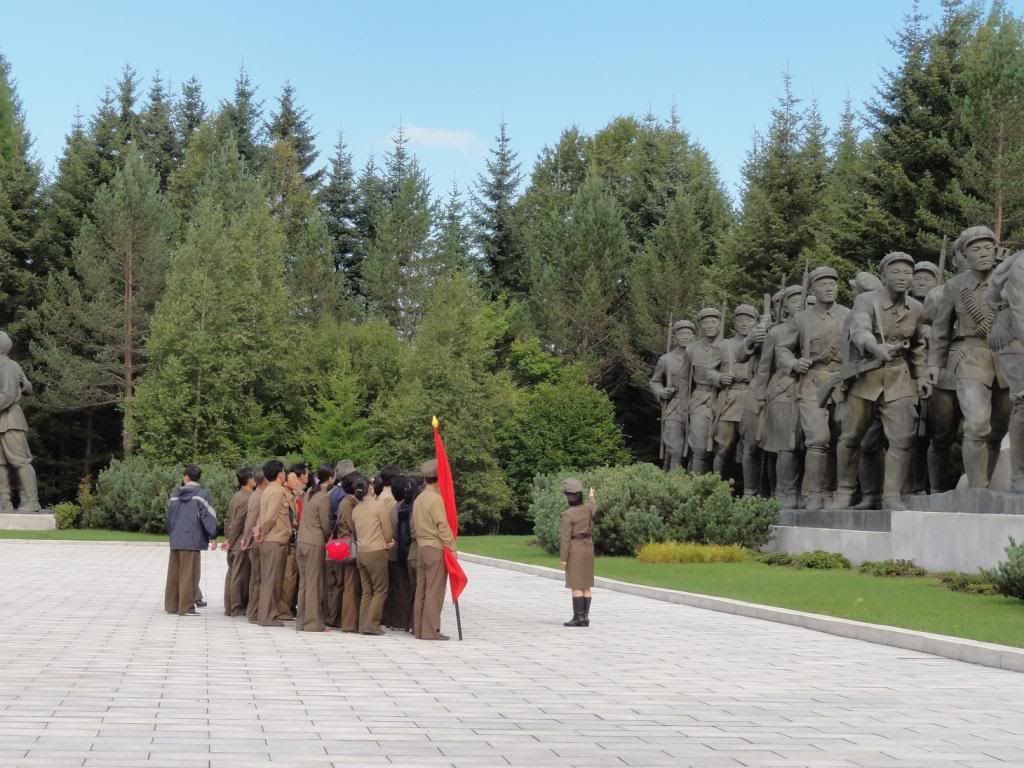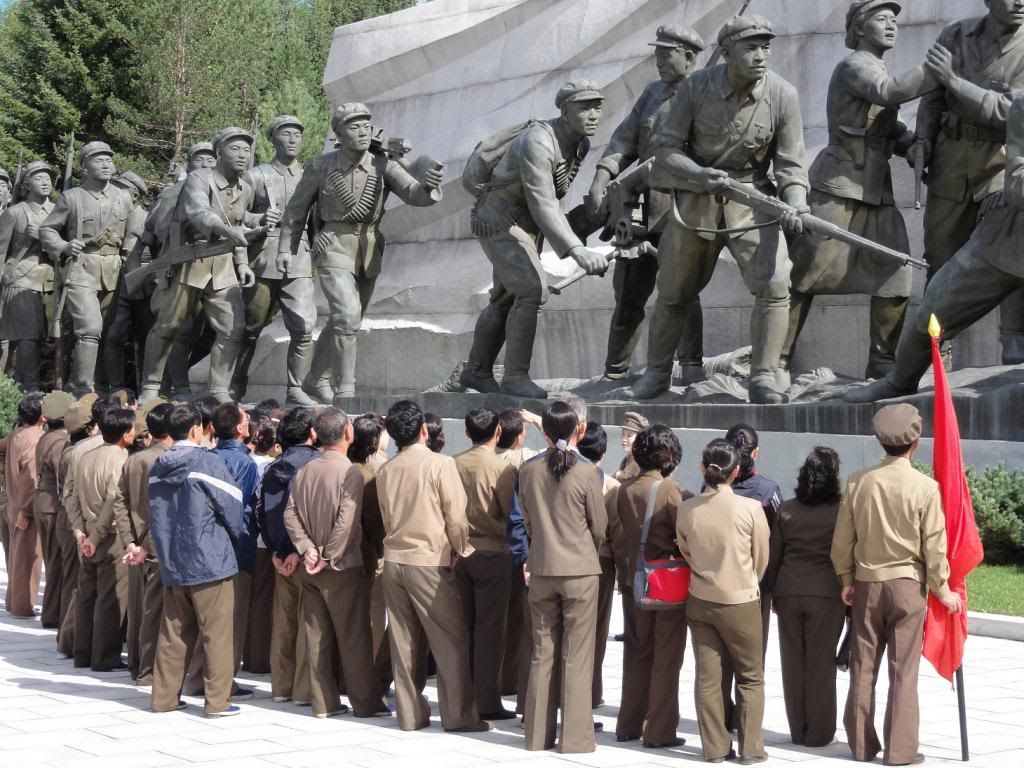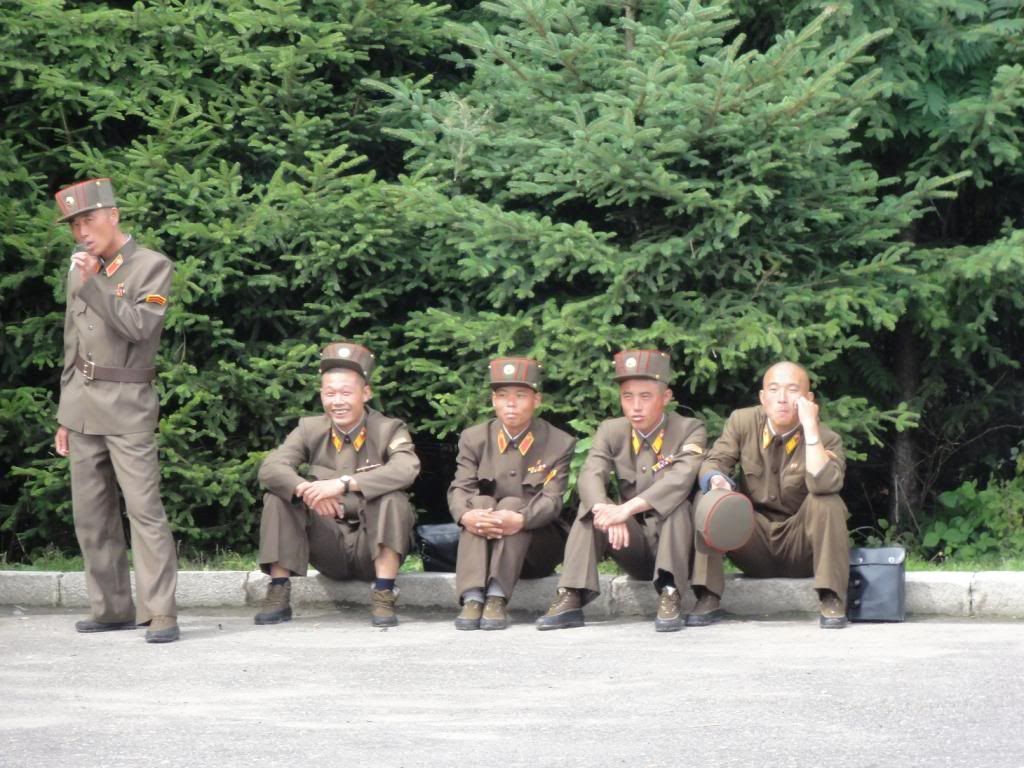 Back to Samjiyon airport for the 45 minute hop to Chongjin!
FLIGHT TWO: YJS to RGO with JS in Y
Chongjin is the third largest city in North Korea (after Pyongyang and Hamhung), the airpoer is mainly military but gets a few civilian flights also. Referred to as Orang airport in some sources.
http://en.wikipedia.org/wiki/Chongjin_Airport
Samjiyon lounge area!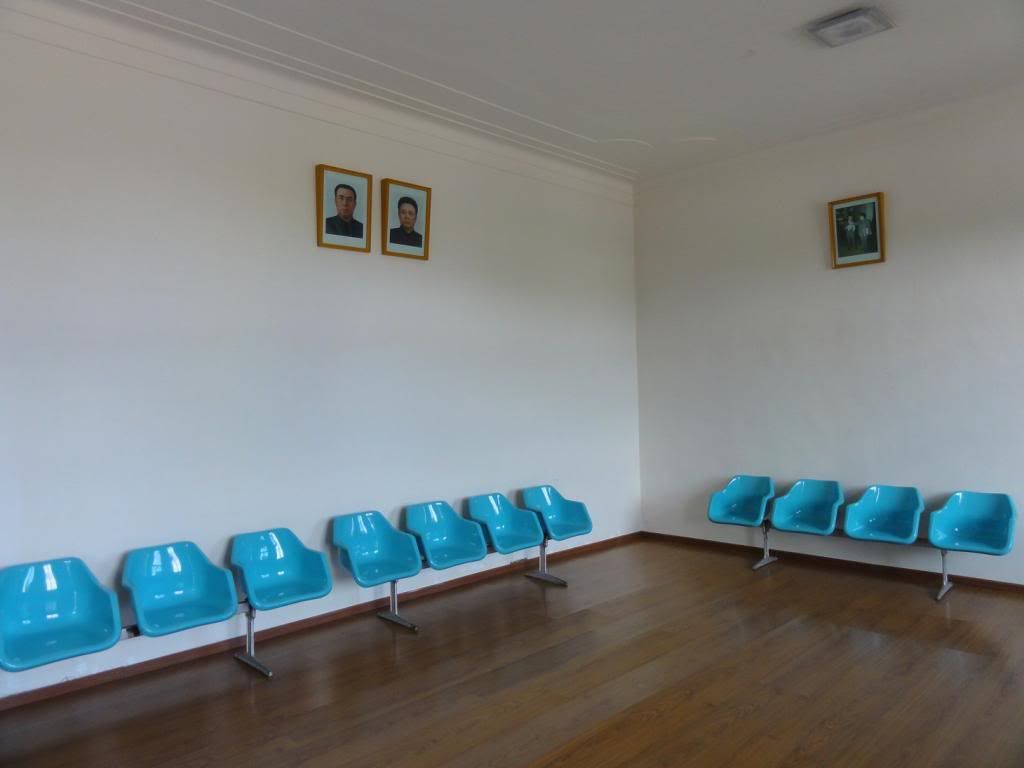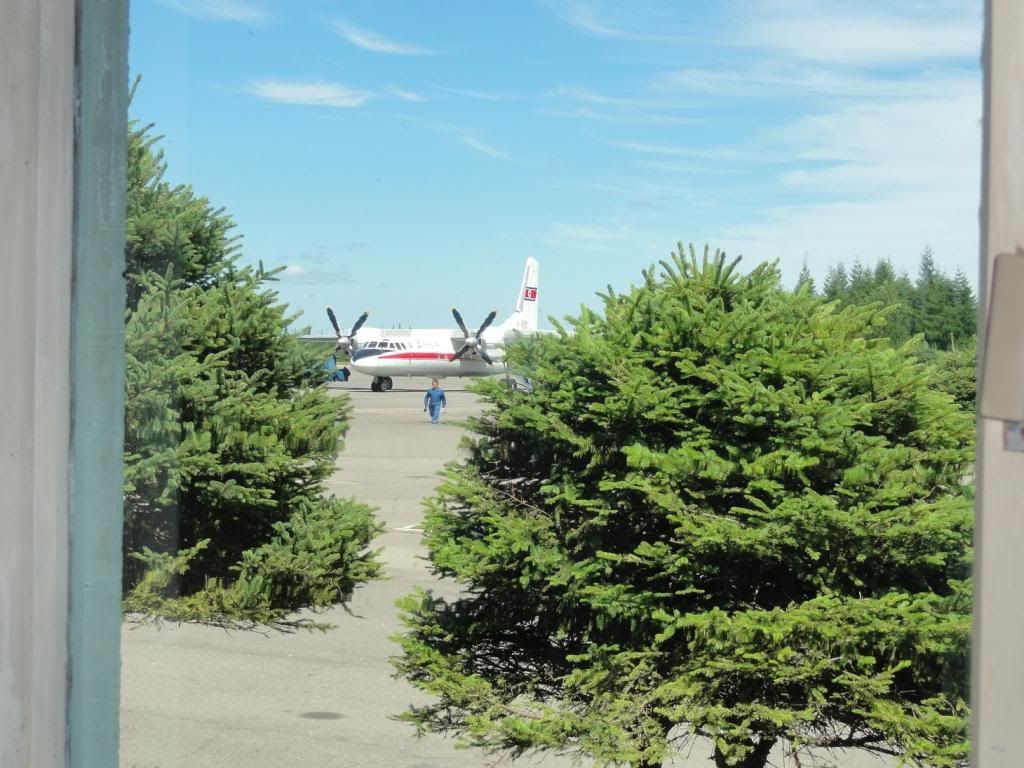 Nowhere is the DPRK without the leaders!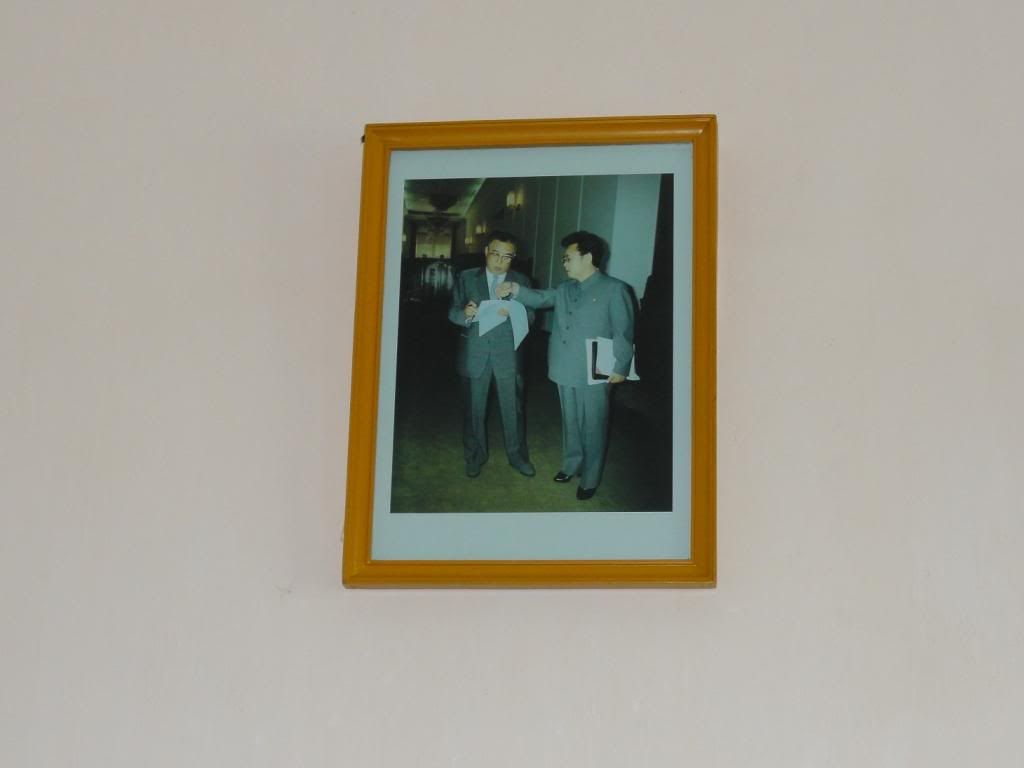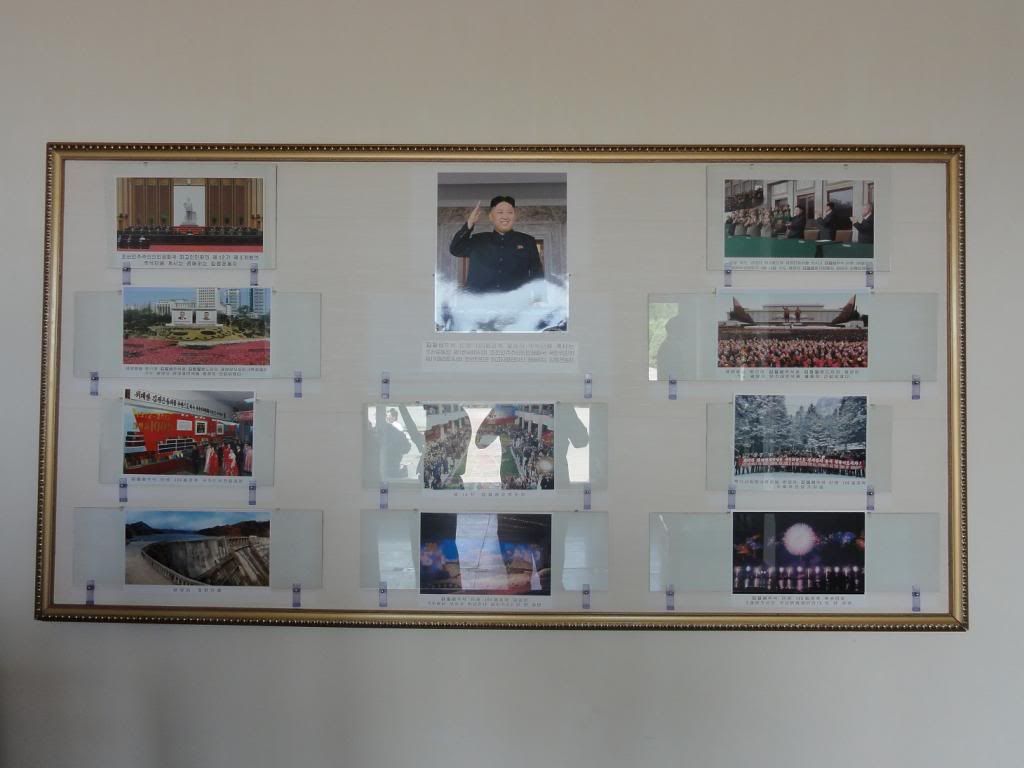 Another boarding pass!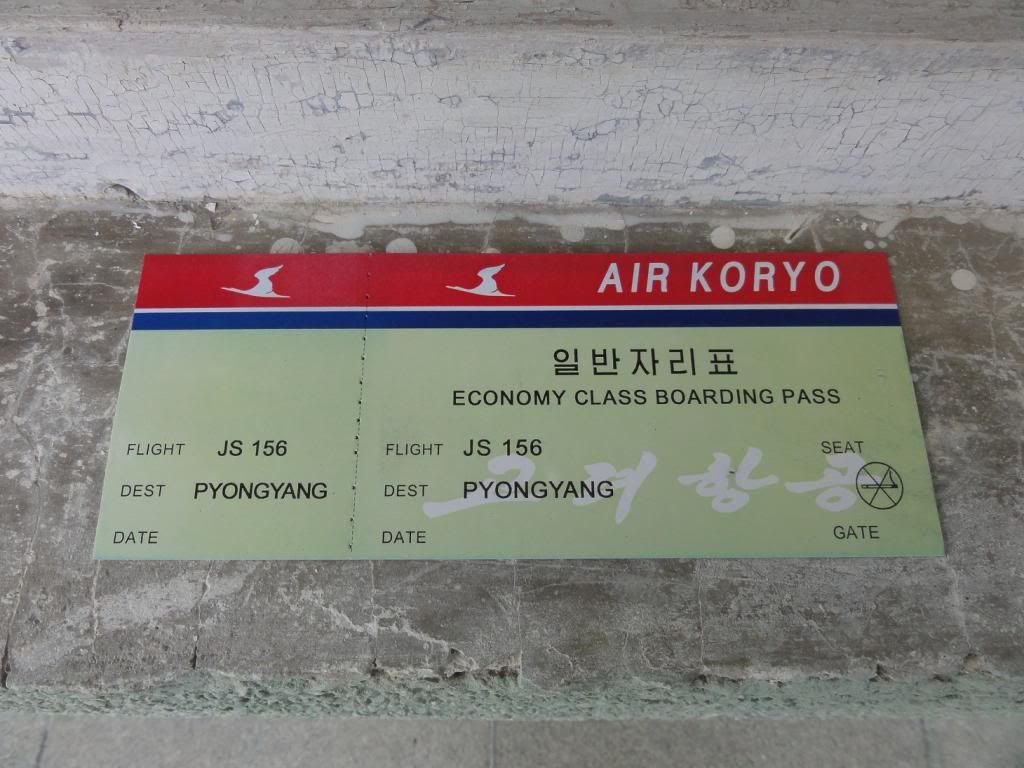 She was still waiting for us, our trusty AN24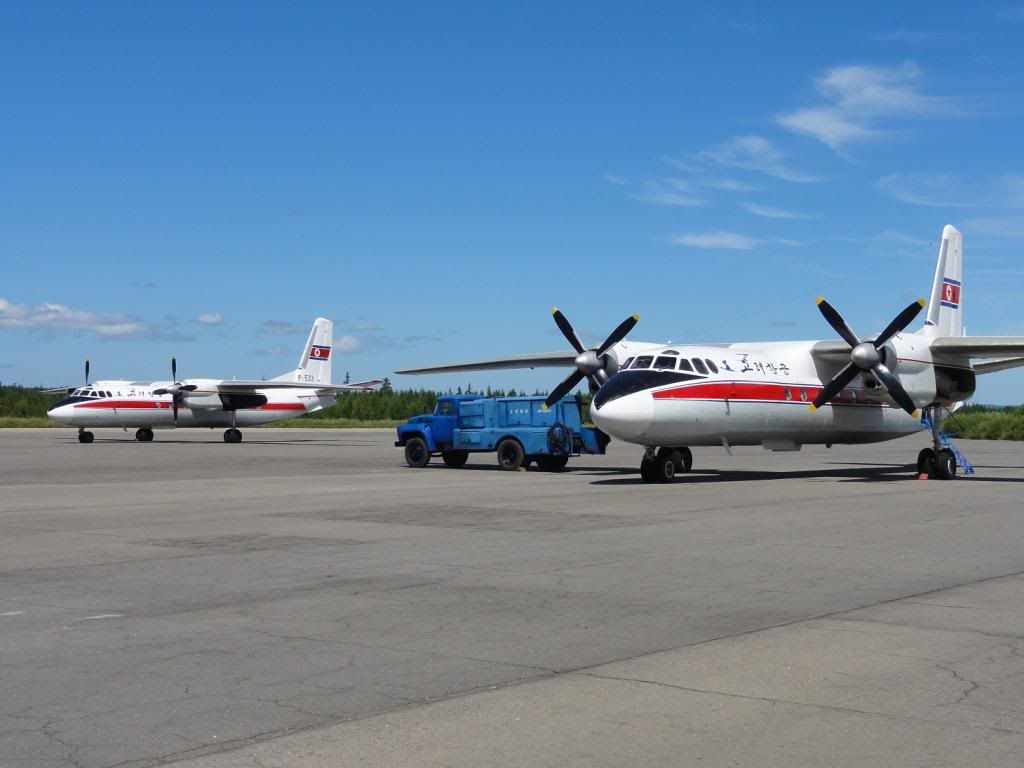 Mount Paekdu in the background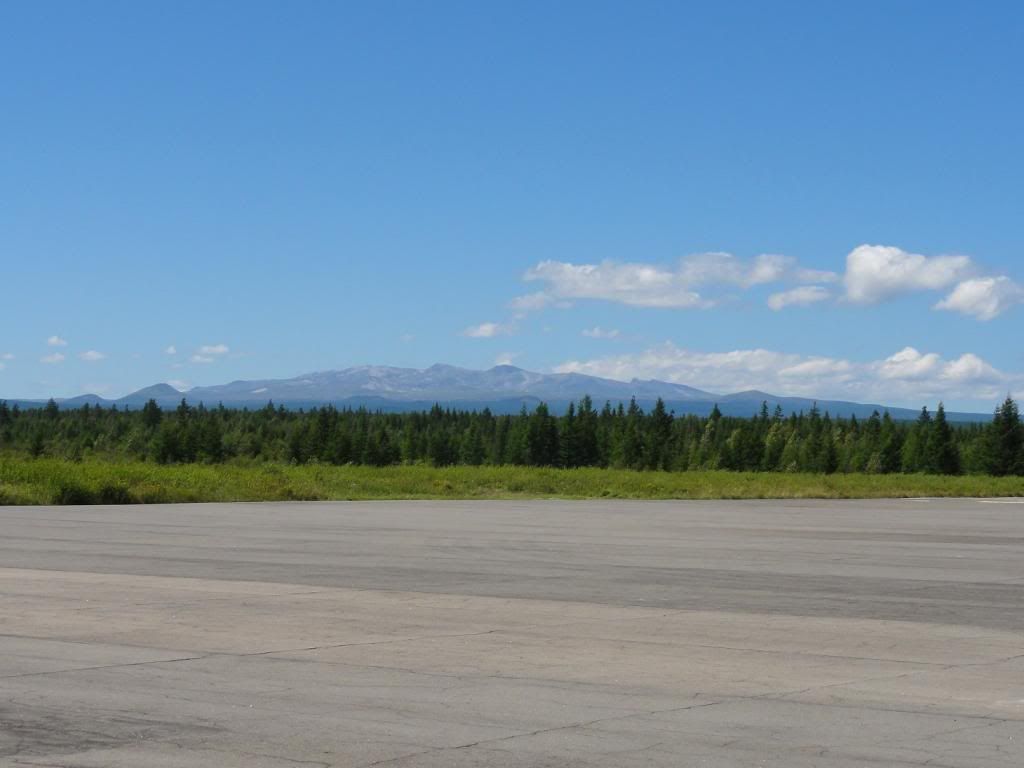 Arsing around in North Korea!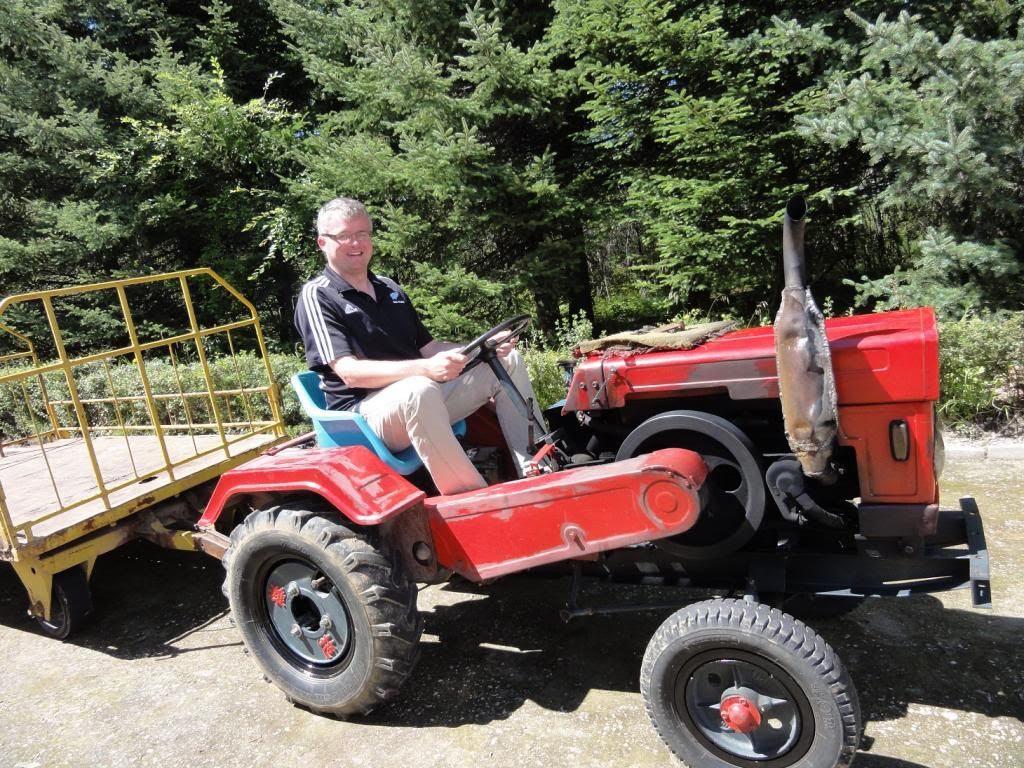 Getting ready to board
Preparing for takeoff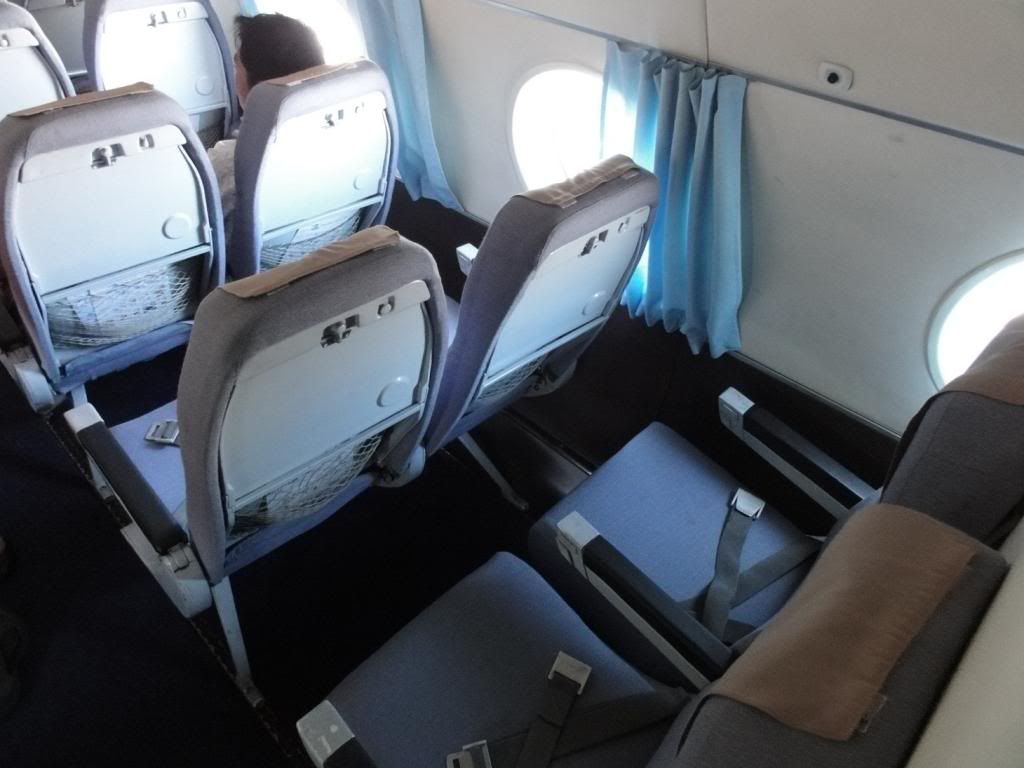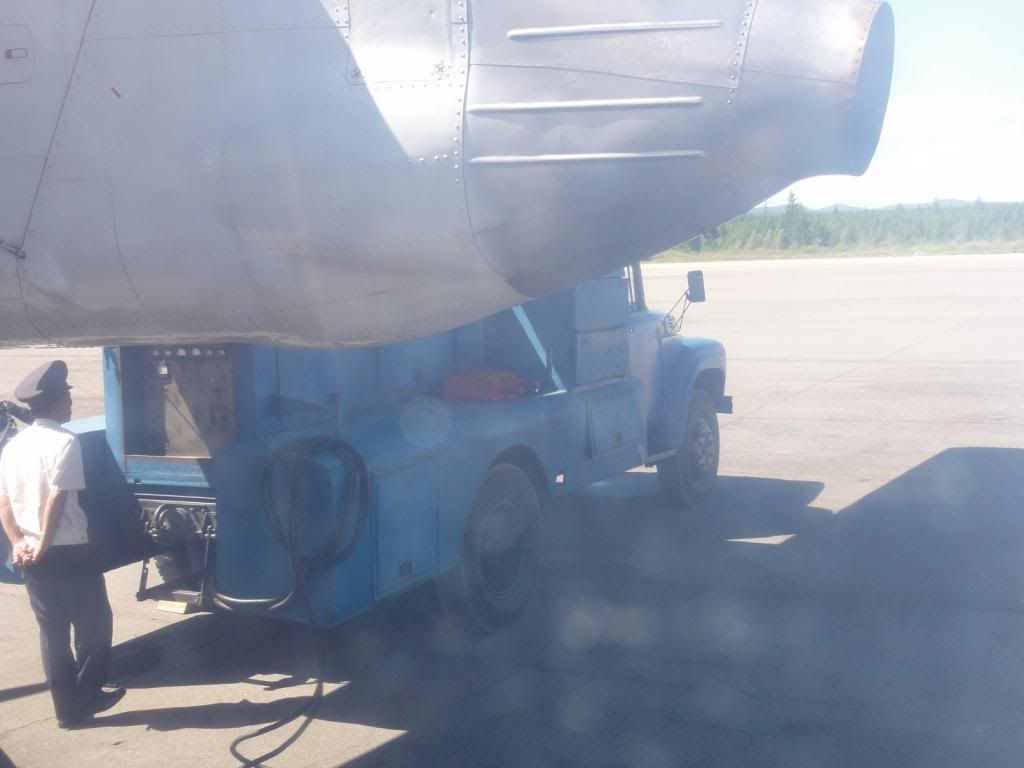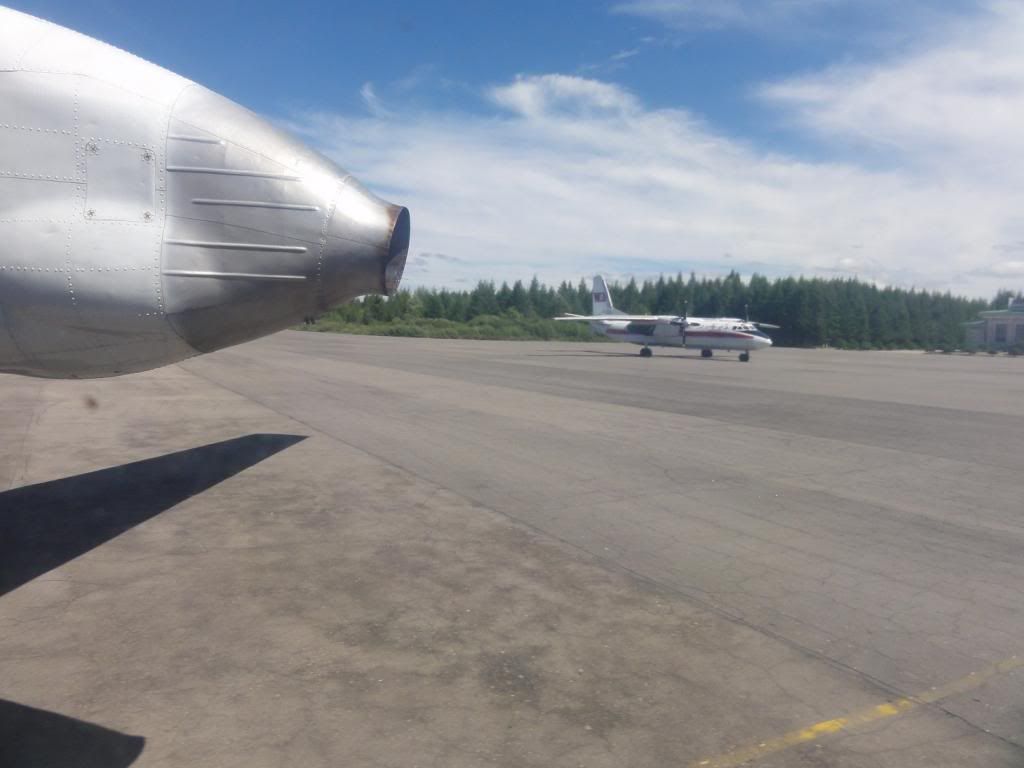 Nothing to report on the flight – I tried to sleep off the alcohol from the previous night (I did not succeed). Arrived in Chongjin but were not allowed to take pictures on the runway as there were a couple of ancient MIG military planes parked outside. However, after asking our guide a select few where allowed a peak into the cockpit! Yeah!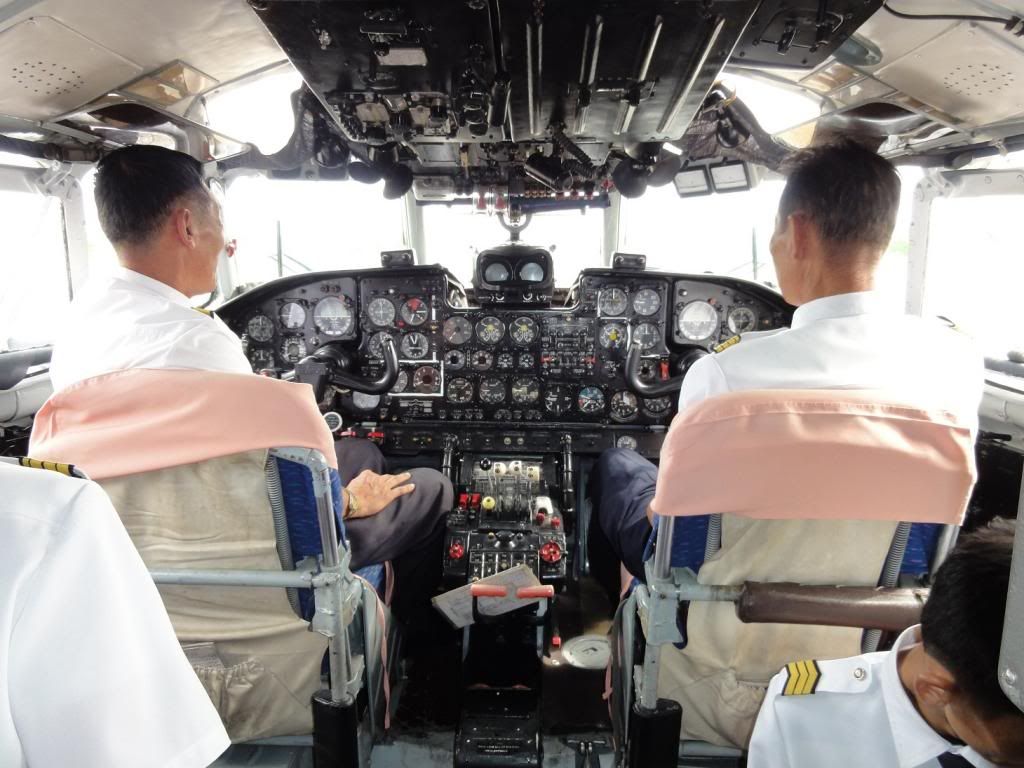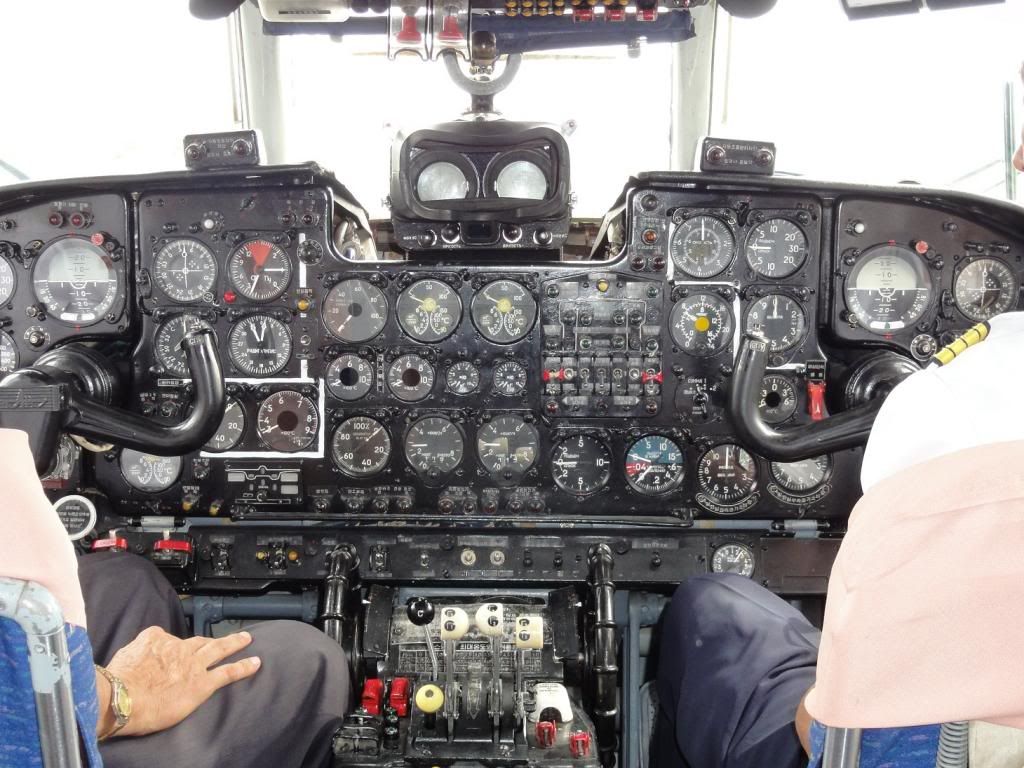 Off to Chongjin which is 45 minute away. Chongjin was badly affected by the famine in the 90s and tourists are not really appreciated. It is VERY rarely visited and offers a fascinating insight into "real" North Korean life (unlike the showcase capital)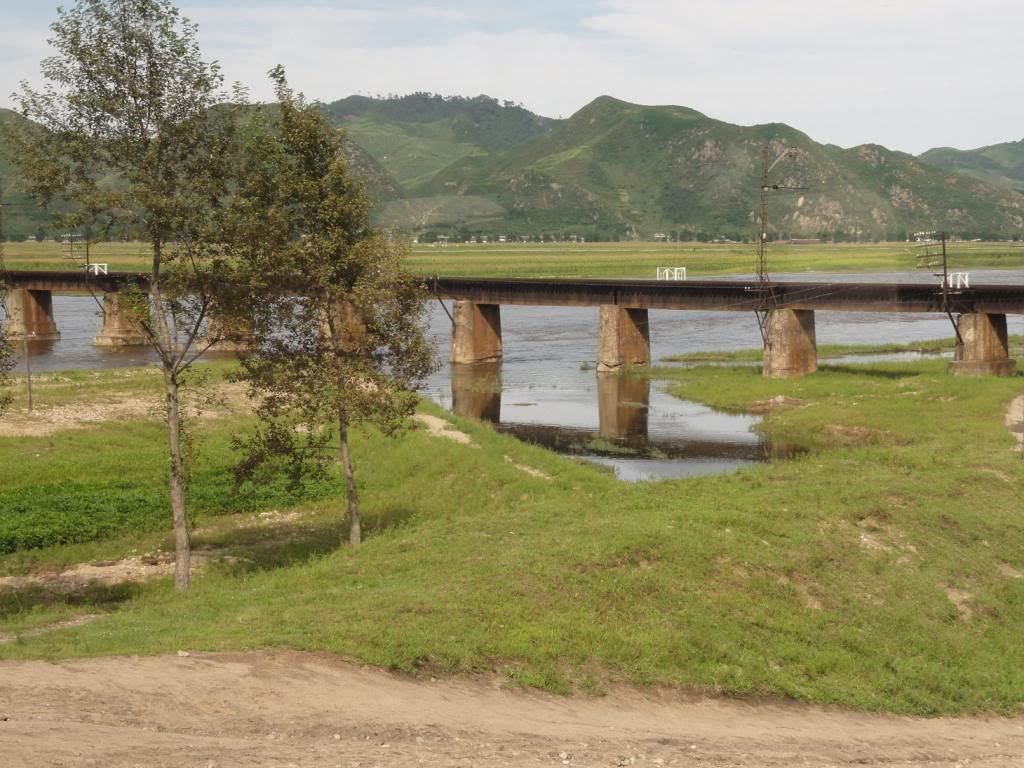 Hotel for the night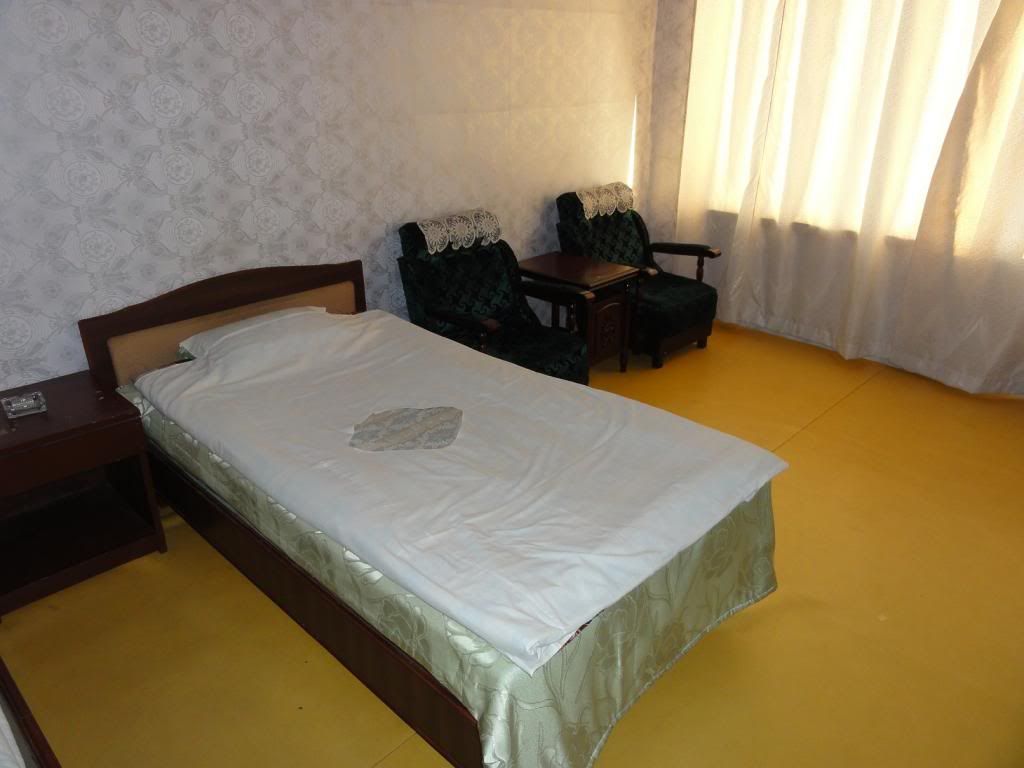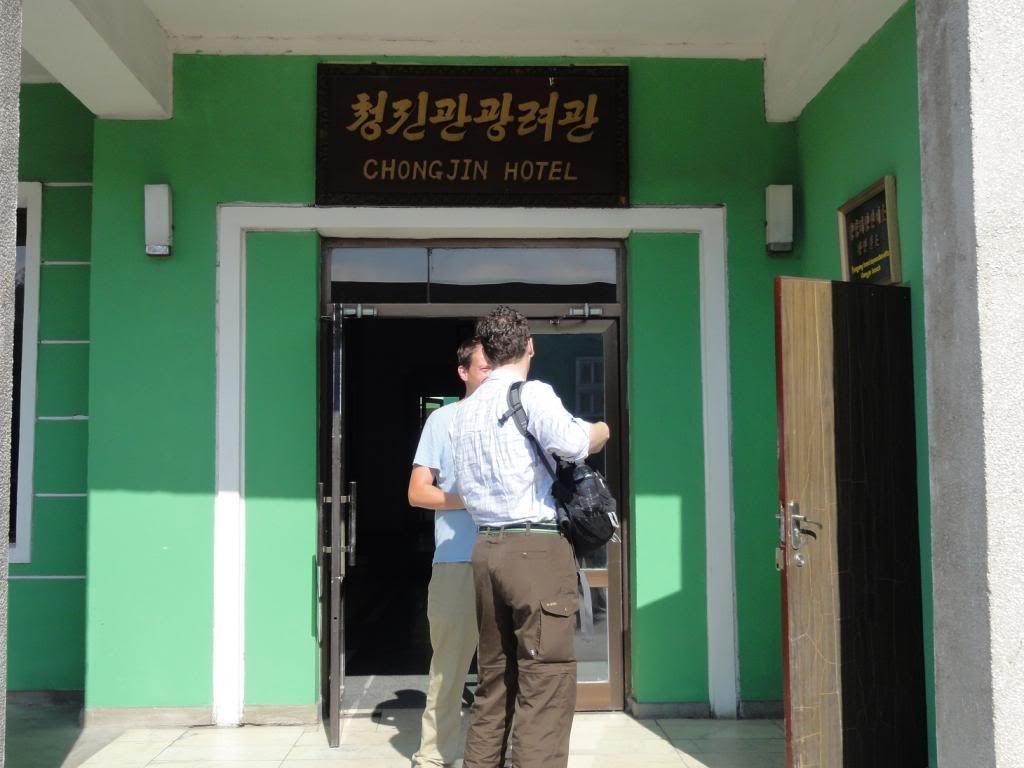 Chongjin impressions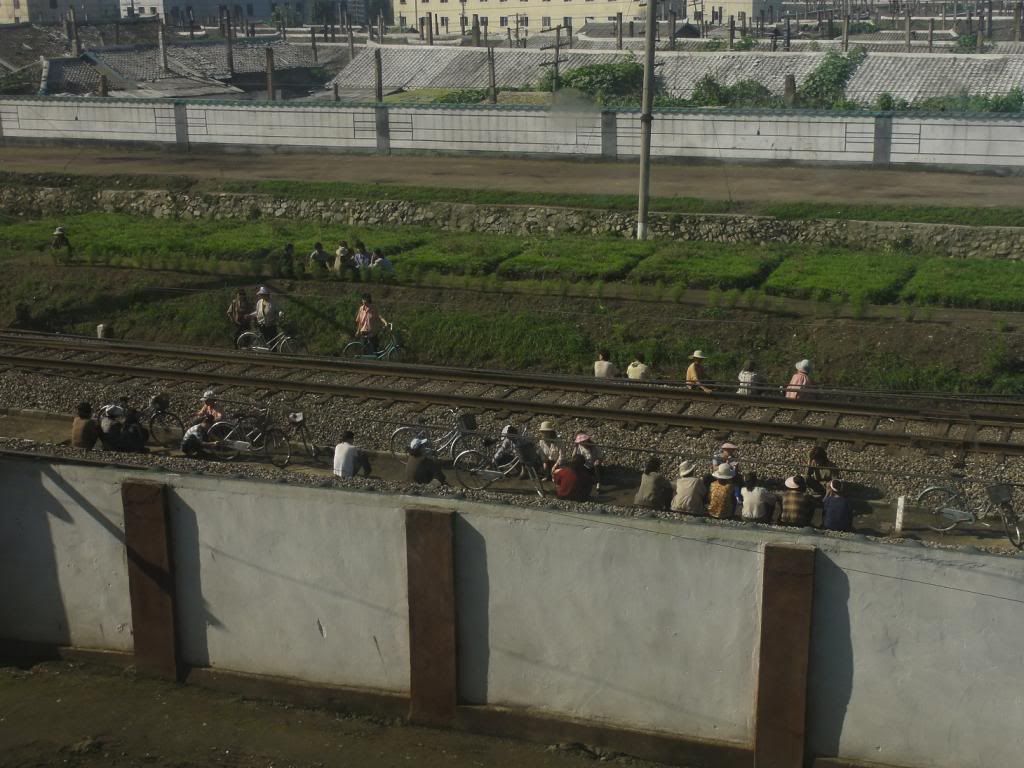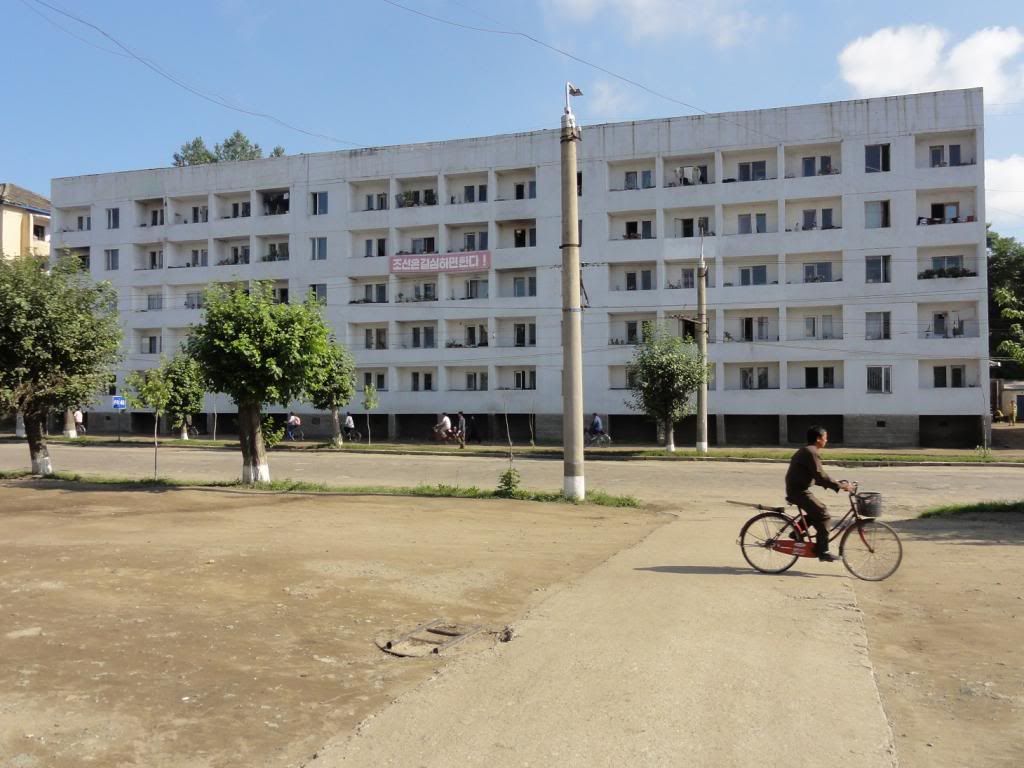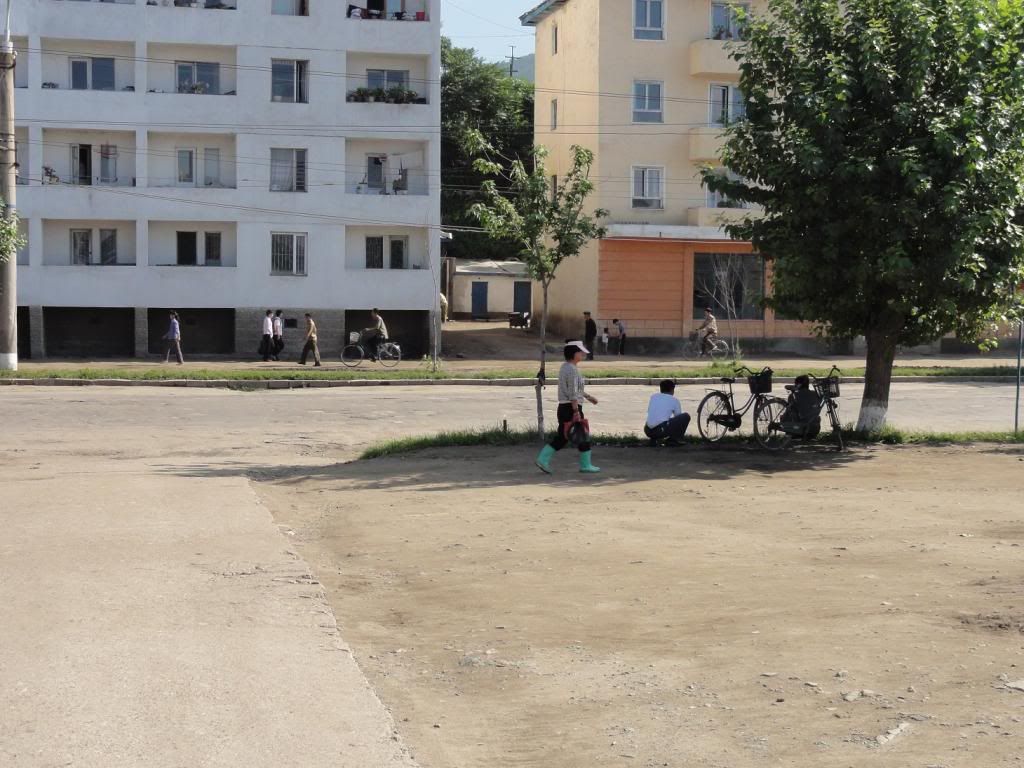 Budding private business and ox drawn carts
More arsing around in North Korea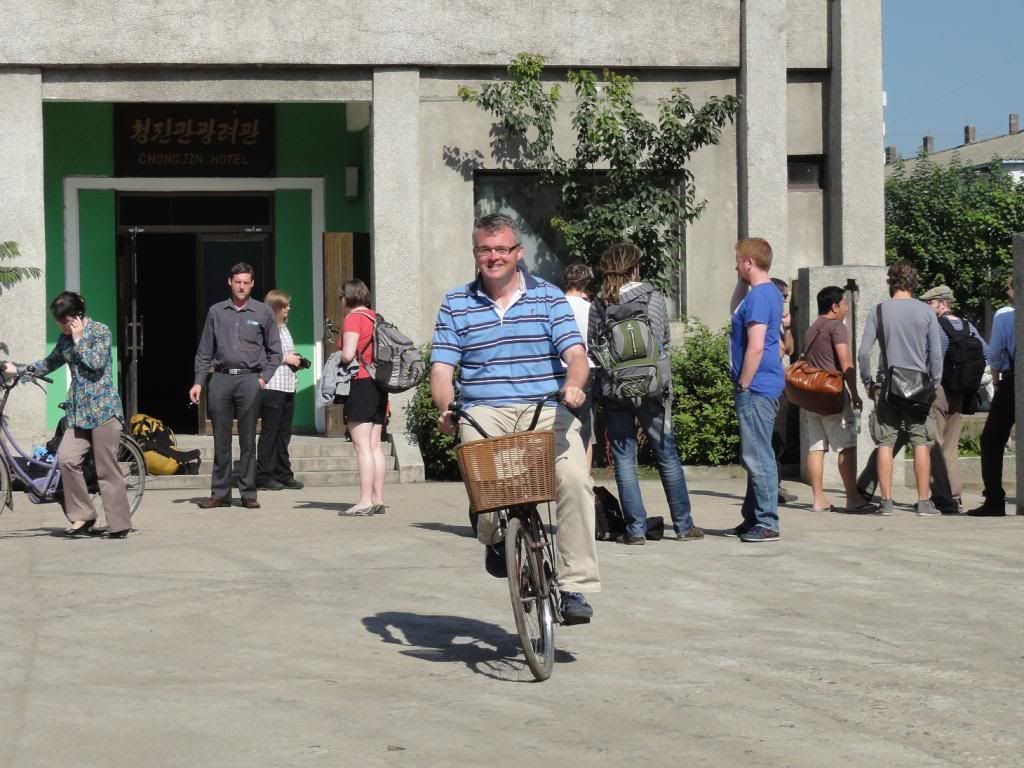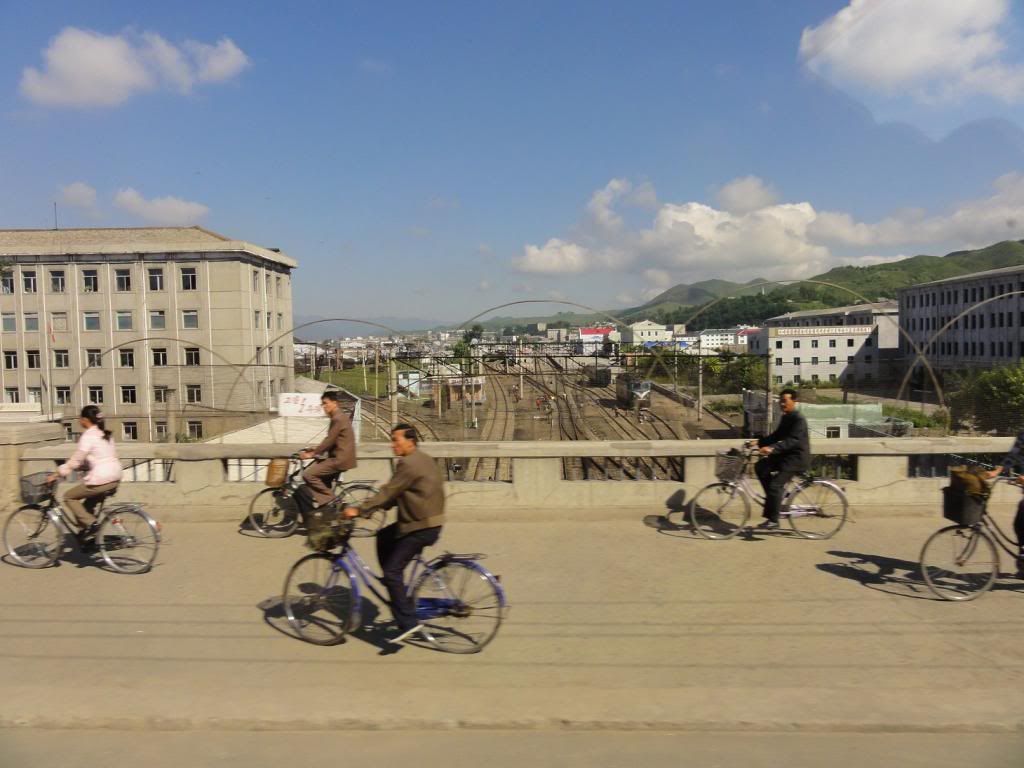 Central Square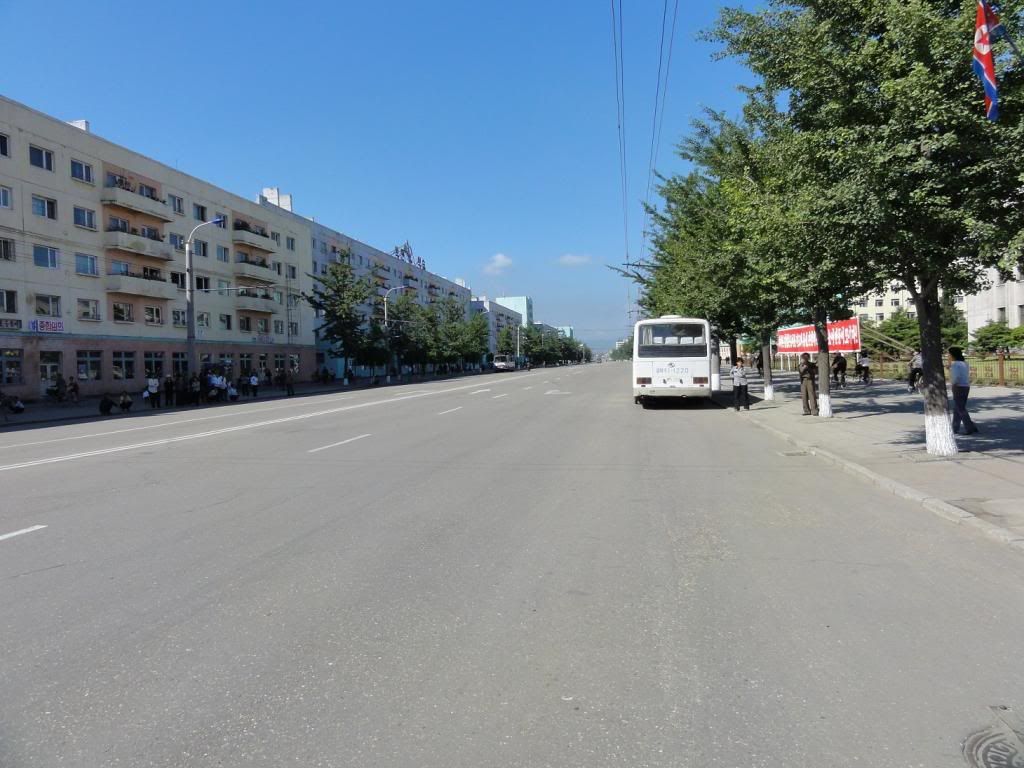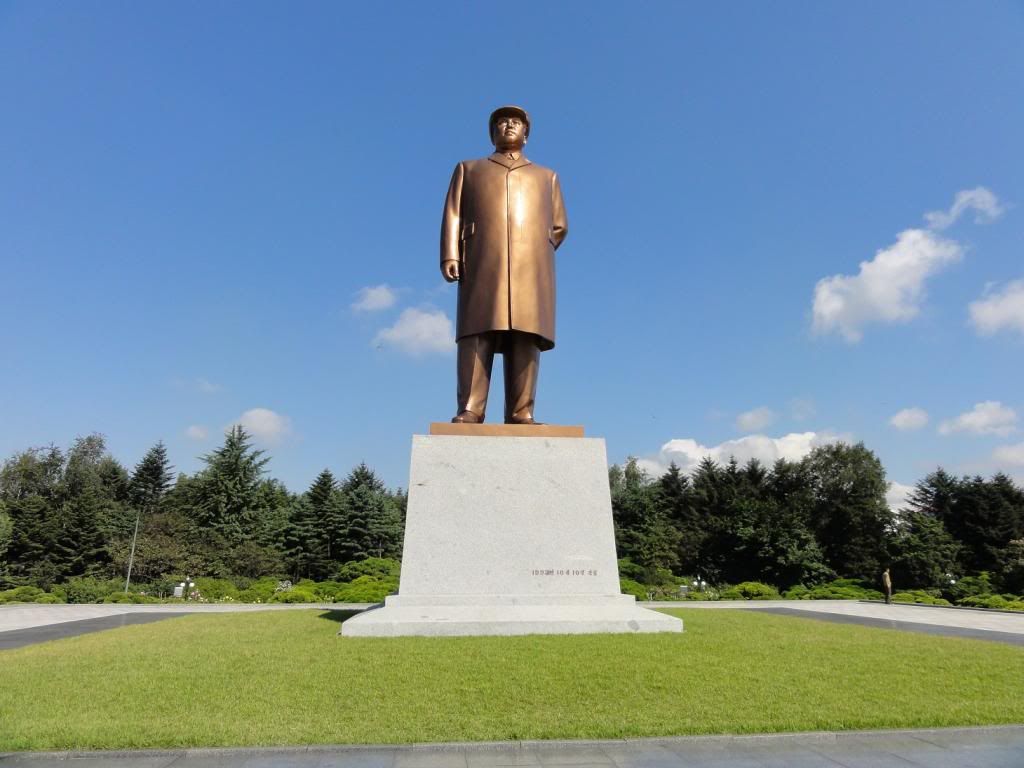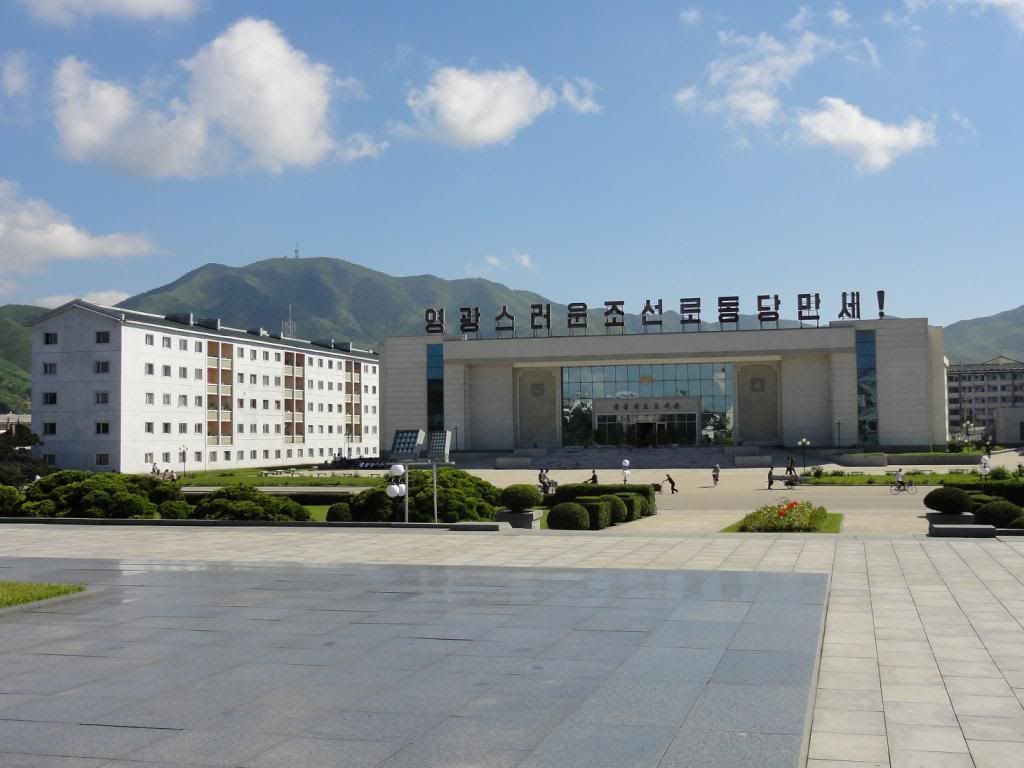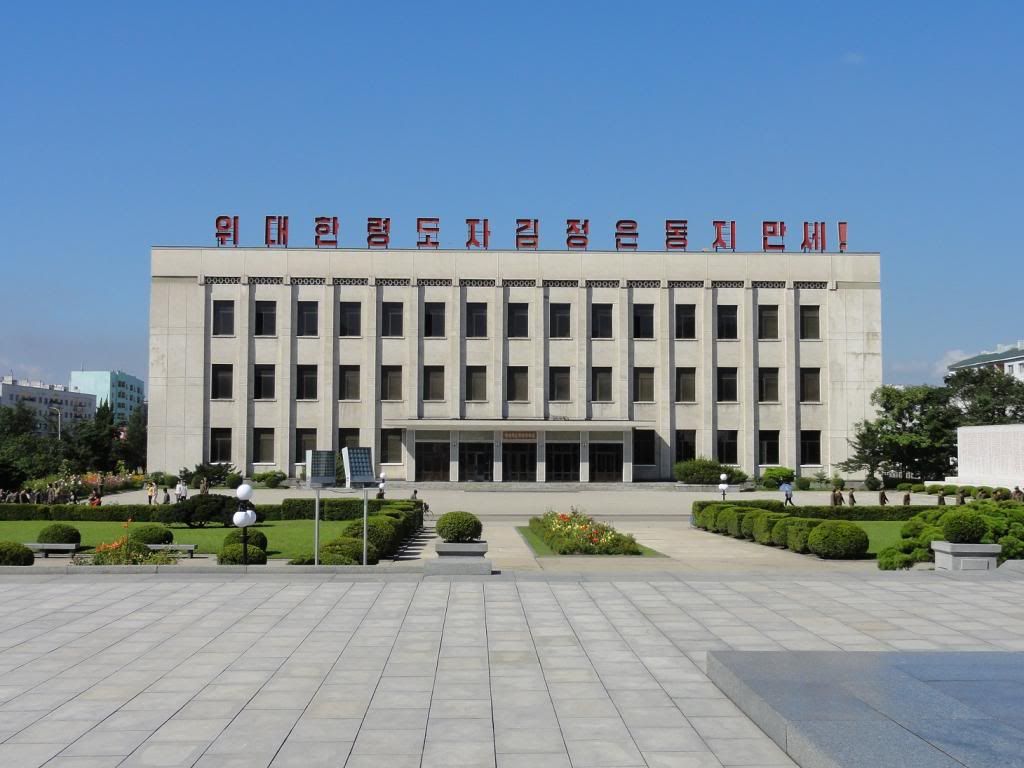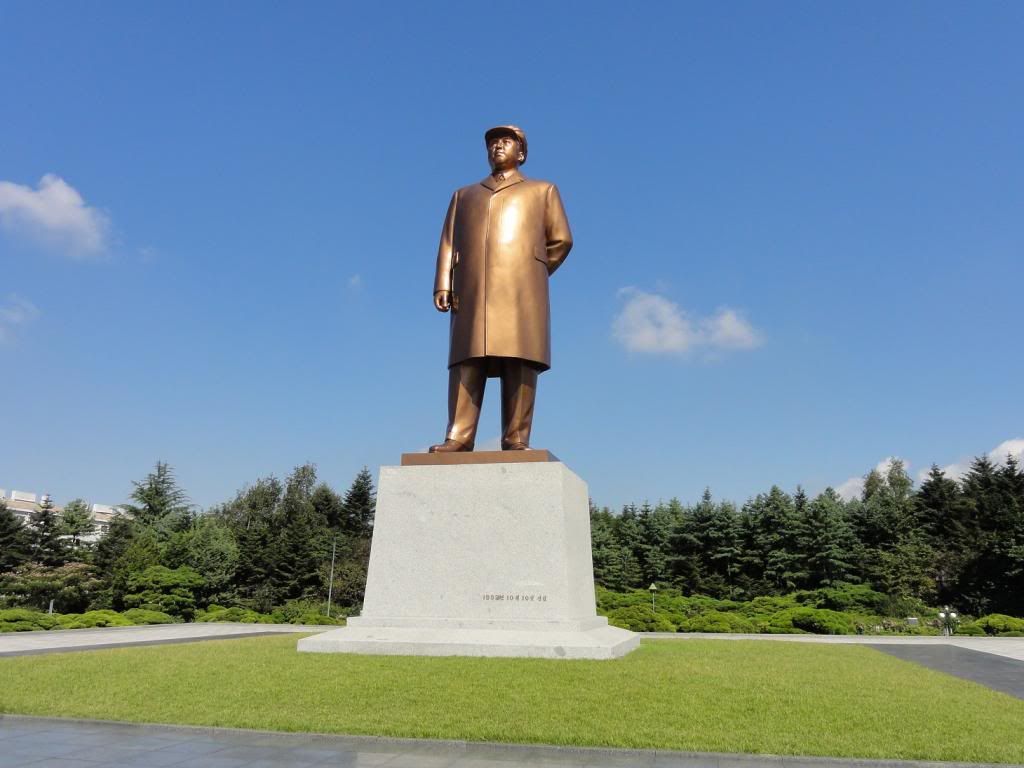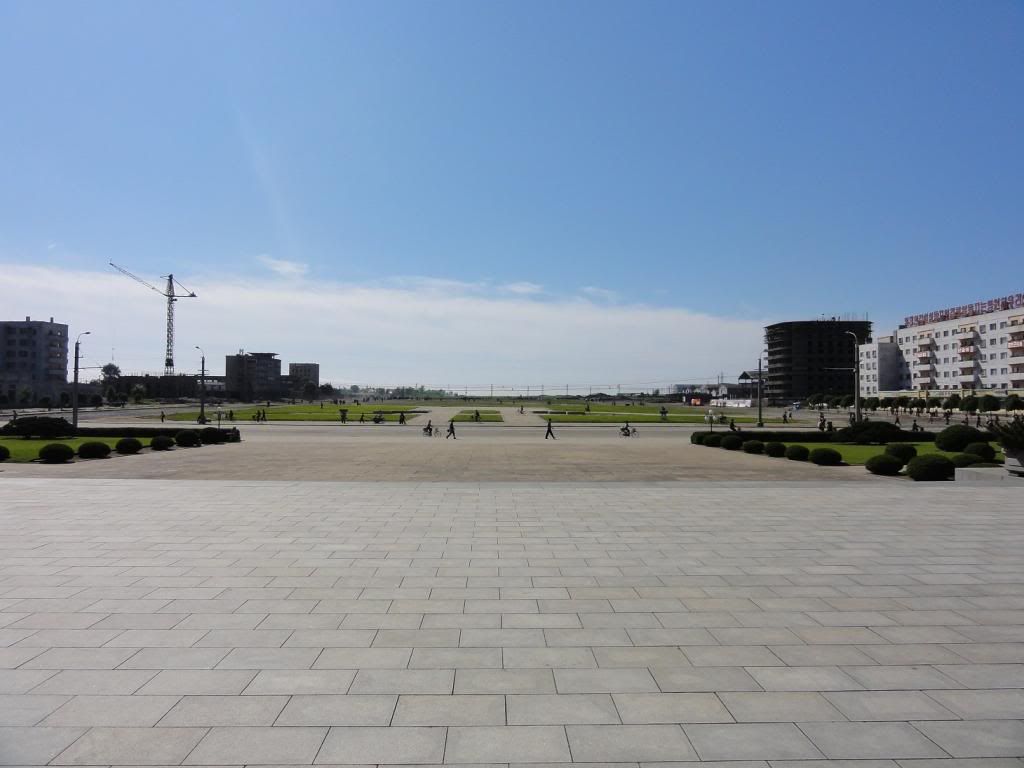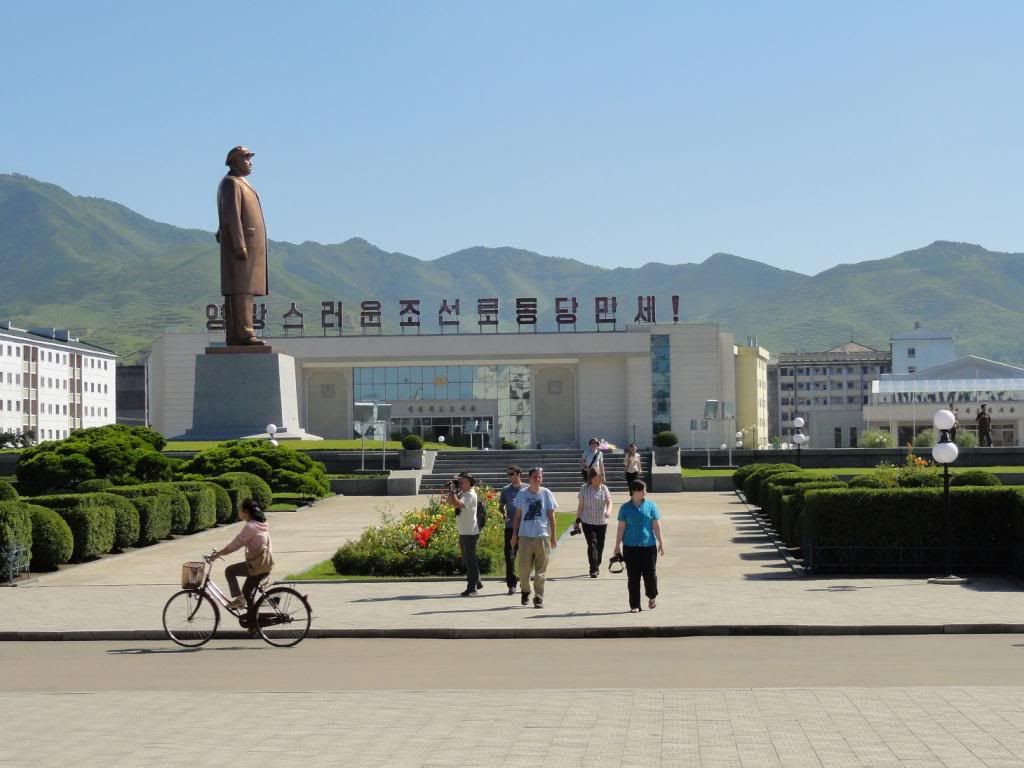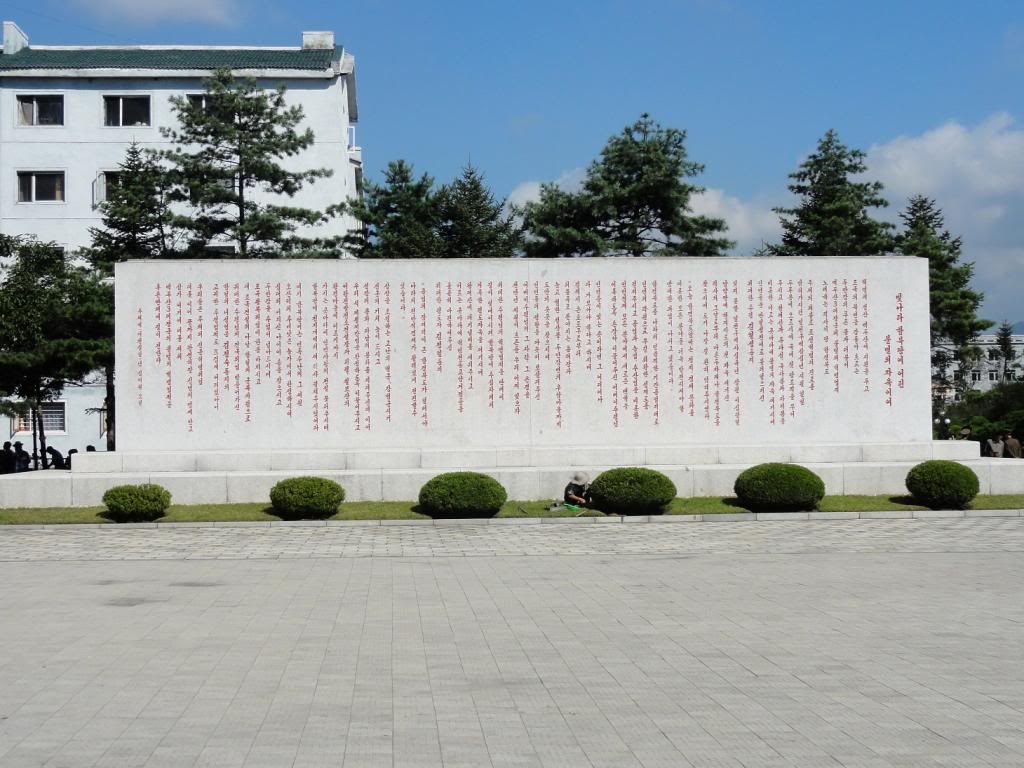 Big brother is watching (and Big brother China is "assisting" with the right technology!)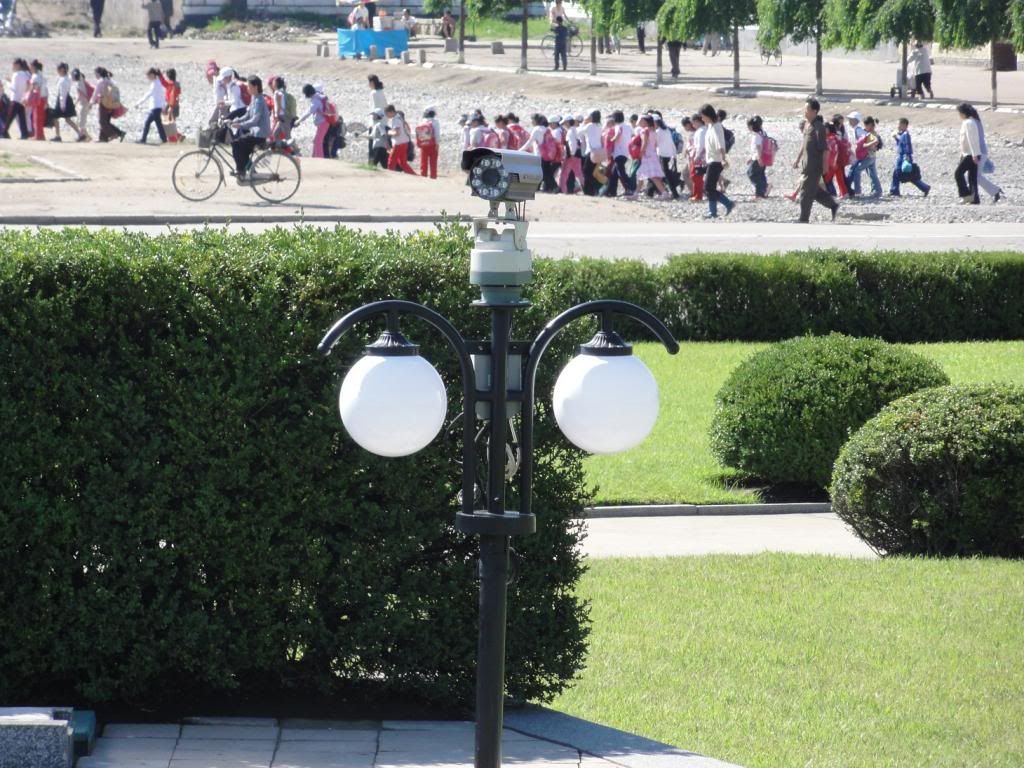 Chongjing kindergarten with some scary showcase zombie kids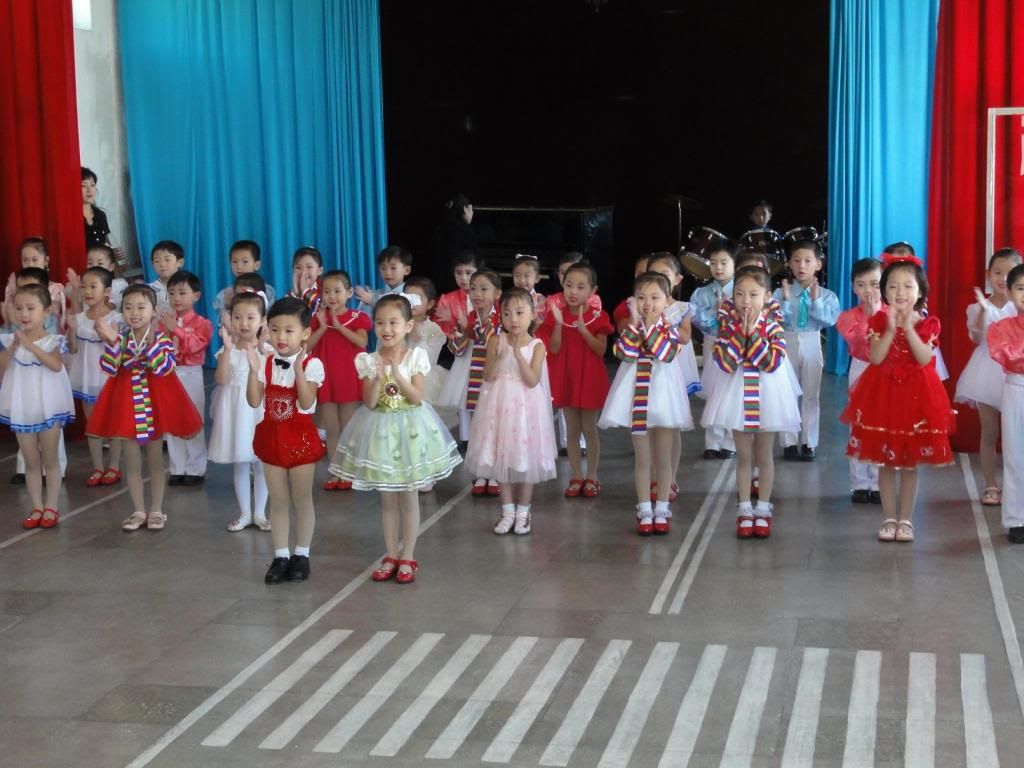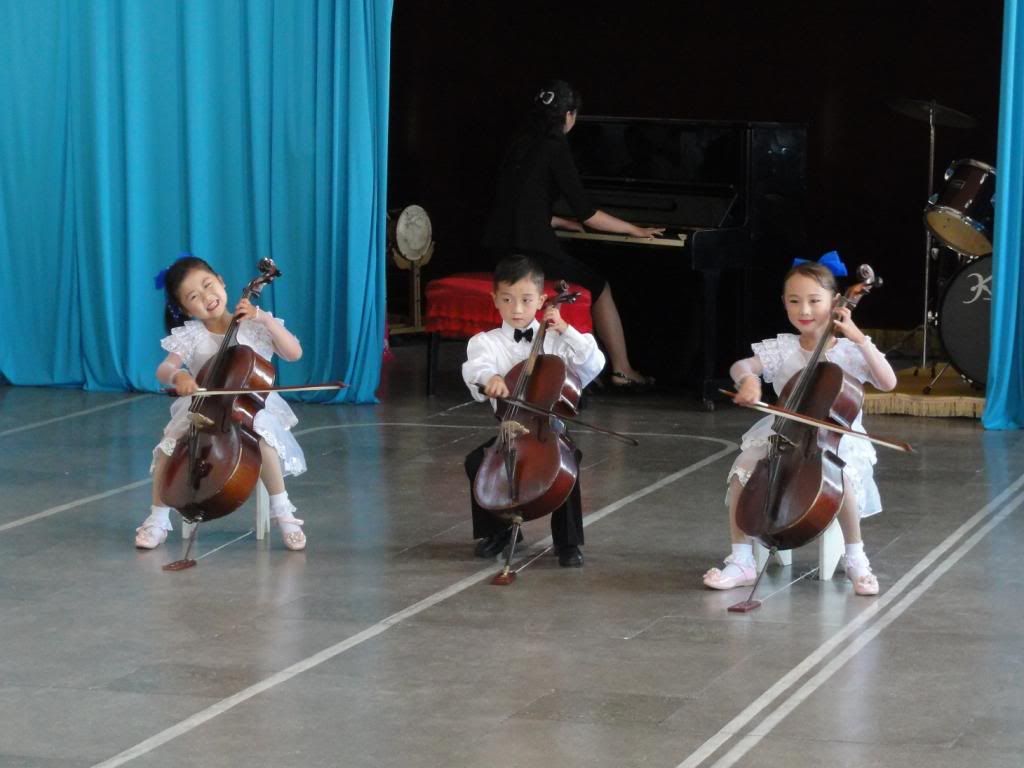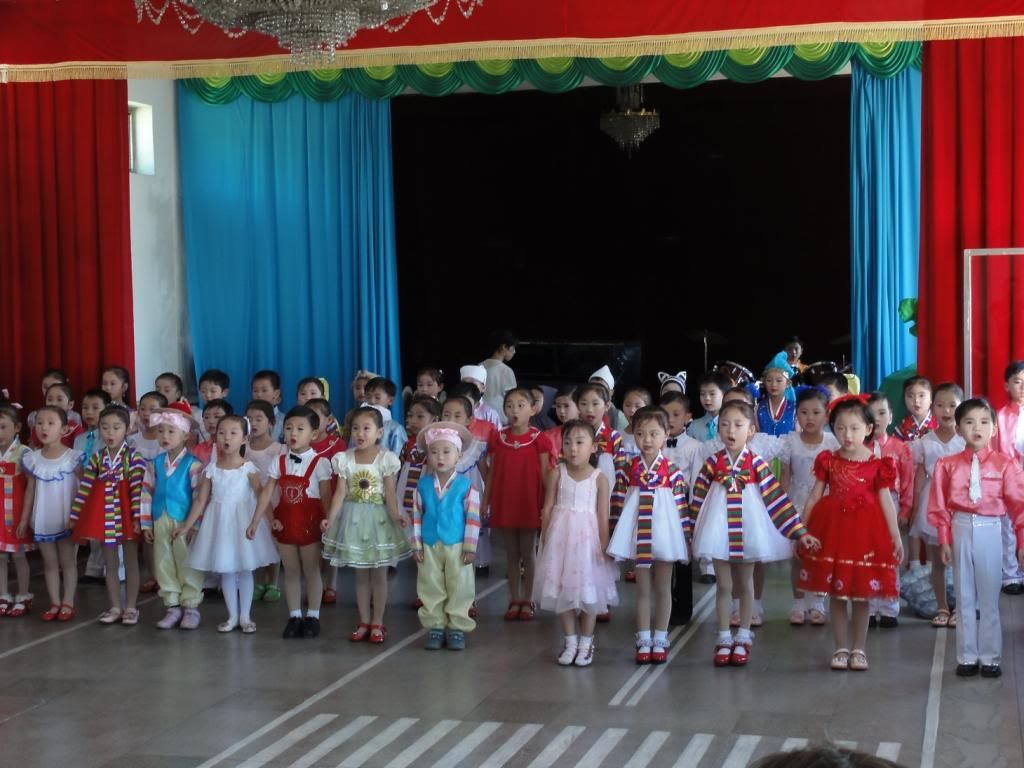 Chongjin is also the only city (apart from Pyongyang) in North Korea with a limited tram network. Photos not allowed, this one was sneaked from the bus
And after a few hours they wanted us out so we were back on our way to Orang airport, with a stop and a banquet in a resort on the way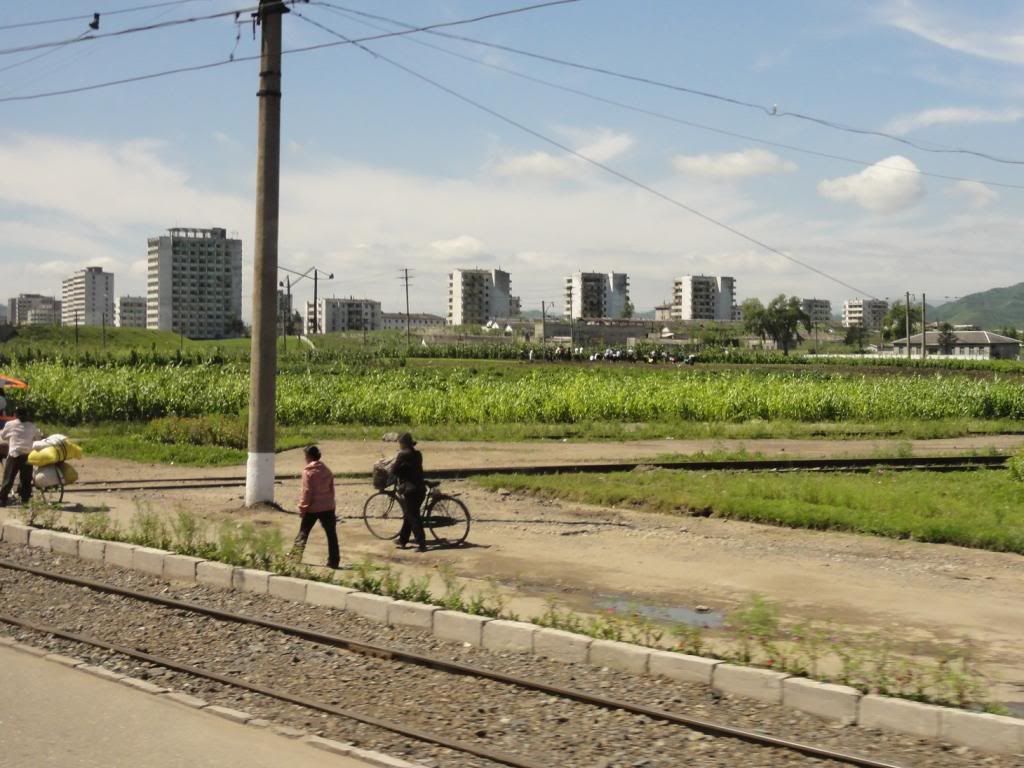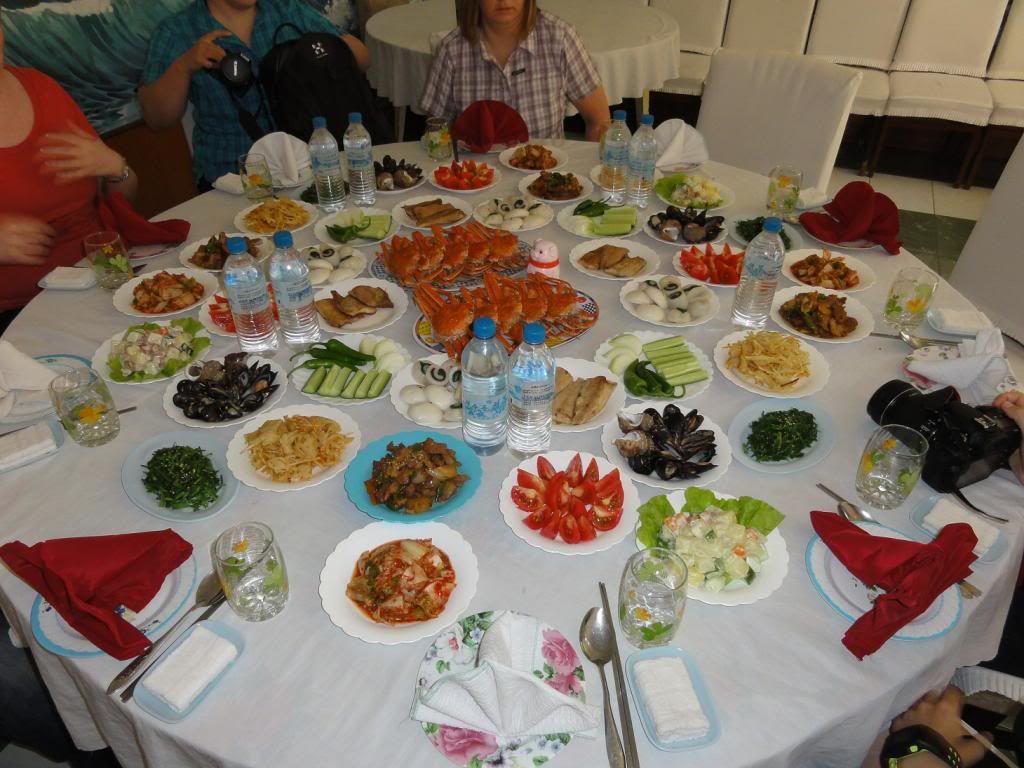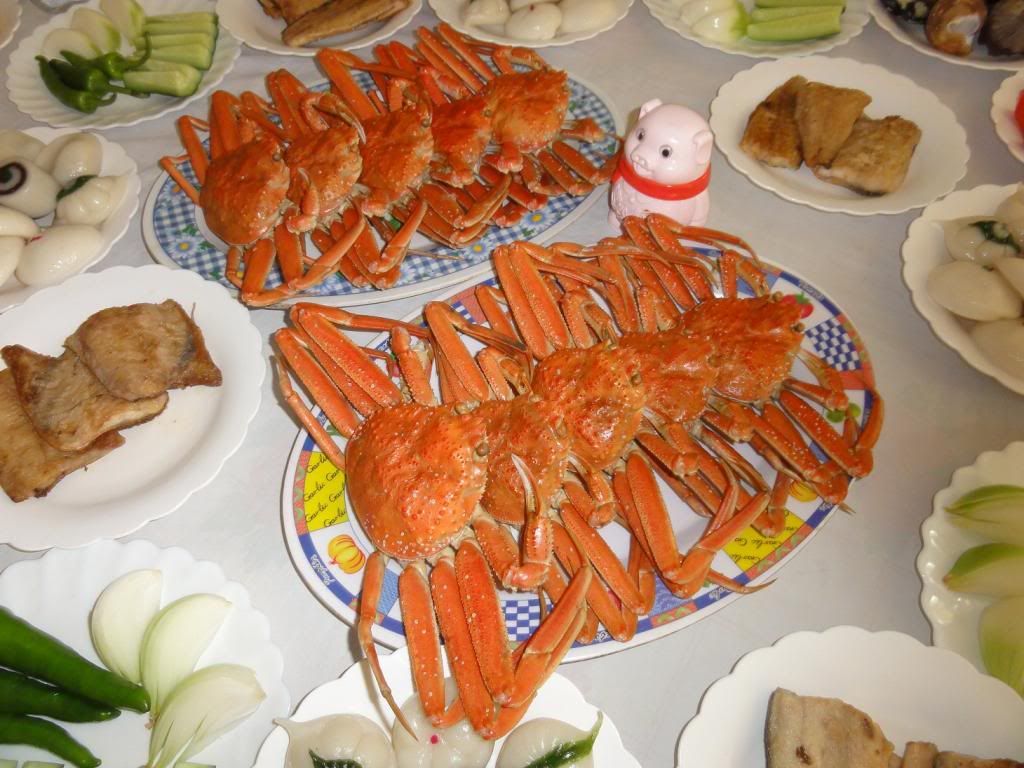 FLIGHT THREE: RGO to FNJ with JS in Y
Orang airport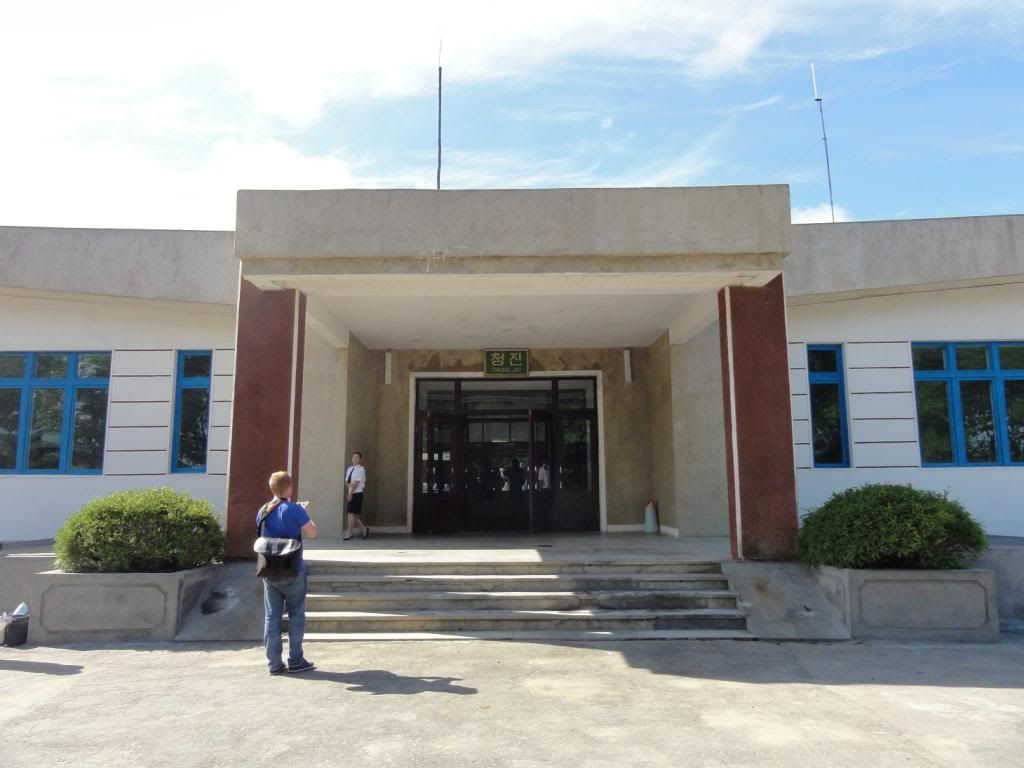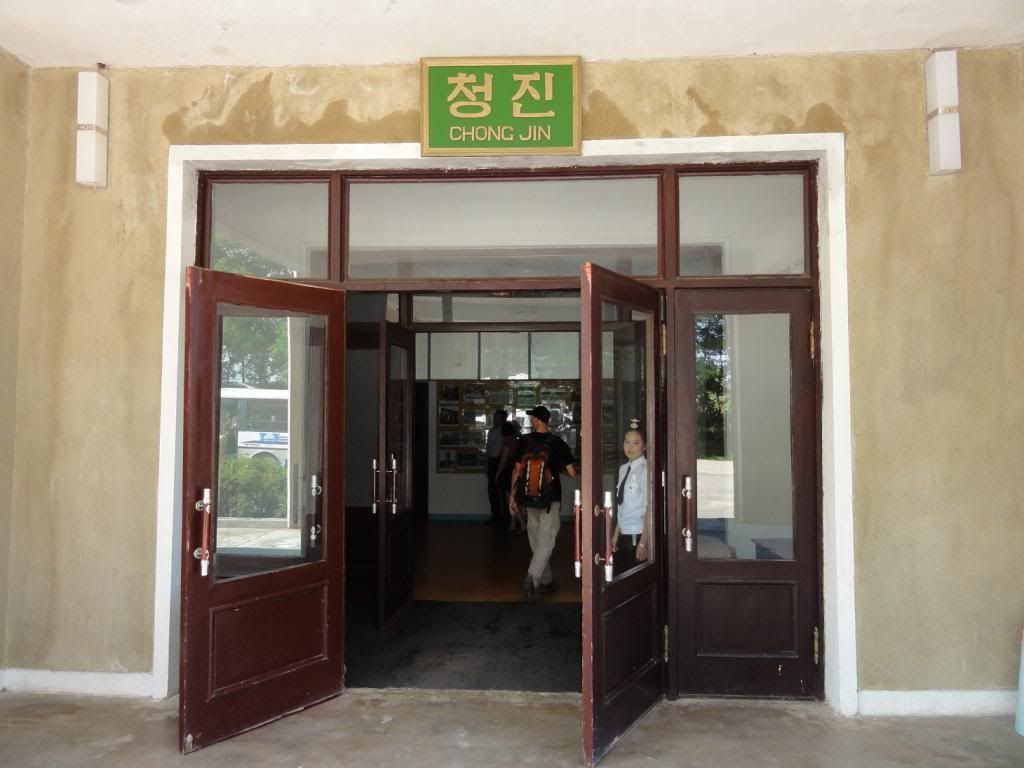 Lounge area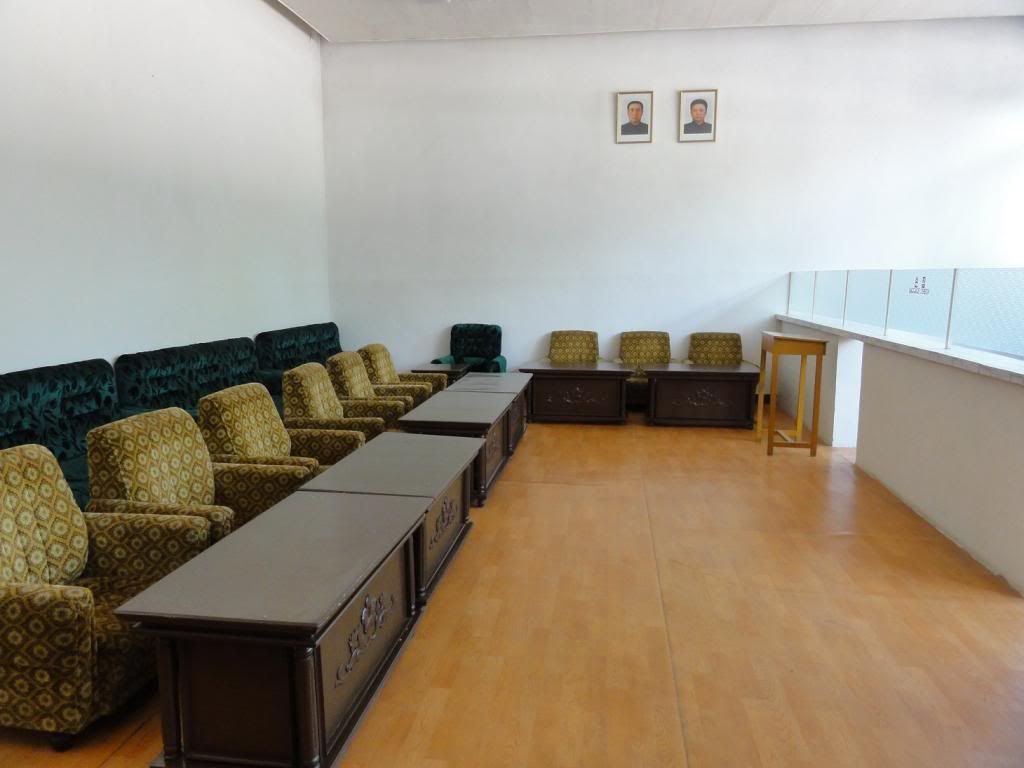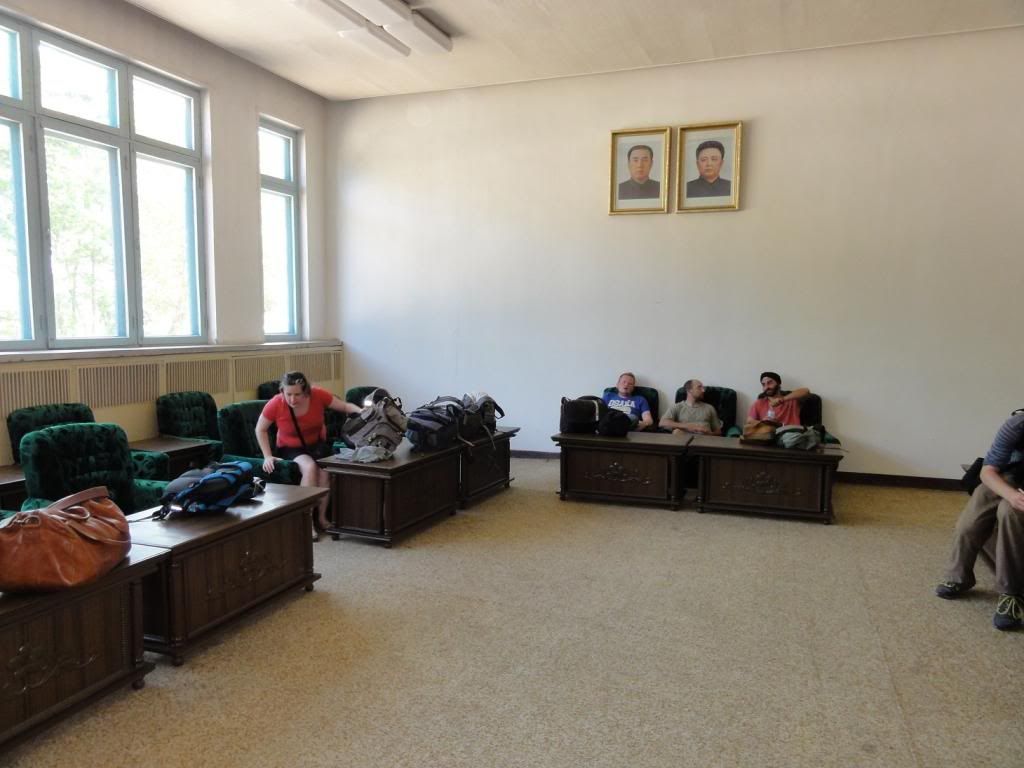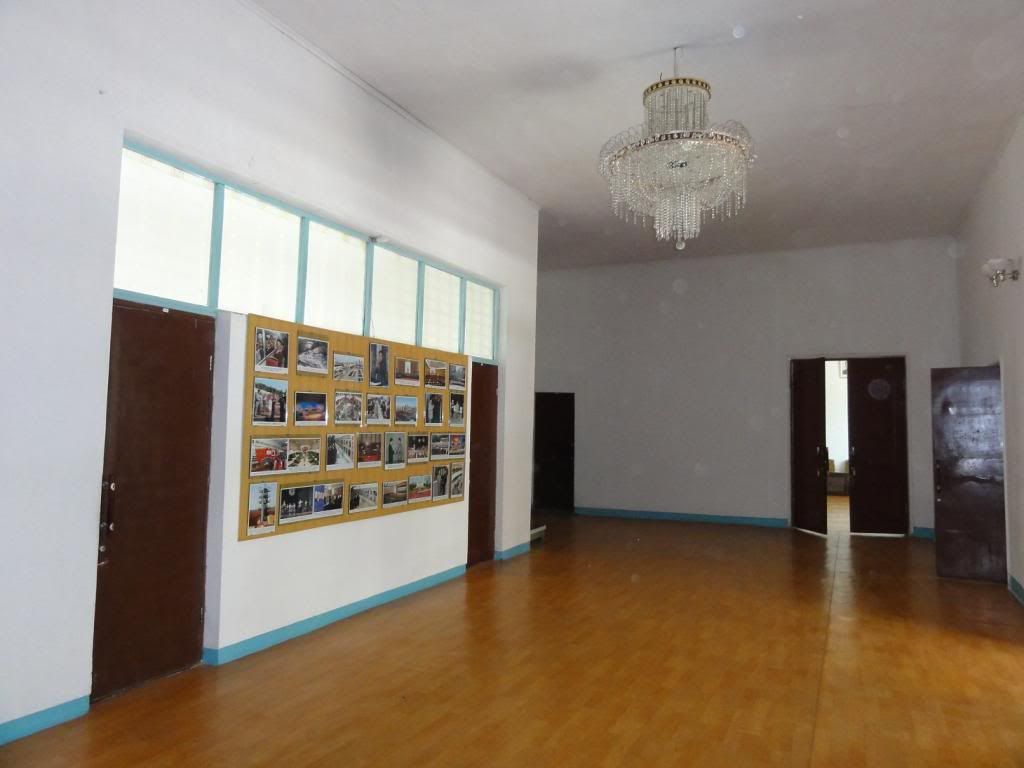 And another boarding pass!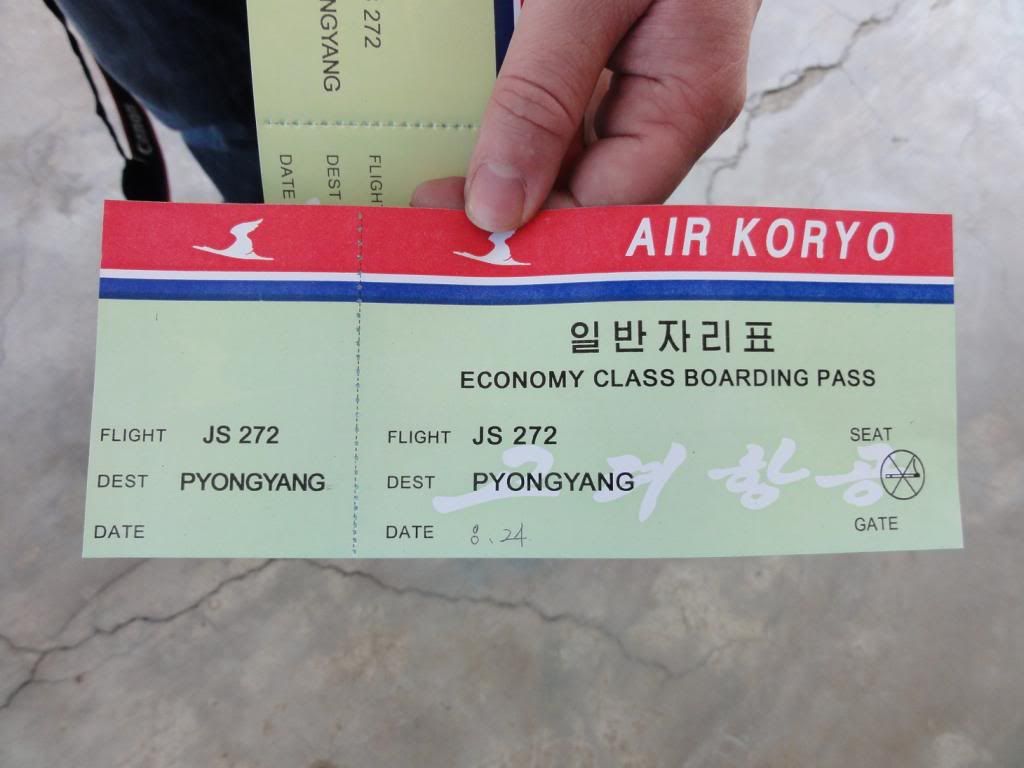 A quick sneaked photo (the military planes were still there, probably been there since the Korean war!)
And another uneventful Air Koryo flight, this tame back to Pyongyang (90 minutes)
No catering but no objection to consume 0.6L Taedongang beers in glass bottles which were smuggled in by cheeky tourists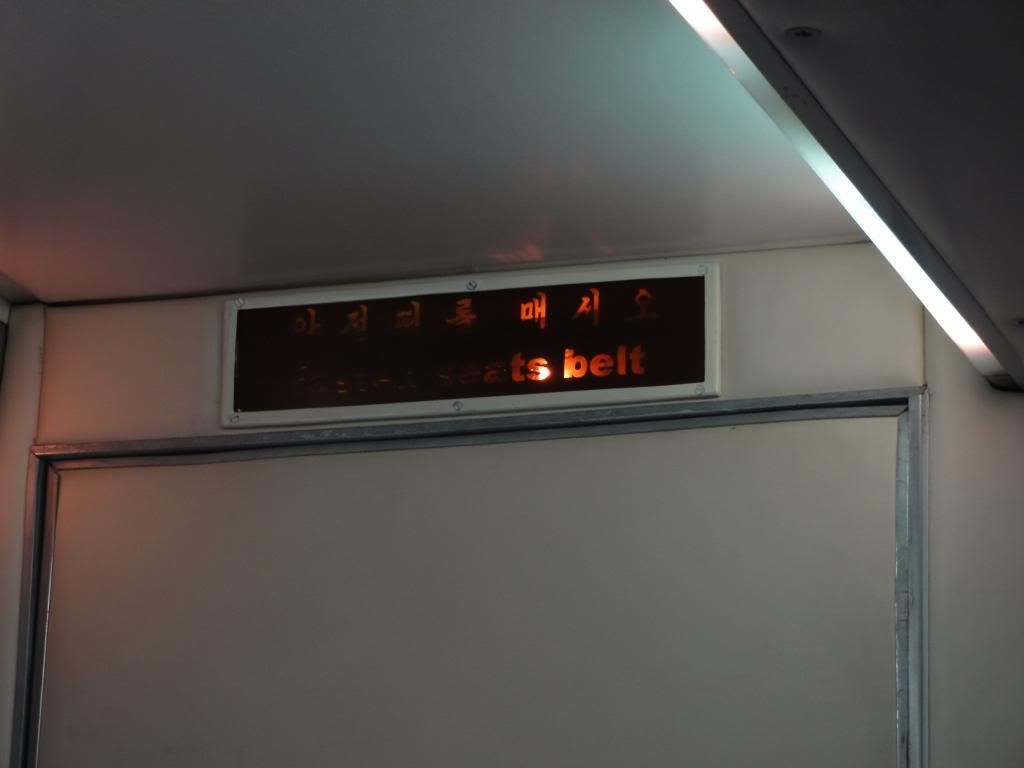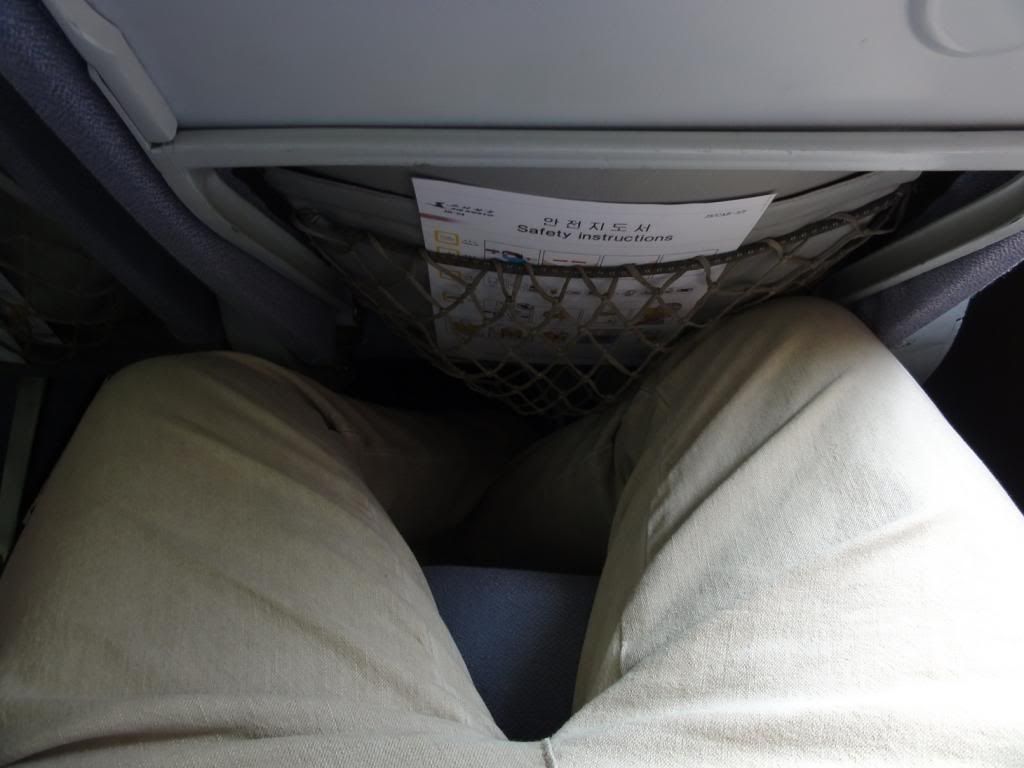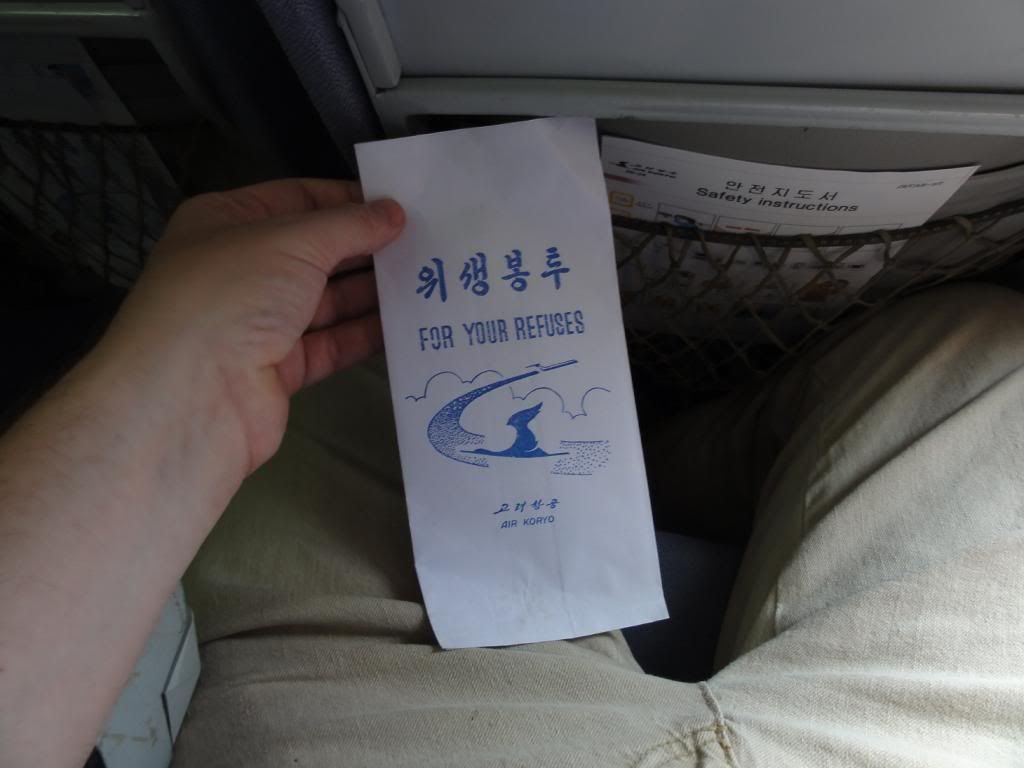 Approaching FNJ
FNJ impressions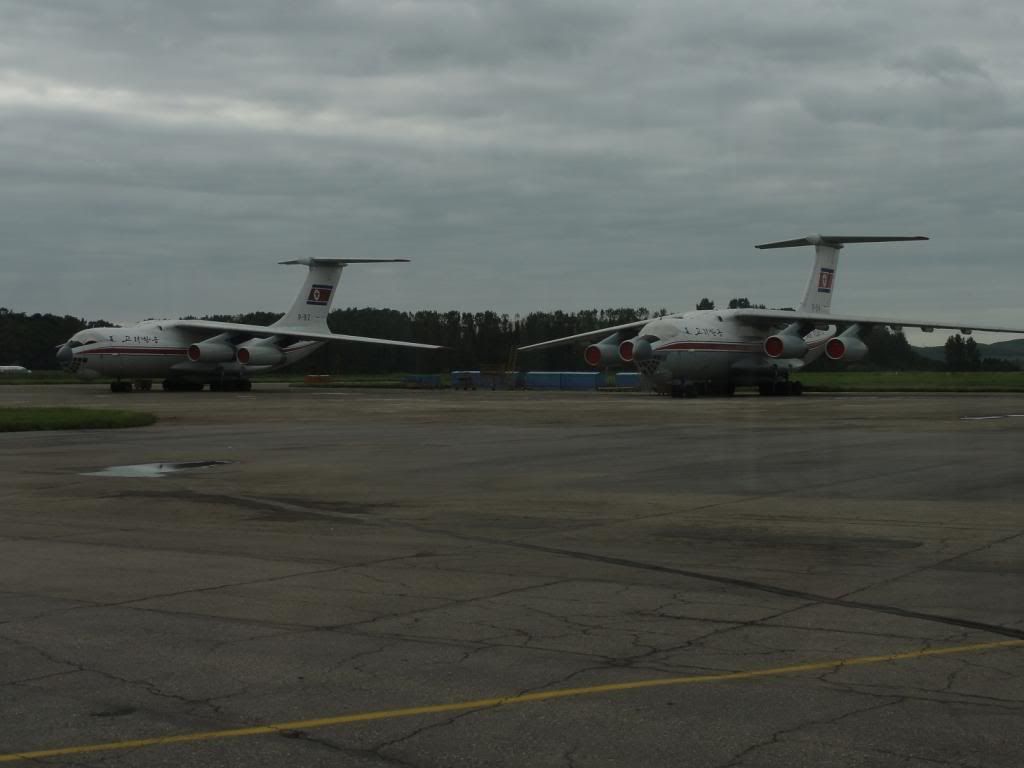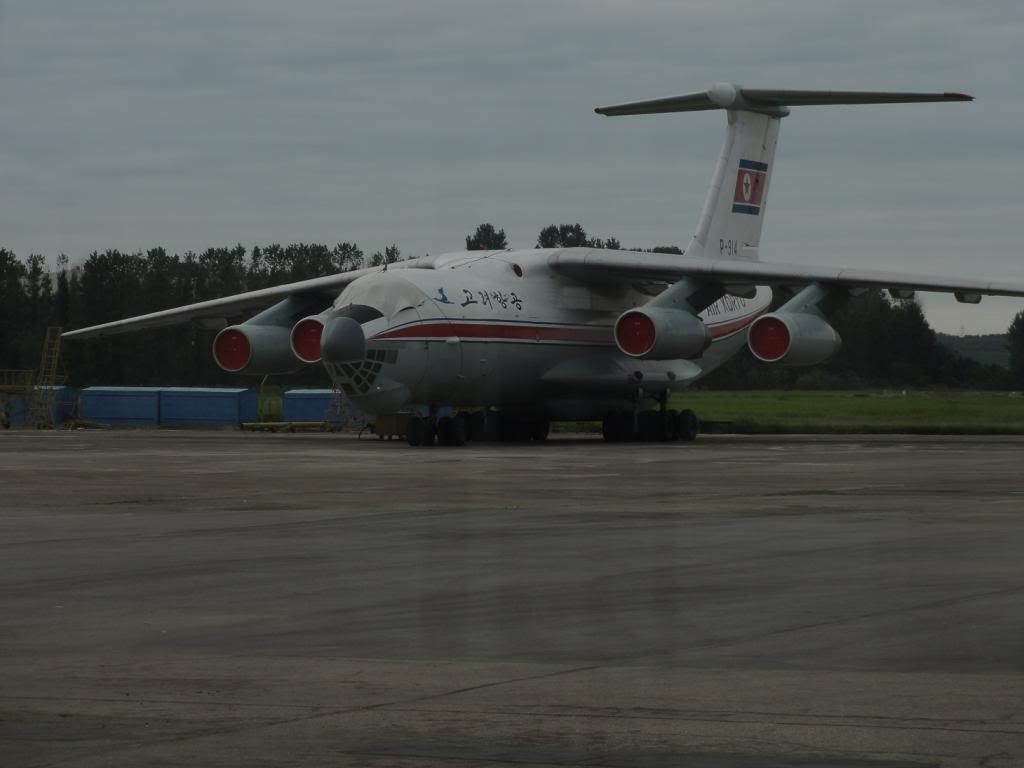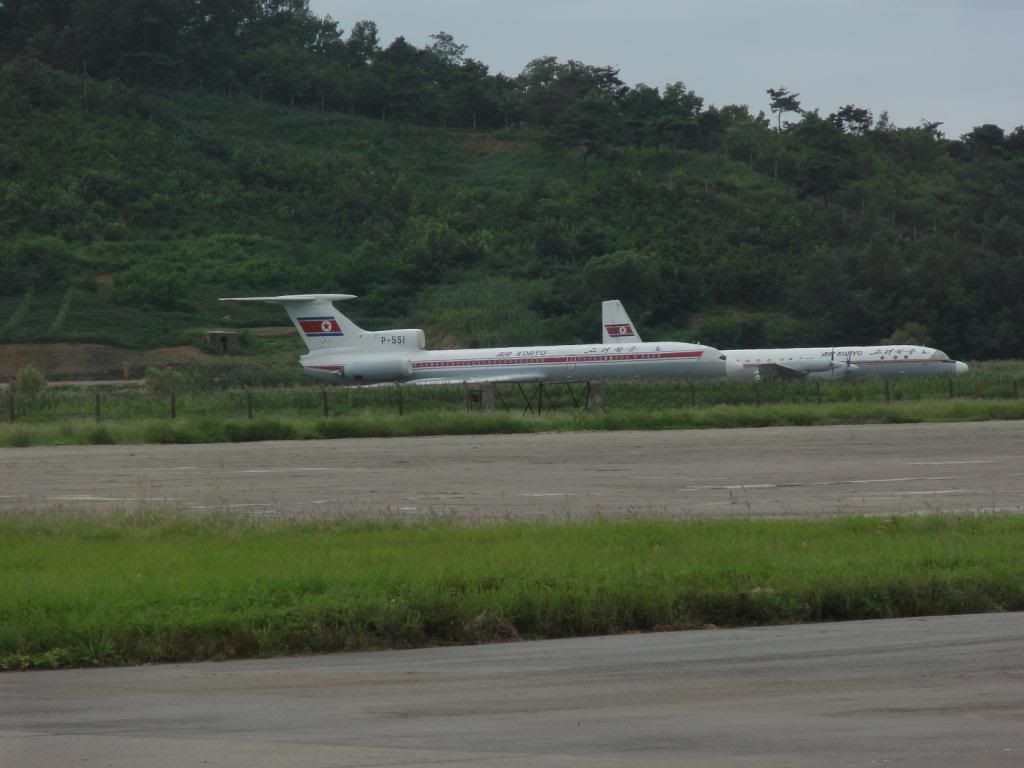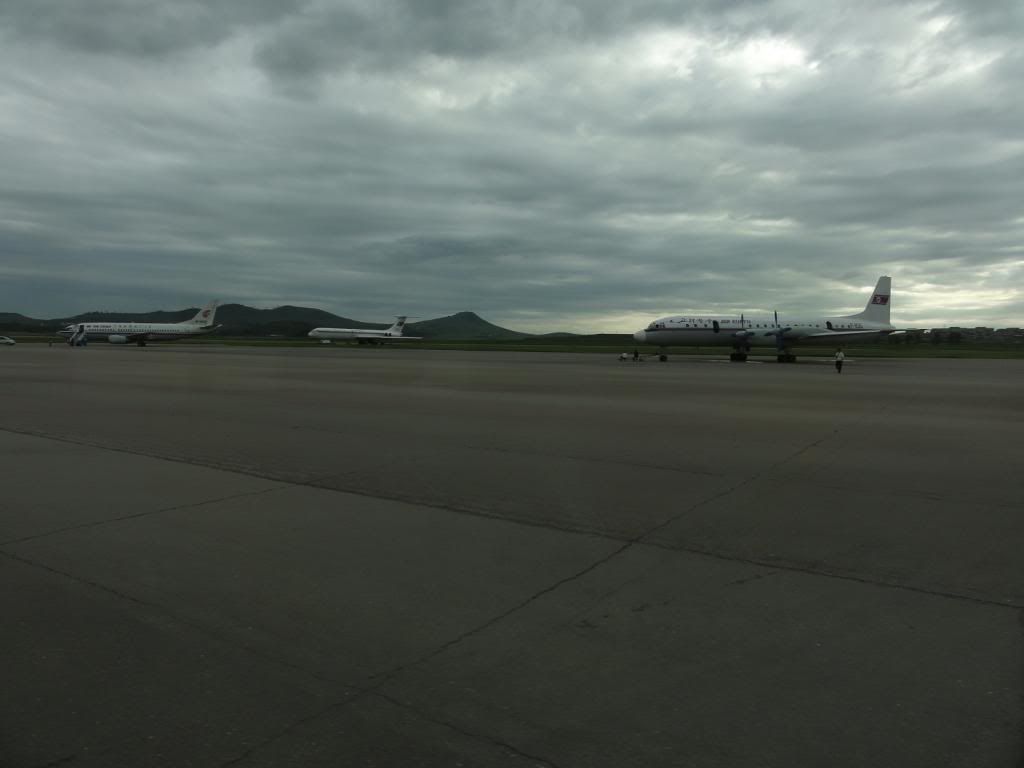 And straight out to the parking lot (no customs check as flights were domestic).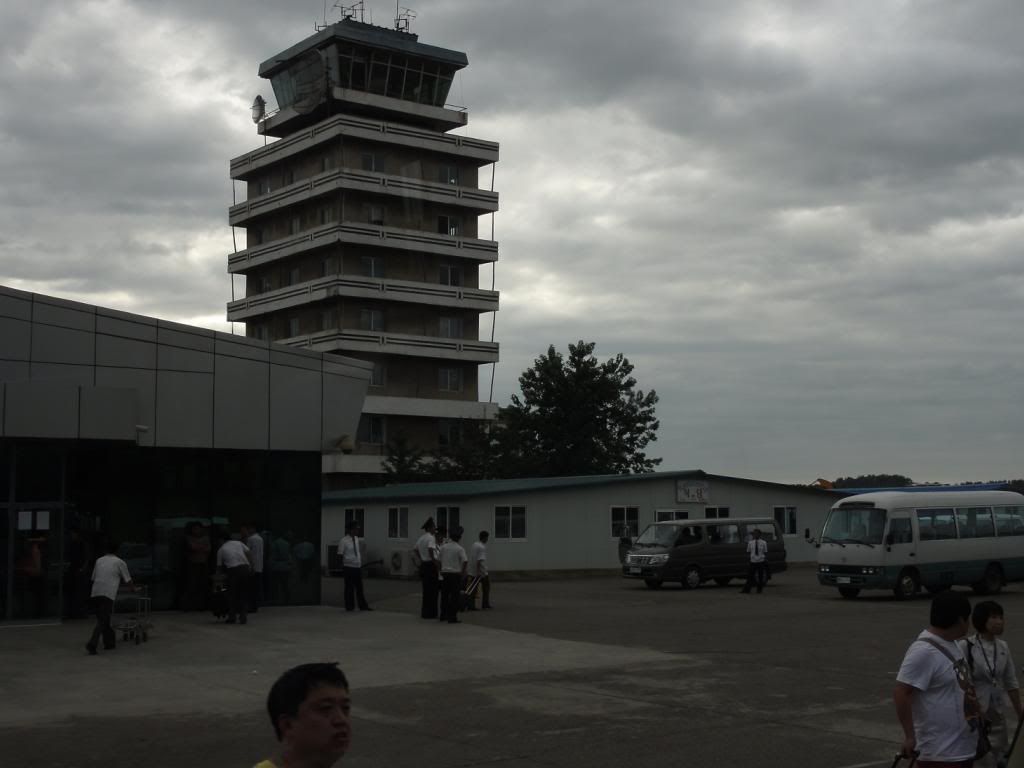 Next stop – the superb new Taedonggang Beer bar next to the Juche Tower. HIGHLY recommended for good beer and yummy French fries!
Keep your eyes peeled for the next two reports, FNJ to PEK in Y and PEK to LHR on BA in J.