American Airlines. Lately, all we have been hearing about on this site is how lots of flights are being cancelled, how there are delays, that the airline is in bankruptcy, and that employee relations are at an all time low. Despite all of that, what is flying the airline like from a customer perspective?

This report will show the domestic First Class service on three flights - one standard domestic sector (Washington Reagan National to Miami) and two transcontinental sectors (Miami to Los Angeles and return). All the flights were back to back. Also, I visited four different Admirals Club lounges in the three cities.

Why would I do this? It was a straight status run. It moved my frequent flyer status with British Airways from nothing to Silver - a level which gives lounge access and other benefits on all oneworld alliance airlines. So, what happened? Read on.
American Airlines
AA1349 - DCA-MIA
8 October 2012
Boeing 737-823 - N823NN
Seat: First Class 4A
Departure: 16:30
Arrival: 19:10
Duration: 2 Hours 40 Minutes
Cruising Altitude: 38,000 feet
Meal: Dinner
Price: $261.30
View Large
View Medium


Photo © Sebastian Sowa
I arrived at Washington Reagan Airport very early for my flight, and proceeded to the American Airlines First Class check-in desk. There was no wait, and once at the desk, I asked if my bag could be checked through to Los Angeles. I handed over my booking confirmations and the agent spent quite some time typing on the computer. She issued me boarding passes - and I noted that the First Class boarding passes have a blue background as opposed to the Economy Class ones which have green backgrounds. While there, I asked if I was eligible to use the Admirals Club lounge and she said no. This was probably incorrect, as passengers connecting to eligible transcontinetal flights in First should be allowed access on the connecting flight. I didn't say anything, and took my bag back off the scale and around to the screening area where a guy took it and put it next to other bags.
I decided to loiter around until it went through the scanner, and took a picture of the nearby Delta check-in desks and the interesting roof while I waited.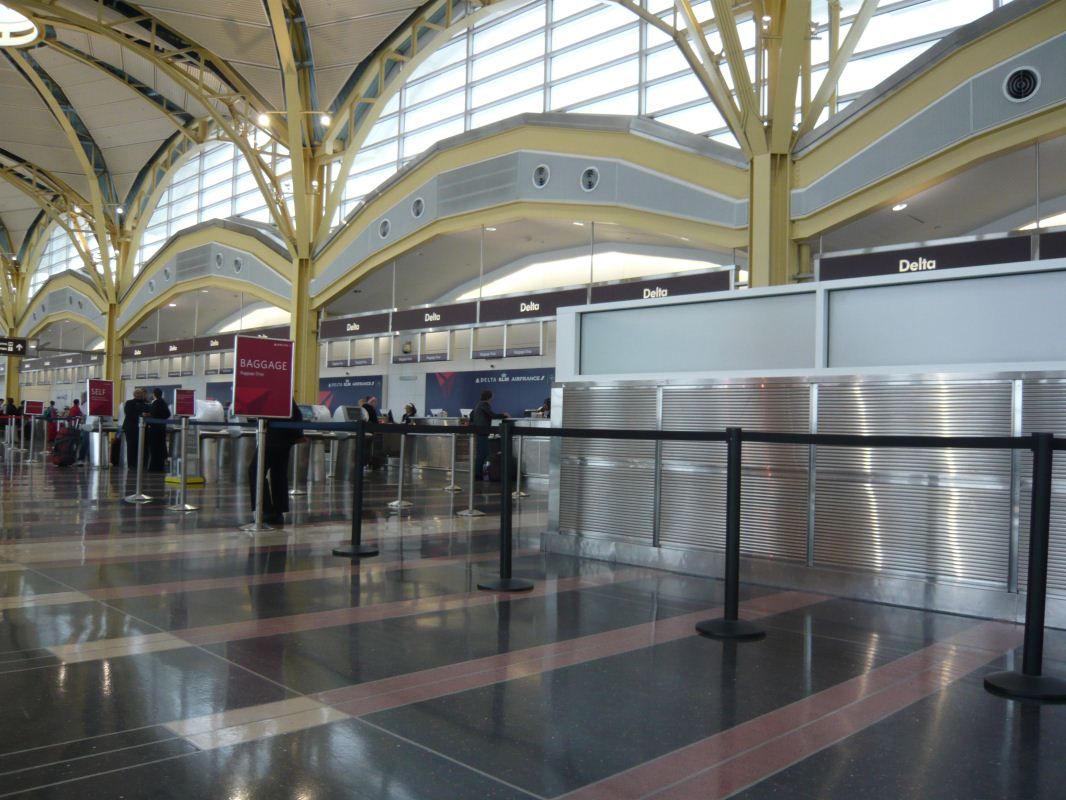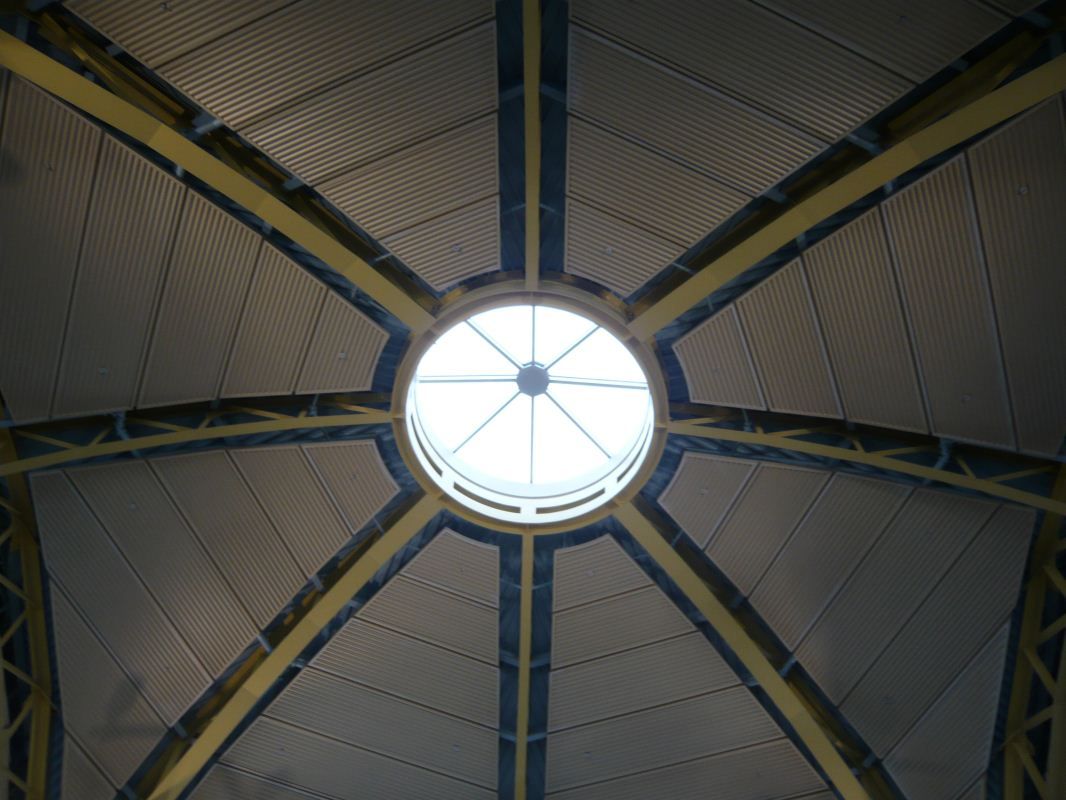 Once it had gone through, I went down the escalators and through to security screening. This was fairly quick and painless - though we had to remove our shoes. Instead of a standard scanner, I went through one where I put my hands over my head and was scanned. Unfortunately, I hadn't taken my laptop out, so it had to go back through on its own.
Once through, I walked the length of the terminal and couldn't find the lounge. I connected to the airport's free WiFi and found out it was right next to security, and in I went.
There were three agents at the desk, and I asked if I was allowed access as I was connecting to a transcontinetal flight in Miami. The agent was surprised I was doing this, as it seems it's a rare thing, but she said, "For miles?" and I said yes, and she understood. On 1 September, American Airlines changed lounge access. First and Business Class passengers travelling between MIA-LAX, JFK-LAX and JFK-SFO are now permitted access - and these are the only routes where it's allowed domestically. This is the link to the page that shows this -
http://www.aa.com/i18n/utility/trans-con-access.jsp
The agents all discussed this among themselves, and one found the notice that passengers connecting to these services were allowed. They worked the problem very methodically actually. The system still wasn't accepting my boarding pass scan, so the lounge agent asked, "Well, do I put it in as oneworld or as other?" and was advised to put it in as other. As I was leaving, I heard discussion about e-mailing to advise of the problem.
Apparently the Washington Reagan National lounge is a newly renovated and redesigned lounge, so here are some pictures of it and from it.
Entry after you get out of the lift -
A view of the ramp -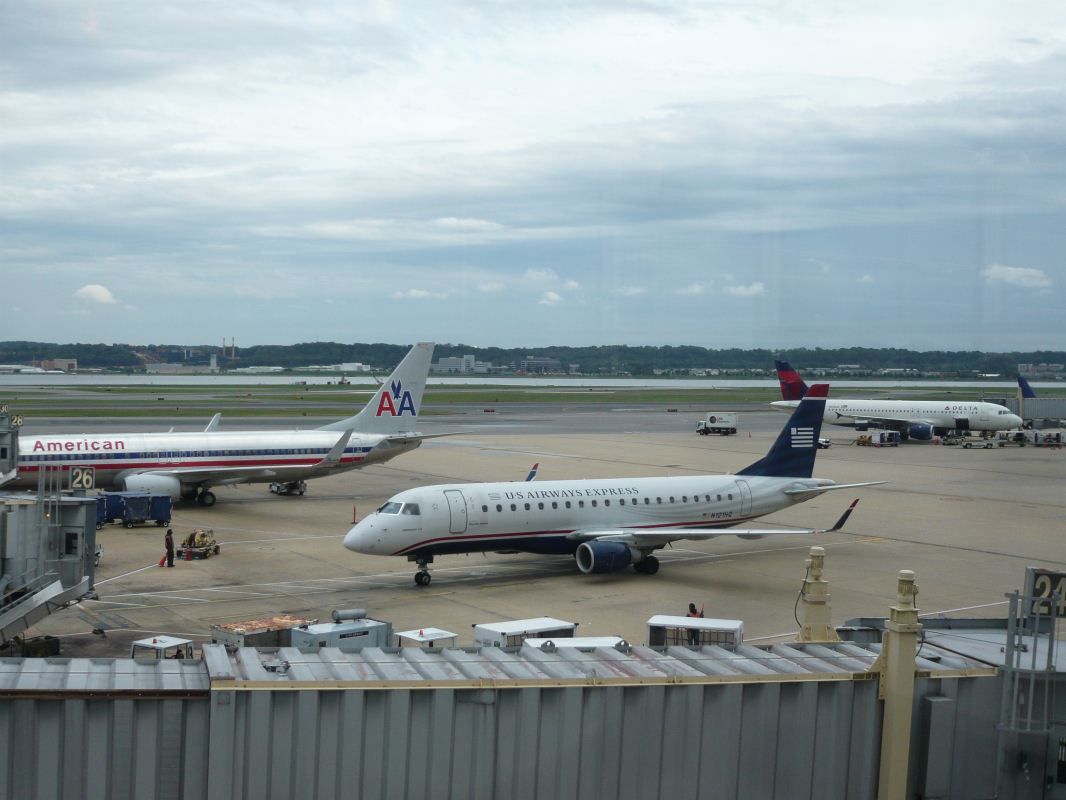 Computers with Internet access - the lounge also had free (fast!) WiFi -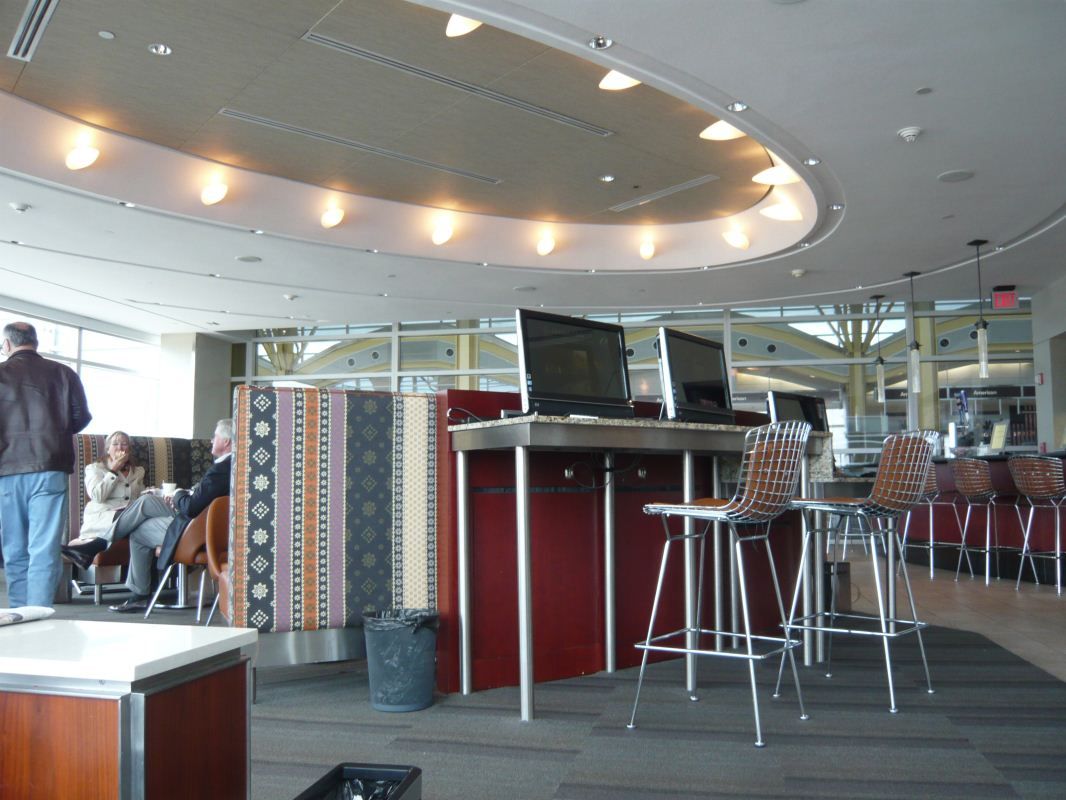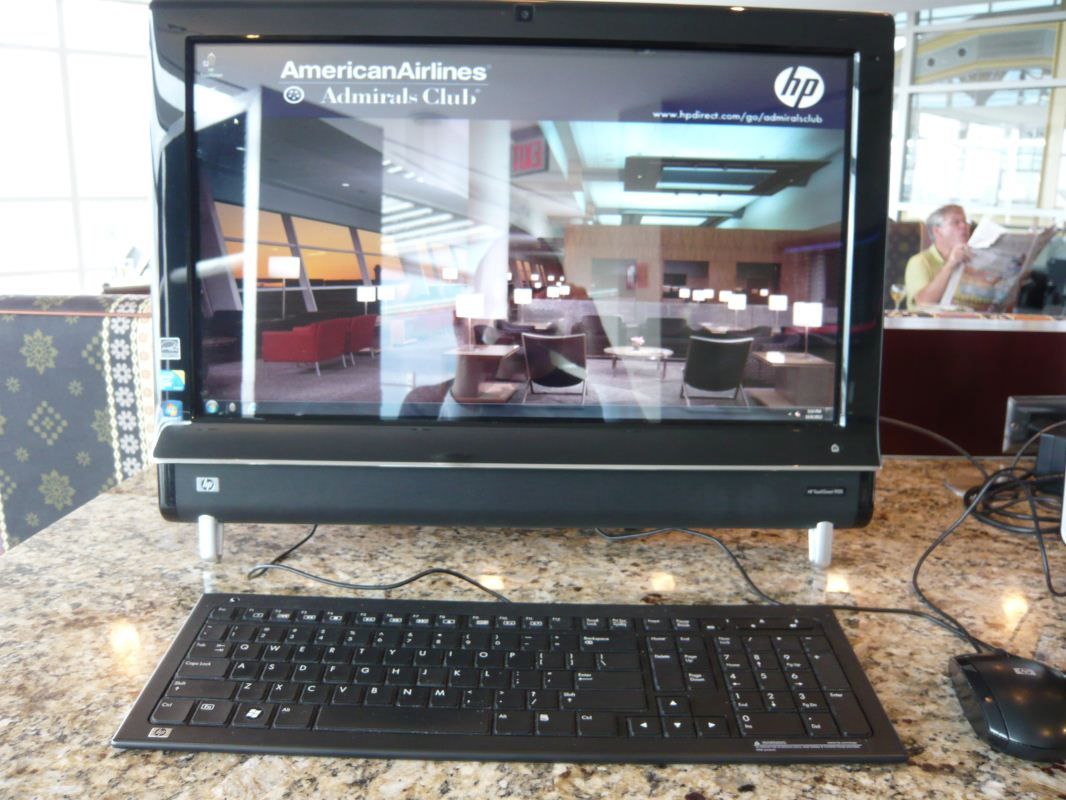 I sat in one of these -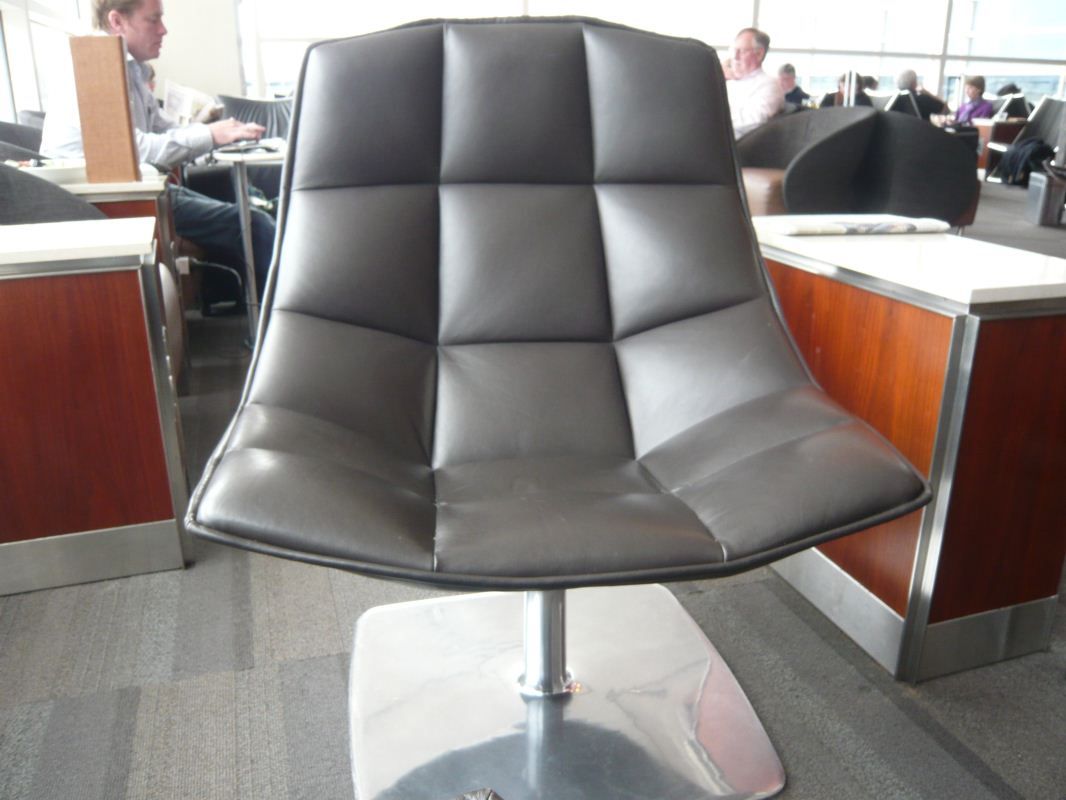 Another ramp view -
The quiet area seating -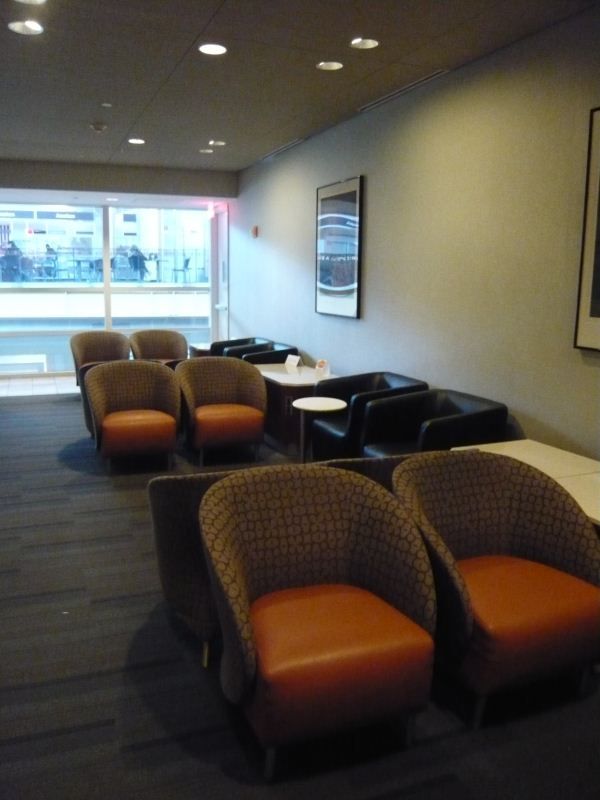 Wall pictures -
Chair detail -
Bathroom -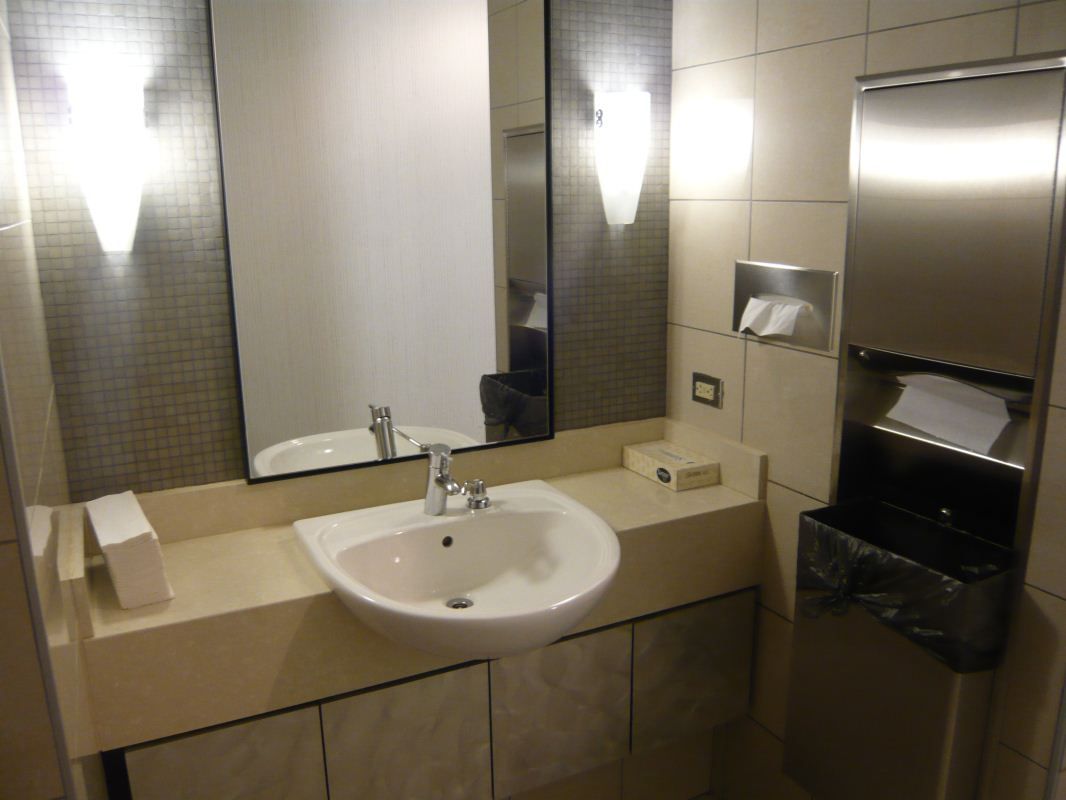 More ramp views - anyone know what airline is running thatwhite jet with the blue tail?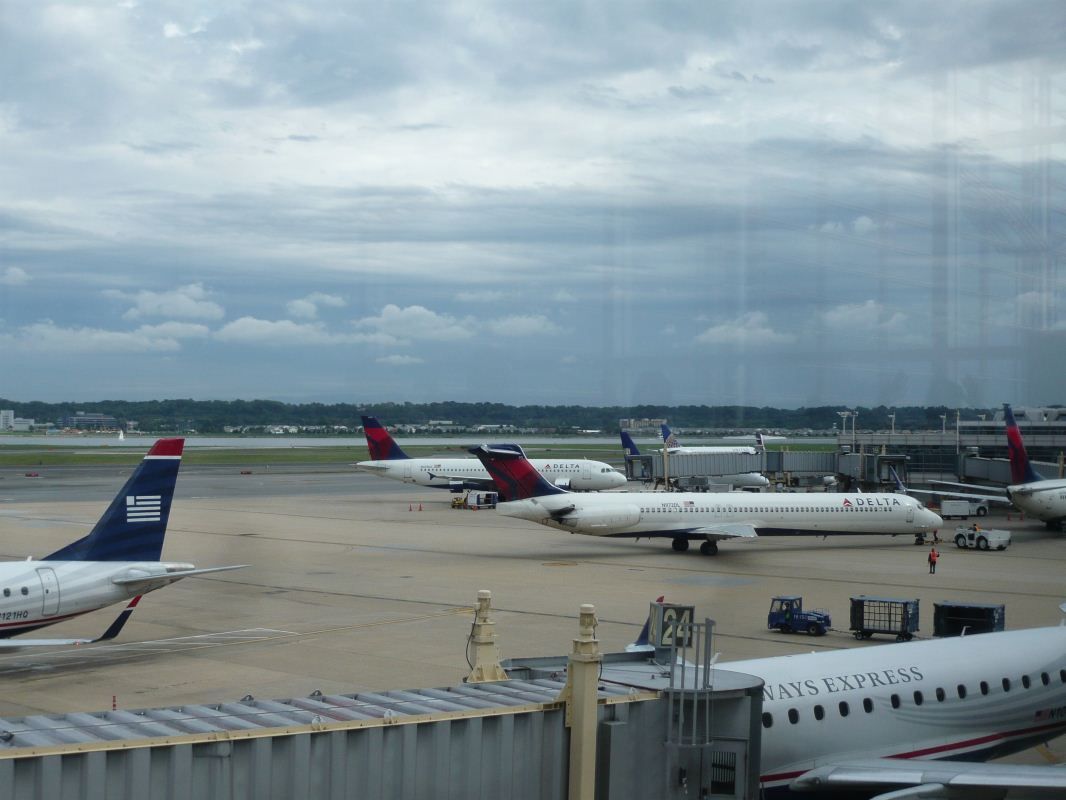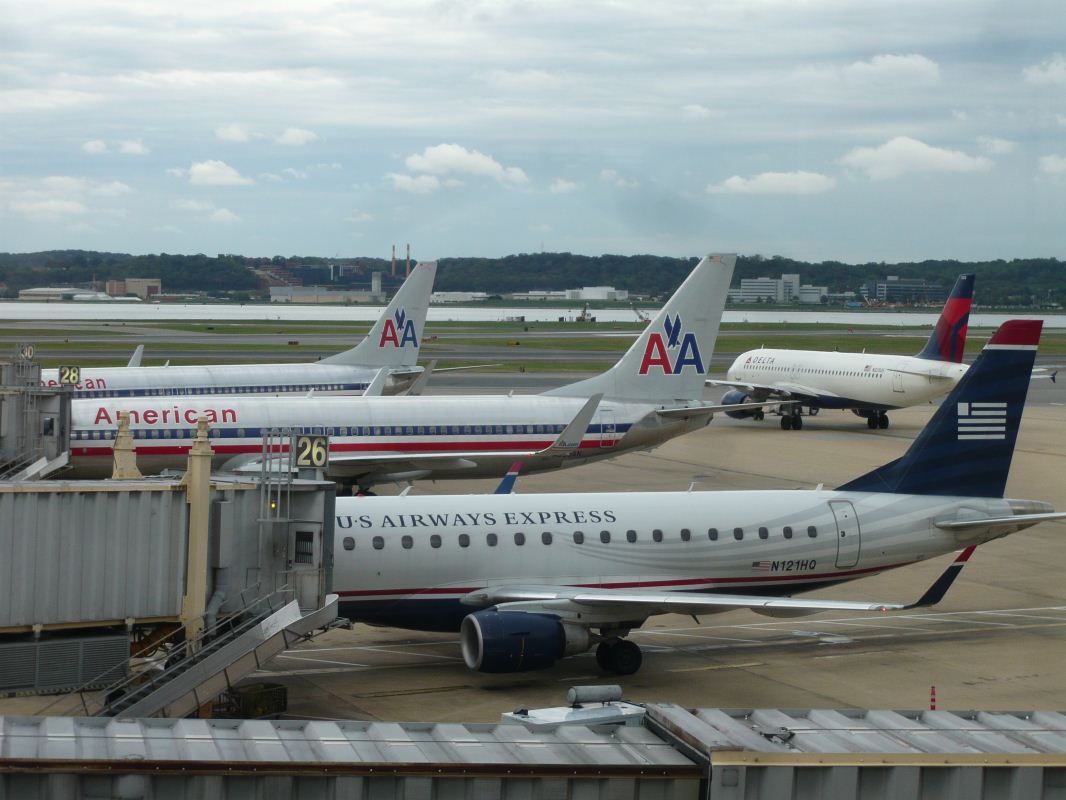 The bar which had free soft drinks (I had a Coke), beer and wine, and paid for drinks otherwise -
In addition, there was quite a good selection of food which you could order if you so desired. I didn't, as I knew I was getting fed on board.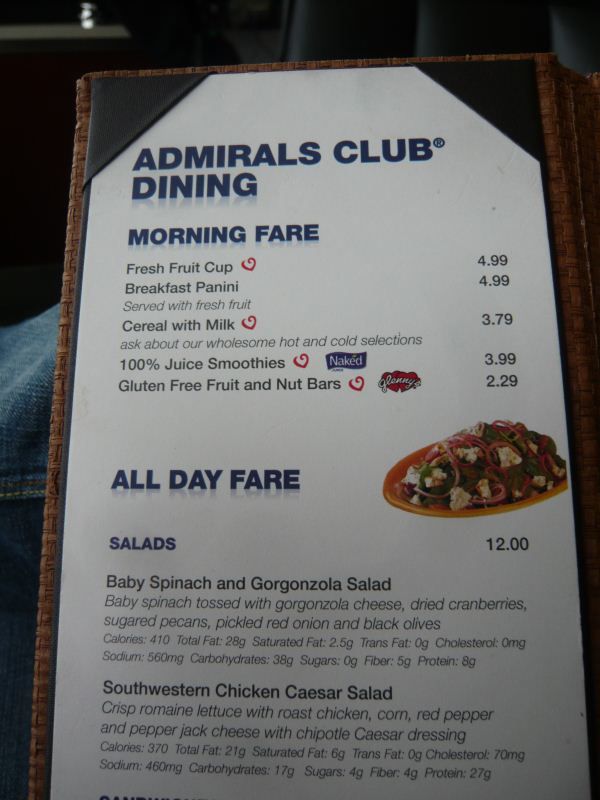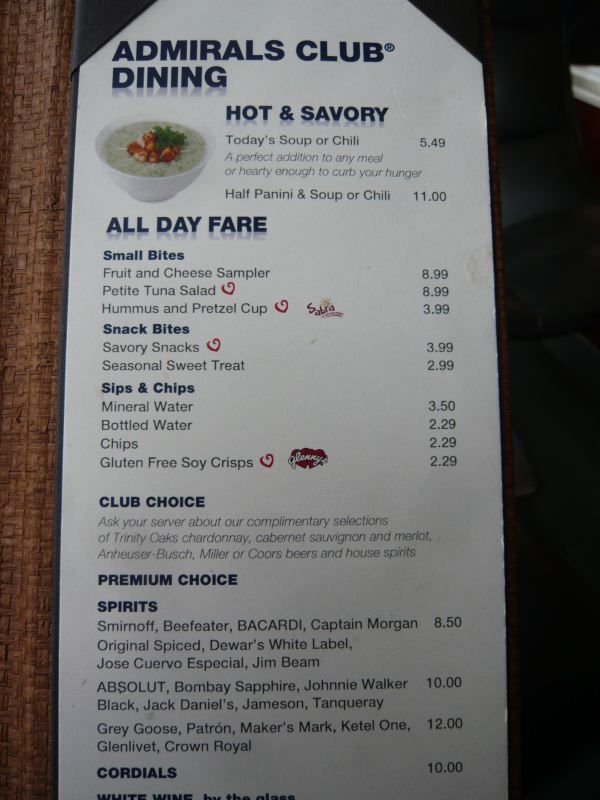 There weren't really many delays as you can see from the flight information screen.
A small selection of free food -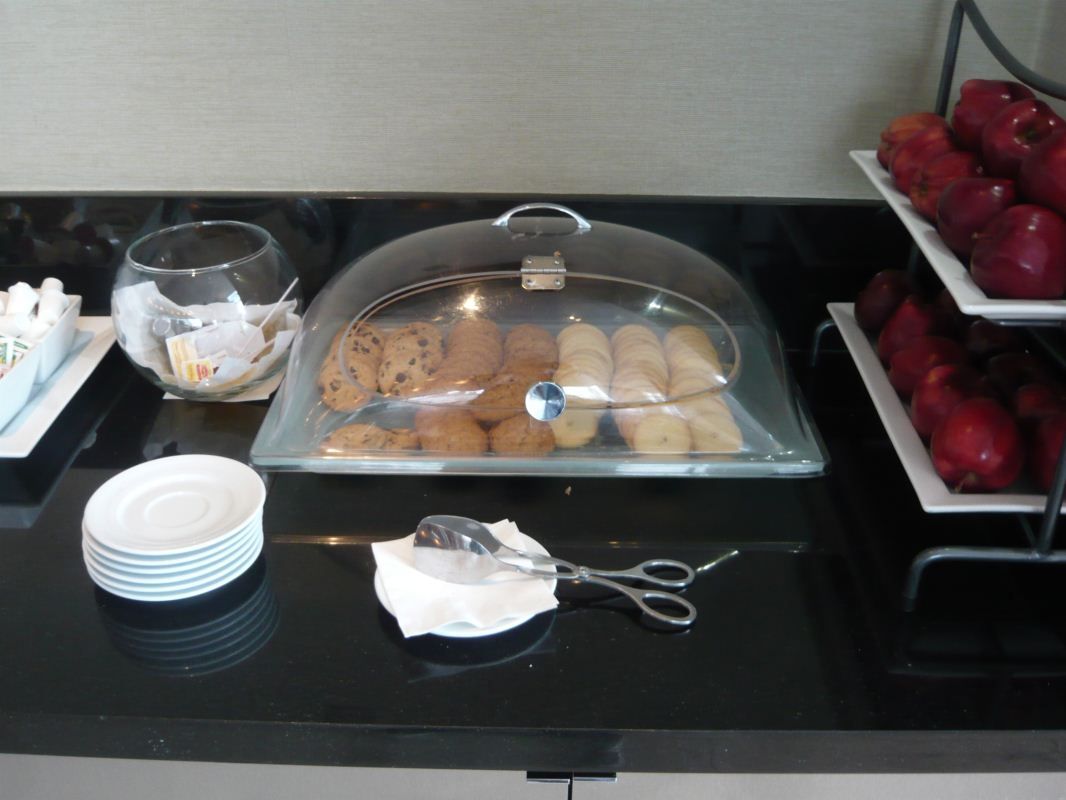 Coffee and tea -
Some more ramp views -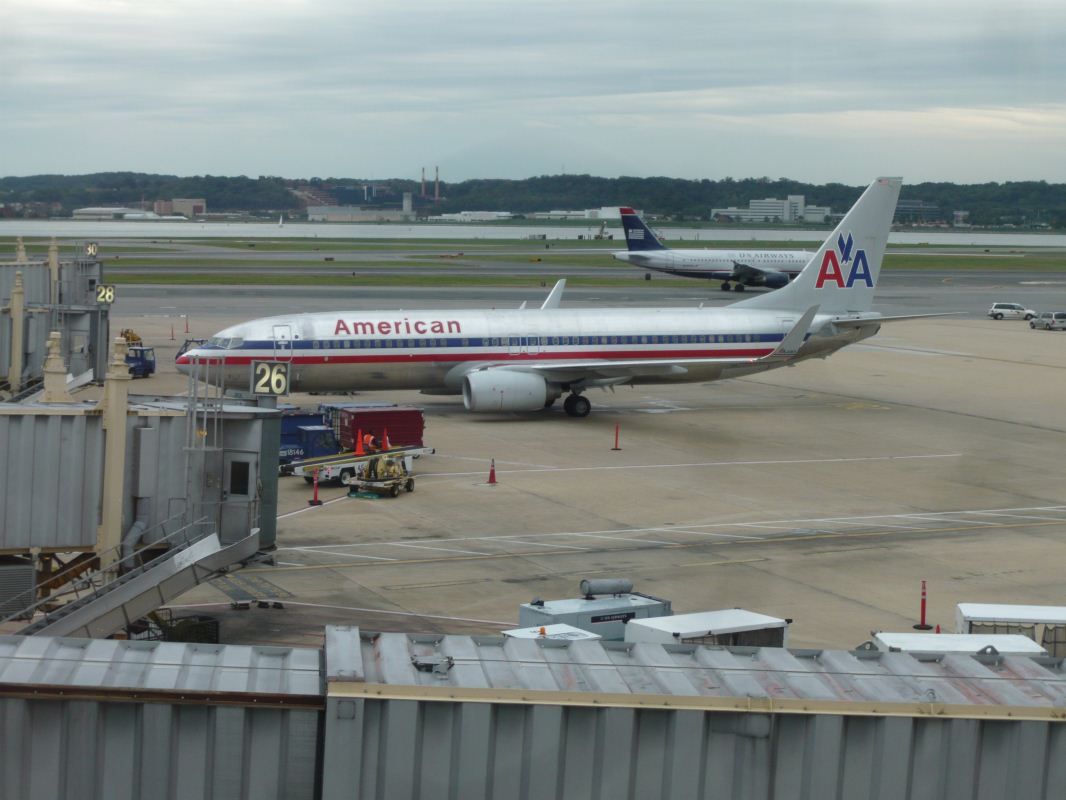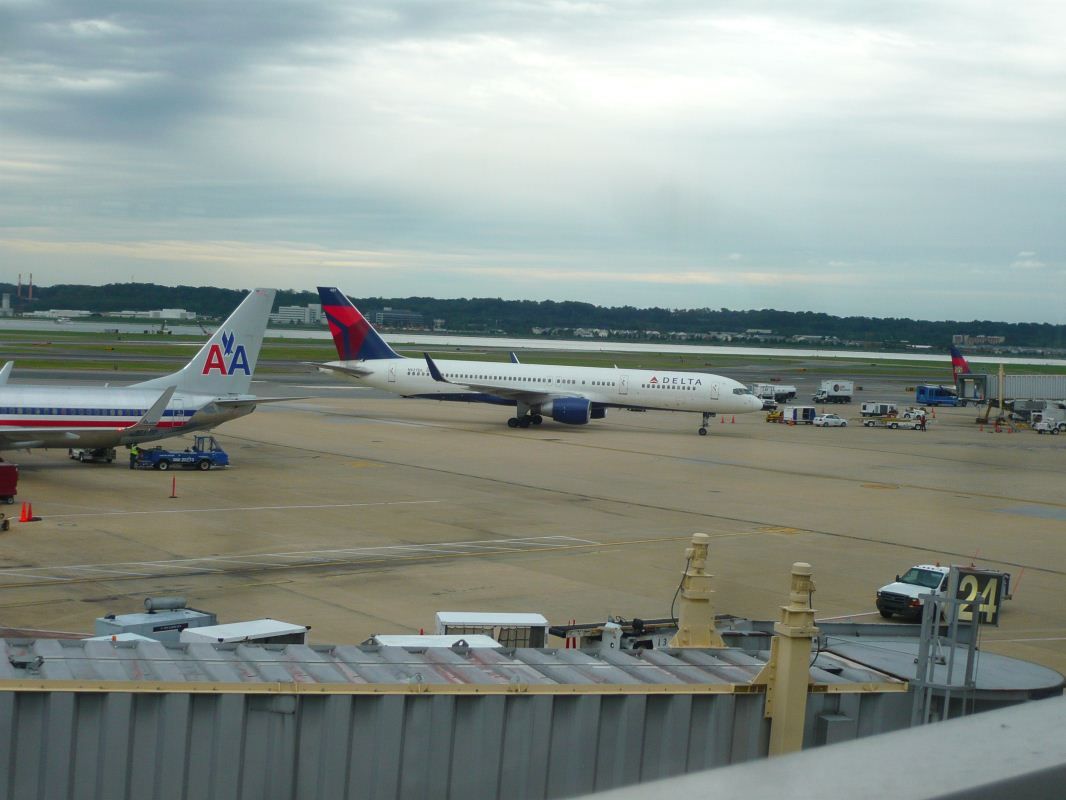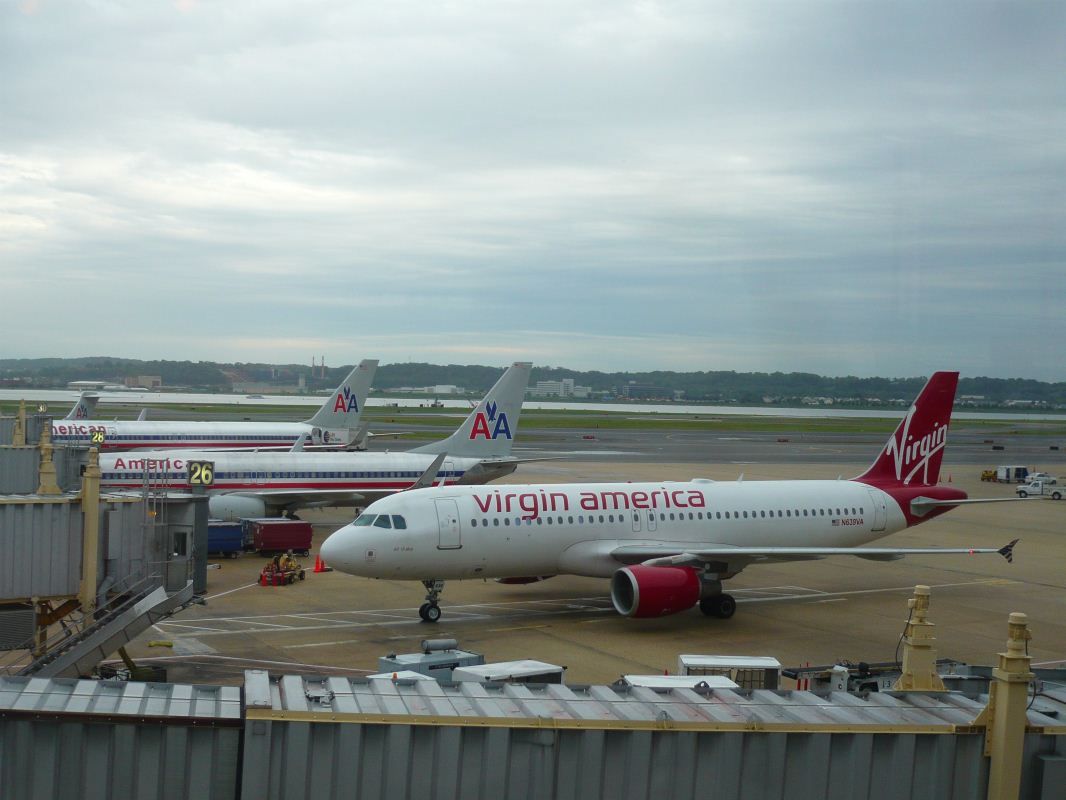 I decided to see the lounge agents again to check my frequent flyer number and then I proceeded down to the gate. Boarding was already underway, and I queued up inside the aerobridge until it moved enough for me to get on. As I'd missed the start of boarding, all of First Class was seated apart from me, so I stowed my cabin bag and sat down. I knew I was last as every other seat was taken. I had a great view of Virgin America next to me.
We were offered water before takeoff.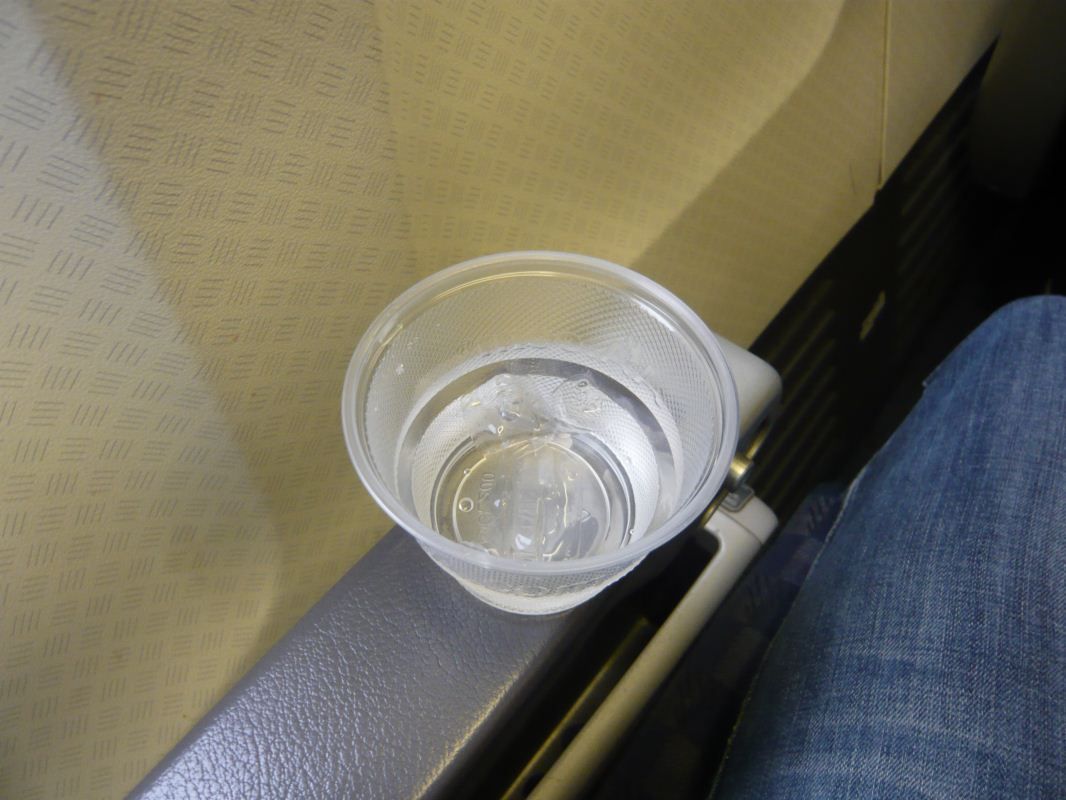 I had a great view of the American Airlines Eagle on the bulkhead near me.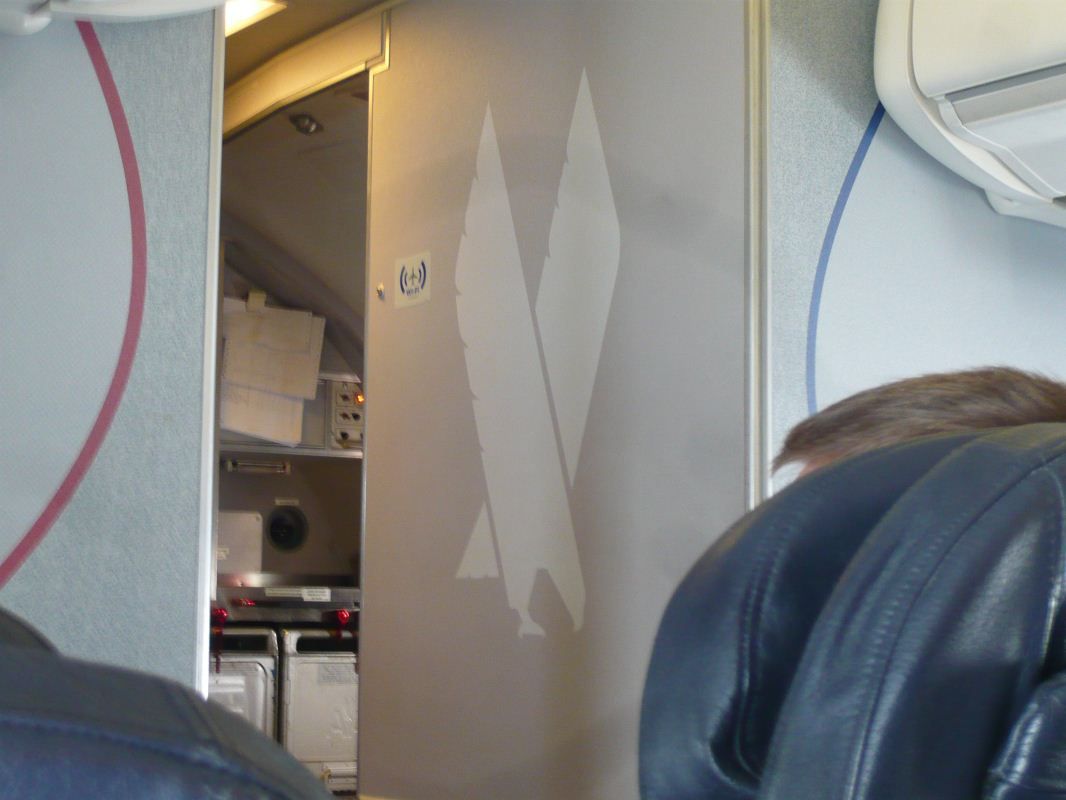 There were a lot of announcements during boarding about it being a full flight and to stow carry on bags overhead and smaller bags under the seats in front. At the end, all of the bags fit on board, despite the crew asking people to come forward to have their bag checked if they couldn't find space. Of course, once everyone was seated, we pushed back, and the safety demonstration came on video over the modern flip down screens.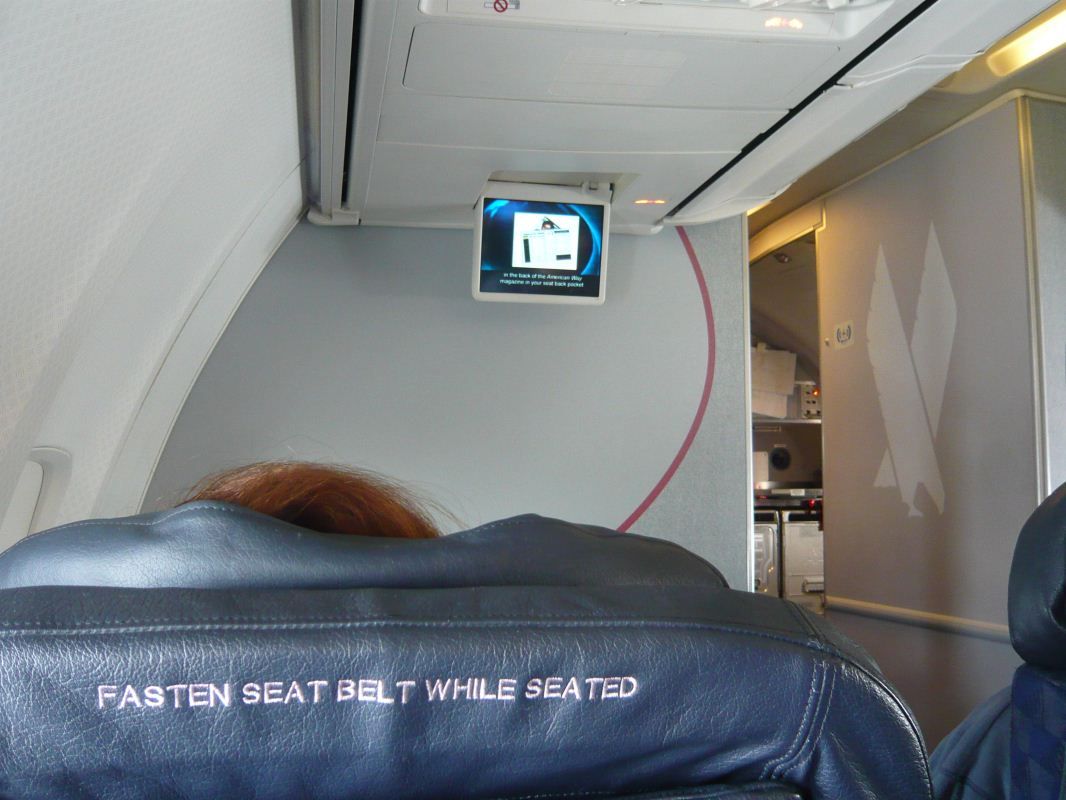 Once we were in the air, the guy next to me went to the toilet (a Latino businessman who had said hello when I first boarded), so I was able to take a couple of pictures without looking too geeky. Between the seats, there is a nifty extra drinks holder in addition to the one in the armrests.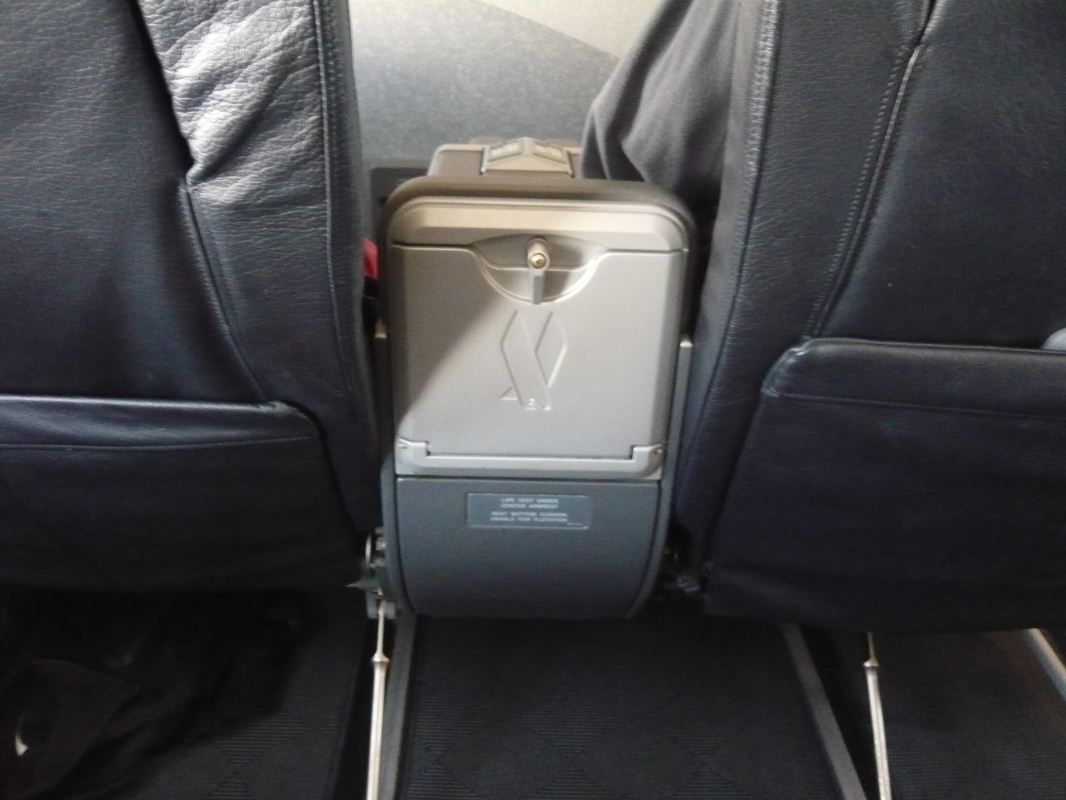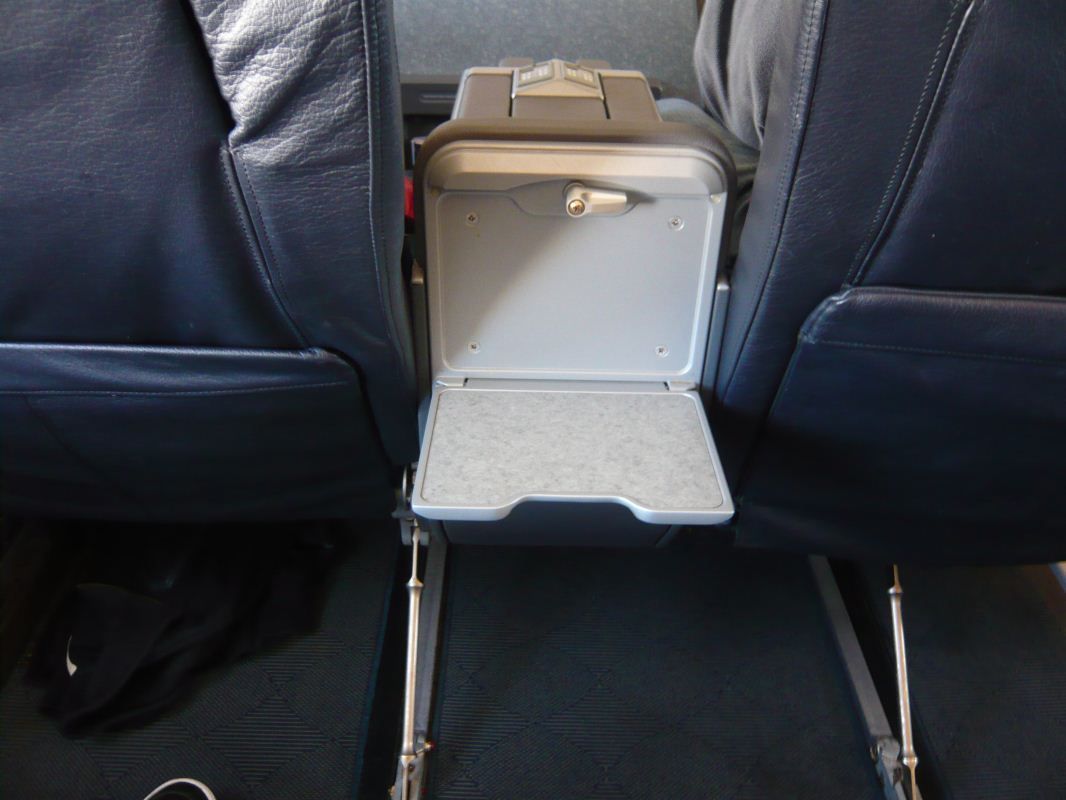 And, by stretching, I could take a picture of the laptop charging socket between the seats.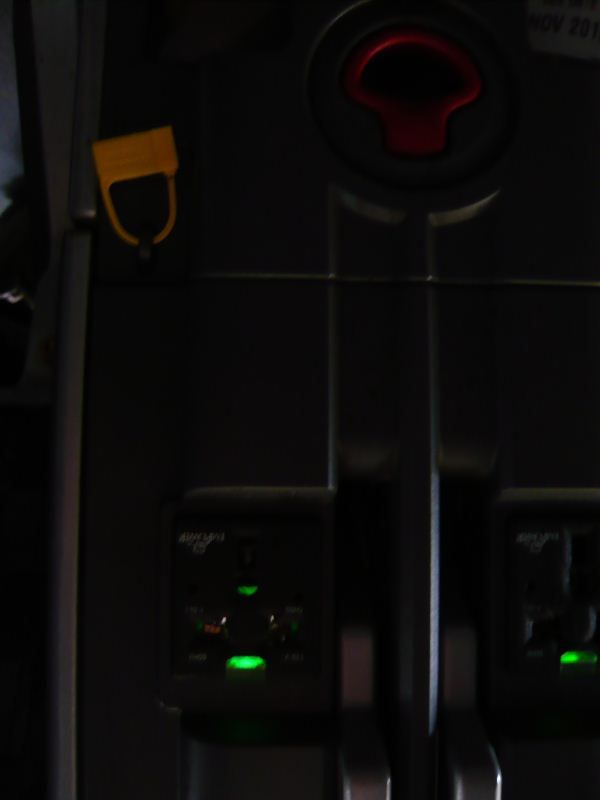 The drink trays in the arm rests look like this.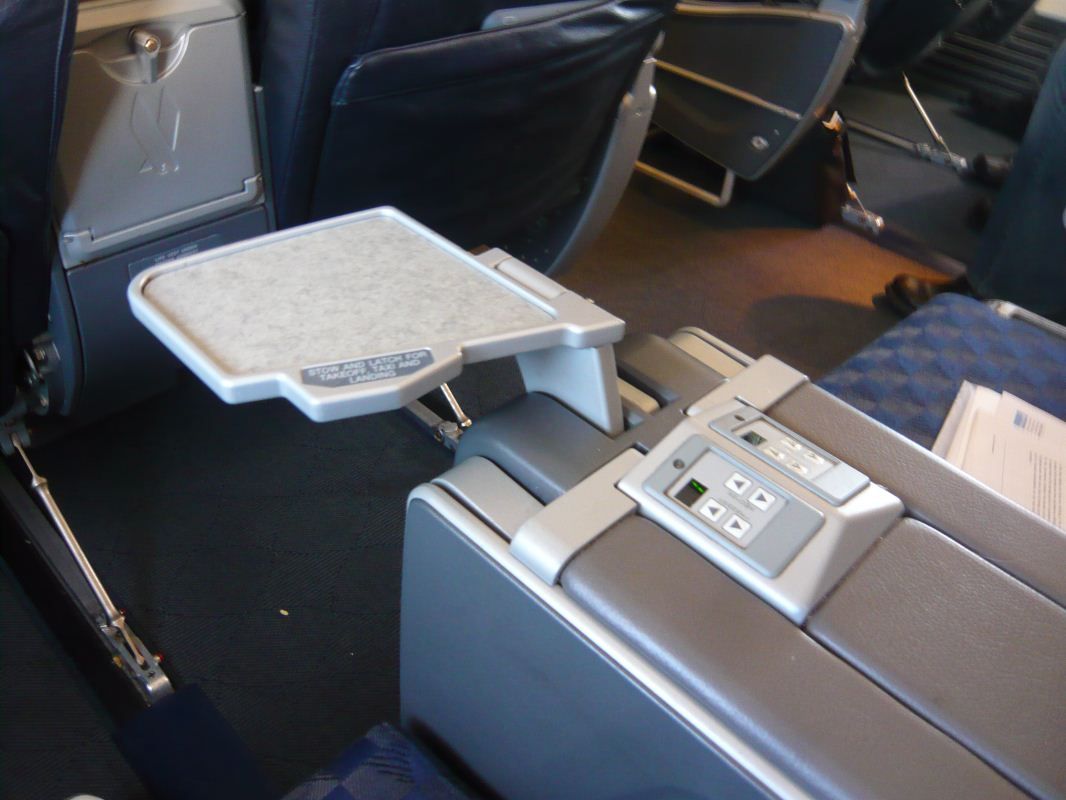 We had hot towels given out (mine was lukewarm and filled with water which was unusual), and then the service started. American Airlines gives out warm nuts with the drinks, and it's so nice to have them in a little bowl and warm rather than in a dinky bag and cold.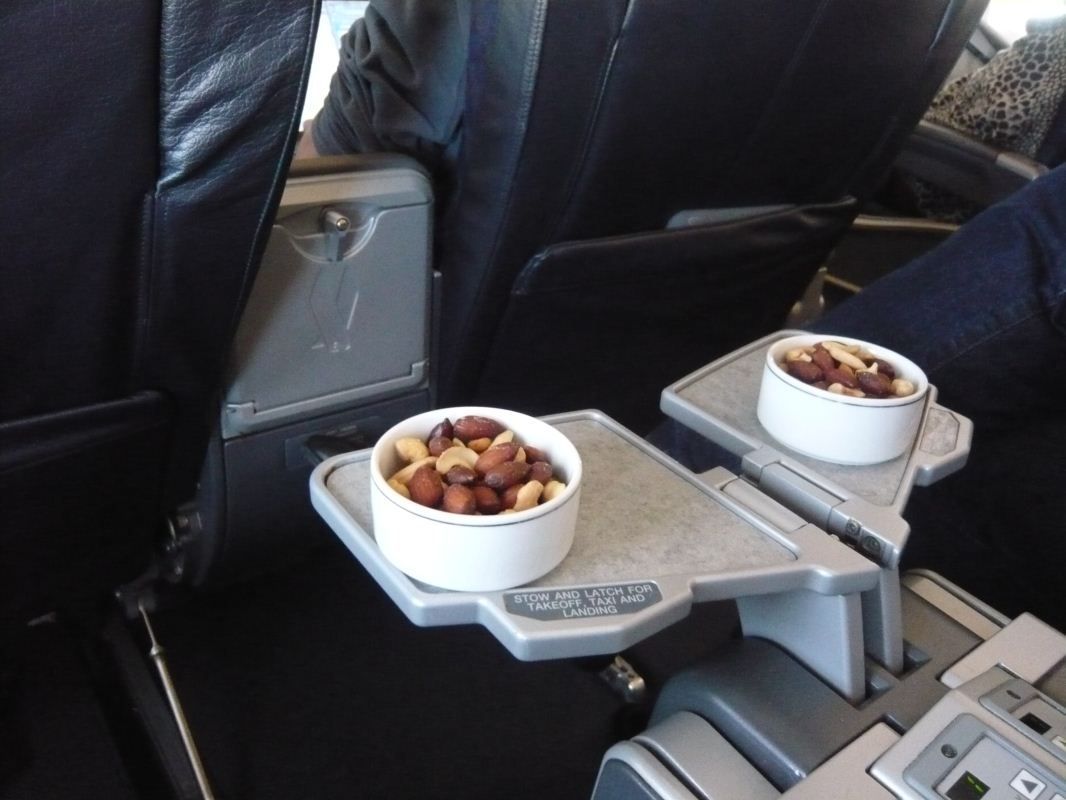 I chose a glass of white wine.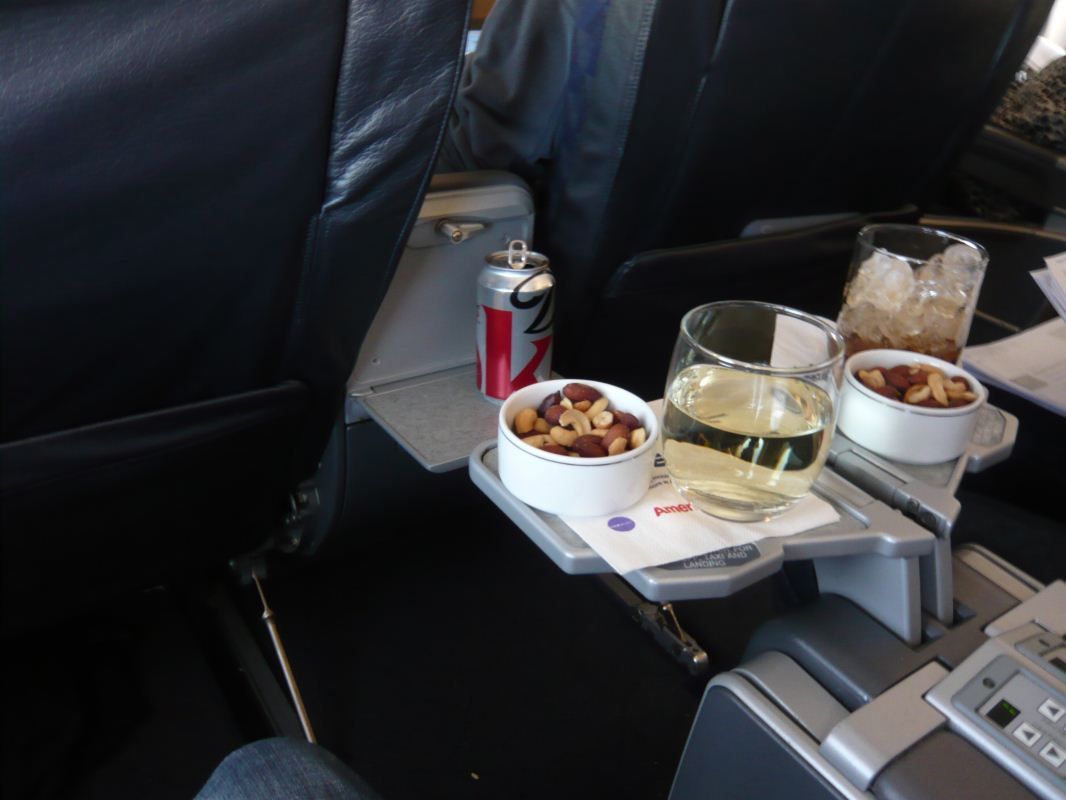 I promptly gave it back as I didn't want it and had a Coke instead. Too much drinking on my holiday meant I wasn't in the mood (and it didn't taste particularly nice, though that was probably just me!)
The sky was lovely of course!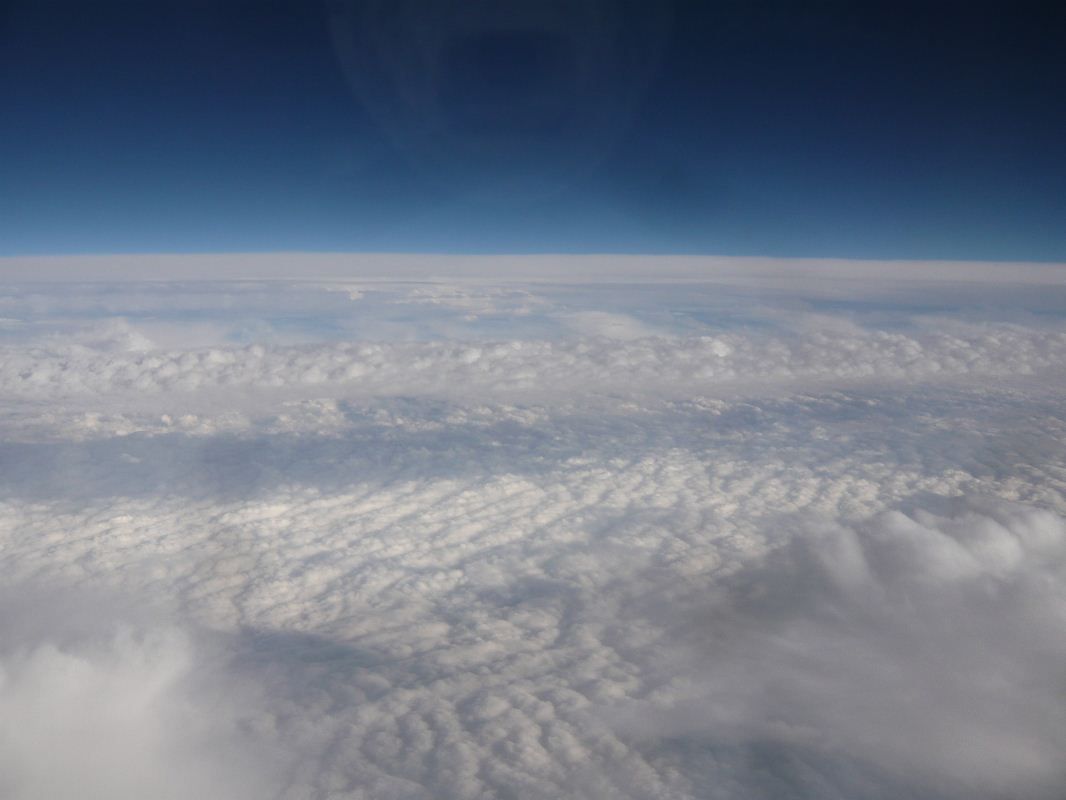 Dinner was served. I chose the Salmon. Before it was served, the dressing was ladled onto the salad from the trolley. I was then offered white bread or wheat bread. The meal also had cheesecake for dessert.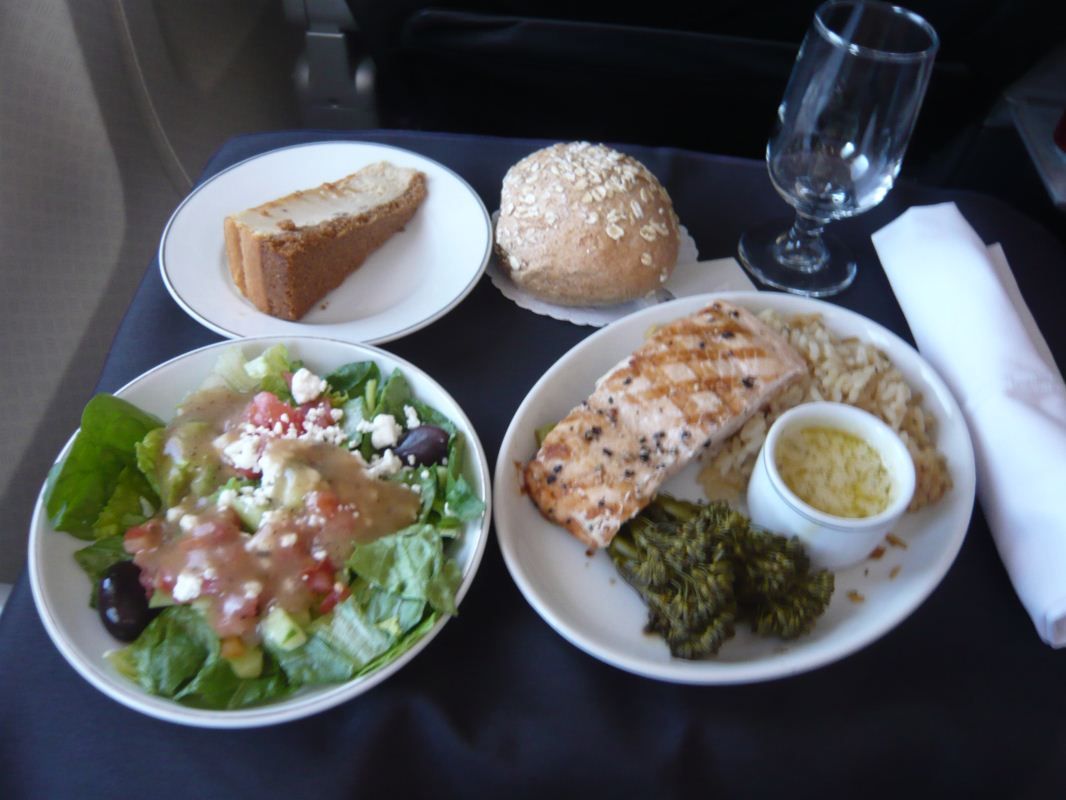 I had to send back my first set of cutlery as they had food remnants on them from a previous flight. Once I'd eaten the very sticky (and delicious!) cheesecake, I understood what I had seen on the previous set. It would be quite hard to get off. Anyway, the meal was very good indeed, and I devoured the whole thing. The cabin crew continually came by offering top ups of drinks, extra bread and so on. They were very attentive - once people had finished, trays were taken very promptly. The service was outstanding!
Of course, I visited the toilet...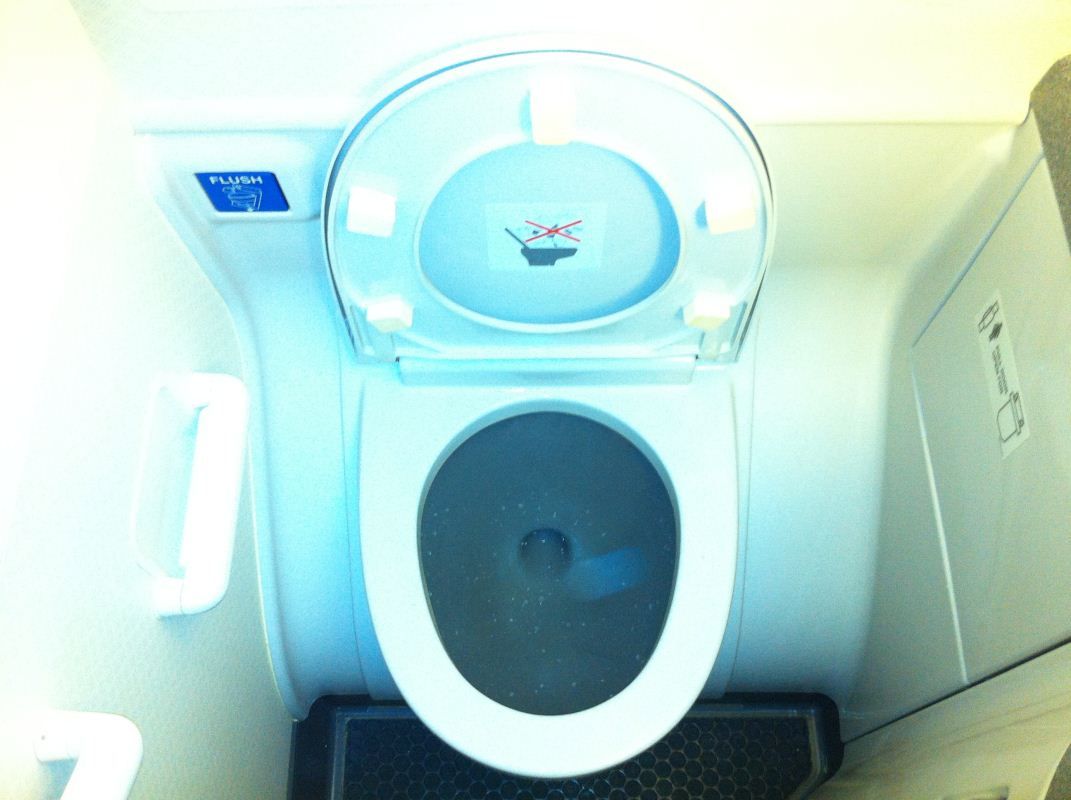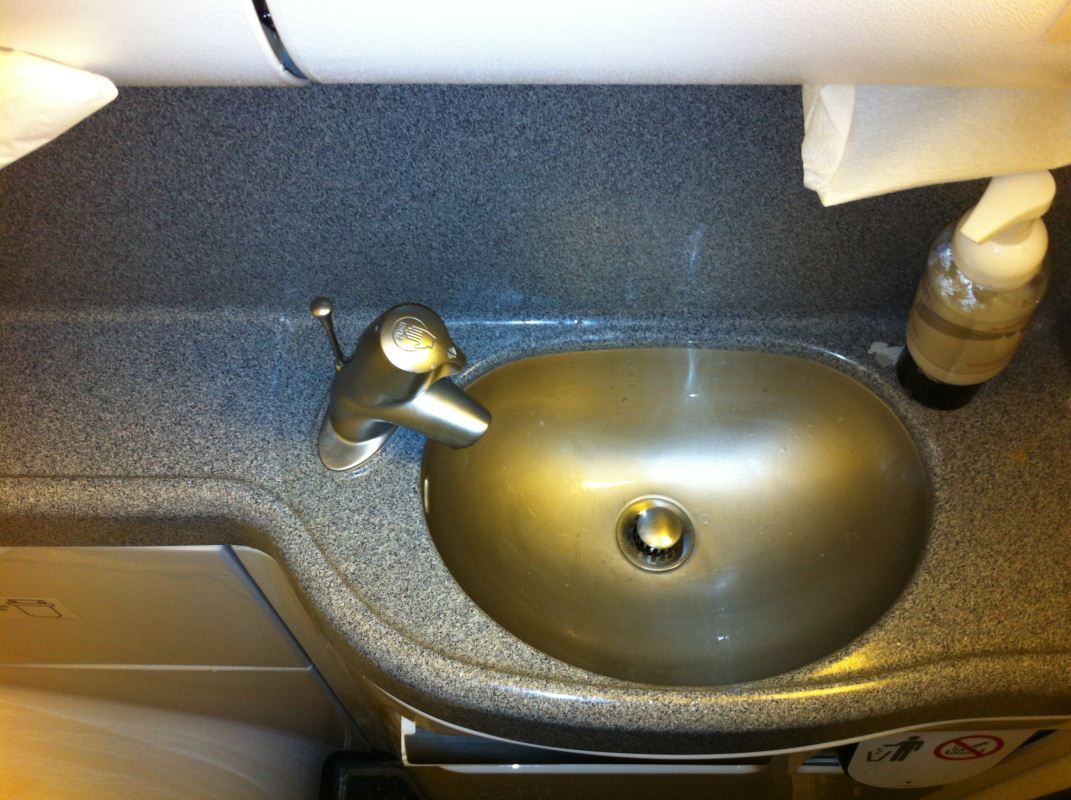 In the window behind me, I could catch the wing and engine.
The aircraft was also fitted with WiFi, as evident by the card in the seat pocket as well as all the "WiFi" logos up around the seat numbers on the overhead compartments. I decided to give it a try on my phone, but I couldn't even get to the screen where it asks you to pay. The flight was fairly turbulent, so perhaps that was why - I didn't try for very long. Once it didn't seem to work, I just put it out of my mind. I didn't pay any attention to the inflight entertainment at all. We were given in ear headseats in little bags that were left on the seats when we boarded - which are free in First and $2 in Economy.
The new style seats have all the mod cons - laptop charging, ample drink space, and look great. However, I found them to be quite uncomfortable from about the second hour onwards. The seat was quite firm and I really noticed it and began to wish for the flight to end. Luckily, it was soon time to land in Miami at dusk.
... and the Everglades!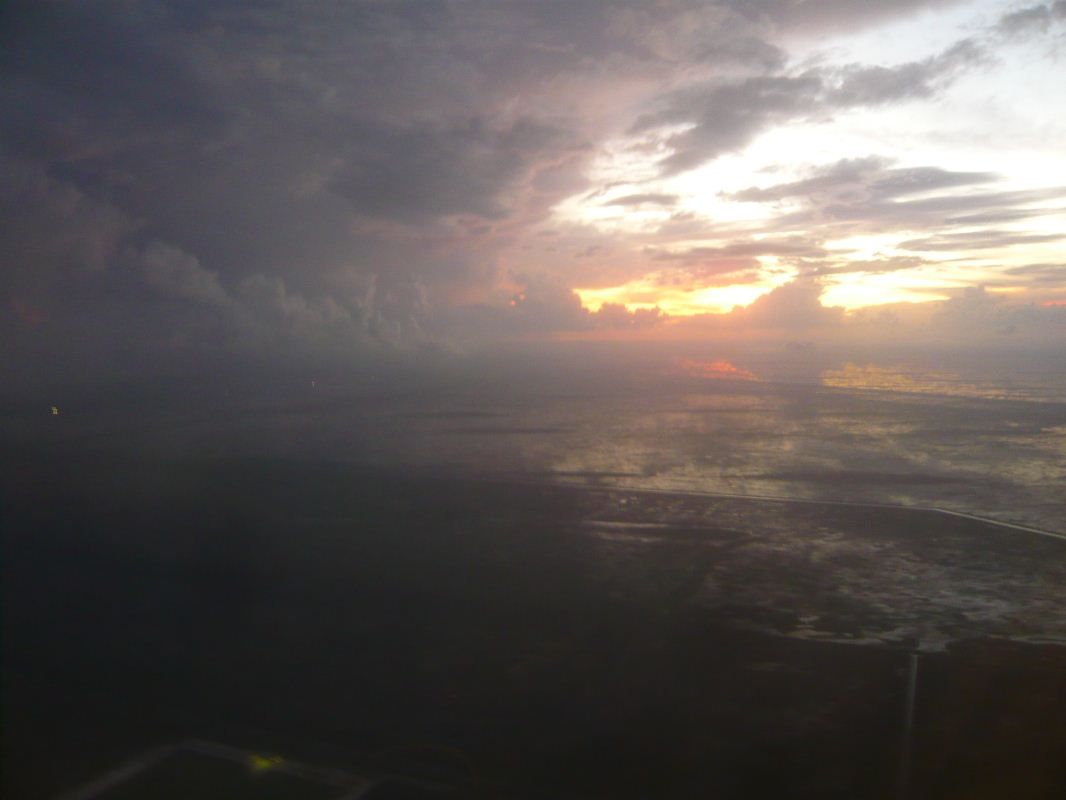 We arrived on stand and disembarked into a very busy Miami terminal.
[Edited 2012-10-15 11:23:35]